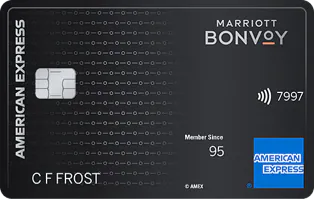 Advertiser disclosure: This post may include affiliate links (including sidebar banners) in which this site may receive compensation if a purchase is successfully made (at no extra cost to you) after being redirected from here. Thank you for your support!
Marriott BonVoy! BonVoy!
New all-time high offers for Marriott Bonvoy credit cards from American Express & Chase, including the American Express Marriott Bonvoy Brilliant, American Express Marriott Bonvoy Business, Chase Marriott Bonvoy Boundless, and Chase Marriott Bonvoy Bold has just been released. Offer ends at 11/3/2021 for American Express side and 11/4/2021 for Chase. I will do a breakdown of the bonuses for each cards and give my thoughts on each offers.
American Express Marriott Bonvoy Brilliant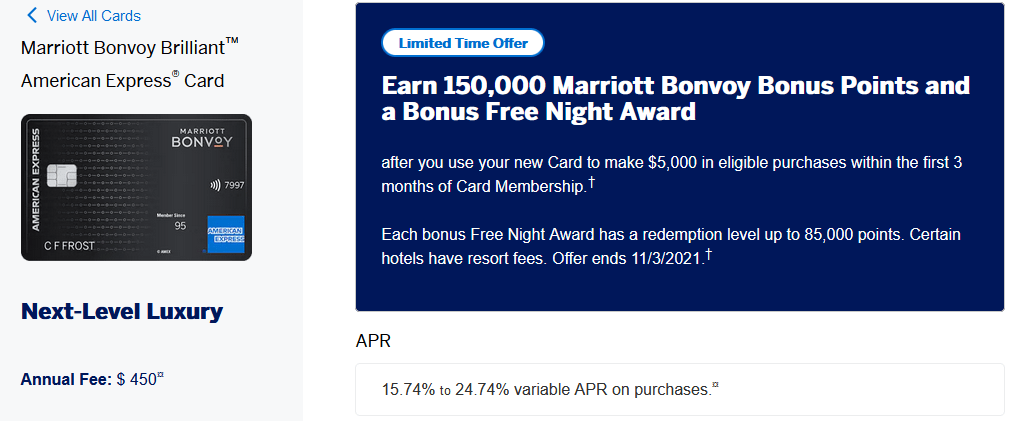 The Marriott Bonvoy Brilliant by American Express (review) is the highest tier of all Marriott cards available to the public and offers the highest amount of bonus out of all the Marriott Bonvoy cards.It includes standard premium travel benefits like Global Entry, Trip Insurance, and Priority Pass Select for airport lounge access across the globe.
The sign-up bonus offer is 150,000 Marriott Bonvoy points + Free Night Certificate worth up to 85,000 points by spending $5000 in the first 3 months.
Possibilities of what you can do with 150,000 Marriott points are:
2 free nights at Category 8 off-peak or Category 7 hotels at peak
3 free nights at Category 7 at off-peak
Beware that even though 85k points free night certificate looks very enticing, it expires after one year of issuance, meaning that the timing of this bonus may or may not work on your favor. Also, chances are that you'd have to tailor your future trips around this redemption to get the maximum value as Category 8 hotels are far in-between depending on the location. So, not all people who'd get this bonus will be able to get maximum value and would redeem them at a more modest hotel. Nonetheless, it's still a valuable thing to have because it covers majority of the award chart except for Category 8 at peak times.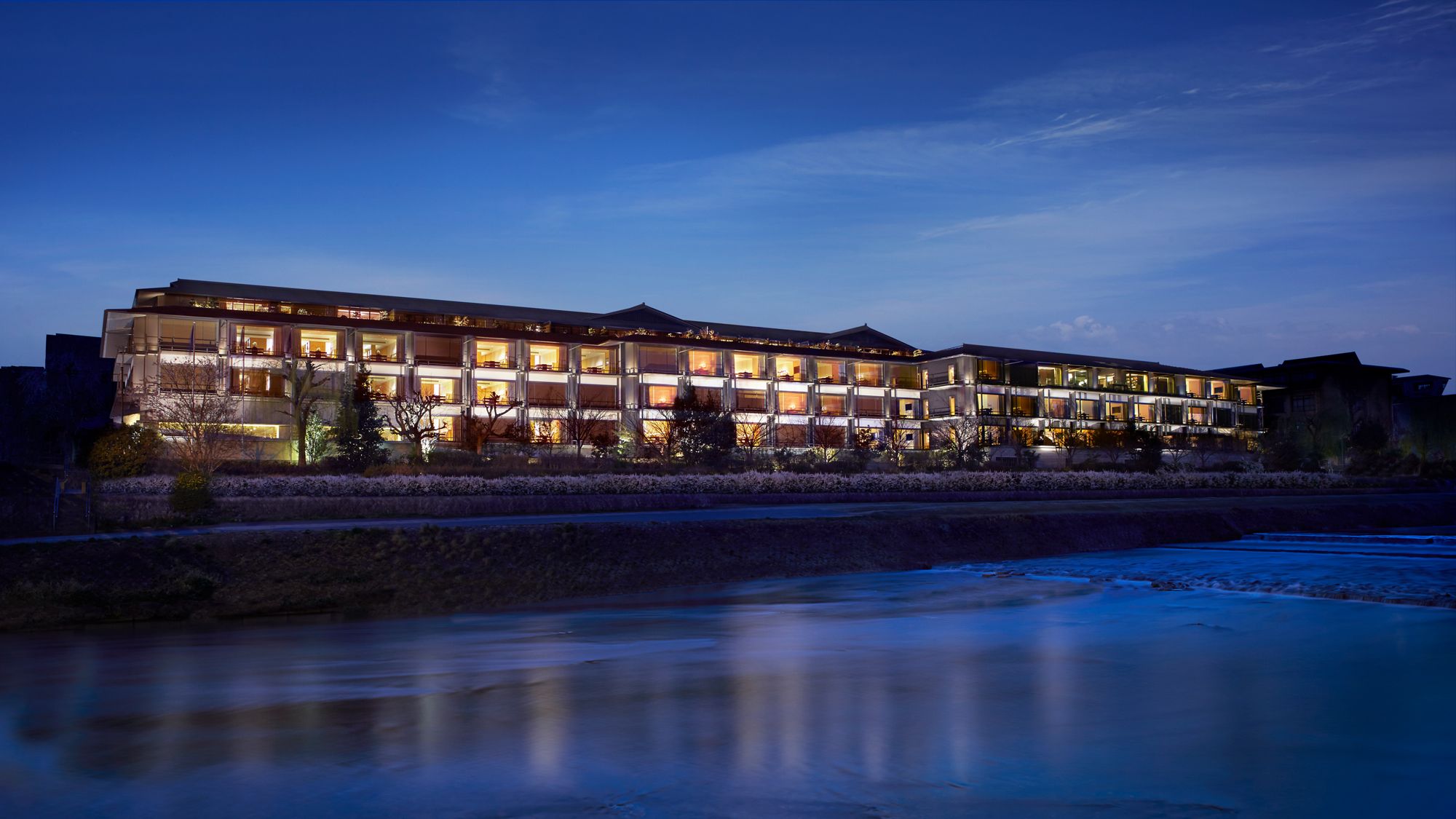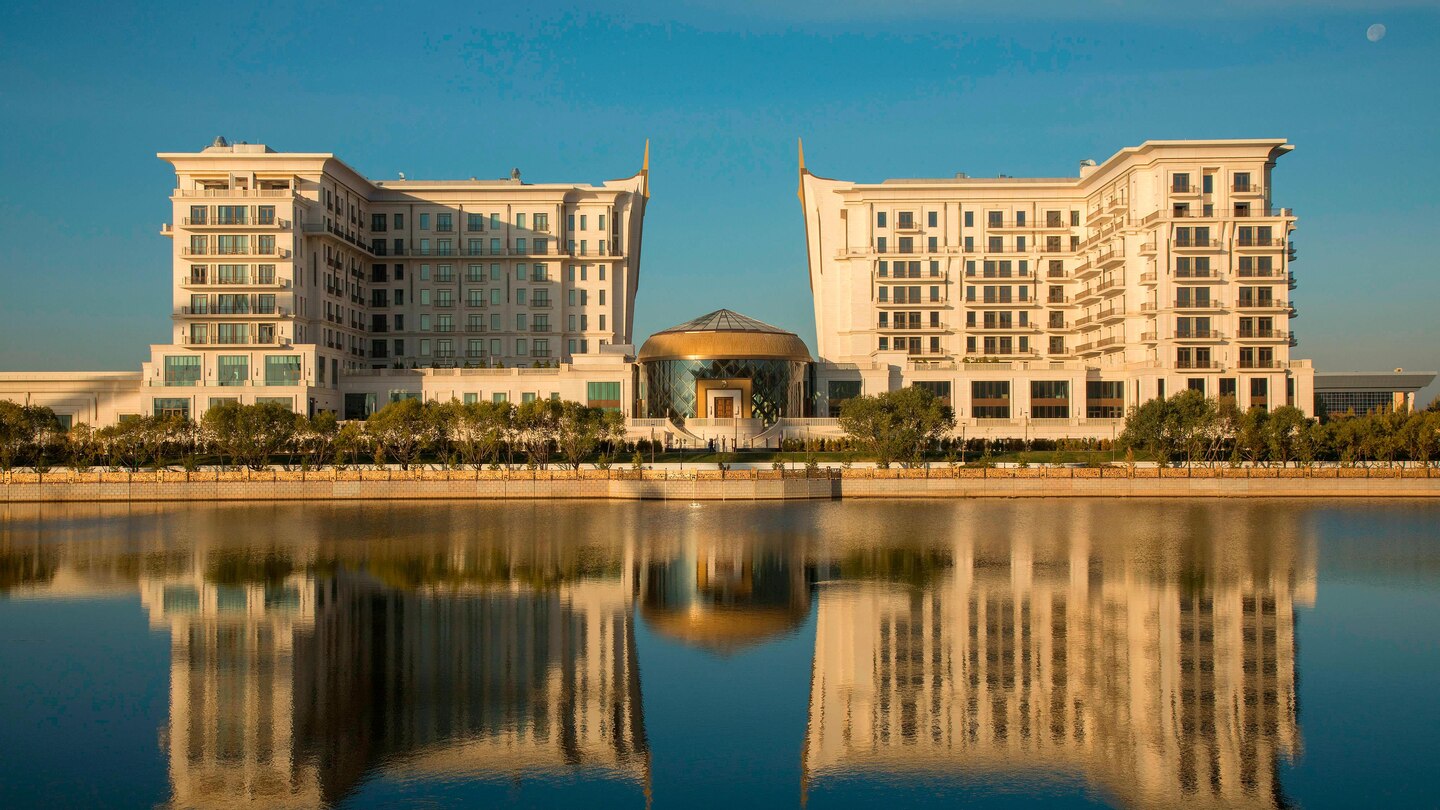 American Express Marriott Bonvoy Business

The Marriott Bonvoy Business Card is the one-and-only business credit card from the Marriott lineup. The strength of a business card is that it bypasses some restrictive rules like the "Chase 5/24" where Chase will automatically deny applicants with more than 5 credit cards opened in the past 24 months shown on their personal credit file.
The sign-up bonus offer is 125,000 Marriott Bonvoy points + 2 Free Night Certificates worth up to 50,000 points by spending $5,000 in 3 months. Although it appears to provide less value than the Brilliant's sign-up bonus, some people may even prefer this offer due to the two free night certificates instead of one.
The downside of 50k certificate is that it prevents redemption for Category 6 at peak times, which would force you to redeem to a Category 5 or lower, but those can potentially be covered with a 35k certificate that comes with Bonvoy cards with an annual fee. However, you can still get great value from these certificates if you prefer to stay at mid-range properties. Some luxurious hotels throughout the world do have lower category level due to the locations being under-visited.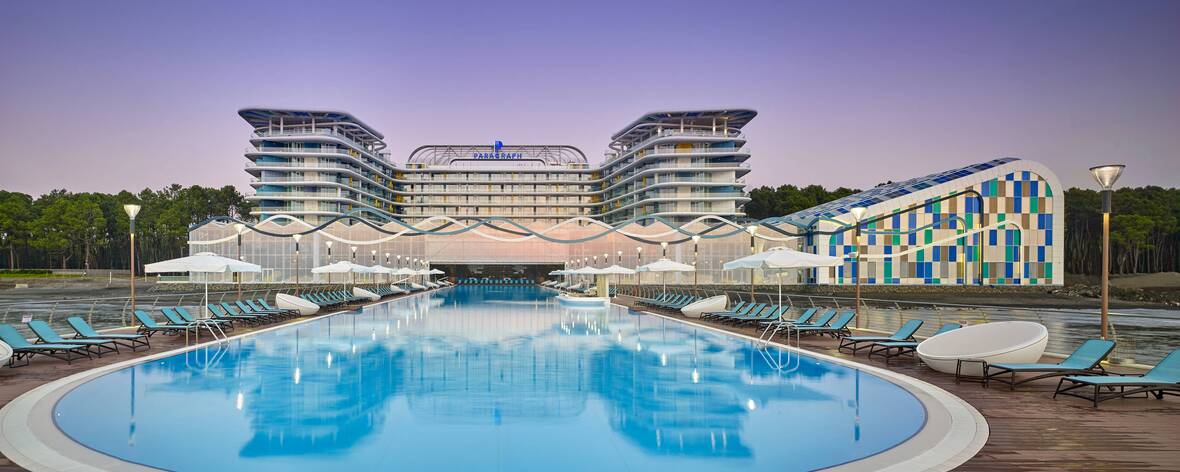 The Marriot Bonvoy Business Card is an interesting card in that it allows you to combine elite nights with a personal cards. As of now, all Marriott credit cards grant 15 elite nights. Stacking elite nights is not possible with other US personal cards, but now made possible with the sole Marriott business card, resulting in total of automatic 30 elite nights if you own a US personal and a US business Marriott credit card. This benefit alone makes the card worth keeping year over year if you care about fast-tracking to Platinum Elite status and above year-over-year while building up elite nights toward Lifetime Status.
Related read: How to Easily Get Approved for A Business Credit Card with No Business
Chase Marriott Bonvoy Boundless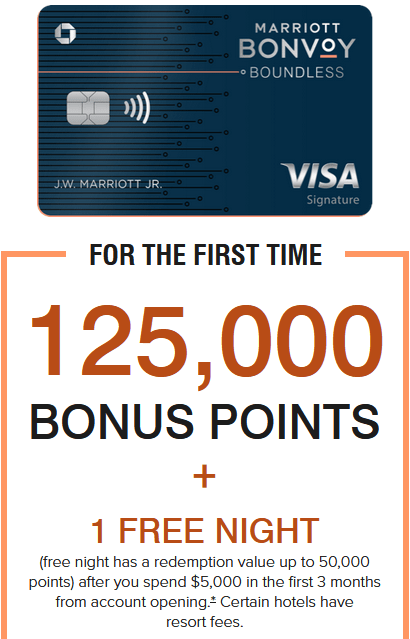 Marriott Bonvoy Boundless Card is the mid-range Marriott card from Chase. Its main benefit include the free night certificate worth up to 35,000 points and Visa as the payment processor, which has better acceptance at international settings than American Express.
Keep in mind that this card falls under the cards affected by Chase 5/24 rule, meaning you'll be denied if you've opened 5 or more cards in the past 24 months.
The sign-up bonus offer is 125,000 Marriott Bonvoy points + 1 Free Night Certificate worth up to 50,000 points by spending $5,000 in 3 months. It's similar to the Bonvoy Business except for one less certificate.
Chase Marriott Bonvoy Bold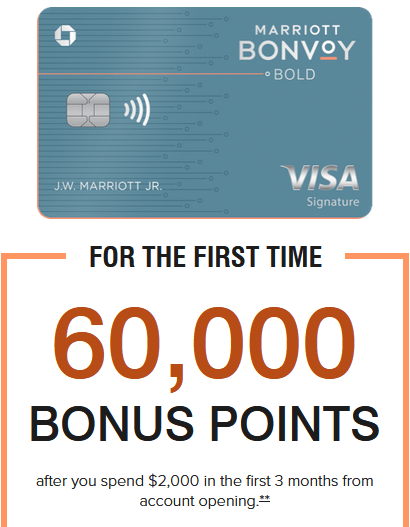 Marriott Bonvoy Bold is the entry-level Marriott card with no annual fee. This card doesn't offer a free night certificate in both the signup bonus and main card benefit. But, this card can be good to get for the sign-up bonus with the purpose to top-off points for a future redemption.Another strategy to do is to product switch to the Ritz-Carlton Rewards Card, a secret option of the Marriott card lineup that's not available publicly with benefits that are in similar league to the Brilliant, after the first year.
Keep in mind that this card also falls under the cards affected by Chase 5/24 rule like the Boundless.
Marriott Bonvoy "One-Lane" Rule
Although the sign-up bonuses on these cards are pretty juicy, we unfortunately cannot get them all. This is due to the so-called "Marriott One-Lane" Rule. The rule means that you're only eligible for the signup bonus on the cards of one issuer. Due to this rule, the max you could get from this limited offer is two signup bonuses.
For example, if you've never had a Marriott card before and decide to apply for the Bonvoy Brilliant by American Express, then you're not eligible for the signup bonuses for the Boundless and Bold by Chase, but you're eligible for the signup bonus for Bonvoy Business by American Express. The same rule applies vice versa if you choose to apply for a Chase Marriott card.
You're eligible for the other issuer's signup bonuses offer when you have not received a signup bonus from a Marriott card from the other issuer in the past 24 months and not have the card opened in the last 90 days.
Application Strategies
If you've never had a Marriott Bonvoy card before, I'll give out a few scenarios that would fit closest to you and give my thoughts on which path you should take.
Scenario #1: You're eligible for a business card
Obviously you'd choose the American Express side as the only available business card is the Amex Bonvoy Business. If you're at 4/24 with Chase, then signing up for this first instead of the Brilliant would not lock you out of Chase cards if you plan to sign up for a Chase card in between. Although, beware about Amex's 1/5 rule and 2/90 rule, meaning that you can only get approved for one card every five days and two credit cards in 90 days. Since the Brilliant and the Business are credit cards, the 2/90 rule applies, but they're not applied for charge cards like the Platinum, Gold, and Green Card.
The American Express side also works best if you already enjoy what Marriott has to offer and frequently stay with their properties as it provides the best way to fast track to Platinum Elite (the sweet spot for Marriott Bonvoy elite program) by stacking elite nights with a personal and business card.
Scenario #2: You're unsure about Marriott Bonvoy
If you're on the fence about staying at Marriott or wanting to go deeper into the loyalty program, then the Chase path is good to dip your toes in without putting too much money upfront if you're under 5/24. I would obviously go for the Boundless for the sign-up bonus offer. I would also say that the Bold is optional because although the 60,000 bonus is its all-time high, the sign-up bonus during normal times are 30,000 points. So, the difference isn't groundbreaking compared to other cards.
If you happen to like the Marriott Bonvoy properties and their program, then the Boundless offers a product switch to The Ritz-Carlton Rewards card after the first year, and then you can apply for the Bold, get the bonus, then product switch to the Boundless a year later to get two free night certificates every year!
If you end up not liking Marriott and never want to stay at their properties again, then the Boundless can be closed after a year or product switched to the no-annual fee Bold.
Conclusion
The Marriott Bonvoy cards are currently offering amazing bonuses that will last until the upcoming November of 2021. If you can snag at least one of them, you can unlock some memorable experiences for cheap! There has not been any better time to apply for them until now!