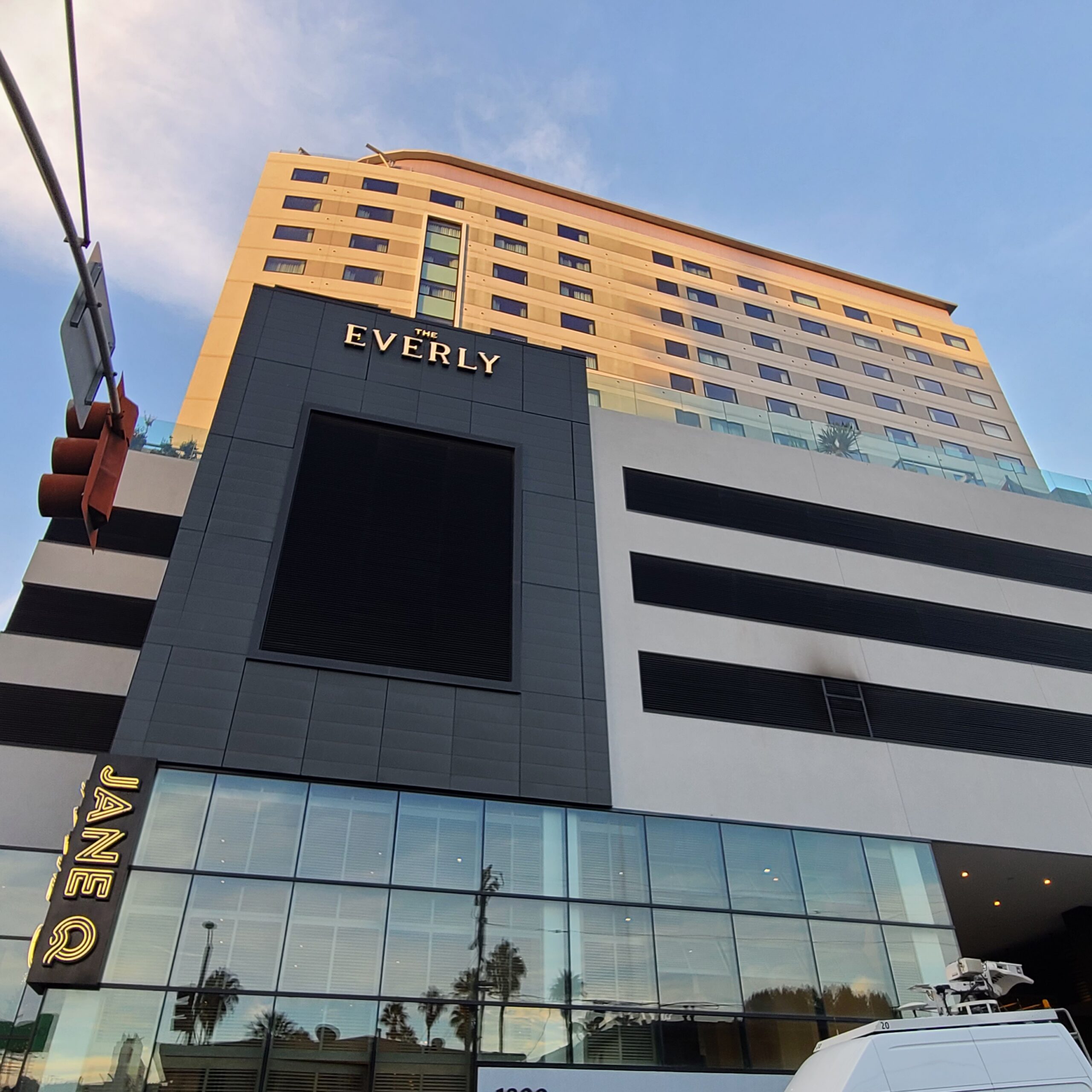 Advertiser disclosure: This post may include affiliate links (including sidebar banners) in which this site may receive compensation if a purchase is successfully made (at no extra cost to you) after being redirected from here. Thank you for your support!
Review: Kimpton Everly Hotel (2022) [Los Angeles]
I headed down to Los Angeles as my dad wanted to go there for his birthday on the weekend after Thanksgiving. We decided to bring along our dog as well, so we needed to find a pet-friendly hotel. After looking around, we decided with the Kimpton Everly Hotel. Kimpton is a part of the IHG One Rewards, and since I took advantage of a "Straight to Diamond" promotion that happened a few months ago, I figured it would be a great time to test out IHG Diamond status and experience a Kimpton property for the first time.
Kimpton Everly Hotel- Booking
We booked a 2 Queen Essential City View with the Ambassador Weekend coupon that I got after buying the InterContinental Ambassador status. The coupon makes it so you get the second night free on cash stays. Normally, the coupon only works at InterContinental properties, but it can be used for Kimpton and Regent properties until the end of 2022. The name suggests that the booking must be made on weekends.
I became an Ambassador during an offer of receiving 20,000 IHG points after spending 2 nights at an InterContinental/Kimpton/Regent. The Ambassador Weekend rate is a qualifying rate for this offer! It's a great opportunity to farm some IHG points for future stays.
The total cost comes down to ~$417 for 2 nights. Keep in mind that there's also a $10 Hotel Worker Protection Surcharge which seems to be a new trend among LA hotels.
For IHG points redemption, you can expect to pay around 30-40k points range a night from the dynamic pricing model. Unfortunately, you can't redeem points if you're booking a room with 3+ guests like my case through the site, but you can try contacting the hotel to redeem it for a 2 Queen room (max of 4 guests).
If you are interested in hotels under the IHG One Rewards program, please consider booking through this link. By completing your booking through here, you'll help support the site at no extra cost to you! By being an IHG One Rewards member, you'll get the best rates for IHG hotels, earn points for future IHG hotel stays, build elite status & use elite status benefits, and more!

Kimpton Everly Hotel- Location
The hotel is located just a block away from the Hollywood Walk of Fame. Getting to the hotel is also easy thanks to it being next to the US-101 highway, which we pass through from Interstate-5 highway. But then, car is still the most convenient vehicle if you want to travel to downtown Los Angeles or Anaheim as public transportation is abysmal in the city and despite the terrible traffic that LA has during rush hour times.
Kimpton Everly Hotel- Check-in
After driving around 8 hours from the Bay Area, we arrived to the hotel at 2 pm. A valet proceeded to secure our car to begin the check-in. It was quite smooth and the front desk went over IHG Diamond benefits. I was granted a 2pm checkout and somewhat of an early check-in. I also chose the free breakfast for two as the Welcome Amenity that's available as an IHG Diamond member. They also seemed to ignore the Extra Person Fee that was shown on IHG's booking, and saved us over $50!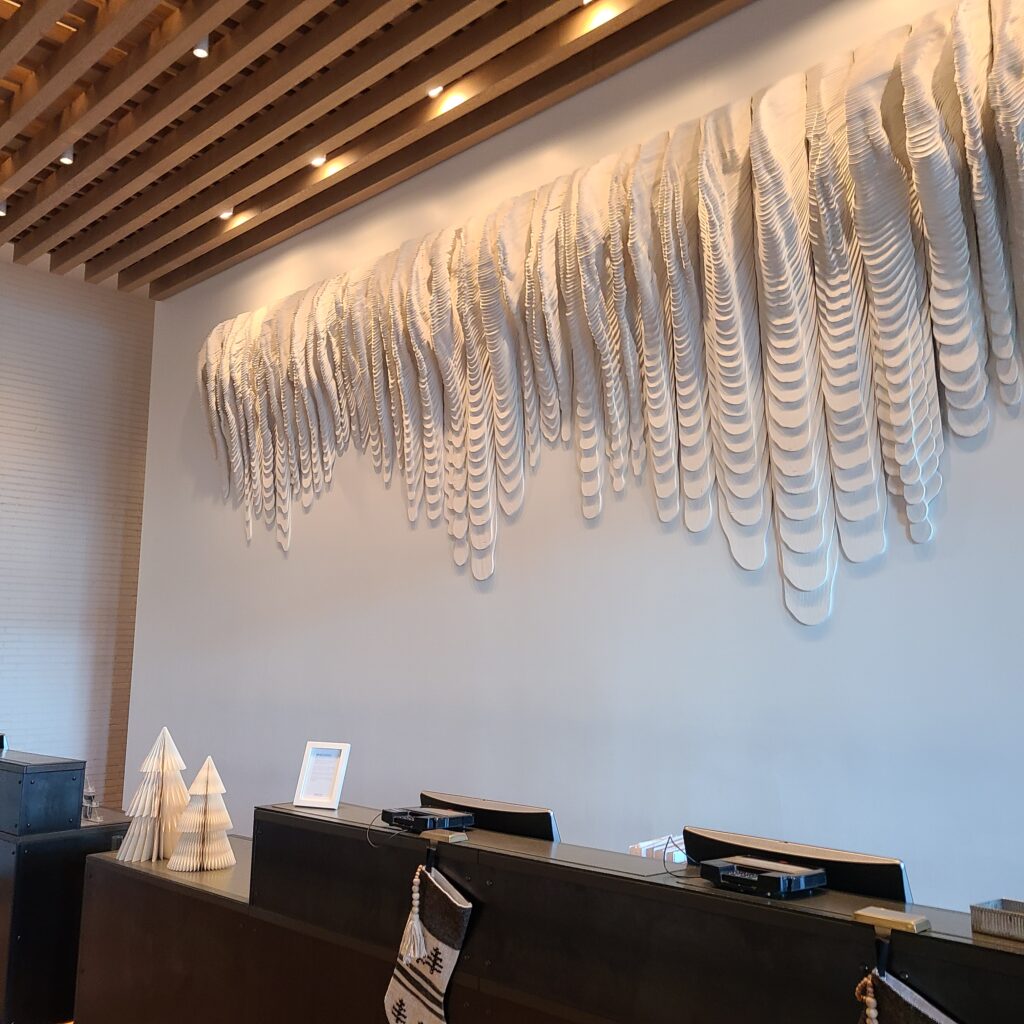 Kimpton properties have a "social password" where you mention a phrase and get special rewards on top of your elite benefits. The current password is "The Snuggle is Real" (valid until Feb. 2023). I was then offered the choice between a special beverage or compensated parking. Without thinking, I chose the compensated parking since this hotel charges $49/night for valet parking before taxes. The secret password easily saved us more than $100!
I was not offered an upgrade, nor did I ask for one either since a suite only has 1 King Bed, and I thought that it'd be best to be in a 2 Queen room instead for 3 adults in a room. An "upgrade" for the 2 Queen City View would be the Hollywood Sign View, but that'd be next to the highway, which I might find the potential traffic noise bothersome.
Kimpton Everly Hotel- The Room
We were assigned to the 15th floor, the second highest floor of the hotel. We were delighted with a chocolate cake with wafer stick and bottle of bubbly wine as the in-room welcome gifts.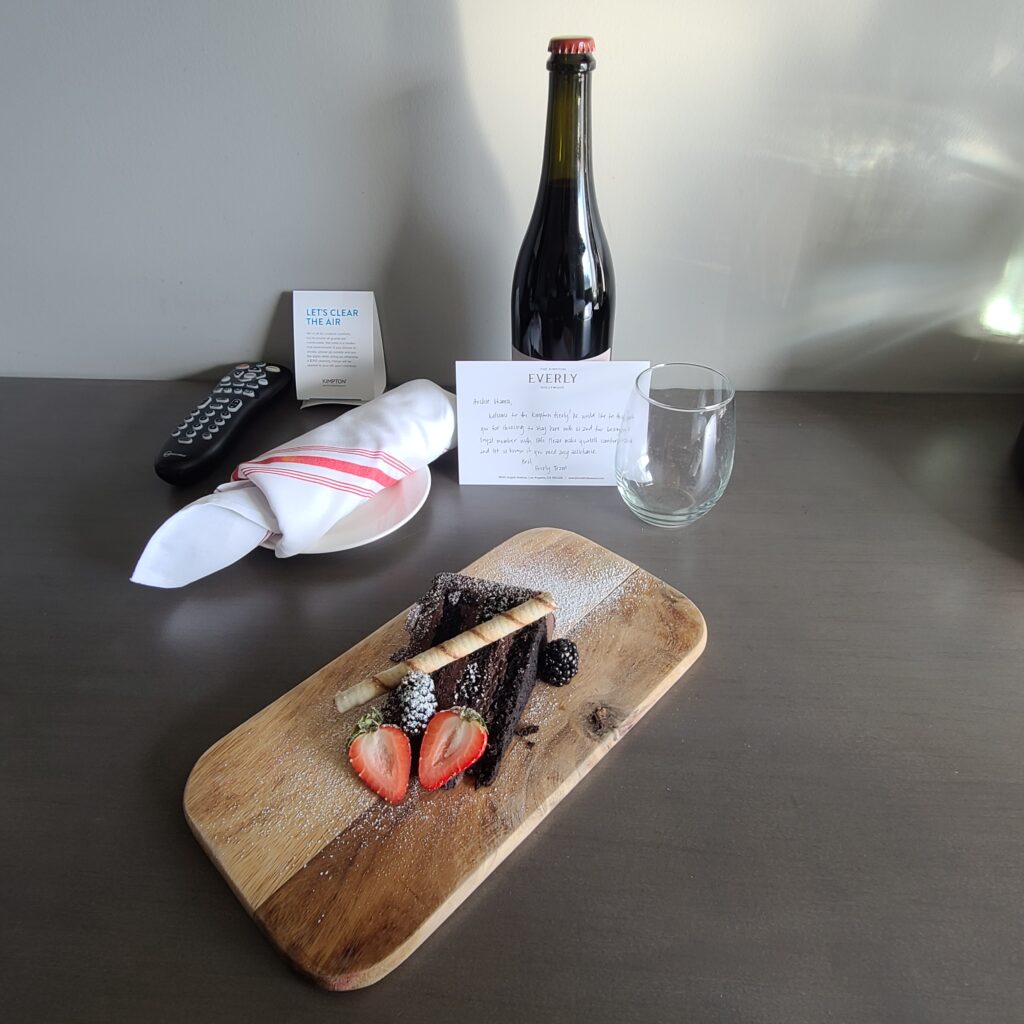 Water is unfortunately not complimentary ($8 a bottle), and there's no in-room coffeemaker or water boiler. But, there's complimentary unlimited coffee and tea in the hotel's restaurant Jane Q at the lobby every 7-10am.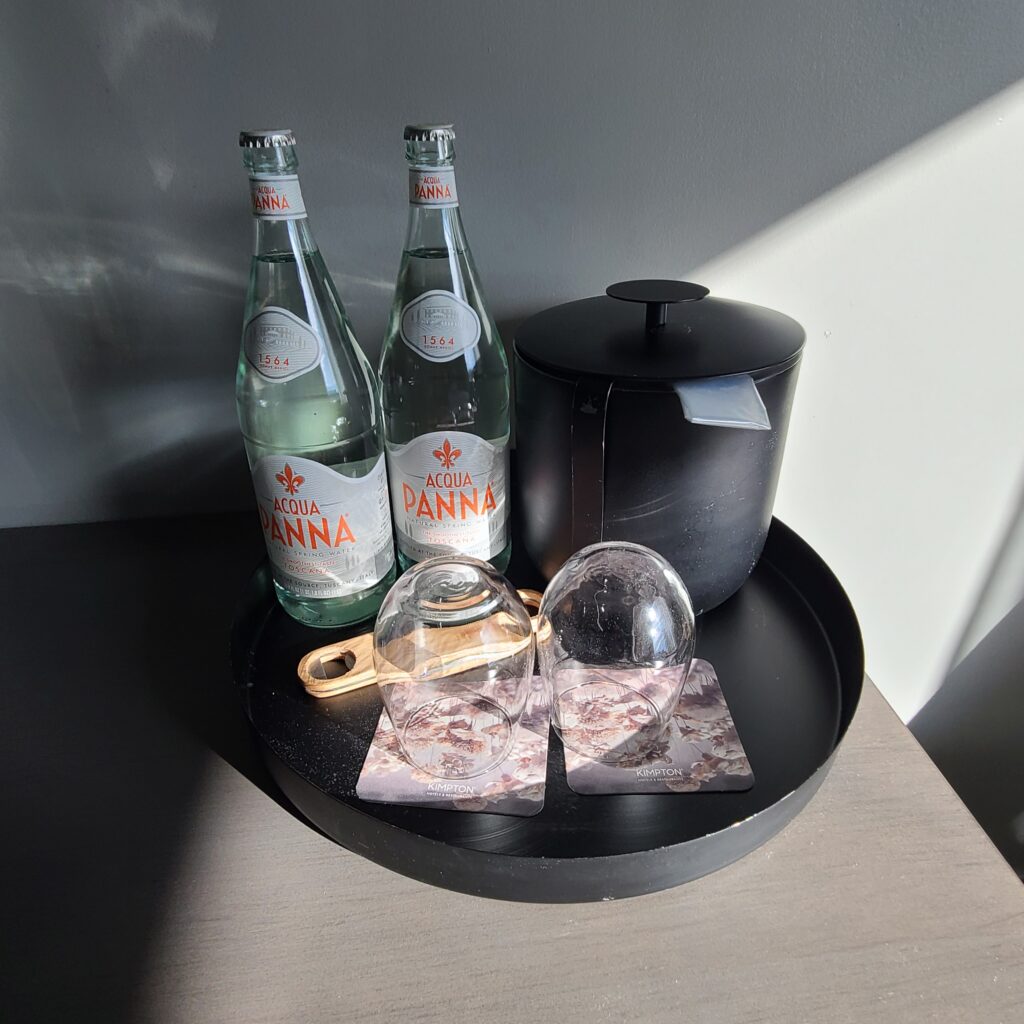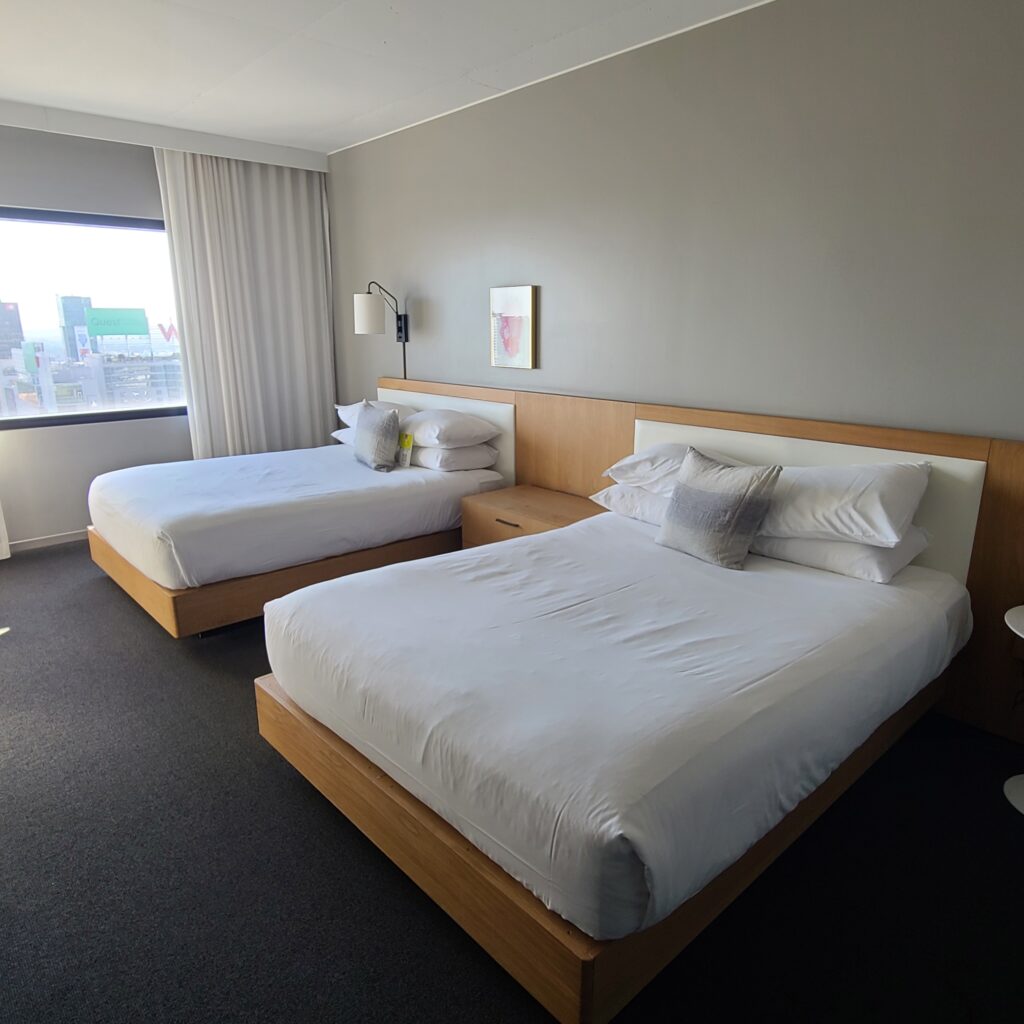 The beds are quite comfy, but the feather pillow was quite irritating with feather calamus sticking out of the pillow. But, the city view is quite nice to boot.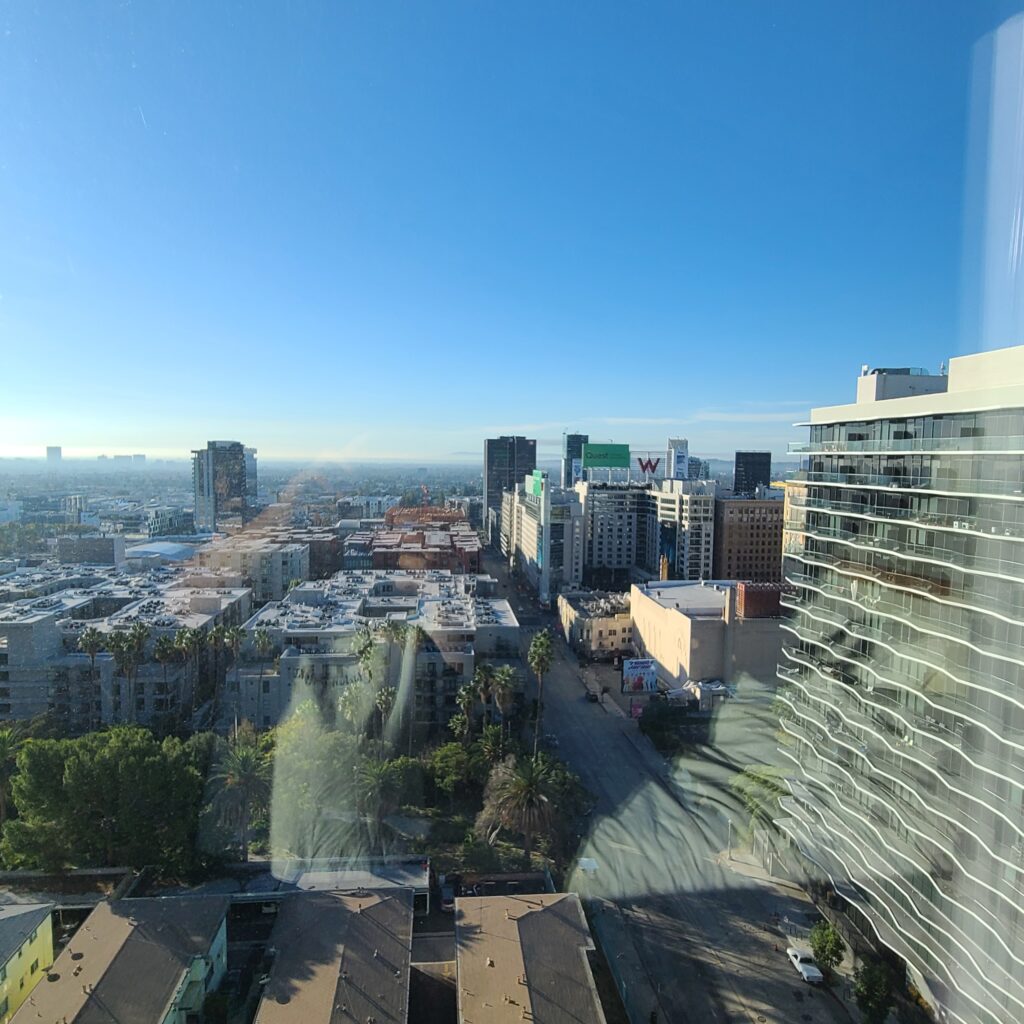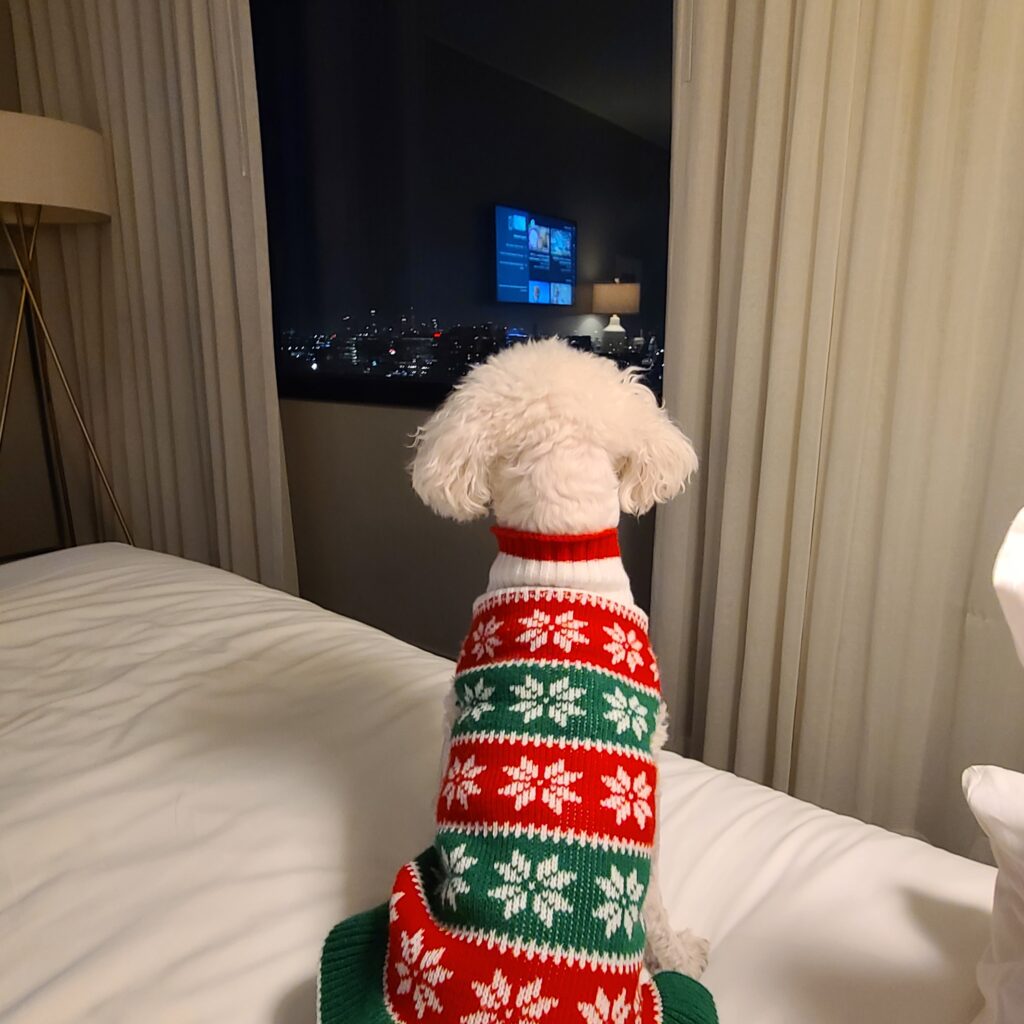 My dog seemed to enjoy the bed. Pet-free rooms can be requested in advance if needed if you're allergic to pets. But, there are tons of other hotels in LA that don't allow pets for those who really want to play it safe and avoid pets at all cost.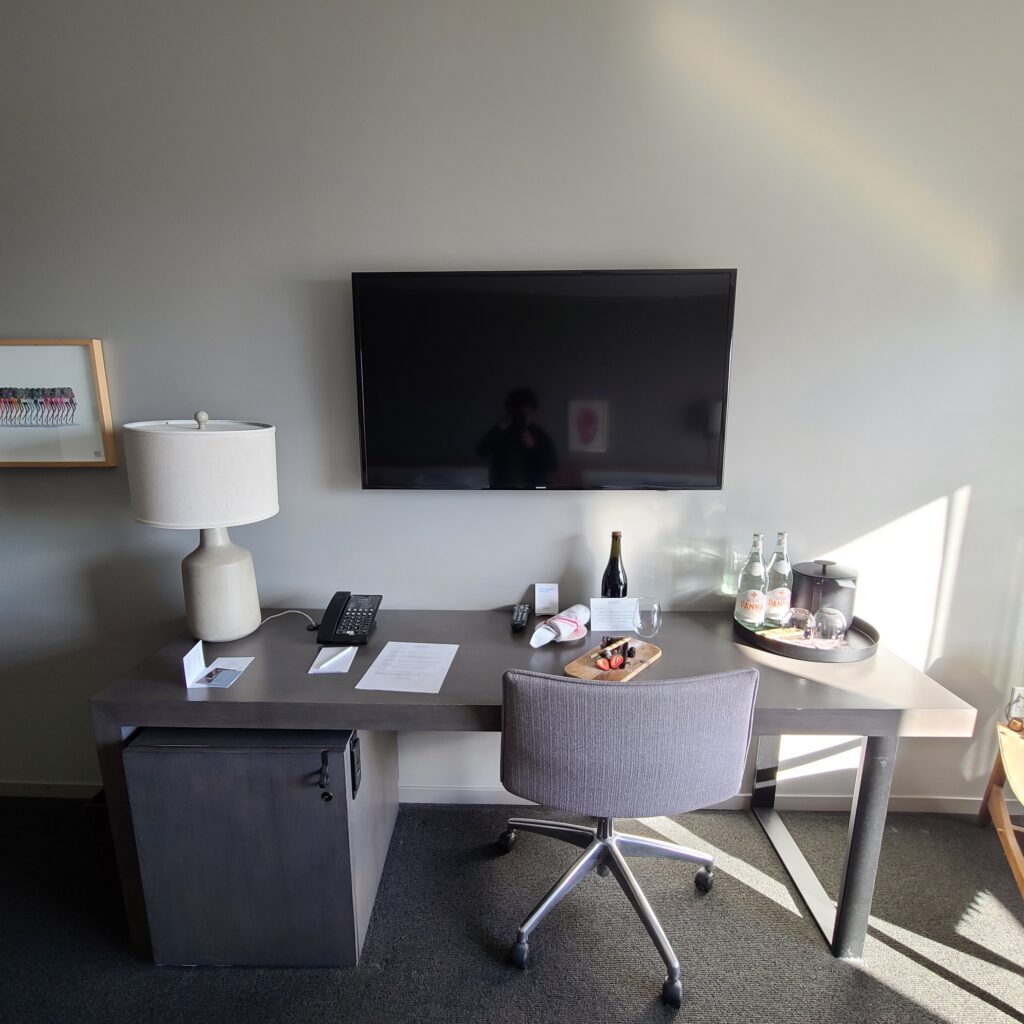 The desk is quite spacious. Power adapter is by the mini fridge. You can stream your own content as the TV is Chromecast-enabled. There's no minibar in the room.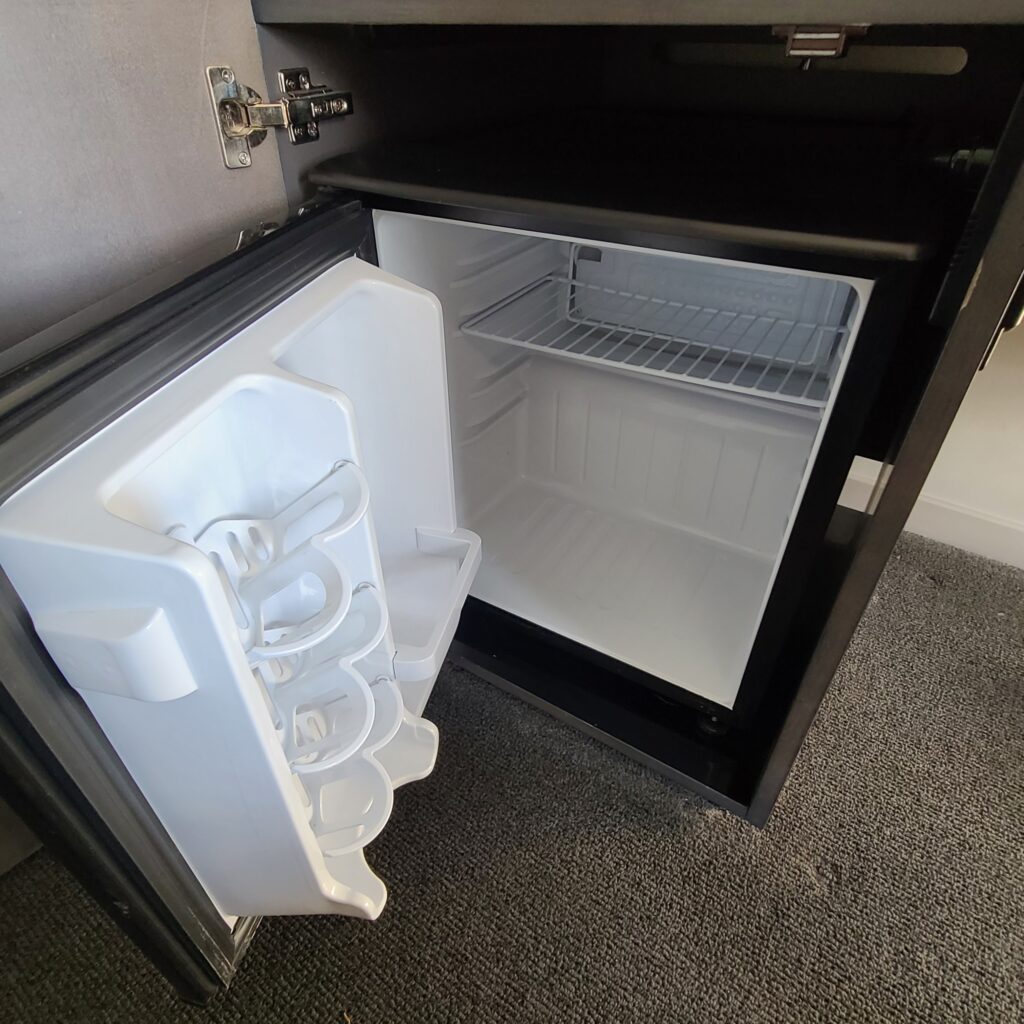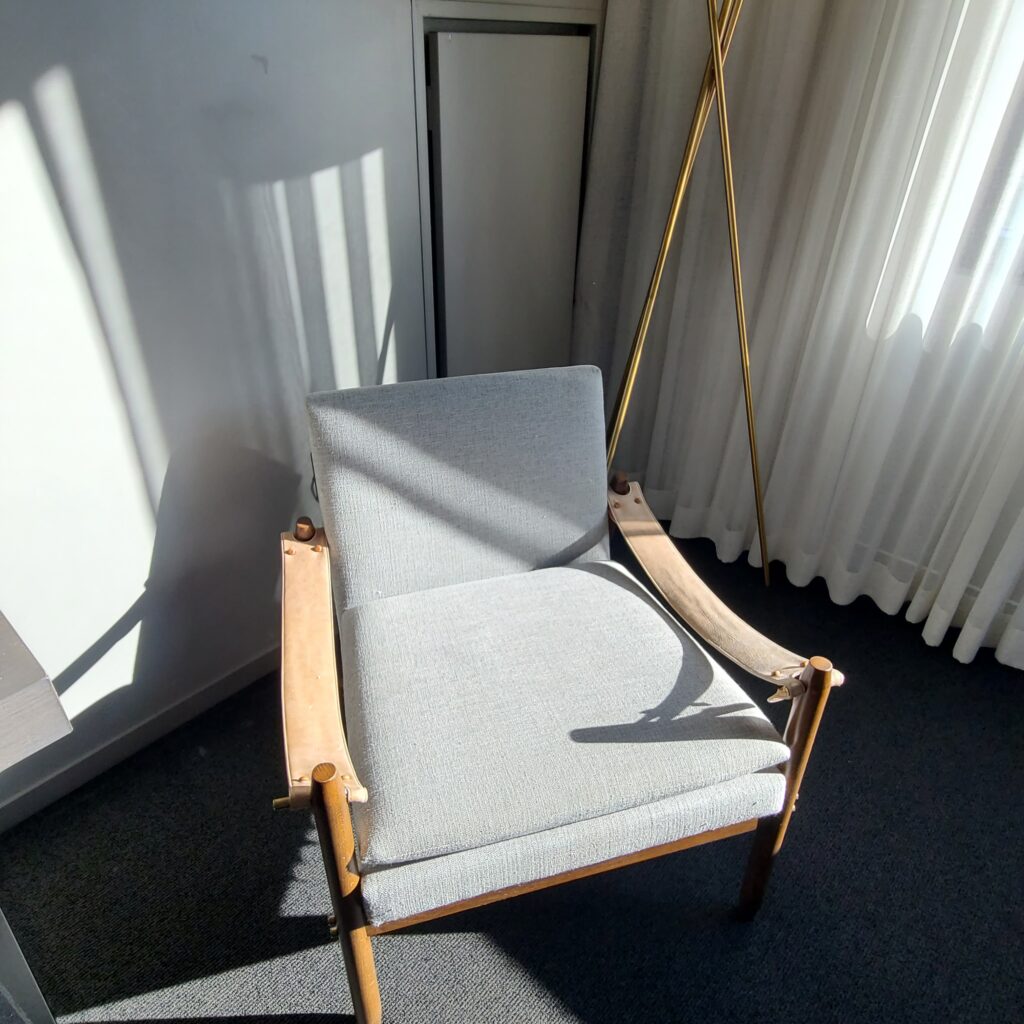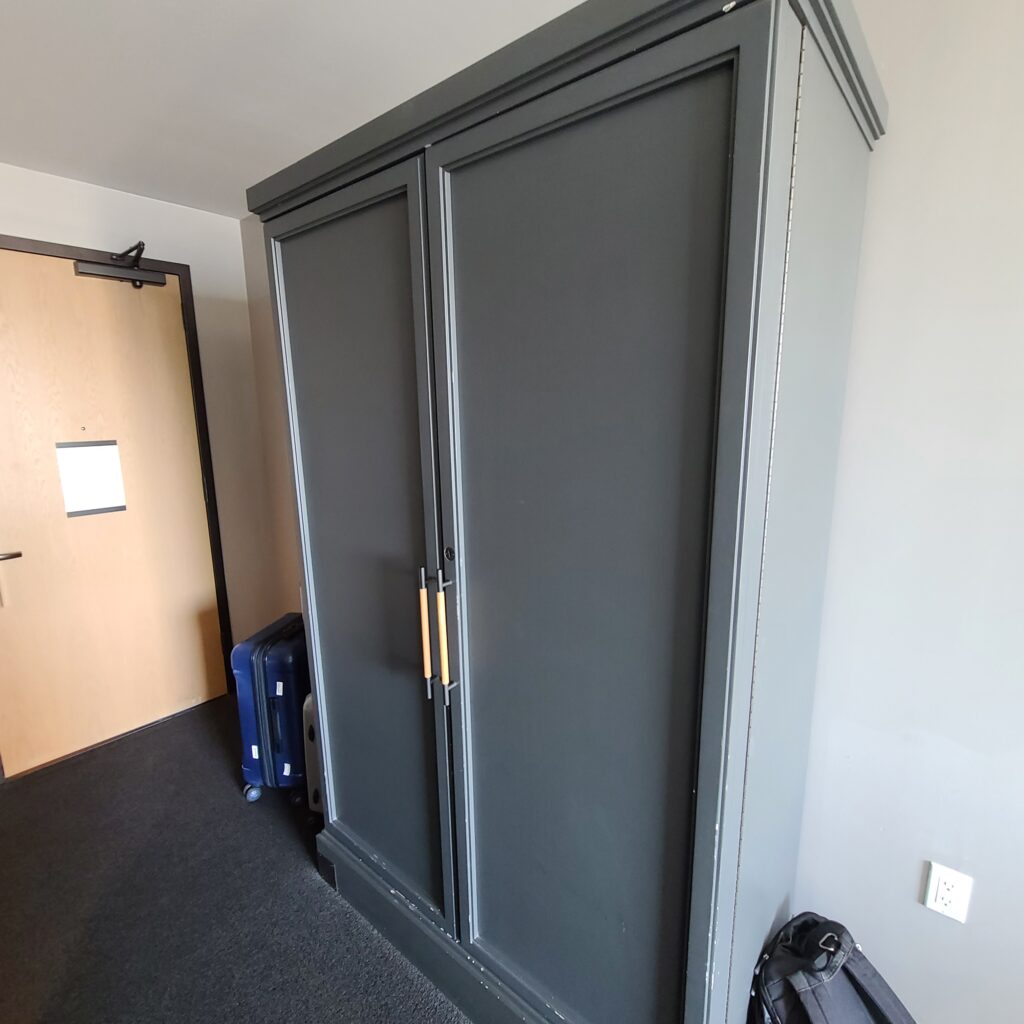 The closet in front of the door has a yoga mat, ironing tools, and a safe.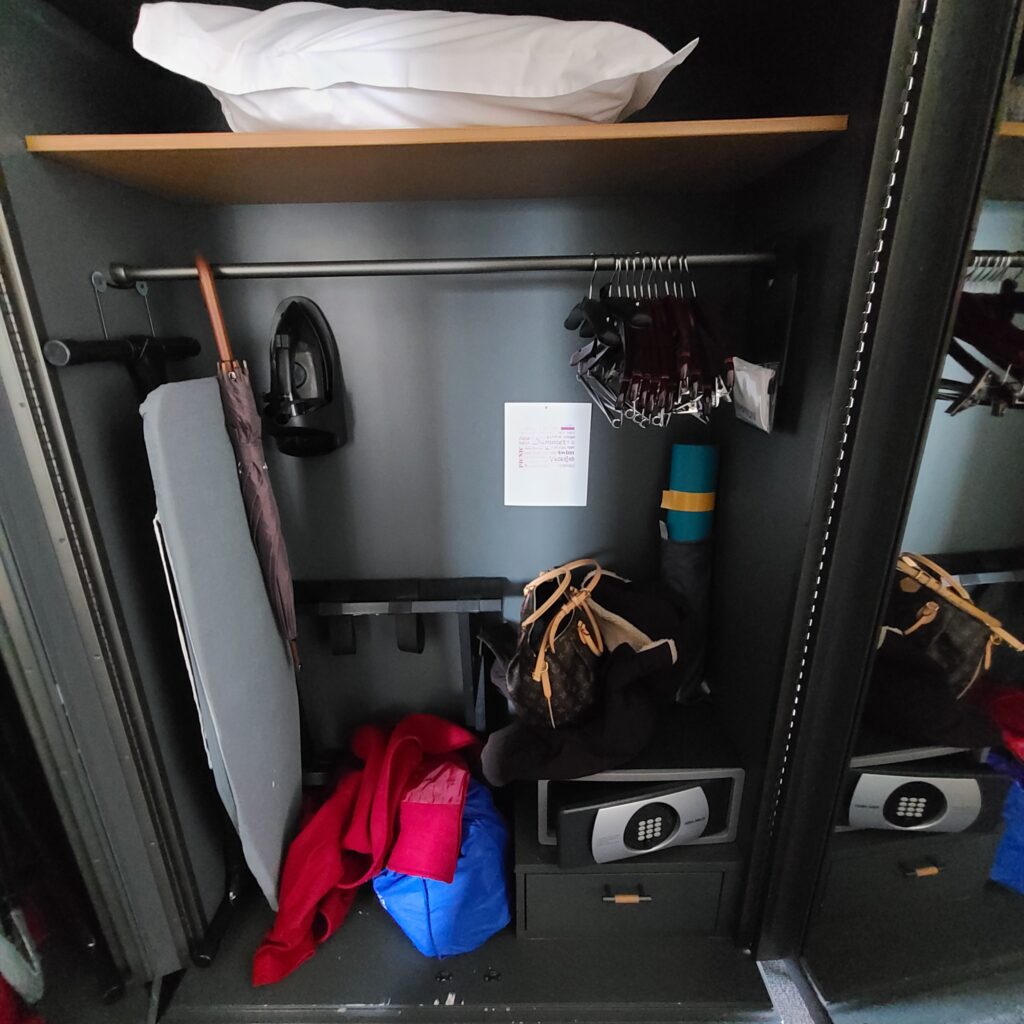 Unfortunately, the room feature ends with a cracked drywall on the ceiling that's unacceptable fand just look very unsettling, especially for the rate the hotel charges.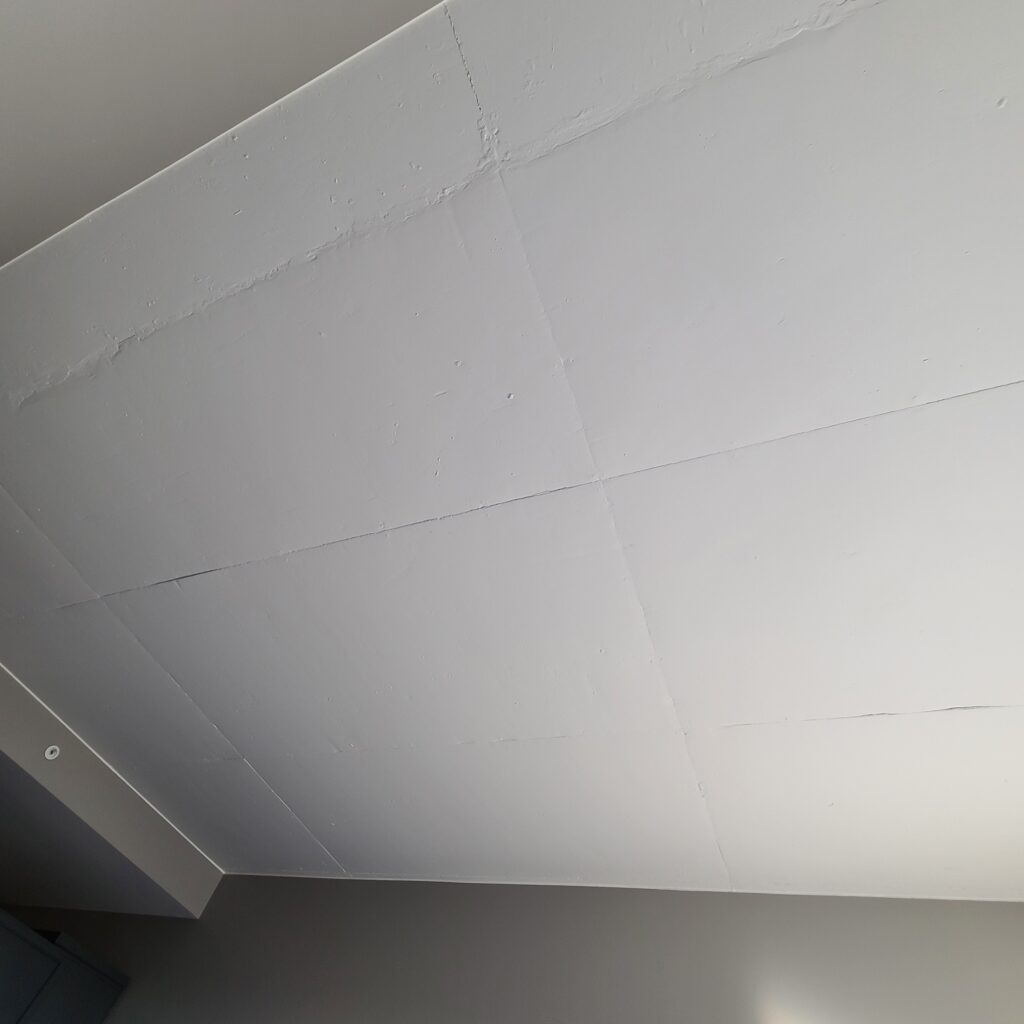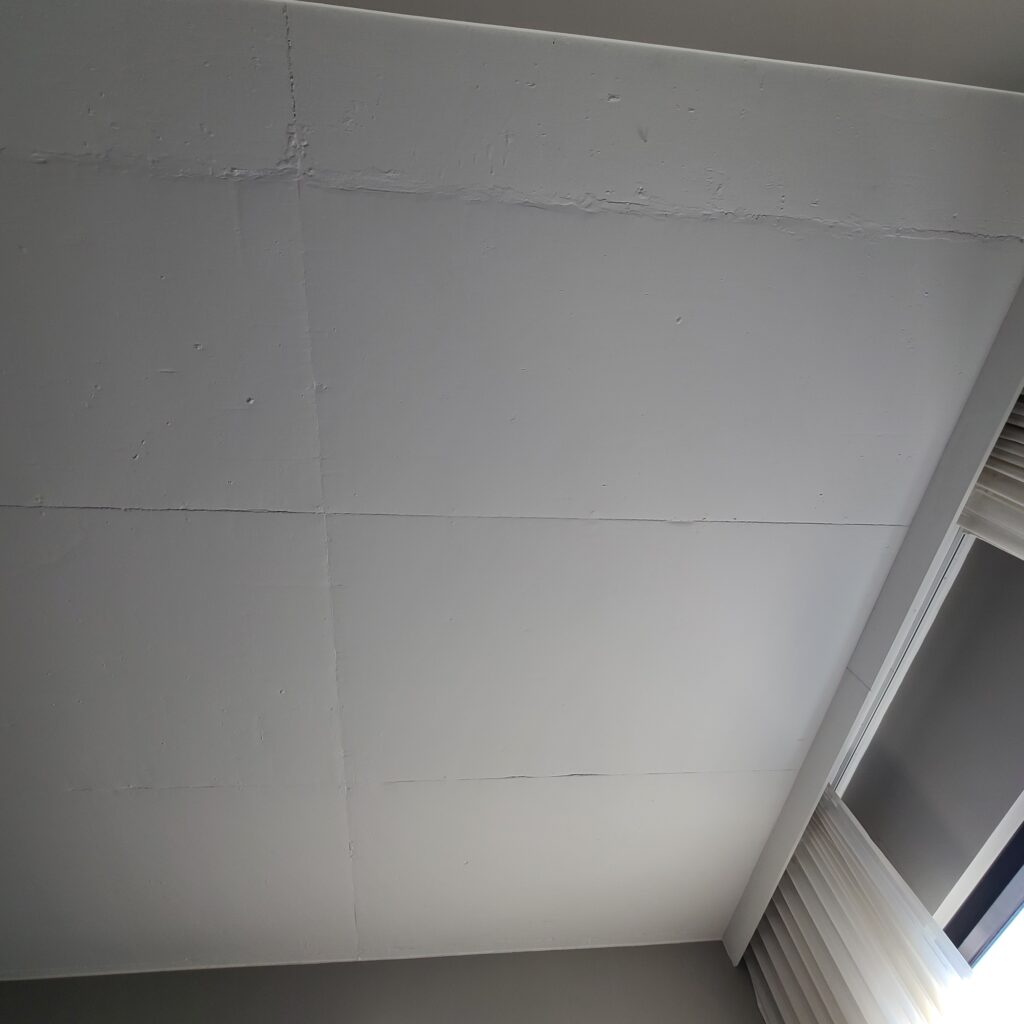 Kimpton Everly Hotel Bathroom
The bathroom is behind a frosted glass barn door that you can't lock/unlock.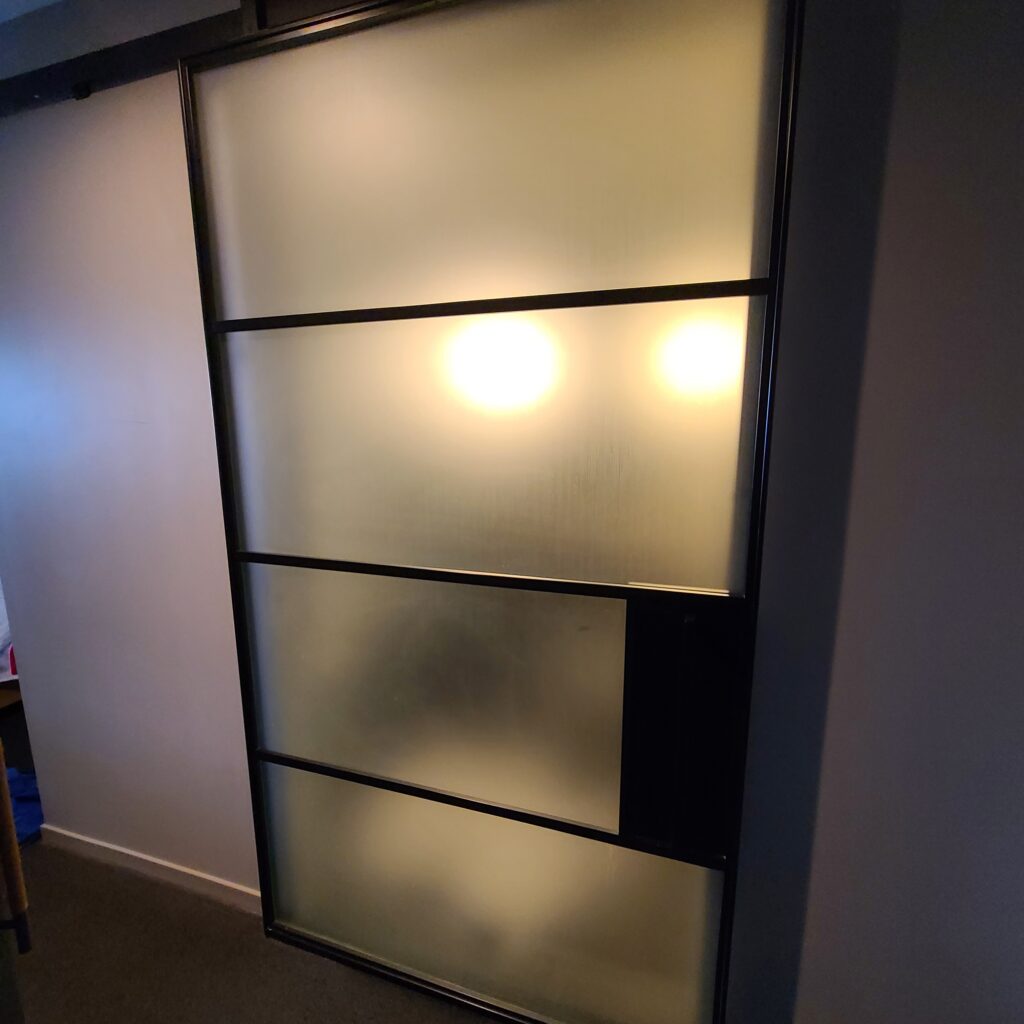 Not pictured, but a hairdryer is included under the sink.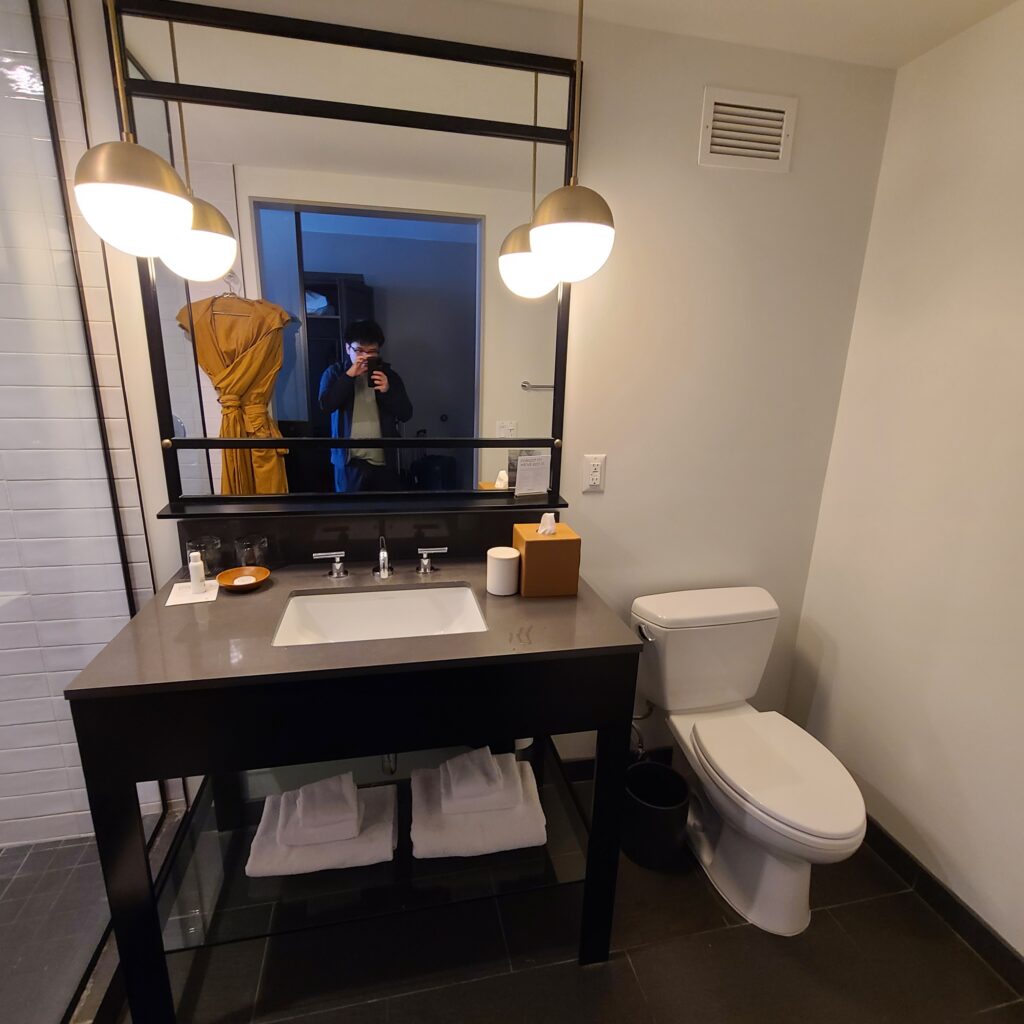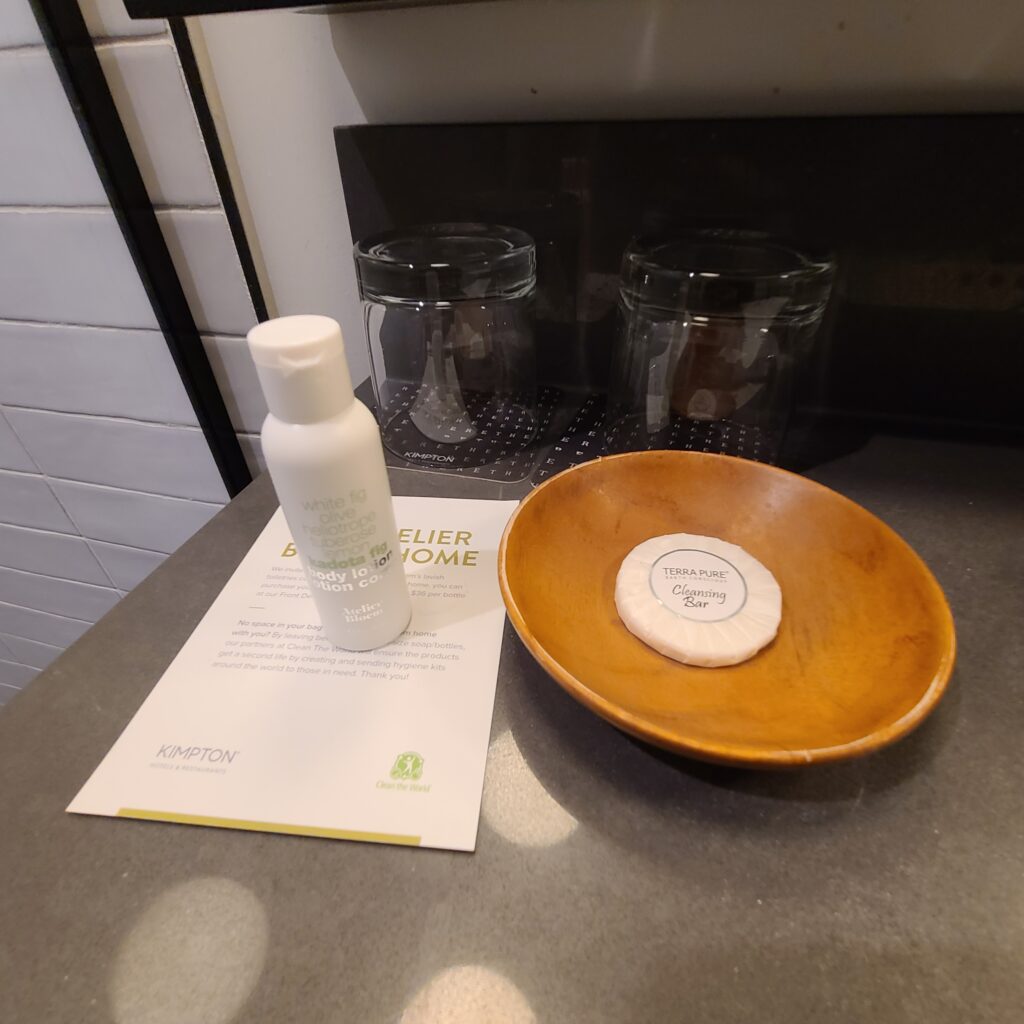 The shower pressure is quite strong and can be somewhat customizable by the handle by the shower head.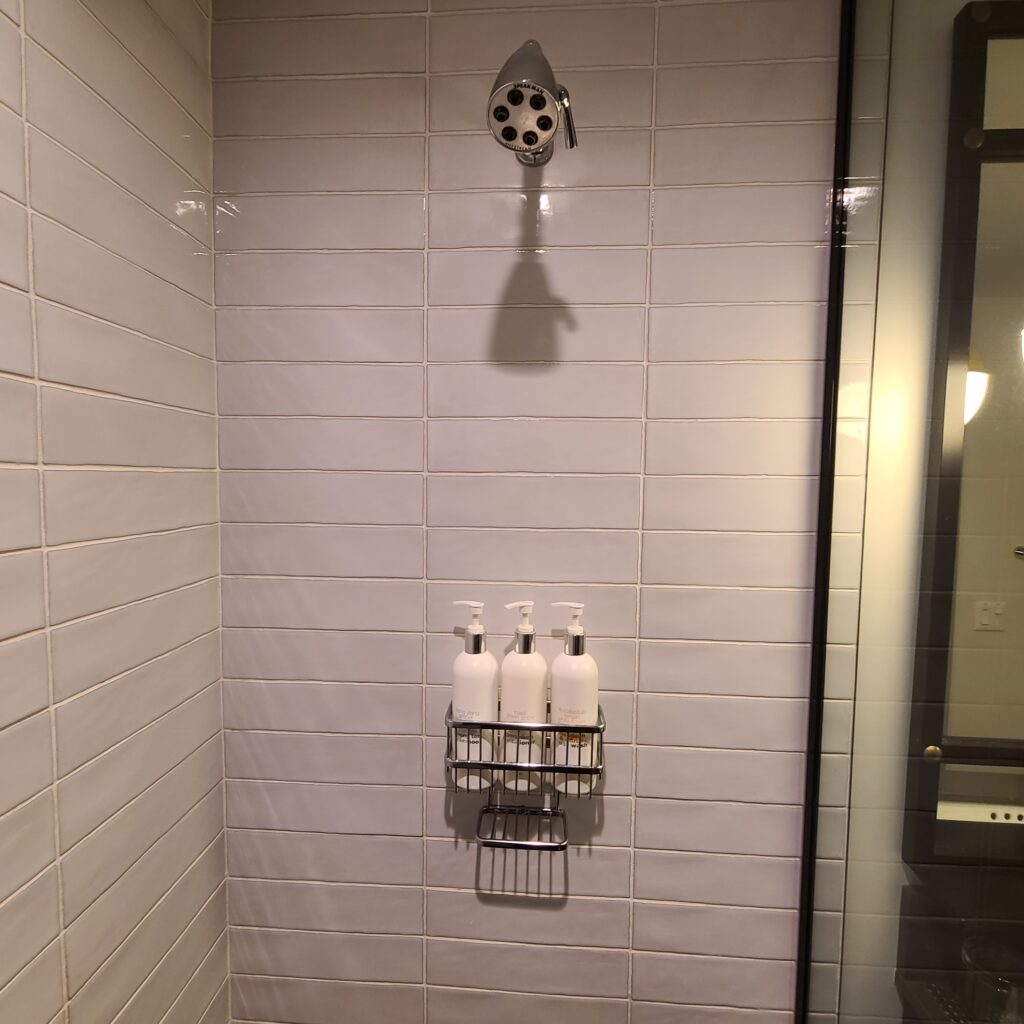 The bath amenities are made by Atelier Bloem, a Kimpton brand standard. They're quite decent.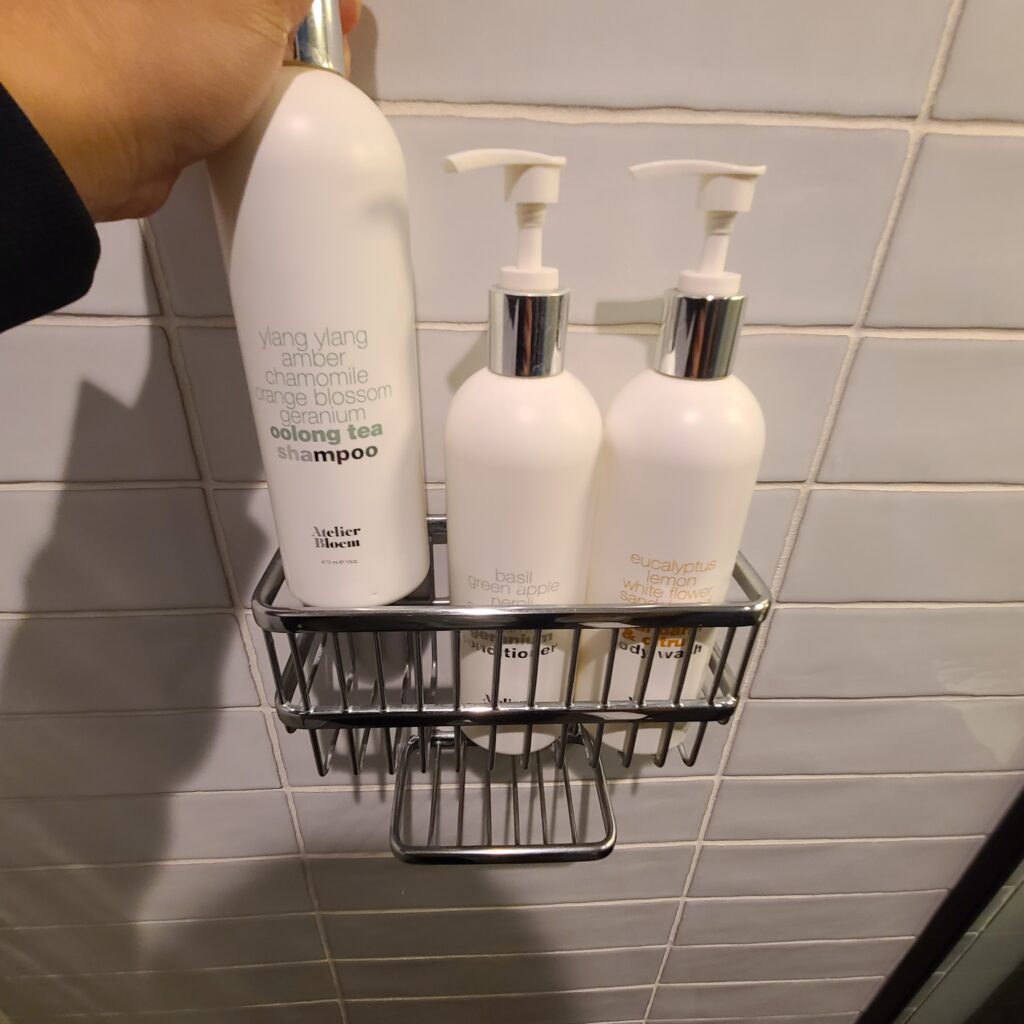 Hooded bathrobes are provided. But, I don't understand the reasoning behind the half-glass cover on the shower box. Using the shower always end up leaving a mess of puddles.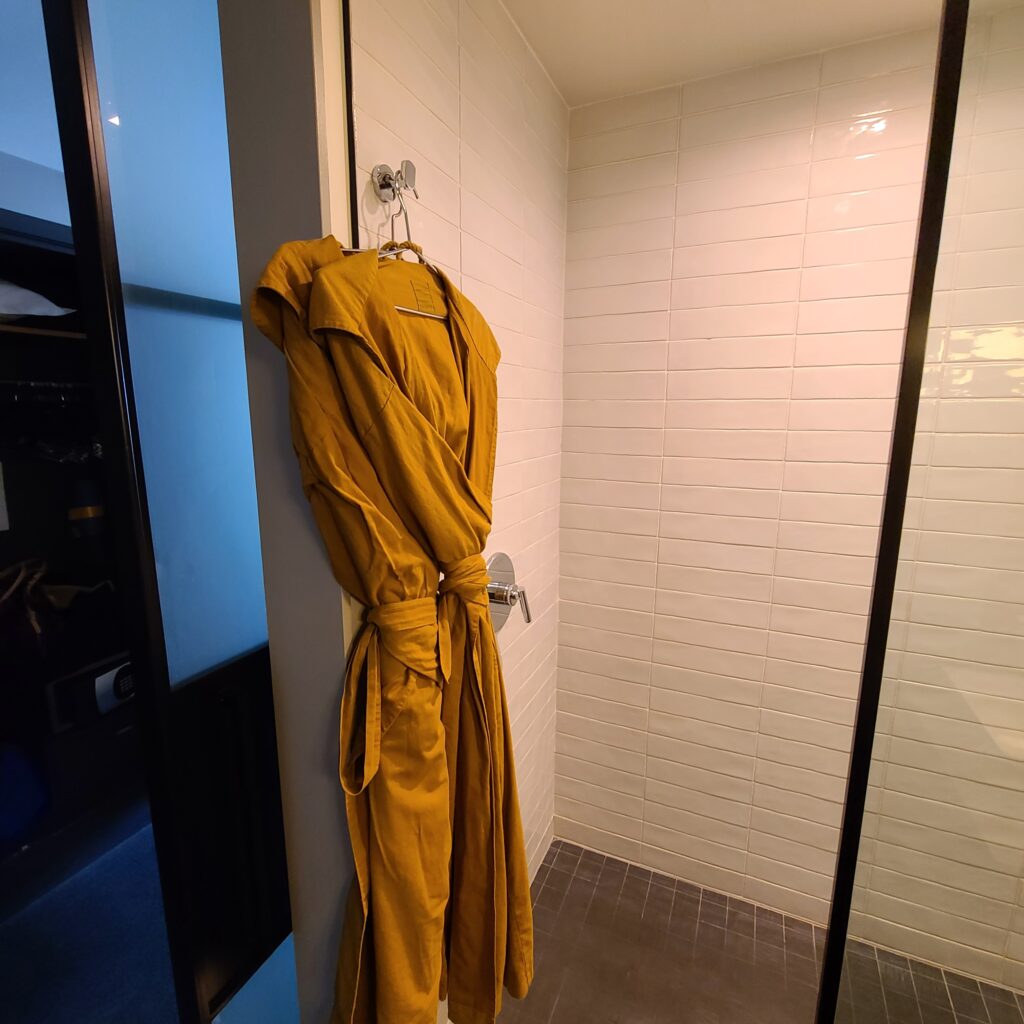 Kimpton Everly Hotel- Breakfast
Breakfast is at the Jane Q restaurant down at the lobby.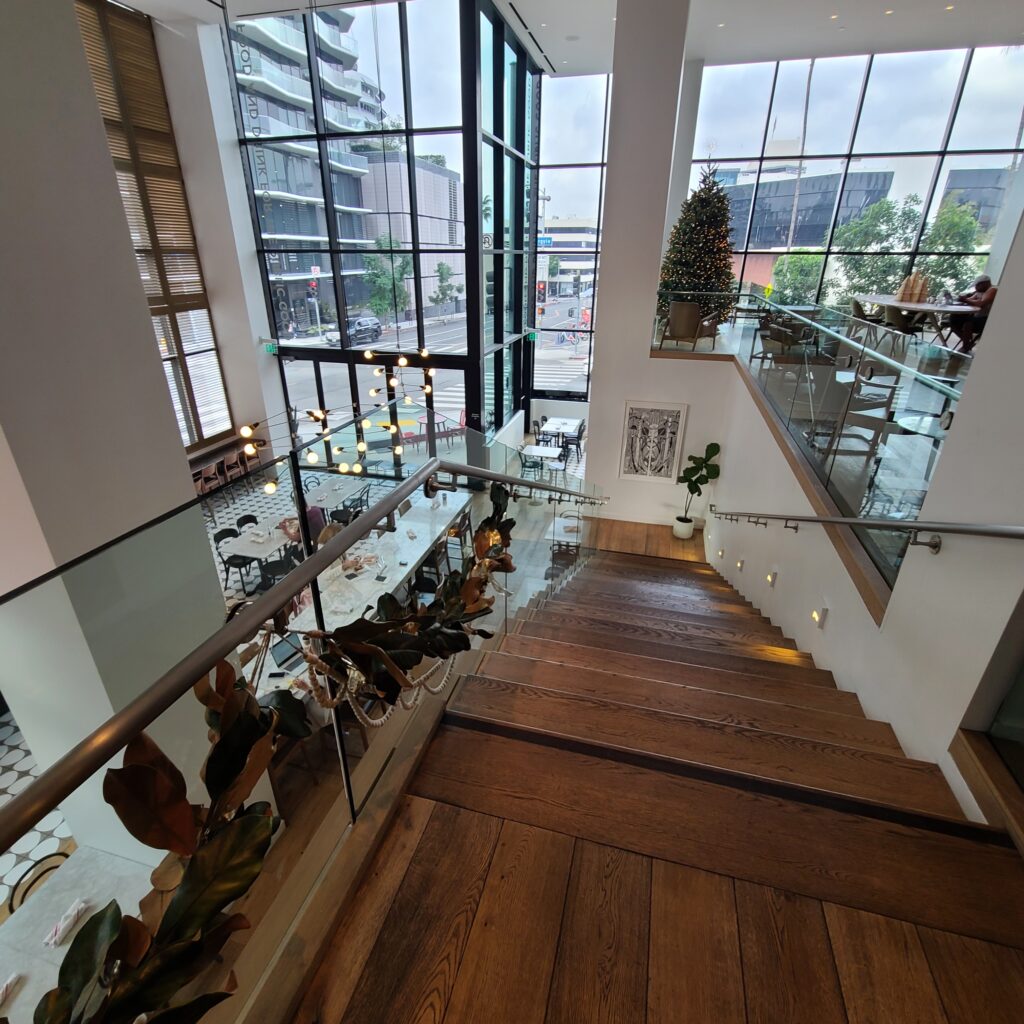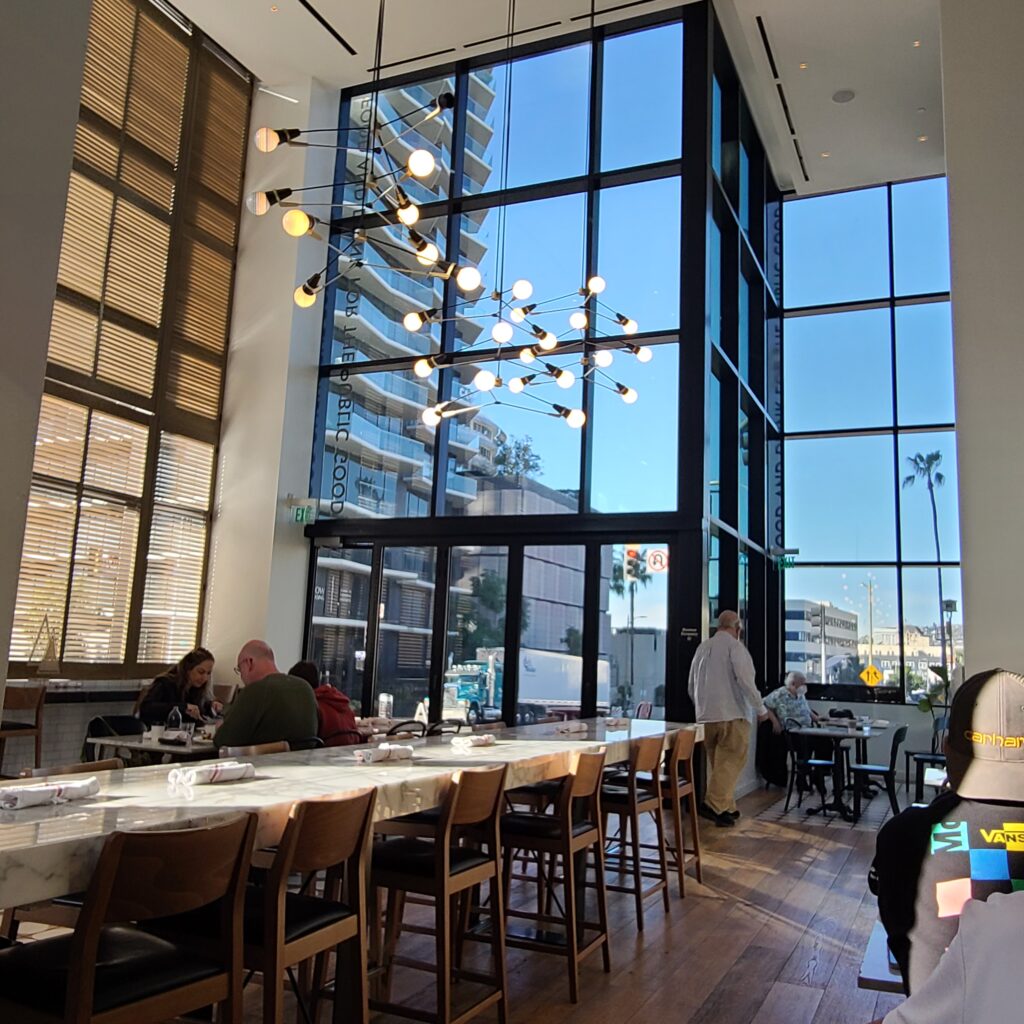 The IHG Diamond breakfast voucher is good for 2 people. It can only be used for:
One main course
Selected drinks
The most disappointing aspect is that specialty drinks aren't included including certain juice and specialized coffee like latte or cappuccino. I only managed to use it for a cup of hot tea which is pretty much at the same level of the complimentary coffee and tea that you get by default as a Kimpton Everly guest.
The voucher includes a 20% gratuity so you don't have to tip, unless you wish to do more.
I had the Have It Your Way plate for the first serving. A typical American breakfast.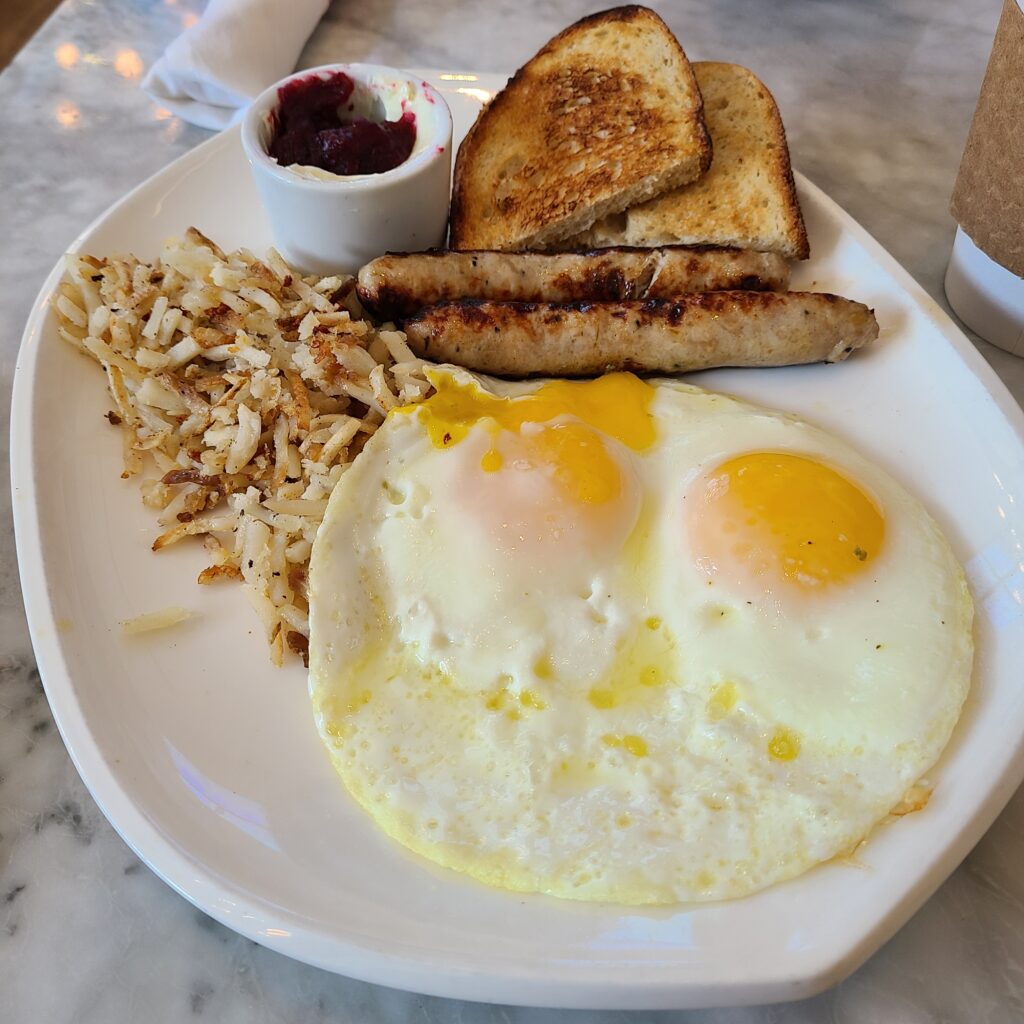 I tried to get the tiramisu waffle on the final morning, but the waffle machine broke unfortunately. So I went ahead and just ordered the same one I had the previous day. Overall, the breakfast is pretty mediocre. I wouldn't pay for it if it wasn't free, and it was a bit disappointing since Kimpton also market their restaurant as upscale, but it didn't feel up to standard. The restriction on the drinks selection was also a let down.
Full menu can be found by scanning the QR code below.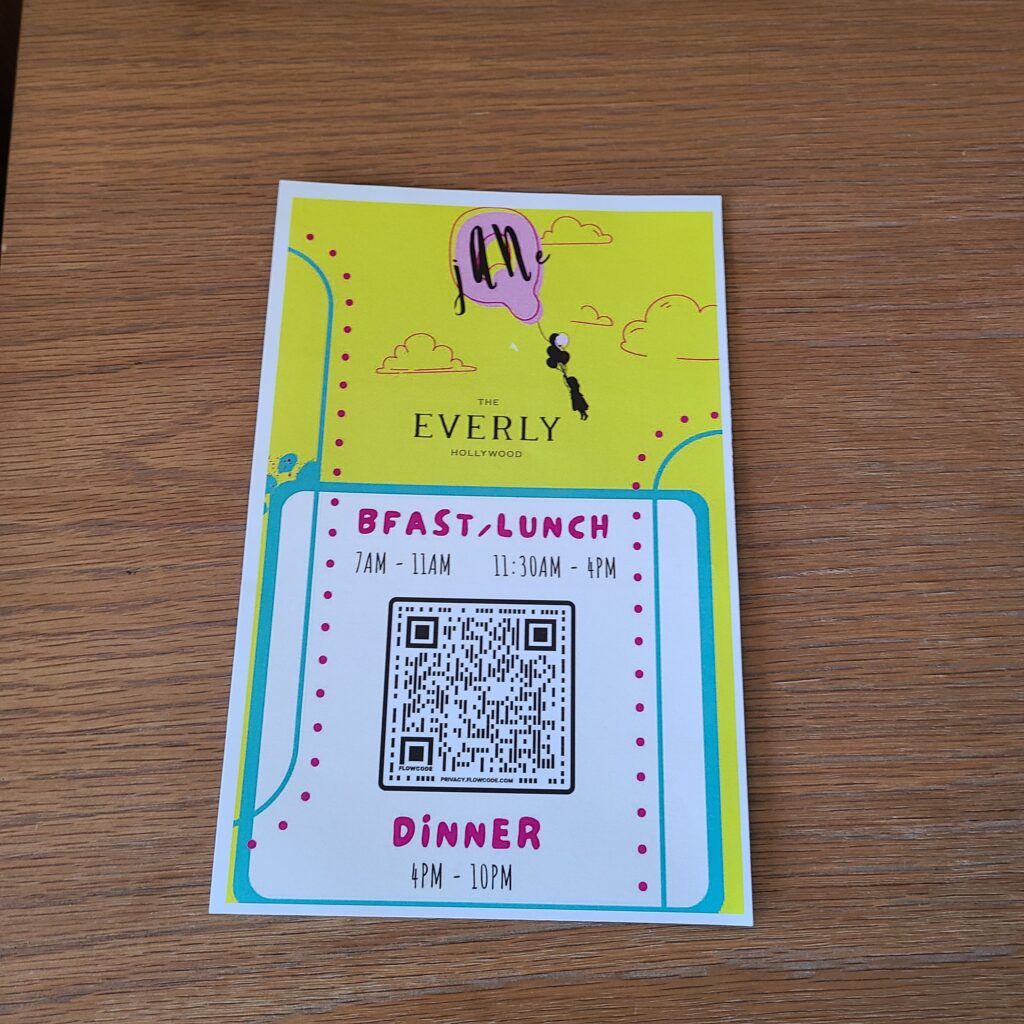 Kimpton Everly Hotel- Ever Bar
The hotel bar feels hip and trendy, although I didn't get anything from it. If you choose the Raid the Bar credit that you'd get as an IHG Platinum/Diamond & Kimpton Inner Circle, you'll be able to use them here. The menu can be found on their site.
The bar's lounge area is pretty atmospheric with lots of big seating.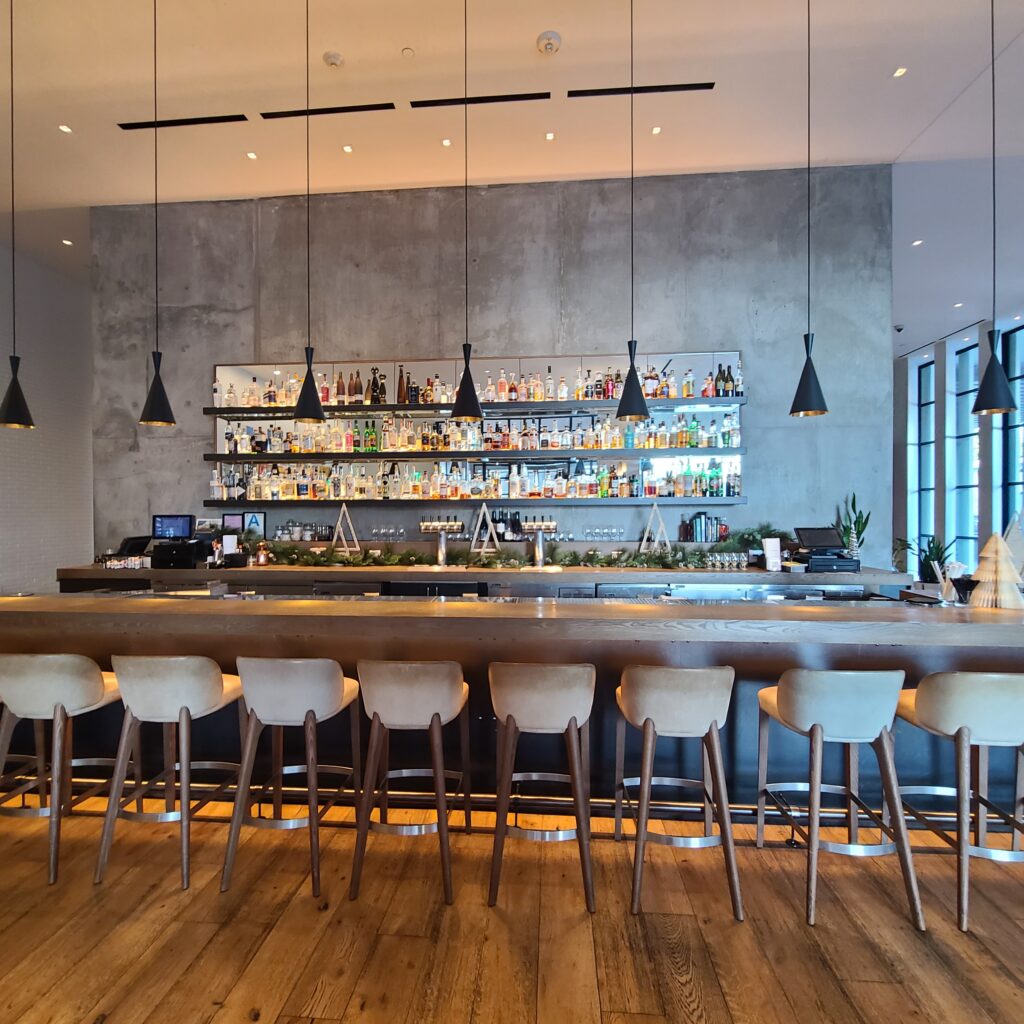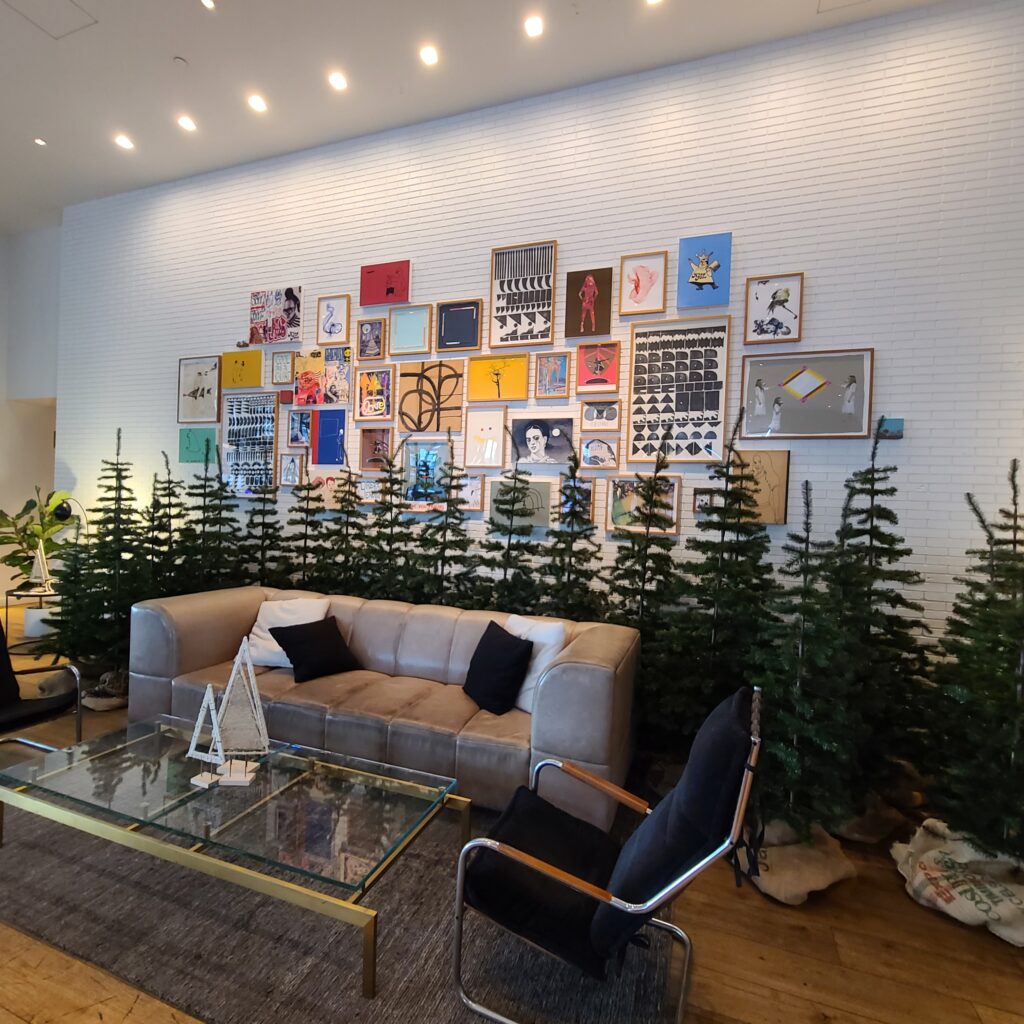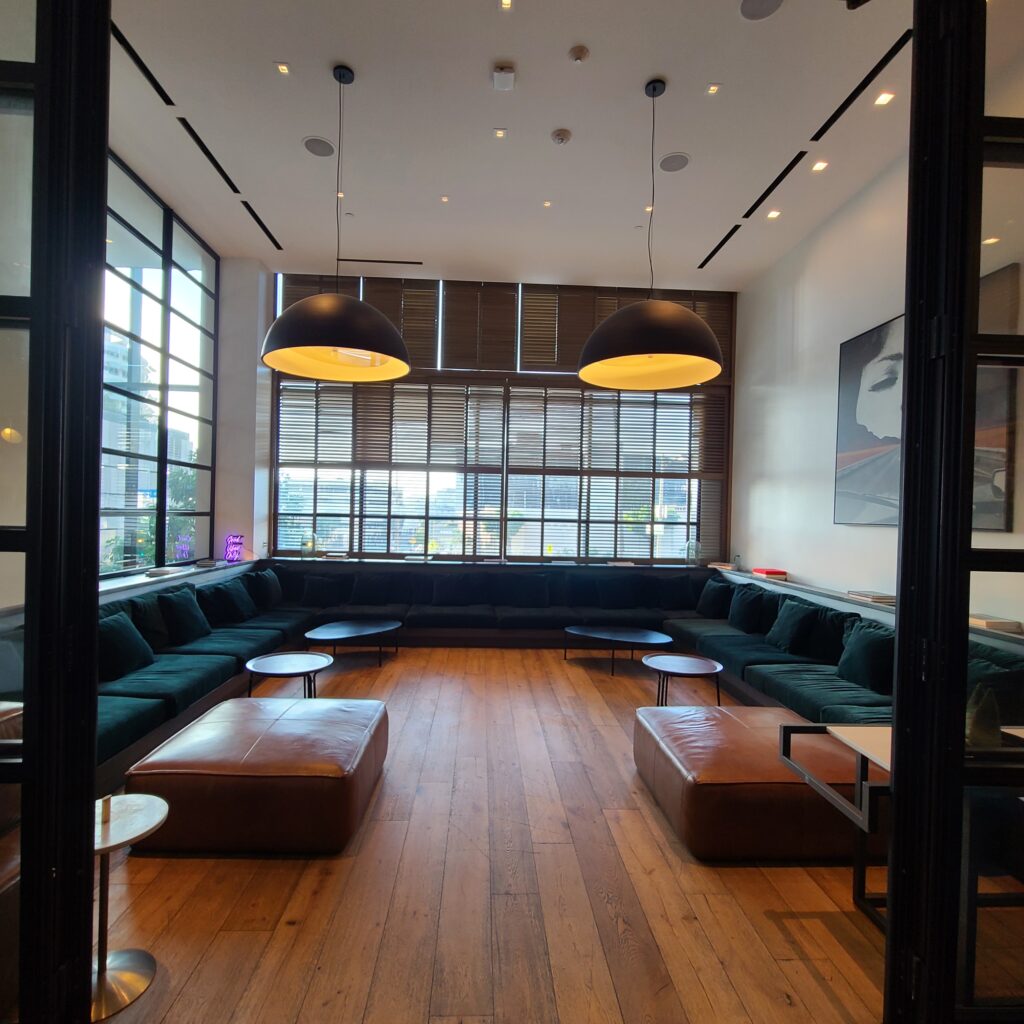 There's a pool table where you can freely get some games in or practice your shoots.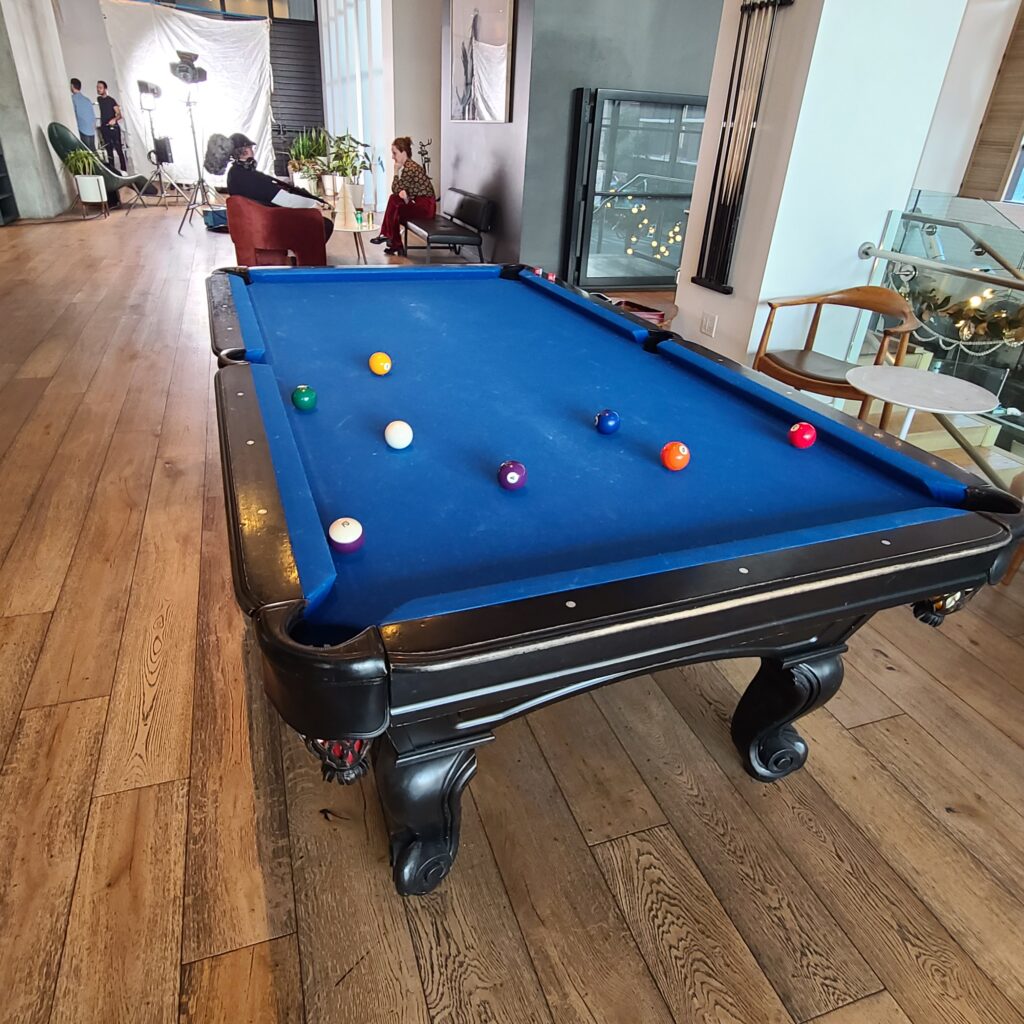 Kimpton Everly Hotel- Skyline Pool & Fitness
The hotel's rooftop pool is located at the 5th floor. It was empty when I checked it out, possibly because it's too cold to swim. But, the pool is heated, and it can be a nice spot to just hang around and chill.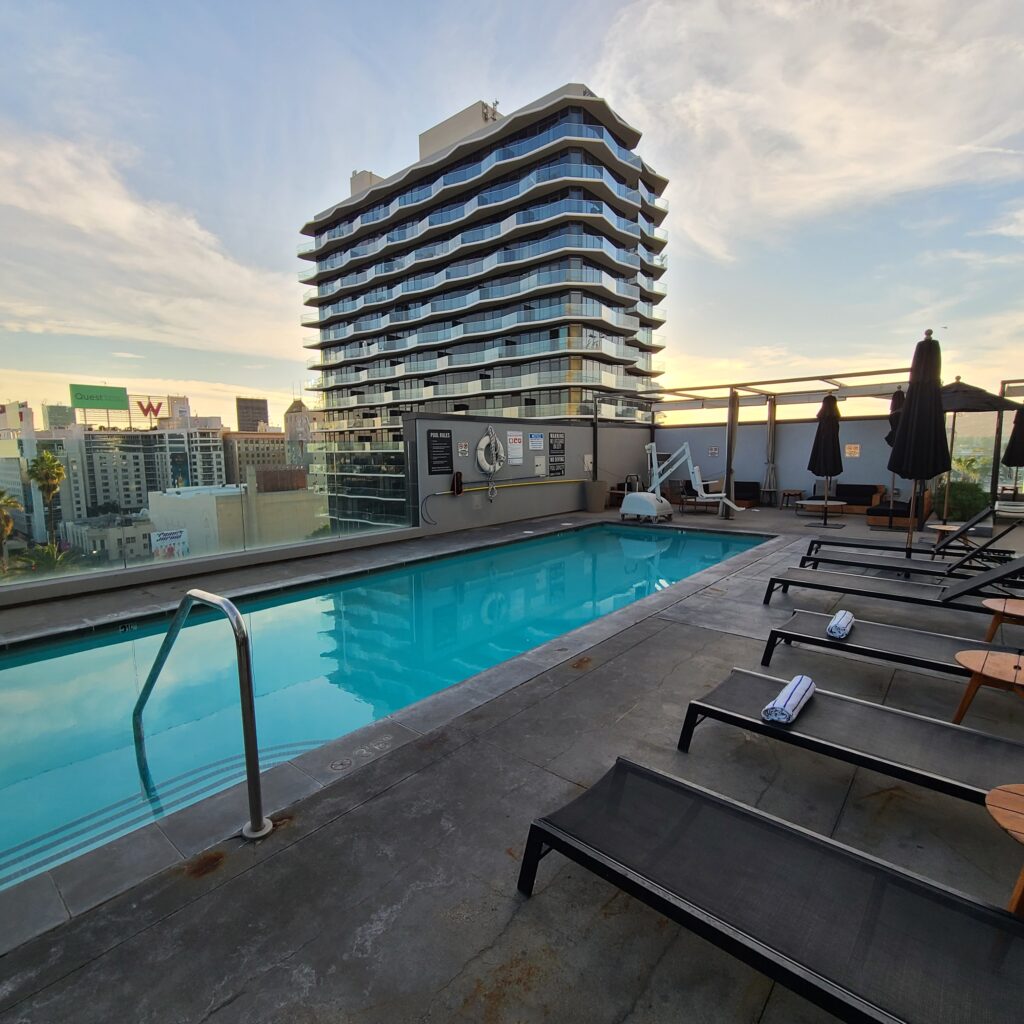 There are some private cabanas that you can rent. But, as the pool was completely unattended, I don't think it'd be a problem to just use it while nobody was there.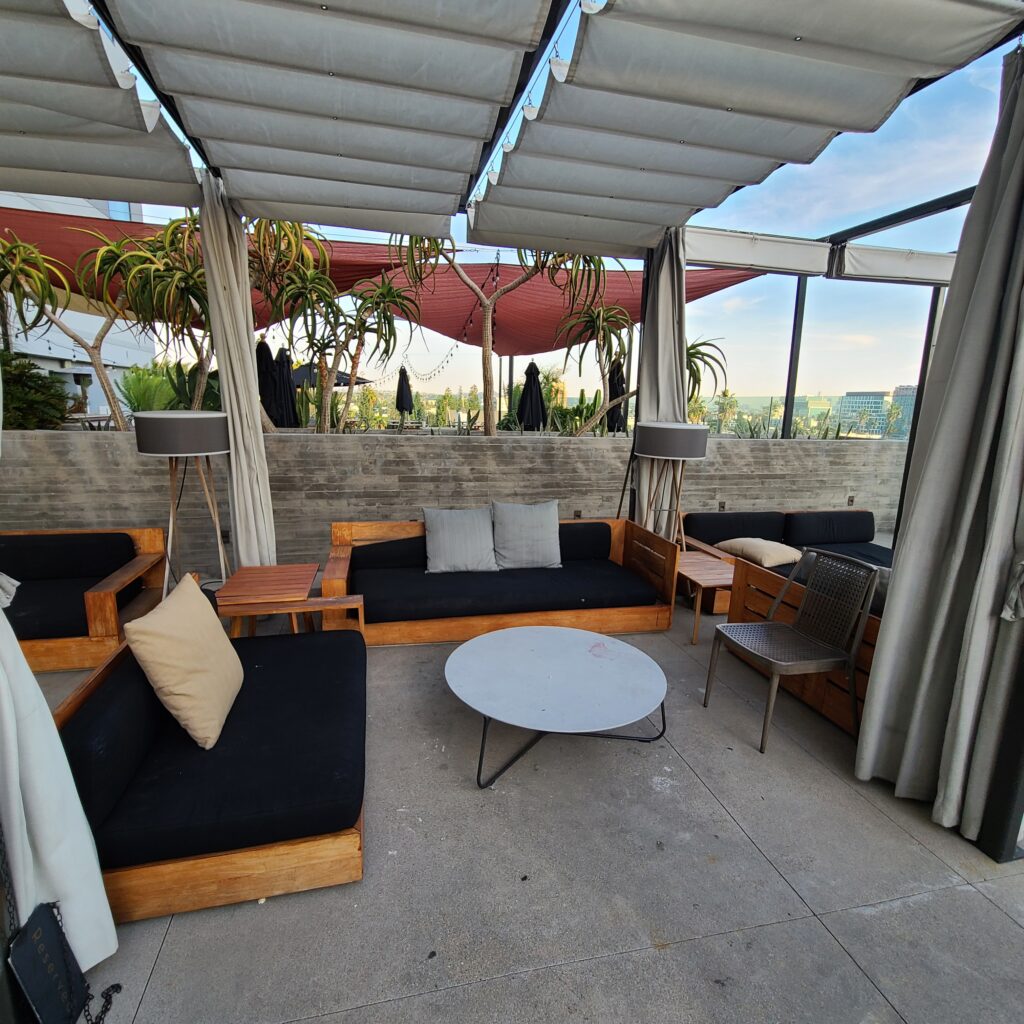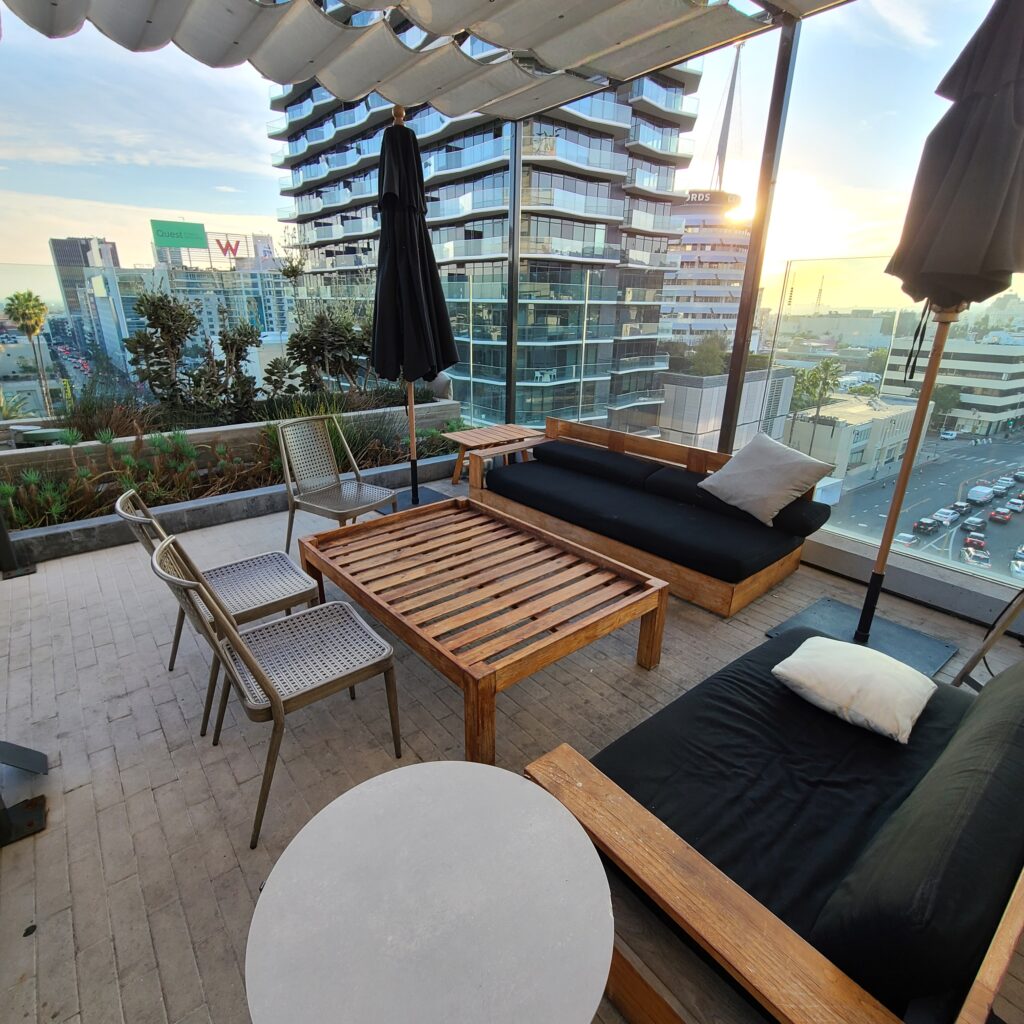 The Sky Deck away from the pool gives a more panoramic view of Hollywood that's quite nice, especially as the sun sets.
Another exercise facility is down at the lower lobby. The fitness center is small, but packed with cardio machines and dumbbells. There's one Peloton bike, which every Kimpton try to have.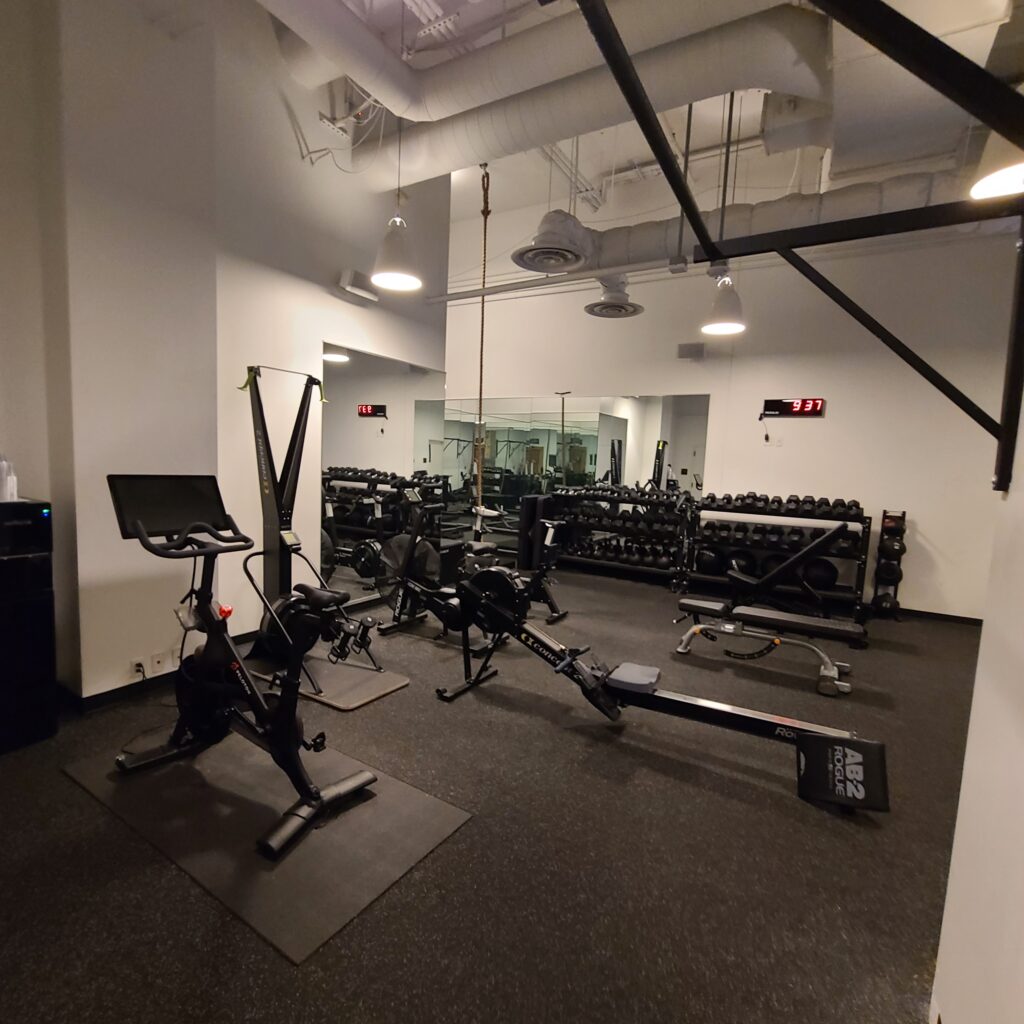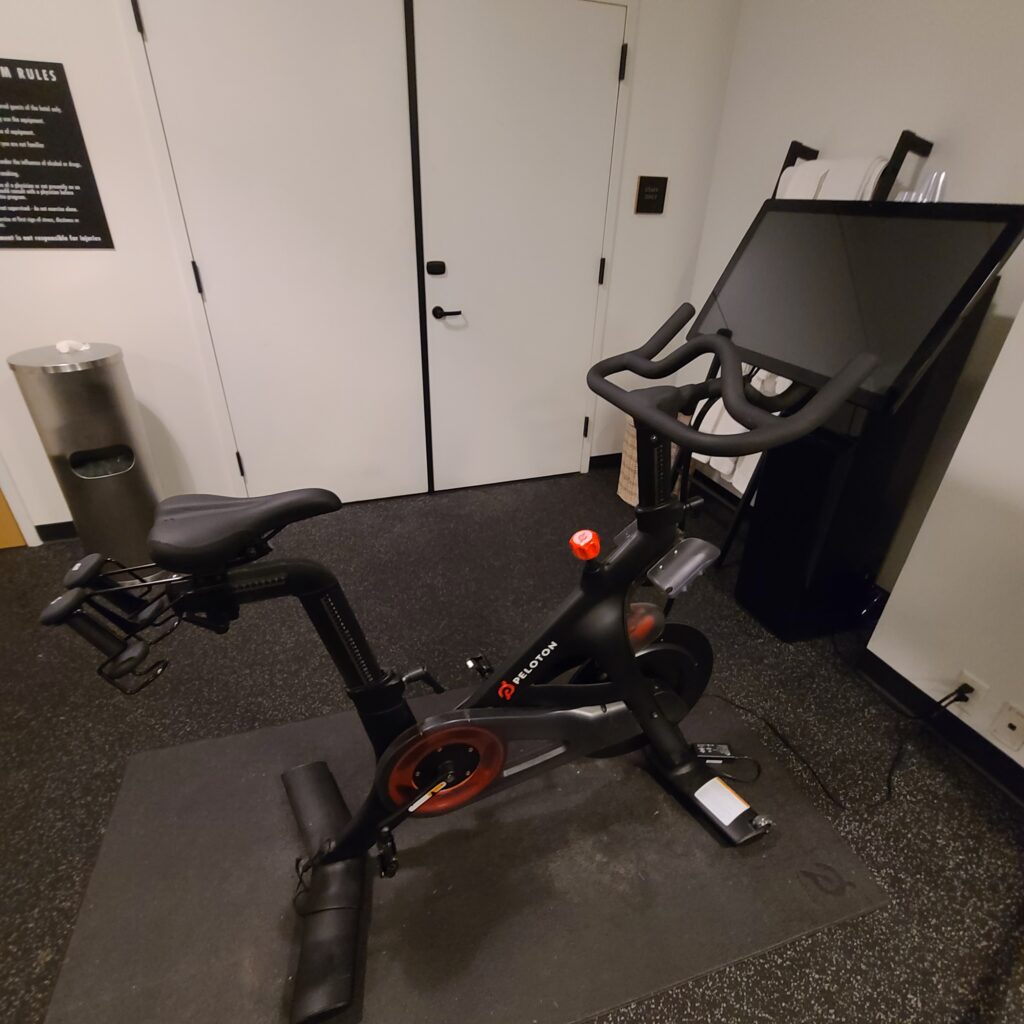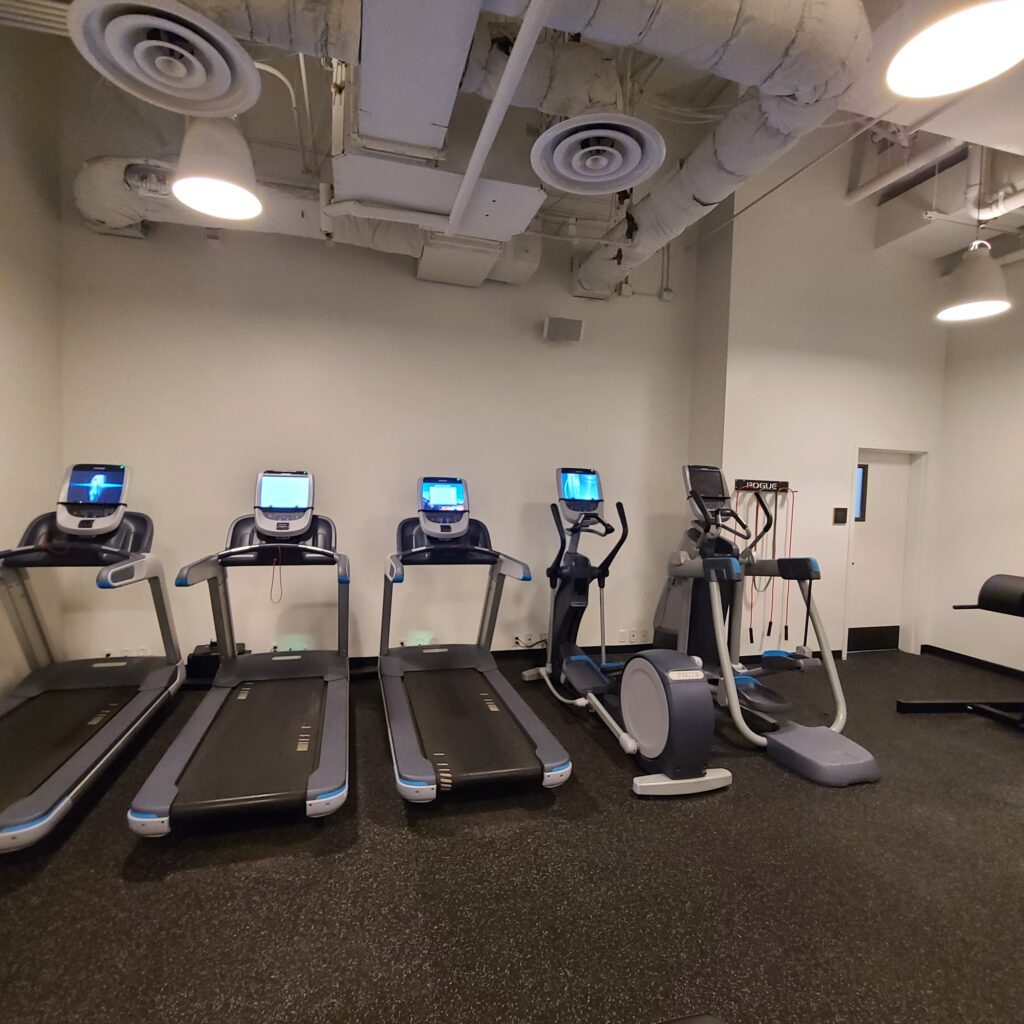 If you prefer to exercise in fresh air, the hotel has a PUBLIC bike by the front desk. PUBLIC bikes are a Kimpton standard to let guests borrow the bikes to cruise around the neighborhood.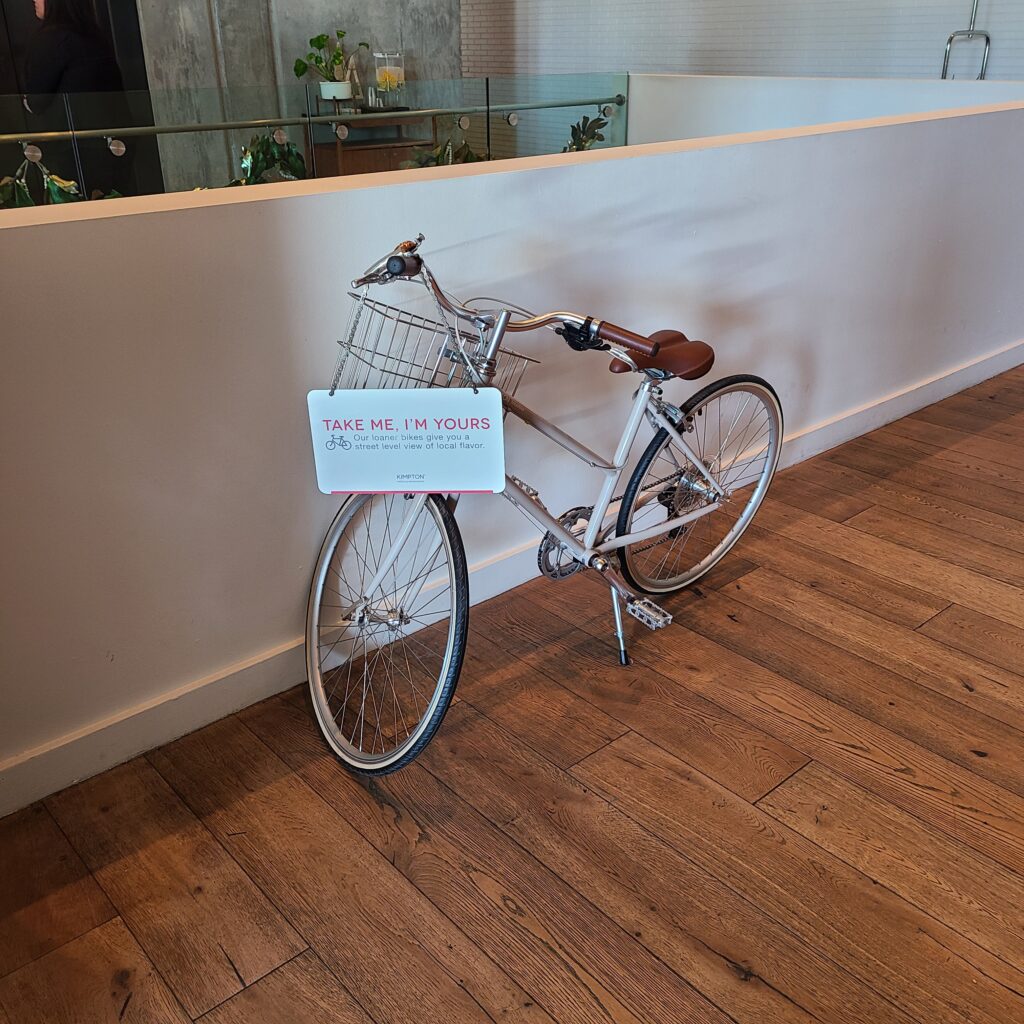 Conclusion
I had high hopes for Kimpton Everly Hotel, but came out largely disappointed. I don't think the price justifies the hotel's quality. The room left a lot to be desired. Cracked drywall on the ceiling felt unwelcoming, and the bathroom design is full of flaws with the main door not having a lock and the half-open shower box that inevitably cause a mess whenever the shower is used. Breakfast also felt restrictive and the quality wasn't as good as I'd hoped for from a Kimpton.
Some positives are that the views from the room are quite pretty, and it's probably the most affordable pet-friendly hotel within the IHG portfolio that doesn't charge a pet fee. Elite status treatment is quite decent with the most welcome in-room gifts that I enjoyed after arriving. The Kimpton secret password reward of free parking was great as well since a car is pretty much a necessity while navigating through Los Angeles, and is quite a money saver.
I don't think I'd go back to this hotel again though, and I'd possibly try another Kimpton in LA, which the city has a sizeable Kimpton density interestingly enough.
Overall Rating