Advertiser disclosure: This post may include affiliate links (including sidebar banners) in which this site may receive compensation if a purchase is successfully made (at no extra cost to you) after being redirected from here. Thank you for your support!
Chase 5/24 Rule Explained: What You Need to Know
The Chase 5/24 rule is one of the most well-known and restrictive rule in the credit card space. The rule can affect how you apply for credit cards even those under different programs than the Chase Ultimate Rewards. This guide will show you tricks to get around this rule to still get those lucrative signup bonuses from credit cards.
Basics of Chase 5/24 Rule
The Chase 5/24 rule implies that Chase will automatically reject affected Chase credit card applications if you've opened 5 or more personal credit cards in the past 24 months. The cards can be from any source of issuers, even store credit cards, and not just Chase.
The rule isn't officially published by Chase, but there are a lot of reports of people getting rejected on Chase credit card applications if they've opened 5 or more personal credit cards in the past 24 months.
In order to get approved for Chase cards, you need to keep your opened card velocity under 5 credit cards in every 24 months.
This rule can make it challenging to take advantage of the ever-changing signup bonuses available in the market from Chase and other credit card issuers because signing up for too many credit cards within a 24 month period can lock you out of some of the great Chase credit cards available.
How to Check Your Chase 5/24 Status
Your 5/24 status can be checked through a credit bureau. Chase usually uses Experian as their main credit bureau to pull your credit information for your credit card applications. But, the other two main bureaus like TransUnion and Equifax are fine because banks usually pull all credit reports from the 3 main bureaus, but may differ depending on the state you live in.
Related read: Credit Card Basics: How the Credit Score Works
Simply make a free account for them to get your credit report. Your credit report will include the dates you've opened all your personal credit cards are where you can then count down your Chase 5/24 status.
Once 24 months passes by after a credit card open date, your Chase 5/24 status will cool down. For example, if you've signed up for a personal credit card on October 2019, then your Chase 5/24 status will decrease by 1 on November 2021. The reason why I say November 2021 instead of October 2021 is because the credit report may not go through after the exact 24 month period. I recommend taking the conservative approach and wait at least until the following month to begin applying for a Chase credit card again. With this way, you don't risk wasting a hard inquiry on your credit report.
Lists of Cards Affected by Chase 5/24 Rule
Pretty much all of the sought-after Chase credit cards are affected by this rule. Affected cards mean that Chase will deny you if you try to apply for the following cards if you're at 5/24 or over 5/24:
Note: This lists come from sources of anecdotal experiences read on forums and is not an official list made by Chase.
Personal
Chase Sapphire Reserve
Chase Sapphire Preferred
Chase Freedom Flex
Chase Freedom Unlimited
Chase Slate Edge
Amazon Rewards
British Airways Visa Signature
Iberia Visa Signature
IHG Rewards Club Premier
IHG Rewards Club Traveler
Marriott Bonvoy Boundless
Marriott Bonvoy Bold
Southwest Rapid Rewards Premier
Southwest Rapid Rewards Plus
United Explorer
World of Hyatt Visa
Disney Rewards Visa
Disney Premier Visa
Business
Chase Ink Preferred
Chase Ink Cash
Chase Ink Unlimited
Southwest Rapid Rewards Premier Business
United Explorer Business
Simple Tricks to Circumvent Chase 5/24
Apply for Business Credit Cards
Applying for business credit cards generally do not add to your Chase 5/24 status except for business cards issued by Capital One, Discover, and TD Bank.Those issuers will report to your personal credit file despite signing up for a business credit card.
Applying for business cards outside of those 3 issuers mentioned, including Chase, will not count towards your Chase 5/24 status. It's because those issuers report to your business credit file instead.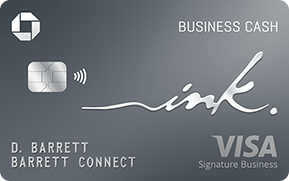 Business credit report is separate with personal credit score. Chase 5/24 rule explicitly targets personal credit file while ignoring your business credit file.
Since business cards in general offer higher signup bonus, applying for them can present lucrative opportunities while you wait for your Chase 5/24 status to cool down and to then resume applying for Chase personal credit cards. It's generally the go-to approach for all users when they're stuck in a "credit card purgatory" where they can't really sign up for a new credit card because of this rule.
On a final note, if you're at Chase 5/24 or more, you'll still be rejected if you attempt to apply for the affected business cards , and you'll need to wait until you're at least 4/24. Once you're 4/24 or lower, getting approved for a business cards (with the exception of some issuers mentioned) won't count towards your Chase 5/24 status.
Learn how to apply for a business credit card, even with no business in this post.
Focus on Chase Credit Cards First Early On
This trick is where those new to credit will have the advantage over those who've been in the game for longer time. By focusing on getting the important Chase credit cards first earlier on, the Chase 5/24 rule becomes less of an issue. Even though the affected cards list is long, there's just a couple of Chase cards worth getting into that's suitable for the majority of people.
I recommend getting the Ultimate Rewards earning credit cards first as they're the core components that have flexible transferable currency, while saving the co-branded airline and hotel credit cards for later once you've familiarized how transferring points work and what airline and hotel products you learn to enjoy during your travels.
Getting at least the Chase trifecta is a good goal to strive for before reaching 5/24 status.
For example, a newcomer who built credit through a secured credit card for 1 year may be at 1/24 status because it's the only credit card they've opened so far. By laser-focusing on the Chase trifecta, they'll end up having 4/24 status (totaled by 3 Chase personal credit cards with the secured credit card), allowing for 1 more slot for a personal credit card, whether it'd be moving on to another issuer or getting into a Chase's co-branded airline or hotel credit card.
Applying for Chase Freedom Flex and Chase Freedom Unlimited are the powerhouse cards that will allow you to rack a lot of Ultimate Rewards points, in which you'll transfer the points to either the Chase Sapphire Reserve or the Chase Sapphire Preferred.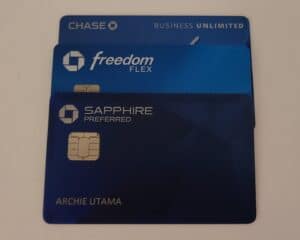 The Chase Sapphire Reserve or Chase Sapphire Preferred will be the main cards to use for travel, including international because of no foreign transaction fee and also serve as the funnel to the airline and hotel partners.
If you're eligible for business credit cards, the Chase Ink Cash is arguably the best out of the 3 Ink cards. This is due to the unique and strong (5x) spending categories that's not offered in the personal cards like internet, cable, and phone bills.
Although, you're welcome to sign up for all of them anyway since they don't count towards Chase 5/24 and they offer some of the highest signup bonuses as long as you can meet their hefty minimum spend requirements.
Conclusion
The Chase 5/24 rule is one of the most frustrating rules to consider in your pursuit of earning credit card points. By focusing on the Chase Ultimate Rewards earnings card first, the rule can be less of an issue, so try not to procrastinate! Business cards are also bits of saving grace to circumvent and alleviate the annoyance from this rule as they don't count towards your 5/24 status and they generally offer higher signup bonuses on top.