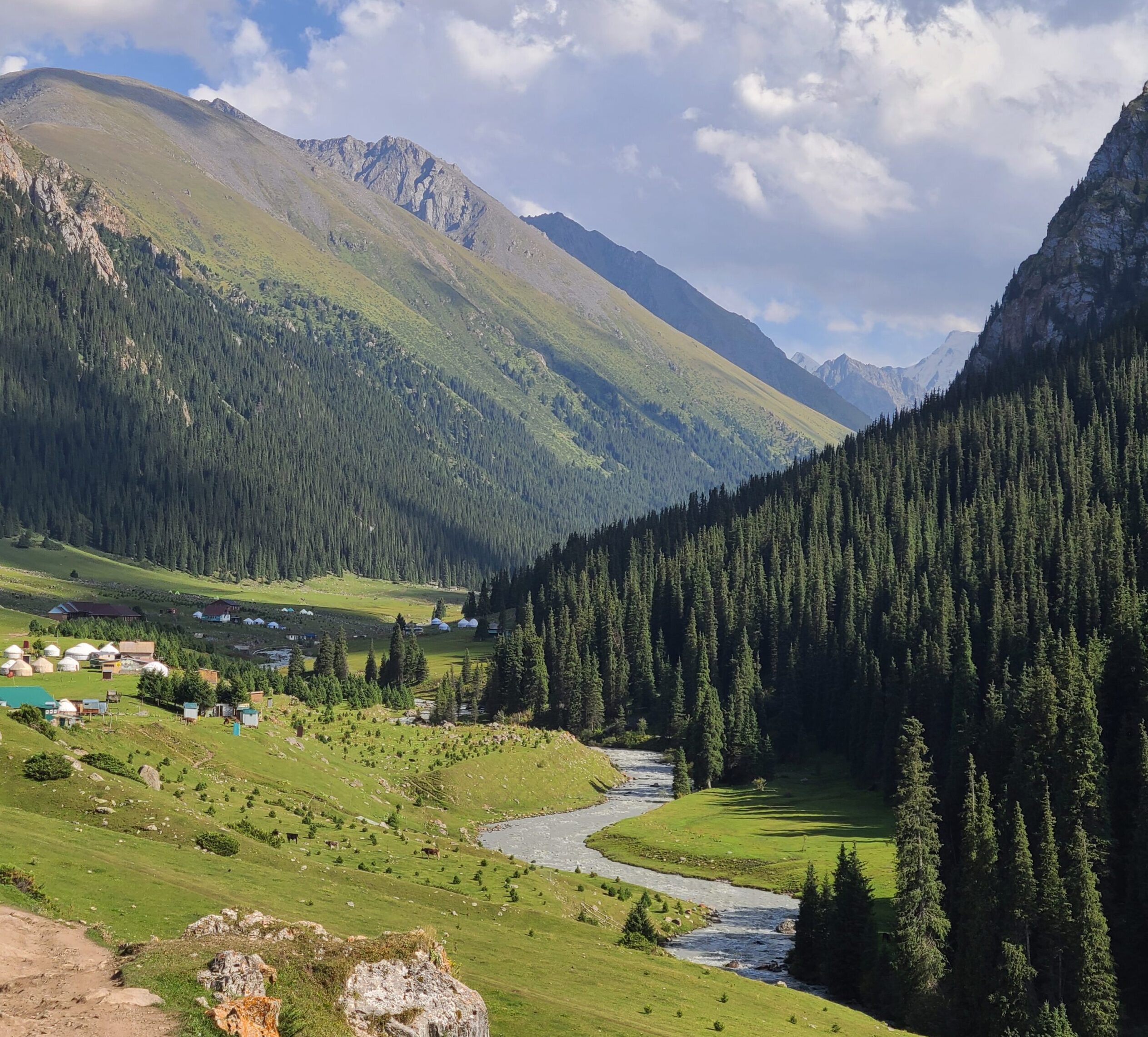 Advertiser disclosure: This post may include affiliate links (including sidebar banners) in which this site may receive compensation if a purchase is successfully made (at no extra cost to you) after being redirected from here. Thank you for your support!
Trekking & Overnight Yurt Stay in Altyn Arashan- My Experience
One of my highlights in a recent Kyrgyzstan trip was trekking in Altyn Arashan and staying a night inside a yurt at 10,000 feet elevation. It was a very exhausting journey, especially that I've been living a sedentary life over the course of the pandemic. It was a real kicker in the butt and probably one of the hardest things I've done, but it was well worth the effort and I was glad that I did it!
Where is Altyn Arashan?
Altyn Arashan is located near Karakol, a small town about 6 hours drive away from the capital Bishkek. Along the drive, you may visit the Burana Tower and stone figures called balbals. The scenic nature drive will have long stretches of the beautiful Issyk-Kul lake with glistening blue color.
Trekking in Altyn Arashan
We've started (me and Marat, my tour guide) the hike at around 8am after getting some food and water. We parked our car and start our trail in the below picture. Originally, we planned to take the UAZ (Soviet van), a vehicle that's suitable for the treacherous roads, but it was under repair during my time. So, we opted to use our feet the whole way.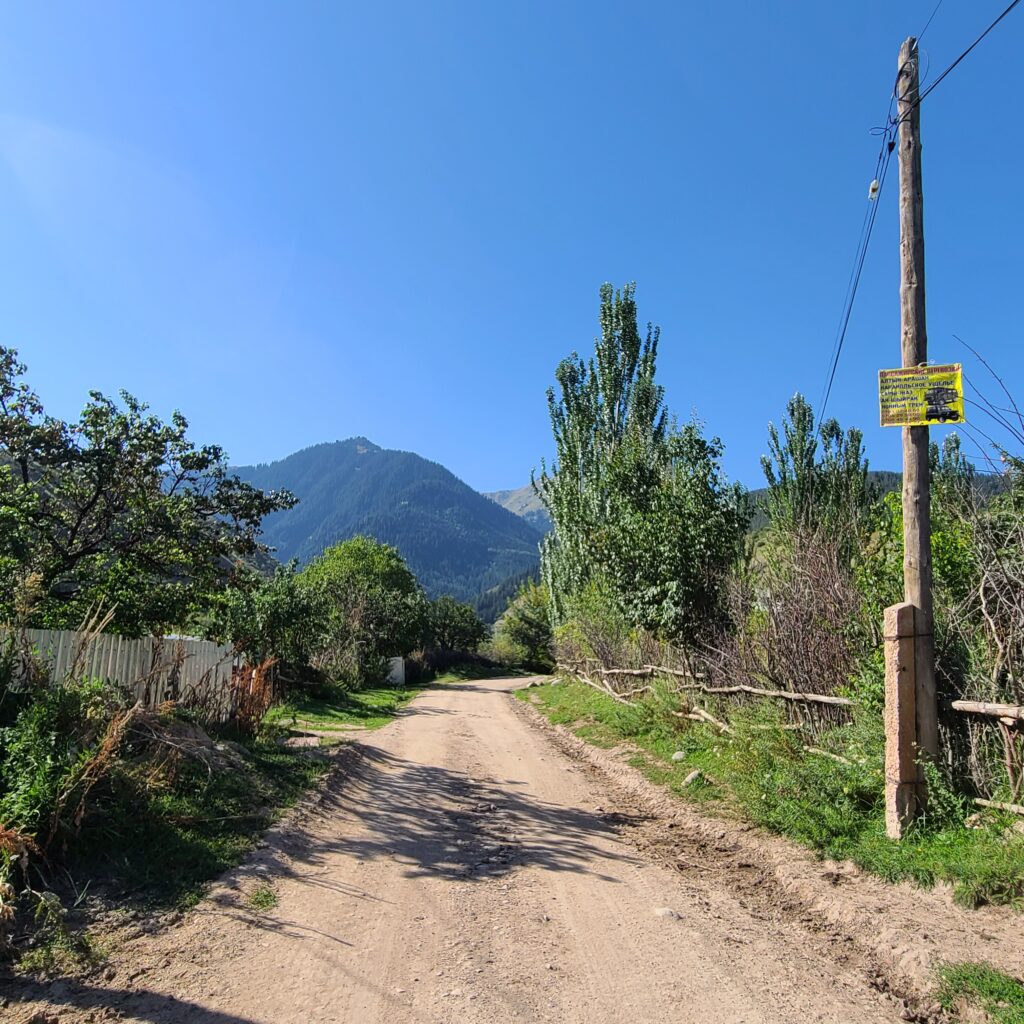 Lots of serene greeneries.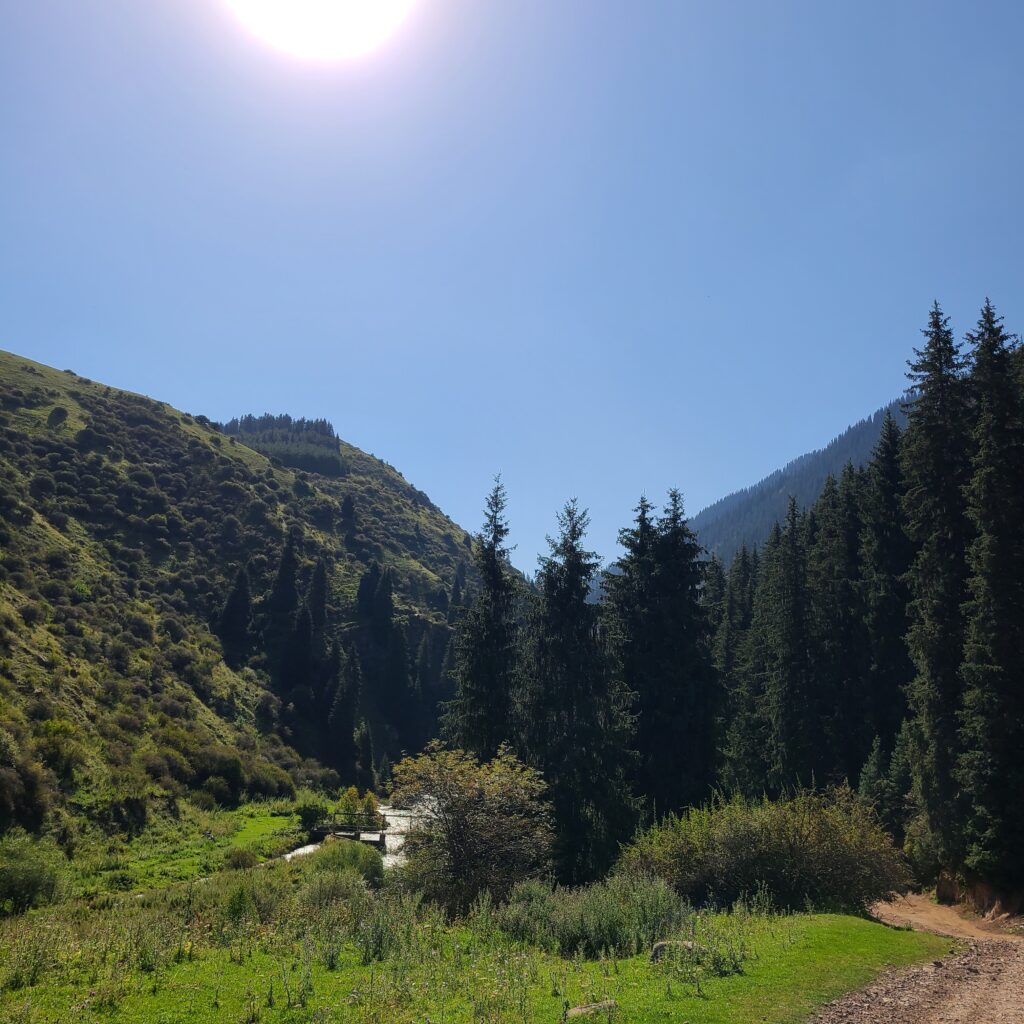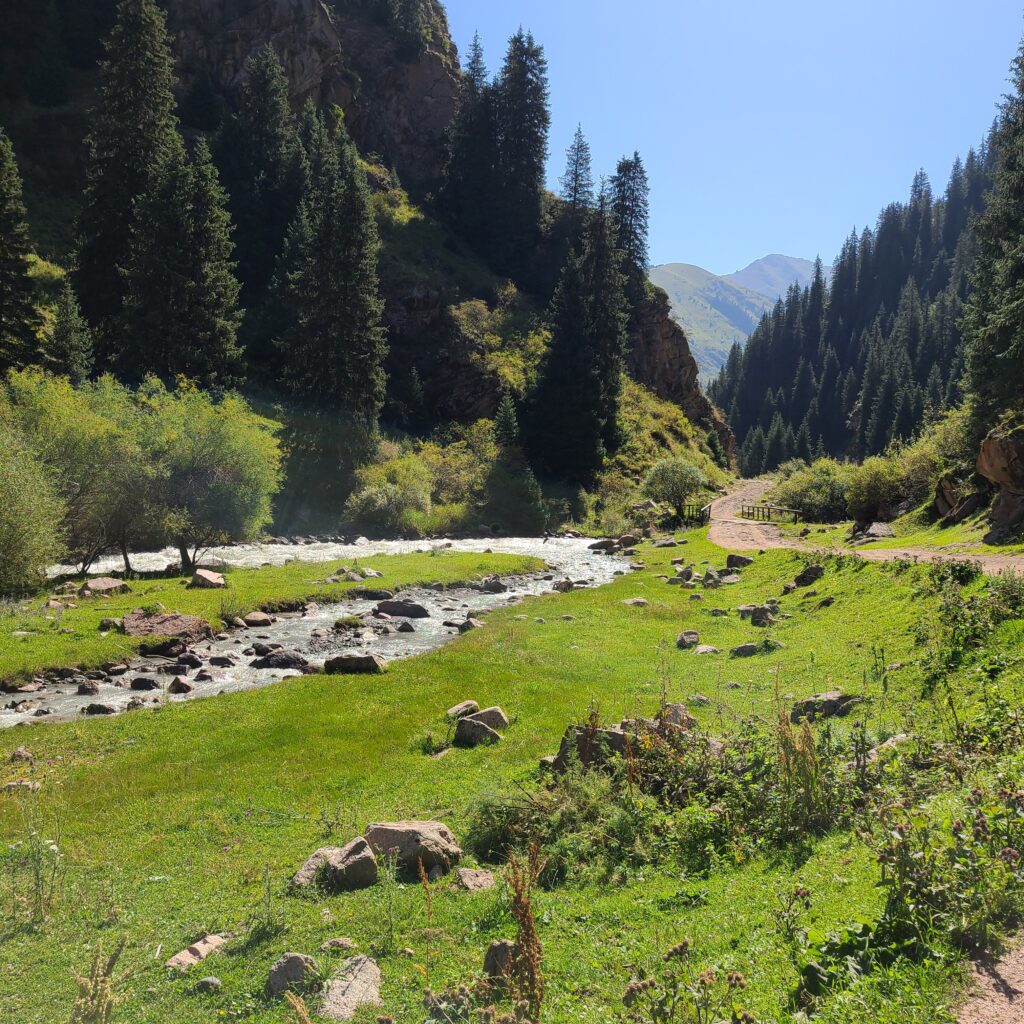 Around 1 hour in on the trail, we encountered an Uzbek hiker who just completely outpaced us while I was already out of breath. During that time, I did not know or expect that we'd have 8 more hours to get to the yurt camp. We also occasionally see UAZ's passing by with tourists waving at us that added salt to the wounds…
The trail has gradual increase in elevation with rocky grounds that made it harder than it looks. The tire tracks probably caused more stress on the side of my feet. Plus, I carried a backpack that wasn't suitable for hiking either that caused a lot of stress on my shoulders and back. A mistake of mine. My tour guide Marat casually smokes his cigarette while hiking the whole time! I probably will never understand how he can do that.
I tried to lose myself with the water stream sound next to the trail to help not to think about fatigue. It somewhat worked.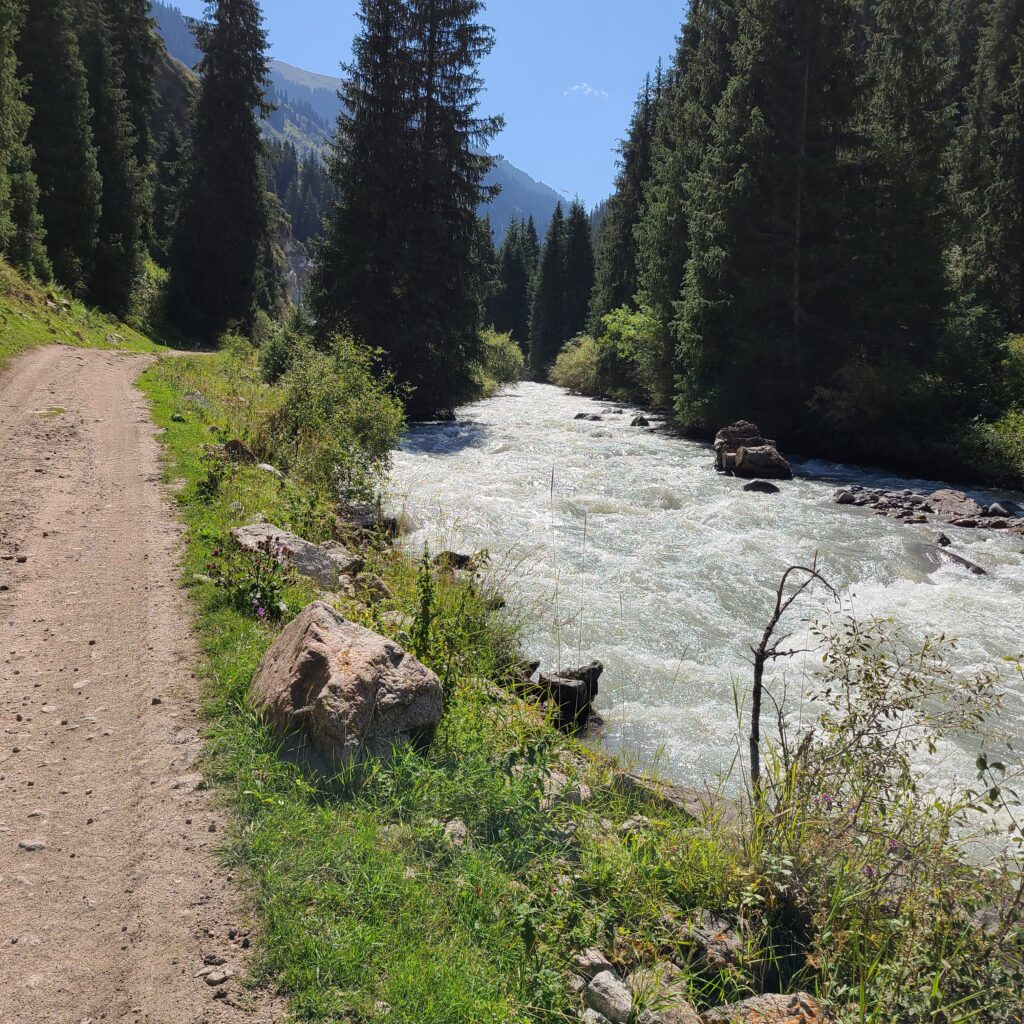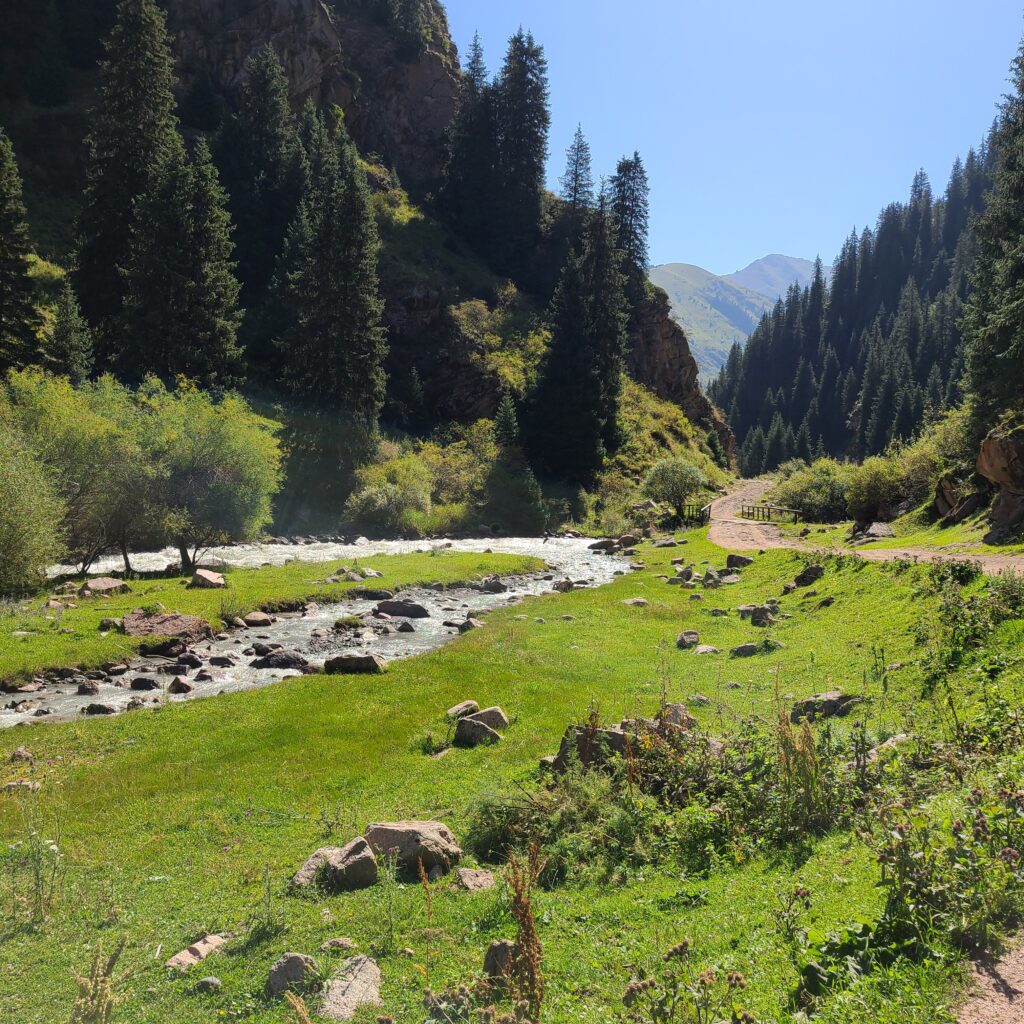 We eventually made it to lunch time and we had our break by the stream. I had a kebab sandwich with mayonnaise. Pretty great.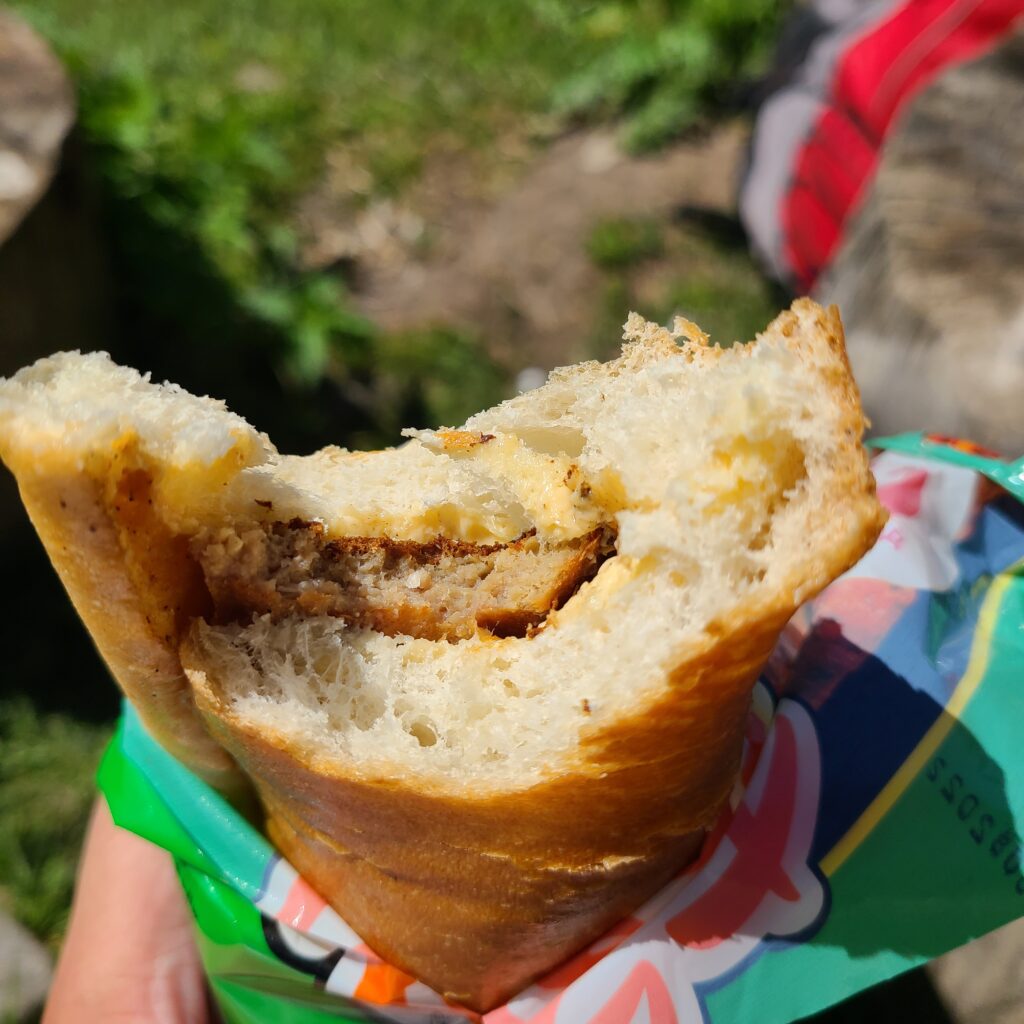 We encountered animals freely roaming around. With that comes pungent manure smell, but I didn't mind too much. I was happy to observe them as it's quite rare for me to be this close to animals just vibing in nature.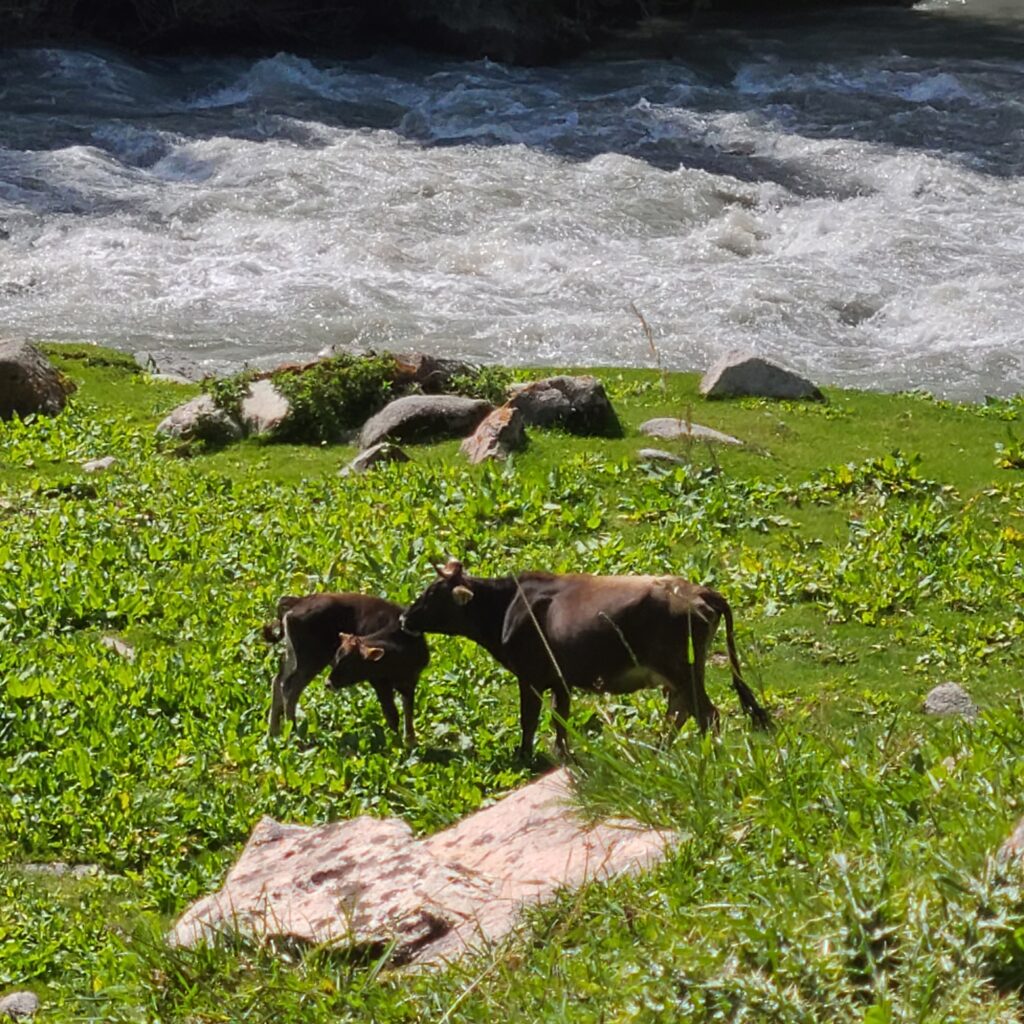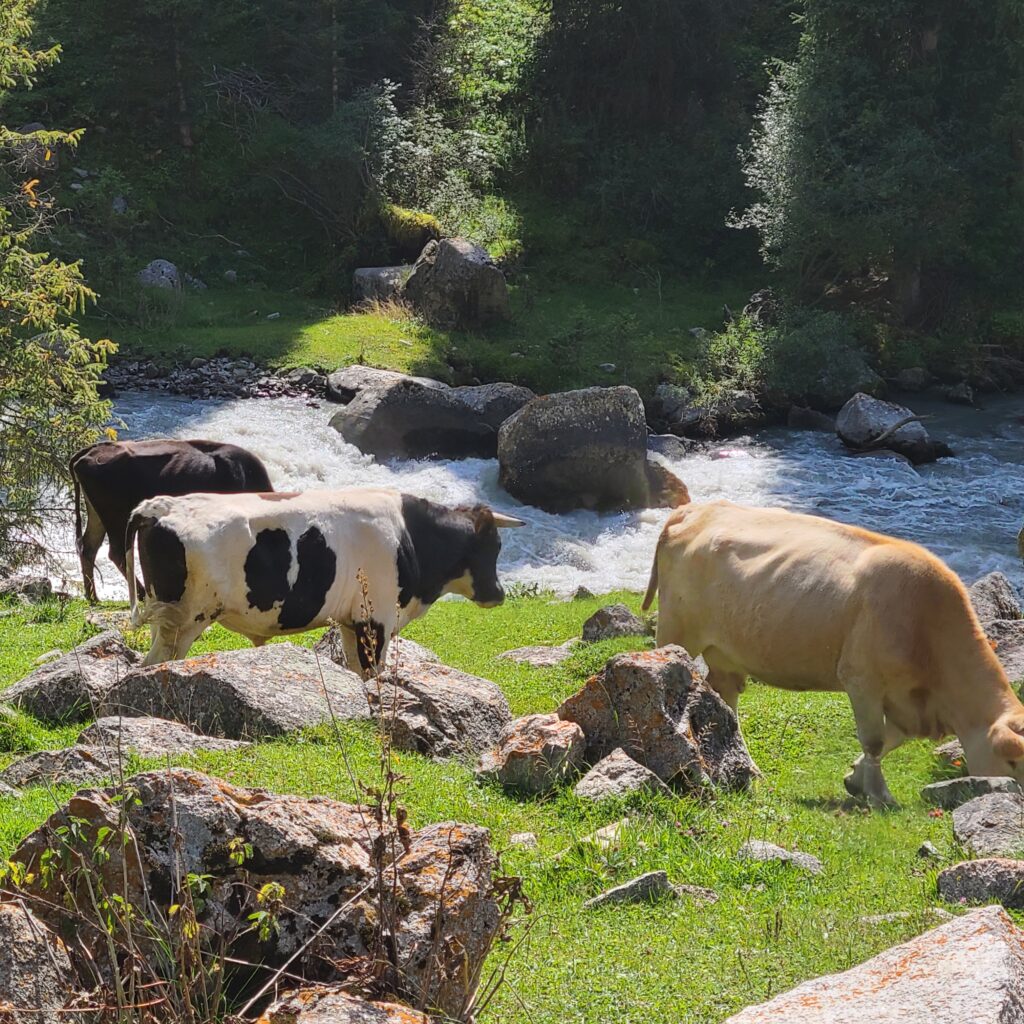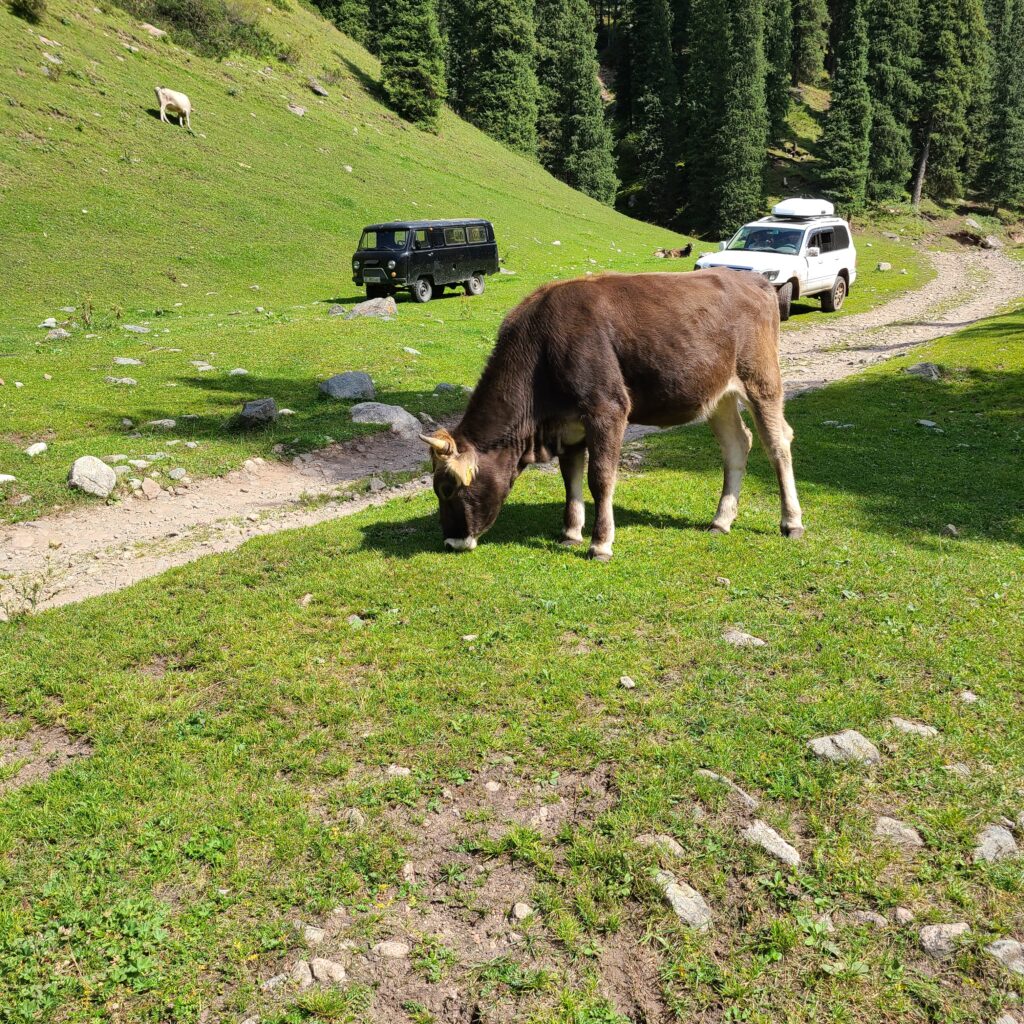 At around the 6th hour, we made a new temporary friend! He was really cute and definitely boosted my spirit! I was about at my wits' end at that point. There were countless stops after just taking mere two steps forward. With higher elevation means harder time breathing.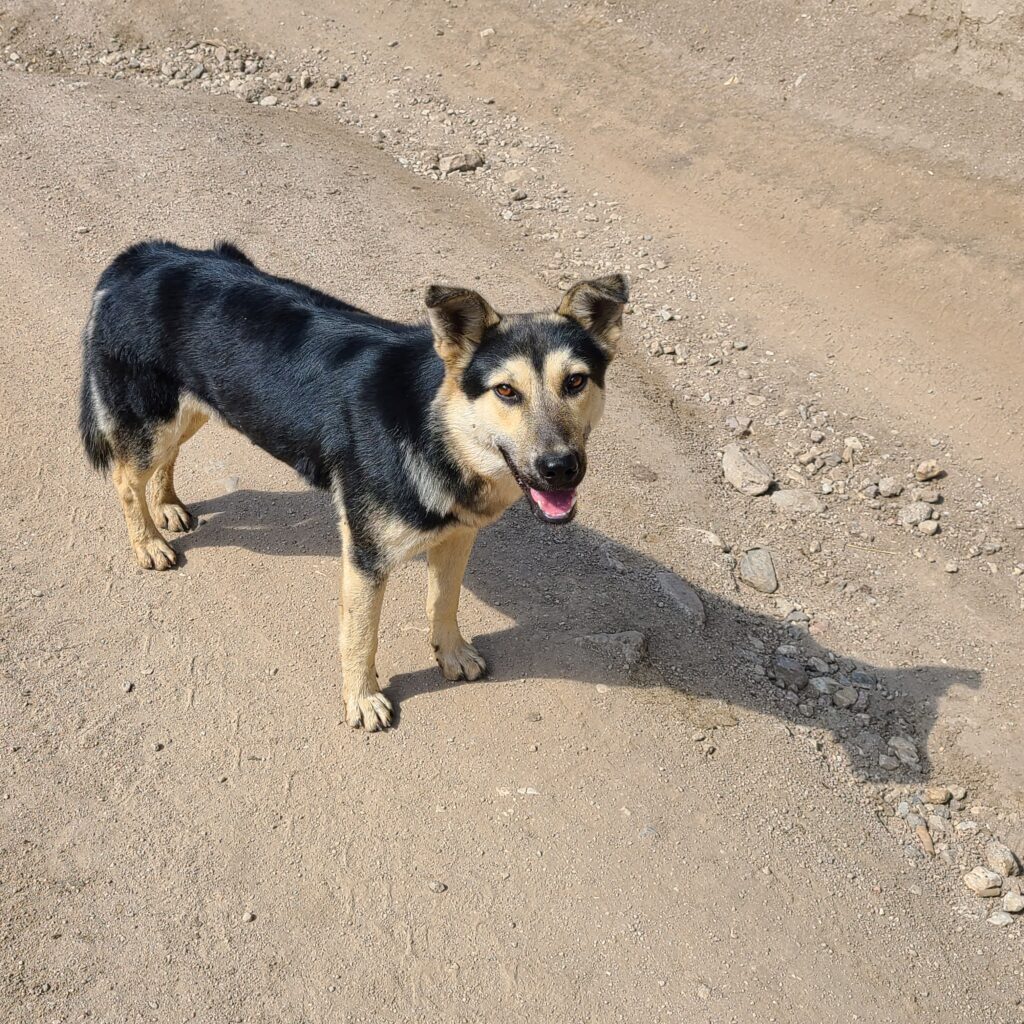 We fed him our emergency Kyrgyz non, a beautiful circle-shaped bread. Sadly, he decided to leave us after he figured out that the bread was gone :(. Hopefully he's doing OK wherever he is now.
Altyn Arashan Natural Hot Springs
A few hours later, I can see yurt camps from a distance! But, we made a brief detour to check out some natural hot springs which sounds amazing at the time.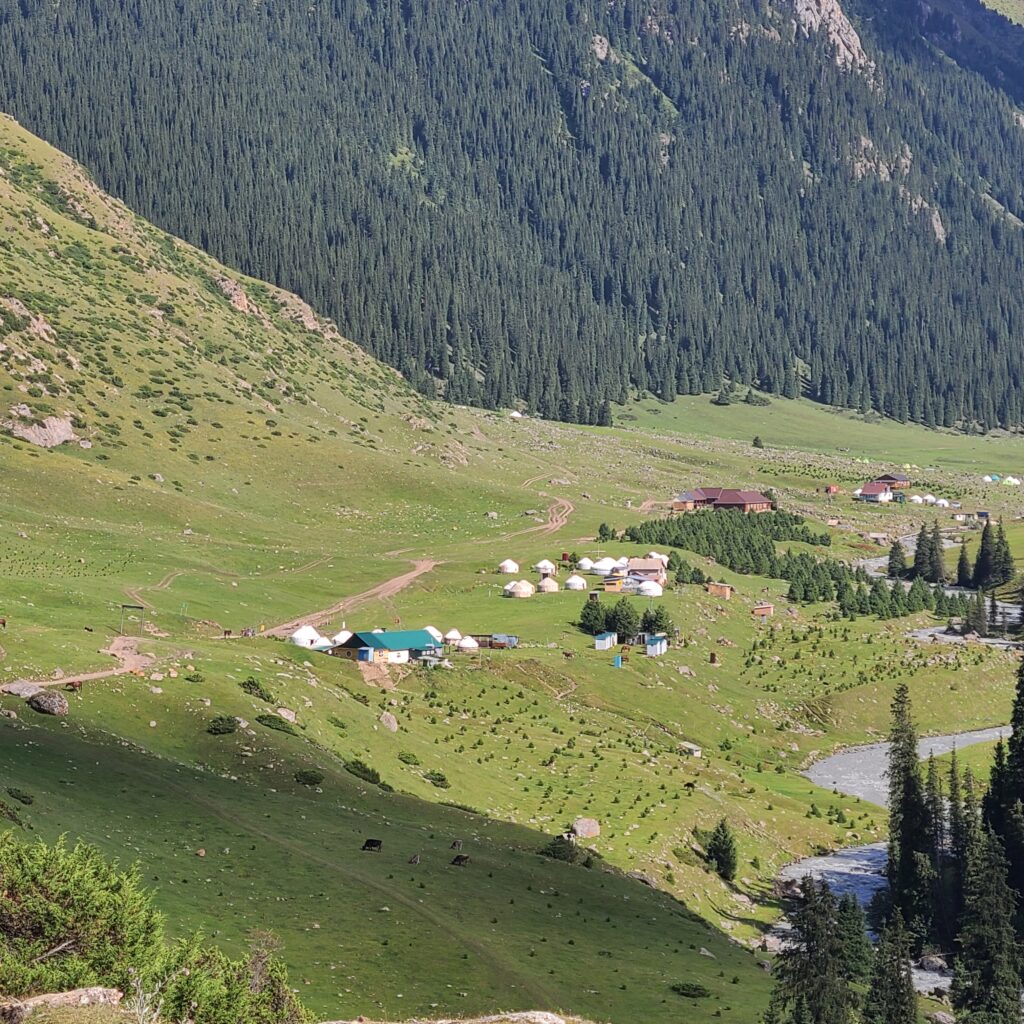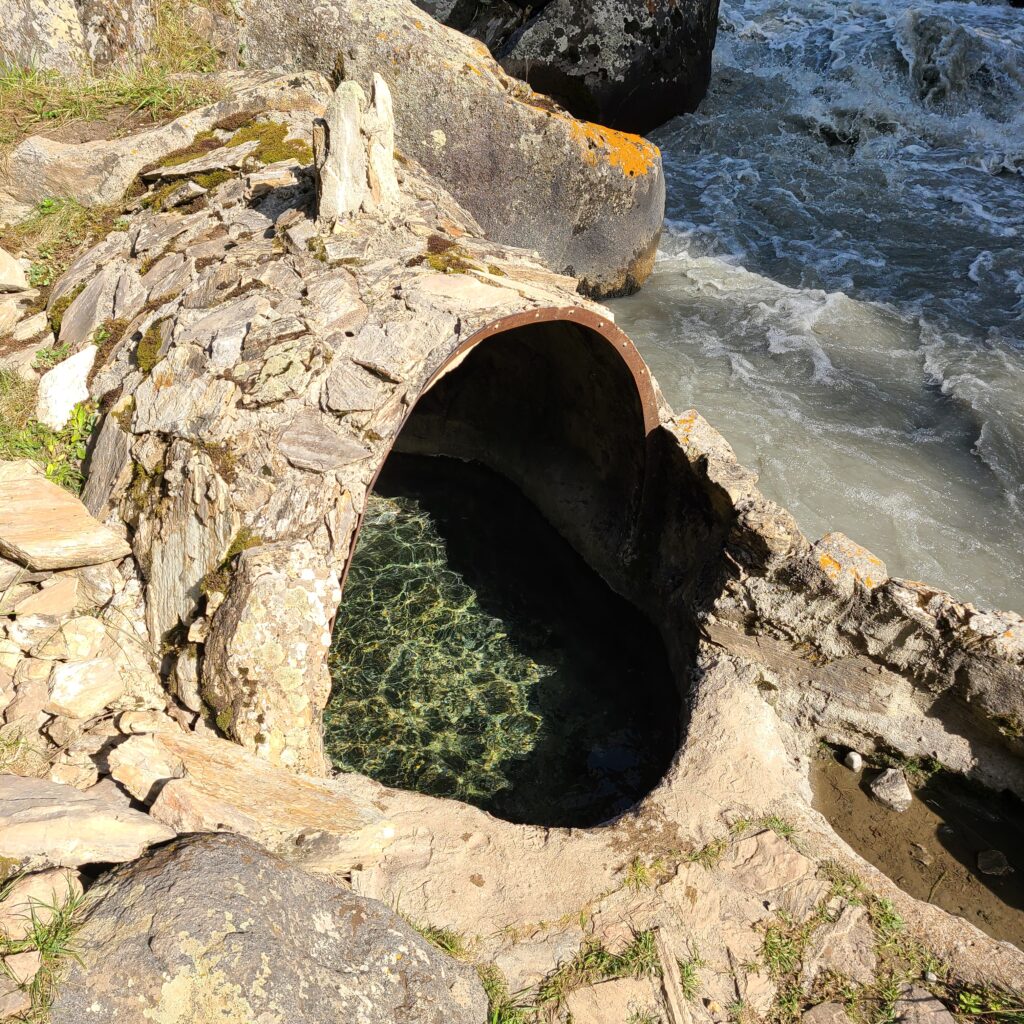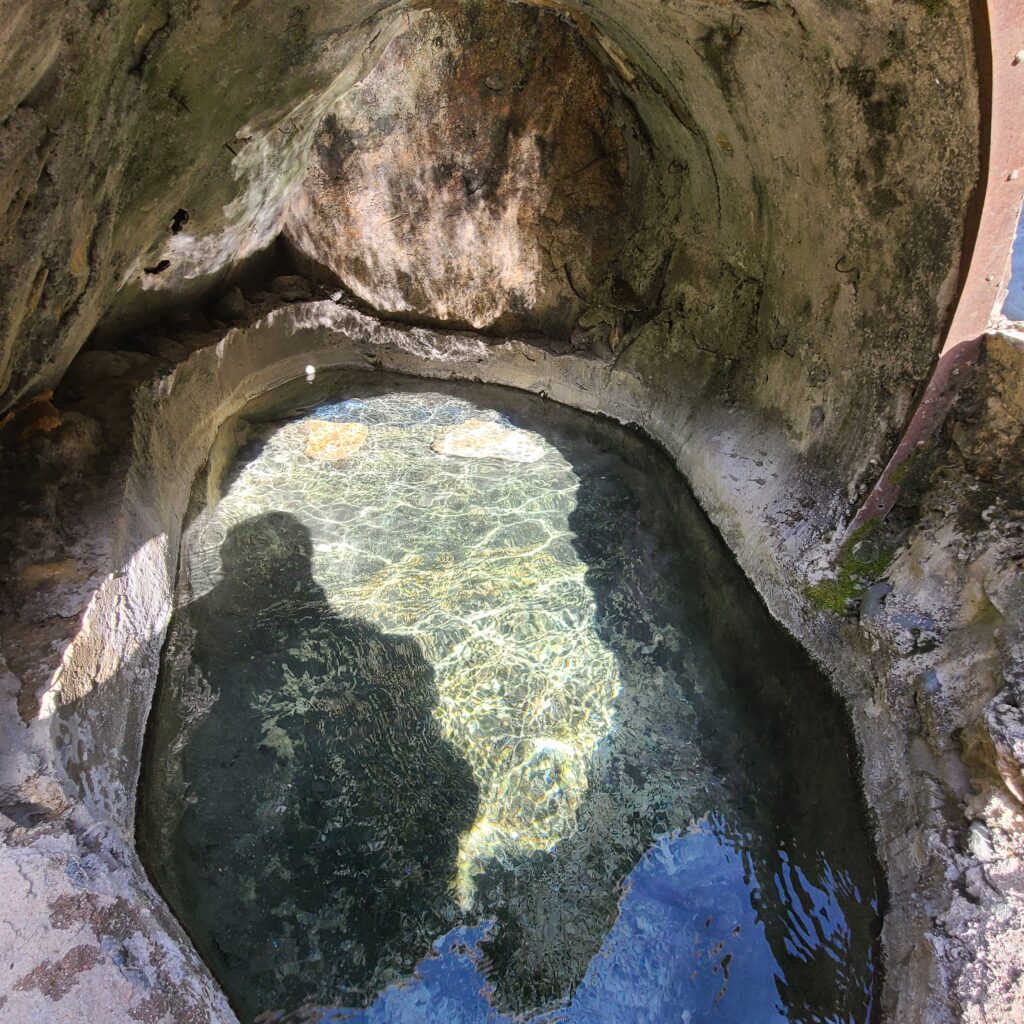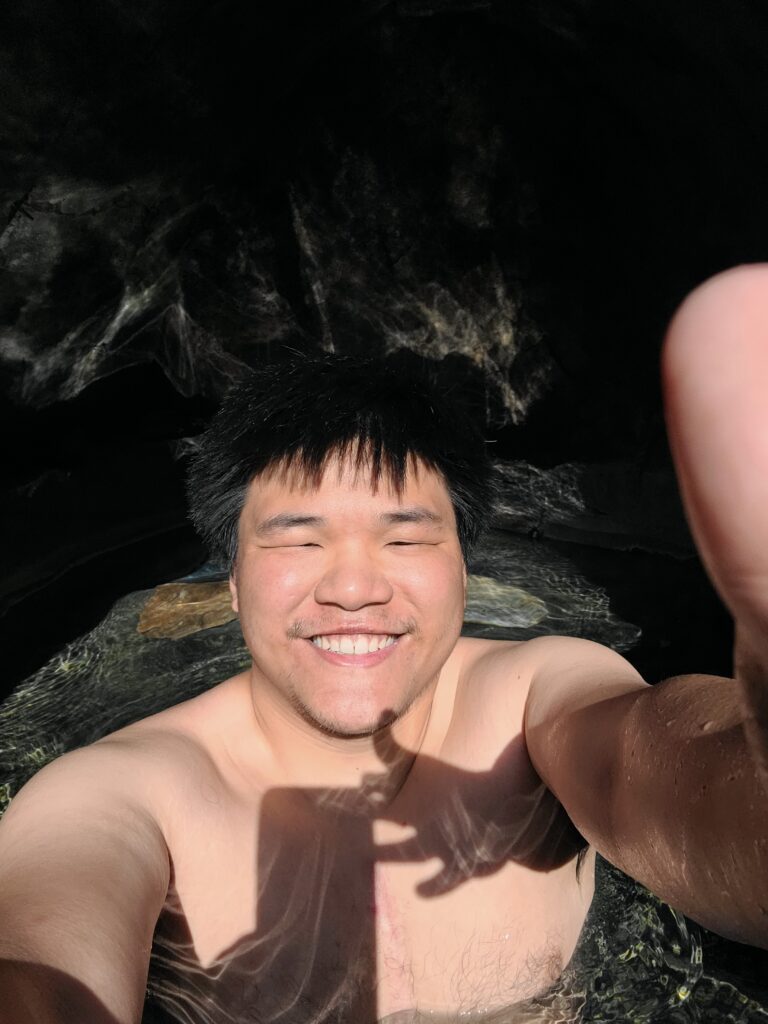 To be honest, it was a bit underwhelming and it wasn't as hot as I thought, but it was a cool break to take. But then, I realized that I forgot to bring a towel even though I asked to loan one from the guesthouse I was staying at in Karakol (stupid)!
I was wearing a Dri-Fit so I had to make do with that. It ended up having mild sulfuric smell, and I had to wear that for the remainder of time I'm up in the mountains until I get back to the guesthouse.
It wasn't too bad. The smell didn't protrude since I was wearing layers. It gets windy and cold at night. The weather here will get unpredictable, so be prepared for that! A scarf is essential to warm your neck and not let cold air go through your body.
Yurt Camps in Altyn Arashan
There were a couple of options for yurt camps in Altyn Arashan. We paid $24 a night for a yurt that includes free dinner and breakfast! Ours in particular is called Eco Yurt Camp Arashan.
The yurt camps will have bars where you can buy drinks, alcohol, and snacks (no credit cards, duh). Take a moment to appreciate the surroundings of the yurt camp! Truly majestic with clear cutting views of the valley that we were in the middle of.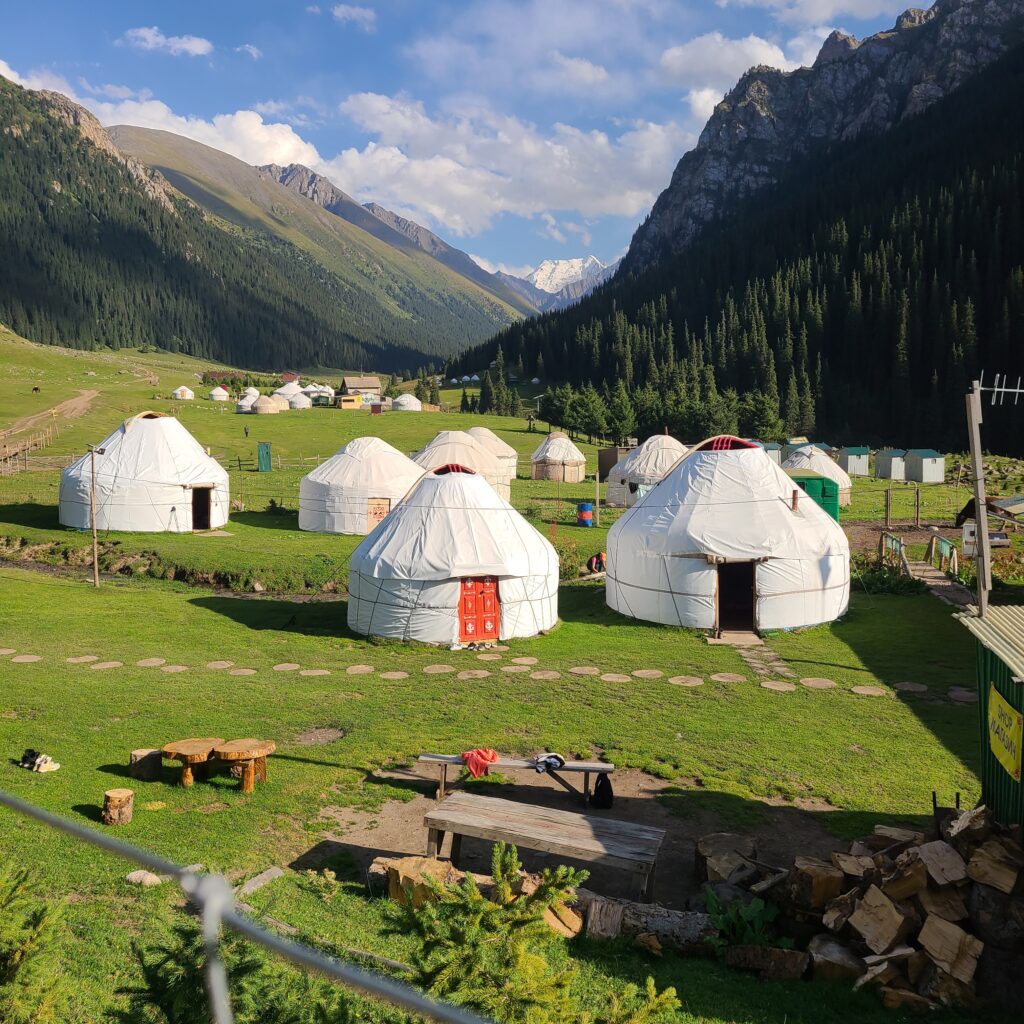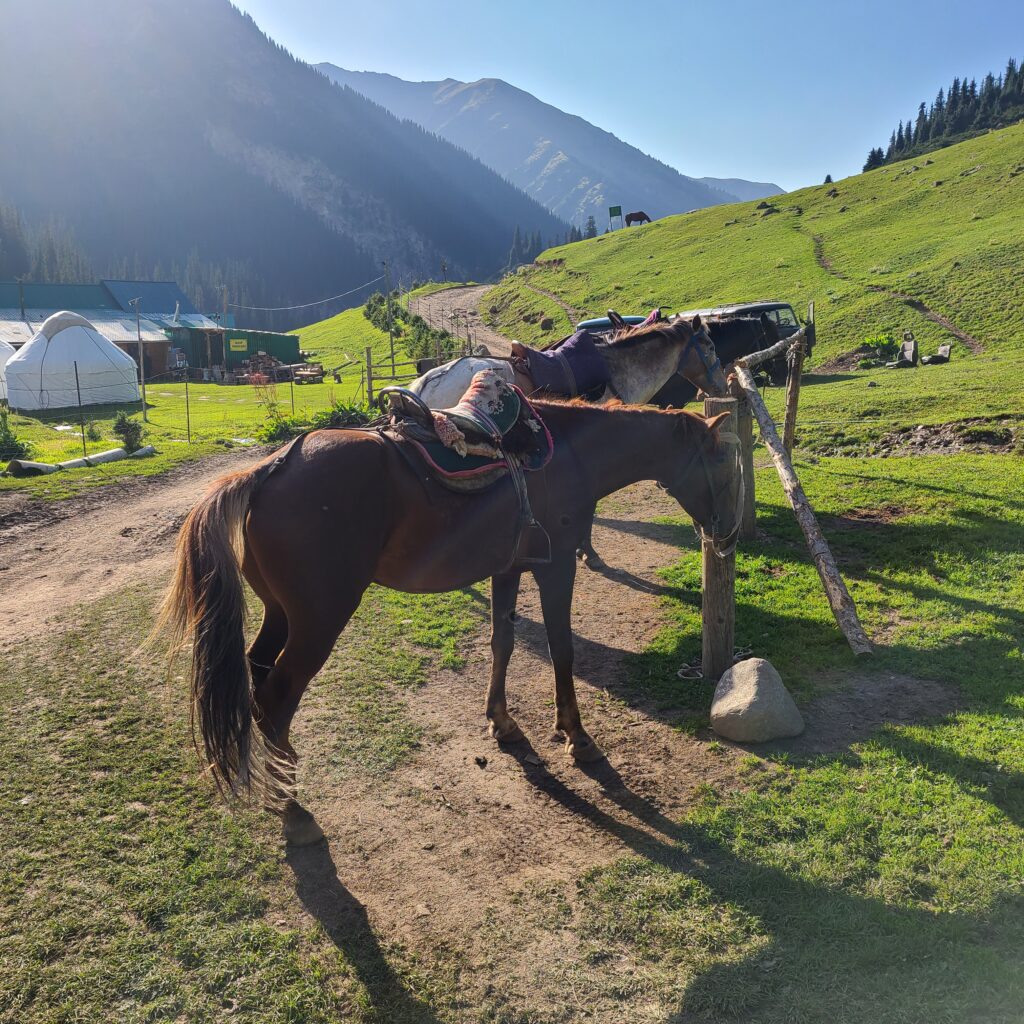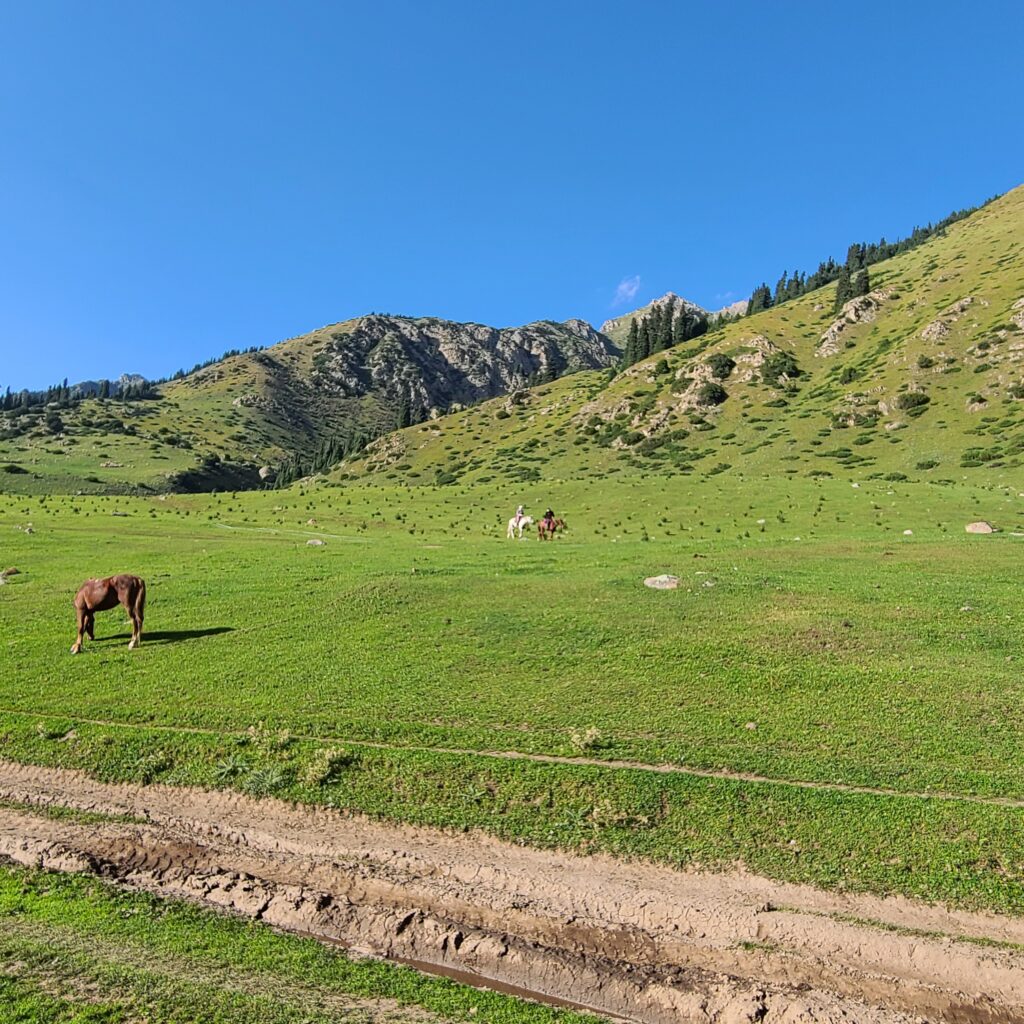 I was staying inside a yurt. I couldn't believe it! My tour guide noted that a "real yurt" wouldn't be made of metal, but I wasn't picky during the time. It was neat and I've reached one of my purposes on my Kyrgyzstan visit.
There were dogs owned by a family who ran one of the yurt camps. I played mostly with one of them named Caesar who loves getting pets and does not want me to stop.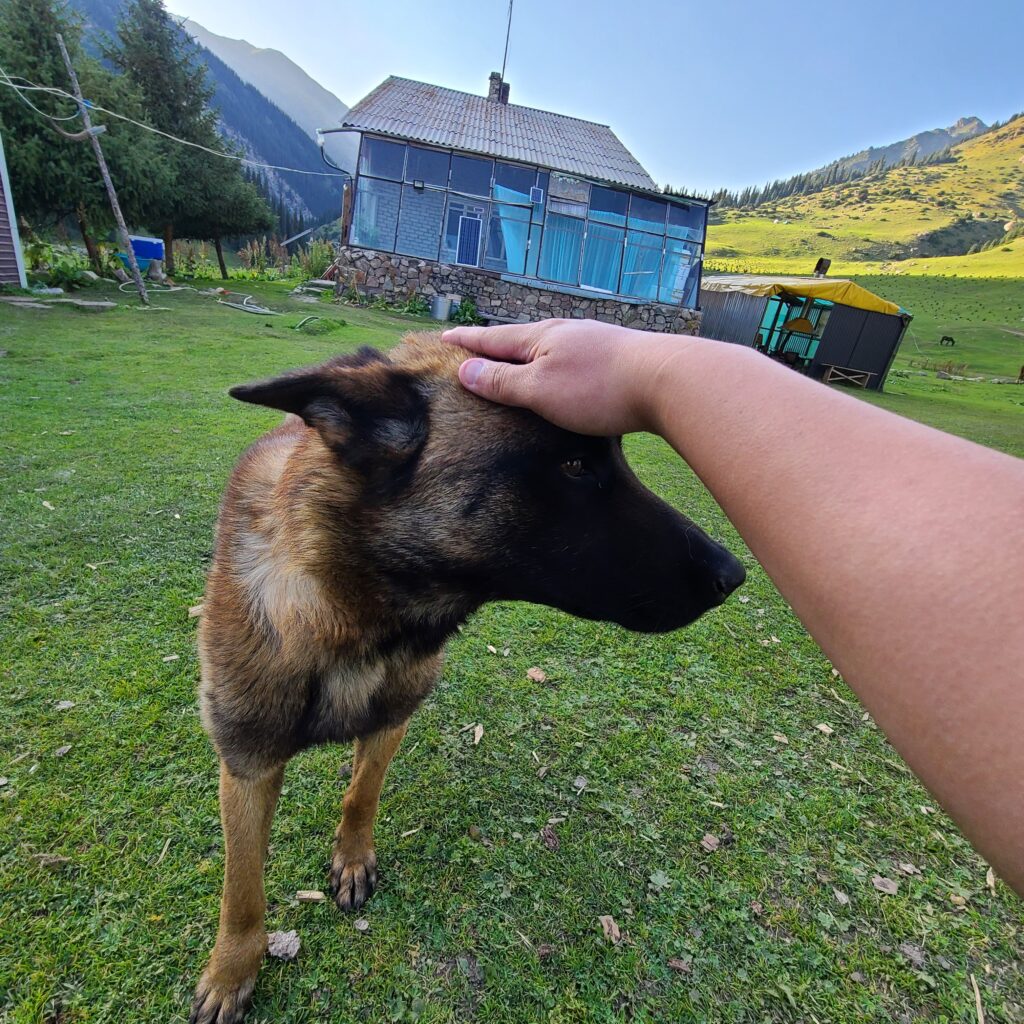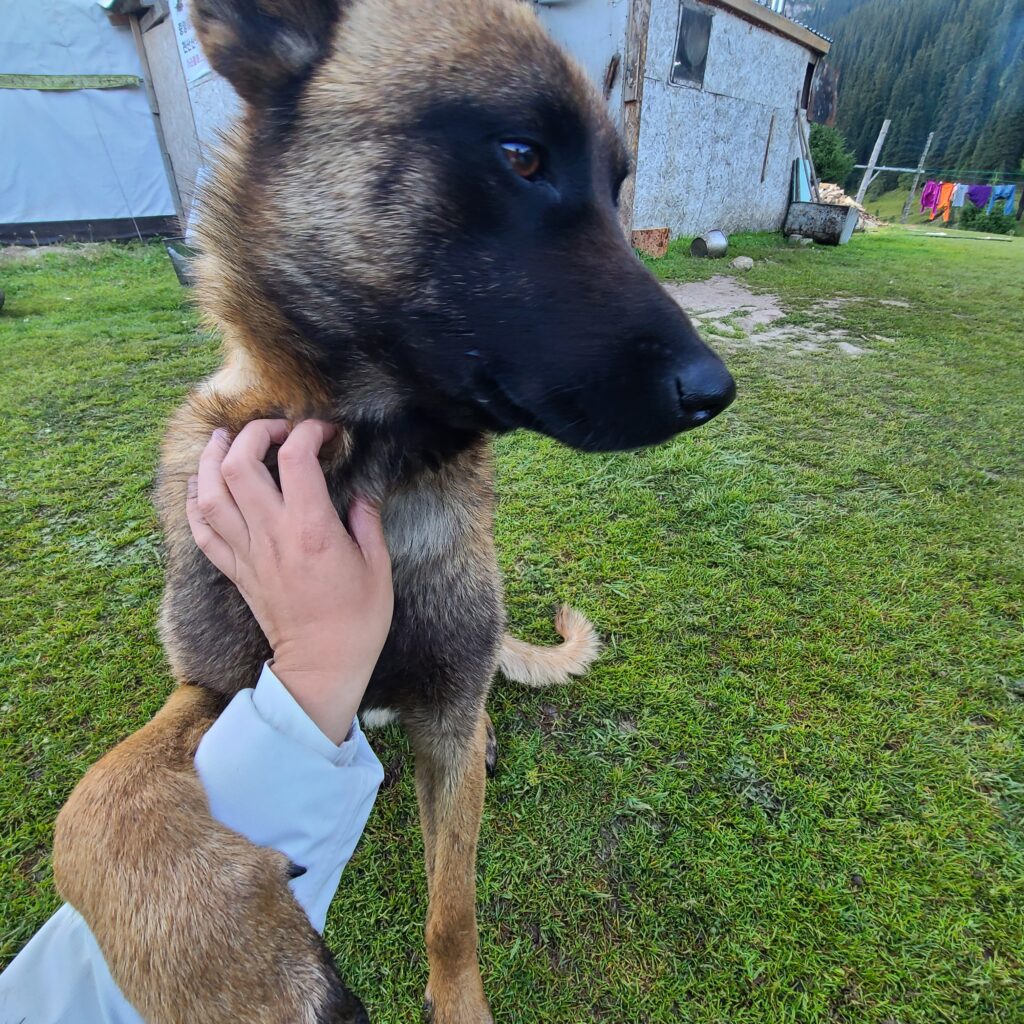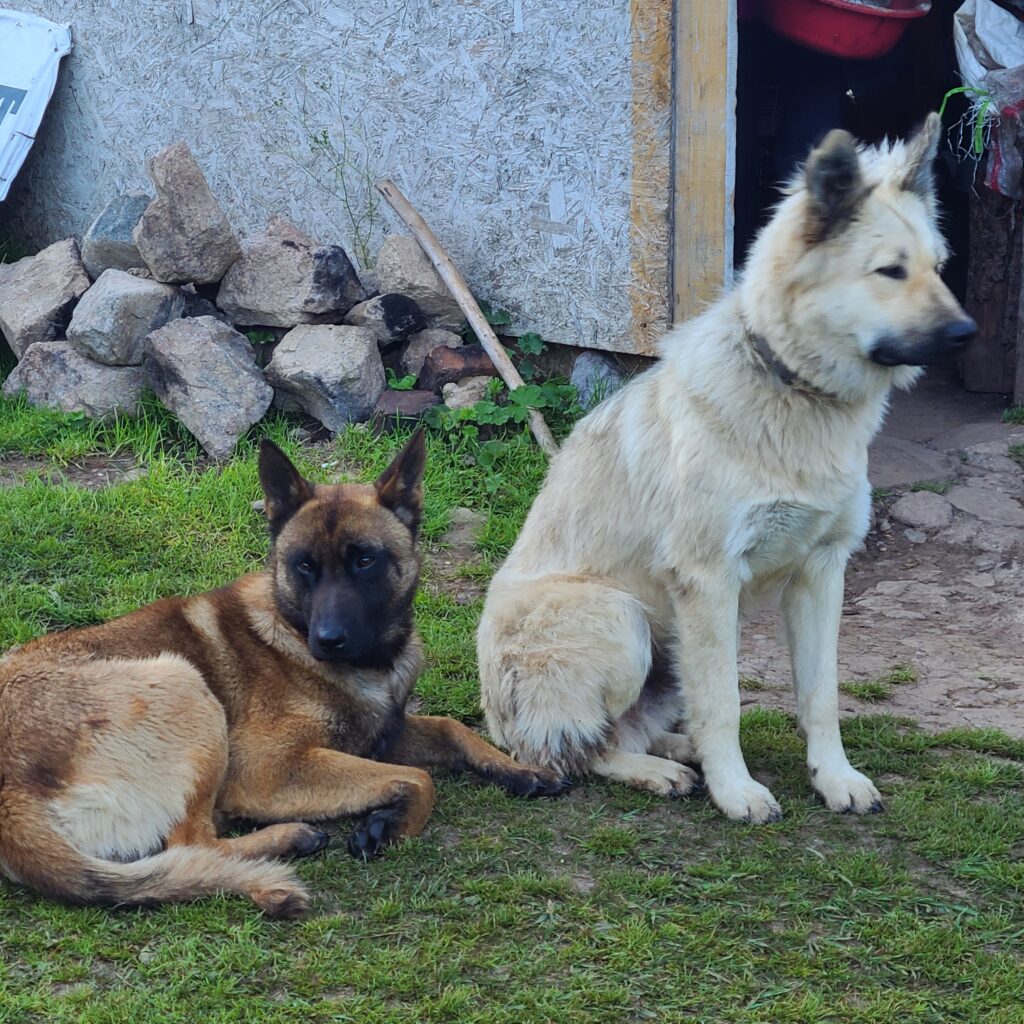 Other amenities include flushable toilets and sinks to wash your hands in. It was more convenient than I thought!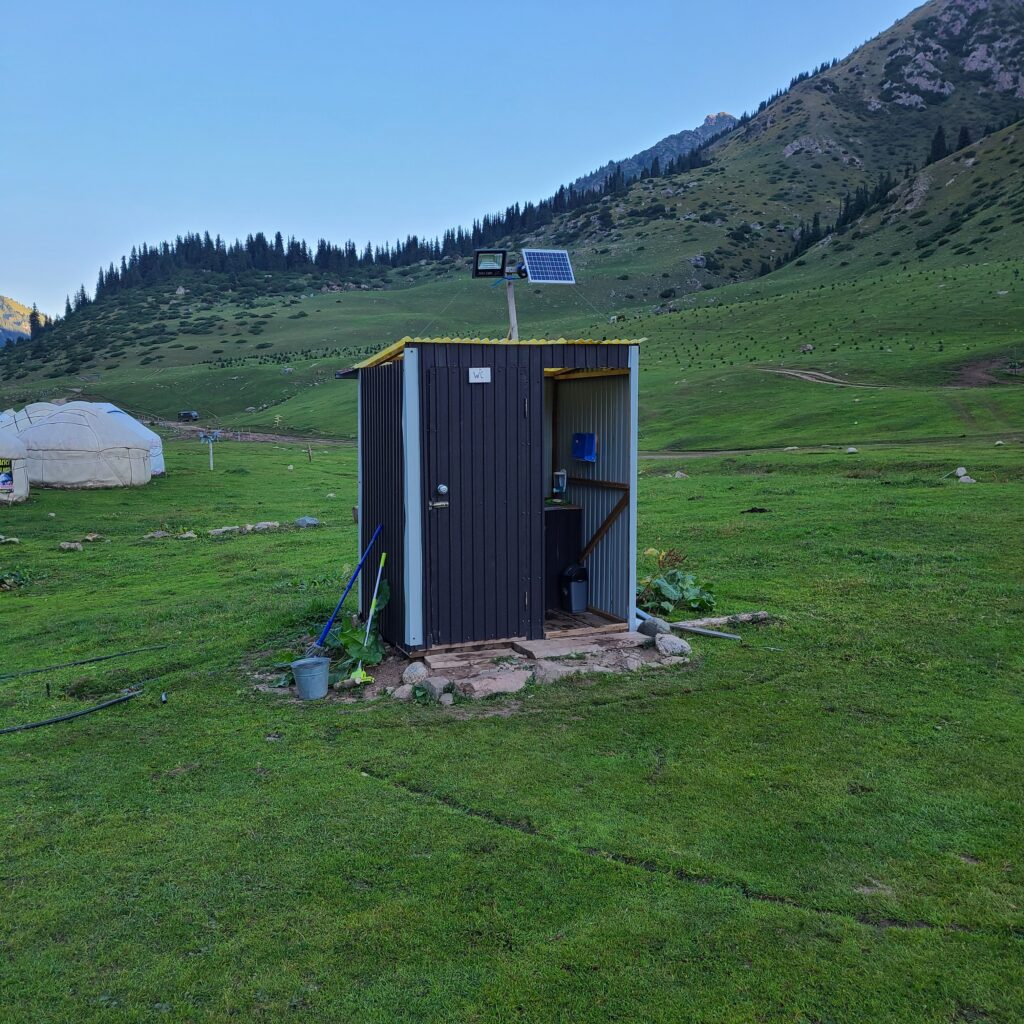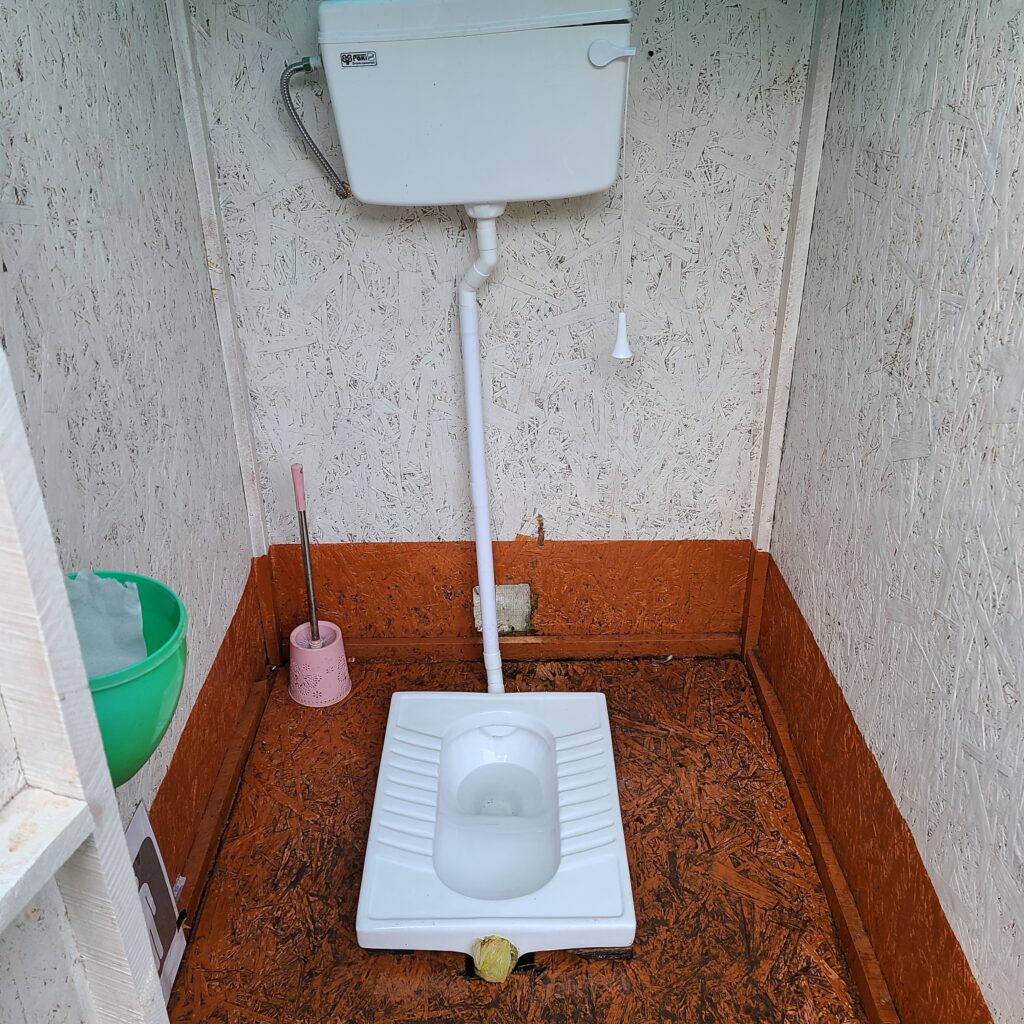 There's a mini playground with a swing and monkey bars for kids.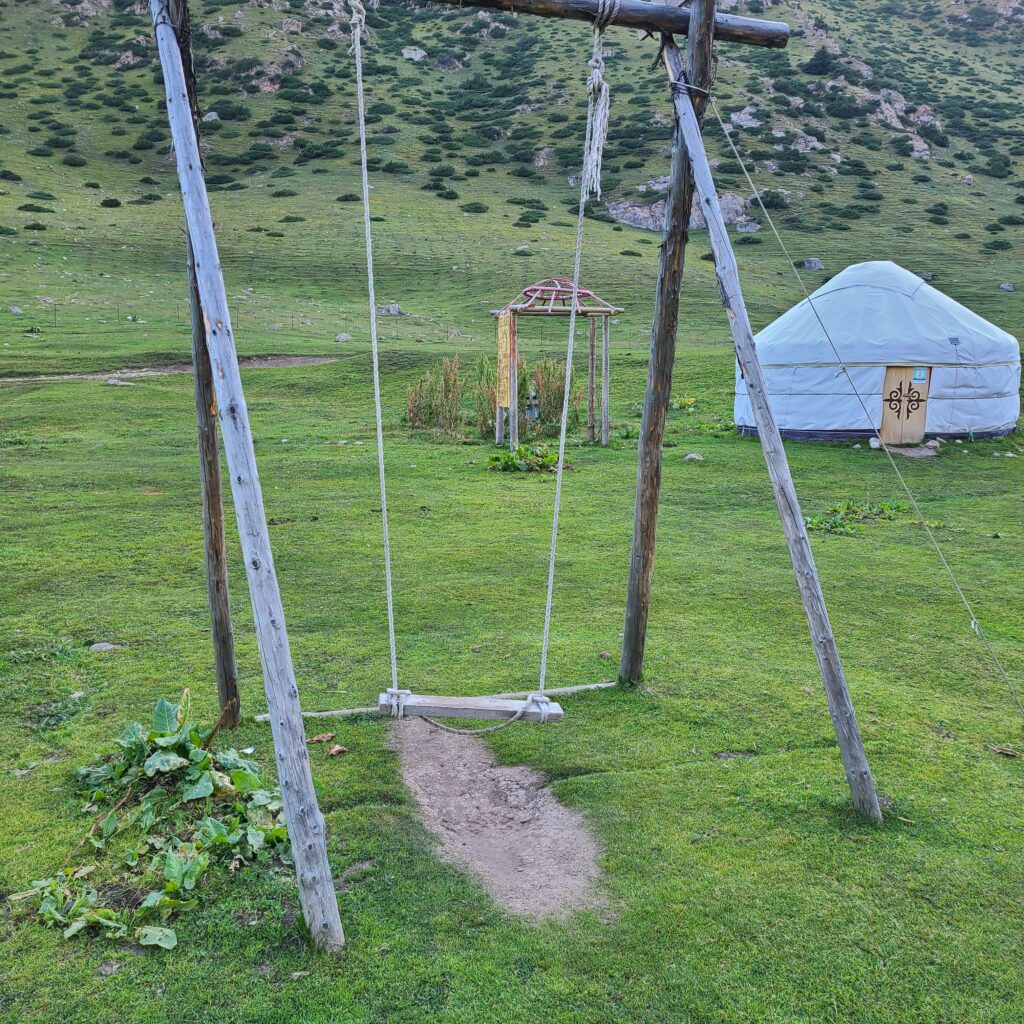 For dinner, we were treated with plov (rice dish) and shorpo, a Central Asian soup usually served with lamb.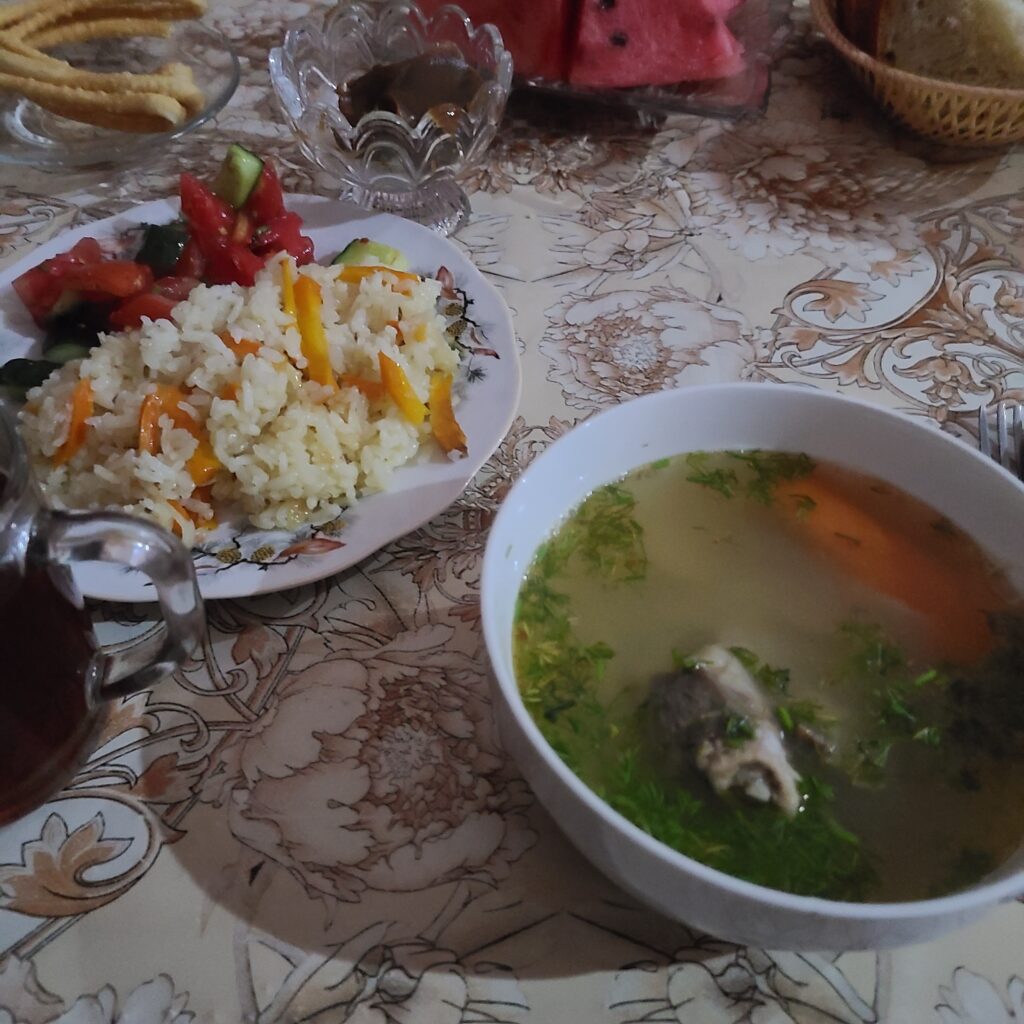 Sadly, I was not able to finish it. Even though I was looking forward to eating after a really strenuous hike, I had stomach problems that just happened to be quite bad just as I was about to eat. I don't think it was from the food in the camp, but I've been having a minor, but lingering stomach issues from my first day in Bishkek two days before the hike. It was really unfortunate that it decided to crank it up a notch during this time.
I felt really bad not being able to finish all of them, since I can imagine that it's hard to provide food 10k feet up in elevation.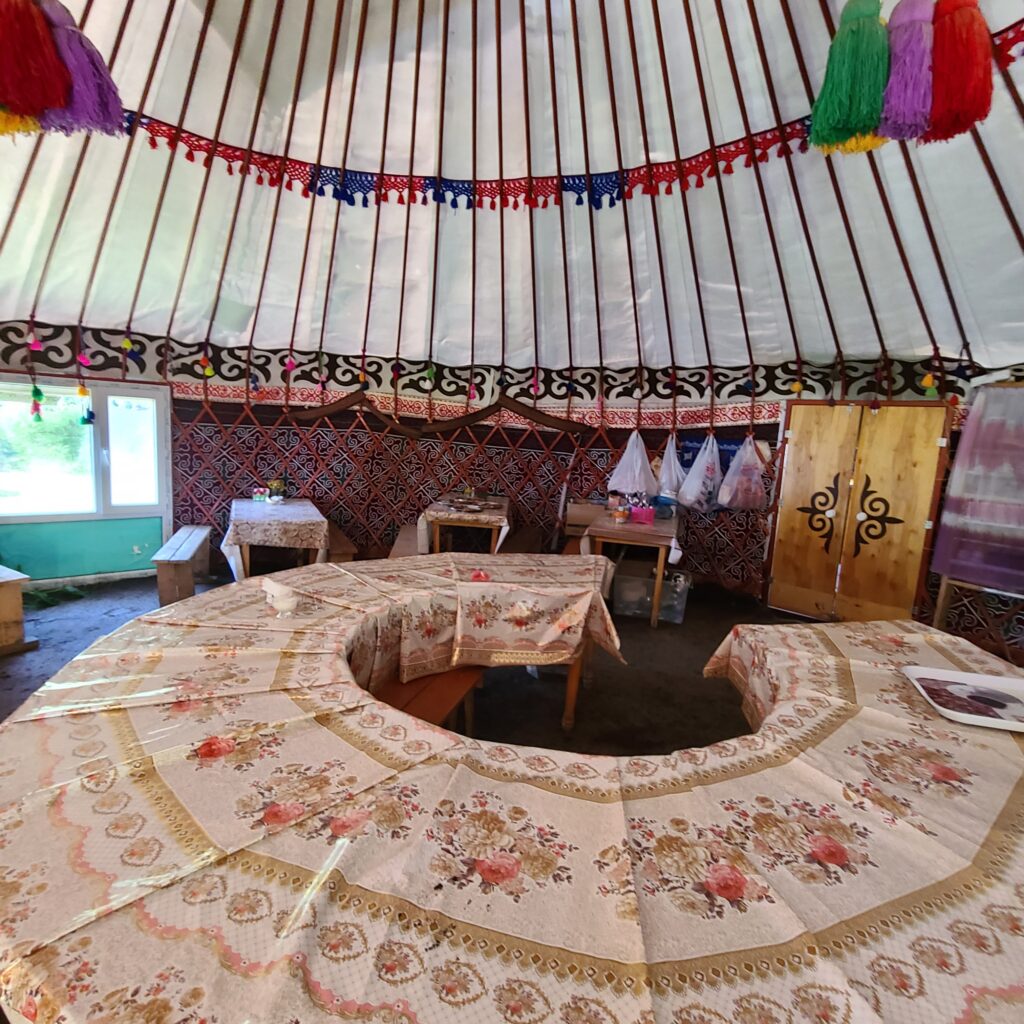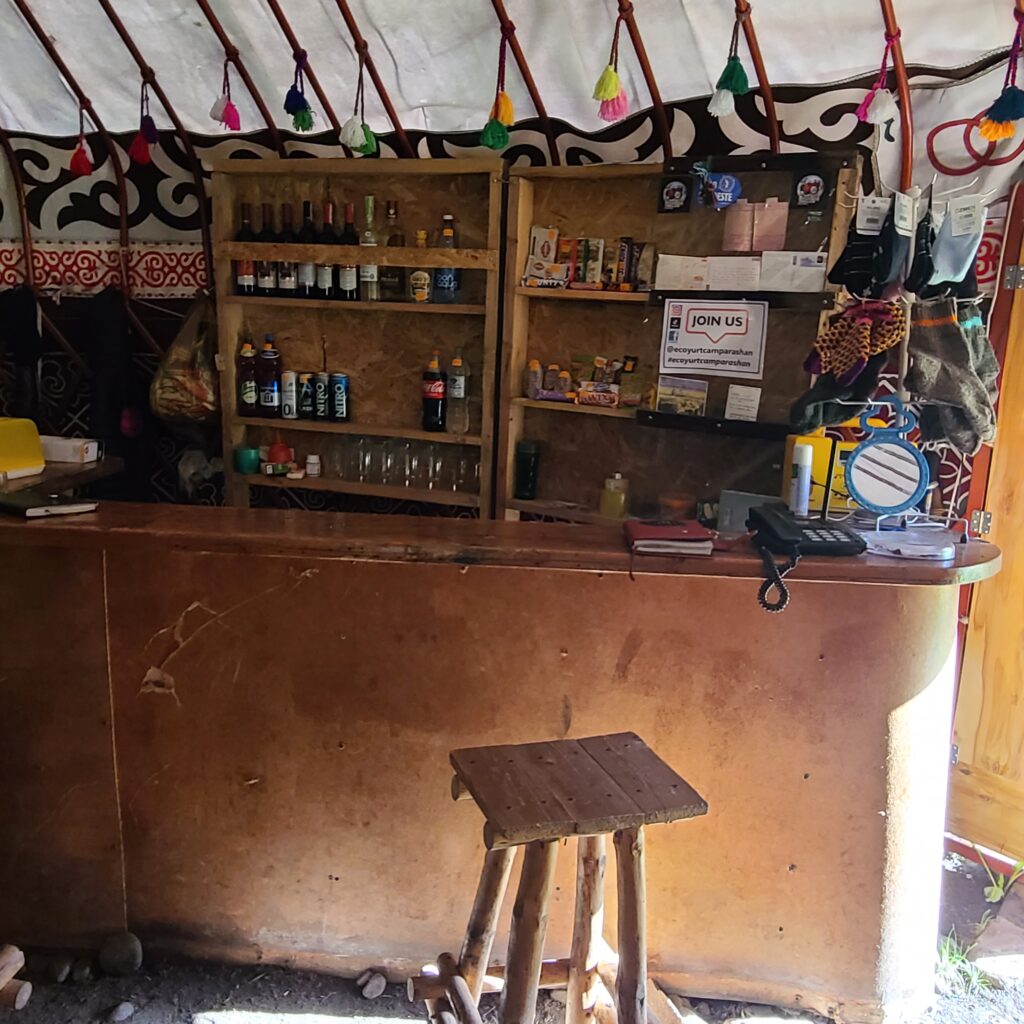 The Night & Next Day
During the night, we can see a gorgeous view of the Milky Way galaxy. It's a shame that non of my camera equipment can capture such a moment, but it's seared inside my brain. At the same time though, I wanted to lessen my phone time while I was here. While I wished I could enjoy the view more, I was exhausted both from fatigue and stomach pain, so I called it a day early. I slept quite decently, and it was quite cozy inside. It was quite windy though.
The morning view of Altyn Arashan is is simply spectacular. I then noticed Caesar herding a group of horses in the morning. I didn't even think of recording a video then. I just had to quietly observe from a distance, and it was one of those moments best left uncaptured in my opinion.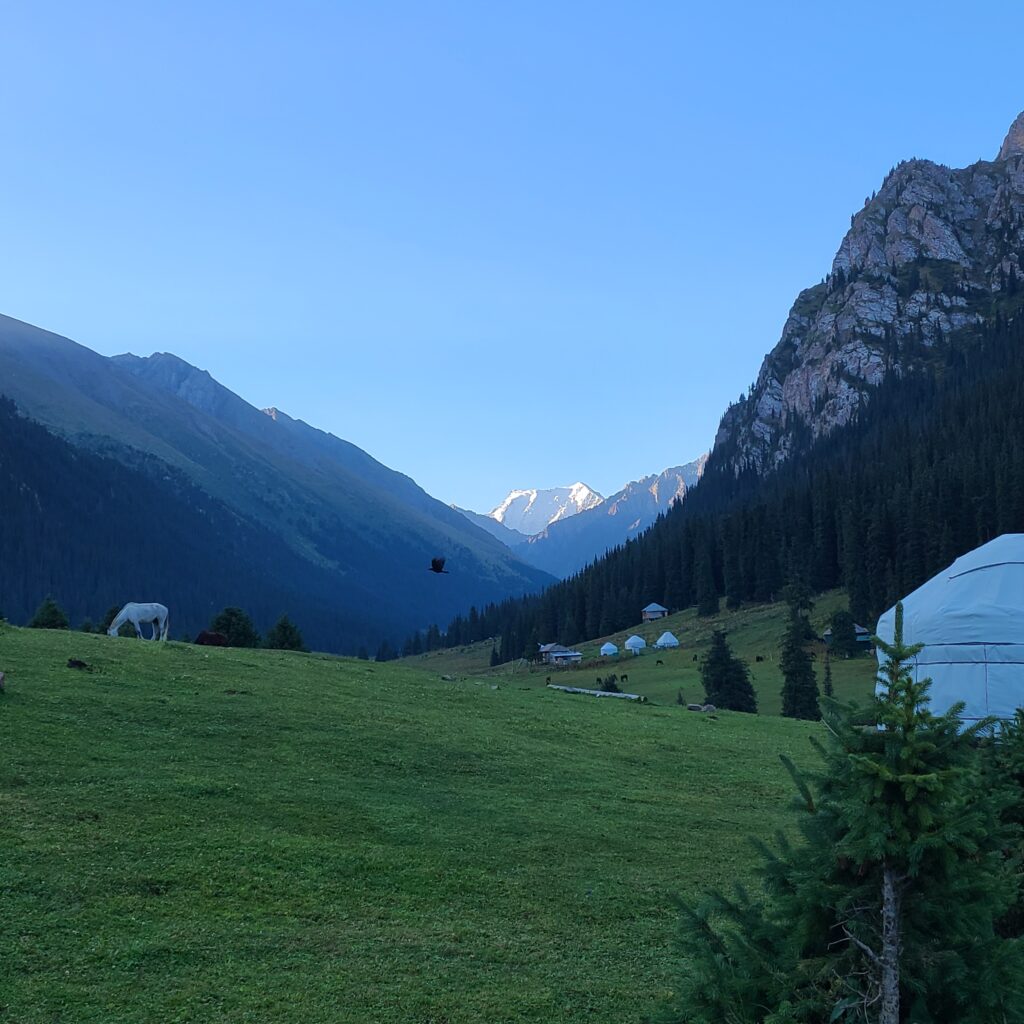 My stomach felt better the next morning, and I was ready for breakfast! We had sausage and eggs with bread and jam. I ate all of them quickly to make up for the food I unfortunately wasted last night. The breakfast was delicious.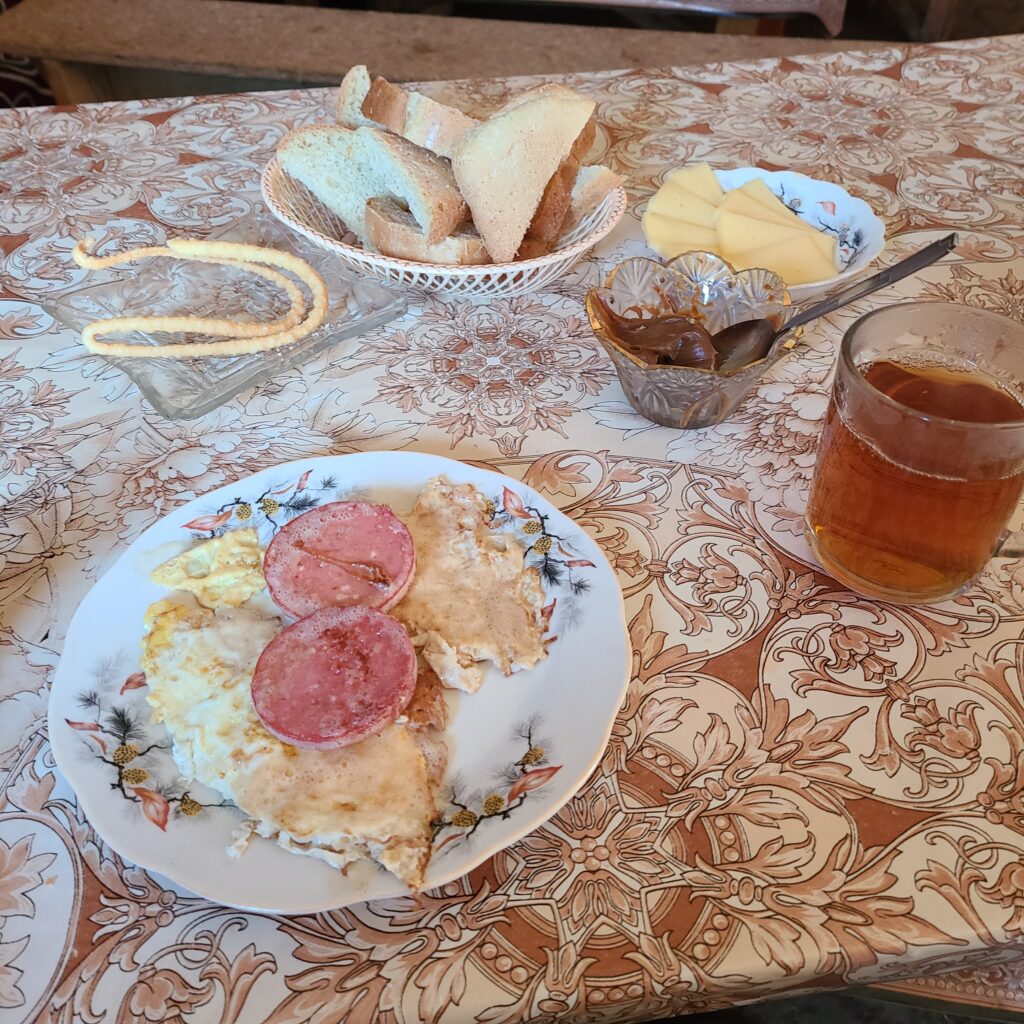 After finishing breakfast, we restocked our water at the bar and checked out of the yurt camp to head back to Karakol. Going down was 10x easier than the day before! It took us 3 hours to get down. We did make a new temporary buddy again on our way down though.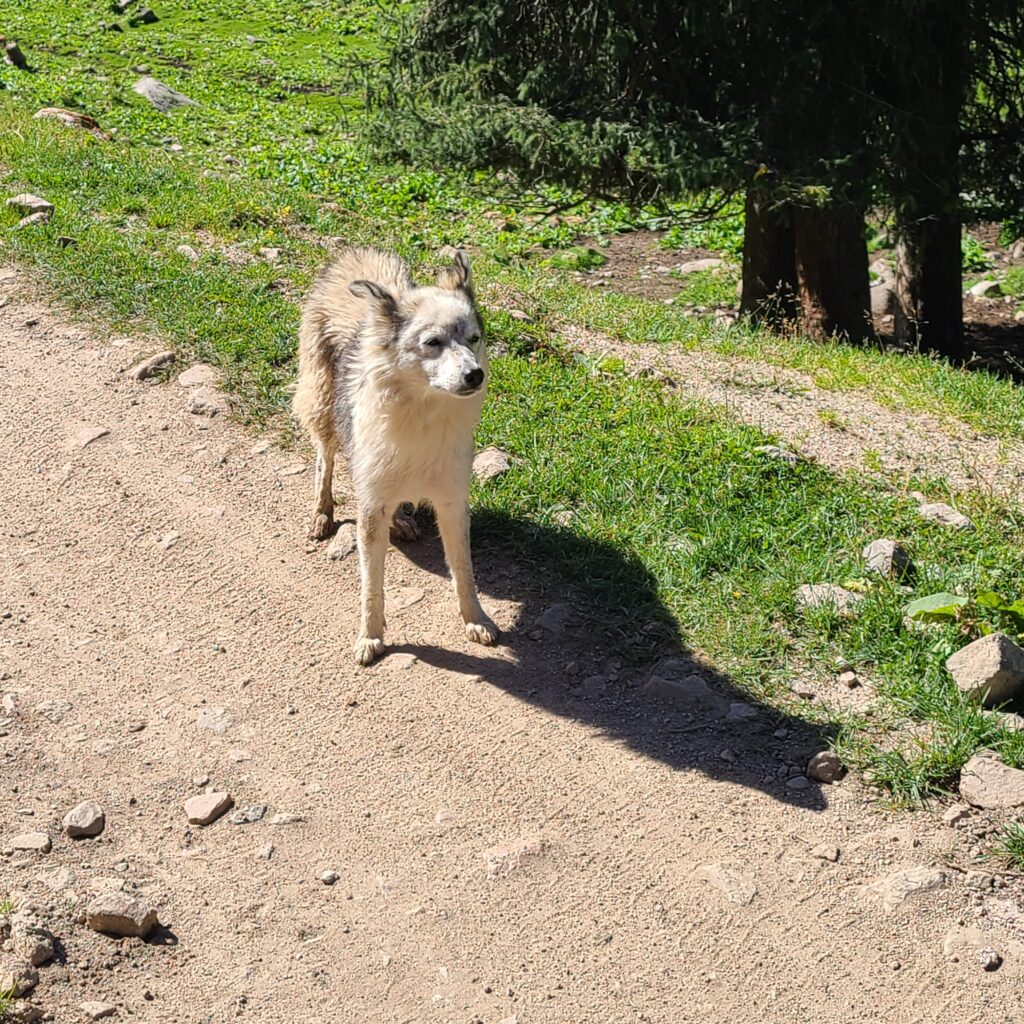 Conclusion
Even though Altyn Arashan demanded the most out of me physically and mentally, I was glad that I was able to witness Kyrgyzstan's majestic nature. The yurt camp was my limit, however. But, for those with much more stamina than mine can check out Ala-Kul Lake after an overnight stay at one of the yurt camps. From the pictures I've seen, it's quite gorgeous, but the road will be tougher than hiking Altyn Arashan alone.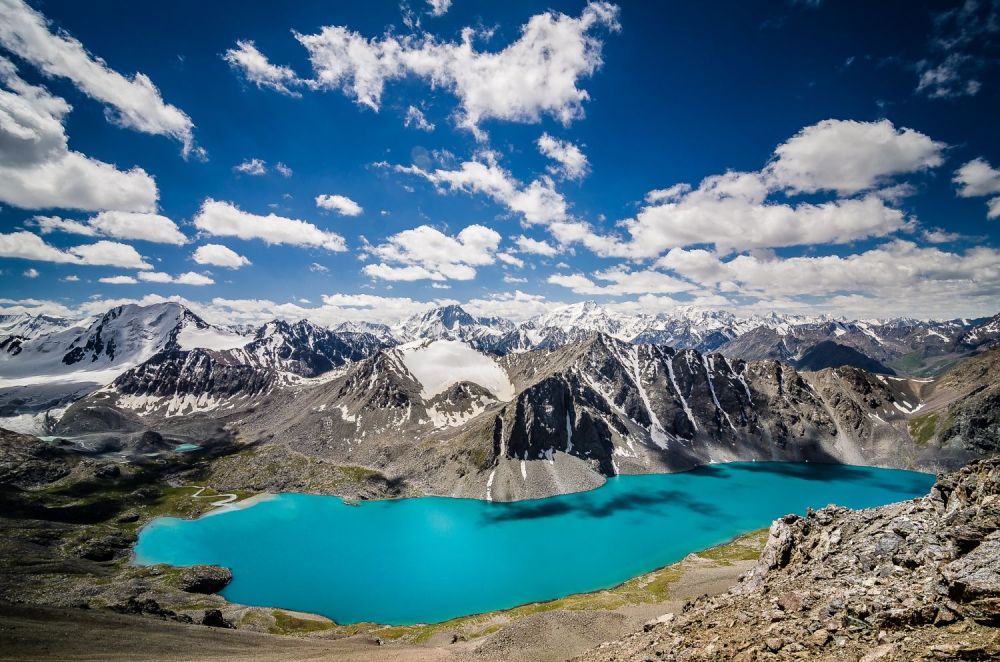 Kyrgyzstan's nature is truly spectacular, and they're definitely one of the strongest points the country have to offer. It's a breath of fresh air compared to the usual city or beach trips I take. But, I hope to visit other nature sites in the future like Song-Kul Lake with lakeside yurt camps and more flatter surroundings. I'll definitely have to be more fit before visiting the country again. Easier said than done though I won't lie.