Advertiser disclosure: This post may include affiliate links (including sidebar banners) in which this site may receive compensation if a purchase is successfully made (at no extra cost to you) after being redirected from here. Thank you for your support!
Amex Platinum Digital Entertainment Expanded
American Express has added Disney+, Hulu, and ESPN+ to be included into the Platinum Card's Digital Entertainment benefit. This can bring more value to certain consumers.


How to Use Amex Platinum Card's $240 Digital Entertainment Credit
You need to enroll in this benefit in order to use the Amex Platinum's $240 Digital Entertainment Credit. All you need to do is go on the Benefits tab in your Amex account.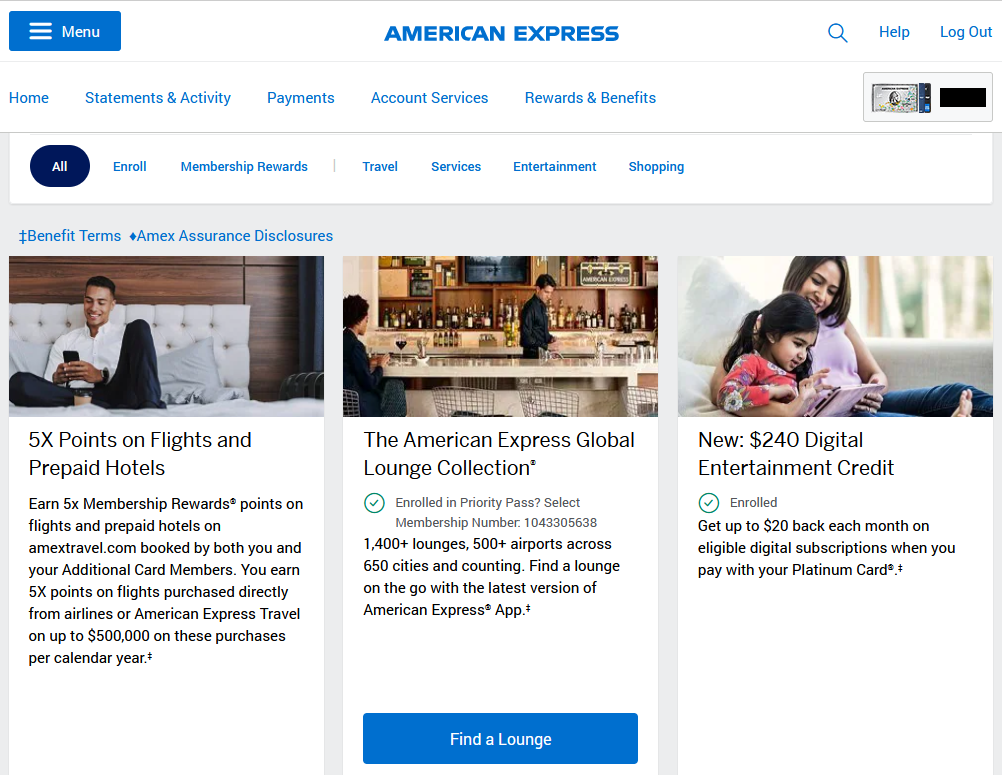 As I've already enrolled myself, the big blue button to enroll isn't there anymore. But if you haven't, then it's impossible to miss.
Beware that Amex's Digital Entertainment credit is split monthly. So, a $240 credit allows you to use up to $20 monthly for the valid Digital Entertainment options. Since many subscription services offer annual subscription to save you a bit of money in the long run, you wouldn't be doing yourself a favor when trying to use Amex's credit.
Disney+ comes with a bundle, The Disney Bundle, where you can get an all-in-one access to Disney+, Hulu (with ads), and ESPN+ in a monthly price of $13.99; $19.99 if you want no ads on Hulu, which either way, the Digital Entertainment credit will cover as long as you have the Platinum Card opened.
Outside of the new partners, you can use the credit on Digital Entertainment options like:
Peacock
Audible
SiriusXM
The New York Times
Rakuten on Disney
As a nice bonus, Rakuten will give further rewards for Disney+ subscription. An easy strategy to do is cancel your Disney+/Bundle subscription every month and then re-sub through Rakuten to get free Amex Membership Rewards points. As of the time of this post, the $19.99 version of the Disney Bundle that includes Hulu with no ads gets you back $8 or 800 Amex MR points! An upgrade from Disney+ to a Disney Bundle will get you $5 or 500 Amex MR points instead. The amount may change over time, but free points is free points!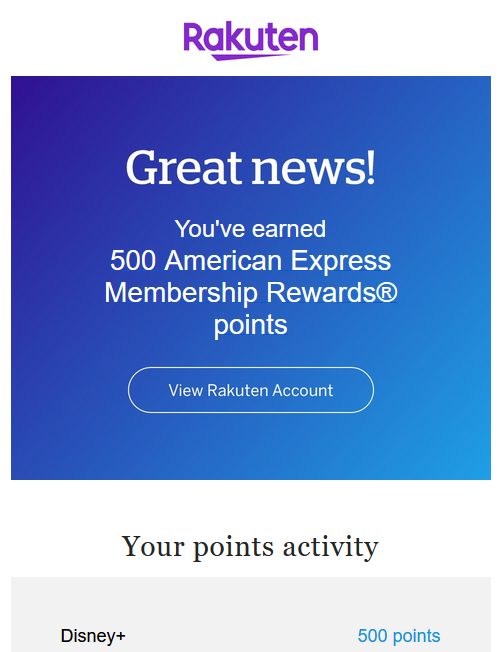 Conclusion
The Disney+ addition to the Amex Platinum will surely bring more value to some consumers. The first rollout of the Digital Entertainment options was quite disappointing as it only worked on a very limited amount of services. It's a good move on Amex part to include a subscription services that appeal to a wider audience. Hopefully, Amex will include more partners in the future. Ahem Spotify Ahem.