Advertiser disclosure: This post may include affiliate links (including sidebar banners) in which this site may receive compensation if a purchase is successfully made (at no extra cost to you) after being redirected from here. Thank you for your support!
Rakuten & TopCashback- Boost Your Rewards
Your spending can be optimized by using the right set of credit cards, but it can be improved with online cashback portals. In this post, I'll talk about Rakuten & TopCashback specifically. Rakuten & TopCashback are shopping portals that allow you to boost rewards on your spend on top of what you already earn from your credit card spend. Both portals are great options for the points & miles enthusiasts, and I'll explain why that's the case.
What is Rakuten?
Rakuten is a shopping portal where you can earn even more rewards from buying items online like clothes, electronics, tours, and even hotel stays. With the emergence of online shopping, in which you do need a credit card to purchase, you can't go wrong by checking out Rakuten first to get more value out of your purchases. At default, Rakuten will give extra cashback on top of the cashback, points, or miles you earn from your credit card spend.
The amount of extra rewards you'll earn will depend on the merchant you're buying from, and your time of purchase. So the reward amount will vary, and they can get unpredictable except for the holidays season where you can expect bigger rewards!
Rakuten has a browser extension you can install that will automatically detect if the site you visit have the potential to earn you rewards when you shop there. Activating it is as simple as clicking a button!

Convert Cashback into American Express MR Points on Rakuten
One good reason that makes Rakuten great is the ability to convert your cashback rewards to the Amex Membership Rewards points! I value Amex MR points to be at least 2 cents per point, so it's a no brainer to forgo cashback in favor of Amex MR points for points & miles enthusiasts. To do so, you need to link you Amex account with an existing Membership Rewards earning Card to Rakuten.
Rakuten pays off Amex MR points on a quarterly basis and you also need to earn at least 500 MR points for the transfer to begin. If you don't meet the 500 points requirement by the payoff date, then you must wait until the next quarter after reaching the threshold.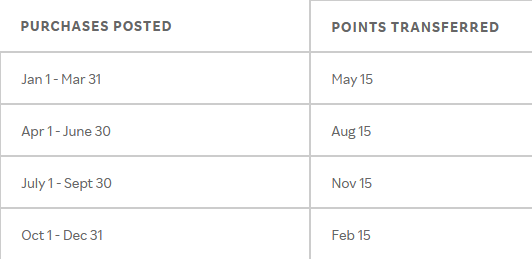 Beware that once you elect to earn Amex MR points instead of cashback as rewards, you won't be able to switch back to earn cashback. This shouldn't be a problem as there are other cashback portals out there. Rakuten is simply a special case as it's the only cashback portal that allows you to convert your rewards to Amex MR points.
One of my favorite ways to use Rakuten is to book hotel rooms when I decide to pay cash instead of points. Unlike a third party travel agent, you can still earn hotel points, progress towards higher status, and enjoy elite benefits if you have them. It does cover a good chunk of hotel chains in the world, except for World of Hyatt. This can serve as a "balancing act" as World of Hyatt points are typically worth more compared to other hotel chains like Marriott, Hilton, and IHG.
TopCashback- A Rakuten Alternative
Since you can't go back to cashback once you elect to earn Amex MR points, TopCashback is a great alternative. It covers similar range of merchants like Rakuten, with the addition of an interesting option that I will briefly talk about. TopCashback also has a browser extension, so you can easily compare the reward rates and choose which one will give you better rewards at the time.

You cannot stack both Rakuten & TopCashback on the same shopping trip. You must choose either one.
One interesting site that TopCashback gives rewards to is Points.com. Points.com is the main distributor of many airline miles and hotel points found in different loyalty programs. When you try to buy miles or points, you're usually directed to a Points.com URL instead of the loyalty program's website. That's where TopCashback comes in. As most airline and hotel programs occasionally offer promotion bonus when you buy miles or points, you can stack the promotional bonus with TopCashback!

Conclusion
Both Rakuten and TopCashback are great and easy ways to earn extra rewards on top of your credit card spend. Signing up for both programs is free and they come with their own signup bonuses! If you're interested in both programs, please consider using my referral links as we both will get rewards! Everybody wins!