Marriott Bonvoy Program: What You Need to Know
Marriott Bonvoy is the loyalty program of Marriott, one of the largest hotel brands in the world. Participating in the program can give be beneficial if you find yourself staying at Marriott properties often and if you enjoy their diverse sets of property brands spread throughout the globe. This guide will outline what you need to know about the Marriott Bonvoy program.
How to Participate in the Marriott Bonvoy Program
Participating in the Marriott Bonvoy program is as easy as registering for an account at Marriott's website where your loyalty number will be generated. Signing up for a co-branded credit card like the Marriott Bonvoy Brilliant will also generate a loyalty number if you have not registered an account before.
How to Earn Marriott Bonvoy Points
Being a free member will get you base Marriott points per dollar spent on room rates (excluding taxes & fees) and amenities on the properties including food and beverage, spa, and activities.
The base points earned will differ based on the type of Marriott property you're staying at:
10 points for most Marriott brands
5 points for Residence Inn, TownePlace Suites, Element Hotels, Homes & Villas
2.5 points for Marriott Executive Apartments
Having elite status grants you extra points on top of the base for your stays.
Silver Elite: 10% bonus points
Gold Elite: 25% bonus points
Platinum Elite: 50% bonus points
Titanium Elite: 75% bonus points
Ambassador Elite: 75% bonus points
Earning points is also possible through spending on co-branded credit cards (and also by earning their signup bonuses) issued by American Express and Chase:
American Express Marriott Bonvoy Brilliant
American Express Marriott Bonvoy Business
Chase Marriott Bonvoy Boundless
Chase Marriott Bonvoy Bold
Chase Ritz-Carlton Rewards (discontinued)
Marriott also has other programs and partnership to let you earn extra Marriott points like:
Finally, buying points is another option in the Marriott Bonvoy program. Although it's usually not recommended to do so, it's a way to top up your points for a short term future redemption, and there are bonus points promotions happening throughout a calendar year, so it's advised to at least wait for a promotion before deciding to buy points.
Buying Marriott points go through the merchant Points.com, so you won't earn a special multiplier of Marriott purchases you'd get from using a Marriott credit card. It's best to use a credit card with high non-category spend like the American Express Blue Business Plus (2x MR) or a card you're trying to hit a signup bonus with.
Marriott points can also be combined from different accounts, and you can receive up to 500,000 Marriott points. Definitely transfer points to someone with higher status as there are a couple of +1 benefits you can use on your stays like free breakfast and lounge access for Platinum Elite and above.
Points will expire if there's no activity in more than 24 months. Activities like buying points, credit card spending, and hotel stays will reset the 24 month countdown. It should be very easy to keep your Marriott points intact.
How to Redeem Marriott Bonvoy Points
Marriott Bonvoy points are best redeemed for Marriott Bonvoy hotel stays. One big advantage Marriott has is their large footprint across the globe and variety of brands ranging from luxury to modest properties suited for big families.

Currently, Marriott Bonvoy has an award chart with off-peak and peak pricing.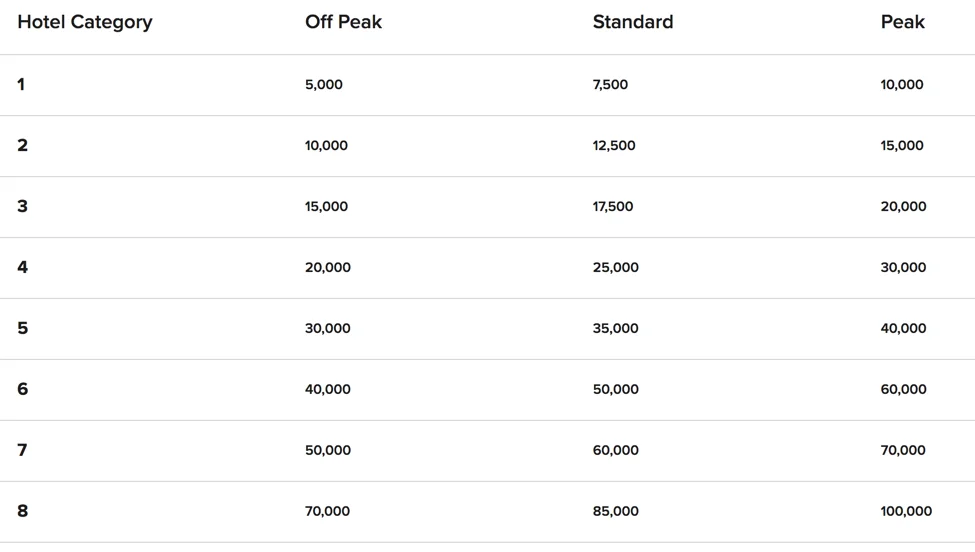 A hotel category implies more luxurious properties at the more popular destinations. Some aspirational properties at a less popular location could have a lower category, which can work on your favor. But, the opposite can be true where a less aspirational property can have a higher category level at a popular destination.
Then, peak pricing is usually determined by the occupancy rate of the hotel. The higher the occupancy rate is, the more likely you will redeem your points at peak price.
These inconsistencies can make redeeming Marriott points challenging and fluctuate their values quite a bit where certain locations and properties are great value redemptions, while some will be terrible.
The award chart system will be replaced with dynamic pricing starting in March 2022, including the categories and peak pricing. I will update the guide when the changes go live.
Pay for 4, Stay for 5, Cash + Points, PointSavers
Whenever you redeem your Marriott points for 5 consecutive nights at the same property, you'll get the 5th night free. The way it works is that you'll only pay at the rate needed for 4 nights redemption. As an example, I'll try to book a 6 night stay at the JW Marriott Absheron Baku (review).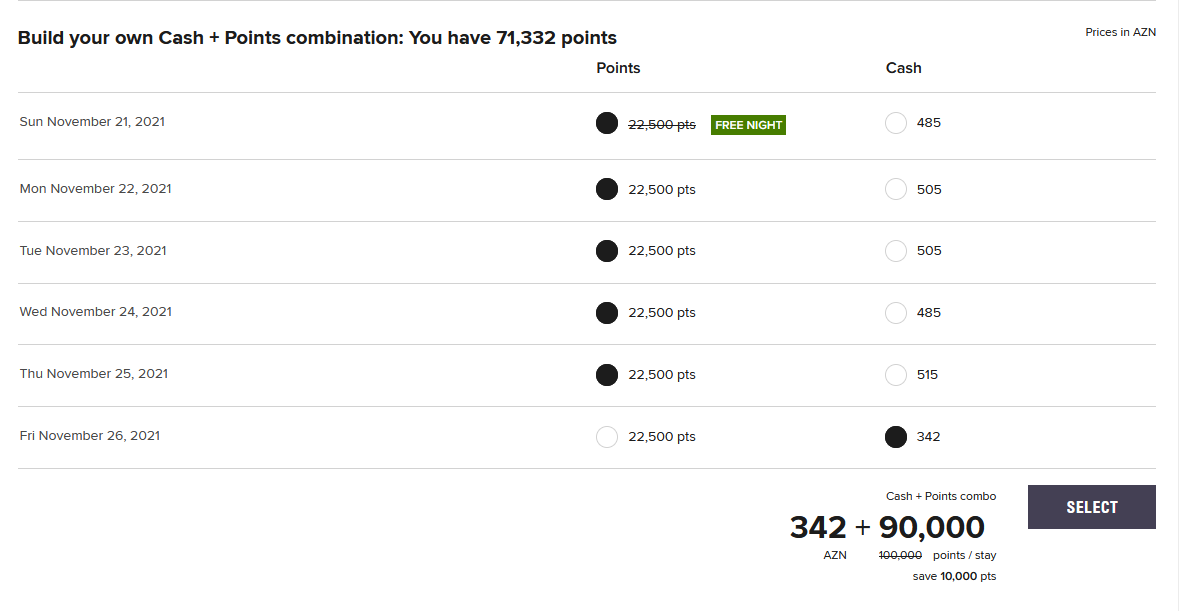 This screenshot is a triple-whammy for other Marriott redemption mechanics that I will explain. First, the 5th night free is applied as seen on the screenshot due to the consecutive 5 nights from Nov 21 to Nov 25, totaling to 90,000 Marriott points.
Second, if you book 6 nights or more, you can still use the 5th night free benefit and pick which night(s) you want to pay cash with. For this itinerary, 342 Azerbaijani Manat (AZN) is the lowest cash price, while the rest are much higher with the same points requirements, so it's a no brainer to pay the lowest cash rate with cash if you rather save the points. Keep in mind that you won't be getting the base points and elite status bonus on Cash + Points booking, but you can still earn points from the credit card used to make the booking.
This example redemption is pretty good for Marriott Bonvoy as it results in over 1.27-1.35 cents per point, where 0.7 cents is the baseline for a good redemption on the Marriott Bonvoy program.
Finally, there's the PointSavers. Whenever you're searching for hotels on the Marriott site displaying points redemption, you may come across points amount highlighted in green, which suggests an extra ~10% savings on points. There doesn't appear to be a set pattern on when these are applied and it's not necessarily related to off-peak as these can happen even on peak pricing.
Marriott does have a flexible calendar view where you can try to find PointSavers opportunities… when they work.

Room upgrades can also be redeemed with extra Marriott points, but I suggest leveraging your status instead if you're at least a Gold Elite, which should be doable by just asking through the Marriott Bonvoy chat app on your phone or by nicely asking at the front desk during check-in. With this way, you'll be saving points to redeem for future hotel stays instead.
Instant Redemption
You can also redeem Marriott points for food and beverages and activities like golf and spa that are spent on the properties. The rate is at a fixed 0.4 cents per point value.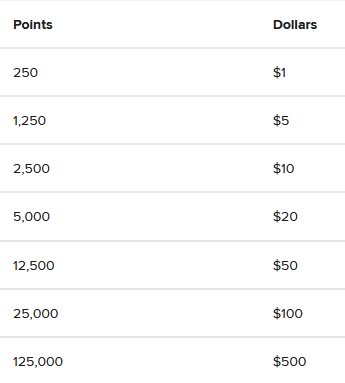 Marriott Bonvoy Elite Status
Marriott Bonvoy has 5-tier elite statuses above free membership. To earn elite status, you must meet a certain number of nights in a single calendar year (Jan. 1 to Dec. 31), and they're measured by elite nights on your Marriott account.
To earn elite nights, you must book your hotel stays directly on Marriott's website. A 1 night stay means 1 elite night earned, except at Marriott Executive Apartments where 3 nights stay will earn you just 1 elite night.
Paid stays through online travel agencies like Expedia won't count, unless it's from the American Express Fine Hotels & Resorts, Marriott STARS, Luminous, and Virtuoso as their systems allow you to input your Marriott loyalty number.
Co-branded credit cards will jump-start you to 15 elite nights per calendar year as long as you have an active Marriott credit card opened.
After reaching an elite status, you will enjoy the benefits of it throughout the remaining calendar year, plus 14 more months!
For example, if you reach Titanium Elite on August 2021, you will get the benefits of Titanium Elite for the rest of 2021, and they will expire on February of 2023! But, your elite nights counter will reset on Jan 1 2022, and you must have another 75 elite nights to re-qualify for Titanium Elite that will then expire on February of 2024.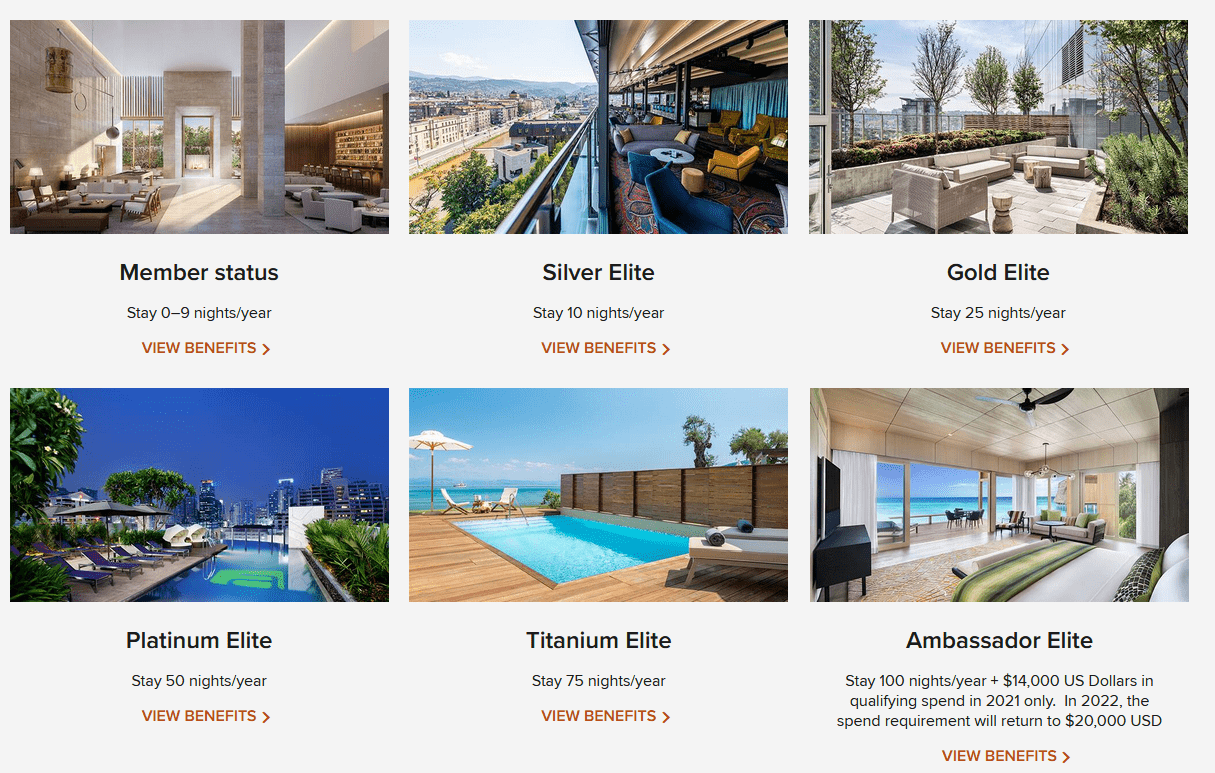 The higher your elite status is, the more meaningful the benefits will get. On higher status, you can expect things like room upgrades, late checkout, free breakfast or food and beverage voucher, and extra points on paid stays. The benefits will have incremental benefits as your status goes up.
Here are the benefits you'd expect on the status tiers:
Silver Elite (10 Nights)
10% bonus points on paid room rates and amenities
Priority Late Checkout
Verdict: Not a very exciting status. As it's the lowest elite tier, priority late checkout can be hard to obtain if there are tons of elites in the hotel.
Silver Elite status can automatically be achieved through opening the Chase Marriott Bonvoy Boundless, Chase Marriott Bonvoy Bold, or the American Express Marriott Bonvoy Business Card.
There's a Lifetime version of Silver Elite that requires you to stay 250 nights and be a Silver Elite or higher for 5 years (doesn't have to be consecutive).
Gold Elite (25 Nights)
25% bonus points on paid room rates and amenities
Preferred room upgrades excluding suites (subject to availability)
Welcome Bonus per stay of 250-500 Marriott points
2 pm Late Checkout (subject to availability)
Verdict: A little bit better than Silver Elite. Room upgrades can be a room at higher floors, better view, and/or a corner room. Although, suites could be possible if the hotel is feeling extra nice. 2 pm checkout can be requested on the day of the checkout, and it usually is honored as long as the hotel's not busy on the checkout day.
Gold Elite status can automatically be achieved through opening the Marriott Bonvoy Brilliant or the American Express Platinum Card.
There's a Lifetime version of Gold Elite that requires you to stay 400 nights and be a Gold Elite or higher for 7 years (doesn't have to be consecutive).
Platinum Elite (50 Nights)
50% bonus points on paid room rates and amenities
Room upgrades including suites (subject to availability)
Welcome Bonus Choice of free breakfast, food & beverage vouchers, or points per stay
Executive Lounge access if the hotel has one; includes breakfast and evening hors d'oeuvres
Guaranteed 4pm late checkout (subject to availability for resorts and conventions)
Welcome Choice Guarantee
After reaching 50 elite nights, you're also qualified for an Annual Choice Benefit in which you can choose one of these benefits:
5 Suite Night Awards
5 Elite Nights (will count towards Lifetime Status progress)
Gift of Silver Elite to family or friend
40% off a mattress sold on Marriott
$100 Charity Donation
Verdict: Platinum Elite is where there's a high jump of benefits transitioning from the lower Gold Elite, and is widely regarded as the sweet spot for the Marriott Bonvoy program. Personally, I feel that guaranteed 4pm checkout is really good, and many other programs don't offer it even at the highest status or they're subject to availability.
No credit card gives automatic Platinum Elite and above, but a shortcut you can do is to have both the Marriott Bonvoy Brilliant and Business Card from American Express to stack elite nights from those 2 cards, resulting in starting at 30 elite nights every calendar year as long as both cards are opened. Read more about it here.
There's a Lifetime version of Platinum Elite that requires you to stay 600 nights and be a Platinum Elite or higher for 10 years (doesn't have to be consecutive). Lifetime Platinum is the highest lifetime status offered in the Marriott Bonvoy program.
Titanium Elite (75 Nights)
75% bonus points on paid room rates and amenities
Eligibility of suite upgrades at Ritz-Carlton properties (subject to availability)
United Silver Elite status
48-Hour Room Guarantee
All of Platinum Elite benefits
After reaching 75 nights, you're eligible for a second Annual Choice Benefit, which has the same options as the ones you'd get from reaching Platinum Elite, with the exception that it will add a free night award of up to 40,000 Marriott points. That's good for a Category 5 hotel, even at Peak rate.
Verdict: Titanium Elite gets more benefits than Platinum Elite, but the jump isn't as high compared to going from Gold to Platinum. The benefits get more situational like eligibility for suite upgrades at a Ritz-Carlton and the United Silver Elite status, which heavily depends on your travel patterns.
United Silver Elite gives you the option to convert United Miles to Marriott Bonvoy points at a 1:1 ratio. The choice will depend whether you use United Miles or not.
48-Hour Guarantee might not even be that useful considering that you can make bookings way ahead of time and cancel a few days before if you can't make the trip.
It's unclear if Titanium Elite gets more priority than Platinum Elite for suite upgrades as it's not explicitly stated on the Marriott Bonvoy program policy. There are mixed stories of where Platinum gets the better upgrade on the same night at the same property and vice versa. While status carries weight, it's not the sole factor of receiving a free room upgrade. Your mileage may vary.
Ambassador Elite (100 Nights + $23,000 Spend)
All of Titanium Elite benefits
Access to a personalized Marriott Ambassador (concierge)
Your24
Verdict: Ambassador Elite is the top-tier status for the Marriott Bonvoy program and the requirement is quite steep! Is it worth it?
I personally would not care enough to get this high of a status and also don't have the means to do so. I feel that I wouldn't find much value in having a personalized concierge on my hotel stays as I'd rather be left alone, not when the requirement is high to get. Considering that your point of contact is human, the experience may differ. Some people would find value in having a personalized point of contact differently than I do.
The benefit that would be awesome to have is Your24 where I can choose my check-in and check-out within a 24-hour period. It can be handy if you arrive in the morning at a destination and just need a place to crash for the night. It's not useful for multi-day stay however. According to One Mile at a Time, the benefit may or may not be honored by the hotel, which is disappointing as it's a unique benefit you get for reaching the top-tier status.
Keep in mind that there's no third Annual Choice Benefit after reaching 100 nights.
With all that said, if you're the type of traveler who can meet the requirements of Ambassador Elite, you'd want to consider looking into different hotel loyalty programs to diversify your hotel status. Even though Marriott has a very large footprint, other hotel chains may cover certain areas better or have status benefits that the Marriott Bonvoy program don't have.