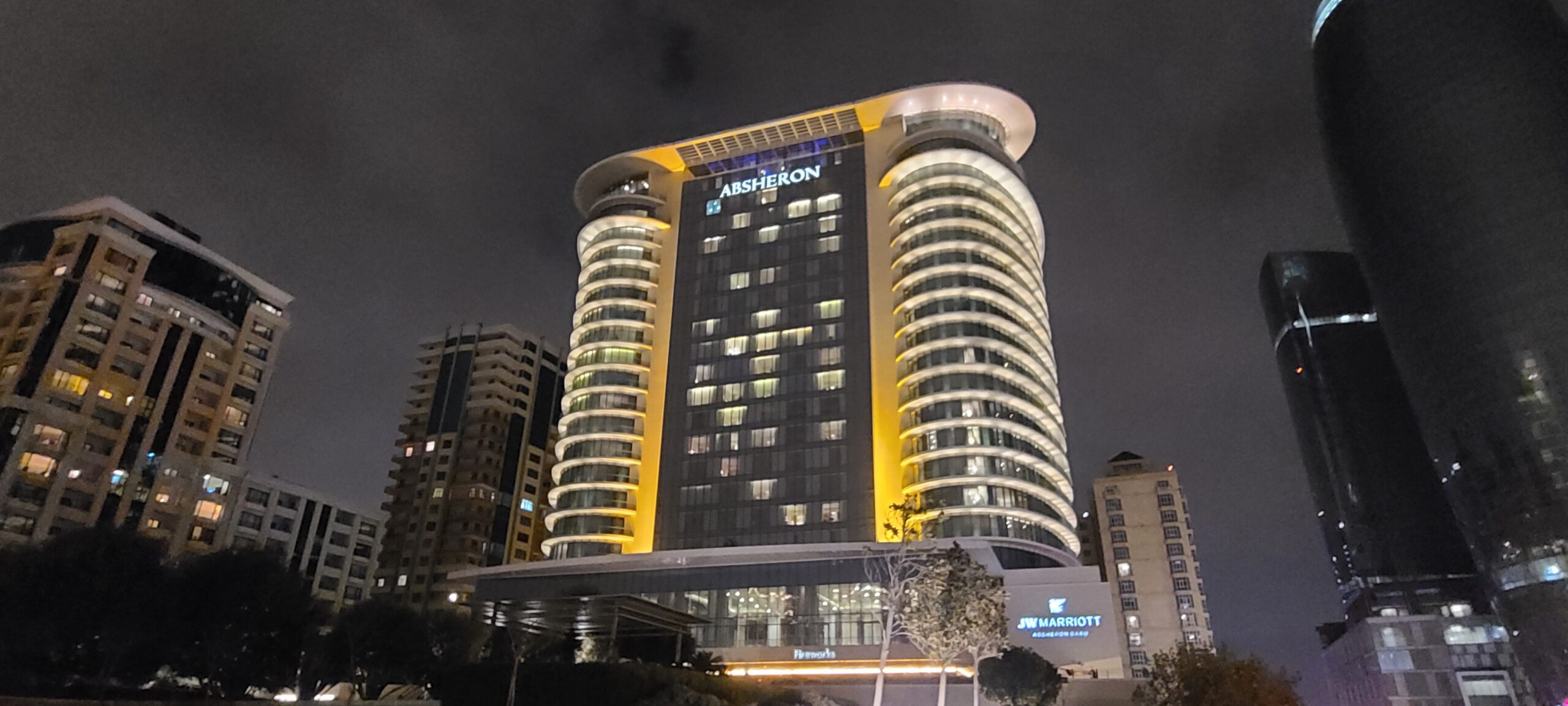 Advertiser disclosure: This post may include affiliate links in which this site may receive compensation if a purchase is successfully made (at no extra cost to you) after being redirected from here. Thank you for your support!
Review: JW Marriott Absheron Baku (2021) [Azerbaijan]
The JW Marriott Absheron Baku is one of the best Marriott Bonvoy hotels in Baku within the Absheron Peninsula, and since I have status with Marriott Bonvoy, it's only natural that I'm giving it a shot. I reserved this hotel on my last 3 days in Baku in hopes to enjoy a nice clear view of the Caspian Sea and leave Azerbaijan at a very high note. I was not disappointed!
JW Marriott Absheron Baku- Booking
Similar to Courtyard by Marriott Baku, I also booked at the special rate of book 3 nights or more to save 20% on the base Deluxe Room with City View. This promotion appear to be commonly shared along the Marriott properties in Baku, at least during the time of my visit.
On average, I'm paying 268 AZN per night or $158 per night. This is an amazing rate for a 5-star hotel! This is around the same rate as a 4-star hotel you can book in the Bay Area like the W San Francisco, without the discount. Points wise, expect to pay 20,000 to 35,000 Marriott Bonvoy points for a night, which can be a good deal, but I was working on a signup bonus for the Citi Premier at the time which would get me better value for future trips.
This is also one of the hotels where you can redeem points for room upgrades all the way up to their Ambassador Suite, their second highest room category after the Presidential Suite. Of course, as usual, it's better to leverage your status and kindly ask through the Marriott Bonvoy app instead to get free room upgrades, or try your luck with Suite Night Awards.
JW Marriott Absheron Baku- Location
The JW Marriott Absheron Baku is located by the famed Baku Boulevard, which is a promenade that stretches across the vicinity of Baku by the shore of the Caspian Sea. In this area, you're really in the modern and chic part of Baku with other luxurious hotels, designer stores, and high-end bars and restaurants. Formula One fans can really get a nice view of Baku race track's starting line if they manage to book a Sea View room. Be sure to stay here on the next F1 race in Baku!
Many of Baku's attractions can easily be accessed through the Baku Boulevard as most of the city's attractions are close to the Caspian shore, so it's possible to see a good amount of them by walking on the Baku Boulevard and entering the town from there.
Of course, Bolt or Uber are cheap and excellent alternative to get around the city faster. They accept credit card payments too!
JW Marriott Absheron Baku- Check-in
Before check-in, I asked for a suite upgrade with the Caspian Sea view through the Marriott Bonvoy app. Unfortunately, the higher category rooms, even the non-suites have been unavailable even before I arrived to Baku.
I occasionally checked the room availabilities on the app during my time in Baku, and the higher category rooms were not available at all. It got to the point where one time, I was put in a Double Deluxe Room with the Sea View as a solo guest.
Luckily, I was changed to the Executive Premier Room with the Sea View the afternoon the day before check-in. It's a larger guest room that's smaller than a suite
It's obviously better than nothing, and I really appreciate how proactive the JW Marriott staffs are at trying to give me the best room upgrade available to make my stay more enjoyable and memorable before I leave Baku. The doorman Estevan remembered my name throughout my whole stay, which is really awesome, and it truly made a difference for my stay experience!
Elite treatment is also excellent at this hotel just like my previous Courtyard stay at Baku. The front desk once again confirmed my room upgrade and listed the Platinum Elite benefits. I would get free breakfast each day at the ZEST Lifestyle Cafe, which is their ground floor restaurant.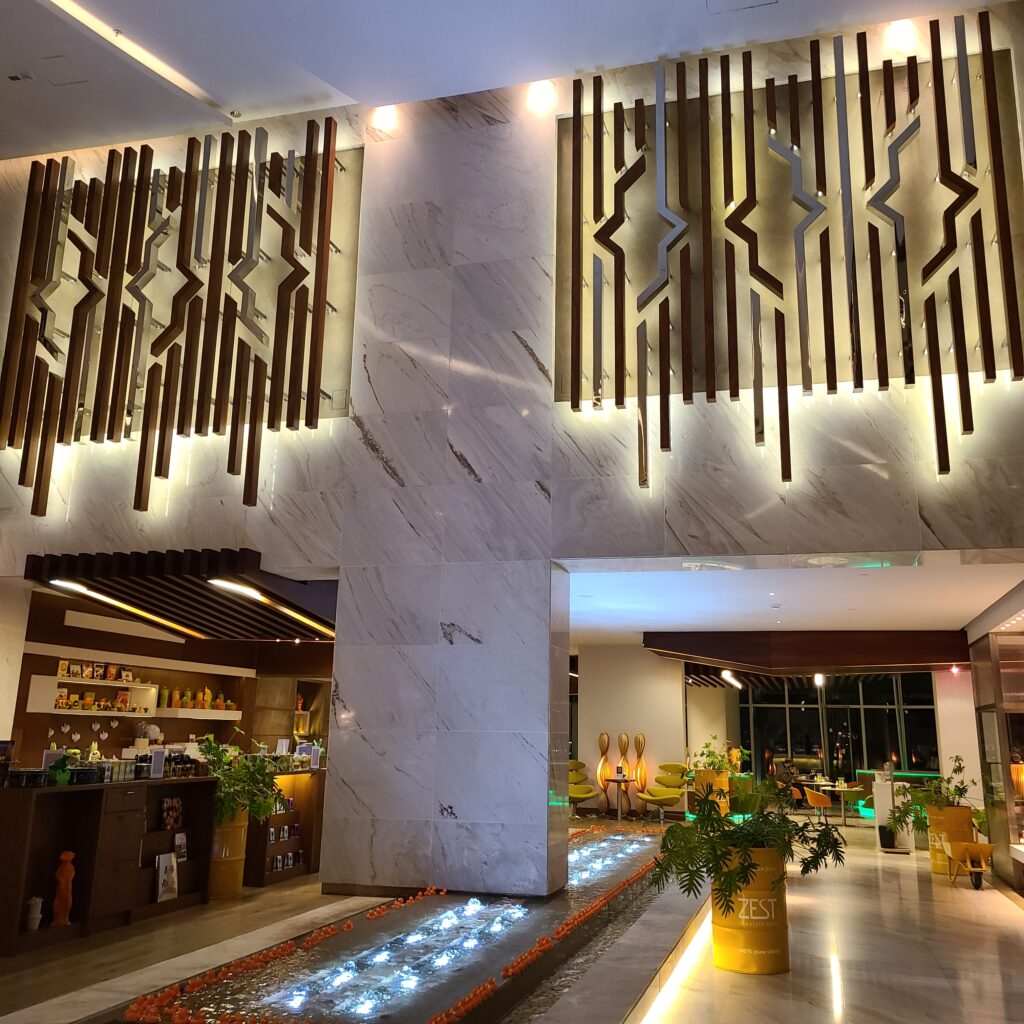 Executive Lounge reserved for Platinum Elite and higher are still closed at the 5th floor due to COVID, but they're providing an alternative at the 2nd floor. Usually, free breakfast at non-resort JW Marriott for Platinum Elite and above are inside the Executive Lounge, but the alternative provides a small space in which I will cover later on in the review, so it's placed at the ground floor restaurant at the time being.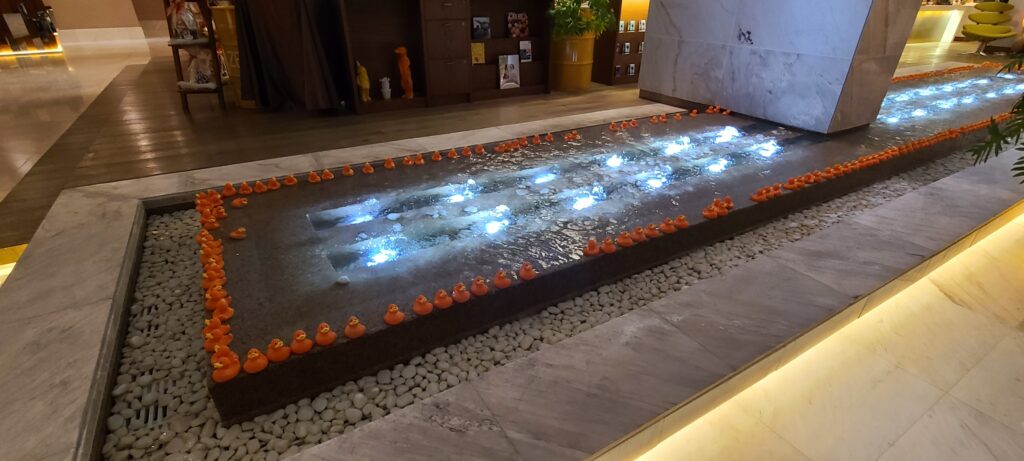 I chose the 1000 extra points for the Welcome Bonus instead of $10 off food & beverage per stay which are the options for Platinum Elite and above at JW Marriott properties in Europe region. Sadly, I couldn't take advantage of the 4 p.m. checkout because my flight back home is in the morning.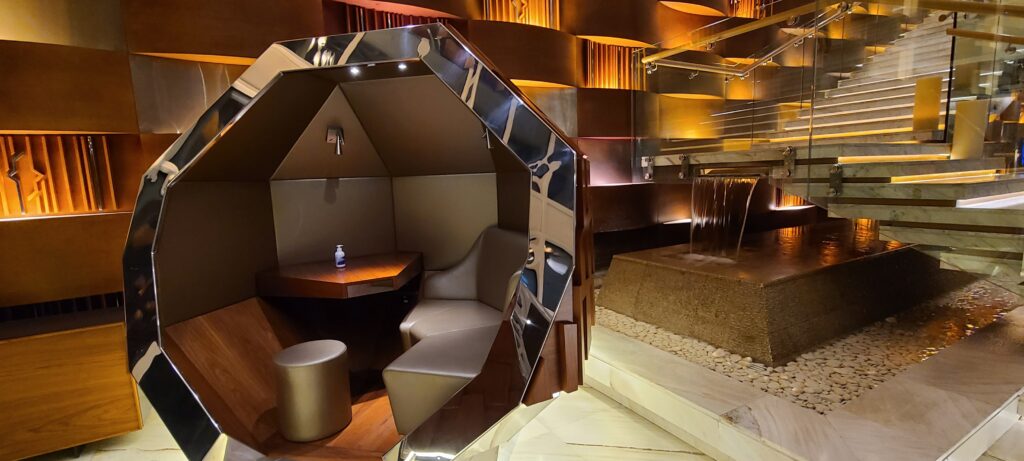 The doorman then kindly escorted me to my room to the 16th floor. The hospitality in this hotel has been pretty awesome. The doorman who escorted me has always remembered my name throughout my whole stay. It's honestly a small thing that's appreciated and refreshing from most of my hotel experiences in the US.
JW Marriott Absheron Baku- Executive Premier Room
I'm assigned to Room 1612. My first impression of the room was WOW! The first things I noticed are the amazing view of the Caspian Sea and the iconic Flame Towers at a distance the room offers with its full bank of floor to ceiling windows. The view itself is enough to get rid of the disappointment of not getting a suite upgrade. Nonetheless, the room itself is bigger than some of the suites you'd expect in many hotels in the US!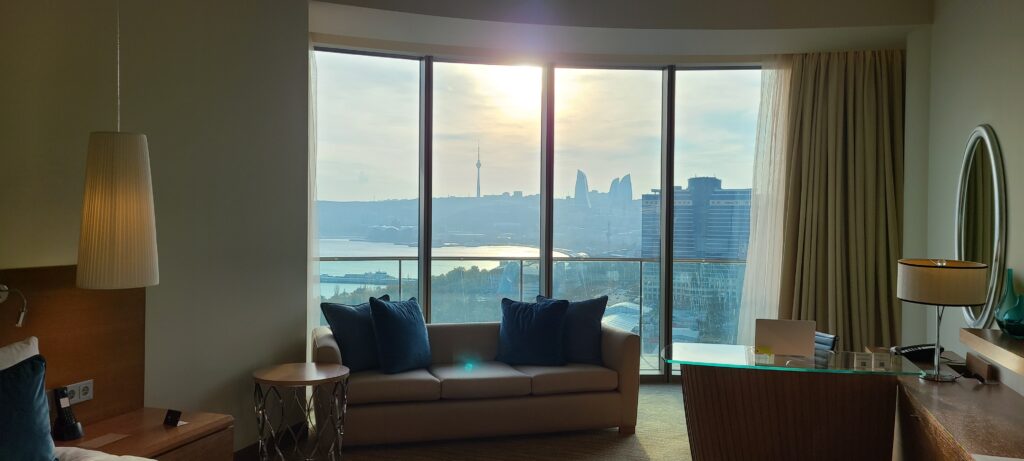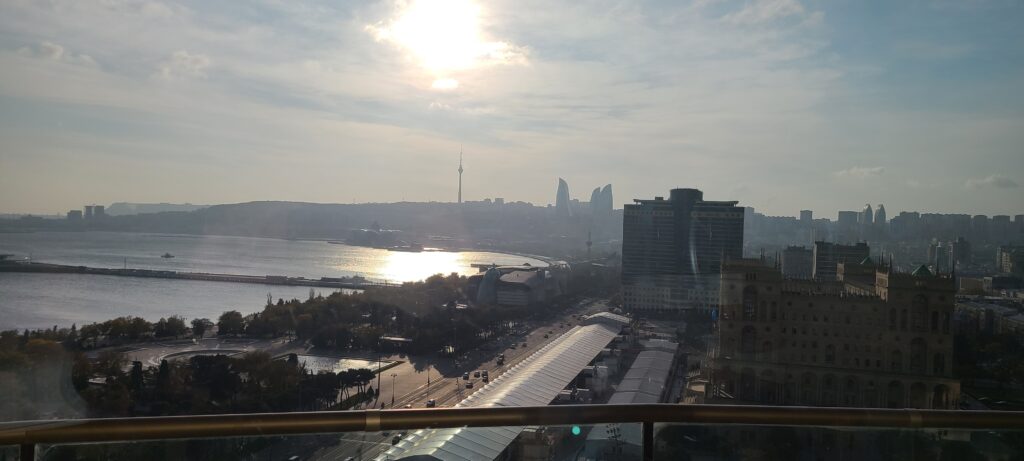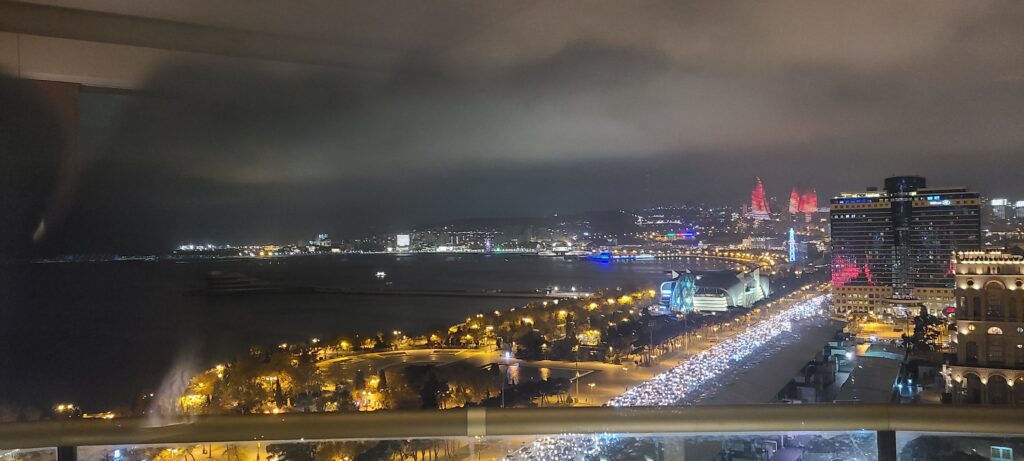 The room comes with an open layout at 592 square feet that feels like a cozy studio. The king-sized bed was pretty comfortable, and there are master light switches found by both sides of the bed with preset settings to set for certain moods.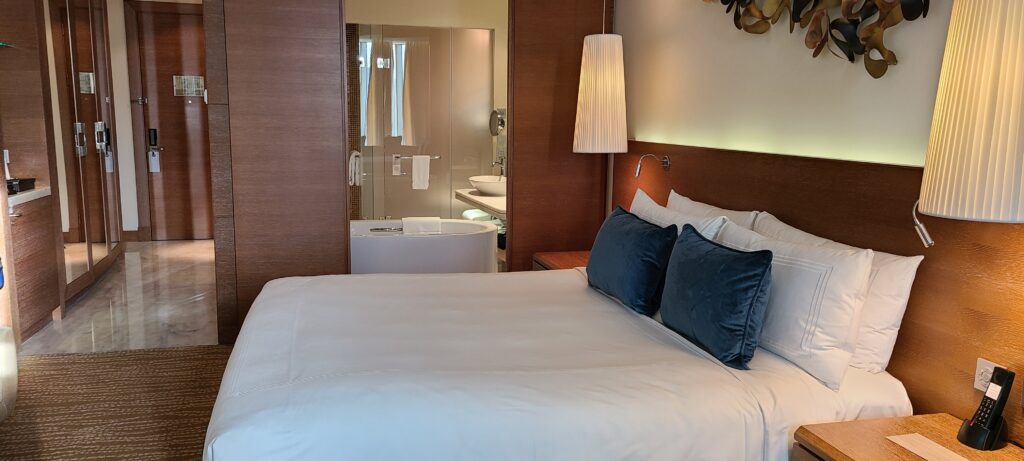 The couch provides a space to relax and admire the outside view. Although, I find the back of the couch to be a better way to enjoy the view, and being a short guy myself, I find the space comfortable!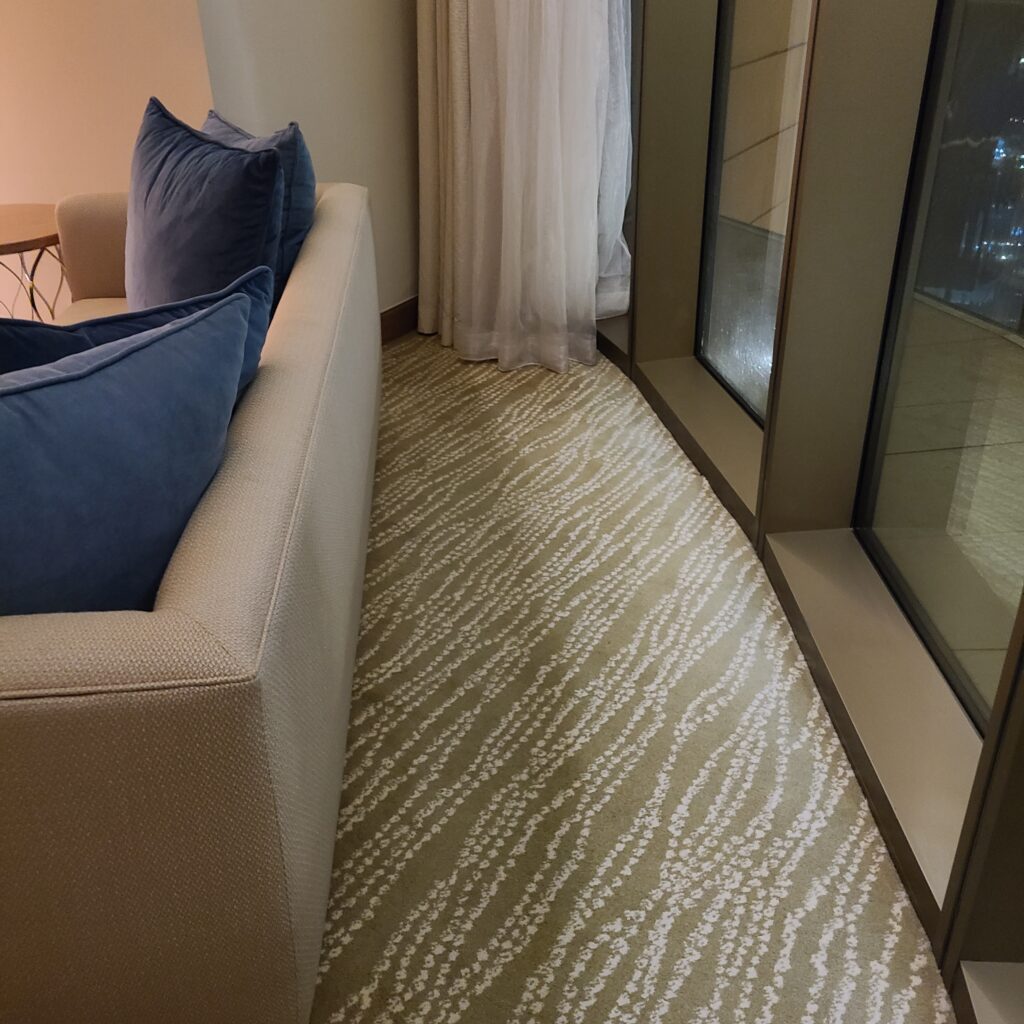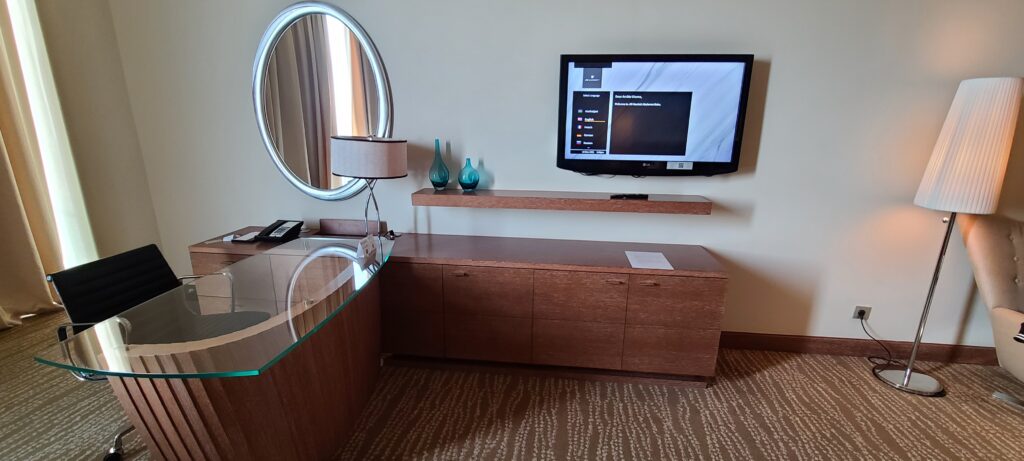 The working area comes with tempered-glass desk and a rolling chair. A handy international plug is ready to use by the desk, which is helpful as I only bring one adapter with me. The TV looks a bit outdated, but it's not a big issue for me since I don't really watch TV in general. Wi-Fi speed was really fast and reliable.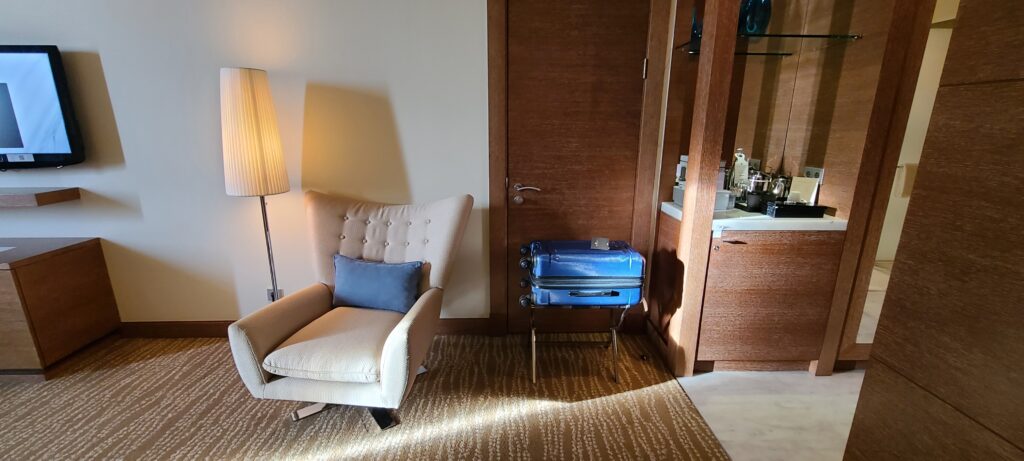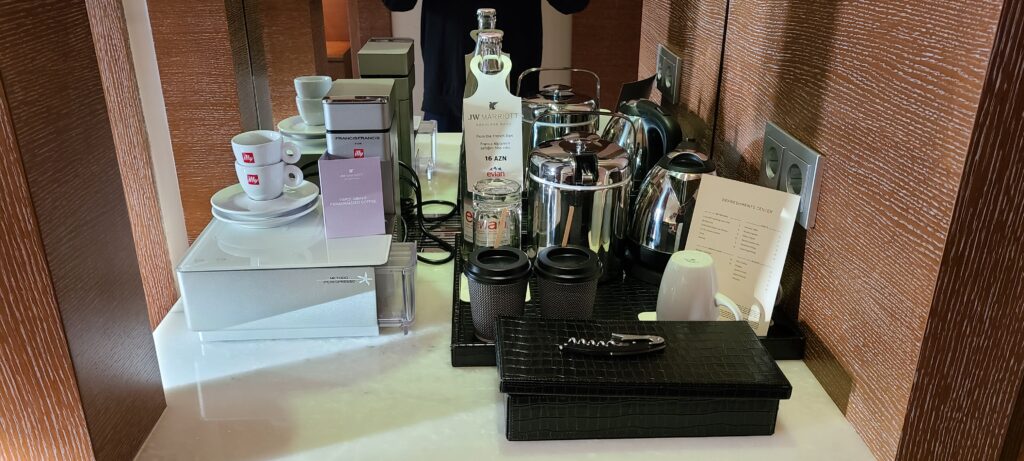 Thirty minutes later after staying in the room, I was delighted with some welcome chocolates from the hotel! It appears to be inspired by the mud volcanoes from the nearby Gobustan. Pretty cute!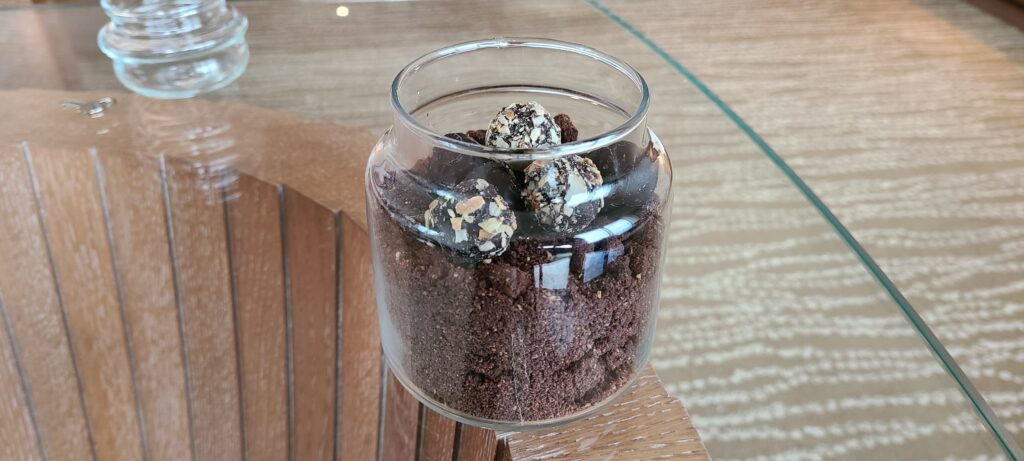 Executive Premier Bathroom
The bathroom comes with a separate shower room and bathtub. The shower is equipped with rainfall and handheld shower. Excellent water pressure all around. Between the shower and the bathtub, there's a heated towel rack to get warm towels ready at all times. Plush bathrobes are also available.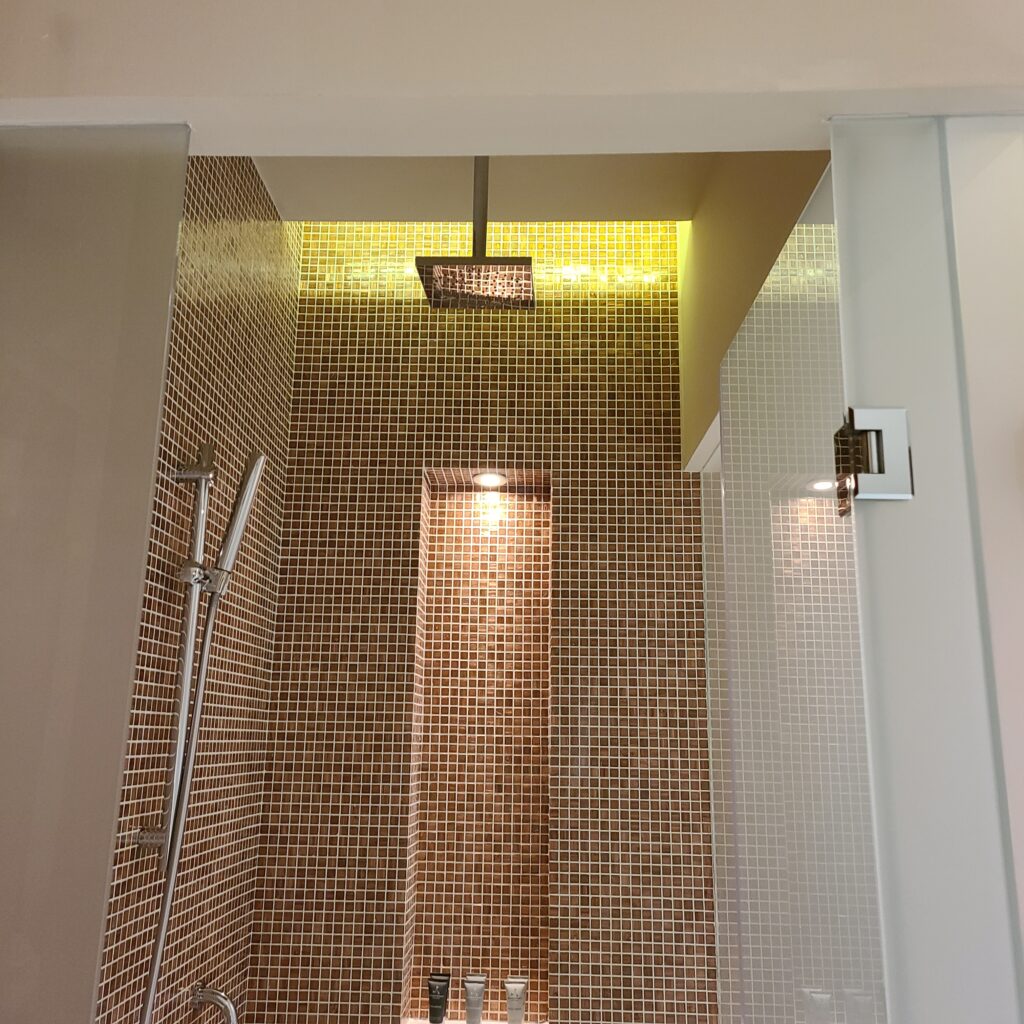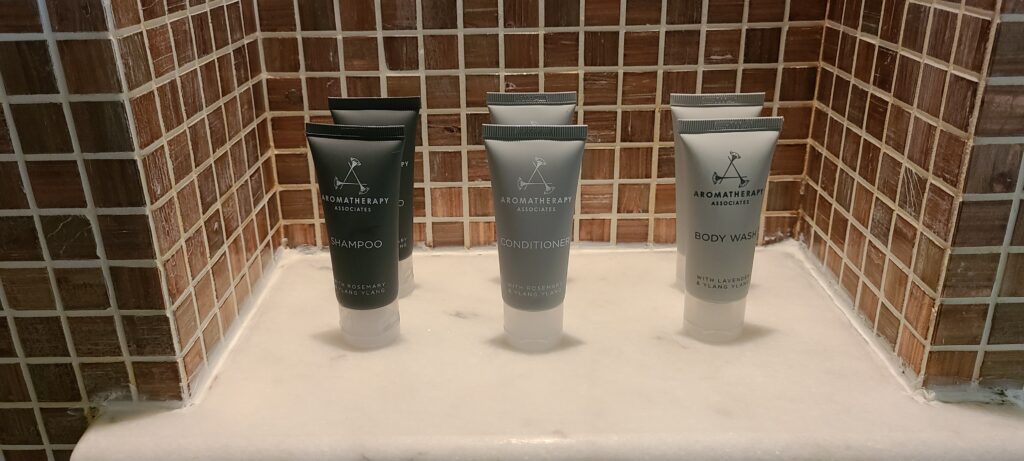 There's a sliding door by the bathtub if you wish for more privacy, or open it up to take a bath while enjoying the outside view. Don't forget to pour the bath salts in!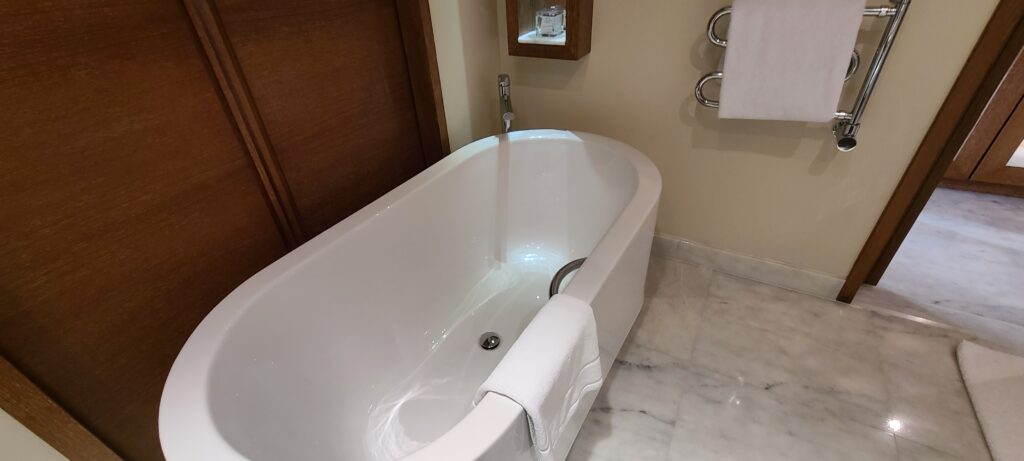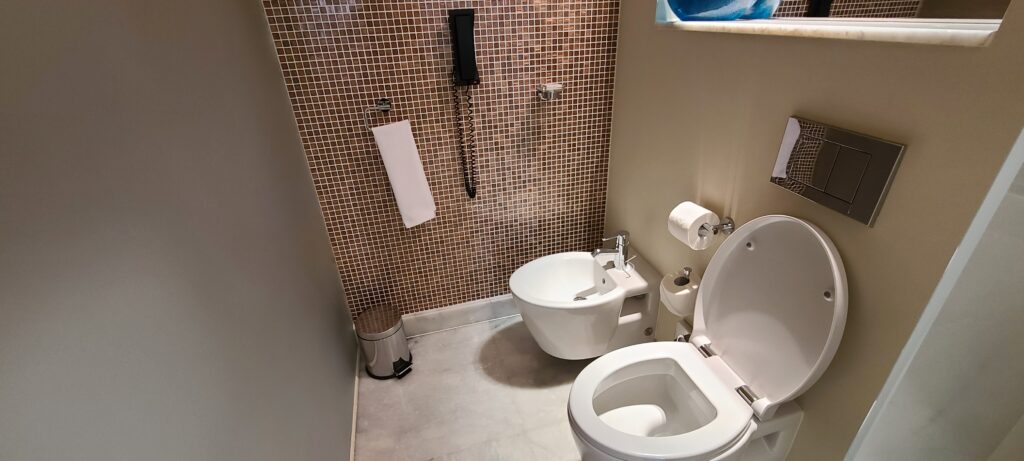 I'm used to seeing all-in-one toilet and bidet solution, so it's interesting to see separate units. This one is probably more reliable to clean after yourself though.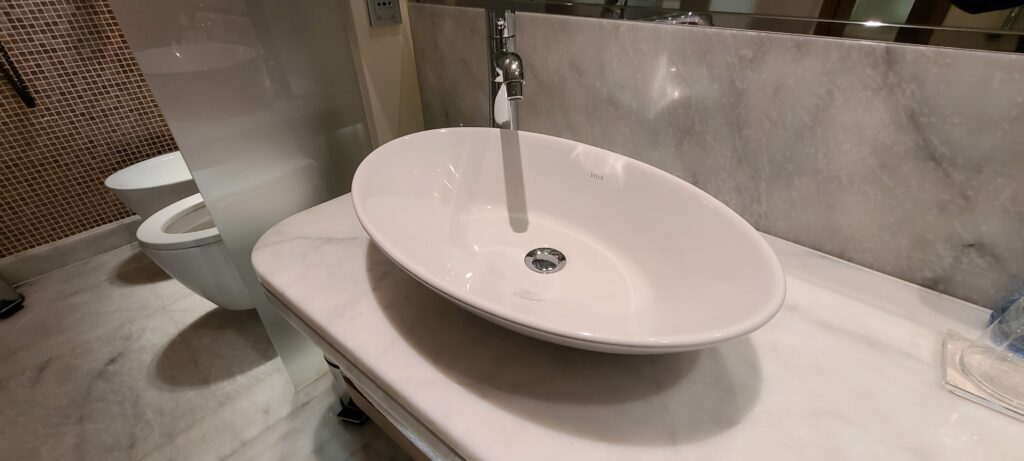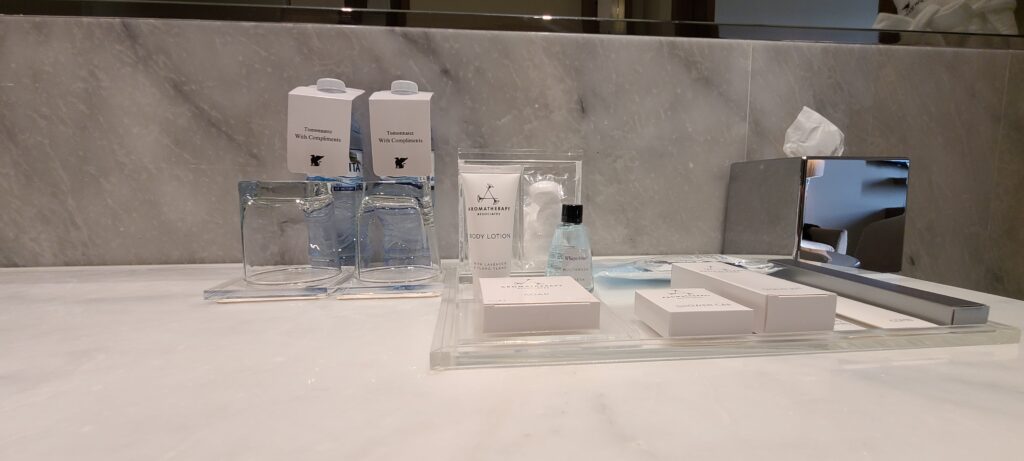 JW Marriott Absheron Baku- Executive Lounge
The real Executive Lounge is located at the 5th floor, but due to the COVID pandemic, it's closed for the time being and the hotel is providing an alternative by having part of its Tea Lounge reserved as the Executive Lounge for Platinum Elite and higher. The Tea Lounge has the caravanserai motifs to capture the Silk Road vibes.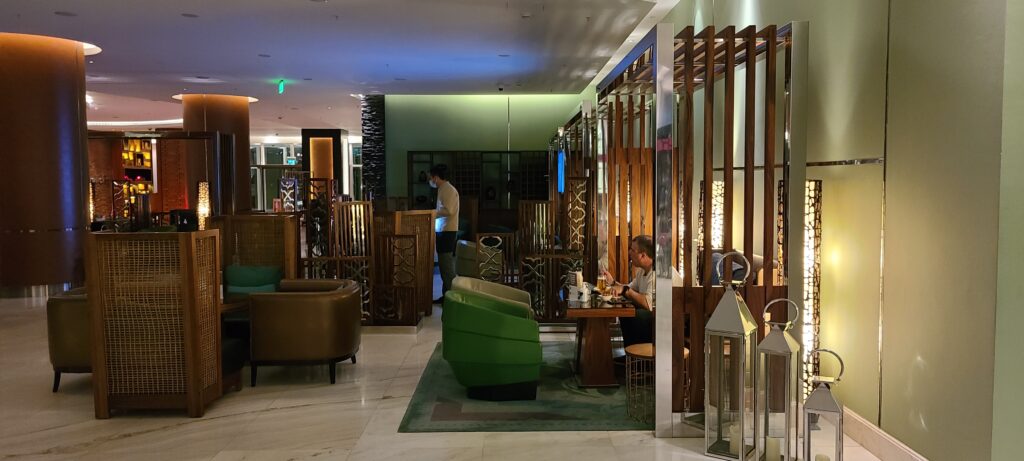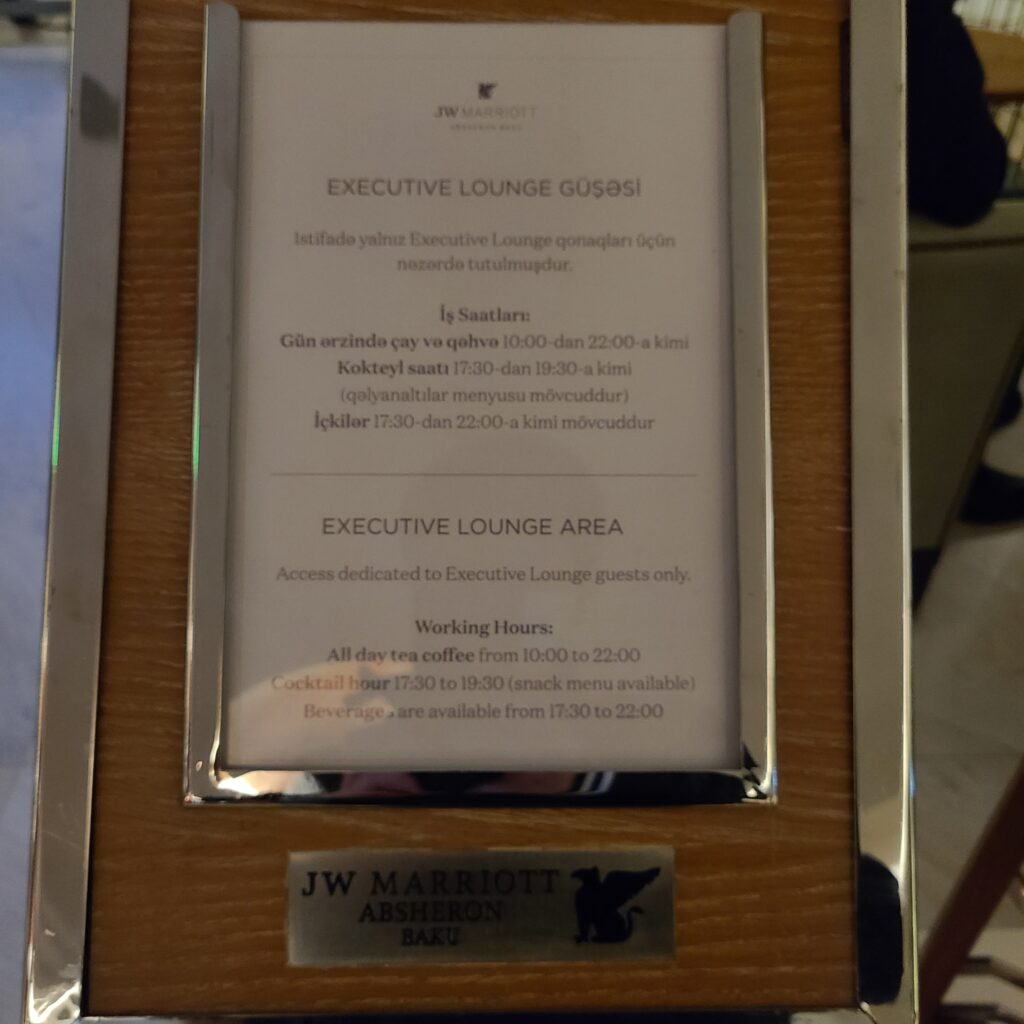 The lounge area was quite small, but it was never full. The Executive Lounge guests were mostly foreigners as well. I got myself some soda and chicken wings for evening hors d'oeuvre, which were quite good. Sophisticated, I know. Service was a bit slow in the noon time, however.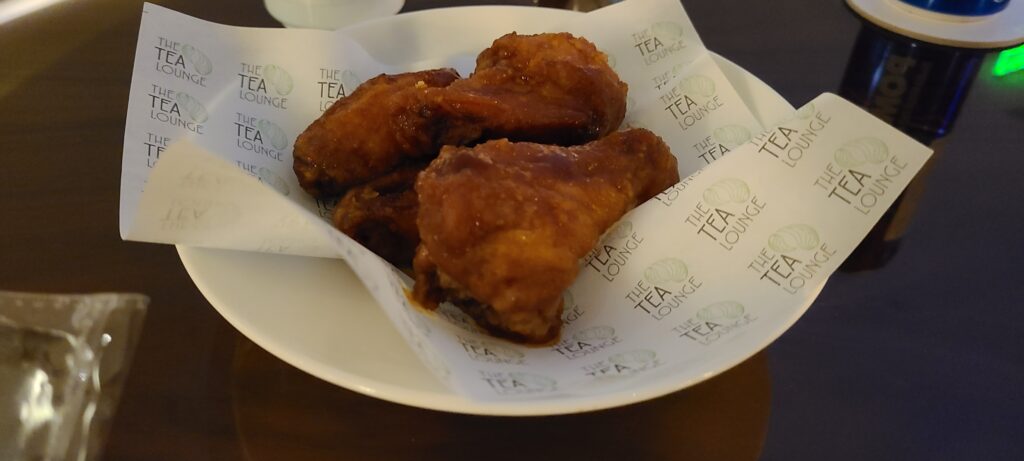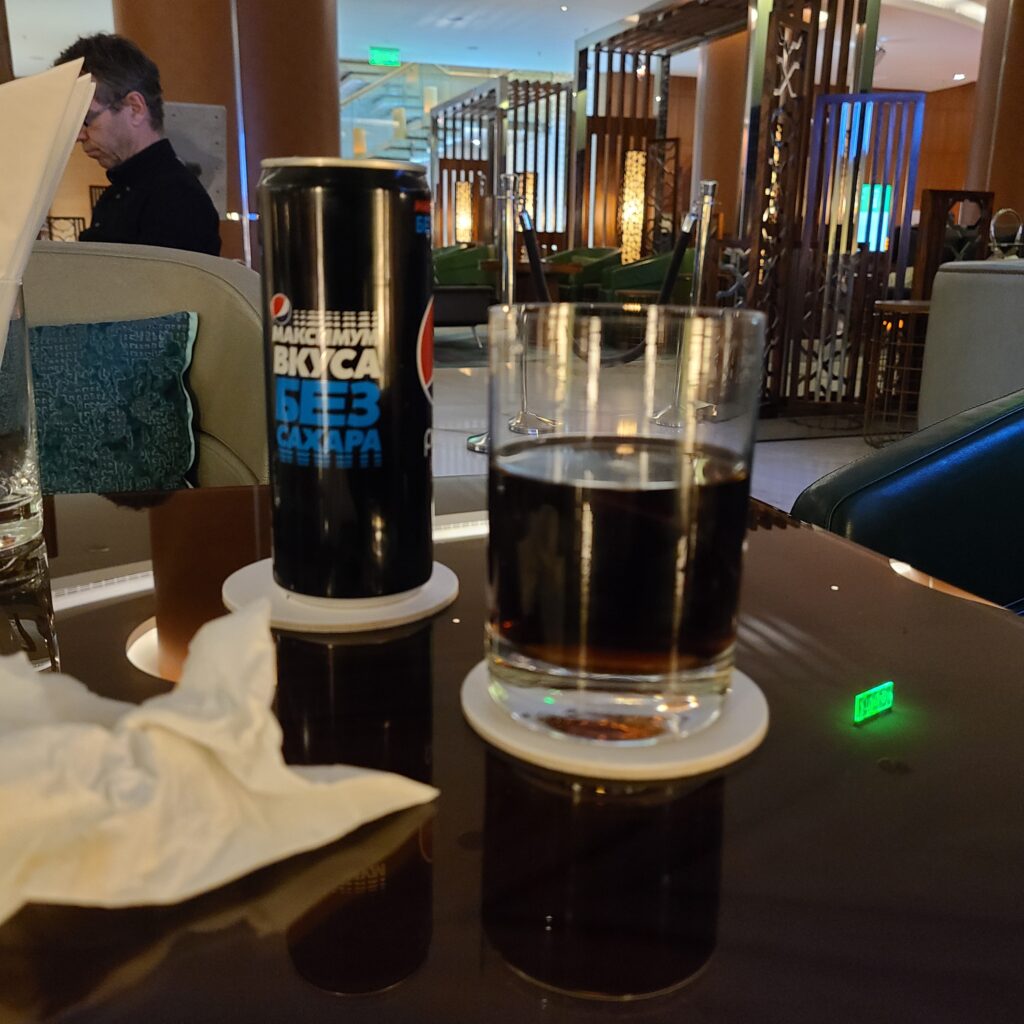 It's definitely nice that the hotel is at least providing an alternative for the Executive Lounge instead of just closing down and providing nothing else!
JW Marriott Absheron Baku- Restaurants & Bars
The hotel has three restaurants: ZEST Lifestyle Cafe, Fireworks Urban Kitchen, OroNero Bar & Ristorante, and Razzmatazz Cocktail Bar & Lounge. I've only dined in the ZEST Lifestyle Cafe and Fireworks Urban Kitchen during my stay.
ZEST Lifestyle Cafe
ZEST specializes in Mediterranean cuisine, but I've only ate the breakfast buffet there, which mostly serves western food. The restaurant has the citrus motifs with orange and lime decors and lighting all around.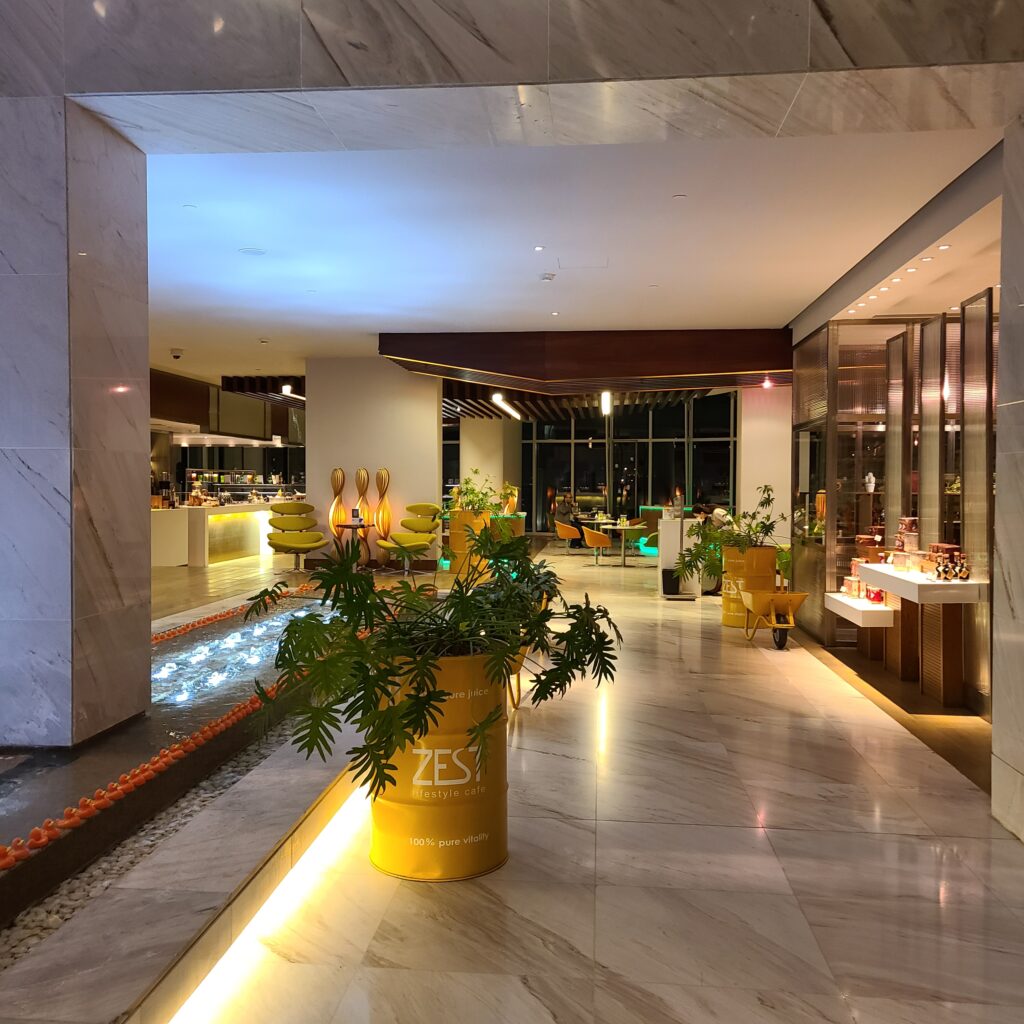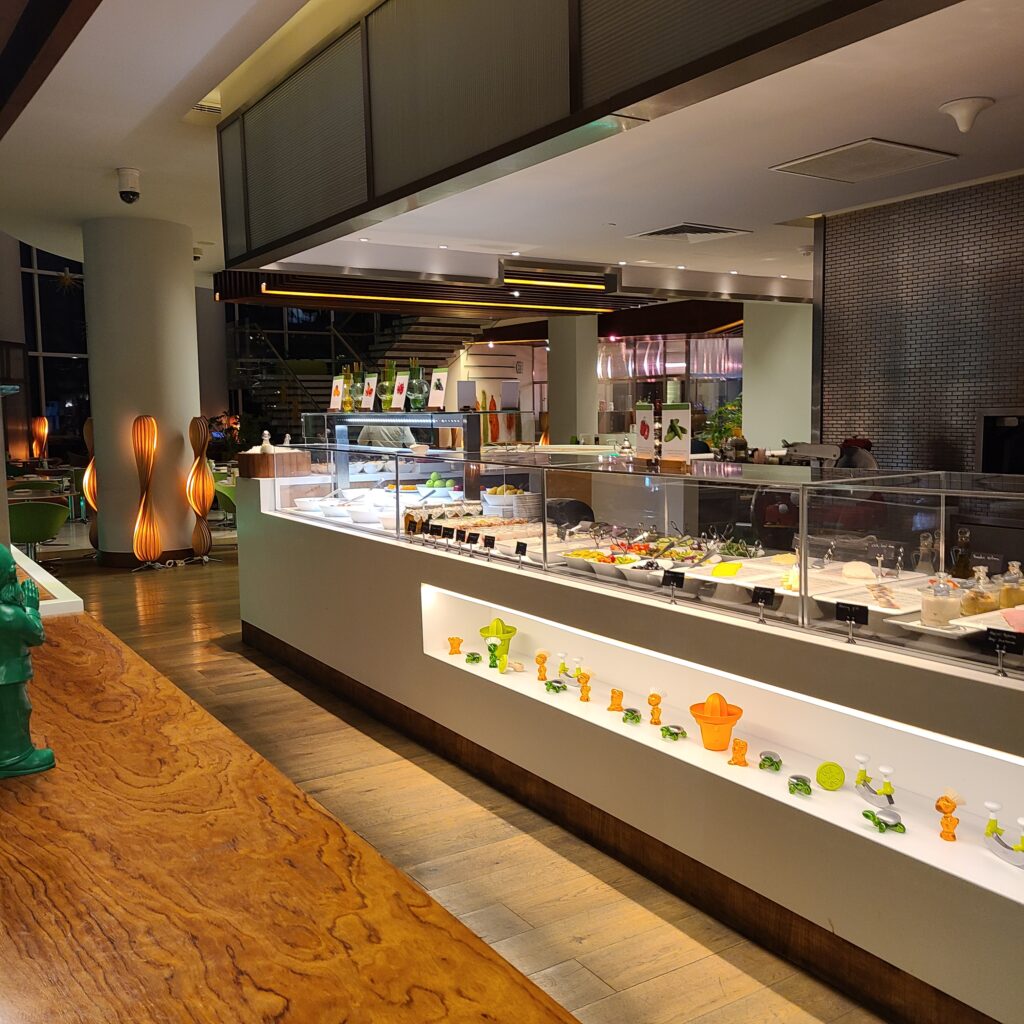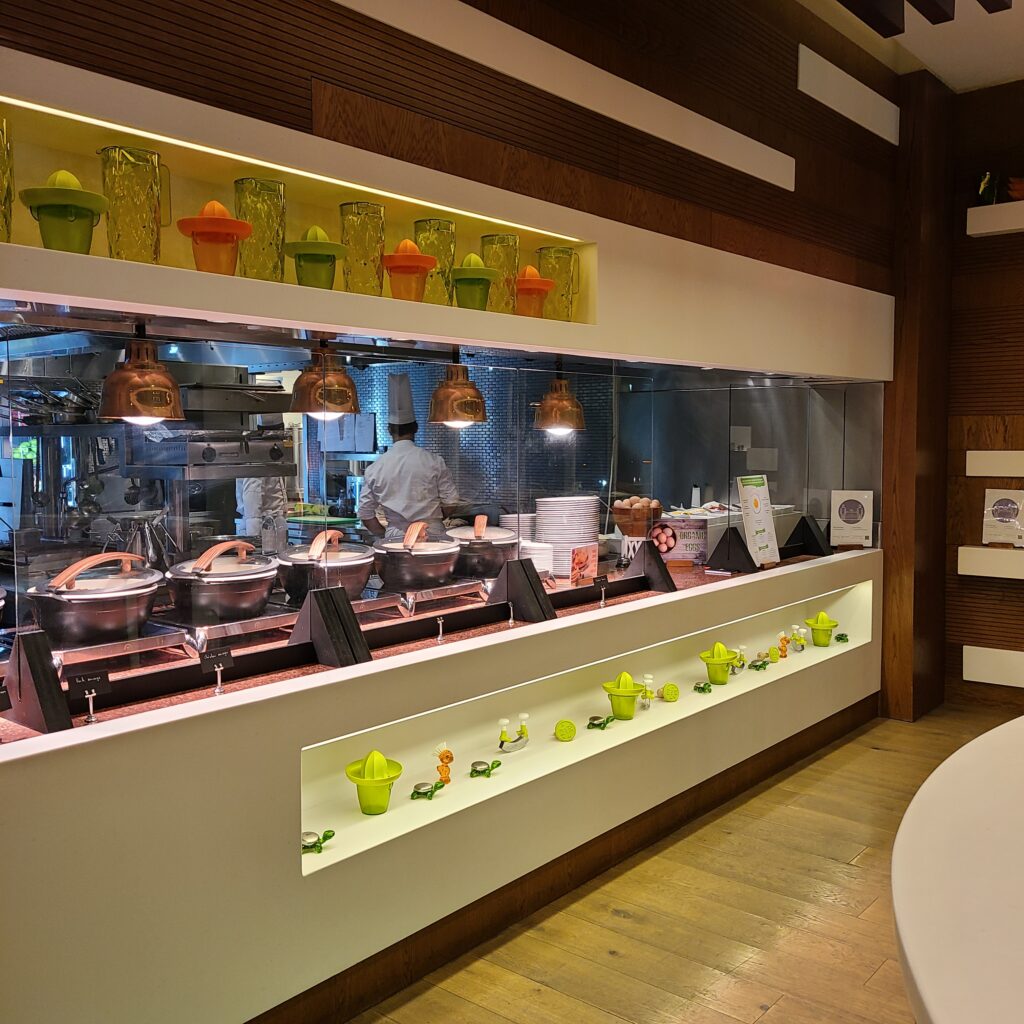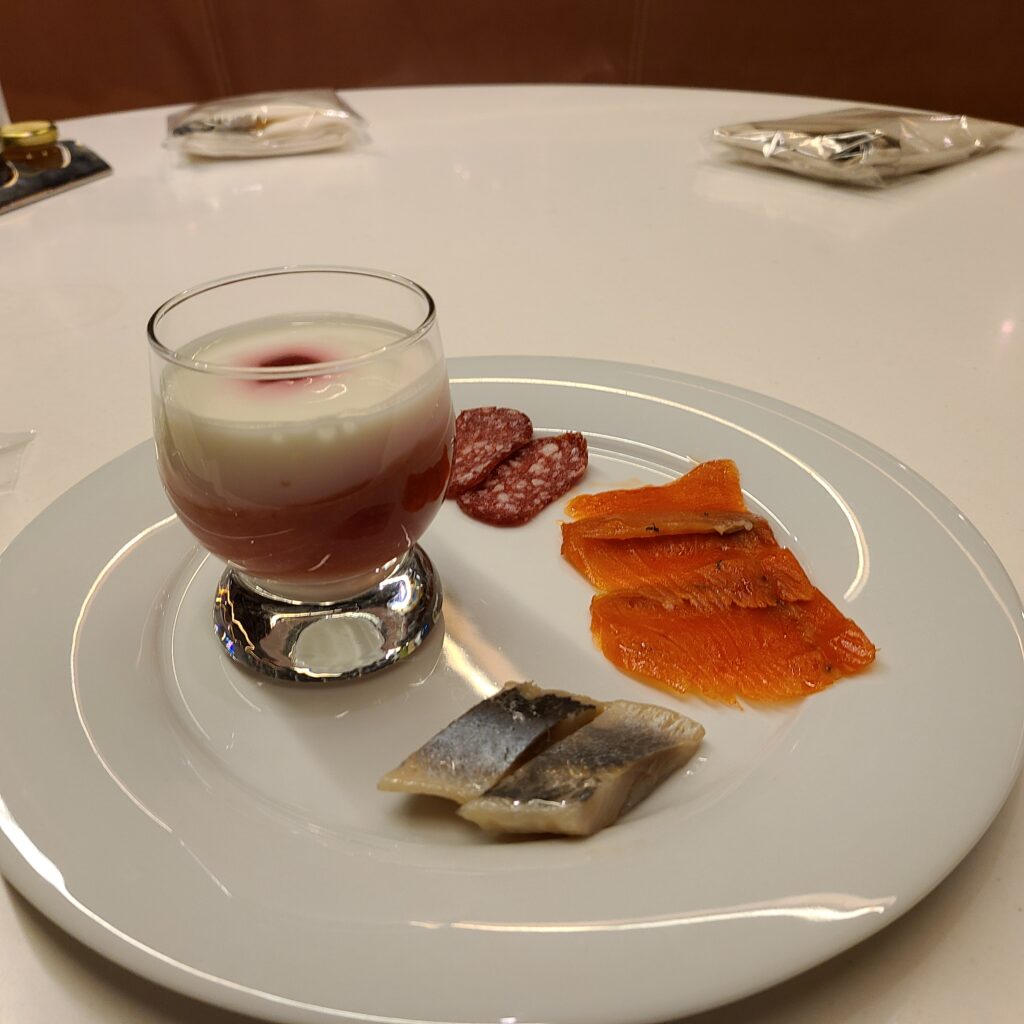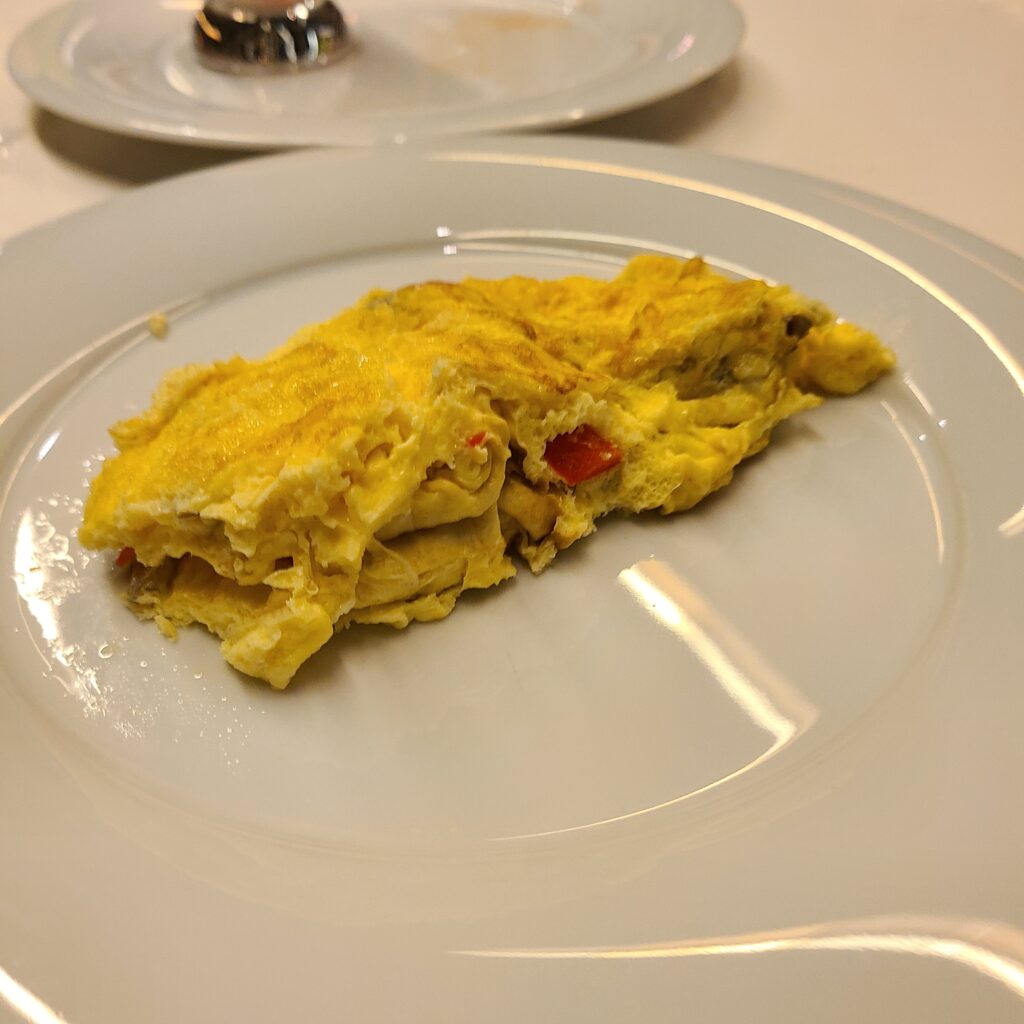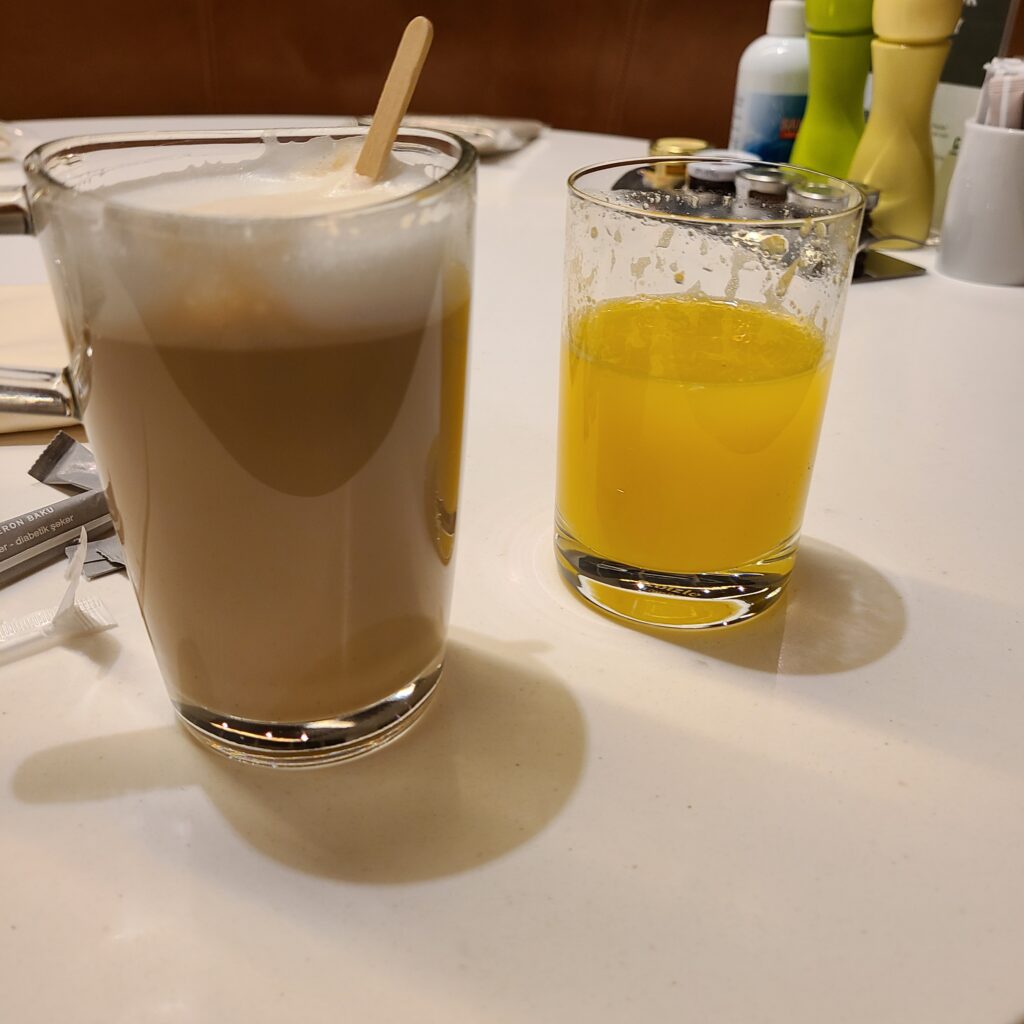 Overall, I think the breakfast is quite good. Hard to complain about free food.
Fireworks Urban Kitchen
Fireworks Urban Kitchen was the only restaurant I tried during my stay. It specializes in steaks, burgers, and kebabs. Of course, being in Azerbaijan, I wanted to try out the kebabs.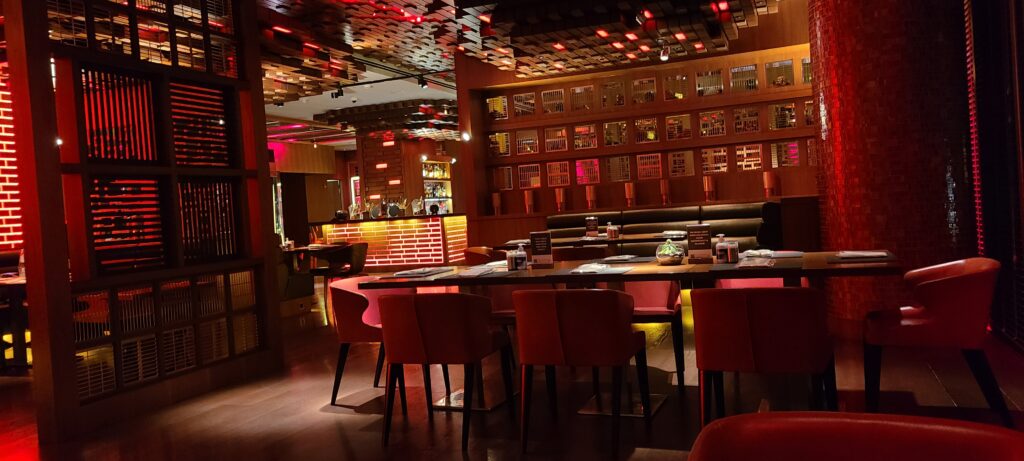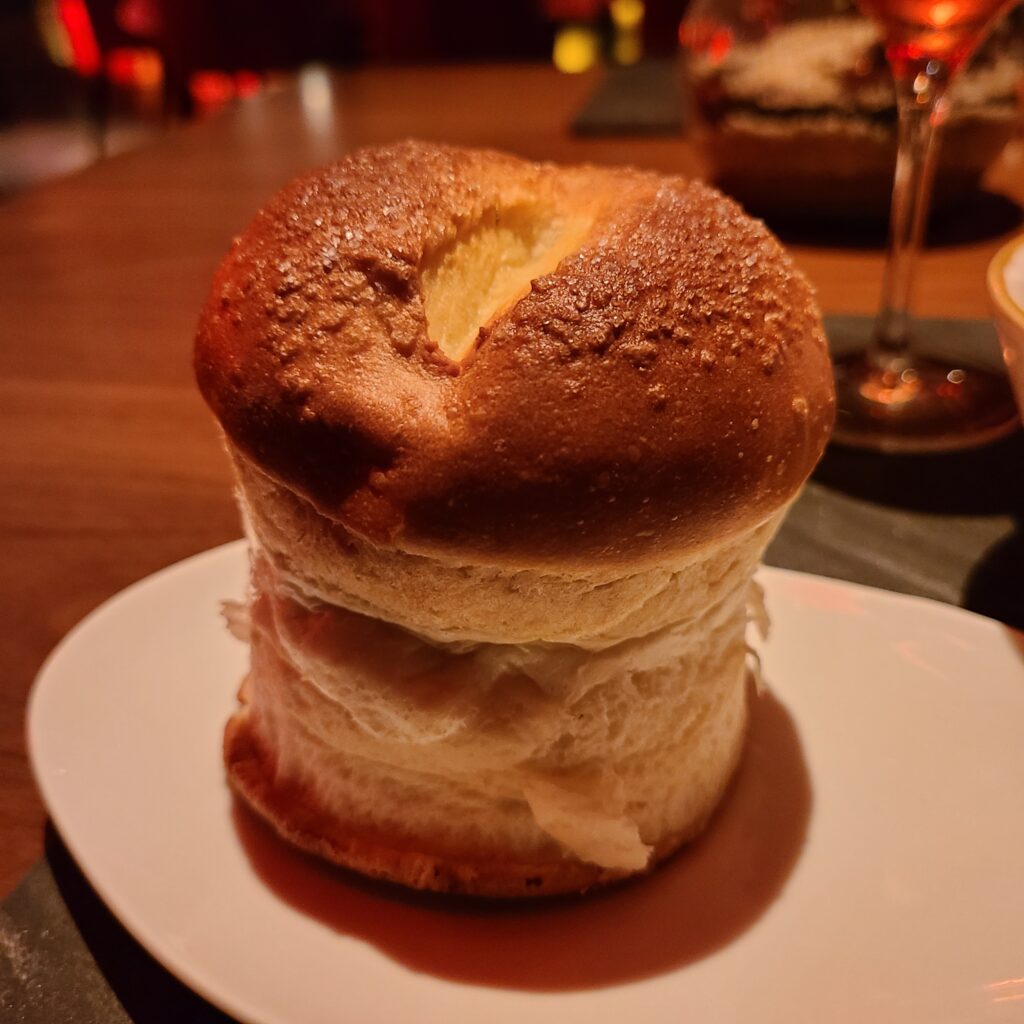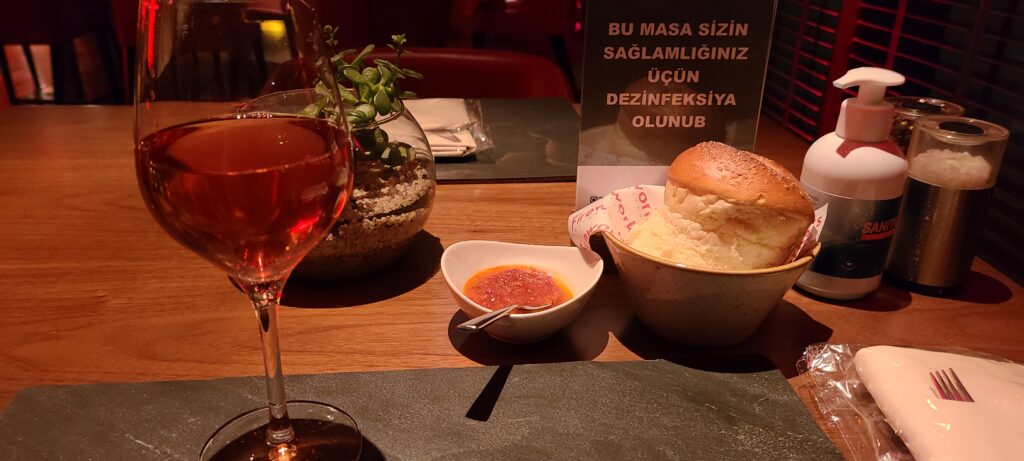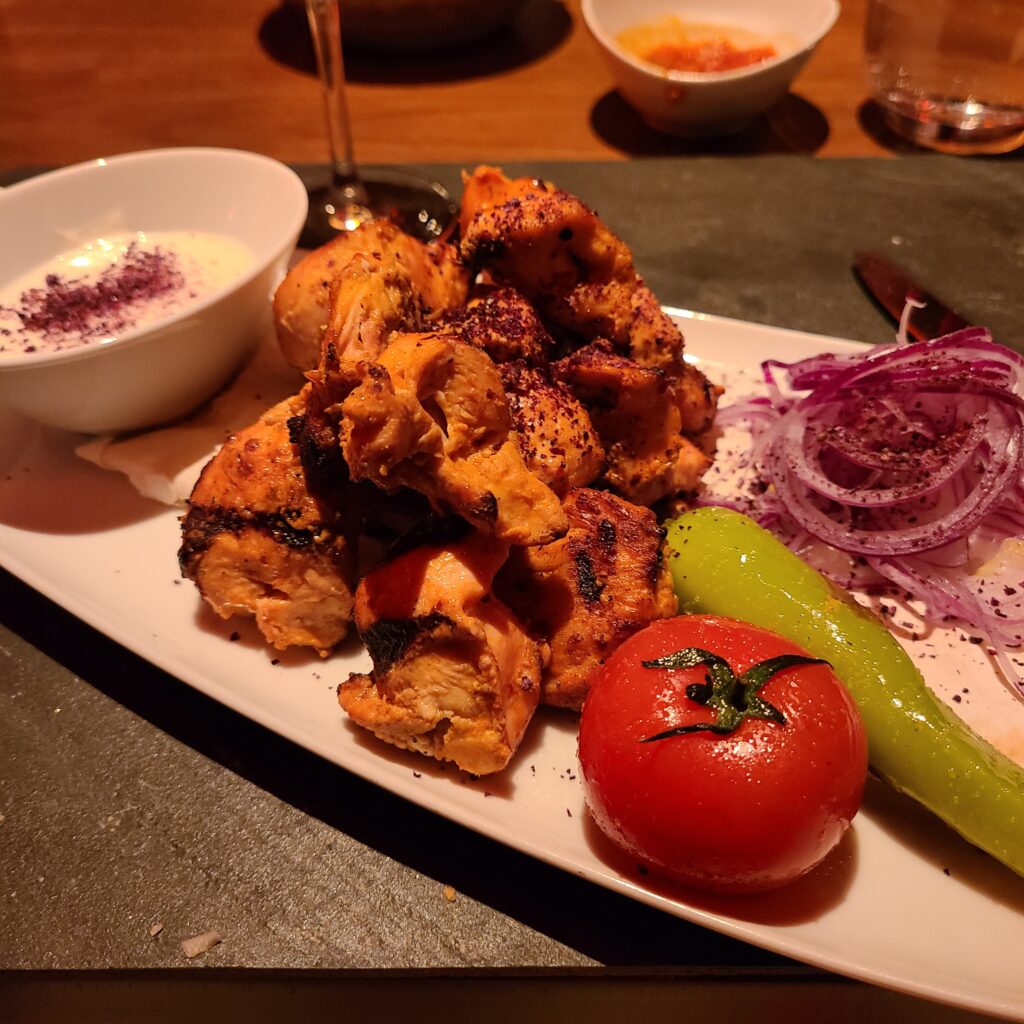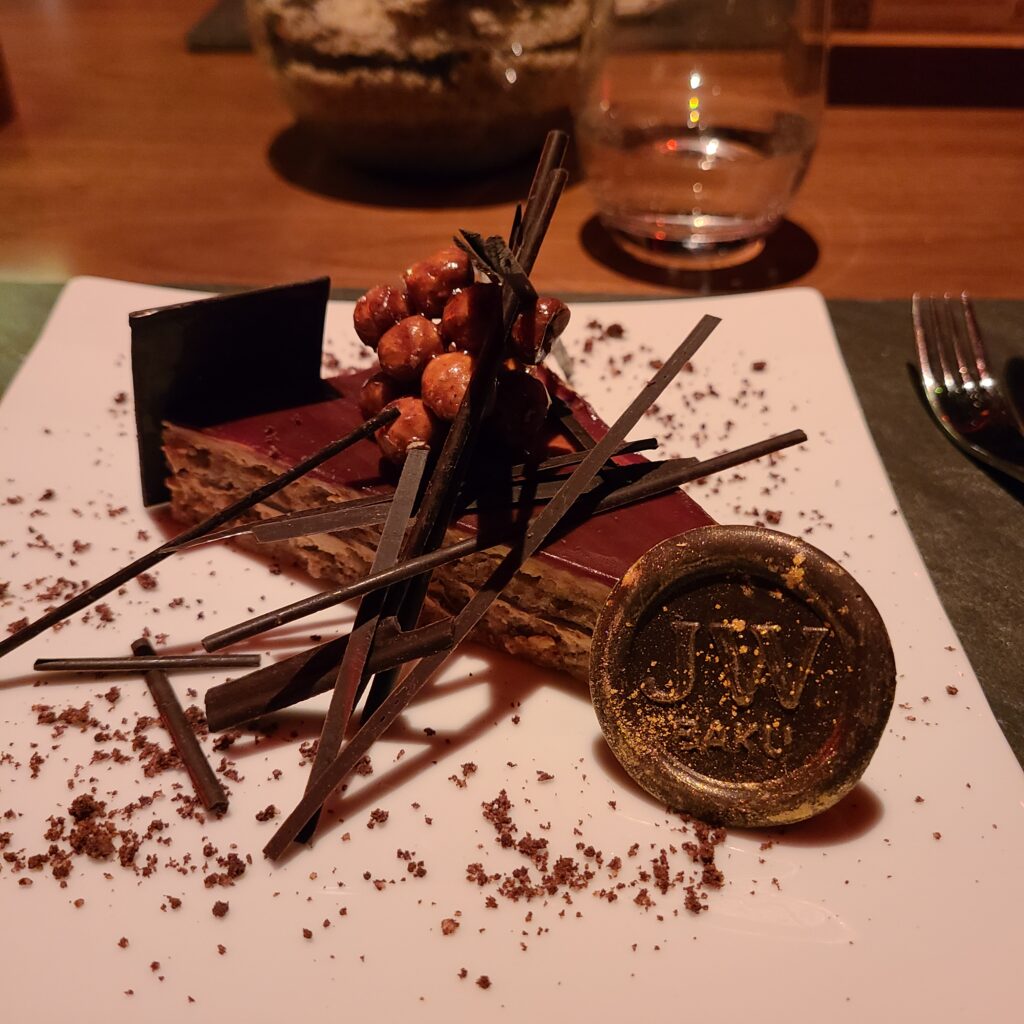 While I find the Chicken Shish Tawook delicious, I had better and cheaper food during my stay in Baku. I wish rice was included. The homemade bread was very fluffy and the traditional Absheron cake was very delicious! I'm no wine expert (and somewhat allergic to alcohol) and only ordered the wine to fill my curiosity. Well, it resulted in my body getting all itchy, so it's definitely good wine!
I paid around 65 AZN or ~$38 for everything, which isn't a bad price at all considering the location and the items I've ordered, but there's definitely better and cheaper kebabs found in Baku. The traditional Absheron cake leaves a lasting impression for me that I regret not ordering another serving!
JW Marriott Absheron Baku- Spa & Fitness
The hotel has a spa service, pool, and gym located at the top floor. I did not use the spa service during my stay, however. The menu can be found here.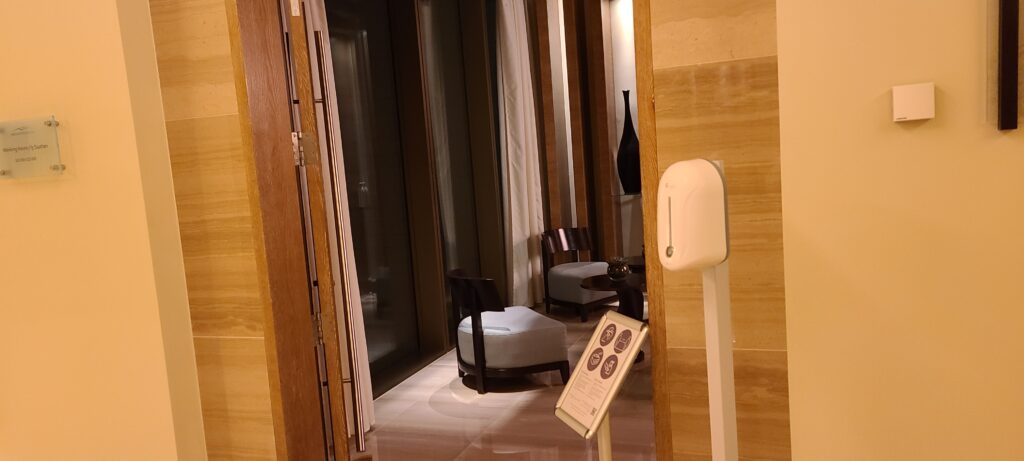 Pool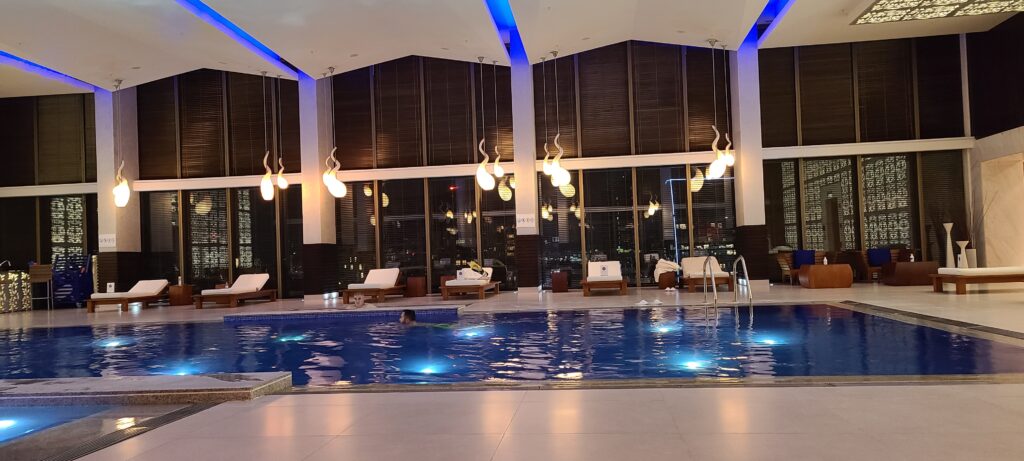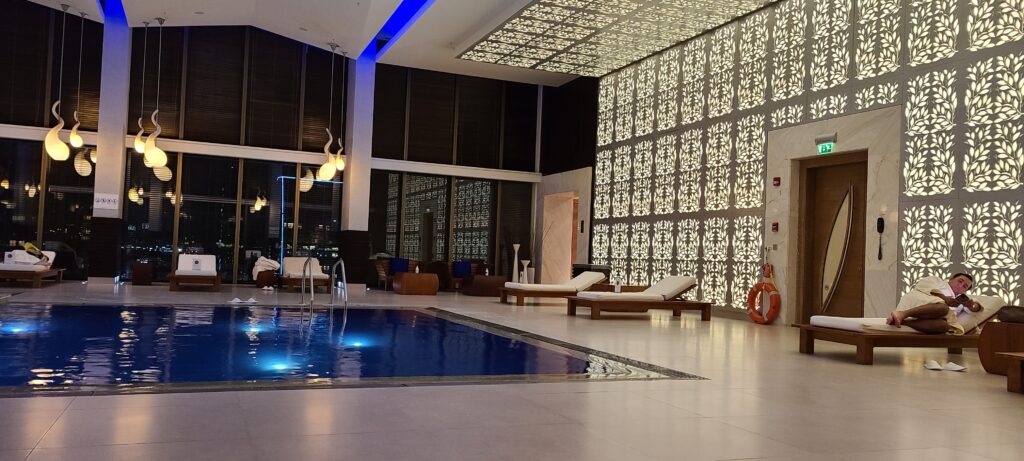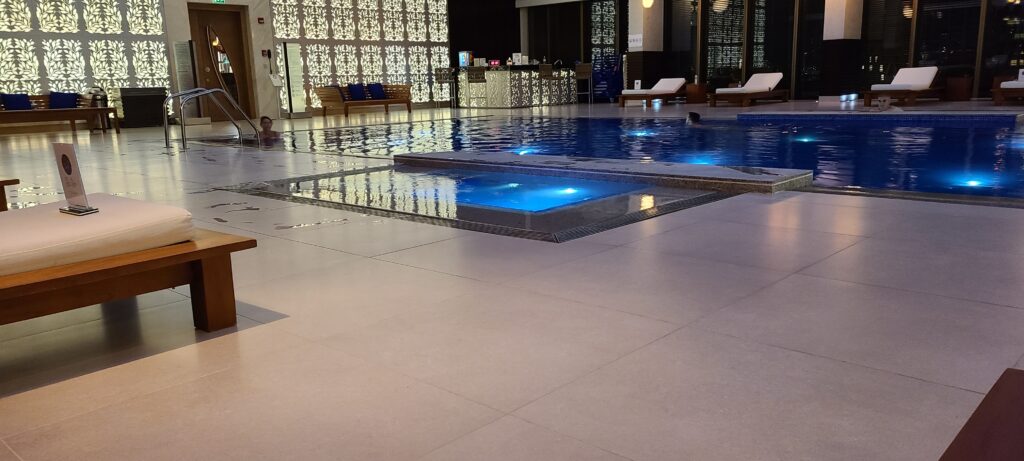 The pool room definitely looks pretty with the blue and tan color schemes. Although, the pool was heated, it didn't feel heated enough so I spent most of my time on the hot tub.
Gym/Fitness Center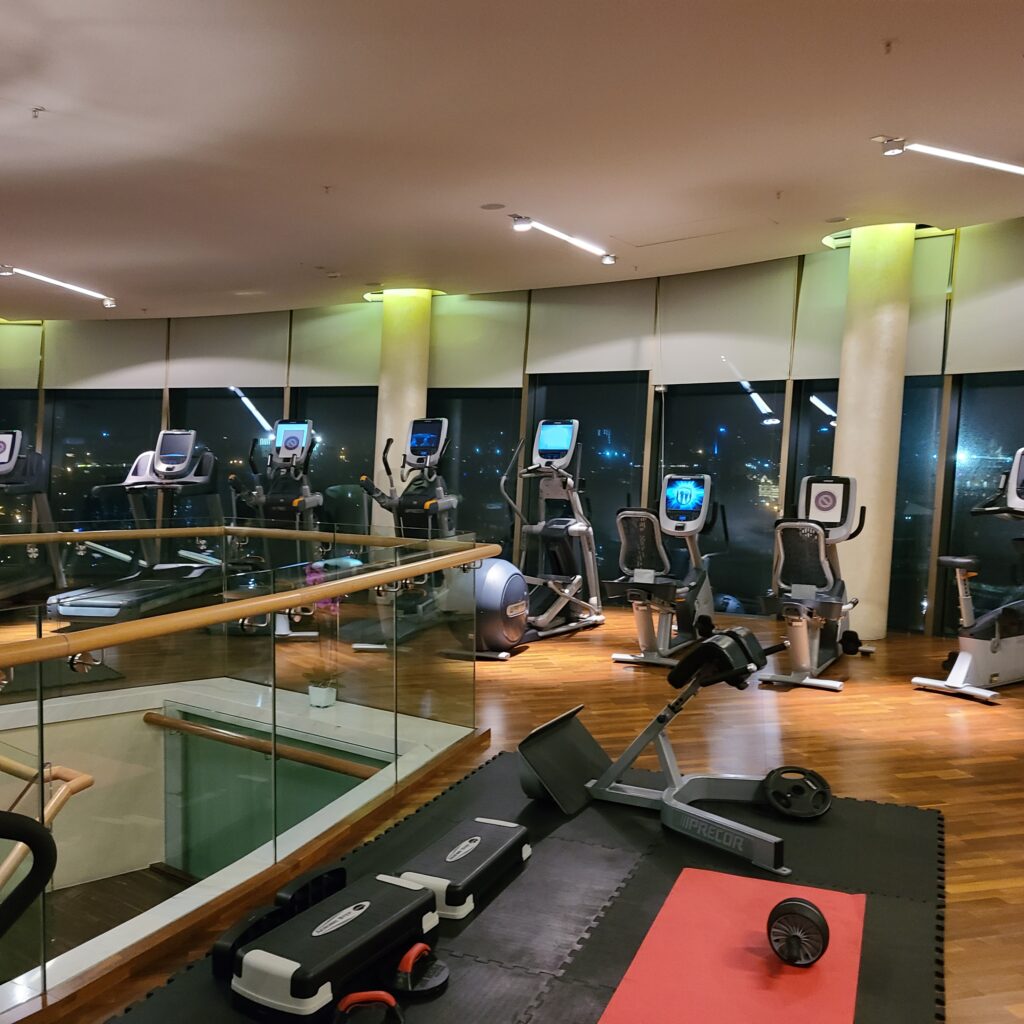 The gym offers a skyline view of Baku and the Caspian Sea to make the workouts more enjoyable.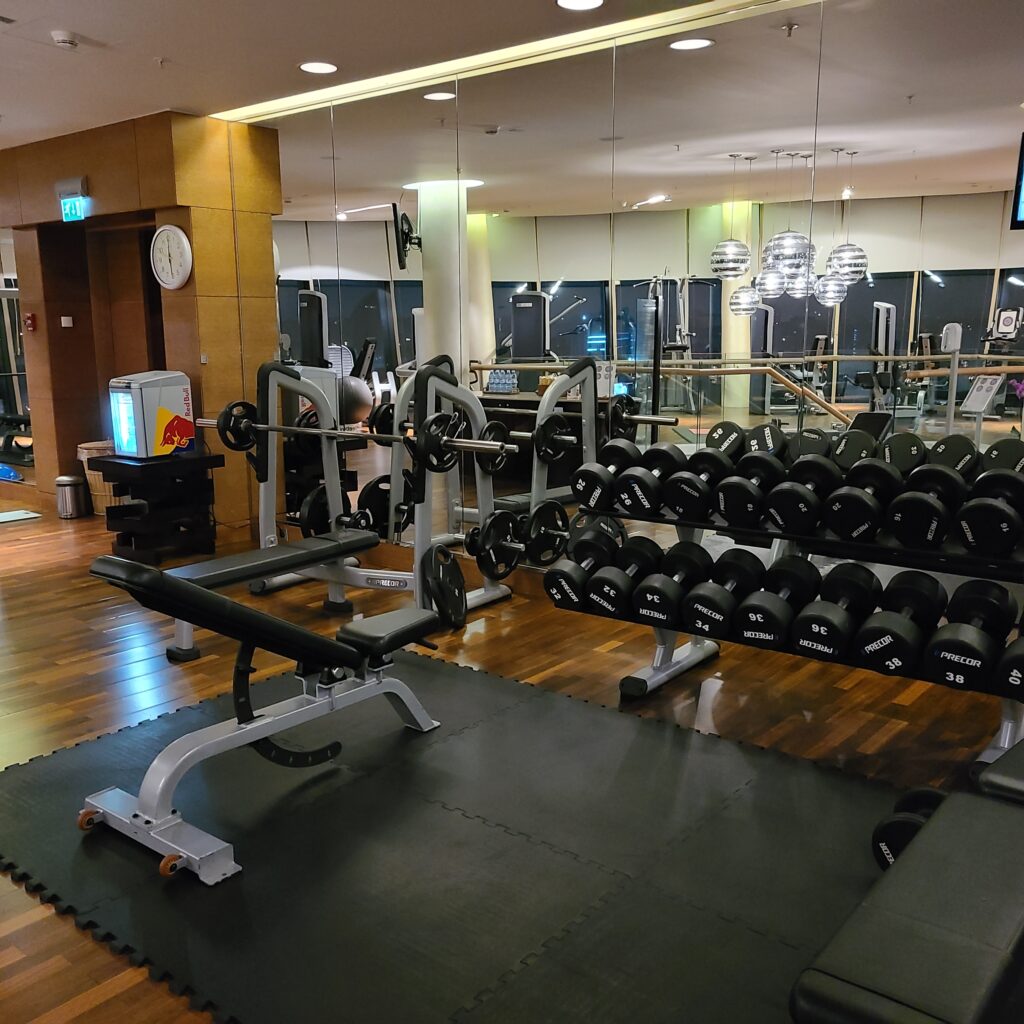 It comes with a free weight bench press station! Definitely an uncommon sight for hotel gyms.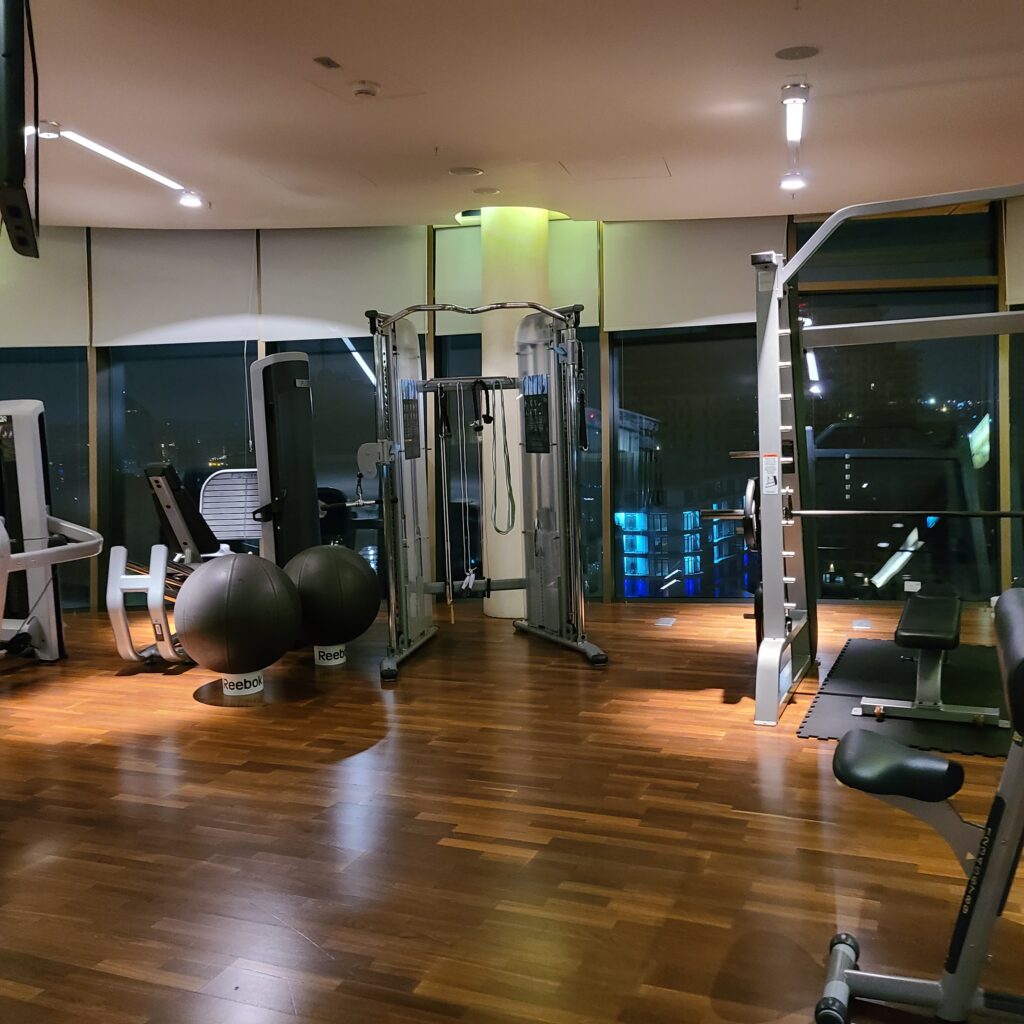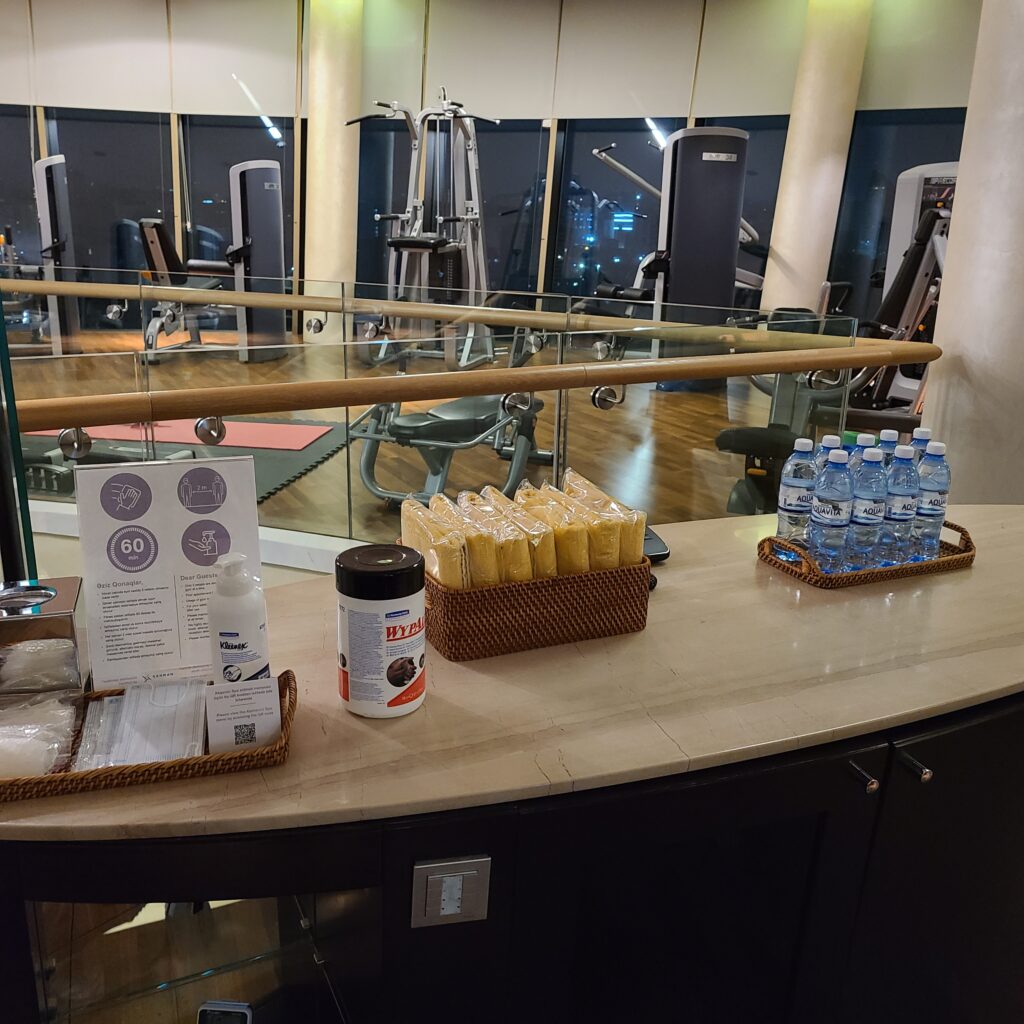 Conclusion
My stay at the JW Marriott Absheron Baku has been outstanding! First, the staff has been excellent in being proactive to make my stay as best as it can be by upgrading me to the Executive Premier Guest Room while their inventory was tight at the duration of my visit, and how they remember my name everyday! Small gestures like that can really improve your stay.
The location is simply prime for stunning view of the Caspian Sea and the modern and chic side of Baku! Not only that, it's also easy to access most of Baku's attractions from this hotel.
I also love how they don't try to cut corners on their services even during COVID by providing a suitable alternative to have the Executive Lounge open and maintain high standards of elite benefits by also including free breakfast for Platinum Elite and higher. I also am not forgetting about the chocolates as welcome gift. This hotel does go the extra mile to keep guests happy.
If I ever return to Baku, the JW Marriott will definitely be my first choice of stay. Although, there are rumors that there's a Ritz-Carlton in development for the near future, which would certainly make for an interesting comparison. Regardless, I really hope that I can return to stay at this amazing property again later in the distant future!