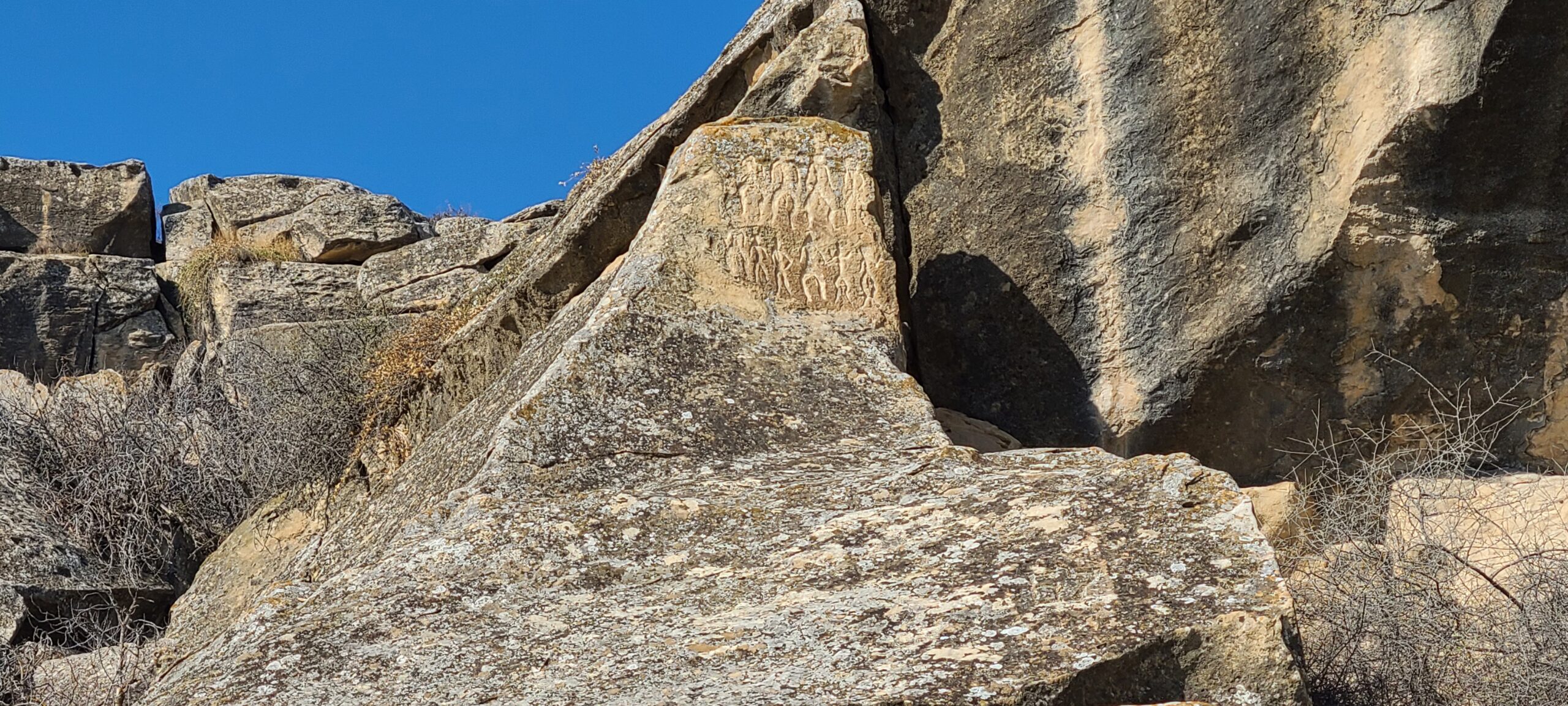 Advertiser disclosure: This post may include affiliate links (including sidebar banners) in which this site may receive compensation if a purchase is successfully made (at no extra cost to you) after being redirected from here. Thank you for your support!
Gobustan- Mud Volcanoes & Petroglyphs
I got the chance to venture out of Baku for a day during my first visit to Azerbaijan with a tour. From there, I was able to see mud volcanoes and ancient petroglyphs the pre-historic people left behind.
Azerbaijan is known as the country with the most amount of mud volcanoes. Around half of the world's mud volcanoes are located in this very country. If you don't know what mud volcanoes are, well… I will show you how cool they really are later down in this post!
Petroglyphs, which are carved images on rocks, can also be found in Gobustan that shows sign of very ancient life activities of hunting and gathering.
Leaving Baku
My tour guide picked me up at the Courtyard by Marriott at 8 a.m. I was then joined with two sisters coming from Seattle who stayed at the Fairmont Baku located inside one of the iconic Flame Towers.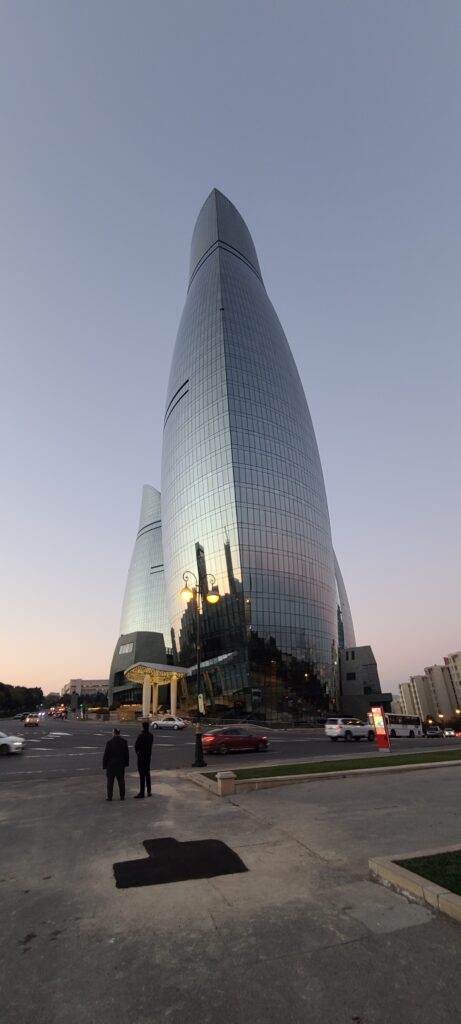 Sadly, I didn't get the chance to stay a night there. It definitely would've been interesting to get a broader exposure to other hotel chains like Accor, which is the parent brand of Fairmont hotels. The price is even comparable to the JW Marriott.
Anyways, it was nice to see faces from similar backgrounds as I really stood out a lot as an Asian man in Azerbaijan, not that it was a big deal in the first place.
As we head outside of Baku in the southwest direction, the atmosphere changes quite a bit. We pass by oil rigs, water resorts (including Ramada by Wyndham), and oil schools by the Caspian Sea to the left of the bus's window, while there's isolation of run-down villages, shipping containers of worldwide companies (mostly oil), and nothingness in the desert to the right. It's quite the contrast to the modern, colorful, and bustling atmosphere of Baku.
When we almost arrived to the vicinity of the mud volcanoes, we would then be transferred to a Russian tour guide who'd be driving a "specialized off-road vehicle" as the tour bus won't be ideal to use.
We were warned about the rumors of how applying mud to your skin would be beneficial, but there's no clear evidence to back that up, and to some, may end up irritating the skin. Proceed with caution.
Off-road to Gobustan's Mud Volcanoes
This is the most exciting part of the trip. We were guided with a Russian tour guide with his Lada, a car brand that's very popular in ex-Soviet countries. It was my first time being inside it!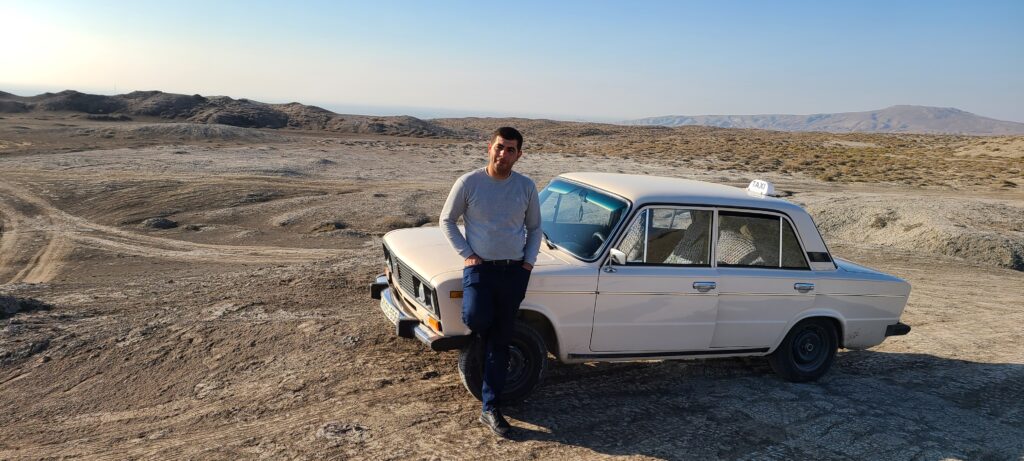 Our guide was a jolly guy, and he even let us take turns to drive it on the way to and back from the mud volcanoes! The car has manual shift, and I've never drove a manual shift before. I was a bit worried, but things were fine, although the guide had to push my legs on the gas quite a bit because of the language barrier haha! It was definitely a fun experience though.
The area surrounding Gobustan is pretty barren, but we came across a dog lying in the middle of a road, and some drunk guy walking in the middle of a road.
When we finally arrived at a place with mud volcanoes, our guide showed us to a big one, in which I'll show in the video below:
Pretty cool, huh?
I did dirty up my shoe a little bit because I stepped on a ground that wasn't completely solid and didn't realize it at the time. But, the mud will come off once I washed them with water back at the hotel. Although, I couldn't go anywhere for the rest of the night waiting for my shoes to dry the next morning.
For this trip, I'd definitely recommend the Skinners Sock Shoes. They're very comfortable, portable, and offer good protection. You can simply throw them to a small plastic bag once you're done with them. Or, you can keep wearing them if you don't mind the looks you'd get from people. It's unfortunate that I forgot to bring them with me and left them at the hotel.
Here are some more pictures of the mud volcanoes: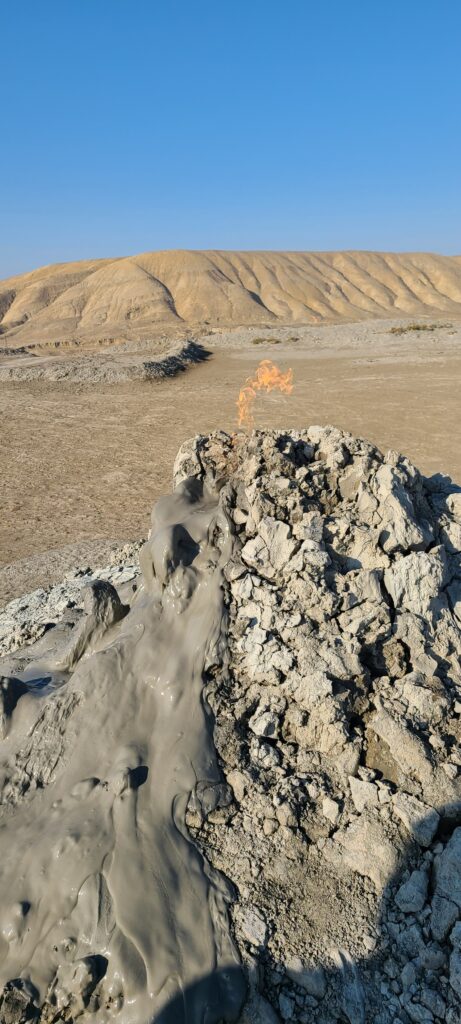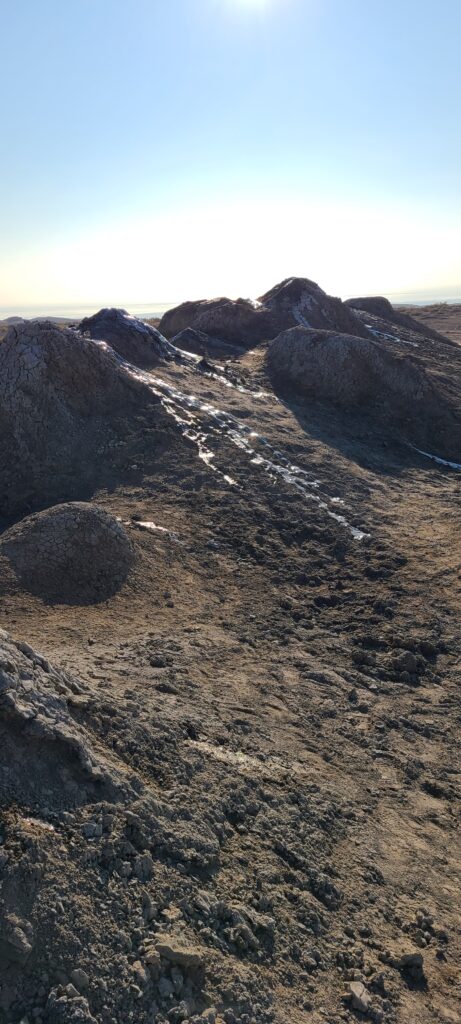 Petroglyphs
After seeing the mud volcanoes, we're off to learn a bit more about the ancient history of Azerbaijan. We stopped at the Gobustan National Park and began at the museum. I thought that the landscape looks pretty similar to some places in Nevada and even California!
I didn't take pictures inside the museum, but it basically showcased the different types of tools used to hunt, animals, rock carvings left behind, and their meanings. Many of them are obvious enough.
What stuck out to me was that Baku's elevation was much higher than it is now. Currently, Baku is dubbed as the lowest capital in the world, at below sea level.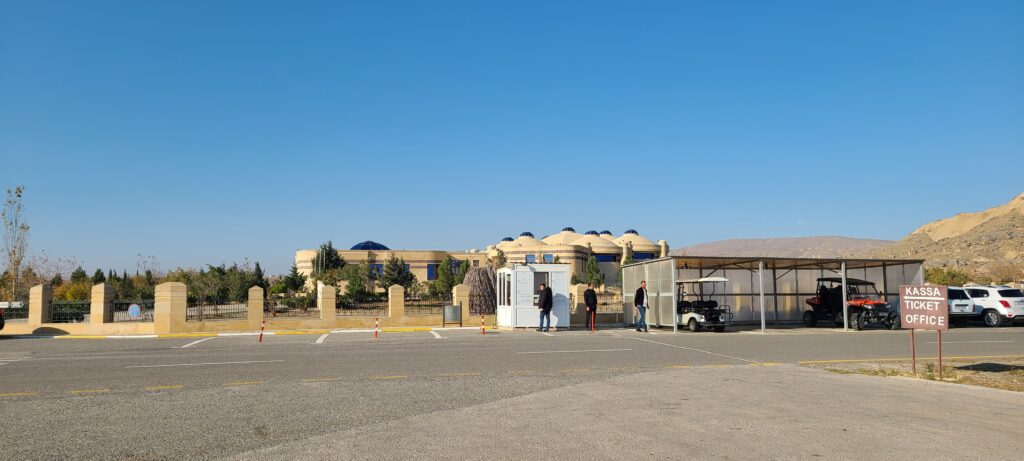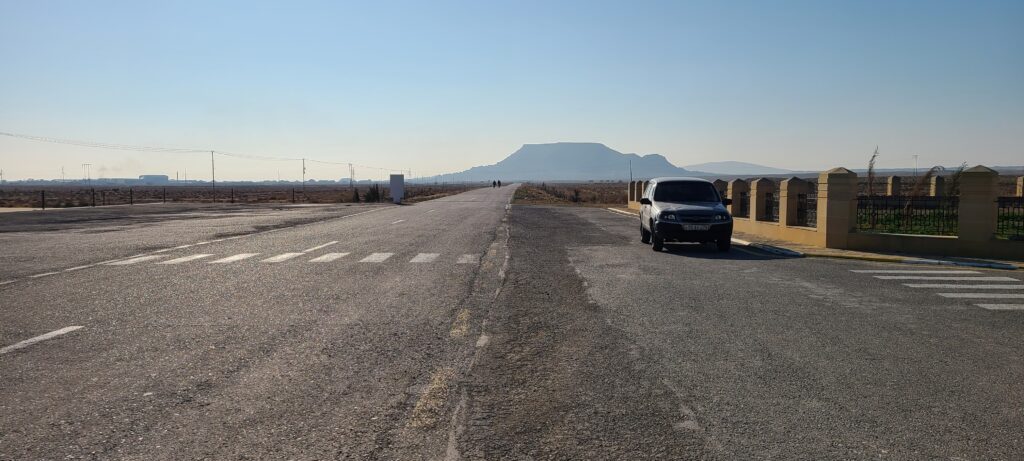 After the museum section, we head out to the Rock Art Reserve to check out the real-life examples of the petroglyphs.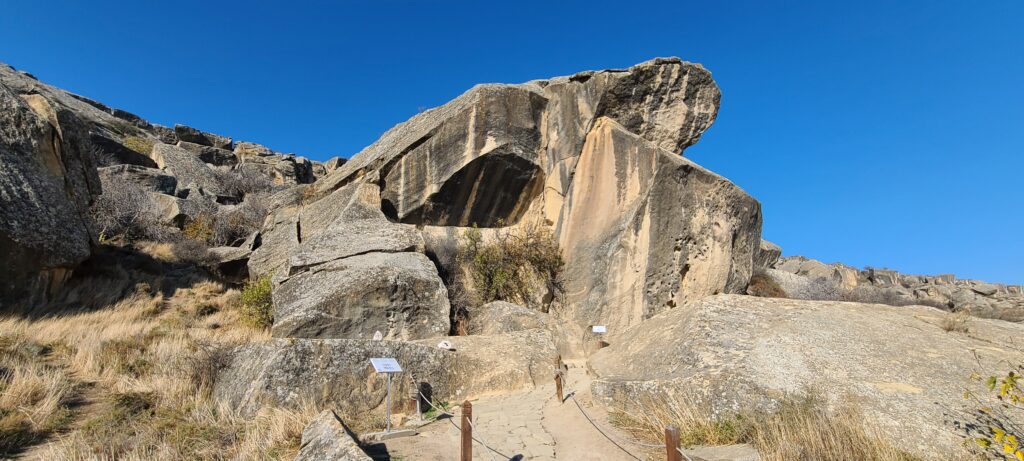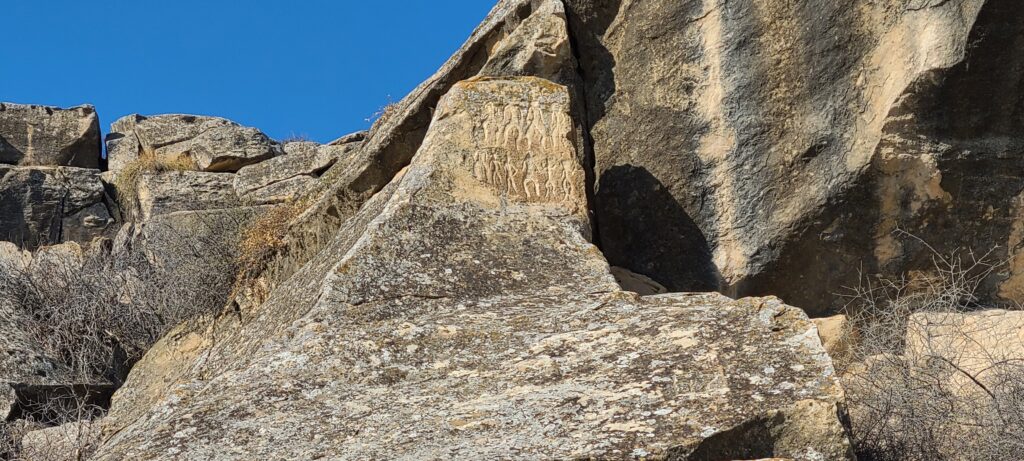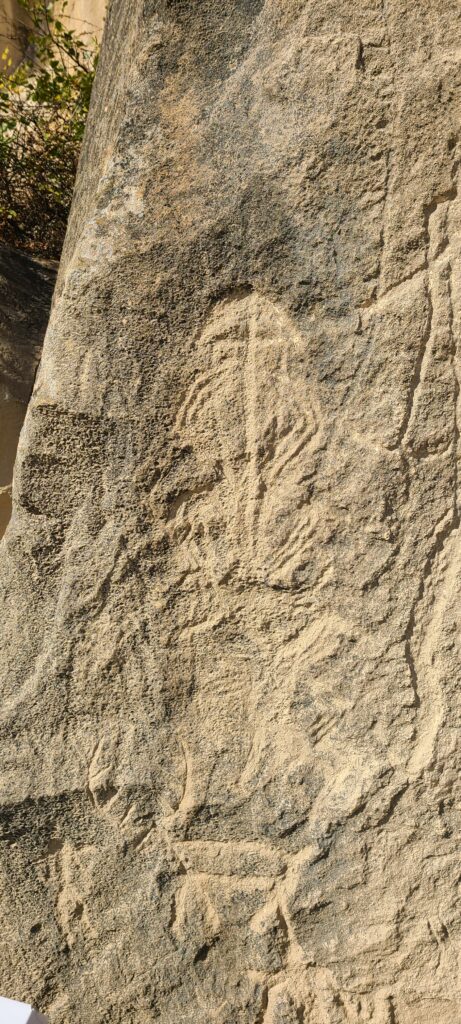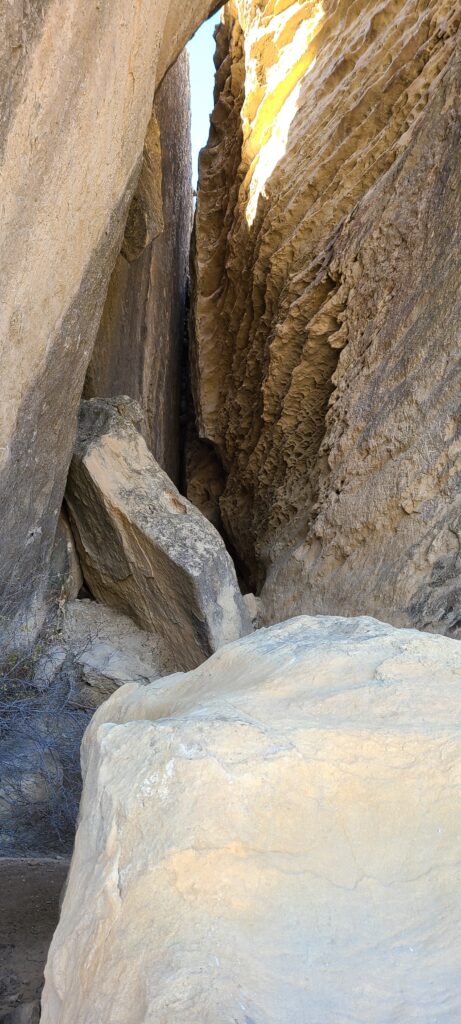 Remember that I said Baku's elevation used to be higher in ancient times? Maybe these weathered rocks clued in the sea level decrease over time?
On the ground, there are certain pits that were used for spiritual purposes like weather control, and possibly animal sacrifices by the shamans.
In some distance of the Reserve, there's a prison for the more serious criminals. I was told that one of them is a cannibal currently sentenced there. It was the closest I've ever been to a cannibal. I'm not sure what to make of that.
Conclusion
Gobustan is one of my highlights of my Azerbaijan trip. The mud volcanoes and the ancient petroglyphs are really cool to see! I'm astonished of how different the country feels once you get out of Baku, which brings me a different perspective to the country as a whole.
If you're interested in seeing Gobustan National Park, I recommend booking a tour to do so because of the off-road requirements and the hidden knowledge to find good spots for the mud volcanoes. I wouldn't recommend driving in this country as the drivers are pretty aggressive, even on congested roads.
The tour I used include exploring the opposite, northern, part of the Absheron Peninsula with ancient Zoroastrian Fire Temple and the ever-burning Yanar Dag.