Advertiser disclosure: This post may include affiliate links (including sidebar banners) in which this site may receive compensation if a purchase is successfully made (at no extra cost to you) after being redirected from here. Thank you for your support!
Marriott Elite Benefit Guarantees Explained

When you're an Elite Member in the Marriott Bonvoy program, you have access to benefits that could potentially save you money on your paid stays. But, in order to do so, you must be familiar with Marriott's hotel brands and their intricacies on the benefits they offer to Elite Members.
Occasionally, hotel staffs may not be as well in-tuned as they're supposed to be with Marriott Bonvoy's Terms & Conditions, in which guests can leverage and claim a Guest Compensation of up to $100 per violation depending on the hotel brand you're staying at on Marriott Elite Benefit Guarantees.
What is Marriott Elite Benefit Guarantees?
Marriott Bonvoy Elite Benefit Guarantees are stated guaranteed benefits elite members would receive on their stays. If they're not honored, a guest may claim for a compensation before checking out. The compensation will differ from brand to brand, and they are clearly stated on this page here. But, I will break down each Elite Guarantee Benefits so they're easier to digest.
Marriott Elite Benefit Guarantees #1- Ultimate Reservation

This benefits ensure that all Elite Members would receive a compensation if a hotel is oversold on the day of the check-in, and the hotel would "walk" you in to another nearby property for that night. You'll also be compensated in cash, points, or both. The amount differs from each brand and your Elite Status. The screenshot below should be straightforward.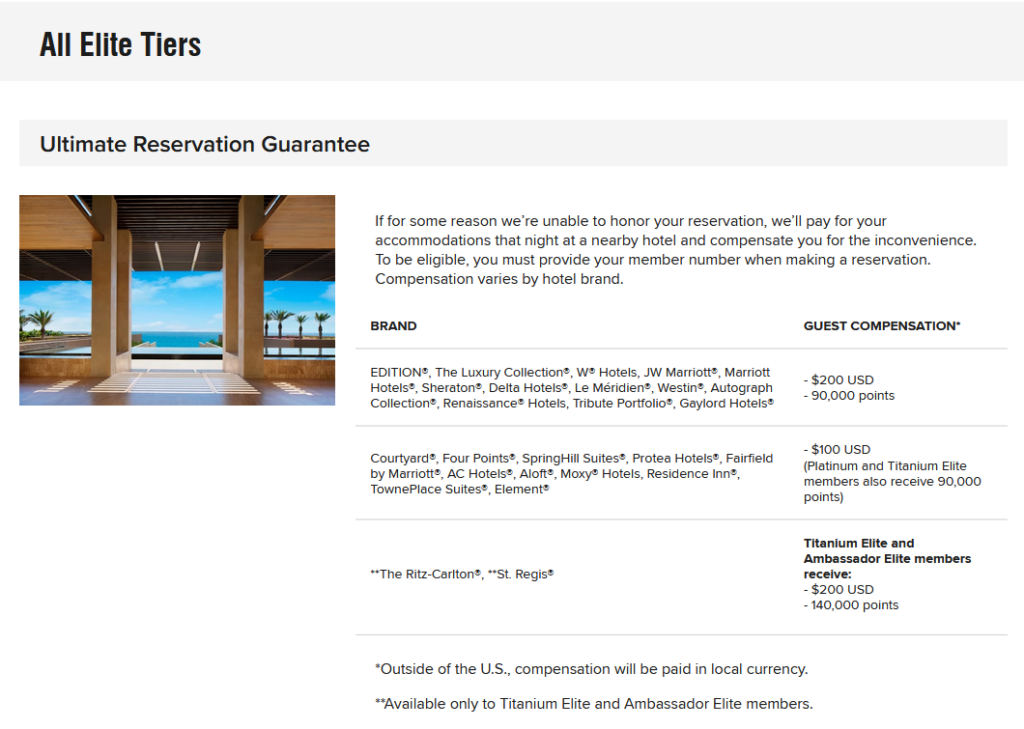 Marriott Elite Benefit Guarantees #2- Welcome Gift
The Welcome Gift Guarantee only applies to Platinum Elite or higher. The front desk agent must present you the choice between points, breakfast, food & beverage credit, or amenities during the time of your arrival (check-in), unless at properties where the choice of points is their only option as a Welcome Gift like The Ritz-Carlton and EDITION Hotels.
If you're not presented the choice of Welcome Gift during check-in, then you may claim for a Guest Compensation for up to $100 depending on the property.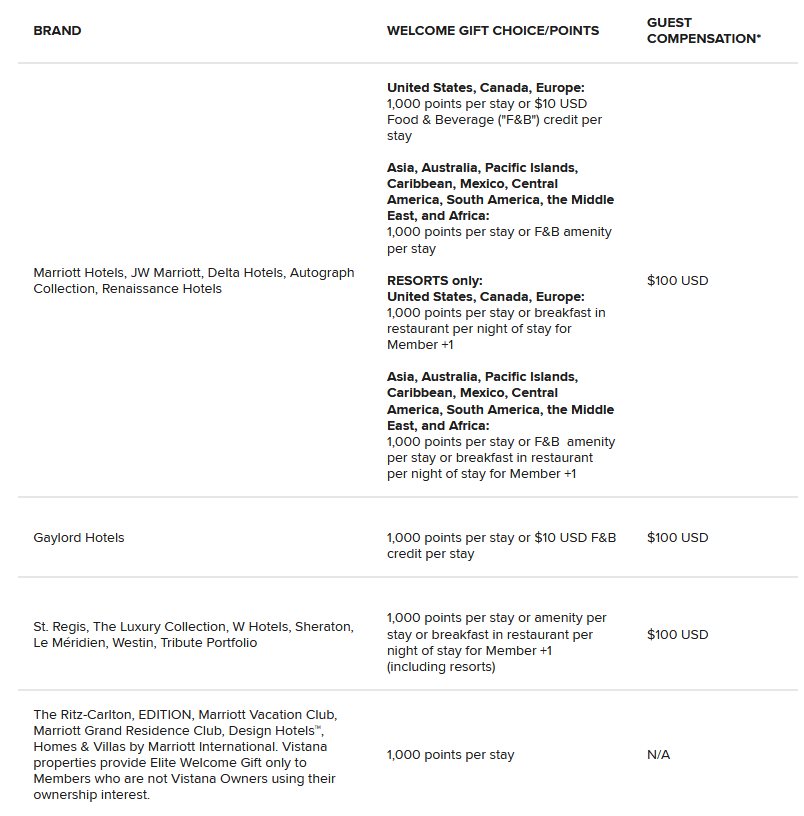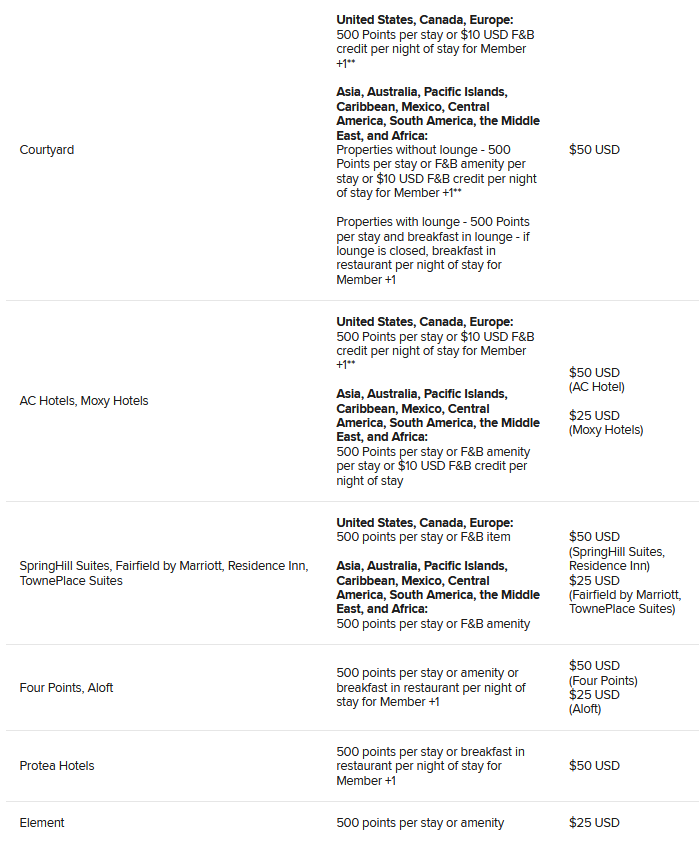 Marriott Elite Benefit Guarantees #3- Room (Bed) Type
Room Type Guarantee is not as straightforward. Room Type suggests that the bed type you've booked will be honored. For example, if you've booked 1 King Bed, but you end up getting a room with 2 Twin Beds, then you may claim compensation.
You can't claim compensation based on your preference of Smoking/Non-Smoking rooms outside of US and Canada as they're subject to availability. You also can't claim for compensation if the King Bed you've booked is one inch smaller than what you're normally used to.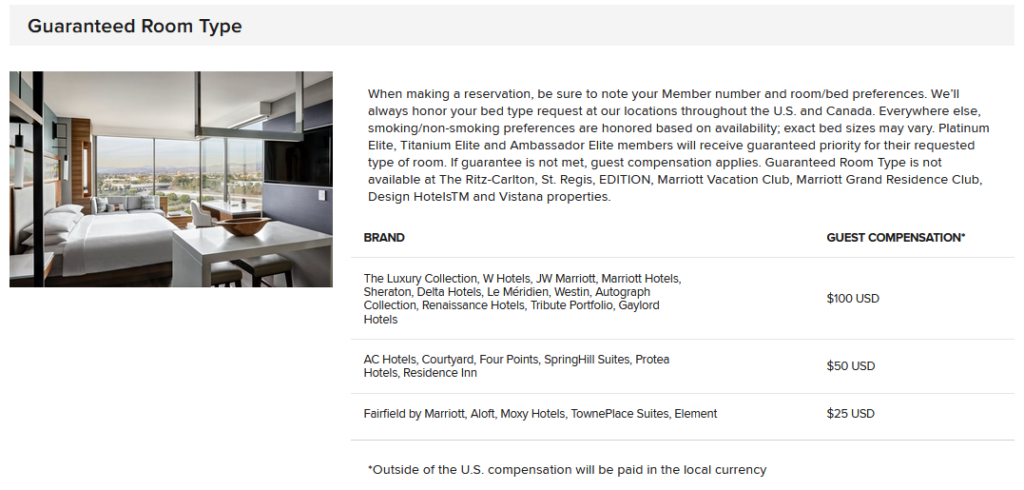 For room upgrades, they're not part of Room Type Guarantee as room upgrades are subject to availability.

However, if you're in a situation where you're upgraded from a standard 1 King Bed Room to a 2 Double Beds Corner Room, accepting the room upgrade won't make you eligible to claim for the Marriott Elite Guarantee compensation, since you willingly accept the upgrade. You may of course, choose to not be upgraded at all.
This guarantee works for all Elite Members, but Platinum Elite and higher will get priority on guaranteed room type. Though, it's unclear if Ambassador Elite, which is the highest Elite tier, will get the upmost priority or not. The irony is, the compensation claim could work better for Silver Elite and Gold Elite as they get lower priority.
Marriott Elite Benefit Guarantees #4- Lounge Access
Platinum Elite and higher have access to Executive Lounge on certain hotel brands under the Marriott portfolio. If the hotel's lounge is closed or if the hotel does not have a lounge, then Platinum Elites and higher are entitled to free breakfast per day with +1 guest or they may opt for 750 points per night of stay depending on the brand.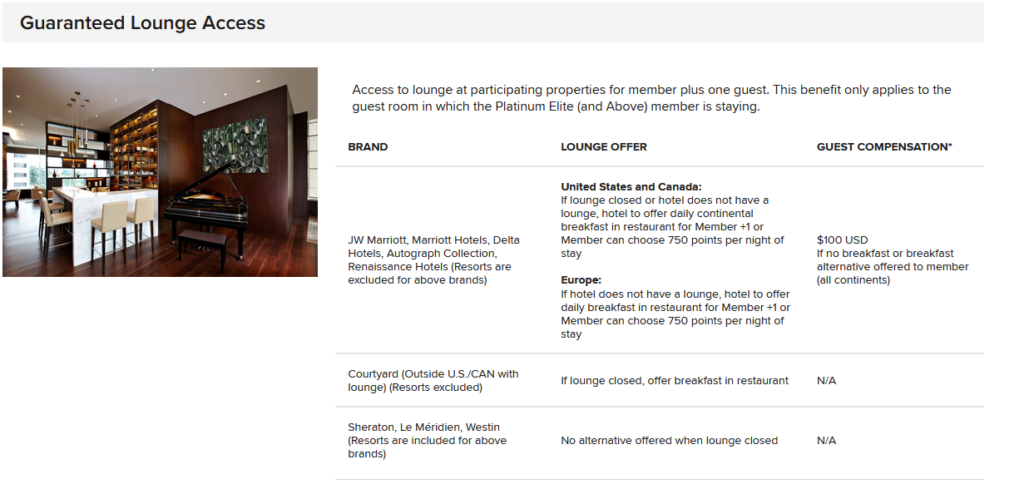 But, not all hotels give out free breakfast as the alternative, but instead offer more points of 1000 per night instead. Here's the list of hotels:
Do note that Sheraton, Le Meridien, and Westin are brands that don't offer alternatives if their Executive Lounge is closed, so you can't claim for compensation if that happens to be the case.
Another very important thing to note is that the language of arrival is missing, which implies that the alternative doesn't have to be offered during check-in, and you probably won't be eligible to claim for compensation if you end up receiving the alternative benefit if the lounge access isn't possible.
Some properties are outliers though like the Courtyard in Baku. From what I've experienced, the Courtyard at Baku does not have a lounge, but they do offer free breakfast for Platinum Elites and higher. Normally, Courtyard hotels outside of North America would have an Executive Lounge.
How to Claim Guest Compensation
Out of all the Marriott Elite Benefit Guarantees, the Welcome Gift is likely the one where the front desk agent may forget to bring up during check-in. Remember, the important keywords under the Welcome Gift are choice and arrival. If the front desk agent forgot to bring up the choice of Welcome Gifts for Platinum Elites and higher during check-in, then you may claim for a Guest Compensation of up to $100 depending on the brand. One important thing to know is that the compensation must be done before check-out as stated in 4.1d. on Marriott's Terms & Conditions.

So, the most direct way is to confront the front desk about it.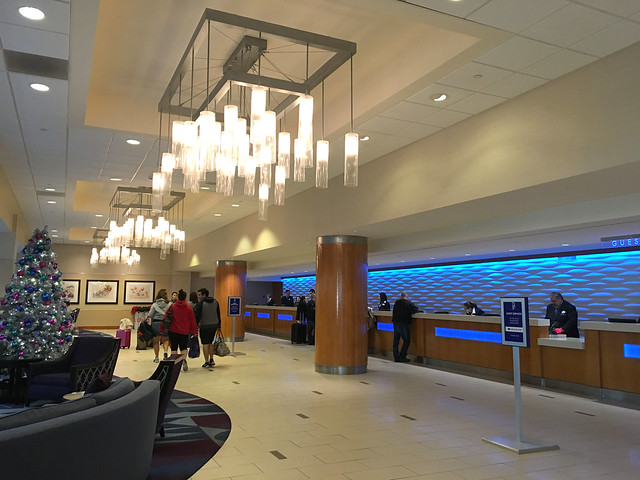 Should You Do It Though?
Now, this is where the situation gets tricky. Some guests who are aware of these policies may not feel comfortable confronting the front desk about the issue. They may feel that they don't want to get the front desk agent into trouble. Or, they don't think it's worth the effort to cause a commotion for $25-$100, and they're just happy to get their free breakfast or lounge access they're entitled to.
Even if they do decide to pursue the compensation, what's likely to happen is that confronting the front desk will likely result in awkwardness as they're not aware such policies exist. And then, they'll have to deal with the hotel manager.
If you do decide to pursue the compensation, it's important to not be a jerk while addressing your concerns. We all make mistakes after all. Try to be firm, but don't put blame on anyone. Having the Marriott Elite Benefit Guarantees page loaded up on your phone and showing it to the staff will help a lot. Make sure to bookmark it!
If you're to be compensated, make sure to take physical cash as the Marriott points you receive depends on how much you spend on the room rate of your final hotel bill. Having the bill deducted electronically will forgo some Marriott points, but it can work in your favor if you're staying at a property in high tax environment like California.
As you'll likely deal with the hotel manager, you may deal with an easy one where they recognize their mistake and agree to compensate you for the inconvenience. But, some scenarios may be more difficult when the manager hears conflicting stories between the guest and the front desk agent. It then becomes a game of "he said, she said" that's uncomfortable to deal with. What can happen is either the hotel sides with the staff or don't want to continue the conversation further and compensate the guest to make them happy.
It's certainly an uncomfortable situation to be in depending on how you see things or your personality. On my perspective, holding the hotel accountable presents an opportunity for the hotel to better train their staff so future Elite Members who stay at the hotel can experience more consistent elite treatment. Again, holding people accountable does not mean being "mean" to them. Another way to look at it is the $100 will be training cost for the staff.
As a content creator, I also have to cover the "unpleasant" part of the Marriott's loyalty program business model. Do you agree with my perspective on this issue?

Conclusion
Marriott Elite Benefit Guarantees are policies that Elite Members, especially Platinum and higher should familiarize with for the potential of savings for their stays. But for some, claiming for compensation can present a bit of awkwardness, and potentially sour the mood of your stay. Nonetheless, it's up to the guests if they want to go through with the process. In my opinion, raising up the concerns to the hotel can ensure future hotel stays will improve as the staff can receive better training to avoid these little mistakes.
Have you ever claimed a Guest Compensation before? Why or why not? Let me know your experiences!