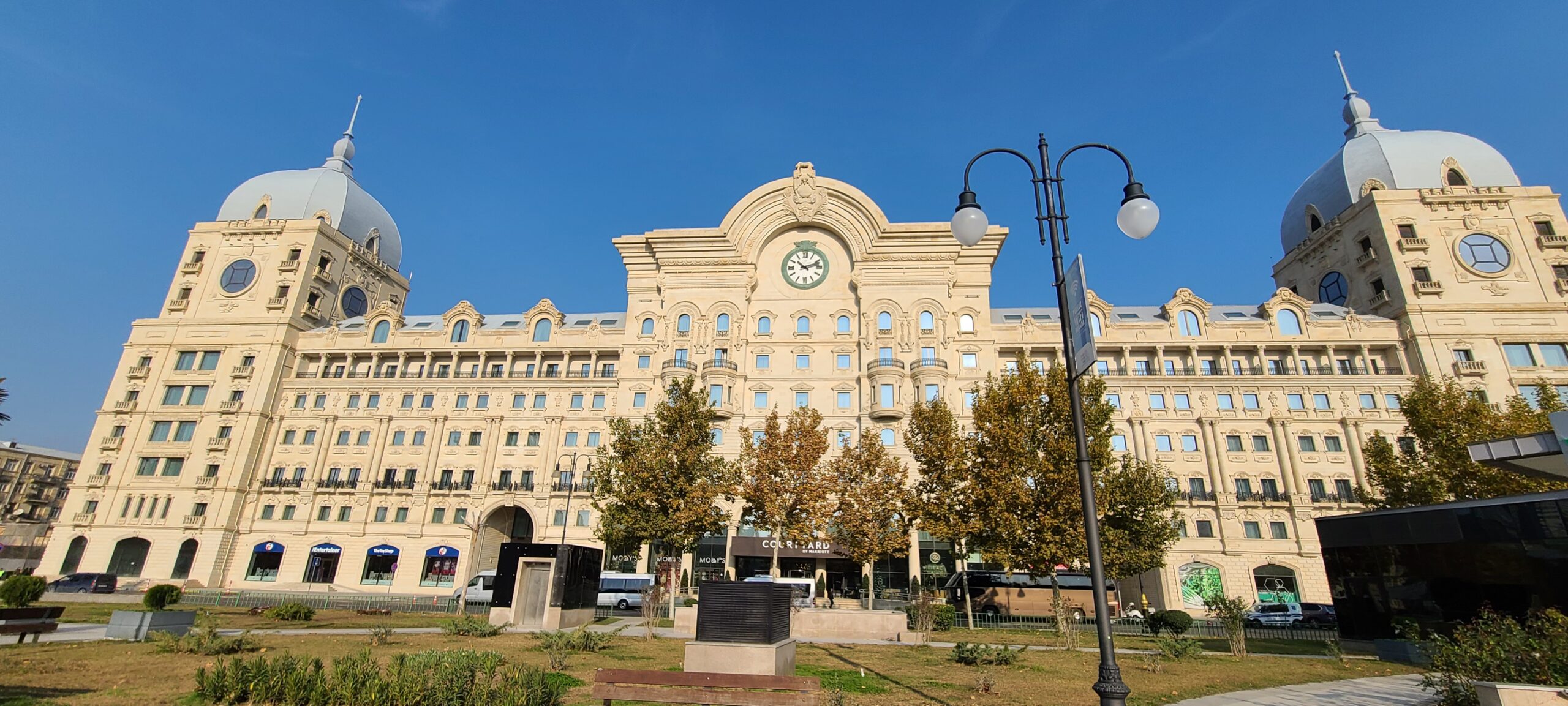 Advertiser disclosure: This post may include affiliate links (including sidebar banners) in which this site may receive compensation if a purchase is successfully made (at no extra cost to you) after being redirected from here. Thank you for your support!
Courtyard by Marriott Baku- New Hotel at the Heart of Town
Azerbaijan has recently opened a new Courtyard, making it the fourth Marriott Bonvoy property available in Baku. I figured it would be a great first-stay destination on my first-time visit to Baku with its centered location. The outside building definitely looks intriguing with its Russian imperial-like architecture.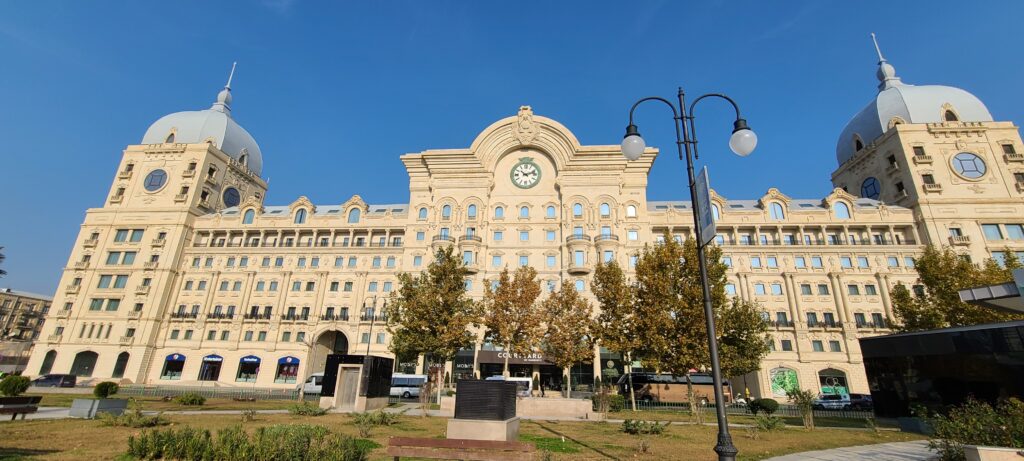 Courtyard by Marriott Baku- Booking
I've booked at a special rate of book 3 nights or more to save 20% on the Marriott site. The rate per night I ended up booking is 127.50 AZN (Azerbaijani manat) per night. That roughly converts to $75 per night.
Since I'm staying 6 nights at Baku, Azerbaijan, this is the perfect opportunity to try out two Marriott properties in the city and also take advantage of the current global promotion of earning extra 1500 points per stay.
The newly opened Courtyard is the cheapest Marriott property in Baku, and is a Category 2 hotel in the Marriott Bonvoy award chart.
Courtyard by Marriott Baku- Location
The hotel is located right in front of Fizuli Park, a long stretch of a park at the hearts of downtown Baku. Conveniently, there's a Bravo store, the most prominent local supermarket chain in Azerbaijan, just steps away to buy convenient items and try out local Azerbaijani groceries. Although, the store seem to only accept MasterCard only if you're paying with a credit/debit card.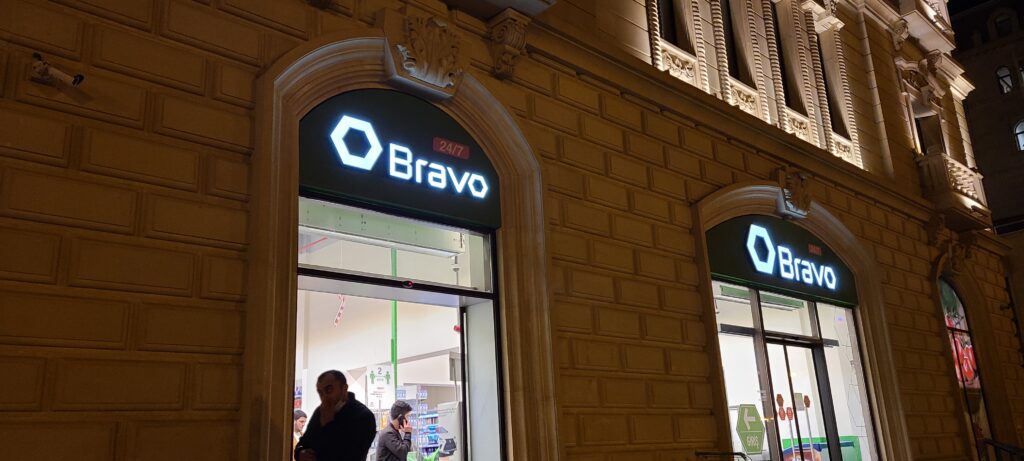 Getting around Baku won't be hard with Uber or Bolt app, and the hotel provides enough space for taxis to park.
Courtyard by Marriott Baku- Check-in
I've requested an early check-in because I arrived at Baku in Heydar Aliyev Airport (GYD) at 6 a.m. The hotel would grant me it if I pay extra 50% of the room rate of the first night. Since I paid 127.50 AZN per night, I would then pay an extra 63.75 AZN, which roughly converts to $37.5. After feeling grungy and tired from 20+ hours flights including a long layover at IST, it was definitely worth to pay more for the early check-in.
When I arrived at the hotel, I was warmly greeted by the staff. They were, however, were surprised that I hold an American passport as I've been chatting with the manager through the Marriott Bonvoy app to ask for a room upgrade. My last name is not very American at all.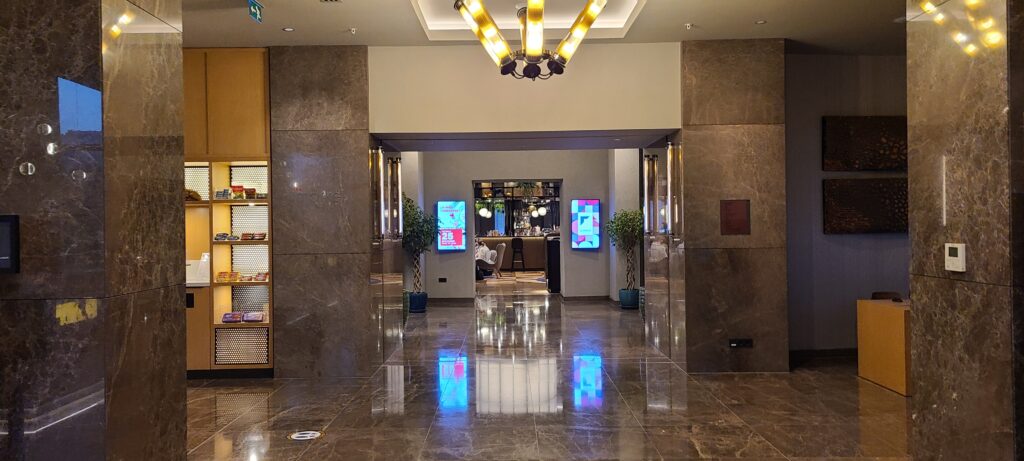 The manager was also impressed with how the Marriott Bonvoy Brilliant Card looks and feels, in which I have to be on board with her! It's definitely a really good looking card. The reason why I booked with the Brilliant is because of the Amex Offer of spending $200 or more to get $50 off on Marriott Bonvoy properties.
Elite recognition is excellent at this hotel. The staff thanked me for being a Platinum Elite. As a Platinum Elite, I'm given a free breakfast at the buffet section per day I'm staying. This is truly exceptional because Courtyard hotels in general only offers free breakfast if there's an Executive Lounge inside, which is pretty common in the Asia Pacific region. But, Courtyard in Baku is in the Europe region and only has a restaurant. This is pretty nice and fitting since Azerbaijan is at a crossroads between Europe and Asia. I honestly still struggle to classify Azerbaijan as Europe or Asia myself.
I was given a choice to then choose either 500 extra points or the $10 food & beverage credit as Platinum Elite Welcome Gift. Taking the $10 food and beverage credit is a no-brainer when it comes with staying at Courtyard, and $10 can go a long way in Azerbaijan, even with hotel food pricing.
The hotel appeared to be in high occupancy, and I did not realize that there was a Trampoline Gymnastics World Championship happening on the week I'm staying at Baku. I saw people with different track jackets of their respective countries, which is cool to see! Luckily, I was able to secure an upgrade to the Junior Suite despite of the high occupancy, which is the property's highest room category.
Lastly, I was guaranteed a 4 p.m. checkout for a smoother experience in hotel hopping to the next property I wanted to try out, the JW Marriott Absheron Baku.
Courtyard by Marriott Baku- Junior Suite
The staff kindly escorted me to my room located at the 6th floor, the second-highest floor. The junior suite is quite spacious with ~560 square foot of space. My room comes with outside balconies that I sadly couldn't get to, but it's understandable from safety perspective.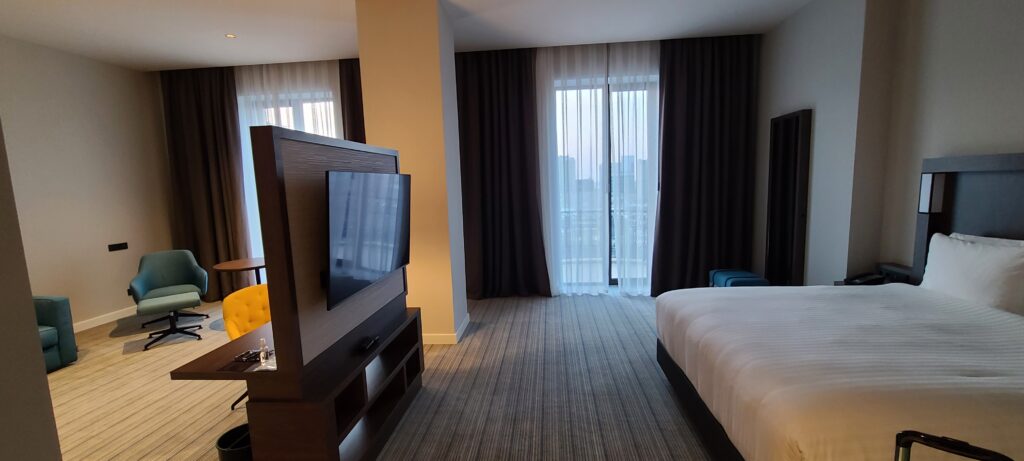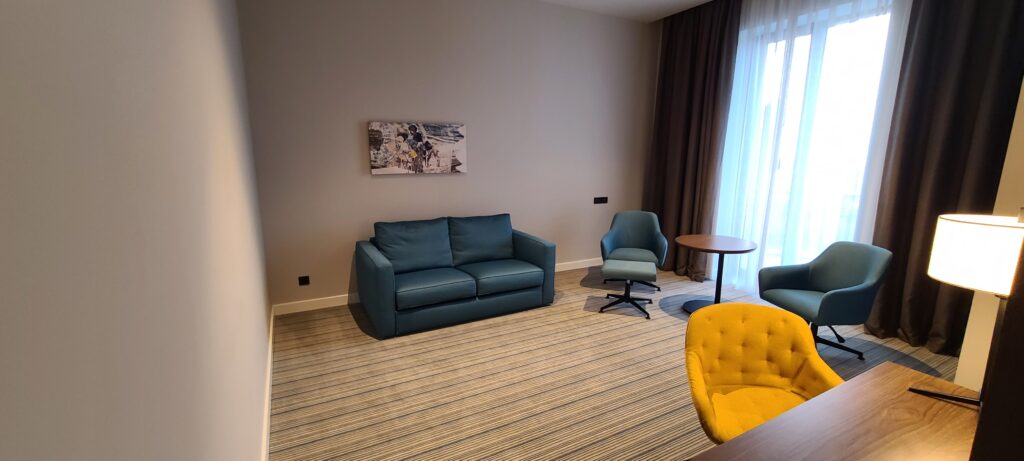 Even though the room is quite spacious, there's a bunch of empty spaces, so much of the room felt underutilized. A coffee table by the couch would certainly be an improvement. The chairs by the window aren't rolling chairs, which would've been better to easily position myself for a better view of the Fizuli Park.
The room comes with complimentary bottled water that's replenished everyday, coffee, and varied teabags from Azercay, Azerbaijan's prominent tea maker so you can taste Azerbaijan's tea specialty.
Wi-Fi speed seem to be mediocre even after choosing Premium Internet that's complimentary as Gold Elite and above. I even had one full day where it didn't work. Maybe it was just bad luck on my end, or hopefully there will be improvements on the Wi-Fi speed and reliability in the future. Fortunately, I was outside most of the time, but it was a bit frustrating not to get some of the work done when I was inside.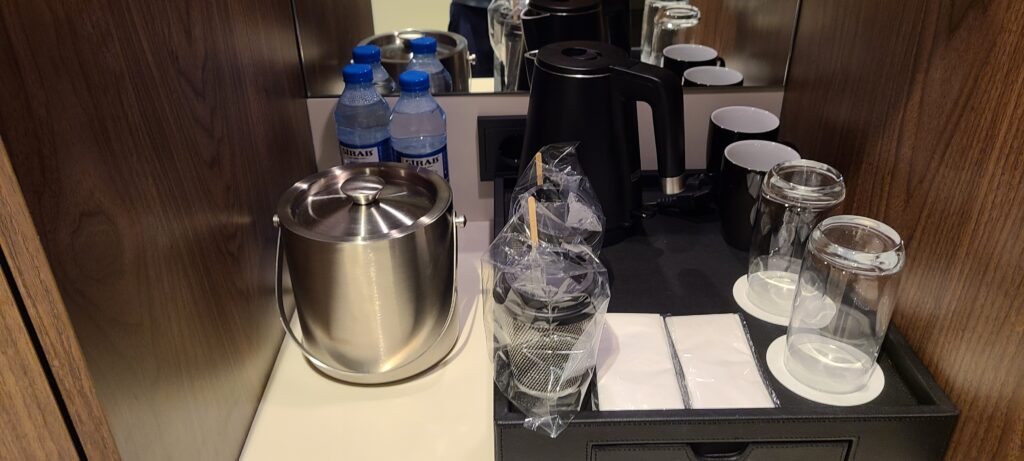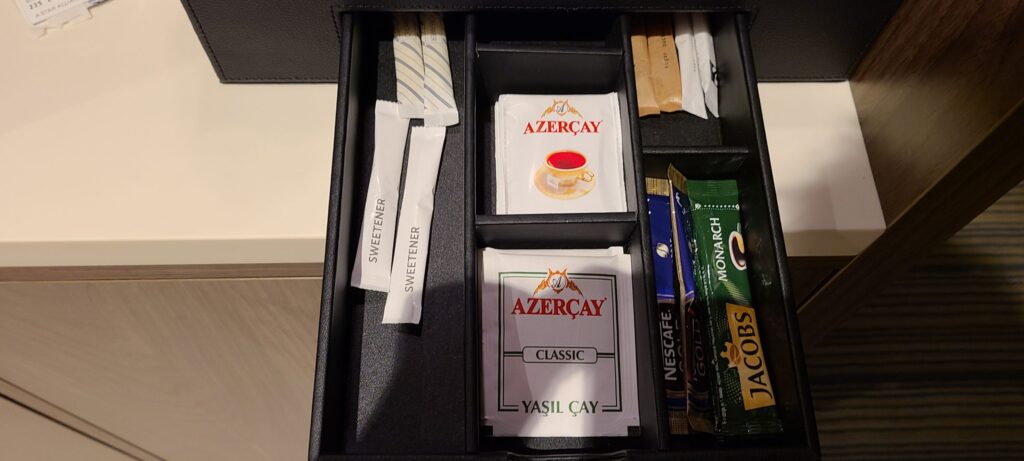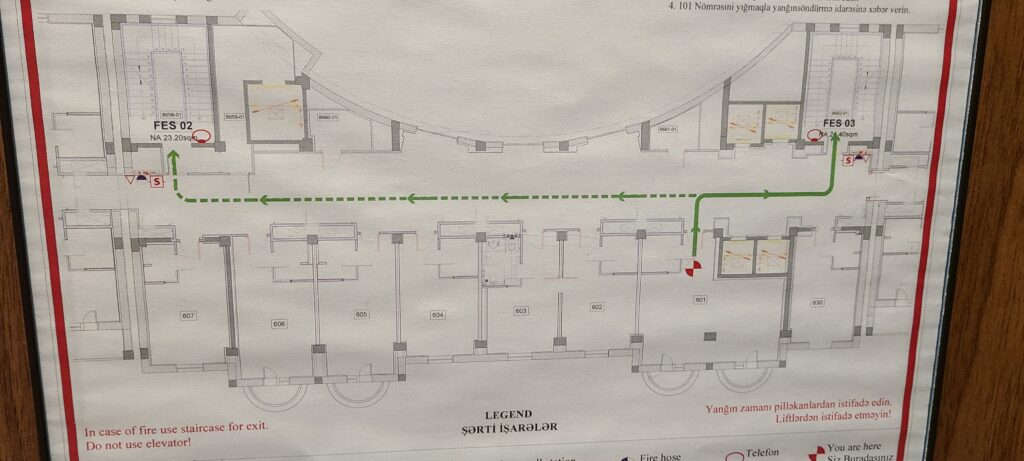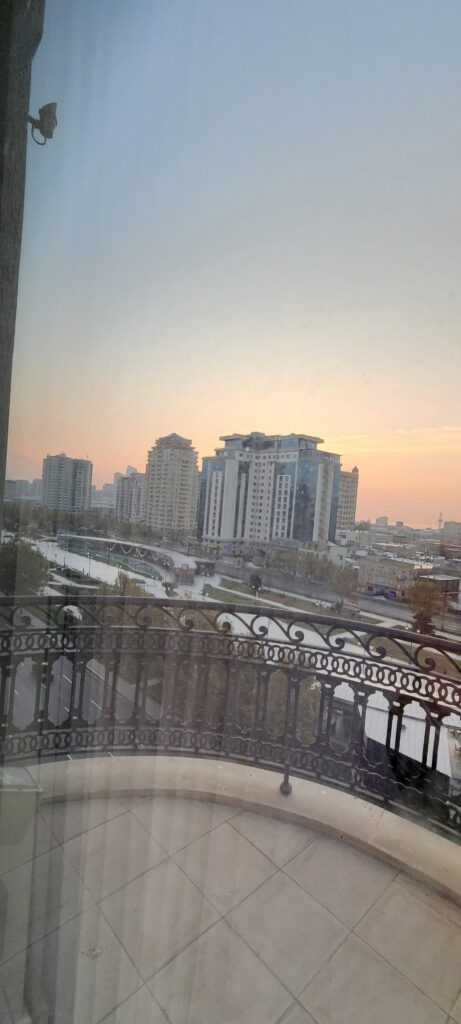 The bathroom is covered by frosted glass equipped with curb-less walk-in shower. Water pressure is pretty good with overhead and handheld shower options. It also comes with 2 bathrobes, which is surprising from a Courtyard, at least not from what I've seen in the US.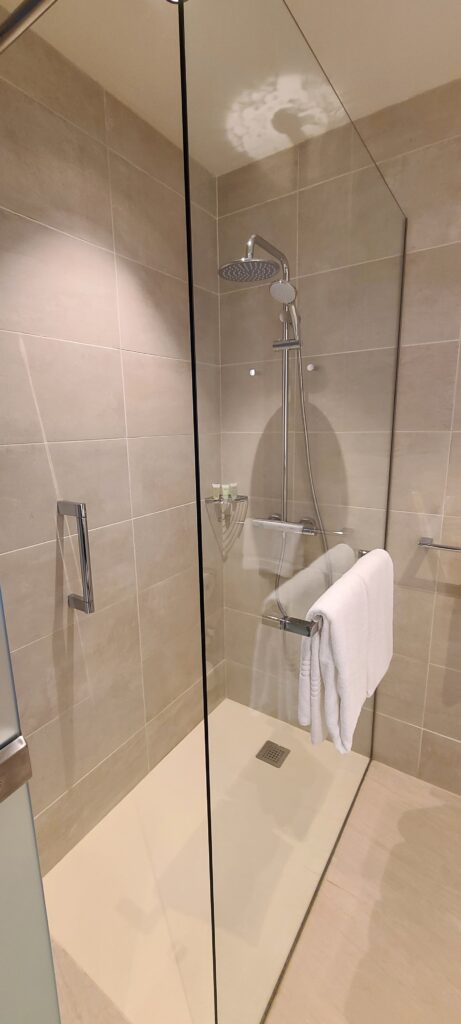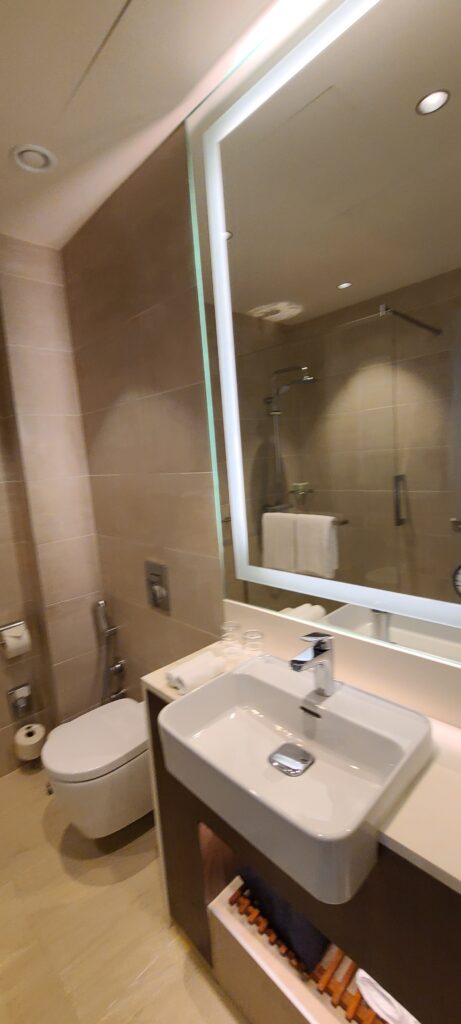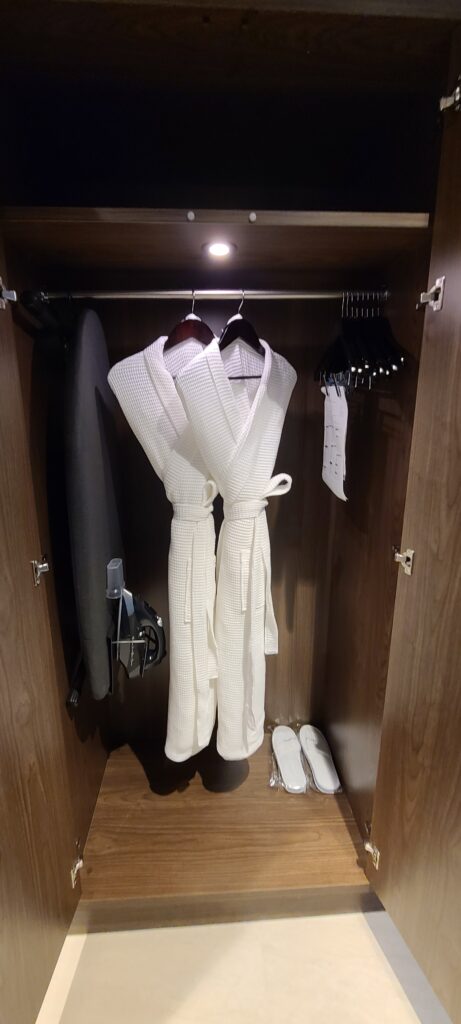 Courtyard by Marriott Baku- Breakfast
The restaurant available at the hotel is called BESH Gastropub. It serves western food you'd find familiar with back home in the US, although I did wish that they have some Azeri cuisines included.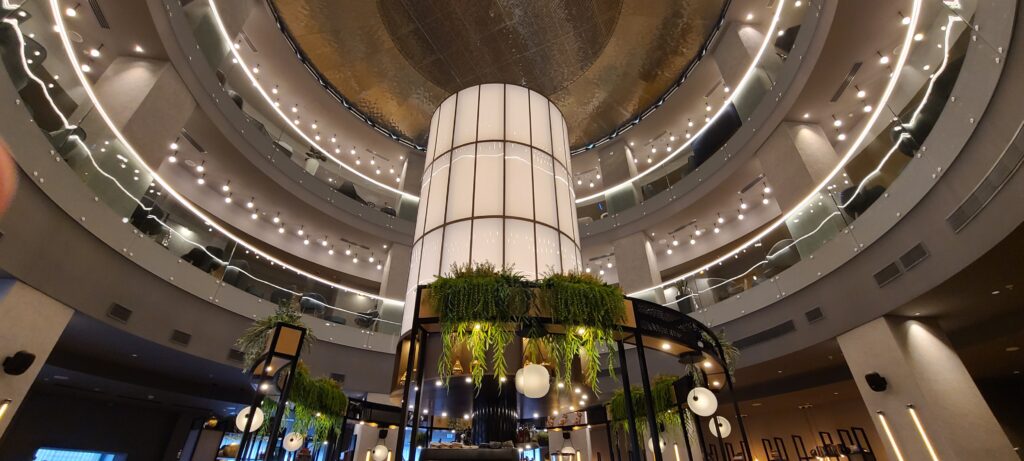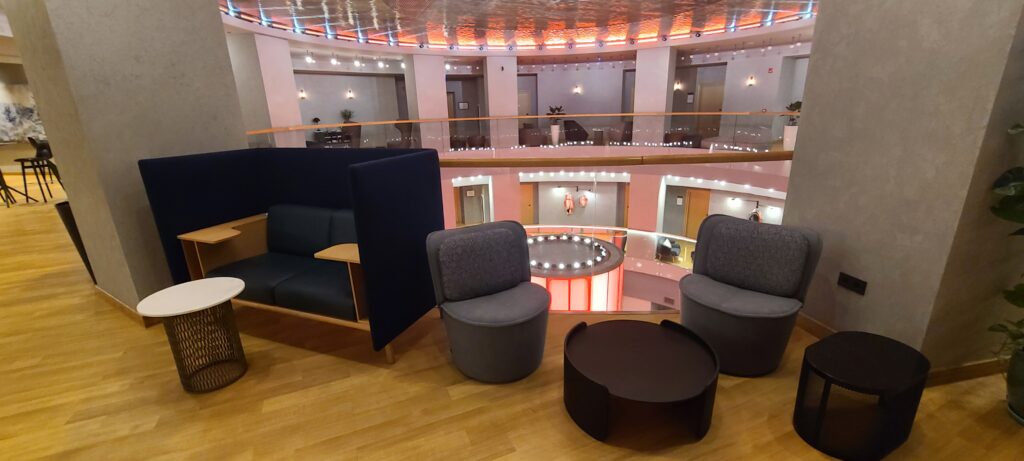 I didn't get to try much of its specialties, but have eaten the buffet breakfast each day to take advantage of the elite benefit and for some quick coffee. The food themselves are pretty solid and comes with varied spreads.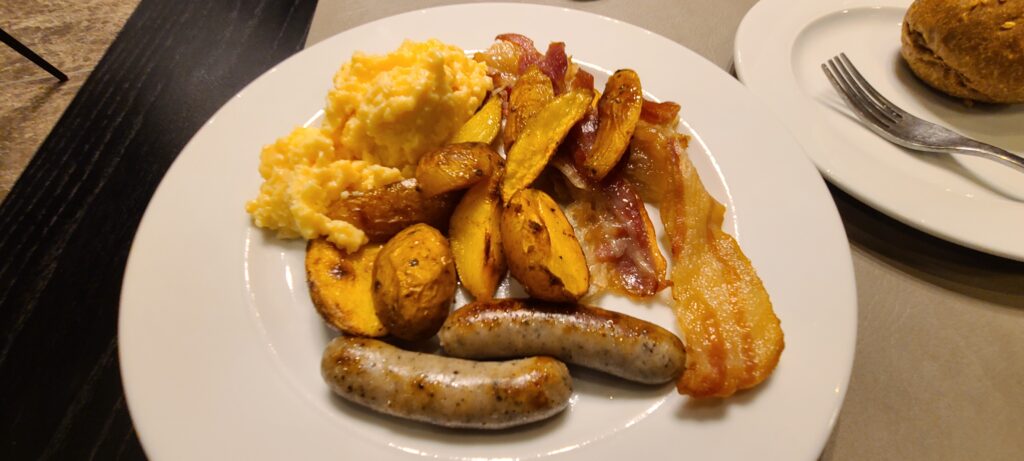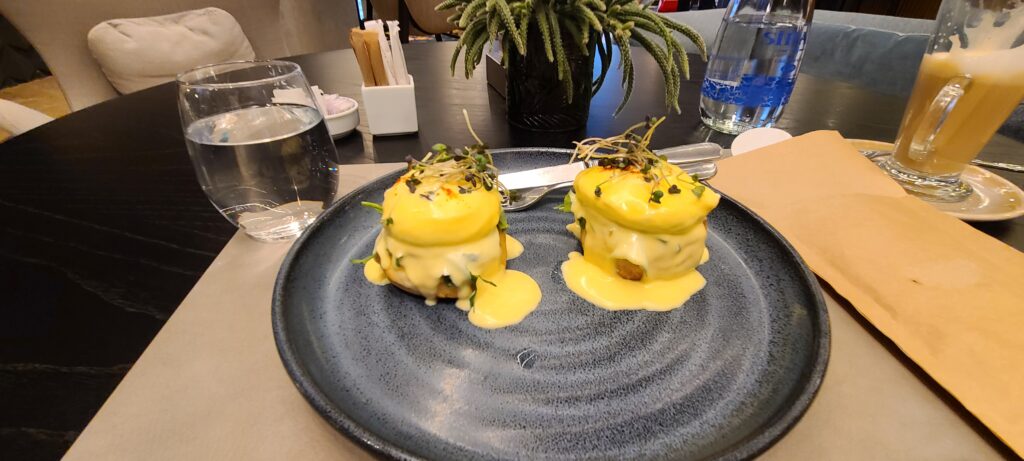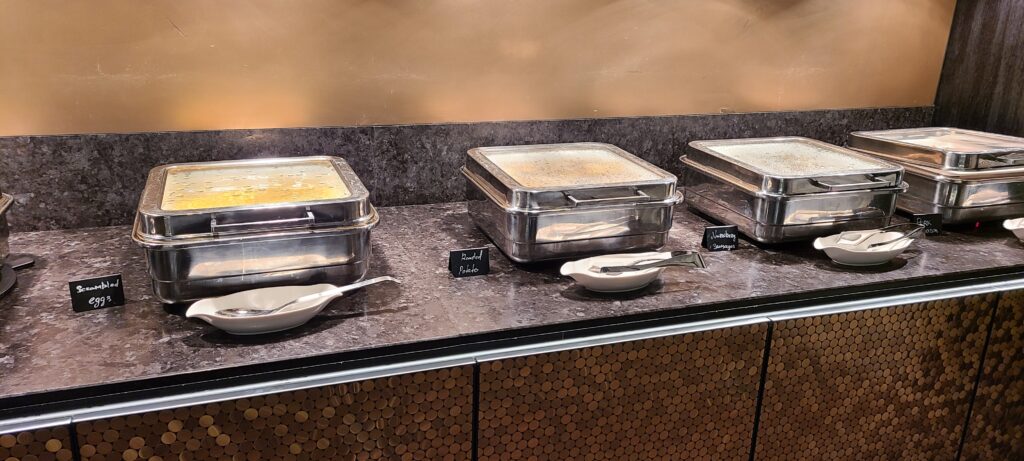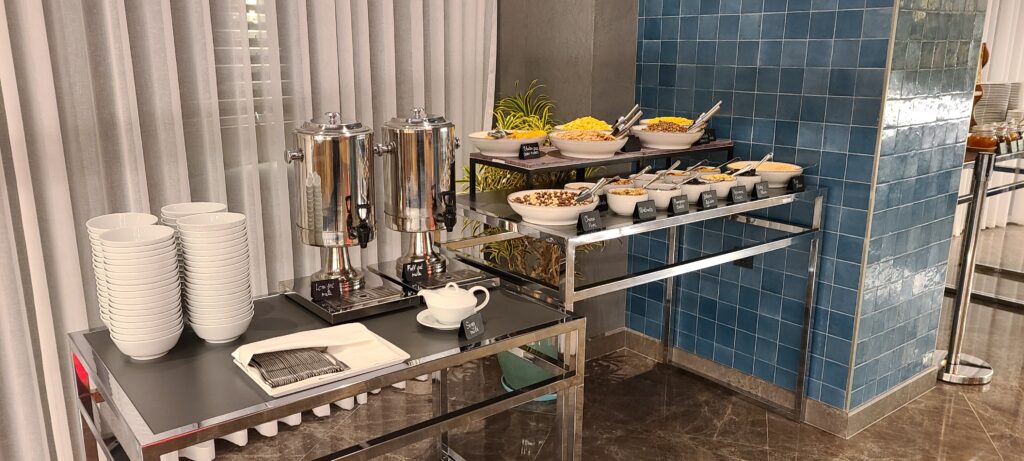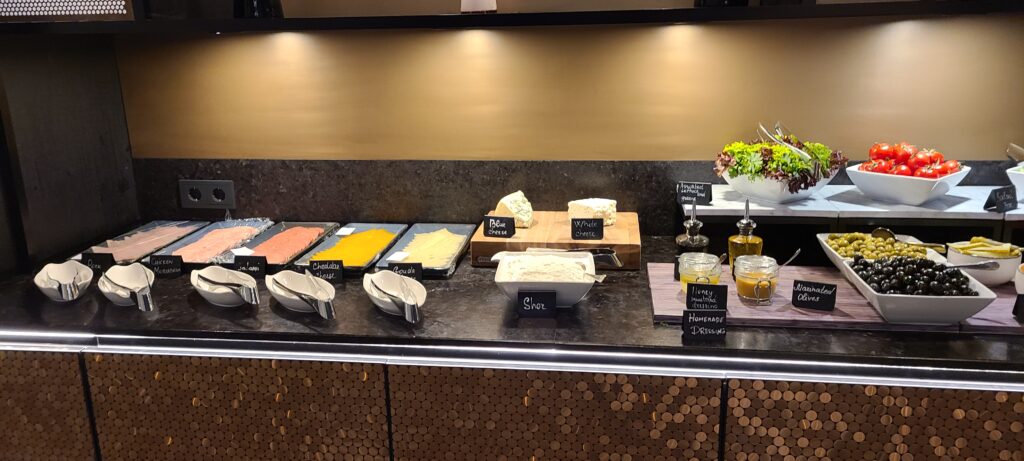 Breakfast items will be served by the staff due to COVID, so if you come early enough, you won't have to deal with long lines. I usually came at 6 a.m. to be one of the first guests to be in.
Courtyard by Marriott Baku- Gym
The hotel only comes with a gym for fitness located at the 3rd floor. During my stay, the equipment looked pretty brand new and comes with minimalistic decor that reminds me of EDITION hotels. It comes with standard gym equipment to get some solid workout.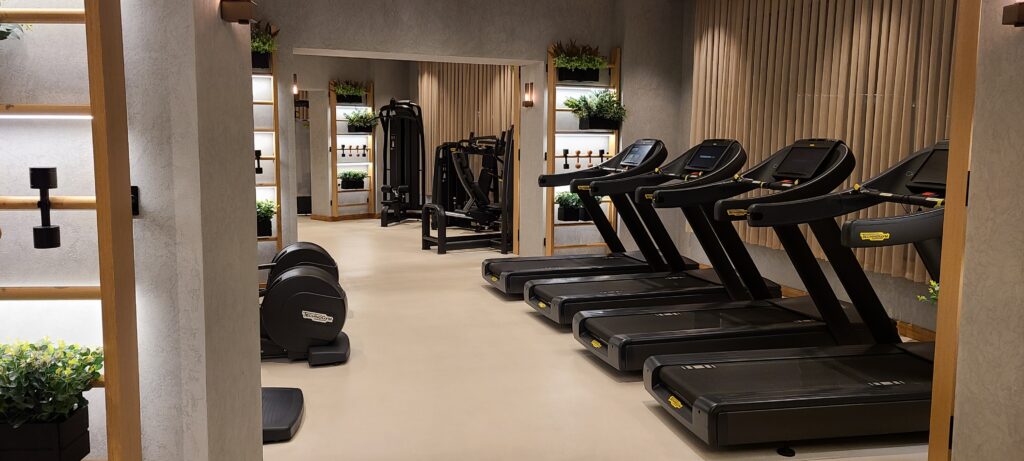 Courtyard by Marriott Baku- Merchant Code Gripes
One noticeable drawback to this hotel is the merchant code when you make purchases at this hotel with credit cards. I made purchases with both the American Express Marriott Bonvoy Brilliant and the Citi Premier both directly on the Marriott site and in-property, but none of them are categorized as Marriott. It doesn't appear to be a problem with the nearby JW Marriott.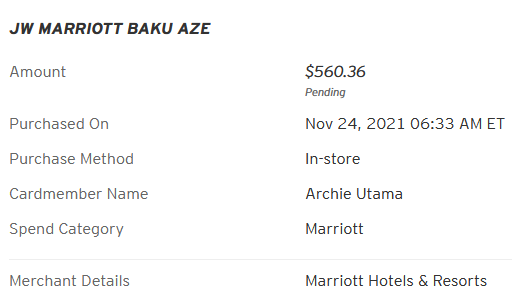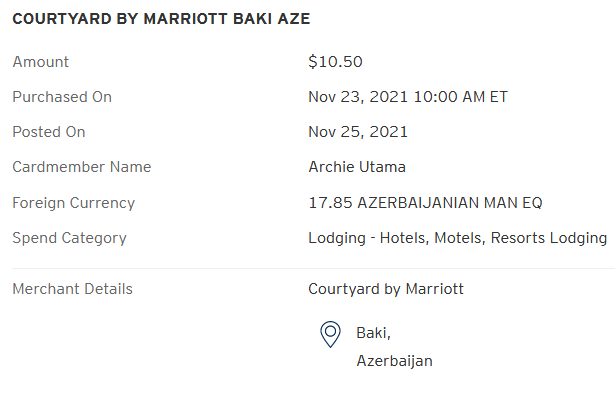 This sadly causes an issue where my intended use of the Bonvoy Brilliant to take advantage of the Amex Offer of getting $50 off after spending $200+ to not apply. On top of that, I'm only getting 2x multiplier instead of 6x on my Marriott Bonvoy Brilliant! On Amex side, the transaction is categorized as "Business Services- Health Care Services" instead of the usual "Travel- Lodging" seen on Marriott property purchases.
It's definitely odd, and I suspect it has something to do with their payment terminal. I hope the hotel will do something about it in the future to ensure all purchases will code as Marriott purchases.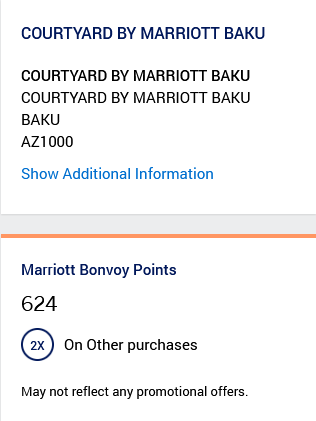 If you do plan to stay at this hotel, I don't recommend booking with an American Express card as Amex Offers wouldn't work. It's also definitely not good to only get 2x multiplier on a Marriott purchase on a Marriott credit card!! Fortunately, the Citi Premier still applies a 3x multiplier for their general hotel category, and I'm sure Chase's side should have similar results.
UPDATE 1/10/2022: I've contacted American Express about the wrong points earned on this hotel stay since December 2021, and my points have been reimbursed doubly! If anything similar happen to you on other hotel stays, I suggest contacting your card issuer about it.

Conclusion
Courtyard by Marriott Baku has exceeded my expectations for a Courtyard stay. I must commend them for giving free breakfast to Platinum Elite and above despite not having an Executive Lounge, which is the usual requirement to getting free breakfast for elites on Courtyard stays. The location is centralized and provides walkable distance to attractions like Icherisheher (Old City) and Taza Pir Mosque. Of course, many other attractions are Bolt/Uber drive away at rates of less than $2-3!
A major gripe is the issue with the hotel's merchant code that prevented me to take advantage of a Marriott Bonvoy related Amex Offer and the fact that it doesn't even give me the 6x multiplier for spending directly on the Marriott site and in-property. I really wish they will resolve this issue later in the future.
Wi-Fi speed was on the slower end and became unreliable at times. Hopefully, the speed and reliability will be improved later on. This new hotel seem to need to work out the kinks, which can be normal for newly-opened hotels in general.
Nonetheless, the Courtyard offers the cheapest option on the Marriott lineup in Baku, but still provides excellent service and value for the money, especially if you're entitled to the free breakfast.
Overall Rating