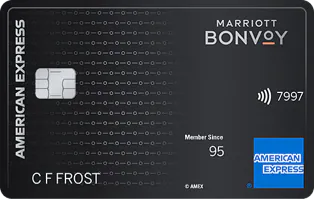 Advertiser disclosure: This post may include affiliate links (including sidebar banners) in which this site may receive compensation if a purchase is successfully made (at no extra cost to you) after being redirected from here. Thank you for your support!
American Express Marriott Bonvoy Brilliant Review – Is It Worth the $450 Annual Fee?
The Marriott Bonvoy Brilliant is a premium Marriott co-branded credit card issued by American Express. Is this credit card for you? I will break down the benefits to see if the card is right for you or help you get the most value out of it! The Marriott Bonvoy Brilliant comes with a whopping $450 annual fee. However, it comes with benefits that are simple enough to use to get outsized value! To learn more about the Marriott Bonvoy program, please read this post.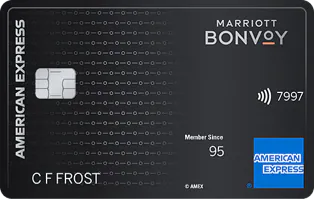 $300 Marriott Statement Credit
The $300 annual Marriott statement credit is one of the Brilliant's main benefits. Since you are getting a Marriott co-branded credit card in the first place, then it's fair to assume that you plan to stay at Marriott hotels a couple times per year. Then, it's also fair to value the $300 annual credit at its face value. This benefit alone reduces the effective annual fee of the card down to $150 per year if it's fully utilized!
The credit can be used right away when you receive the card and will be reimbursed after the Card member anniversary date. For example, if you're approved for the Brilliant on June 1st, then the annual credit will be reimbursed June 1st of the following year. The credit does not rollover if you fail to fully use it on the past year. If you only use $200 on the past year, then the remaining $100 will not be reimbursed the following year.
The credit will work on charges made at Marriott properties including room rates plus tax, food and beverages, and services or amenities purchased inside a Marriott property. Purchases of points are excluded as the points merchant is Points.com and not Marriott themselves. Marriott gift cards purchased online are also excluded with the exception of buying Marriott gift cards offline inside a Marriott property. Though, not all properties will sell gift cards.
With all that said, it shouldn't be difficult to fully utilize the annual $300 credit if you stay at Marriott properties on your travels a couple times per year. Their large footprint across the globe certainly helps you meet that spending goal.
50,000 Points Free Night Certificate
The next important benefit of the Brilliant is the free night certificate worth up to 50,000 Marriott Bonvoy points. This is usually the next benefit that determine the value of the Brilliant card after the $300 is fully utilized. However, the certificate will only be applied after the first year anniversary of the card. It will also take an estimate of 8-12 weeks for the free night certificate to post on your Marriott Bonvoy account.
With the certificate, you can maximize its value by booking up to a Category 7 hotel at off-peak rate and Category 6 at normal rate. Keep in mind that the certificate can only be used for one night. If you redeem it for a Category 1 hotel, then it's gone and there won't be any "deductions" to the points worth on the Free Night Certificate.
The Problem with 50k Points Free Night Certificate
There is one big glaring issue with the 50k Points Free Night Certificate. It can be difficult to maximize because of its odd placement in the Marriott award chart.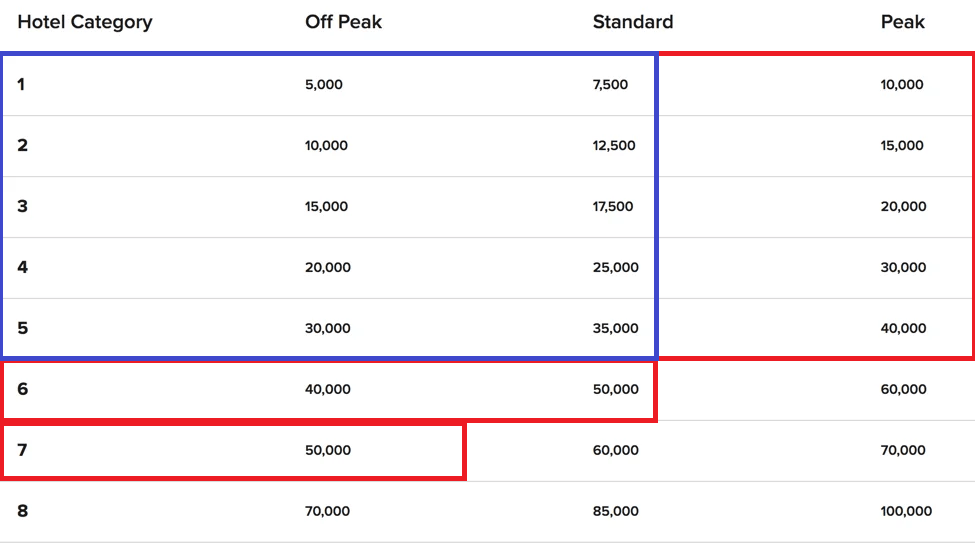 According to the chart, the Brilliant can cover up to a Category 7 hotel at off-peal rate (boxed in red). Booking during off-peak will depend on where you plan to go and time of the year, so it will add a layer of obstacle for you to redeem your Free Night Certificate.
Next step down the ladder is for Category 6 hotel, in which can be redeemed up to the standard rate. The issue is, if you happen to stay at a Category 6 during a peak season and cannot find another Category 6 property at standard or off-peak, you're forced to redeem the free night certificate to a Category 5 hotel or lower, in which mid-range Marriott cards like the Marriott Bonvoy Business or Boundless can cover except for peak rates (boxed in purple).
Keep in mind that the Brilliant's annual effective annual fee is $150 after using the $300 Marriott statement credit. So, considering the Bonvoy Business and Boundless' annual fee of $125 and $95 respectively, you may end up paying more for the free night certificate that are used on the same properties (Category 5 standard rate or lower) the Bonvoy Business and Boundless can cover. That can sting the value of the 50k Points Free Night Certificate and negatively impacts the "premium status" since it's the highest tier on the Marriott Bonvoy credit cards.
That is not to say that there are no luxurious properties on Category 5 or below as there are plenty of options outside of North America where you can leverage your privileges at home abroad.
Marriott Category placement can be subjective and the "luxury level" may not match with the expectations. I recently stayed at the W Hotel in San Francisco where I don't think it deserves a Category 7 placement.
With the recent news of a new development of free night awards and dynamic pricing, the 50,000 free night award will be able to be topped off to 65,000 points with the additional of up to 15,000 Marriott Bonvoy points. The value of this "boost" will be determined once the changes go live in early 2022.
Earning Rates
The earning rates for the Marriott Bonvoy Brilliant are:
6x on Marriott properties
3x on flights booked directly from airline sites
3x on US restaurants

2x on everything else
The earning rates on the Marriott Bonvoy Brilliant aren't impressive as there are better cards that earn more rewards in the market. Buying Marriott points is not eligible for the 6x multiplier as the points supplier are Points.com and purchases will not be coded as a Marriott transaction.
I strongly suggest to focus your daily spend on cards that earn flexible points like American Express Membership Rewards, Chase Ultimate Rewards, and/or Citi ThankYou points. But, spending on Marriott cards can be useful if you need to top off some points for a future short-term Marriott redemption.
Related read: Why Spending with Hotel Credit Cards is a Terrible Idea
Gold Elite Status
The Marriott Bonvoy Brilliant grants automatic Gold Elite status. Gold Status main benefits include:
Room upgrades excluding suites
25% more points earned on Marriott stays, resulting in 12.5 Marriott Bonvoy points per dollar
Welcome Bonus of 250 or 500 points per stay depending on the properties
2 p.m. late checkout (subject to availability)
Room upgrades include rooms with better views, higher floor, corner rooms, and rooms with club lounge access. Even though Gold Elites are excluded for suite upgrades, you may as well ask nicely about your desired upgrades on the Marriott Bonvoy app. The worst thing they can say is no.
From my experience, upgrades are mainly determined by locations and time of the year. You get a better chance at upgrades outside of the US as there's no opportunities for elite status shortcuts like in North America through credit cards. Time of the year also impacts occupancy rate. Staying at off-peak seasons can get you a better chance at getting an upgrade as there are way less suites than regular and larger rooms in a hotel.
Every Marriott properties are also different, and they may not stick to the Marriott's Terms & Conditions down to a T when it comes to upgrades. With that, you may as well shoot your shot and you may get lucky and secure a suite upgrade!
Gold Elites also earn 25% more points on Marriott stays. Whenever you stay at a full-service Marriott property, you will get 10 points per dollar (5 for Longer Stays brand) spent on your Marriott Bonvoy account. Gold Elite will tally up the earnings to 12.5 points per dollar (7.5 for Longer Stays brand), which will help you rack up points quicker.
On top of that, Gold Elites will earn a Welcome Bonus per stay ranging from 250-500 points. You will earn 500 points on brands belonging to Luxury and Premium, while you will earn 250 points on brands belonging to Select and Longer Stays. It's a very minor benefit and I would certainly prefer free breakfast that Platinum Elite and above would get on certain properties.


Last but not least, you're entitled to 2 p.m. late checkout. This is subject to availability just like room upgrades. You can request this during check-in or even the morning of the day you checkout through the Marriott Bonvoy app chat function.
15 Elite Night Credits
While there are other cards that grant automatic Gold Elite status like the American Express Platinum Card, the Bonvoy Brilliant provides an additional 15 elite nights every year. This is beneficial to fast-track your Marriott status.
Marriott Bonvoy's elite benefits start to get interesting when you hit Platinum status because of benefits like the eligibility for suite upgrades, free breakfast, executive lounge access, and 4 p.m. checkout.
Since the requirement is to stay 50 nights in one calendar year, a Brilliant cardholder will need to stay at least 35 nights to reach Platinum Elite. Those who gets Gold Elite through the Amex Platinum will need to stay the full 50 nights.
Is 35 nights still too hard to achieve for you? Then the Marriott Bonvoy Business by American Express is another card you can get! By having the Marriott Bonvoy Brilliant alongside with the Marriott Bonvoy Business, you can stack elite nights on both cards totaling to 30 nights per year. This will allow you to hit Platinum Elite with just 20 nights in one calendar year!
Related read: How to Easily Get Marriott Bonvoy Platinum Elite Status (30 Elite Nights Boost)
The only combination for the elite night stacking to work is to have both the US personal and a US business card attached to the same Marriott Bonvoy account.
This won't work if you have multiple personal cards only like having both the Brilliant and Marriott Bonvoy Bold from Chase. This also won't work if you have the US version Marriott Bonvoy Business with a personal Marriott Bonvoy card from a different country like the Canadian version.
$100 Credit for Ritz-Carlton & St. Regis
Brilliant cardholders will have the option to book at a special rate by staying at least 2 nights at a Ritz-Carlton or a St. Regis property. This will only apply for cash bookings and not bookings made by points or free night certificates. Ritz-Carlton and St. Regis are the top-of-the line of Marriott's luxury brands, so the cash rates for these properties will be very high. This can make the benefit hard to use unless you're willing to splash the cash.
But, there are a couple of Ritz-Carlton and St. Regis properties that have more approachable cash rates in some parts of the world like the St. Regis Bangkok in Thailand and Ritz-Carlton Mega Kuningan, Jakarta in Indonesia.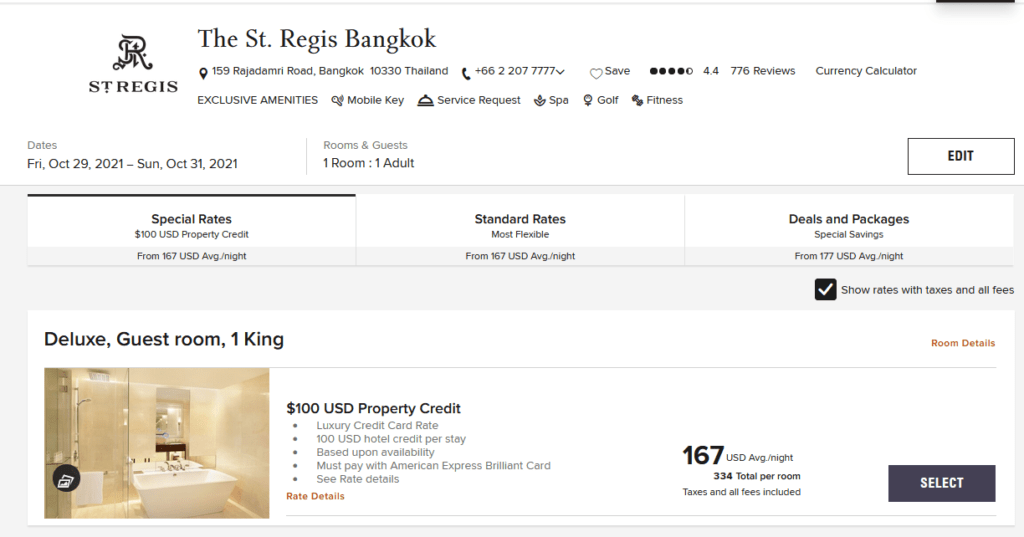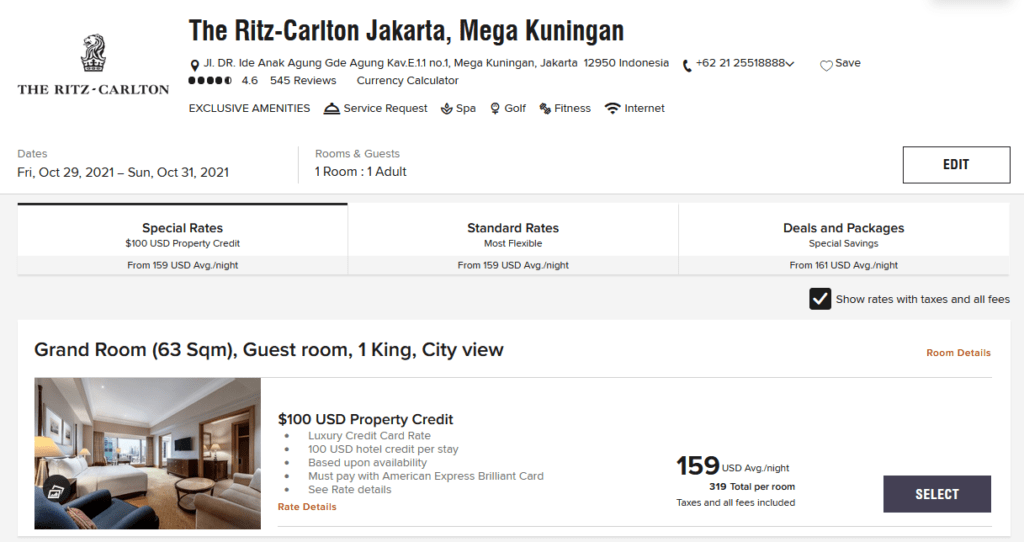 These special rates should be present automatically once you've entered your Marriott Bonvoy Brilliant information to your Marriott Bonvoy account when you search for a Ritz-Carlton or St. Regis property. They should have the same rates as the standard rate, but there are times where rates under Deals and Packages may offer better incentives. All options should be weighed to get the best value for you personally.
This benefit may look nice on paper, but there's a program called Marriott STARS that give the same benefits without the 2 consecutive nights requirement that offer more than just the $100 property credit. It's better to book through Marriott STARS overall instead of the Brilliant's special rate.
Earn Platinum Elite Through Spend
You can earn Platinum Elite status through spend. Platinum Elite is a step above Gold Elite, and it's when the benefits start to get interesting like being eligible for suite upgrades, 4 p.m. checkout, lounge access, and free breakfast on certain properties.
However, the spend requirement is $75,000 in a single calendar year. I do not recommend getting Platinum status this way. Hotel points are generally weaker compared to airline miles and transferable points, so there's the opportunity cost. Besides, if you end up earning status through this much spend without staying much at Marriott hotels in general, can you really value the Platinum Elite status that much?
Miscellaneous Travel Benefits
The Marriott Bonvoy Brilliant offers similar travel benefits you'd see from other travel credit cards with high annual fees.
These include Priority Pass Select, Global Entry or TSA PreCheck credit, trip delay and cancellation insurance, baggage insurance, no foreign transaction fees, and secondary Collision Damage Waiver (CDW) car rental insurance.
As these benefits are included in many different travel cards in the market, they become redundant and could be worth nothing if you have any other cards with the same benefits.
Keep in mind that this is an American Express card, so international acceptance may not be as good as it is at home in the US. Priority Pass benefit from American Express doesn't include Priority Pass restaurants, including the Marriott Bonvoy Brilliant.
Conclusion

The Marriott Bonvoy Brilliant is a great card for those who can see themselves paying at least $300 per year on Marriott properties. If you're willing to chase hotel status, then this card will certainly help get you to Platinum Elite much better than the Amex Platinum with the 15 elite night credits you get per year. Although the card is not very good to spend with, the passive benefits alone can more than make up for the annual fee you're paying.
Overall Rating
If you're interested in the Marriott Bonvoy Brilliant, please consider signing up through this link as it will help support this website. Thank you kindly for your support!