Marriott Bonvoy Introduces Dynamic Pricing, Status Extension, & Flexible Free Night Awards
Marriott has announced major changes coming to its loyalty program starting early 2022 including dynamic pricing, elite status extensions, and flexible free night awards. There are good news and bad news. How good or bad are the news? I'll break down the new updates coming in.
Extensions of Elite Status, Points, FNC & SNA
Marriott has once again extended elite status that was achieved in 2019 or 2020 to end at February 2023. If you've earned a higher status in 2021, it will also expire in February 2023. I am one of those who was able to earn higher elite status and I'm disappointed to hear that there's no bonus who've put effort in earning status for Marriott.
However, Marriott elites were able to get bonus elite nights for this year to fast-track their status all the way to February 2023, and the news for it was announced some time around February of 2021. We will see if Marriott will add another news of bonus elite nights some time in early 2022, at least for those who've put in the nights throughout 2021.
Some benefits will also be extended:
Free Night Certificates that expire at January 3, 2022 will be extended to June 2022.
Suite Night Awards that expire at December 31, 2021 will be extended to June 30, 2022.
Points expiration will pause until December 31, 2022. After that, points expiration will count down due to 2 years of inactivity.
I personally won't be benefiting from any of these extensions as I've earned Platinum Elite status the normal way this year. I also need to wait until next year to get my free night certificates from the Marriott Bonvoy Brilliant and Marriott Bonvoy Business, as I've received both of them in 2021 as well. I also chose 5 elite nights over Suite Night Awards for my Platinum Elite Annual Choice Benefit.
Points expiration isn't a big deal if you have a co-branded Marriott credit card as a spend on it, even a dollar, will reset the inactivity expiration clock.
Dynamic Pricing
This is the biggest news of the change Marriott has proposed. Currently, Marriott has an award chart with seasonalities of Off-Peak, Standard, and Peak. It provides at least predictability on points redemption so that Marriott Bonvoy members can plan ahead and rack up their points.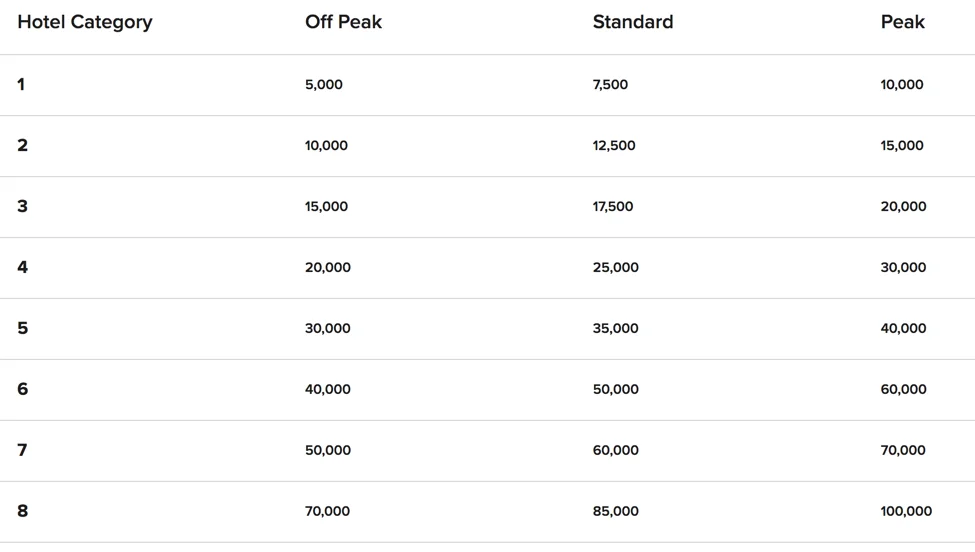 The award chart is going away some time in March 2022, and the program will transition to dynamic pricing, also known as Flexible Point Redemption. This is how the transition will progress:
Now until March 2022; award chart is still present, and Marriott Bonvoy members can still lock in points redemption presented by the award chart
March 2022 to end of 2022; soft transition to dynamic pricing. 97% of properties will have redemption requirements fluctuating between the current off-peak and peak rates of the current award chart. Only 3% of the properties will have points rates out of bounds of the current award chart pricing.
2023 and onward; full dynamic pricing is introduced, and Marriott intends to keep points redemption as close as it can to the cash pricing.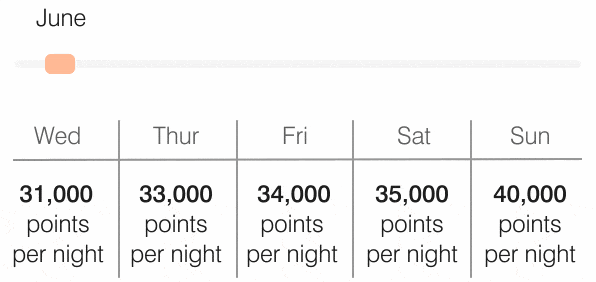 If you have a bunch of Marriott points stashed, it's a good idea to lock in the prices for hotel stays you want now based on award chart rates before the program changes in March 2022. It's unknown if you'll be better off with the flexible rates or not, but I'm leaning towards the more pessimistic end.
I myself have locked in the rates for one night stays at The Mitsui Kyoto and The Ritz-Carlton Kyoto for my upcoming trip in Japan on July of 2022 with a total of 170,000 Marriott Bonvoy points. I have a feeling that those are the types of properties that will be mostly affected negatively by the dynamic pricing changes as the points redemption is favorable compared to the cash rate.
Marriott cancellation policy on award stays are pretty flexible until a few days before your actual stay date, so it doesn't hurt to book now and cancel later if you have to. It's possible that you may end up booking at a lower price by periodically checking for the price and re-book at the new rate.
The dynamic pricing seem to affect popular spots for aspirational trips like the Maldives the most as you can get a lot of value from booking with Marriott points currently, especially with the Fifth Night Free benefit, where the fifth night of a stay is free when 4 nights are booked consecutively with points. The Fifth Night Benefit will be here to stay according to Marriott.

I try to find some silver linings on the dynamic pricing change. The only thing I could think of is that it may fix the points redemption rates on certain hotels. A good example would be the W Hotel in San Francisco, where the cash rate occasionally falls under $200, but is listed as a Category 7, which requires at least 50,000 Marriott Bonvoy points on Off-Peak to redeem for a single night.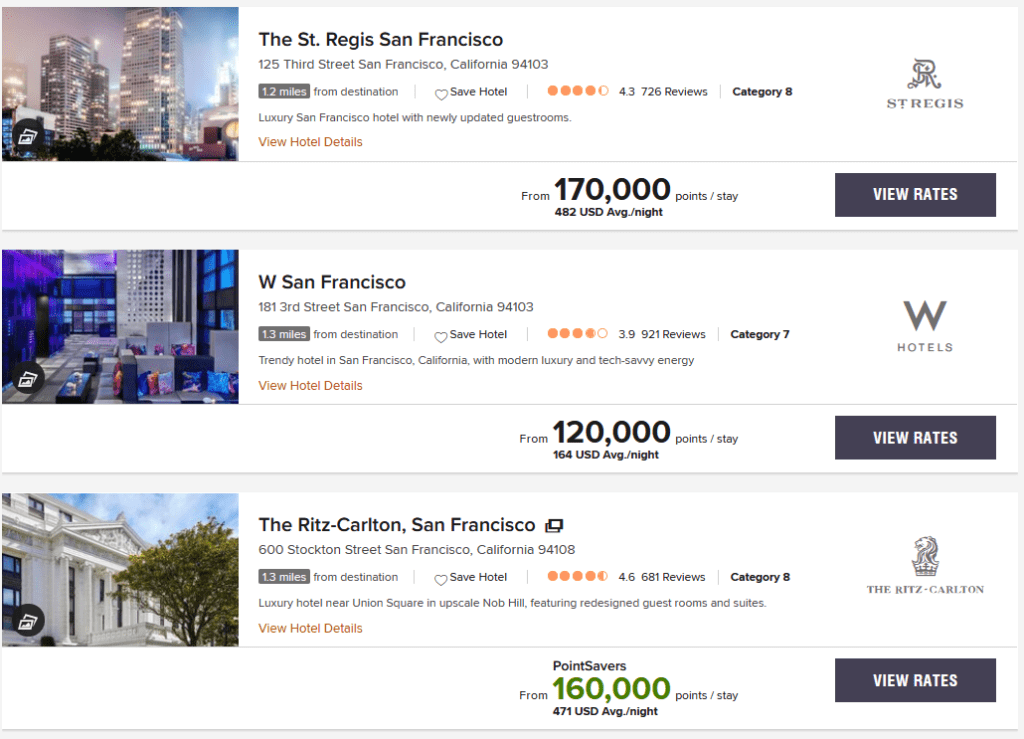 Flexible Free Night Award
Marriott will be adding a feature to the free night awards we get annually from co-branded Marriott credit cards. You'll be able to add a "booster shot" to the free night awards up to 15,000 points with your Marriott Bonvoy points stash. It seems that not only humans are getting booster shots during these unusual times.
50,000 points free night certificates from the Bonvoy Brilliant and Ritz-Carlton Rewards Card can be boosted up to 65,000 points.
35,000 points free night certificates from the Bonvoy Business and Boundless can be boosted up to 50,000 points.
This is a positive development and can somewhat alleviate the 50,000 points certificate problem I mentioned on my Bonvoy Brilliant Card review. But, with the introduction of dynamic pricing, it's dubious if this is actually that great. It certainly won't help much if the free night certificates are still a bit difficult to gain outsized value due to points inflation that dynamic pricing may bring.
There is no set date announced when the flexible free night award change will apply, except that it will happen in early 2022. So, it's possible that it can get introduced before March 2022 where it'll be easier to extract value from the free night award booster shot.
Conclusion
The changes overall appears to be an overall devaluation to the Marriott Bonvoy program, which serves as a great reminder to not hoard and follow the mantra of "earn and burn" when it comes to points. Dynamic pricing appears to be a natural progression for airline and hotel loyalty programs, and it has been this way with programs like Delta, United, Hilton, and IHG. On the same day, Hyatt went live with their peak pricing award chart. It's only a matter of time before they follow suit later down the road as well.
Hotel points generally have been weaker in value overall compared to transferable points and airlines, and elite status has so far been the more worthwhile thing to pursue rather than collecting points for free night stays.
As a friendly reminder, my thoughts and predictions are simply speculations. I'm aware that emotions are high when changes are happening on a program people are used to. We'll see how things play out when the changes do happen.
What are your thoughts in the upcoming Marriott Bonvoy changes? Let me know down in the comments below.