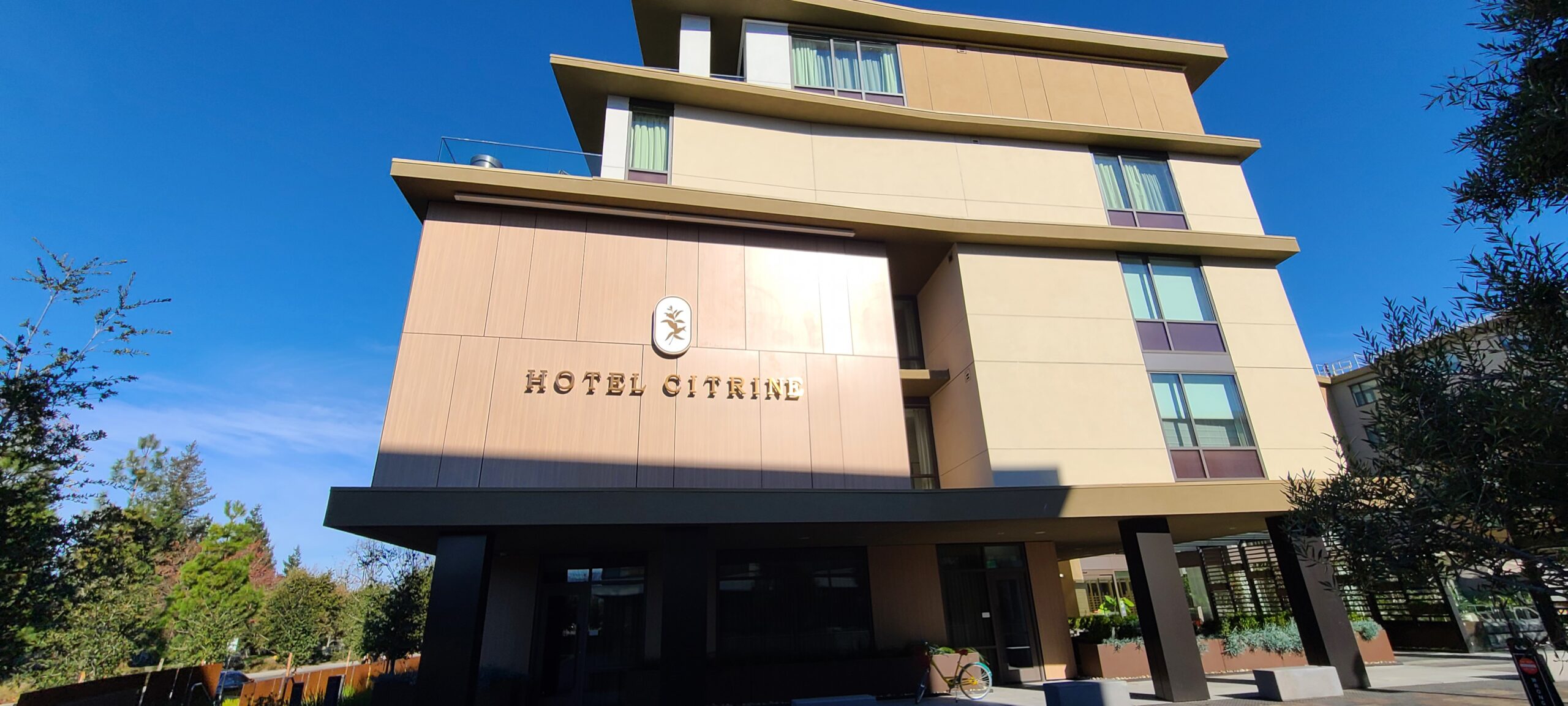 Advertiser disclosure: This post may include affiliate links (including sidebar banners) in which this site may receive compensation if a purchase is successfully made (at no extra cost to you) after being redirected from here. Thank you for your support!
Hotel Citrine, Palo Alto, a Tribute Portfolio- Eco-Concious Boutique

I'm a bit curious about the boutique hotel scene in the Bay Area. So, I'm checking out a hotel that has recently opened in 2021 named Hotel Citrine. It's a part of the Tribute Portfolio under Marriott Bonvoy, which is a collection of boutique hotels that tries to capture the local atmosphere. Hotel Citrine's theme is eco-friendliness, and the hotel tries to make design and amenity choices around that idea. Being in a tech-centric part of the world, eco-friendliness makes sense as a theme.
Hotel Citrine- Booking
My booking process had an interesting story. Originally, I planned to stay at TETRA Hotel in Sunnyvale, that was supposed to open in December 2021. The rate that I went for was a 2021 Preview rate of $121 per night. For Bay Area, that's a really nice price!
Then, the property manager emailed me ahead of time that the hotel wouldn't be open in time, and offer me to stay at the nearby Hotel Citrine or AC Hotel Palo Alto. I knew ahead of time that Hotel Citrine and AC Hotel Palo Alto are right next to each other with Hotel Citrine costing more than AC Hotel, so I went with the former. Weeks after, I got a separate confirmation number and got to stay at this property for just $121 compared to the usual rate of ~$200 per night. Not a bad deal if you ask me!
For points redemption, it's a Category 6 hotel that would require 40,000-60,000 Marriott Bonvoy points per night. Paying with cash is a much better deal, and I'd recommend saving the points for more aspirational stays instead!
Hotel Citrine- Location
The property is located by San Antonio Road in Palo Alto. It's a bit near an industrial area, so there's not much going on near the walking vicinity. The location implies that it's more suitable for business travelers as it's close to giant tech companies like Google.
What's strange is there's an AC Hotel within the same lot, which is also a property under the Marriott Bonvoy portfolio. It's confusing why they decide to separate the branding. Judging from the pictures, they both look pretty similar to me.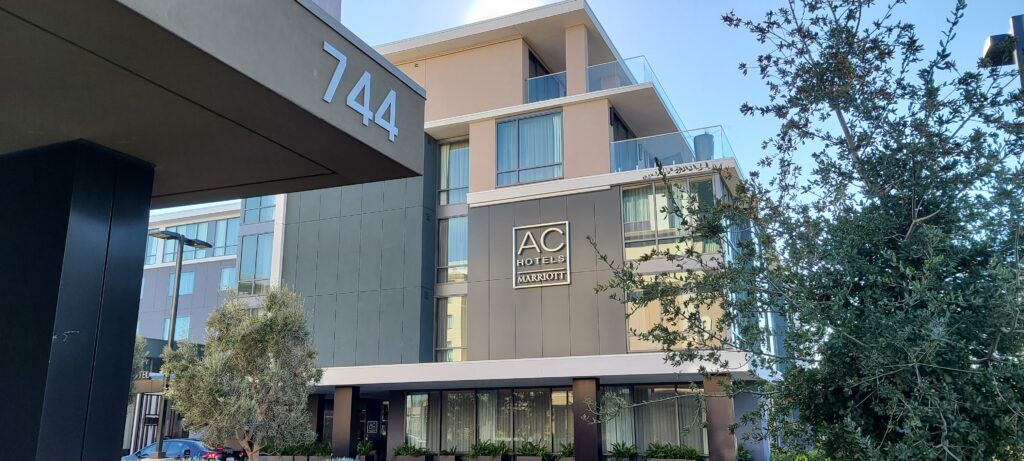 Hotel Citrine- Check-in
I arrived at the hotel at around 7PM. Check-in process was normal, and elite recognition was decent. I chose breakfast instead of points at the hotel's restaurant as the Welcome Gift for Platinum Elite. Unfortunately, I wasn't able to get upgraded to a suite. This hotel is pretty limited when it comes to higher category rooms. It appears there's only 2 suites, one with 2 queen beds, which won't suit a solo traveler like myself. Then, there's only one Deluxe Room with an outside balcony. So, I was only put on a regular room at the top floor on the 5th floor as my "upgrade."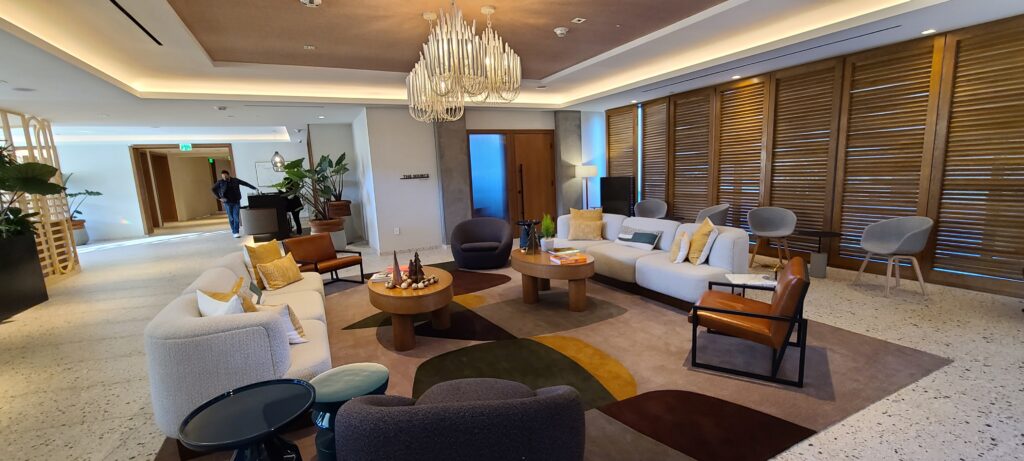 Parking situation is either $22 a night for valet parking, or free on street parking in front of the property if you can find space. I appreciate how the valet gave me the option to choose. I did opt for the valet parking because of fear of car break-ins that unfortunately, usually happen in the Bay Area even though it'll less likely happen in Palo Alto compared to San Francisco.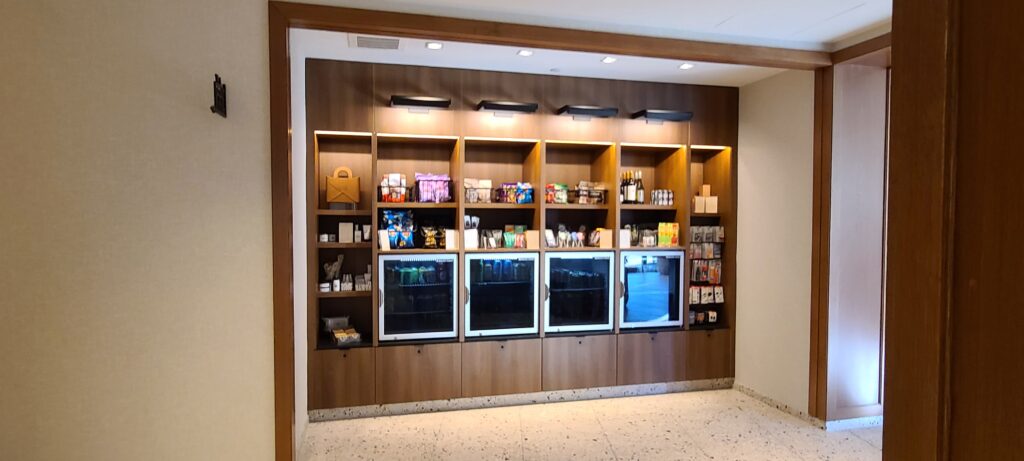 The hotel comes with a mini-market where you can buy snacks and drinks. It comes with the standard hotel pricing, overpriced.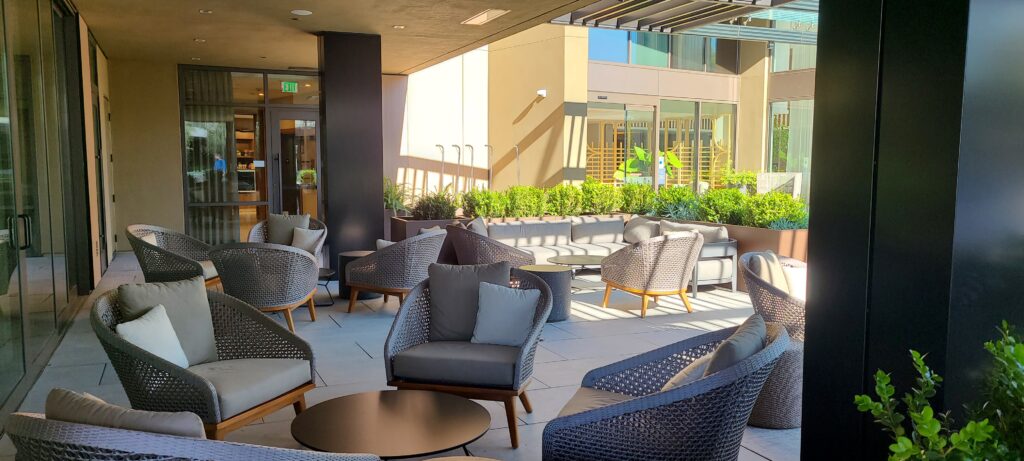 Hotel Citrine- The Room
I do enjoy the quirky room decor quite a bit. It had a sense of an antiquated garden vibe to it. But, the standard room felt quite small, and I would be less happy if I had to pay $200 per night. It was a bit hard to unpack as there's no luggage rack and not much available space to do so.
The bed was very comfortable, being on the firmer side, which I prefer myself. The toss pillow felt like it was made of straw, which wasn't bad.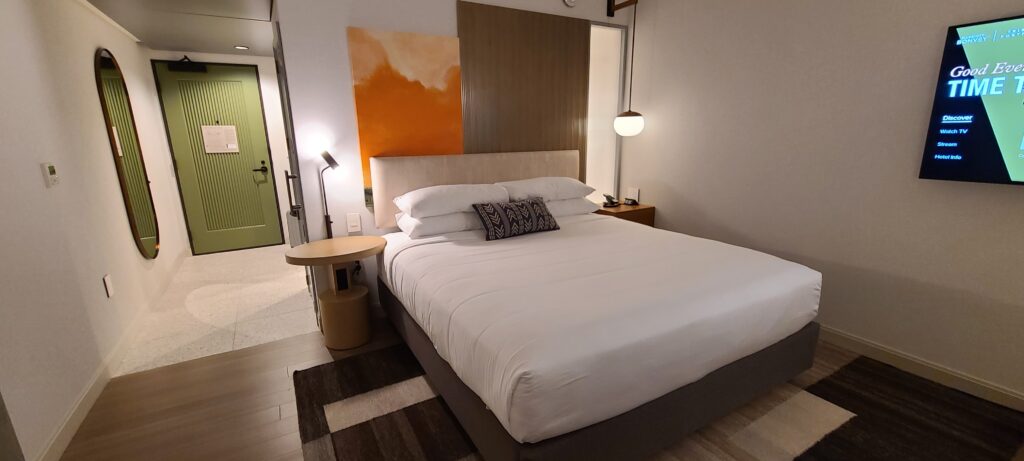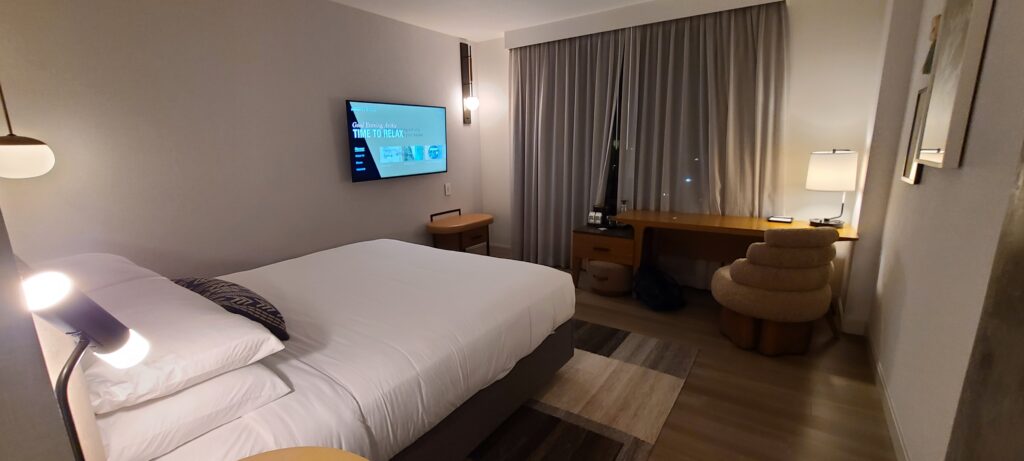 The oddly-designed chair is plush feather, but comes with rolling wheels despite the rugged appearance. From the Marriott's site, it appears there's supposed to be a chaise next to the pantry, but it's not present in real life. A minus for misleading picture.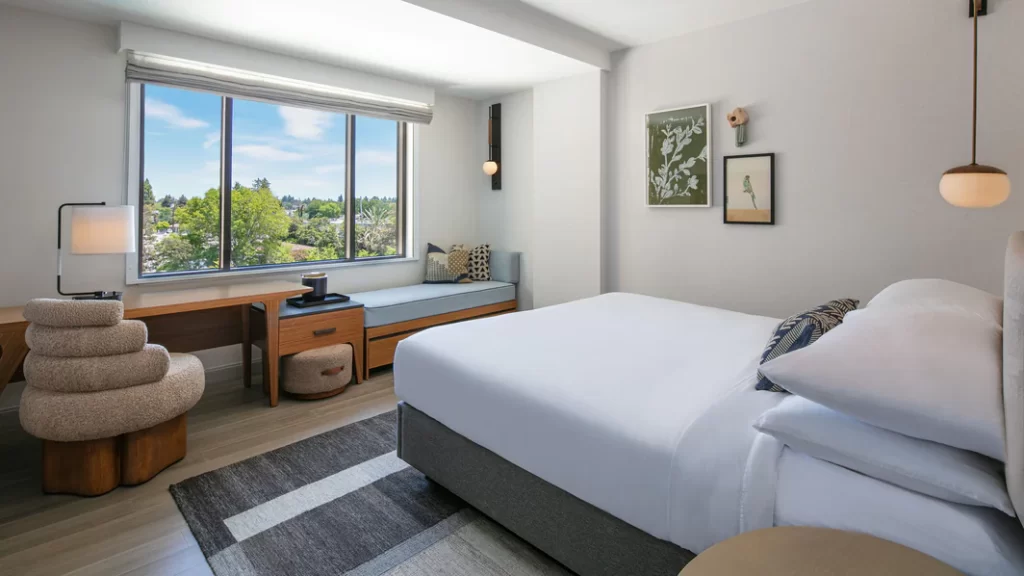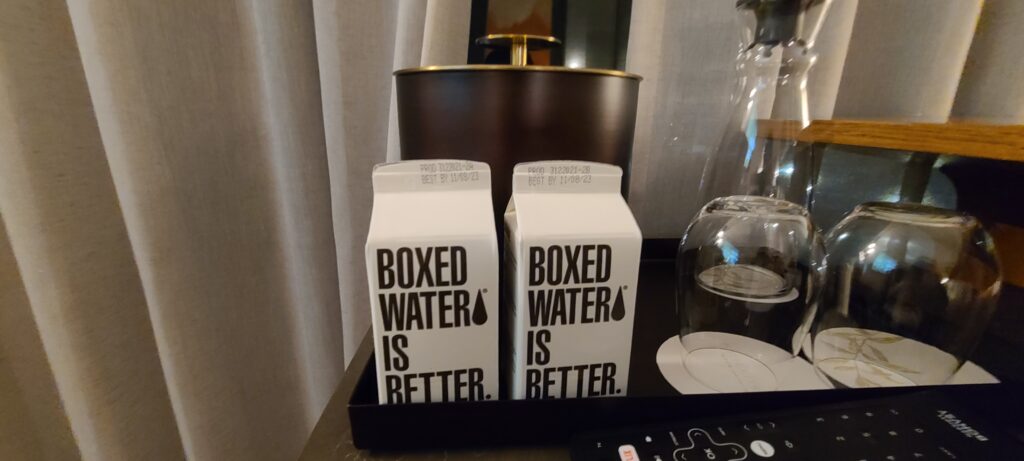 The room comes with 2 complimentary boxed water to support the hotel's theme of eco-friendliness. The drawback is, there's no mini-fridge in the room. I do understand the eco-friendliness thing they have going on, but at the same time, it's a bit disappointing to not have a mini-fridge included on the price you're paying for. If you're considering staying here for longer term, this is one thing you want to think about. From the Marriott's site description, the AC Hotel next door appear to have a mini-fridge in all of the rooms.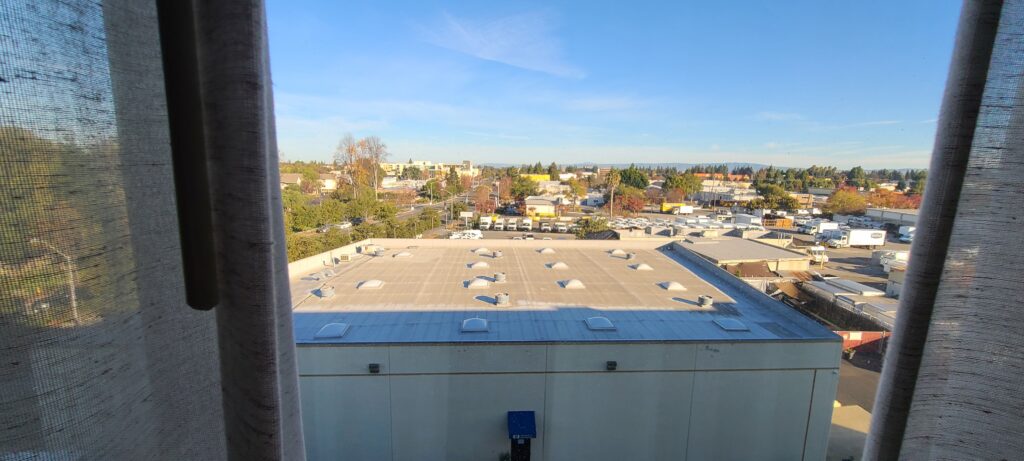 Hotel Citrine Bathroom
Bathroom has the antiquated decor as well as seen on the towel racks, mirror, and faucet.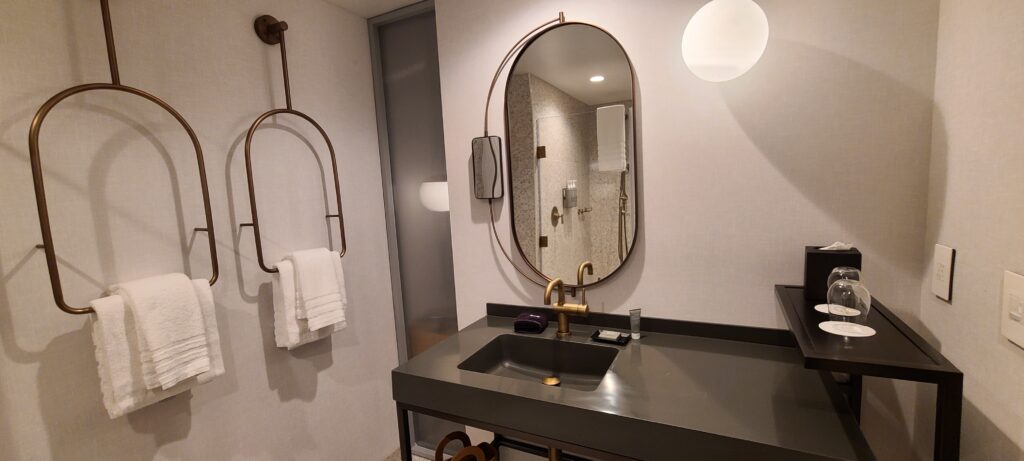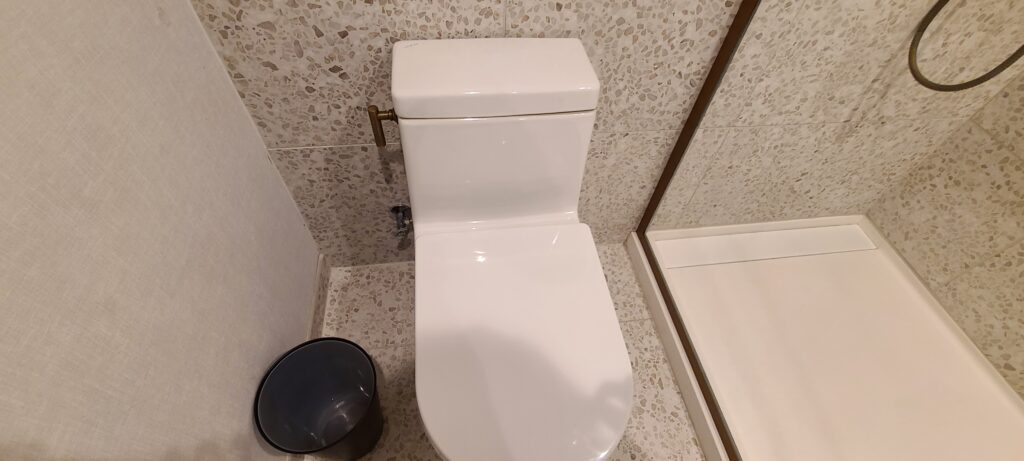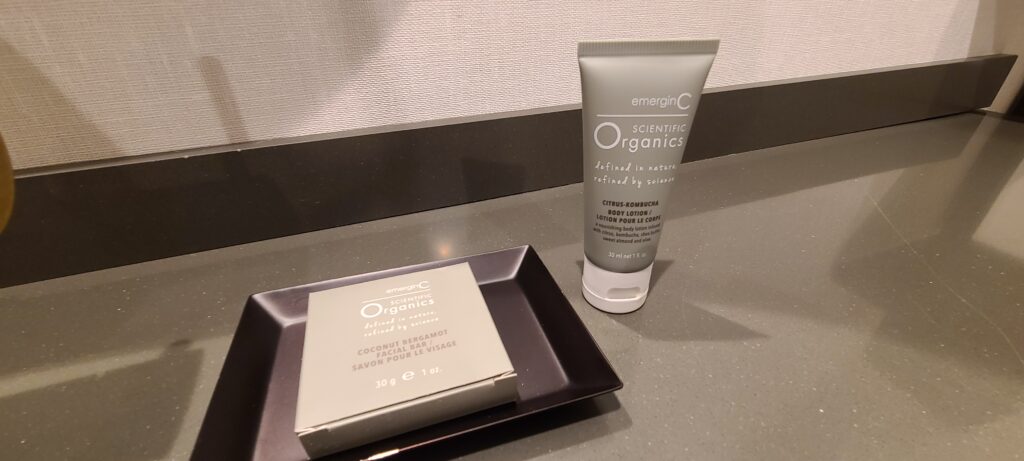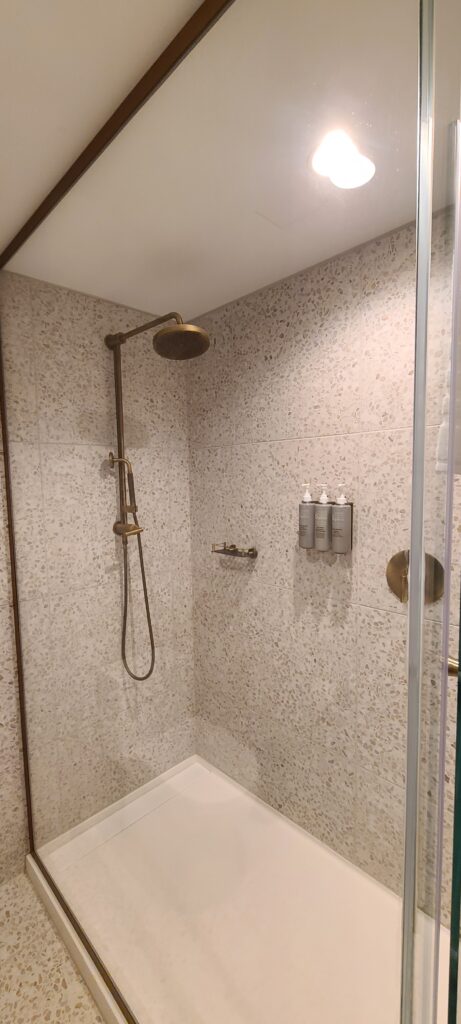 The shower is walk-in, and I felt the water pressure was on the weaker side.
The bath amenities are in communal containers to reduce waste, and they're produced by EmerginC. As the name suggests, expect the citrus scent. I guess it also fits with the naming convention of Citrine, an orange-colored gemstone. The word citrus can also come to mind. The amenities aren't bad, but I wish I could take some of it home like many other hotels out there.
Hotel Citrine- Breakfast
The sole dining option in the hotel is the Wild Onion Bistro & Bar. Menu can be found here.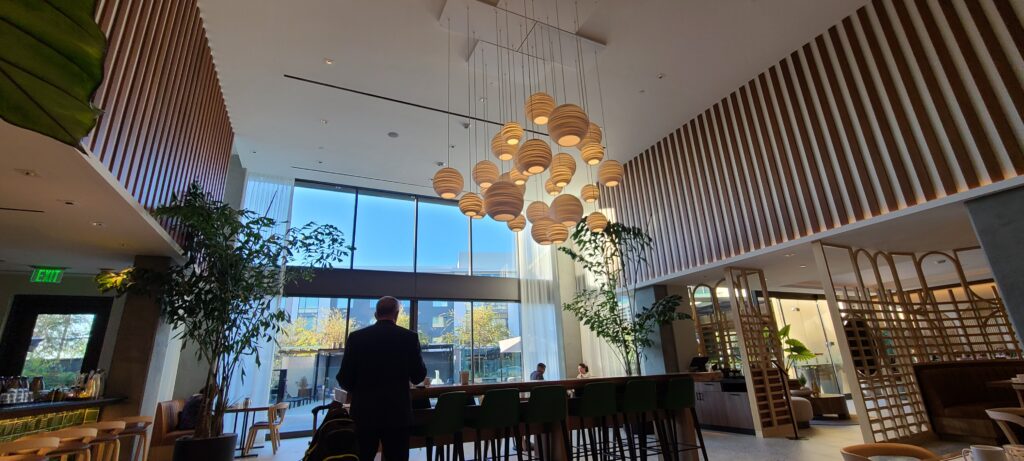 I've only got a chance to try out the breakfast there. I've order the Smoked Salmon Omelet with Vietnamese Latte and Orange Juice all worth around $30 that I got for free thanks to the breakfast voucher I received as a Platinum Elite.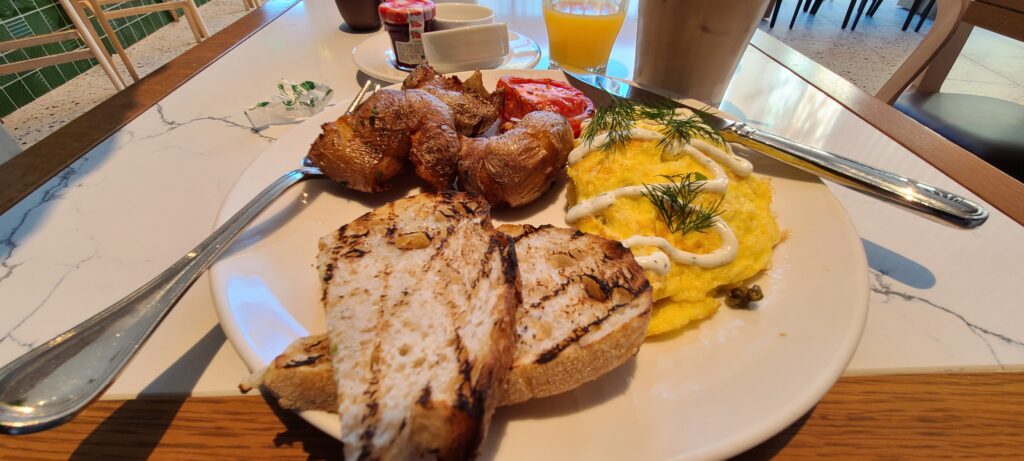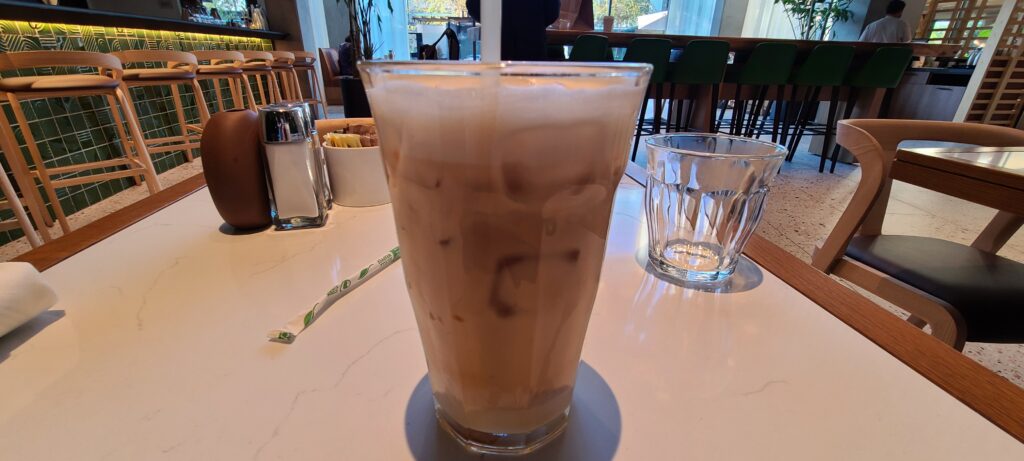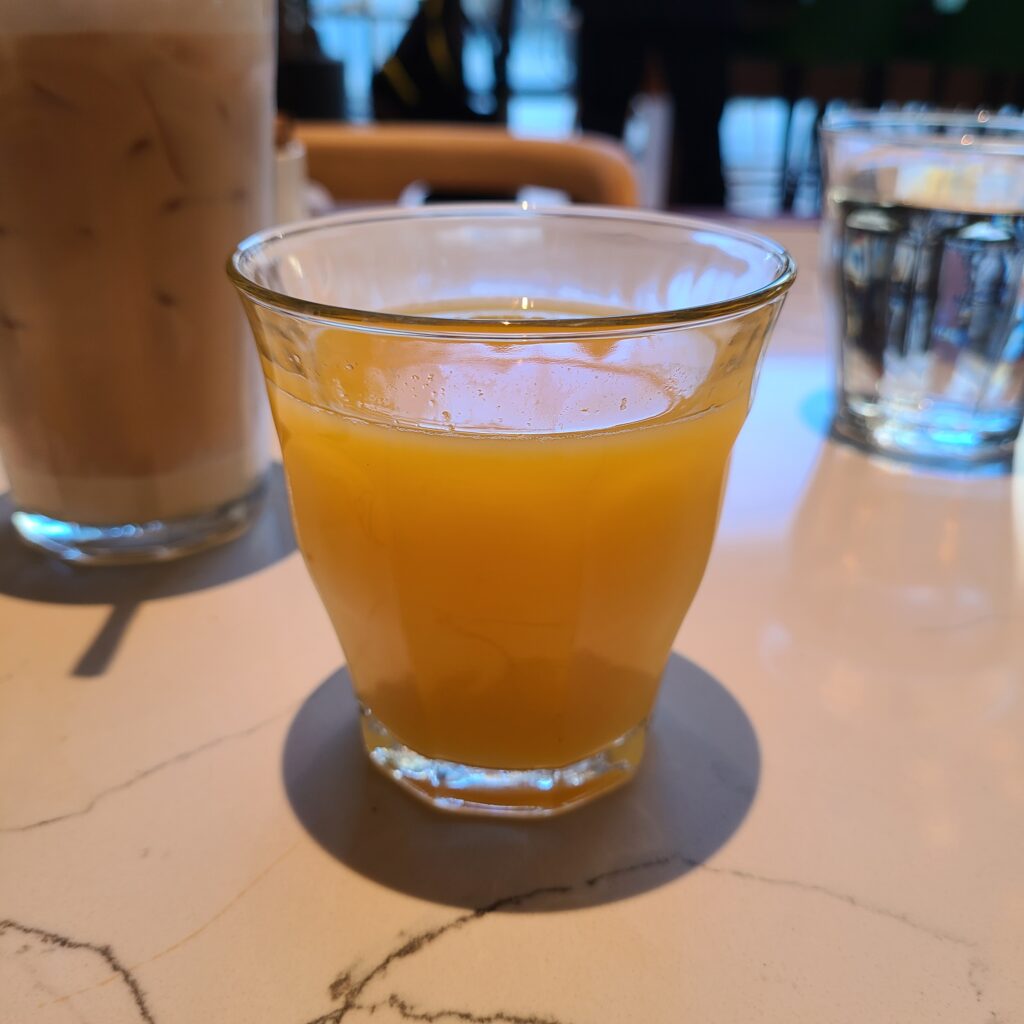 The breakfast was simply delicious and it was definitely the highlight of my stay! I normally don't eat roasted tomatoes, but this was an exception! I daresay it was even better than the omelet I had in the Palace Hotel in San Francisco.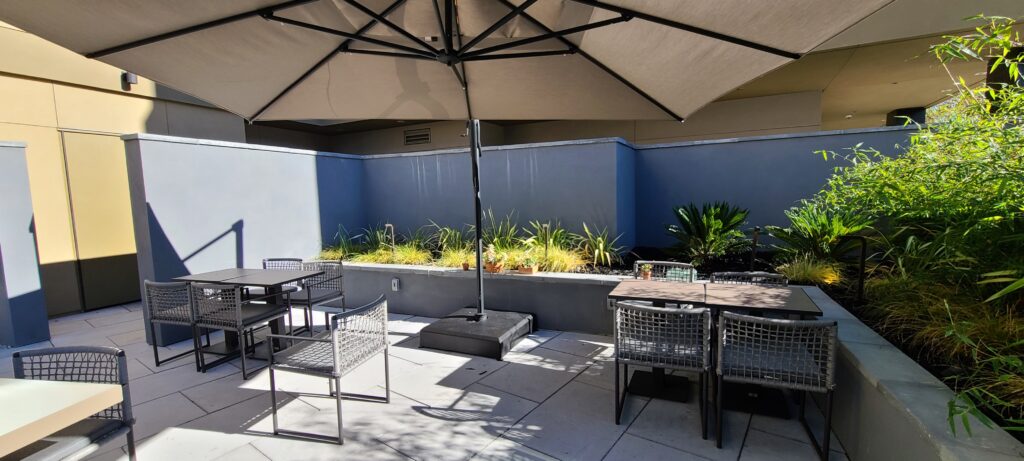 Hotel Citrine- Fitness
The hotel comes with a gym and an outdoor swimming pool located on the ground floor.
The gym comes with standard equipment for the usual hotel gyms.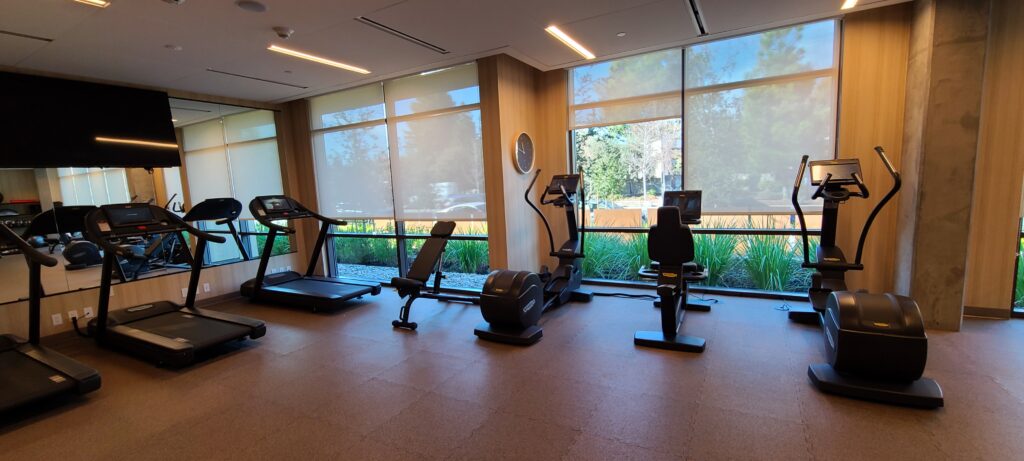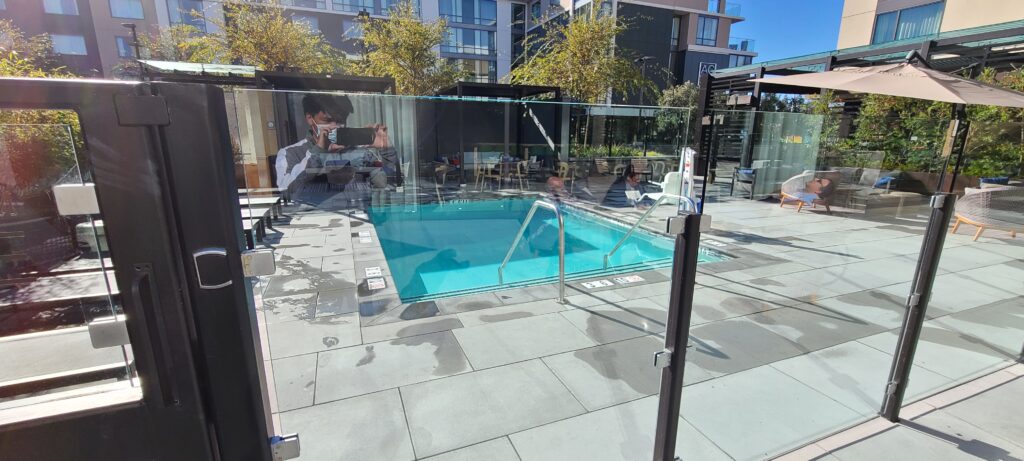 I didn't try out the swimming pool as it's cold at this time of the year. But, it looks disappointingly small. It's more like a plunge pool instead of a real swimming pool.
Conclusion
Overall, my stay in Hotel Citrine has been pretty average, and for the rates they regularly charge, I don't think it's worth staying here as it felt like a limited service compared to a full service hotel. I think not having a mini-fridge can present a problem, and its location is more suited towards business travelers doing business with nearby tech companies. The only highlight of the stay was the delicious breakfast I had.
Nonetheless, if you do need a place to stay around Palo Alto area and you have status with Marriott, the AC Hotel next door may be a good alternative as it's cheaper and have a mini-fridge.
Overall Rating