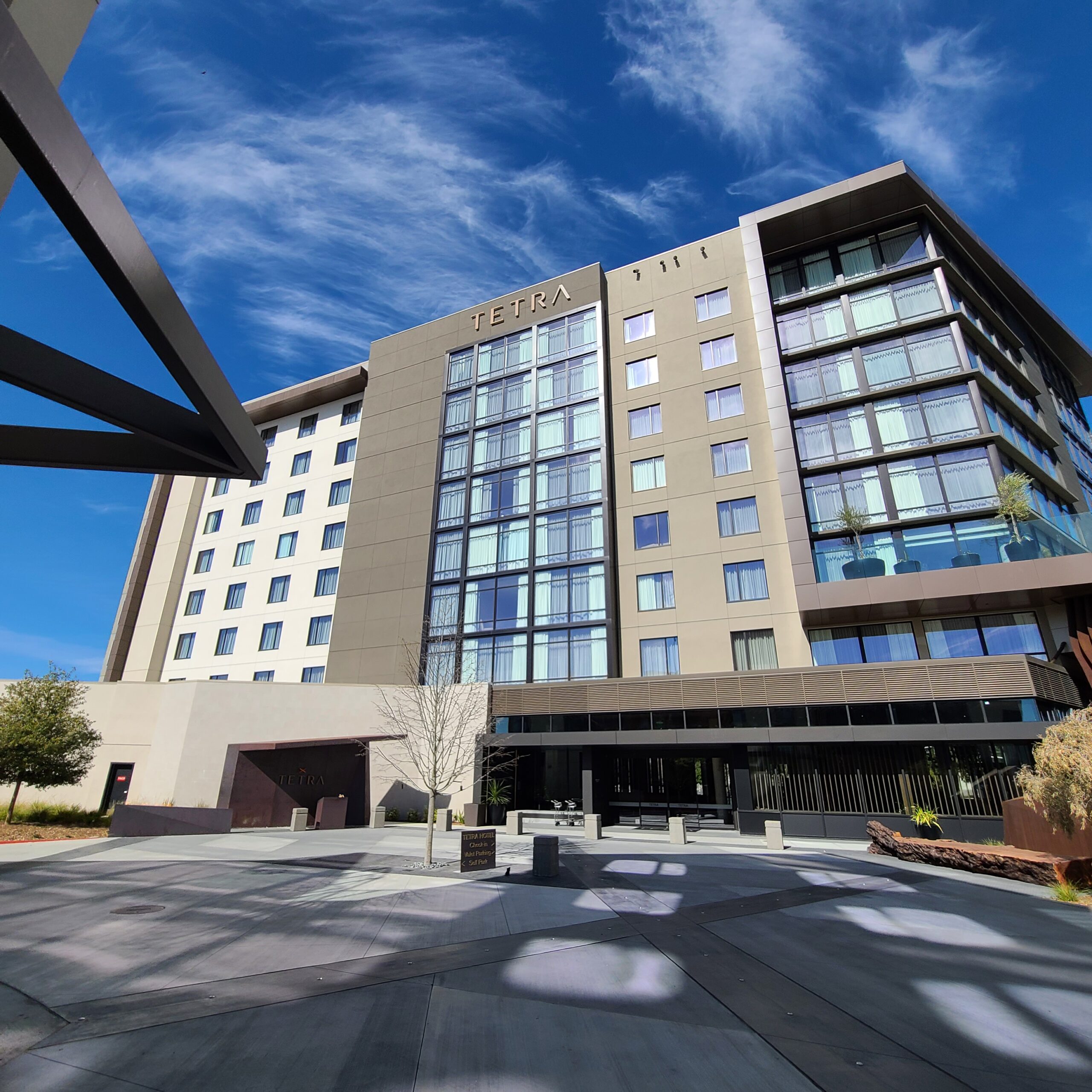 Advertiser disclosure: This post may include affiliate links (including sidebar banners) in which this site may receive compensation if a purchase is successfully made (at no extra cost to you) after being redirected from here. Thank you for your support!
TETRA Hotel, Autograph Collection- Tranquility in Tech

TETRA Hotel is a newly built addition to Marriott Bonvoy's Autograph Collection in Silicon Valley that I wanted to check out. The design seemed really nice from the concept pictures I saw with the "tranquility" vibe they aim for. It was planned to open in late 2021, but was delayed to March 2022. The layout is similar to the nearby Hotel Citrine, with both properties having an unusual conjoined AC Hotel Sunnyvale Moffett Park next to it. Unsurprisingly, they're all built by the same hospitality management company T2 Properties.
TETRA Hotel- Booking
I booked a 1-night stay at the TETRA Hotel at a legacy rate of 2021 Preview Rate that cost me ~$136 after taxes and fees. It's a Category 5 hotel, meaning that at most you'd need 40,000 Marriott Bonvoy points at most to redeem for a night, at least for the remainder of 2022. That'd be a bad way to use points, so cash has the better deal. A normal rate for a standard room would cost around ~$160 a night for weekends, but the hotel can get much busier on weekdays that could cost around ~$249 a night.
I've also requested a suite upgrade through the Marriott Bonvoy app chat function. They've granted me it as a Platinum Elite! The suite would've cost me ~$400 a night if I'd paid in cash!
TETRA Hotel- Location
TETRA Hotel is located at the heart of Silicon Valley in Sunnyvale, California with major tech companies like Apple, Google, & Meta buildings surrounding the hotel. There's nothing noteworthy within walking distance, but hiking trails near the bay, Great America amusement park, and SJC airport are within a driving distance. Thus, you'd need to drive or take an Uber to get around the area.
TETRA Hotel- Check-in
The hotel lobby has an open concept plan with modern and minimalistic decor.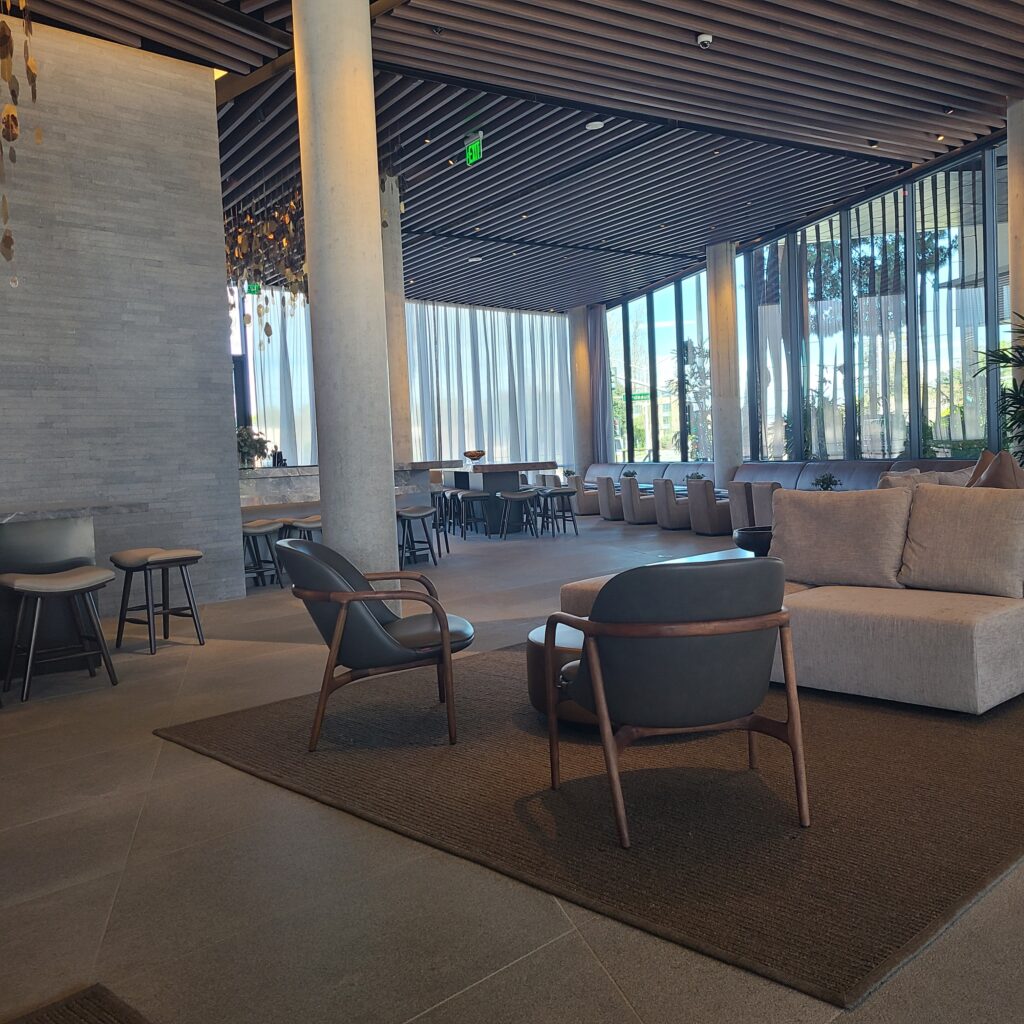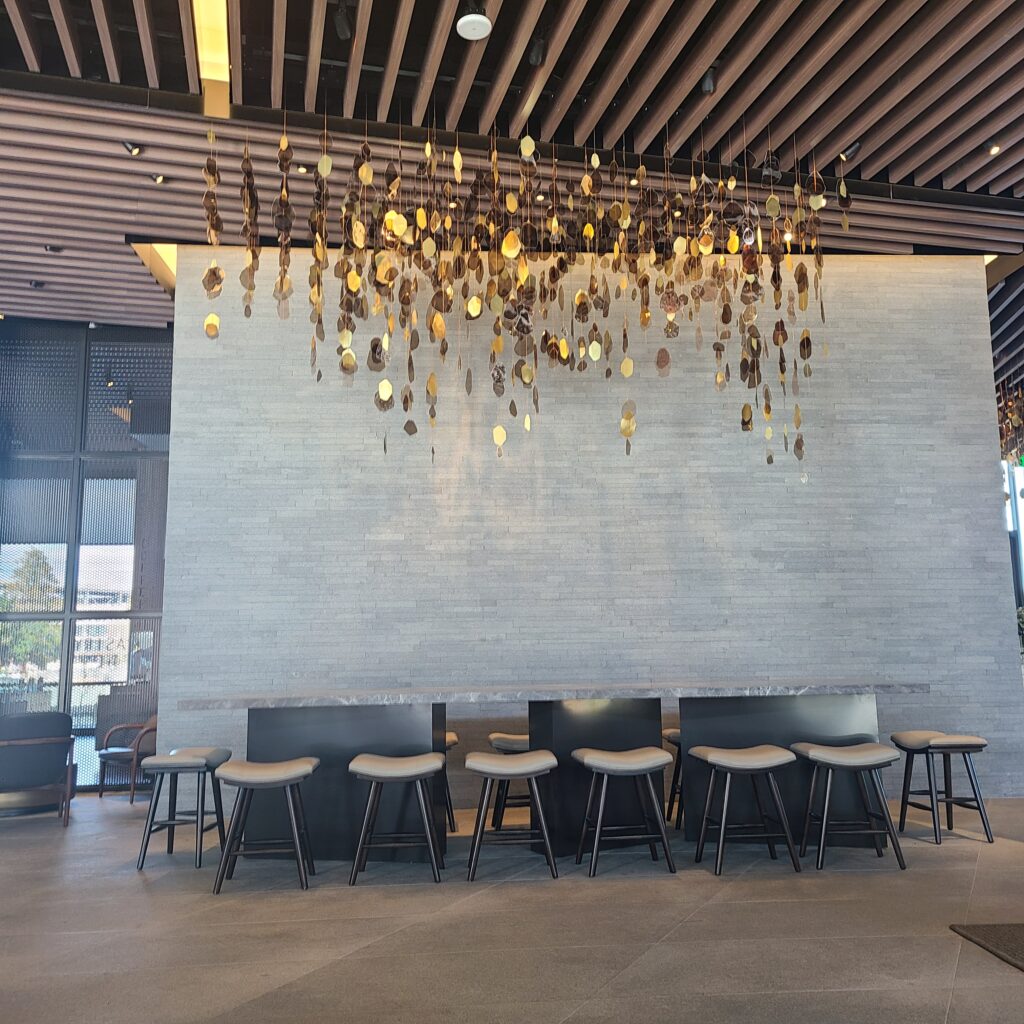 The process was a bit of a mixed bag. I was assigned to Room 612, which felt off because I asked for a suite with approved request. At that time, I was ignorant of the floor layout. I then head to Room 612, and my suspicion was correct. It was just a regular room.
I immediately went down to the lobby again and checked with the front desk to confirm about my suite upgrade. She made a mistake and was being apologetic. Meanwhile, the front desk then treated me with a complimentary drink of my choosing at the hotel's coffee shop, Coffee Manufactory. The front desk recommended me a matcha latte, so I went ahead and go with her recommendation. It was quite nice, and the gesture was very appreciated. I then waited around 30 minutes for my suite to be ready and was then assigned to Room 530.
With all things considered, it was no big deal and I cut new hotels some slack to get their mojo together. The hotel is equipped with a blazing fast Wi-Fi 6, so I didn't have issues killing time. I'm sure many business travelers will greatly appreciate it as well.
Beware that the hotel charges you $22/night for self-parking and $28/night for valet. $5/hour if you're a guest not staying at the hotel.
TETRA Hotel- Suite
Room 530 is located at the far right corner of the floor.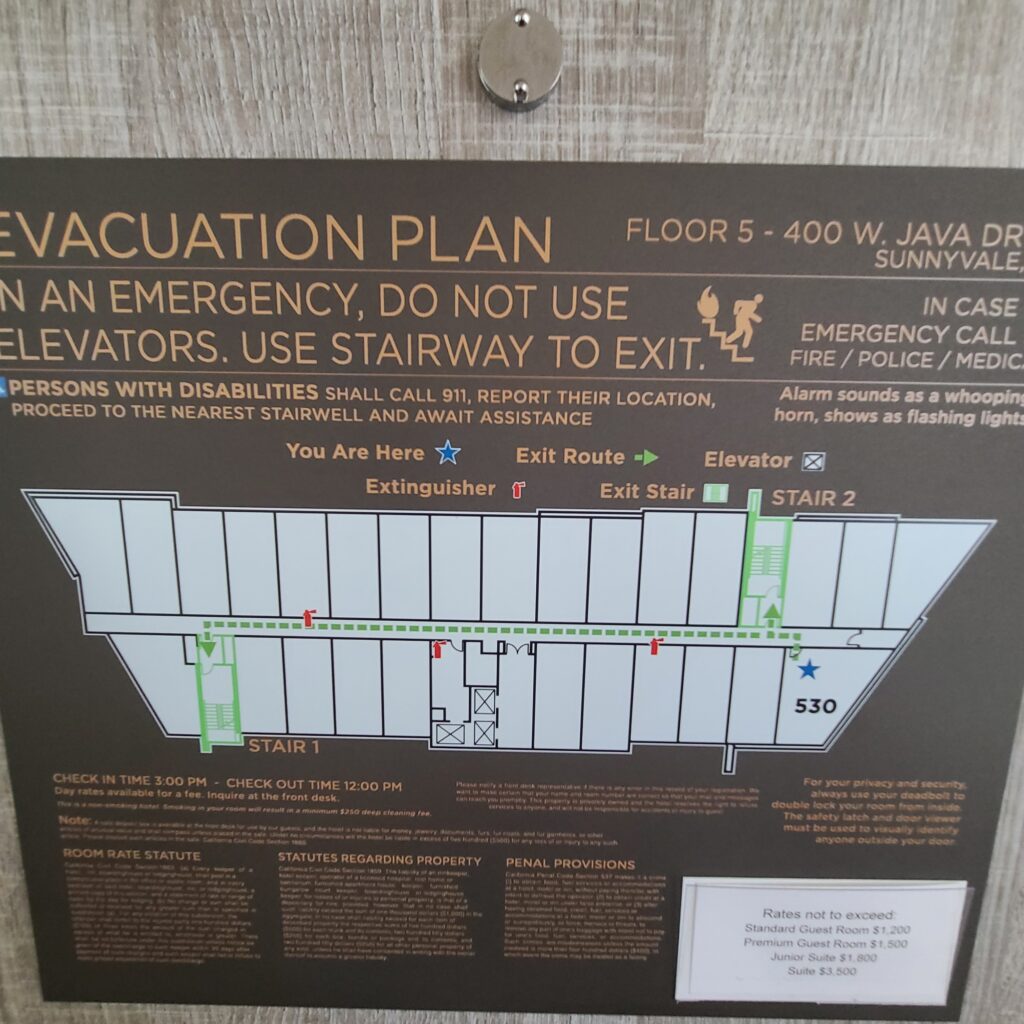 The suite is quite spacious, with a separate living room and bedroom. I like the color scheme and I think it does well with the tranquility vibe they try to go for. The floor to ceiling windows make for much better views as well!
Living Room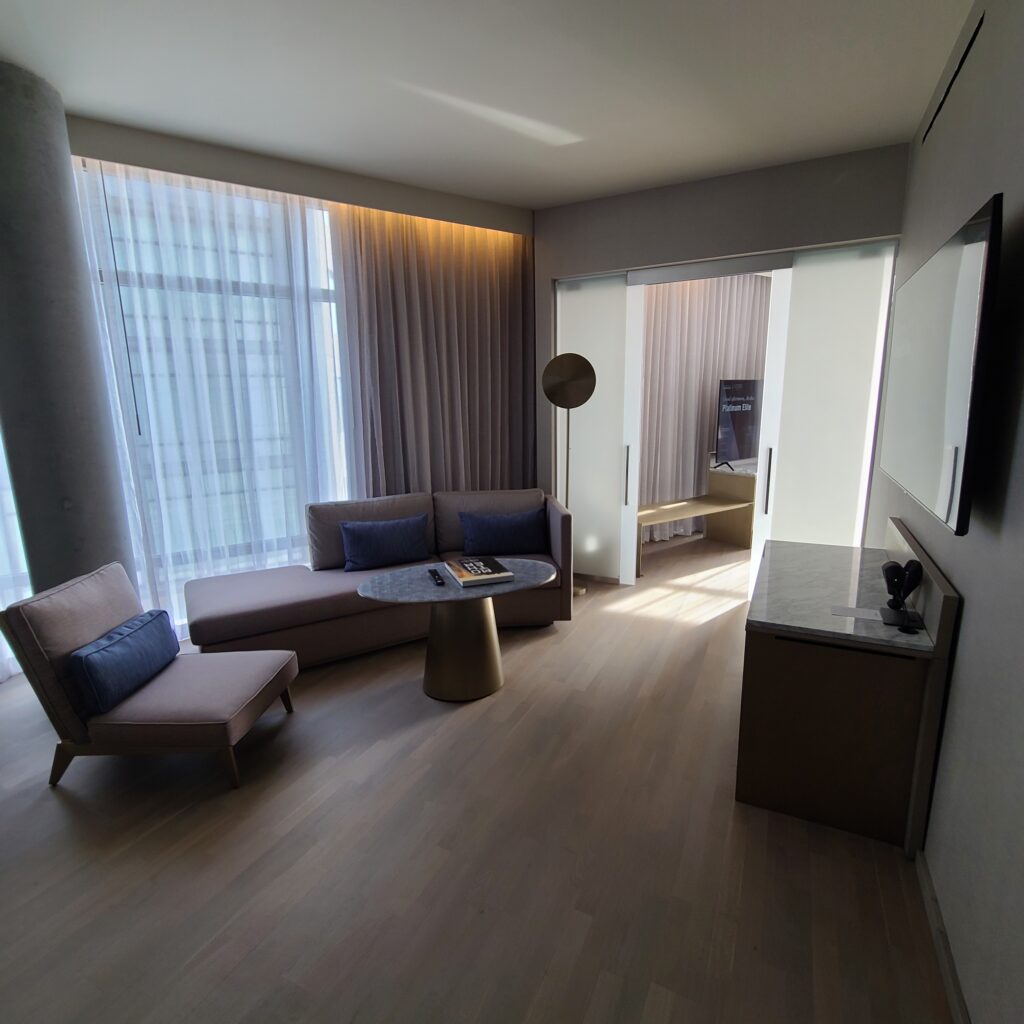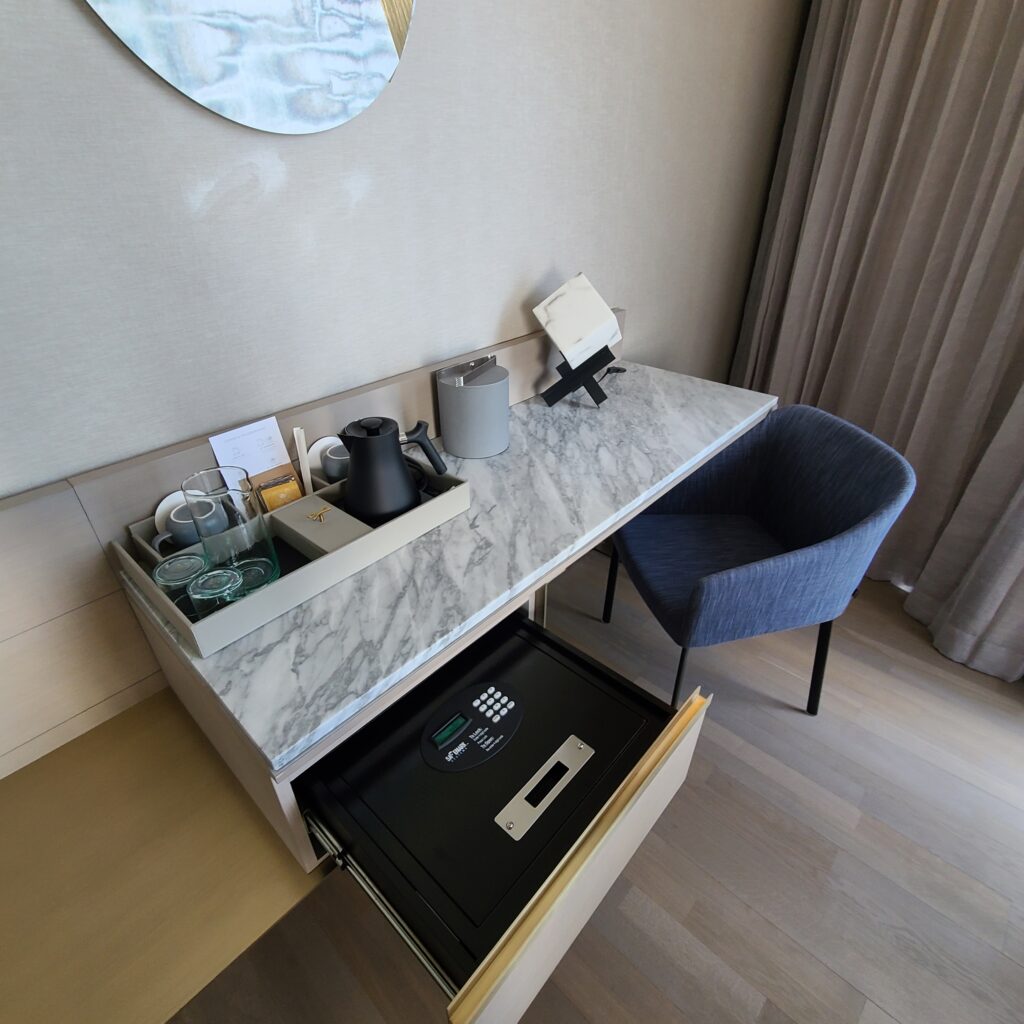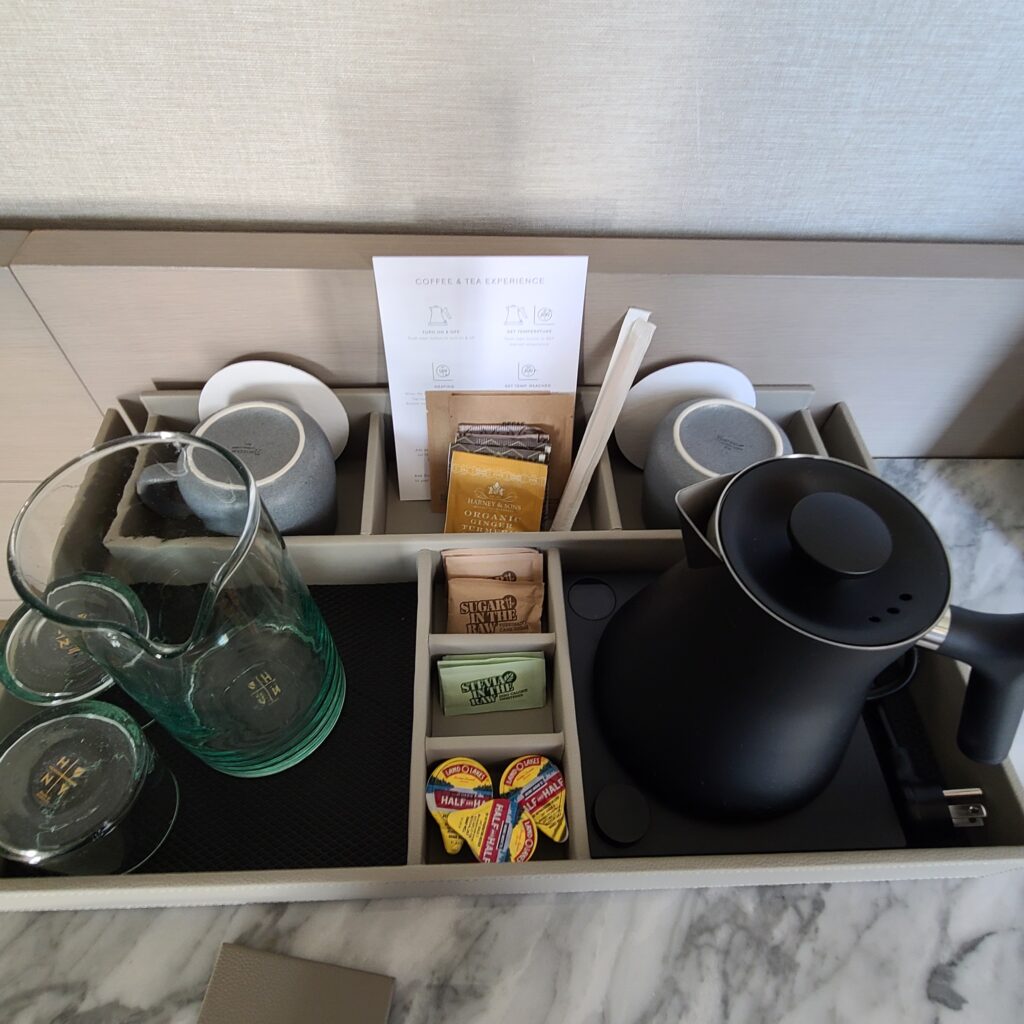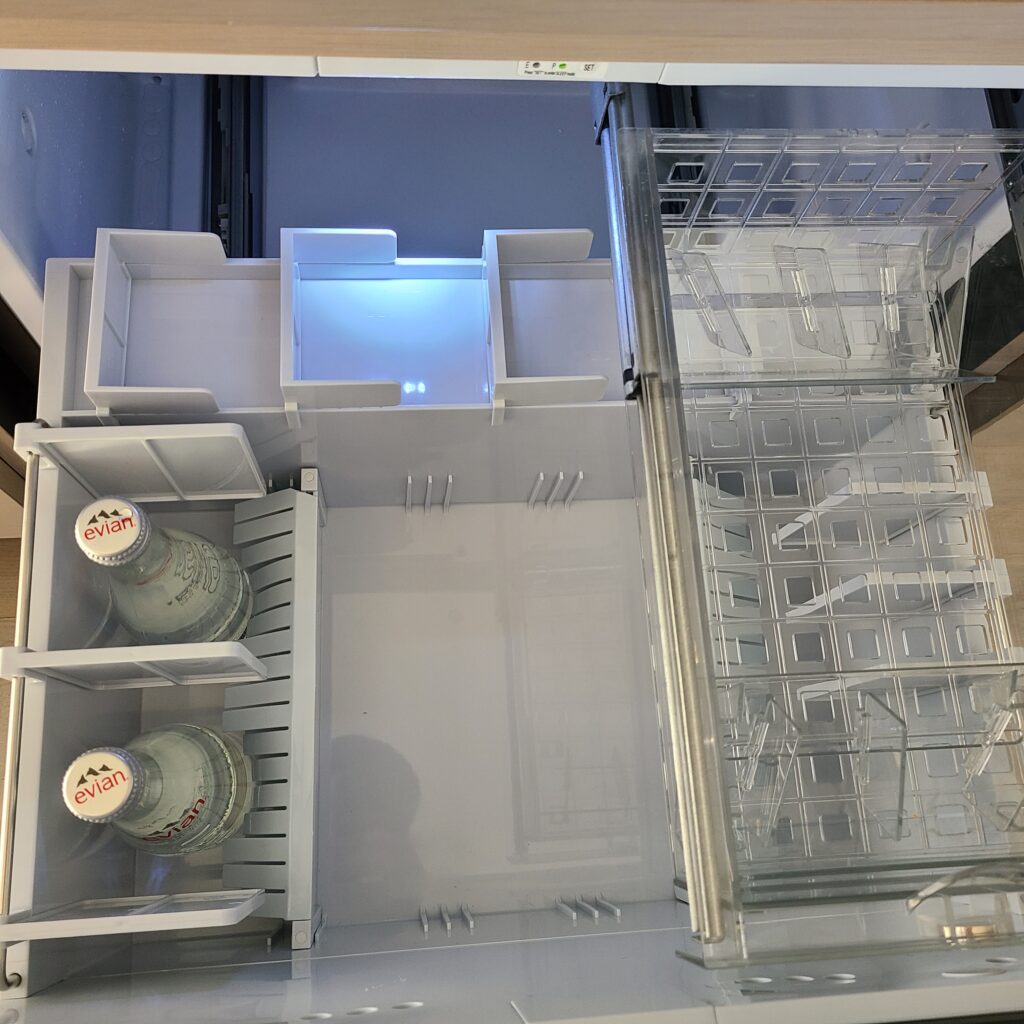 The book Mother: A Tribute to Mother Earth by Marsel van Oosten is found in all of the hotel rooms. I briefly scan through the book and find endearing animal and nature pictures found across the world.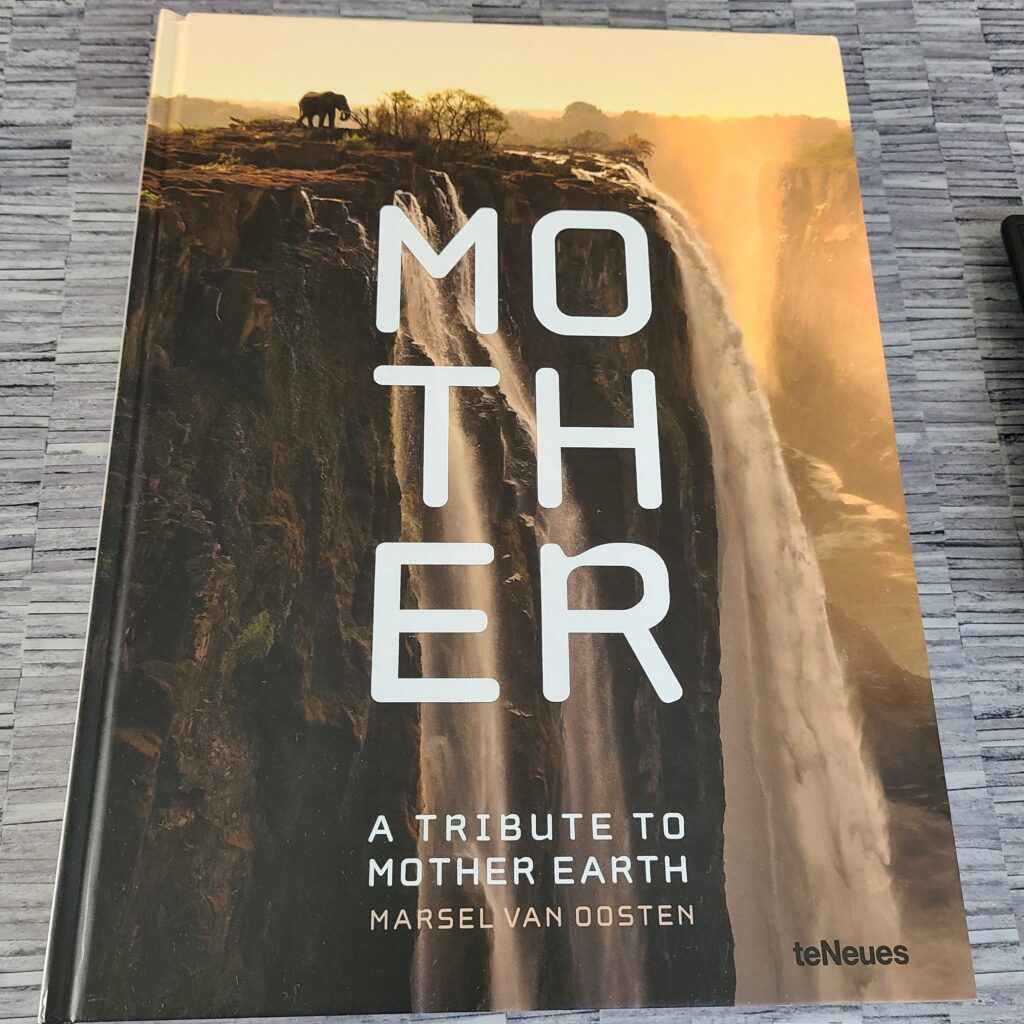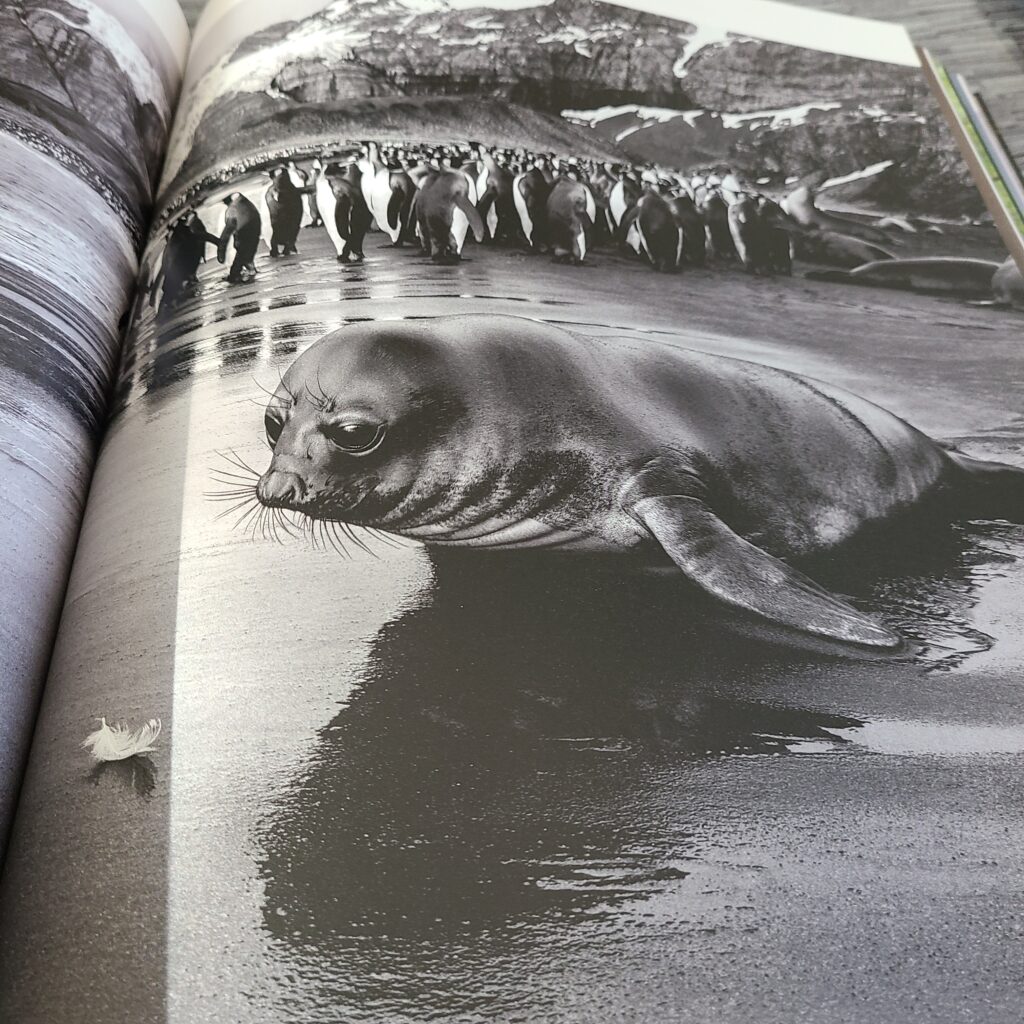 The suite comes with exclusive feature like the Theragun by Therabody, a massage therapy gun that I can freely use. I was informed by the front desk that the Theragun is only exclusive to Junior Suites and Suites. It's definitely nice, since many suites of hotels are just bigger rooms, so it's cool to have suites-only features added into the room. The hotel does sell it if you're interested in buying it, but I don't know how much it costs.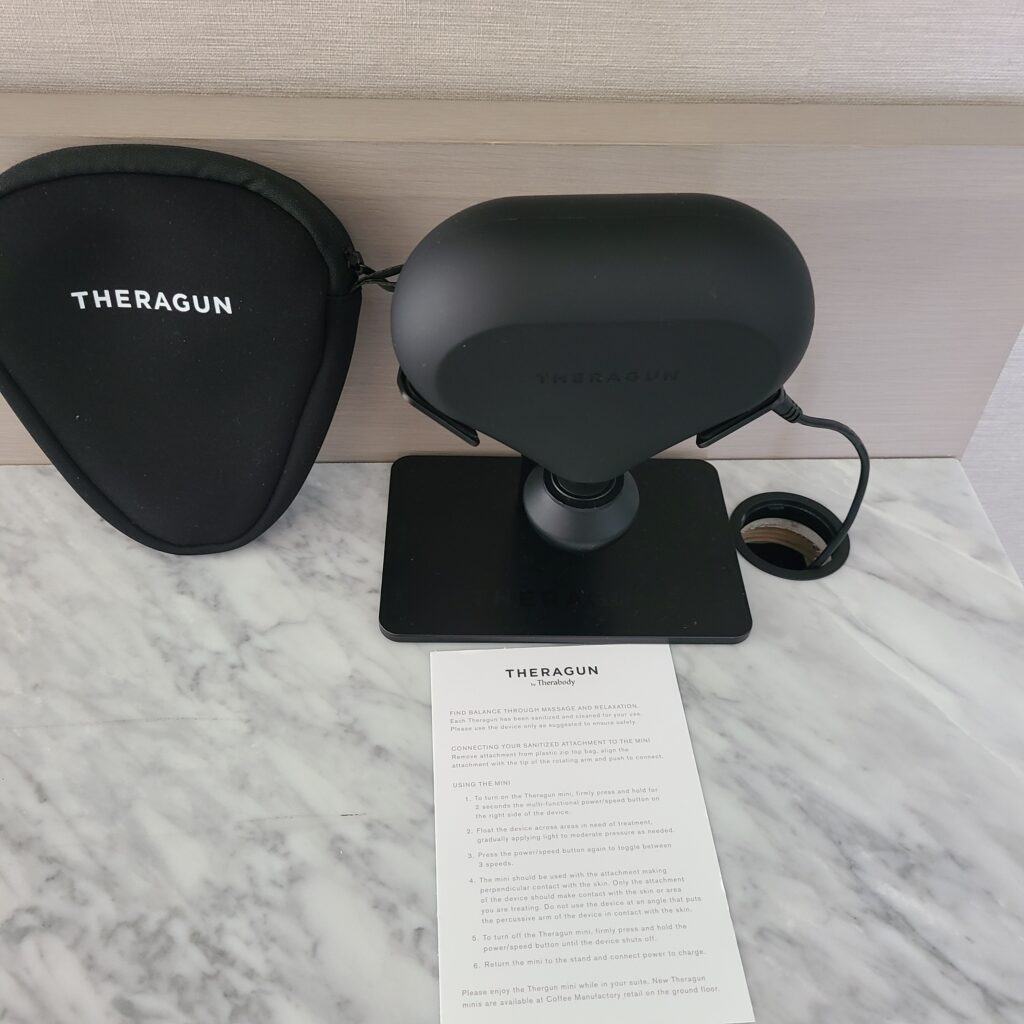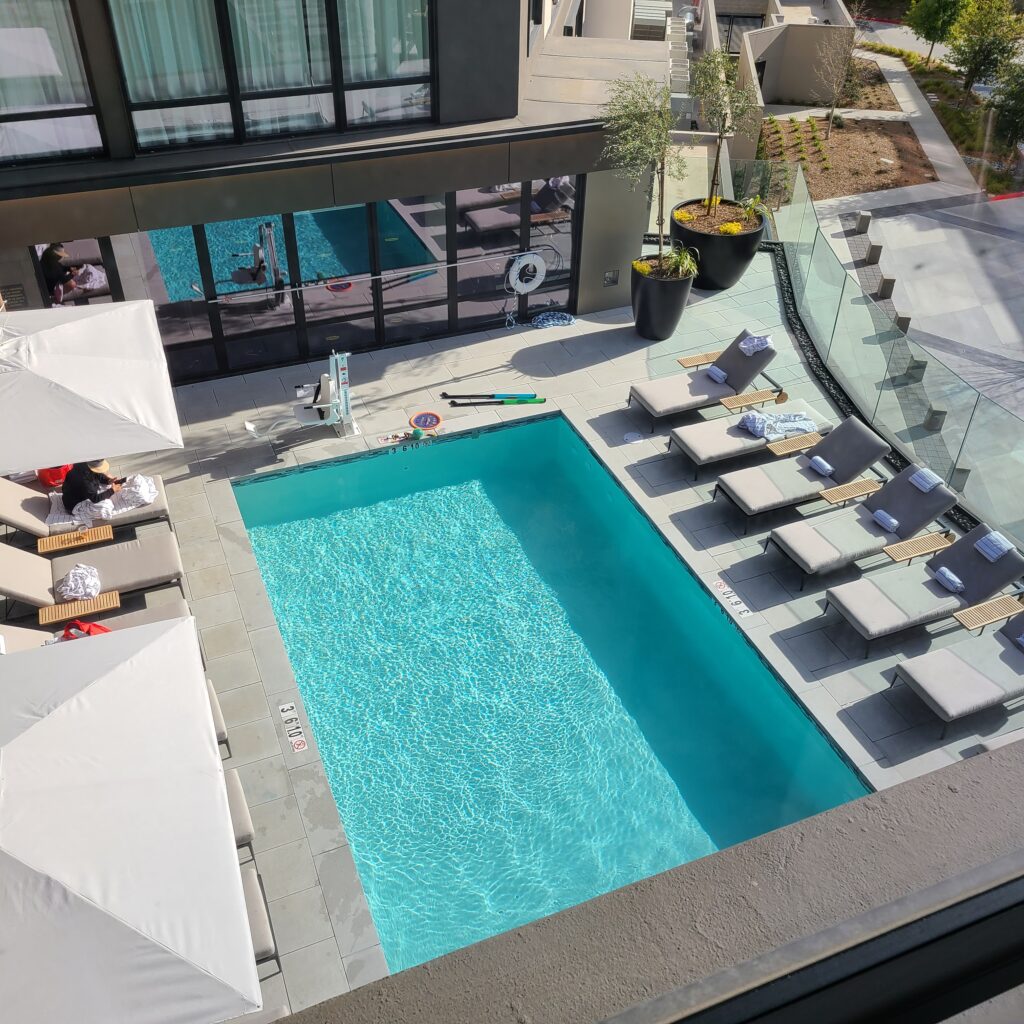 There are some notable issues in the living room. First, the desk is too small, so working is a bit challenging, especially with the tilted cube light blocking how far I can open my laptop. The pantry and ice bucket take up a lot of space too, so you'd have to move them somewhere to get more desk space.
I can of course, work on the sofa. But, there are no electrical plugs anywhere near it, which is the second problem. Since the hotel appears to be targeted towards business travelers who most likely need to get some work done on their laptop, not having electrical plugs at the right places can cause unnecessary inconvenience. Working on the bed is a no-go for me because I need to separate the place to work and the place to rest, which I'm sure some of you can relate to. I'm not sure if the standard rooms have this issue with electrical plugs compared to the suites.
The final issue is the lighting in the living room. I found it too dim, and I wished it could've been brighter. I've tried finding some sort of brightness control, but it unfortunately just wasn't there.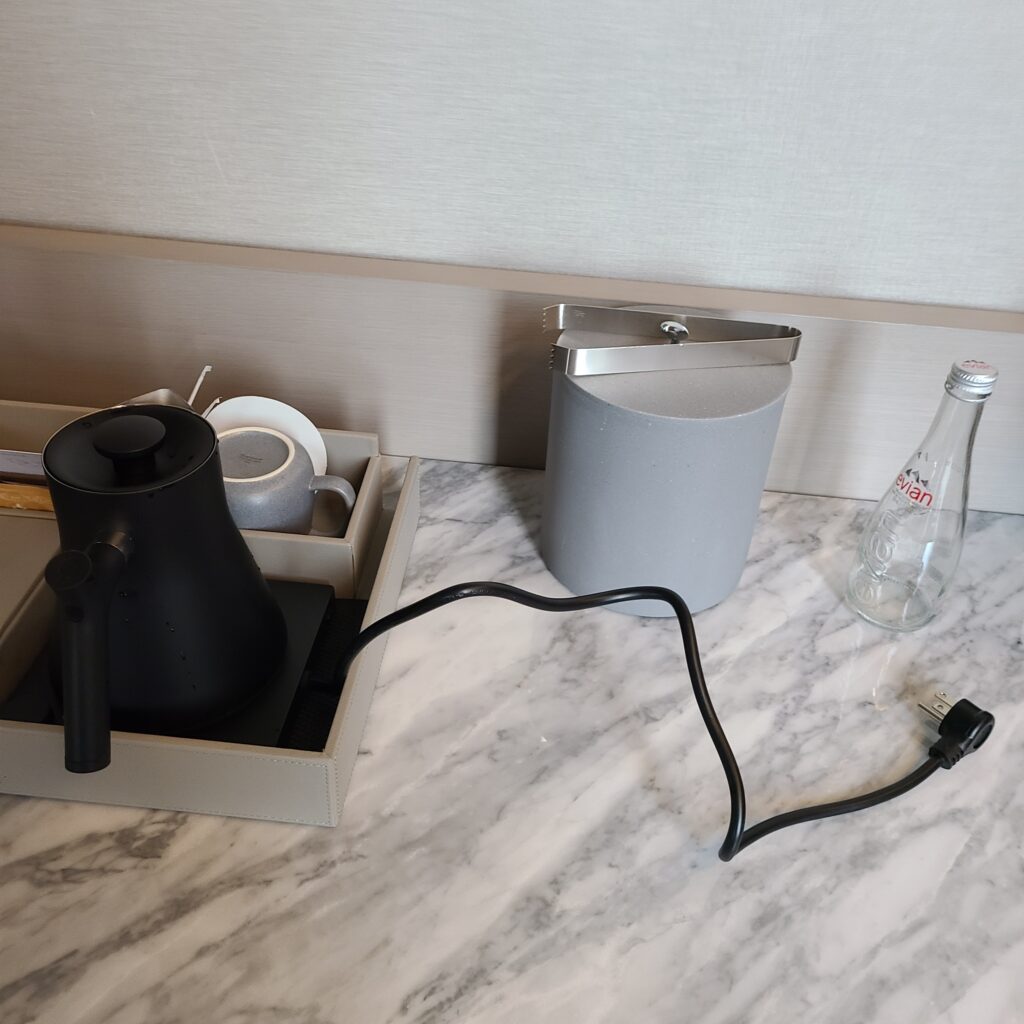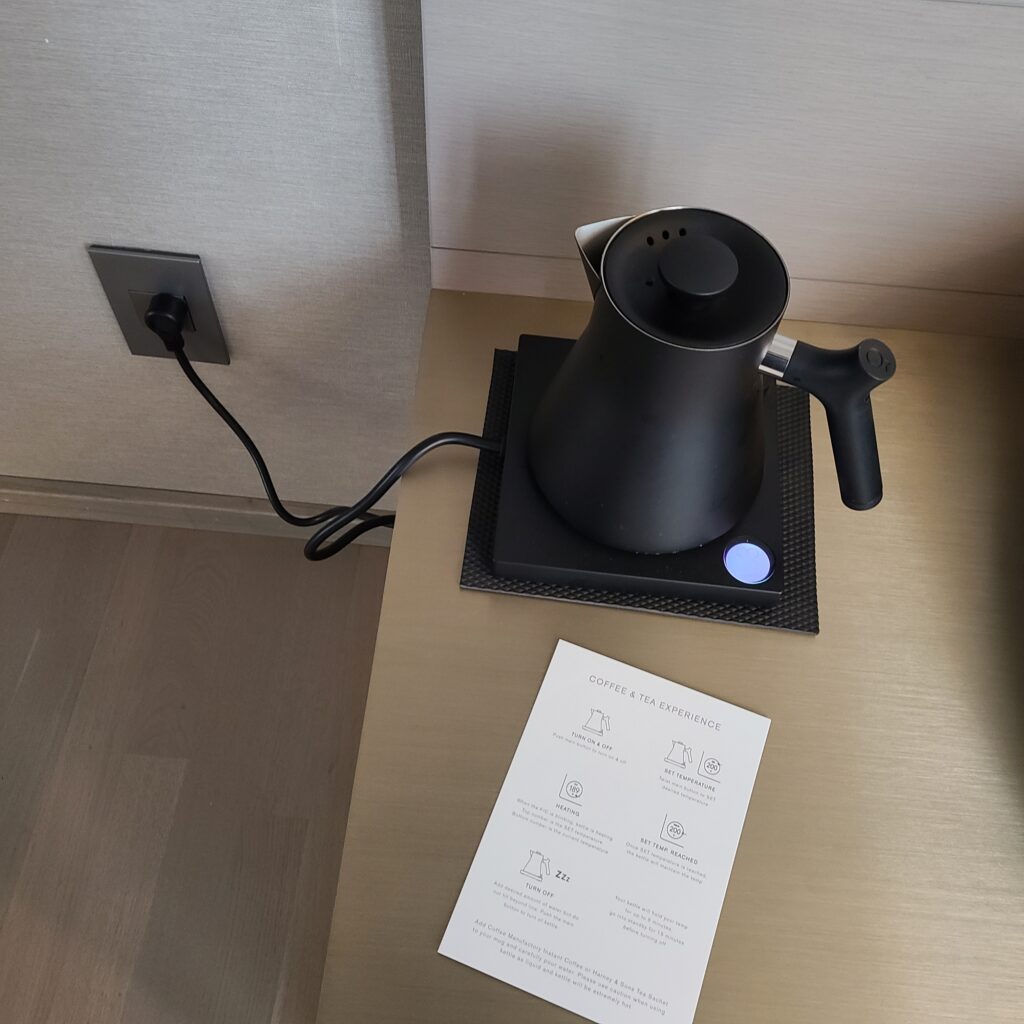 Bedroom
The bedroom is quite nice. The floor to ceiling windows make for a great wake up sunshine. The bed itself is decent. It's on the softer end, and I prefer a firmer mattress myself. But, it didn't detract my sleep quality. The pillows have the right softness to them that I like. I found the light covers on the bed sides to be too big and positioned too low though that can be easy to bump into if you're not careful.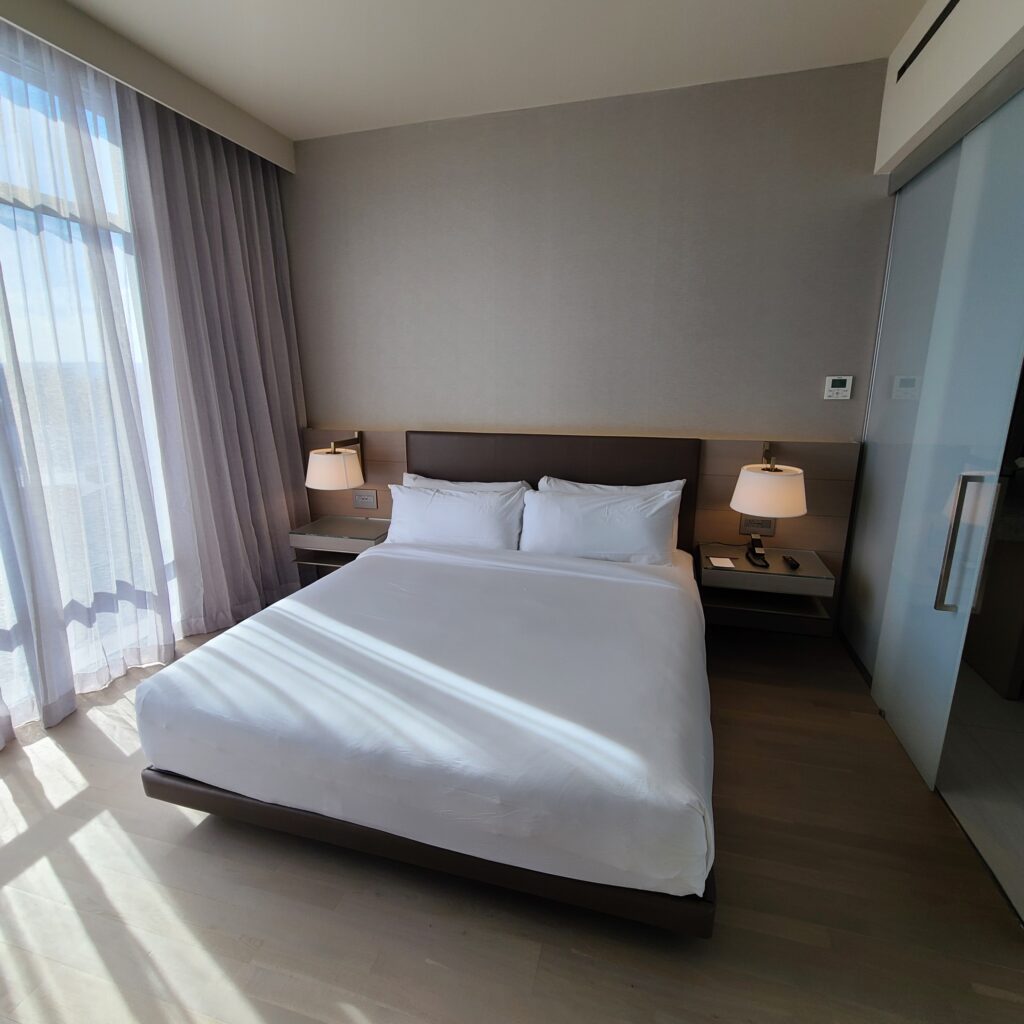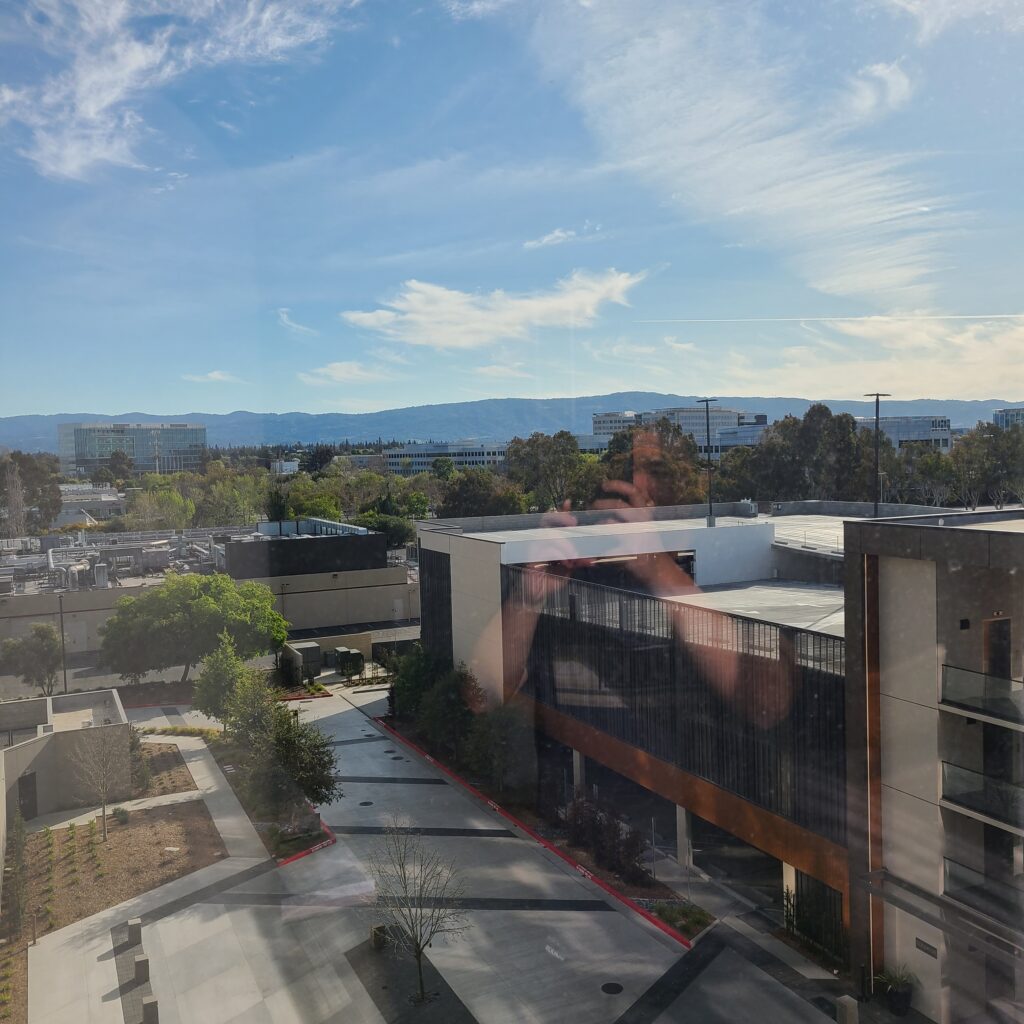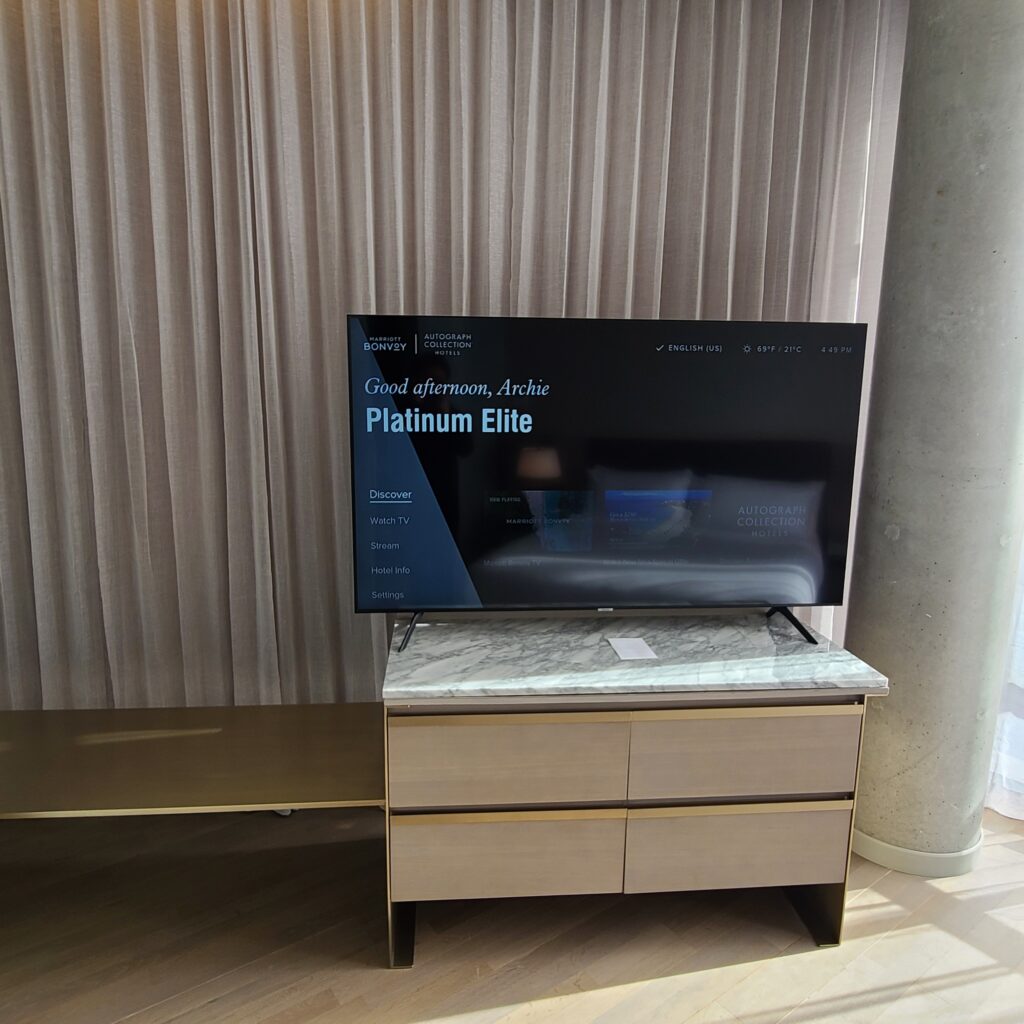 Bathroom
The bathroom is right by the bed behind the frosted glass door. It's quite spacious and has the best lighting out of the whole suite. There's a separate room for the sink and closet. I was informed by the front desk that a Dyson hair dryer is included in the suite but I forgot to check it out.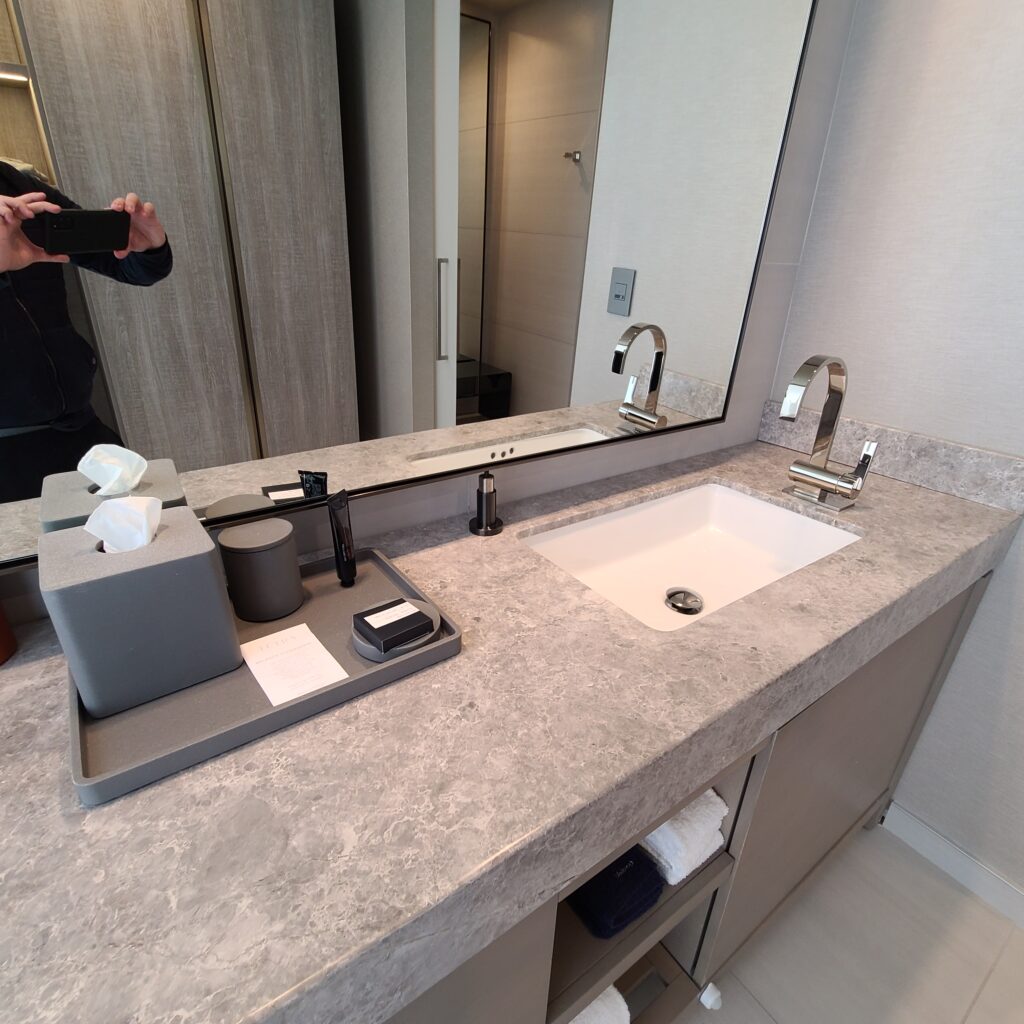 The suite also comes with hooded bathrobe that was very warm and comfortable. Usually bathrobes make me itch when I use them for too long, but I didn't have that issue with the one at this hotel.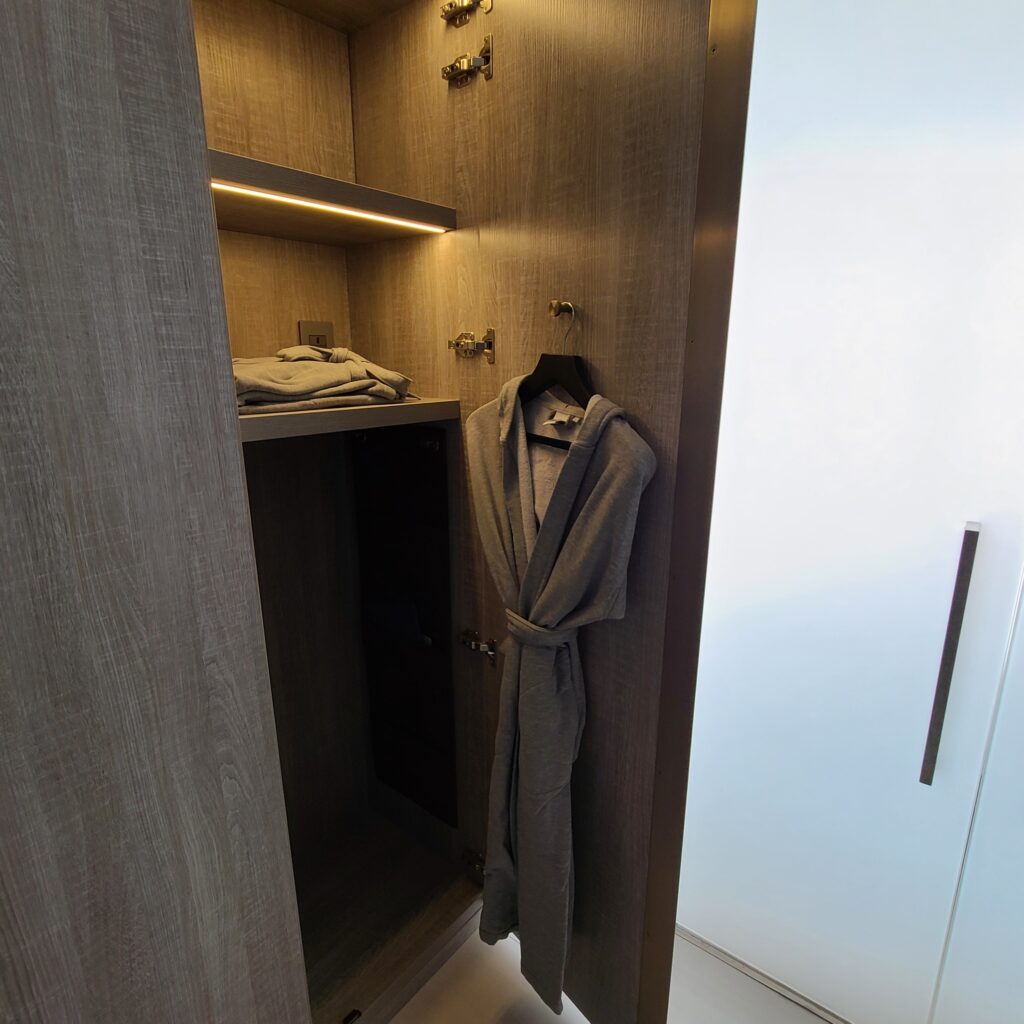 Next part of the bathroom comes the shower and toilet. It's separated again by the sliding frosted glass door if you need more privacy. Very modern look overall. The rainfall shower has good water pressure as well.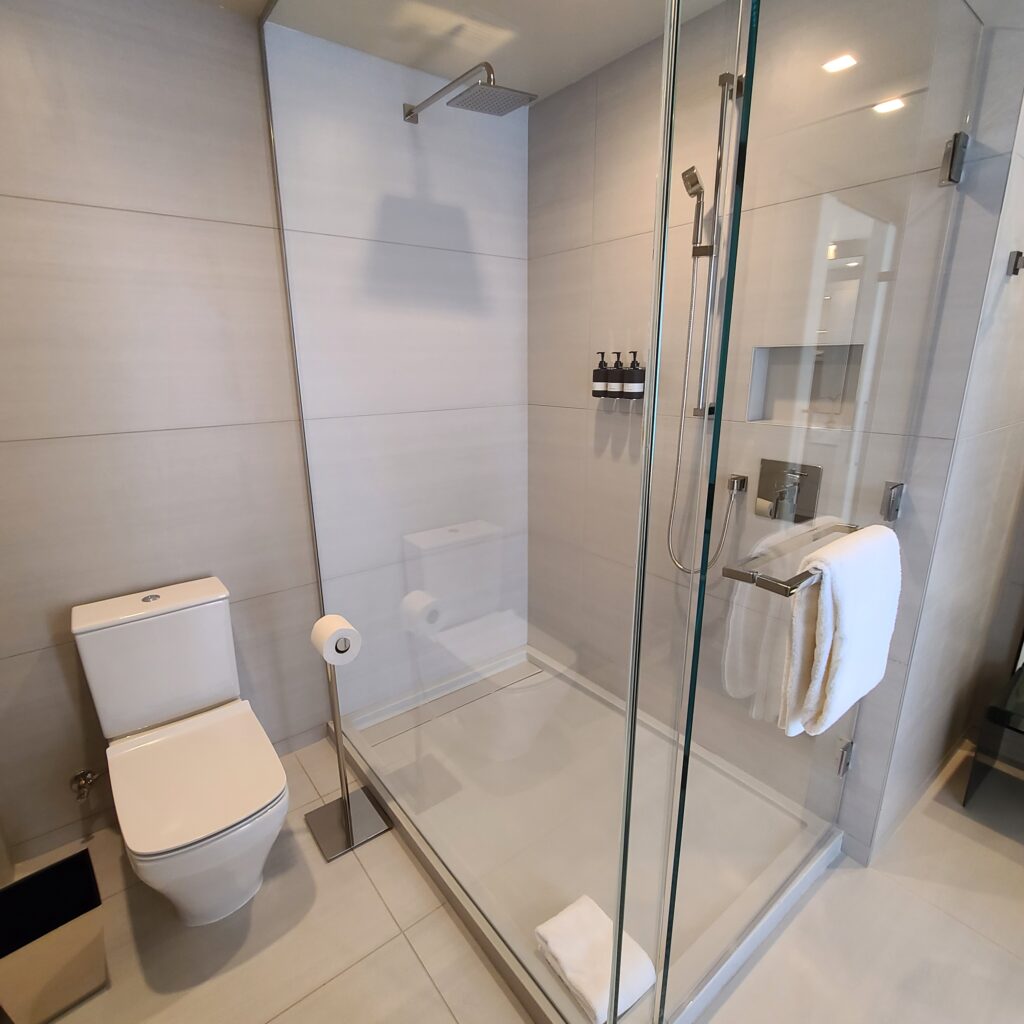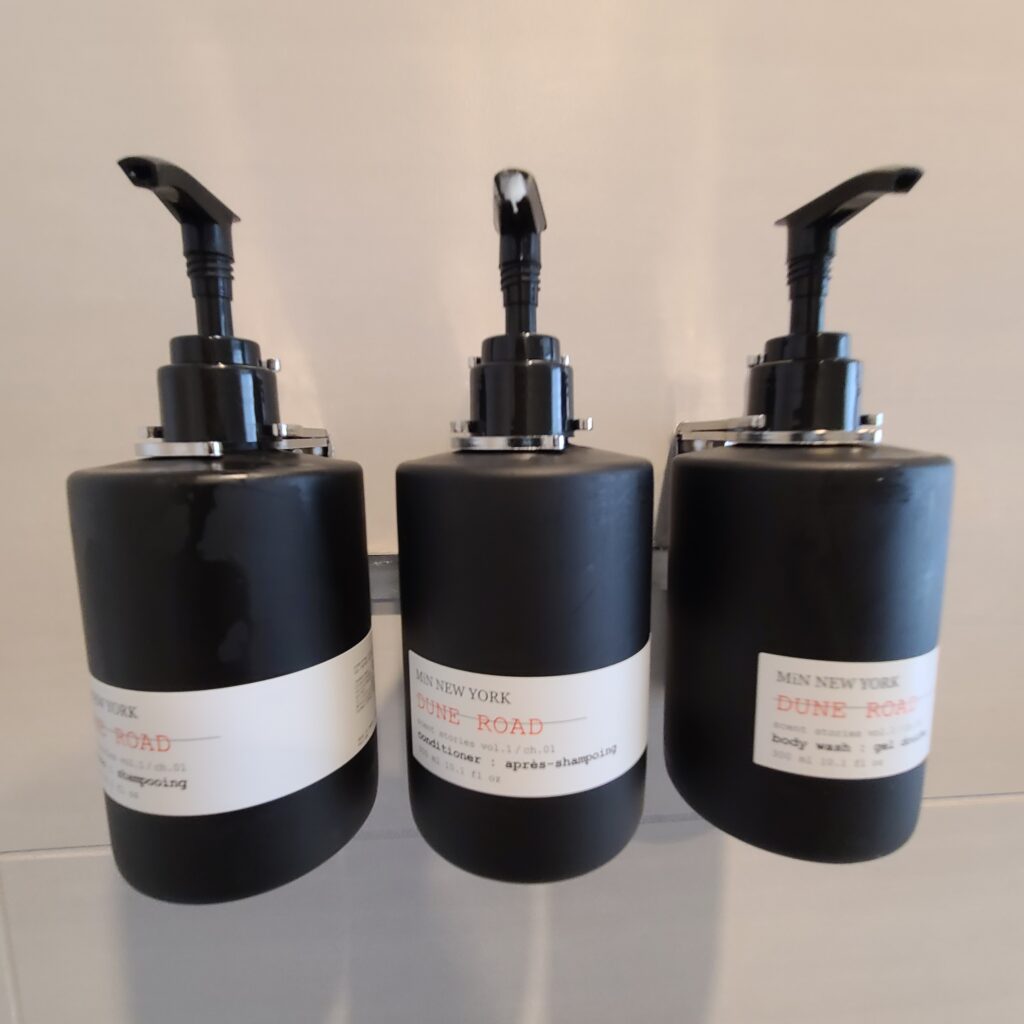 The bath amenities are made by MiN New York. This particular 'Dune Road' has some sort of cucumber & woody aroma. I didn't particularly like it and prefer ones with fruity aroma in general.
TETRA Hotel- Restaurants & Bars
The hotel has Adrestia as its main restaurant that serves western food with Asian influences in some of the dishes. A thorough menu can be found on Opentable where you can also reserve seats. But, reservation isn't necessary if the restaurant isn't full since I was able to walk-in to dine there. The restaurant is open only for dinner time from 5 pm to 10 pm.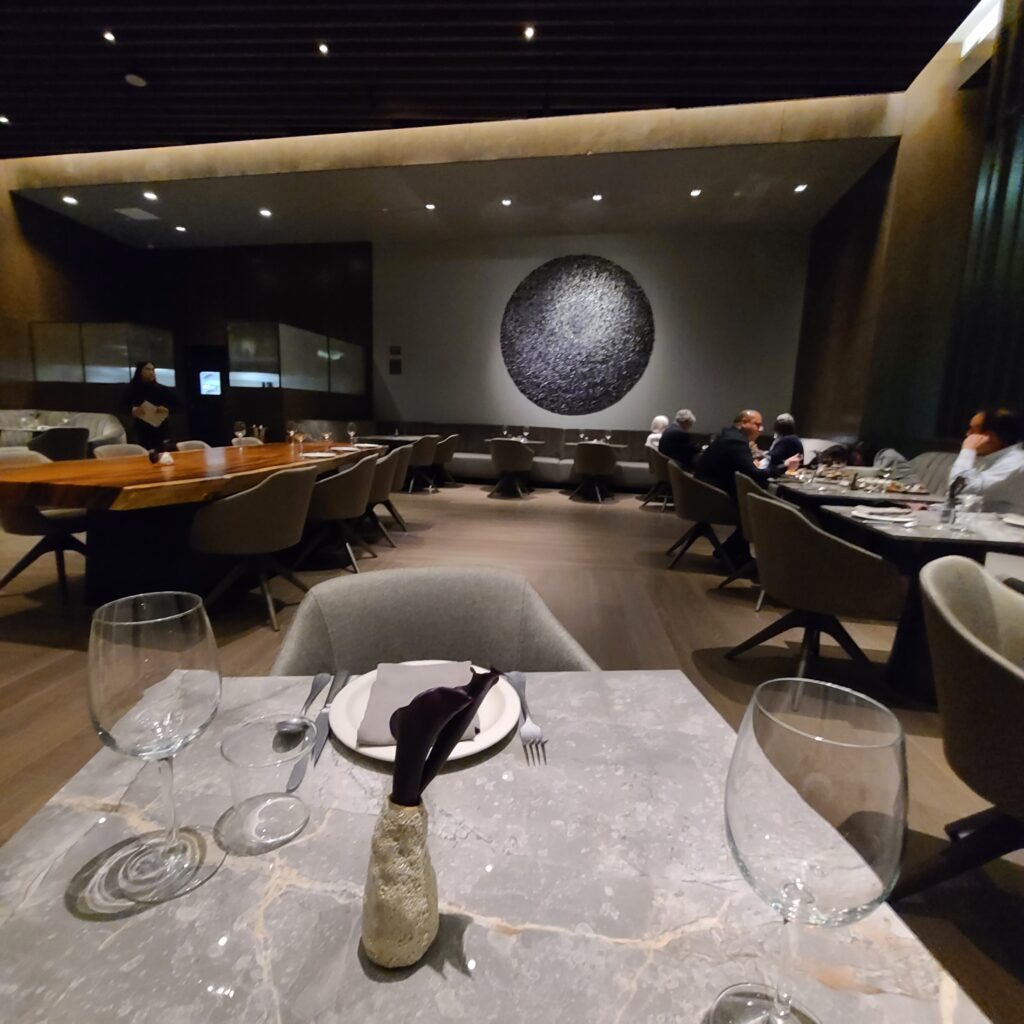 I've ordered 3 items from the menu: Hamachi Crudo, Mini Grilled Lobster Sando, and Chai Panna Cotta for dessert. All cost me ~$59 before tips, which I think is pretty reasonable for Bay Area. I enjoyed all of them, especially the Hamachi Crudo.
The service was pretty great as the waitresses were pretty attentive, but not at the point of being too intrusive.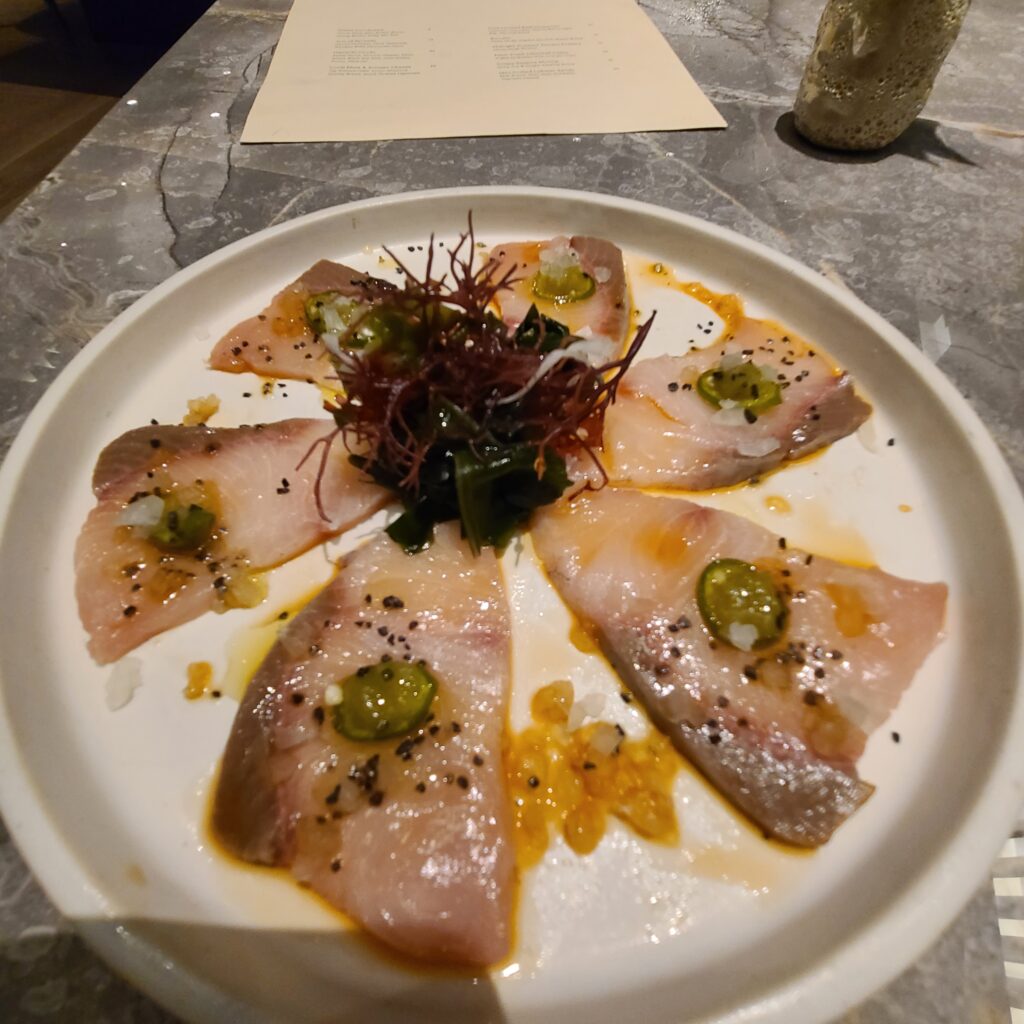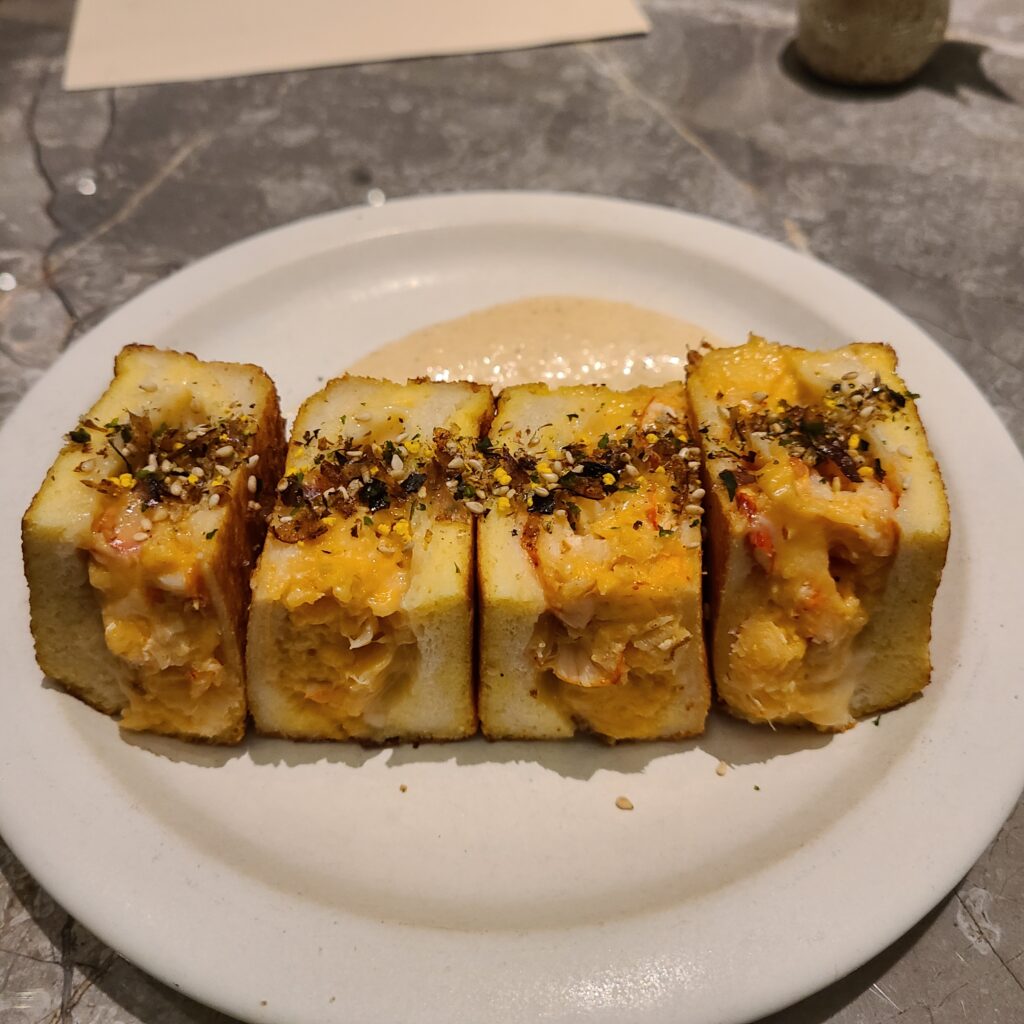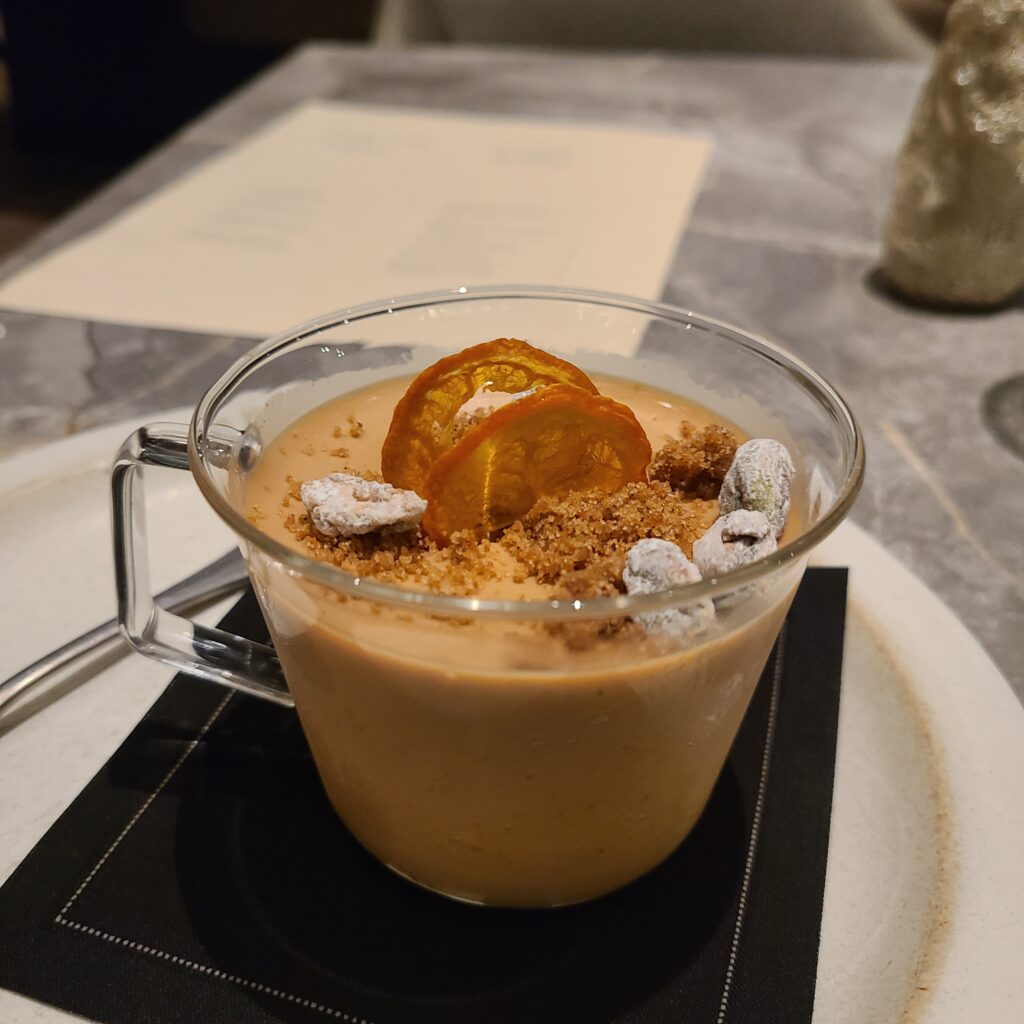 The hotel also has a bar called Nokori that serves Japanese whiskeys and tapas, but I didn't get to try it. The drinks menu appear extensive that include some of the well-known Japanese brands like Suntory, Nikka, Hibiki, Yamazaki, and etc. Highball cocktails are served as well.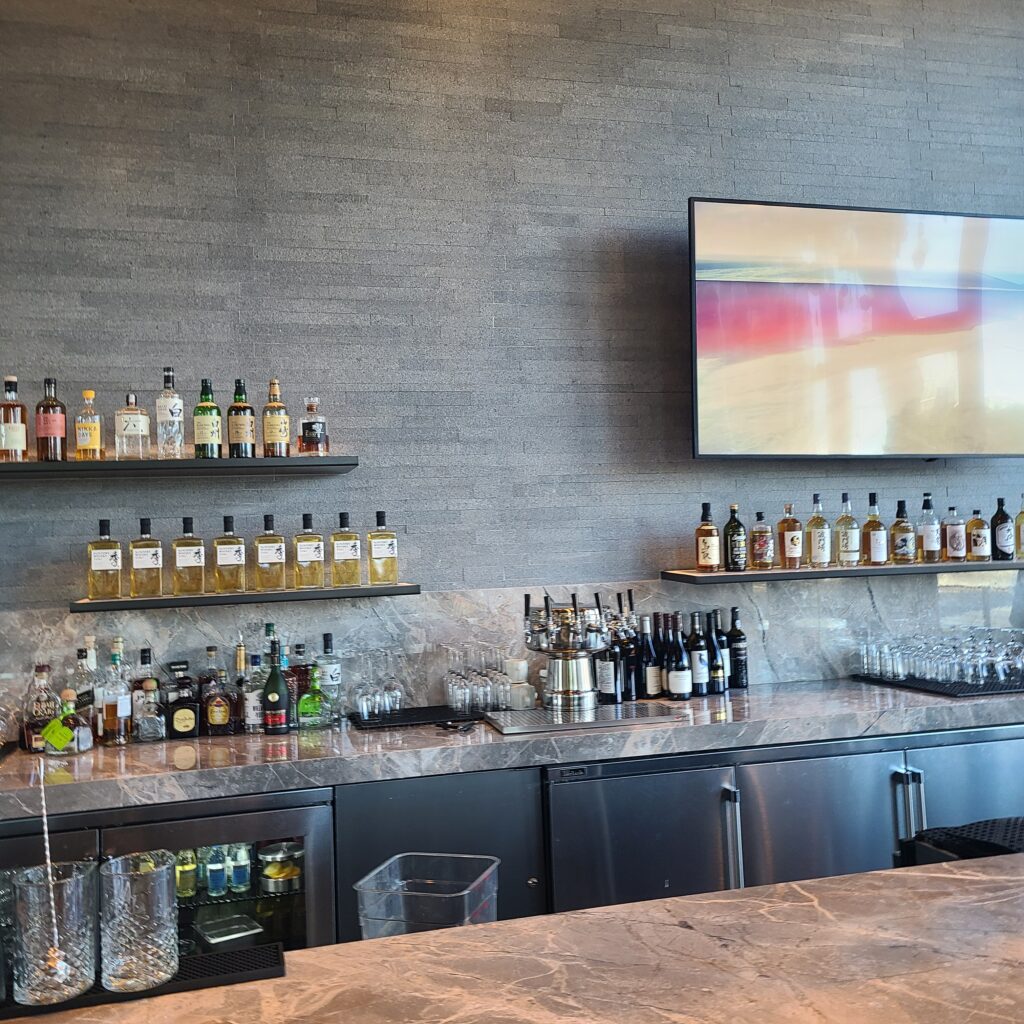 TETRA Hotel- Breakfast
Marriott Bonvoy Platinum and up receives complimentary breakfast at the neighboring AC Hotel lobby. It's a self-serve continental breakfast buffet with a small la carte menu on the side. The breakfast itself is pretty standard, and would've cost $20 if I'd paid in cash.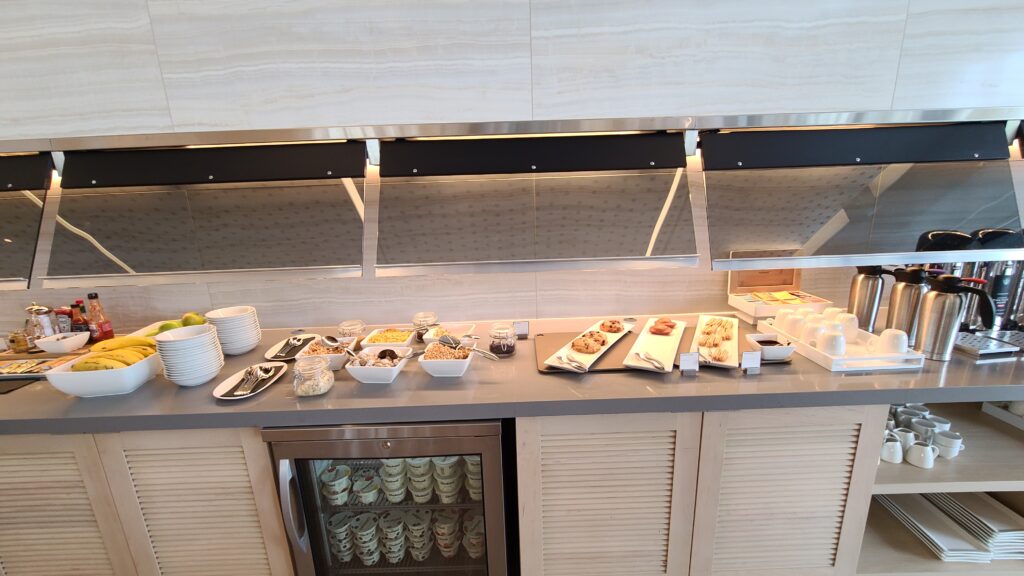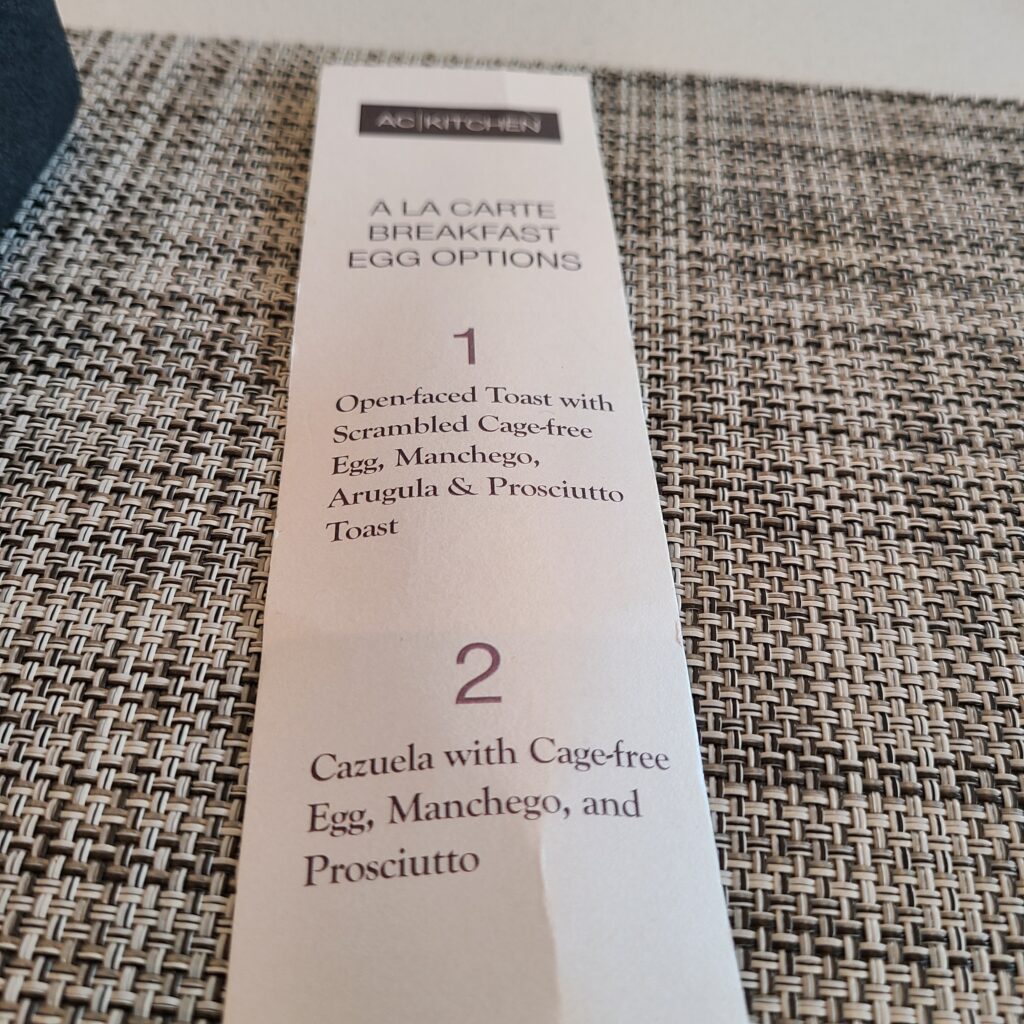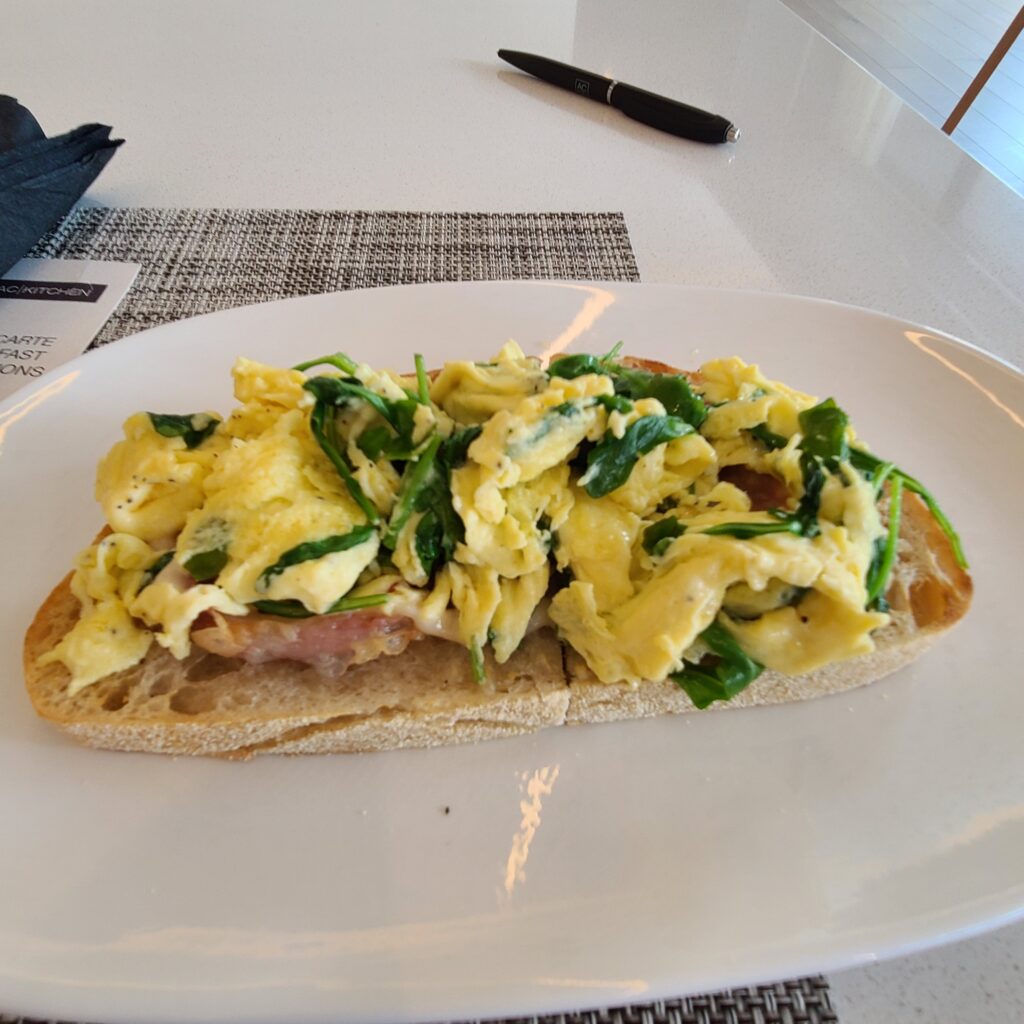 TETRA Hotel- Fitness & Activities
The hotel comes with a gym with standard cardio and weightlifting equipment, and a shared pool with the neighboring AC Hotel at the 3rd floor.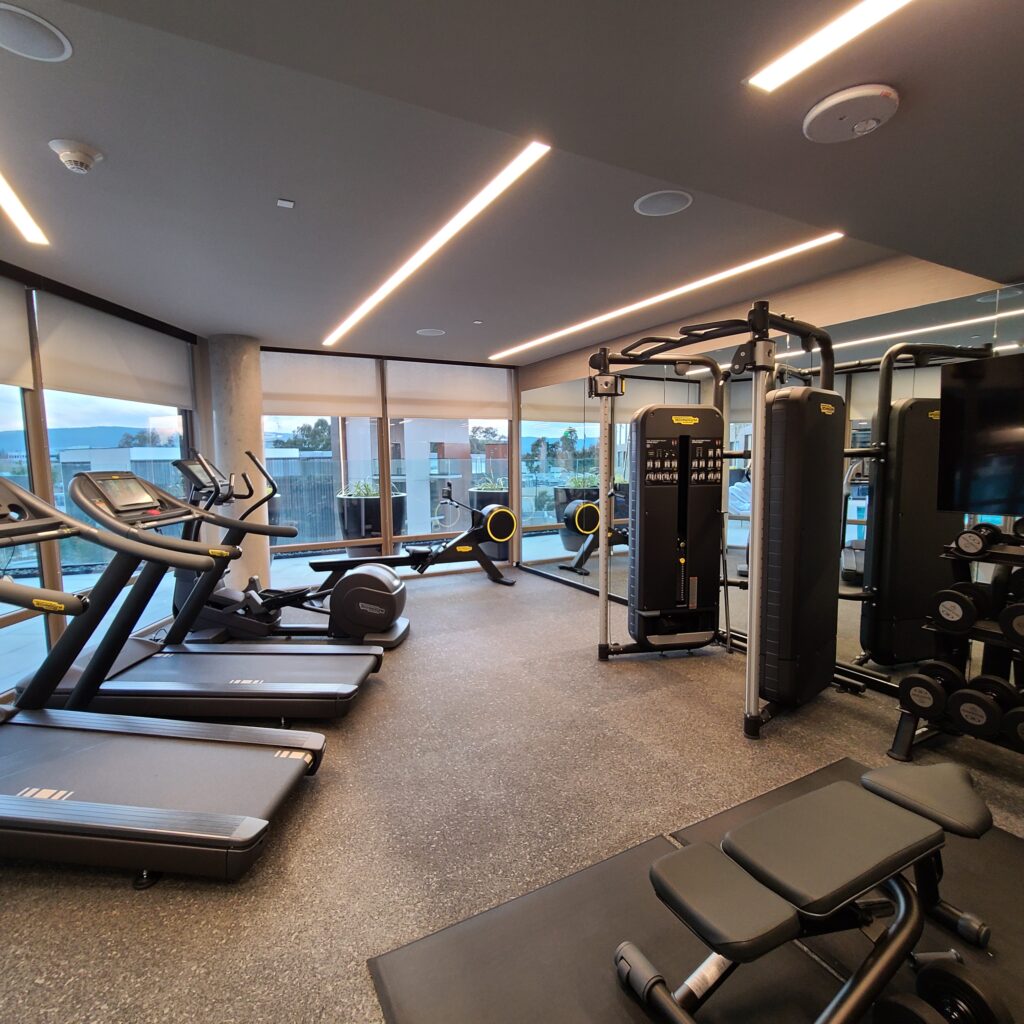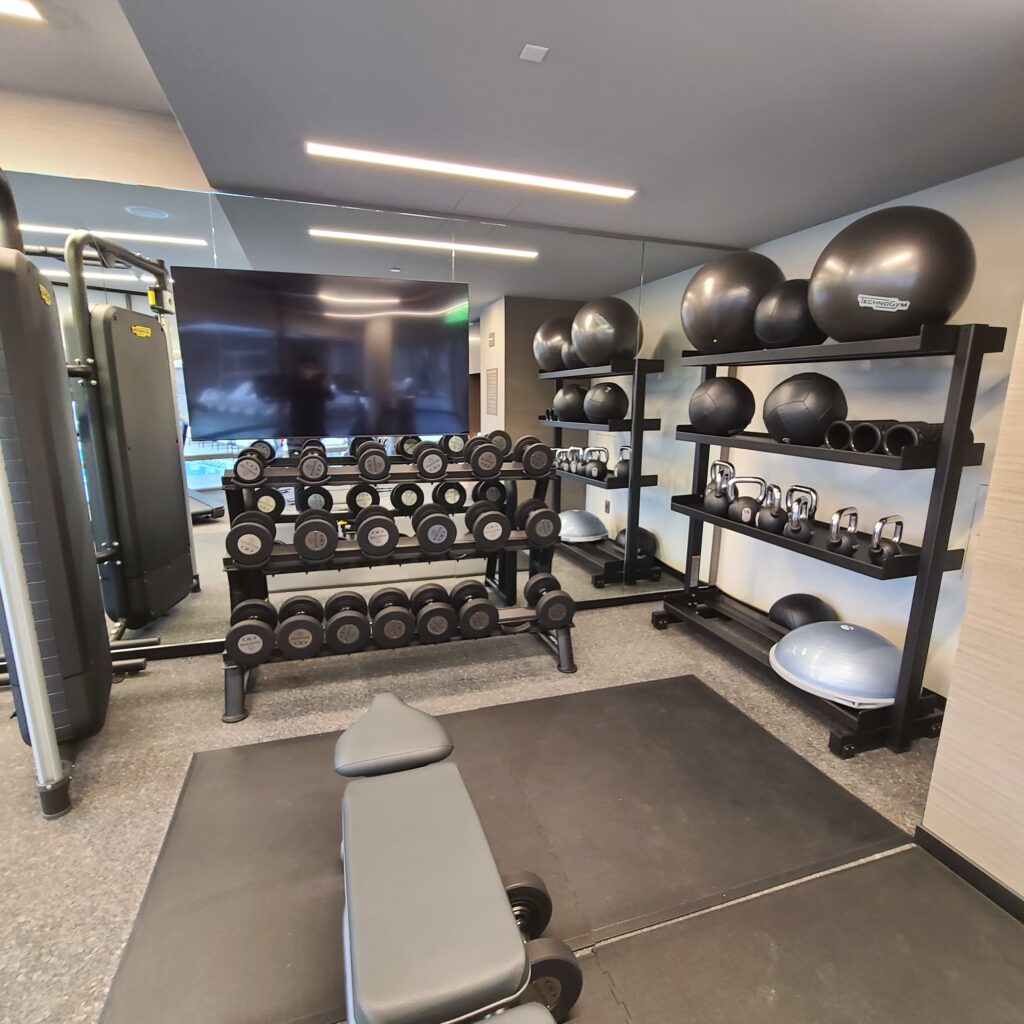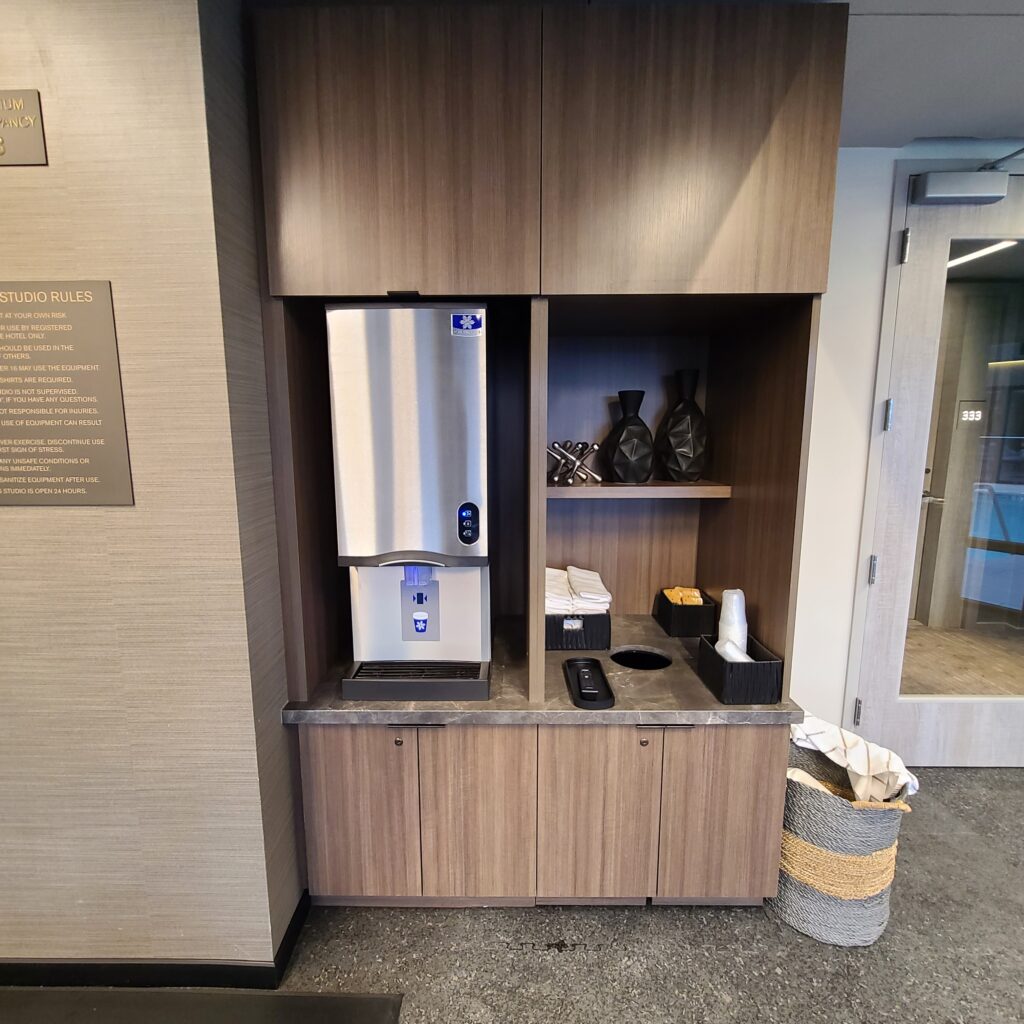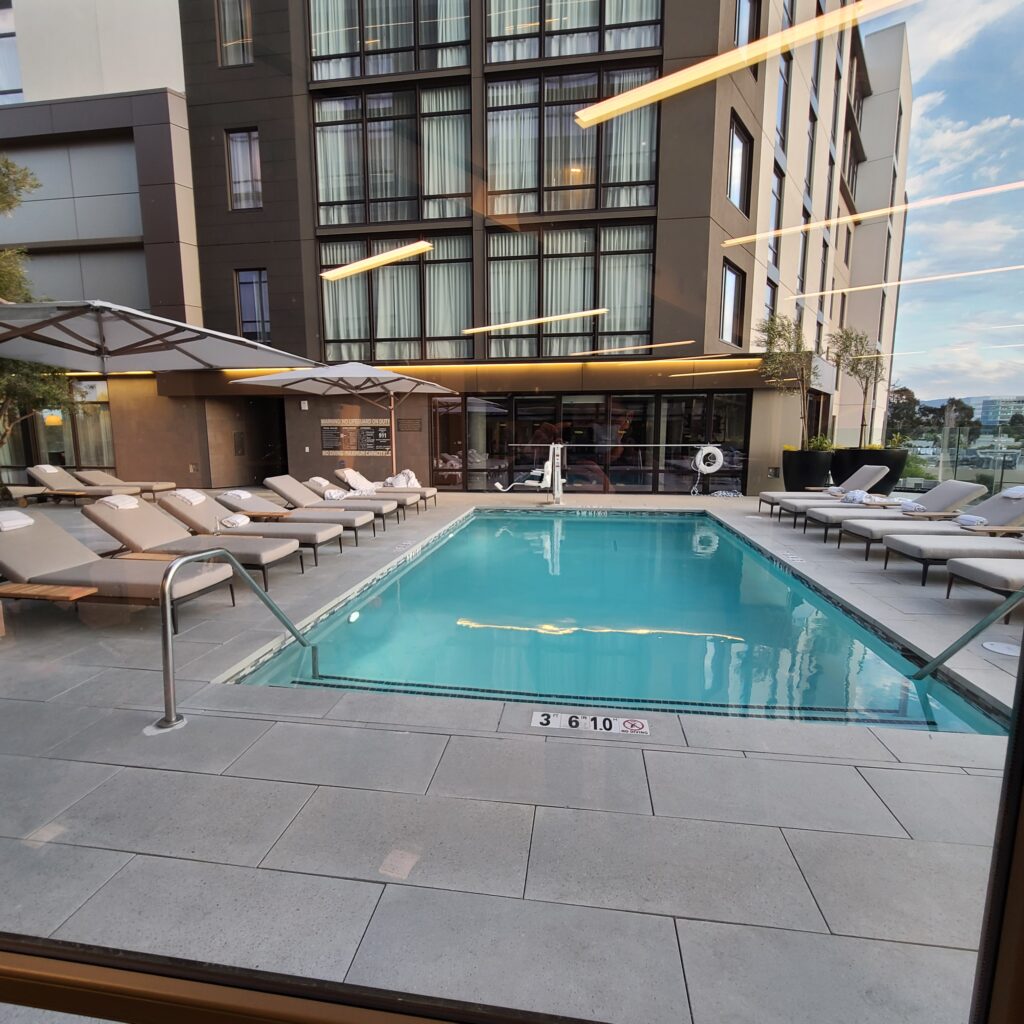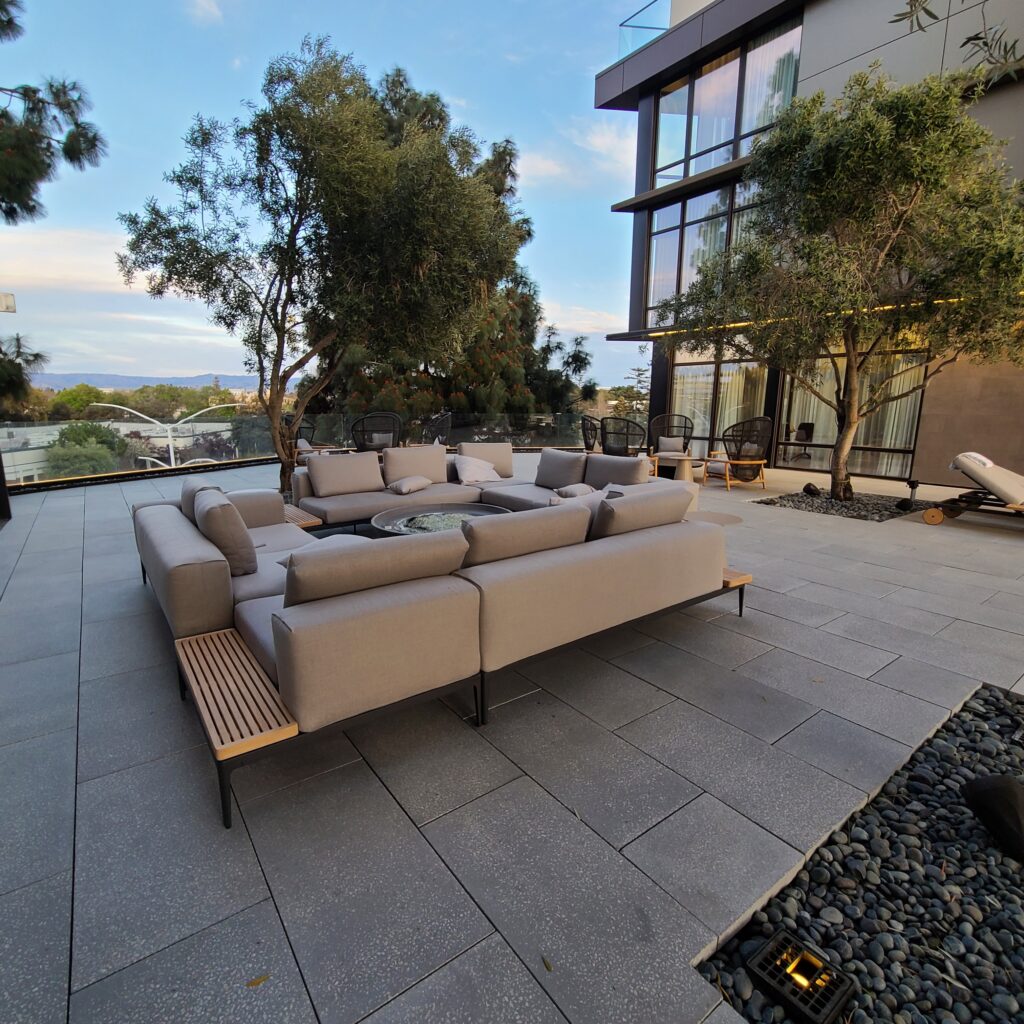 There's also a nice outdoor lounge with a fire pit by the pool!
On the ground floor between TETRA and AC Hotel, there are some games set up and lounging areas for friends and families to chill and hang out.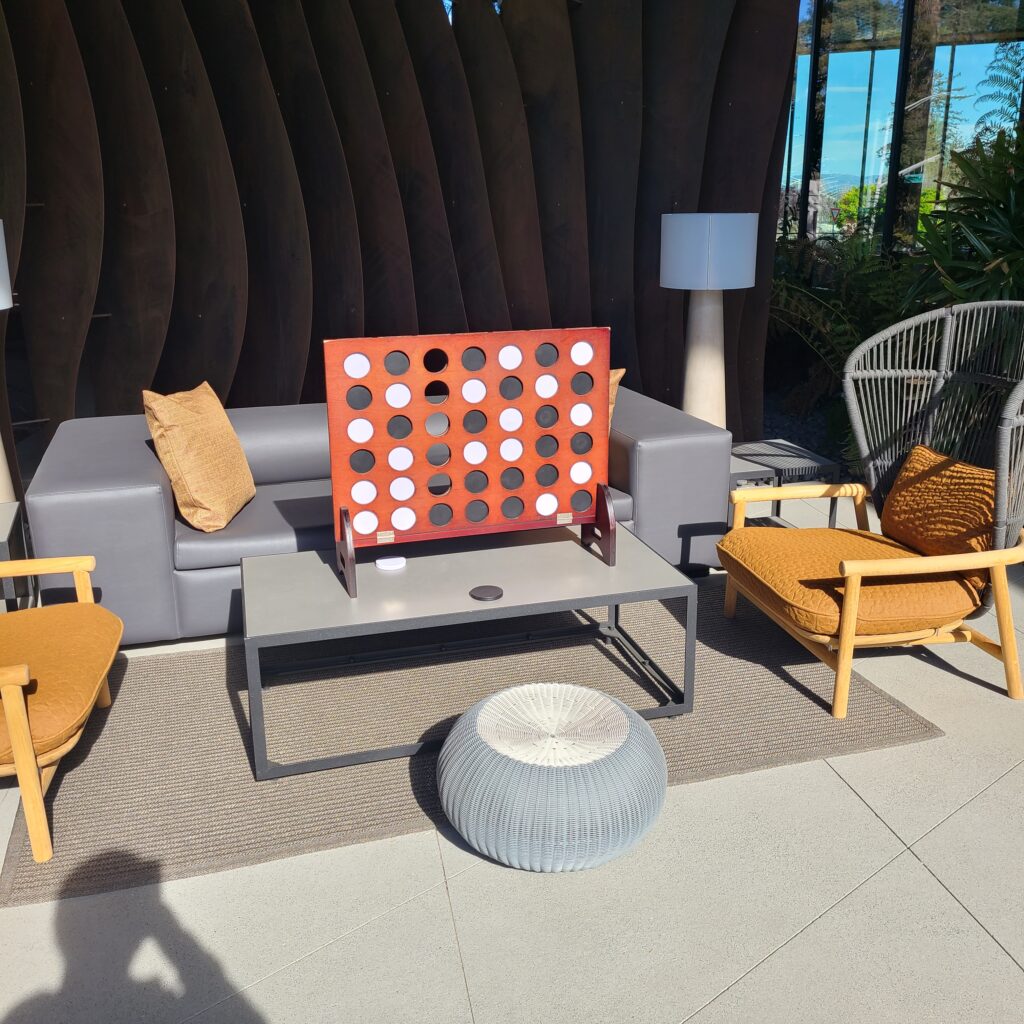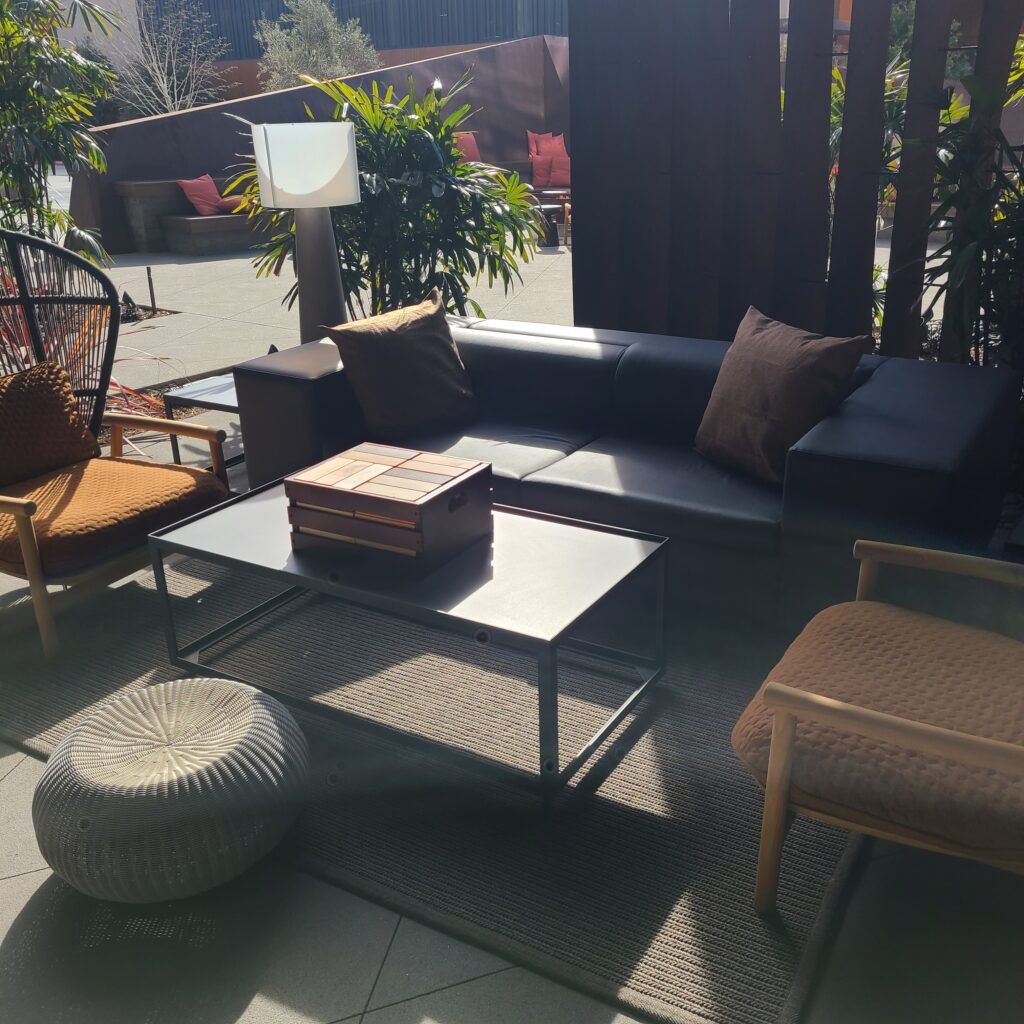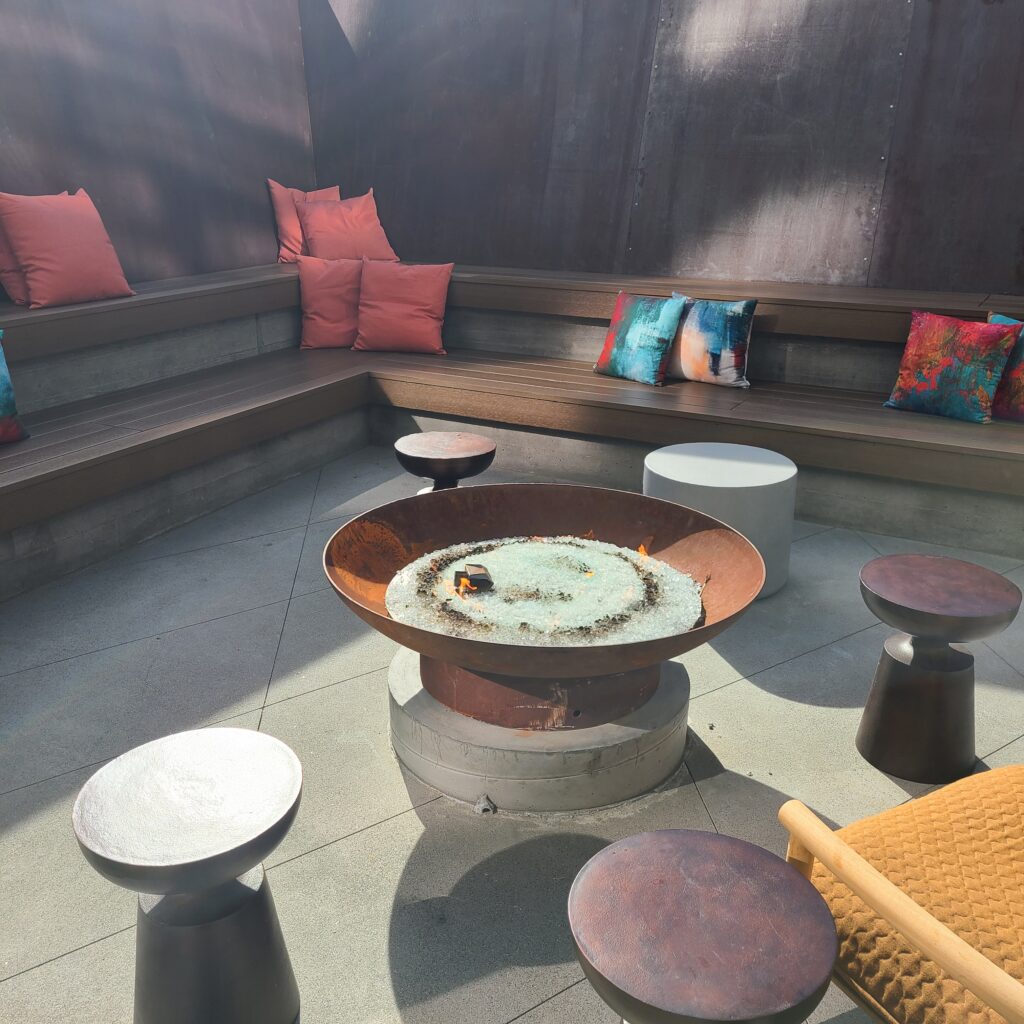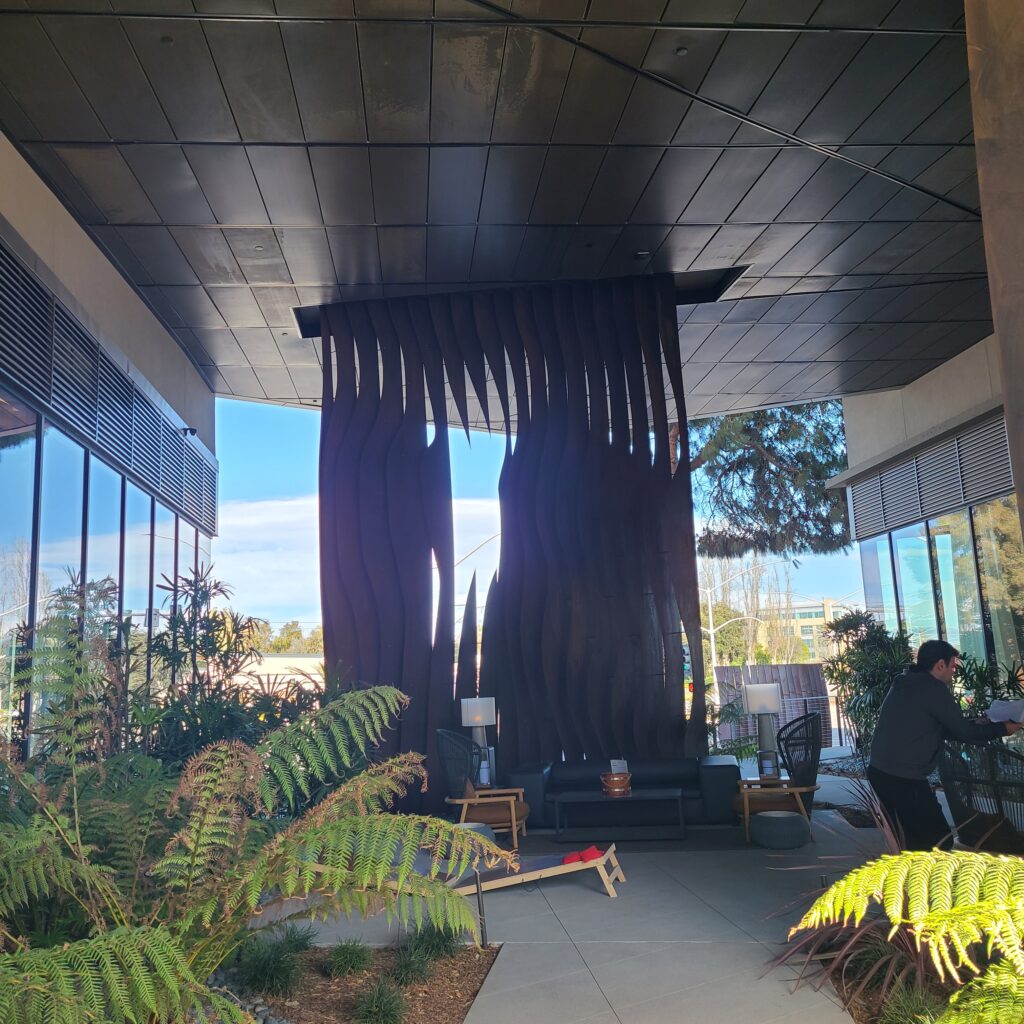 Conclusion
Overall, I've enjoyed my one-night stay at TETRA Hotel. I really liked the hotel's modern and minimalist design. The restaurant definitely has some great and unique food at reasonable price. However, as much as I'd like to recommend the hotel, there are a couple of questionable designs that make it hard to do so.
The location itself would definitely attract business travelers who'd like closer proximity to some of the well-known giant tech companies, but the rooms have issues with electrical outlets positioning that could make it difficult to work or just cause unnecessary inconveniences. If you really have to stay here because of its close proximity to the tech companies, just be aware of this issue.
Then, the elephant in the room, is the AC Hotel next door. From the pricing perspective, the AC Hotel is usually cheaper compared to TETRA Hotel. Even though I didn't stay at AC Hotel, they both look pretty similar to me. If AC Hotel does not share the same issue with the power outlet as TETRA, then I'd choose the AC Hotel instead.
Guests of either hotels can also access both hotels' restaurants and share the same pool. Why not just make either properties under one brand instead of separating them? It's definitely an odd way of branding that I'm not sure what the purpose is. I believe this hurts the value proposition of TETRA Hotel, which is unfortunate in an otherwise, a fine property.
Overall Rating