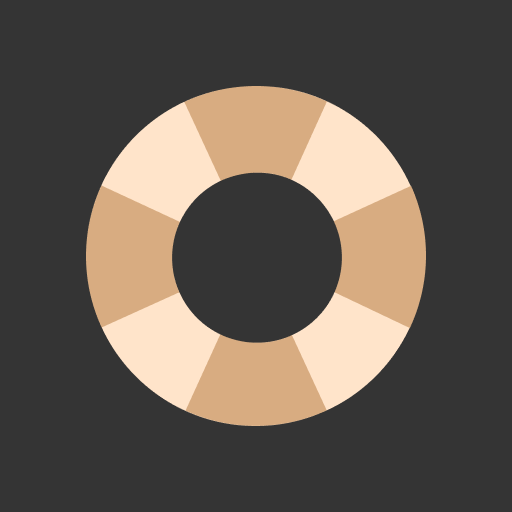 Advertiser disclosure: This post may include affiliate links (including sidebar banners) in which this site may receive compensation if a purchase is successfully made (at no extra cost to you) after being redirected from here. Thank you for your support!
PrizePool Savings App Review (2022)

Socking away money for emergency is one of the most important financial moves you can make to get through financial downturns that may come at one point of your time. But, saving it in a regular bank account bears very little interest that leaves your money vulnerable to inflation. One safe way to soften the blow of inflation is to store your money on a high-yield savings account (HYSA).
PrizePool takes an interesting approach to incentivize you to save money in a fun way and can even win you life changing money! It's a fun mobile savings app that's available in both Apple App Store and Google Play Store!
One thing to be aware of is that it's a mobile-only savings app, so there's no brick and mortar branches available and no desktop interface.
How PrizePool Works
PrizePool is a prize-linked savings account where some of the interests are distributed through prizes based on chance. Compared to a regular high yield savings account, you can say that prize-linked savings account has a more variable interest rather than a fixed one.
To participate in the sweepstakes or "Series", all you have to do is deposit your money into the PrizePool savings account. You earn 1 ticket per dollar you deposit each day with max accrual of 3 million tickets per Series! With the cap amount, it makes no sense to put more than $100,000 as a Series lasts one month, and there's 30 days in most months.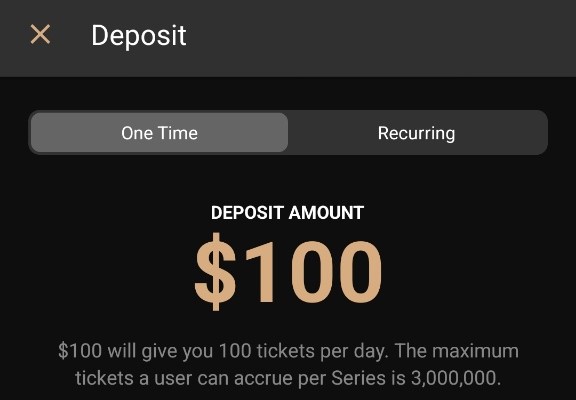 PrizePool runs a weekly sweepstakes that distribute the winnings every Friday at 12 PM PST. The sweepstakes have $50,000 worth of prizes separated into 4 parts. The first 3 series are the smaller pools that have the top prize of $500, and the 4th and biggest one, yields $10,000 as the Grand Prize. Basically, one person throughout PrizePool user base is guaranteed to win the $10,000 at the end of each series.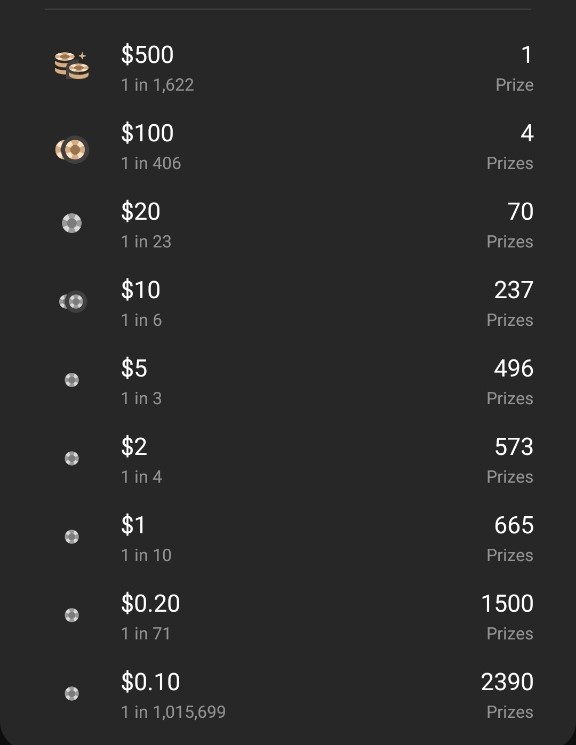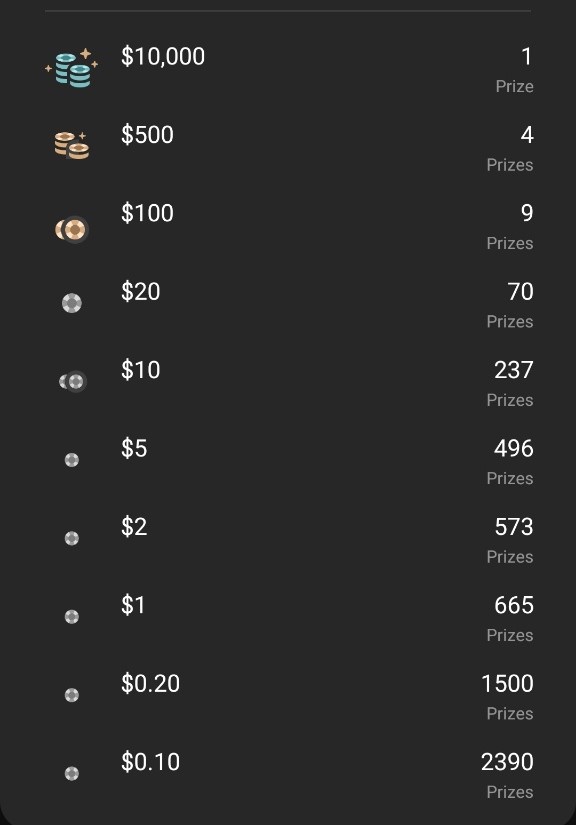 PrizePool currently has the base rate of 0.3% APY plus the weekly prize you'd get from the sweepstakes. Compared to the standard HYSA that guarantees a 0.5% APY, a mere 0.2% increase, it's not a bad compromise at all! Even if you don't win the big prizes, you won't blink an eye with the opportunity cost. It certainly brings the psychological benefit to motivate you to keep saving your money to improve the chances of you winning big money, and compared to buying lottery tickets, you at least won't lose money and risk yourself digging deeper into a gambling problem.
Chances of Winning
I use my own deposit of $14,000 as an example of this post to give you a ballpark idea on the chances of winning. Based on the prize charts, I have the best chance of winning either $2 or $5 every week! Assuming I win the average of $3.5 per week for a full year, I'd earn around $182 from the prize winnings alone. That's already a 1.3% APY before counting the guaranteed 0.3% APY from just saving money in the PrizePool account!
To get the grand prize of $10,000, assuming I have a 1 in 1700 chance based on my deposit, that translates to 0.059% of winning. Compared to lottery tickets, I have a far better chance of winning the grand prize here than winning a $100 with Powerball!
Is PrizePool Safe to Use?
Yes! PrizePool's partner bank, Evolve Bank & Trust, is a Member FDIC which ensures the safety of your savings. Member FDIC basically guarantees the backing of the US federal government of up to $250,000 in case PrizePool's partner bank Evolve Bank & Trust, goes under for any reason. Since it makes no sense to put more than $100,000 in PrizePool, your money is safe as long as the US government will exist.
One important thing to point out is that the Grand Prize used to be $25,000 and now it becomes $10,000. Over time the app may reduce the prizes or make it harder to win to make the sweepstakes more sustainable. While PrizePool is still a bit under the radar since its debut in 2020, expect for more people to jump in and lesser your chances of winning in the future. The best time to sign up is now!
Boost Your Prizes
PrizePool has a referral system that benefits both the referrer and the referee! By signing up with a referral code, both parties will get a 10% bonus on the prizes they win in each drawing. If you happen to win $10,000, then you'll win an extra $1,000! It's an amazing way to boost your APY! There's no limit in how many people you can refer to. So once you sign up with a referral code, do make sure to invite your friends and families with your own referral code! The more you refer, the more you earn.
If you're interested in the PrizePool app, do make sure to apply with Seal the Deal Travel's referral code of YGLXK to support the site and earn you better prizes!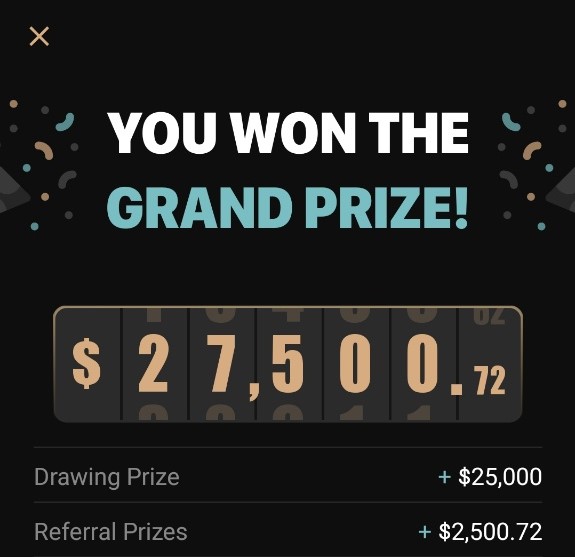 How does PrizePool relate to credit cards?
The reason why credit cards synergize with PrizePool really well is the fact that you accrue tickets each day based on the amount of money you deposit to the account. To improve your chances of winning, you wouldn't want to withdraw money from PrizePool too much. Using credit cards is a great way to buy things without having to withdraw money from a checking or savings account.
It's even better with a charge card like the American Express Gold Card where you won't have to worry about high utilization rate that negatively affect your credit score. As you'll just be pulling money to pay off your credit card bills in full once or twice a month, you'll accrue more tickets compared to withdrawing funds whenever you need to purchase something.
Although in the end, PrizePool is a game of chance and is meant to be a fun way to save more money. However, the credit card strategy is one easy strategy that you can implement to improve your chances of winning life-changing money other than budgeting and/or increasing your income to save more money. I can't really say for sure how much the strategy helps, but who knows, maybe I wouldn't have won if I hadn't use credit cards at all!
Conclusion
PrizePool is a severely underrated savings account in the current low-interest rate environment. It's an excellent concept and the gamification process helps incentivizes people to save more money to ensure financial stability in their lives. It's also safe to use thanks to its partner bank being a Member FDIC. Although, I would caution that it may be harder to win in the future as more people become aware of this app, so be sure to strike while it's hot!
I'm certainly glad that I was one of the lucky ones who were blessed to get life-changing money from the Grand Prize, and even greatly help me start this website!
If you do try out for the app, do make sure to use the referral code YGLXK to get a 10% boost to your prize winnings! Hopefully, one of you reading will win a Grand Prize just like I had!