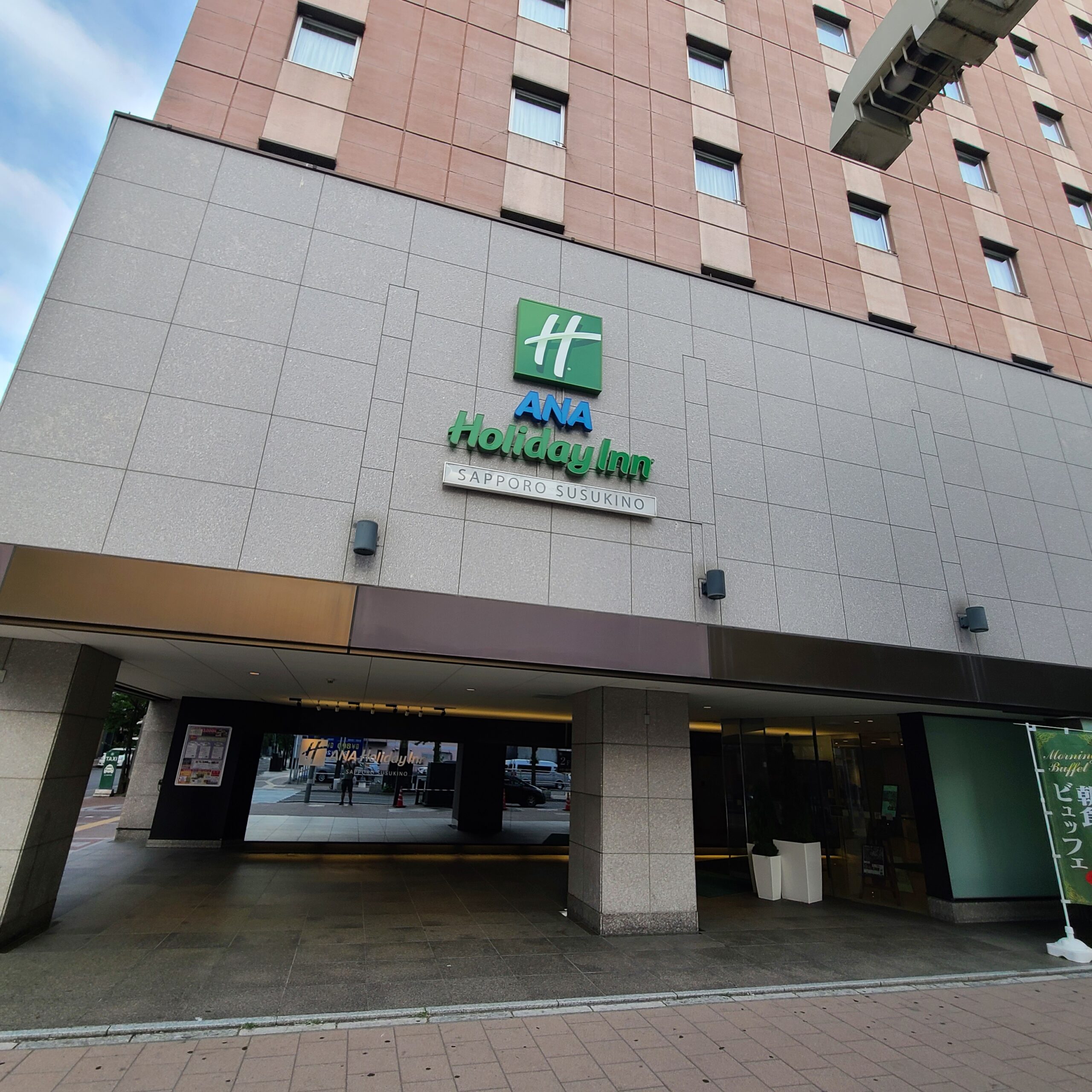 Advertiser disclosure: This post may include affiliate links (including sidebar banners) in which this site may receive compensation if a purchase is successfully made (at no extra cost to you) after being redirected from here. Thank you for your support!
Review: ANA Holiday Inn Sapporo Susukino (2023) [Japan]

My trip in Japan for 2023 starts in Hokkaido, and the first stop was its capital, Sapporo. Points redemption for hotels in Hokkaido isn't as plentiful as the main regions like Kanto or Kansai, but the ANA Holiday Inn in Susukino provided decent value with IHG points, which made me choose this hotel.
ANA Holiday Inn Sapporo Susukino- Booking
I've booked this hotel for 2 separate stays, the first being 4 nights on points and the second being 1 night on cash. I skipped town to Monbetsu in northern Hokkaido to see some seals before returning back to Sapporo again.
Thanks to the Chase IHG Premier Business, I was allowed to get the 4th night free if I book an IHG hotel for 3 consecutive nights on points. In total, I paid 35,000 points and $124 in cash for the latter single night. A great redemption value for IHG points!
ANA Holiday Inn Sapporo Susukino- Location
As the hotel's name suggests, the property is located in the Susukino district, the main entertainment and nightlife district of Sapporo. A major landmark of the district is the big Nikka Whisky sign that light up pretty nicely at night.
Access to public transportation is superb as well with the Susukino Station just a few minutes walk away that will get you around Sapporo very easily. Location is one of the strongest features of this hotel.
Getting to this hotel from Chitose Airport (CTS) can be done with the airport shuttle that will stop at Susukino. Shuttles are great if you're carrying luggage also. From there, the hotel is just few minutes walk away.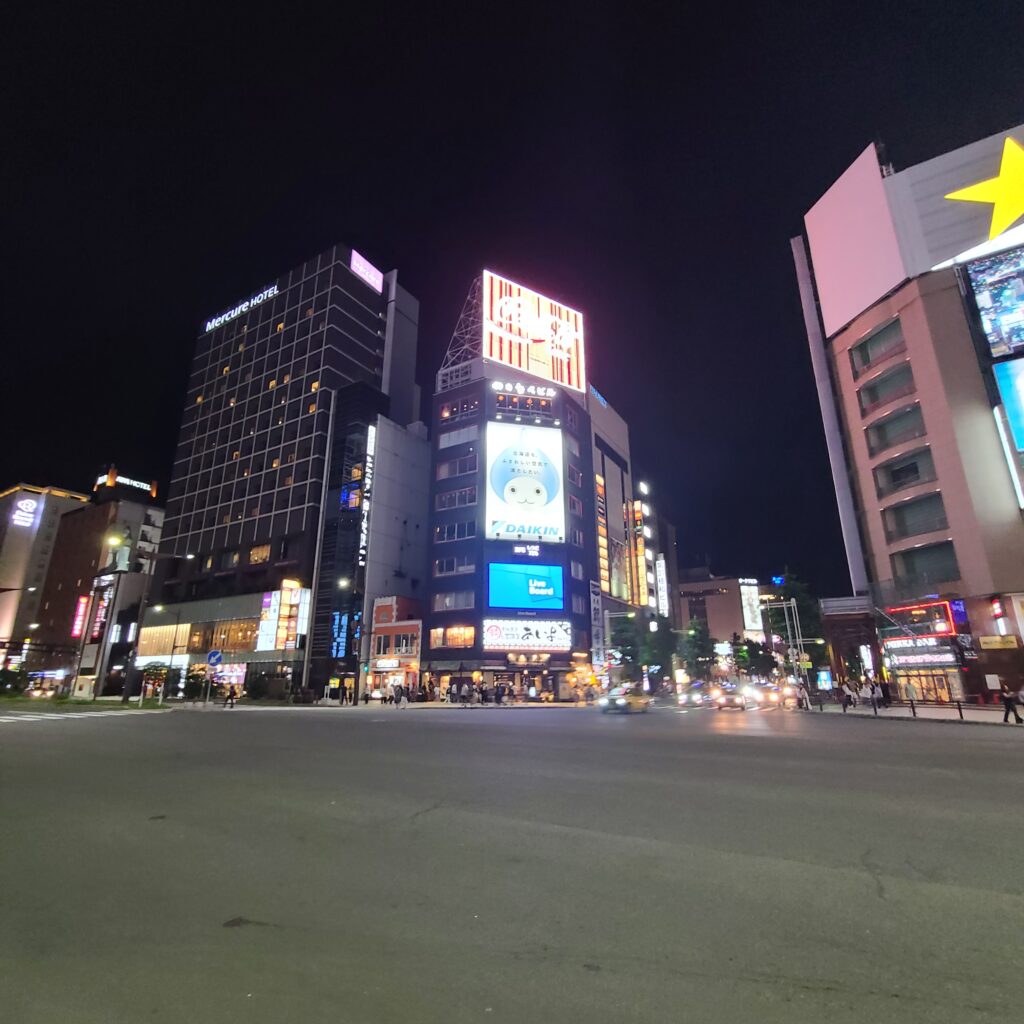 ANA Holiday Inn Sapporo Susukino- Check-in
I arrived at night on both of the separate stays. Check-in was smooth, and I chose free breakfast as my welcome gift option as an IHG Diamond member. On top of that, I received a water bottle and bath salt packs of my choosing. Although, I didn't use the bathtub to take a bath at all. The water bottle would also be replenished daily during housekeeping.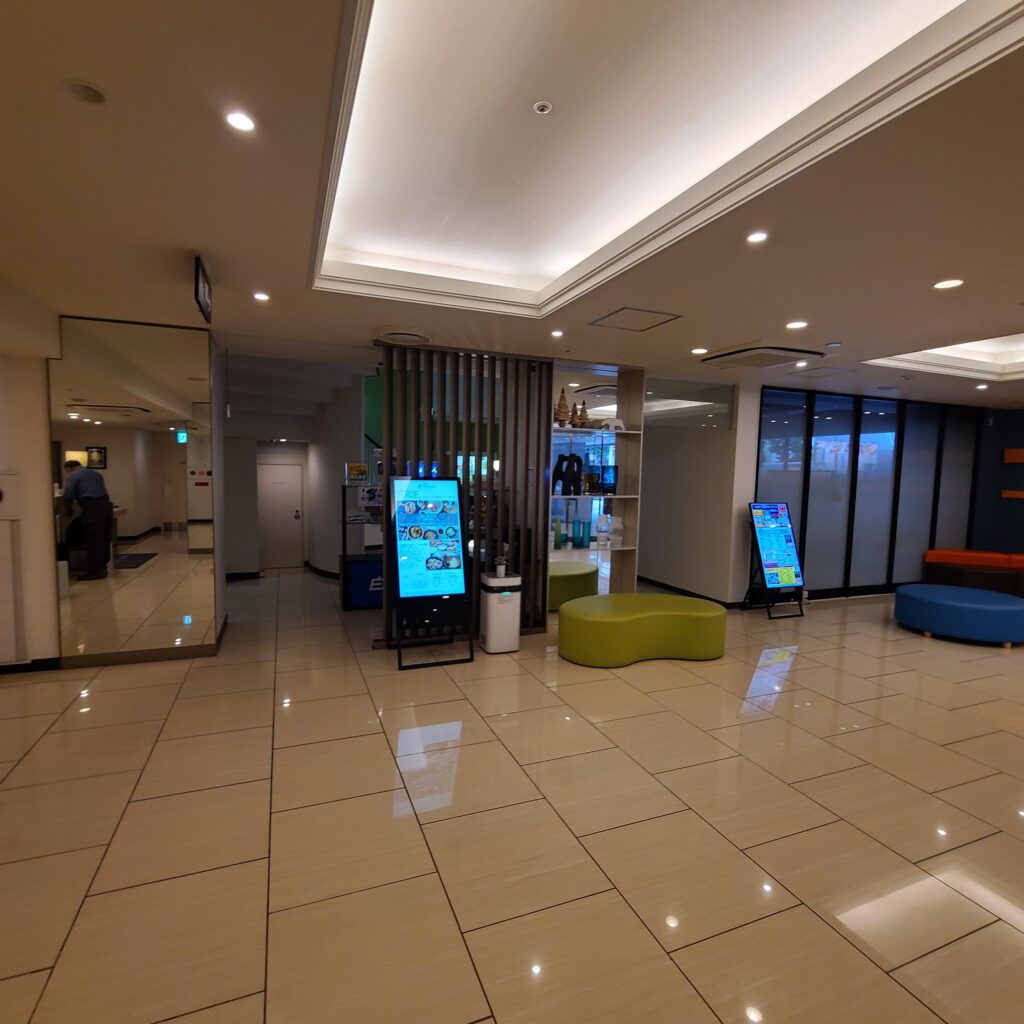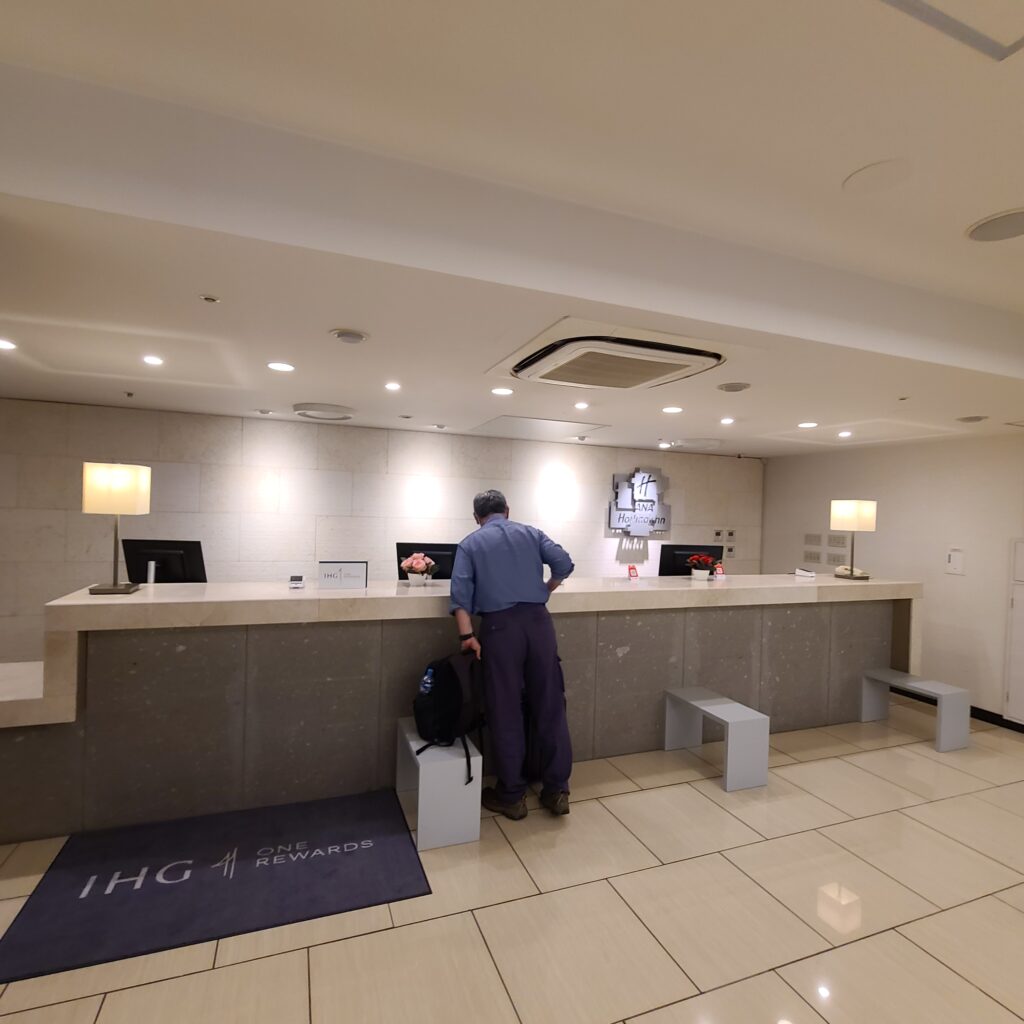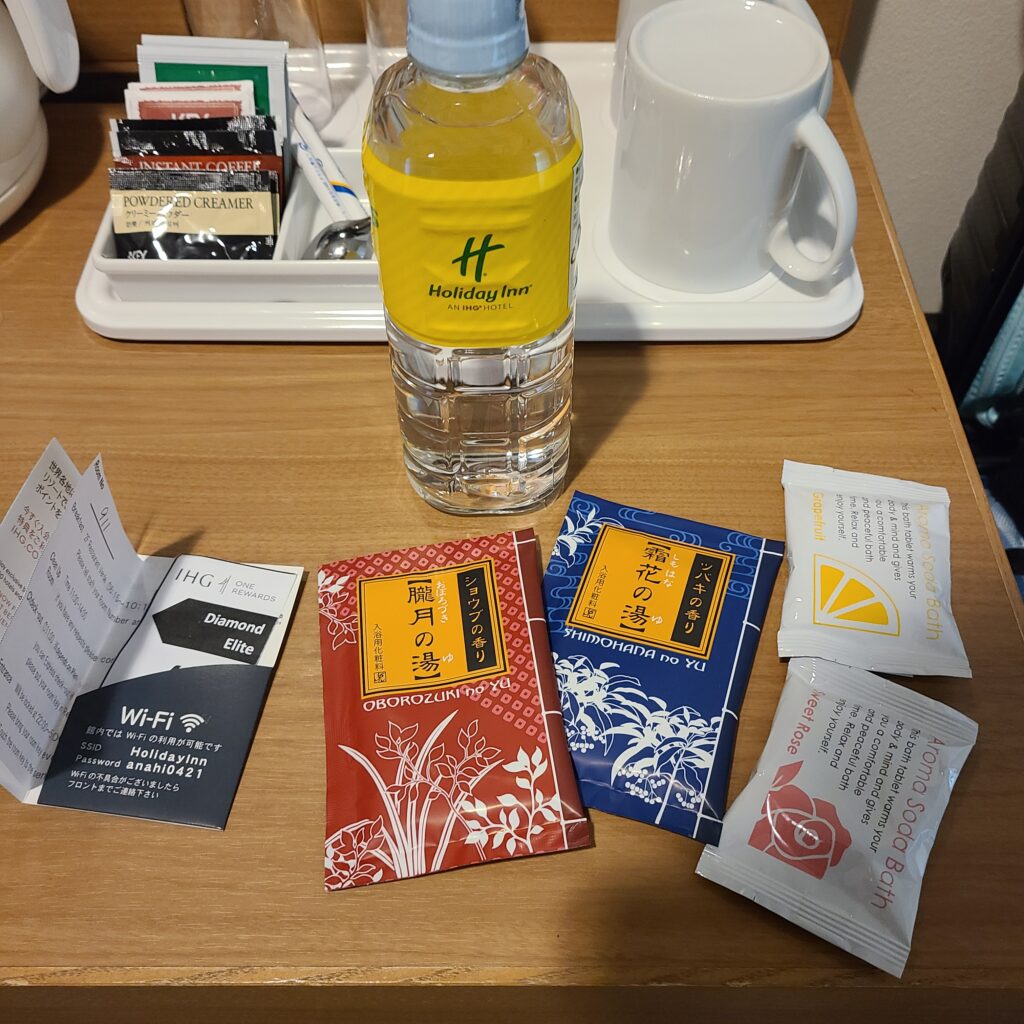 ANA Holiday Inn Sapporo Susukino- 2 Single Beds Room
For the first portion of my stay, I was assigned to a room with 2 single beds despite staying solo at the 9th floor, the hotel's top floor. The only upgrade I got was the inclusion of a humidifier. What an upgrade!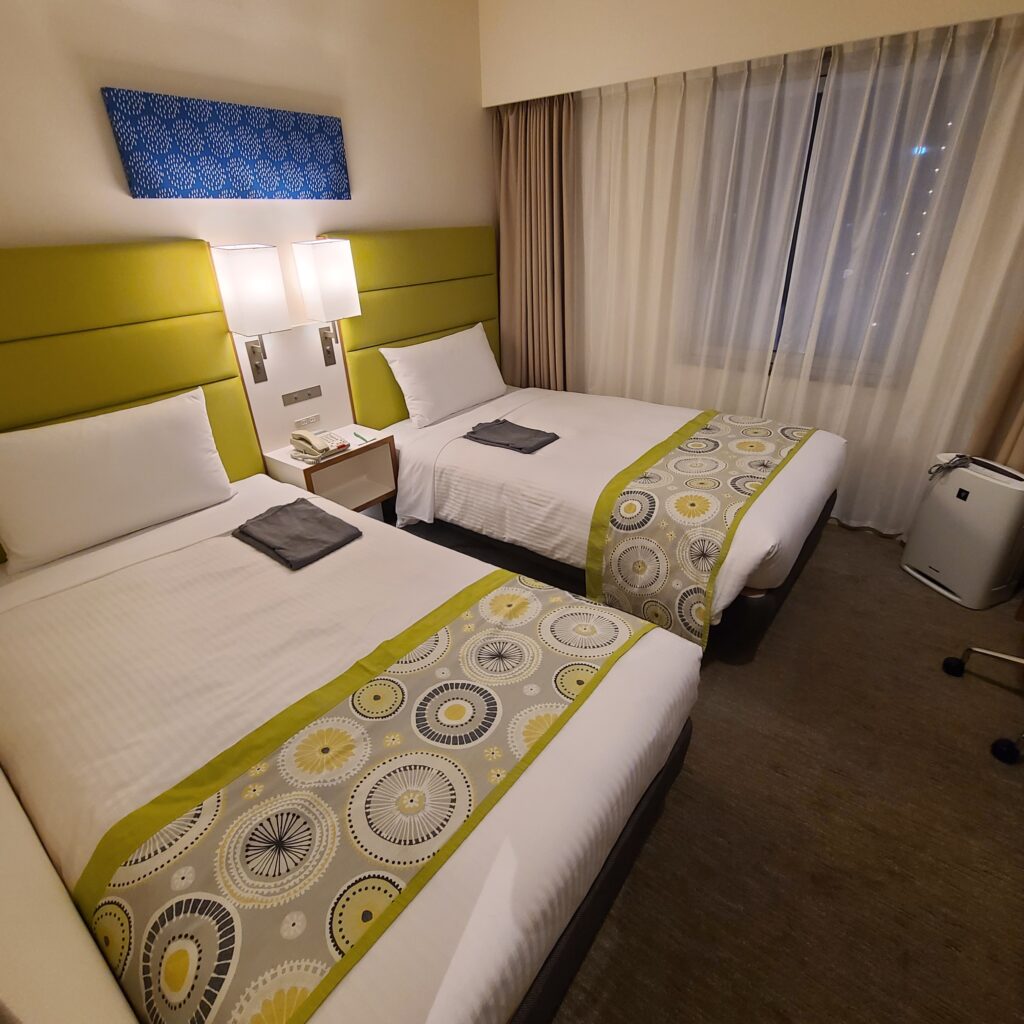 The beds are around Twin size and pajamas were laid and prepared on each beds. With the room's size only 18 sqm, there was not a lot of room for maneuver. It's quite typical for a Japanese hotel.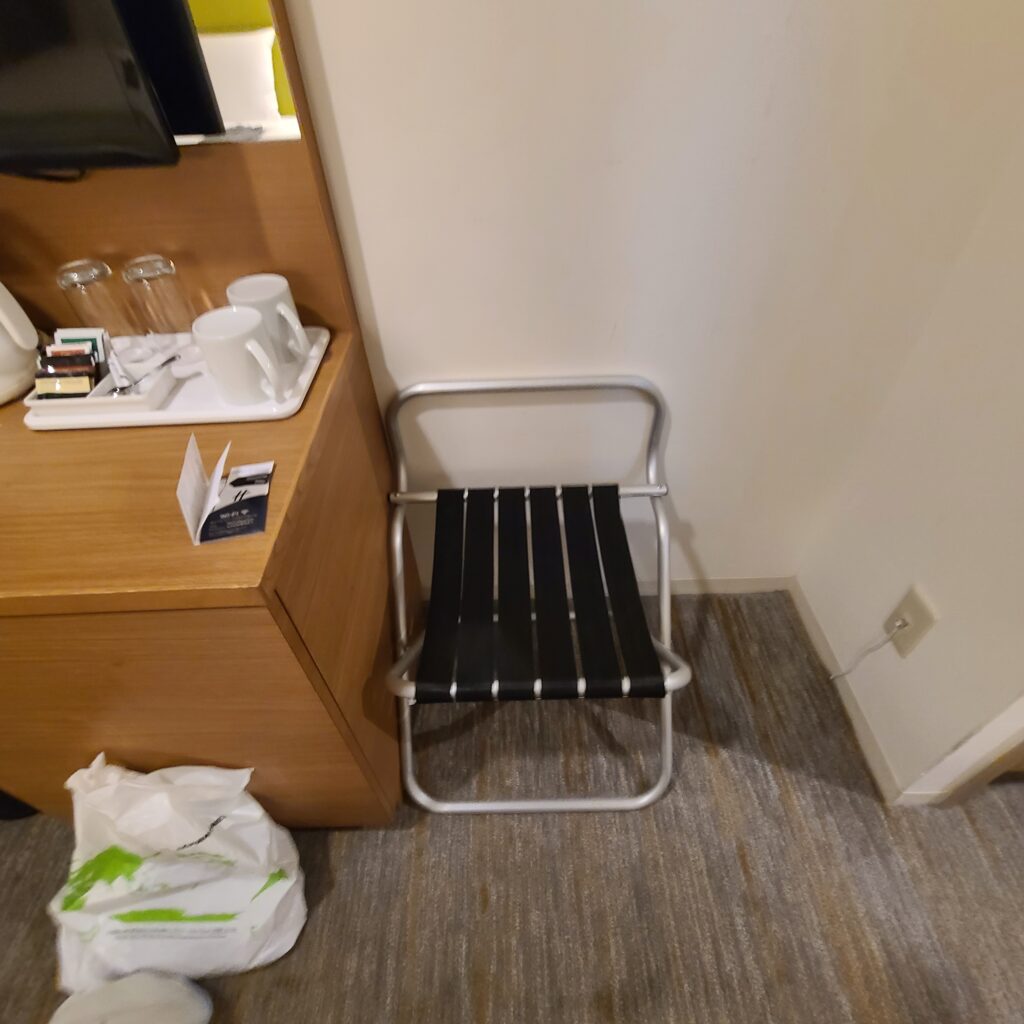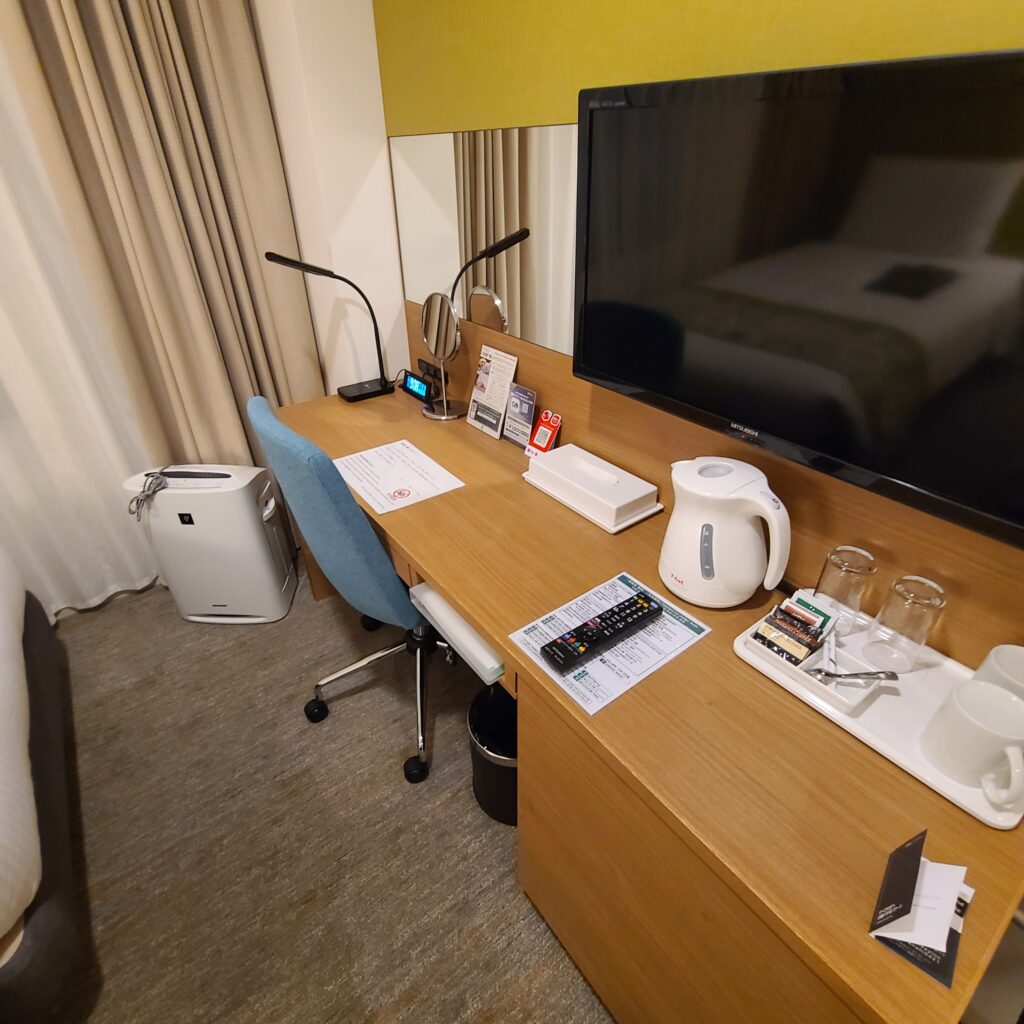 Closet includes a safe, pants presser, and a pair of slippers.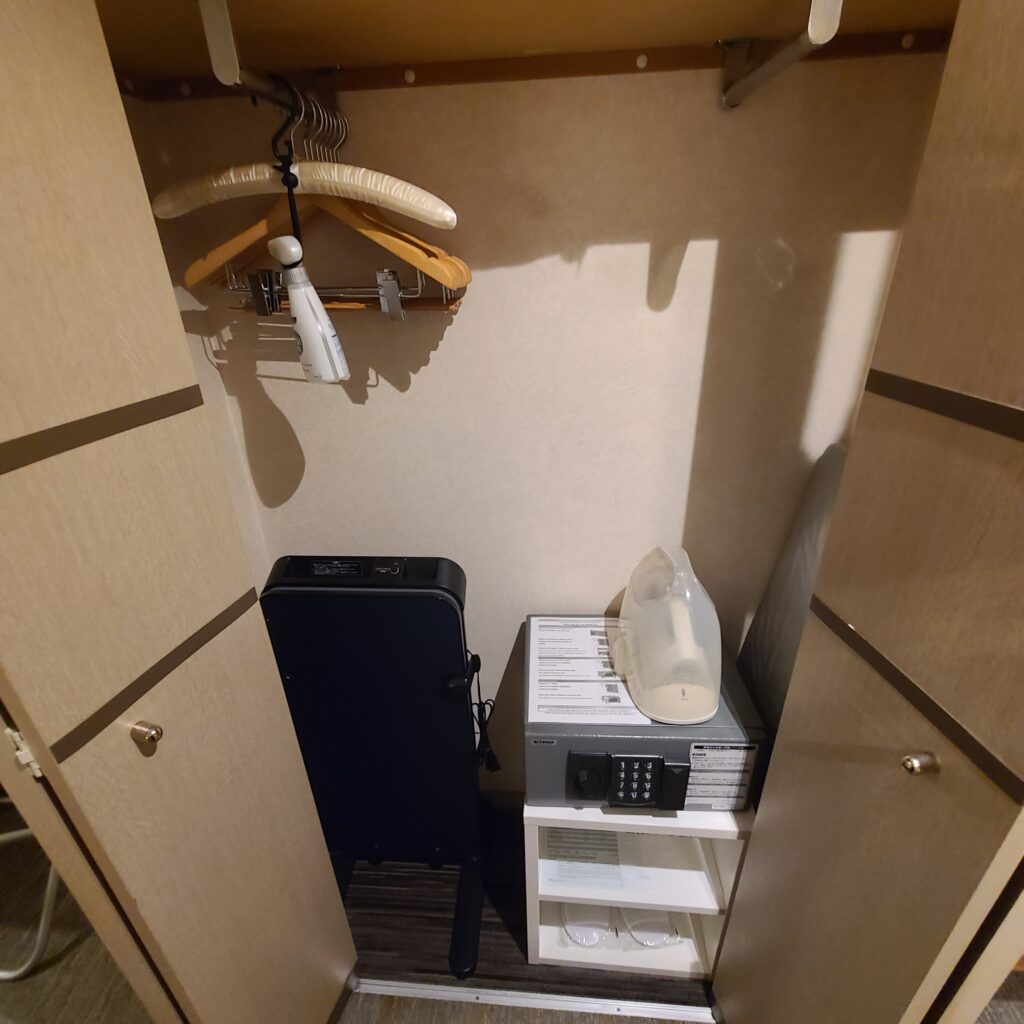 Mini fridge is provided. A great place to store some drinks bought from the convenience stores nearby.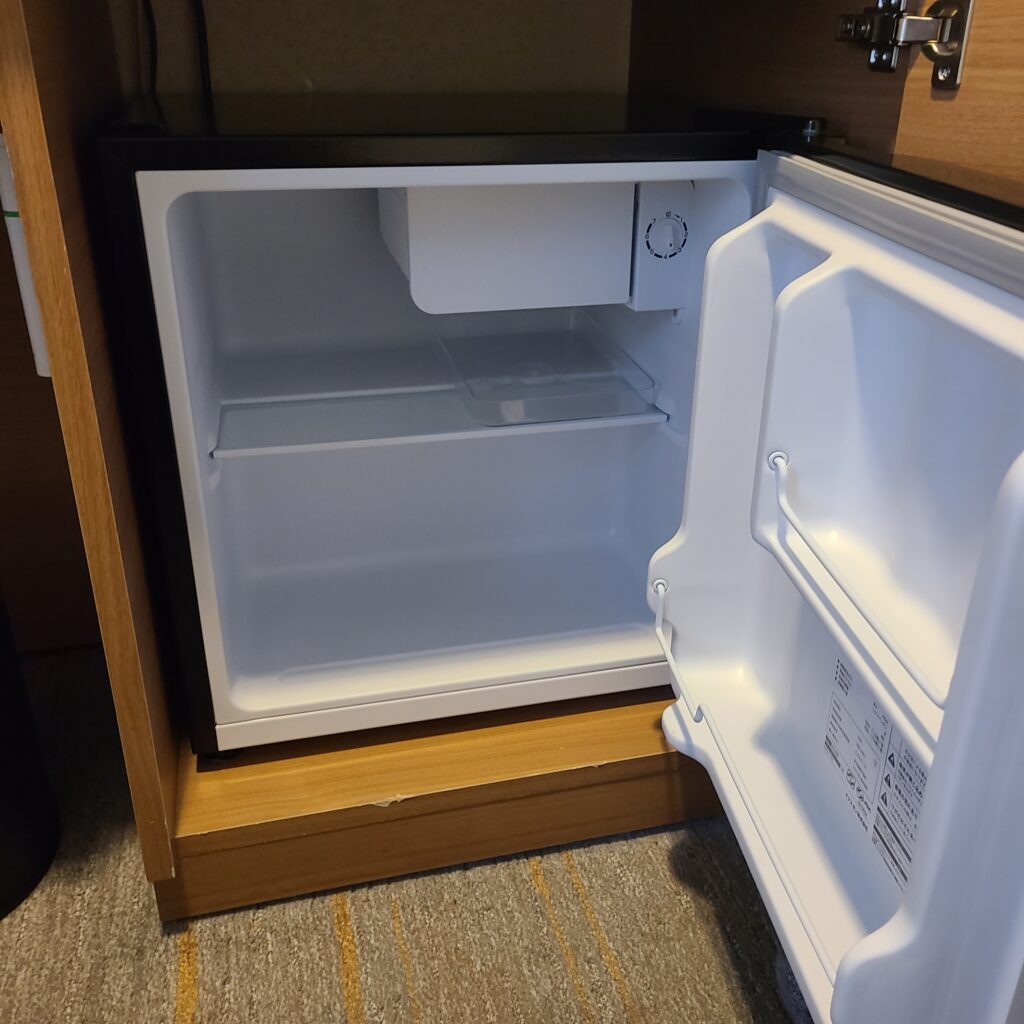 Moving on to the bathroom, it utilize space quite efficiently with the basics all in one place. Toilet comes with bidet functions. Toothbrushes are provided as well.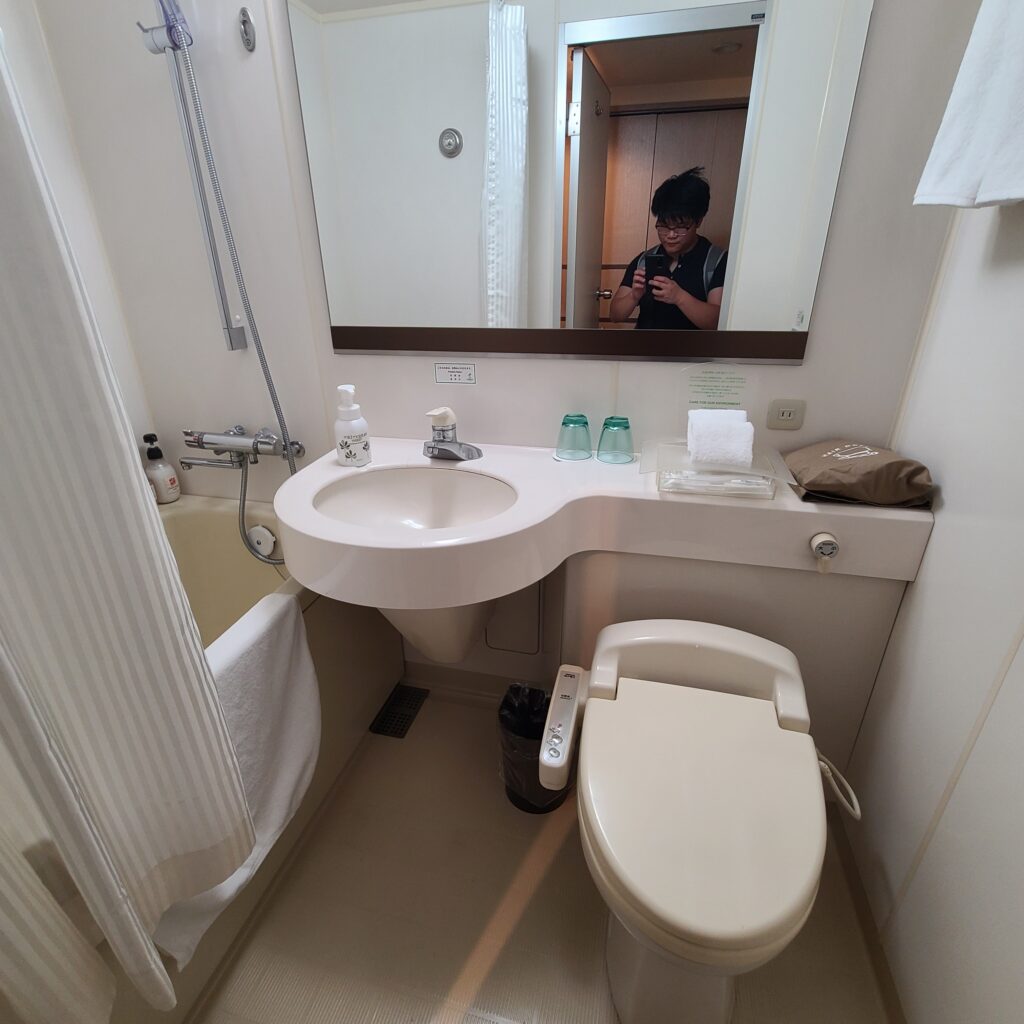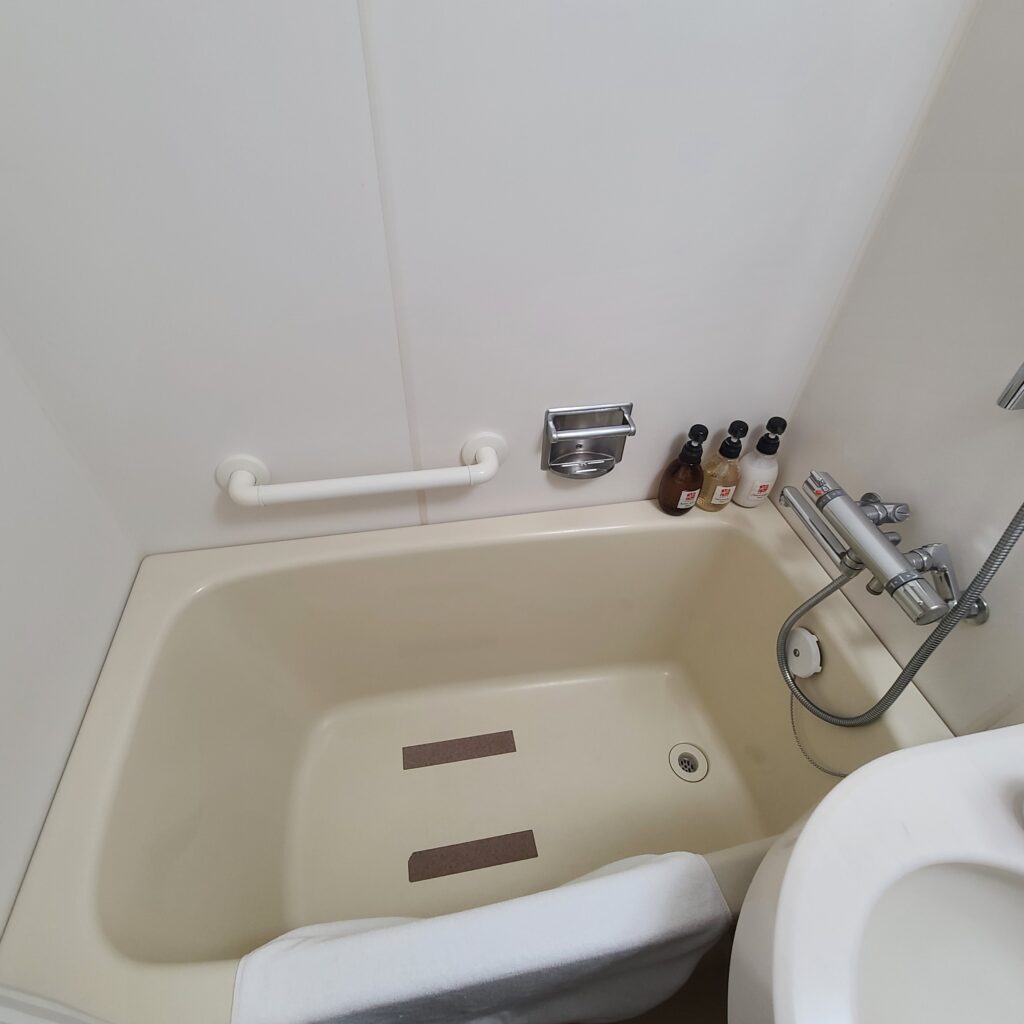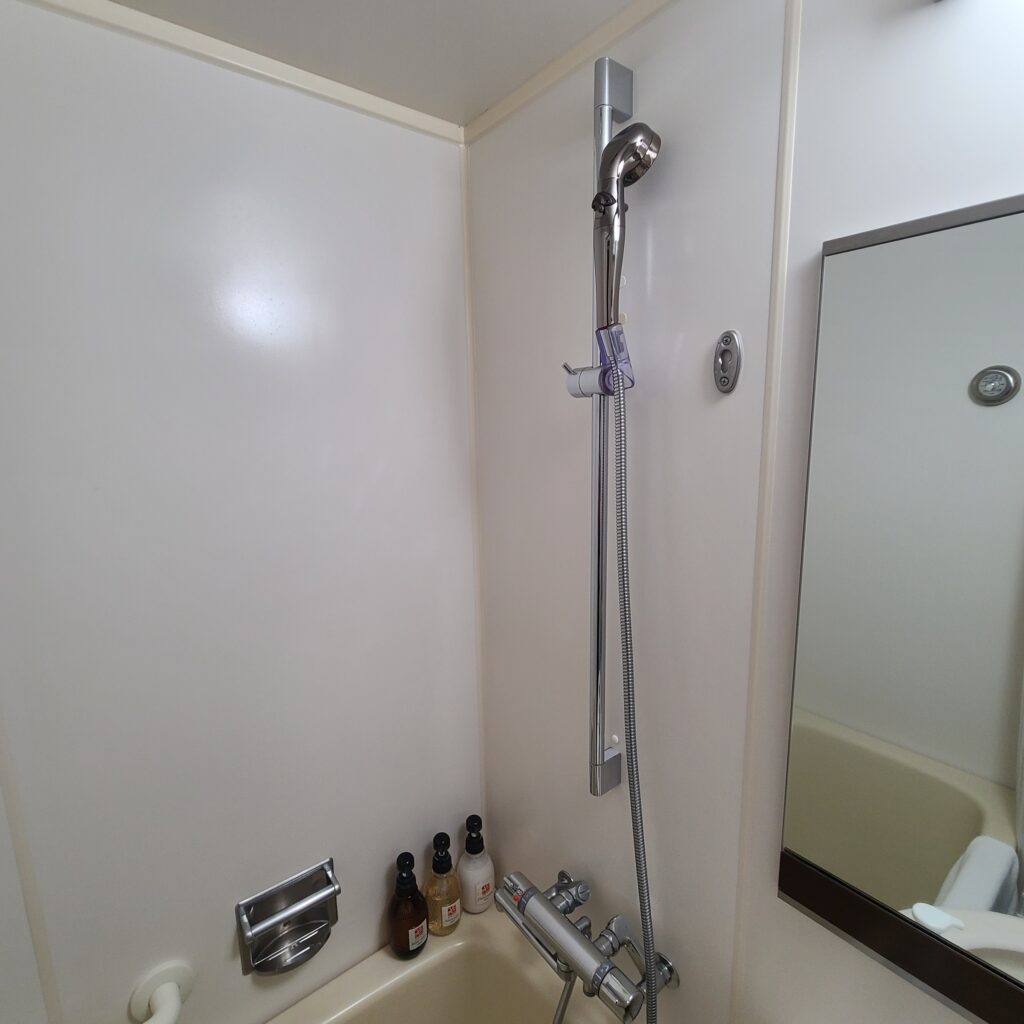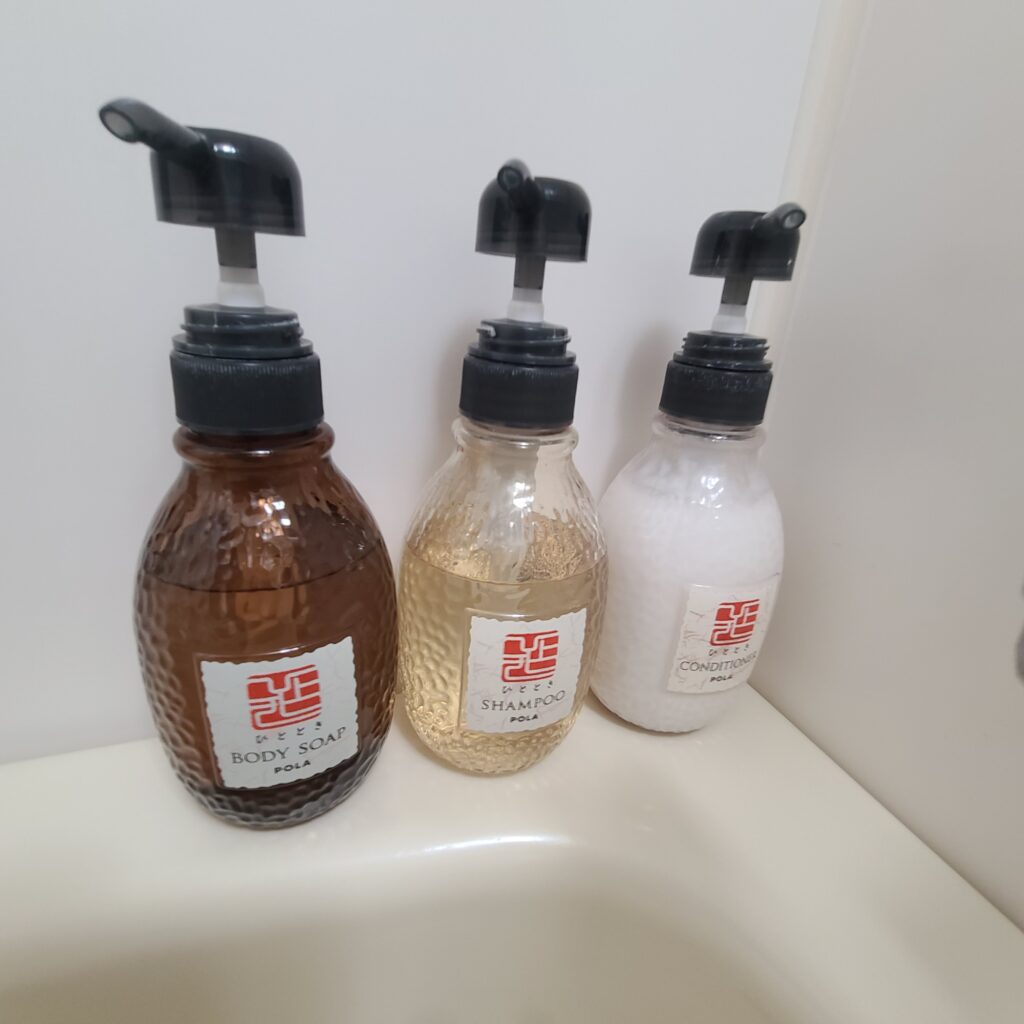 ANA Holiday Inn Sapporo Susukino-1 Double Bed Room
On the second stay, I was assigned to a double bed room at the 9th floor again, which is preferable for myself only. The room felt newer compared to the twin room I got. Some of the noticeable improvements are master light controls by the bed, including a foot light and 3-prong power outlets on the room's main desk.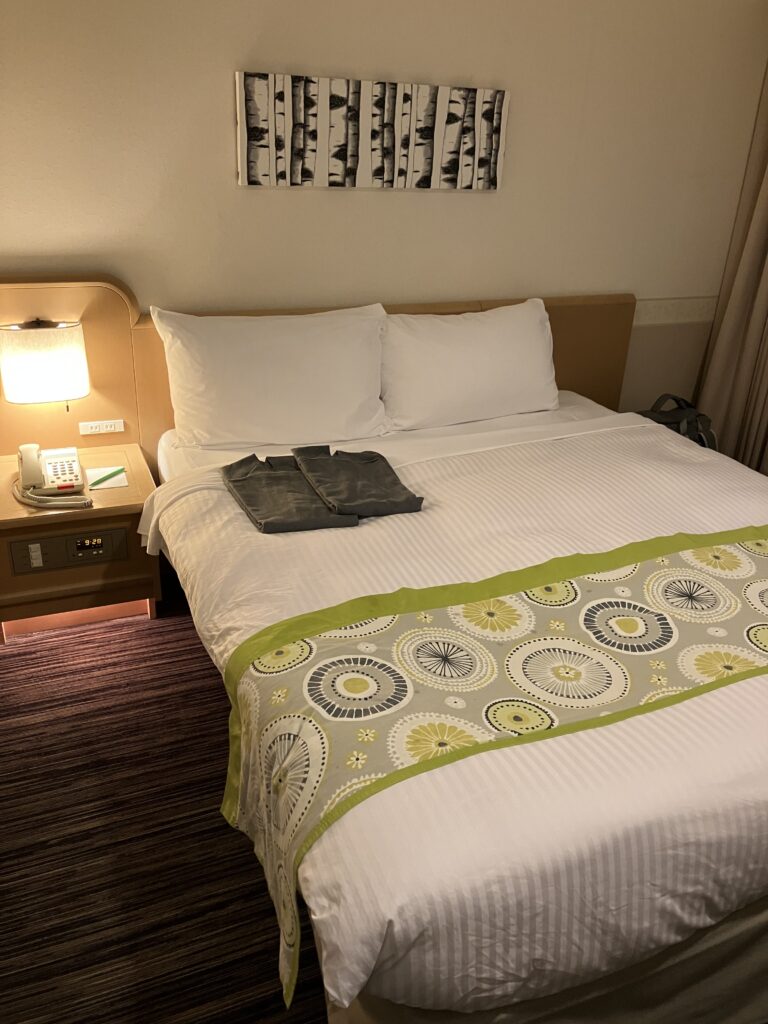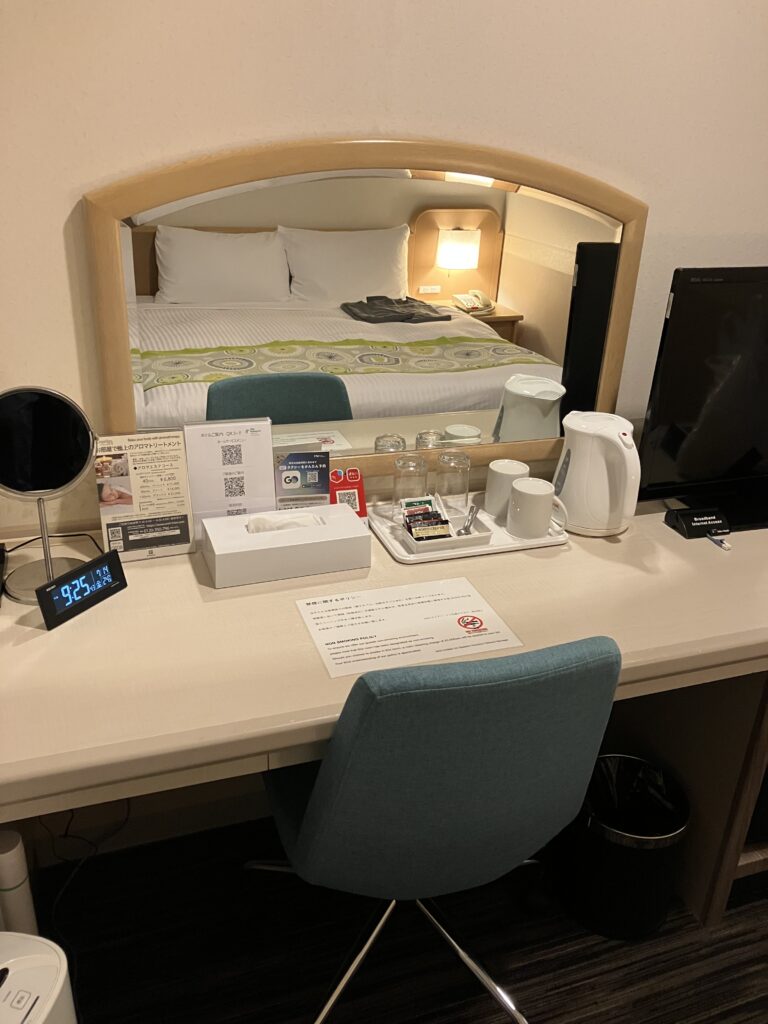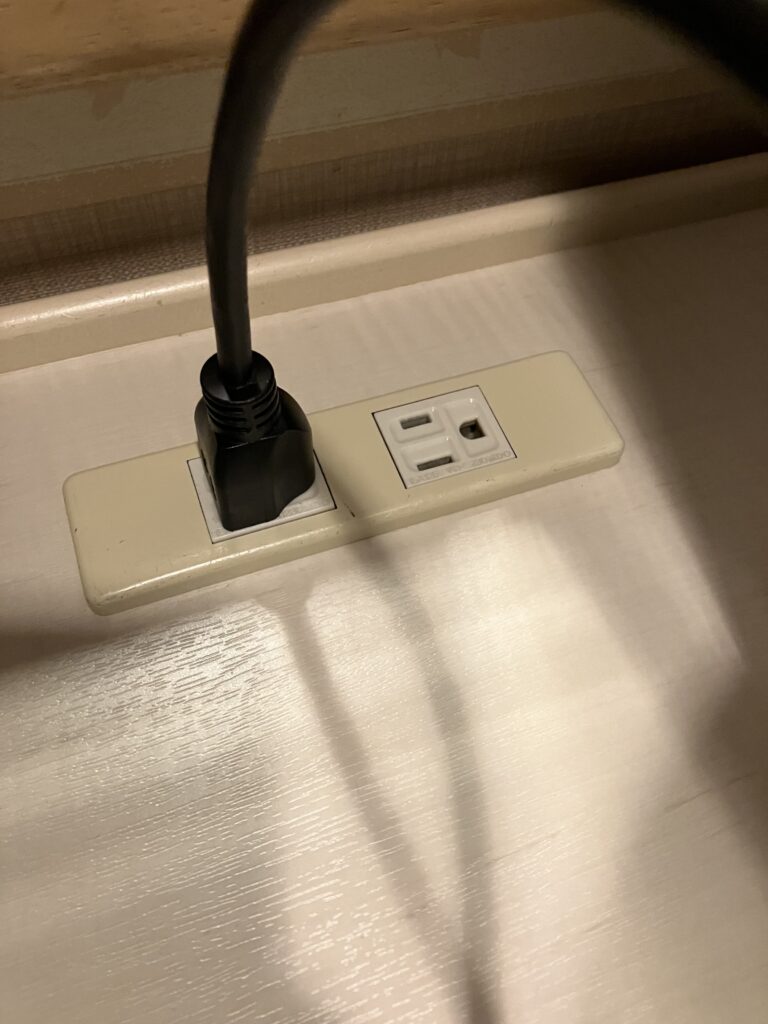 The view of Susukino is pretty lively, especially at night.
Bathroom is pretty much identical to the previous room I got. The Double room was a nice improvement, but hopefully the rest of the rooms would be more consistent in the future.
ANA Holiday Inn Sapporo Susukino- Breakfast
Breakfast is located at Verde on the 2nd floor. As someone who've only stayed at a Holiday Inn in the US, I must say that the breakfast spread is pretty impressive for a Holiday Inn, and is one of the strongest offerings of this hotel.
Most of the breakfast spread is Japanese, although there are few options for Western food.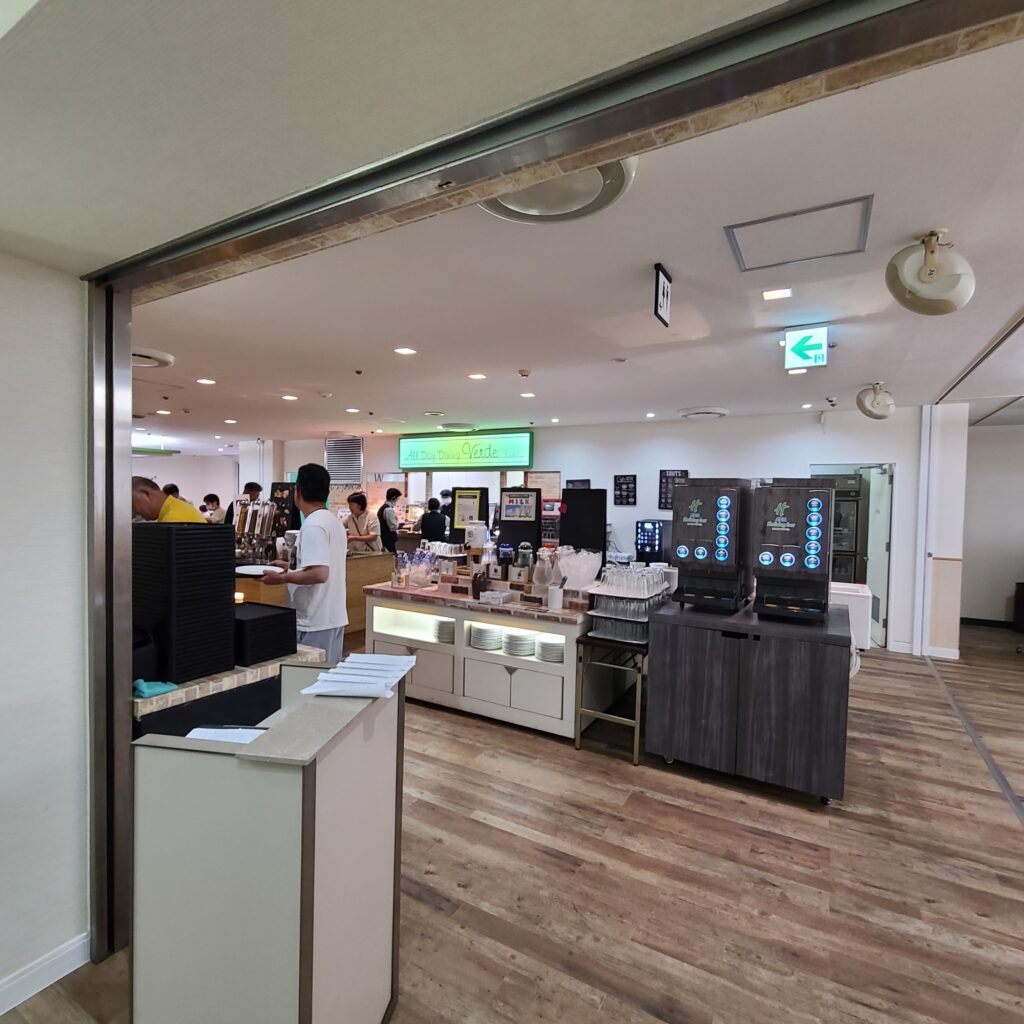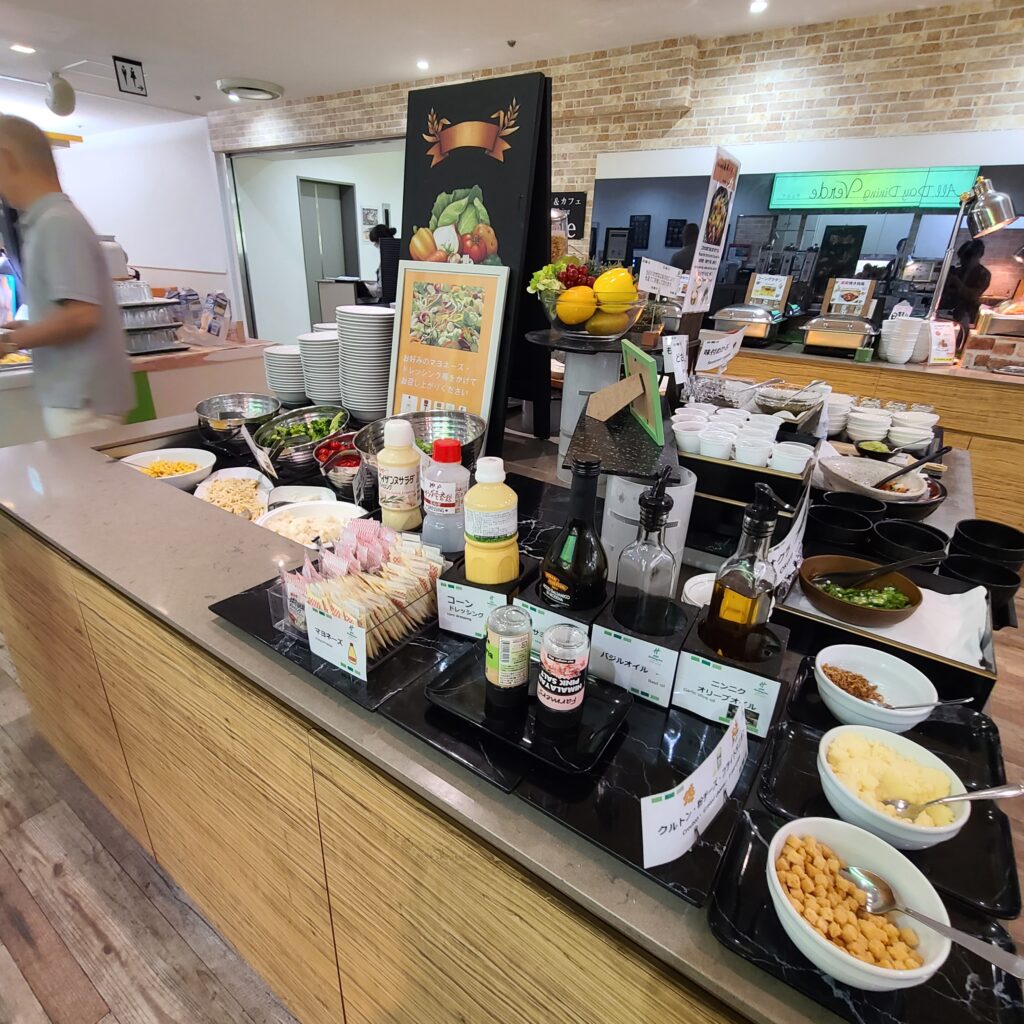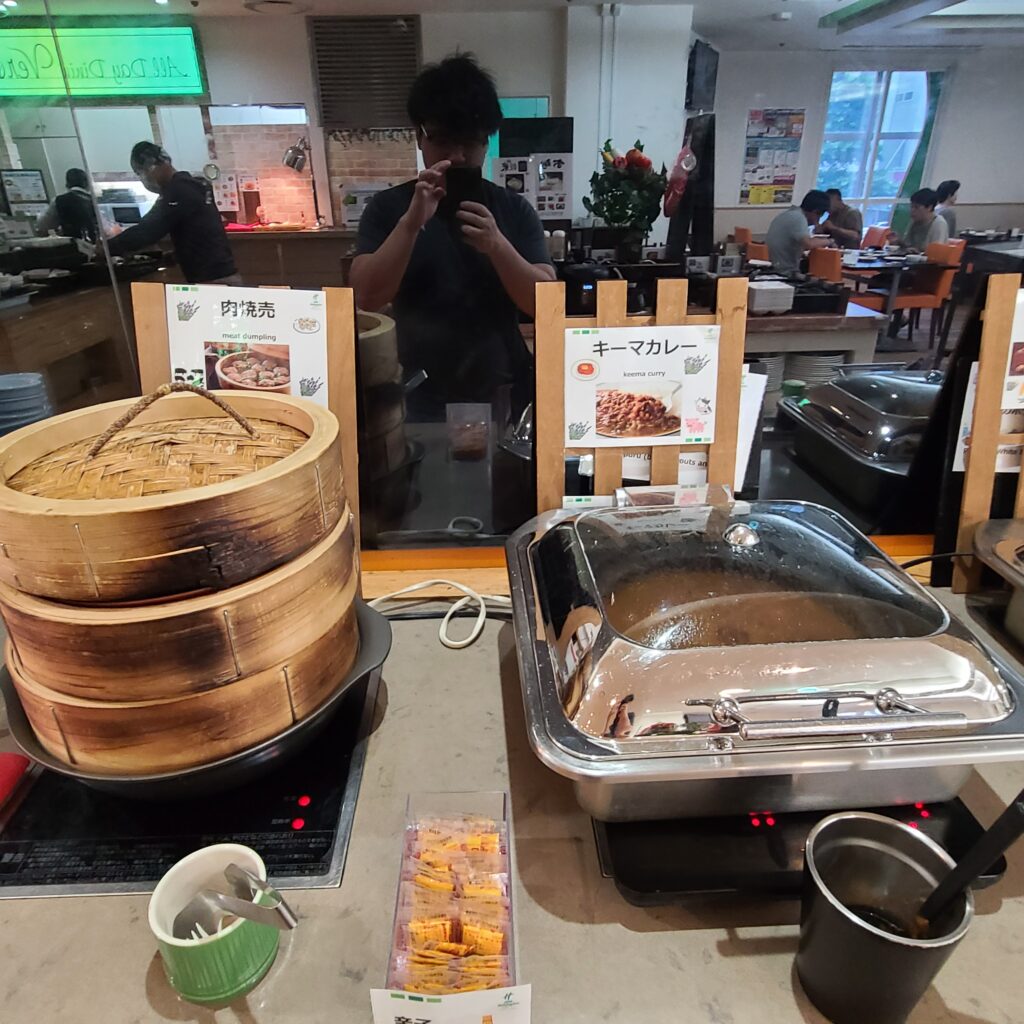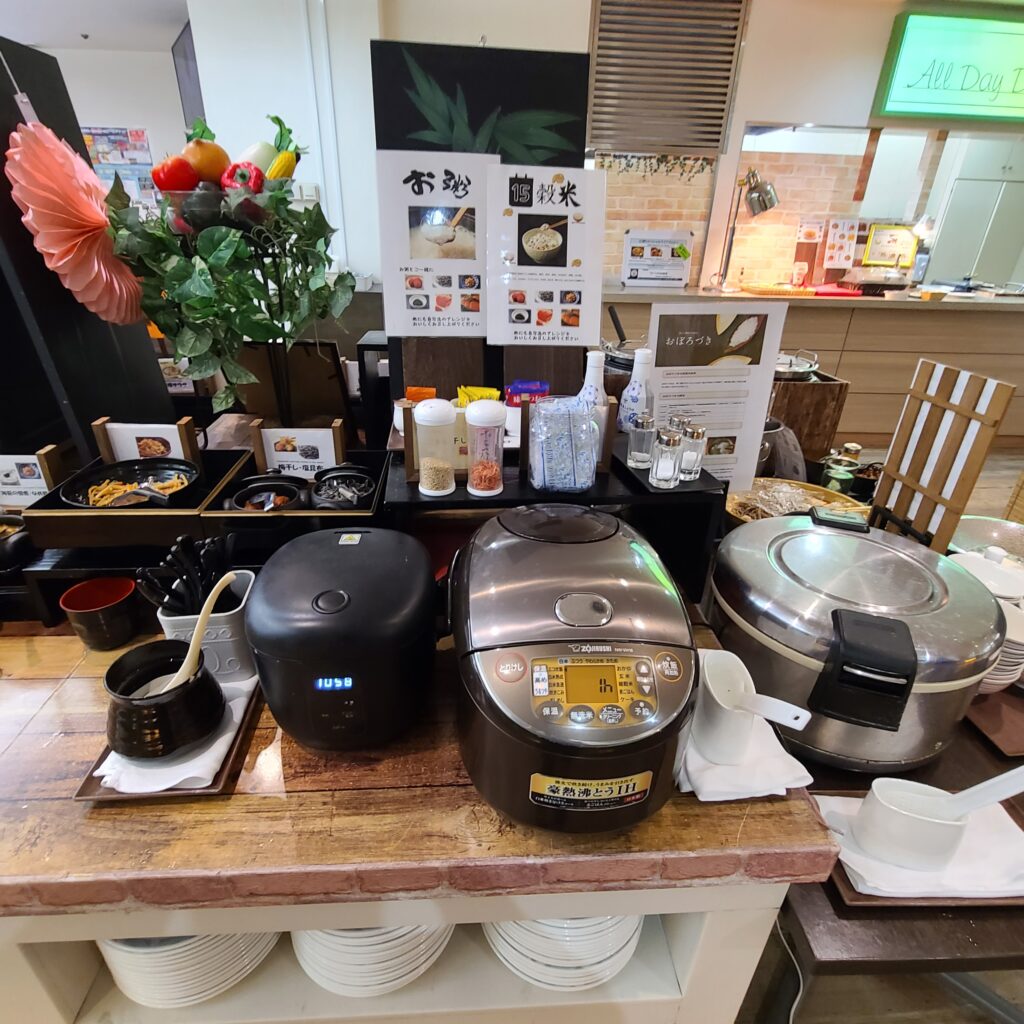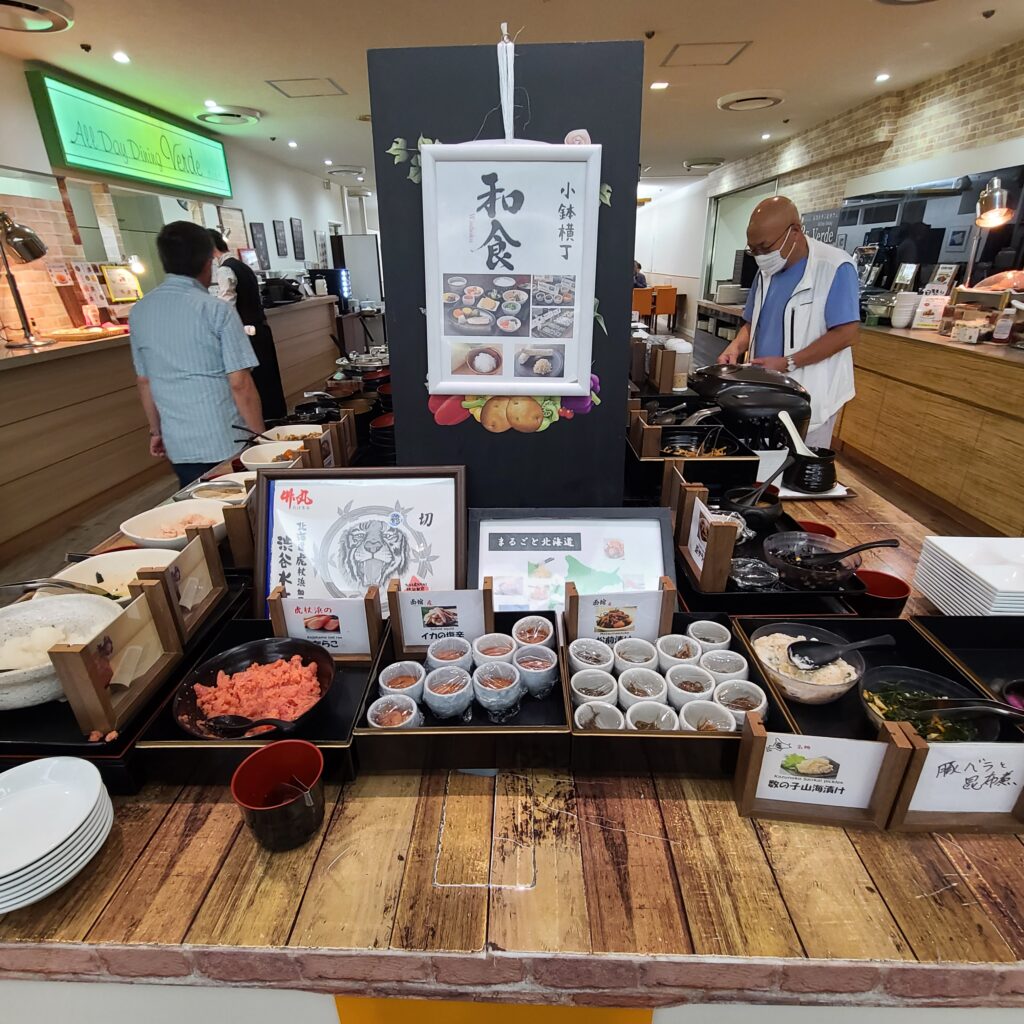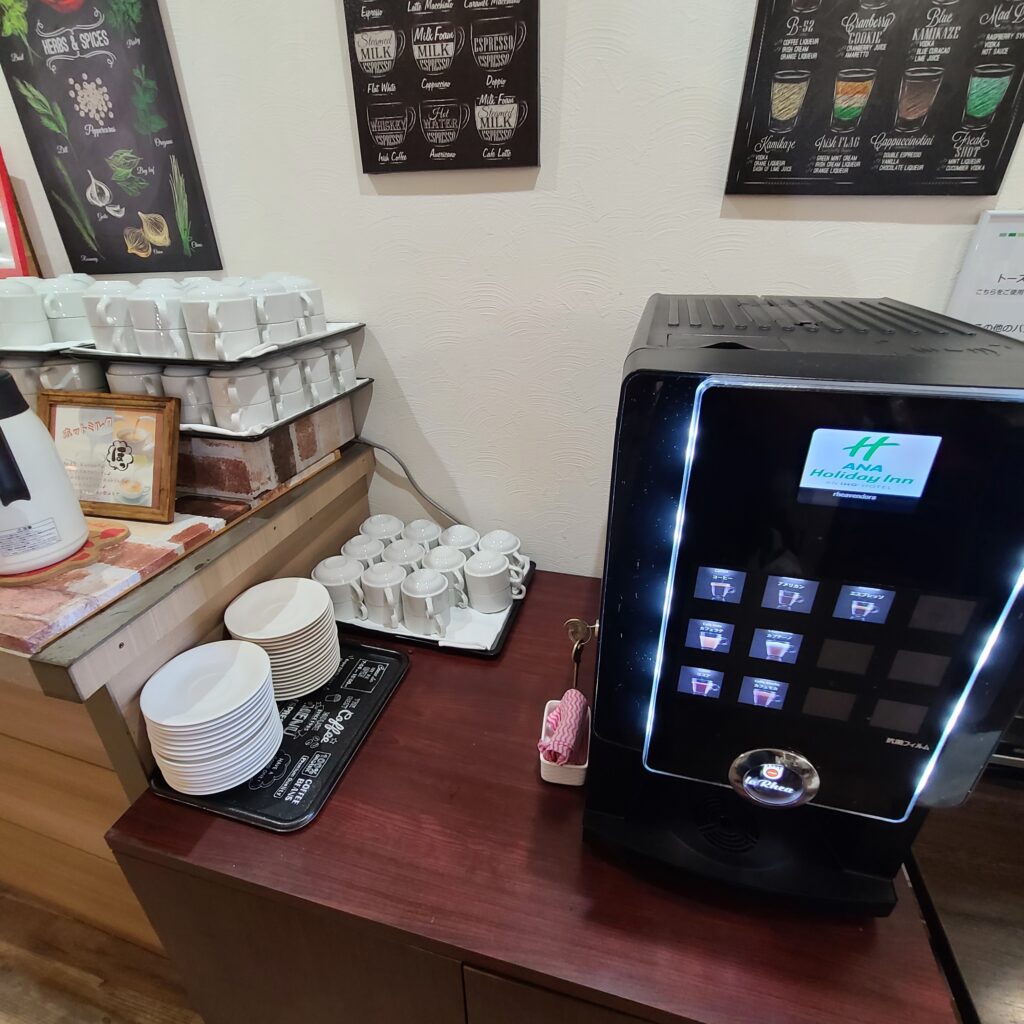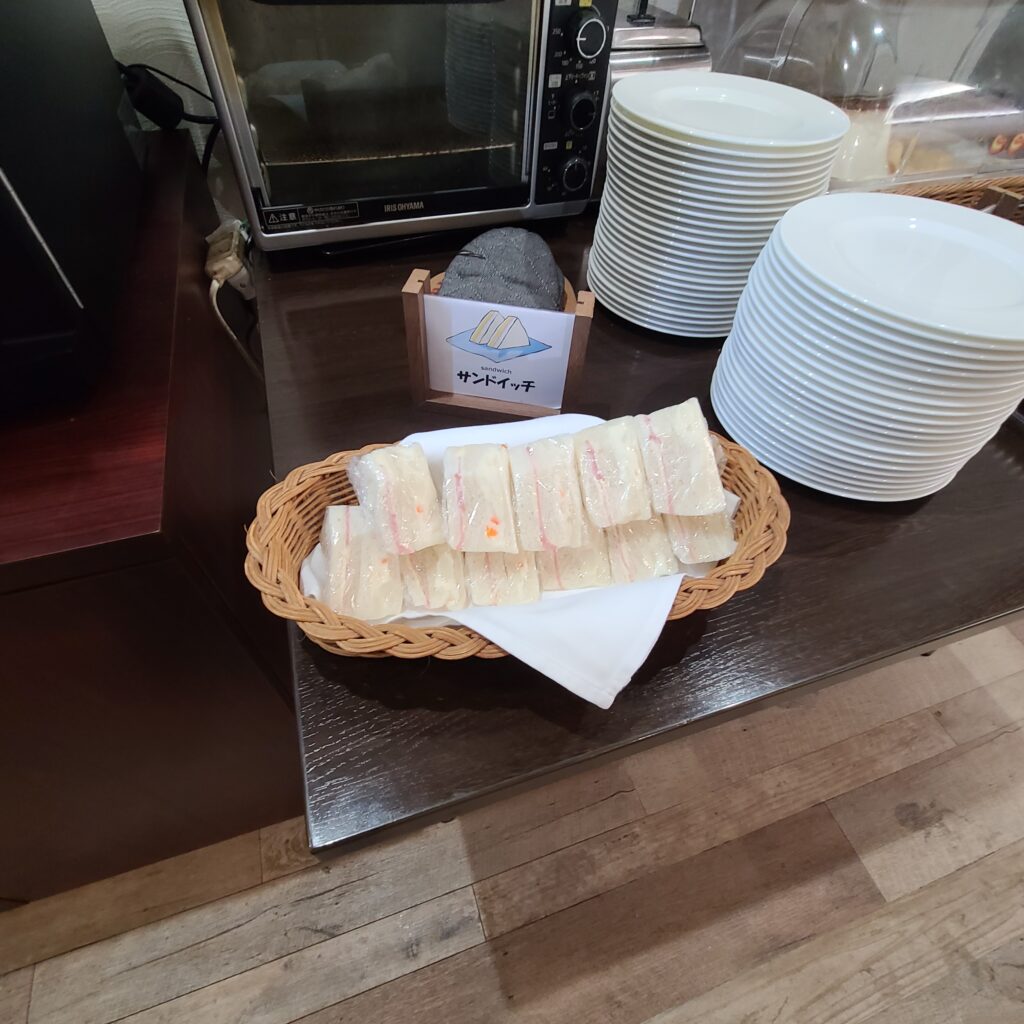 On top of the buffet, you can choose one of the special dishes of the day, but the portions are tiny.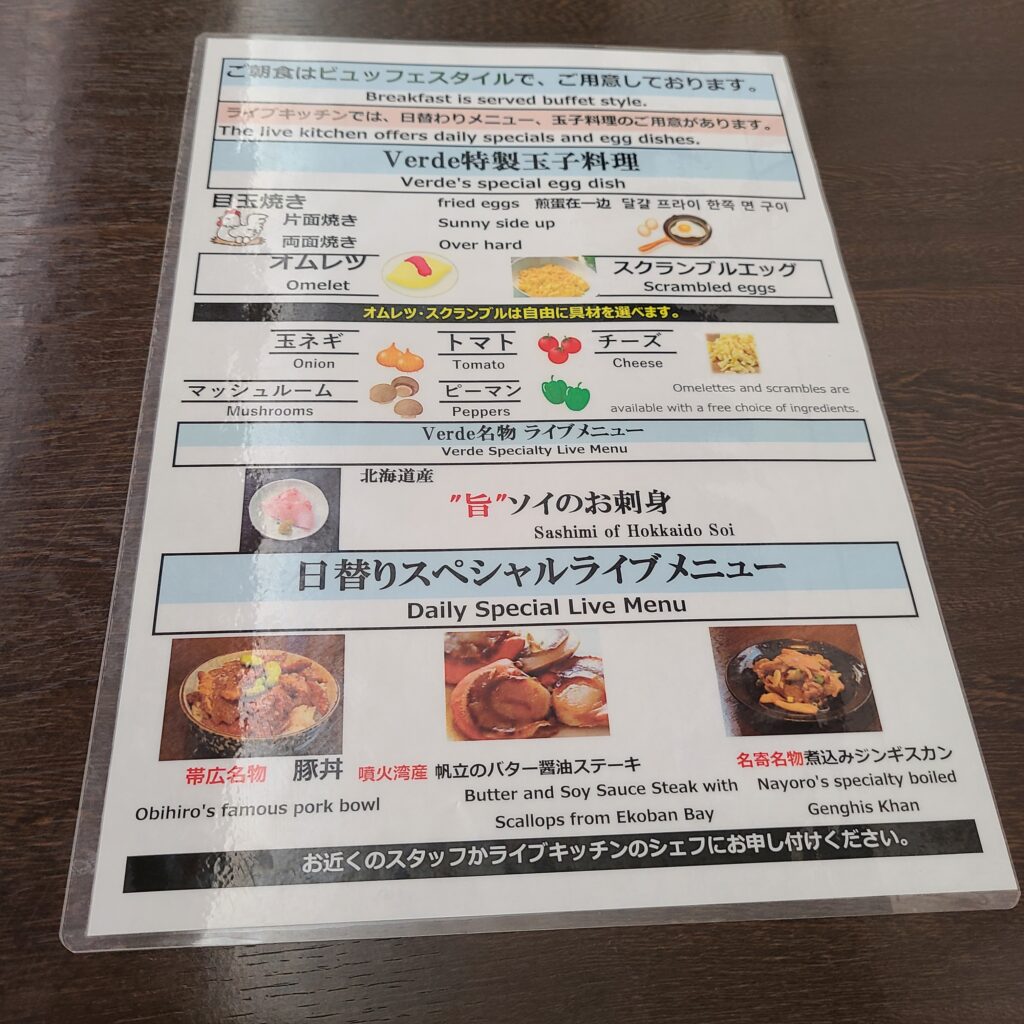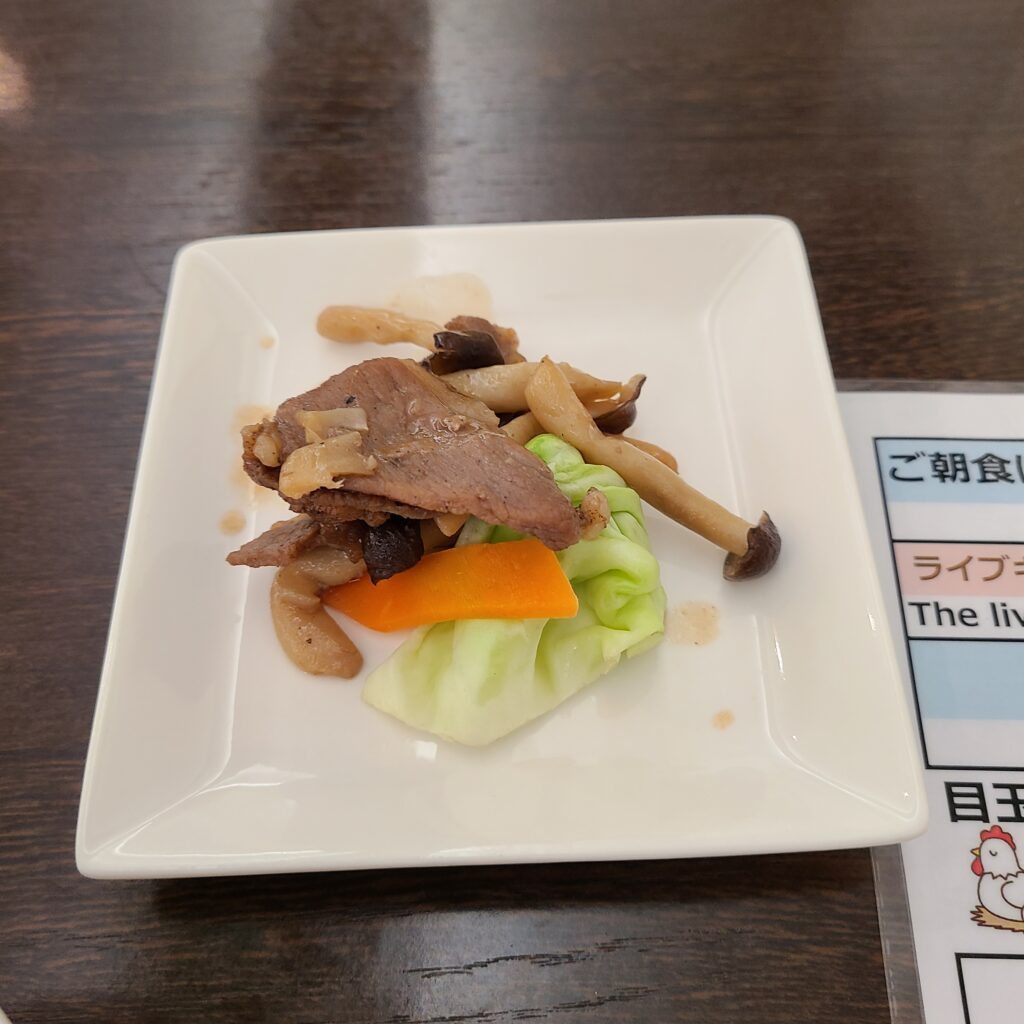 Overall, the breakfast was enjoyable and was above the standards on what I'd expect from a Holiday Inn. Although, many of Japanese hotel breakfast are similar in many ways, so this seems to be the standard in the country.
ANA Holiday Inn Sapporo Susukino- Fitness Center
The hotel's gym is right next to Verde on the second floor. It's very small with only cardio machines.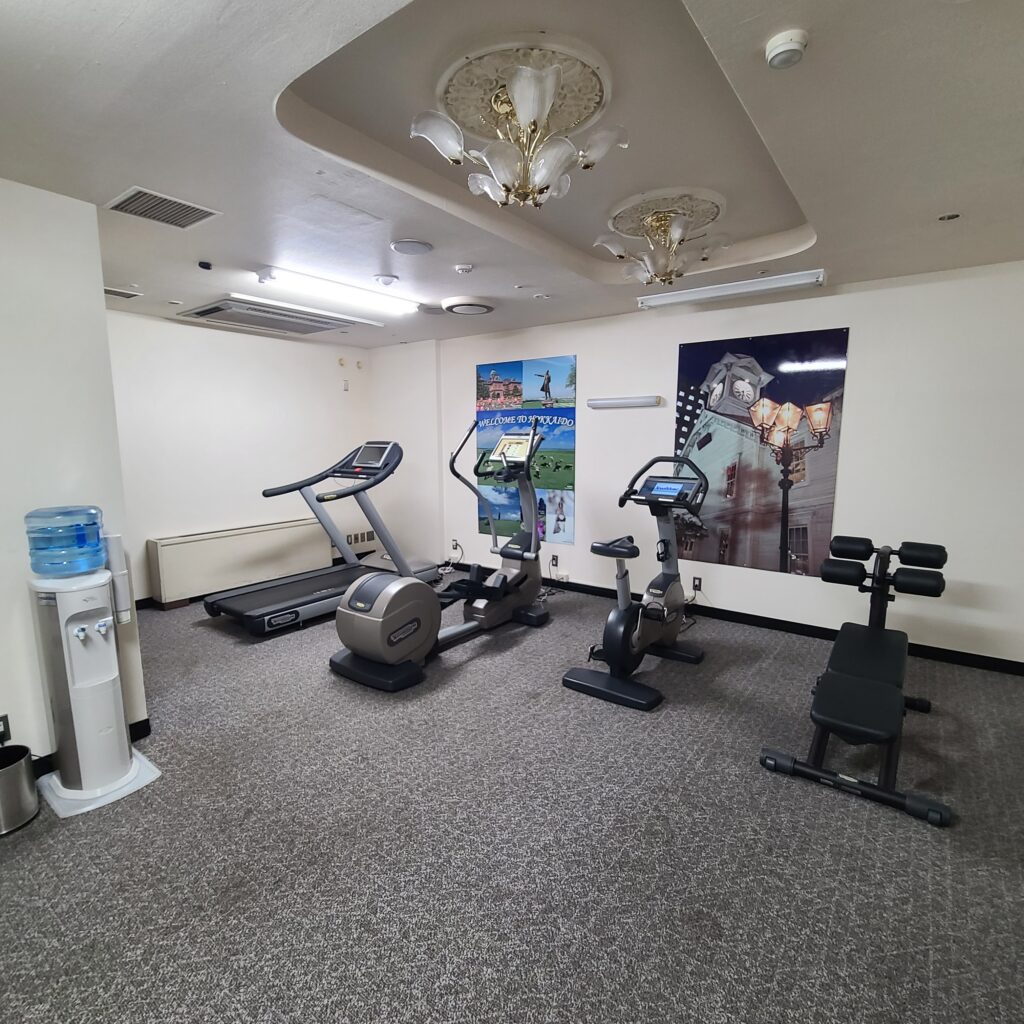 ANA Holiday Inn Sapporo Susukino- Other Facilities
The hotel has a currency exchange machines. You may run across these machines outside of hotels in Japan as well. The rates are not good, but it should be OK for smaller bills. I recommend withdrawing your money from ATM's with the Charles Schwab debit that convenience stores will most likely have like 7-11, FamilyMart, or Lawson.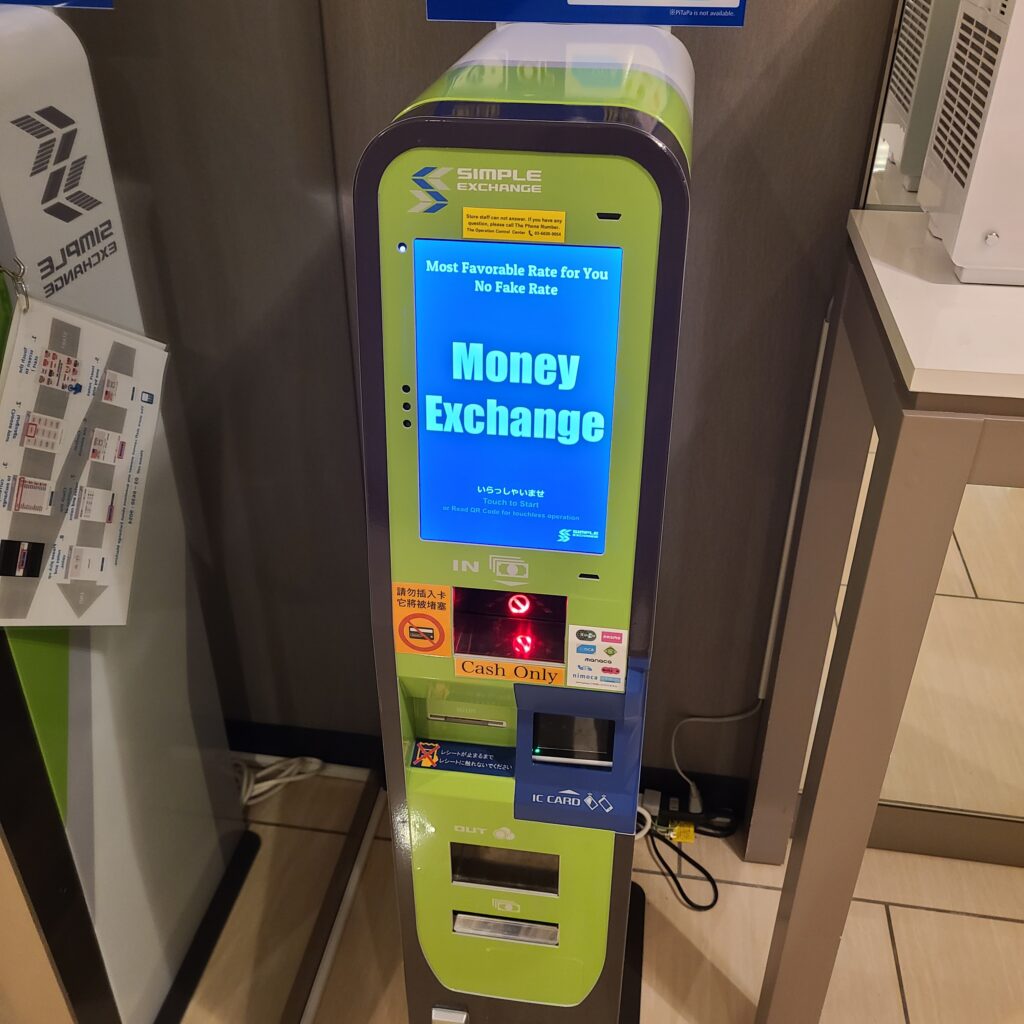 Vending machines are also present in room hallways. A bit handy if you don't feel like going out and need a quick drink.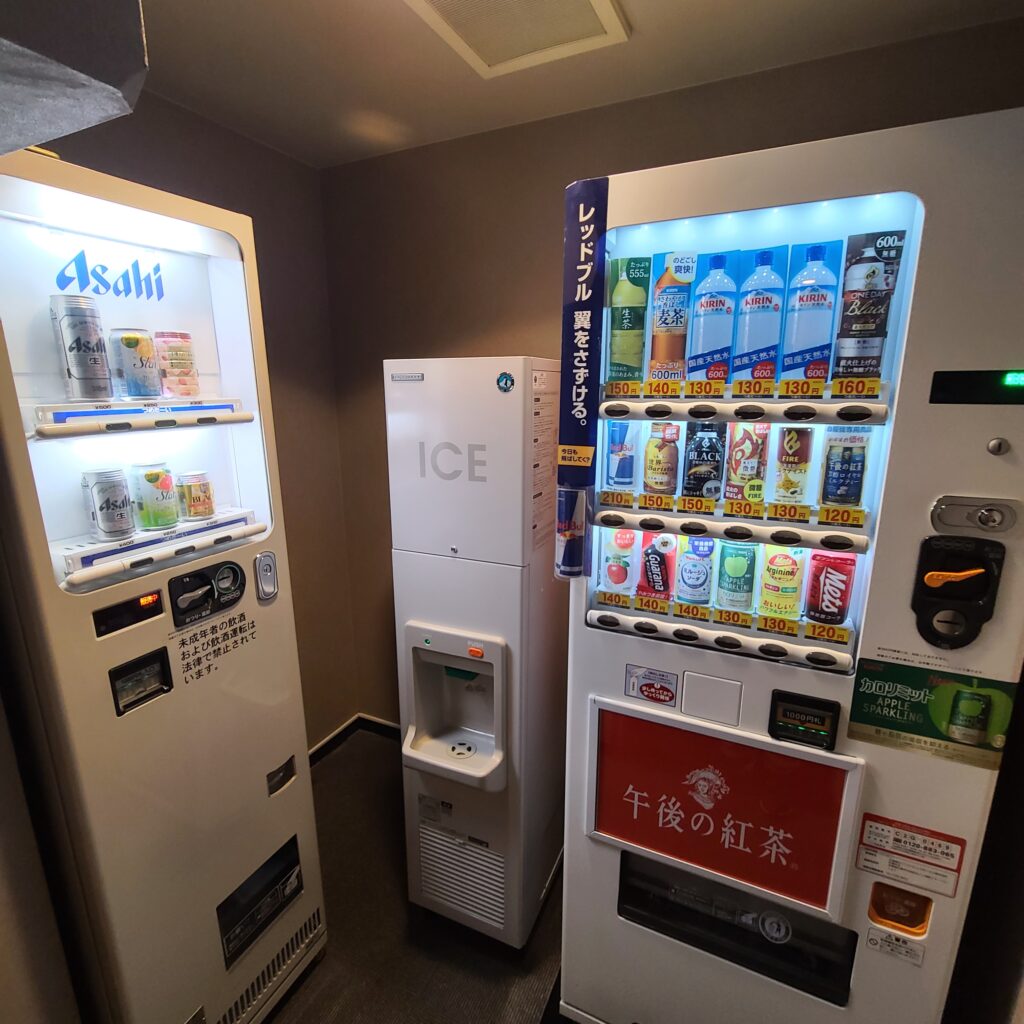 This hotel will also help you with sending luggages with the Kuroneko service, in which I did to send my luggage to Conrad Osaka. But, they will only accept cash as payment and you cannot charge it to your room's bill.
Conclusion
The ANA Holiday Inn Sapporo Susukino is a fine hotel that serves as a good base in Sapporo thanks to its central and lively location. While it's not the fanciest hotel, the value gained from IHG points is remarkable, and possibly provide the best value for hotel points in all of Sapporo for the time being. The breakfast spread is quite nice as well. It would probably be my go-to hotel should I return to Sapporo again until there are newer properties to check out.
Overall Rating