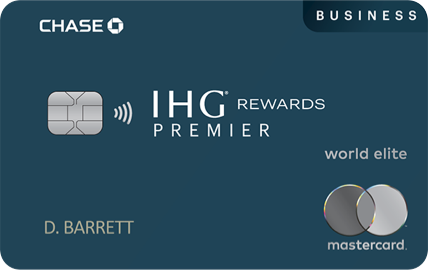 Advertiser disclosure: This post may include affiliate links (including sidebar banners) in which this site may receive compensation if a purchase is successfully made (at no extra cost to you) after being redirected from here. Thank you for your support!
Review: Chase IHG Business Premier Card- Best IHG Credit Card
Chase has improved their co-branded IHG credit cards, and has added a new card along with it, the IHG Business Premier Card. Is this card worth the $99 annual fee? Is it worth having as a newcomer to the IHG One loyalty and/or IHG hotels? Let's find out.
40,000 Free Night Certificate
The main benefit of the IHG Business Premier is the annual free night certificate for just opening the card. It's worth up to 40,000 IHG points and is awared on your second card anniversary.
The 40,000 free night certificate can be topped off with as many IHG points you need for a single night, which is literally the best thing that can happen to a free night certificate, unlike Marriott which only allows up to 15,000 Marriott points top-up.
It does expire one year after issuance, so staying once at an IHG hotel per year can yield great value. Expect to be able to use the free night certificate on hotels that are worth ~$200 a night since IHG points are roughly worth 0.5 cents per point.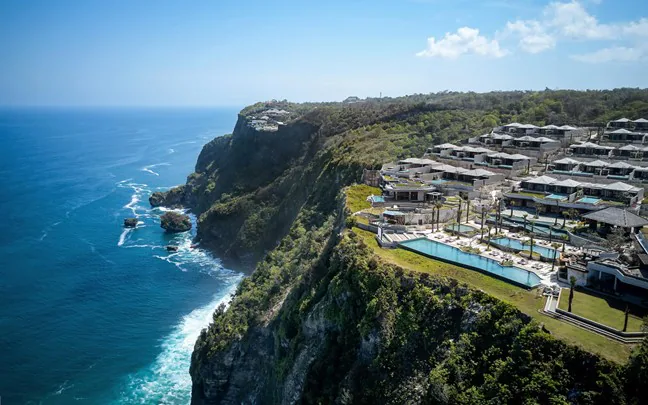 Fourth Night Free Benefit
Whenever you stay at an IHG hotel for 3 consecutive nights all on points, you'll get the 4th night free! This is pretty much the better version of Fifth Night Free benefit that you'd get with Marriott Bonvoy and Hilton Honors. Three consecutive nights is more manageable than four consecutive nights, and even if you do plan to stay 5 nights, you'd be paying at the same rate as the competitors' program.
The Fourth Night Free benefit is an IHG cardmember exclusive benefit, unlike Marriott and Hilton counterpart where they're a system-wide benefit.
Chase IHG Business Premier Earning Rates

The IHG Business Premier has some attractive bonus multiplier for a hotel credit card.
10x on IHG properties
5x on travel (flights, car rentals, & non-IHG hotels)
5x on dining (restaurants & takeout)
5x on gas
5x on office supplies, social media, & search engine advertisements
Since IHG points are worth roughly 0.5 cents per point, you'd be getting 2.5% back on many daily purchases, which is pretty good return for a hotel credit card. I do wonder how awkward would it be to use an IHG card on other hotel chains like Marriott, Hilton, or Hyatt at the front desk though (jokes).
Complimentary IHG Platinum Status
By just opening the IHG Business Premier Card, you'll receive a complimentary IHG Platinum status, and you will keep it as long as you open the card. IHG Platinum status gets you:
60% IHG points earn rate on IHG hotel stays
Reward night discount
2 pm late checkout (subject to availability)
Early check-in (subject to availability)
Room upgrades (subject to availability)
Welcome amenity at check-in (points/drinks/snacks)
Points never expire
IHG Platinum is IHG One Rewards' 2nd highest status tier below Diamond. Despite being the 2nd highest, it's comparable to many mid-tier hotel status like Marriott Bonvoy Gold and Hilton Honors Gold. But, considering that you can get the status for less than $100 is pretty good.
Some of the more useful benefits are the reward night discounts where you can stretch IHG points further on free night stays, which stacks with the Fourth Night Free benefit!
Early check-in is a unique benefit that the major hotel loyalty programs don't offer (Marriott, Hilton, & Hyatt).
Room upgrades can get you up to a standard suite or room with better views or higher floor, but it will be up to the individual hotel to give you that benefit.
High Spend Bonuses
The Chase IHG Business Premier has a few bonuses if you manage to reach certain spend thresholds:
Spend $20,000 in a calendar year and earn $100 statement credit and 10,000 points
Spend $40,000 in a calendar year to get IHG Diamond status, which includes all Platinum benefits with addition to 40% more points earned on stays, free breakfast, and Diamond concierge.
Spend $60,000 in a calendar year to get another 40k free night certificate
It might make sense for big spenders who are super loyalists to IHG, but it's not realistic for most people. Plus, consider the opportunity cost.
Chase IHG Premier Business Credits
Global Entry/TSA PreCheck/NEXUS Credit
A credit issued once every 4 years of up to $100 is applicable towards Global Entry/TSA PreCheck/NEXUS for expedited entry/exit at airports. This is pretty much a standard travel card benefit, so it's worthless if you've already signed up with another card. But, NEXUS is only offered through few cards today.
NEXUS includes Global Entry plus dedicated lane for US-Canada border crossing through land. The interview for it requires you to be in a city by the border, so it's impractical to some people and there's no point in doing it if you won't cross US-Canada borders often.
Annual $50 United Travel Bank
A $25 credit will be issued biannually totaling up to $50 per calendar year to your United Travel Bank.
First issue will be sometime between January 1-June 30, and will expire at July 15.
Second issue will be sometime between July 1-December 31, and will expire the following January 15.
The credits are only applicable towards paid cash flights and cannot be used to pay award ticket taxes & fees. So, you'd only get value out of this if you regularly fly United flights throughout the year since the credits expire quickly. This is just cherry on top benefit that some will get value out of though.
Click here to link your IHG and United account to register.
Things to Consider Before Applying for Chase IHG Business Premier
The Chase IHG Business Premier is affected by the Chase 5/24 rule, meaning that you won't be able to be approved if you've opened 5 or more personal credit cards within the last 24 months.
But, it's also a business credit card so it won't count towards your 5/24 status if you get approved, making it a great choice to get a new bonus while waiting for your Chase 5/24 status to cool down.
Conclusion
The IHG Business Premier is the best credit card to get for IHG loyalists. Even if you're not, you can easily extract value out of this card if you can see yourself staying at an IHG hotel that's priced at more than $100 just once a year. IHG footprint is within the same league as Hilton, so you won't have trouble finding them during your travels.
The fact that you can top off the free night certificate with no cap puts it above most hotel credit cards that offer it once a cardmember year. The 4th night free benefit is awesome, and it being a cardmember exclusive benefit makes it a lot more enticing to get this card to stretch your IHG points further.
Overall Rating