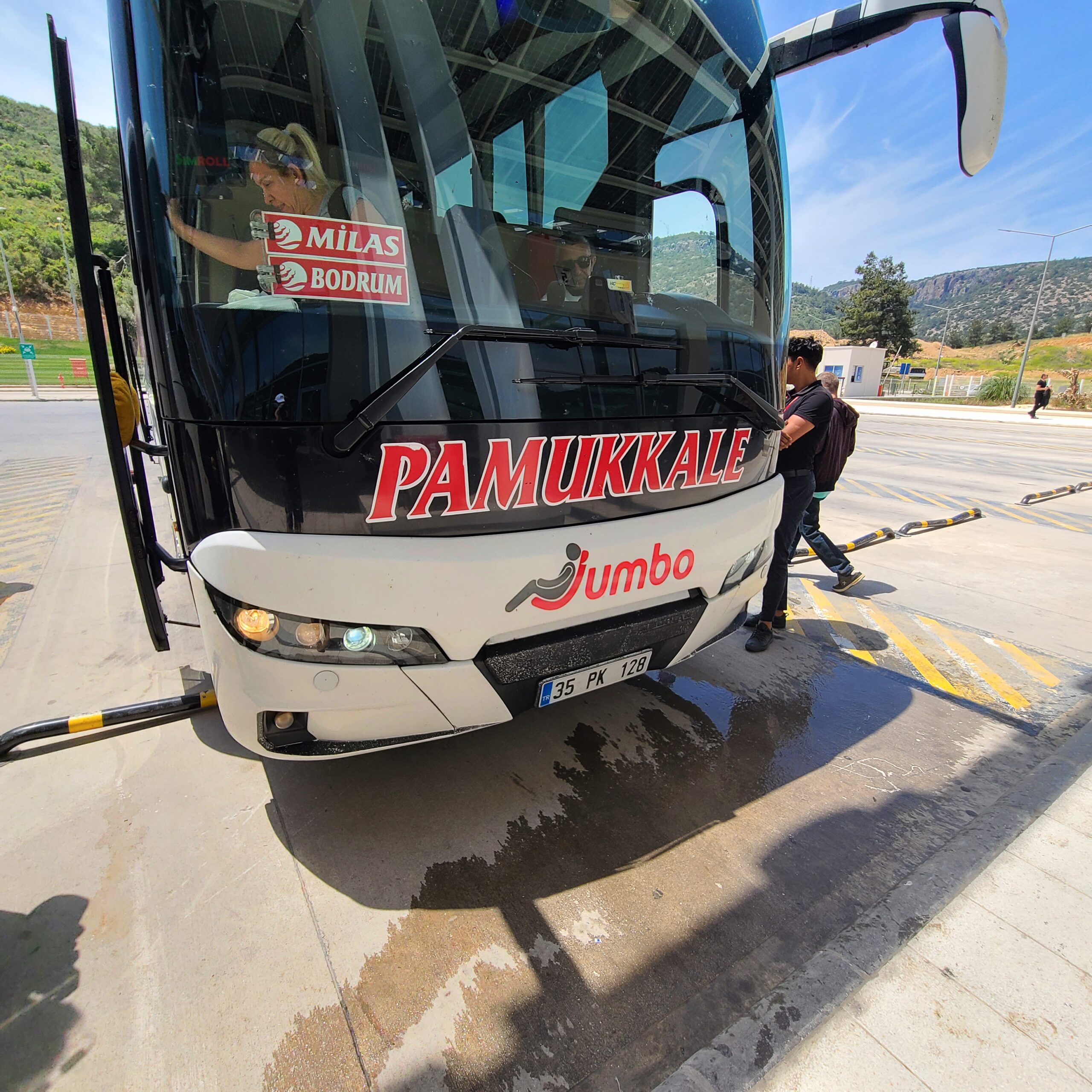 Advertiser disclosure: This post may include affiliate links (including sidebar banners) in which this site may receive compensation if a purchase is successfully made (at no extra cost to you) after being redirected from here. Thank you for your support!
How to Get to Bodrum From Izmir By Bus for $10

Using bus is the easiest way to get to Bodrum from Izmir since direct flight from ADB to BJV only runs once a week at night on Thursdays with SunExpress, a low-cost airline. Other airlines like Turkish Airlines and Pegasus requires a backtrack transit in IST to then go straight to BJV, which roughly takes 4 hours to complete the journey.
On the other hand, using the bus takes roughly 3 hours accounting for stops made along the way. It's also cheaper, time-flexible, and much more Eco-friendly. Of course, the views of the Aegean Sea surroundings are also much better than just staring at white clouds. I will show you step-by-step on how to do so.
How to Buy a Izmir-Bodrum Bus Ticket

You can easily buy a bus ticket online through oBilet. Click on the Turkish flag on the top right corner to change the language from Turkish to English. Then simply input where you're departing from and your destination (Izmir-Bodrum), and the date you're going. You don't have to book super far in advance. I was able to find plenty of seats by booking the day before the departure. Here's an example on what it looks like: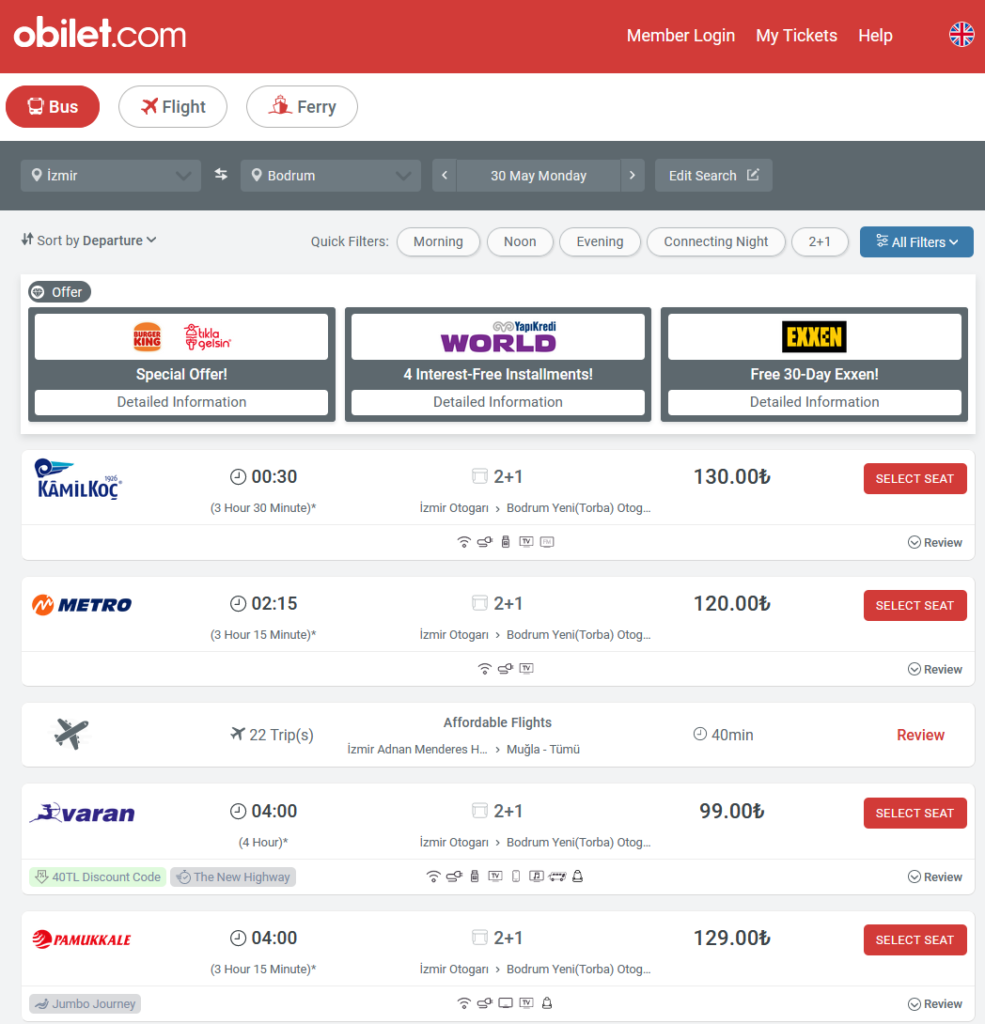 The buses schedules run from dawn to late at night, so you can play around with the time filters, or by scrolling down for later times.
I personally chose Pamukkale that came with Jumbo seats, in which I paid just 5 TL more for a single seat! After that, you can checkout and input your credit card number to pay. Visa, MasterCard, and American Express are accepted!
Foreigners input their passport number and nationality shown on the passport instead of a Turkish National ID.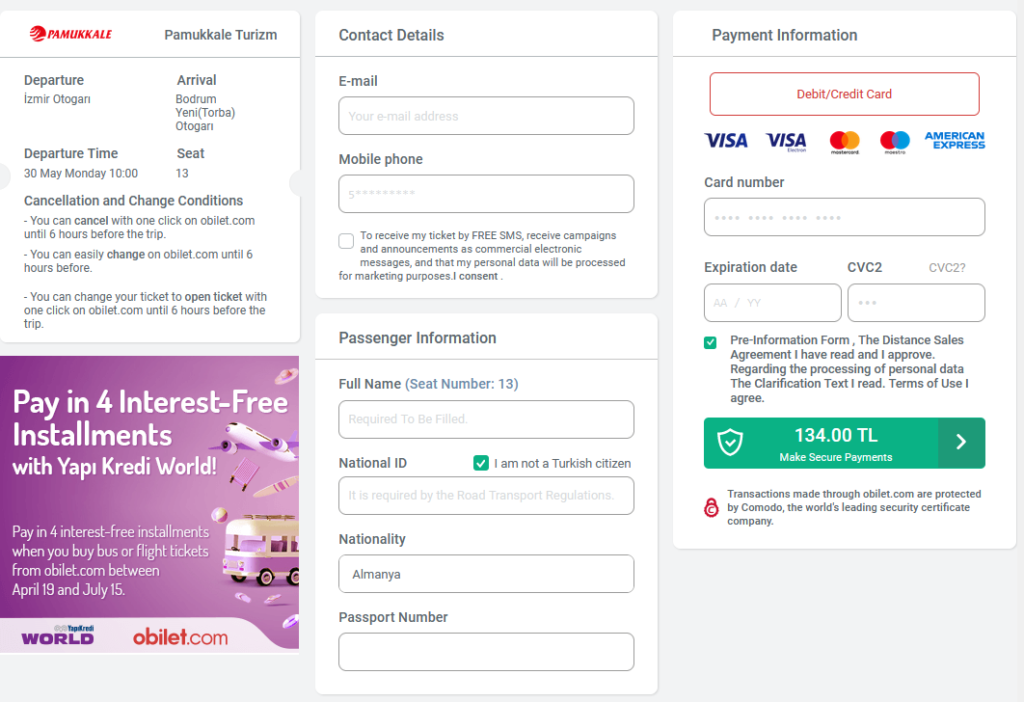 After that, you'll be sent an e-mail confirmation, and you're good to go!
Getting to Izmir Bus Terminal (Izmir Otogar)
To get on to the bus, you need to go to Izmir Otogar (Izmir Bus Terminal). I took an Uber from Izmir Marriott Hotel since I was in a hurry, but the ride cost just over $6 for a little bit over 20 minutes. Using a local bus to get there is possible, but can take double the time.
After you arrive, go inside the bus terminal building downstairs, and you'd want to check-in where you see the big sign of your bus company. They're all very big, so they're very hard to miss. I approached the front desk and simply showed her my confirmation e-mail and my passport, and she took care the rest of it and printed the ticket.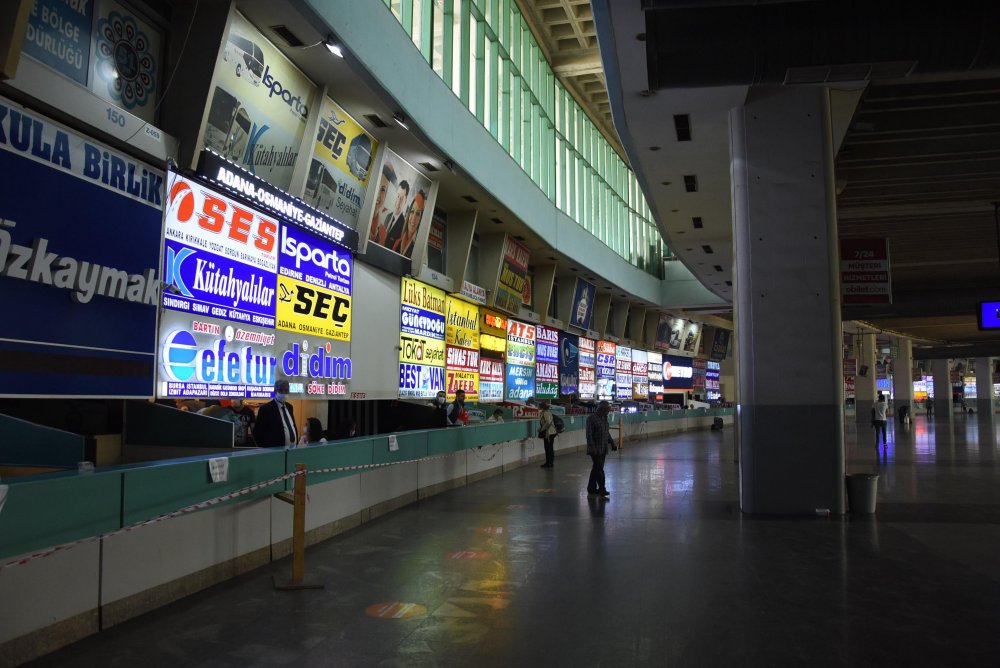 After you get your ticket printed, you'd want to go to the station where the bus will be departing from. Just show your ticket to the bus attendant to verify, and they'll take care of your luggage as well.
Pamukkale Bus Ride Experience
Getting from Izmir Bus Terminal to Bodrum Bus Terminal will roughly take 3 hours. Quite frankly, the Jumbo seats are smaller than what I've imagined, but the seat was comfortable nonetheless, and was miles ahead better compared to an economy seat in an airplane.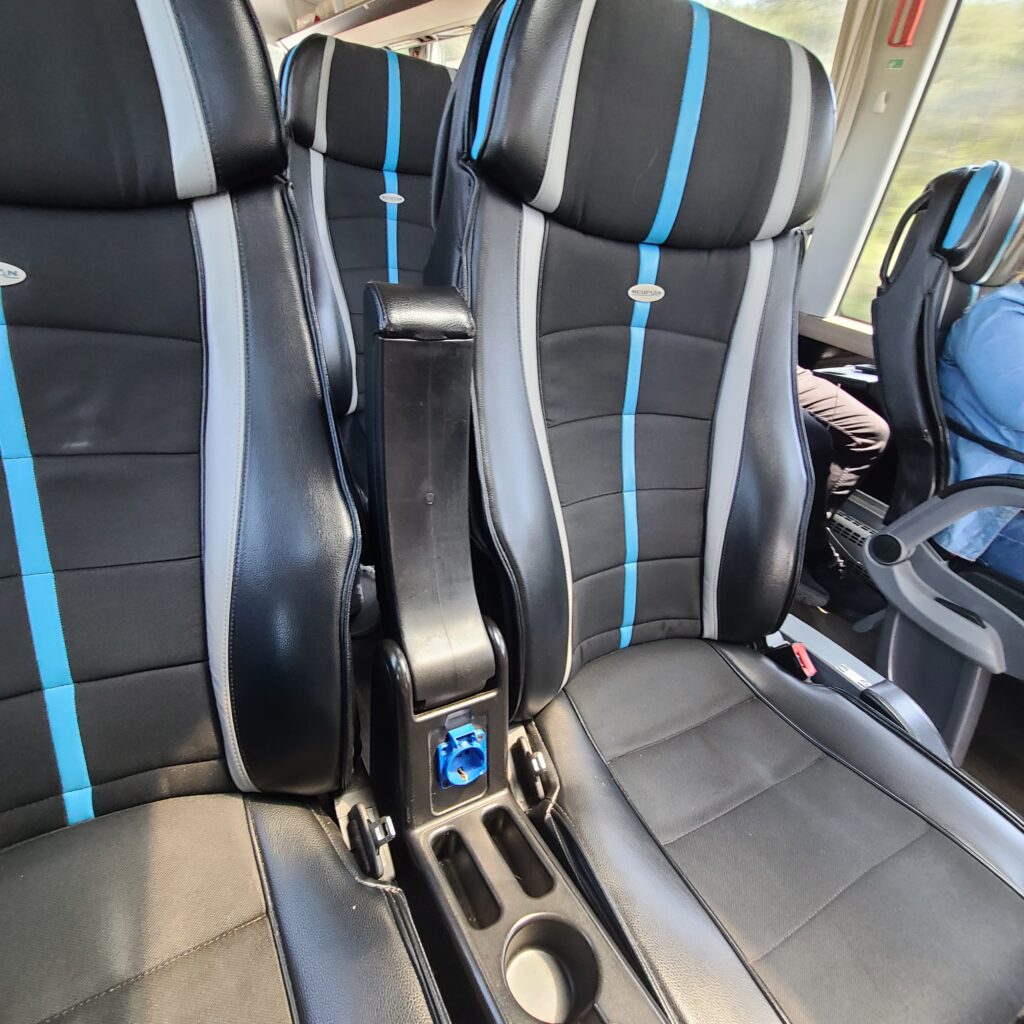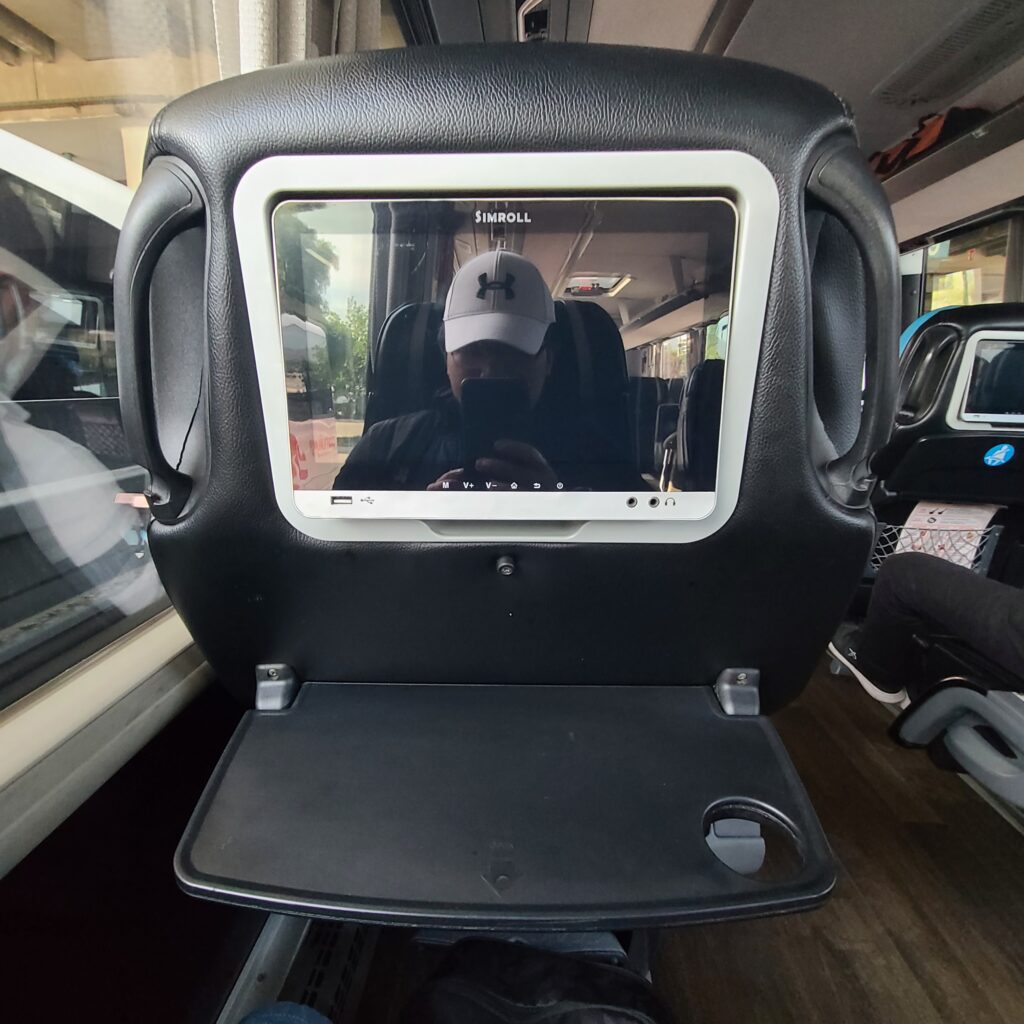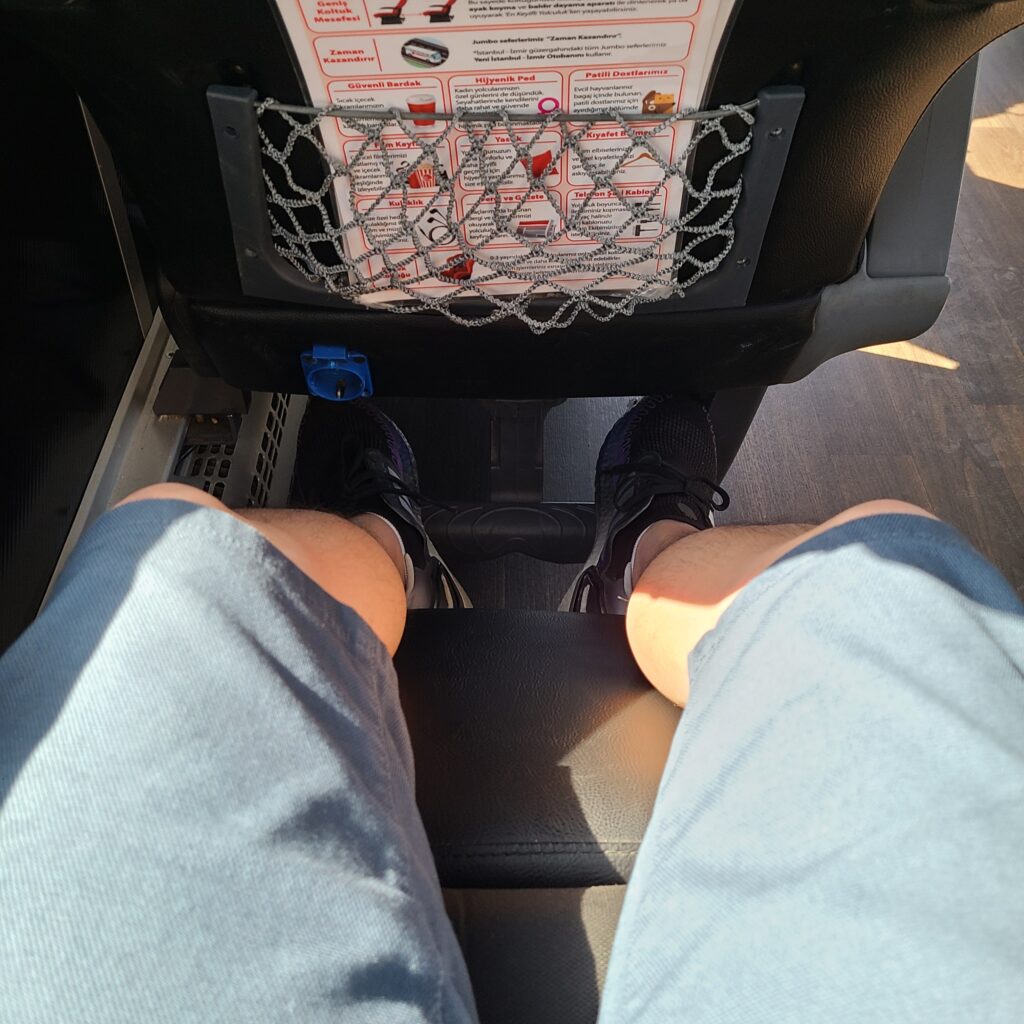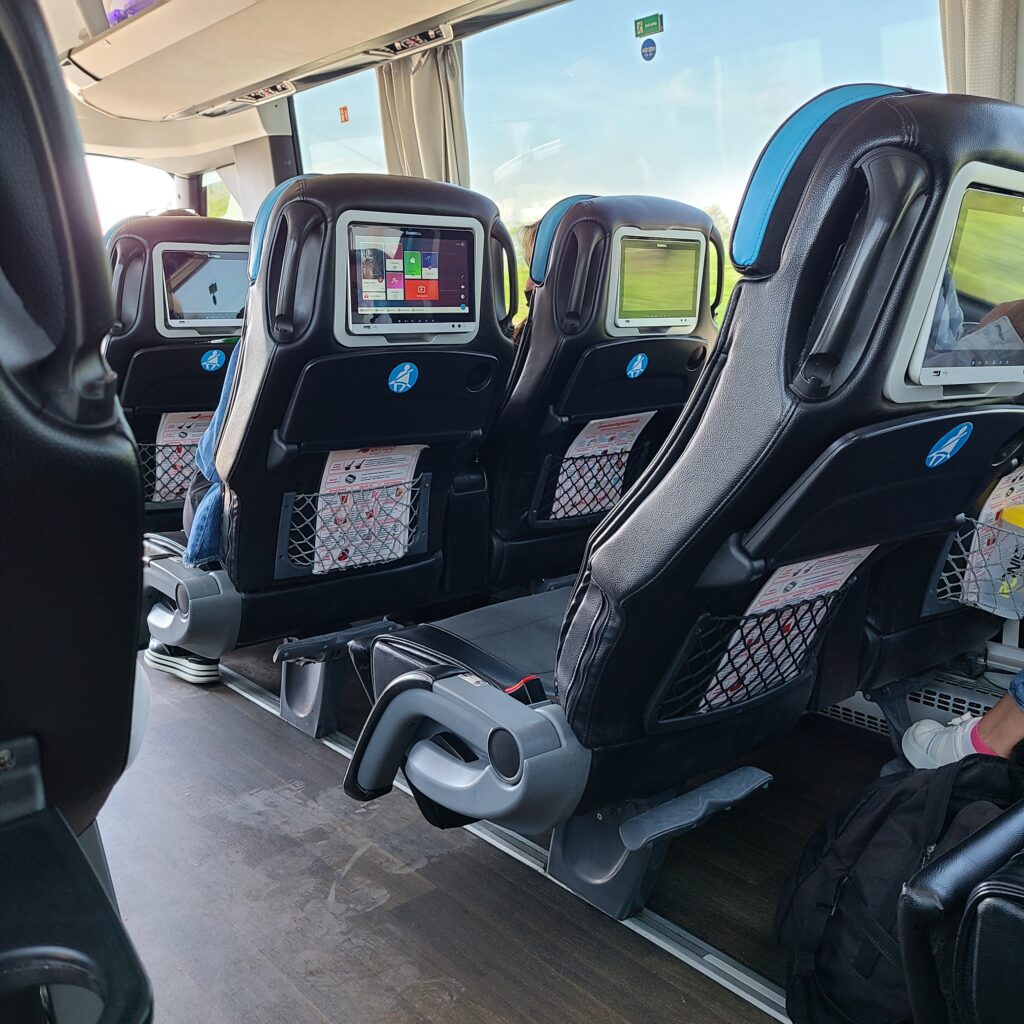 The bus comes with an entertainment system as well and Type-C plugs, but I didn't use them very much. It supposedly comes with Wi-Fi too, but it did not work when I tried.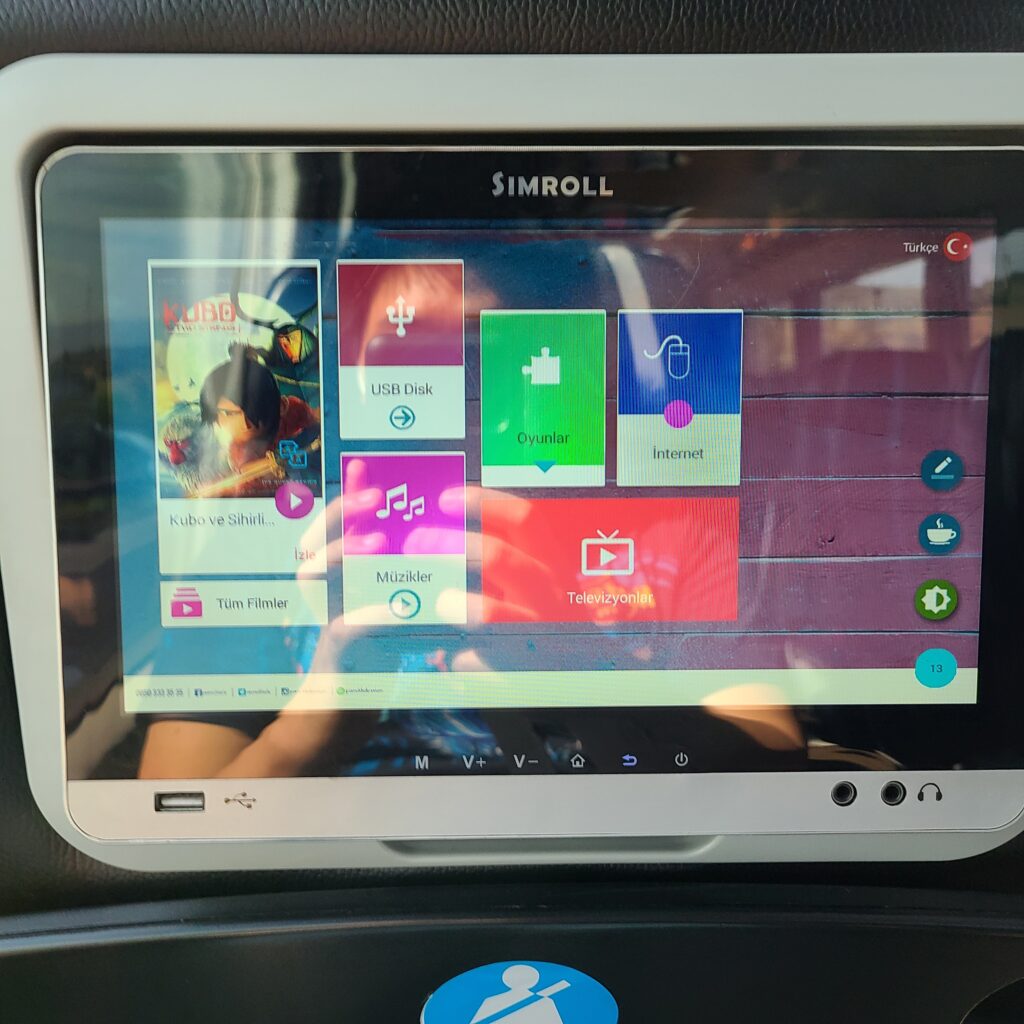 Throughout the ride, I was given snacks and drinks of my choice 30 minutes after departing from Izmir. I chose some cheese crackers and a cup of Pepsi. Then some time later, the bus was stopped at a security checkpoint. All I had to do was show my passport, not a big deal.
The view is amazing once the ride is halfway complete with the large Lake Bafa and the famous Turkish Riviera showcasing its impressive turquoise water.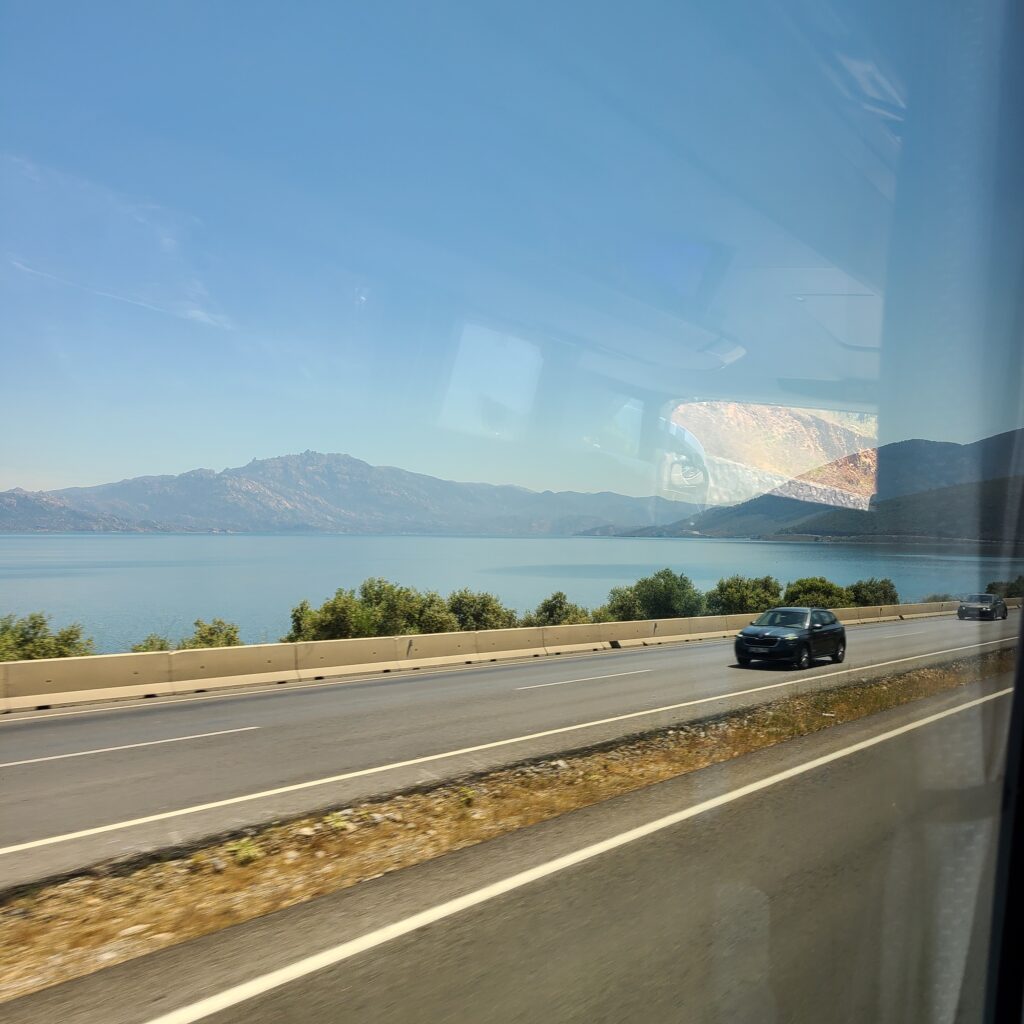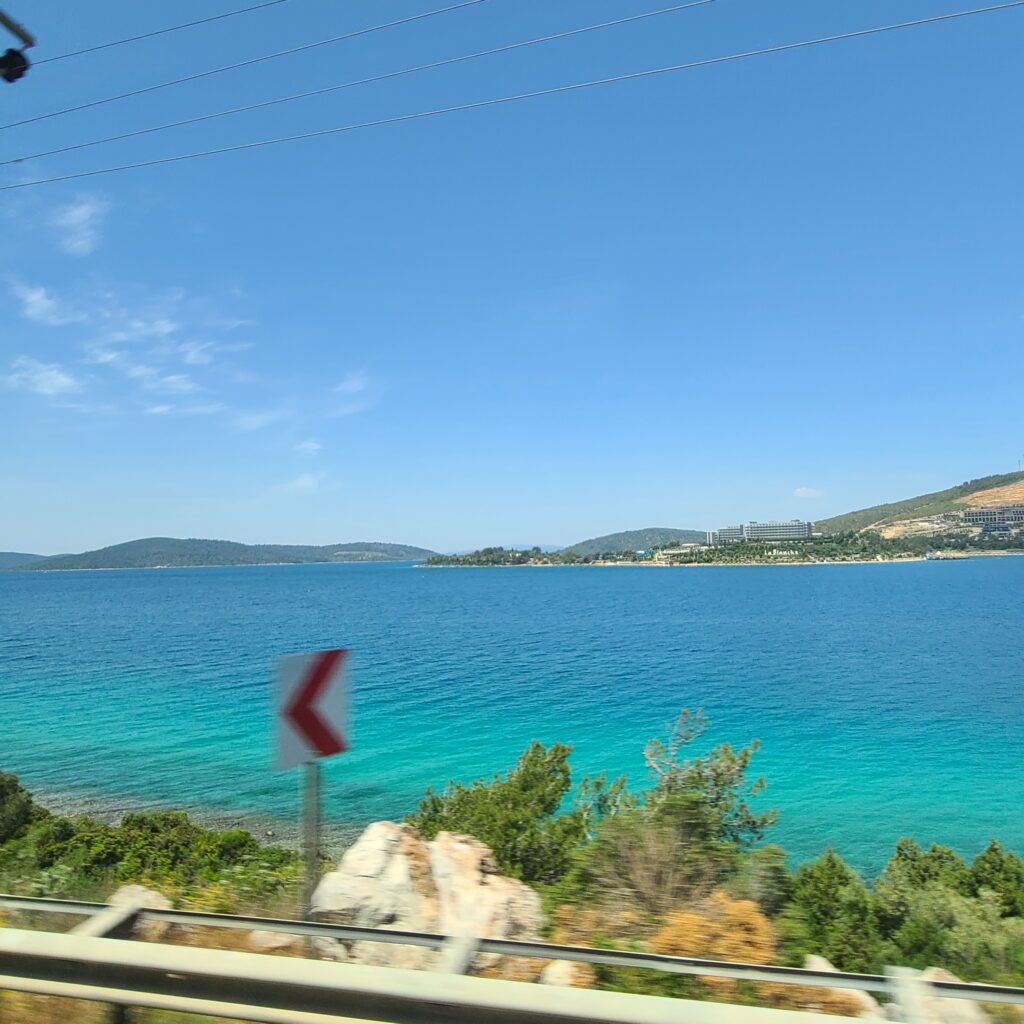 Getting to Bodrum from Bodrum Otogar (Bus Terminal)
Once arriving at the final destination at Bodrum Otogar (Bus Terminal), I'd recommend getting a taxi for the fastest and easiest way. I tried to figure out how the public transportation worked, specifically the local buses, but I ended up being confused. The public transportation there isn't very well-documented either. Many luxury resorts in Bodrum isn't located in the city of Bodrum, and instead, are spread throughout the ends of the Bodrum peninsula. That's why I recommend using a taxi if your destination is a luxury resort.
Since I was trying to get to my hotel The Bodrum EDITION located in Yalikavak, I saw a bus with a sign Yalikavak and hopped on it. I even asked the bus driver if this is the bus I should take and he said yes. But then, I ended up having to get off, along with everyone else in some station I have no clue about in the middle of the city of Bodrum. Well, that was a waste. I ended up ordering an Uber instead. For my case, going from Bodrum to Yalikavak, I ended up paying around 210 TL for the taxi ride.
Conclusion
Getting to Bodrum from Izmir is the best by bus. It's cheaper, faster, more flexible & comfortable, and environmentally friendlier than flying. Not to mention that the views along the way are great! The most costly part is once you arrive at Bodrum Bus Terminal where it's probably best to take the taxi instead of figuring out how the under-documented public transportation system is. Nonetheless, you wouldn't pay more than $20 for the taxi ride to your hotel conservatively. You'd still end up coming ahead compared to flying since the airport BJV is even farther than the bus terminal too.