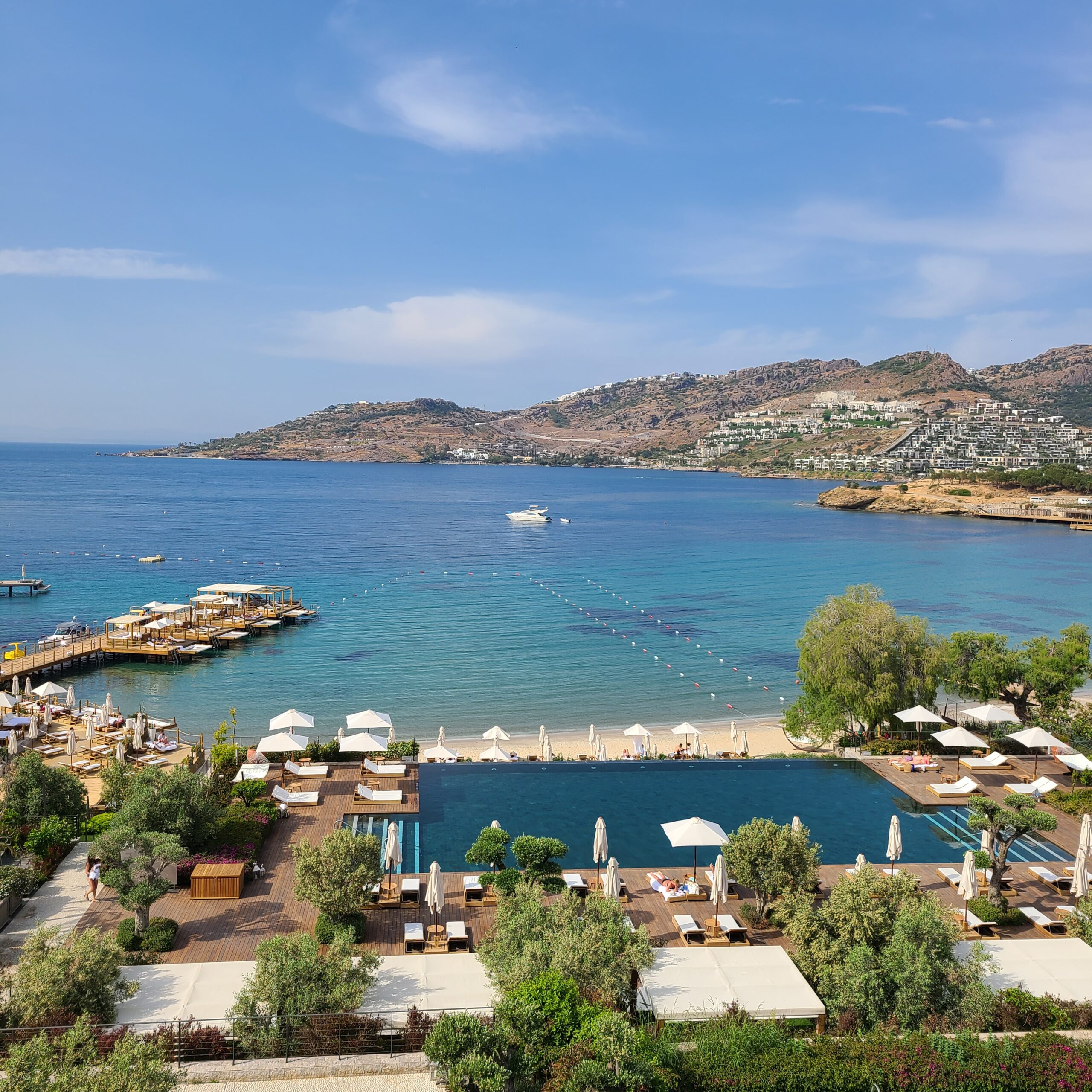 Review: The Bodrum EDITION (2022) [Turkey]
I've finally done one of my craziest points redemptions yet withing the Marriott Bonvoy property. I've heard many great things about The Bodrum EDITION from reading reviews from blogs and forums. I also never stayed at an EDITION hotel before, so I was pretty excited to give it a try myself! Does the hotel live up to its hype? Let's find out.
The Bodrum EDITION- Booking
I've redeemed 200,000 points for 5 nights at off-peak rates thanks to the Fifth Night Free benefit when you book a Marriott hotel for consecutive 4 nights with points. However, The Bodrum EDITION is one of the properties that are heavily affected by the dynamic pricing. For now, expect to pay 71,500 to 106,000 per night to redeem for this hotel depending on seasonality due to its Category 8B placement.
It's a seasonal hotel, so it's only open for the summer time in Bodrum (late April to October, with slight variations each year). Expect busy times to be at peak summer months like July and August.
Cash rates for a night can range between 500-1000 EUR per night depending on the seasonality.
The Bodrum EDITION- Location
The hotel is located in the town of Yalikavak. Keep in mind that Bodrum is both the name of a peninsula and a city. The 'Bodrum' in The Bodrum EDITION implies the peninsula, which the town of Yalikavak is on. Yalikavak is at the northern part of the peninsula, while the city of Bodrum is on the southern part of the peninsula. Getting to the city of Bodrum from the hotel requires a taxi ride, which you can expect to pay ~$10 per ride.
Regardless of where you are in the Bodrum peninsula, you're in the Turkish Riviera where it's also known as the Turquoise Coast because of the glistening blue water along the coastlines.
There may be public transportations in Bodrum, but they're not very well documented, so transportation cost will be at the higher end compared to major cities in Turkey like Istanbul and Izmir if you want to make your life easier. I found it difficult to use Uber or BiTaksi to call for taxi on my own because of the sparse availability, and I'd recommend using the hotel's concierge to call a cab for you.
The Bodrum EDITION- Check-in
I was welcomed by a bellman who'd then escorted me to the lobby. The lobby looks like an oasis (without the water), and it just smelled really nice with their signature Le Labo fragrance.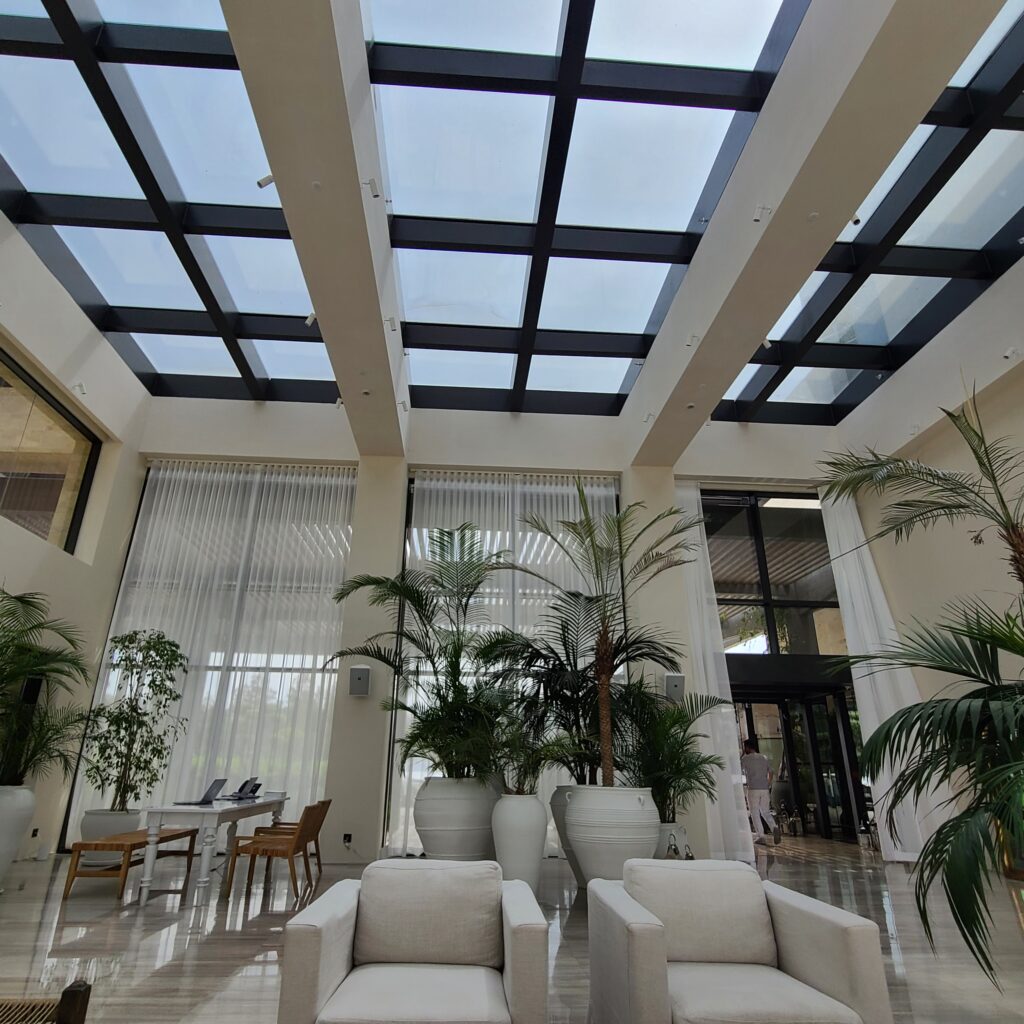 I was then treated with a sample of their trademark ice cream. I could choose between an alcoholic or non-alcoholic ice cream. I chose the non-alcoholic Turkish coffee ice cream. It was good, and of course, there are more flavors you can try later on during your stay.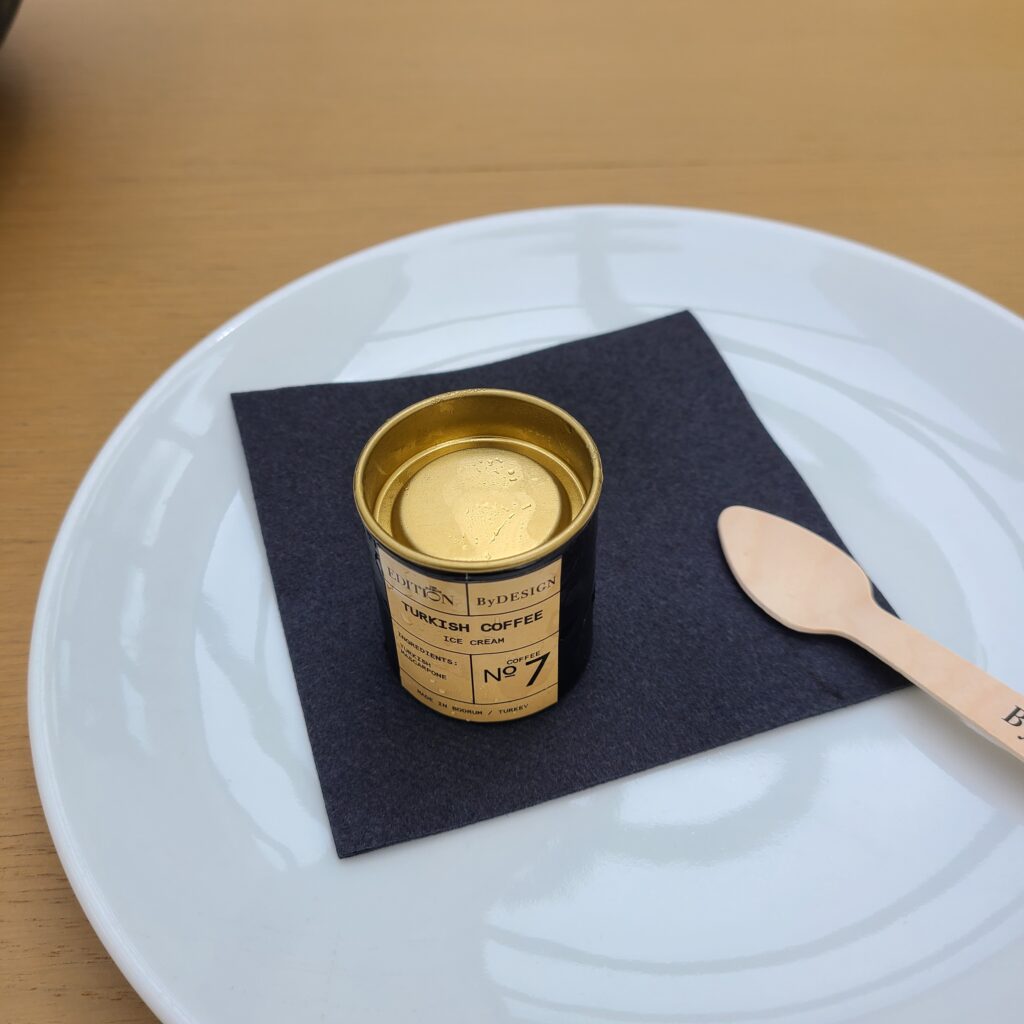 I was proactively upgraded from the base Deluxe Room to a Premier Room with Sea View at Room 721. The Guest Relations agent then escorted me to the room with a short buggy ride.
Do You Get Free Breakfast at The Bodrum EDITION?

Compared to previous years, The Bodrum EDITION no longer give free breakfast to those who book with points regardless of your Marriott Bonvoy status, at least for 2022. Whether this trend is a permanent change or not is still unknown until I see reports of those who booked with points receiving free breakfast or not in the near future. I was shocked to find out that I would not receive free breakfast, and there was no data point in 2022 as I stayed at one of the earliest times for when the hotel opens for the year.
The hotel does give free breakfast if you book with cash because ALL cash rates get you free breakfast regardless of your status. The segregation between points and cash booking is pretty disappointing and shocking, and I wish there was full transparency in both the hotel and Marriott whether to treat cash and points bookings the same or not.
The Bodrum EDITION- Premier Room Sea View
As a start, the building of my room is inside a small, but beautiful modern villa surrounded by greeneries.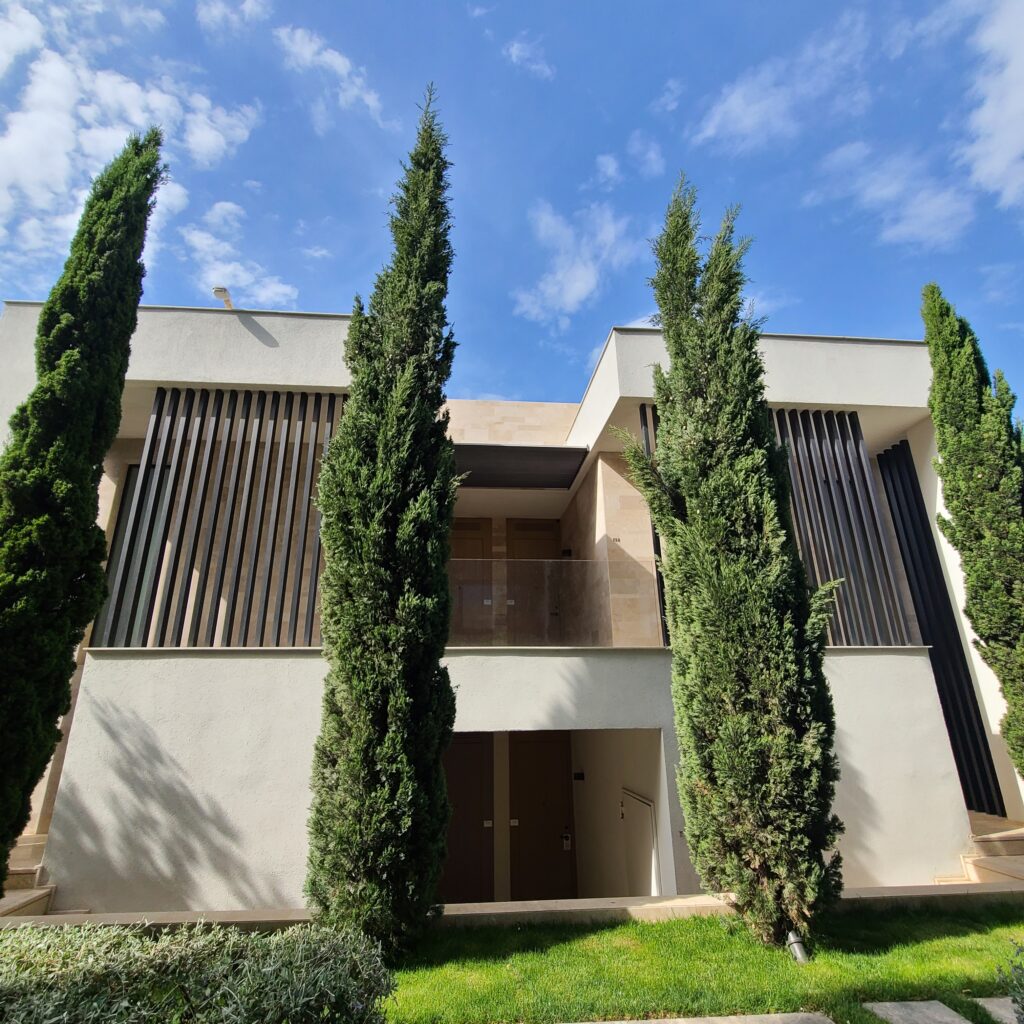 I've always been intrigued by EDITION hotels' minimalism approach to luxury. The room is spacious and modern, and the Le Labo fragrance never went away for the 5 nights I've stayed. I really enjoy the neutral colors and the stone flooring with wooden walls. Some would find this bland, but each to their own.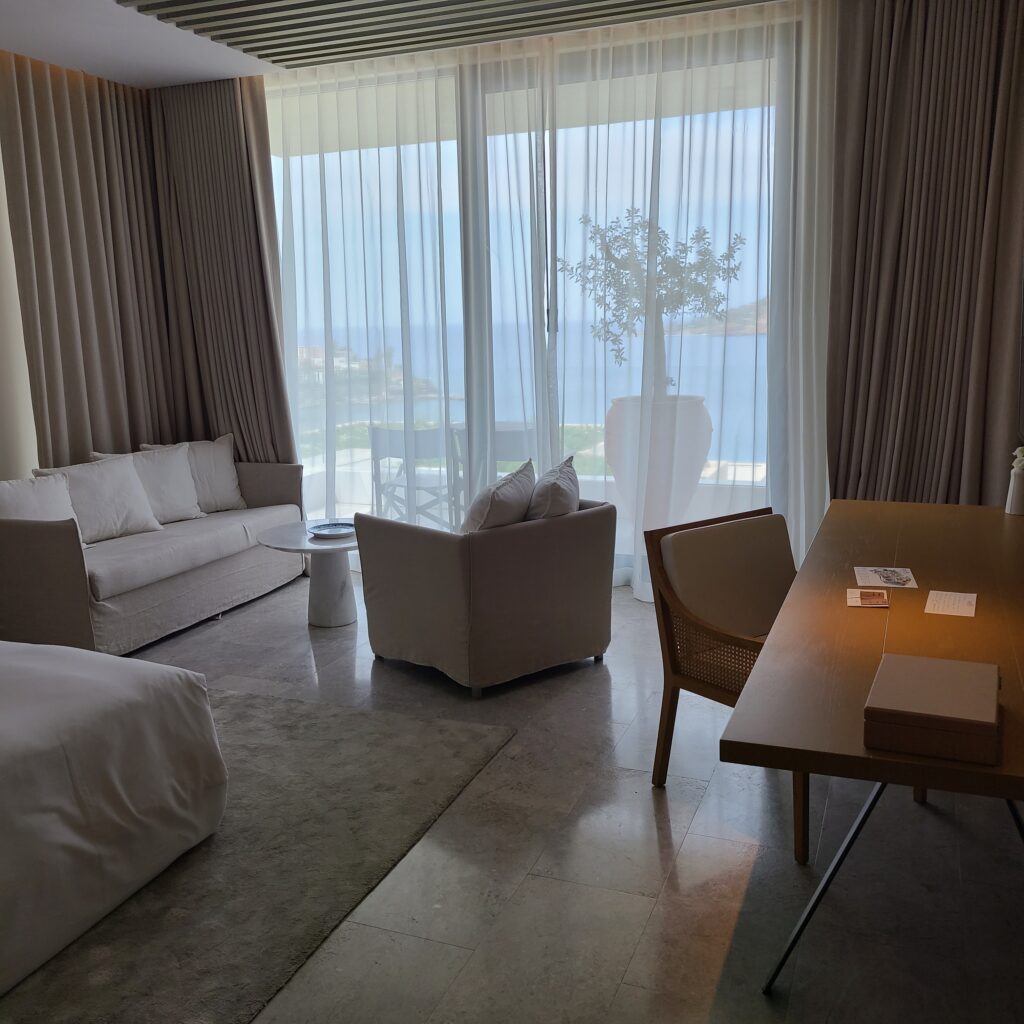 The bed felt amazing. I think it has a really great balance of firmness and softness. Controls for the whole room's lights and automated curtains, and universal plugs are conveniently by the bedside.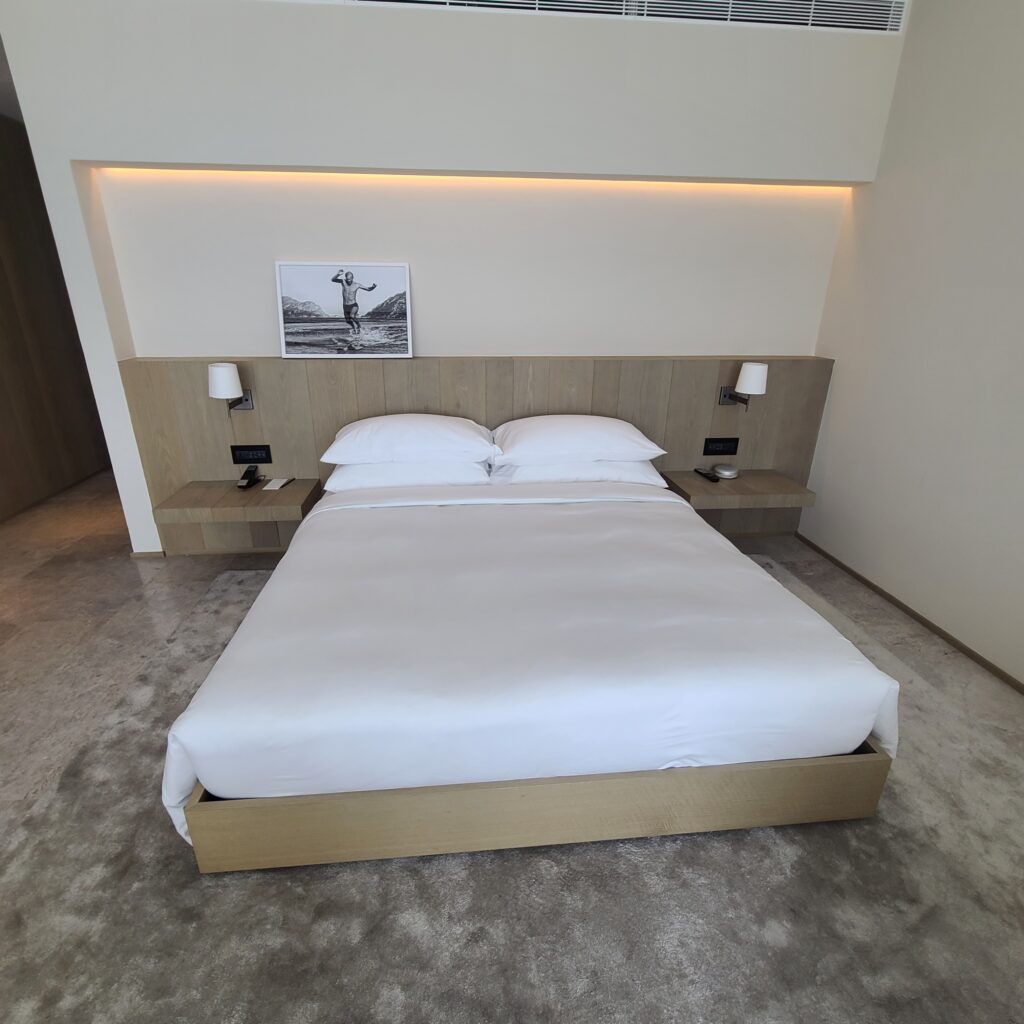 The desk is simple with sleek wooden finish, but large with generous universal outlets and USB outlets. A map of the hotel is provided to help you navigate through the whole property, which is huge with good amount of uphills and downhill movements. As reference, my room (#721) is the number 19 on the map. Might I add that I love the wooden keycard!
A personalized note by the hotel manager was written to thank me for being a Platinum Elite member. Later on, cookies and a free bottle of white wine was sent to my room!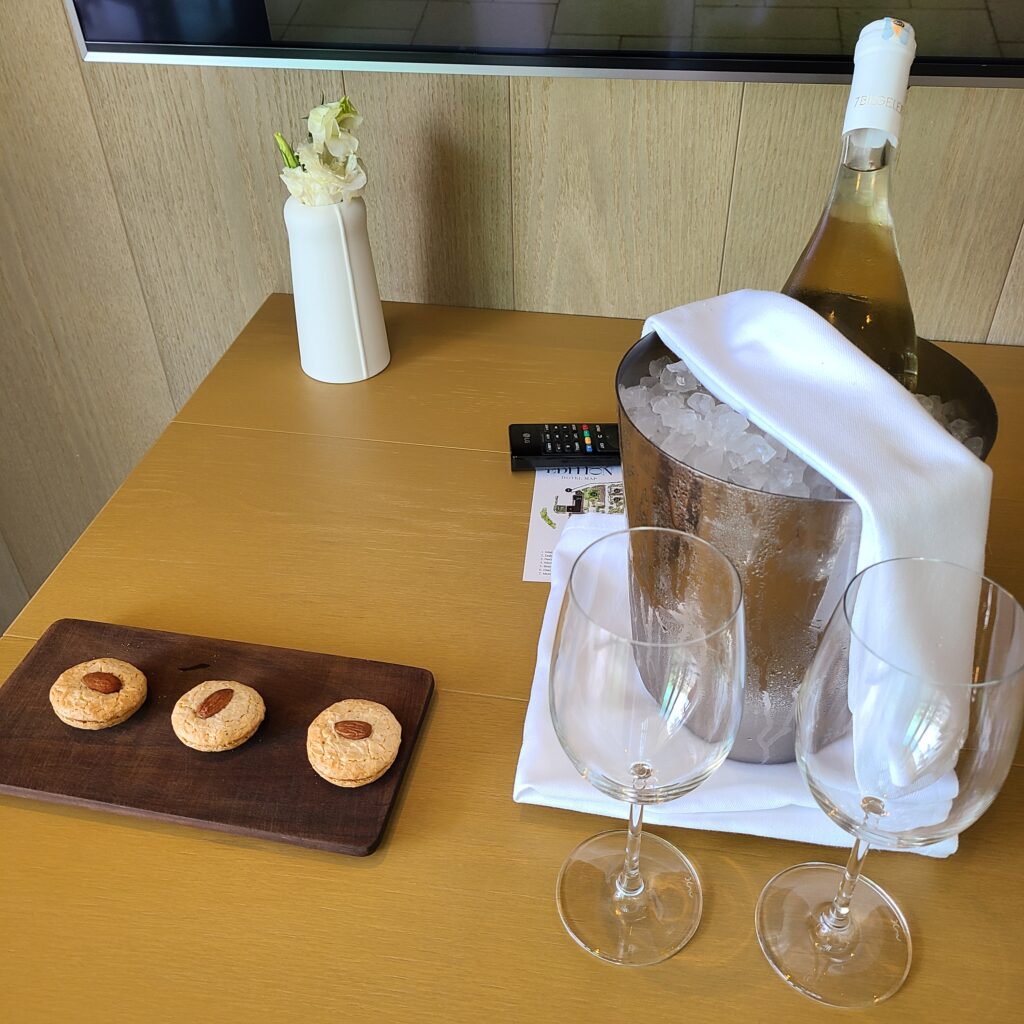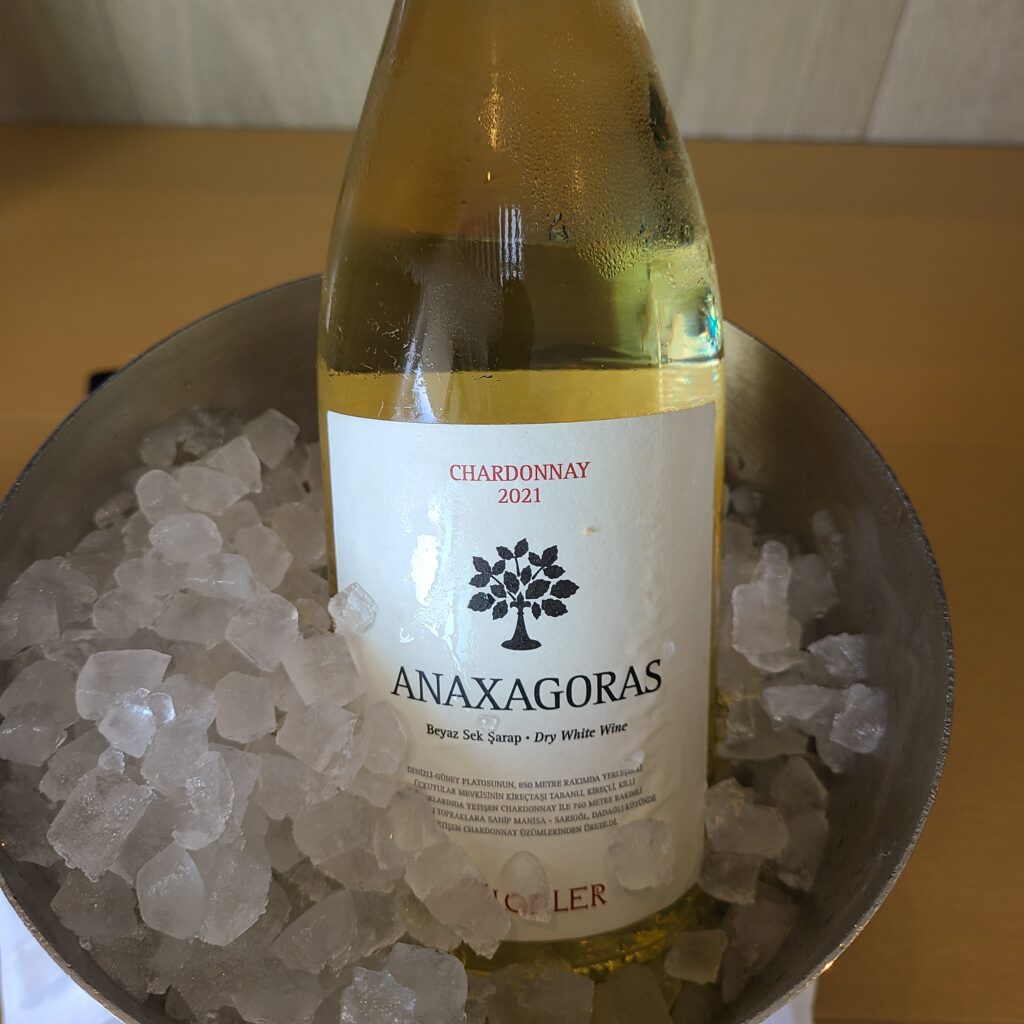 Nespresso machines and complimentary boxed water are available to use.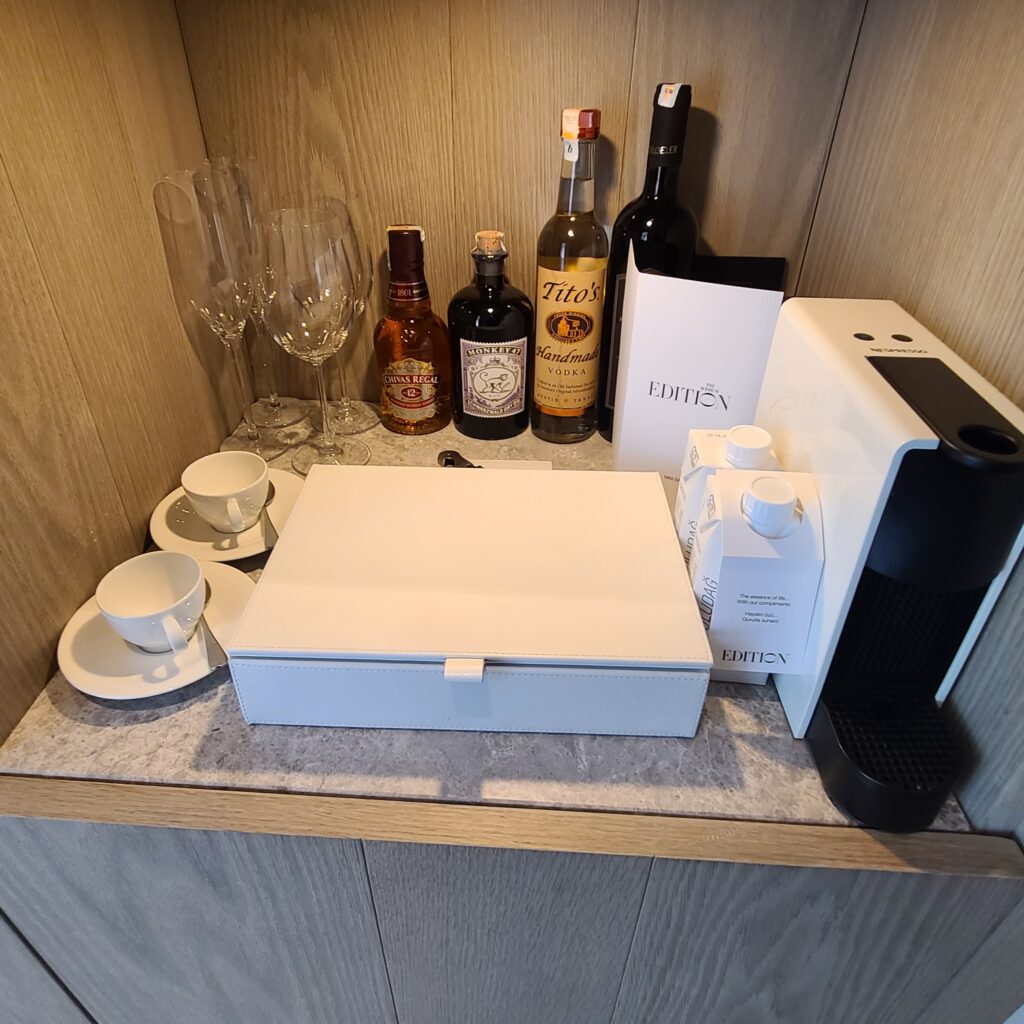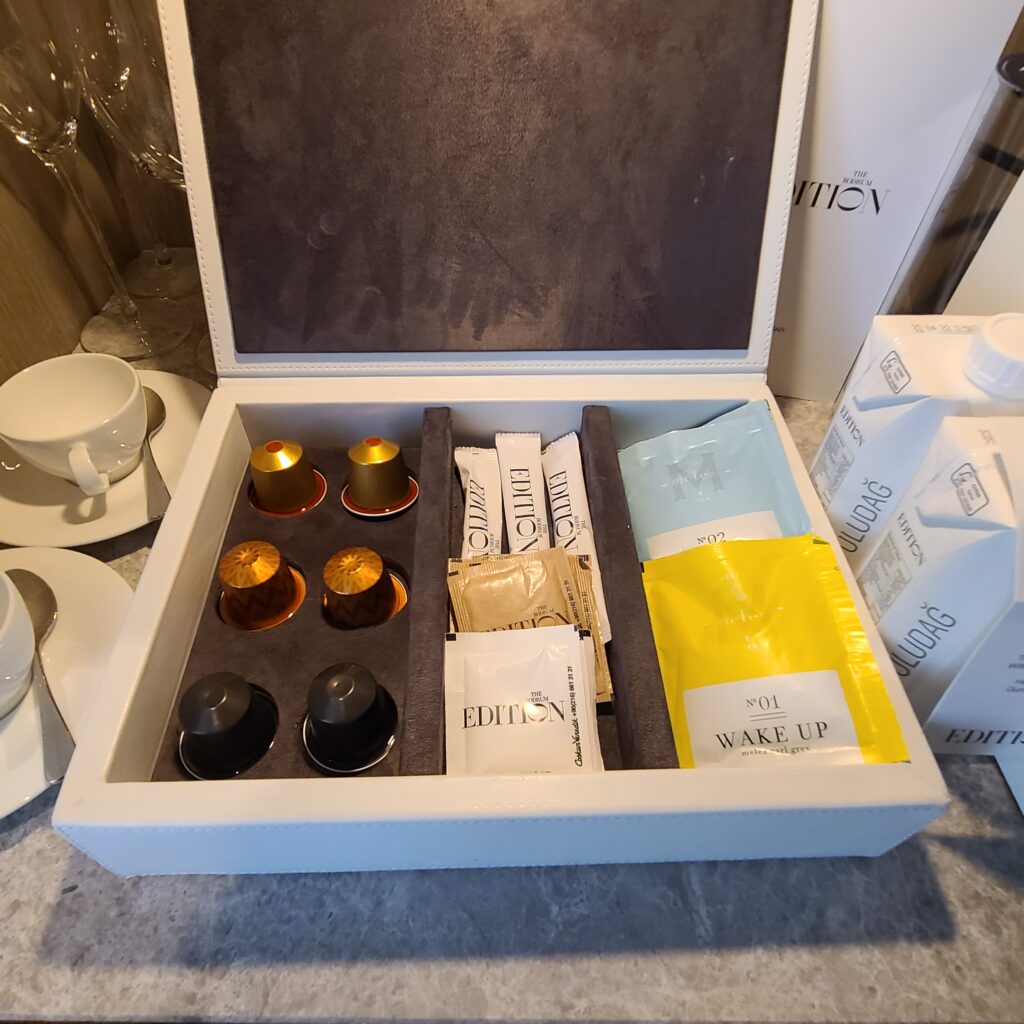 A beach bag is provided to put your belongings when you hang by the pool and beach area.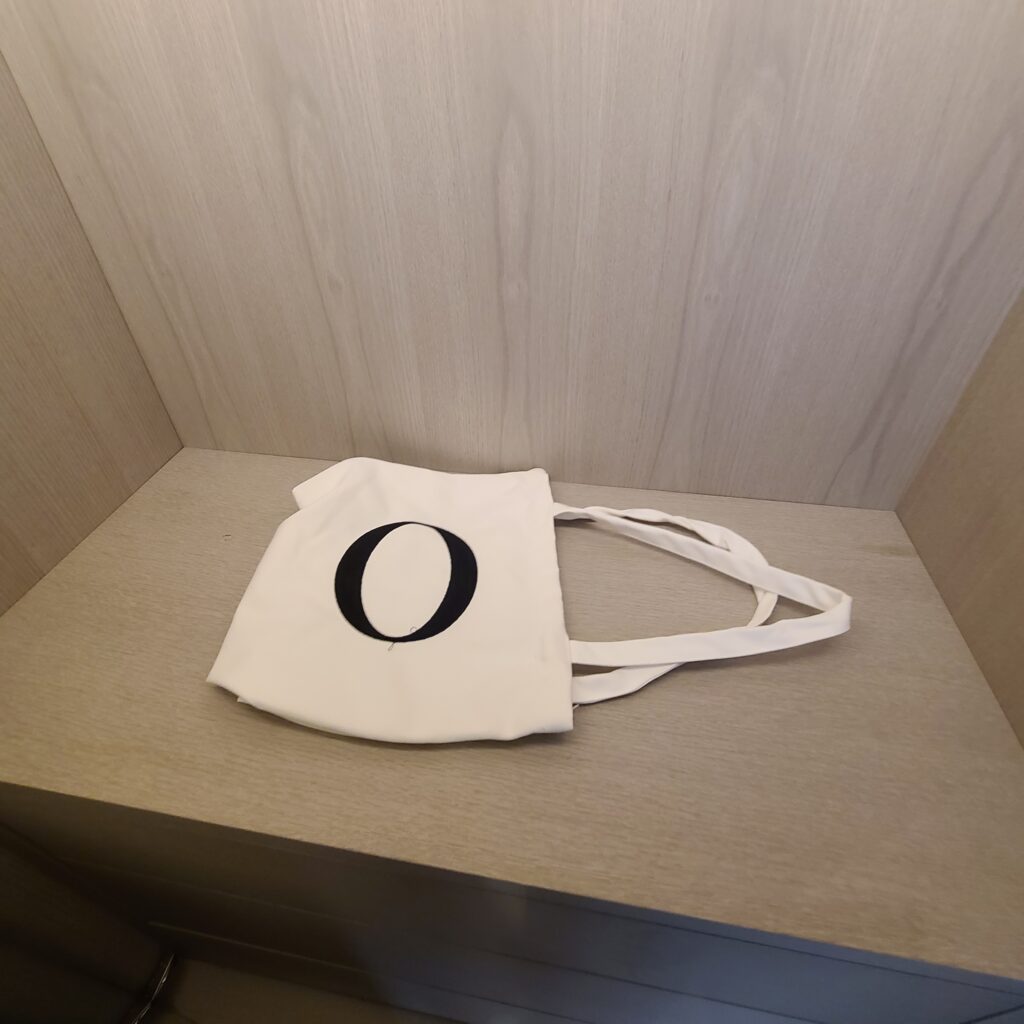 There's also an outdoor balcony where you can enjoy the Aegean Sea view, which is amazing especially at sunset. Even though I wished I was assigned to a more centralized room, the view is simply gorgeous.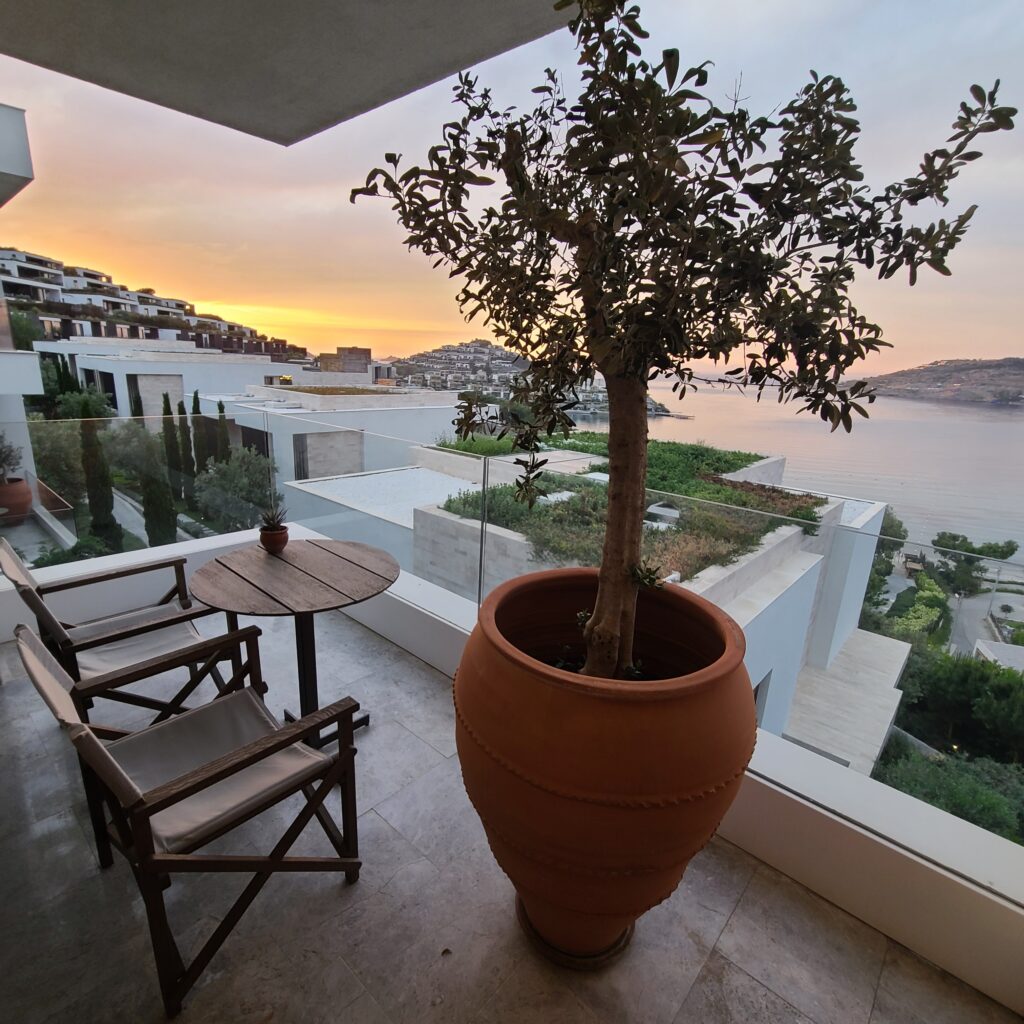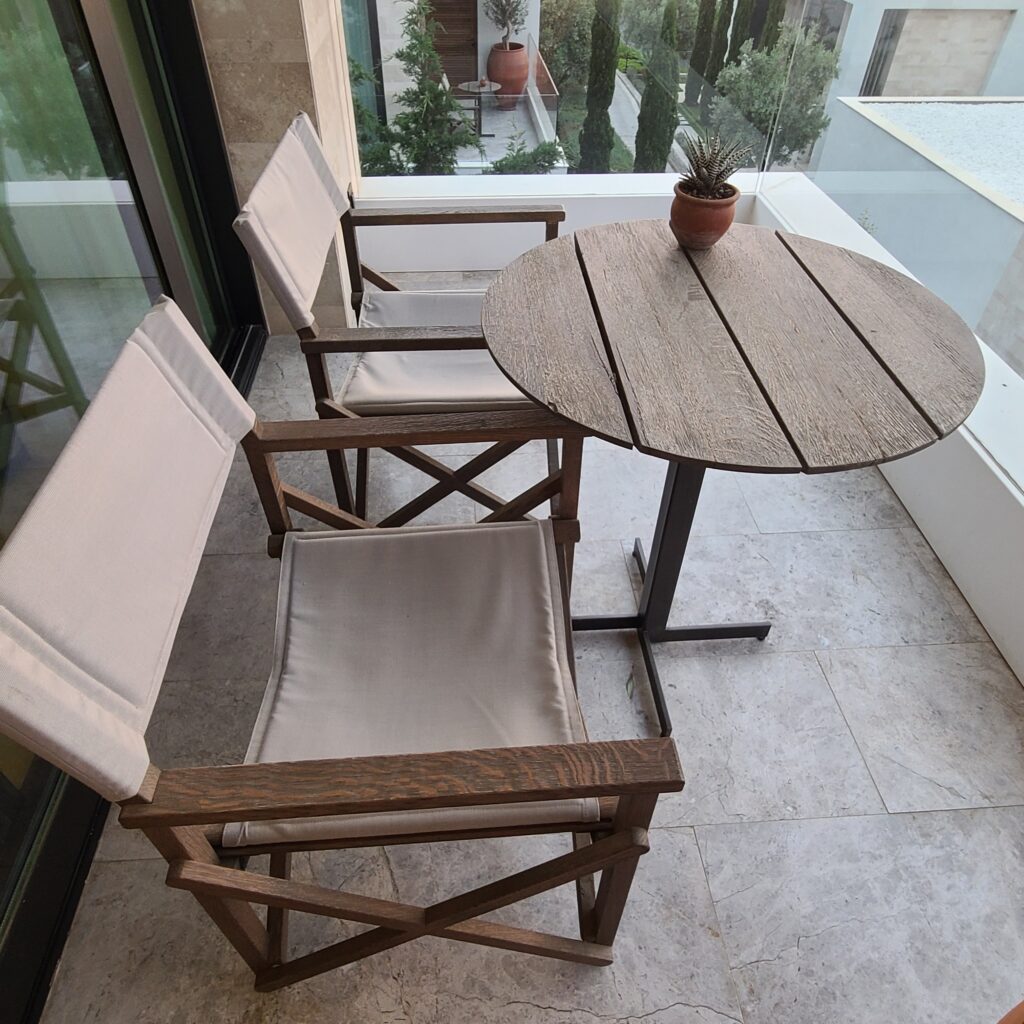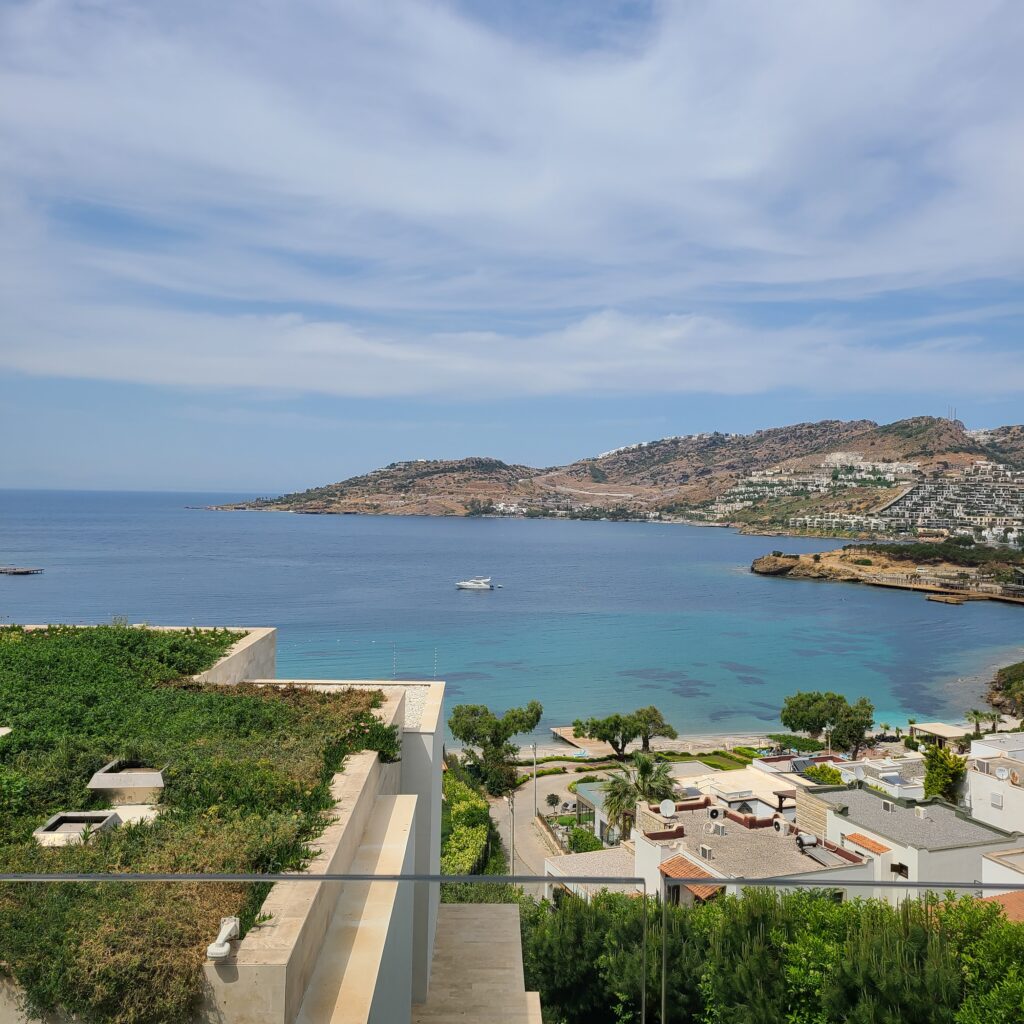 The Bodrum EDITION Premier Room- Bathroom
The bathroom comes with an oversized bathtub and separate rooms for toilet and shower. There's a remote control next to the bathtub to control the curtains for lighter or darker shade for your time in the bathtub. Bath salts are included.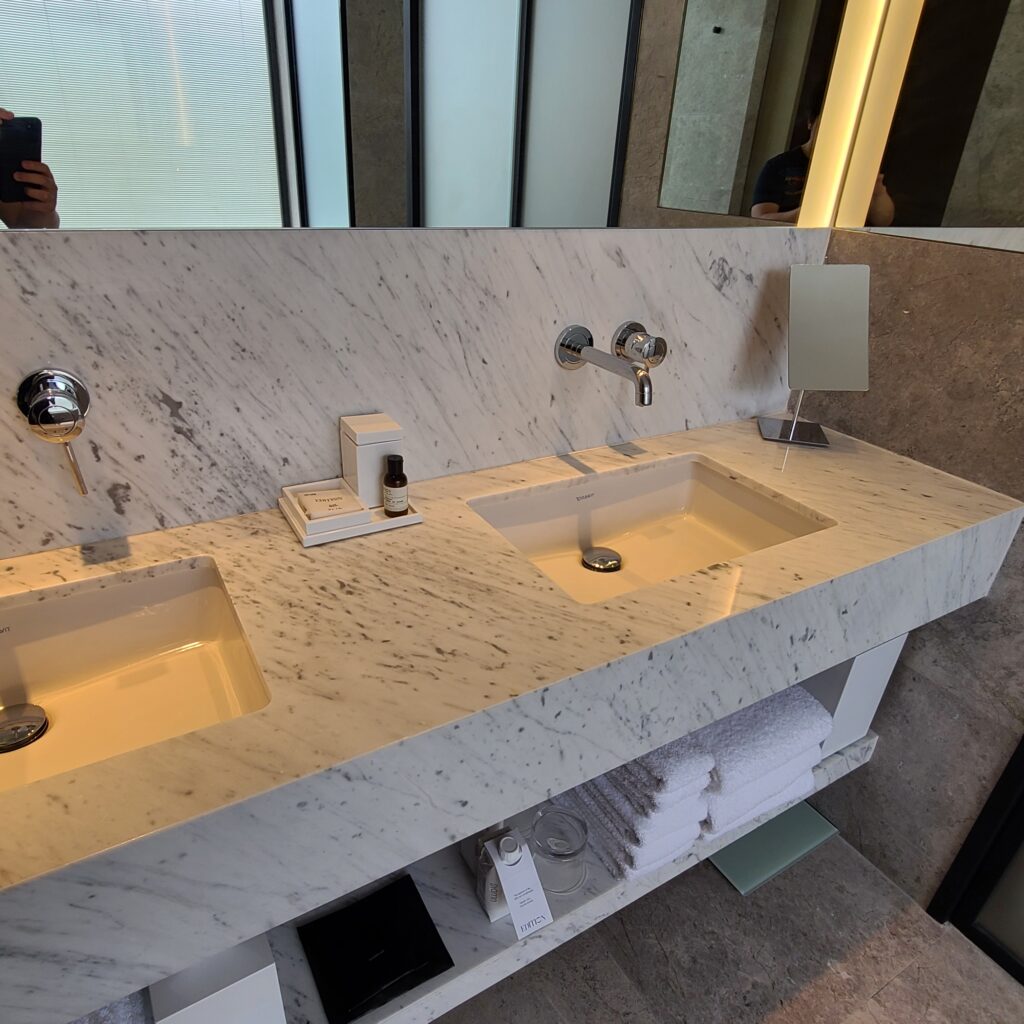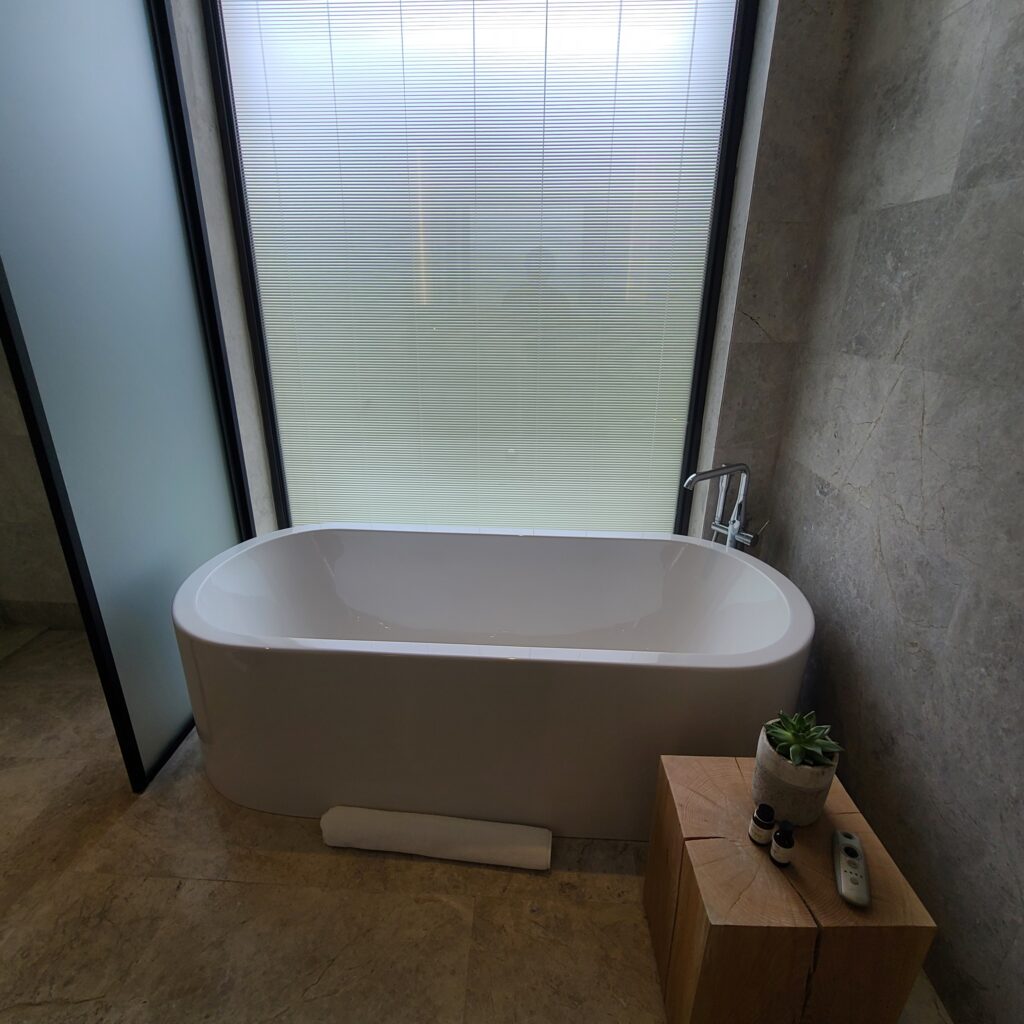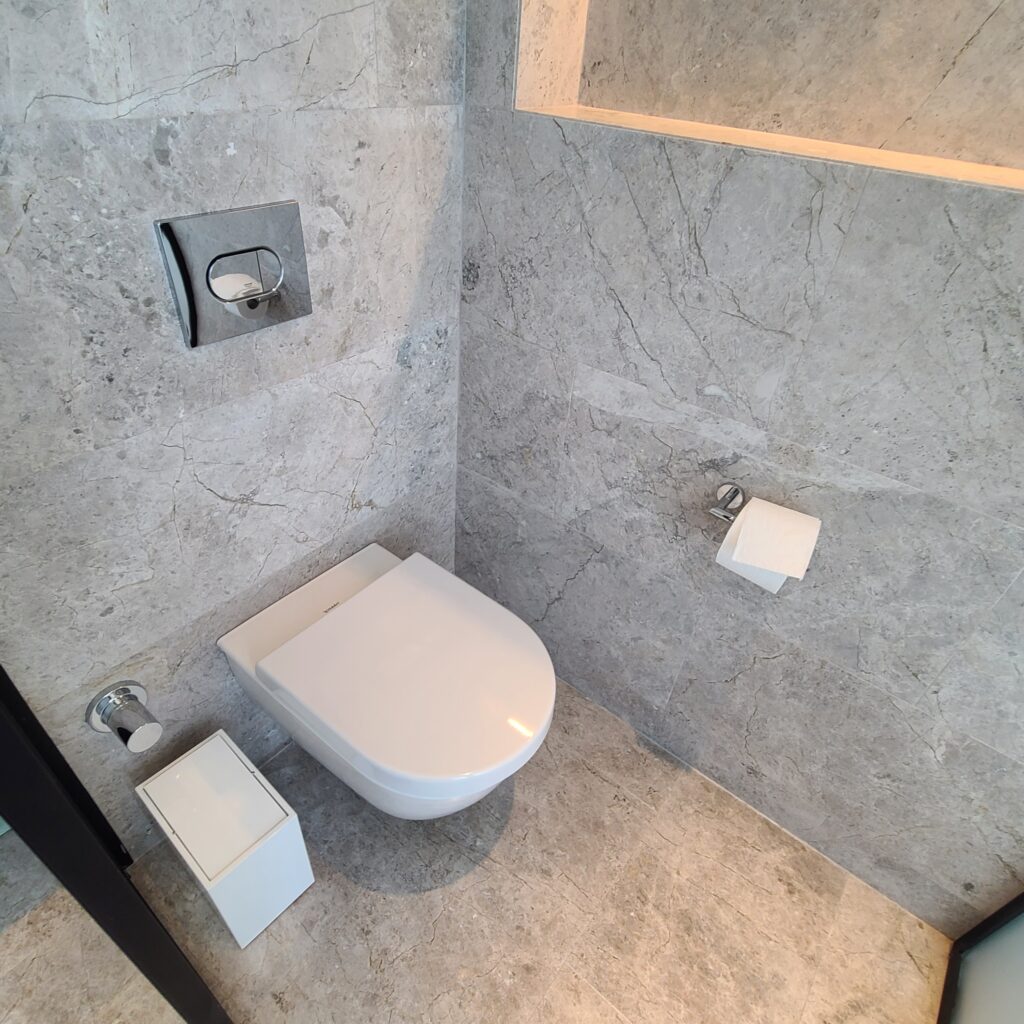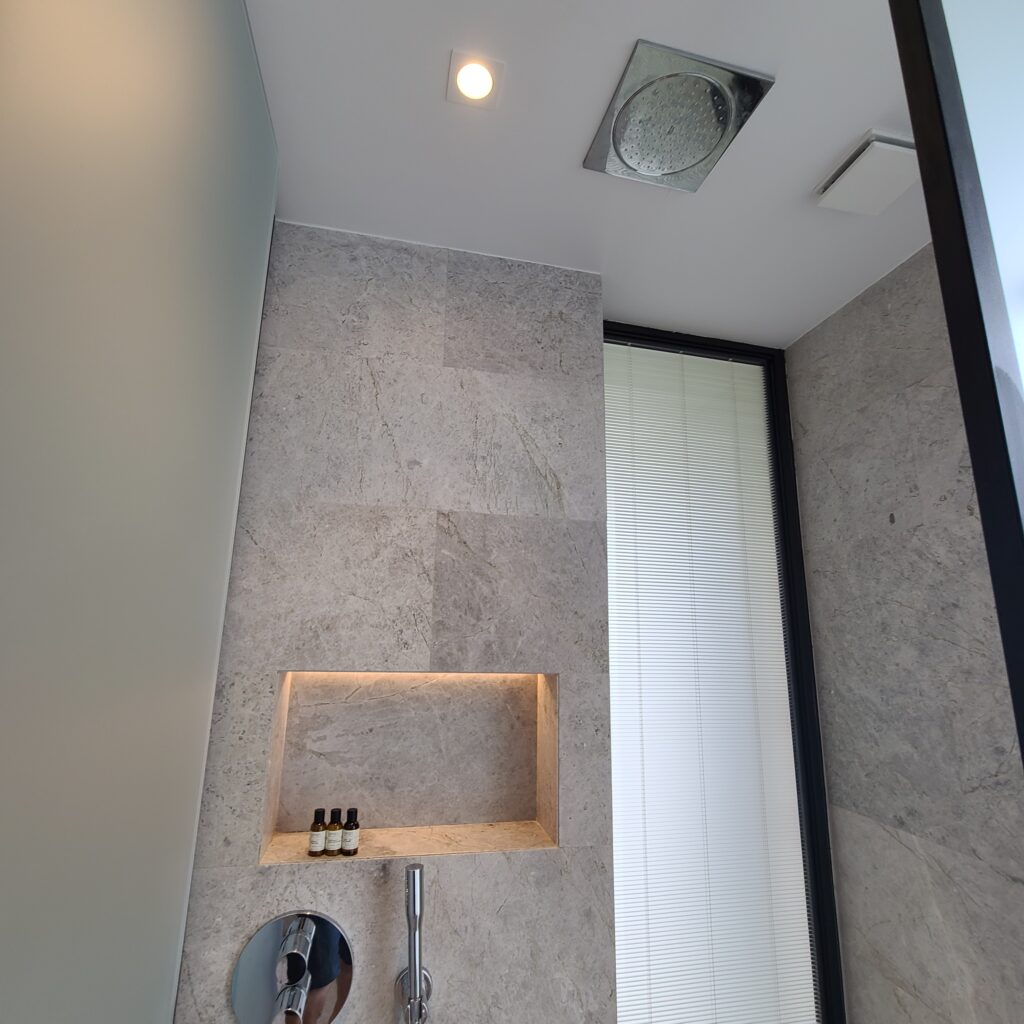 The bath amenities are issued by Le Labo, which is the standard for EDITION hotels. I've heard many good things about Le Labo, and they do not disappoint! I love them so much that I've asked for extra before checkout so I can take some more home with me.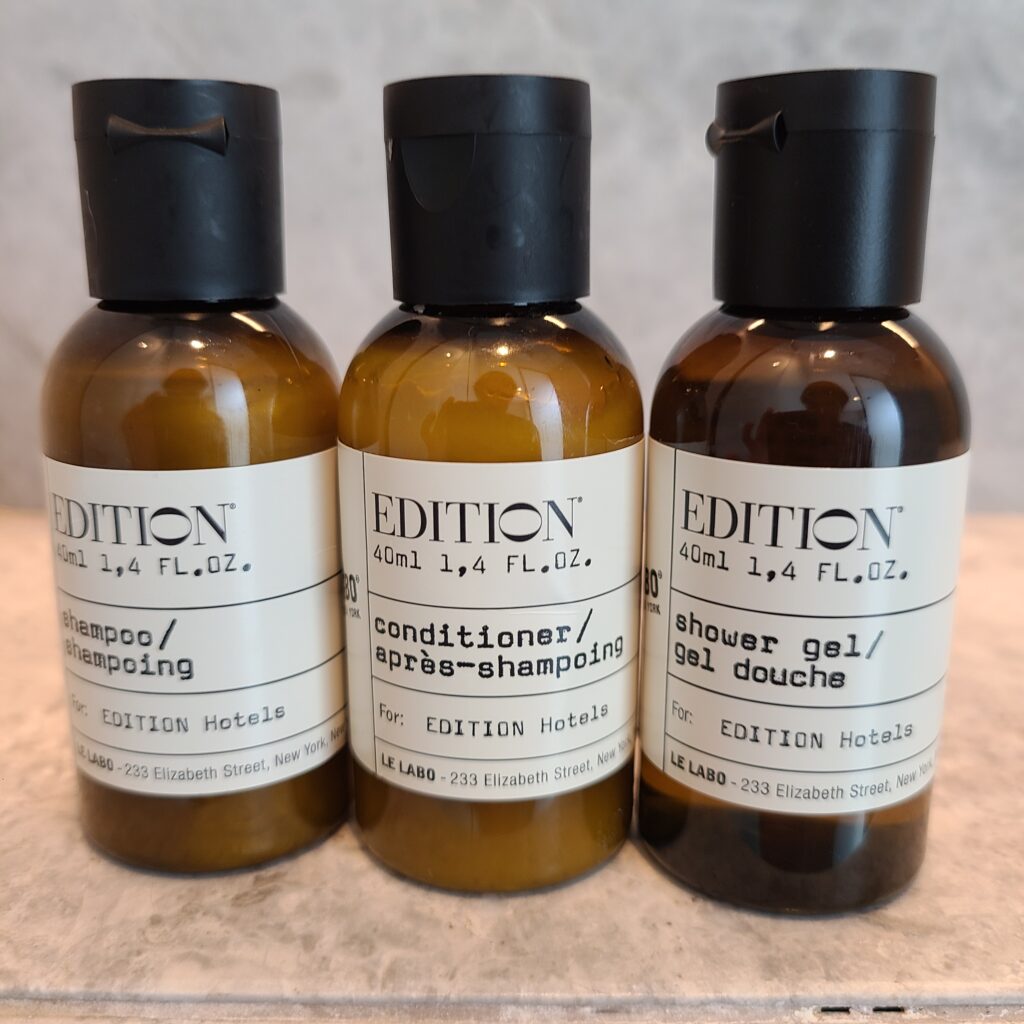 I do appreciate their cheeky toilet jokes.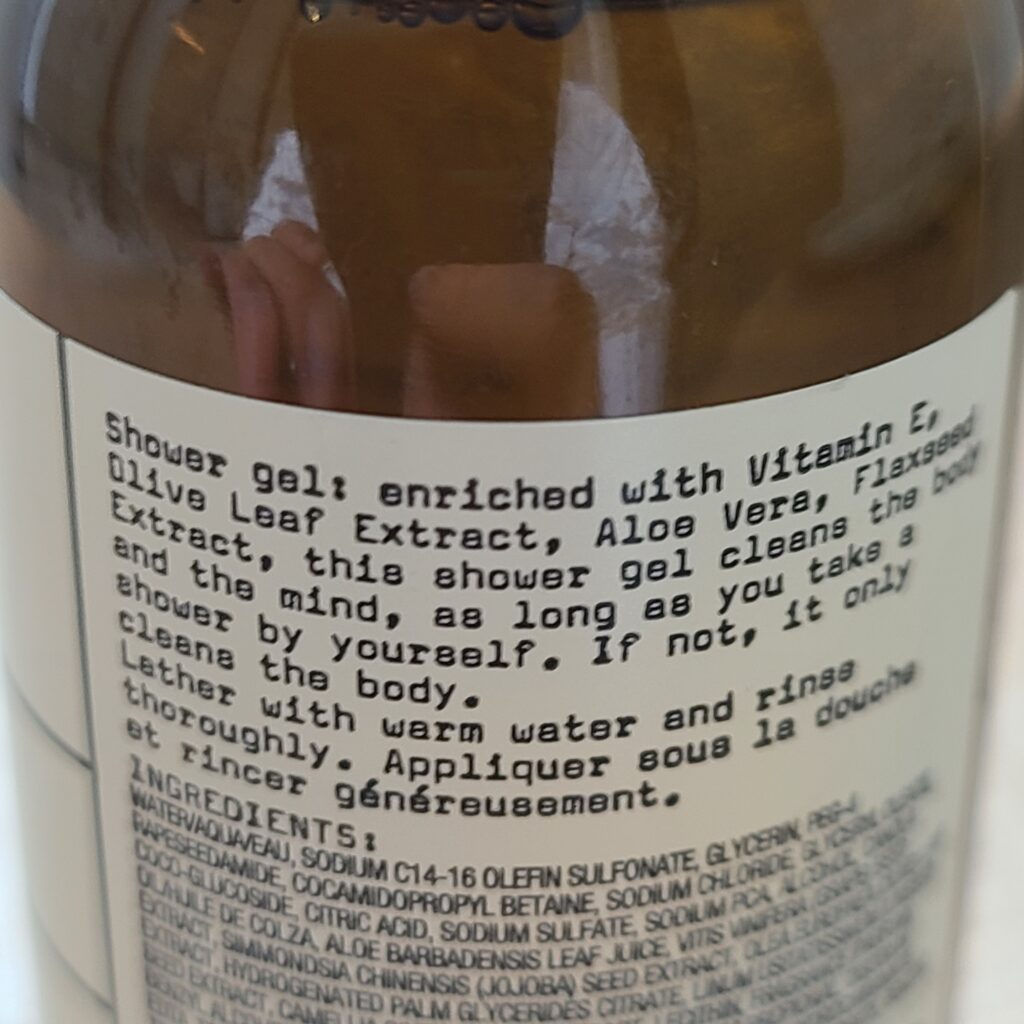 Plush hooded bathrobes are available to use, and they're pretty great! You can purchase them for 150 EUR a piece, if you want.
The Bodrum EDITION- Hotel Layout
The hotel is laid out like a private residential area with separate villas consisting of rooms at different levels. Getting around by foot can be quite the workout since you'd have to take stairs to get to your room or the hotel's lobby. At the same time, you can really appreciate the details and greeneries surrounding the hotel.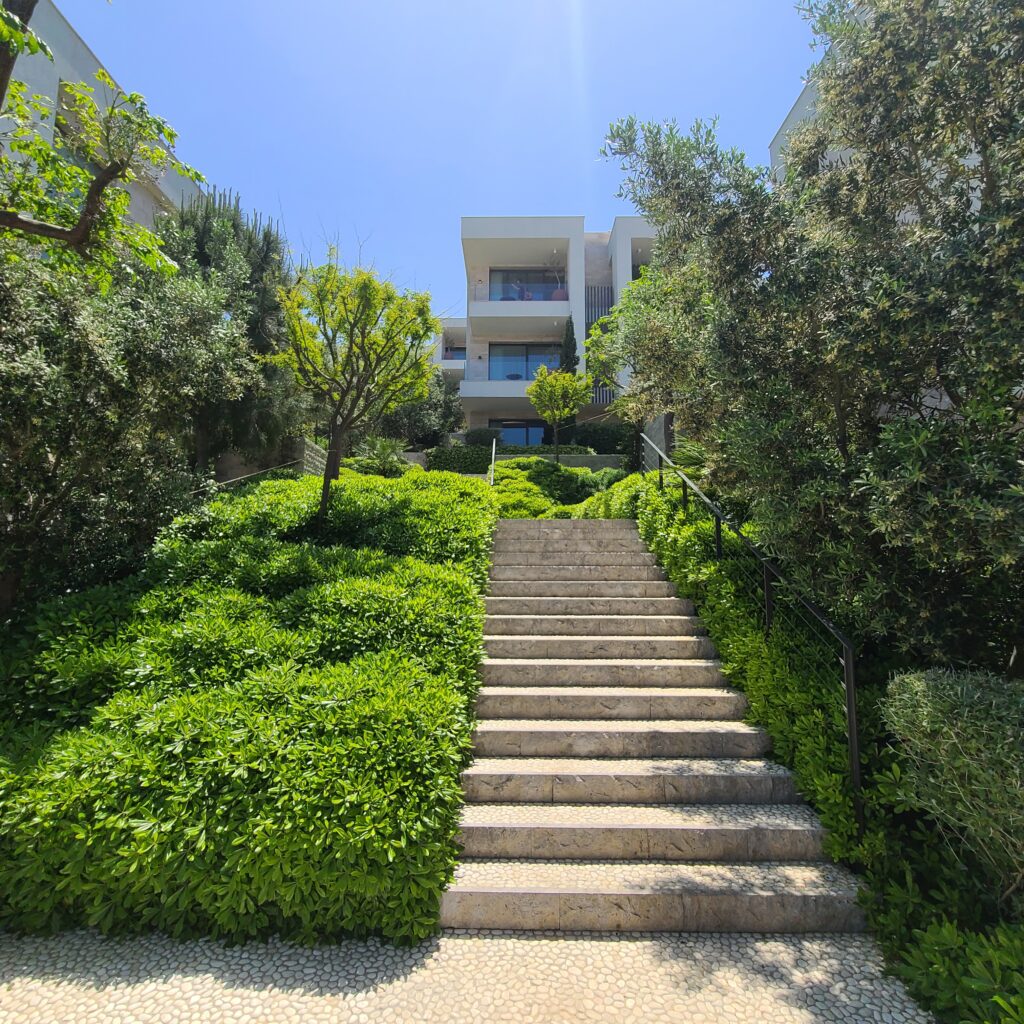 To some, this can be a nuisance, but you can request buggy services from your room or the buggy stations that can be found throughout the major sites of the hotel like the beach and restaurants. It can take some time to get used to navigating by yourself since I get lost a few times, but the staff are always happy to guide you to where you need to go.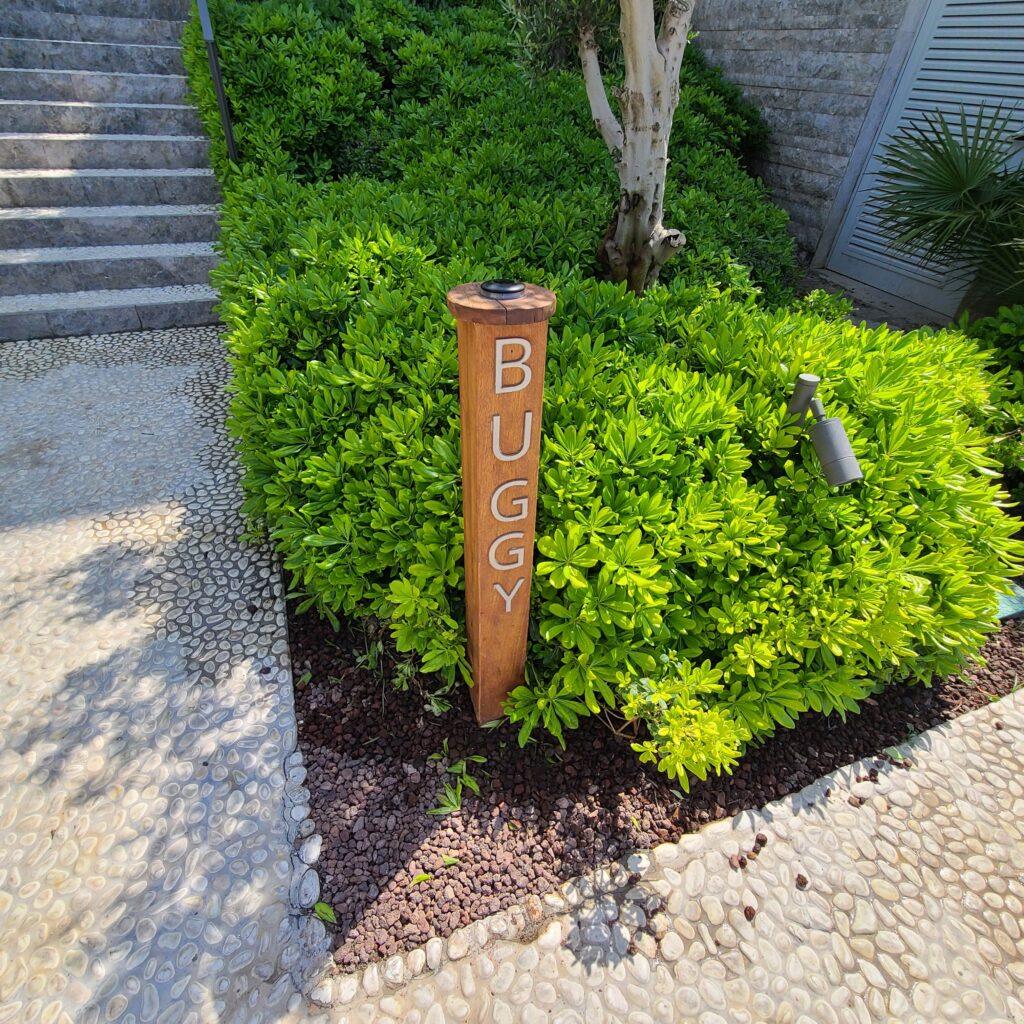 The Bodrum EDITION- Pool & Beach
Some of the most prominent features of this hotel are the pool and the beach. The infinity pool is set dead center of the whole property overlooking the Aegean Sea. The pool looks stunning with the clean wooden flooring by it, and the blue tiles blend well with the sea. In here, a staff will proactively set up the pool bench of your choice with clean towels. You may also order food and drinks with a menu provided.
Private cabanas by the pool are available for rent, but it made no sense for me to do so.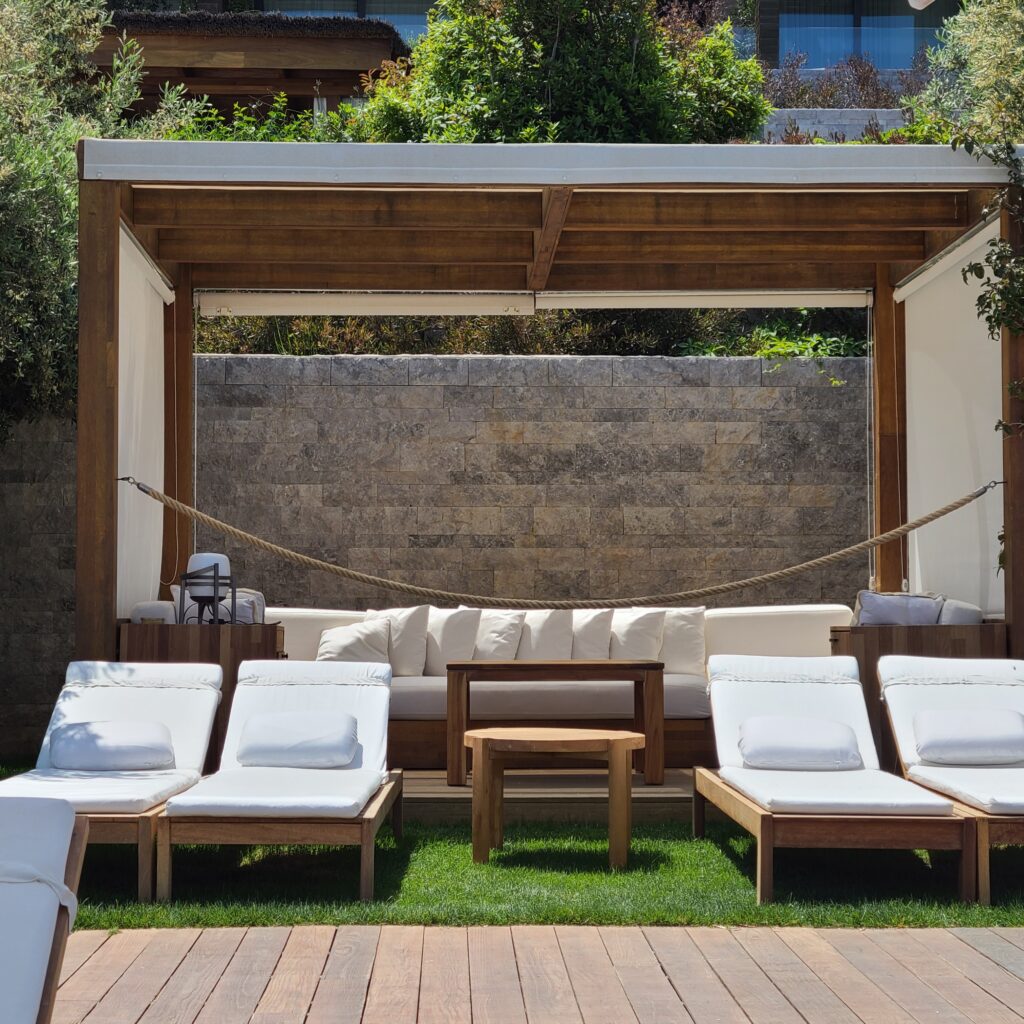 Although the pool looks stunning, one complaint I have is that it's not heated. While it was warm enough (early May) to chill by the pool and the beach, it was a bit too cold to swim, especially with the occasional breeze. Thus, I was not able to enjoy it as much. Definitely keep this in mind if you're trying to book this hotel at off-season rates.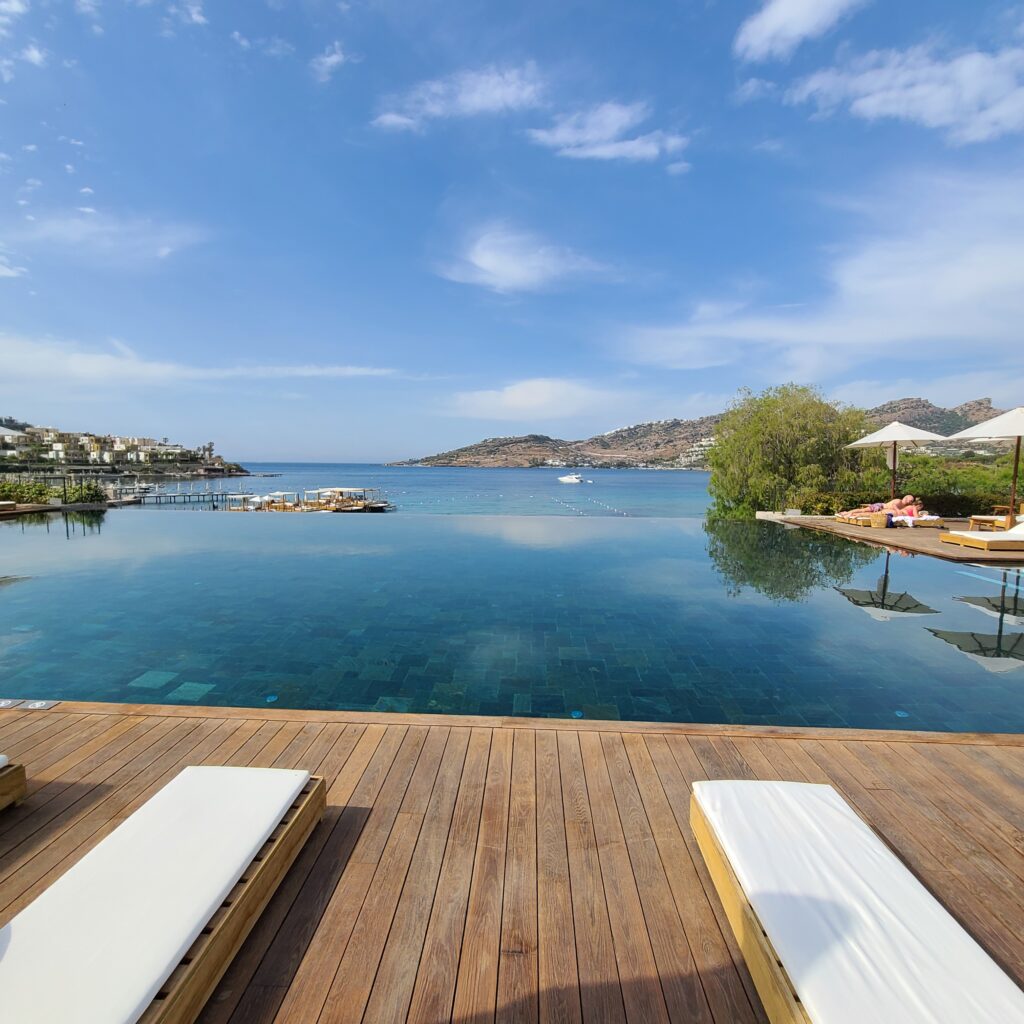 Just below the pool is the beach area. The beach is filled with white sands, but it might be very crowded during peak season because of its size. There are buoys that serve as the hotel's border and safeguards as it shares the shorelines with other buildings. The beach is very clean, and swimming on it feels safe as there's no corrals, sponges, seaweed, or trash that could hurt your feet. Just like the pool, you can order food and drinks while enjoying the sun.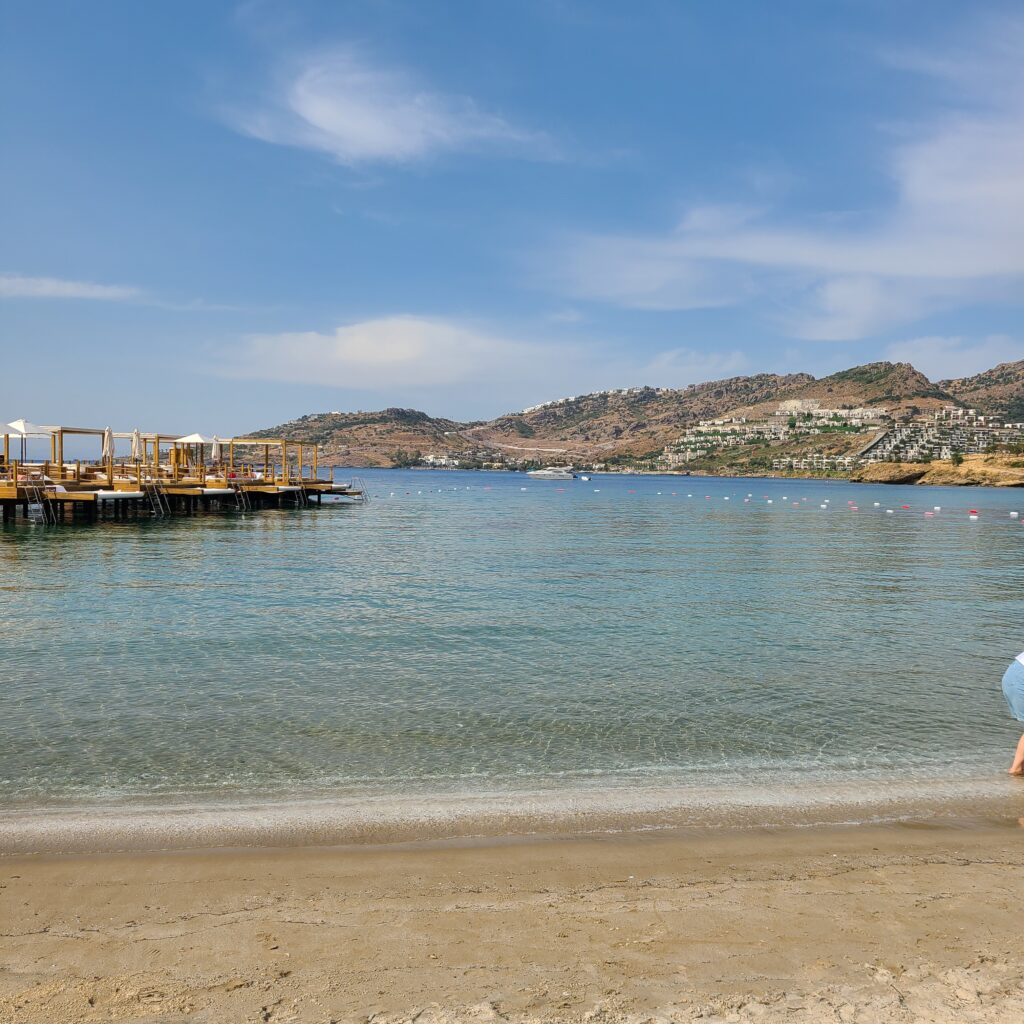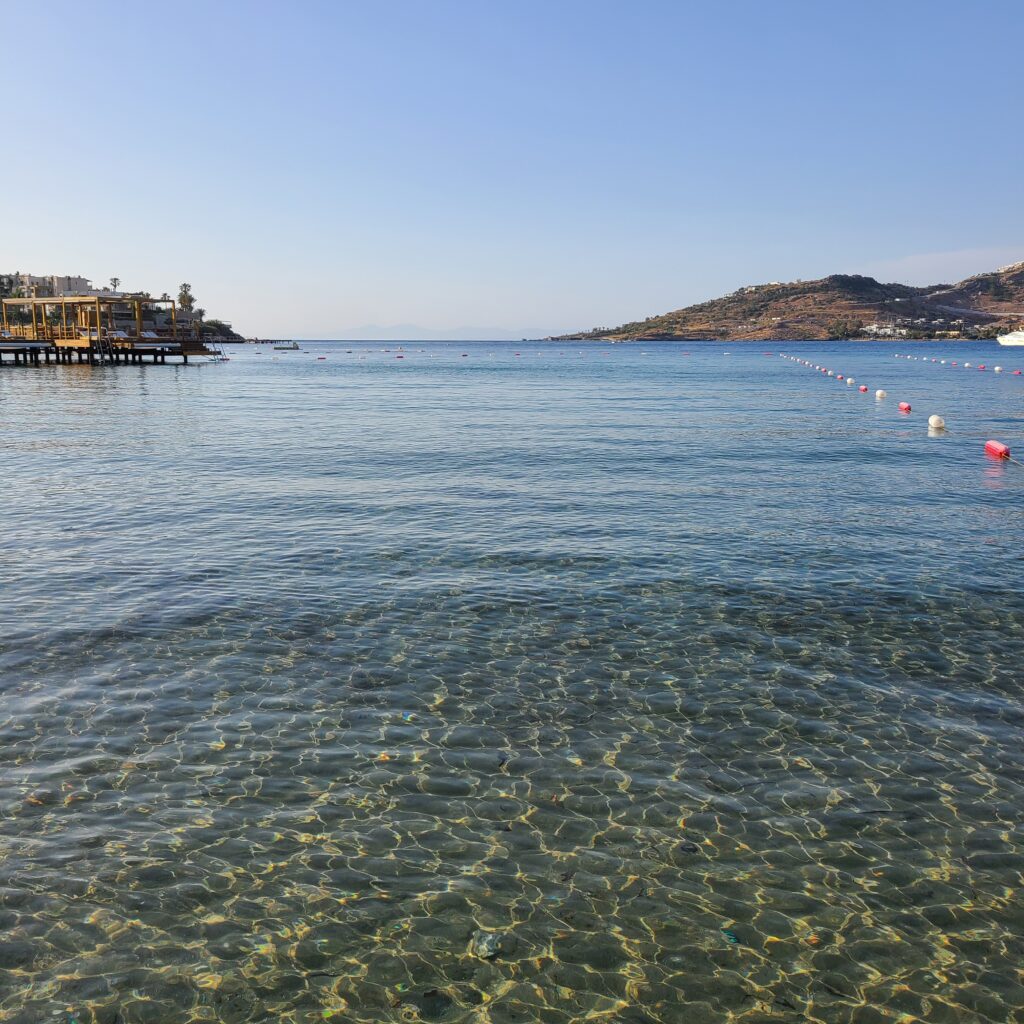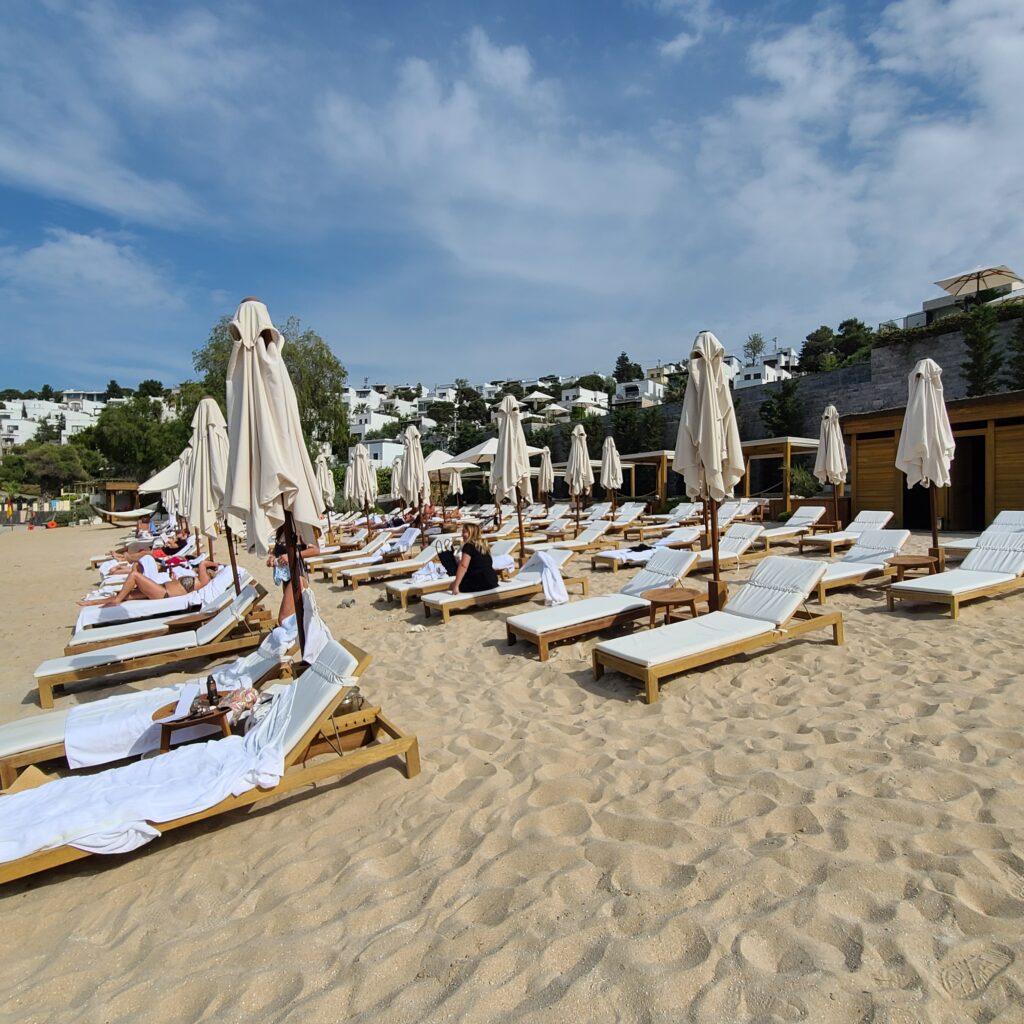 Just to the left of the beach is where you can find the pier for private cabanas with overwater nets that you can rent.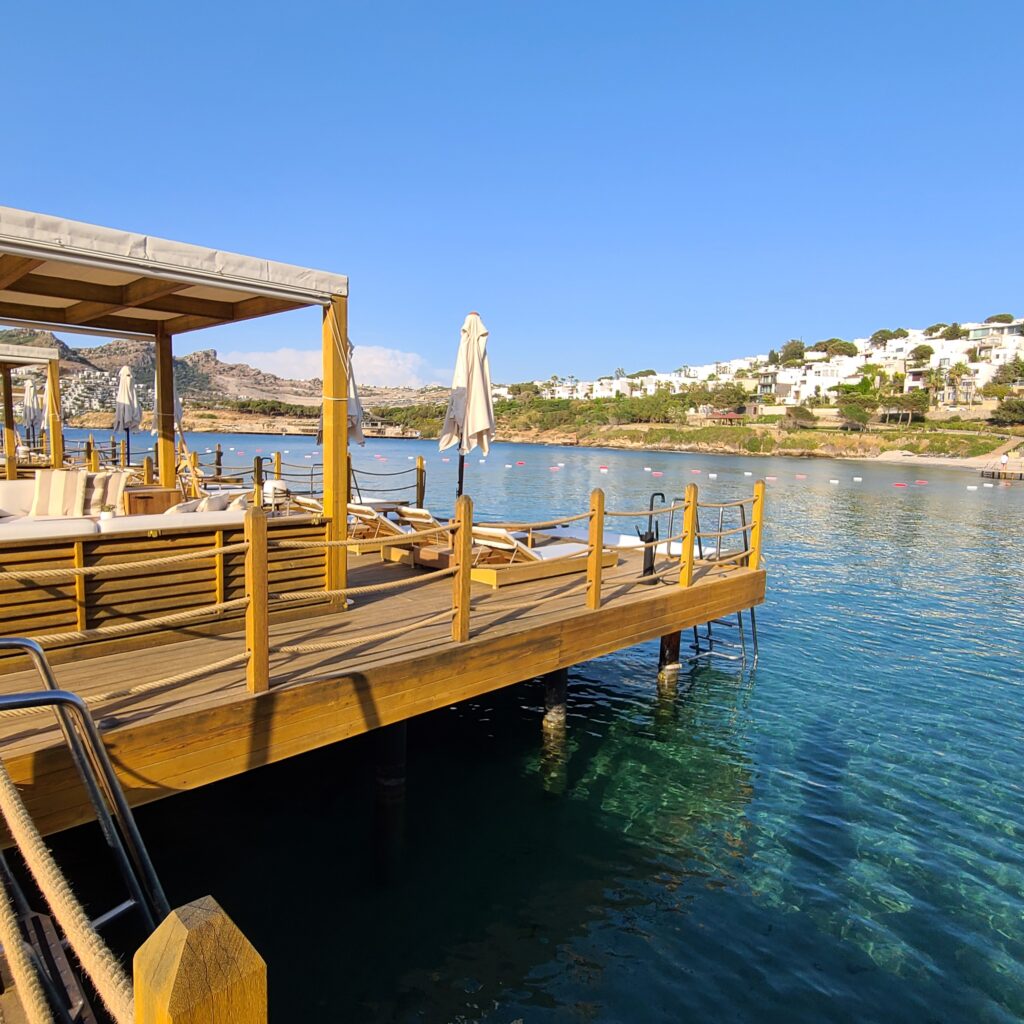 You can also rent water sport rides like jetskis and motorboats.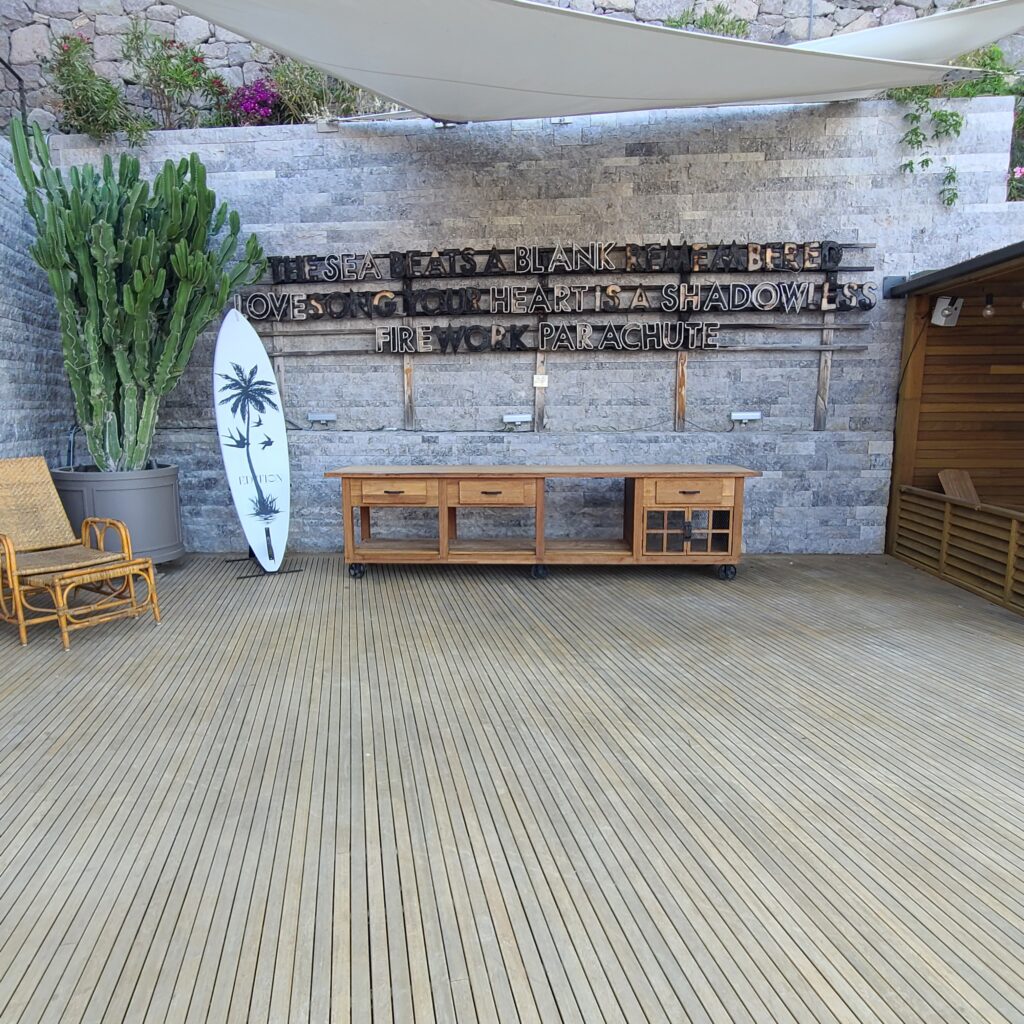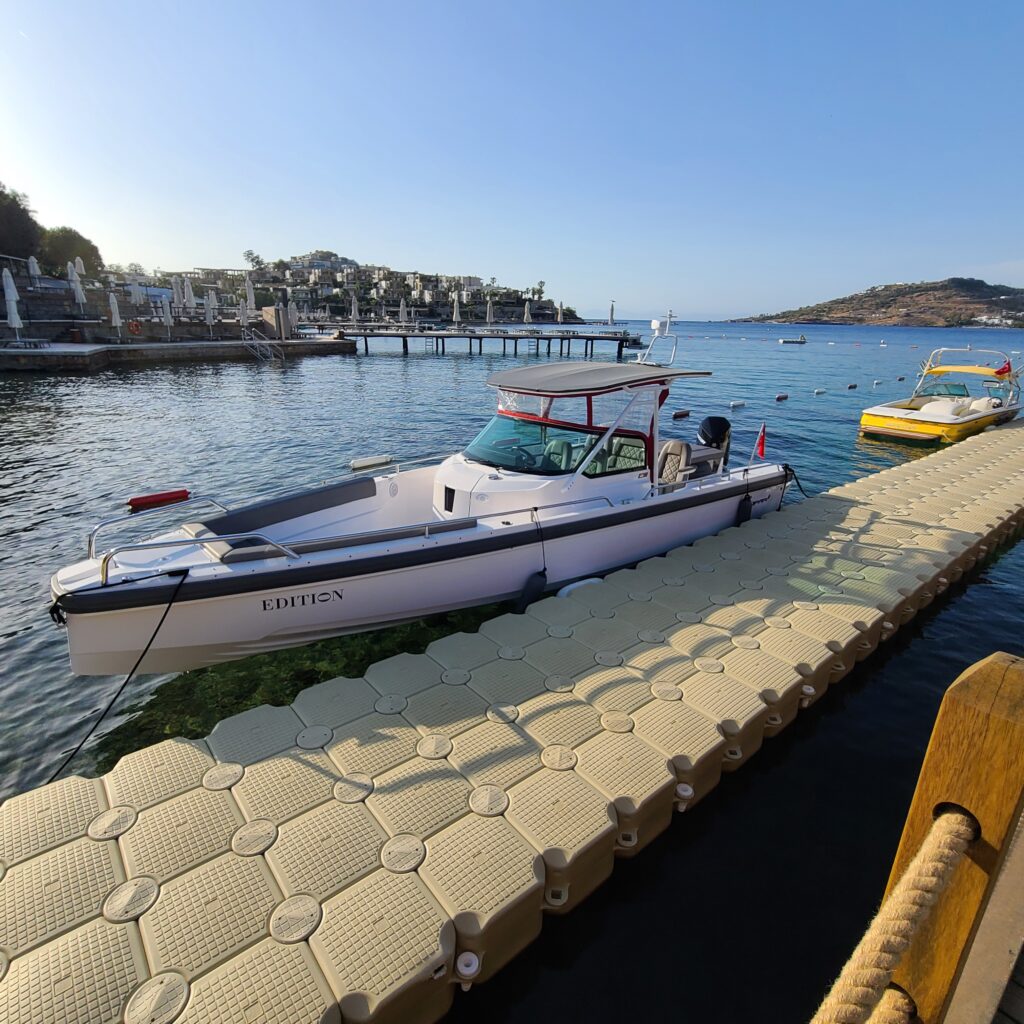 The Bodrum EDITION- Breakfast & Dining
I've indulged myself with the food options at The Bodrum EDITION. There are a few options on food at this hotel. For breakfast, you'll be eating at the Kitchen, while you can eat lunch and dinner at Morena. There's a third restaurant called Brava, but it was closed during my stay and will be opened in June.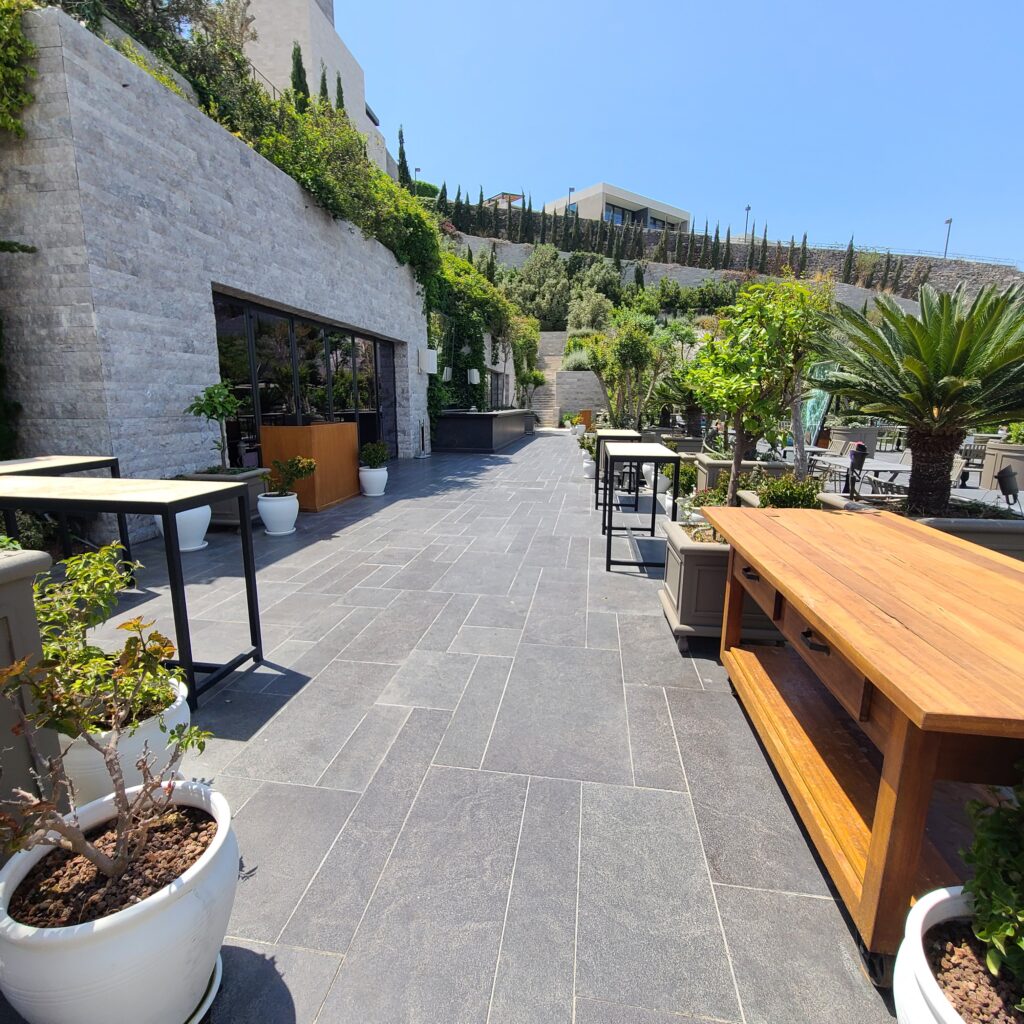 Do note that the prices listed on the menu does not include the 13% service fee, which will be calculated on the total of your bill. You can give tips in cash or credit card. Make sure to say that you'd like to tip with your credit card so they'll use a separate payment processor since you can't add tip to your final bill.
Breakfast at Kitchen
Breakfast starts at 8AM-12PM. Compared to what I've read from reviews from the previous years, breakfast is no longer served to crazy hours like 4PM anymore.
The Kitchen looks very nice, and you can choose between indoor and outdoor seat.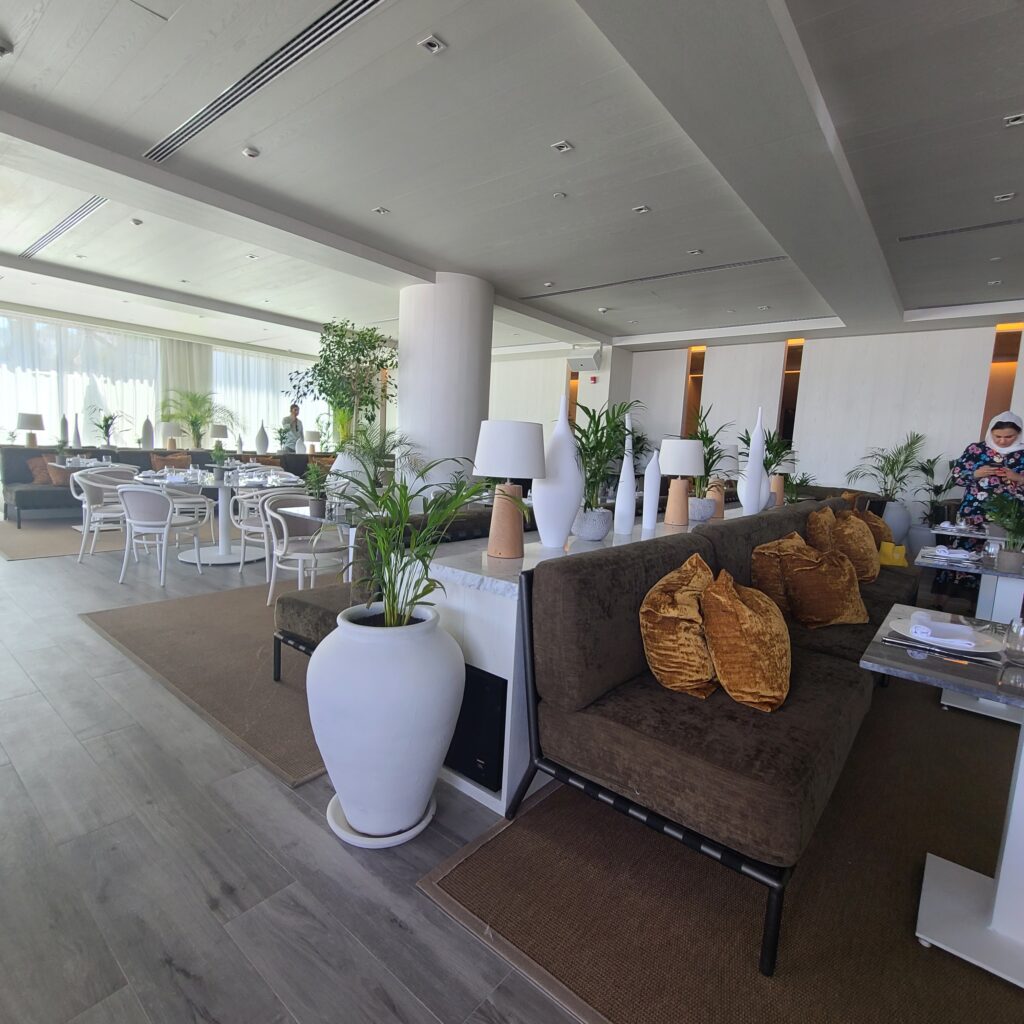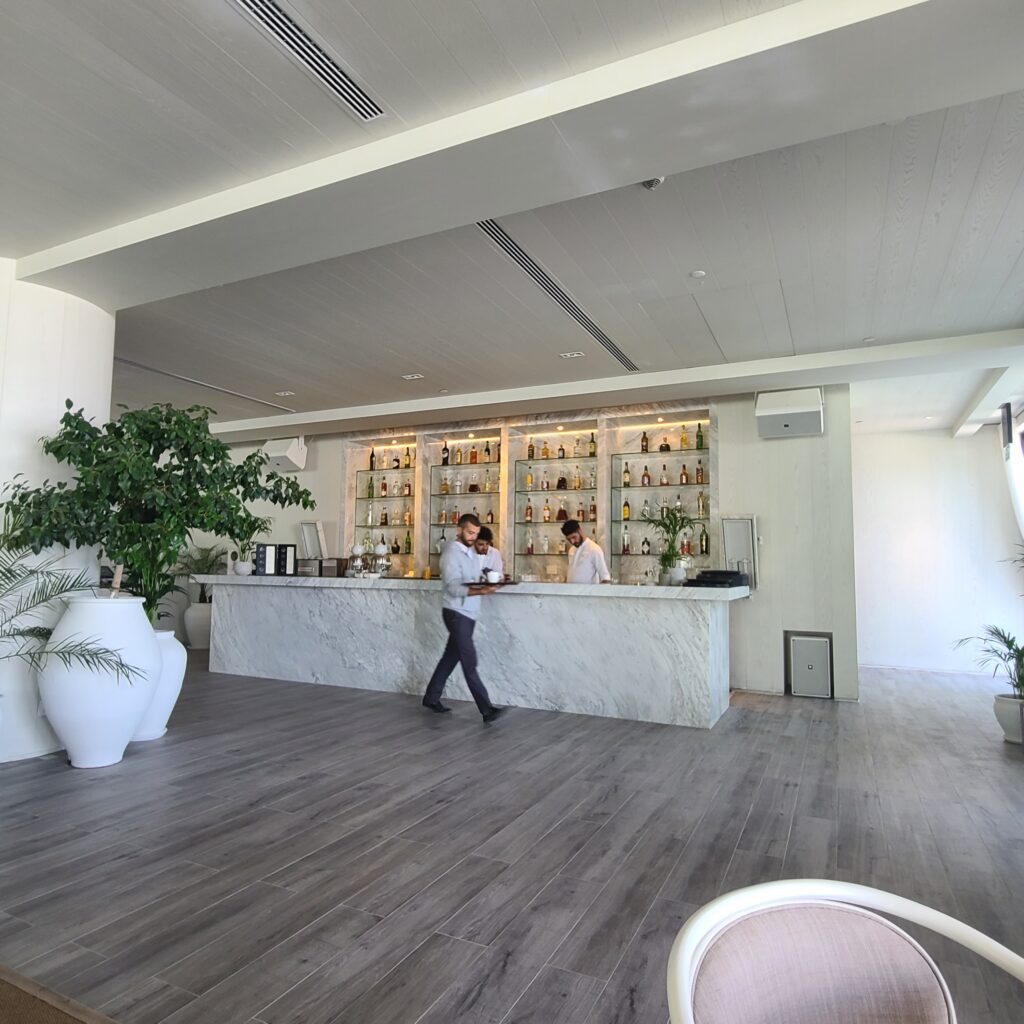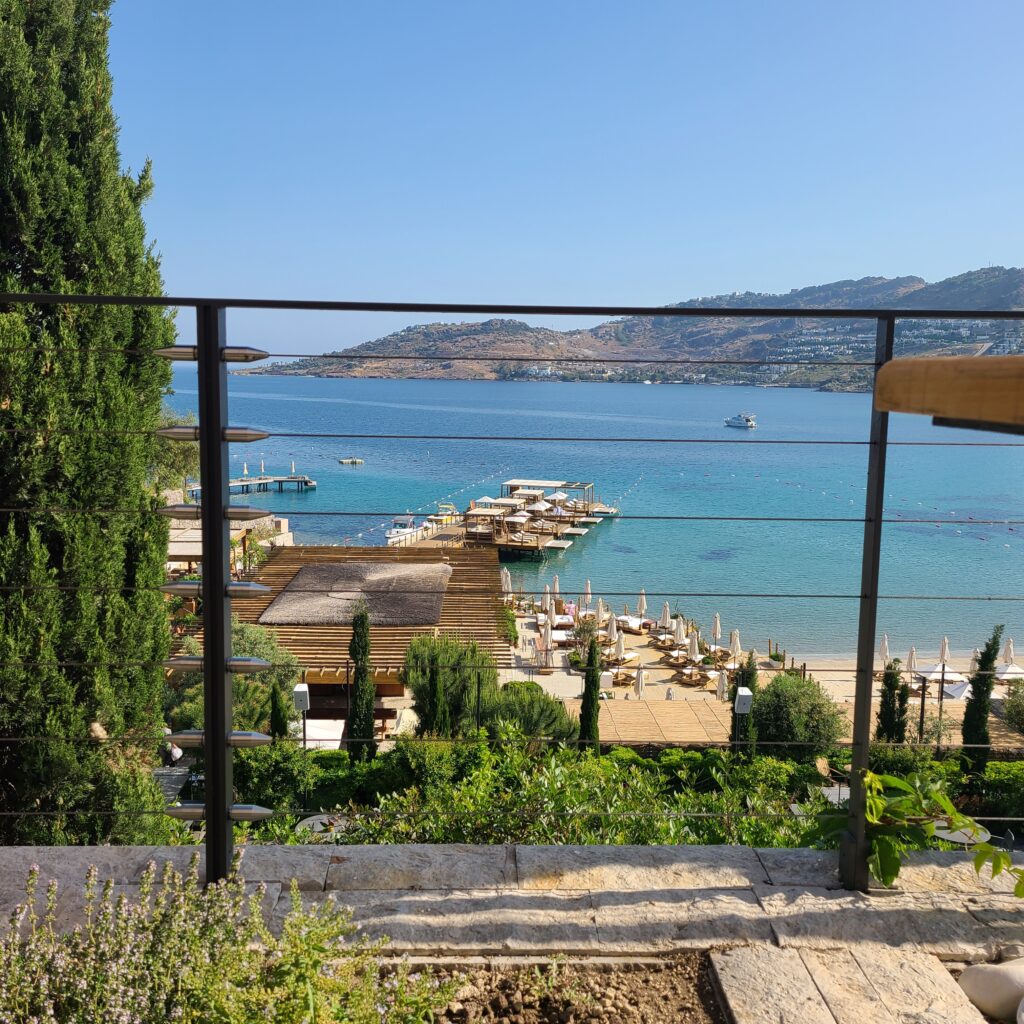 The breakfast is a la carte, but their biggest menu is the Traditional Turkish Breakfast package that costs 480 TL (~$30 USD) before the 13% service fee. The set includes pastries, jams, cheese plate, fruits, and salad. A choice of fruit juice and a cup of tea or coffee are included. The set is huge, and they alone can leave me feeling full for the whole day if I eat at later times.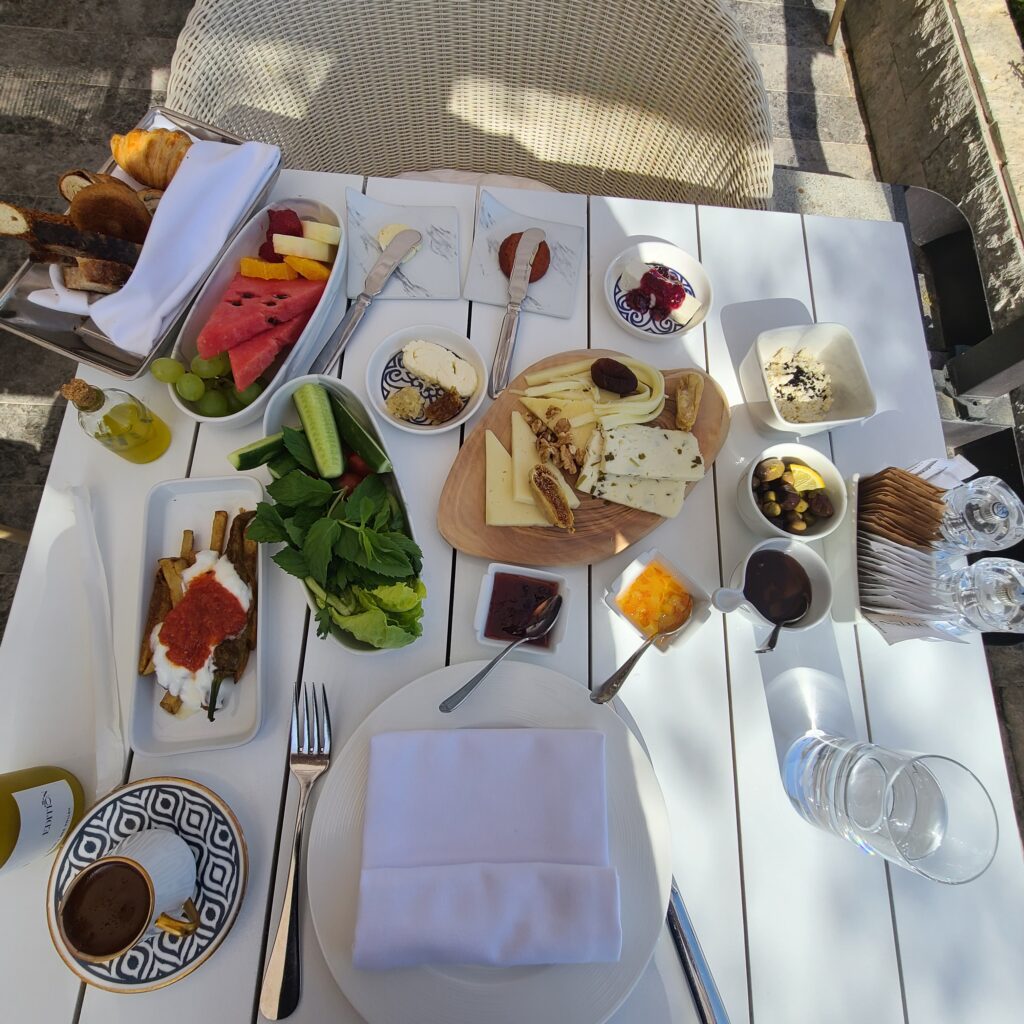 Other items outside of the package like menemen (scrambled eggs with tomato), fried sucuk (sausage), and the specialty Element juices will be charged per item.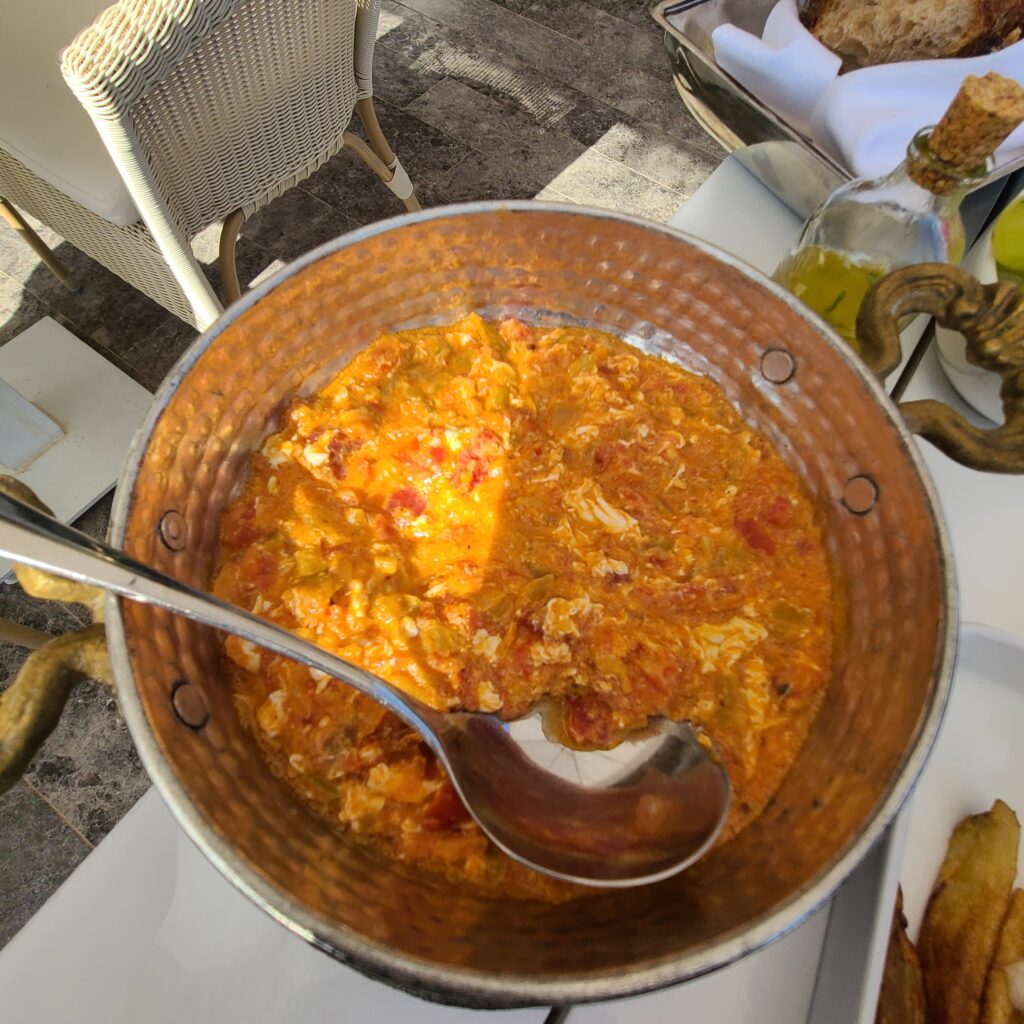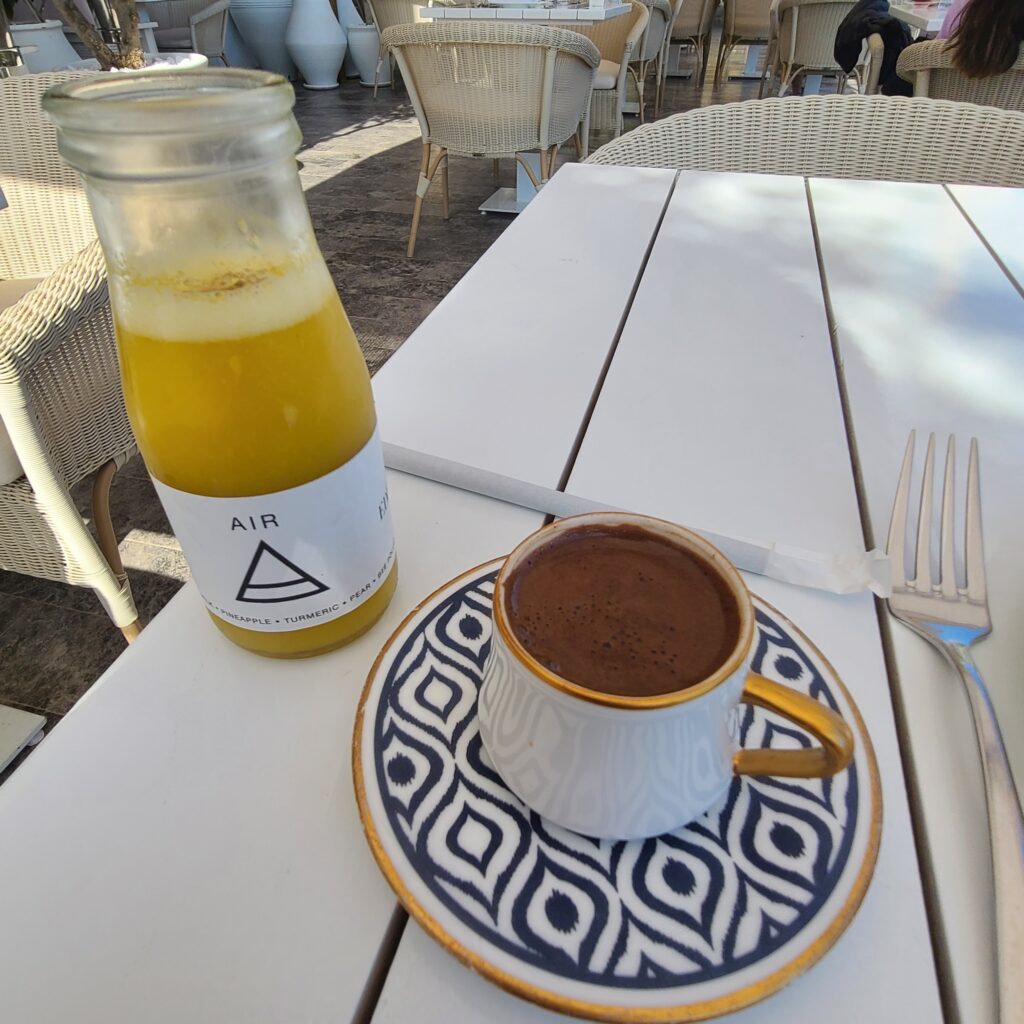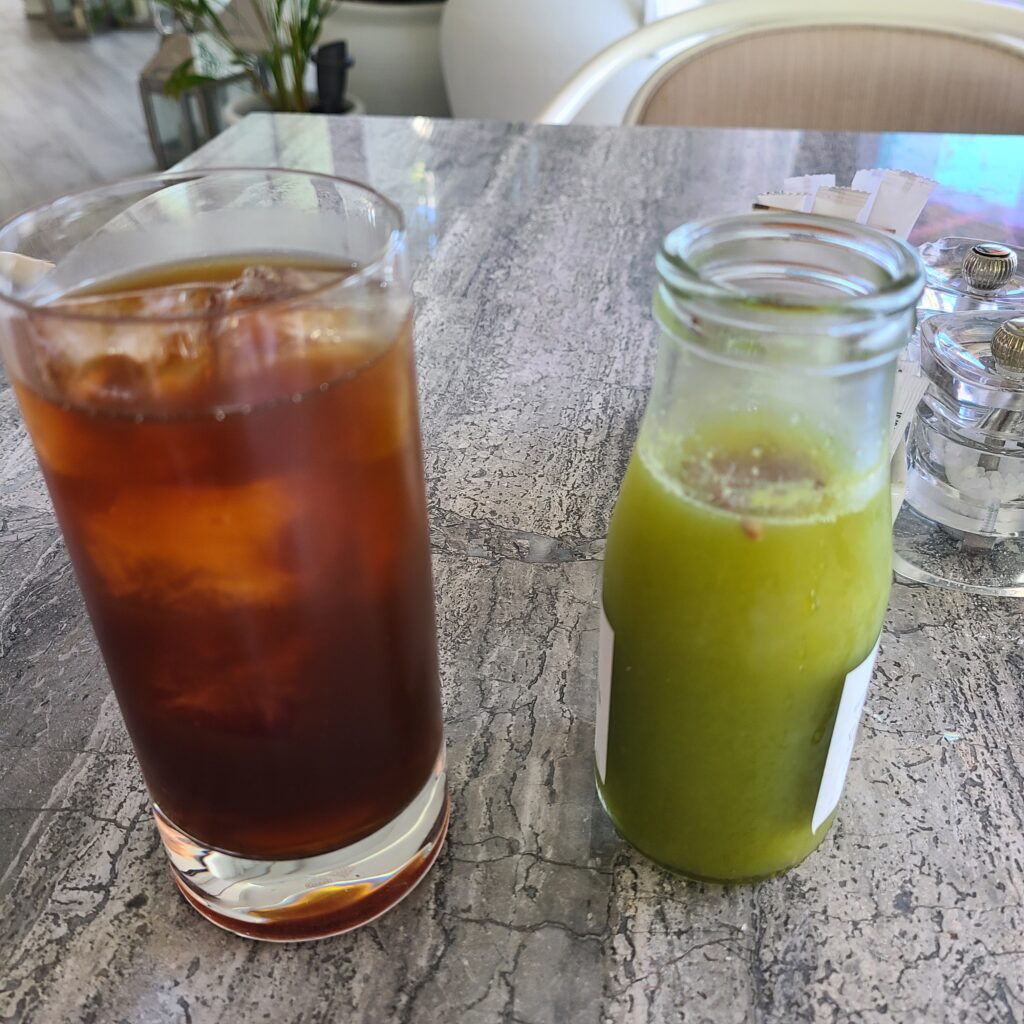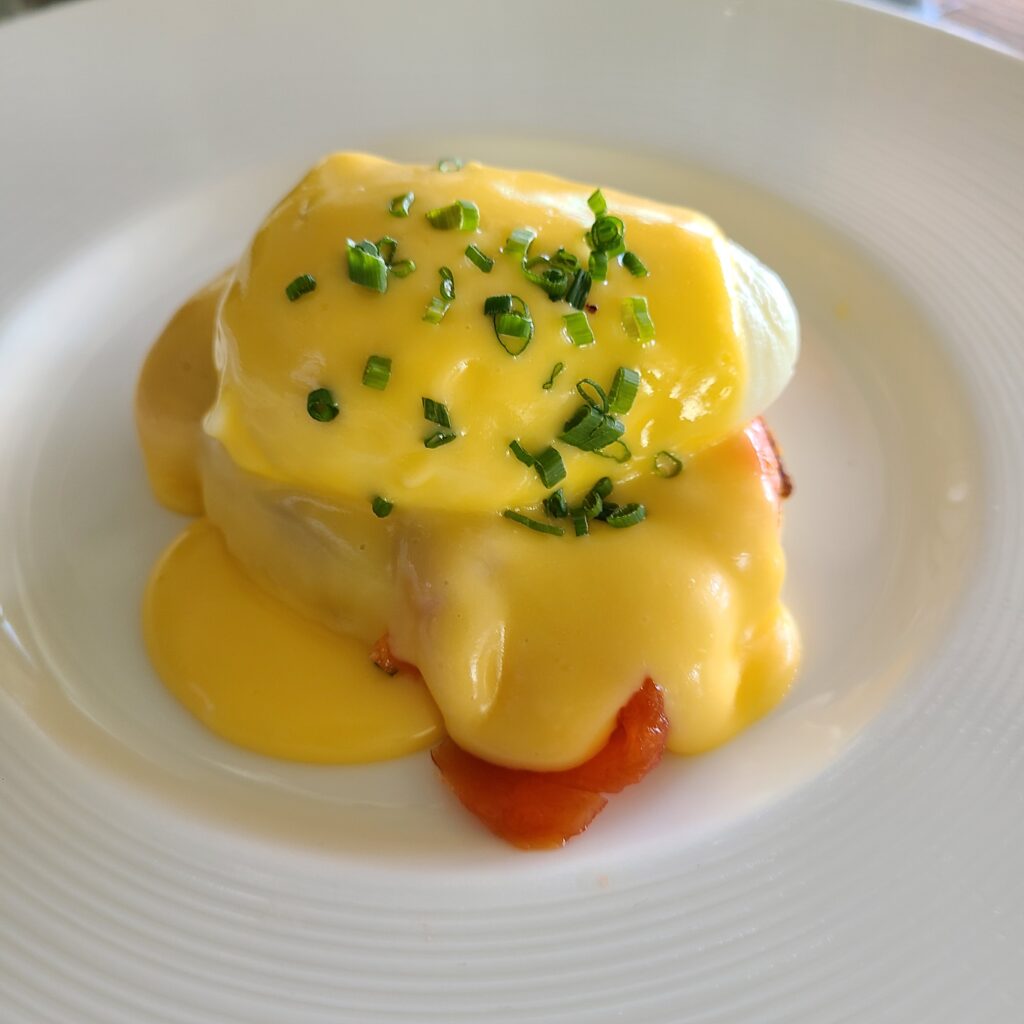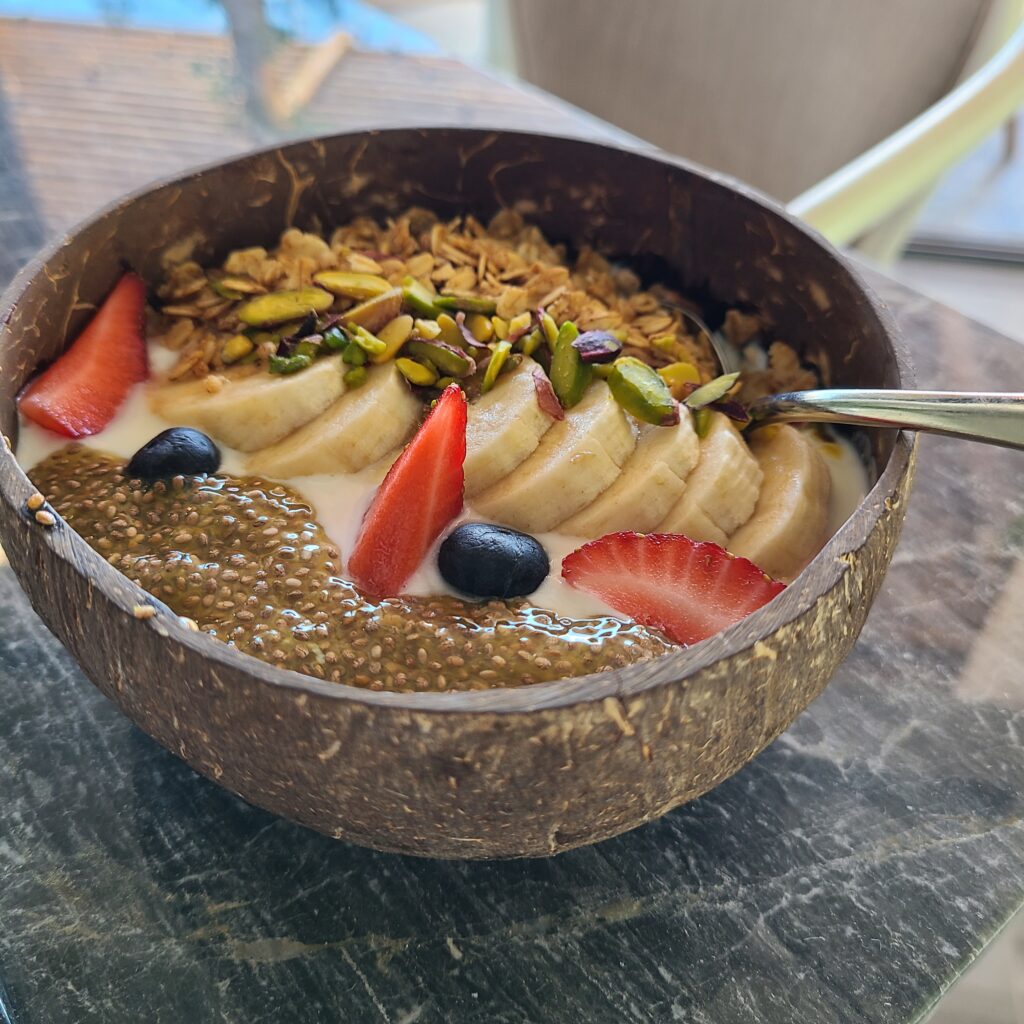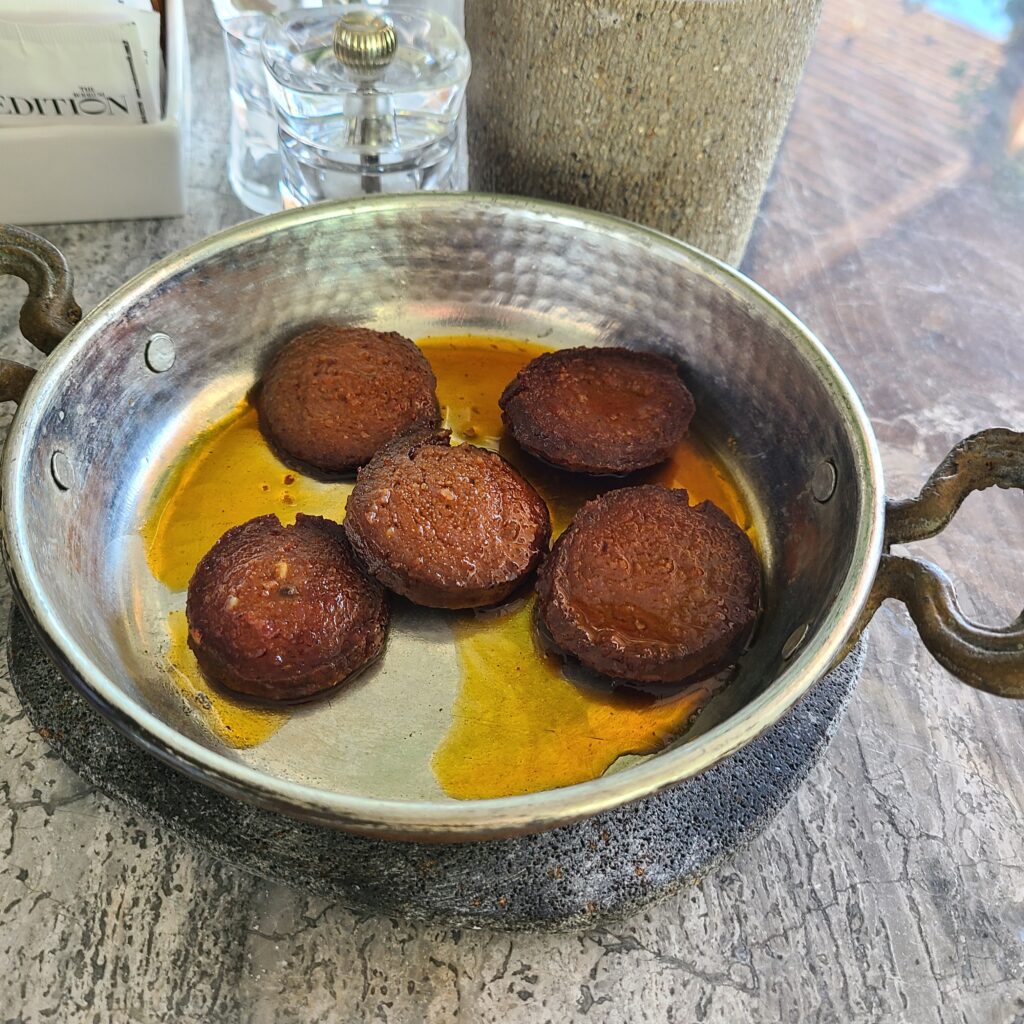 The taste of the breakfast were all good, but I want to address the elephant in the room since the breakfast experience has been highly praised in the past. I simply can't justify paying around $30 for some pastries, jams, fruits, salads, juice, and a cup of coffee or tea for every single morning even though they were enjoyable and kept me full. If the set was free, then it'd be a different story and would end at a much more positive note. Thus, there are days where I skip breakfast so I can save space for lunch instead, or have smaller breakfast by ordering individual a la carte menu to try out more on different items.
I think the Traditional Turkish Breakfast set is designed more towards couples and families rather than a solo guest such as myself, so I felt that I got less value out of them. Nonetheless, you should definitely try it at least once during your stay!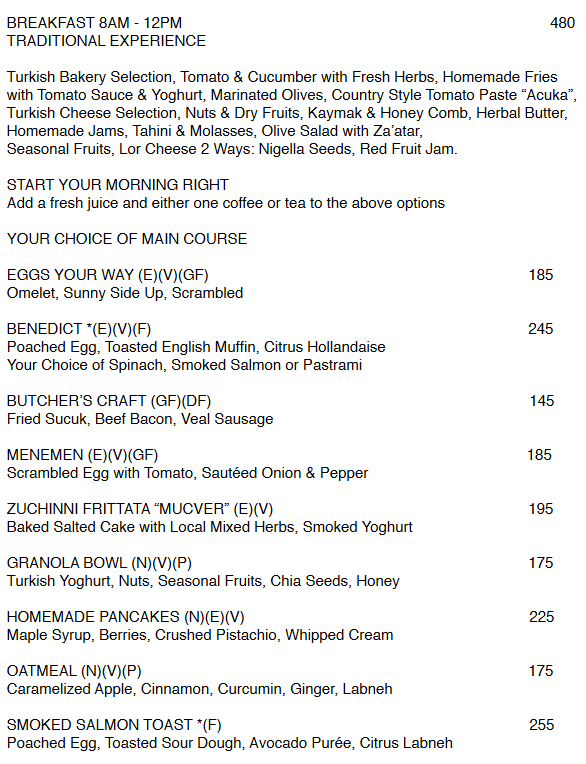 Full PDF of in-room dining menu is here. Page 4-5 shows the breakfast menu, which is also the same as what they serve at the Kitchen. Do note that some of the menu may change later on, but they should give good estimates on what to expect.
Lunch at Morena
The restaurant Morena opens at 12:00PM-12:00AM. They'll have different lunch and dinner menu, with dinner starting at 6:00PM. I didn't try dinner there, but I had lunch and desserts during my stay.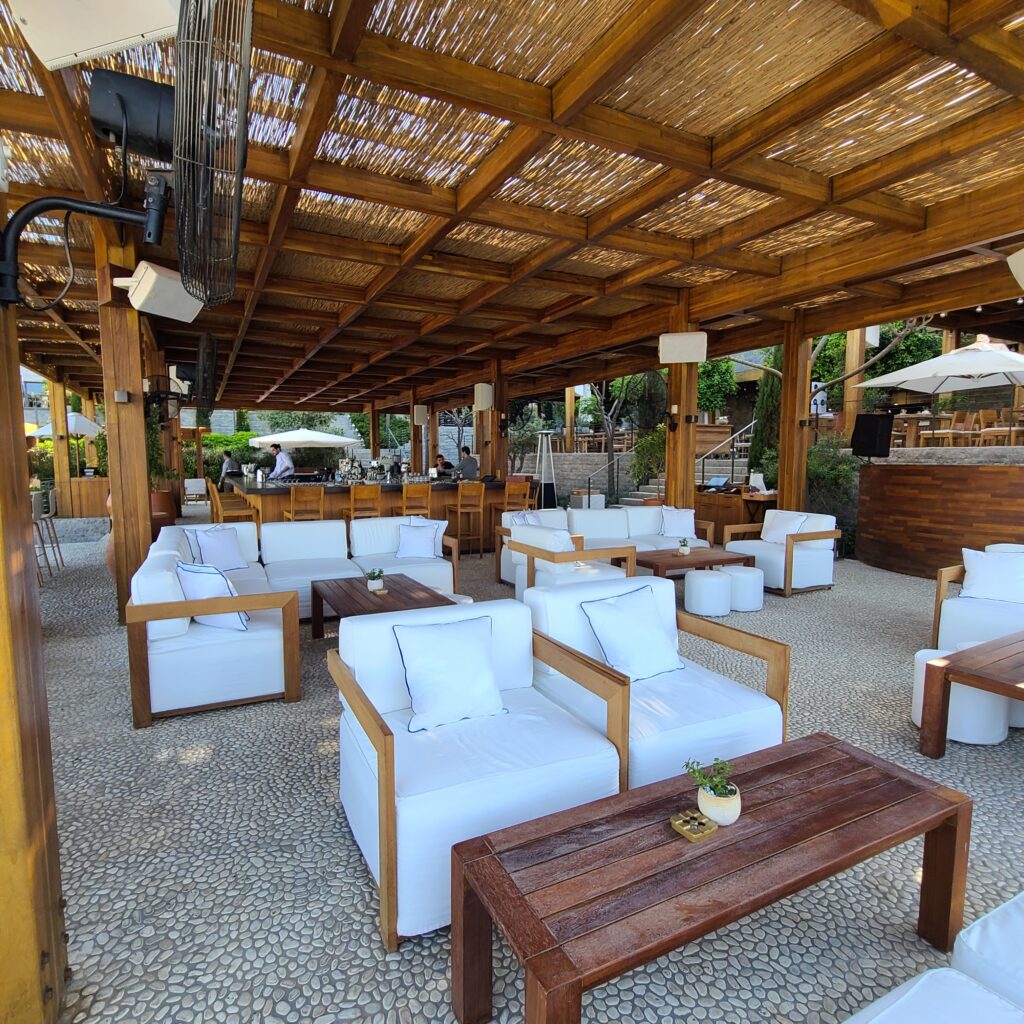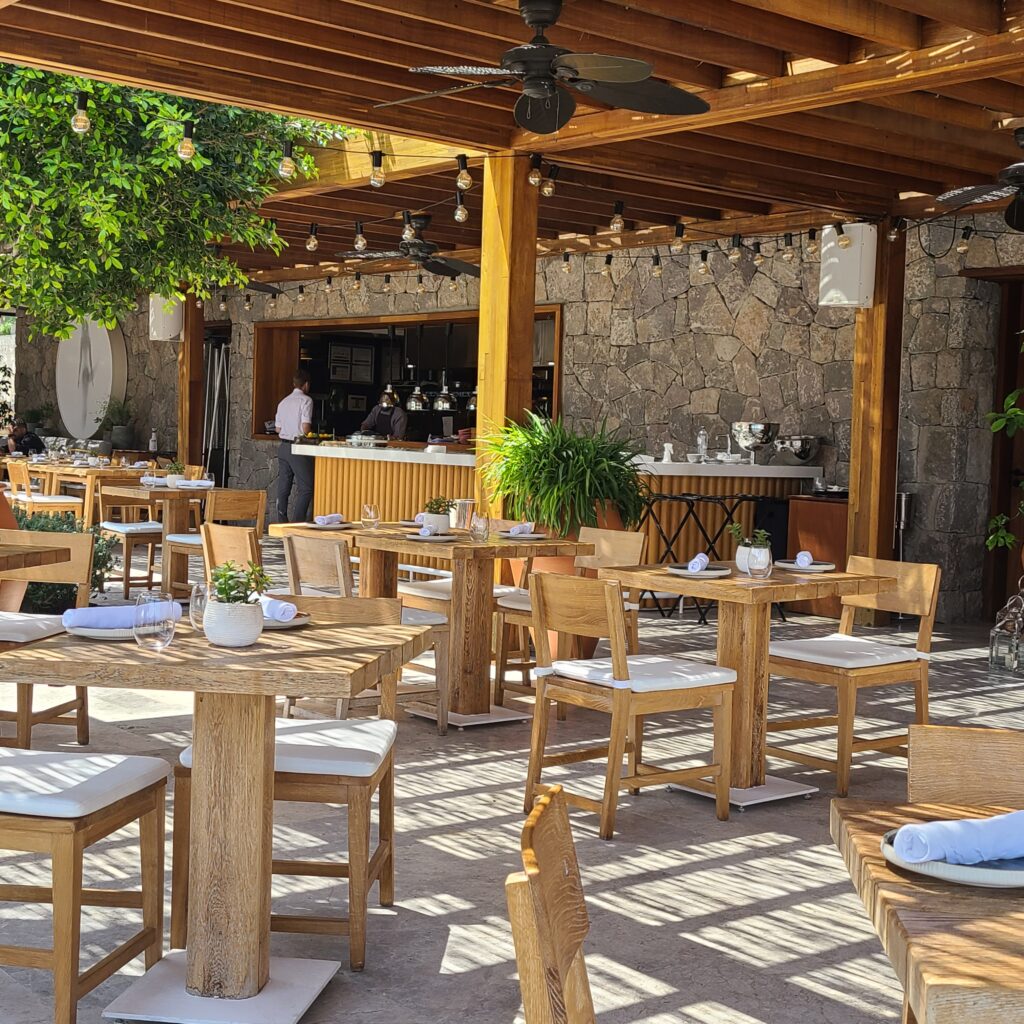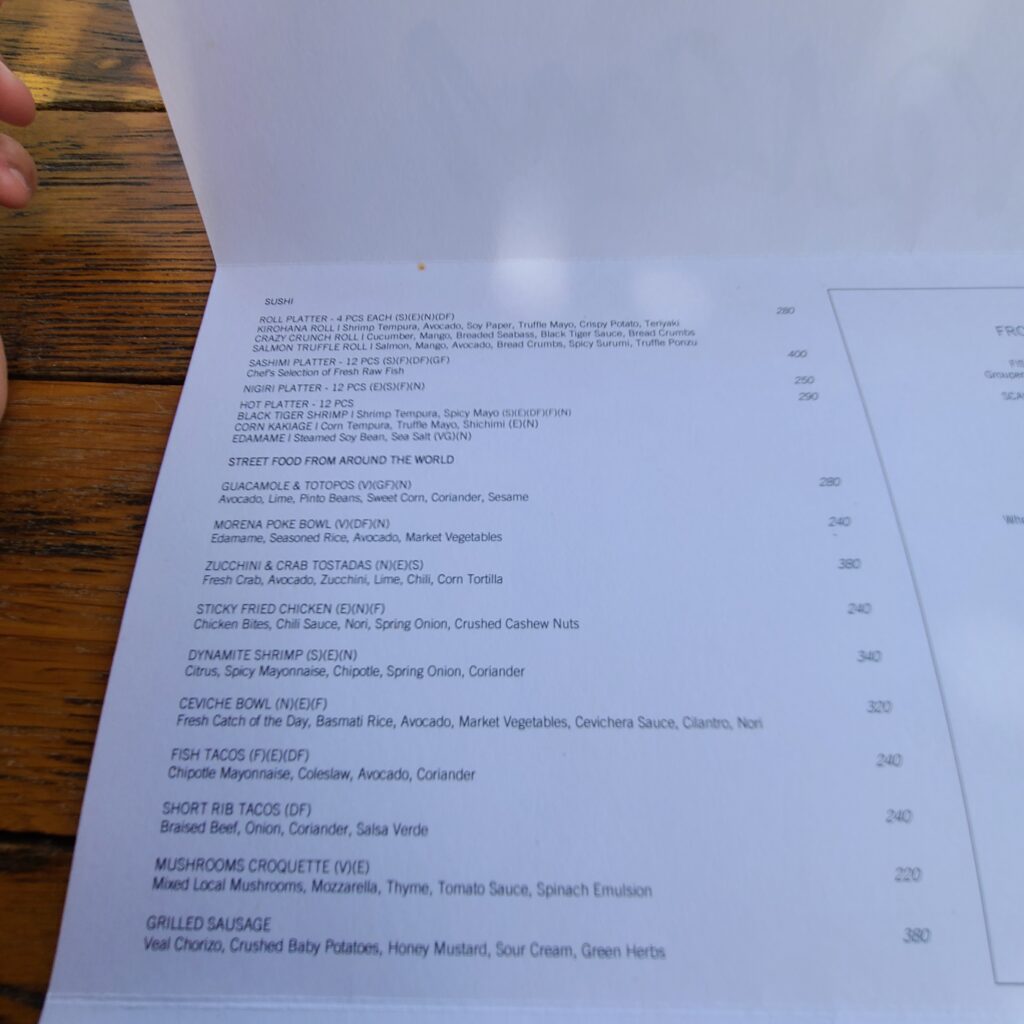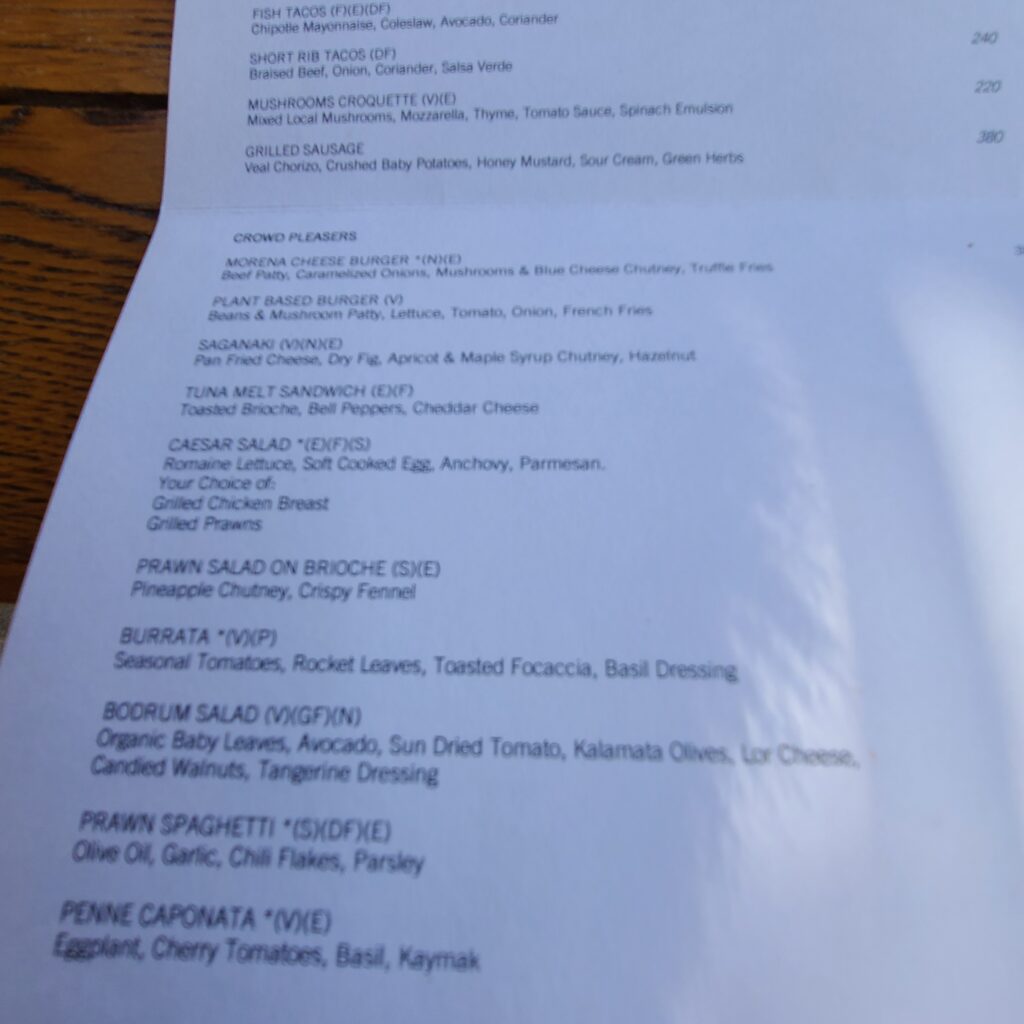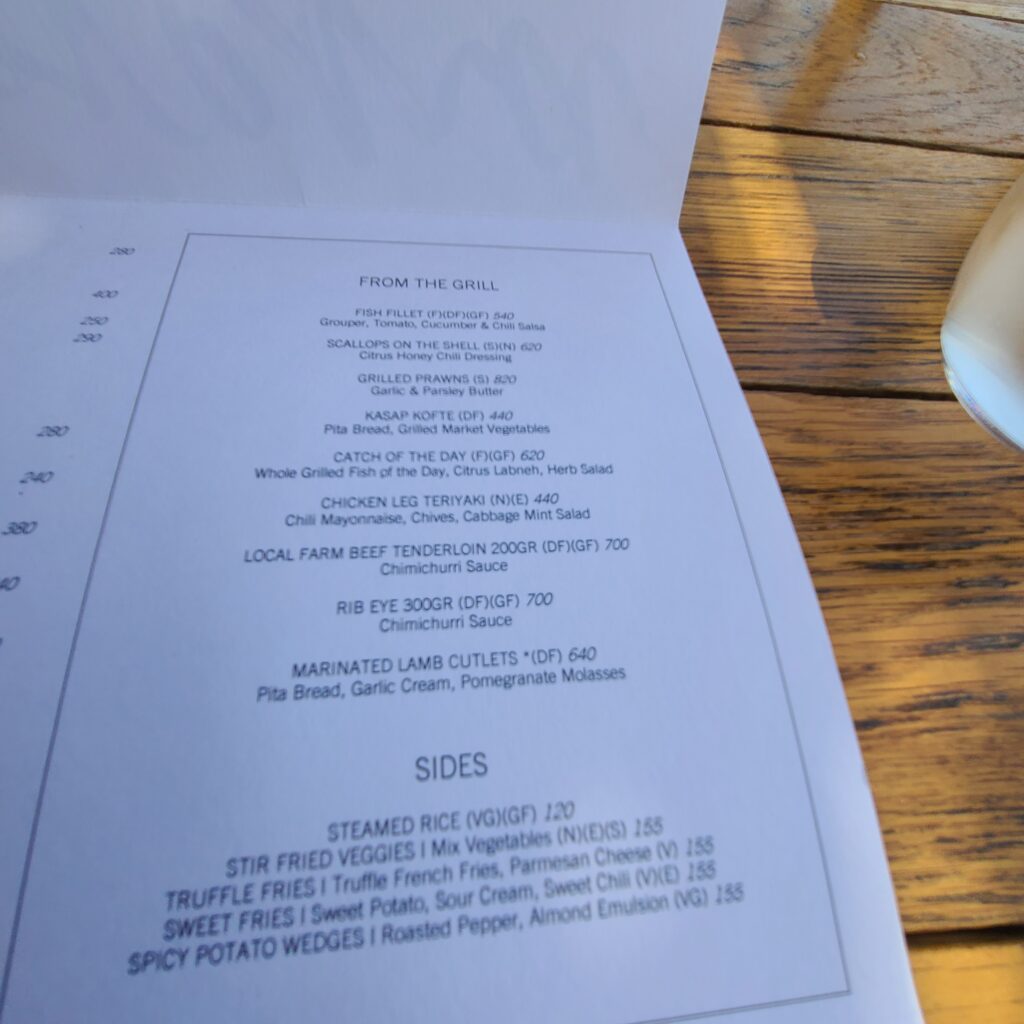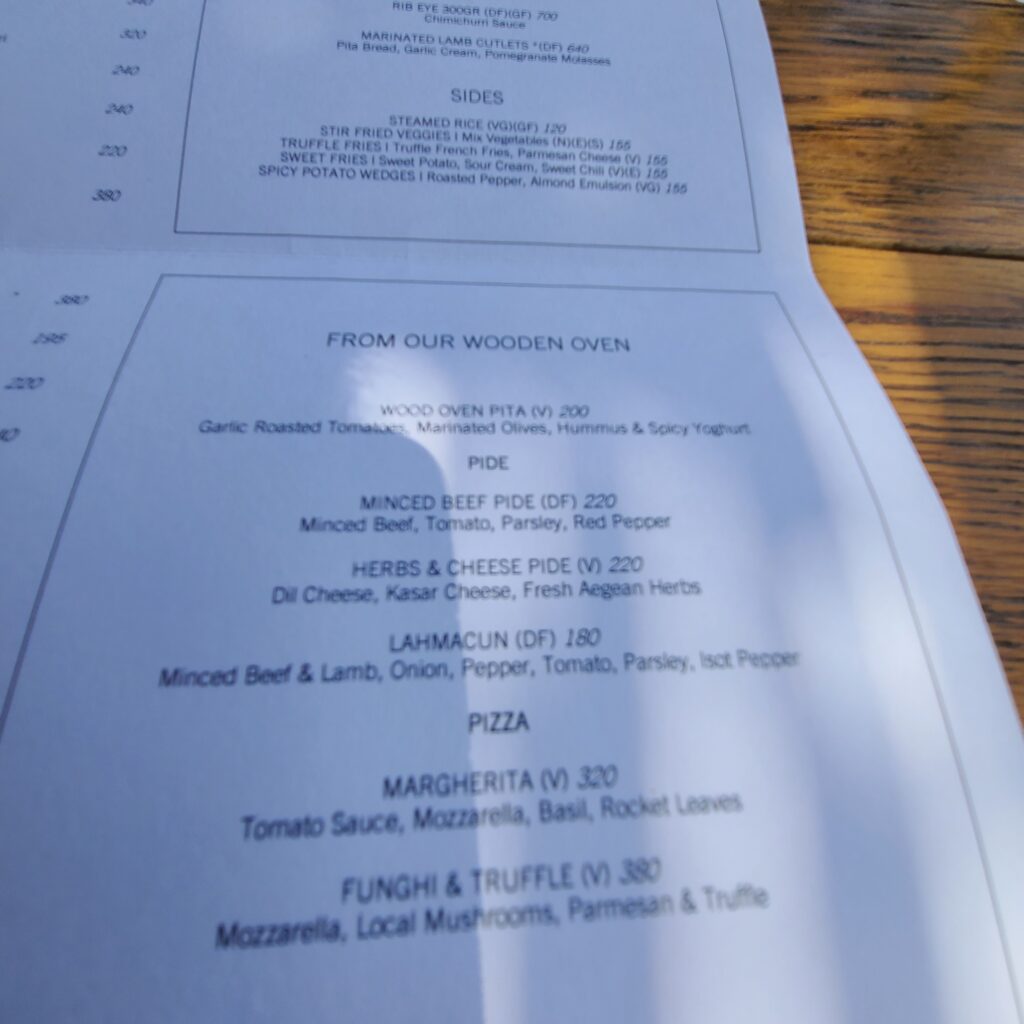 For lunch, I had the nigiri sashimi, ceviche bowl, and the lahmacun.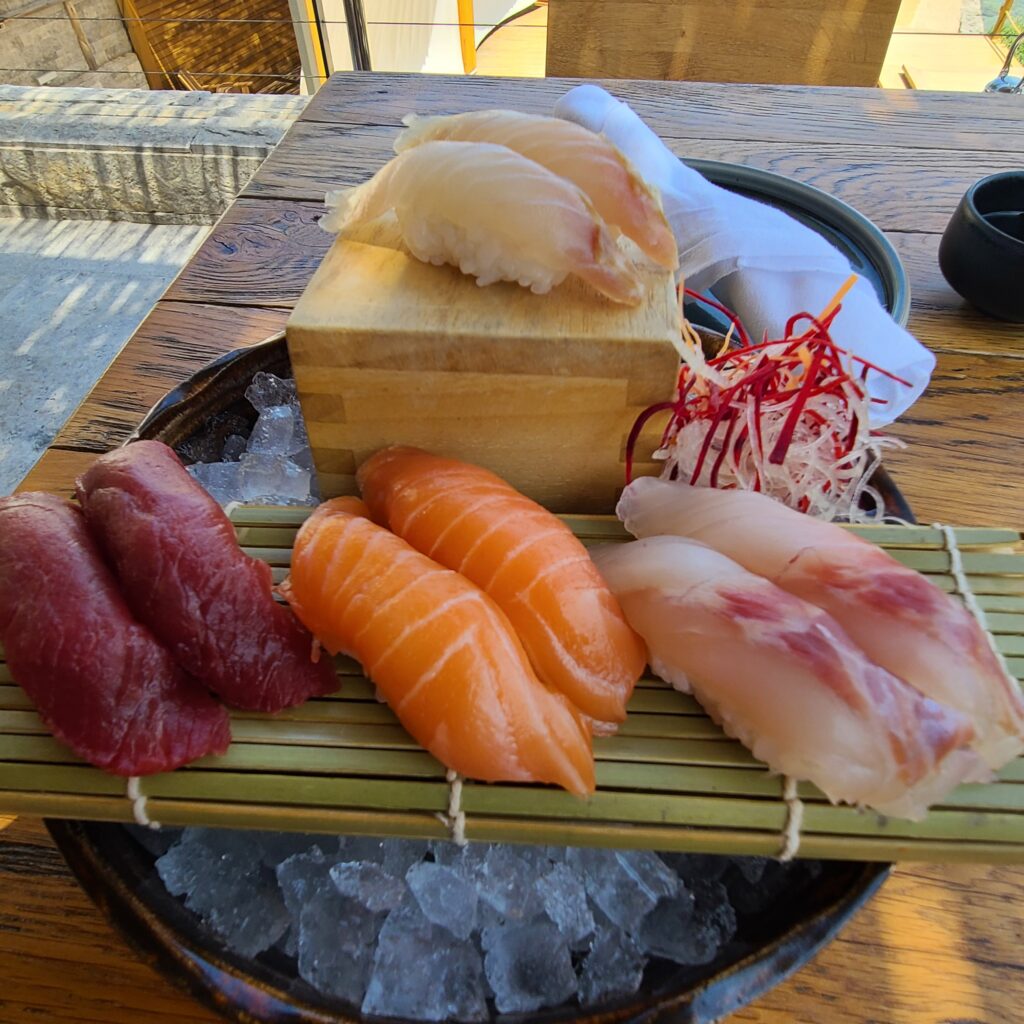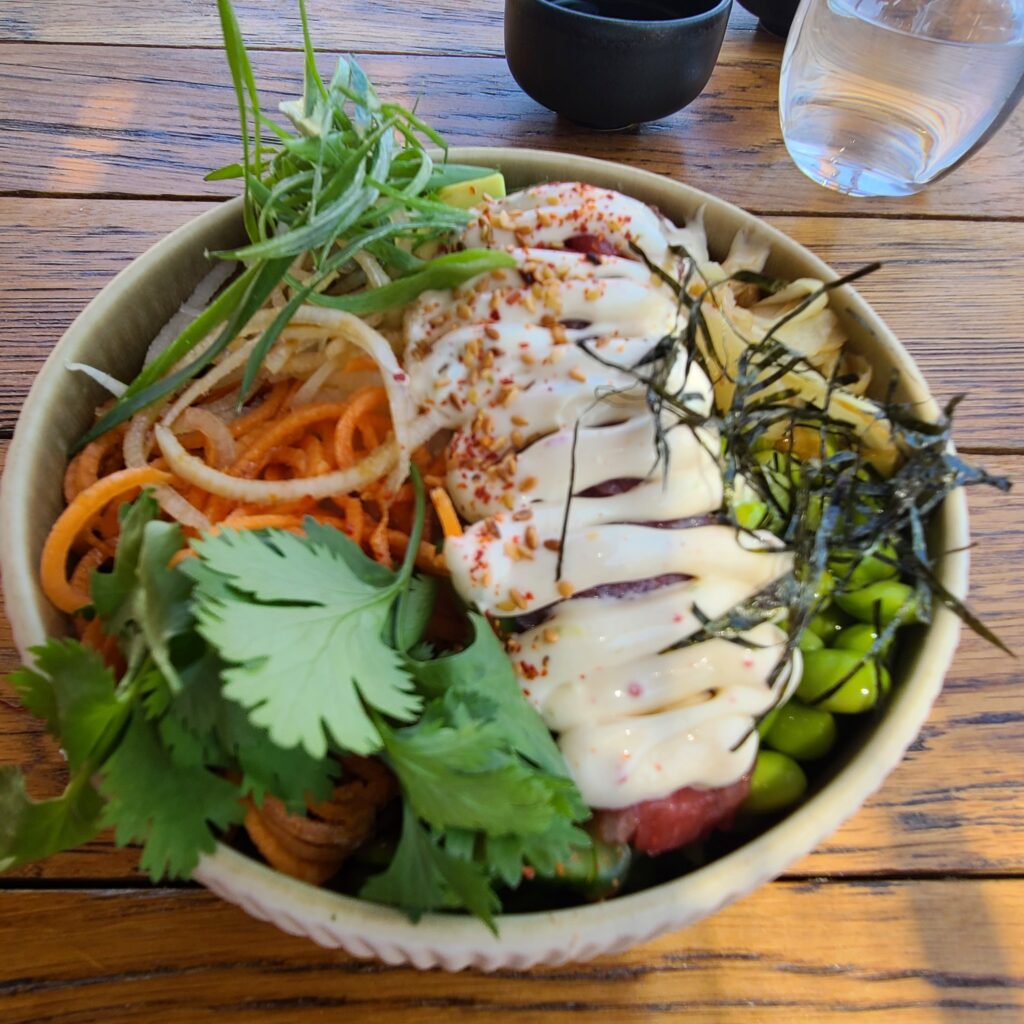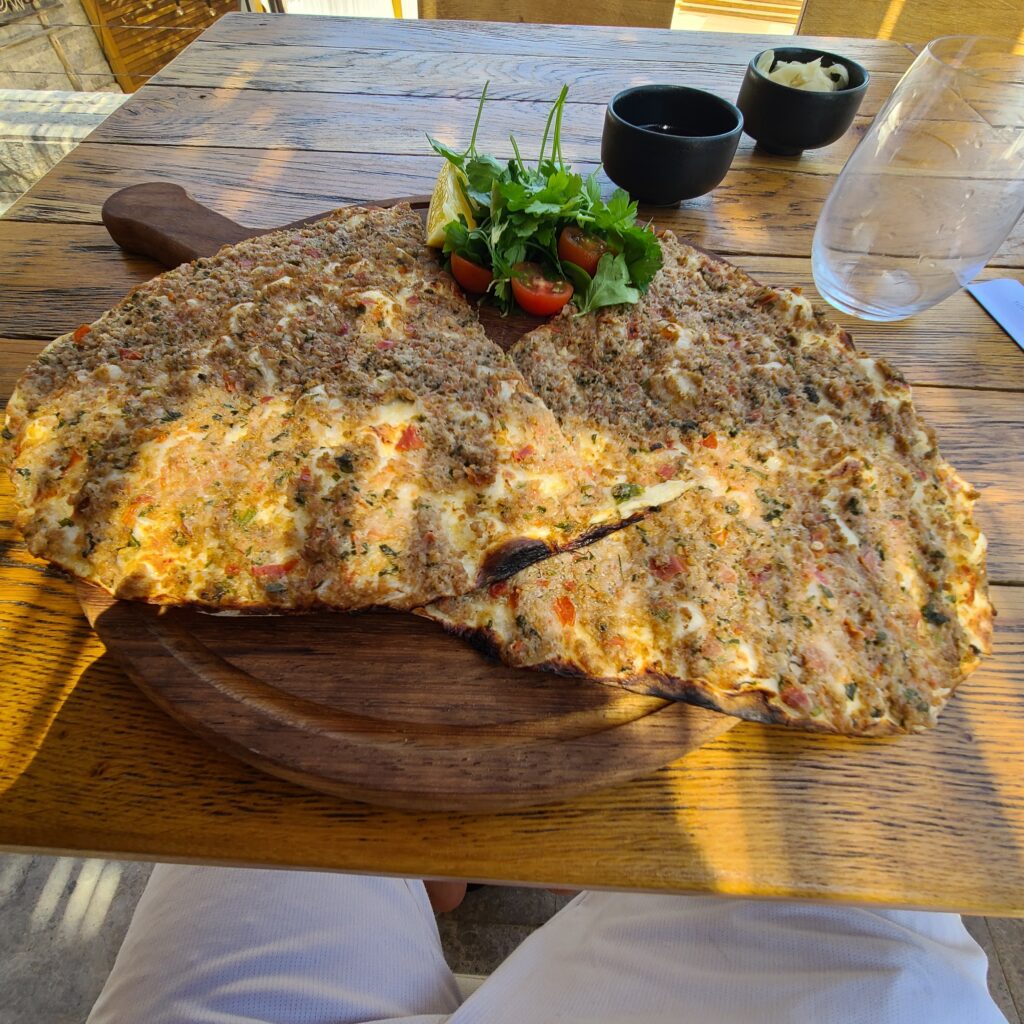 The ceviche bowl was great, and it definitely felt like some fancy poke bowl. It was my first time trying out lahmacun, but I thought it was alright.
If you look back on the first picture of the menu, you'll notice that the nigiri was printed to be 12 pieces, but I only received 8 pieces. I noticed the discrepancies, and the waiter apologized and he made it up by giving me complimentary dessert of my choice and a cup of latte! I ended up choosing the ice cream so I can eat them for later, but once the waiter noticed I couldn't choose which flavor, he insisted I have two instead. Wow, what a recovery!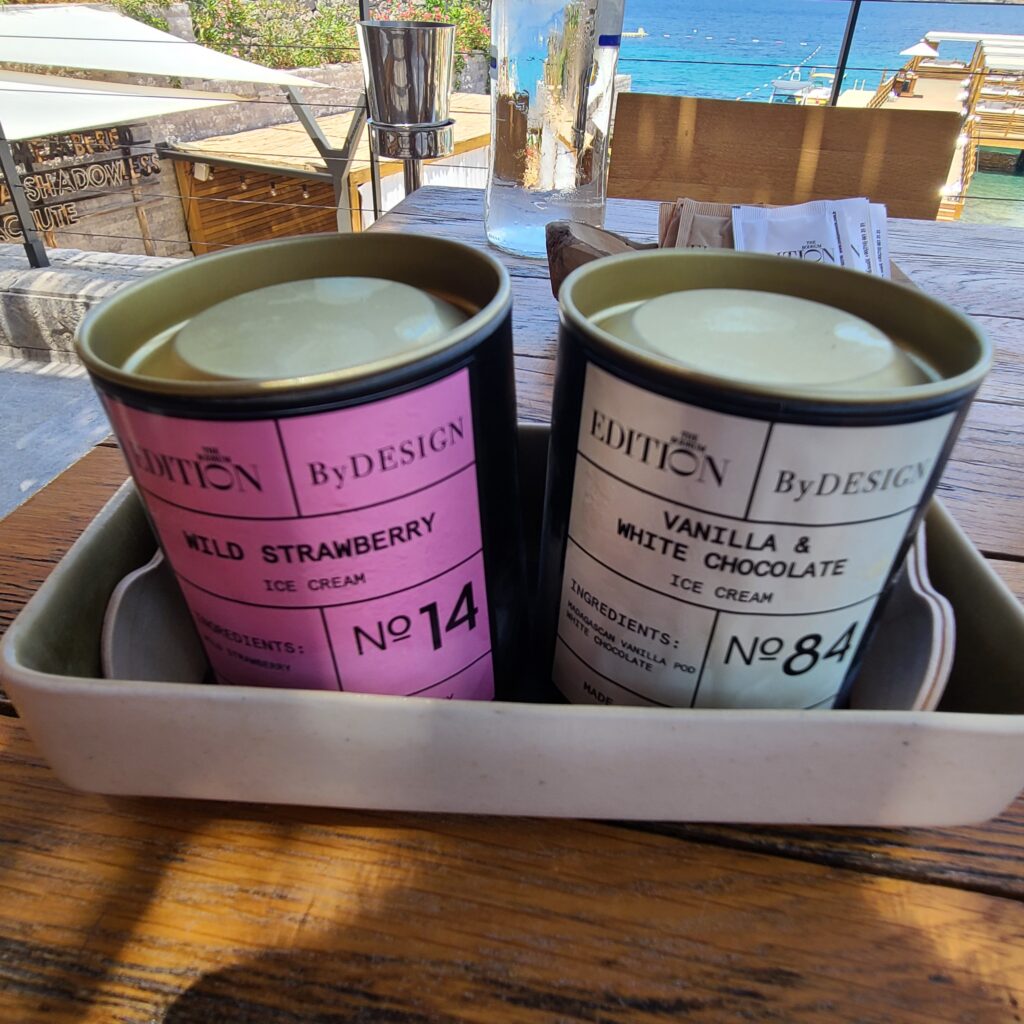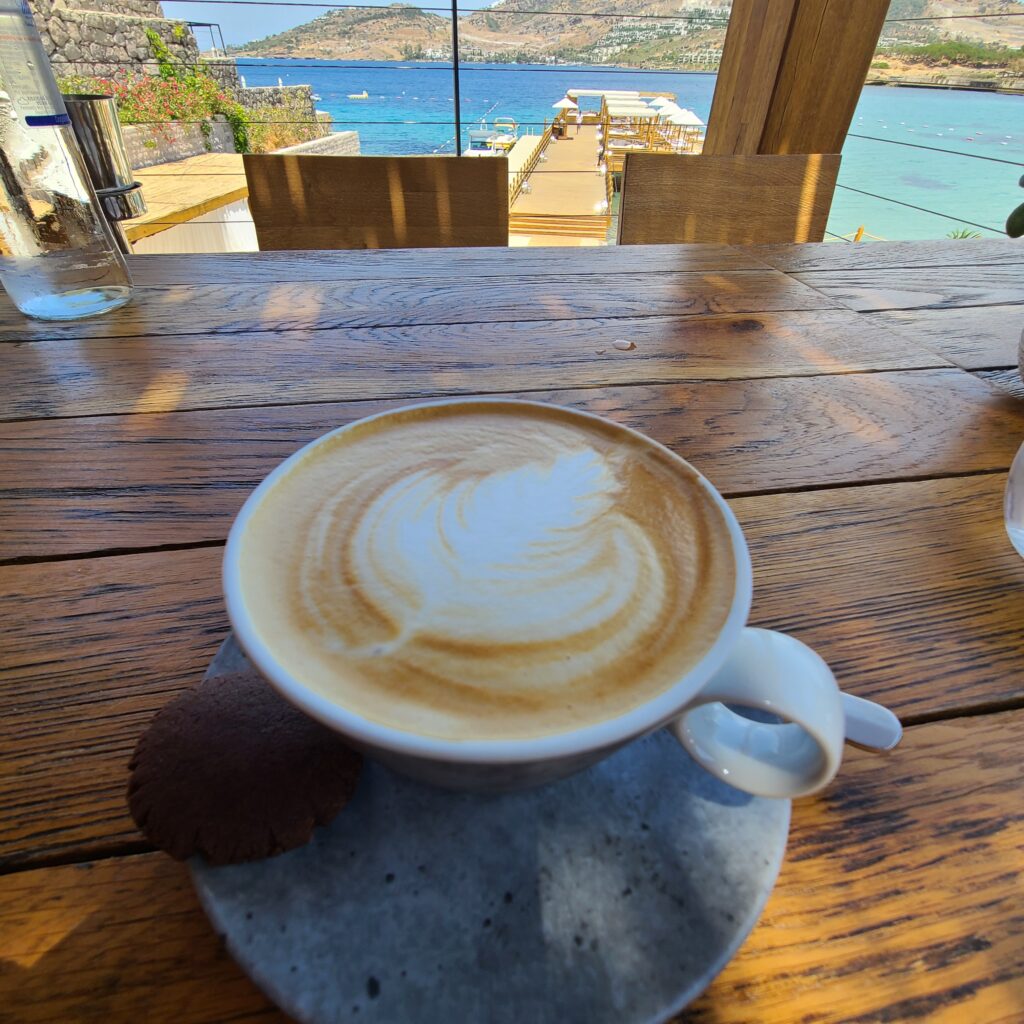 Morena Beach Club
The Beach Club is a subsidiary to the Morena restaurant where you can order food and drinks while you're relaxing at the beach or pool area. The menu is a bit different than the main restaurant, but there are some shared items you can still order like the ice cream.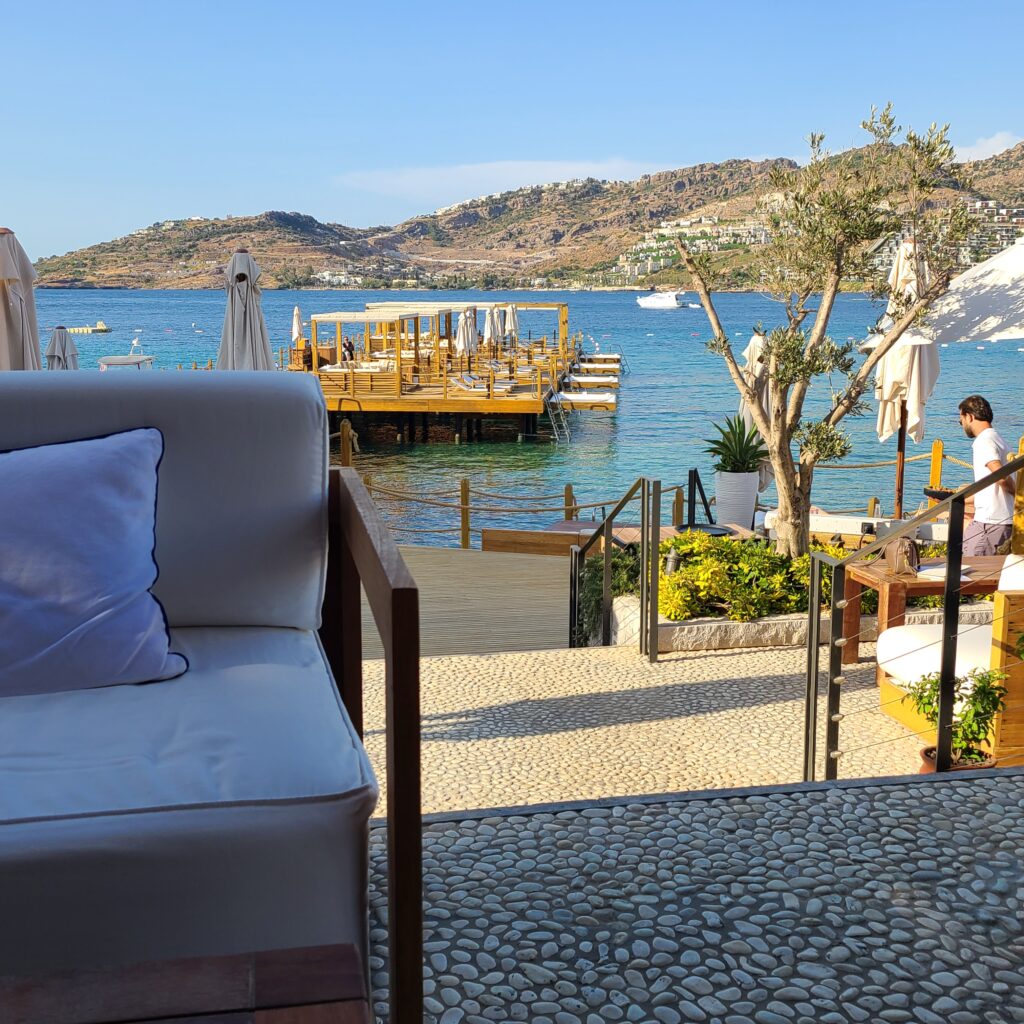 I came for evening desserts and beach snacking during my stay.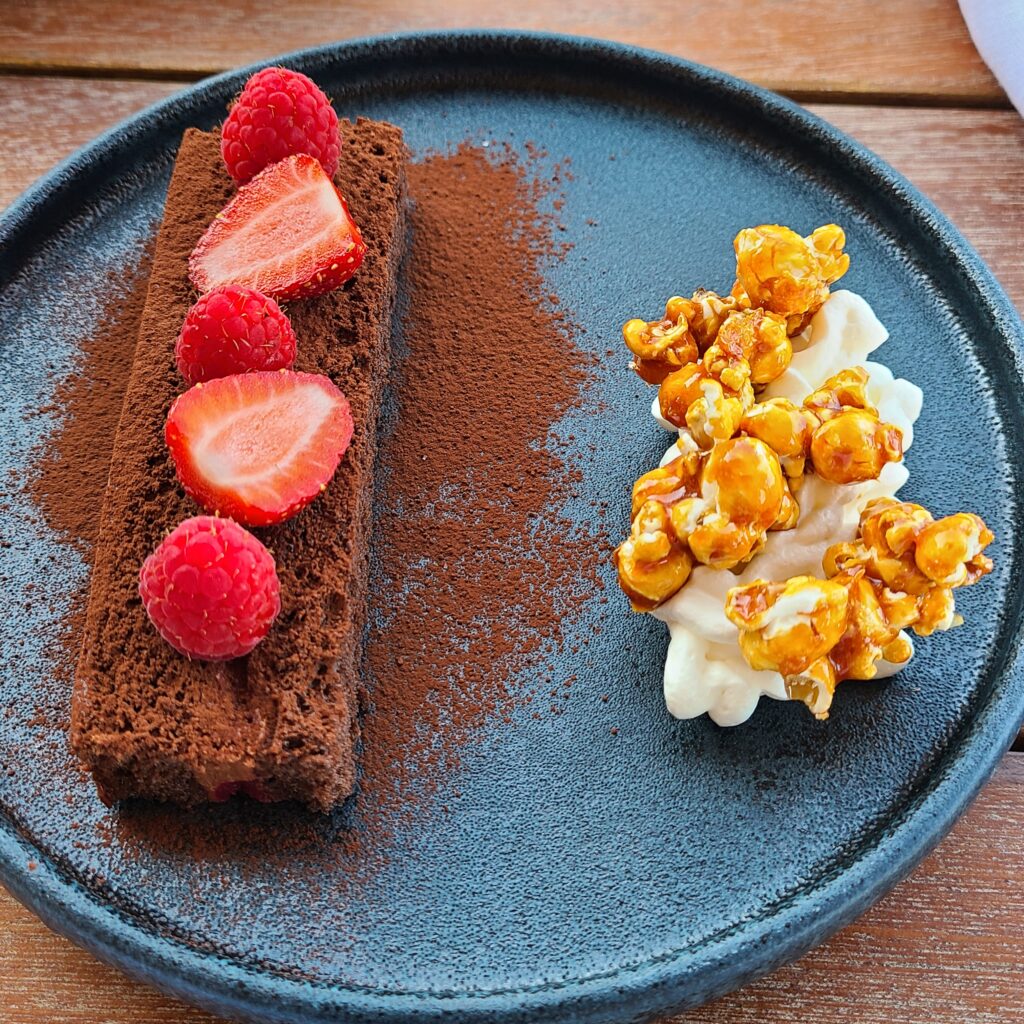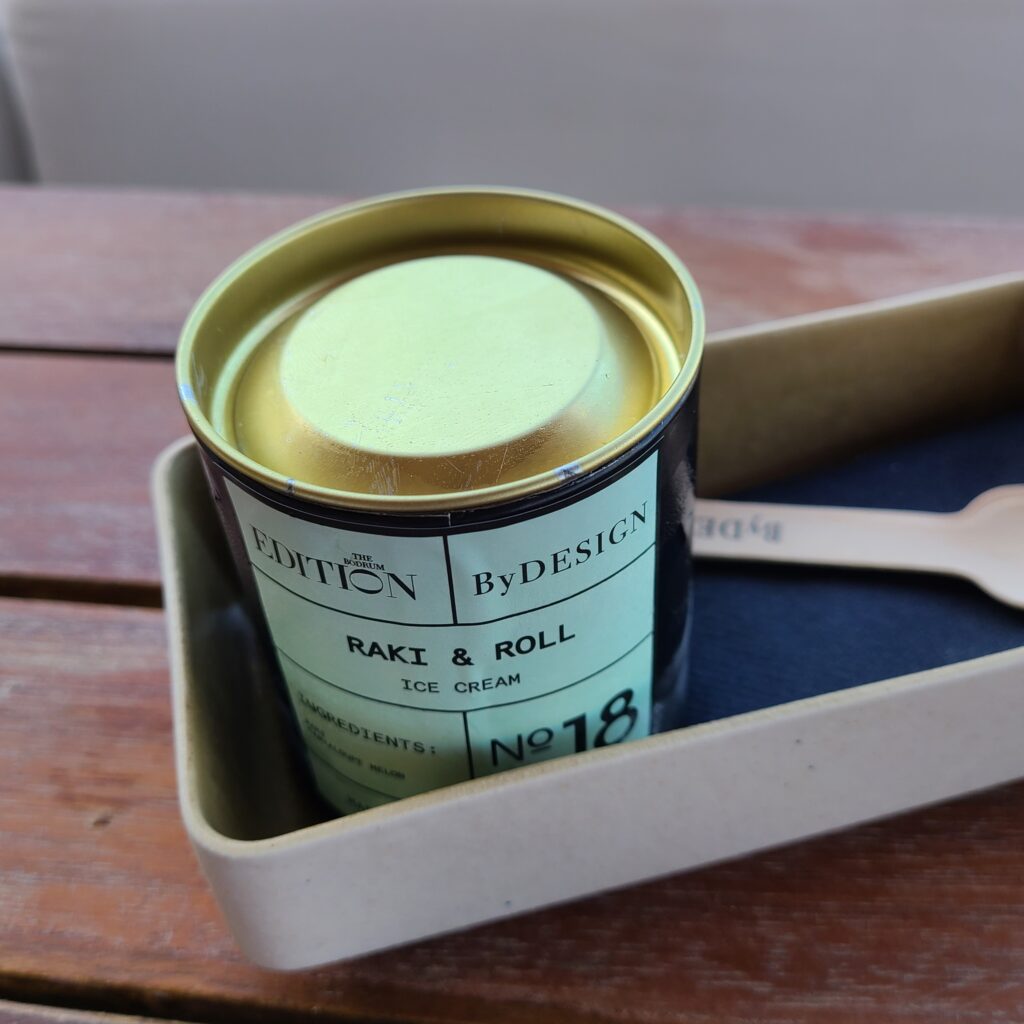 For once, I tried the alcoholic ice cream Raki N' Roll, which is a cantaloupe ice cream mixed with raki, the national drink of Turkey. It's a really interesting concept, and I enjoyed it!
I also ordered some sweet potato fries and pistachio baklava ice cream while I was relaxing on the beach. The size of the sweet potato was bigger than I expected, so it felt like a full meal to me.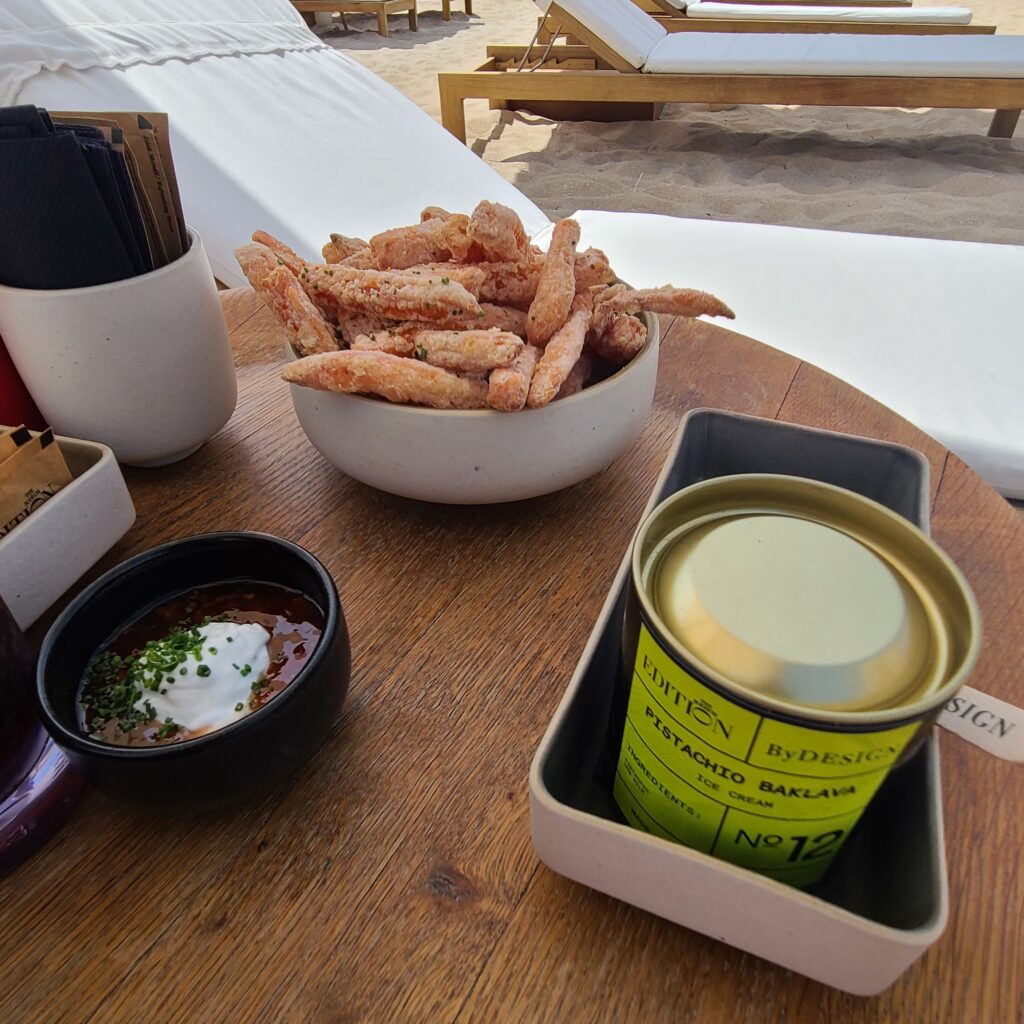 Here's the rest of the menu.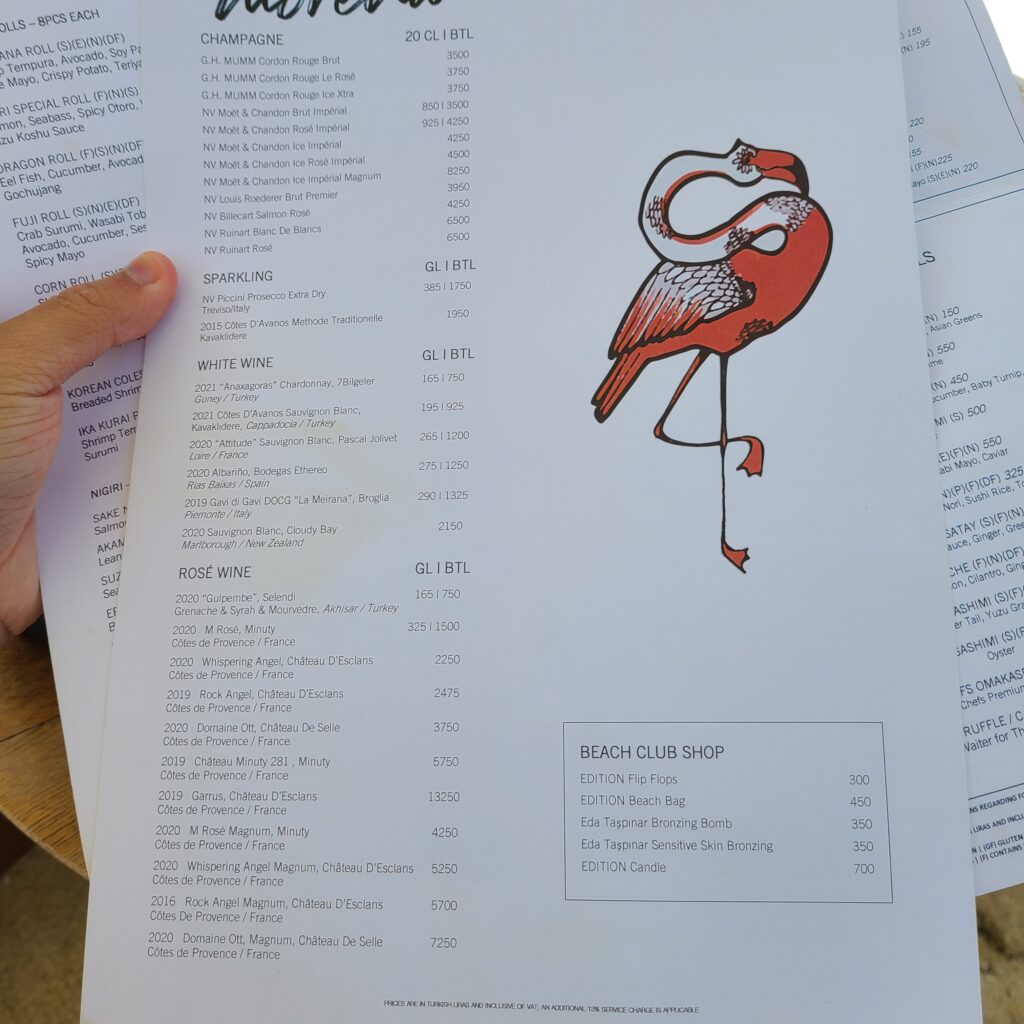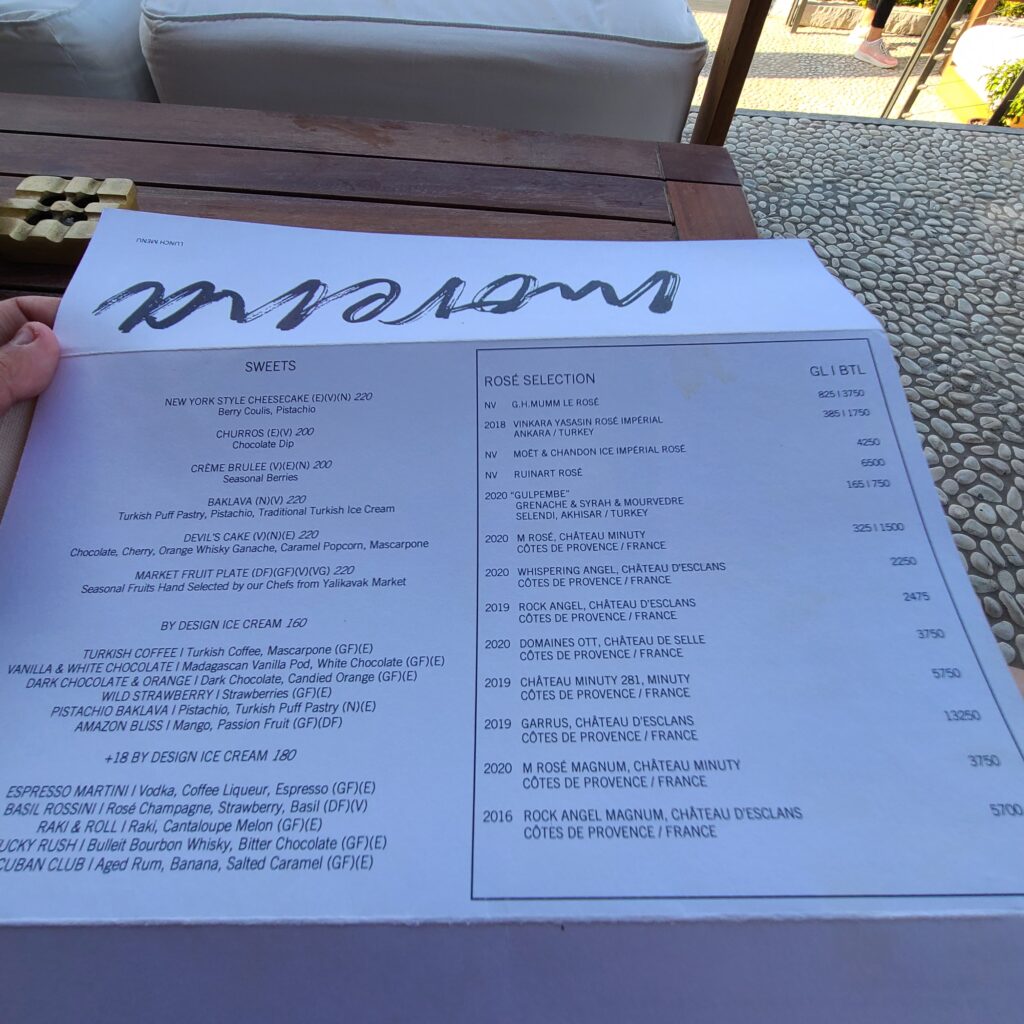 Overall, the food tastes great. But, they are priced on the higher end, especially for Turkey. I think I'd get more value out of eating out in the city of Bodrum, which will be cheaper even after the taxi costs. Expect to spend at least $70 for a day per person on food, accounting for breakfast and dinner or lunch and dinner inside the hotel.
The Bodrum EDITION- Spa & Fitness
Full service spa is available ranging from Turkish hammam to full body massages. Full menu can be found here. I paid 230 EUR for a "Stress Release" 60-minute full body massage. I can't tell whether that's worth it or not since I'm not a spa expert, but I felt like splurging and say hello to an Indonesian spa worker that I was referred to by the ones I met at the W Hotel in Istanbul. It did feel good at the end, however. It was also a bit heartwarming to surprise my spa therapist about knowing her friends at the W.
The spa interior is quite gorgeous and true to EDITION style.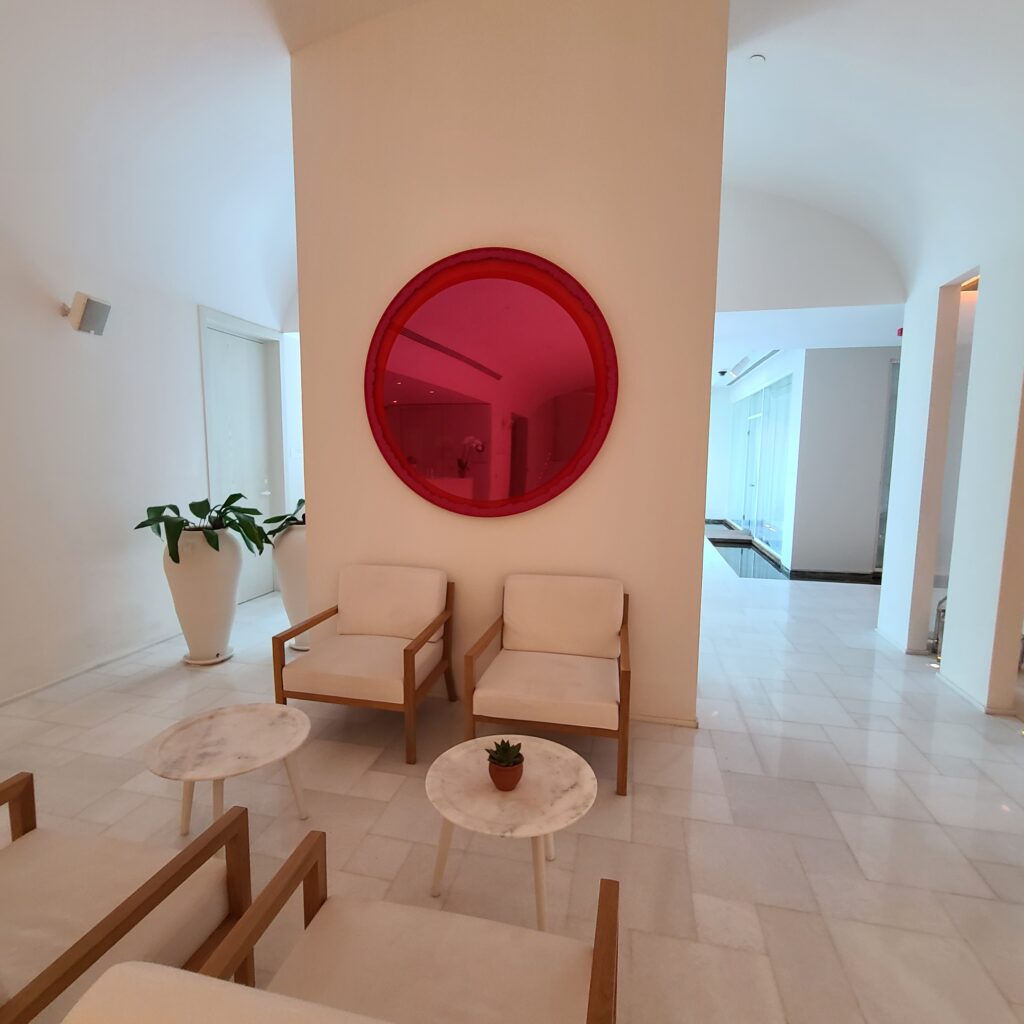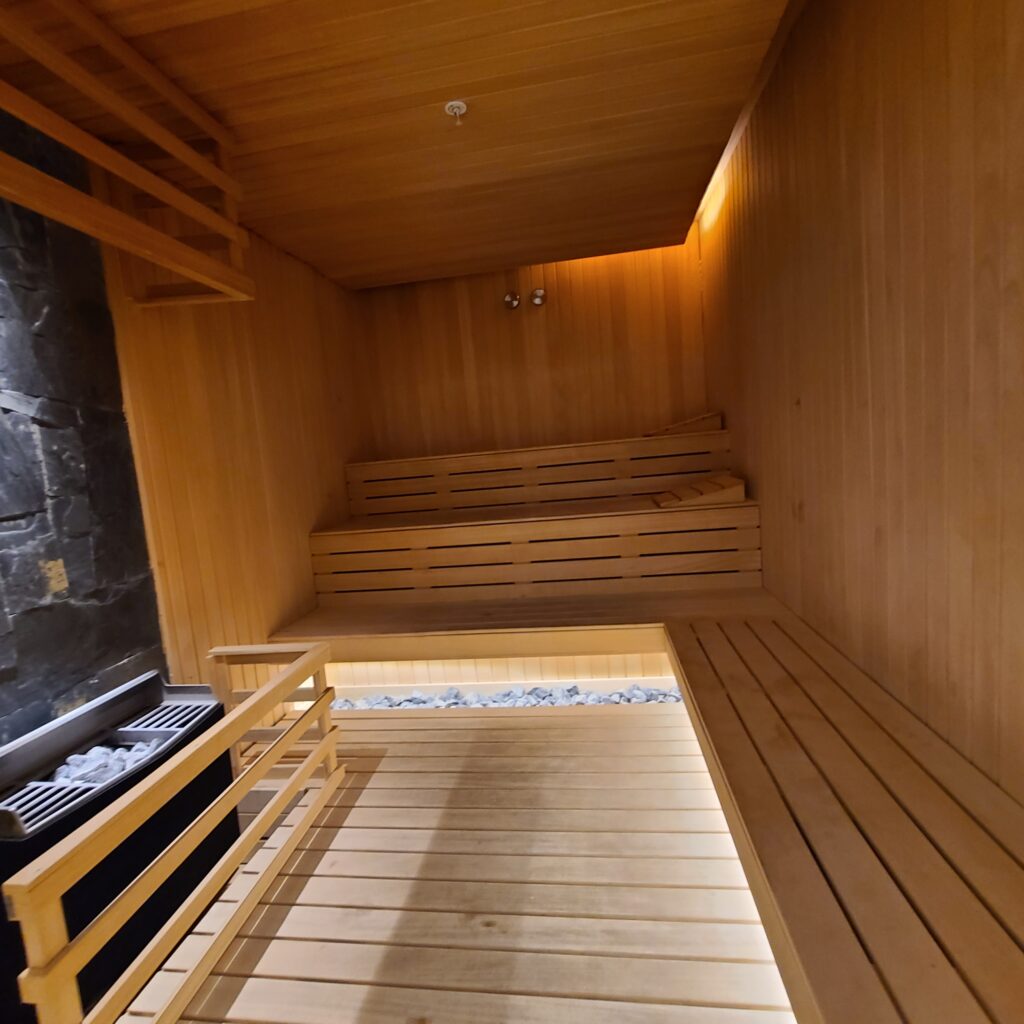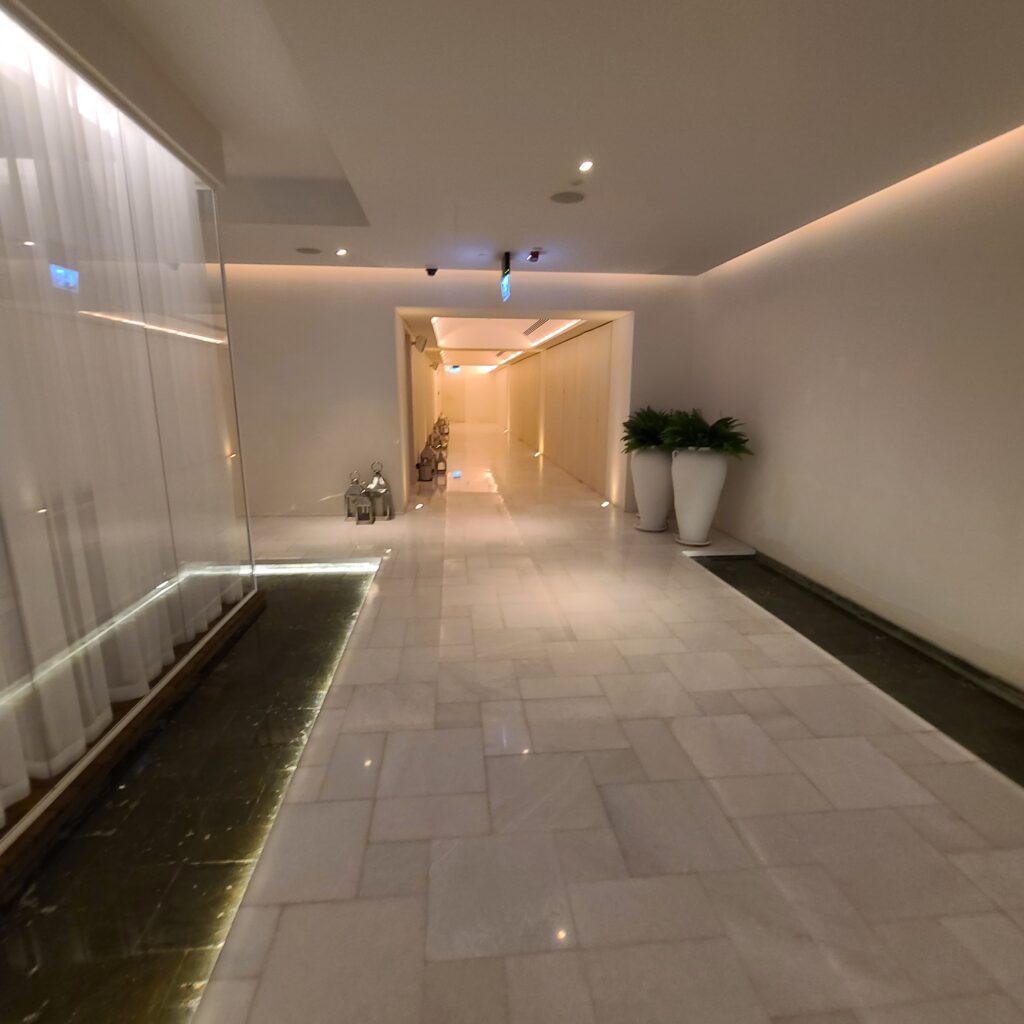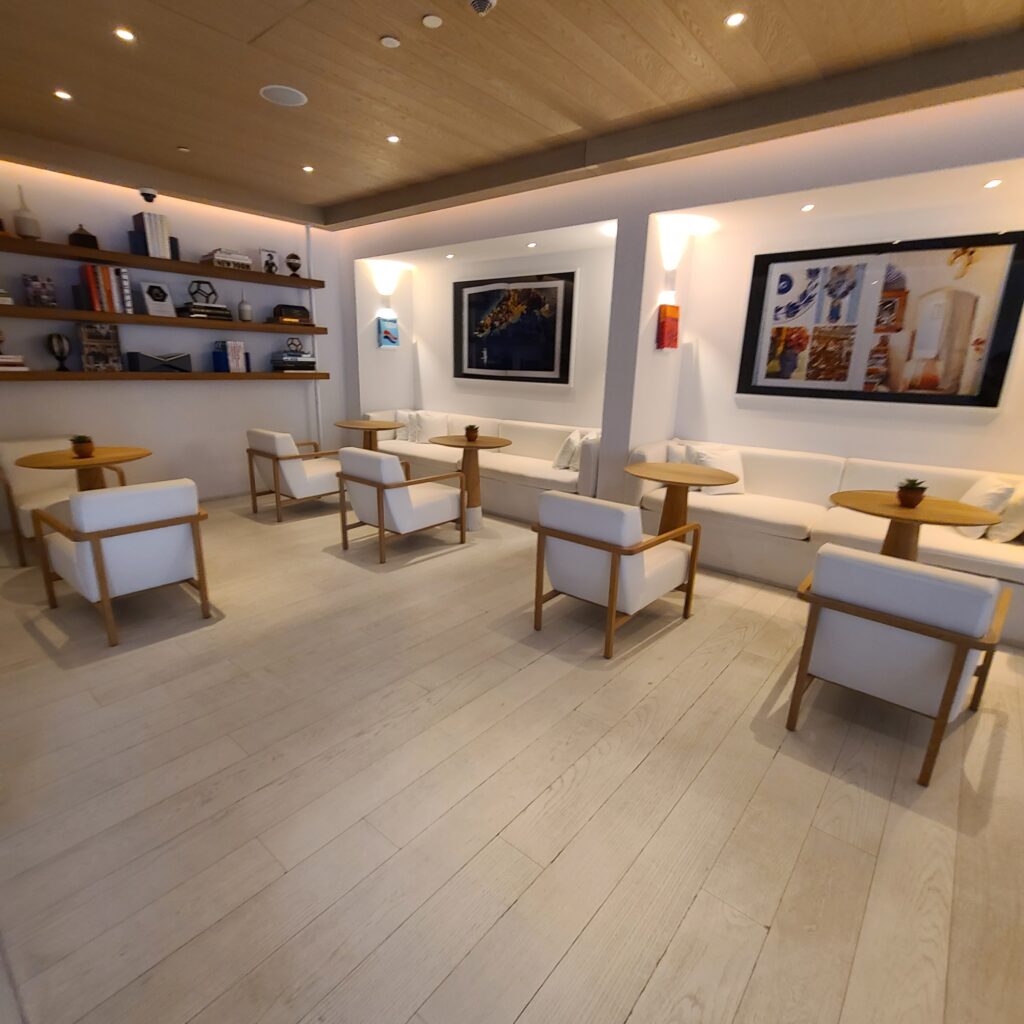 A plunge pool seems to be used for certain treatments, but I didn't get a picture of it.
There's a gym located just behind the beach area. It's quite spacious and there's even a rock climbing wall.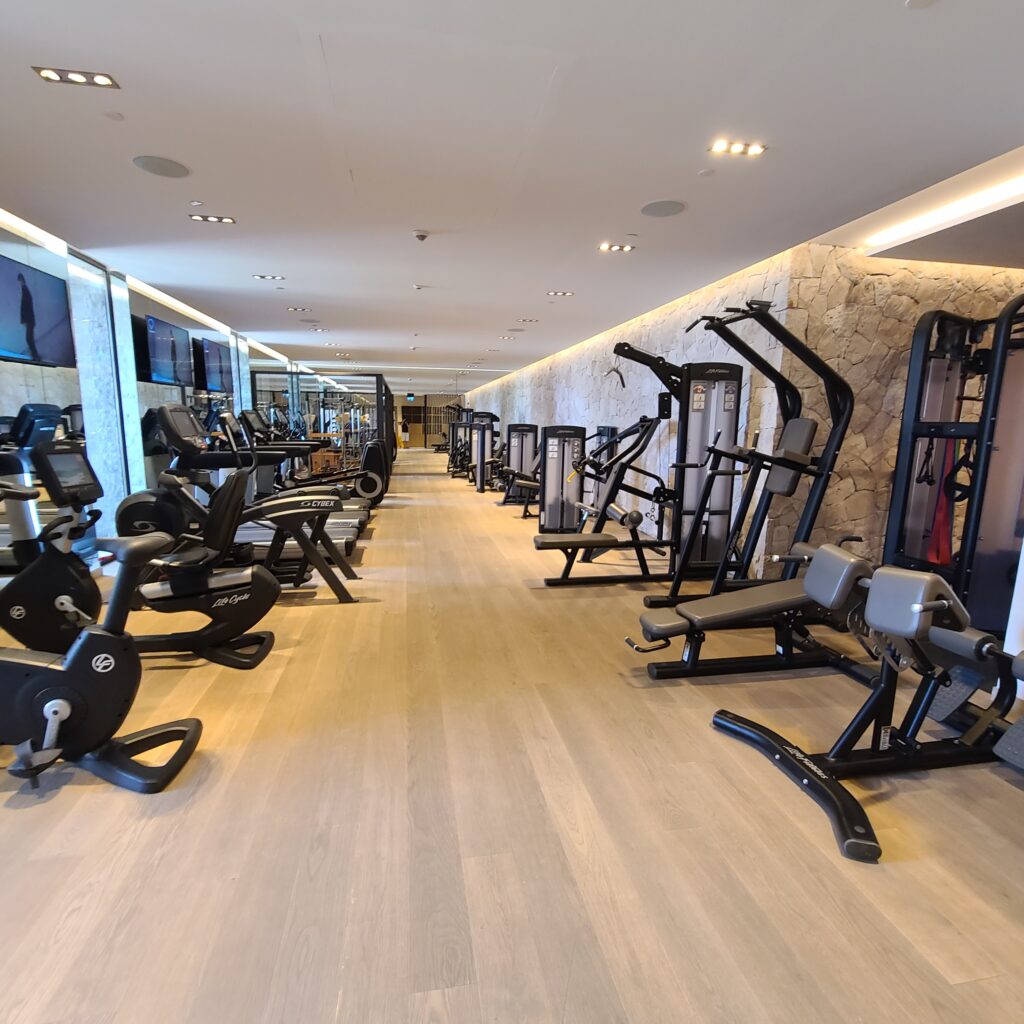 Conclusion
I had a great time at The Bodrum EDITION overall. The hotel is simply beautiful to look at and be at. It was definitely a great place for me to relax on my last stretch of my 2.5 weeks trip in Turkey. However, I felt that 5 nights were too long, but that is just me. I felt that 3 nights were enough to get the full experience of the hotel.
There are some nitpicks with the hotel. First, I was a bit disappointed about the free breakfast change as they no longer serve free breakfast to those who book with points. I wish there were some transparencies from the hotel and Marriott about this.
While I enjoyed the food a lot, the prices were a bit hard to swallow especially after spending many nights in Turkey eating inexpensive but great food. It's quite the sticker shock.
I'm also not a fan of the location since it's far away from the main city of Bodrum. Walkability outside of the hotel isn't very great either, so it can be a dealbreaker to some travelers. The more secluded location applies to pretty much most, if not all luxury resorts within the Bodrum peninsula, so you'd want to take that into consideration.
Nonetheless, it's been fun at this hotel. I probably would not return here again, but that's not a bad thing since I'll just leave this property as that one-time, but quite memorable stay.
Is The Bodrum EDITION Worth Going As A Solo Traveler?
I originally planned to go with a partner, but unfortunately, he had to leave early. I had no choice but to go since The Bodrum EDITION has a free cancellation policy of up to 14 days before the check-in date. Whether it's worth it or not definitely depends on the person. Some would find it awkward to be at a beach resort alone, but I didn't have too much problems with it since I have a purpose of being there with my blog and my credit card points hobby.
Even so, I found that 3 nights would've been enough for me. Obviously, that'd be different for everyone. After 3 days, I definitely felt like exploring a lot more within the Bodrum peninsula, but the location felt a bit restrictive to do so, which is my main regret aspect of booking 5 nights in this hotel. I also have to note that the Traditional Turkish Breakfast experience feels designed towards couples and family guests more than solo travelers.
Overall Rating