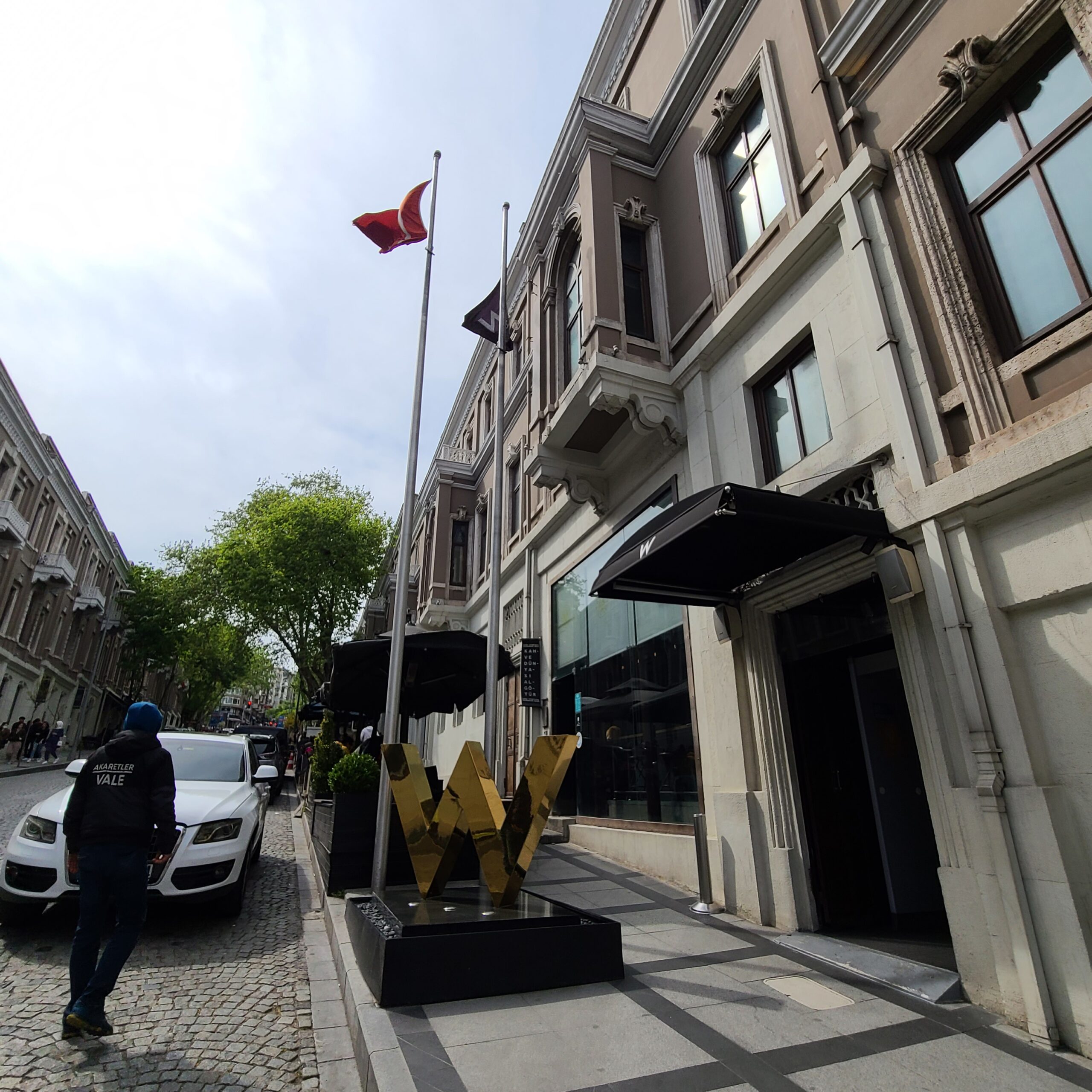 Advertiser disclosure: This post may include affiliate links (including sidebar banners) in which this site may receive compensation if a purchase is successfully made (at no extra cost to you) after being redirected from here. Thank you for your support!
Review: W Istanbul Hotel (2022) [Turkey]

I stayed at the W Istanbul Hotel after staying at the JW Marriott by the Bosphorus to get more of a centralized location in the European side of Istanbul. It was not a smooth way out coming from the JW Marriott with the surrounding constructions and unpaved roads while carrying a luggage to a bus station.
I chose the W because it's one of the most affordable full-service Marriott Bonvoy property in Istanbul with a great location to boot.
W Istanbul– Booking
I booked the hotel a few months in advance at the rate of 118 EUR a night for the base room of 2 twin beds for 2 nights. Points wise, it can cost between 20,000 to 30,000 Marriott Bonvoy points per night. Because of the double elite nights promotion, I booked with cash that will help me get to Titanium Elite. Plus, it's the better deal as well compared to points.
W Istanbul- Location
W Istanbul is located at the Akaretler neighborhood in the Besiktas district. The hotel is surrounded by chic cafes and fancy restaurants on cobbled streets where many young people gather and mingle. A very fitting location for a W hotel I may add.
It's also close to iconic landmarks like Dolmabahce Palace and Ortakoy Mosque. A ferry terminal is also within walking distance that can lead you to Eminonu ferry station to go where Hagia Sofia and Topkapi Palace is, and the more lax districts on the Asian side of Istanbul like Kadikoy and Uskudar. For a first-time visitor to Istanbul, the location of this hotel is excellent. Crossing continents within minutes by ferry is certainly one of my highlights of the Istanbul experience.
W Istanbul- Check-in
I was greeted by a bellman in front of the building and then passed through a narrow doorway with a metal detector. The check-in desk is by the W Lounge, the hotel's bar accessible to everyone. It's not to be confused with an executive lounge that's only reserved for Marriott Bonvoy Platinum Elite and up. There is no executive lounge at this hotel. W Hotels just have quirky terms for their facilities.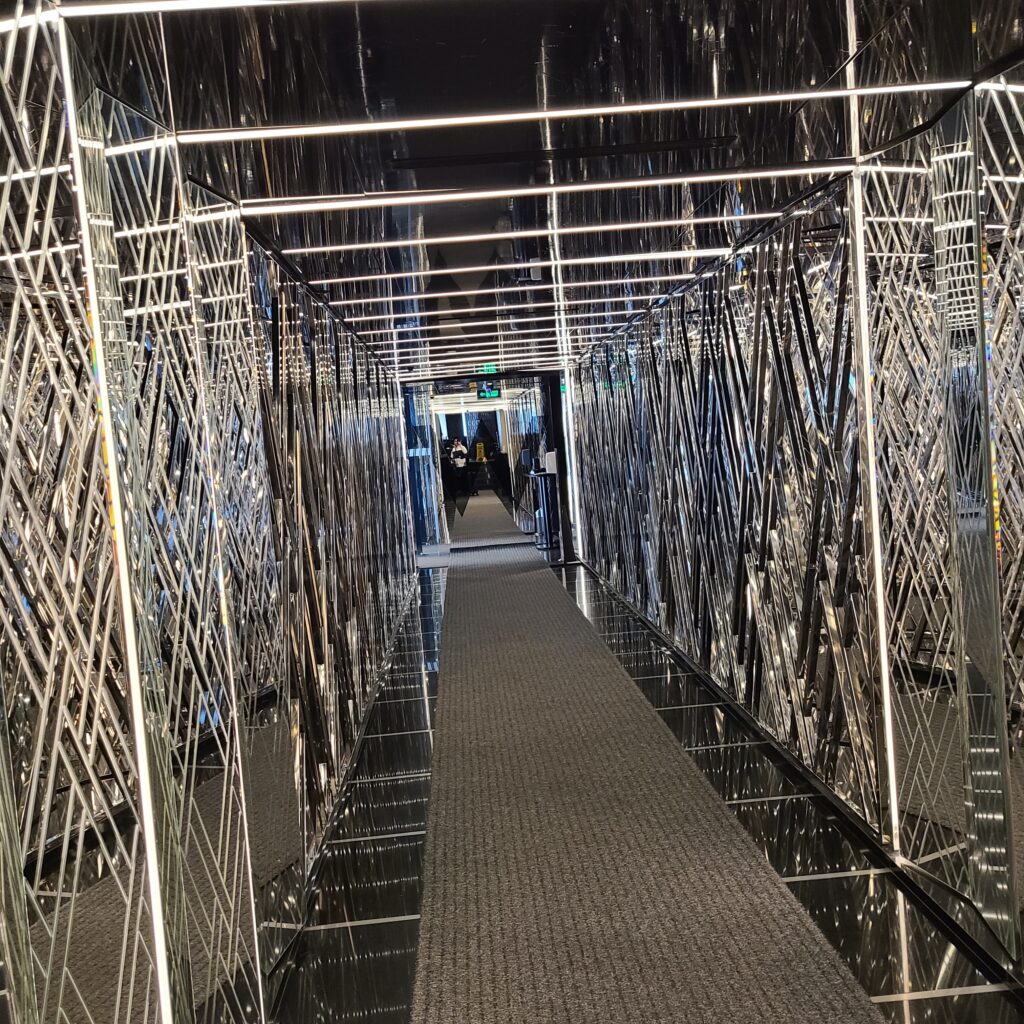 I was upgraded to a Studio Suite with a City View. But, the room wasn't quite ready during my check-in, so I had to wait around 10 minutes. Meanwhile, we were treated a complimentary drink from the W Lounge bar. I forgot the details of the drink, but there was a mango syrup at the bottom that I enjoyed.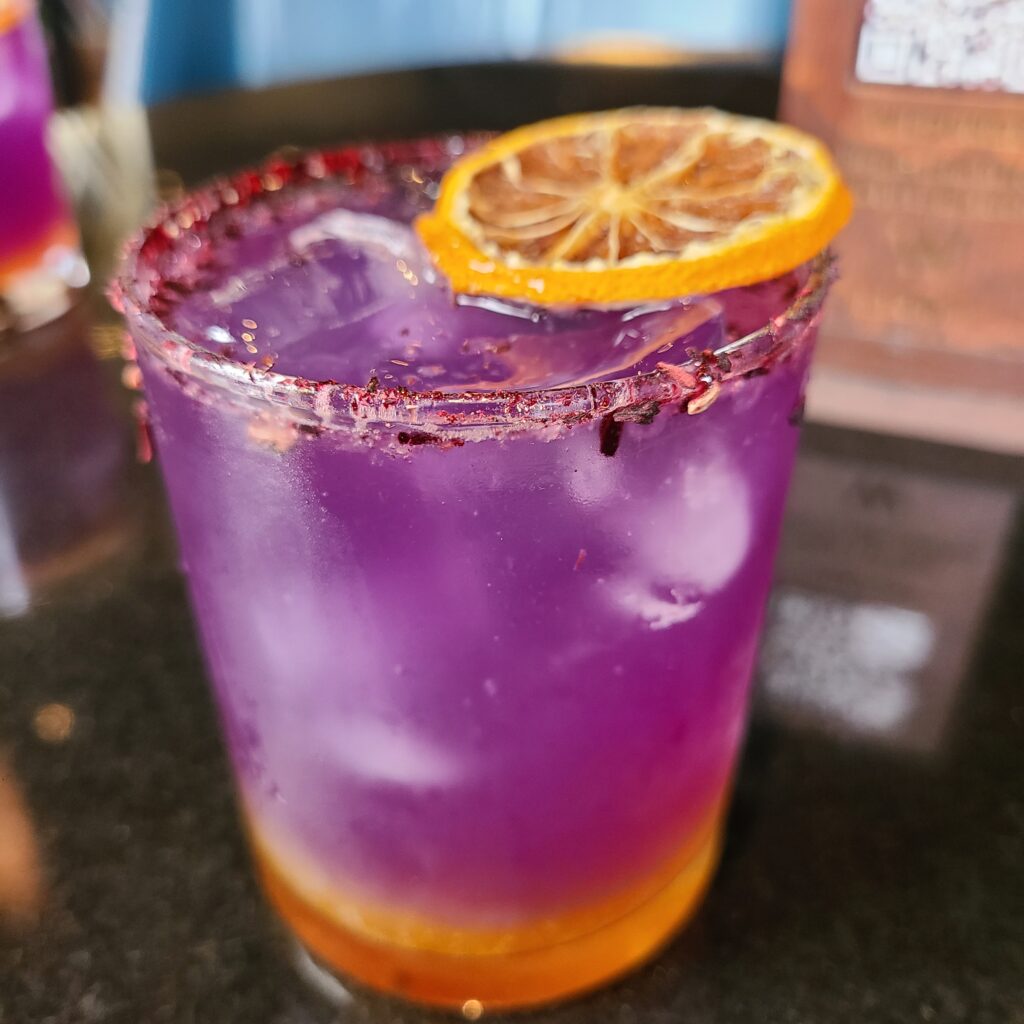 After the room's ready, we were guided to the elevator. The hotel layout is very unorthodox that it took me a while to get used to it to find my way around the hotel during my stay, even with the signs. What helped me to find the main elevator is the small black bin in the hallway.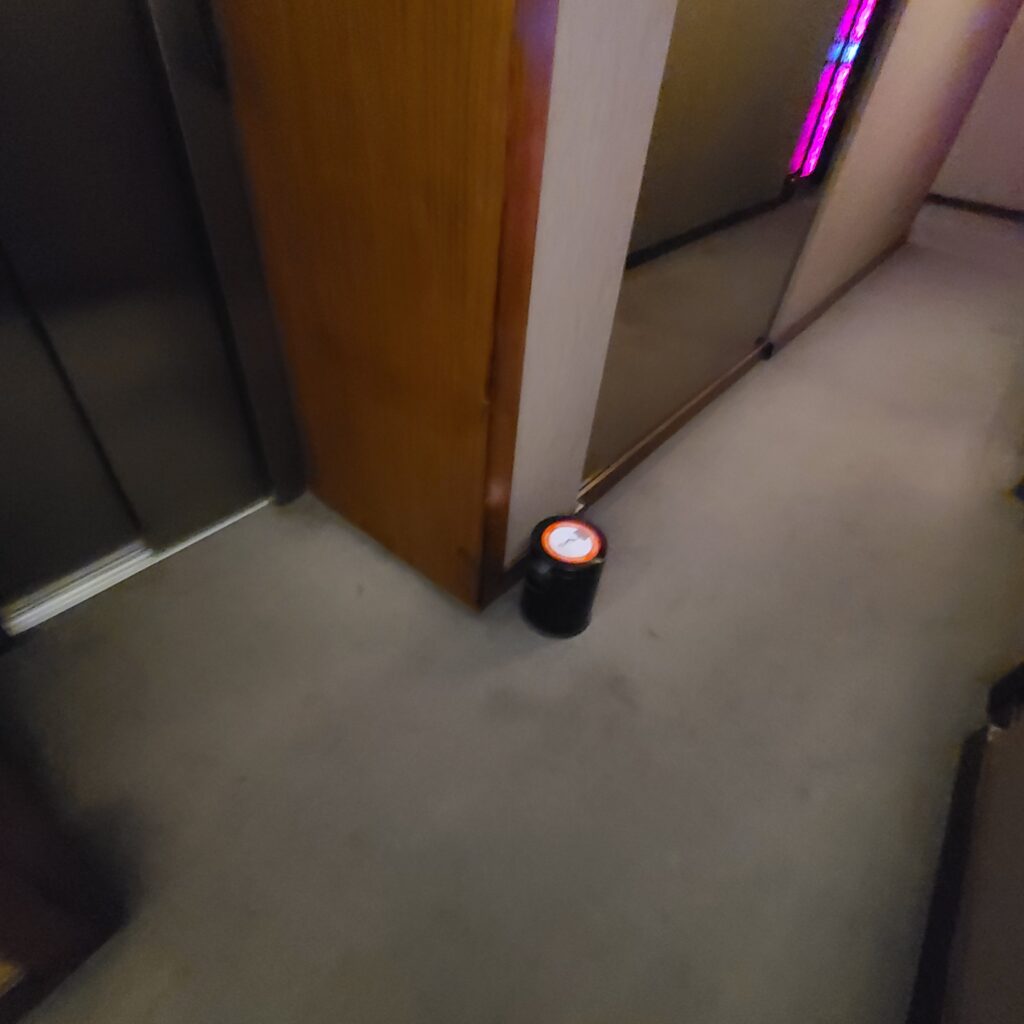 The elevator is quite small, and it's quite cozy for two people, or it'd just fit one person with a heavy luggage.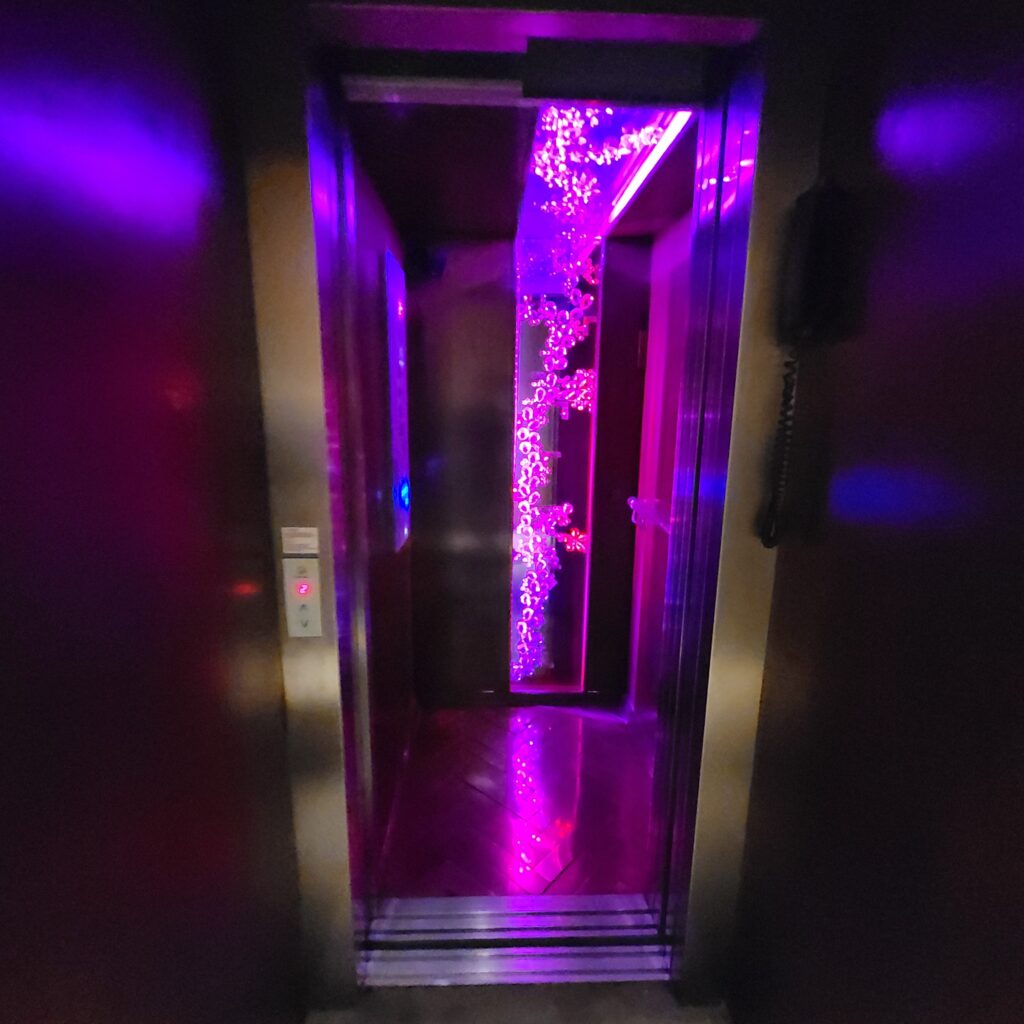 W Istanbul- Studio Suite
The Studio Suite I was assigned to was in Room 454. The suite is quite spacious, and I'd compare the size to most hotels' junior suites. The room design is quite funky with red drapes, red lighting, and wooden finishes.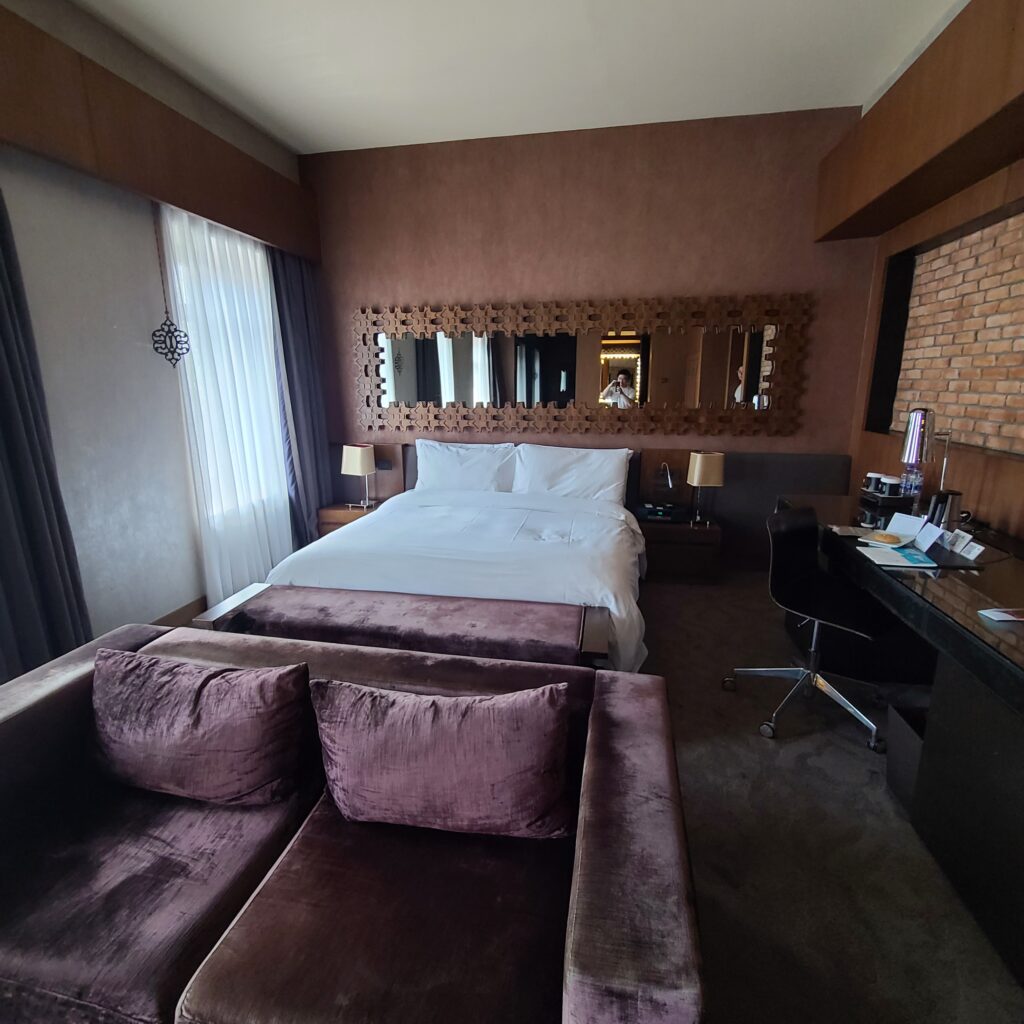 I found the bed a bit too soft for my liking, like it's been worn down. Or, I just can't remember W Hotels beds as fondly since the last and only time I stayed at was in San Francisco.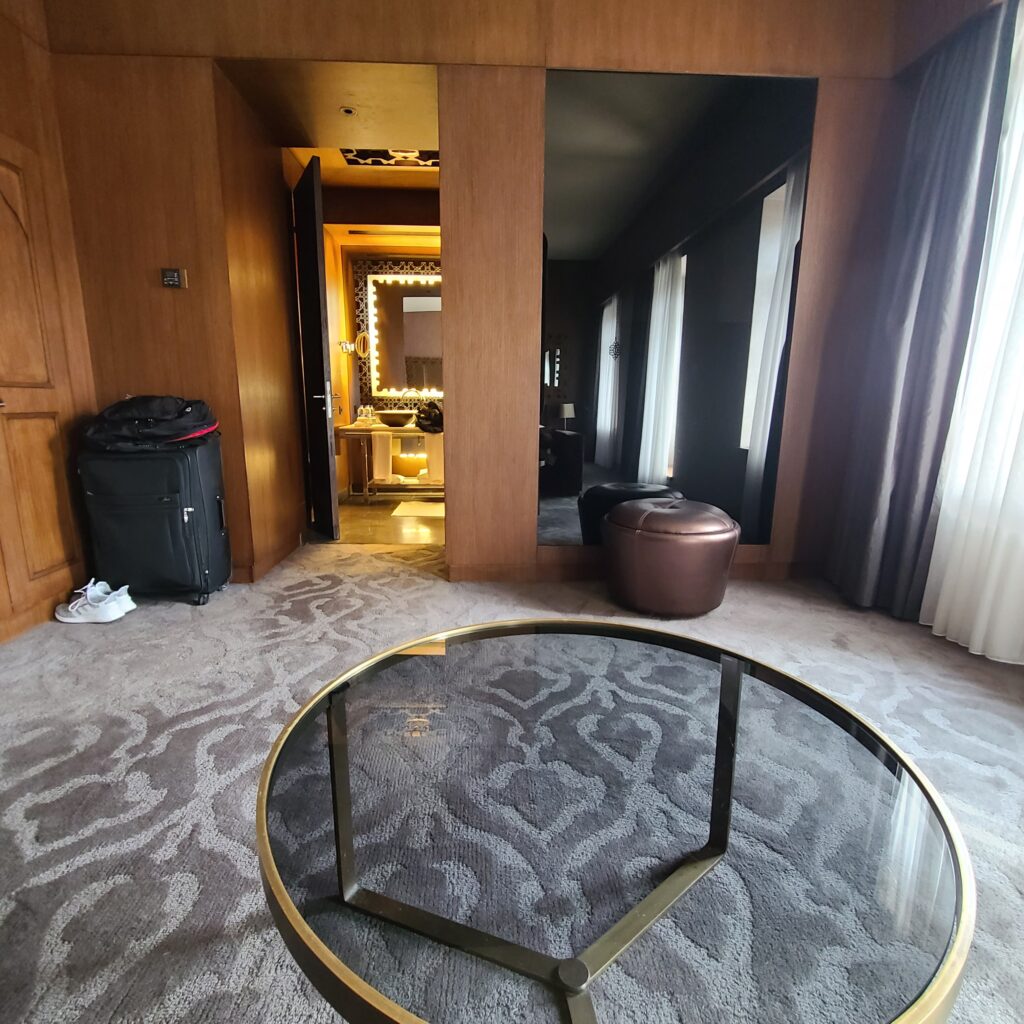 I received a bitter almond cookie and personalized note from the hotel manager as a gift for being a Platinum Elite member! Pretty cool, especially that the lore of the cookie is also given.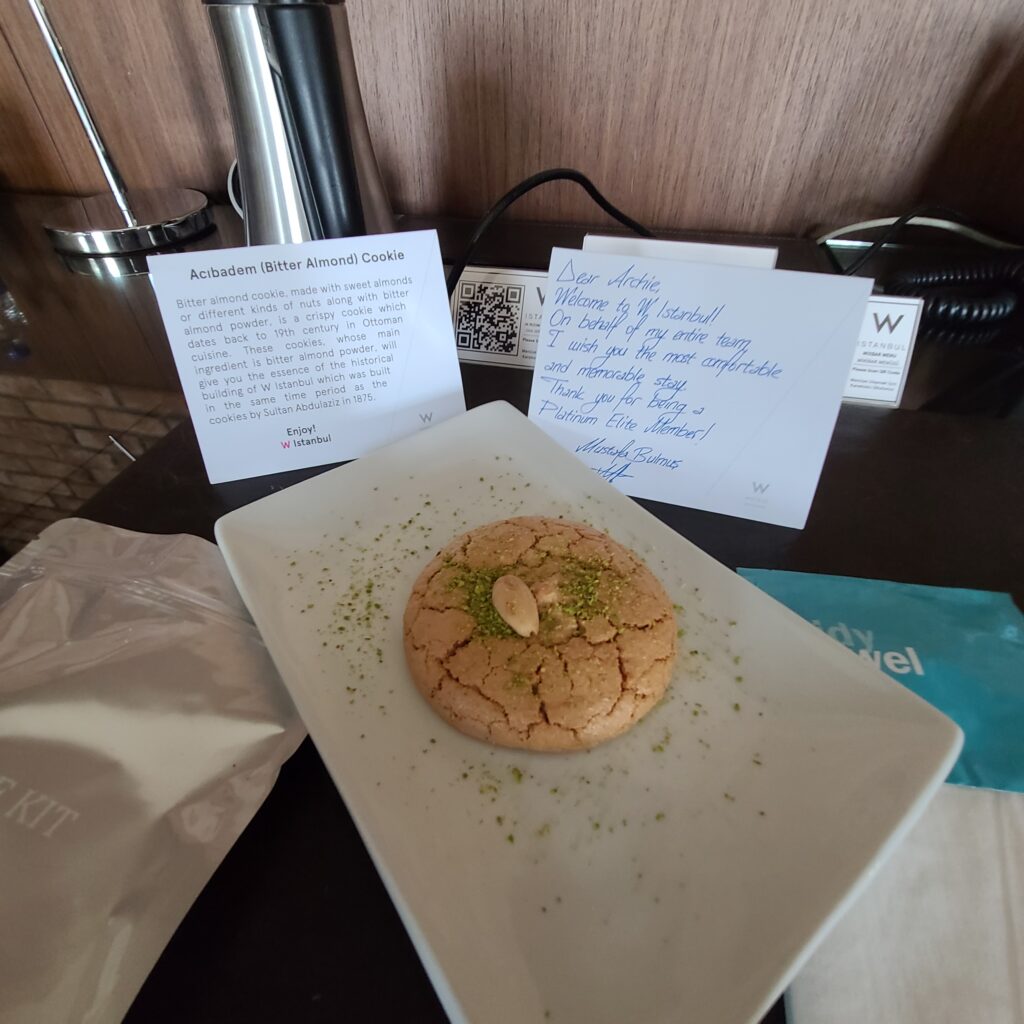 The room comes with a wide desk full of stuff, but still leaves ample space for me to do some work on my laptop. Wired internet is available for faster internet that'd be useful for gaming. Nespresso machine and complimentary water bottles are available to use. Whatsapp number is given through a QR code so you can ask the hotel for anything during your stay, which is cool! Even though the furniture are clean, they do look outdated with minor peels and scratches.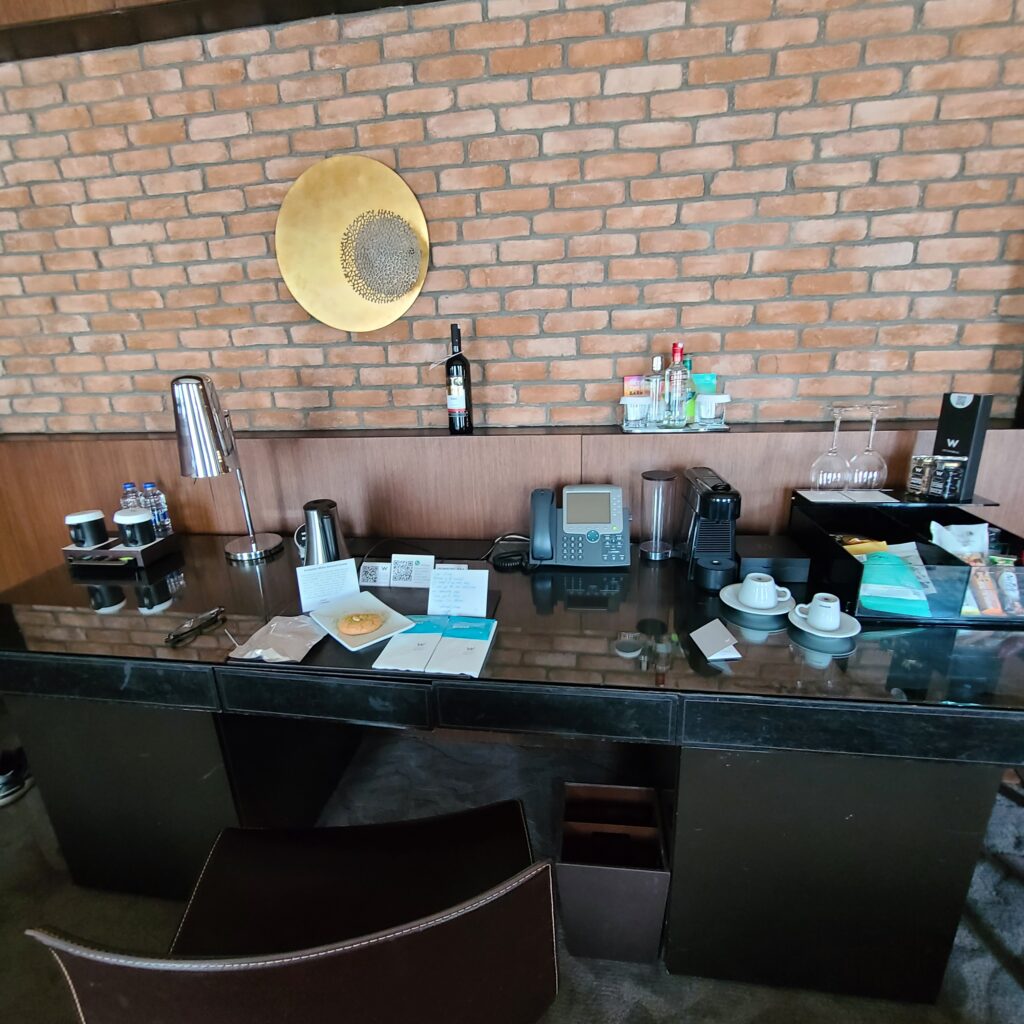 In just minutes after settling down in the room, a man knocked in the door if we wanted some drinks. I thought to myself, "Wow, another welcome gift?" because it's a bit common for someone to knock on my door some time during that time. The man then asked if I wanted some drinks, in which I obliged and took a bottle of Coke Zero and a big bottle of water.
Not until check-out at that time that it was the mini-bar guy, and I was charged $10 for both of those drinks, plus a Toblerone that I did not even eat. Now, I'm not going to cause a commotion over $10, but I did wish there was a transparency when he handed out those drinks. For the Toblerone, I was able to remove that from the bill because it was missing ever since I got in the room, and was only added during the second day of my stay. They assumed that I did consume it on the first day, which I didn't.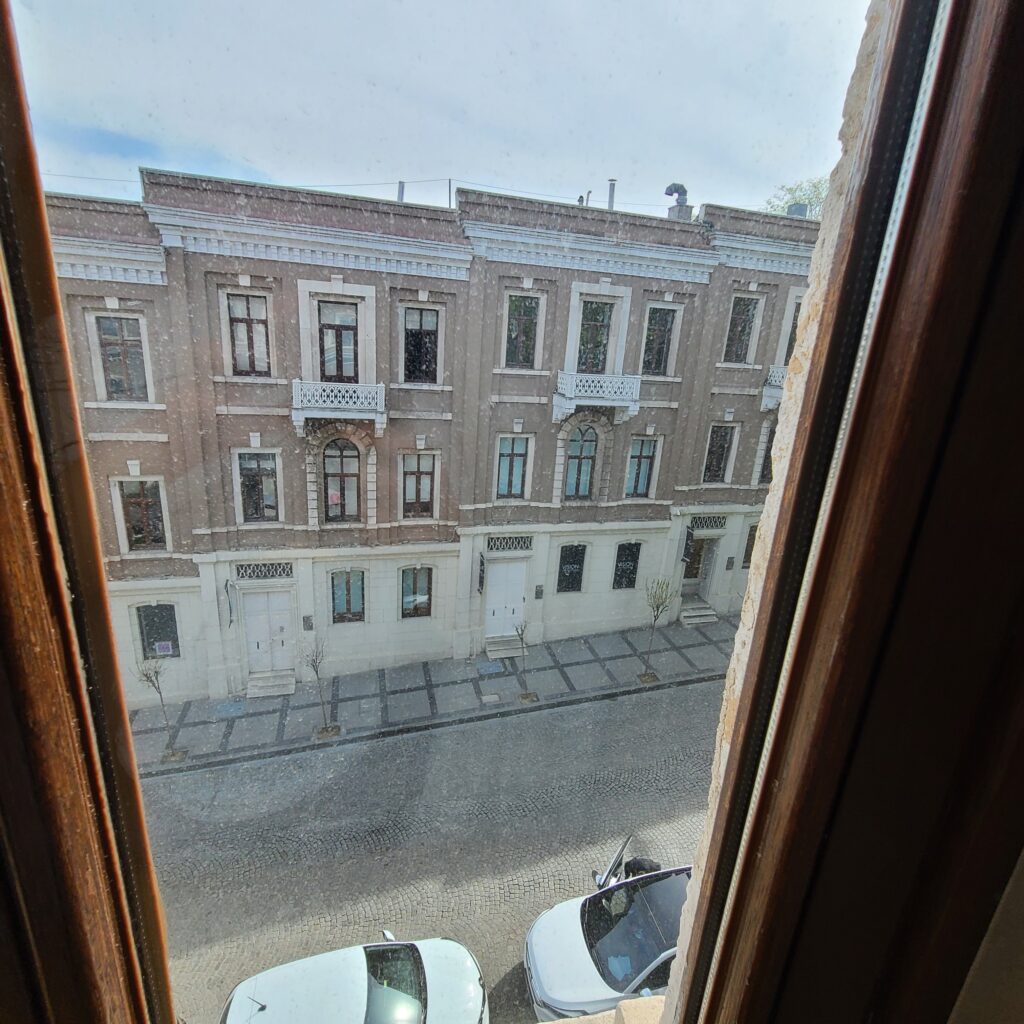 Despite being at the 4th floor, it certainly doesn't feel that way. The view isn't anything special, but there are alcoves by the windows where you can sit on. I must note that the windows are quite dirty though. Also, noise insulation is pretty poor or non-existent, at least on this side of the building. I can hear screaming and chanting late at night during my stay, but not enough to wake me up. For the super light sleepers out there, that'd be a different story.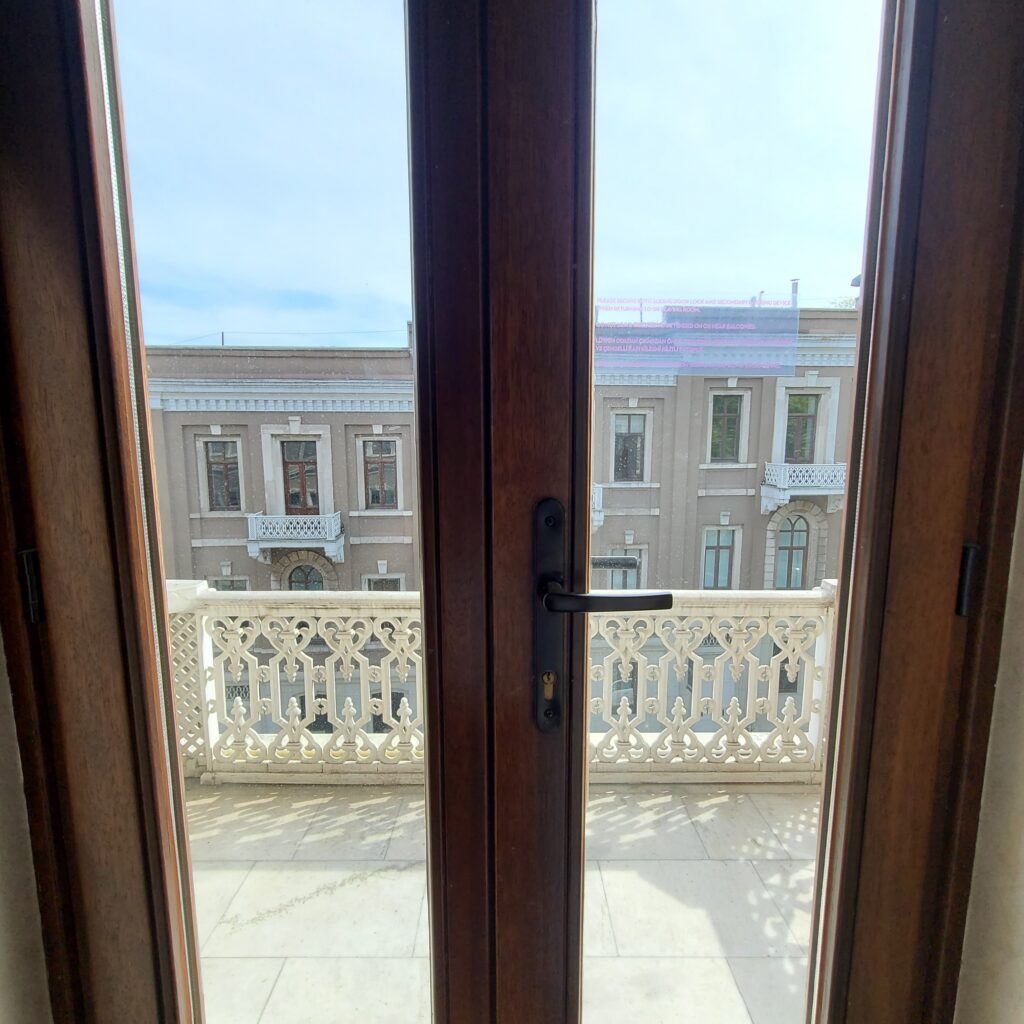 The door to access the balcony is locked, but you can request a key to open it. You do need to sign papers to do so though for liability purposes.
W Istanbul Studio Suite- Bathroom
The double sinks are on the far left of the room with no wall separating it with the bedroom. The toilet and showers are adjacent to the sinks, and they come with doors thankfully. Bathrobes are available to use by the shower room and in the closet.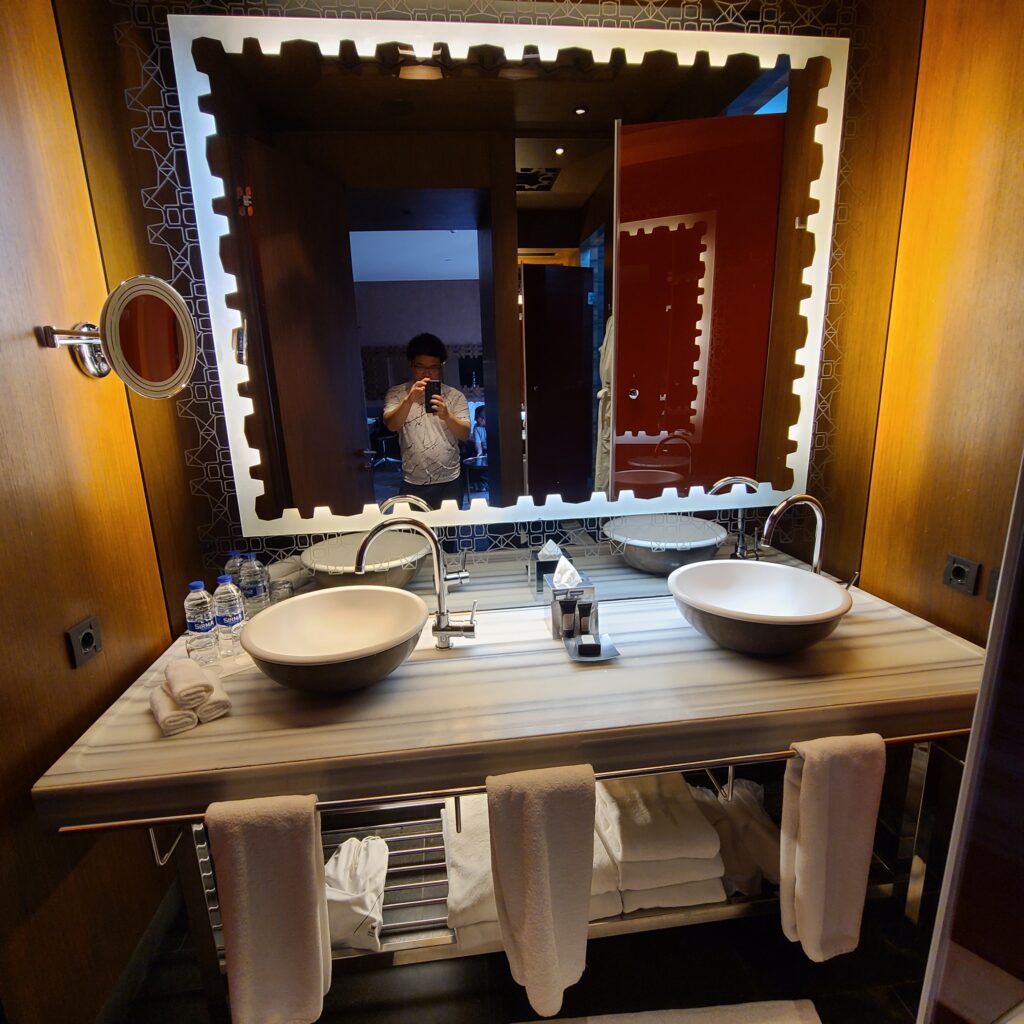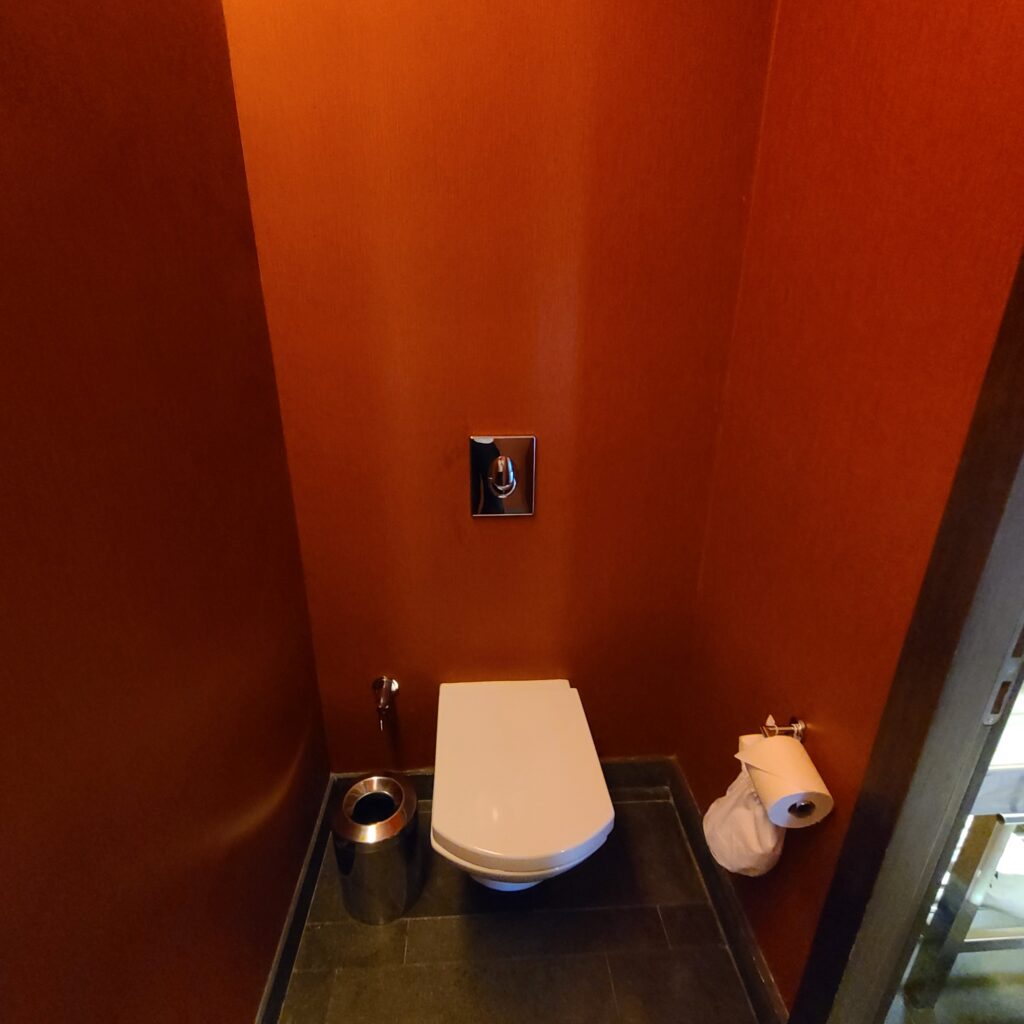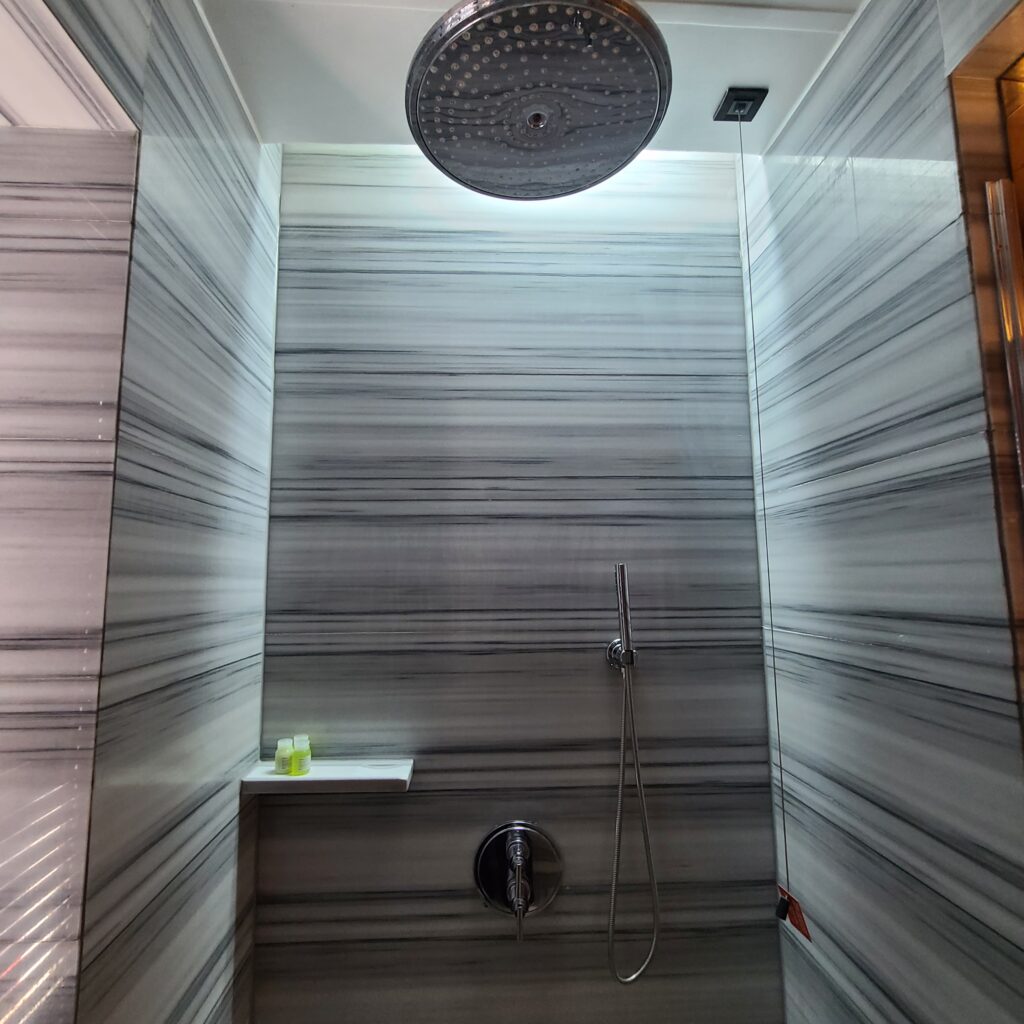 The shower room space is quite generous with the space with a bench and washing basin. Be careful about the washing basin because it's heavy and can move! Getting a stubbed toe from that would be nasty.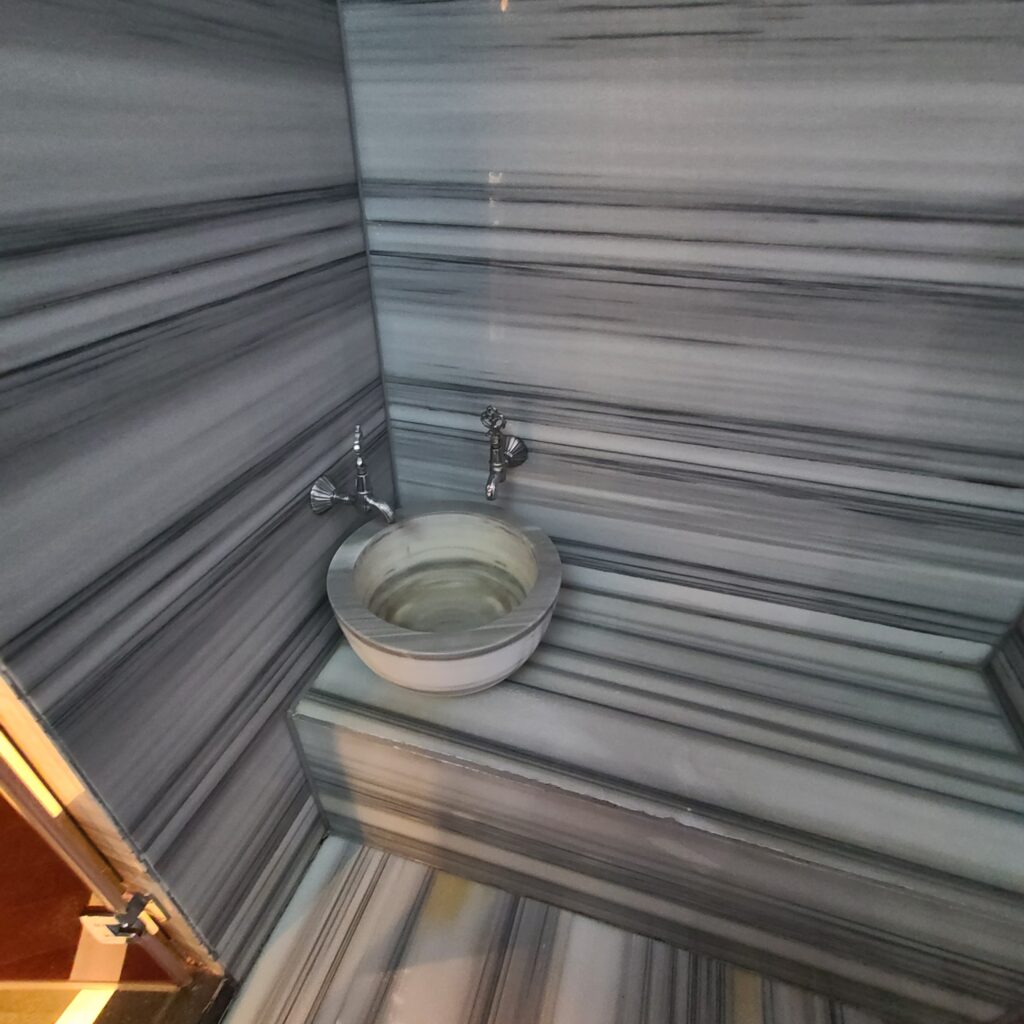 Bath amenities are issued by MOMO. A standard for W Hotels, but I still prefer their former Bliss products that are still standard for Aloft Hotels, or the baby version of W Hotels.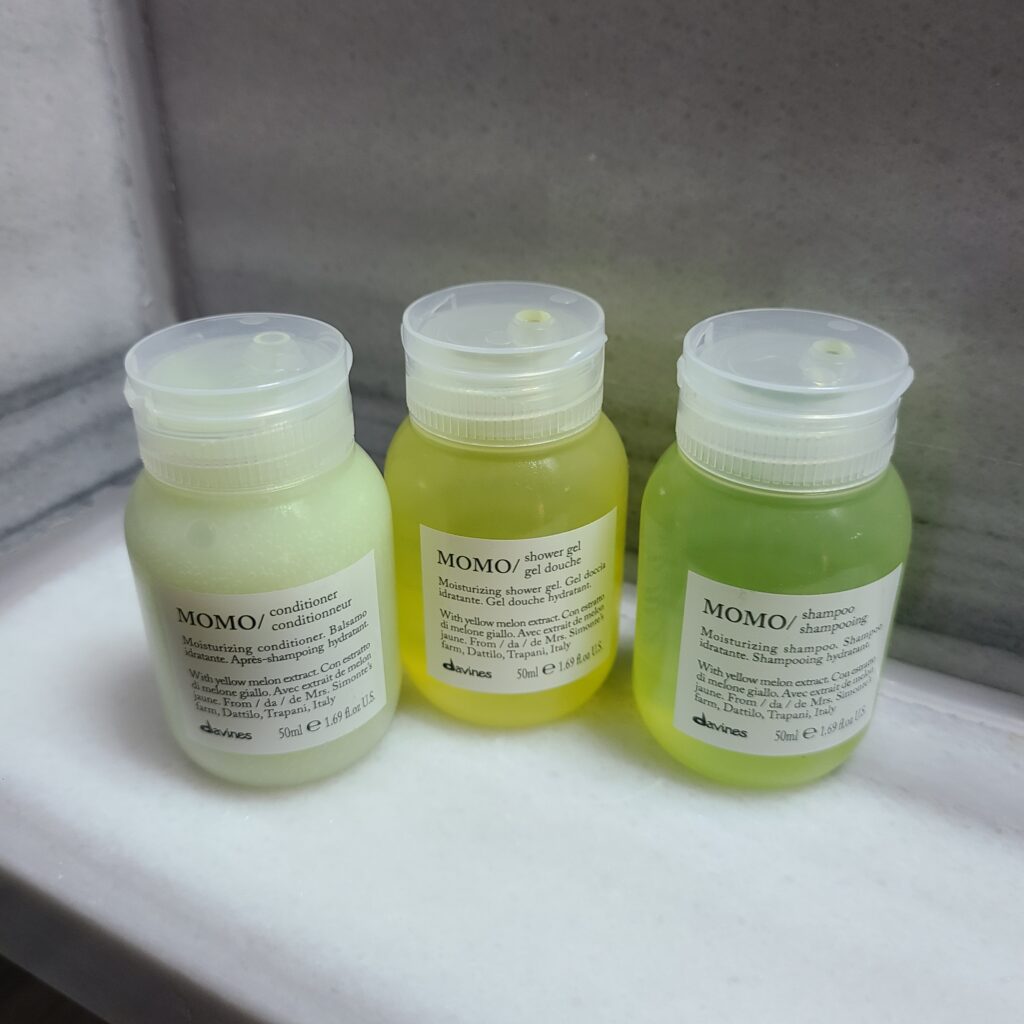 W Istanbul- Breakfast (W Lounge)

As a Platinum Elite, I receive free continental breakfast at the W Lounge on the ground floor.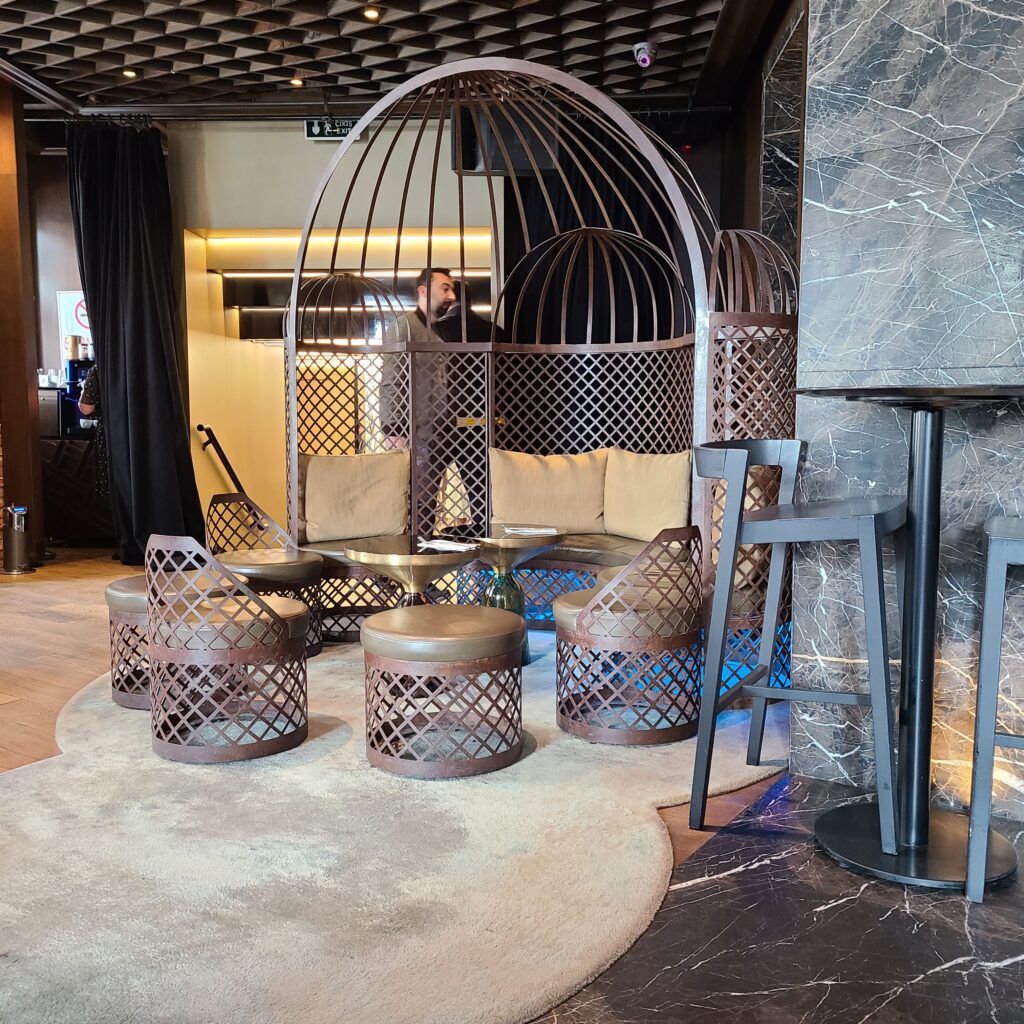 The food selections are quite decent, and they change each day. Mix of classic Turkish breakfast offerings like menemen, fried sucuk, and baklavas and Western bites are up for grabs. Food taste wise, I think they're quite alright. There are no drinks stations though, in which the lounge host will serve you it. Sadly, I couldn't get the comfortable seats by the windows because I came in for breakfast later in the day.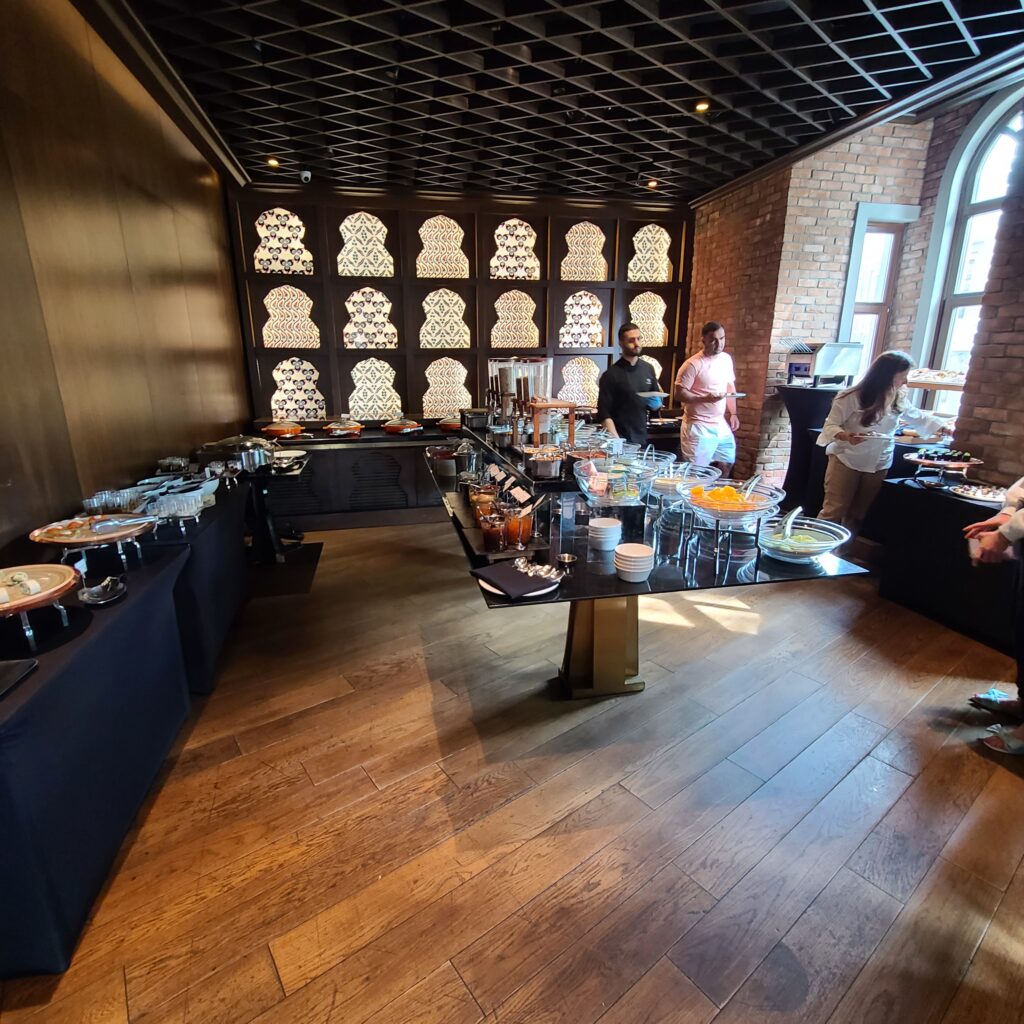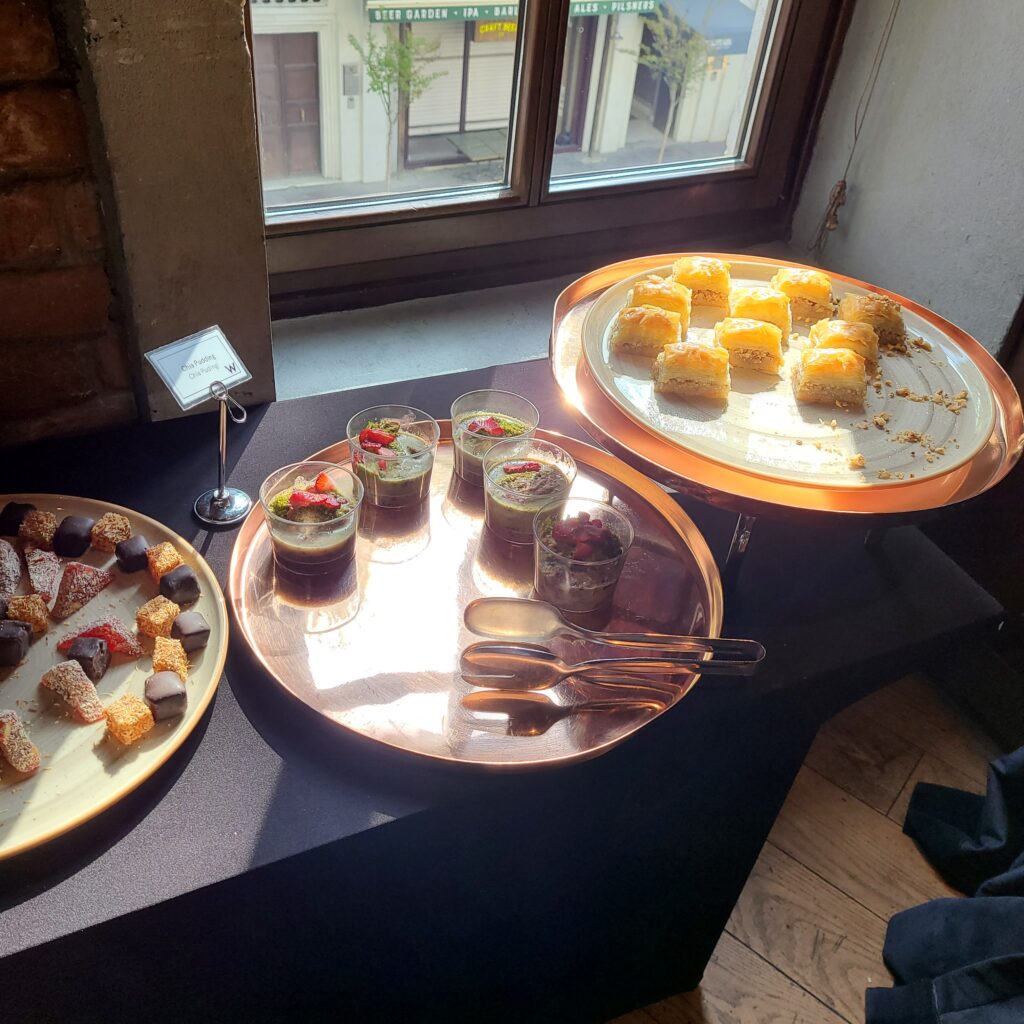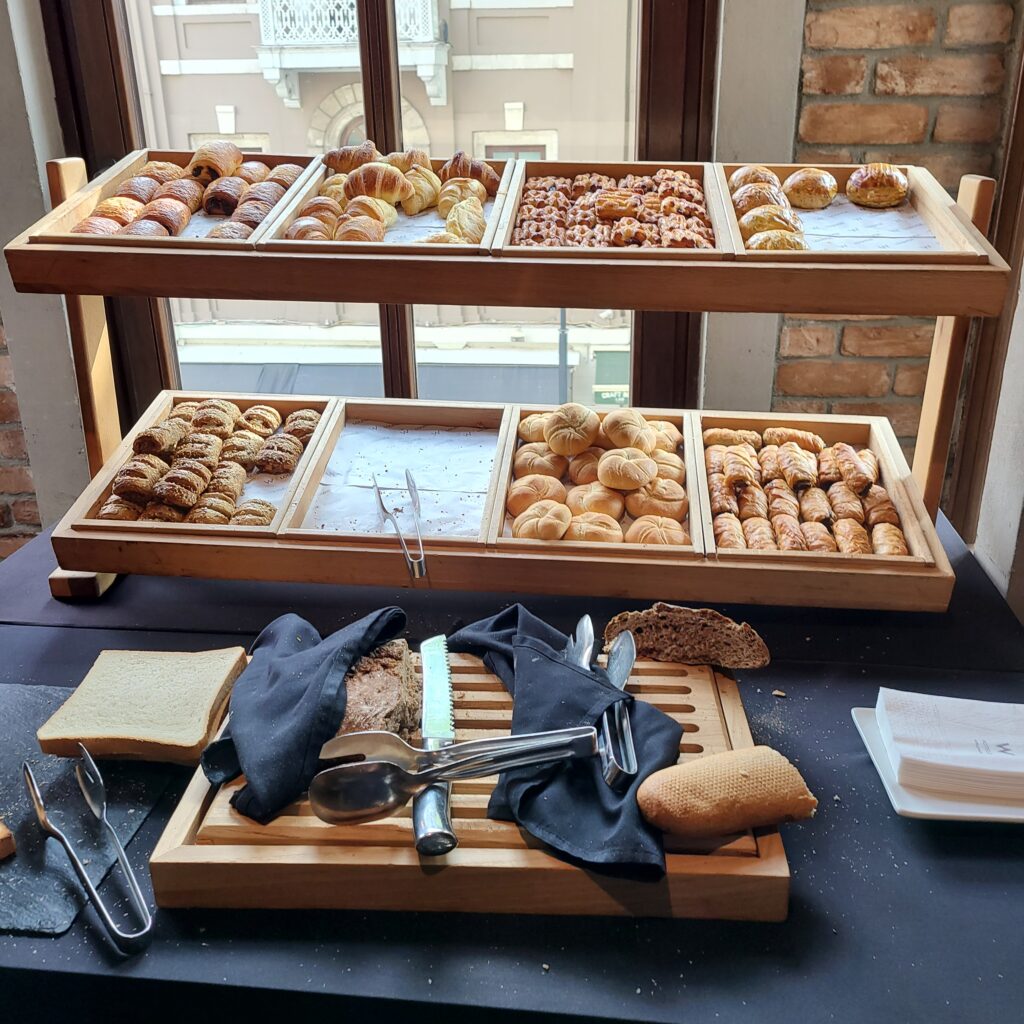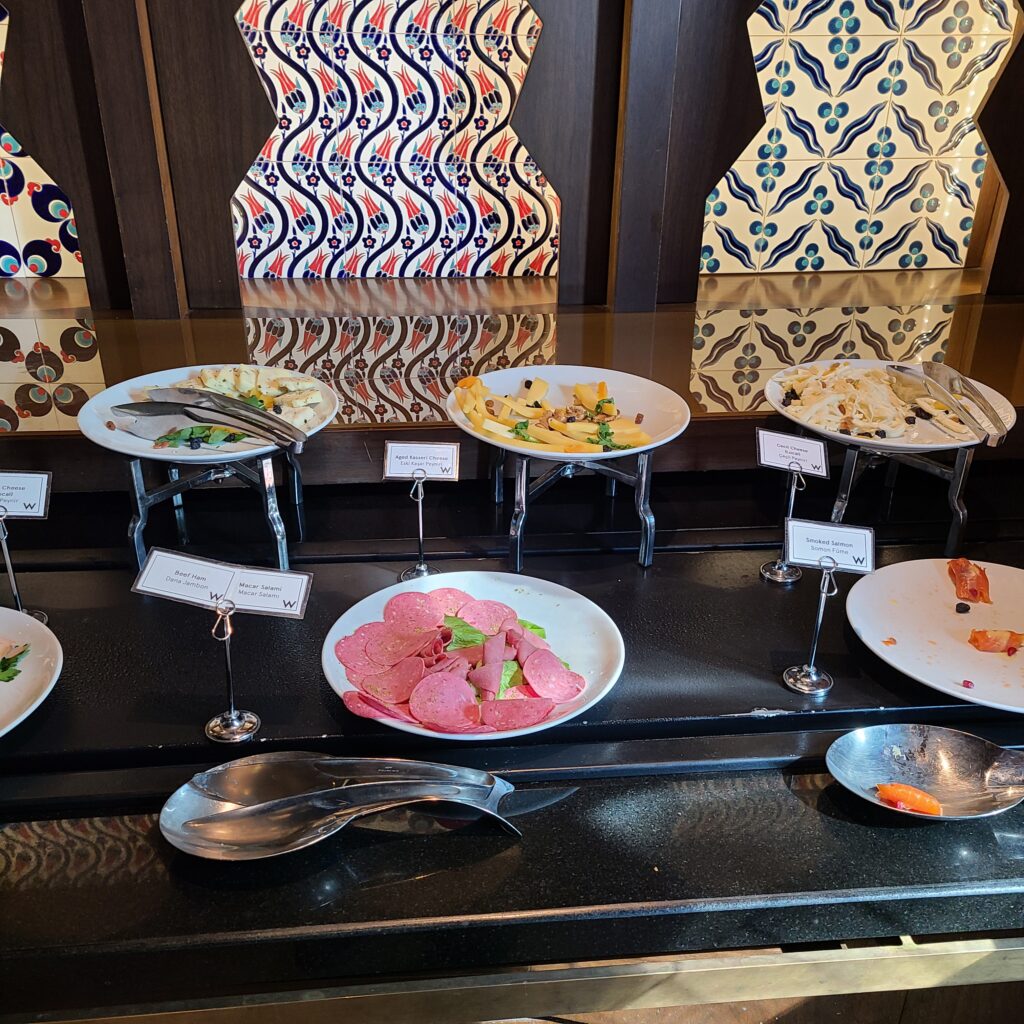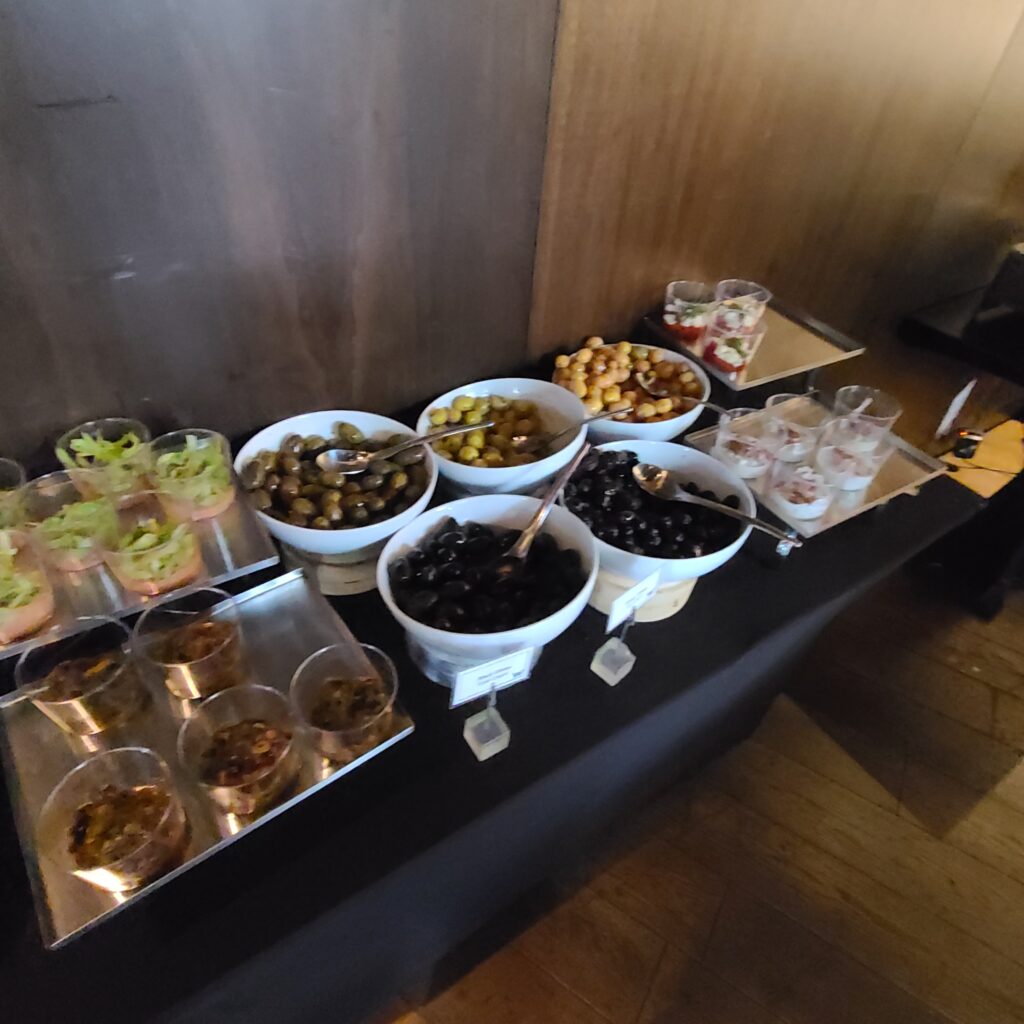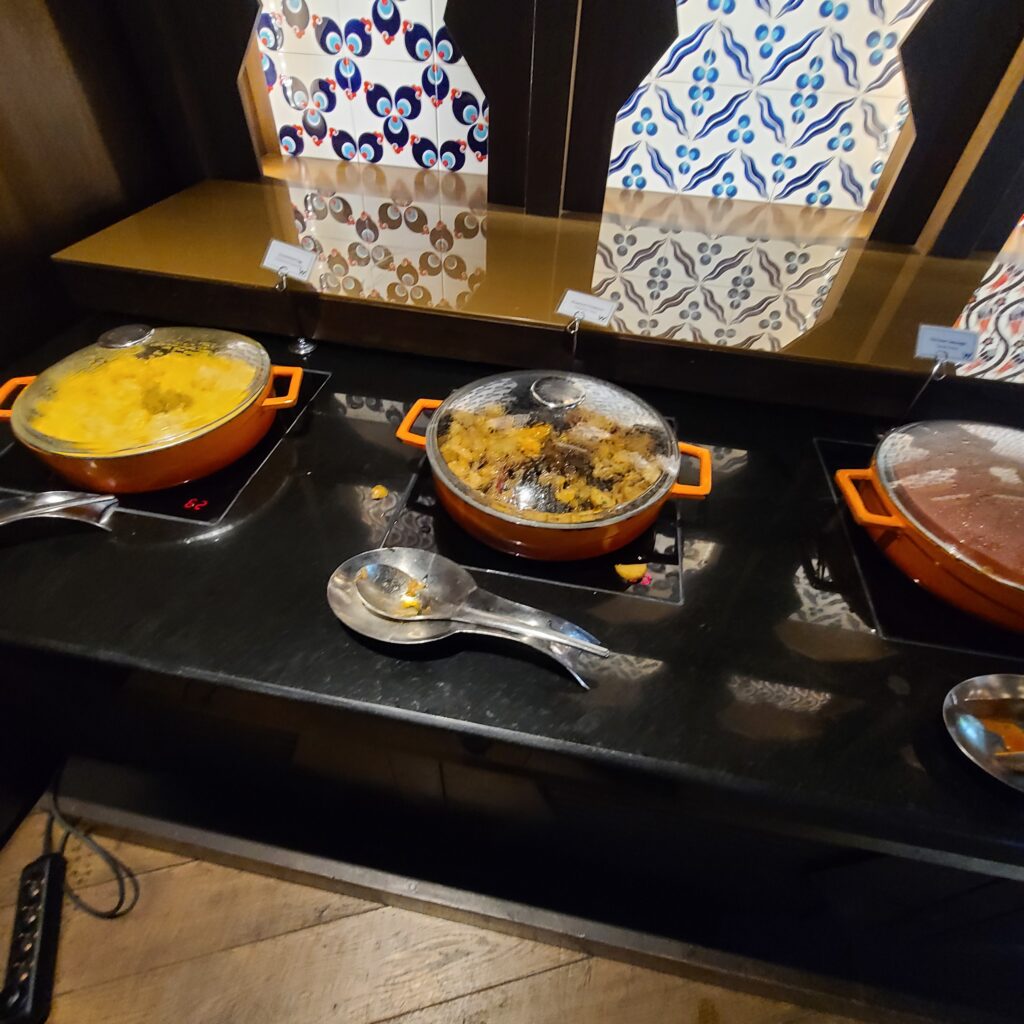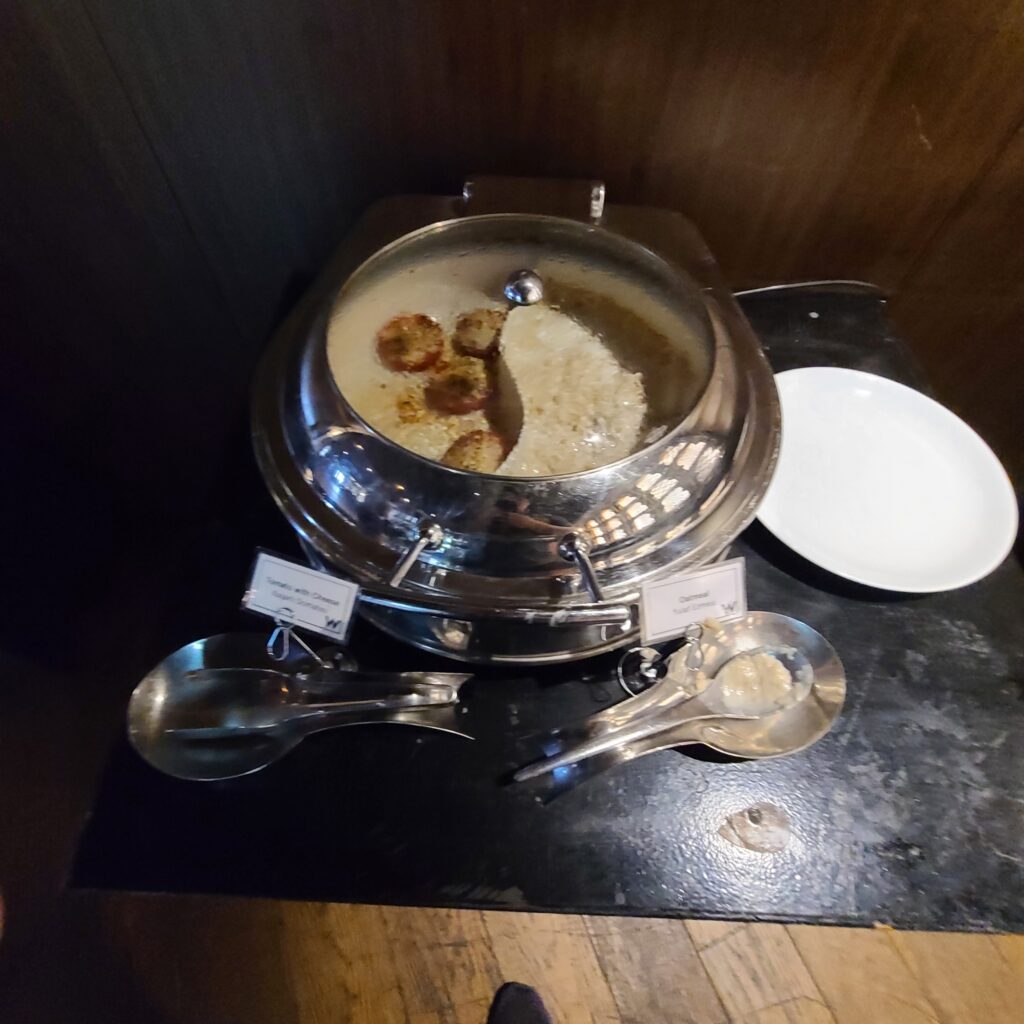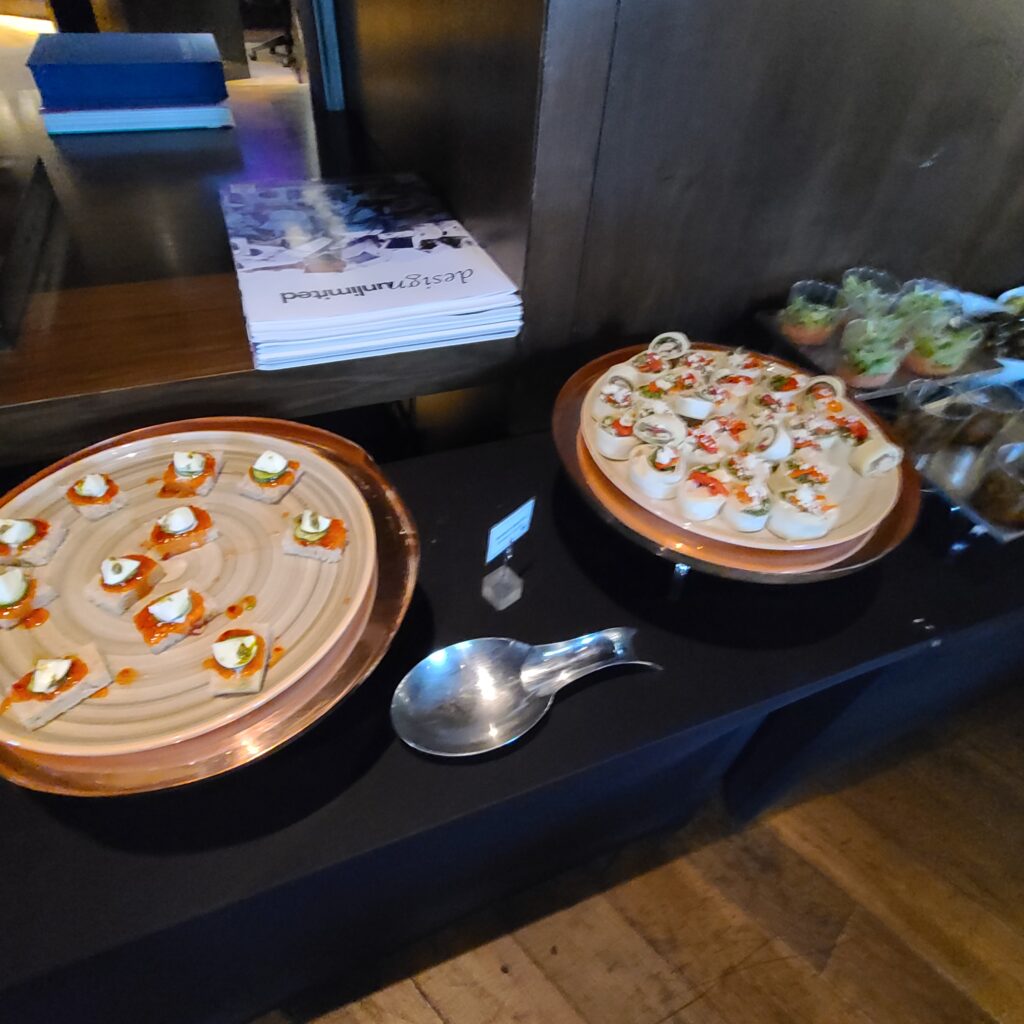 The W Lounge would serve as a lively bar during the evening, and there's no other dining establishment inside the hotel.
W Istanbul- Spa & Fitness
The hotel has a spa service by Spa Soul. I've tried the 40 minute traditional Turkish hammam here for 950 Turkish Lira, or ~$60 during my stay, which I thought wasn't a bad price. The Turkish hammam in the western hotel chains are more tame compared to the authentic ones you'd find on the streets of Istanbul. So if you're on the fence, I feel that the Turkish hammams in hotels would be a good introduction to it.
I was pleasantly surprised that the spa therapists I met were Indonesians like I am. It was definitely great to speak Indonesian again to people other than my immediate family. Overall, I had a great experience exposing myself to a Turkish hammam, and I'd like to try the authentic one in the future.
But compared to other Marriott hotels' spa facilities, the W is smaller according to my spa therapists who used to work at The Ritz-Carlton in Istanbul, and another one who worked at The Bodrum EDITION, whom she is friends with the ones I met at the W. At the same time, the prices at the W are cheaper than the former hotels mentioned.
Next to the spa is the gym (FIT Gym) overlooking the W Secret Garden. I do like the glass windows and ceiling to let natural sunlight in for a better morning workout. The W Hotel in Istanbul does not have a swimming pool.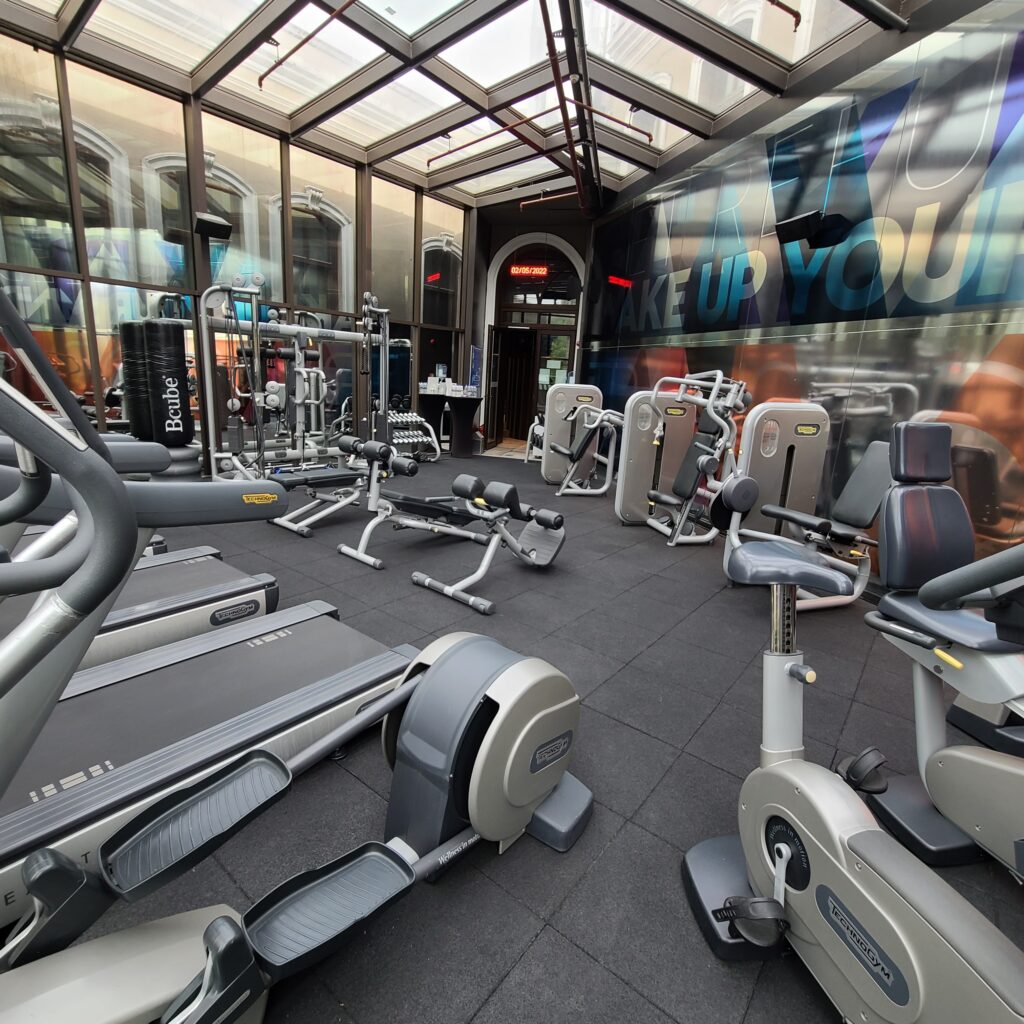 W Istanbul- Secret Garden
The hotel has a courtyard called the Secret Garden. I wasn't too familiar with it, but there was an empty bar when I took pictures in the afternoon. I'd assume this part of the hotel would be lively during nighttime.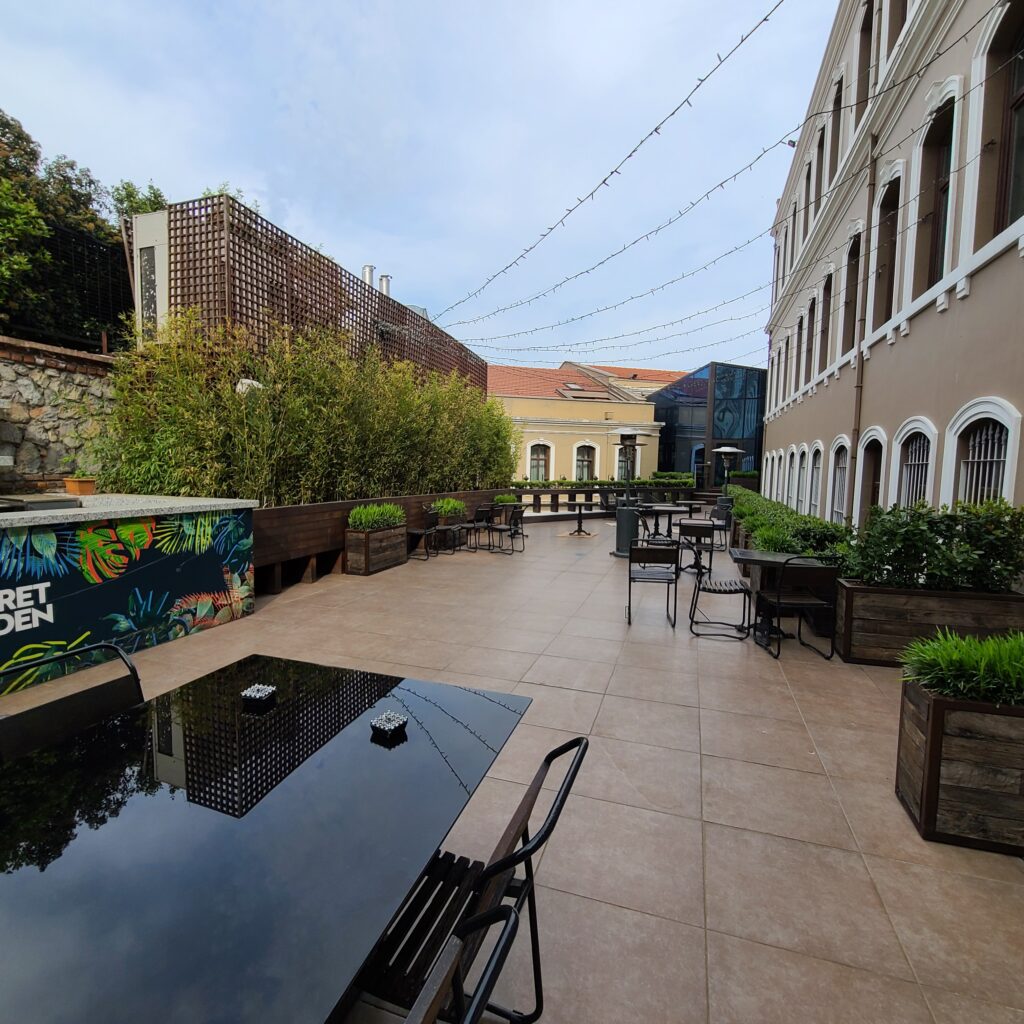 From the Secret Garden, you can overlook the rooms with private cabanas. I think I'd rather have that room type compared to the Studio Suite. At the same time, it might not be ideal for light sleepers too since loud music must be easier to be heard from here. Lose-lose situation for light sleepers, and I'm not sure a quiet room exists in this hotel.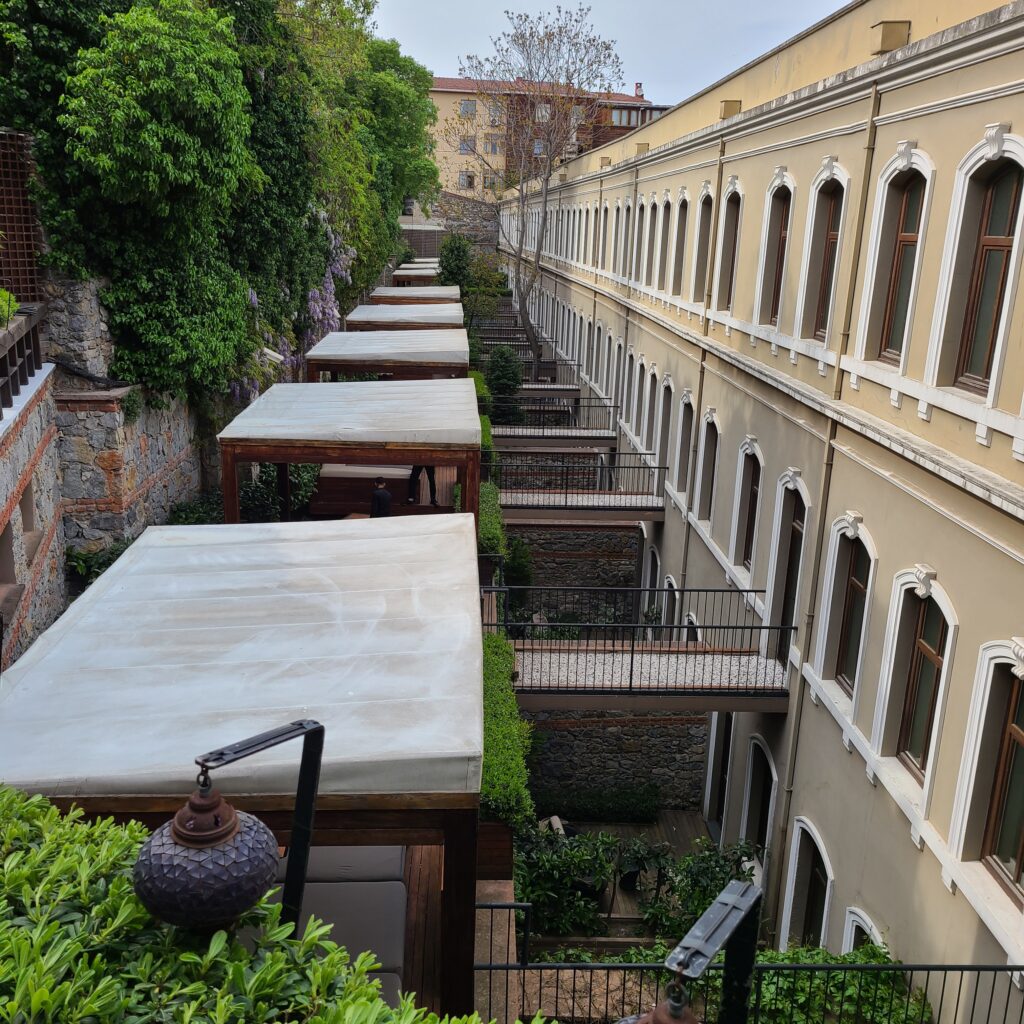 Conclusion
My stay at the W Istanbul is quite okay. Oddly enough, I'd stay here again if the price is within the range of what I've booked at. W Hotels also provide great benefits for Platinum Elite and up with complimentary breakfast.
Other reasons that'd compel me to go back here are the excellent location and the amount of higher room categories that provide ample space, including suites, available at this hotel that'd improve my chances of getting upgraded. Plus, getting to know some of the staff members help me sway into going back here again on my future visits to Istanbul!
I would avoid this hotel if you're a light sleeper because of the hotel's poor noise insulation. Not being able to get a good night rest would defeat the purpose of spending money on a hotel.
Overall Rating