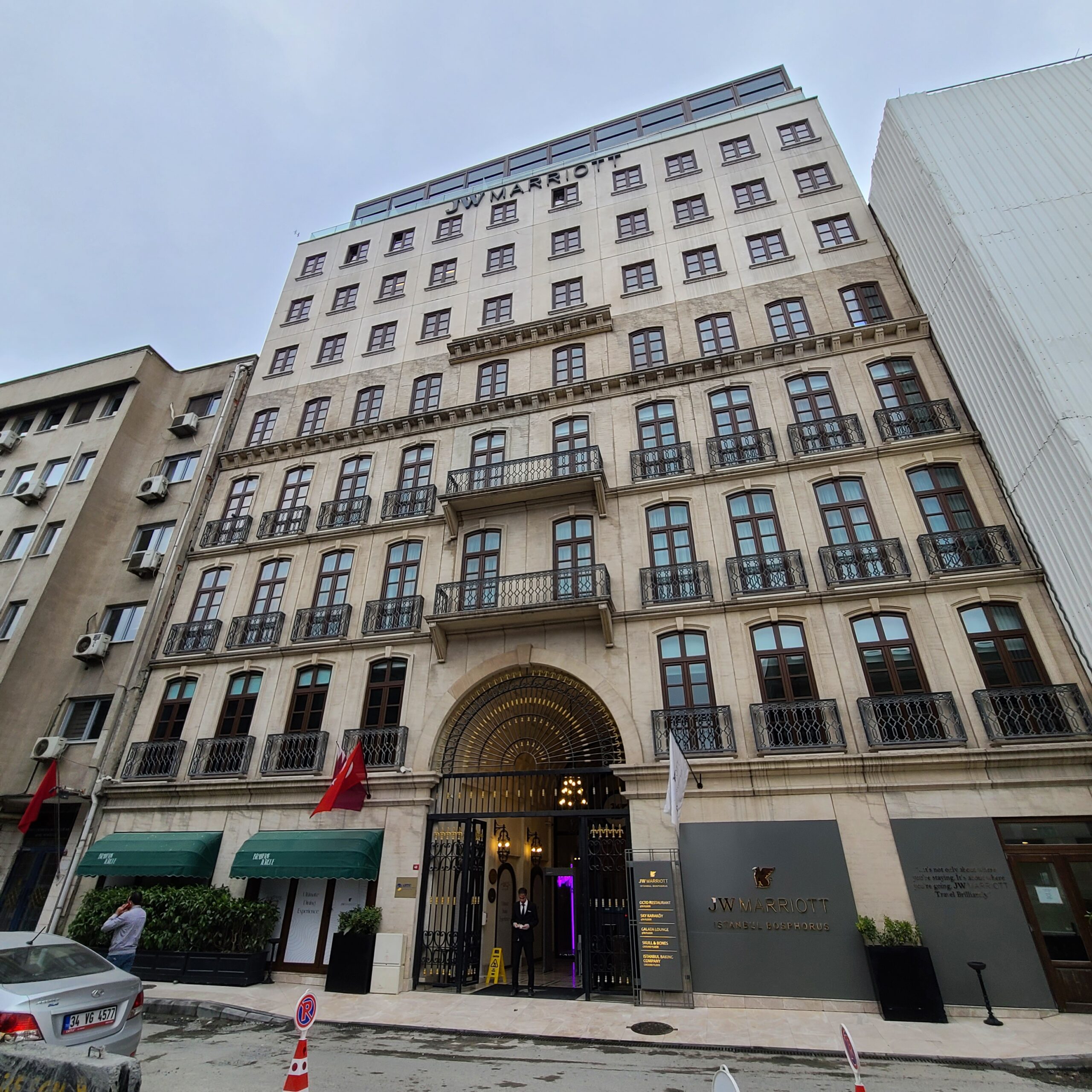 Advertiser disclosure: This post may include affiliate links (including sidebar banners) in which this site may receive compensation if a purchase is successfully made (at no extra cost to you) after being redirected from here. Thank you for your support!
Review: JW Marriott Istanbul Bosphorus (2022) [Turkey]

My very first stay in Istanbul is at the JW Marriott Istanbul Bosphorus. I really like the JW Marriott brand in general, so whenever I'm in a new city where one is available, then I'd most likely to book it. As a Marriott Bonvoy Platinum Elite, I was excited to give this hotel a try. Is it worth to book this hotel for your visit to Istanbul? Let's see.
JW Marriott Istanbul Bosphorus- Booking
I've booked 3 nights at a rate of 178.50 Euro/night for the base room 2 twin beds (Atrium View) for 2 guests a couple of months in advance. Keep in mind that this hotel will charge extra for each additional guest you bring with you.
The hotel has a construction going on next building during my stay, thus many rooms are out of order, including suites, and causes price hikes if you don't book early. Despite that, I was managed to be upgraded to the base room with Partial Bosphorus View with 2 twin beds.
JW Marriott Istanbul Bosphorus- Location
The hotel is located in a back alley in Karakoy of the Beyoglu district. Karakoy is a port-side neighborhood by the Bosphorus strait that's close to some of the main Istanbul's attractions. Karakoy tram station is within walking distance and will easily lead you to Hagia Sofia and Blue Mosque in the Sultanahment area. Or, you can cross the Galata Bridge and pass by countless fishermen waiting for their next catches to take the more scenic route. Then, the Galata Tower is nearby where you can get to the top to have a 360 panoramic view of Istanbul.
Outside of the main attractions, there are many eateries within walking distances and are great to try out Turkish food and nightlife culture. The Galataport provides upscale dining and shopping experiences, although parts of it are under construction, and is within walking distance from the hotel as well.
The street that the JW Marriott Istanbul Bosphorus resides is in fact, under construction for the duration of my stay on late April of 2022. From the looks of it, it doesn't appear to be finished any time soon. Although there are many activities and attractions to see near the hotel, the construction next door may be detrimental to your stay experience.
Also, the main issue with the hotel's location is that it's hard for taxis to arrive. I've had many taxi drivers decline my requests when I stand and wait in front of the hotel. The construction, narrow road, and people walking made it tough for cars to go through in general. If you want better luck with taxis, then you'd need to walk to a main road. But, that's where you meet tram stations anyway.
JW Marriott Istanbul Bosphorus- Check-in
As I enter the hotel, there's a security check where you have to put your baggage through a scanner and pass yourself through a metal detector. The hotel ground floor is quite nice with a sizeable atrium with decorations on each side of the walls. The front desk is just on the first right turn.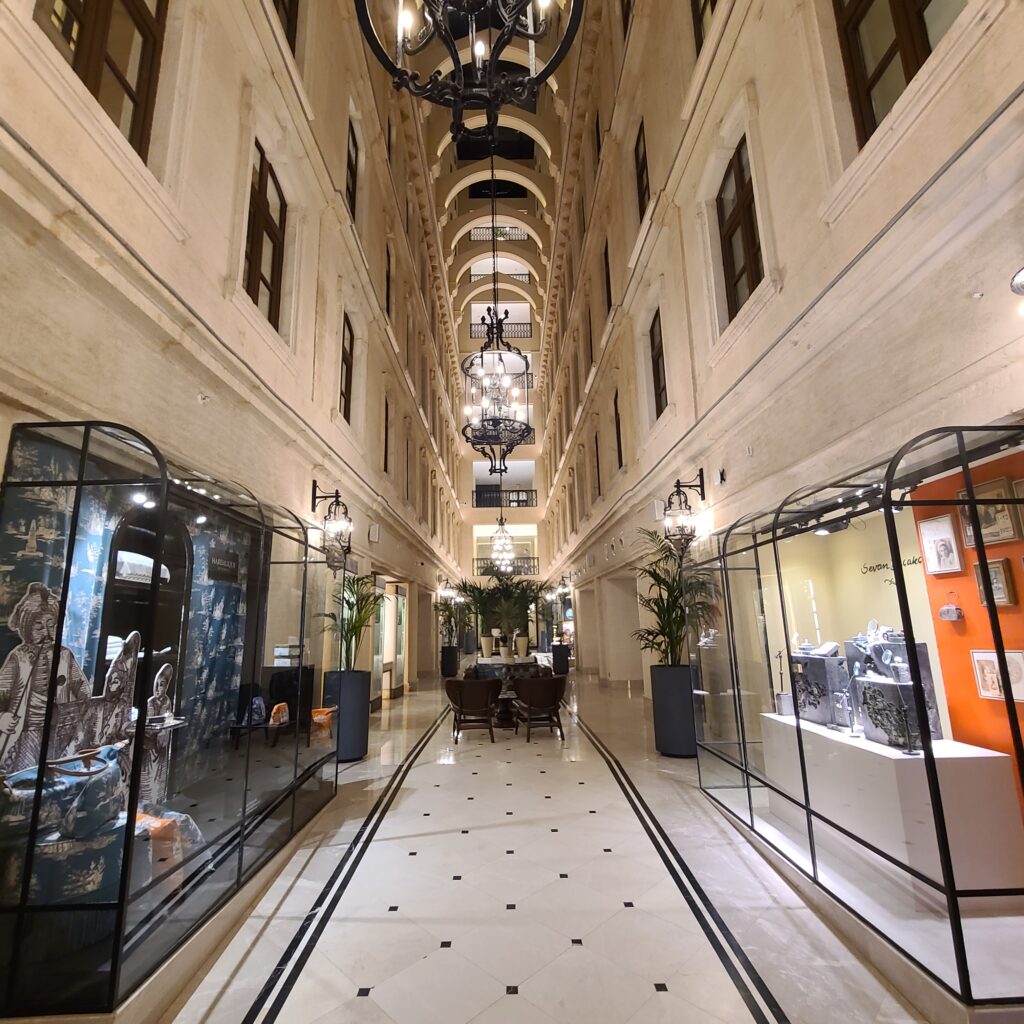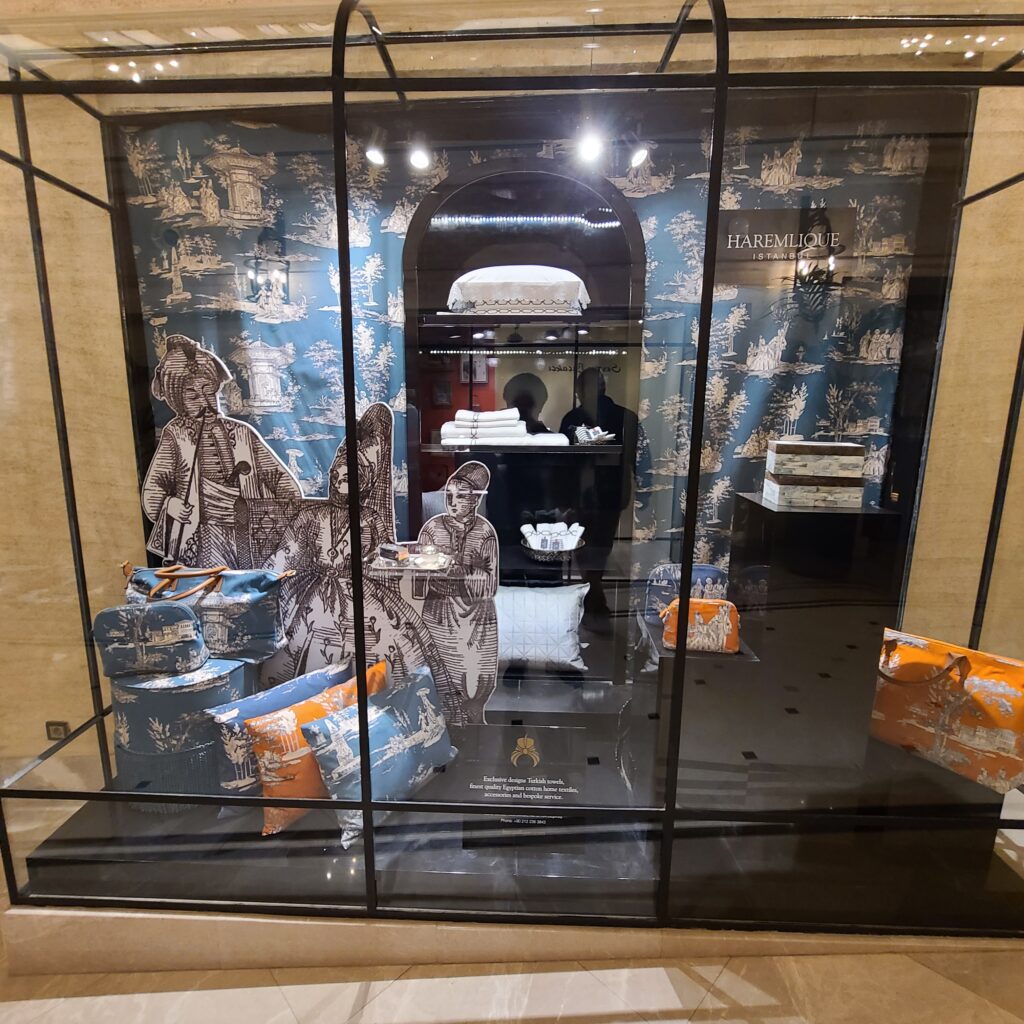 Status recognition is great as expected from a JW Marriott. The front desk explained that since the hotel does not have an executive lounge, so I'd receive free breakfast at the top floor (9th) in the Octo Restaurant instead.
JW Marriott Istanbul Bosphorus- Deluxe Room, Partial Bosphorus View

I was assigned to the 8th floor, which is the 2nd highest floor of the hotel, at room 810. I must say that the room is quite small, and I wished it came with a desk since it's hard for me to work on top of a bed.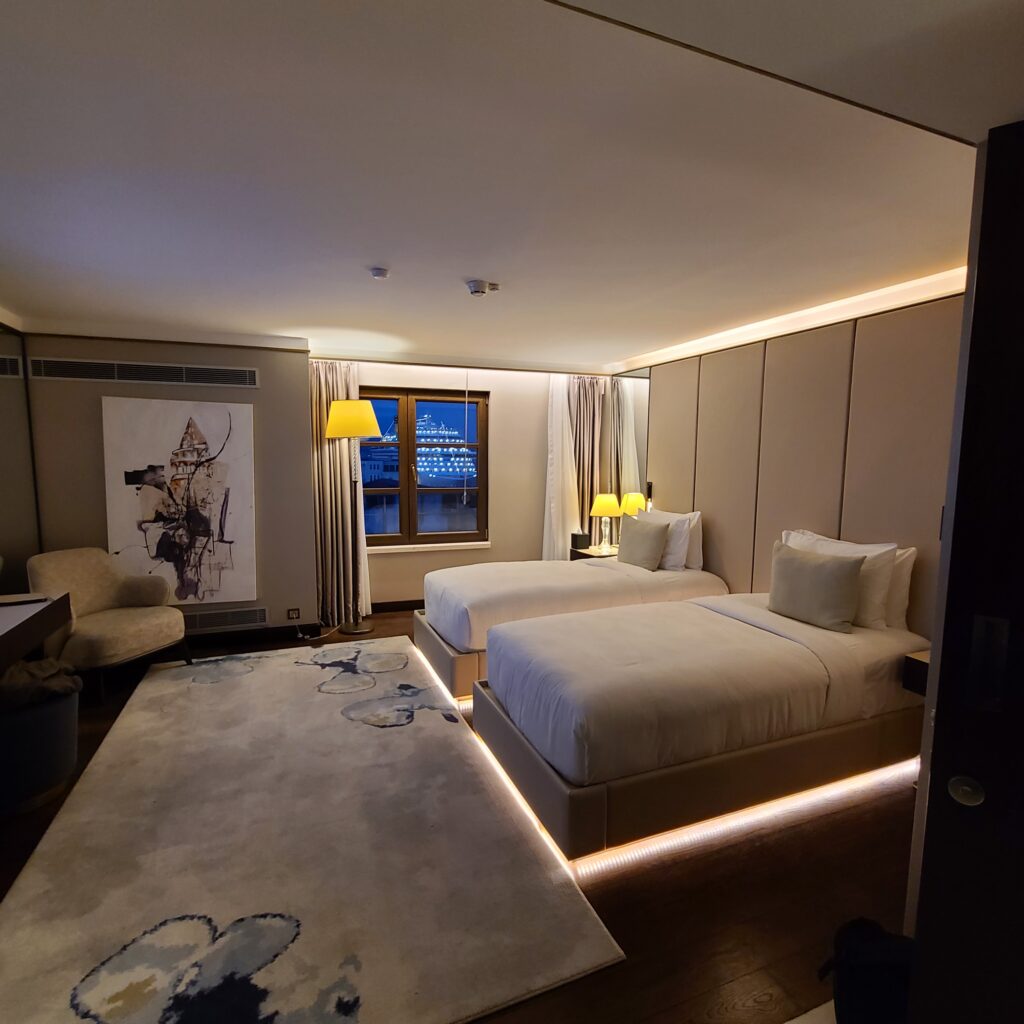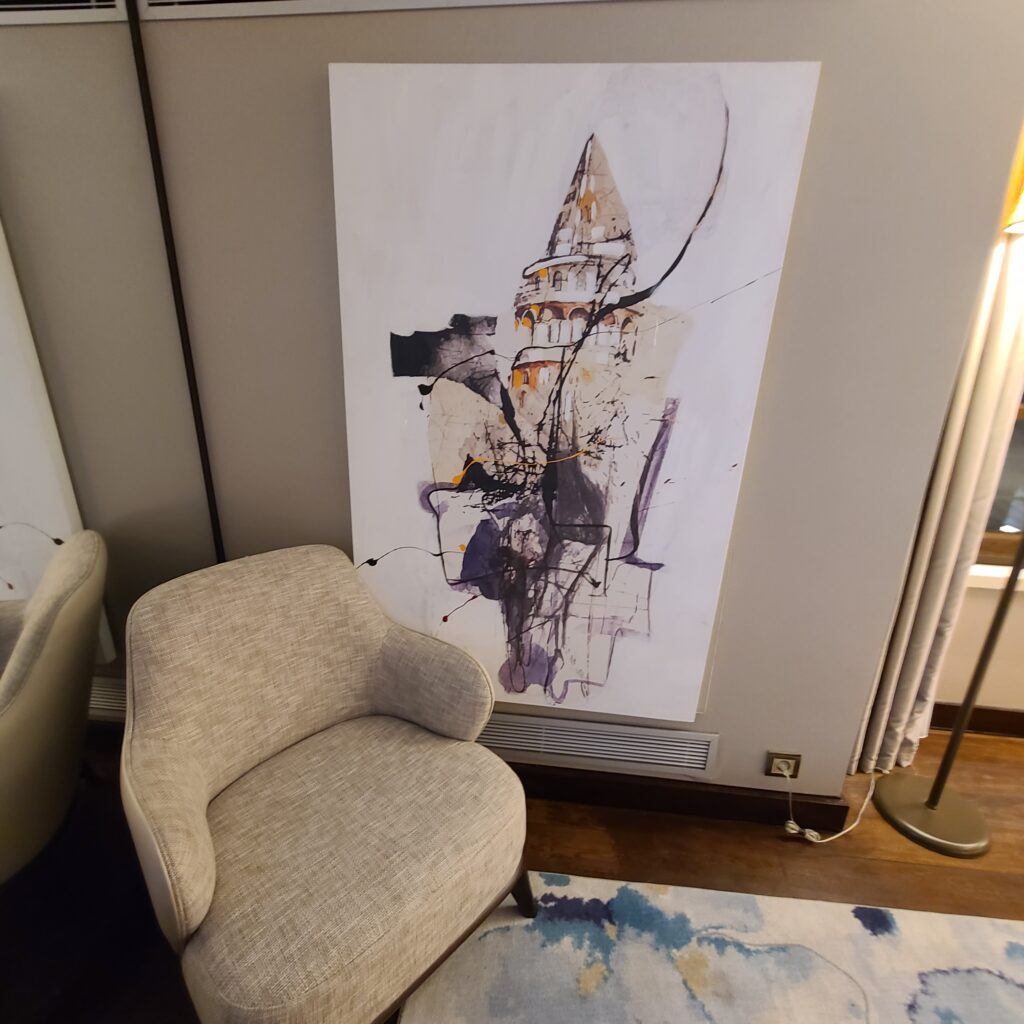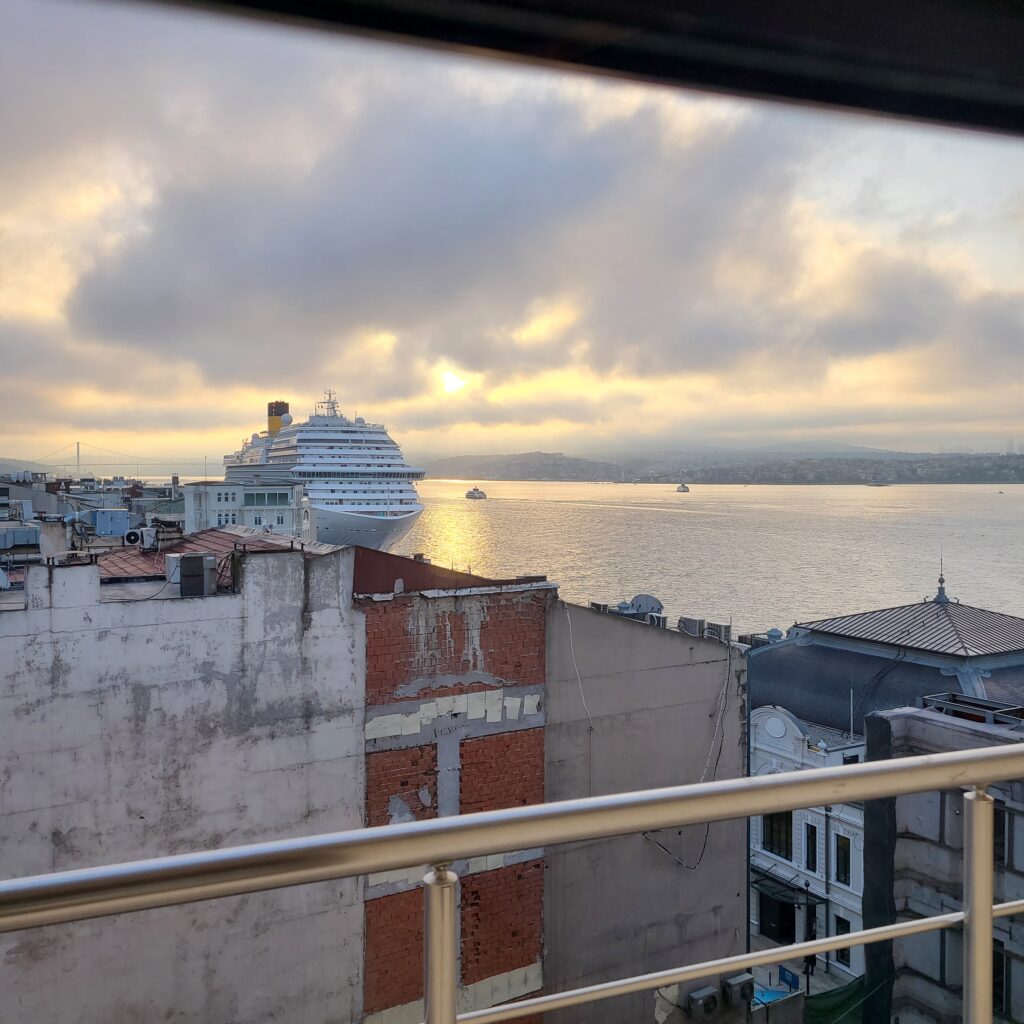 According to the floor plan, the Partial Bosphorus View base room is a bit larger than the other base rooms. I'm sorta glad that my room is bigger, but I'd feel kind of bad if I get put in the smaller base room considering the price of this hotel, and the room I got (#810) already felt a bit cramped.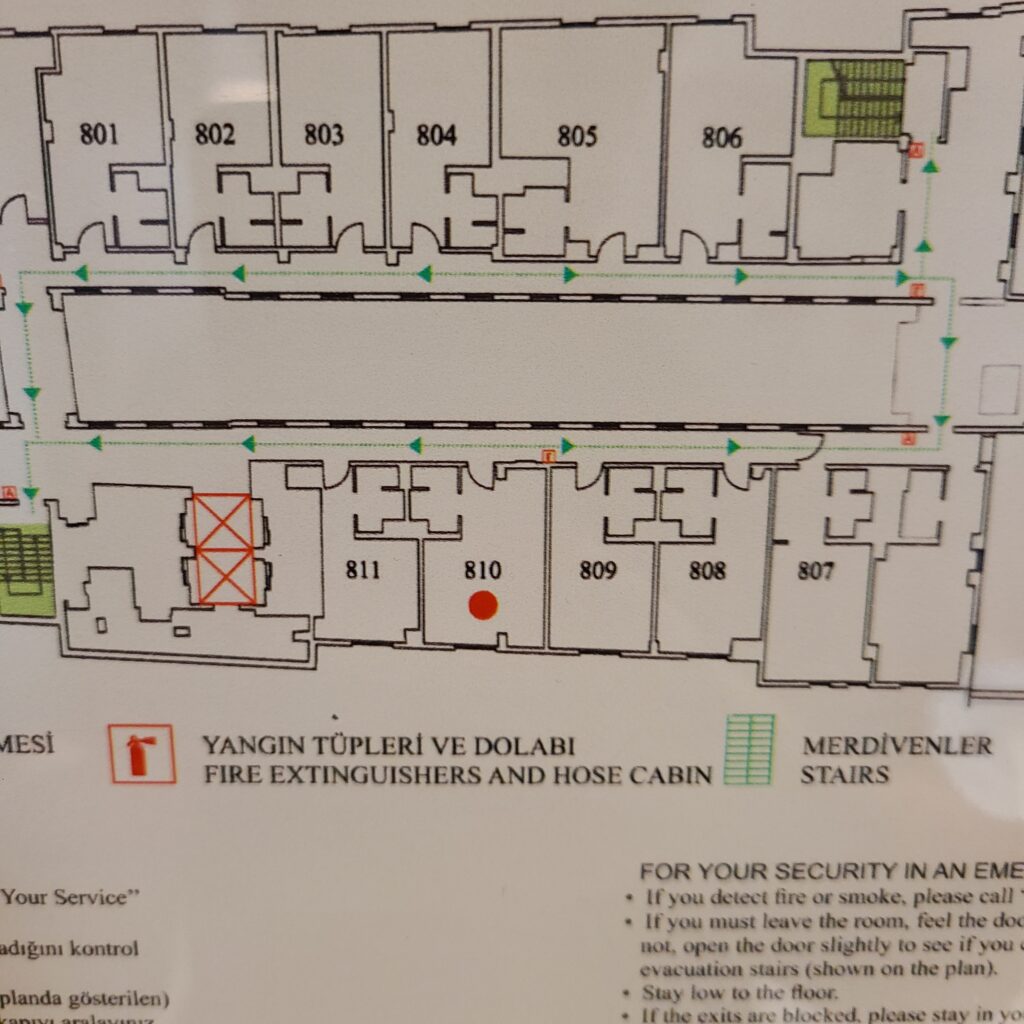 I was welcomed with 2 small pieces of baklava wrapped in an oversized plastic bag with the JW Marriott logo sticker on it and a personal note from the hotel manager. It's hard to go wrong with baklava. They were delicious!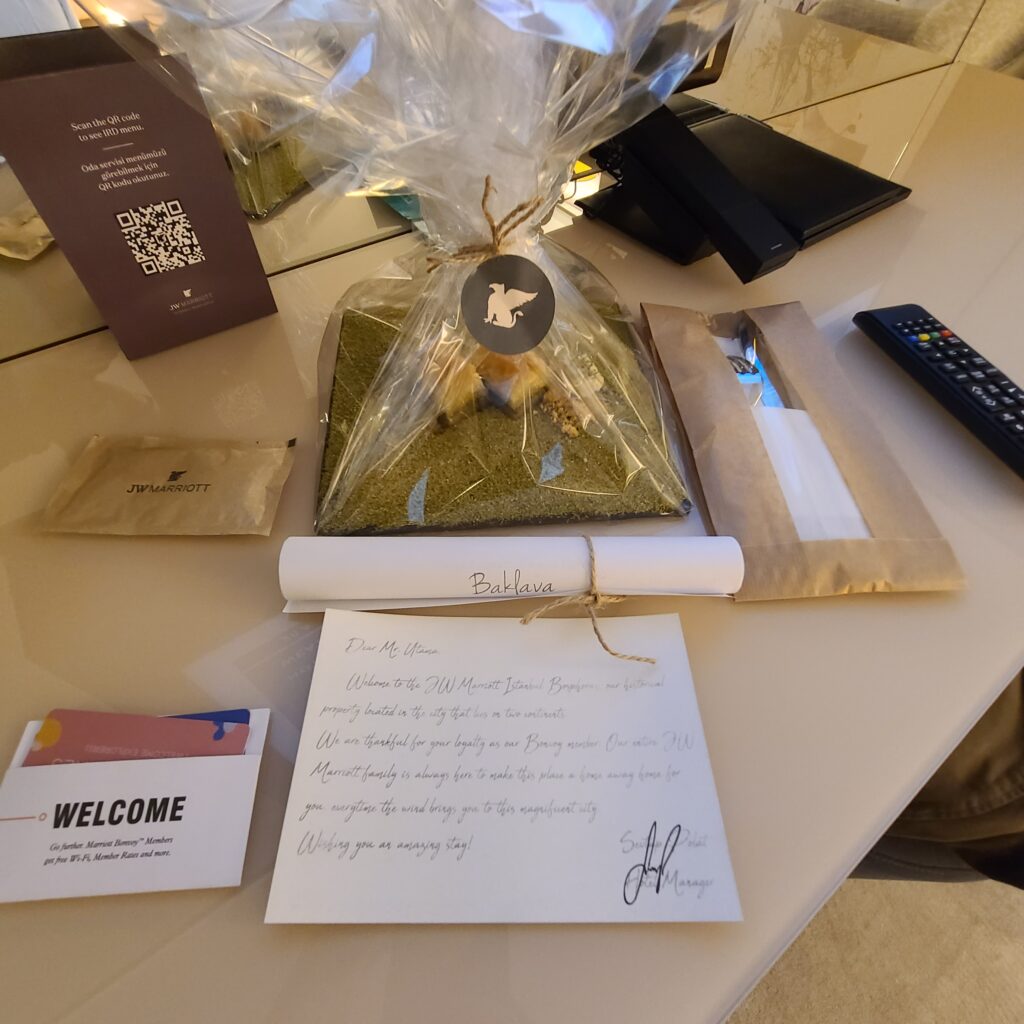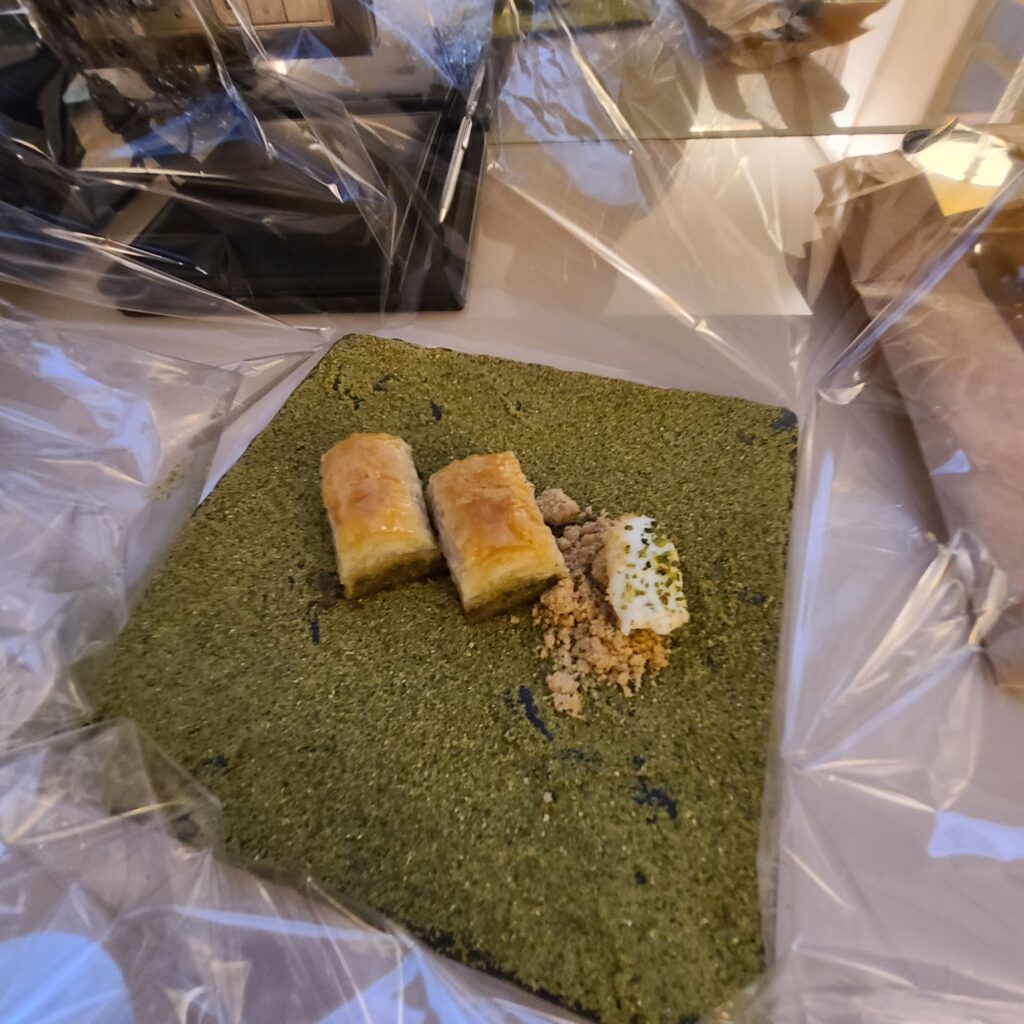 Nespresso machine and complimentary water bottles that are replenished everyday after room cleaning are readily available to use.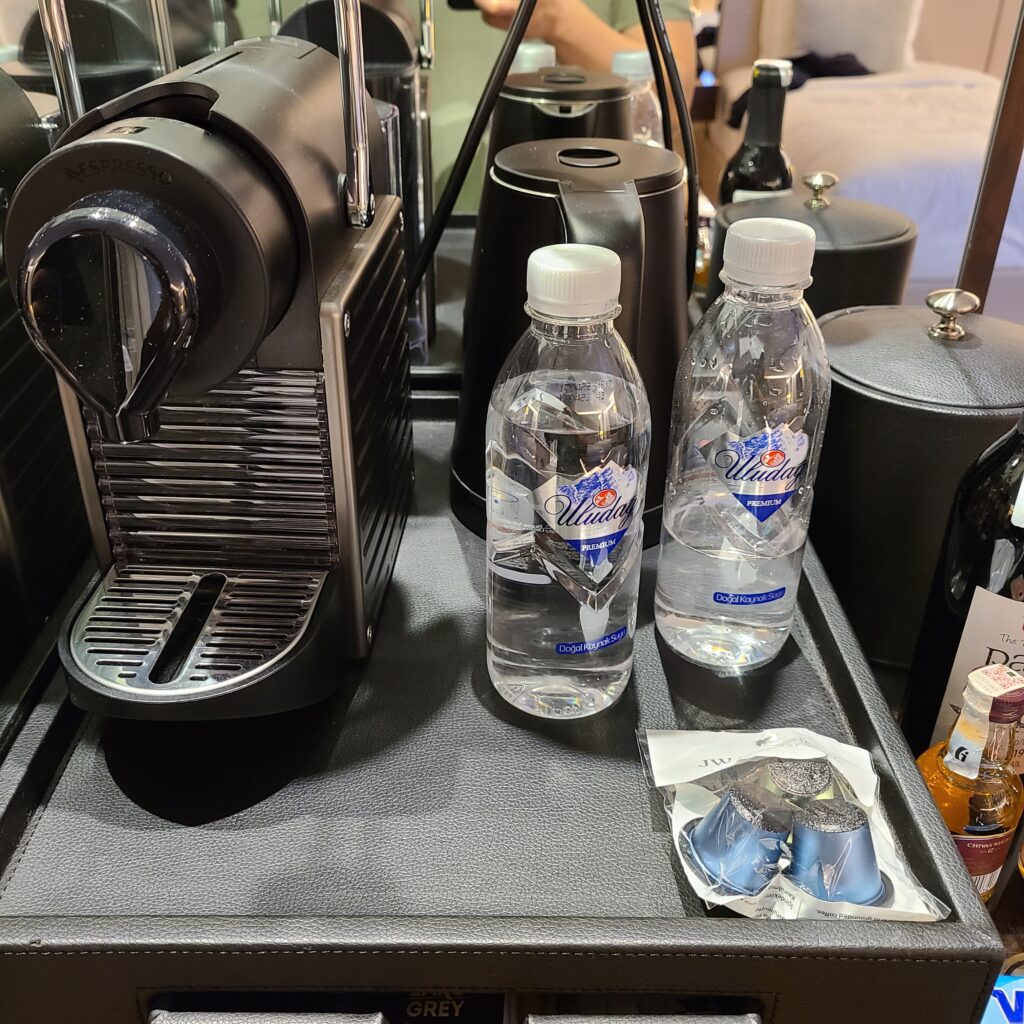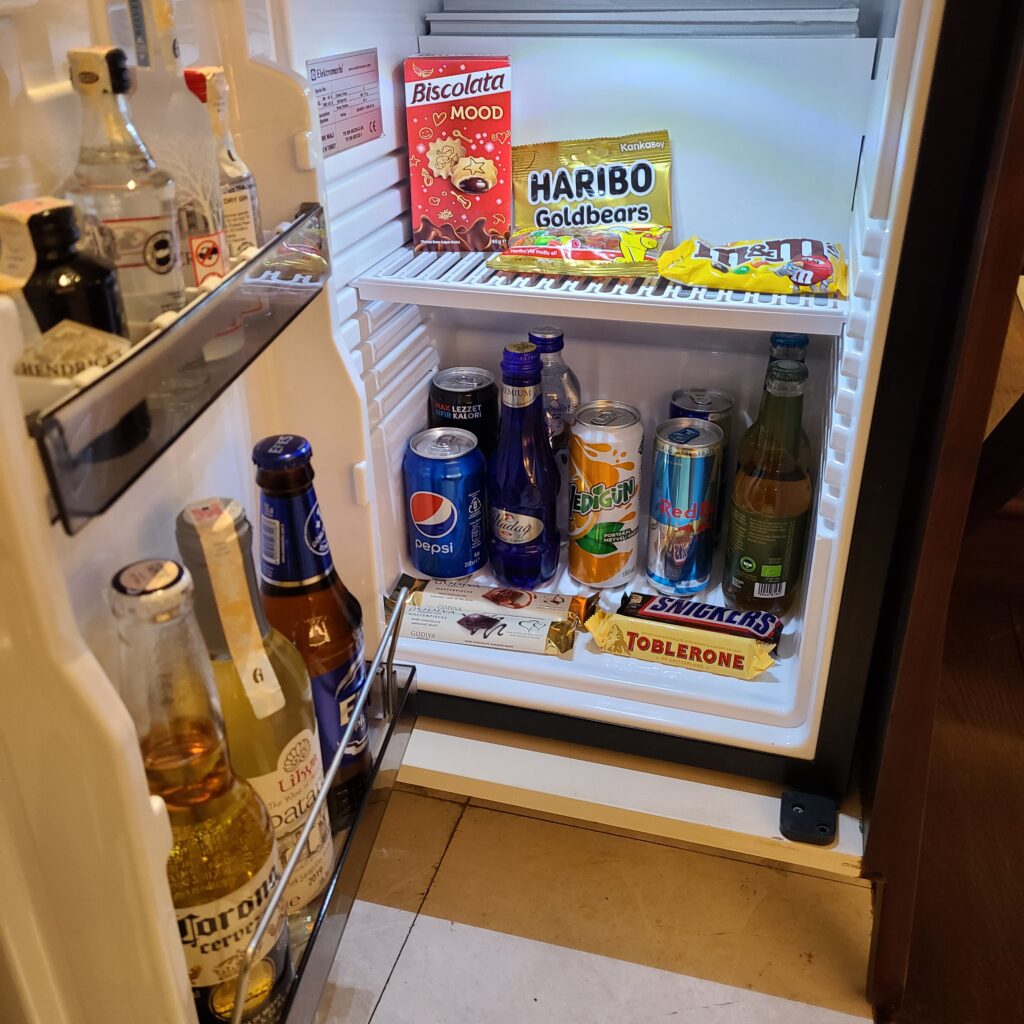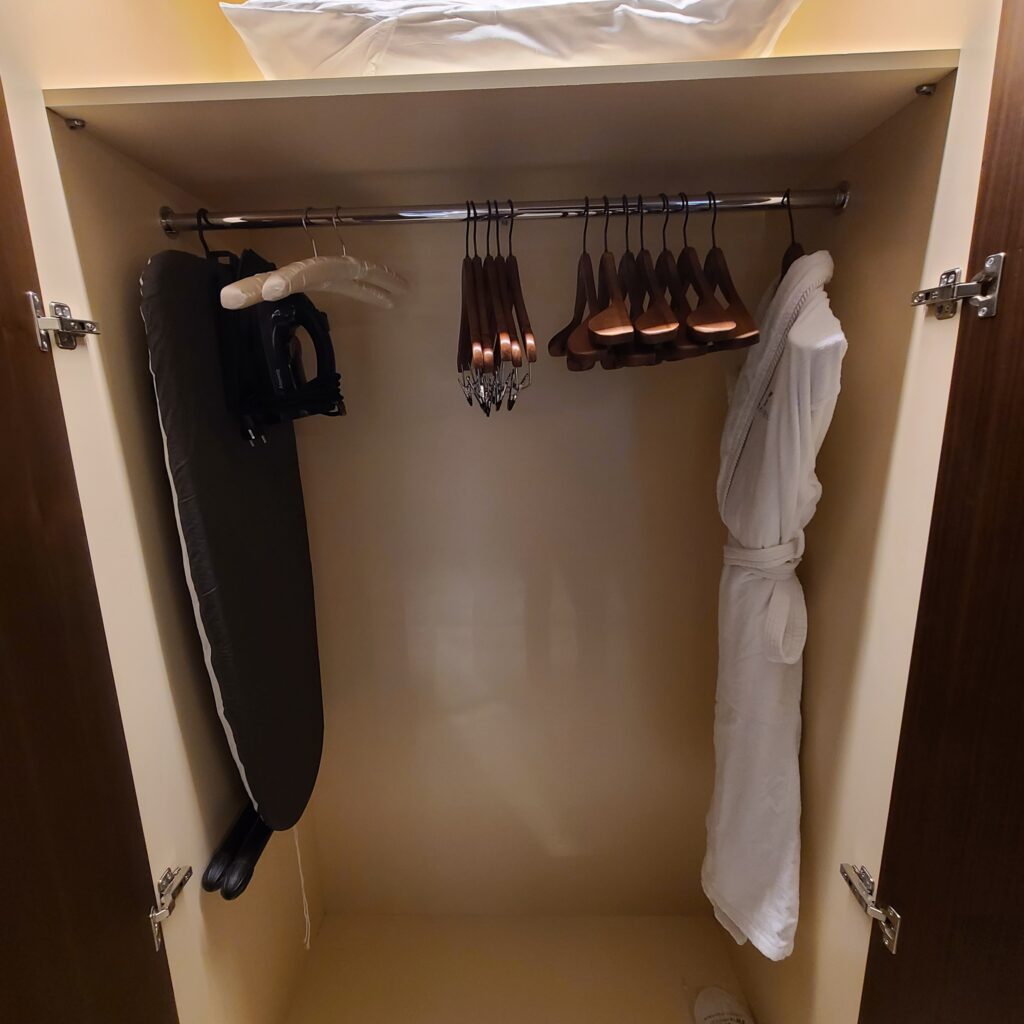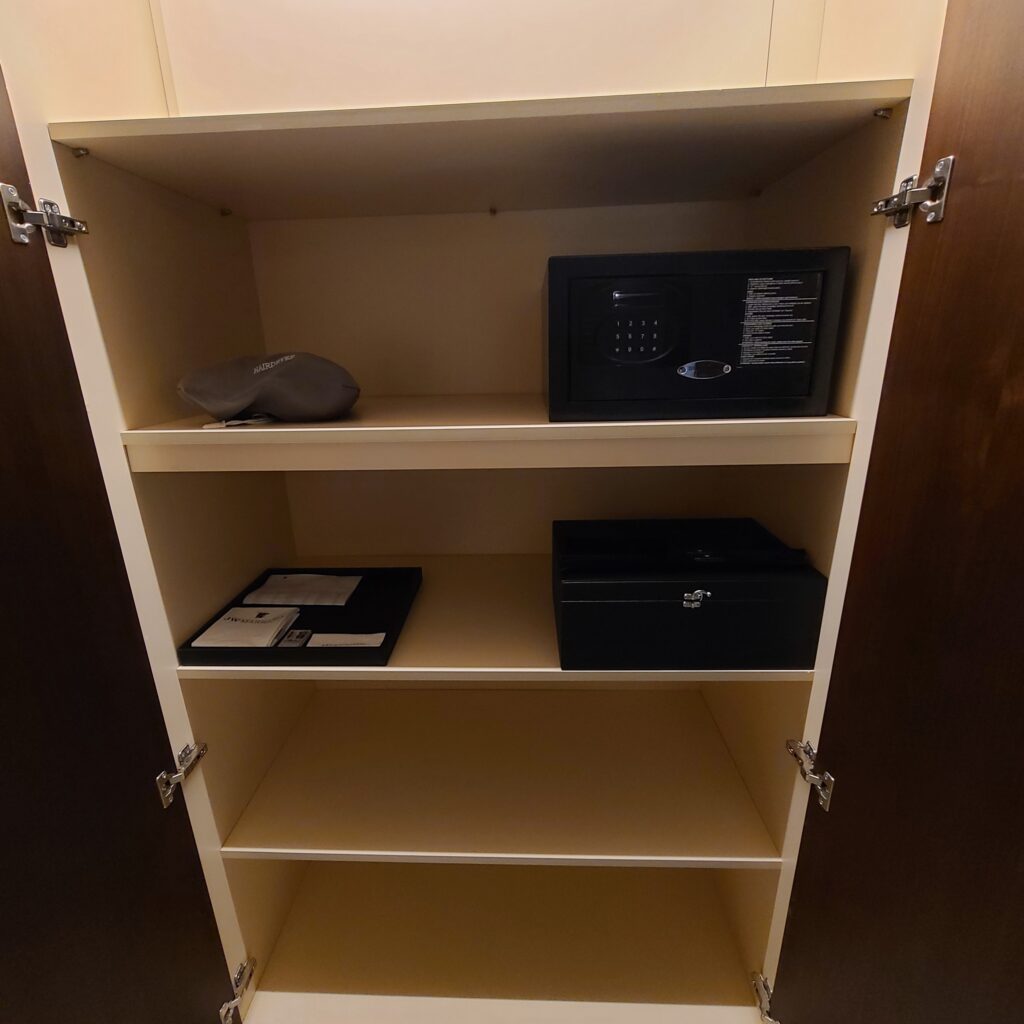 JW Marriott Istanbul Bosphorus Bathroom
Frankly, I found the bathroom to be disappointingly small for the base room. It does come with Aromatheraphy Associates bath amenities, standard for JW Marriott brand. The toilet is jsut to the left of the sink, and the walk-in shower to the right.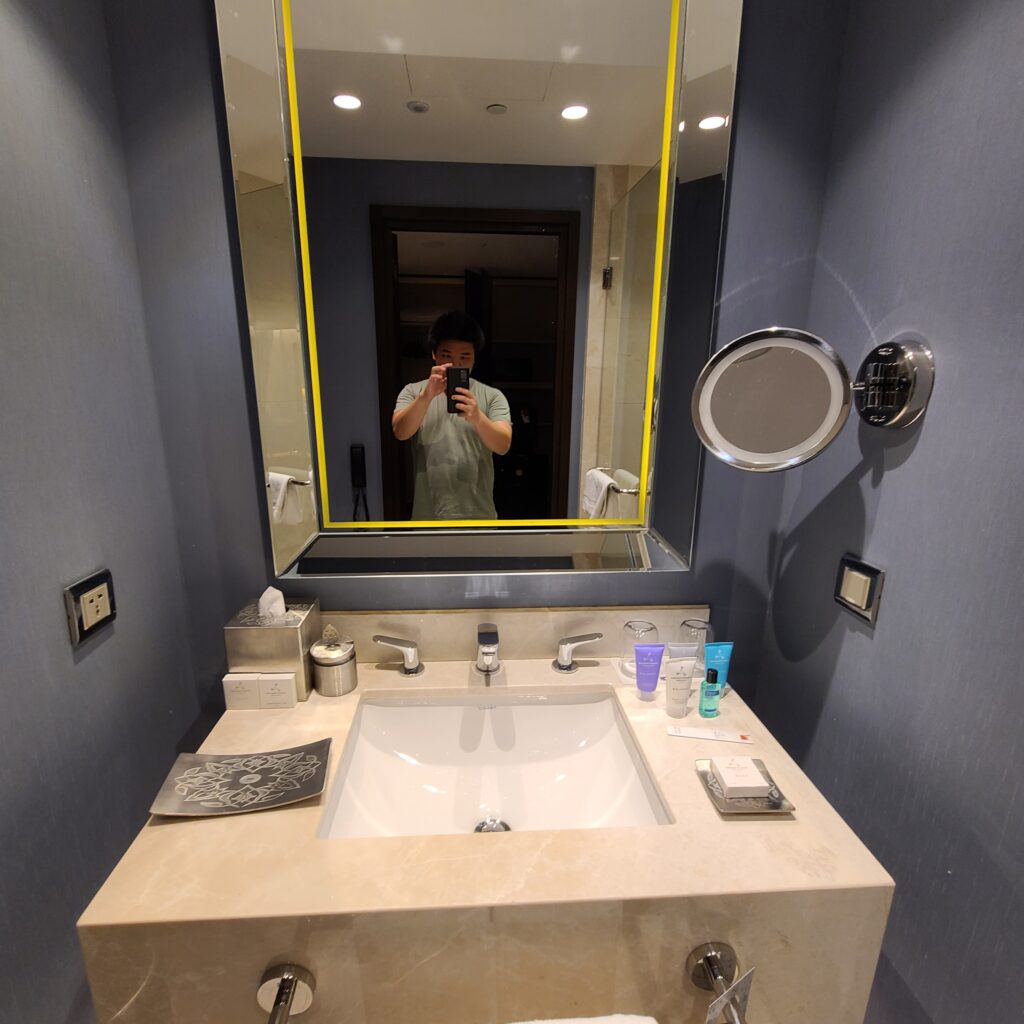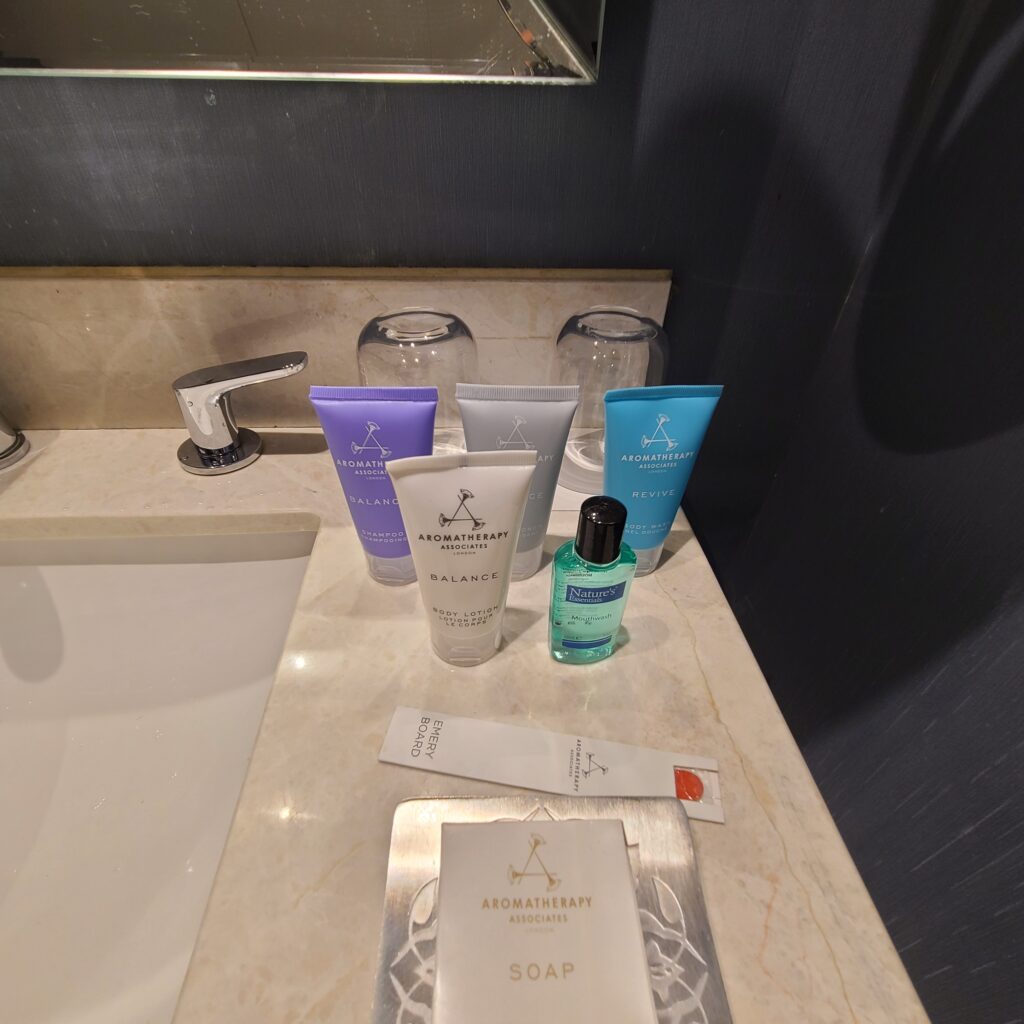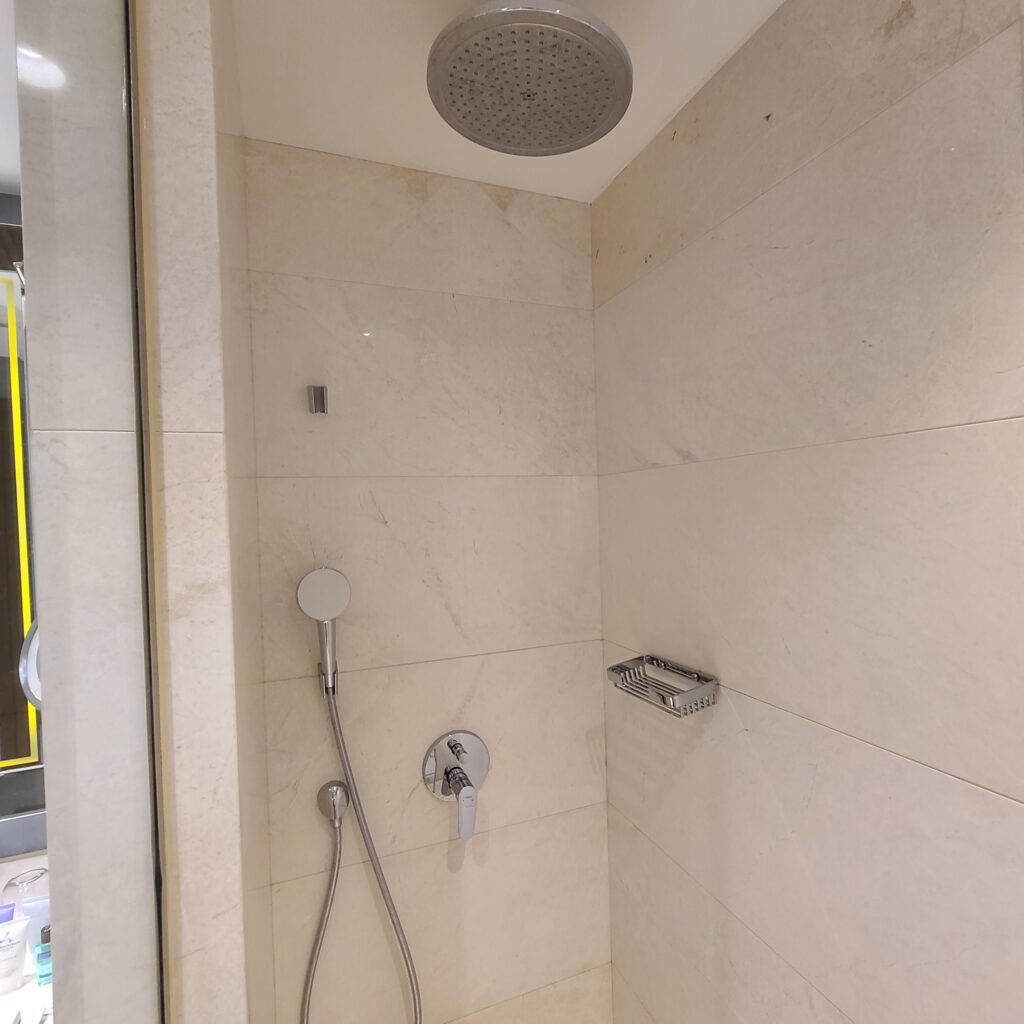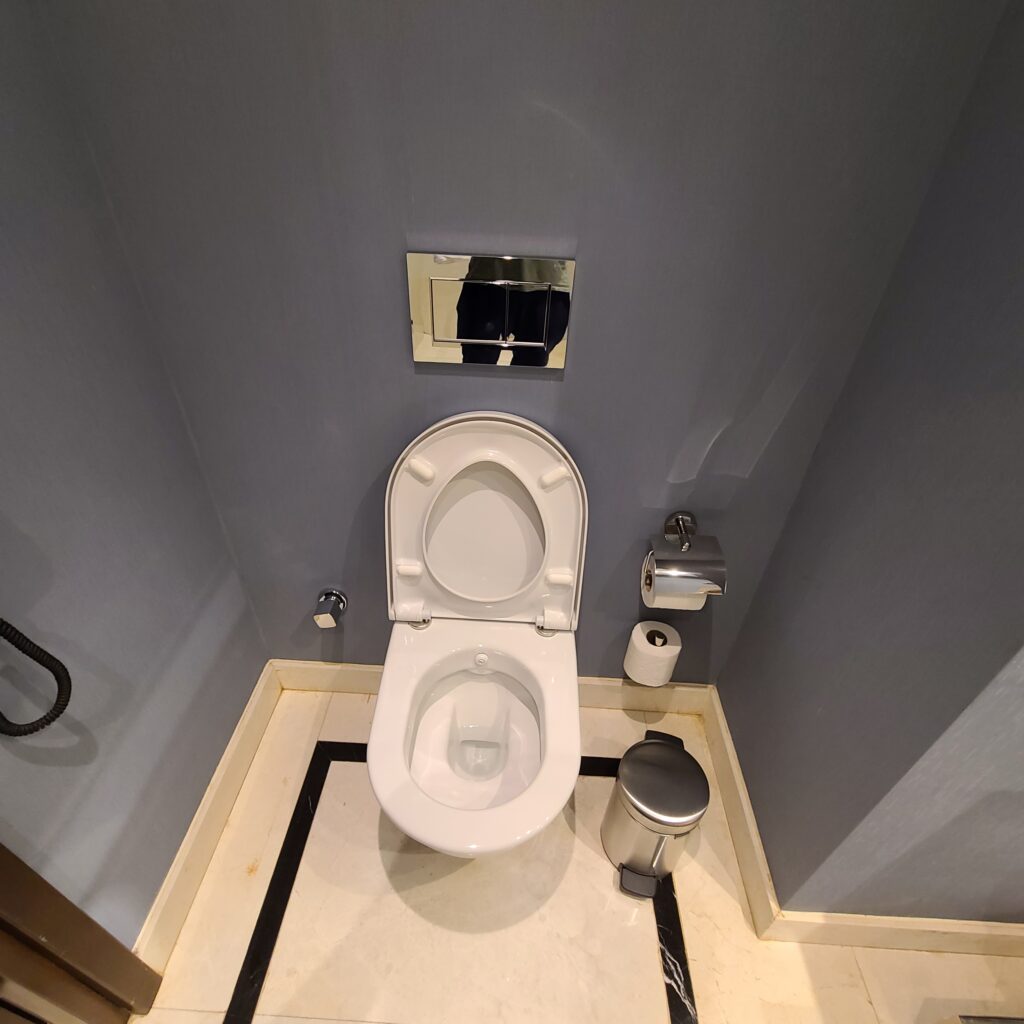 I made note that because of the ongoing construction that happened during my stay, I can feel subtle shaking at times and the power going out briefly while I was using the toilet. I didn't mind, but it has been a common theme of me having the lights turned off while I was using an outside toilet in Istanbul, so I thought it's funny to mention here.
JW Marriott Istanbul Bosphorus- Breakfast
Because there's no executive lounge in JW Marriott Istanbul Bosphorus, the breakfast is located in the Octo Restaurant at the 9th floor, or top floor.Outside of breakfast hours, Octo Restaurant serves lunch & dinner, but I was only there for breakfast.
The breakfast experience is simply beautiful with the gorgeous view of the Bosphorus and prominent sites like the Hagia Sofia and the Blue Mosque that are to be enjoyed while sipping Turkish coffee and tea.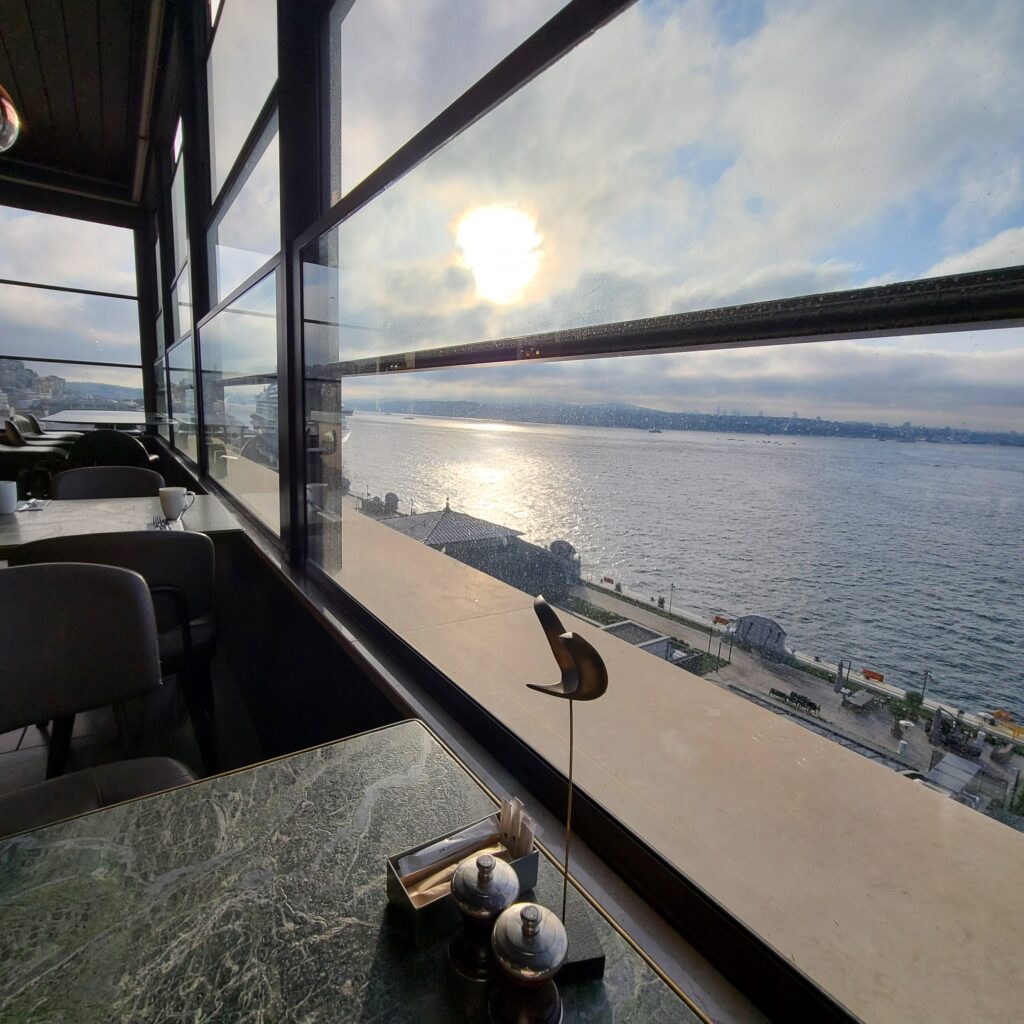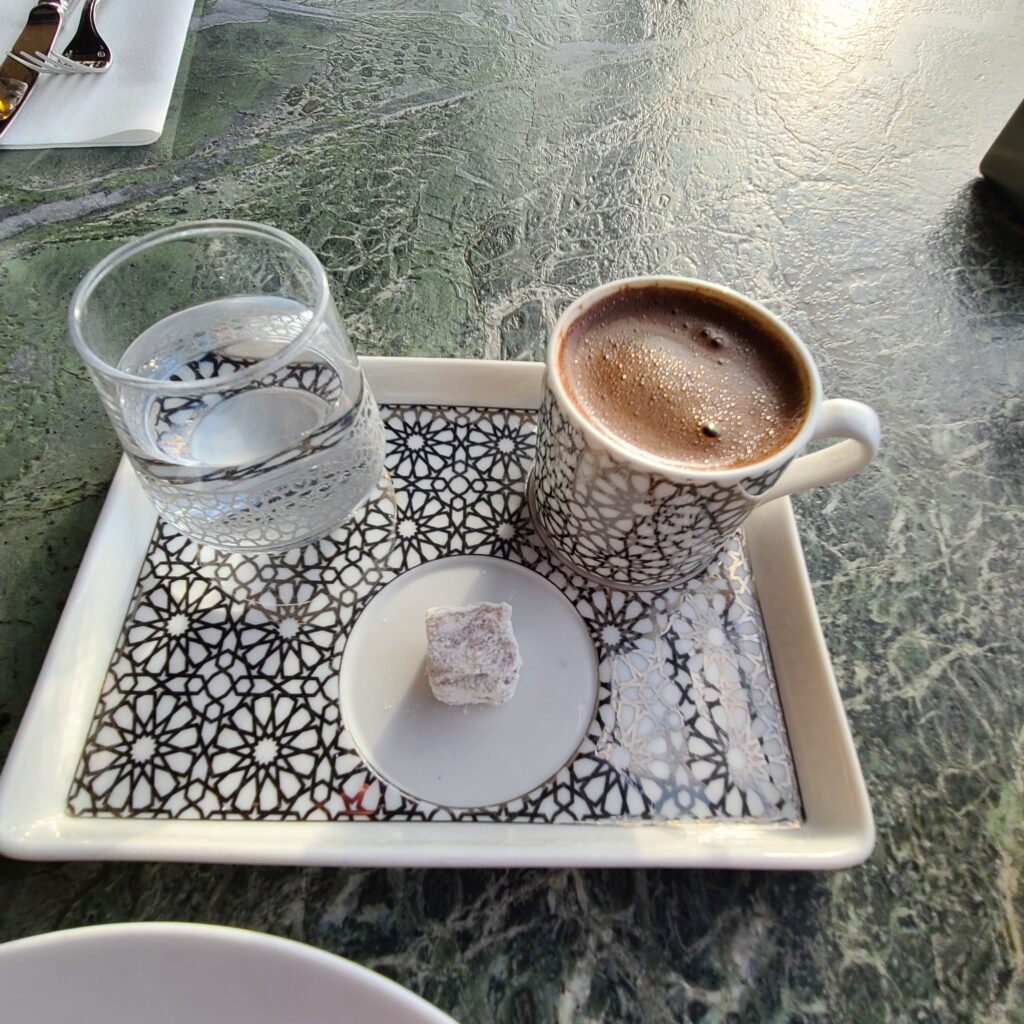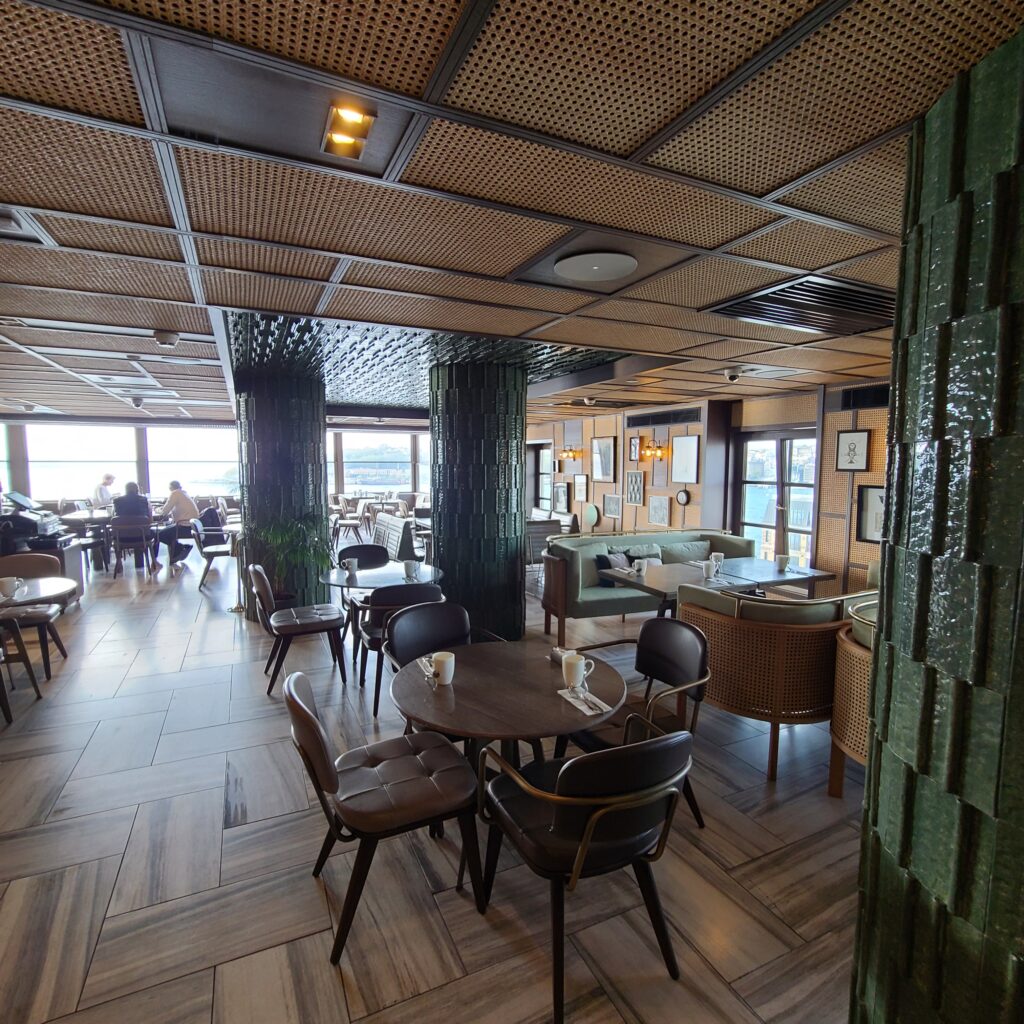 The food offering is quite good too, with a mix Turkish and Western breakfast and varying pastries menu. One downside is that the menu appear to be the same everyday. Since I'm only staying for 3 nights, it's not long enough to get me bored of the food.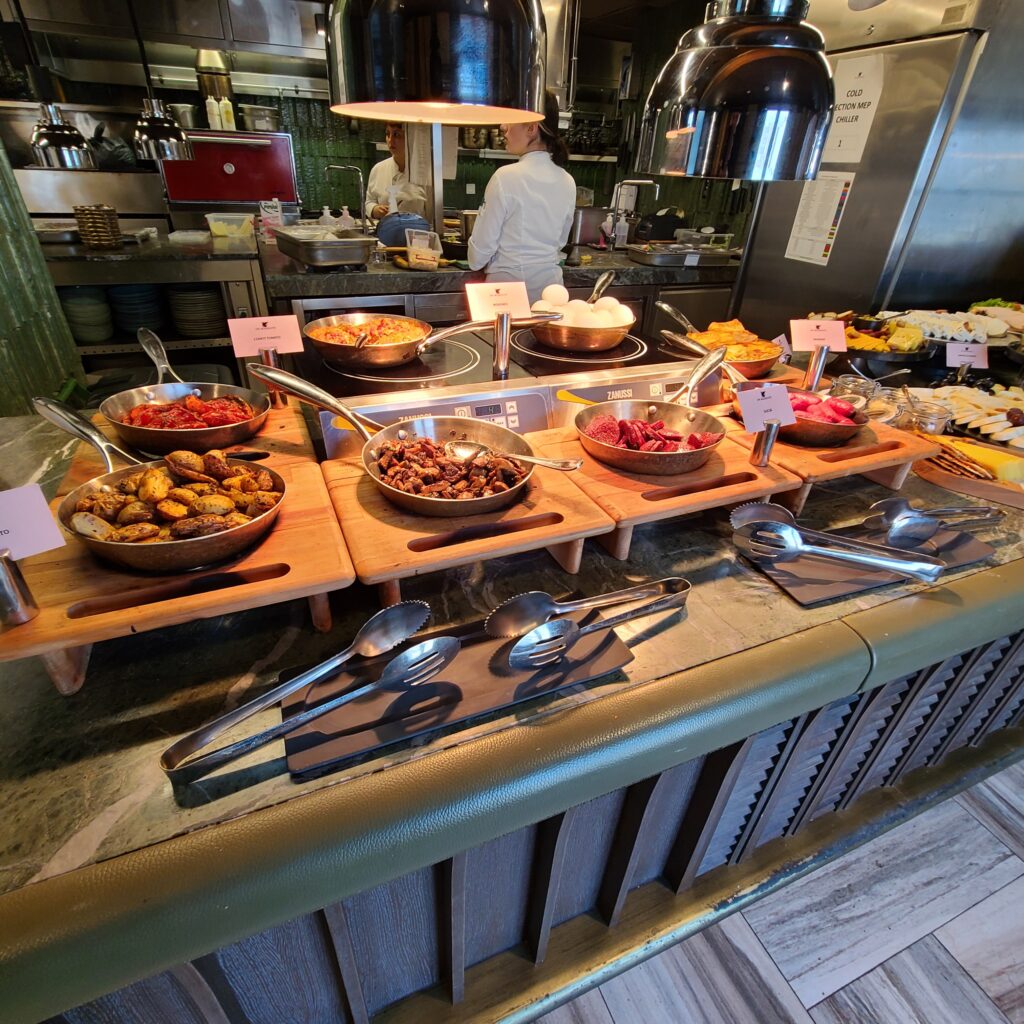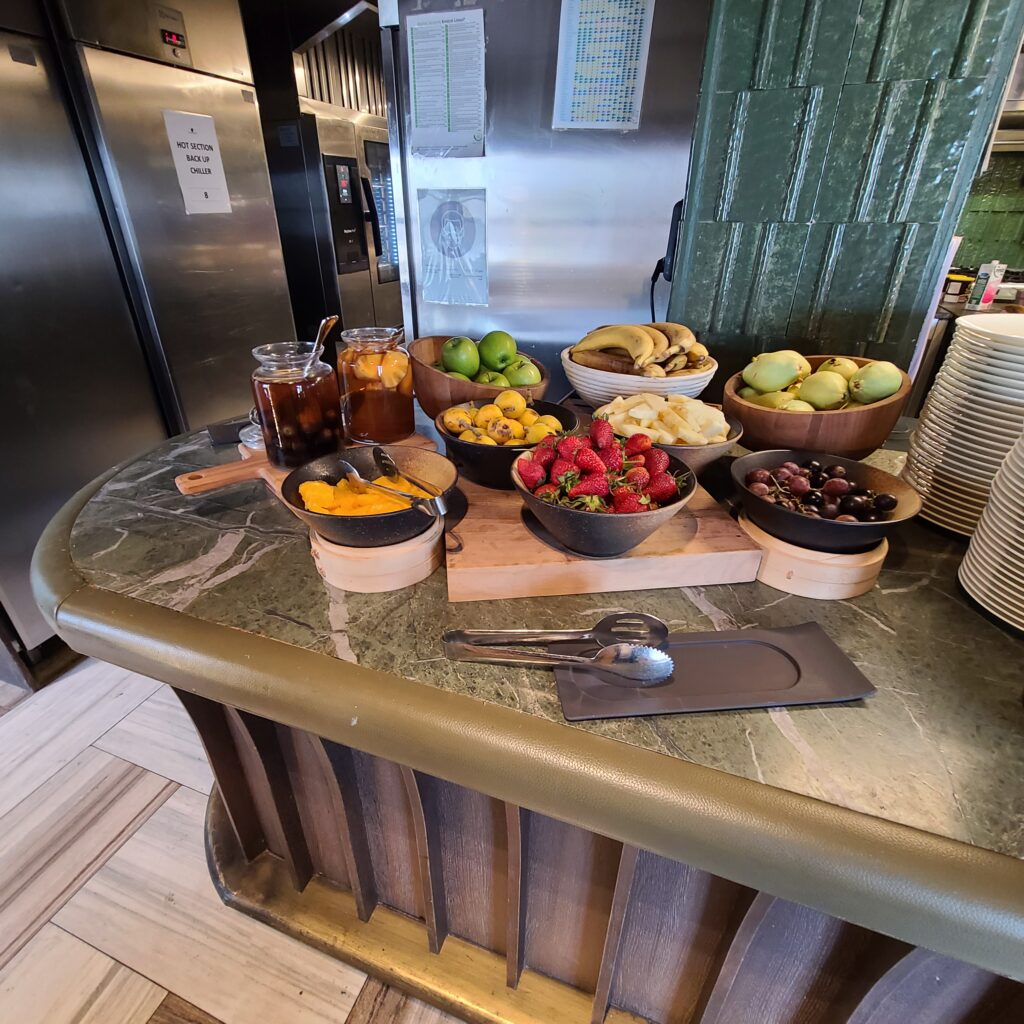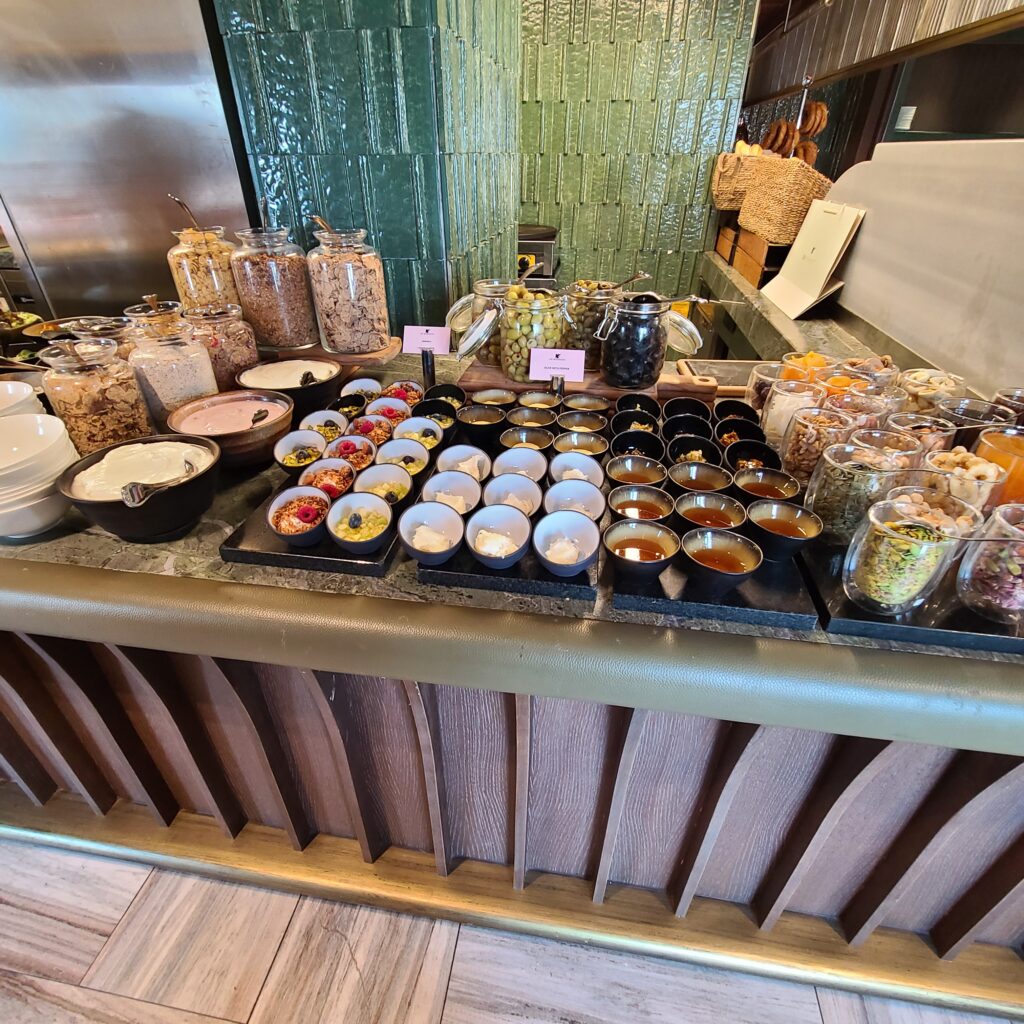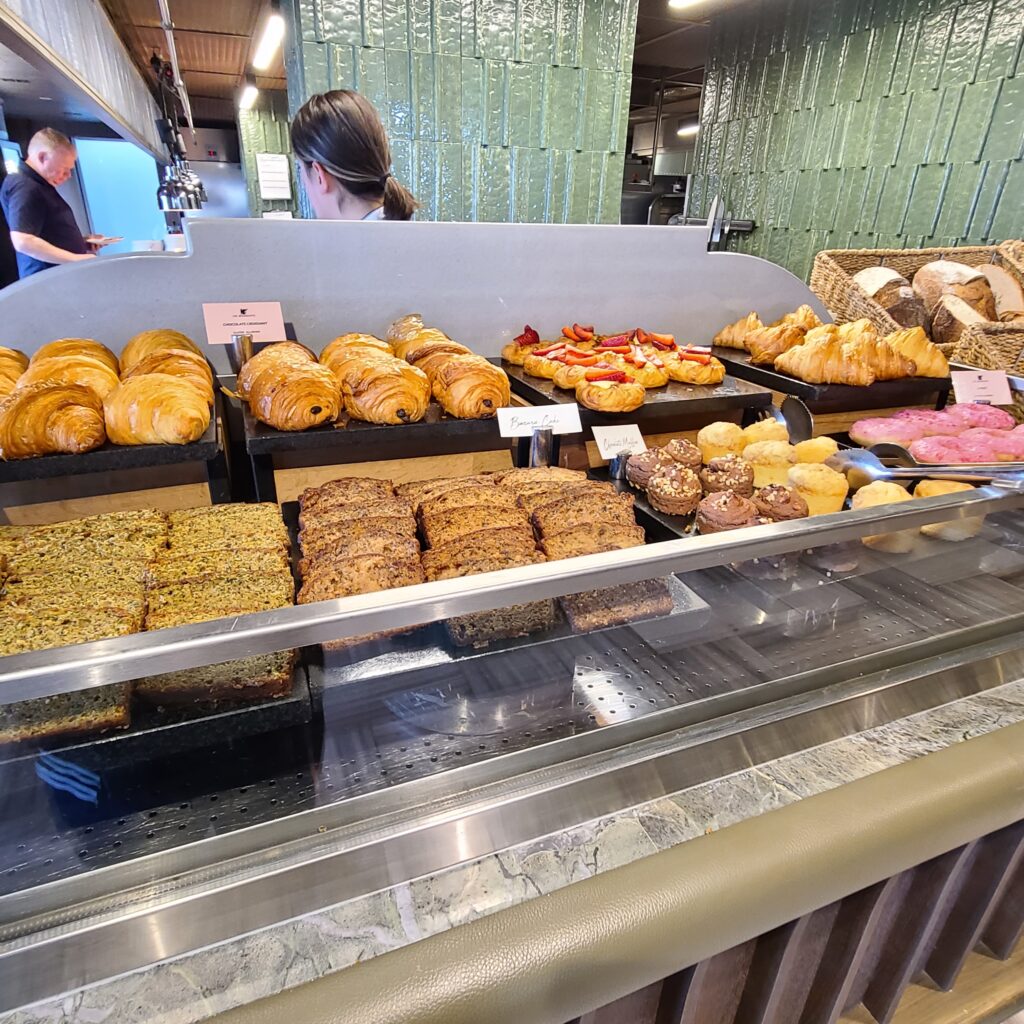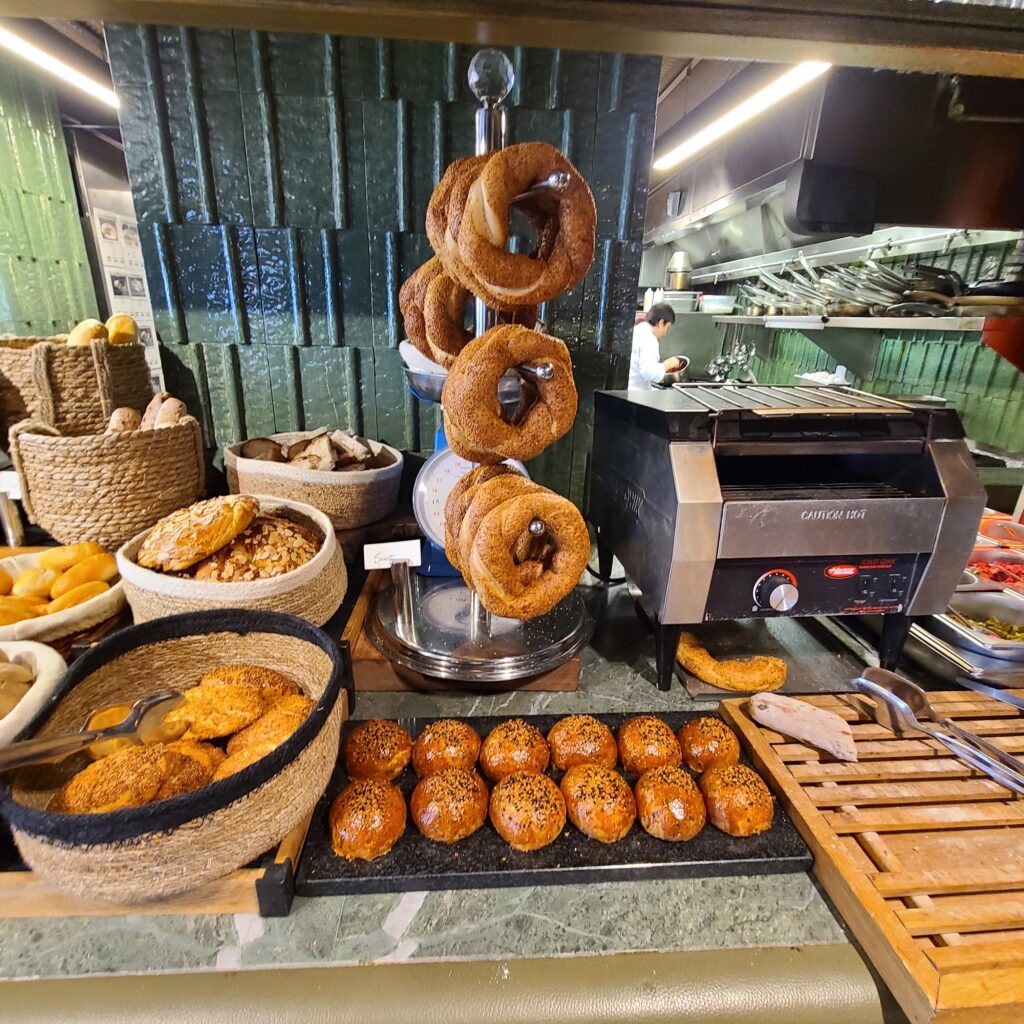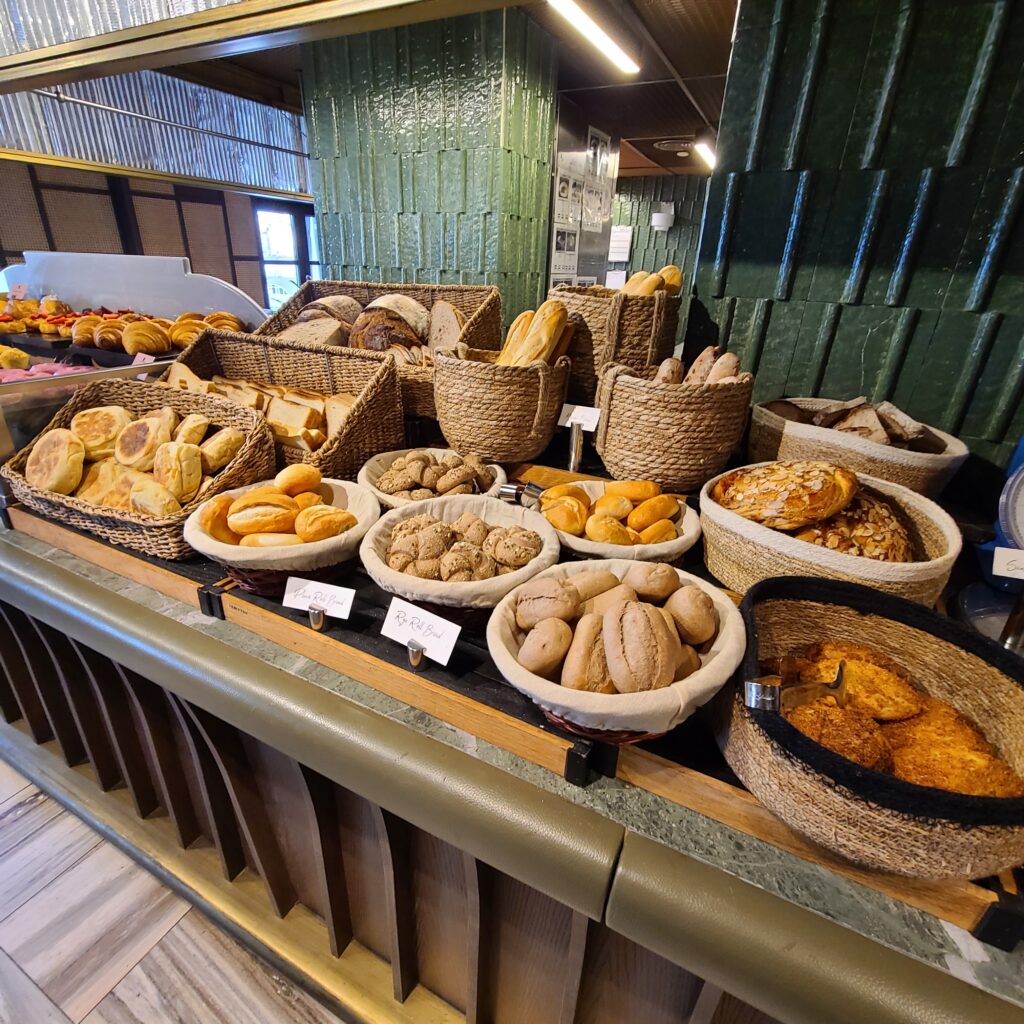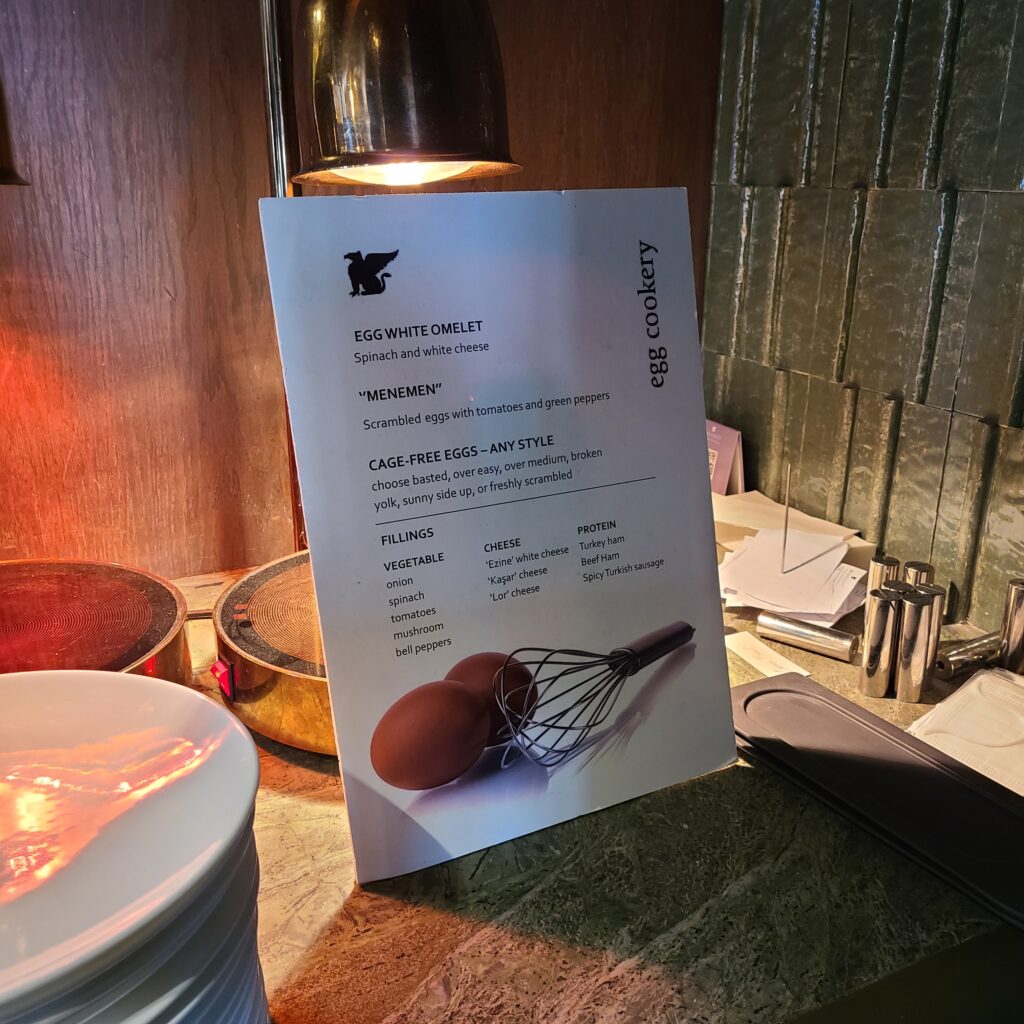 I personally love the menemen (scrambled eggs with tomatoes), fried sucuk (sausage), sauteed mushrooms, and the roasted tomatoes.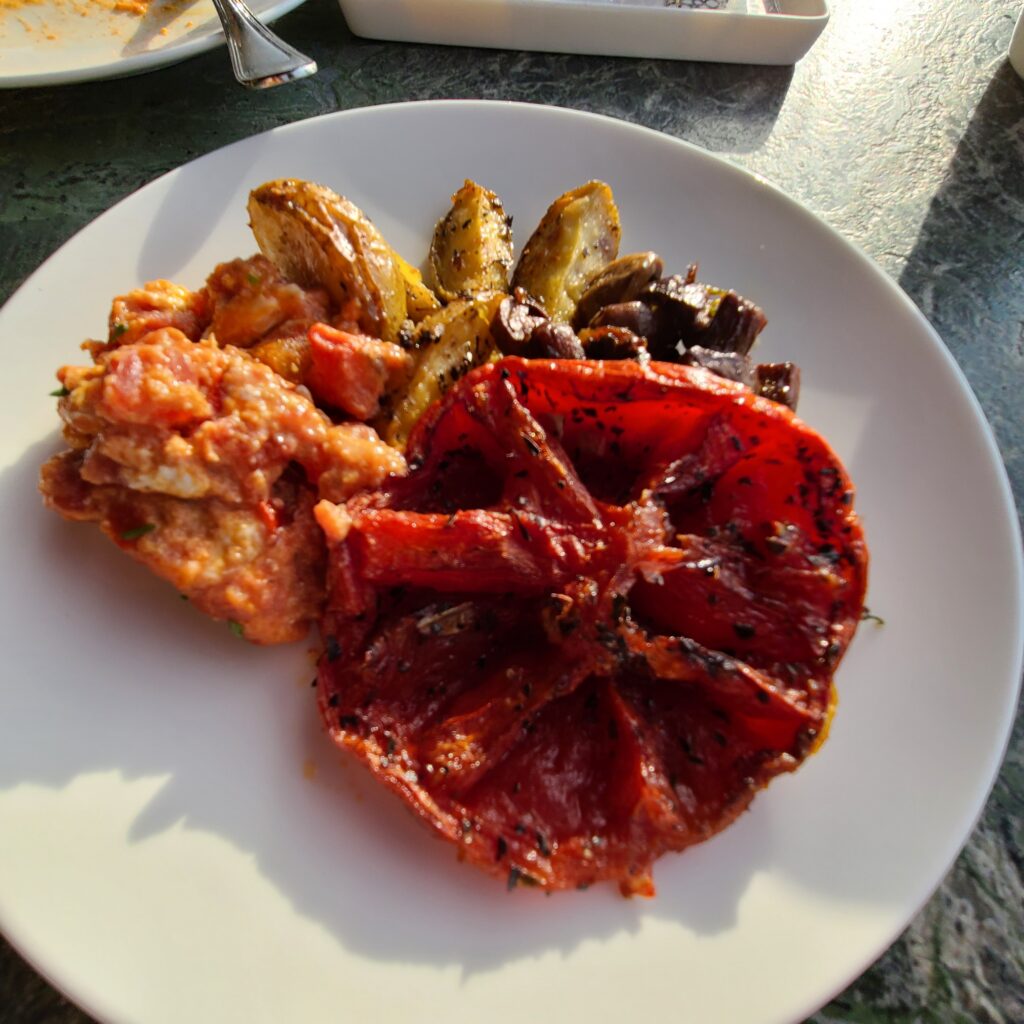 JW Marriott Istanbul Bosphorus- Spa & Fitness
Both of the spa and fitness center are on the 3rd floor of the hotel. I didn't try out the spa, but it includes a Turkish hammam and massages. Turkish hammams in western hotels are typically more tame compared to the ones you find on the streets of Turkey, so it's suitable for those who are squeamish or want an easy introduction to Turkish hammam as first timers.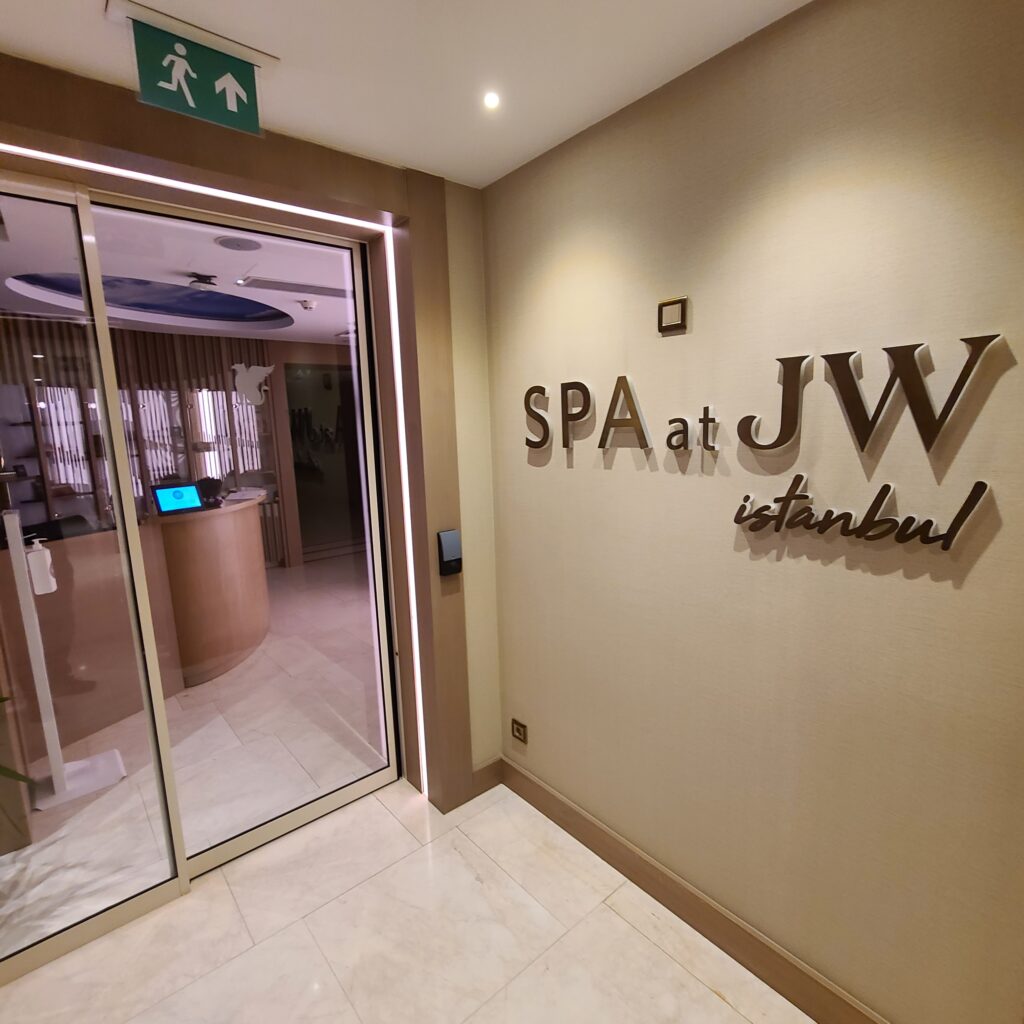 The gym is separated by rooms of weight and cardio machines. The size of the whole gym is pretty small compared to many of 5-star, or even 4-star hotel gyms that I've seen.  I rarely use hotel gyms, but I figure that avid gym goers would feel a bit disappointed with the size of this gym in a hotel that brands itself as a JW Marriott.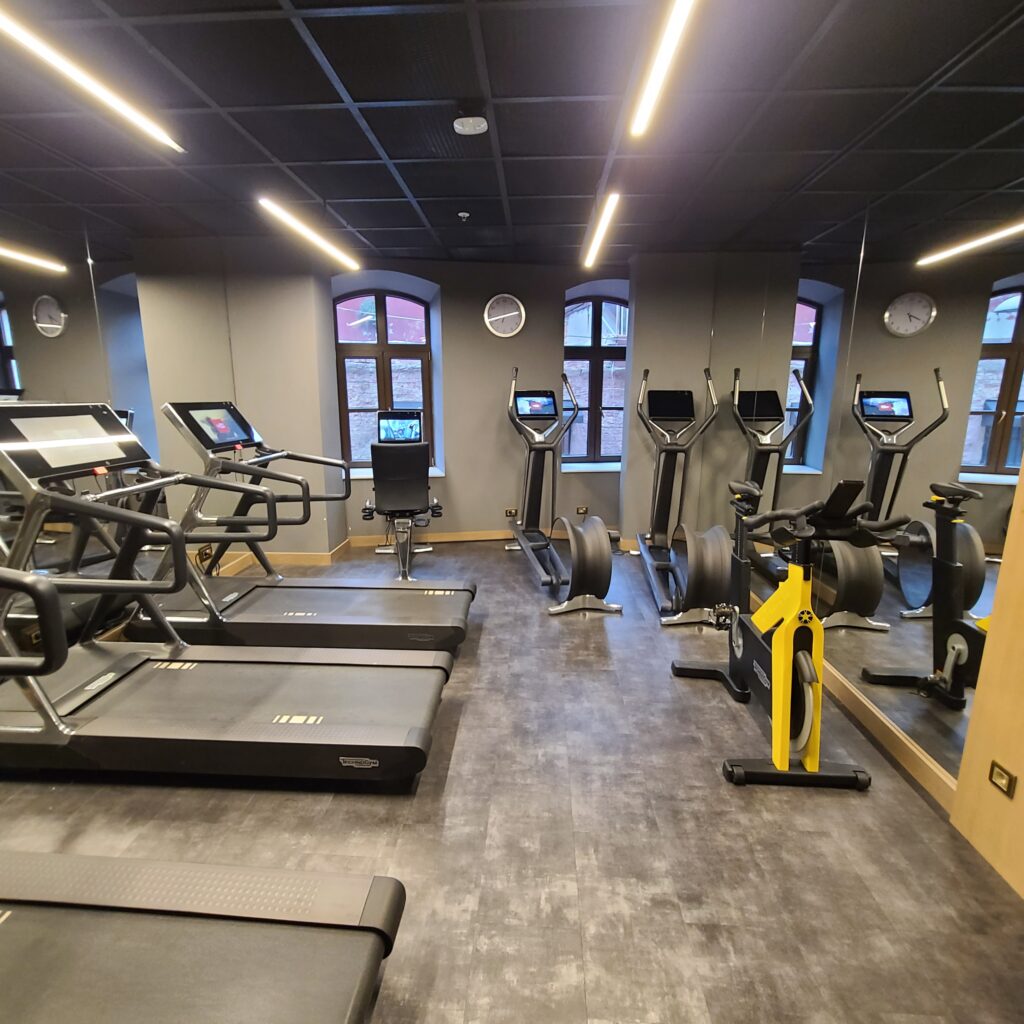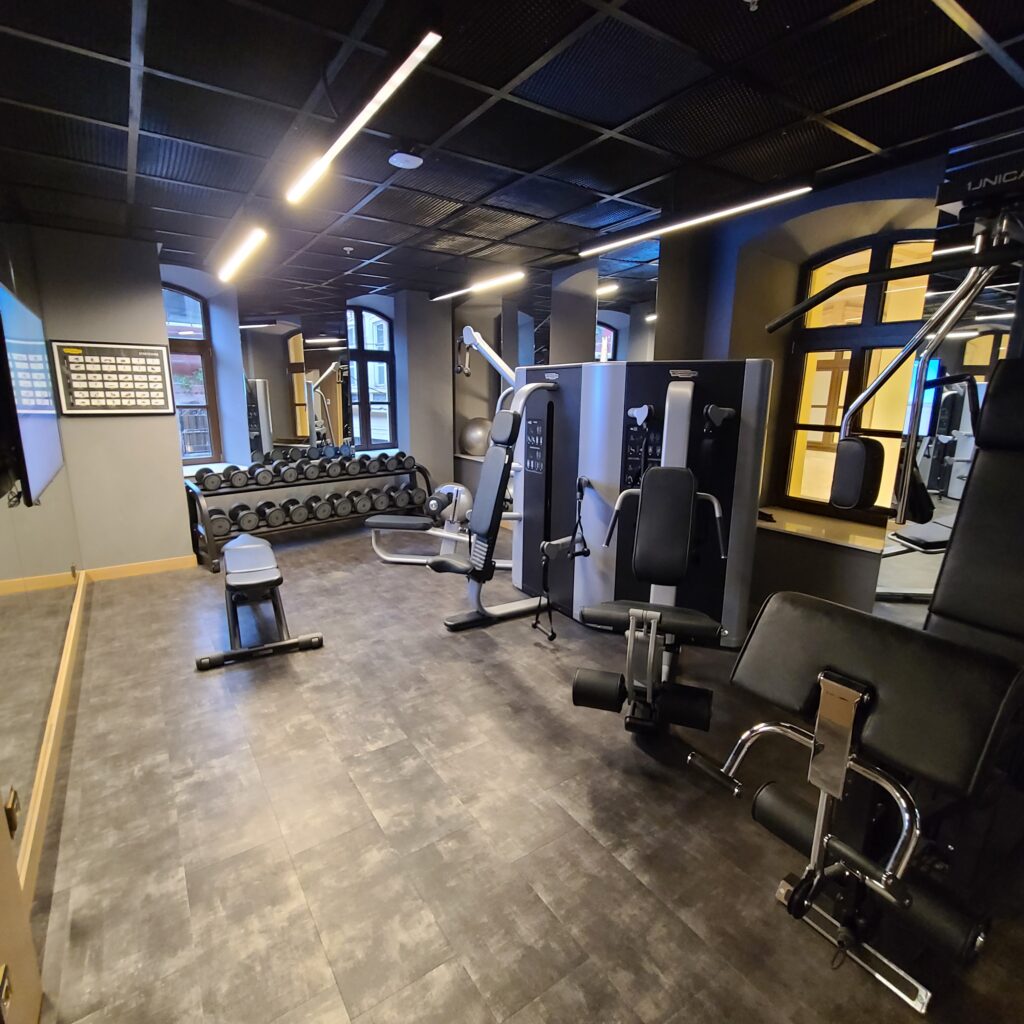 JW Marriott Istanbul Bosphorus- Bars
The hotel has 2 bars. One at the rooftop and one at the ground floor. The rooftop bar would give you great views of Istanbul skyline, similar to what the Octo Restaurant would offer. It comes with a small swimming pool as well. To be honest, since I'm not very good at dealing with alcohol, I didn't pay much attention at the bars. I did check out Sky Karakoy, the rooftop bar just to take pictures of the view late at night. It was sadly empty when I got there, so it was a bit awkward just to come in to the bar just to take pictures and not order anything.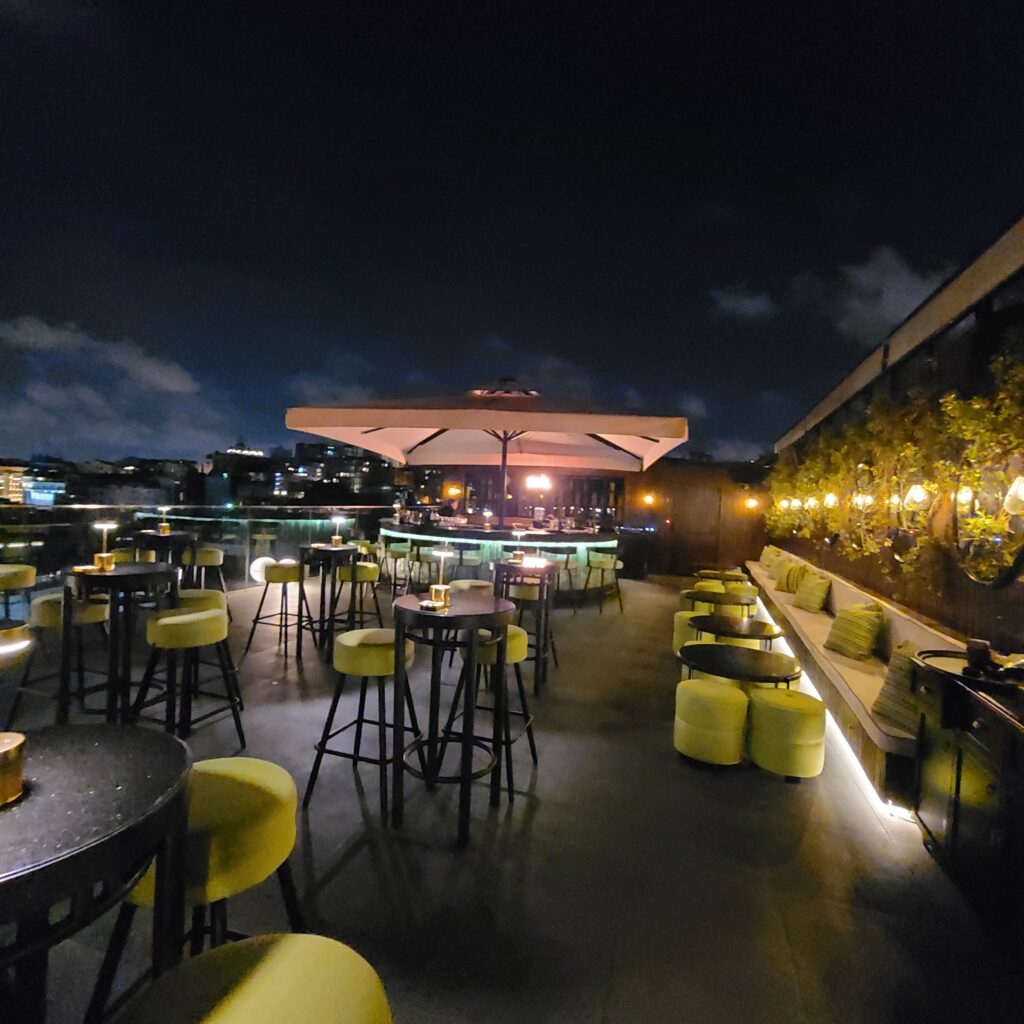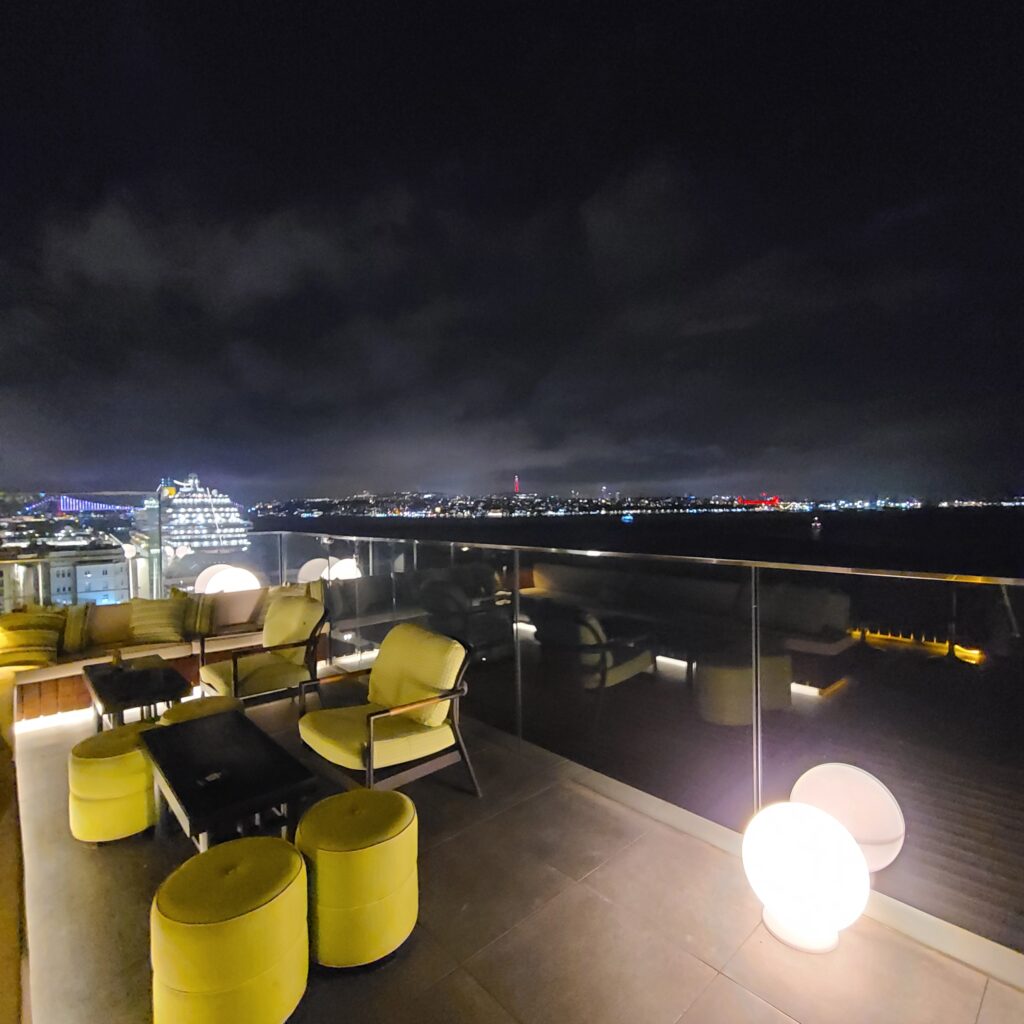 Skull & Bones, the ground floor bar, slipped through my mind and I could not take pictures of it. The Mexican theme looks pretty cool though. Bar scene appears to be alive and well in the Karakoy area where sprawling bars and restaurants fill the alleys.
Conclusion
I have a really hard time saying if this hotel is worth staying at or not. On the positive end, the location is great for first timers and I love the fact that there are many stores within walking distance, but the ongoing construction has sort of reduced the quality of my stay. While the location is great, it has a double-edged sword nature to it with cars having trouble going through or taking a long time to get to the hotel. If you plan to take taxis regularly to get out of the hotel, you best prepare in advance. Nonetheless, Istanbul's public transportation is great, and it's easy to walk to the Karakoy tram station from the hotel that can get you to some of the more popular Istanbul's landmarks.
On the negative ends, there are competing Marriott Bonvoy properties nearby, the Adahan DeCamondo Pera, which is a new Autograph Collection hotel added to the Marriott Bonvoy portfolio. It's not by the Bosphorus, but it's near the Galata Tower instead, which is a landmark you can visit to get a nice 360 degree view of Istanbul. It's also much cheaper than the JW Marriott. I also feel like this particular hotel is more of an Autograph Collection or a Tribute Portfolio hotel rather than a JW Marriott judging by my impressions of the hard product.
Then, there's a new JW Marriott in the other side by the Marmara Sea, which I feel is more true to the JW Marriott standard. But, its location isn't favorable for many first-time visitors to Istanbul compared to the JW Marriott by the Bosphorus.
The base room also feels disappointingly small considering the price I'm paying, even after being upgraded to the bigger variant of the room type. I think the stay would be better if you could get upgraded to an executive room or a suite. It'd be hard to get though with the ongoing construction, and the price hike doesn't help.
Would I recommend this hotel with the ongoing construction? Definitely not, because price for a base room would be ~300 EUR a night, which is insane!
Would I recommend it during normal times? I'd be a little bit iffy, and I'd only book if I can pay less than what I've booked at around 150 EUR a night. Since Istanbul's public transportation is great in general, there are better options to choose from throughout the Marriott portfolio and other chains.
Overall Rating