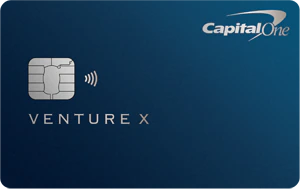 A Trick to Turn Capital One Venture X Travel Credit to Statement Credit
UPDATE 9/13/2023: Trick is unfortunately dead due to Capital One changing the credit structure from statement credit to a coupon redeemable only at Capital One Travel portal. See the DoC article for more details.
One of the main benefits of Capital One Venture X is the $300 travel credit that works for travel bookings like flights, hotels, and car rentals. But, I accidentally found a way where you can turn it to statement credit, which is as good as cash and does not restrict the credit usage to Capital One travel portal. Here's what happened:
Cancelling A Fully Refundable Hotel on Capital One Travel Portal
While I was looking for hotels for my upcoming trip to Cappadocia in Turkey, I've booked a hotel through the Capital One travel portal. But then, I remembered that one of the signup bonuses for the Venture X a couple months ago was a $200 Vacation Rental credit that can work on AirBnB. So, I cancelled the hotel that I just booked through Capital One travel portal on the same day, and booked AirBnB instead to take advantage of the Vacation Rental credit.
When you book a hotel through the portal, you're instantly charged, but you're free to cancel and get a full refund as long as the cancellation policy allows that. A couple days later, the charge and the refund were posted in the statement. But then, the travel credit also triggered. I figured that I needed to wait for the travel credit to refund again so I can use it for future trips. I waited until the next statement hits, and there's still no travel credit refund in sight.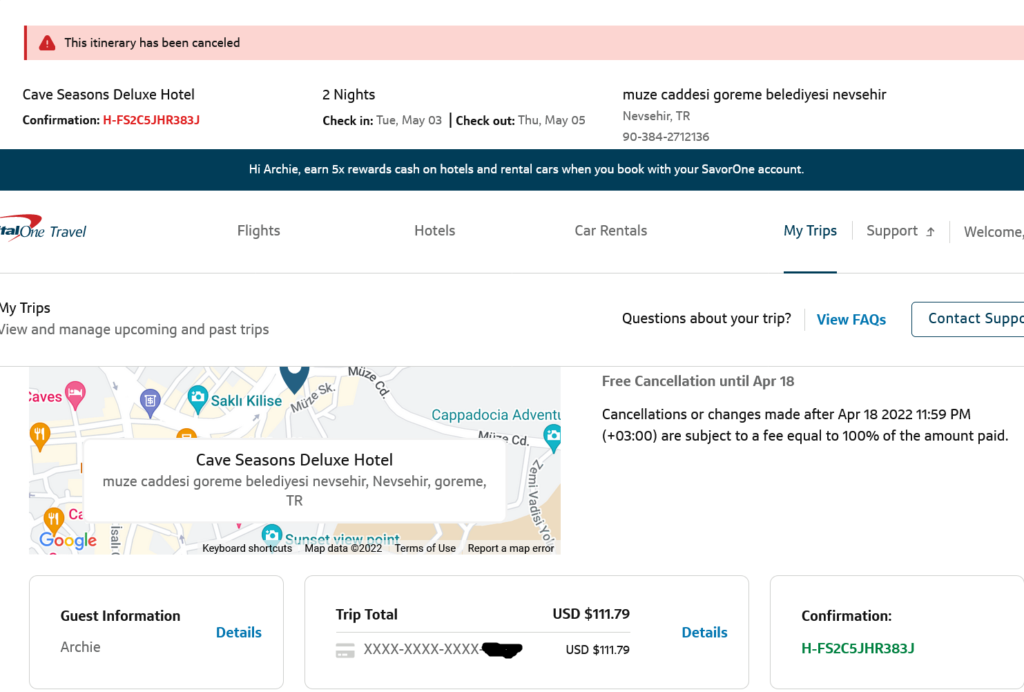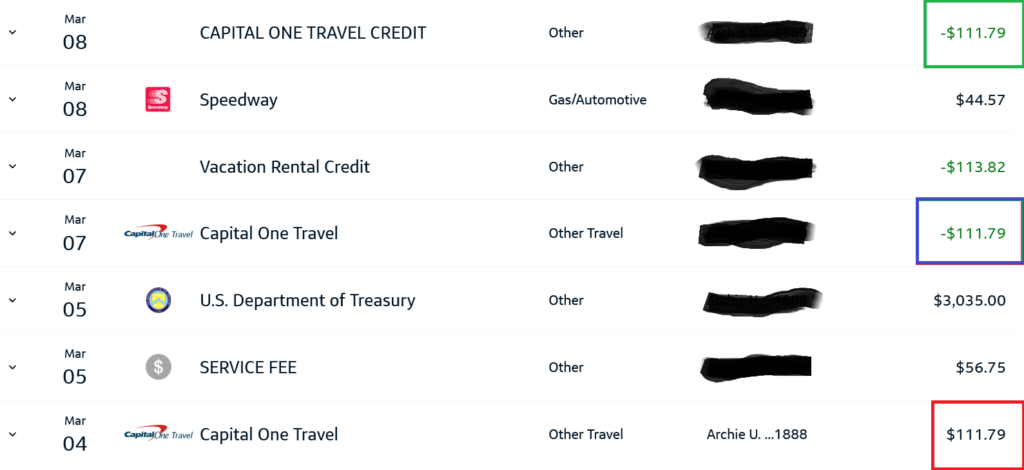 So, I called Capital One to deal with the issue. It turns out, at least from the representative I spoke to, that once the travel credit is applied, Capital One won't reimburse you the travel credit back even though I've cancelled that refundable hotel with the full refund already applied. This pretty much means I got a statement credit that applies to my overall charges.
To make sure it wasn't a fluke, I booked a cheap "test booking" in Samarkand, Uzbekistan. The total comes down to $19.53 for a night. If I turn out to be wrong, then at least it wouldn't be a big loss. It turns out, the same thing has happened again, meaning you can potentially keep doing it until the $300 credit is "fully used".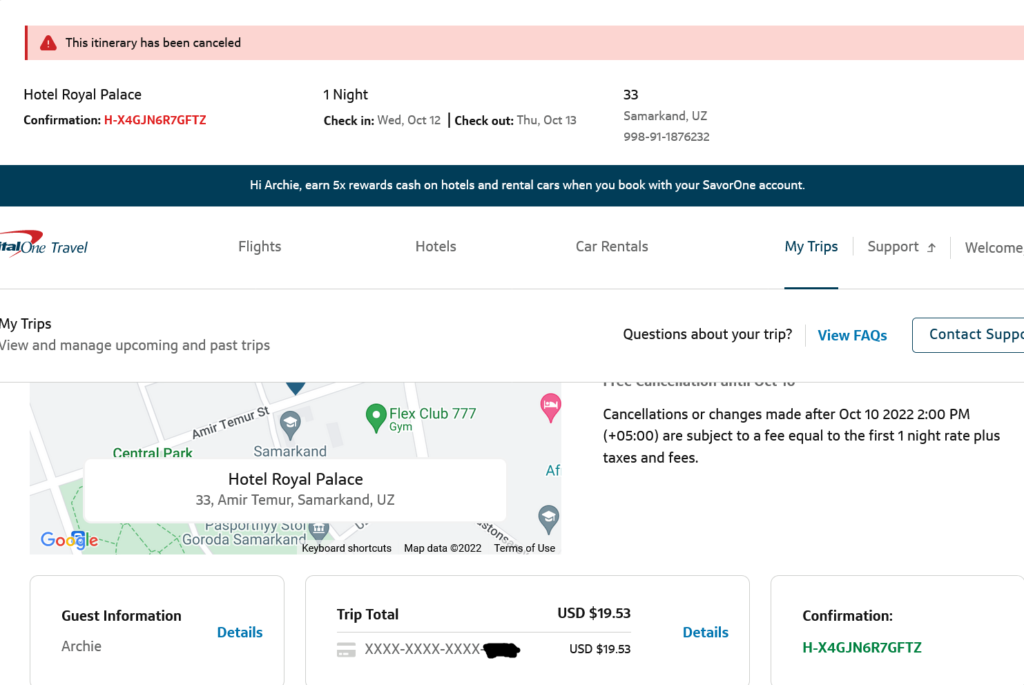 What Makes This "Statement Credit Trick" Good
A really good thing about this trick is that you can potentially use the advertised $300 Capital One travel credits for any type of purchases. In my experience, Capital One travel portal has been a mixed bag in finding the best price, and it does not include smaller niche airlines in its flights inventory. For example, I've tried to book Air Astana flights for flights in Central Asia, but the portal does not have Air Astana shown up at all, which is a shame because I'd most likely use the credits to book cheap regional flights and the occasional independent hotels if I can't find a hotel belonging to a major chain.
One important thing to consider when using this trick is that you're giving up points that you could've earned if you would've spent the credits as advertised through the travel portal. The Venture X gives you 10x on hotels & car rentals booked through the portal; 5x on flights through the portal. At maximum, you'd be giving up 3000 Capital One Miles with this trick.
But, some may be fine with giving up to 3000 Miles for much more flexibility in using the credit. After all, its main competitor the Chase Sapphire Reserve does not give you Ultimate Rewards points on spend affected by its own $300 travel credit too. Generally, it's also more troublesome with customer service when something goes wrong with your booking when you've booked through a third-party travel agent, which is what the Capital One travel portal is.
If you have loyalty to a hotel chain like Marriott, Hilton, Hyatt, or IHG, then this trick may be more beneficial since you won't get any elite benefits and hotel points if you've booked a hotel under a chain through the Capital One travel portal.
Of course, that's not to say that booking through a third-party travel agent is always a bad idea. If nothing wrong happens, then things will be fine. If you can find good deals through the travel portal, then by all means utilize it and earn some points along the way. This trick could be a good thing to fall back on in case you're not able to fully utilize the $300 travel credit throughout your cardmember year.
Any Negative Consequences with This Trick?
I cannot say for sure what the negative consequences are with this trick other than forgoing up to 3000 Miles. But, here are some reasons why I think it's safe to do this trick.
I don't think cancelling a reserved hotel constantly counts as "abuse" since hotel prices change constantly, and people want to book at the best prices as they could find.
People can change their mind at any time on where & when they want to stay after they've made a reservation, thus the process of cancelling and re-booking can happen multiple times before the trip.
If Capital One does not like this trick, then they should really implement a way to give back the unused travel credit after a fully refundable travel portal purchases. I don't think the people should be punished by changing their minds constantly since it's safe to do so thanks to many hotels' generous free cancellation policy.
Since the Venture X and the Capital One travel portal are new, the travel credit implementation can surely be a learning experience for Capital One as well. This is just my theory on why it's most likely safe to do the trick, and only time will tell if more people will do this and if Capital One will do something about it.
Conclusion
Here's a little trick I found by accident on how to turn your $300 travel credit into statement credit that can be used indirectly towards any purchases. If you don't like to book through third-party travel portals in general, then you'd find much more value with the Venture X  since you won't have to feel obligated to book your travels through the Capital One travel portal.
The $300 travel credit from the Venture X after using this trick may as well be the better version of the Chase Sapphire Reserve one since the only downside to this trick is that you won't be getting Capital One Miles, which is also true to the Chase counterpart. This trick may also sway those who are on the fence on getting the Venture X into actually getting one.