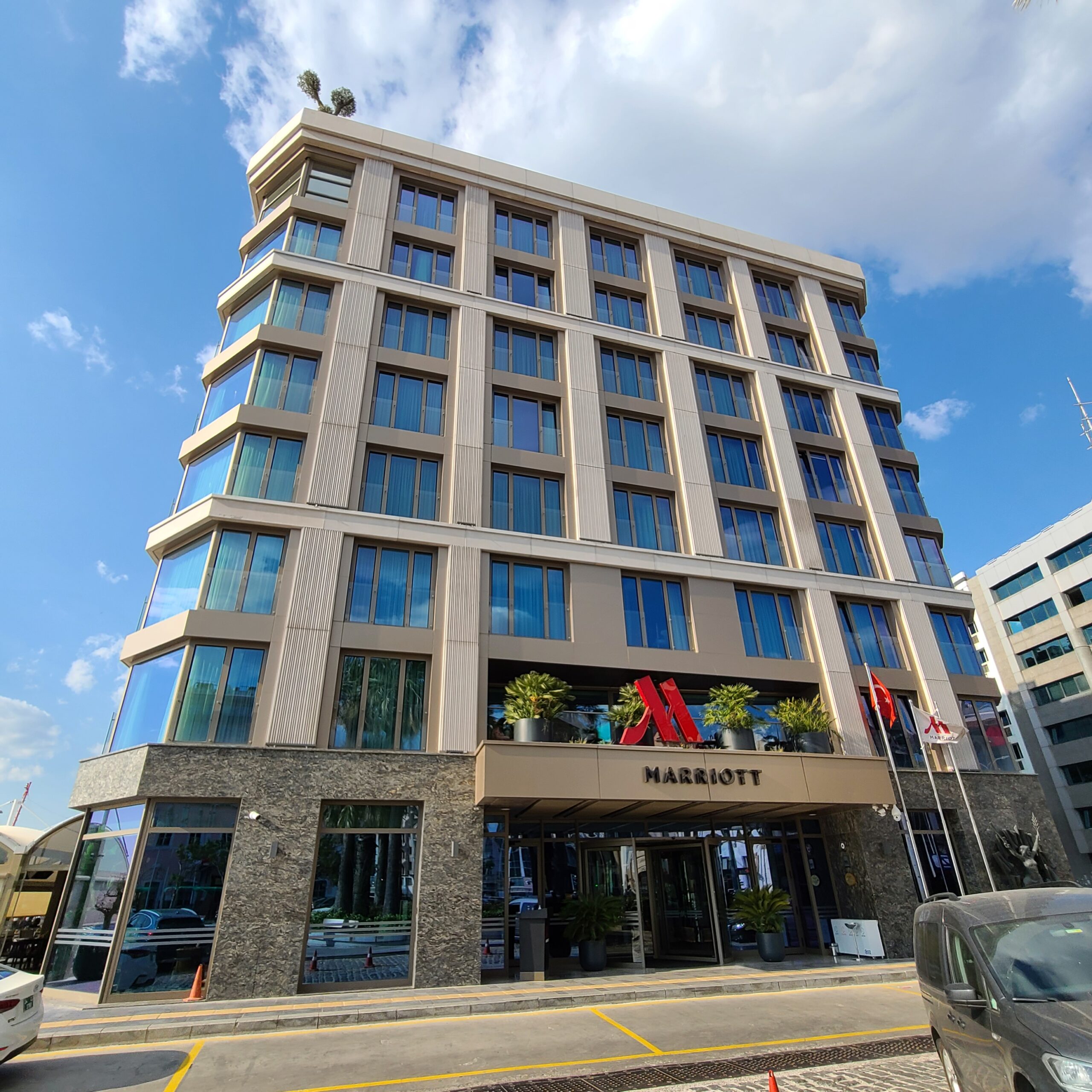 Advertiser disclosure: This post may include affiliate links (including sidebar banners) in which this site may receive compensation if a purchase is successfully made (at no extra cost to you) after being redirected from here. Thank you for your support!
Review: Izmir Marriott Hotel (2022) [Turkey]

I've stayed at Izmir Marriott hotel for my first visit to Izmir in Turkey. Izmir itself is a great seaside city by the Aegean Sea with great seafood options and ancient sites within its vicinity. There are quite decent amount of options for hotels under the Marriott Bonvoy in Izmir like the Renaissance and Four Points by Sheraton, but I chose the Izmir Marriott due to its direct seaside location since I'm a sucker for sea views.
Izmir Marriott- Booking
I've booked the hotel at an average of ~93 EUR/night for 3 nights on the base room with City view thanks to a promo of Stay 3 nights or more for a 15% nightly discount rate. It's quite a reasonable rate compared to Marriott Bonvoy hotels found in the European side of Istanbul. Points redemption wise, it ranges from 15,000-20,000 points a night. But, considering the cash rate I booked for, I figured paying with cash gets me a better deal and I get points in return for future stays.
I'm using the Capital One Venture X to book this hotel in order to hit its minimum spend requirement for the signup bonus.
I asked for a room upgrade on the Marriott Bonvoy app chat function, and was upgraded to a Junior Suite with Sea View on the day of check-in.
Izmir Marriott- Location
Izmir Marriott is located in the Konak district where it's filled with many seaside restaurants, cafes, pier shopping complex, parks, and town squares. The hotel location is very walkable that I didn't use public transportation at all since it's quite beautiful to walk on. A favorite landmark of mine is the "Kordon", which is a seaside promenade where you can just relax at the park or the seaside just around 5 minutes walk from the hotel. It's quite gorgeous during the evening times with the sunset view. Plus, there are many stray dogs relaxing on the park where they surely won't mind getting pets from you!
Izmir Marriott- Check-in
Check-in process was smooth for me. All guests have to go through a metal detector, which is common in Turkey. Our luggages were held by the bellboys to have them carried to our room later on.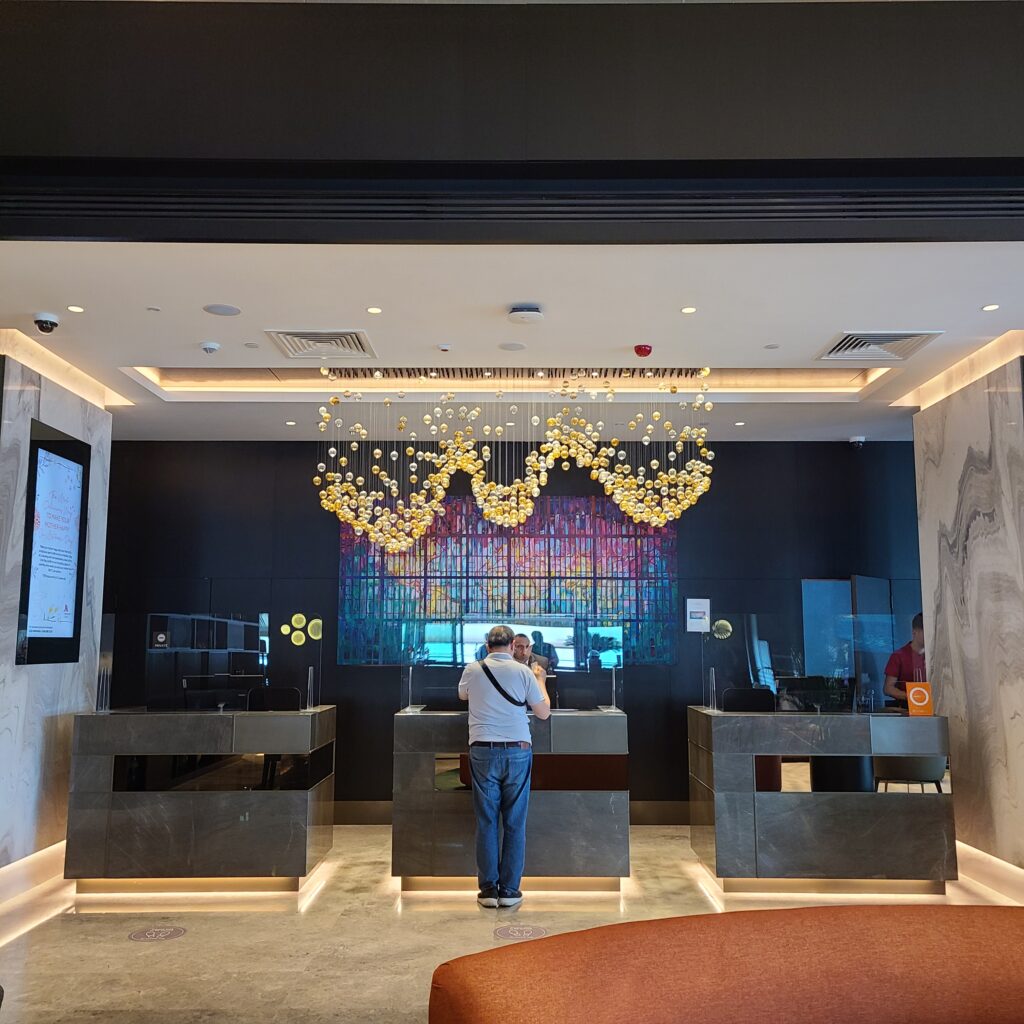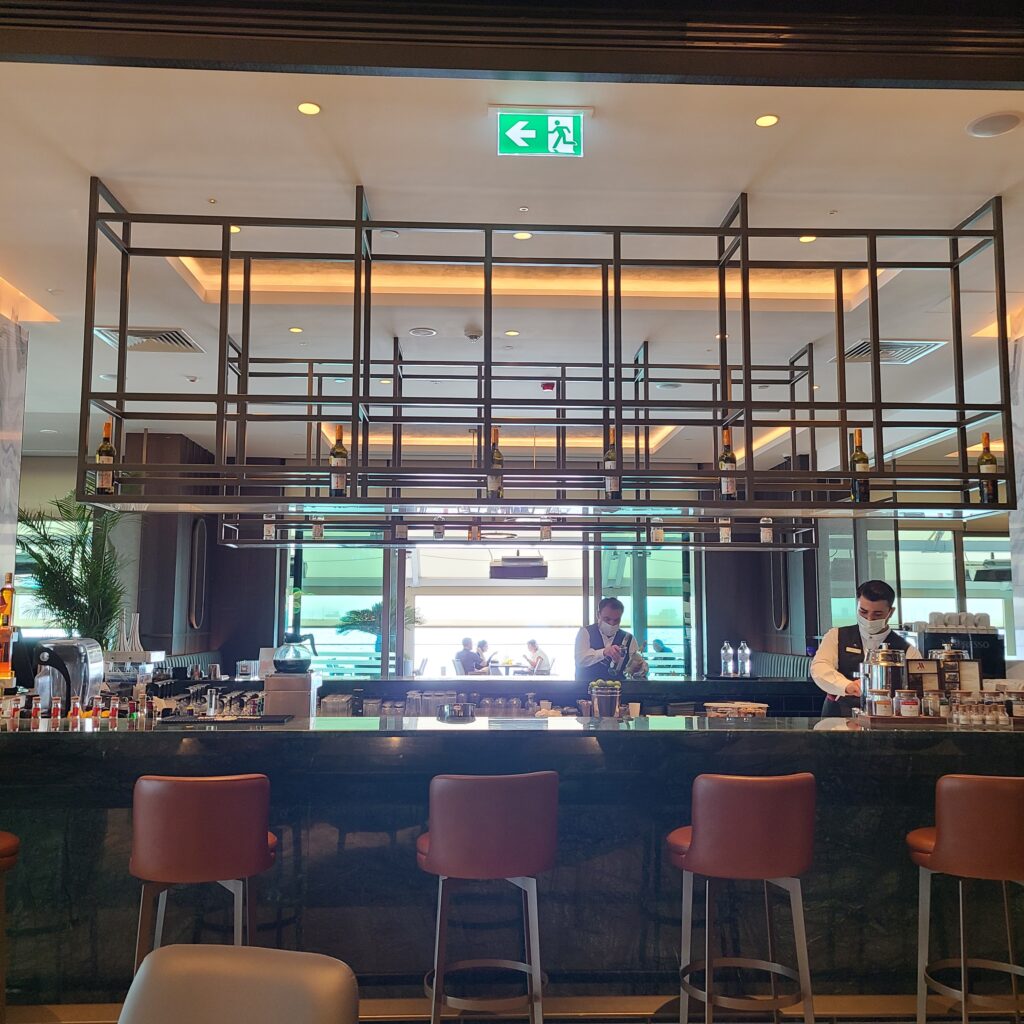 As a Platinum Elite, I was informed that breakfast will be available at the MClub Lounge at the first floor above the lobby and that the lounge will be open 24/7 with scheduled afternoon tea, evening hors d'oeuvres, and alcohol services. A Guest Relations agent also escorted us to our room (Room #1115) at the same floor to the MClub Lounge.
Izmir Marriott- Junior Suite
The Junior Suite is quite spacious and comes with a gorgeous sea view behind the floor to ceiling windows. A very lengthy and comfortable sofa bed is suitable for a person to sleep on if you want to sleep on separate beds with your travel partner. It comes with a gorgeous view as well, so your partner won't miss out as much!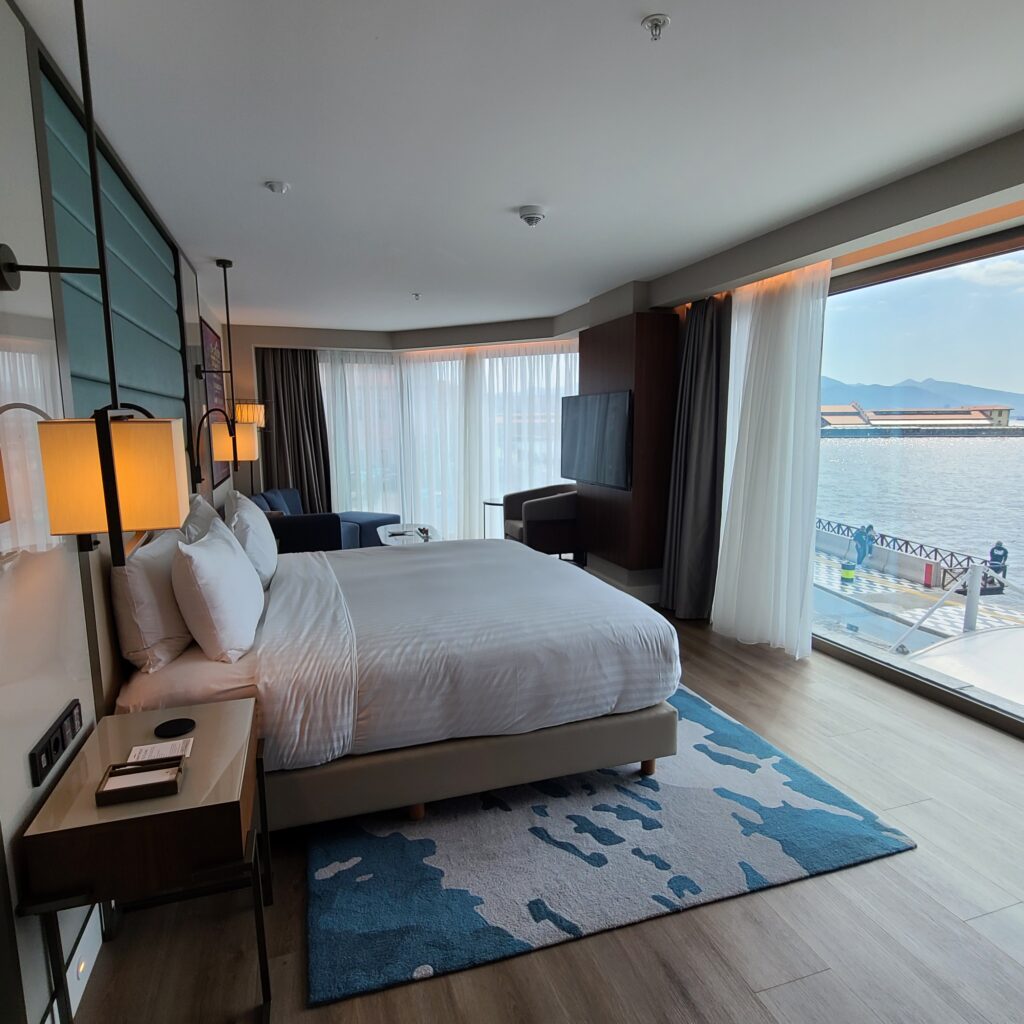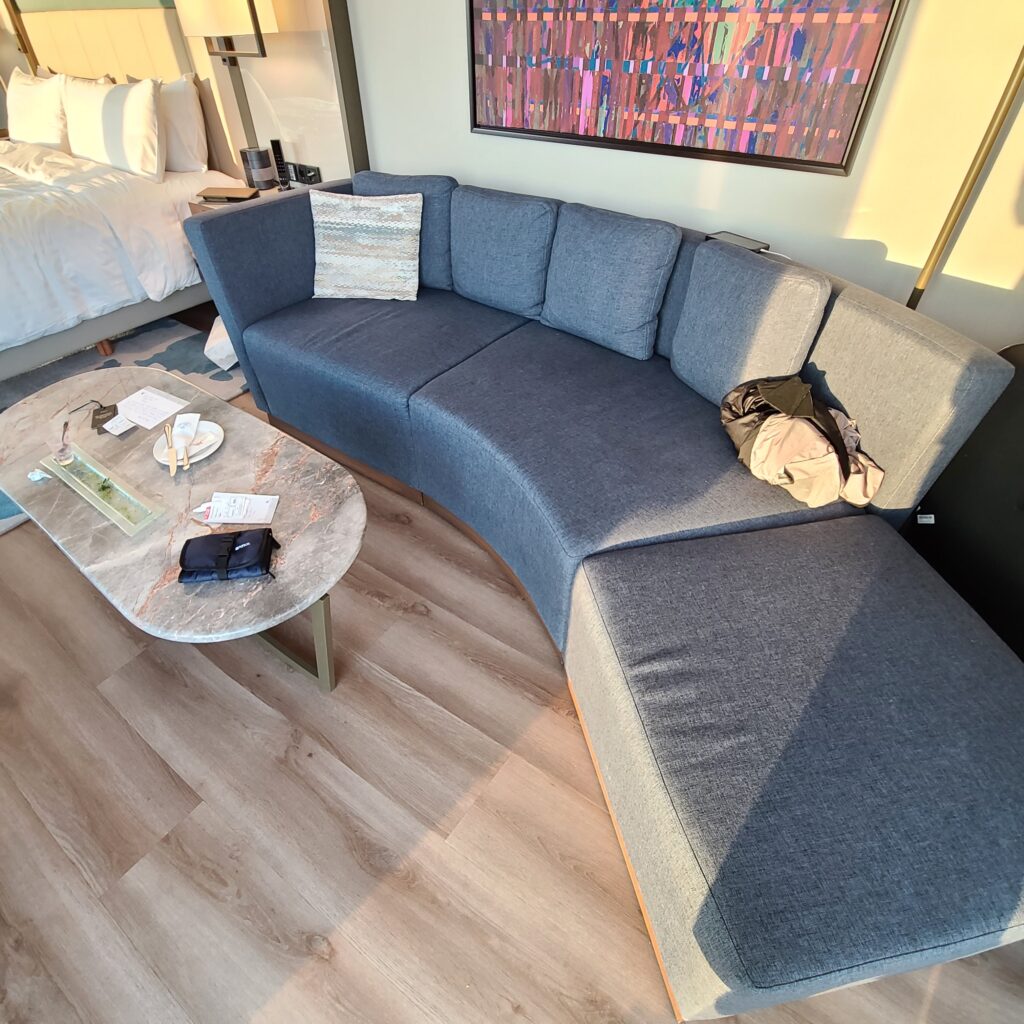 At first impressions, I was a bit meh on the fact that my room is on the lowest floor, but after having some reflection, I think it ends up being one of the best locations. First, I feel that the sea view felt much closer to me on the lower floor. The promenade also gets lively with many people walking by and fishermen waiting for their next catches. I felt that I can appreciate the vibe of the town more on a lower floor compared to the higher ones.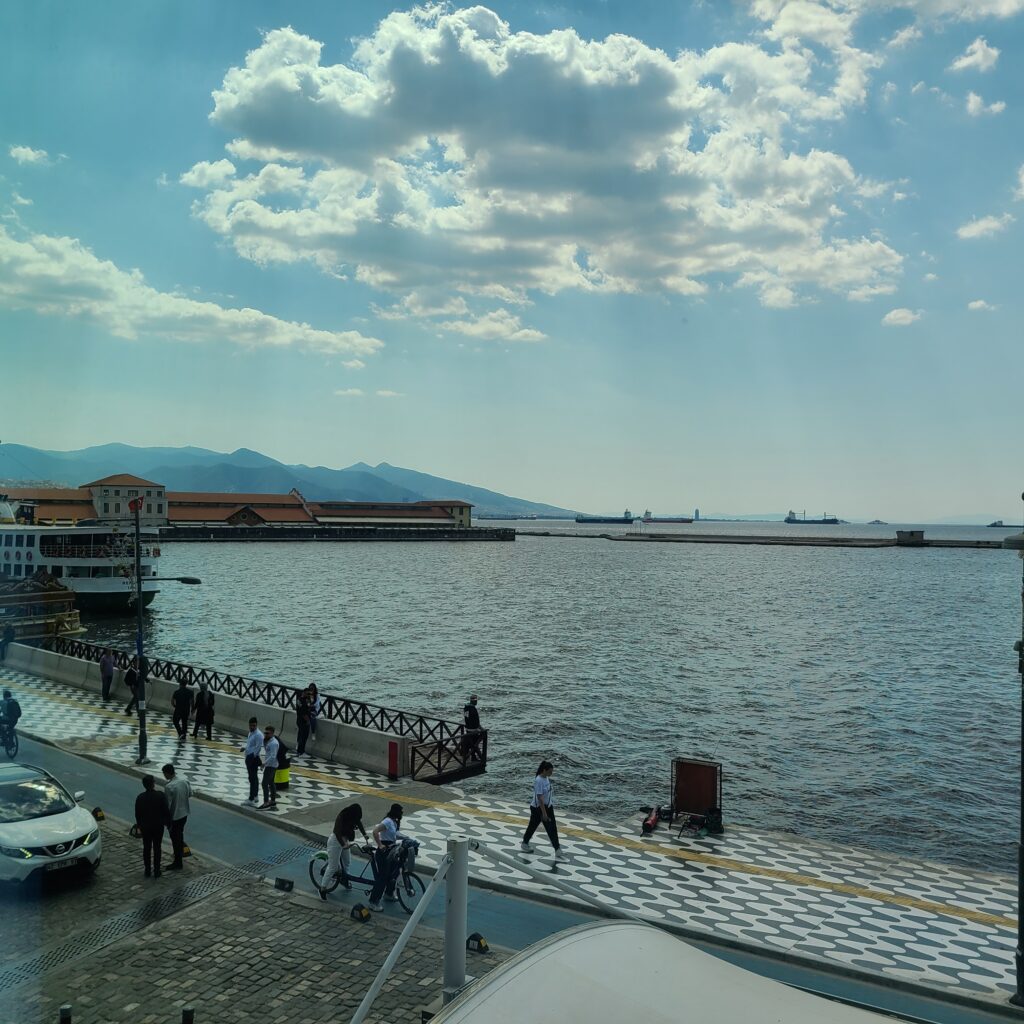 Plus, since the MClub Lounge is literally next to my room, it feels like I have a backyard kitchen that I can get in and out easily without having to wait for the elevator to get some drinks on the go!
The only con I can think of with the first floor room is that people outside can technically see you behind the windows, but they really have to look at the building in the first place. As long as you don't do anything crazy, people won't care even if they catch a glimpse of you.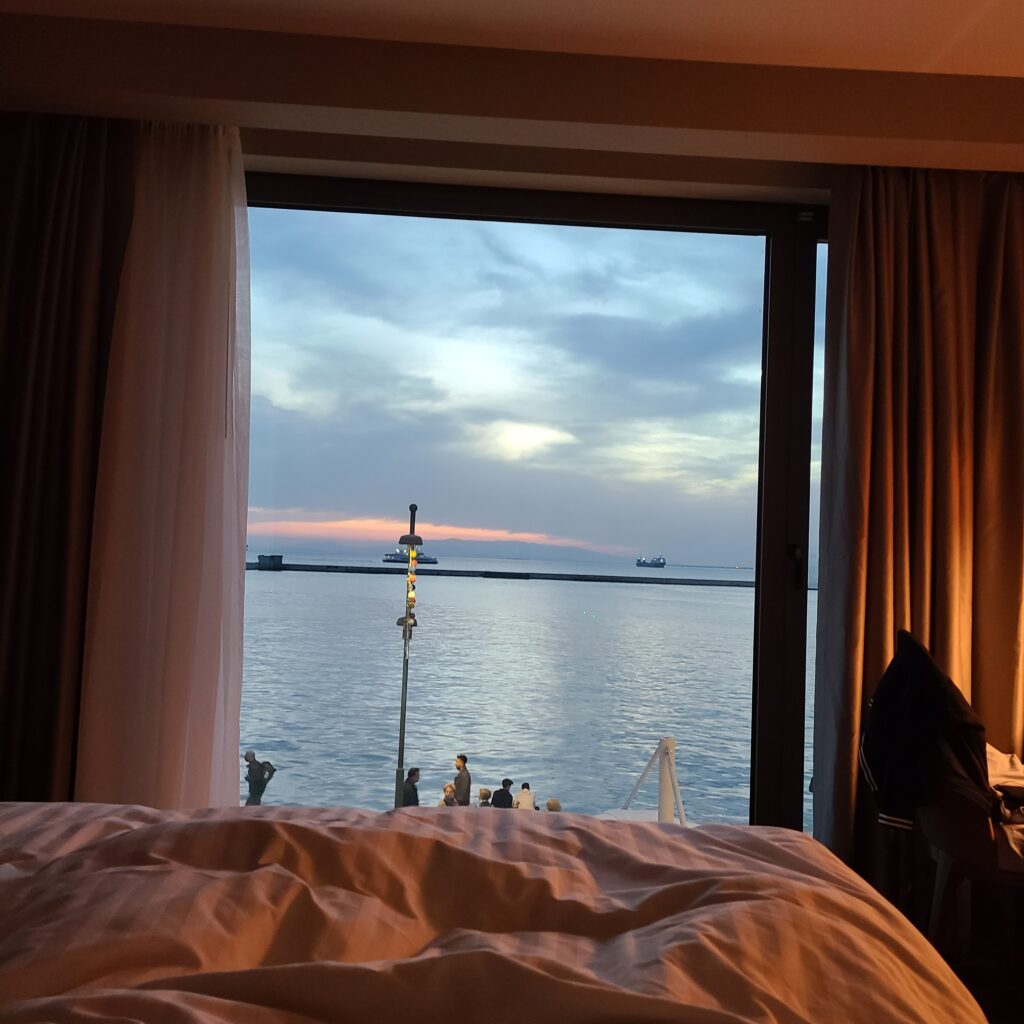 I received a welcome amenity with a long plate full of assorted sweets along with a personal note from the Guest Relations Agent. So far, the hospitality has been excellent at Izmir Marriott for elite members!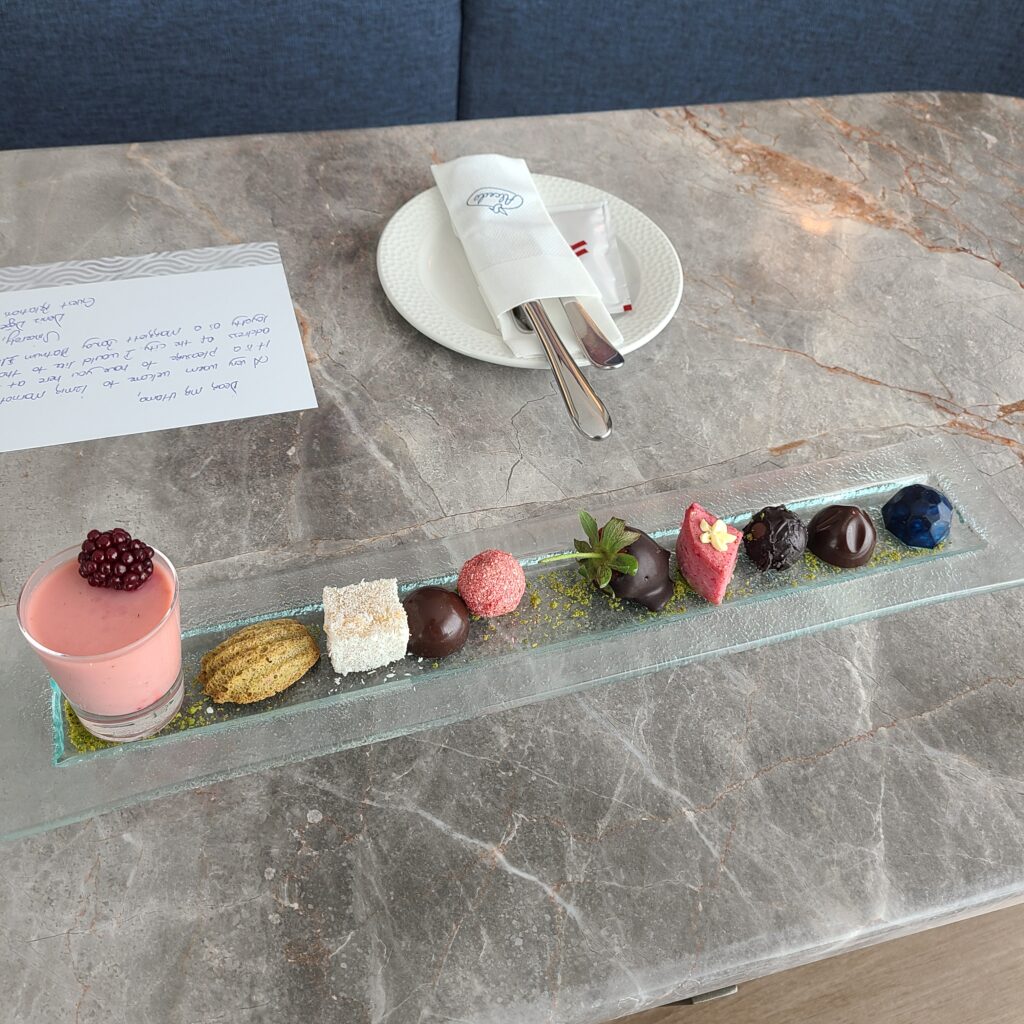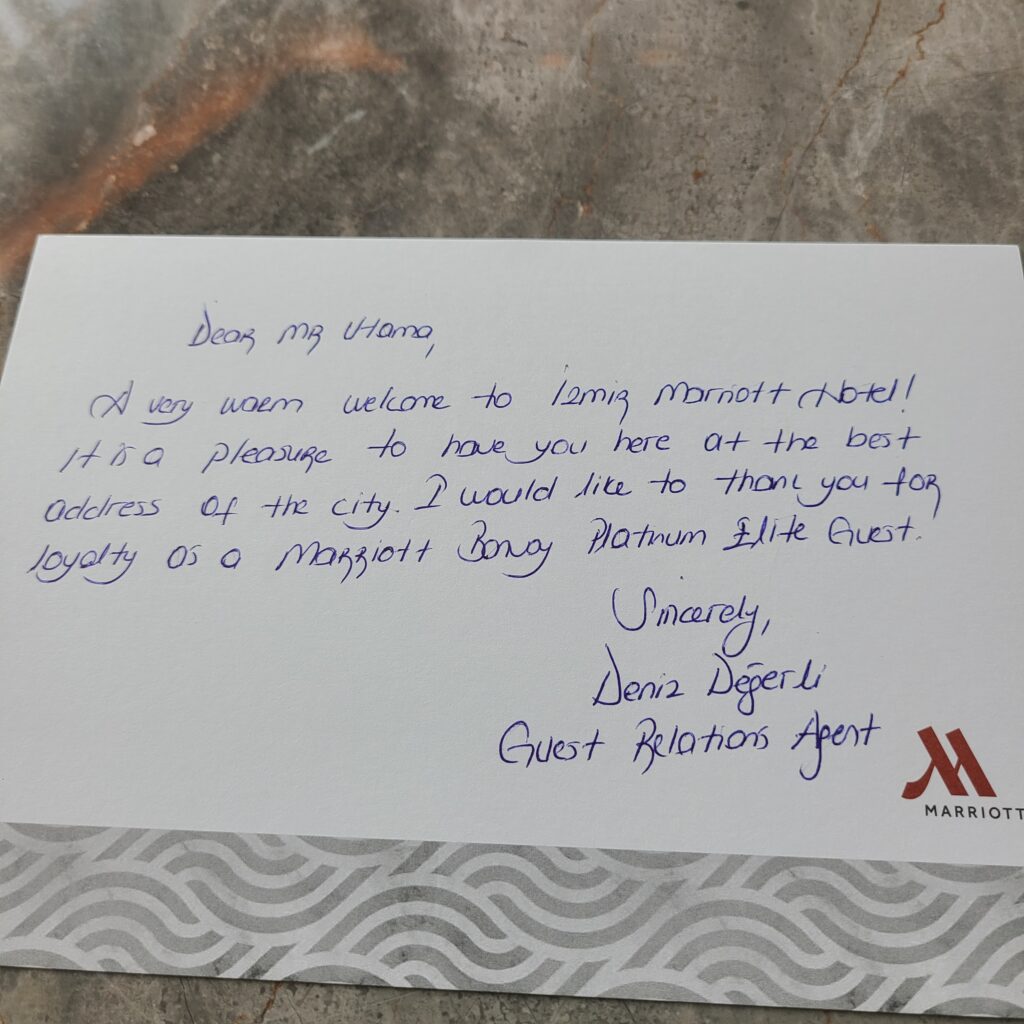 The room comes with a working desk with a universal plug and USB outlets, including USB-C. Spa and in-room dining menu are readily available on top as well.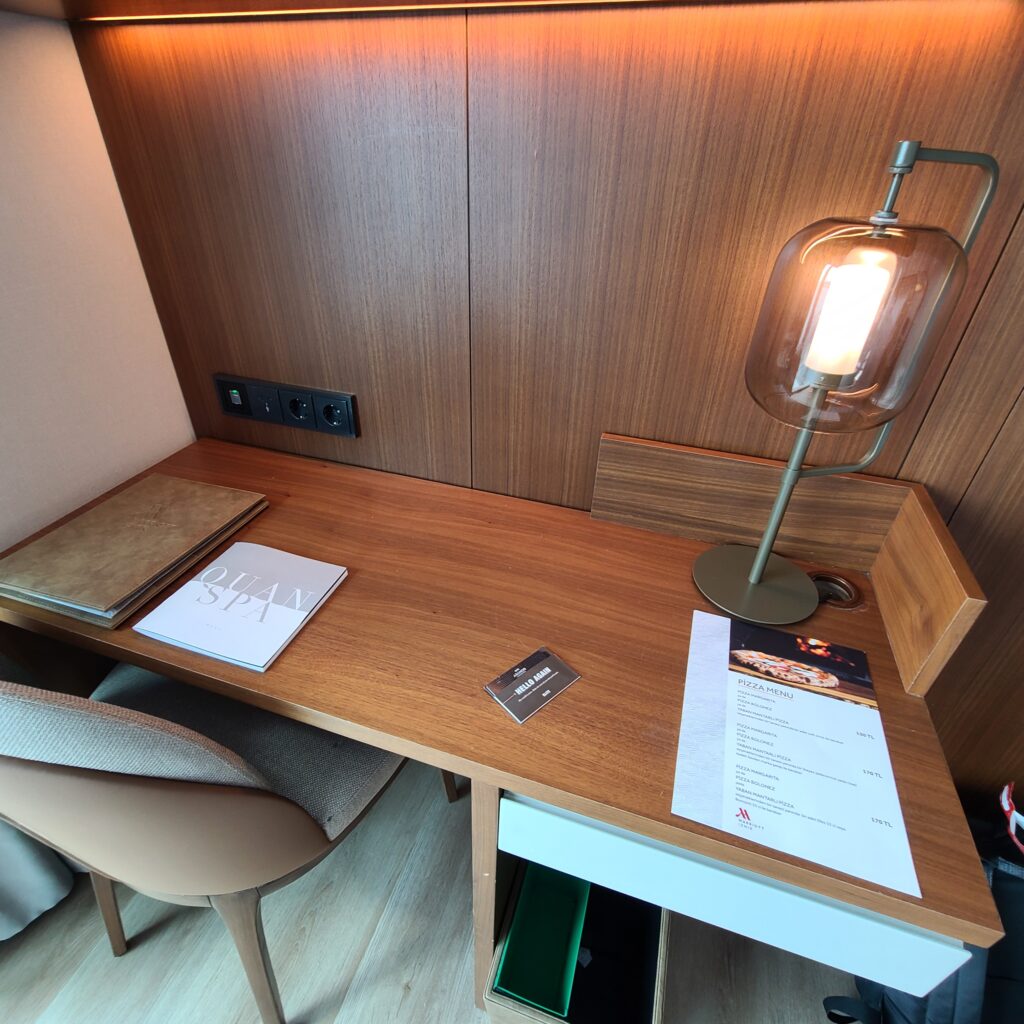 Nespresso machine and complimentary water bottles are ready to use.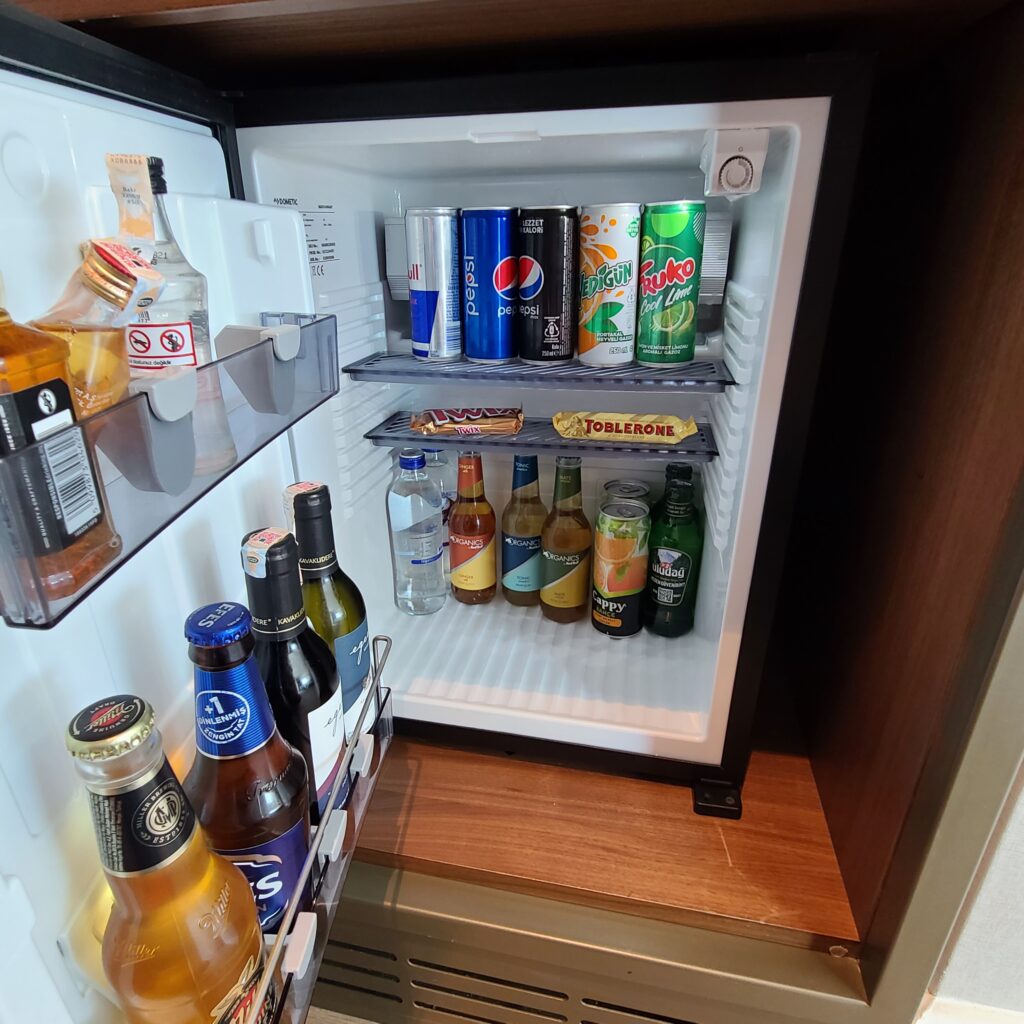 TV offers multiple channels including American and European channels. One of the most surprising feature in this hotel is the Wi-Fi 6. It most likely be offered as a Premium Internet that Marriott Gold Elite and up will get for free.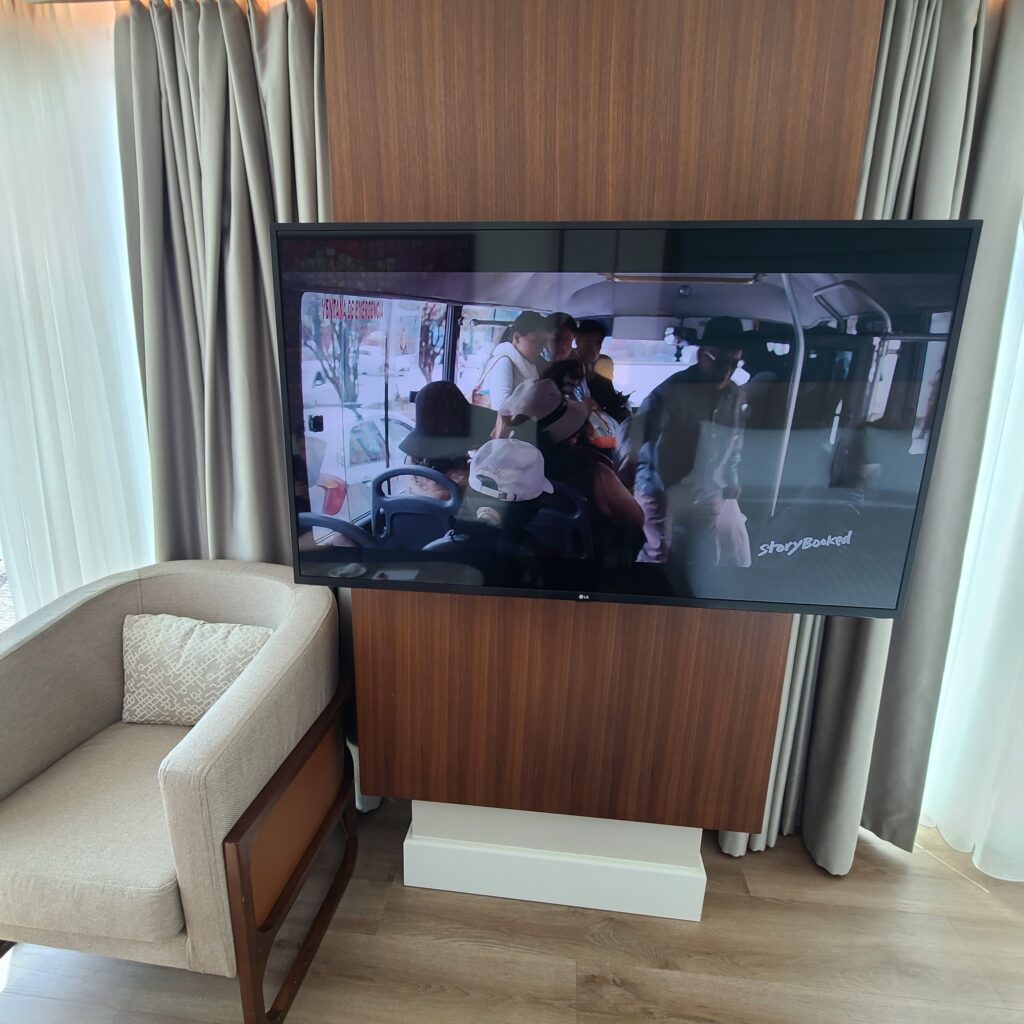 There's no luggage rack, but the space below the hanger racks provide solid space for your luggage, which I prefer.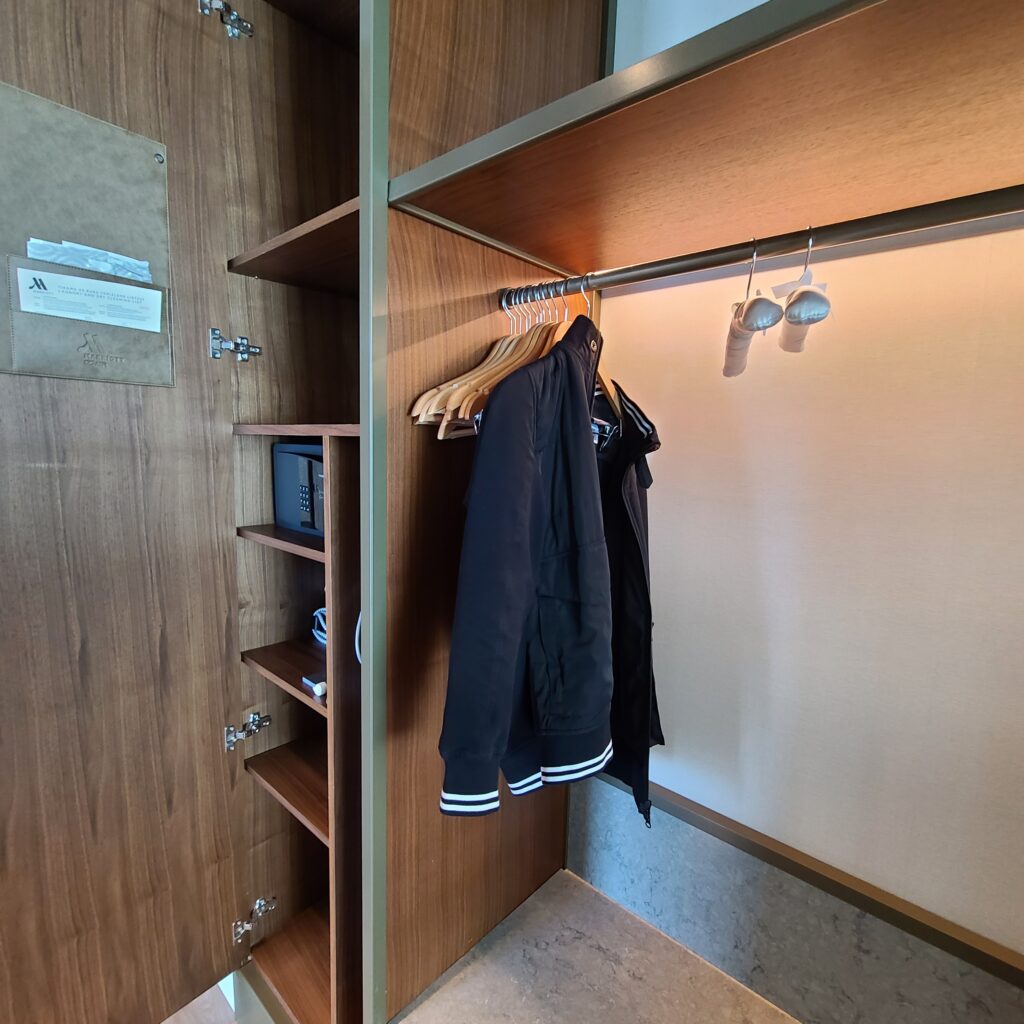 Izmir Marriott Junior Suite Bathroom
Bathroom is spacious as well with double sinks and separate shower and toilet rooms. Bathrobes are slippers are found under the sinks.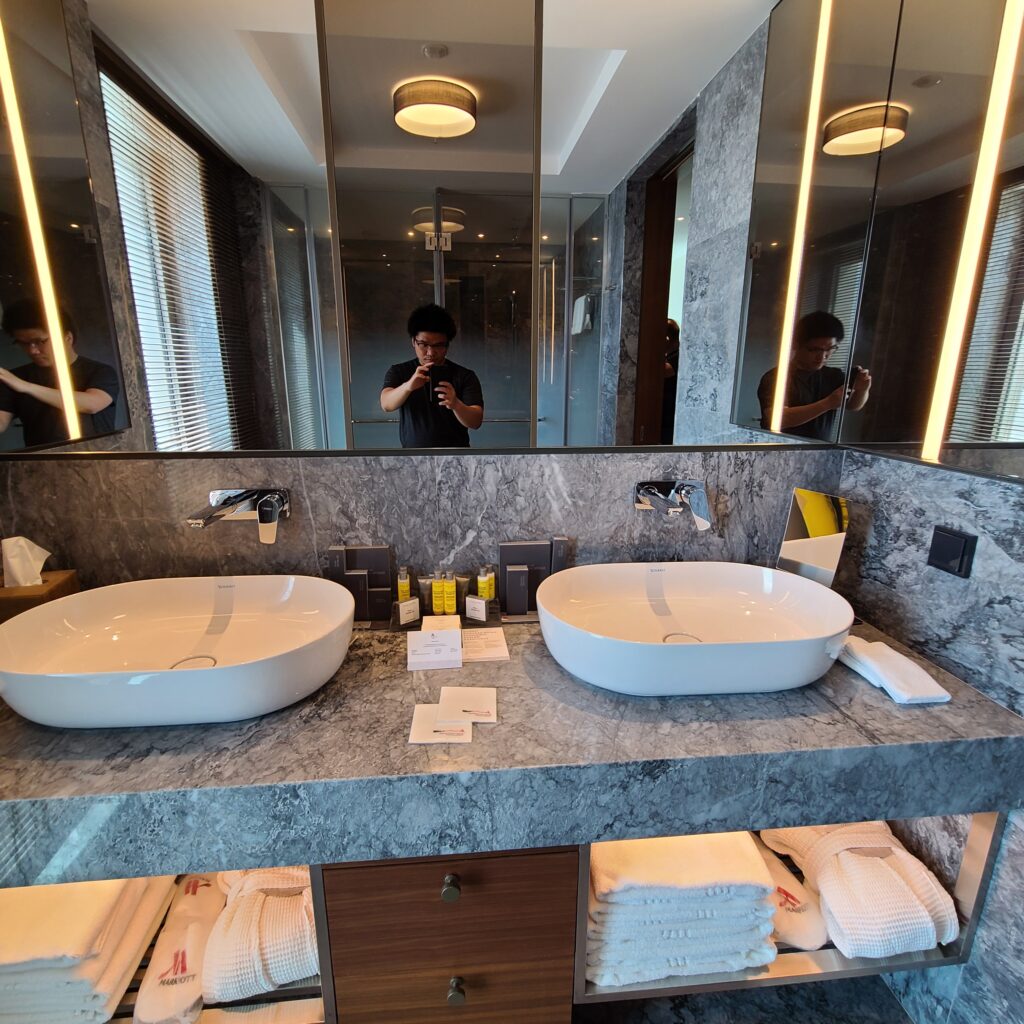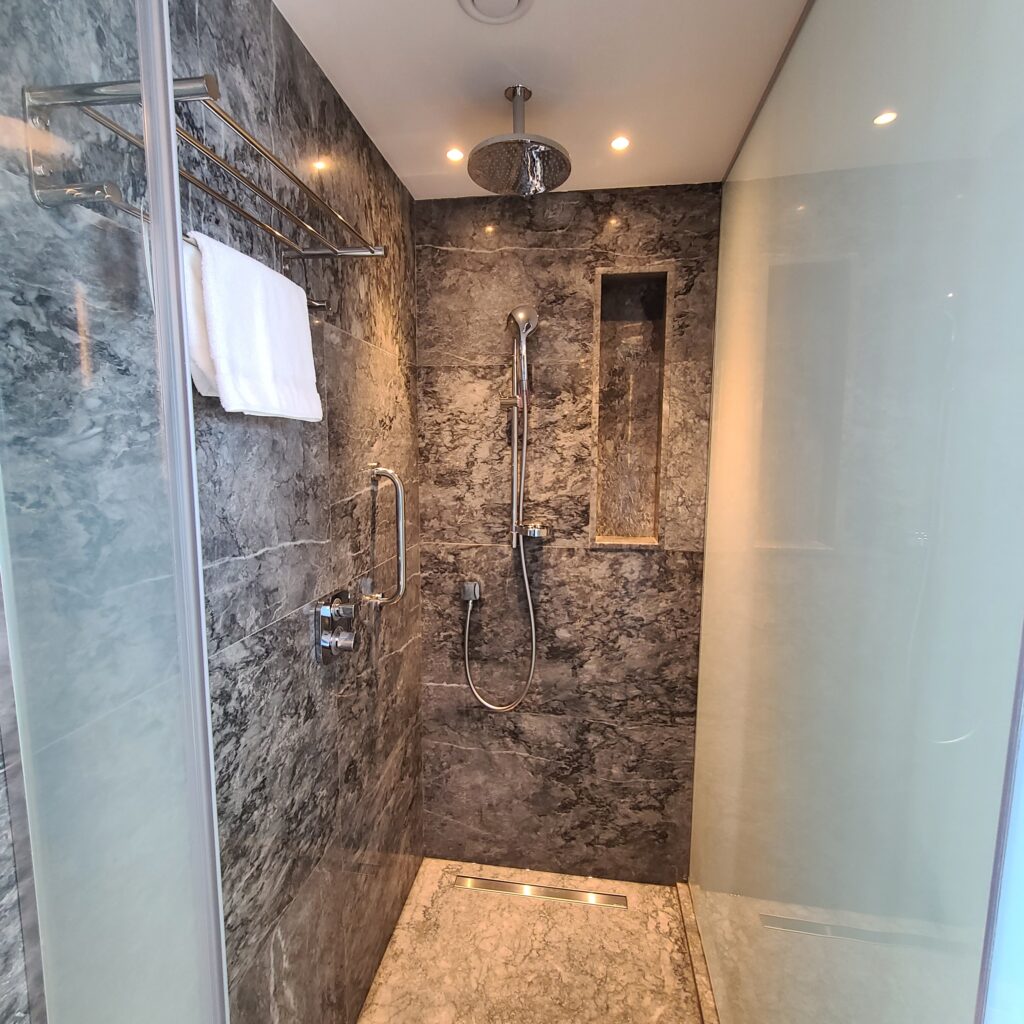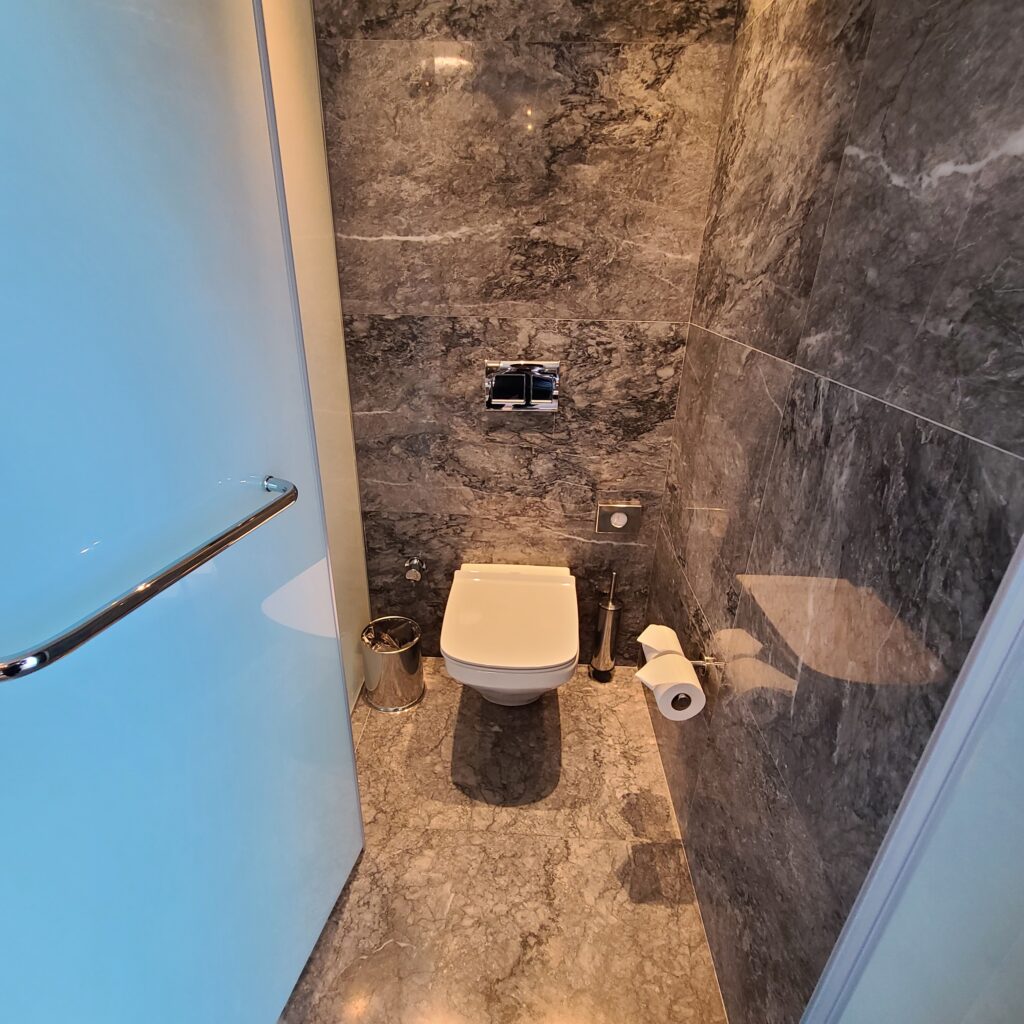 Bath amenities are by Acca Kappa, which I found quite decent. A sponge body scrub is also included that's similar to the one used in a traditional Turkish hammam, so it's rougher than the bath sponges I'm used to.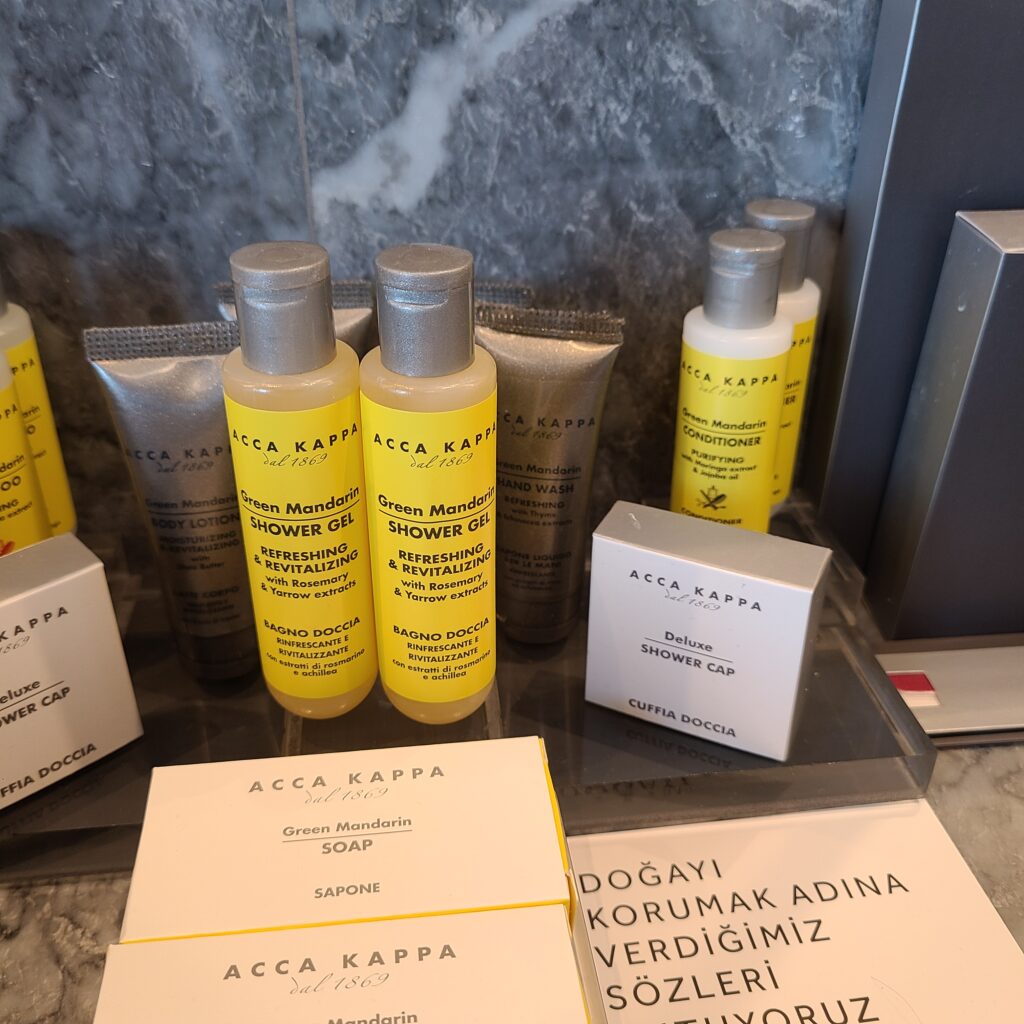 Izmir Marriott- MClub Lounge
The MClub Lounge at Izmir Marriott hotel is open 24/7 with scheduled offerings throughout the day. Outside of the scheduled offerings, you're free to come in and grab as many drinks as you want inside the mini-fridges!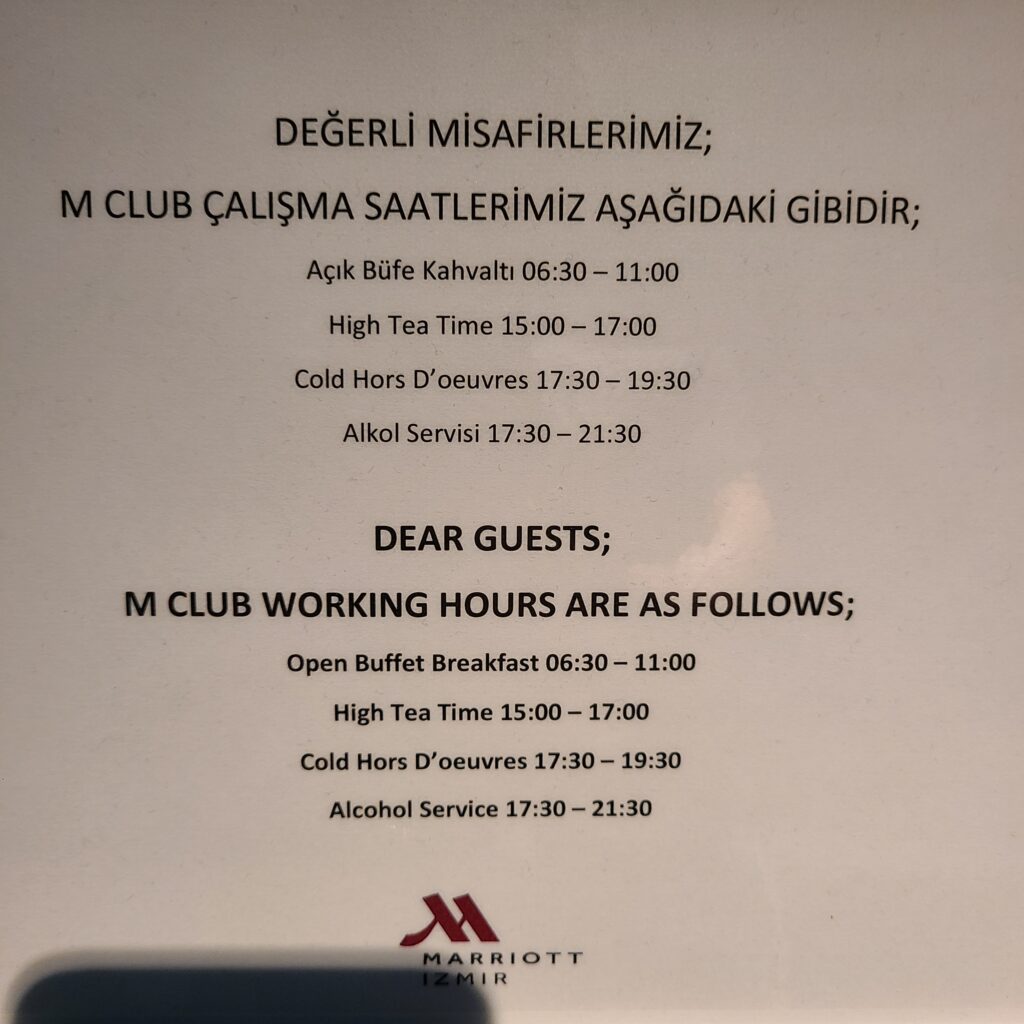 I've spent quite amount of times in the lounge due to the unlimited drinks ranging from water, juice, soda, and alcoholic drinks. The snacks are quite good as well. These are great when I just wanted to relax after exploring Izmir for the day especially from hot days, and write up some drafts for my blog.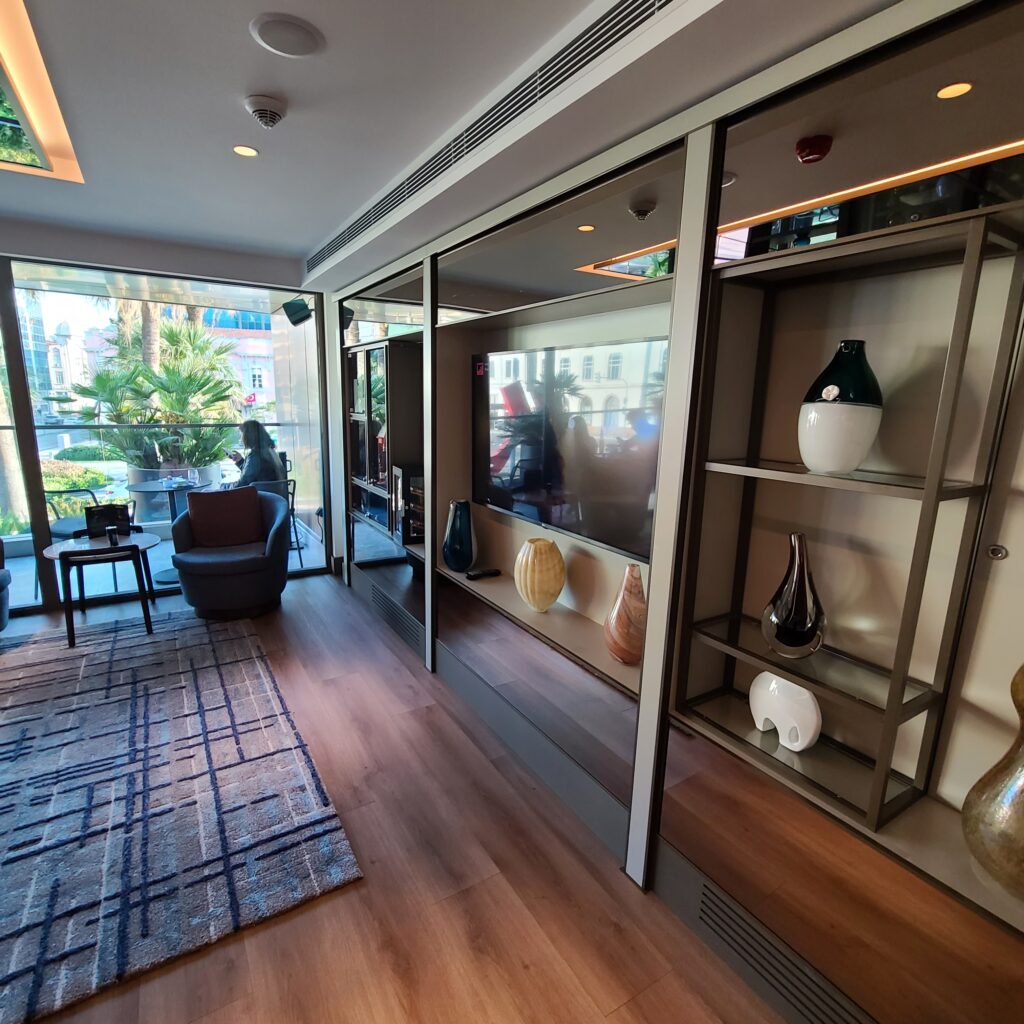 There are outdoor seatings at the balcony section if you want some fresh air while relaxing, or a place to smoke.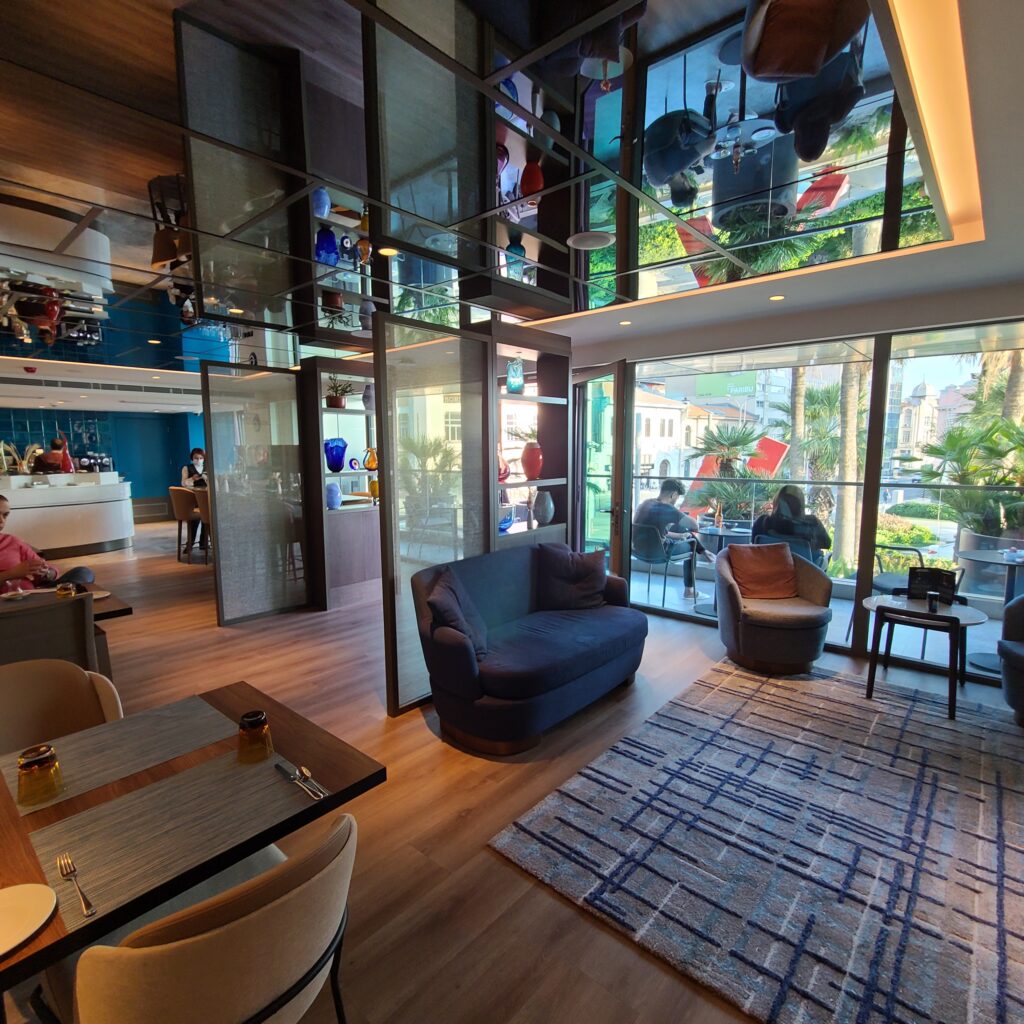 The lounge staffs would occasionally clean up your plates and serve you coffee/tea. They also won't mind having small talks with you as well!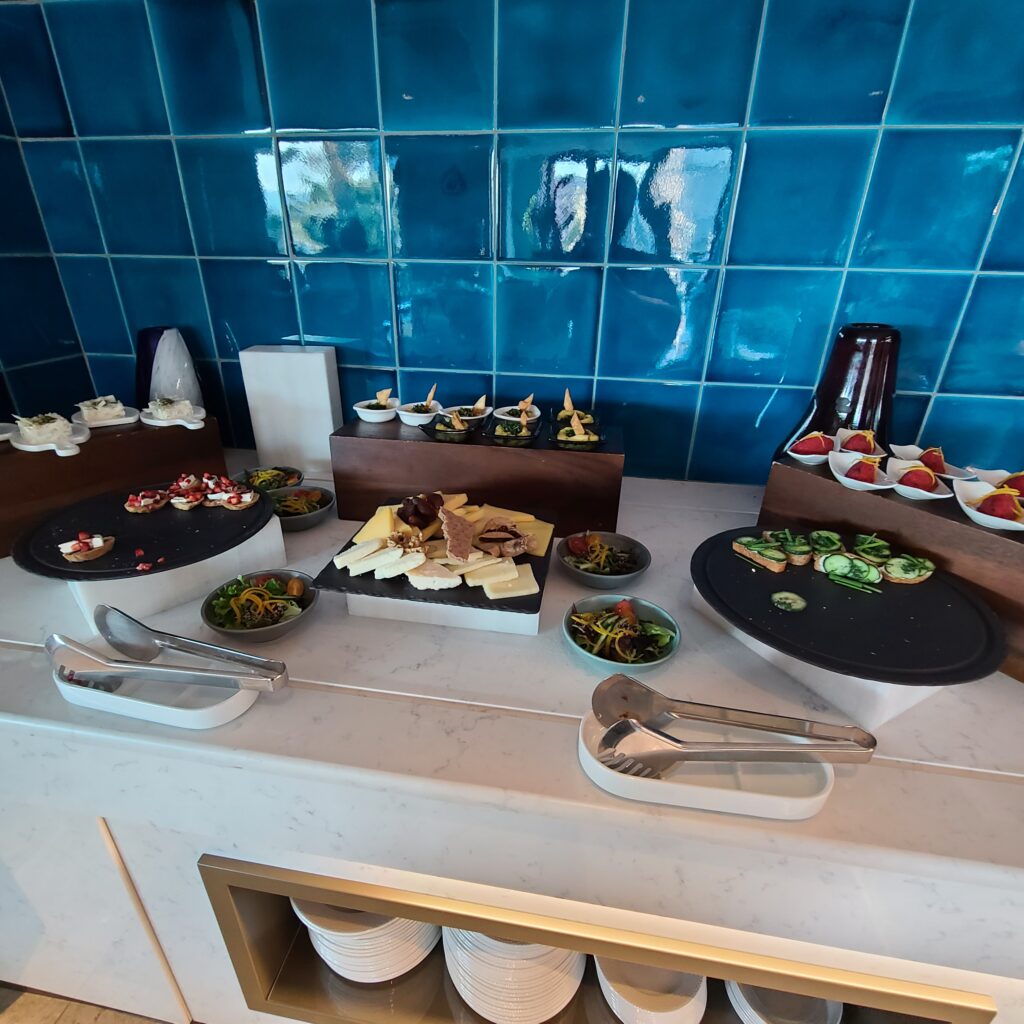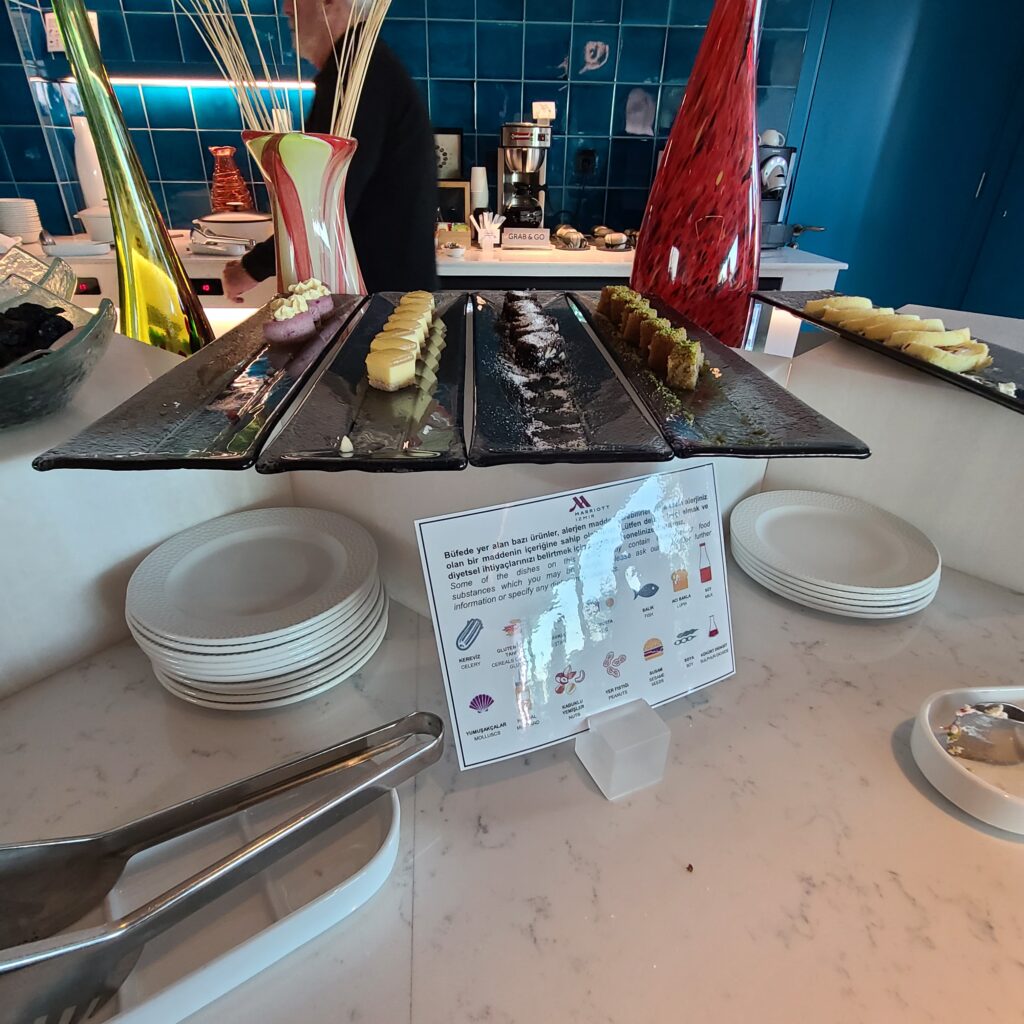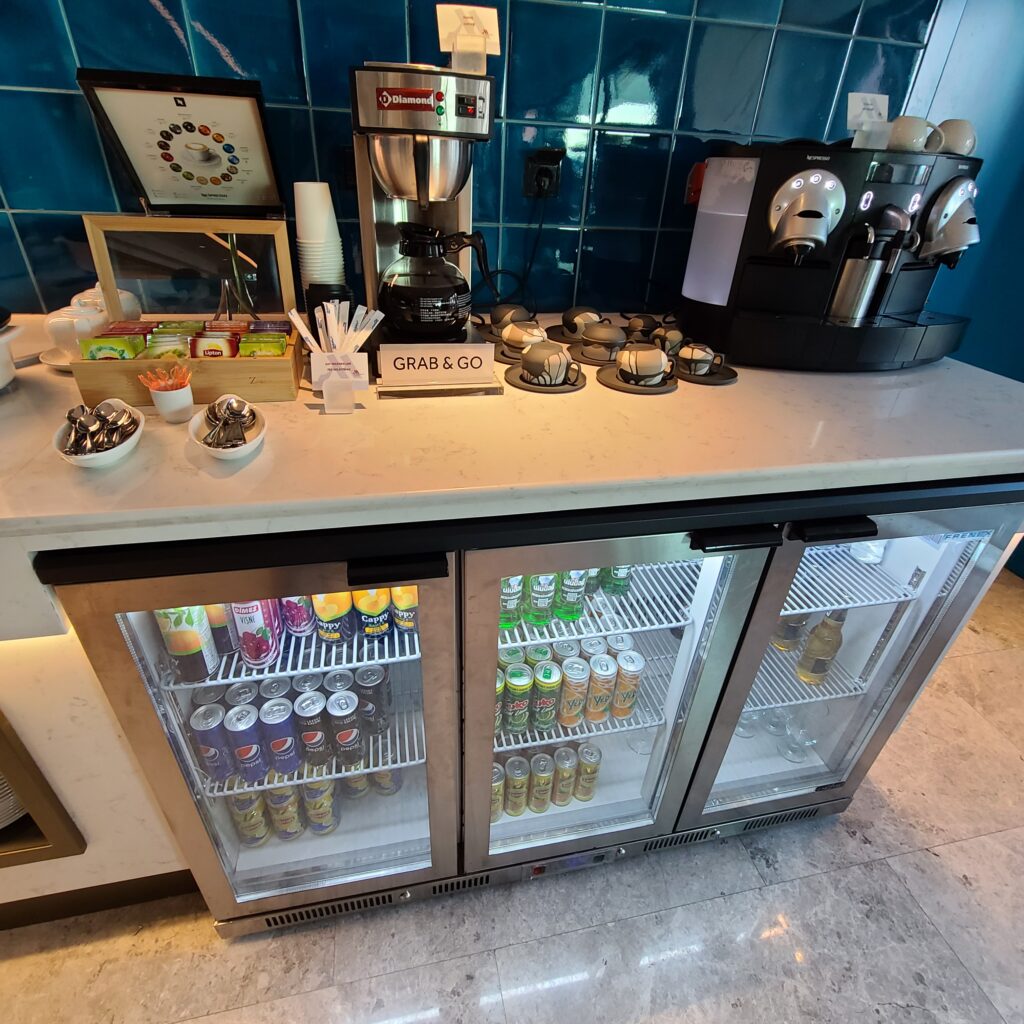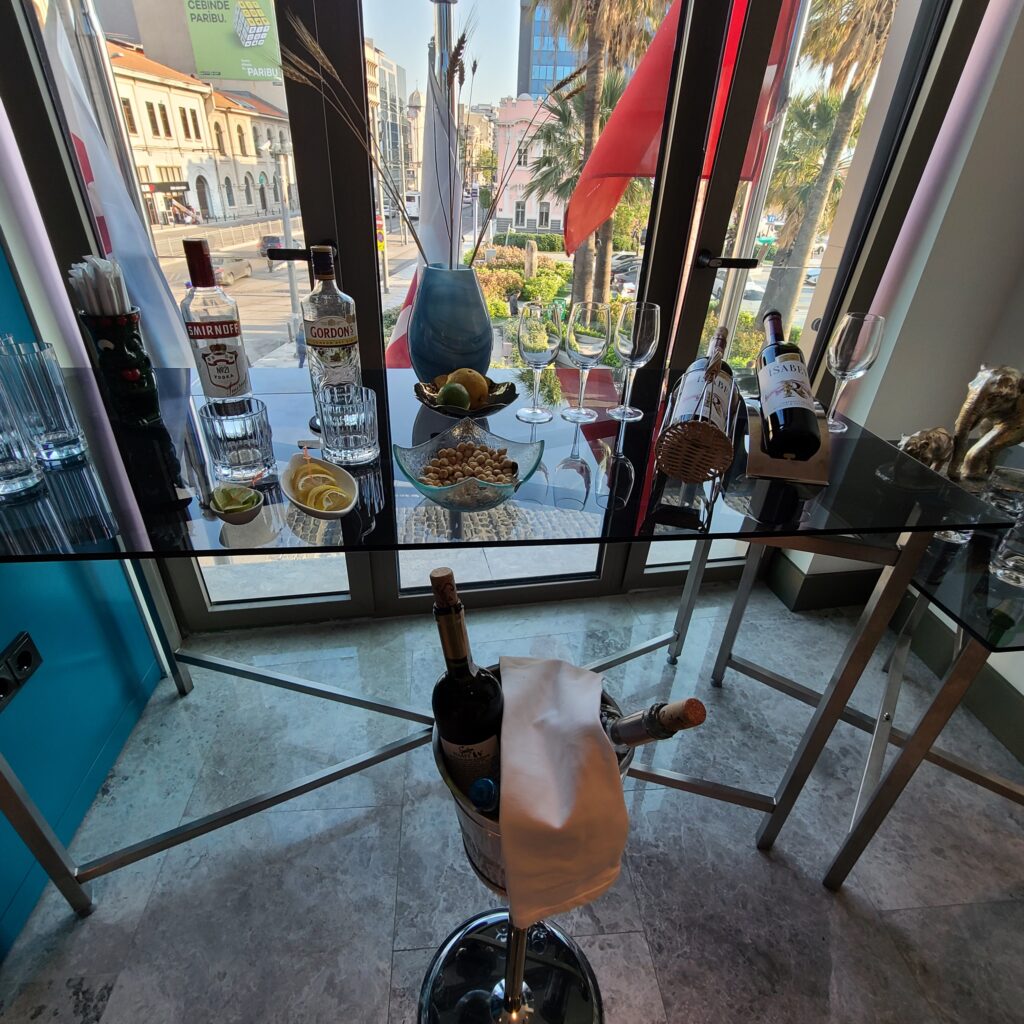 I tried to refrain from eating too much from the lounge as I want to eat as many Turkish food as I can. But, the lounge provides a good break with food that feels like home if you come from a Western background.
Izmir Marriott MClub Lounge Breakfast
Breakfast for Platinum Elite guests and up will be inside the MClub Lounge. On top of the offerings presented at the lounge, you can also order variety of egg dishes in an a la carte menu. You can order as many as you want!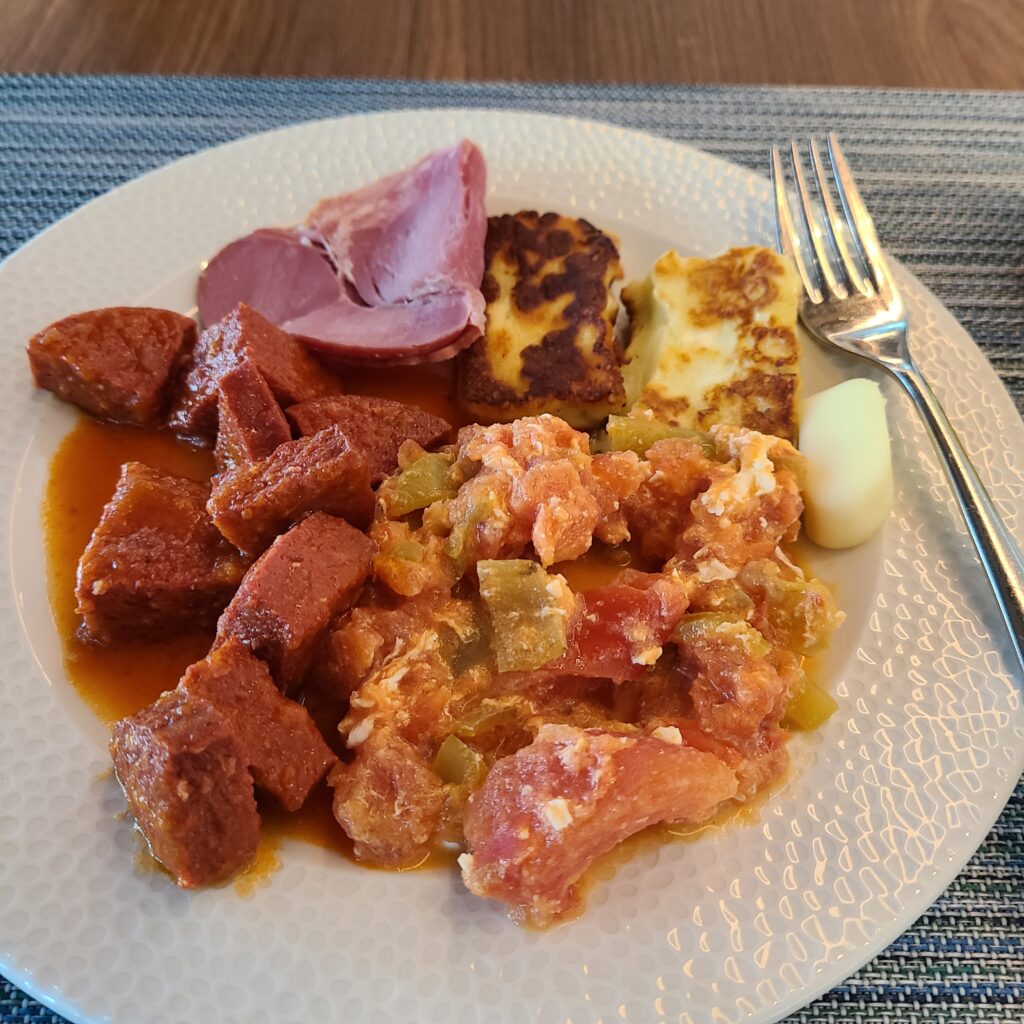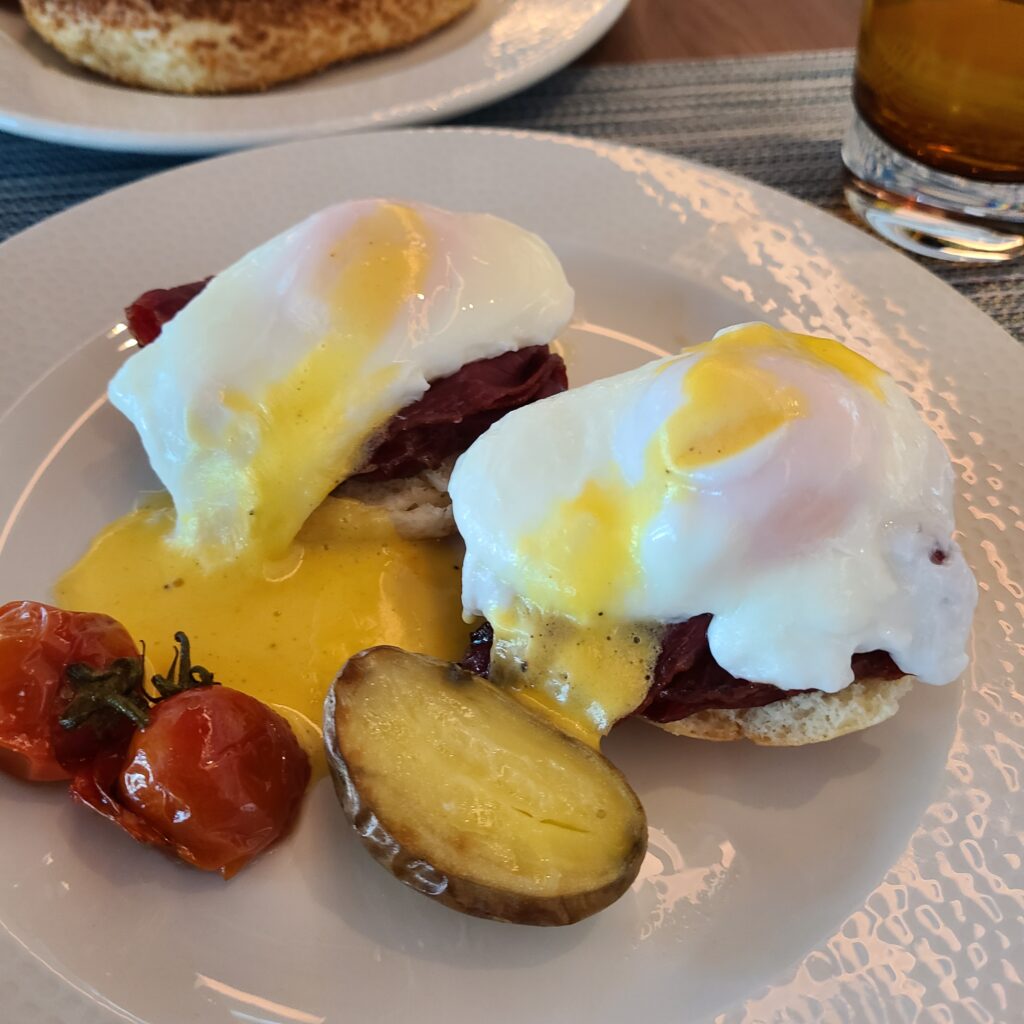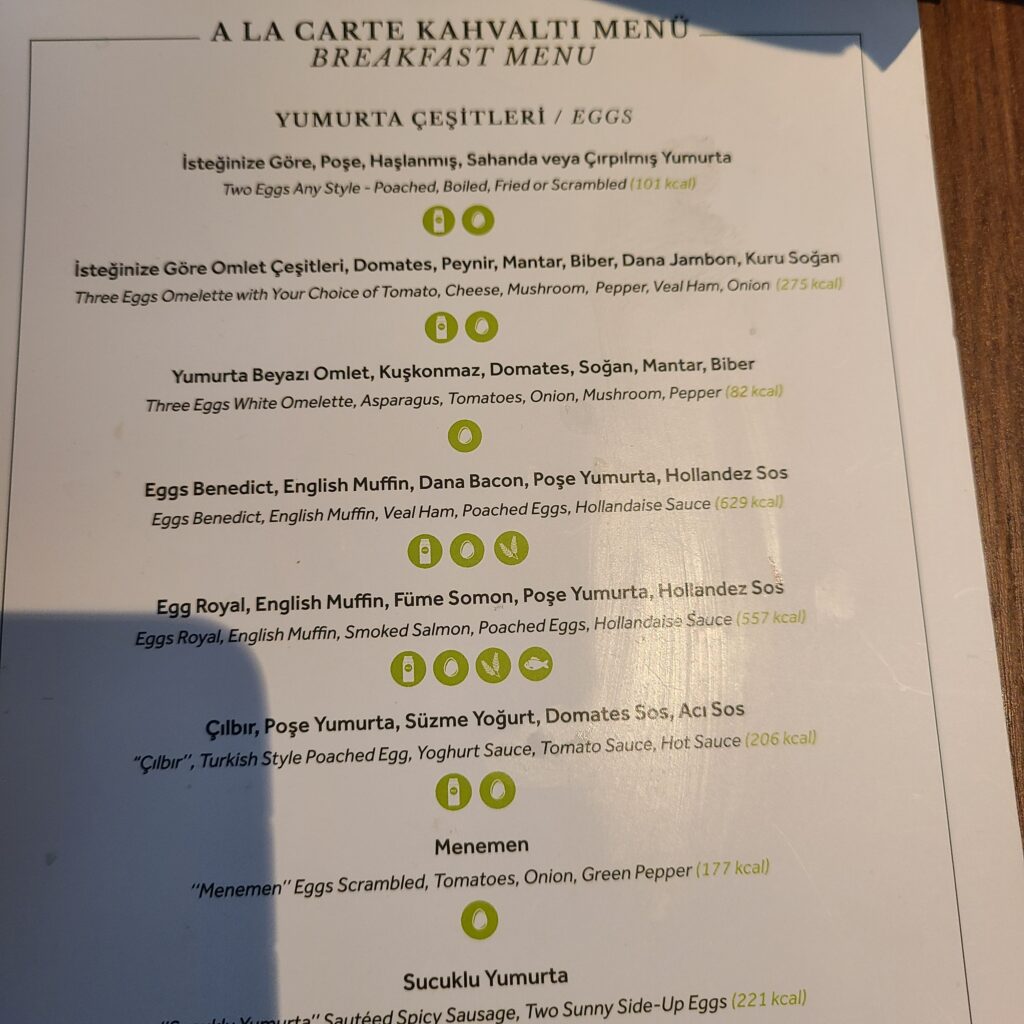 The breakfast food are quite good, although I found that the food I grabbed from the lounge outside of a la carte menu doesn't get as hot if you're not there early.
Some paid cash rates packages will get you breakfast on the Lima restaurant, the hotel's main restaurant. Although, I did not dine there at all during my stay.
Izmir Marriott- Spa & Fitness
Both of the spa and fitness center are located in the first underground floor. The spa is called Quan Spa, which I did not use. But, I did browse through the menu from my room, and honestly, the prices look attractive considering it being a hotel spa. As of this post, 1 USD = ~15 Turkish Lira. 60 minute massage for less than $40? That's a pretty good deal!
The menu is in Turkish, but I was able to get a sense of what they mean. The spa includes massages and hammams. Bundles that include both of them are sold as well.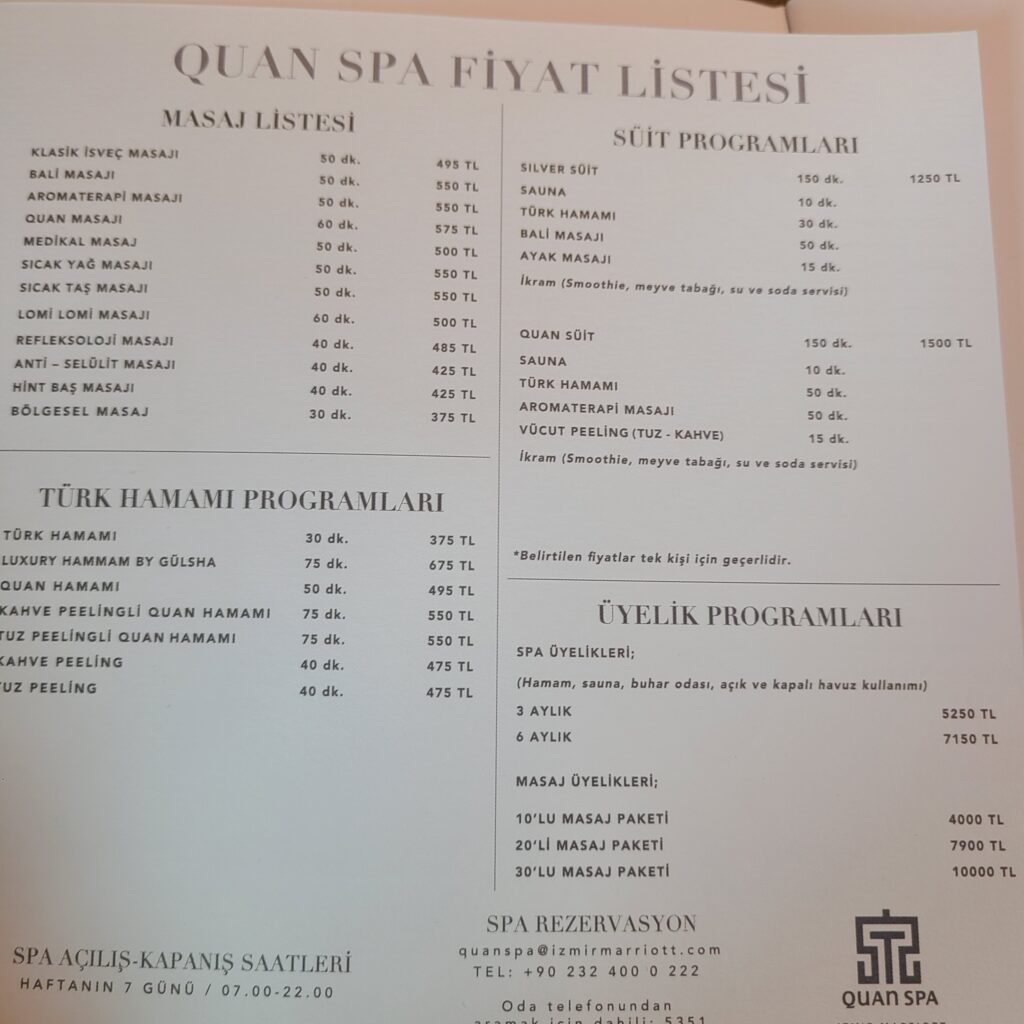 The gym appears to be quite decent with treadmill sets, yoga balls, and weight machines, but I did not use it at all to get a workout.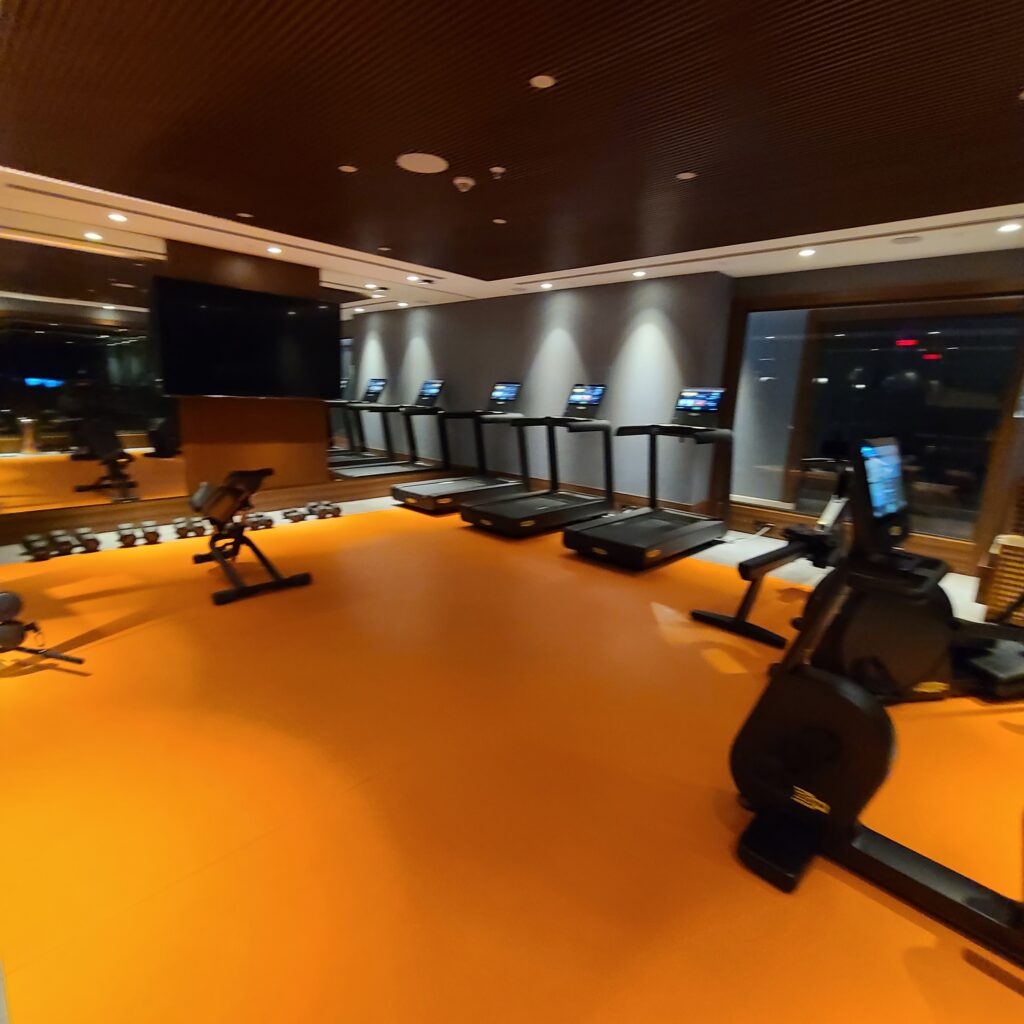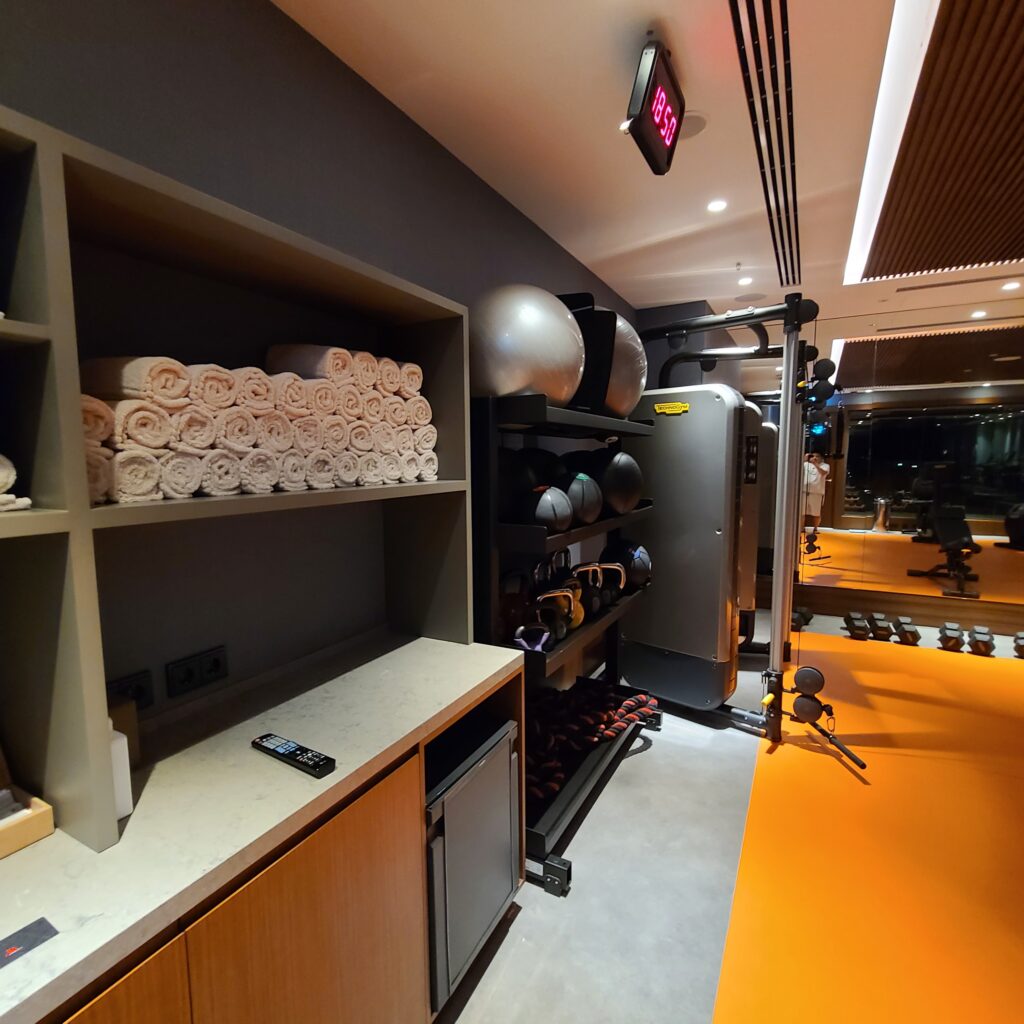 The hotel also has an indoor pool and jacuzzi at the same floor.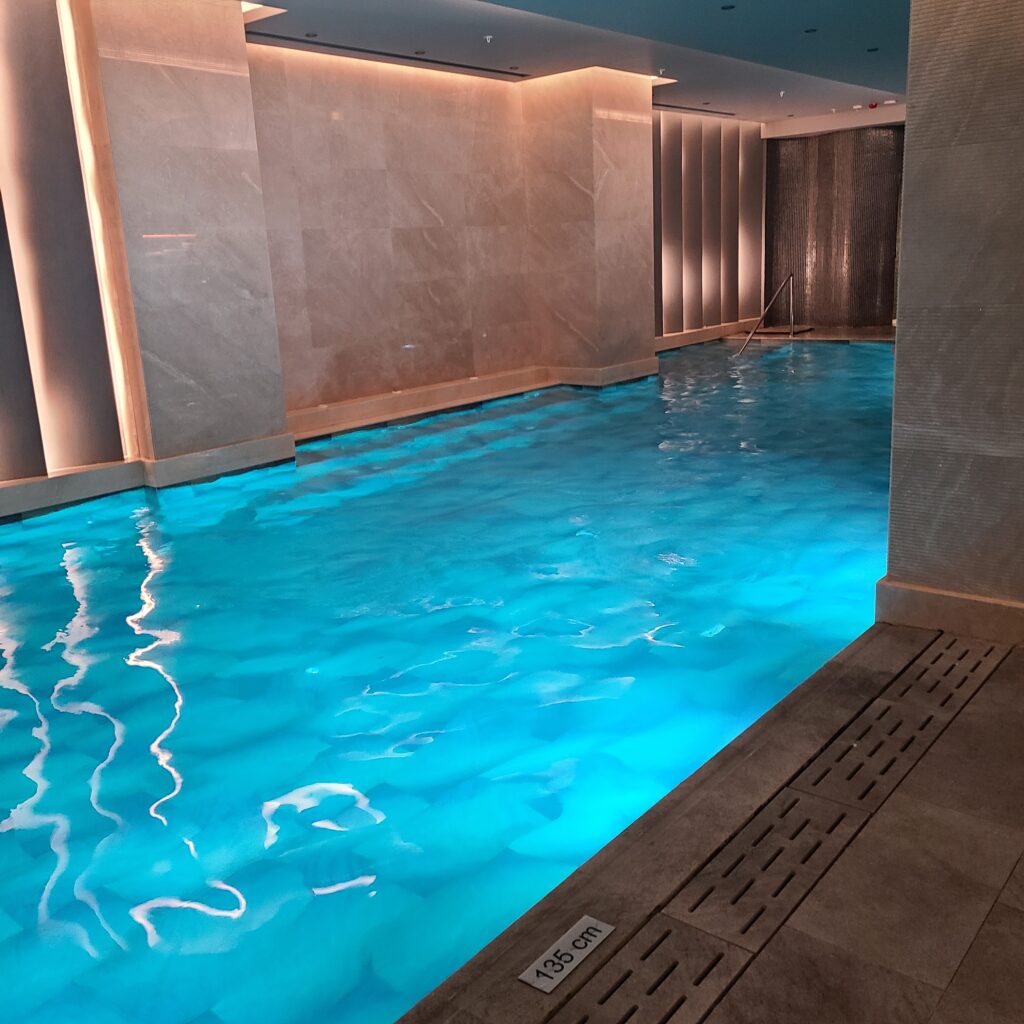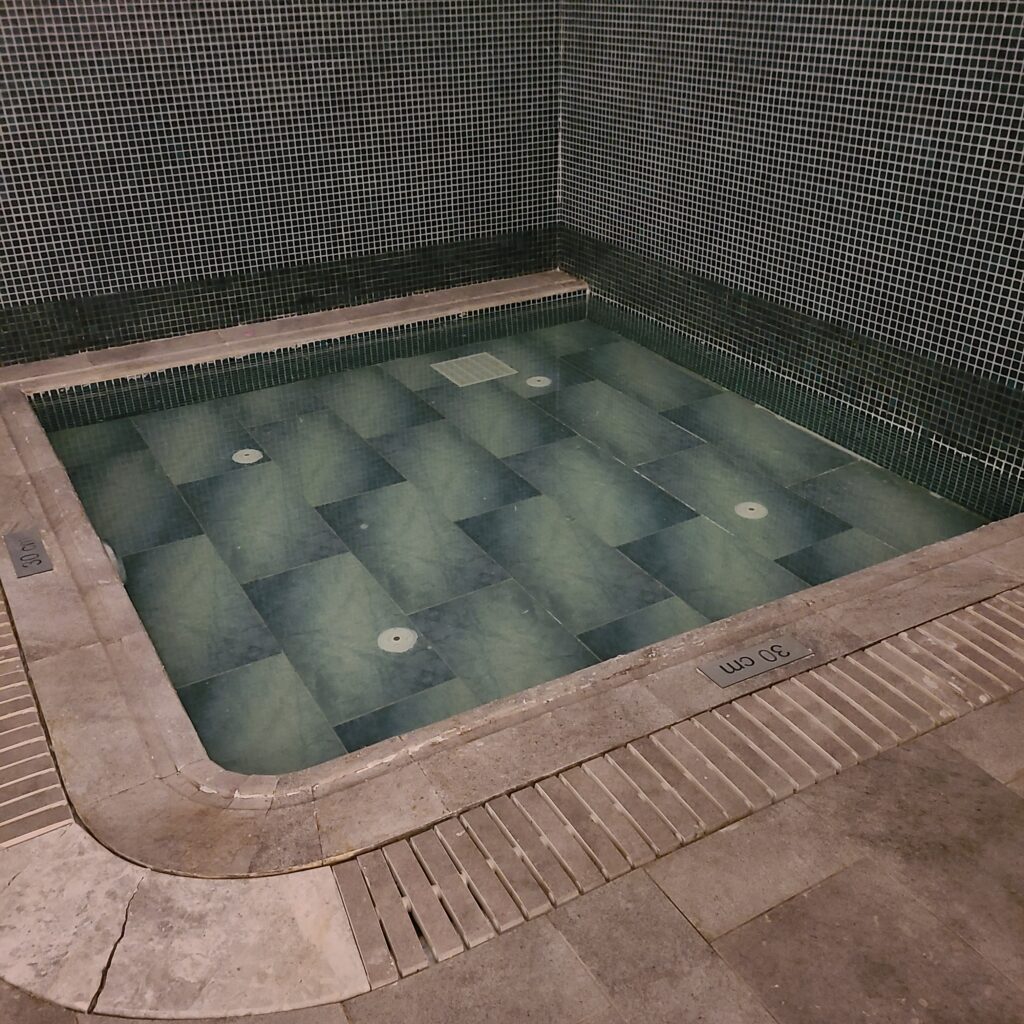 An outdoor pool at the rooftop floor is also there. But, it was closed during my stay. There appears to be a rooftop lounge scene alongside it however.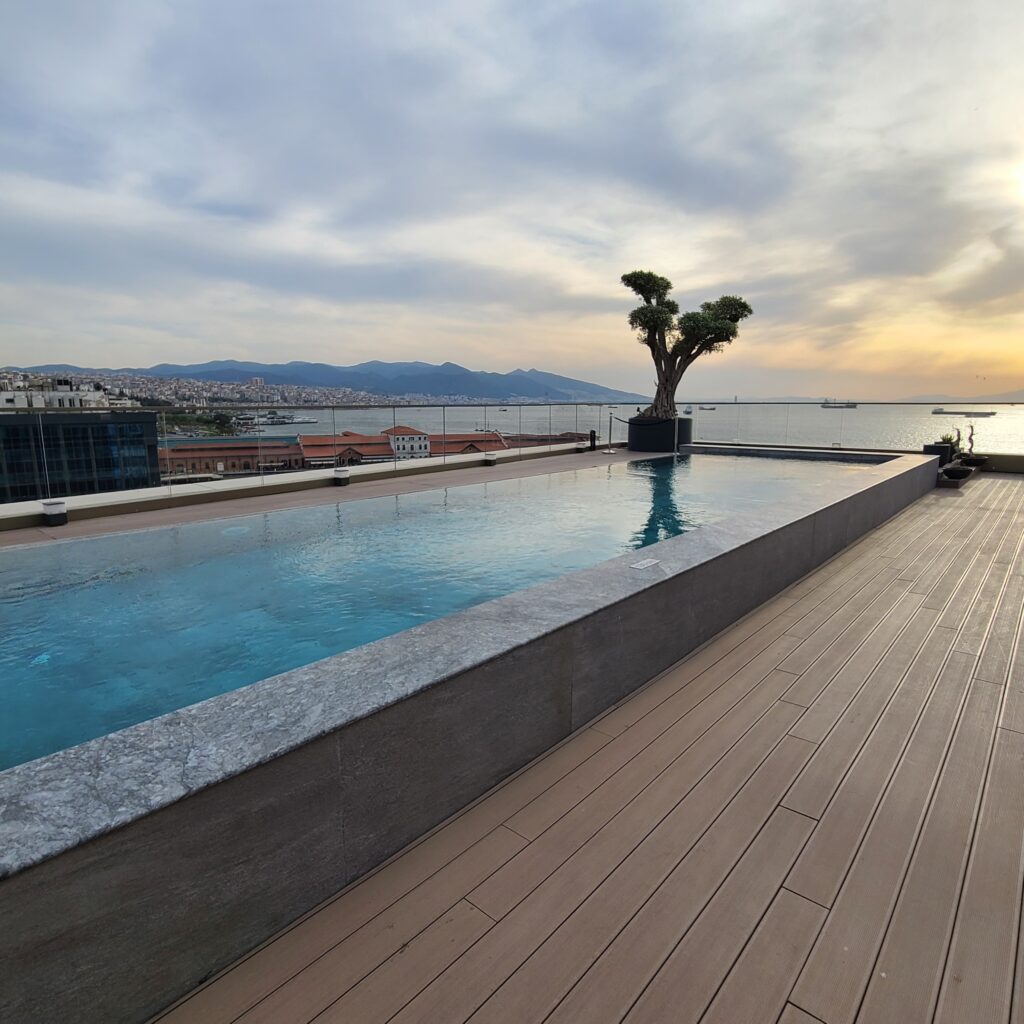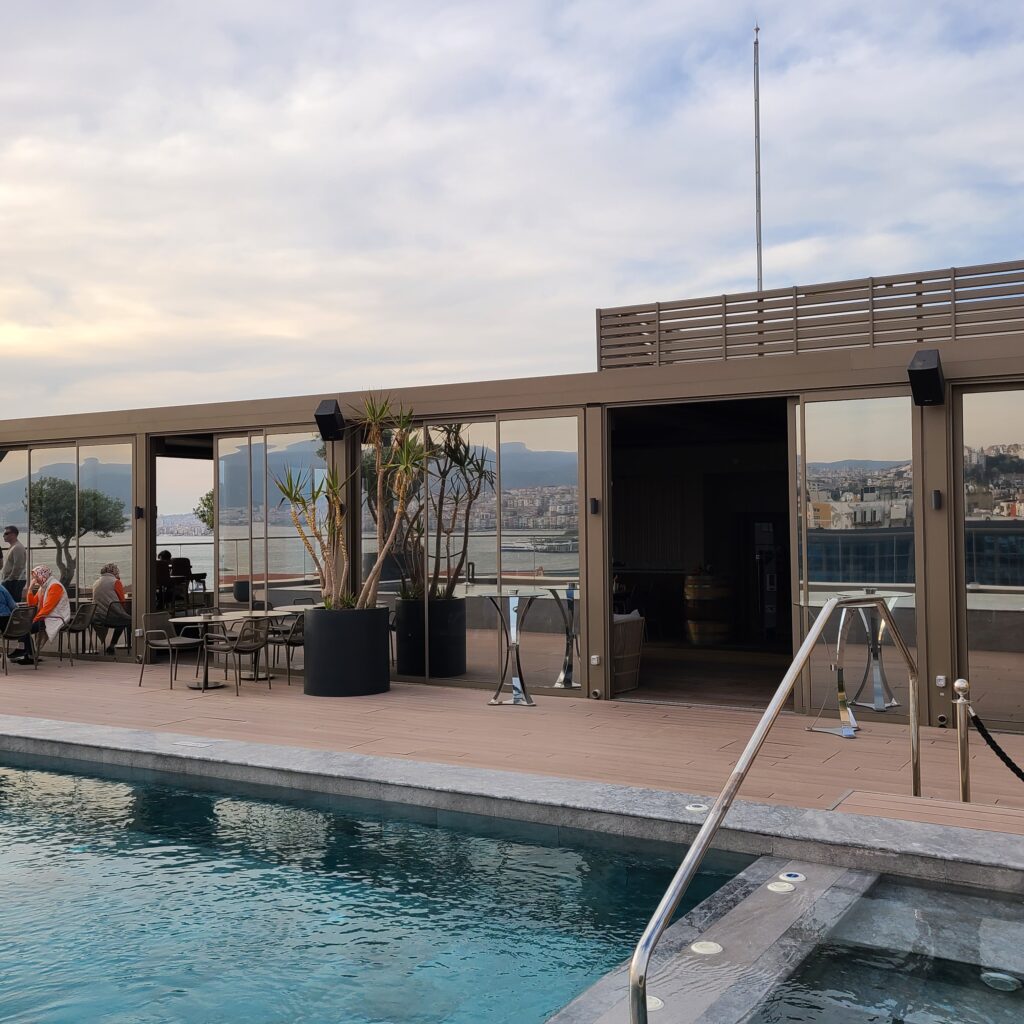 Izmir Marriott- Other Facilities
My travel partner had to leave early and go back to the US. The hotel provides a PCR test where you can do the test in your room. As of this post, a negative COVID test within a 24-hour period needs to be provided to be able to return to the US from a foreign country.
The PCR test results turnaround time is just within a couple of hours after the testing is administered. It only costs 300 Turkish Lira, or ~$20 in the conversion of time of post, which is cheaper than if you'd get it in IST.
Conclusion
Izmir Marriott hotel is an excellent choice for a stay in Izmir, and it's very reasonably priced for foreign tourists. The MClub Lounge is awesome as it takes out the inconvenience of having to call room service for drinks, and even eat and drink for free for the duration of your visit if that's what you want! Platinum Elite guests and up can certainly get great value out of the lounge itself. Outside of that, the location is just perfect to get a remarkable first impressions of Izmir.
Izmir itself is a nice and special town that I wish to have more time spending too. There's always a next time though, and when I'd go back to Izmir again, I would not hesitate to stay at this hotel again!