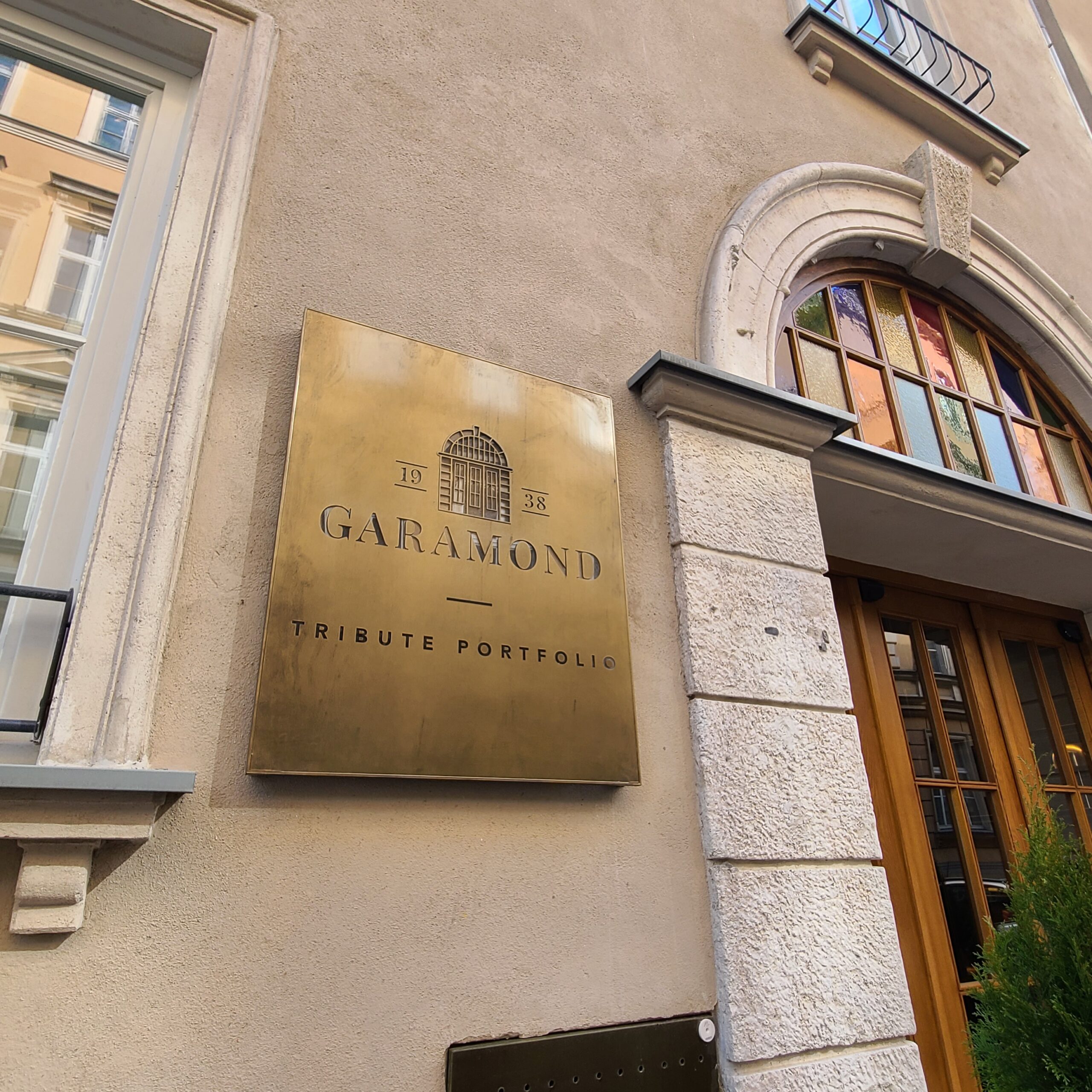 Review: Garamond, Tribute Portfolio Hotel (2023) [Poland]

| Positives | Negatives |
| --- | --- |
| Located inside Krakow Old Town | Elevator noise can be bothersome |
| Affordable rates | Room descriptions felt inaccurate |
| Unique and pleasing Art Deco theme | |
| Enjoyable breakfast | |
Overall Rating
My stay at Krakow, Poland brought me to Garamond hotel. It's a part of the Tribute Portfolio by Marriott, a brand of independent boutique hotels that participate in the Marriott Bonvoy loyalty program. This hotel inserted itself into the Marriott Bonvoy program just recently in 2022, so I was looking forward to trying it out.
Garamond, Tribute Portfolio- Booking
I've booked 2 separate rooms at this hotel for 2 nights since none of the rooms in this hotel can occupy more than 2 guests. Even still, the prices were reasonable for us all at 491 PLN/ night (~$115) thanks to the small discount from the AAA rate.
It's a Category 5 hotel, so expect to pay 31-69k points per night for award redemption.
Garamond, Tribute Portfolio- Location
The hotel is located right next to Planty Park, a park with plenty of plants that encircle Krakow Old Town. You're pretty much at the center of the action in Krakow with the town square, Wawel Castle just a walk away. You can then take a nice stroll along the Vistula River south of the old town.
We took a Bolt taxi and costed us around $12, which wasn't bad at all! We did the right choice of ordering a taxi because the old town's roads are mostly cobbled, which would be a pain to walk through with luggage.
But, if you want to order a taxi on your way out of the hotel, the rideshare apps wouldn't let you pick the hotel as a pickup point, and you must use the nearest street outside of Planty Park. The pathways in Planty Park are not cobbled, so cutting through there would be best to not put stress on your luggages' wheels.
Garamond, Tribute Portfolio- Check-in
We've arrived at the hotel at around noon from KRK airport. The hotel is inside an unassuming old tenement building, but the interior tells a different story.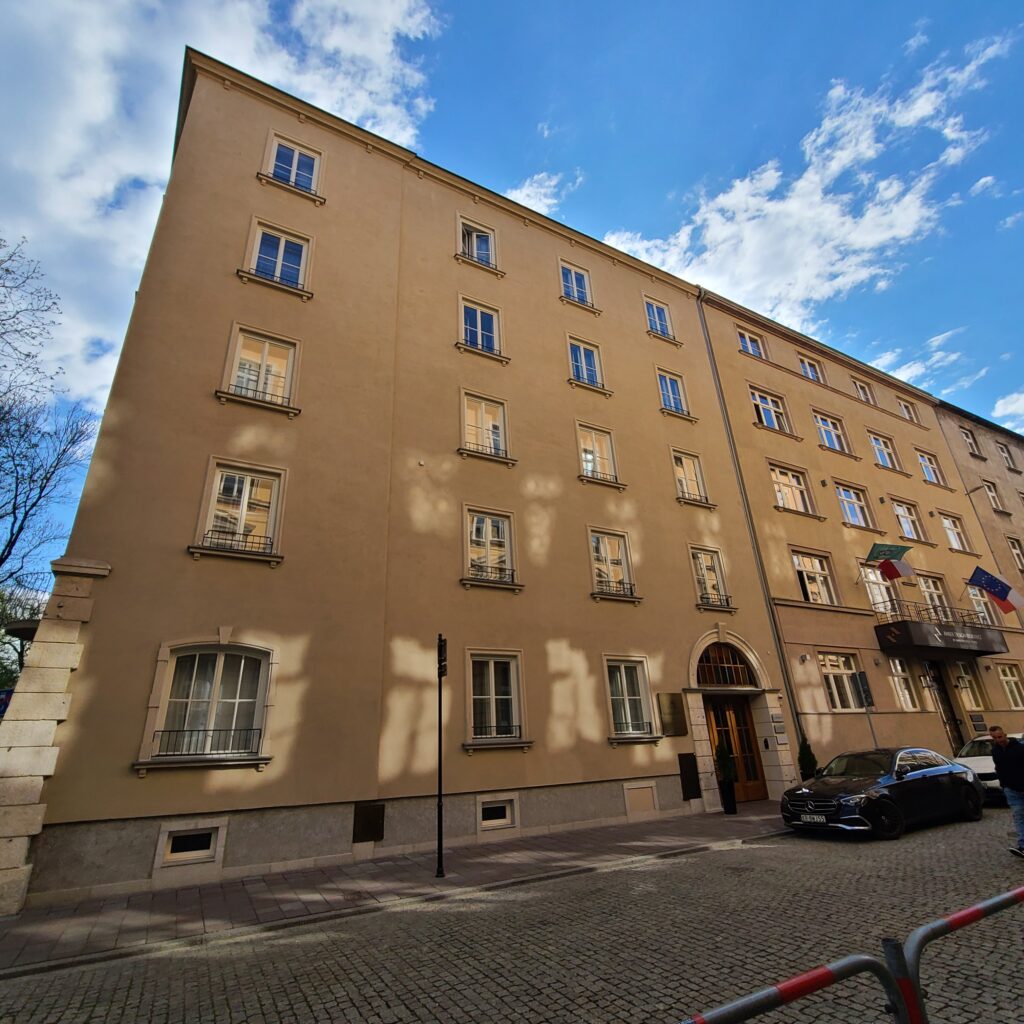 As I entered, I noticed plenty of displays relating to newspapers (Kuryer Codzienny), typewriters, and Marian Dabrowski, an influential Polish press magnate. I soon learned that the building used for this hotel is the former editorial office for Kuryer Codzienny since 1938. But, the last issue of the newspaper was published in 1939 where the Germans replaced it during World War II. Dabrowski already had left Poland to Florida before the war struck. Fascinating piece of history that I never knew about, but also sad that it was very short-lived.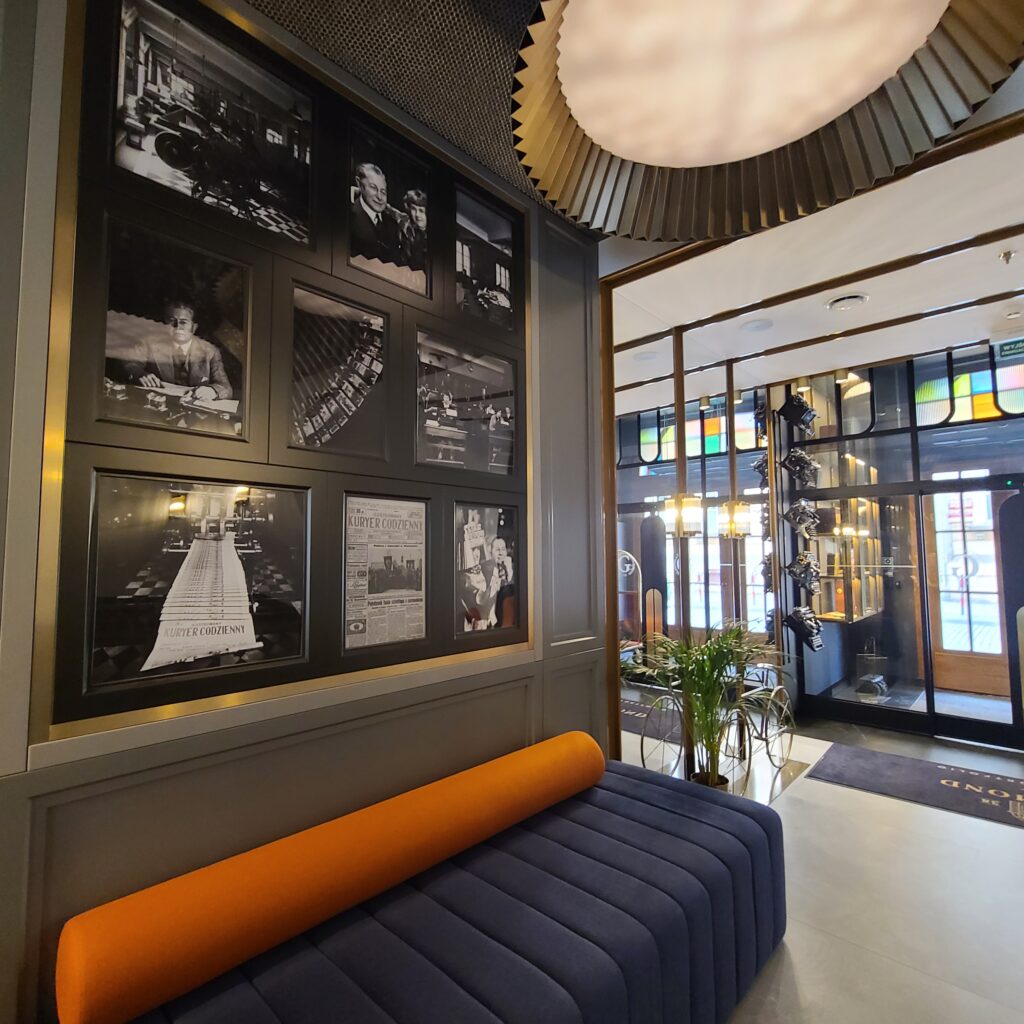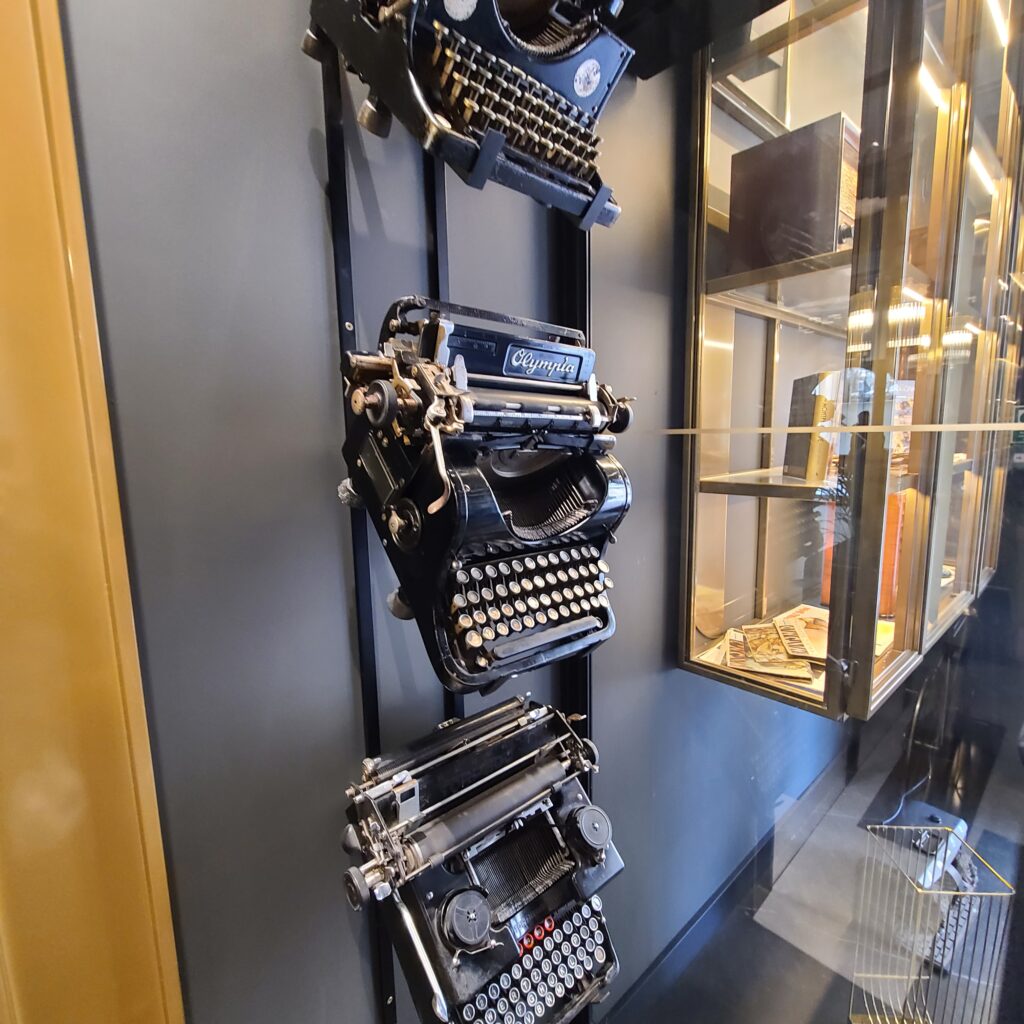 The hotel also has an Art Deco theme which fits with the time in history. The navy blue and gold/bronze color palettes are really pleasing to look at. Garamond is apparently an old-style font that's popular for publication uses! You learn new things everyday.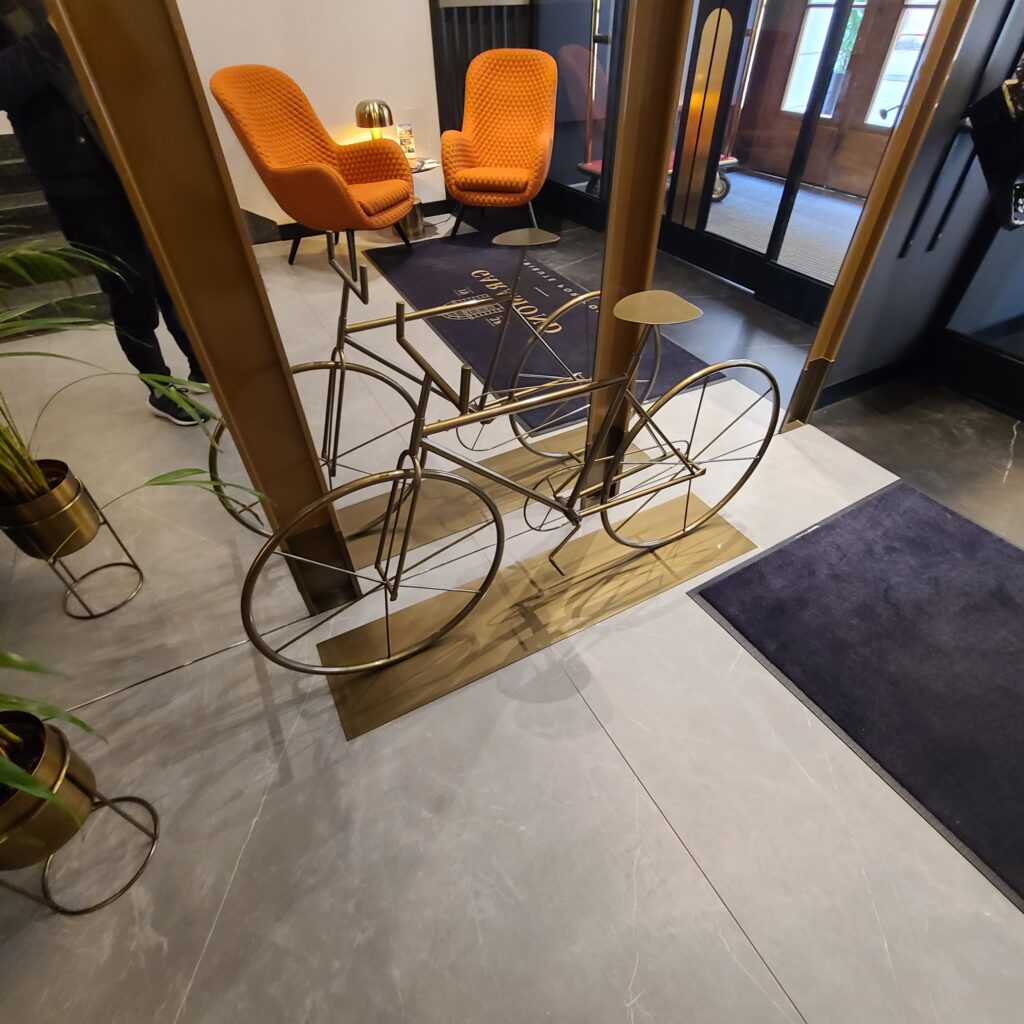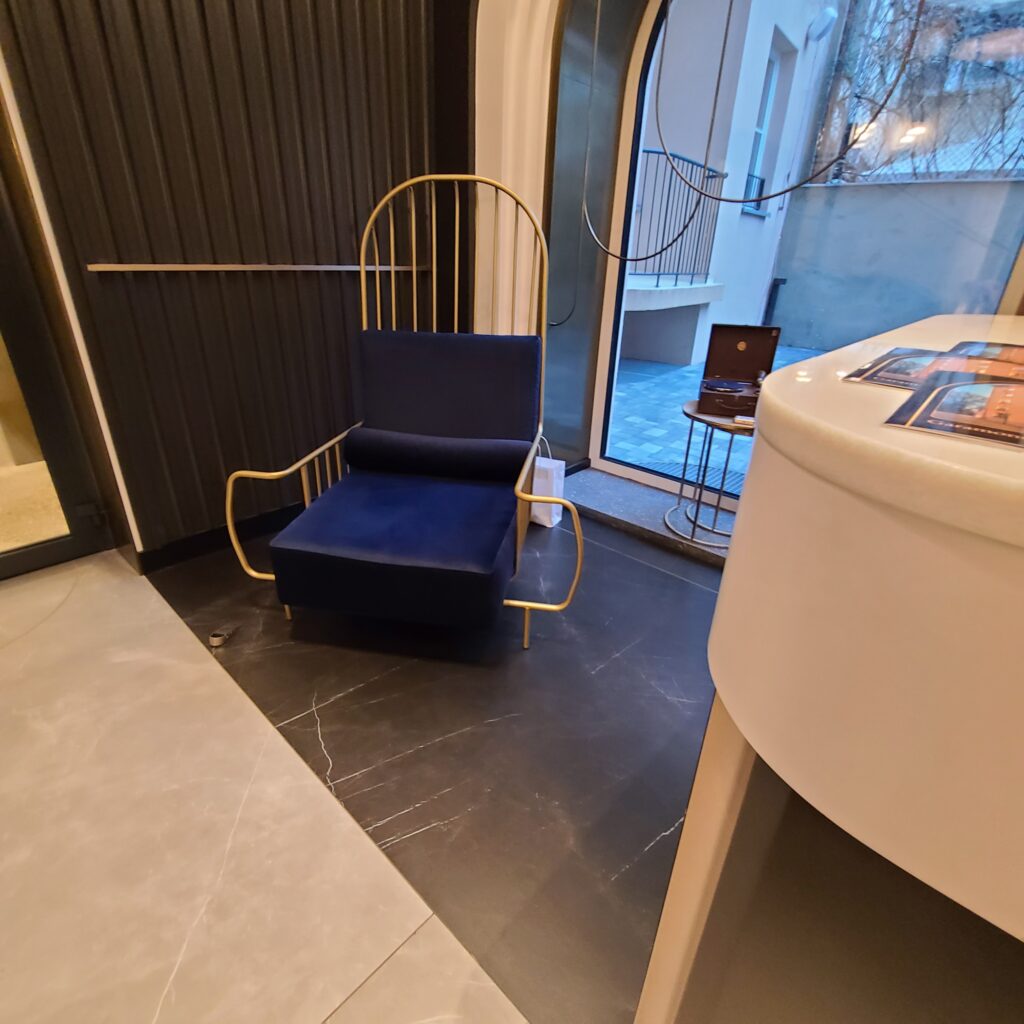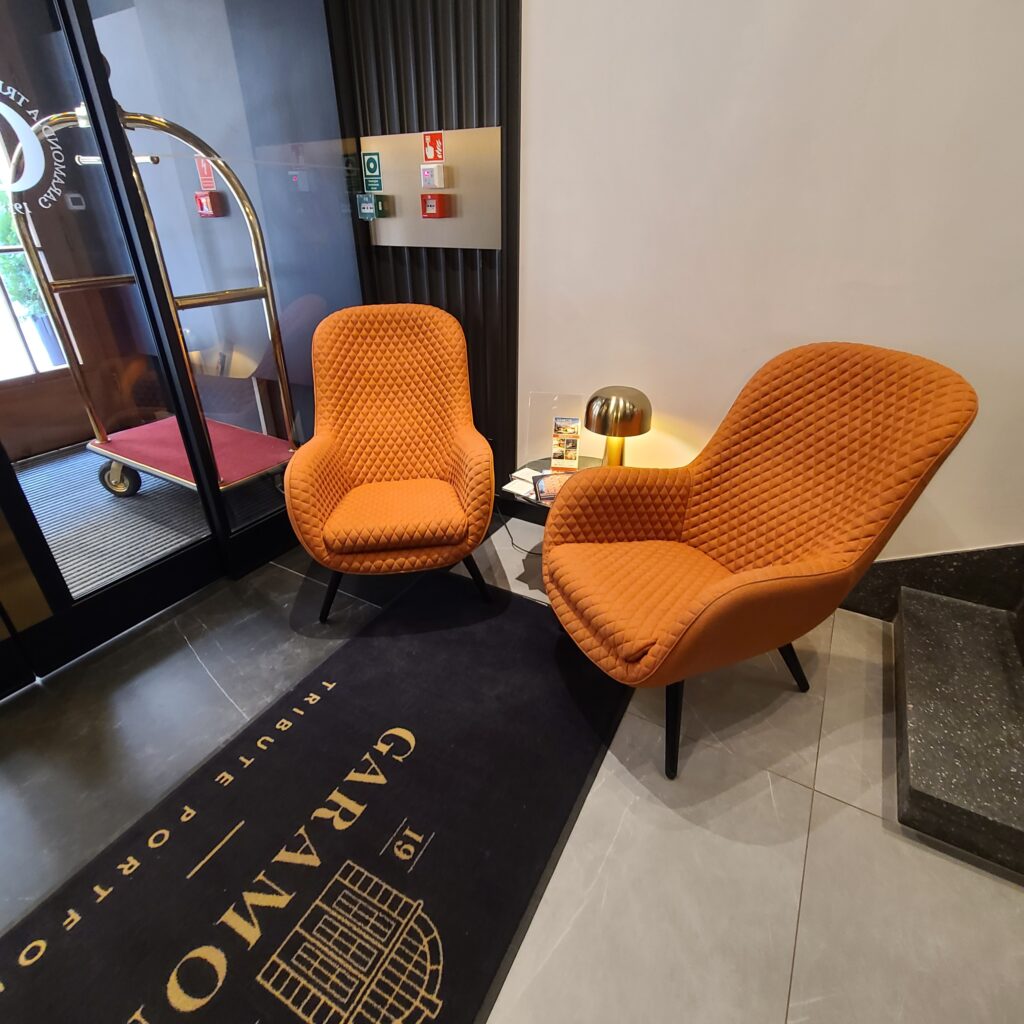 Check-in process was smooth, and I was greeted by the manager of the hotel who just happened to be working at the front desk when I arrived. While he noted that we arrived earlier than expected, luckily he managed to find 2 rooms just across from each other and let us in early. I chose free breakfast for the welcome benefit for Titanium Elite, but it only applies for 1 room.
The hotel only has 1 elevator that's a tight squeeze for the three of us plus our baggage, but I like how the way the staircases carpet looks.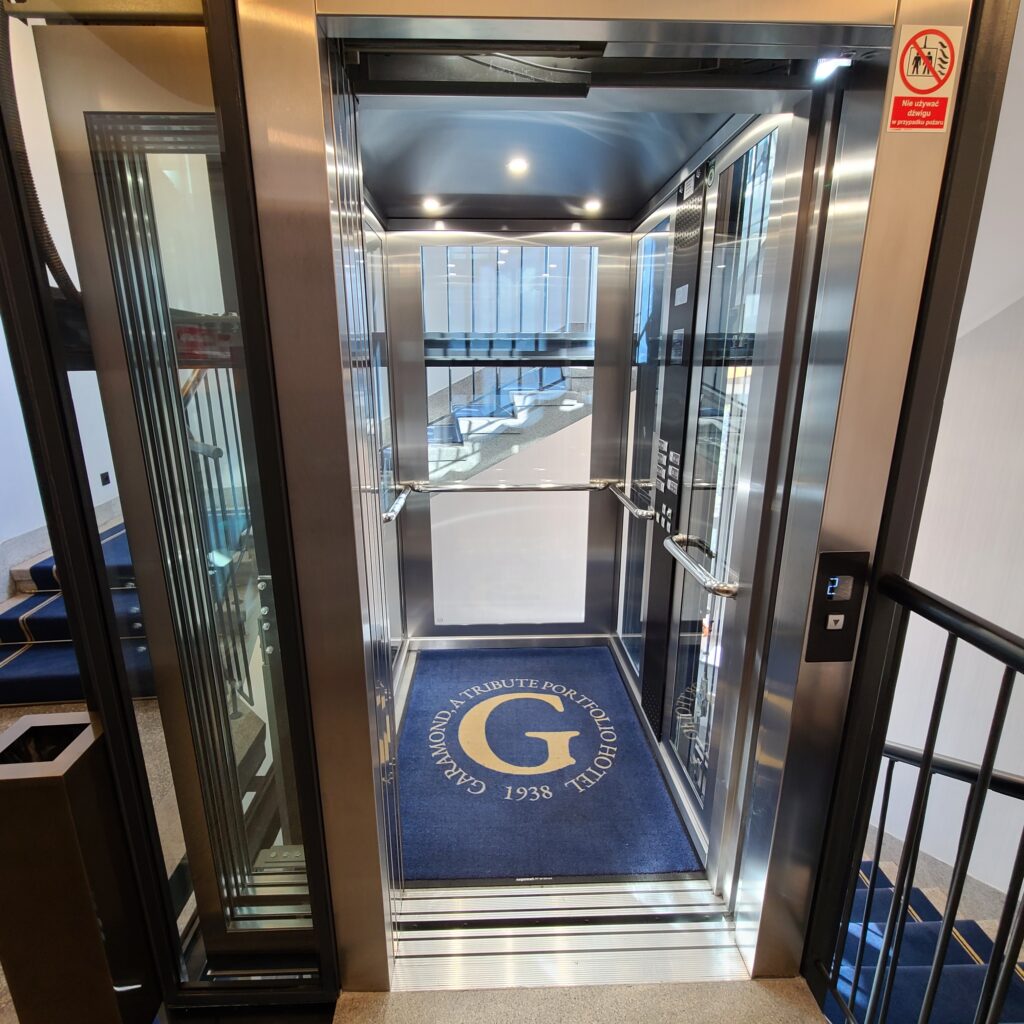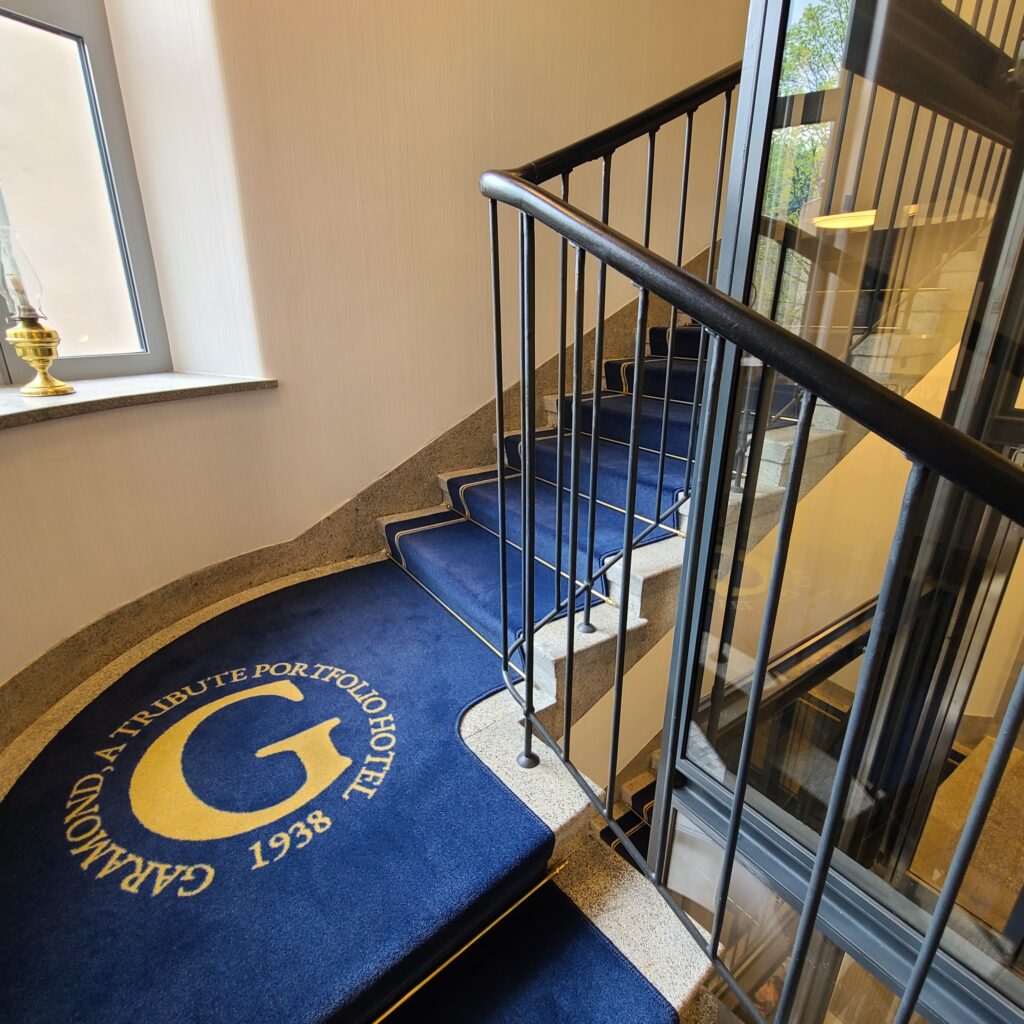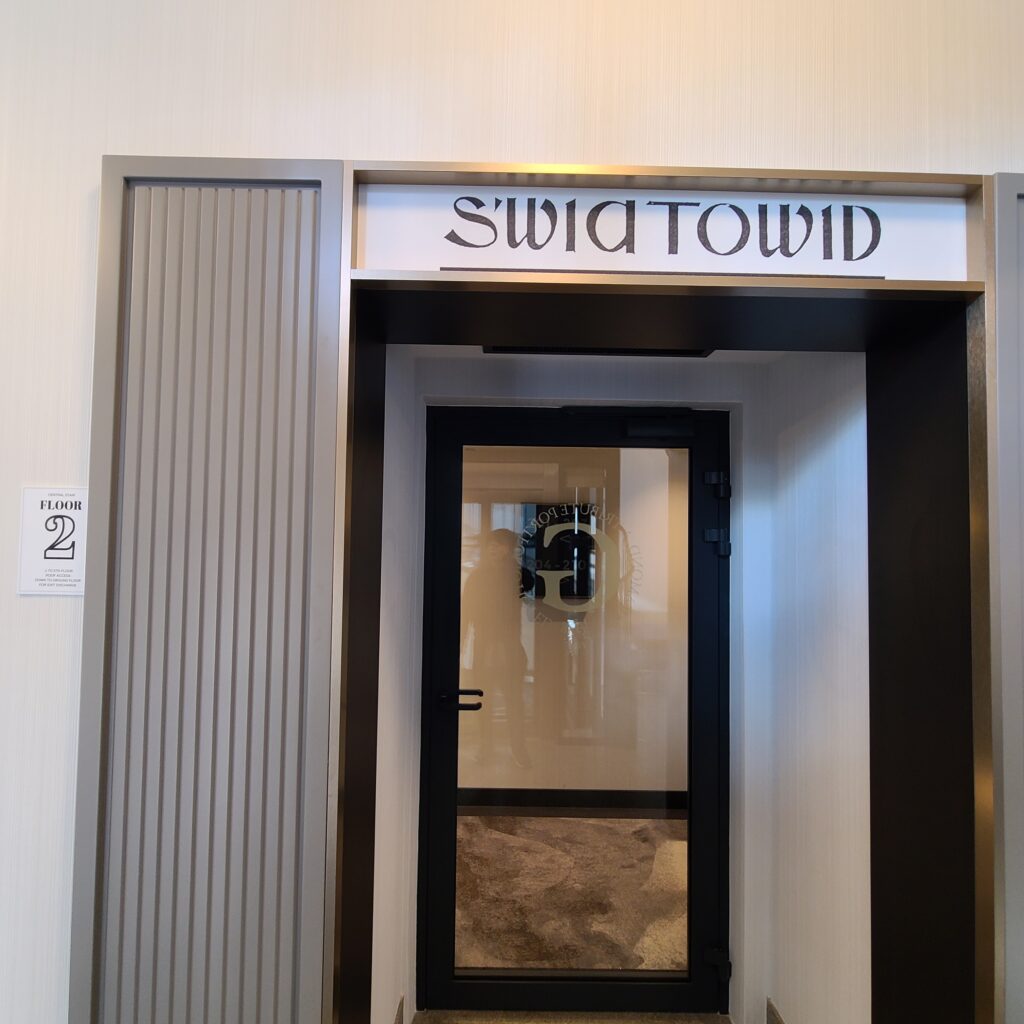 Garamond, Tribute Portfolio- Standard Room
We were assigned to Room 201 and 202 on the second floor. I took Room 202 while my parents took 201. It's quite spacious and nicely furnished. Gray and blue really go well together.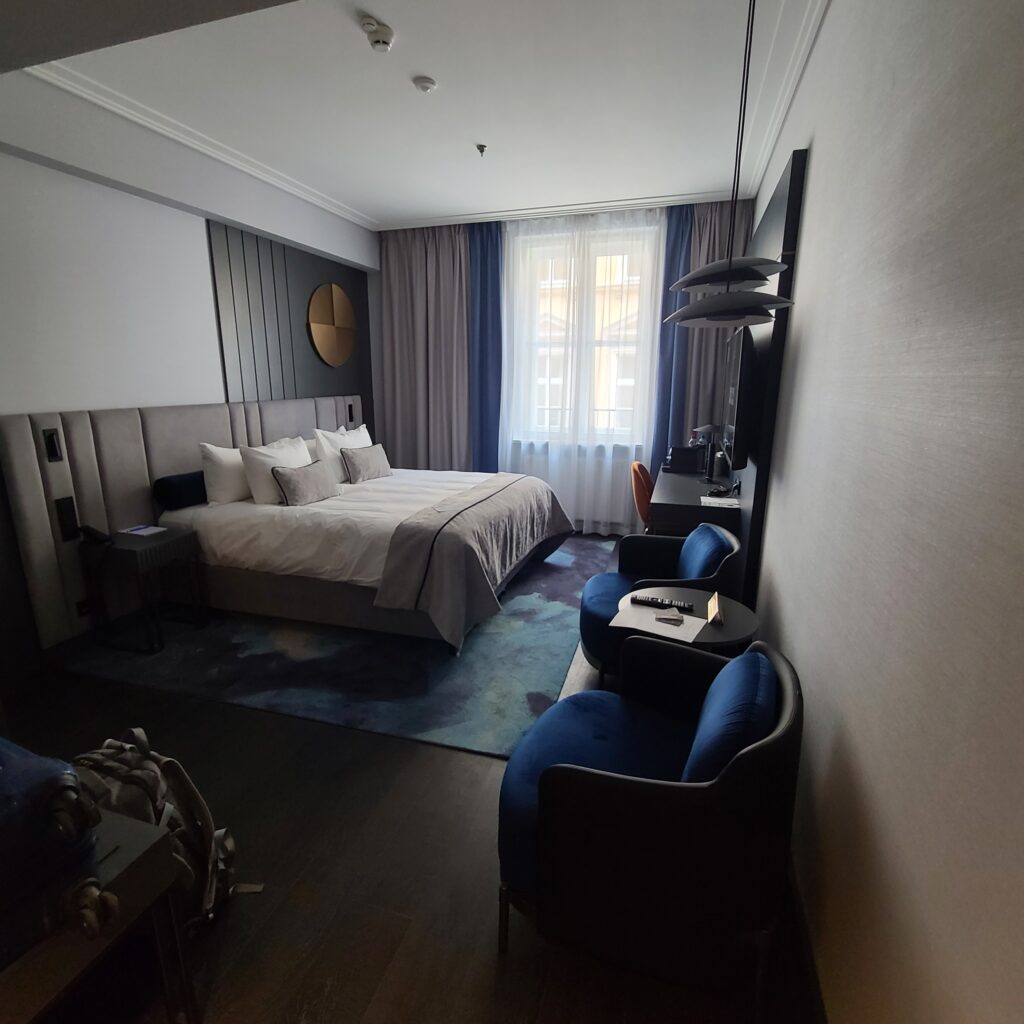 The bed was on the firmer side, but felt really great!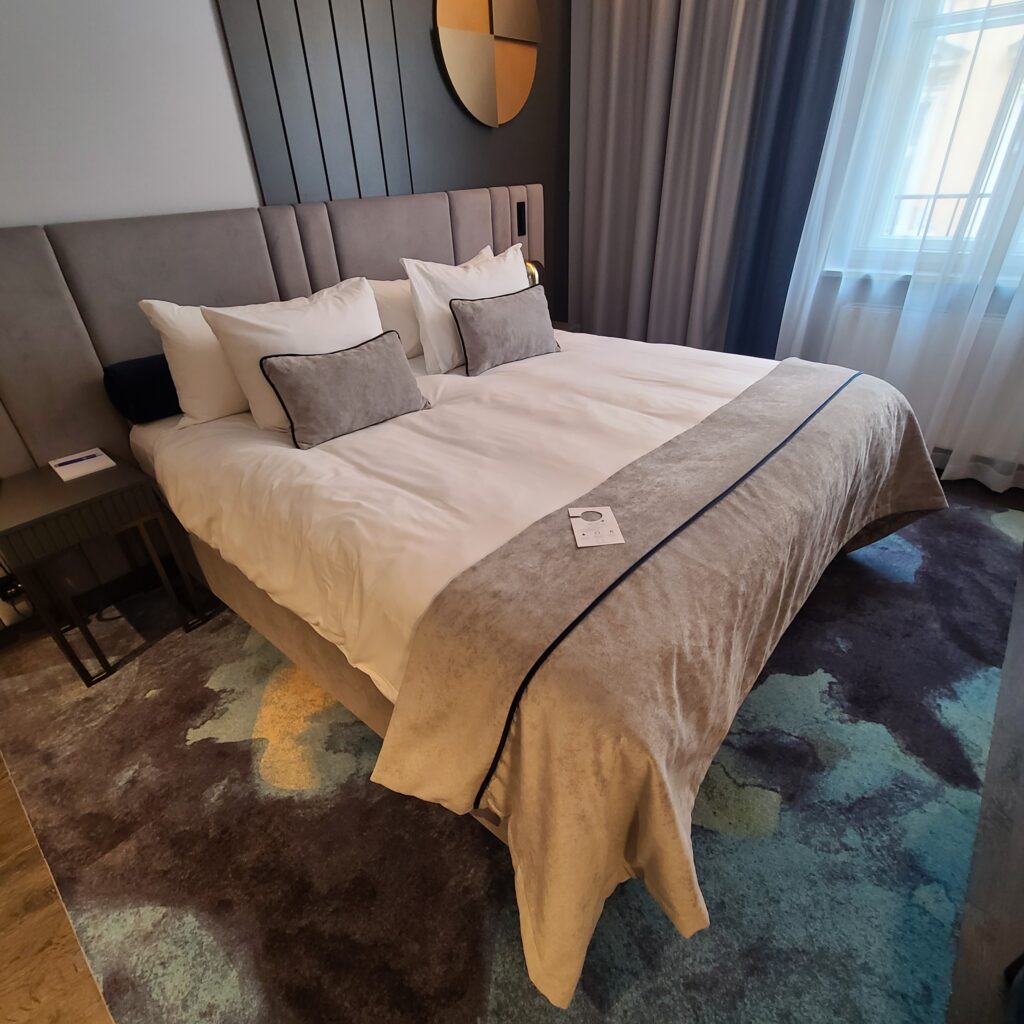 There's a door hanger left on top of the bed that would let you choose to deny housekeeping for the following rewards each night:
Free prosecco glass in Kuryer Restaurant
50 Marriott points
10% discount at Kuryer Restaurant
It's a little neat thing for sure, but 50 Marriott points just doesn't compare to the other rewards you'd get from the restaurant. Other hotels should offer this, in my opinion.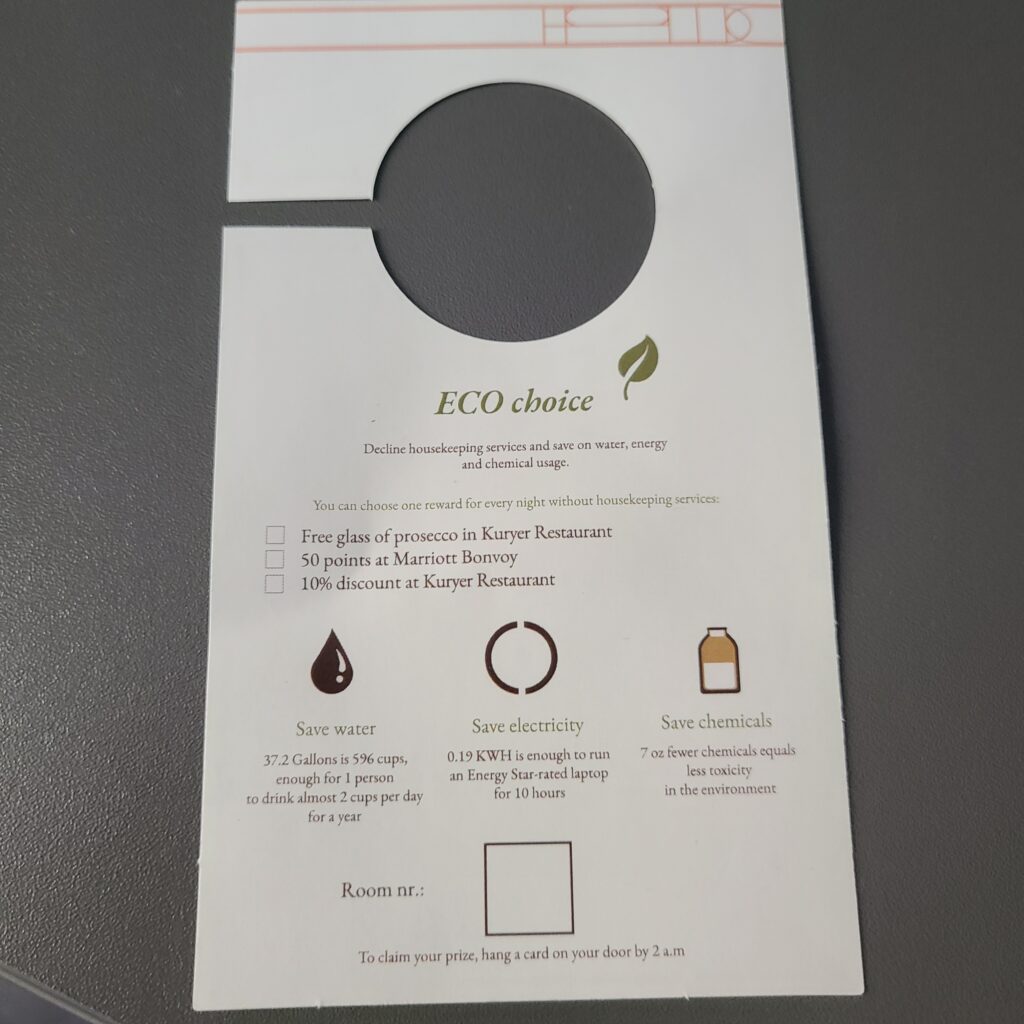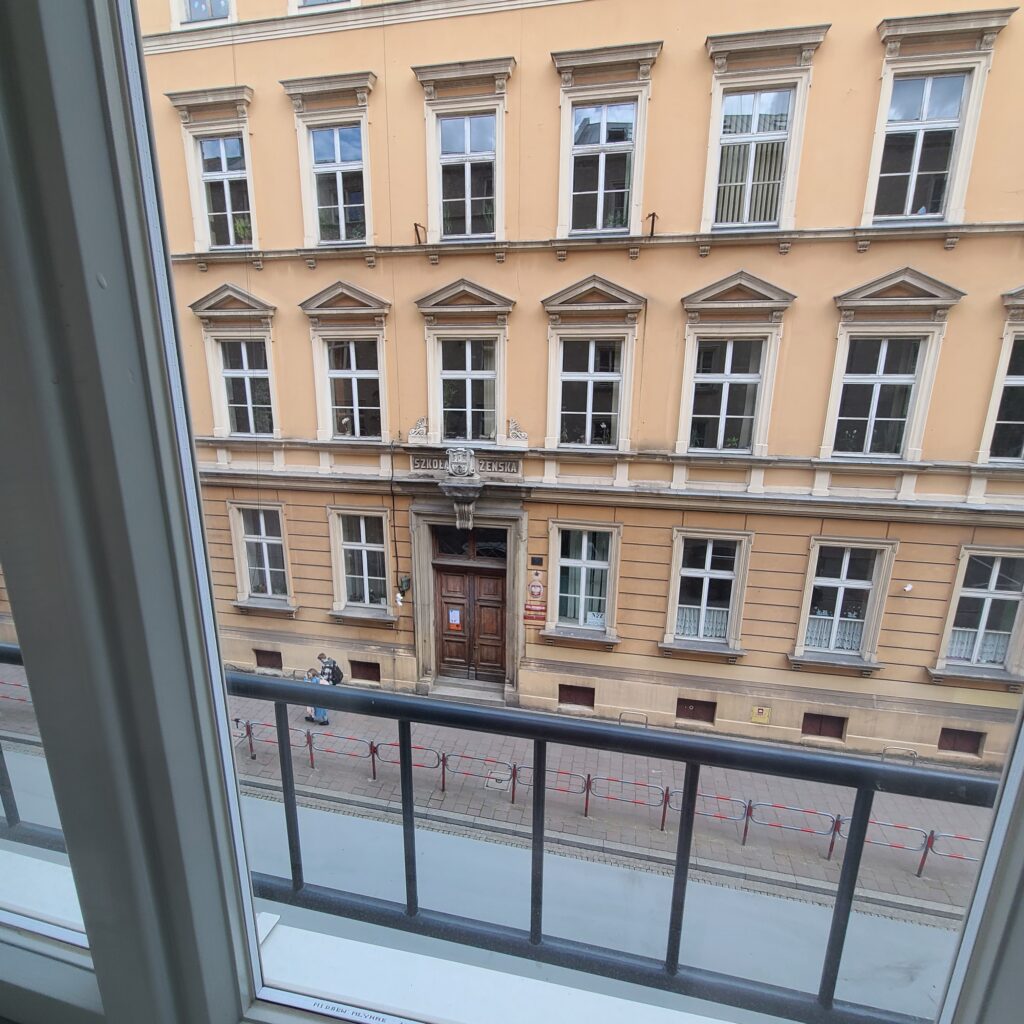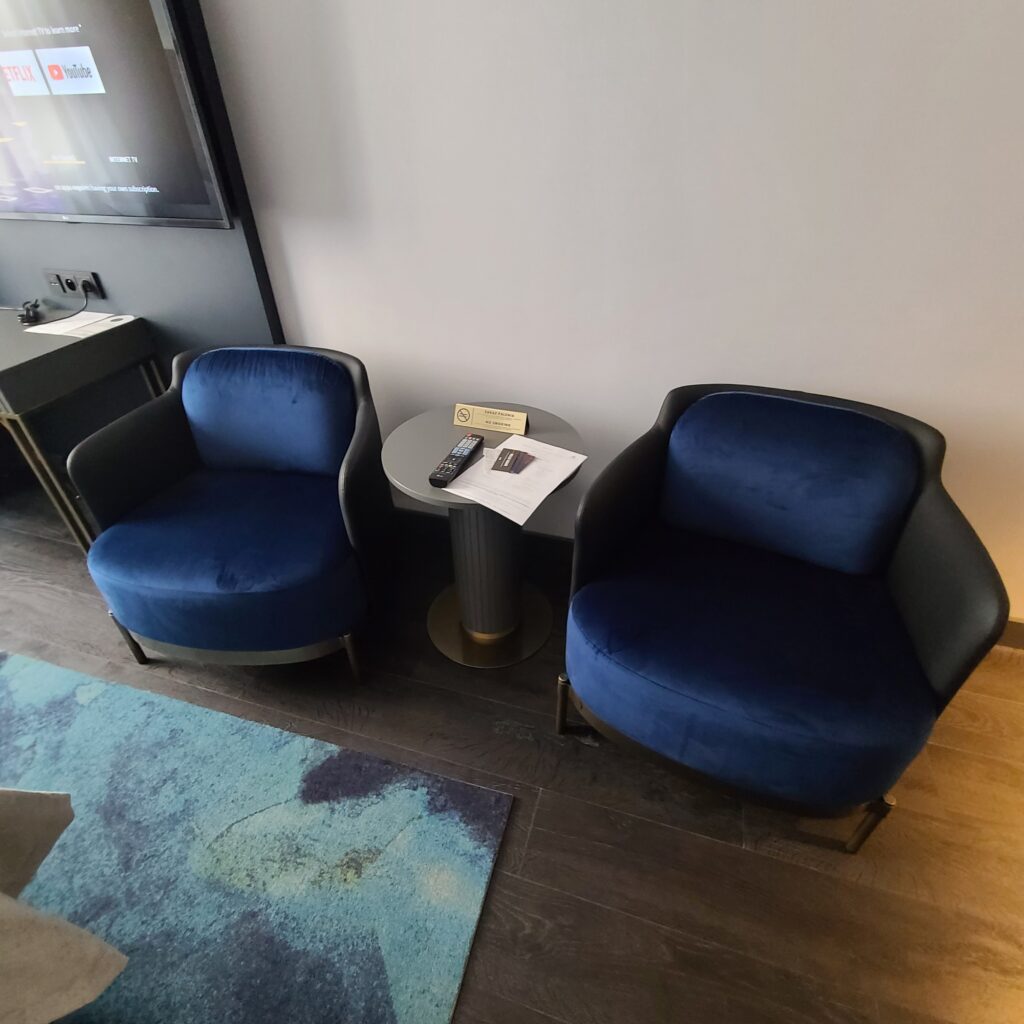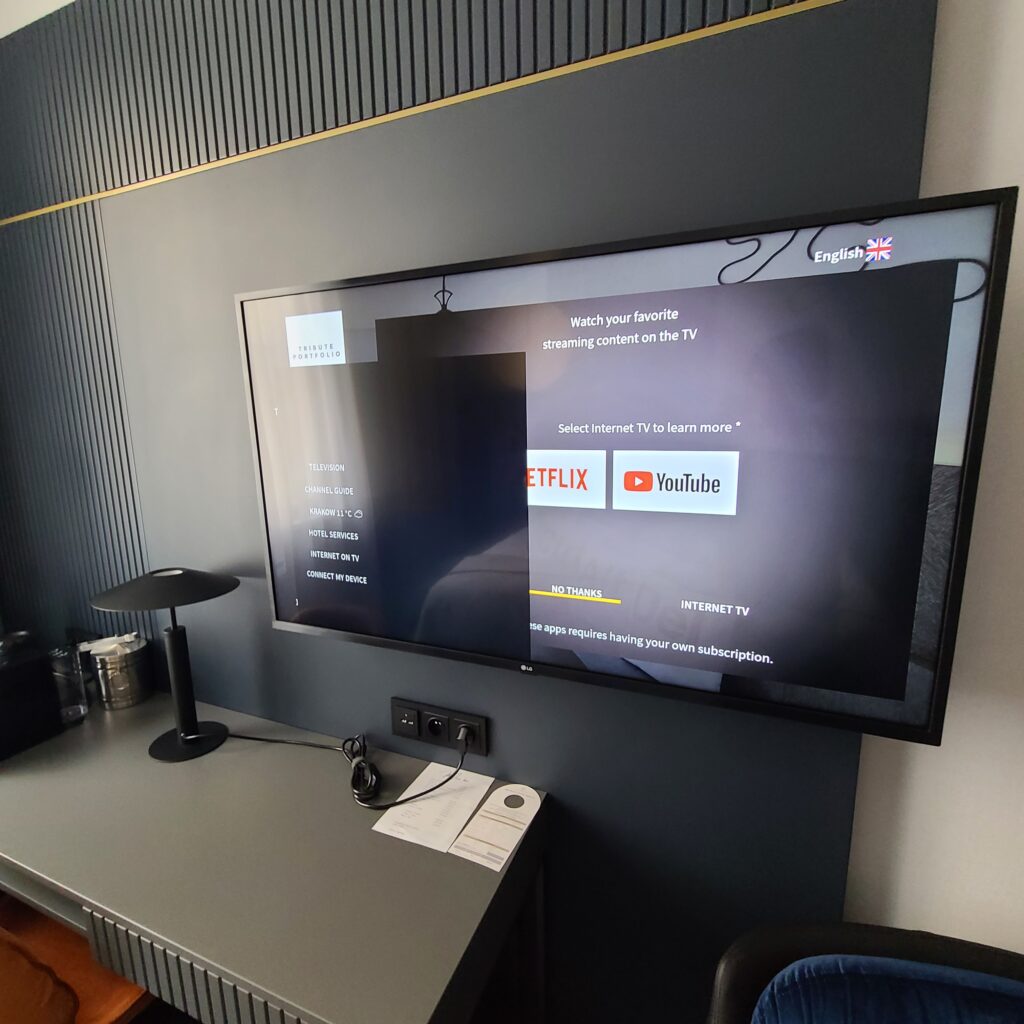 Sparkling and still water are complimentary and are replenished after housekeeping.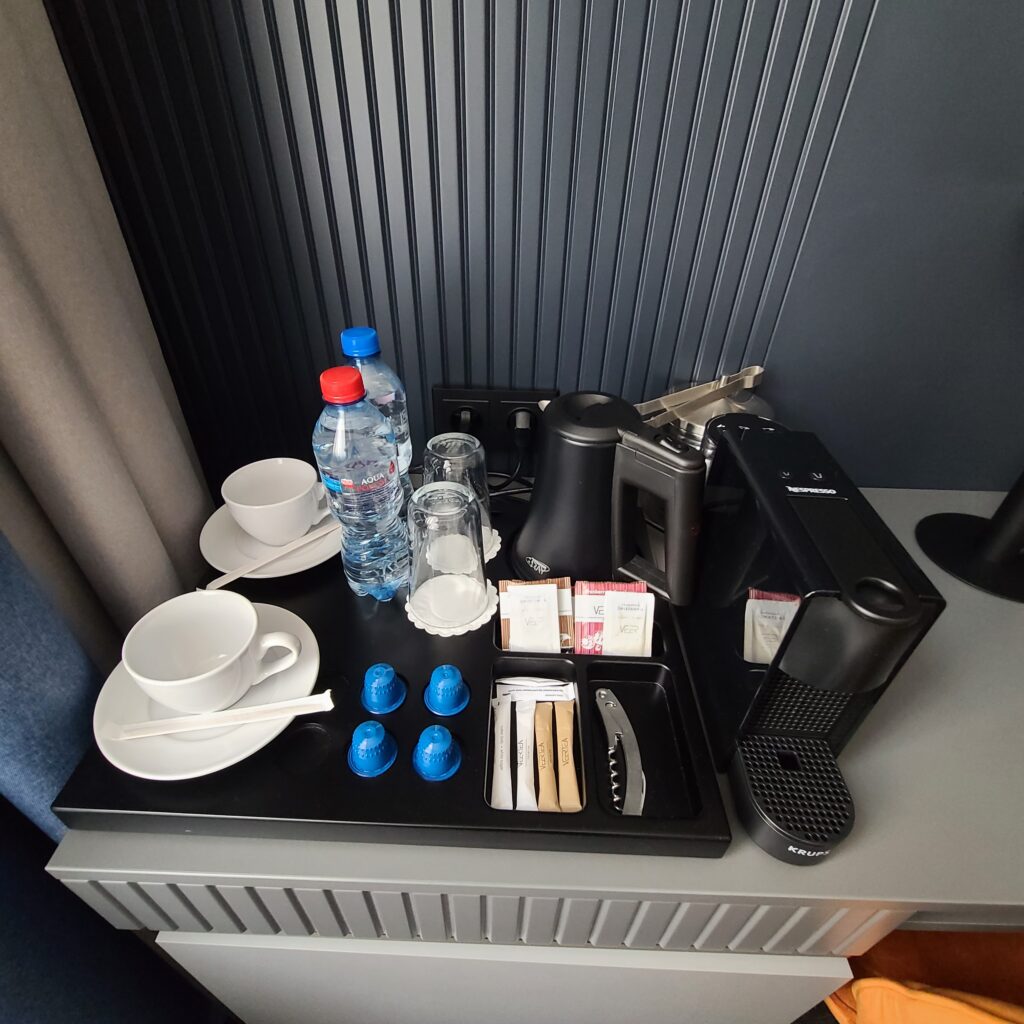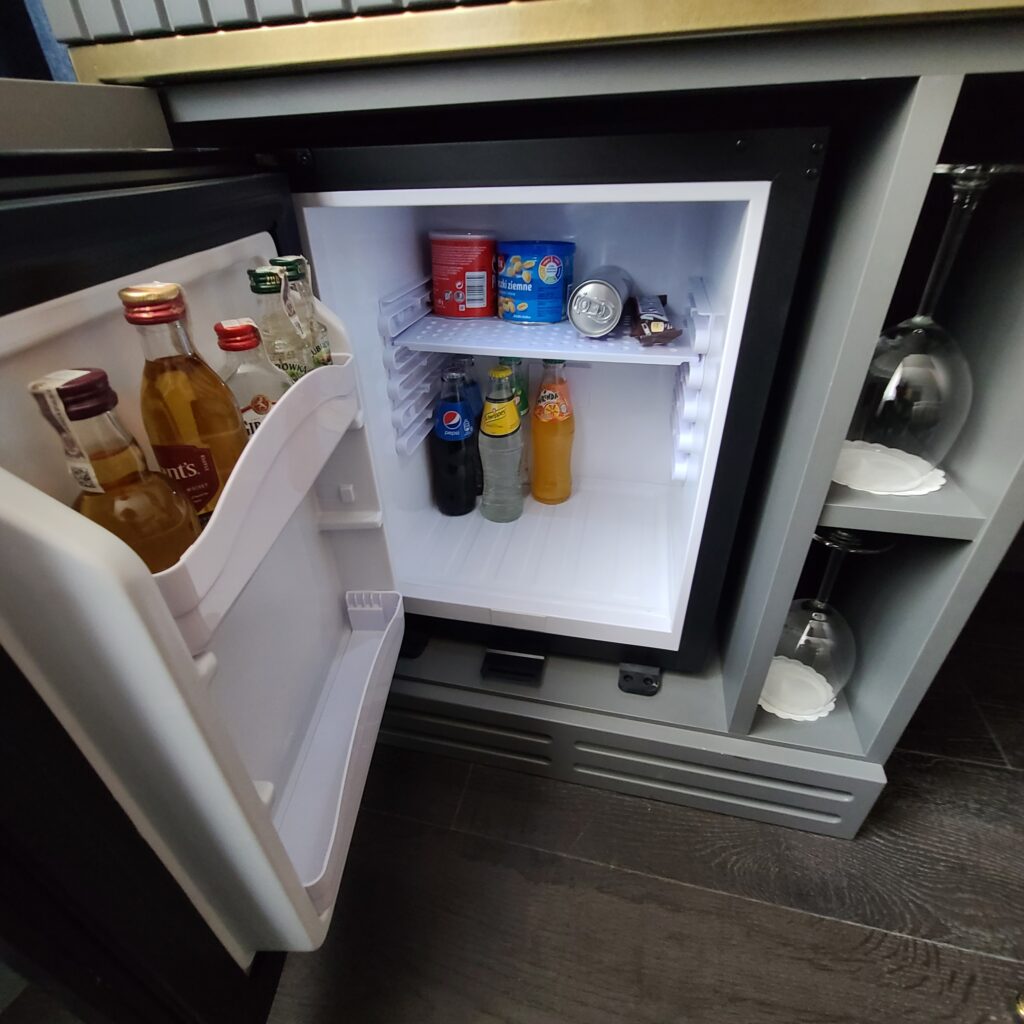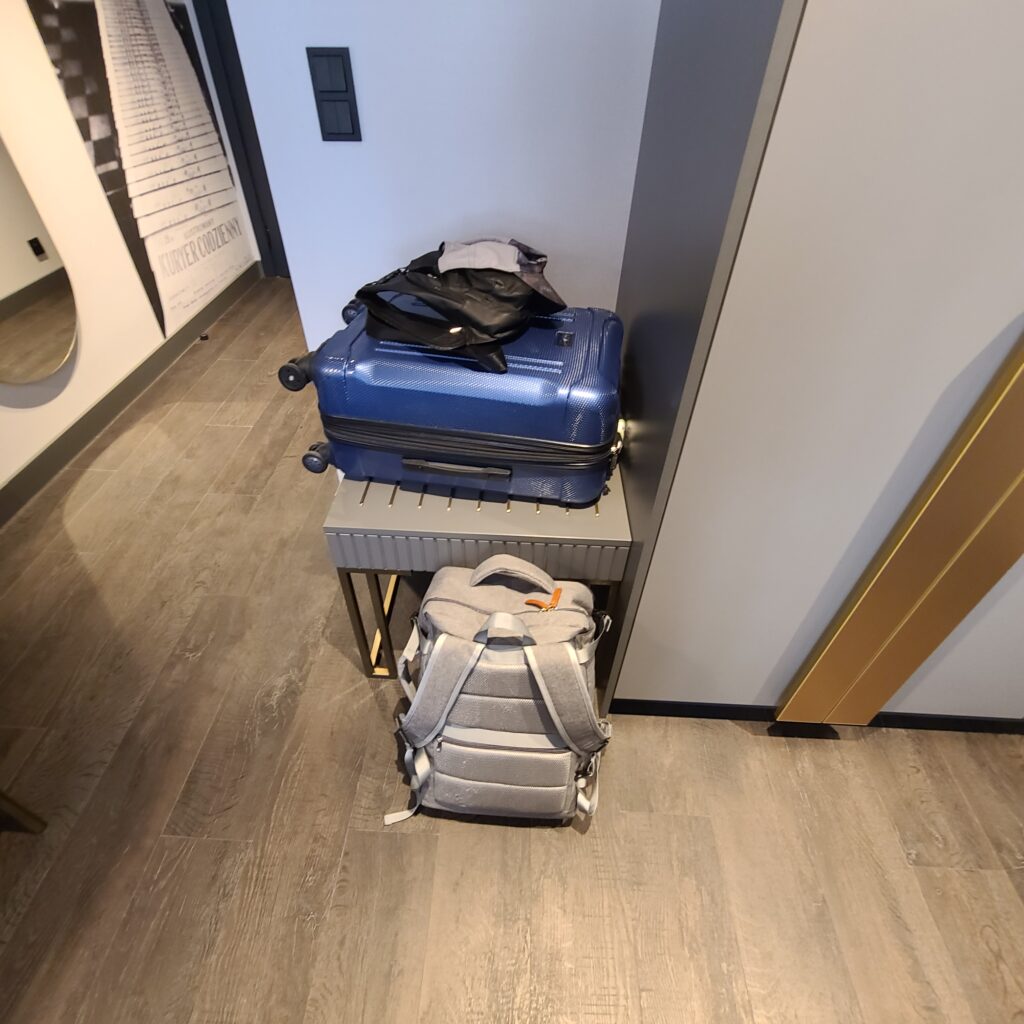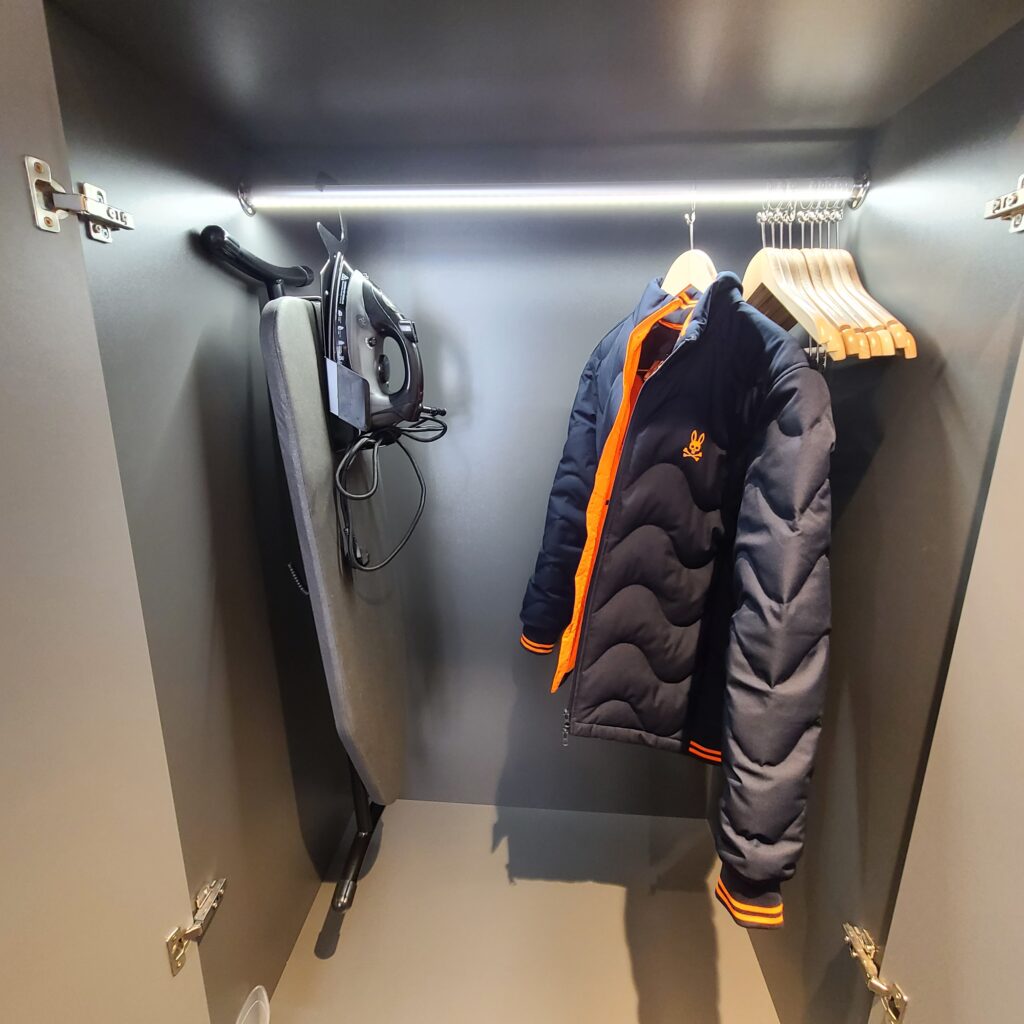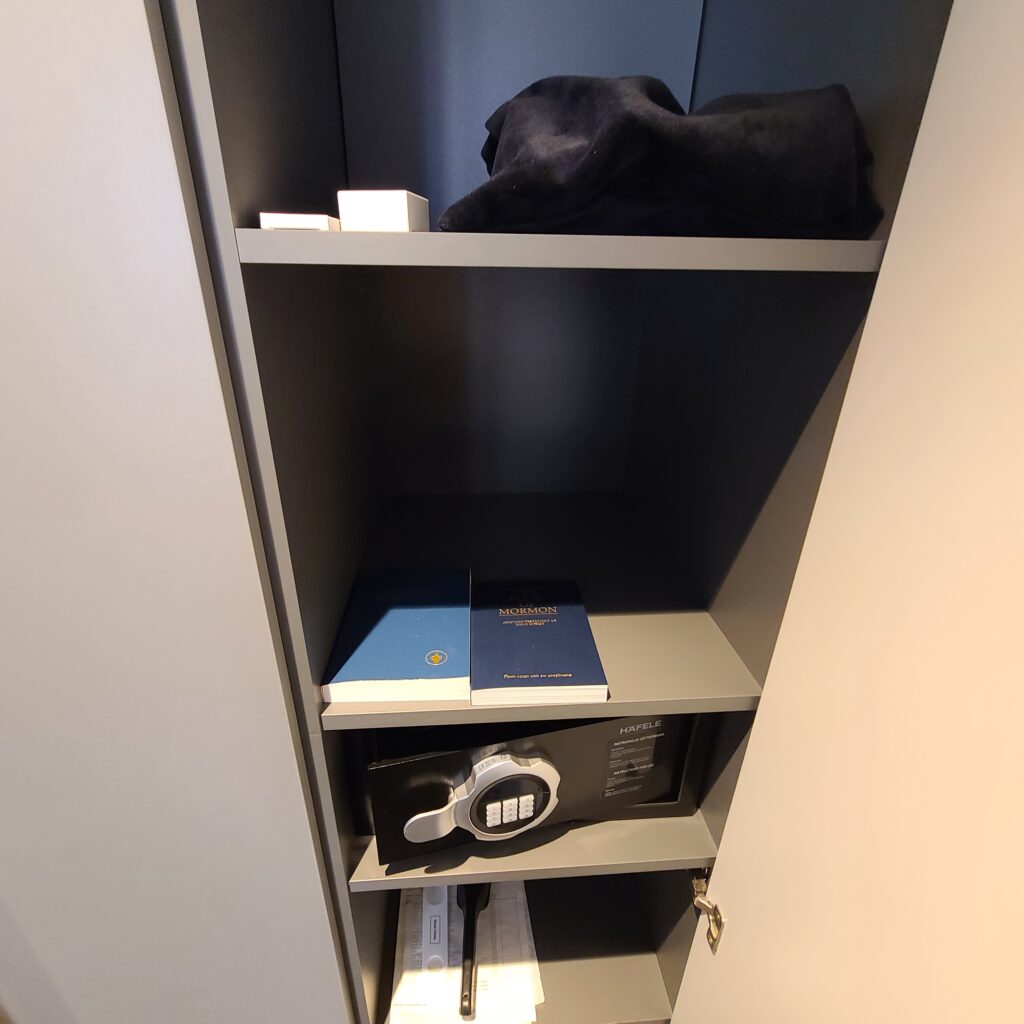 Shortly after, a staff comes in to give me another welcome gift. They're ice cream with mango syrup and chocolate flakes. The two plates were for both of the rooms I would guess. My parents didn't want it, so I indulged in both!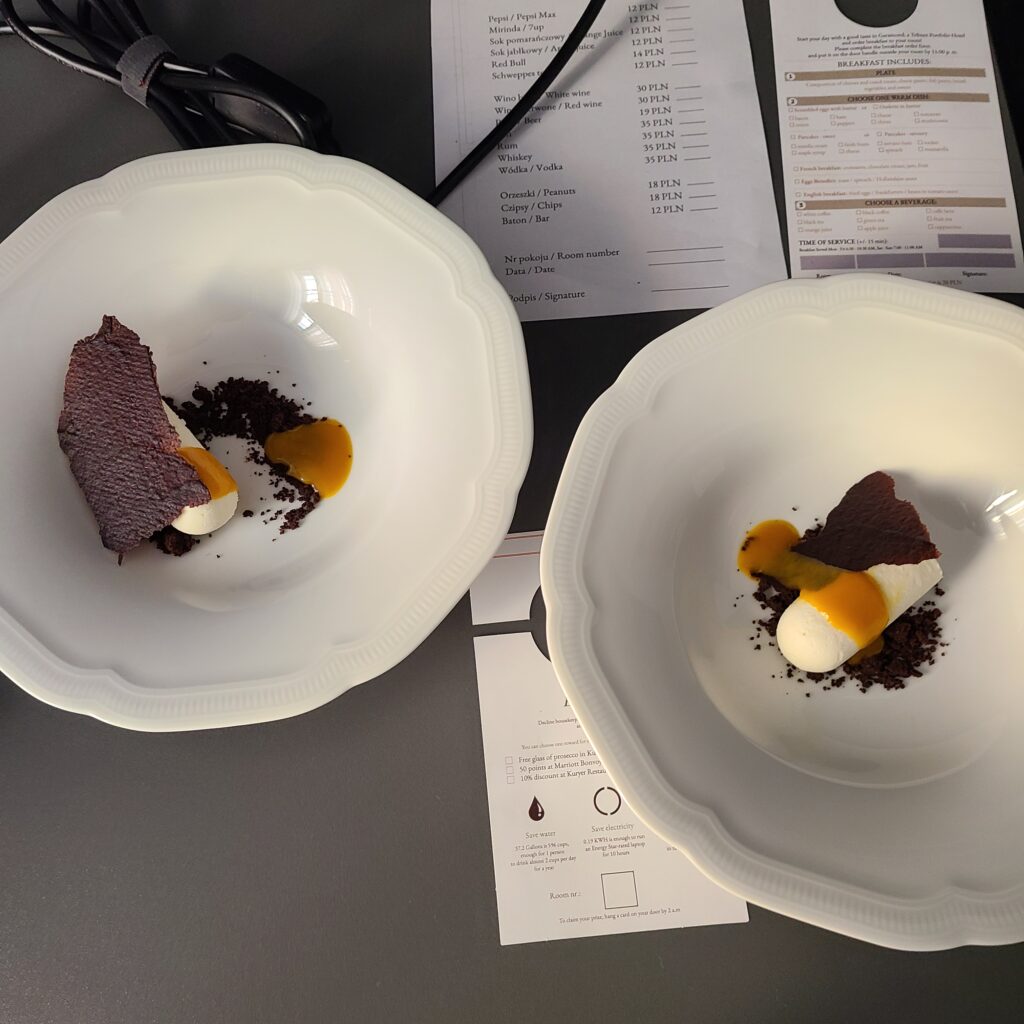 The bathroom is nice, and comes with a heated towel rack!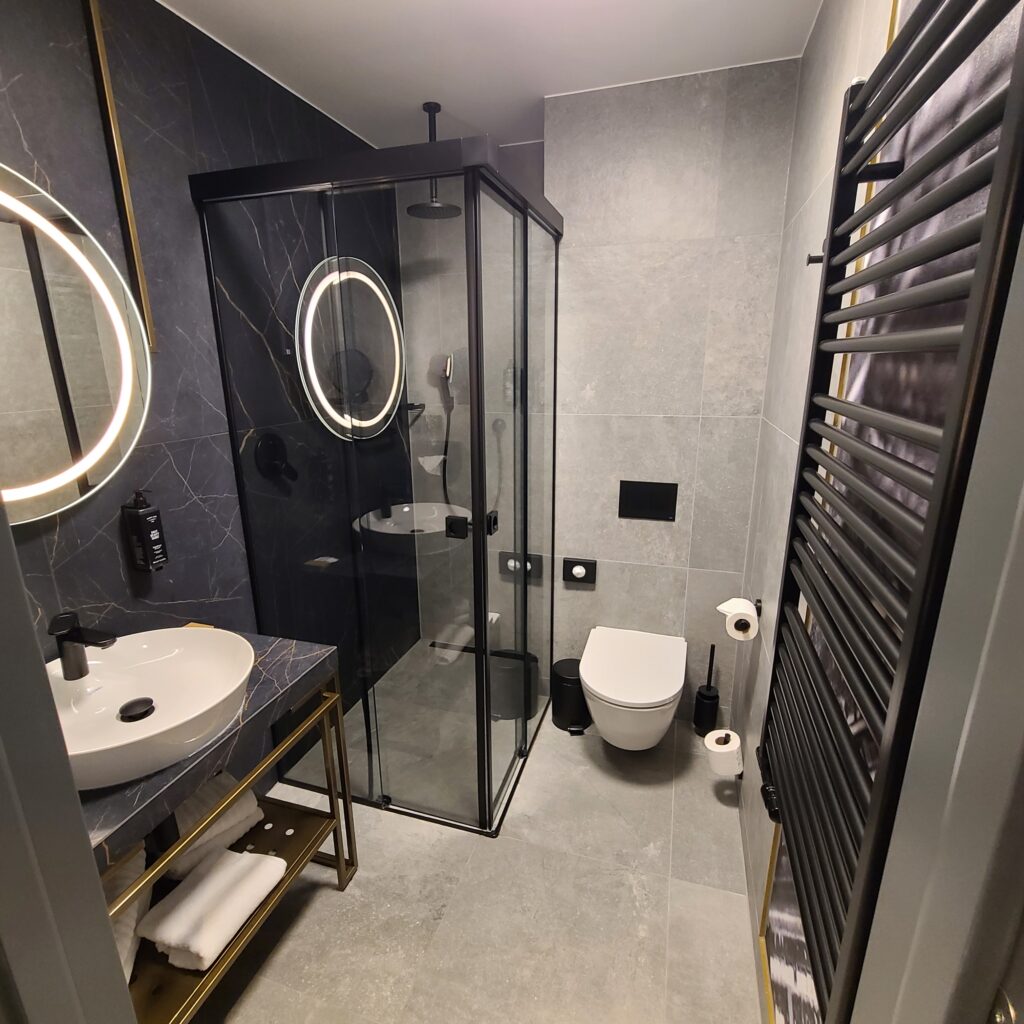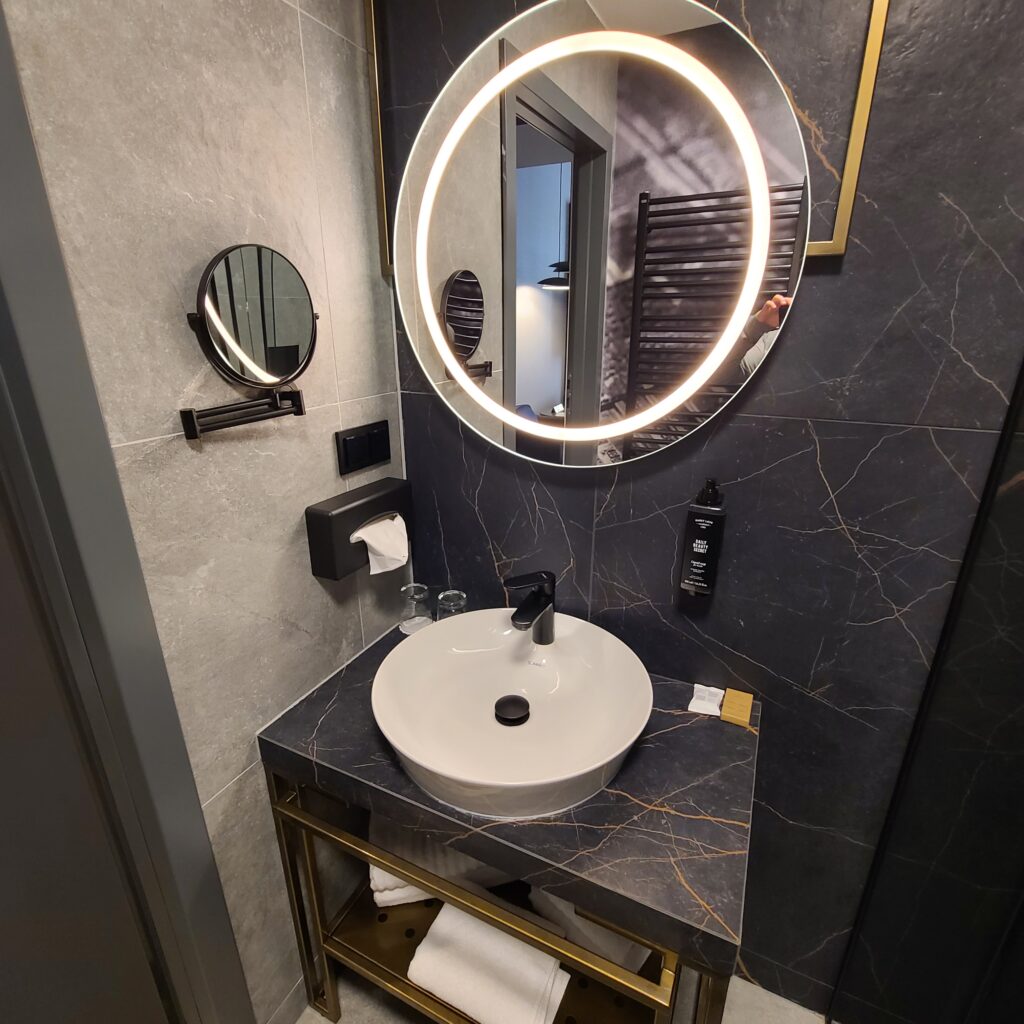 Shower pressure was excellent!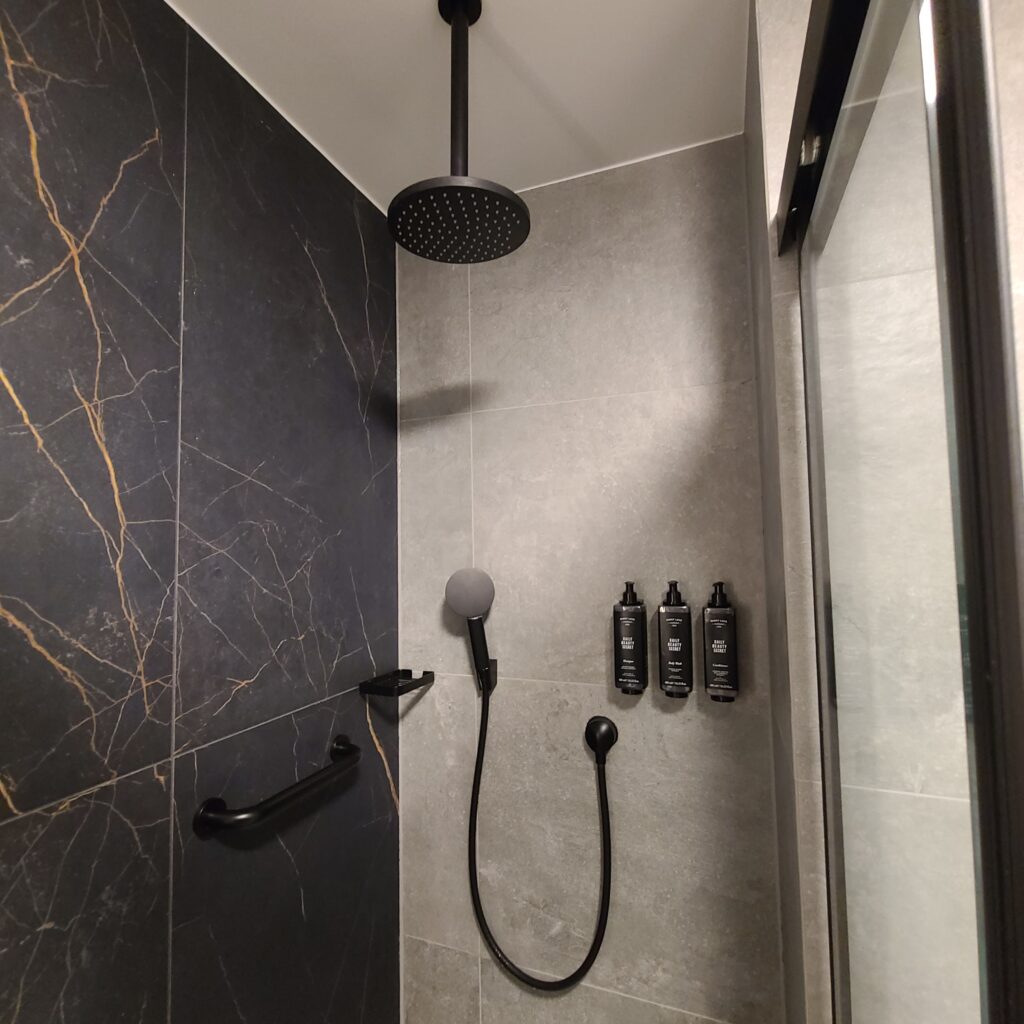 I've never heard of Guest Love toiletries, but I really enjoyed them.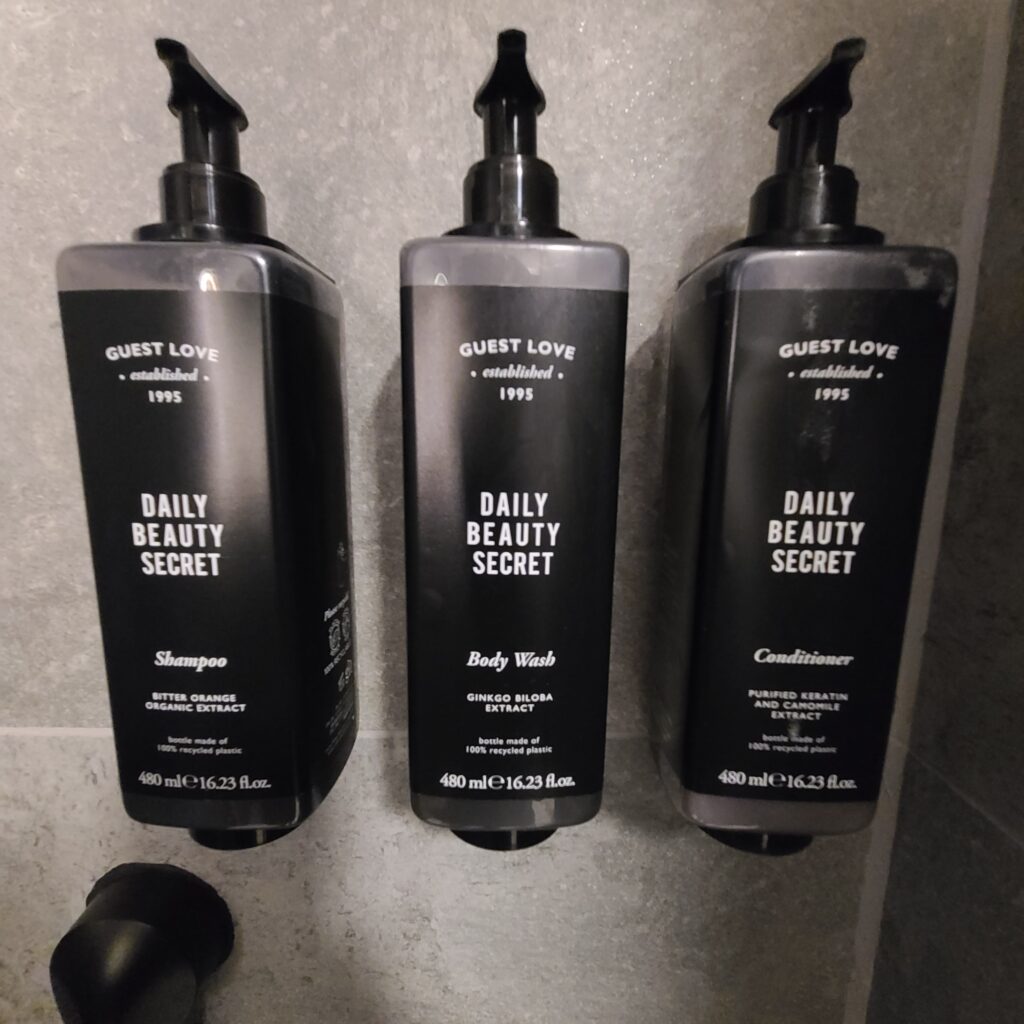 Overall, the room is quite beautiful and function well. However, there's one issue I had with how the hotel assigned room categories, which I found out the next day after my parents noted how small the room was. It was my fault also for not seeing the floor plan at the door in time.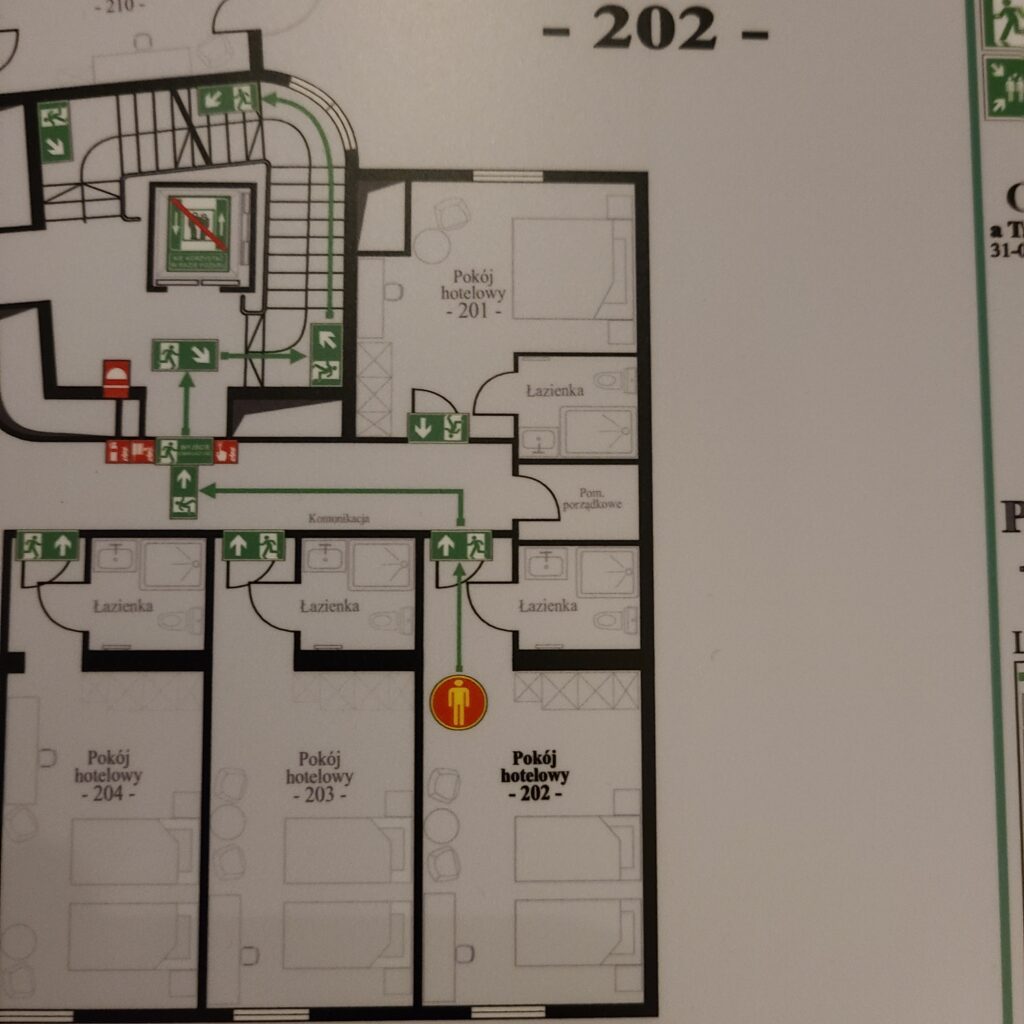 Room 201, the room my parents were on was clearly a lot smaller than the room I had (202). Also, my room has a King Bed while the floor plan for the bigger rooms show 2 Twins instead. Had I known beforehand that Room 201 would be smaller, I would've chose it. There are only 3 room types from Marriott's site.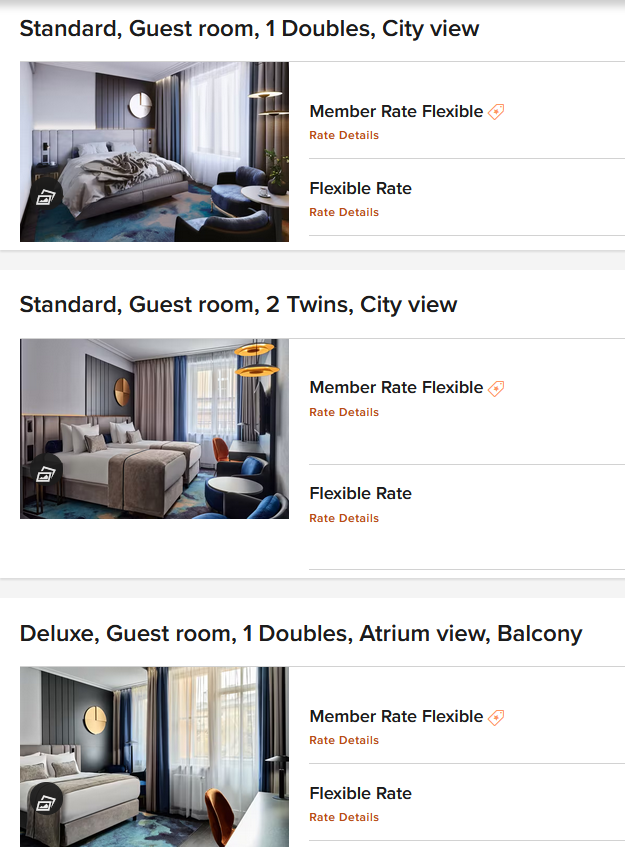 From the looks of it, I was assigned to the Standard Twin room, but with 1 Double Bed instead? There was no change in my Marriott booking also that indicated I was upgraded. Room categorization/description is something the hotel should improve on.
Garamond, Tribute Portfolio- Breakfast
The breakfast in Kuryer Restaurant is located at the basement level just below the lobby. The Art Deco decors are just splendid, and the bronze cutleries!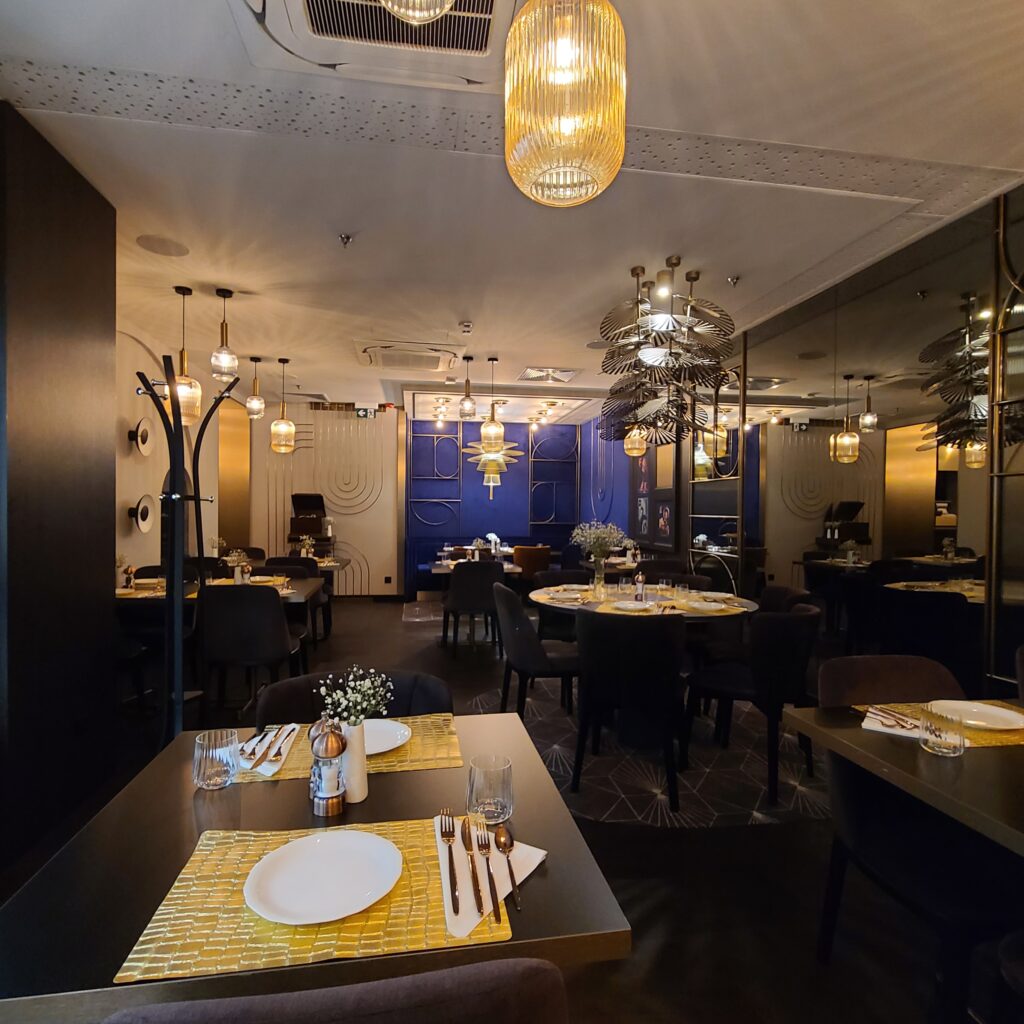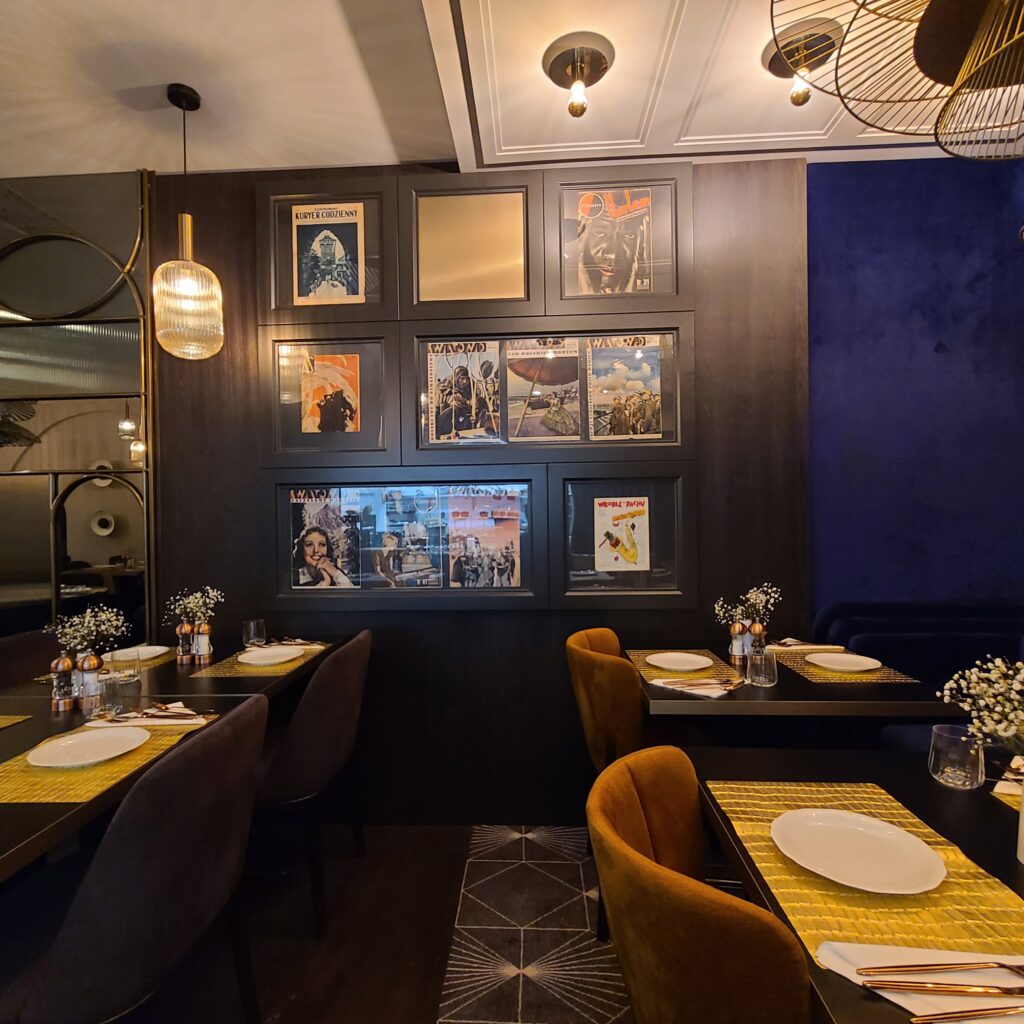 The breakfast has a buffet spread of small bites plus one a la carte dish you can order with coffee or tea.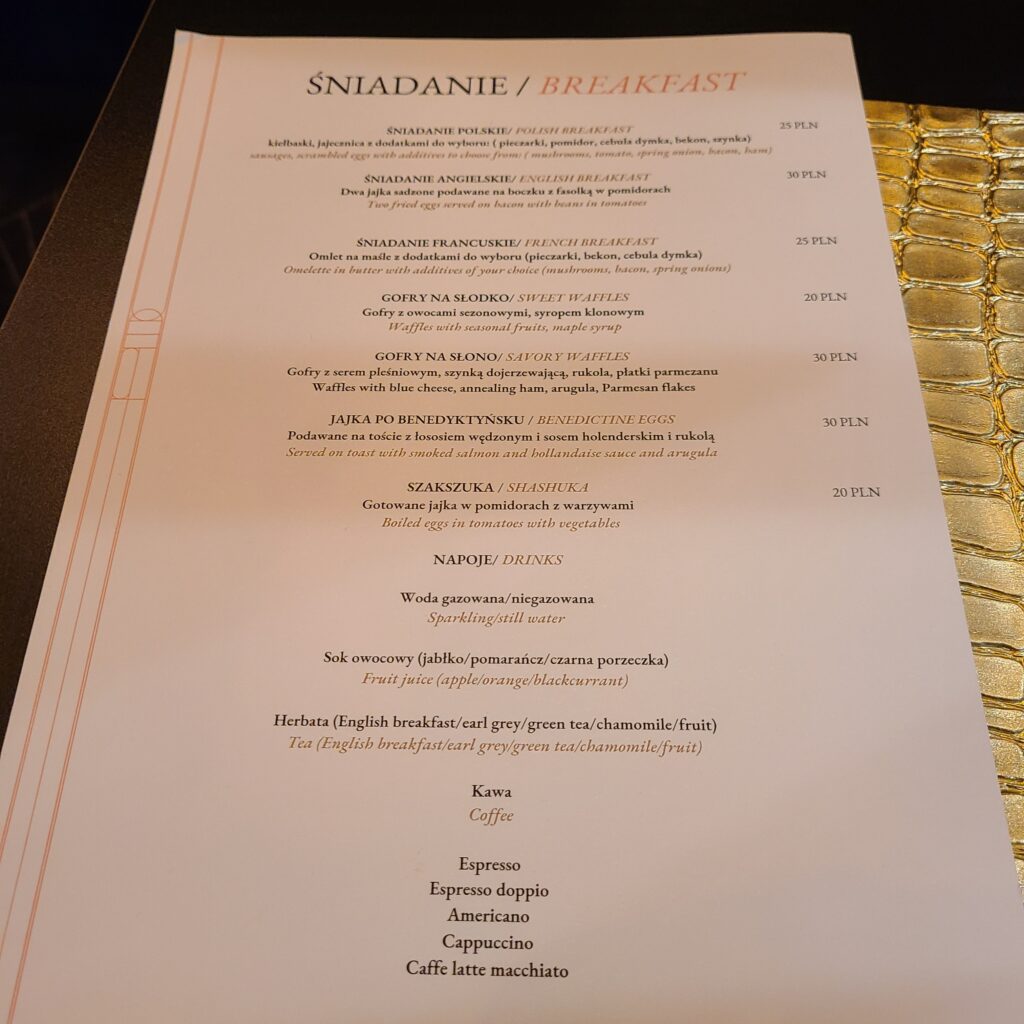 I chose the Polish breakfast since I'm in Poland. Scrambled eggs with Polish sausages, though I expected the sausages to be bigger. But, they tasted really good regardless.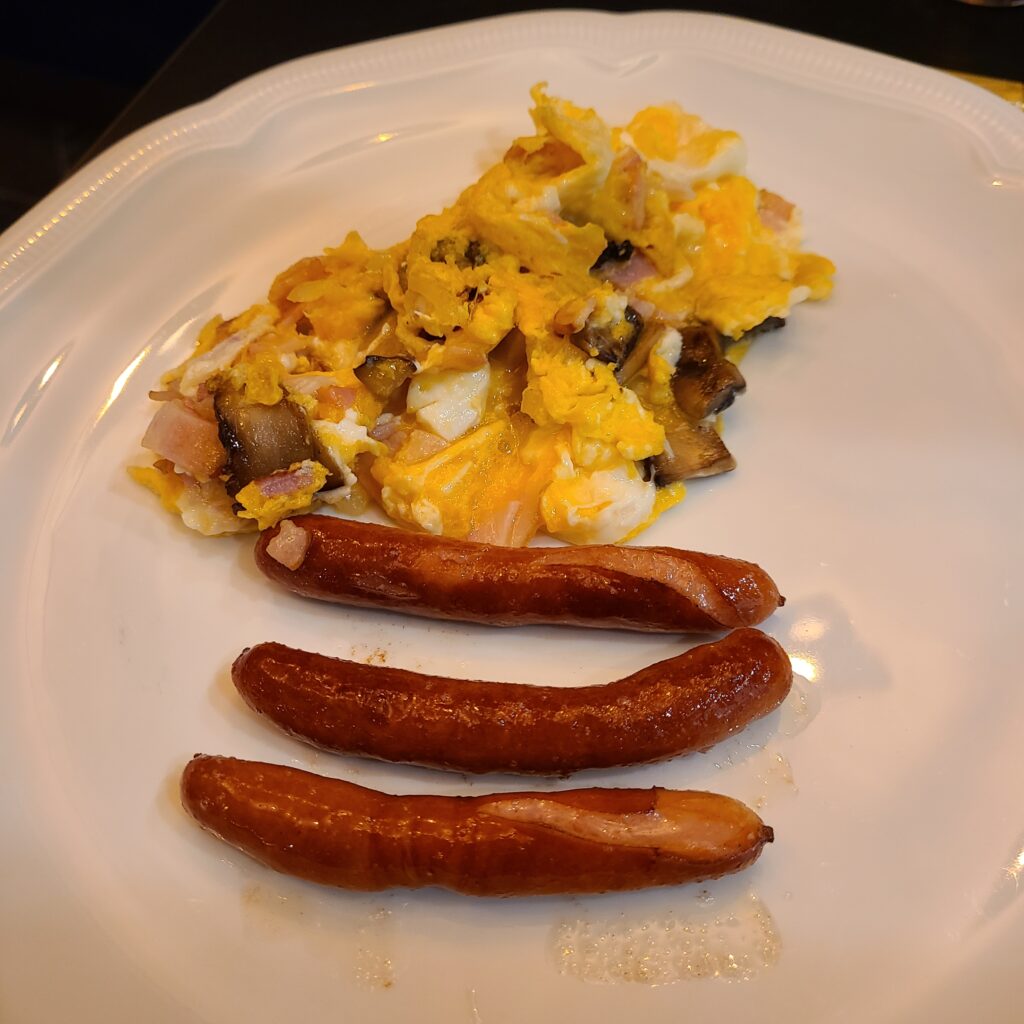 Assorted plates of meat, cheese, cakes, fruits, and vegetables were also given.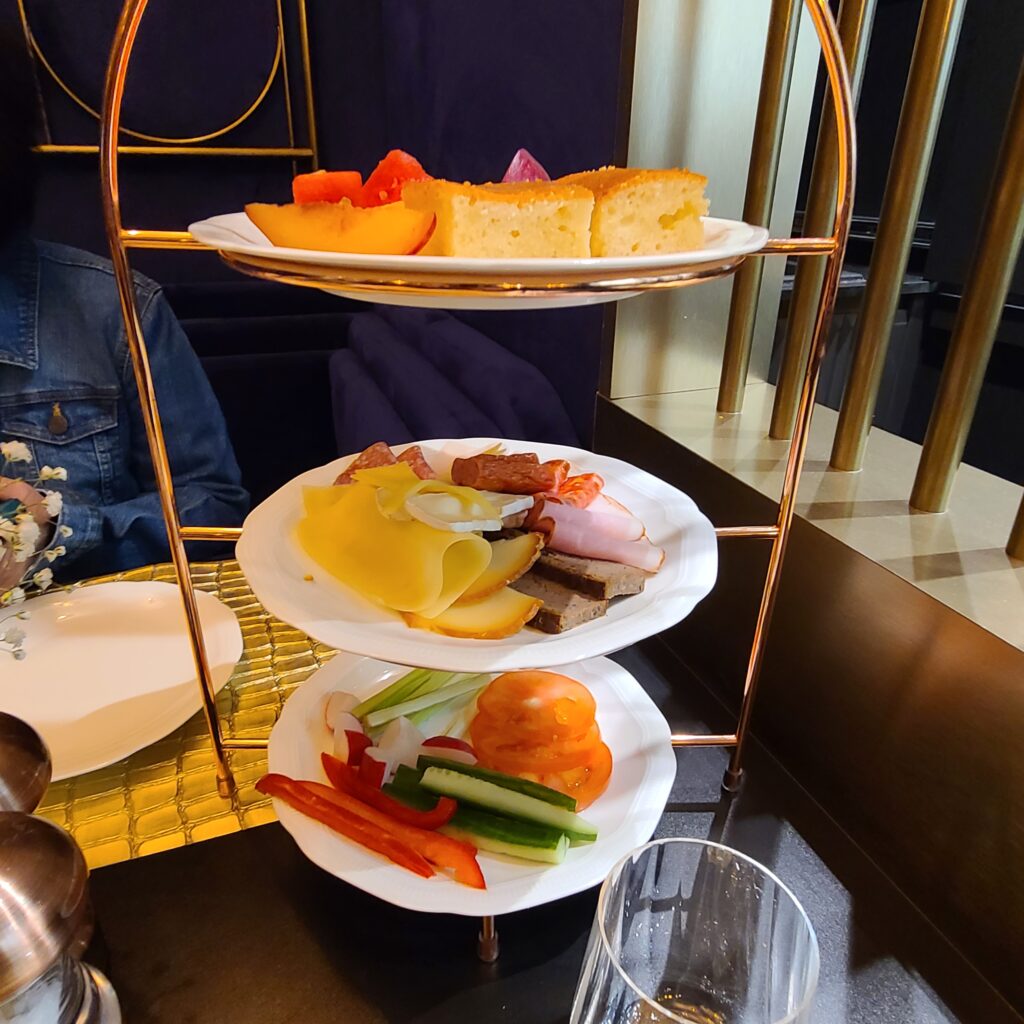 From the buffet spread, I quite enjoyed the herring in pickles and goat cheese salad.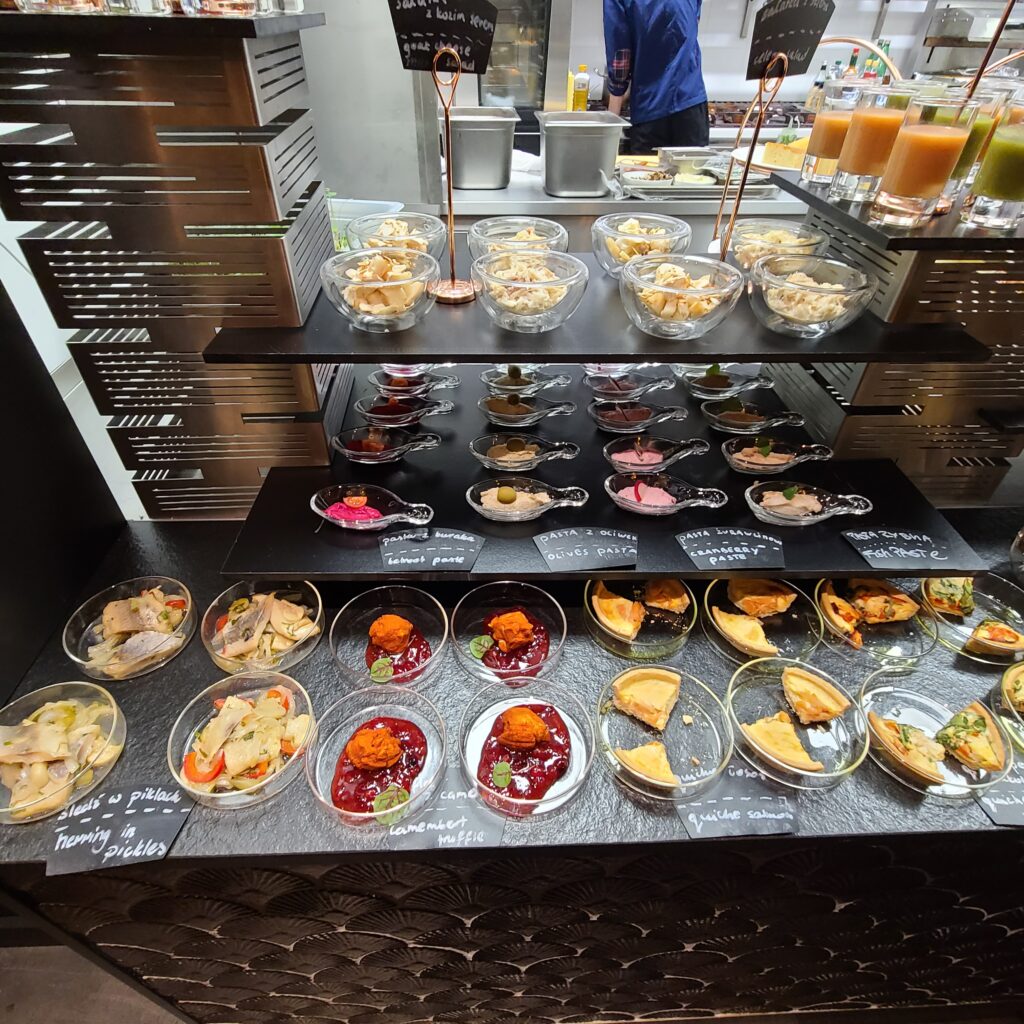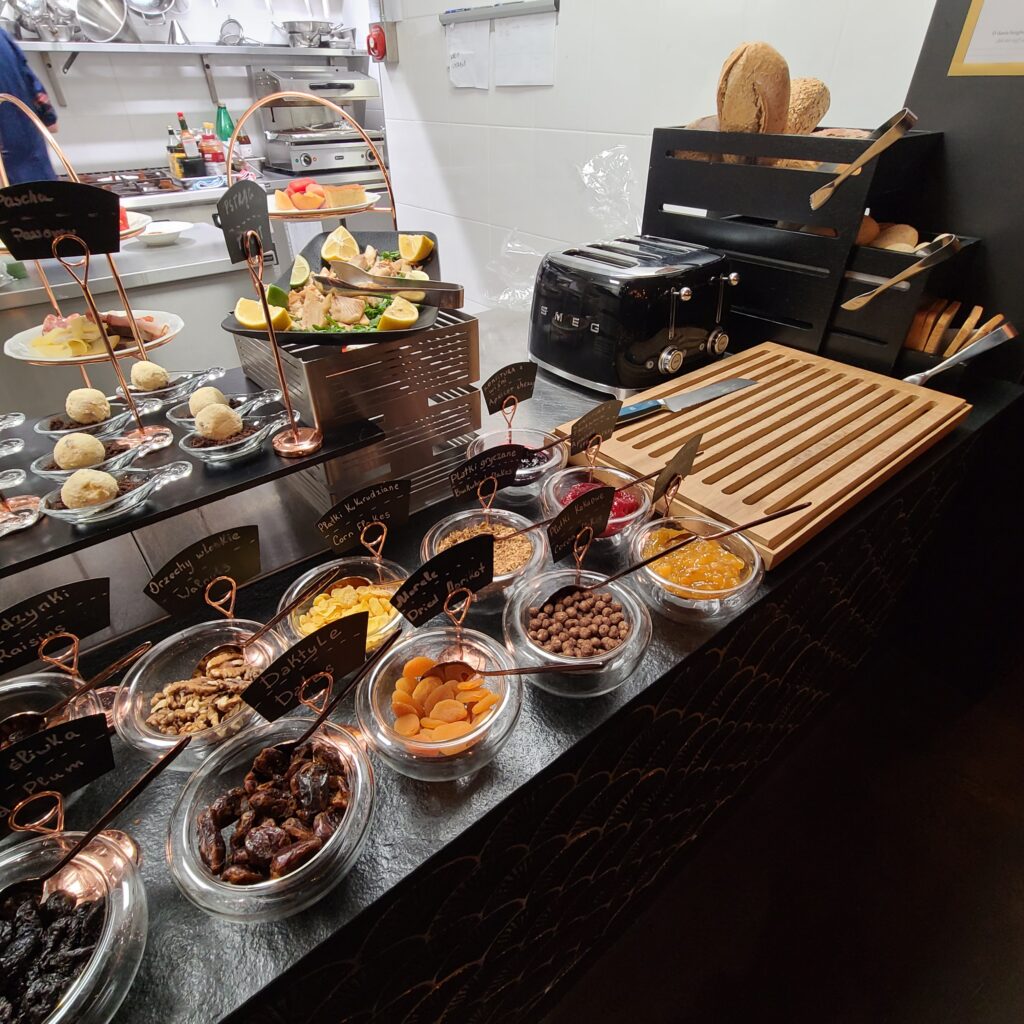 Great breakfast experience overall, and I got more than what I'd expect from a small boutique hotel! The ambiance really sold me.
The Kuryer Restaurant also has a bar, but I didn't have the time to check it out. A beautiful looking bar for sure!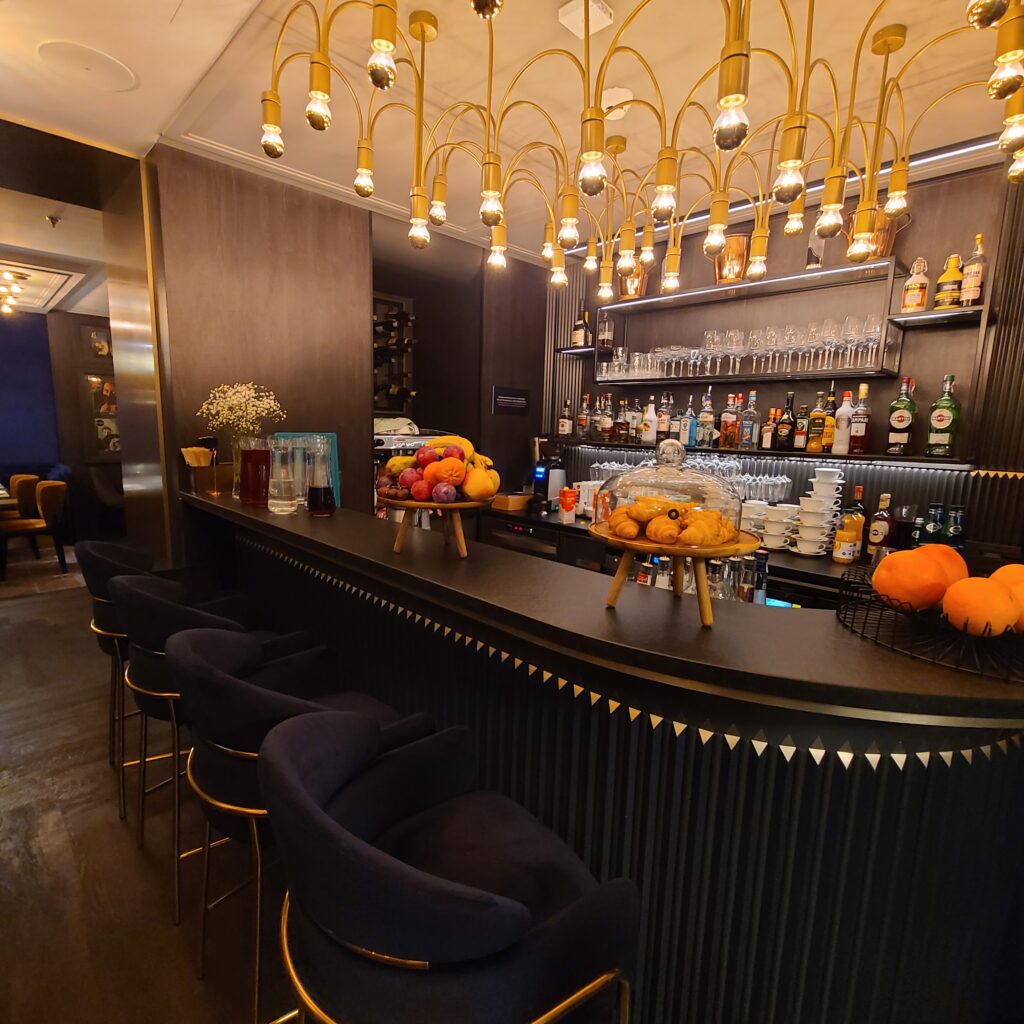 Garamond, Tribute Portfolio- Fitness Center
The hotel does not have a gym or a pool. But, if you're into jogging, then you'll have a much better running experience in Planty Park just next door! But, the lack of gym can be a dealbreaker for some guests, though.
Conclusion
I had a really great stay at the Garamond! The Art Deco theme is very eye-catching, and the location is superb as it's inside the Krakow Old Town. Room features were pretty modern and functional, and the color palettes go well with one another. Breakfast experience was more than what I'd expect from a small boutique hotel.
The hotel does not have a gym though, but it's located right next to a large park encircling the Old Town. One major criticism I have is that the hotel should improve on the room descriptions' accuracy to prevent surprises from guests. With that said, I'd be happy to come back if I'm in Krakow again, but am also curious about other Marriott properties just outside of Old Town like the Stradom House or the Sheraton (which are more expensive than the Garamond).