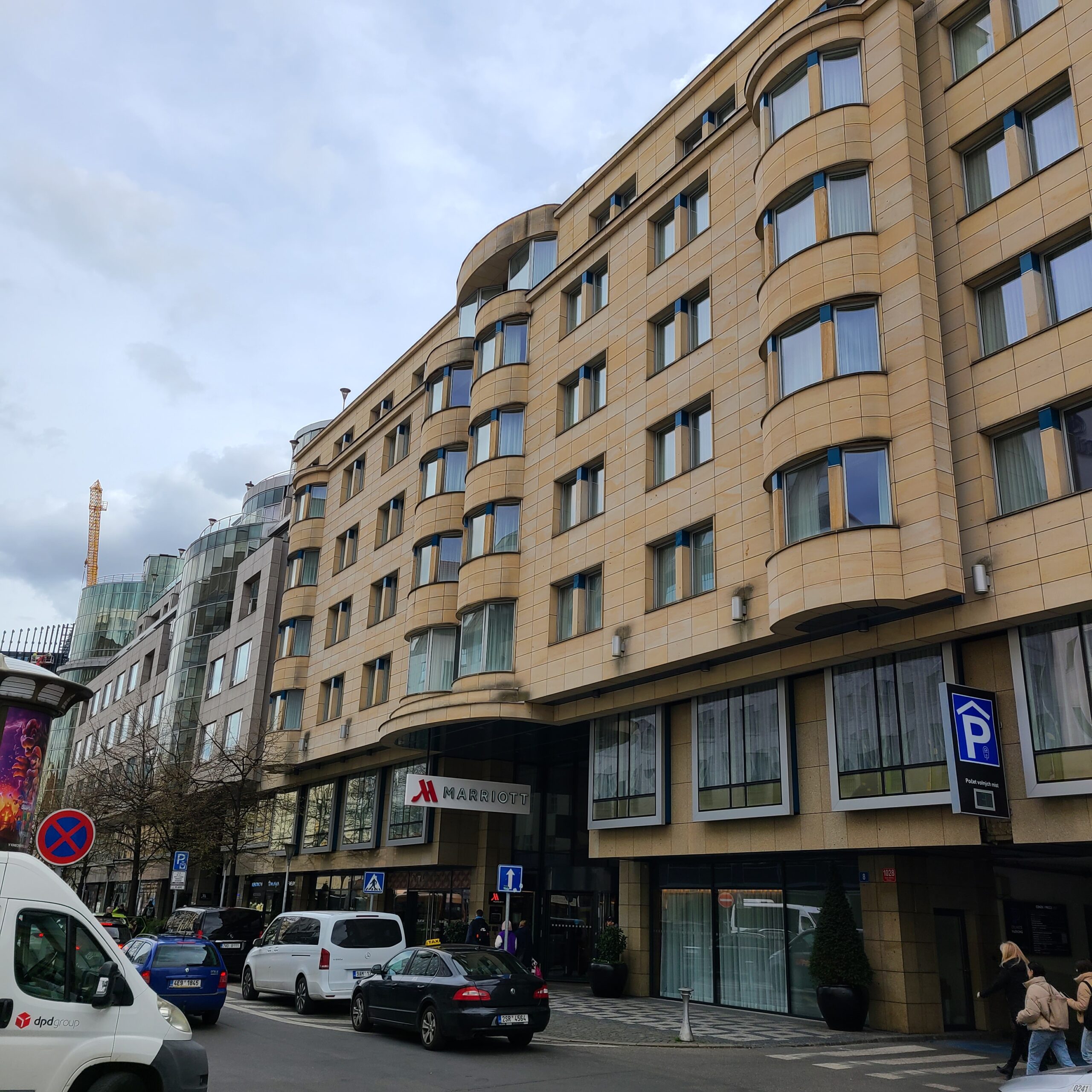 Review: Prague Marriott Hotel (2023) [Czech Republic]

| Positives | Negatives |
| --- | --- |
| Convenient location | Some rooms may not be renovated like others |
| Good option for families | Shower room felt too small |
| Good M Club Lounge (free Czech beers) | |
| Lax entry for 3+ guests on M Club Lounge | |
Overall Rating
My first non-layover destination in my European trip starts in Prague, Czech Republic. Finding hotels that allow for 3 guests in 1 room belonging to a chain in Europe isn't as easy as it is in the US. Fortunately, Prague has plenty of reasonable options, including the Marriott Hotel.
Prague Marriott Hotel- Booking
I've booked a 3-night stay at the Prague Marriott at a special "Stay Longer & Save" rate where we'd get a 15% discount for booking at least 3 consecutive nights. Surprisingly, the rates went down to the very last minute, so I ended up modifying the reservation to reflect the lower rate. The total ended up being 16,672 CZK or $790.
Points reservation wise, it may require 43k-76k Marriott Bonvoy points a night due to its Category 6 placement. It's not a great redemption, and I'd suggest saving them for stays that will bring better value in the future.
Prague Marriott Hotel- Location
The hotel is located right in the Old Town of Prague where many of the city's major attractions are within a walking distance like Charles Bridge, Prague astronomical clock, and Prague Castle. The Hilton Prague Old Town is also right across the Marriott. A red vs. blue situation, huh?
Getting to the hotel from the airport would cost around $25 with taxi, or $3 per person if you use a shuttle right in front of the airport and transfer to a metro. If you're traveling with family or carry big luggage, then I may recommend the taxi even if you'd be paying more since the shuttle bus can get full and would make an uncomfortable 30 minute ride, especially after a long flight; a mistake that me and my parents did.
I recommend using Bolt rather than Uber in Prague as they offer cheaper rates, and they also accept credit card as payment option.
Prague Marriott Hotel- Check-in
After a struggling bus + metro rides, we arrived at the hotel at 1pm. I've asked the hotel beforehand for a Duplex Suite, but ended up upgraded to the Family Suite instead as it was not available, which was still great. We were delighted to have the room all ready when we arrived so we can check-in earlier. Also, all 3 of us were given access to the executive lounge, which is beyond normal since lounge access is typically given to the Platinum Elite or higher +1.
Then, a guest relation agent came and greeted us which was great and beyond what I expected from a Marriott hotel. It was similar to the one in Izmir except the one in Prague did not escort us to our room. All I can say is that the elite treatment is excellent and the hotel goes above and beyond to treat their elite members!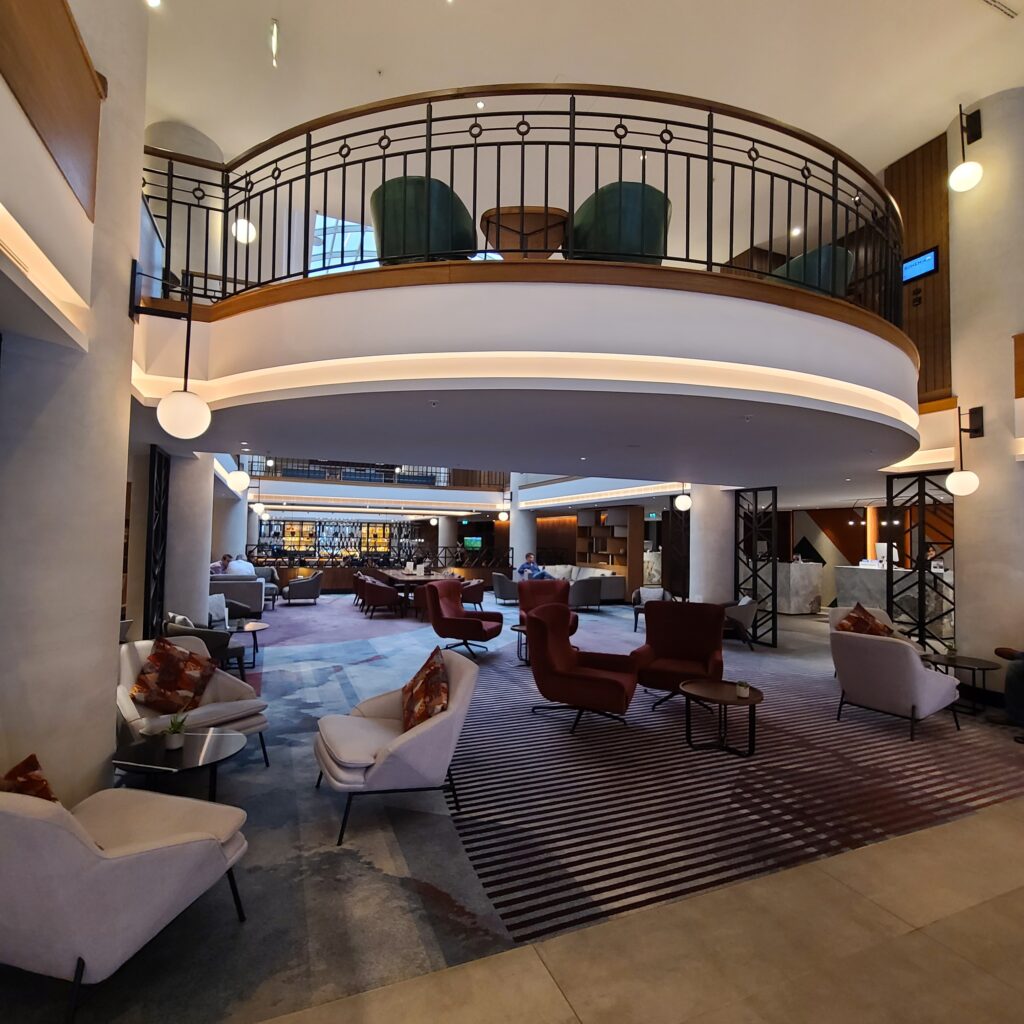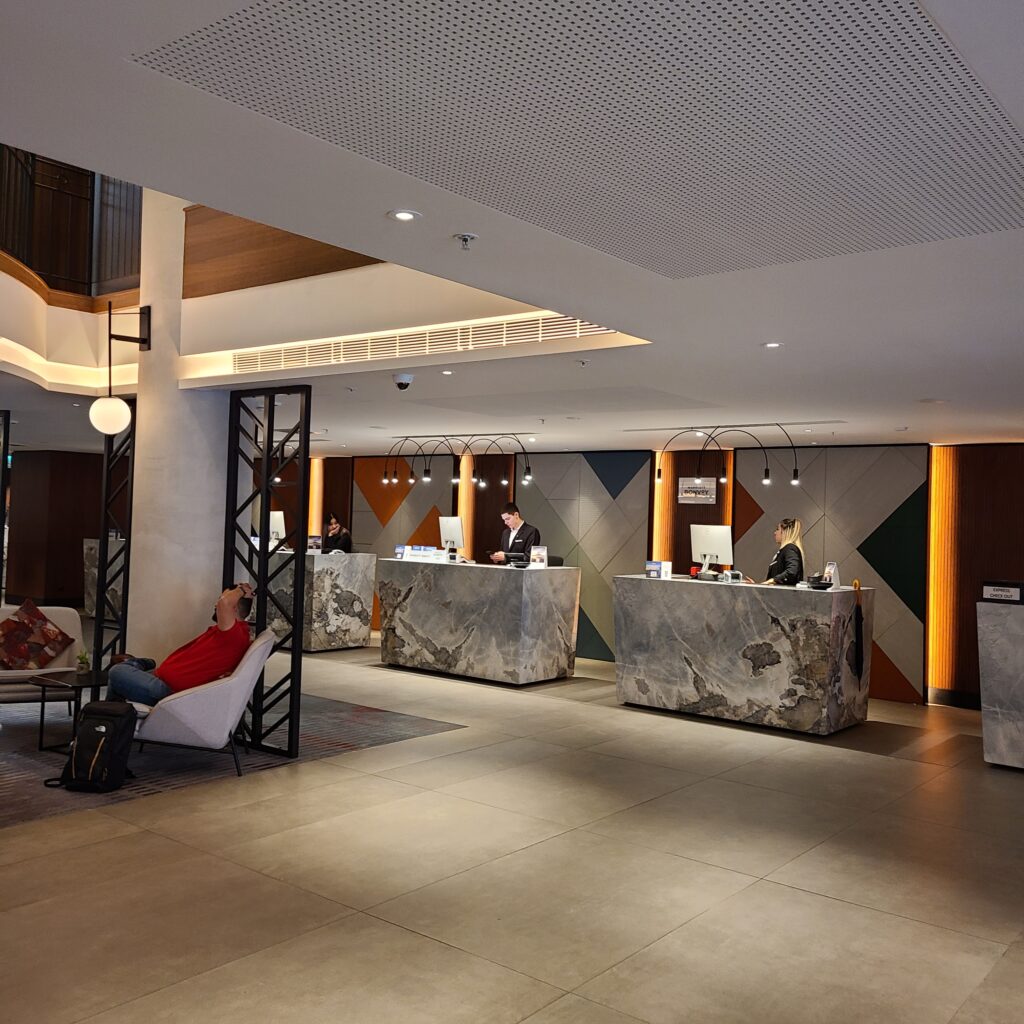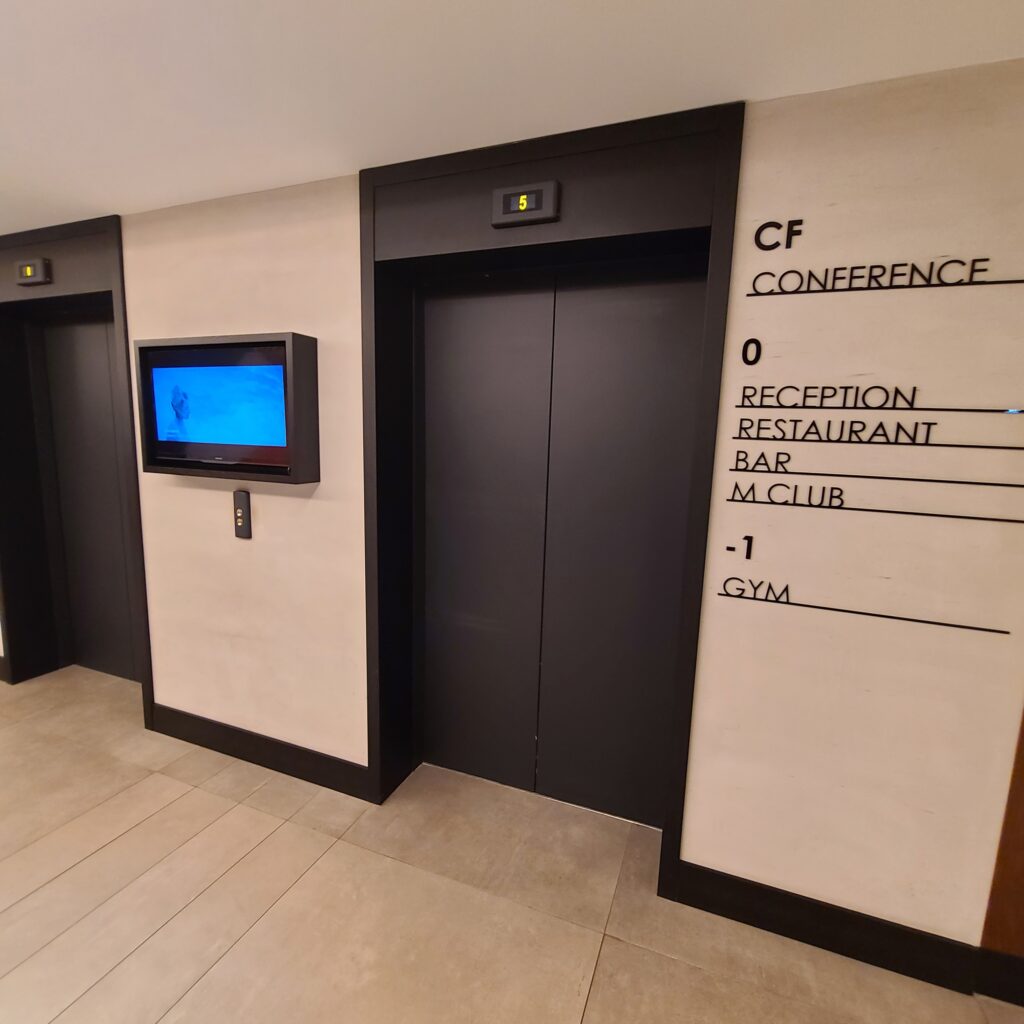 Prague Marriott Hotel- Family Suite
We were assigned to the Family Suite at 5th floor. Once we've entered the room, we saw that the sofa bed has been made for us in the separate living room. The sofa bed took up quite amount of space, but it didn't hinder much other than the chair next to it. A Nespresso machine can be seen next to the sofa bed.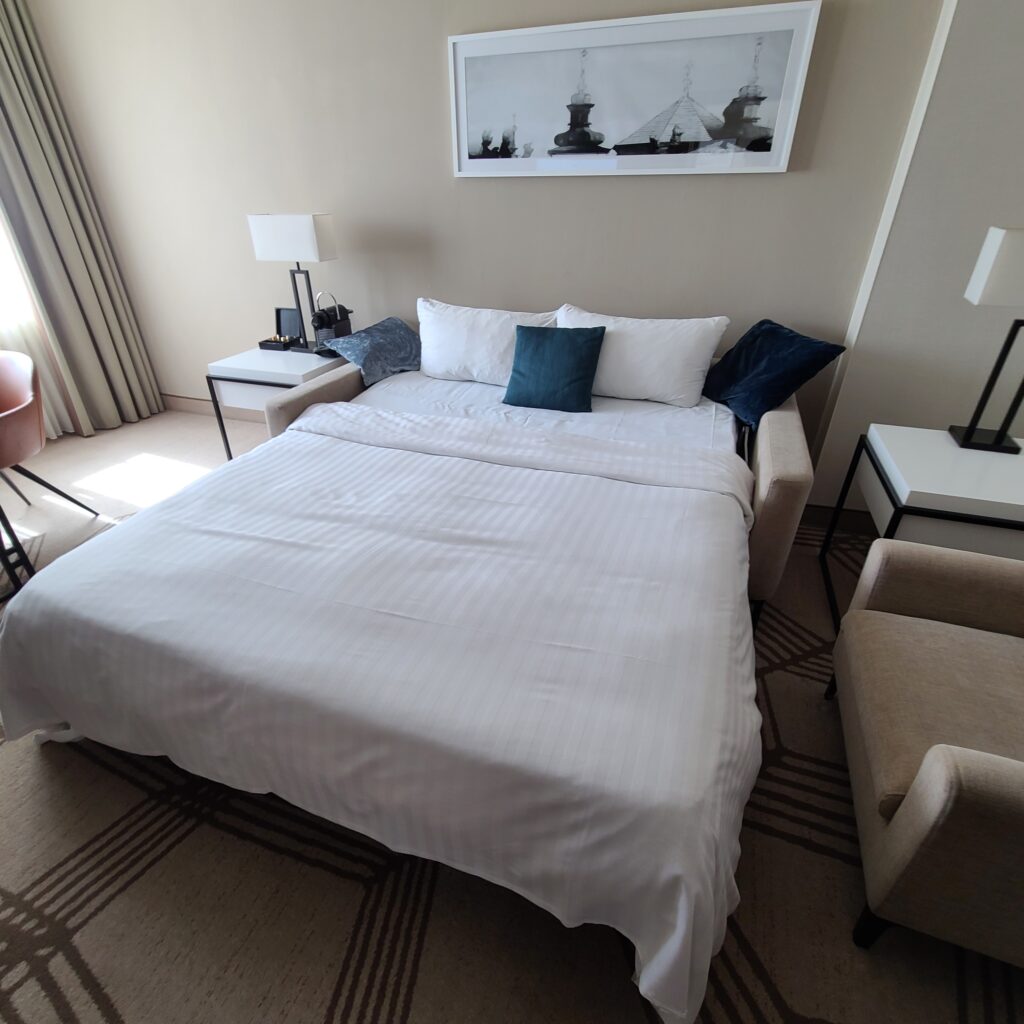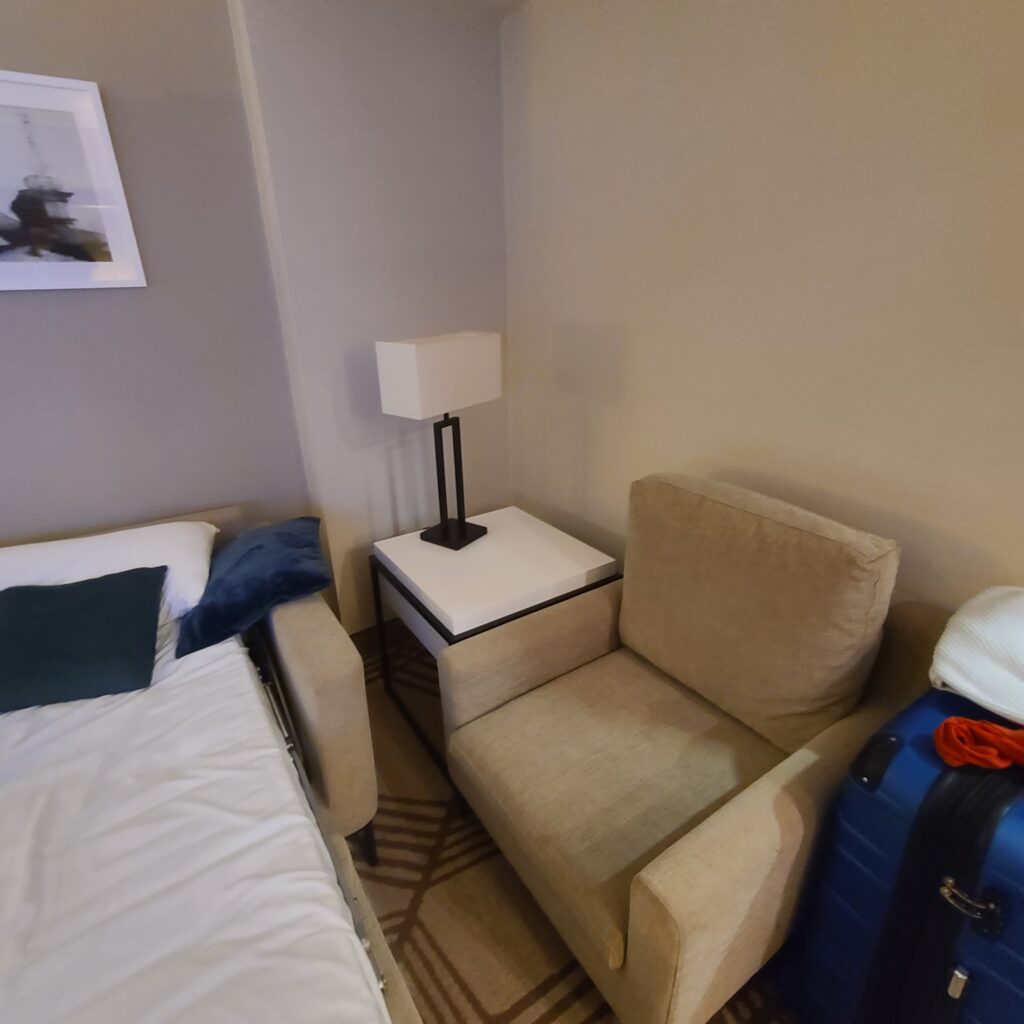 The work desk layout is a bit weird with the white platform protruding and reducing the desk's effective space. The size of the complimentary water bottles is very generous though.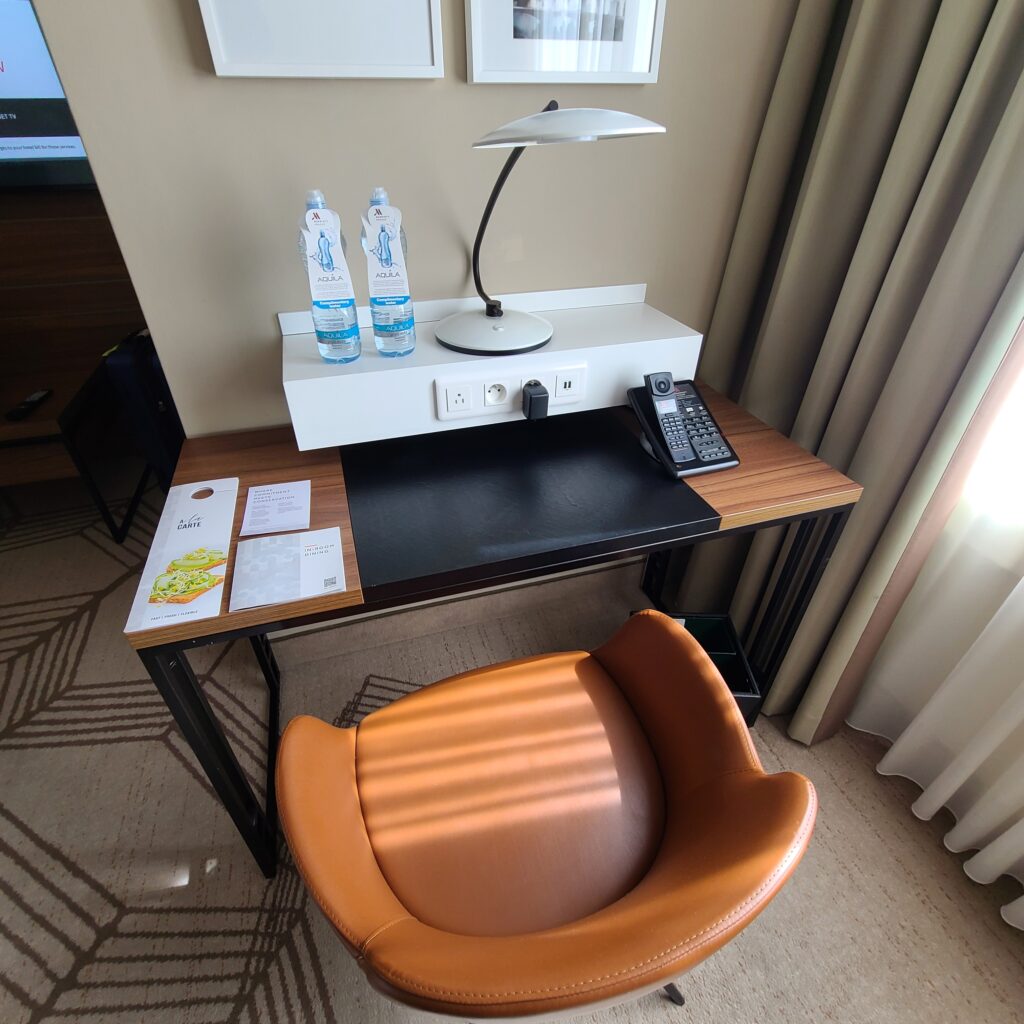 Moments later, a staff brought us a welcome snack for being a Titanium Elite. They were akin to giant macarons, well that's the best way I could describe them.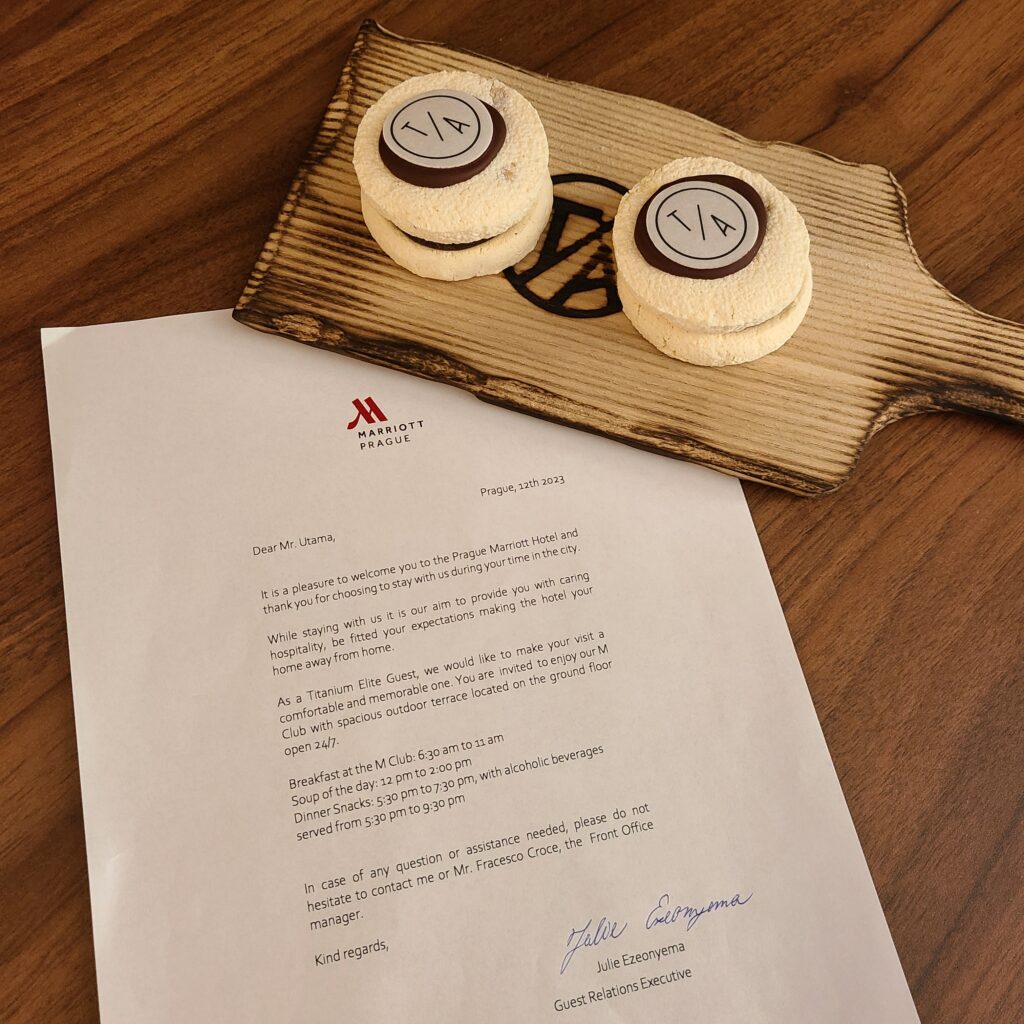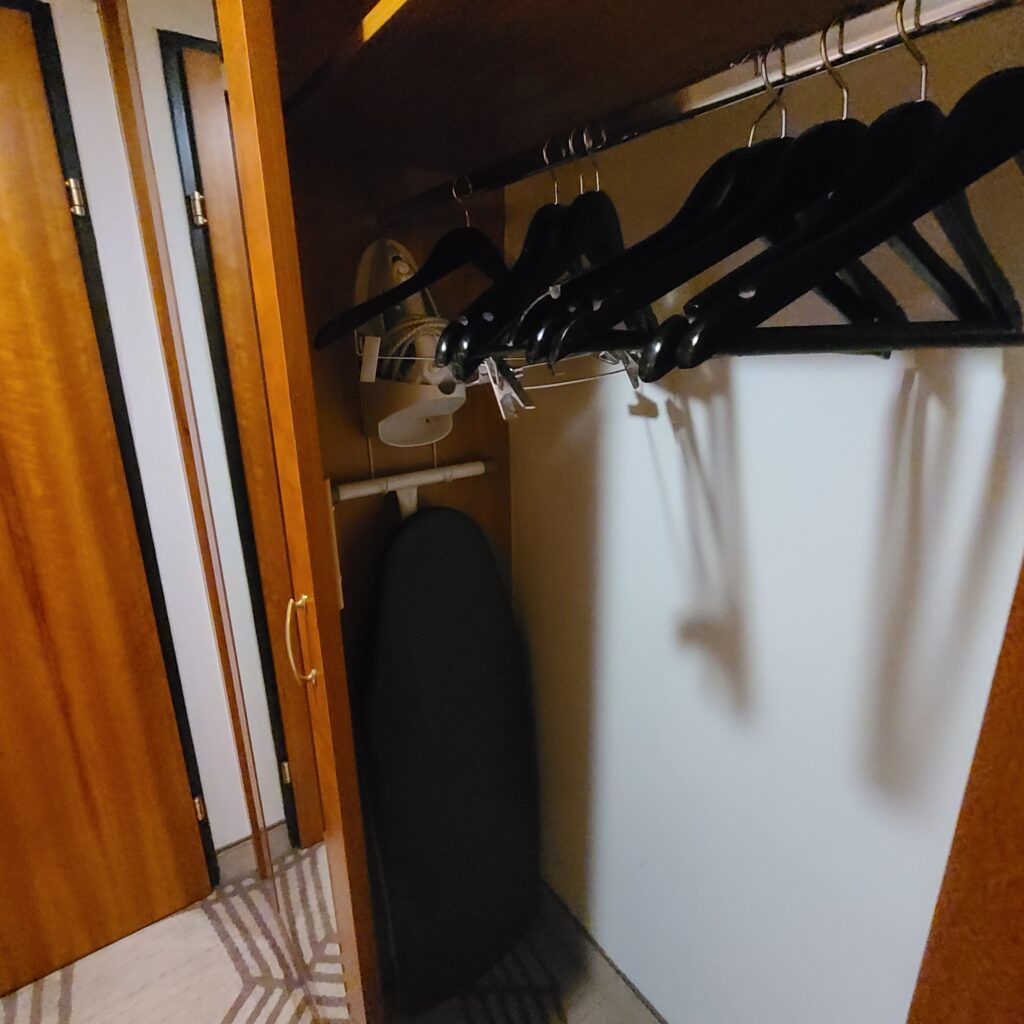 In addition to the Nespresso machine, the pantry is next to the living room closet.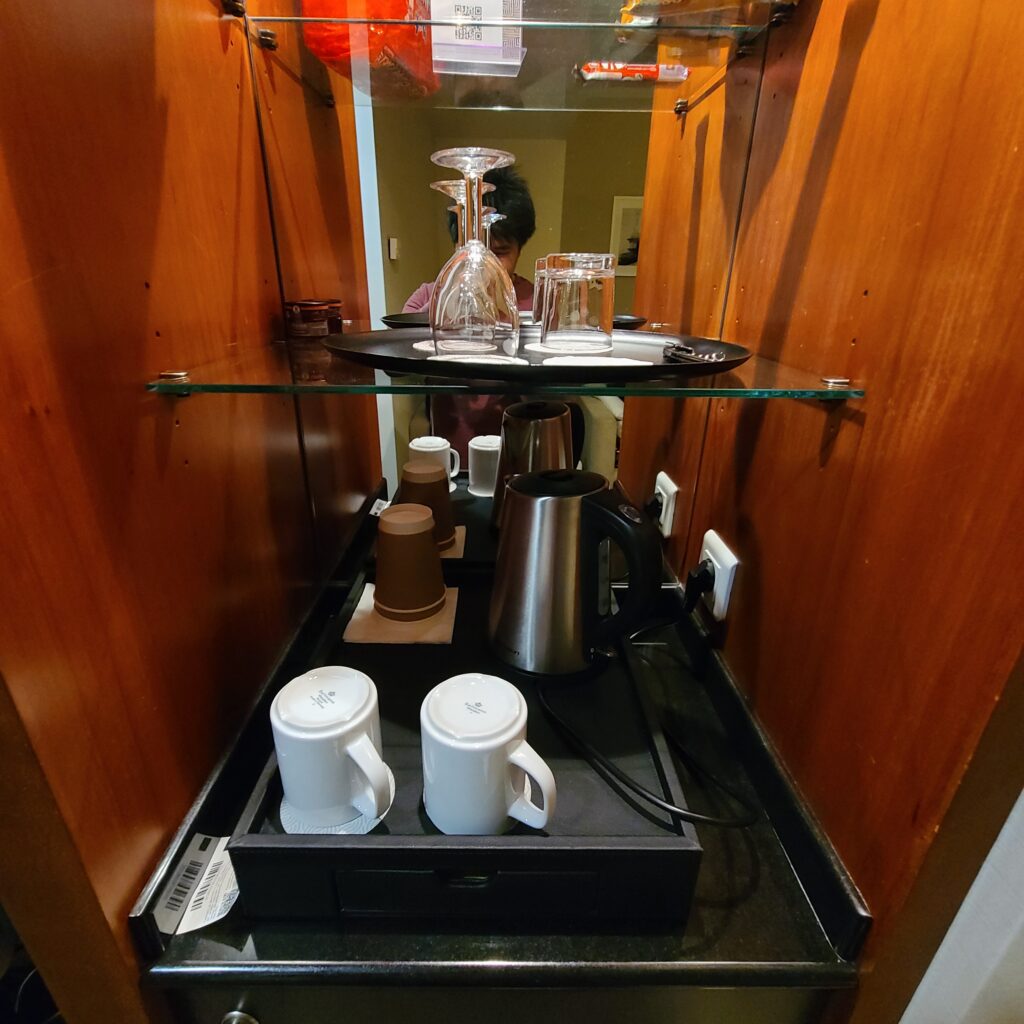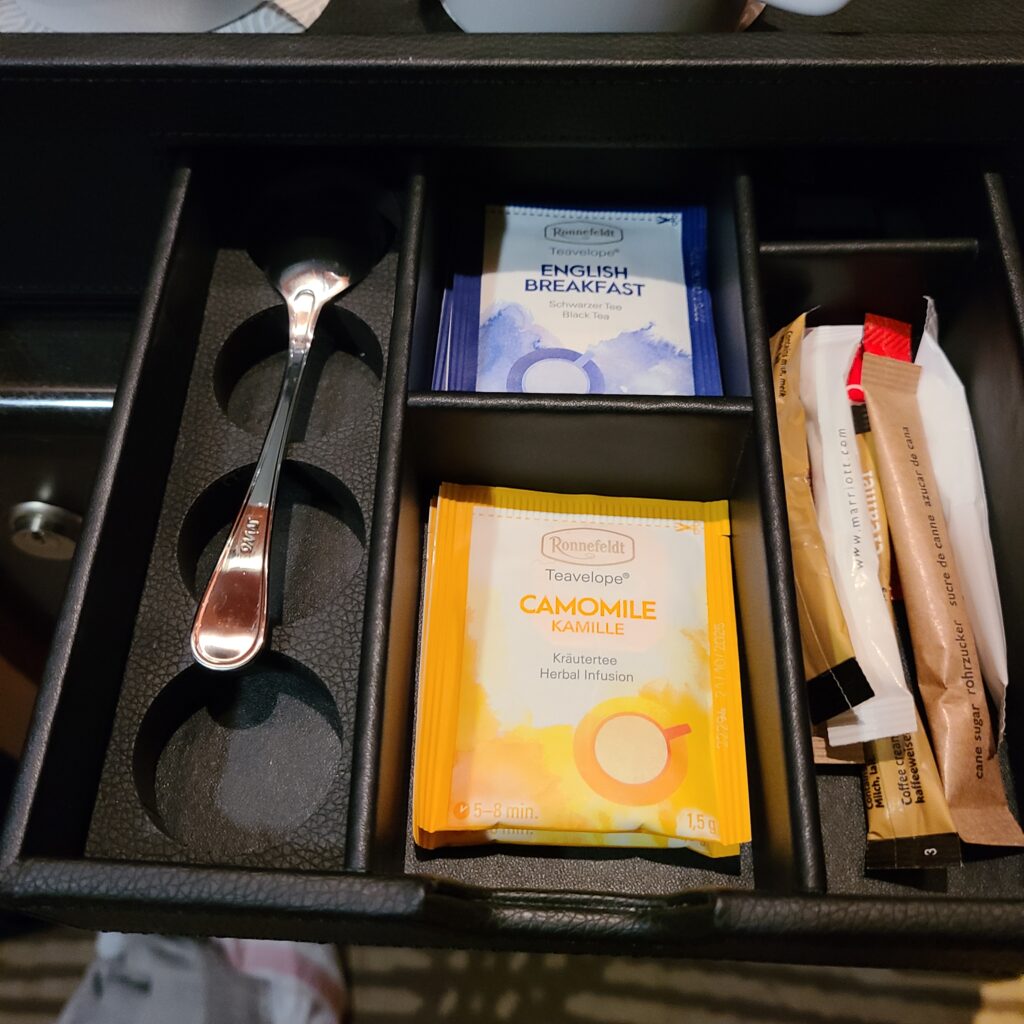 The minibar is underneath.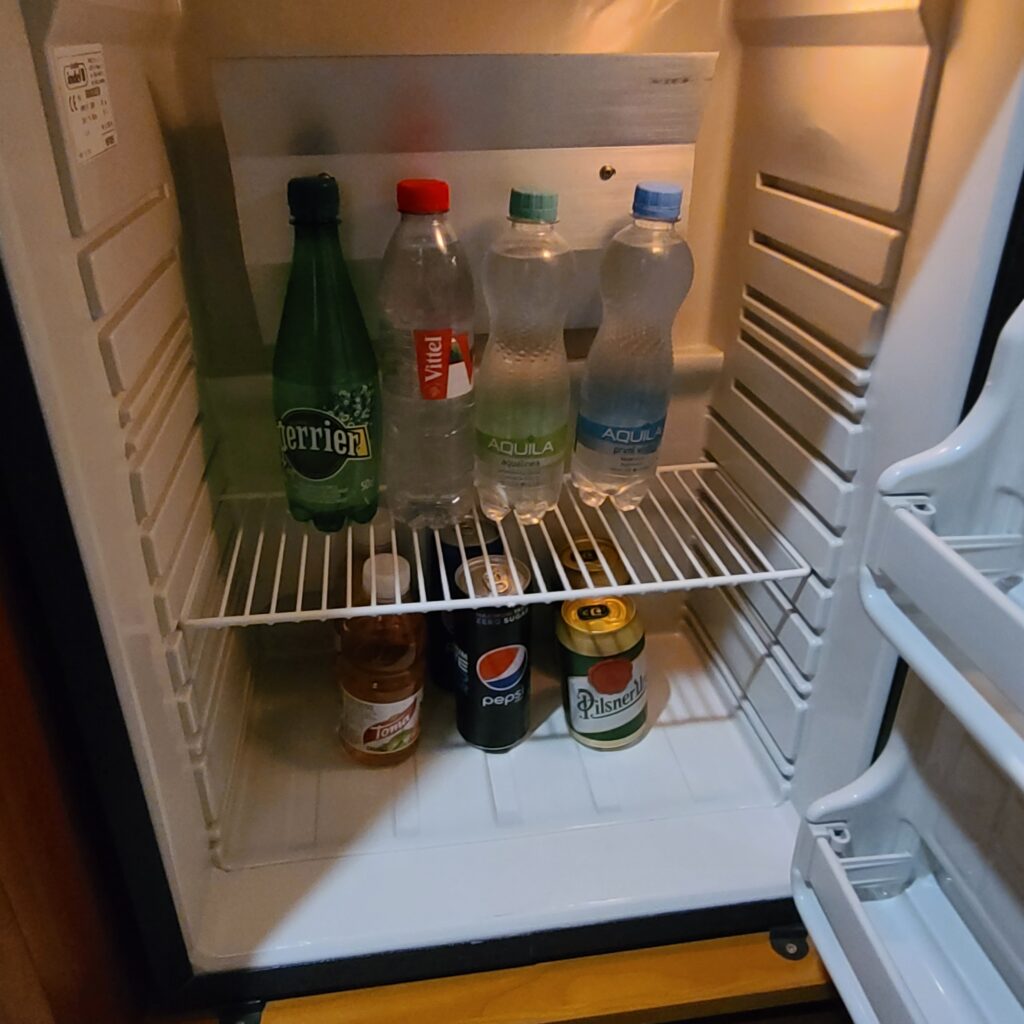 The next room is finally the master bedroom. The bed was on the firm side, my preference!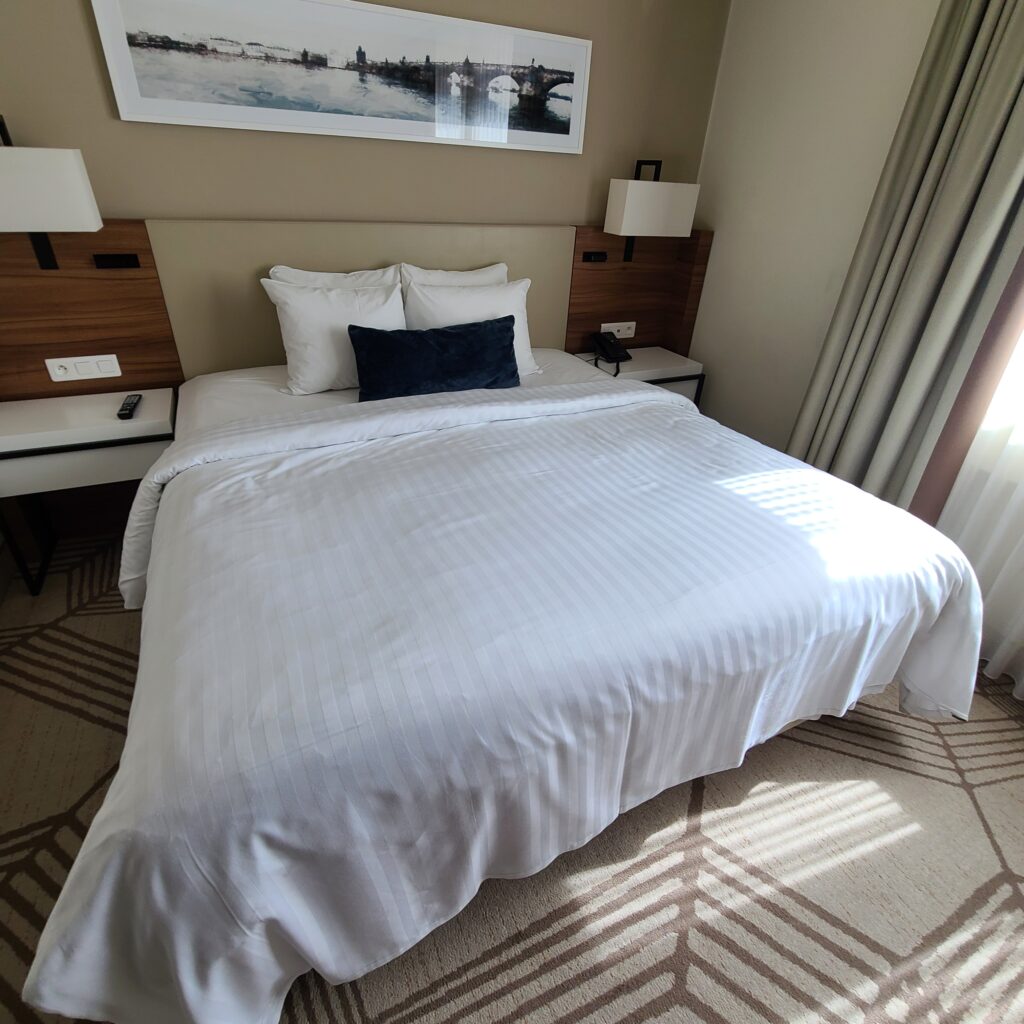 The closet in the master bedroom is where you can find the bathrobes. They actually provided 3 for us all!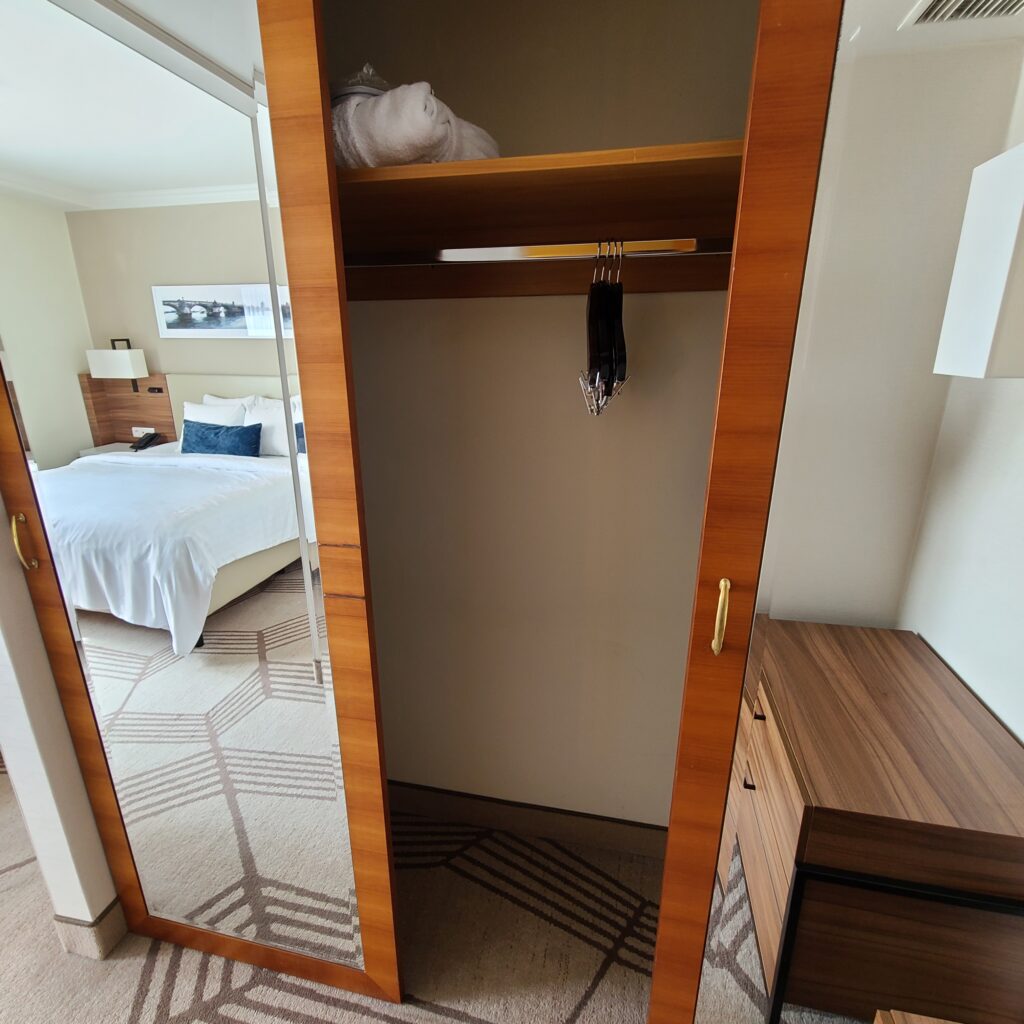 The view isn't anything to write home about.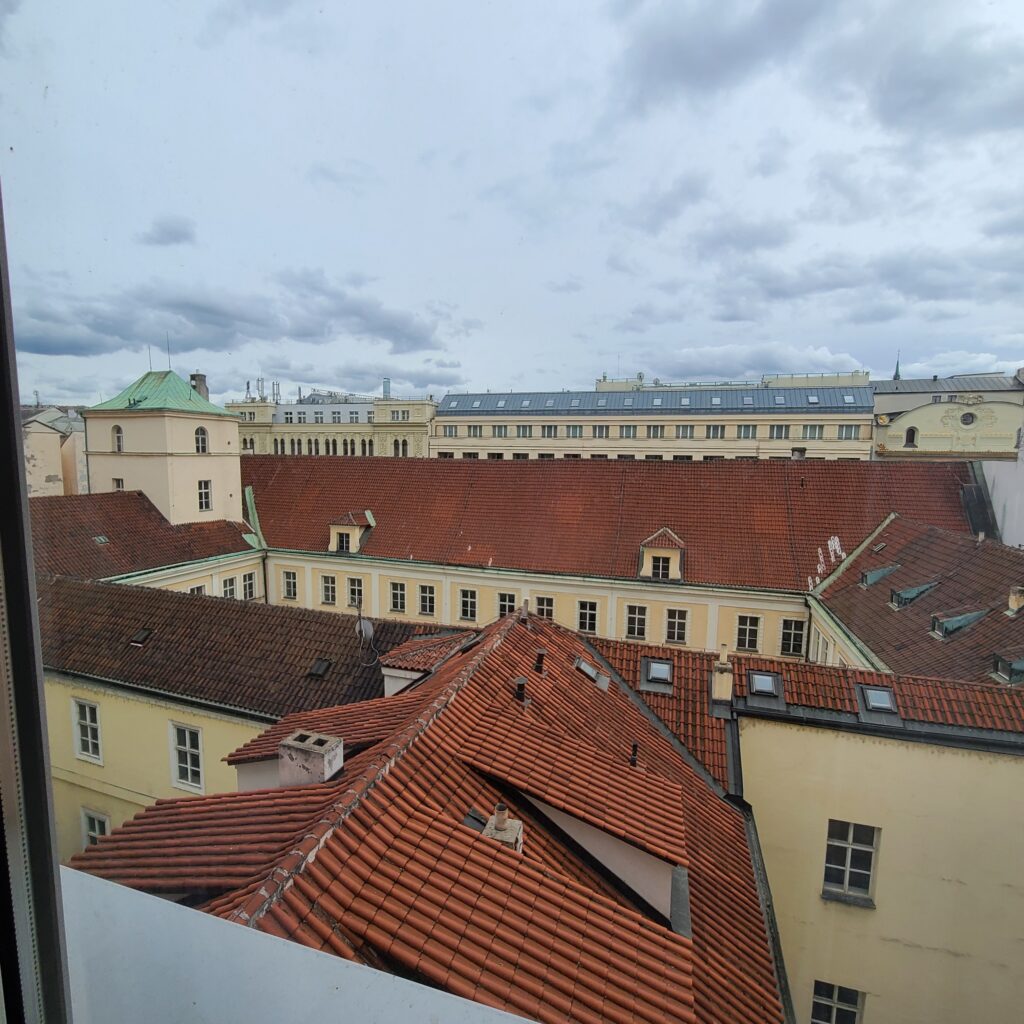 But at least this creature made a little jump scare out of me.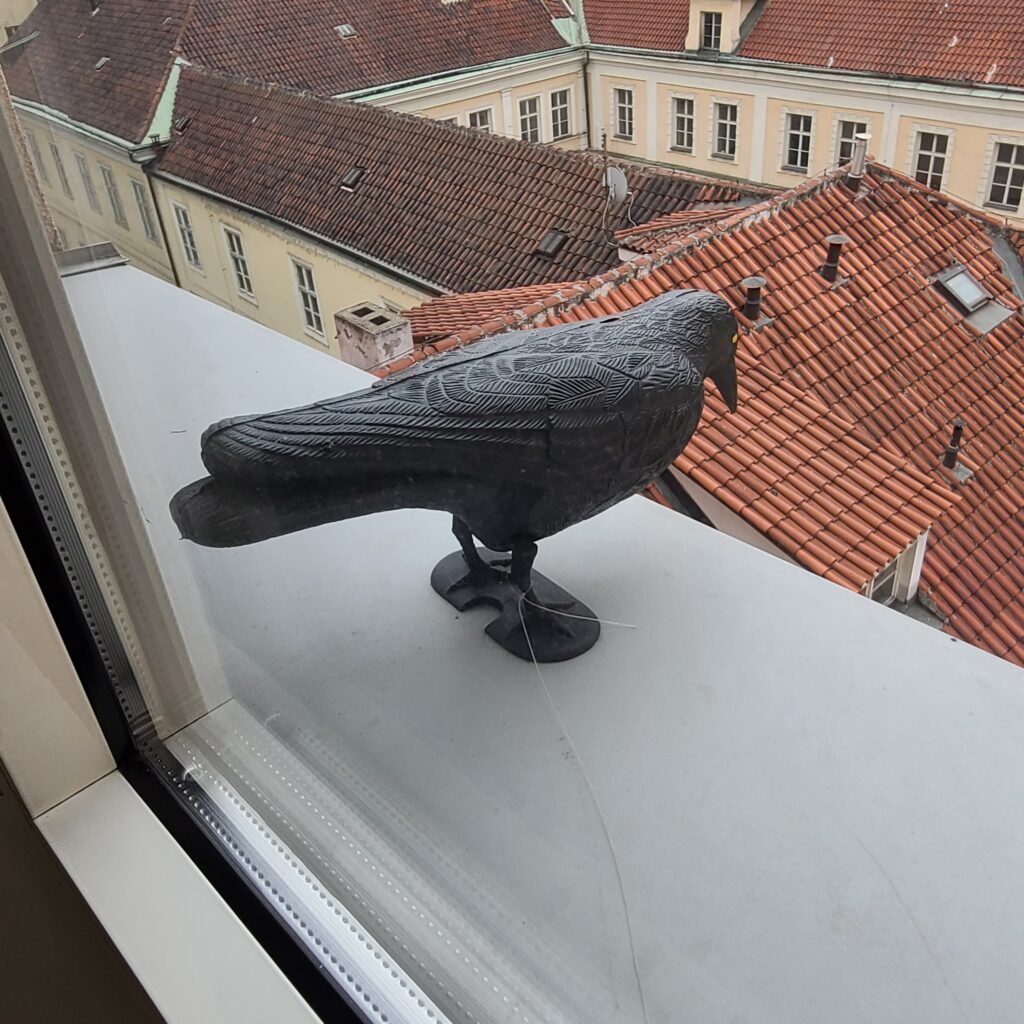 Prague Marriott Hotel Family Suite Bathroom
The Family Suite comes with 1.5 bathroom, with the half bathroom be at the right of the main entrance.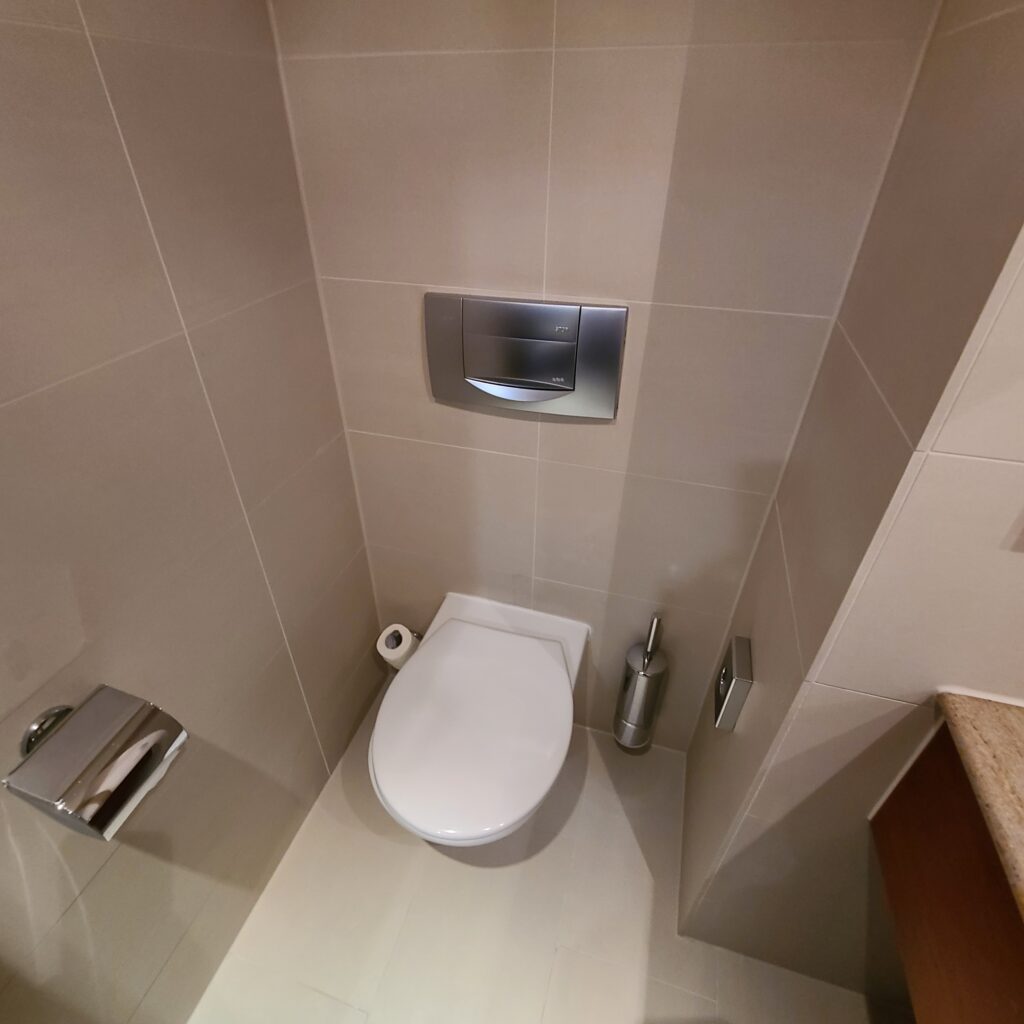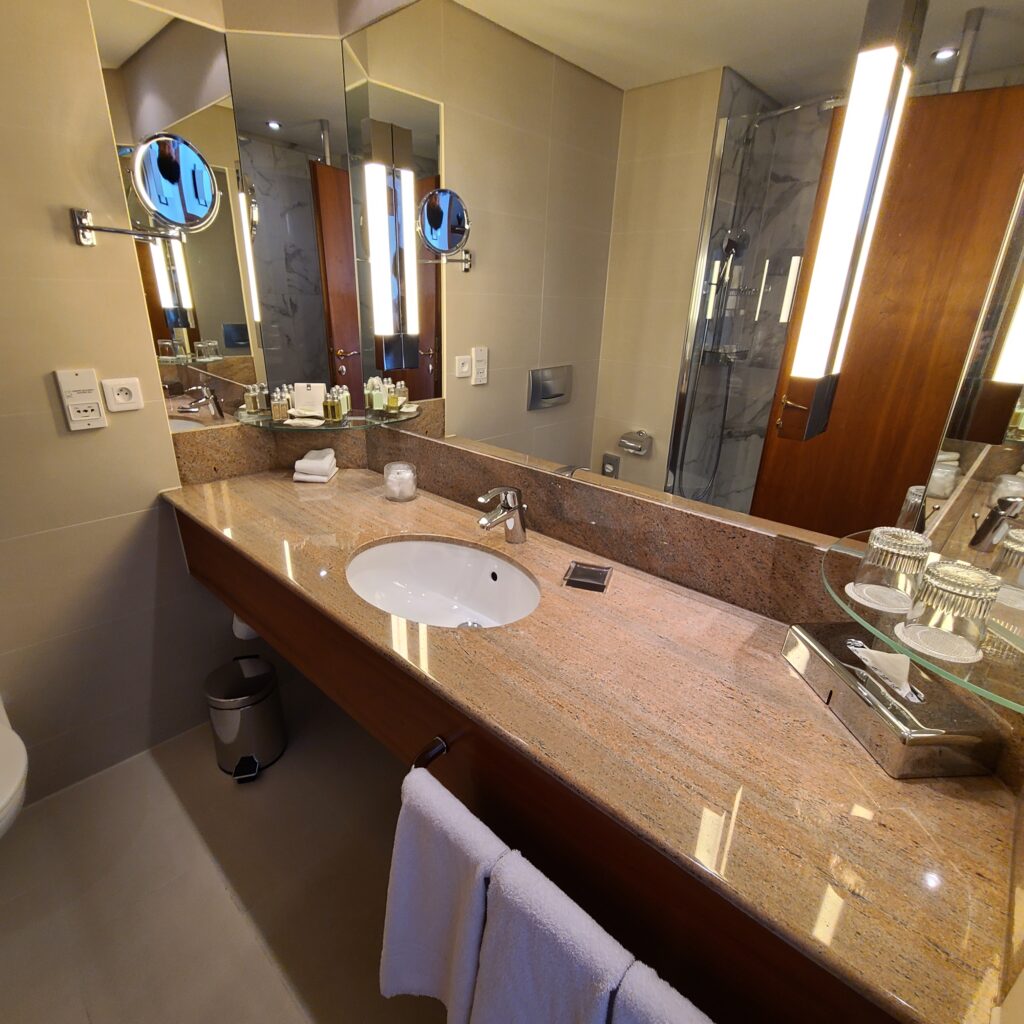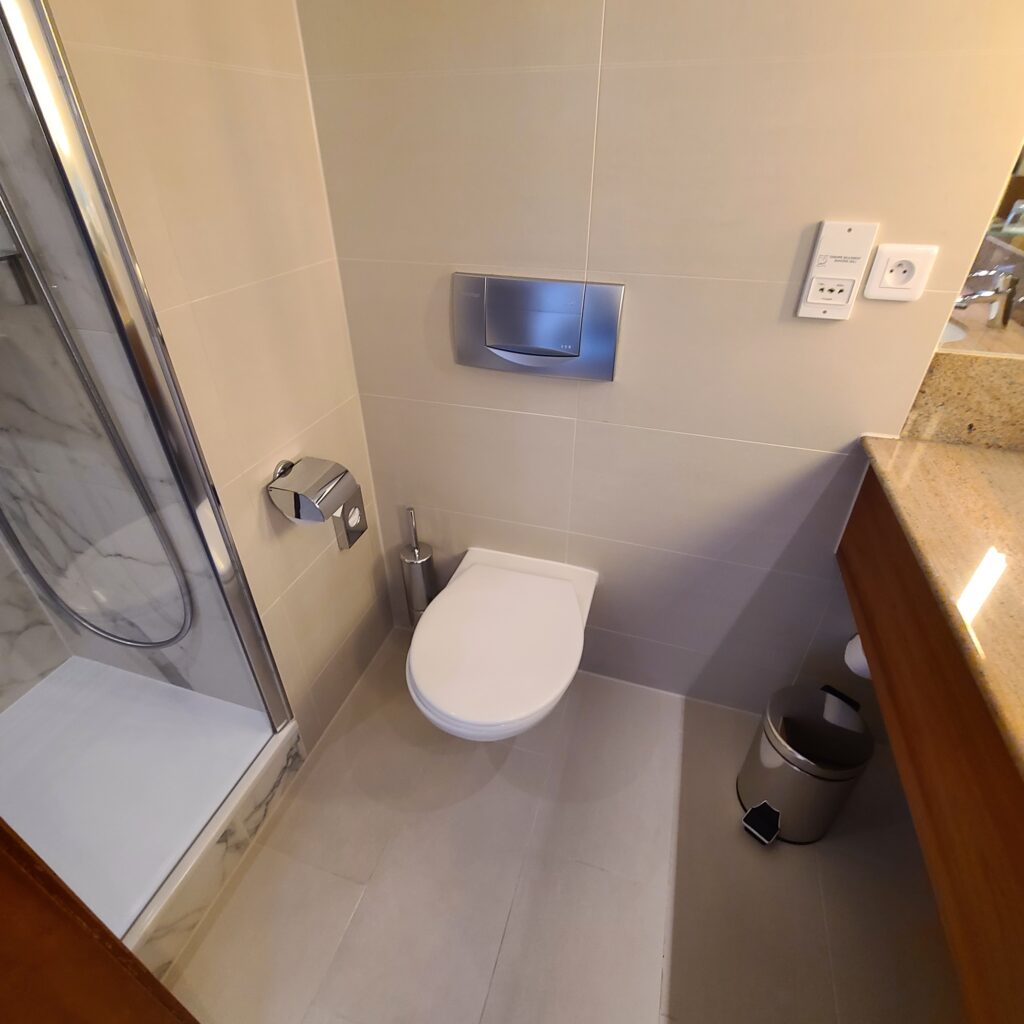 The shower was oddly narrow, especially with the awkward perpendicular small glass pane. It can be adjusted straight, though.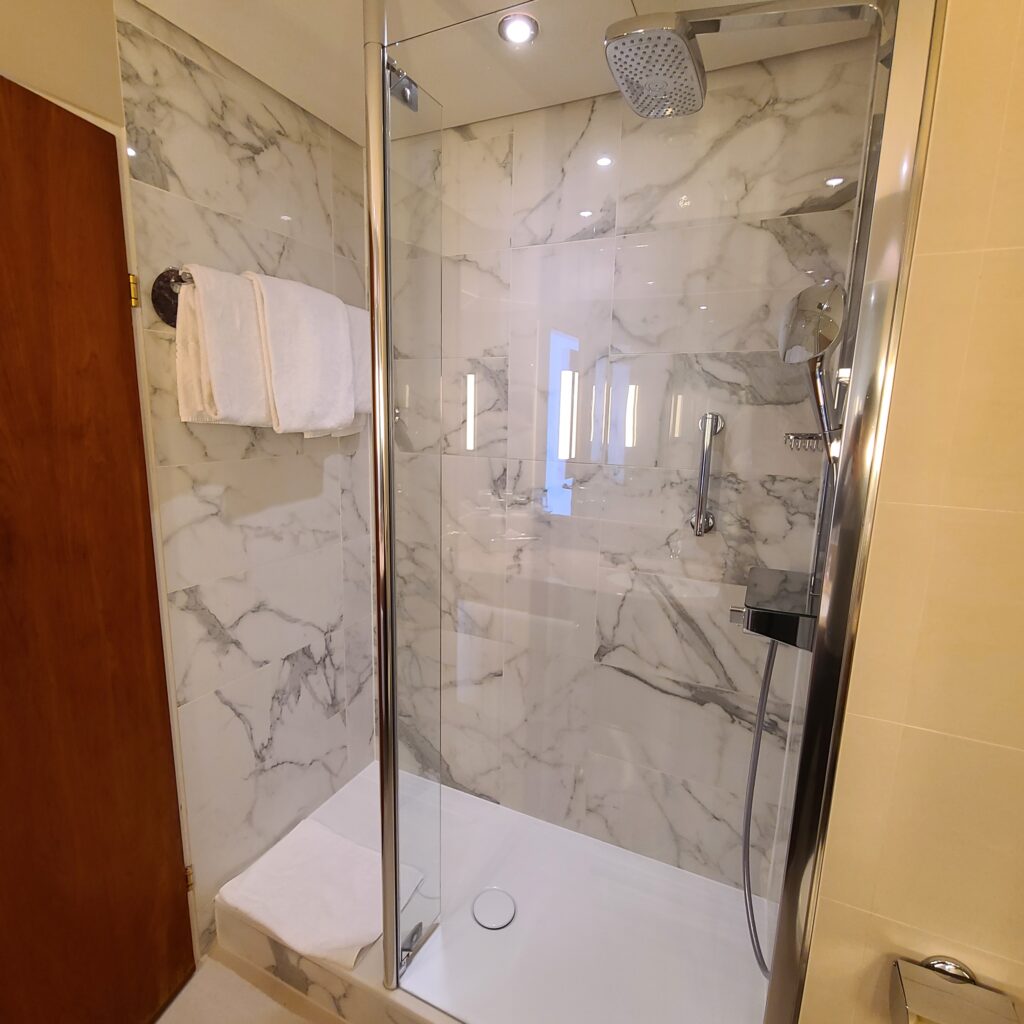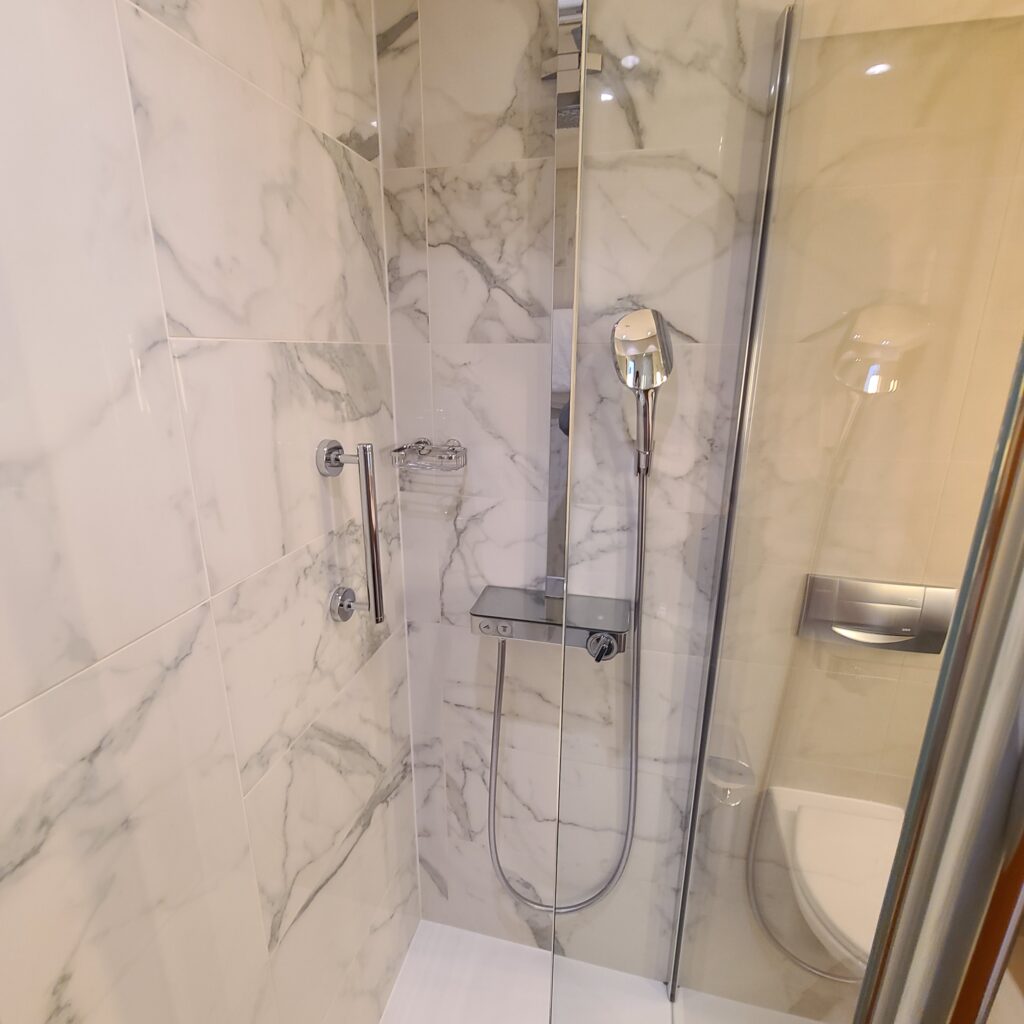 I was surprised with the L'Occitane toiletries switch from Acca Kappa. Last time I saw L'Occitane being used was in the St. Regis Astana in Kazakhstan. I believe Marriott hotels have recently switched to them, just like Ritz-Carlton transitioning from Asprey Purple Water to Diptyque Philosykos.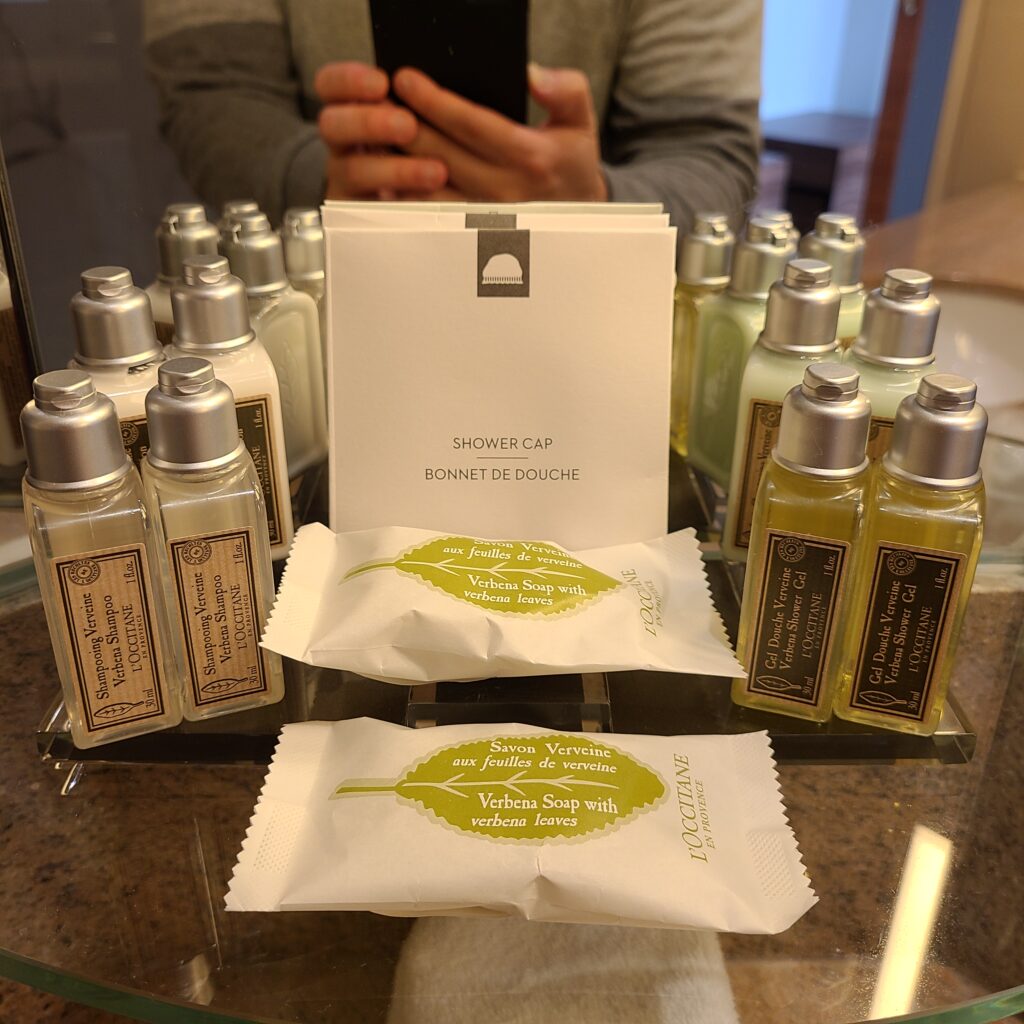 A good suite overall that lets the three of us rest comfortably. Although the bathroom feels dated, especially with the vanities. The L'Occitane toiletries were surely upgrades compared to the former Acca Kappa. One downside is the lack of dental kits, however, though I don't think those relate to Acca Kappa.
Some rooms at this hotel are recently renovated as well, but not all rooms. I believe the Club Suites are renovated, but the Family Suites have yet been renovated.
Prague Marriott Hotel- Executive Lounge (M Club)
Thankfully, me and my parents have access to the Executive Lounge (M Club) 24/7. The lounge is located on the lobby floor just behind The Artisan restaurant.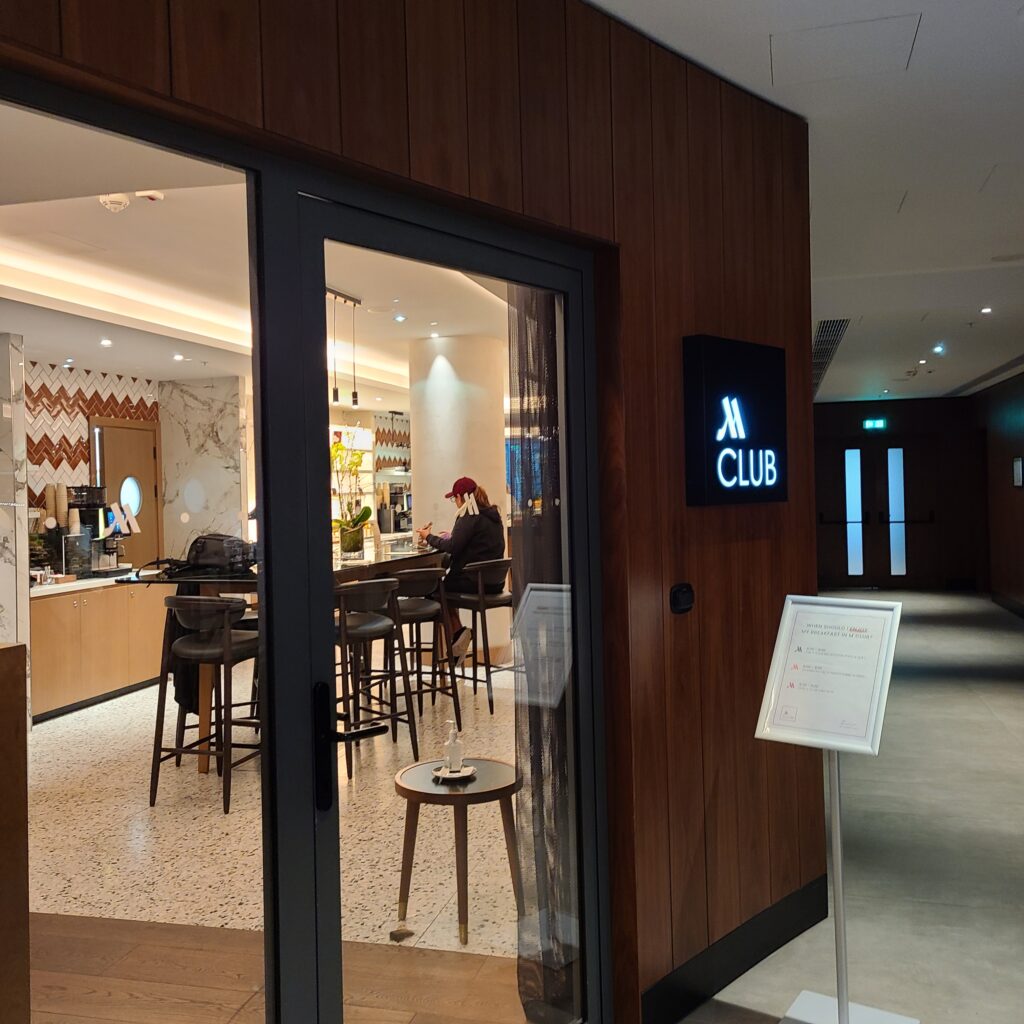 The lounge's offerings go as follows:
Breakfast 6:30am-11am
Soup of the Day 12pm-2pm
Evening hors d'oeuvres 5:30pm-7:30pm; alcohol served 5:30pm-9:30pm
I checked out what it was like at around 3am while suffering from jet lag. Seatings are plenty, but more of them are on the dining side.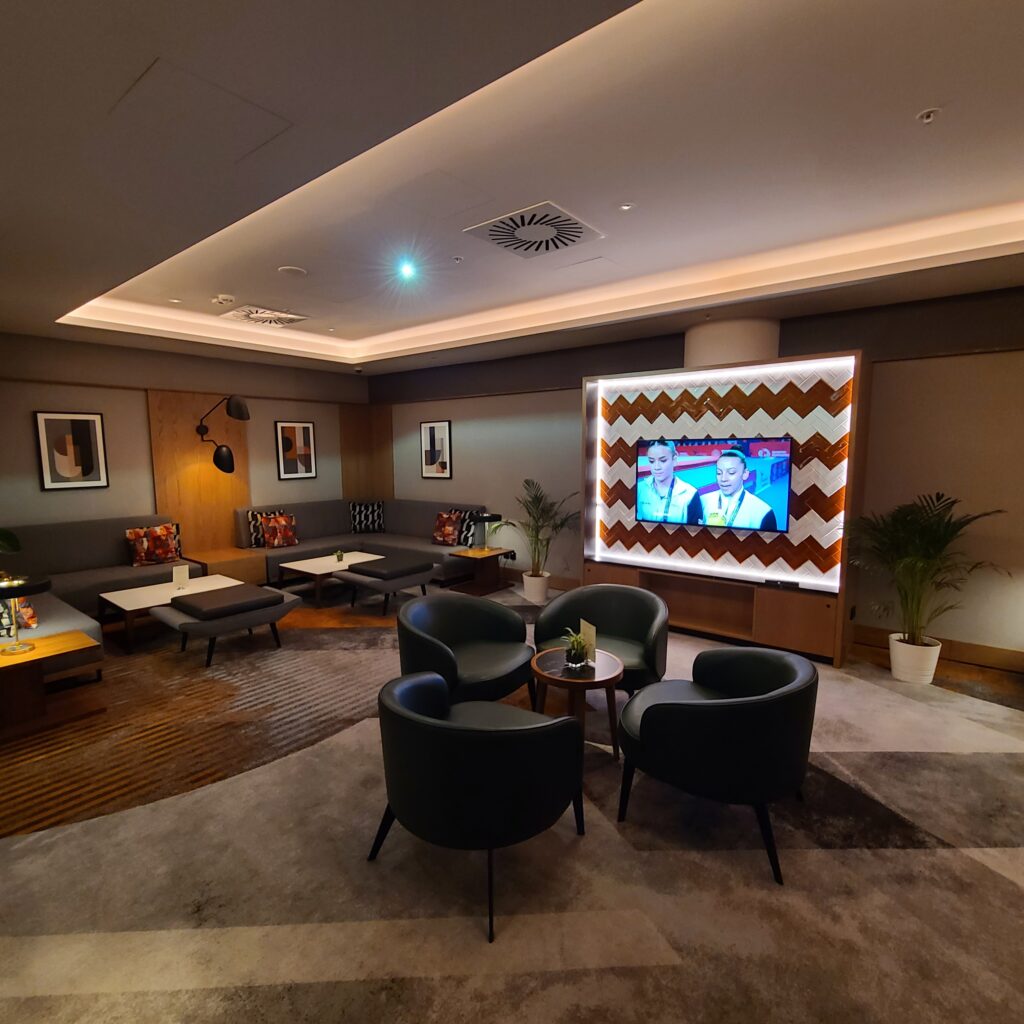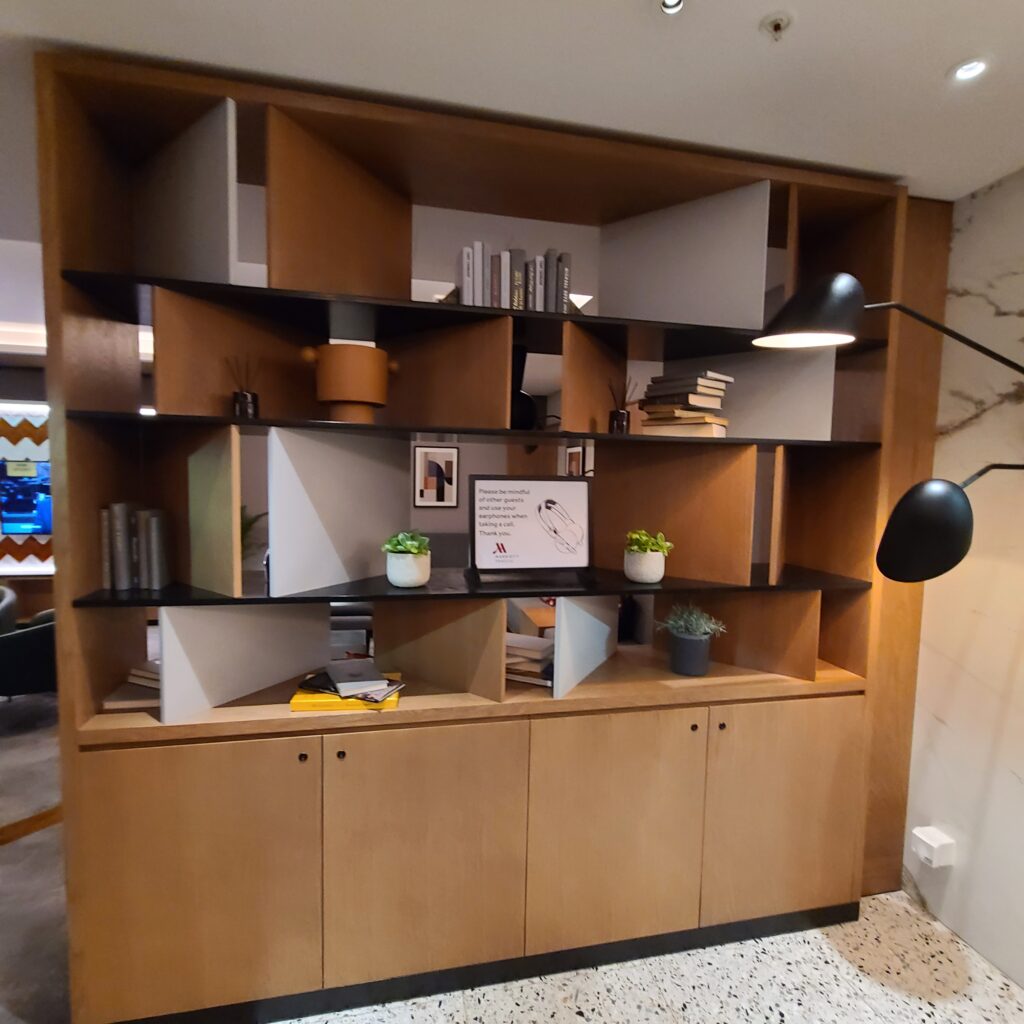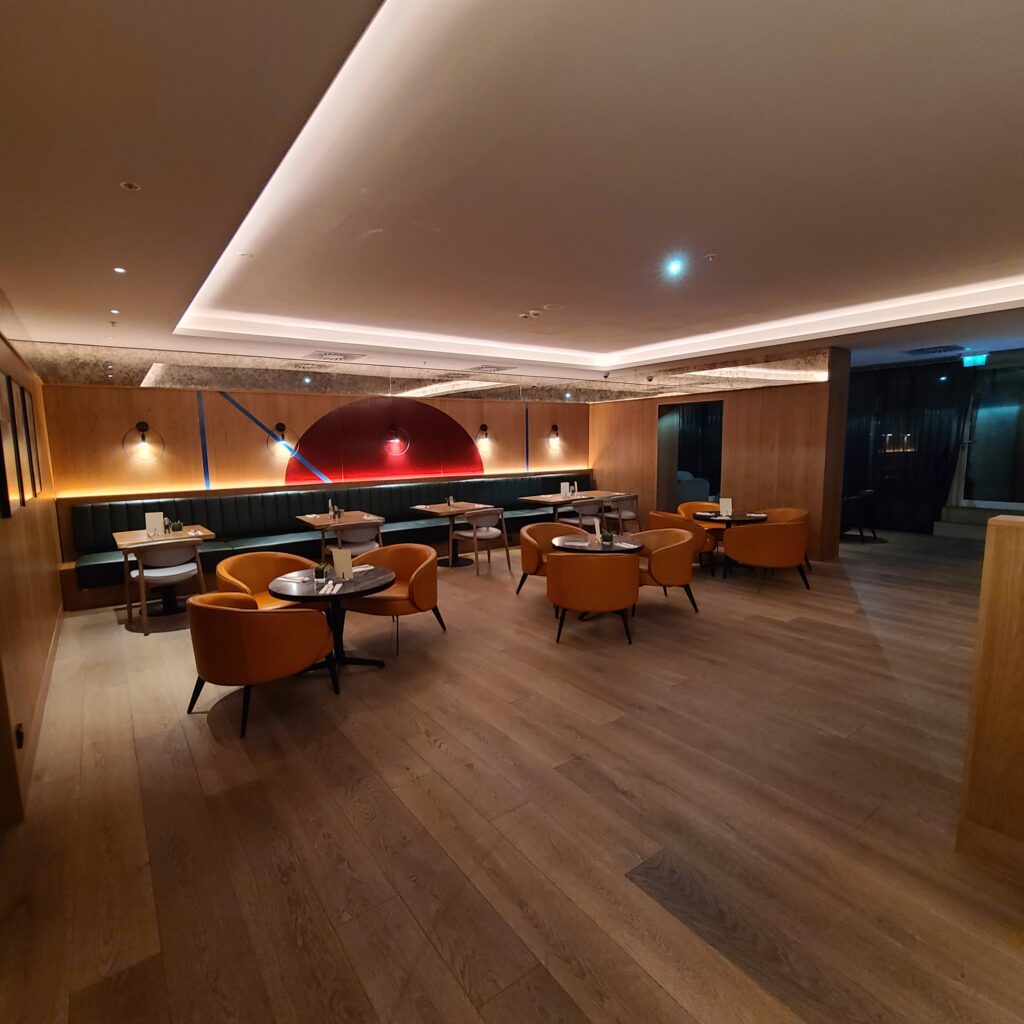 The lounge has a computer room where you could print stuff just next to this seating area below. I used it to print Ryanair boarding passes that I forgot to print (oops).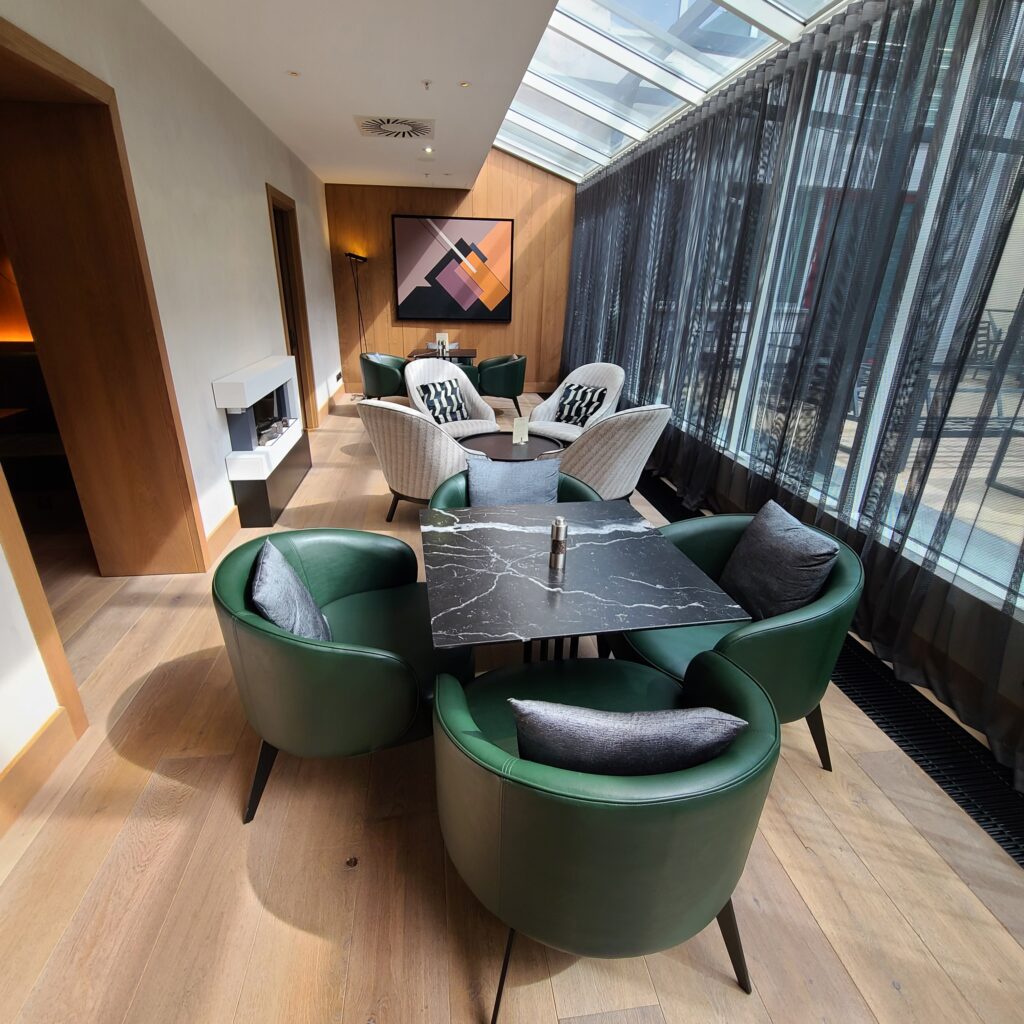 There's also an outside terrace, but it was raining during most of my stays, so nobody used it.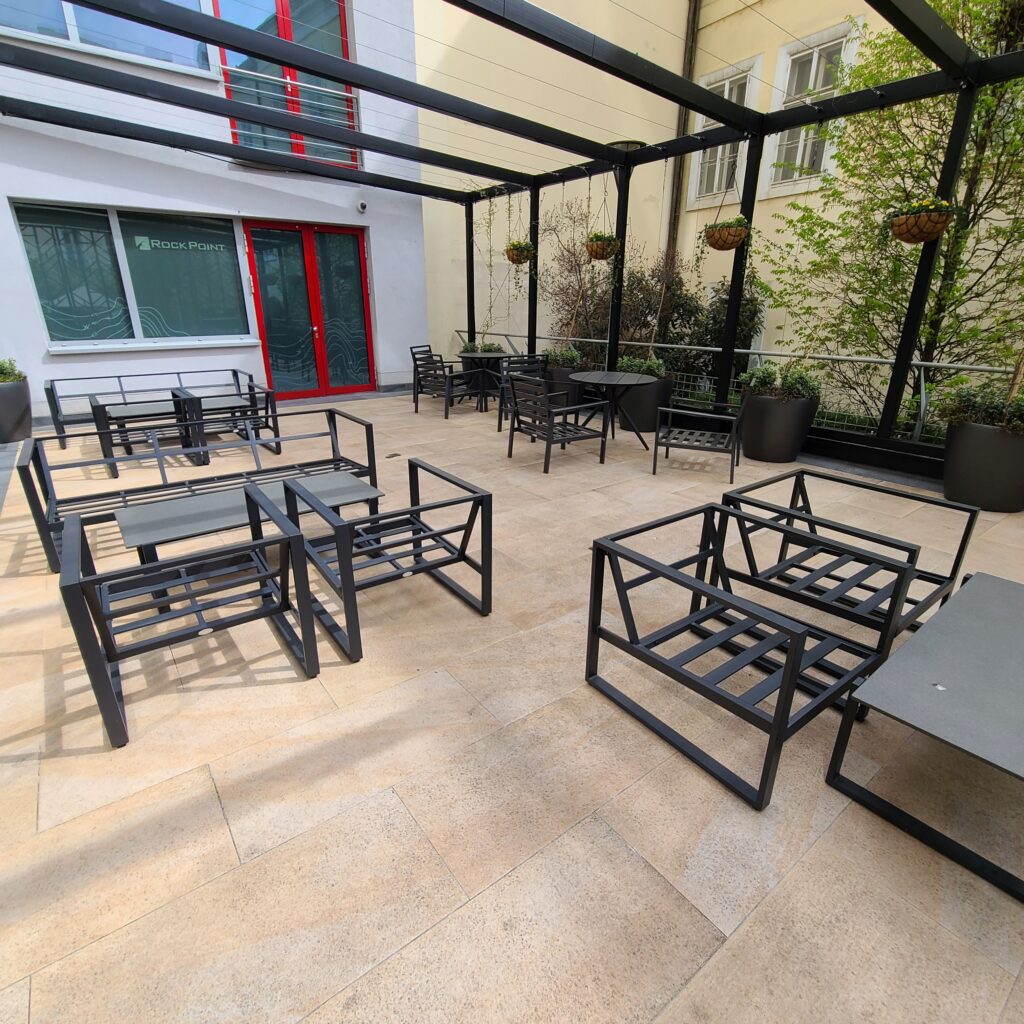 Non-alcoholic drinks can be taken at any time of the day.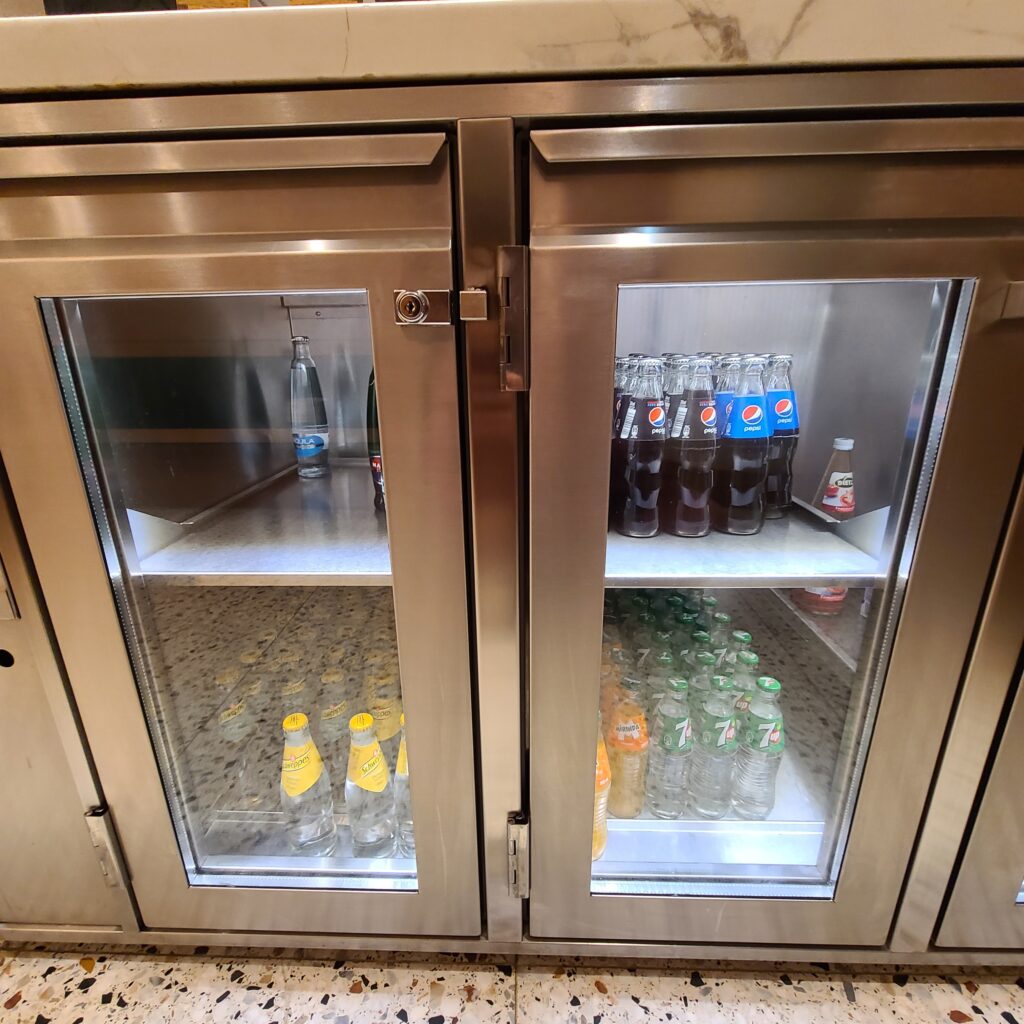 Coolers containing alcohol are locked outside of serving hours.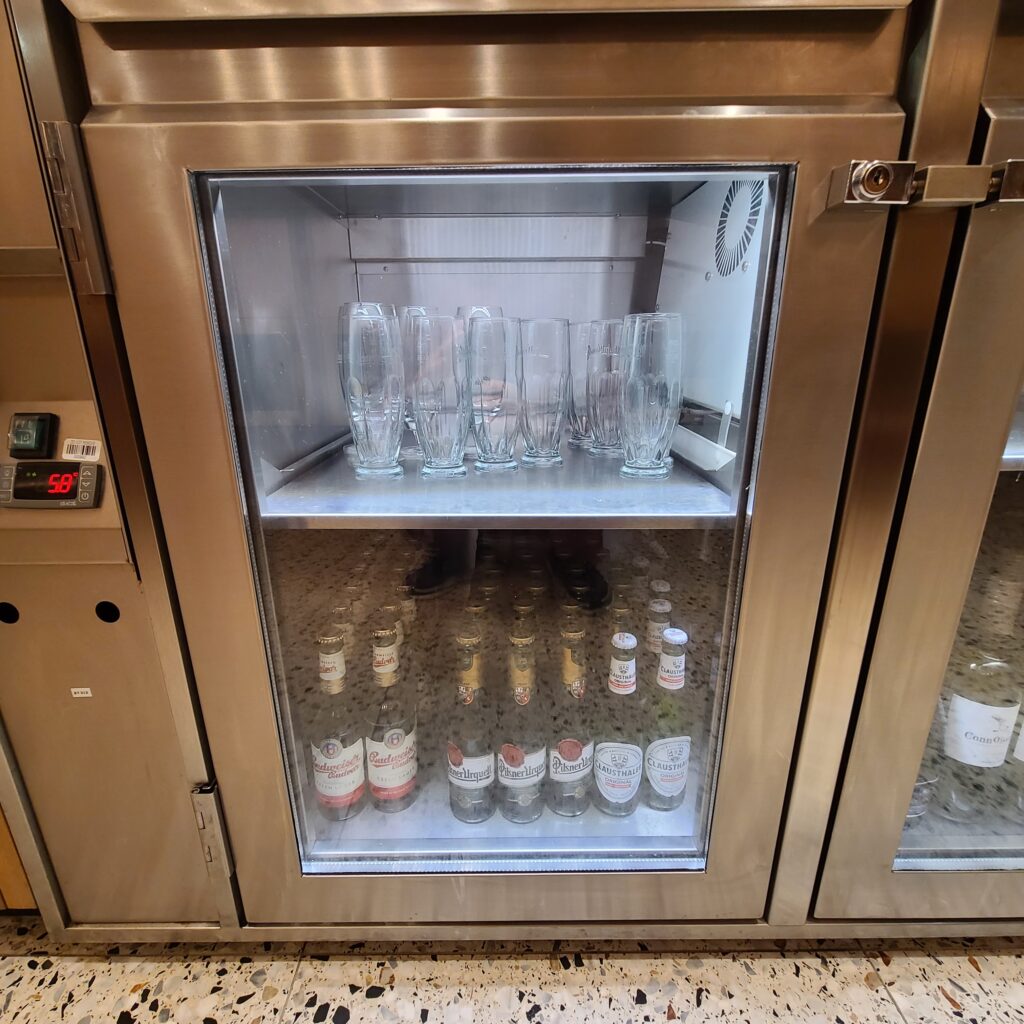 Prague Marriott Hotel Executive Lounge Breakfast
Breakfast spread had decent variety and I enjoyed lots of them! It runs from 6:30am to 11:am. The earlier you get there, the less crowded the lounge gets!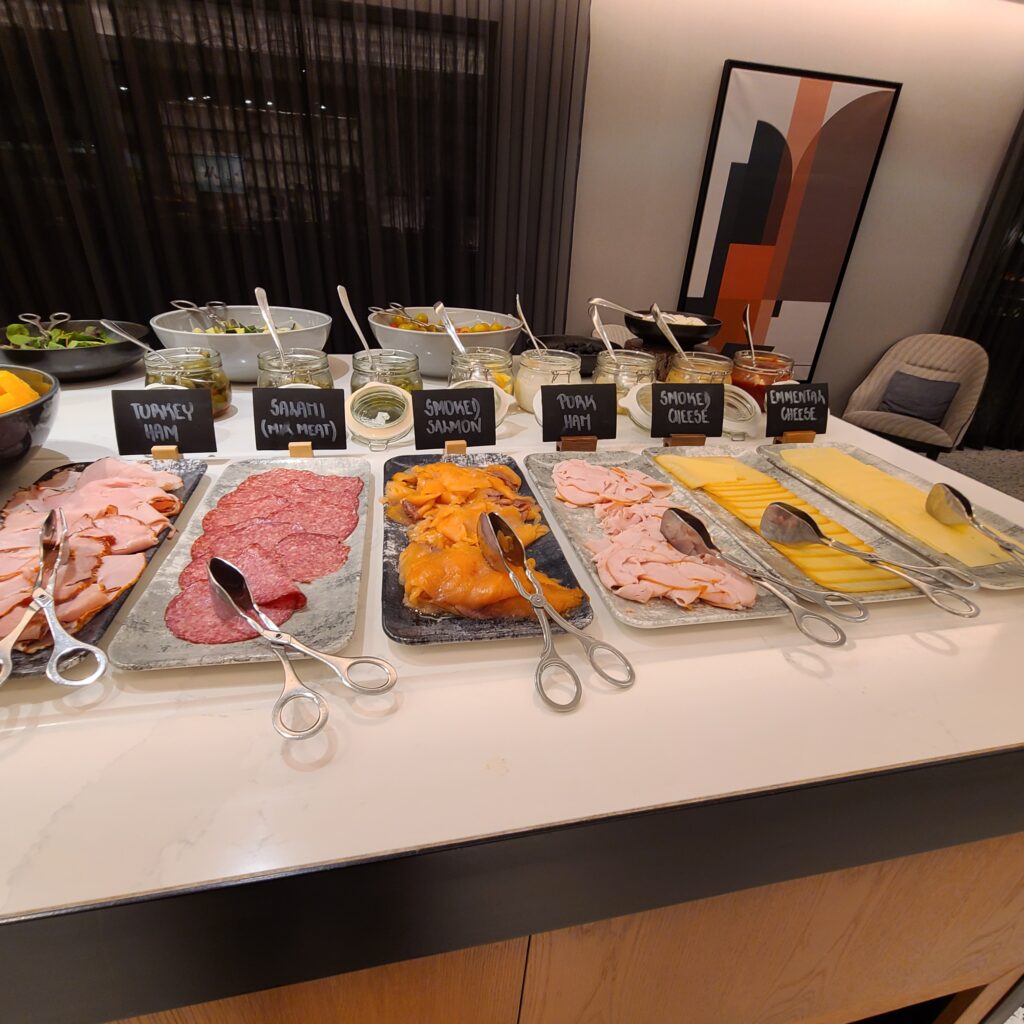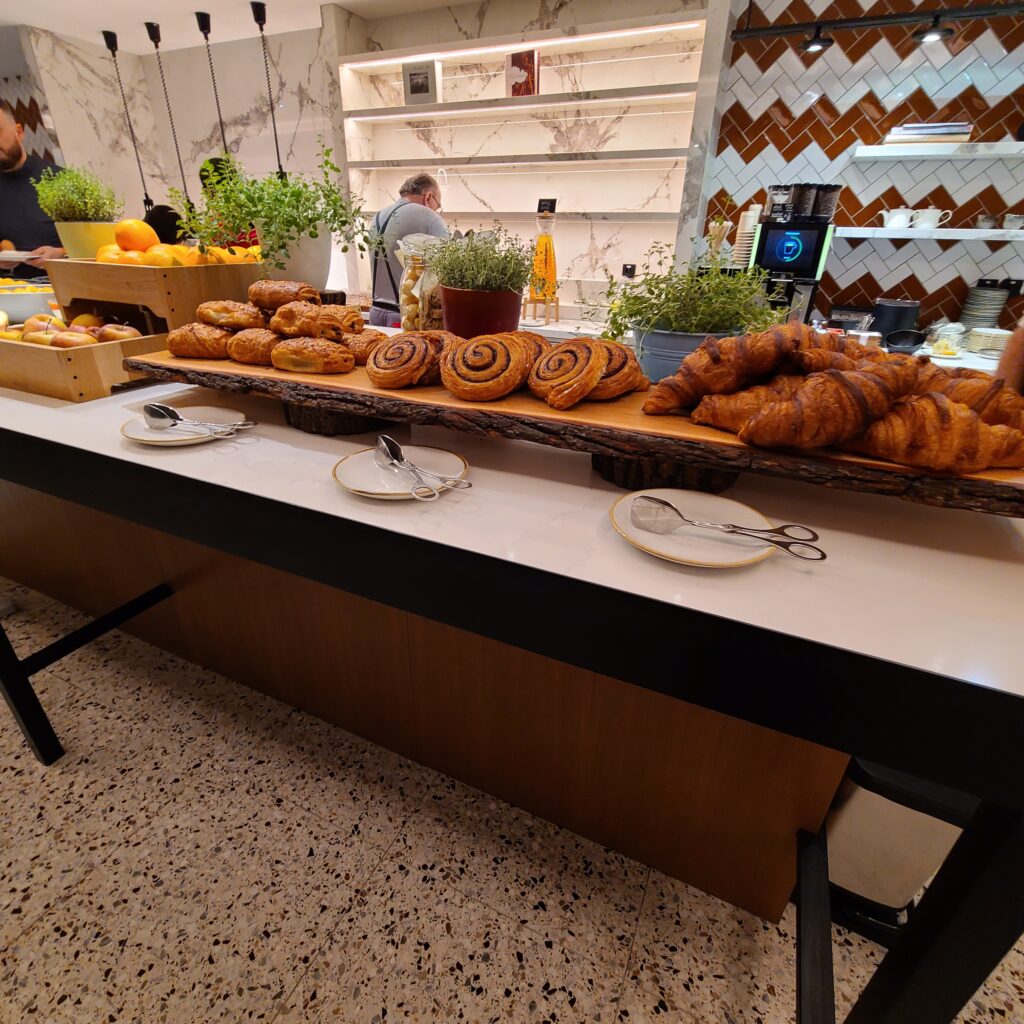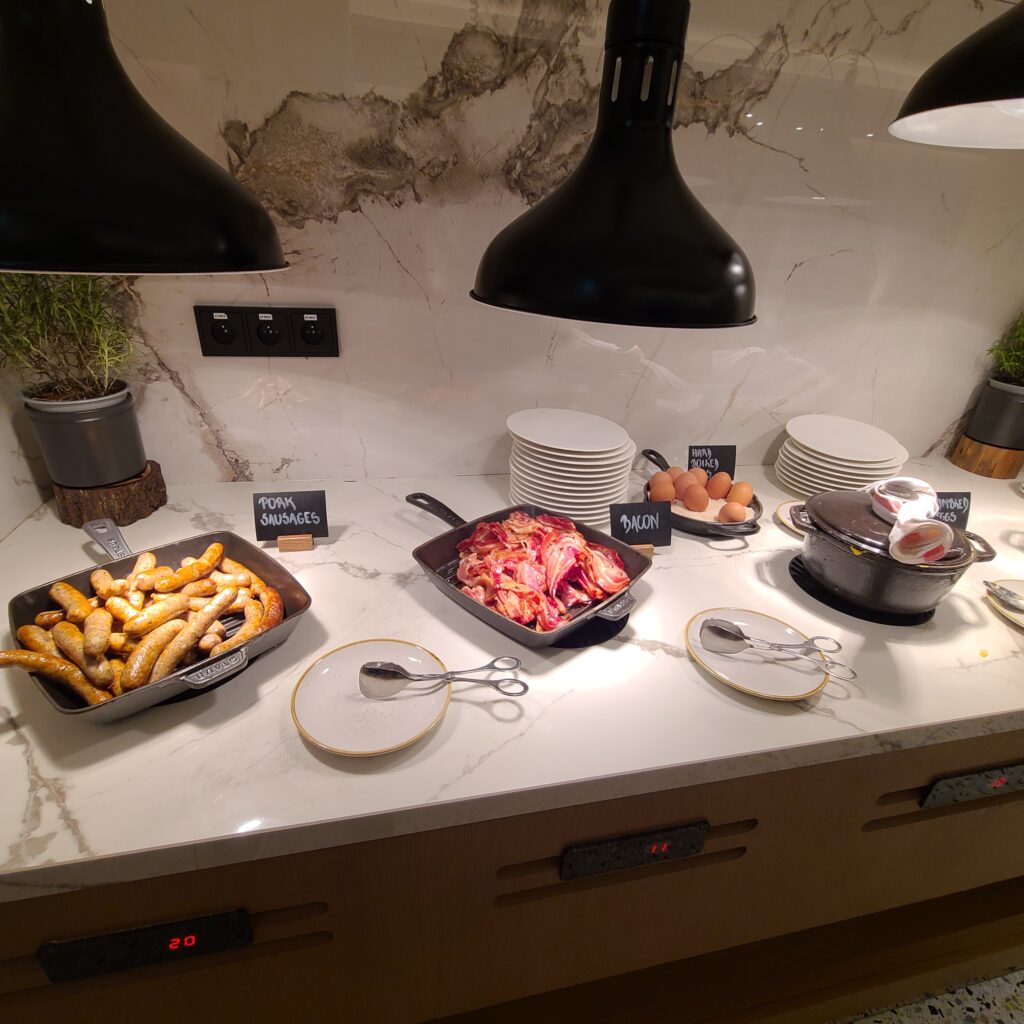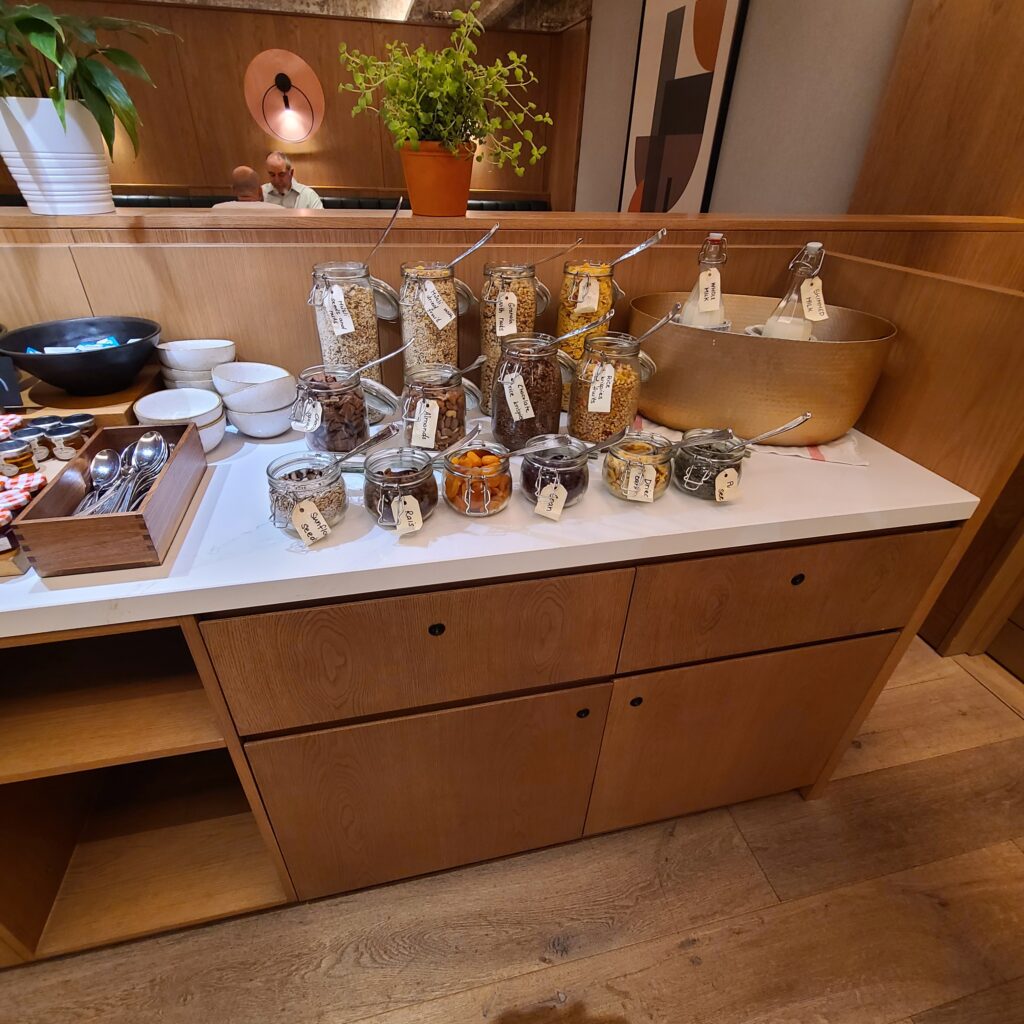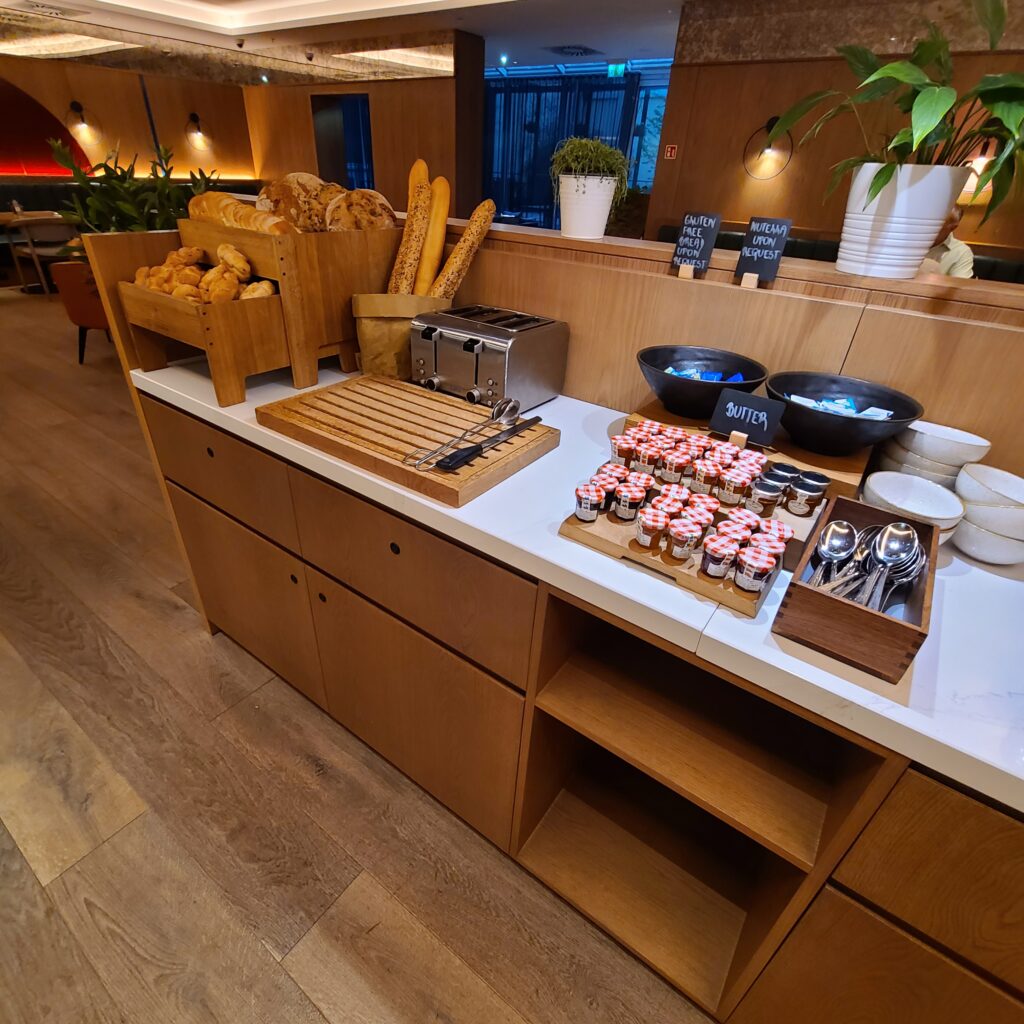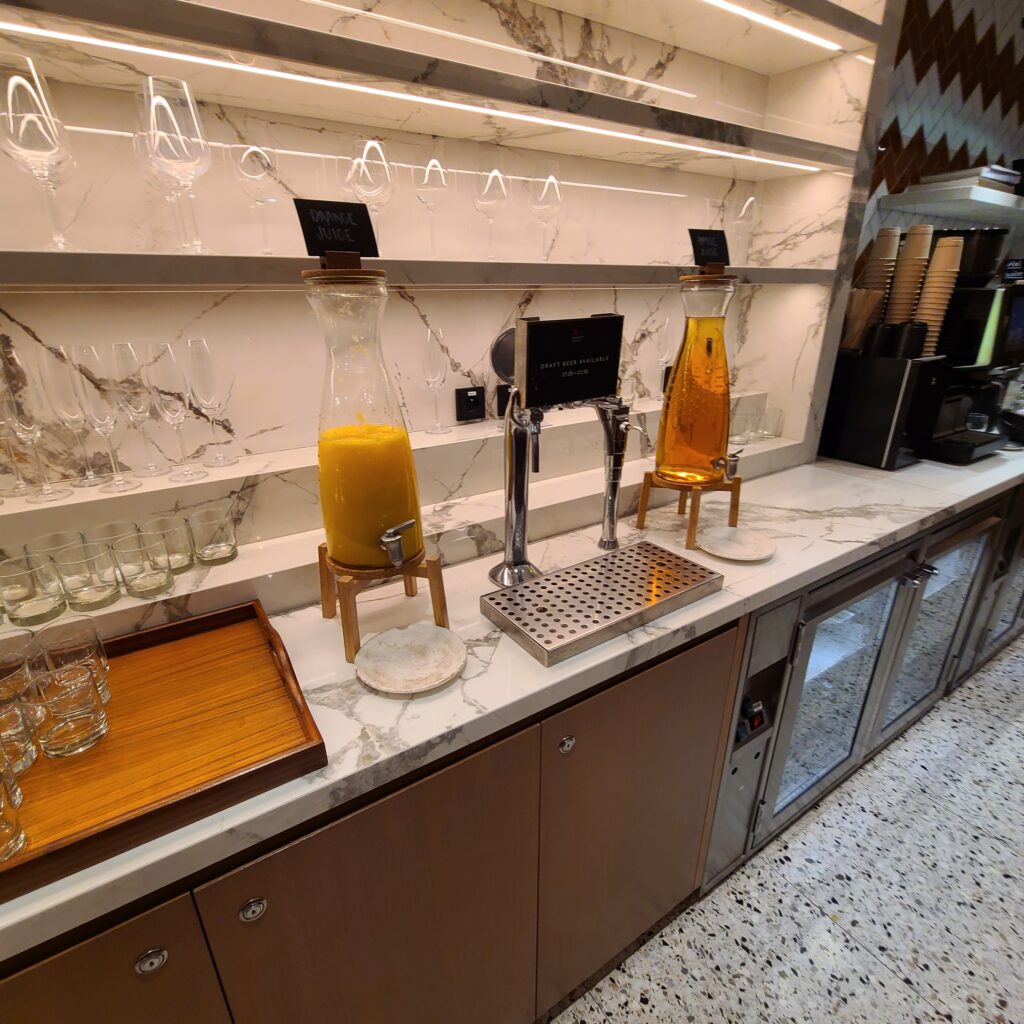 You can order up egg dishes as well (sorry for the blurry photo).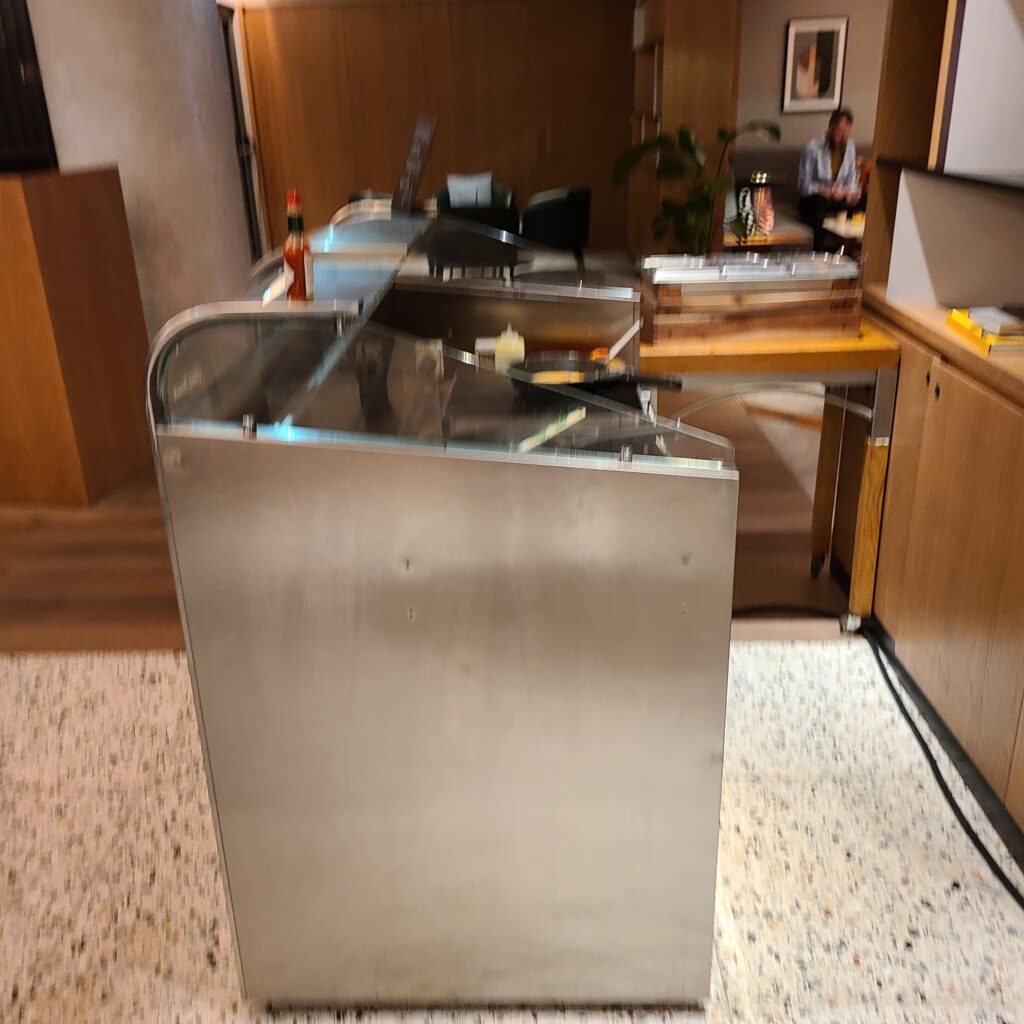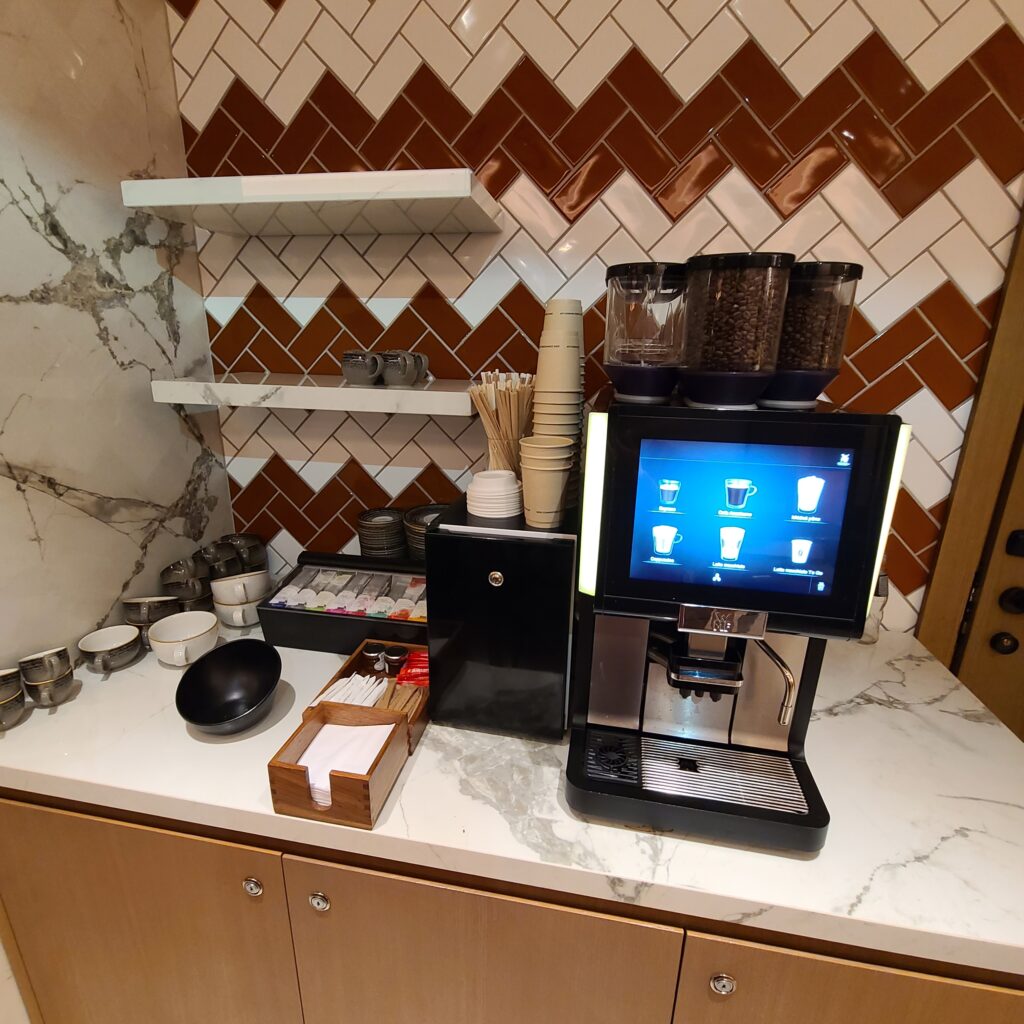 Prague Marriott Hotel Executive Lounge Evening Snacks
Evening snacks are offered at 5:30pm-7:30pm, but alcohol is extended to 9:30pm. Honestly, these snacks could pass as dinner if you'd like.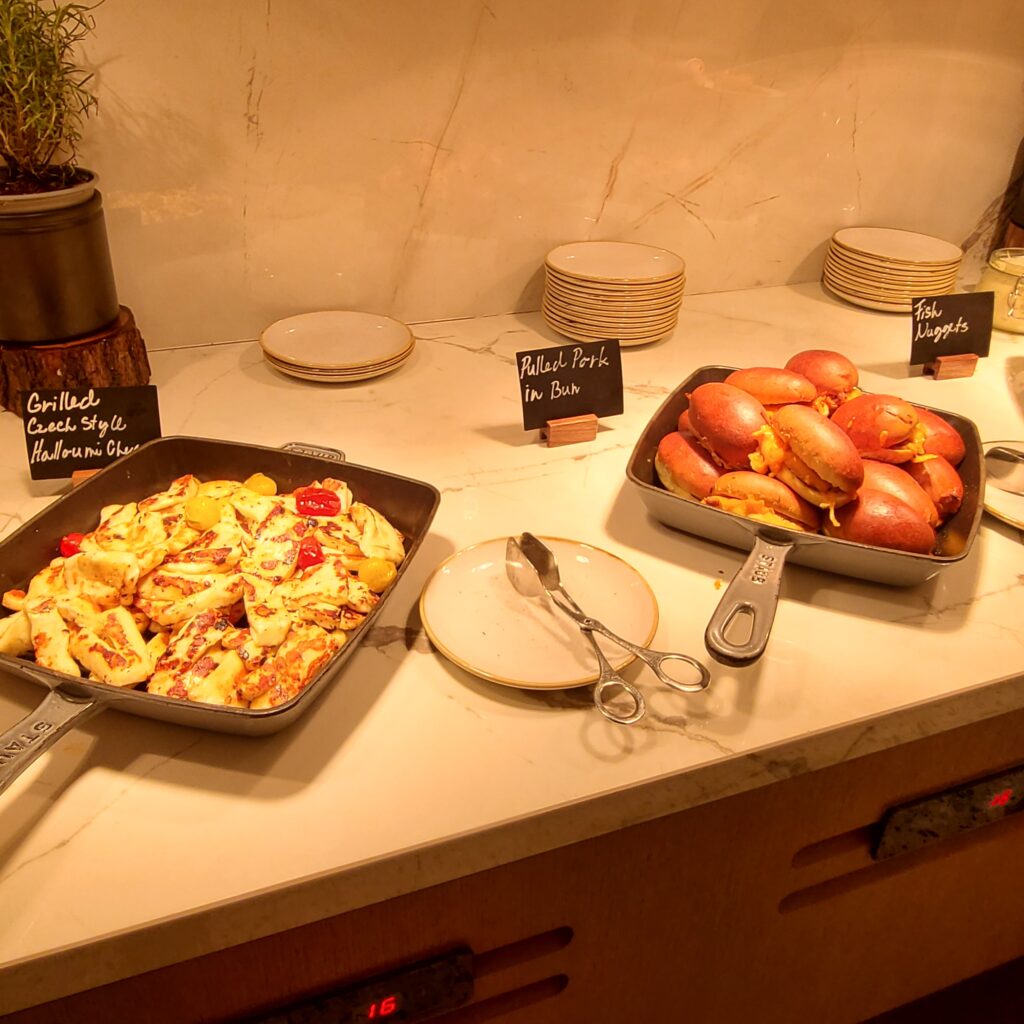 The draft beer tap was quite popular as I've seen many guests indulged.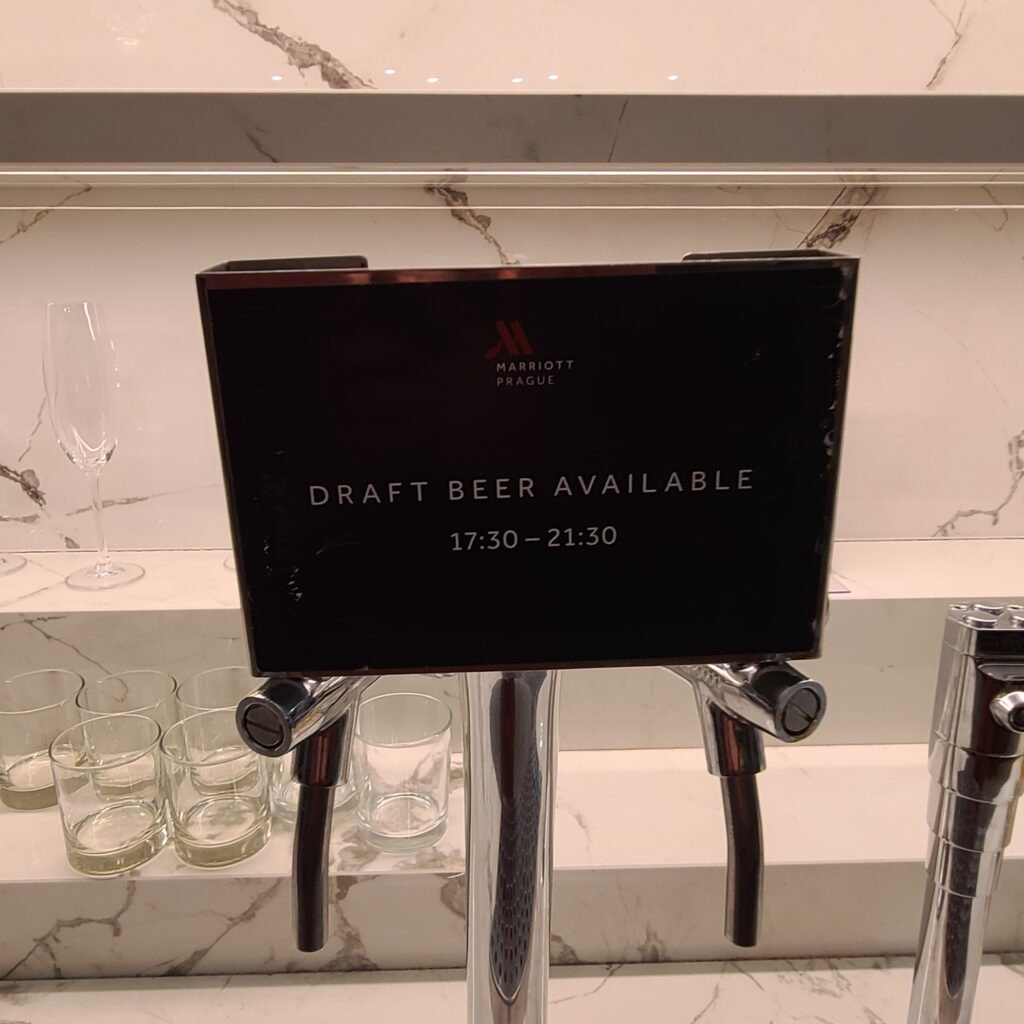 You could also just choose to grab a bottle too. Pilsner Urquell is a Czech specialty, and it was great for a lightweight like me!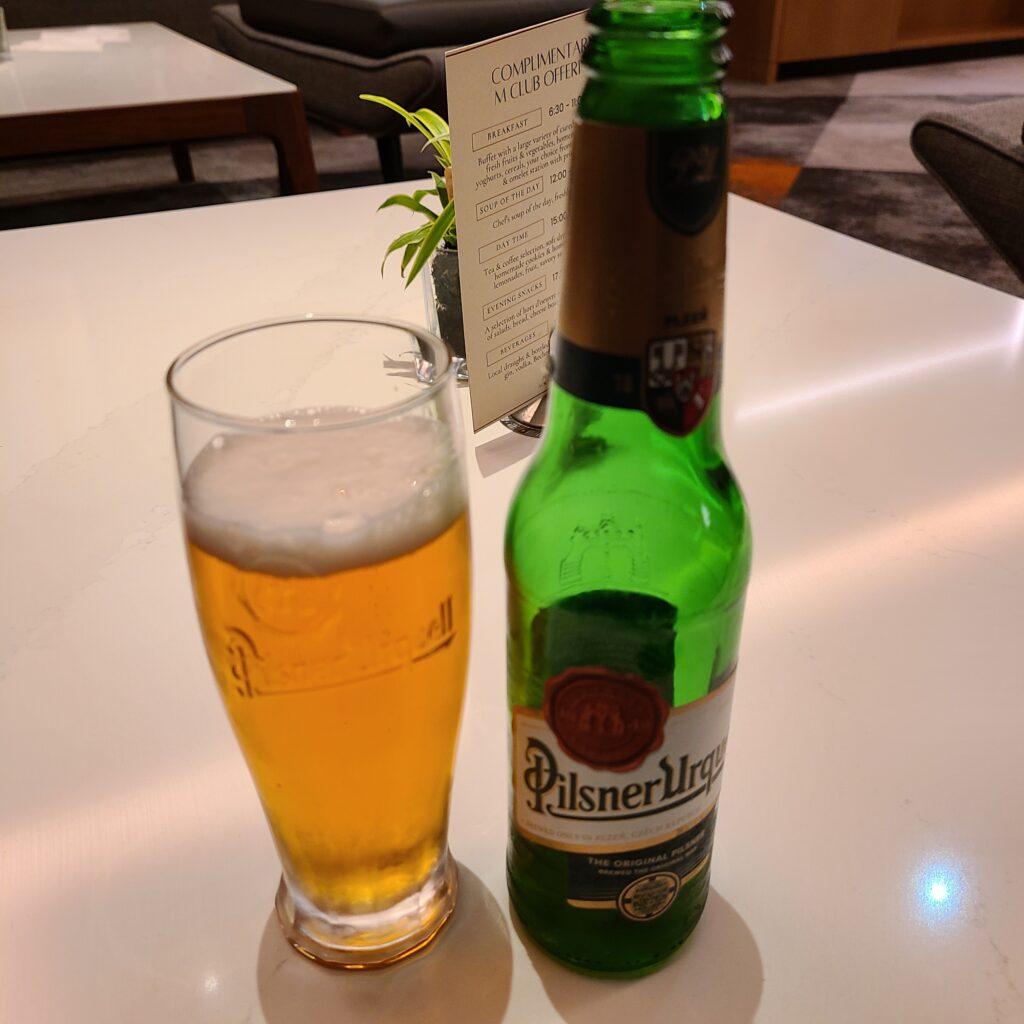 Great lounge offerings overall, and I'm glad that all 3 of us were able to get complimentary access. I also got the impression that there were lax attitudes on who gets in the lounge. There was one moment where someone held the door for me while approaching the lounge's entrance without checking my room number, etc.
Prague Marriott Hotel- The Artisan
The Artisan is the hotel's main restaurant at the lobby floor. I did not dine there, but I noticed it was pretty crowded during breakfast hours. Breakfast, brunch, lunch, and dinner are served here.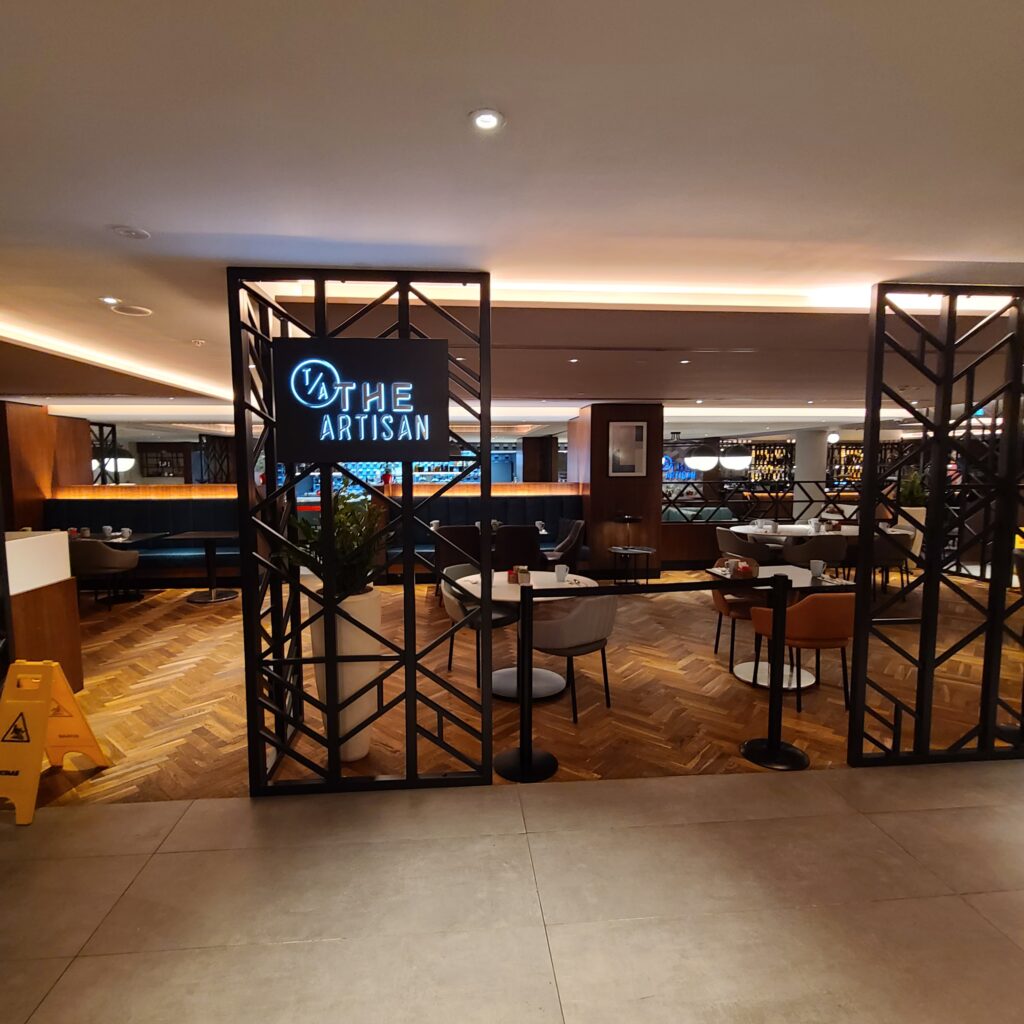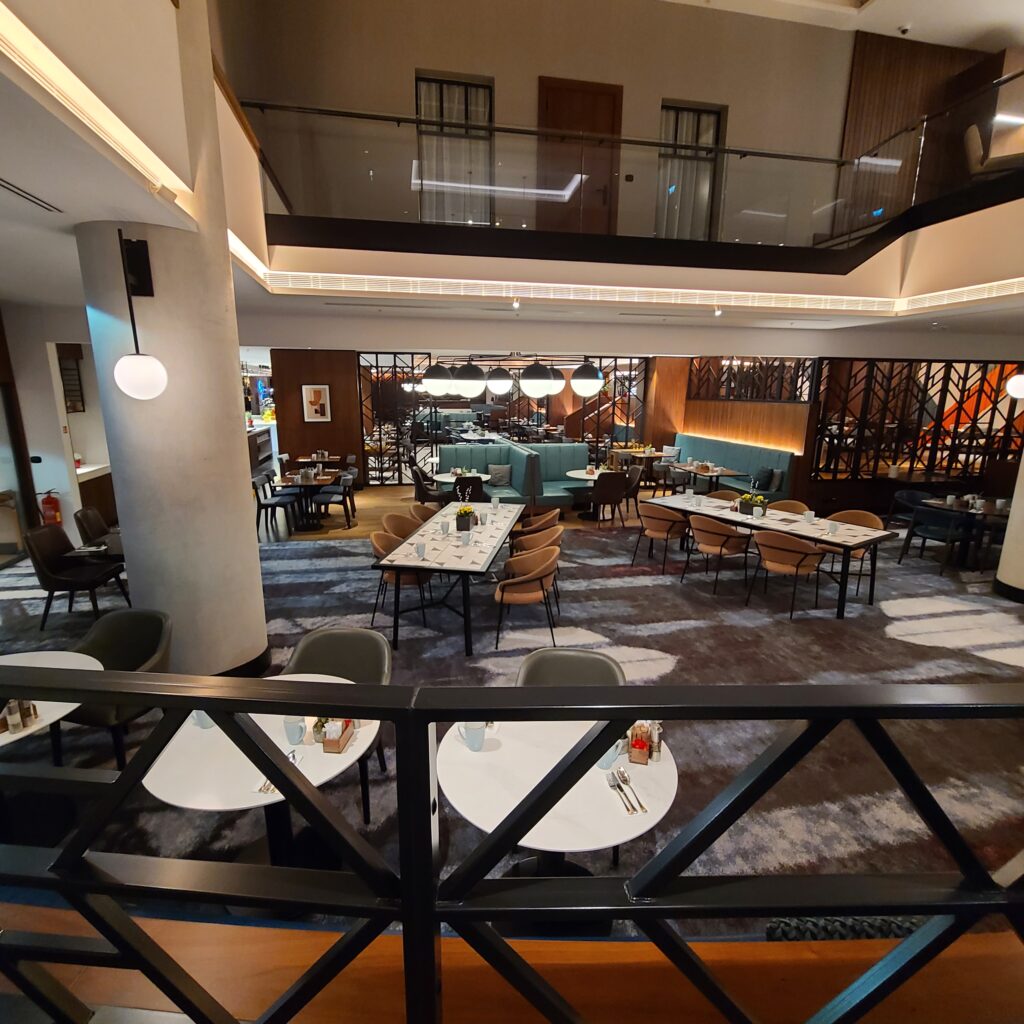 They have a Coffee Corner where you can grab quick coffee or tea and sandwiches to go.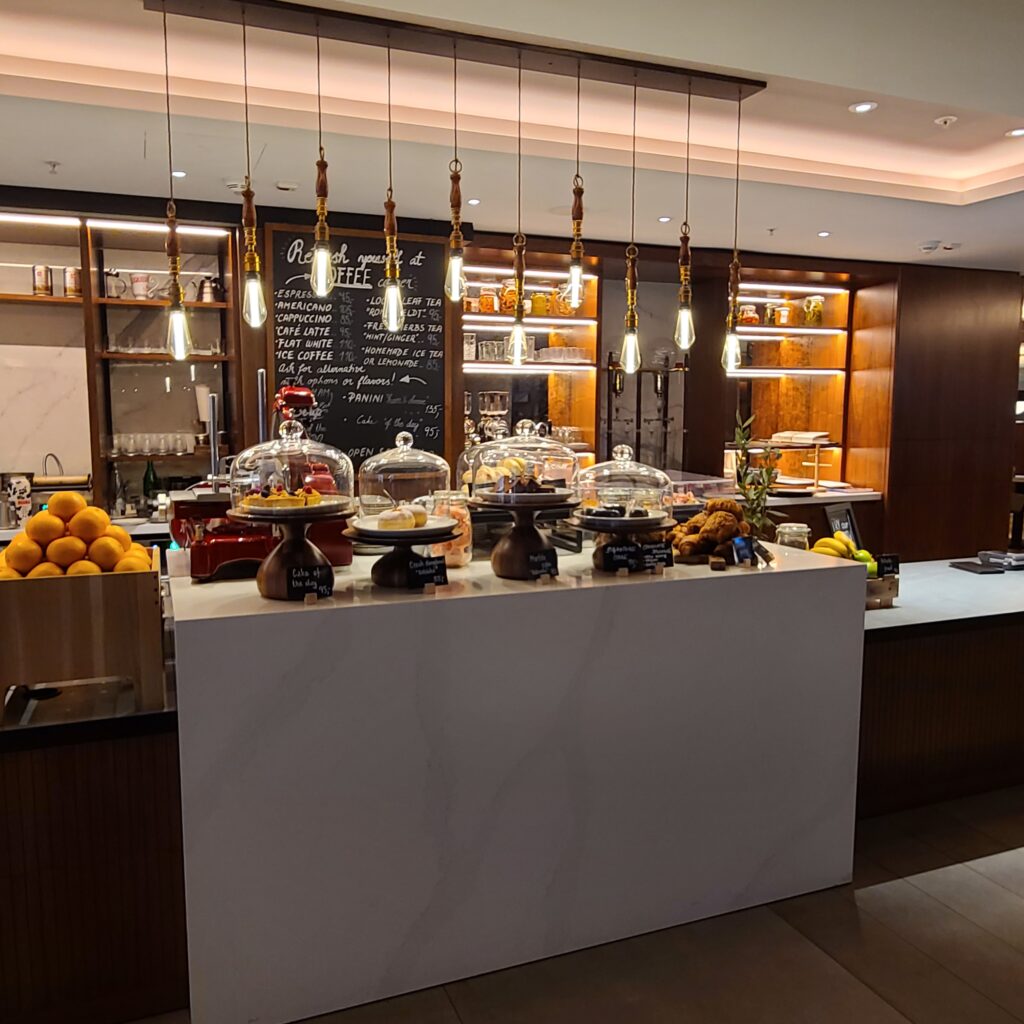 Prague Marriott Hotel- Fitness Center
The fitness center is located on the basement below the lobby. It appears dated compared to other features of the hotel. But, the gym is equipped with lots of weight and cardio machines.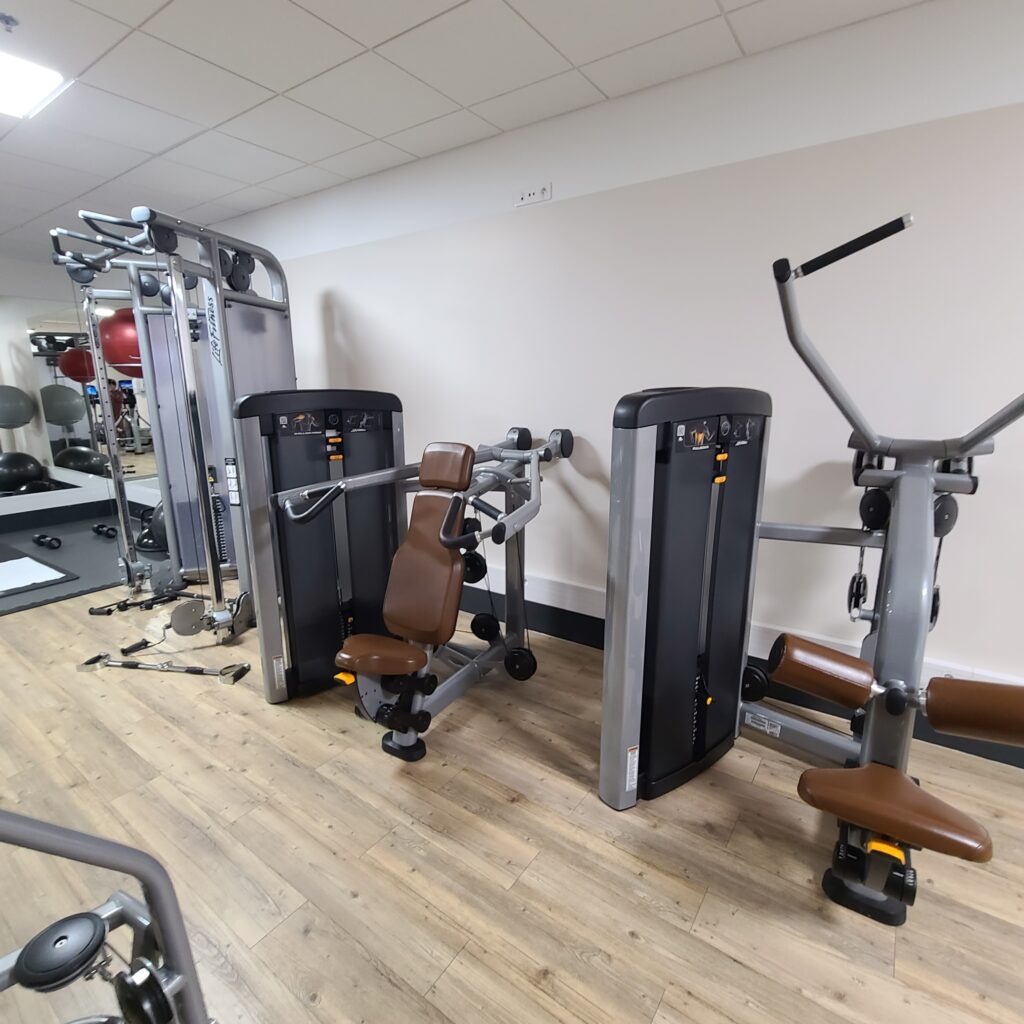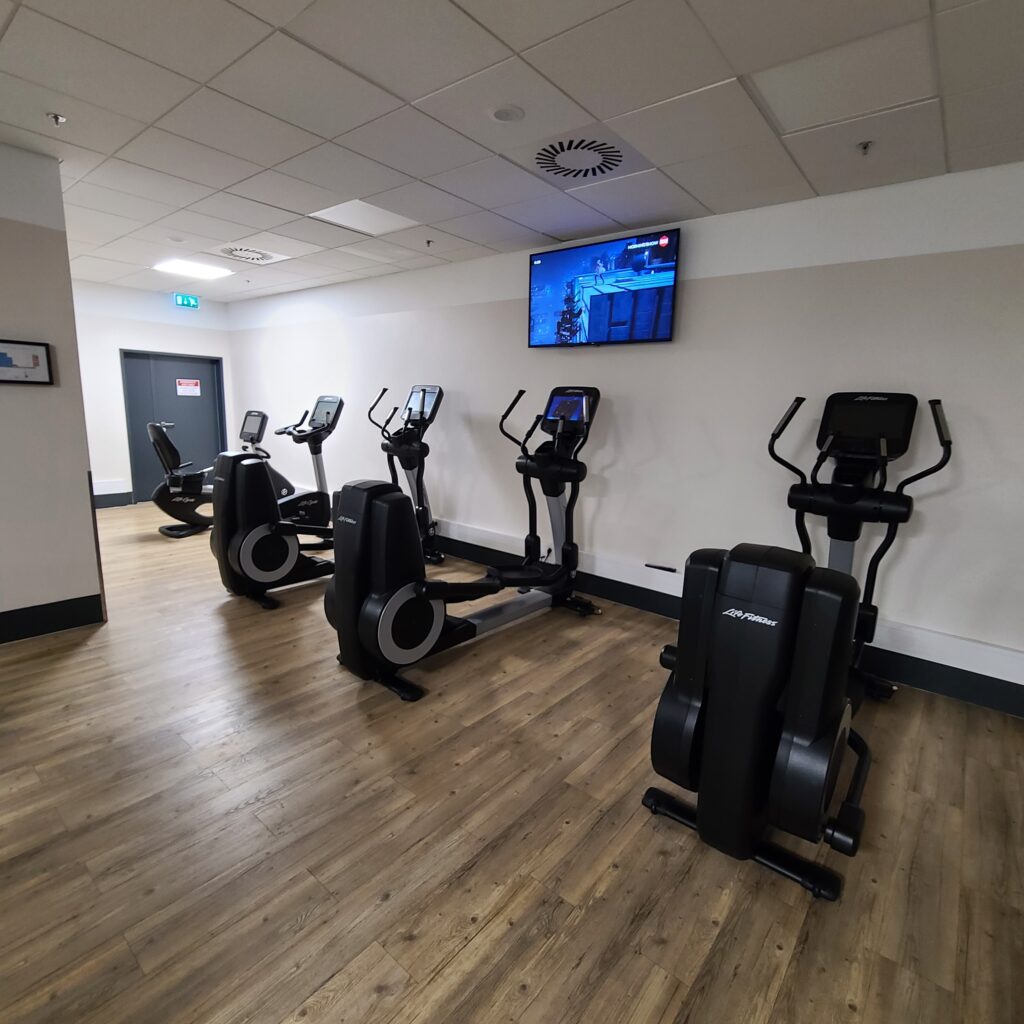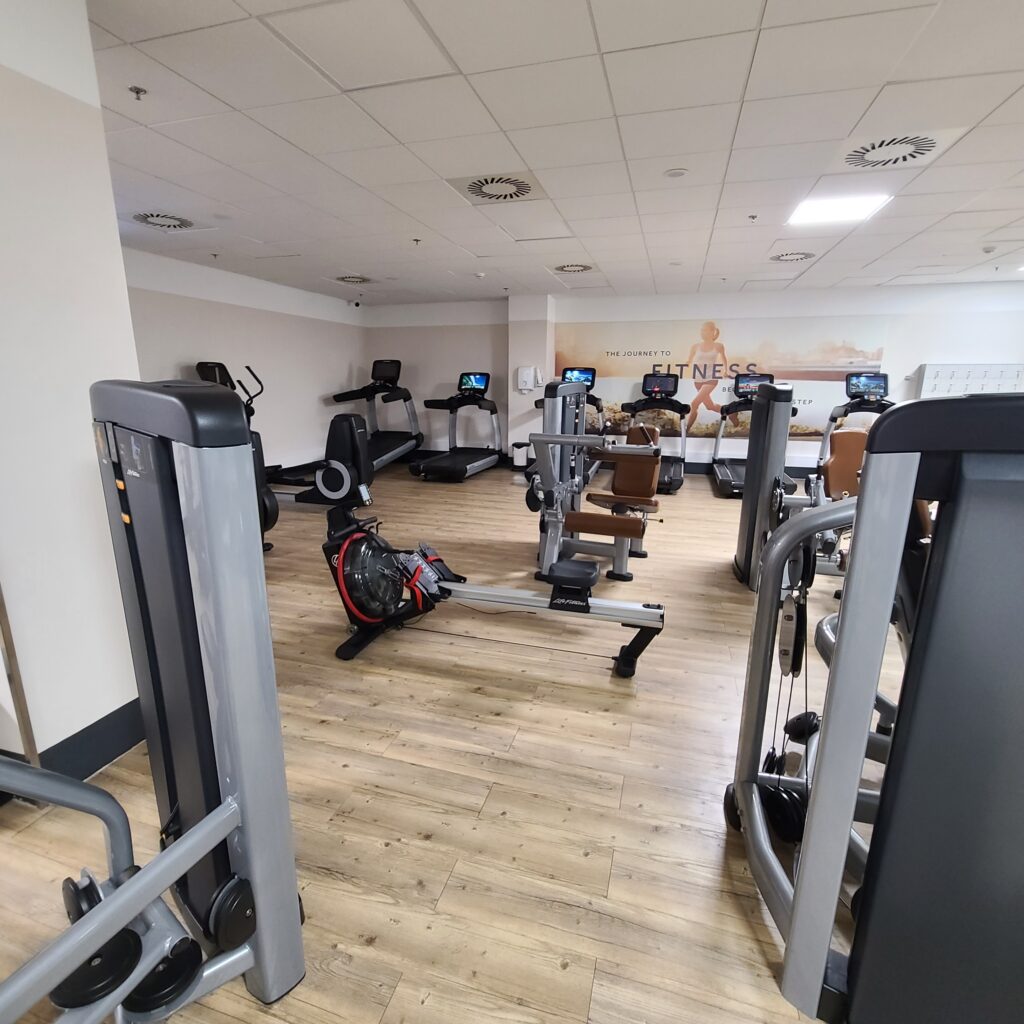 Conclusion
The Prague Marriott Hotel is a great hotel to stay at whenever you find yourself in Prague. The location makes it very easy to access Prague's major attractions on foot. Elite treatment is also very good with lounge access being extended to 3 of us free of charge, and the lounge was one of the strongest amenities of this hotel. Some of the rooms have yet been renovated, so it's luck of a draw if you'd get a refreshed room for now. I'd likely return or possibly check out the Hilton across for comparison should I find myself in Prague again.