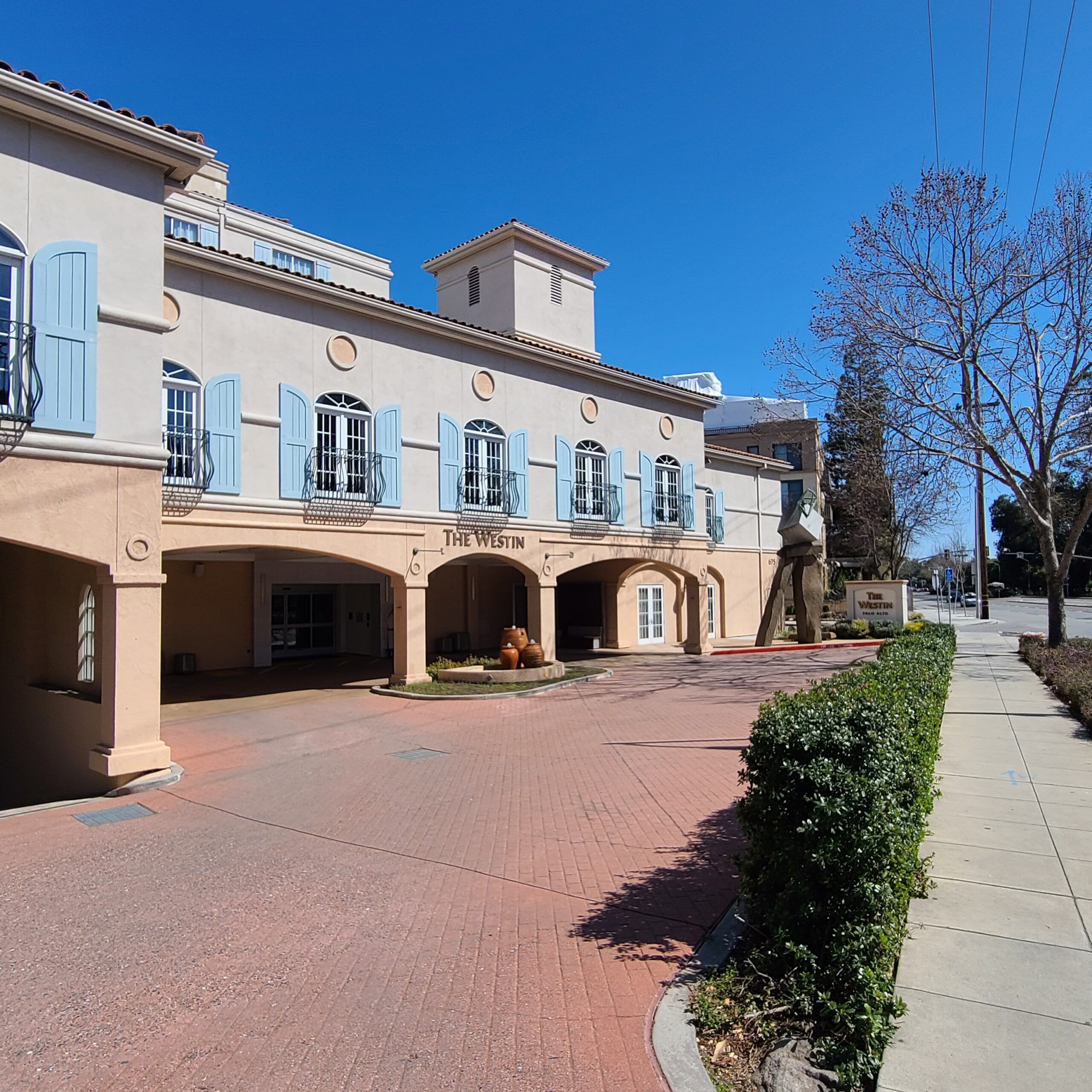 Advertiser disclosure: This post may include affiliate links (including sidebar banners) in which this site may receive compensation if a purchase is successfully made (at no extra cost to you) after being redirected from here. Thank you for your support!
Review: The Westin Palo Alto (2023)
I wanted to check out yet another Marriott property in the San Francisco Bay Area, so I decided to give The Westin Palo Alto a try for 1 night after seeing a rate below $200 on a Saturday and jumped on it while stacking other deals as well.
The Westin Palo Alto- Booking
For the first time in my life, I booked a non-refundable rate of $166 including taxes. Since I booked it a week in advance of check-in, I might as well save a little bit of money. Expect rates to be cut in half or more when booking on the weekends since Palo Alto is a business-centric area for tech companies. On weekdays, they can go upwards to $400+ a night!
On top of that, my Chase Sapphire Preferred had an offer of further 15% off the rate on Westin Hotels, which cuts down the rate by $25. Chase credit cards often will have offers for variety of Marriott hotels and other chains, so keep an eye on those before booking!
Points redemption wise, expect to pay around 44k-85k points per night. This is not a good hotel to redeem your points on, and I'd recommend saving them for better redemptions in your future Marriott stays.
The Westin Palo Alto- Location
The hotel is located minutes away from Stanford University, and with university grounds come with eateries and cafes at walkable distance. My favorite place being Ramen Nagi which is possibly one of the best ramen places in the Bay Area. There are also interesting choices like Georgian cuisine from Bevri restaurant. Having a car is recommended to get anywhere else though.
It's also located right next to a Sheraton that I didn't stay at, but I'd assume the Westin is one level above in terms of luxe.
The Westin Palo Alto- Check-in
Check-in process was standard, and I chose breakfast for my Welcome Gift for having Titanium Elite status. But strangely enough, I was awarded the 1000 points bonus as well (minus the Q1 2023 promo). A mistake or generosity? Nonetheless, I can't complain!
Although, I tried asking for a room upgrade in the morning before heading to the hotel. Unfortunantely, I wasn't able to get a suite despite a few of them showing on the app, but I ended up being upgraded to a corner room.
The hotel charges $20 per day for parking. But, I was delighted to find out that it wasn't charged on my folio. It was best to not ask questions on that, but possibly an elite benefit or my very short stay duration?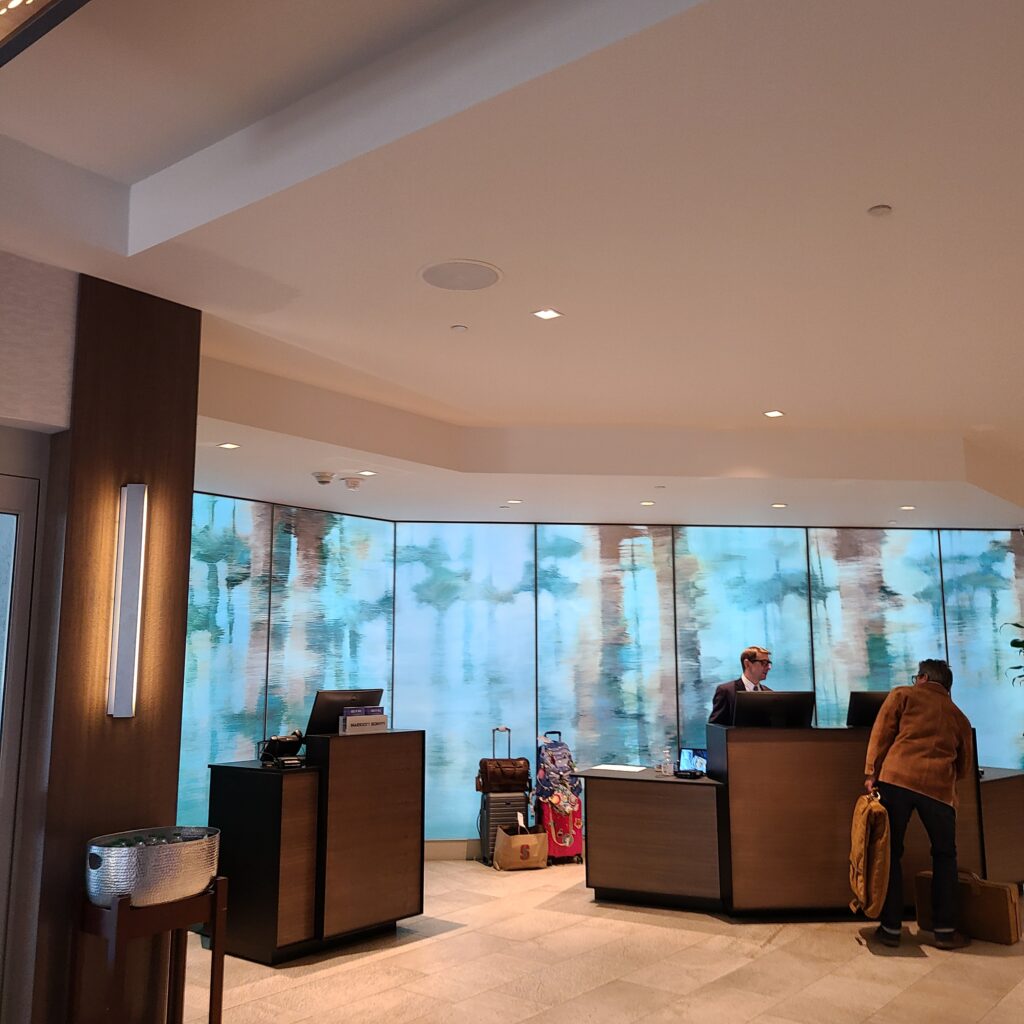 The Westin Palo Alto- Corner Guest Room
I was assigned to the highest floor (5th) to a corner room that I was upgraded to. Clean and modern, but definitely reminds me of a Courtyard.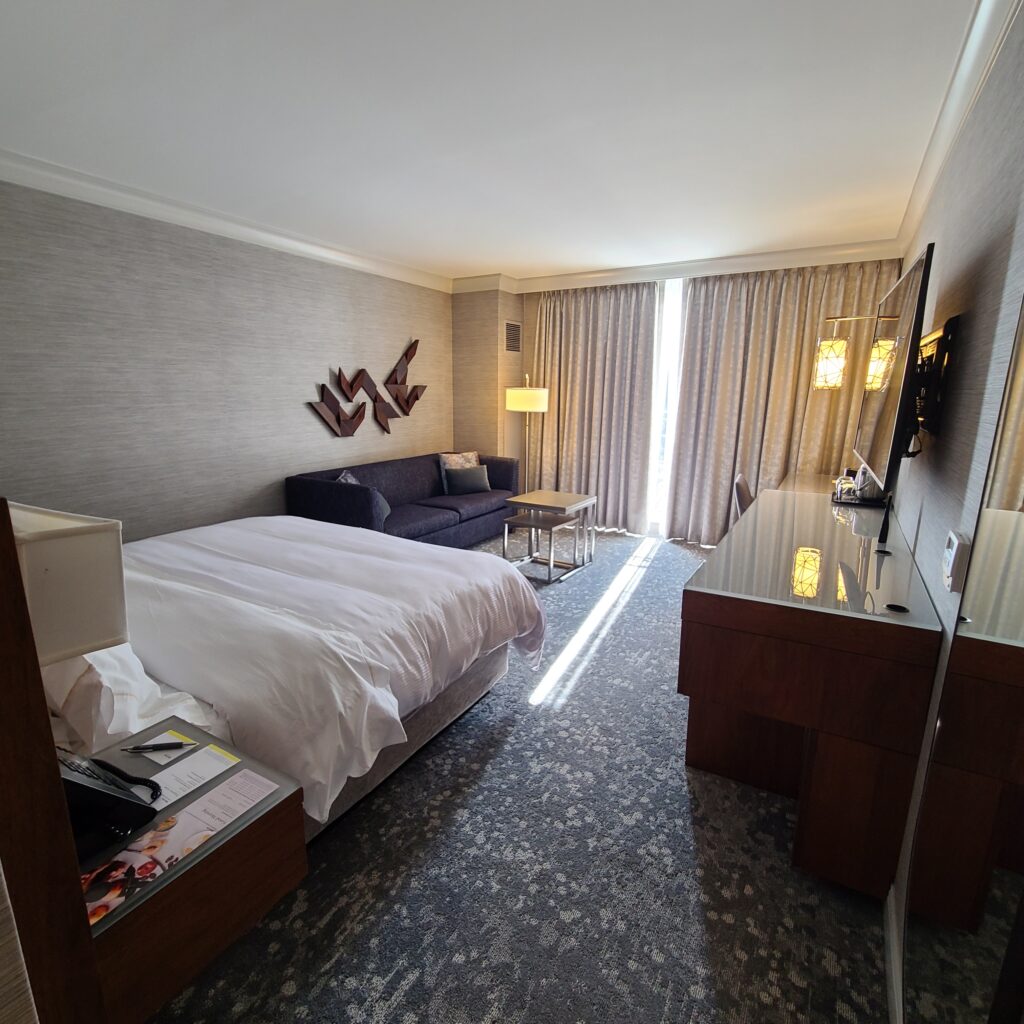 The bedding has some minor frills that show wear and tear, but they're made nicely compared to my last stay at The Westin St. Francis in San Francisco. Compared to the more-on-the-soft side bed in Westin St. Francis, the one in Palo Alto has the right amount of firmness that I have nothing to complain about with how the bed felt.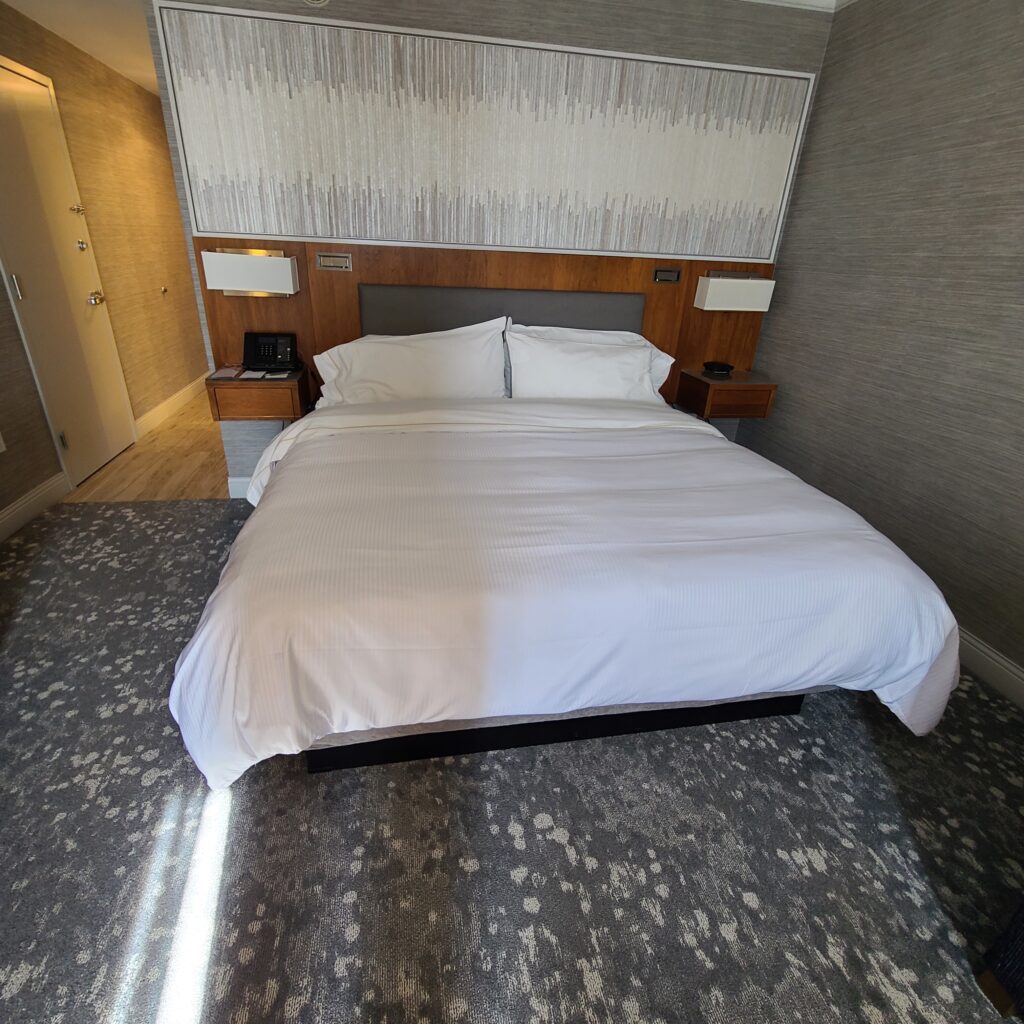 The closet is behind the bed that includes a safe, luggage rack, and bathrobe.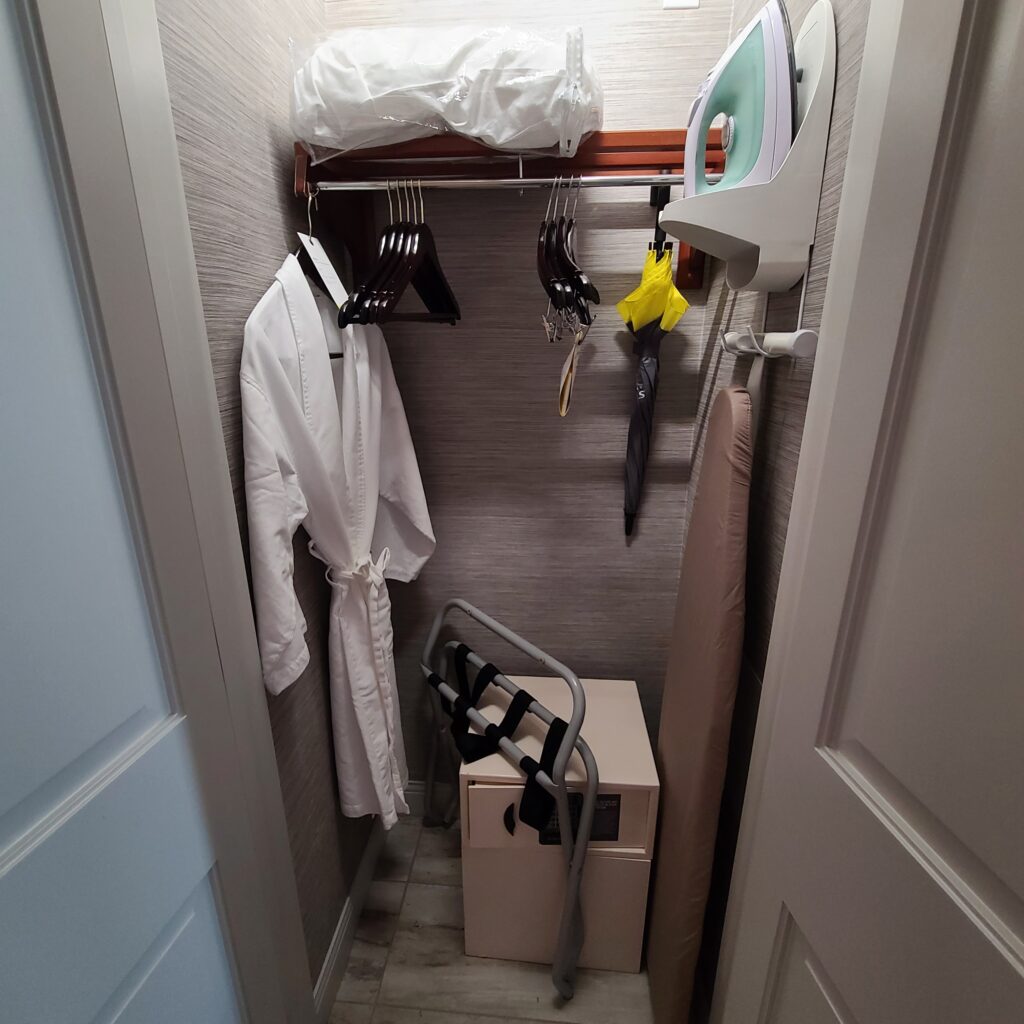 Under the TV, there's a movable ottoman that you can drag around to your preferences.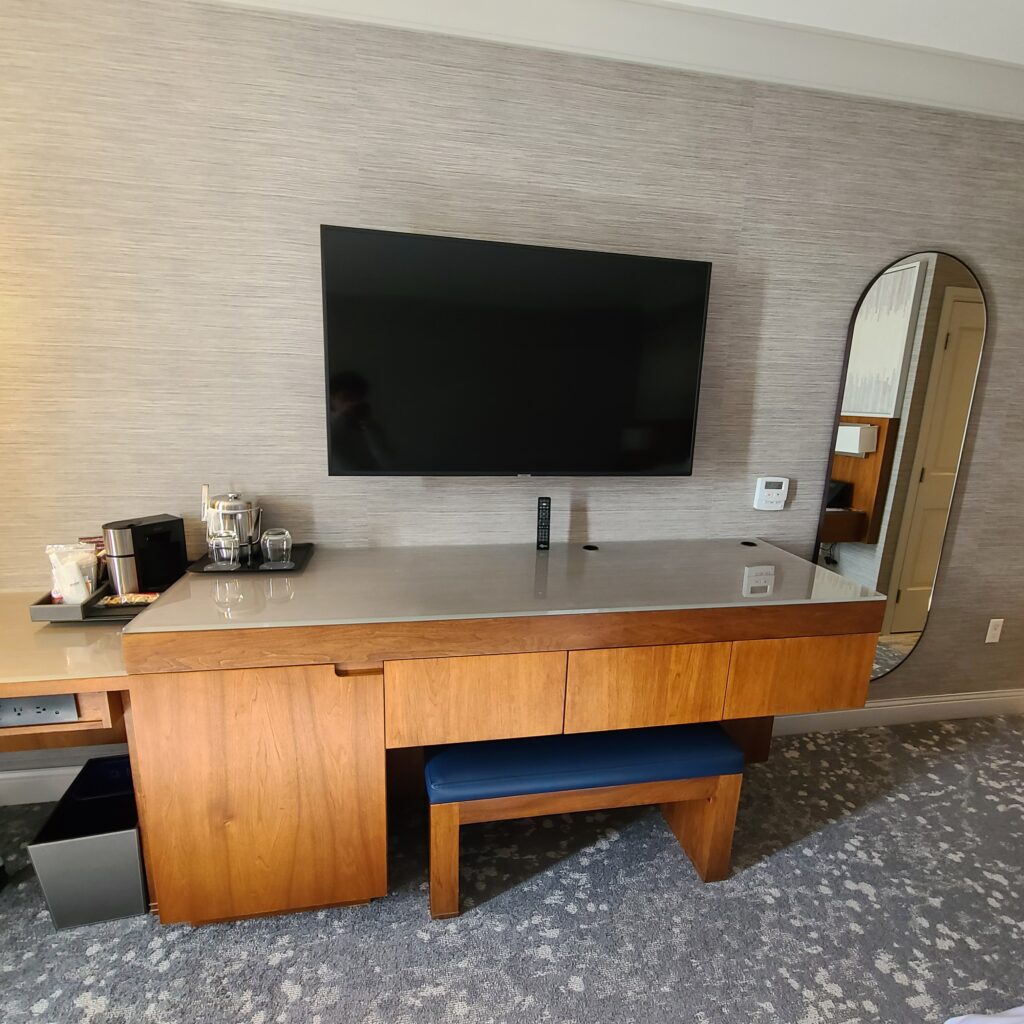 The room desk size and amenities are very generous that business travelers could appreciate. There's even ethernet and projector ports attached to the desk. While the chair wouldn't compare to an office chair, I didn't find it too bad to sit on for a long period of time.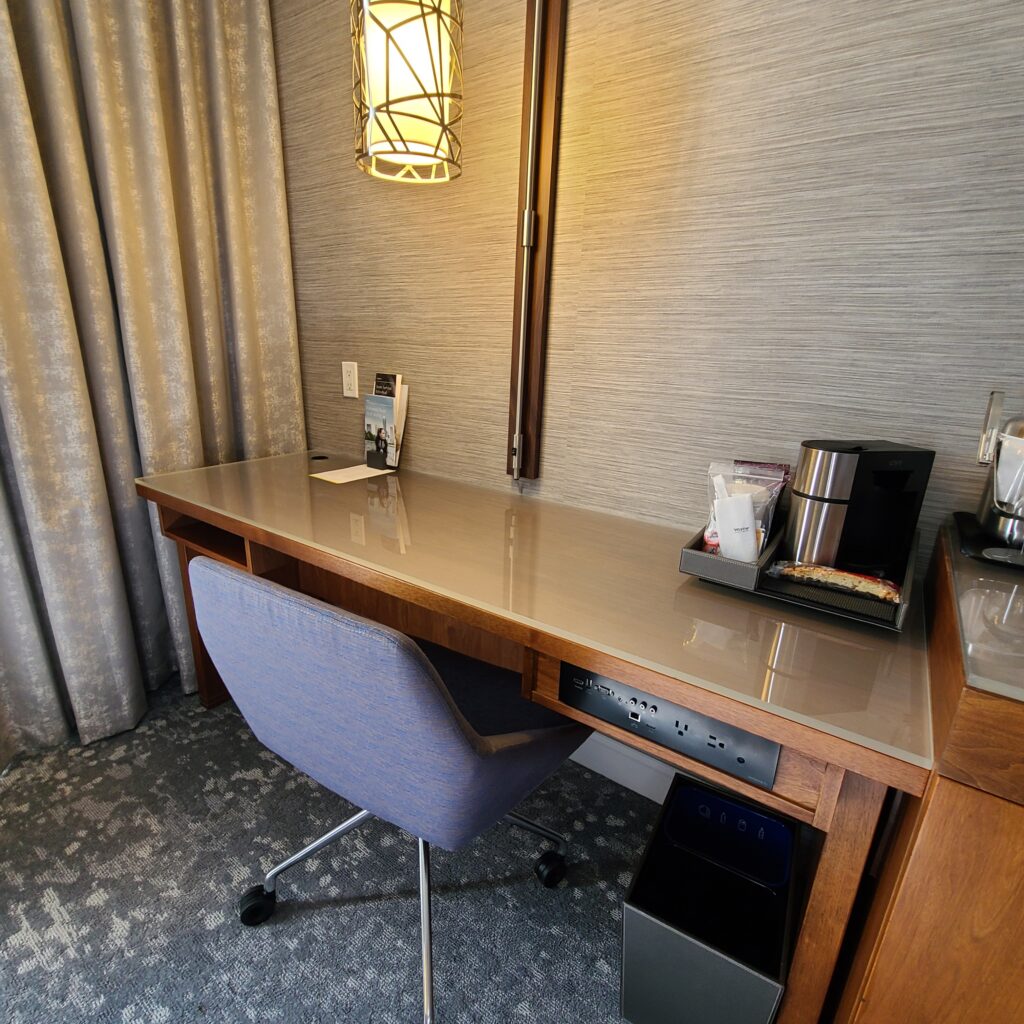 The pantry comes with packaged Starbucks coffee you can make on your own. A free chocolate snack is included.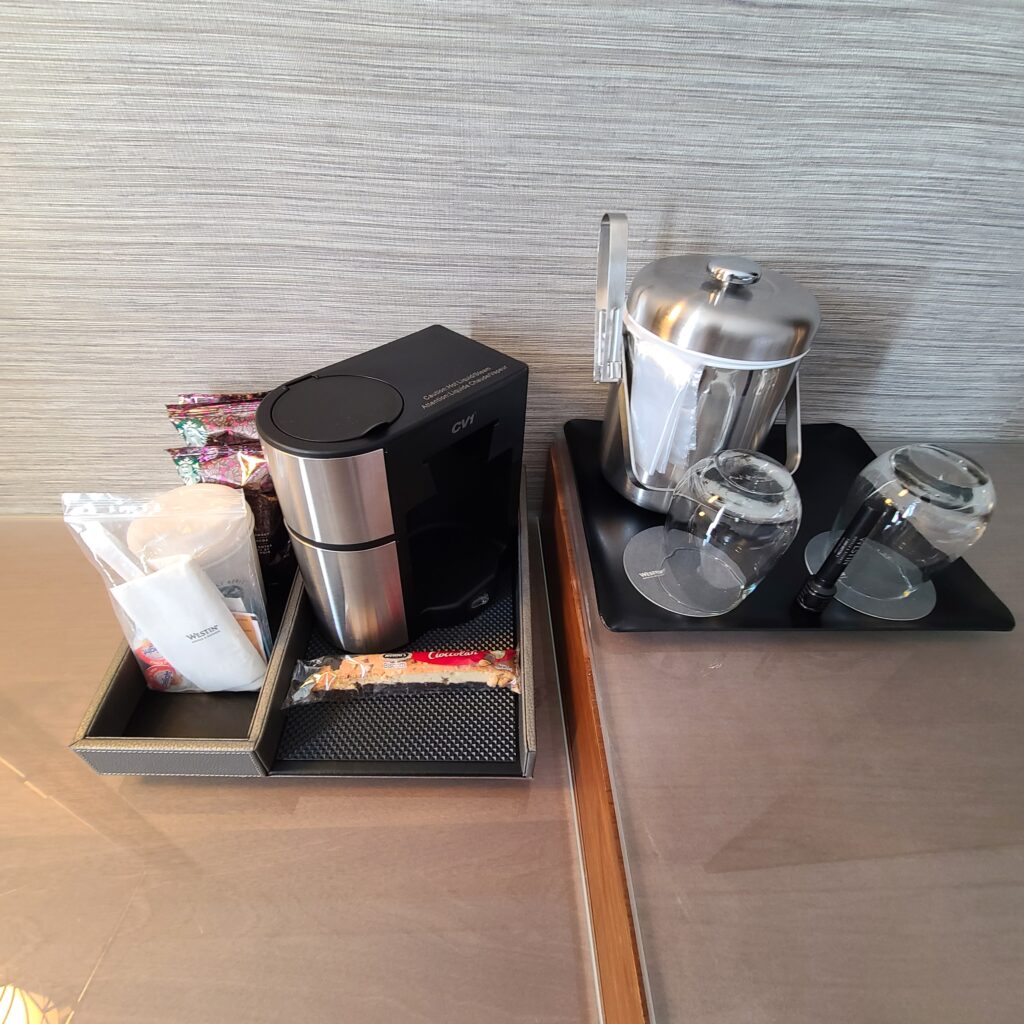 There's no in-room minibar, but the size of the mini fridge is quite generous.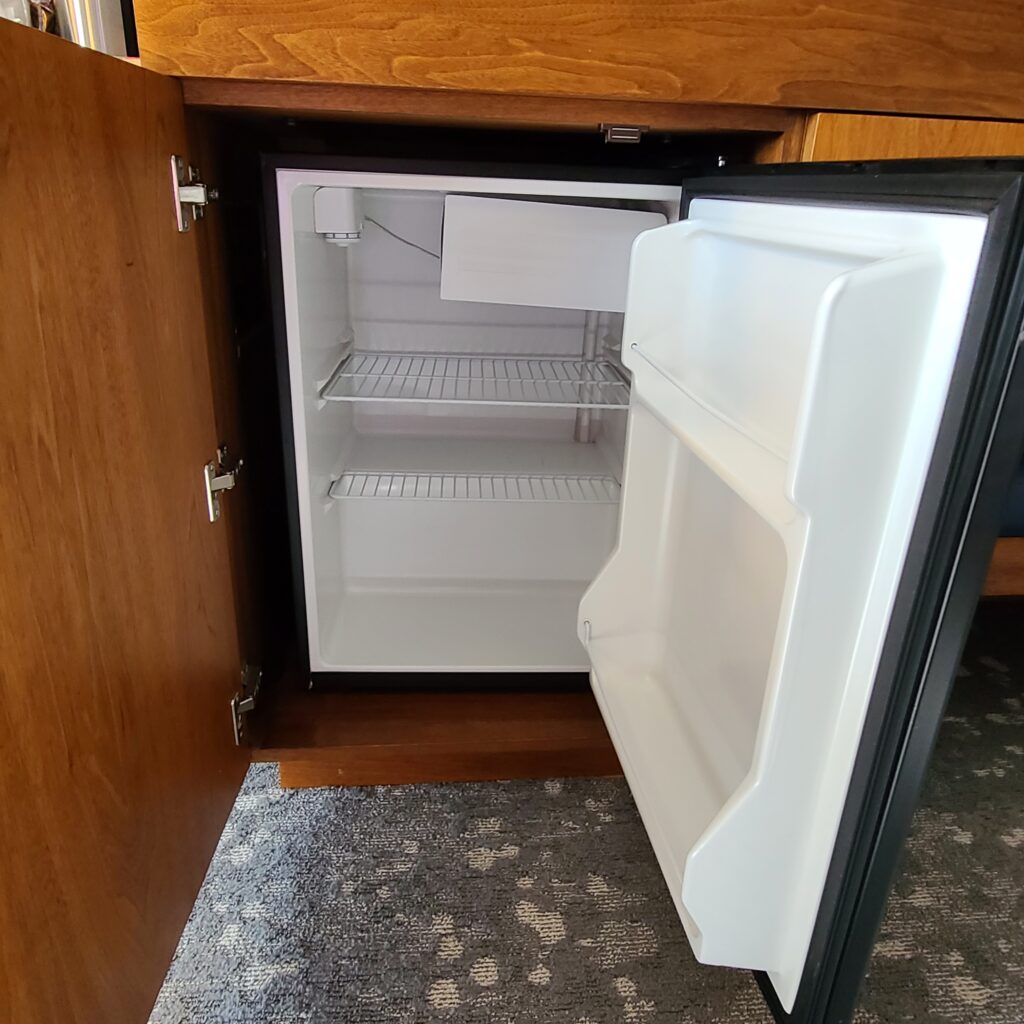 The upgraded room comes with a sofa bed.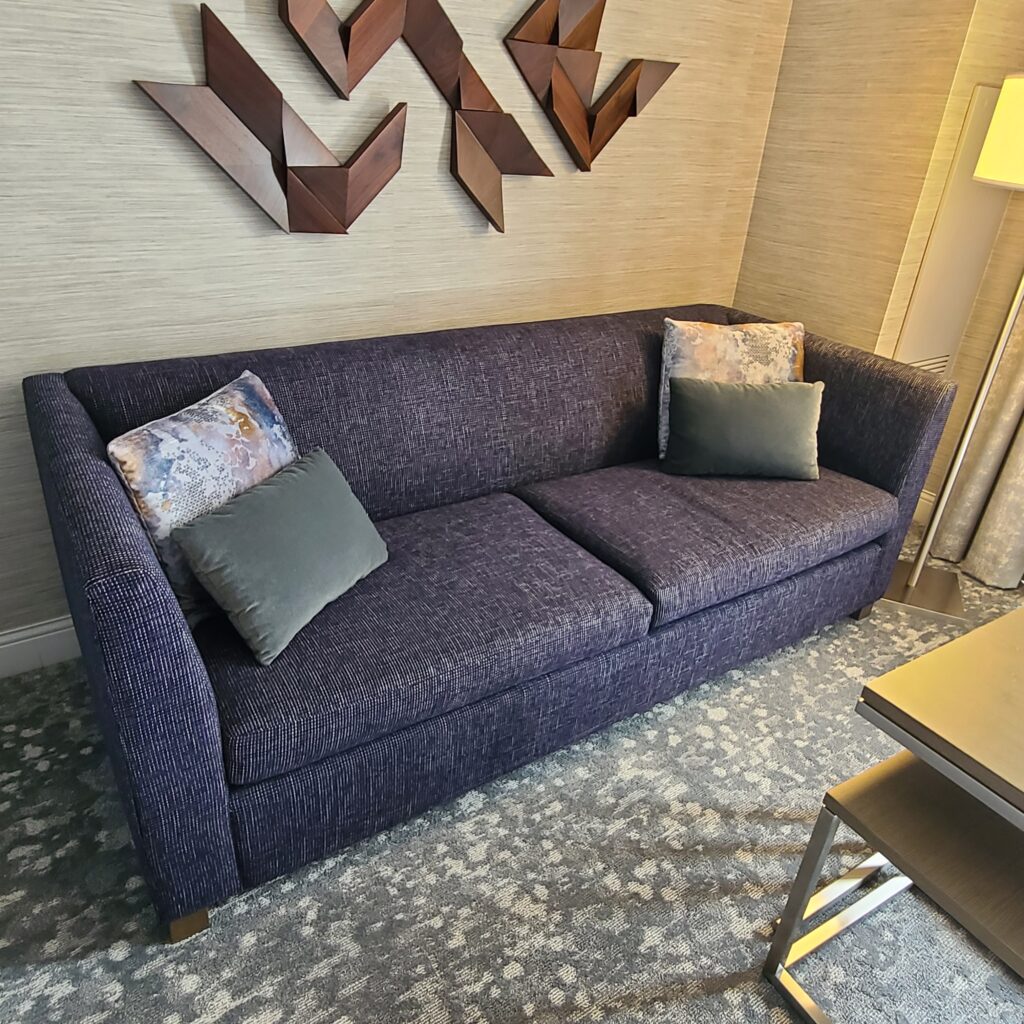 The view is nothing special, but the pool view is convenient to check how occupied it is.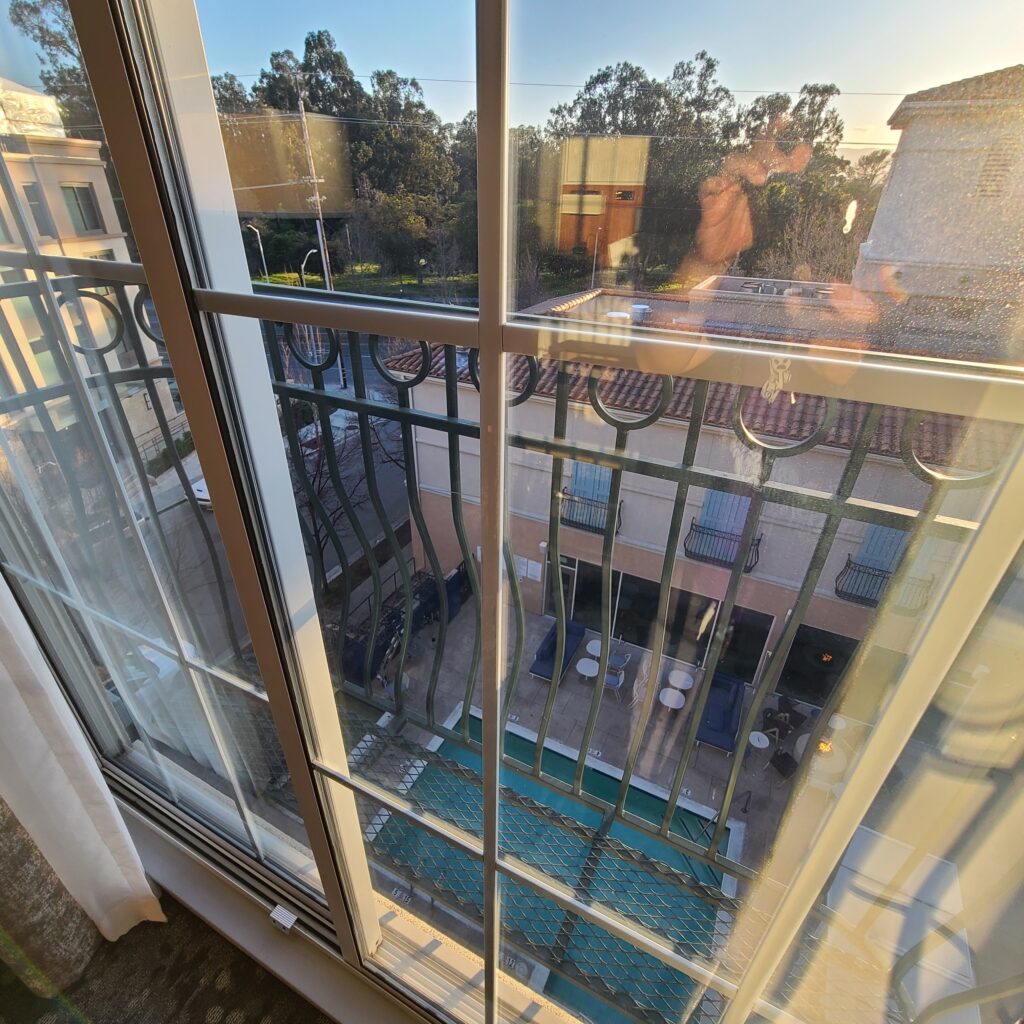 The Westin Palo Alto Corner Guest Room Bathroom
The bathroom is spacious with separate bathtub and shower and marble vanity.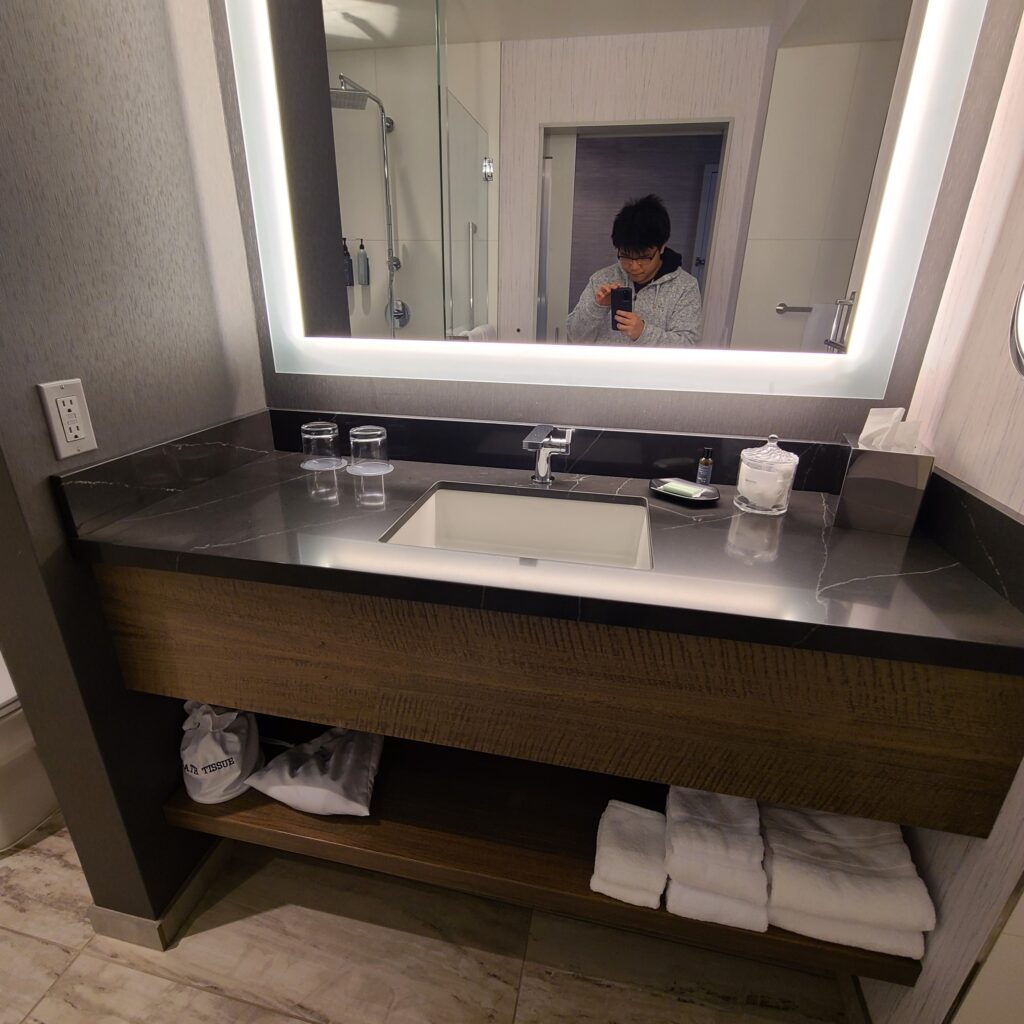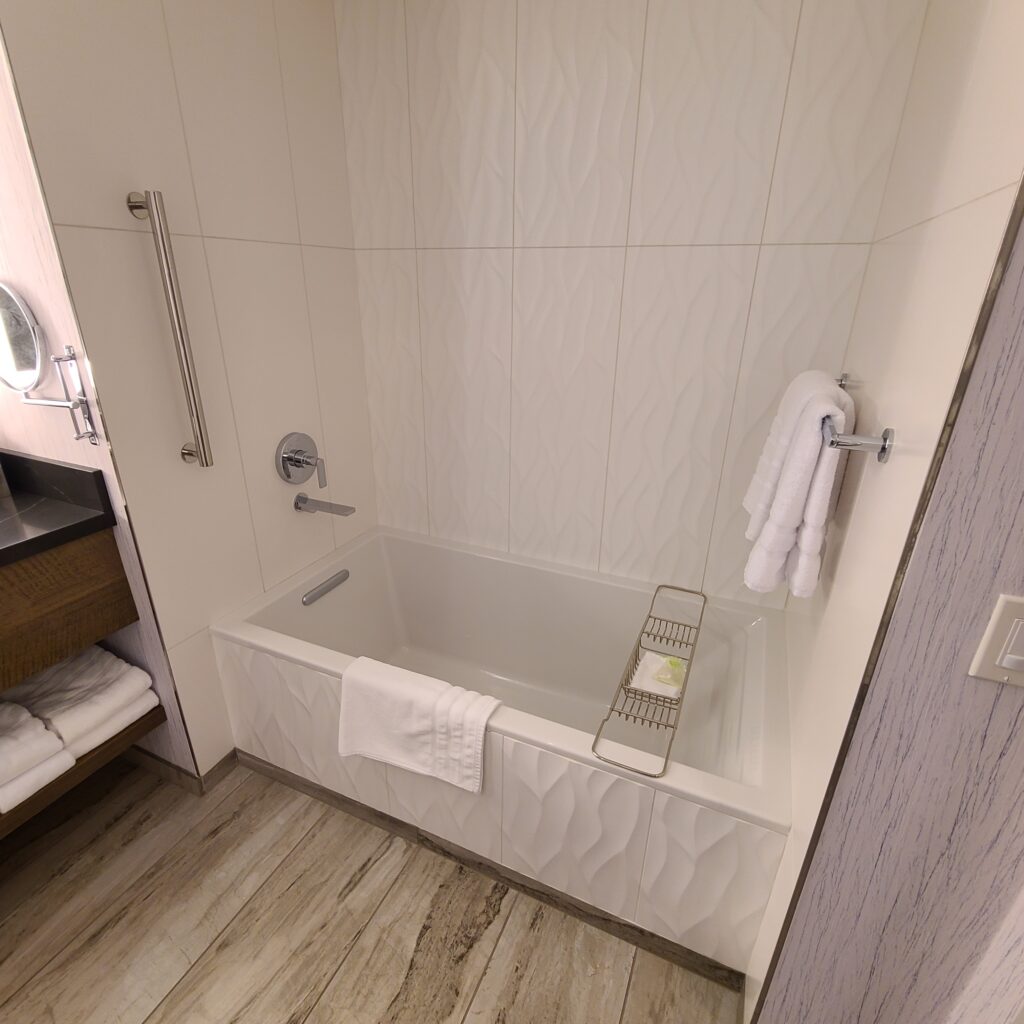 It comes with bath salts too! But the bar soap only comes from the vanity that's mainly used for washing hands. Difficult to use amenities when they're attached to the shower instead of separate little bottles.
The shower have rainfall and wand combo. The pressure was decent from rainfall, and stronger from the wand.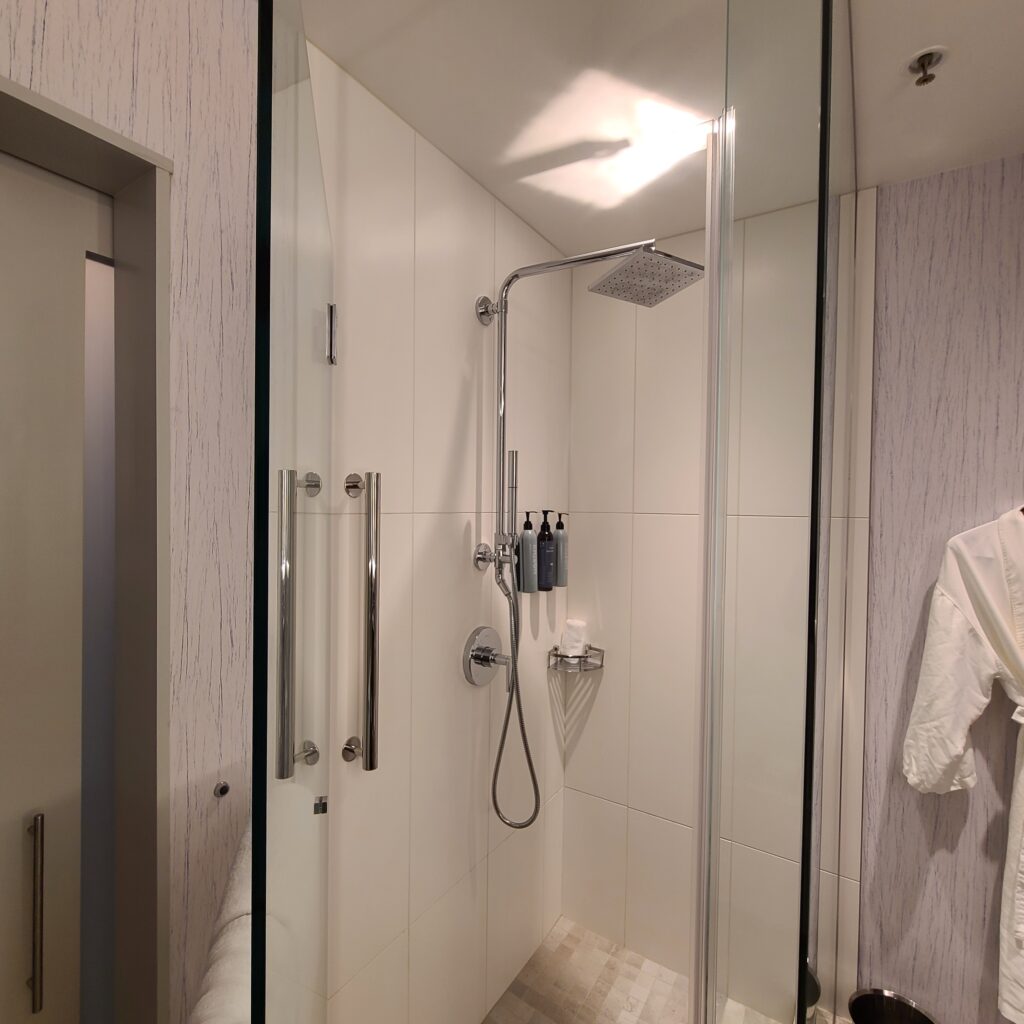 Unfortunately, the bath amenities are inconsistent like the Westin St. Francis, but at least in here the conditioner is Westin's own White Tea. North 39 Degrees is something you'd expect at a Courtyard.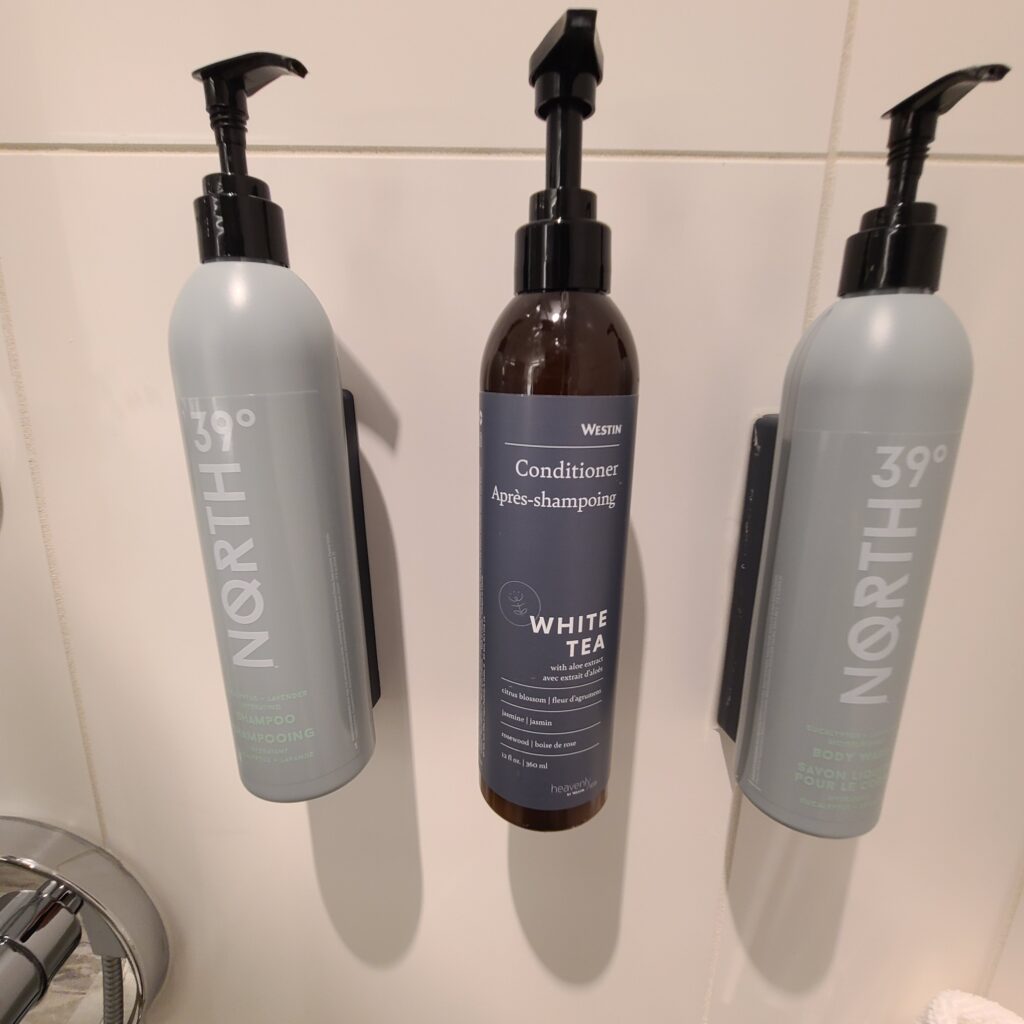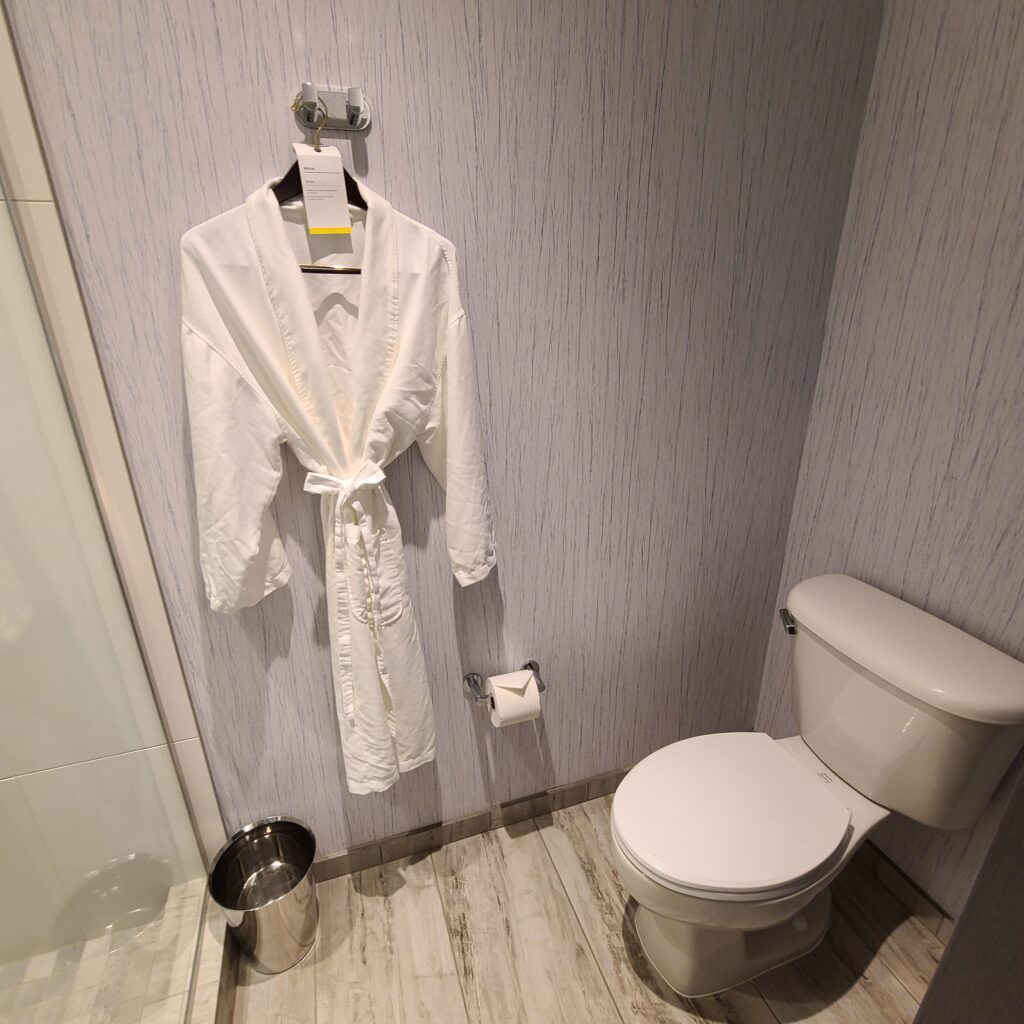 The Westin Palo Alto- Breakfast
Breakfast is located at Cafe Soleil, the hotel's main and only restaurant. The spread is very small, but they get the job done, and I enjoyed it. Hot food selection are scrambled eggs, bacon, and roasted potatoes. A server will frequently come to your table to refill your unlimited coffee and orange juice, and the service is good enough!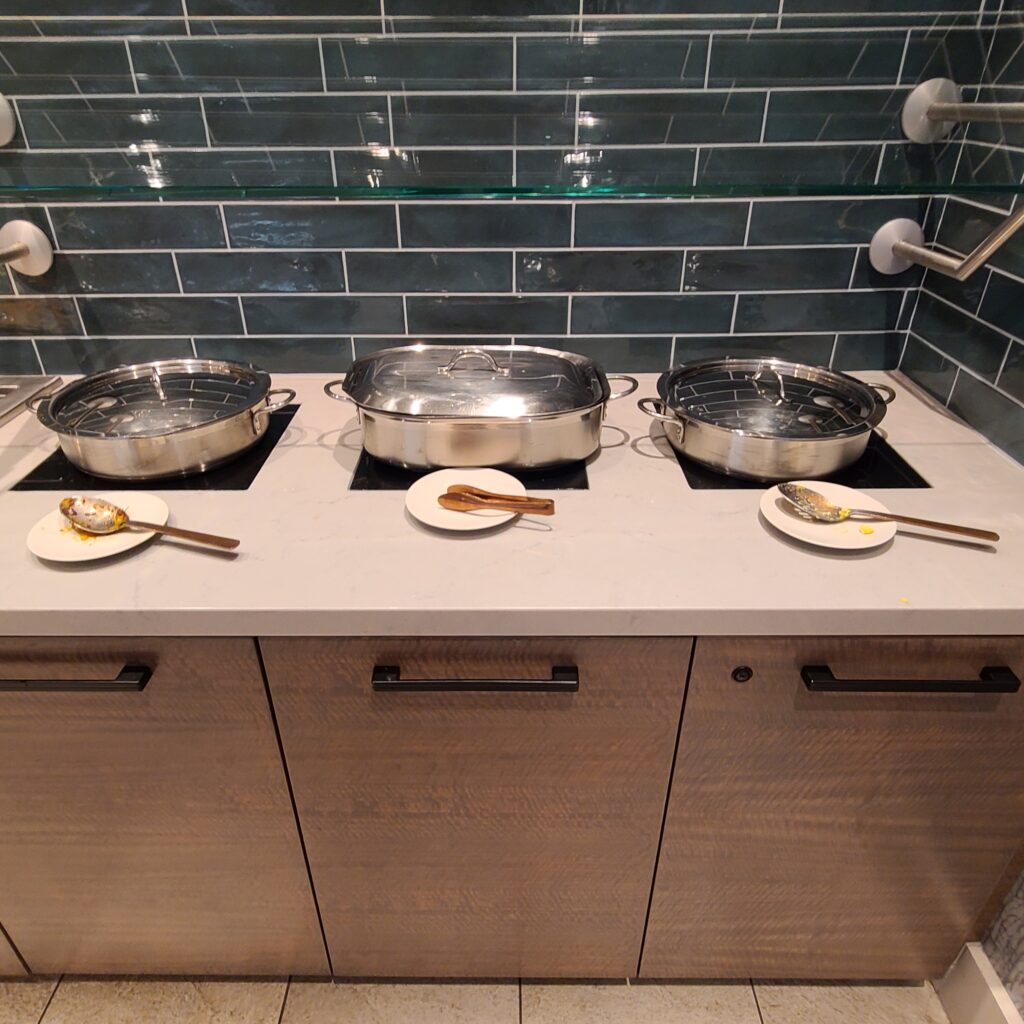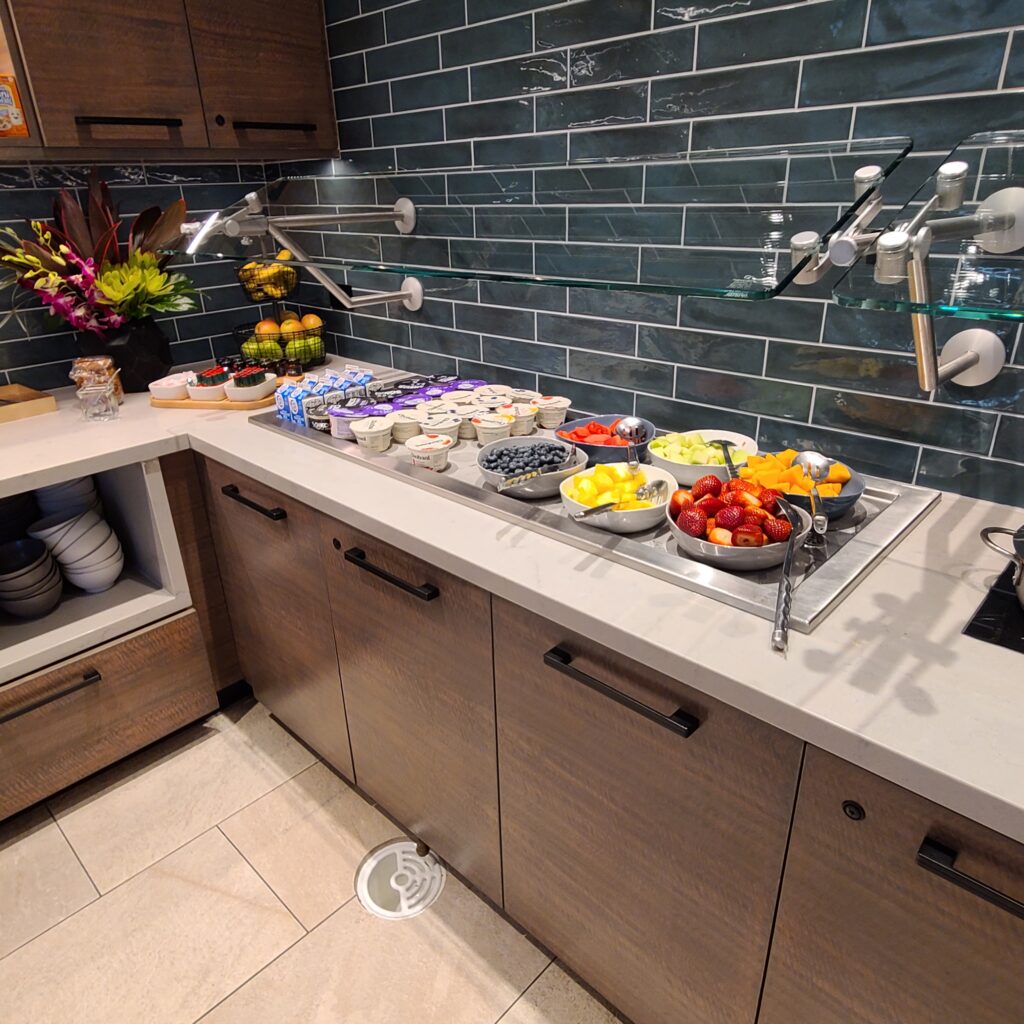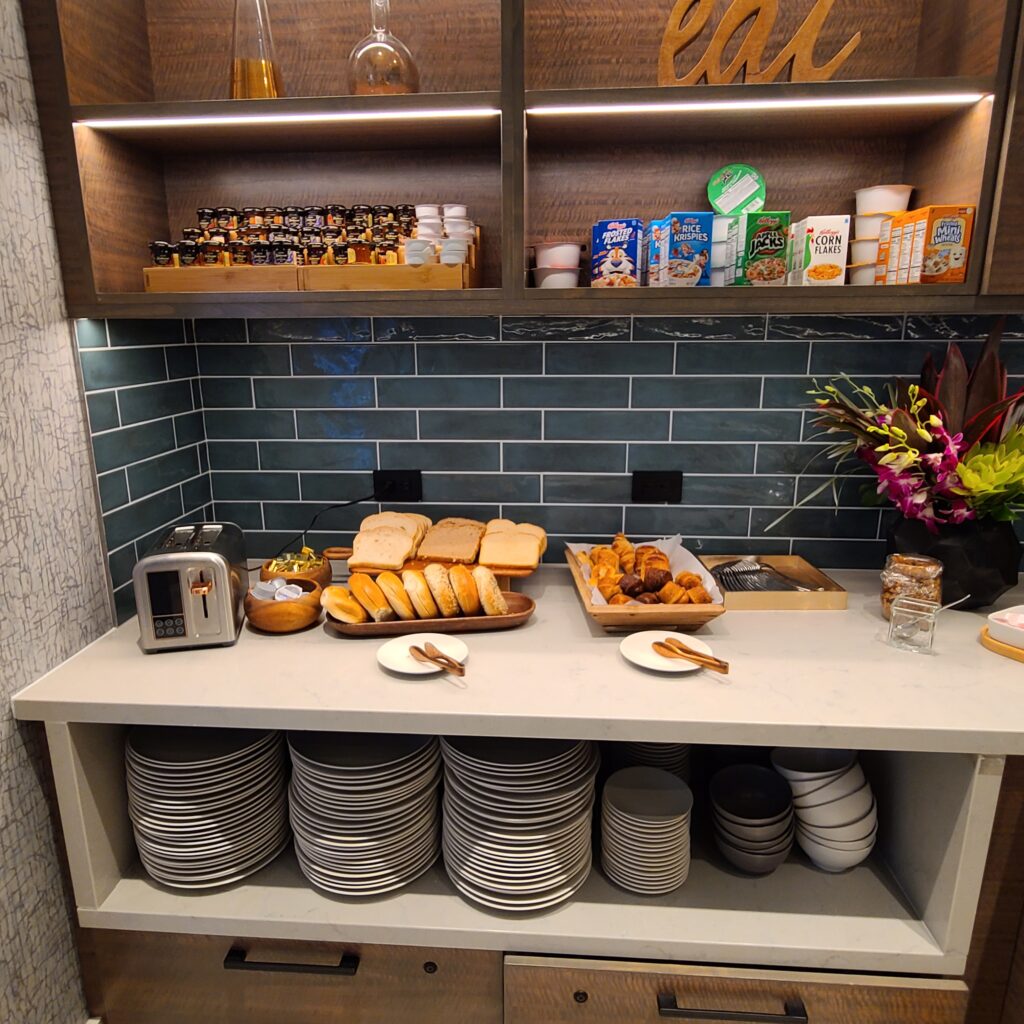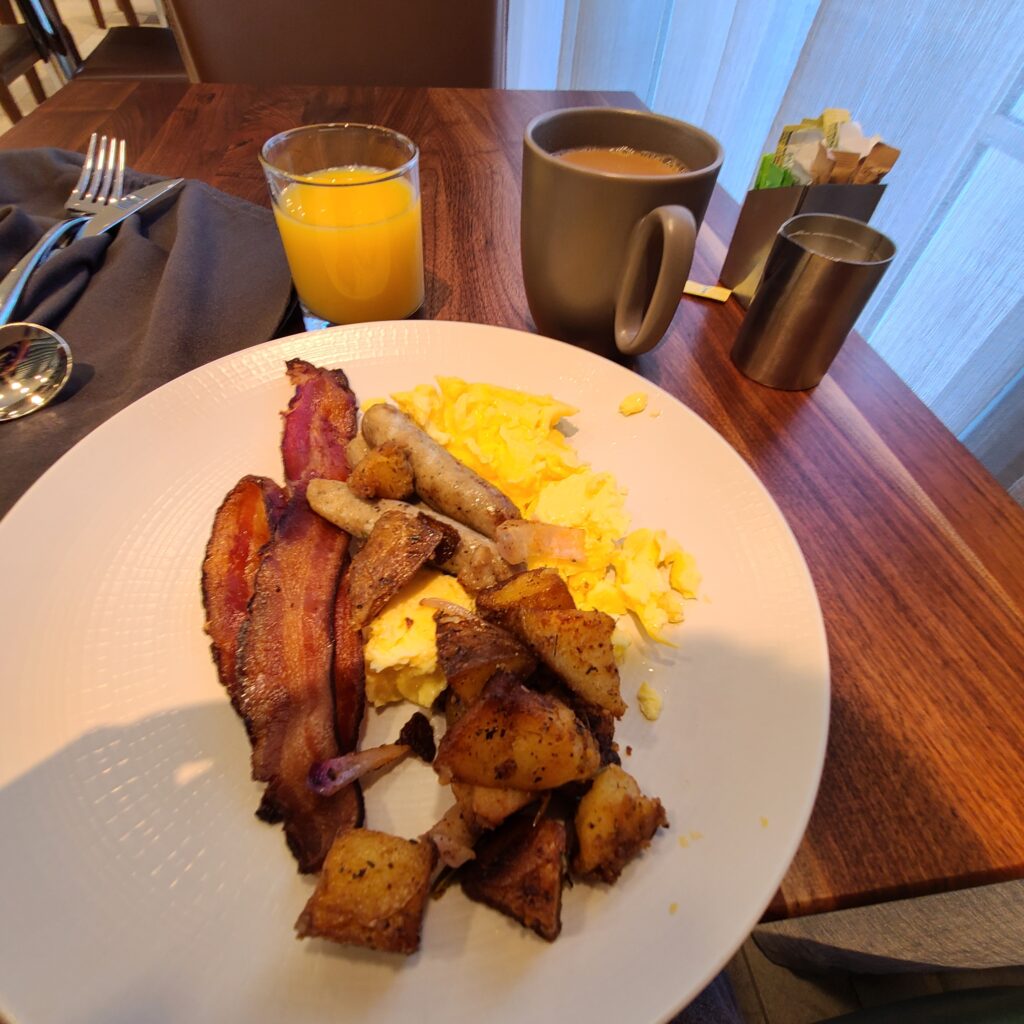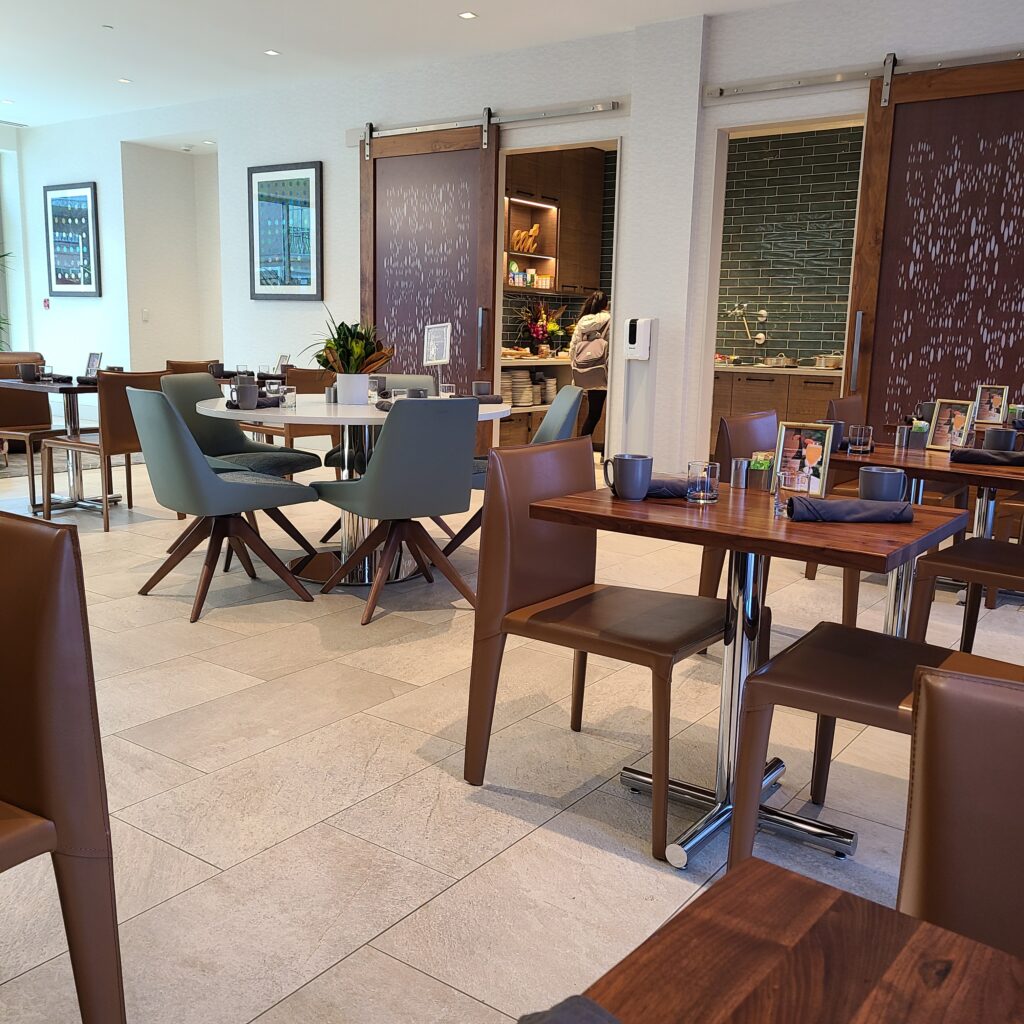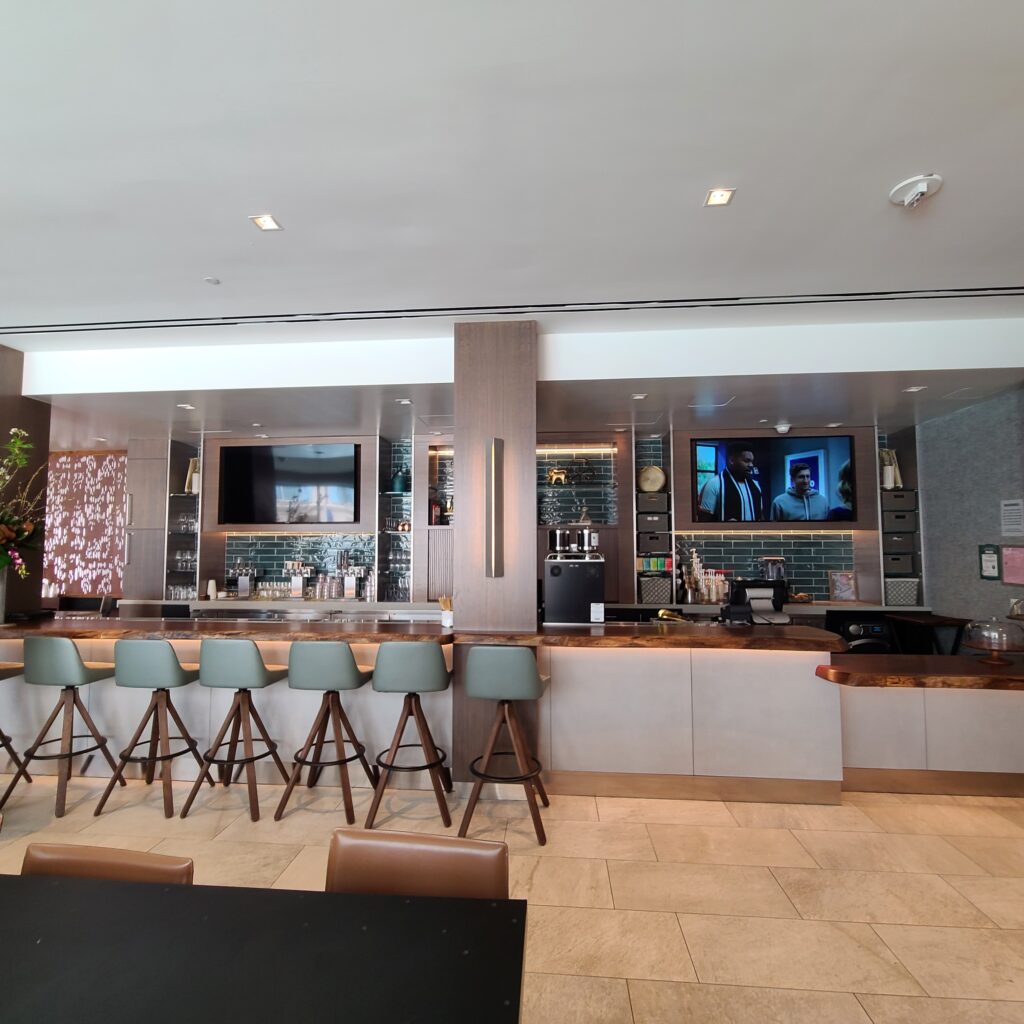 The Westin Palo Alto- Fitness Center & Pool

The gym is located on floor 2R, the same floor with meeting rooms. Although there is one on the 1st floor, but it appeared to be closed temporarily during my stay. The fitness center is equipped with cardio machines, including a Peloton bike and punching bag, and strength training machines.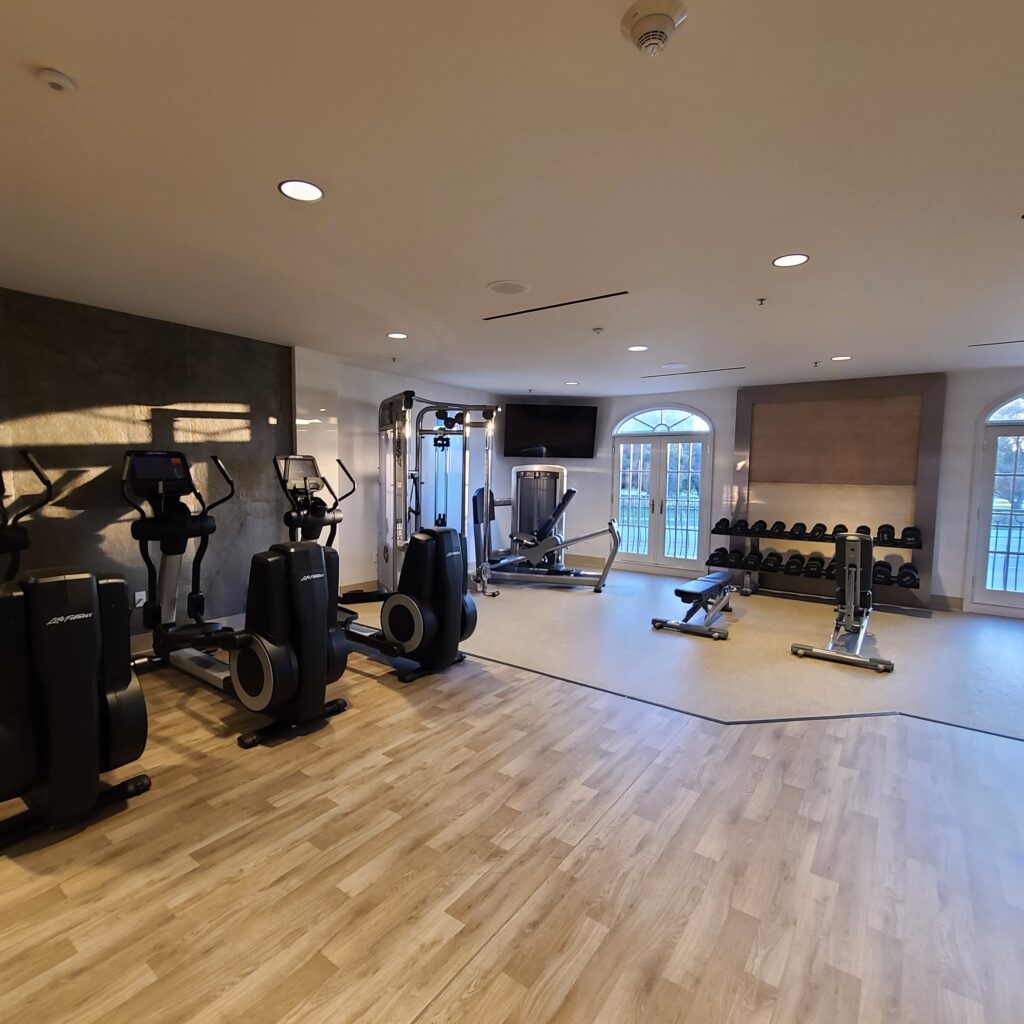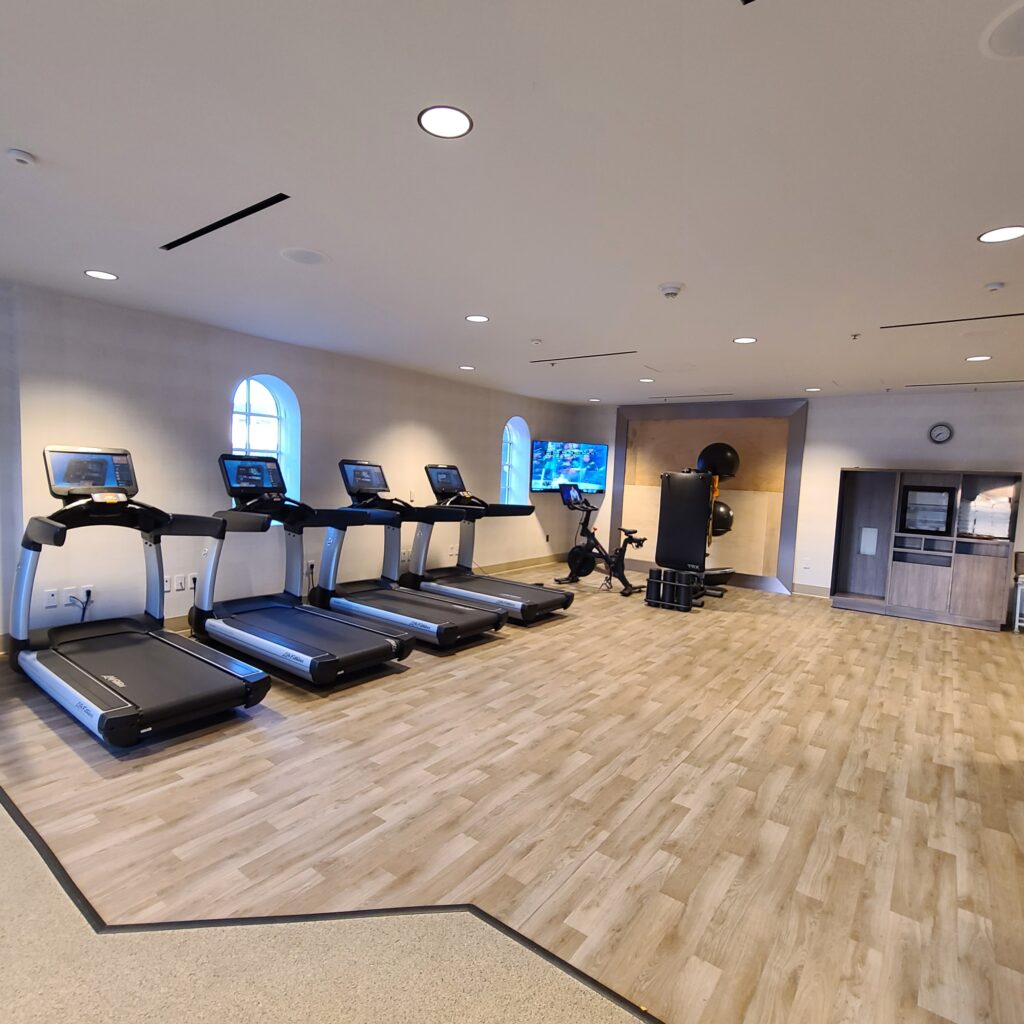 The pool area is just outside of Cafe Soleil. There's a hot tub with plenty of seating including sunloungers and cabanas. There's a firepit as well.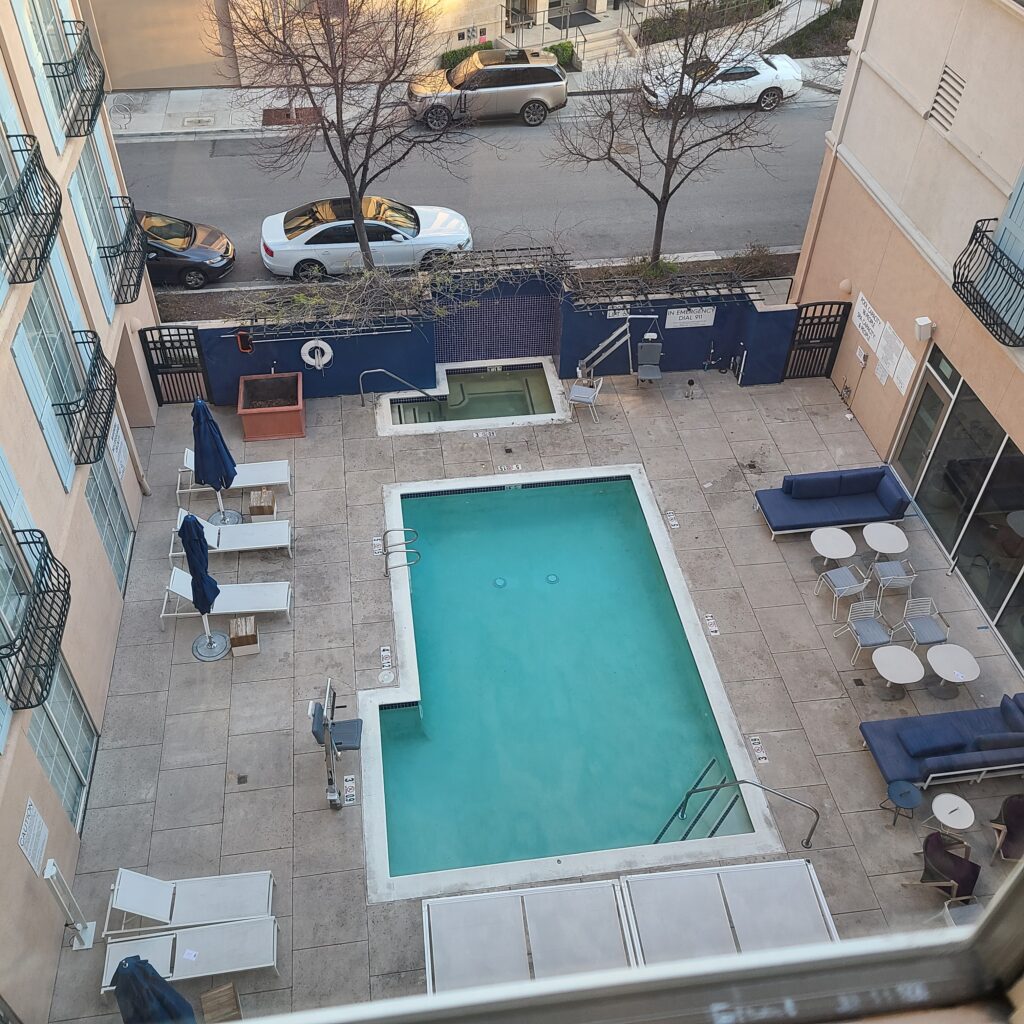 The Westin Palo Alto- Outdoor Terrace

The first floor has an outdoor terrace for a place to relax outside in peace with water flowing sounds coming from the blue urns.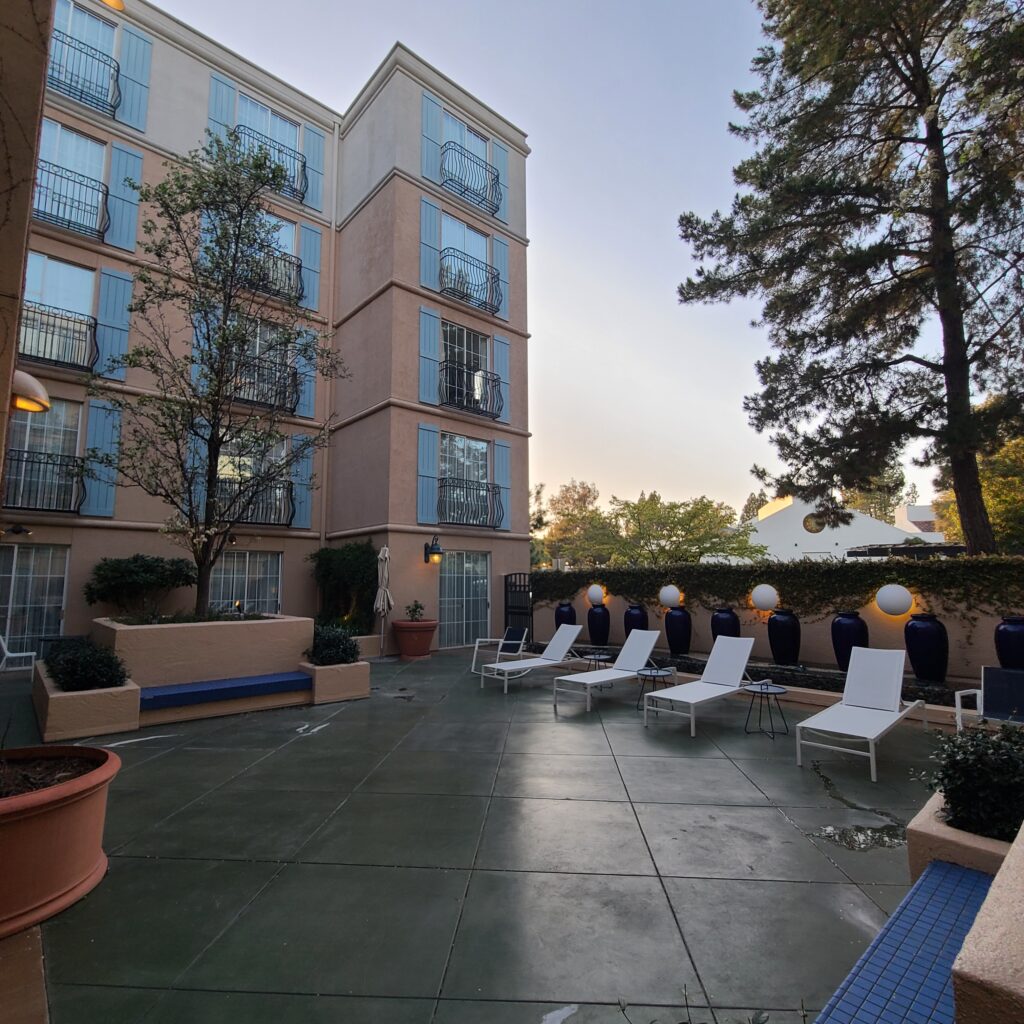 Some rooms appear to have direct access to the terrace, but window shades will ensure privacy.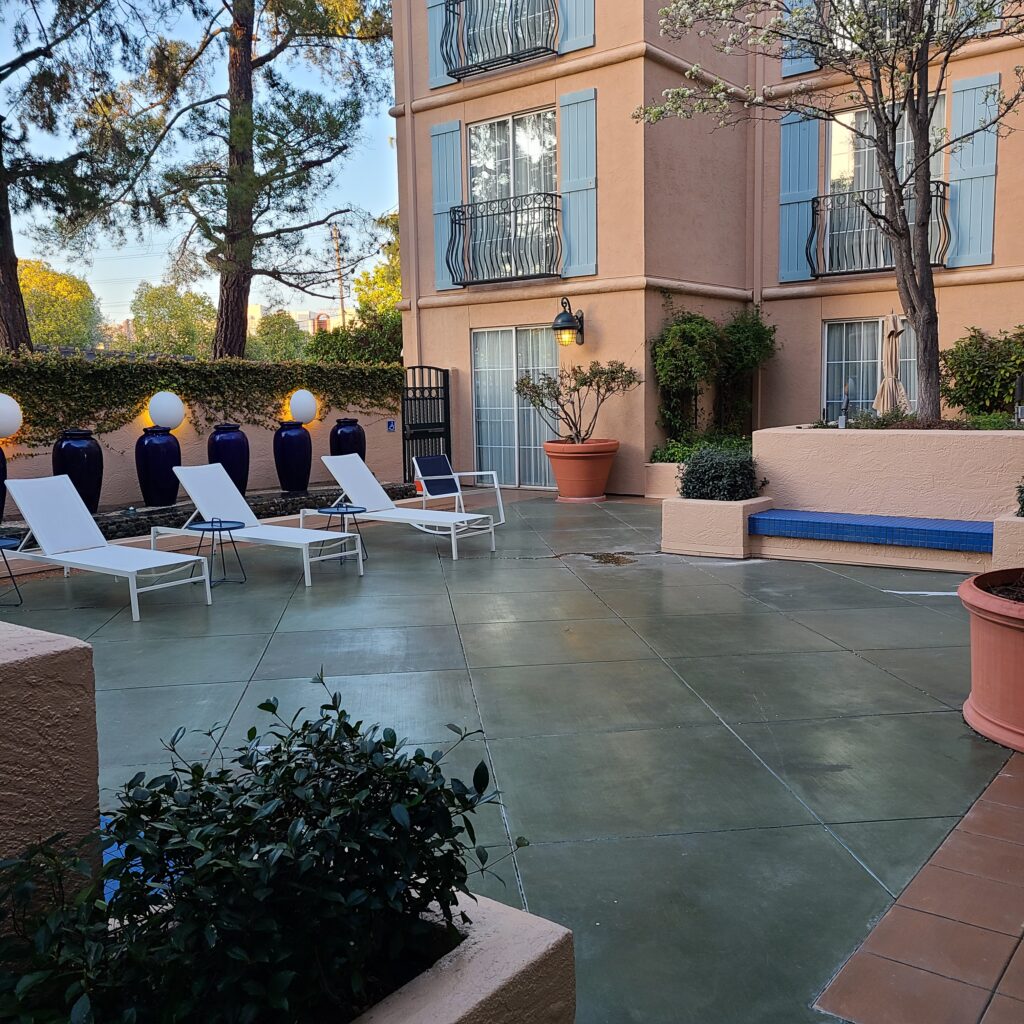 The Westin Palo Alto- Mini Market
Just behind the front desk is the mini market where you can conveniently get snacks, drinks, and other supplies from your room. They're upcharged of course, but there's a Whole Foods nearby that's a 10 minute walk away from the hotel.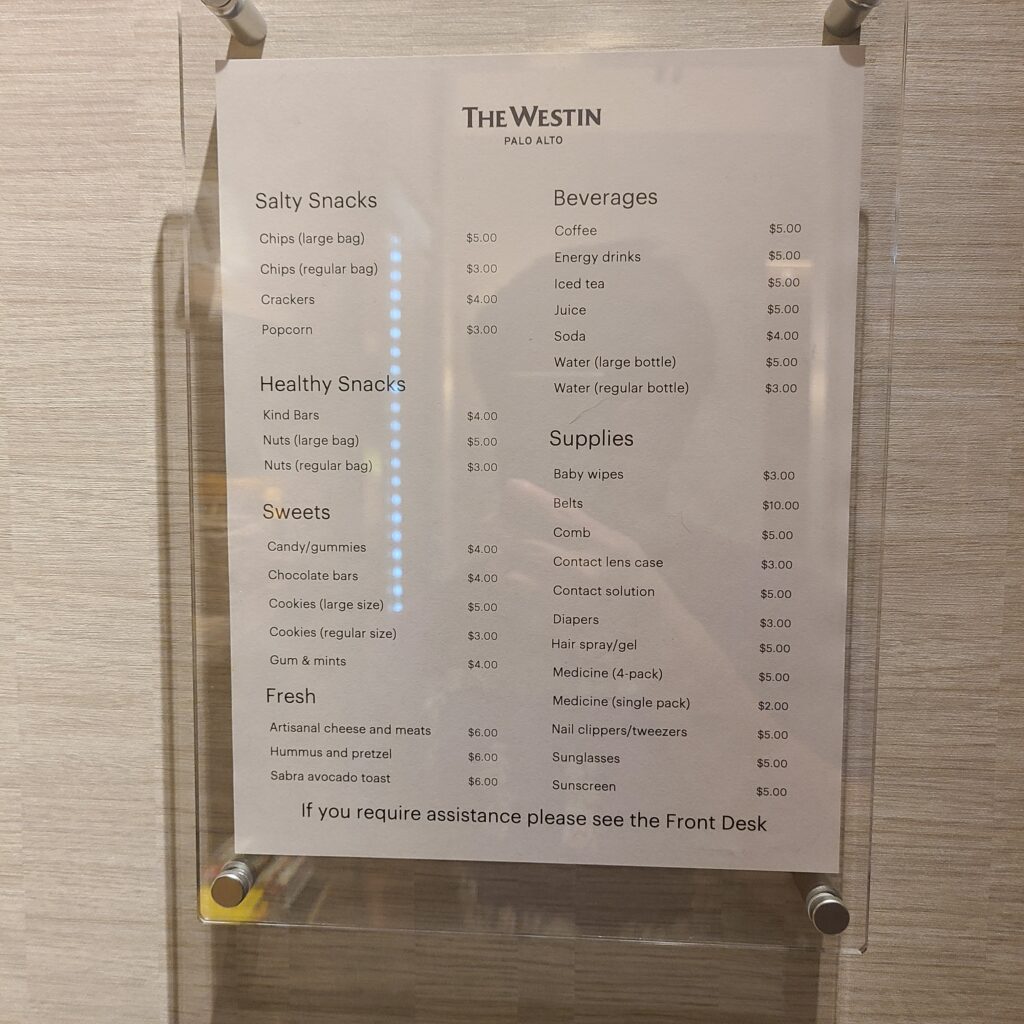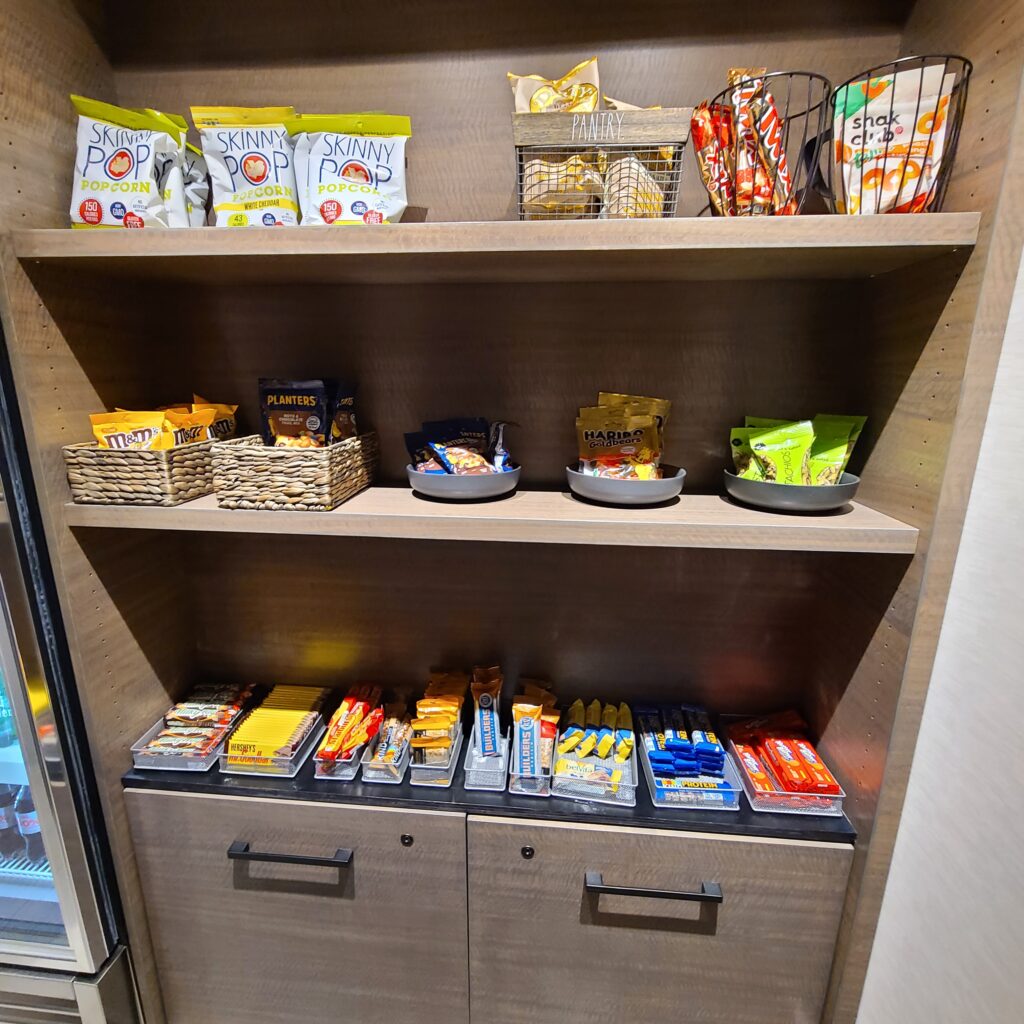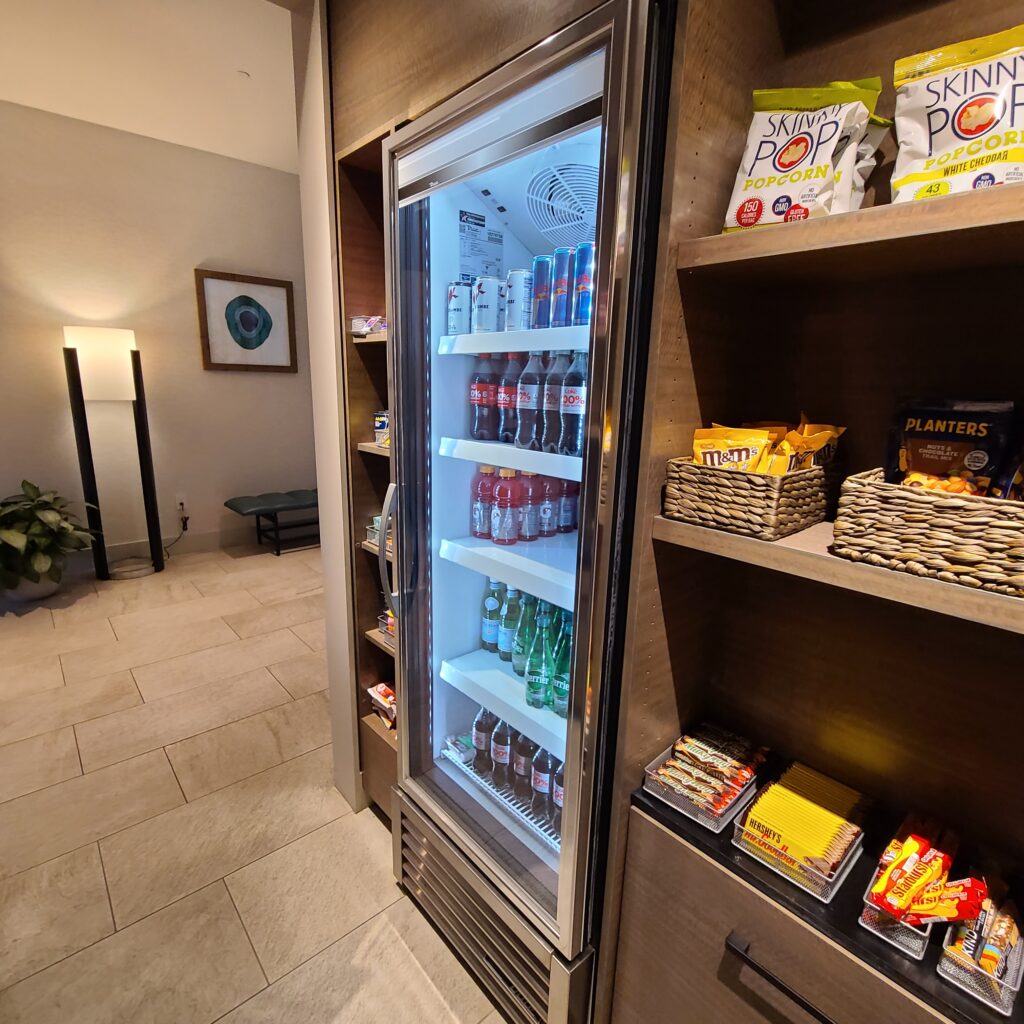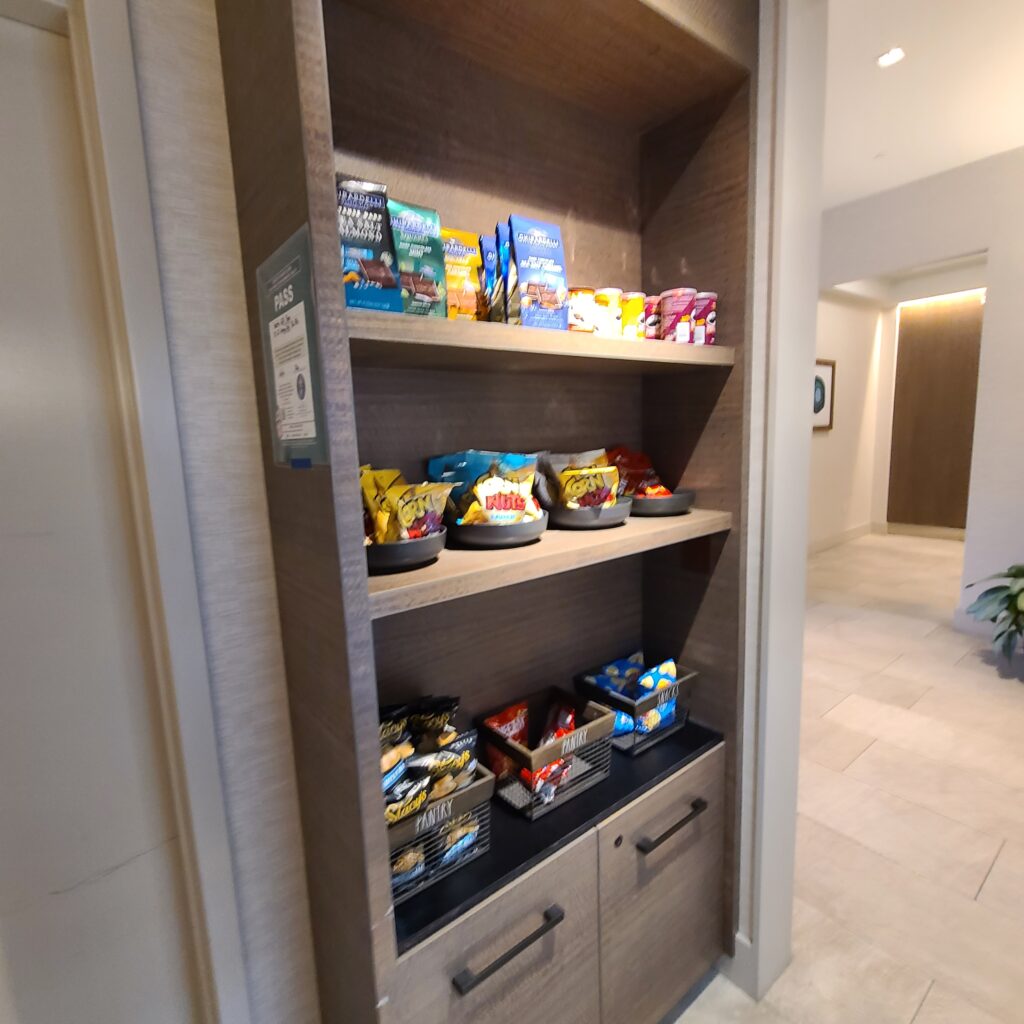 Conclusion
I had a decent stay at The Westin Palo Alto, but it doesn't really stand out and honestly could pass as a Courtyard. The room feels modern and adequate for the business-centric location it's in. I'm also glad that my parking fee was waived and I earned 2 Welcome Gifts of points and breakfast, despite being unsure if they're honest mistakes or not. Breakfast was adequate and tasty despite its small offerings.
One complaint that I have is that it feels the Westins in the Bay Area are skimping out on the bath amenities with inconsistent White Tea products placements. I don't think it's an excuse when they tend to charge $400+ a night regularly on weekdays.
Obviously, I wouldn't stay here if it'd cost me $400 a night, but I'd figure those who do stay are business travelers who are comped by their company. In that case, they can expect to earn lots of points from their stay while enjoying a great quality bed after work.
Overall Rating