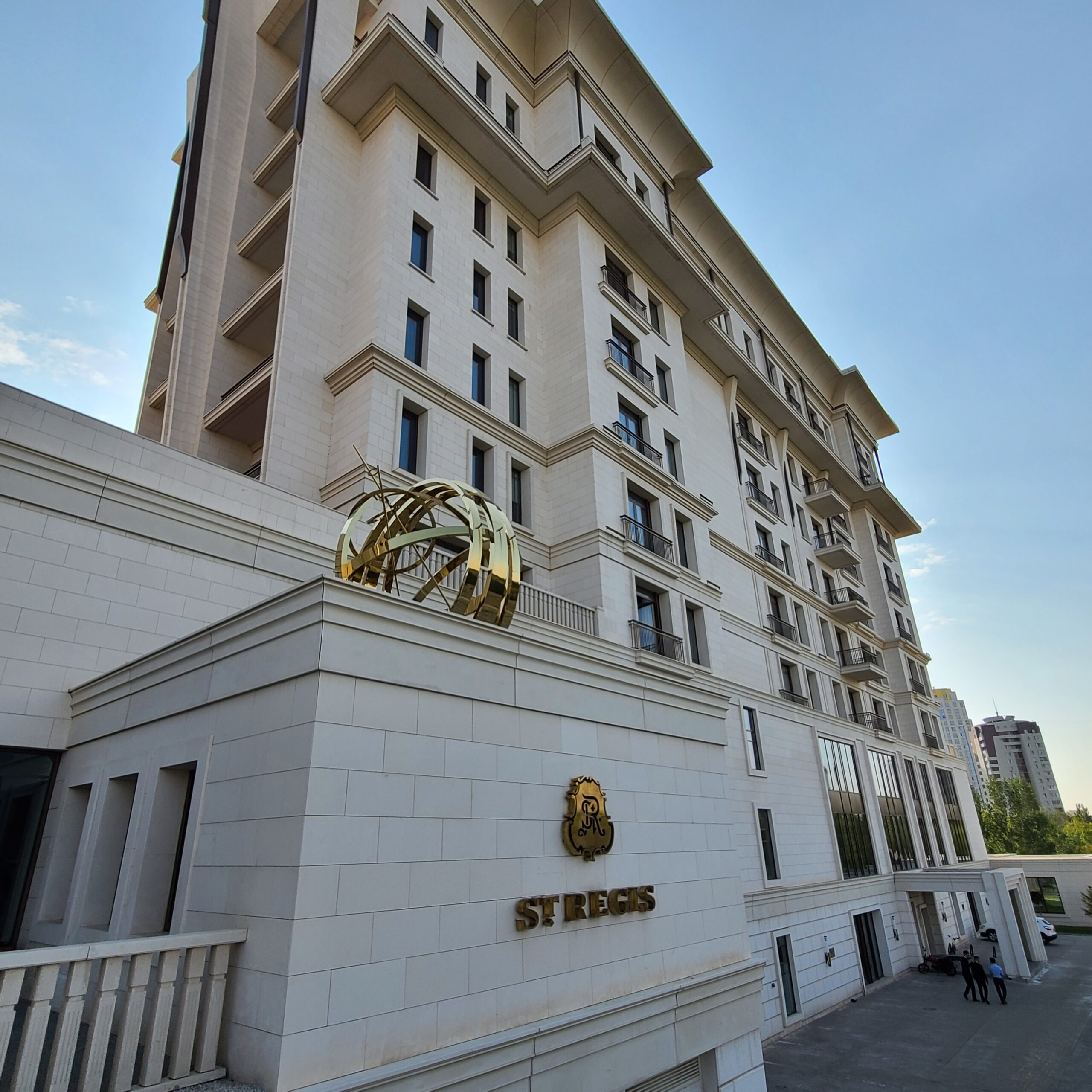 Advertiser disclosure: This post may include affiliate links (including sidebar banners) in which this site may receive compensation if a purchase is successfully made (at no extra cost to you) after being redirected from here. Thank you for your support!
Review: The St. Regis Astana (2022) [Kazakhstan]
My very first day in Kazakhstan begins at its current capital Astana. I stayed at The St. Regis Astana, which also marks my very first stay in a St. Regis hotel. This was one of my most anticipated stays in Central Asia!
St. Regis Astana- Booking
I booked a single night through the American Express Fine Hotels & Resorts. This hotel is the only one in Central Asia that participate in this special Amex program. The nightly rate I booked was $253 total, but because the Amex Platinum Card comes with a yearly $200 credit, my total cost for the room rate came out to be just $53!
Through Amex FHR, I receive the following special benefits:
$125 property credit
Daily breakfast for 2 guests
Room upgrade (subject to availability)
Noon check-in (subject to availability
4PM late checkout guaranteed
Because I'm a Titanium Elite with Marriott Bonvoy, many of these benefits overlap, thus the most useful benefit was the $125 property credit. Usually, Amex FHR gives $100 property credit, so it's unusual to see a $125 property credit being offered.
If you don't have the Amex Platinum Card, then I'd recommend booking through Marriott STARS that will get you similar benefits at rates that are within the range of the standard rate that's roughly around ~$225 per night.
For points redemption, this hotel will give you good value for your Marriott Bonvoy points where you can redeem 20,000-30,000 points per night depending on room availabilities.
St. Regis Astana- Location
The hotel is located at the bank of the Esil River* between Qabanbay Batyr Bridge and the pedestrian bridge Atyrau Bridge. A prime location for a morning walk by the river and admiring the views. It's a bit far from the city center where Astana's unique architectures are mostly located. But, Yandex Go is the go-to ride-sharing app that will let you get around the city, and it also accepts Visa/MasterCard as payment options.
It was challenging to decide between the St. Regis or the Ritz-Carlton in Astana. So, I decided to try out both!
Note*: Esil River is the Kazakh name for the Russified name of Ishim River. The local Kazakhs I met prefer to call the river by its Kazakh name, so that's what I will go for also.
St. Regis Astana- Check-in
I arrived at around 2pm straight from the NQZ airport after my flight from Tashkent, Uzbekistan. The ride was about 30 minutes long, but the cost was around $4!
When I arrived at the front of the hotel, I entered a roundabout shaped from a yurt, a nomadic tent that' commonly seen in Central Asia.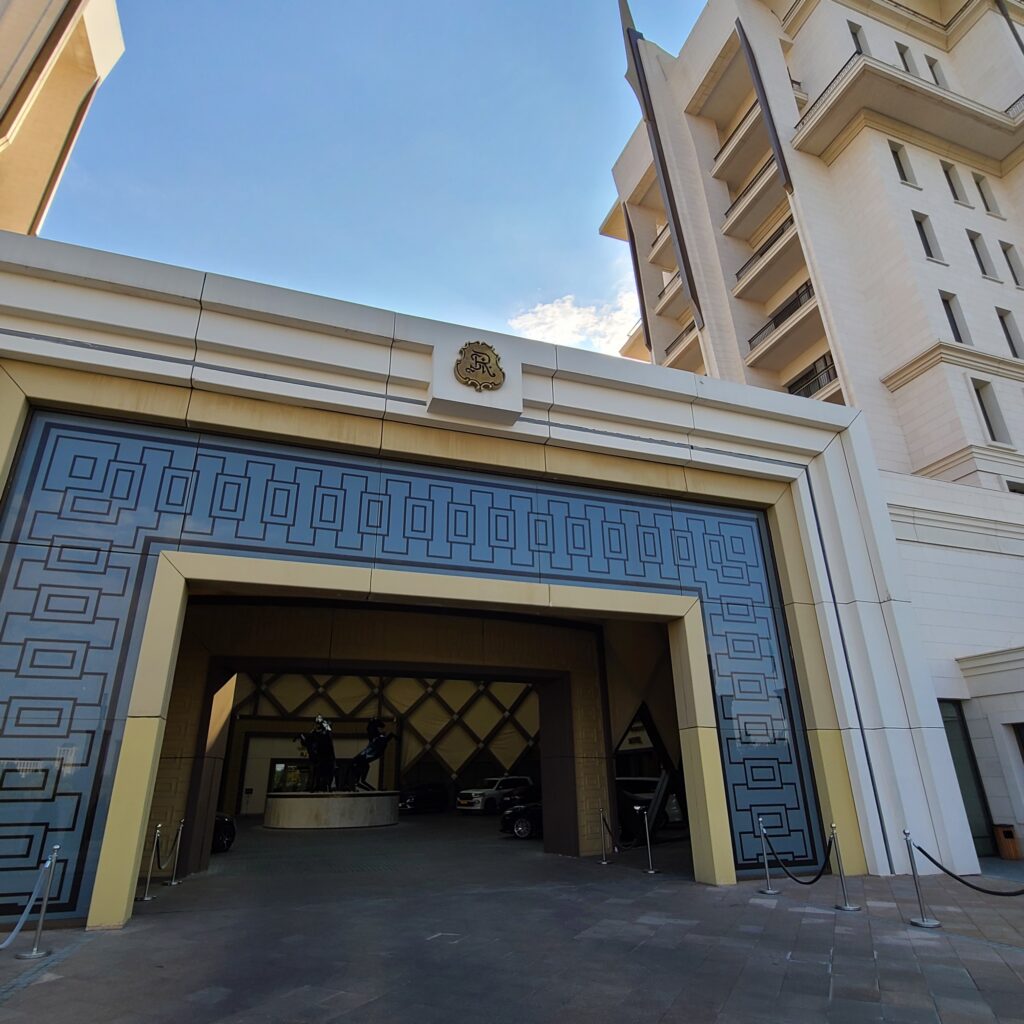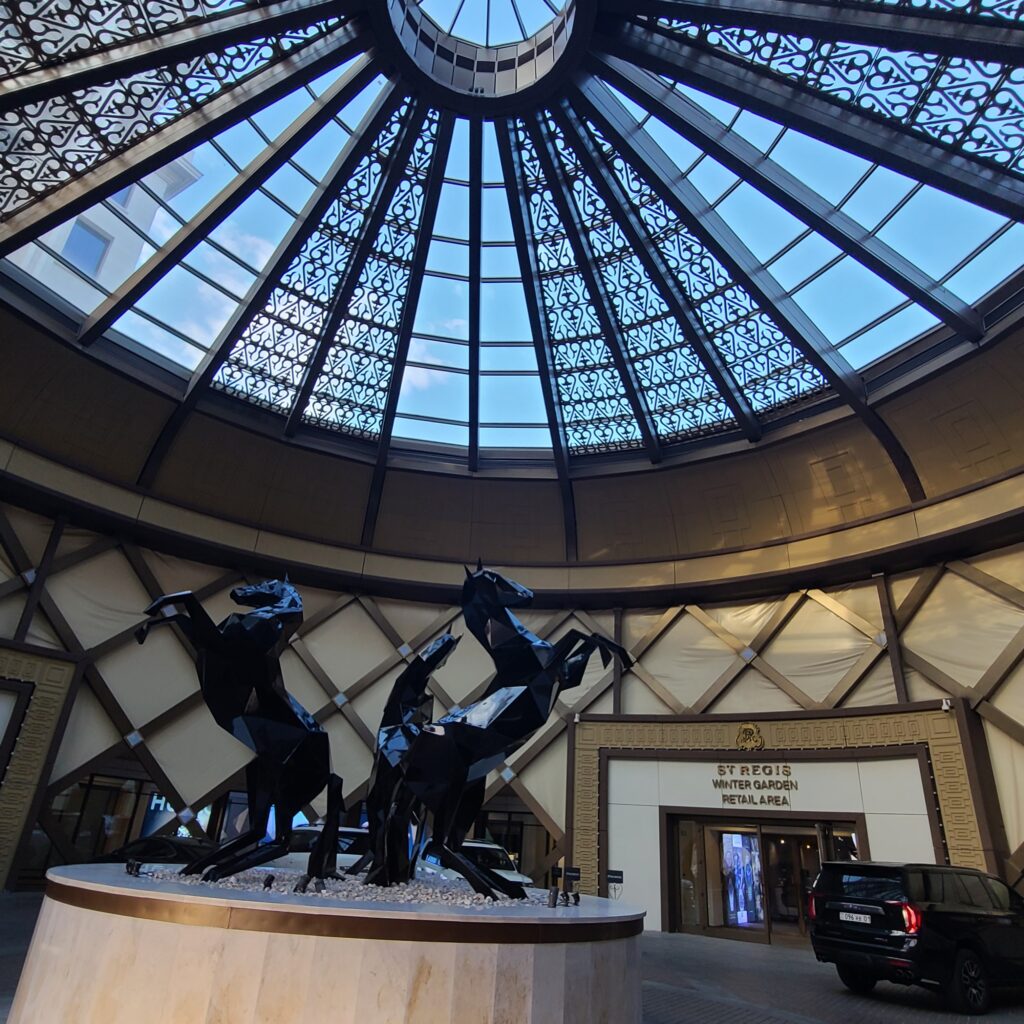 The roundabout serves as entrances to fancy retail stores and the hotel. It's also adorned by geometric horse sculptures in the middle, which they are very important animals in Kazakh culture.
I then entered the lobby to check-in. It's really beautiful and it's definitely a nice place to relax and drink some tea in. I definitely love the glass shard light bulbs in the middle.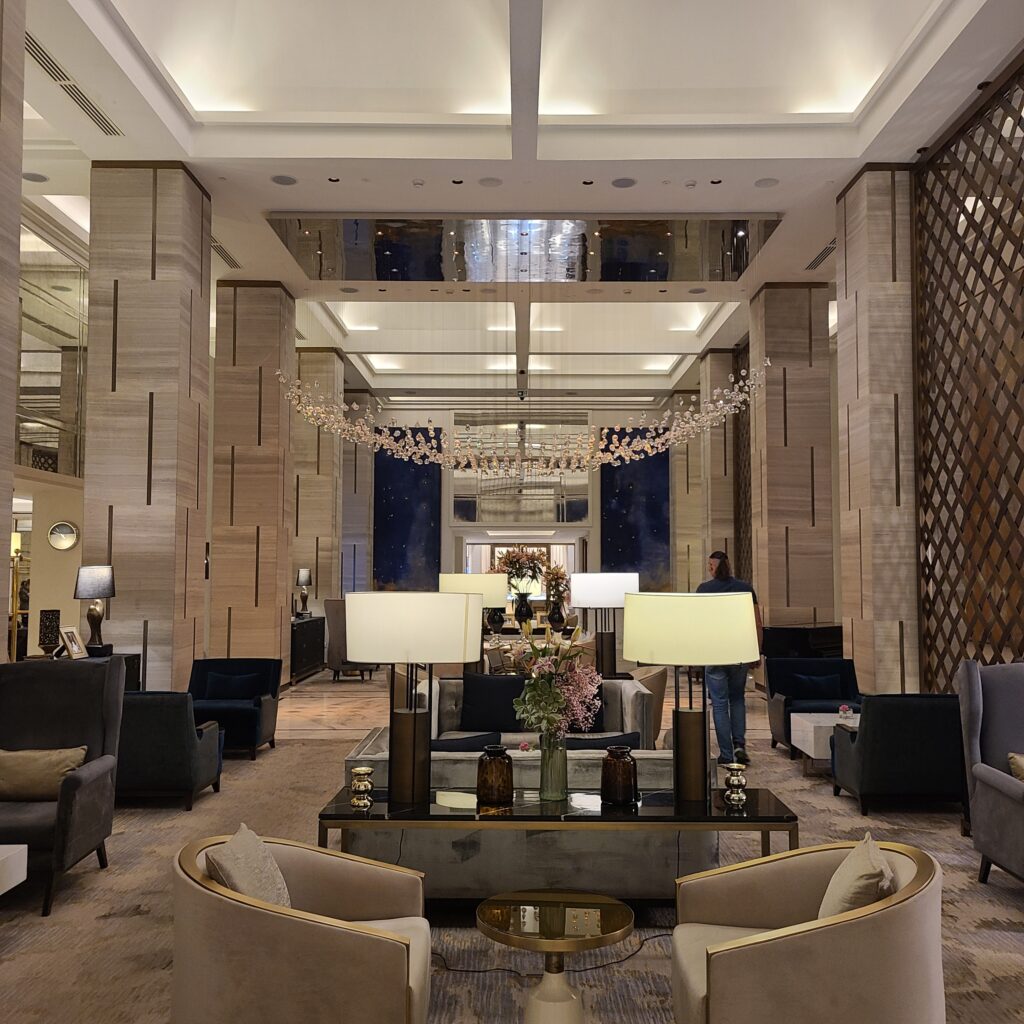 There's also some luxury retailer stores inside as well, like Farro, a Kazakh jewelry store.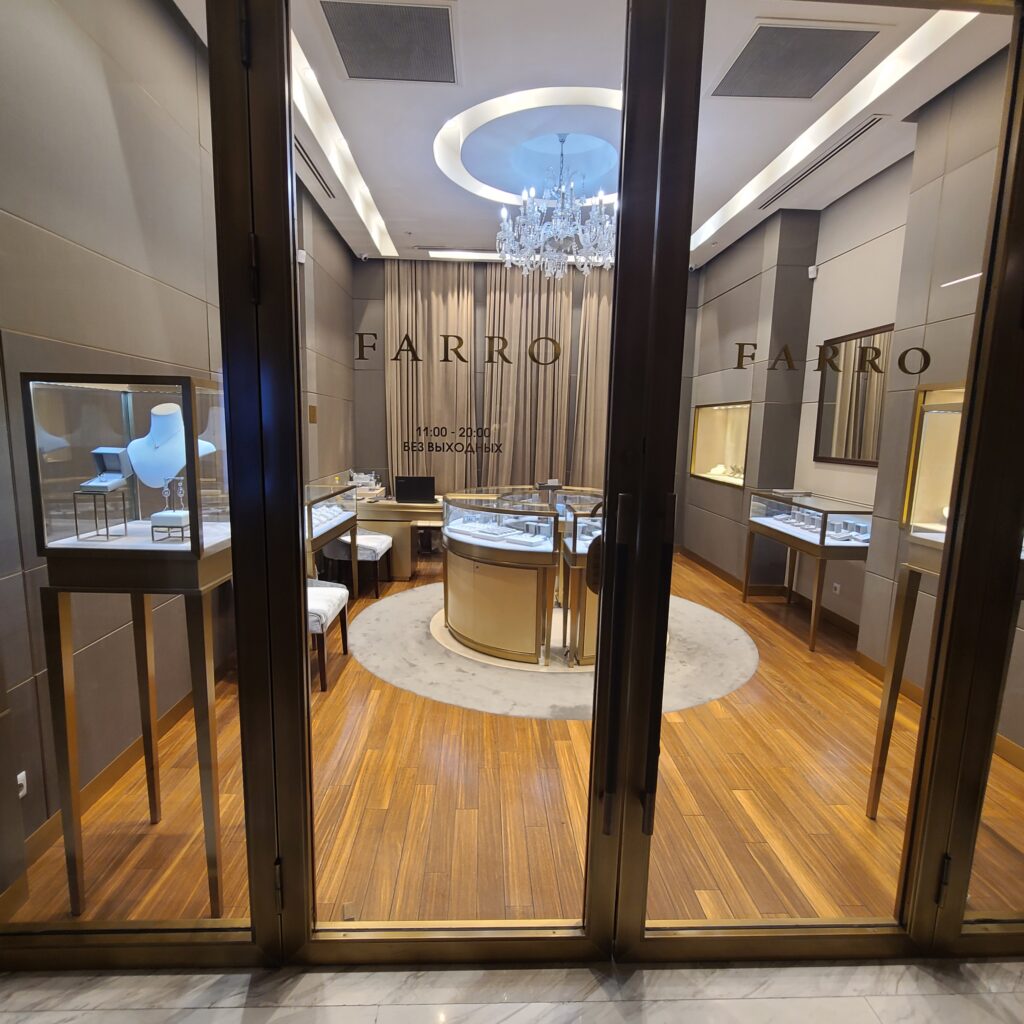 The check-in desks are set up like interview desks, making the experience a bit personal. The front desk appeared to be disappointed that I was only staying for a night. I'll spare the details, but I wouldn't want to tell them I'm a blogger that does hotel reviews and would like to try out different hotels in the city. And, to also maximize the Amex FHR benefits ;).
I was delighted to be upgraded to the St. Regis Suite after I asked for a room upgrade through the chat. They certainly did make my first visit to Kazakhstan that much more special!
St. Regis Astana- St. Regis Suite
I was assigned to the 7th out of 10 floors. The St. Regis Suite is situated at the very end of the left hallway at Room 720.
Lo and behold! This suite is ridiculously huge with ~1600 sqft of space that I don't know what to do with! Regardless, it's just a very fun room to be in. My mother even noted that it's bigger than our house!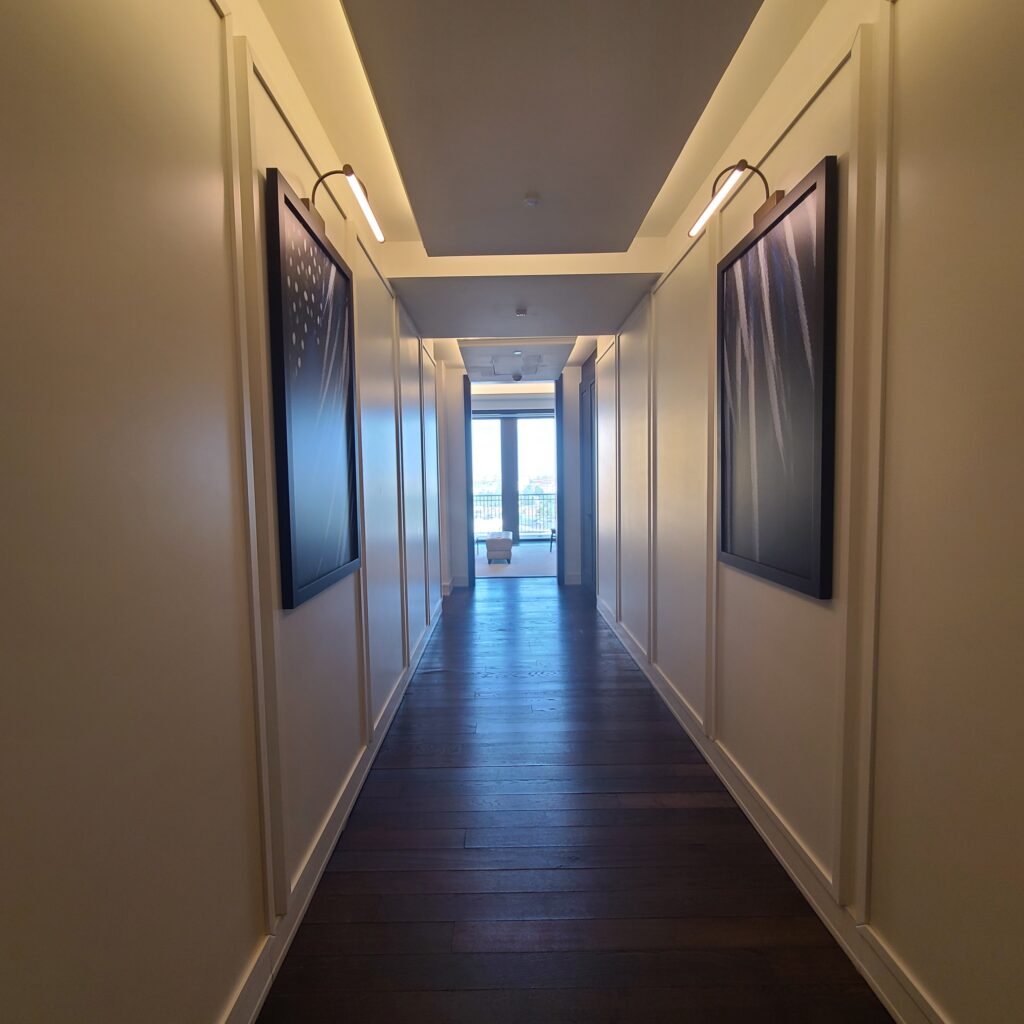 To start, the suite comes with a grand hallway entrance.
To the left, there's a half-bathroom and a kitchen with electric stove and fridge! Definitely would've been a fun place to stay at for a long term stay!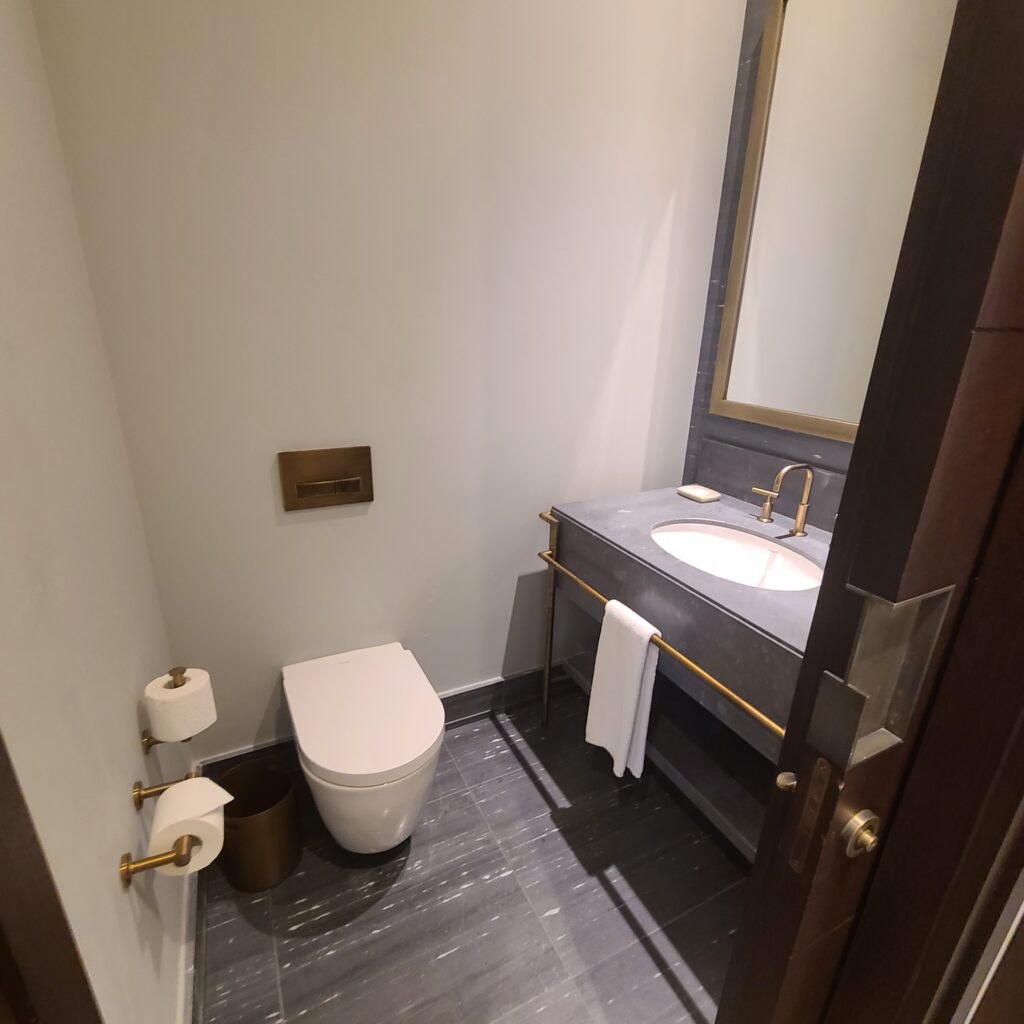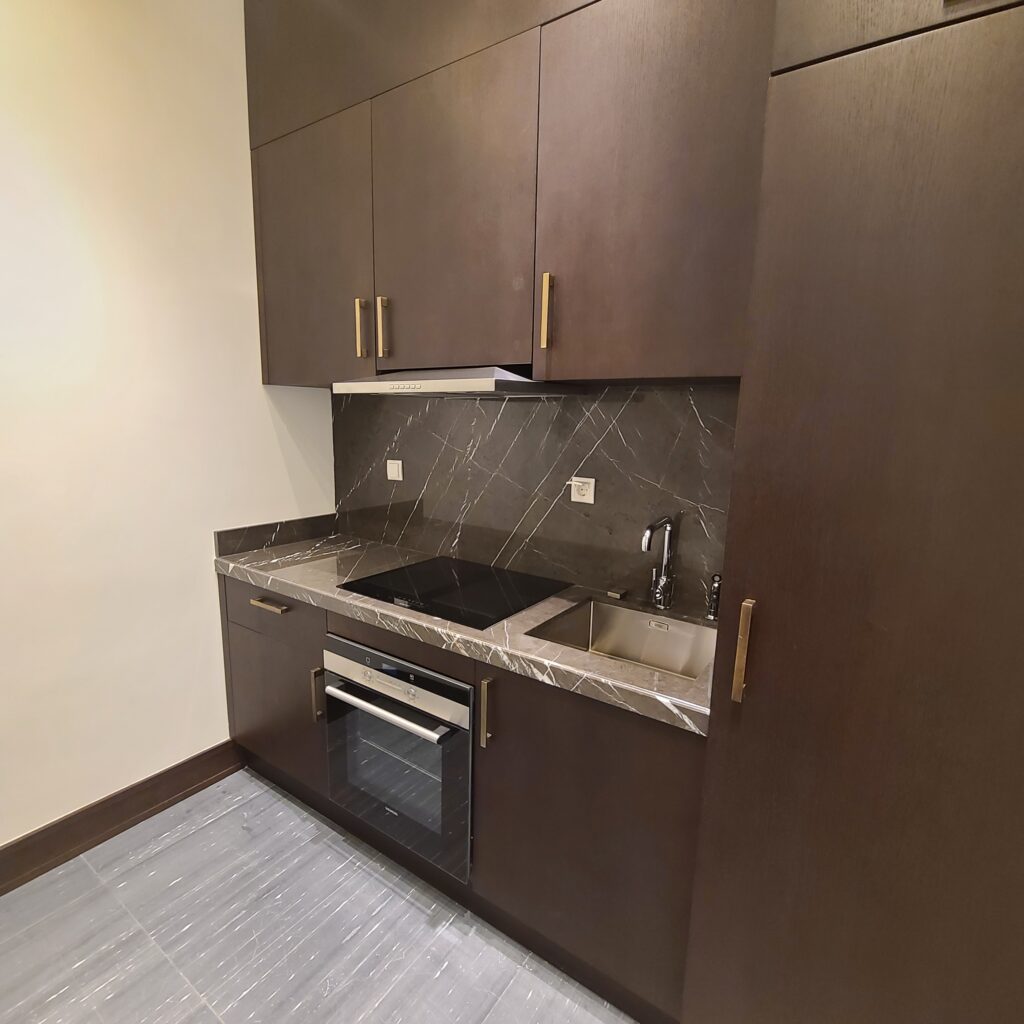 Moving on to the straight of the entrance is the large living room. It comes with a fireplace, sofa, pantry,and a dining table!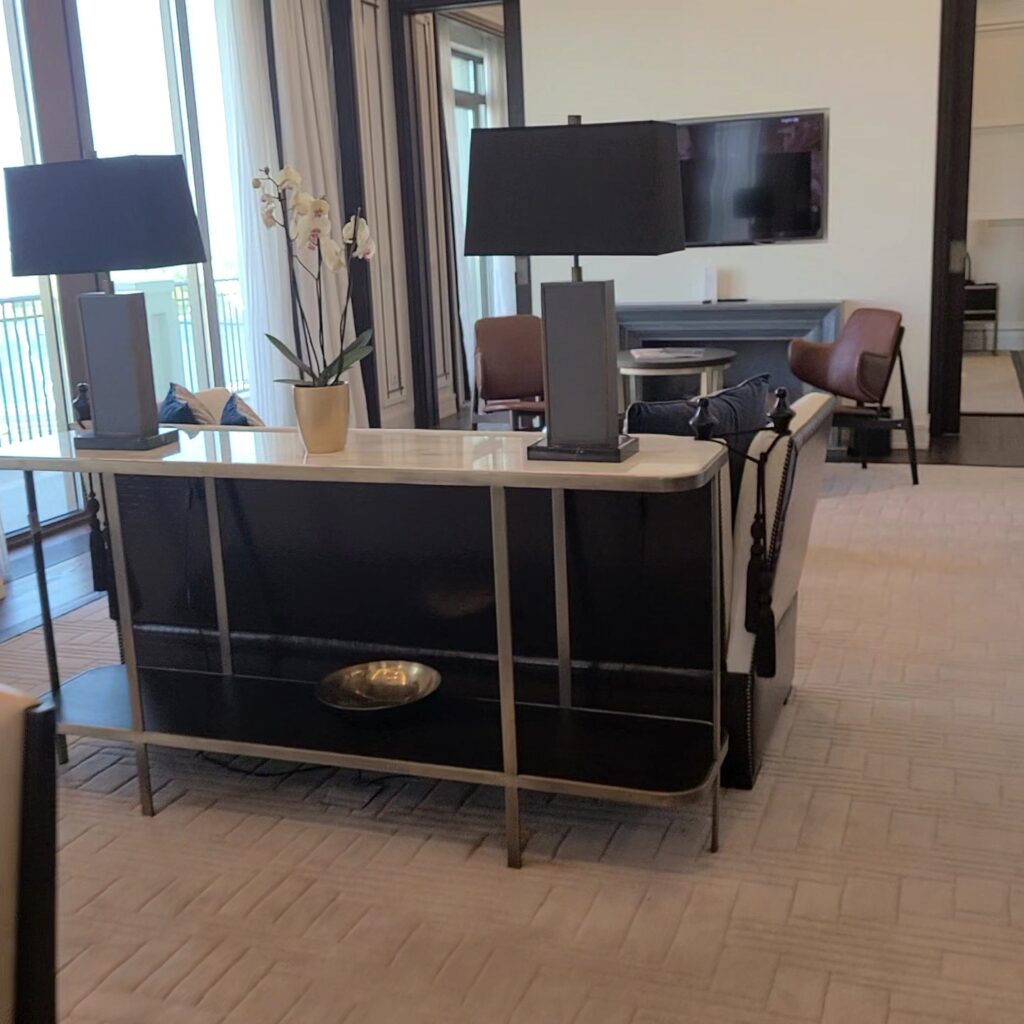 It's cool that the chairs by the fireplace are shaped like horse saddles in a way!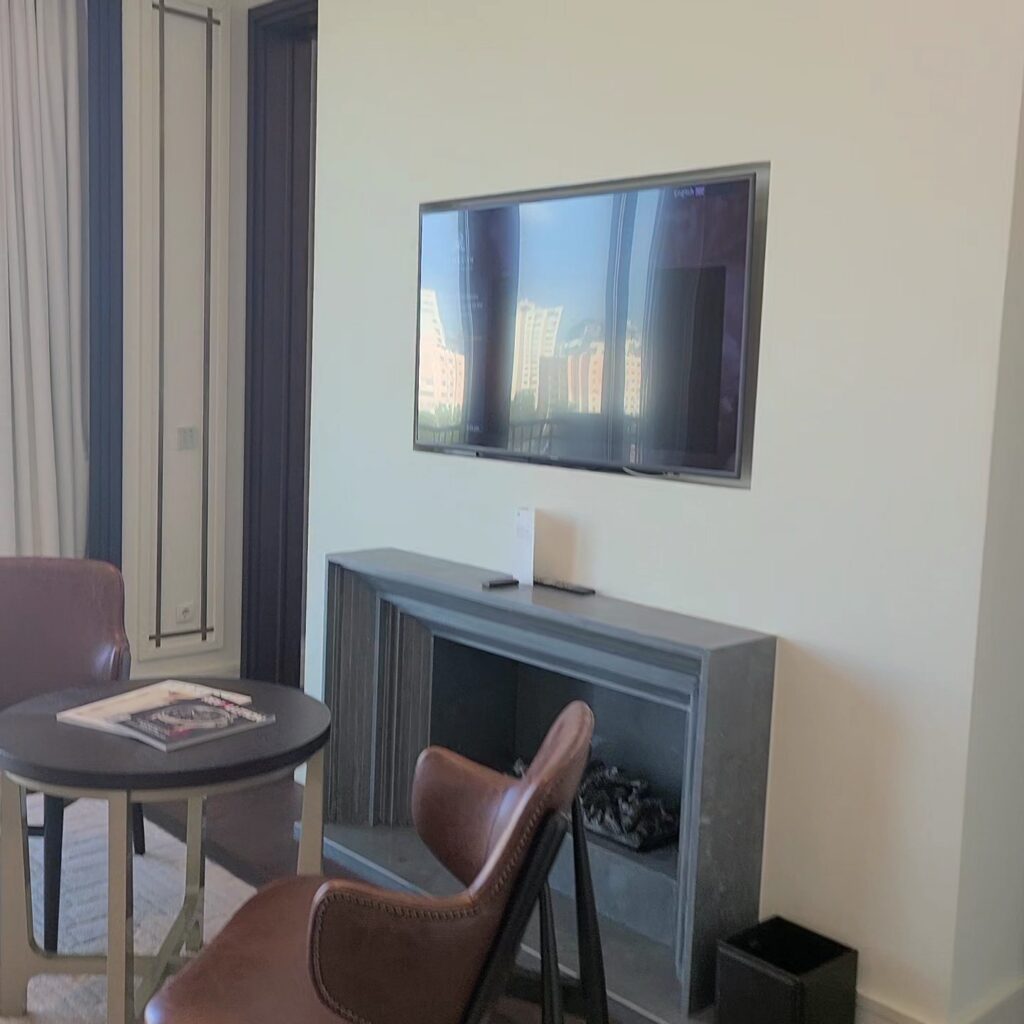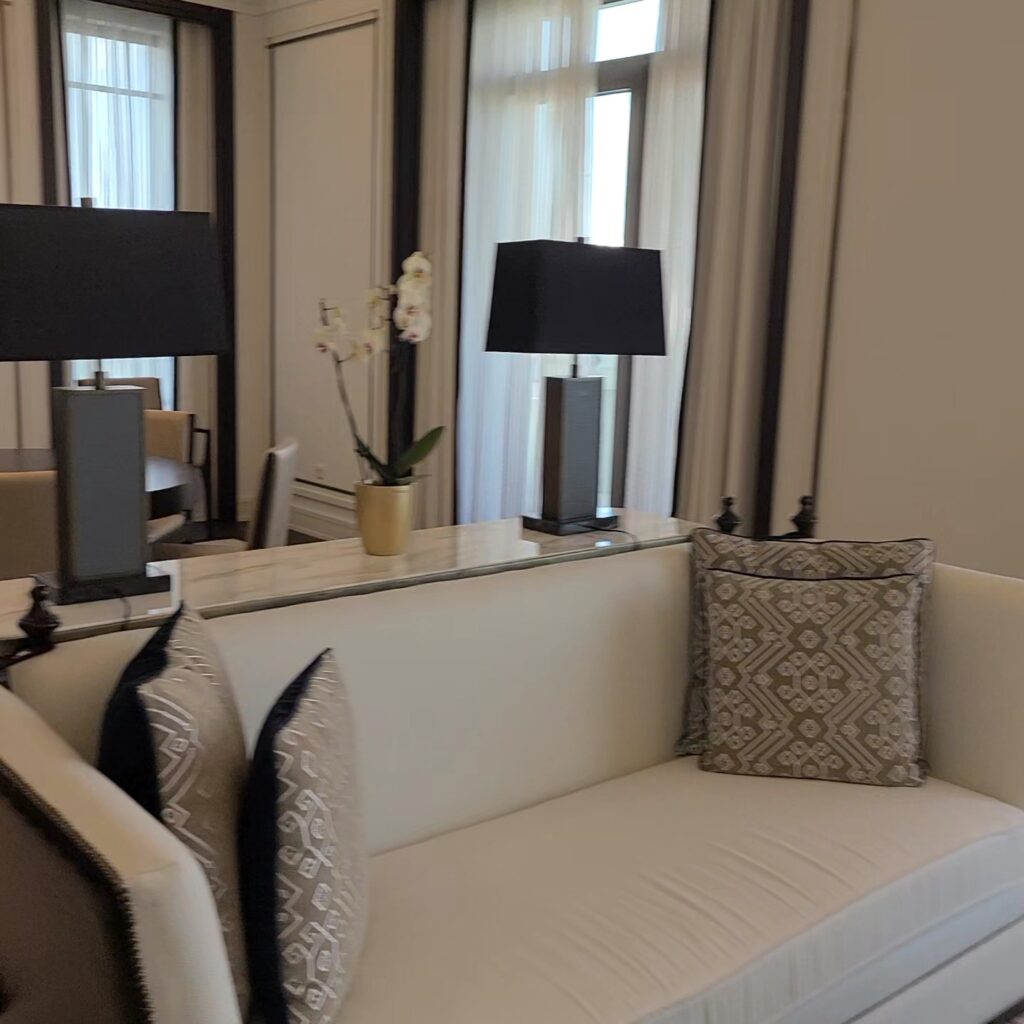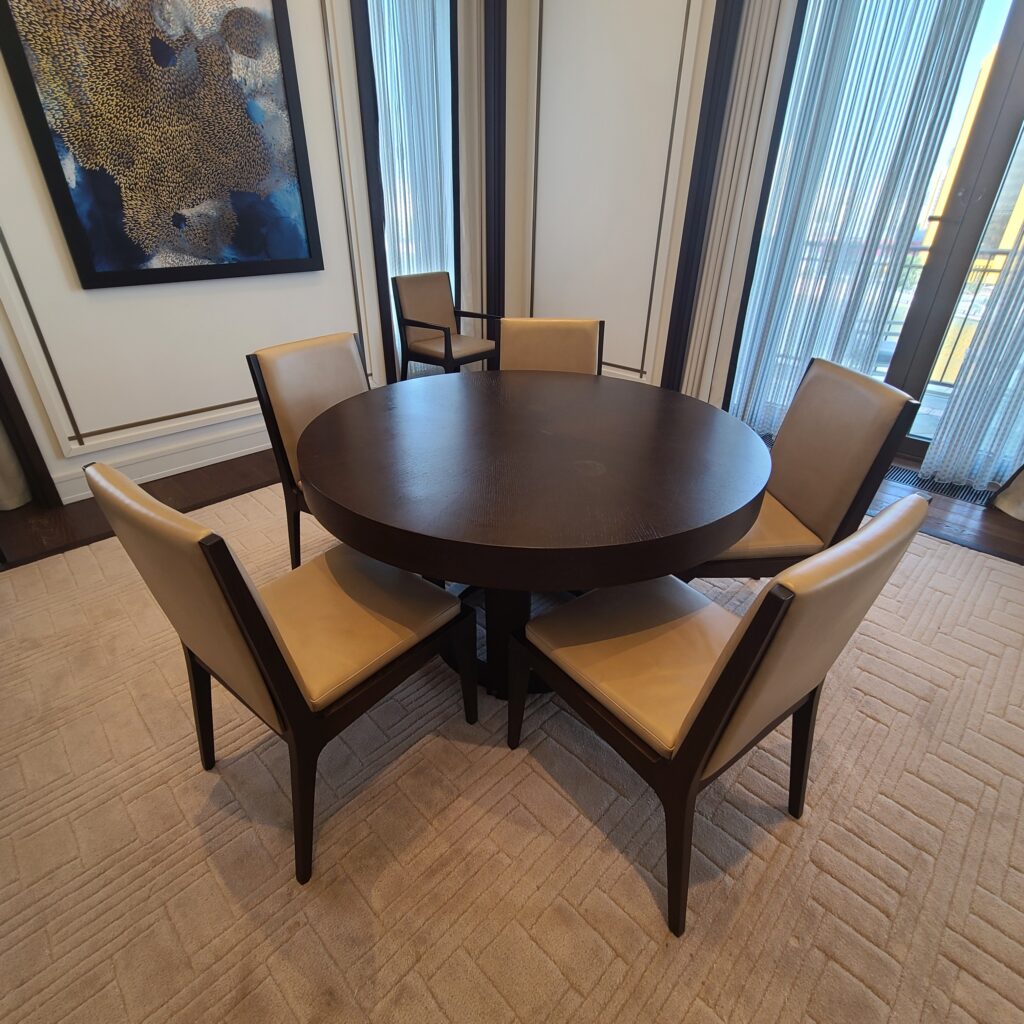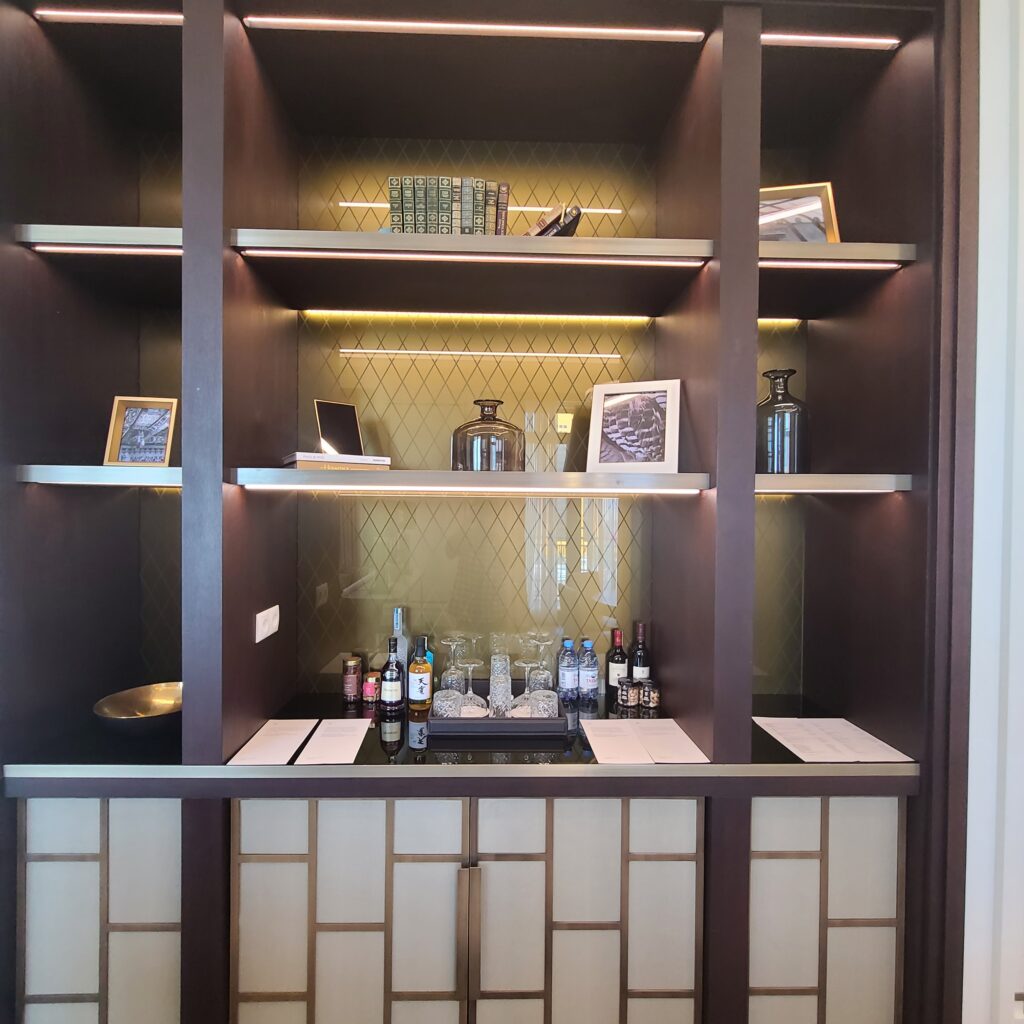 Next to the pantry and the dining table is the private office.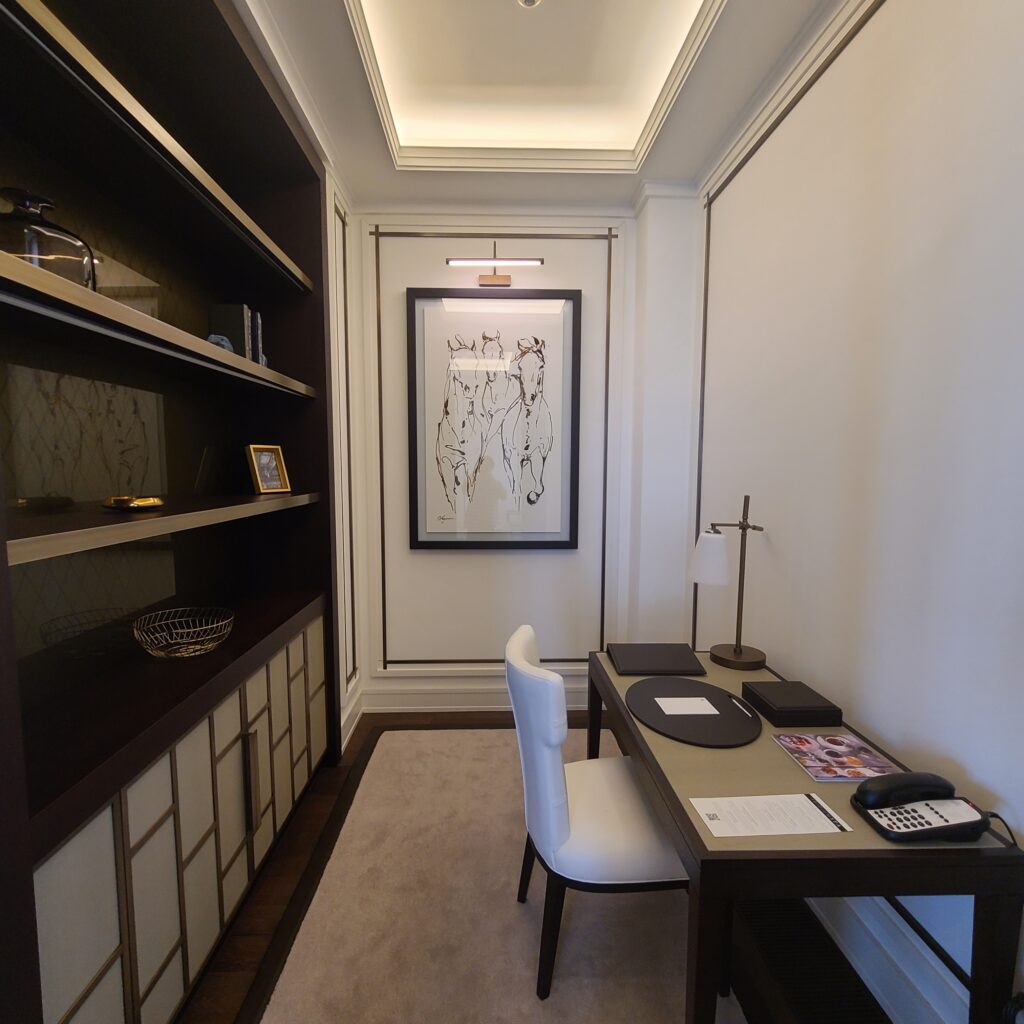 The suite also includes an outdoor balcony that's accessible through the living room and the master bedroom so that you could admire the view of the Esil River.
The bedroom is separated by two double doors on each ends of the wall connecting to the living room. Overall, an elegant bedroom with cozy bed, fur blanket, gracious bird painting, and the bronze horse statue under the TV.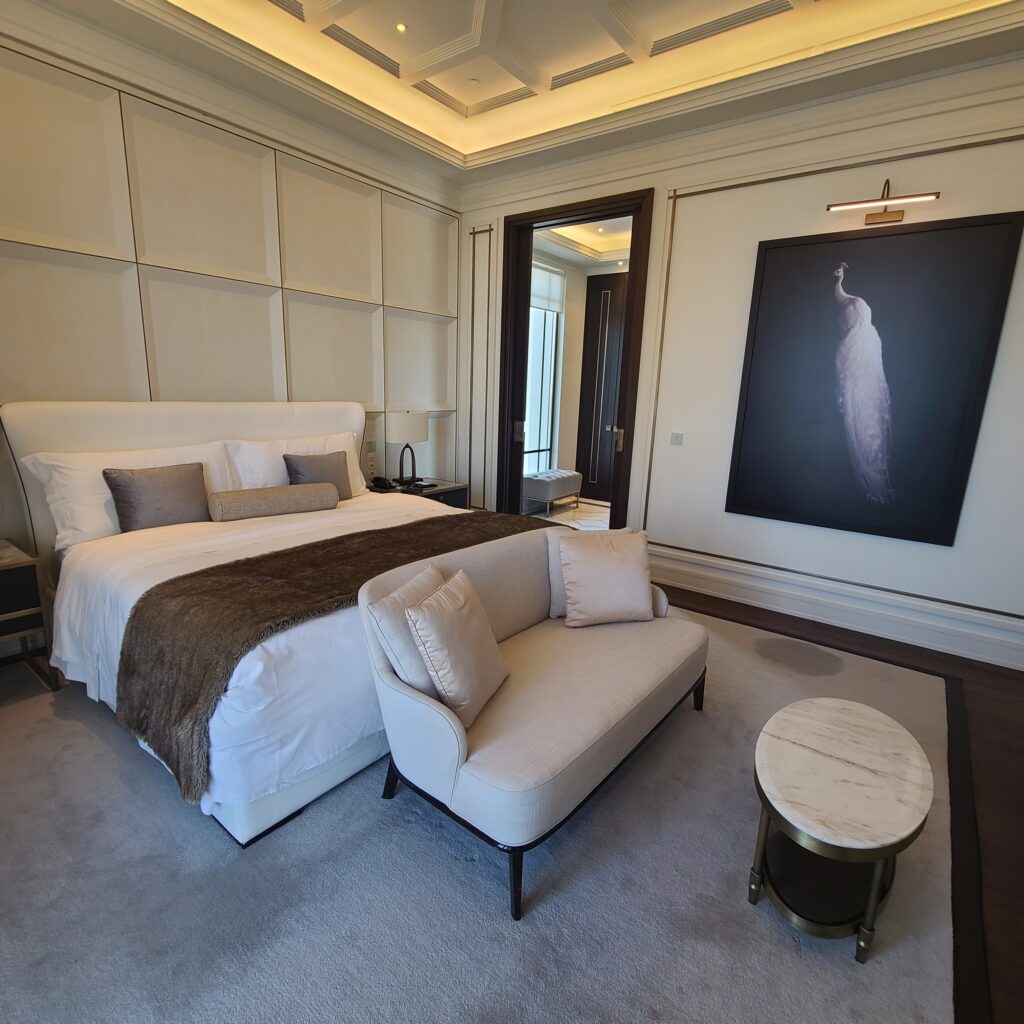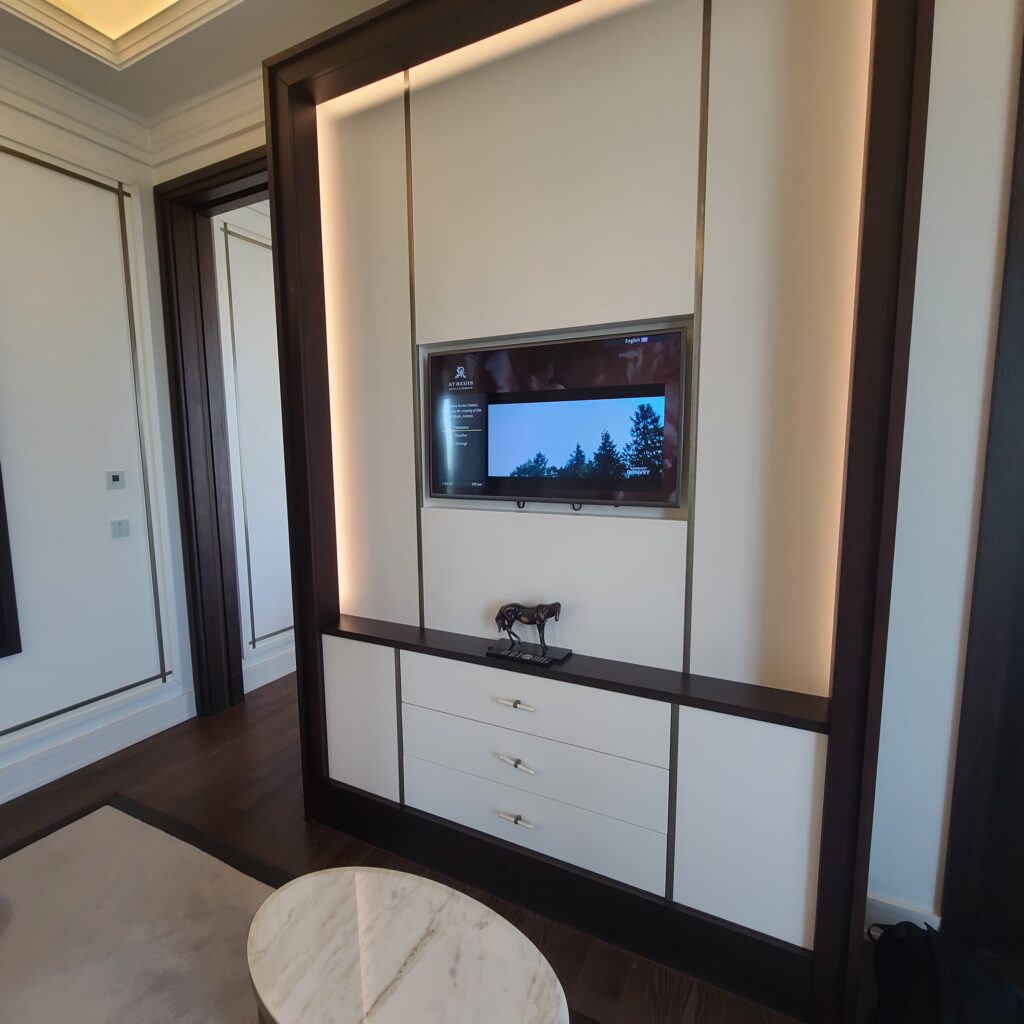 St. Regis Astana- St. Regis Suite Bathroom
Next to the bedroom is the master bathroom. A bathrobe is found by a heated towel rack and inside the closet. The floor's heated too!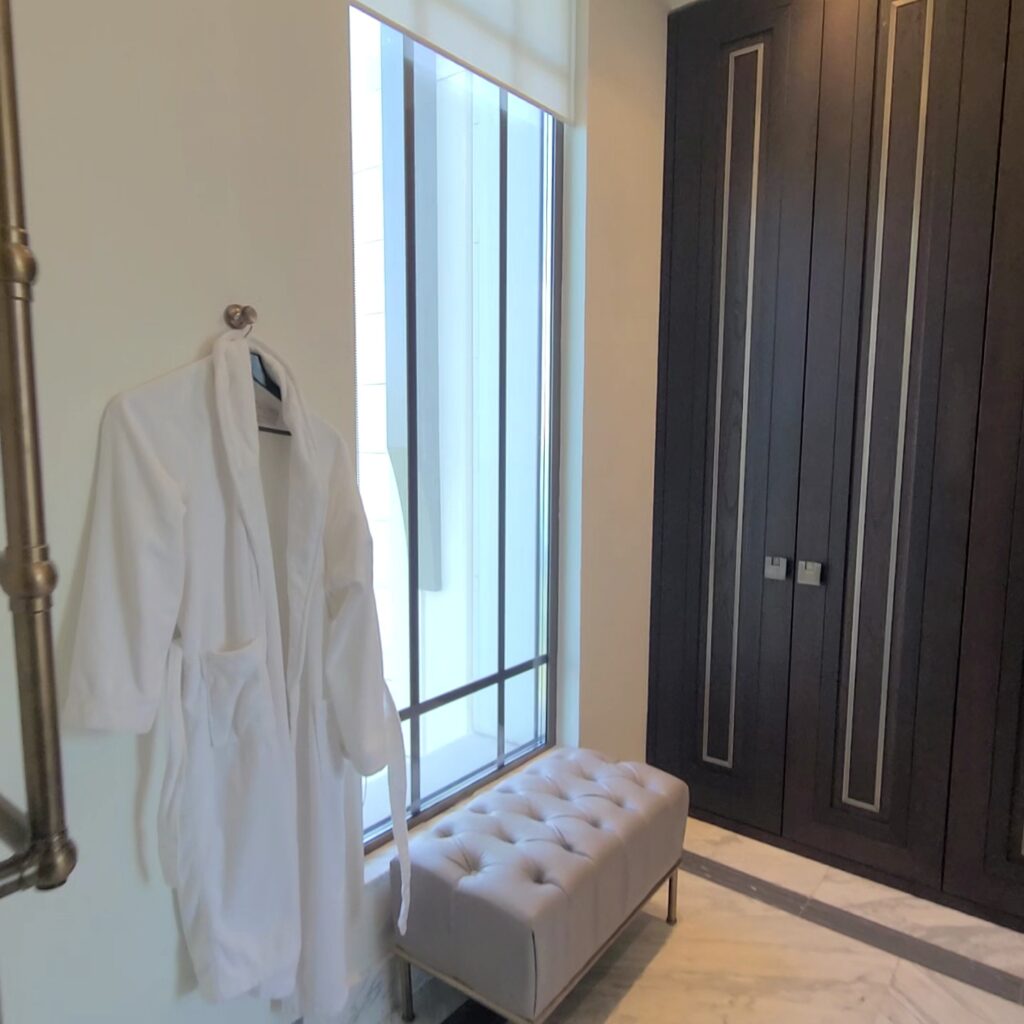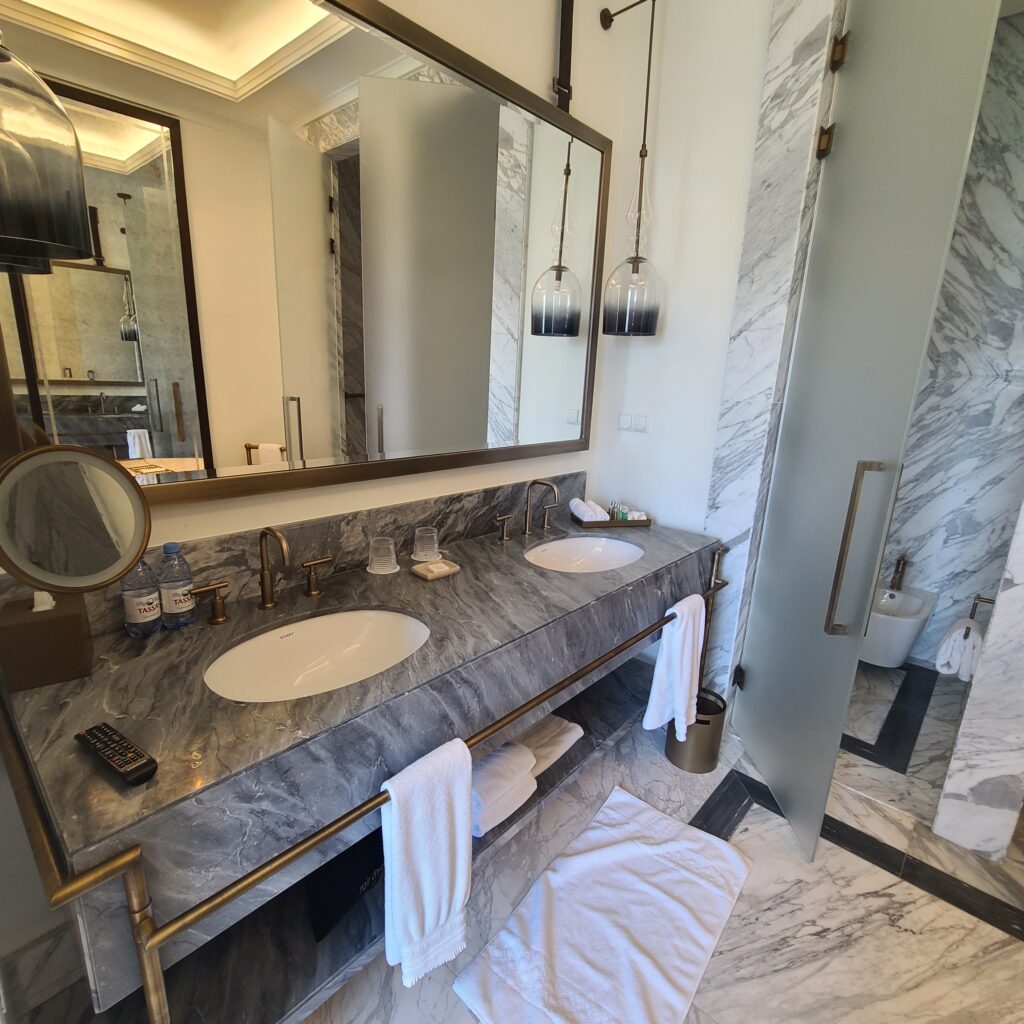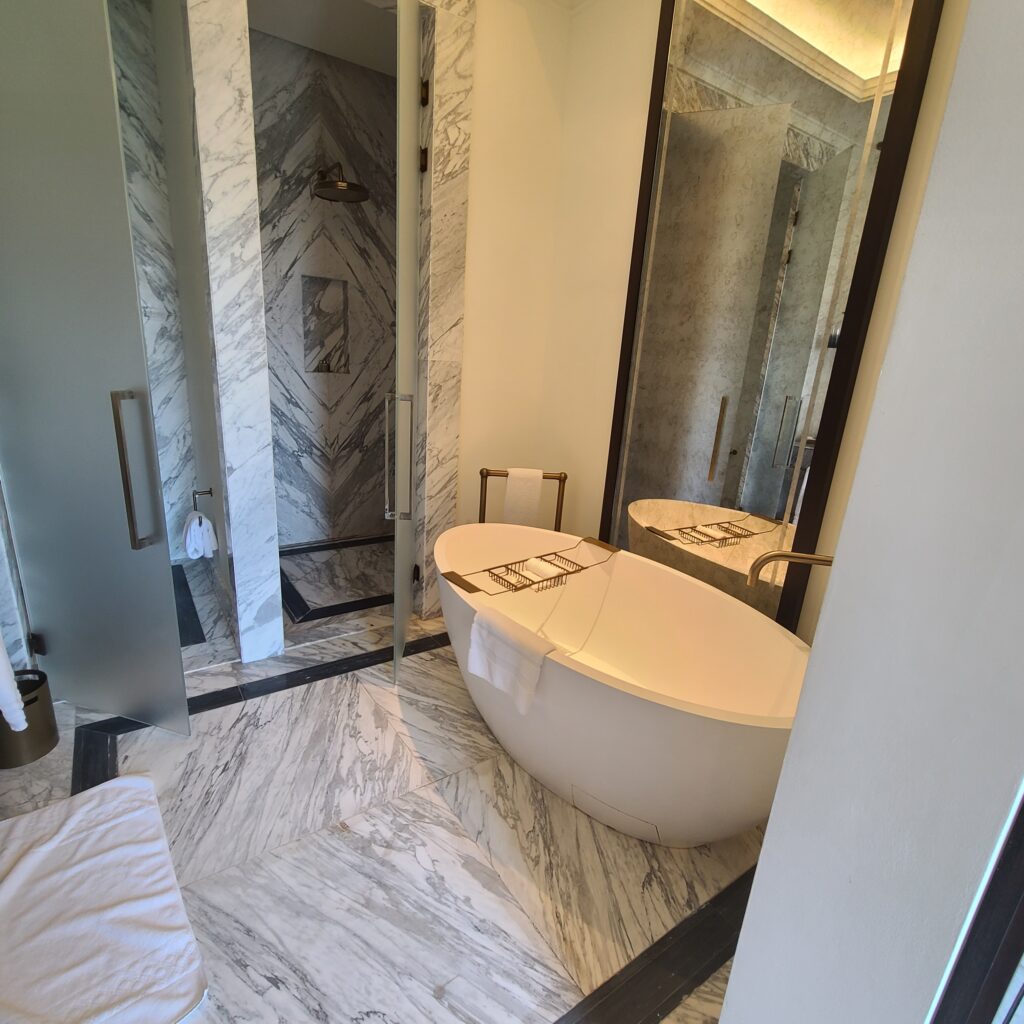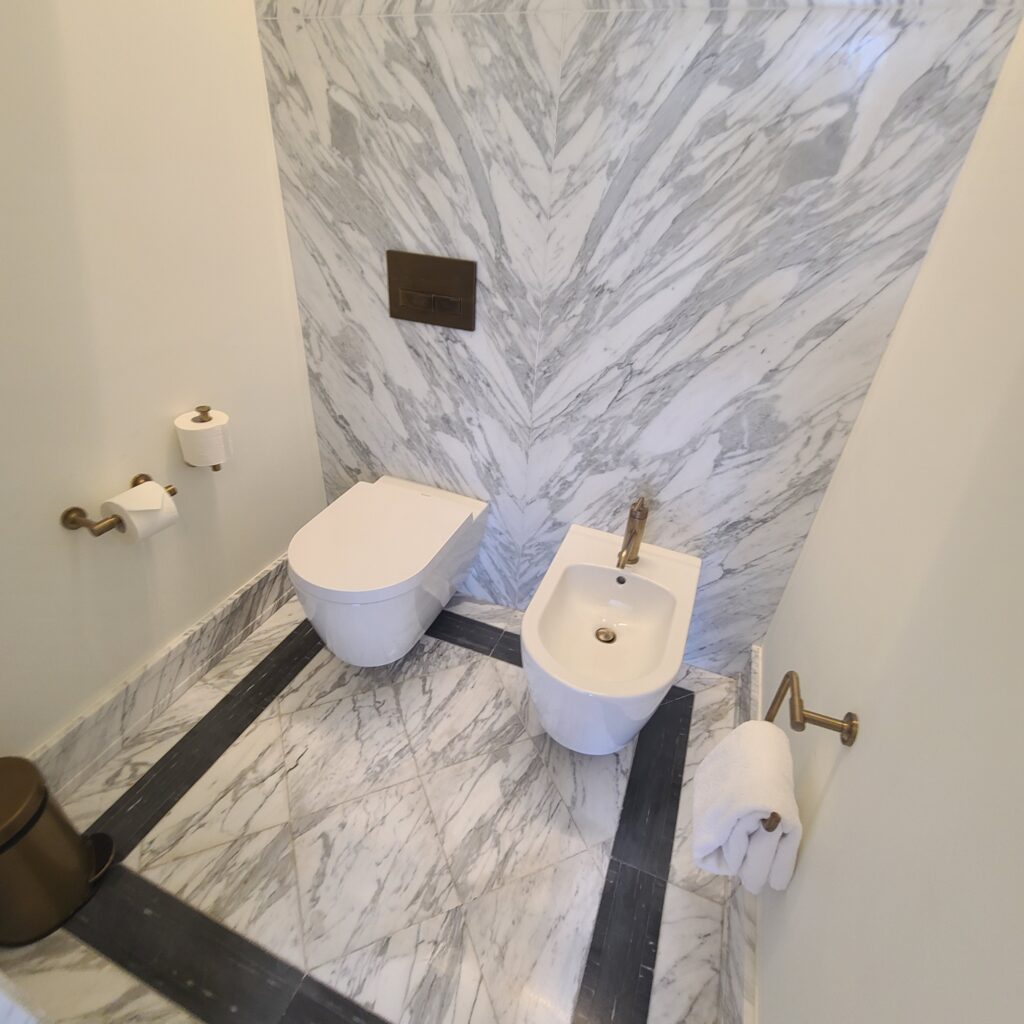 The shower pressure is excellent, but vibrating sounds occasionally is heard from the shower head.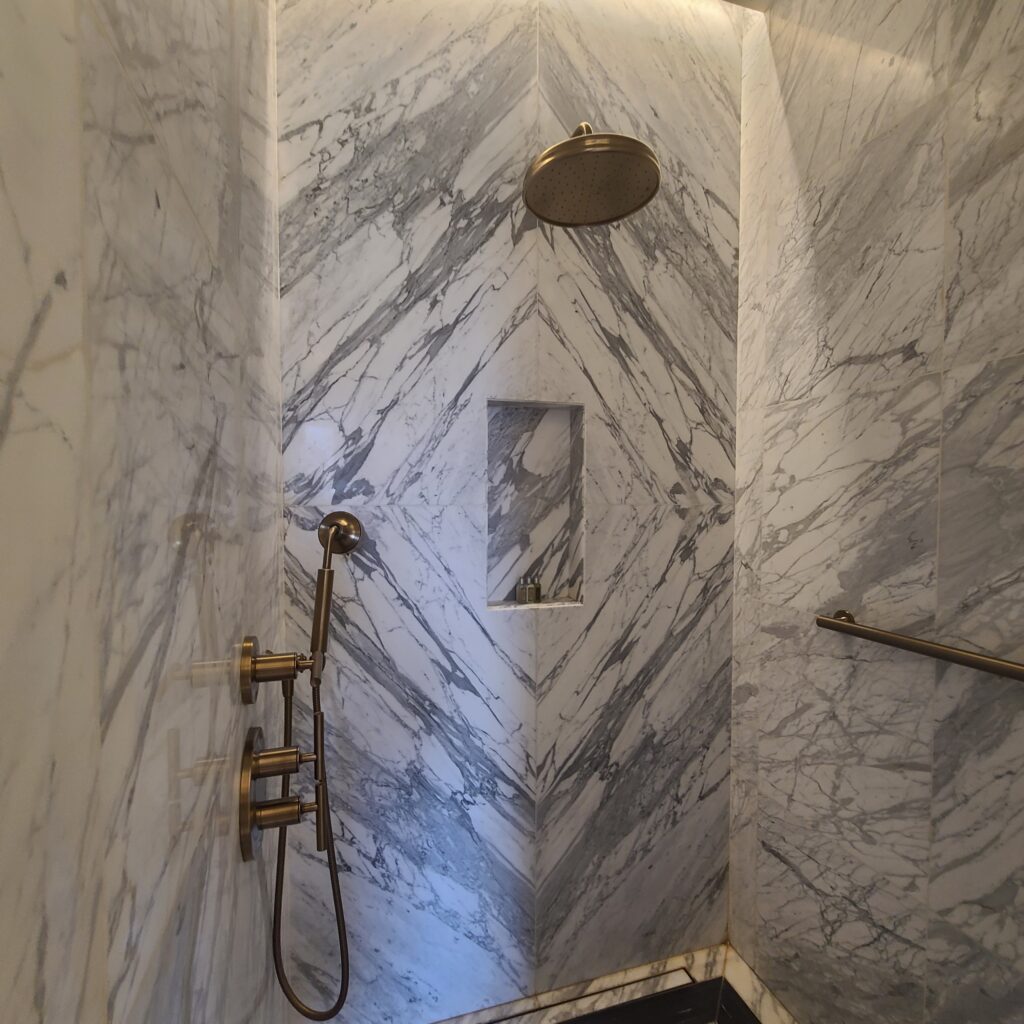 Bath amenities are issued by L'Occitane, a French luxury brand. But, the bathtub soap is by Remede, a St. Regis brand standard.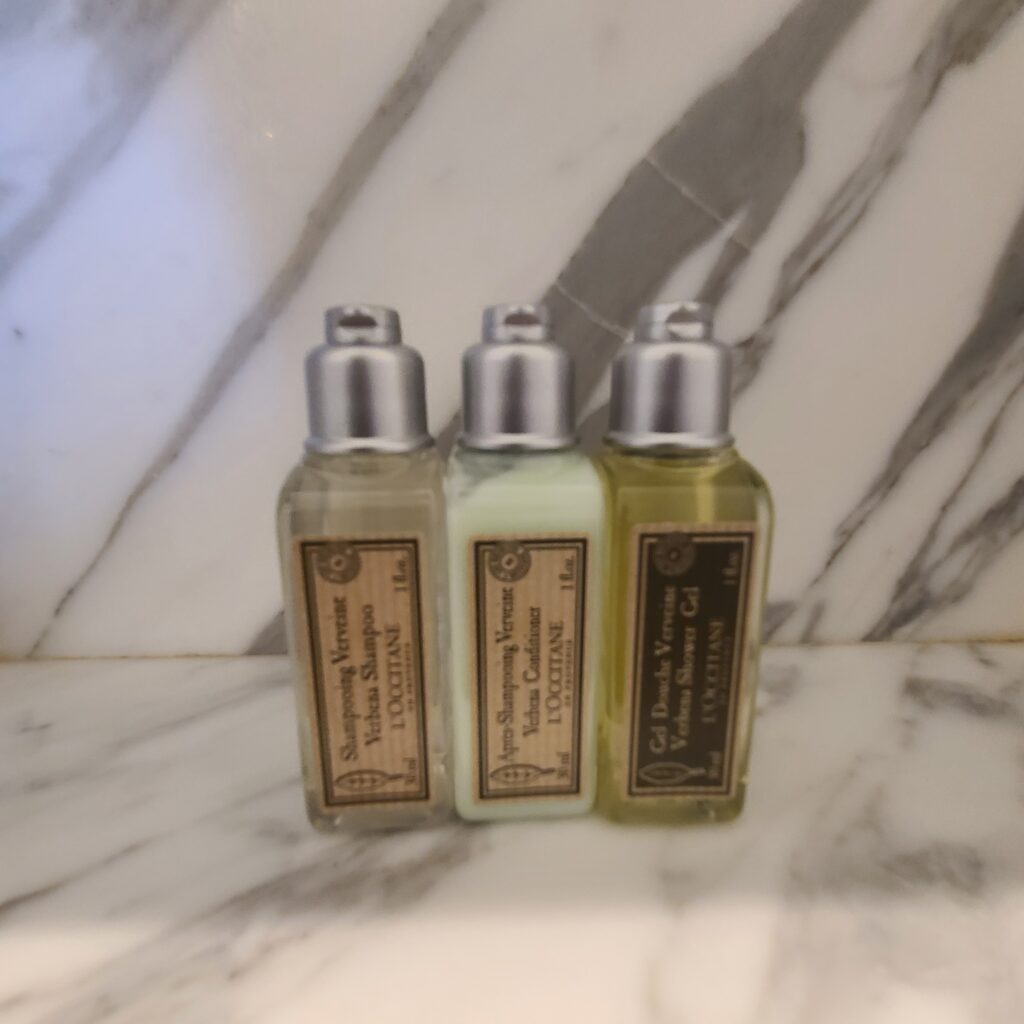 I love the suite overall, and I wished I did stay a little bit longer!
St. Regis Astana- Butler Service
St. Regis hotels come with their signature Butler Service, where you'd be assigned a main butler throughout your stay where you can request things like coffee or tea 24/7 and complimentary garment pressing for 2 pieces of clothing per day.
My main butler, Termilan, brought me a welcome gift of cheese plate and sweets around an hour after I arrived to my room.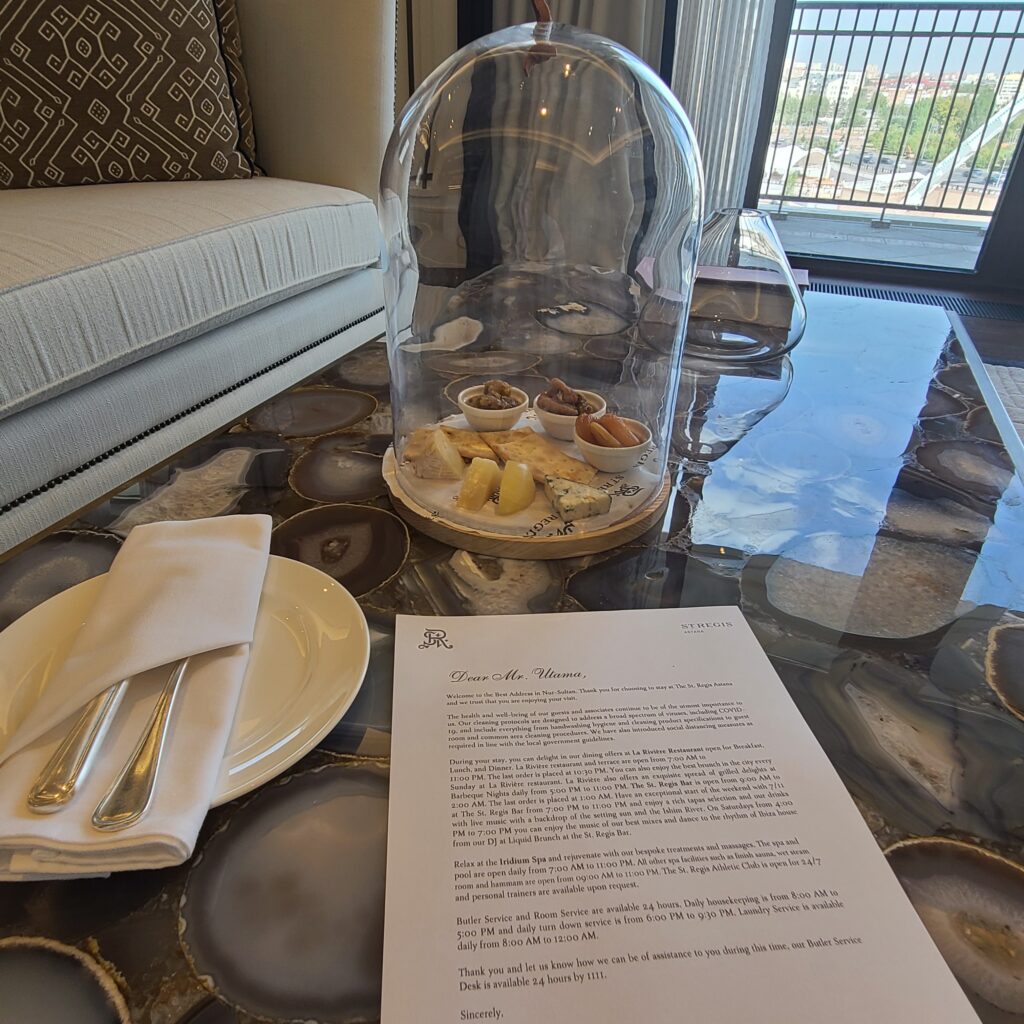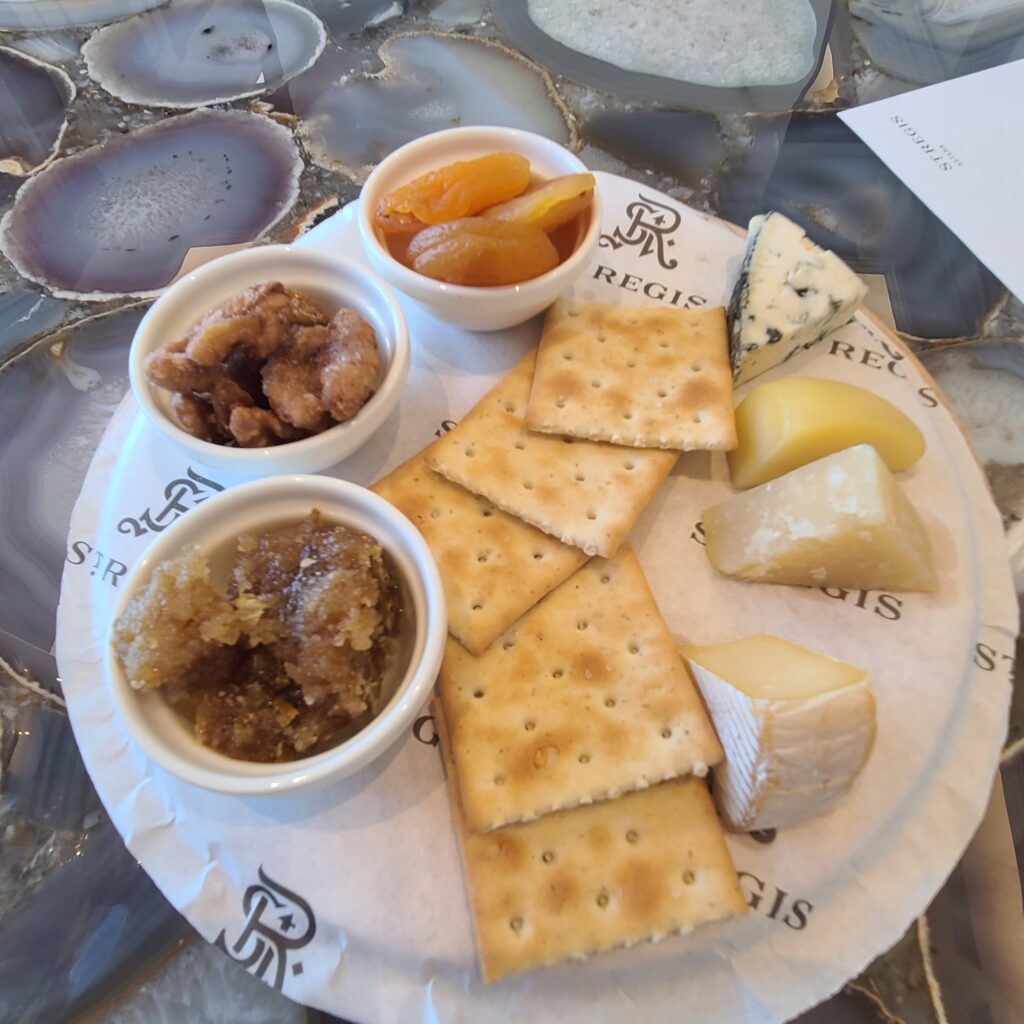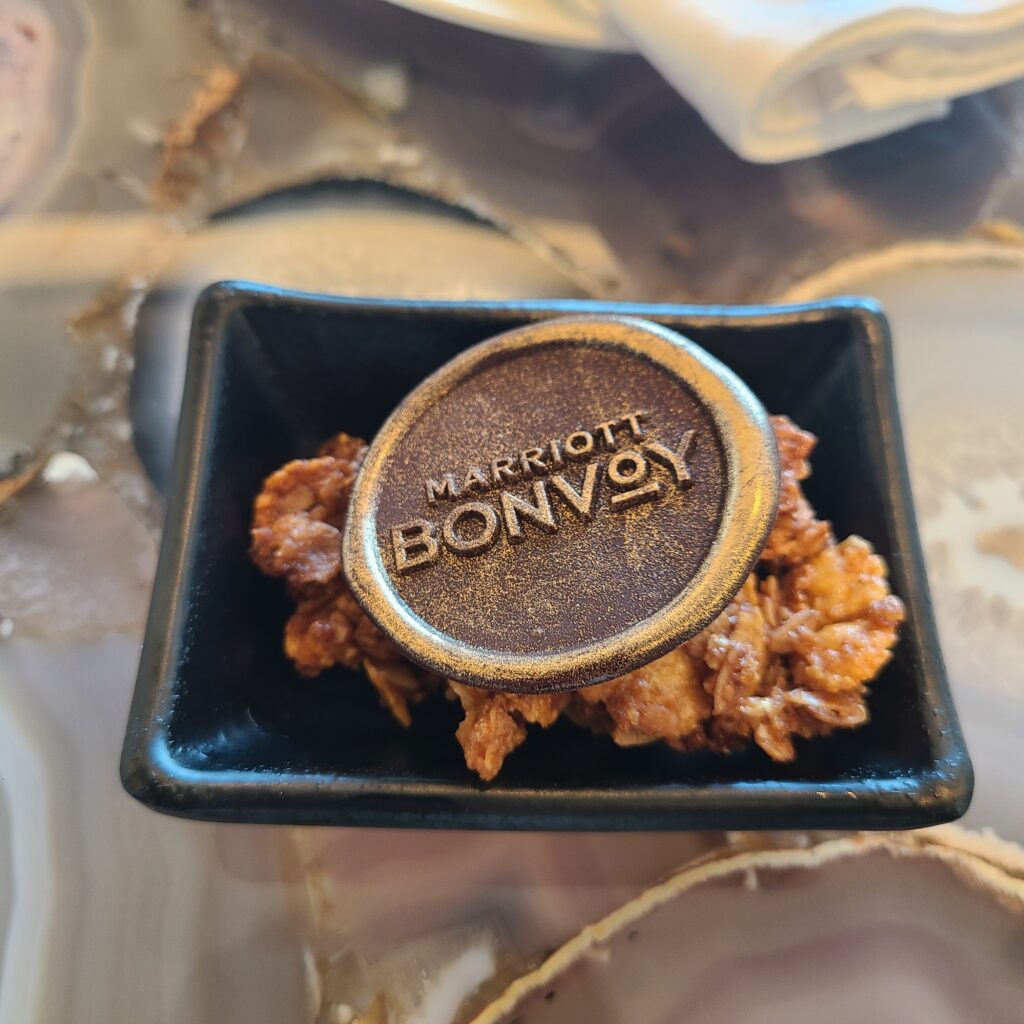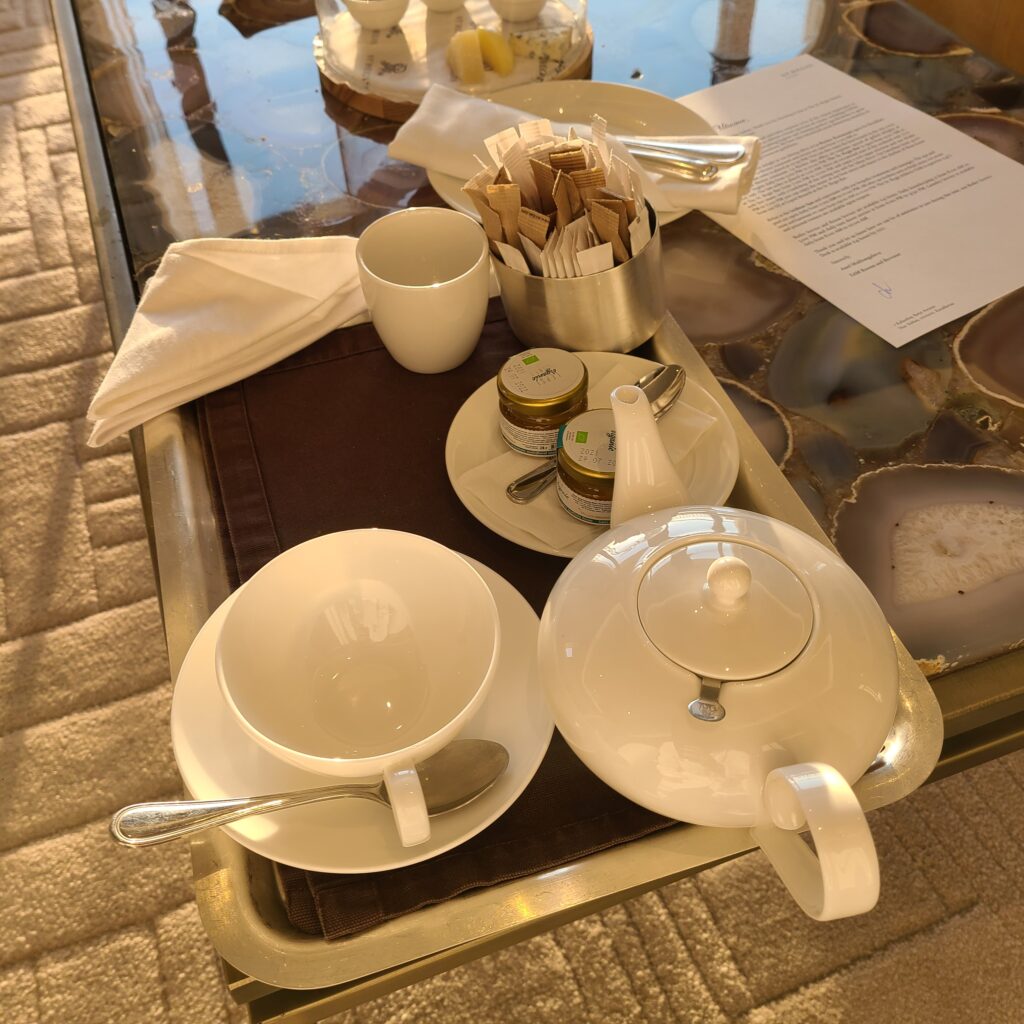 I was able to get to know more about Termilan's background with how he used to travel to 45 states in the US, so he was delighted to see an American guest at the hotel! Definitely a more well-traveled guy than me in domestic US. He appeared sad that I only got to stay one night, and even offered me his Whatsapp number after checking out just in case if I need help with anything like translations throughout my time in Kazakhstan. I didn't use his extended service, but the fact that the service remains way long after my checkout at the St. Regis is really astonishing!
St. Regis Astana- Breakfast
Free breakfast is given as a part of the benefits of being a Marriott Titanium Elite or by booking through Amex FHR or Marriott STARS for the St. Regis brand. The breakfast is located inside the La Riviere restaurant where it'd normally serves Italian cuisine. The breakfast is more international on the other hand.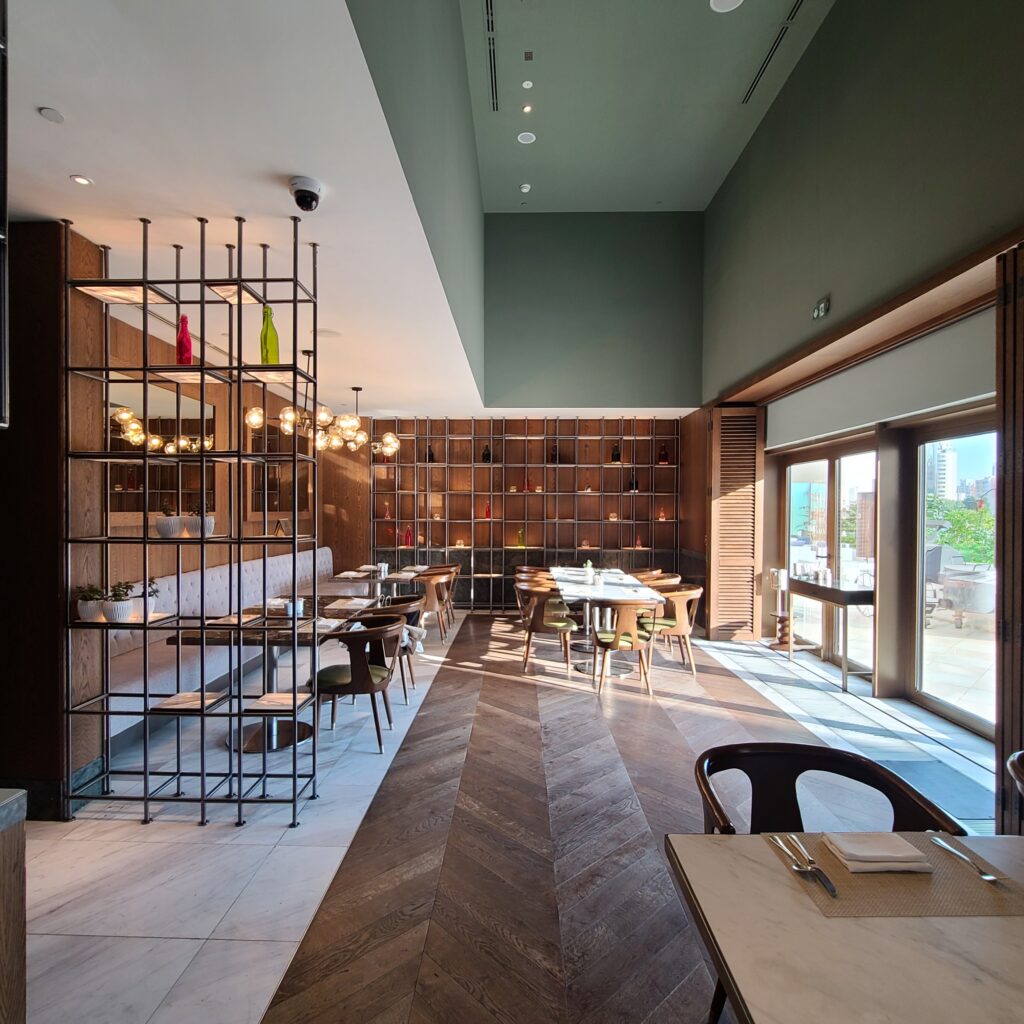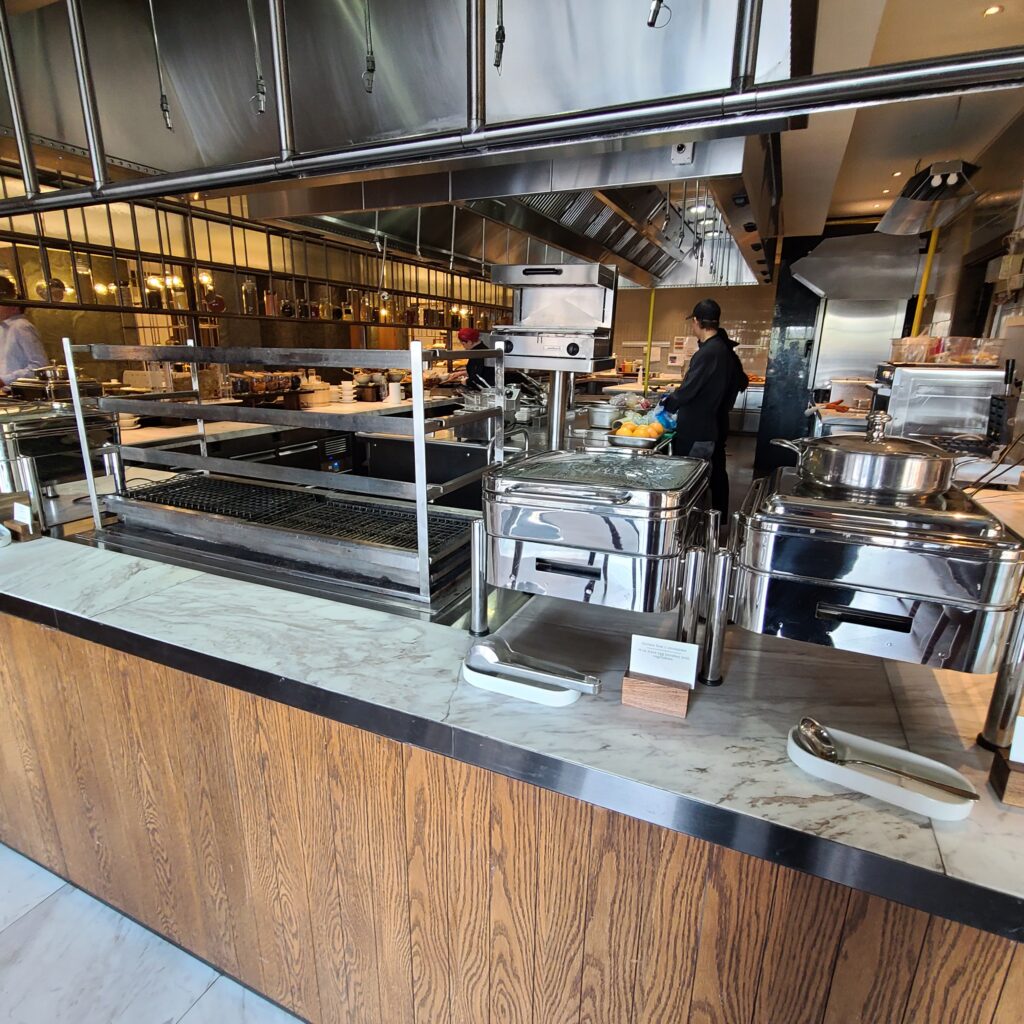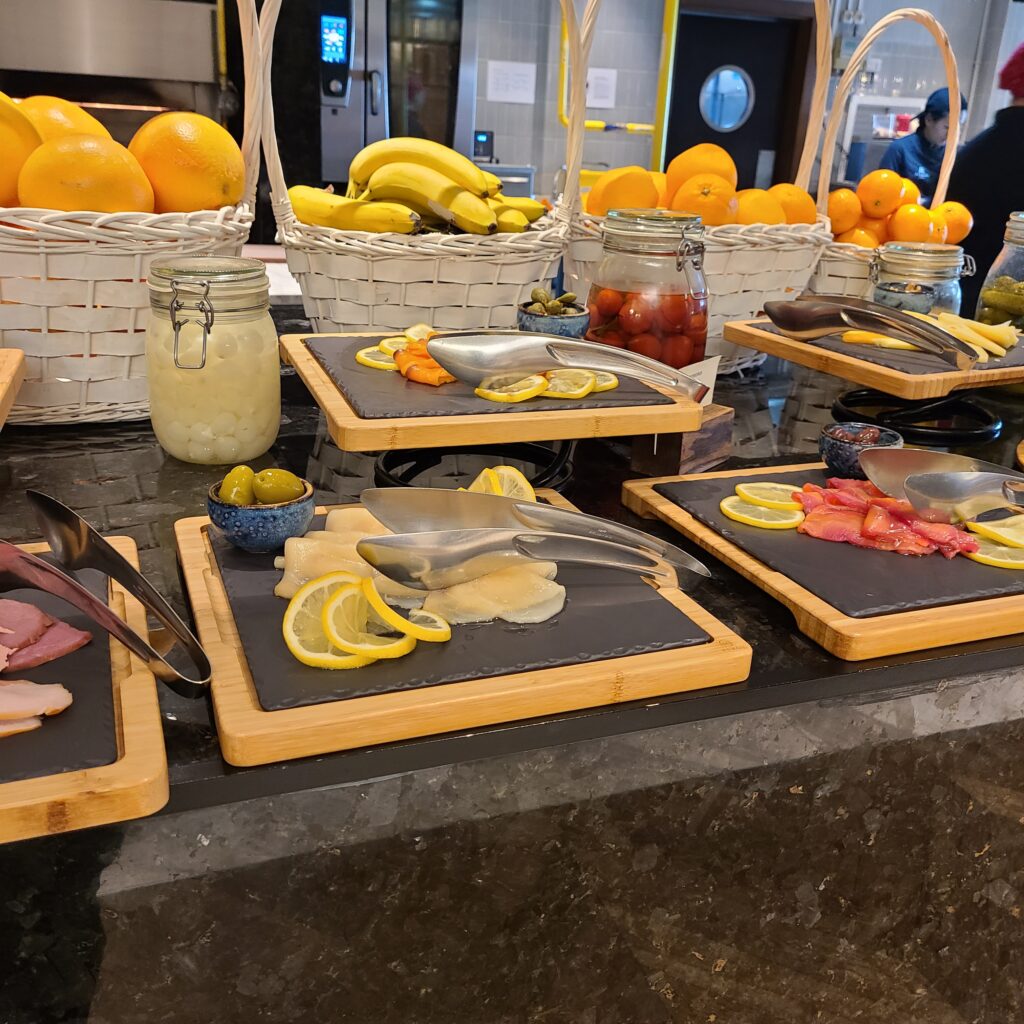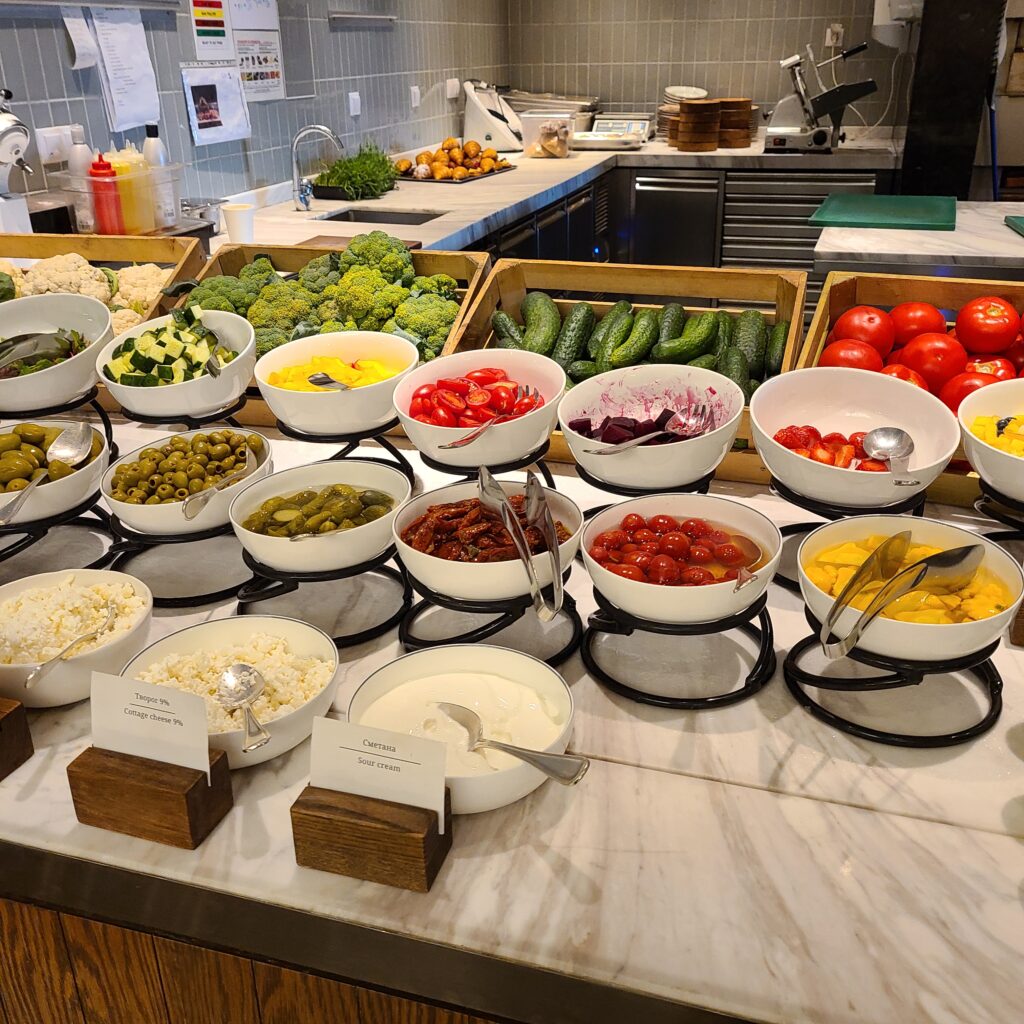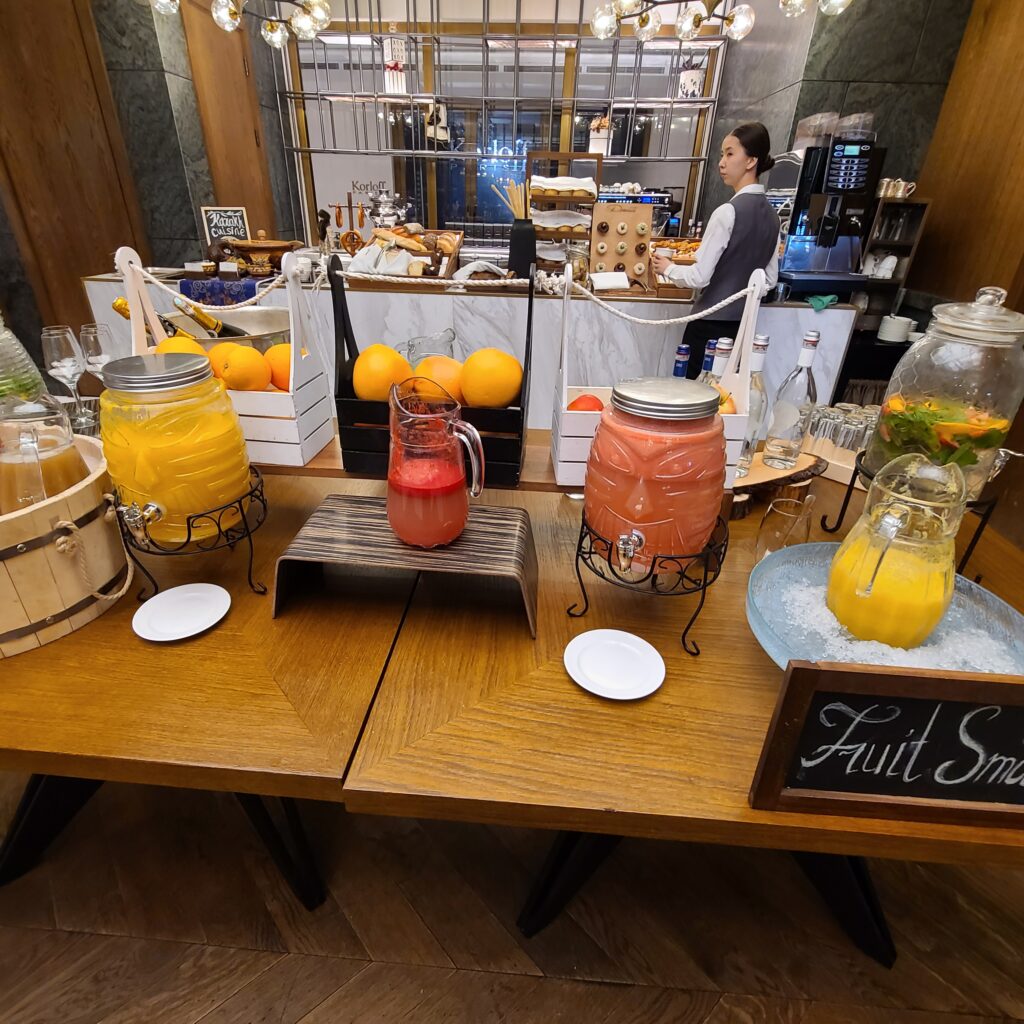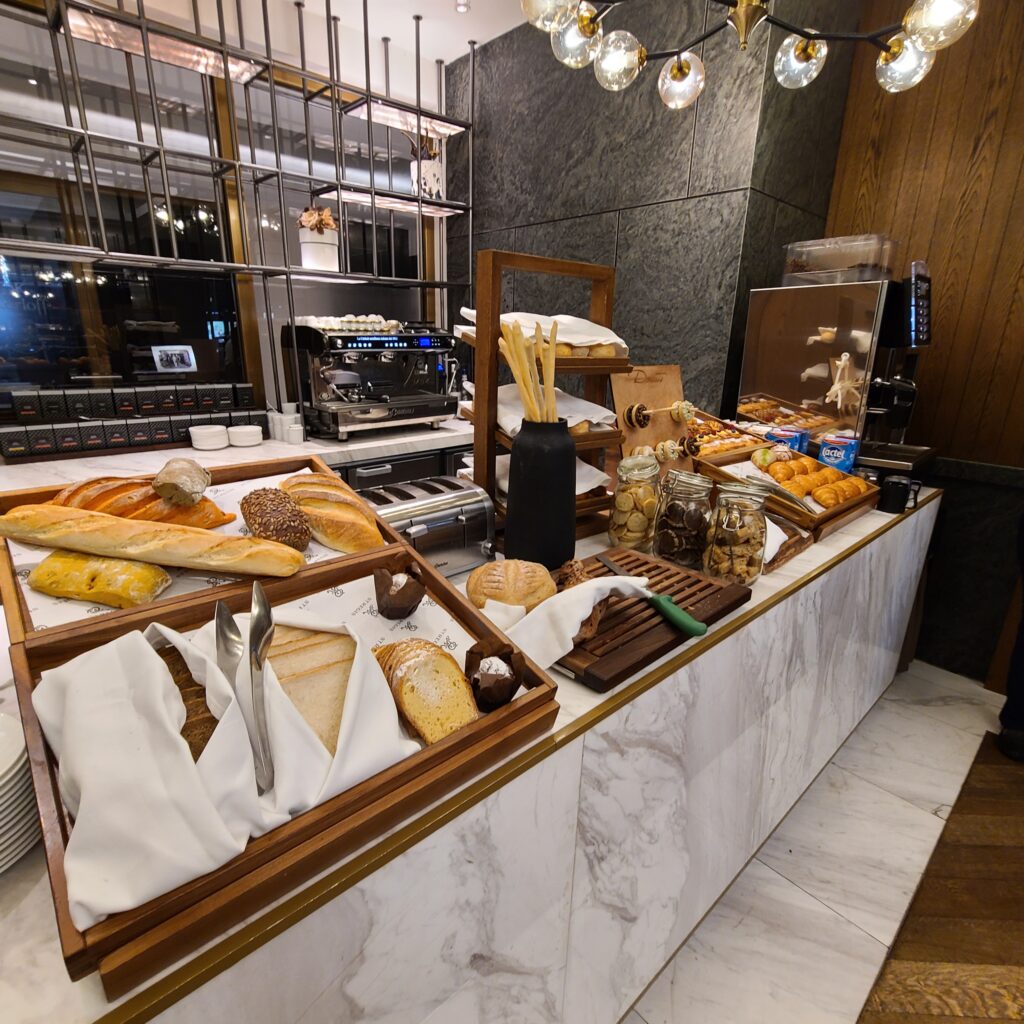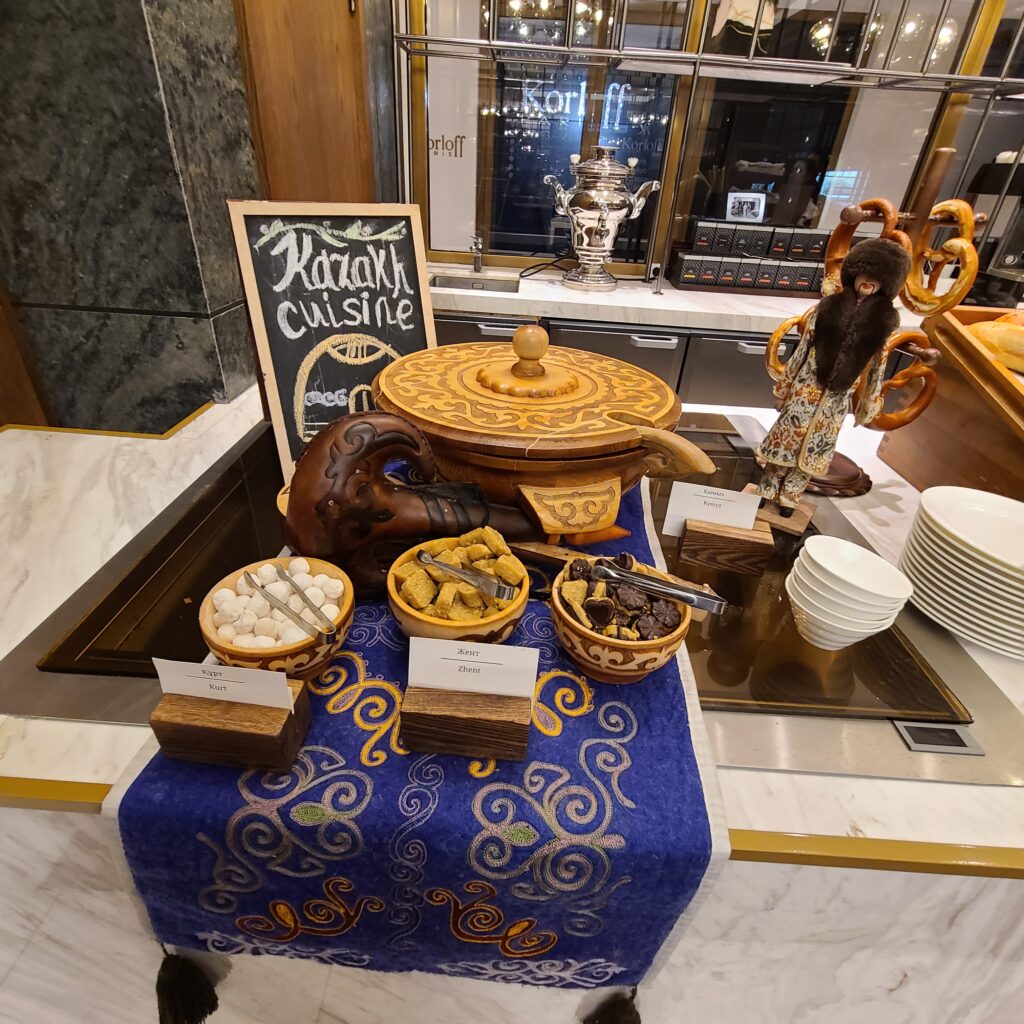 It's not the biggest breakfast spread, but the food all tasted high in quality. Really enjoyable stuff!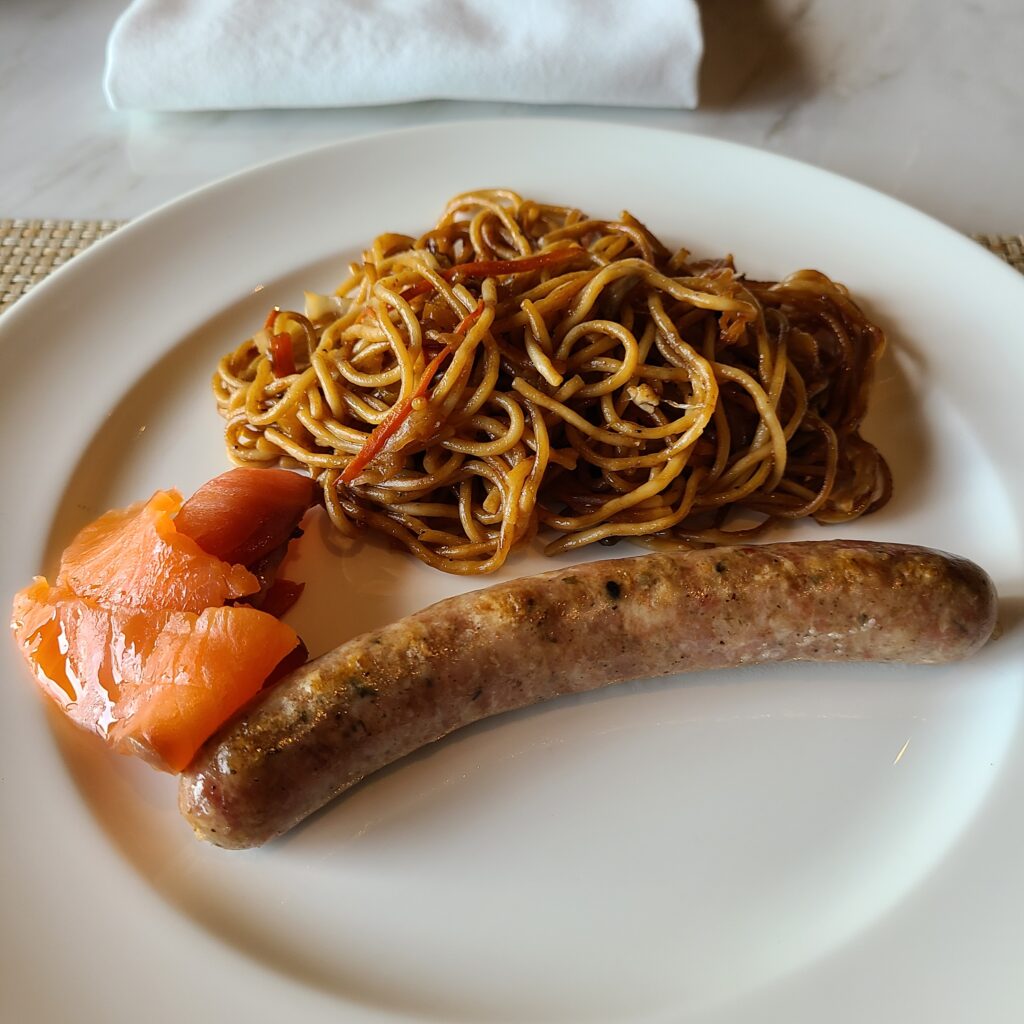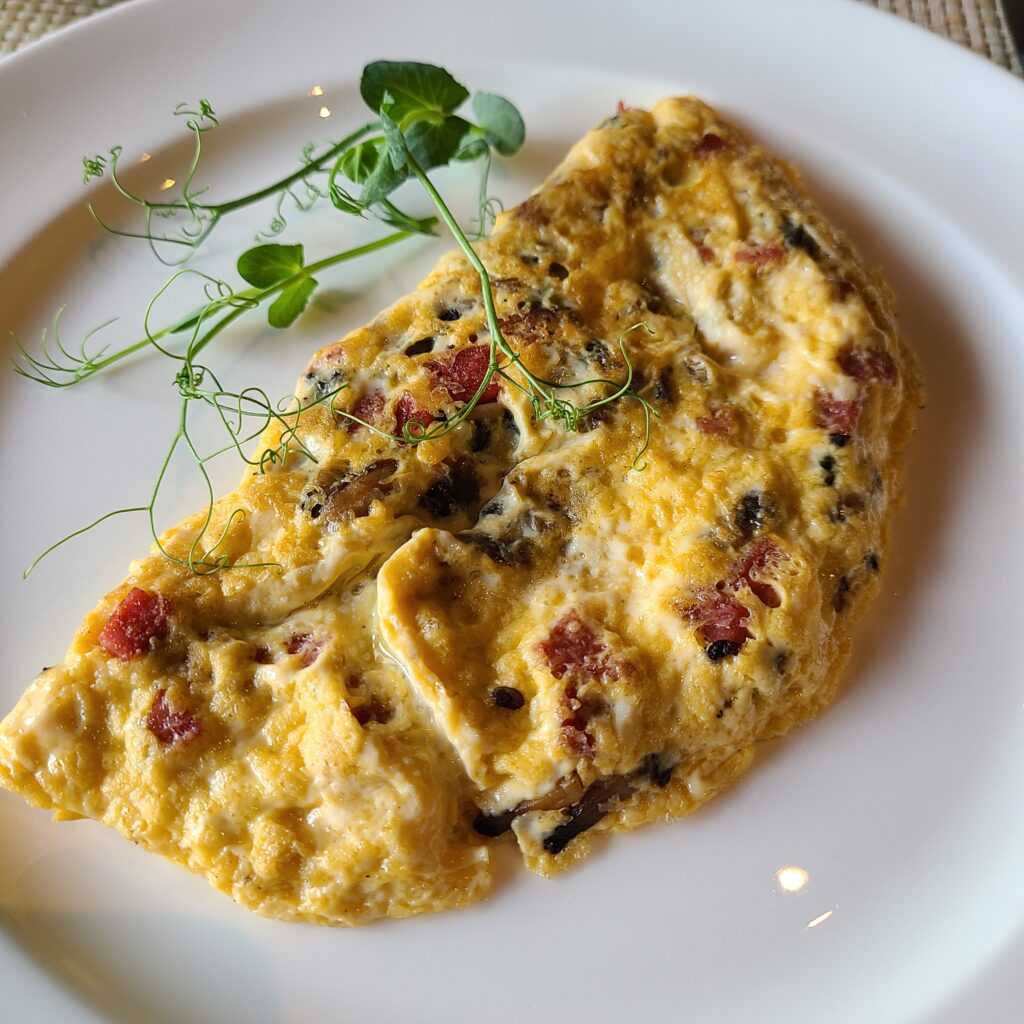 I also finally tried kumis for the first time. A fermented horse milk drink with low alcohol content. It's quite sour, but I was able to finish it at least. It's not something I'd actively go for, but I would be able to finish it if I'd be offered.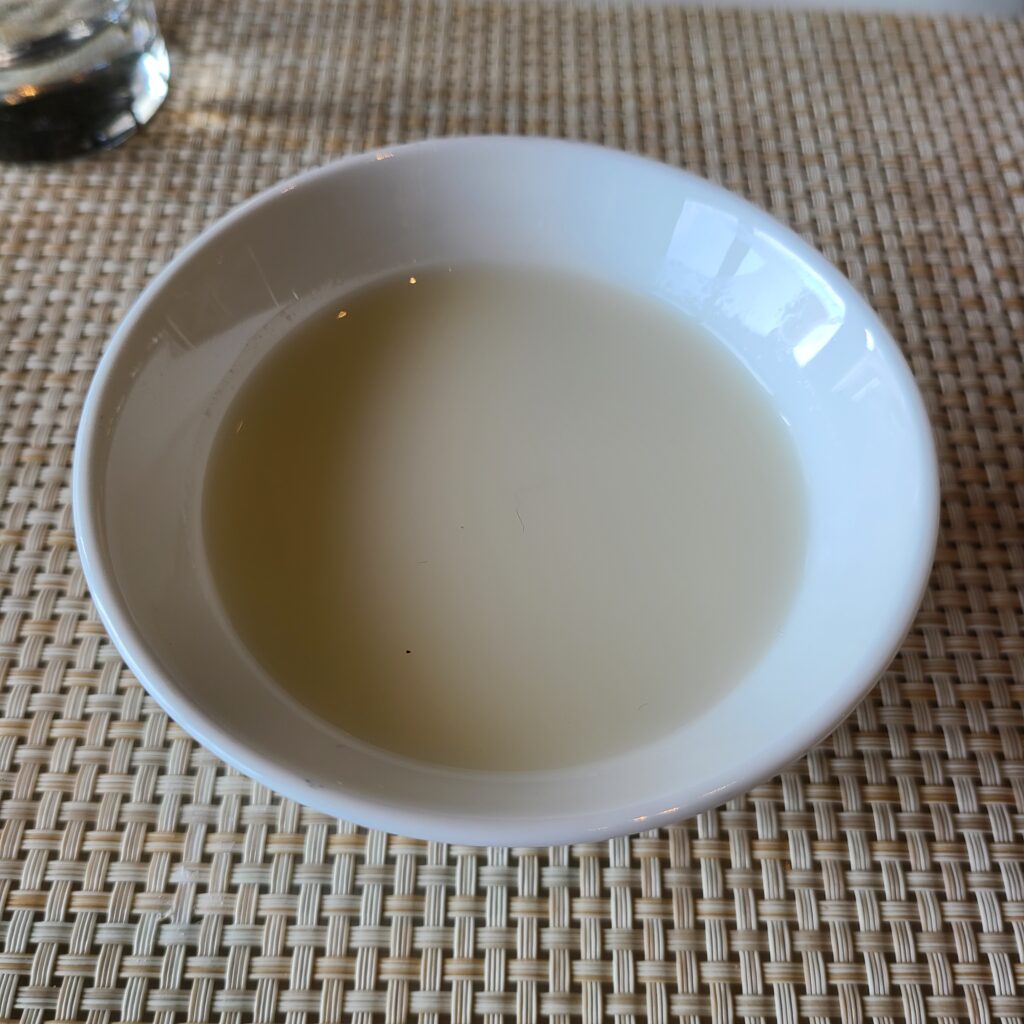 Overall, a really nice breakfast. Even nicer that it's free!
St. Regis Astana- Asakusa Restaurant
I recognized beforehand that the hotel opened a new restaurant in September. I didn't expect it to be opened literally on September 1, the night I stayed. So, I decided to give it a try. It's a Japanese izakaya restaurant. The menu can be found on their Instagram page. I must say the prices aren't bad at all, and I feel that they're great value.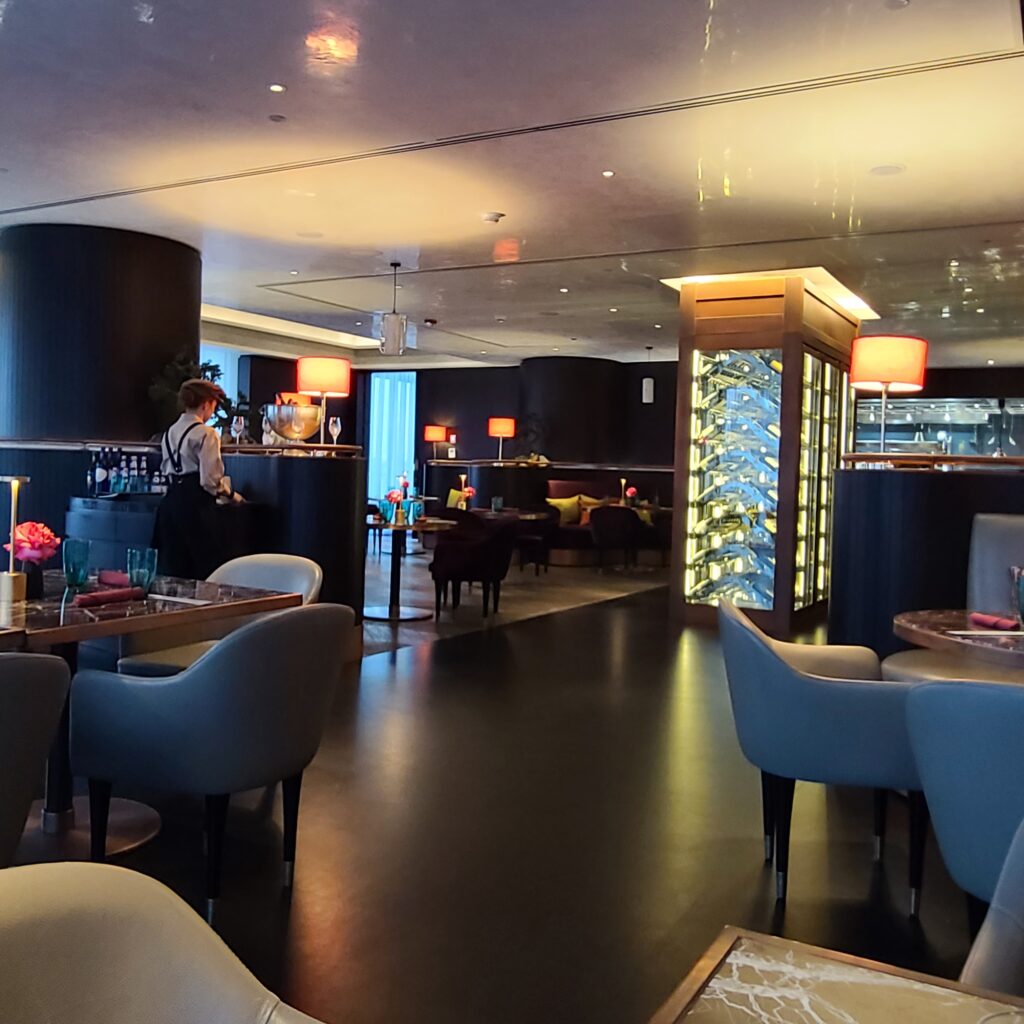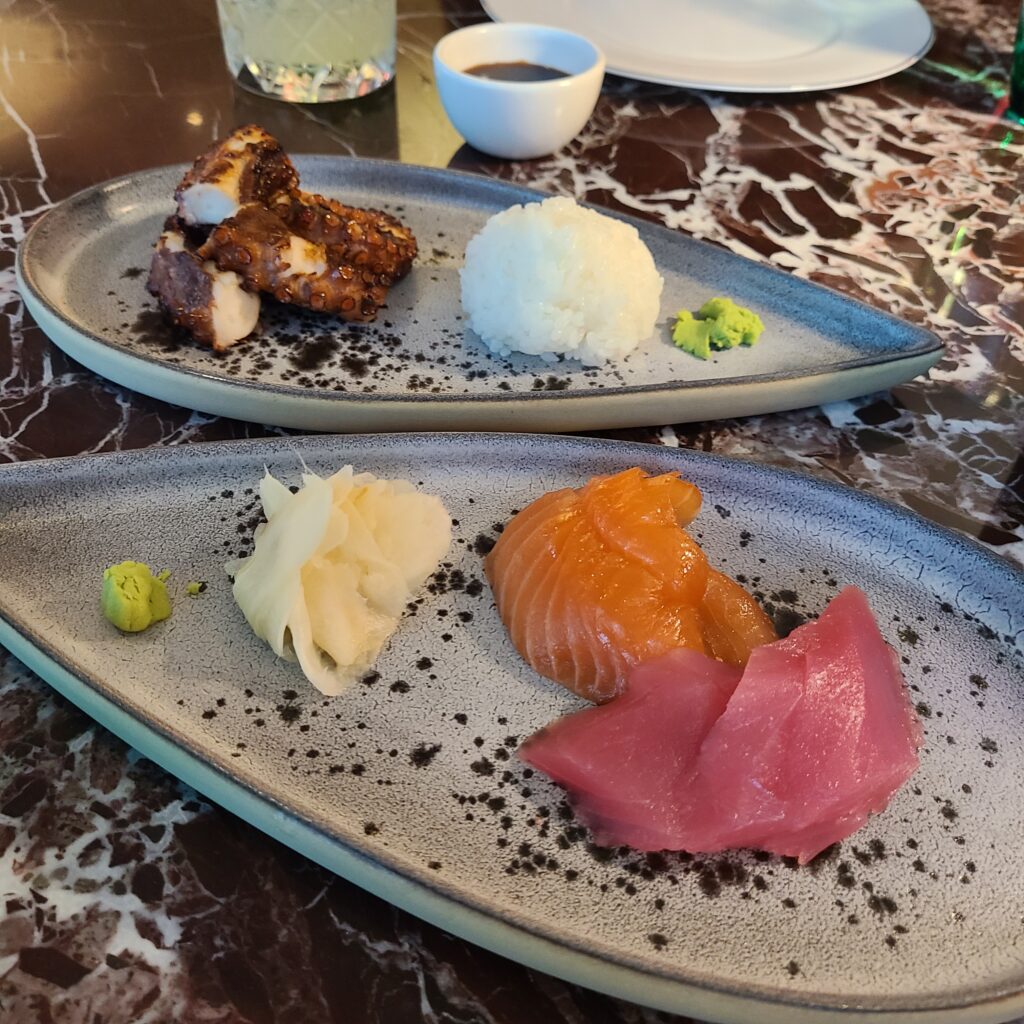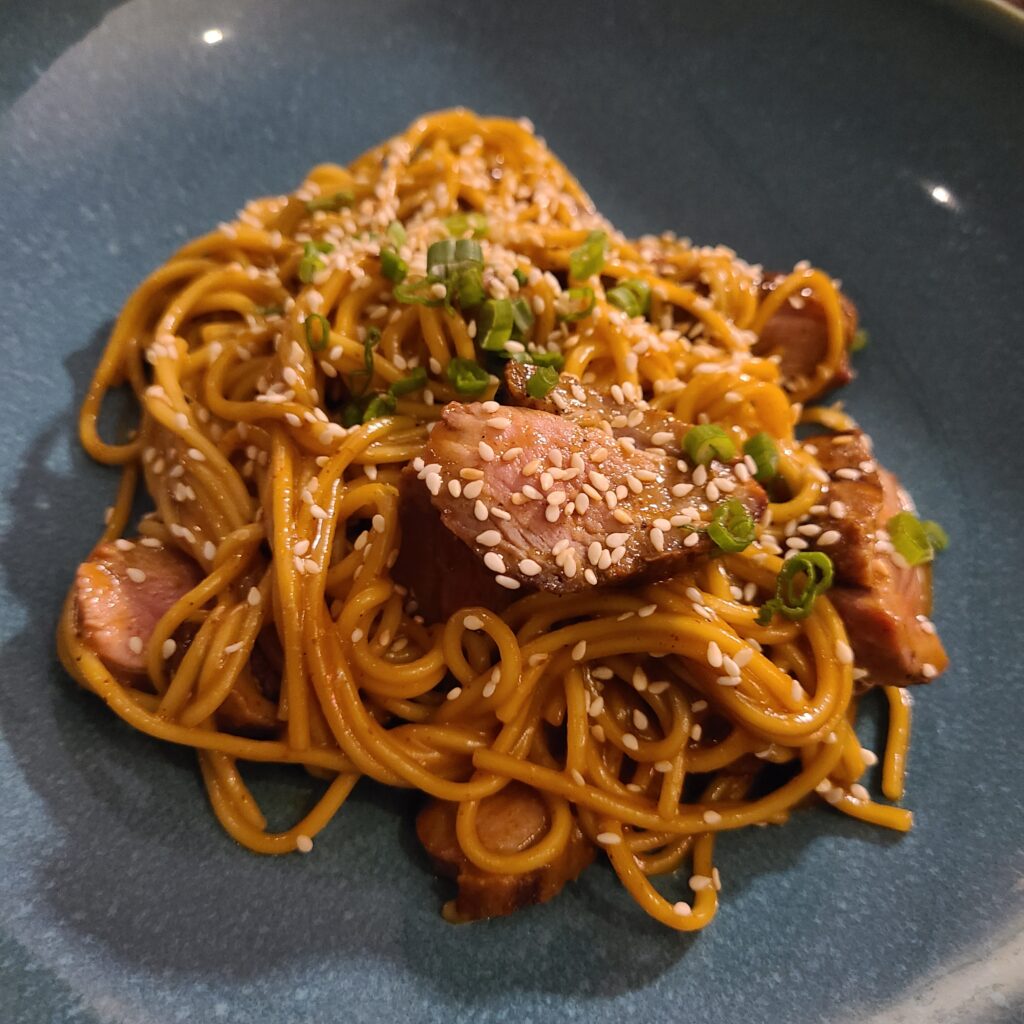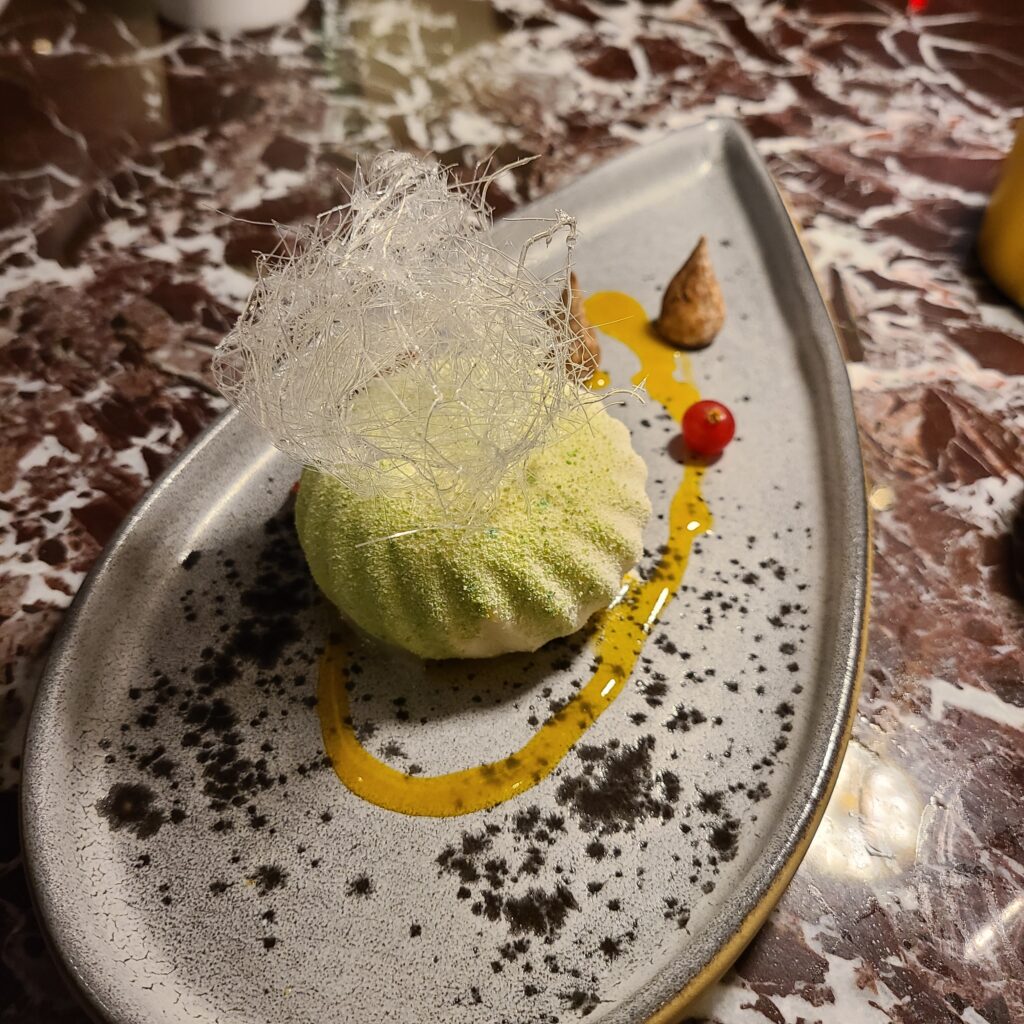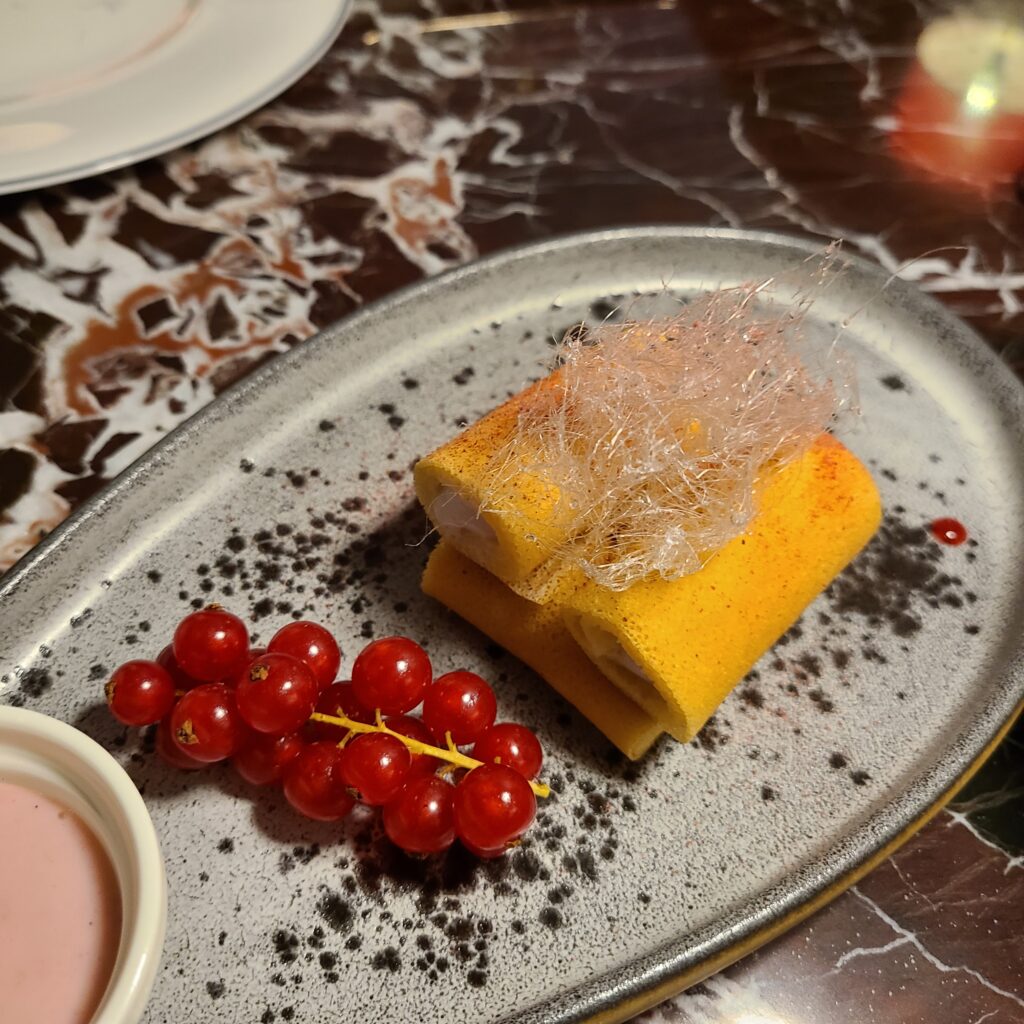 The food are very delicious, but the service was really slow. I guess it's to be expected on the very first night since I was informed that their systems weren't working as expected. The Khanom Tokyo dessert was made complimentary for the long wait, so it wasn't too bad at the end!
St. Regis Astana- Spa, Pool & Fitness
The hotel has a spa facility, pool, and a fitness center all on the 3rd floor. The spa facility is called Iridium Spa, which is the signature St. Regis spa service. I tried out the warm stone massage to fulfill my curiosity. It felt great, and the price is less than what I expected from a St. Regis.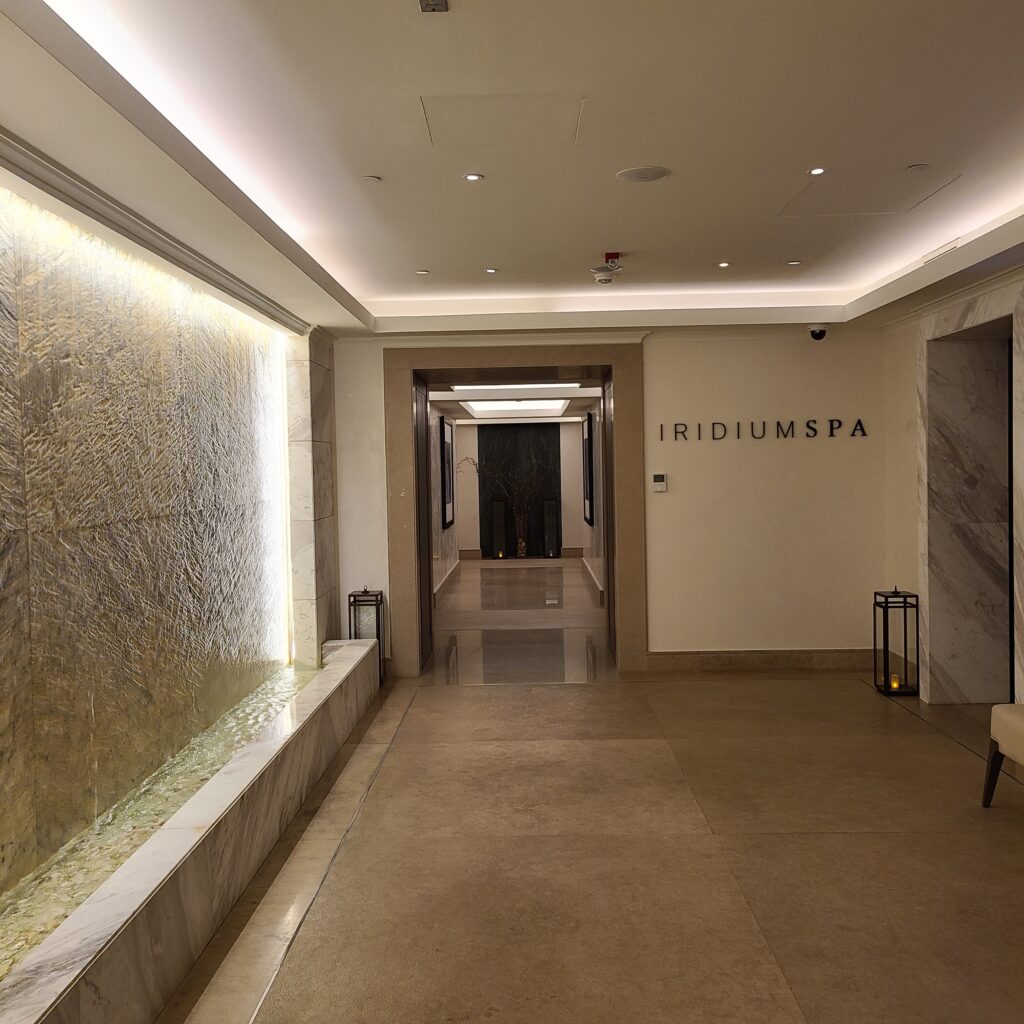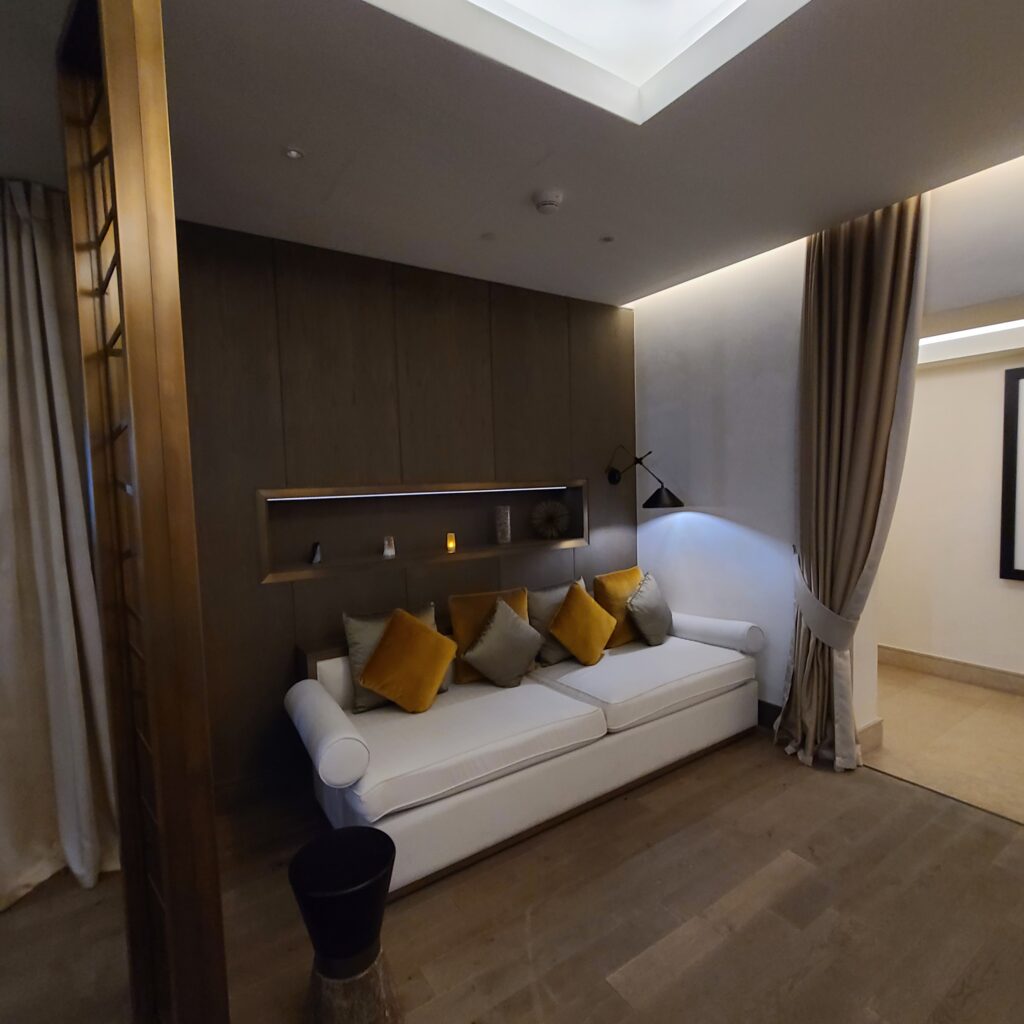 Tea is served after the spa service.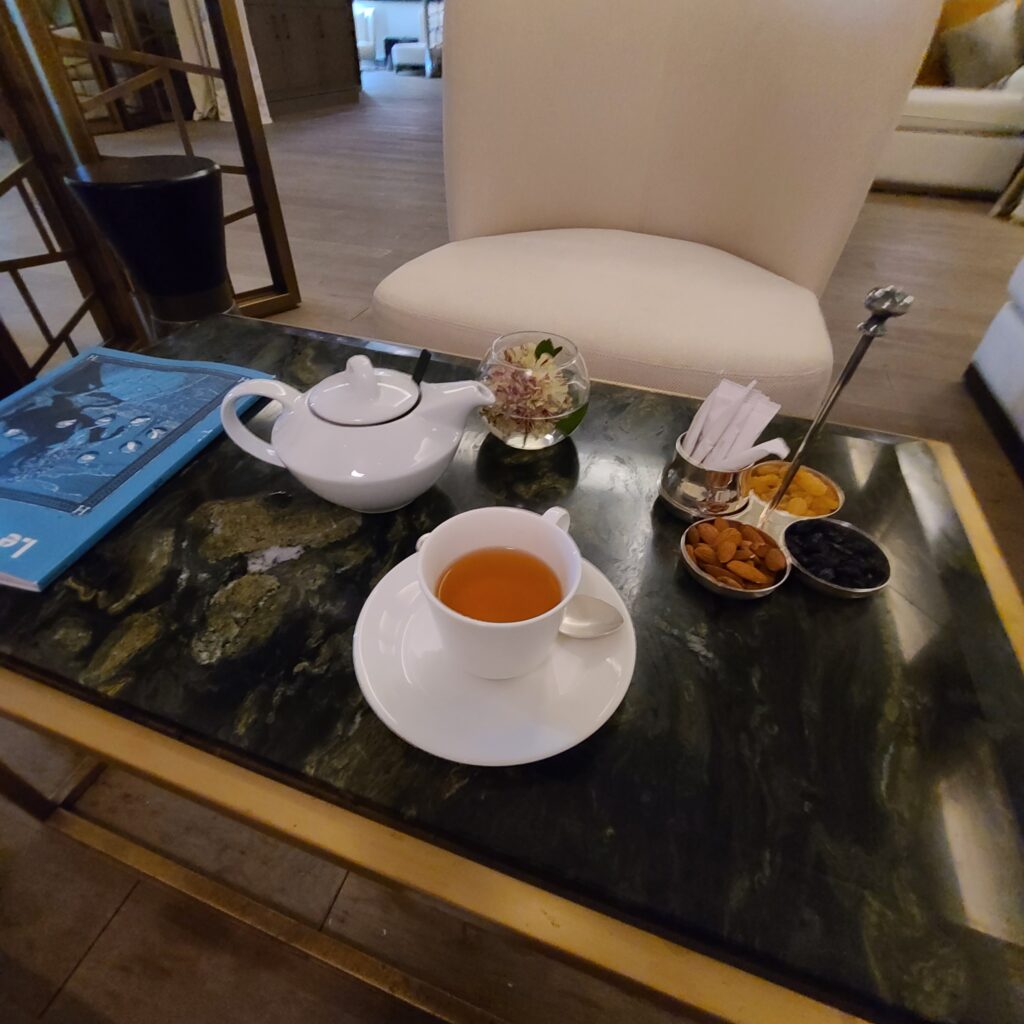 There's also a beauty salon where you can get haircuts.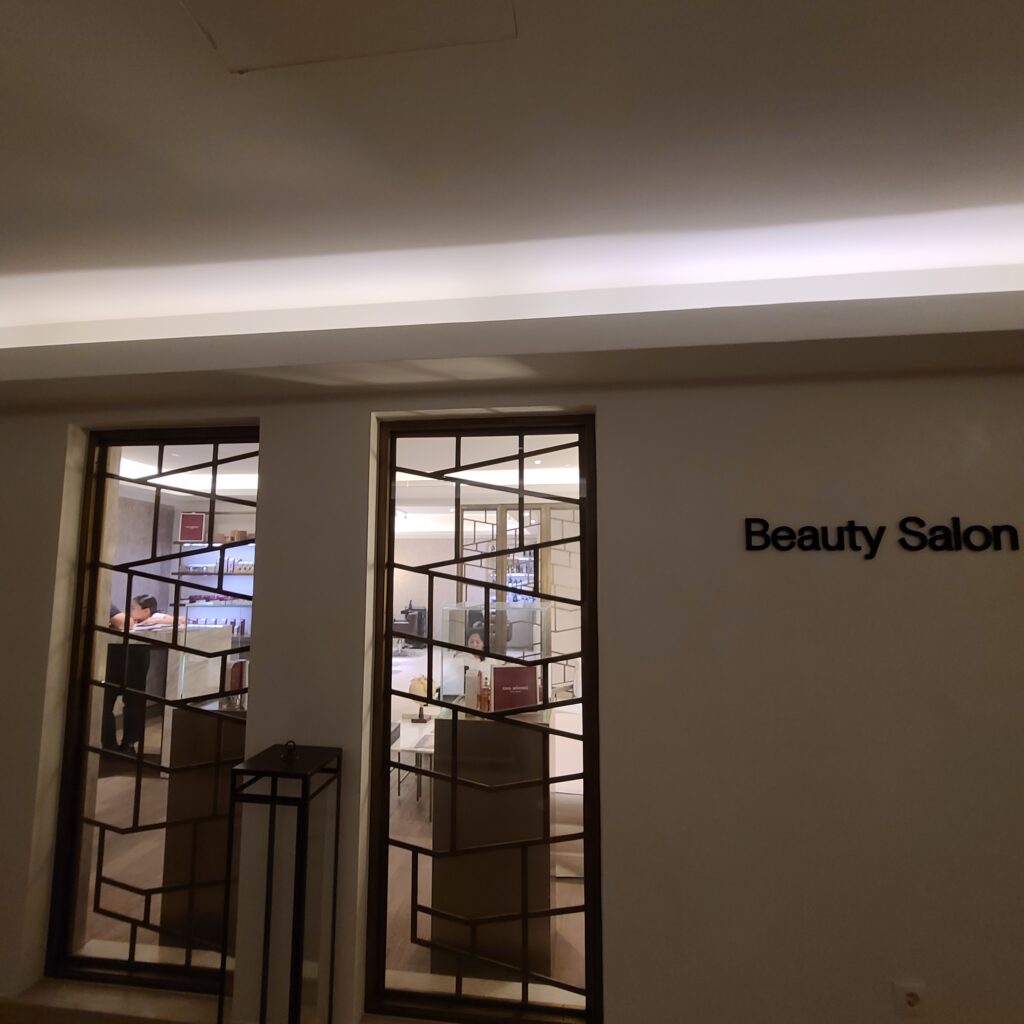 The indoor infinity pool is quite beautiful too that overlooks the Esil River. I'm glad I made time to take a dip. There's also a terrace outside if you wish to sunbathe.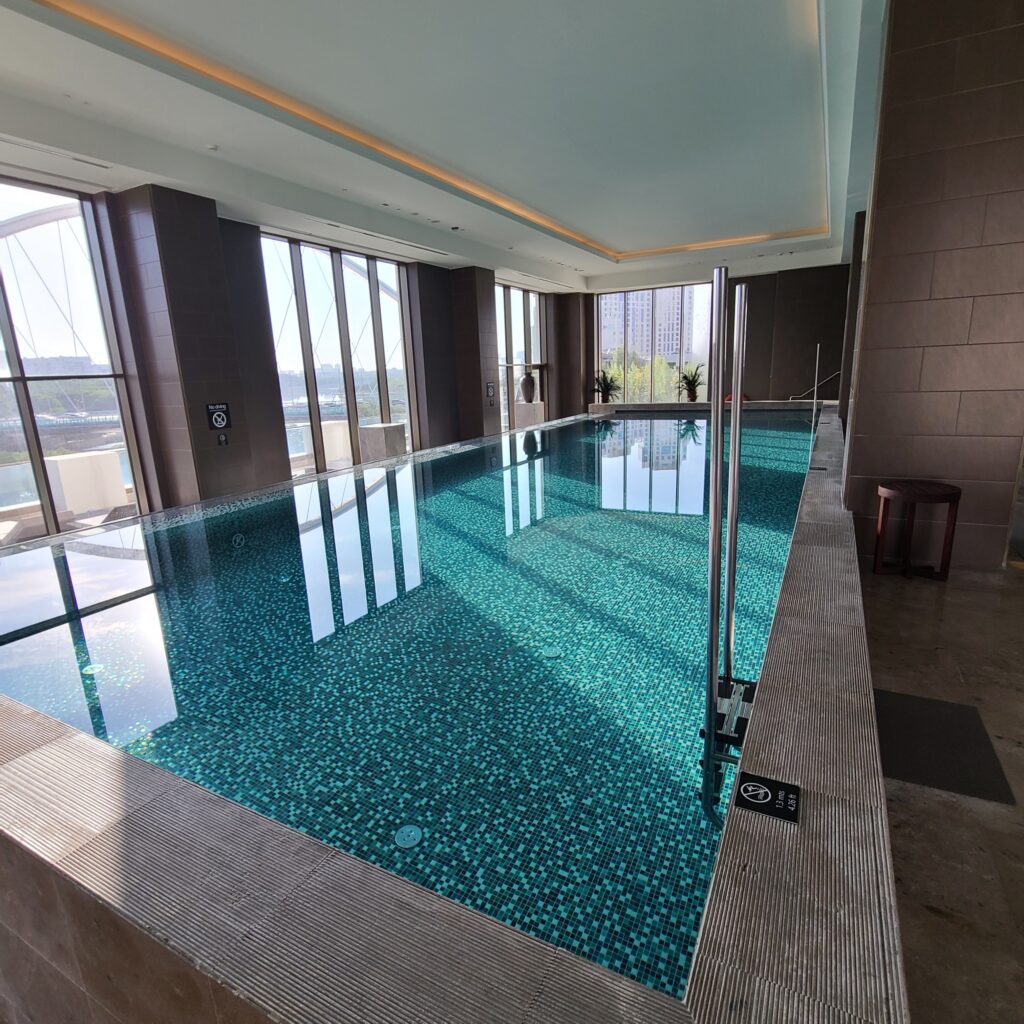 I didn't make the time to use the gym, but I was able to briefly check it out. I'm impressed that there are proper squat racks!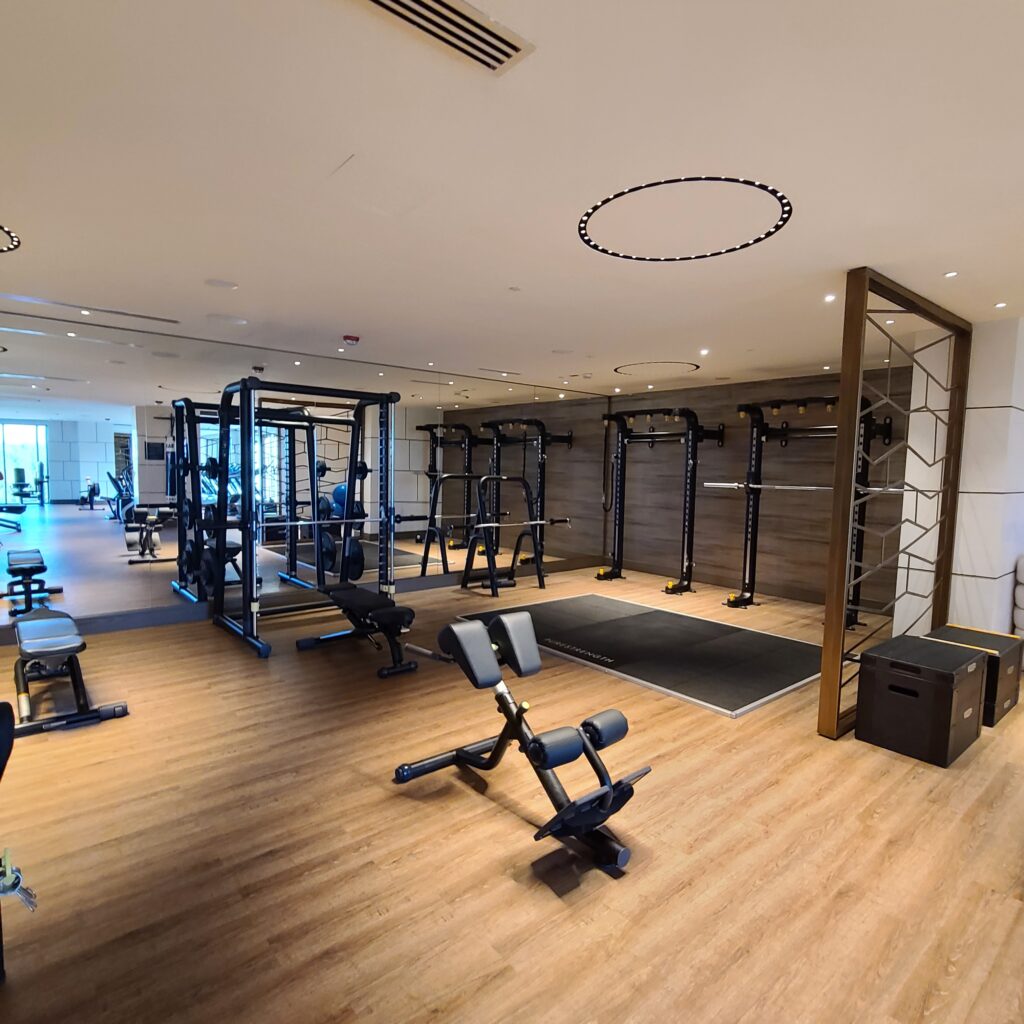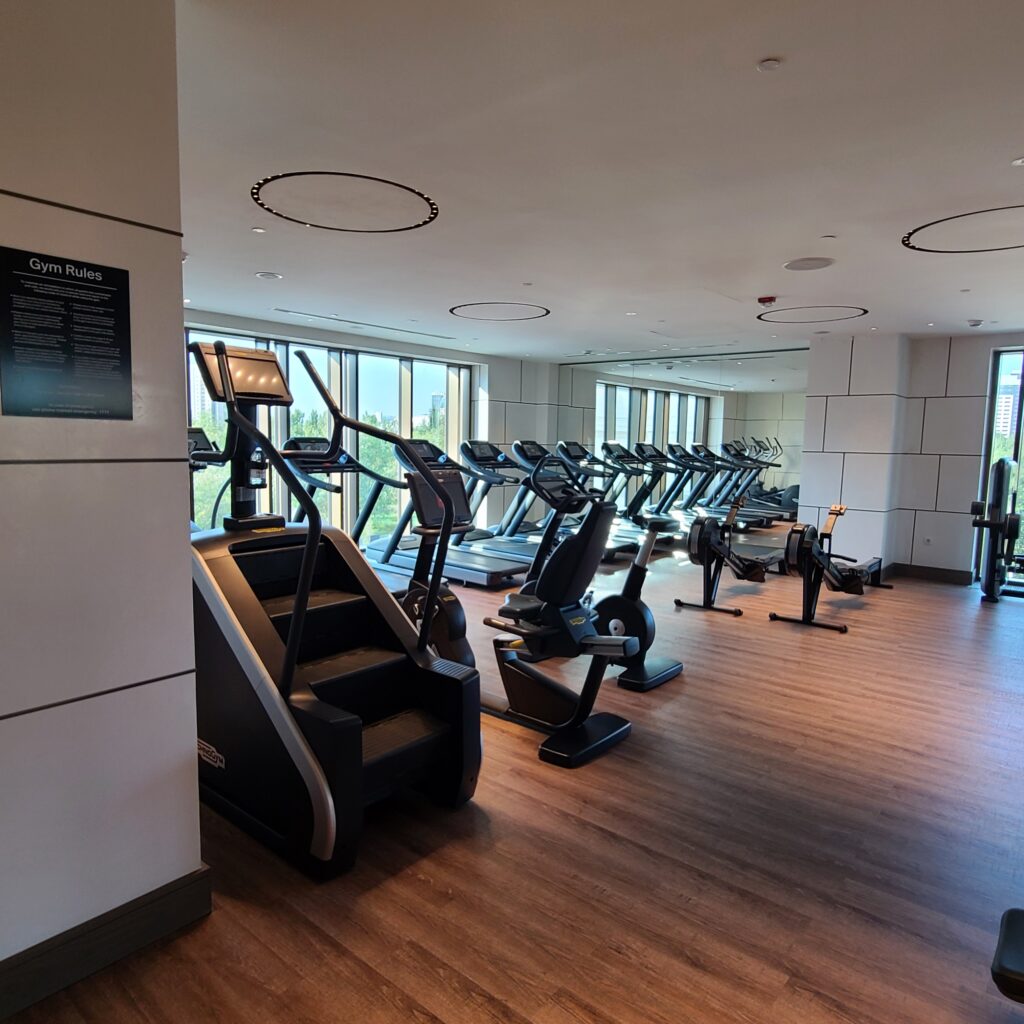 St. Regis Astana- St. Regis Bar
In addition to restaurants, the hotel has the brand's signature bar. I didn't have drinks on, but it looks like a really sophisticated place to lounge in.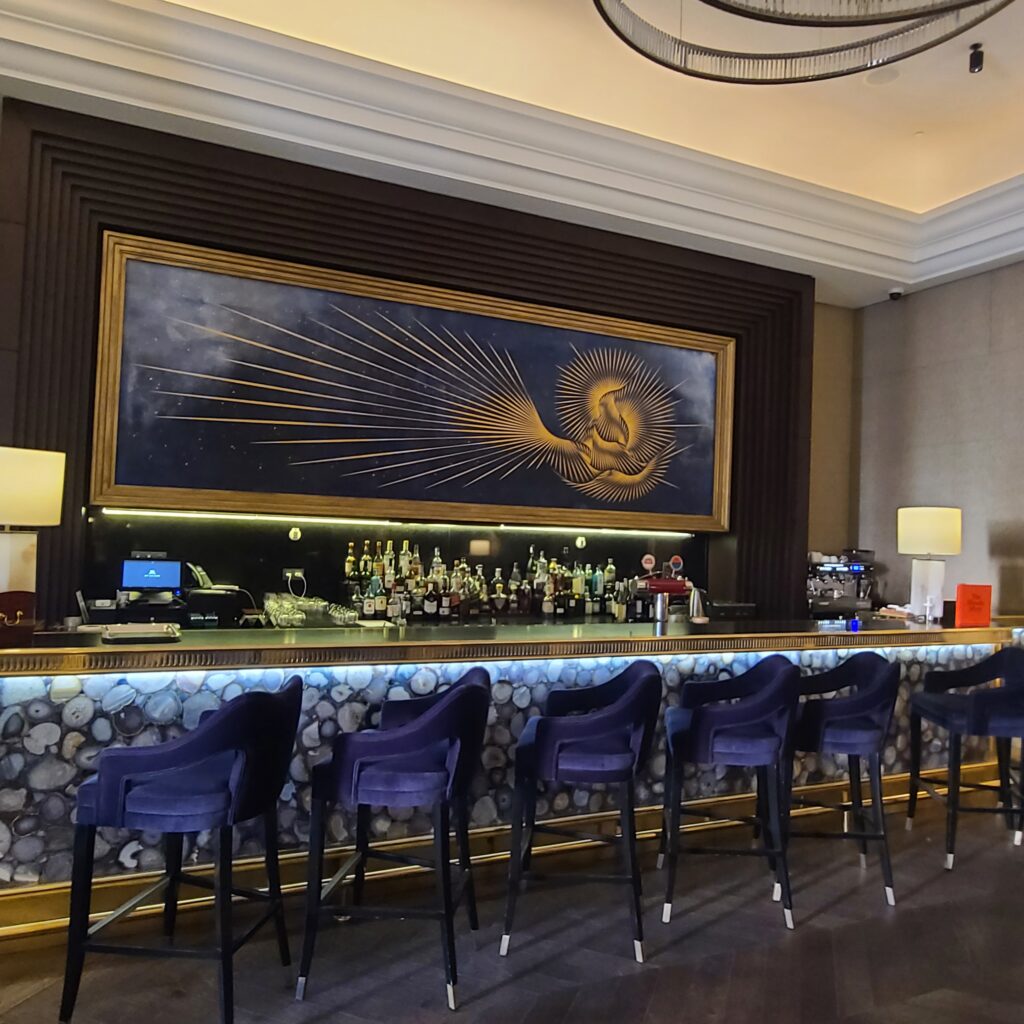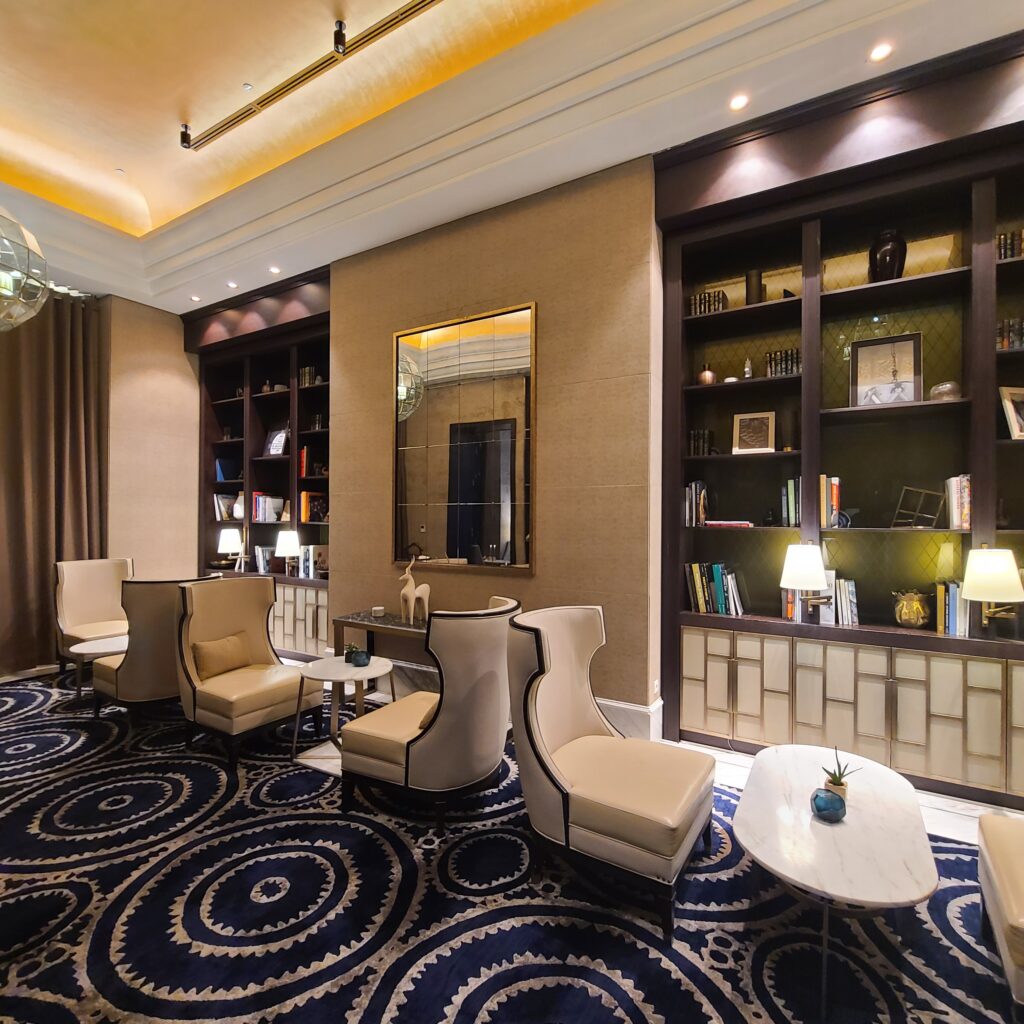 There's plenty of outdoor seating as well that's shared with the La Riviere restaurant.
St. Regis Astana- Outdoor Terrace
The hotel has an outdoor terrace on the opposite side of the entrance. It's a relaxing place to dine or simply hang around and admire the Esil River. You can choose to sit outside when you dine in the La Riviere or drink at The St. Regis Bar. But, it doesn't appear to be an option for Asakusa Restaurant since it deals with raw food like sashimi.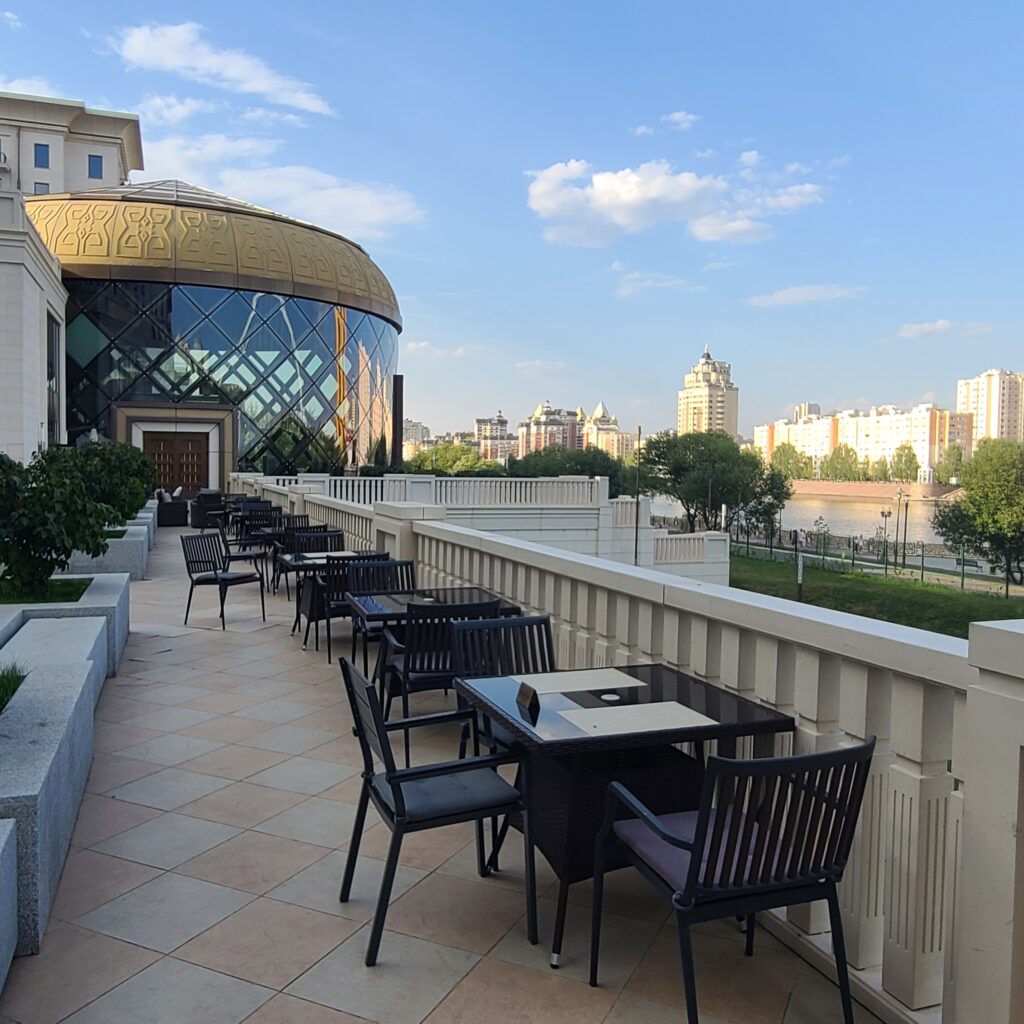 The striking structure of this hotel is definitely the metallic yurt. For the one connecting to the outside terrace is the Grand Ballroom. Though, from my stay, it appeared to be closed, or at least not used very often.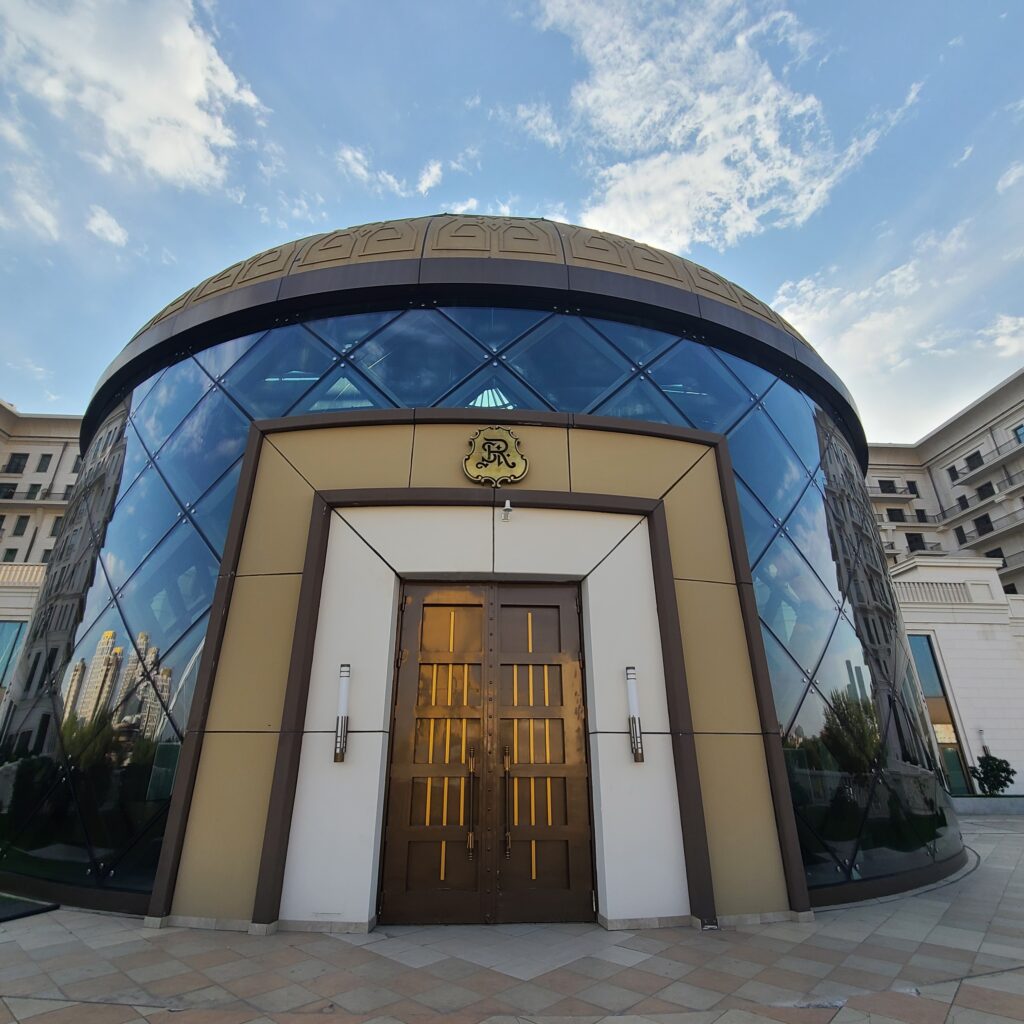 Conclusion
All I can say about The St. Regis Astana is just WOW! It truly makes a great introduction to the St. Regis brand for me. While the location is a bit far from downtown, it positions itself to be an impressive lifestyle luxury hotel. The service and hospitality is excellent, and I really appreciate the extended gestures my butler Termilan gave me after checking out of the hotel.
The St. Regis Astana has top-notch amenities. The balcony view of the Esil River is superb and the St. Regis Suite is one of the most spacious rooms I've been on!
Since there are likely not as many elite members in the country as it's still an off the beaten path destination, you'll likely get a very generous room upgrade if you're at least a Platinum Elite if you ask politely. My stay at this hotel made my short visit to Kazakhstan's capital worthwhile, and it may even convince me to go back again one day!
Overall Rating