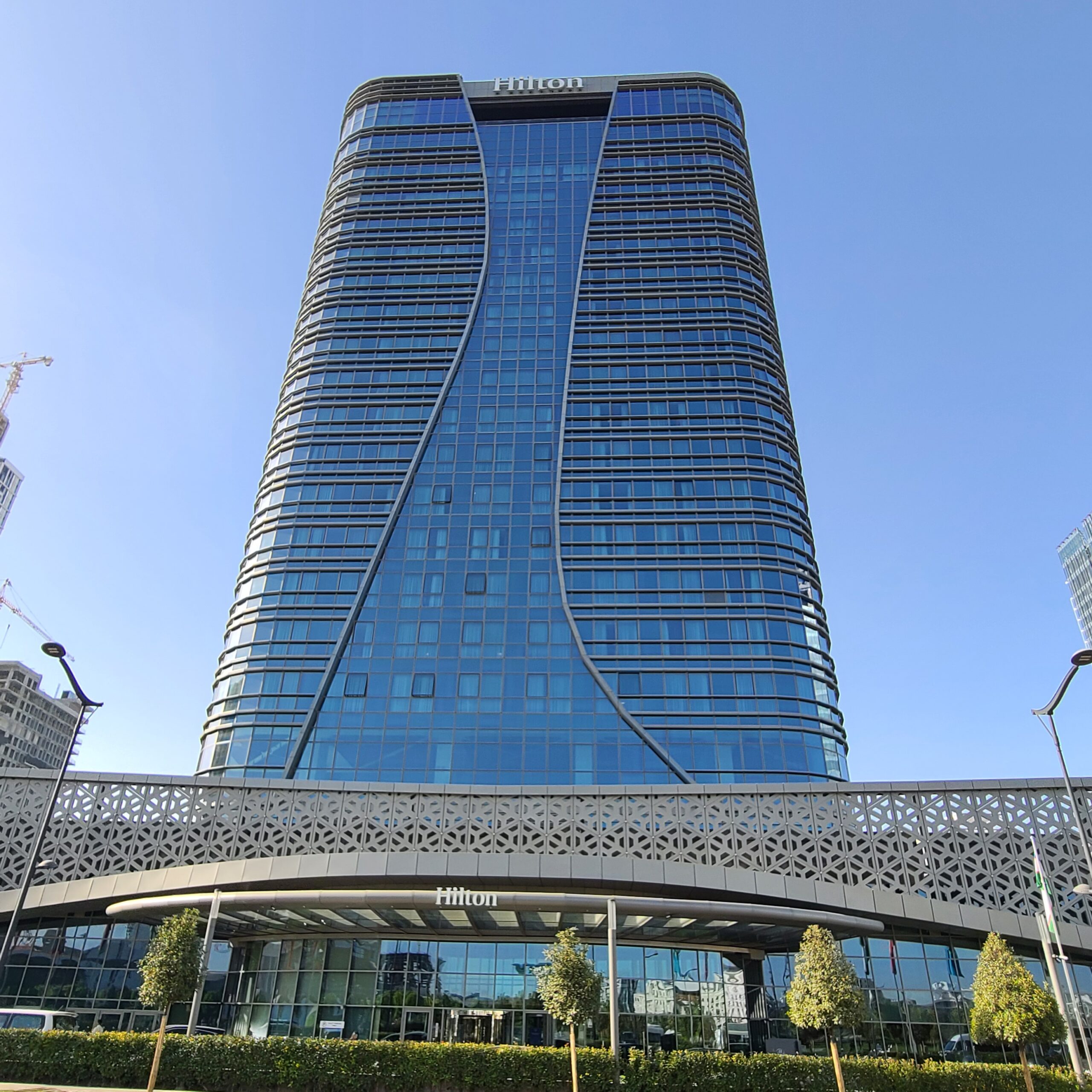 Advertiser disclosure: This post may include affiliate links (including sidebar banners) in which this site may receive compensation if a purchase is successfully made (at no extra cost to you) after being redirected from here. Thank you for your support!
Review: Hilton Tashkent City (2022) [Uzbekistan]
I spent my first few days in Uzbekistan at the Hilton Tashkent City, coming from Bishkek, Kyrgyzstan. It appeared to be the most extravagant hotel in Tashkent, if not all of Uzbekistan, so I wanted to give it a try.
Hilton Tashkent City- Booking
I booked the hotel for 2 nights using 88,000 Hilton Honors points for a standard king room. Cash rate wise for my stay was around ~$190/night. As I value Hilton Honors points at 0.4 cents per point, this is an average redemption. I don't really mind about having a subpar redemption for Hilton hotels in general as it's one of my backup hotel loyalty programs.
Hilton Tashkent City- Location
 The hotel is located in front of the beautiful Tashkent City Park decorated with living sculptures and attractions like daily water fountain shows that happen during the evening until nighttime and Tashkent City Planetarium with a wax museum and a VR ride that showcases major attractions of Uzbekistan.
Other than that, Yandex Go ride-sharing app is an easy way to get around Tashkent and accepts Visa/MasterCard as payment methods.
Hilton Tashkent City- Check-in
Before my check-in time at around 9pm, the hotel manager sent me an email just when I was at Manas International Airport in Bishkek, asking me when I would arrive and to ask any questions if I'd have any. I then replied by how excited I was to visit Uzbekistan for the first time, and asked if I could get a suite upgrade, even though I am a Hilton Gold member, which technically excludes me from suite upgrades in general. To my surprise, I was instantly upgraded to a corner suite just before I boarded my flight to Tashkent. Awesome!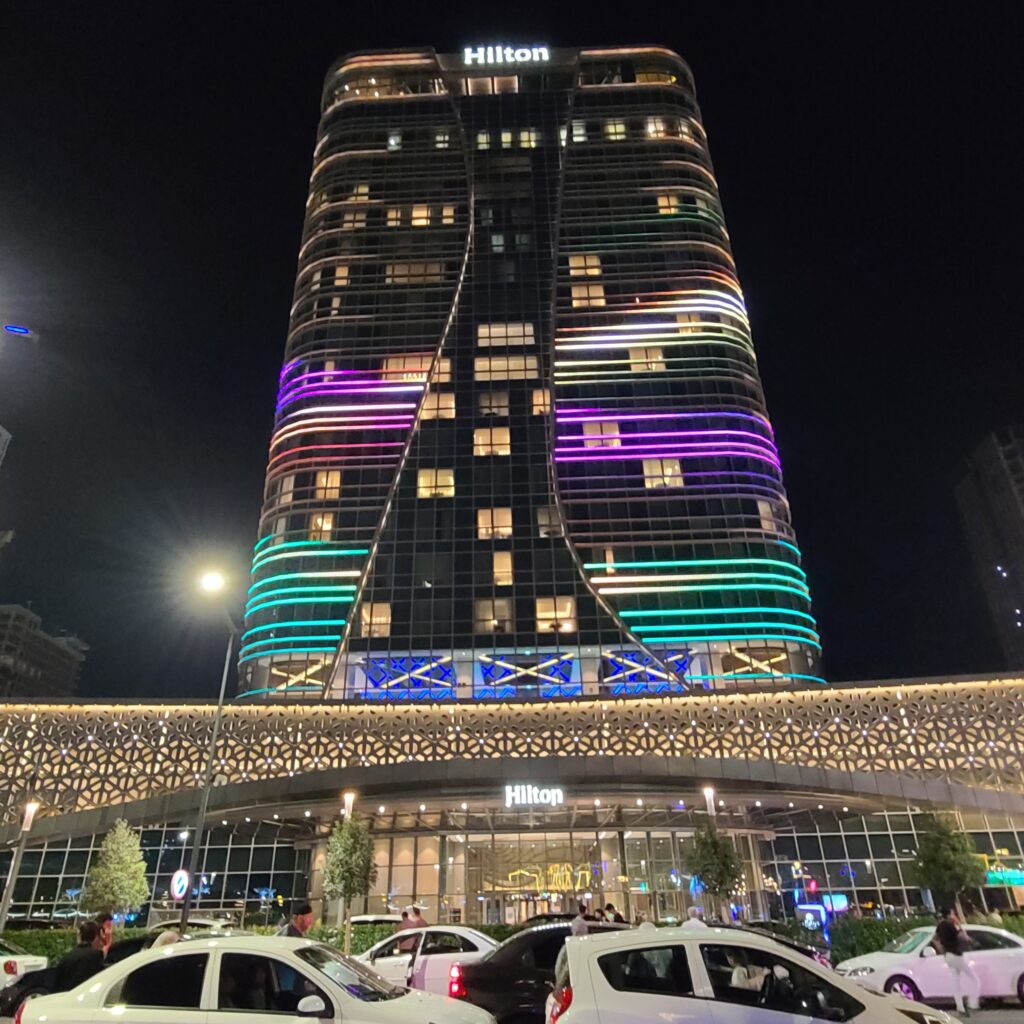 When I arrived to the hotel, I was delighted with all the LED illuminations around the hotel and the park. At night, the hotel building would have LED shows that occasionally animate the flag of Uzbekistan. It certainly was an extravagant first impression.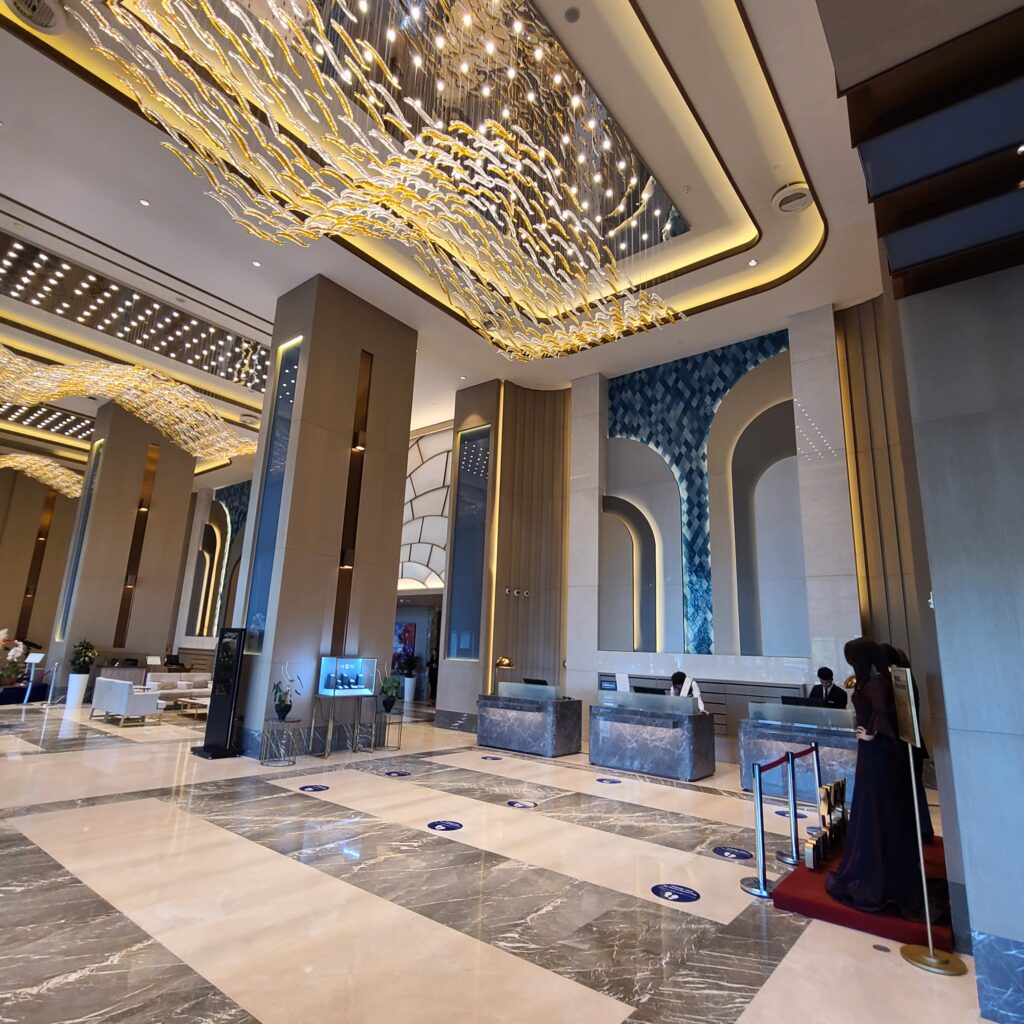 Check-in was fast and smooth. No elite recognition, although people have different opinions about that. To me, I just wanted to get into my room as fast as possible. I was also informed that I'd have access to the Executive Lounge that comes with the suite upgrade.
Hilton Tashkent City- Corner Suite
I was assigned to the 7th floor. The suite is gorgeous with modern and tasteful decor. The living room comes with an office desk and TV installed on a large pillar at the corner complemented with a seating area.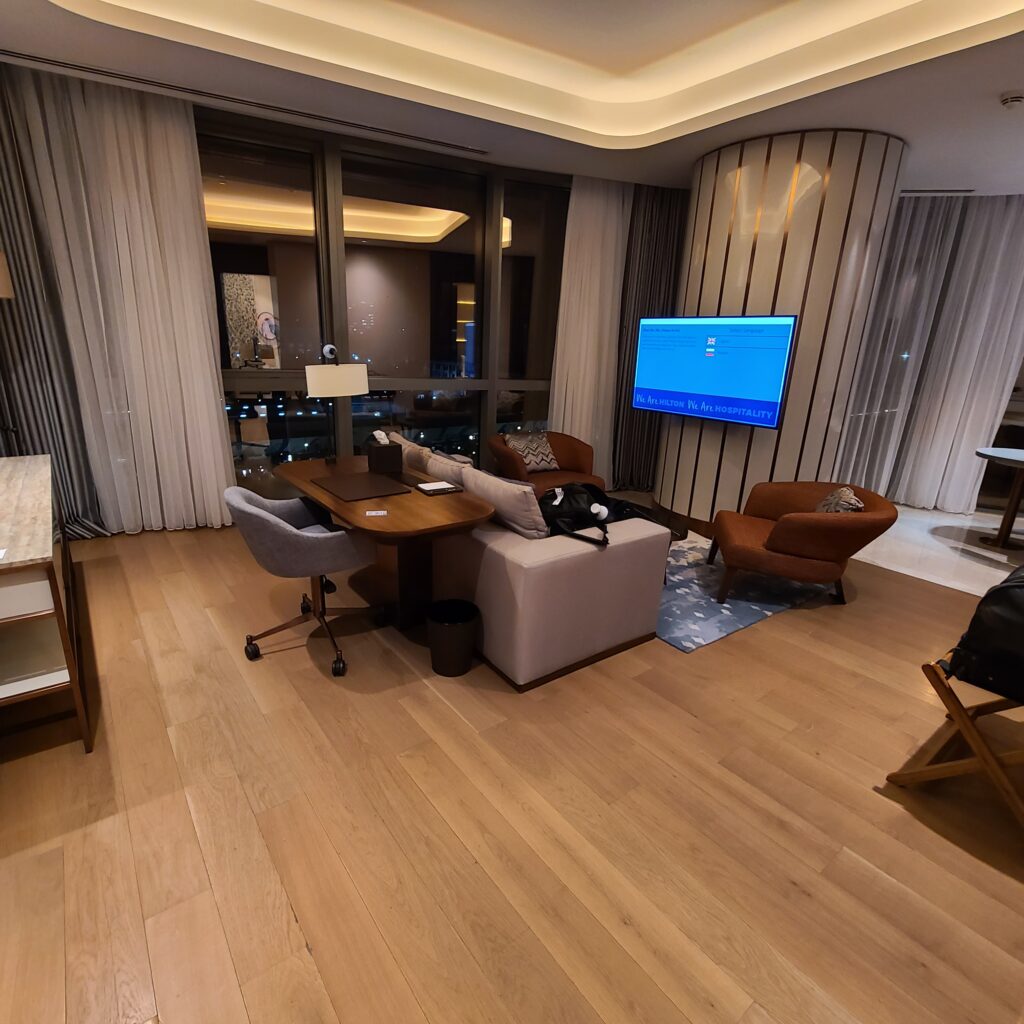 The office desk comes with an outlet inside the black rectangle with universal and USB sockets.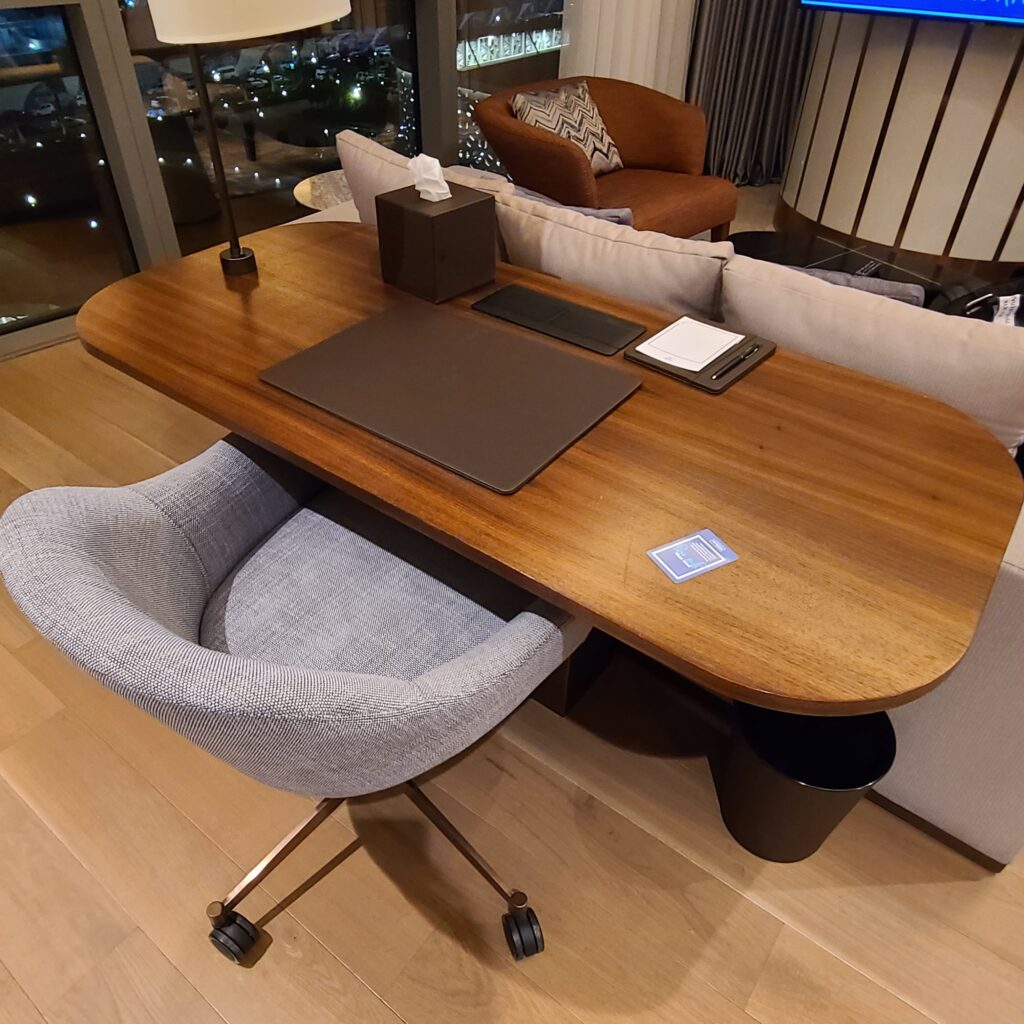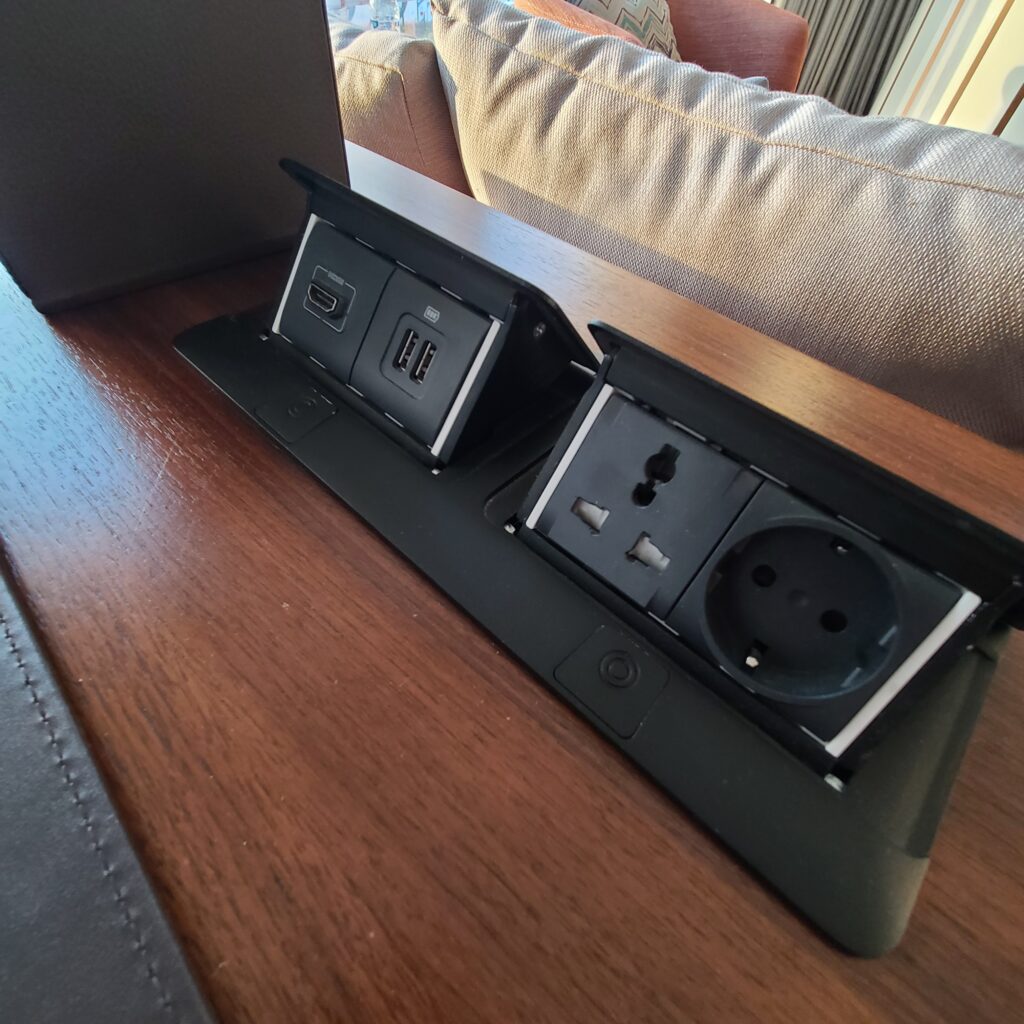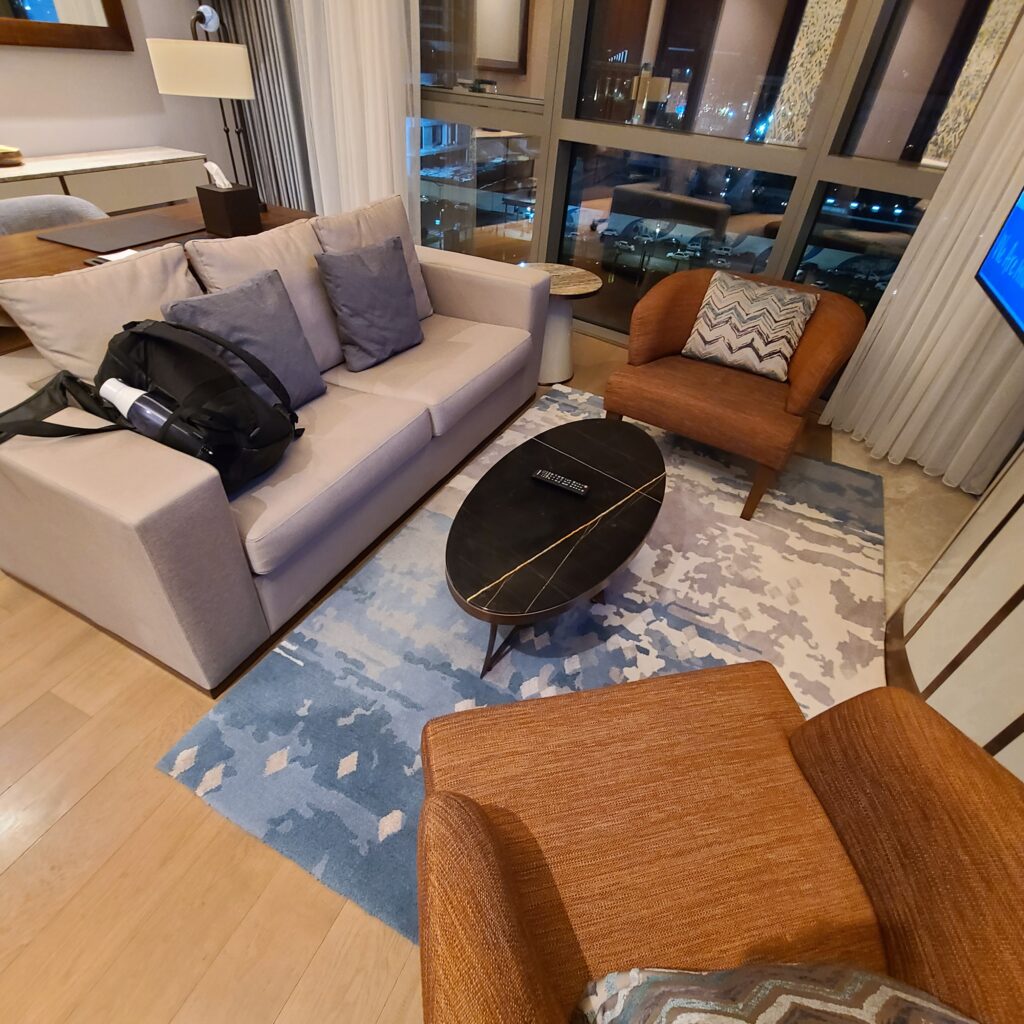 Moving on to the back of the living room is where the pantry and minibar are.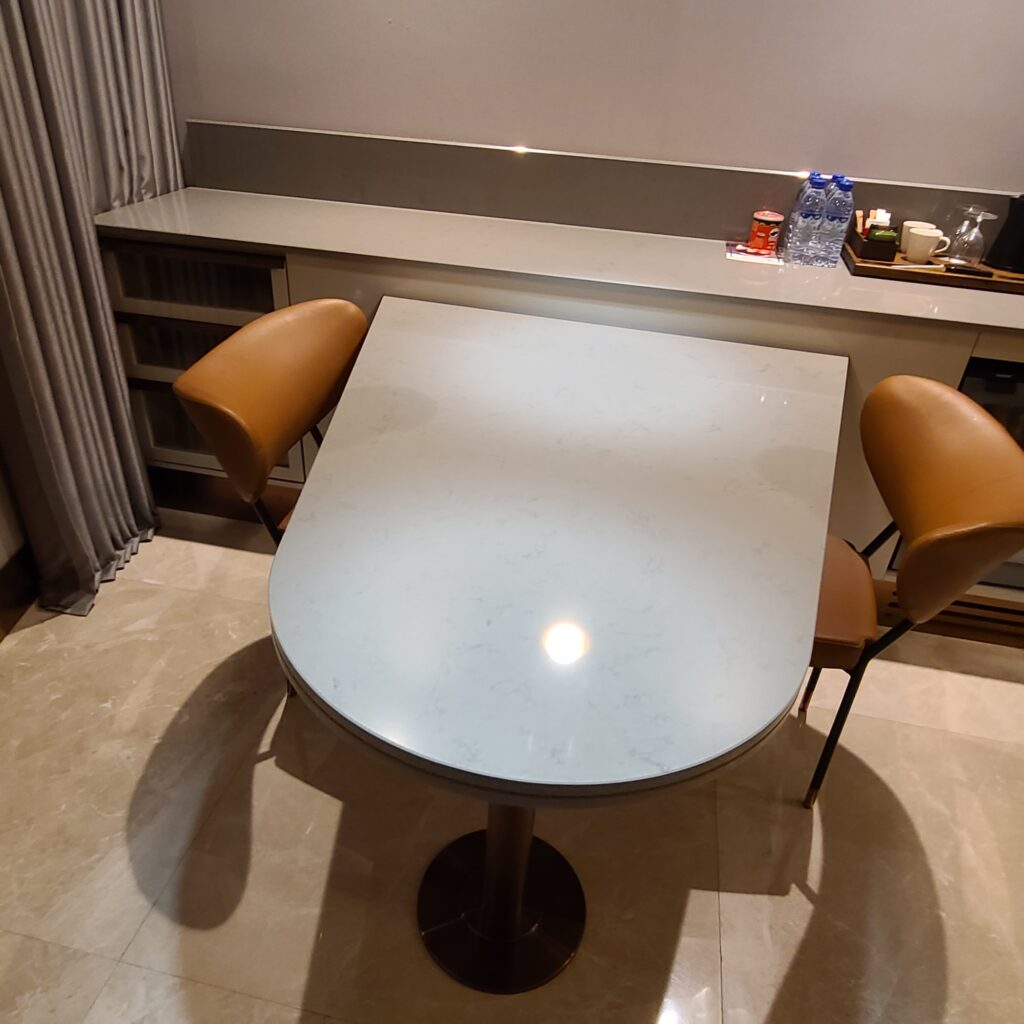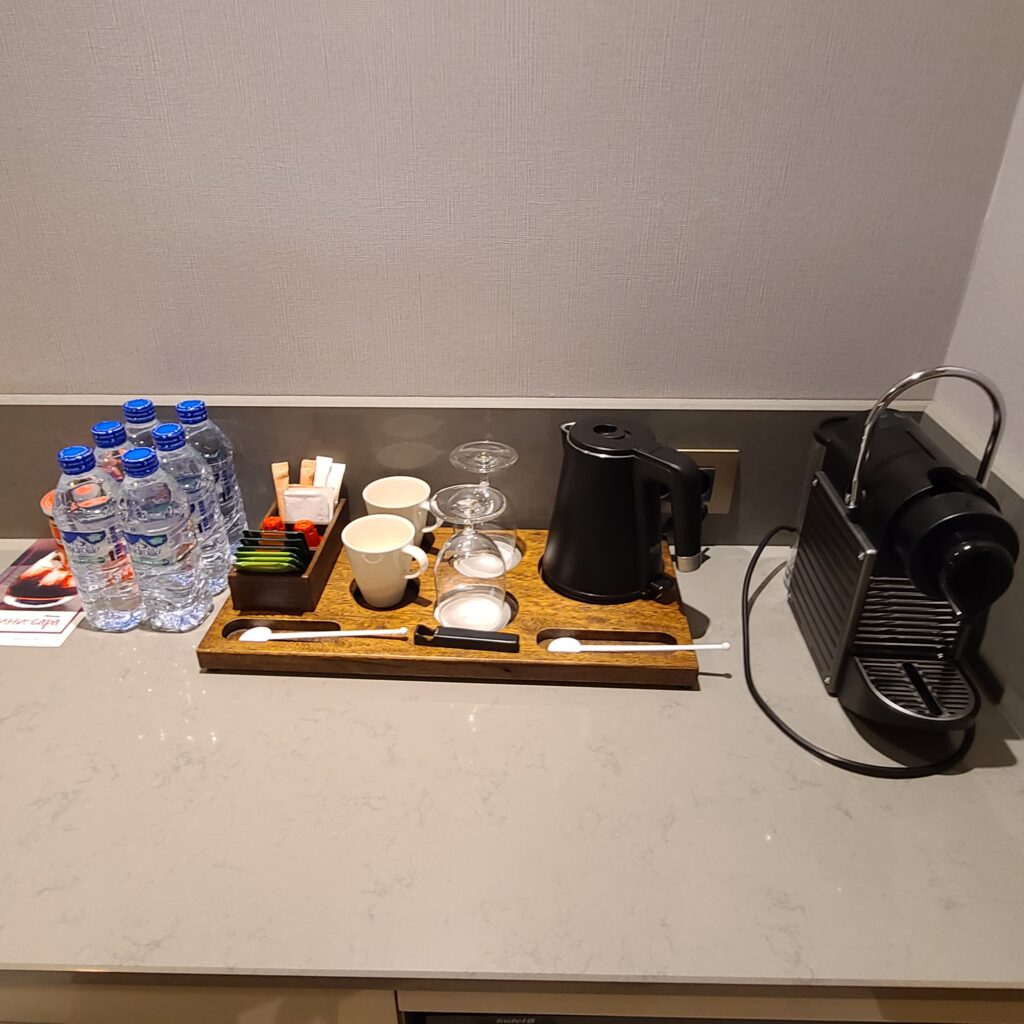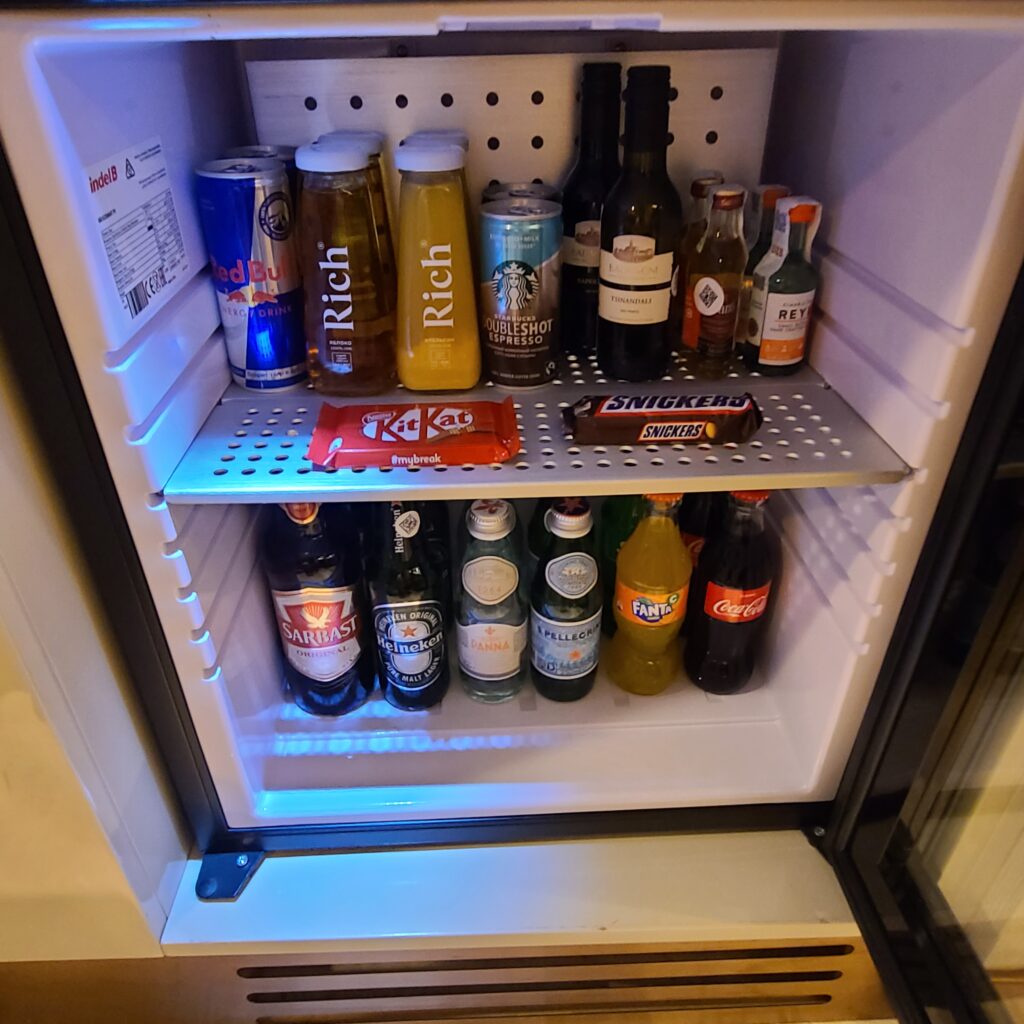 Lots of windows on the living room for a panoramic view from the hotel. Unfortunately, I didn't get the view of the park, which would've been much better. Regardless, I was very happy with the suite upgrade.
The bedroom is on the next door by the pantry, and then adjacent to the bathroom. It's not the biggest sized bedroom in suites I've been, but it's pretty cozy!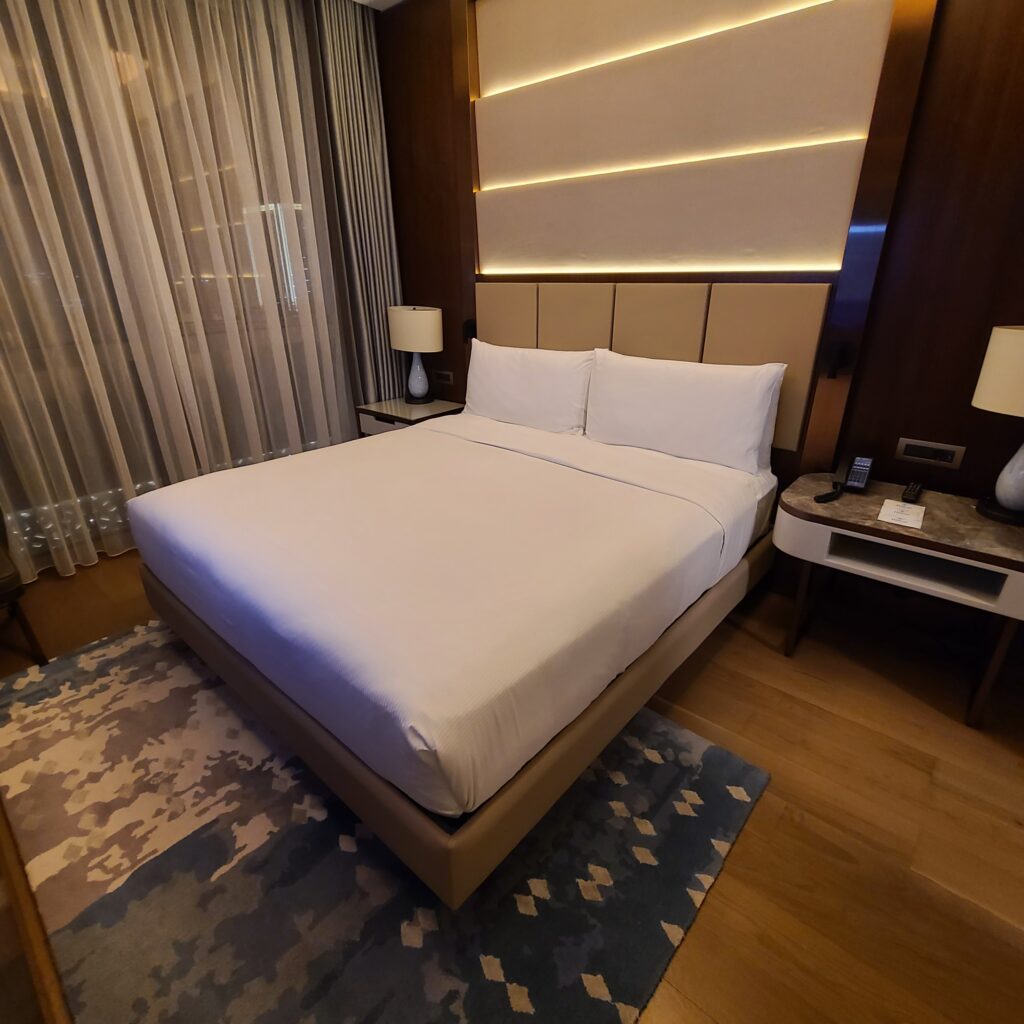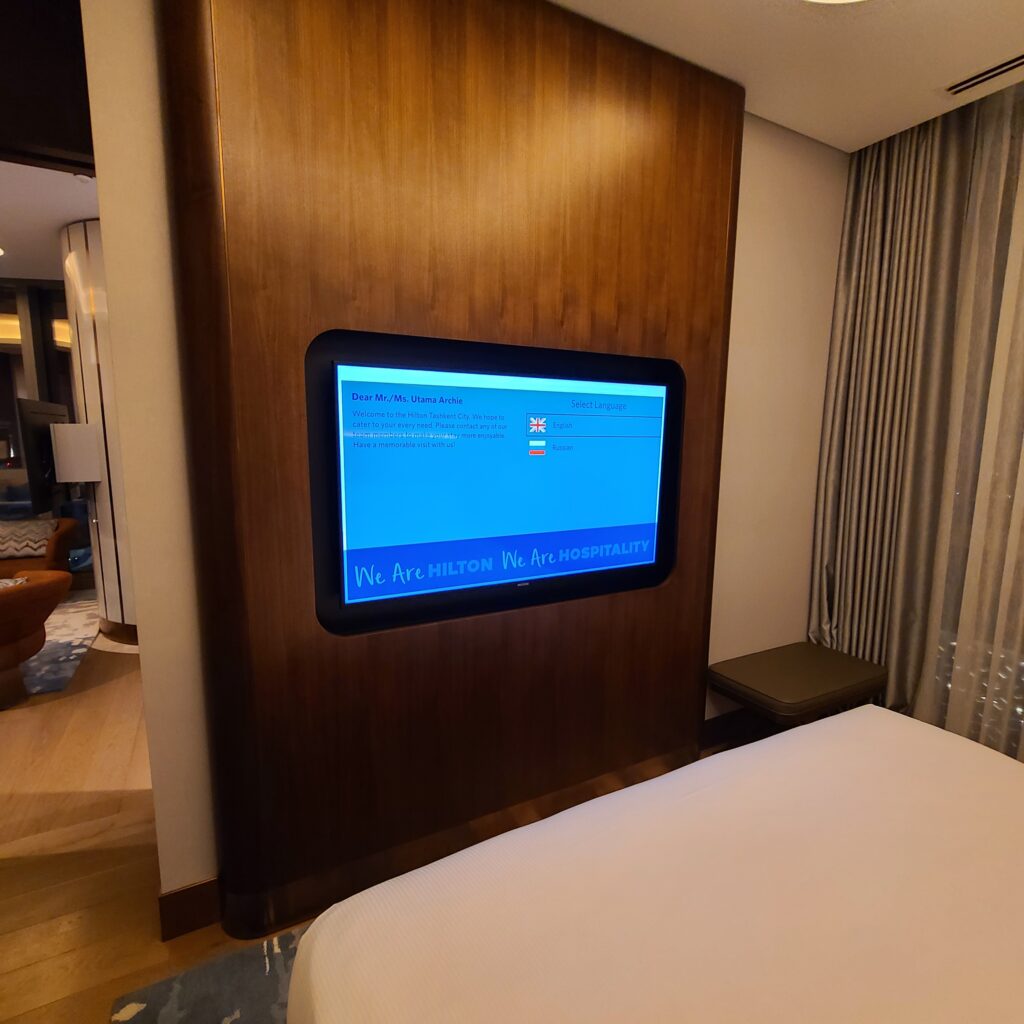 Bathrobe is available in the bedroom closet.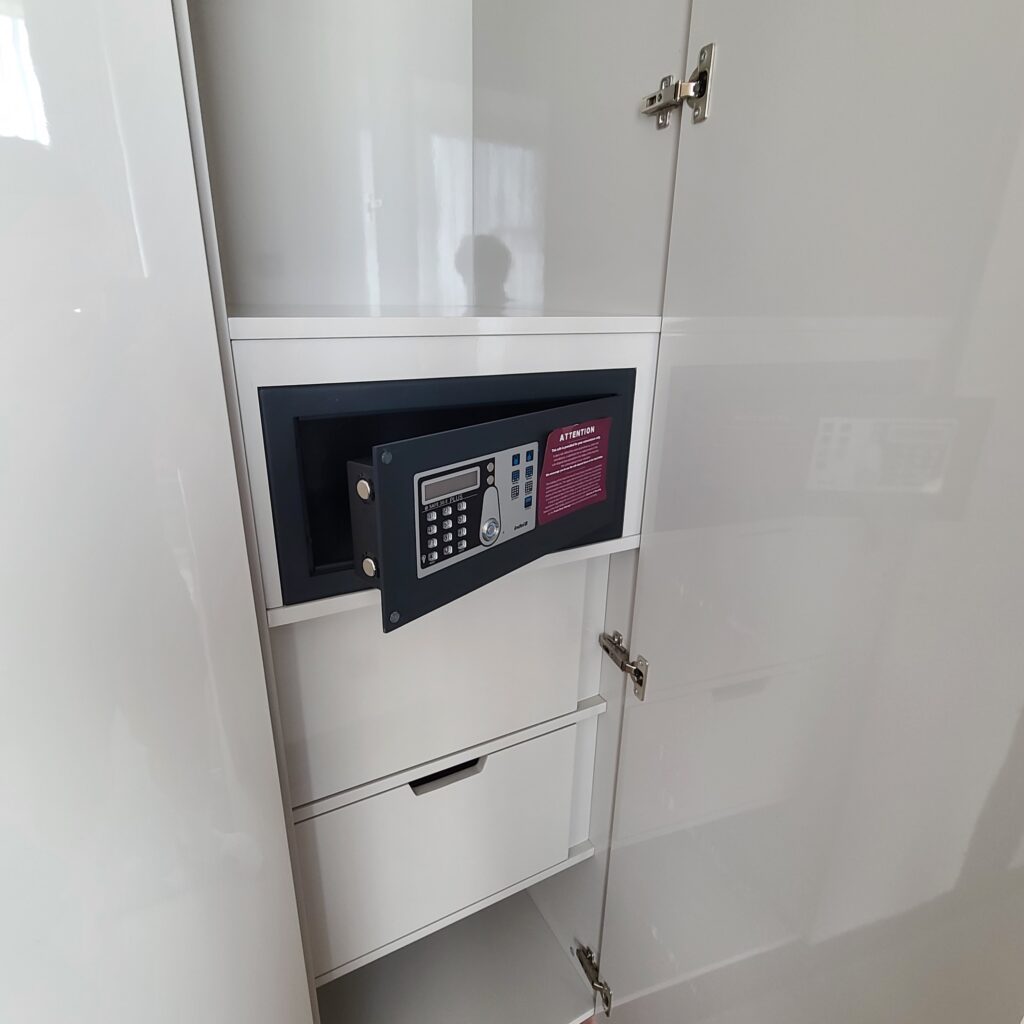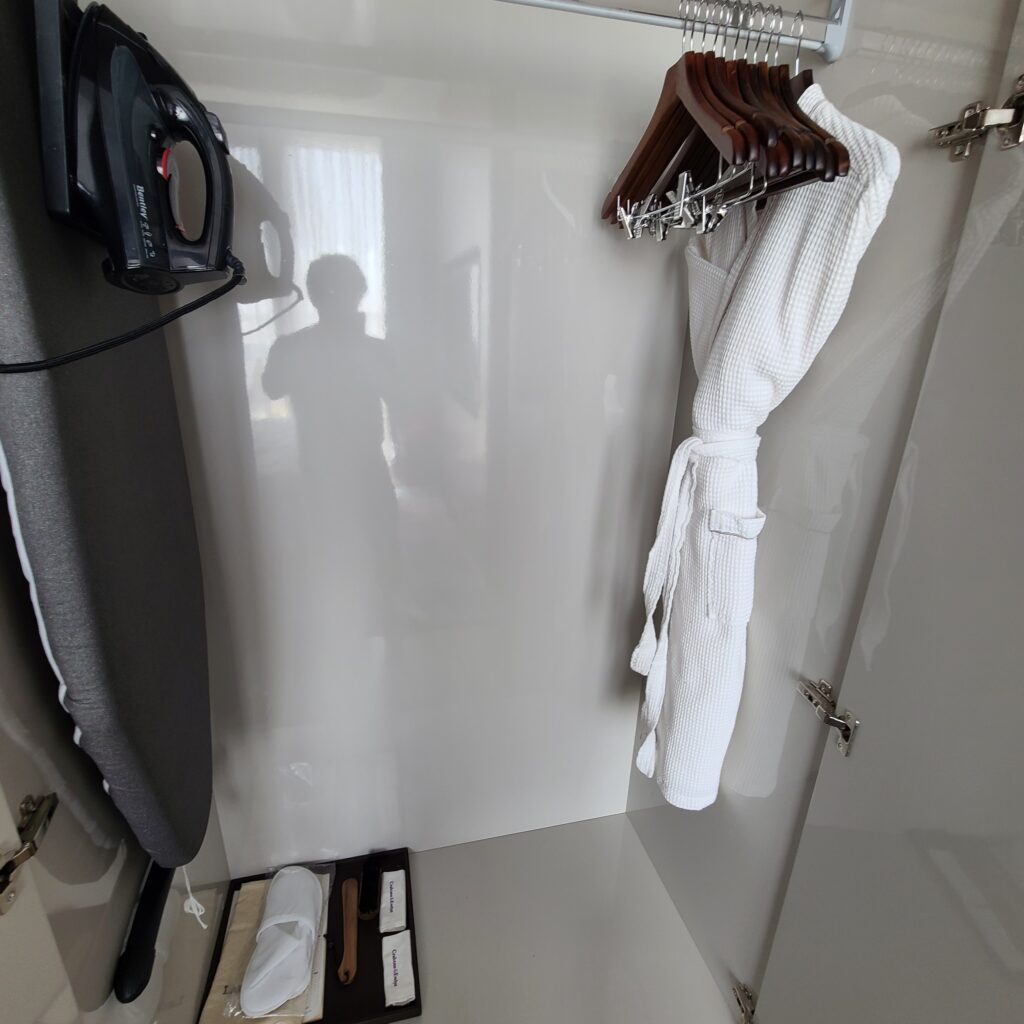 Hilton Tashkent City- Corner Suite Bathroom
The bathroom is spacious with separate tub, toilet, and walk-in shower.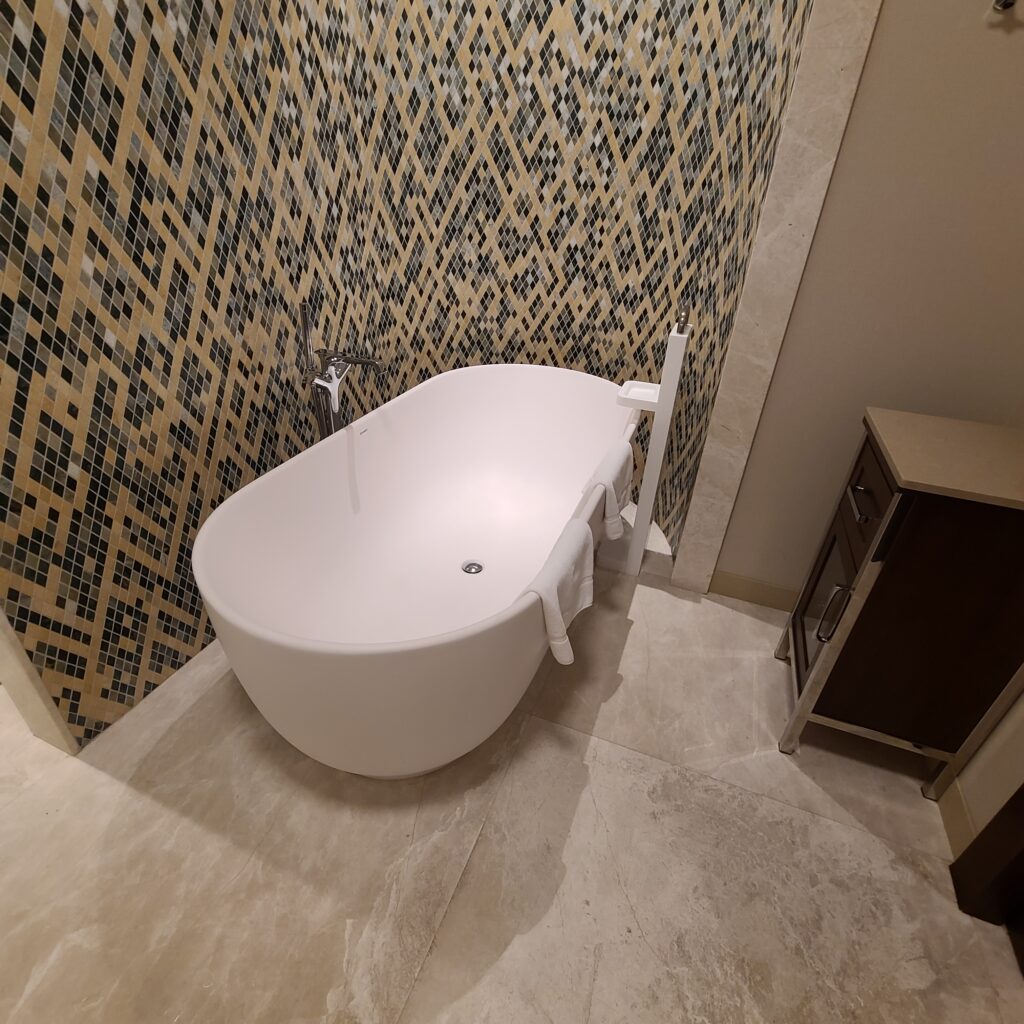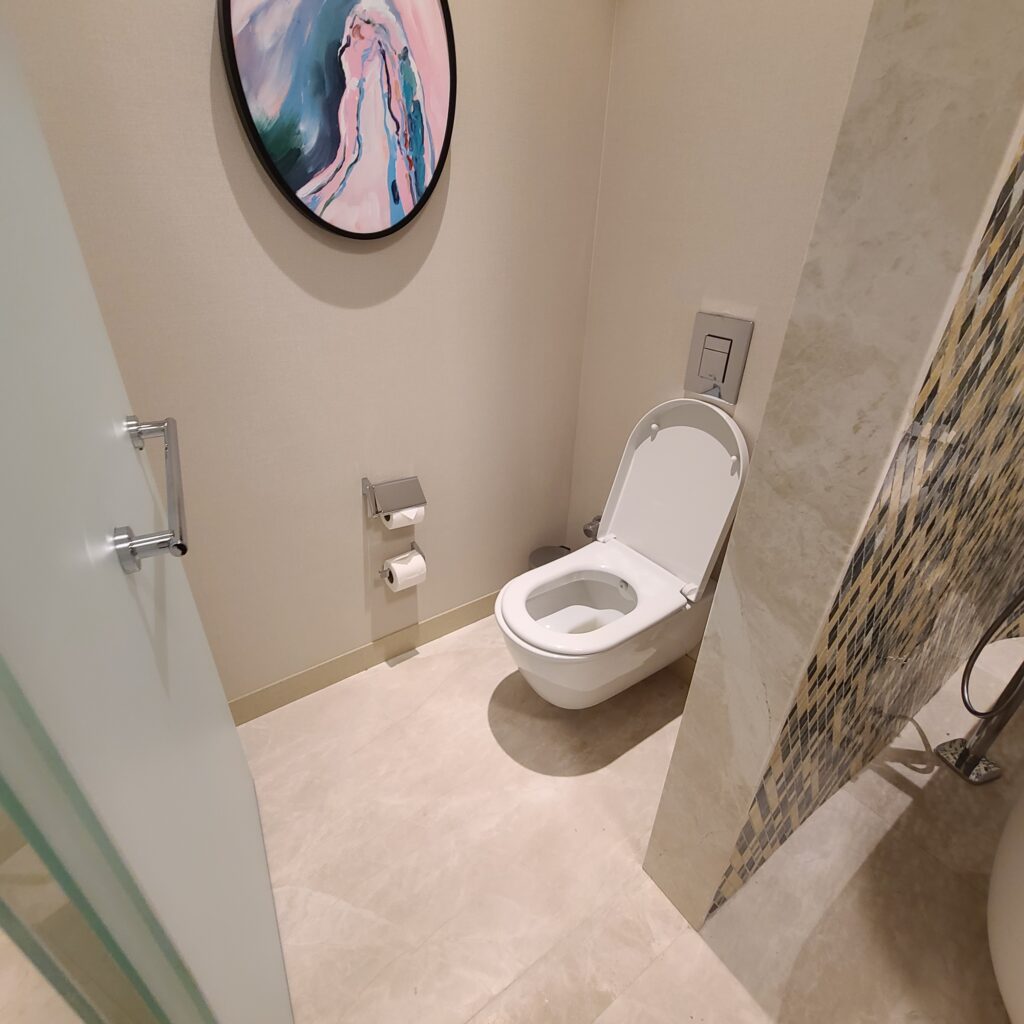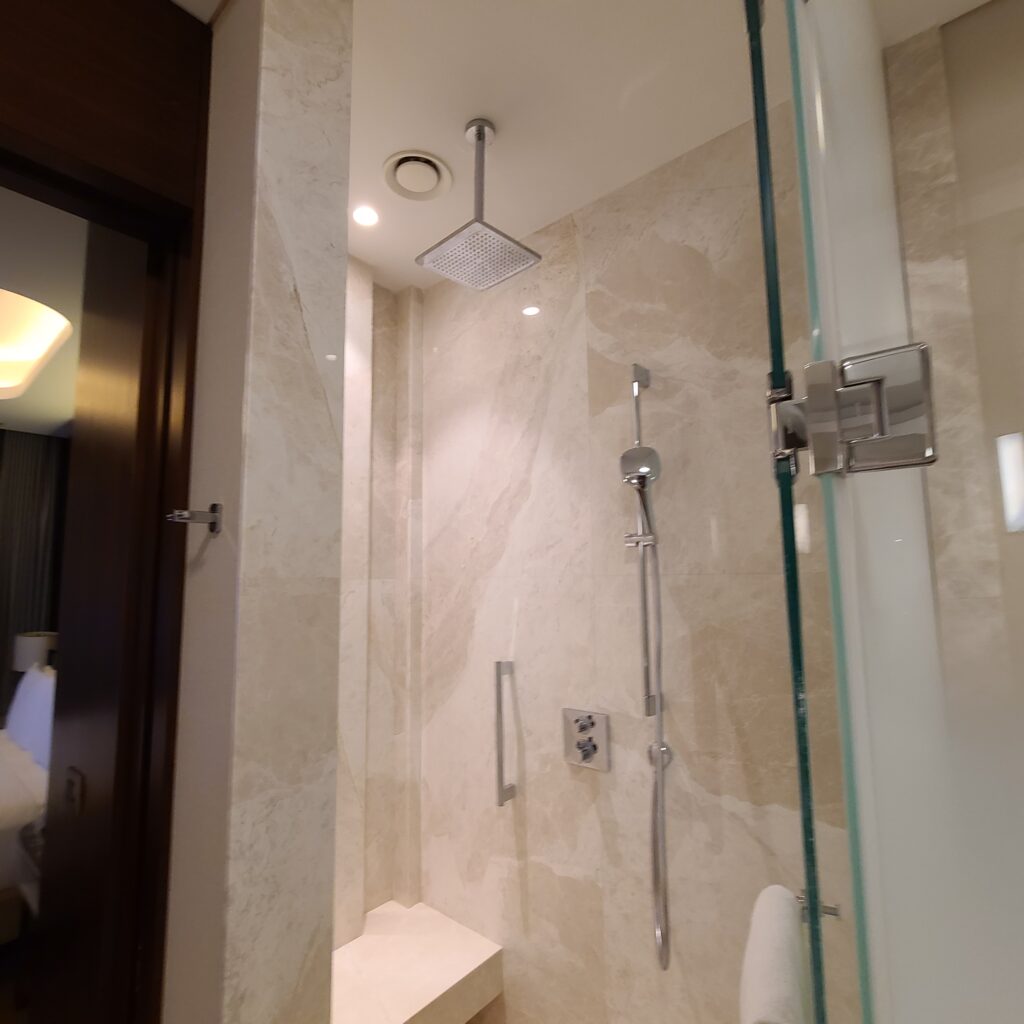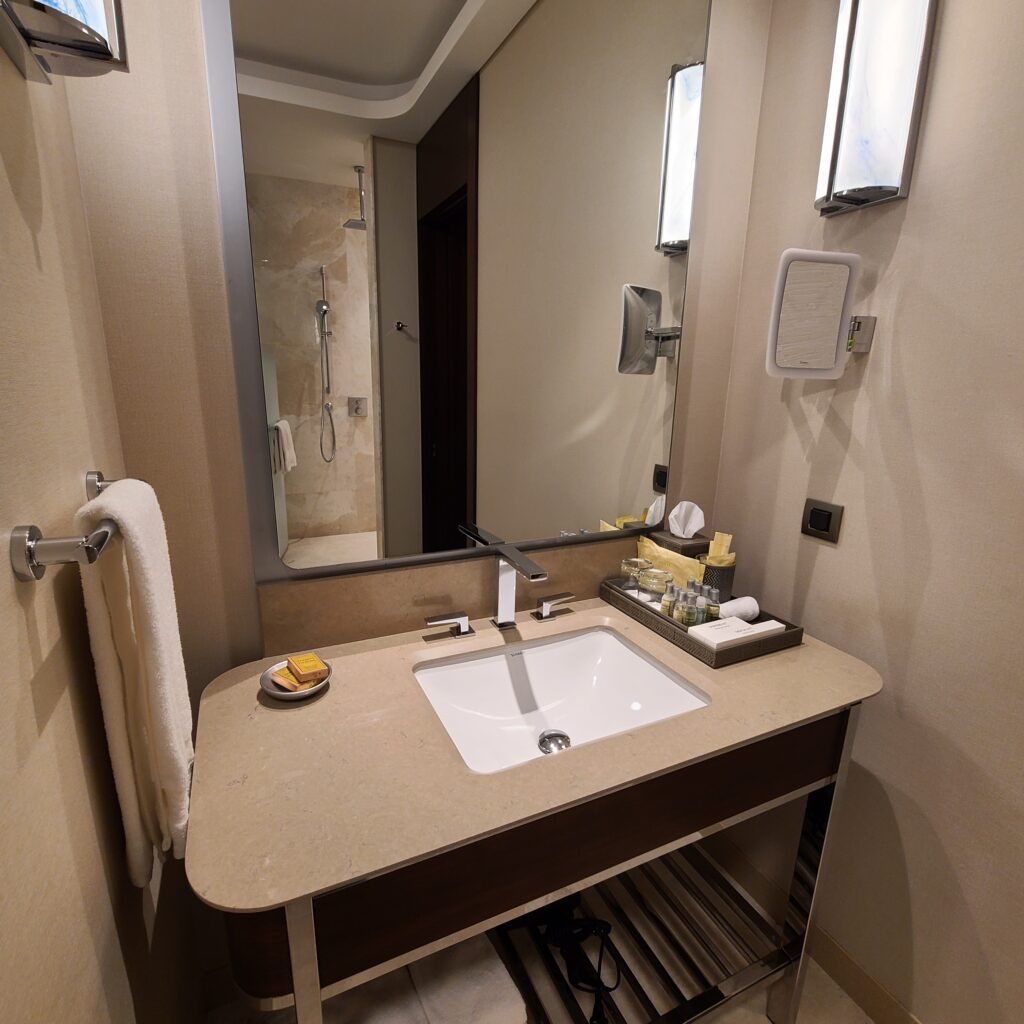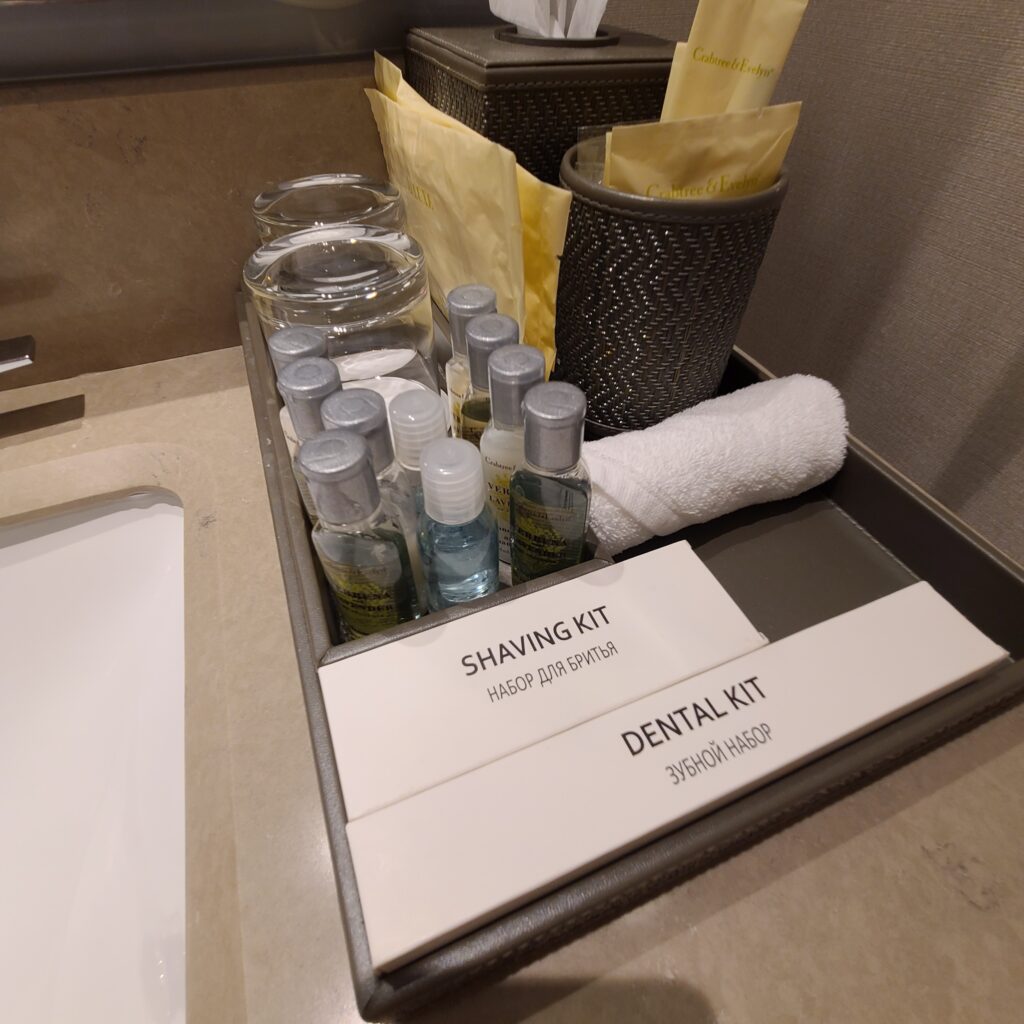 One odd thing to point out is the bath amenity bottles. I found that one of them were partially filled, even though it seemed brand new with no tampering on the plastic seal. It was a weird trend I noticed during my hotel stays in Uzbekistan, not just at the Hilton. It's no big deal to me, but definitely strange.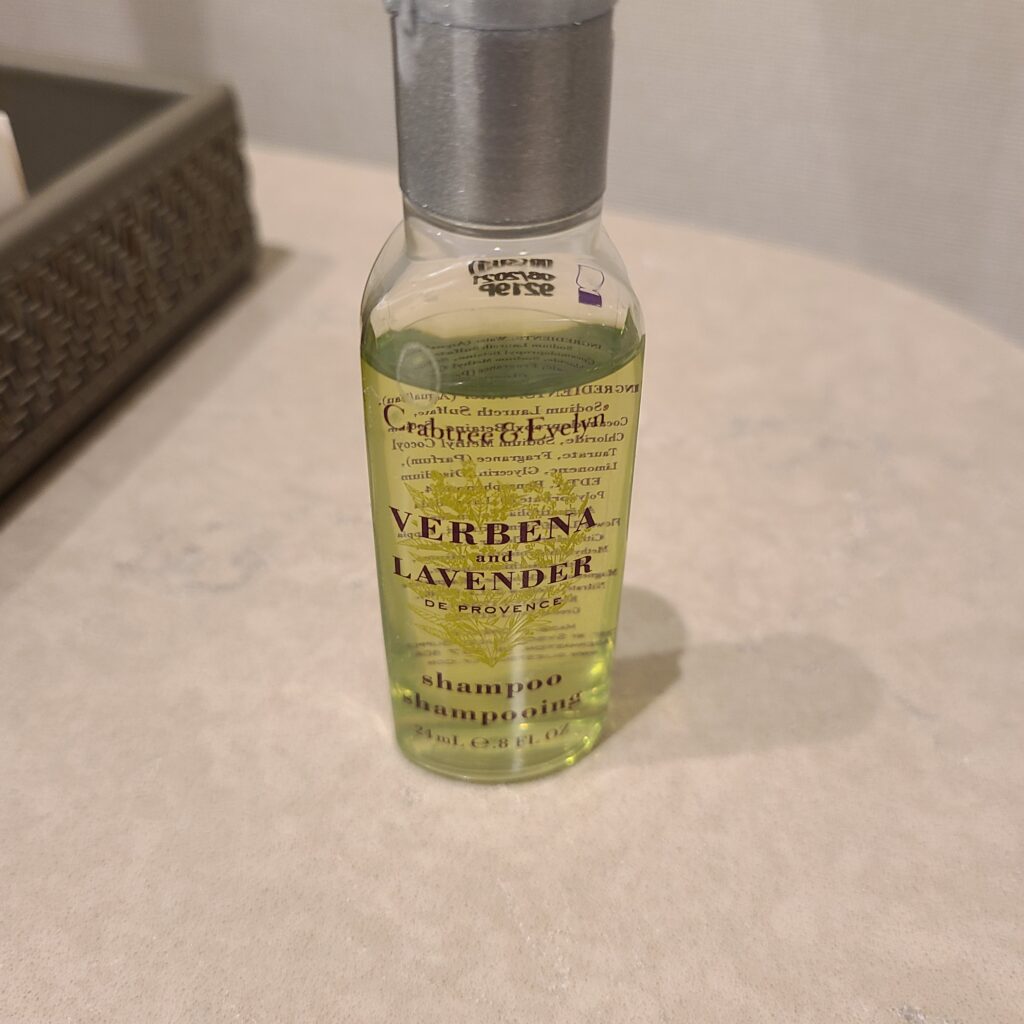 Hilton Tashkent City- Breakfast
As a Hilton Gold member, I was given free breakfast daily during my stay at the Shosh Restaurant at ground floor.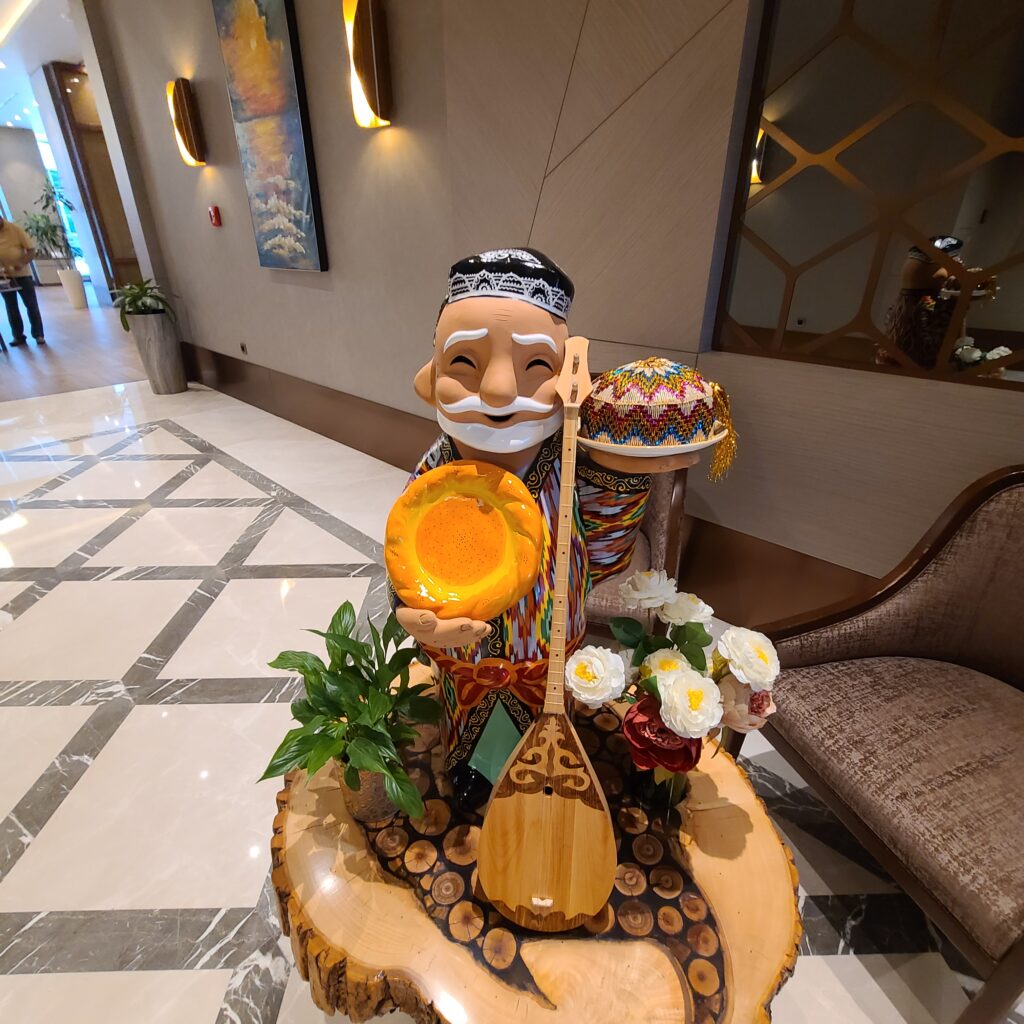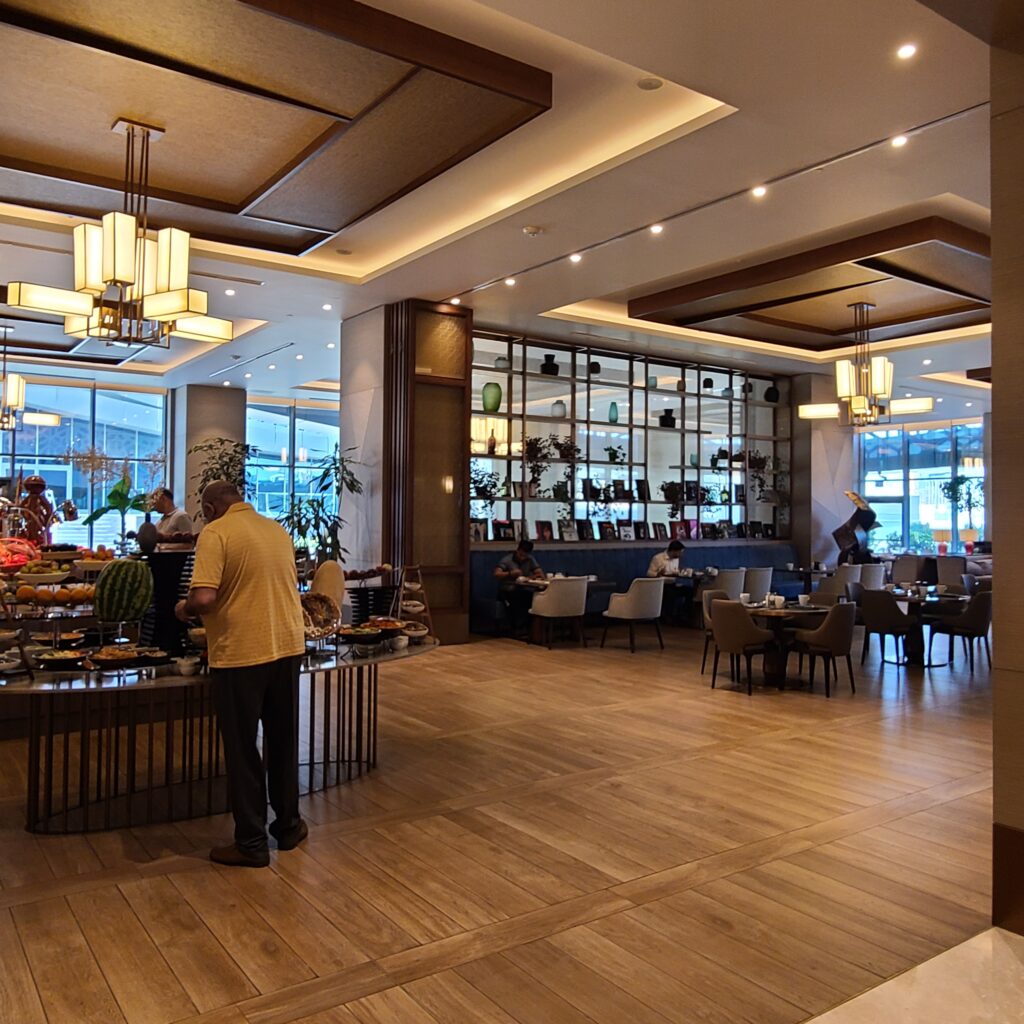 The breakfast spread is huge and I'll let the pictures do the talking.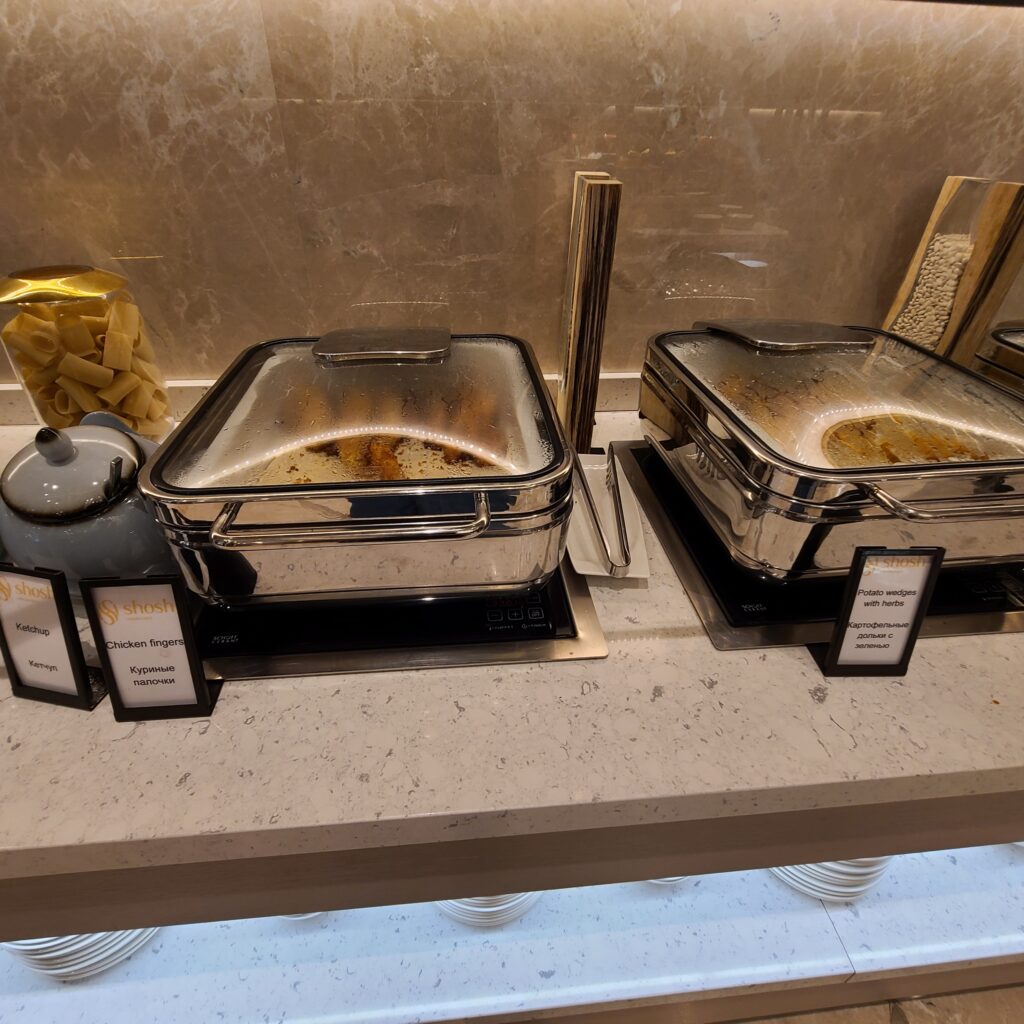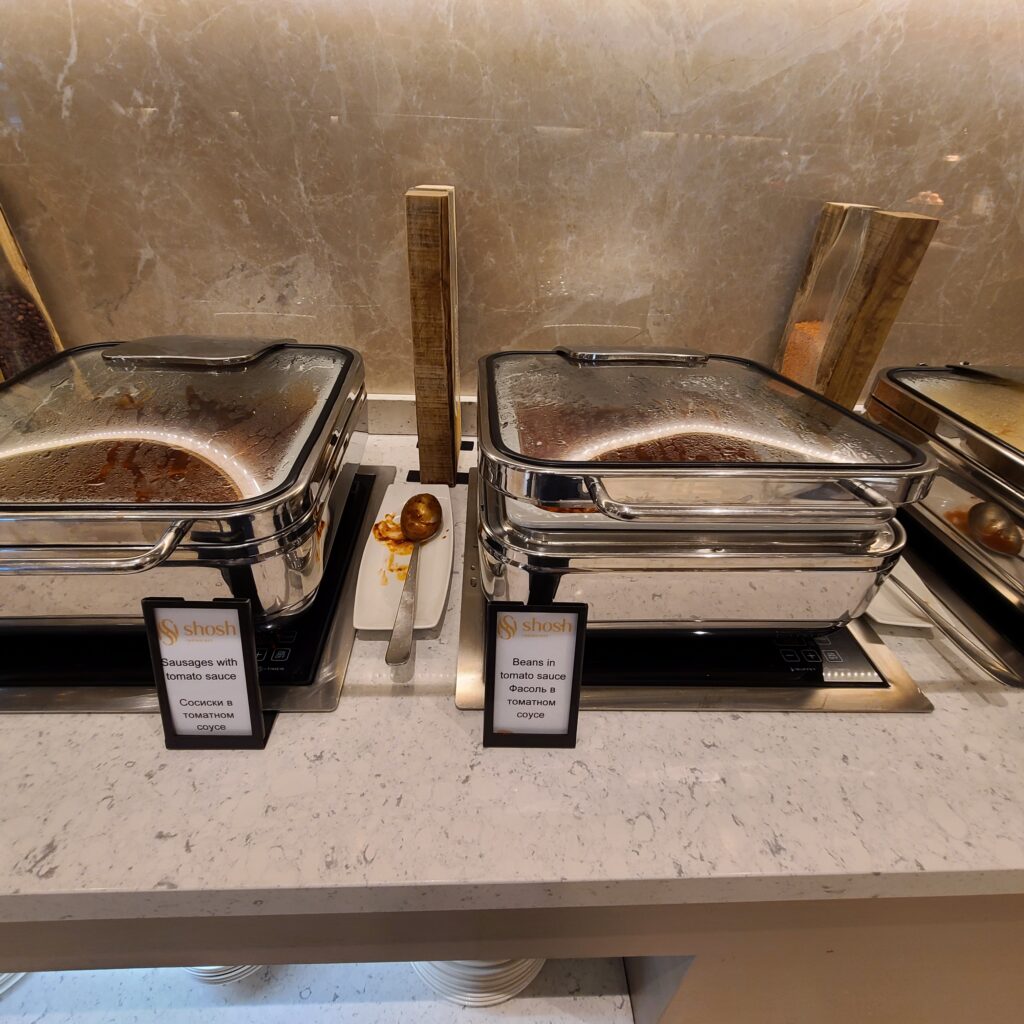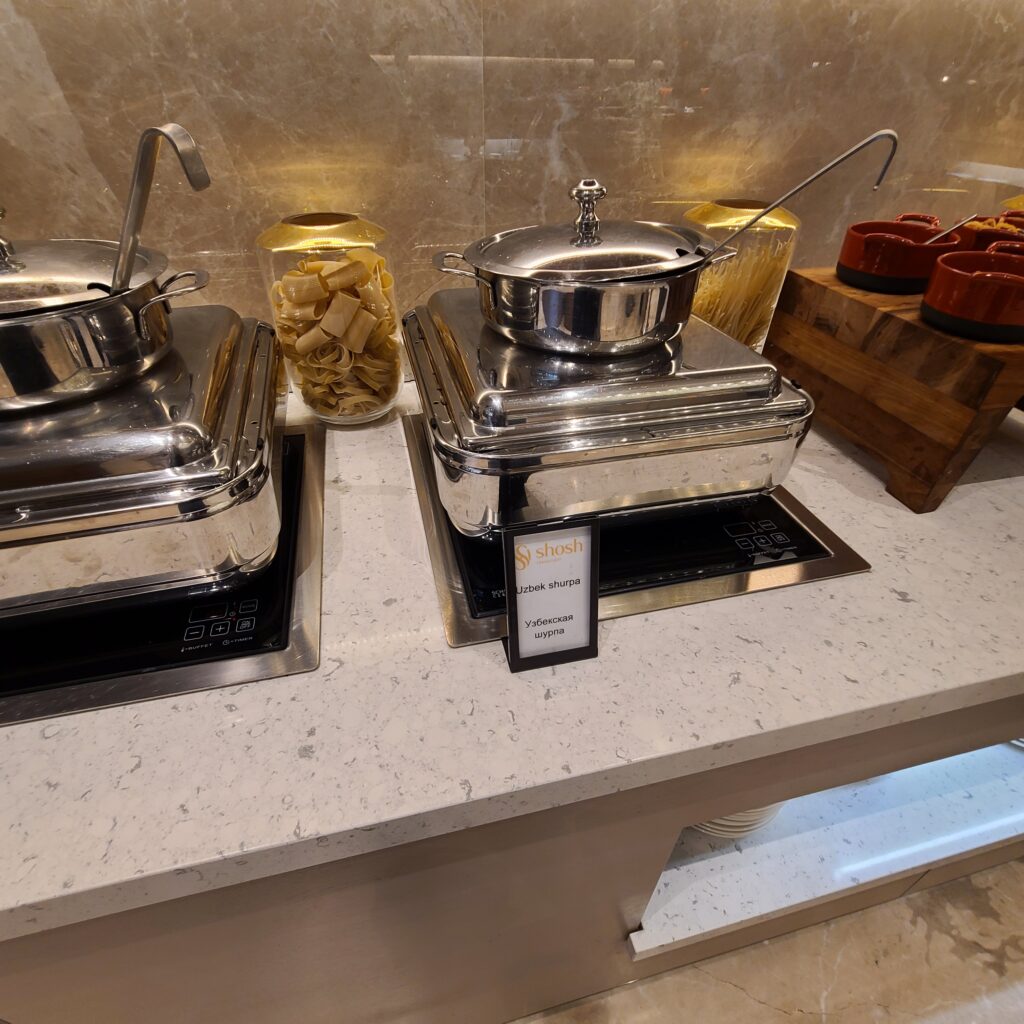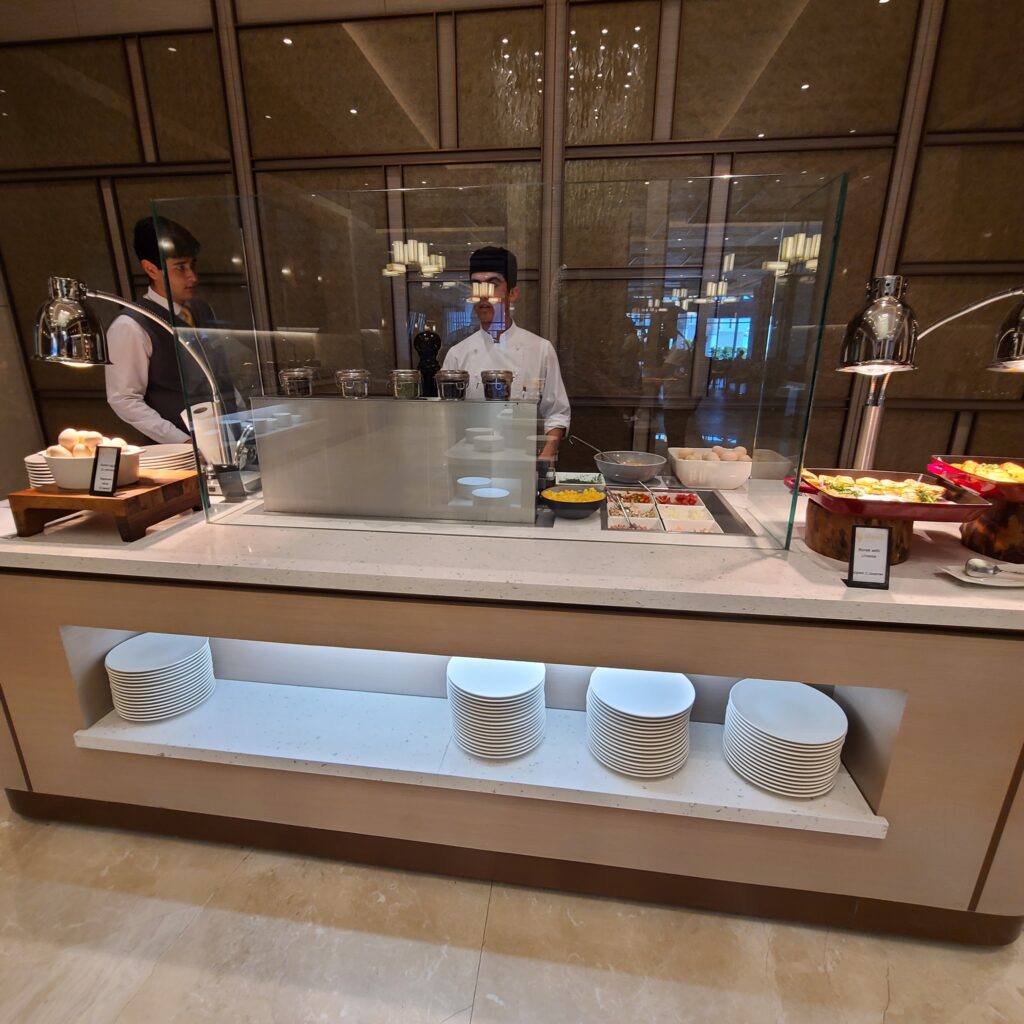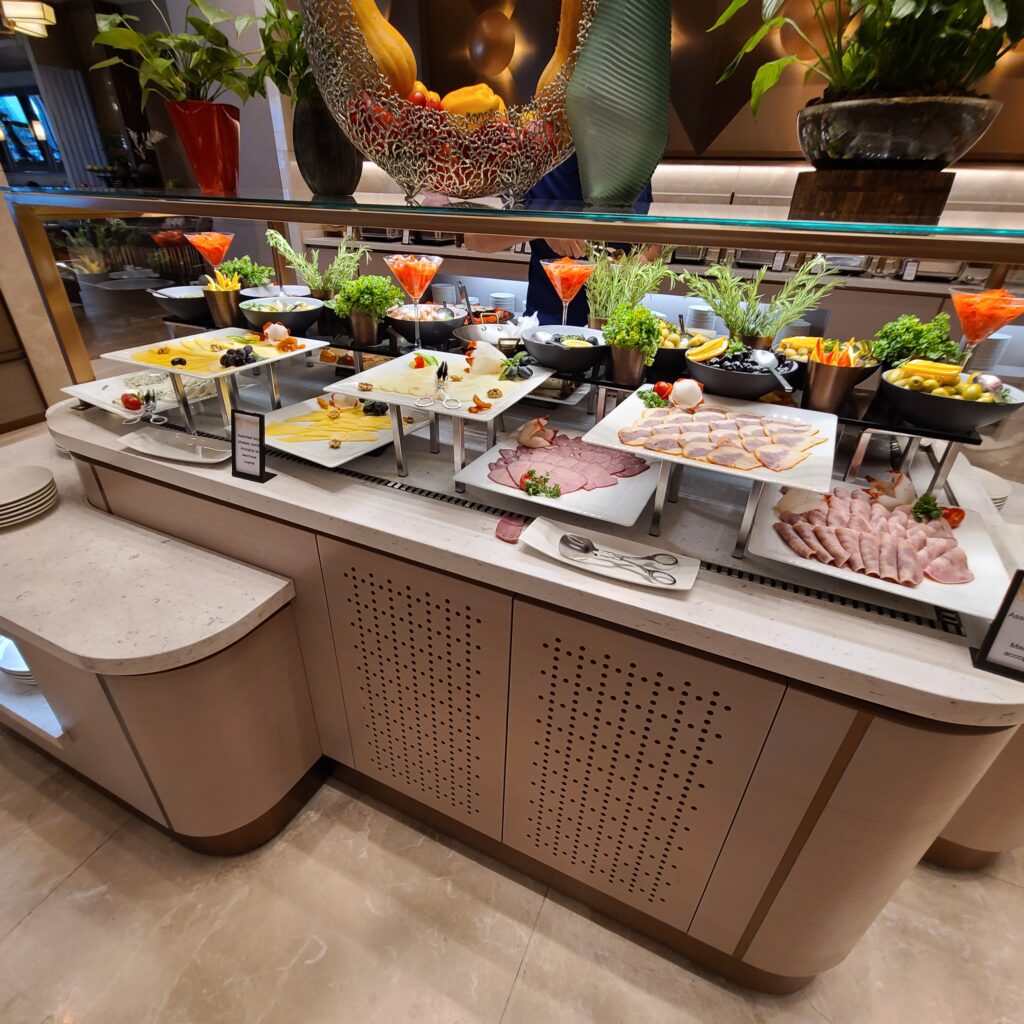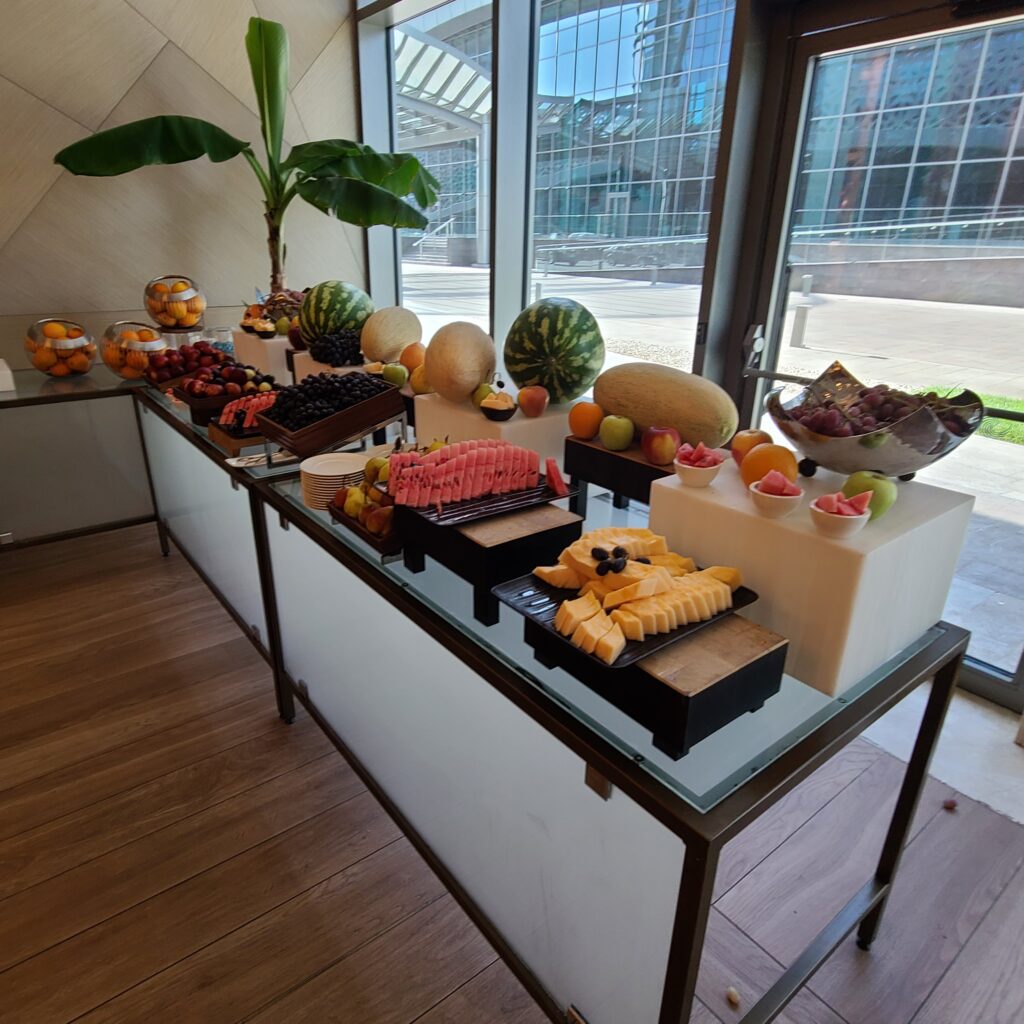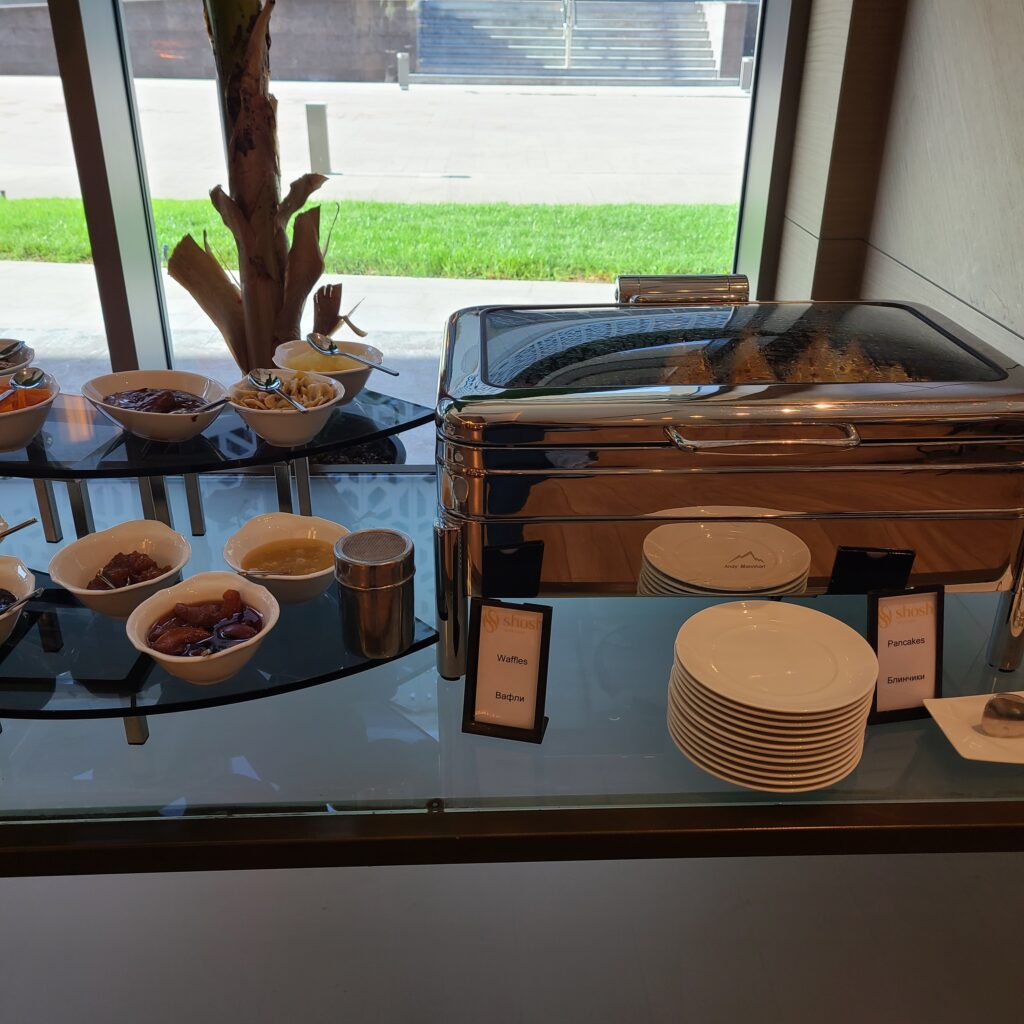 I'm personally astonished with how many bakery options there are!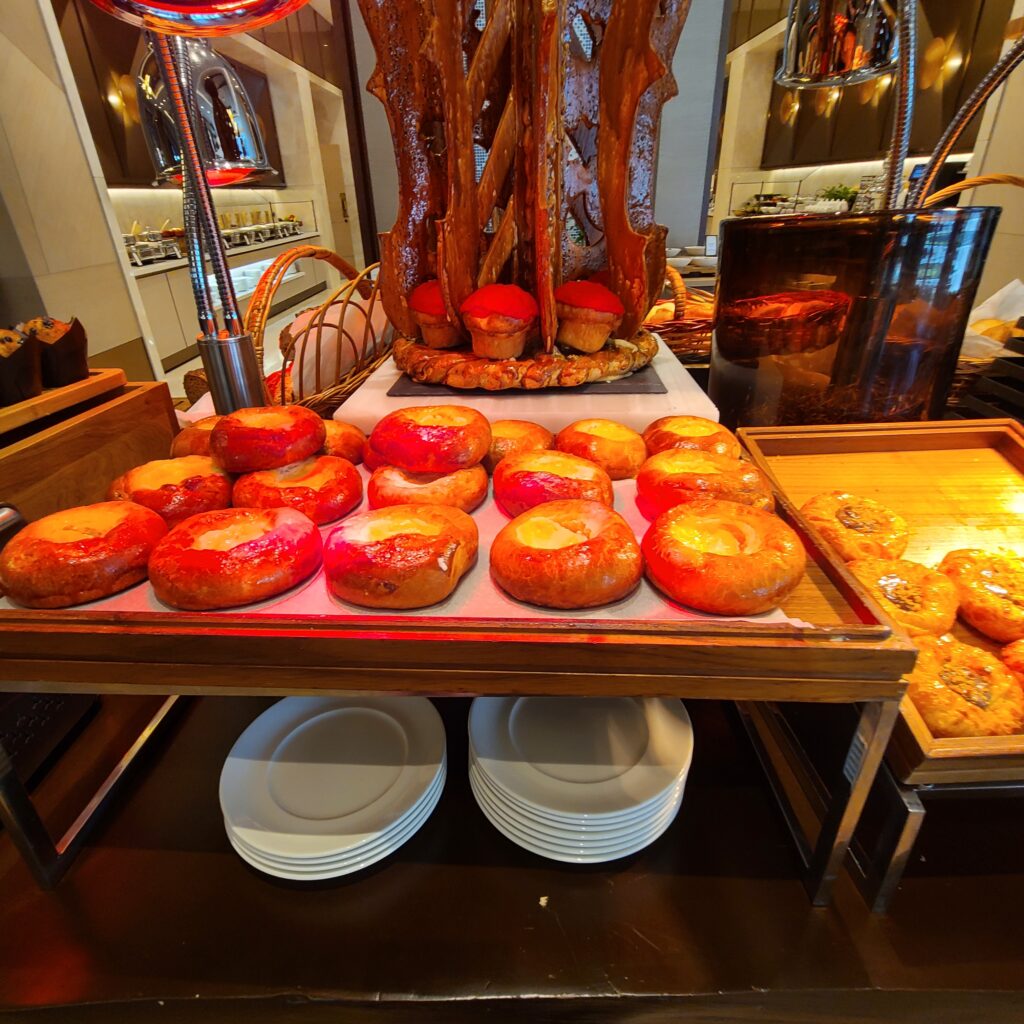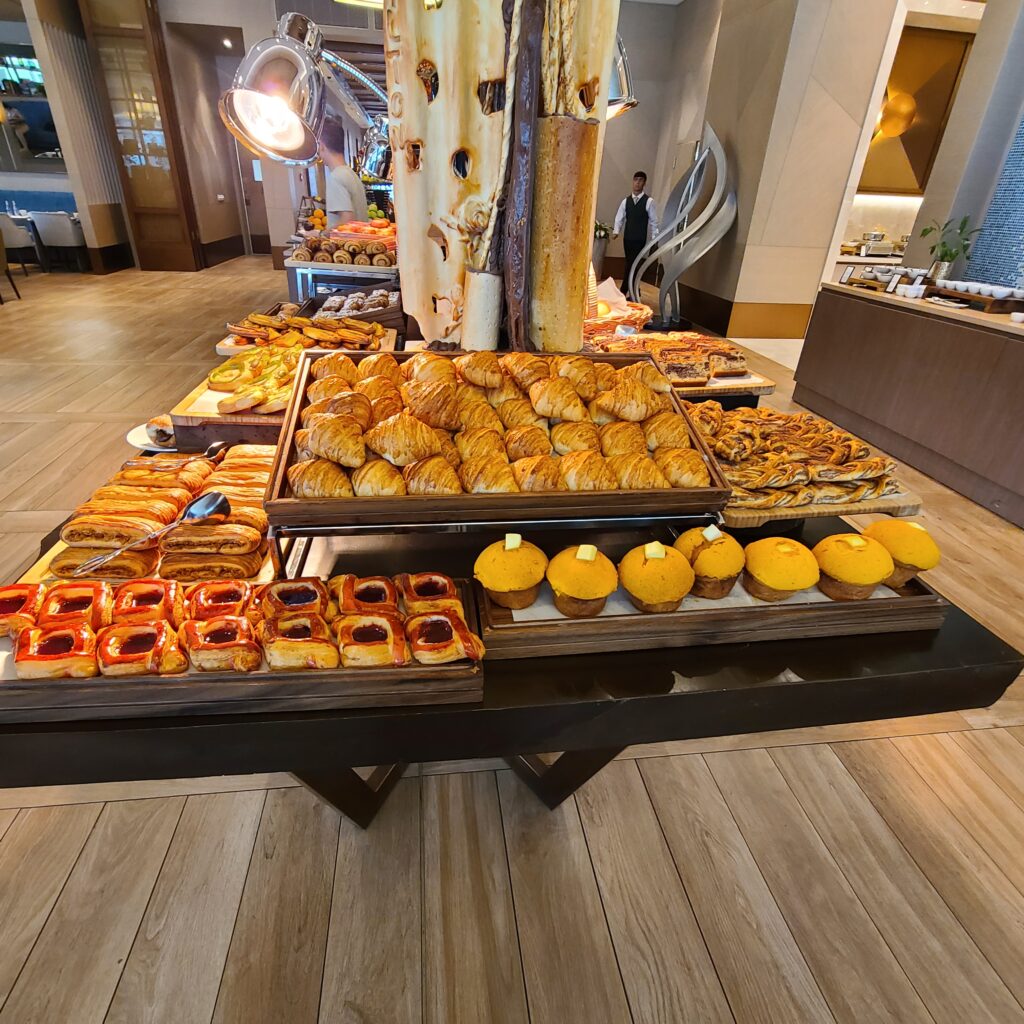 Delicious high quality breakfast all around, and I was glad to enjoy them for free as a Hilton Gold member that I got through my American Express Platinum Card.
Hilton Tashkent City- Executive Lounge
Since I was upgraded to a suite, I also had access to the Executive Lounge at the 3rd floor.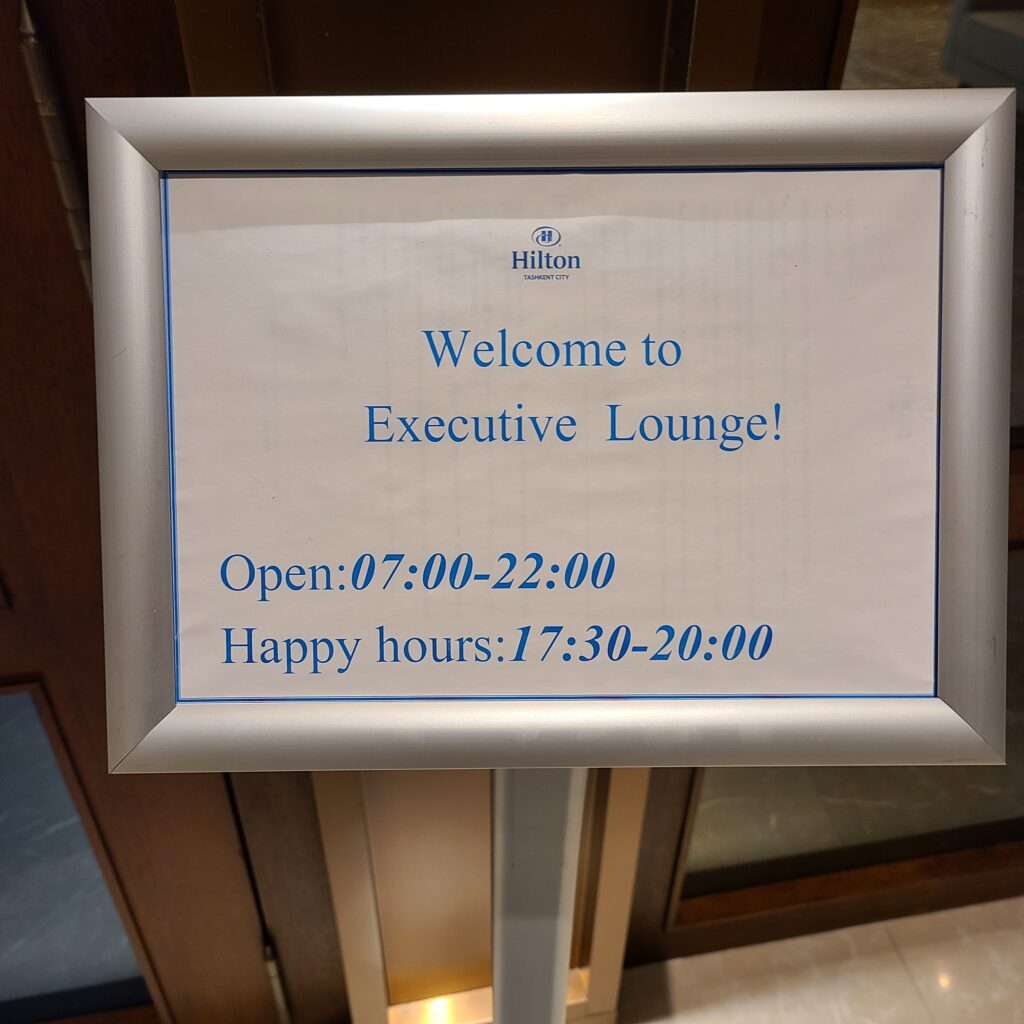 I was able to check it out once at around 4pm during my second day.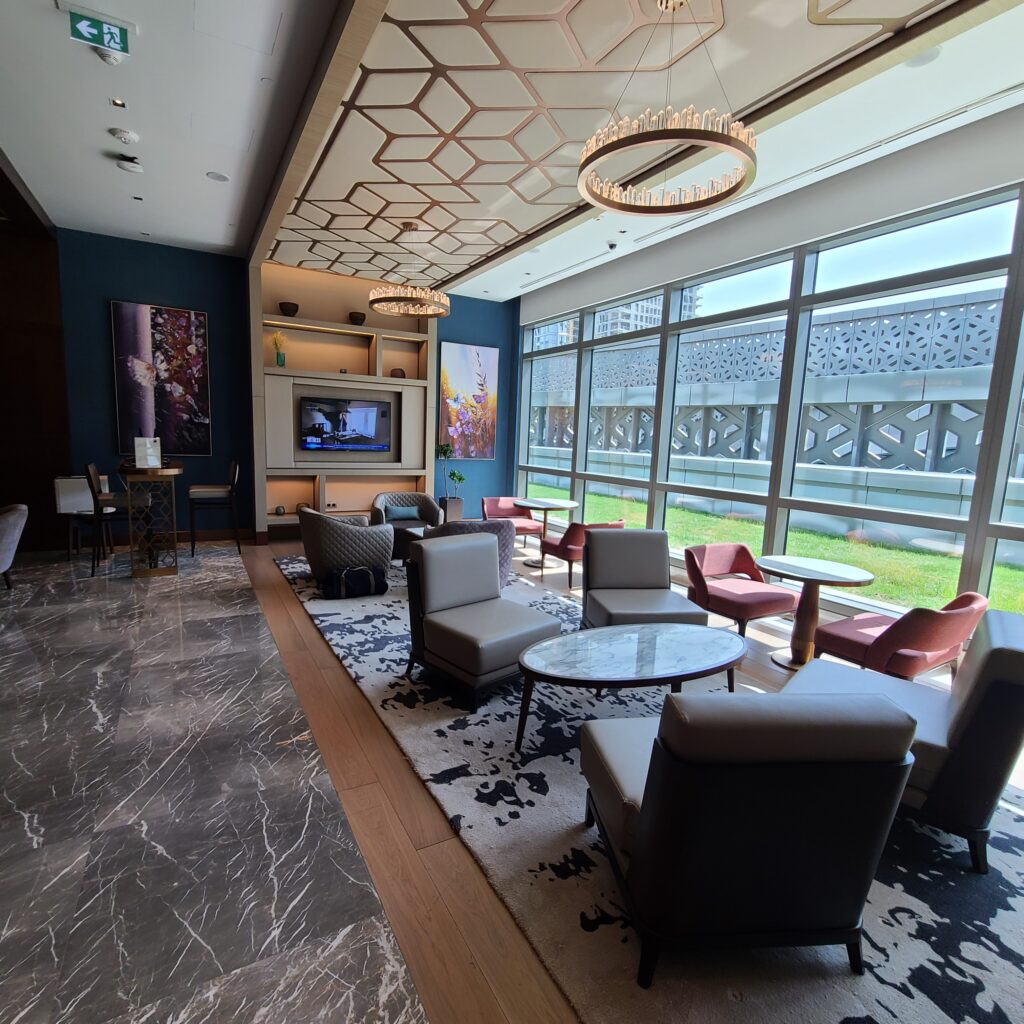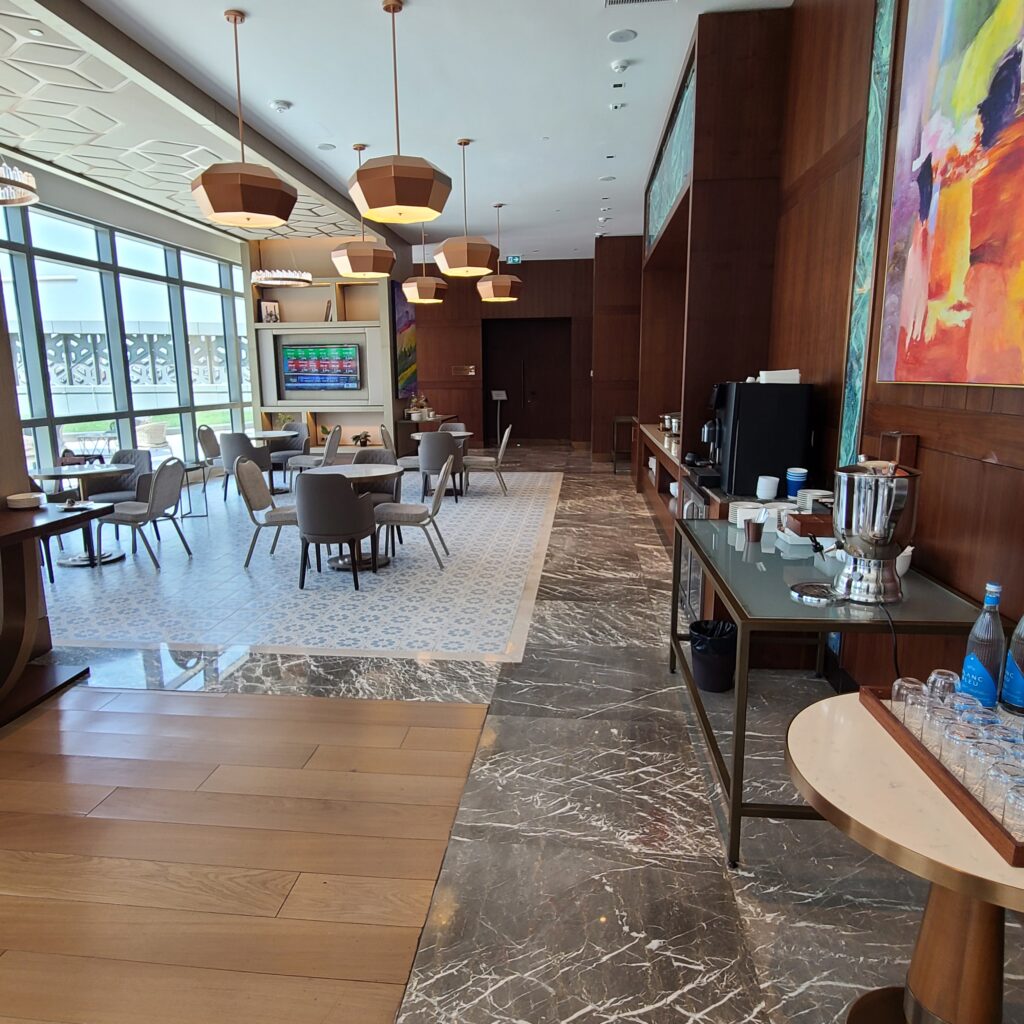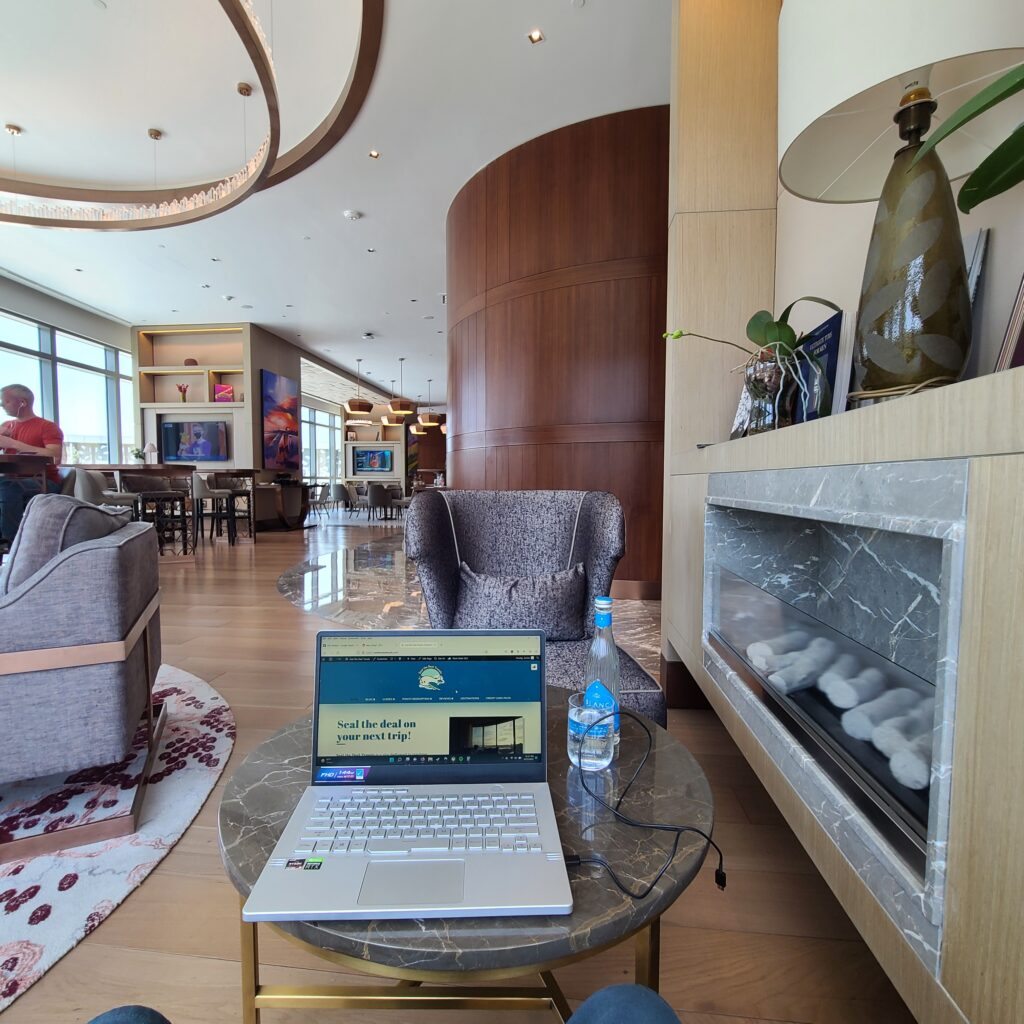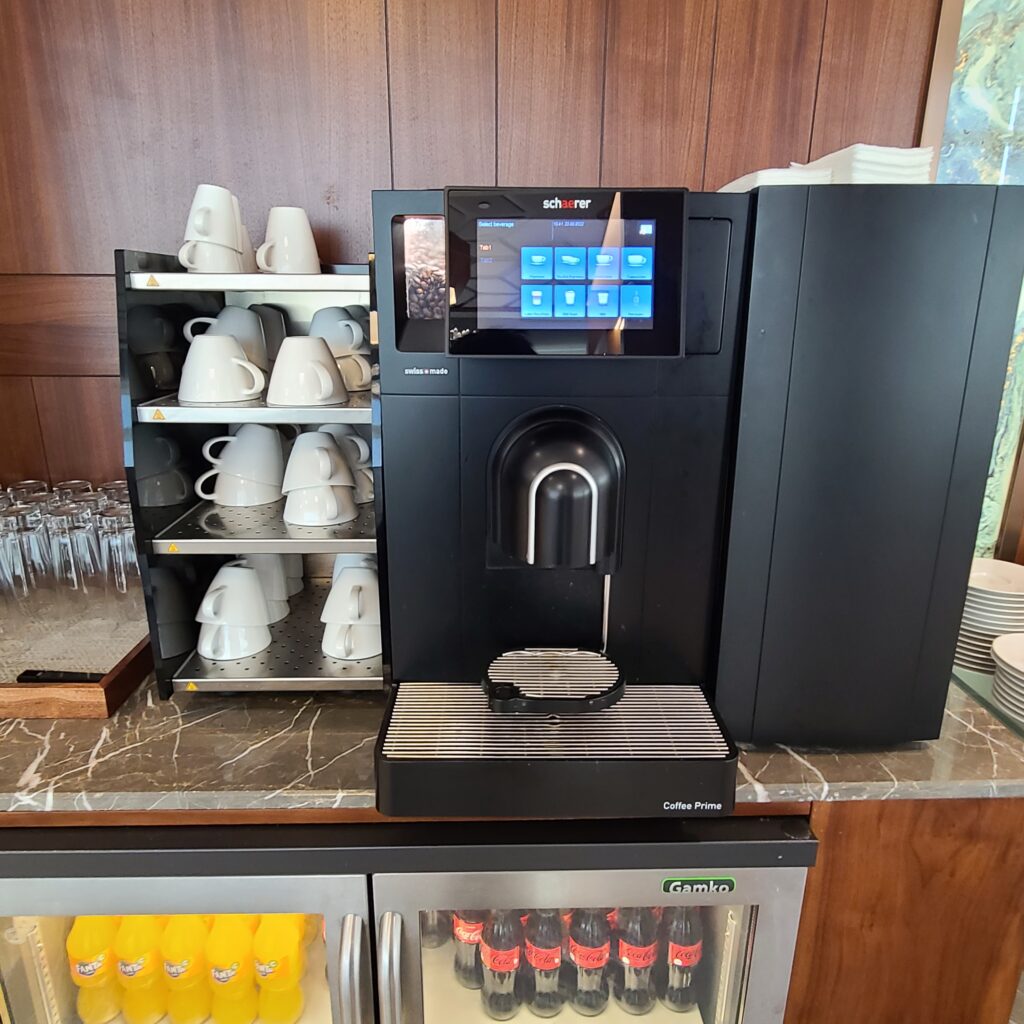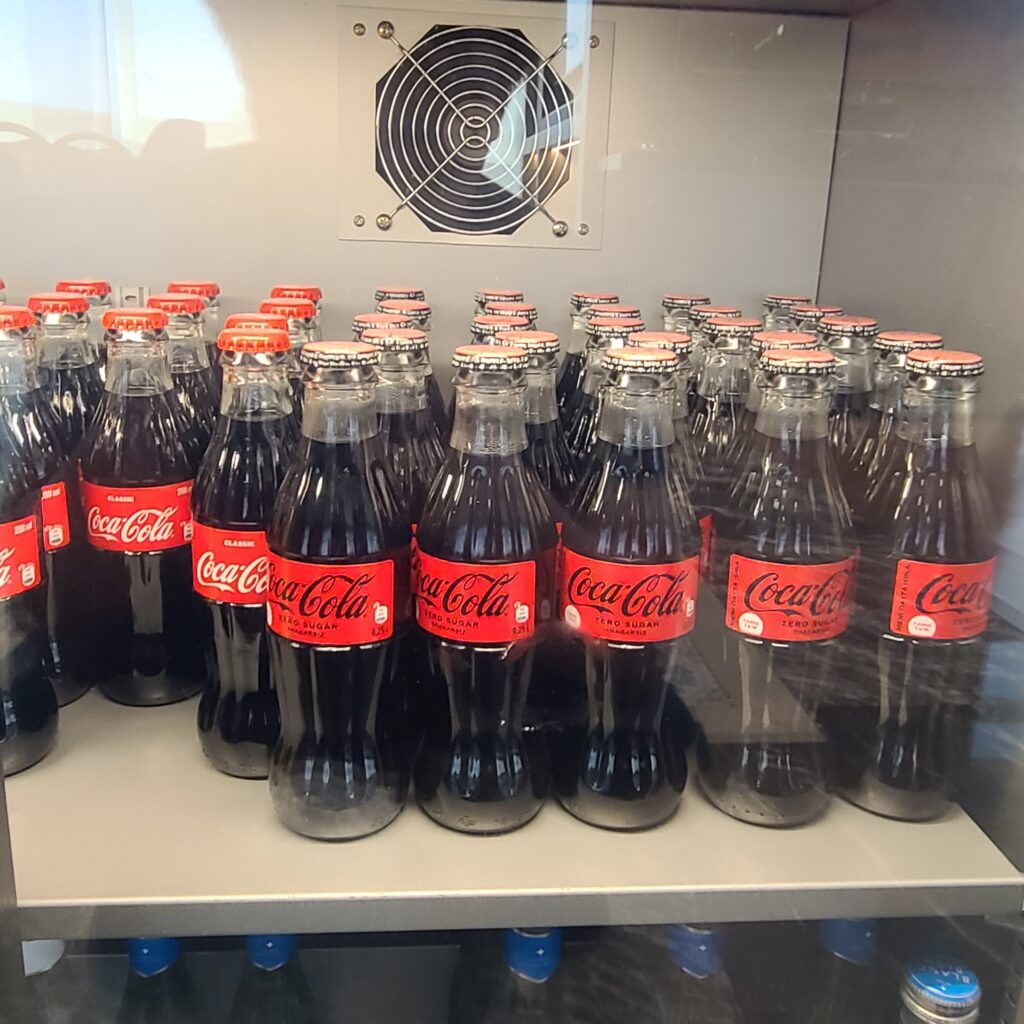 Sugar free soft drinks are quite hard to find in Uzbekistan, so I was glad that I could have unlimited amount of them inside the lounge!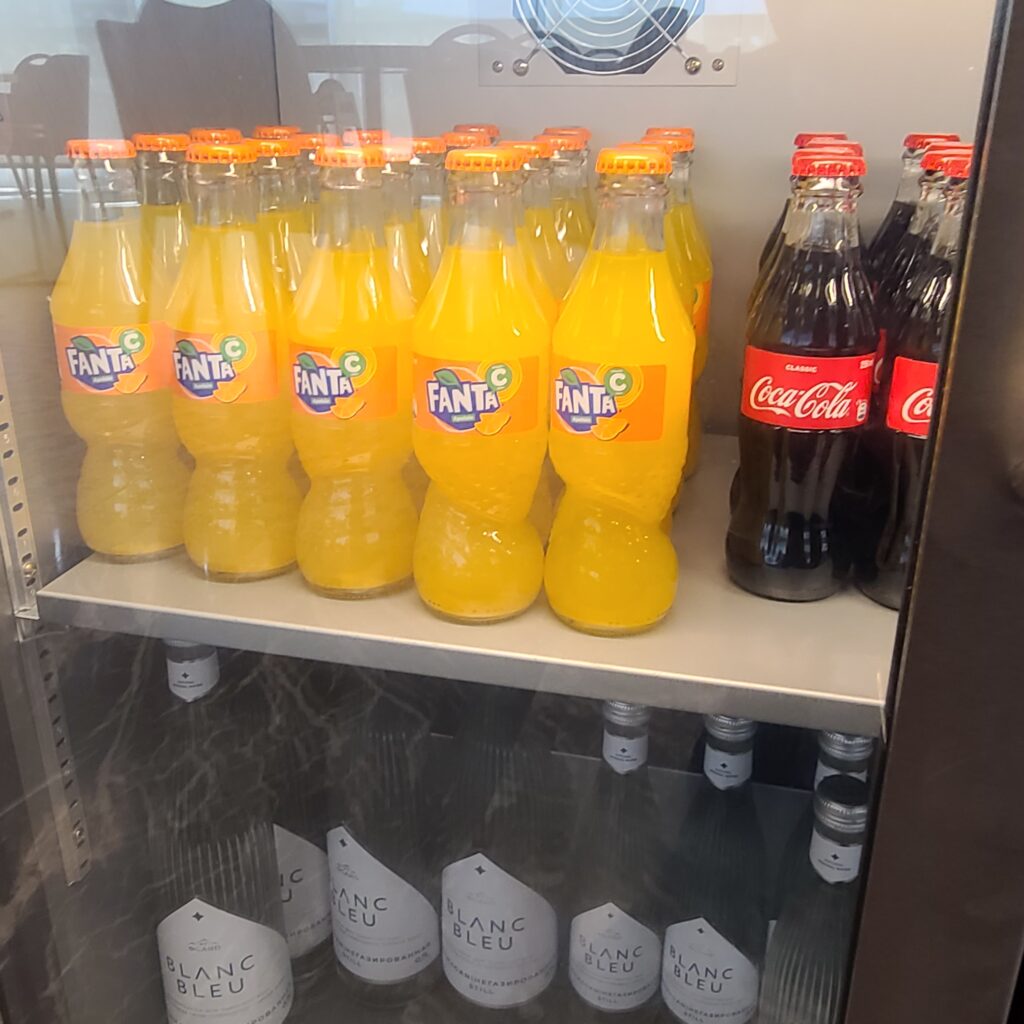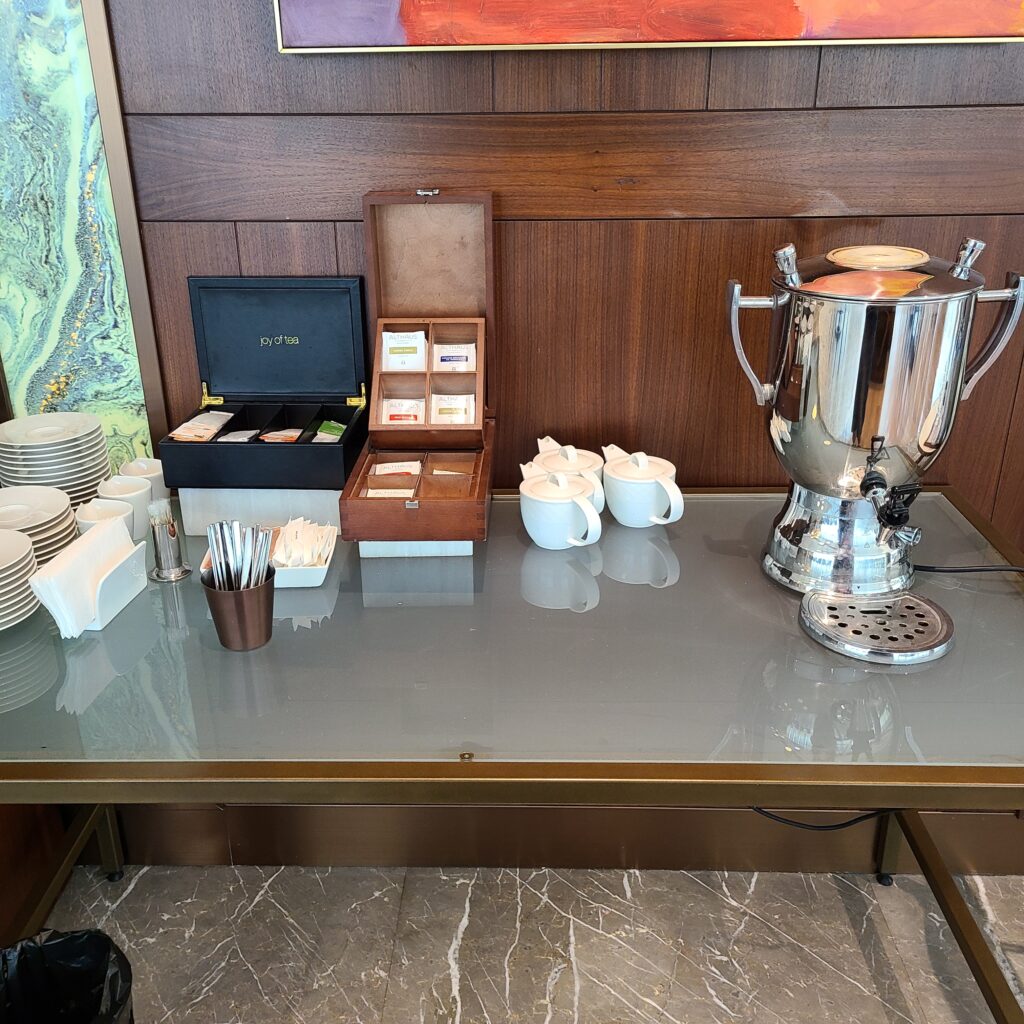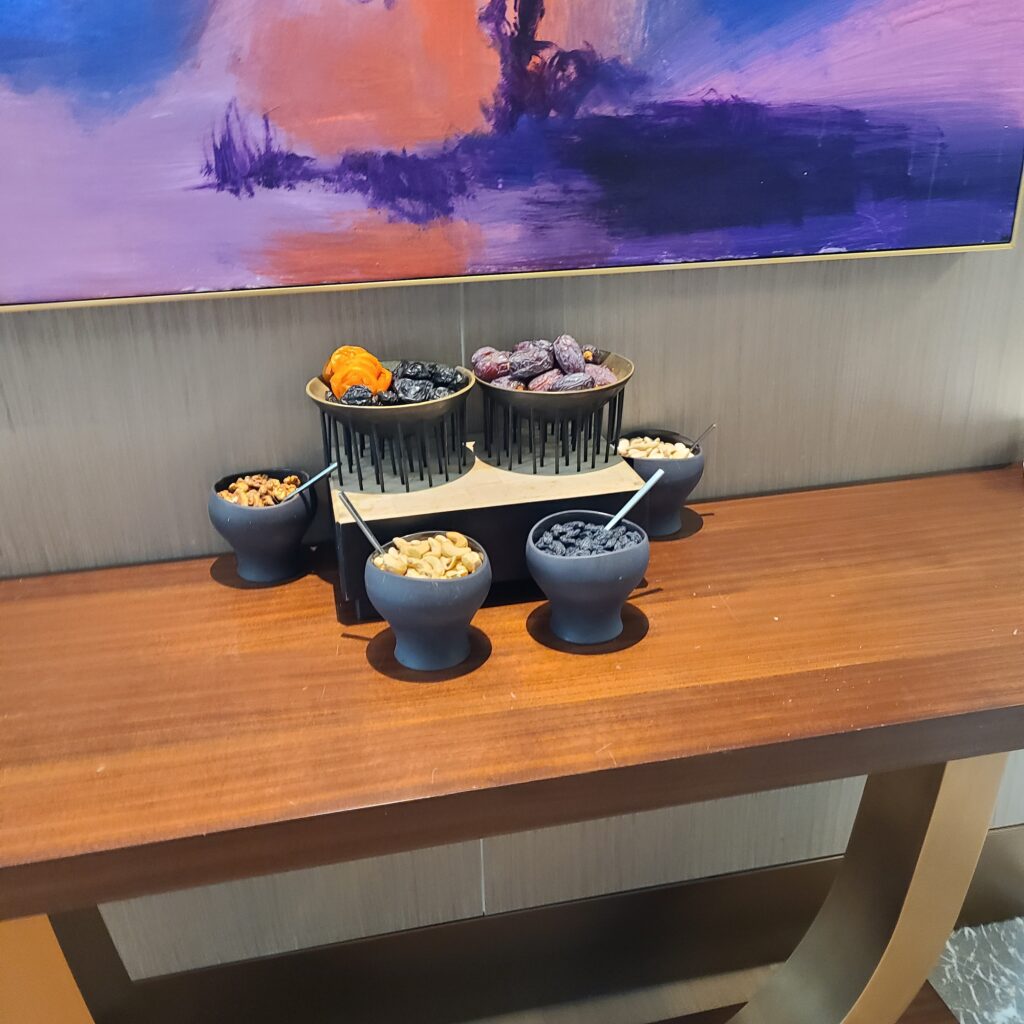 You could request for blinders to be turned down if it gets too sunny.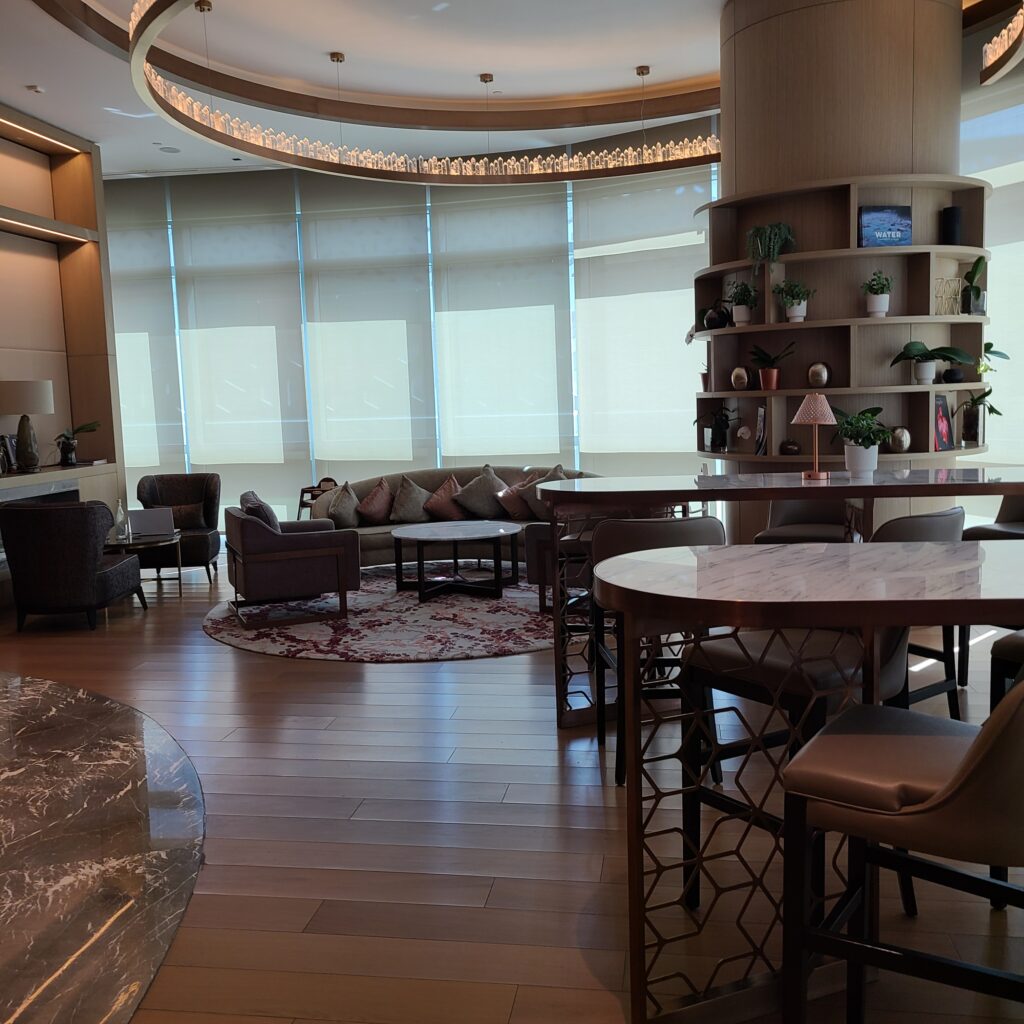 Overall, the lounge is big and provide quieter space for work with plenty of refreshments. But, I wished the snack options were more comprehensive, or served at more hours. Nonetheless, it was great to see a hotel lounge opened, since it was uncommon during my time in Central Asia.
Hilton Tashkent City- Pool, Spa, & Fitness
The hotel has a beautiful large indoor pool and jacuzzi that overlook Tashkent City Park at the 4th floor. It would certainly be more beautiful at night with all the illuminations and water shows.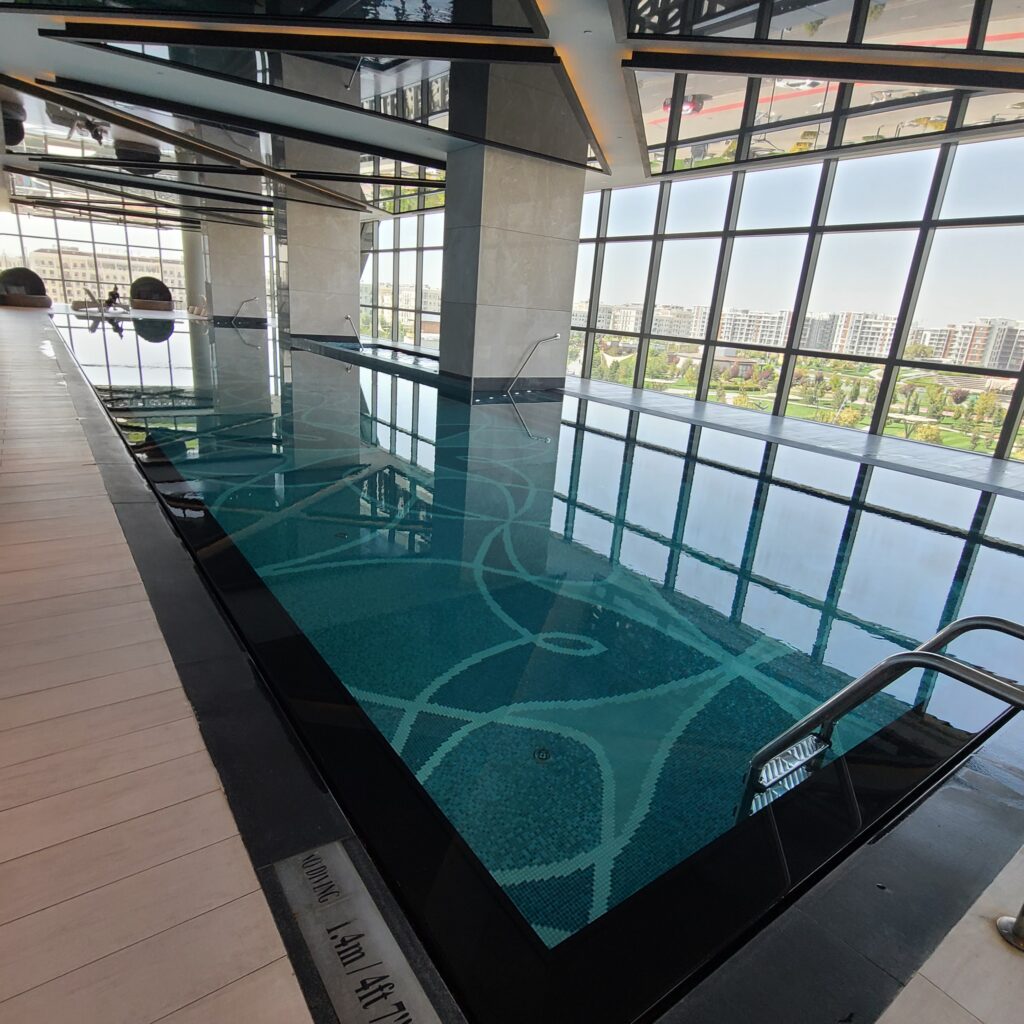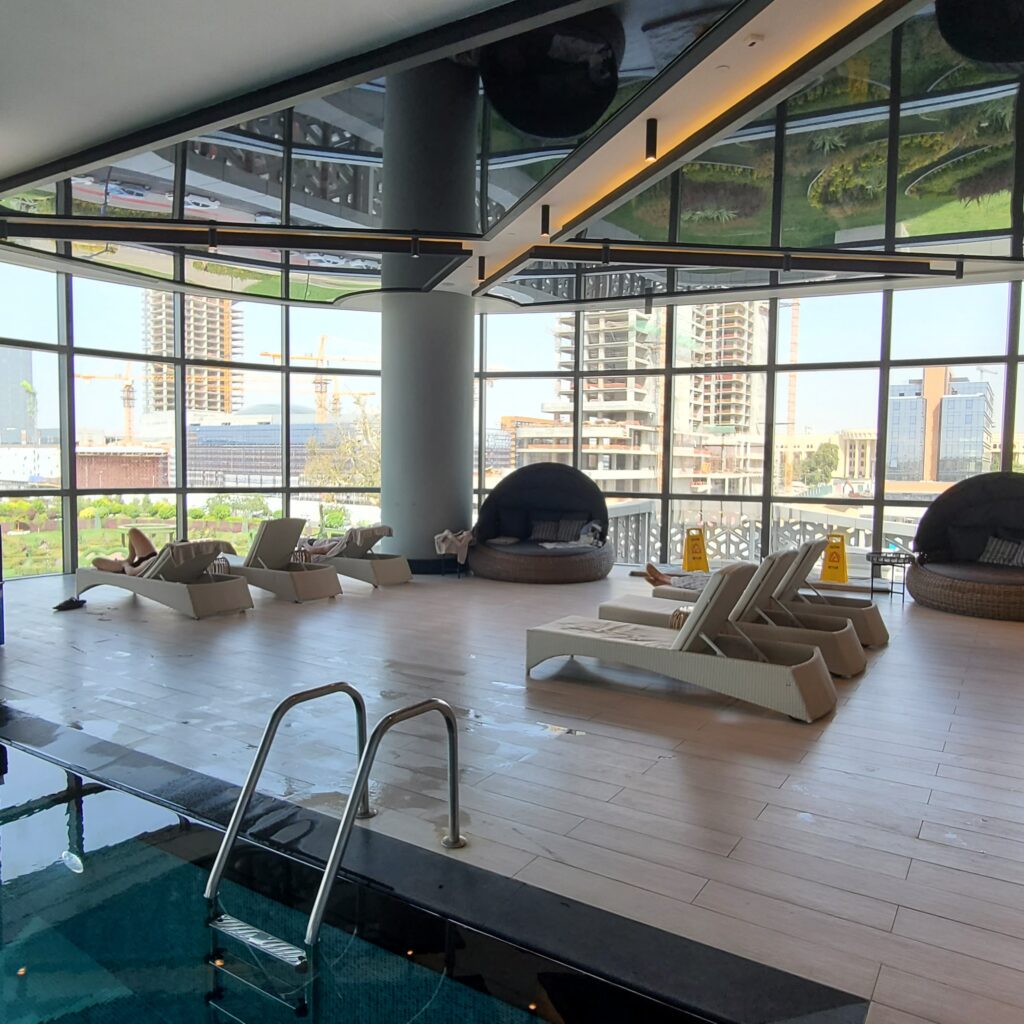 A spa is available as well just before the entrance to the pool called Serenity Spa. I briefly checked the menu at my room's TV, and the most expensive option was a 2-hour massage that would cost 950000 UZS, or ~$87. I'd say that's reasonable at a hotel at this caliber.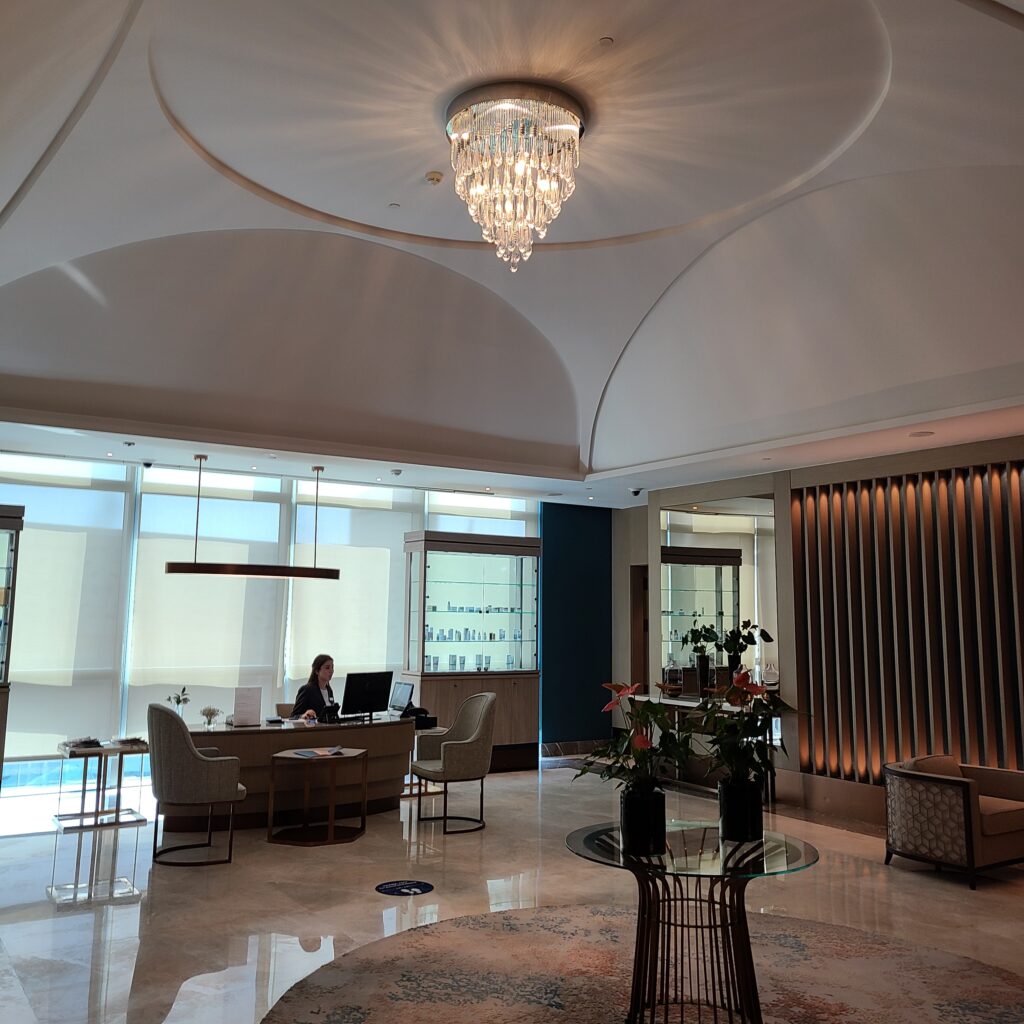 The gym can be found at the same floor for the Executive Lounge. I was able to briefly check it out. It comes with a squat rack and modern equipment!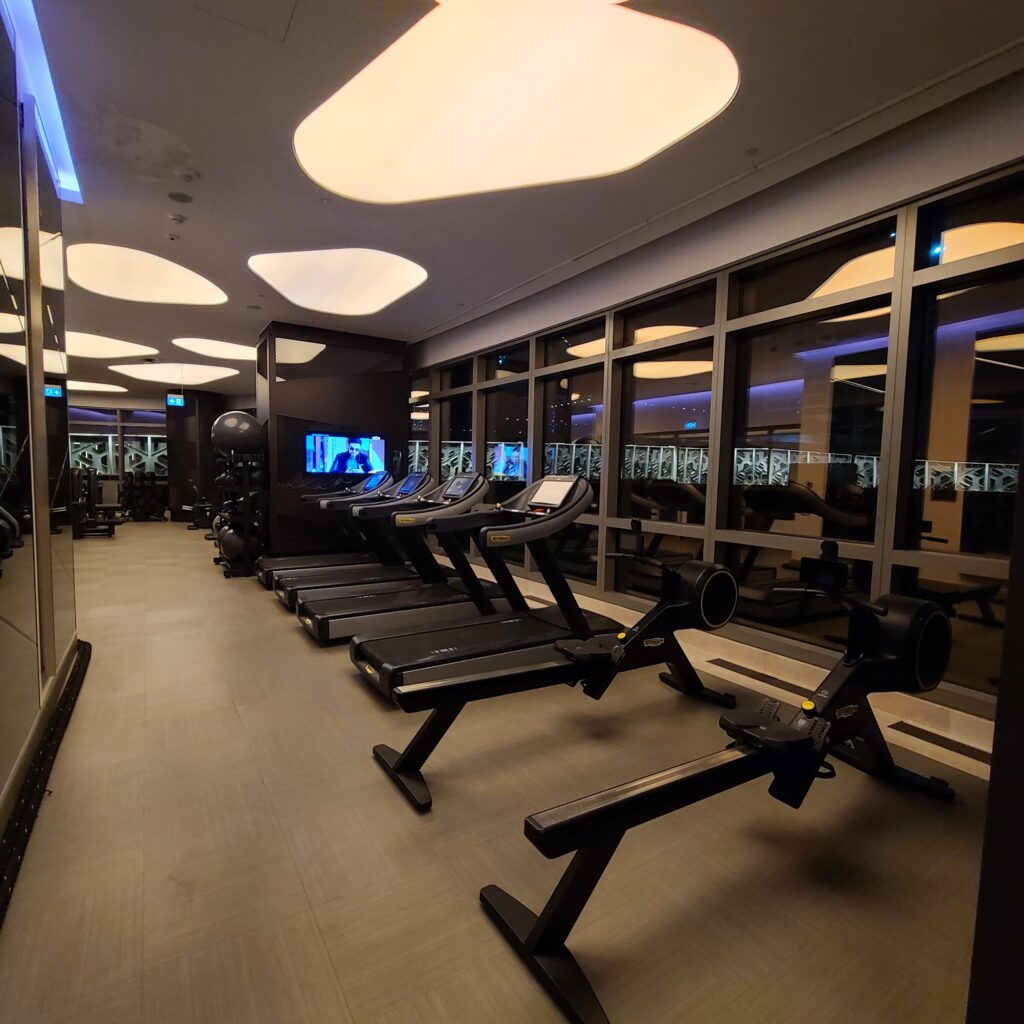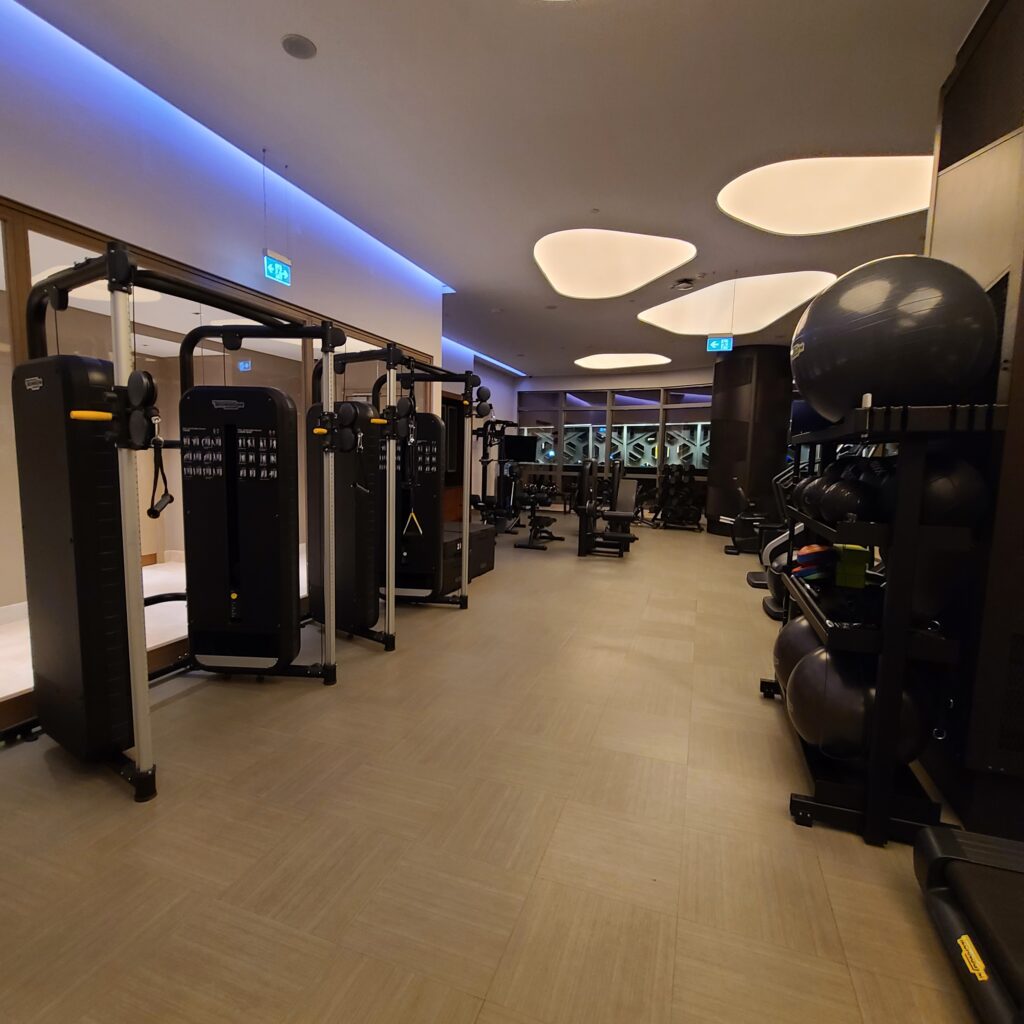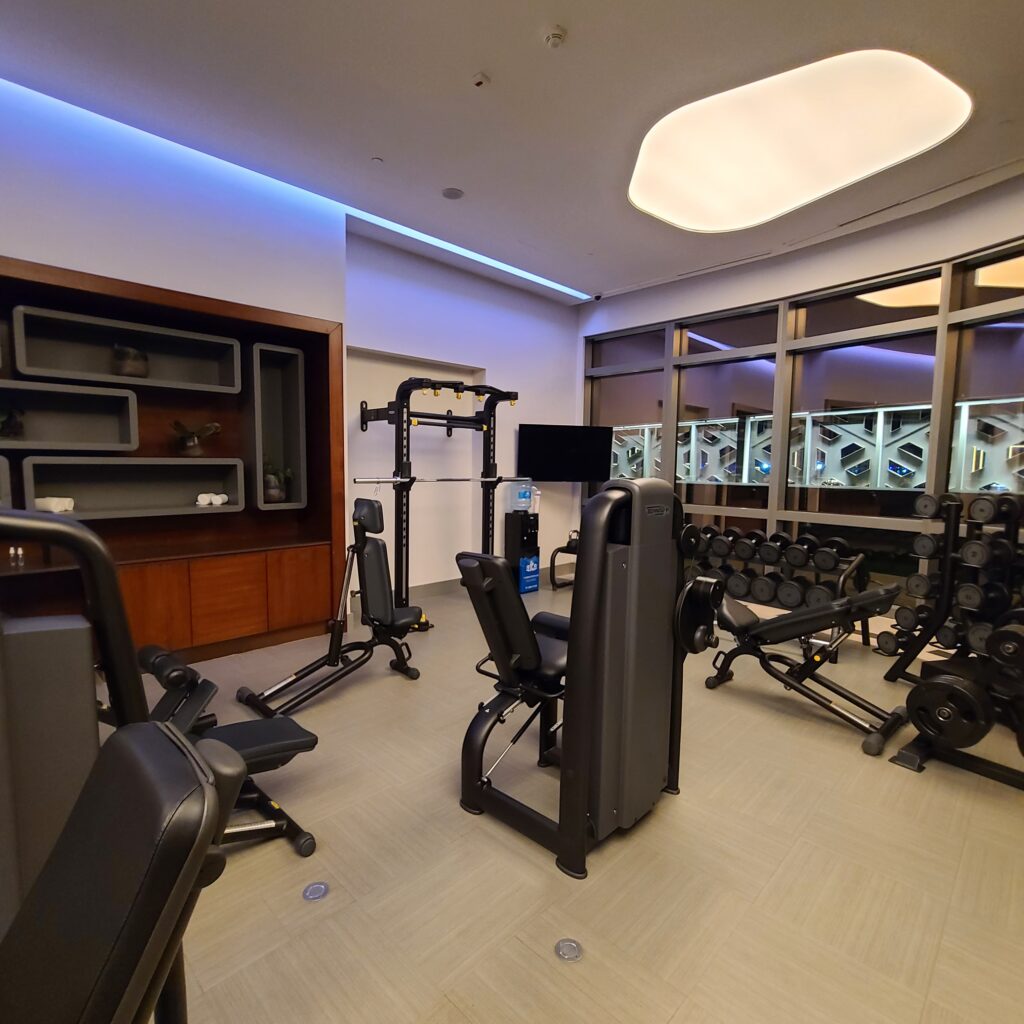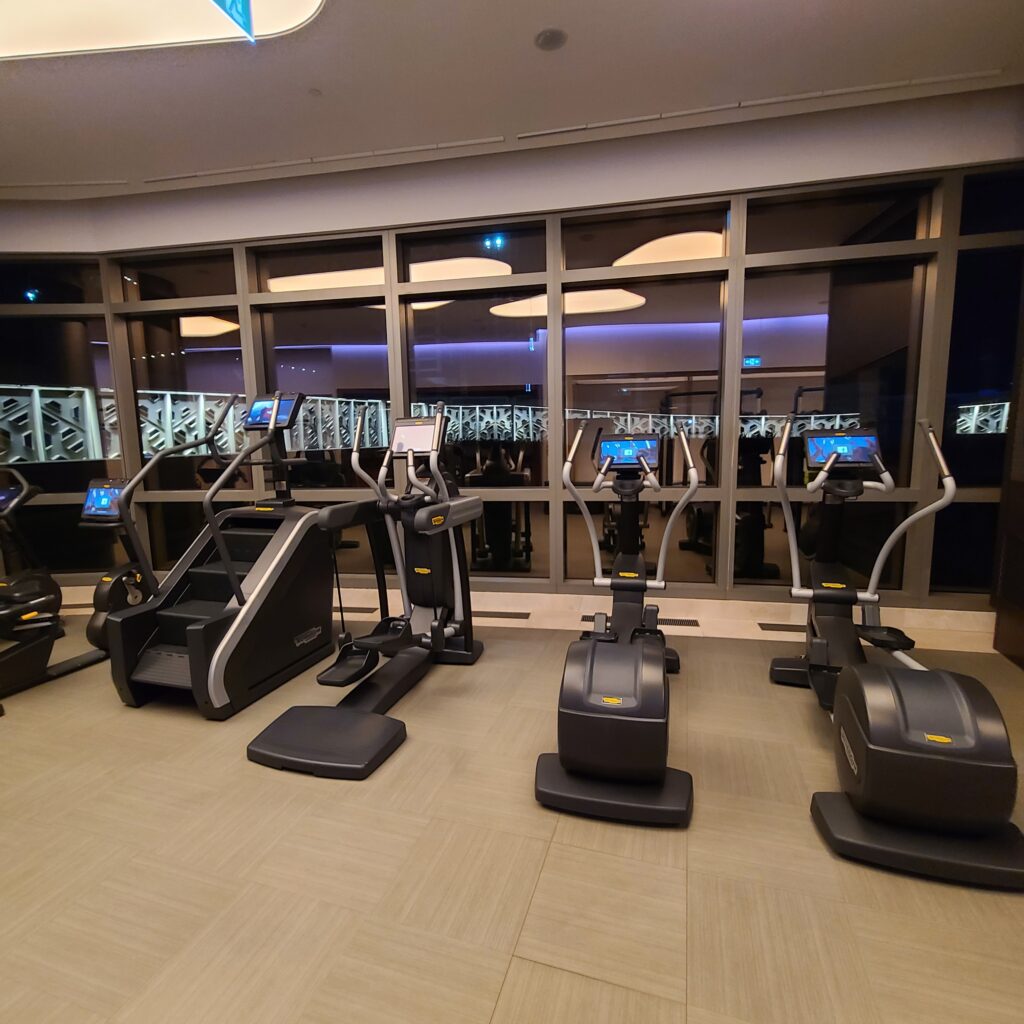 Hilton Tashkent City- Dining Options
I've only had breakfast at the Shosh Restaurant during my stay at the Hilton, but the hotel offers some other options.
The first is Tumbler Bar & Lounge at the lobby floor between the front desk and Shosh Restaurant that serves lighter or more casual dining options.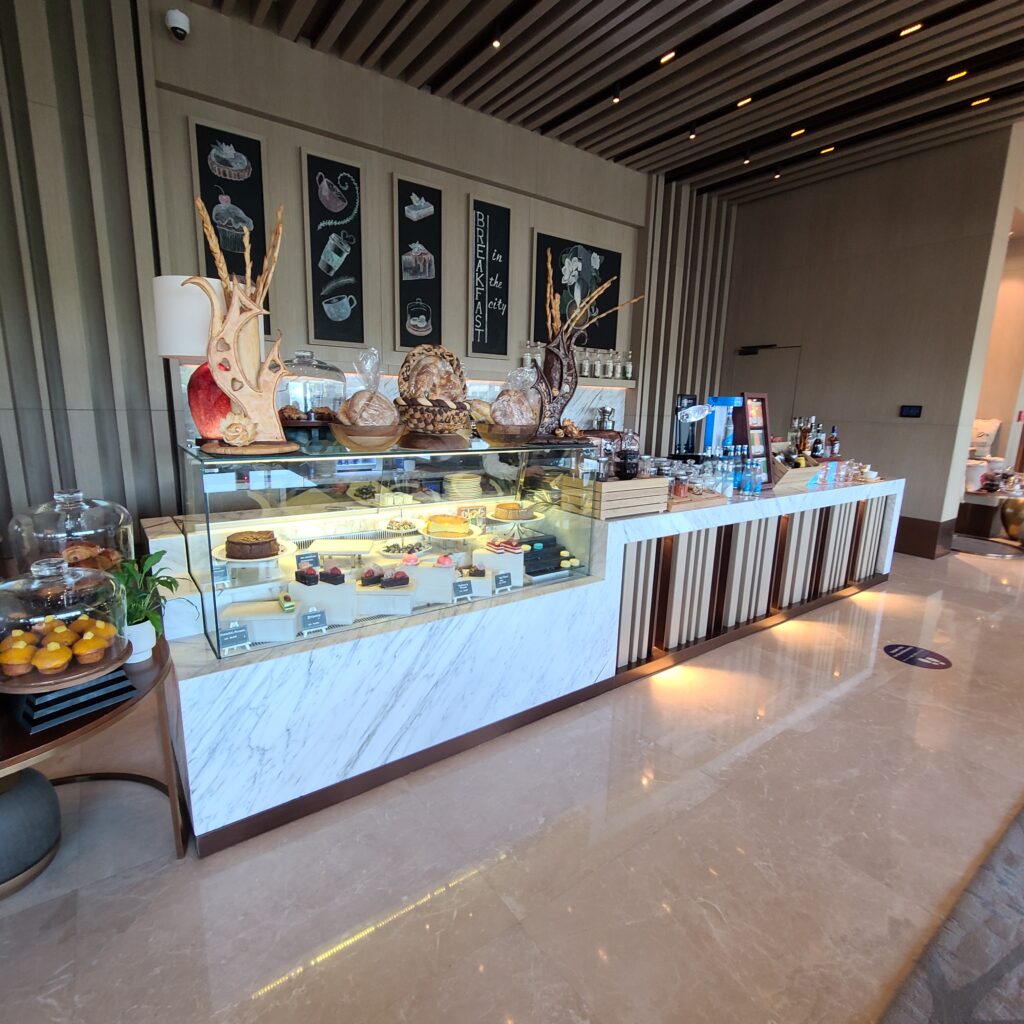 Their signature restaurant is at their top 21st floor with City 21 Pan Asian Restaurant that serves variety of Asian dishes. I didn't get to check it out, but it offers a terrace for an amazing view of Tashkent City Park and the city. Although, I heard from a local I met who tried the food. She said that the food wasn't great, and was quite expensive. But the view is nice, at least!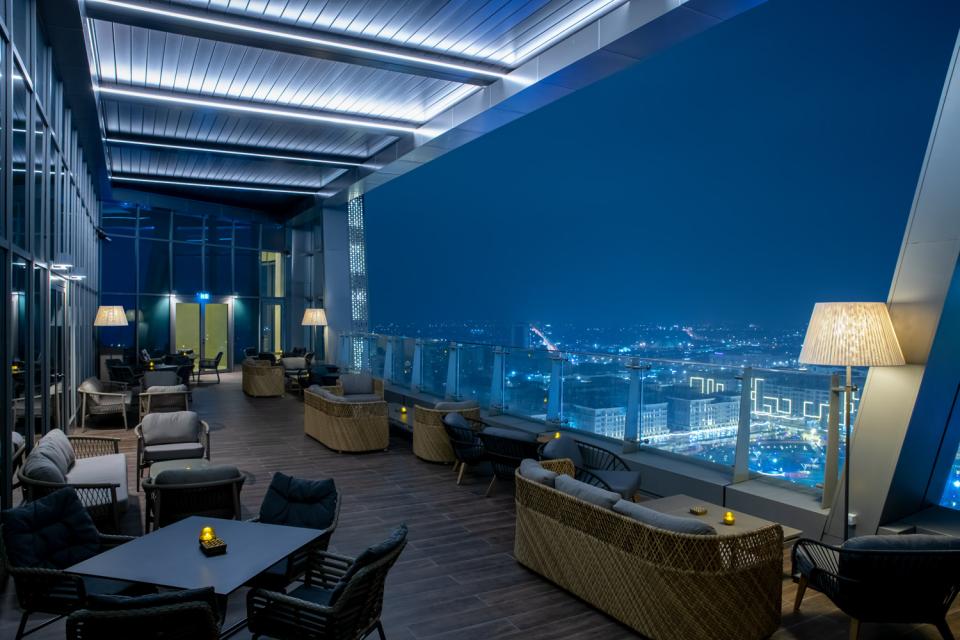 Hilton Tashkent City- Other Comments
The hotel has currency exchange and ATM machines at the lobby's most left side. The hotel will also provide registration slips that tourists should keep to prove their visit in Uzbekistan.
The registration policy for tourists is confusing at best. From my experience, the passport control did not even ask me about the slips at all when I was about to leave Uzbekistan, but hotels are still giving them to you regardless when you check out. According to Caravanistan, you may or may not be checked for the slips, so it's best to have them since you could be fined thousands of dollars if you happened to be unlucky enough to be checked and not have them.
During checkout, I was told to wait 5 minutes while they checked my room to see if everything is in order. Then, I received my registration slip on a white copy printer paper. The registration slip itself is roughly the half the size of a passport book. So, I just folded up the piece of paper and put it in my fanny pack. The next hotels I've stayed at in Uzbekistan gave me "cleaner" slips by cutting up the empty blank spaces, so they're easier to store inside a wallet.
So, Hilton Tashkent City, despite being a high-end hotel, did not bother to cut up my registration slip for me. Odd and funny at the same time.
Conclusion
Overall, Hilton Tashkent City is a very nice modern hotel. The location is central and beautiful, and the breakfast is really great! The suite upgrade was an awesome surprise as well despite being a Gold member. It was nice to see an executive lounge open since it was uncommon during my hotel stays that normally have lounge in Central Asia. I highly recommend this hotel if you want a high-end hotel stay experience in Uzbekistan.
Overall Rating