Advertiser disclosure: This post may include affiliate links (including sidebar banners) in which this site may receive compensation if a purchase is successfully made (at no extra cost to you) after being redirected from here. Thank you for your support!
Review: Sheraton Bishkek (2022) [Kyrgyzstan]
I spent my last night in Kyrgyzstan at the Sheraton Bishkek after a grueling hike to Altyn Arashan to experience yurt camping for the first time. I returned to Bishkek from Karakol to catch my next flight to Tashkent to begin my adventures in Uzbekistan.
I didn't spend any time to further explore Bishkek since I've done so already on my first two days there. Thus, I spent my time at the hotel to wind down and have a nicer bed to sleep on after being sore all over.
Sheraton Bishkek- Booking
I booked the hotel for 1 night and redeemed 17,000 Marriott Bonvoy points for a standard King room. Against the cash rate of $180, I made around 1.06 cents per point redemption, which is pretty good compared to the average 0.7 cents per point for Marriott Bonvoy points. For Central Asia, redeeming Marriott points generally give higher than average value for redemption, while cash price point is a bit more expensive for the region.
Sheraton Bishkek- Location
The hotel is connected to Bishkek's largest shopping mall, Bishkek Park. The hotel does not have ATM machines, but there are plenty inside Bishkek Park. Entering the hotel can be done through its main driveway, or the level above basement from inside the mall.
It's also close to Ala-Too Square where you can see the statue of Manas and possibly admire brutalism architecture if that's your thing. There's also Panfilov Park, an interesting Soviet theme park that's laid-out like a star. I recommend using Yandex Go to get around the city. It's very affordable and you won't have to be worried about getting scammed. Plus, you can pay with a Visa or MasterCard!
Sheraton Bishkek- Check-in
I checked in around 6pm after a long drive to Bishkek all the way from Karakol. I was then escorted to the front desk at the 5th floor.The lobby is well-appointed with tasteful neutral colors that complement well with each other.
I was upgraded to the Junior Suite, in which I tried to inquire to be upgraded to the Executive Suite, but sadly I was not granted it. It was only for 1 night stay anyway, so it wasn't a big deal. I was informed the Club Lounge was closed for the time being, but there's a bar at the lobby floor where I could order some free drinks on.
I do receive free breakfast and 1000 Marriott points as Welcome Gift for being a Titanium Elite member.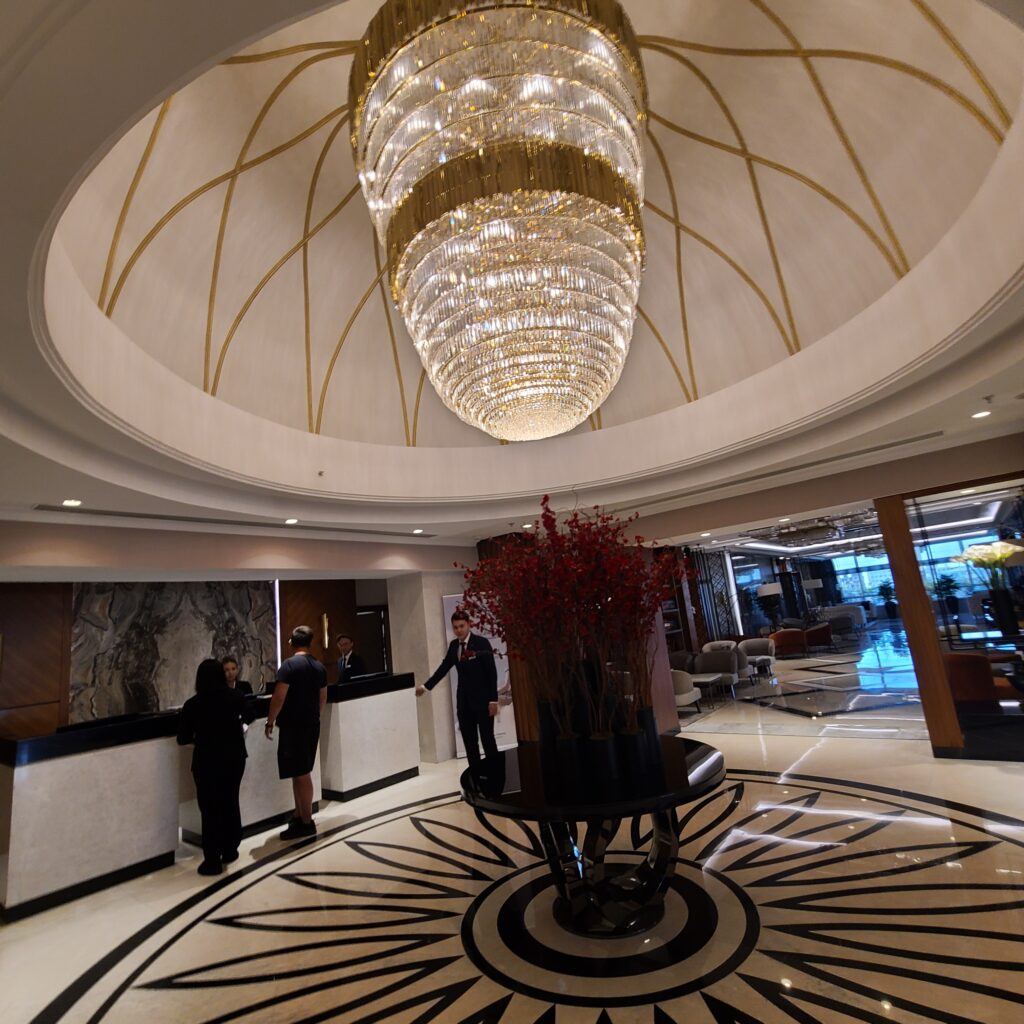 Sheraton Bishkek- Junior Suite
I was assigned to the 18th floor. Indeed, the room looks more modern than the Hyatt Regency Bishkek that I stayed at on my first few days in Kyrgyzstan.
Just straight from the doorway, I was presented with plate of fruits and snacks as welcome gifts on the living room table.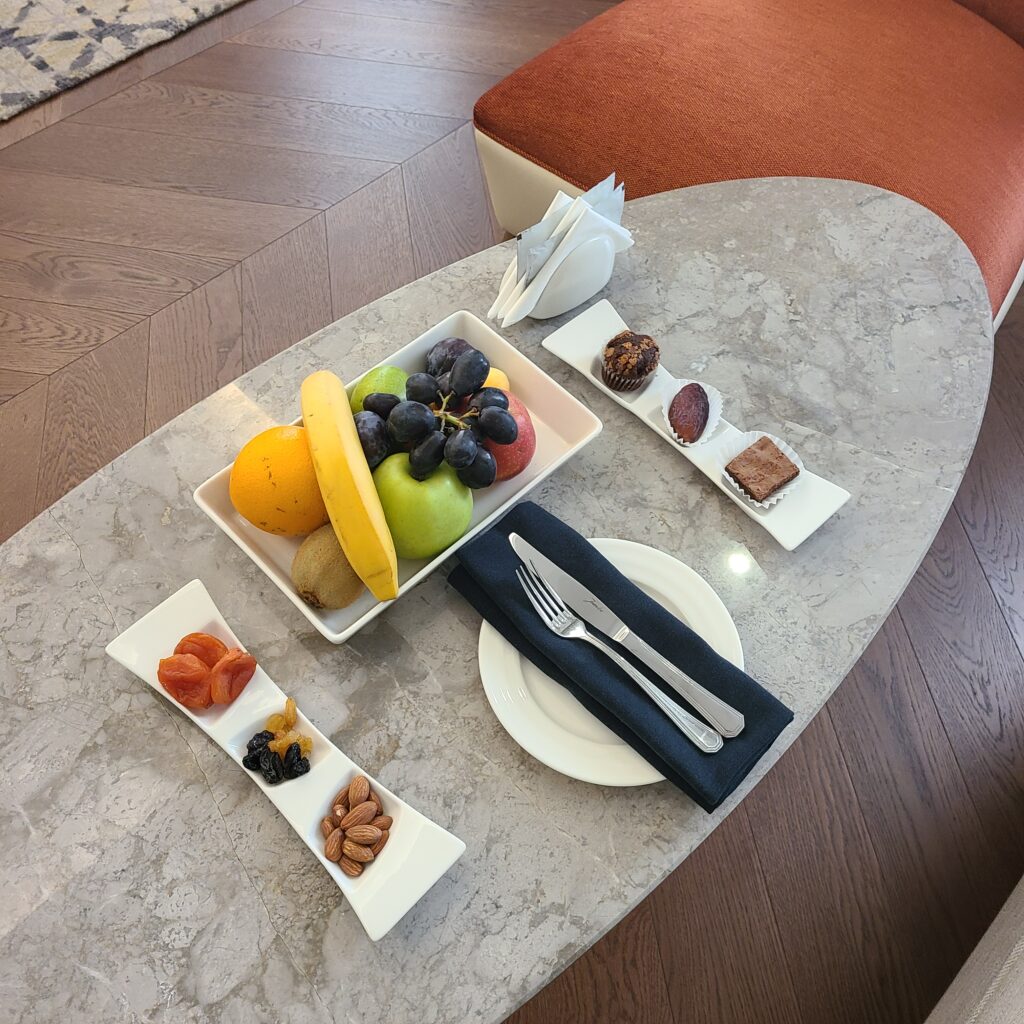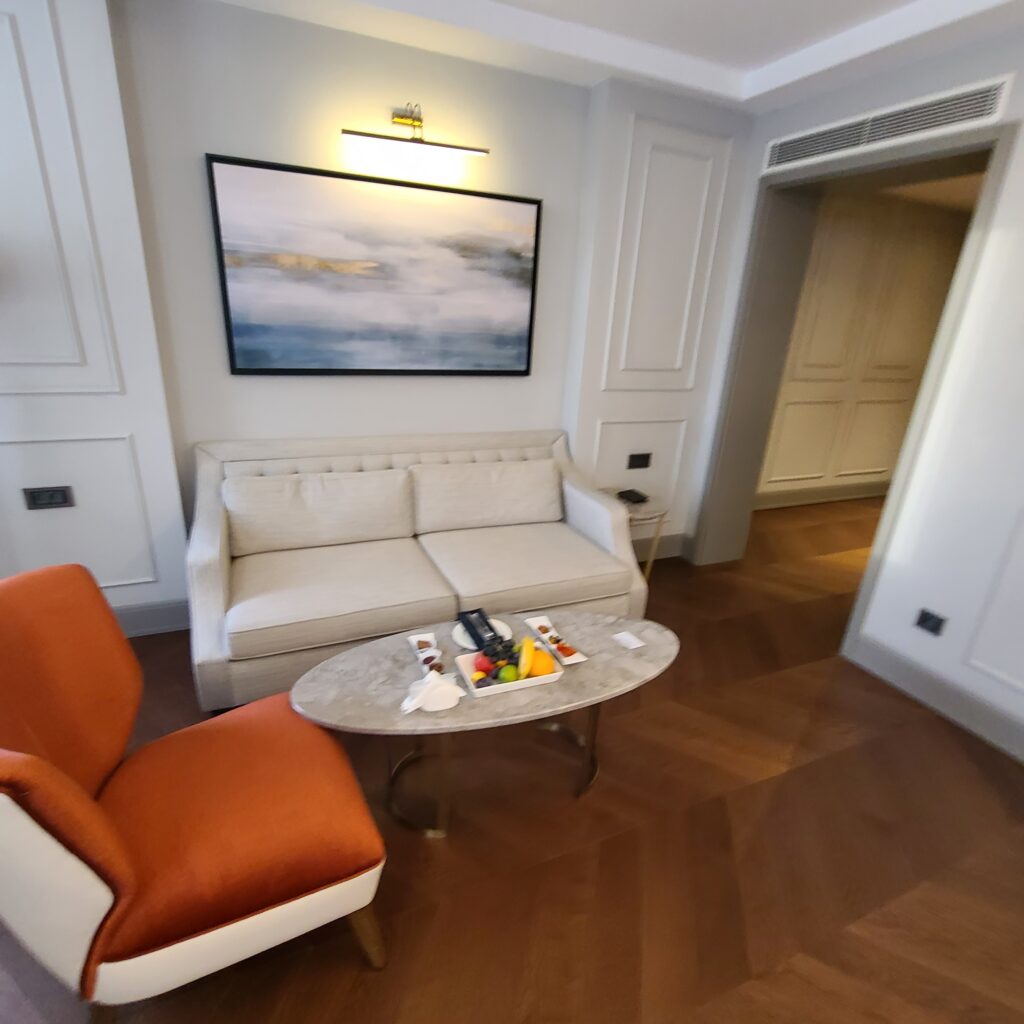 Next to the living room is the king sized bed with TV in front.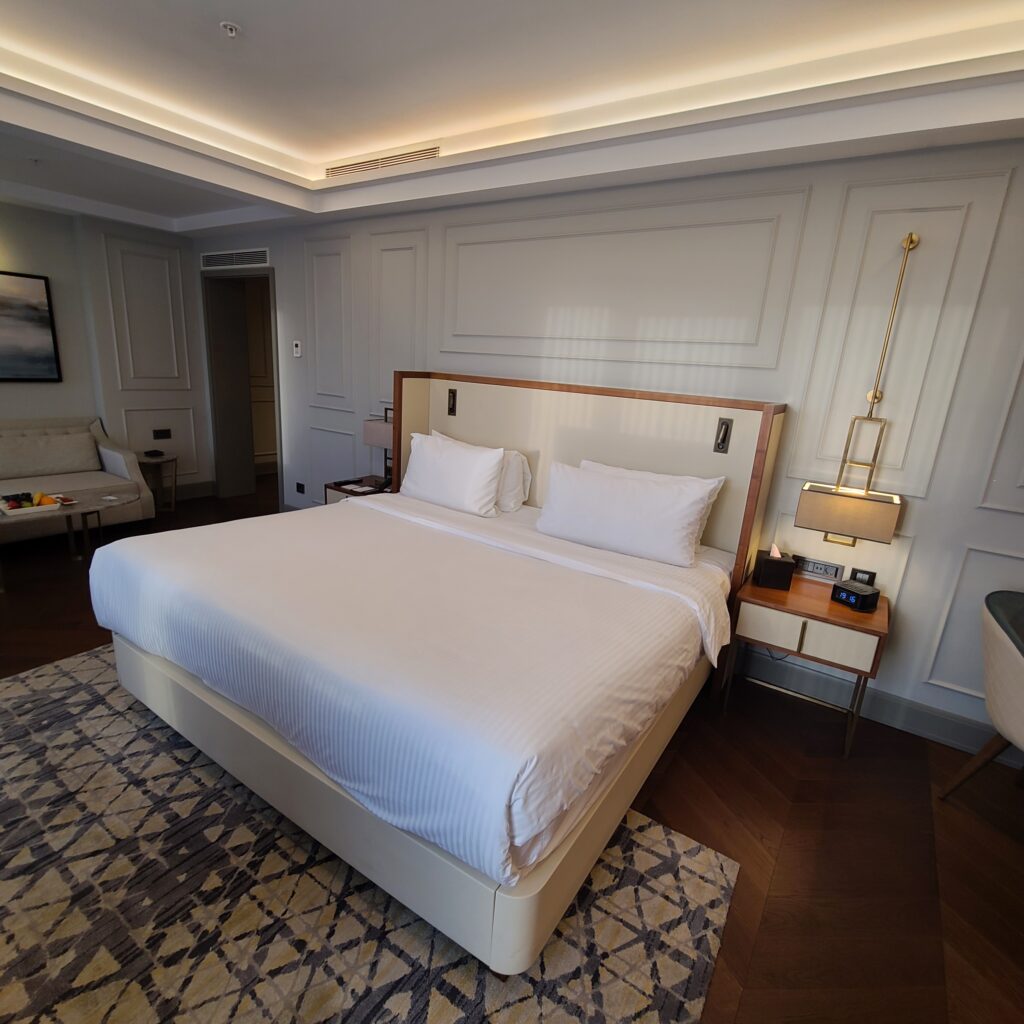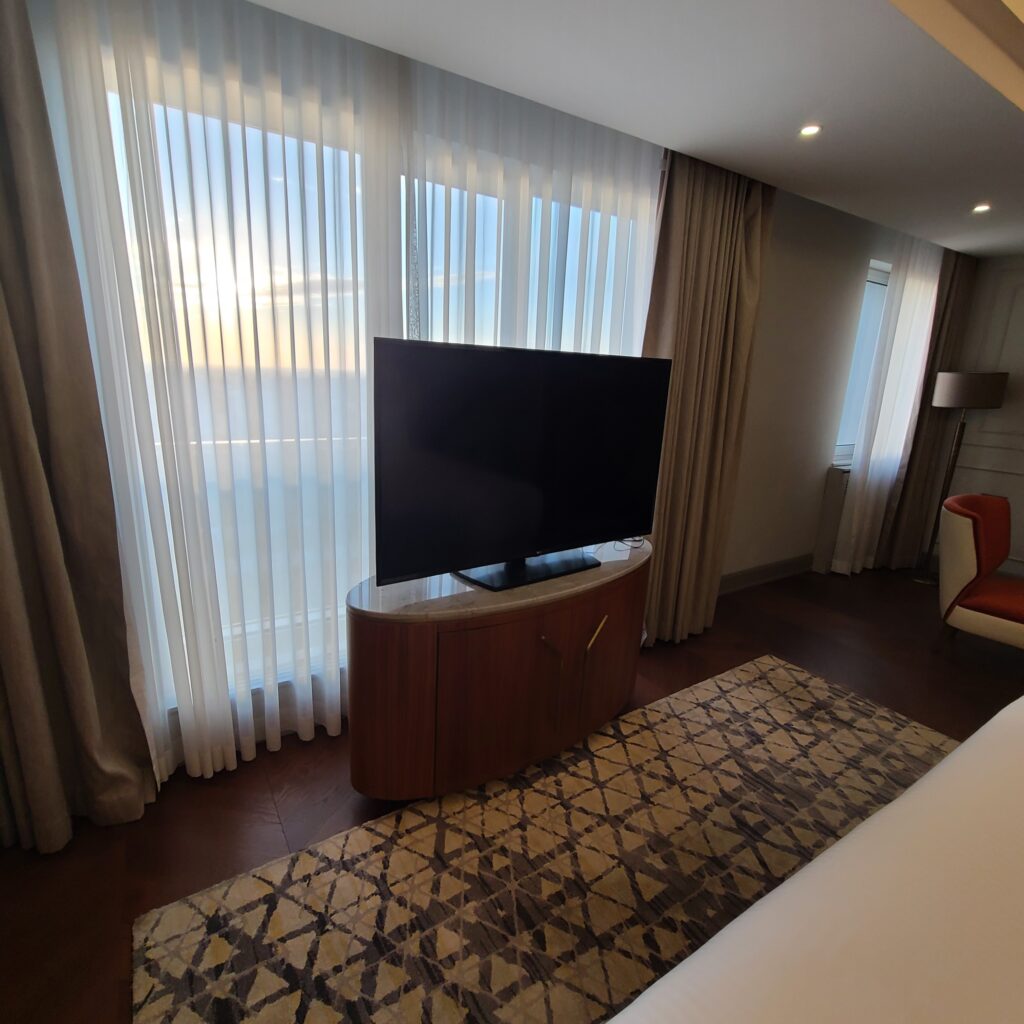 Next to the bed is the decorated shelf along with working desk and pantry. Spa menu can be found on the office desk.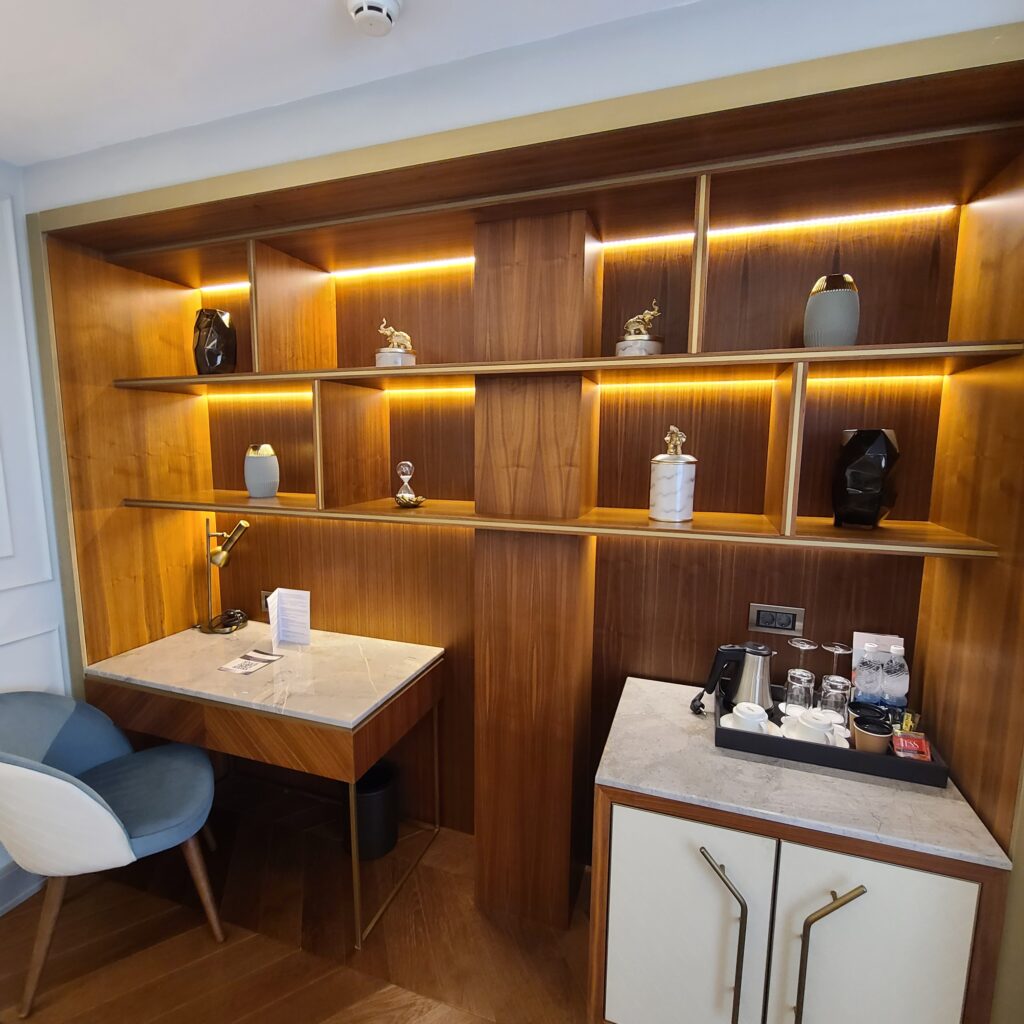 There's no mini-bar in the room, so you're free to store outside food and drinks.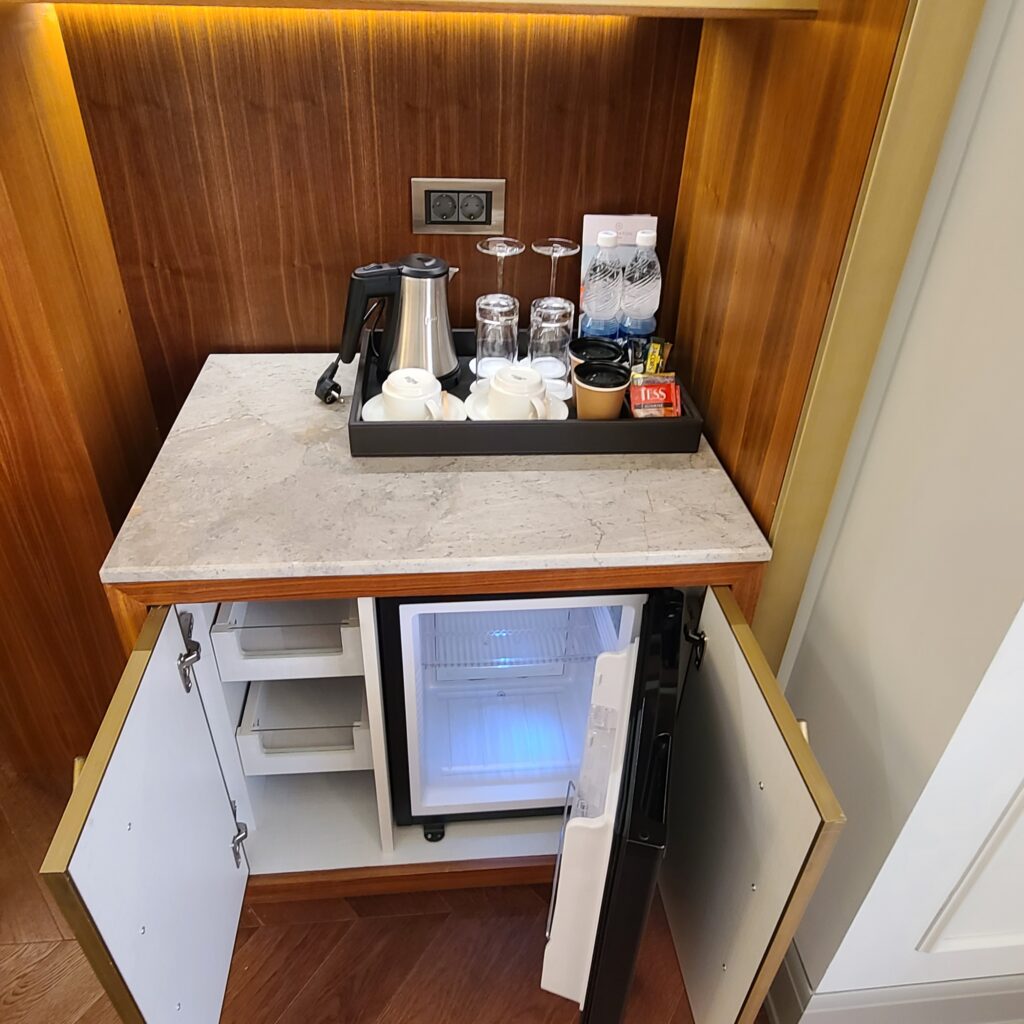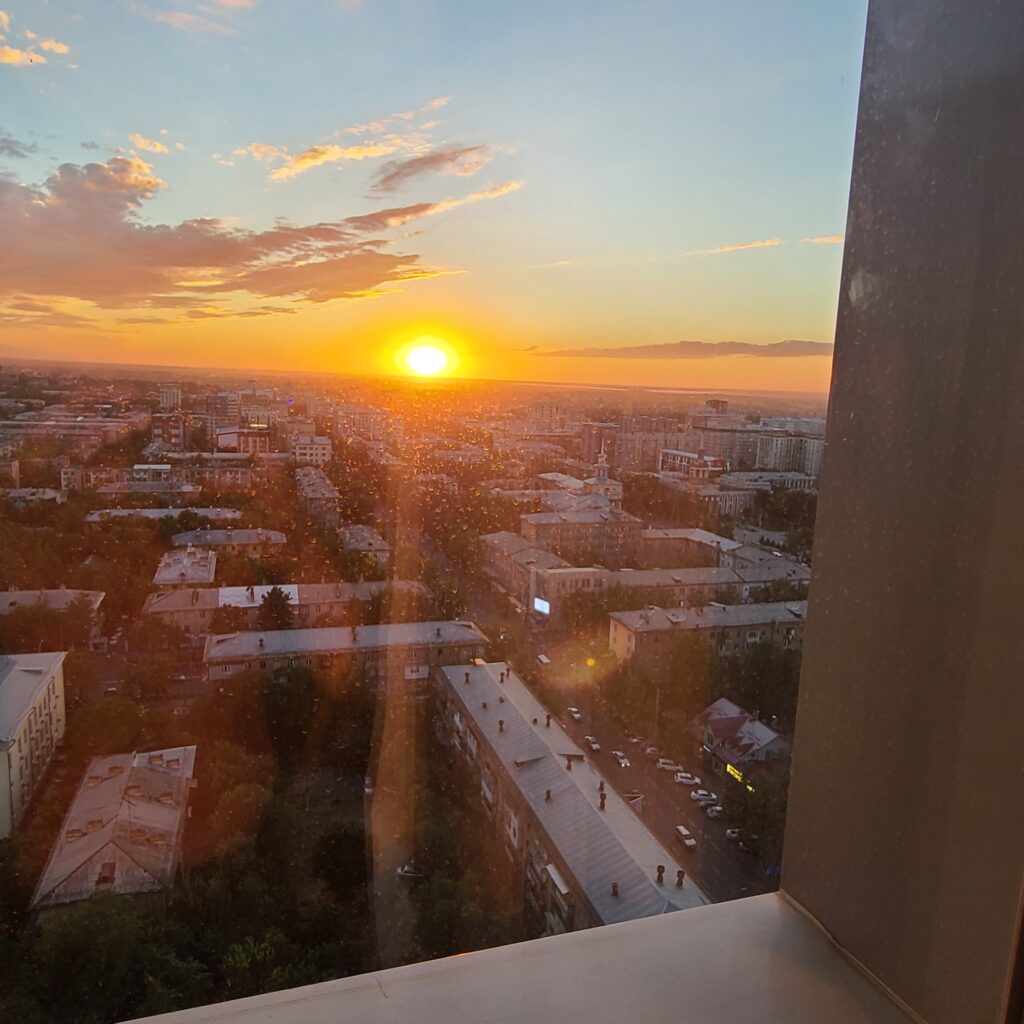 Tracing back to the entry and to the left is a walk-in wardrobe leading to the bathroom. You can find bathrobes on the shelf to the right, along with safe and slippers.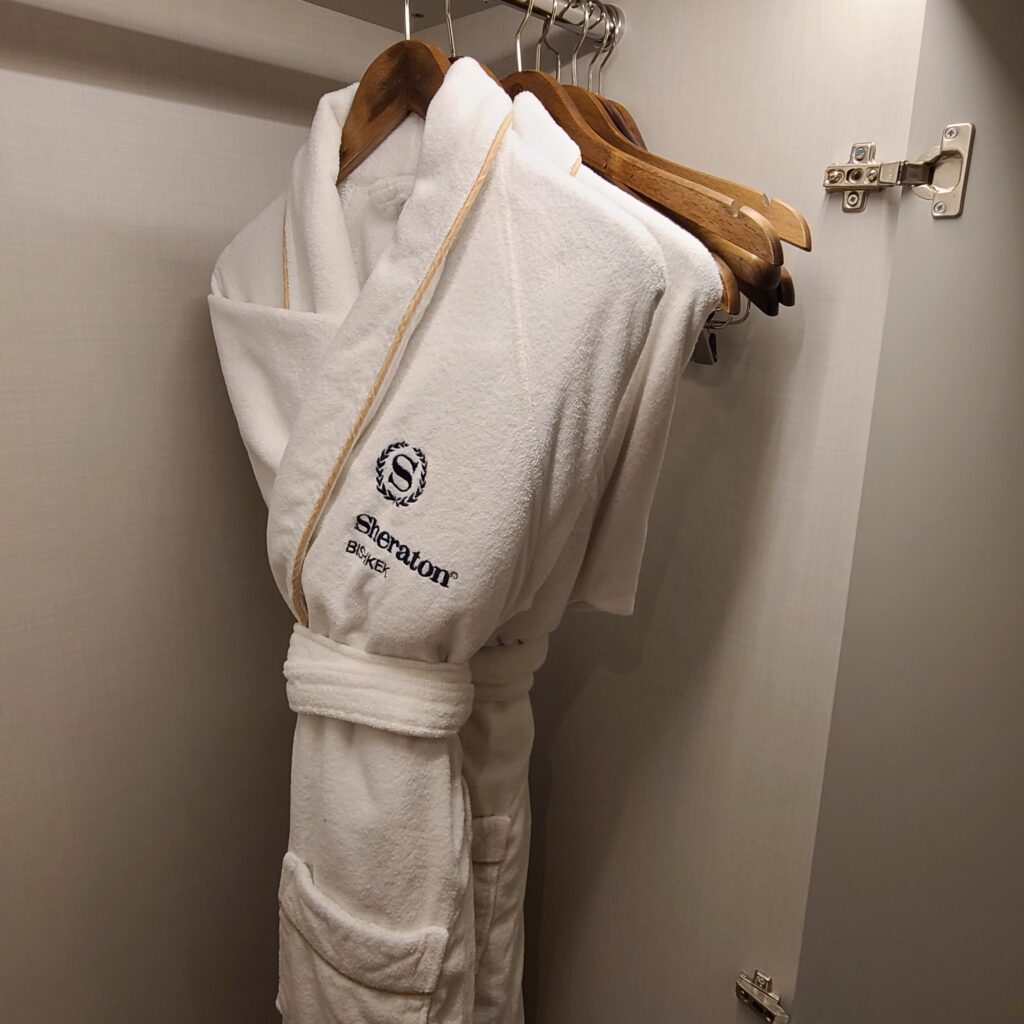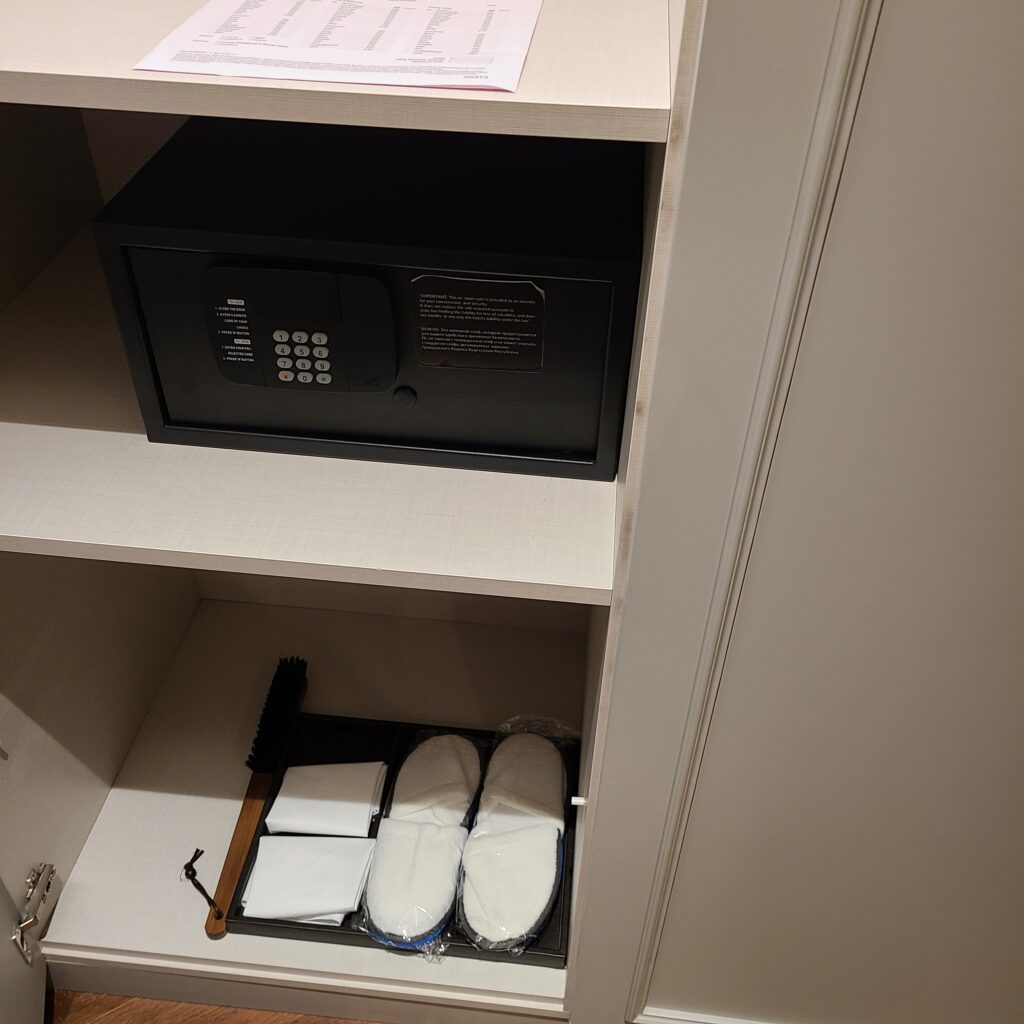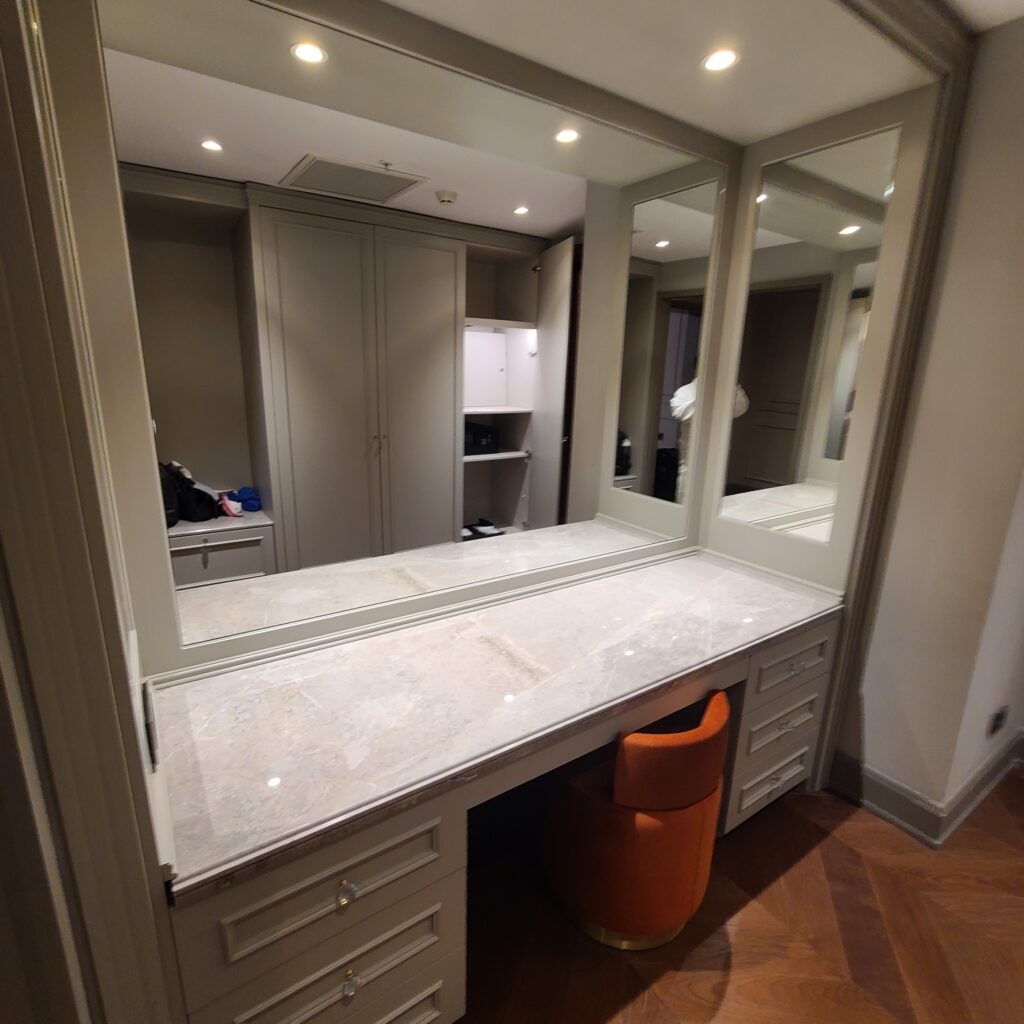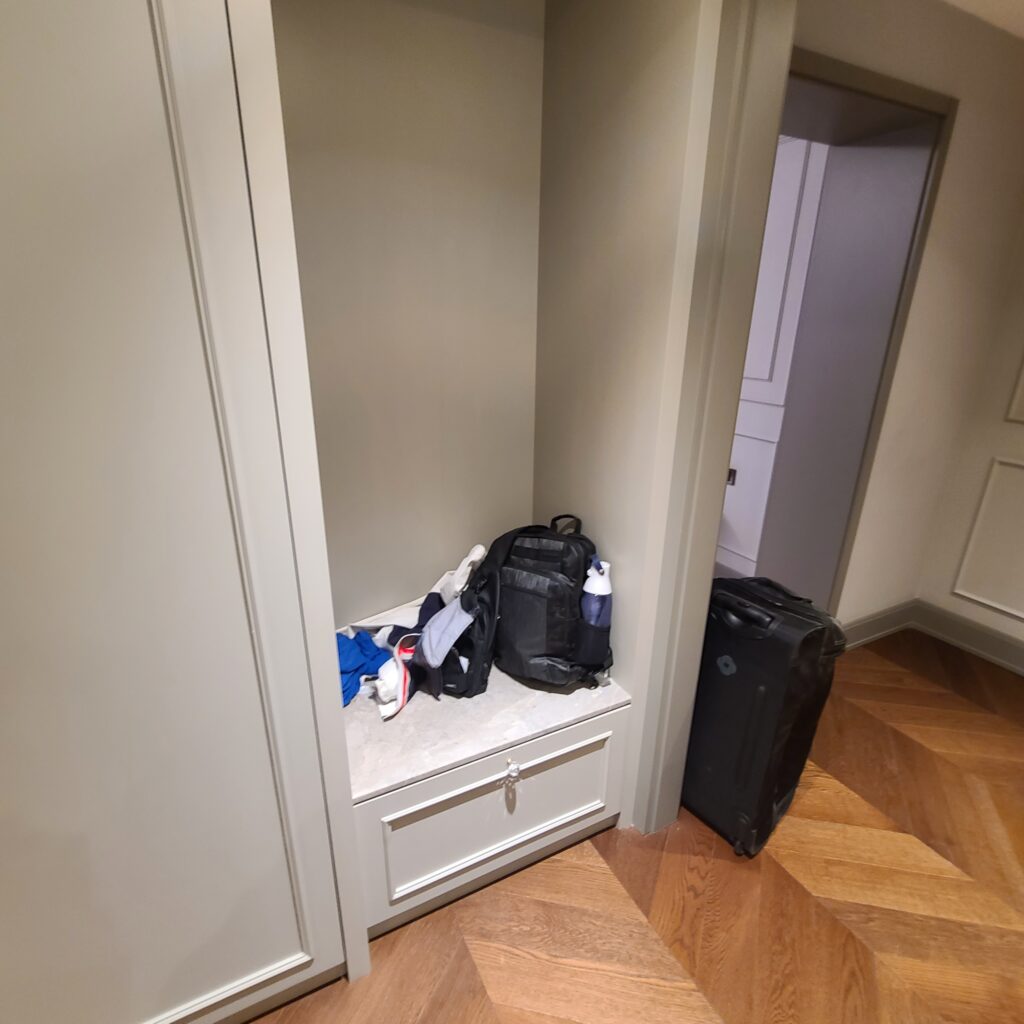 Sheraton Bishkek Junior Suite Bathroom
Bathroom is marble and has a nice tone with the colors, just like the rest of the room.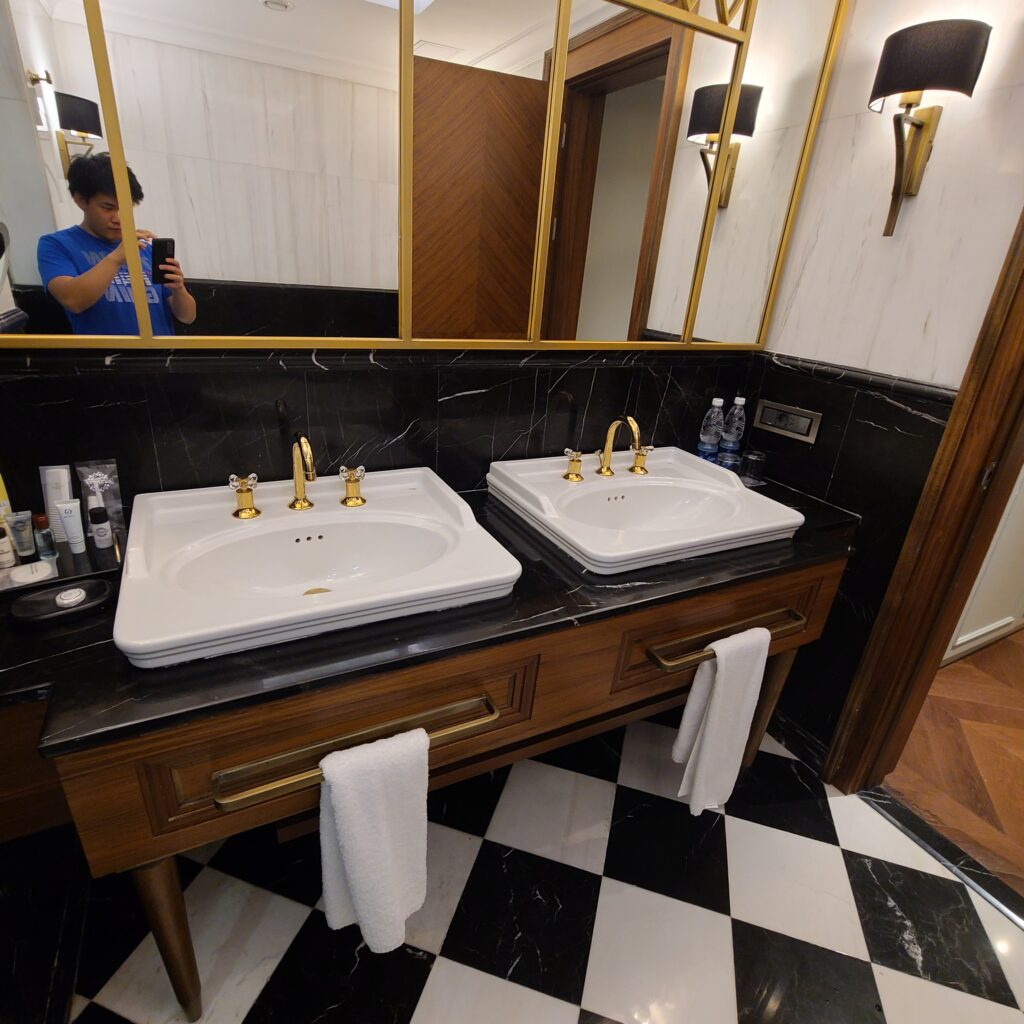 Interestingly enough, the Le Grand Bain brand (standard Sheraton) is only for the body lotion, while others are from an unknown "Hotel" brand for bath amenities.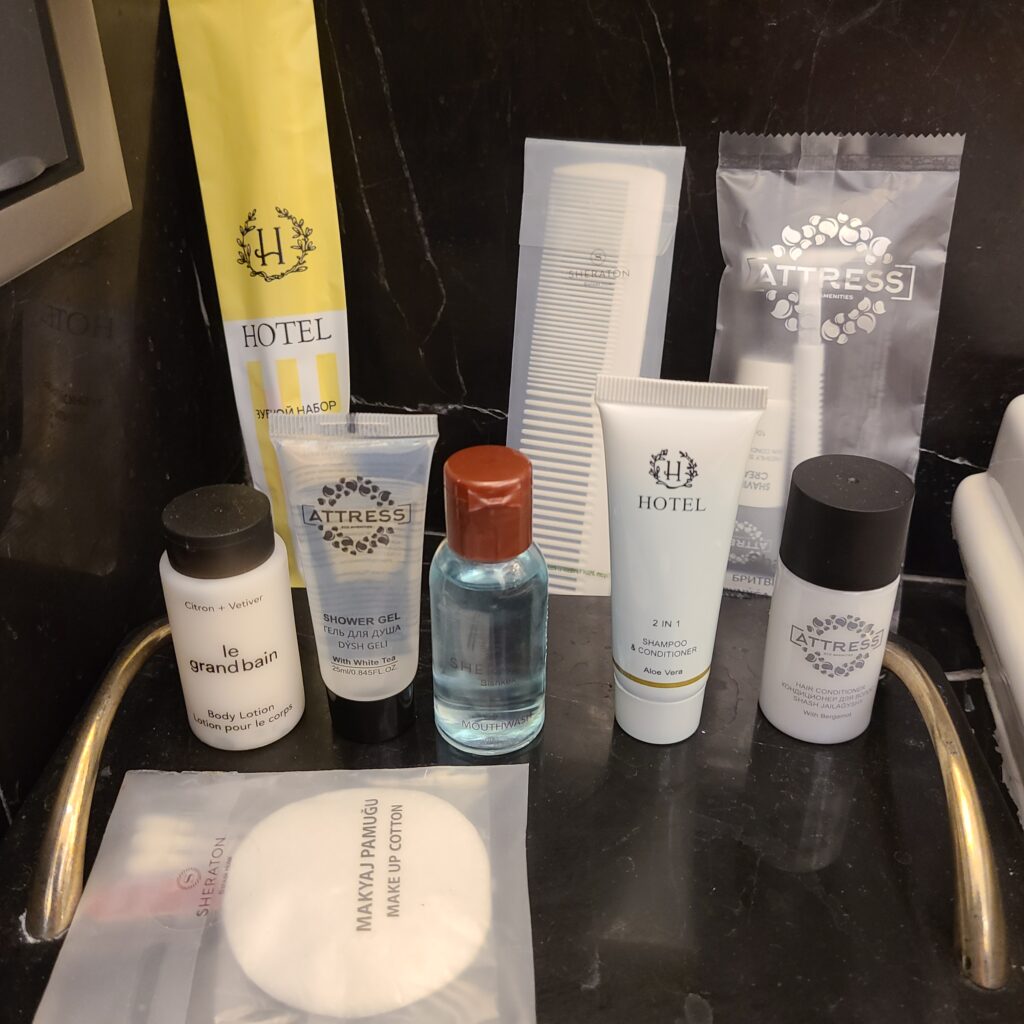 The overall design of the bathroom feels old-school with the metal frames, but not too much that it becomes stuffy, which I liked.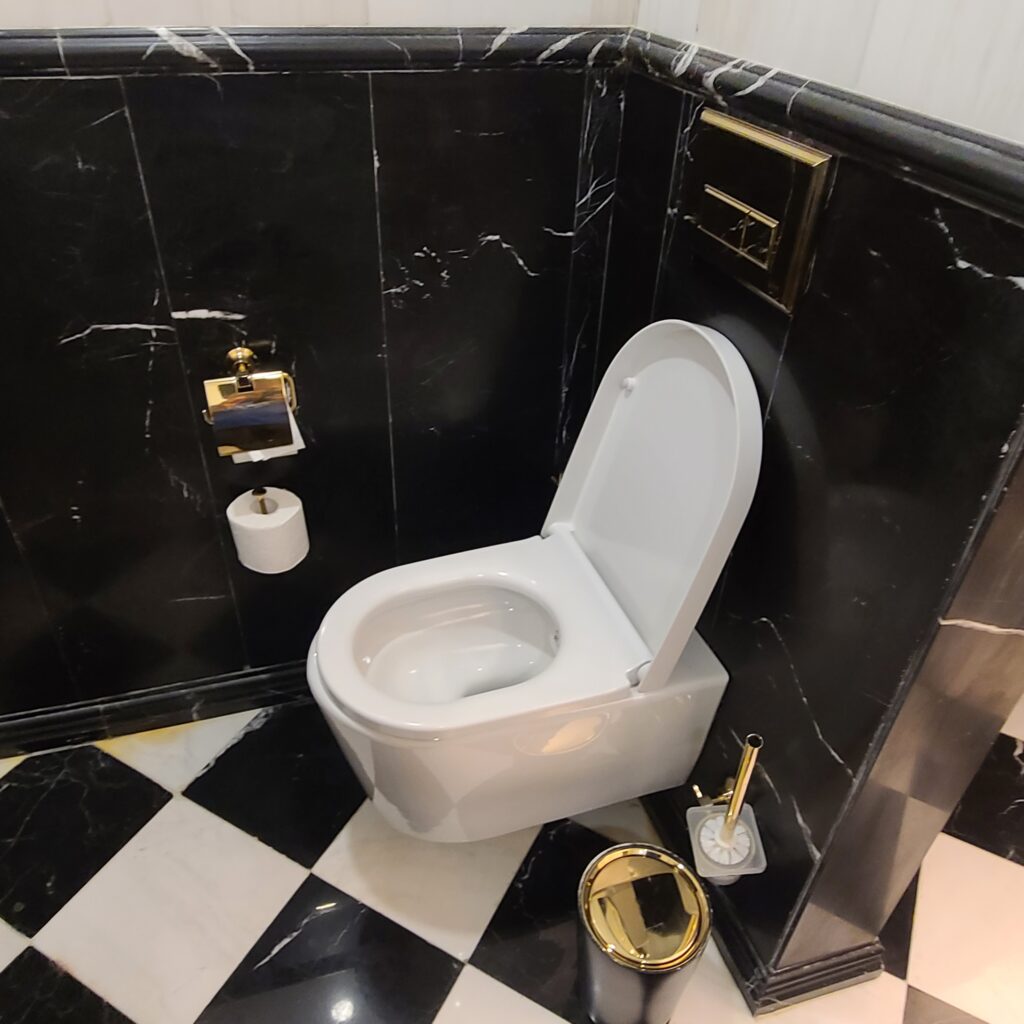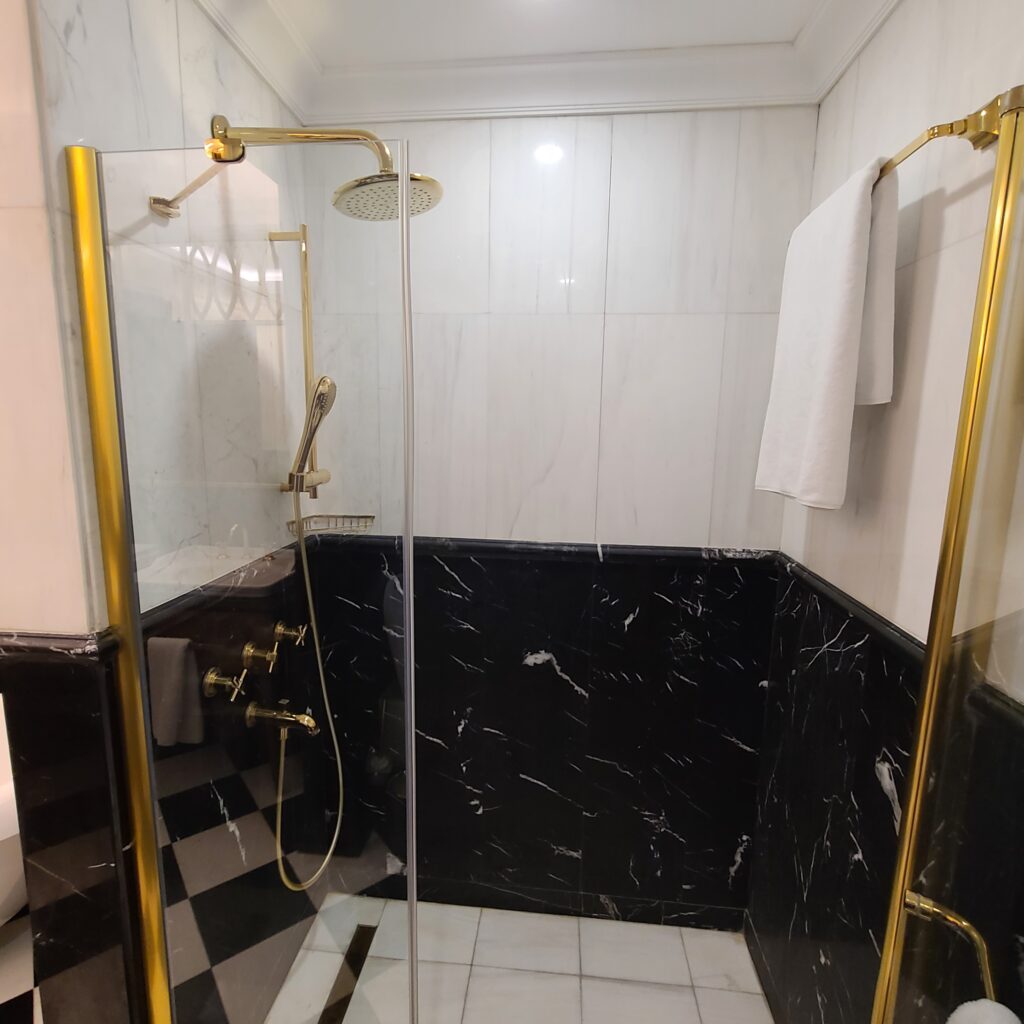 Sadly, I did not find the time to use the bathtub. It's one of the most vintage looking bathtub I've had in a hotel stay!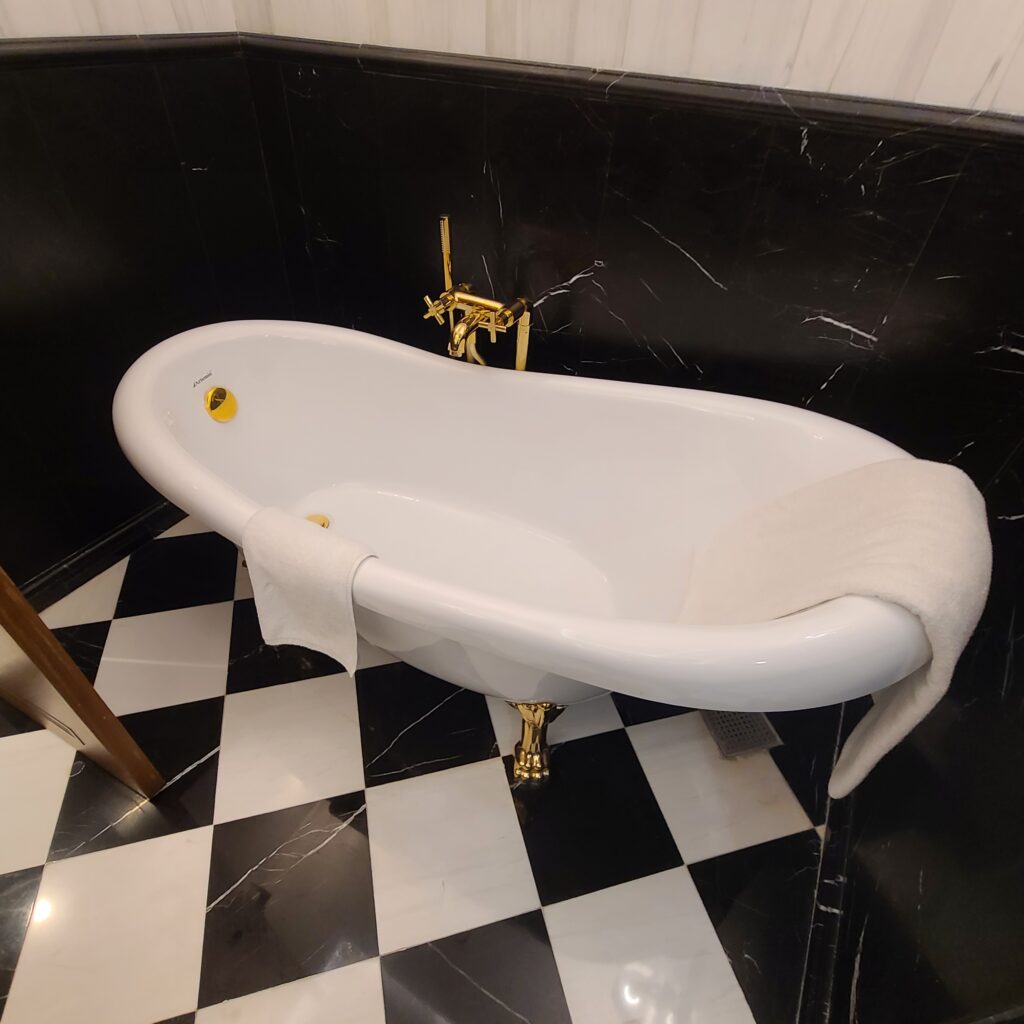 Sheraton Bishkek- Breakfast
As a Titanium Elite, I was granted free breakfast at the hotel's restaurant, Legend Steakhouse. However, they do not serve steak for breakfast, just located inside it (unfortunate). The breakfast spread are quite good, consisting of many Turkish breakfast menu like menemen (Turkish scrambled eggs with tomatoes) and fried sucuk (sausages). You can also order egg dishes from the chefs.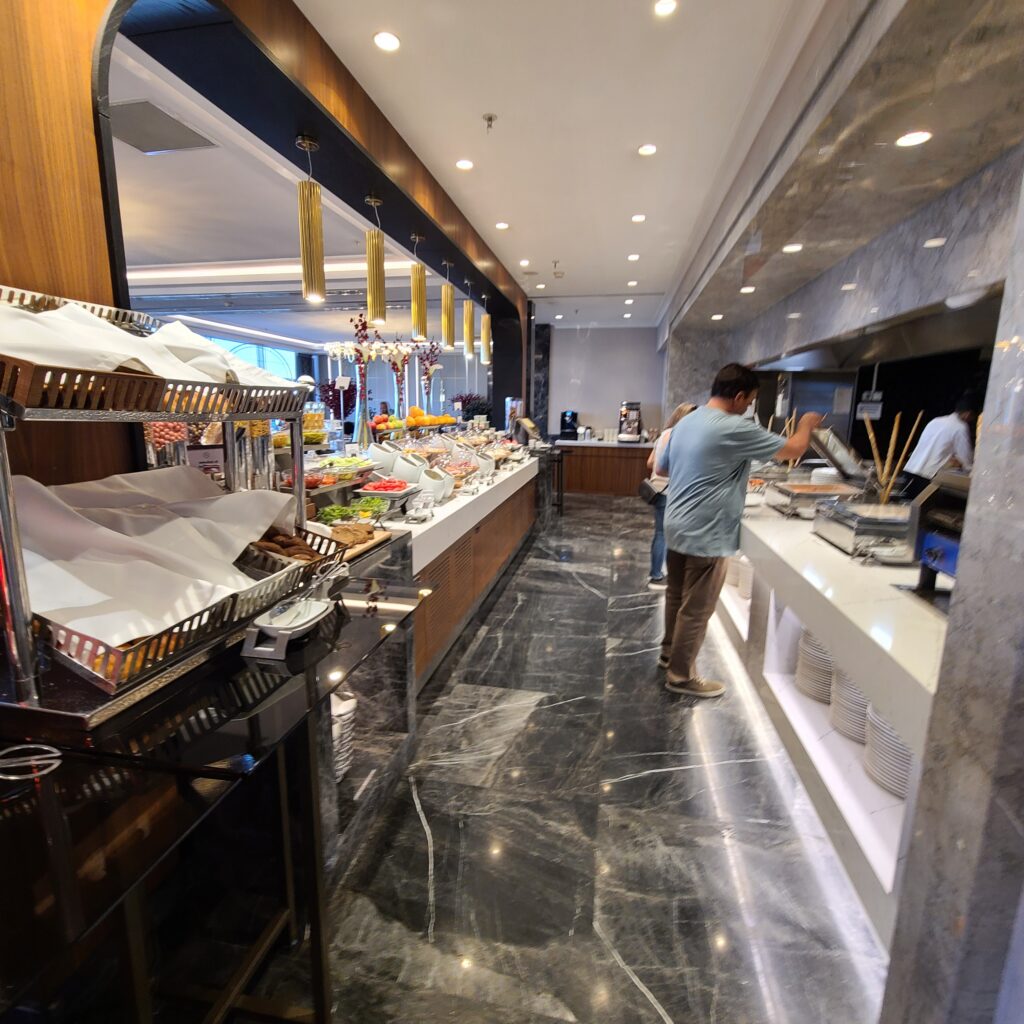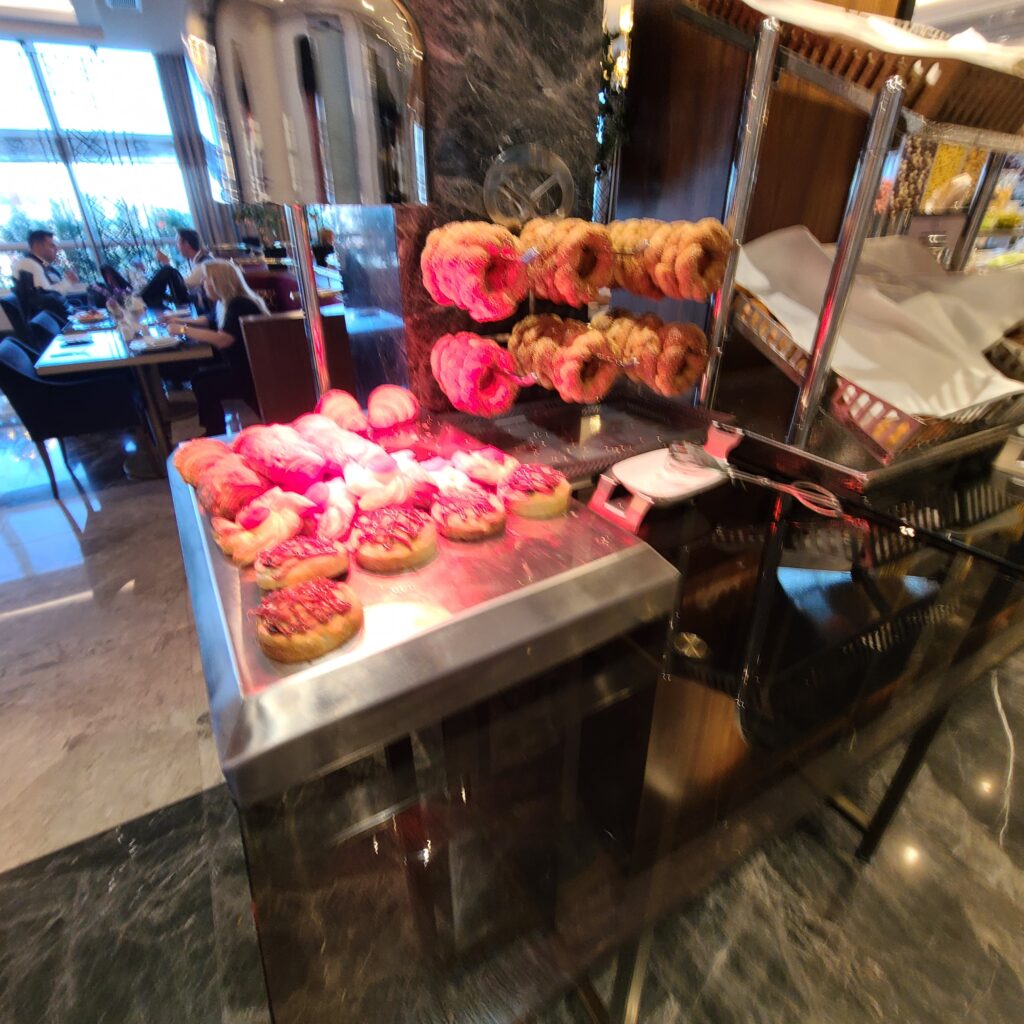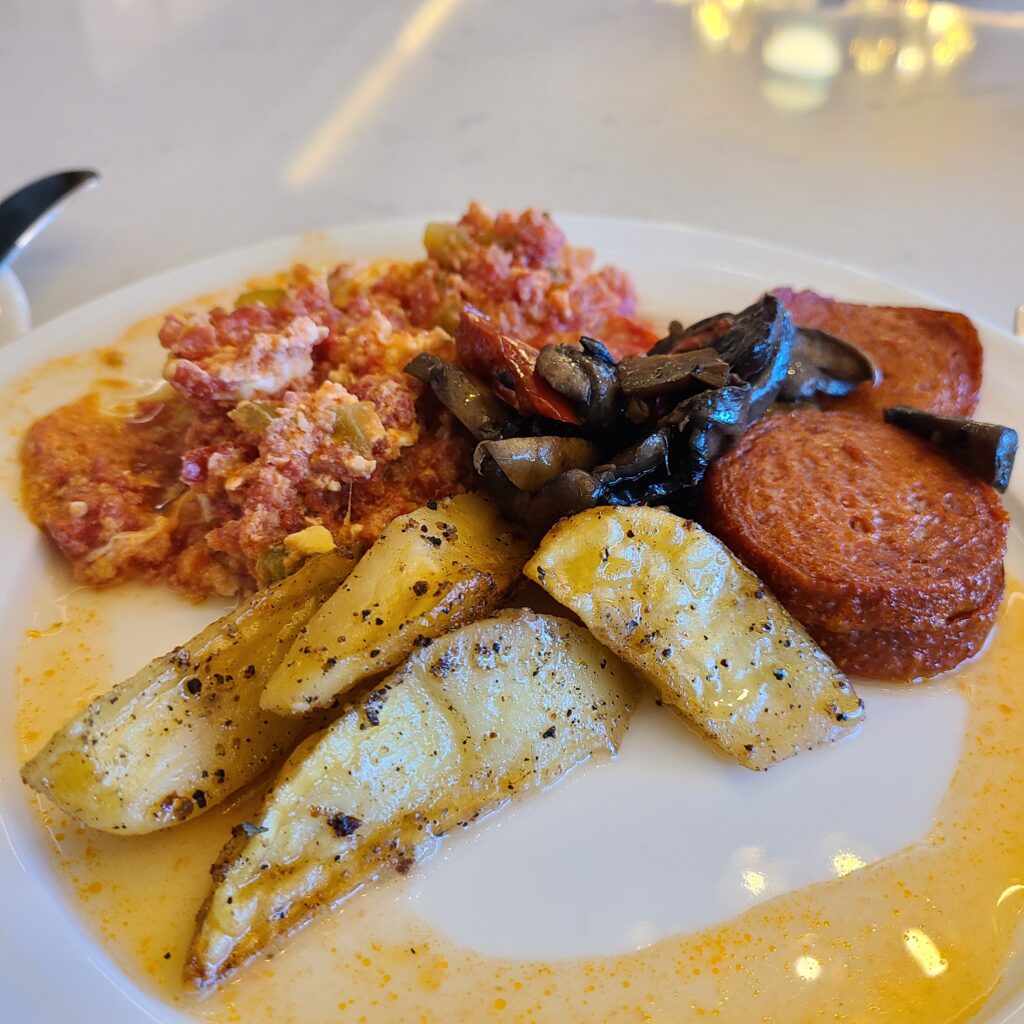 There's an intriguing cereal that are pink-balled shapes. They're apparently to be strawberry flavored corn balls. Amazing stuff!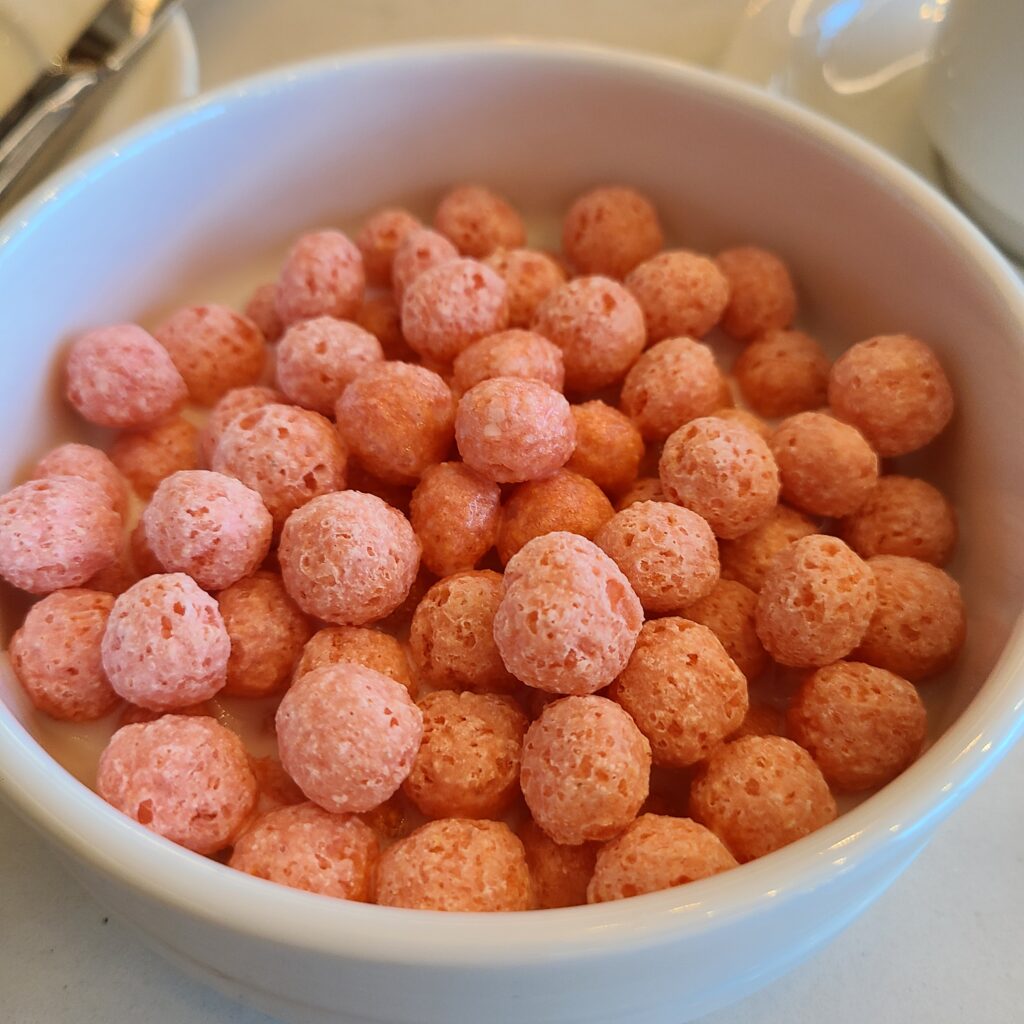 Overall, a really nice breakfast!
Sheraton Bishkek- Spa, Pool, & Fitness
The hotel has a spa called Shine Spa, in which the menu can be found inside your room. The prices are pretty reasonable I must say, around $50 for a 90 minute massage. I do acknowledge that I could've gotten cheaper spa treatments in the city, but I did not feel like going outside after a grueling hike up 3300 meters up the mountains. So, I was happy to pay for the convenience premium.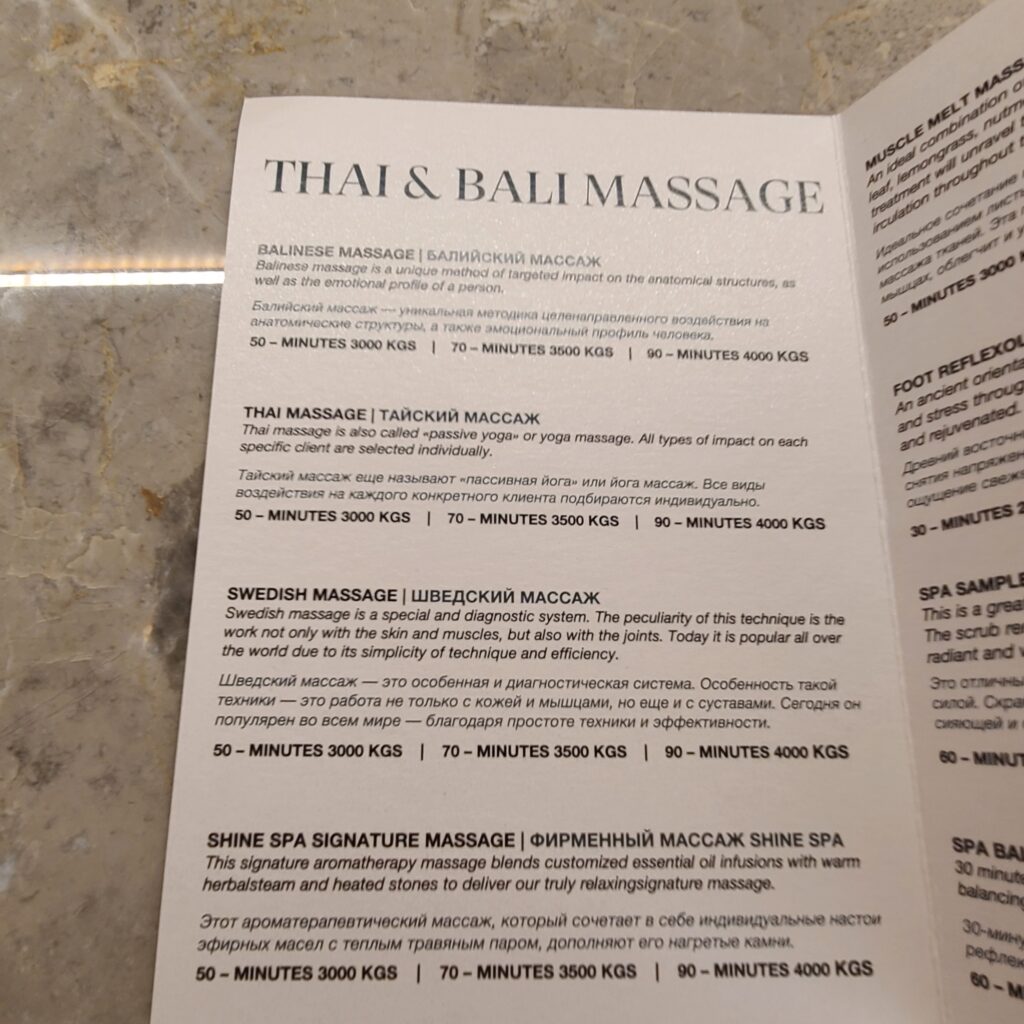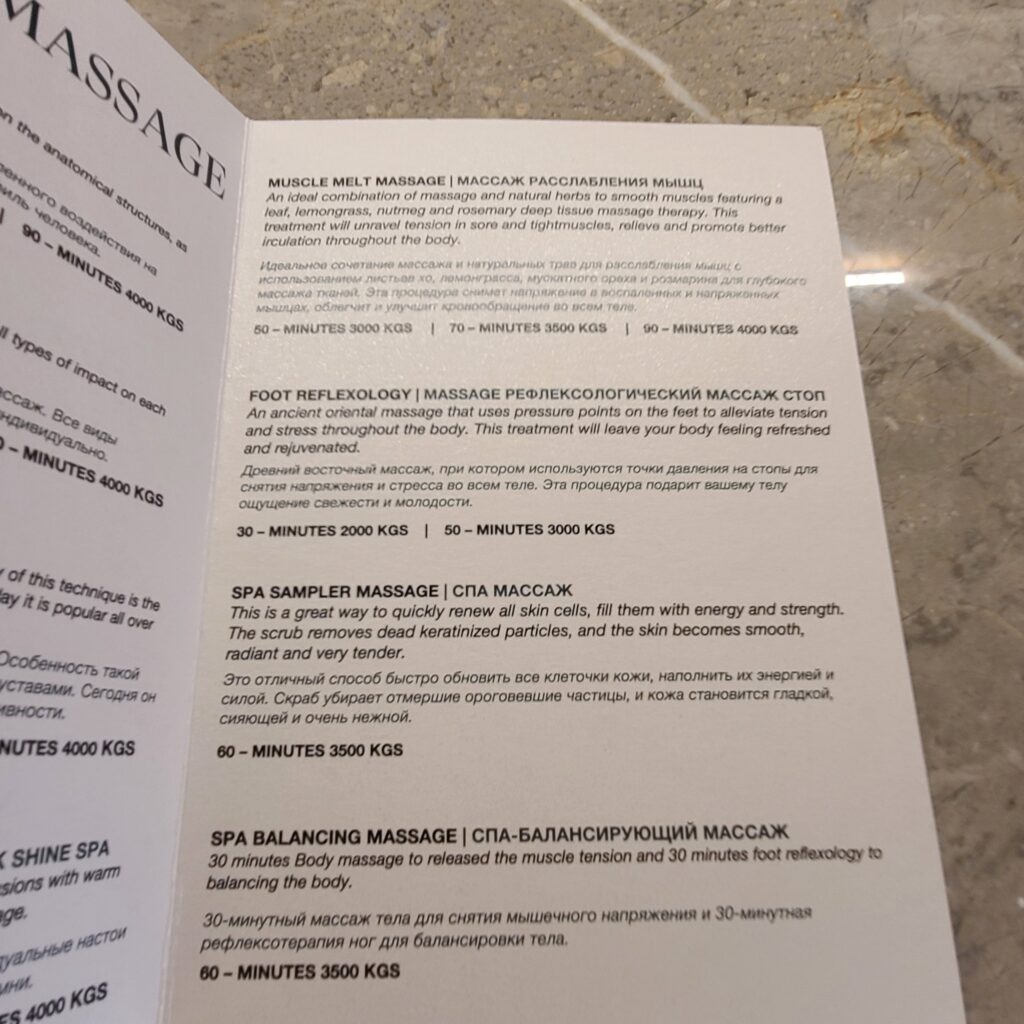 Surprise surprise, my massage therapists were Indonesians again (similar to my experience at W Istanbul and The Bodrum EDITION in Turkiye). It was great interacting with them as we're both were like "What are you doing all the way out here [Kyrgyzstan]?"
The hotel has an outdoor rooftop pool that looks beautiful at night. I didn't get a chance to take a dip though.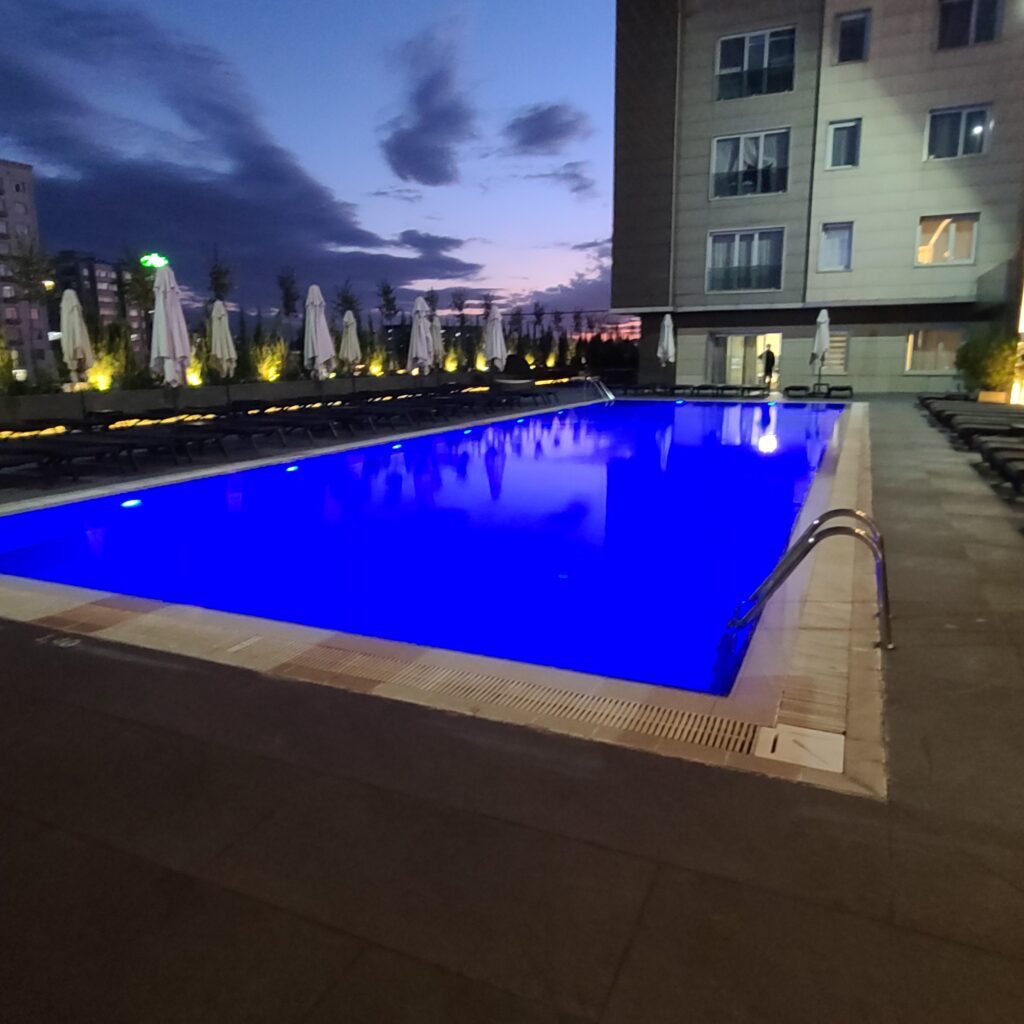 A sizable fitness center overlooks the pool at the second floor of the hotel.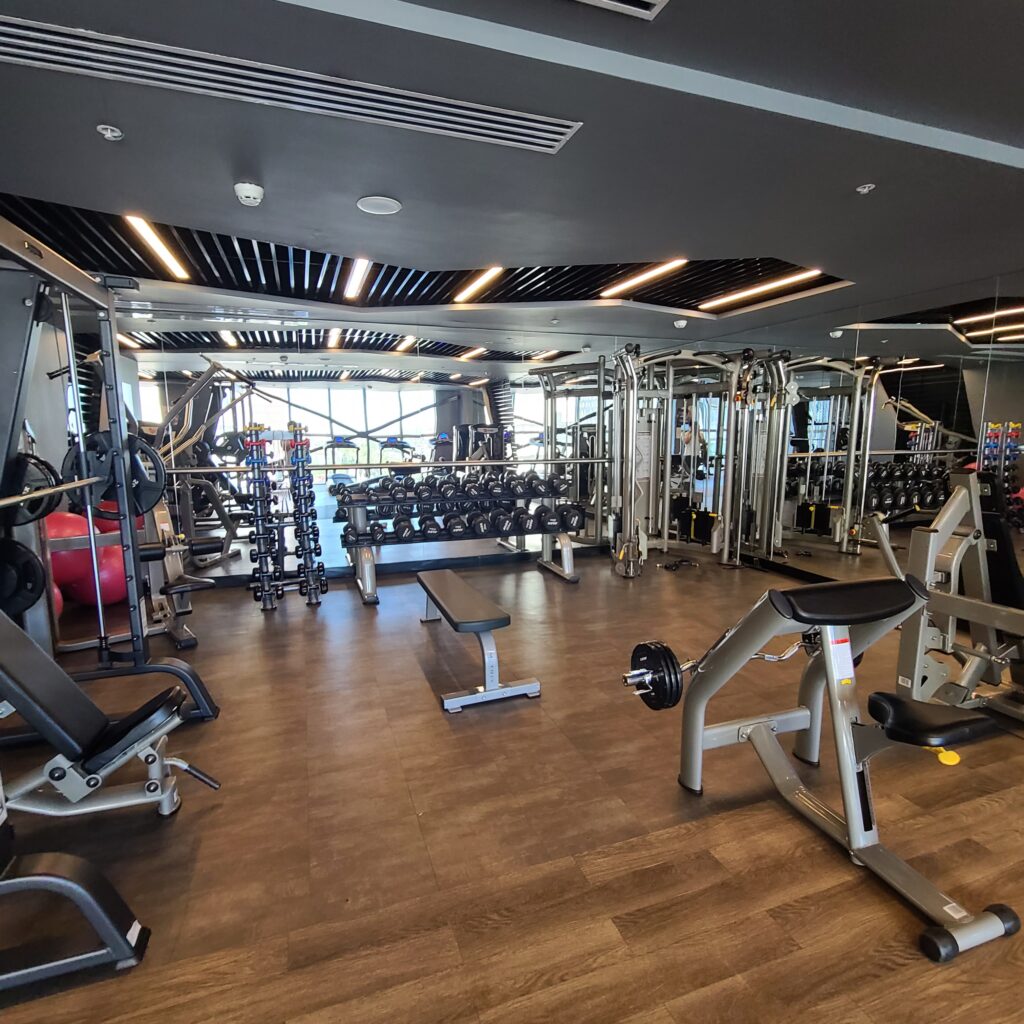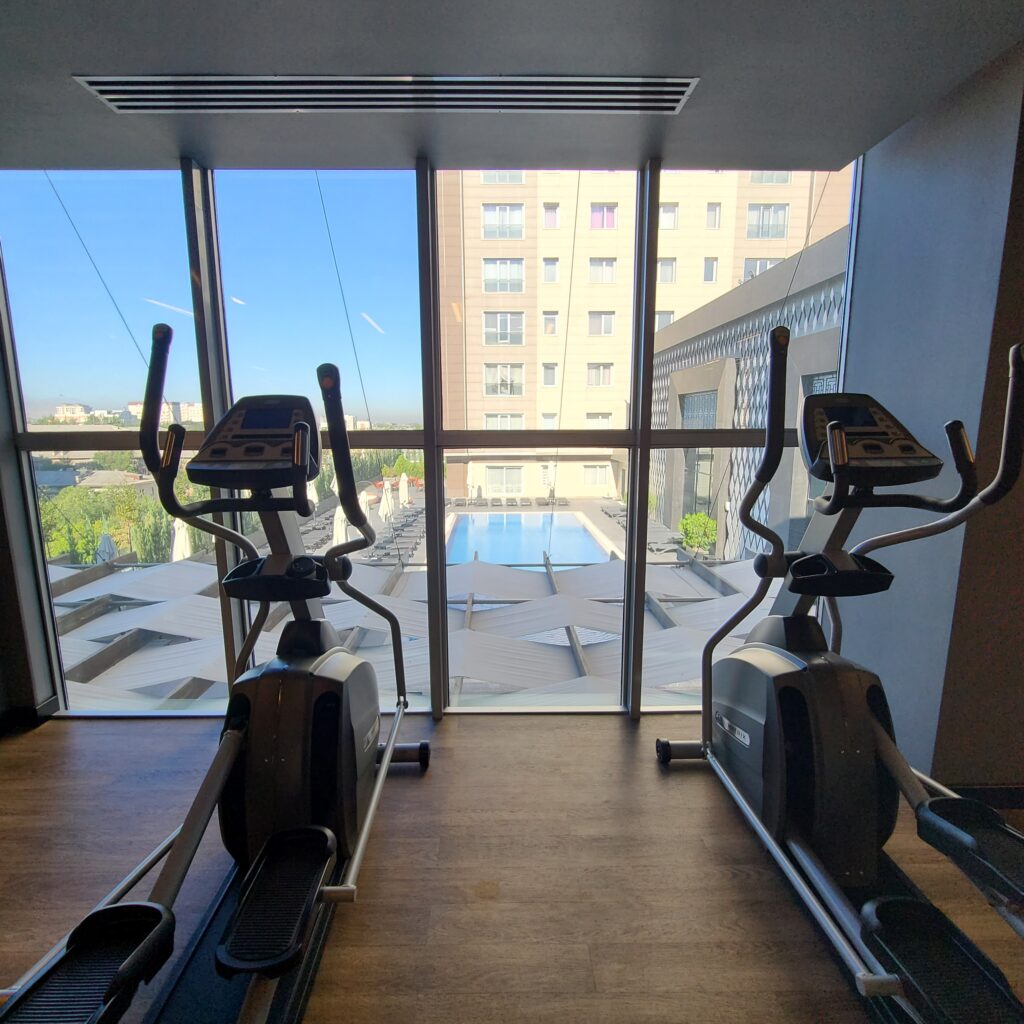 Sheraton Bishkek- Sheraton Club Executive Lounge
The hotel does have a Club Lounge that Marriott Platinum & up can access, or if they've booked a room with lounge access. Unfortunately, the lounge was still closed due to COVID. But, the door to the lounge was still open, despite it being empty. I did check out the lounge, which seemed to provide ample space for remote work in a nicer setting if you need to mentally separate yourself from your bedroom.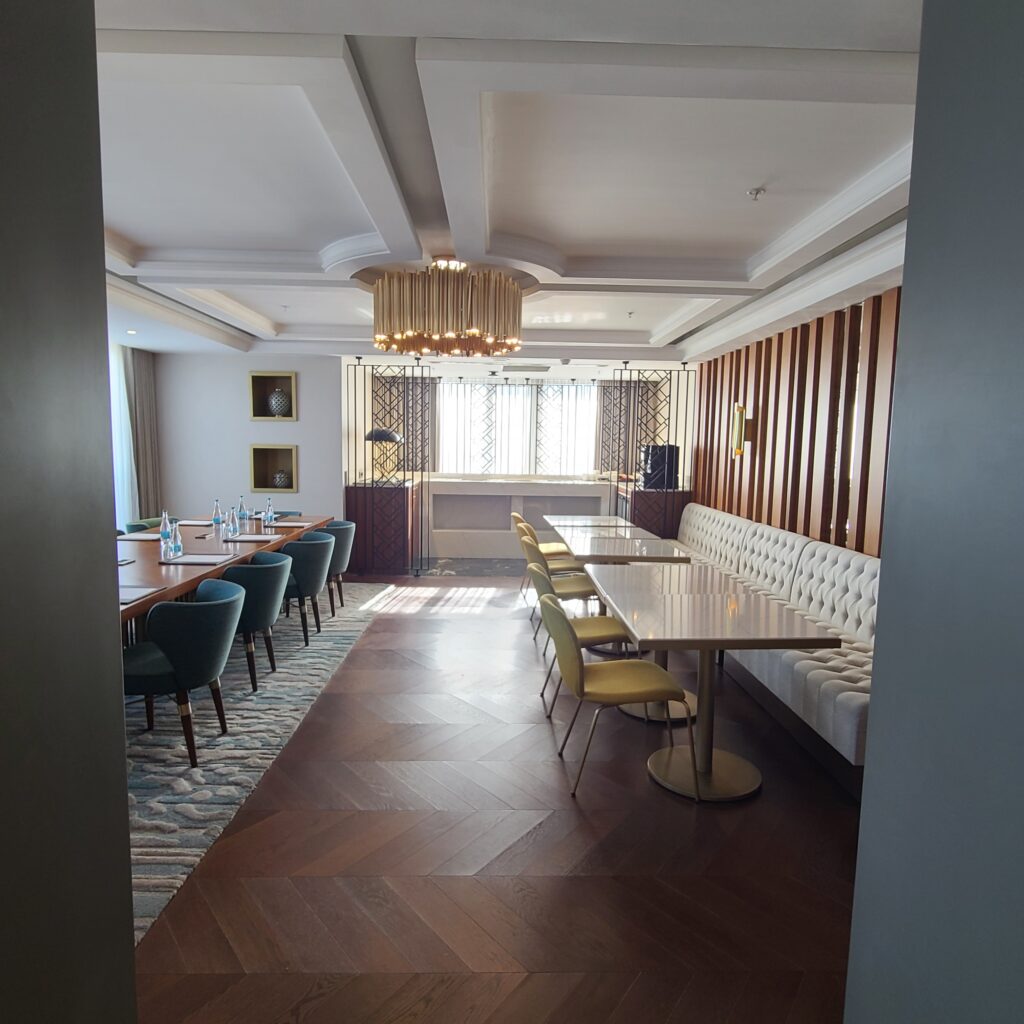 To compensate for the lounge closure, breakfast is served at the restaurant instead, and drinks will be served at the bar next to the lobby.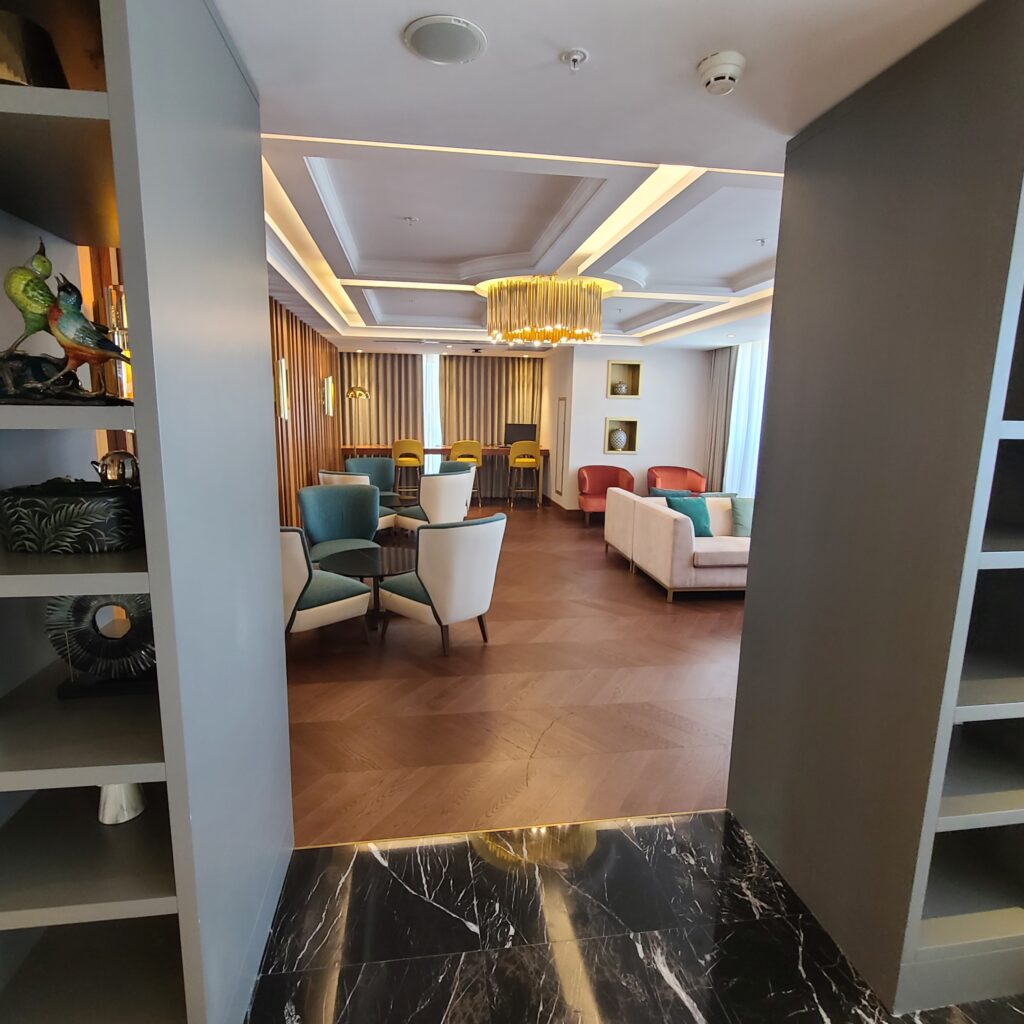 Sheraton Bishkek- IWA Roof Bar & Restaurant
I've decided to try out the hotel's rooftop restaurant named IWA. It's Bishkek's tallest restaurant with a great view of the city. I was craving some sushi (the unhealthy types), and was a bit curious on how they'd do it in Central Asia, and to also take a break from lagman (Central Asian noodle dish) that I ate daily during my time in Kyrgyzstan outside of Bishkek.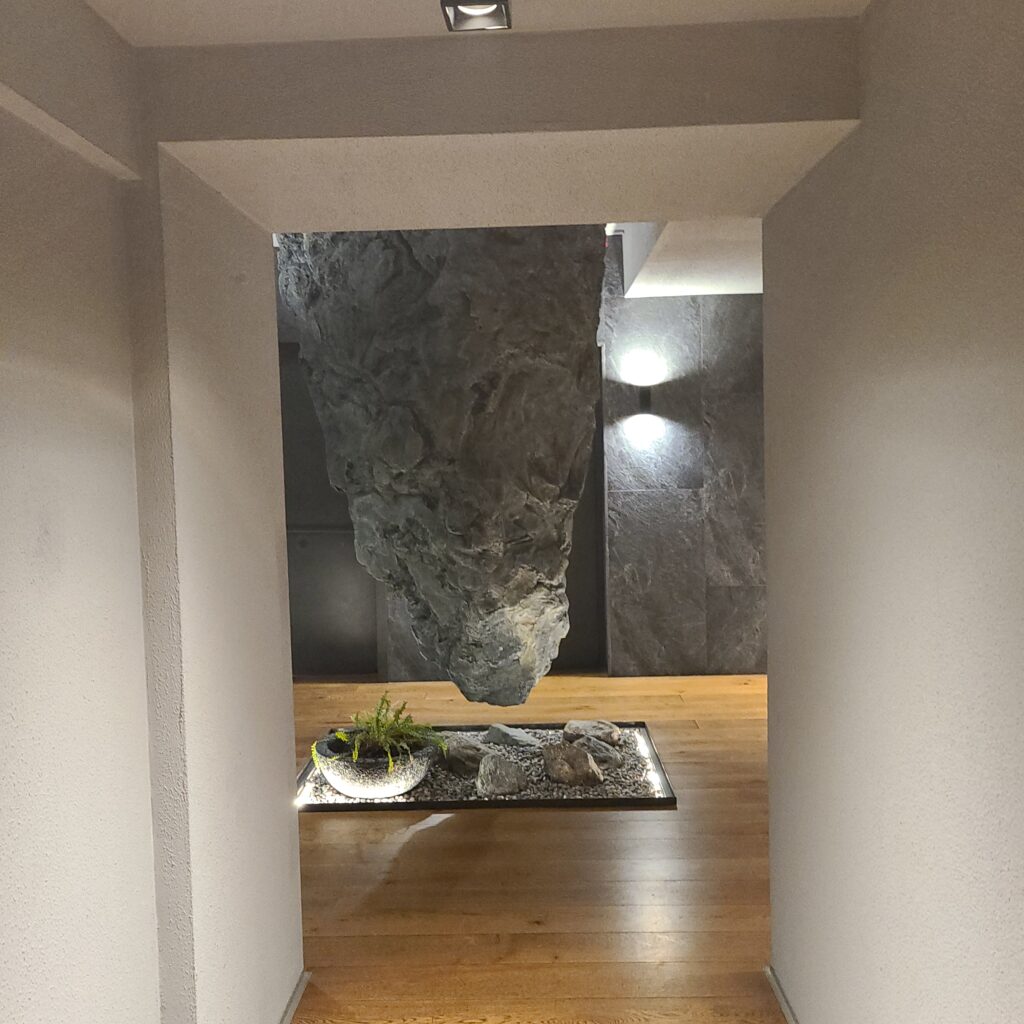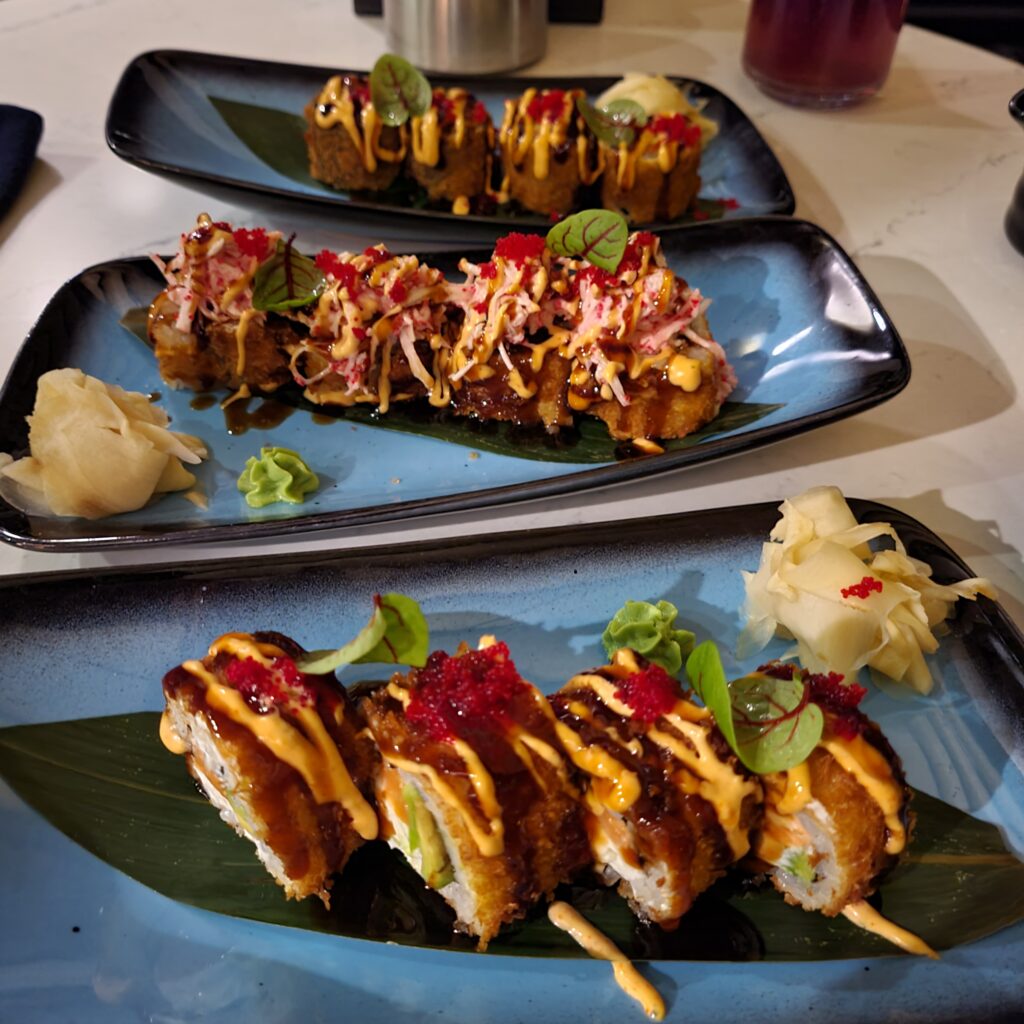 However, I think the food was OK, but also felt like a bad value. Each roll cost around $9, which is expensive for Bishkek. I also ordered an iced tea with funny colors.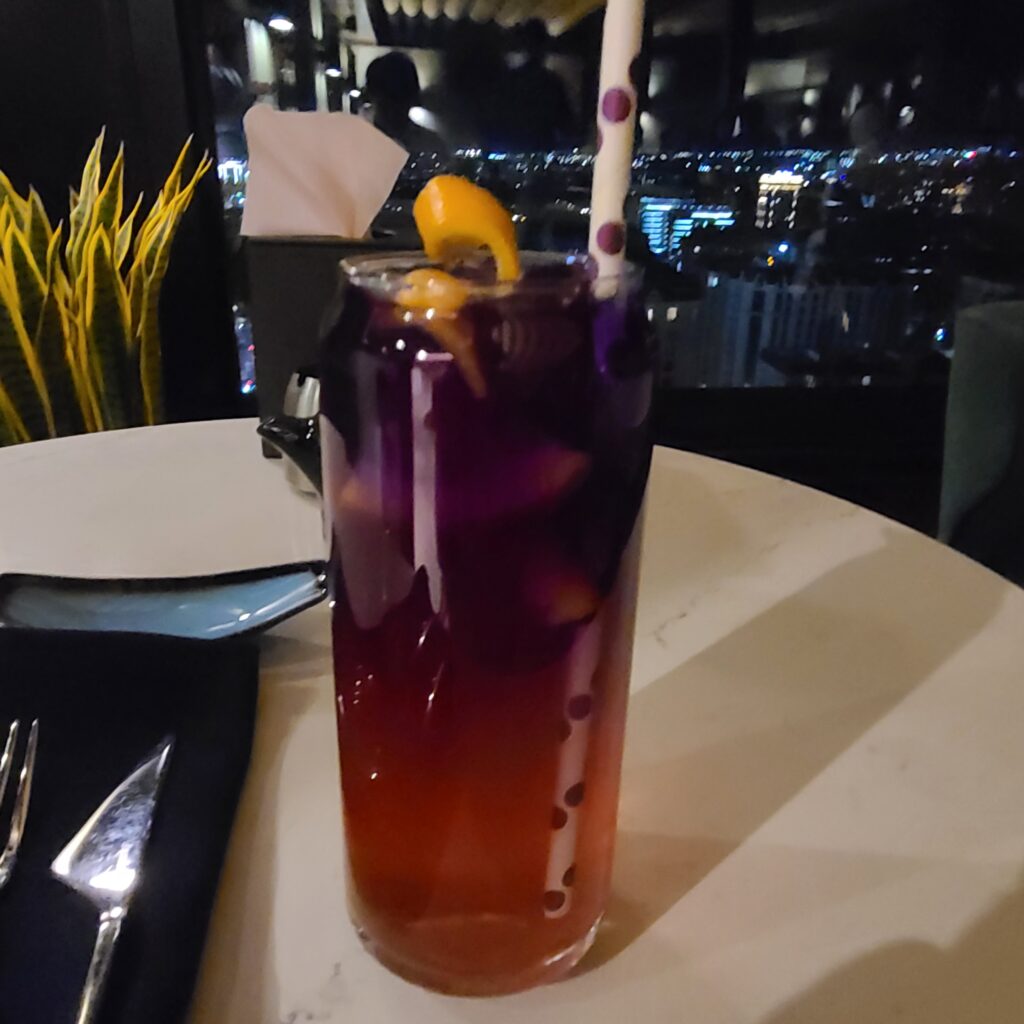 Overall, the food costed me ~$35. I didn't feel it was worth the price though.
Conclusion
My stay at Sheraton Bishkek was quite good and comfortable. It's modern compared to many, if not all of the hotels in Kyrgyzstan. The value for Marriott points redemption is also great, just like many Marriotts in Central Asia. It has minor maintenance issues (like in the bathroom for my case) that need to be looked after that hopefully doesn't result in bigger problems. Also, I do wish there was more transparency with the lounge access' temporary closure.
I find their signature restaurant IWA a bit lukewarm, but that's pretty much my only major complaint with the hotel, which may not be relatable to many guests. Overall, I recommend this hotel for anyone's visit to Bishkek, especially those loyal to Marriott brands.
Overall Rating