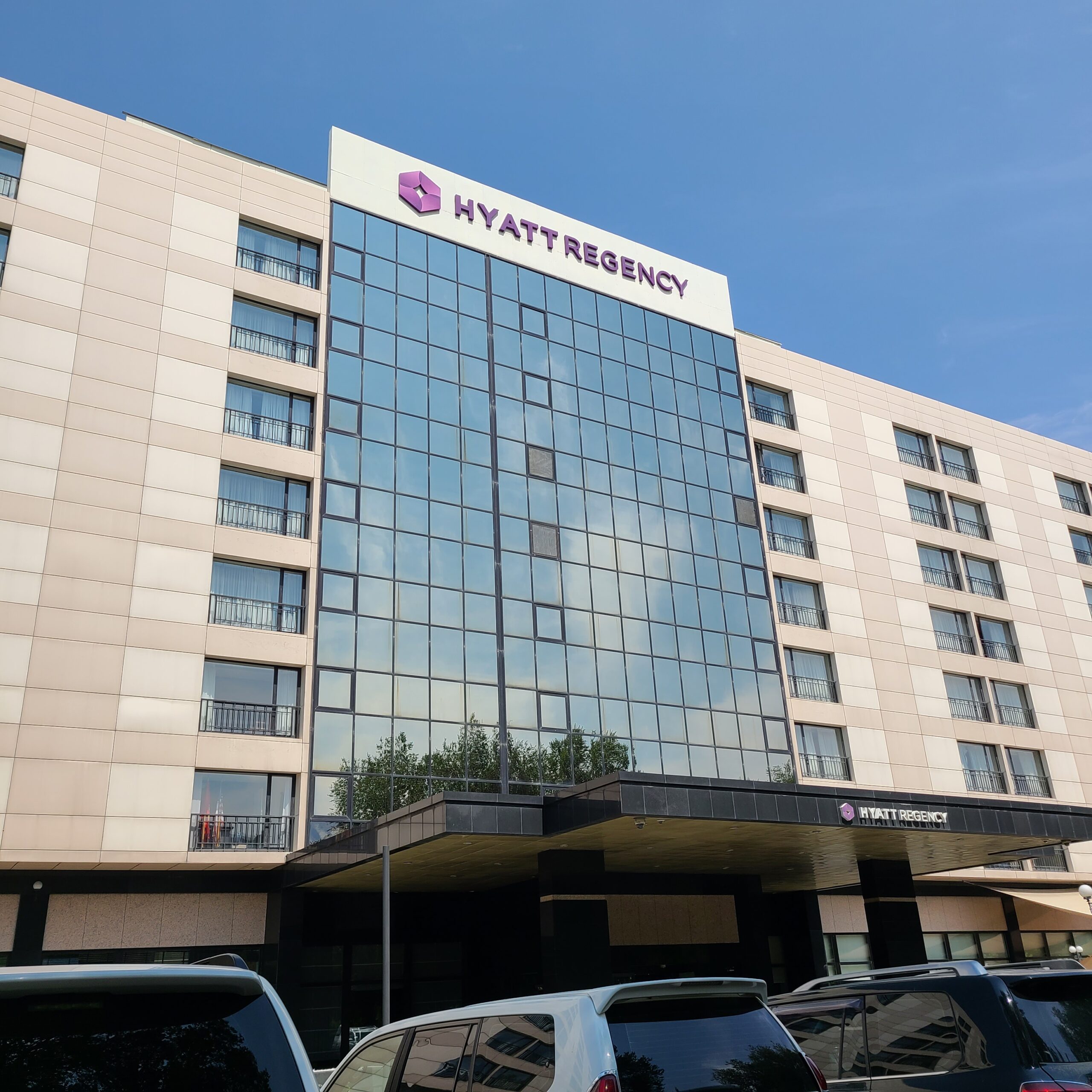 Advertiser disclosure: This post may include affiliate links (including sidebar banners) in which this site may receive compensation if a purchase is successfully made (at no extra cost to you) after being redirected from here. Thank you for your support!
Review: Hyatt Regency Bishkek (2022) [Kyrgyzstan]
I spent my first two days in Kyrgyzstan at the Hyatt Regency Bishkek. It's surprising to find a Hyatt at the less known part of the world like Central Asia, and with some Hyatt points to spend, I decided to give it a try.
Hyatt Regency Bishkek- Booking
I booked the hotel for 2 nights and redeemed 26,000 World of Hyatt points for the Executive Suite that'd cost me $960 total if I'd booked with cash. This redemption resulted in 3.69 cents per point on my World of Hyatt redemption, which is a lot better than what I value at 1.5 cpp. A standard room would cost 8000 points per night, which is the Standard rate for a Category 2 hotel in Hyatt's award chart.
With 8,000 WoH points you can either book the standard Queen Bed or the King Bed Deluxe. The King Bed Deluxe is an upgrade with a larger room, so it's a no brainer to pick the King Bed to get the most value out of your points.
Hyatt Regency Bishkek- Location
The hotel is located near the city center with Soviet architecture attractions within walking distance such as Victory Square, Ala-Too Square, which has the statue of Manas and Kyrgyz State Historical Museum, and Kyrgyz State Circus, an odd circus building shaped like a UFO. There's also a nearby modern shopping mall called Tsum Center.
Hyatt Regency Bishkek- Check-in
After a bit of flight delay from Istanbul to Bishkek, I finally arrived to Kyrgyzstan at around 10am. After passport control and changing sim card, I arrived to the hotel at around noon. Normally, check-in is at 2:00pm, but I was able to get in early!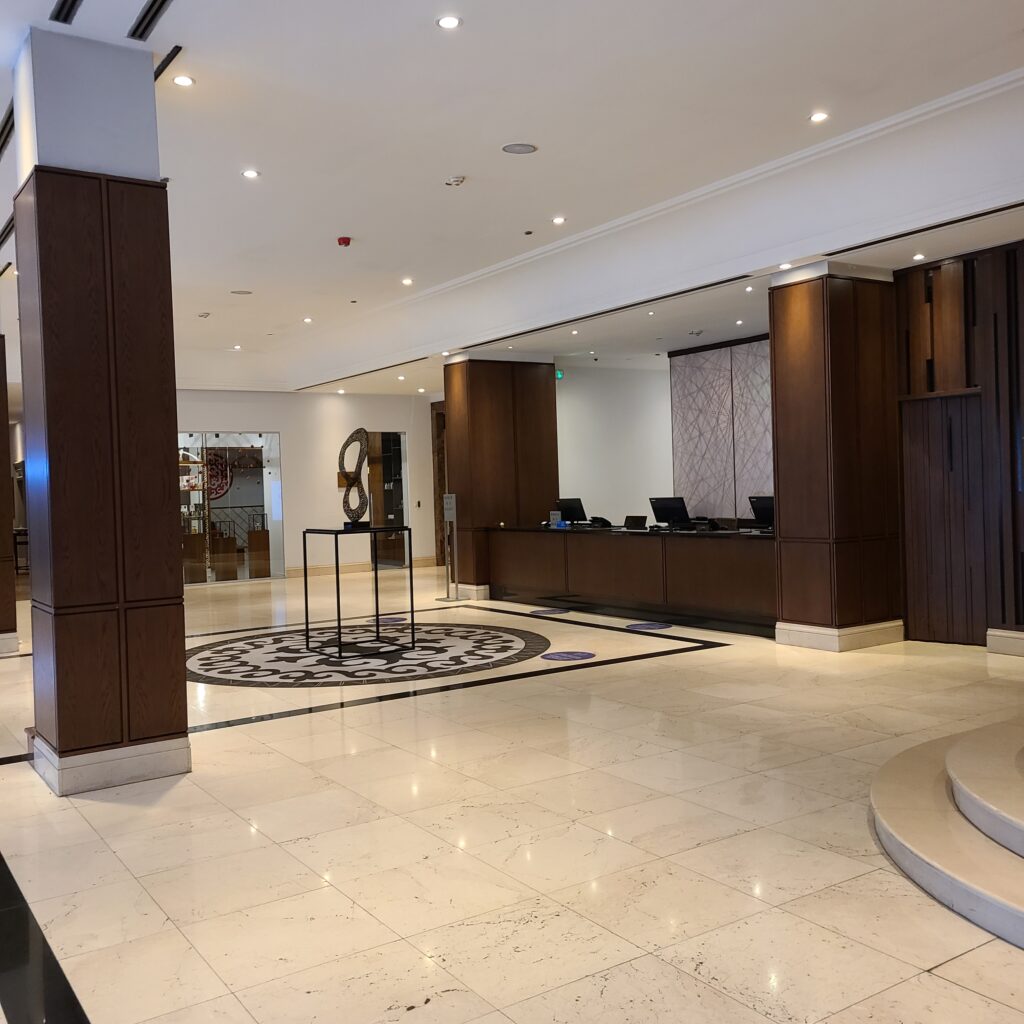 Because I've booked a suite, I was able to get access to their Regency Club. Unfortunately, the Club closed due to COVID, but the hotel's workaround was to provide the benefits in their restaurant, Crostini. The benefits include free breakfast that starts from 6:30-11am and evening cocktails from 5-7pm.
Getting Club Access when booking a suite outright is uncommon within the World of Hyatt program, but Hyatt Regency Bishkek is one of them. I'm also not talking about being a Globalist which grants you Club Access by default if the hotel has it, since I have no status with Hyatt at all.
Hyatt Regency Bishkek- Executive Suite
I was assigned to the Executive Suite at the 6th out of 7 floors. The suite is very spacious with an L-shaped living room combined with a corner office. The Kyrgyz design on the carpet flooring is quite nice. But, the room is quite dated. It is one of the oldest hotels in Bishkek as I found out from my tour guide a couple days after my stay.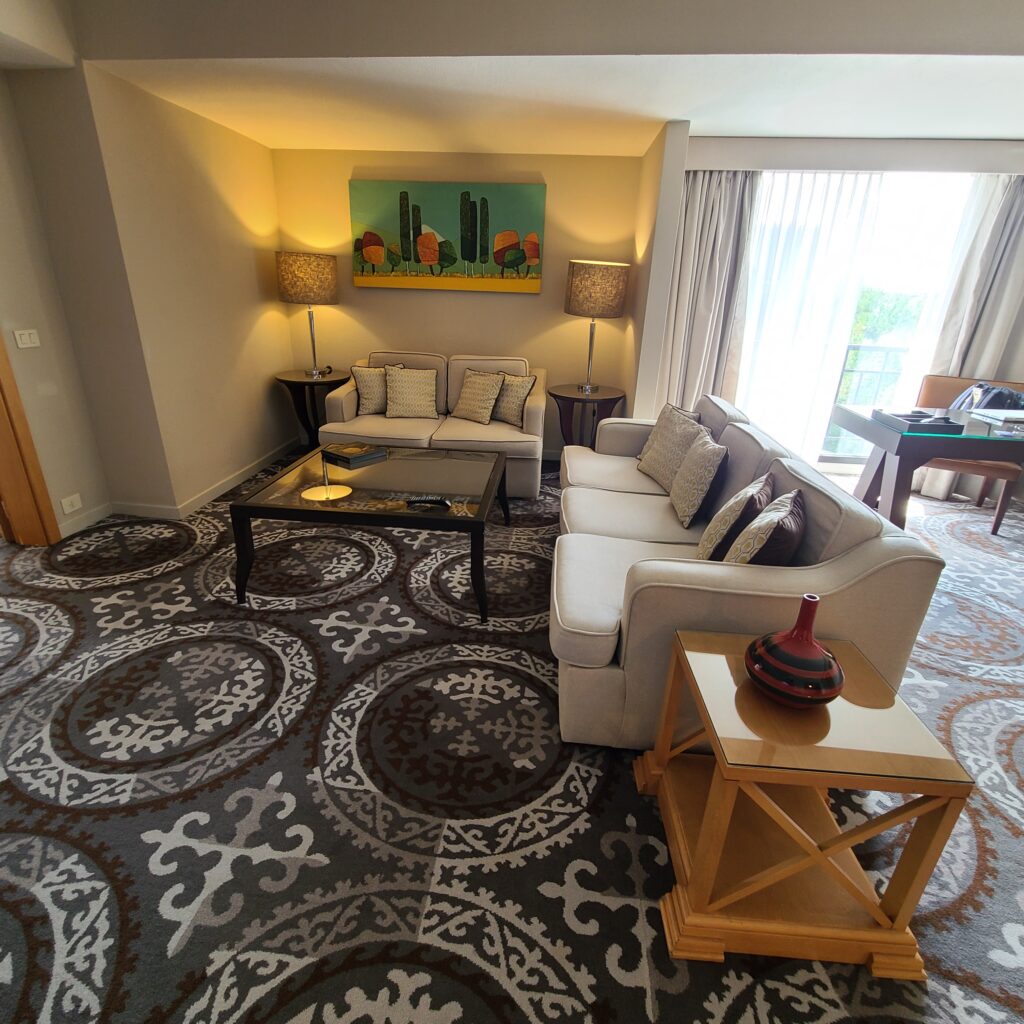 Hours later after exploring around Bishkek, I was presented by a plate of fruits on the living room table. While it's definitely nice, it was simply too much for me to finish solo. Nonetheless, it's surprising to see considering that I don't have status with Hyatt. Perhaps, it's because I booked a suite that might've caused me receiving some sort of gift.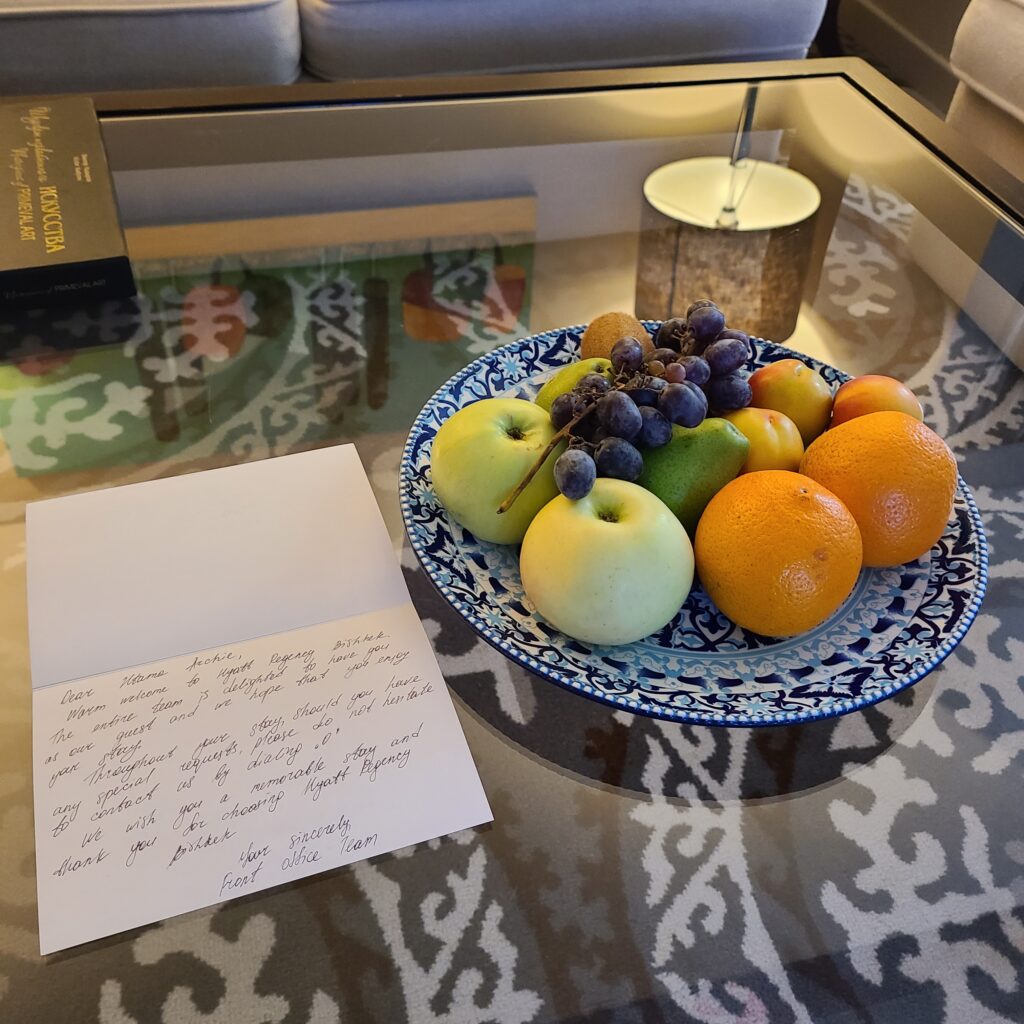 The office doesn't just offer a space to work in, but comes with office supplies that may come in handy.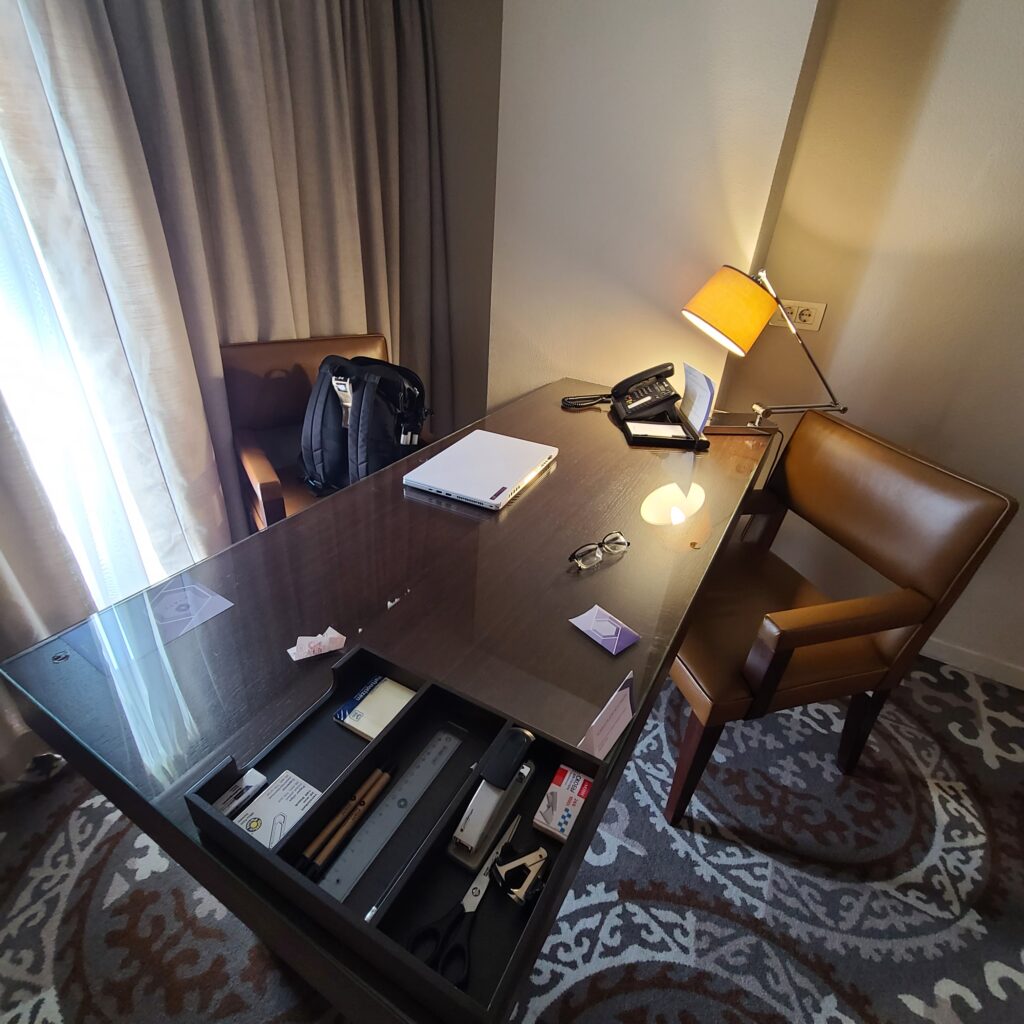 A half bathroom is right next to the suite entrance. The toilet comes with a really big flush button.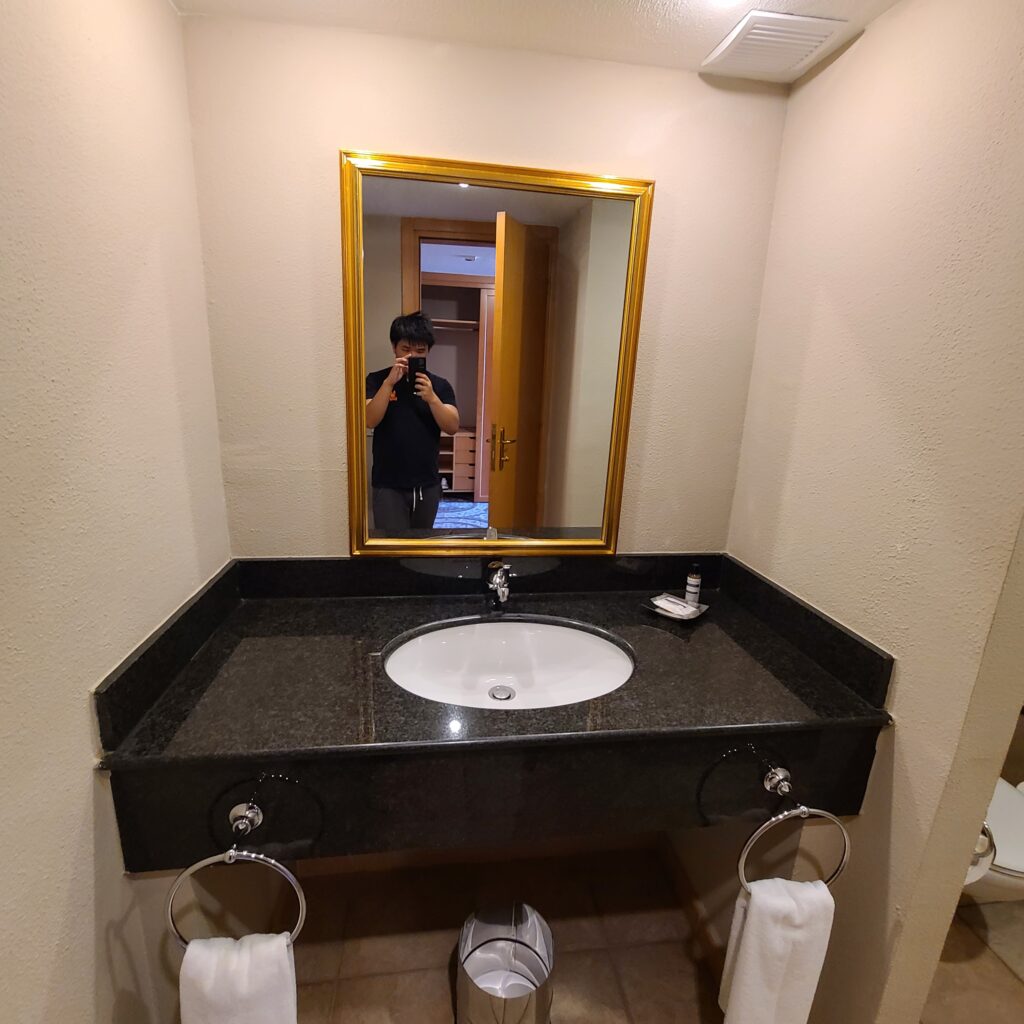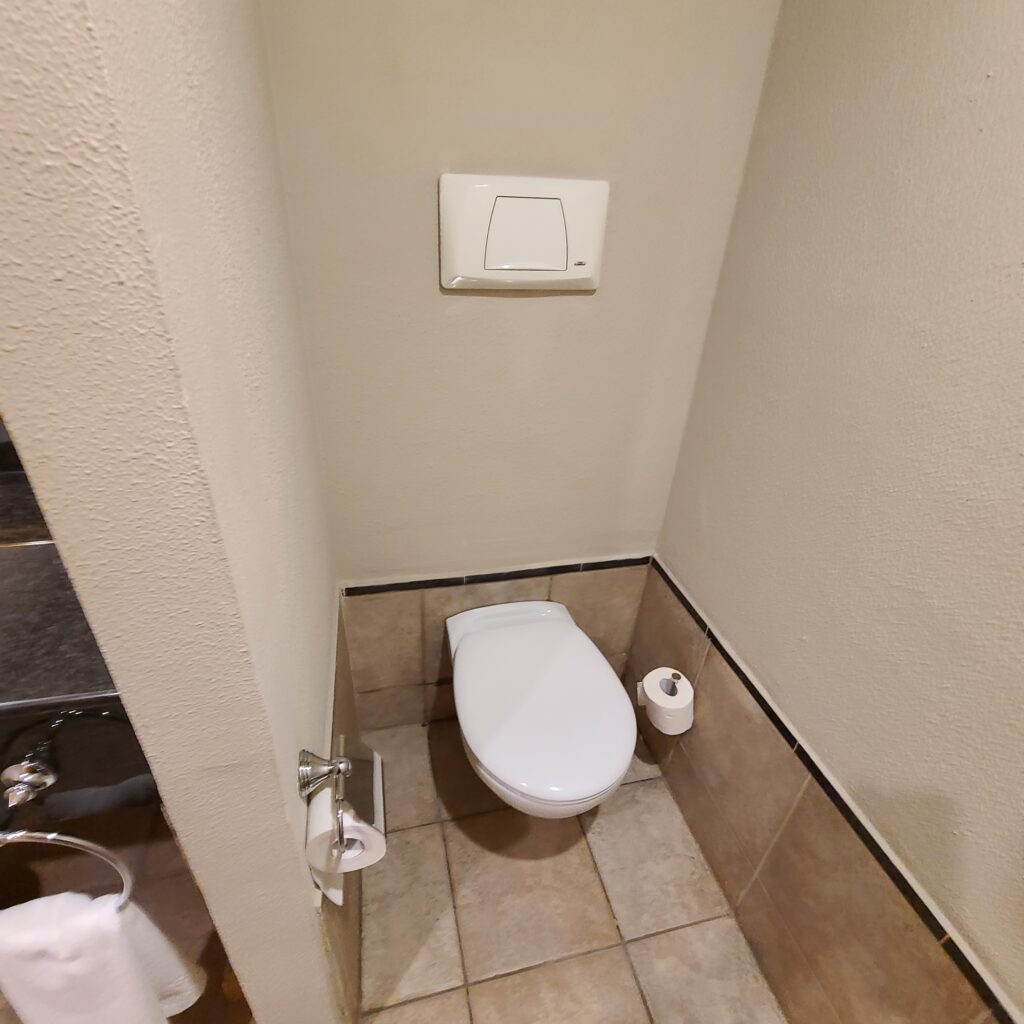 The pantry and minibar are by the half-bathroom of the living room.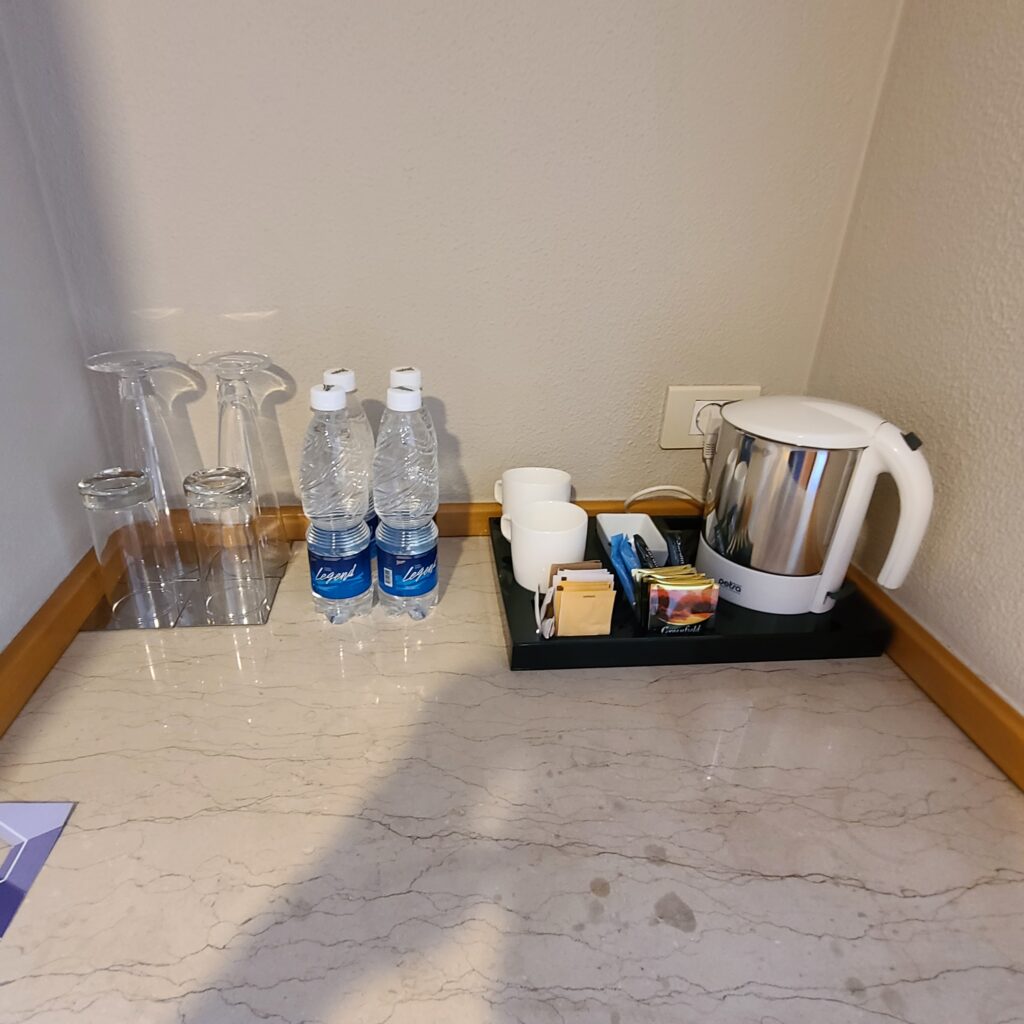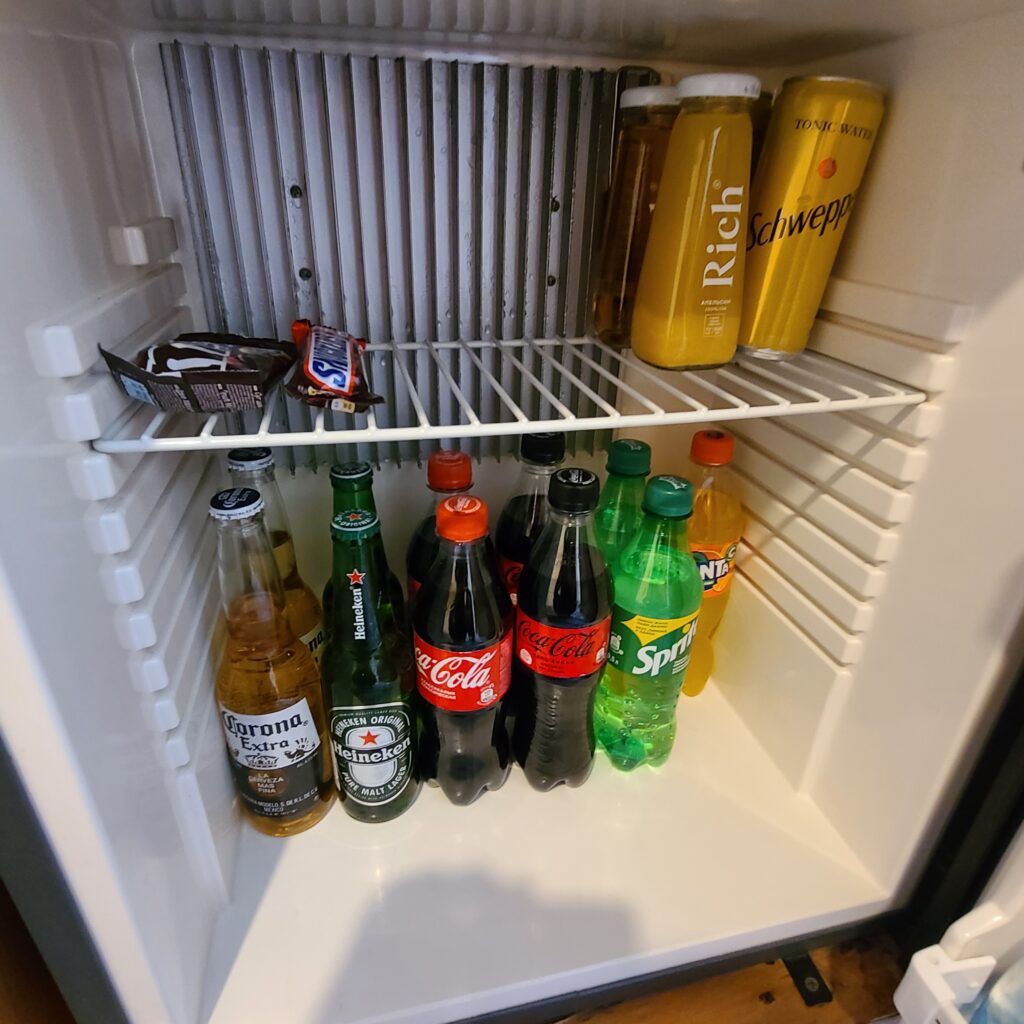 The bedroom is separated by doors by the living room.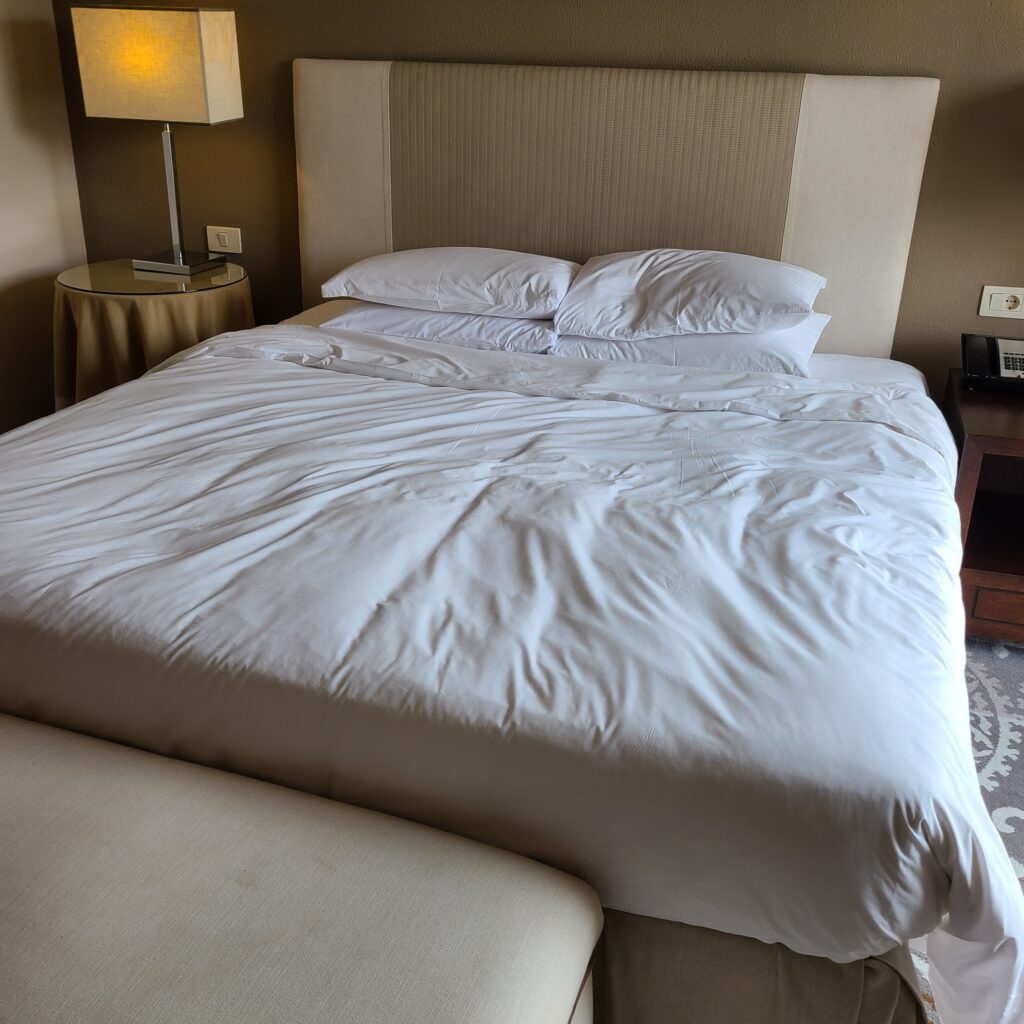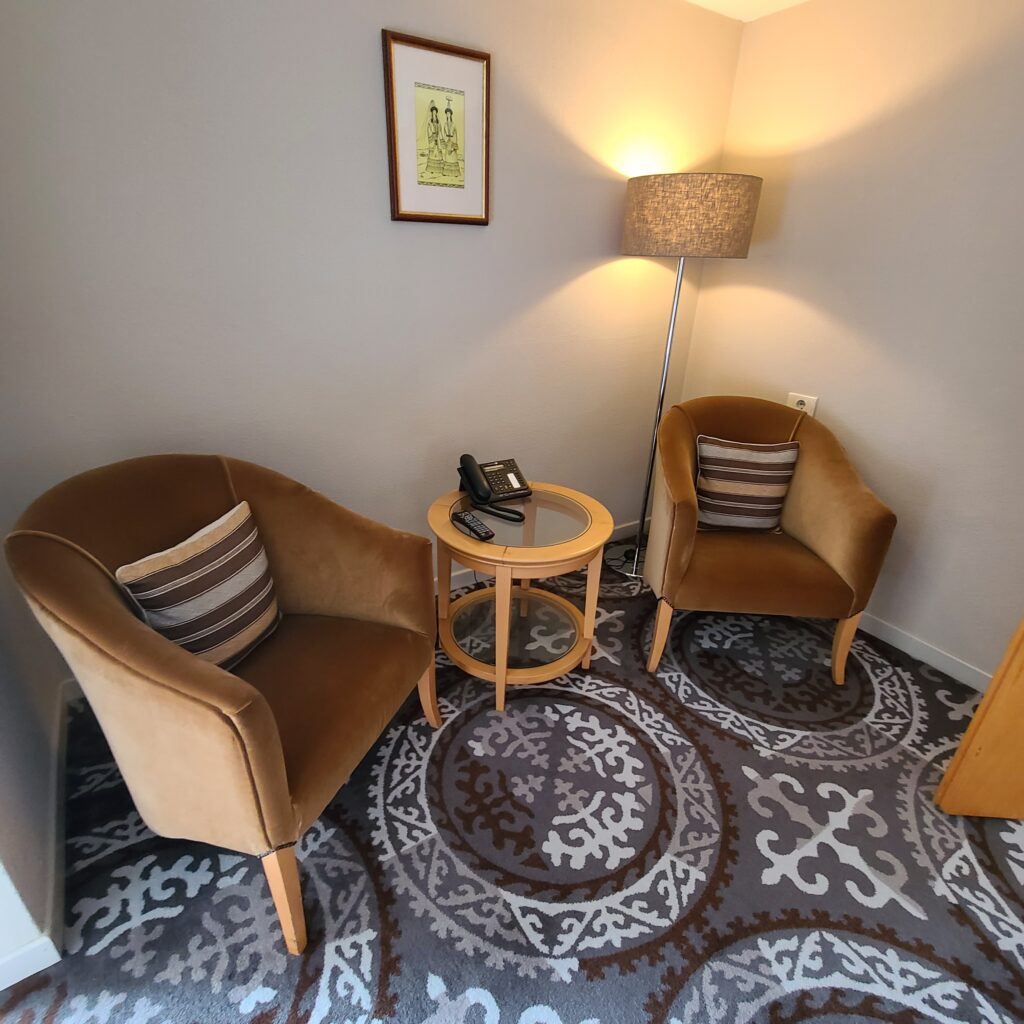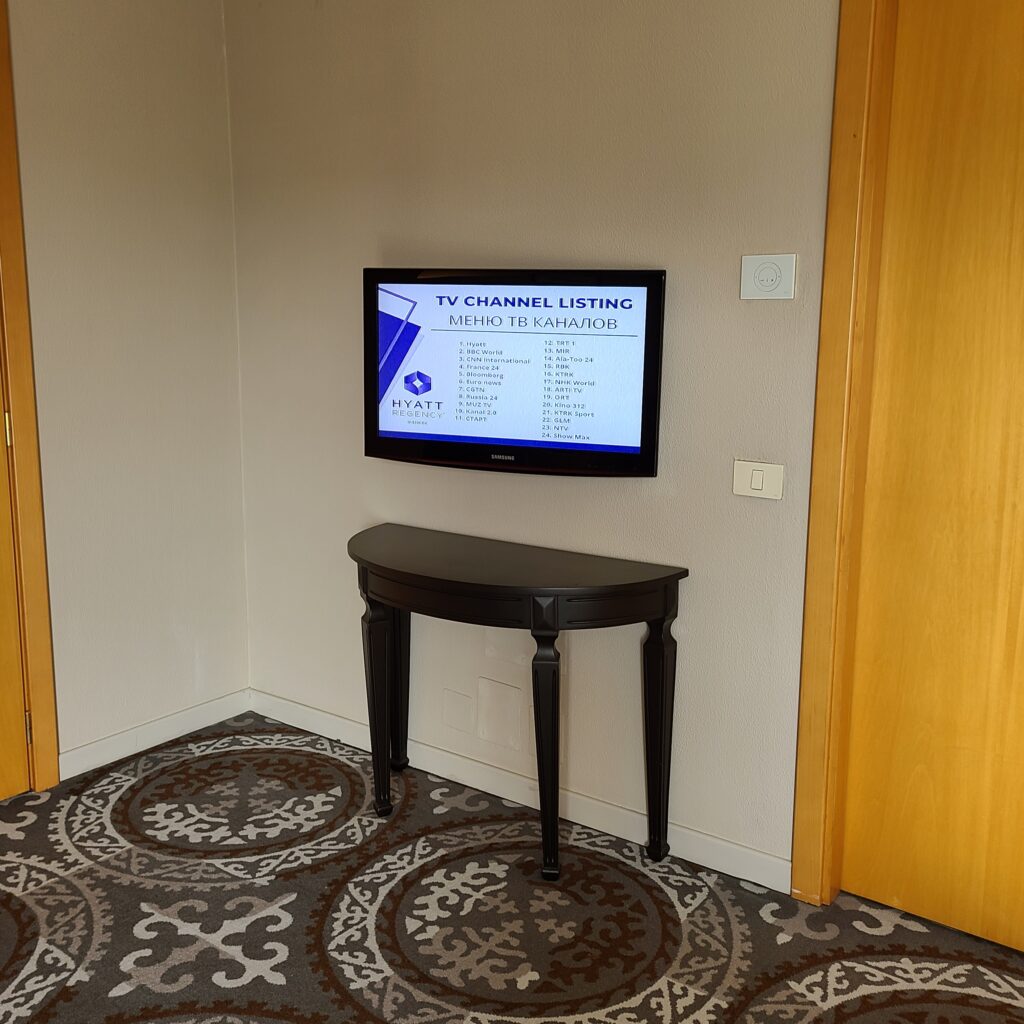 The view from the room comes with a city view (mostly the hotel's front) with the Tian Shan mountain range in the background. There's only 7 floors at this hotel, so don't expect skyline views.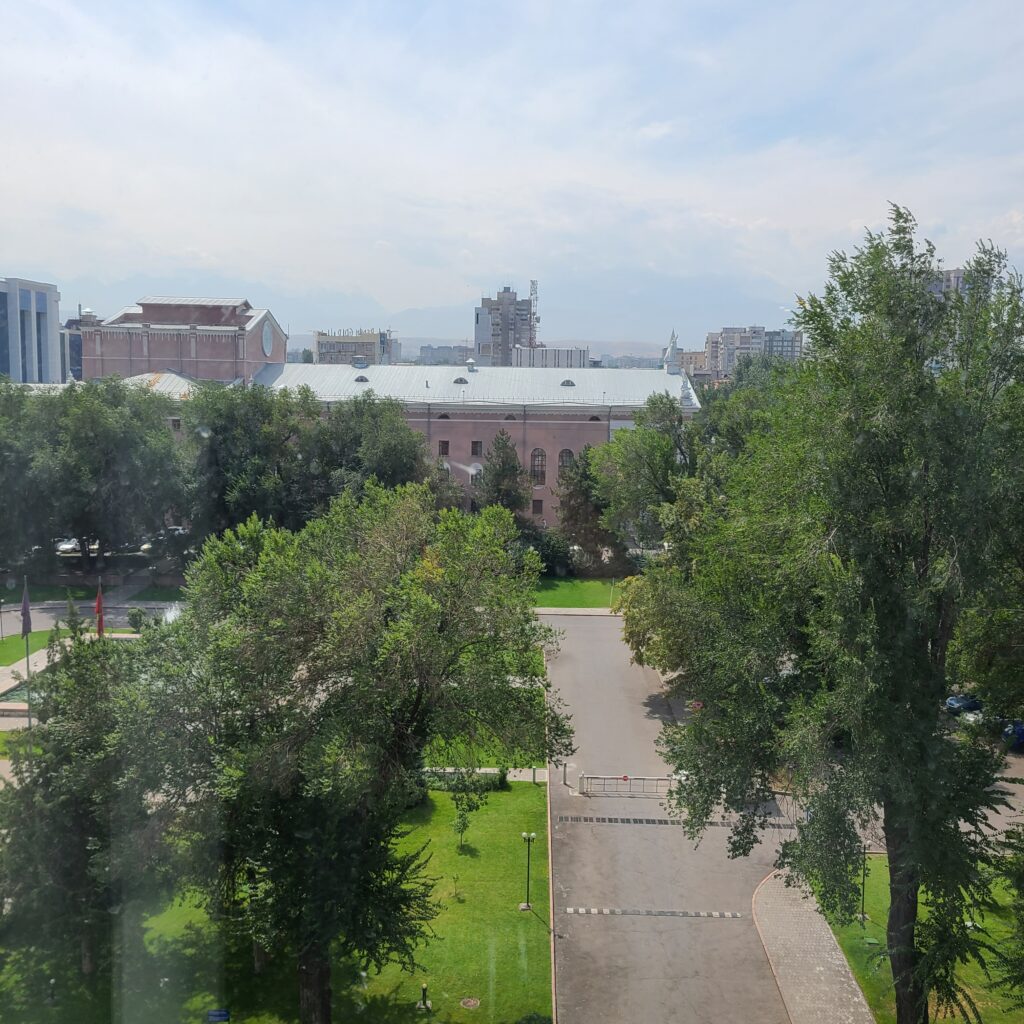 Hyatt Regency Bishkek Executive Suite Bathroom
The doors to the master bathroom are by the bedroom TV. The bathroom is very spacious that include double sinks with amenities you may need like dental kits and extra bottled water.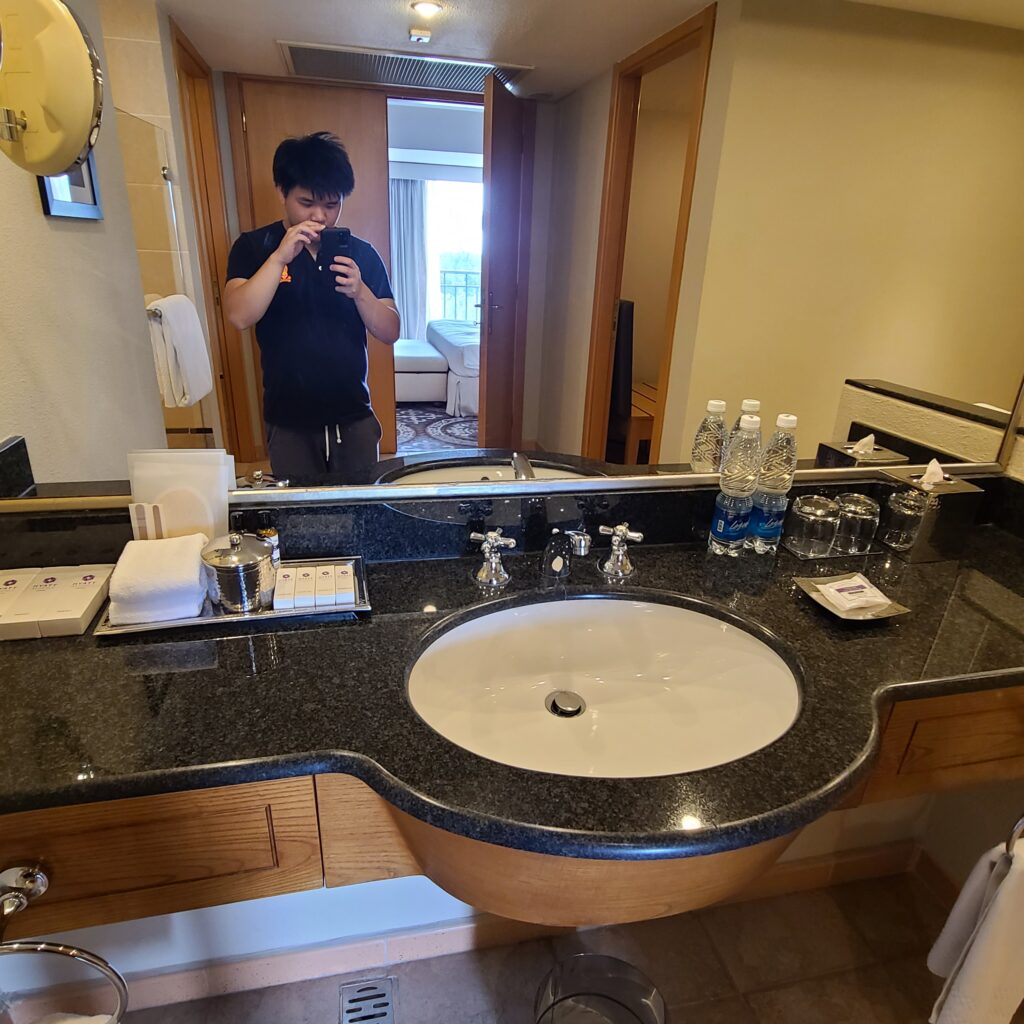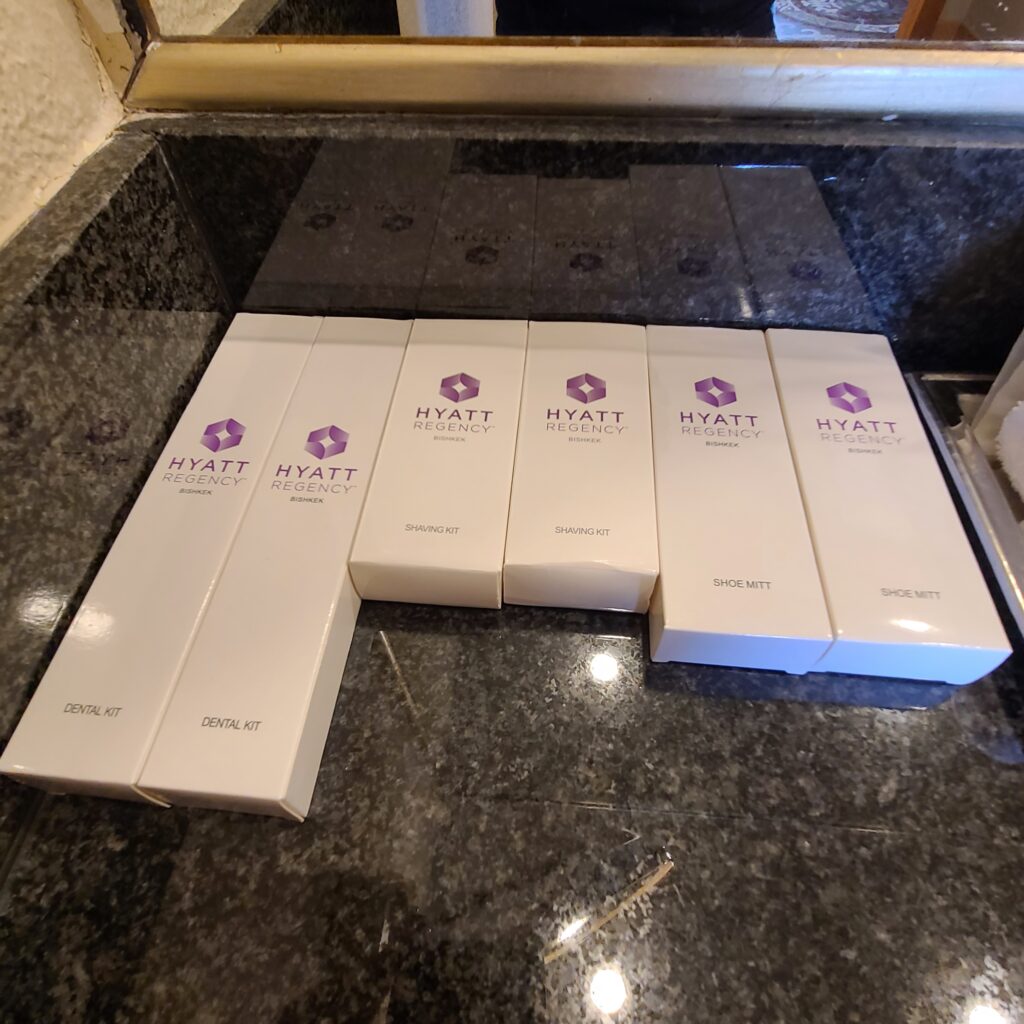 The tub and shower are in the same room. Shower pressure was excellent.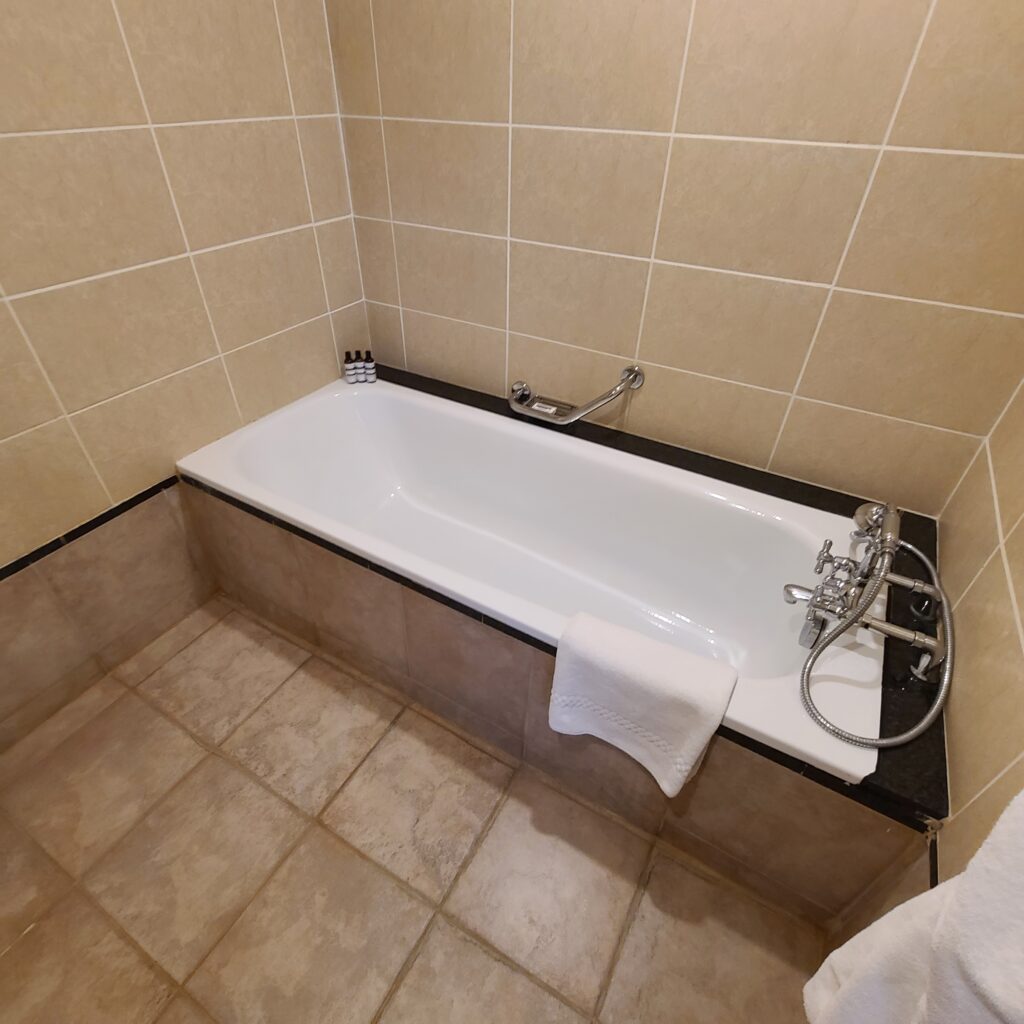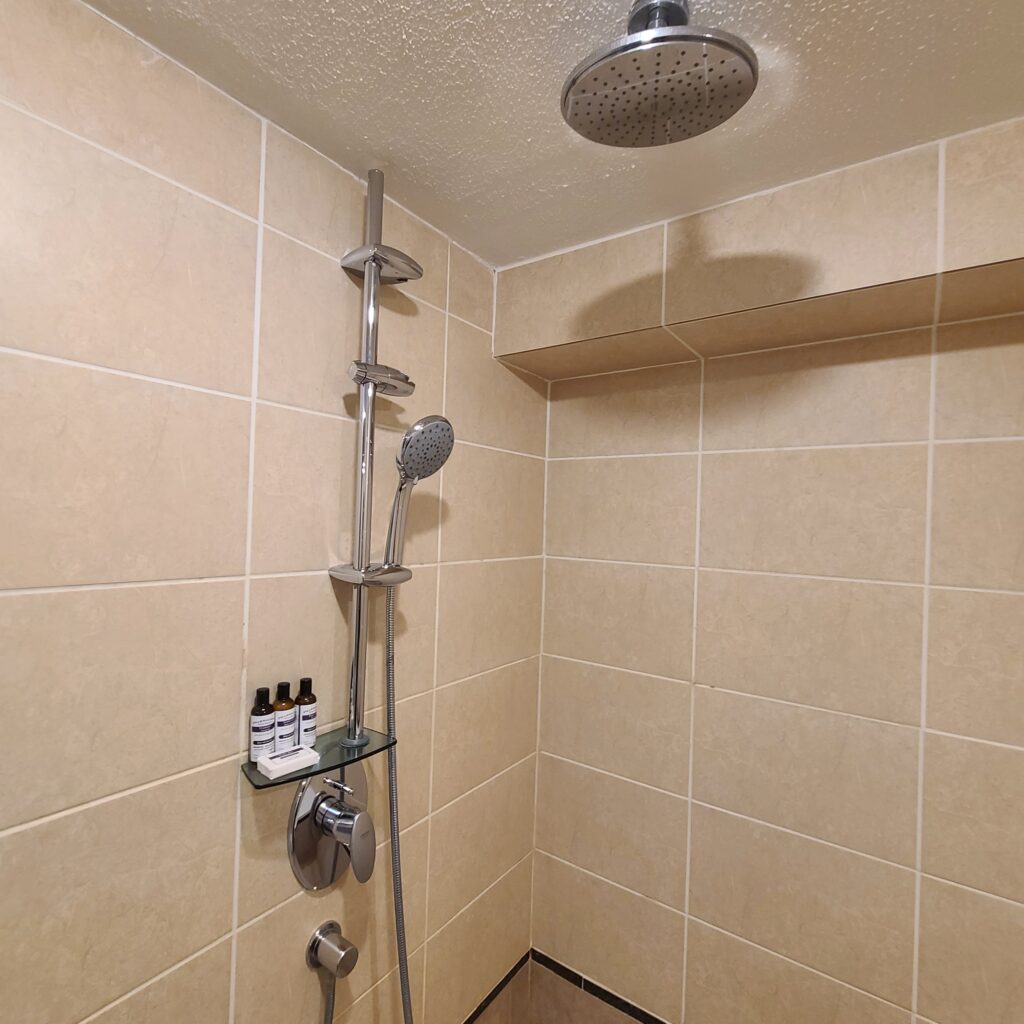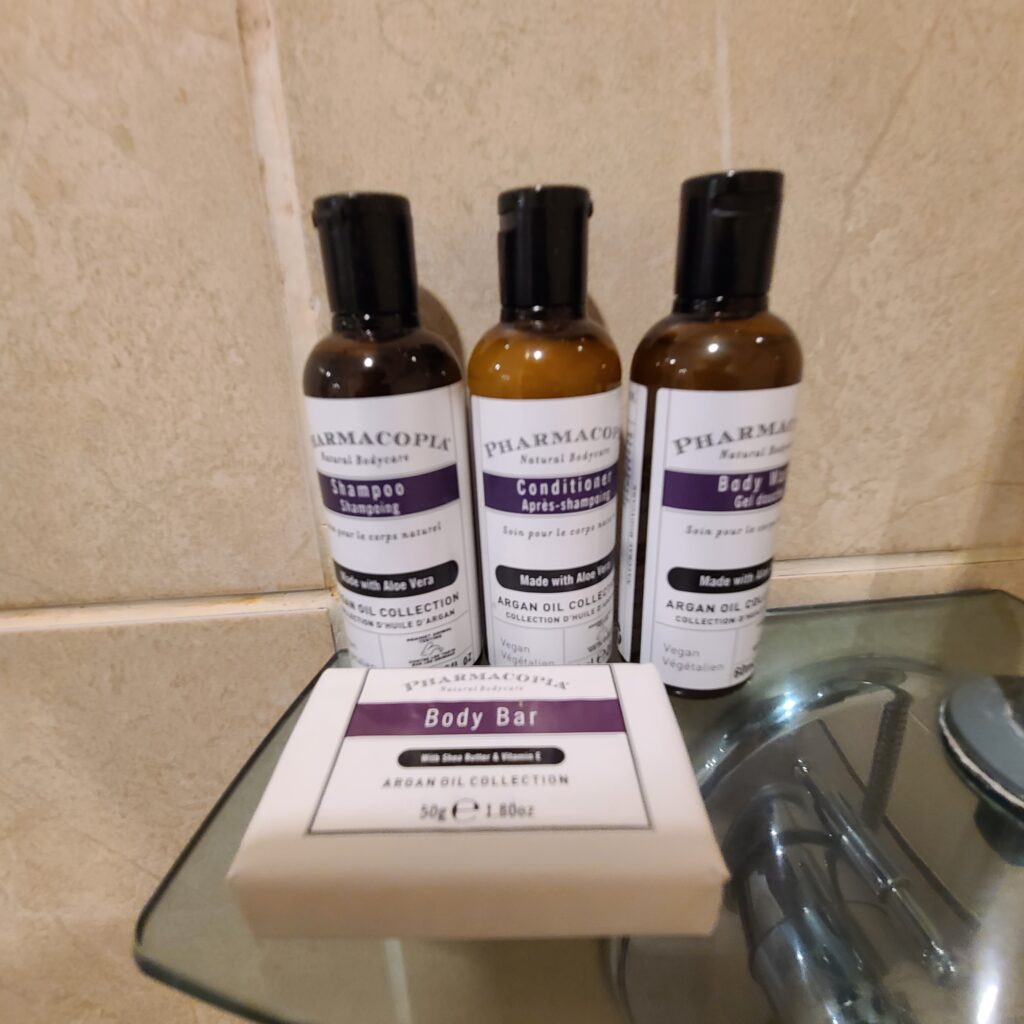 Hair dryer is also included by the sinks.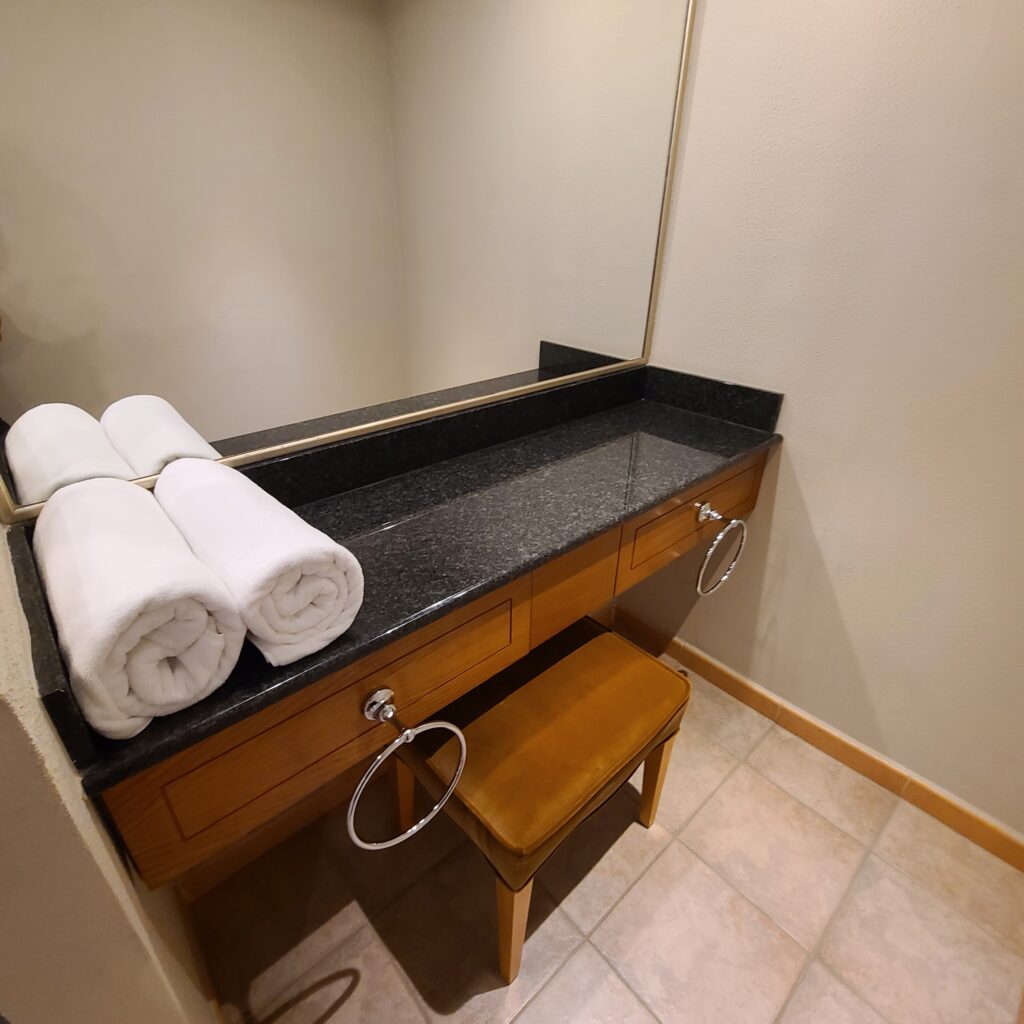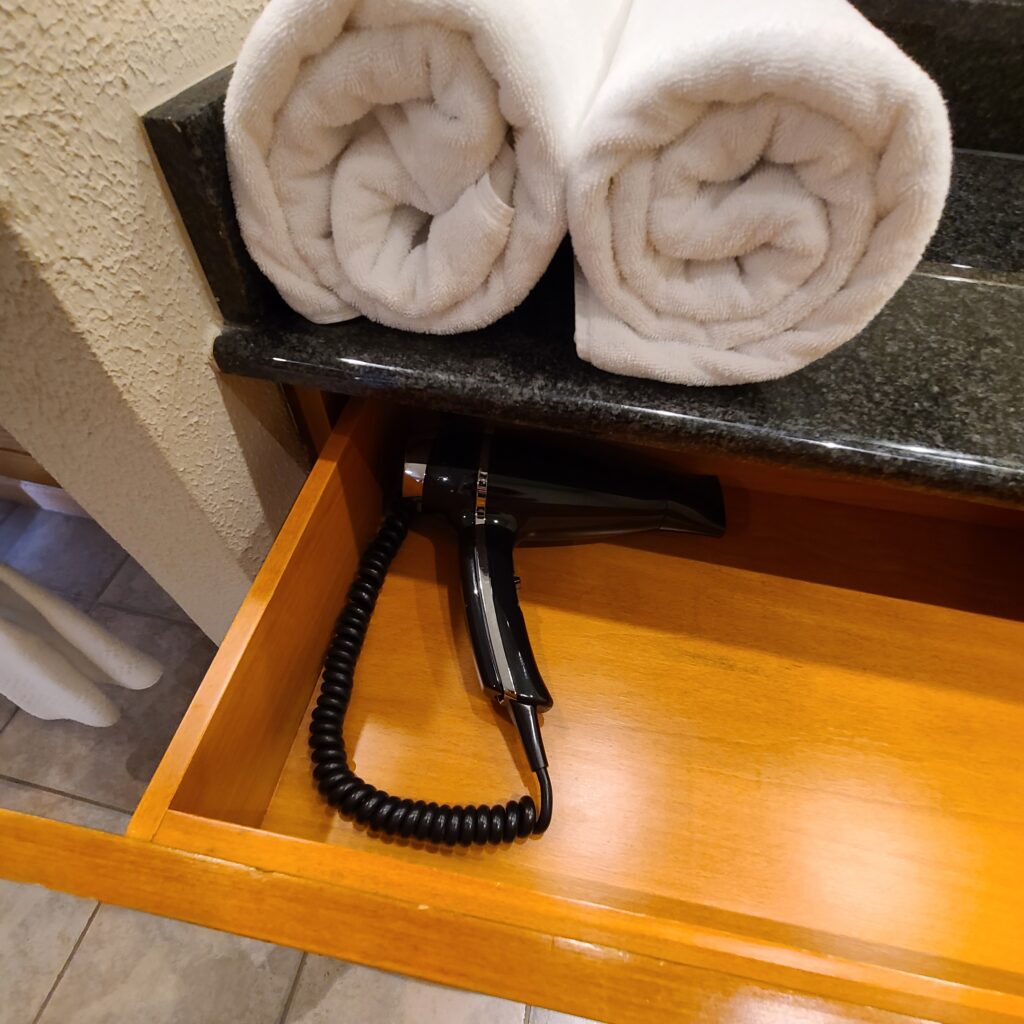 Then, there's a walk-in closet with a safe.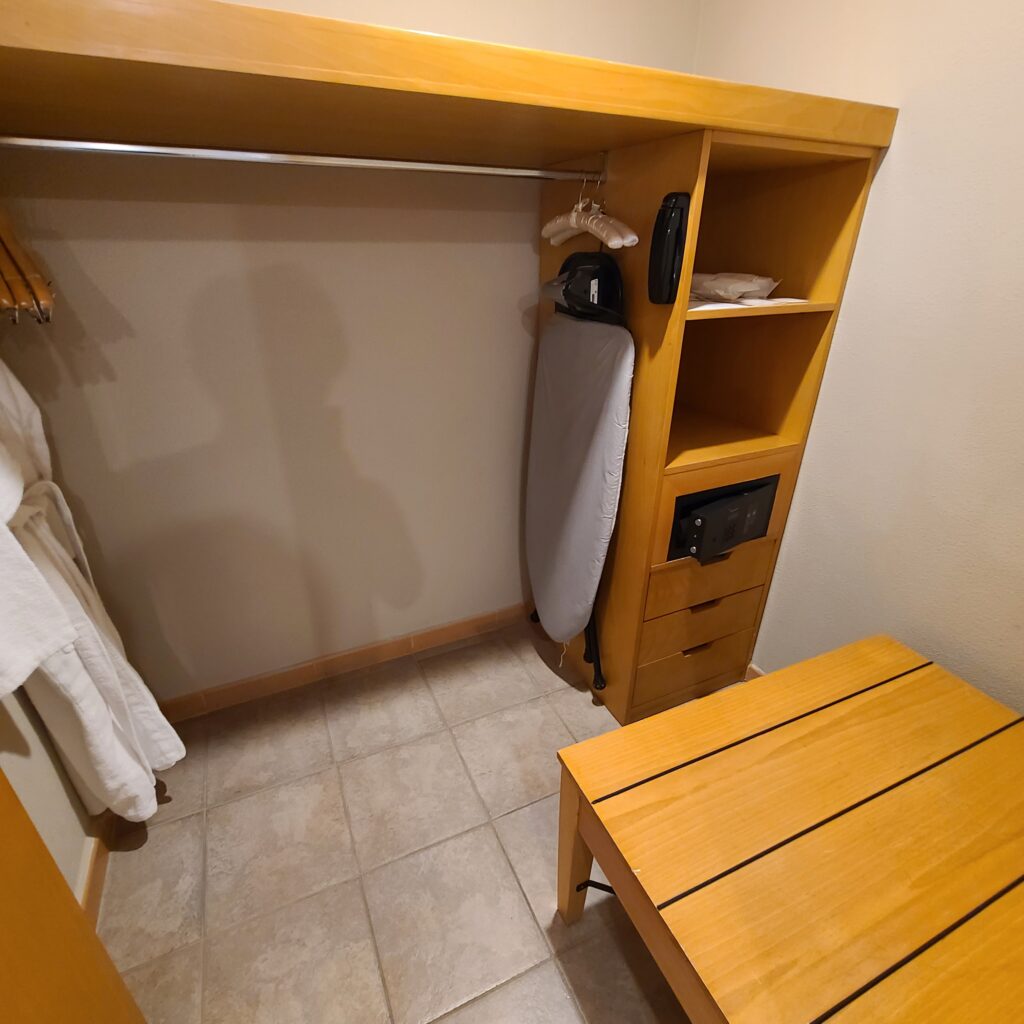 Hyatt Regency Bishkek- Regency Club Benefits/Breakfast
Booking a suite comes with Regency Club access, but unfortunately, the lounge was still closed just like many Hyatt properties currently due to the pandemic. Normally, breakfast and all-day food and drinks will be held here.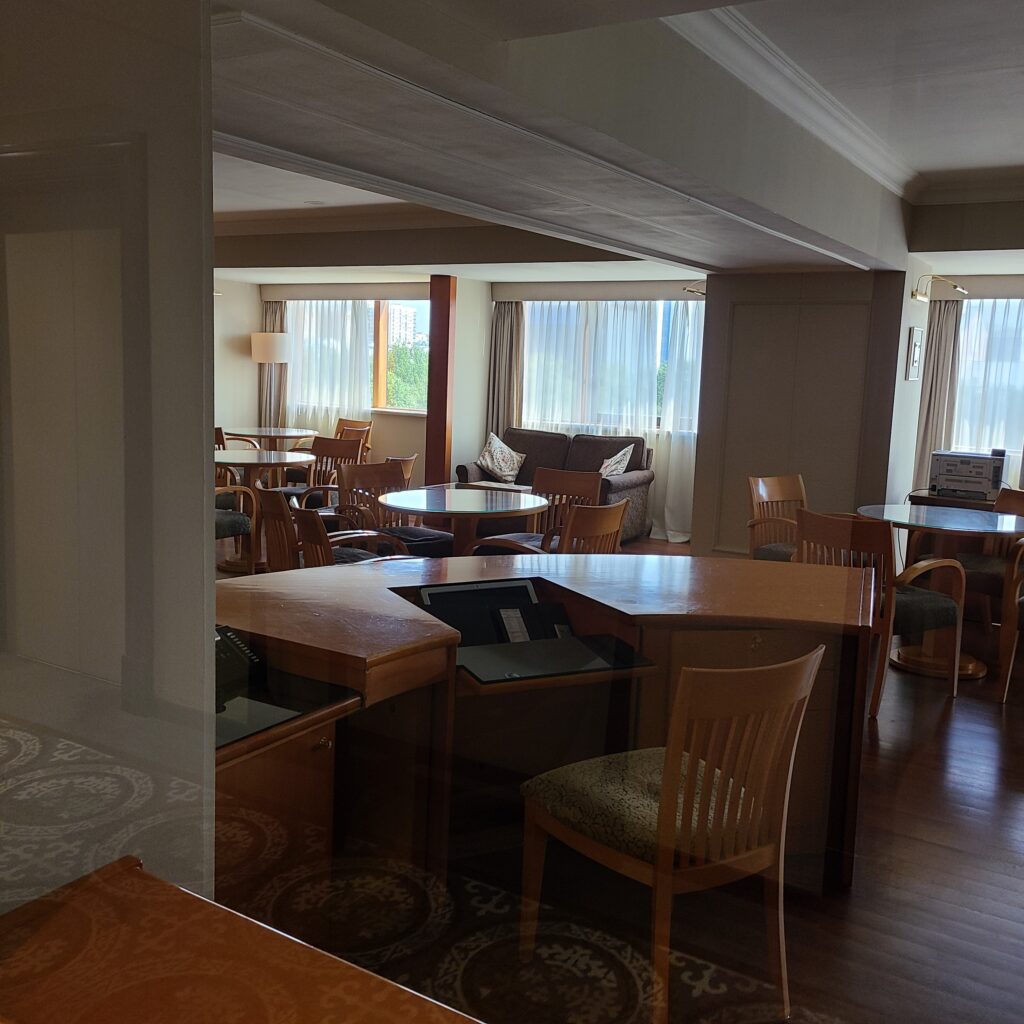 The hotel makes up for it by offering breakfast that starts from 6:30AM-11:00AM and evening cocktails from 5:30PM-7:00PM at their restaurant, Crostini.
I was only able to take advantage of the free breakfast due to the scheduling conflict with the evening cocktails and how I spent my time at Bishkek. Although, I heard a drink to try in Kyrgyzstan is one of its trademark vodka, Kyrgyz Aragy. This can be found in other places as well.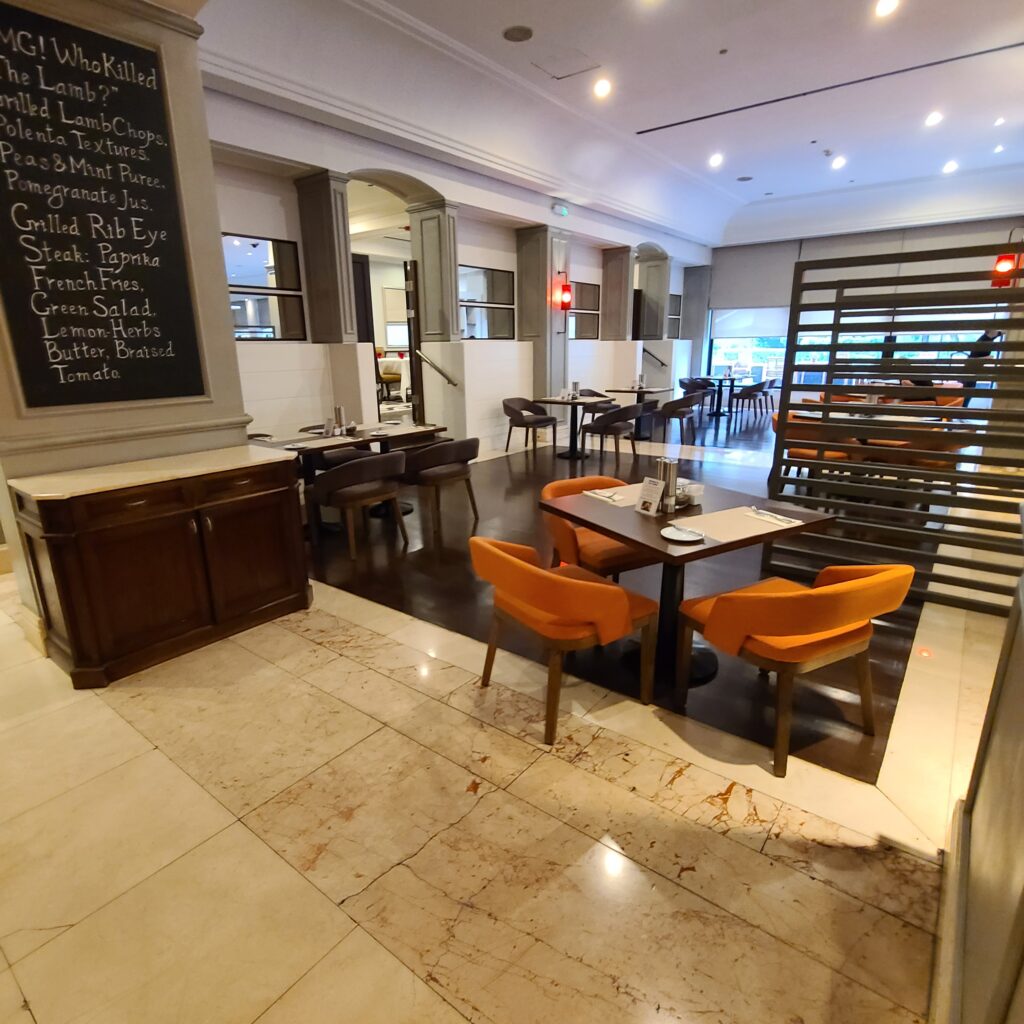 The free breakfast was really convenient for me since it's quite difficult to find any cafes open before 9AM around Bishkek. The offerings are quite large too. You can request the waiter/waitress for coffee or tea.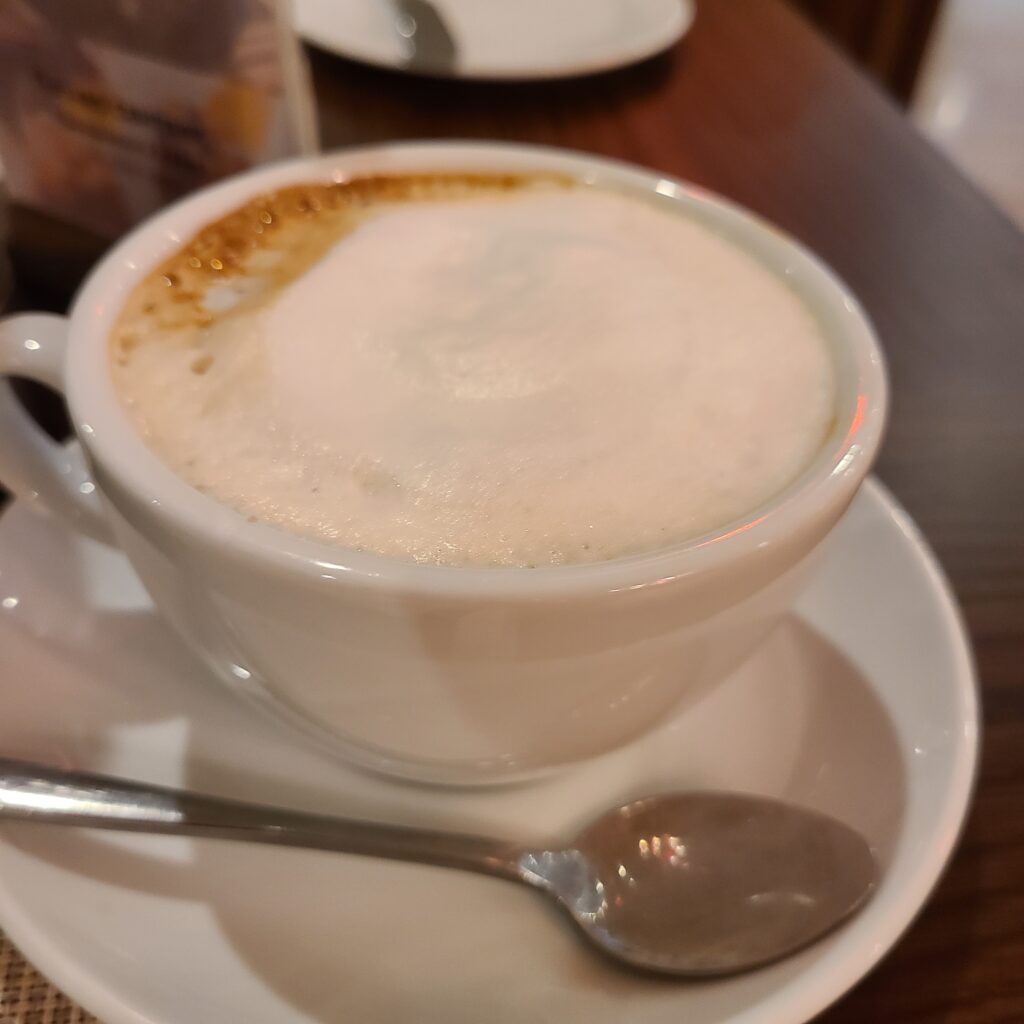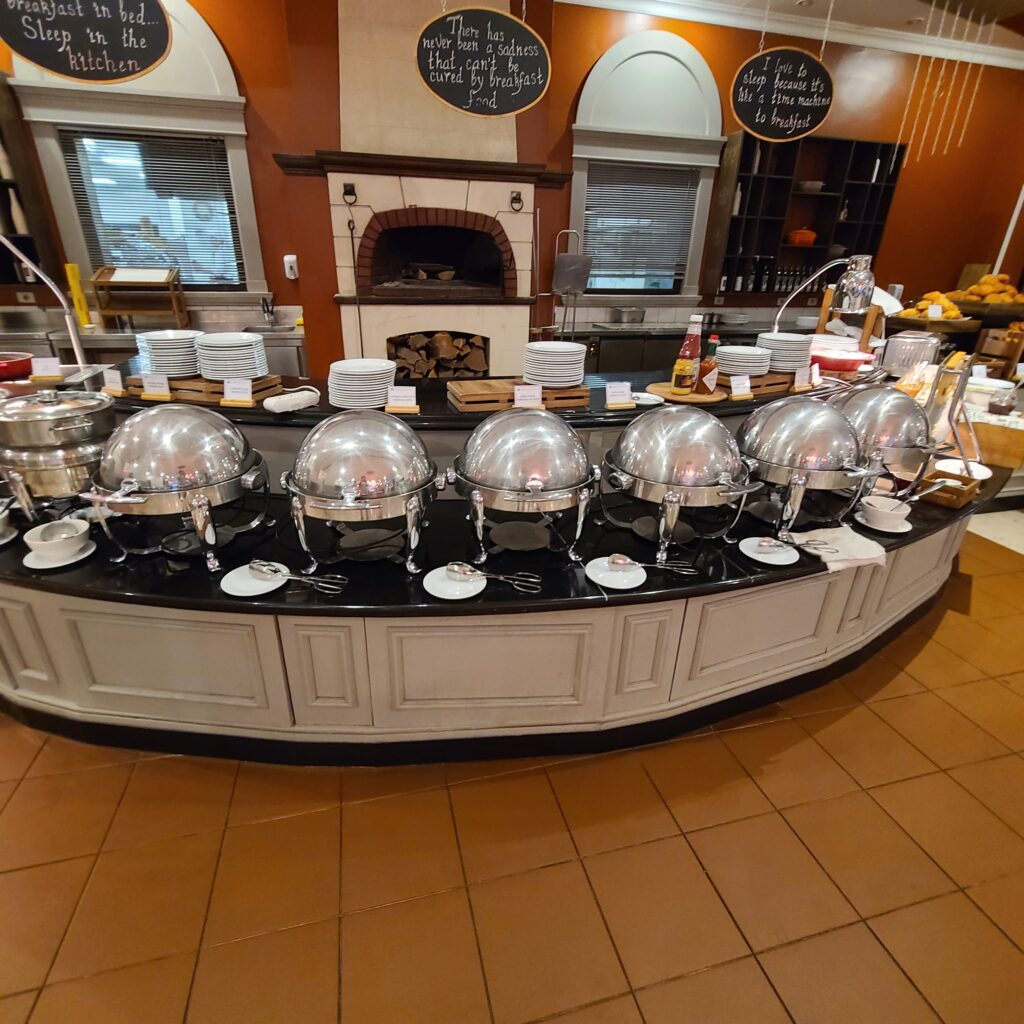 Hot food selections include fried potato wedges, sausages, and sauteed mushrooms, and more. There's plenty more options to choose!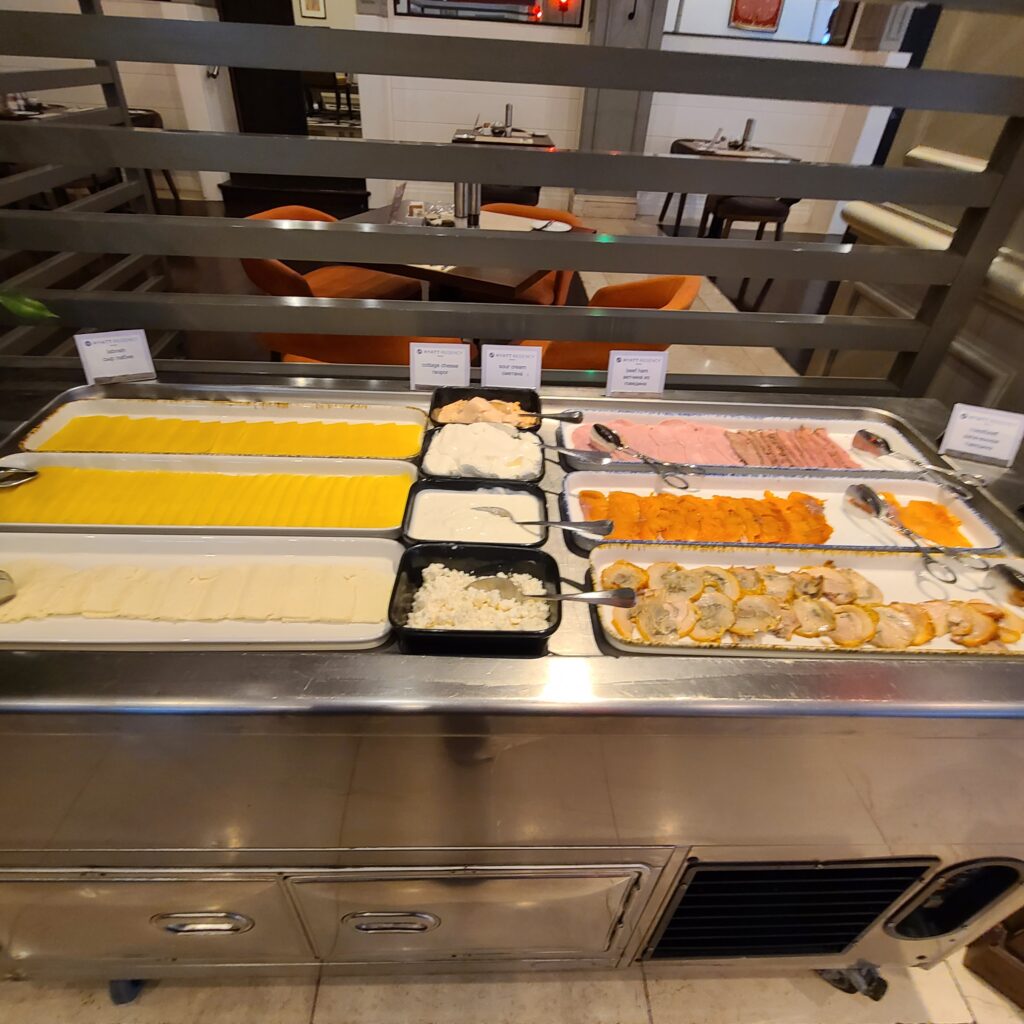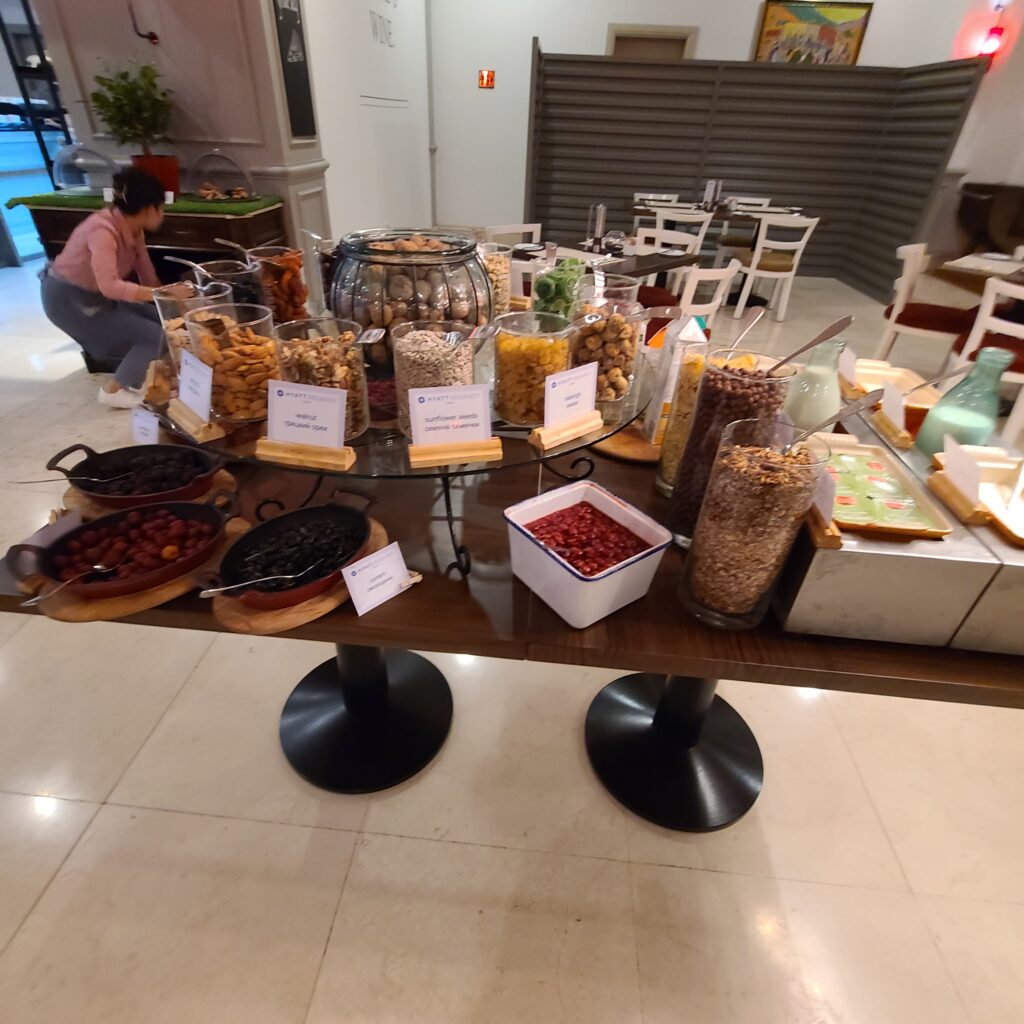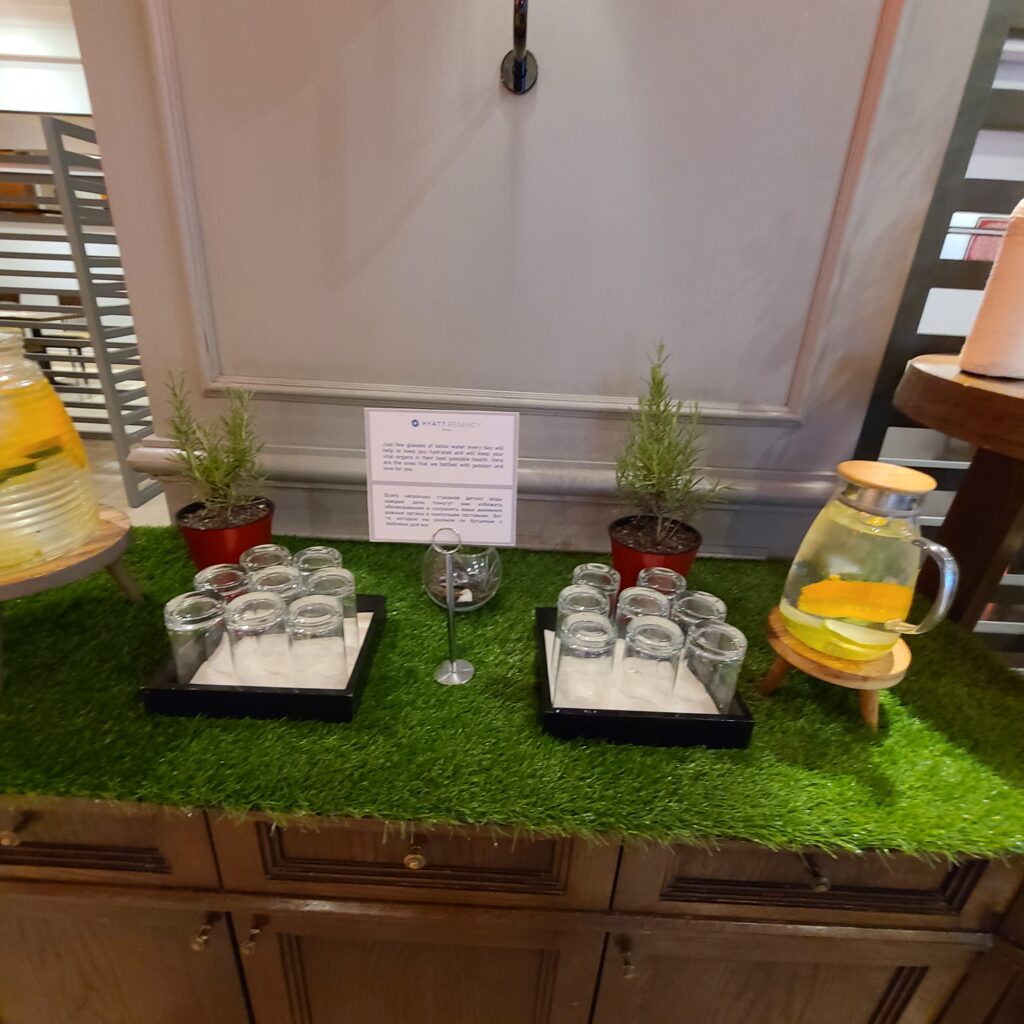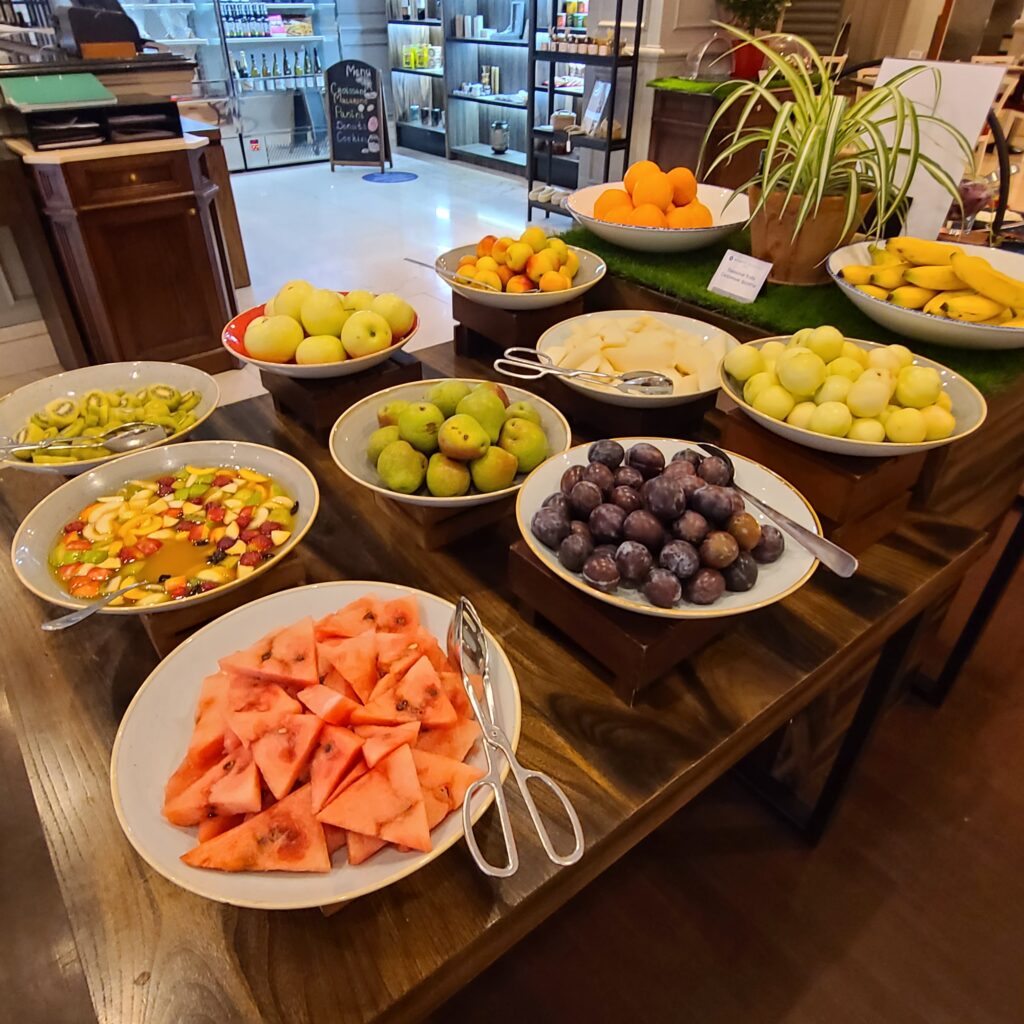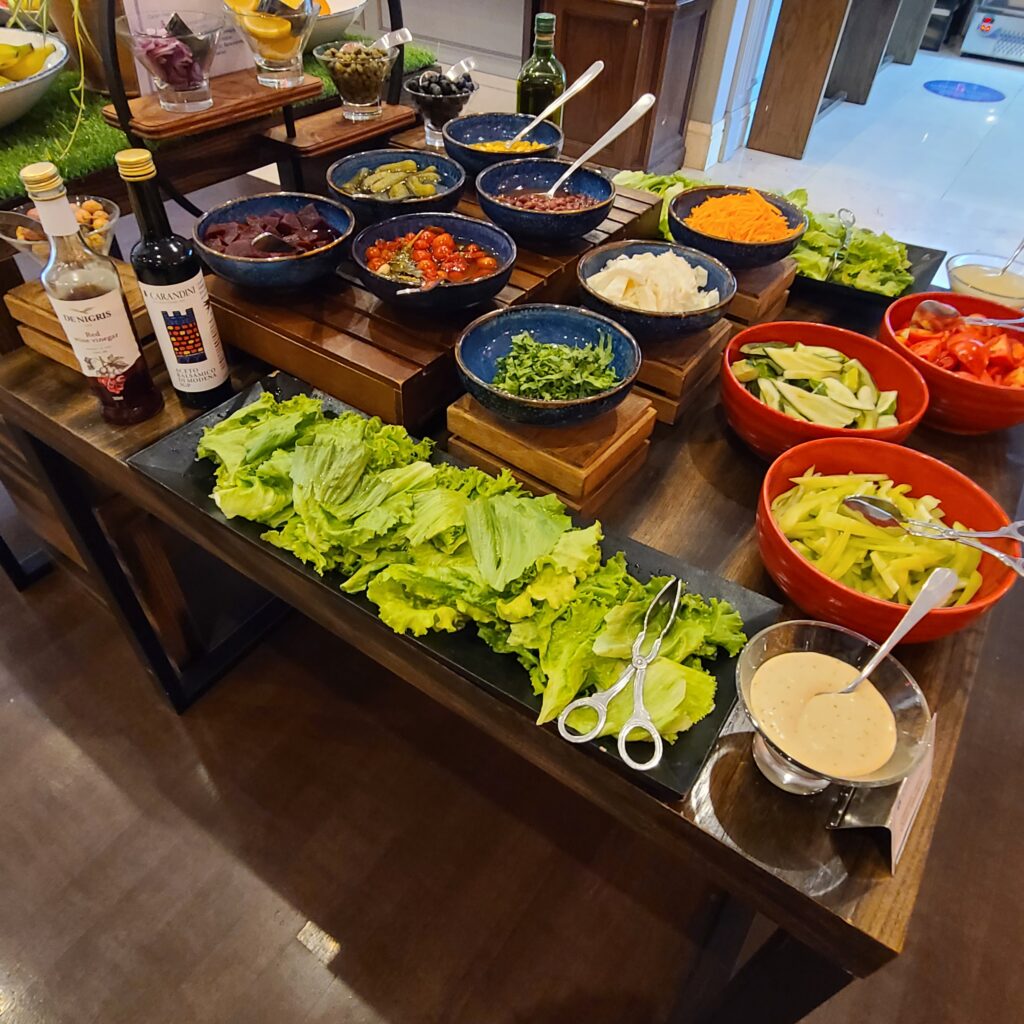 I find the breakfast enjoyable, although I've experienced stomach ache during my time in Central Asia. I'm not saying that the hotel breakfast caused it, but I would caution to bring stomach medicines when you plan to visit Central Asia. Apparently, many foreigners have stomach issues at least the first few days after eating food in this region.
Hyatt Regency Bishkek- Pool & Fitness
The hotel has a pool and jacuzzi at the back of the first floor.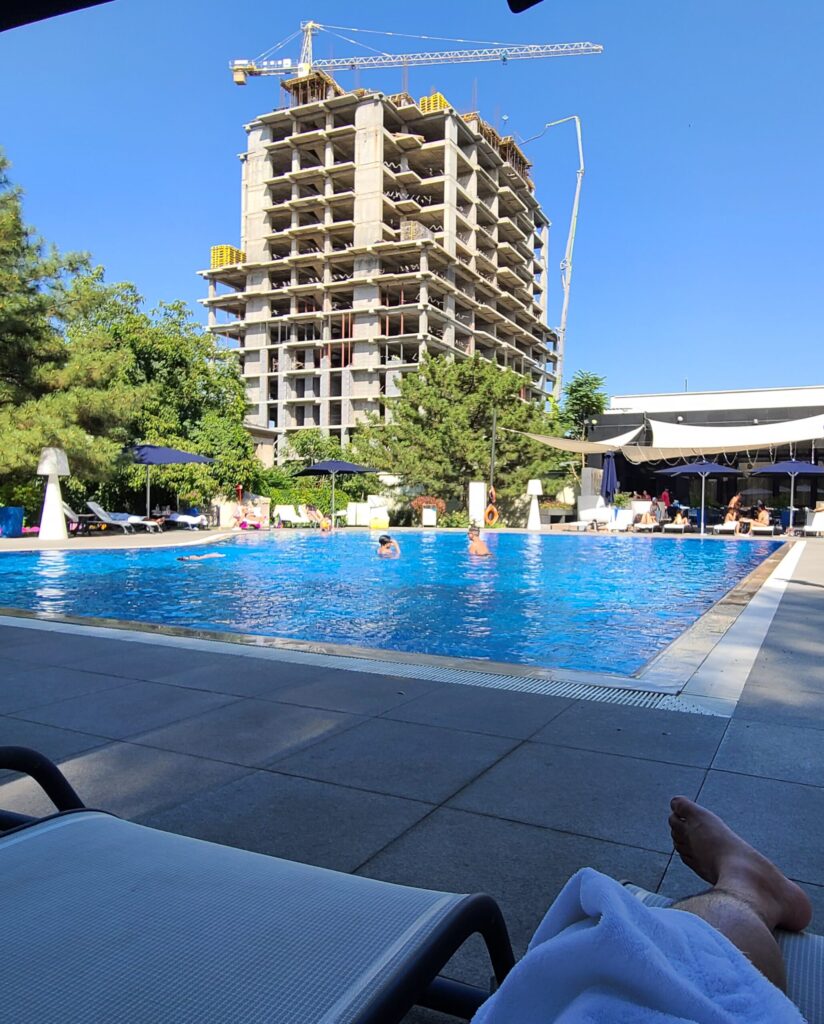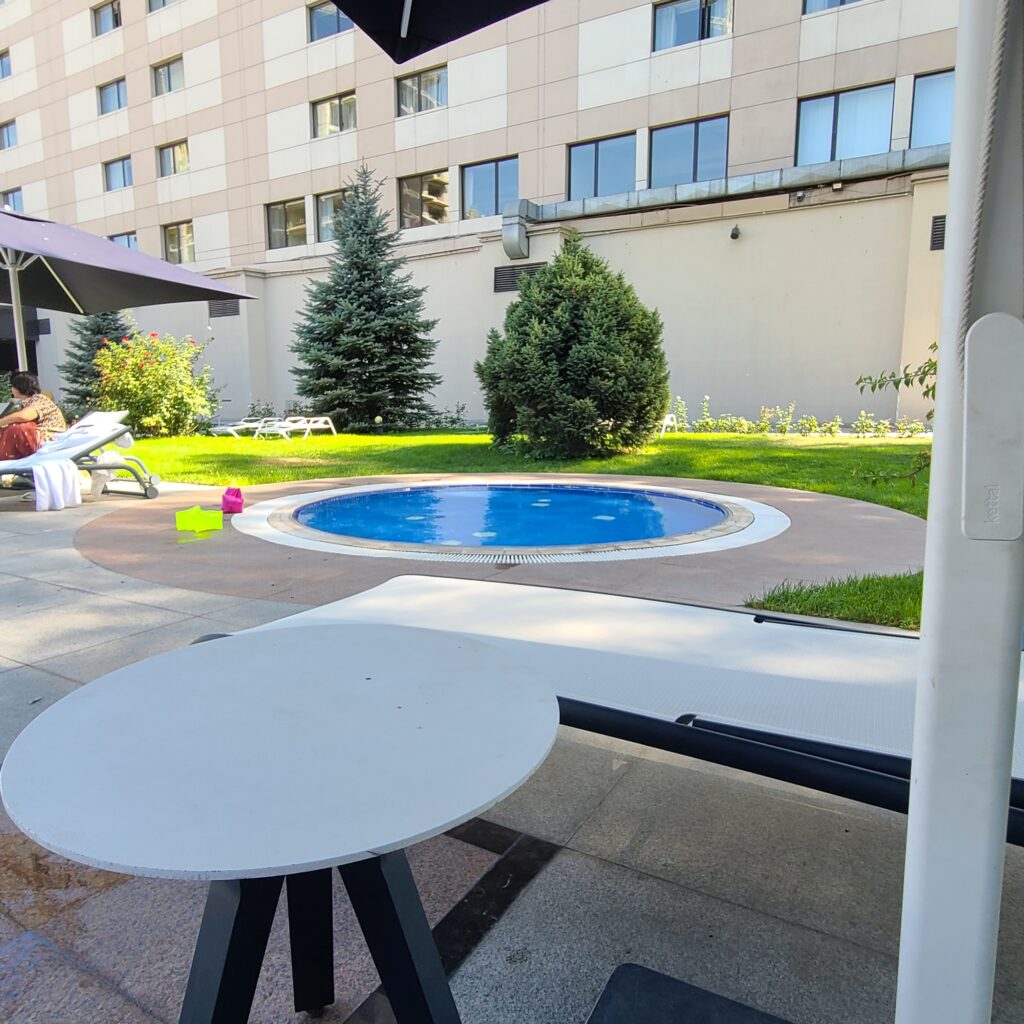 There's also a poolside bar and restaurant, Breeze, if you're interested in getting some drinks on by the pool. Unfortunately, I didn't have the time to check it out.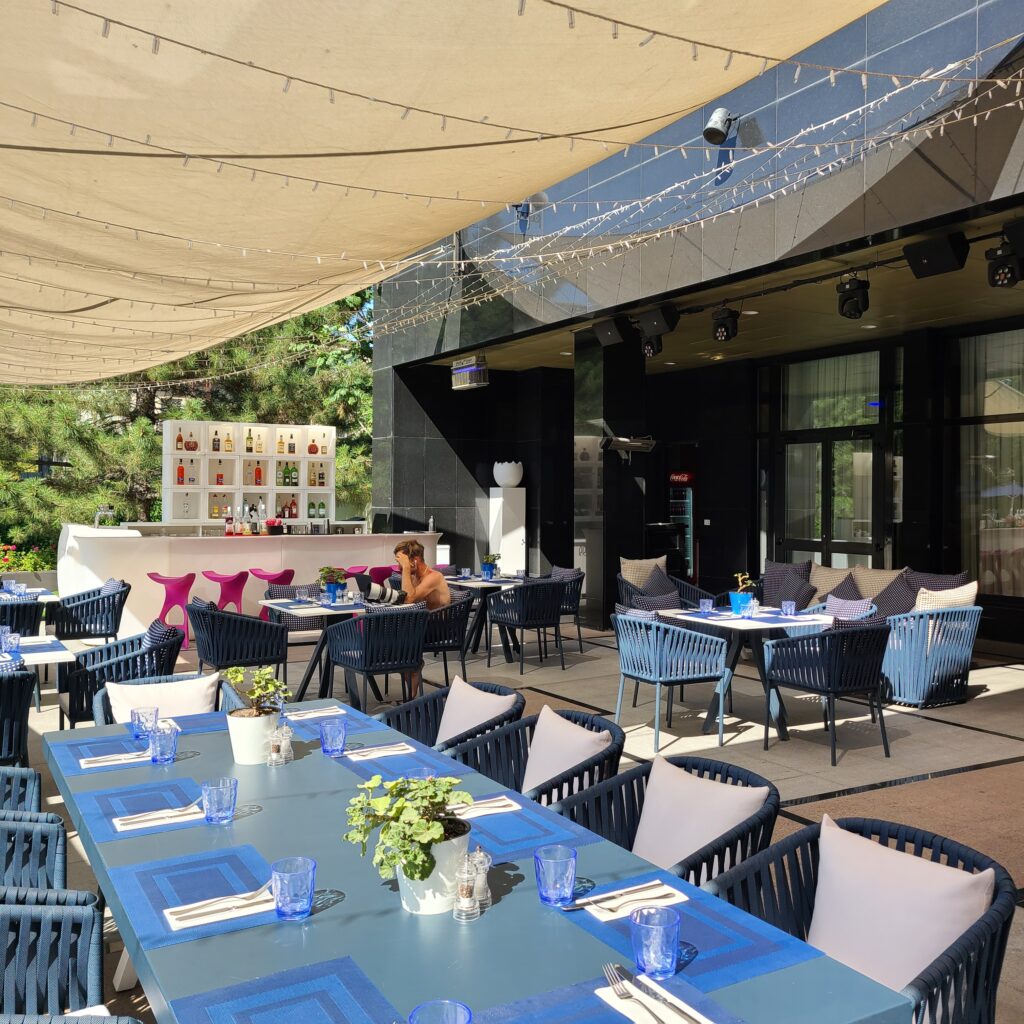 The hotel has a sizeable gym at the basement level.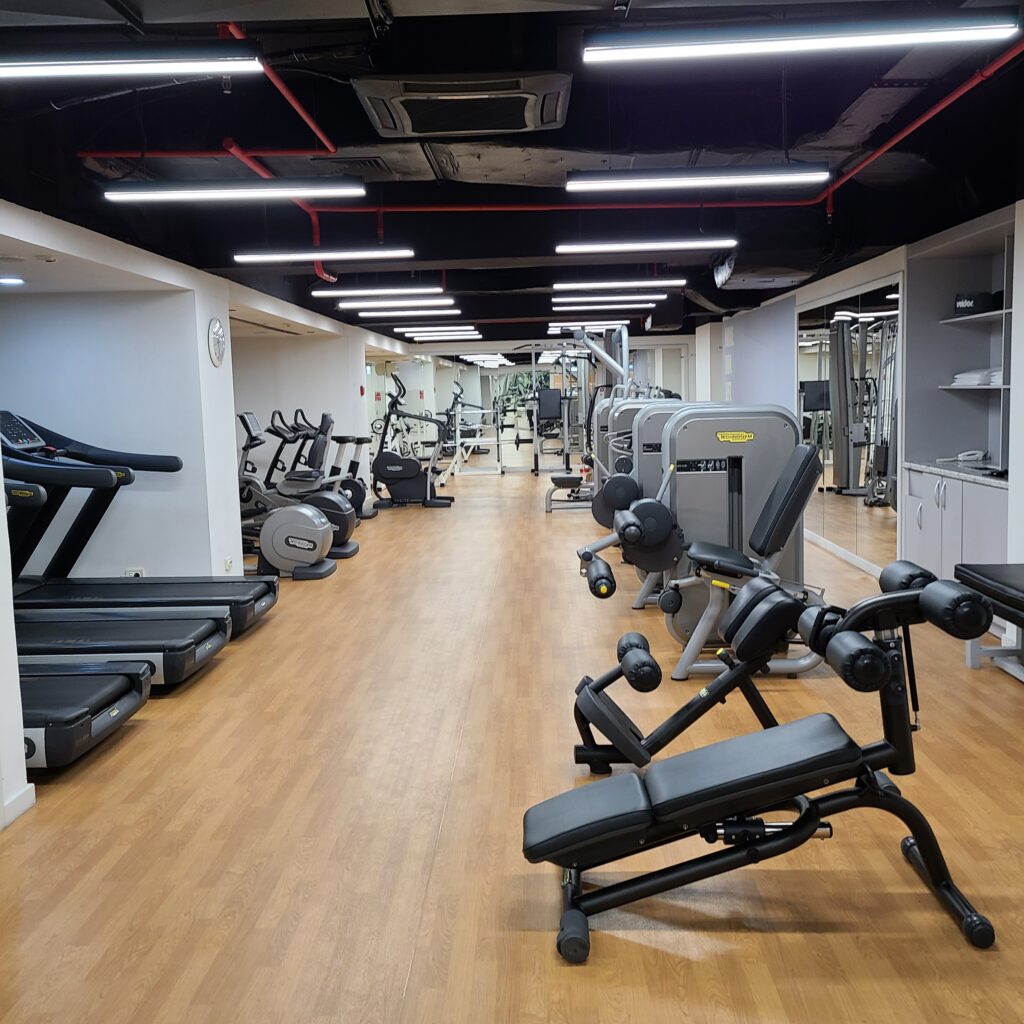 A free weights station is also included!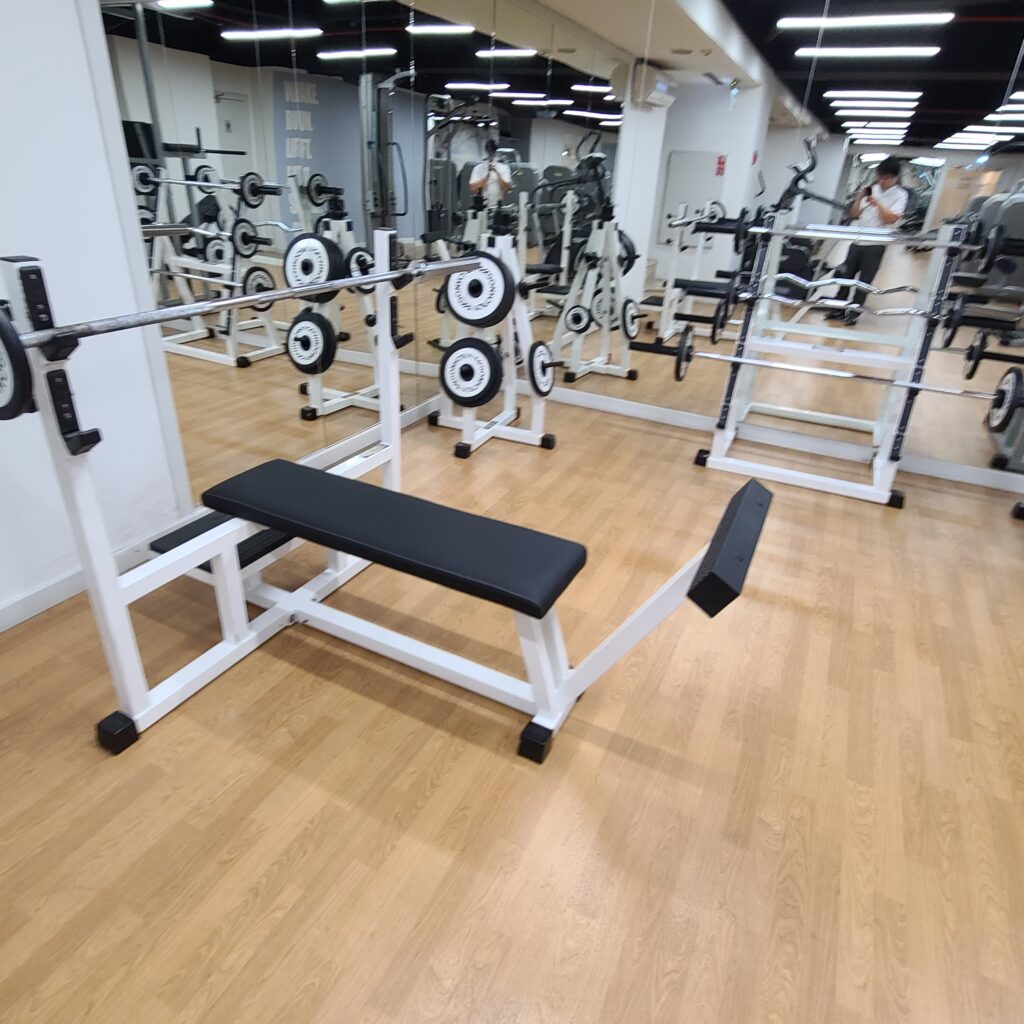 Hyatt Regency Bishkek- Other Facilities
The hotel has other minor facilities that are either closed or that you may find useful. ATM and currency exchange room is located to the right of the front desk. Certainly a useful and safe place to get money exchanged here, and to withdraw money from a debit card like the Charles Schwab Debit.
One of the ATM is from DemirBank, which dispenses clean USD. Withdrawing USD can be a better move to pay for tour guides, which I highly recommend for Kyrgyzstan, since the tourist infrastructure is very lacking outside of Bishkek.
There's a Hyatt Market by the Crostini restaurant where you can buy drinks and snacks on the go, while earn a bit of Hyatt points in return.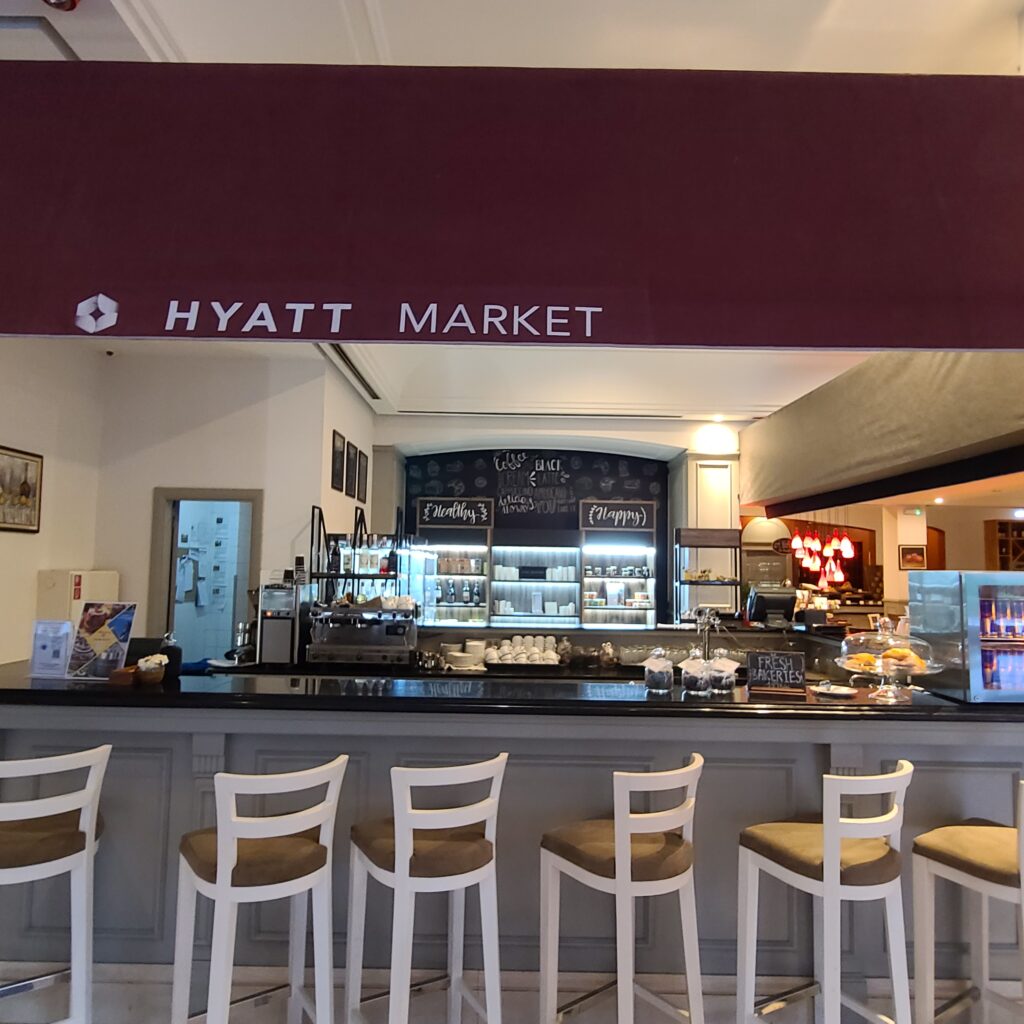 The hotel also has a bar called Bar@191 and spa facility called Olympus. But, both of them are closed temporarily.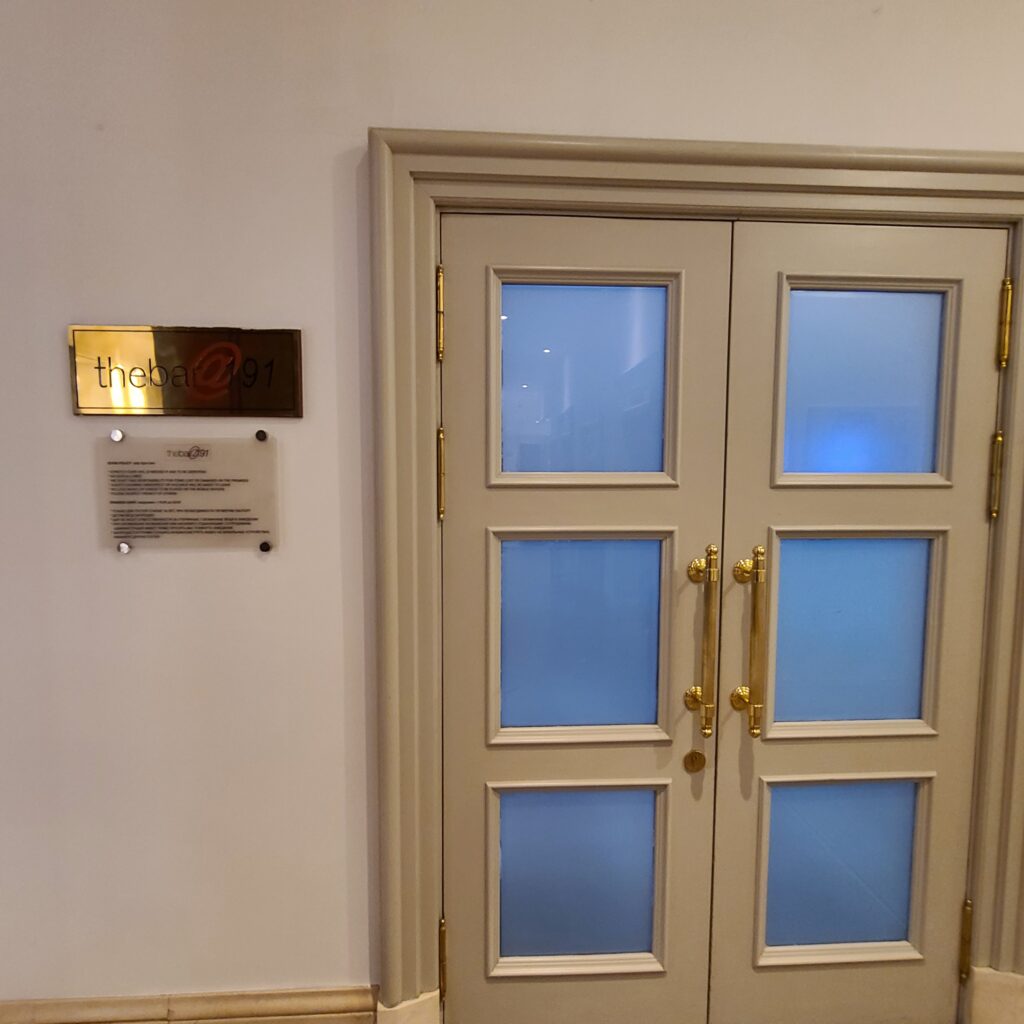 Conclusion
My stay at the Hyatt Regency Bishkek was quite decent. I appreciated getting early check-in after such long flights, including a 13-hour layover in Istanbul. Points redemption value for this hotel is also great as well, especially for suites. Hospitality from the staff was also probably the best I've experienced in Kyrgyzstan, and definitely kudos to them for honoring Regency Club benefits despite the Club lounge being closed.
But then, the hotel is quite dated, and some renovations will certainly make the hotel much more appealing. I also wish Hyatt would start opening Club Lounges for many of its properties. It's also strange for it to be completely closed still as Kyrgyzstan has been one of the most "carefree" countries in regards to travel restrictions caused by the pandemic.
Nonetheless, it's surprising to see a Hyatt property in Kyrgyzstan despite Hyatt's reputation of having low global footprint. Hyatt loyalists can certainly appreciate it when they plan for a trip to Central Asia. The points redemption is very generous, so non-Hyatt loyalists can easily book free nights here, and potentially get Globalist-lite benefits through points!
Overall Rating