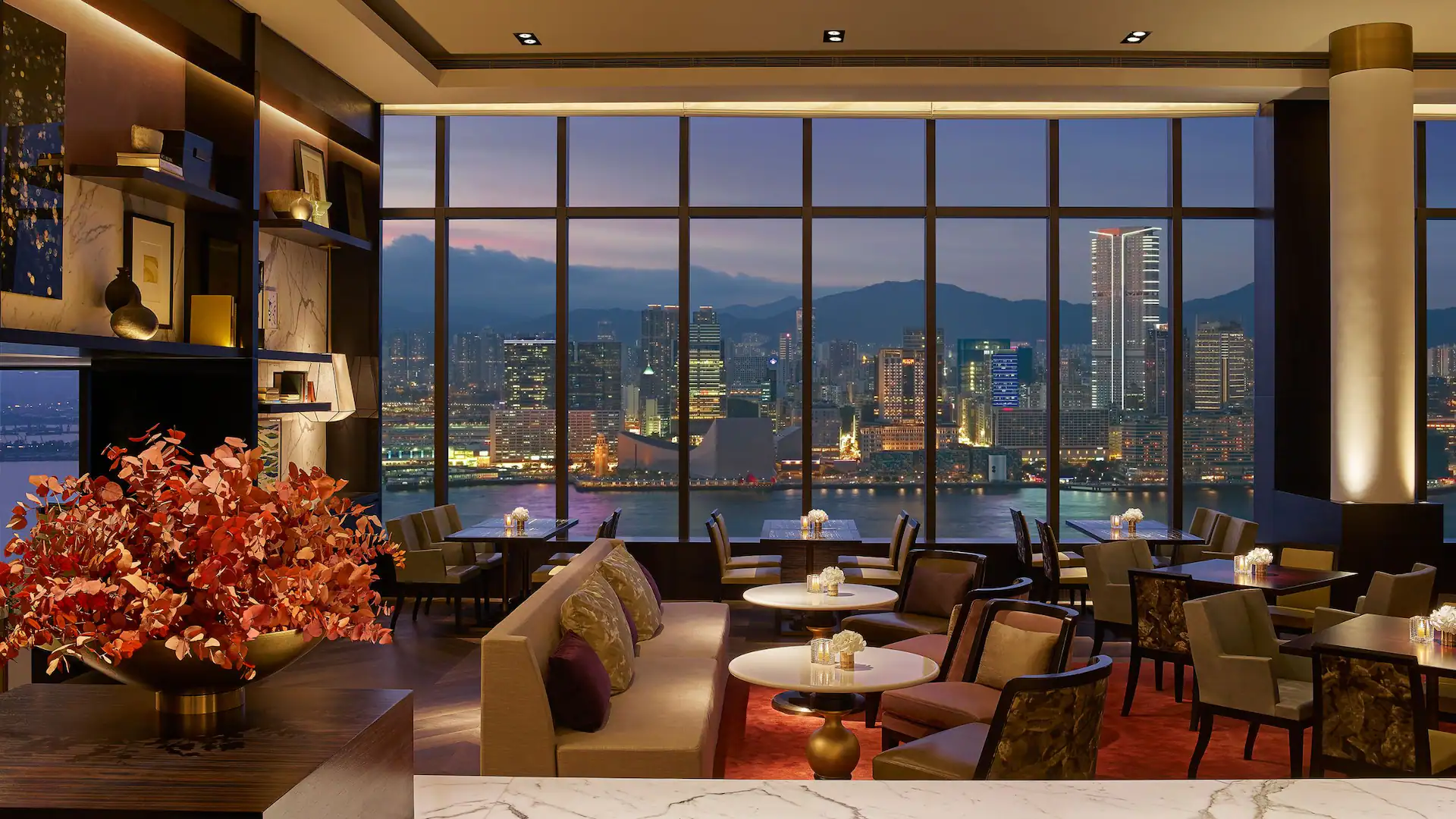 Advertiser disclosure: This post may include affiliate links (including sidebar banners) in which this site may receive compensation if a purchase is successfully made (at no extra cost to you) after being redirected from here. Thank you for your support!
Do You Get Club Access When You Book A Suite at Hyatt Hotels?
Hyatt lets you book room upgrades through their loyalty program, including room with Club Access (lounge) and even suites. While the difference between a standard room and a room with Club Access is big on points redemption, the difference between Club Access and standard suite upgrade is quite small. So, does booking a suite grant you club access too? The answer is it depends. There are ways to find out if you'd get club access or not if you decide to book suites with cash or points.
Which Hyatt Brands Have Club Access?
Not all Hyatt brands have club lounges at their properties. There are few brands to look out for that tend to have club lounges:
Grand Hyatt
Hyatt Regency
Few Park Hyatt hotels have club access, but very limited to certain locations like in Hamburg. It's not a brand standard, however.
How to Know if A Suite Comes with Club Access at Hyatt Hotels
Thankfully, it's very straightforward to find out whether the Hyatt suite you try to book will include complementary club access or not. Club access will explicitly be written in the room description of the hotel's site. If it's absent, then the suite won't come with club access.
Let's look at Hyatt Regency Sofia in Bulgaria for example.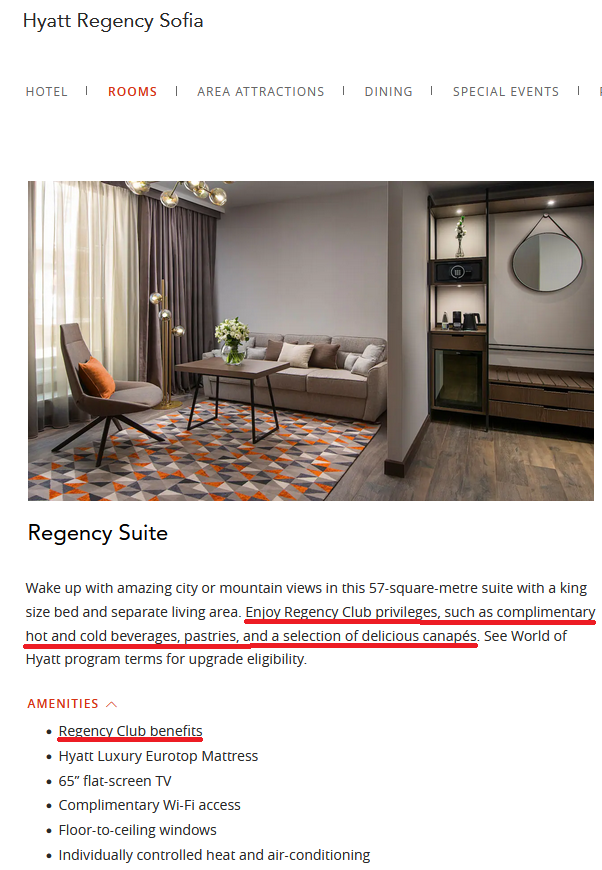 Based on the room's description from the hotel's site, a suite does come with Regency Club benefits, meaning you can get lounge access.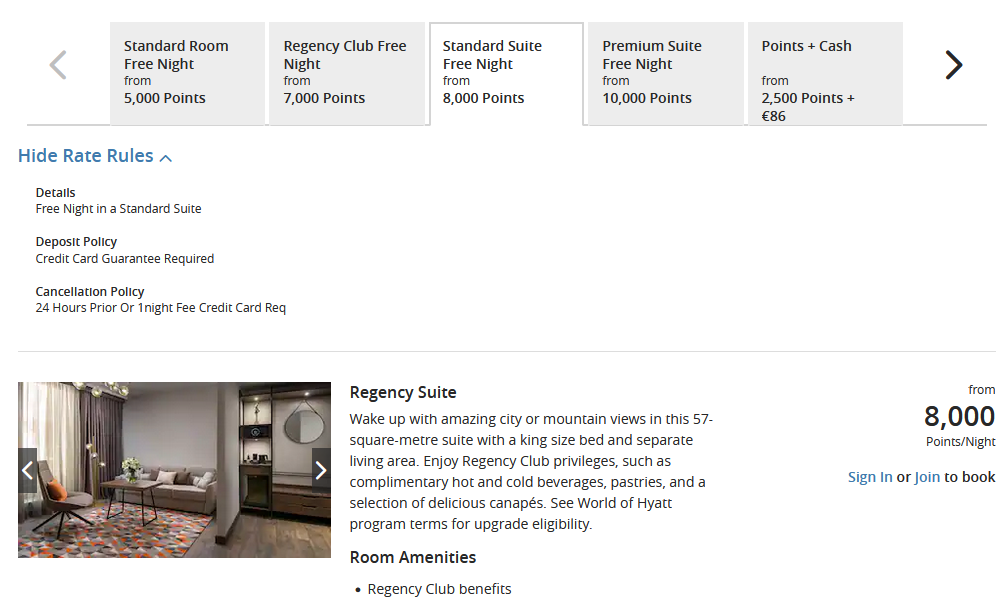 As Hyatt Regency Sofia is a Category 1 hotel, you can expect to pay 5,000 World of Hyatt points per night for a standard room. Booking a standard suite would cost 8,000 points per night, an effective 60% more points required. In general, expect to pay ~50-60% more when booking a standard suite compared to regular room with WoH points.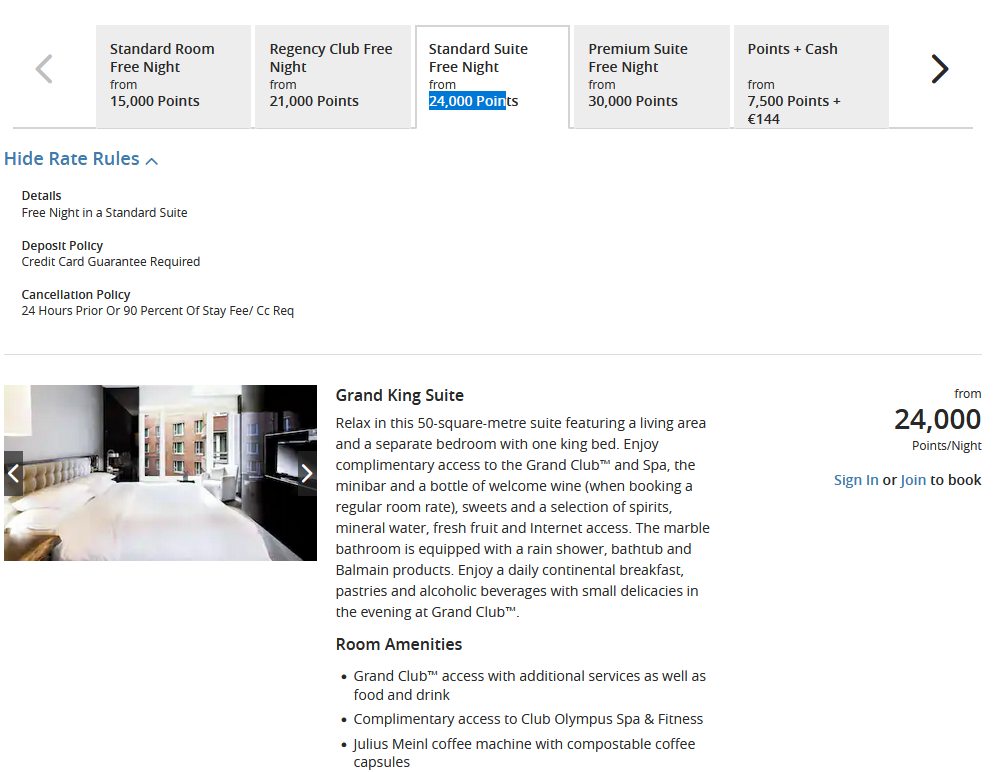 Then, there are many cases where booking a suite does not include club access, especially in the US.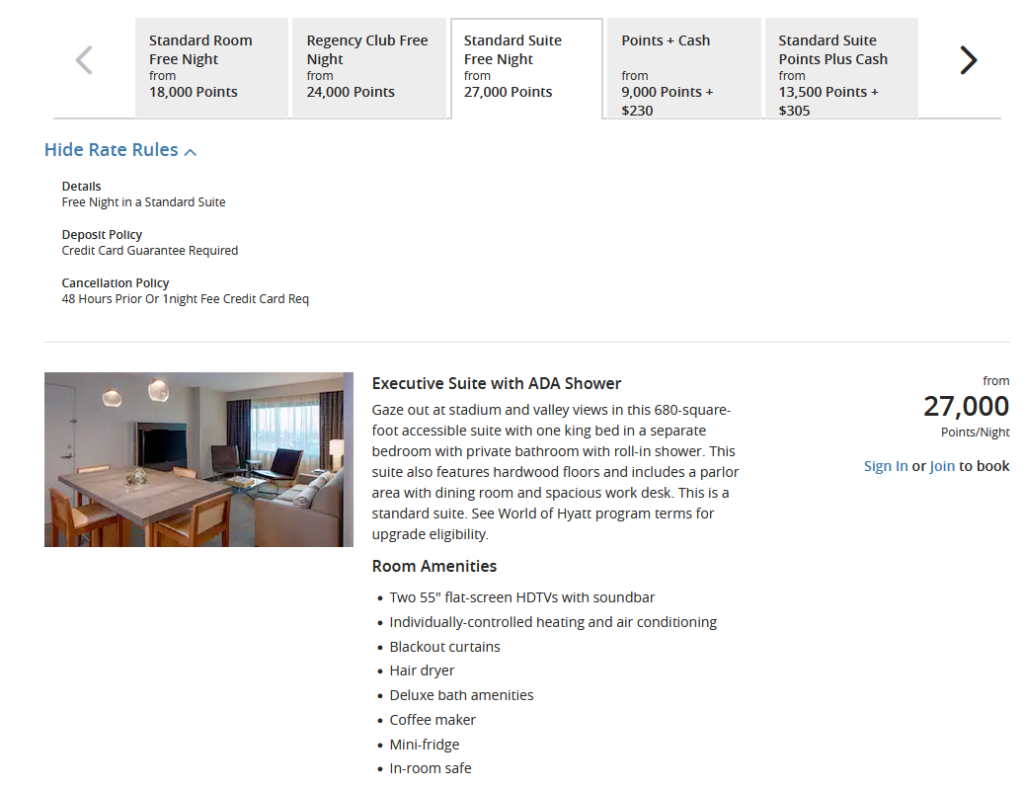 Even though ex-US (international) Hyatt Regency/Grand Hyatts tend to offer complementary club access, not all properties do so. Some properties also exclude suites, and even rooms with club access from points booking, thus making it necessary for you to use club access awards from Hyatt milestone rewards or paid cash upgrade.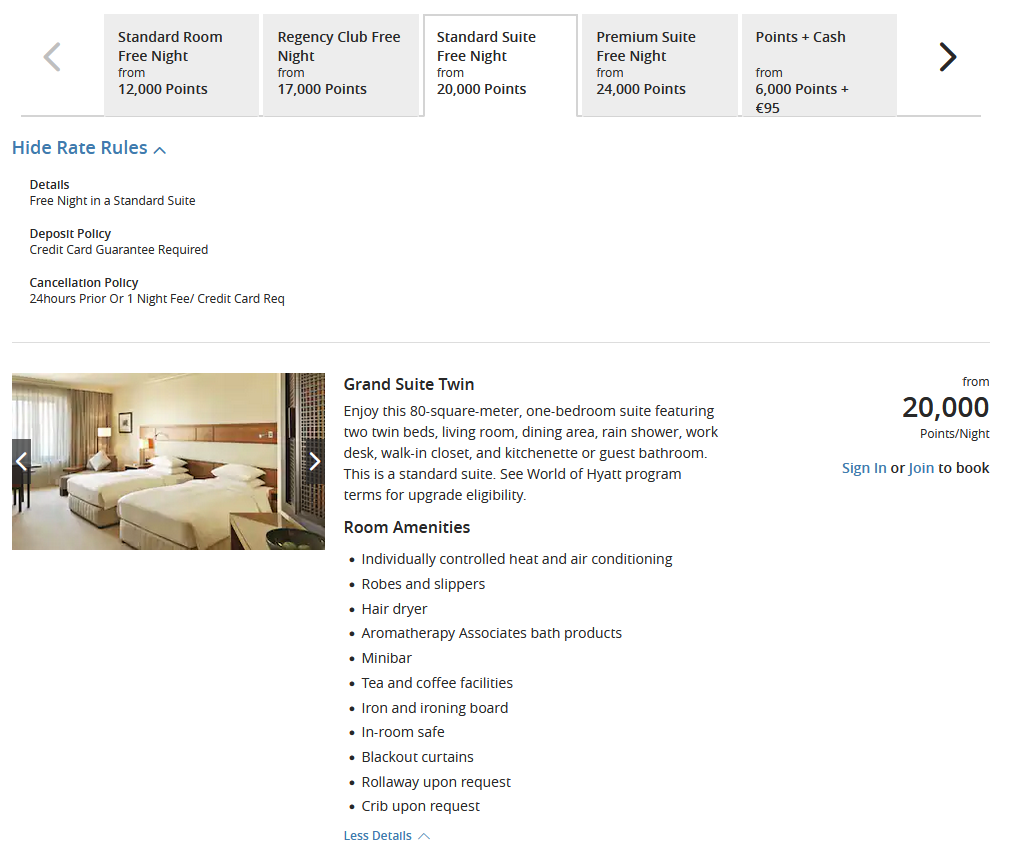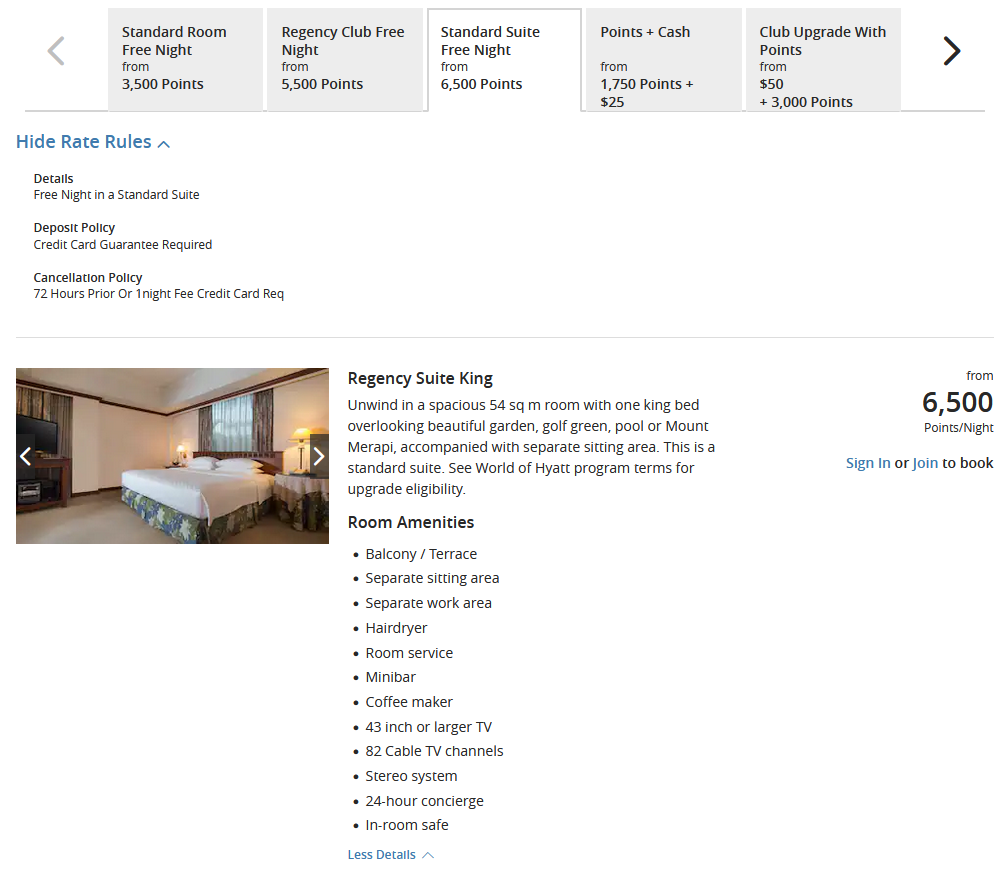 Another thing to note is that because of the pandemic, club lounges are still closed. So, definitely shoot an e-mail to the hotel if you'd be compensated some other way.
Is It Worth Booking A Suite with World of Hyatt Points?
To check whether it's worth the extra points to book a suite outright with points, I'll give a real life example of my very upcoming stay at Hyatt Regency Bishkek, a Category 2 hotel.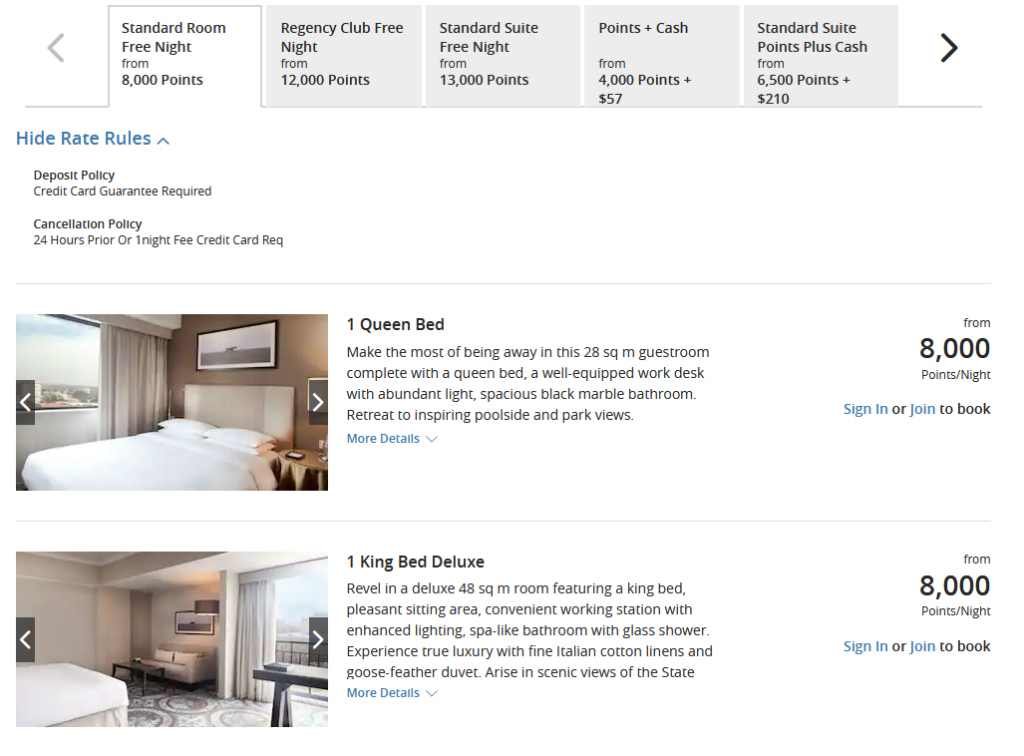 A cash booking on 1 King Bed Deluxe for 2 nights would cost $320 in cash including taxes & fees (standard rate). The room cost me 8,000 points per night, totaling 16,000 points for 2 nights. This would result in 2 cents per point redemption, which is more than what I value WoH points at (1.5 cpp).

For a standard suite, the total in cash would be $960. Yes, the suite includes Regency Club access! The suite cost me 13,000 points per night, totaling 26,000 points for 2 nights. This would then result in 3.69 cpp. An 84.5% increased value (3.69cpp from suite/2cpp from standard)!

So, booking a suite outright can be a good deal! But, think twice before letting cents per point valuation be the sole reason to book it though. All in all, it can especially be great if you don't have status with Hyatt or your stay pattern involves one-off Hyatt stays here and there.
Amusingly enough, the pricing model reminds me of the saying to "never buy medium fries/popcorn from McDonalds/cinema". In my opinion, either go book standard room or suite only (if it offers club access), and never in between. Unsurprisingly, booking a Deluxe room with Regency Club access gives the worst redemption value out of all the choices at 1.75 cpp.

One important thing to note is that because of the pandemic, club lounge may still be closed in some properties. So, definitely shoot an e-mail to the hotel and if you'd be compensated some other way. In my case with Hyatt Regency Bishkek, breakfast and evening cocktails would happen in their restaurant instead to compensate for their lounge closure.
Conclusion
Some Hyatt Regency and Grand Hyatts will offer complementary club lounge access when you book a suite, and you can expect more of them on properties outside of the US to get more value out of your Hyatt points booking. Hotel room descriptions can feel incomplete a lot of times from what I've experienced with Marriott and Hilton, so it's awesome that Hyatt is more comprehensive with them. This can prove to be great value for some travelers like myself, who don't stay at Hyatt hotels very much (thus not having status), and have some Chase Ultimate Rewards to burn.