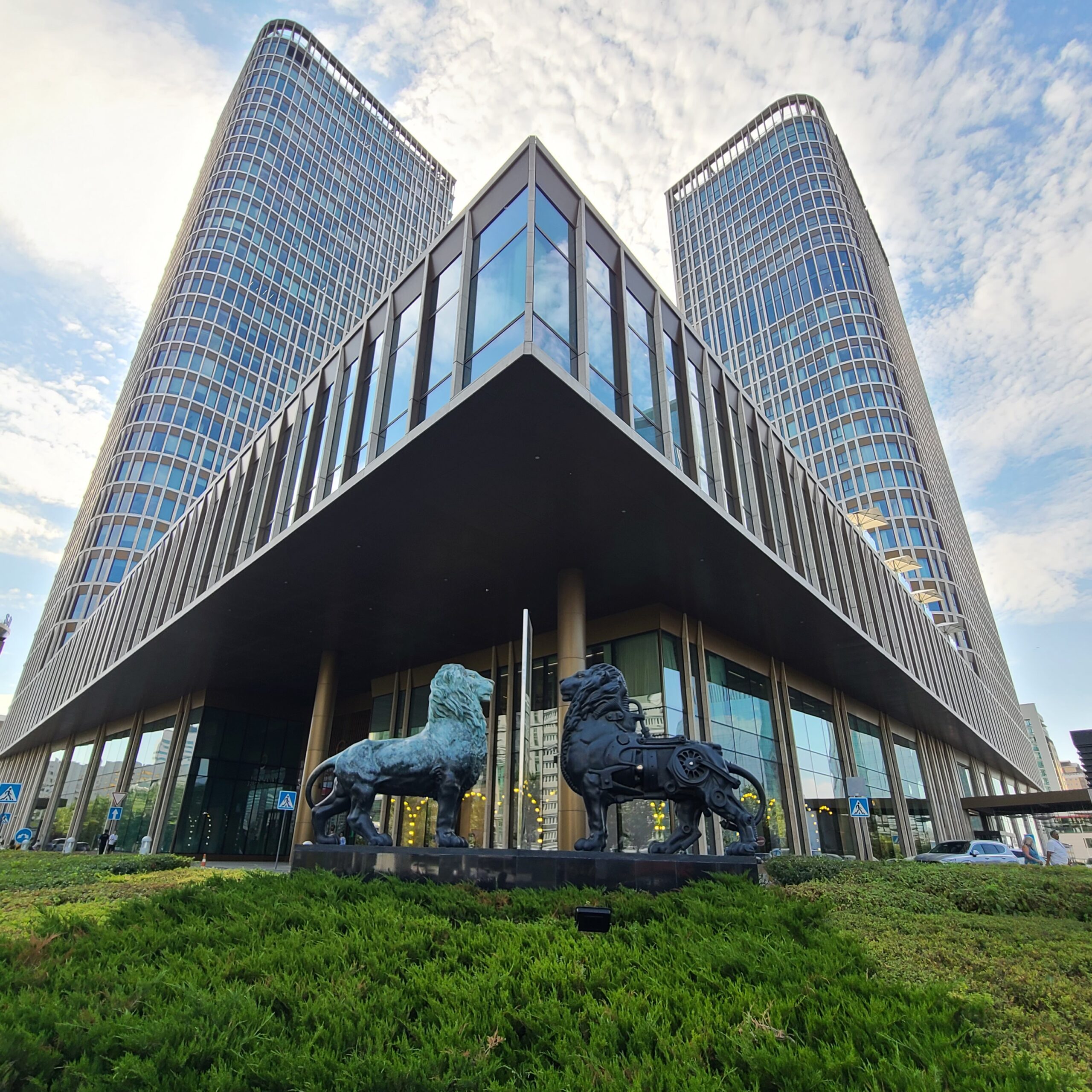 Advertiser disclosure: This post may include affiliate links (including sidebar banners) in which this site may receive compensation if a purchase is successfully made (at no extra cost to you) after being redirected from here. Thank you for your support!
Review: The Ritz-Carlton, Astana (2022) [Kazakhstan]
After checking out of The St. Regis Astana, I hotel hopped to The Ritz-Carlton, Astana where it's more centered compared to the previous hotel. This hotel would be my first time staying at a Ritz-Carlton brand. Indeed, my first St. Regis and Ritz-Carlton stays are from the capital of Kazakhstan alone. Again, it's one of my most anticipated hotel stays in Central Asia!
The Ritz-Carlton, Astana- Booking
I booked 2 nights for my last days in Astana under the Staycation package that this hotel and the St. Regis usually offer on 2+ night weekend stays starting from Friday. What really makes this rate a good deal is that it costs less than the Standard rate with the same cancellation policy. It comes with free daily breakfast and guaranteed 3pm checkout. Since Ritz-Carlton don't usually offer free breakfast, even to its elite members, I figured that it's better to book the Ritz instead of the St. Regis at this rate. Surprisingly, the Ritz-Carlton, Astana doesn't participate in the Amex Fine Hotels & Resorts program.
Booking through Marriott STARS would get me a $100 property credit, but the Staycation package still ends up $100 cheaper than the standard rate, thus cancelling out the supposed $100 credit without the worry of having to use it during my stay.
This hotel also makes it convenient for me to use up all of my Amex Marriott Bonvoy Brilliant's $300 Marriott credit before it goes away. The nightly rate is roughly $212 per night under the Staycation package, which is pretty good for a Ritz-Carlton!
For Marriott Bonvoy points redemption, expect to pay 30,000-40,000 points per night depending on the hotel's occupancy. I must say that it's still a good redemption if you choose to redeem points instead.
The Ritz-Carlton, Astana- Location
The hotel is situated inside one of the twin Talan Towers where the other tower consists of offices and shopping retailers. The central location makes it a very attractive option for business purposes, and to see many of Astana's opulent architectures. The most famous one is the Baiterek Tower that's pretty much in front of the hotel. Some rooms in the hotel will get you a really nice view of it.
Getting around Astana is very easy with Yandex Go, a popular ride-sharing app in Central Asia. It accepts Visa and MasterCard in this city as well!
The Ritz-Carlton, Astana- Check-in
I arrived at the hotel at 5pm from checking out late at the St. Regis. Outside of the hotel, I noticed some really cool two lion statues. One copper and one steampunk. Amazing!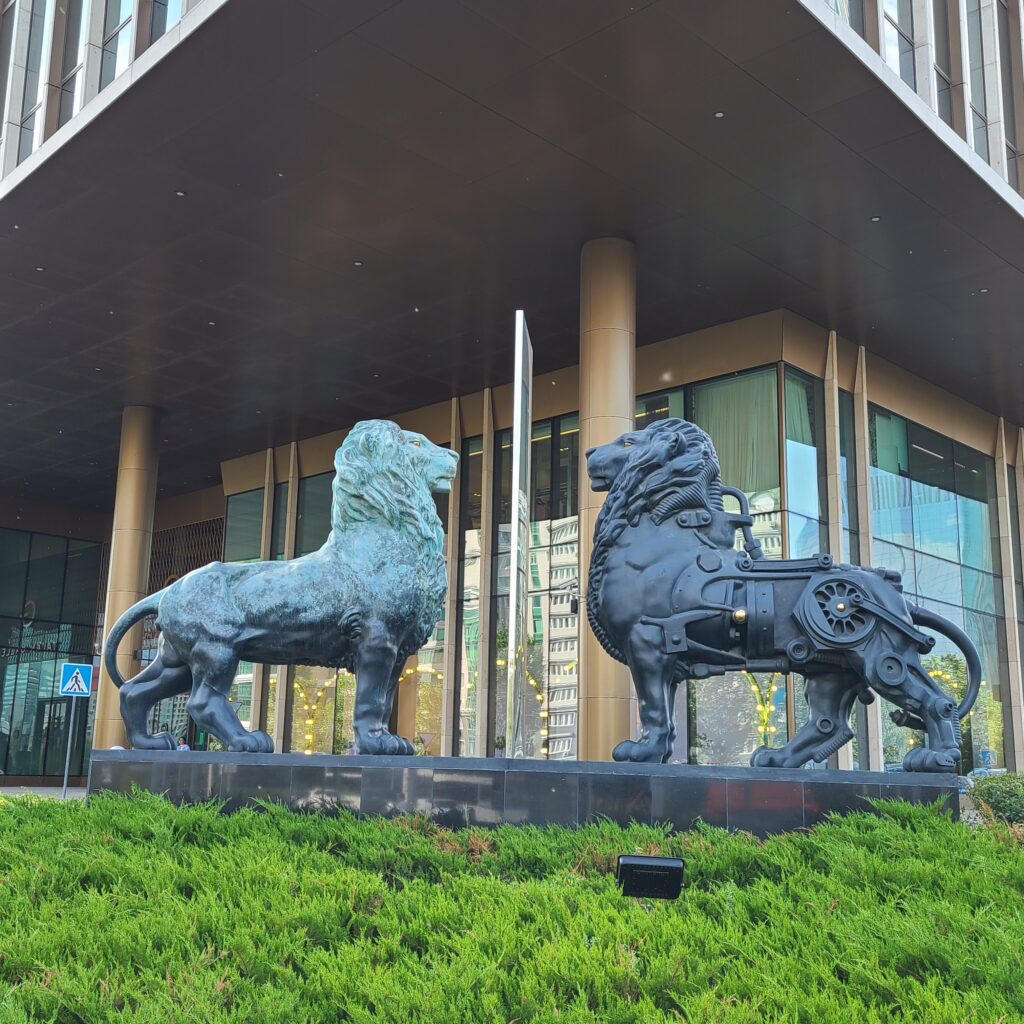 The hotel has  few door attendants ready to bring my luggage in and open the doors to me leading to the lobby.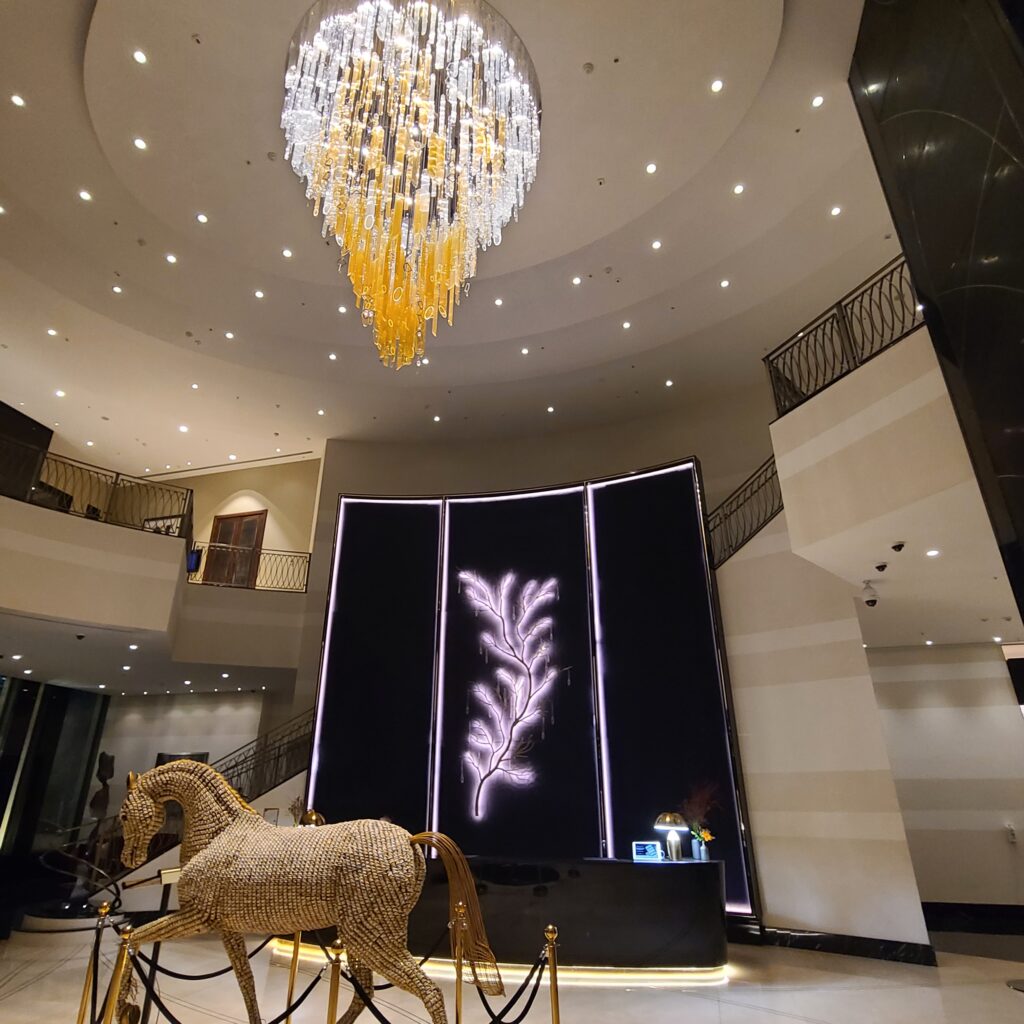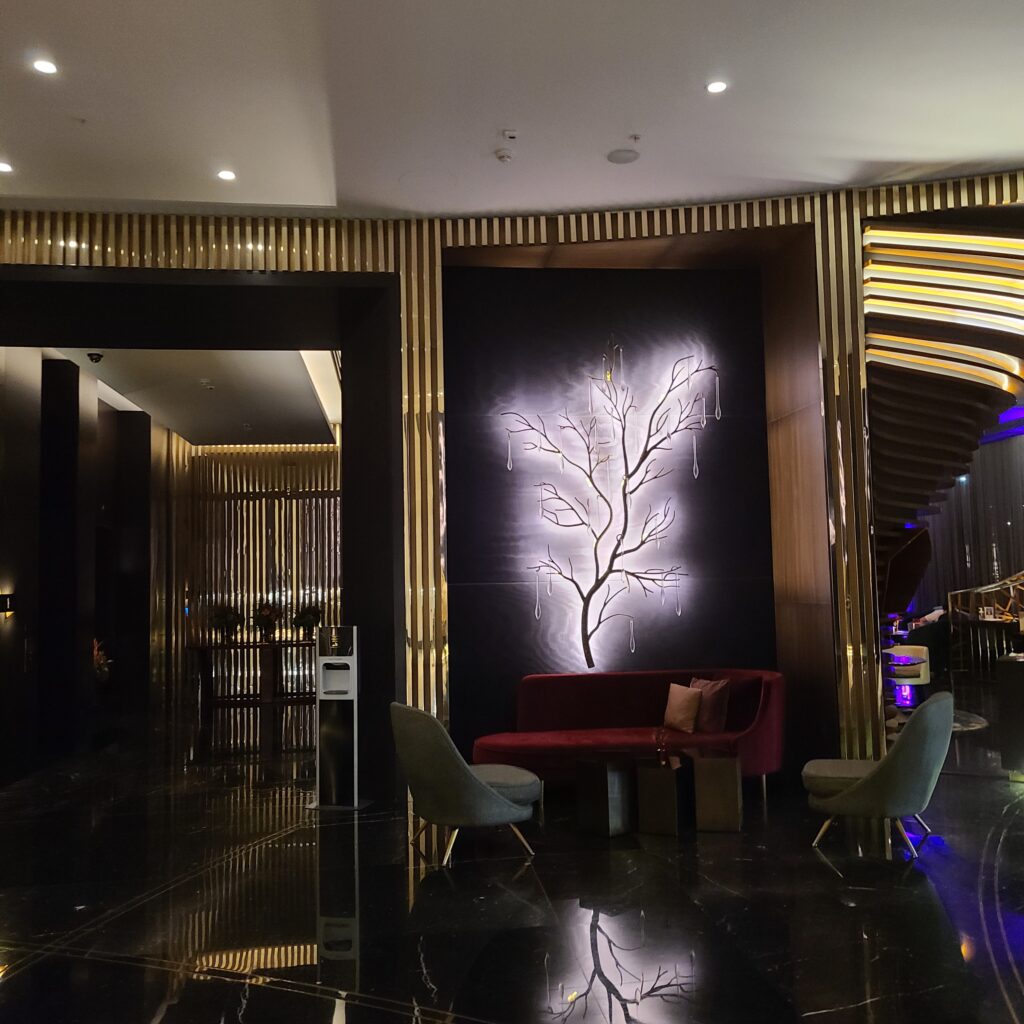 A prominent horse statue makes a big presence in the lobby, a great symbol of Kazakh culture.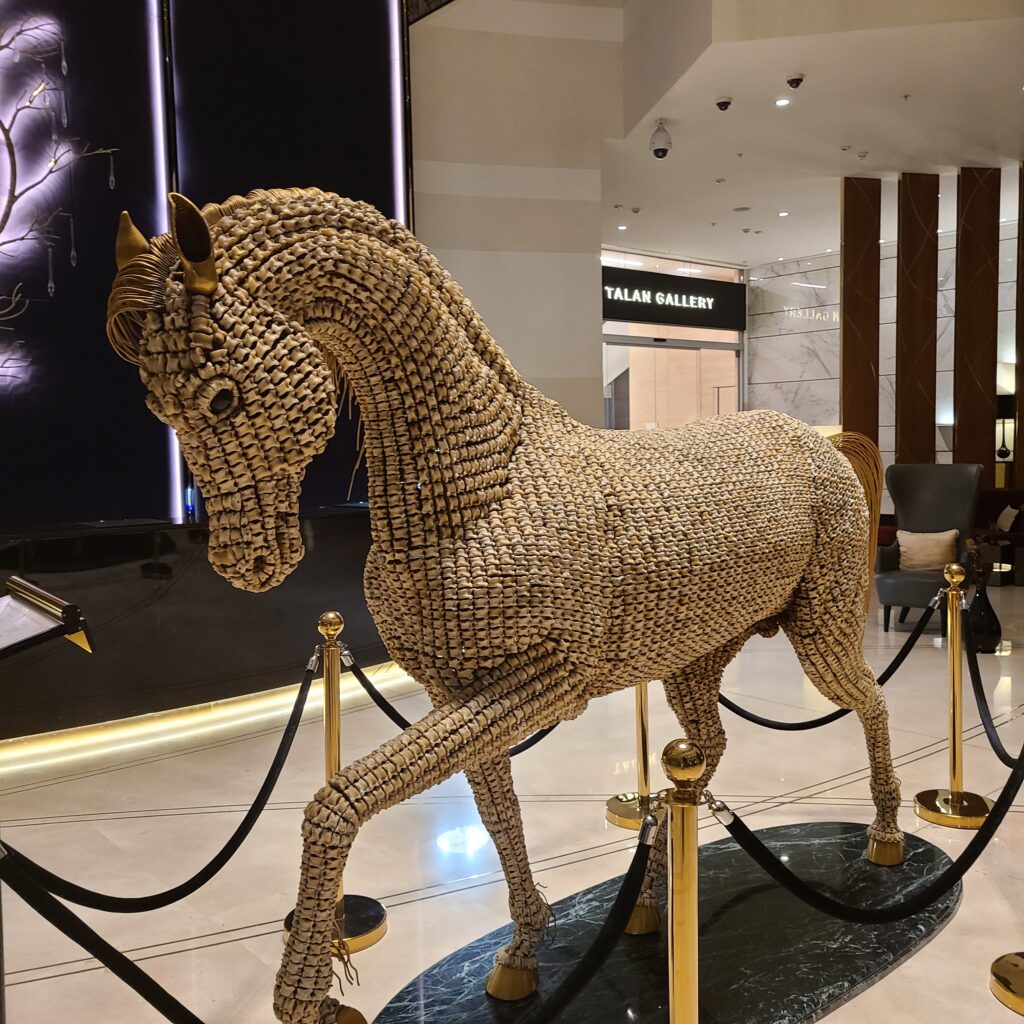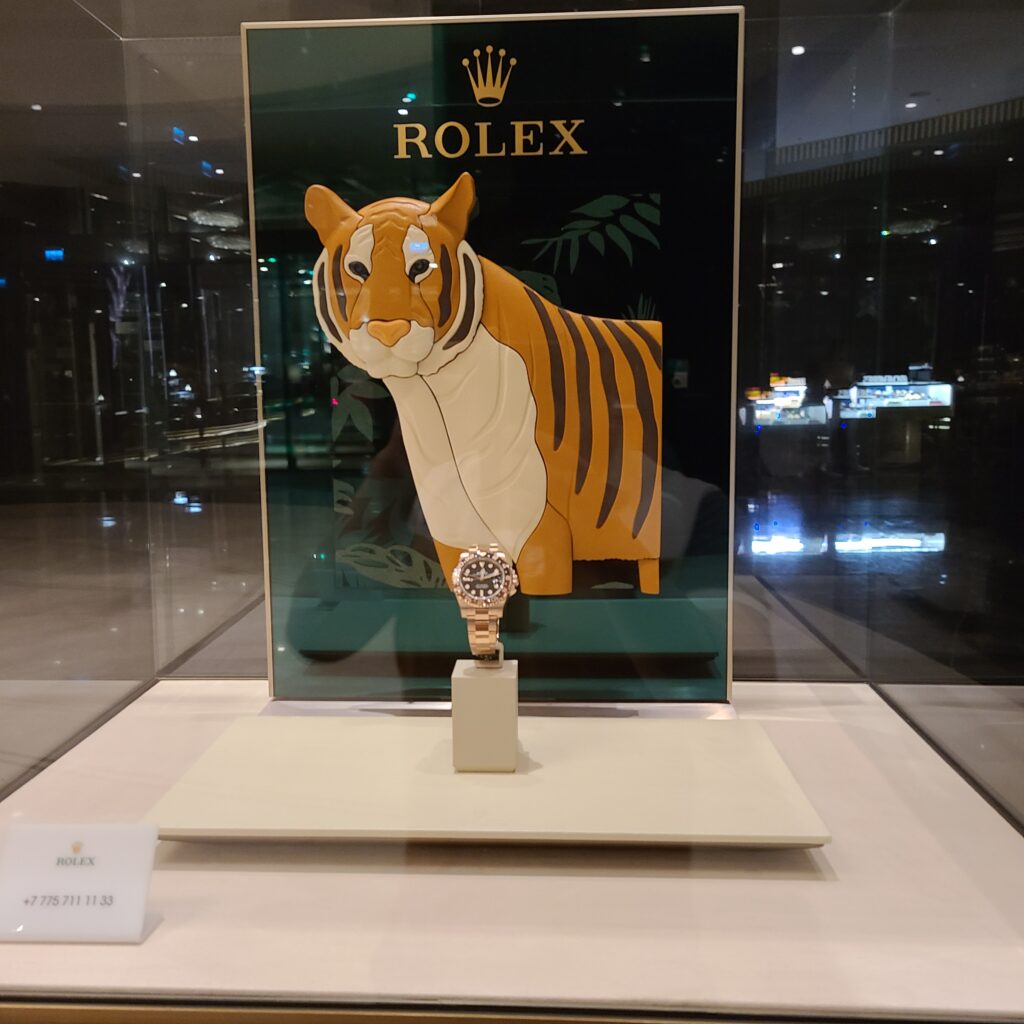 The lobby has the old boys' club vibe, but also feels very approachable with elements of modern design that don't feel very stuffy at all. I really love the black/dark purple and gold schemes!
Checking-in was fast and smooth. I did request a suite upgrade beforehand through the Marriott chat app. As a Marriott Titanium Elite, I'd be eligible for suite upgrades at Ritz-Carlton properties if the room's available.
I did mention it was my first time in Kazakhstan. I was really excited to be upgraded to their Carlton Suite, which is their version of a Vice Presidential Suite! Unfortunately, upgrades don't come with the Club Lounge access at the 14th floor. But, it's not a big deal for me since free breakfast is included on the Staycation package already.
The Ritz-Carlton, Astana- Carlton Suite
I was assigned to Room 1104. The Carlton Suite is positioned in the middle section of a floor, and takes up pretty much more than half of one side of the floor based on the floor plan! The Carlton Suite is also retailed at $5900 a night, which makes it my most highly-valued free suite upgrade that I've received so far!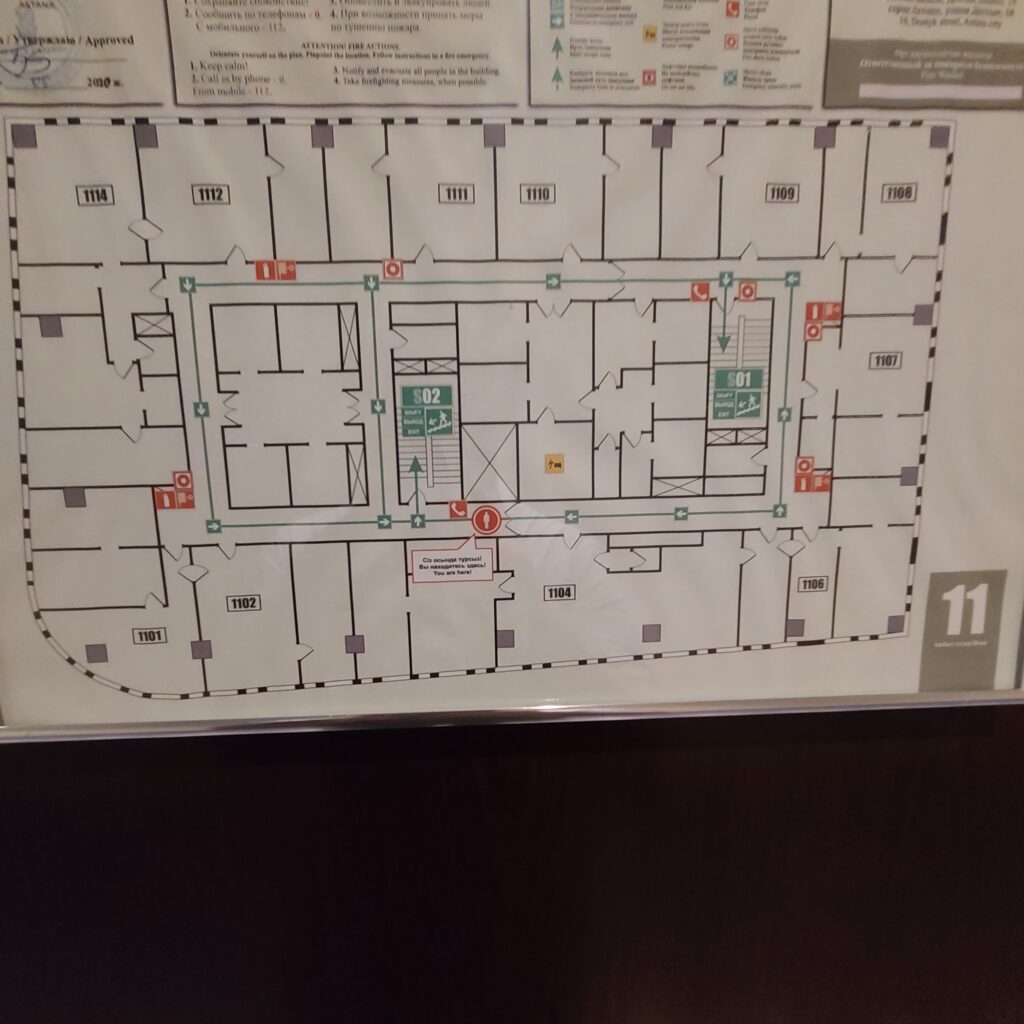 The surprise doesn't stop there from this hotel. As I checked out the dining table, I was delighted by a custom message that made me pace around like an idiot for quite a while.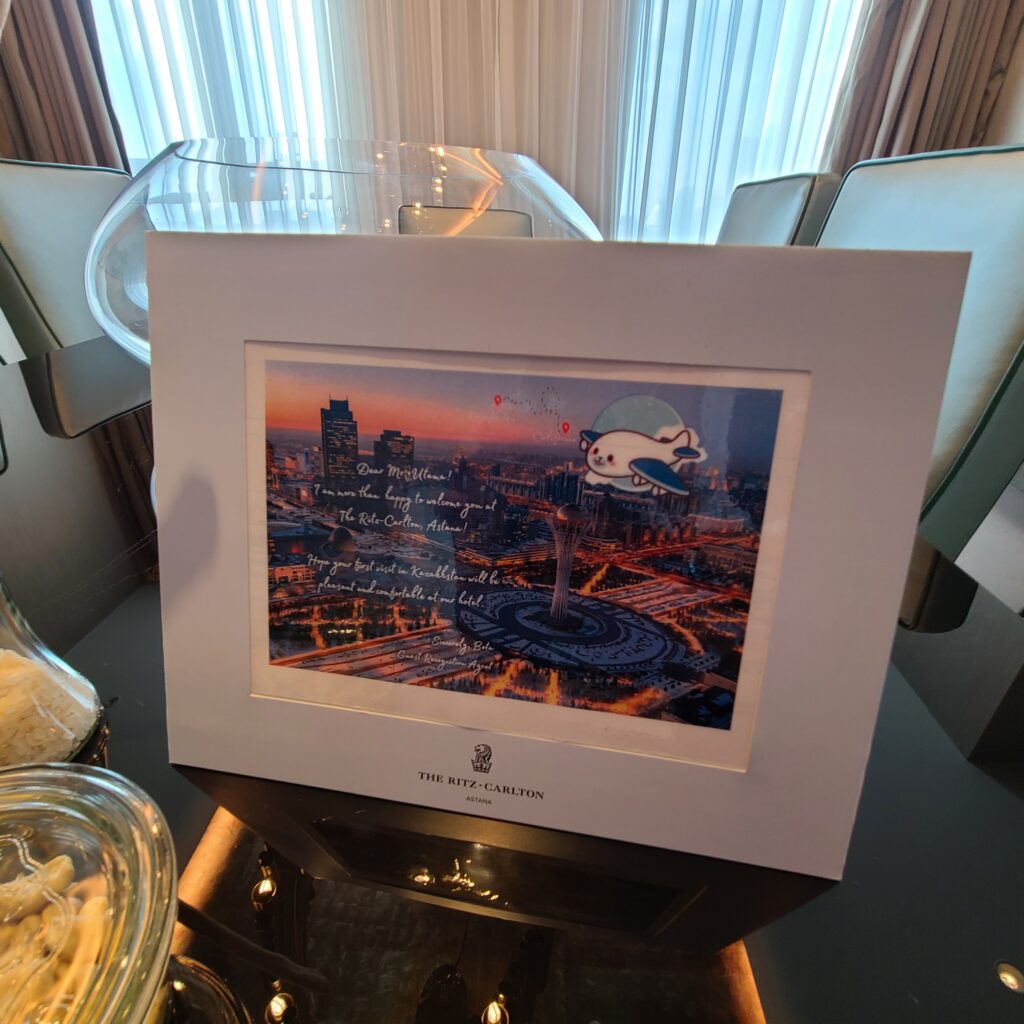 Apparently, the hotel has done some "research" on me by creating a custom welcome message that has my blog's logo on it! I never disclosed my identity to anyone in the travel industry just so I can do my reviews as objectively as I can. Still, it feels very good that I am being noticed even though I'm just a very small-time travel blogger.
Some people might think it's creepy, but I personally find it very sweet that the hotel, especially Bota, the Guest Relation Agent, put more thoughts and work than I expected to make me feel really special! The hospitality I've experienced in Kazakhstan really can't be beat! During the rest of my trip in Kazakhstan, I made sure that this custom message gets back to California in one piece. A special gift for a special stay!
Kazakh sweets inside a lock box were prepared too!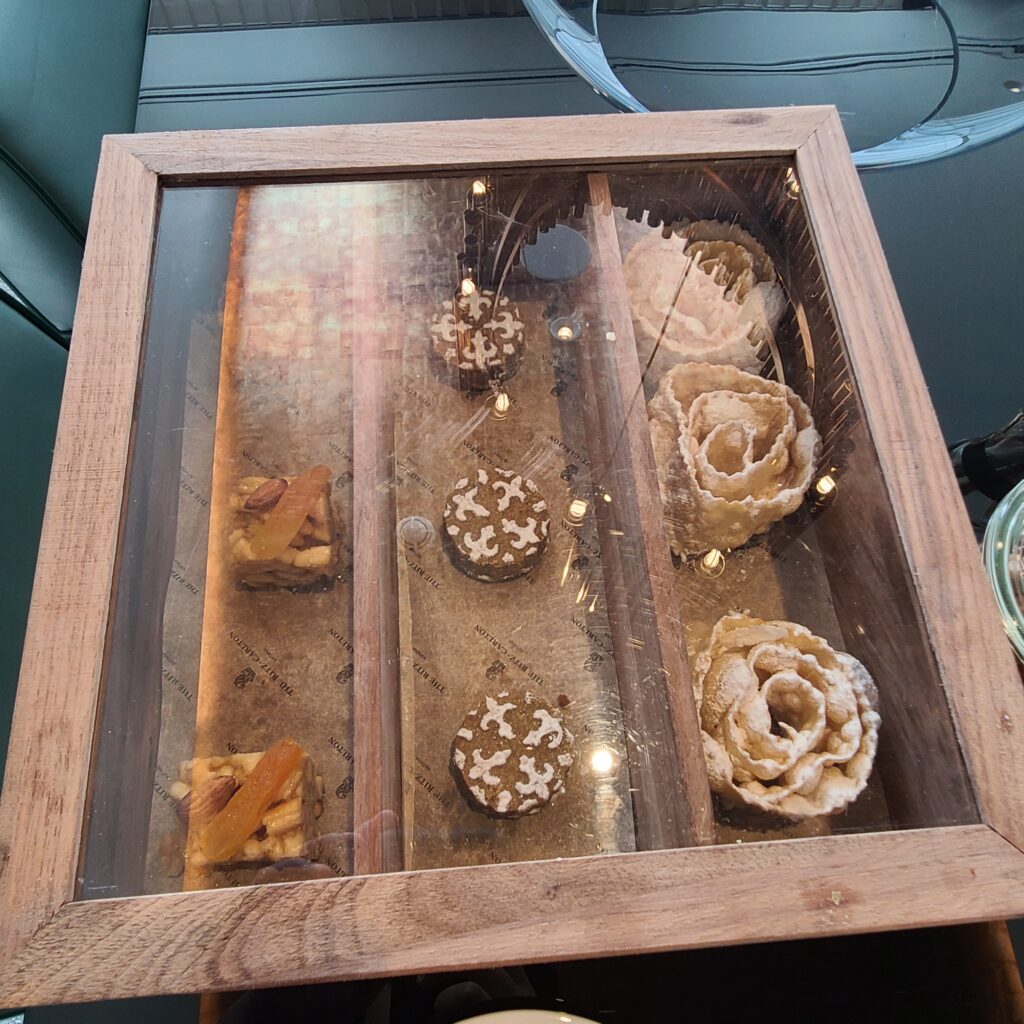 The Ritz-Carlton, Astana- Carlton Suite Living Room
The Carlton Suite is very large, and is estimated to be ~1600 sqft, which is similar to the St. Regis Suite in The St. Regis Astana where I've stayed at on the previous day. What a sweet suite!
To the left of the entrance, there's a half bathroom, and a waiting area to the right.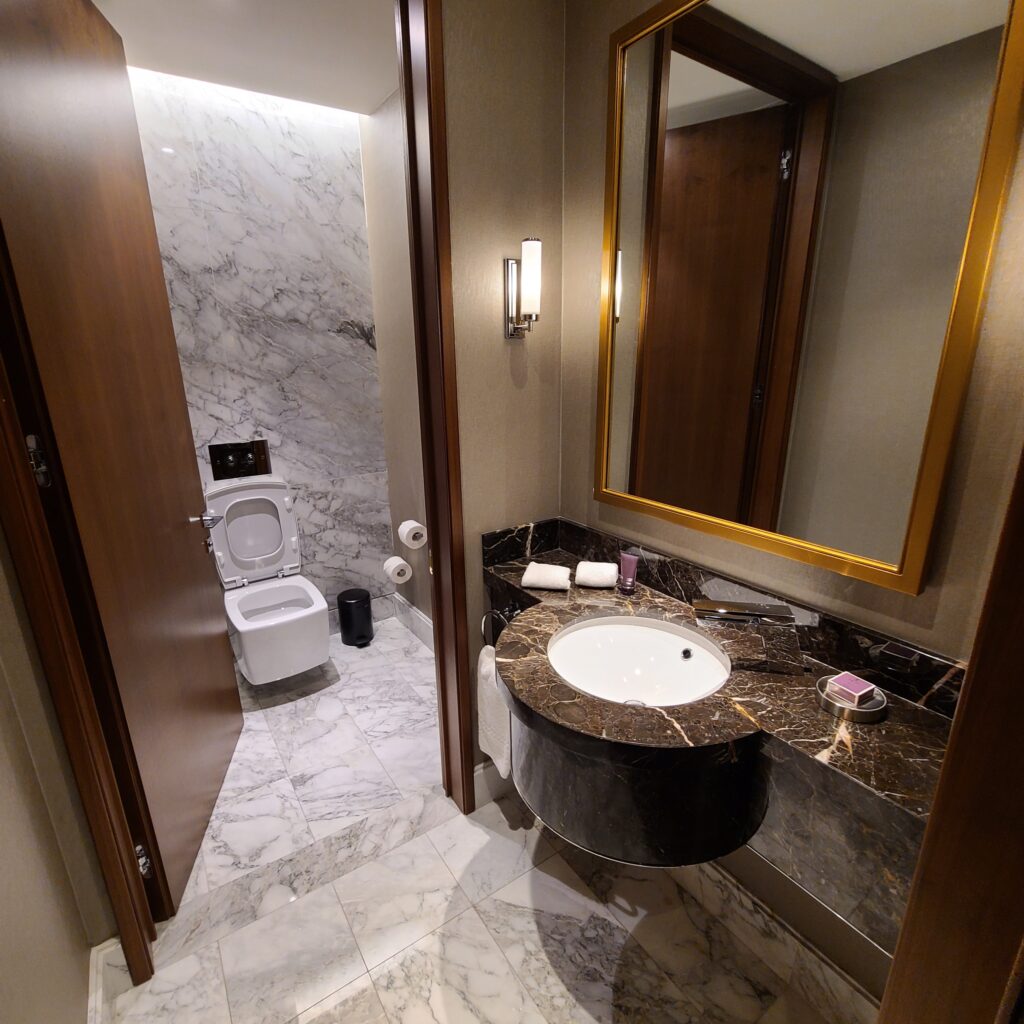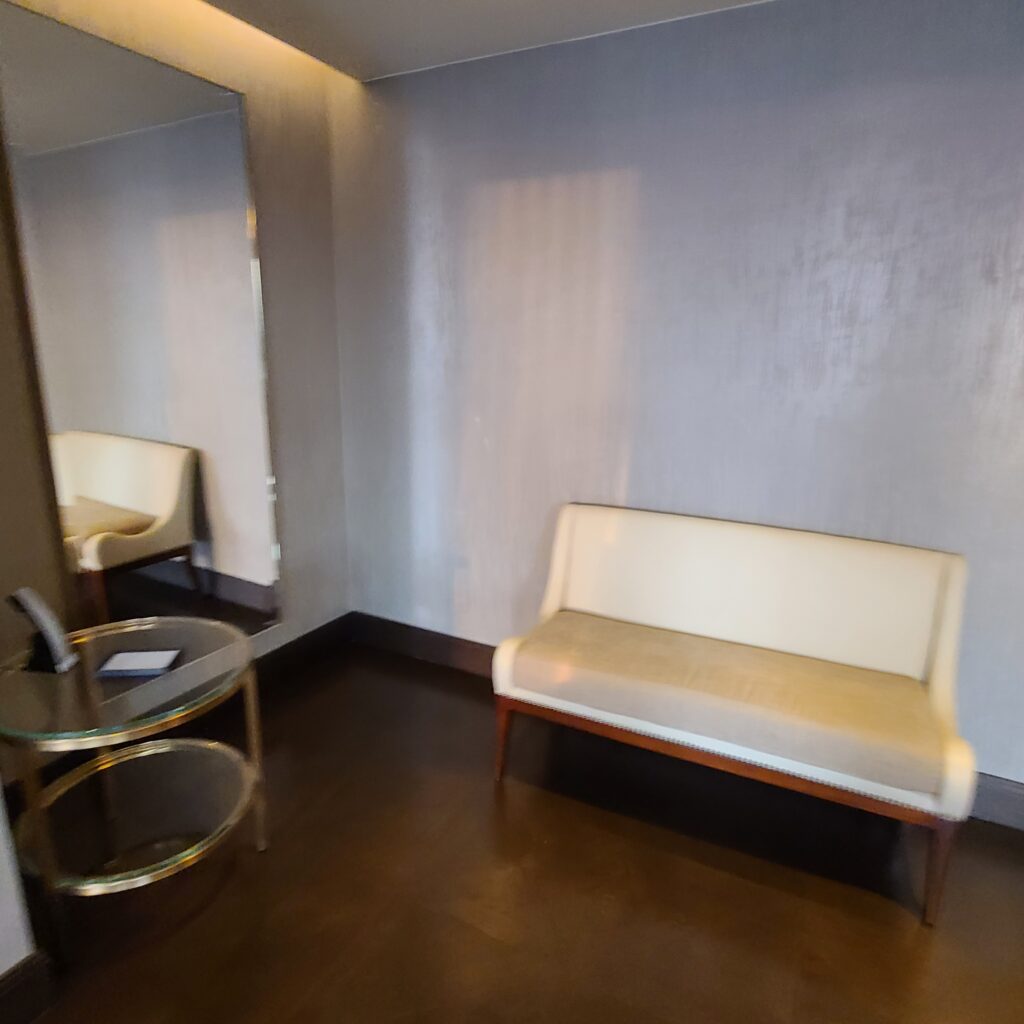 The living room comes with sofas, chairs, and a very large ottoman in the middle. Lots of curtains to open for a nice city view.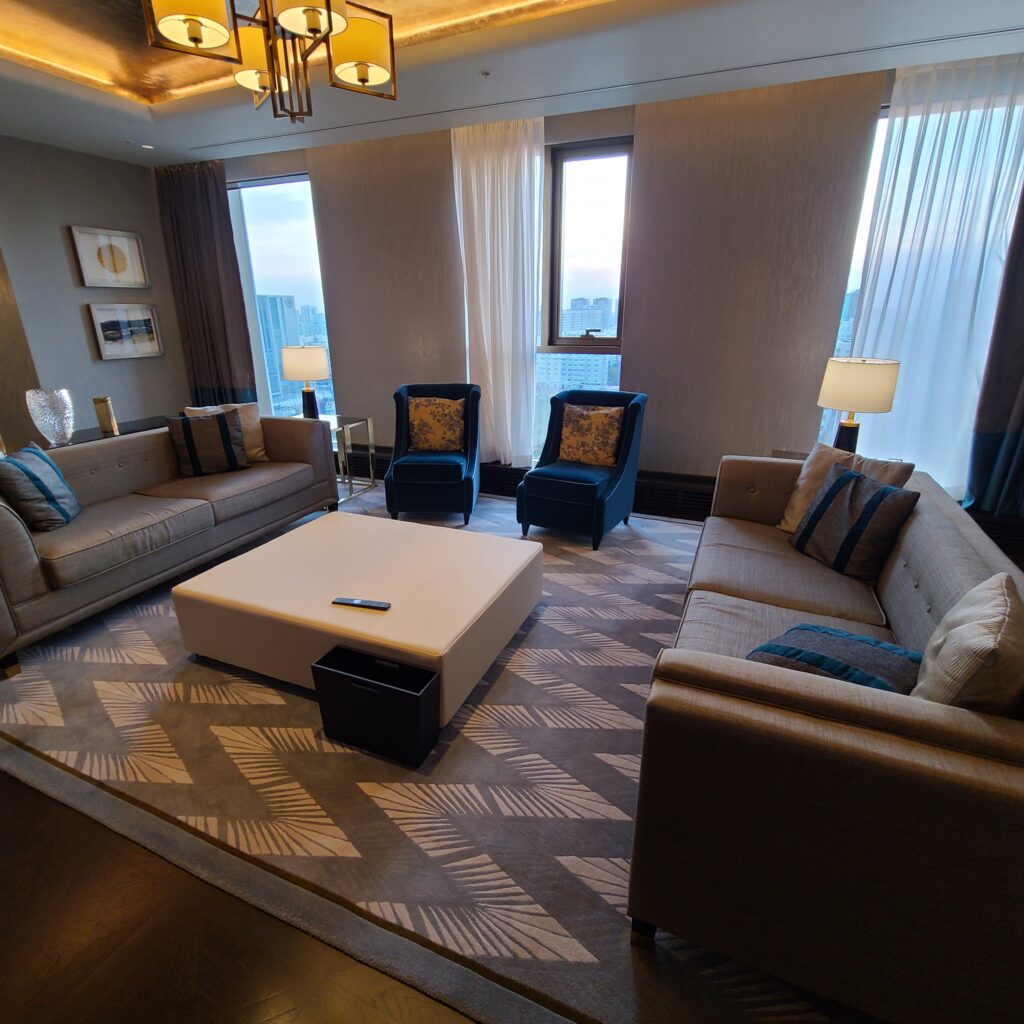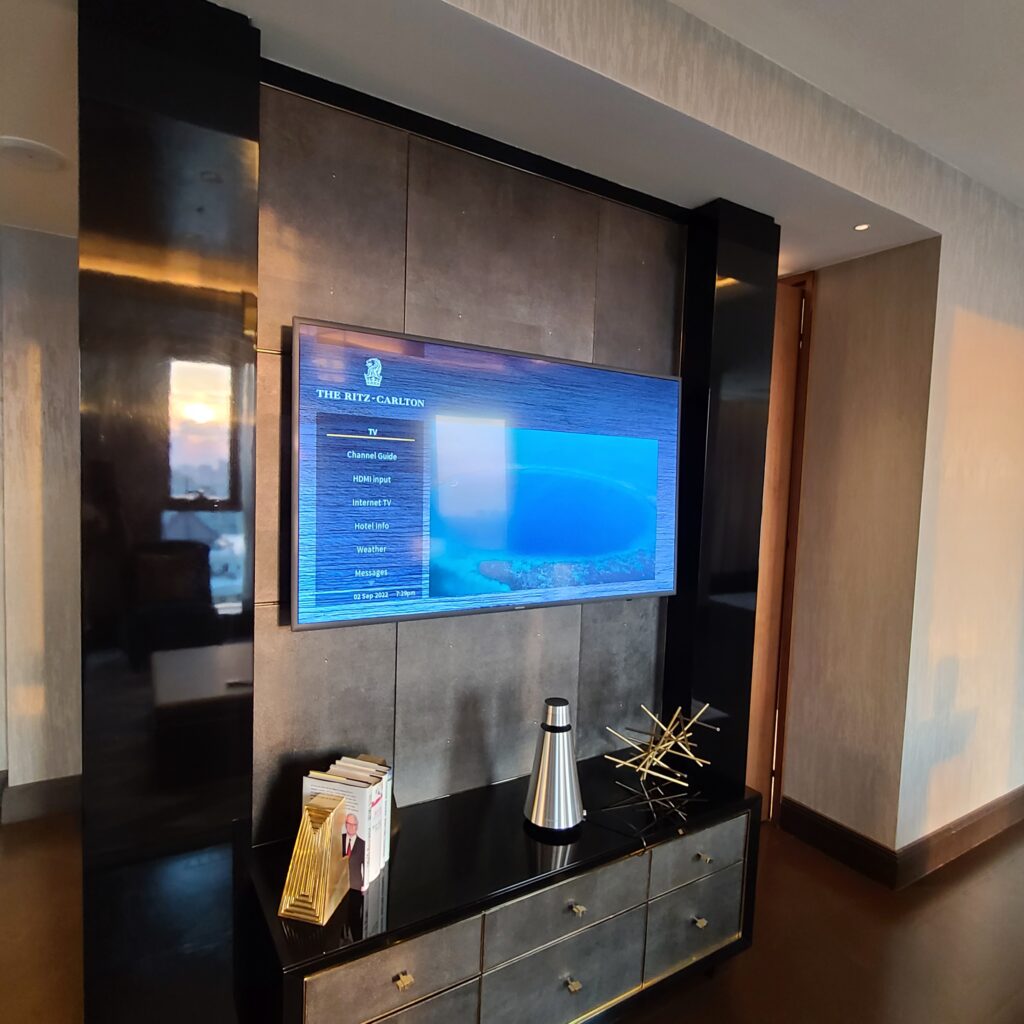 There's a smart home system in the living room that controls the lights, curtains, and temperature. Very modern stuff that I didn't expect the hotel would have!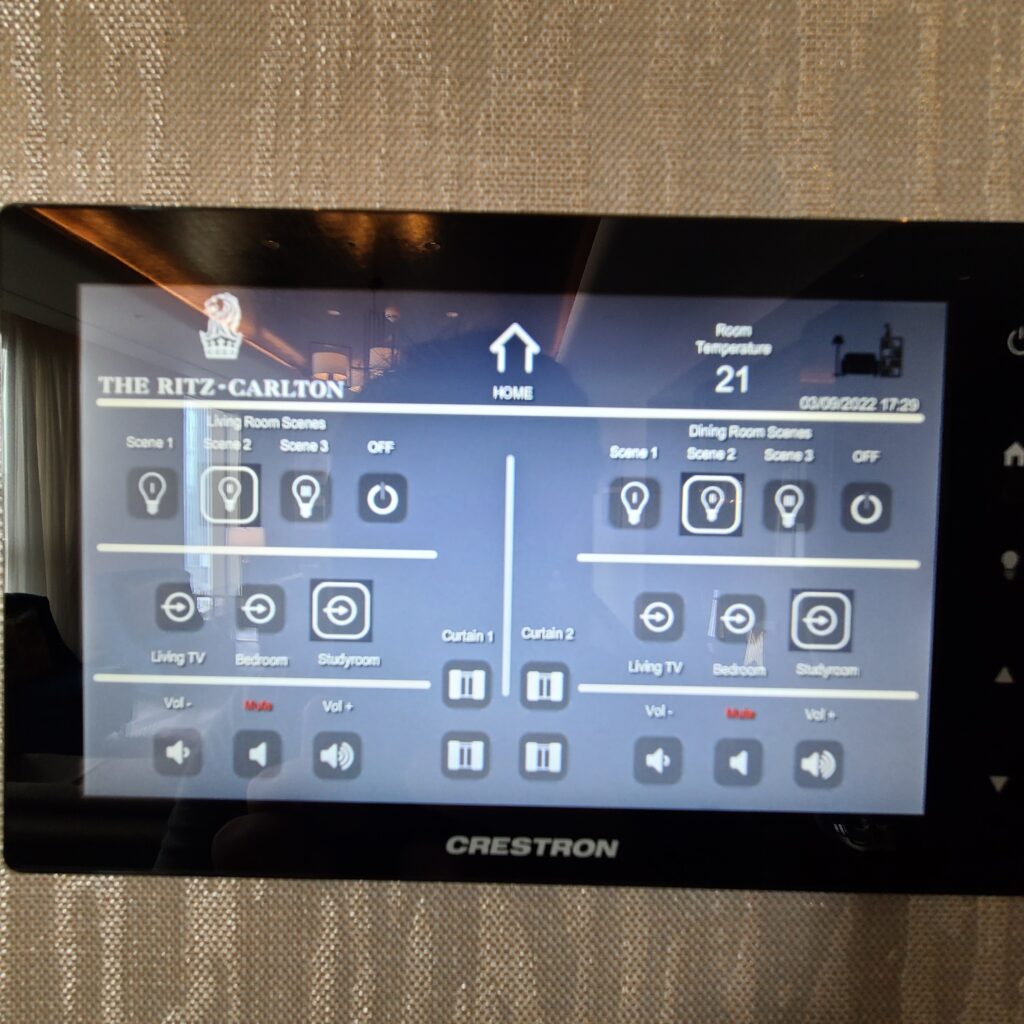 There's a cupboard where the minibar is stored, or you can make your own tea and coffee. Lots of still water given on this suite by default too!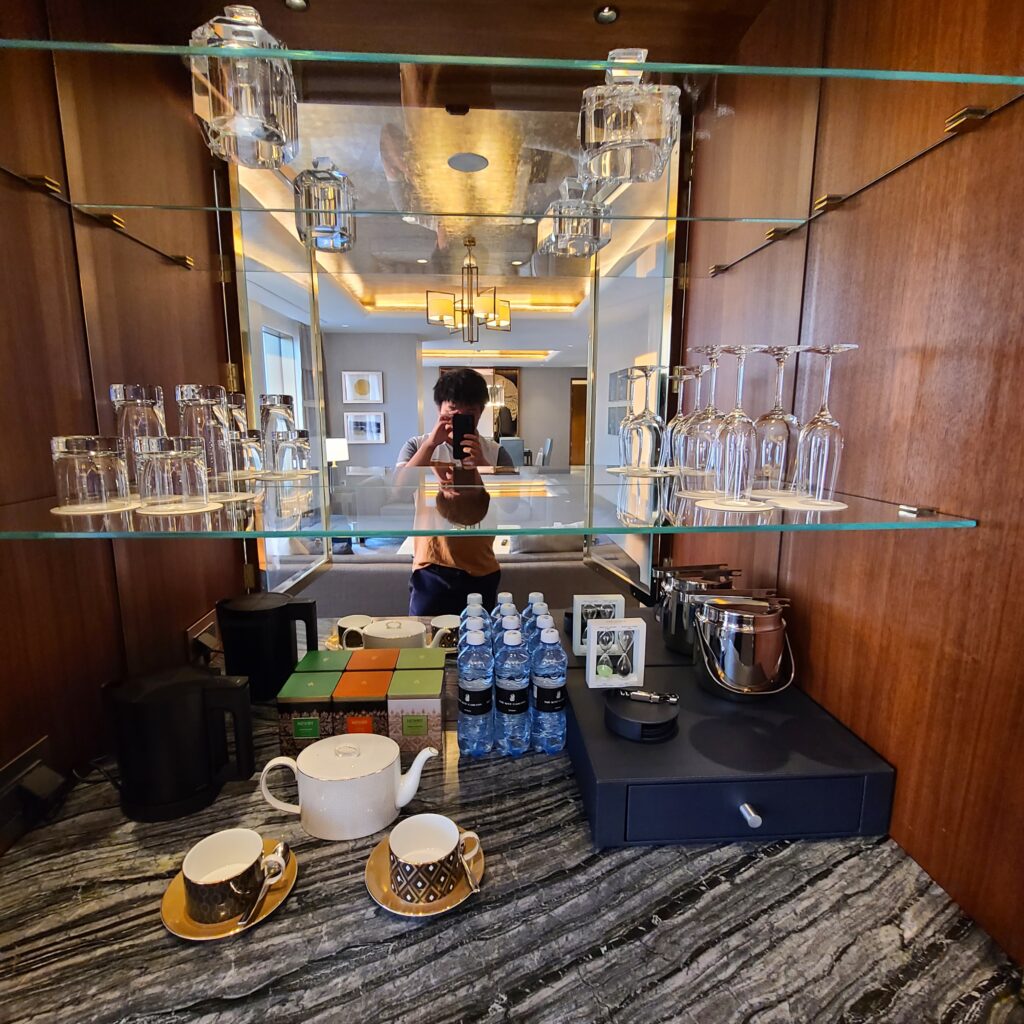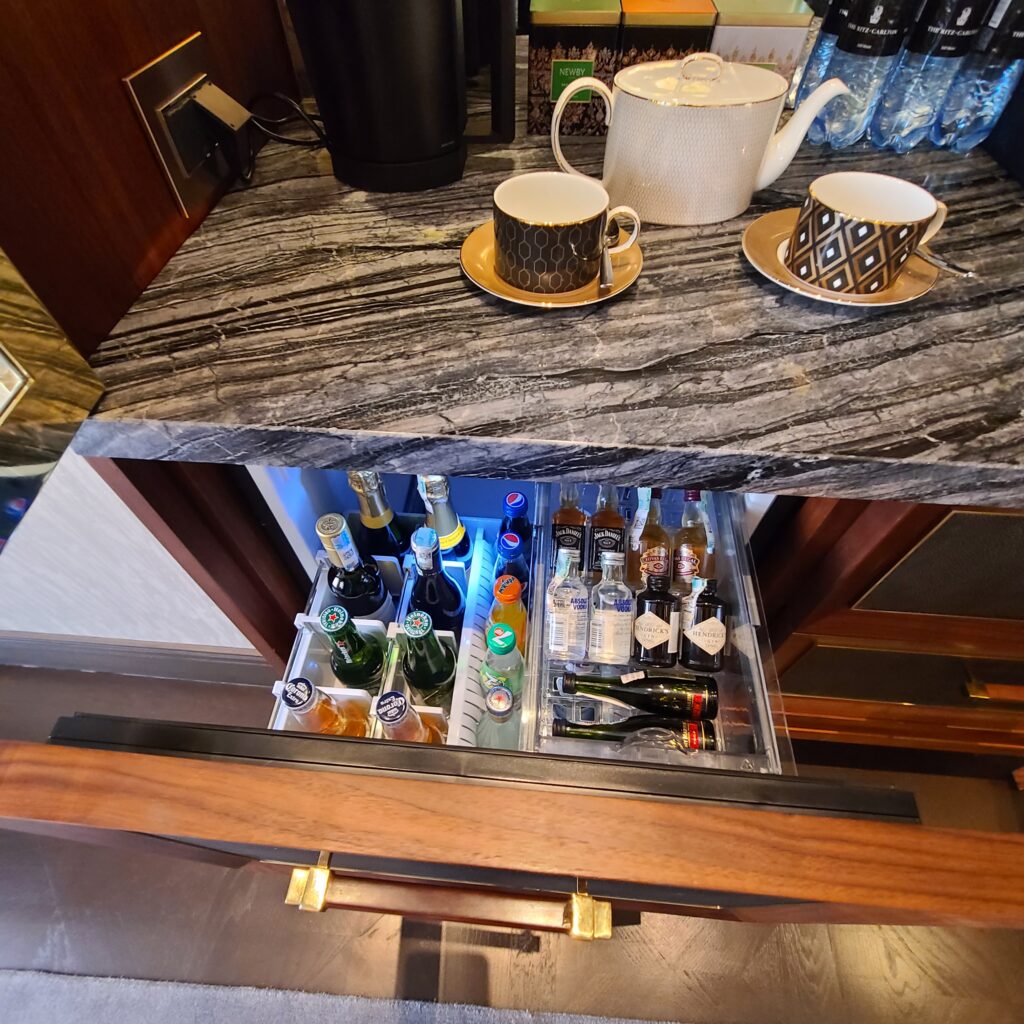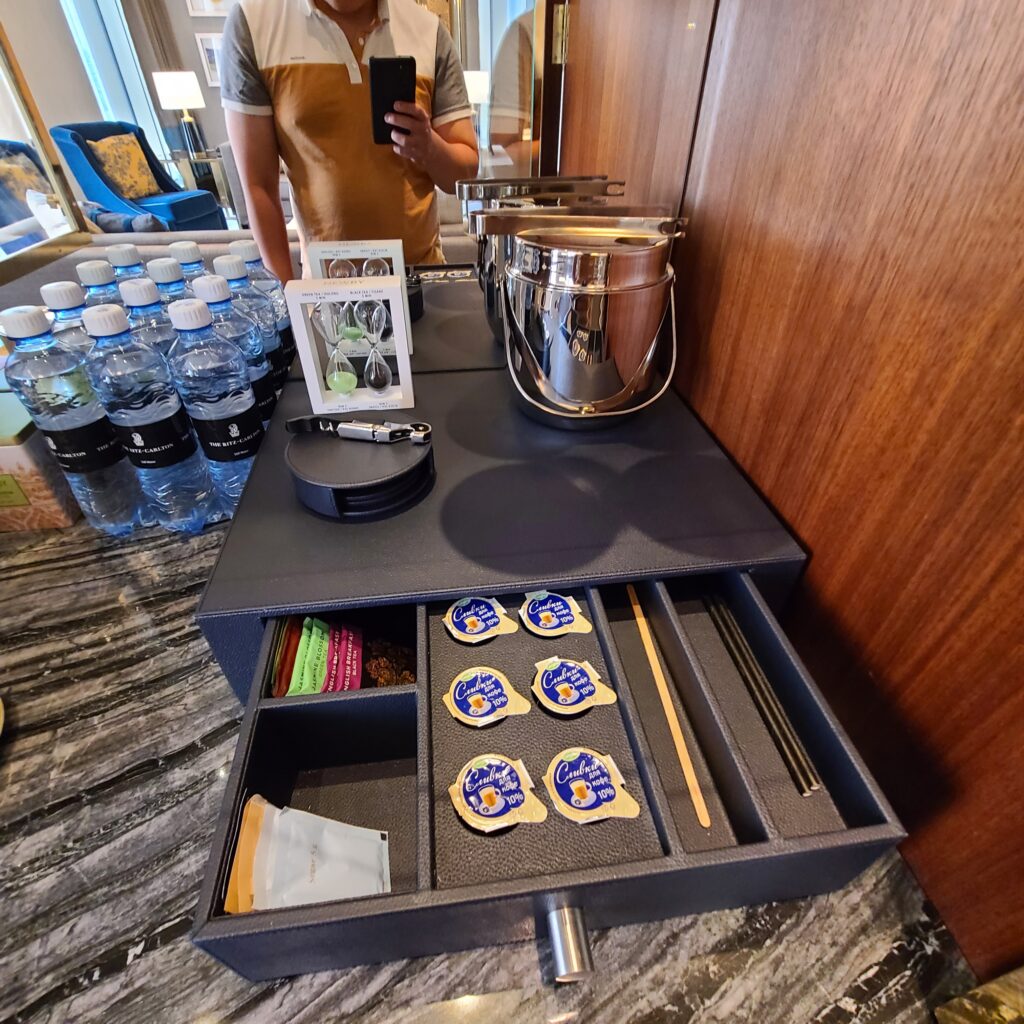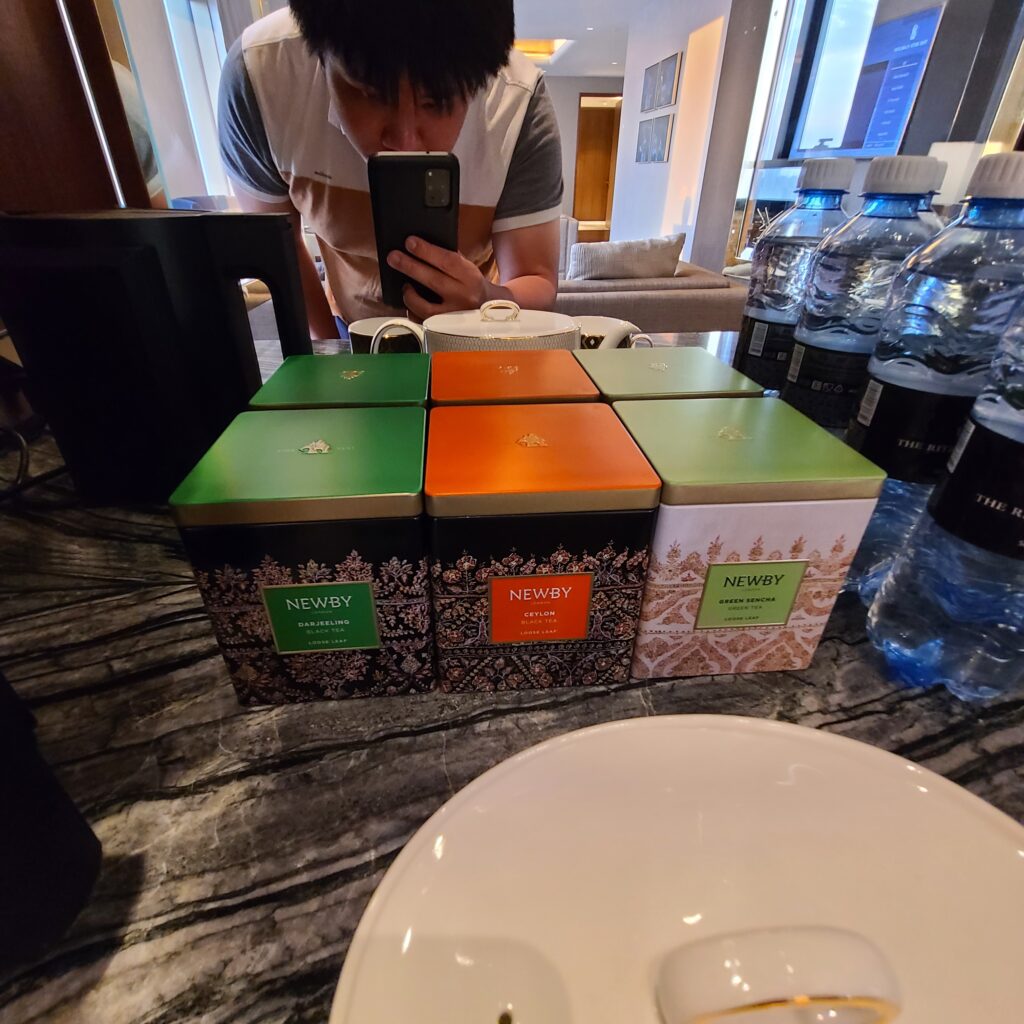 The dining table is situated to the left side of the living room.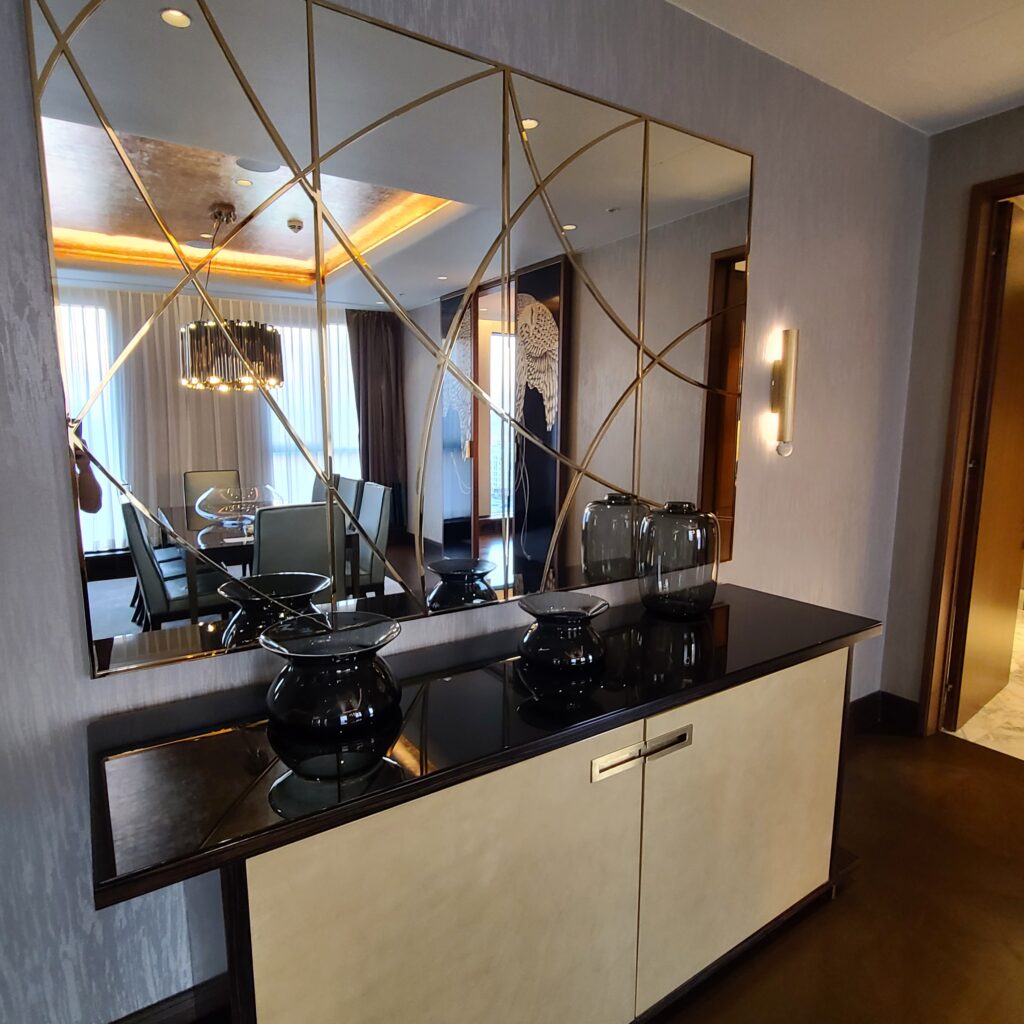 There's an office next to the dining table with a badass door design of an eagle. I've admired it too much during my stay.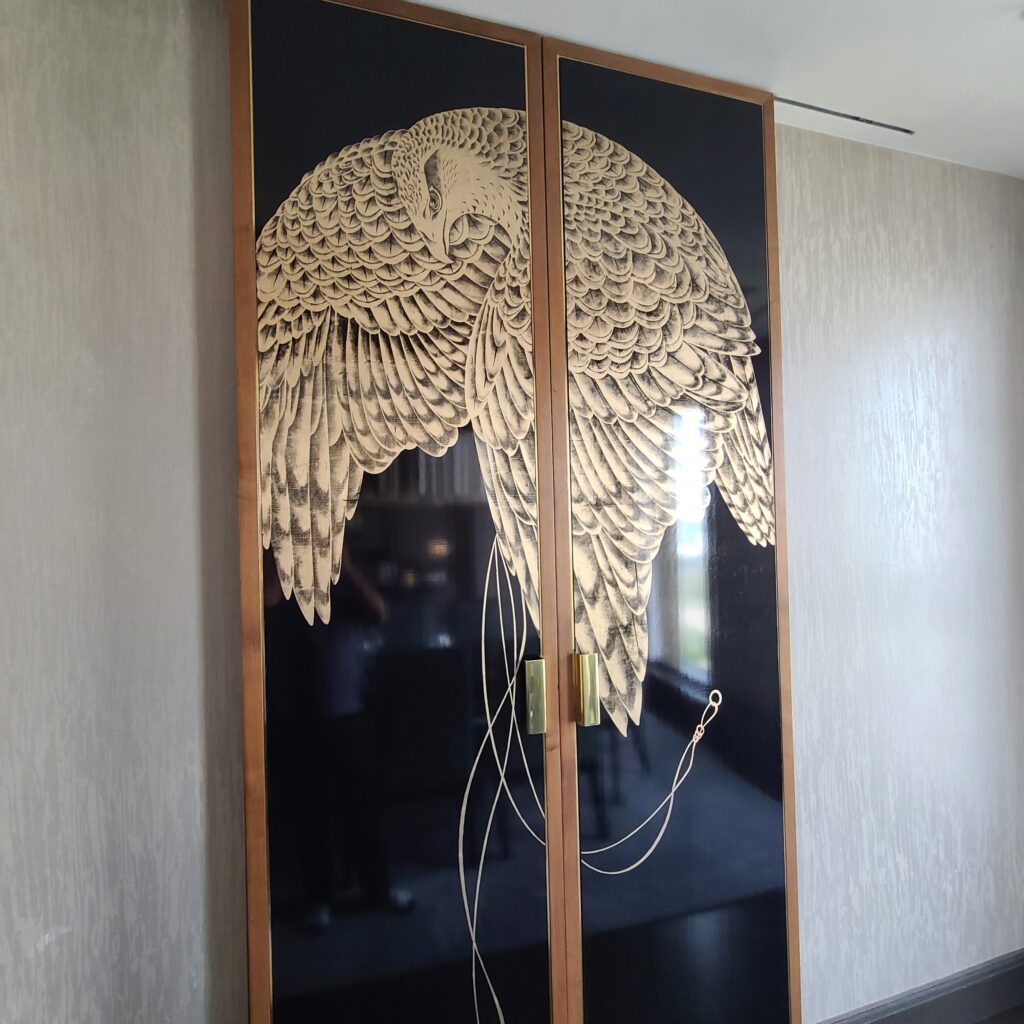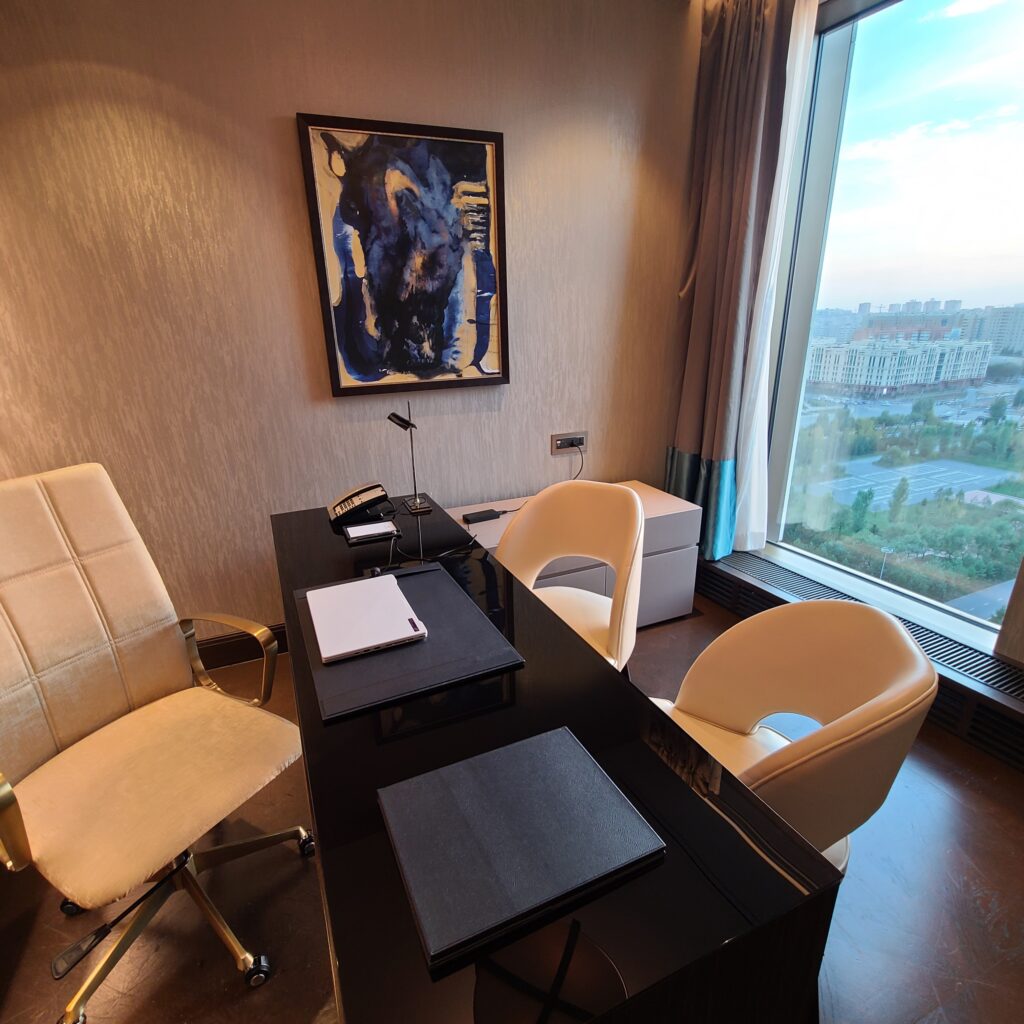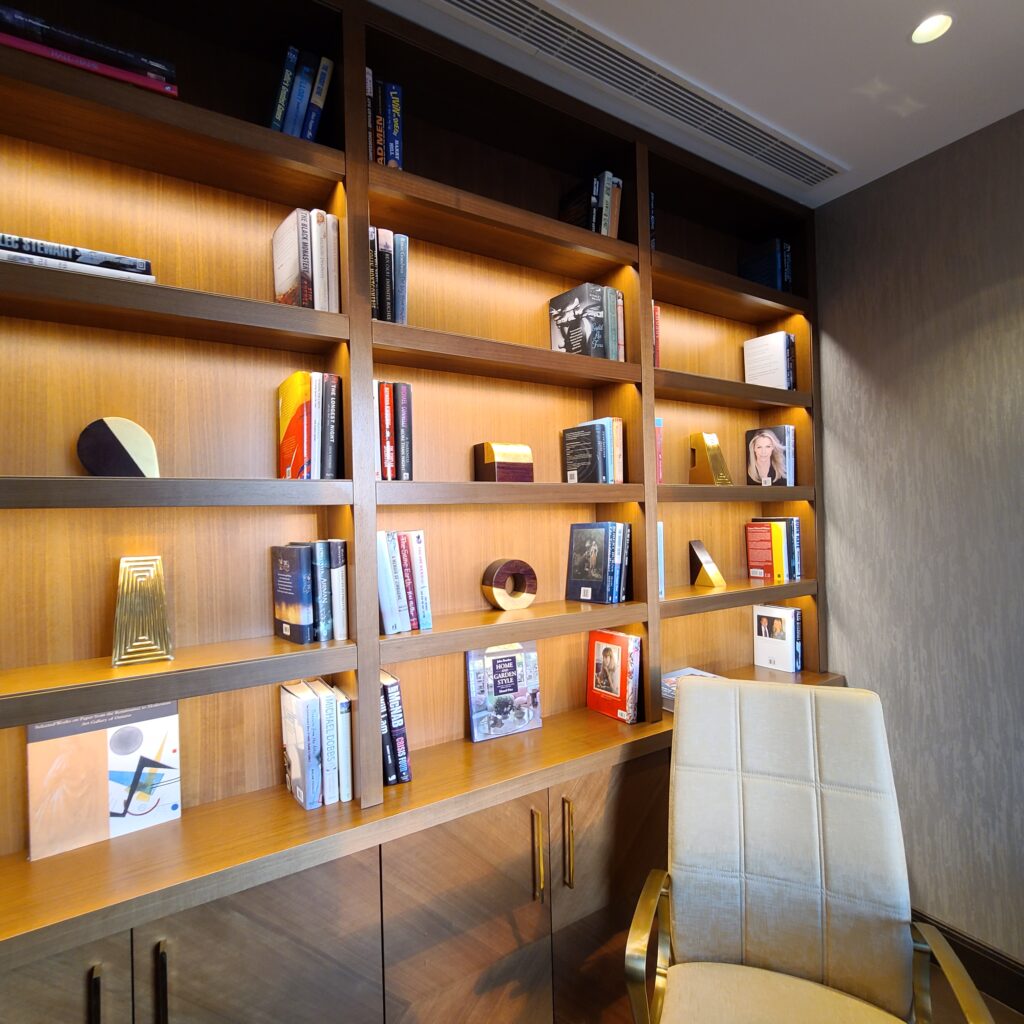 Next to the office is the kitchenette. While there's no stove, there's a Nespresso coffee maker and a fridge where you can store some food and beverages. However, there's no microwave.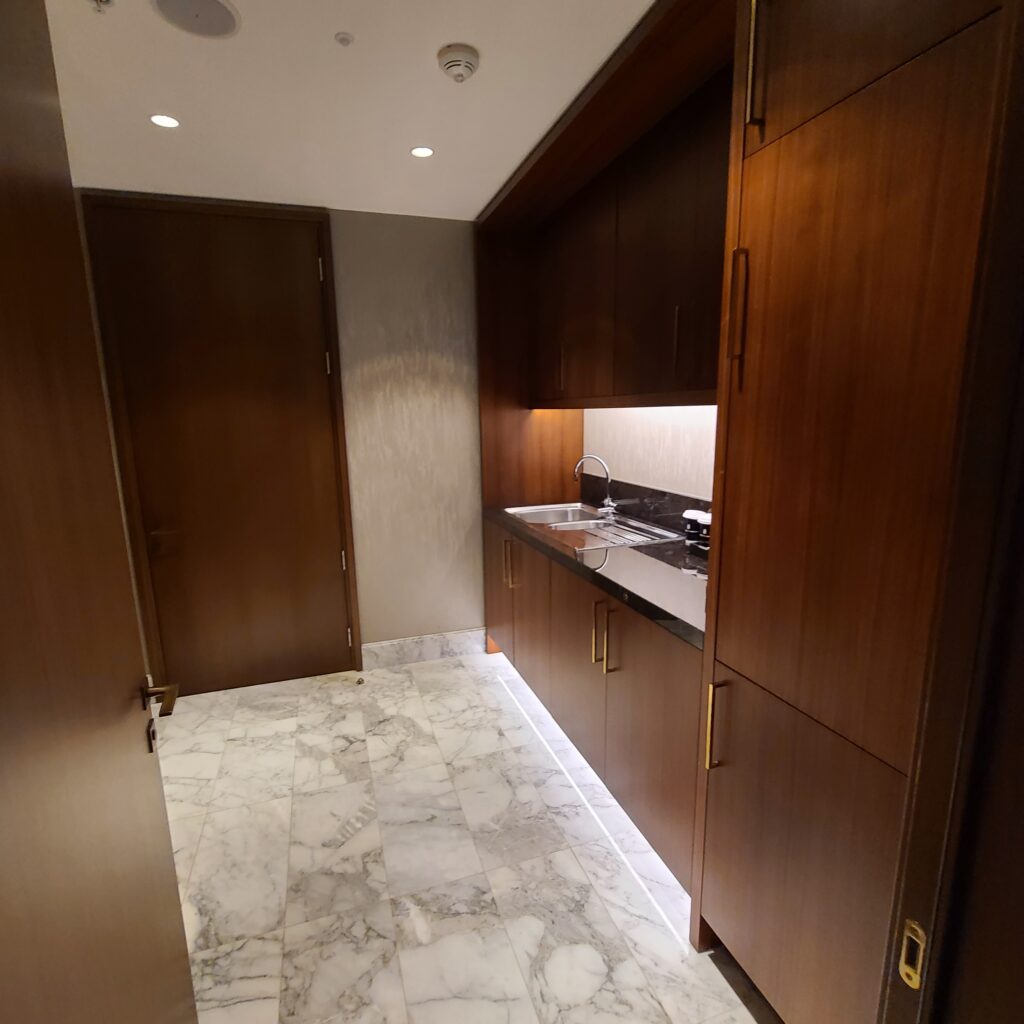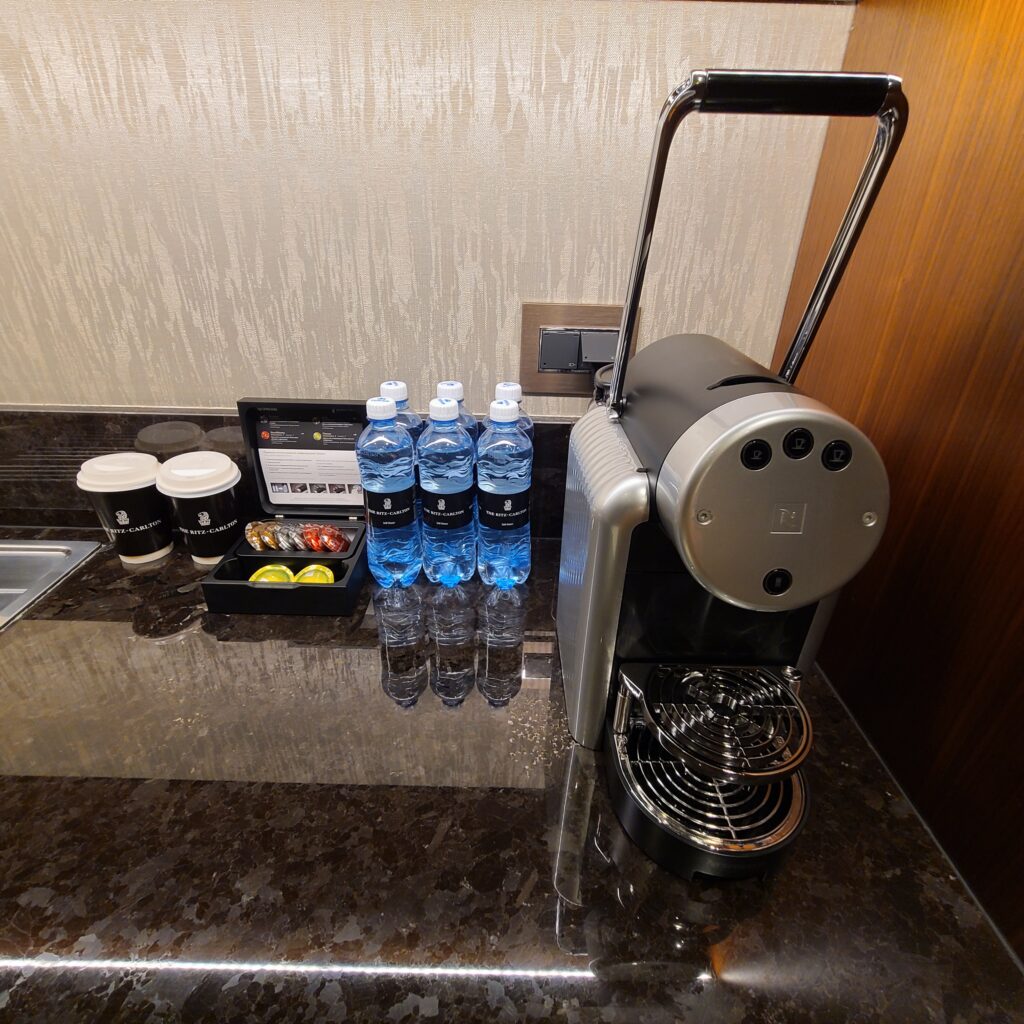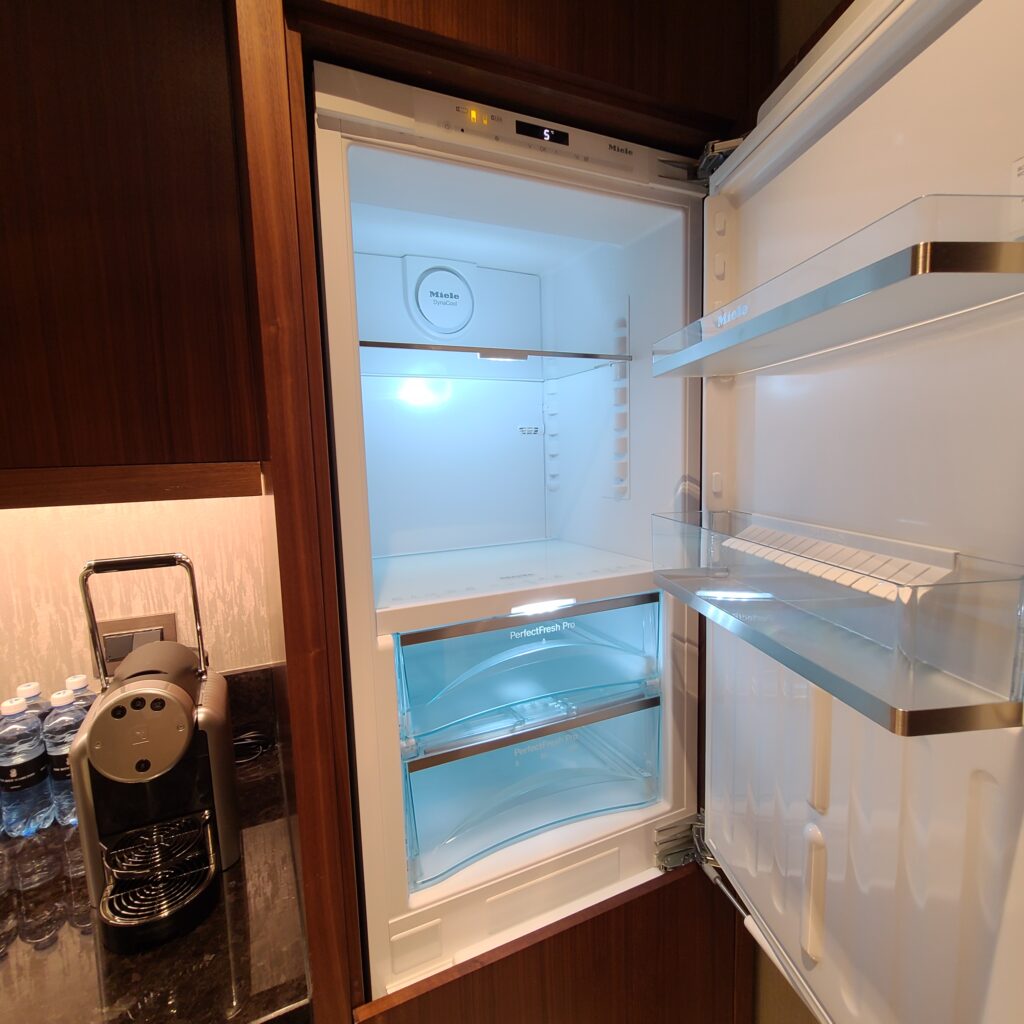 There's also a door from the kitchenette that serves as an exit, which means that the Carlton Suite has 2 entrances. It's my first time being in a suite with multiple entrances, and knowing such a concept exists.
The Ritz-Carlton, Astana- Carlton Suite Bedroom
Moving on to the bedroom, it's adorned by wood and gold decors that enhances the coziness of the room.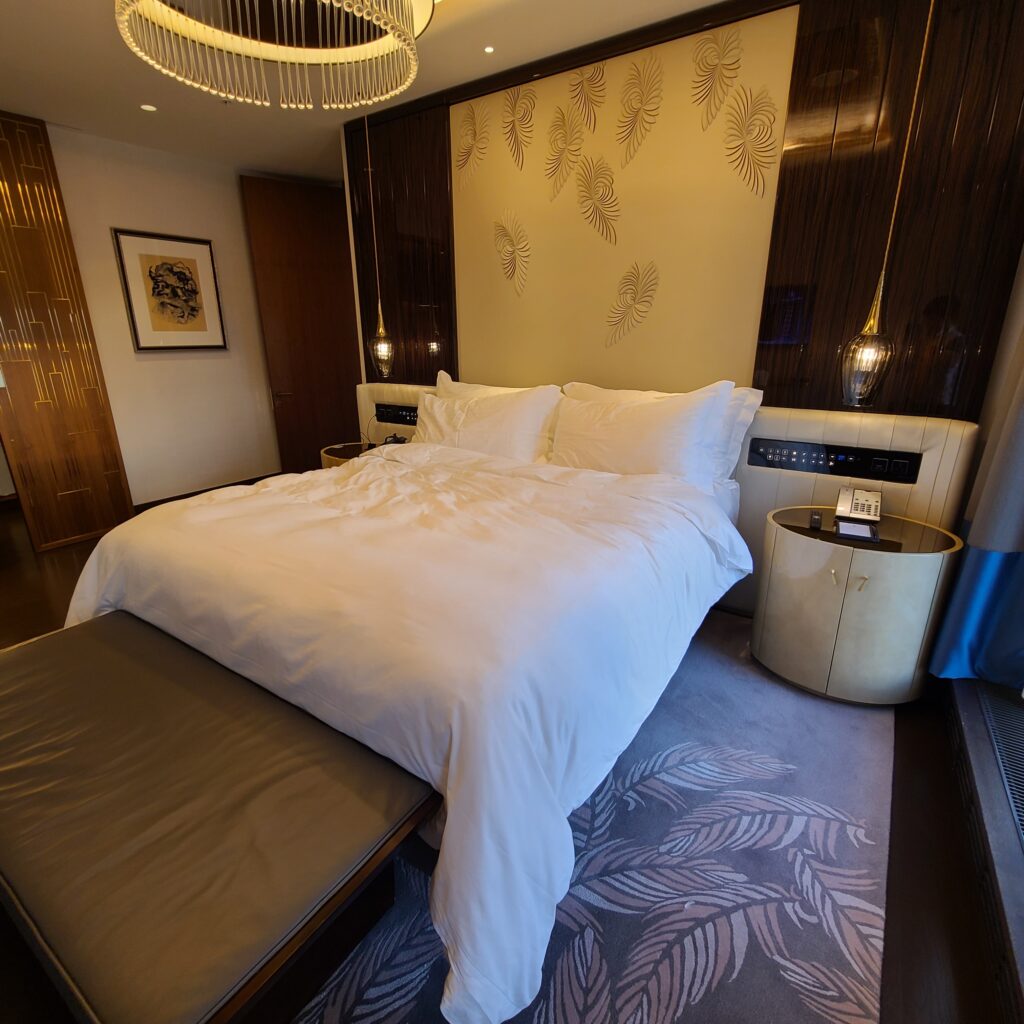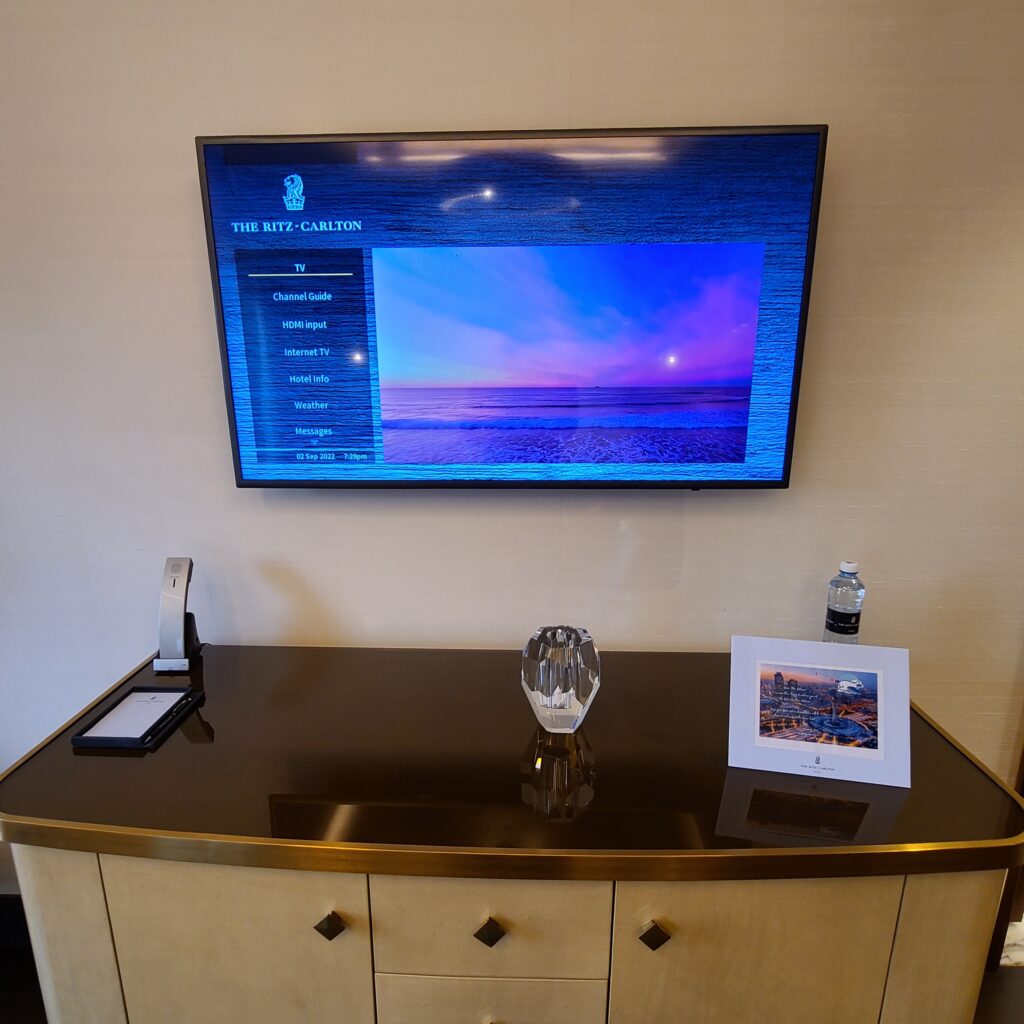 One feature that I really like are the LED master switches that controls many aspects of the whole suite that's similar to the smart home system in the living room. The power outlets are also universal with additional USB-A outlets. This is the only hotel in Central Asia where I did not have to use my power adapter at all. Very convenient!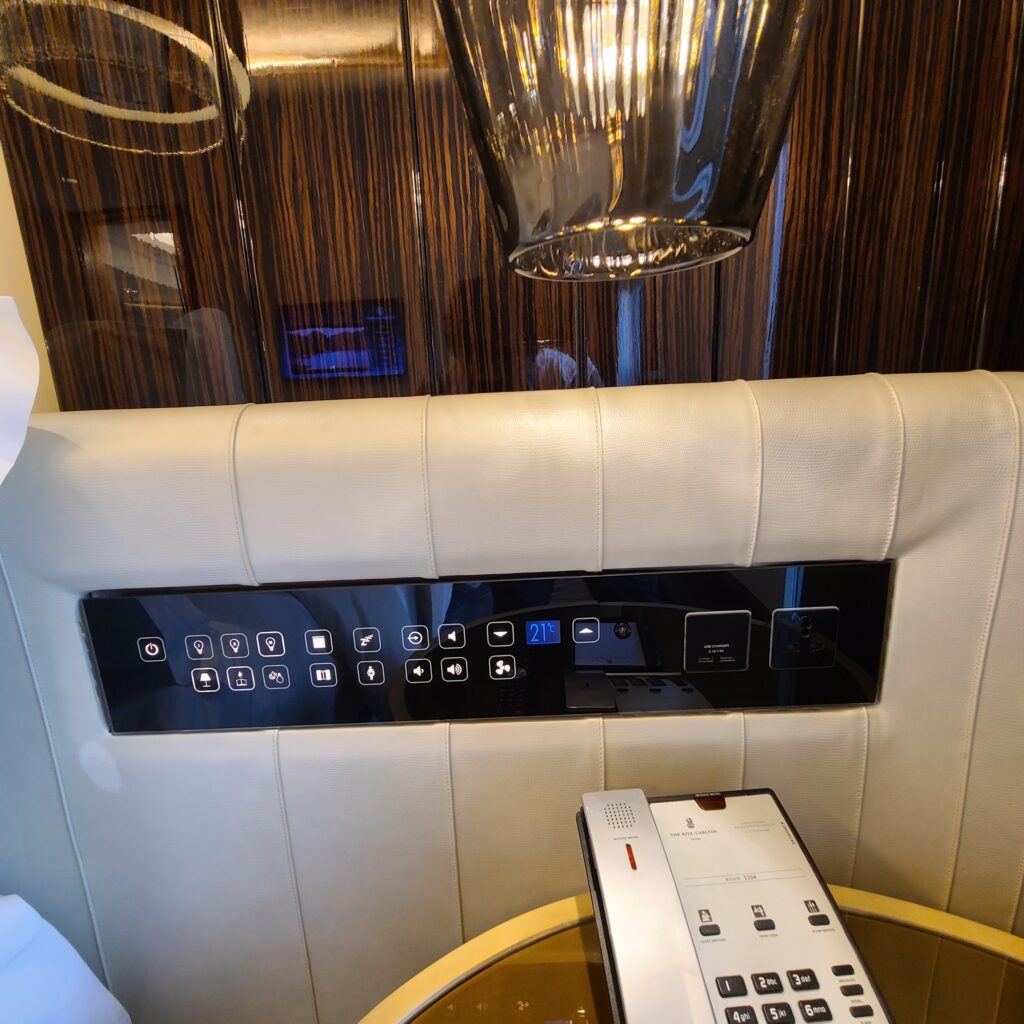 What's also great is that the switches are very clear. One of the things that grind me about many other hotels are that the bedside switches are usually very vague that I have to play around with them to know what they do.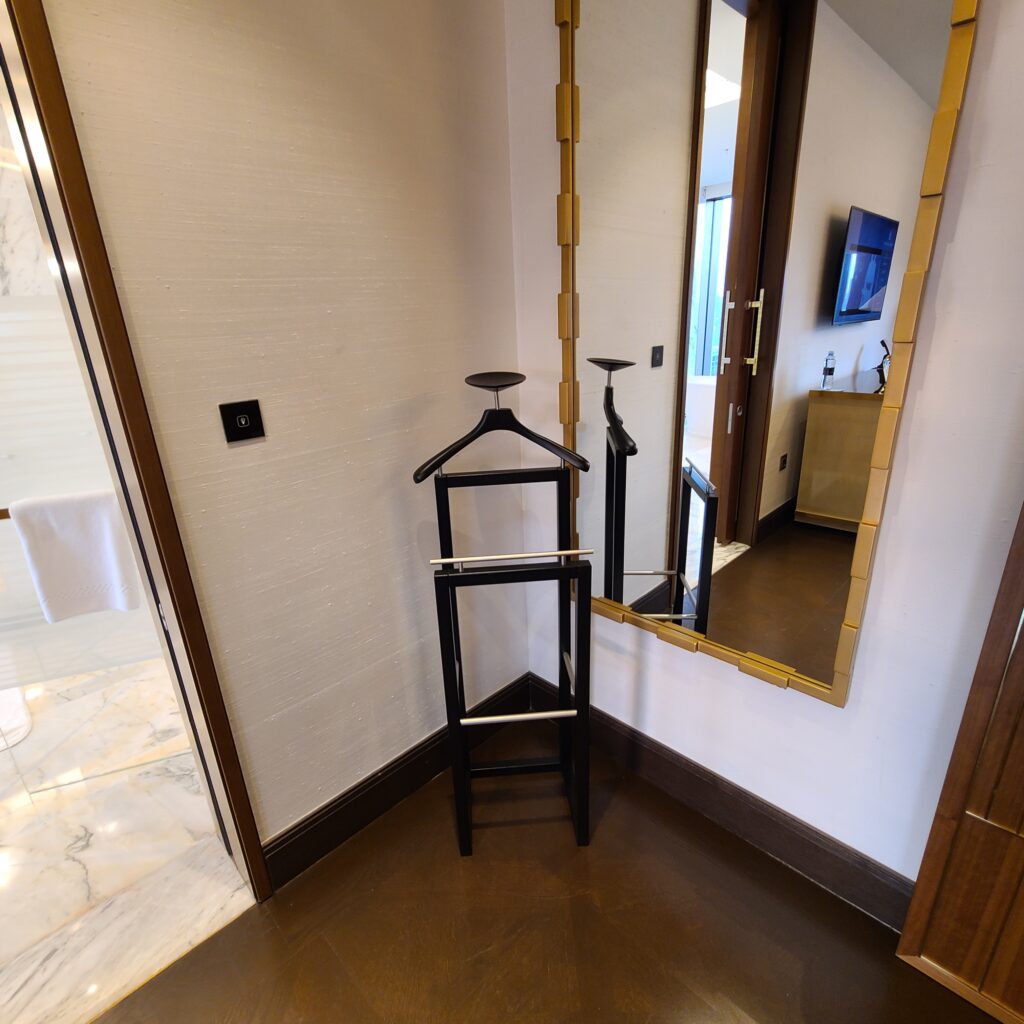 The bedroom includes a walk-in dressing room where you can find the bathrobe and slippers.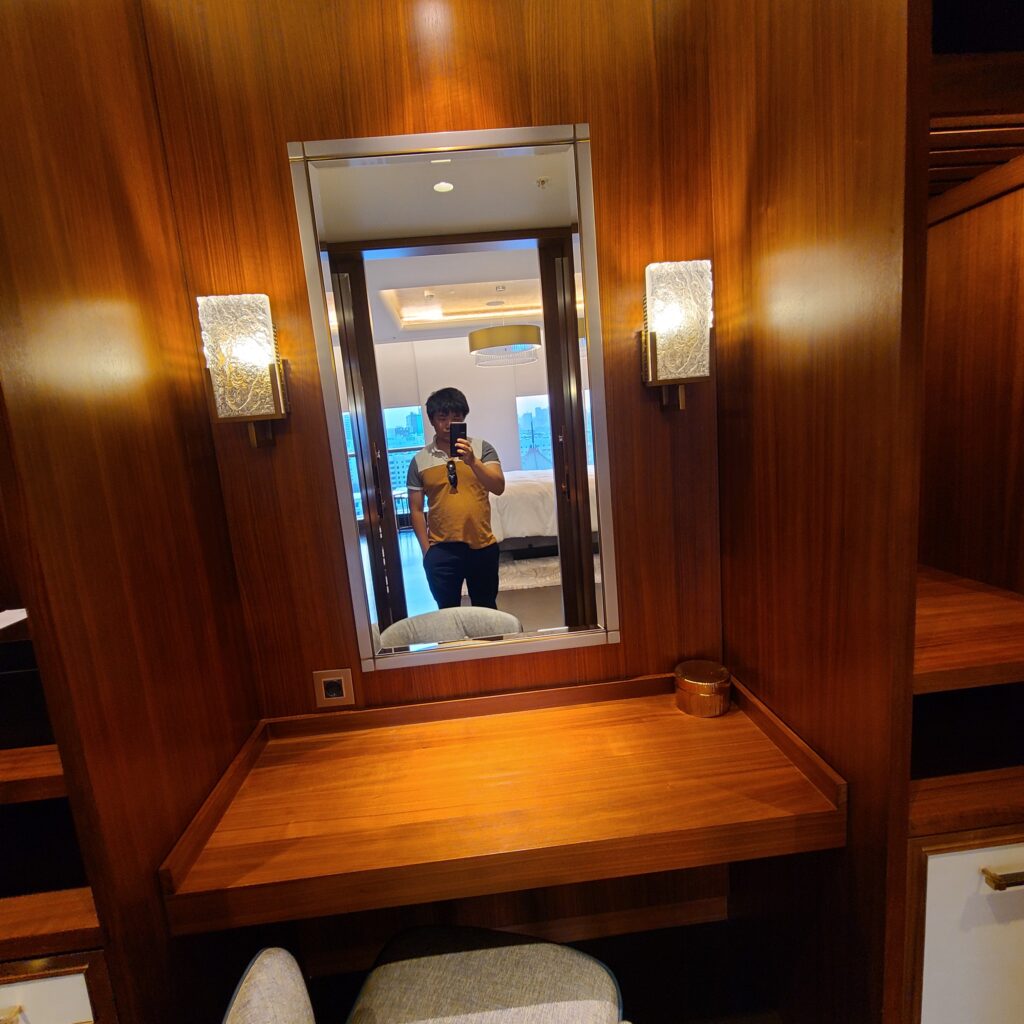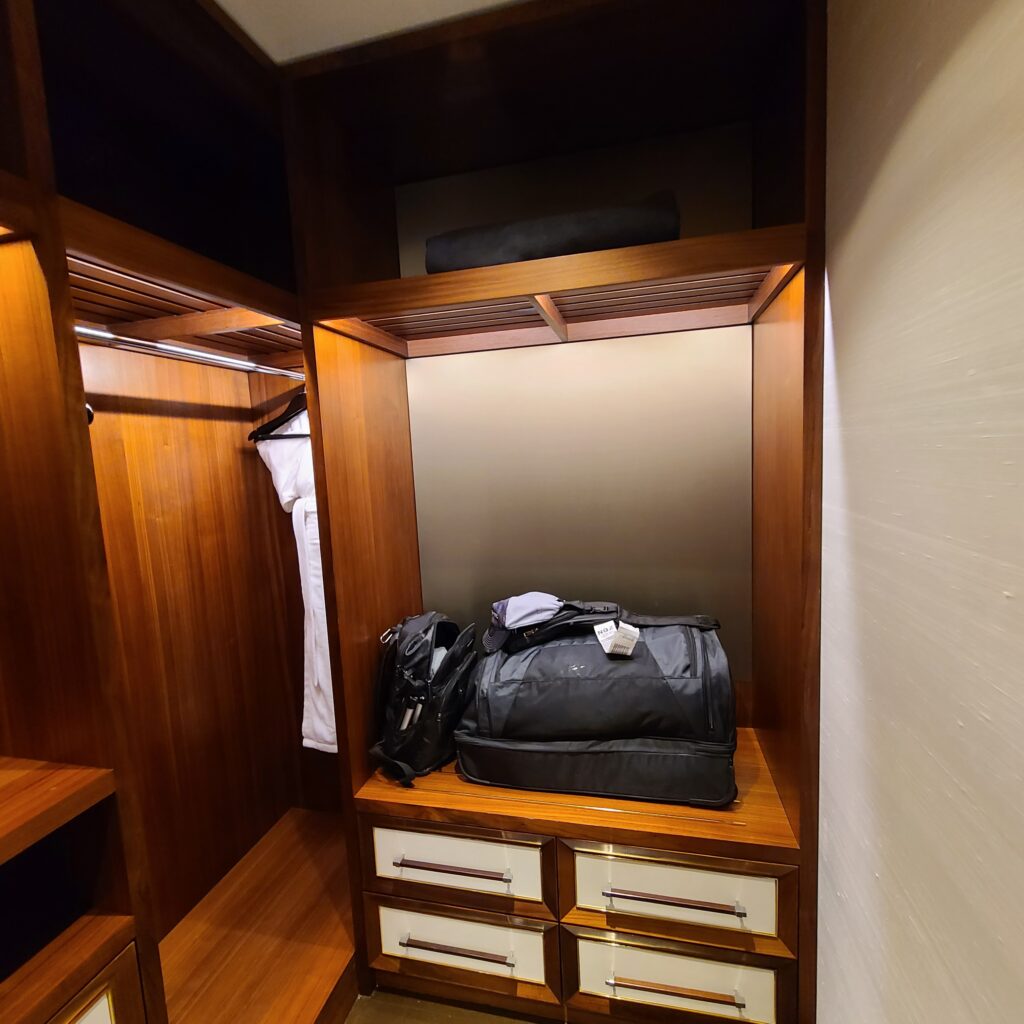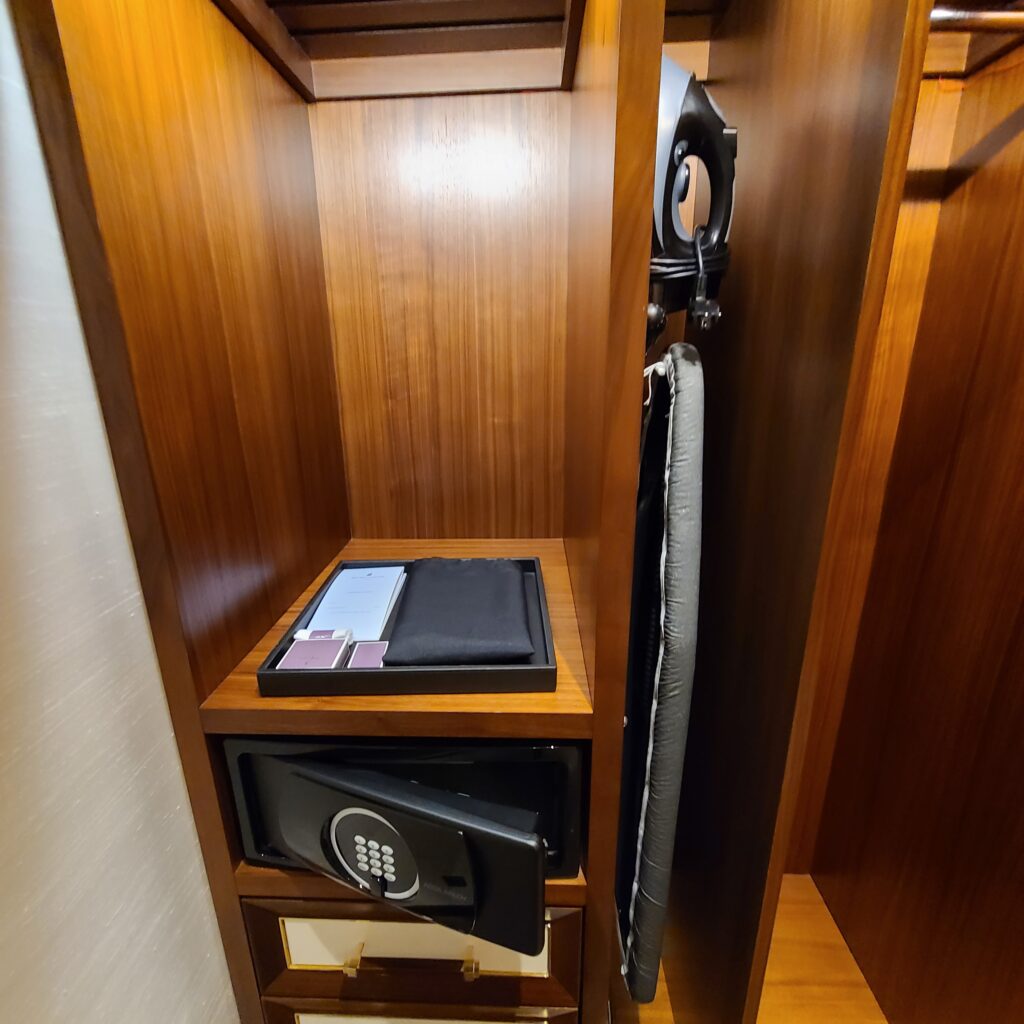 A complimentary shoe shine service is included too if you wish to have it.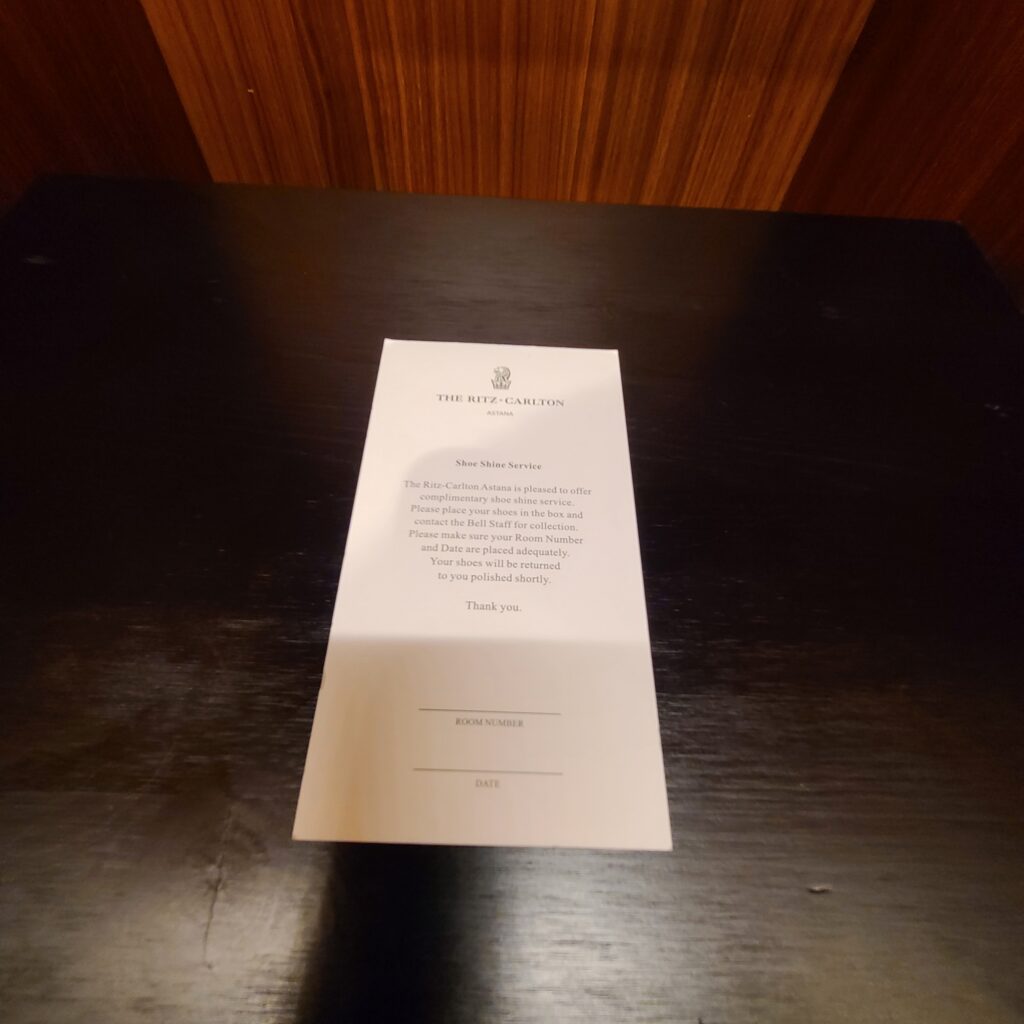 The Ritz-Carlton, Astana- Carlton Suite Bathroom
The suite comes with a sweet marble bathroom.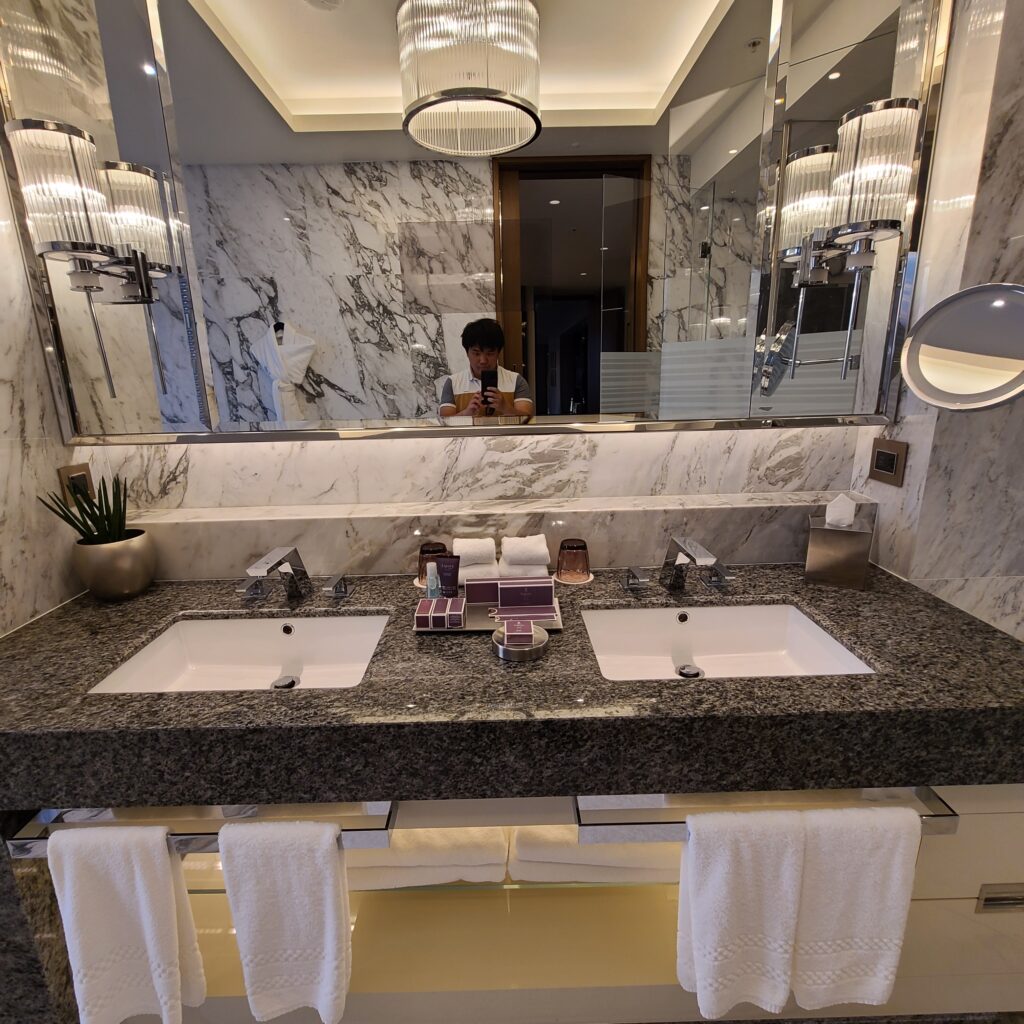 The shower pressure is excellent, and there's two levels of control for the rainfall shower head. You can choose the inner or outer stream, or both!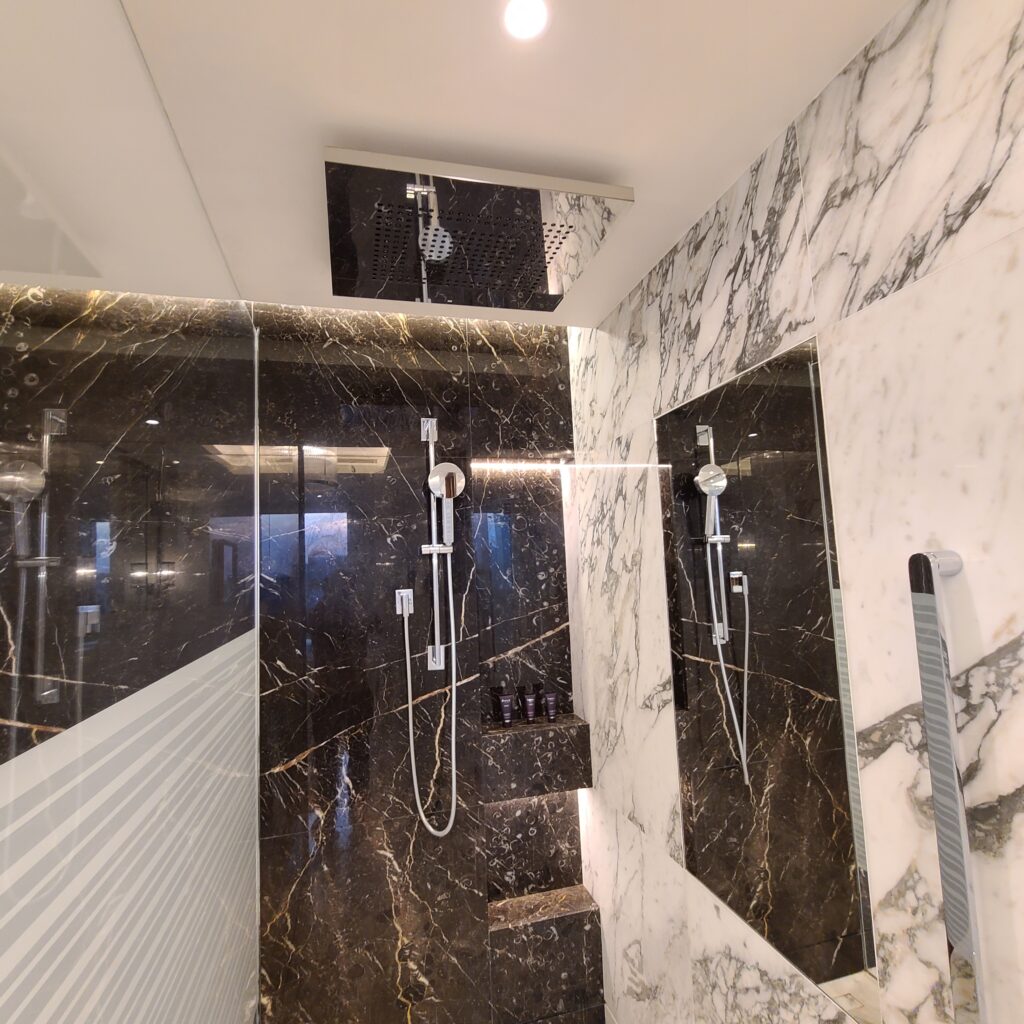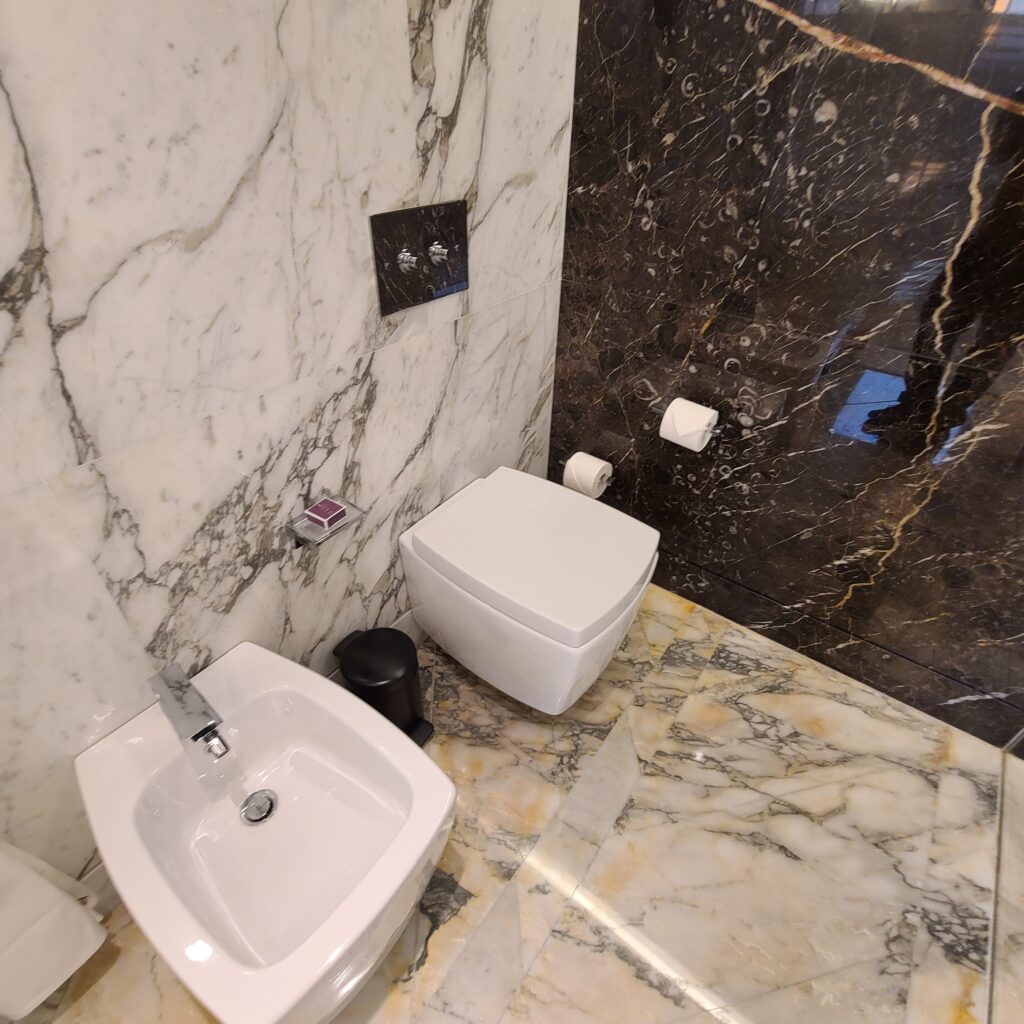 The bathtub is positioned by the window overlooking downtown Astana. It makes for a great view for a bath!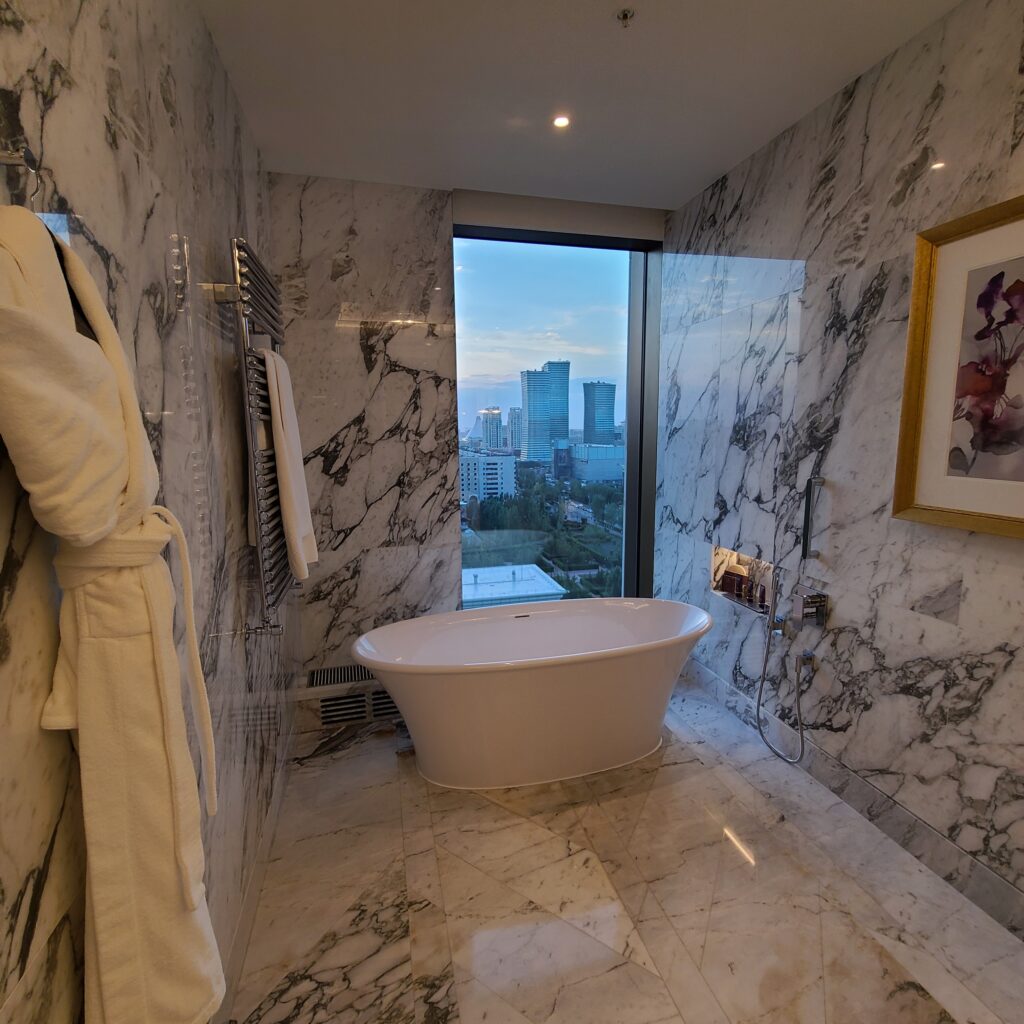 Asprey Purple Water bath amenities are by the bathtub and inside the shower room. A Ritz-Carlton standard. Bath salts are included.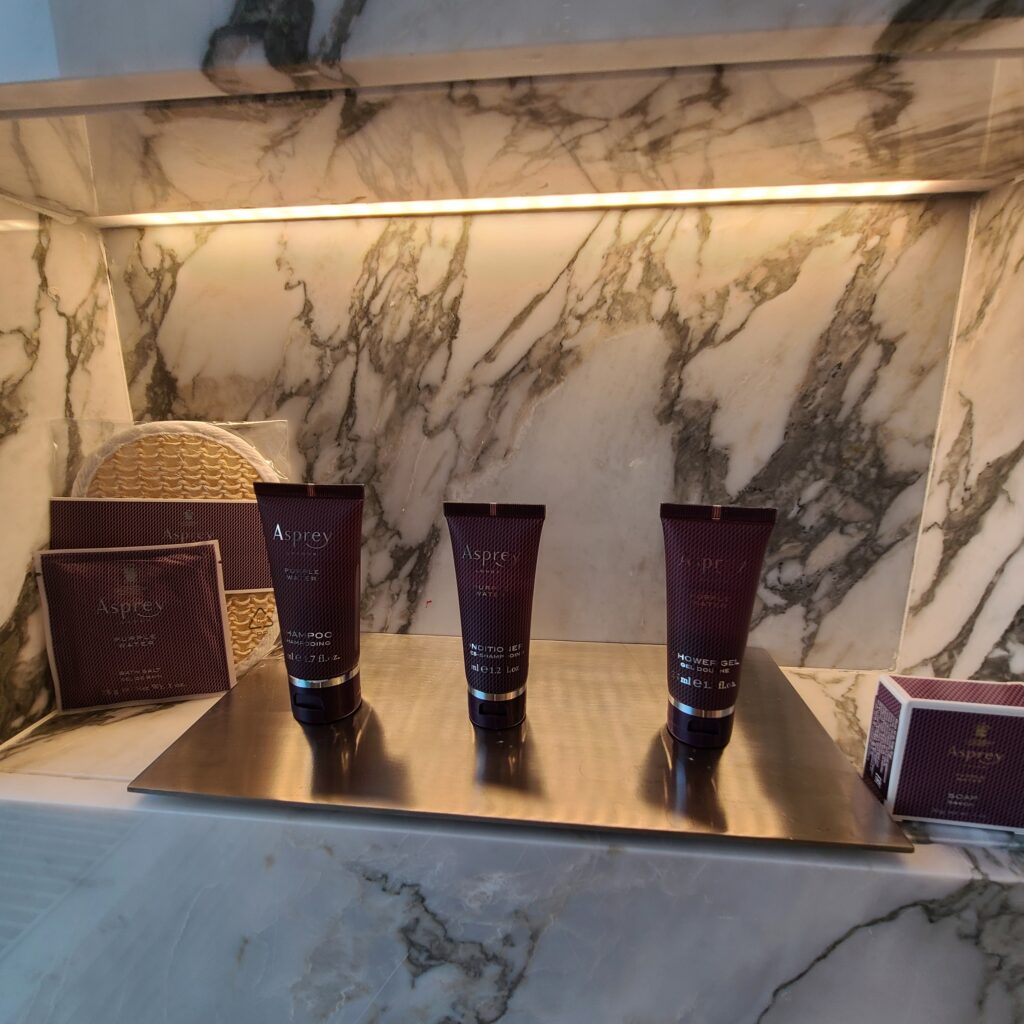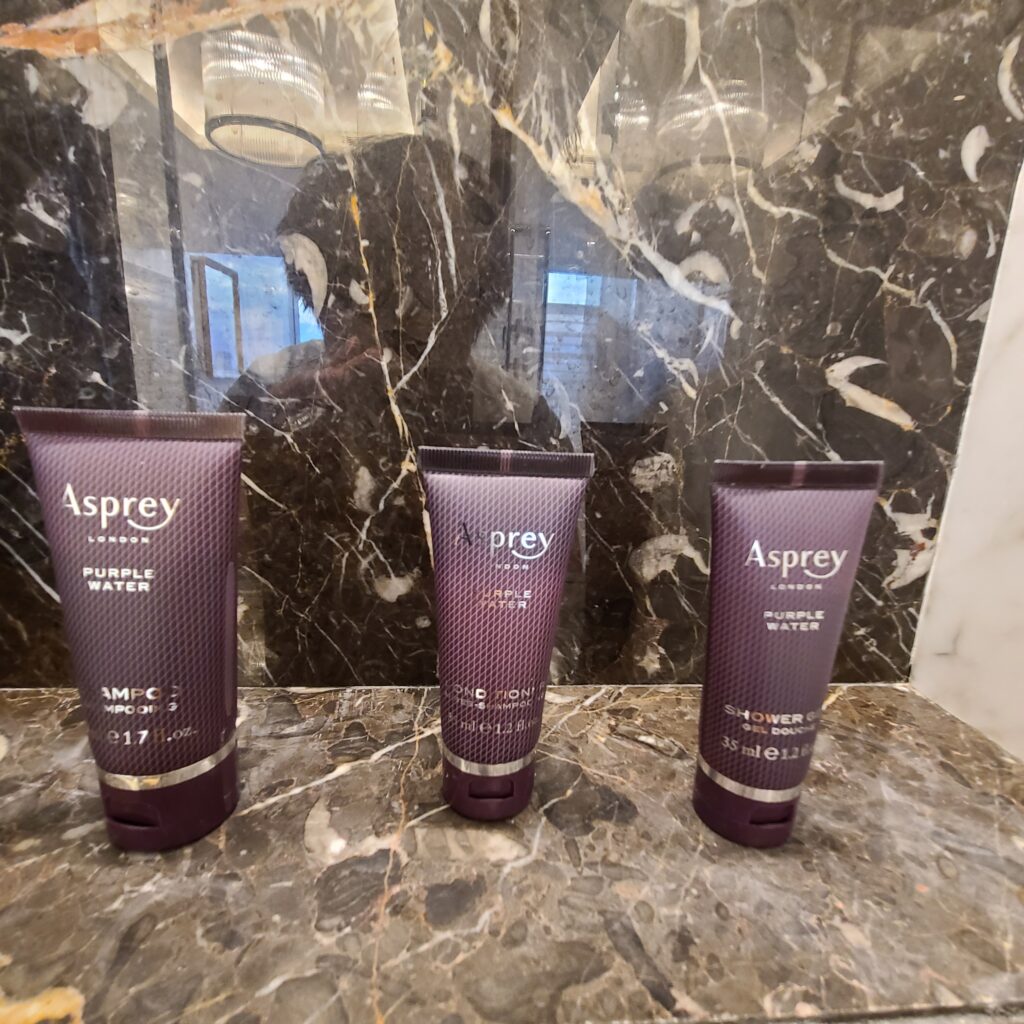 Overall, the Carlton Suite is very beautiful, and I was very ecstatic with the very generous room upgrade!
Here's a video tour of the whole Carlton Suite:
The Ritz-Carlton, Astana- Breakfast
Free daily buffet breakfast was served thanks to the Staycation package rate at the Mokki Restaurant. Without it, breakfast would cost ~$40.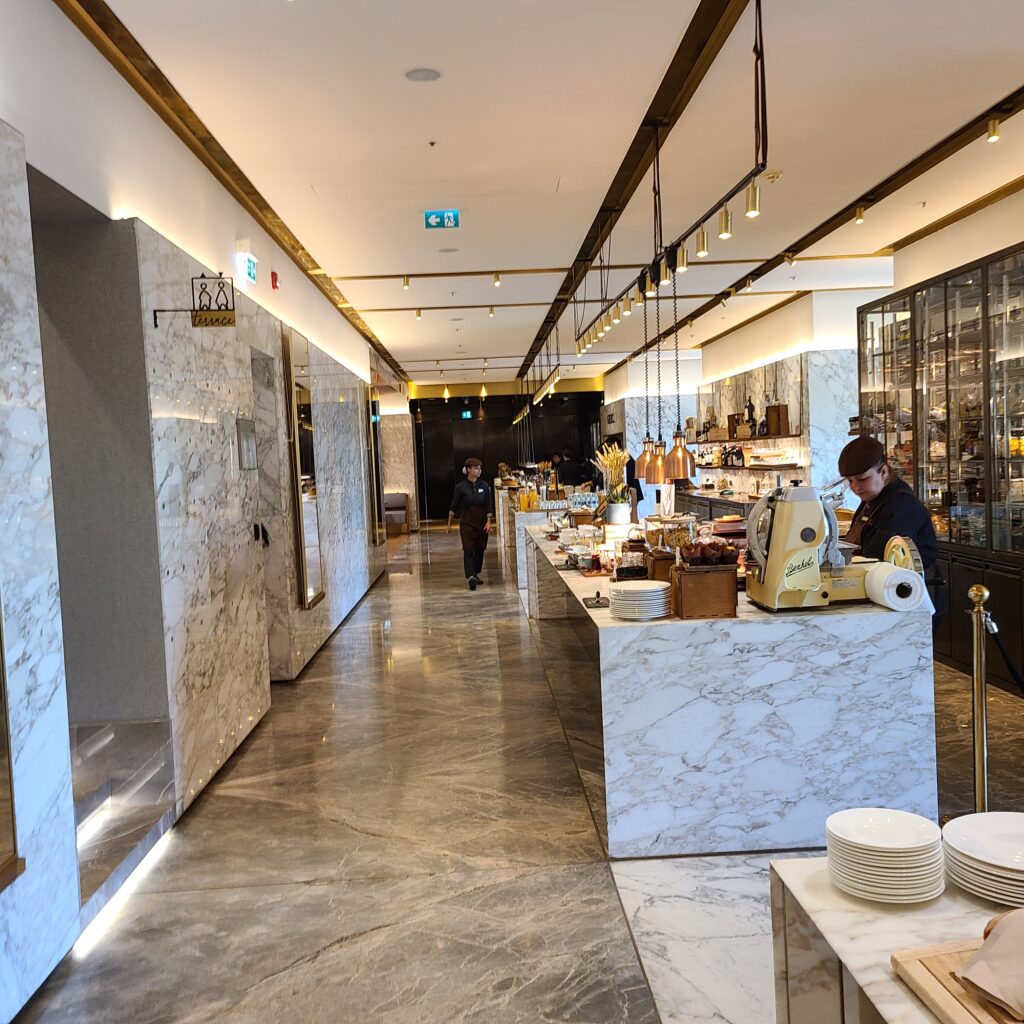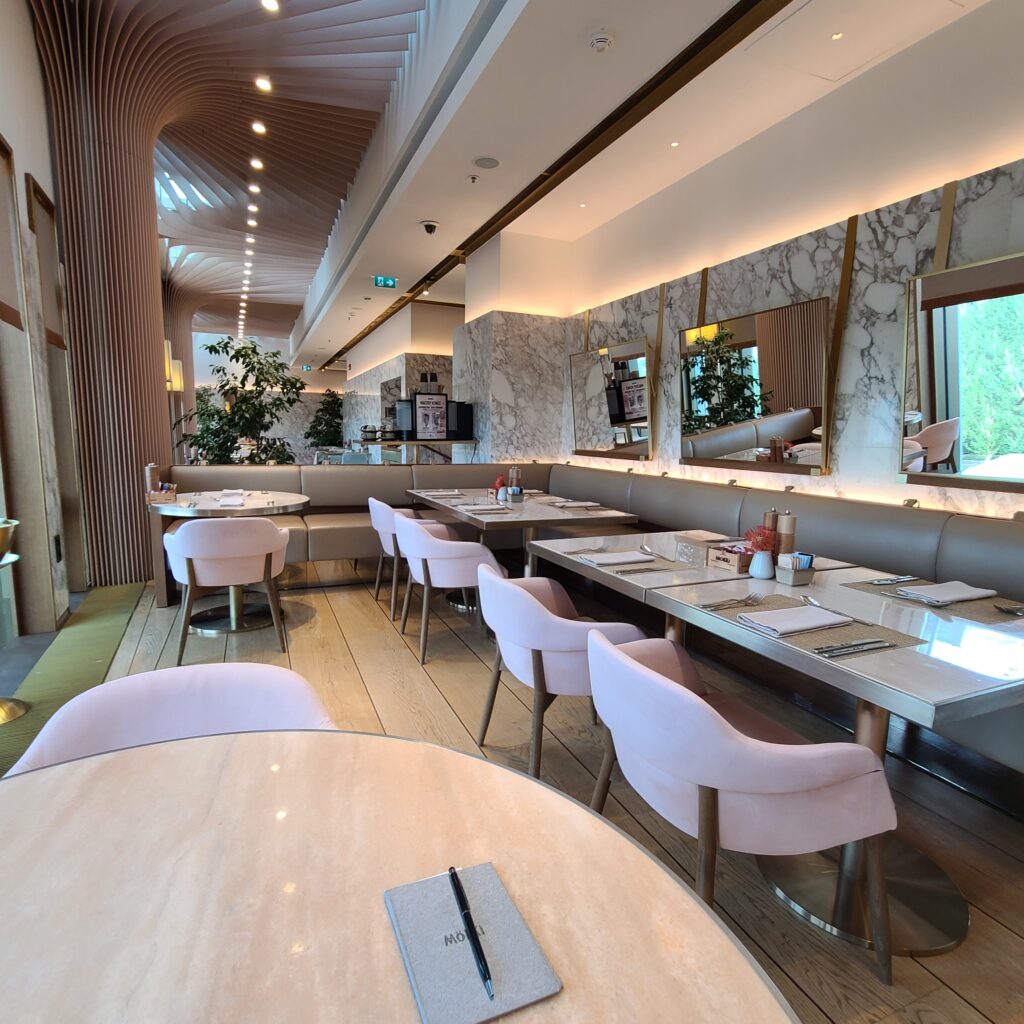 The breakfast spread is not the largest, but the food tastes very high quality.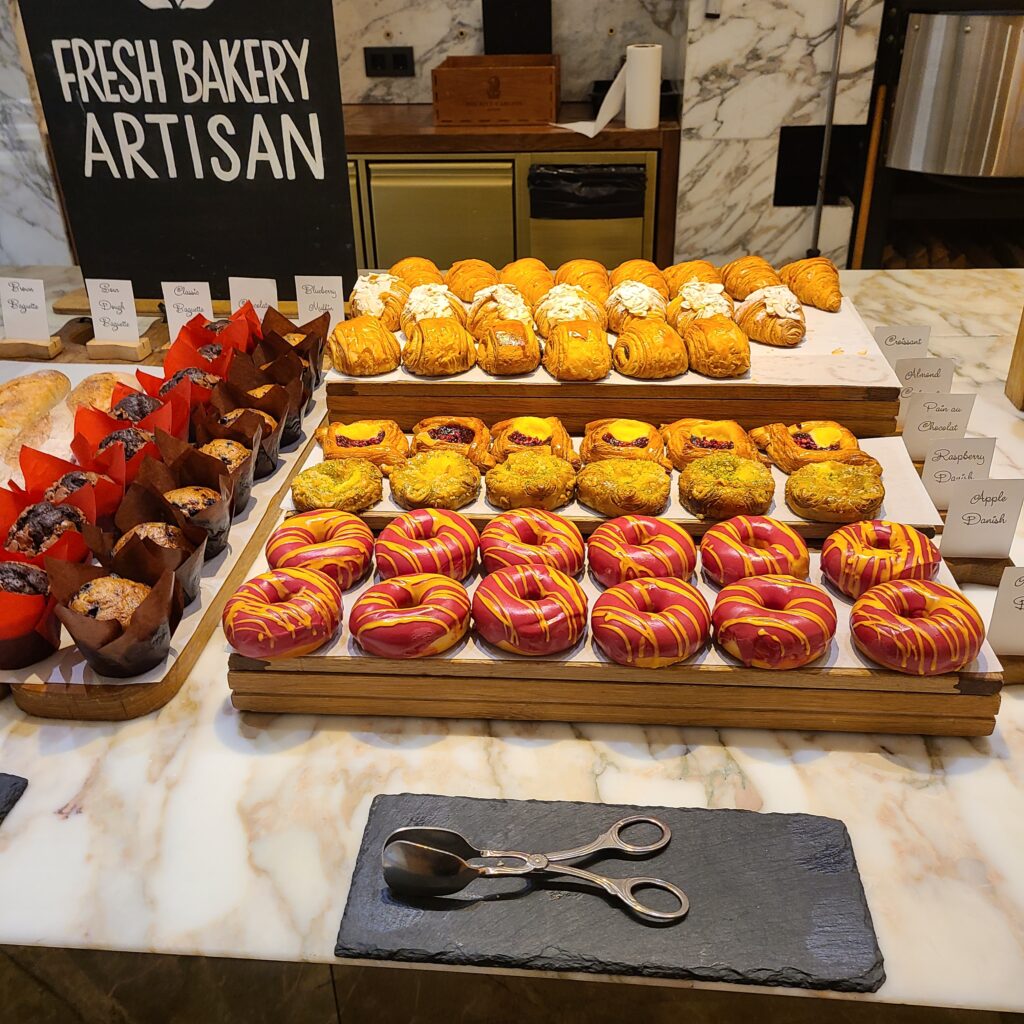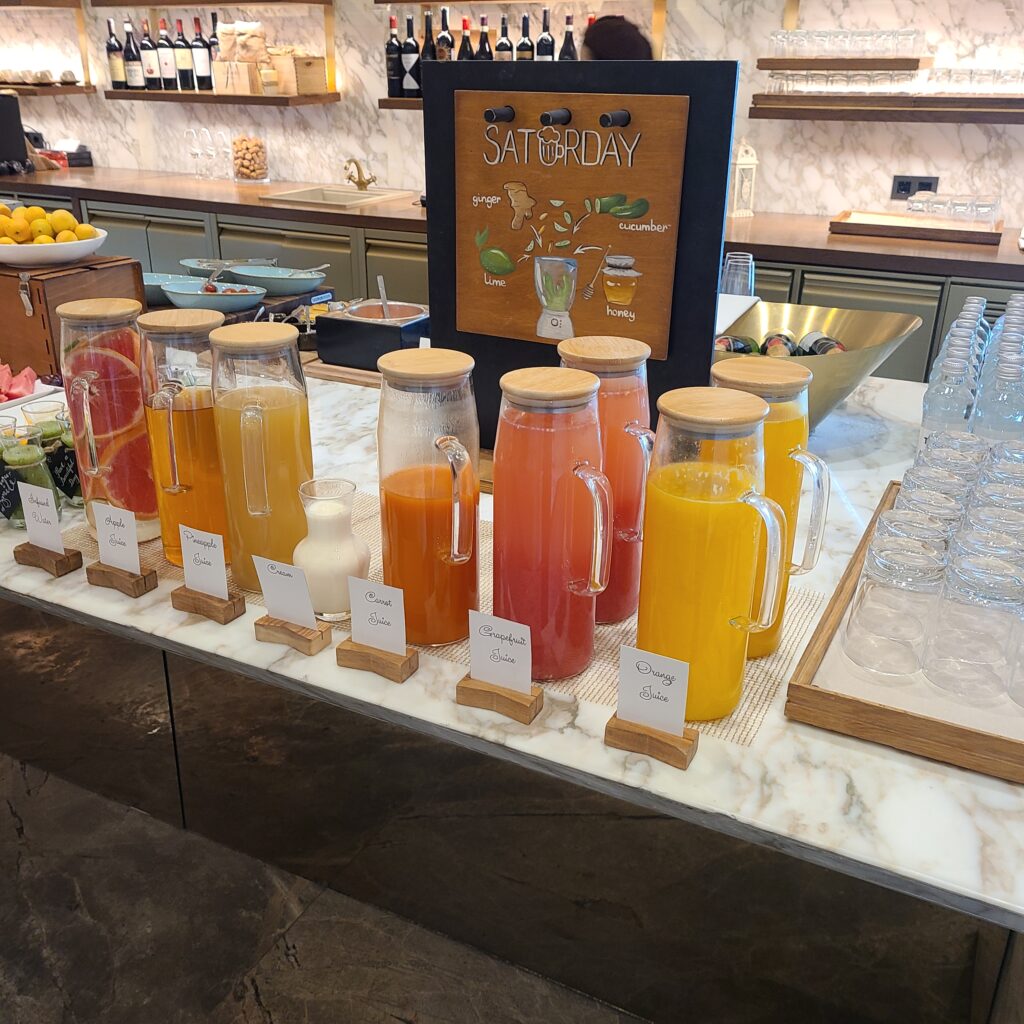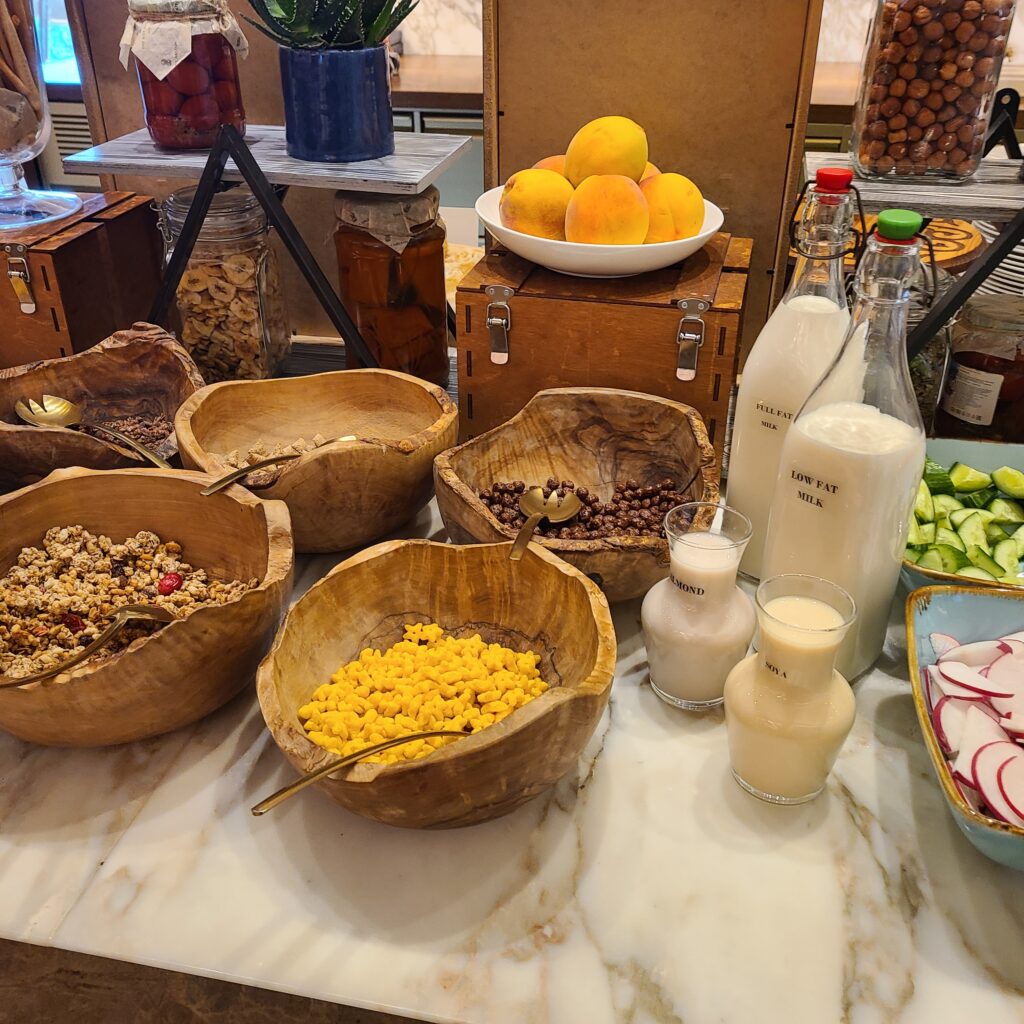 I had some of the best Eggs Benedict here.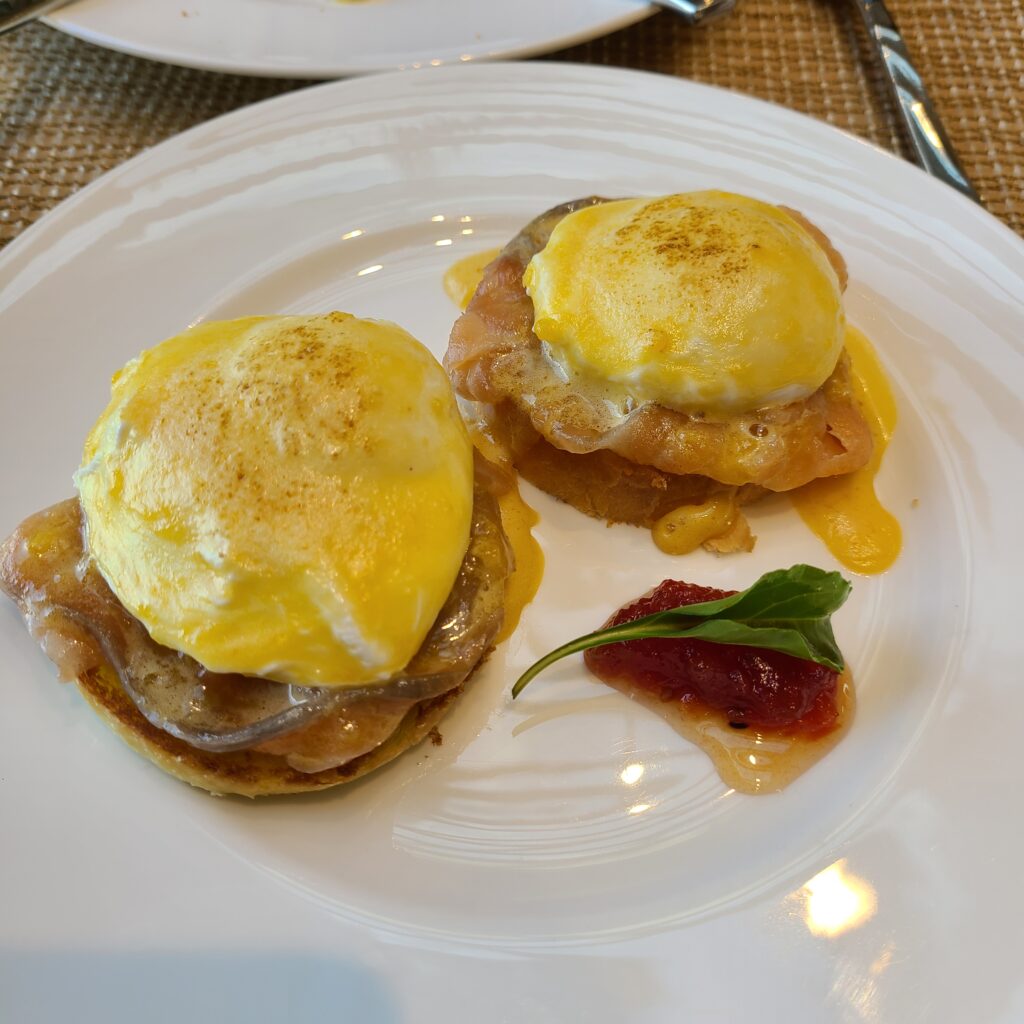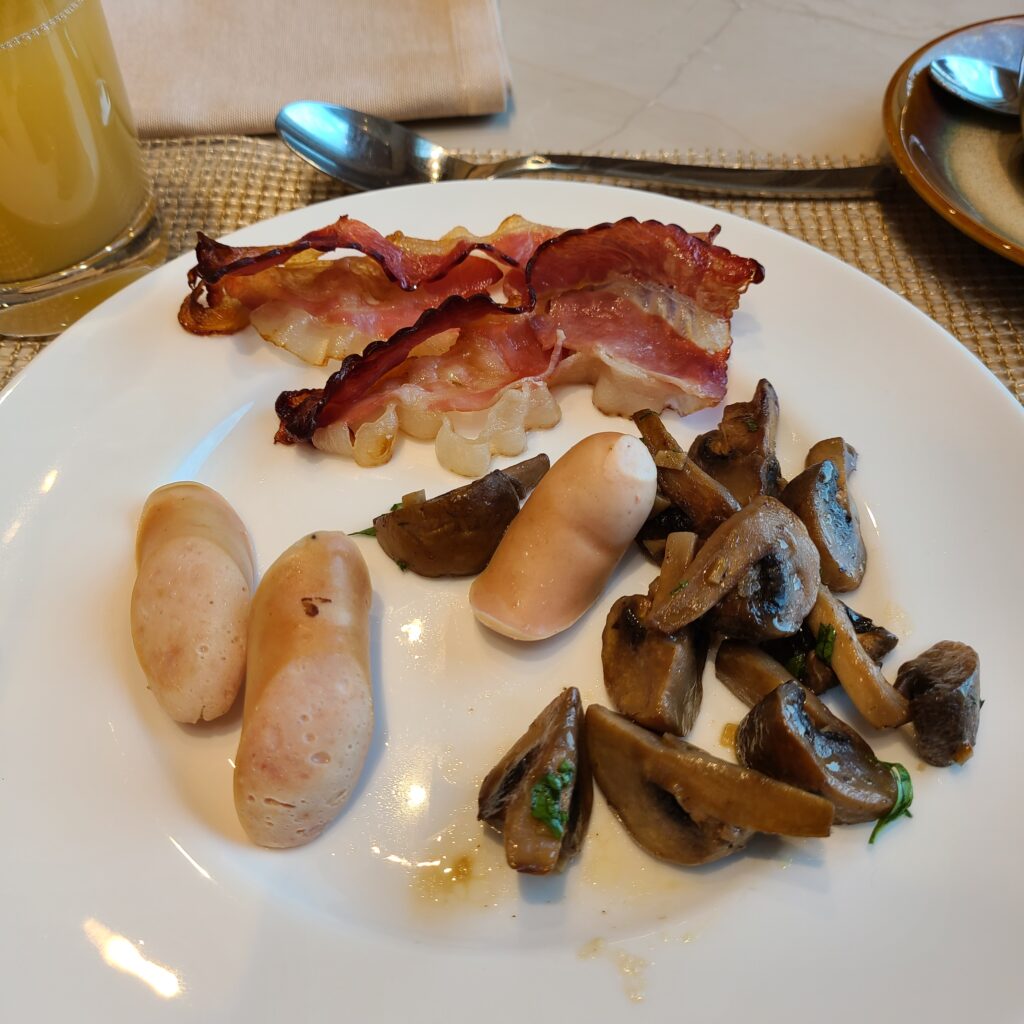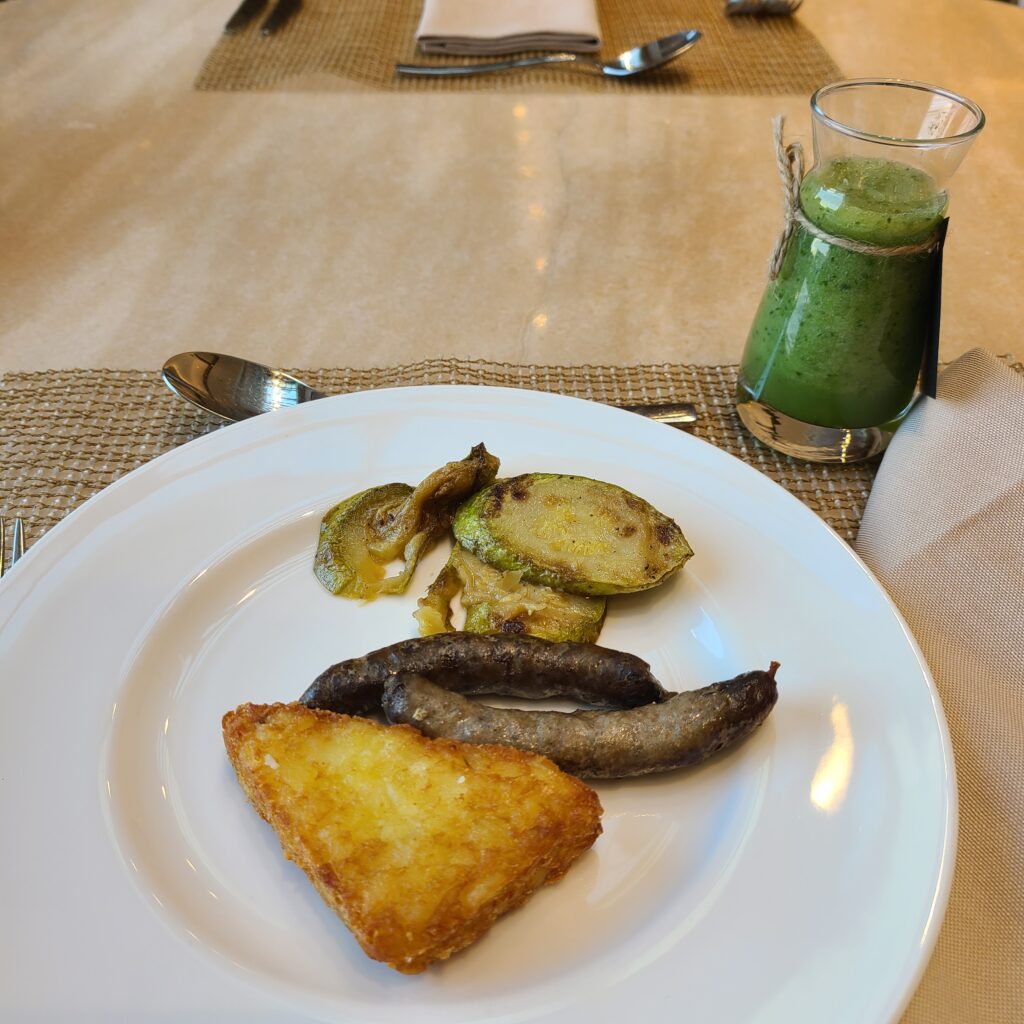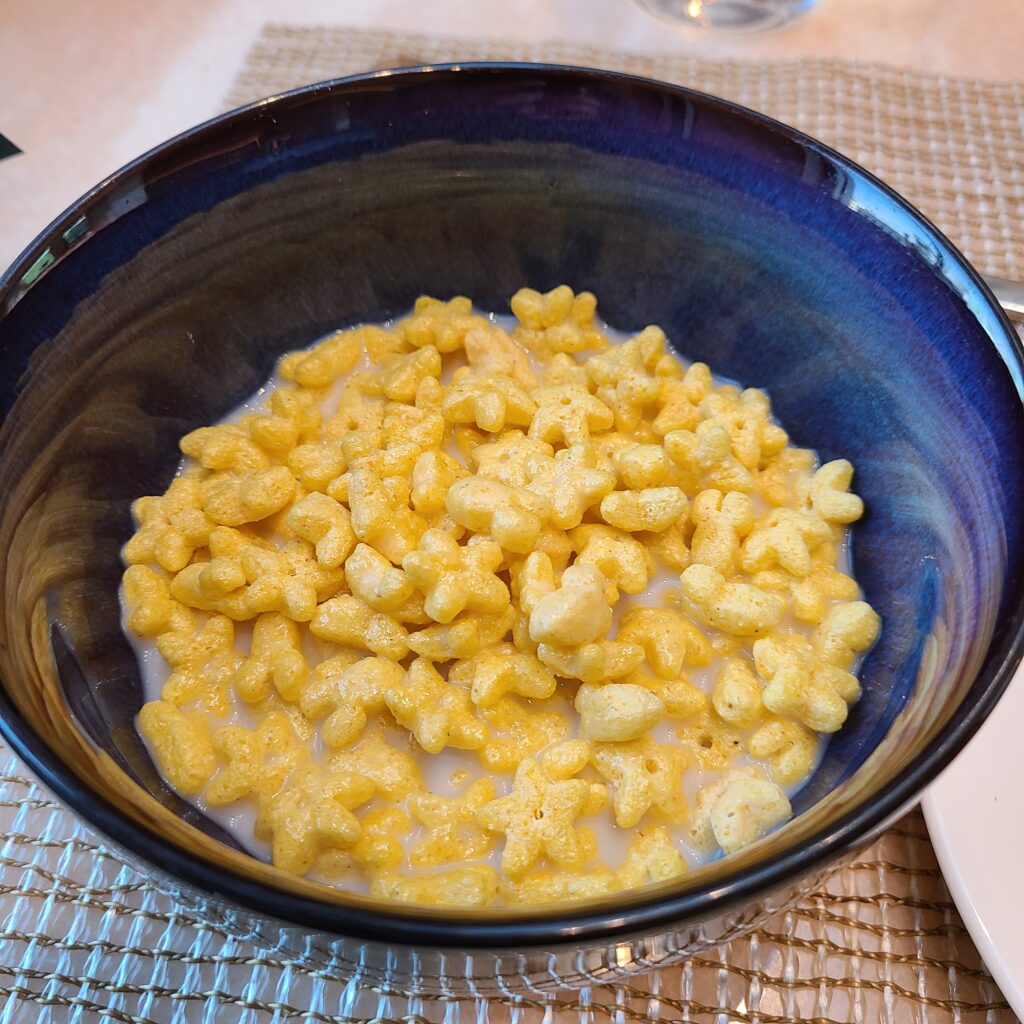 I don't care where I stay at, as long as I can find my favorite childhood cereal (Honey Stars), I'm going to eat them. It's unfortunate that the US doesn't sell these.
The Ritz-Carlton, Astana- Ozen & Selfie Restaurants
The Ritz comes with two main restaurants. Ozen is located at the ground floor next to the lobby. They serve the more casual dining options, afternoon tea, and special cocktails of their own. I was able to try it during one time during my stay.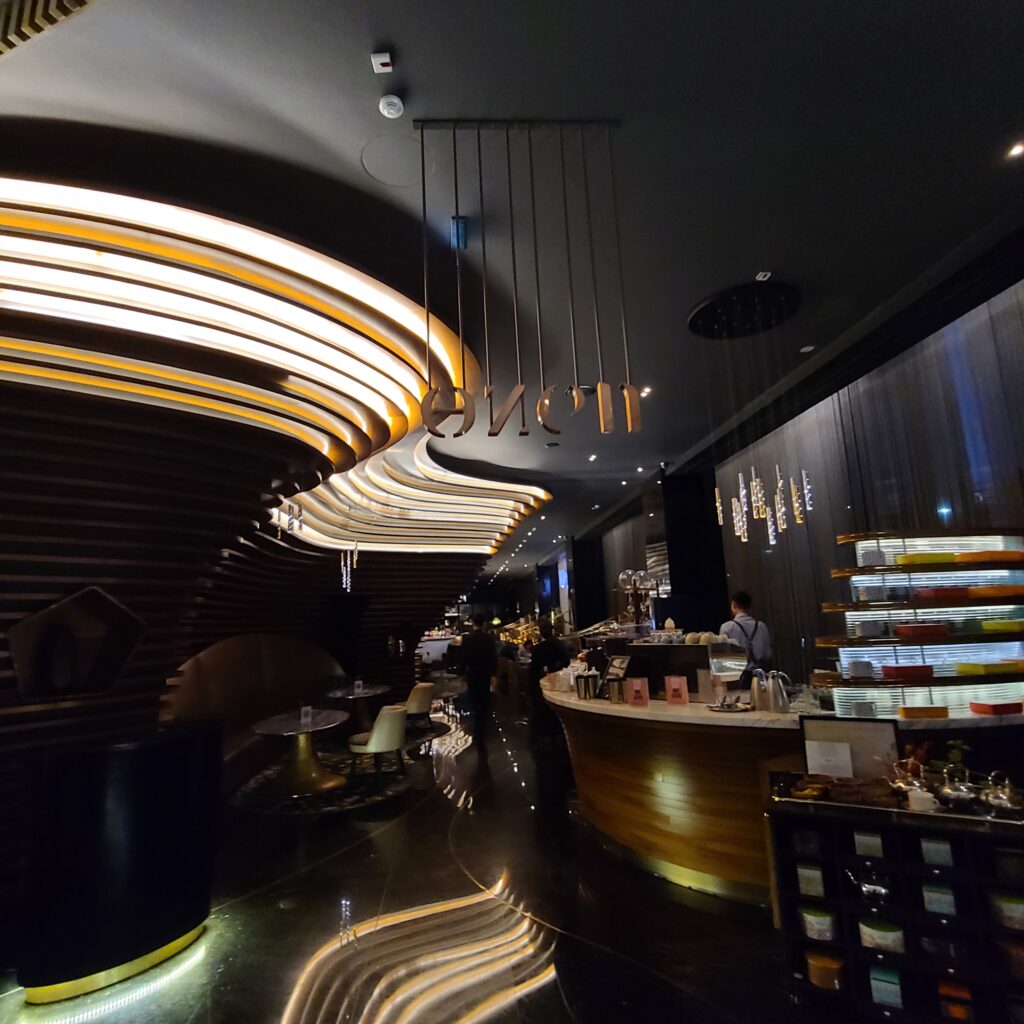 The seating structures are casual, but intimate at the same time with dim lighting and the meandering walls.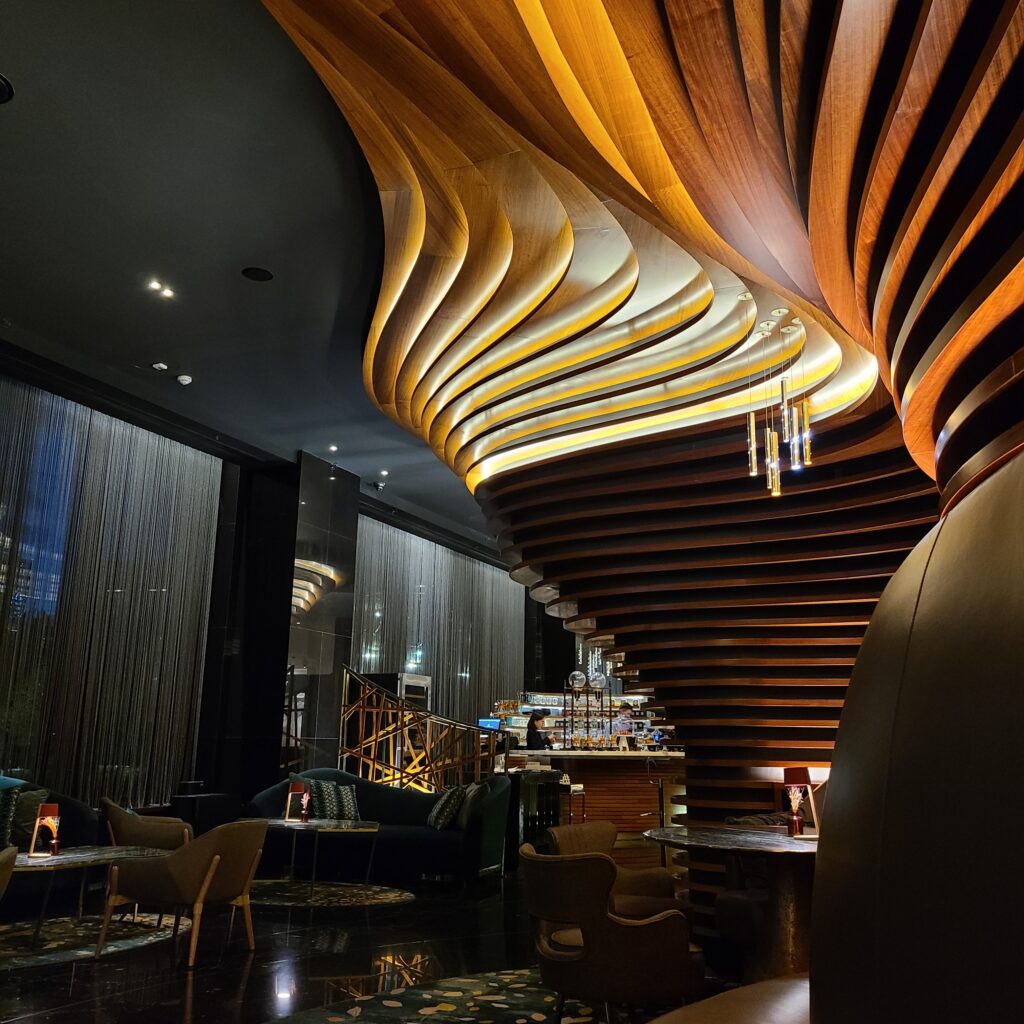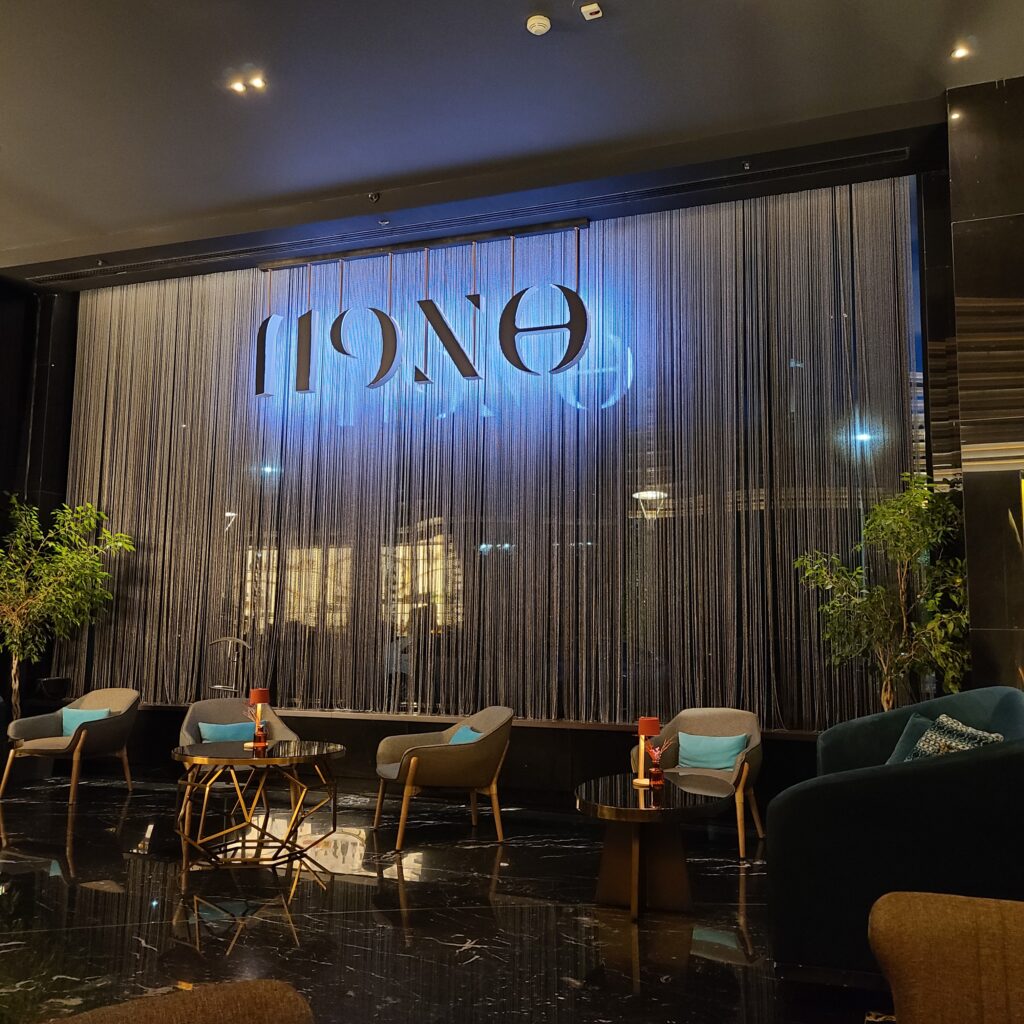 The food is really good also. I started to miss plain old steamed white rice that I didn't realize I've had since my trip in Central Asia.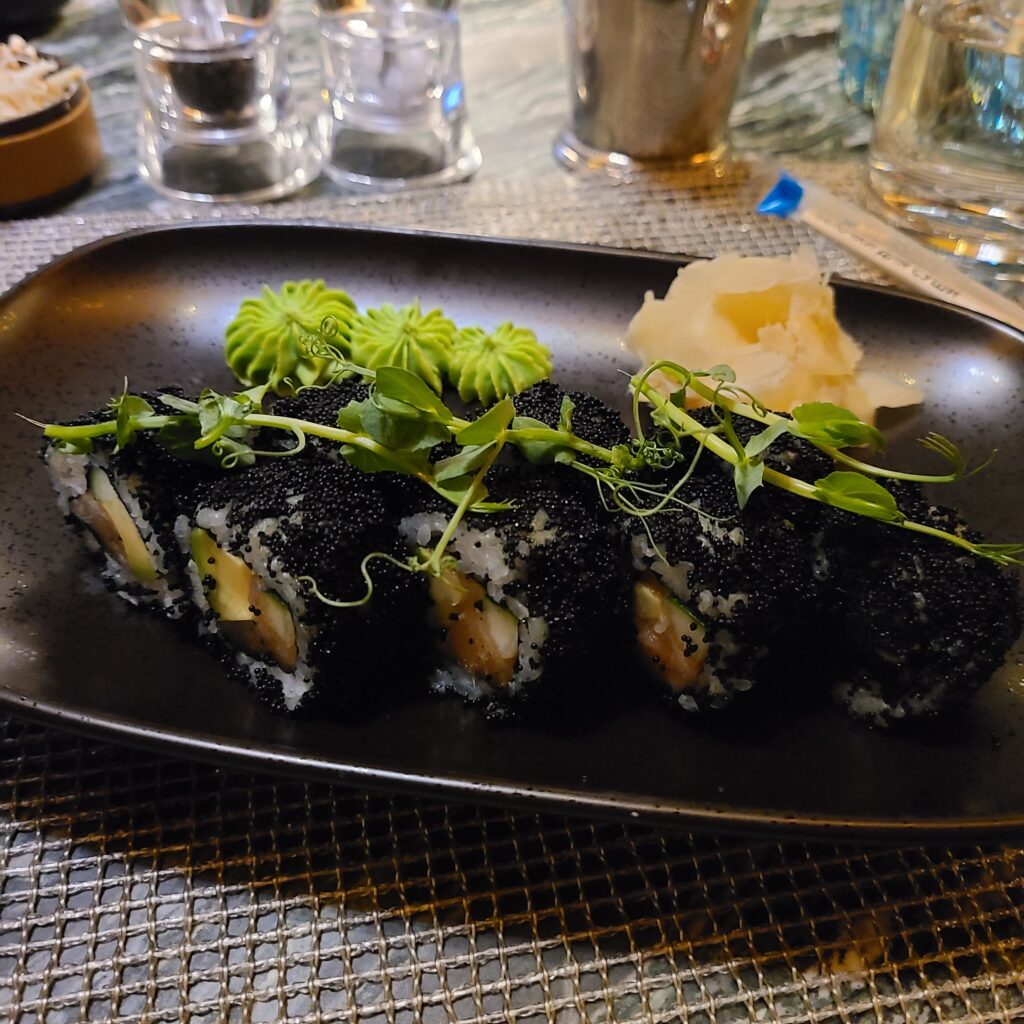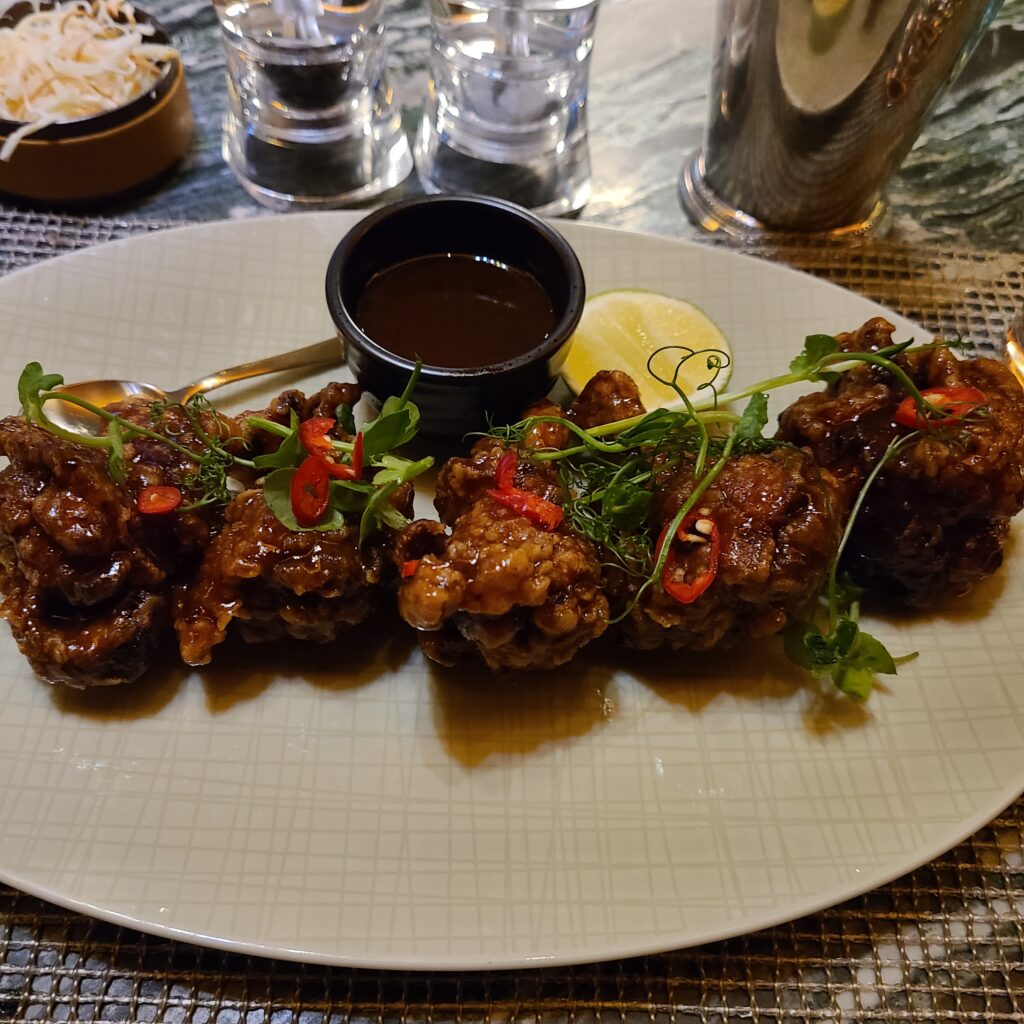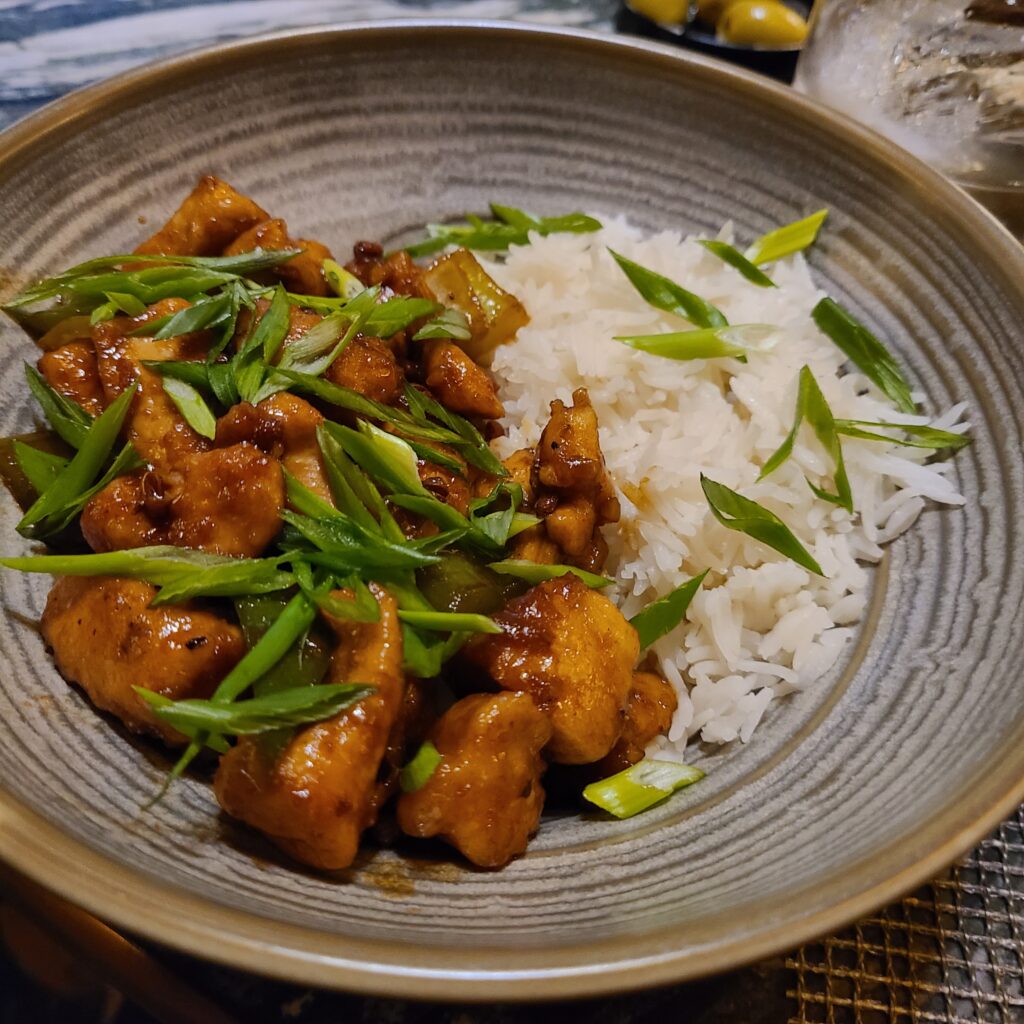 I had an interesting cocktail called "Choco Milk Punch". Just as the name suggests, it tastes like chocolate milk, but laced with bourbon. The name itself reminds me of the "Choccy milk" meme, so that's why I gave it a try.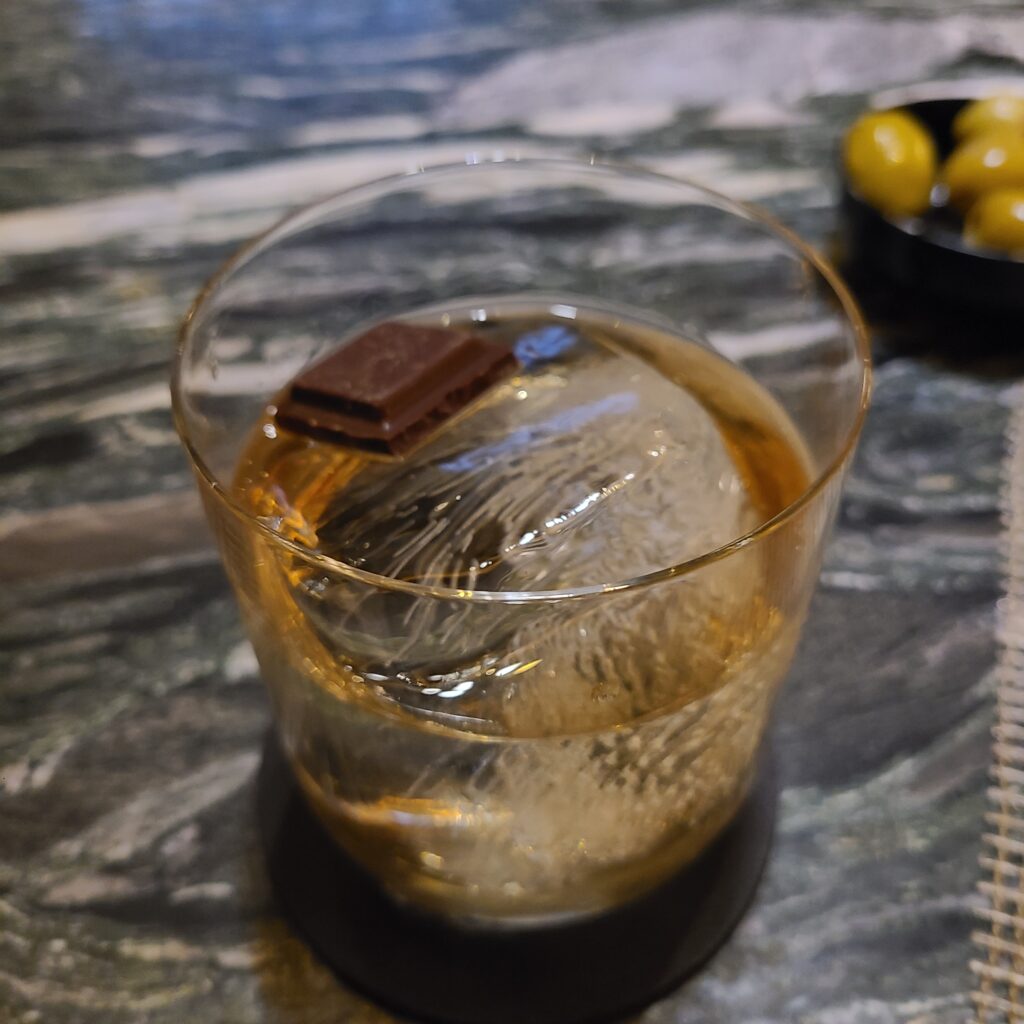 Tasty food overall, but a little bit too pricey even for me who lives in the San Francisco Bay Area. I did order quite a bit of food for myself to be fair.
There's also another restaurant called Selfie that's located at the top floor of the hotel. I didn't try it out, but I managed to take a peek on what it looks like. It looks really nice, and would give panoramic views of Astana.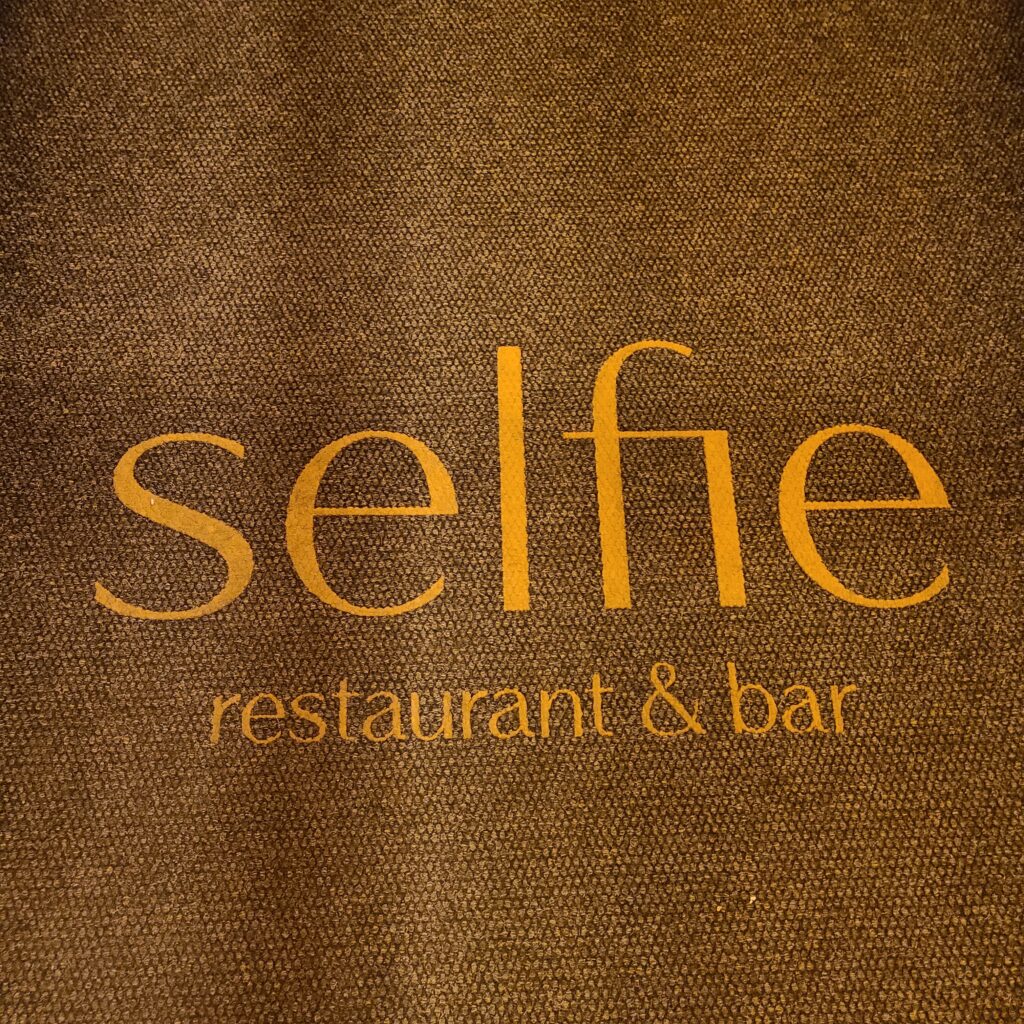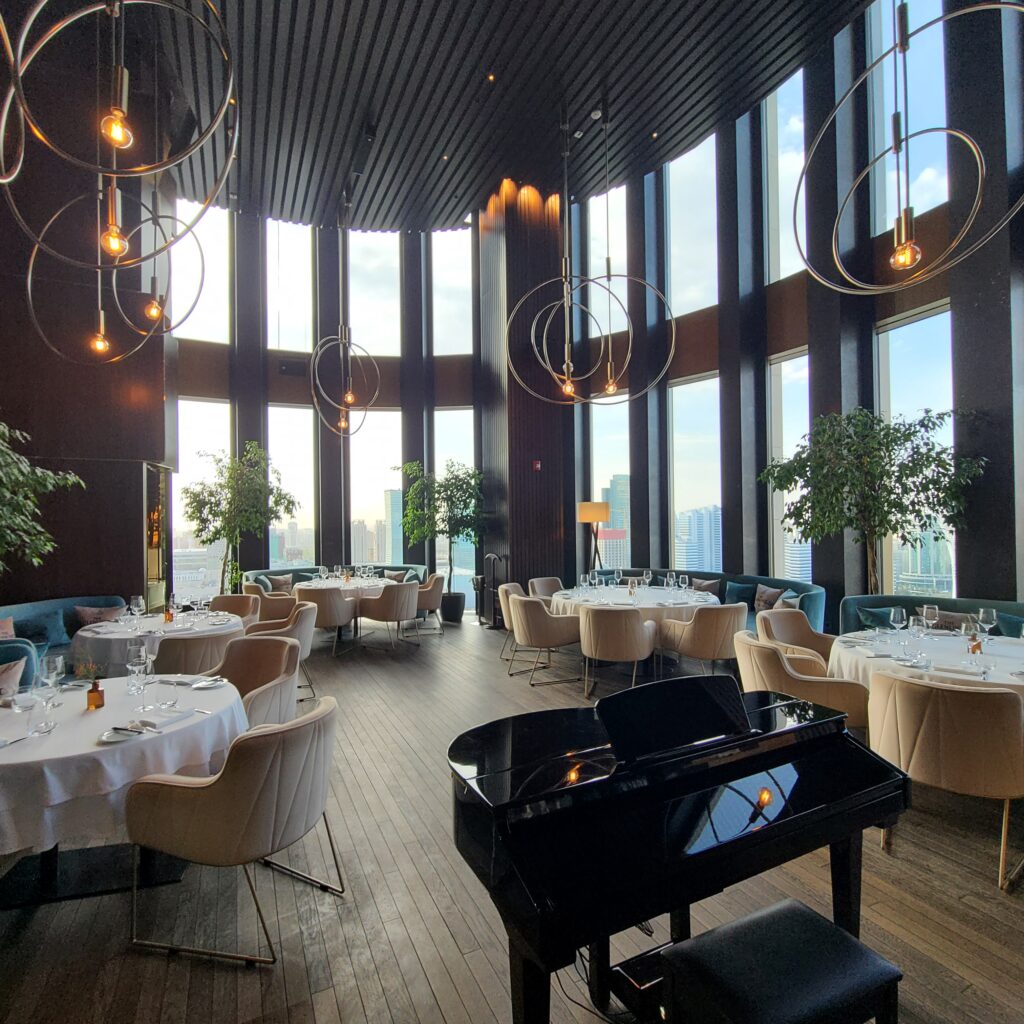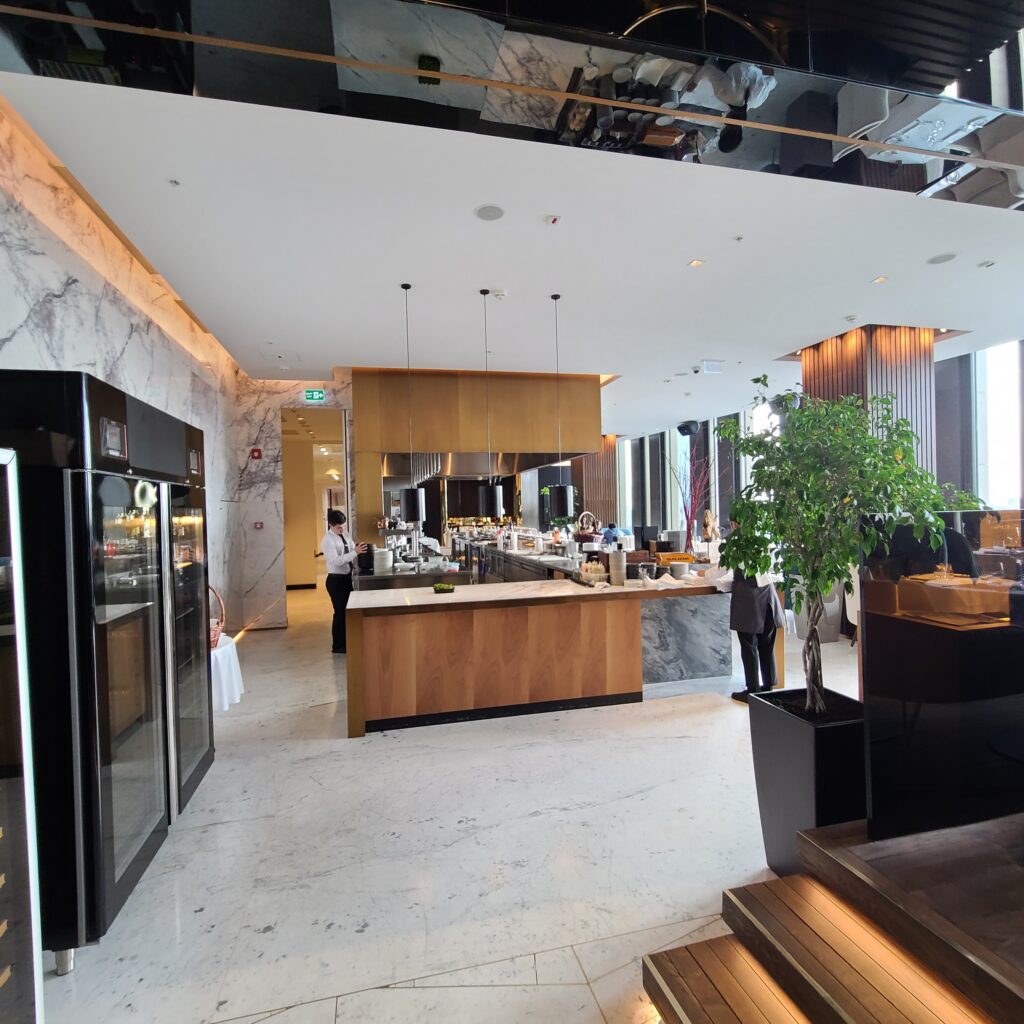 The Ritz-Carlton, Astana- Spa, Pool, & Fitness
Spa treatment is available at the third floor next to the Mokki Restaurant. I didn't get a spa treatment this time since I did it at the St. Regis, but they look similar in many ways.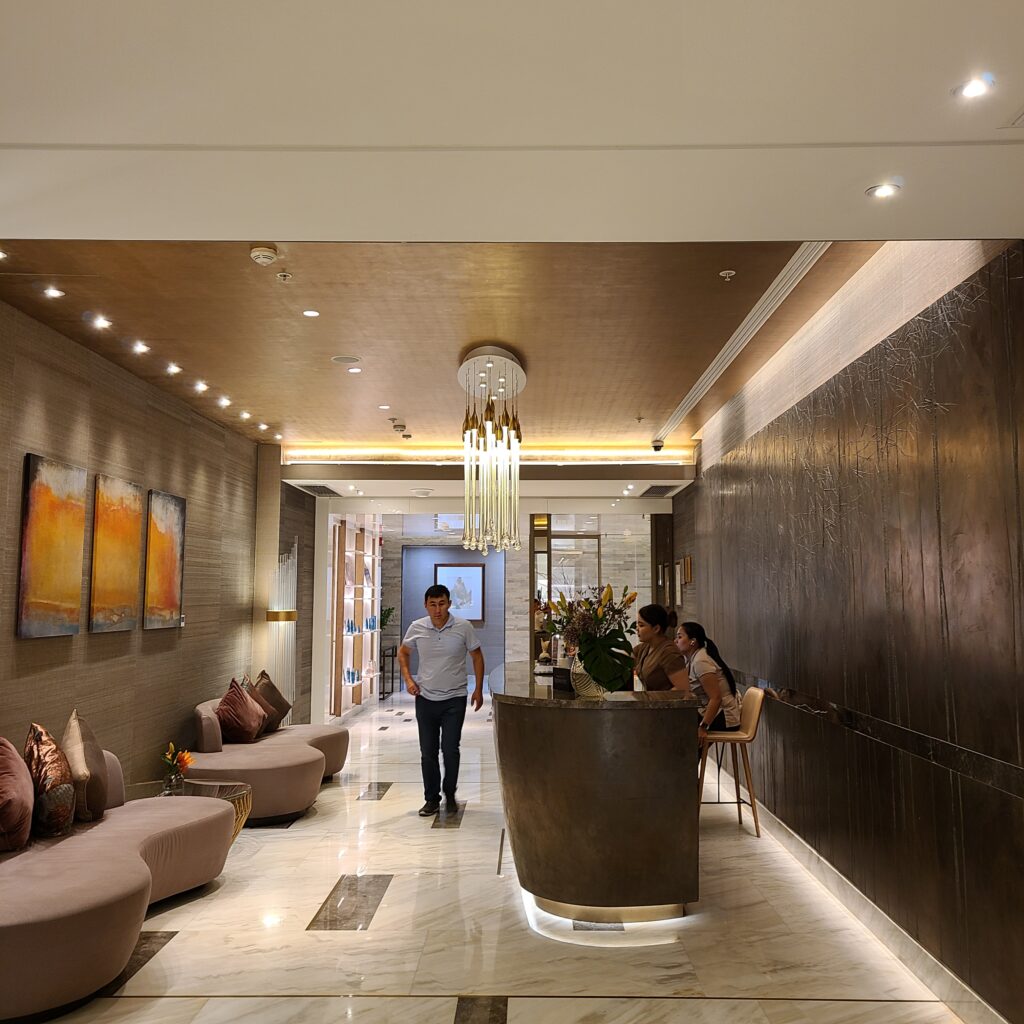 I did make time for the indoor pool and Jacuzzi. The interior design is just stunning!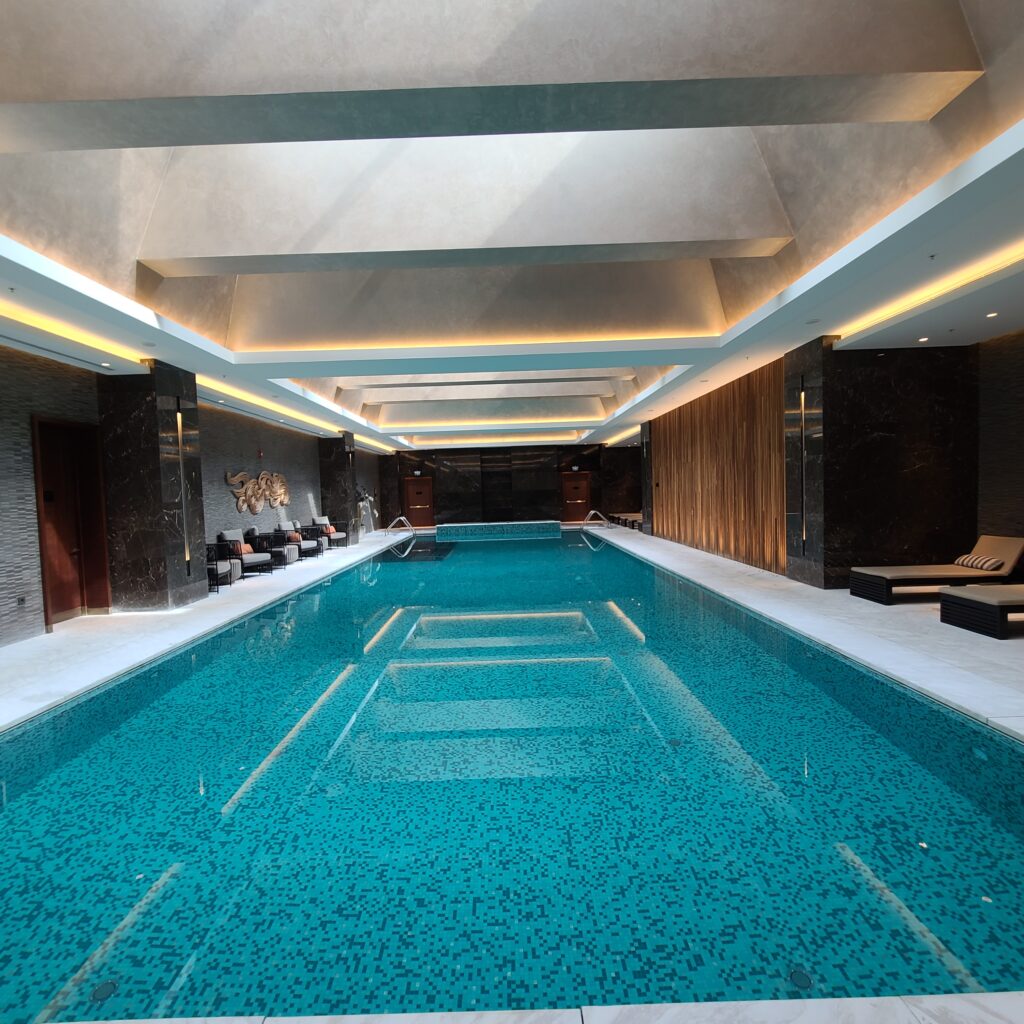 There are metal bars barely submerged in the pool so you can lounge in the water.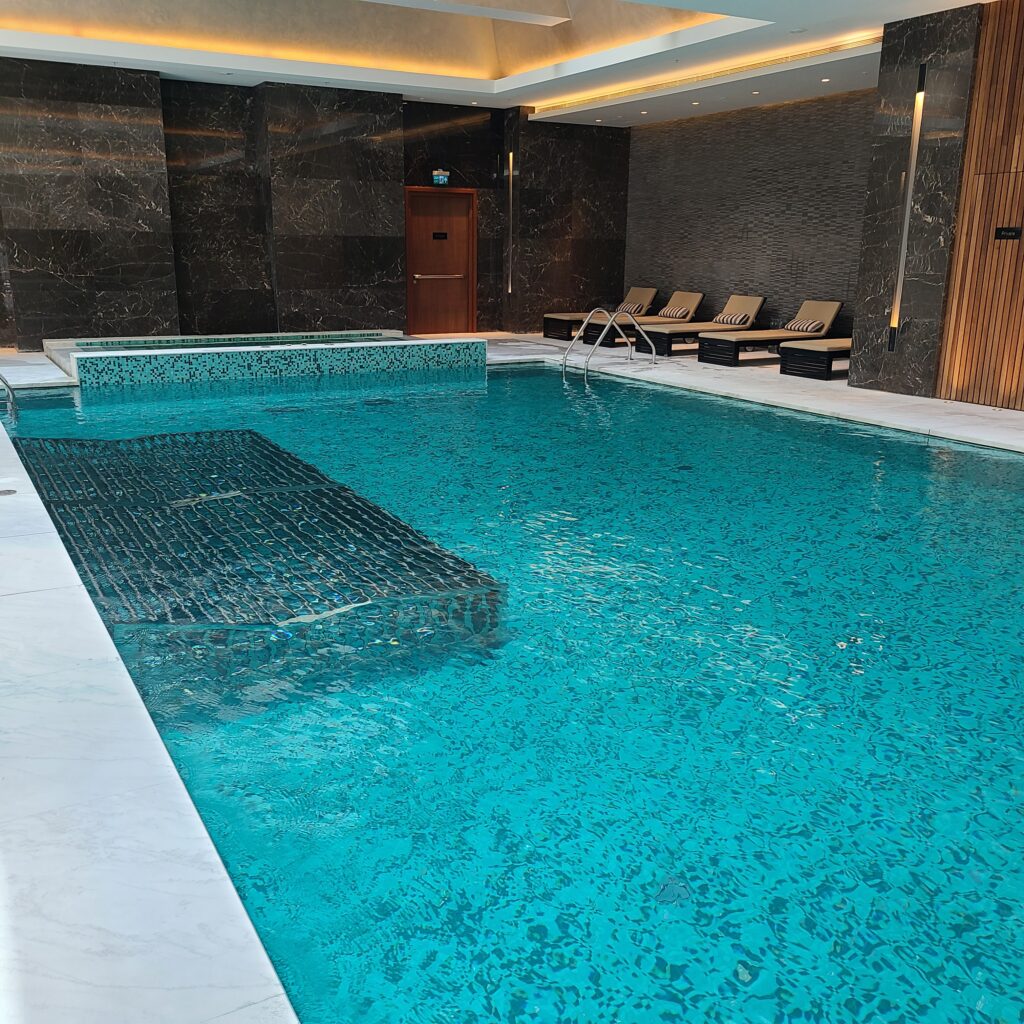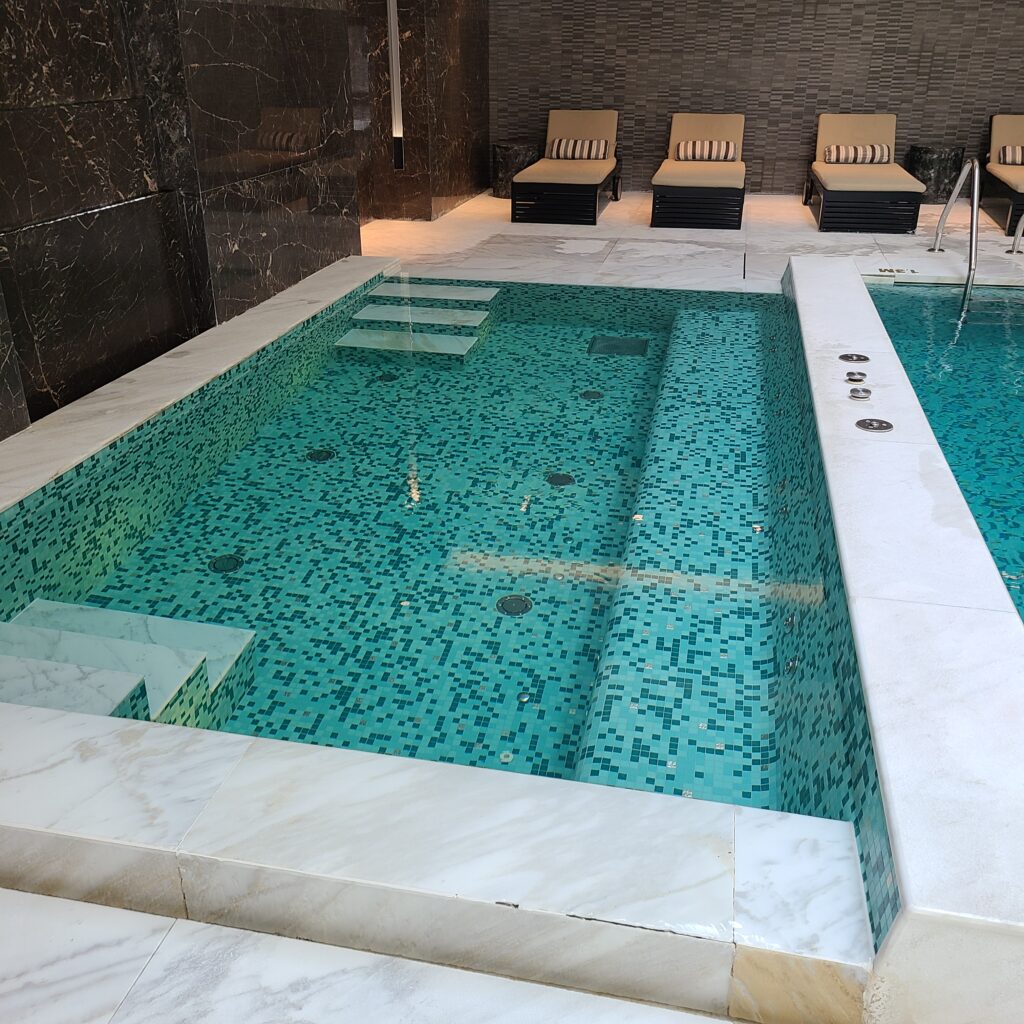 The gym is in between the spa lobby and the pool. It's very comprehensive with calisthenic workout tools.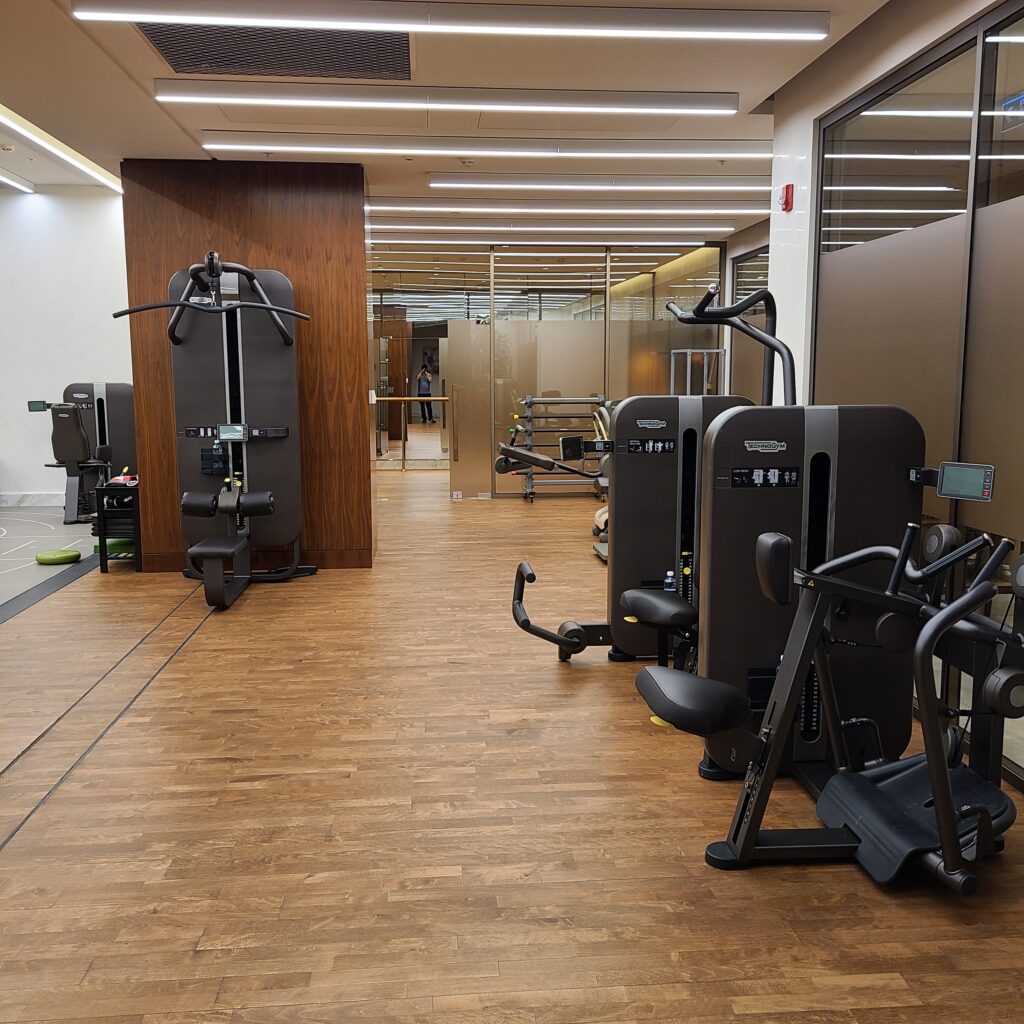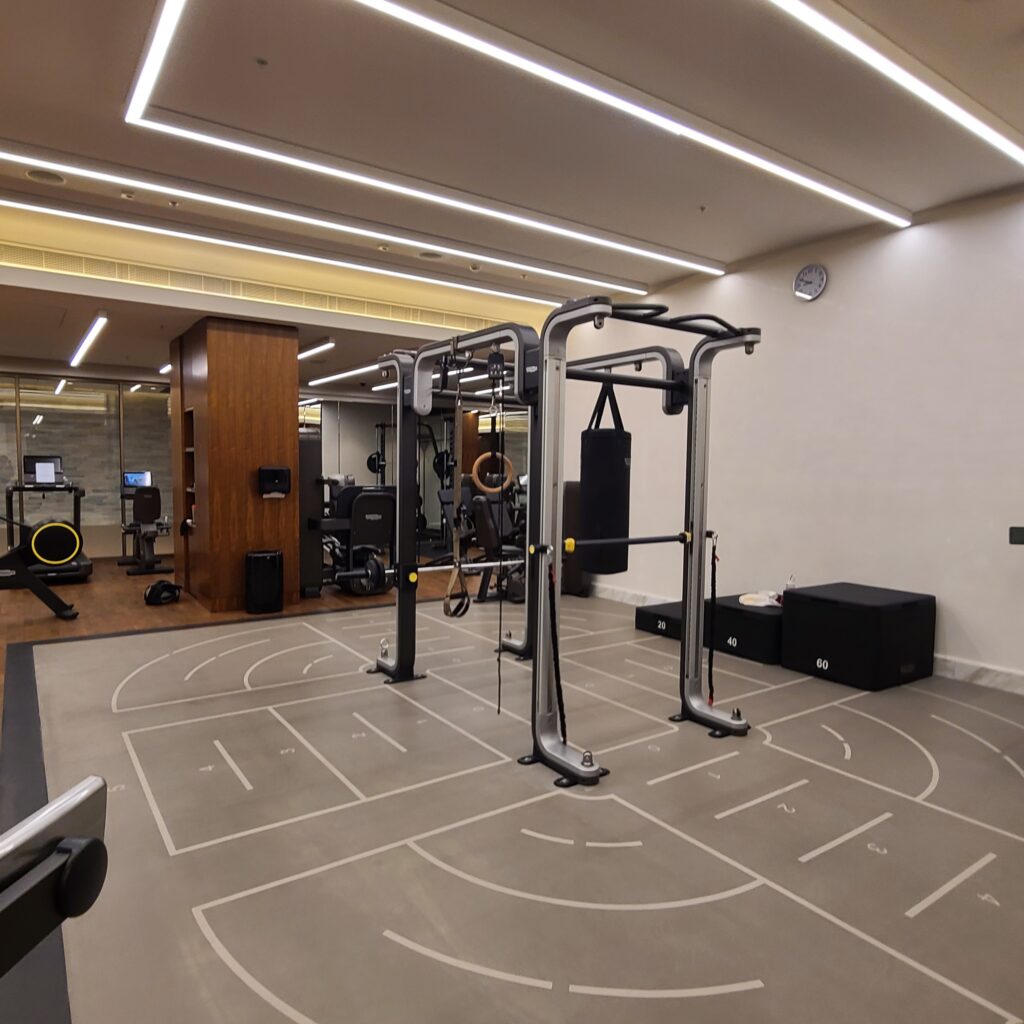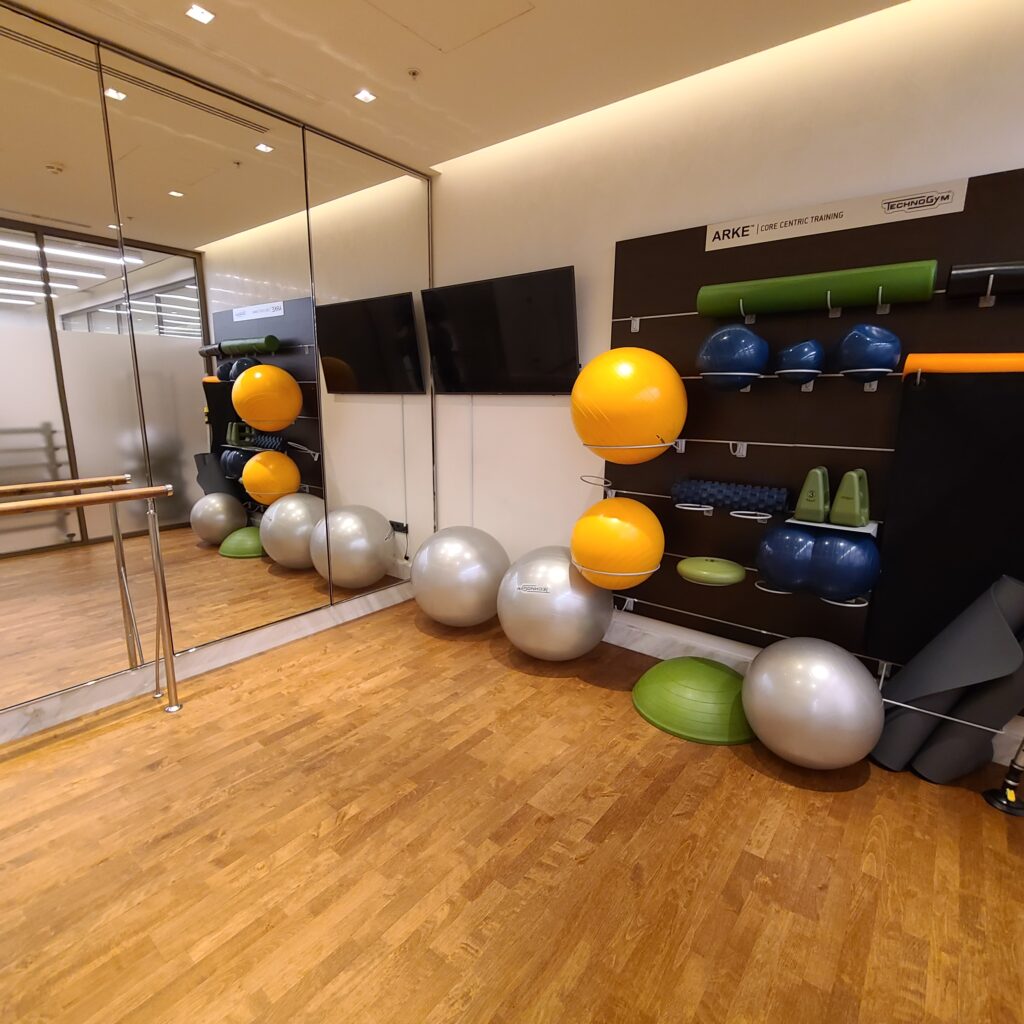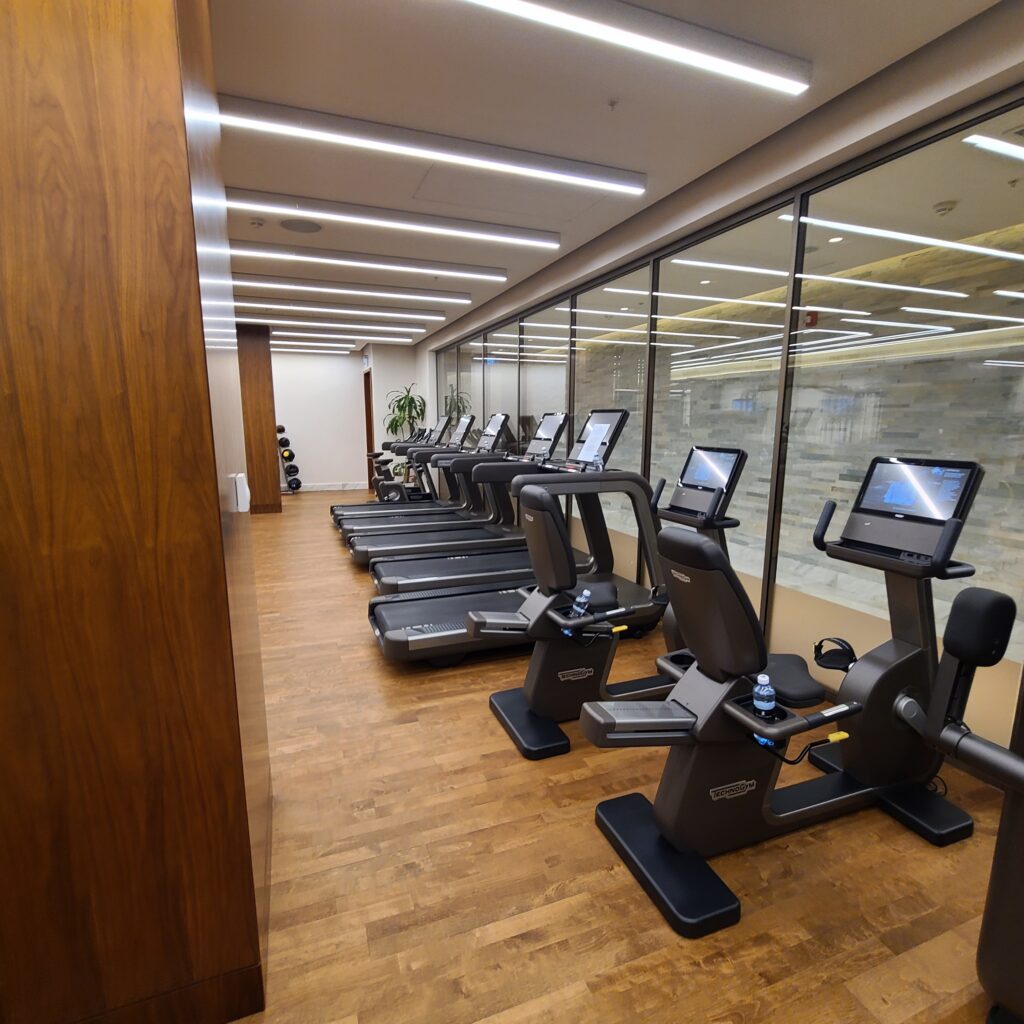 Conclusion
During checkout, the front desks greeted me by my name and appeared sad that I was leaving so soon. They asked whether I've tried some of their amenities like spa and some of their specialty breakfast dishes. They really wanted to make sure I really enjoyed my stay, which I really did! I also saw a staff with a really nice traditional Kazakh dress just as I was about to leave. Really cool stuff!
I had some fun conversations with the door attendant while I was waiting for my Yandex taxi to the airport about interests, the country of Kazakhstan, and other things to kill time. I believe it's small things like this that can make a hotel stay feel like home, and I really appreciate that about this hotel.
My stay at The Ritz-Carlton, Astana left a very memorable impression towards my first experience at a Ritz-Carlton brand, and is one of the best hotel stays I've had. I'm in love with the generous suite upgrade, and there were many times where I wrestle with the thoughts of leaving the room to explore Astana, or to just stay inside. The staff went above and beyond with the special custom welcome message to make me feel like a very special guest! It is just so heartwarming that I still rave about it even weeks after my checkout time, and it's something that I will cherish for a very long time!
The Ritz-Carlton, Astana's central location makes it an excellent choice for first-time visitors to see Astana's major landmarks like the Baiterek Tower, and the hotel provides superb value for the rates it charge, especially for a Ritz-Carlton!
Overall Rating