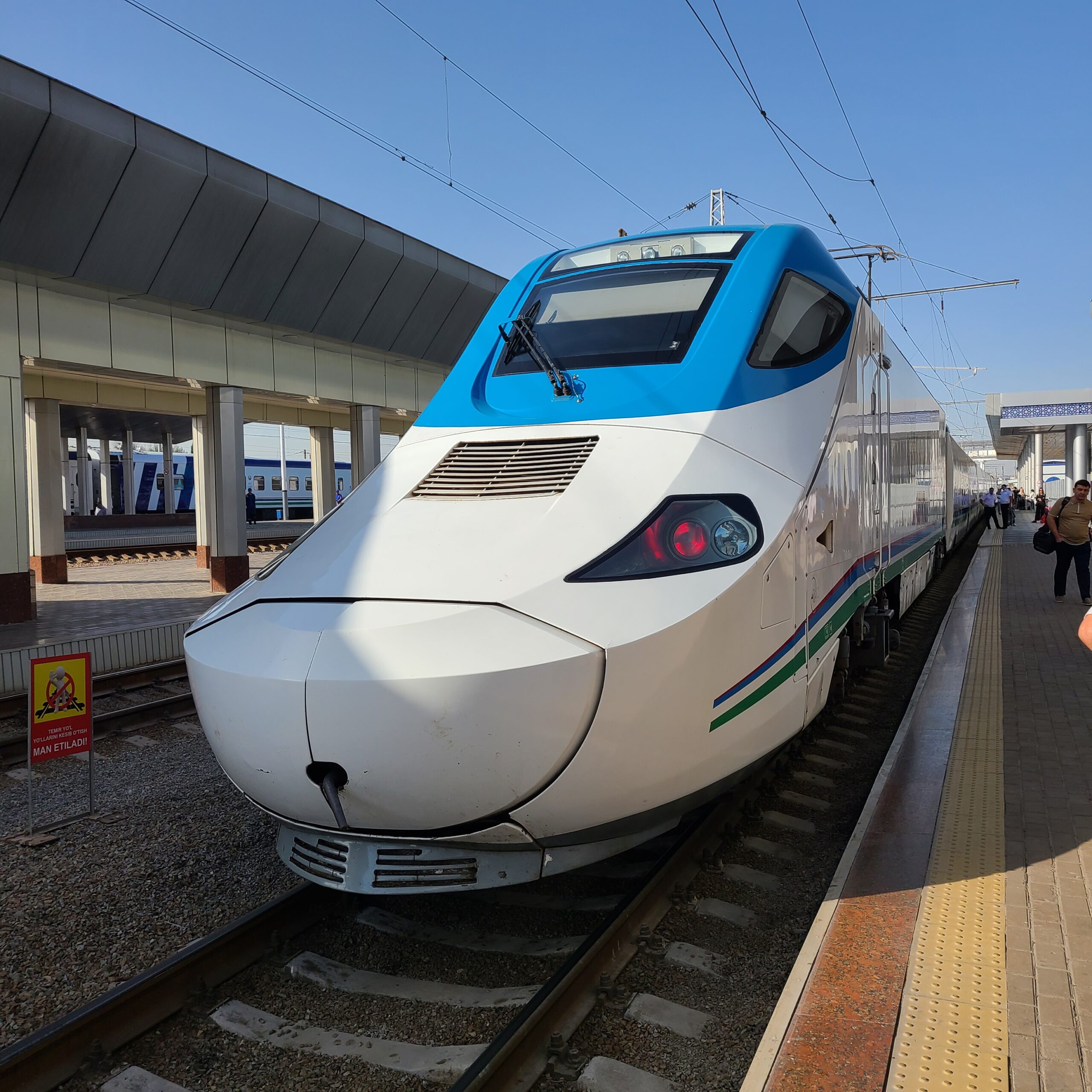 Advertiser disclosure: This post may include affiliate links (including sidebar banners) in which this site may receive compensation if a purchase is successfully made (at no extra cost to you) after being redirected from here. Thank you for your support!
Review: Afrosiyob, Uzbekistan's High Speed Train (VIP, Business, & Economy Seats)
Uzbekistan has a high speed train called Afrosiyob where it can get you to the country's major destinations fast and easily. During my time in Uzbekistan, I went on 3 rides inside the Afrosiyob train and tried the seats in the VIP, Business, and Economy cabins so that I can compare those products, and inform you which seat brings the best value.
Where Do Afrosiyob High Speed Train Go To?
The Afrosiyob high speed train passes through and stops by Uzbekistan's major cities of Tashkent, Samarkand, and Bukhara daily. While an extension to Khiva (where you'd stop at Urgench) is in the works, it's still not finished when I was in Uzbekistan in late August of 2022. Thus, the train from Bukhara to Urgench will be a lot slower than the Afrosiyob, and with more sparse schedules.
How to Buy Afrosiyob High Speed Train Ticket
Buying the train ticket is easy and very recommended to do so online here. Tickets are usually open around 1 month in advance. I highly recommend buying the tickets at least 2 weeks in advance as these tickets sell out very quickly. Not being able to get on Afrosiyob would force you to use other means of transportation that would eat up a lot of time, or cancel your plan altogether because of the sparser schedule for the older trains. The site accepts foreign credit cards, and I recommend that you pay through Stripe when checking out as it accepts major payment processors, even American Express.
Sometimes the site will reset back to Russian language after clicking on the links, so just reset the language back to English by clicking on the country flag on top of the site..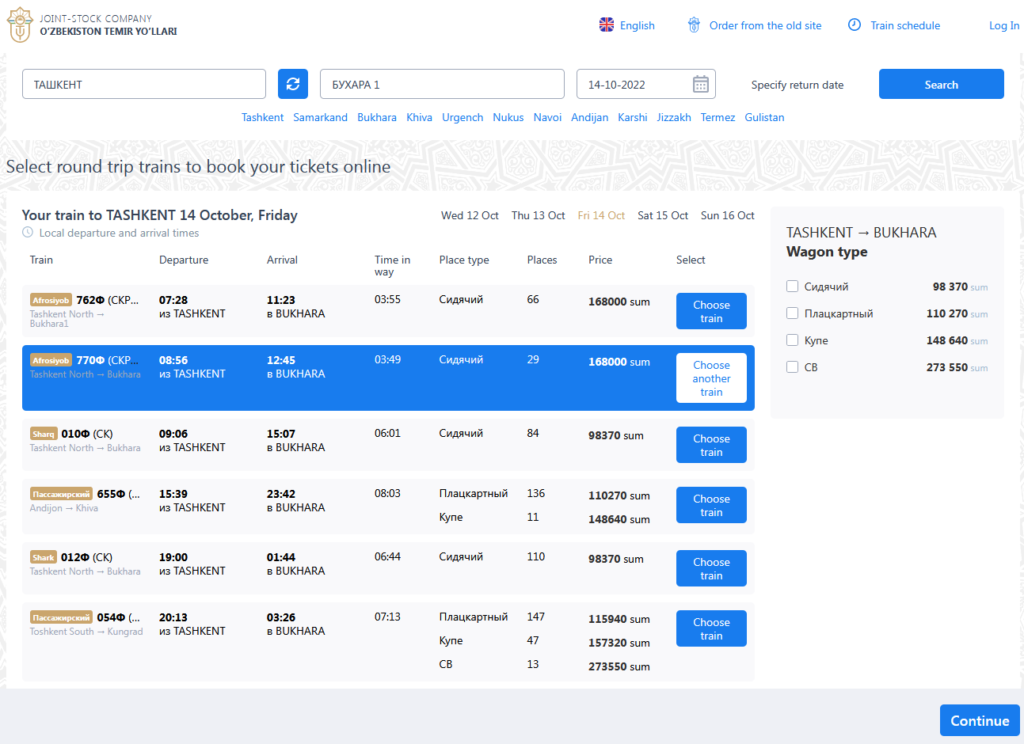 Afrosiyob or trains with number 7xxФ is the train you want, and it will be shown clearly. Unavailable trains will be greyed out and won't show their price listings.
After clicking Continue, you'll be directed to a login page. Feasible options for foreigners are to login through Google, Facebook, Tellegram, or registering manually with other emails. I prefer to do so with Google as it just takes one click.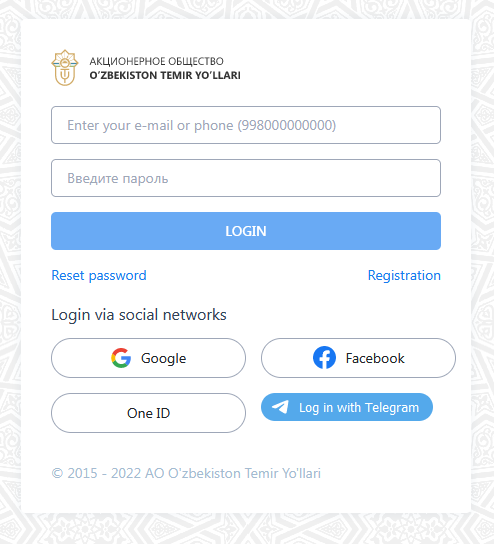 After logging in, then simply choose your seat. There's no extra fee to do so unless you choose to sit in higher category cabins like Business or VIP.
In my example, only seats in Economy are available for purchase, but will differ when you choose other dates. No matter where you sit, the Economy seat would cost 168,000 UZS or ~$15 from Tashkent to Bukhara one-way (~3.5 hour journey). The price will be cheaper on the shorter trips like Bukhara to Samarkand or Samarkand to Tashkent for example.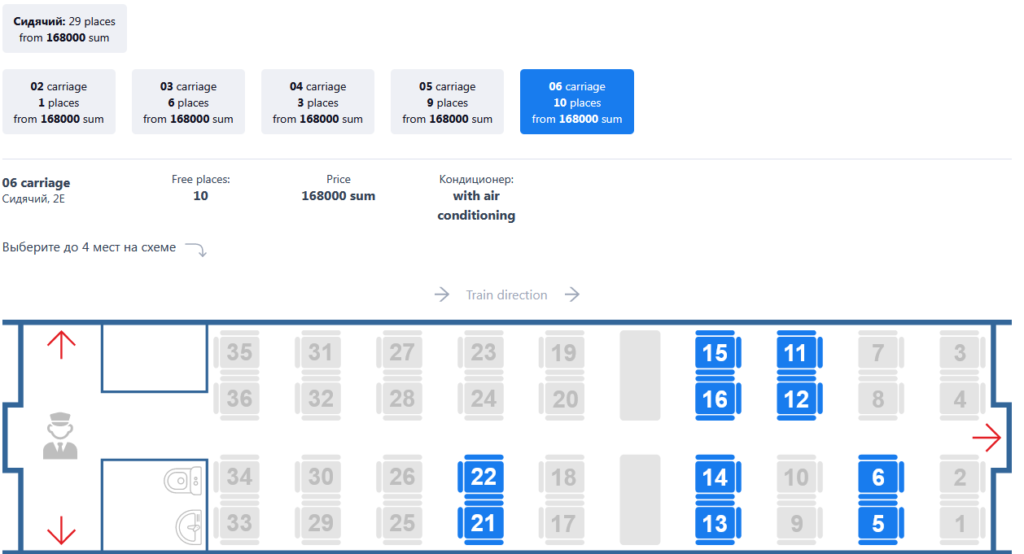 Click on an available seat highlighted in blue, and then scroll down to fill out your personal information. Here's an example: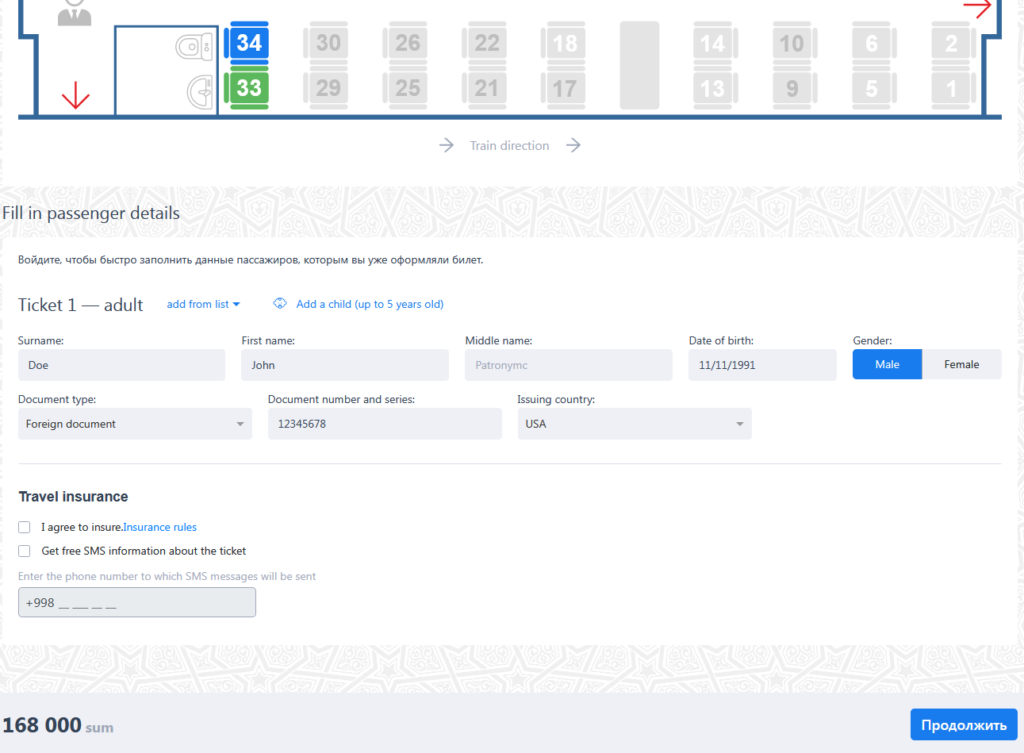 The site annoyingly doesn't translate fully to English sometimes, but thankfully it's intuitive enough to see where the Continue button is. Getting insured or getting SMS message isn't necessary.
After that, the site will hold your reservation until you pay. Click on the checkbox by the Agree with public offer text.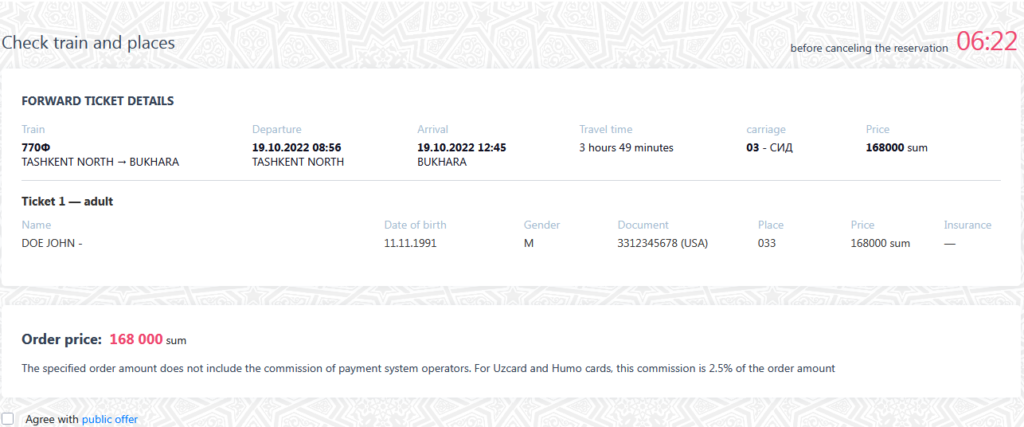 A popup of payment option will show up. Click on Stripe to then start filling out your credit card information.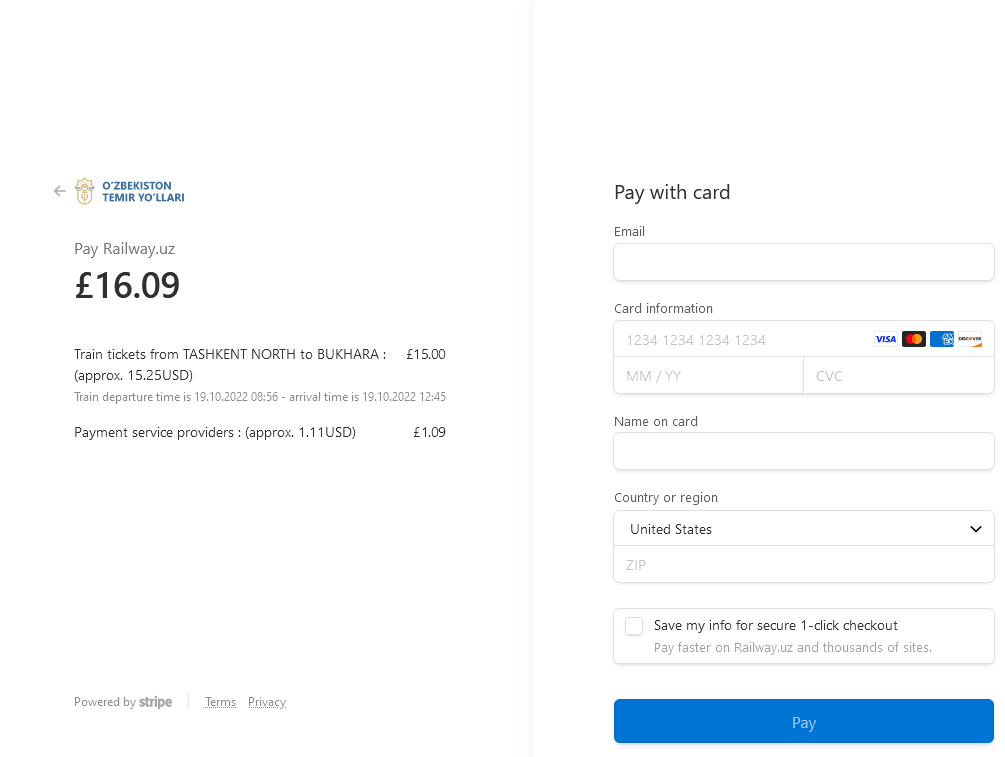 After paying, you'll receive an email with a PDF you can simply show to the train crew members while boarding. Now, it's time to move on to which seat should you buy for the train.
Afrosiyob High Speed Train VIP Class Seat

VIP Class in Afrosiyob is the most expensive seat you can buy. It costed me ~$33 from Tashkent to Bukhara for this seat on my very first time inside the high speed train. My train ride began in Tashkent and ended in Bukhara, starting at around 10 am and ended at noon.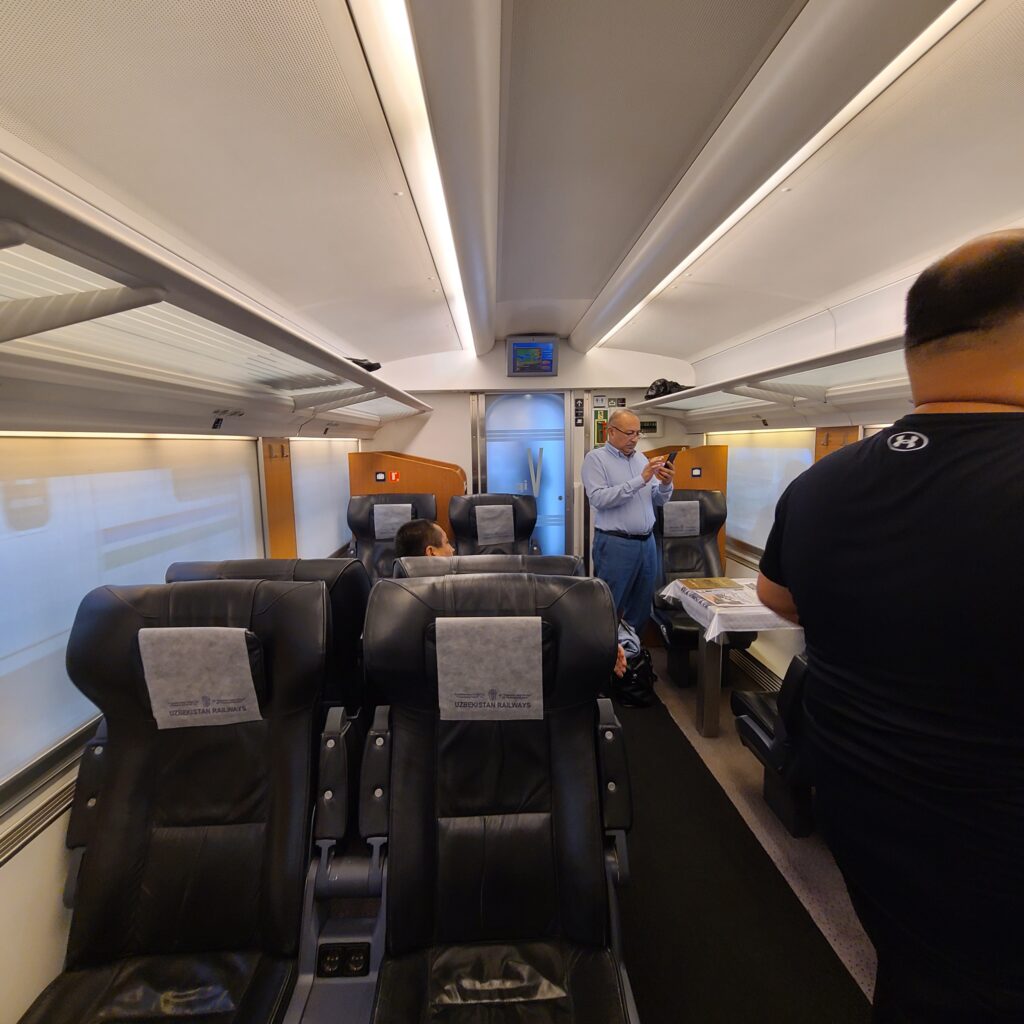 The seats are in all black leather and are fairly large. Power outlets are under the arm seat. Every seats will share tables with fellow VIP passengers. Complimentary water bottle is given.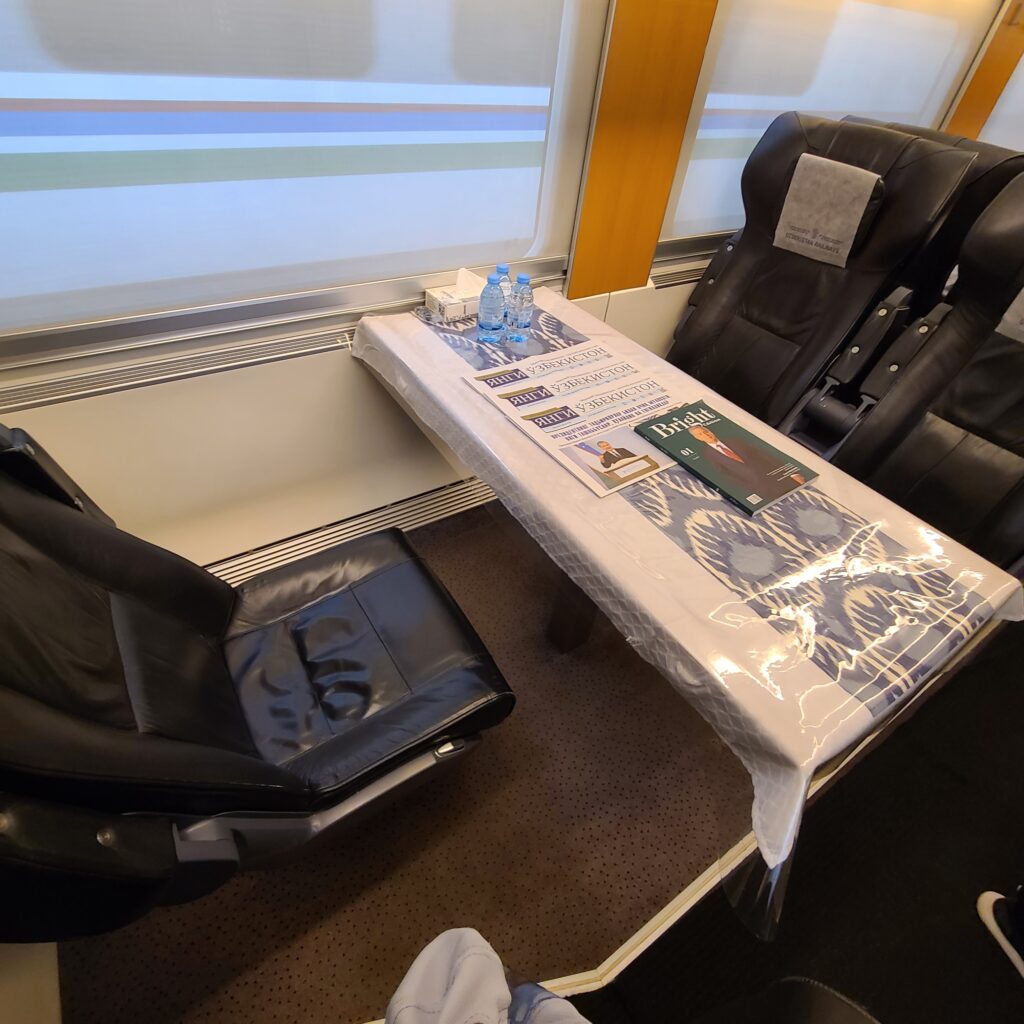 Unfortunately, the single seat doesn't appear to have power outlets, which is disappointing.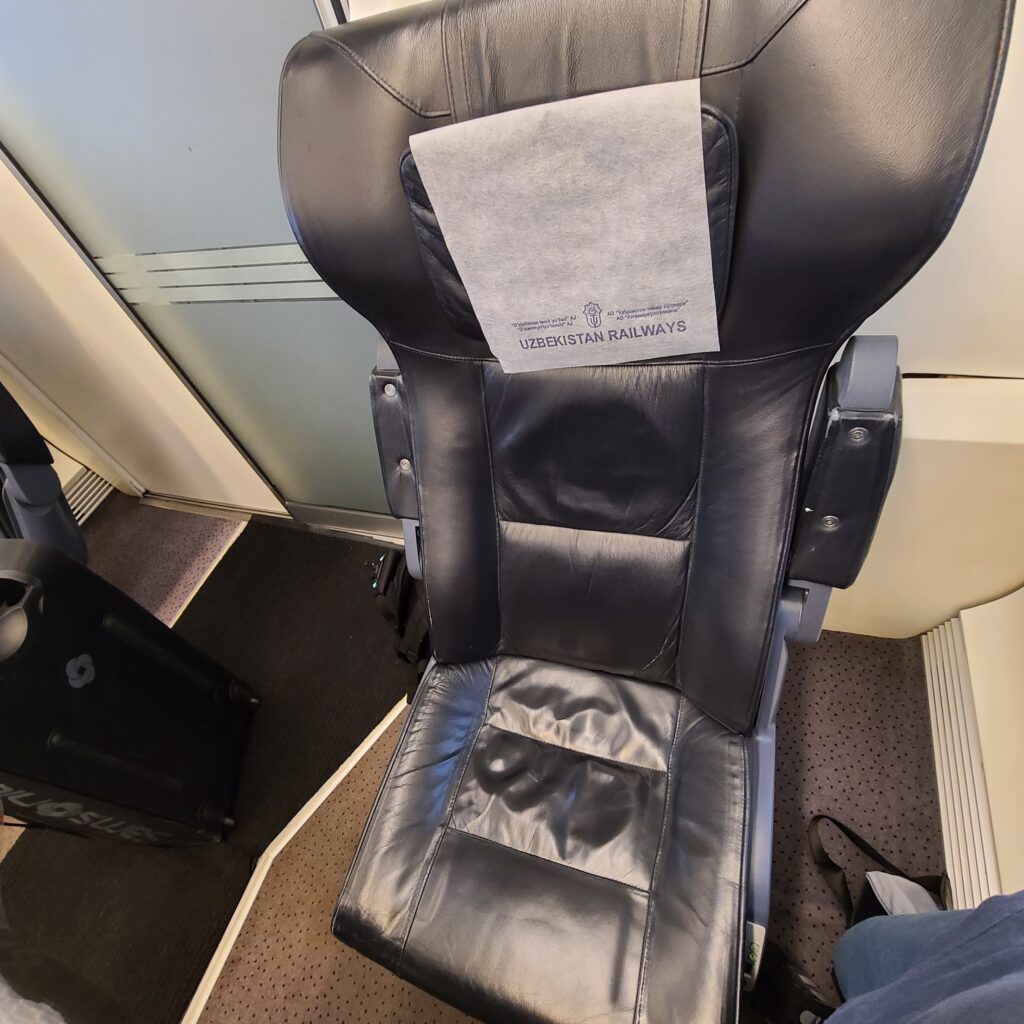 Reading lights can be turned on from under the carry-on space, but they weren't necessary during a daytime ride.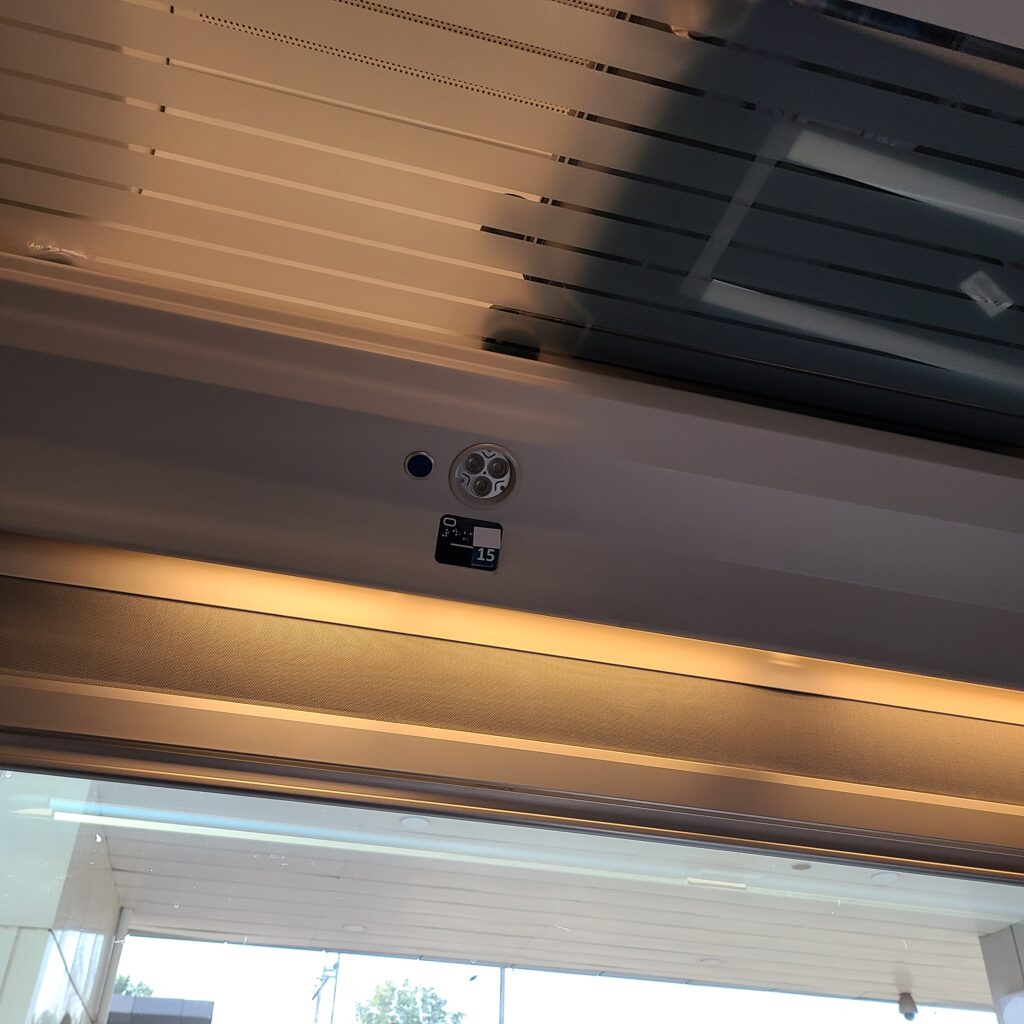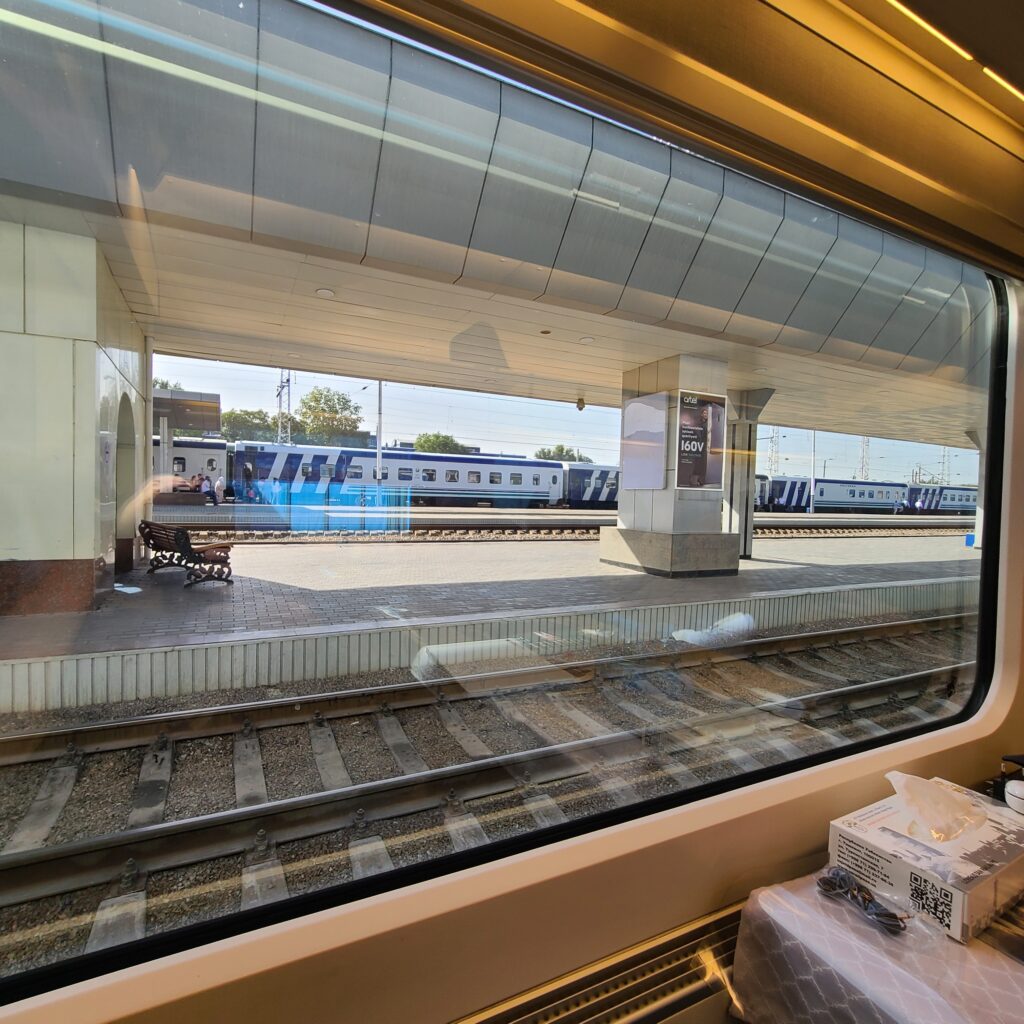 A heavier luggage space is by the cabin's entrance. The advantage VIP Class has is there's less competition for space to put our luggage in.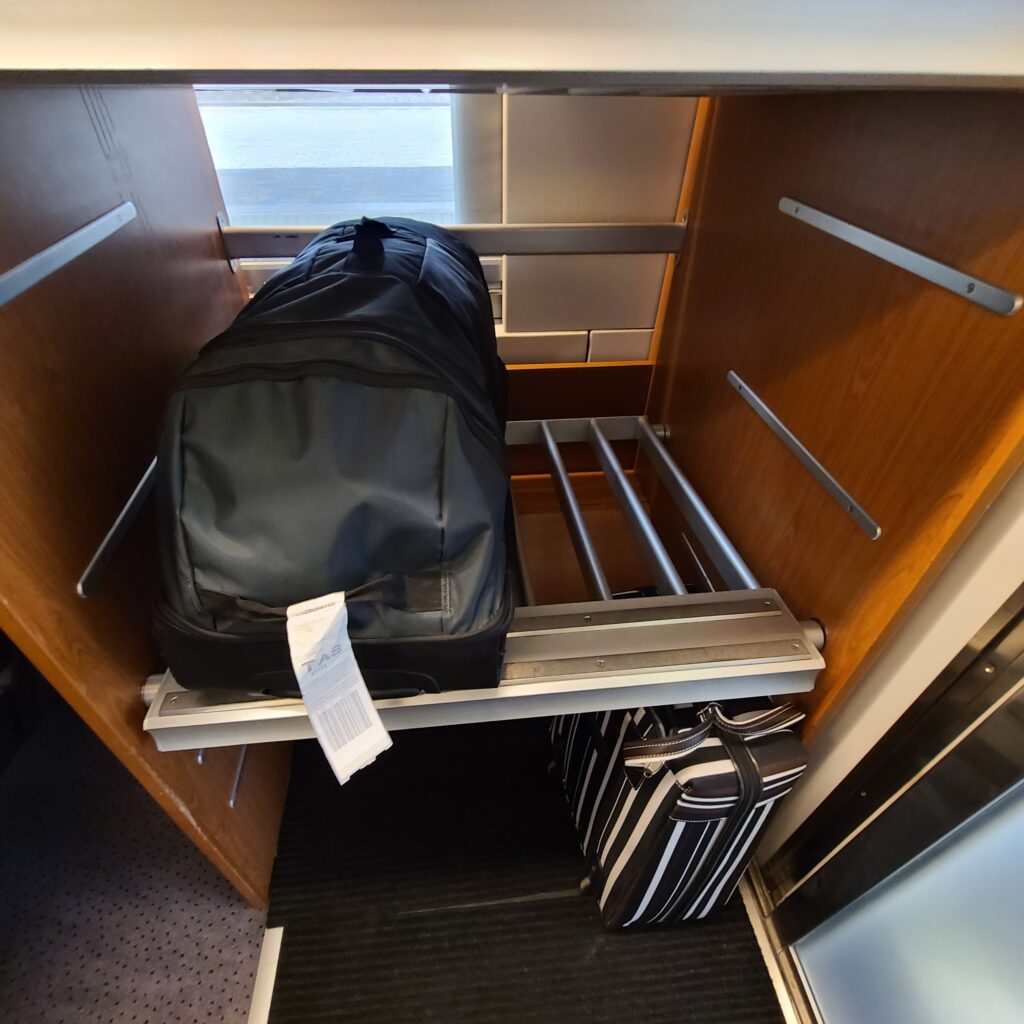 Shortly after, breakfast is served. The food wasn't very good, but I did kind of enjoyed the rice with hot sweet milk. I did have a really nice breakfast at the Hilton Tashkent City before this though.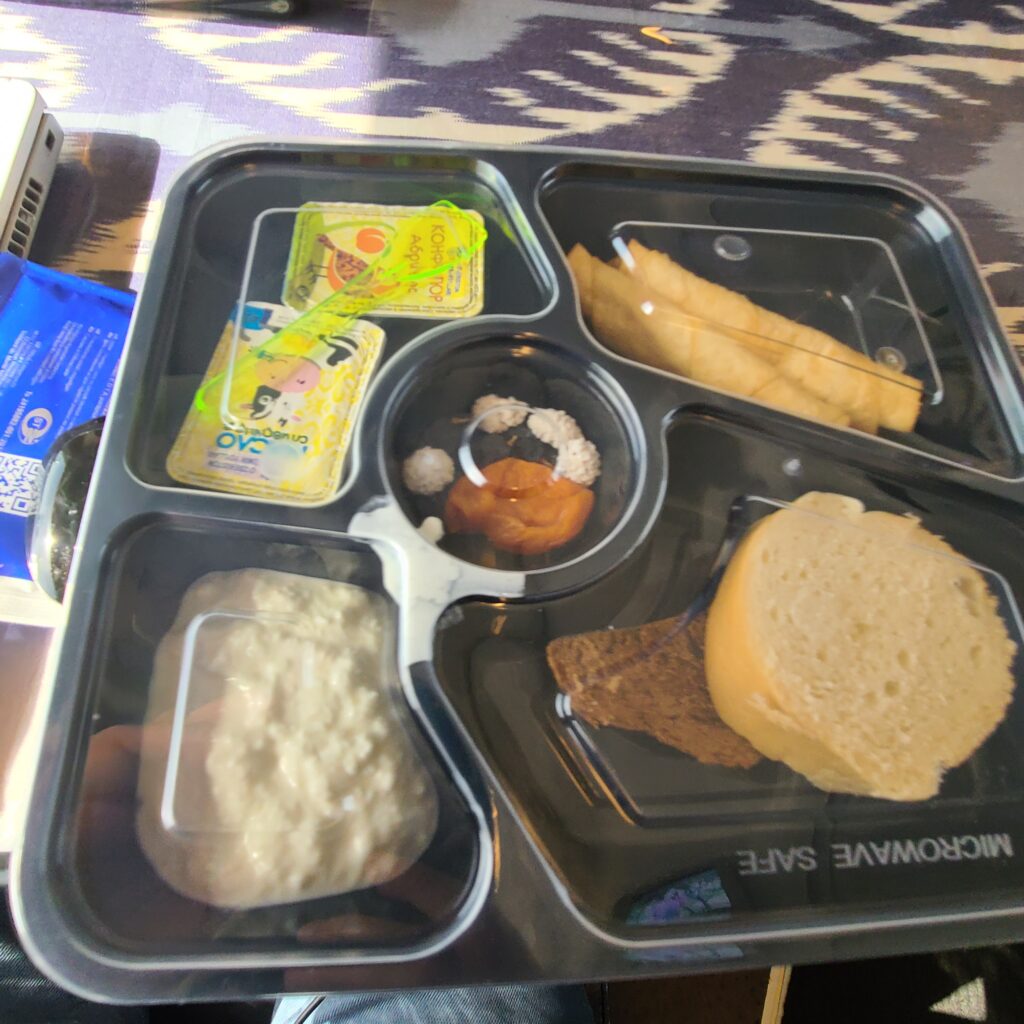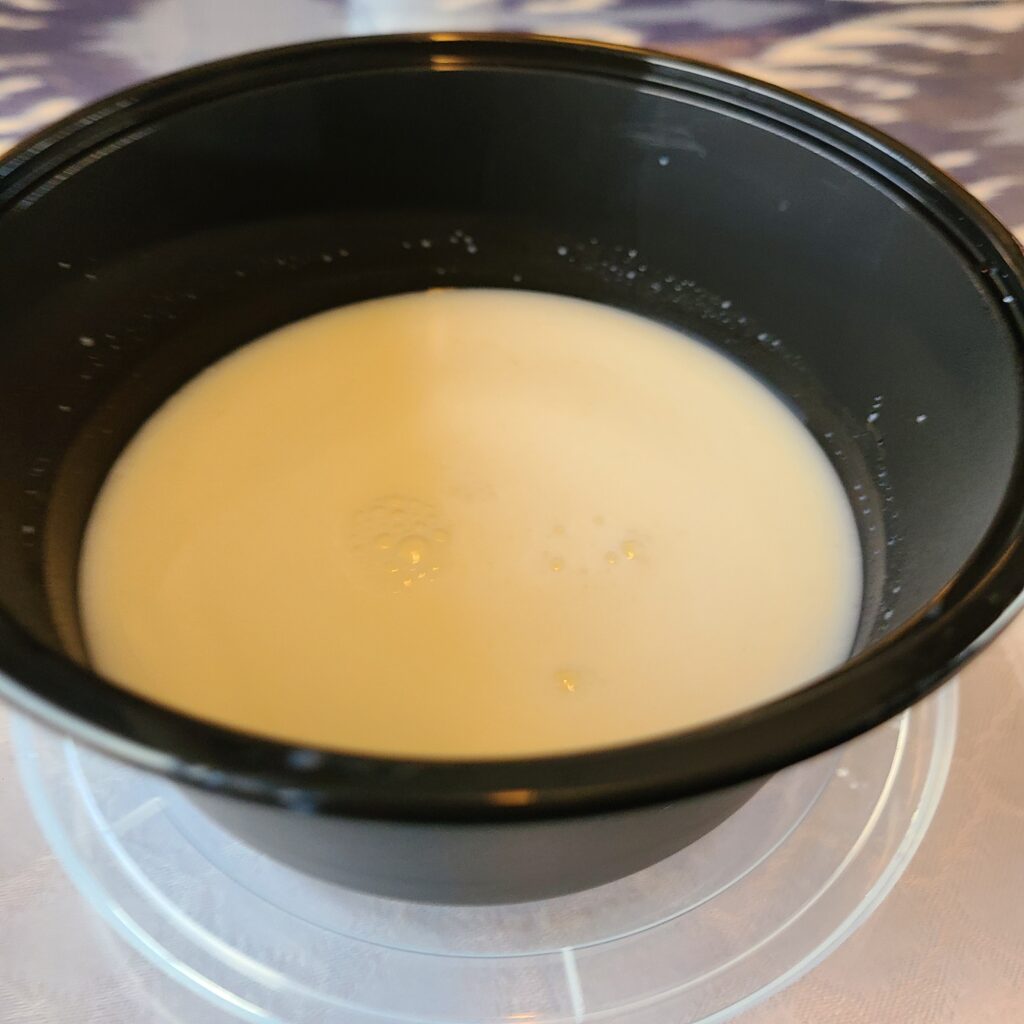 A crew member would occasionally try to go around the cabin to sell you some snacks and drinks during the ride. Specialty coffee like cappuccino are for sale, but regular black coffee and tea are complimentary throughout the ride.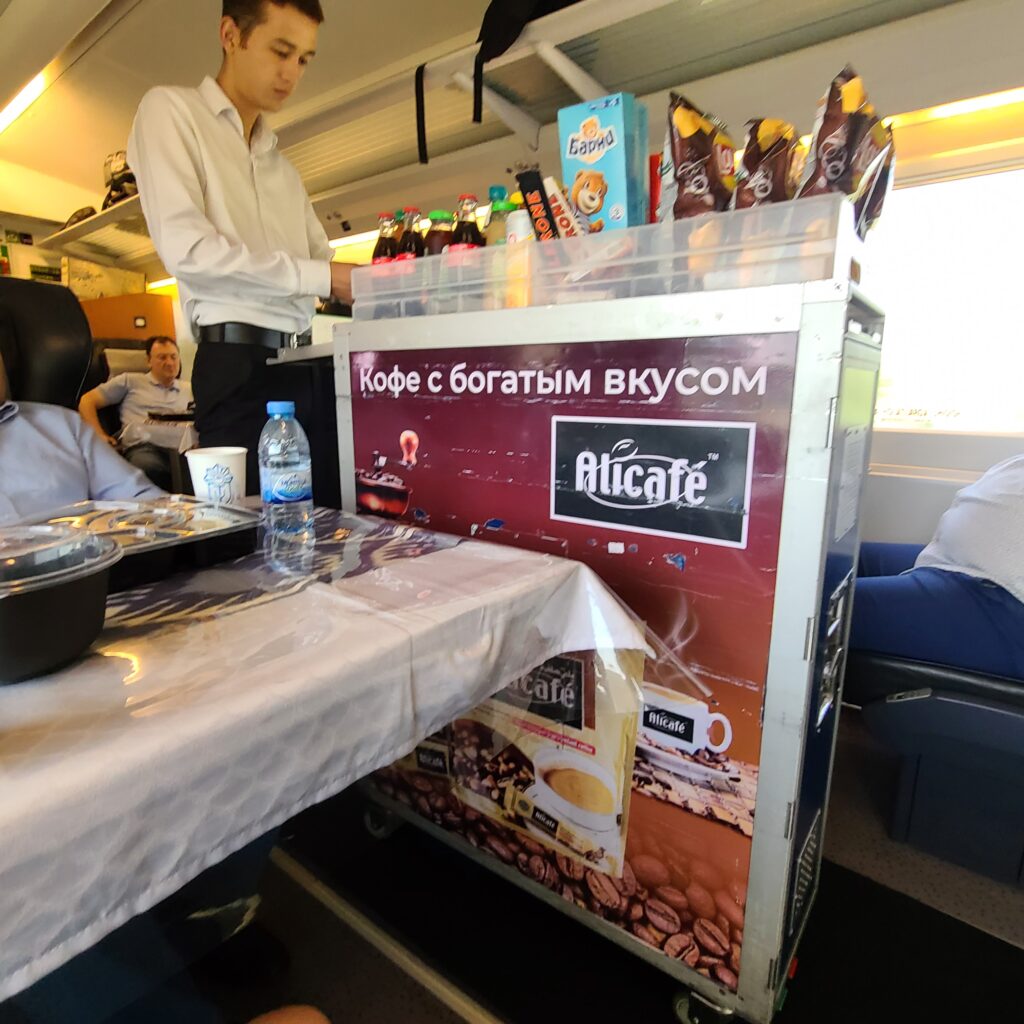 Overall, I was pretty underwhelmed with VIP Class. It doesn't live up to the name considering that you have to share tables and face other passengers while you're sitting. It doesn't give an exclusive feel other than having less competition for luggage space. It's also fairly disappointing to not have a power outlet for the singular seats. The food was mostly bland that I don't think the VIP Class is worth the price.
Afrosiyob Business Class Seat
Next cabin I tried is the Business Class coming from Bukhara to Samarkand. The journey would take ~1.5 hours.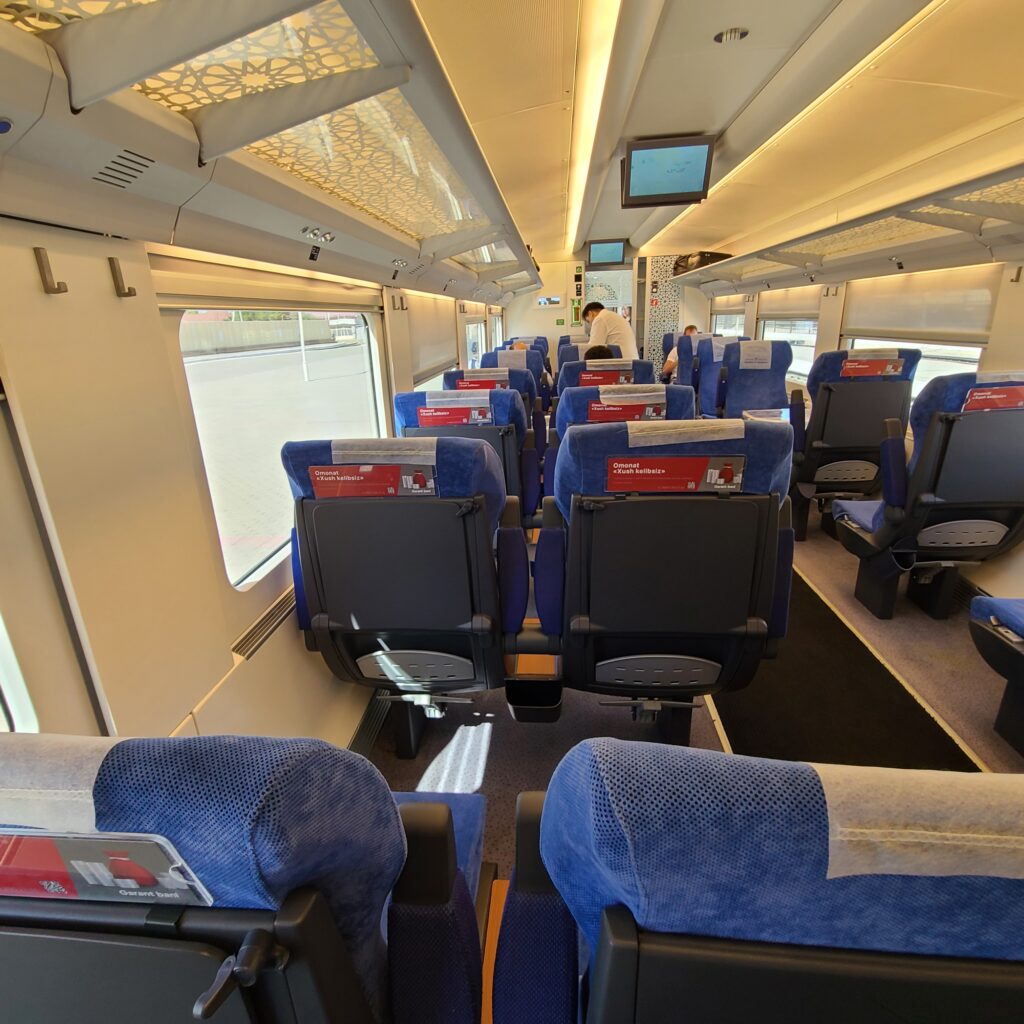 So far, I already preferred Business Class over VIP Class simply because there's better privacy, meaning that I don't have to face other passengers during the ride, with the exception of the middle row seats with the table that's similar to VIP Class.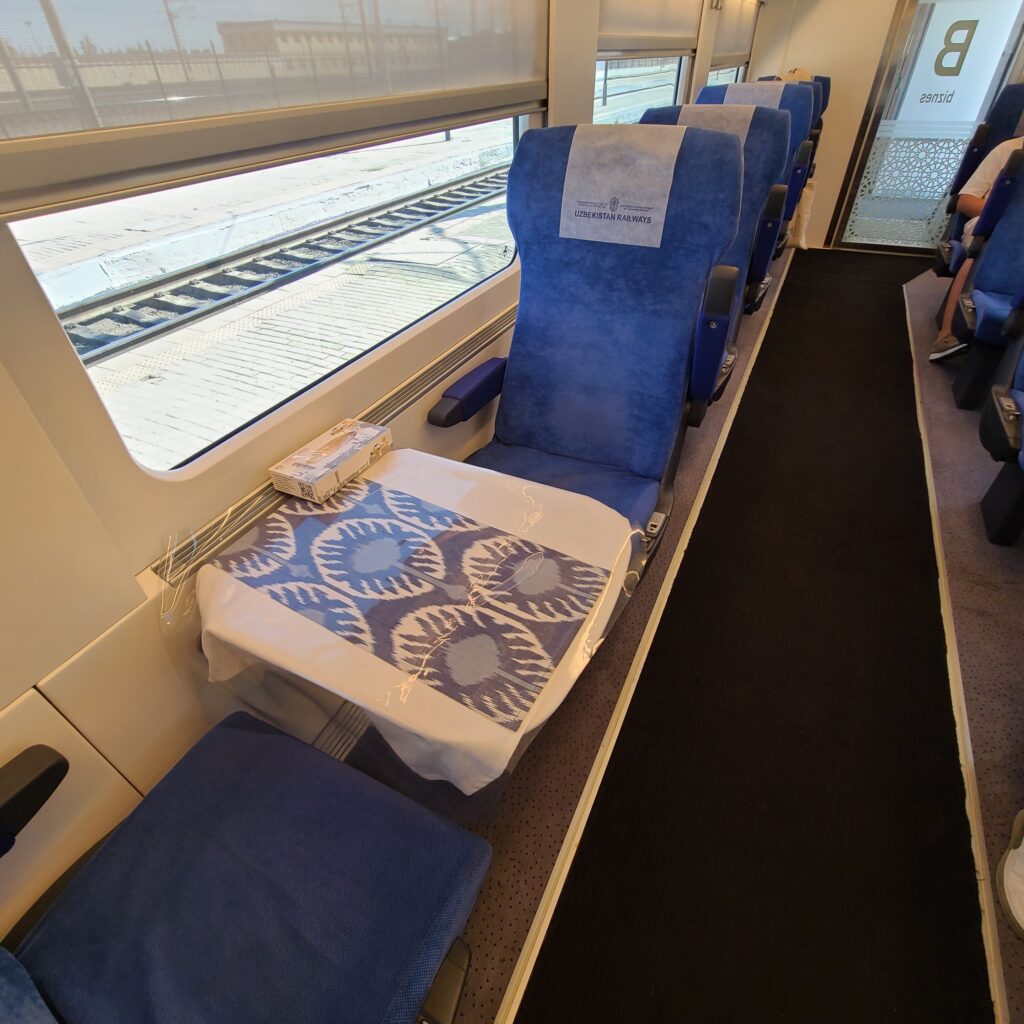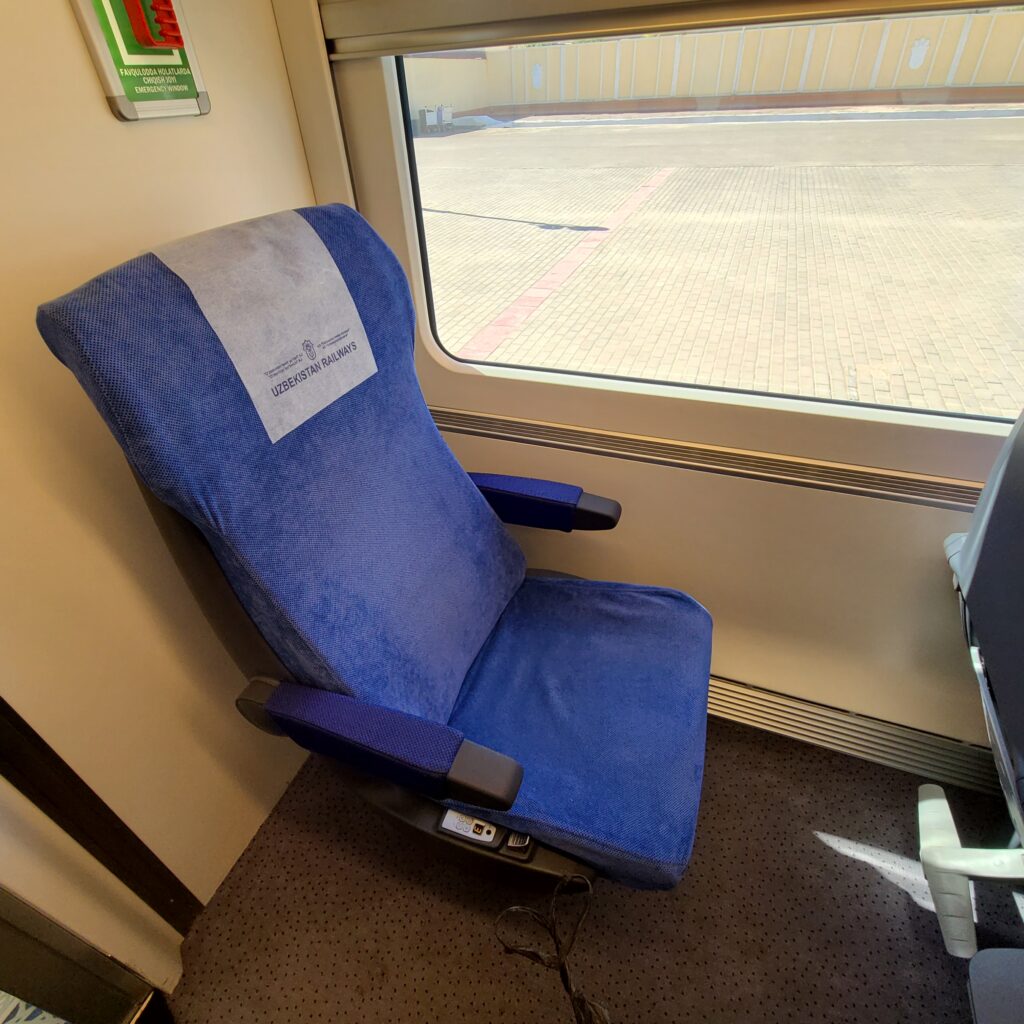 Singular seats are offered at the ends and one side of the cabin. Unfortunately, the singular seats don't come with power outlets just like the VIP Class, so be aware if that'd be an issue for you.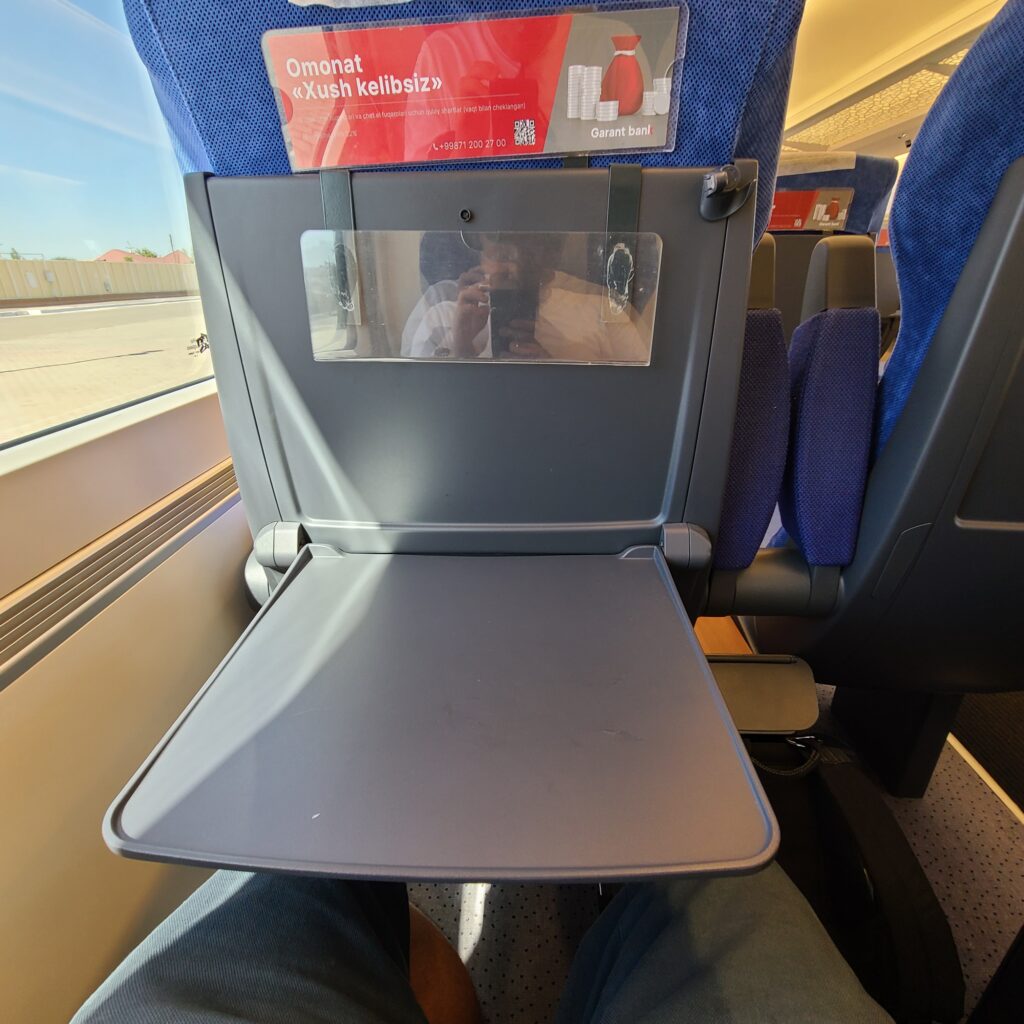 Table space is quite good. It's big enough for my 14″ laptop as scale. No food was given due to the timing of my ride.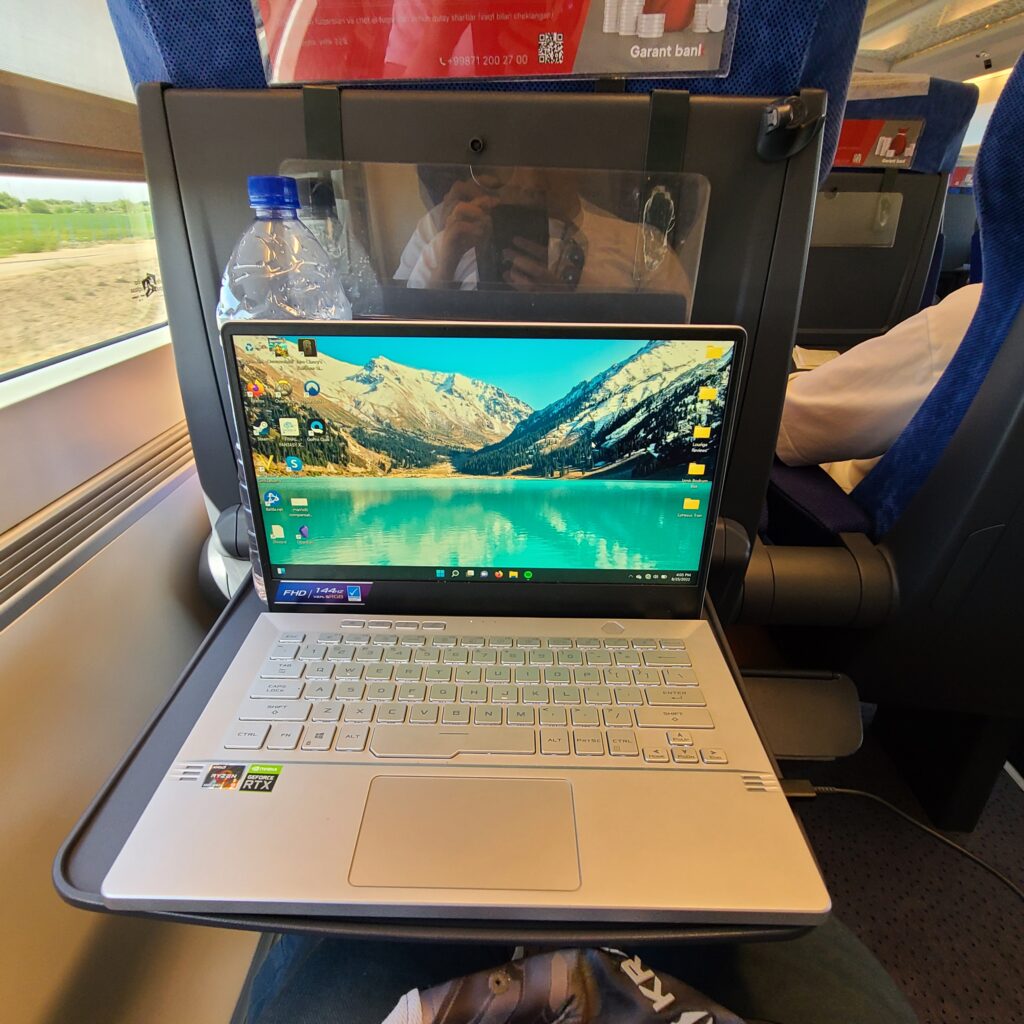 Leg space is big enough for a comfortable ride.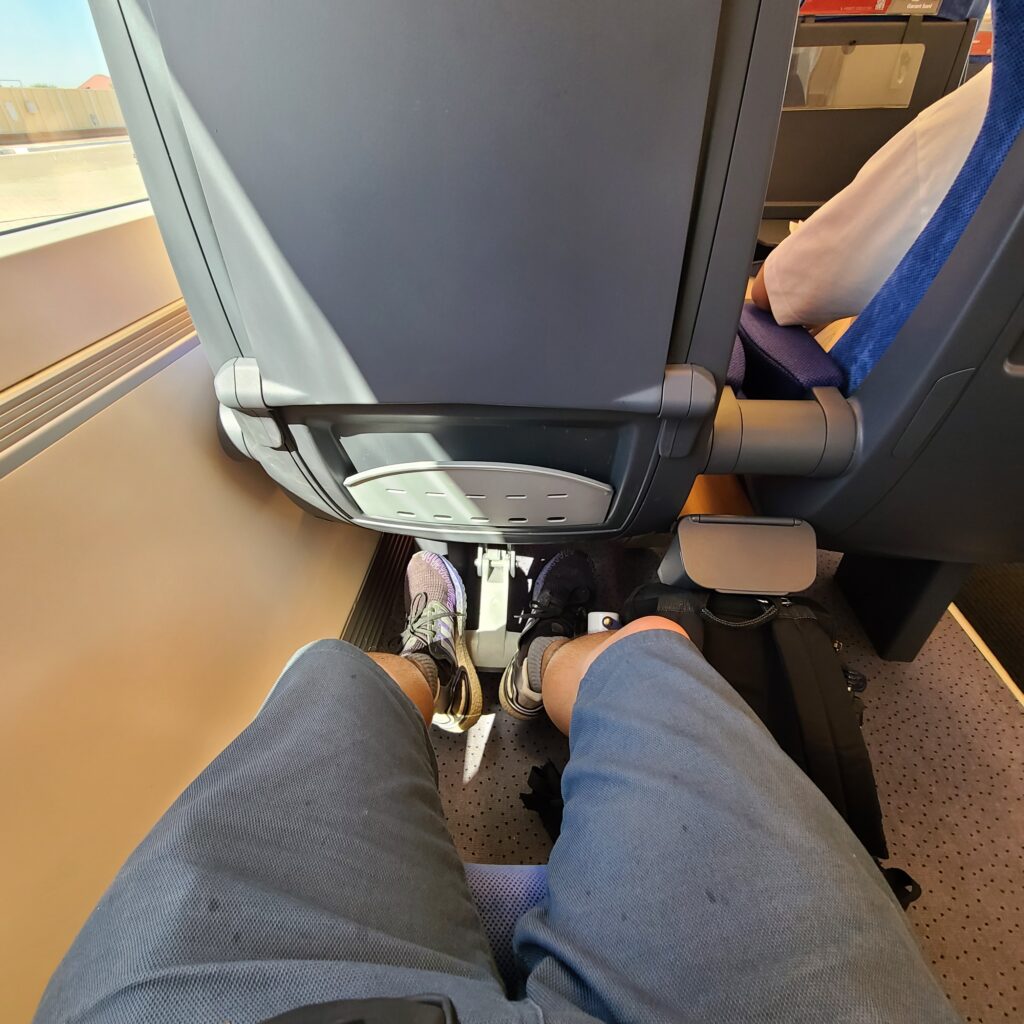 Luggage space was not competitive either. However, it was due to my ride timing on a weekday and at 2-3 pm, so there wouldn't be as many people.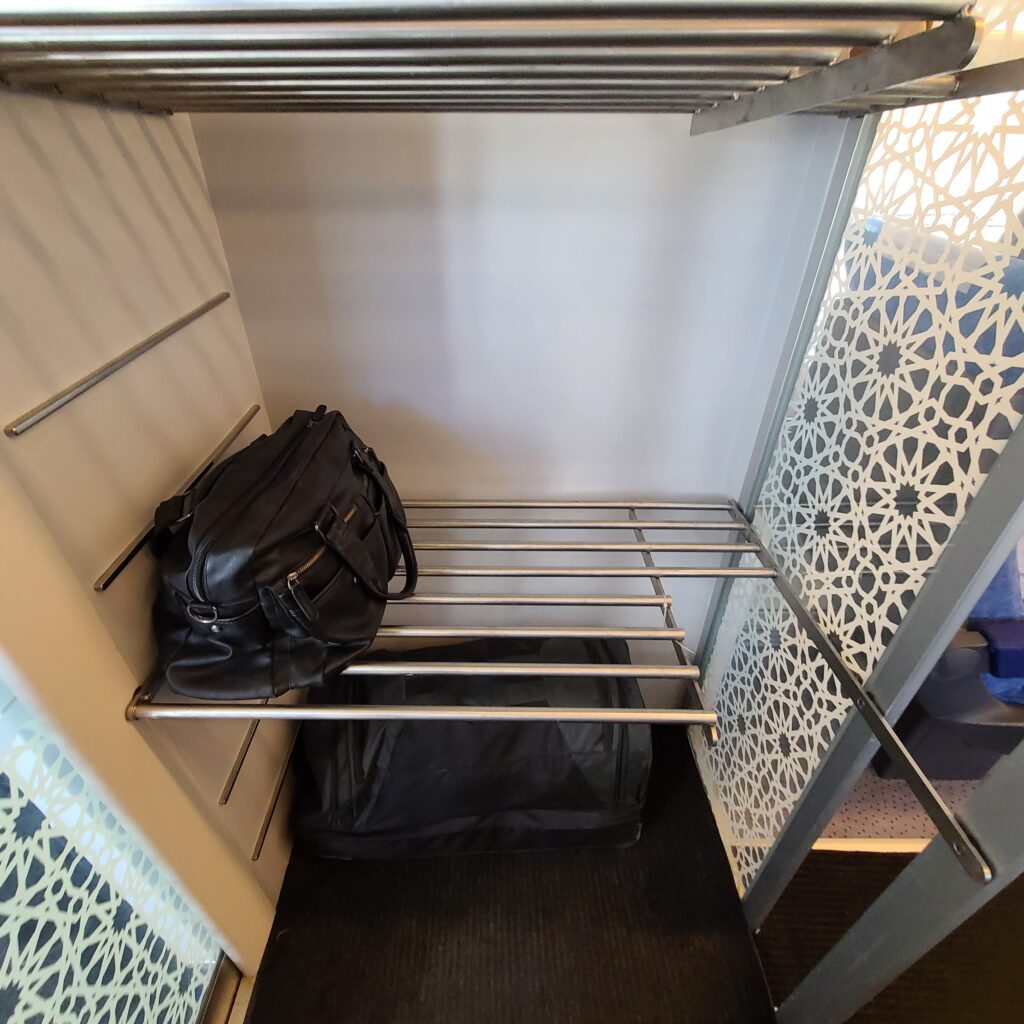 Overall, I liked the Business Class seat more than VIP Class. Plus, it costs less!
Afrosiyob Economy Class Seat
My final ride in the Afrosiyob is from Samarkand to Tashkent where I'd be checking in the Courtyard to then fly to Nukus the next day to see the Aral Sea. The ride duration is more or less similar to going from Bukhara to Samarkand at ~1.5 hours.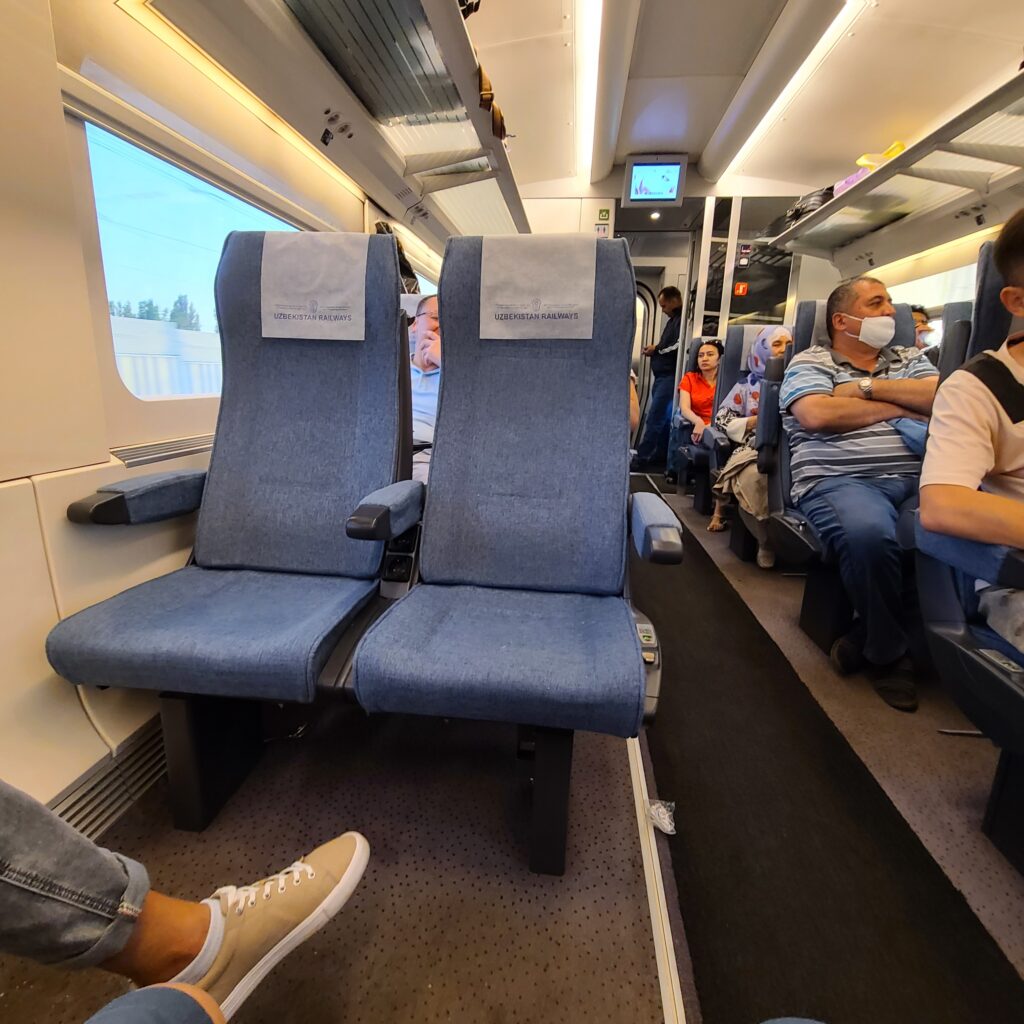 The difference between Economy and Business Class isn't very big. The notable differences are the lack of singular seats and tables in the middle row, so beware.
It was a bit of my mistake that I wouldn't have an access to a table and didn't realize that I booked a seat in the middle row. All other seats in Economy have their own tables similar to the one in Business Class. Luggage spaces are more competitive, but it could also be due to my timing of a weekend ride during the evening.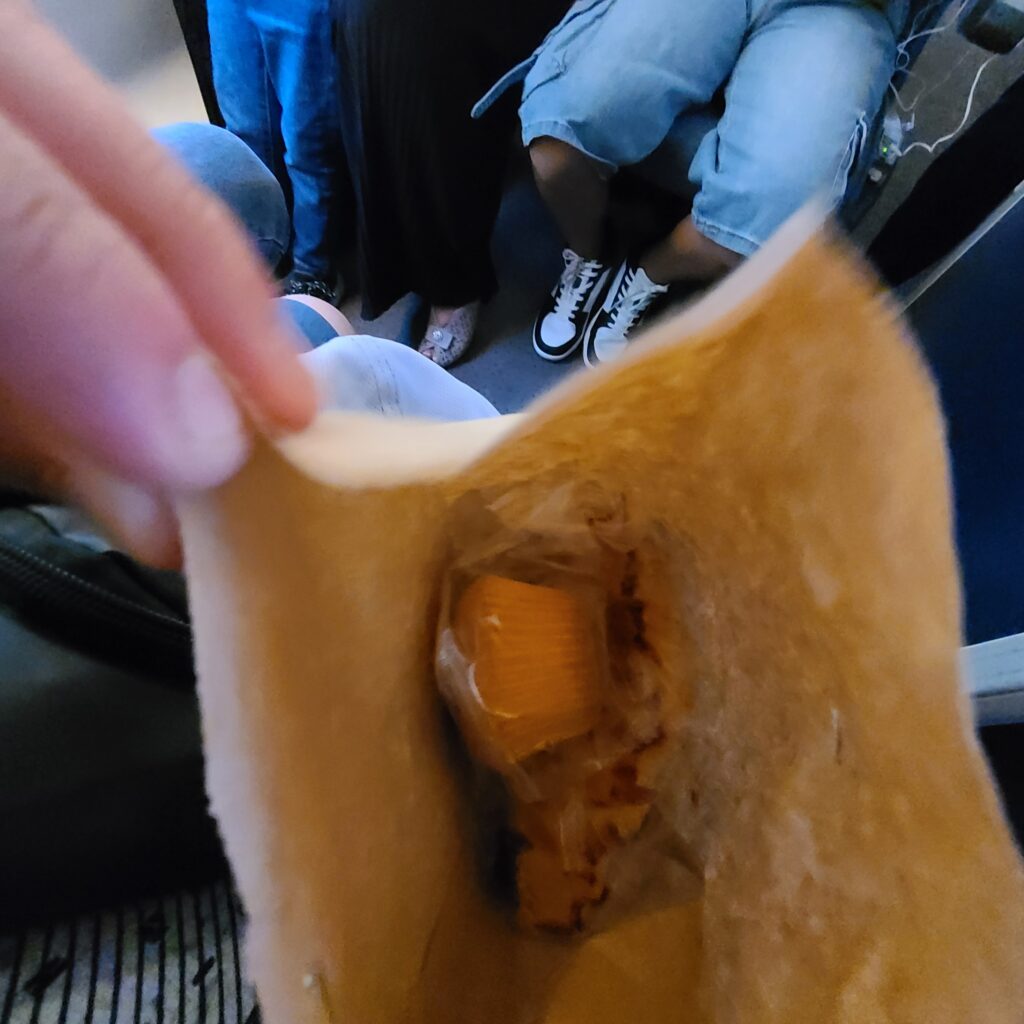 Snacks were given consisting of muffin, sandwich, and (oddly enough) instant coffee packs. I would try to take pictures of everything, but because there was no table, I couldn't do it.
Overall, Economy Class is good enough to get by, but I'd just be aware of booking the seats in the middle row.
Which Afrosiyob High Speed Train Seat is the Best?
I personally think Business Class is the best out of all 3 cabins. It's the happy medium where you can get the most amount of privacy as long as you're not too bothered about not having power outlets on the singular seats. But, I think Economy Class is enough for a comfortable ride as long as you don't book the middle row seats where there are no tables. Plus, you'd save more money that can be used for an extra meal instead.
I wouldn't recommend the VIP Class as it's more expensive, and the amenities are pretty underwhelming. It doesn't offer exclusivity as the name would suggest since you're sharing table with other passengers no matter where you sit. Unless you manage to sit with people you know, then maybe it's fine. But, that's hard to do in itself if you don't book very early. Save your money by not booking this cabin.
The train supposedly come with Wi-Fi in all of the cabins, but it did not work at all on the 3 different rides I had. Expect to lose mobile connections during some parts of the ride. Nonetheless, the Afrosiyob high speed train is the best way to travel to Uzbekistan's major destinations.