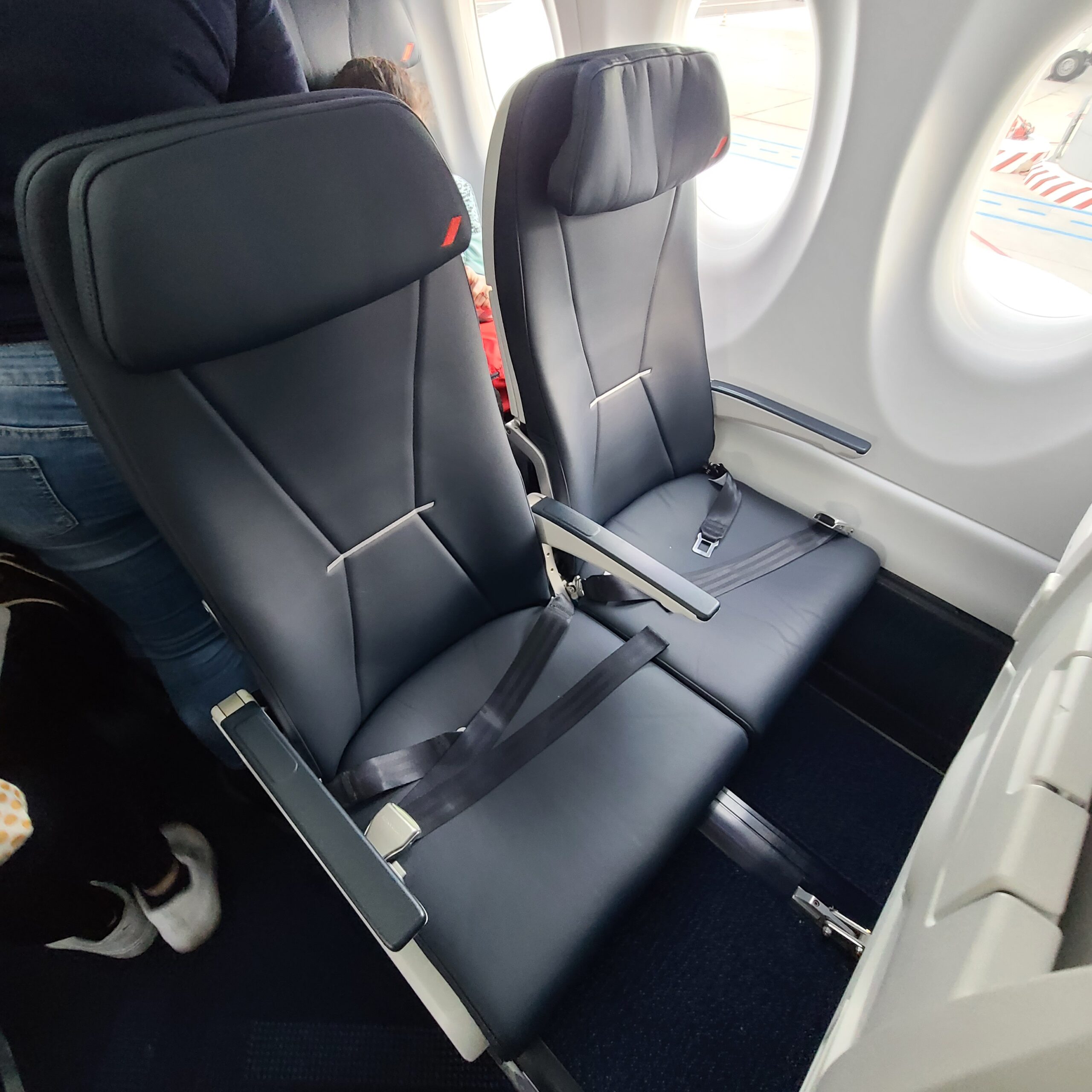 Advertiser disclosure: This post may include affiliate links (including sidebar banners) in which this site may receive compensation if a purchase is successfully made (at no extra cost to you) after being redirected from here. Thank you for your support!
Review: Air France Airbus A220-300 Economy Class (FCO-CDG)
FCO-CDG
Flight No: AF1605
Depart: 18:25 *delayed*

Arrive: 20:35 *delayed*

Duration: 1 hour 40 minutes
Plane: Airbus A220-300
Seat: 28C

Paris was the last destination for our European trip. I had mixed feelings about Rome in general. It felt more chaotic than what I expected, and I came into this trip without expecting much. But, I really enjoyed Italian food.
Air France Airbus A220-300 Economy- Booking
We've paid this flight in cash at ~$180 per person directly on the Air France website. Air France flies 4-6 times daily from FCO to CDG.
Air France Airbus A220-300 Economy- Check-in
We arrived at FCO a couple hours early and checked out Prima Vista Lounge (bad) and Plaza Premium Lounge (awesome) in Terminal 1.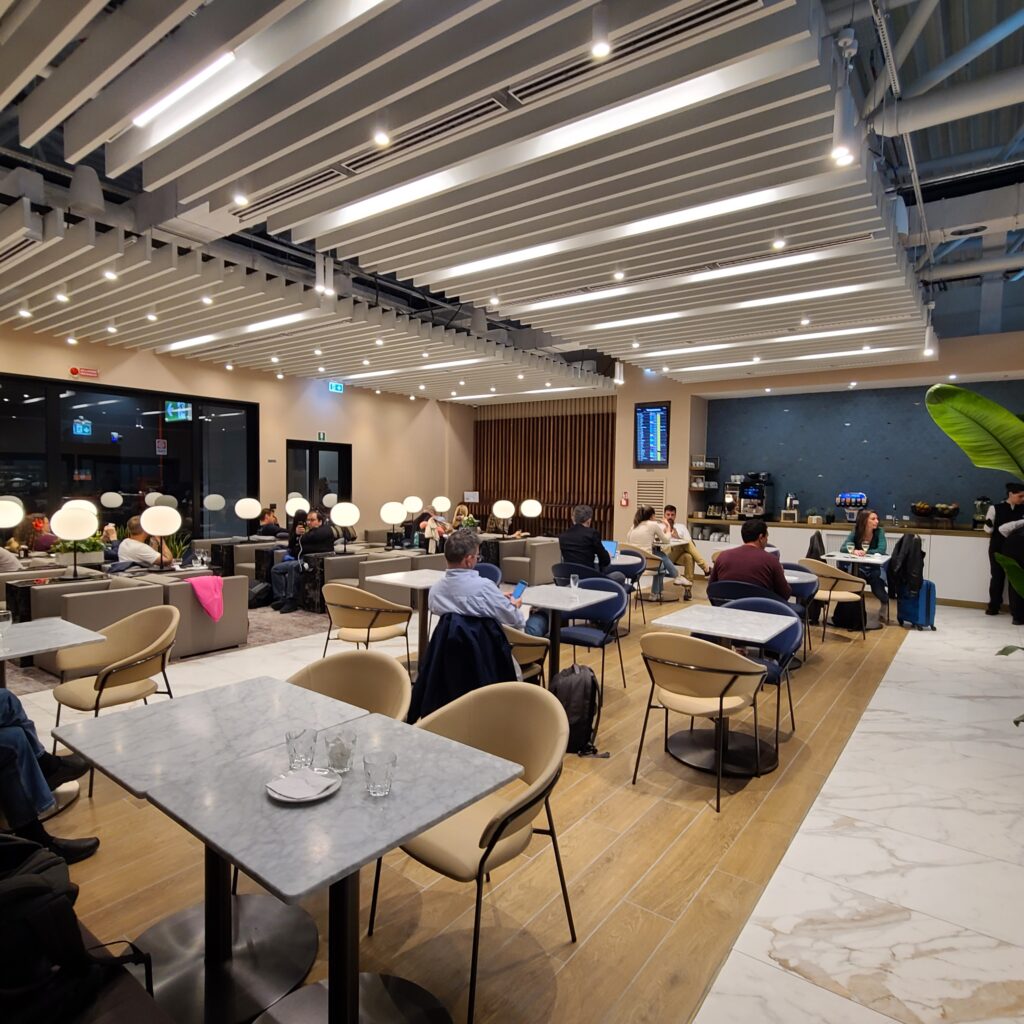 Just around 20 minutes prior to the planned departure, we made our way to the boarding gate from the Plaza Premium. There was a long line already when we got there.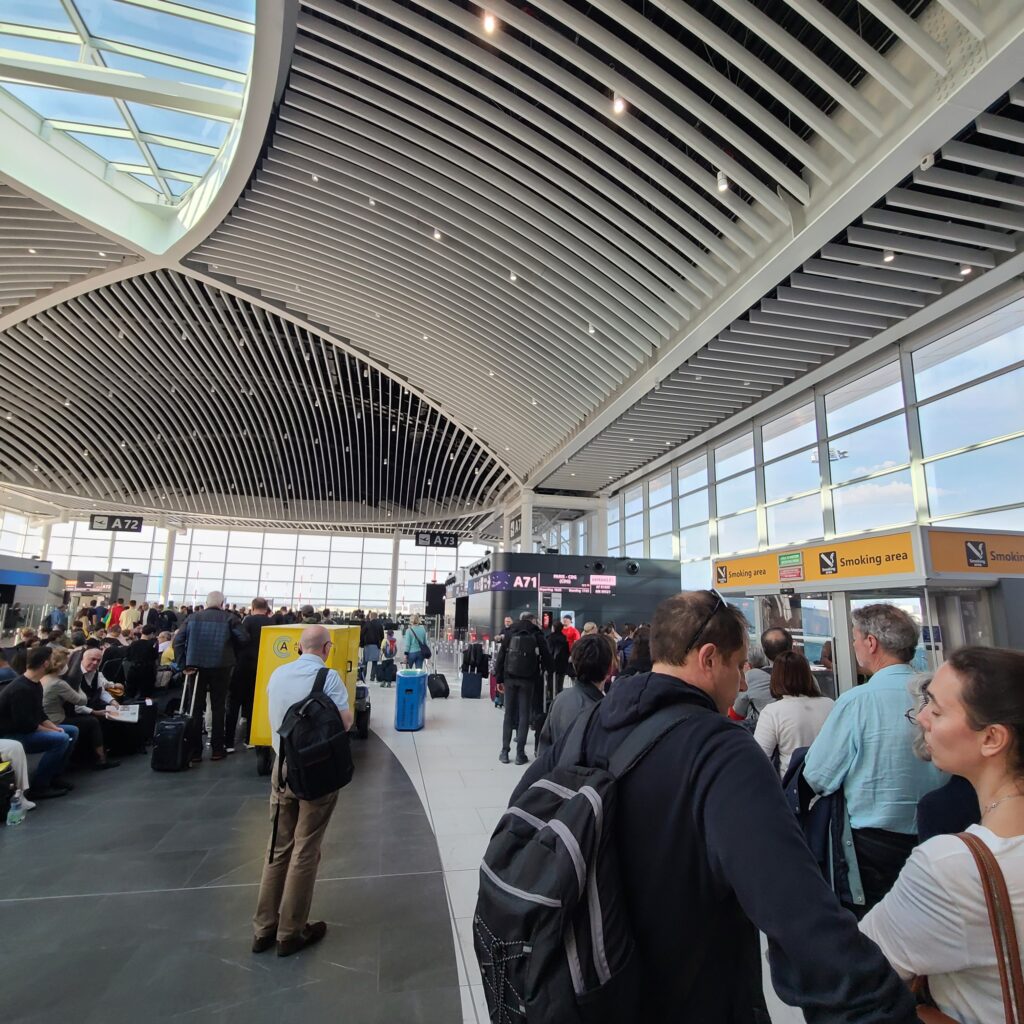 As the line progressed, we were informed that the flight will be delayed due to the protests. It was a trend with our Air France flights in April.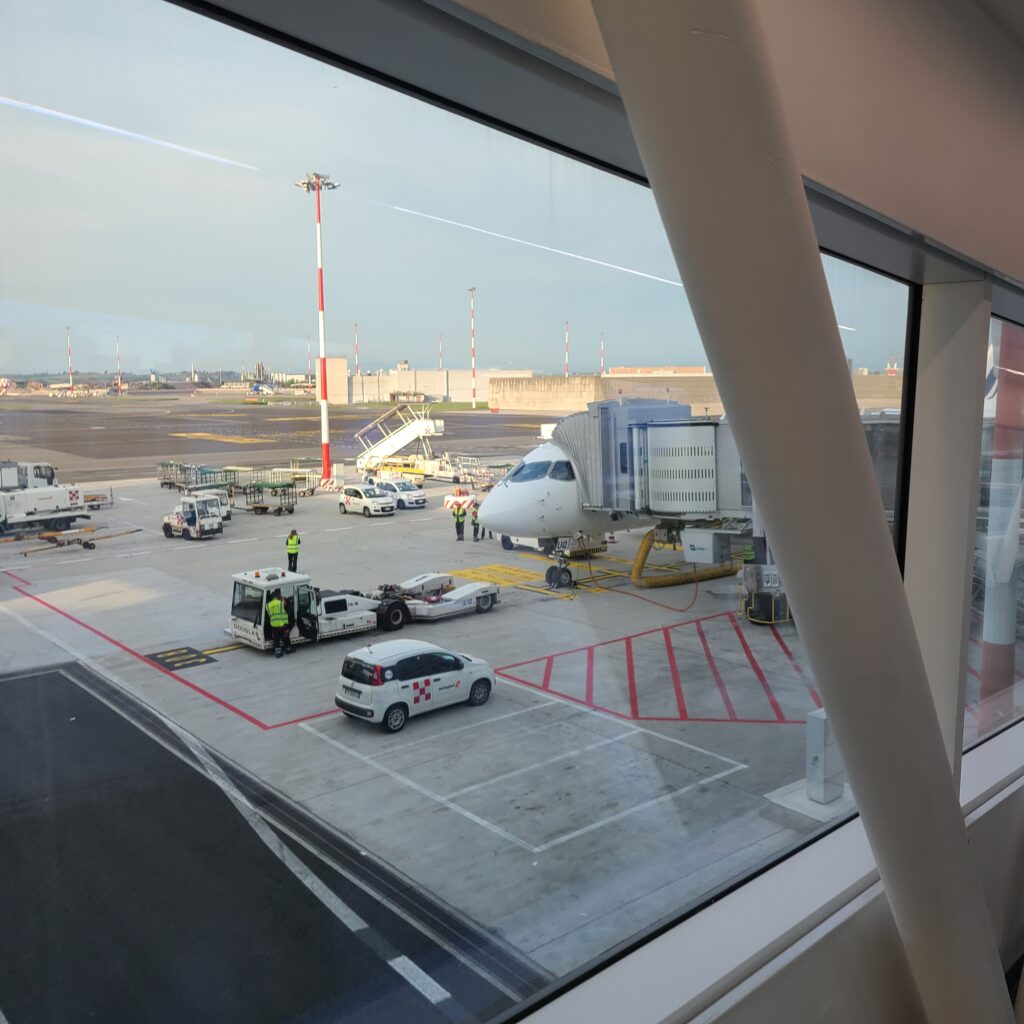 After about an hour of waiting in line, the plane finally arrived!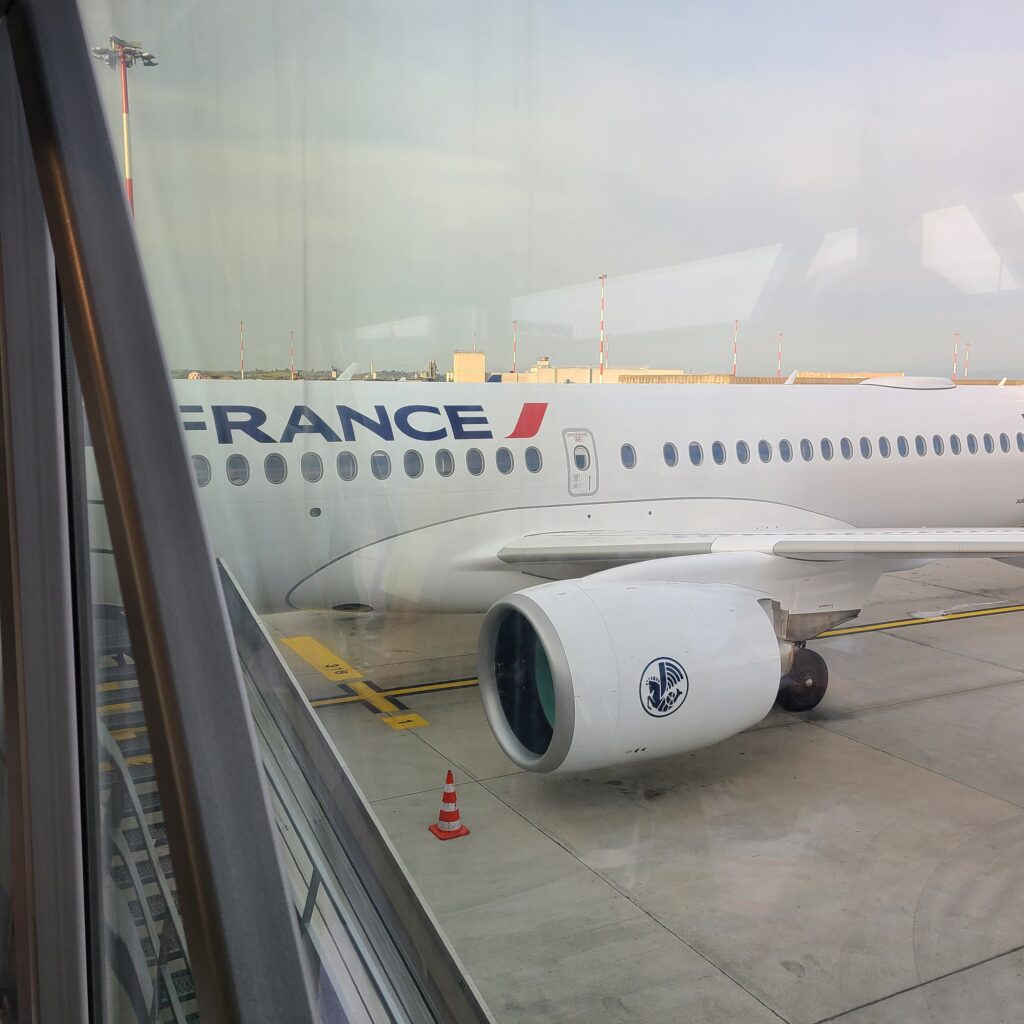 Air France Airbus A220-300 Economy- Boarding
There's a moment of relief when we finally get on board. I was assigned to Seat 28C. The plane has a 2-3 seating arrangement. Thus, I'll be sitting on the left side on the aisle seat. The letter B is skipped due to the lack of middle seat on the left side of the plane.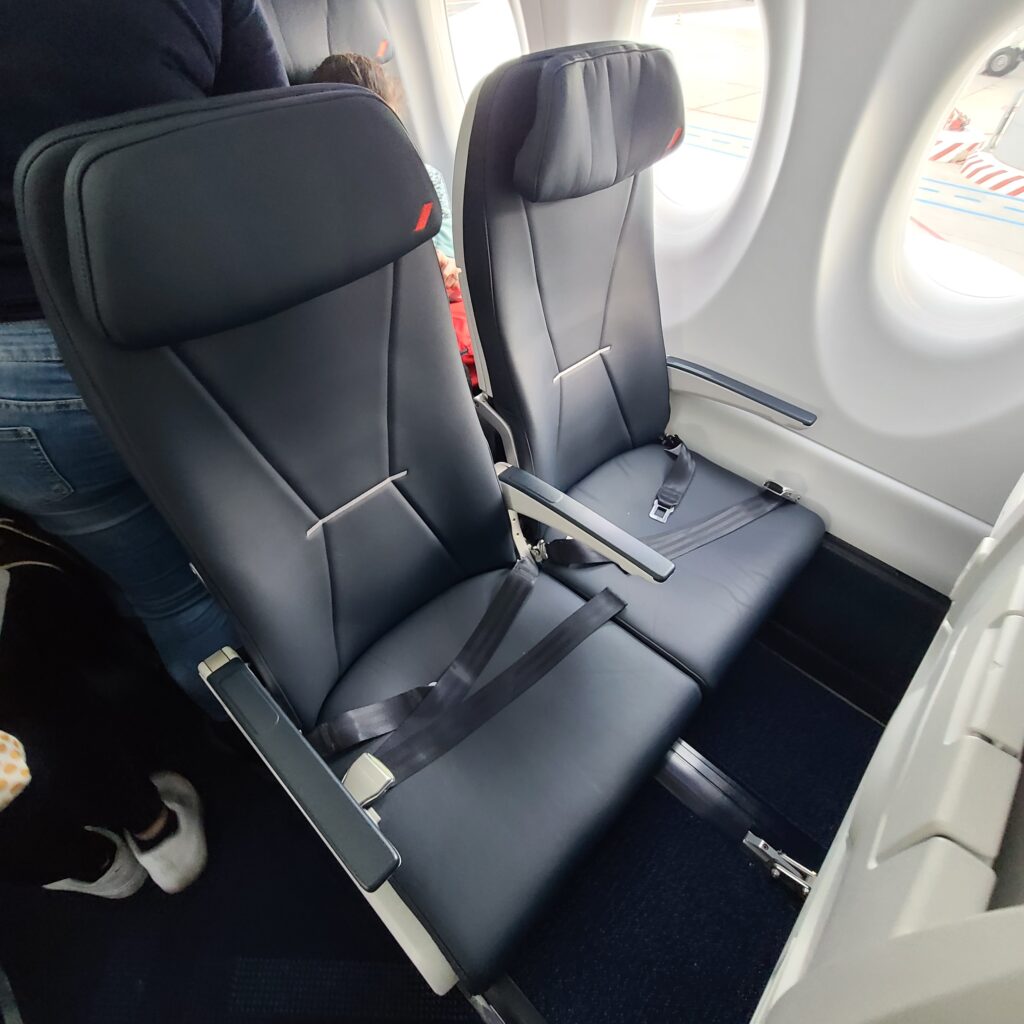 Air France Airbus A220-300 Economy Class Seats
If someone ever ask me what's the most beautiful economy seat is, I'd answer Air France's in the Airbus A220-300! The royal blue leather really complements with the contrasting bright white fuselage.
These seats are also 19 inches wide, which is more than the typical 17-18″ width from other economy seats. The A220-300 offers the widest seats for single-aisle aircraft.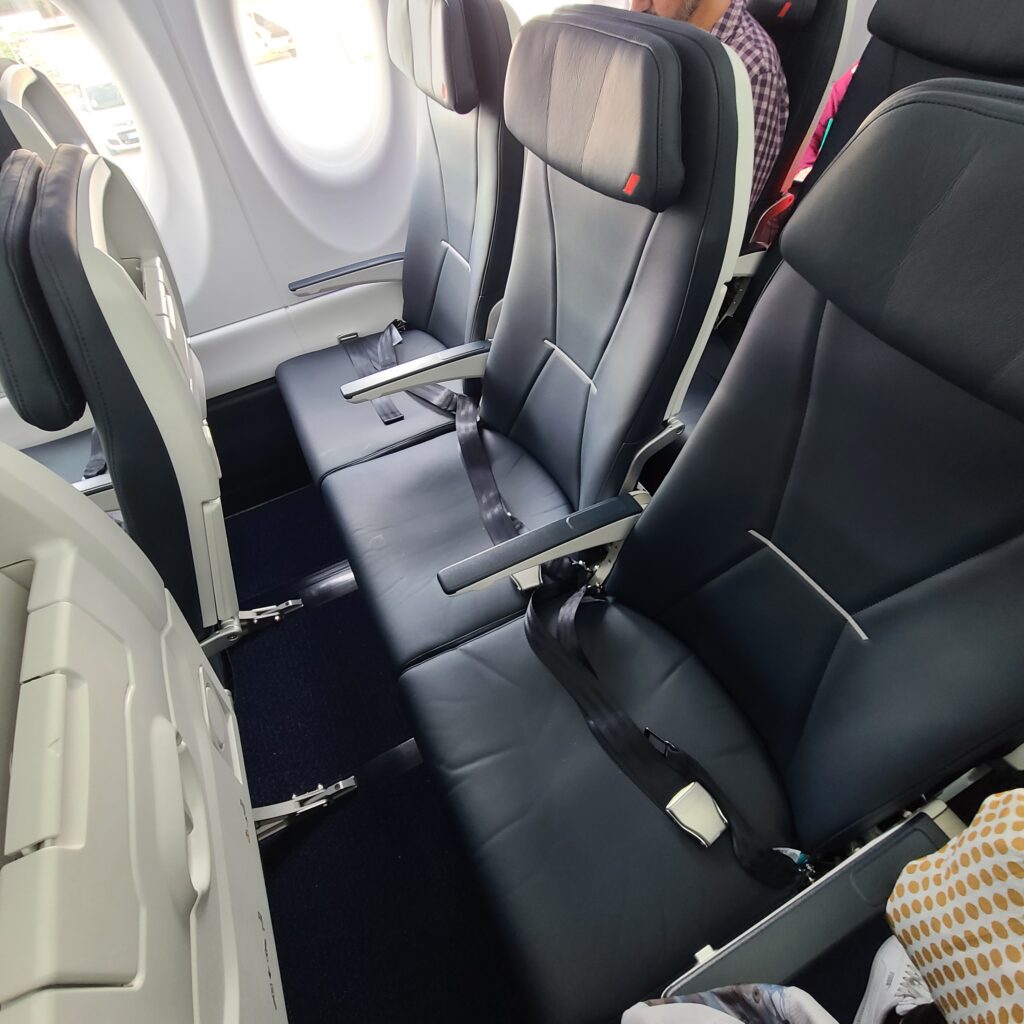 While the back of the seats don't have entertainment screen, you'll find USB-A and USB-C ports. I found that the USB-C charged my phone quite fast!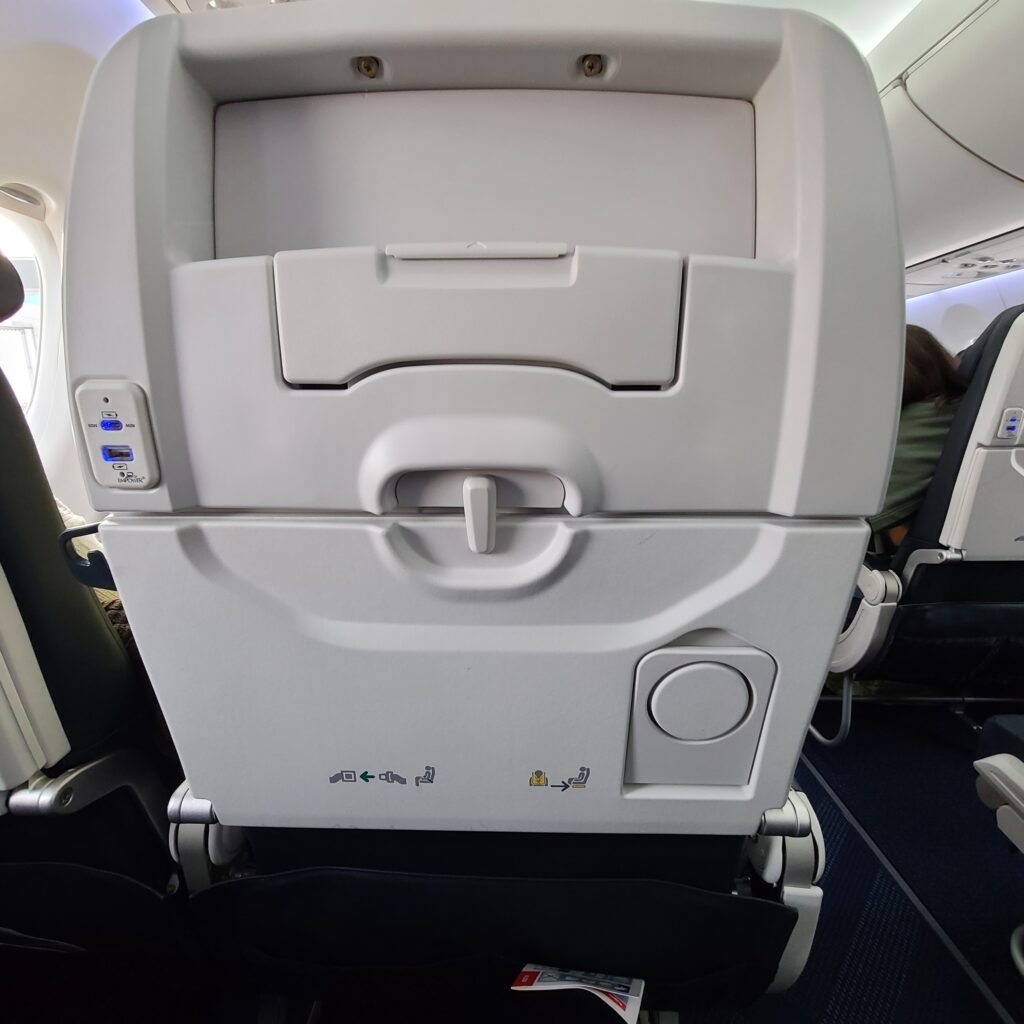 The back of the seat also has a tablet or phone holder depending on how you adjust.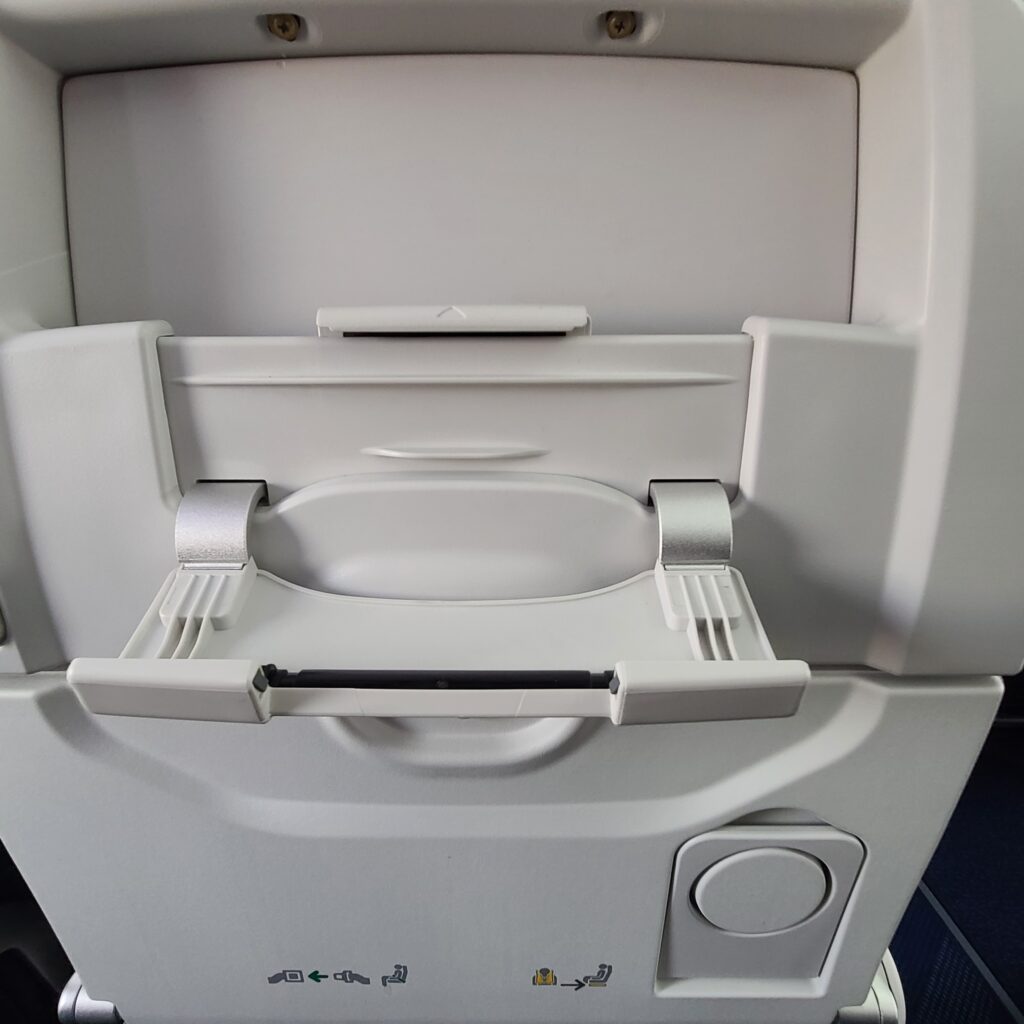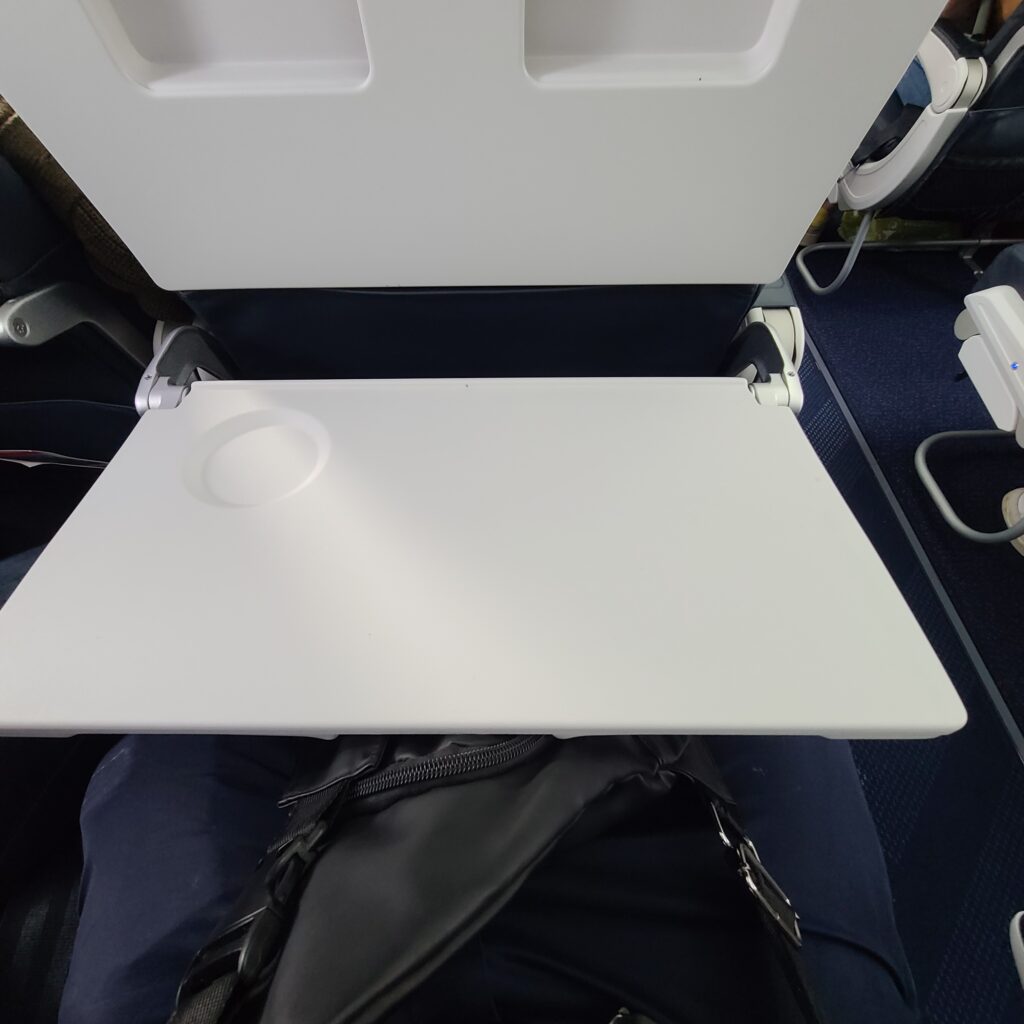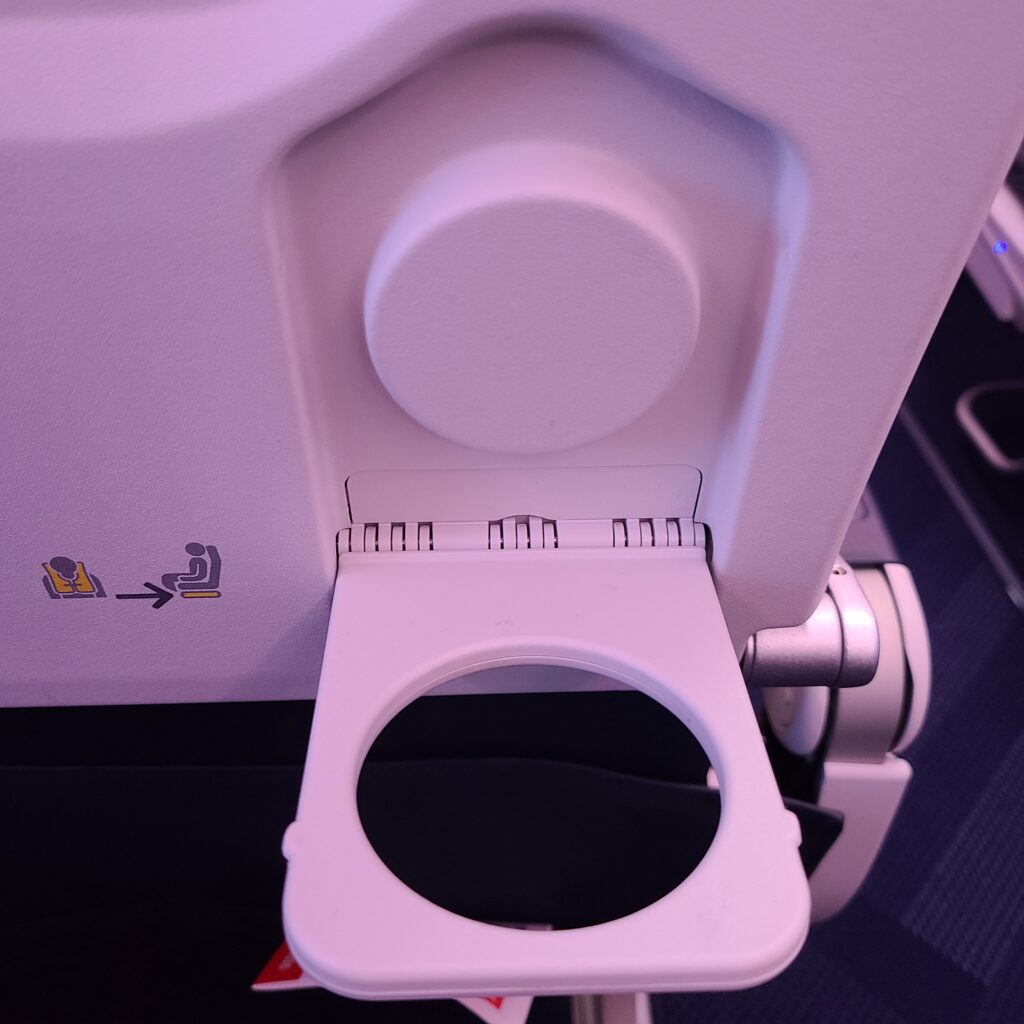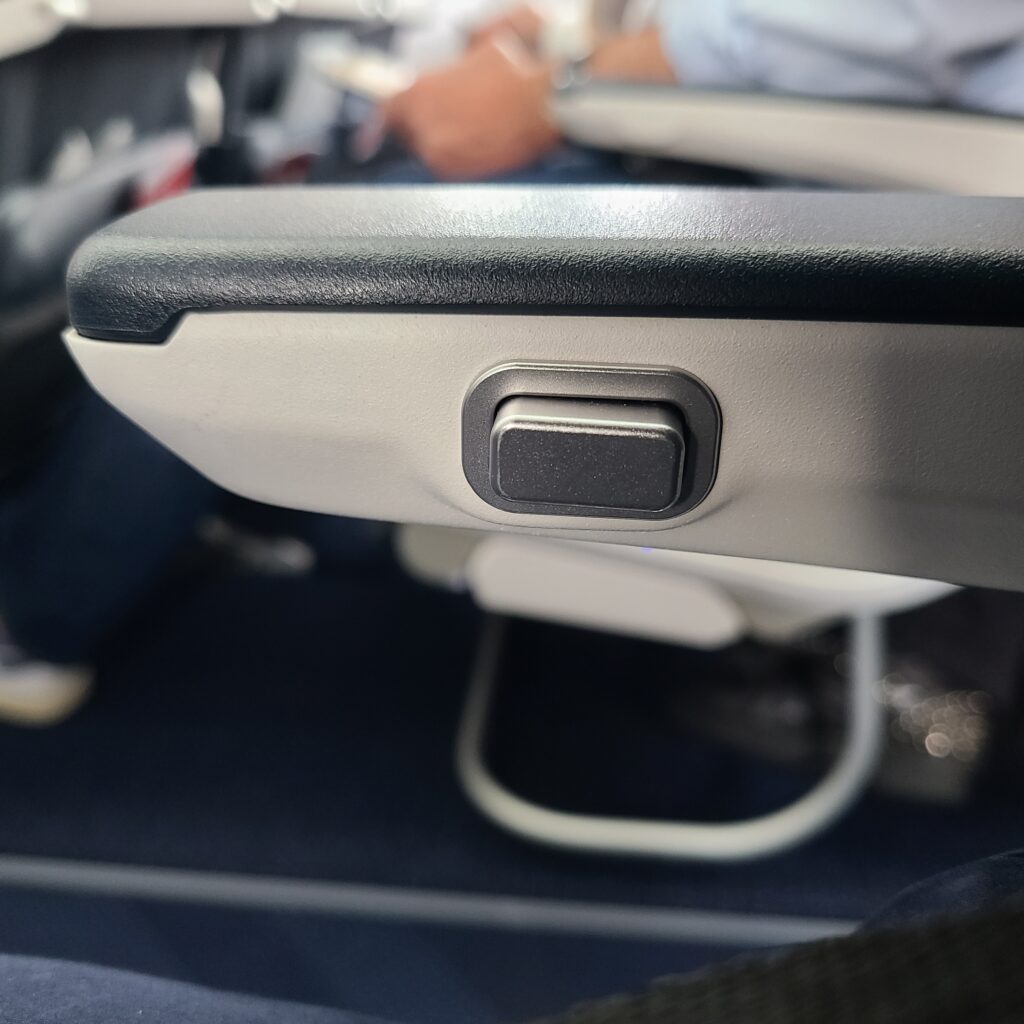 Overall, not only the seats are big (for economy) and beautiful, they also adapt to modern applications.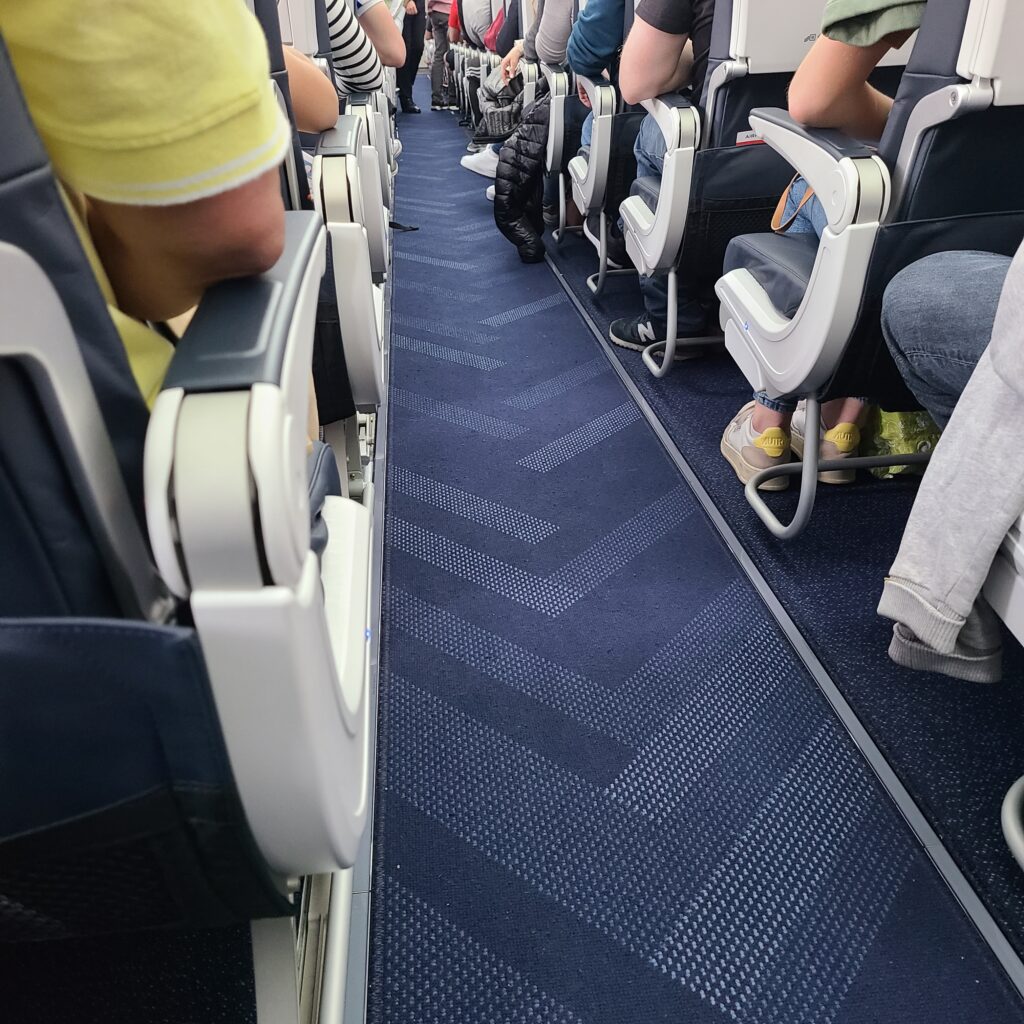 Air France Airbus A220-300 Economy- Flight Experience

The flight was about an hour long and we ended up arriving late due to the delay. Cabin lit up as night approaches. The lighting felt more subtle than what I'm used to, but they're still pretty nice, especially with the whiter than usual fuselage.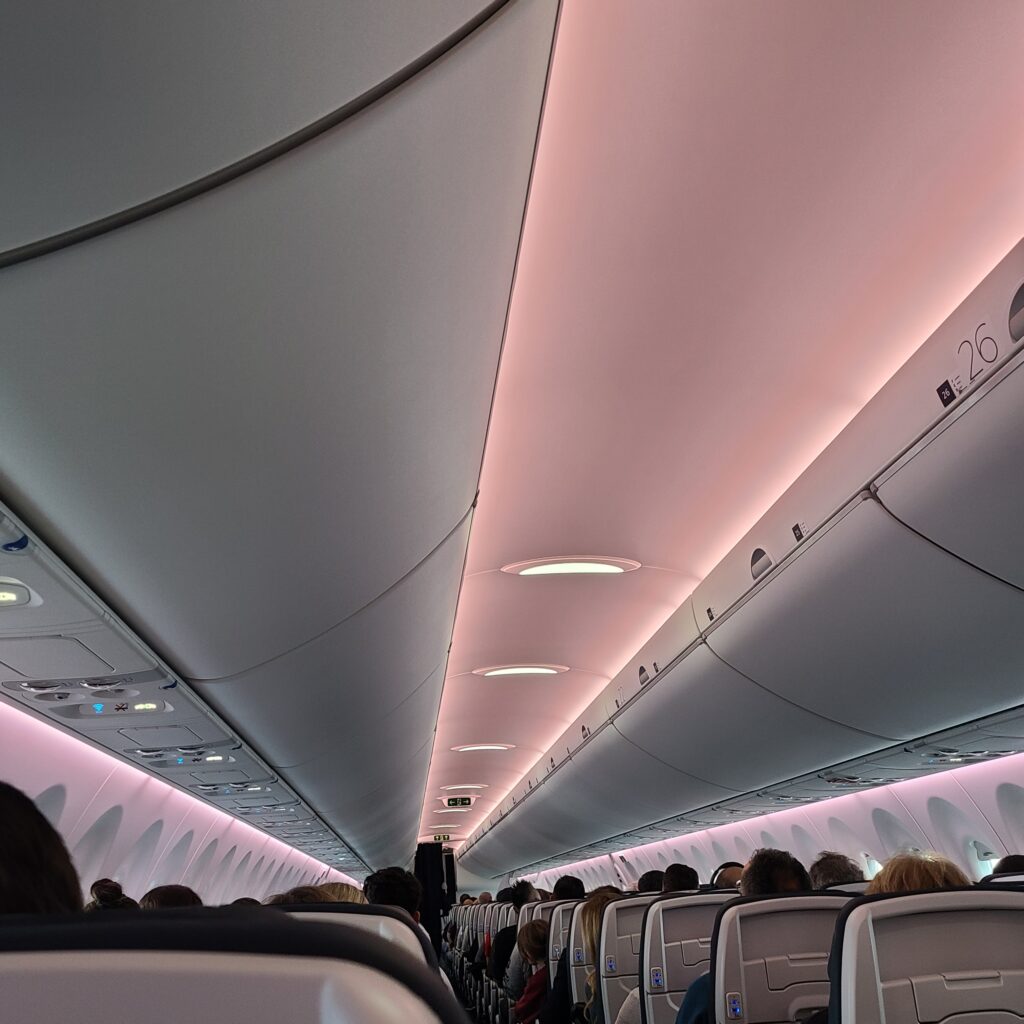 The flight attendants then give out chicken sandwiches and vegan sandwiches in individual packages.
Chicken sandwich was the more popular option out of the two, and I can see why! The bread was so fluffy, I could maybe eat 5 of them.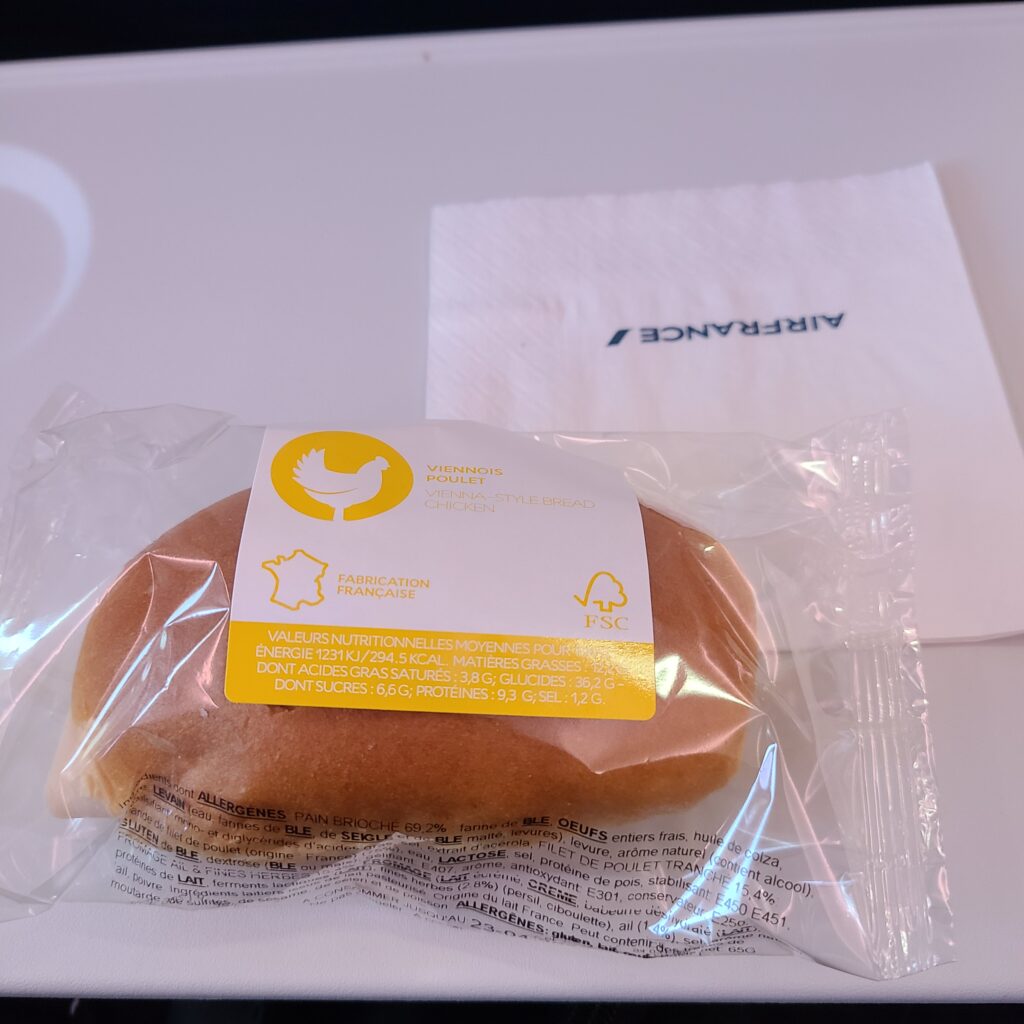 The flight attendants then started giving out the vegan sandwiches until they run out for those who wanted seconds ;). I was happy to give it a try. It was honestly pretty good! I thought it would be just a sandwich with only leaves, but the artichoke puree gave the sandwich a nice and soft texture.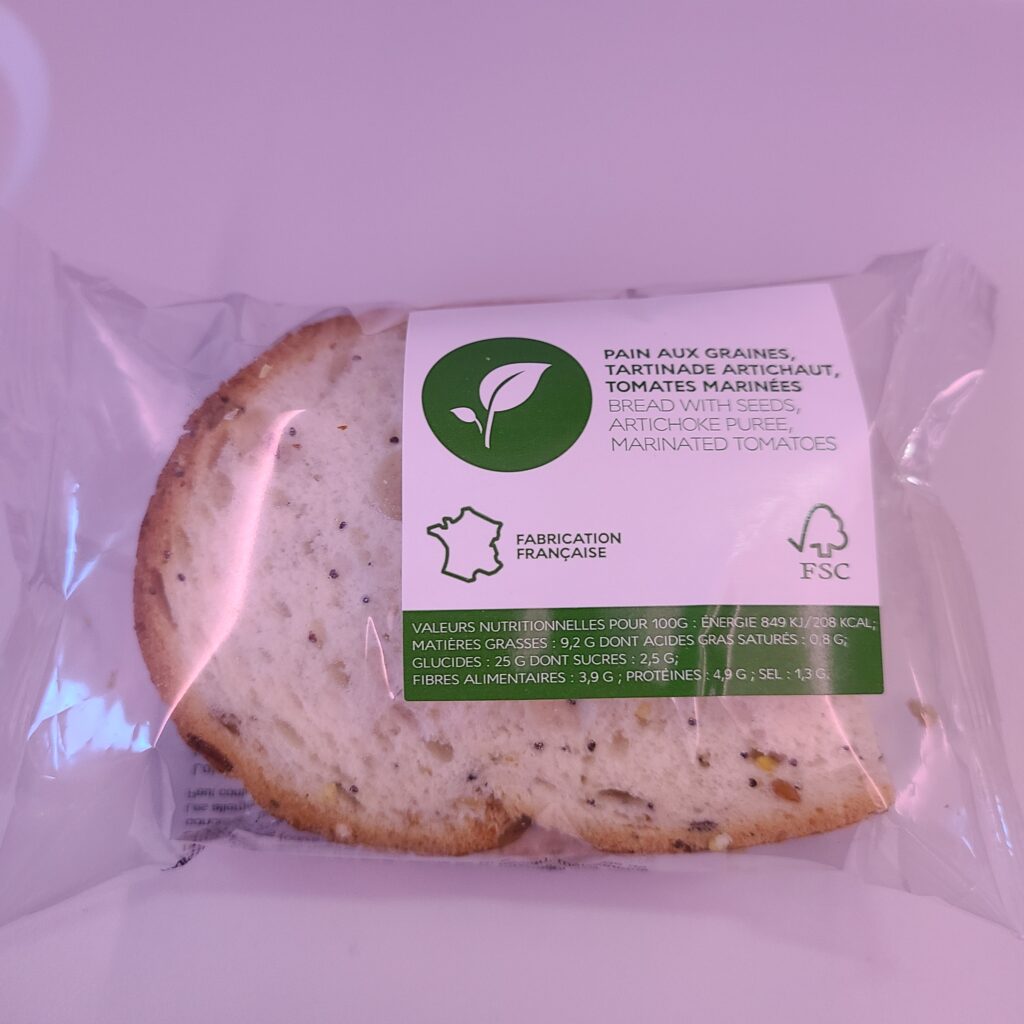 I had a nice cold Coke Zero for the drink.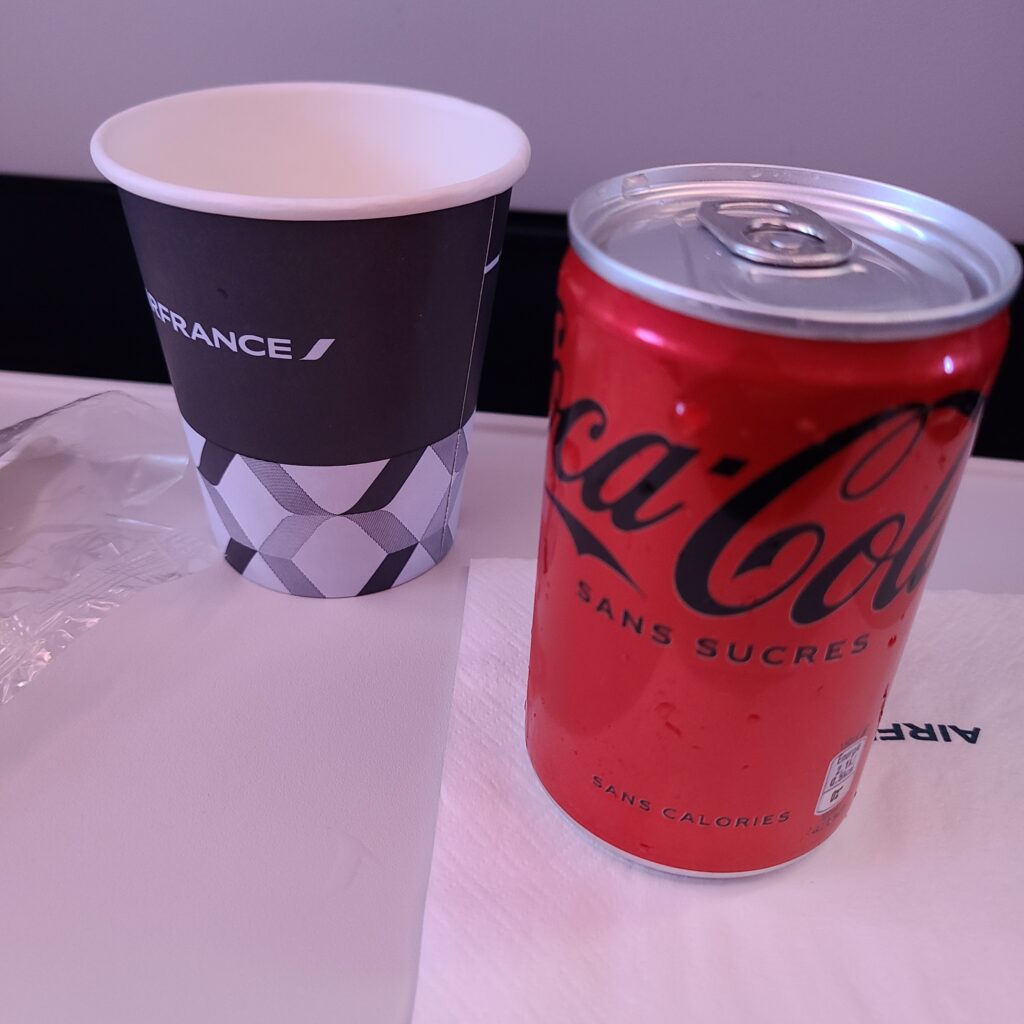 Air France Airbus A220-300- Lavatory
The lavatory is standard, but the Air France's blue and white colorway makes it look a lot nicer.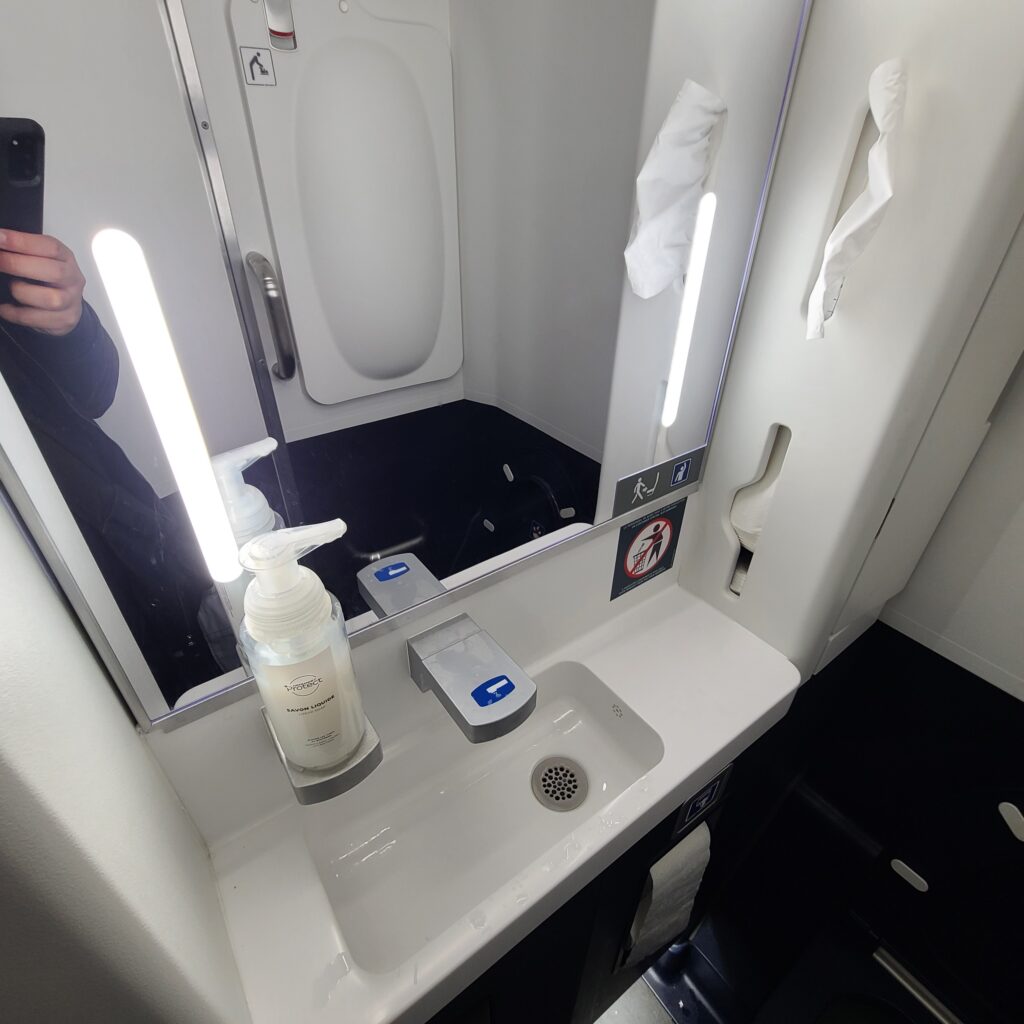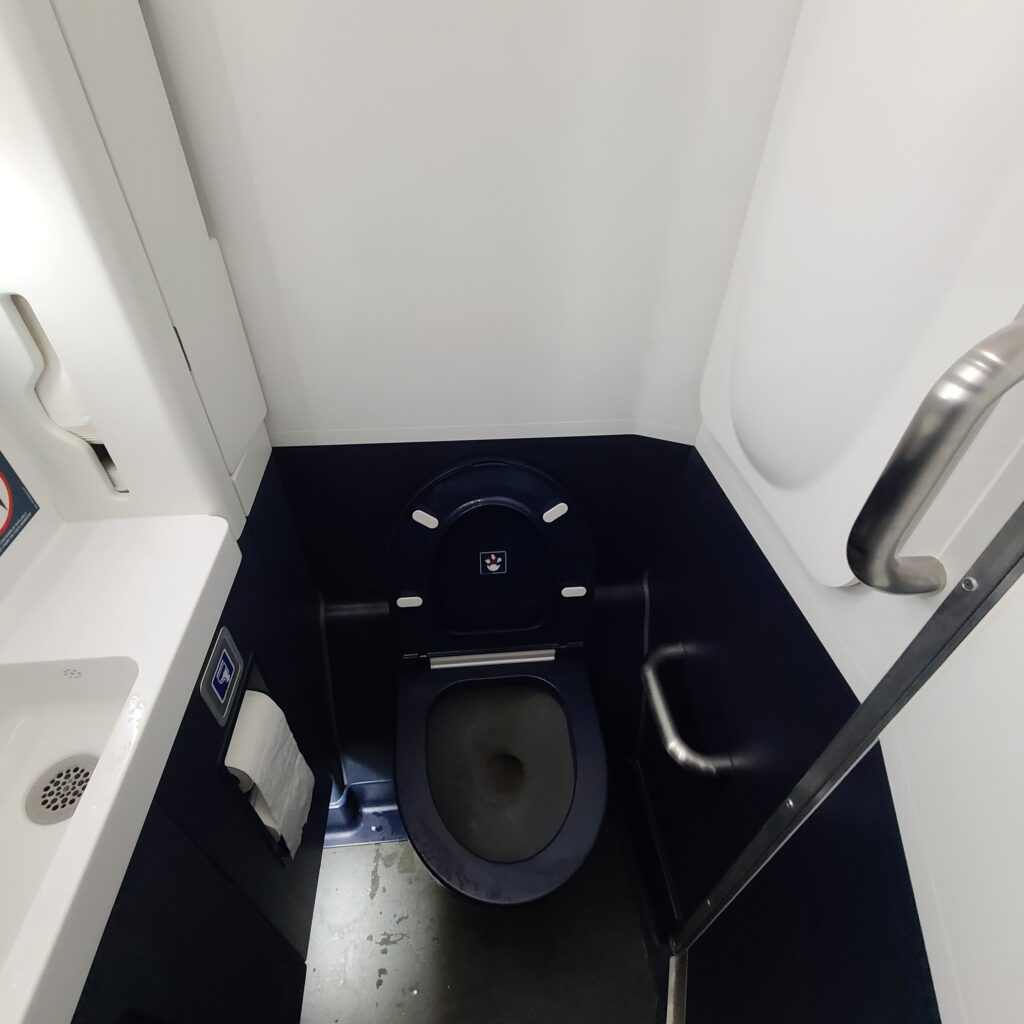 Conclusion
The Air France Airbus A220-300 is without a doubt the prettiest short-haul flight product I've flown in. The Air France colors make the product shine and the seats are more comfortable compared to other economy seats thanks to its larger width. The inclusion of USB-C ports and tablet/phone holder are greatly appreciated for current times.
Other than the long delay (which the airline can't control), this was a very pleasant product to experience!
Overall Rating