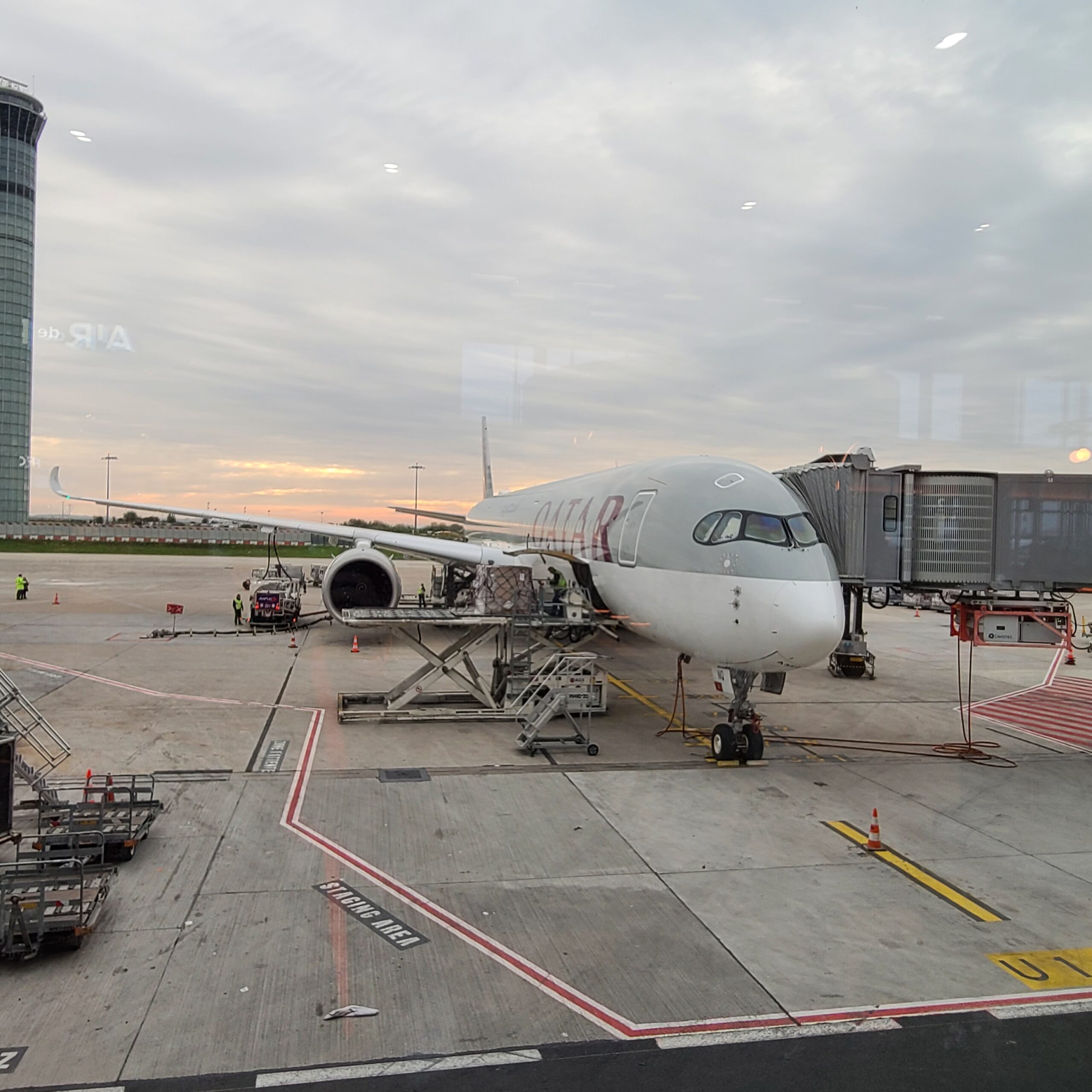 Advertiser disclosure: This post may include affiliate links (including sidebar banners) in which this site may receive compensation if a purchase is successfully made (at no extra cost to you) after being redirected from here. Thank you for your support!
Review: Qatar Airways Airbus A350-1000 Economy Class (CDG-DOH)
CDG-DOH
Flight No: QR42

Depart: 09:05

Arrive: 16:35

Duration: 6 hour 30 minutes
Plane: Airbus A350-1000
Seat: 45K
After spending 3 nights in Paris, we head our way to Doha. From an outside perspective, it's a bit strange to end a European trip not coming straight home, but visiting Qatar for a few days before doing so. In the points & miles world, it's all about going home in style in QSuites, and that I also wanted my parents to try them out for their first time.
Qatar Airways Airbus A350-1000 Economy- Booking
We decided to book economy on this 6 hour 30 minutes ride. Back when we were in planning phase, I asked my dad to sign up for the Barclays Aviator Red which had the signup bonus of 60,000 American Airline miles just after making one purchase and paying its $99 annual fee!
An economy ticket from CDG-DOH on the Qatar Airways would cost 20,000 AA miles one-way, thus the Aviator Red's signup bonus was perfect enough to get 3 of us the tickets, plus ~$20 in taxes and fees per person. Cash price when we looked around was more than $550, so we thought it was a good deal booking with those AA miles.
Originally, this route would fly with the Boeing 78-8, but then changed to the Airbus A350-1000. Qatar Airways is notorious for swapping planes at the last minutes in some routes, so you might not know what you'd get.
Qatar Airways Airbus A350-1000 Economy- Check-in
We arrived at CDG from the Moxy at around 7 in the morning. Coming from Moxy to Terminal 1 was easy with the CDGVAL shuttle that stops by a lot of airport hotels.
There wasn't much of a long line while we checked in our bags, and we made our way to the security check. I think navigating through the terminal after security check was the longest I went before seeing my boarding gate. Initially, we tried to check out the Star Alliance Lounge to have some breakfast, but we weren't able to find it and opted out for the airport's McDonald's instead.
Qatar Airways Airbus A350-1000 Economy- Boarding
We walked around the concourse a little bit before boarding. CDG's Terminal 1 has a really nice concourse. I especially liked these palm tree lights.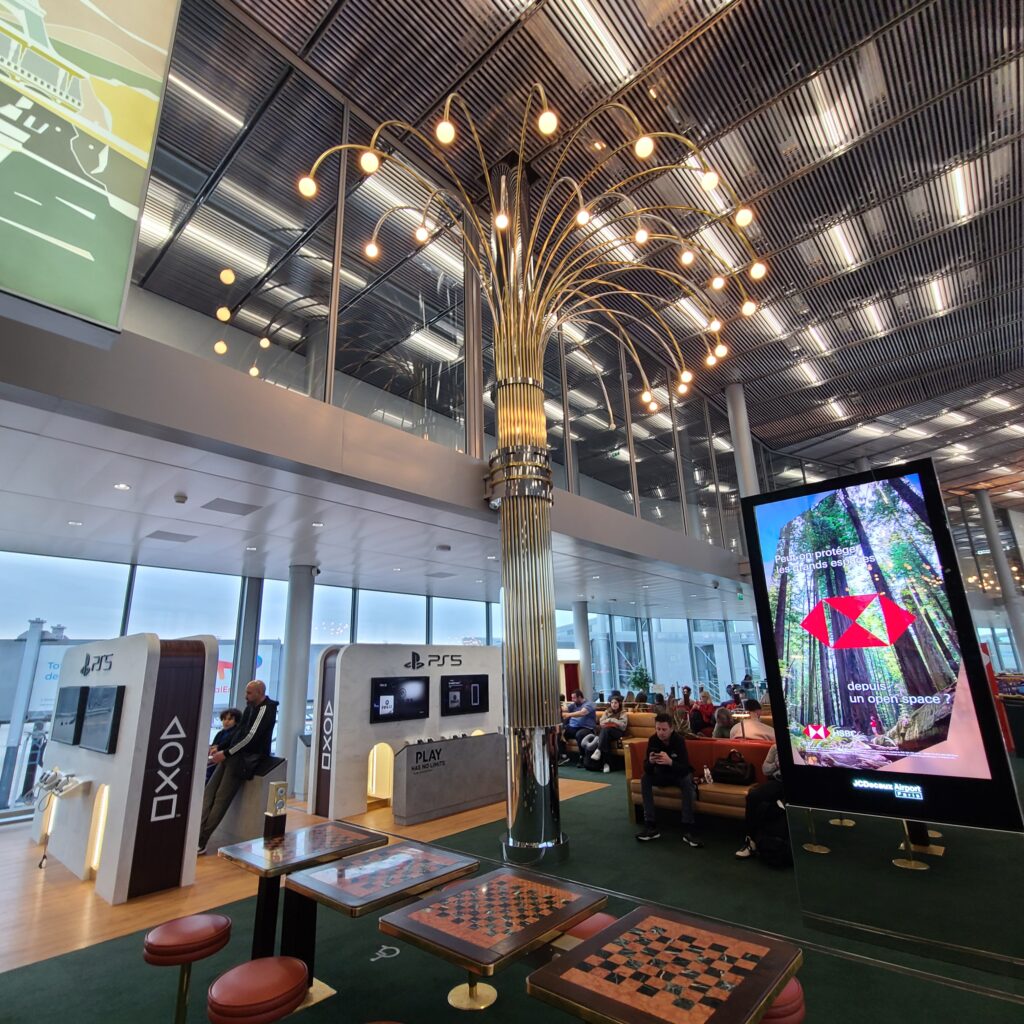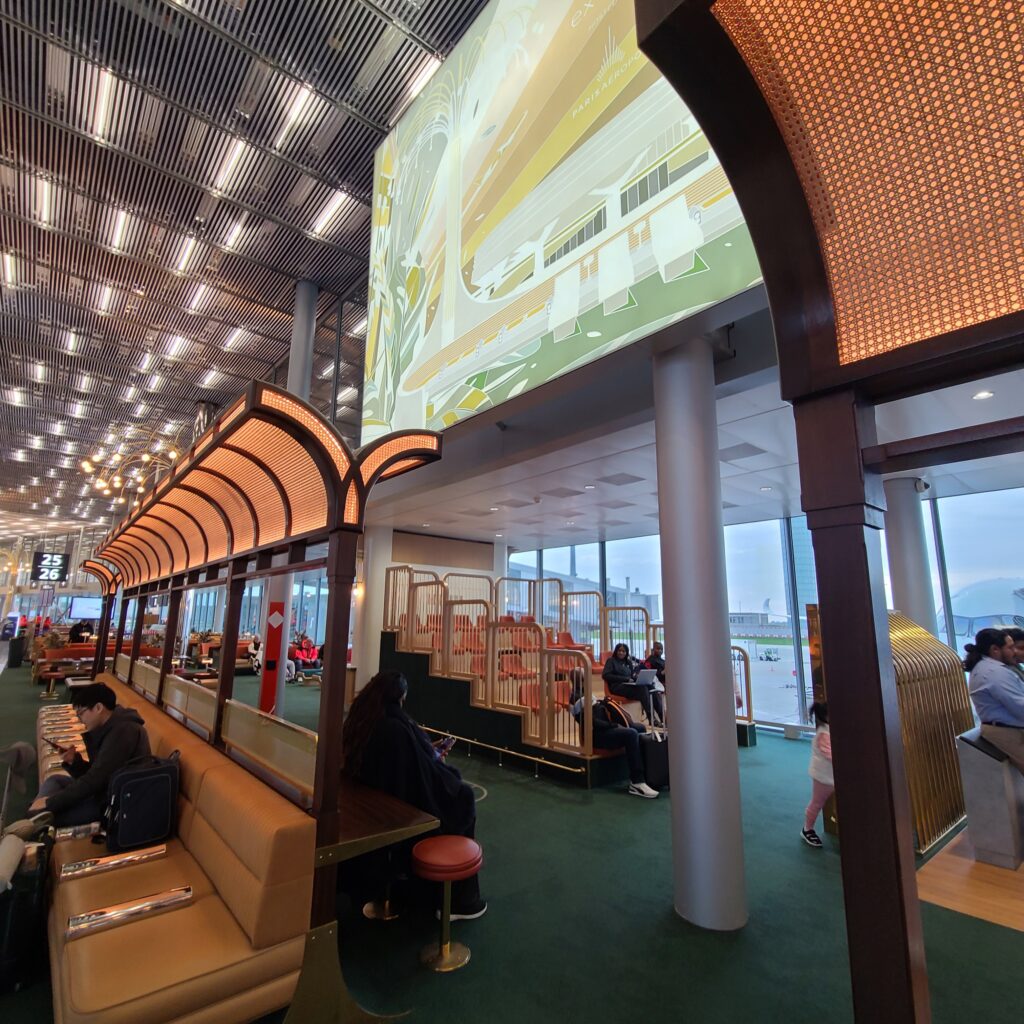 There were a couple of PlayStation 5 stations. I wanted to play a bit, but everything was in French so I couldn't get past the main menu.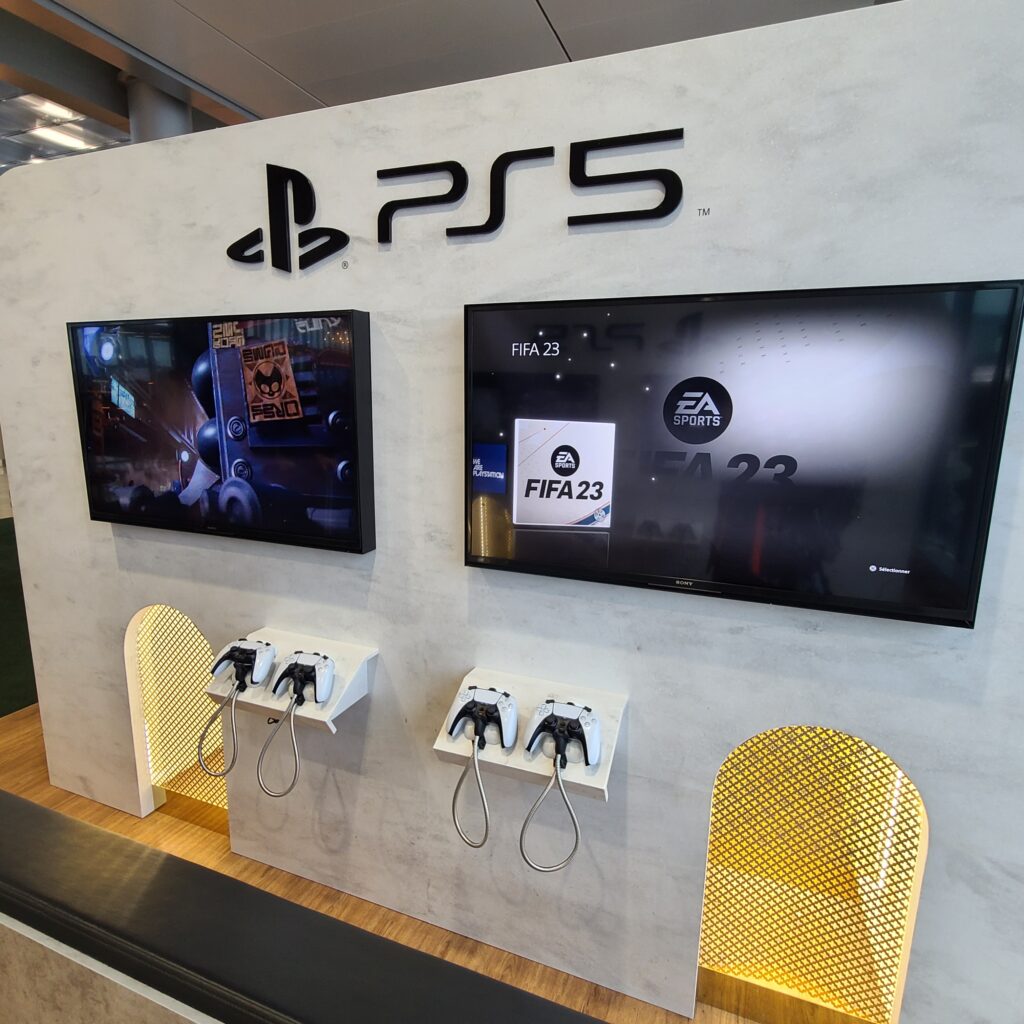 Being seated on the back of the plane, I was one of the last to board.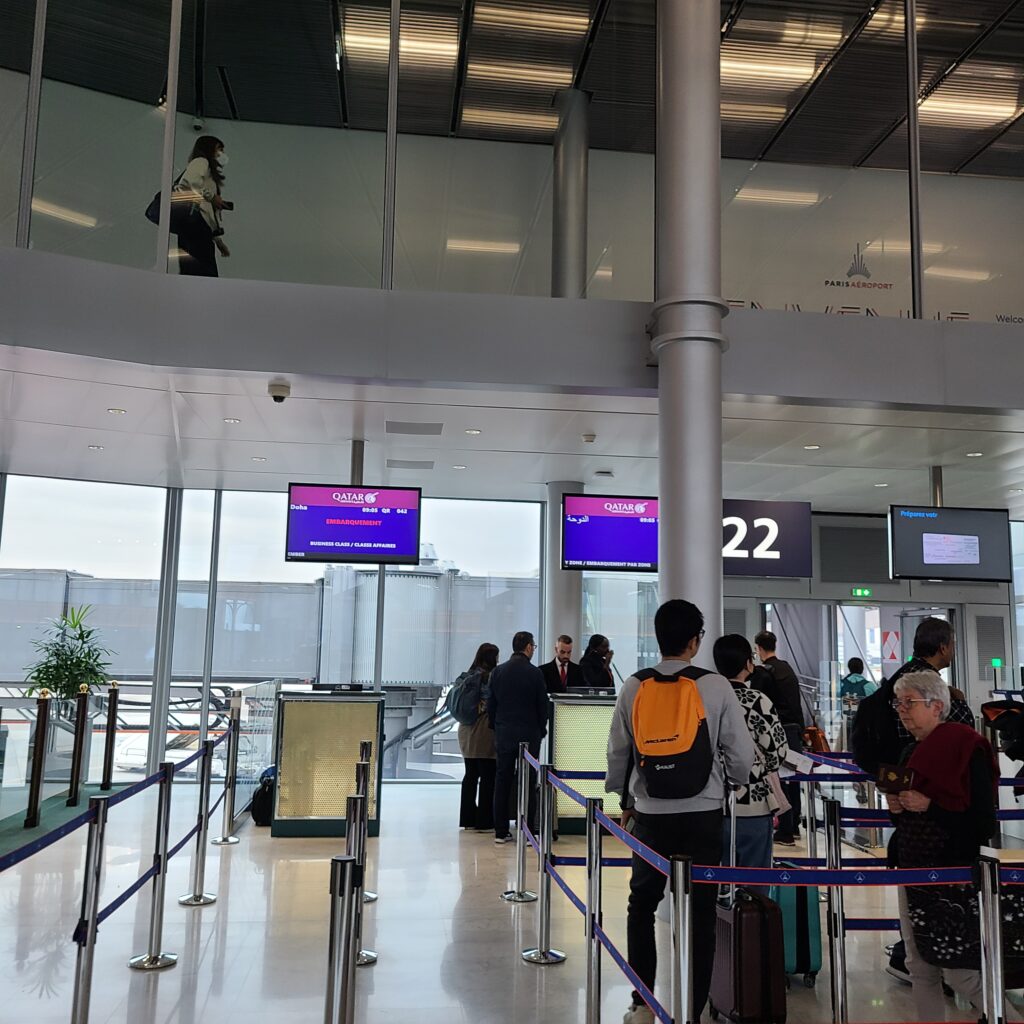 Qatar Airways Airbus A350-1000 Economy Seats
It was a bit hard to take a picture of empty seats when you're one of the last to board, but this is the best I could do. Also, it's wild that this is my first time in economy for longer than 2 hours ever since my trip to Azerbaijan in late 2021 with Turkish Airlines.
I'm very grateful that points and miles have allowed me to fly premium long-haul cabins, and I figure electing myself to fly economy once in a while will help me keep humble. Plus, it will make the upcoming QSuites that much sweeter!
The seats come with adjustable headrest, but only in up and down directions. The seats themselves are not as plush as some of the economy products I've tried like Uzbekistan Airways' A320 and Air France A220-300.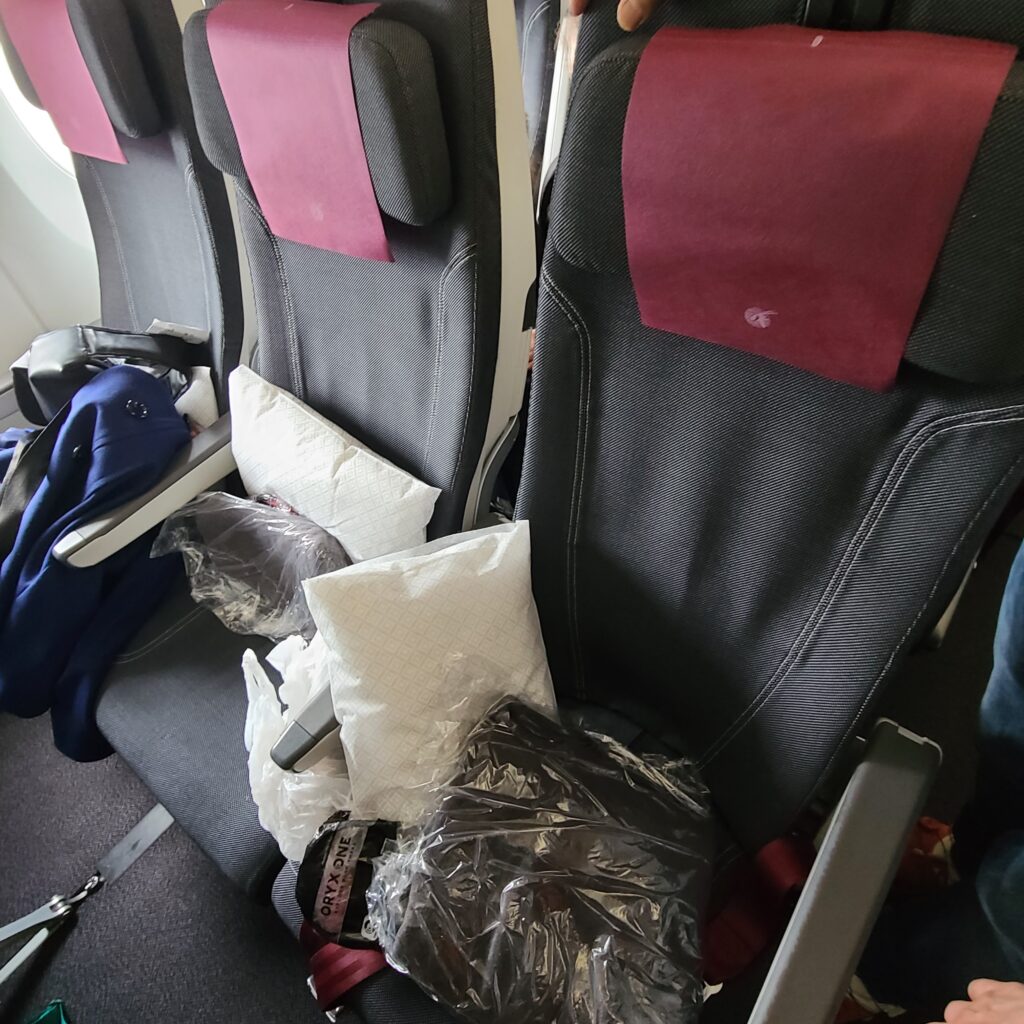 After getting myself settled in, I removed the amenities placed on the seat. Blanket and headphones were placed.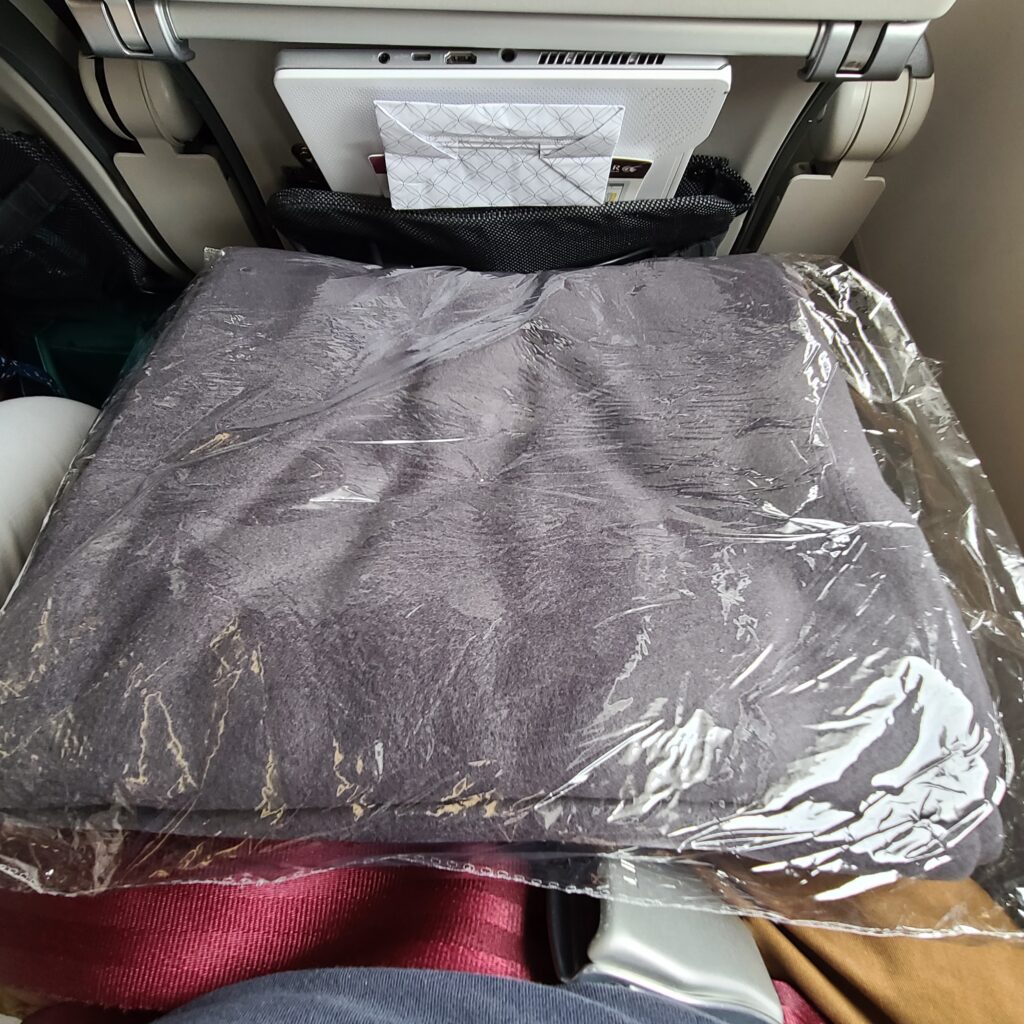 The headphones became uncomfortable after prolonged use. But, I like the Hawaiian Punch color scheme it has. Tacky, but fun.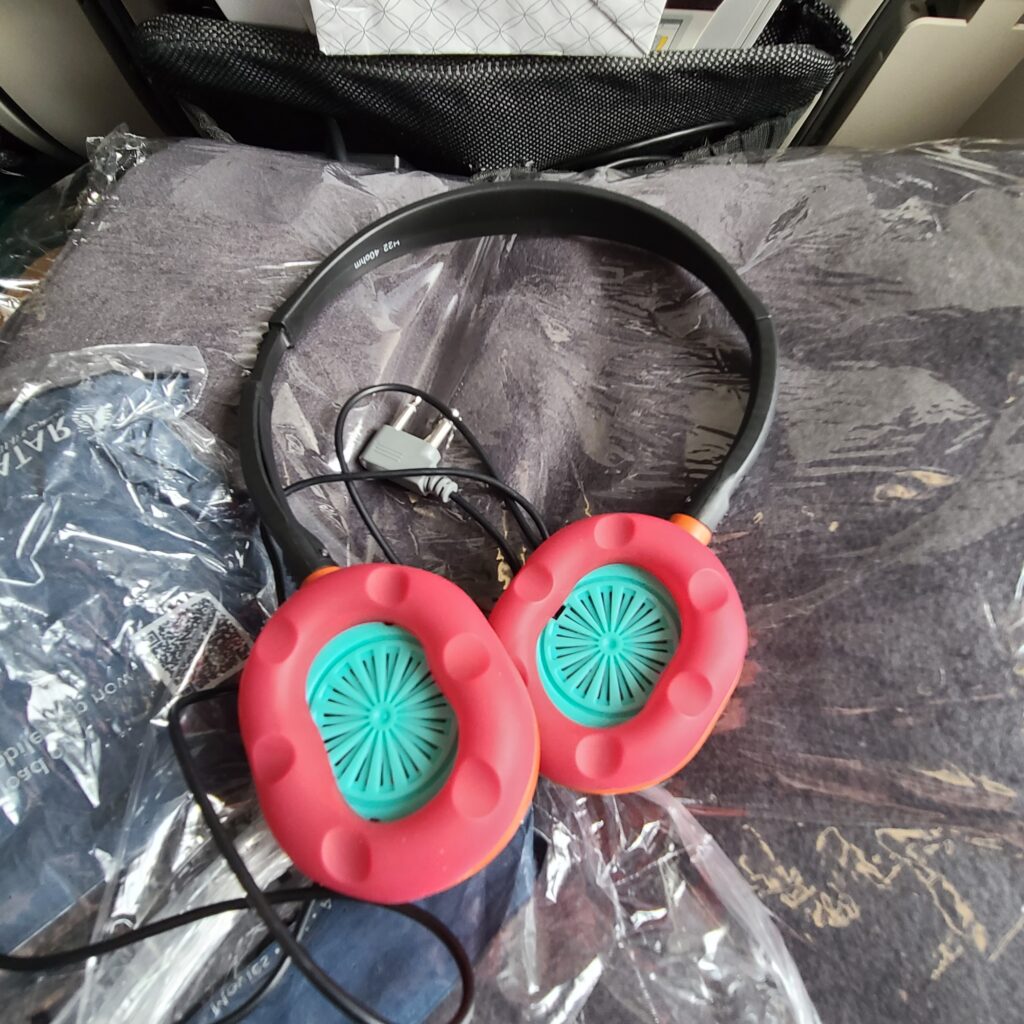 The seat pitch in economy is 31-32 inch, which is standard for a big carrier.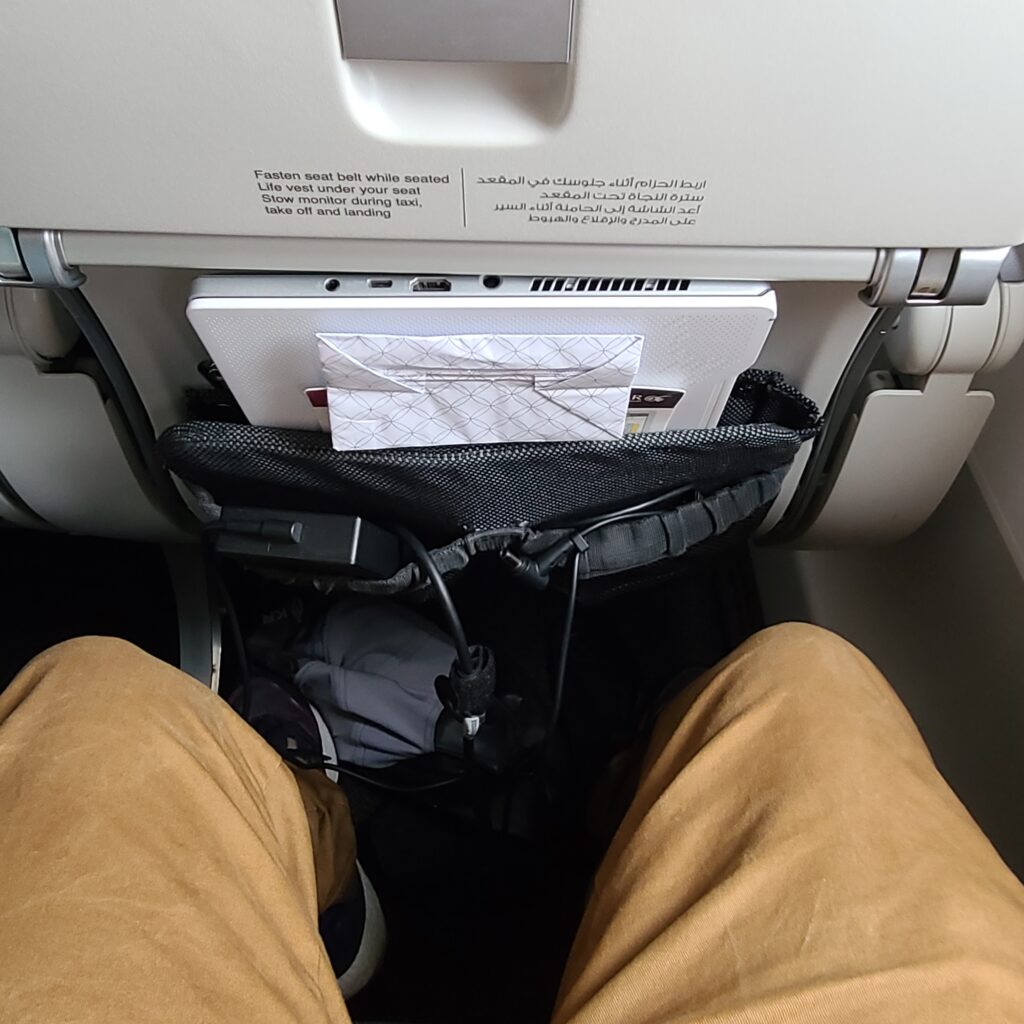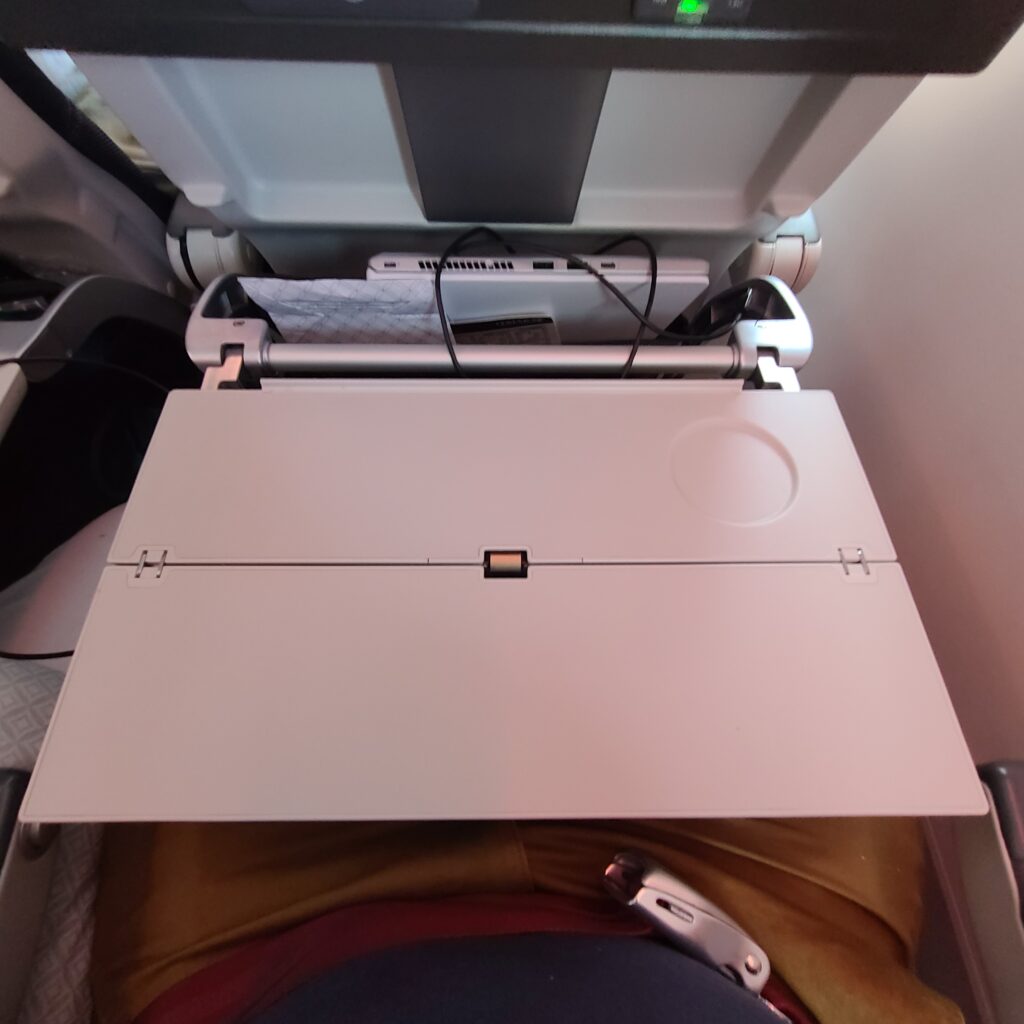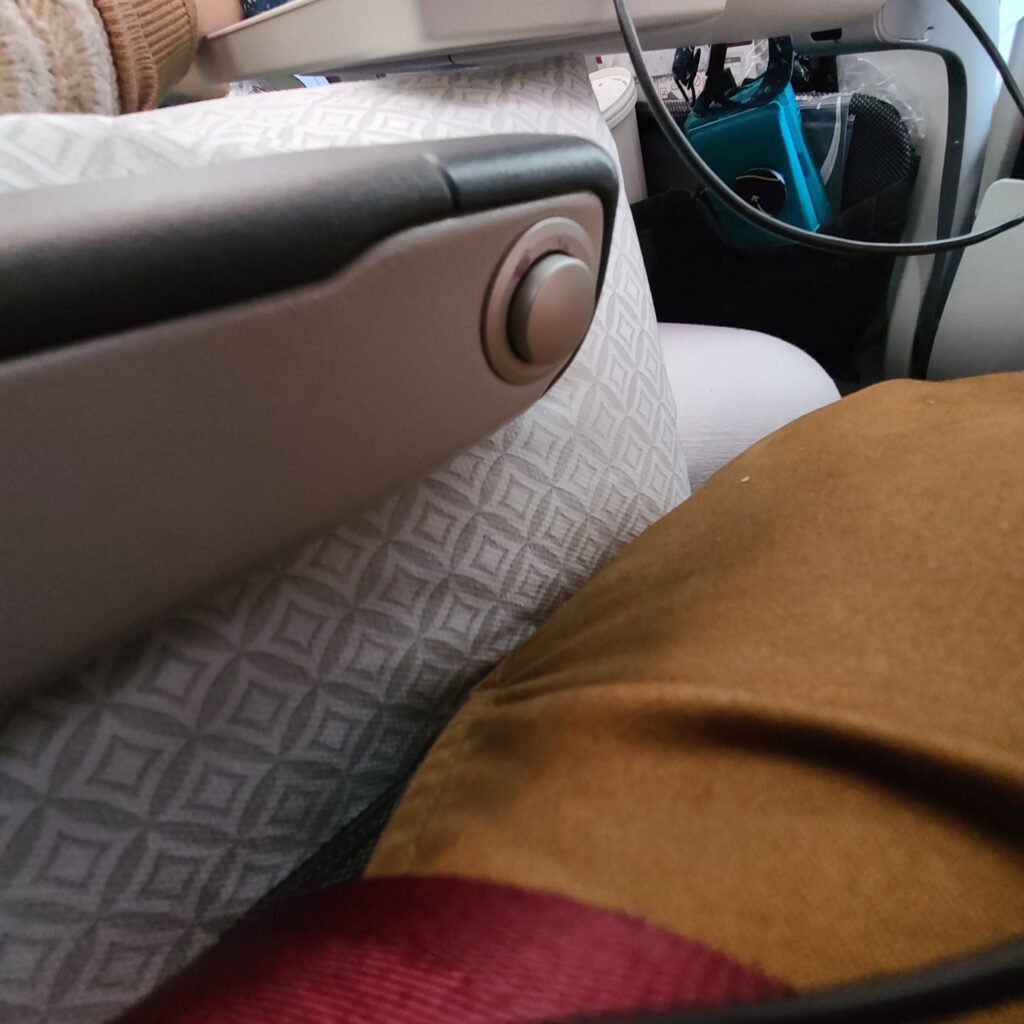 Entertainment screen is touch-screen and comes with plenty of options that I'll cover later on. Below the screen is a universal power outlet and a card reader should you want to purchase in-flight Wi-Fi.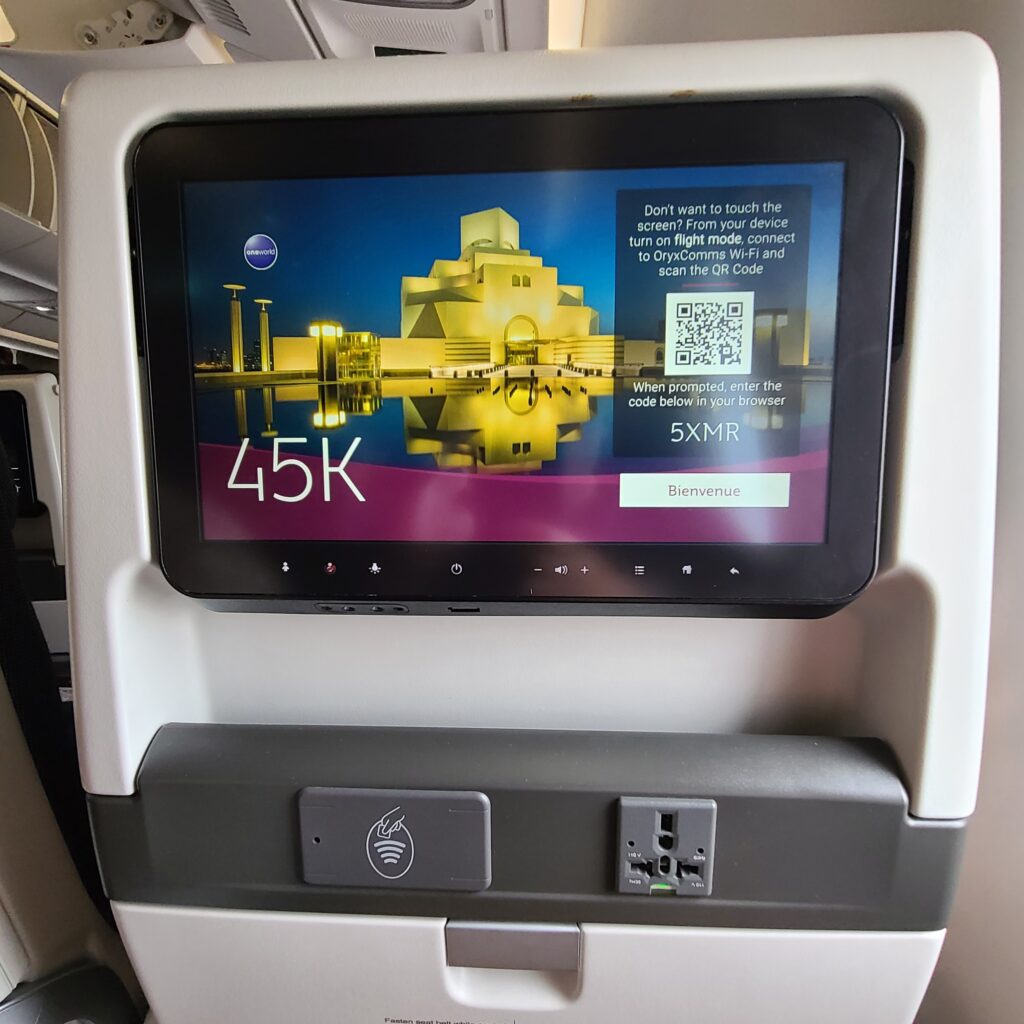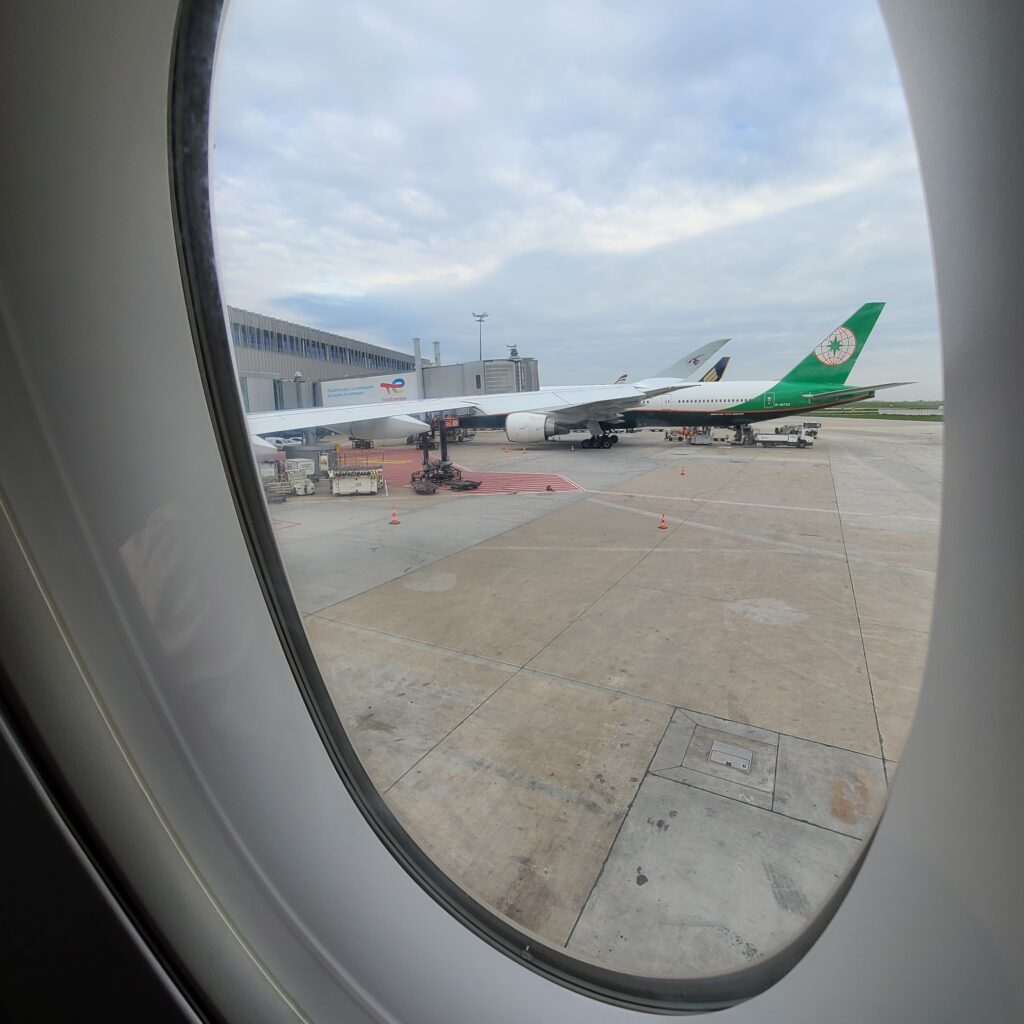 Qatar Airways Airbus A350-1000 Economy Class- Flight Experience
After getting used to delays with Air France during this trip, I was glad that Qatar Airways weren't affected. It was time to brace myself in this almost 7 hours flight and try to keep myself entertained.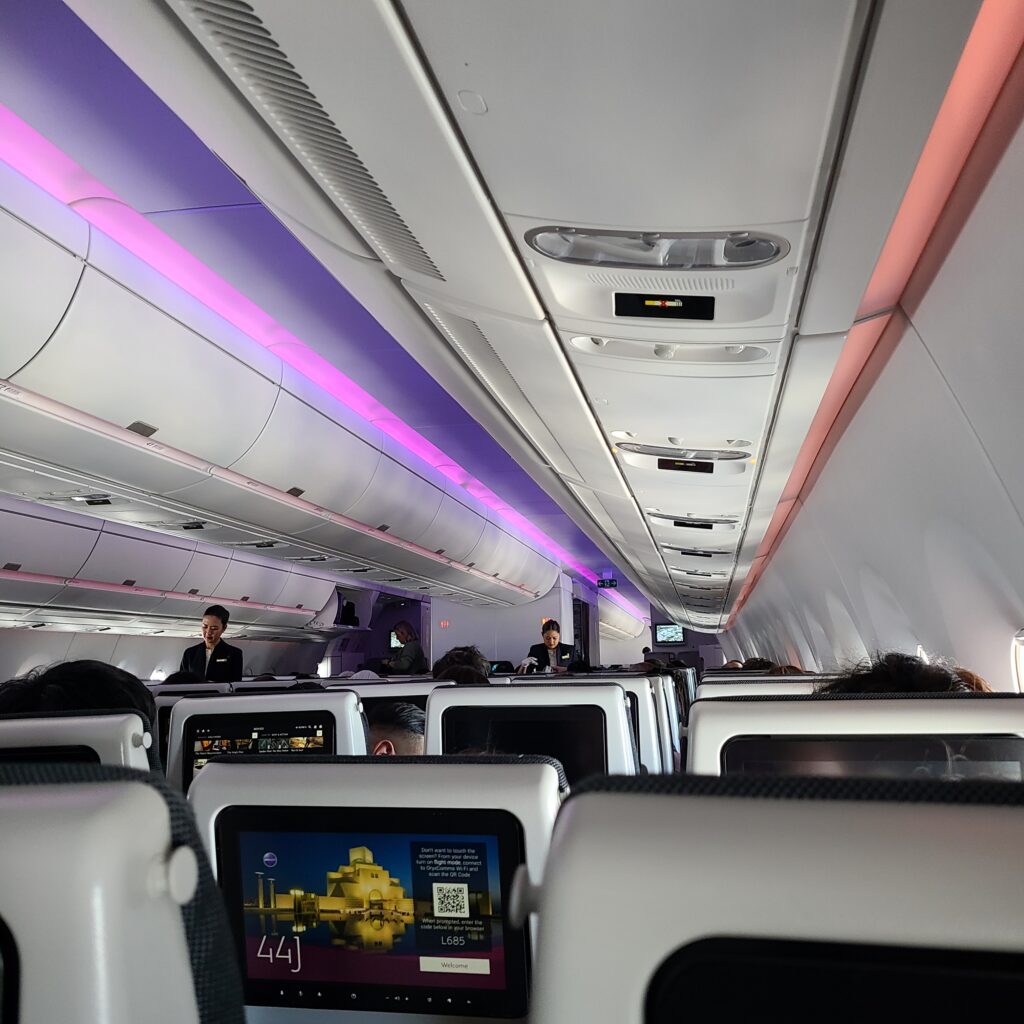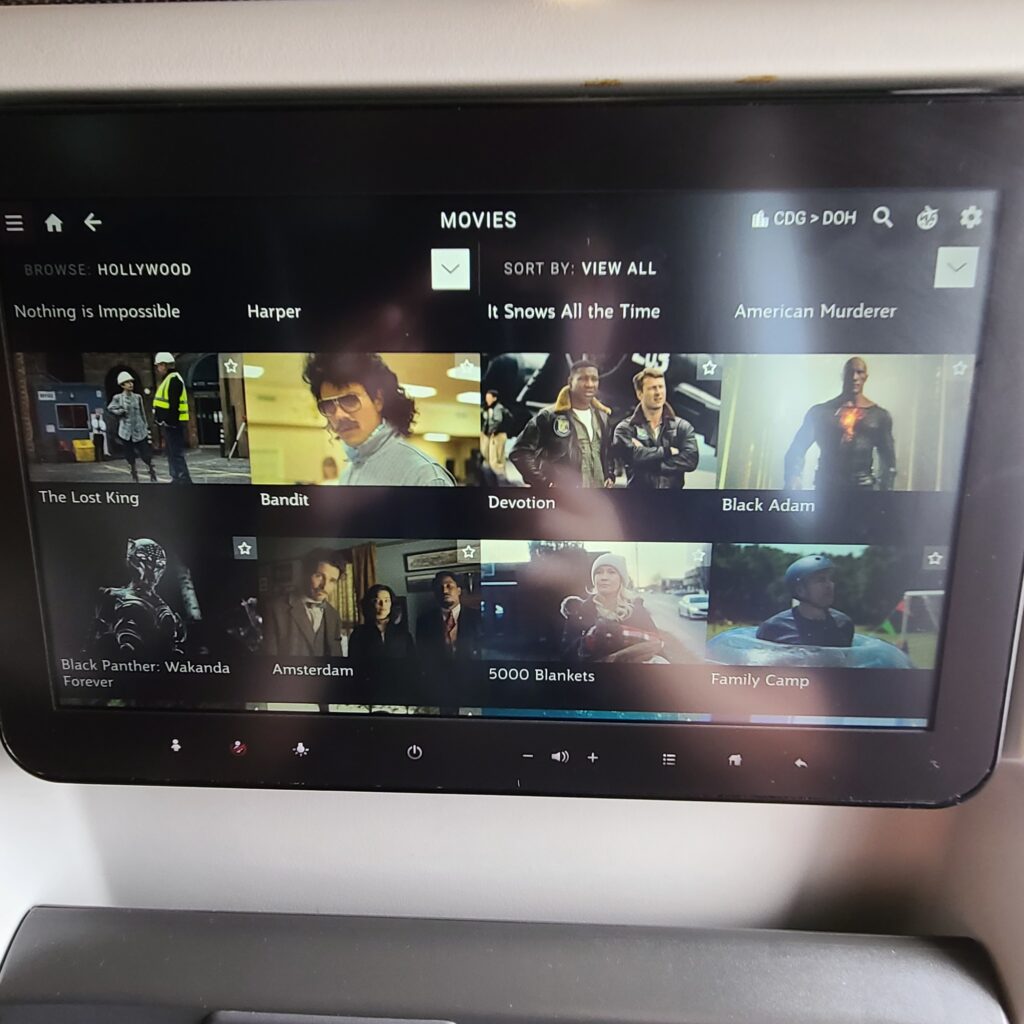 Plenty of decent Hollywood movie options. I enjoyed watching The Menu.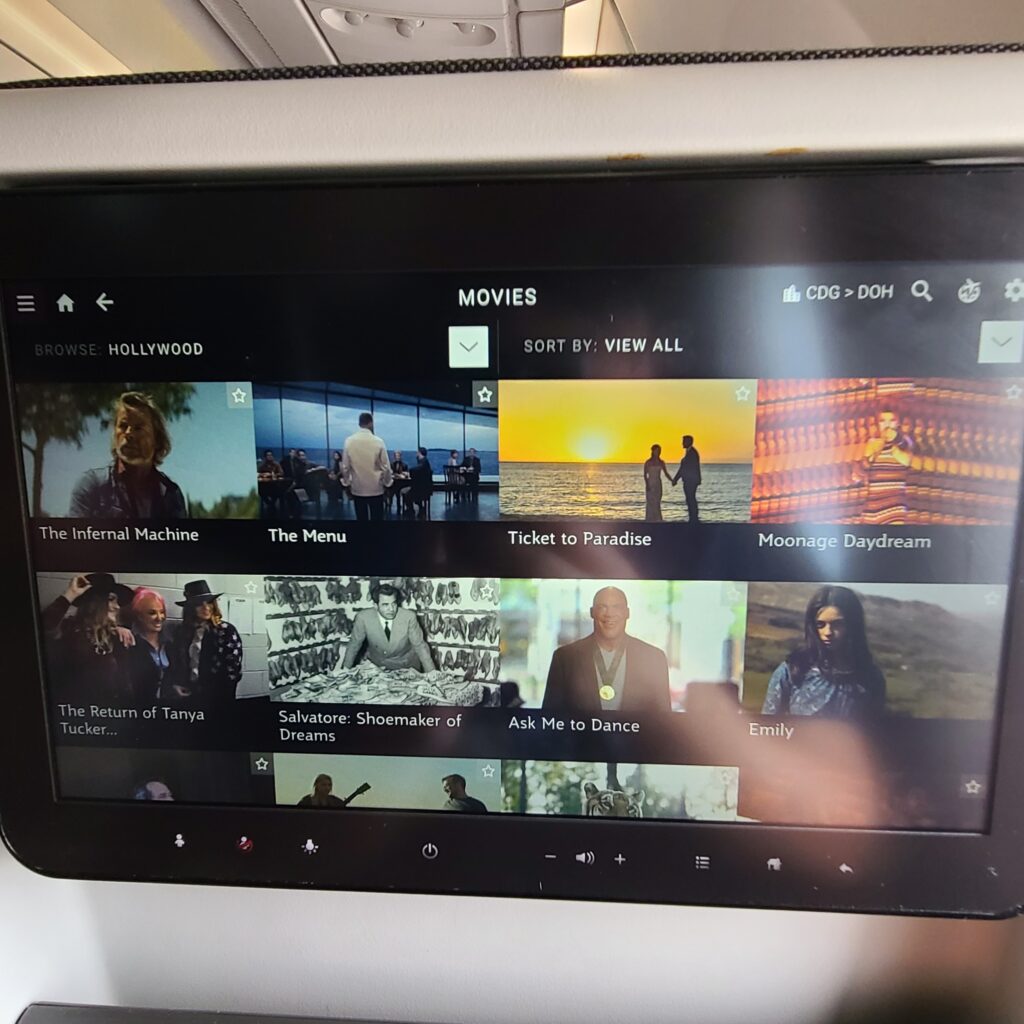 In-flight Wi-Fi can be bought for $10, but it was hard to use my laptop, especially when the person in front of me leaned their seat back. So, I decided to skip on it.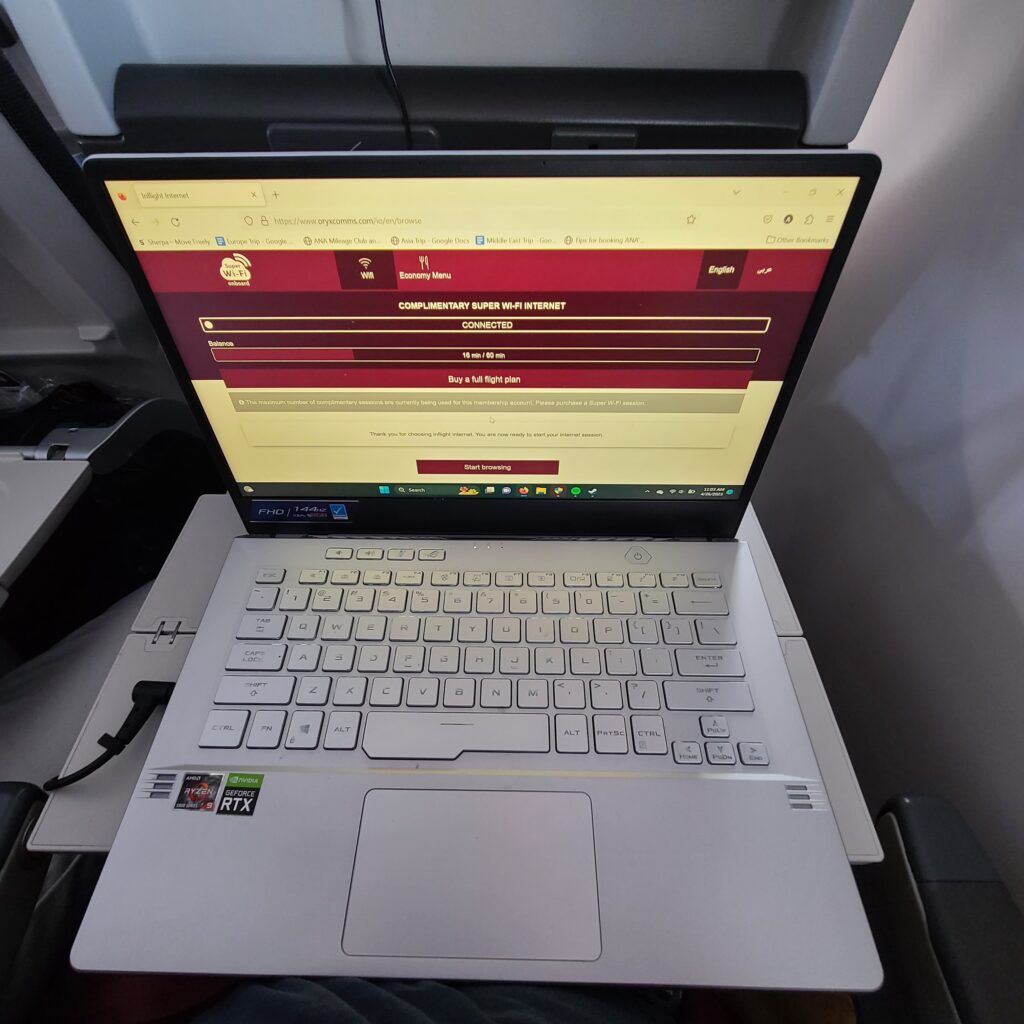 Moments later, meal service came dubbed the "Quisine". It comes with a piece of bread, salad, chocolate mousse, and a bottle of water.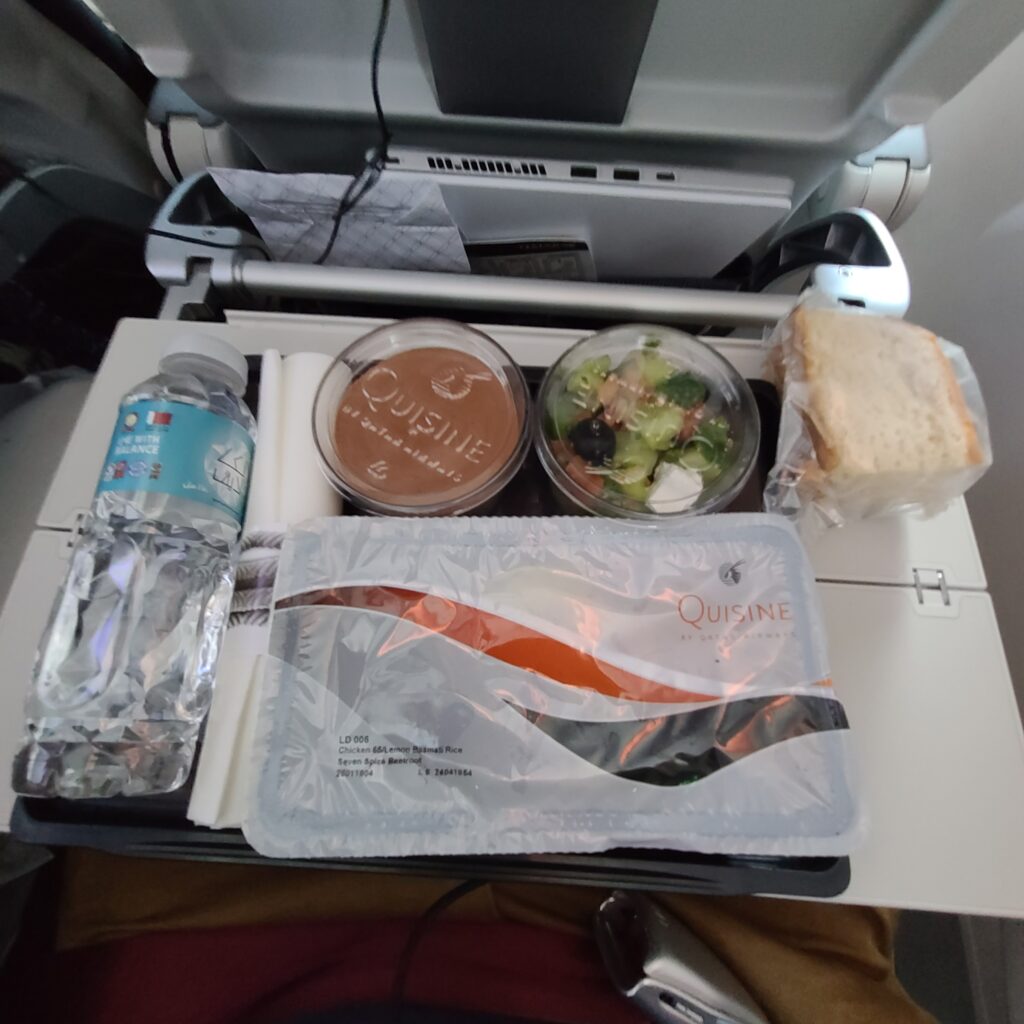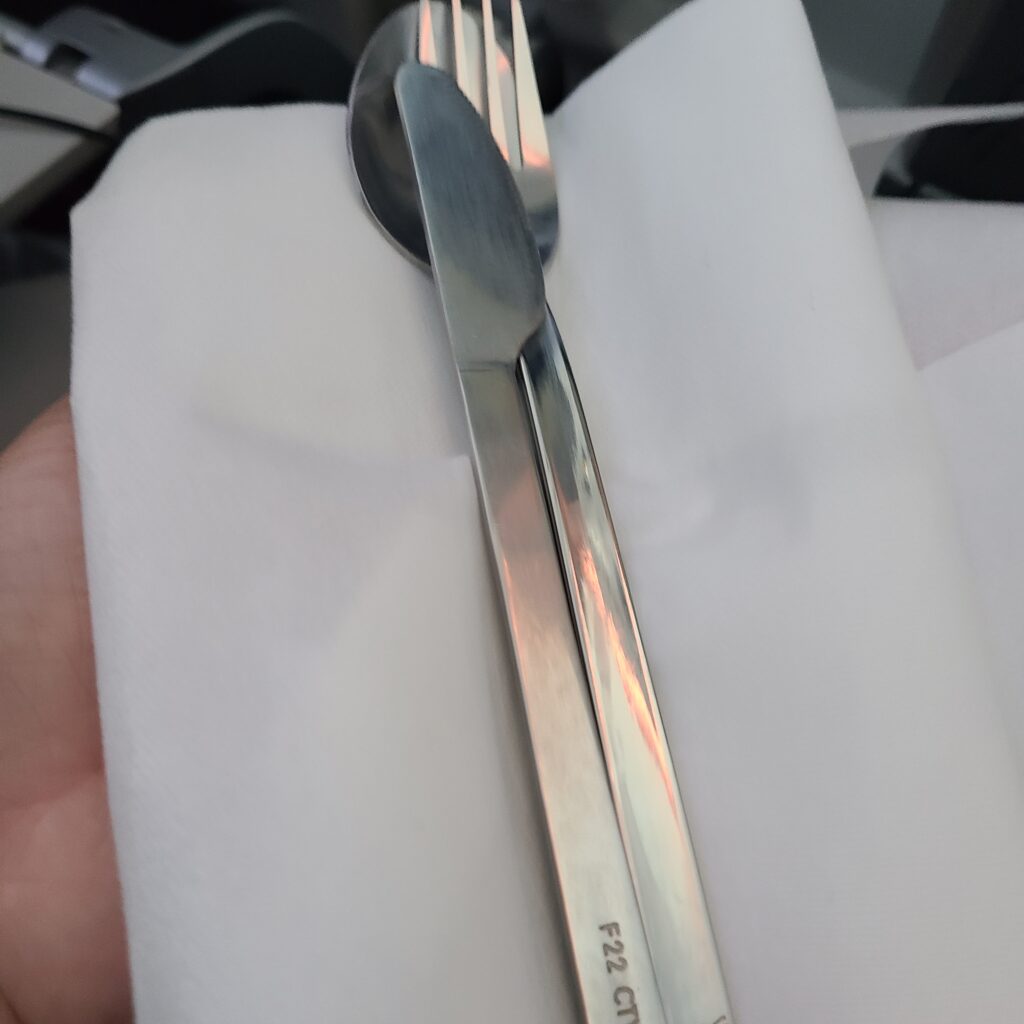 Today's menu was a chicken curry with yellow rice and beets served warm. It wasn't half bad actually!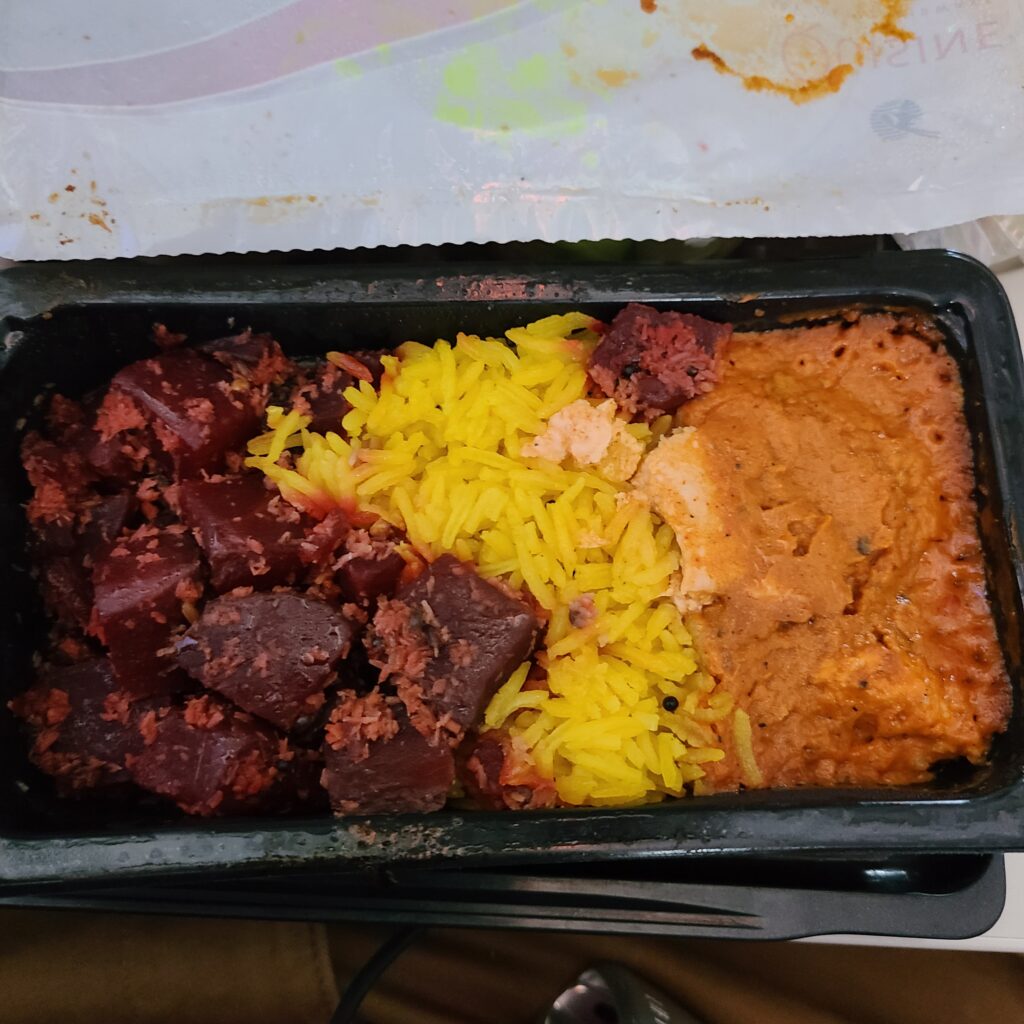 Popcorns were served as snacks, and they were delicious! Especially the caramel one.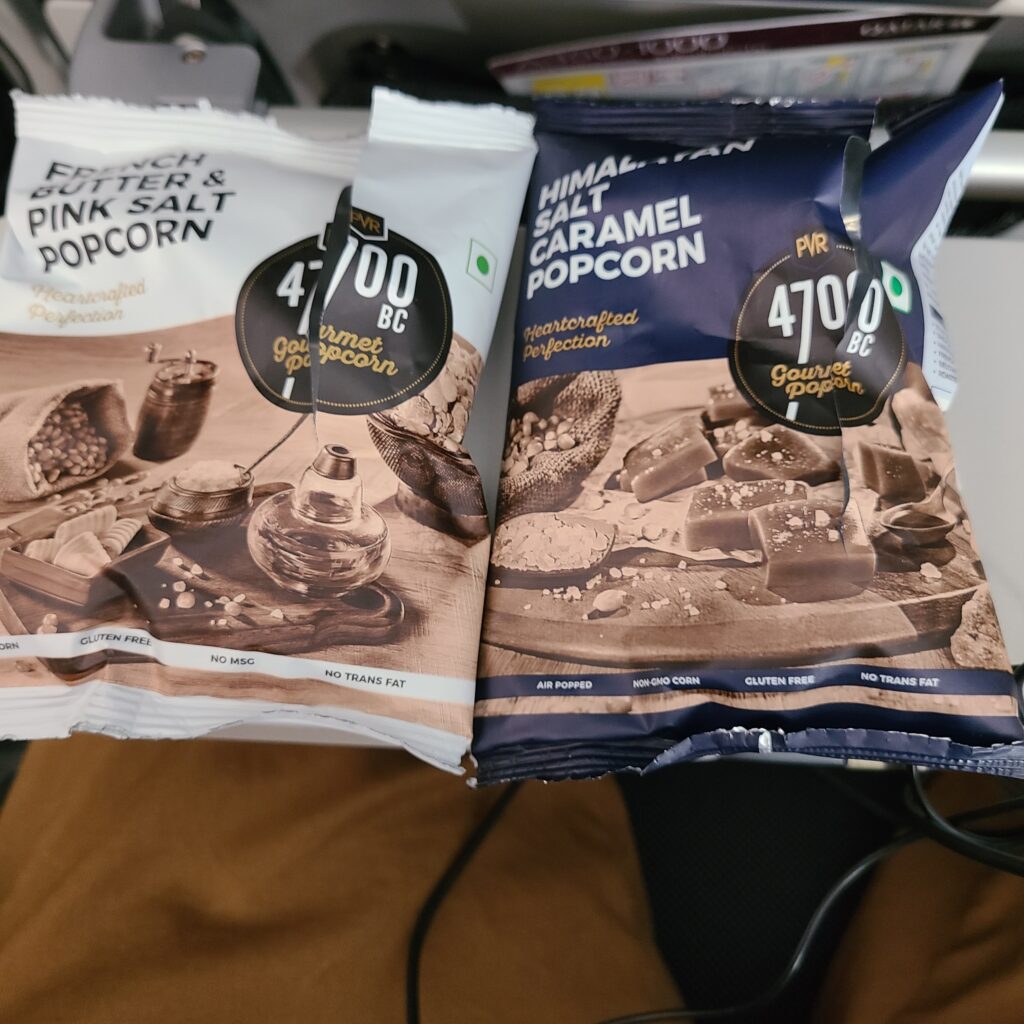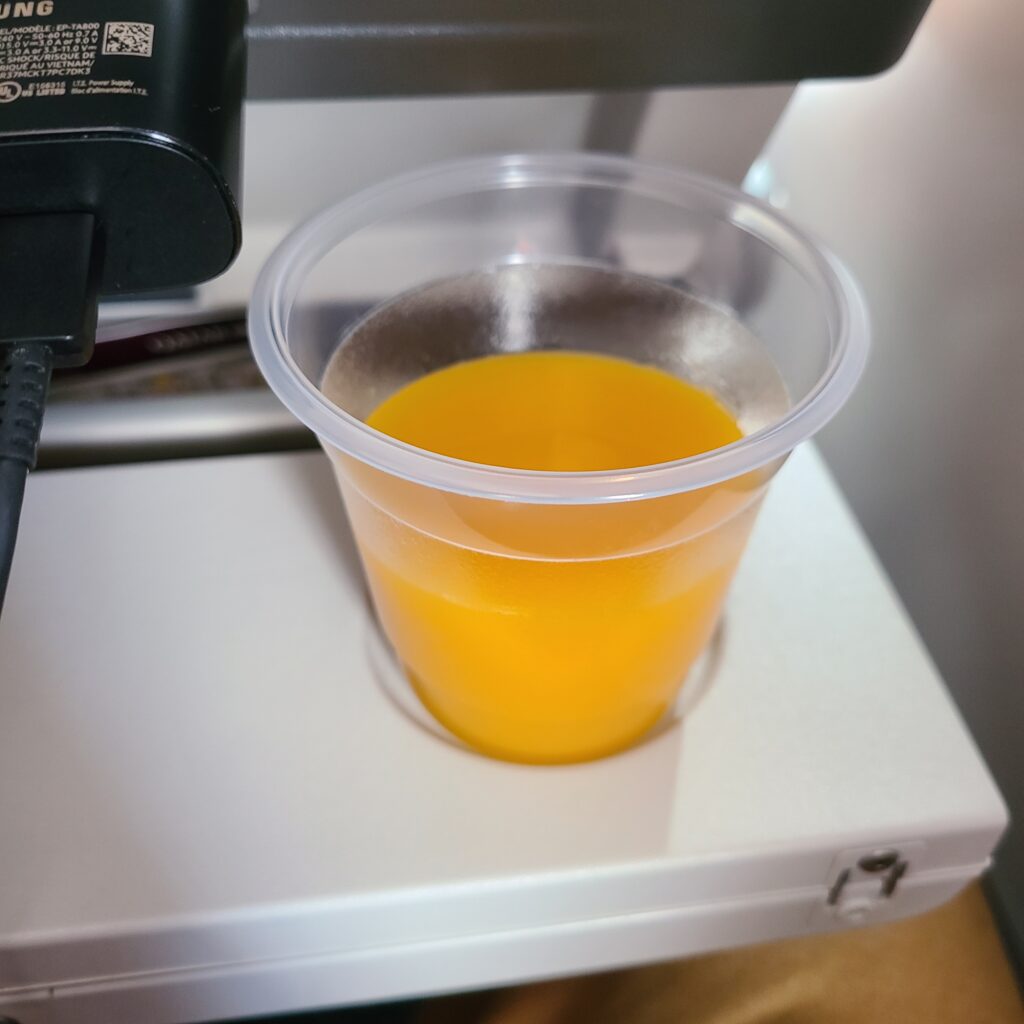 Qatar Airways Airbus A350-1000-Lavatory
Economy lavatory is pretty standard.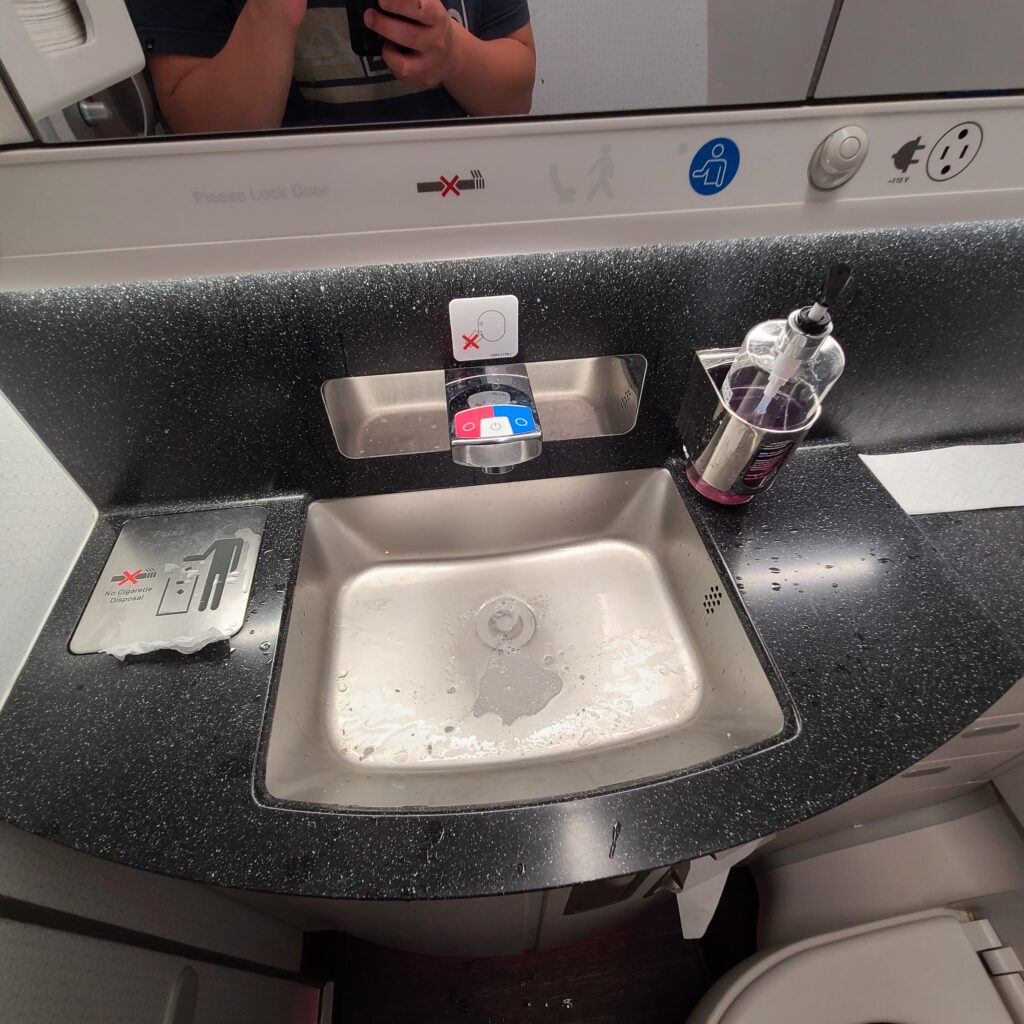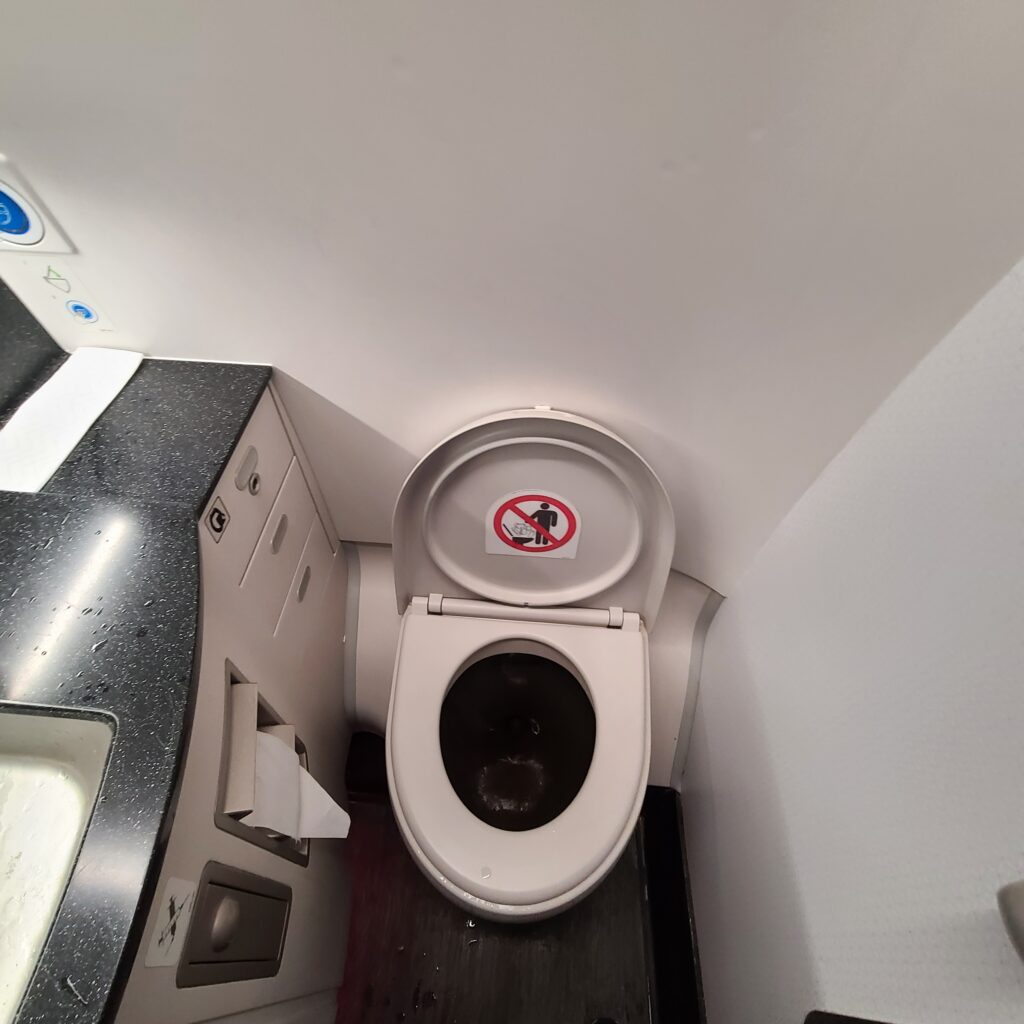 Eau de toilette is probably the most unique thing about the lavatory, I guess.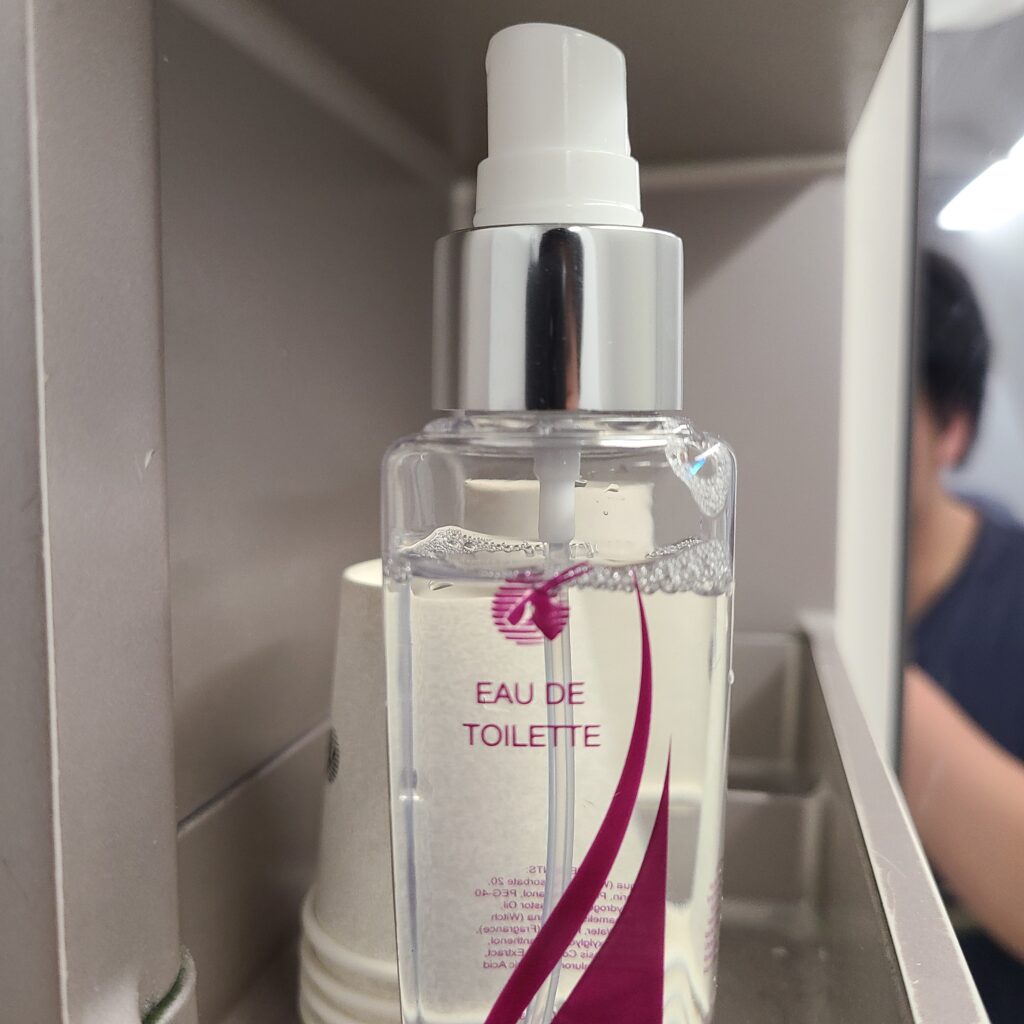 Conclusion
The best part of the flight was when we would finally land in Doha.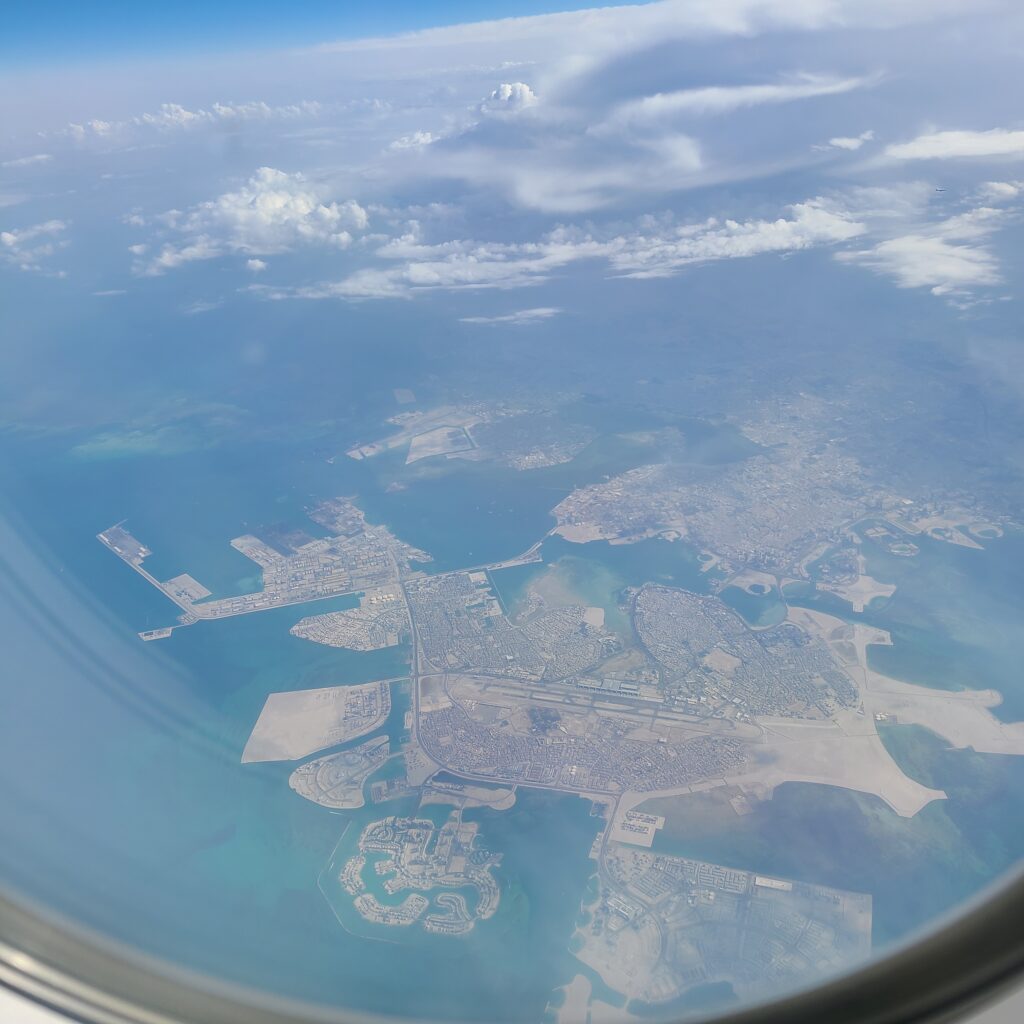 The brimming blue water is stunning to look at.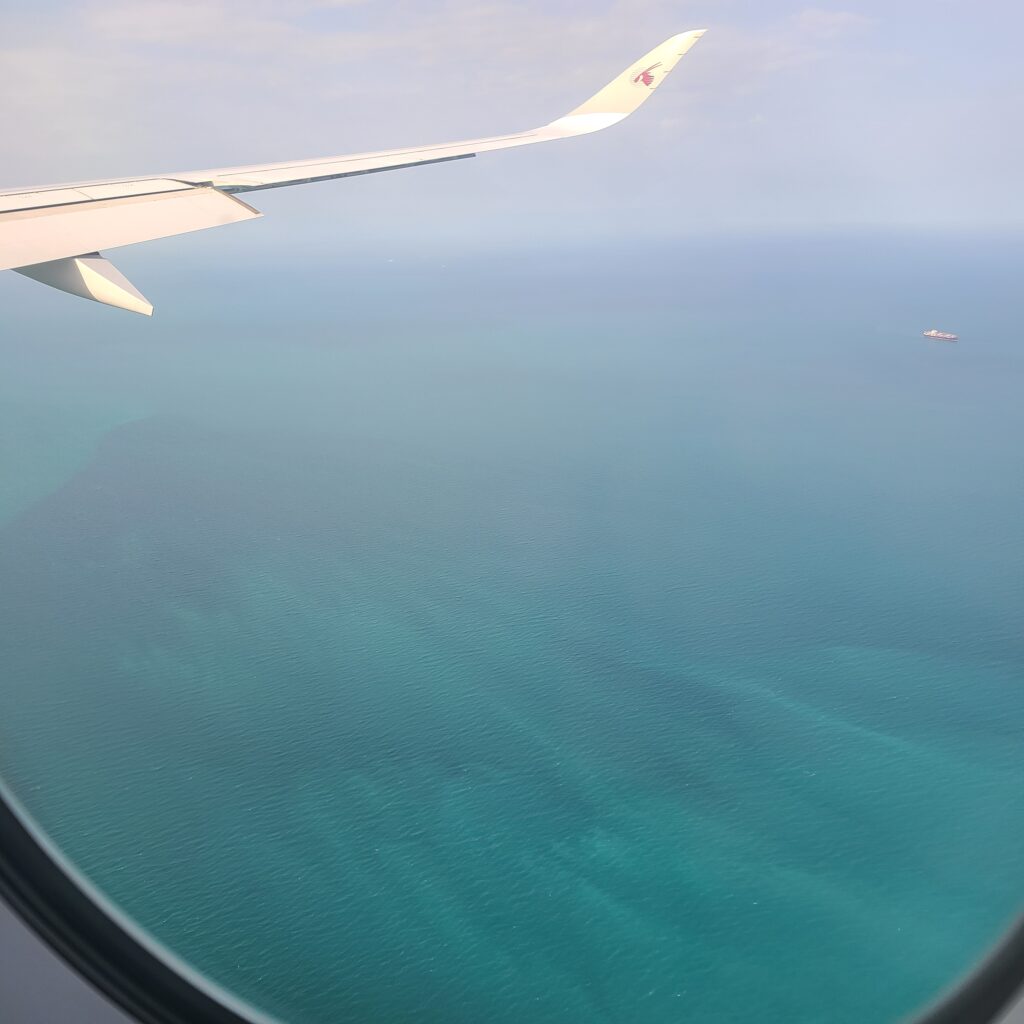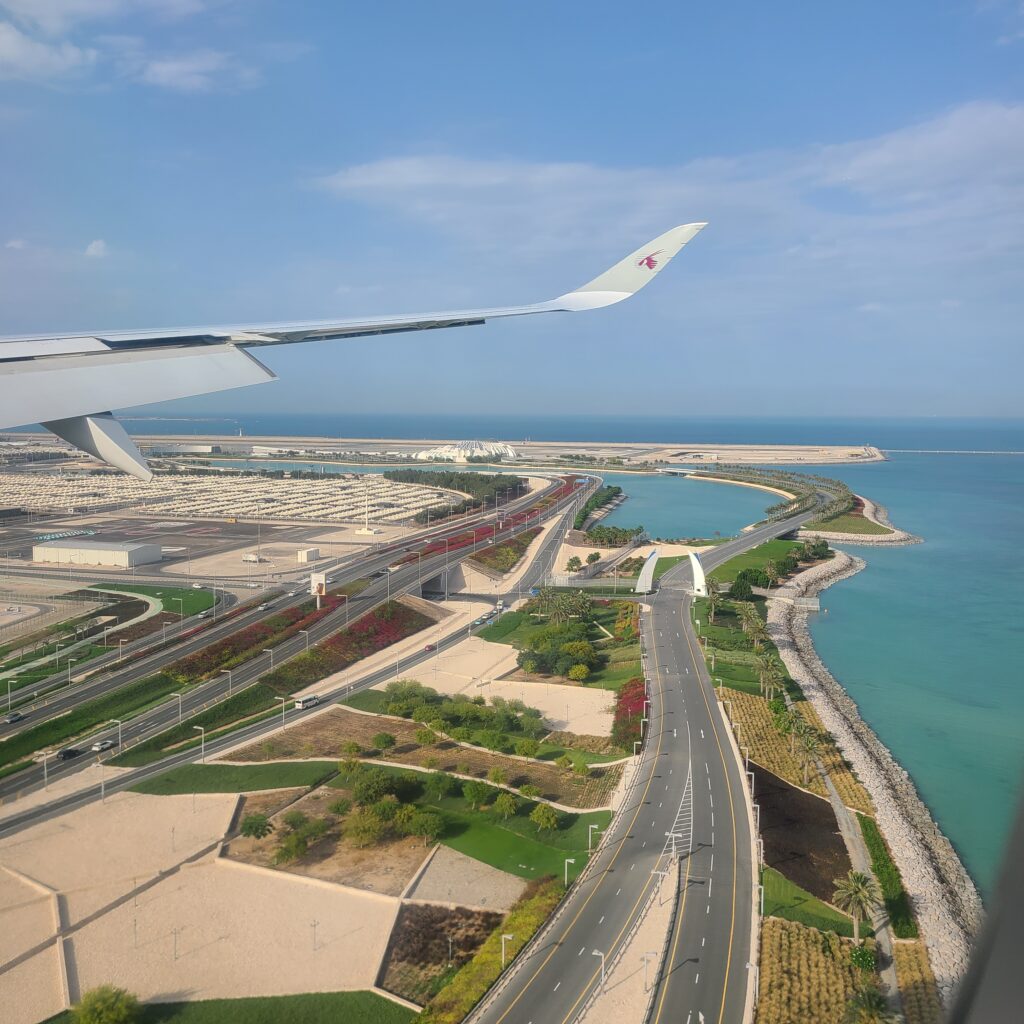 It was a good flight overall. Things ran smoothly, and time flew by thanks to the good amount of entertainment options. Meal service was pretty good for economy standard.
While I've always been flying Business with Qatar Airways in the past, I was glad to be able to try out their economy product in one of their best planes, the Airbus A350-1000.
Overall Rating