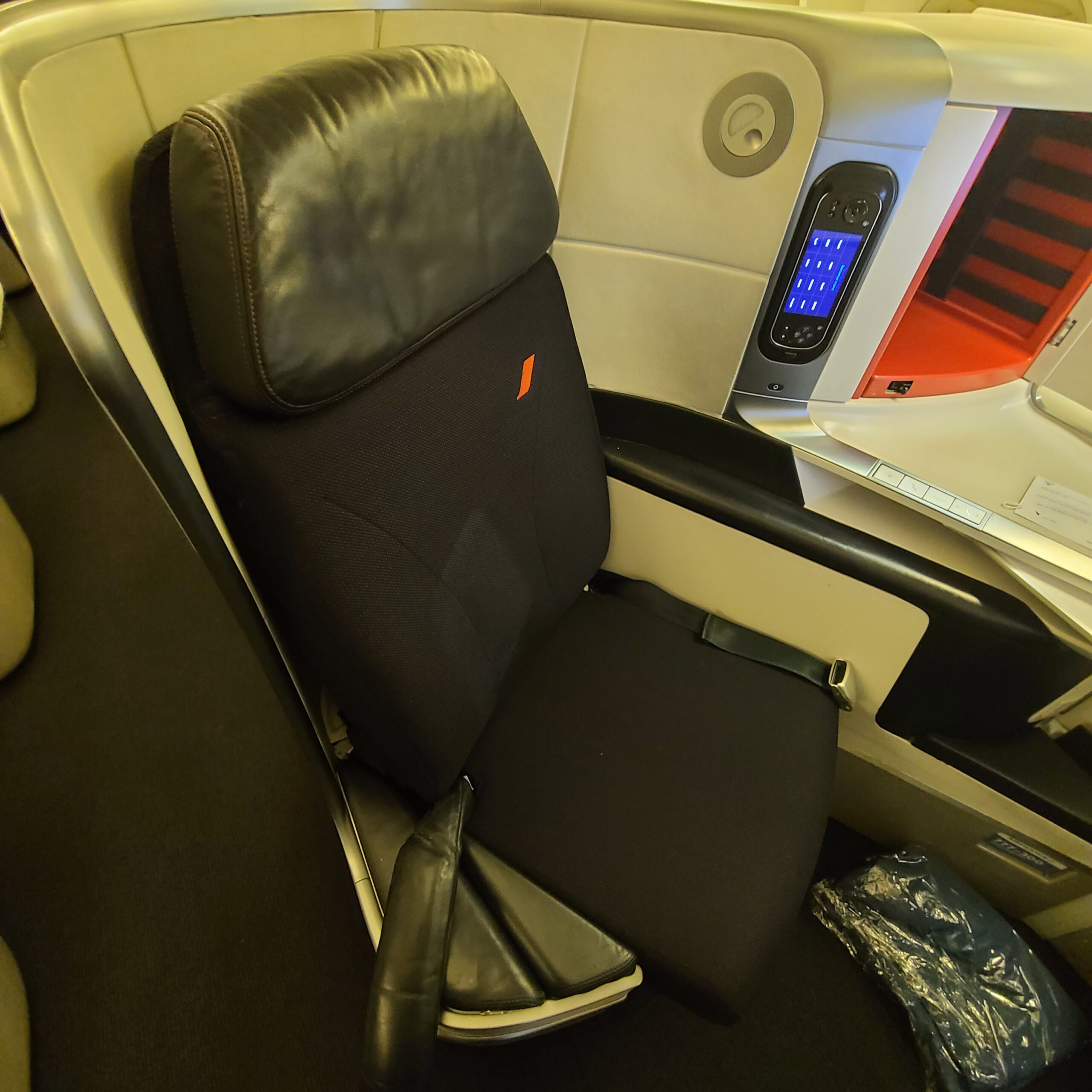 Advertiser disclosure: This post may include affiliate links (including sidebar banners) in which this site may receive compensation if a purchase is successfully made (at no extra cost to you) after being redirected from here. Thank you for your support!
Review: Air France Old Business Class Boeing 777-300ER (SFO-CDG)
SFO-CDG
Flight No: AF85
Depart: 20:50
Arrive: 15:50+1
Duration: 10 hours 50 minutes
Plane: Boeing 777-300ER
Seat: 3A
With me and my parents' first time going to Western Europe, I finally got to fly on my first Air France flight. I swear I've flown enough Turkish Airlines. Our first European destination outside of a layover is in Prague, so this flight on the 777 is our first and longest leg. This is also my parents' first time flying Business Class!
Air France Old Business Class 777-300ER- Booking
We've booked Air France Business Class with Air France-KLM miles transferred with Amex Membership Rewards & Chase Ultimate Rewards. The miles required per seat may vary since Air France-KLM has a dynamic award pricing model. But, we each booked it for 55,000 miles plus ~$220 in taxes and fees.
Initially, the plane we booked was a Boeing 777-200, but was swapped to 777-300ER just a few weeks before the flight. Since the flight originates from SFO, this is the old Business Class of Air France.
Air France-KLM is a great program to use on flights to Europe from the US as it partners with the 4 major transferable currencies. Plus, transfer bonuses may come up occasionally to even lessen the miles requirement for award tickets!
Air France Old Business Class 777-300ER- Check-in
We arrived at SFO couple hours earlier before the flight. Check-in was smooth and there were no lines yet when we got there. We were noted that the Air France lounge was closed for renovation (will open in Summer 2023), so we'd have access to Philippines Airlines Lounge as a temporary lounge.
SkyTeam flights have second hand treatment at SFO as they're on the G Gates of the International Terminal. The lounges there aren't very exciting either. Thus, if you wish to go to other lounges like Delta SkyClub or Amex Centurion Lounge before your flight (with both being in separate terminals on top), then you'll have to go through security at least twice.
If you have both CLEAR and TSA PreCheck, then they can make the process smoother. But, you may risk getting questioned by security if you're doing it too much, as the CLEAR agents maybe jokingly said that I was lucky to me when they see lots of scribbles on my boarding pass.
Air France Old Business Class 777-300ER- Boarding

The plane arrived about 50 minutes late, and tardiness on Air France became the norm during our trip due to the French protests. Not complaining, just making a note of that as it can happen if you plan to travel to France or fly Air France flights during the time of protests. Surprisingly, the plane ended up landing in CDG within the expected time though!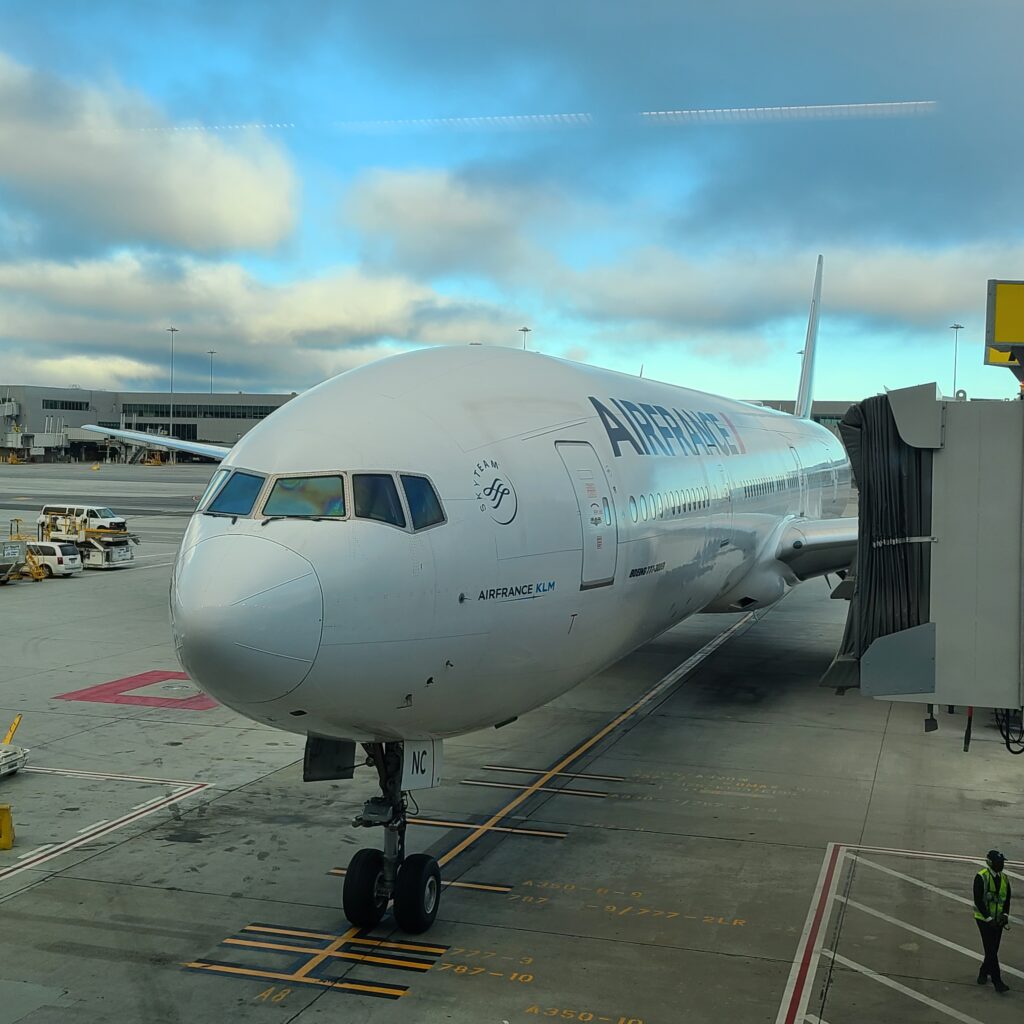 Air France Old Business Class Boeing 777-300ER Seats
The old business class' cabin lighting isn't as bright white as the new one, and no sliding doors either.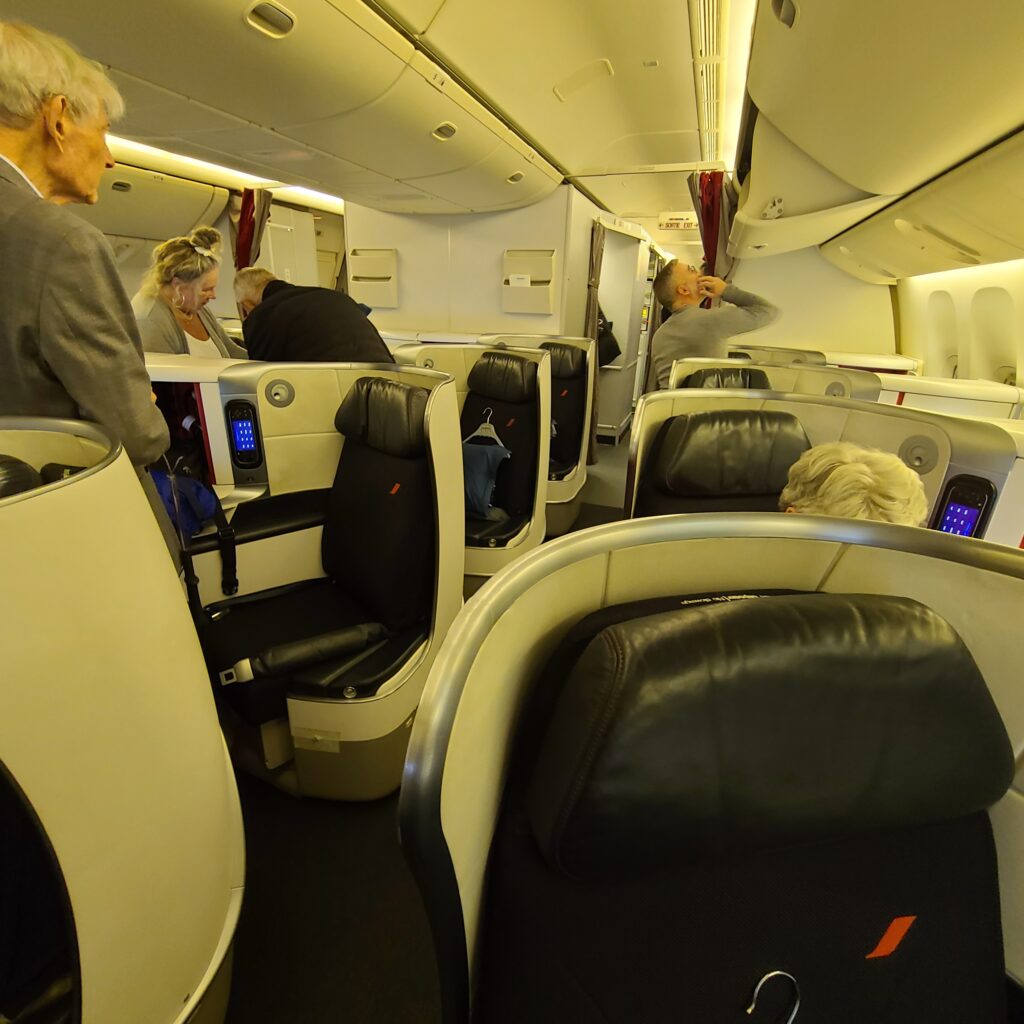 The seats are arranged in reverse herringbone, and they're also showing a bit of the age. Still comfortable, however. A hanger and pillow is prepared nicely on top of the seat. You may use the hanger for your coat or jacket, and there's a coat rack just in front of my seat, 3A.
The seat can be adjusted to lie-flat mode, but the flight attendants didn't put some sort of mat as cover, or even asked, when it was time to sleep, unlike other long-haul business class I've flown, which was a bit disappointing.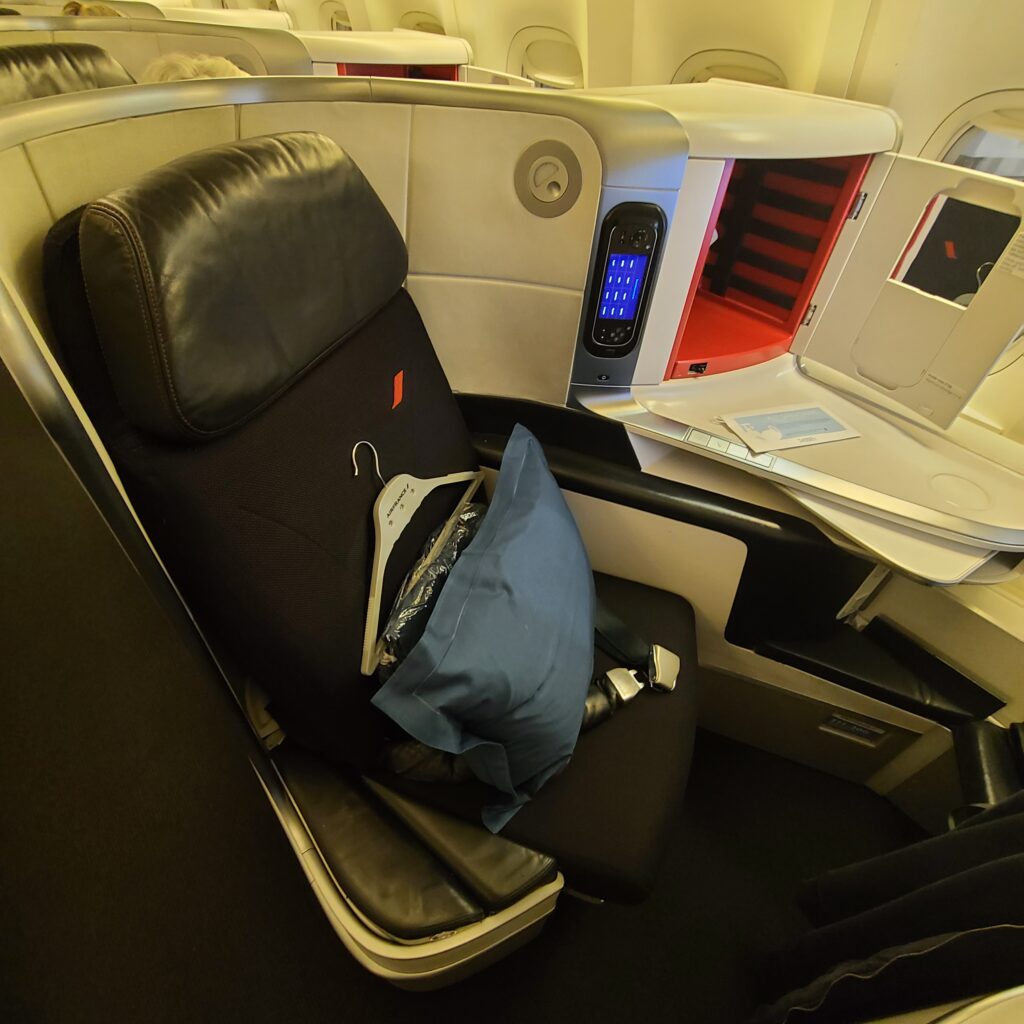 Hand rest can be adjusted from the right of the seat.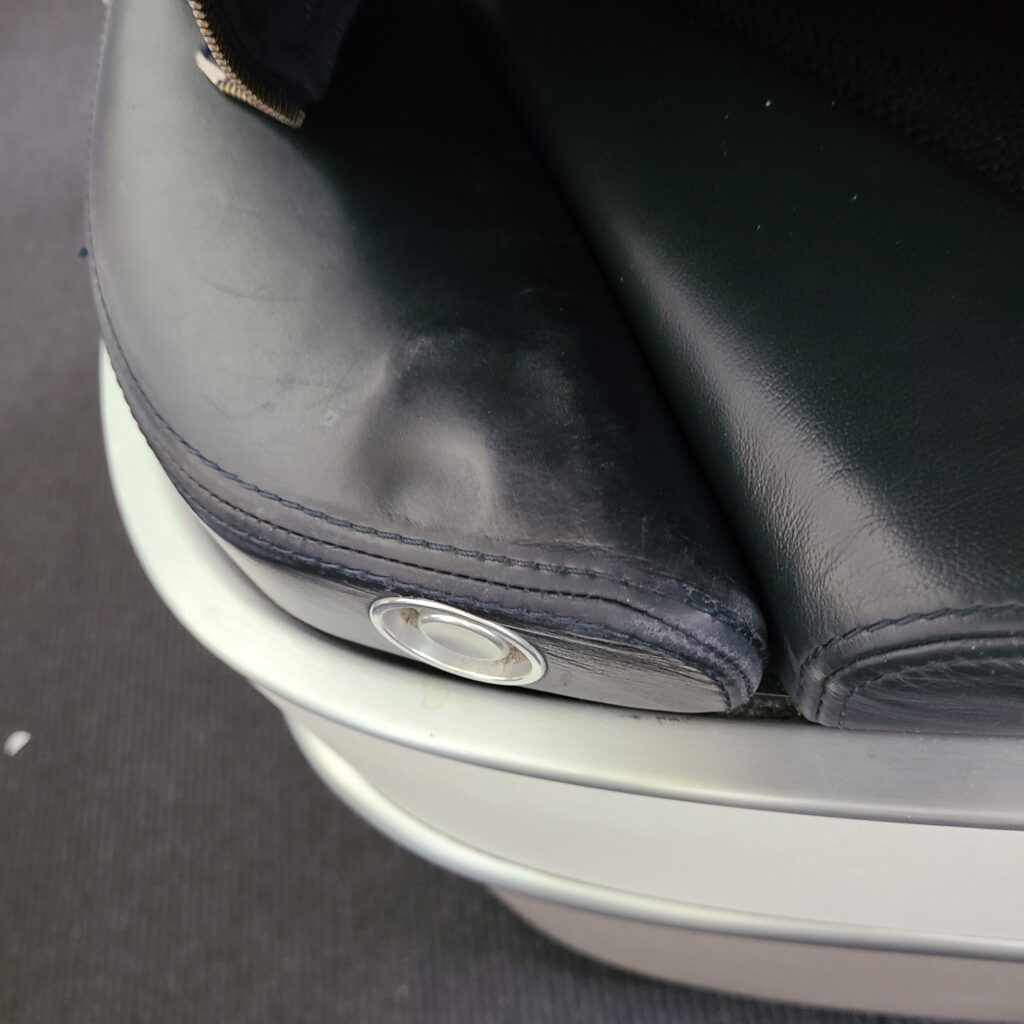 The footwell is quite spacious, and I'd say even more so than Turkish Airlines' 787 Business Class.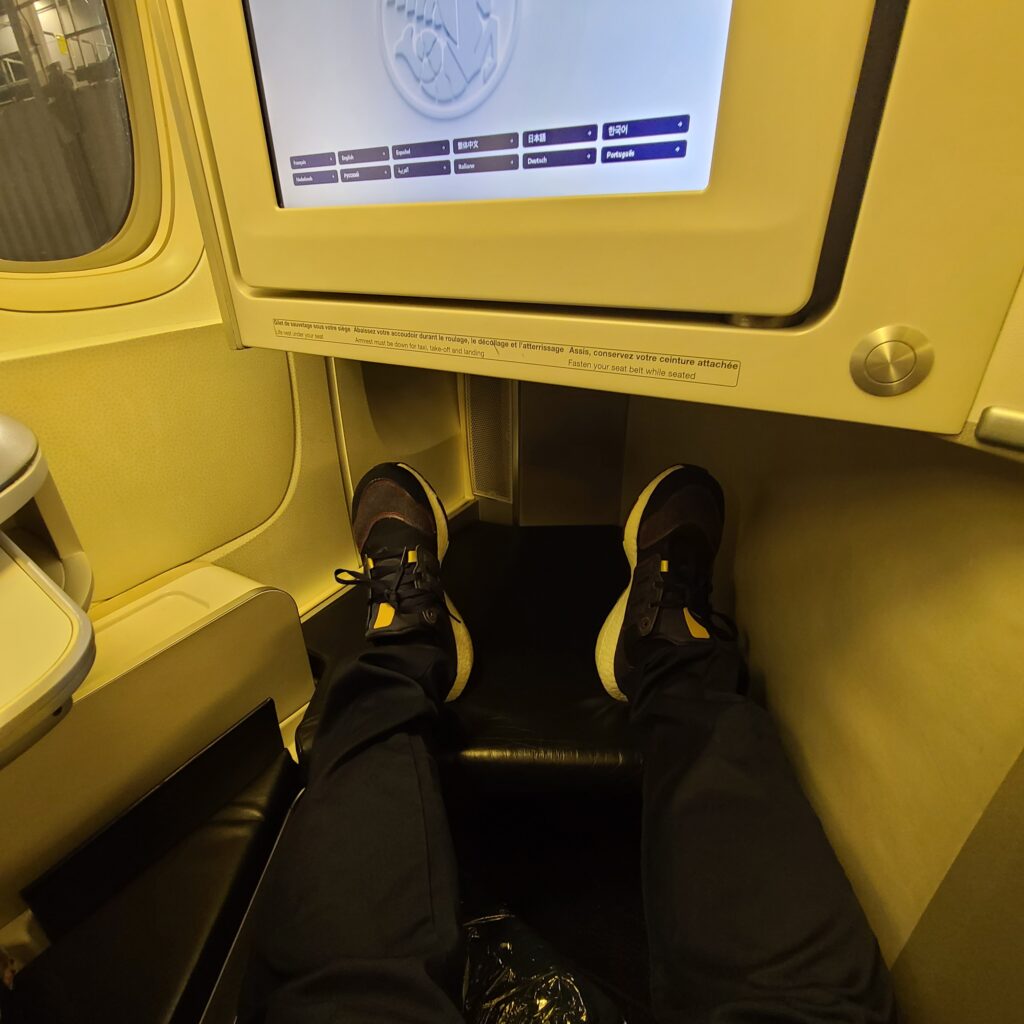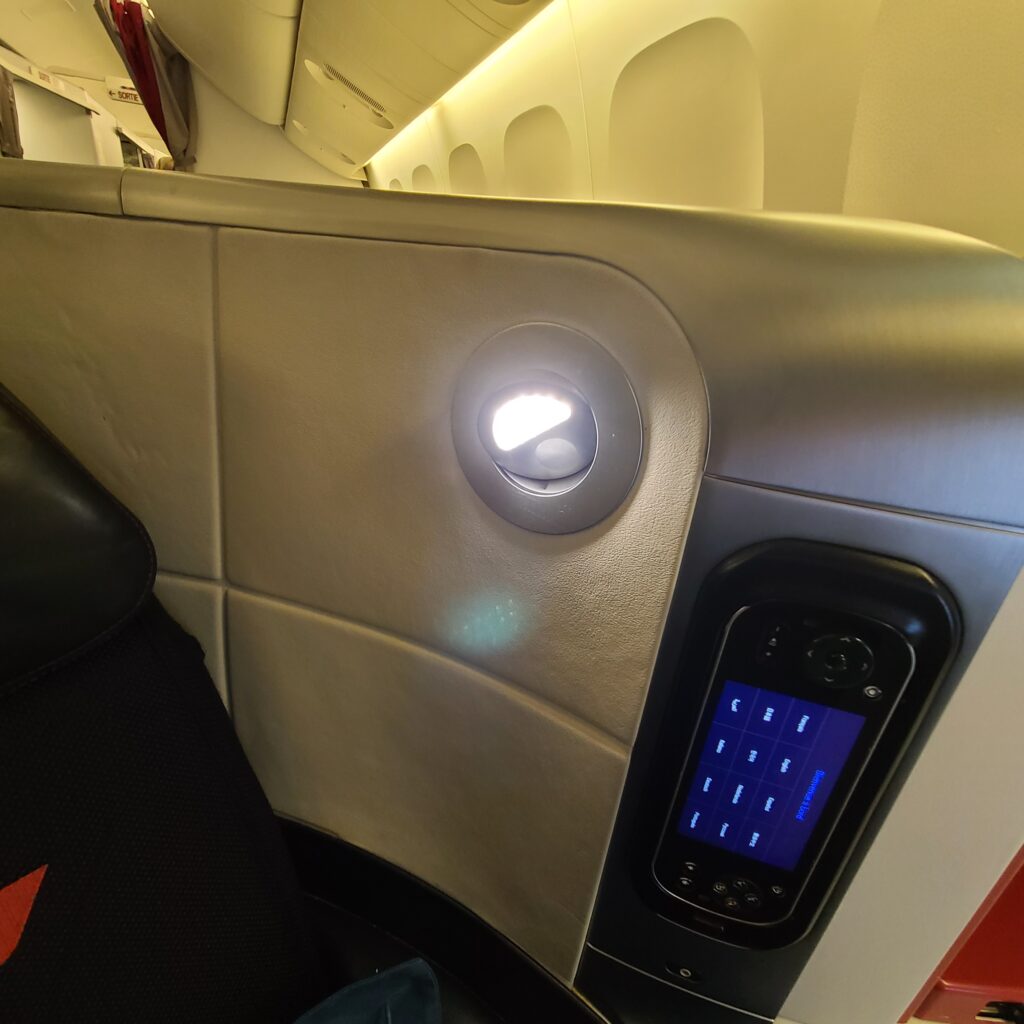 Headphone's neatly tucked on the big red storage space. The comfort level was decent too!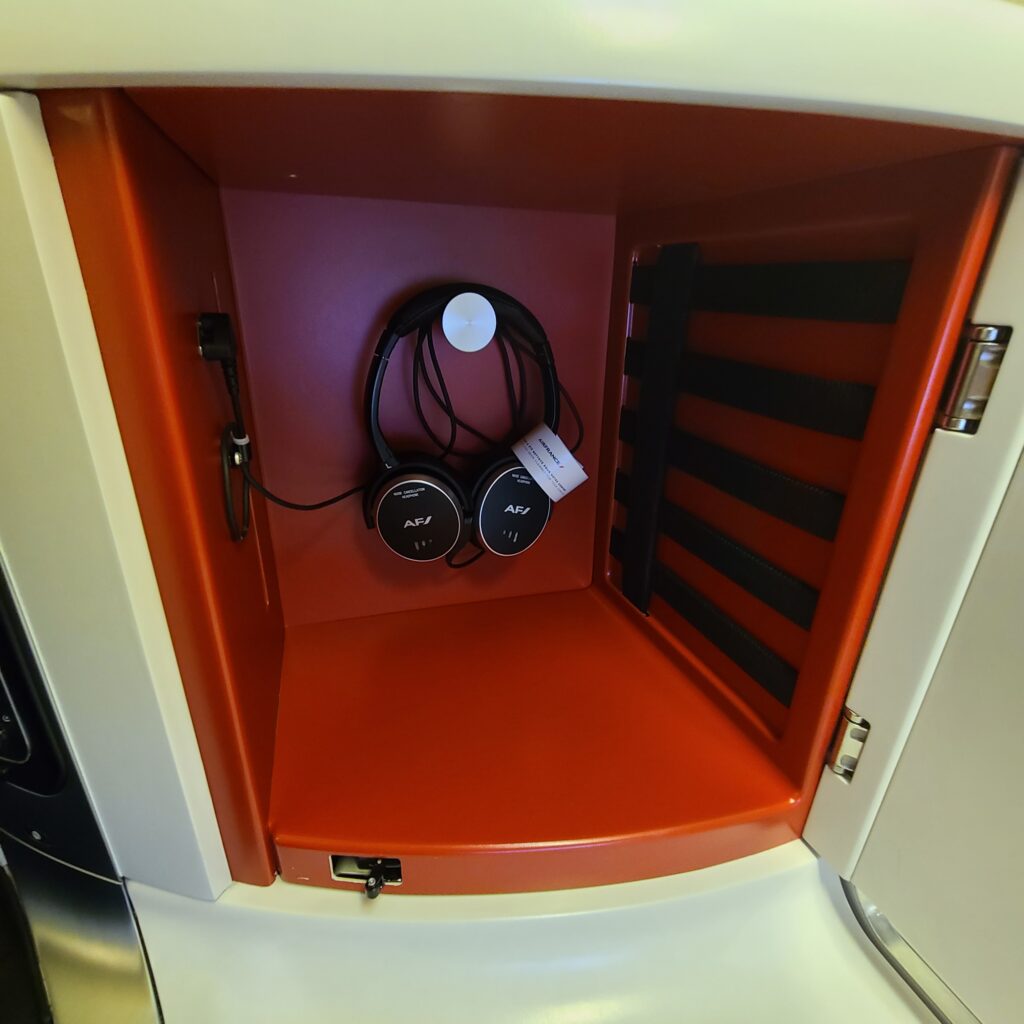 Power outlet is right next to the seat, and comes with a water bottle and some extra storage space as well.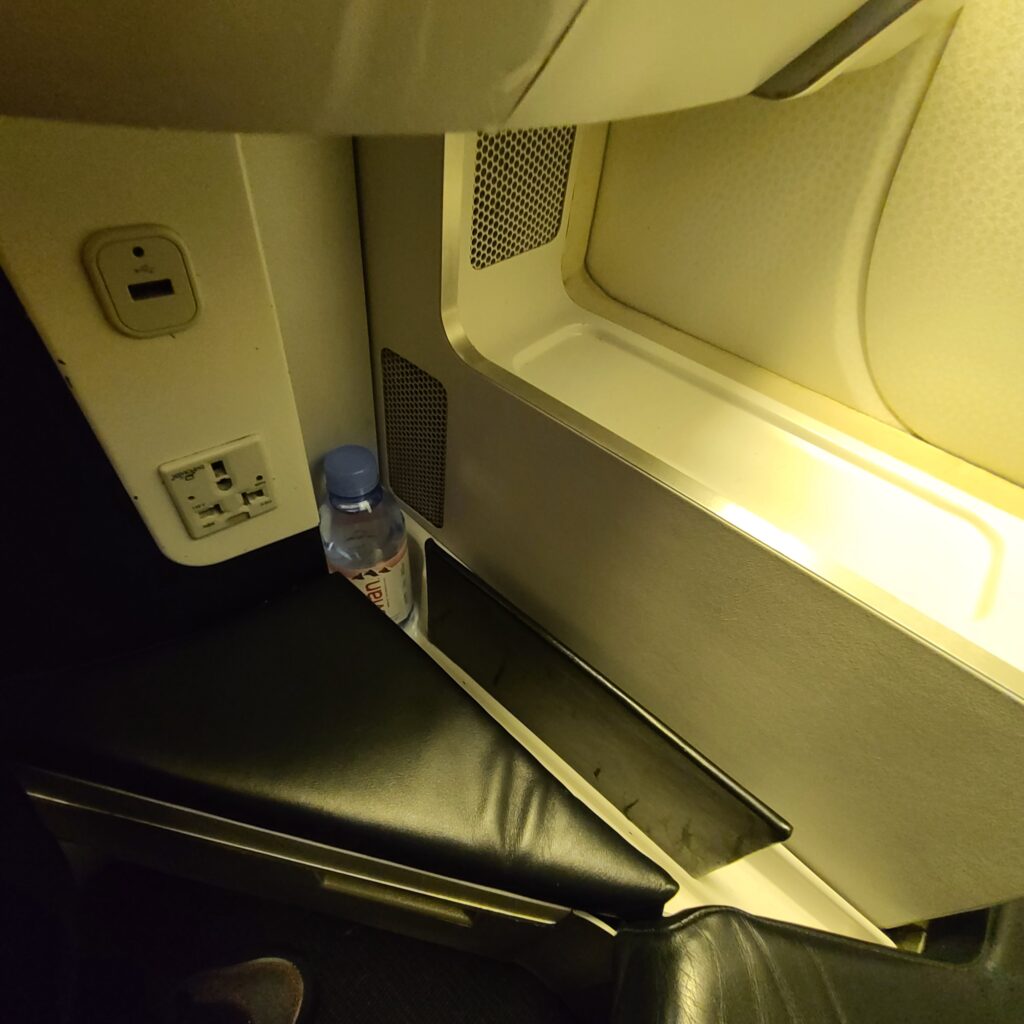 Tray table's not the fanciest.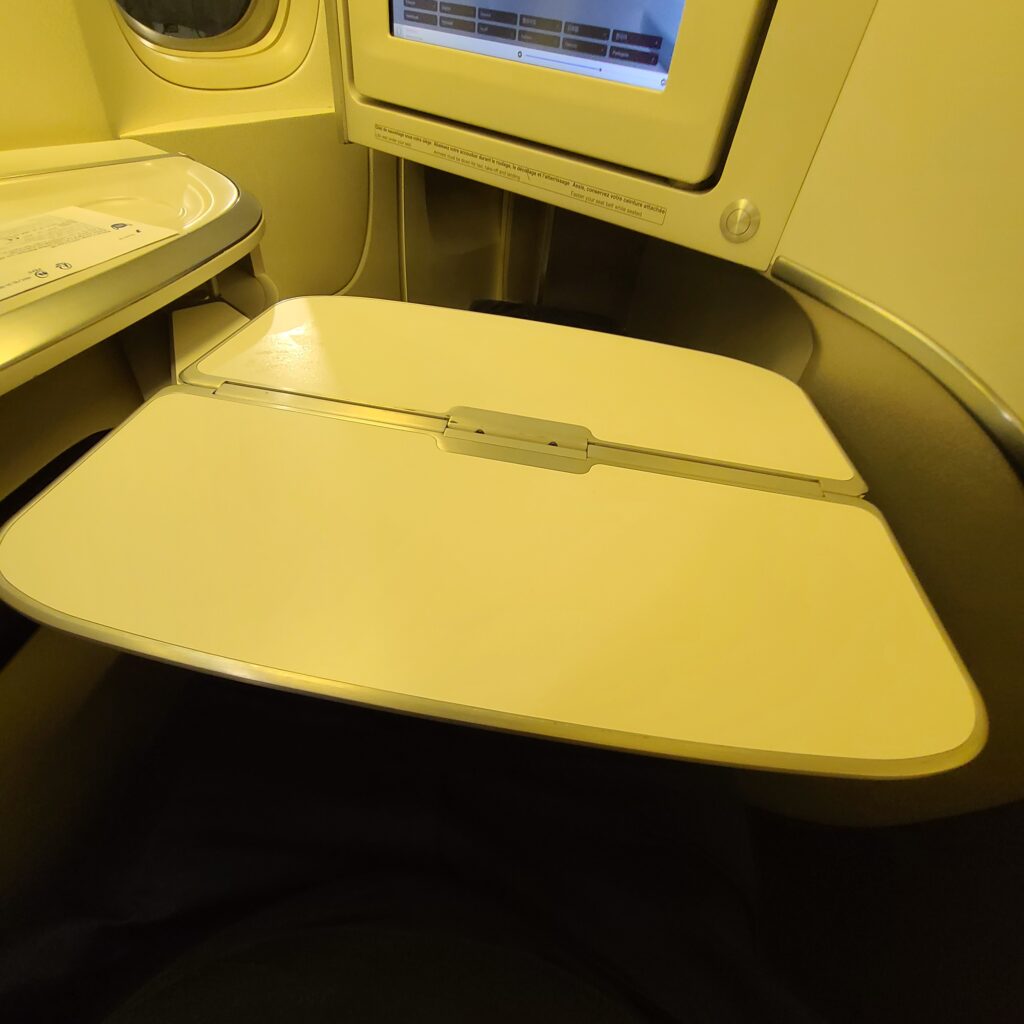 I had a brut before the flight. Cuvée Royale Brut by Joseph Perrier.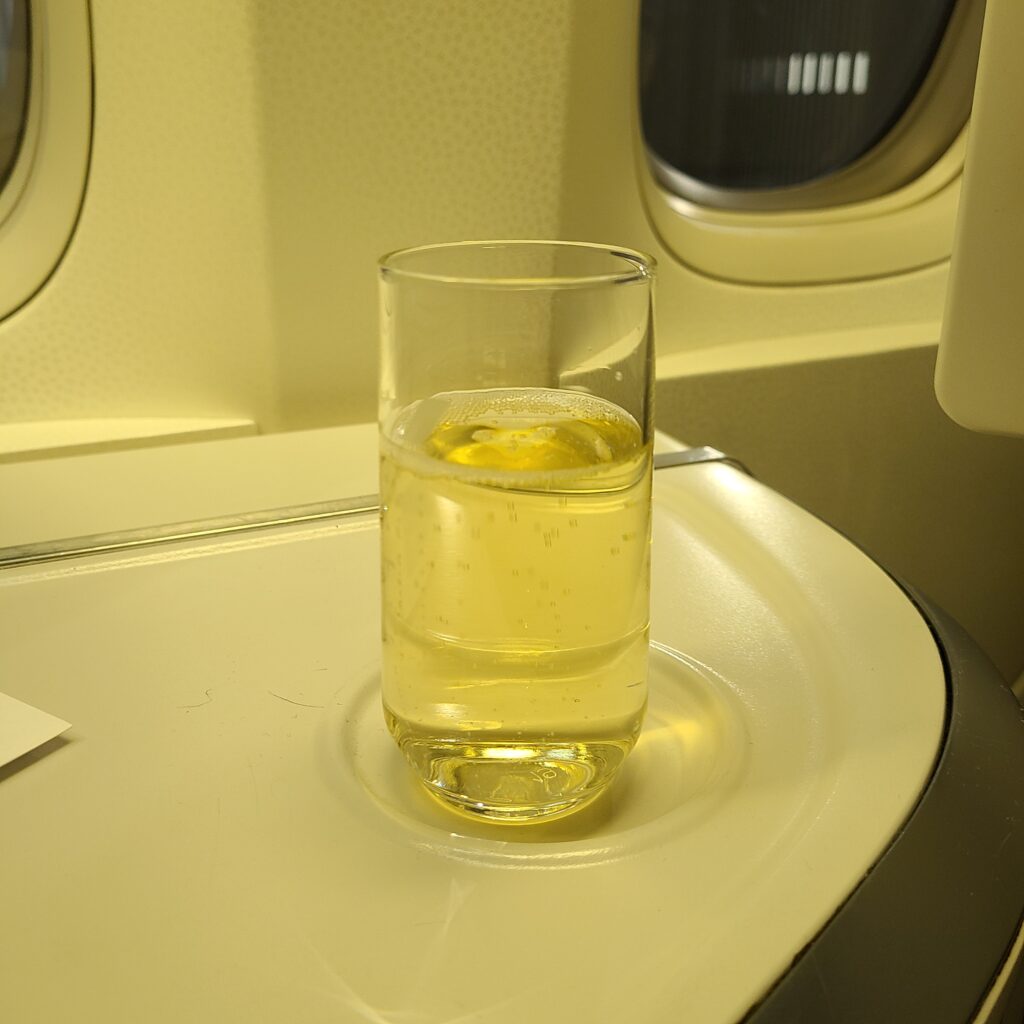 Air France Old Business Class Boeing 777-300ER Amenity Kit

Amenity kit was also given with a bag with Historic Air France horse with wings logo. Pretty standard things inside like dental kits, lip balm, face lotion, socks, eyemask.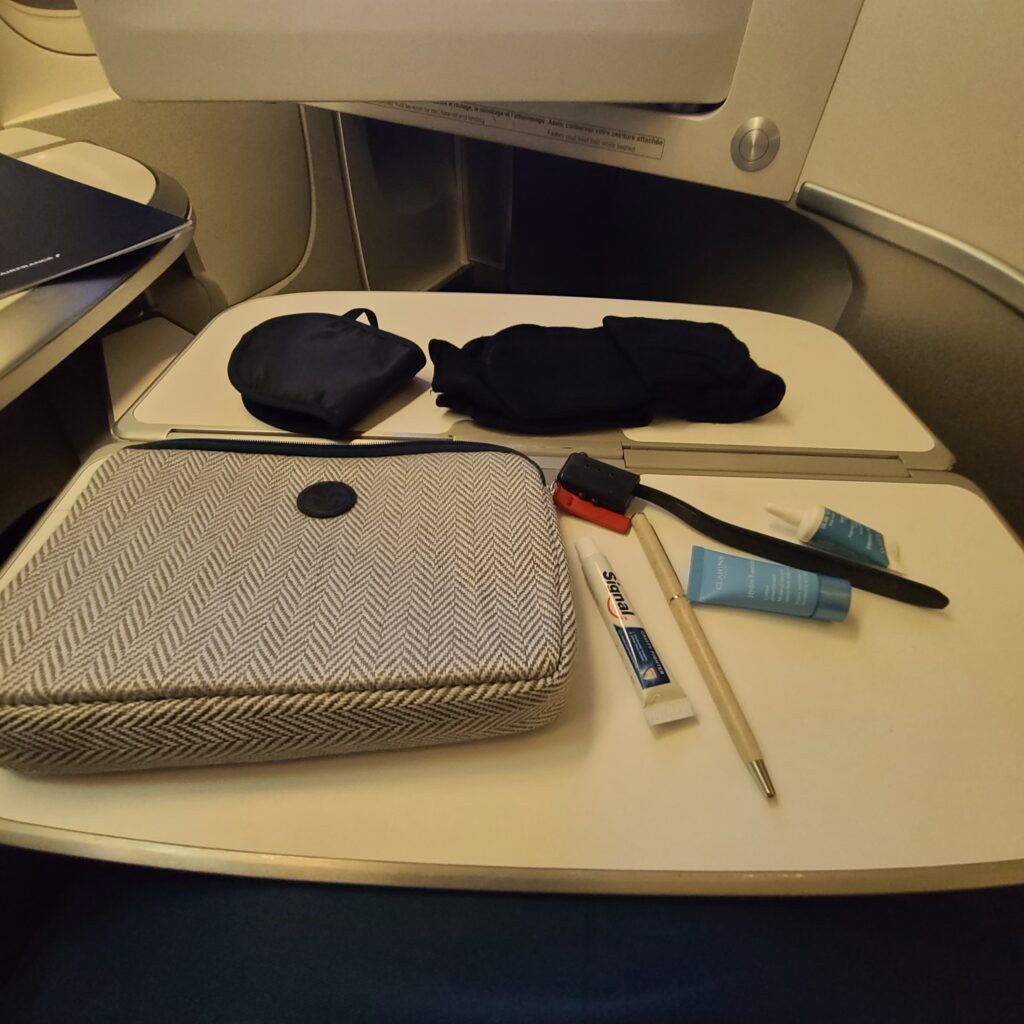 Air France Old Business Class 777-300ER- Flight Experience

With the flight starting at night, I figured that I'd try to get a little bit of sleep to adjust better to Europe's timezone. I tend to not be able to sleep on planes very well. I managed to get a few hours of it after dinner is served. Since, I'm on Seat 3A, and thanks to the last minute plane swap from 777-200 to 777-300ER, I managed to get a little peek into the elusive La Premier (First Class) cabin behind the curtains. It's cool, I guess. I myself don't understand the hype, considering how hard they are to book on points.
Air France Old Business Class Boeing 777-300ER Dinner
Dinner is served shortly after takeoff. I ordered the rack of lamb as my main course. But for starters, I was served a bowl of salad with vinaigrette dressing, pastries, and some cured meats. I helped myself to some Coke Zero and still water for drinks. The cured meats were my favorite in particular. The rest were just fine.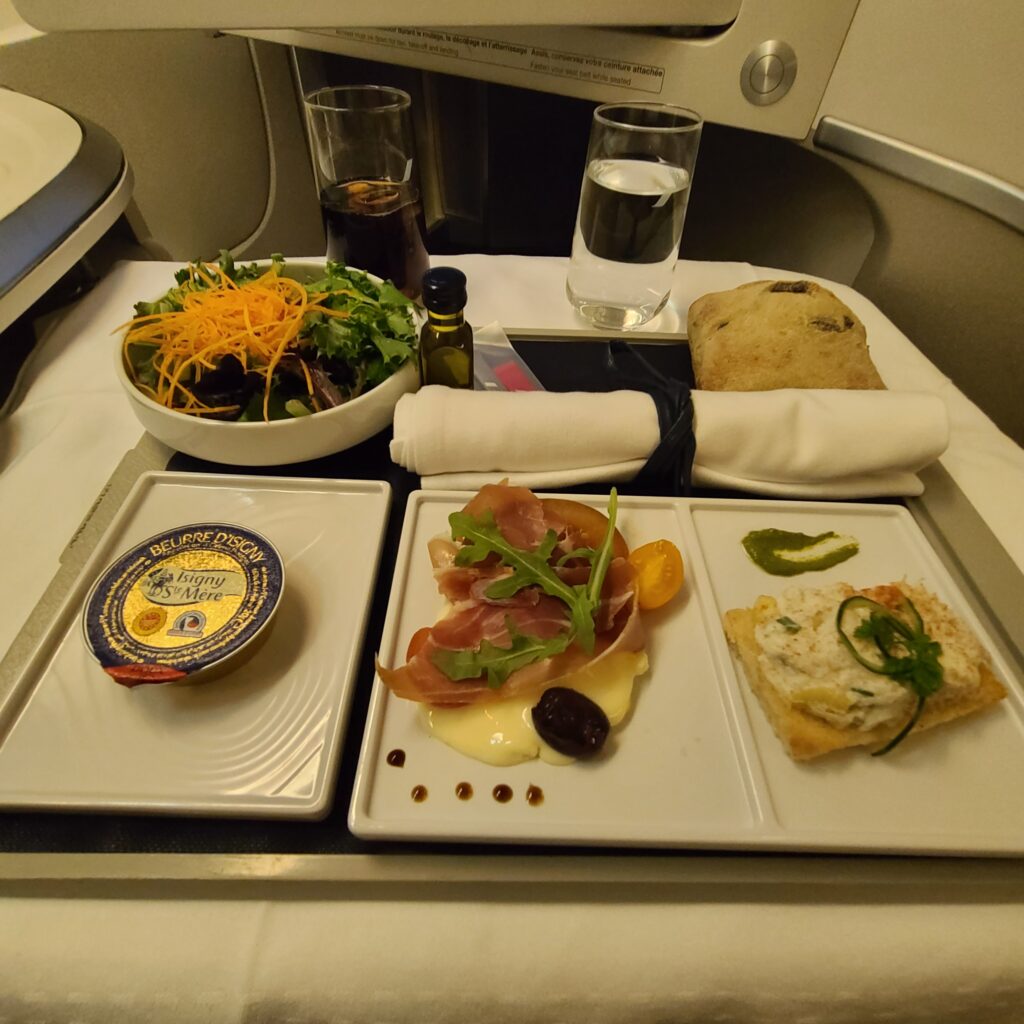 Then comes the lamb with port wine sauce, mashed chestnuts, and roasted mushrooms. They were pretty good. On the other hand, my mom ordered the chicken parcel. Sadly, she noted that it tasted like cardboard (didn't take pictures).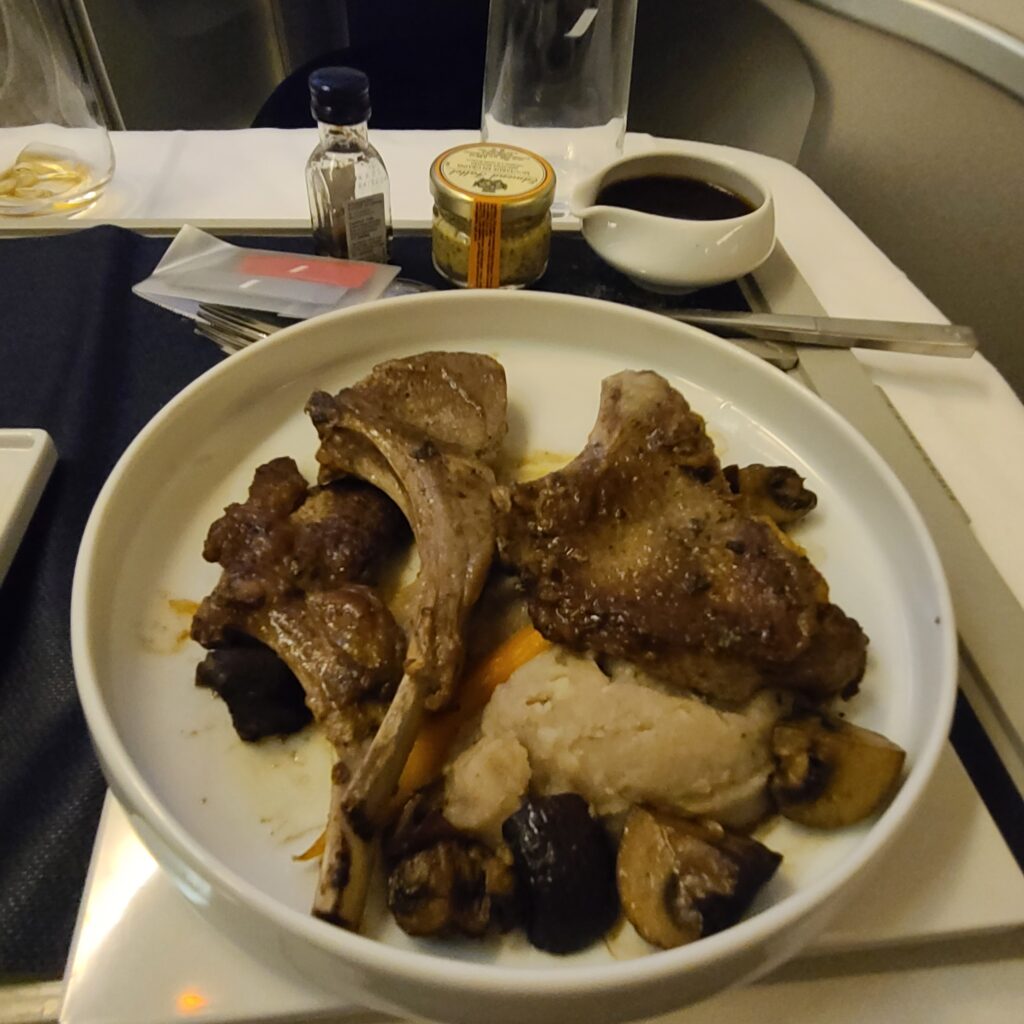 After the main course is done, the cheese plate is next. I was never fond of the idea eating cheese by themselves, and the ones on this flight still did not convince me otherwise.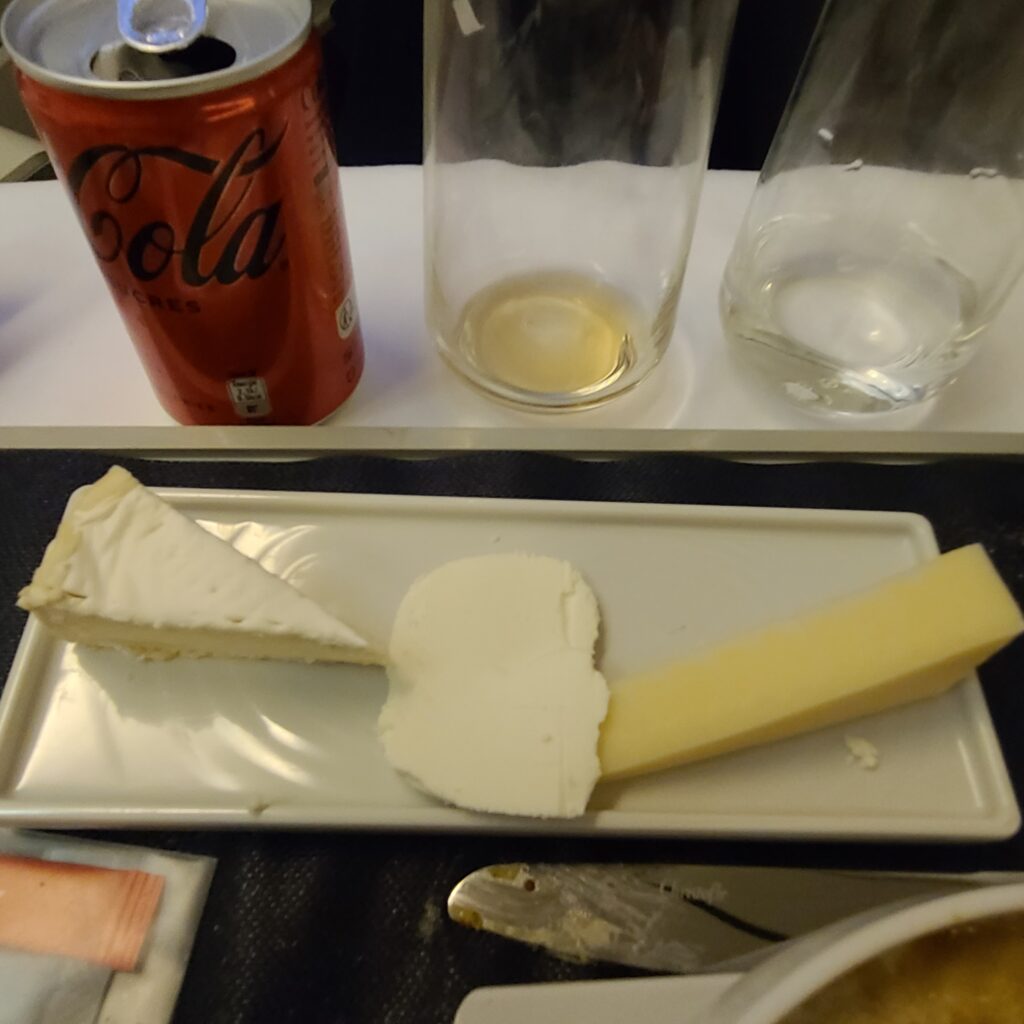 But, the desserts ended dinner on a sweet note! Really liked the lemon macaroon.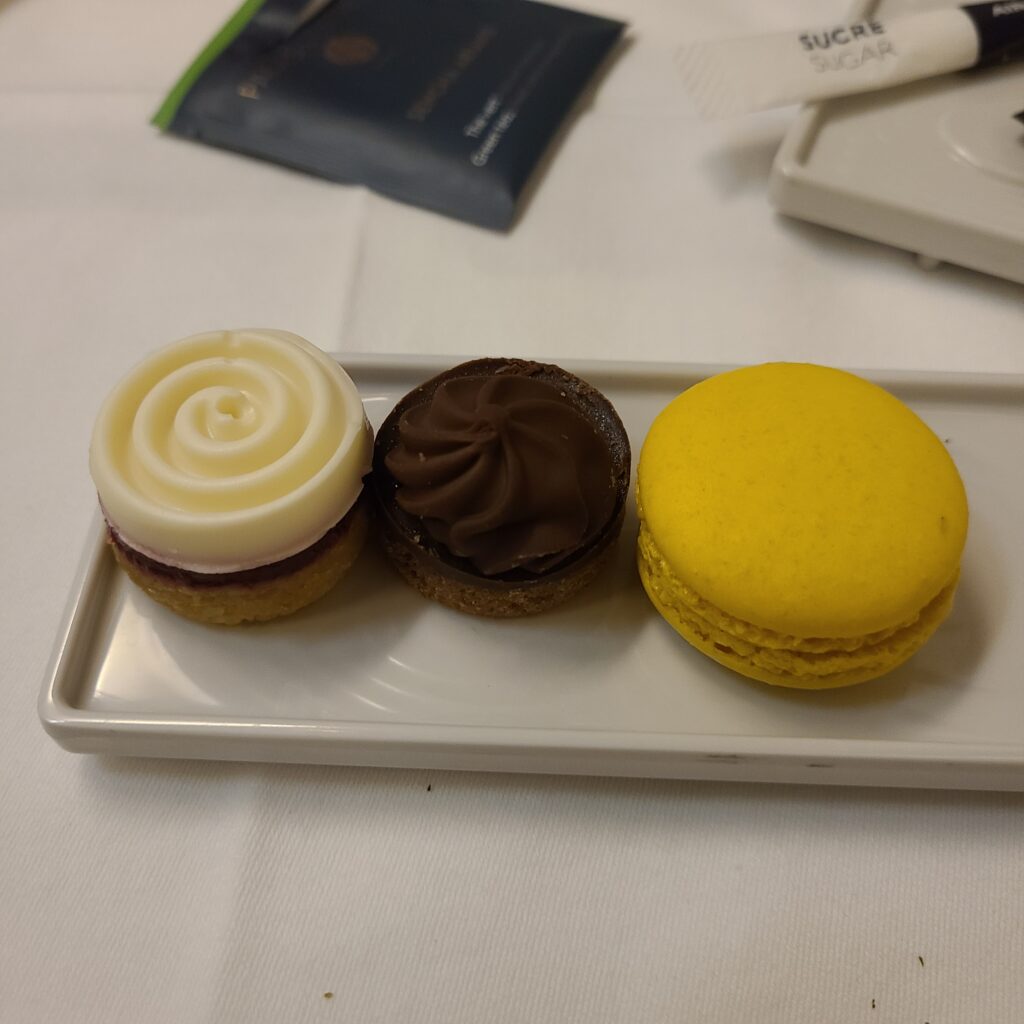 I ordered some green tea to complement the dessert at the end.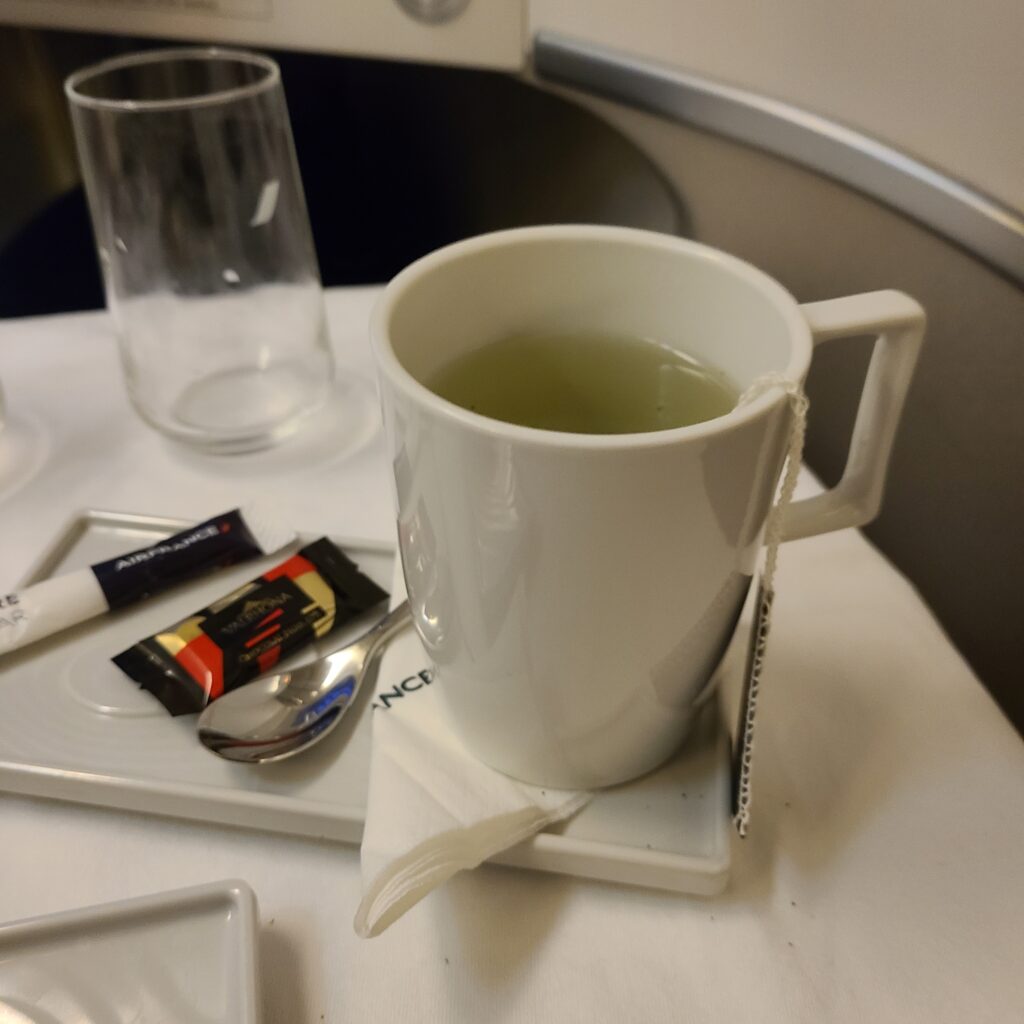 Air France Old Business Class Boeing 777-300ER Entertainment

The entertainment screen on the old business class is showing its age with lower resolution and smaller size screen. There's a silver button on the bottom right of the screen where you can adjust the angle for better viewing experience.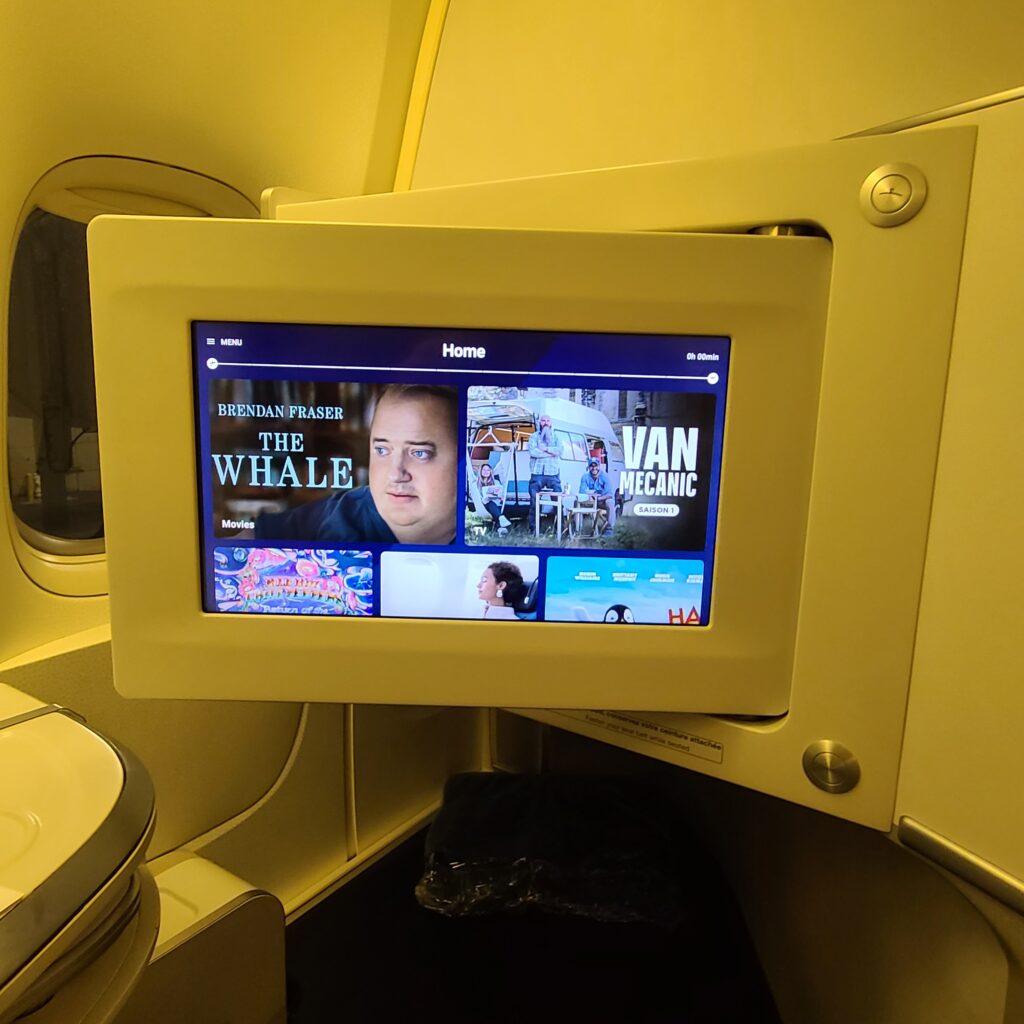 Plenty of options with Hollywood movies.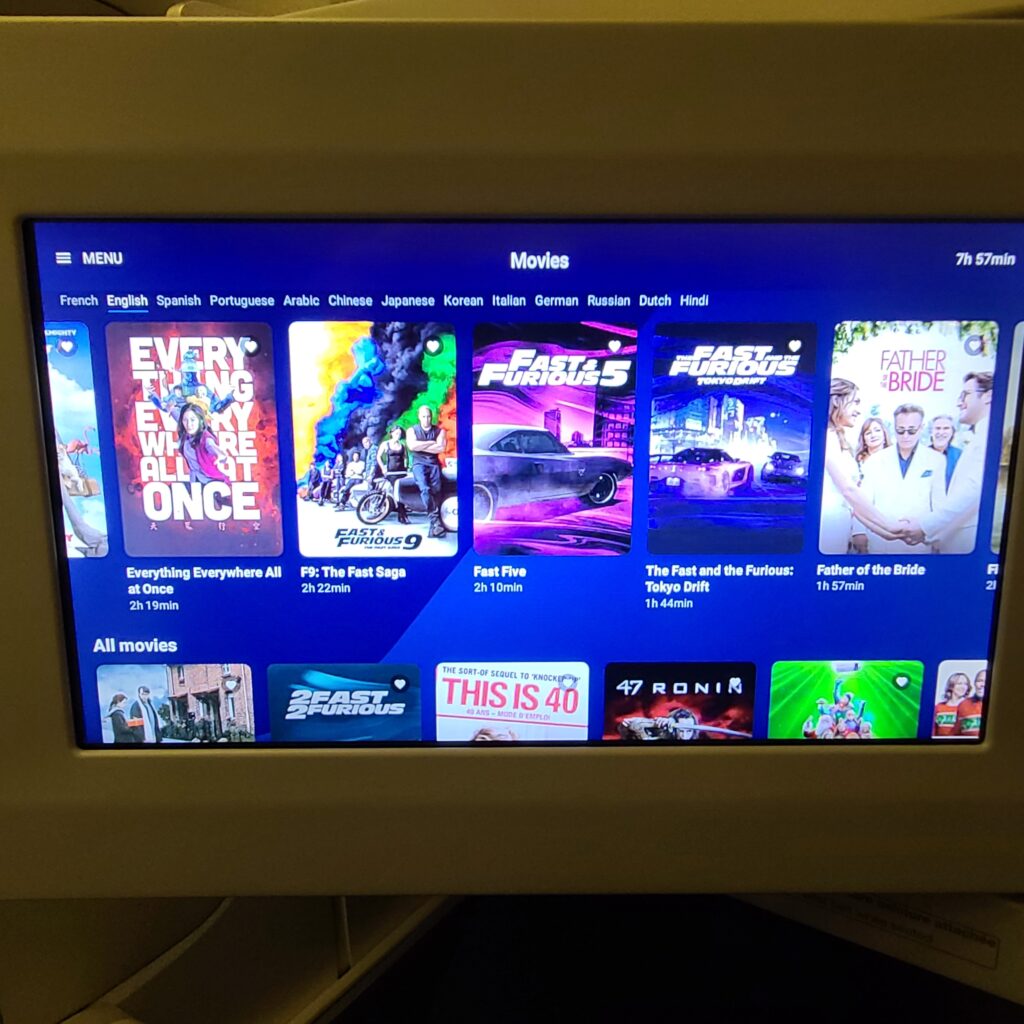 Even anime, which was a delight to see from a western airline!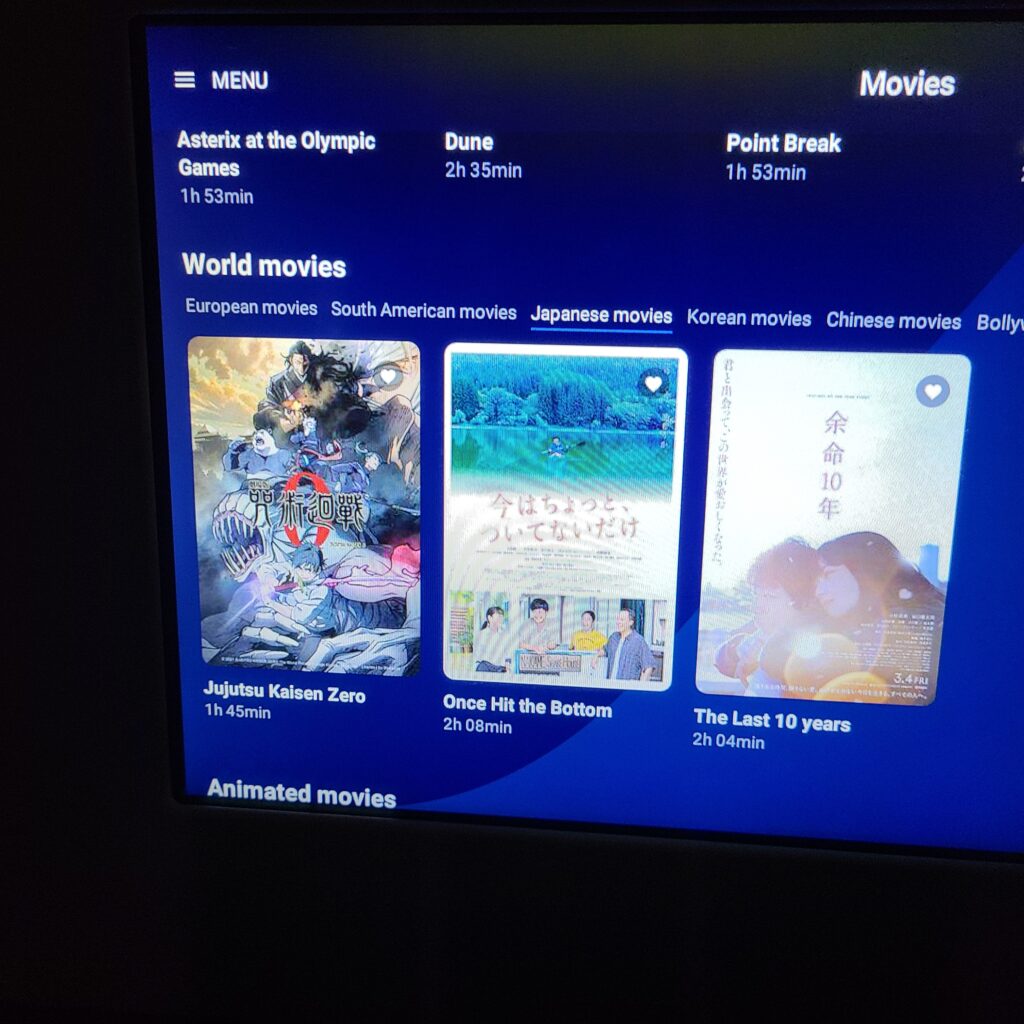 IFE remote can be pulled out, and it's easier to navigate through the entertainment options from there.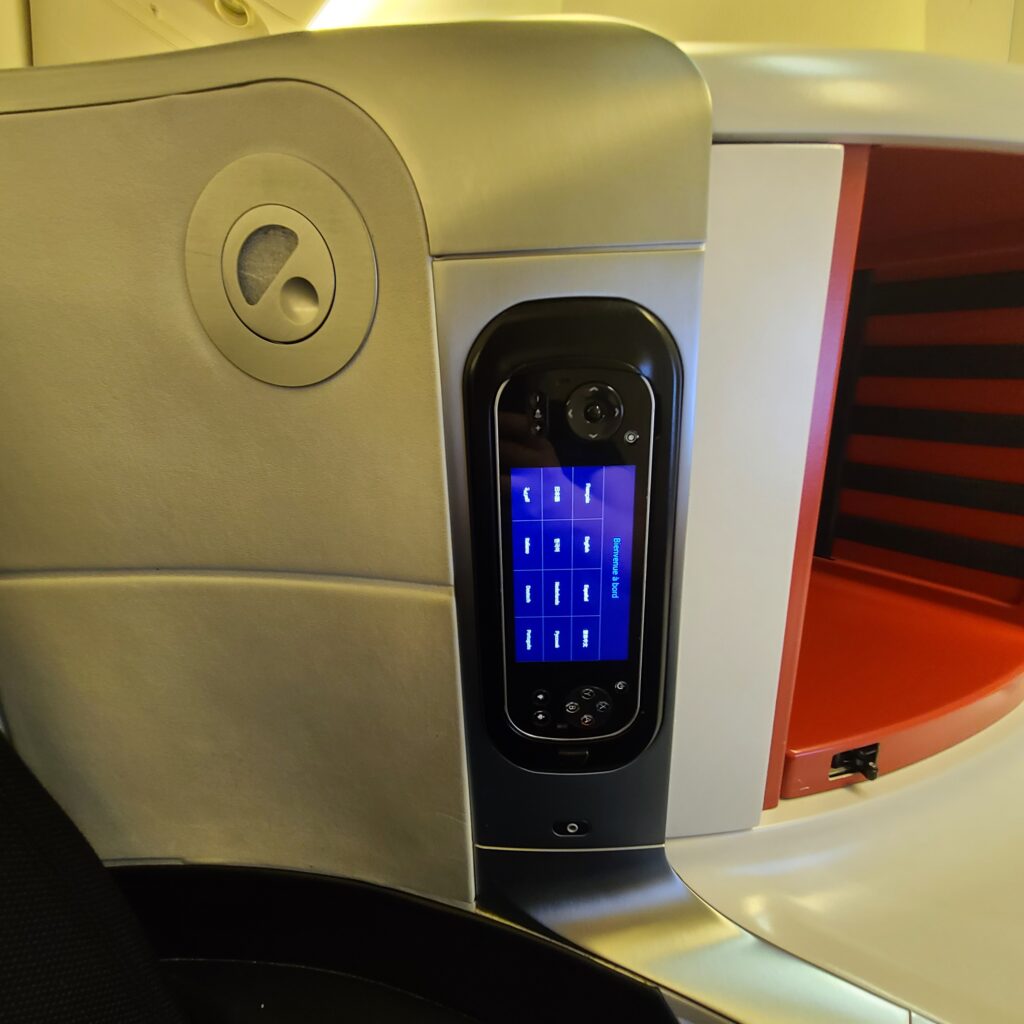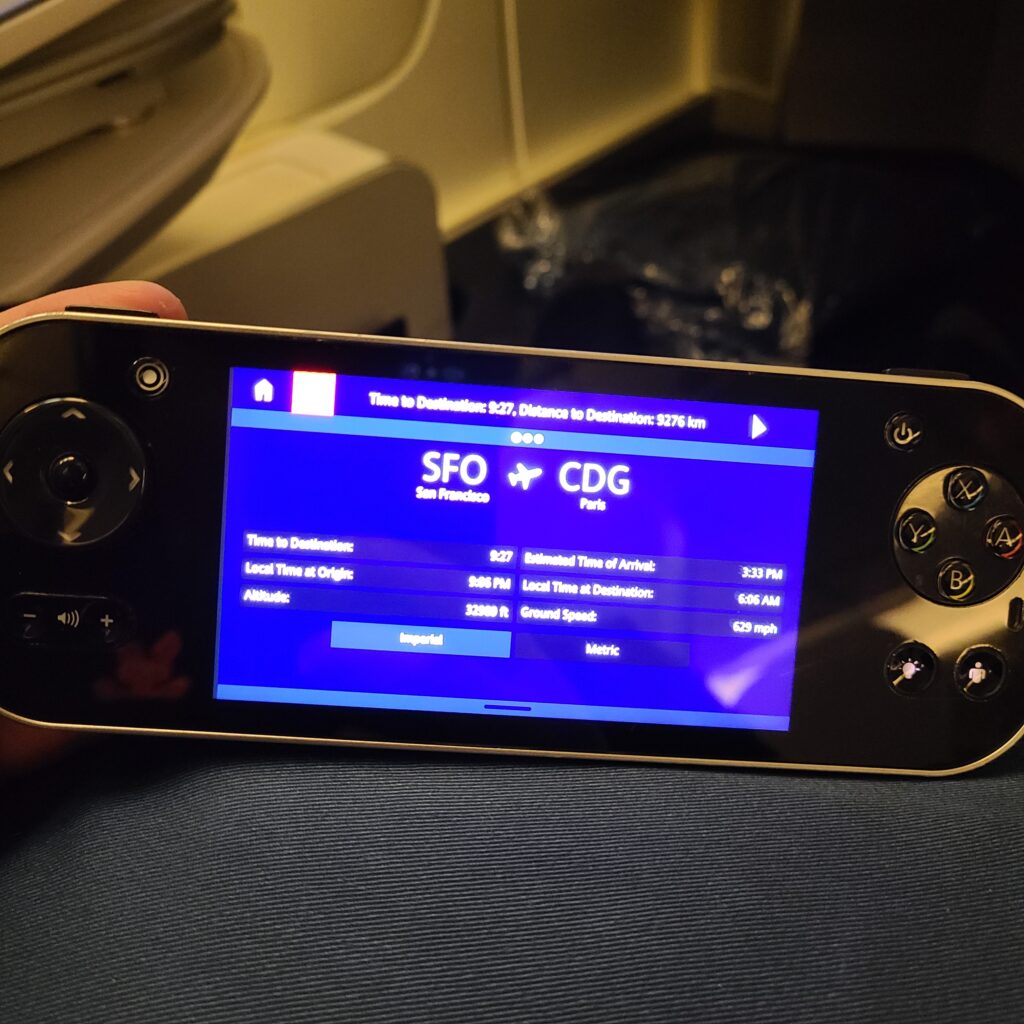 Flight info option comes with world map that may showcase facts about major cities around the world once you hover over them.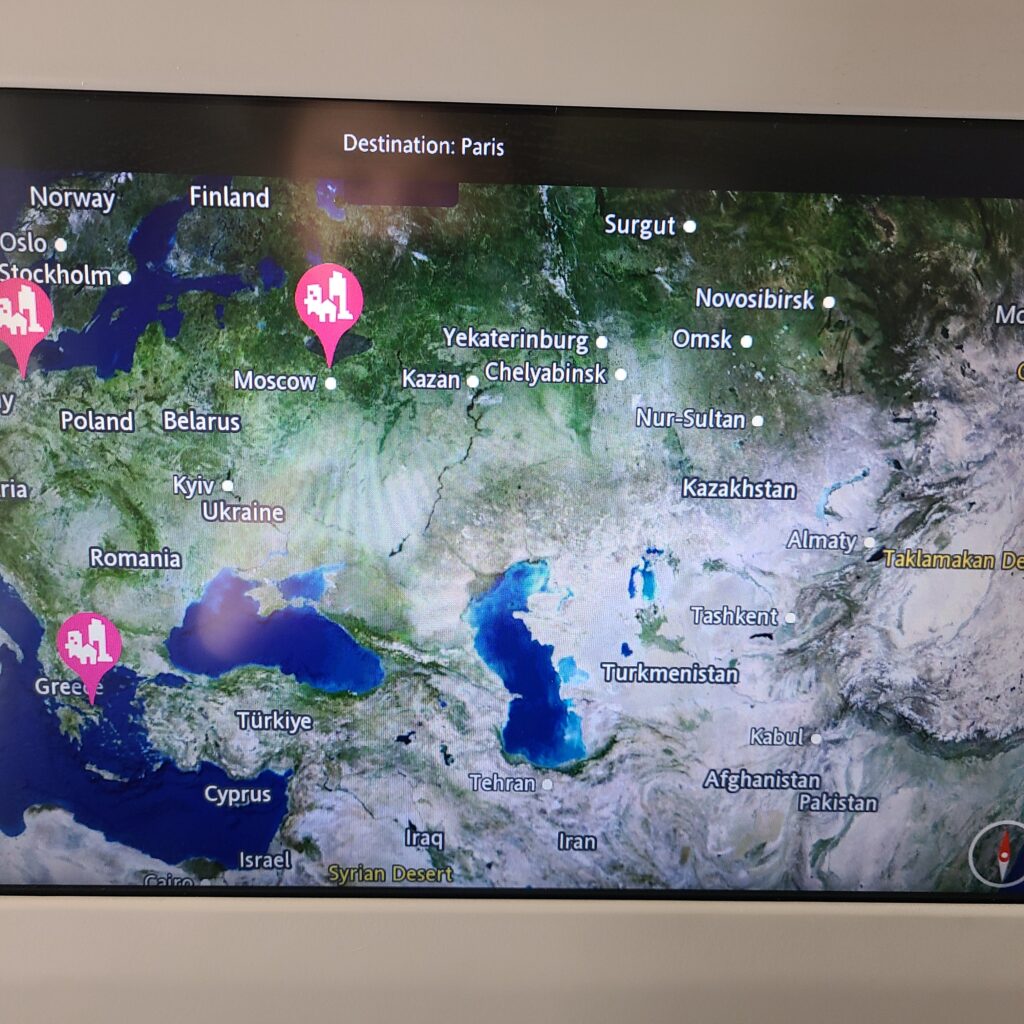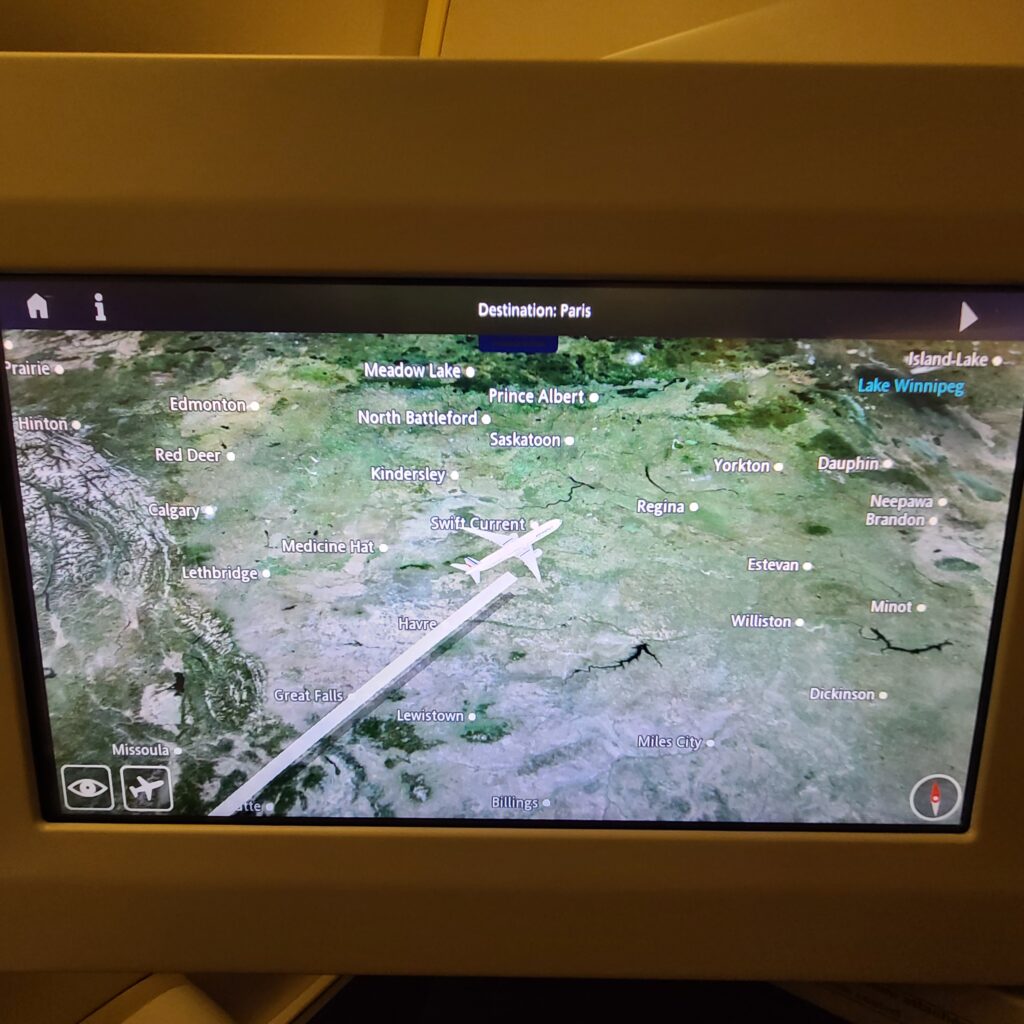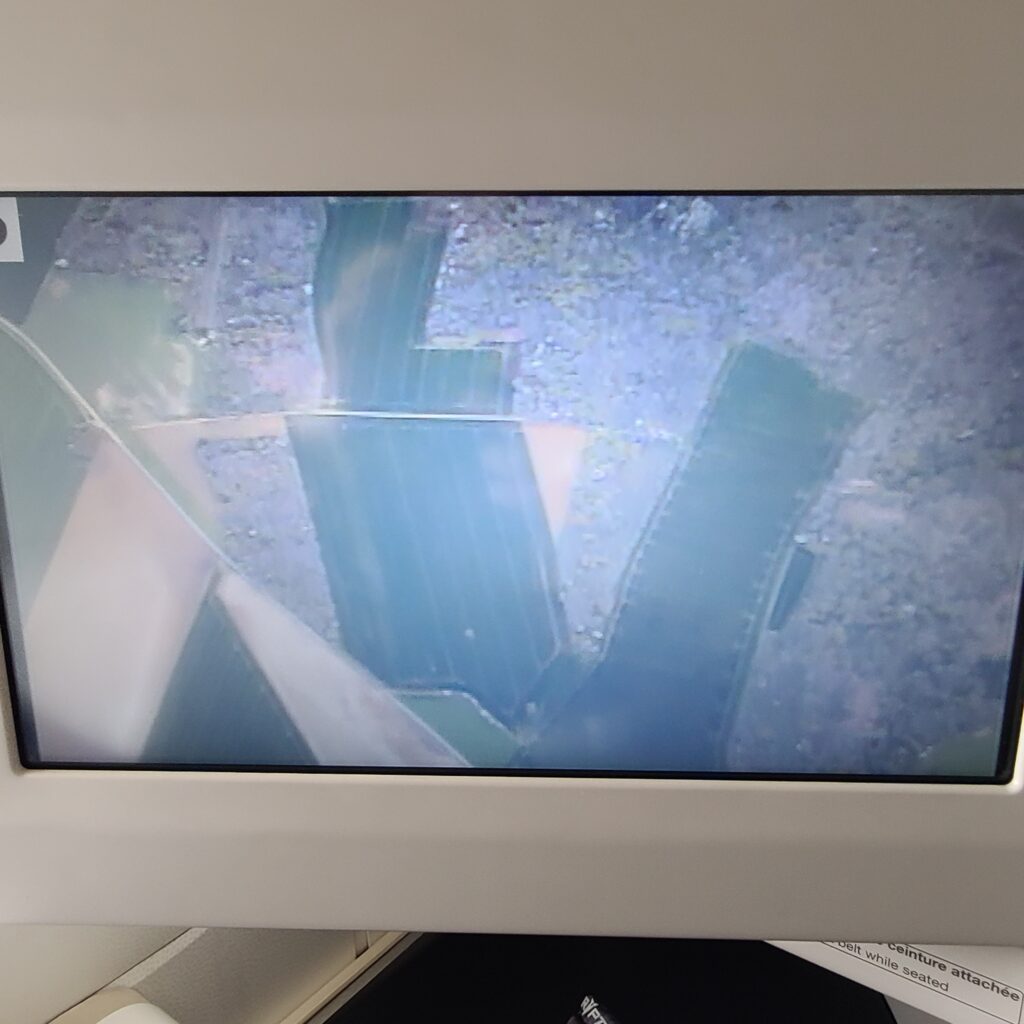 In-flight Wi-Fi's available for purchase, which was 18 EUR for the whole flight. Since I planned to try to get some sleep during the flight, I decided to skip it. I wish it was complimentary for business class passengers though!
Air France Old Business Class Boeing 777-300ER Breakfast
Breakfast is the final meal shortly before landing to Paris. I had the omelet with grilled mushroom inside. There's also a hilariously sad-looking decompressed croissant. Don't get me wrong, I'm not expecting fresh from the oven and flaky croissants from a plane, but it's still amusing to see. It tasted like good old butter croissant though, so I helped myself to a few of them!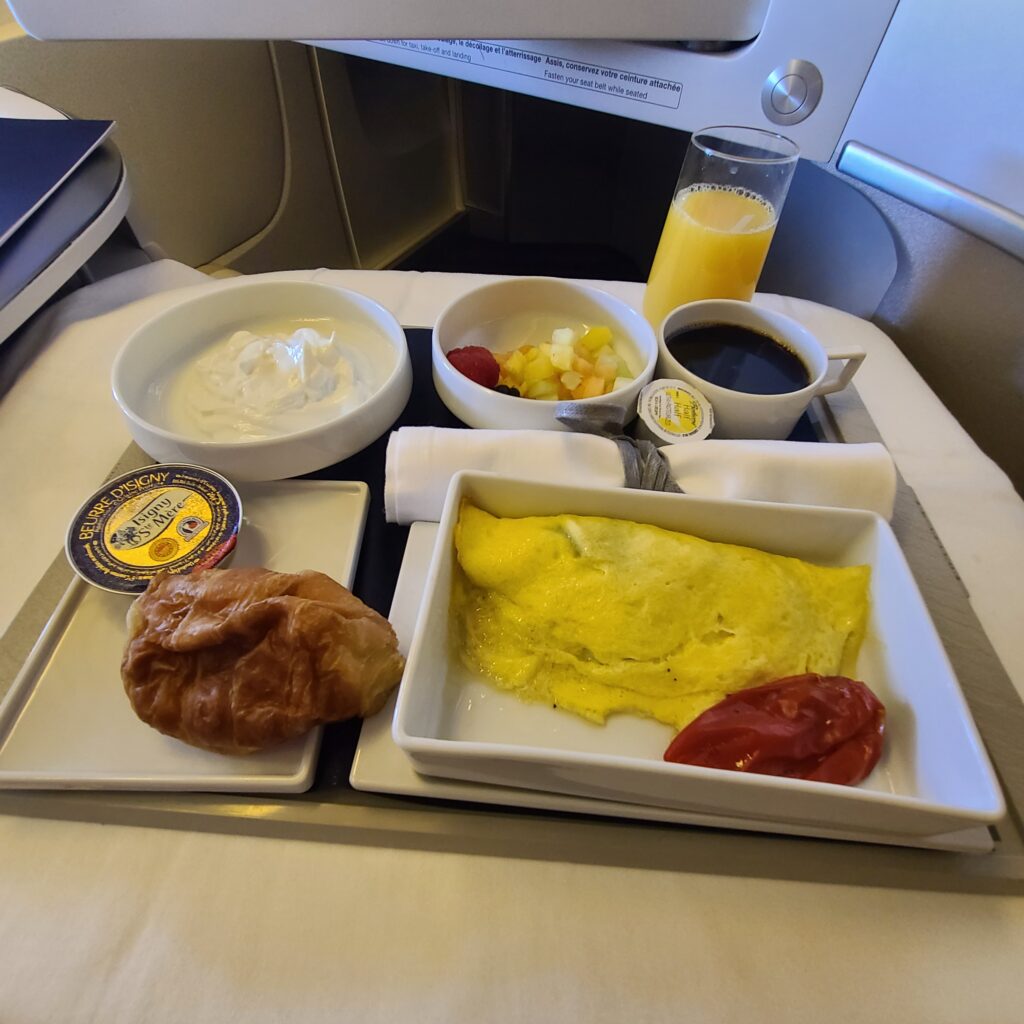 Air France Old Business Class Boeing 777-300ER- Menu
Here's the full menu of the flight. Do note that there can be slight variations in a different flight.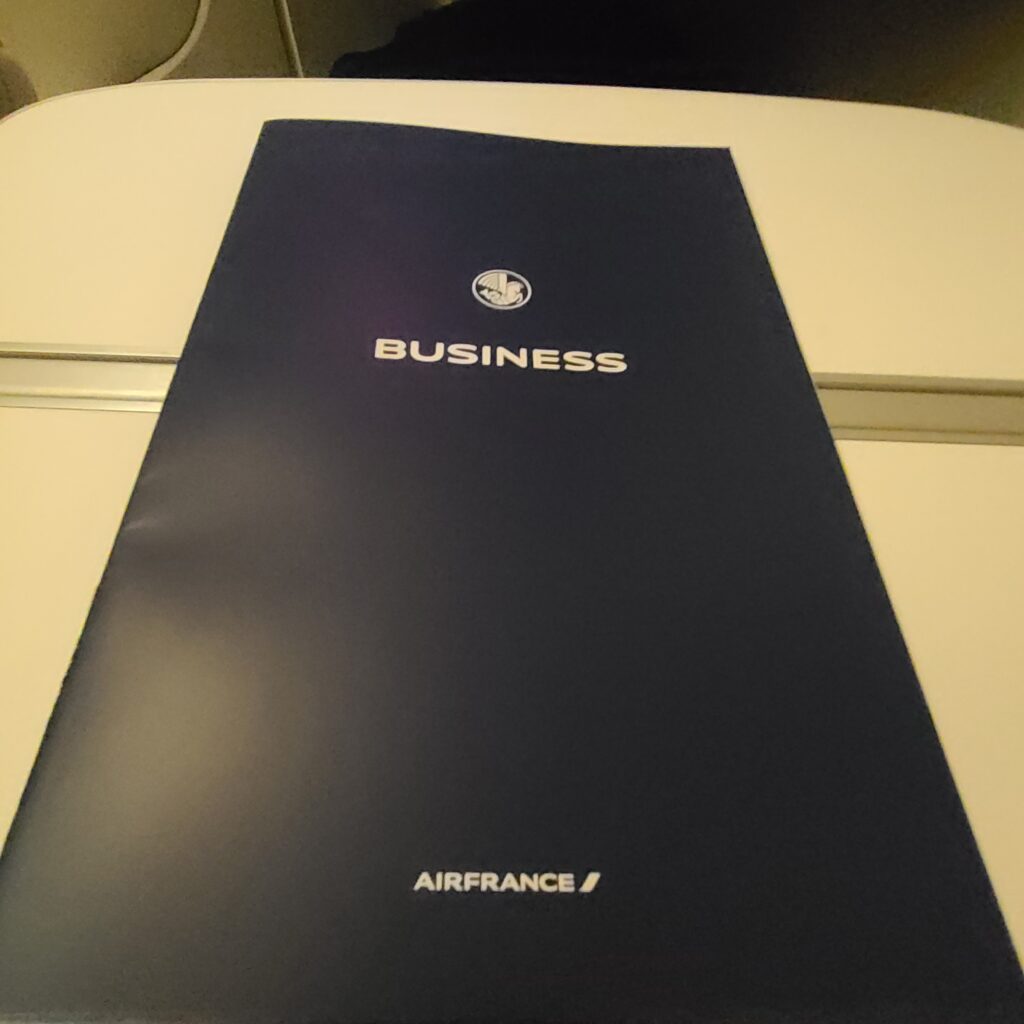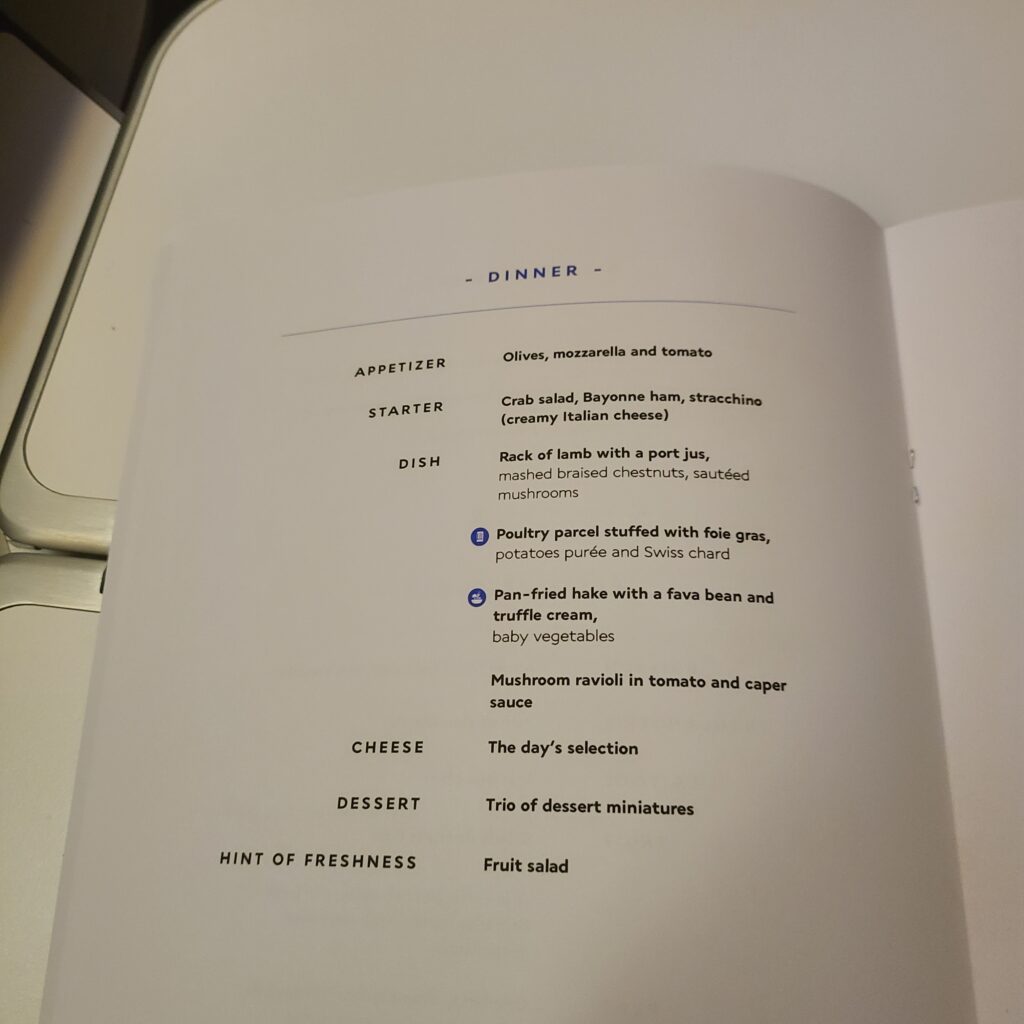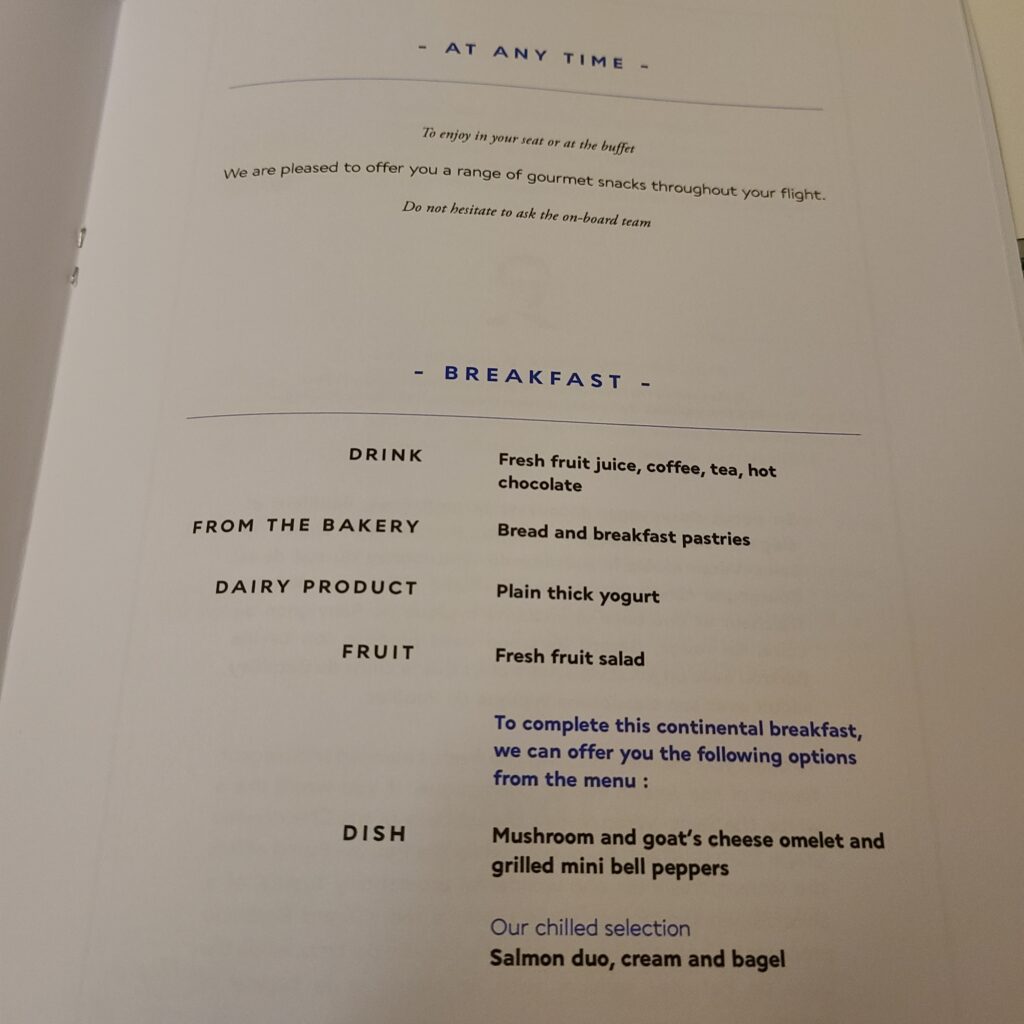 Drinks Menu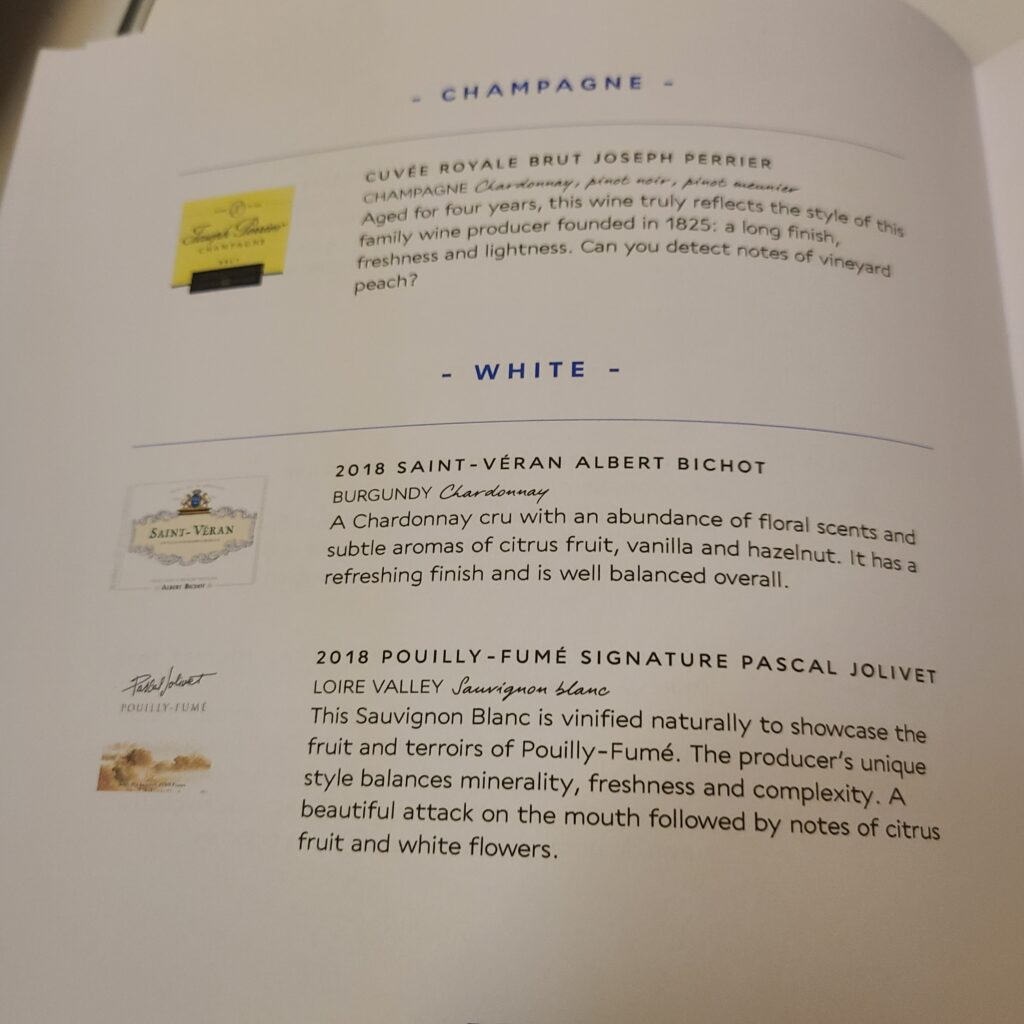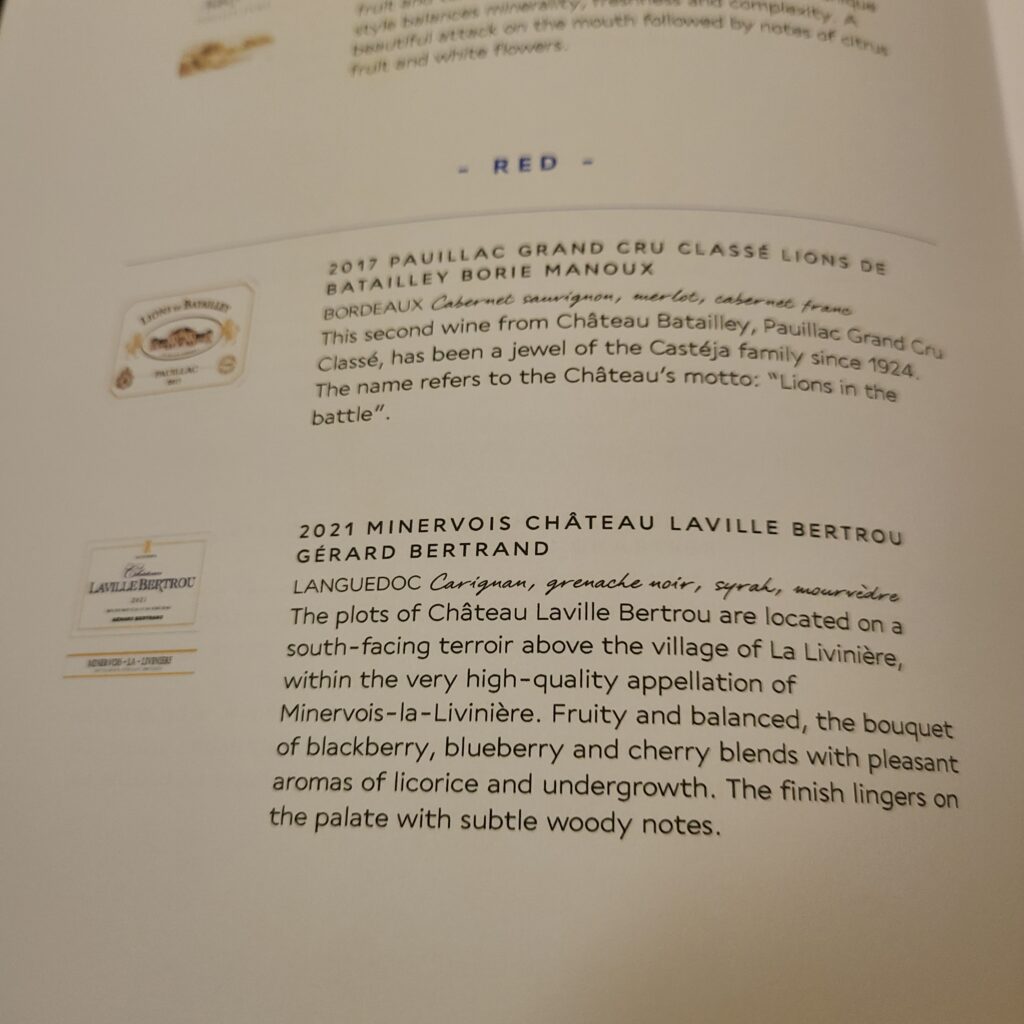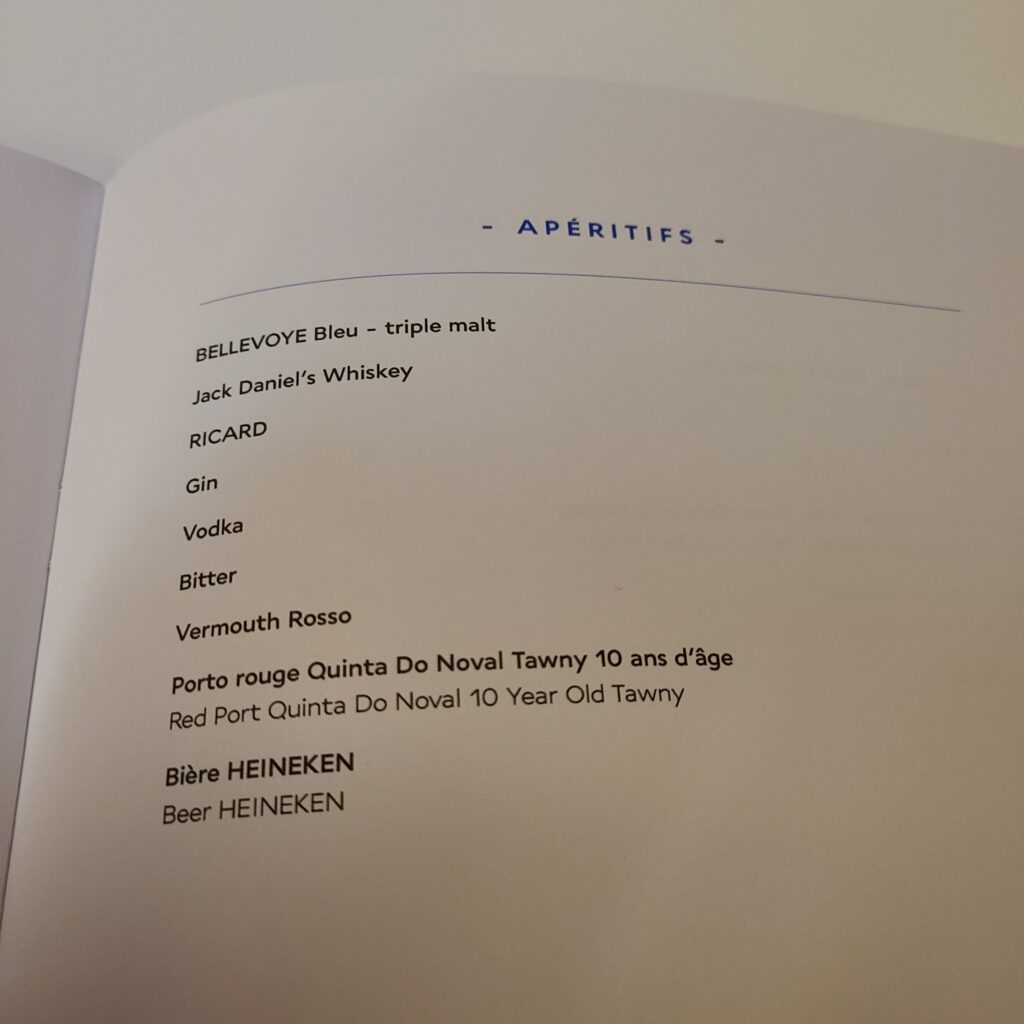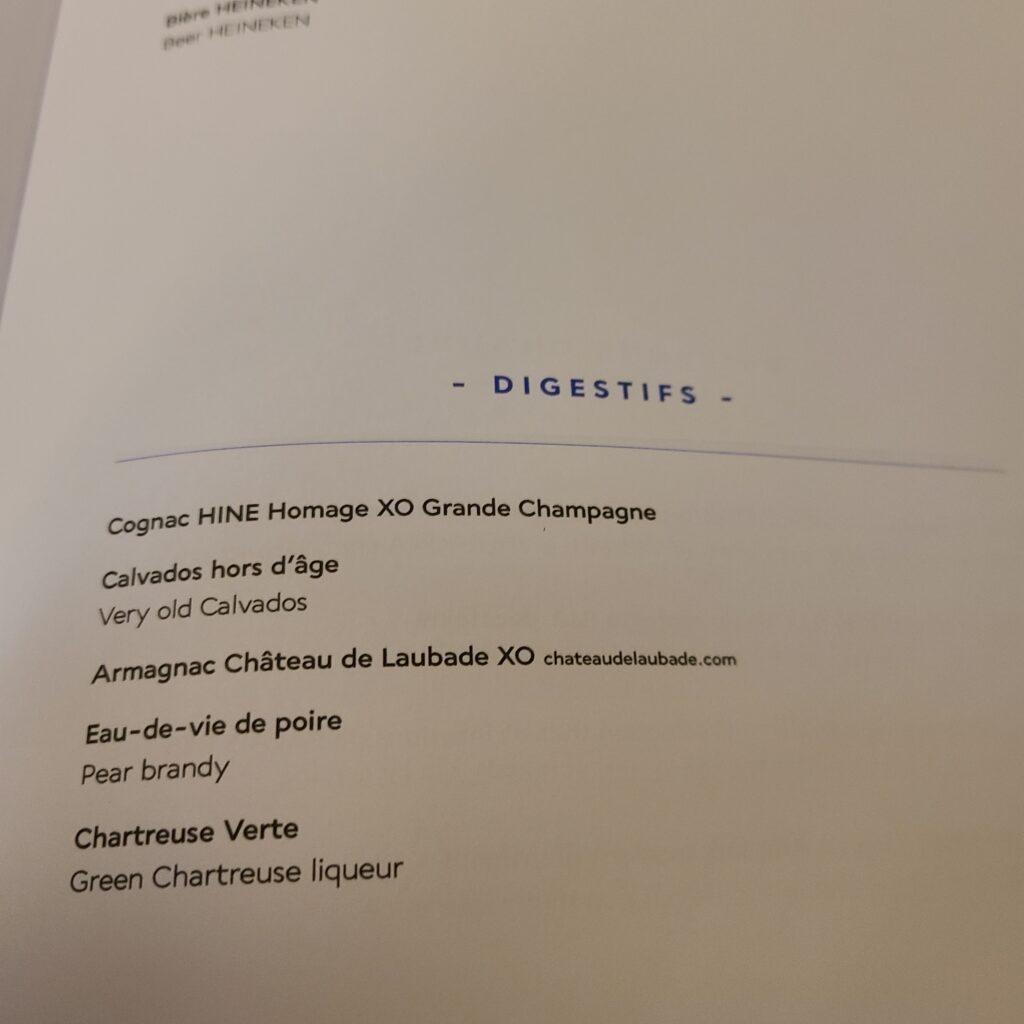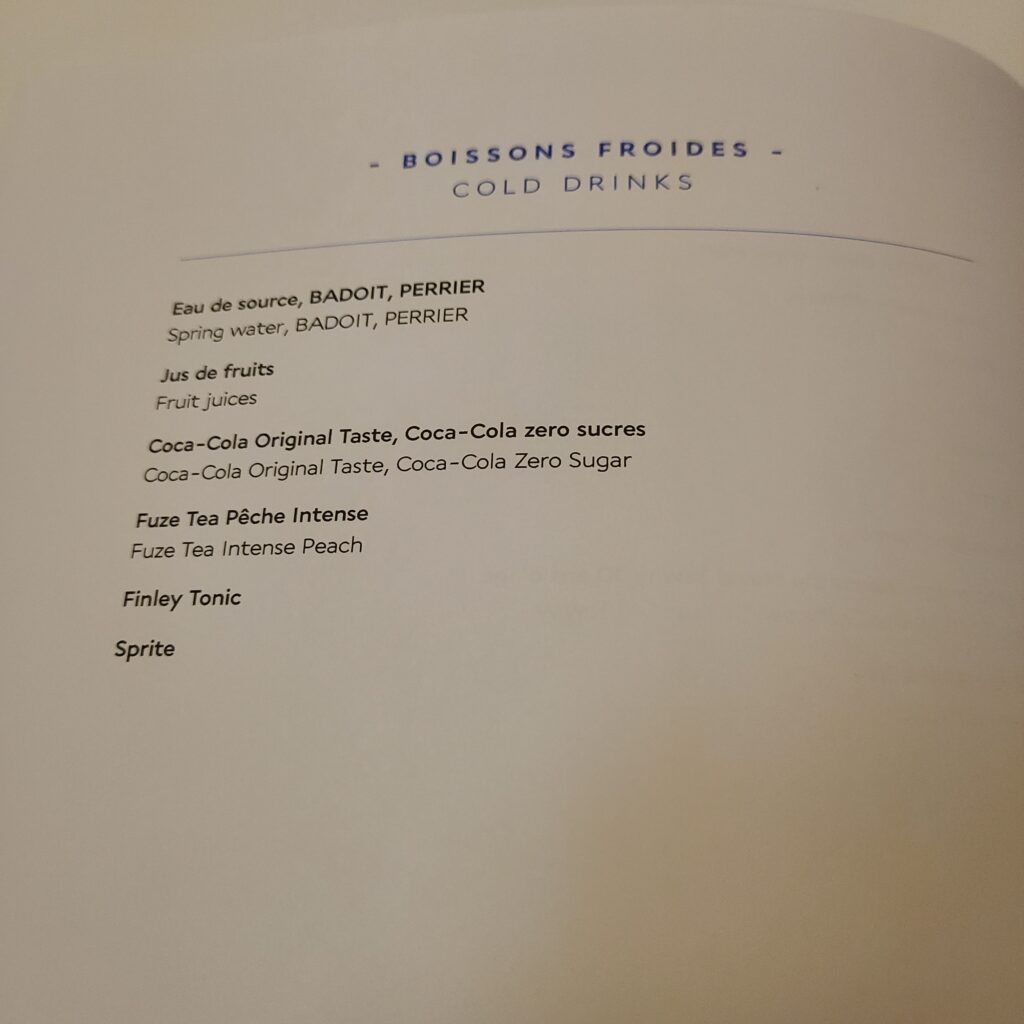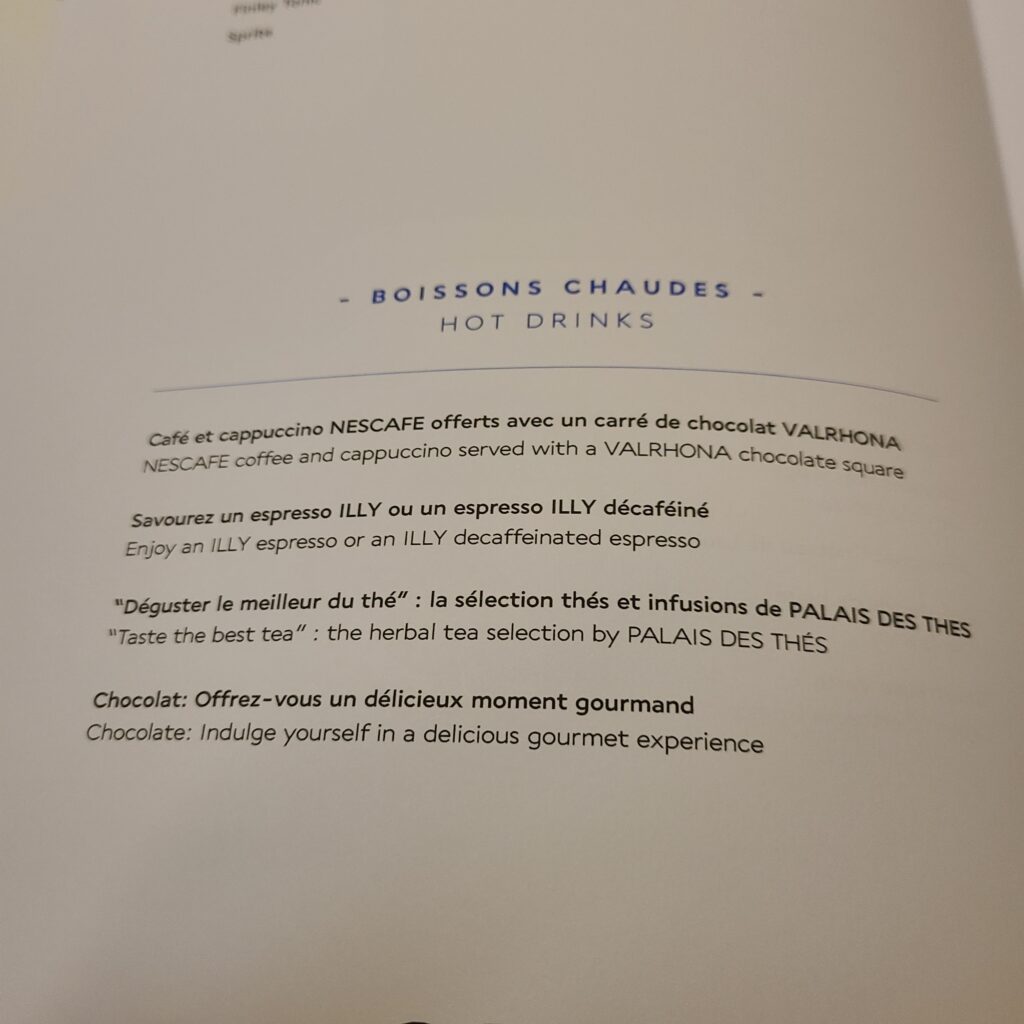 Air France Old Business Class Boeing 777-300ER- Lavatory
Lavatory's pretty standard with jsut the addition of scents from Clarins Paris.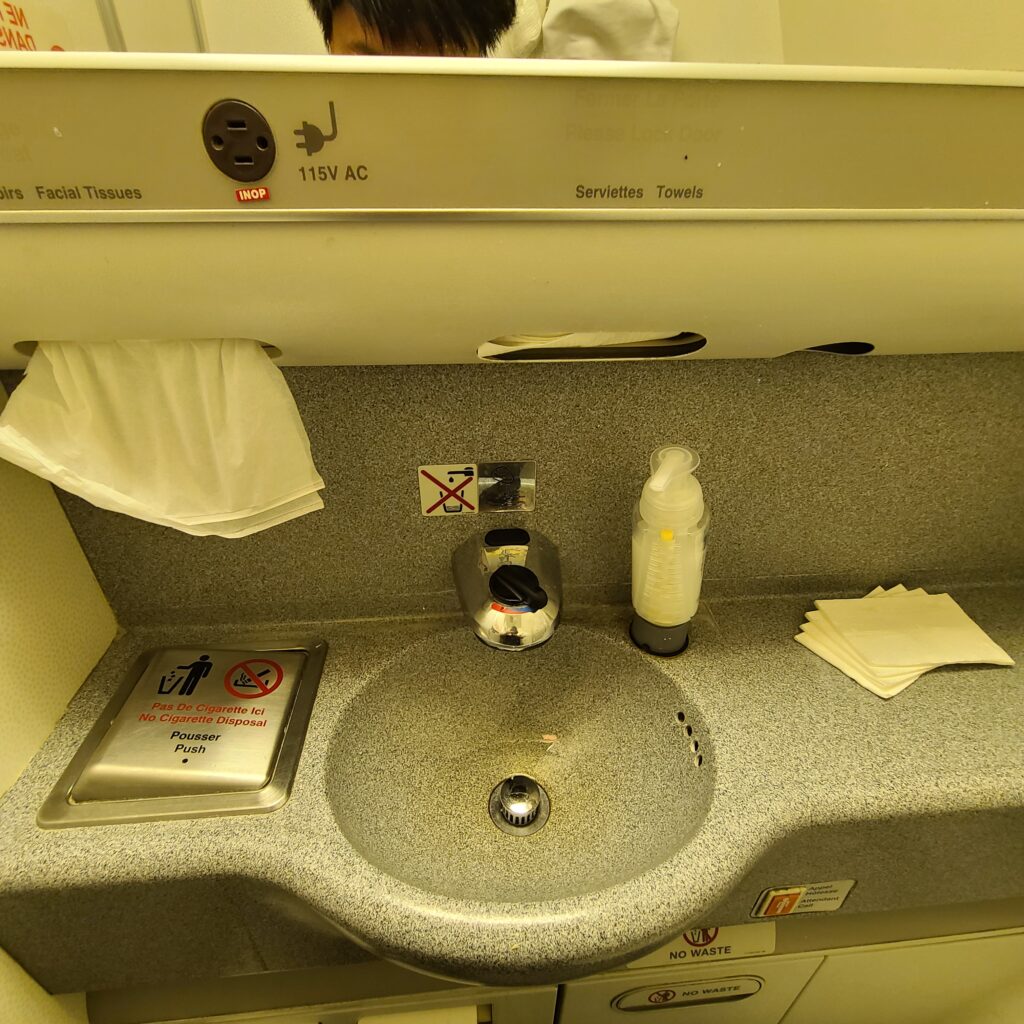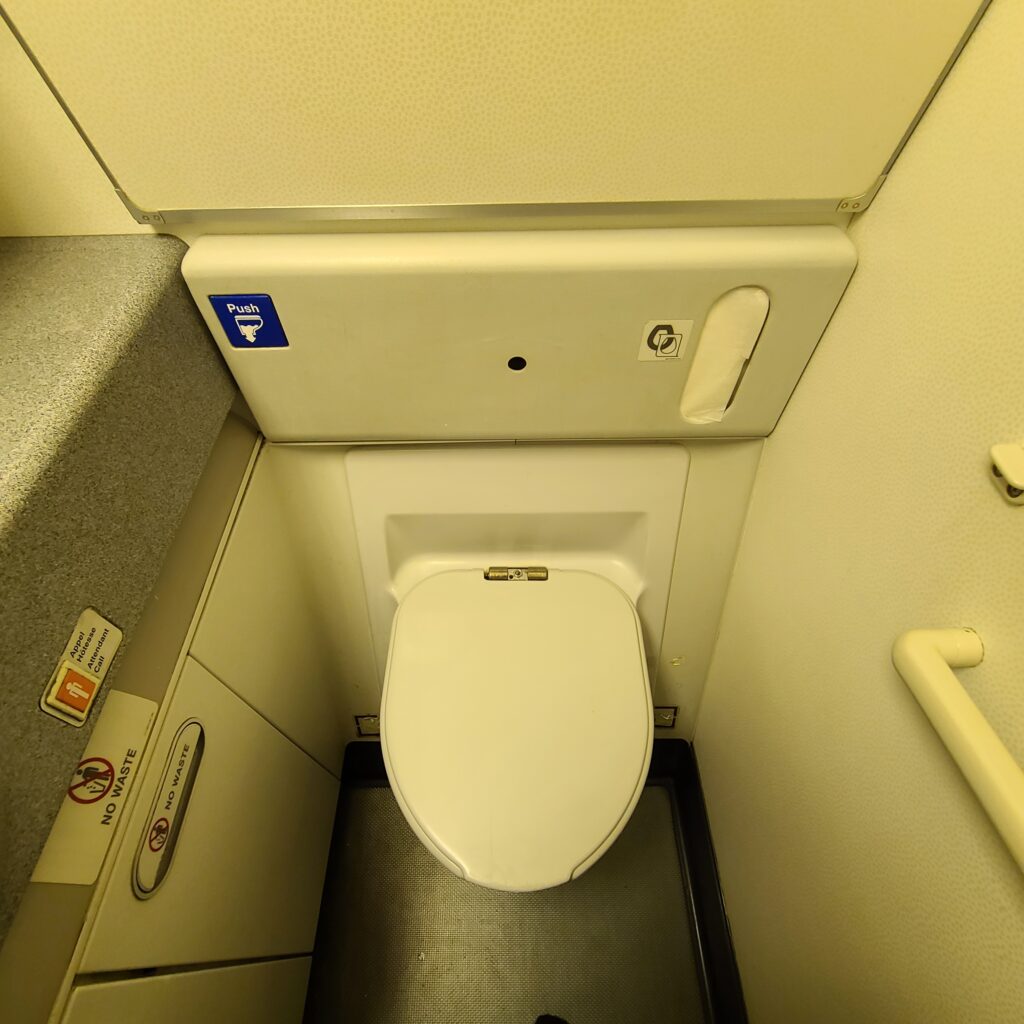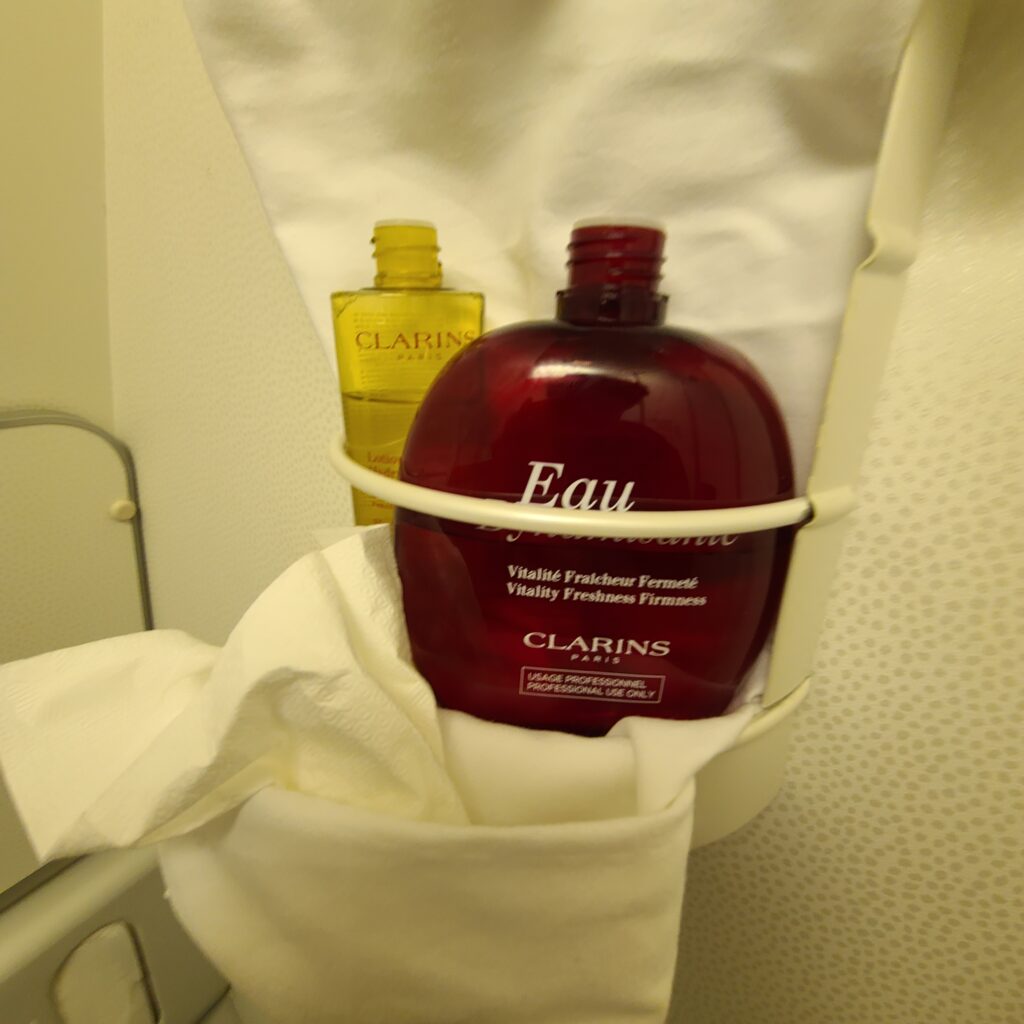 Conclusion
The old business class on Air France's Boeing 777-300ER is a good flight, but nothing too outstanding in my experience. It does the job in delivering a normal and comfortable flight. I wouldn't mind flying it again as long as the rate on Air France-KLM is acceptable from US to Europe, especially from the West Coast.
I do hope that the new business class will expand to SFO some time in the future though since that one looks much more beautiful than the one I flew.
Overall Rating