Advertiser disclosure: This post may include affiliate links (including sidebar banners) in which this site may receive compensation if a purchase is successfully made (at no extra cost to you) after being redirected from here. Thank you for your support!
Review: The St. Regis Marsa Arabia Island, The Pearl Qatar (2023)
After checking out of the Katara Hills Doha, I had one more night left in Qatar, and decided to burn my Marriott's Free Night Certificate from my Amex Marriott Bonvoy Business that was about to expire. The St. Regis Marsa Arabia recently opened in late 2022. I had a pleasant experience at my first St. Regis back in Kazakhstan, so I wanted to explore this brand more.
My review of this hotel will be shorter than usual due to my flight back home being in the morning while also staying just a single night. Thus, I won't be able to cover breakfast and some other facilities. Regardless, I was able to get a good amount of impression from my short stay.
St. Regis Marsa Arabia- Booking
I used a 35k Free Night Certificate to stay a single night stay here. Considering that the price rate can go in $600+ a night, it's one of the best ways to use your Marriott's FNC coming from a $95 or $125 annual fee credit cards.
This St. Regis is all-suite, but the hotel does let you book an upgraded room up to a suite with an outdoor terrace at the same rate as the base suite, meaning that you can still potentially book the upgrades with the FNC!
Keep in mind that the suite with the Terrace is the highest category suite you can book with points or FNC, but all of them are located on the first floor, and you'll likely have a pool view rather than the sea view. If you want a higher floor, then I recommend booking the suite with a Balcony and Sea View.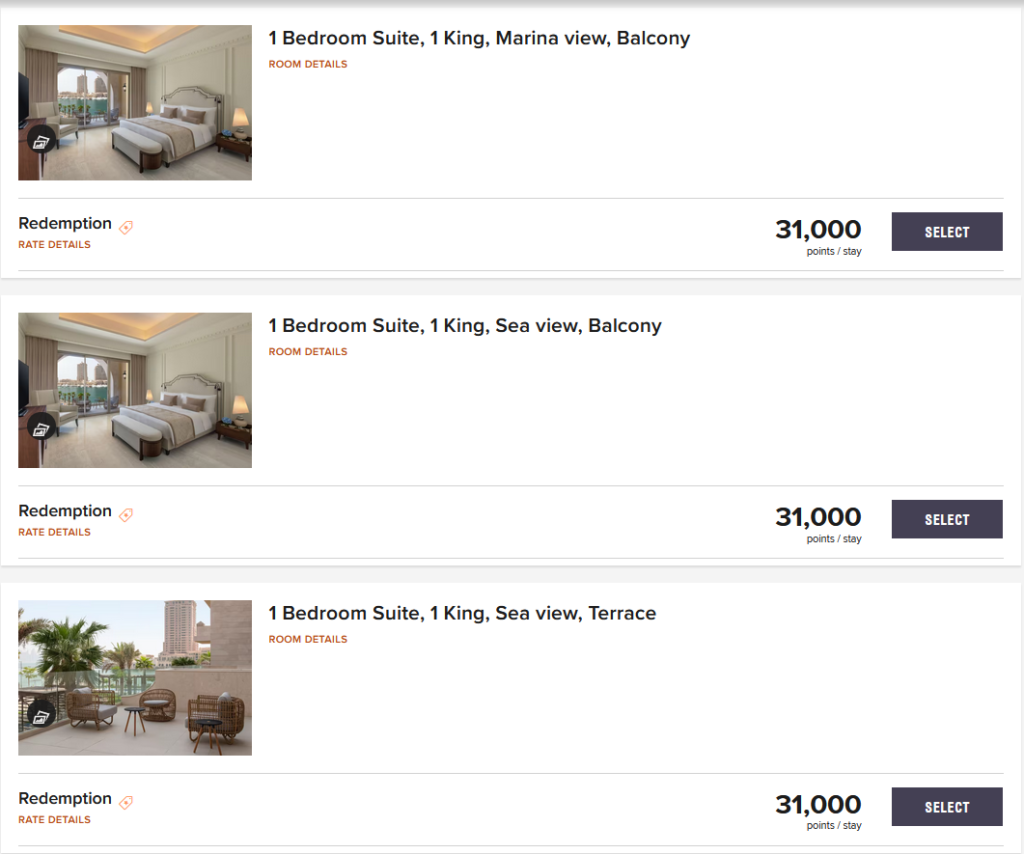 Without prior knowledge, I went ahead and booked the suite with the terrace since it was technically the largest suite.
St. Regis Marsa Arabia- Location
The hotel is located in Doha's The Pearl, an artificial island in the northern side of the city. Marsa Arabia is the name of the islet within The Pearl the hotel resides on. It's surrounded by marinas and seaside eateries that I didn't get to try. But, prices are steep here compared to other parts of Doha or Lusail up north.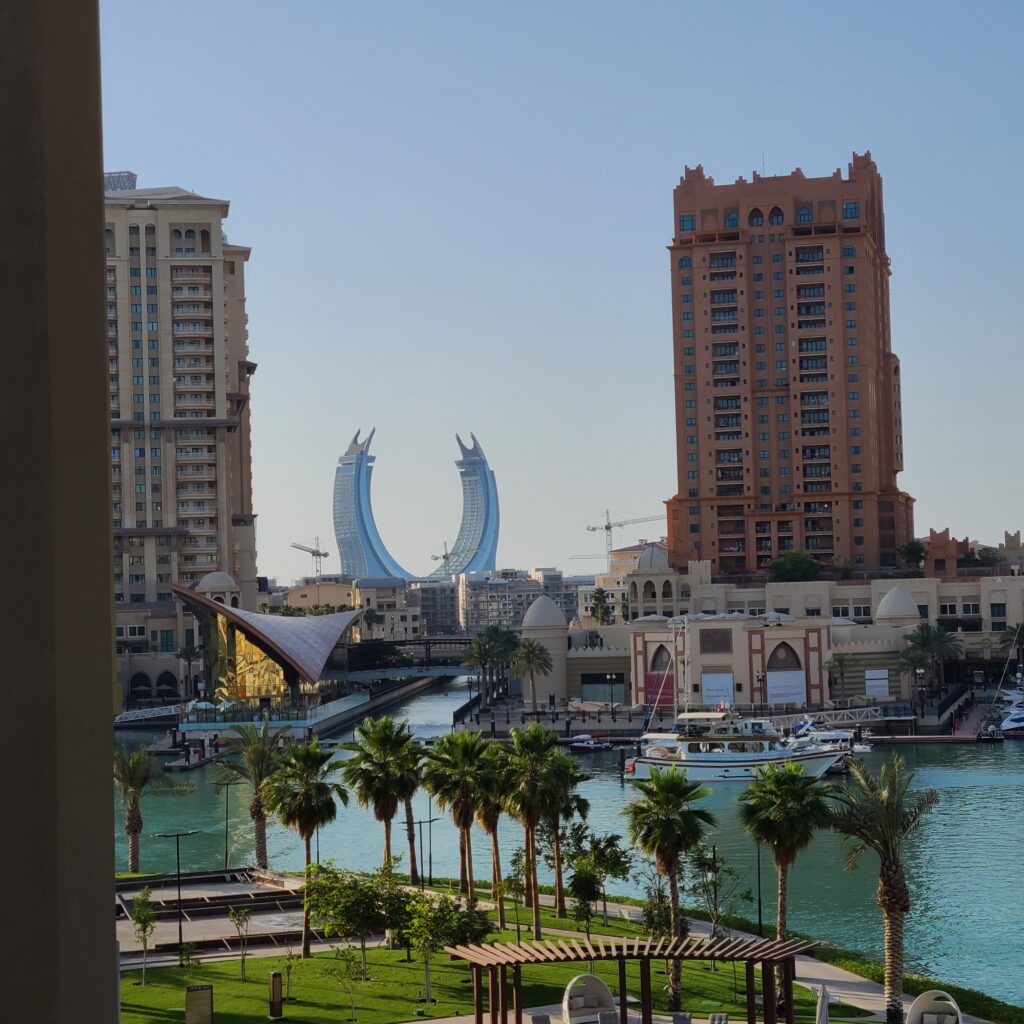 Getting to/from the airport is easy with Uber at around 45-50QAR (~$14) one-way.
St. Regis Marsa Arabia- Check-in
I arrived at the hotel around noon after checking out of the Katara Hills. I was then greeted by a staff who then escorted me to the reception desk and have my luggage handled.
Golden touches fill the lobby, as expected from a St. Regis. The blue furniture were nice touches too. Hotels in Doha also have giant framed photos of the Emir and Prime Minister of Qatar.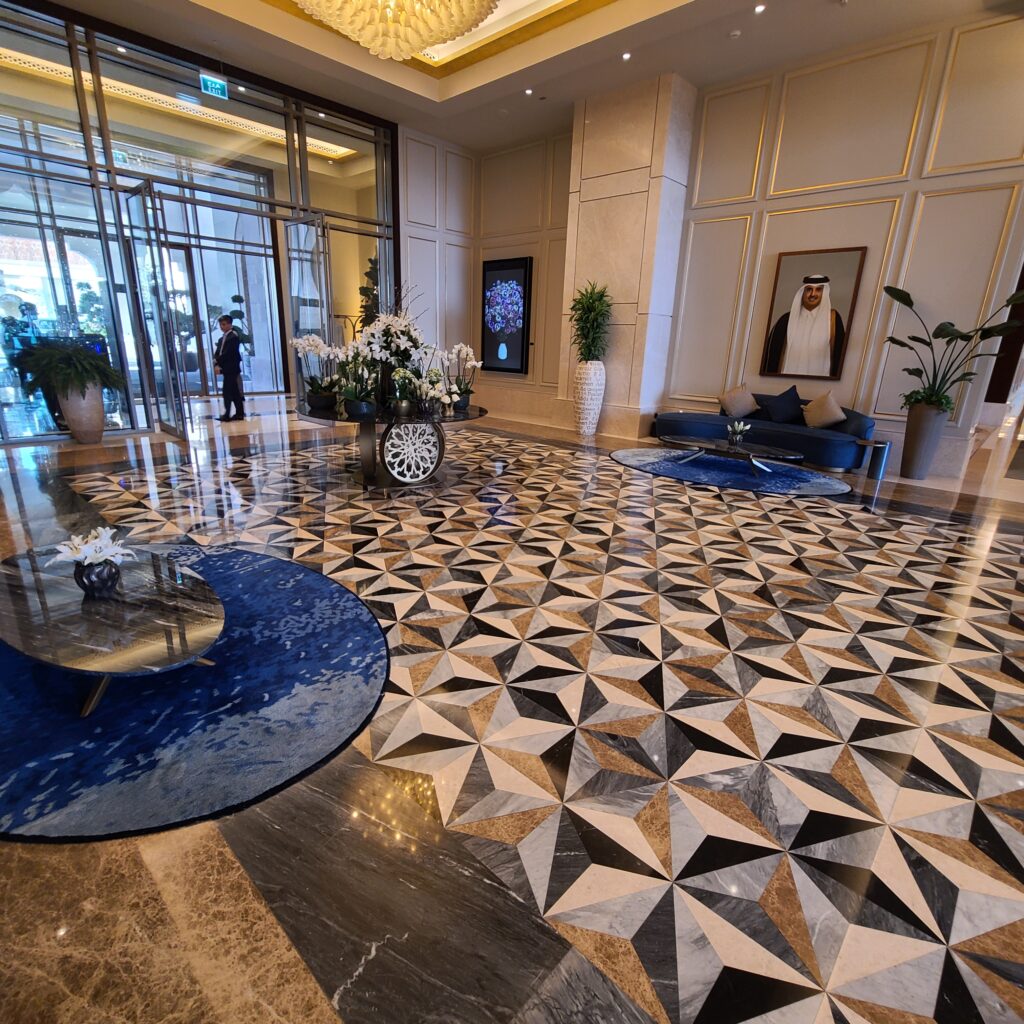 Impressive chandelier display with stairs heading to the restaurants.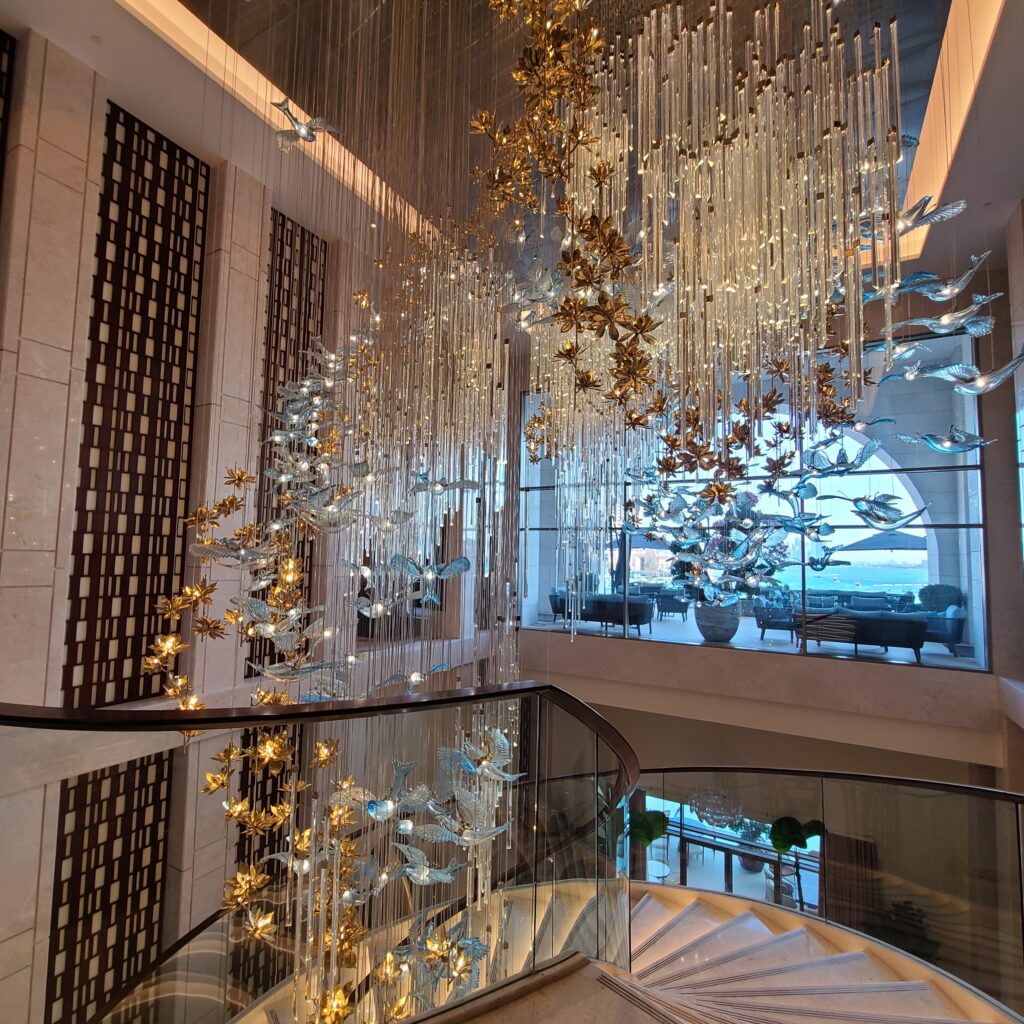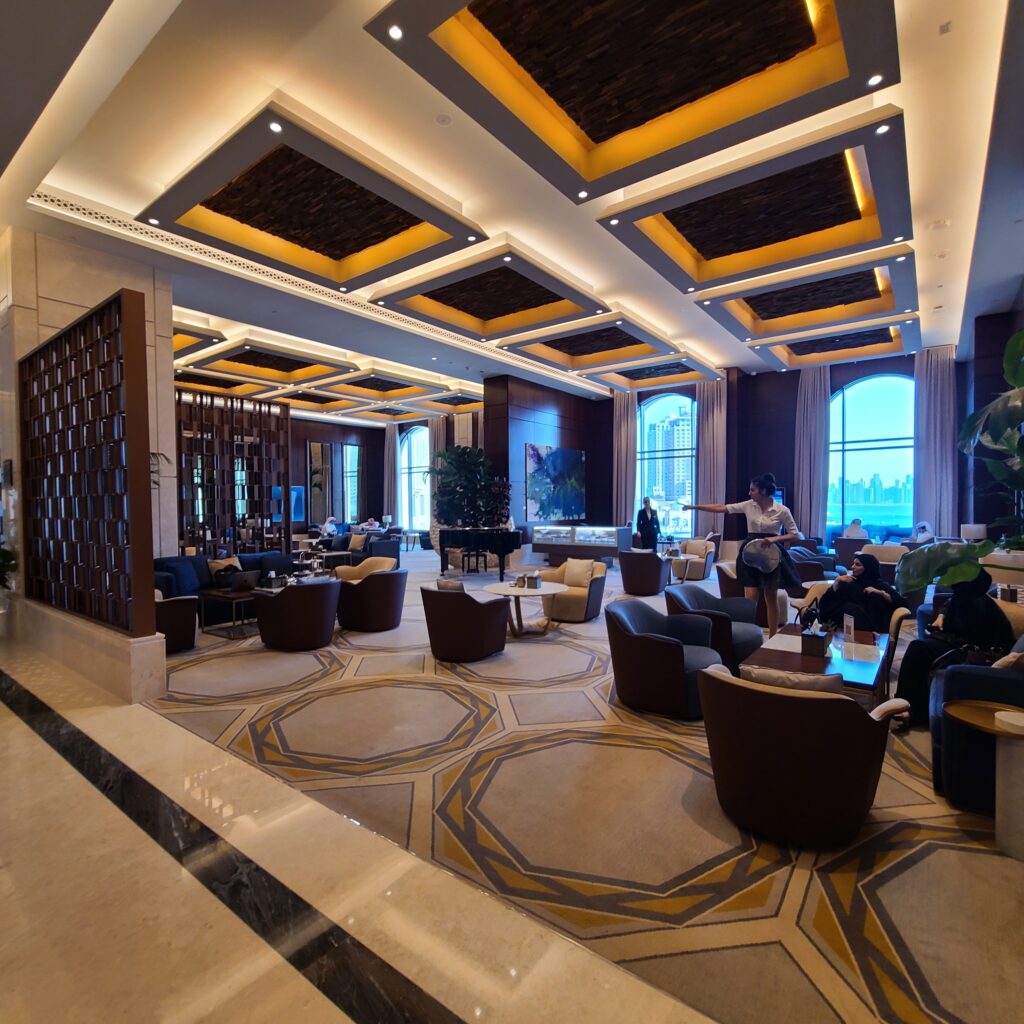 The St. Regis Marsa Arabia is not only a hotel, but comes with private residences also, in which both share amenities within the islet.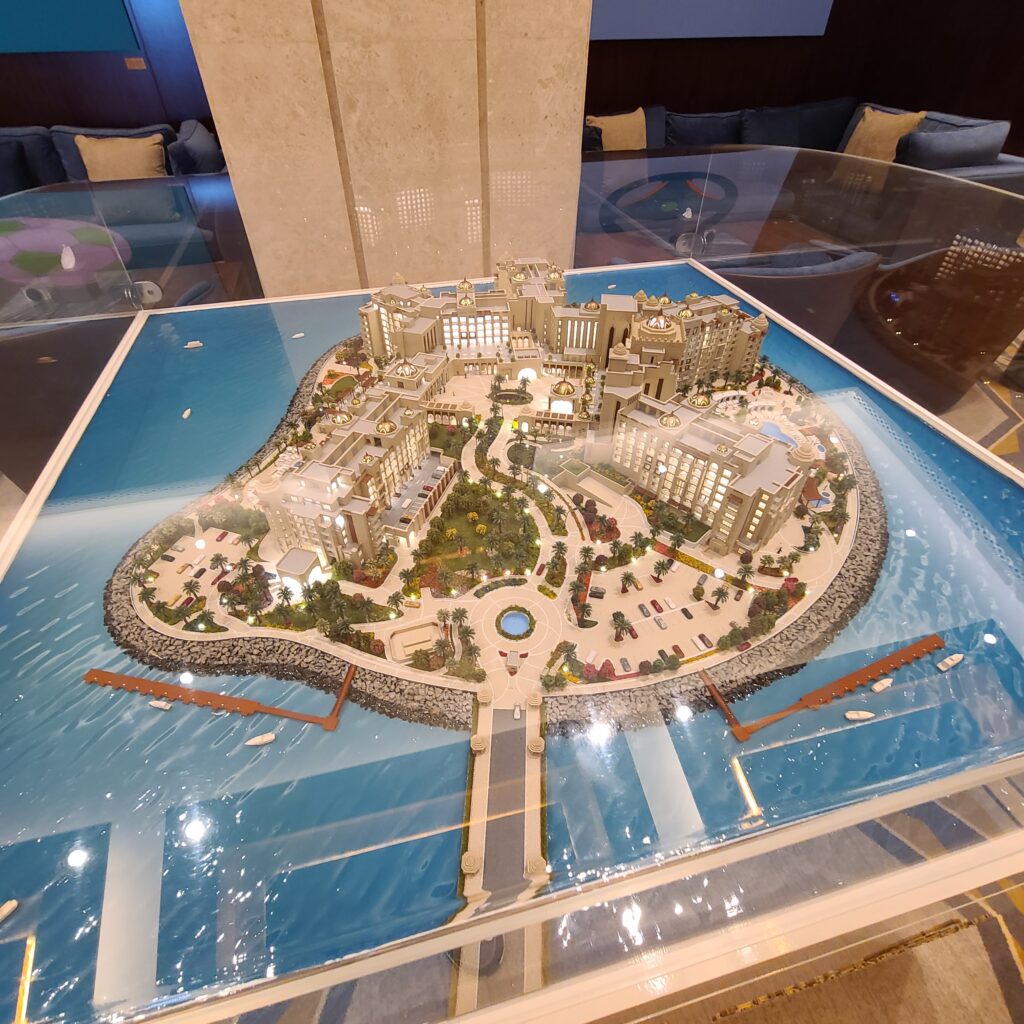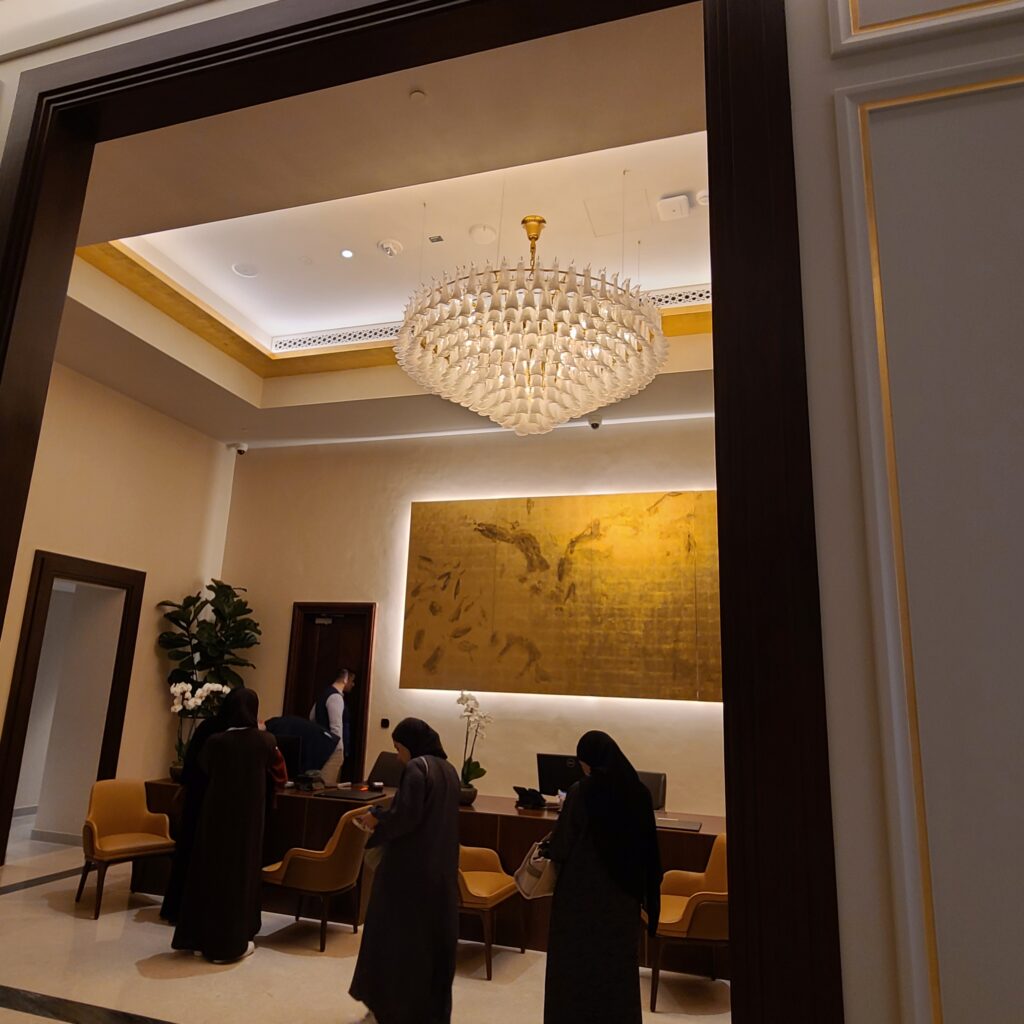 Sit-down check-in. A St. Regis classic. I was glad to be able to check in at noon with no problem. Since, I have a flight early in the morning the next day, I chose 1000 points as my Titanium Elite welcome gift instead of the usual free breakfast. I didn't ask for an upgrade either since the room I've booked is more than enough just for myself.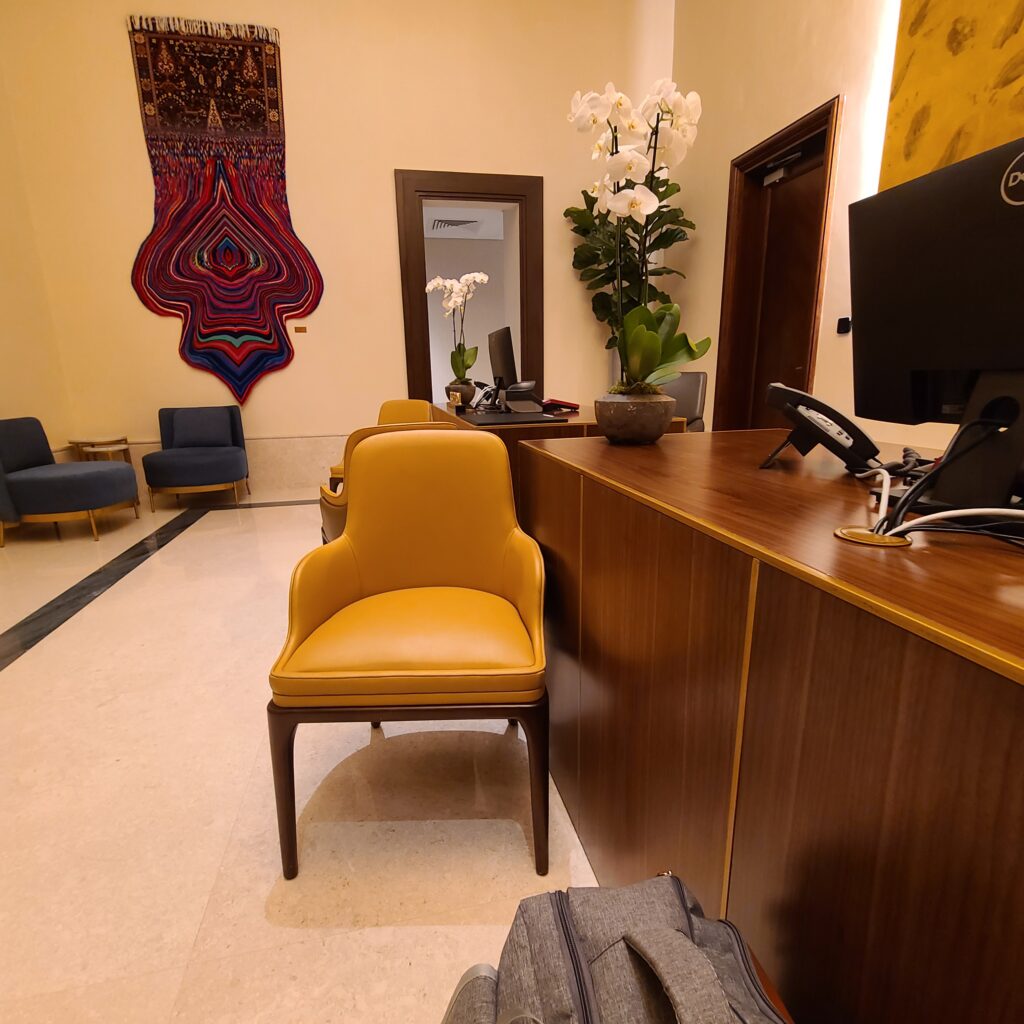 St. Regis Marsa Arabia- 1 Bedroom Suite with Terrace
I was assigned to Room 1110 on the first floor, which is one level below the lobby.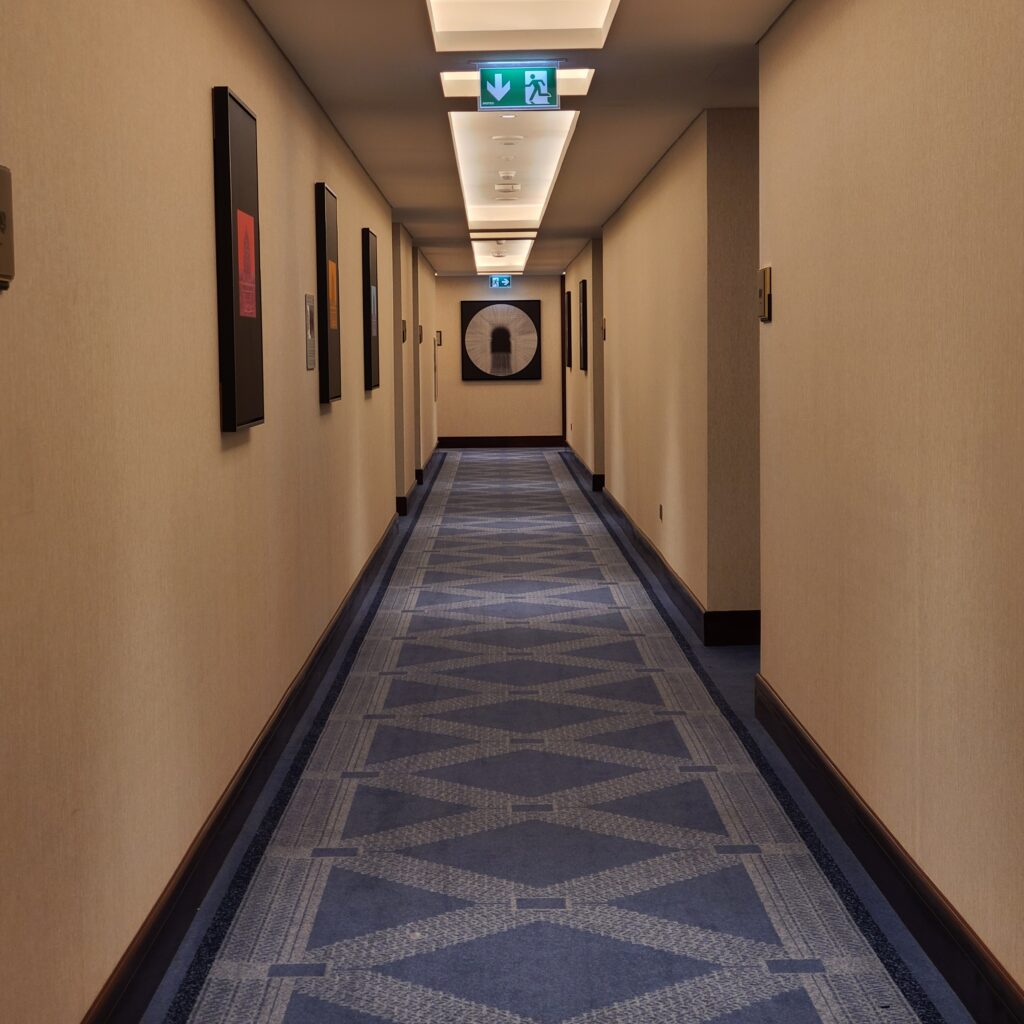 Living Room & Kitchen
I was first greeted with a spacious living room with light colors that are pleasant to the eyes.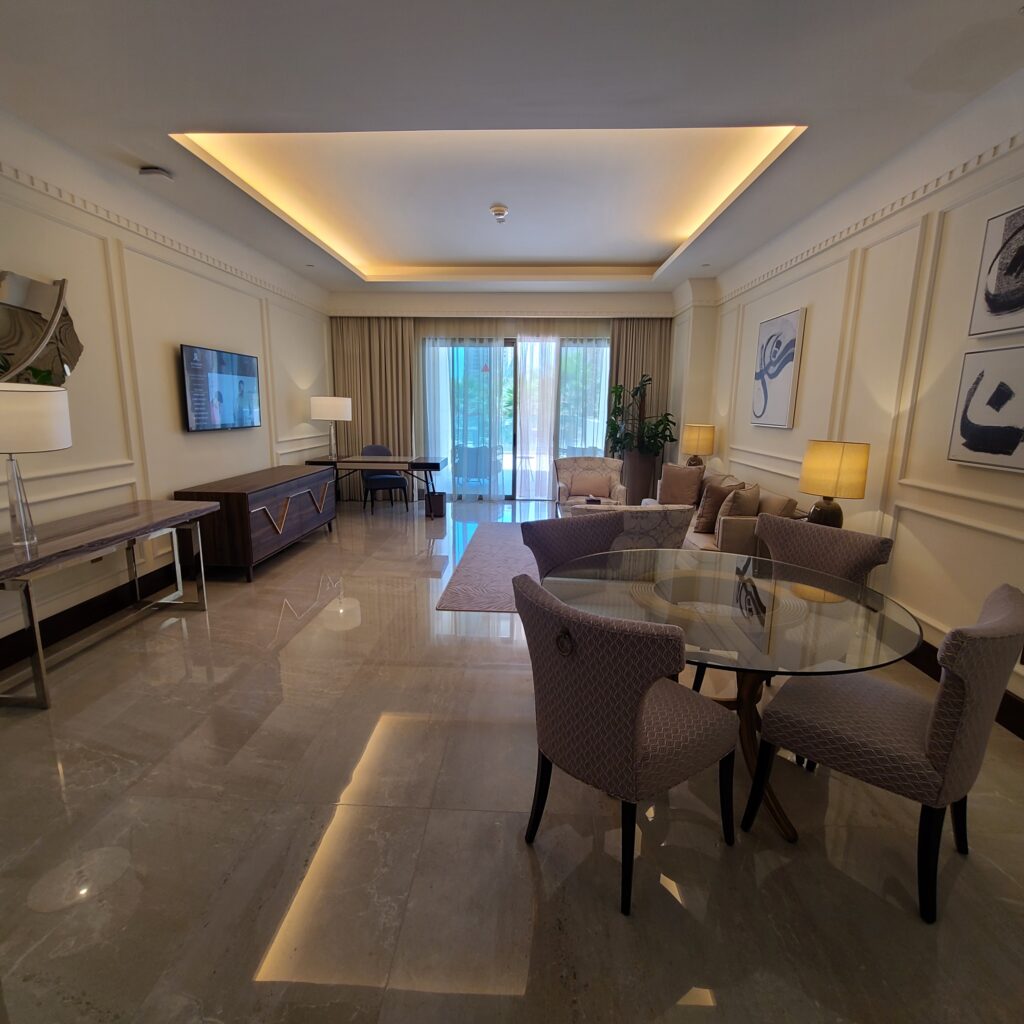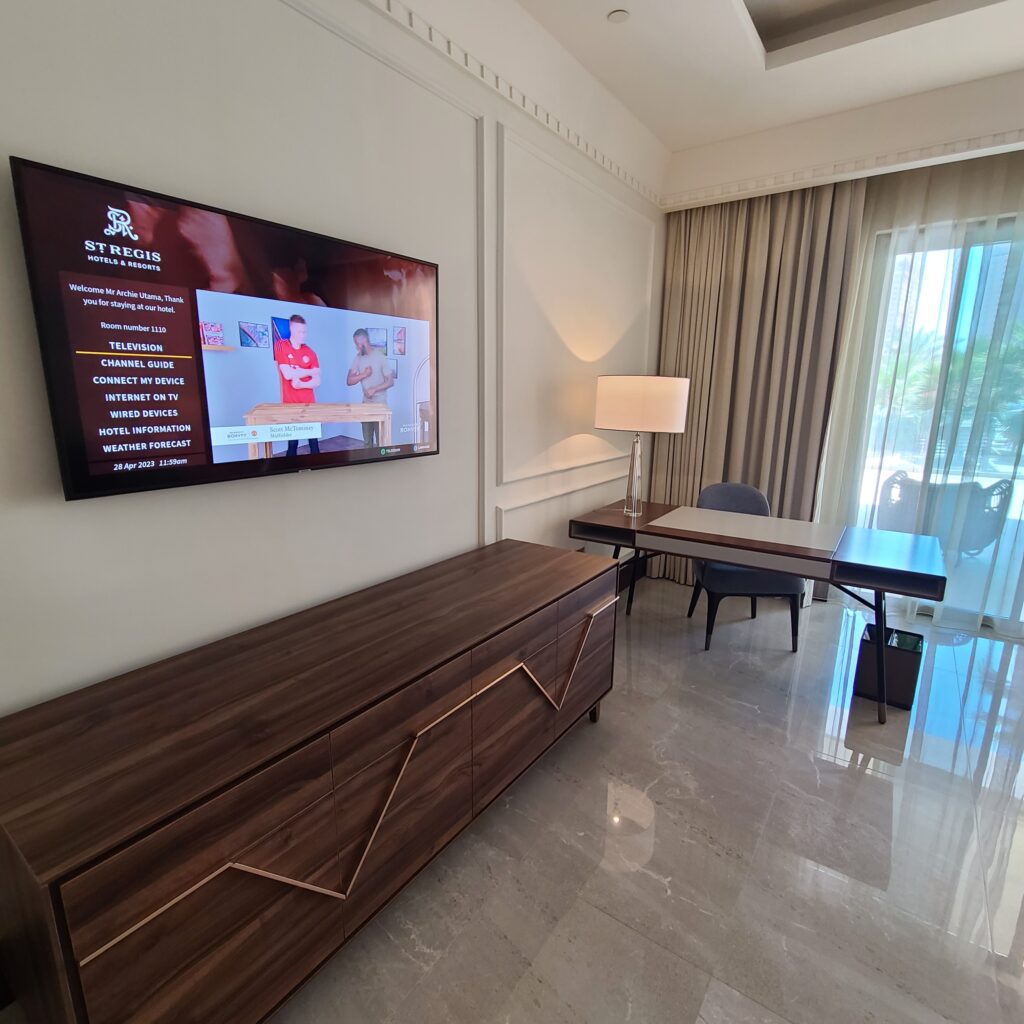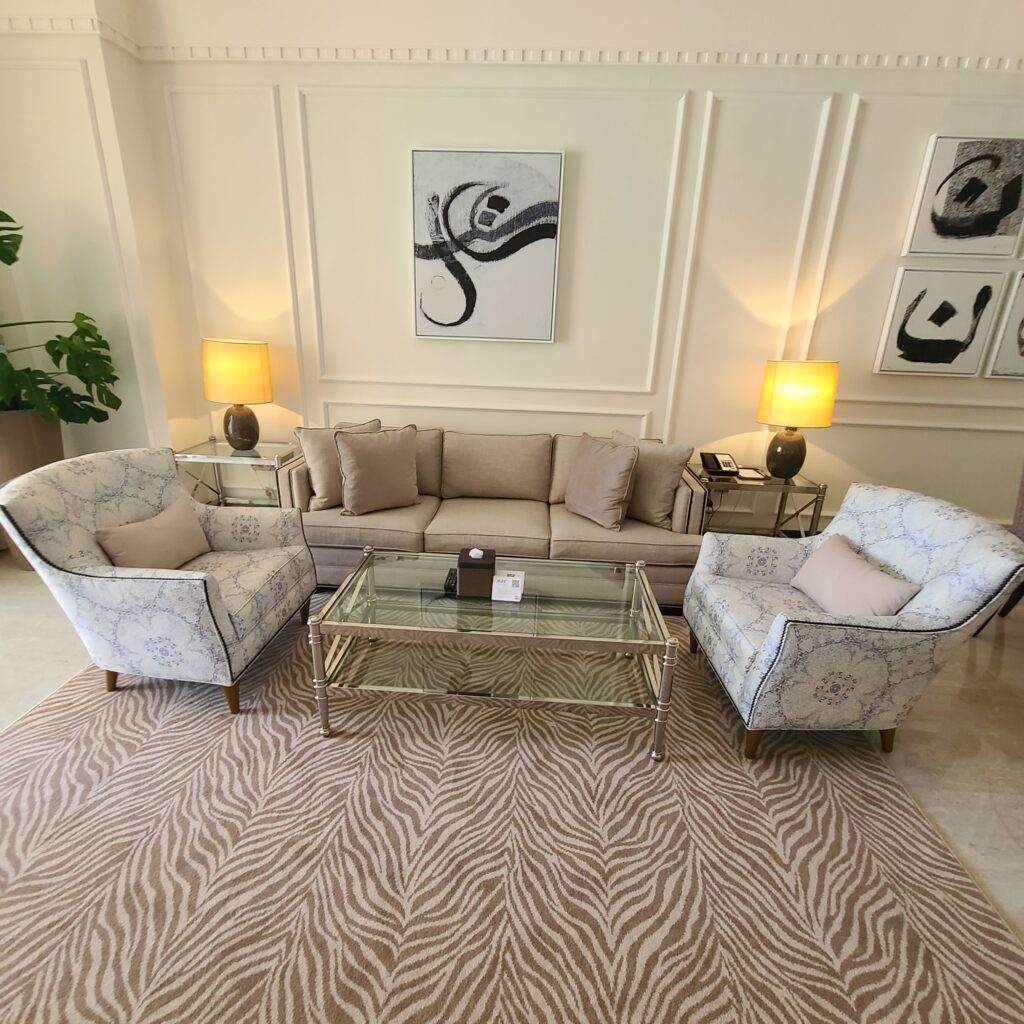 Just to the left of the entrance is the kitchen area. The kitchen is fully kitted with microwave, stove, sink, tableware, and fridge with a very generous amount of water bottles inside. Very appreciated in hot countries like Qatar!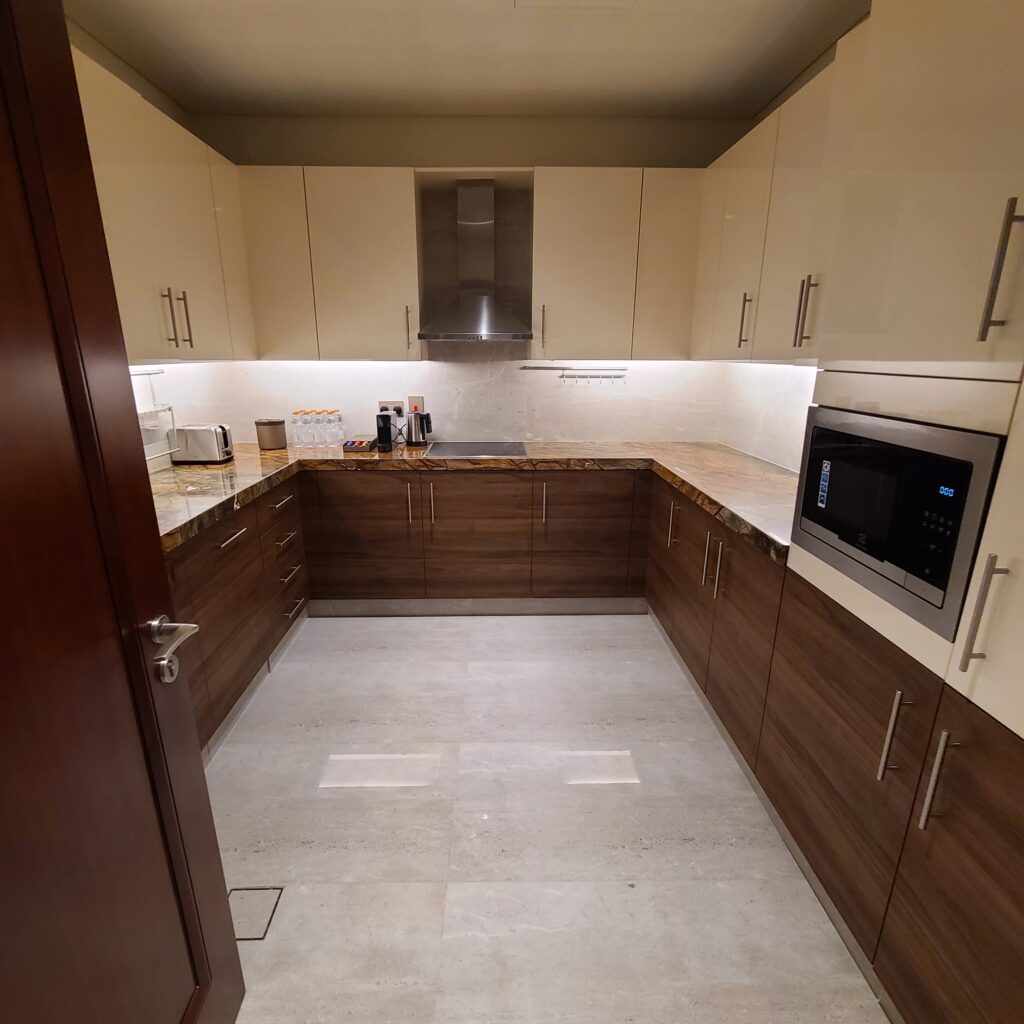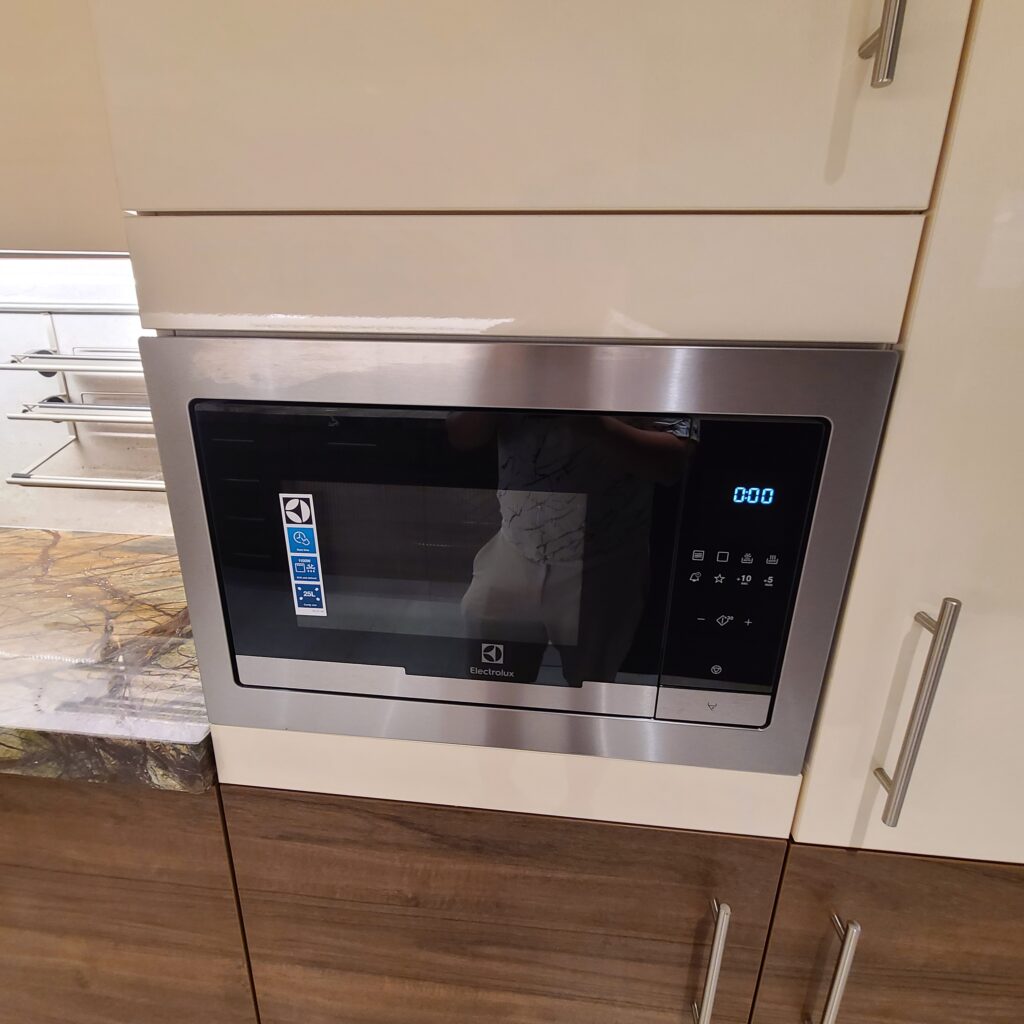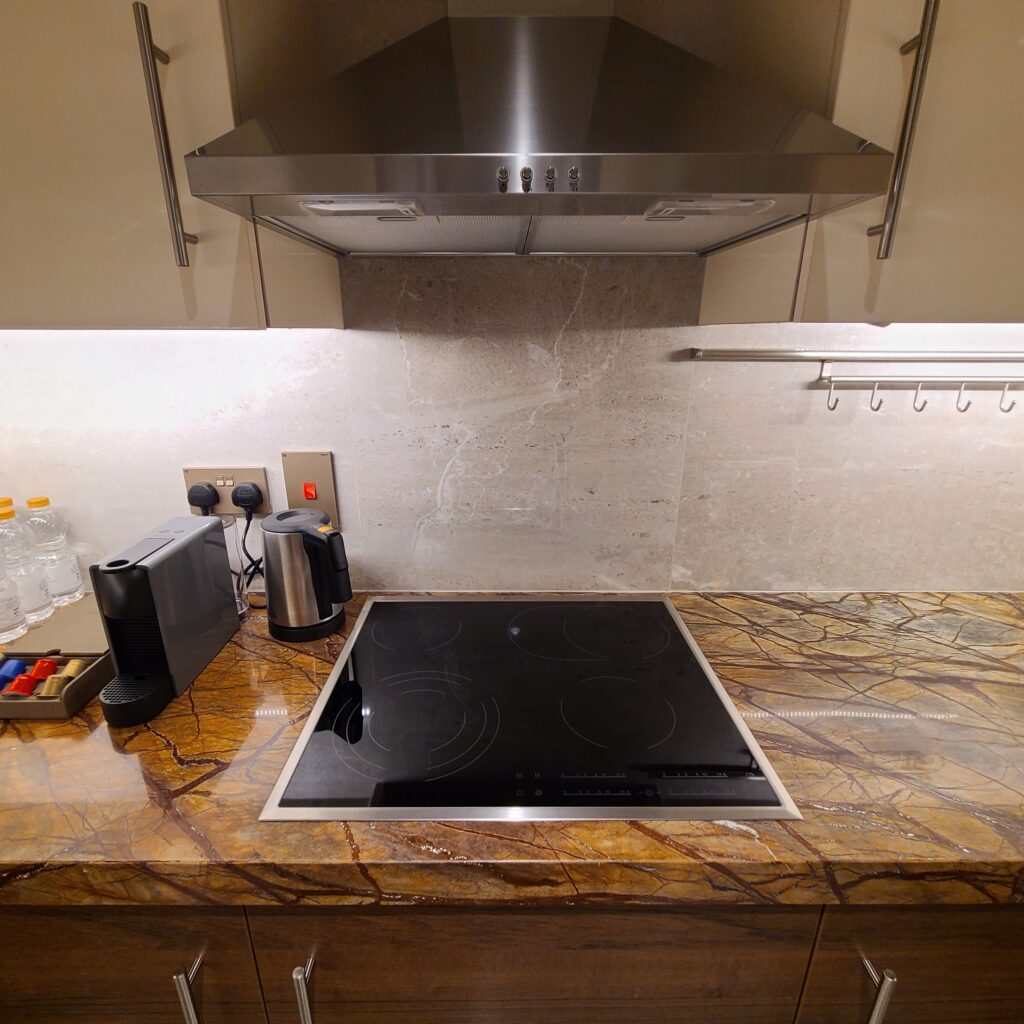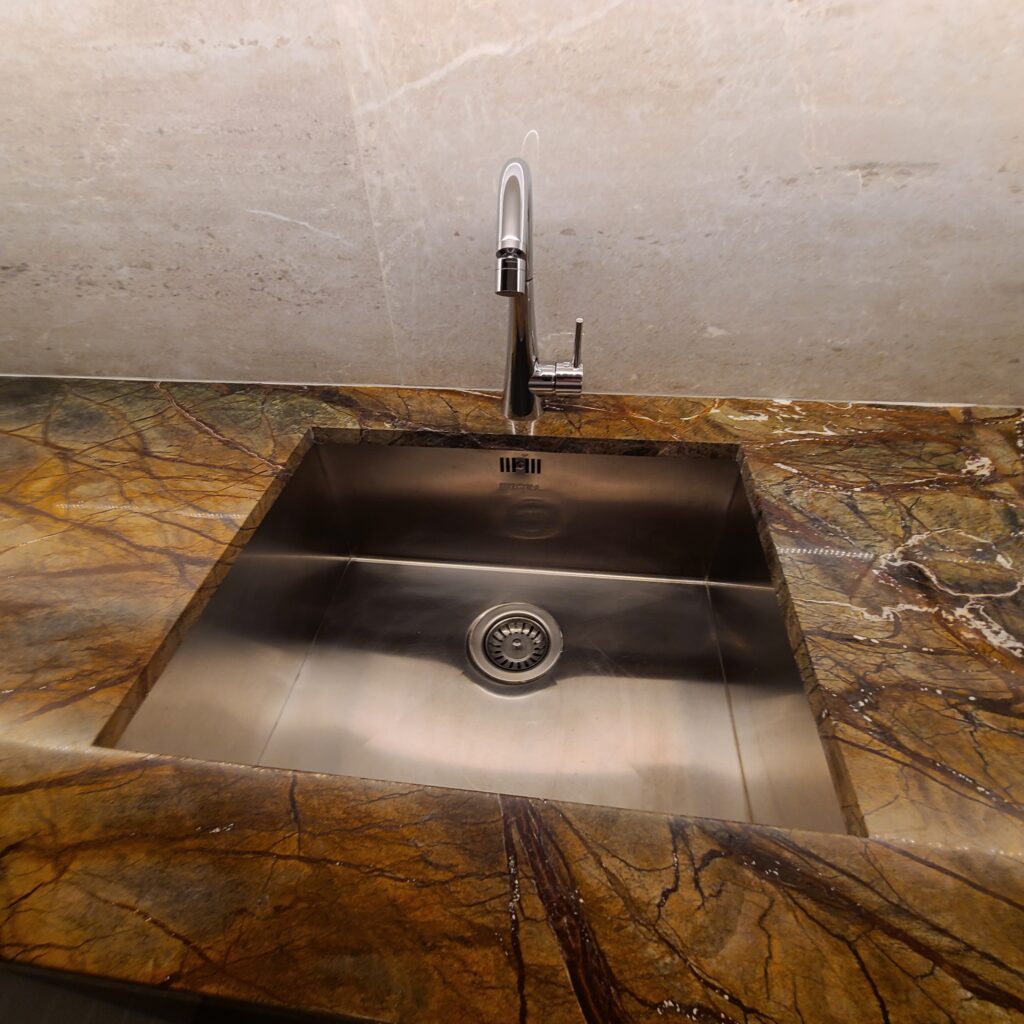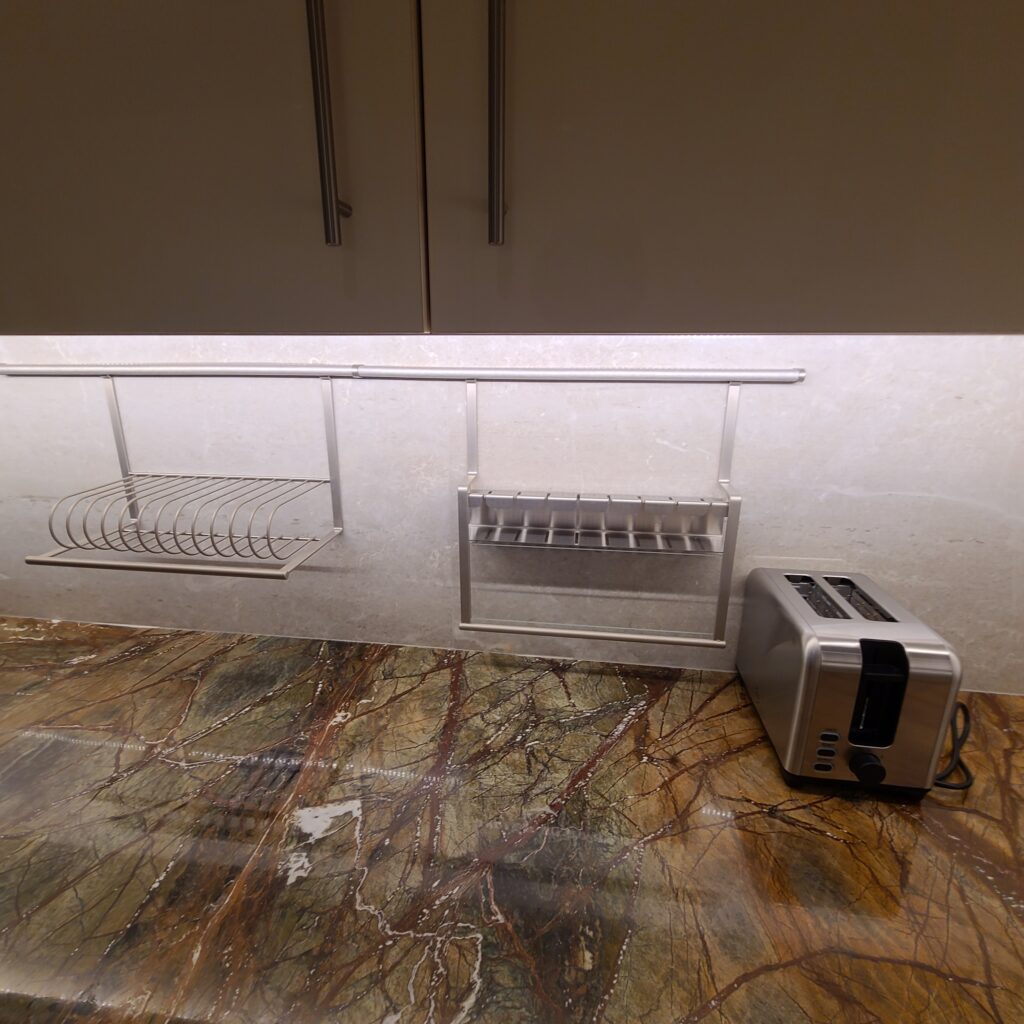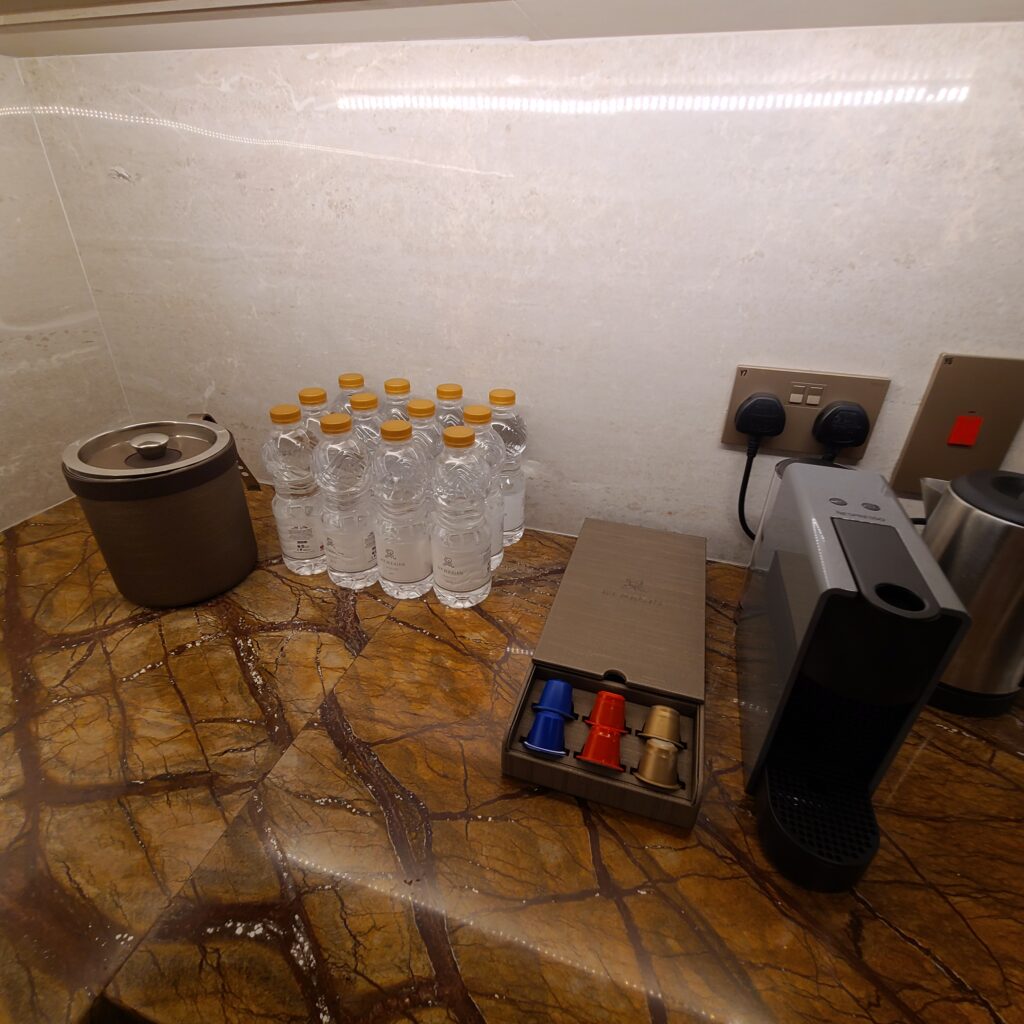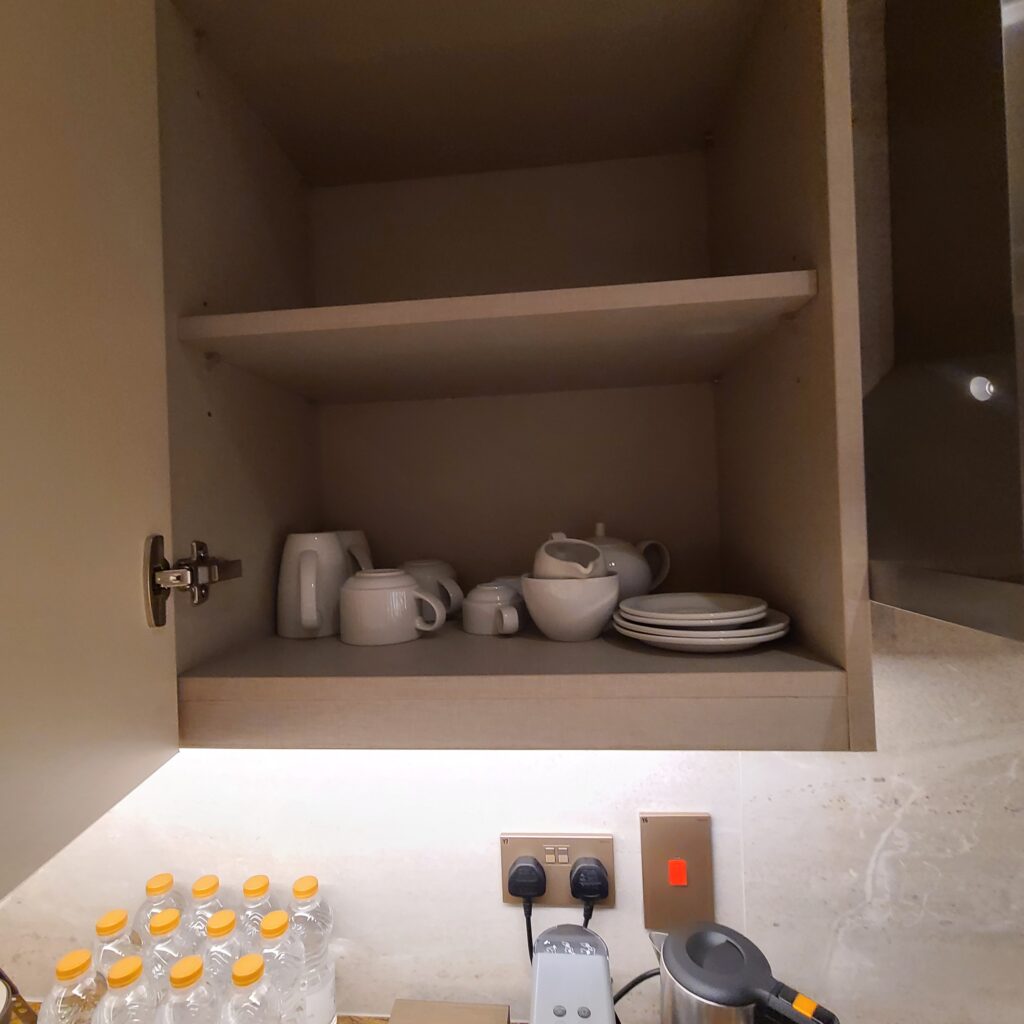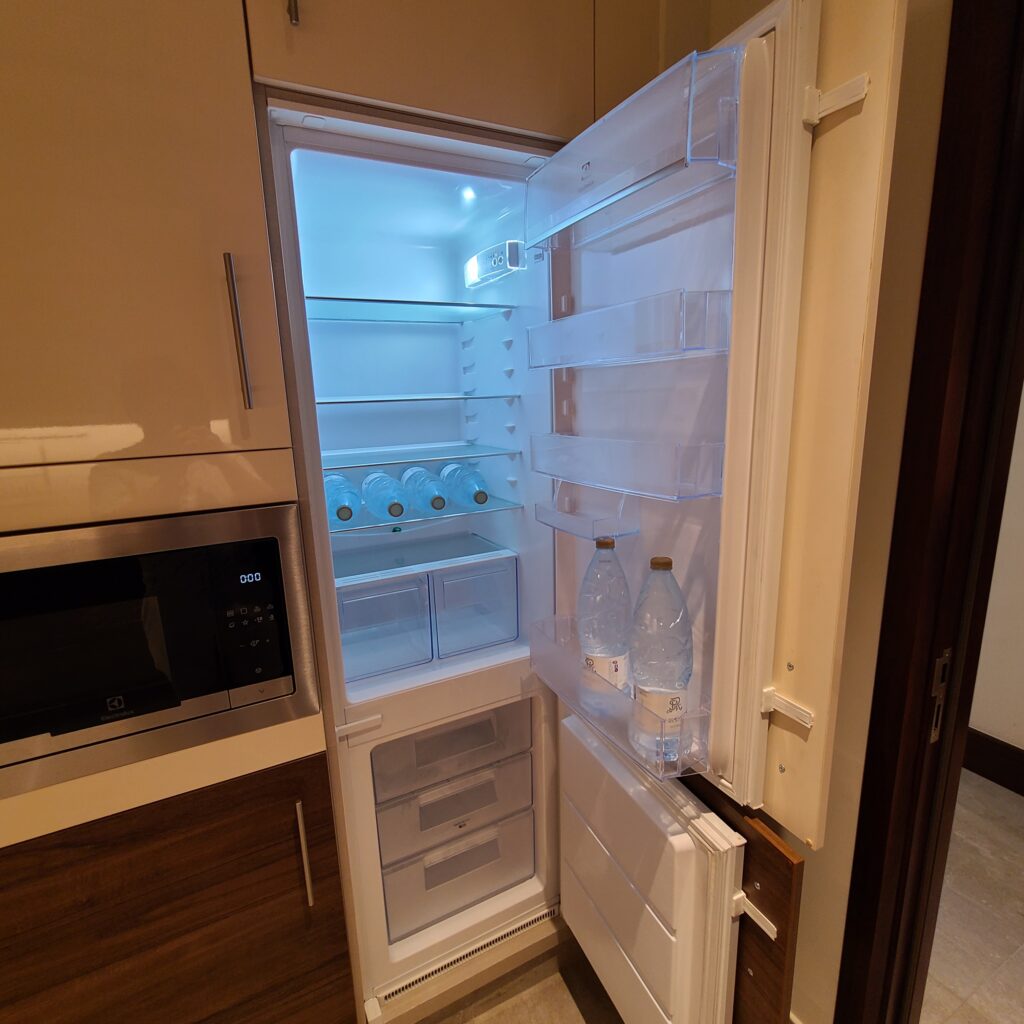 There's also a washer/dryer unit in the kitchen. This allowed me to go for a swim without worrying of bringing wet clothes home!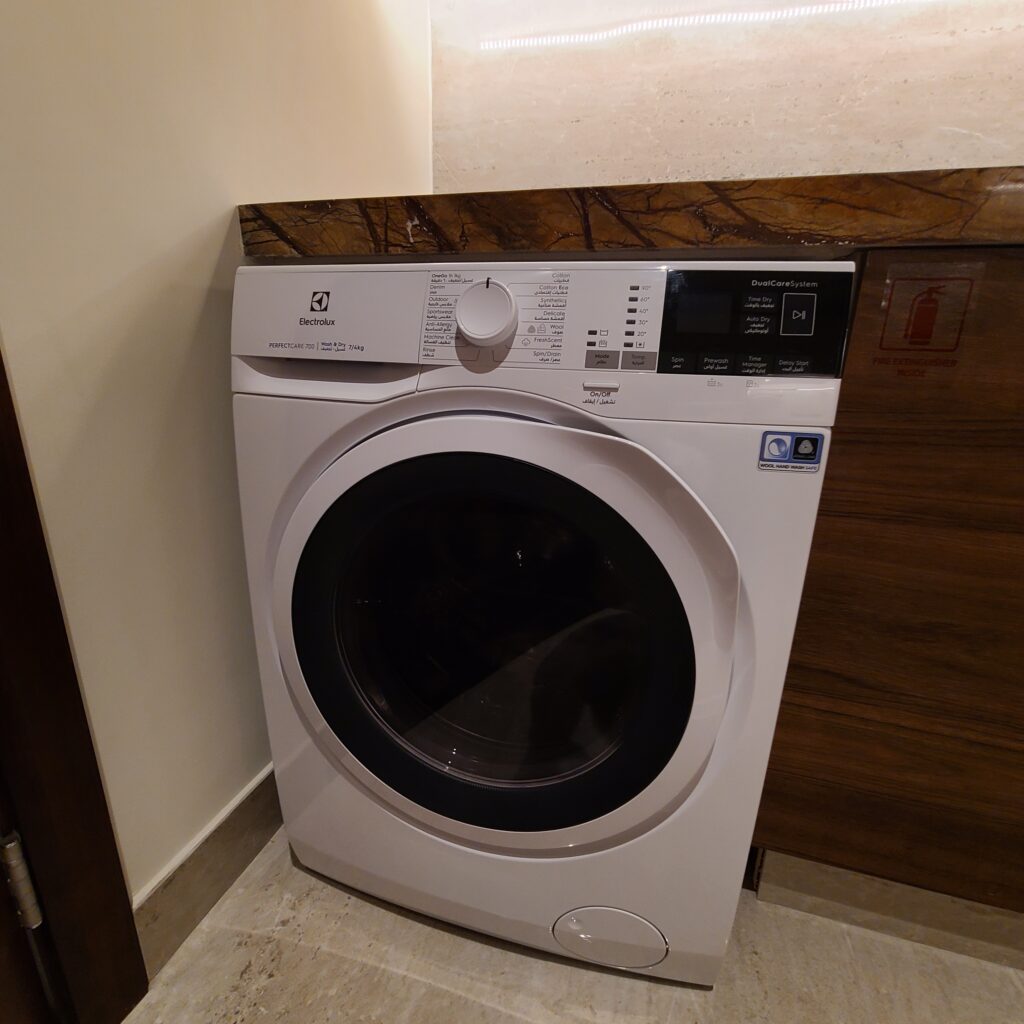 Across the kitchen is the toilet room. There's another toilet in the master bathroom too.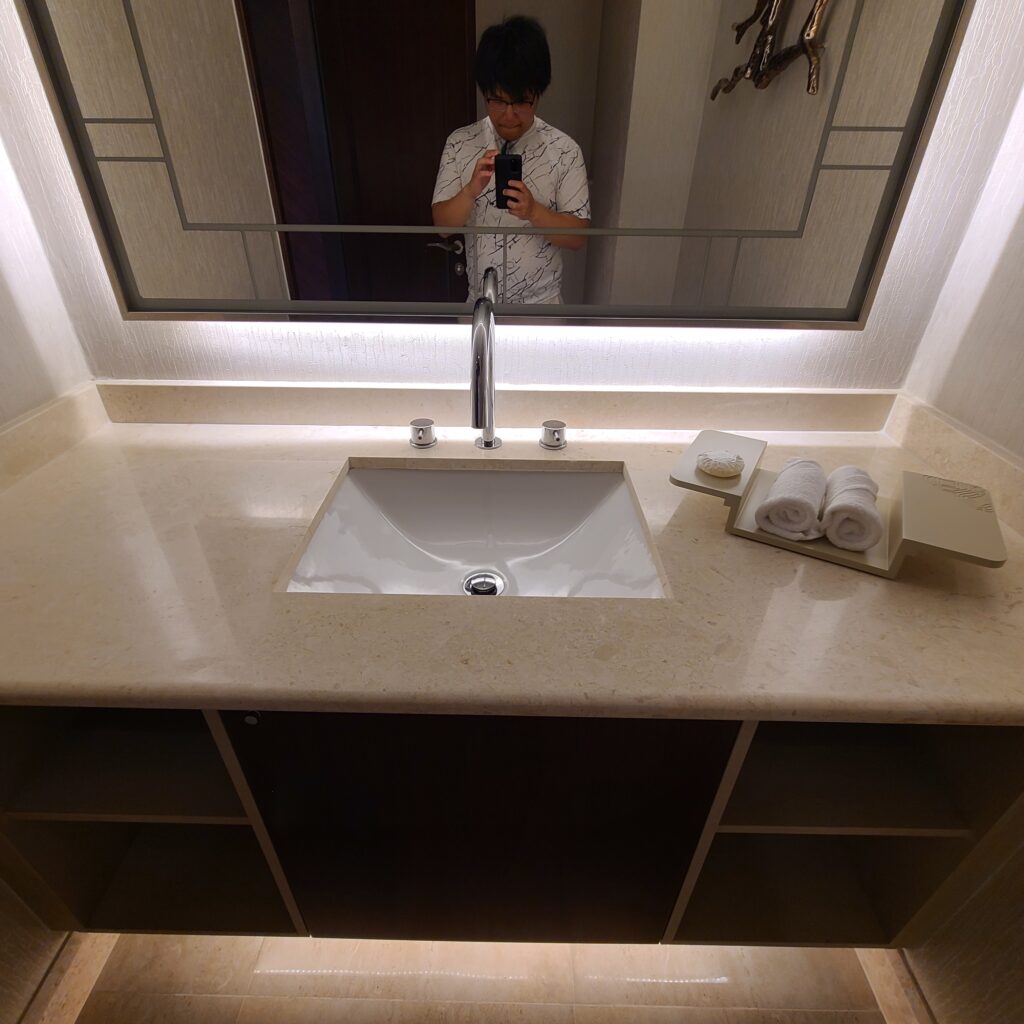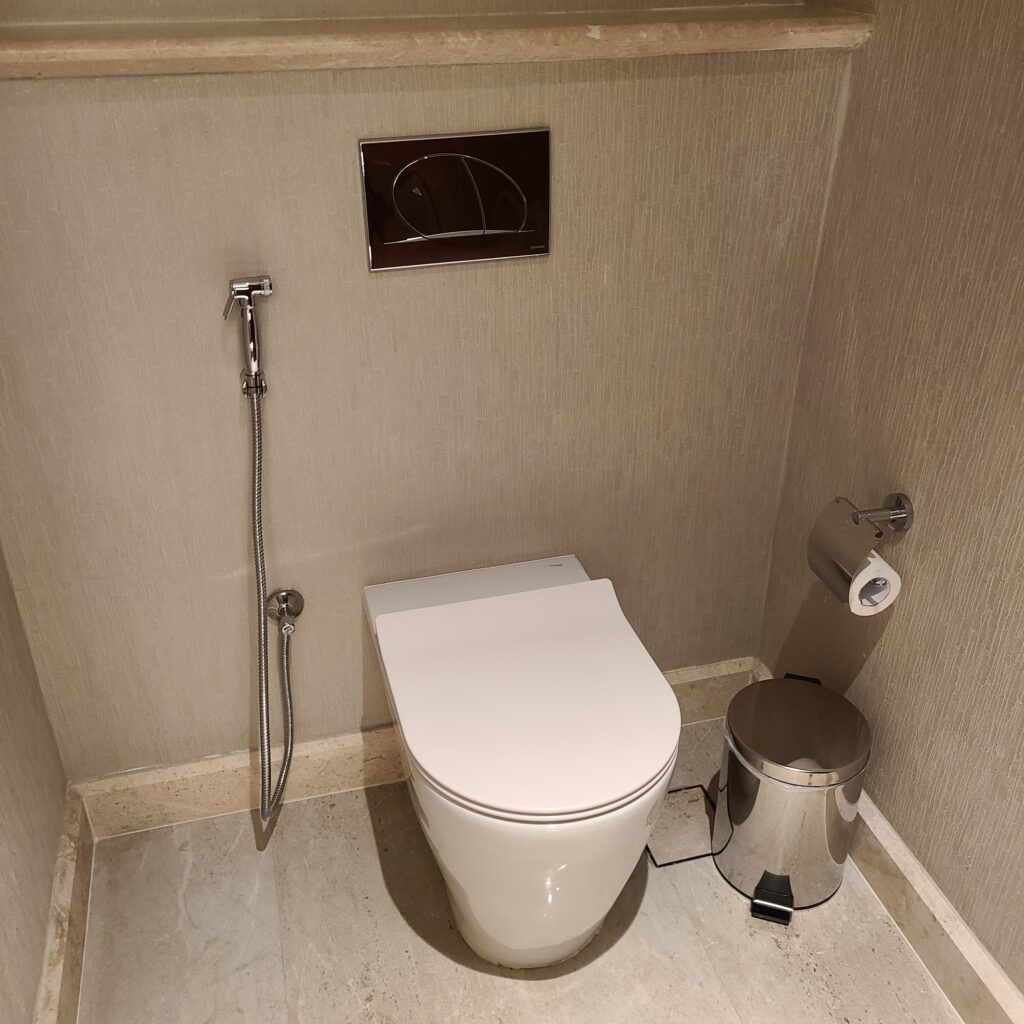 Shortly after, my butler knocked on my door to give a copious amount of welcome gifts just for my lone self. Sadly, I couldn't finish them all. It was a bit amusing that different gifts were placed on different surfaces.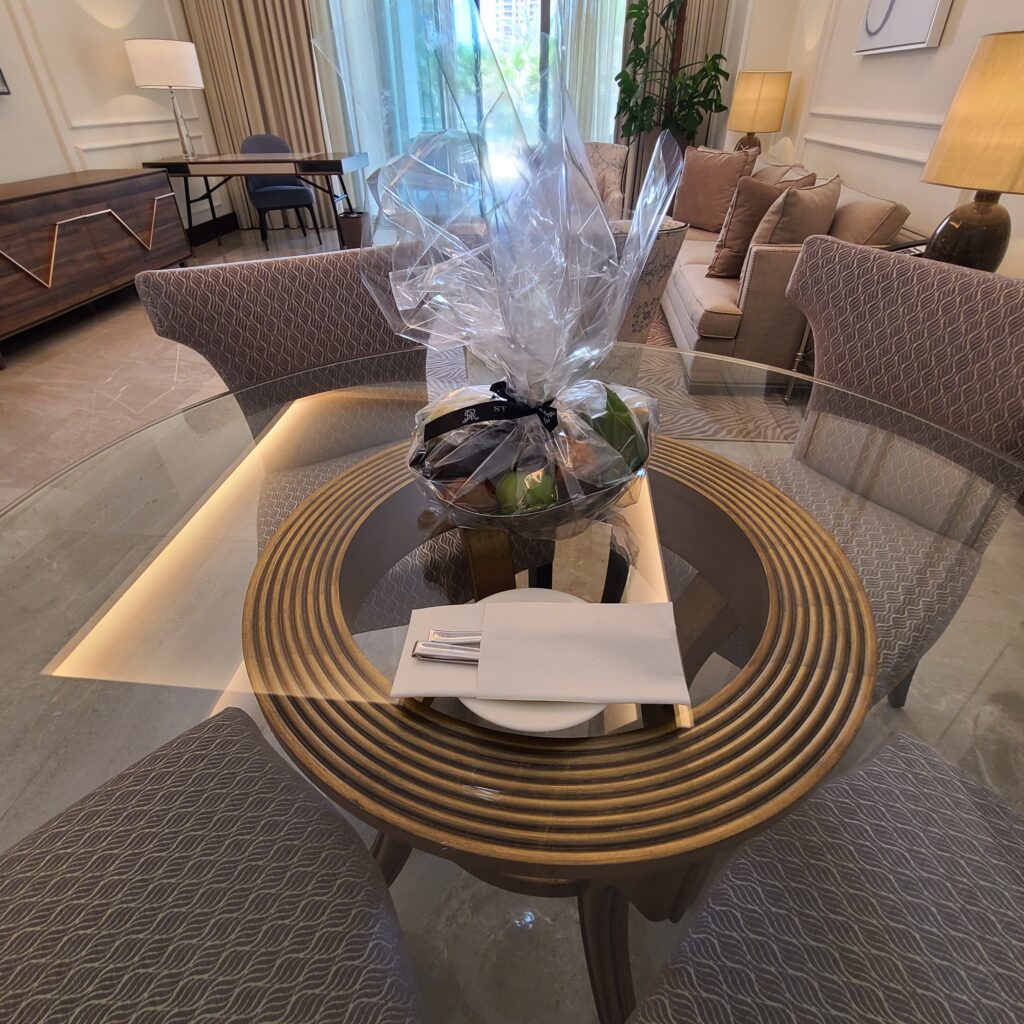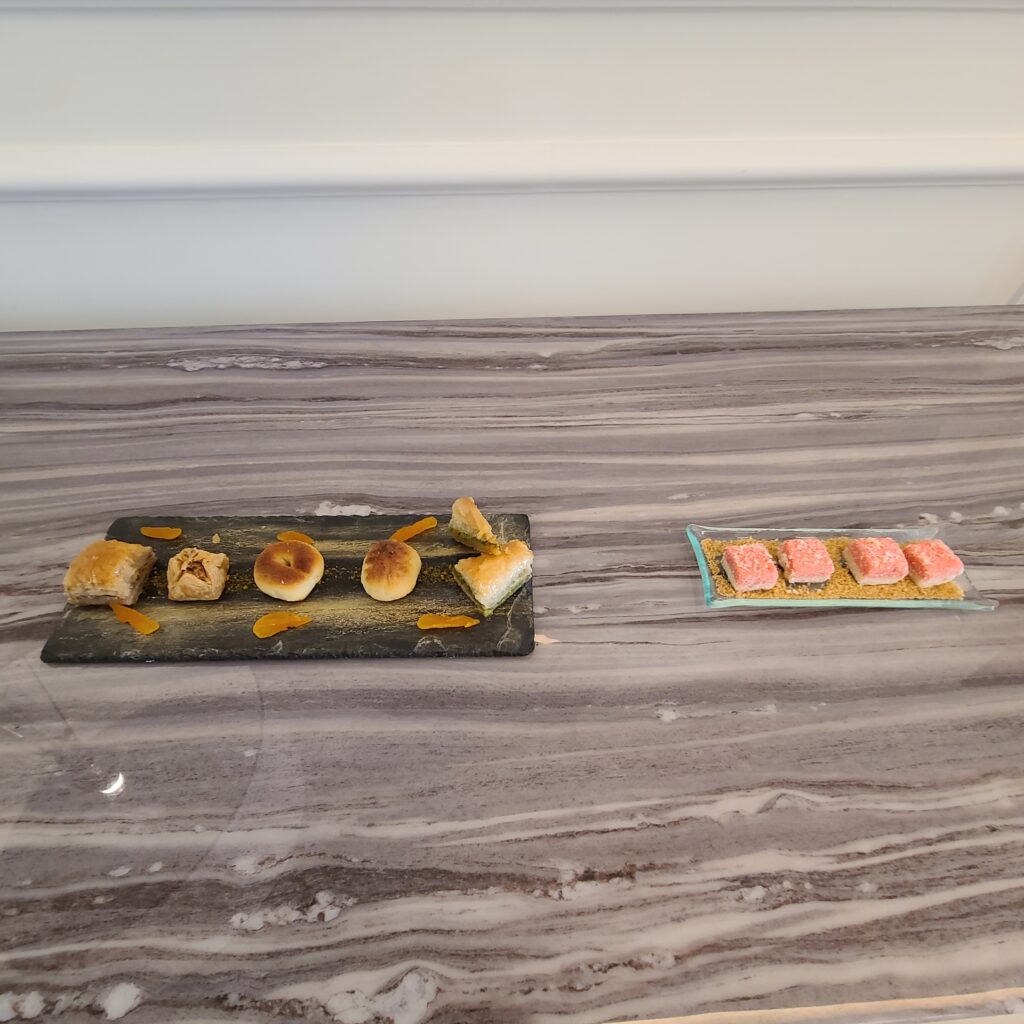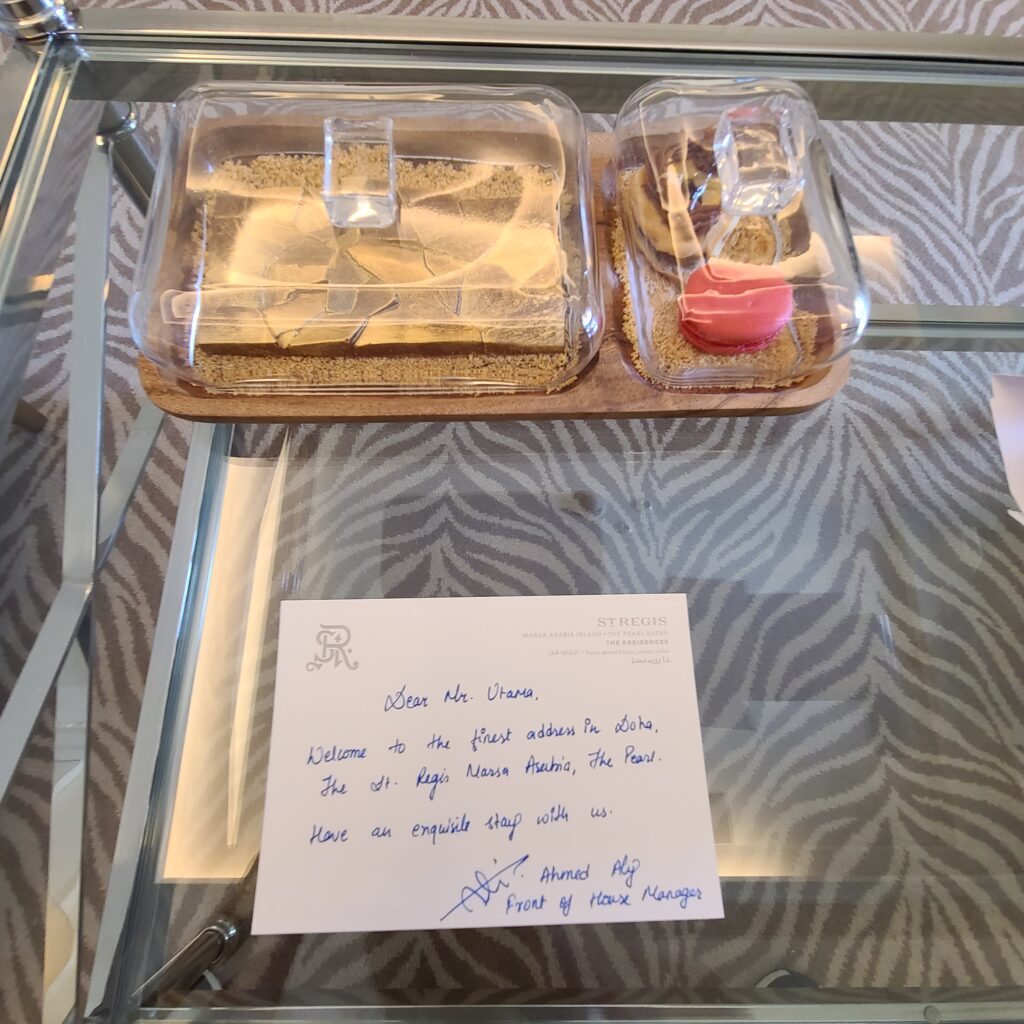 This is one of the best looking chocolates I've seen!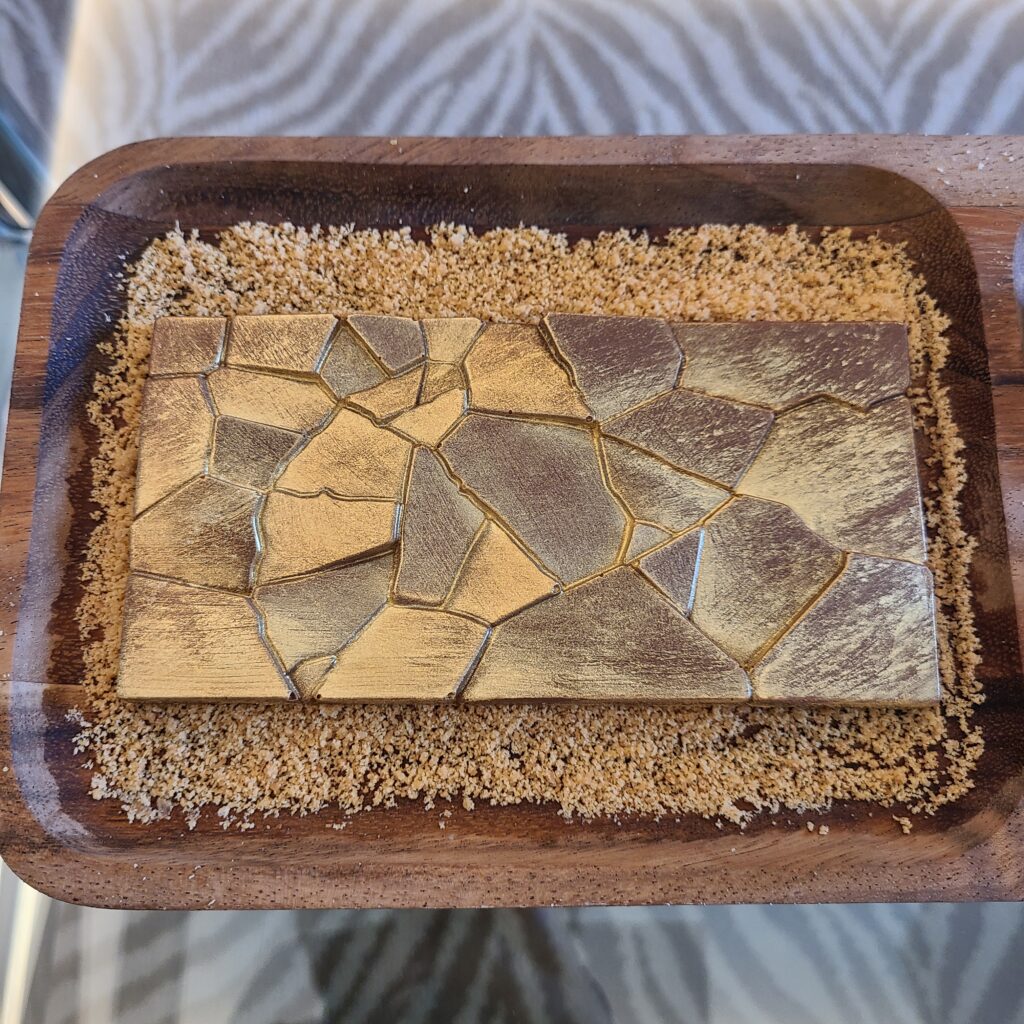 My butler then gave me a brief room tour and handed me her contact card. One thing I learned is that the air conditioning will automatically shut down if I'd open the door to the outdoor terrace, in which I'd have to reset manually after returning back inside the suite.
Outdoor Terrace
The outdoor terrace has a few lounge chairs with a tiny table beside them.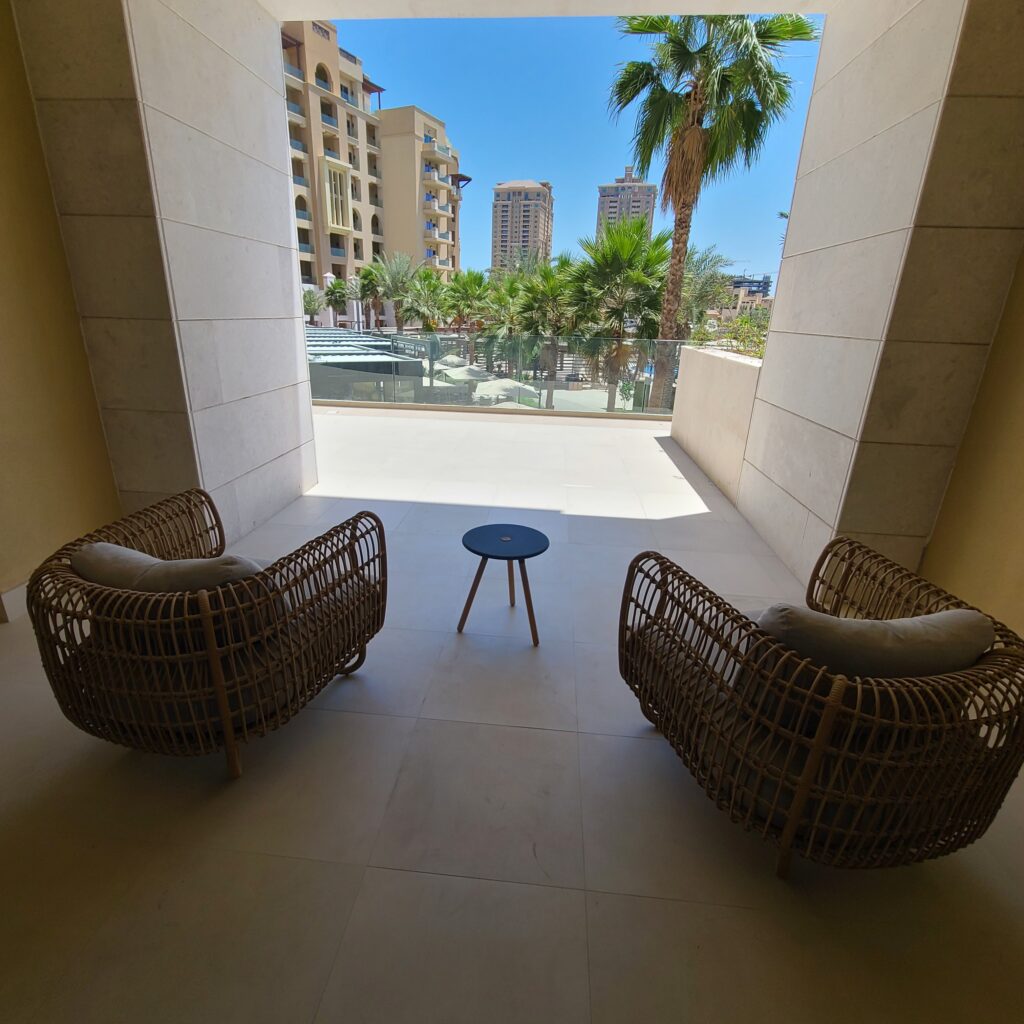 I was a bit disappointed that the terrace is mostly an empty space with not much of a view. Pretty much an oversized balcony. If I'd had known better, I would probably prefer a suite at a higher floor with a smaller outdoor balcony with clearer sea view. Don't book the suite with a terrace if you want higher floors!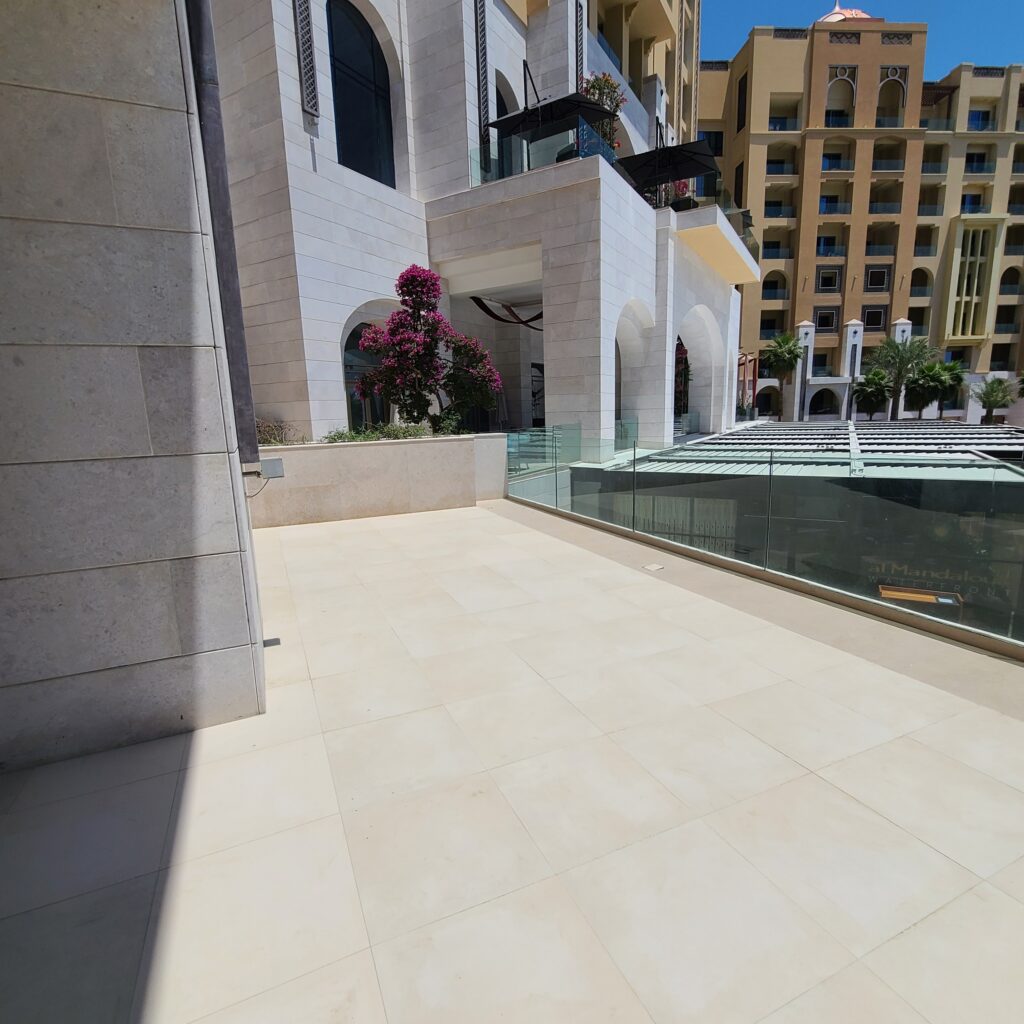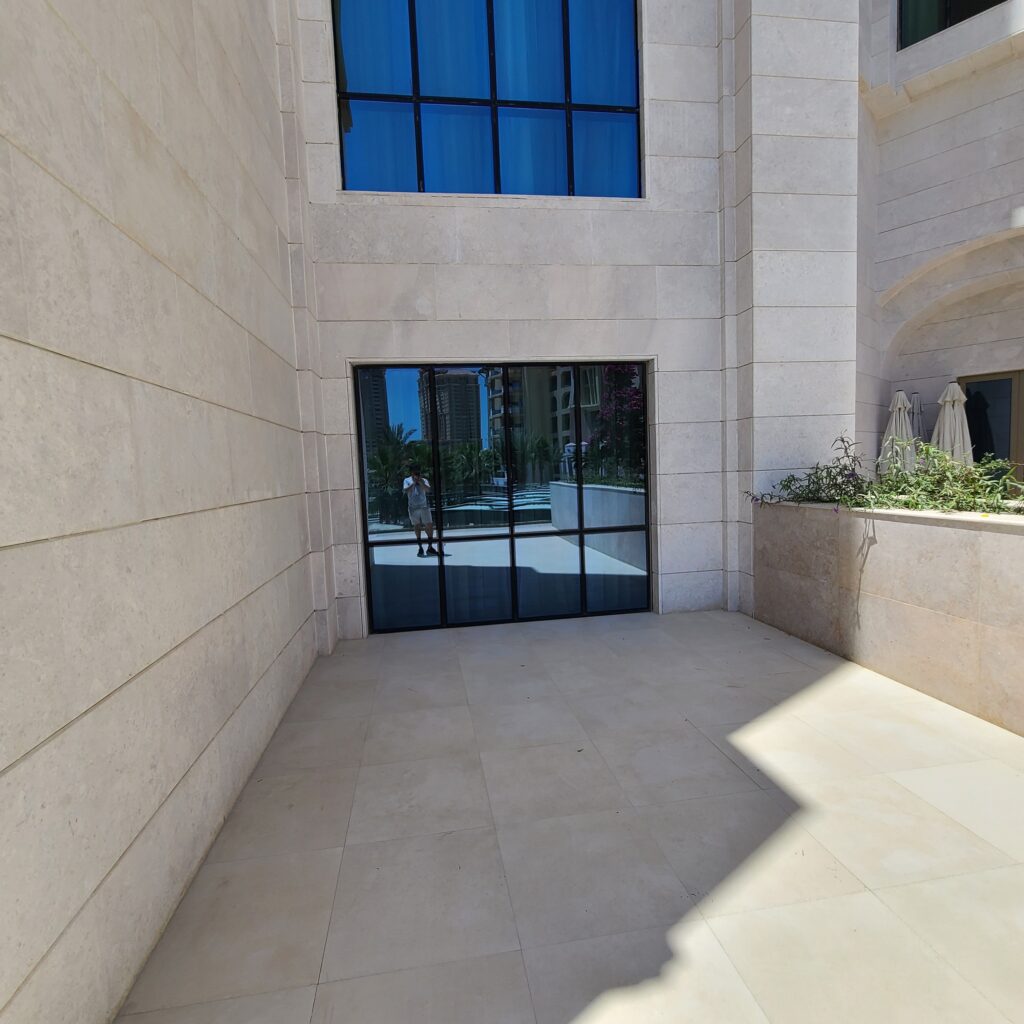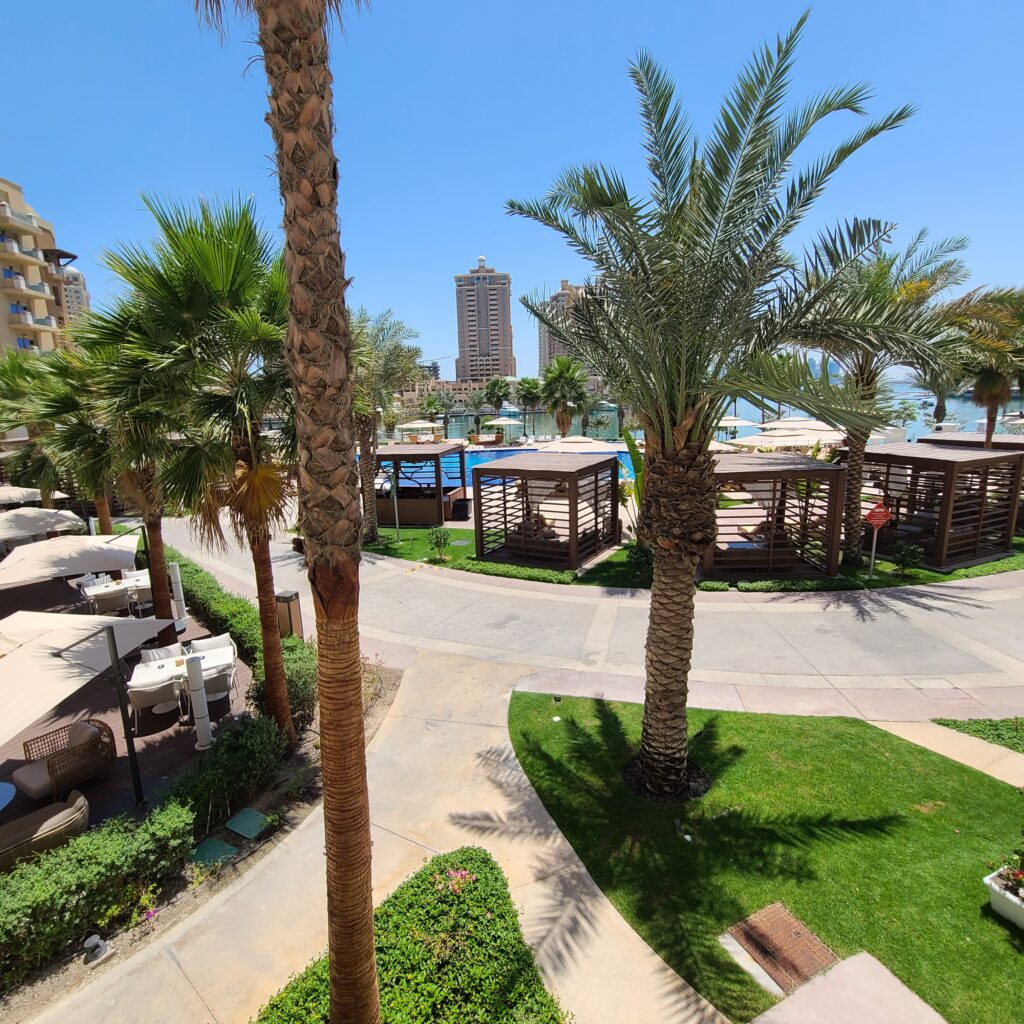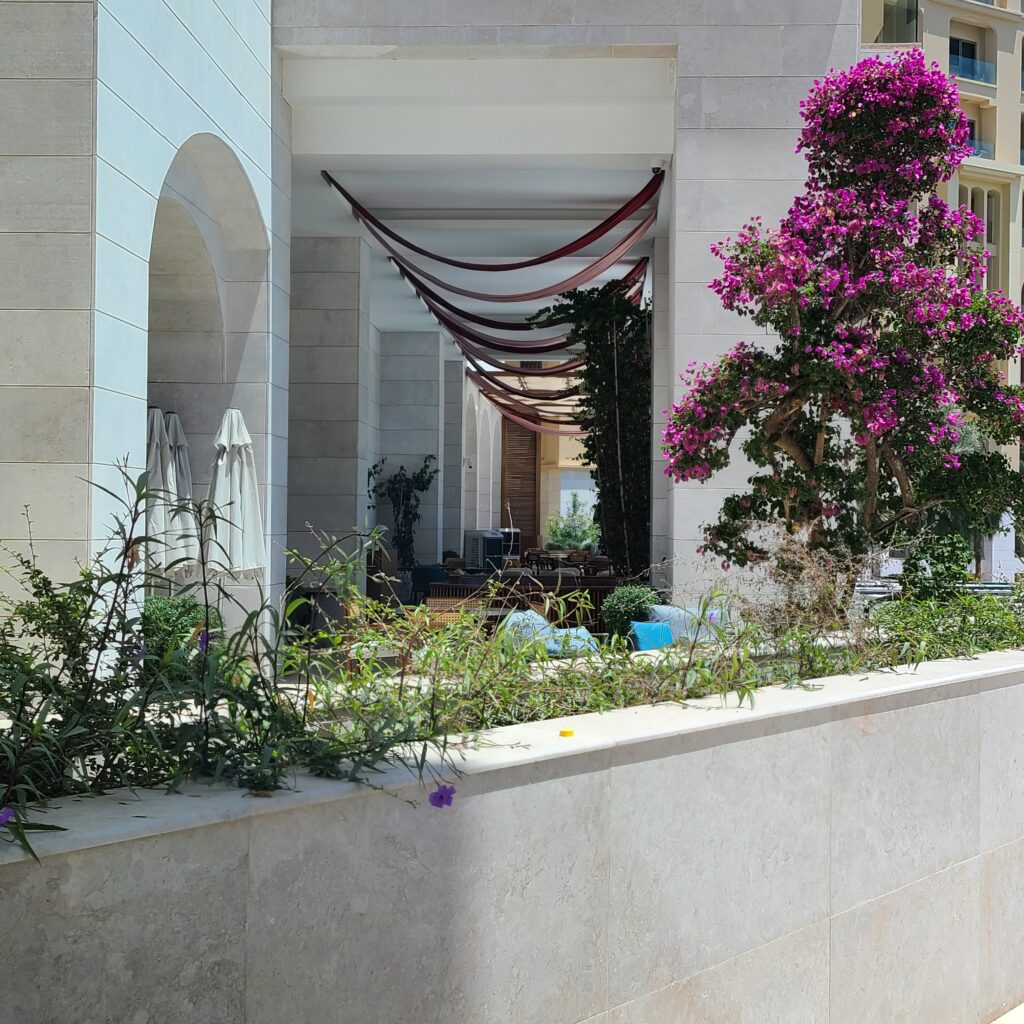 Master Bedroom & Bathroom
The bedroom is spacious and comes with mood lighting setup as well. The bed was very comfortable!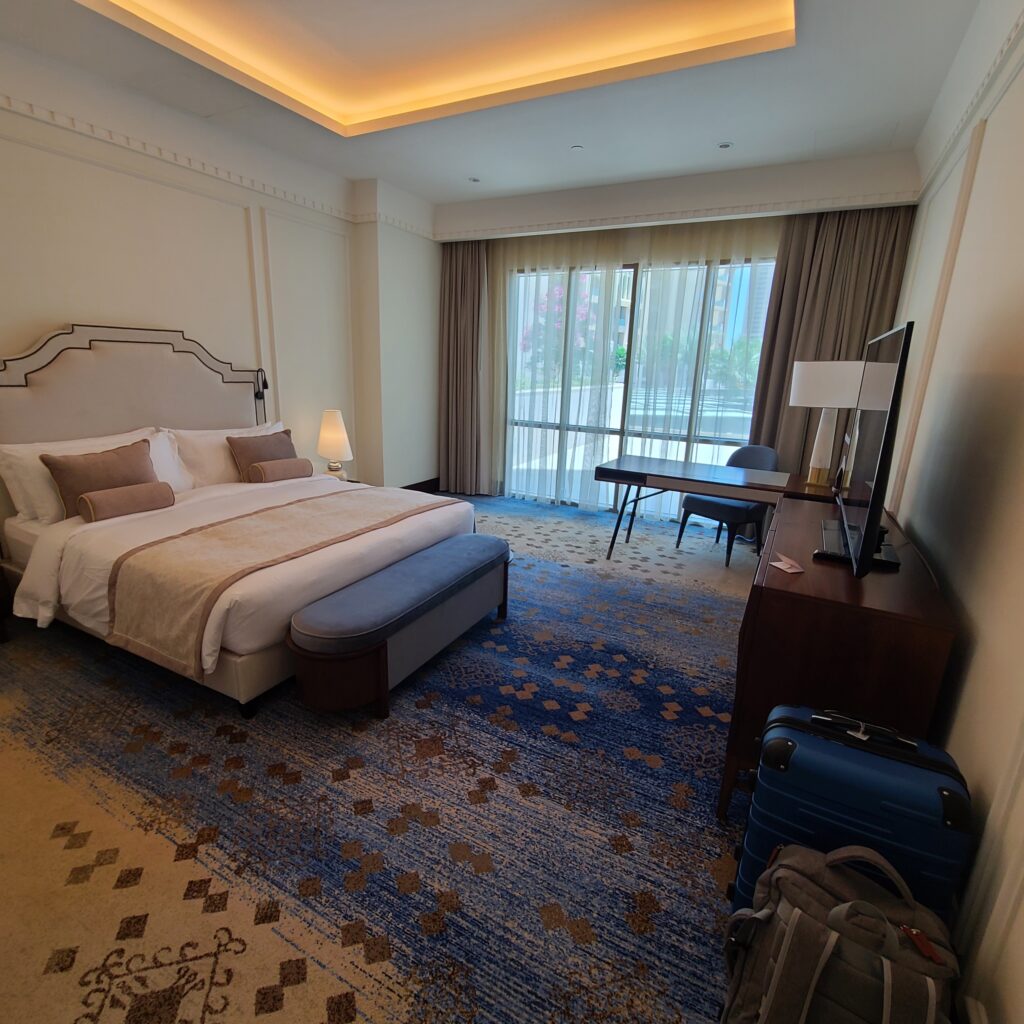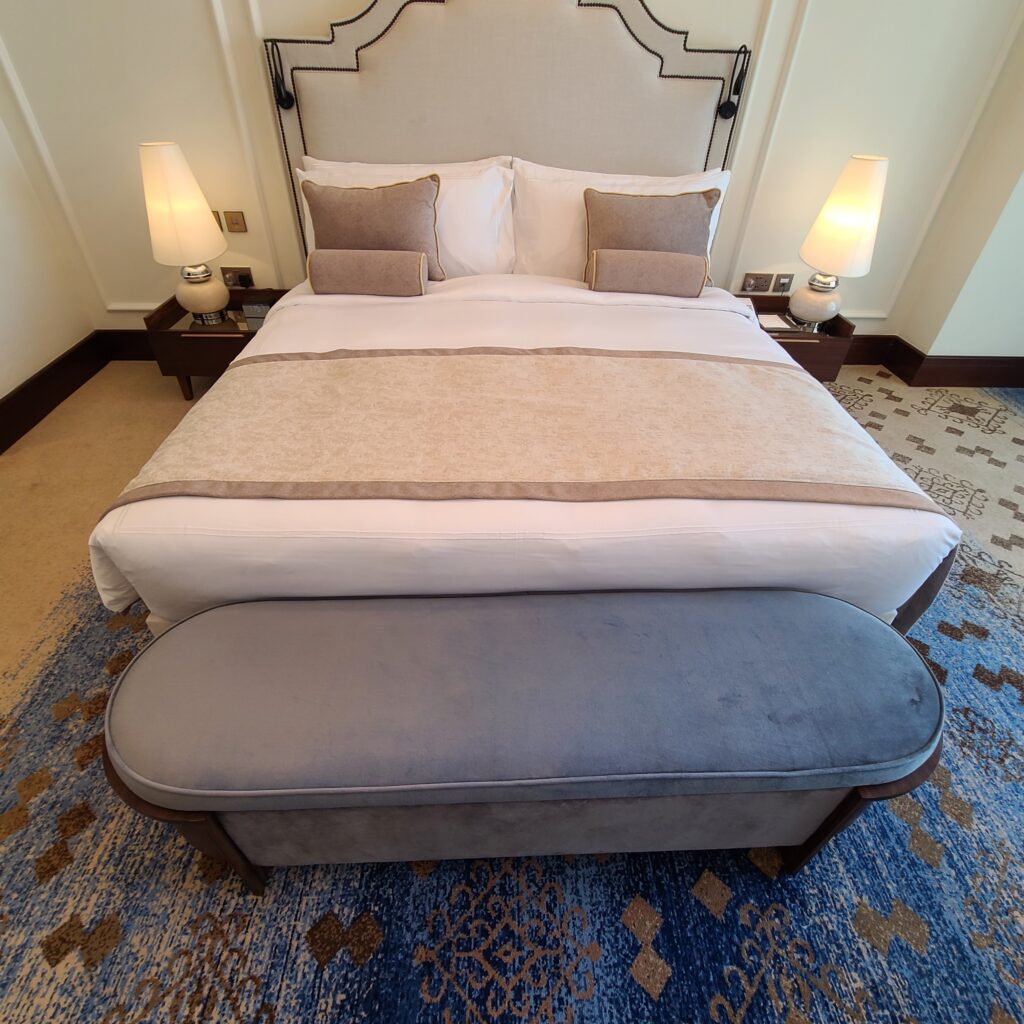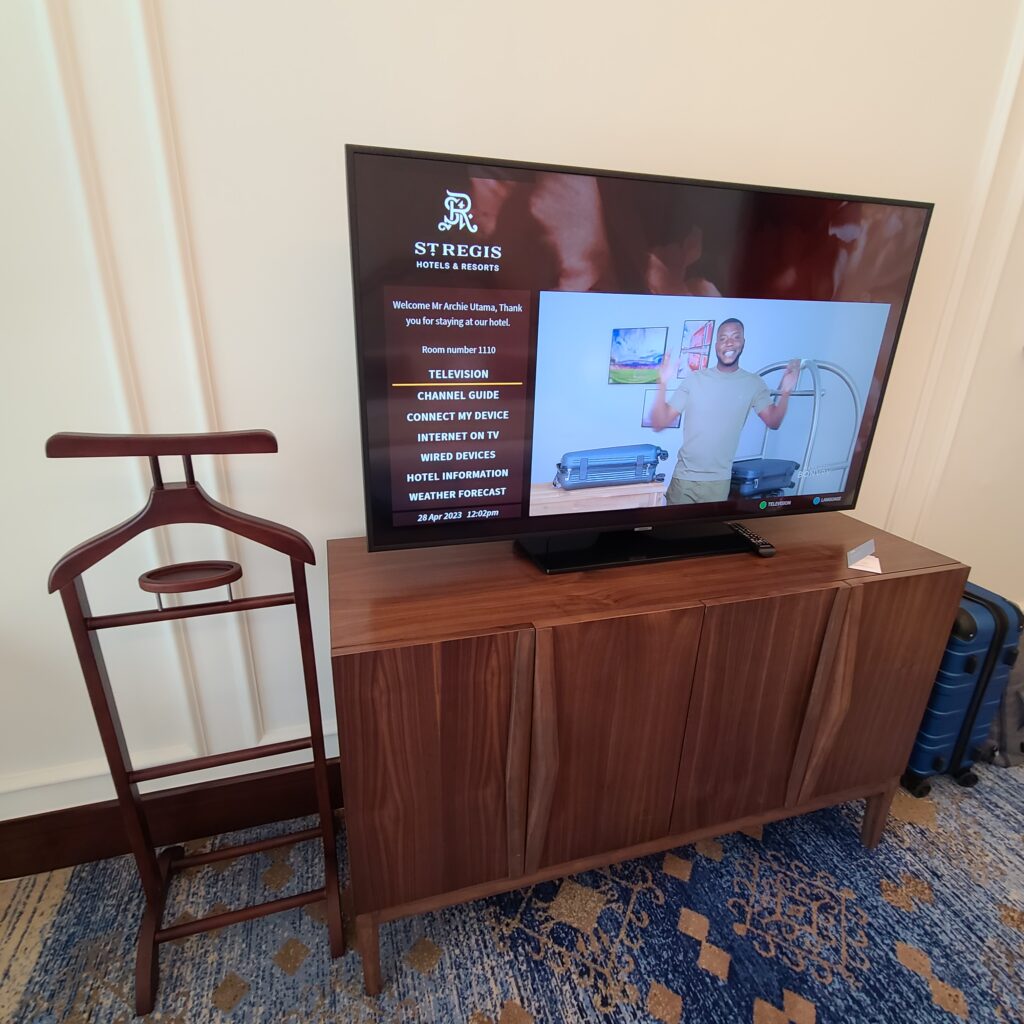 Plush bathrobes are in the closet.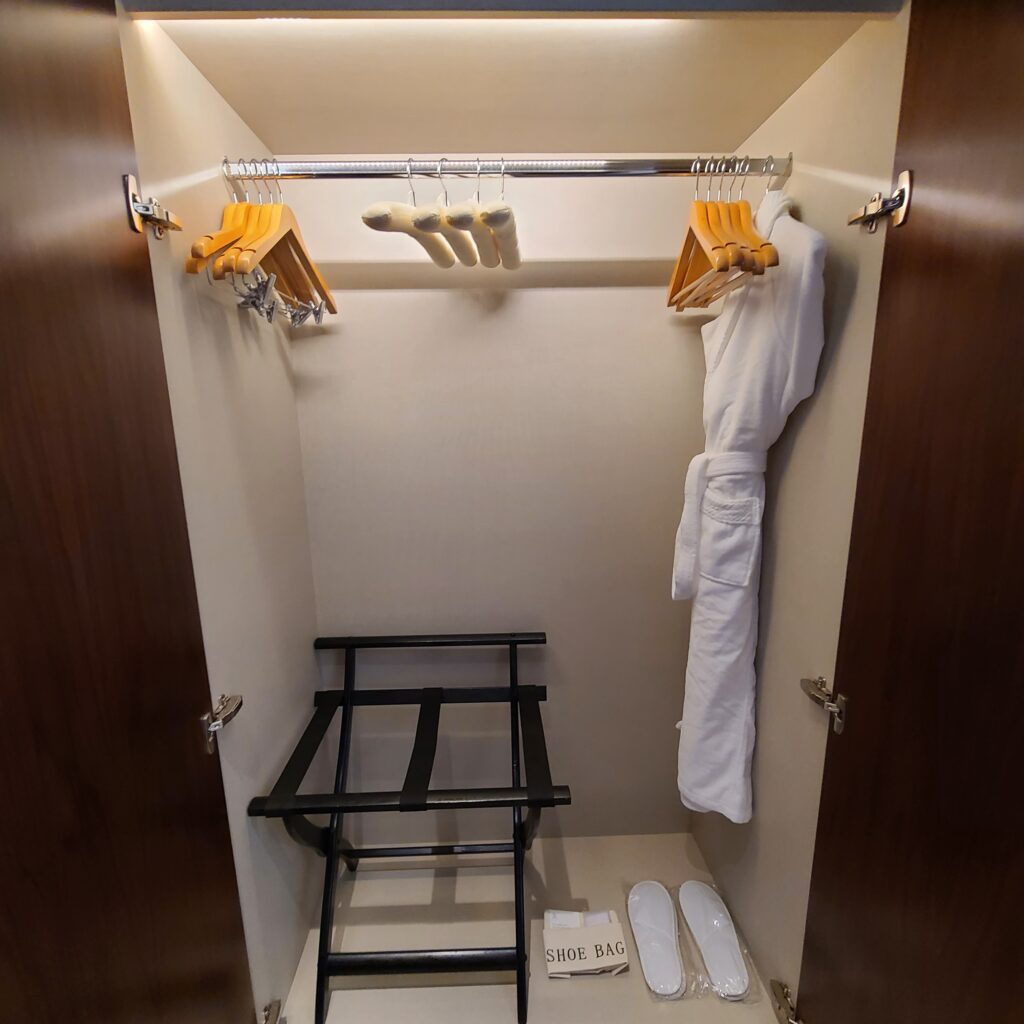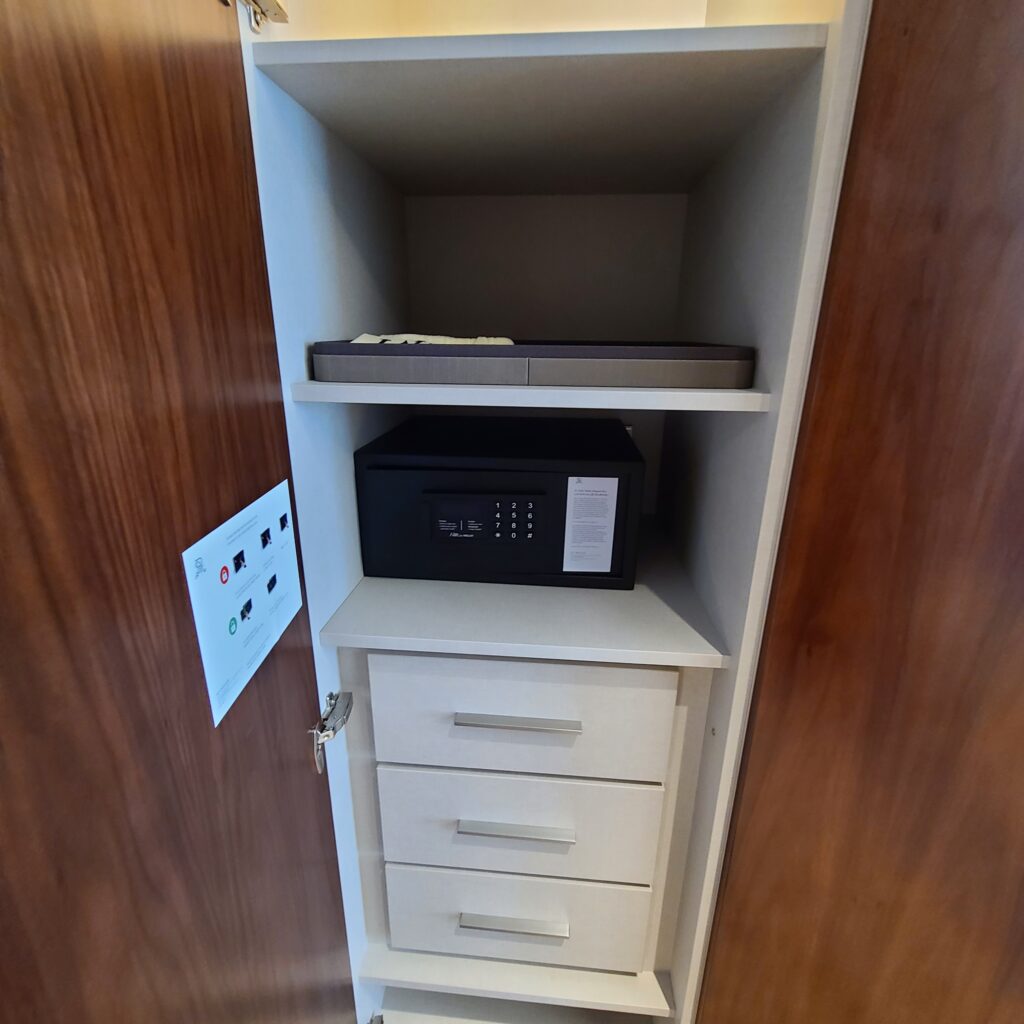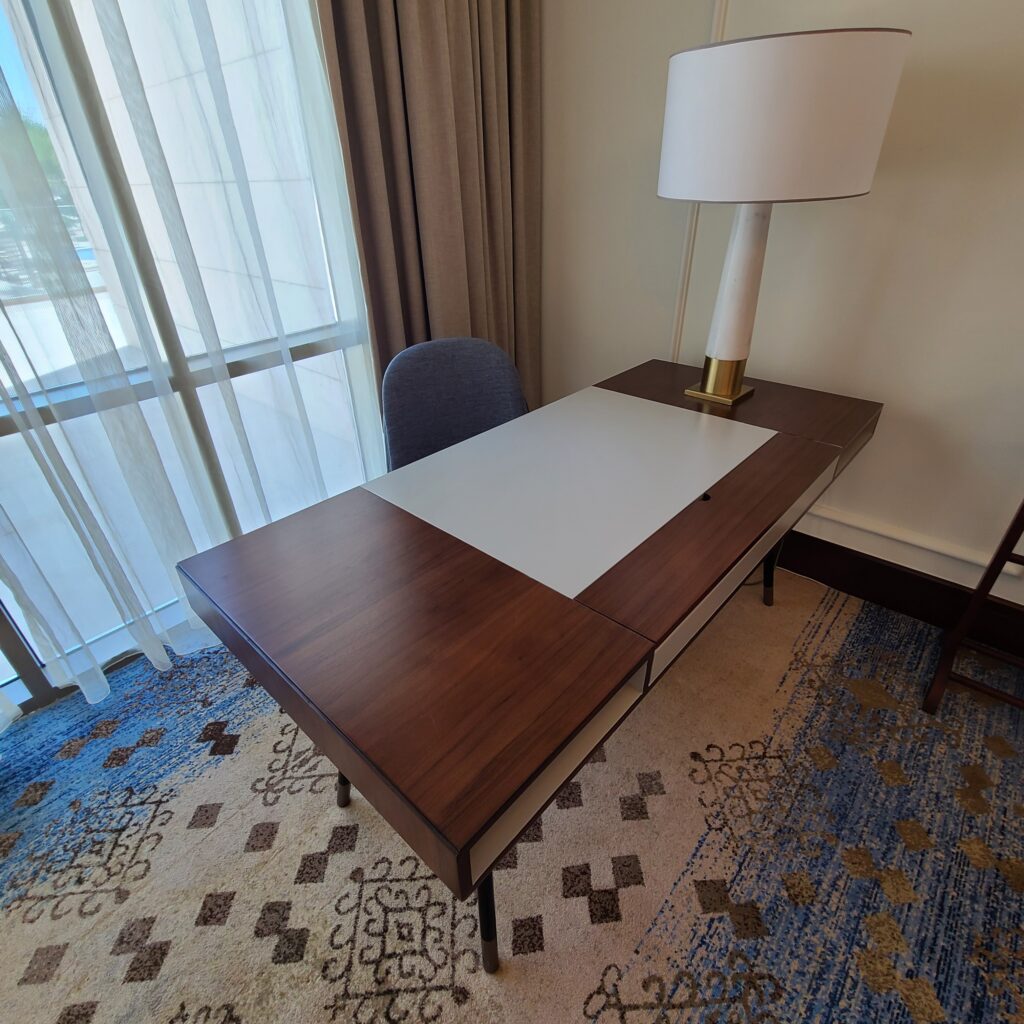 The master bathroom is filled with marble finishes. Mouthwash and dental kits are included.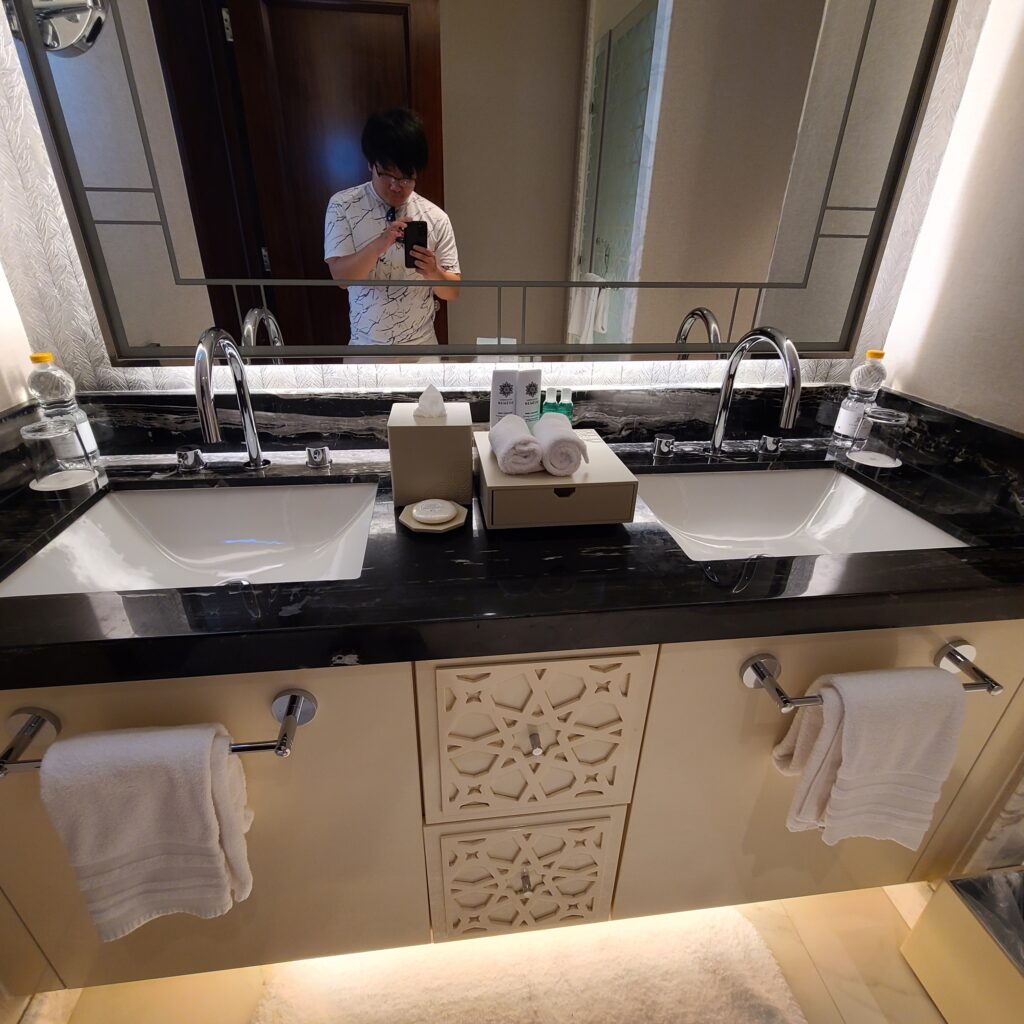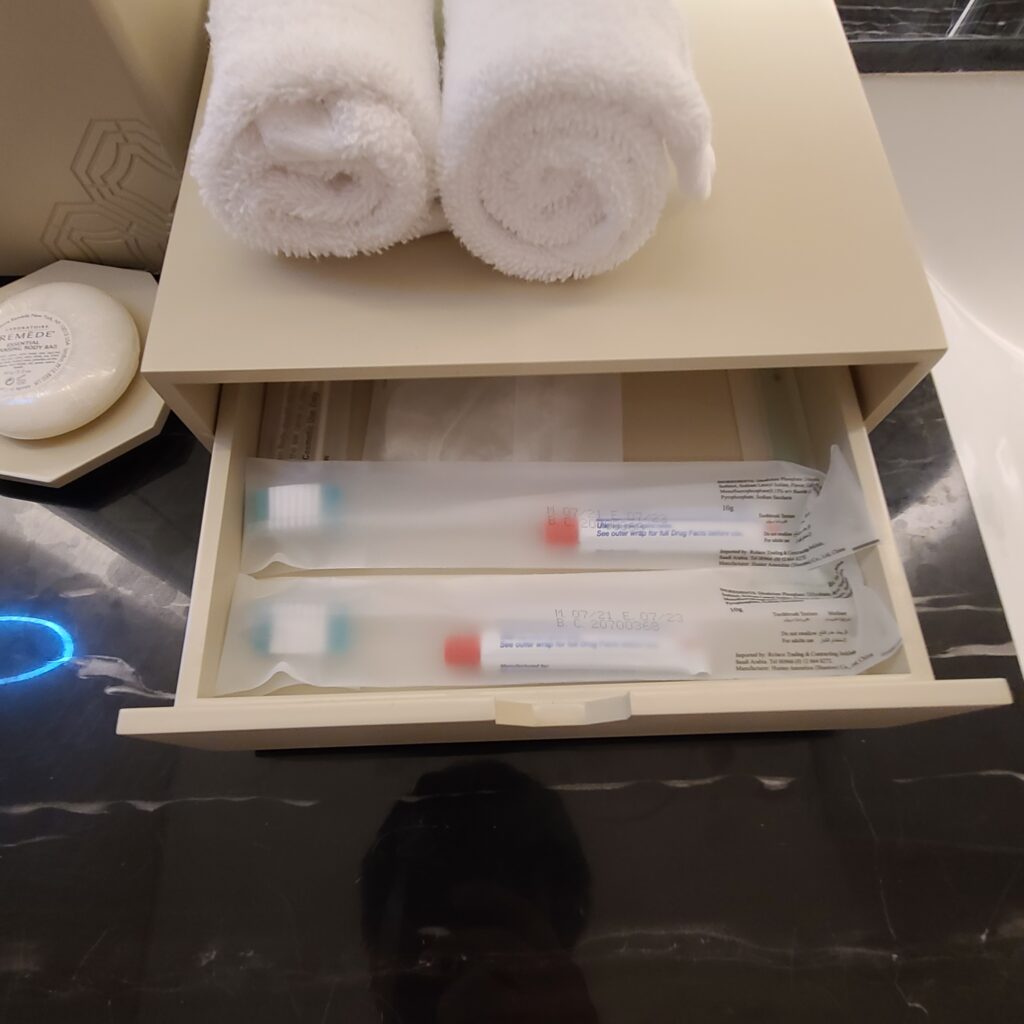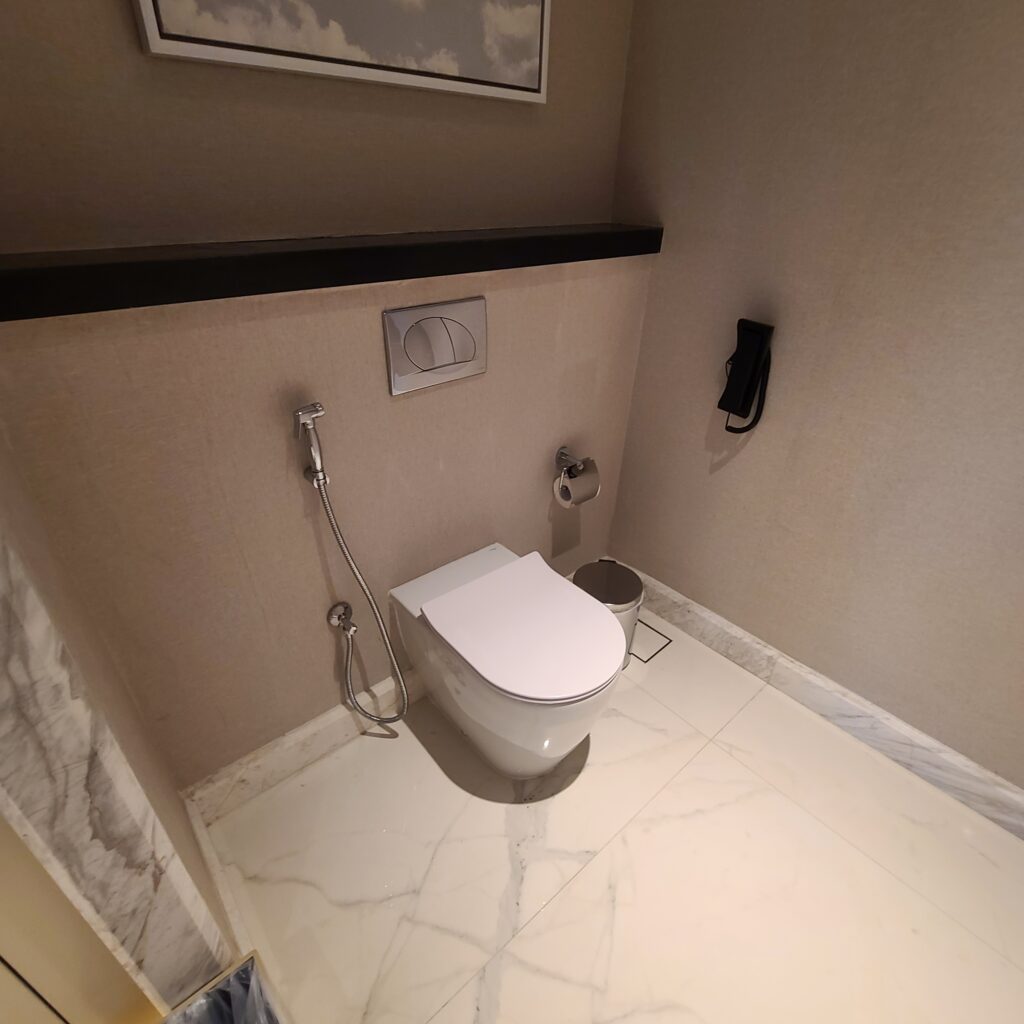 There's a scale just by the walk-in shower door that I didn't take a picture of. Shower room was spacious and the pressure was quite good.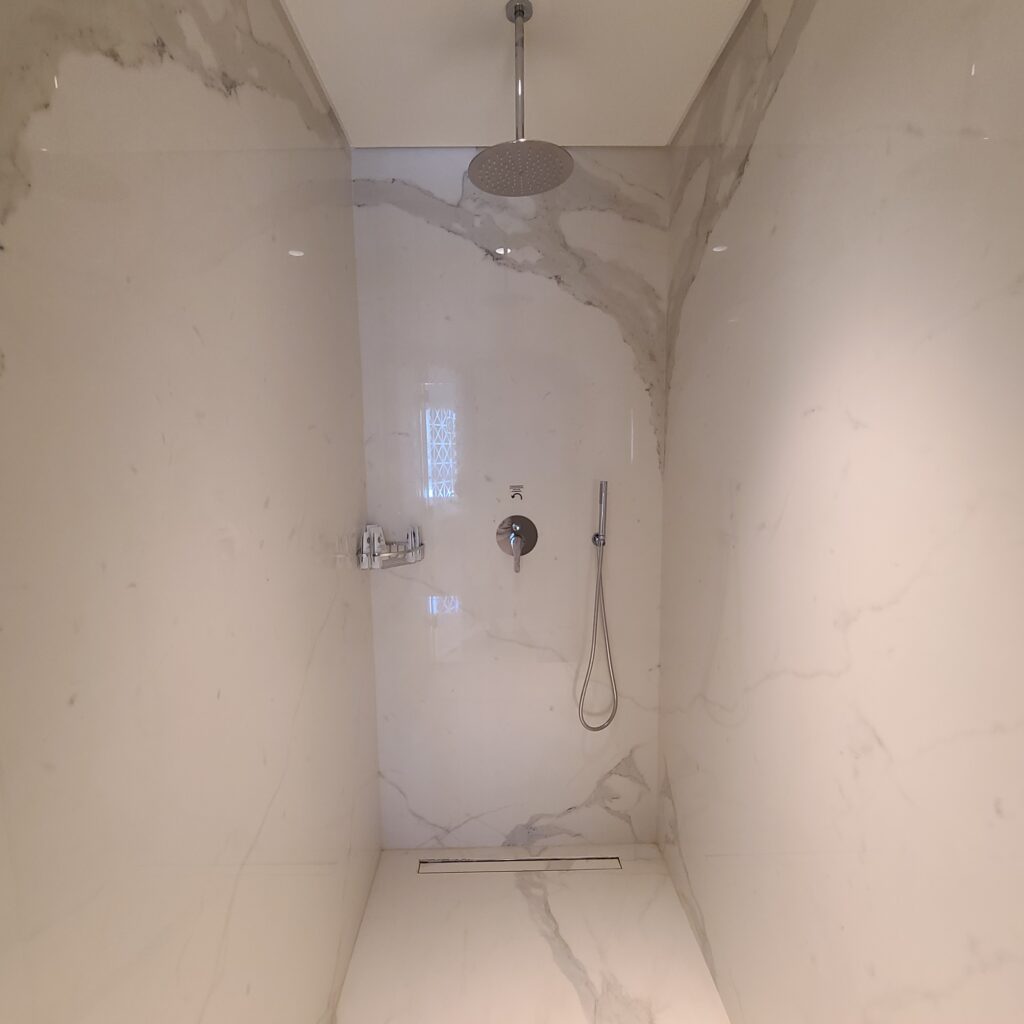 I got to try Remède toiletries for the first time, which used to be a St. Regis standard, but apparently still is in some properties. I quite like the icy smell, but the shower gel do have microbeads, and I'm not a fan of them (also heard that they're the reasons why Remède was discontinued).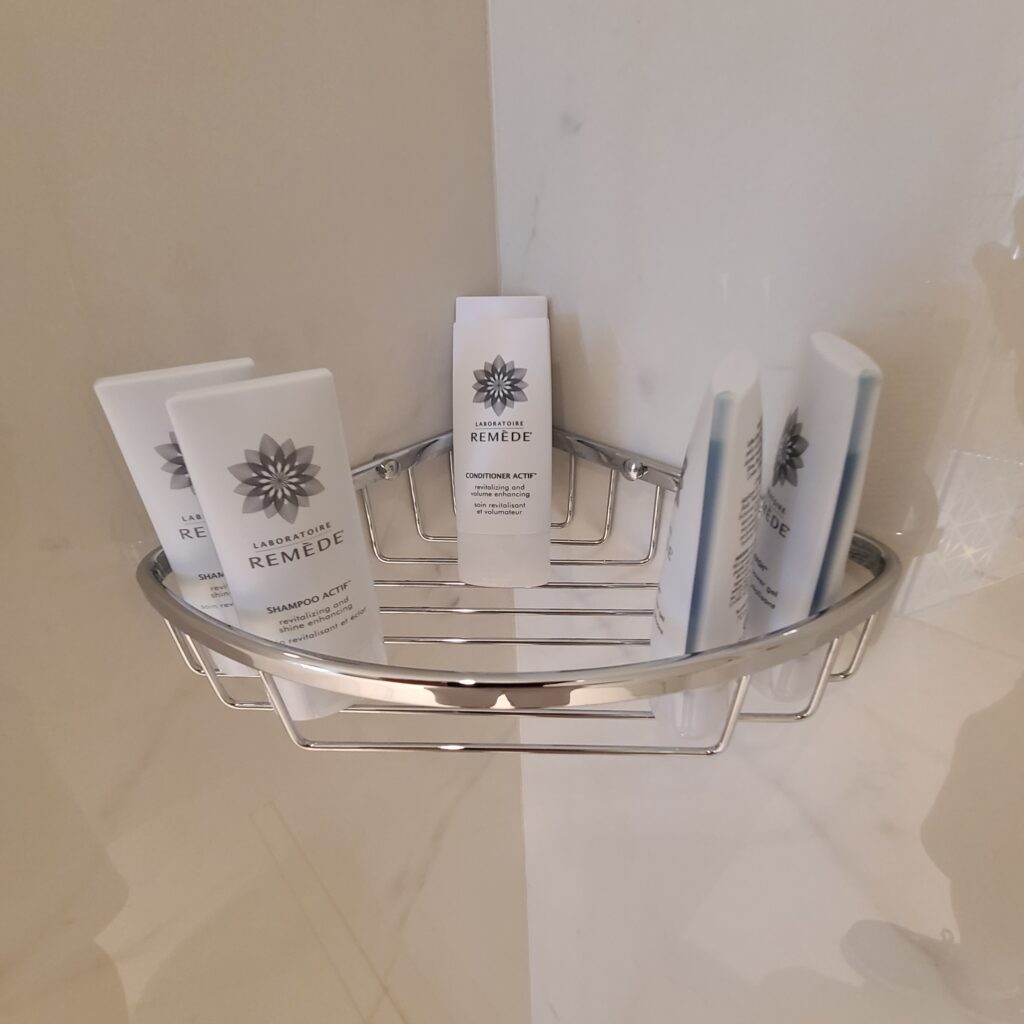 Overall, the suite in St. Regis Marsa Arabia is quite nice with its massive size and approachable look. But, I wish that I would've booked a suite with higher floor and better sea view instead for the same price on points rate.
St. Regis Marsa Arabia- Pools
I headed into the pool just hours after settling down to my suite, so I put in my bathrobes. Unfortunately, this is where I started to have issues with my stay.
I was approached by a hotel host in the lobby floor, and she politely noted that wearing bathrobes in the lobby is inappropriate. She then personally escorted me to the pool located underground. But to do so, we still had to go through the lobby anyway as there are 2 sets of elevators. One for the residence side, and hotel for the other, with both being in the opposite side of each other between the lobby.
The host noted that there's a way to the pool with elevators from the hotel side. I didn't find that to be the case, though. After finishing my time at the pool, I asked a staff to escort me to my room from the pool reception. Even she was confused and mentioned that she's still not used to navigating through the property. When we finally found an elevator, it ended up being the elevator on the residence side, and I went back the same way I came from. A different host ended up escorting me through the lobby, but at least she didn't make remarks about my "very casual" attire. Anyway, that's my only complaint about the amenity locations of this hotel.
The outdoor pools themselves are huge and quite popular with families. Even though they were crowded, there were still a good amount of space and didn't feel crowded at all. Also, you need to sign a waiver form to use the pool, which was a first for me.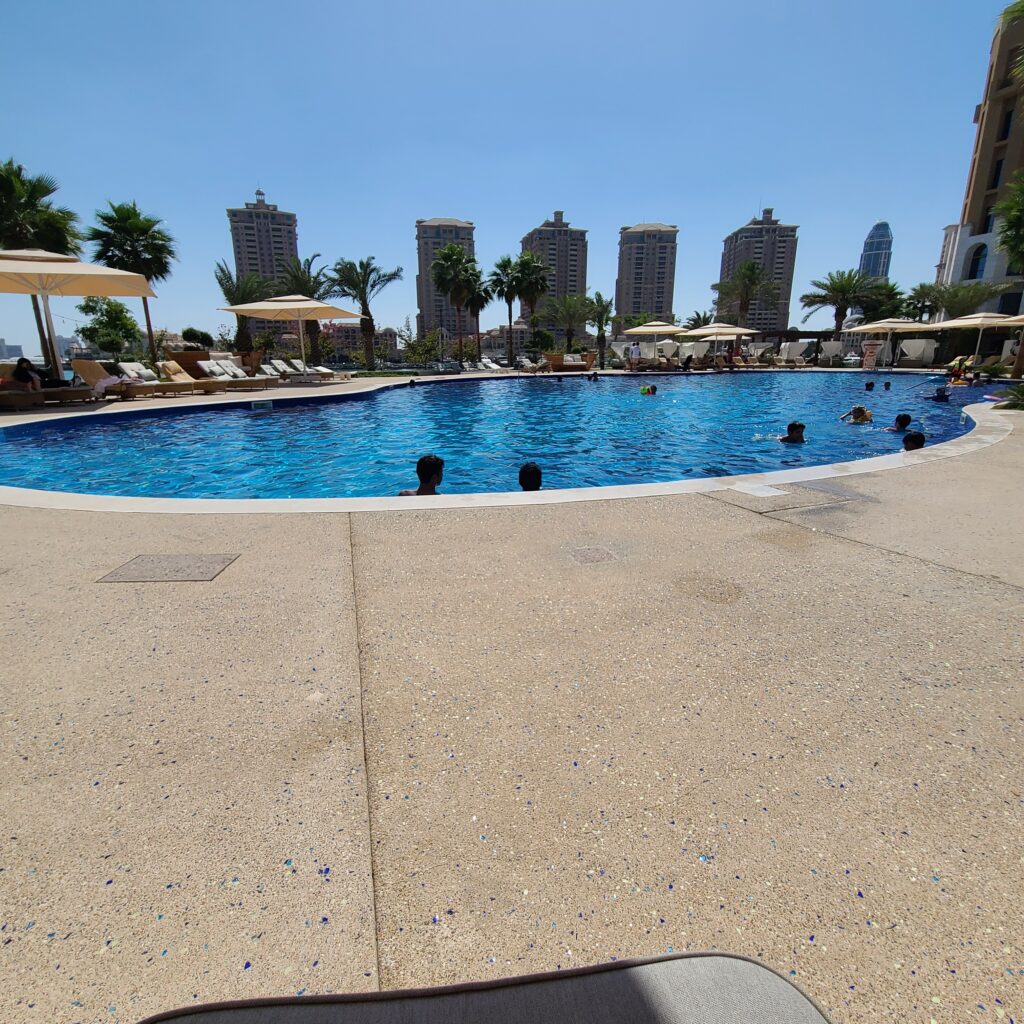 There are plenty of lounge chairs and cabanas.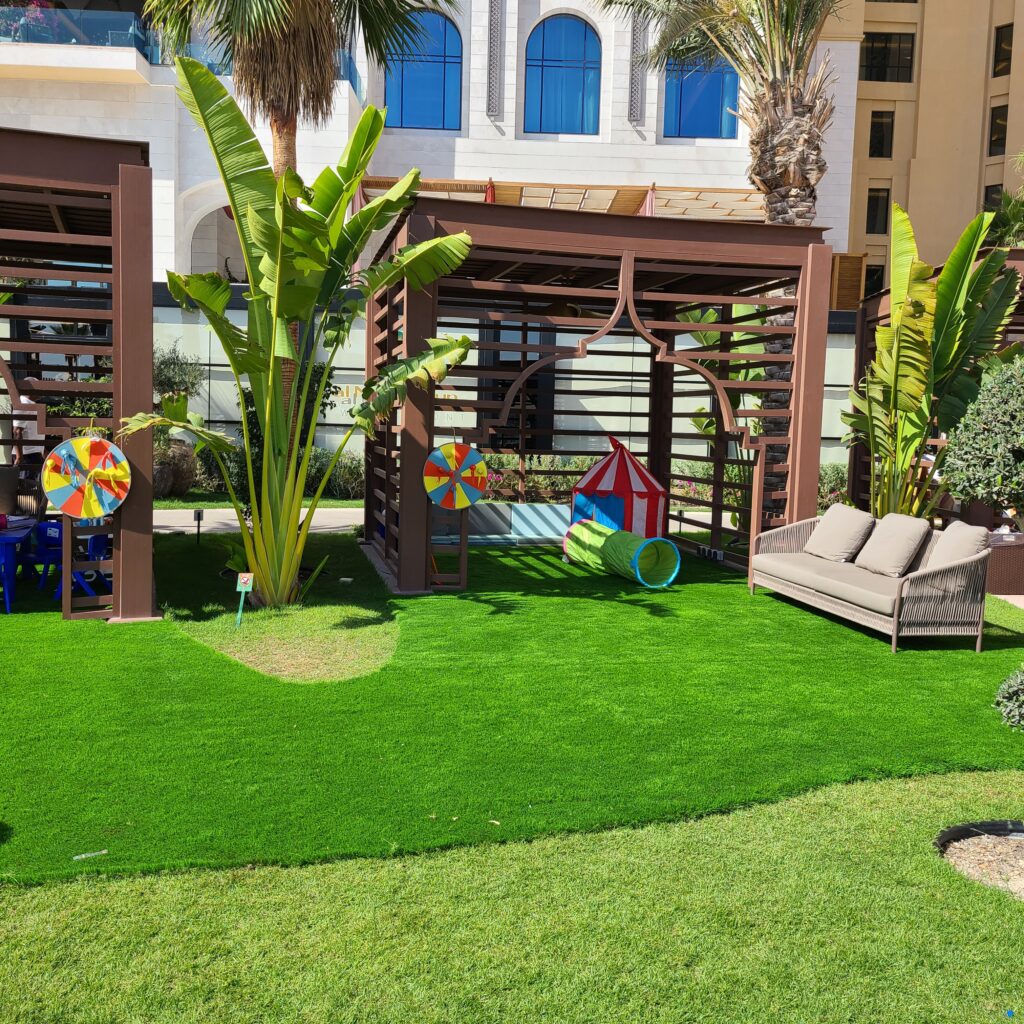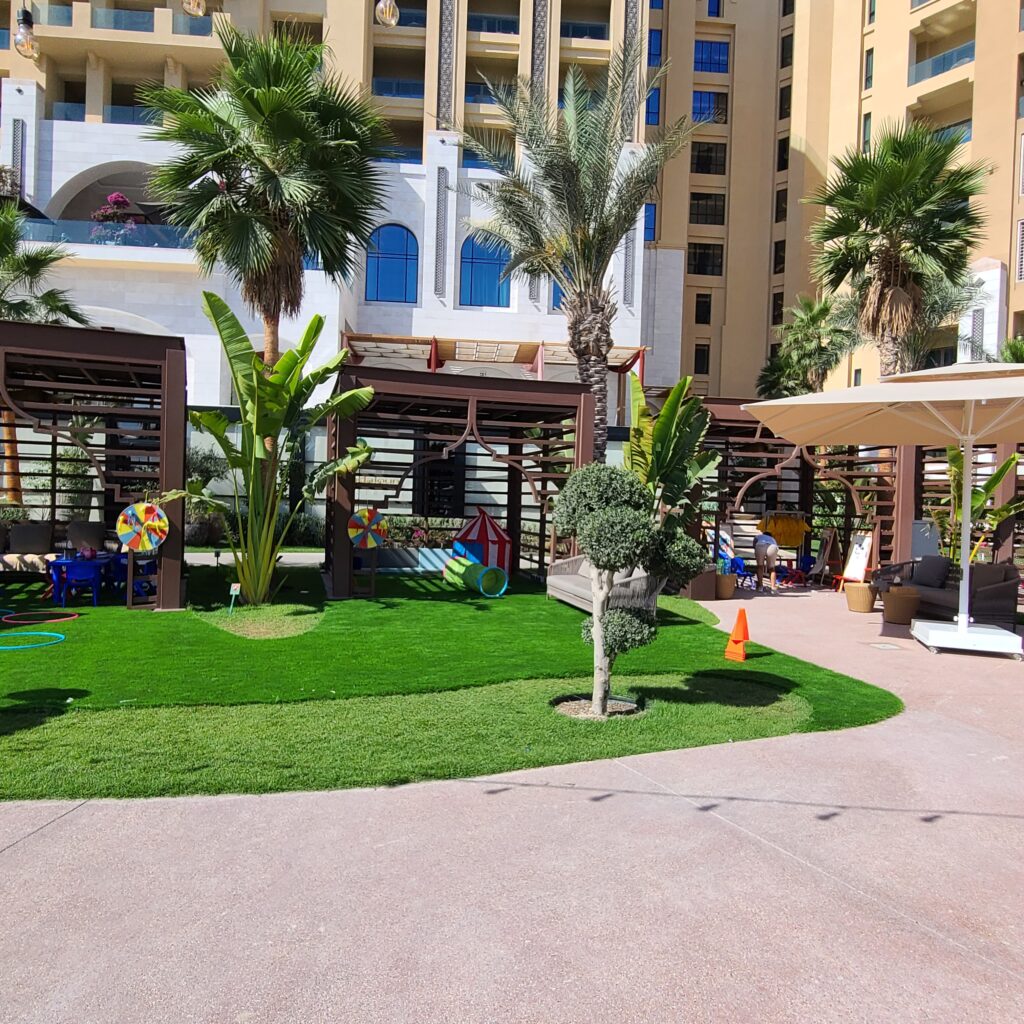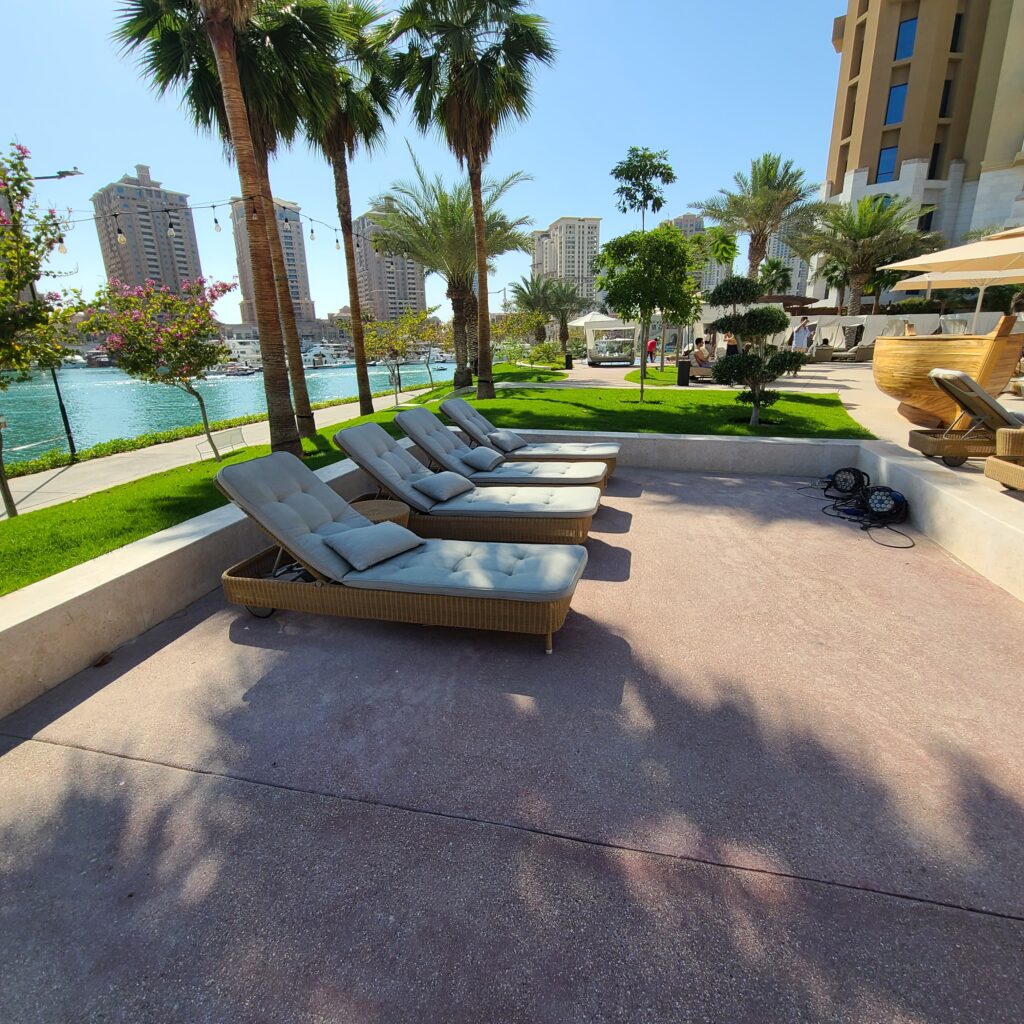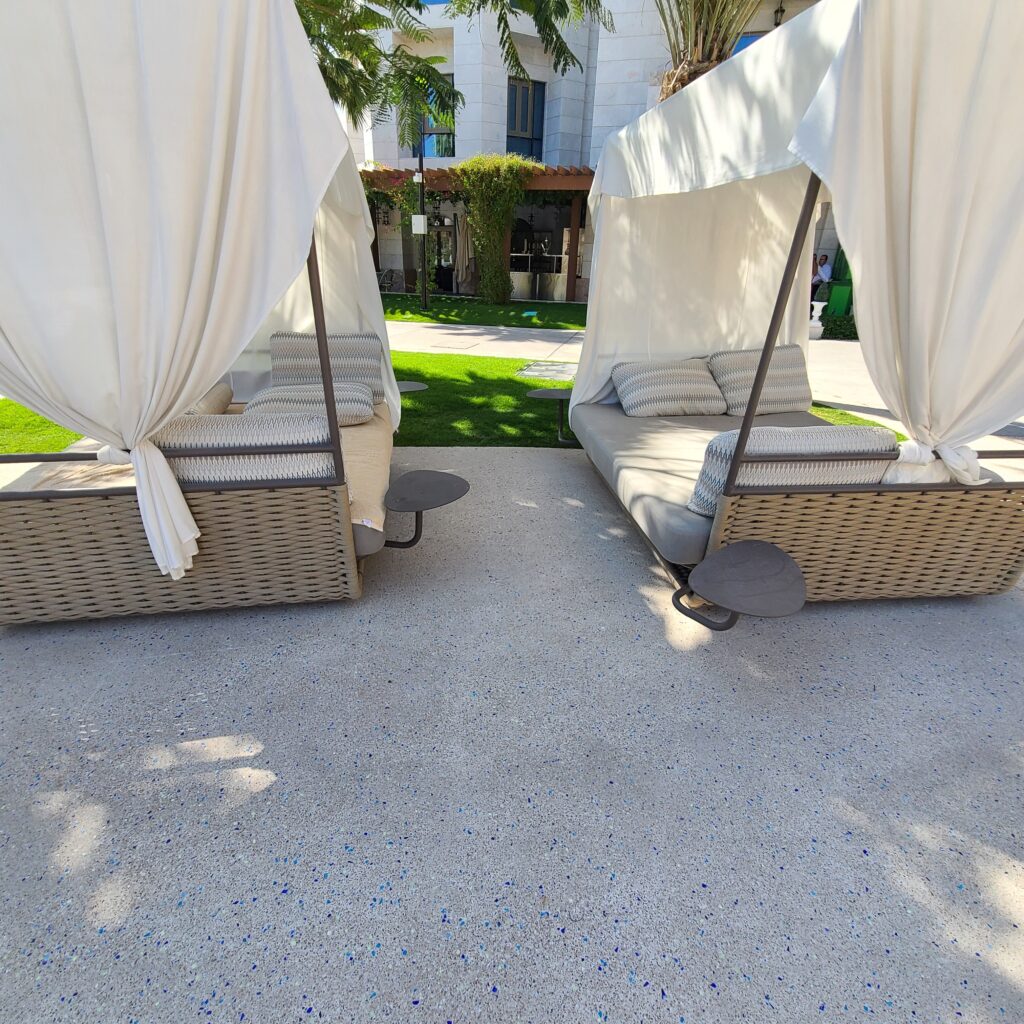 There's even a jacuzzi. Not appealing on a 30C+ weather though.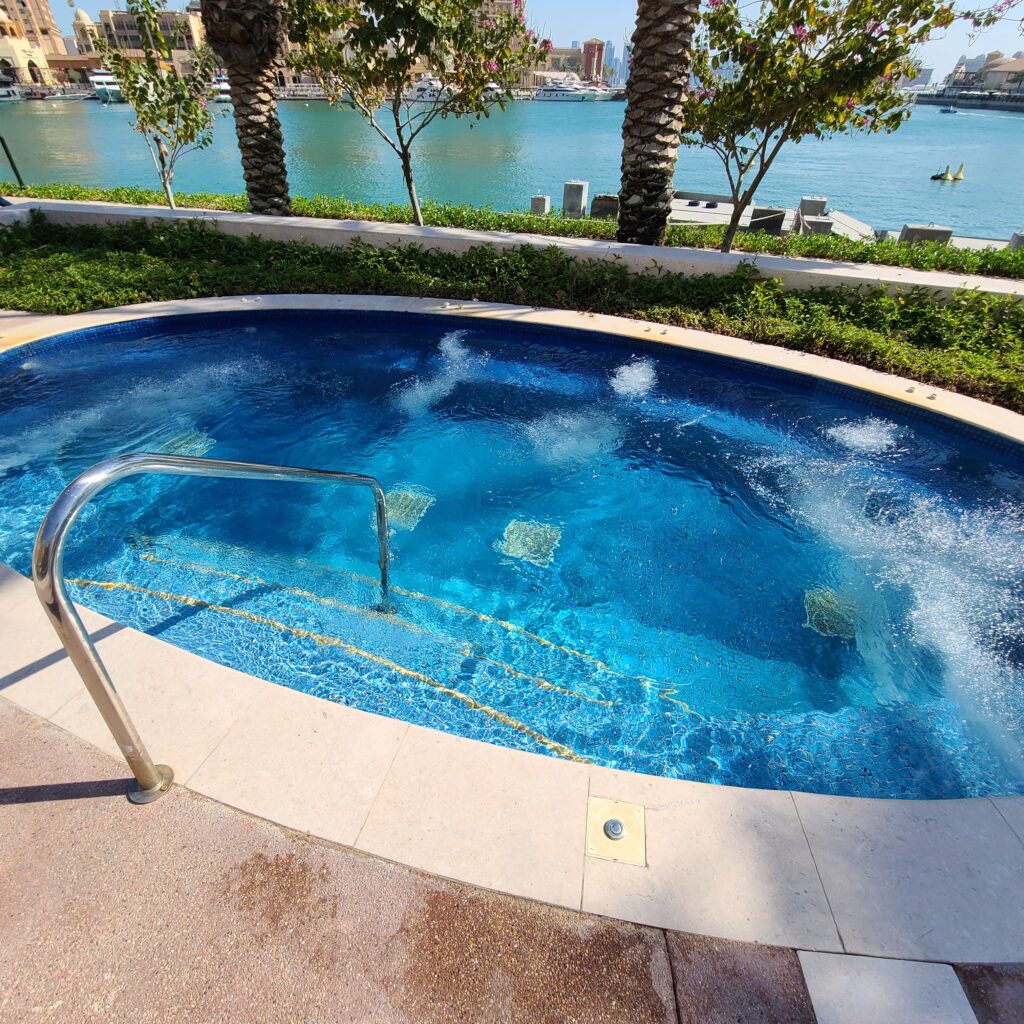 There's a poolside bar to order food and drinks while you relax in the sun.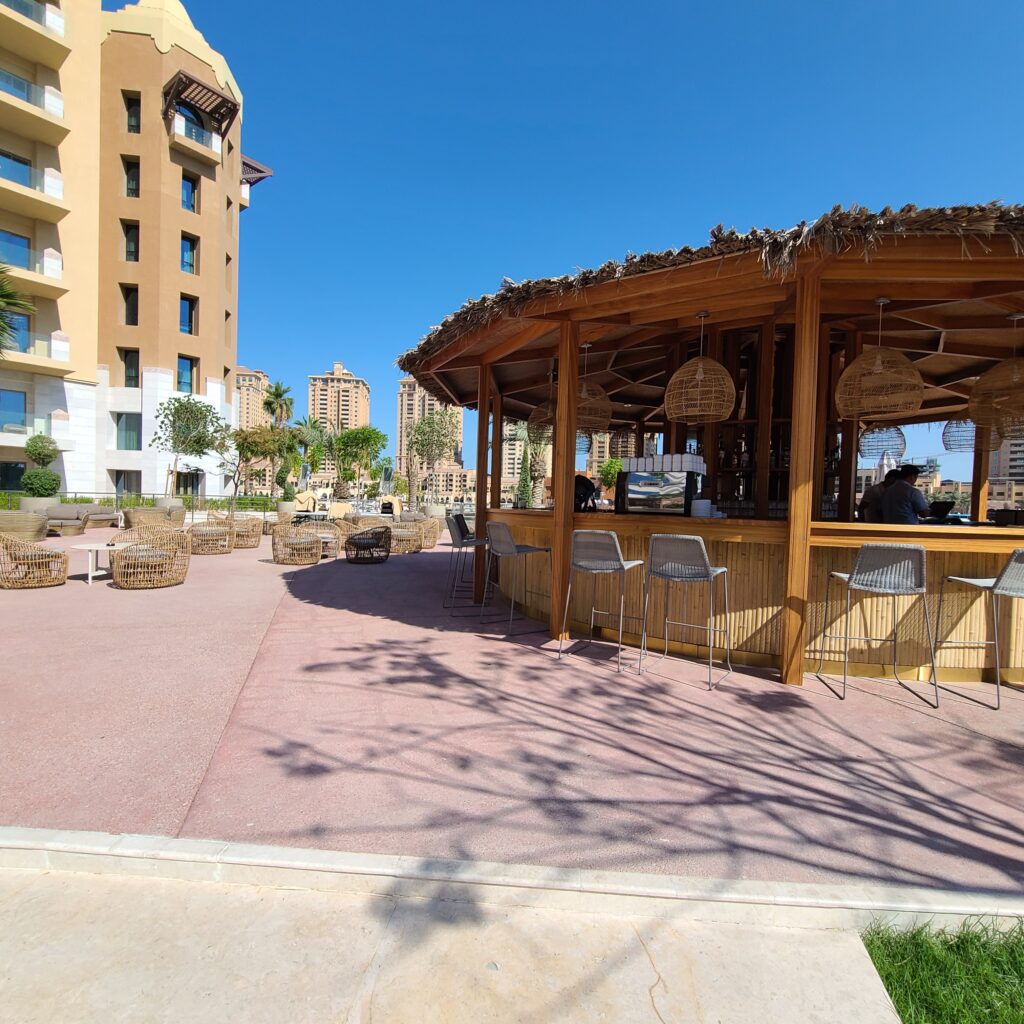 The surrounding marina view is quite beautiful as well. There are pedestrian pathways just for the hotel guests and residence owners.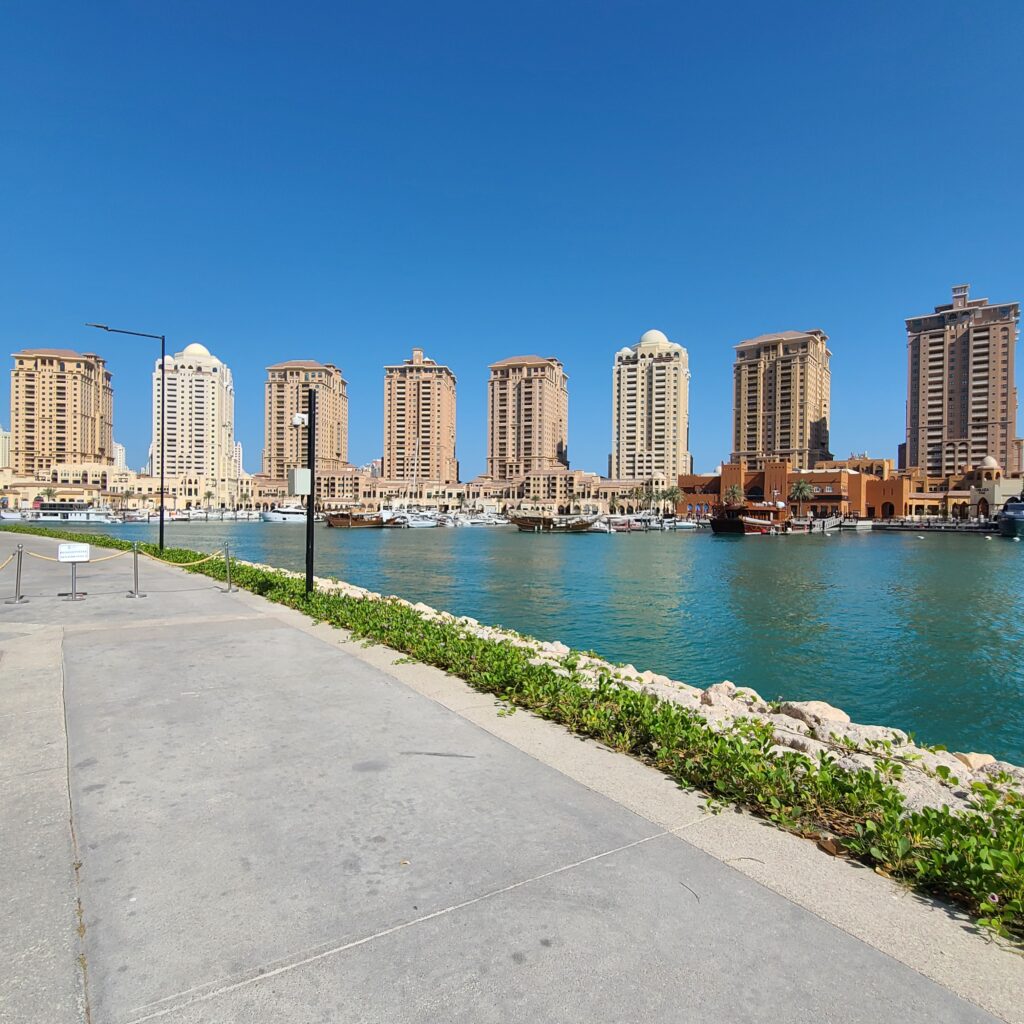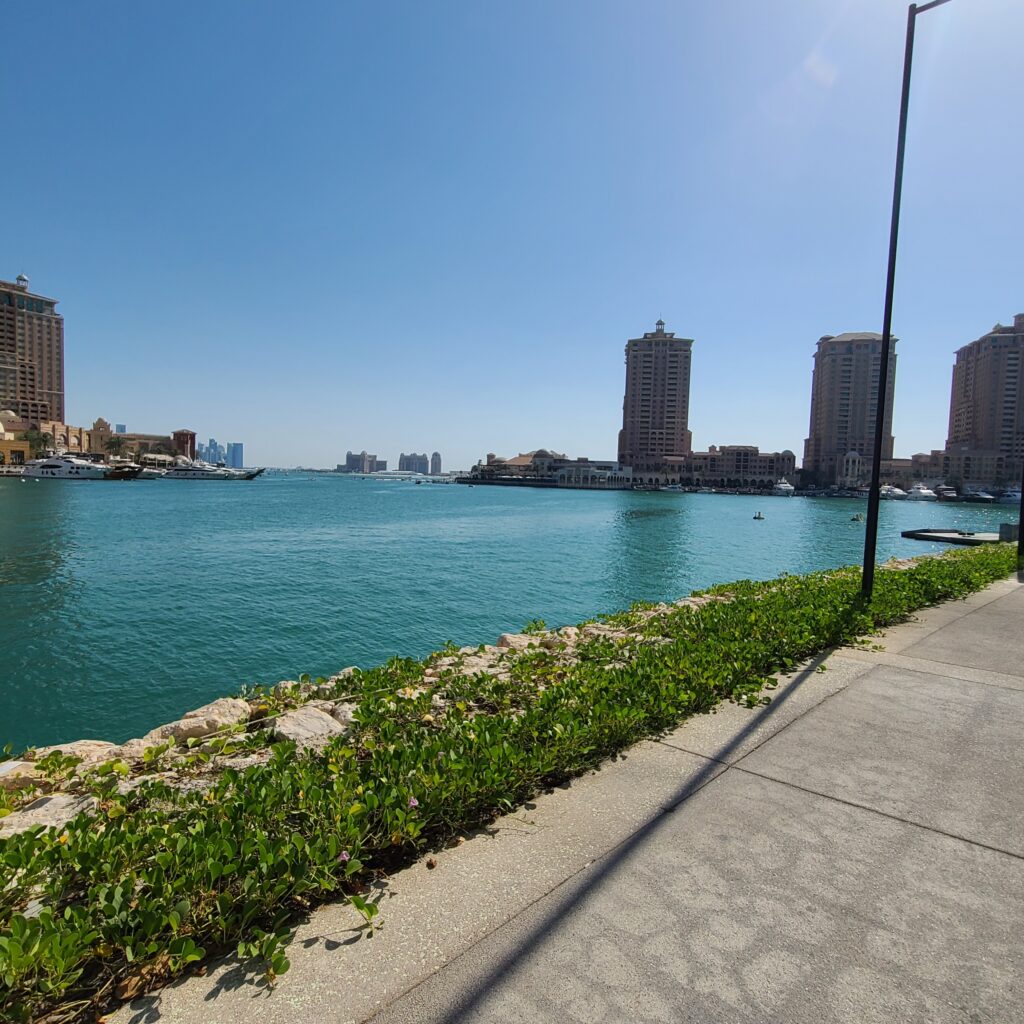 Great pool vibes overall, but the access to them for hotel guests felt like an afterthought compared to residence owners.
St. Regis Marsa Arabia- Fitness Center
The last amenity I was able to fully look at is the fitness center. Just like the pool, the location favors residence owners as well. To access it, you need to exit through the front entrance of the lobby, and make your way to the left and through the main roundabout with the giant falcon head.
Walk through the arches, and you'd then see an unassuming elevator down to the basement where it will lead you to the gym.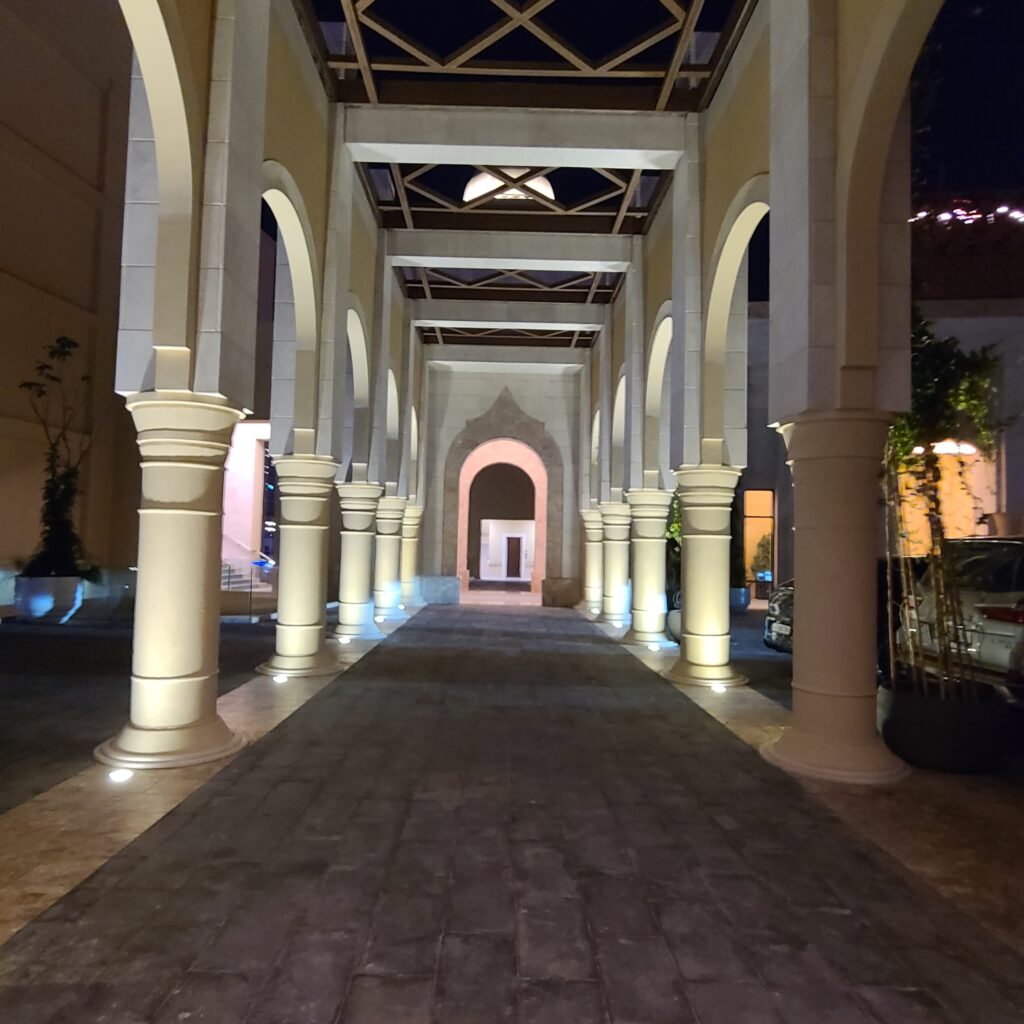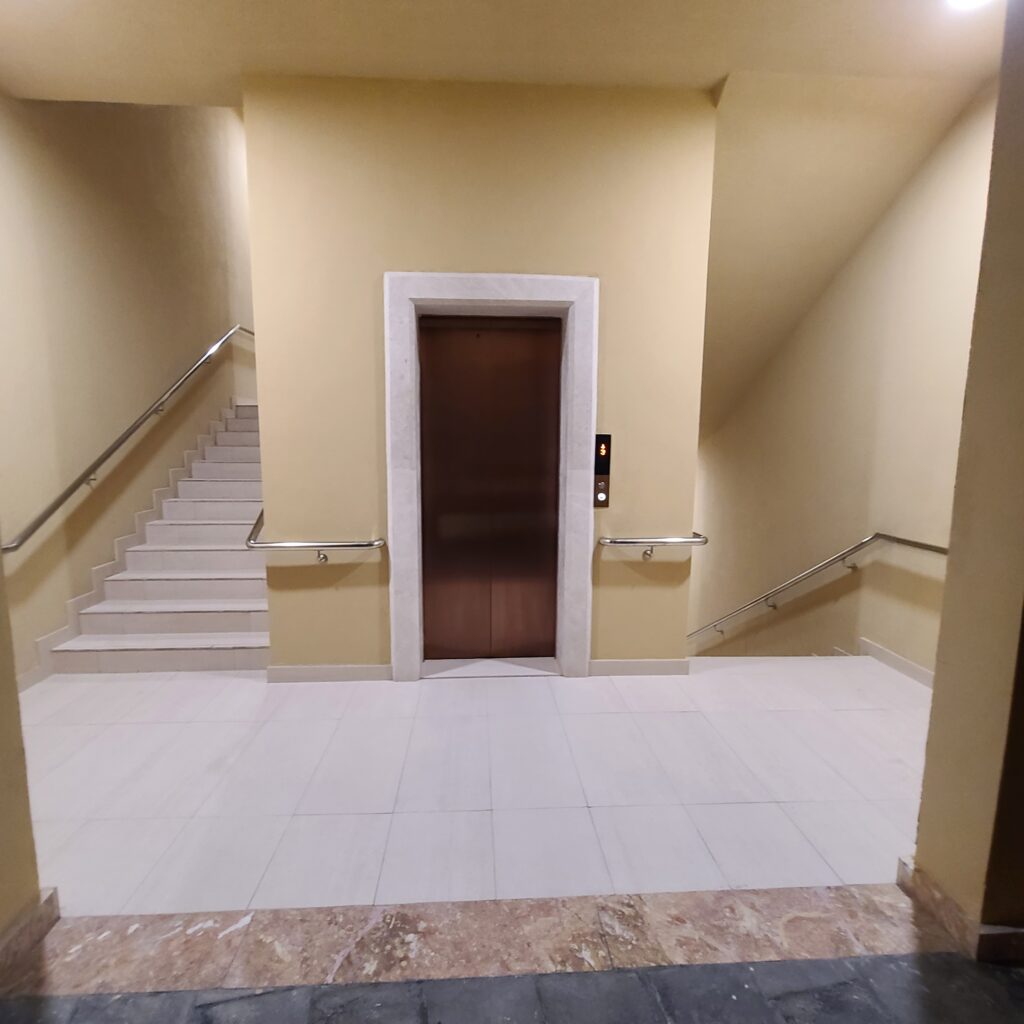 The gym is huge and felt like a proper residential gym. Free weights are plentiful! Just like the pool, you have to sign a waiver form to use the gym at the gym's reception desk.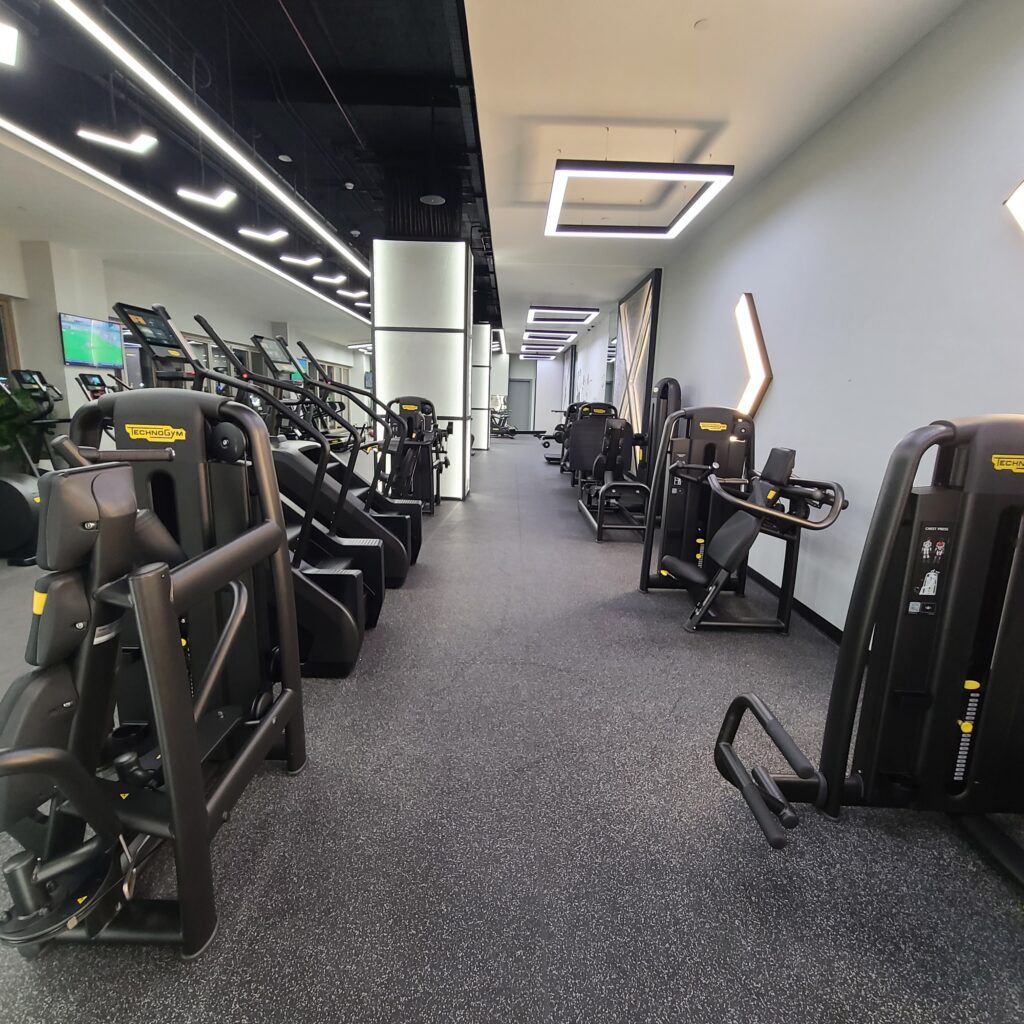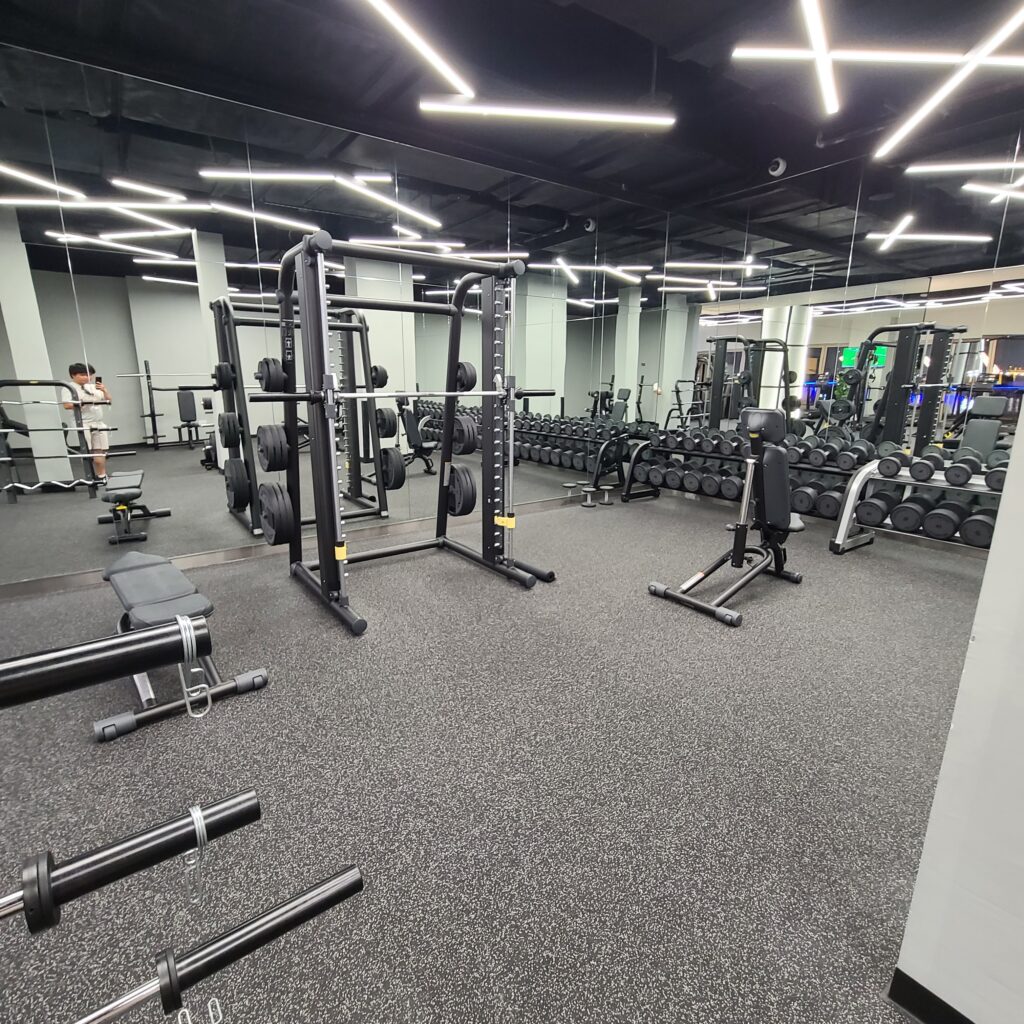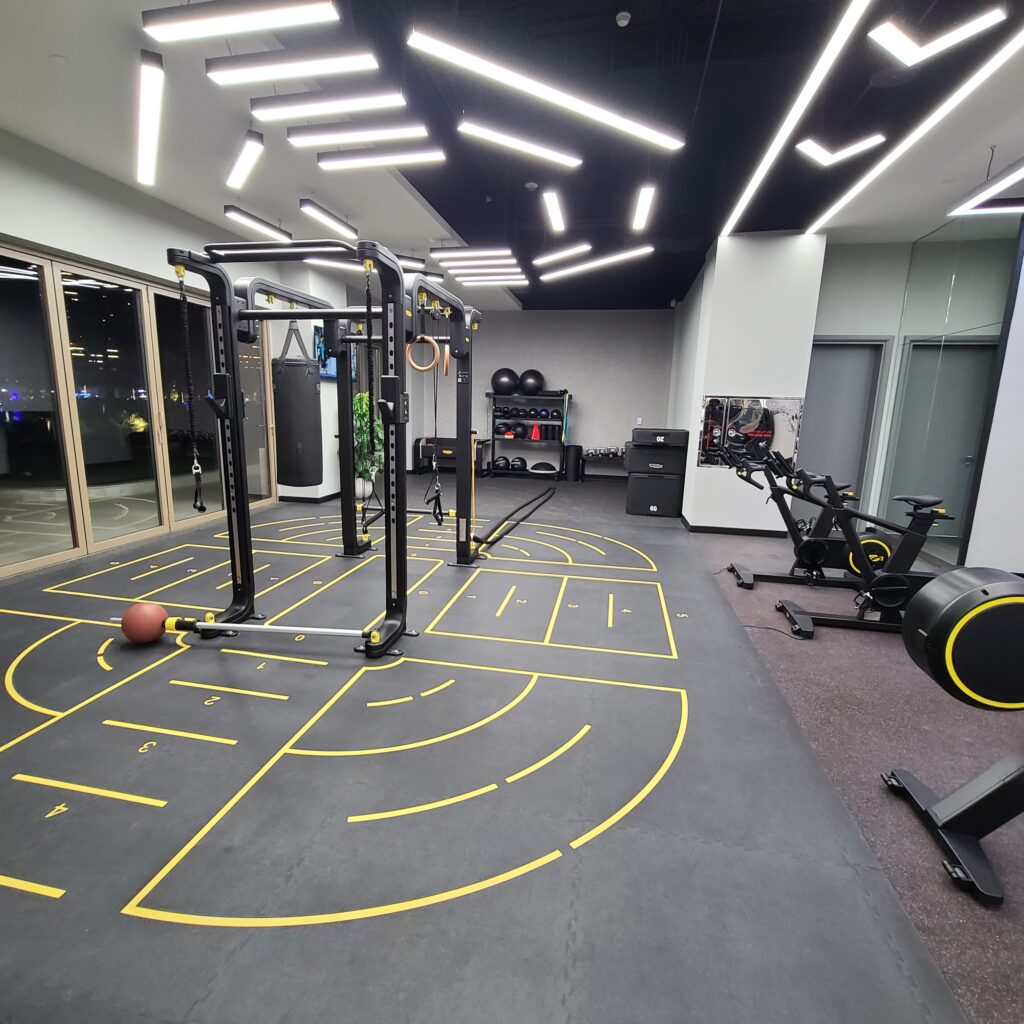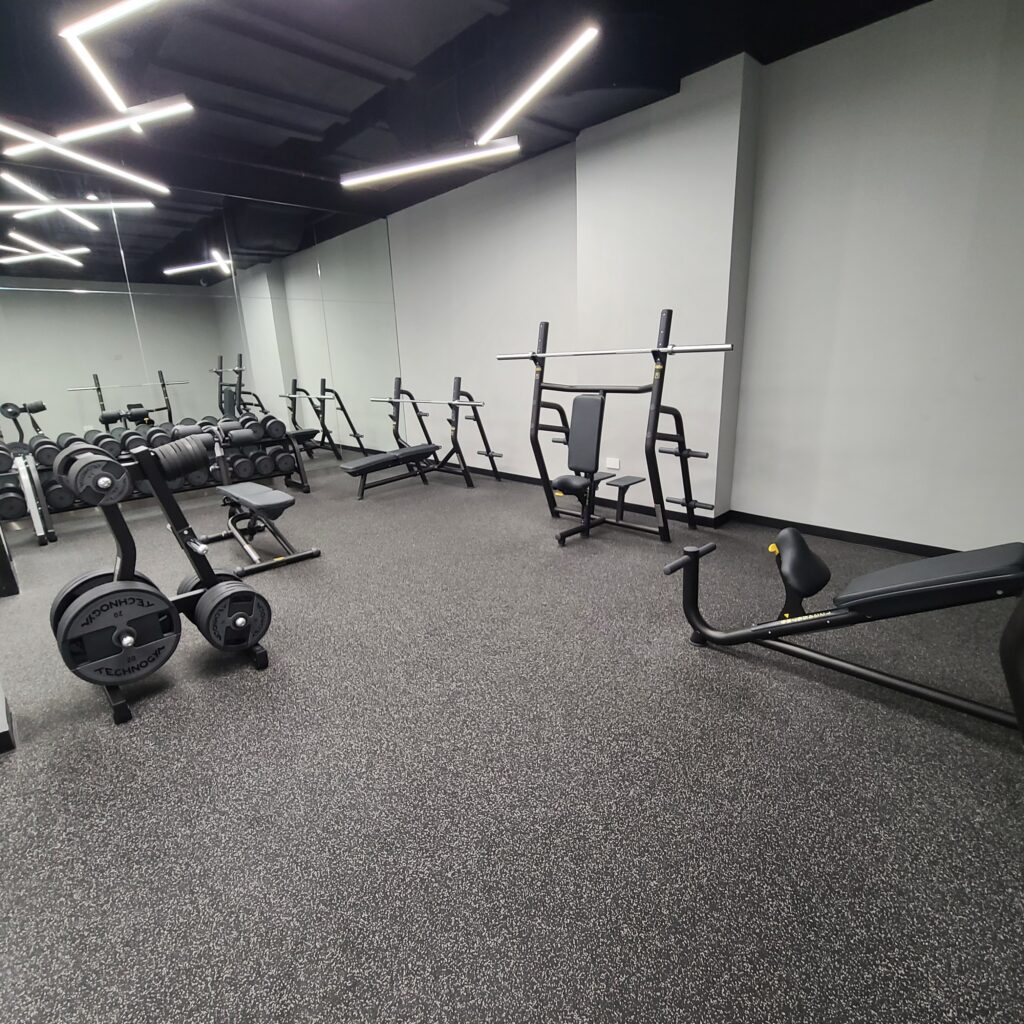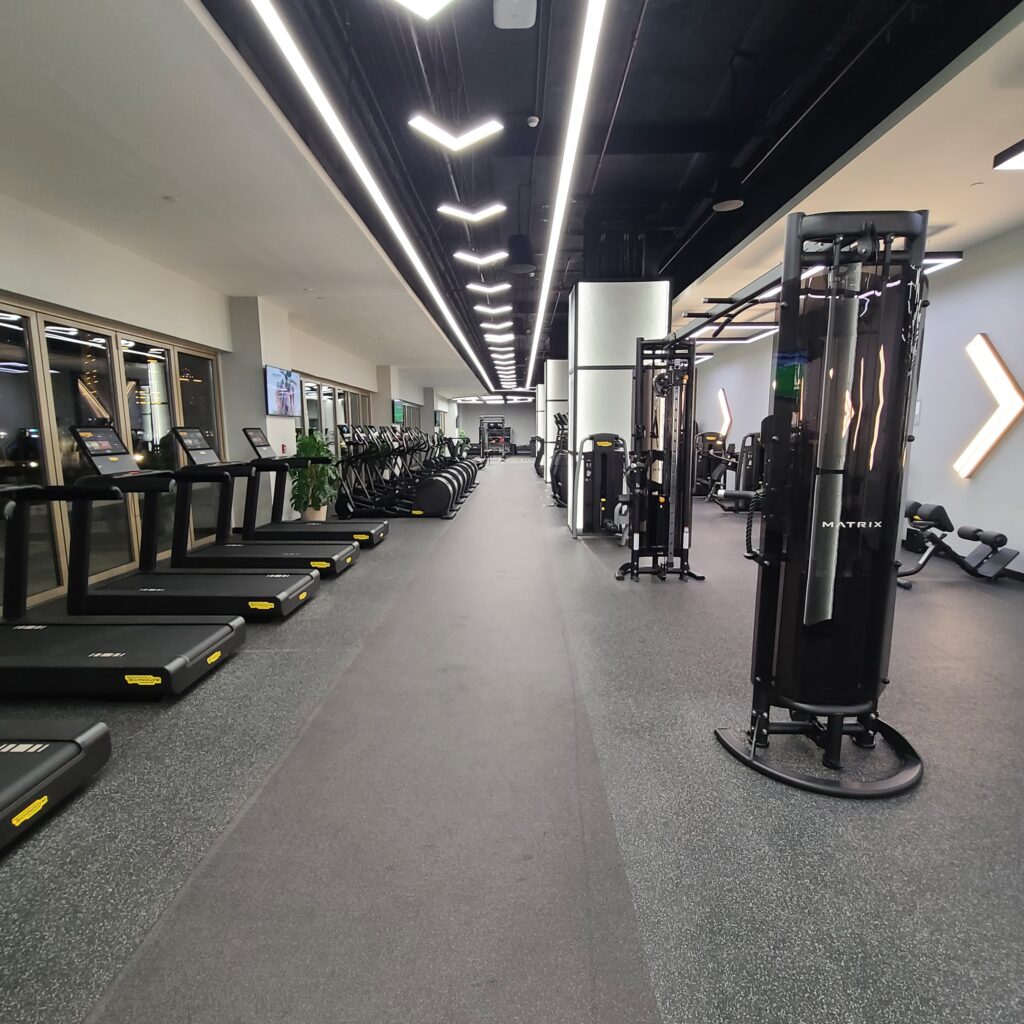 St. Regis Marsa Arabia- Restaurants
The property has 9 different restaurant, each specializing in certain cuisines, except for few Lebanese options. I did not try any of them, but here are the brief rundowns of each restaurants:
NAR- Turkish restaurant, breakfast is served here
Manos- Greek restaurant
Al Mandaloun Waterfront- Lebanese restaurant
Babel- more upscale Lebanese restaurant
Ahwet Zeituna- Lebanese cafe
Chotto Matte- Japanese restaurant
Roberto's- Italian restaurant
Then, there are two places specializing in drinks on the lobby
Lobby Lounge- casual coffee and tea lounge overlooking the maria from the lobby
Sailors Lounge- cigar lounge with proper bar
Conclusion
The St. Regis Marsa Arabia is quite a beautiful property that I wished I had more time to stay on. It's one of the best hotels where you can redeem a Marriott 35k Free Night Certificate on, although it's a bit out of the way from the main city of Doha. A main drawback to this hotel is the amenities' location that favor the private residence parts of the whole island. Thus, making the hotel feel like an afterthought.
Even though I had an overall good time here, I'm in no rush on wanting to go back again as I'd like to try different Marriott properties in Doha, which are possible to redeem 35k FNC on the majority of them, or all with points topups.
Overall Rating