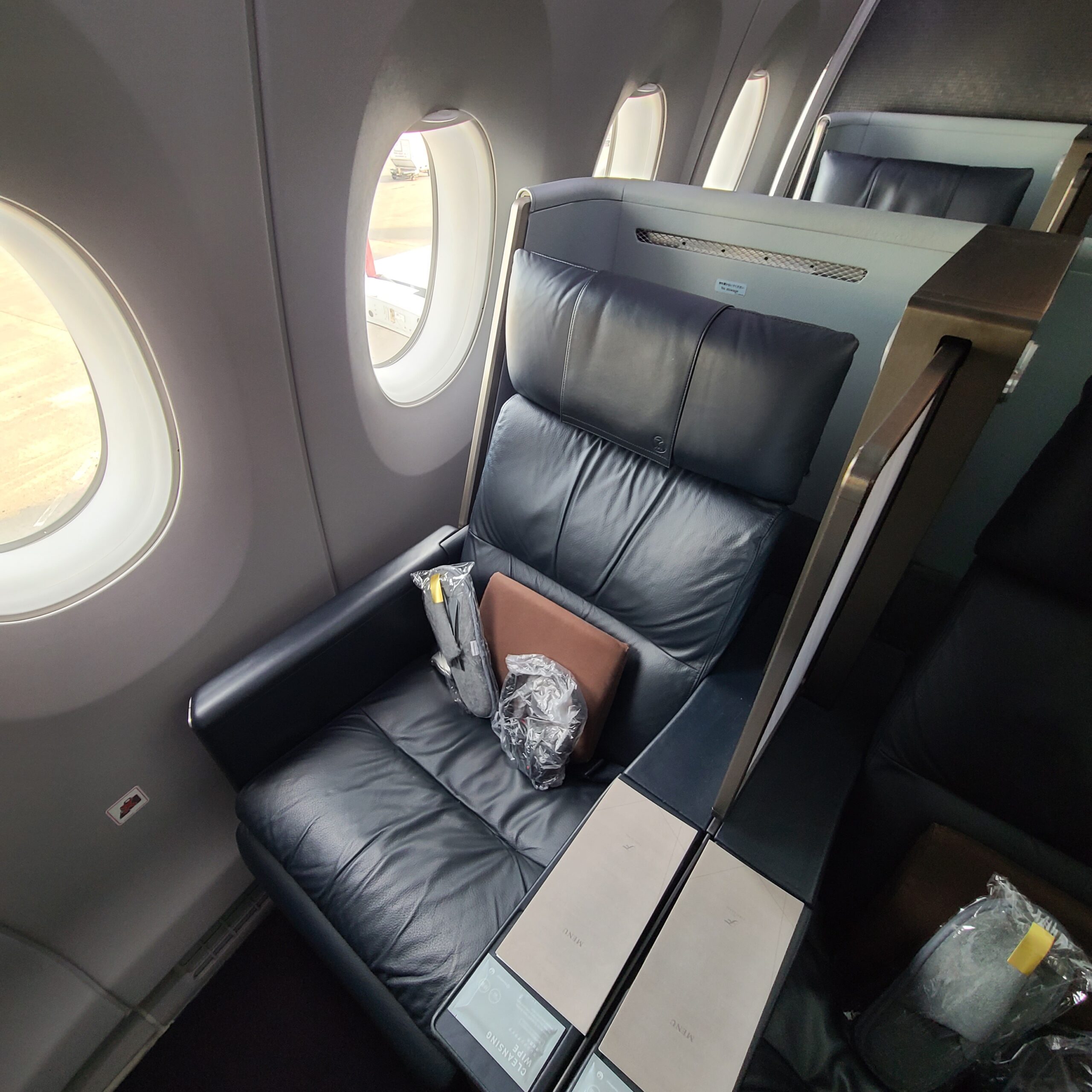 Review: Japan Airlines Airbus A350-900 Domestic First Class (HND-CTS)
HND-CTS
Flight No: JL525
Depart: 17:35
Arrive: 19:15

Duration: 1 hour 35 minutes
Plane: Airbus A350-900

Seat: 1K
Since Hokkaido is in the first half of my 5-week Japan trip, my journey in the land of the Rising Sun would take me to Sapporo, the capital of Hokkaido. I arrived to Haneda Airport from San Francisco and waited at the Diamond Premier Lounge before I departed.
JAL Airbus A350-900 Domestic First Class Booking
The flight segment from HND-CTS was included along with the SFO-HND leg in First Class at the rate of 80k American Airlines miles, plus $5.60 in taxes and fees.
In cash however, it'd typically cost around $200-$300 one-way. While the price is comparable to many one-way tickets of domestic US flights, I'd be in favor on just flying economy for a less than 2 hour flight. But, I can't complain getting it pretty much free thanks to AA's regional pricing on award partner flights.
JAL Airbus A350-900 Domestic First Class

Boarding
After spending some time waiting inside the Diamond Premier Lounge, I headed to the boarding gate. Flight was a bit packed, but the signs placed were helpful with getting people organized. With my First Class ticket, I was placed on Group 1 boarding.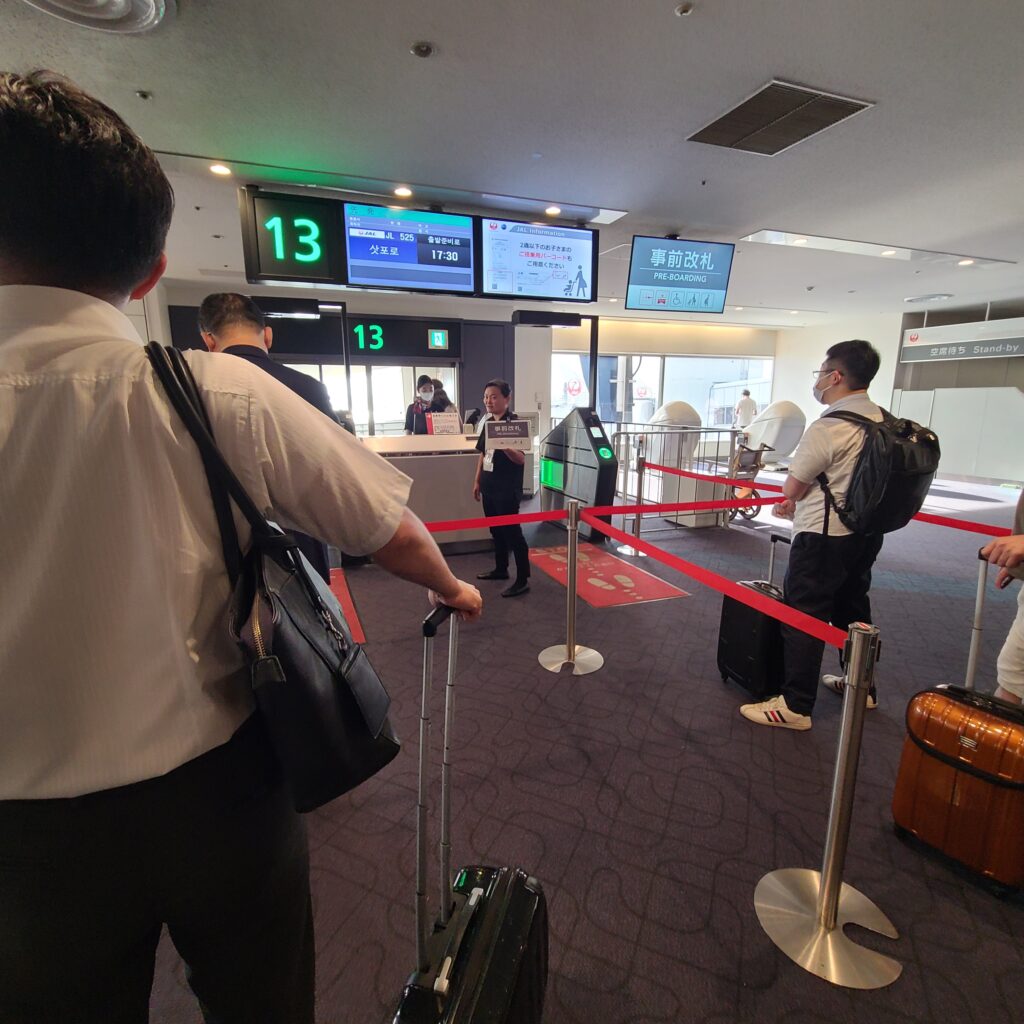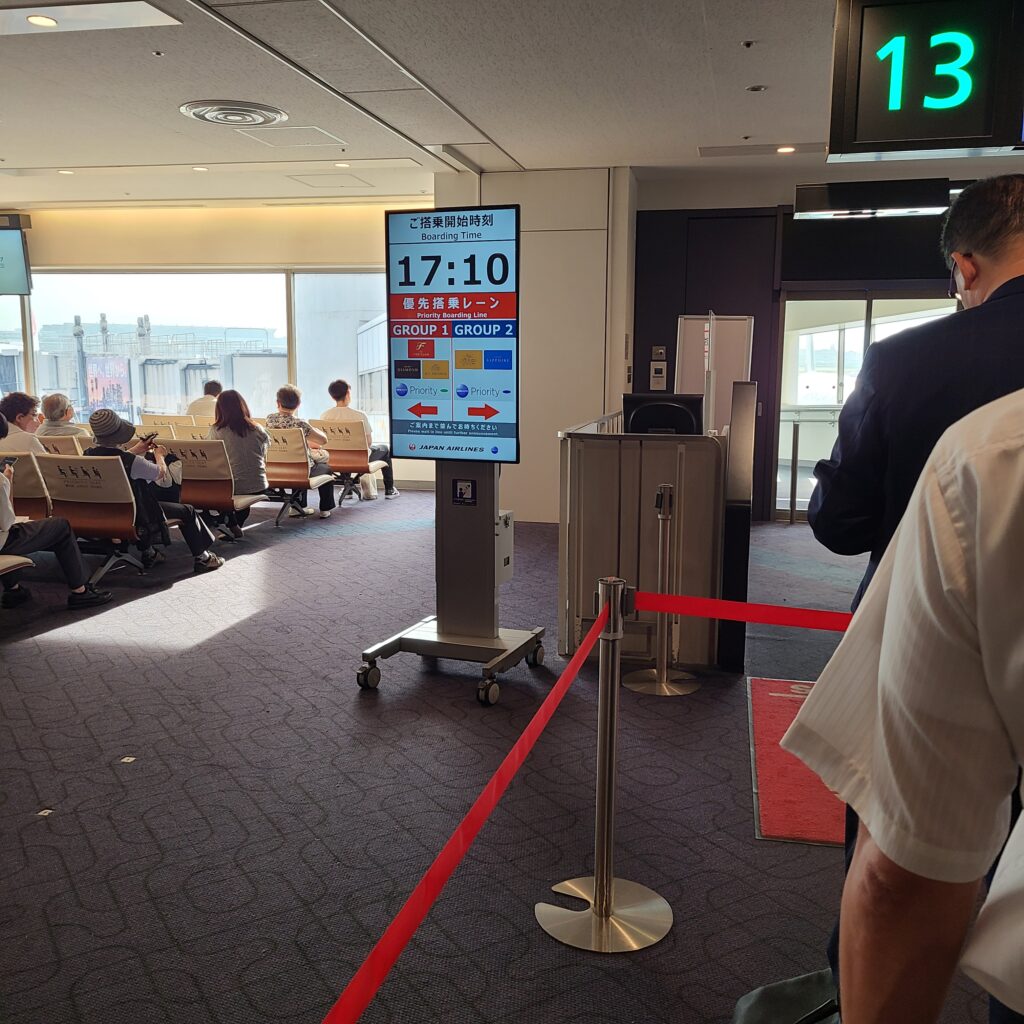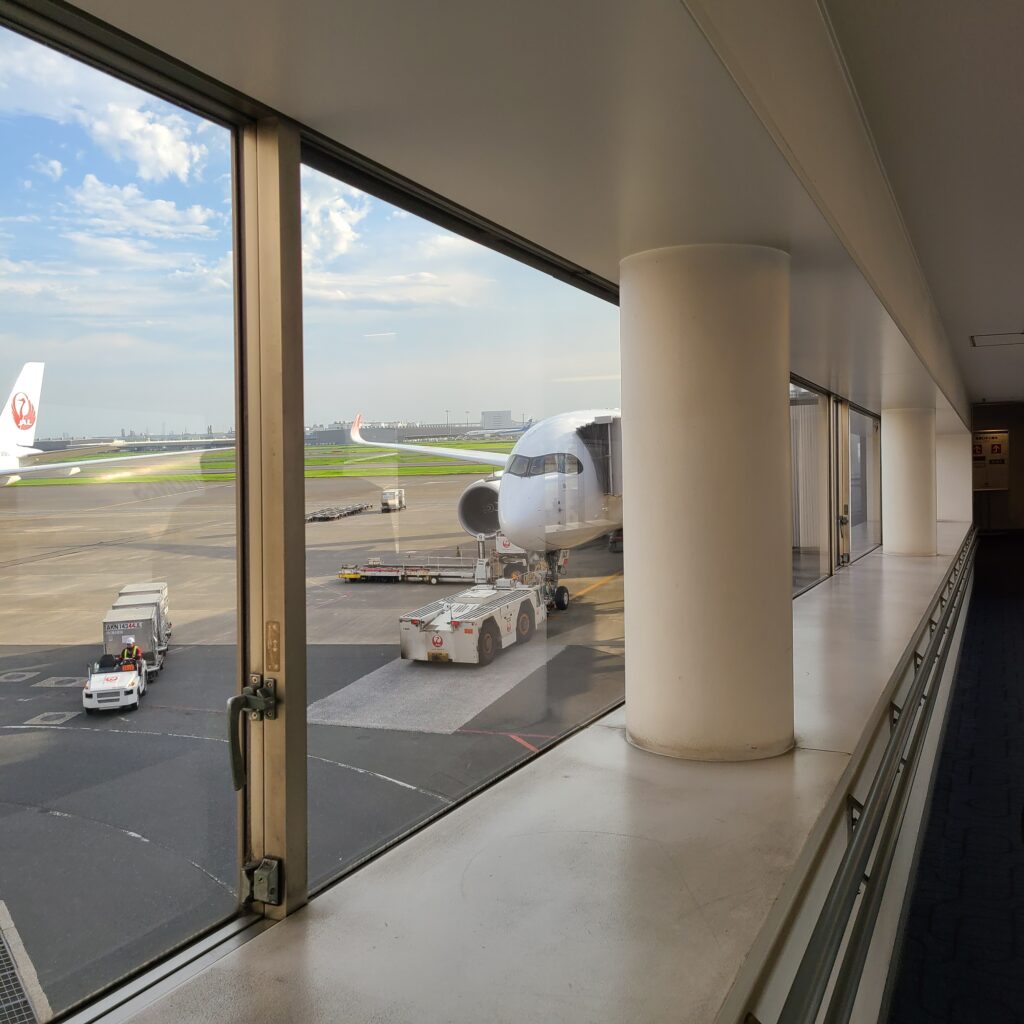 JAL Airbus A350-900 Domestic First Class Seats
I assigned myself to Seat 1K. The seat looks nicer compared to many short-haul domestic First Class products I've seen. Lumbar pillow, slippers, and headphones are placed when I arrived. The lumbar pillow was surely a nice addition, but I felt the slippers were unnecessary for such a short flight.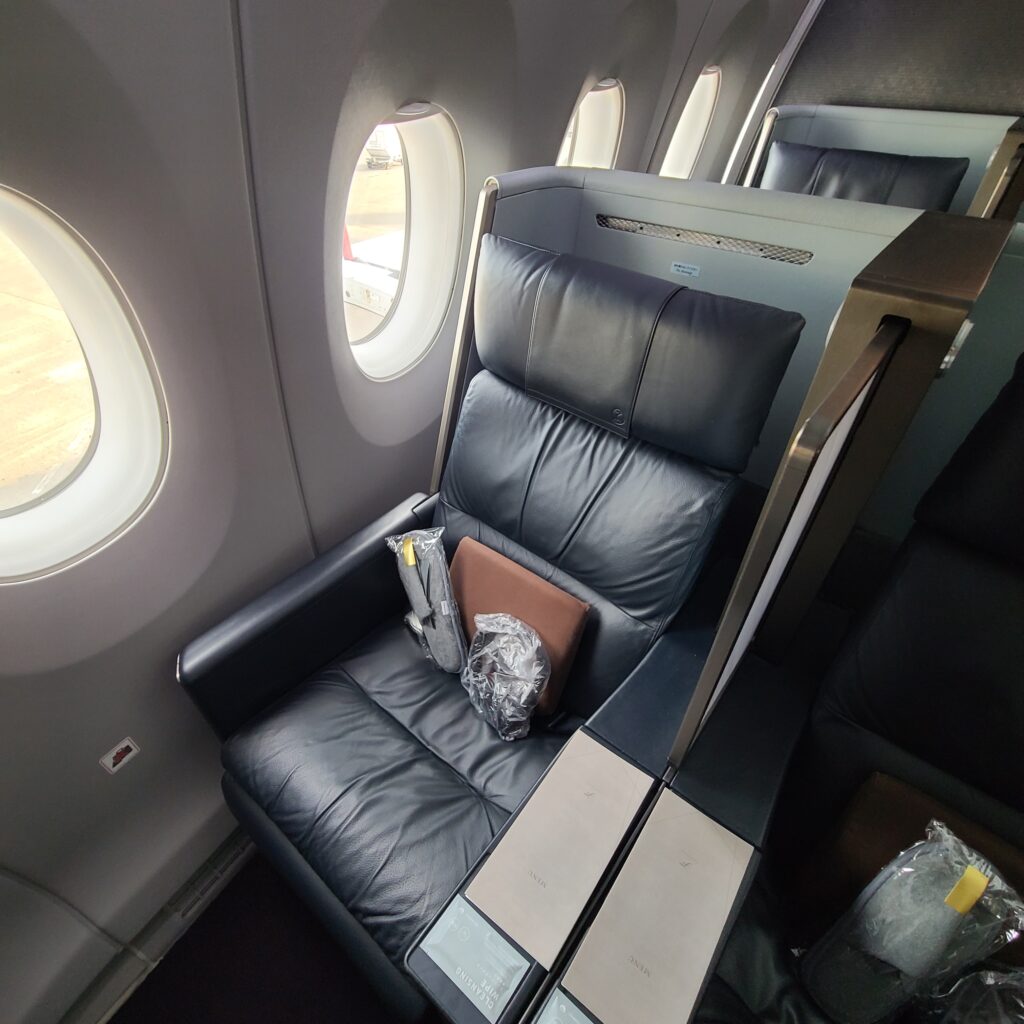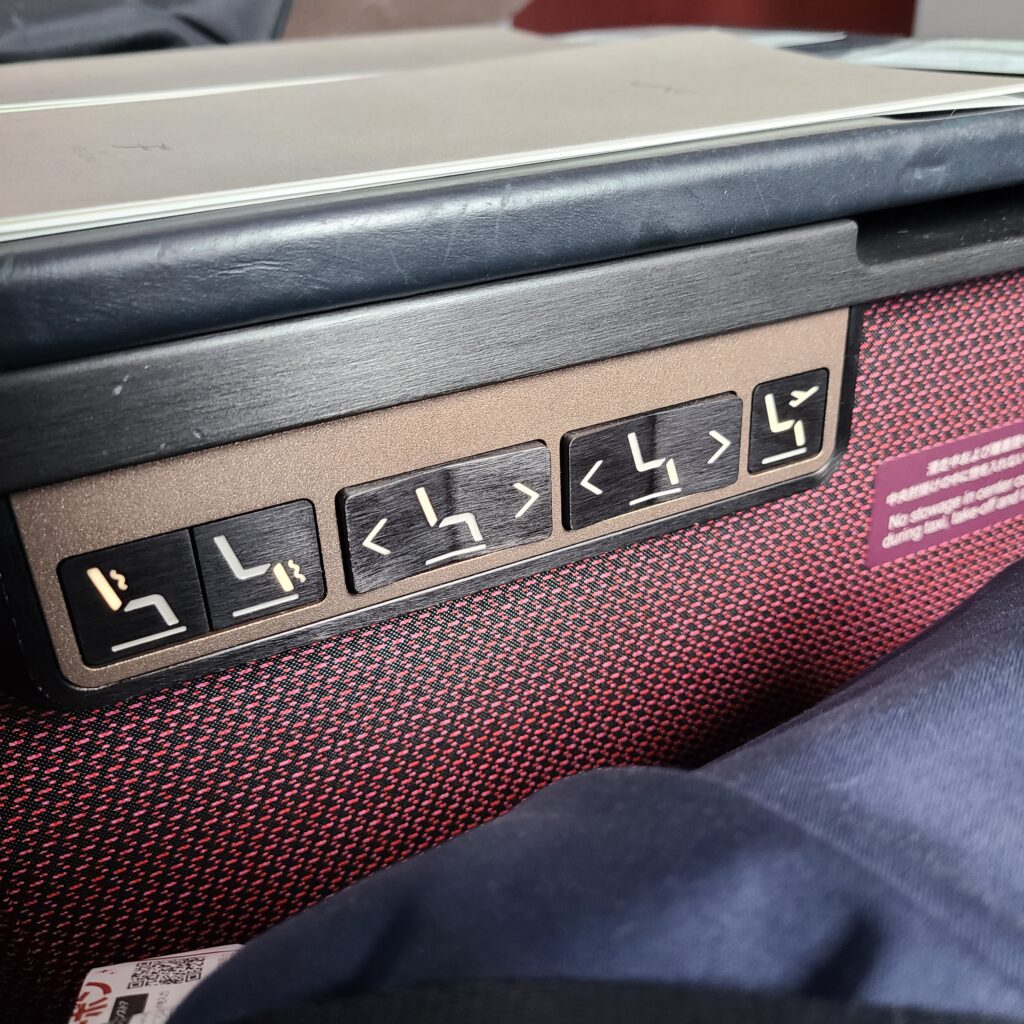 The seat can be reclined through the controls, but it won't go lie-flat mode. To the left of the seat controls is where the power outlet and remote for the entertainment screen in front of me.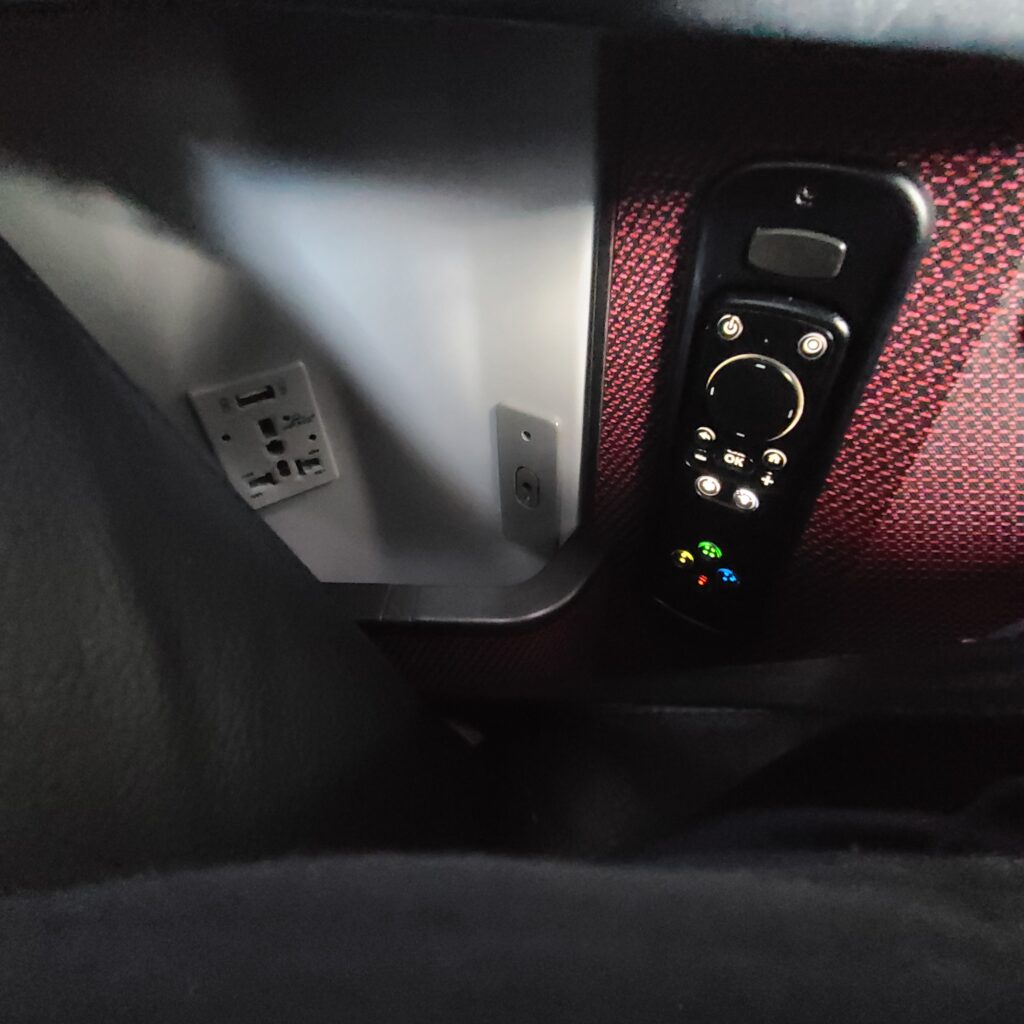 The armrest double as the cocktail tray for your drinks and snacks.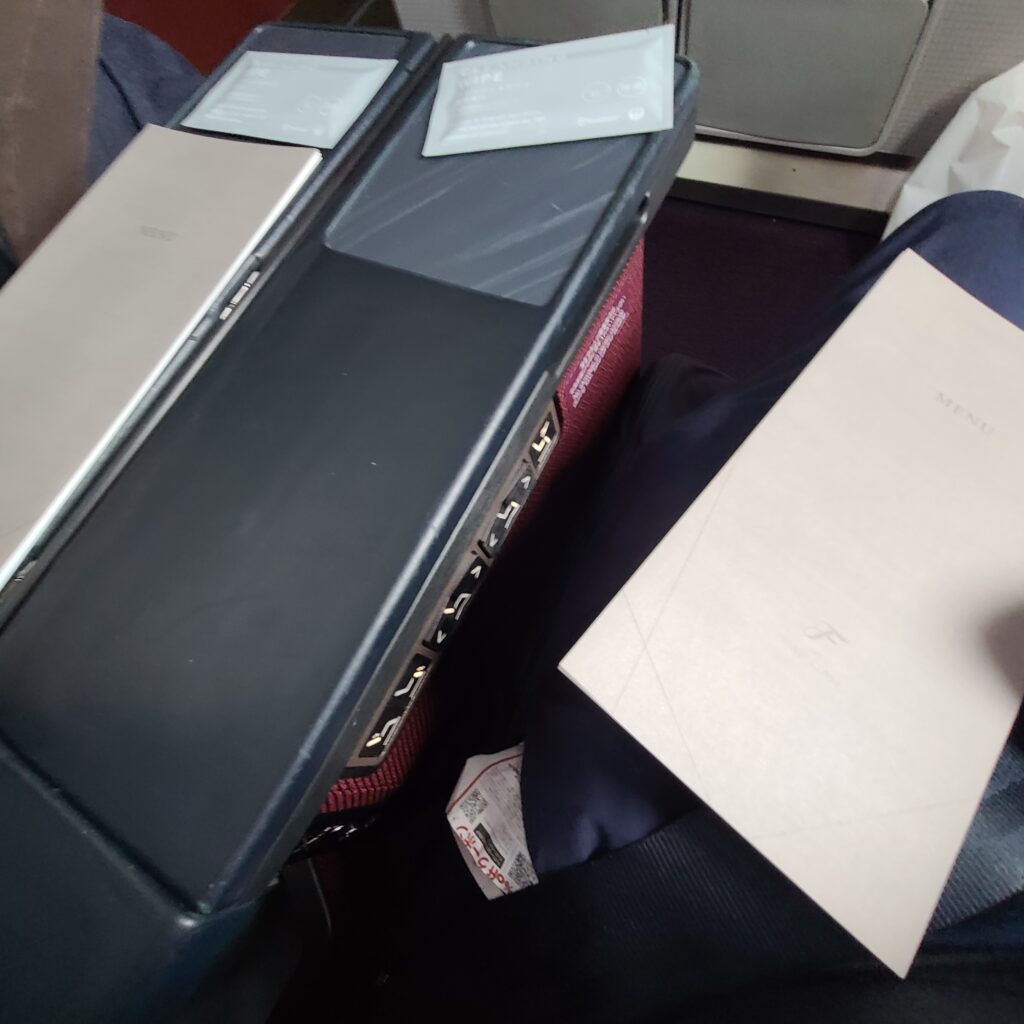 The entertainment screen is possibly not as great in the bulkhead seat compared to the seats behind me, which look to be wider. Since the flight was so short, I didn't bother watching anything from the screen, but the options looked similar to the flight coming from SFO.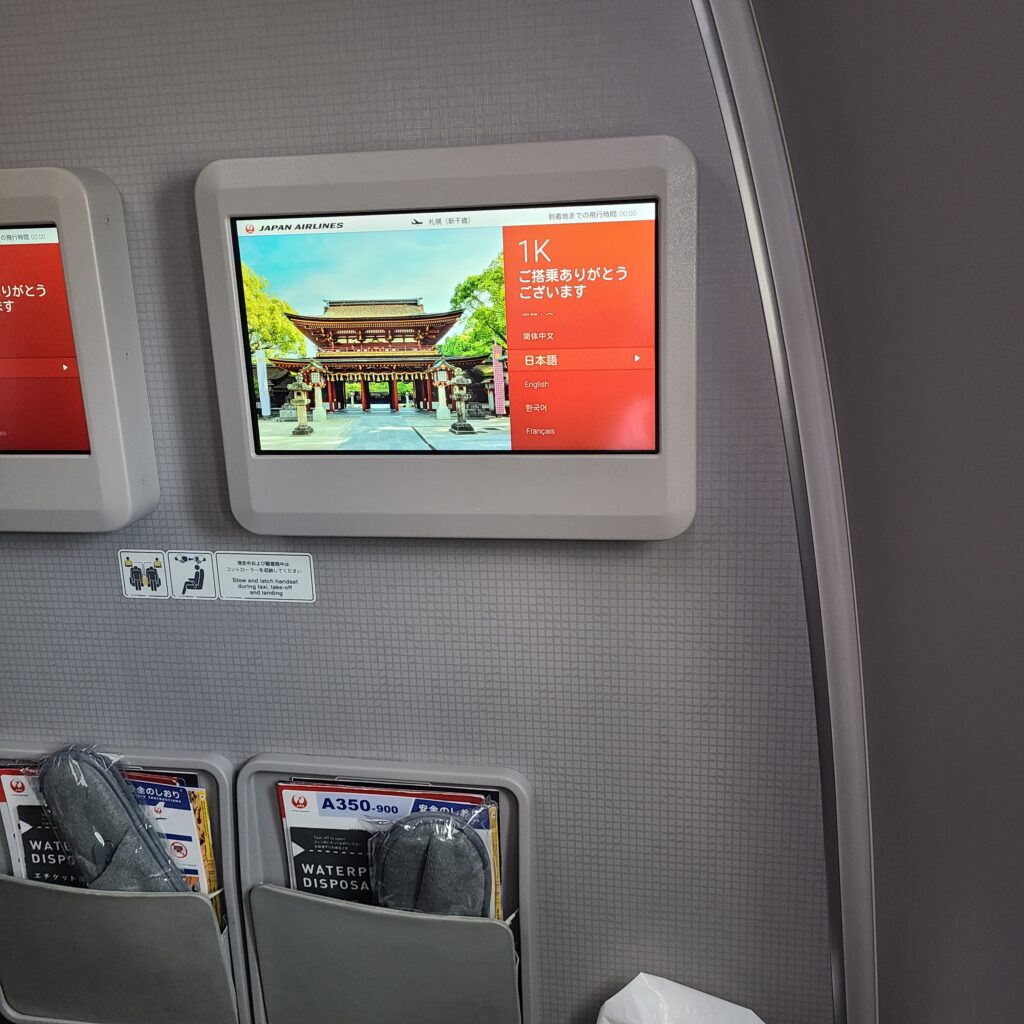 There's movable dividers to ensure privacy if you don't want to look at your seatmate, or have them look at you.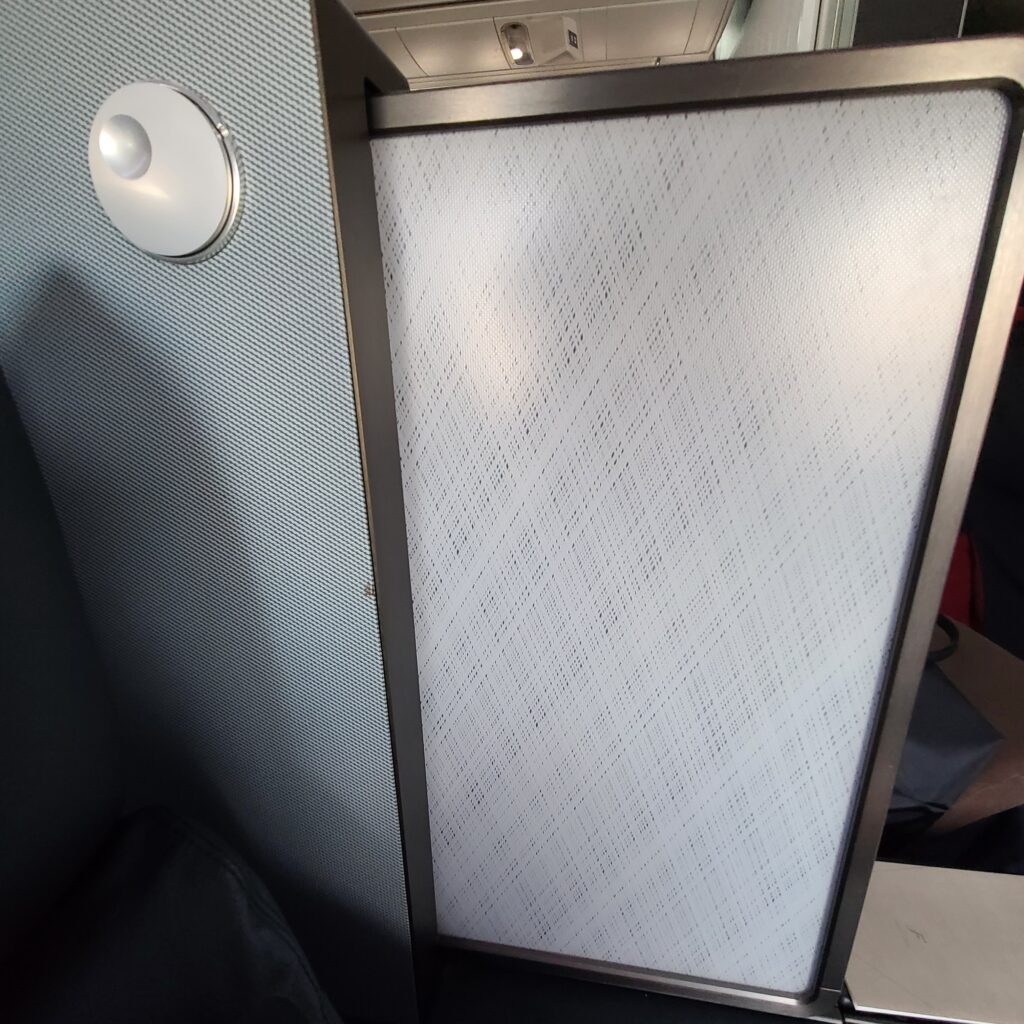 My feet almost touch the bulkhead when I'm in full recline mode. As a reference, I'm 5'5, so someone taller might find the full recline position uncomfortable.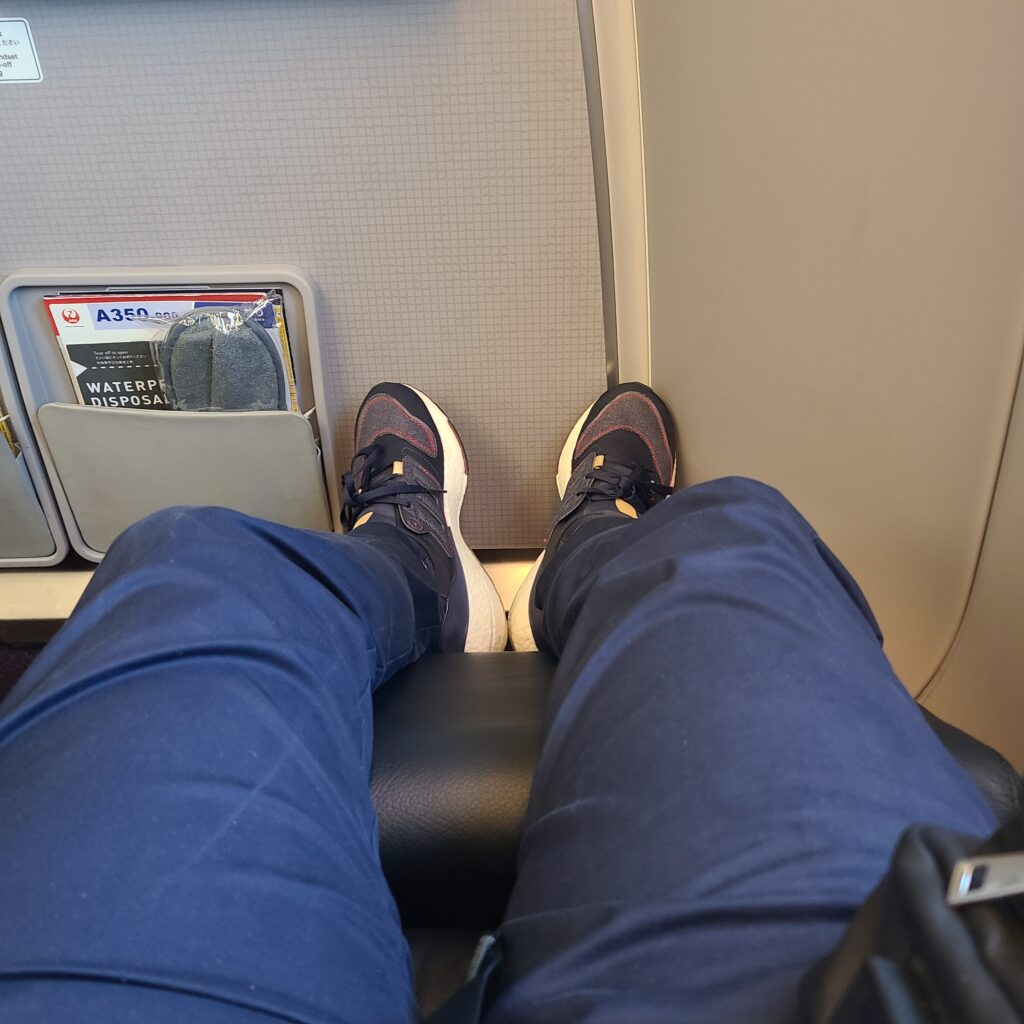 Just when the plane was taxiing for departure, I saw the ground crew bow and wave goodbye to the plane which was very wholesome to see.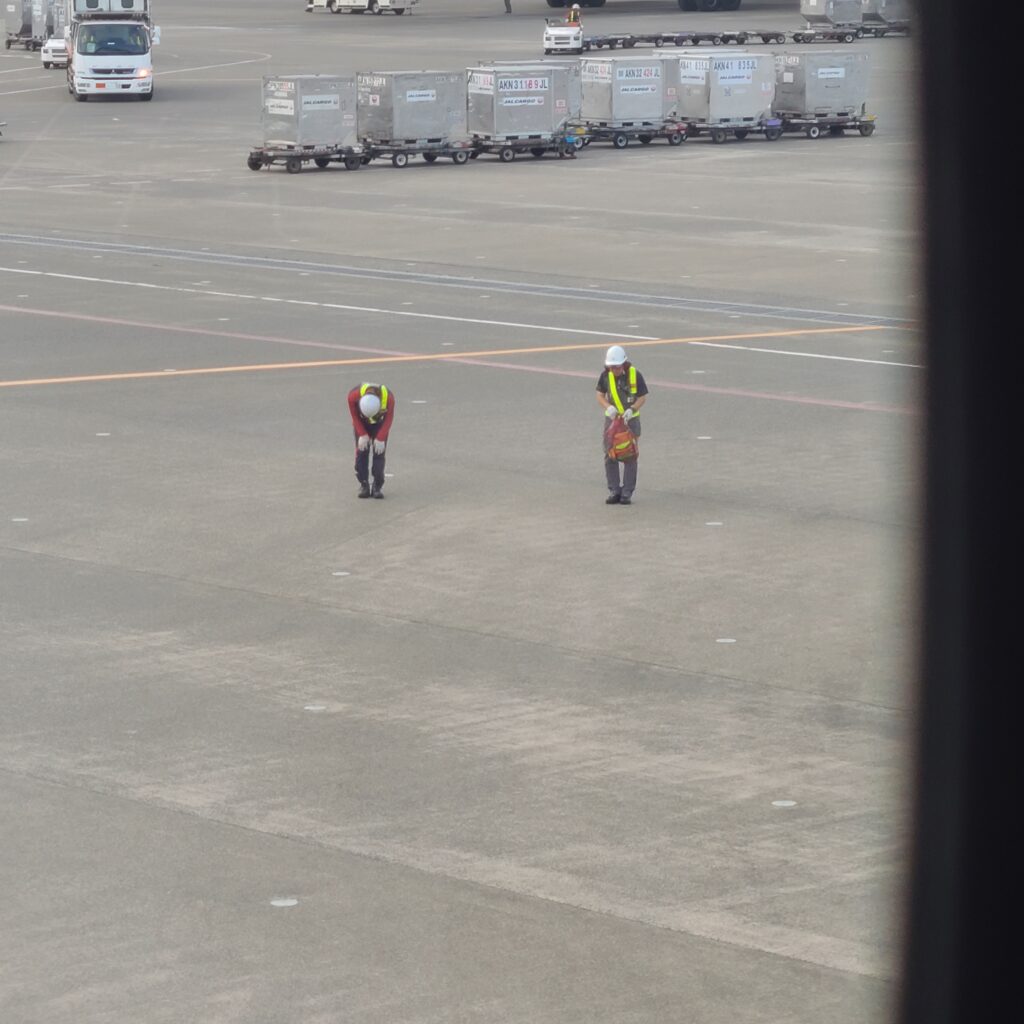 JAL Airbus A350-900 Domestic First Class Dinner
After eating tons of food from JAL First Class flying from SFO, I had to eat one more plane food before I finally hit the ground (outside of airports).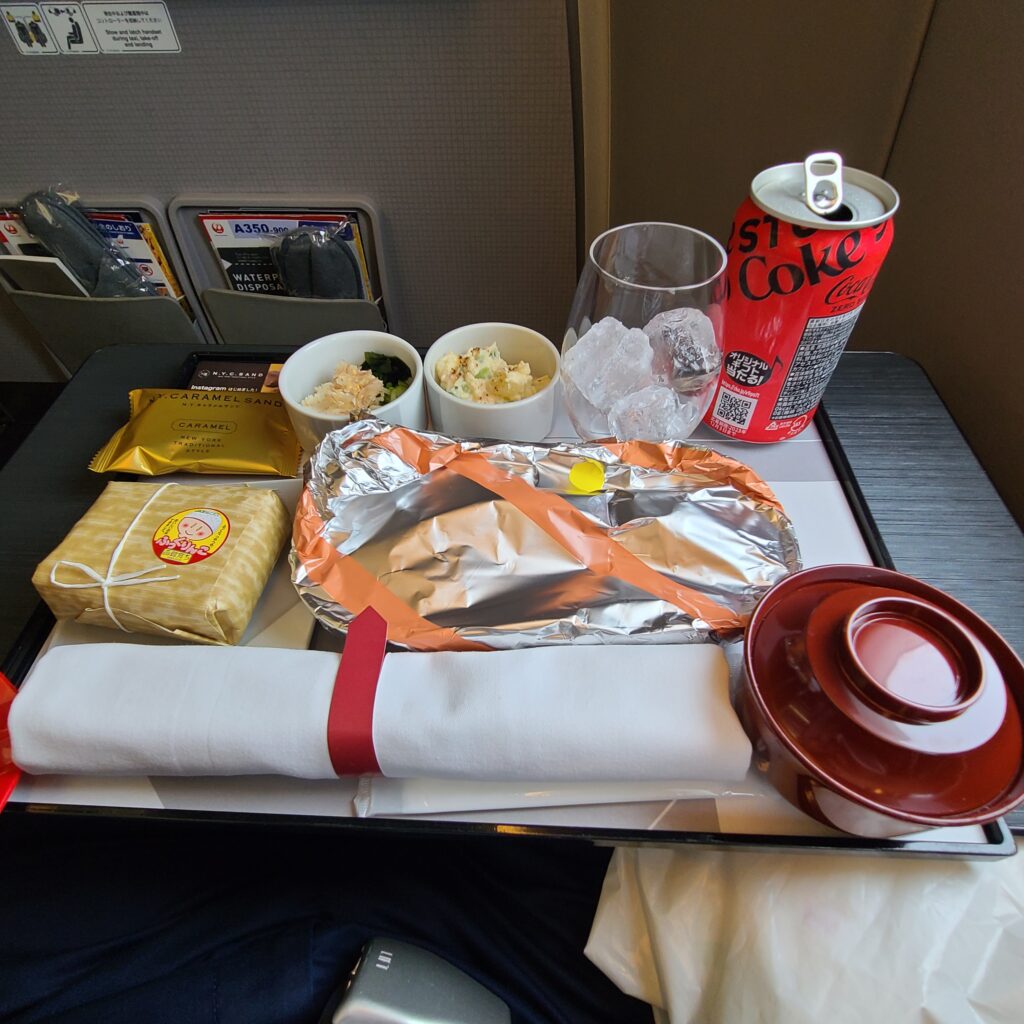 Dinner consisted of grilled mackarel with fish ball and omelettes as the main. Potato salad and eel for appetizer. Fukkurinko rice and miso soup as the sides. Chocolate and caramel cookies from NYC Sand for desserts.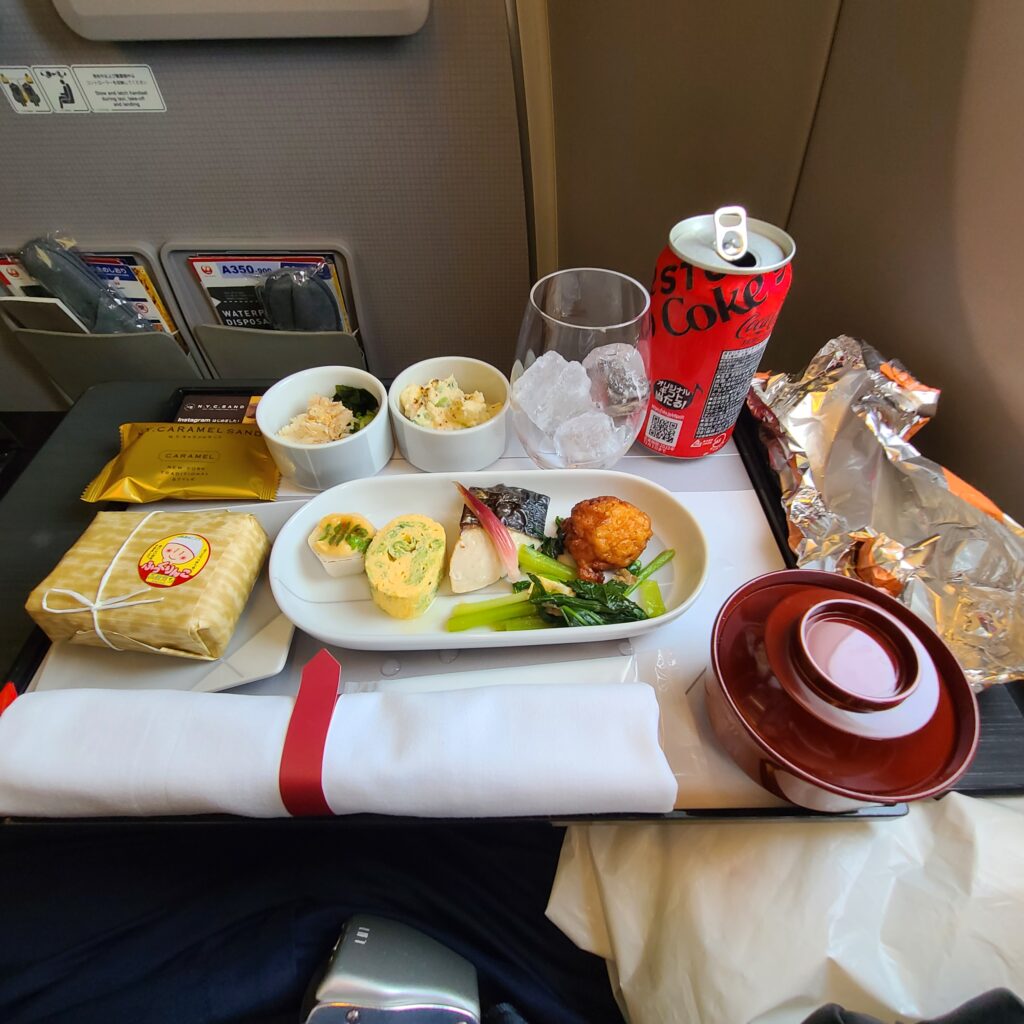 It was overall decent, but obviously not as good as the long-haul First Class. The Fukkurinko rice stood out in a great way, however. It has a tender texture with a subtle hint of sweetness to it. I really enjoyed it.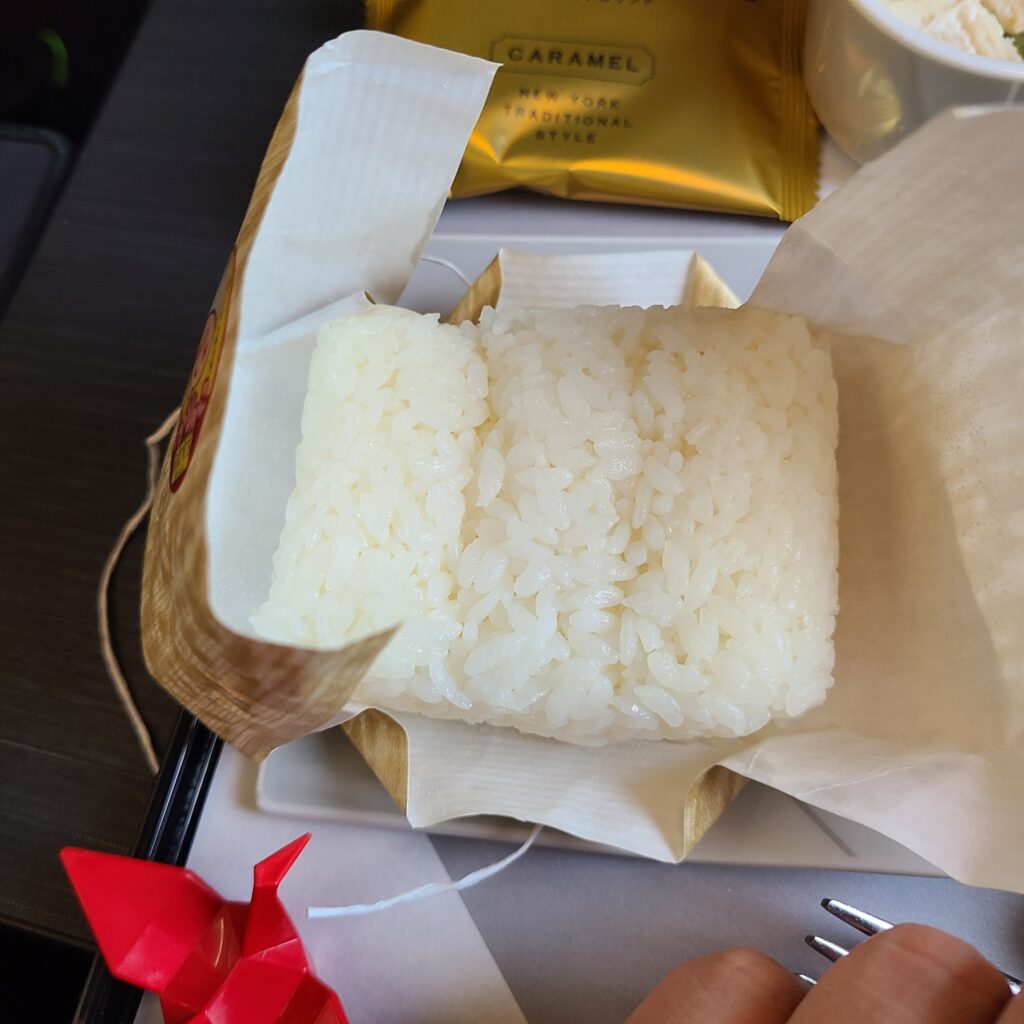 JAL Airbus A350-900 Domestic First Class Menu
Dinner had two options on the flight I was on. The first option was the choice I made.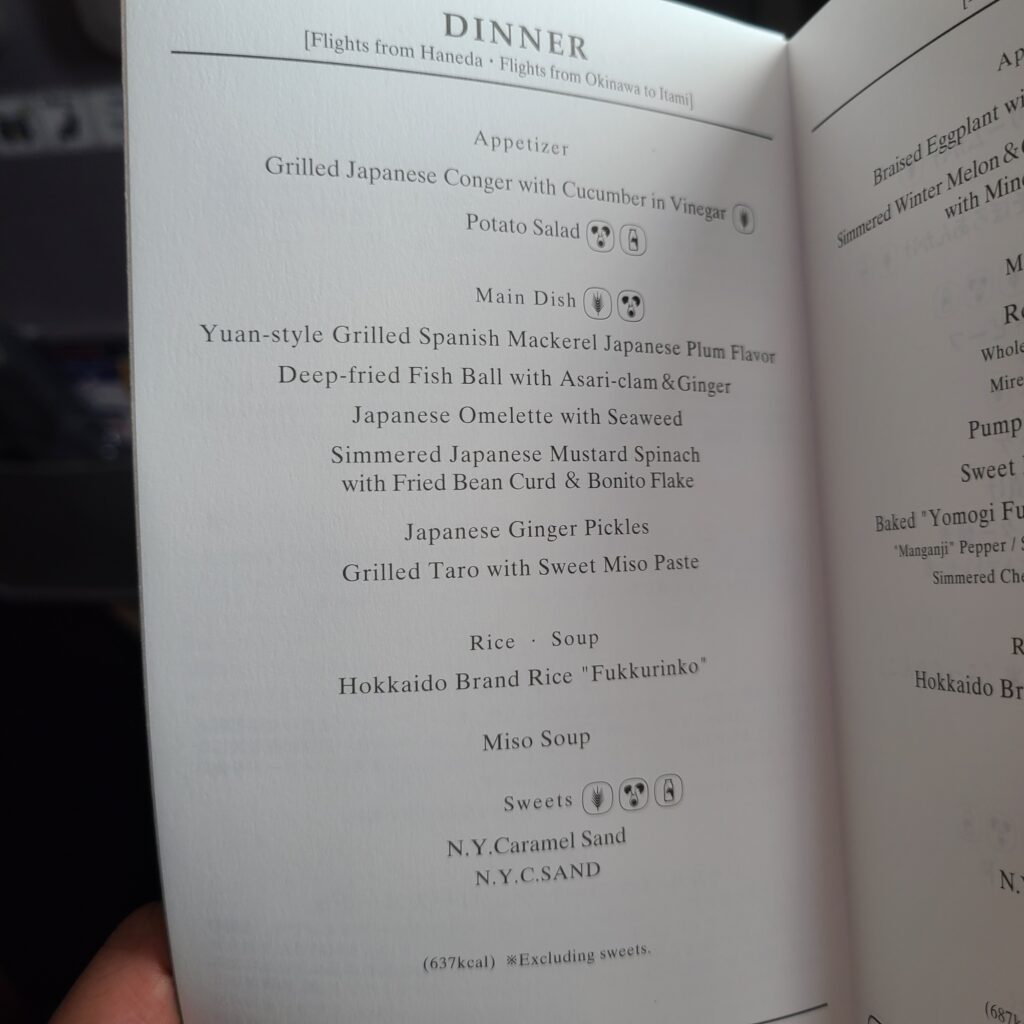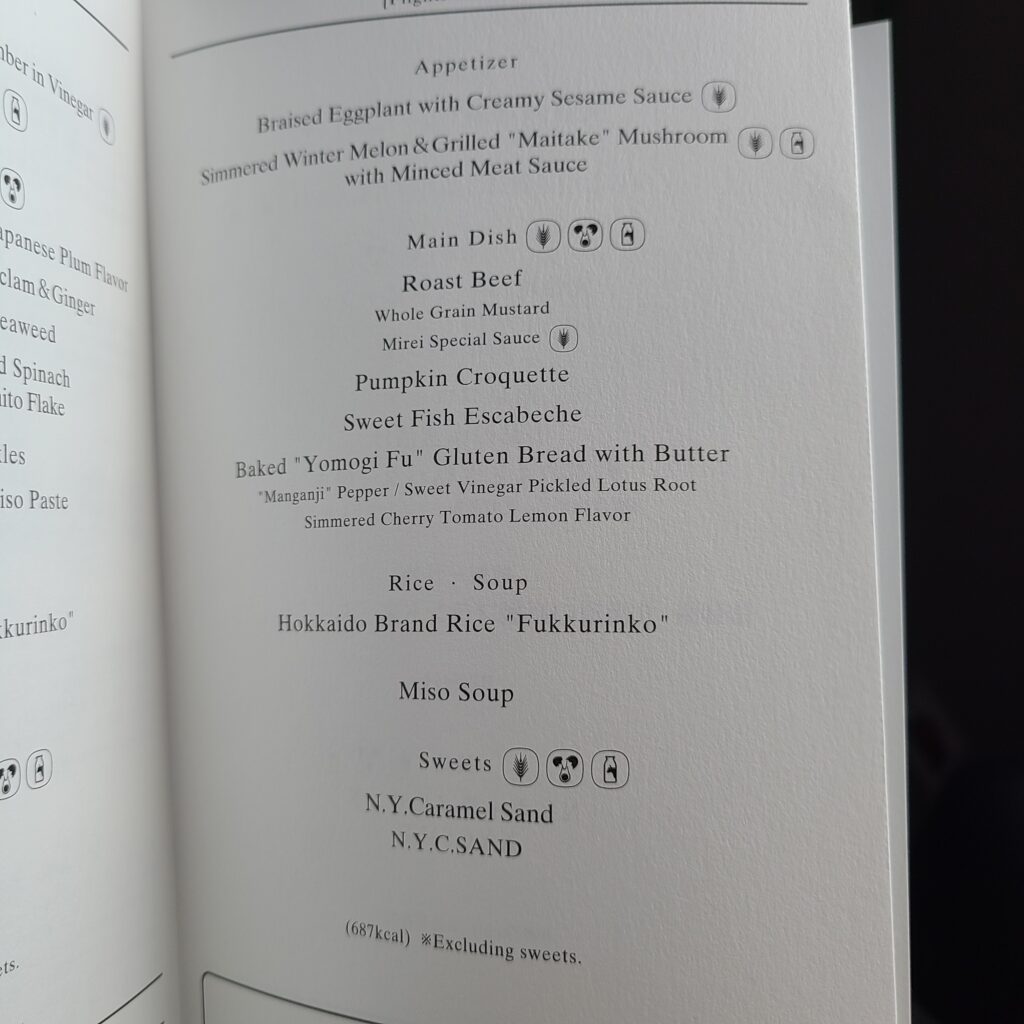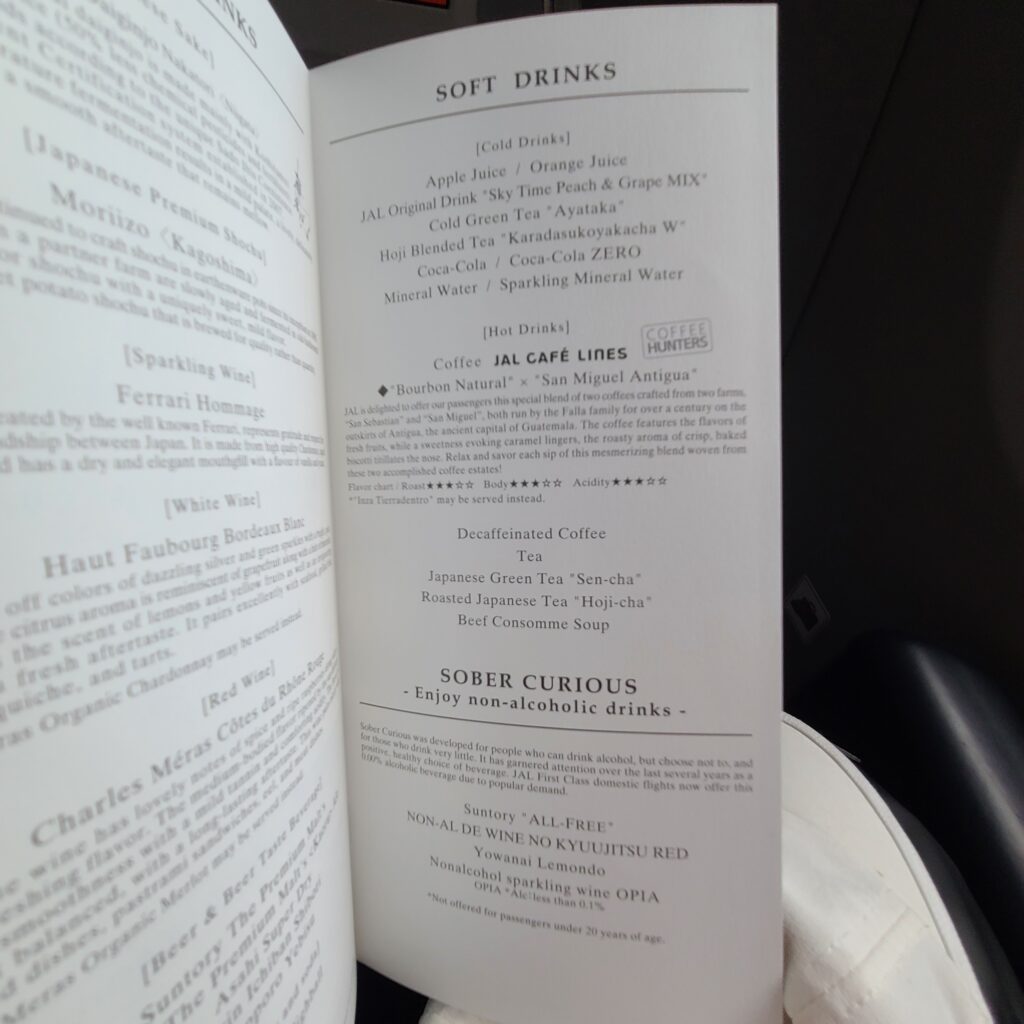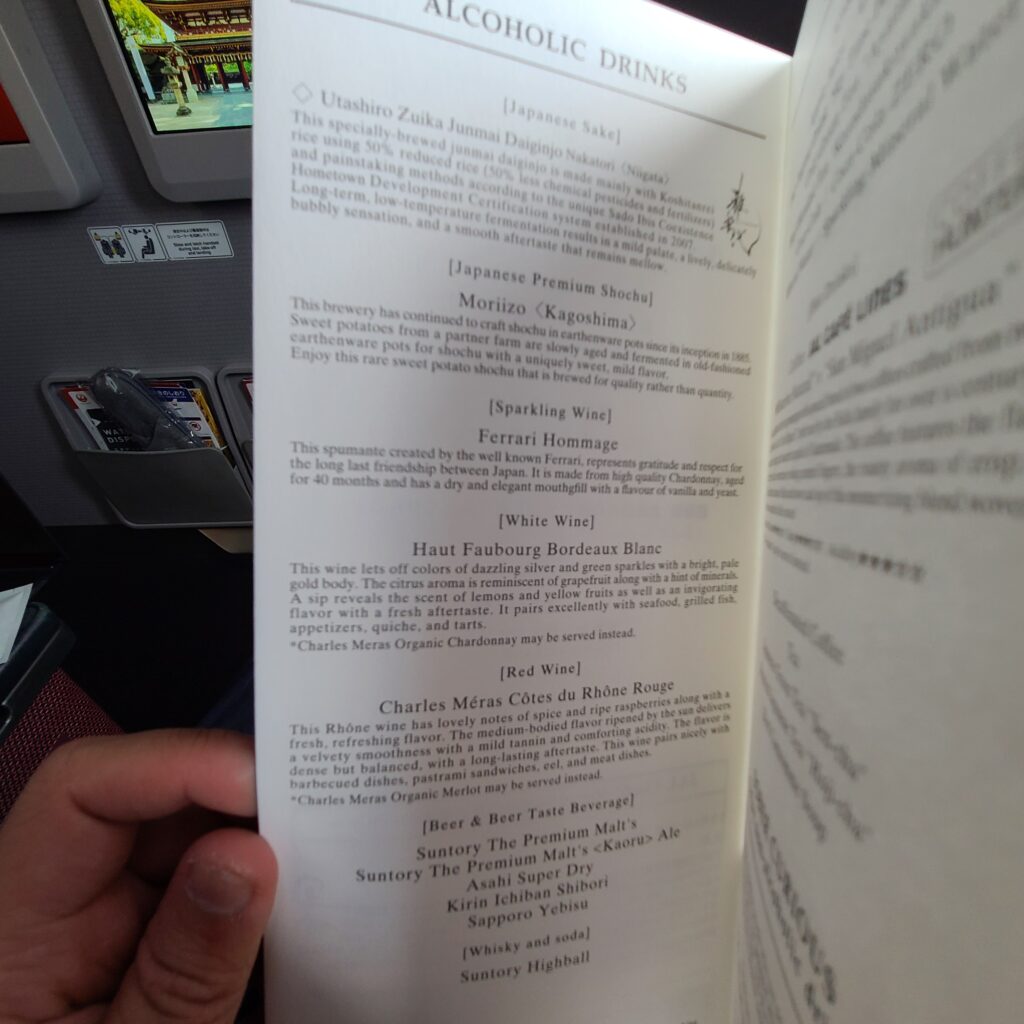 JAL Airbus A350-900 Domestic First Class Lavatory
Lavatory was quite standard. The toilet does not have bidet controls despite flying a Japanese airline.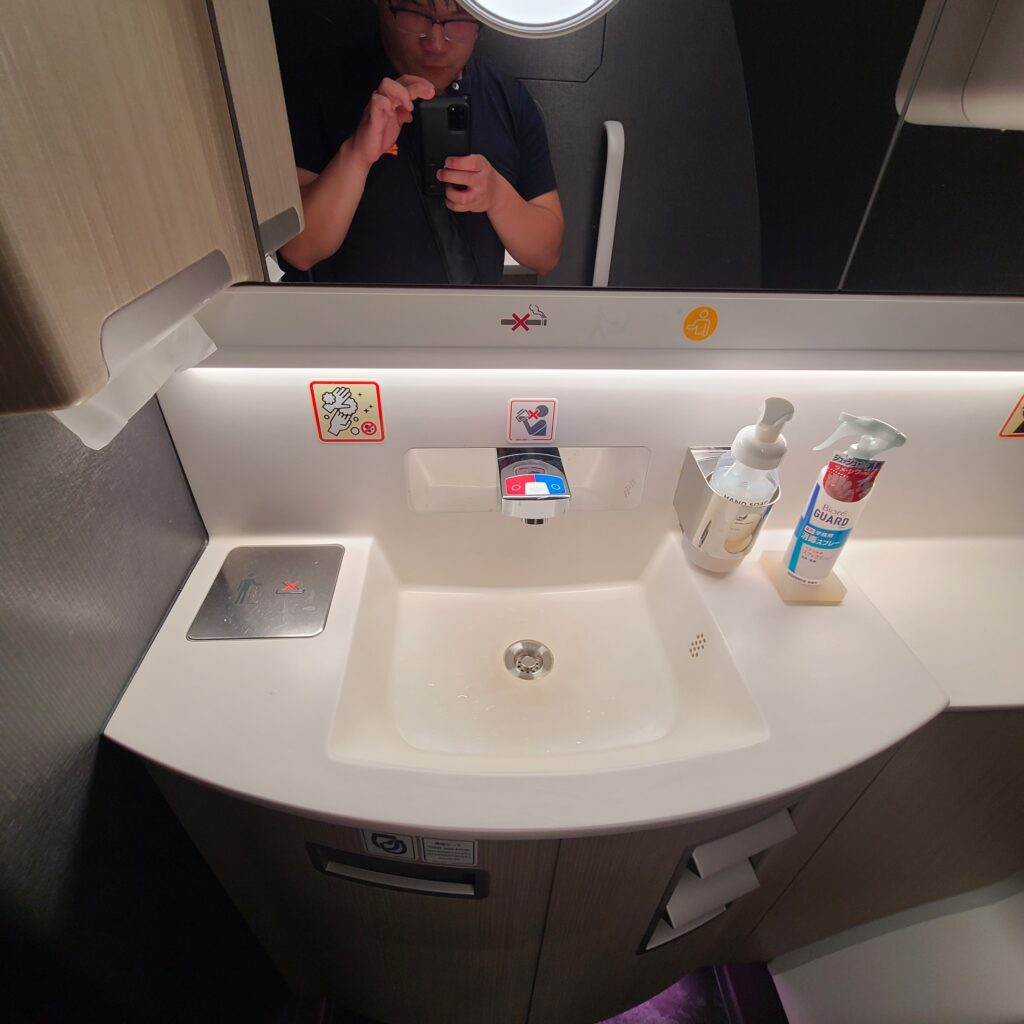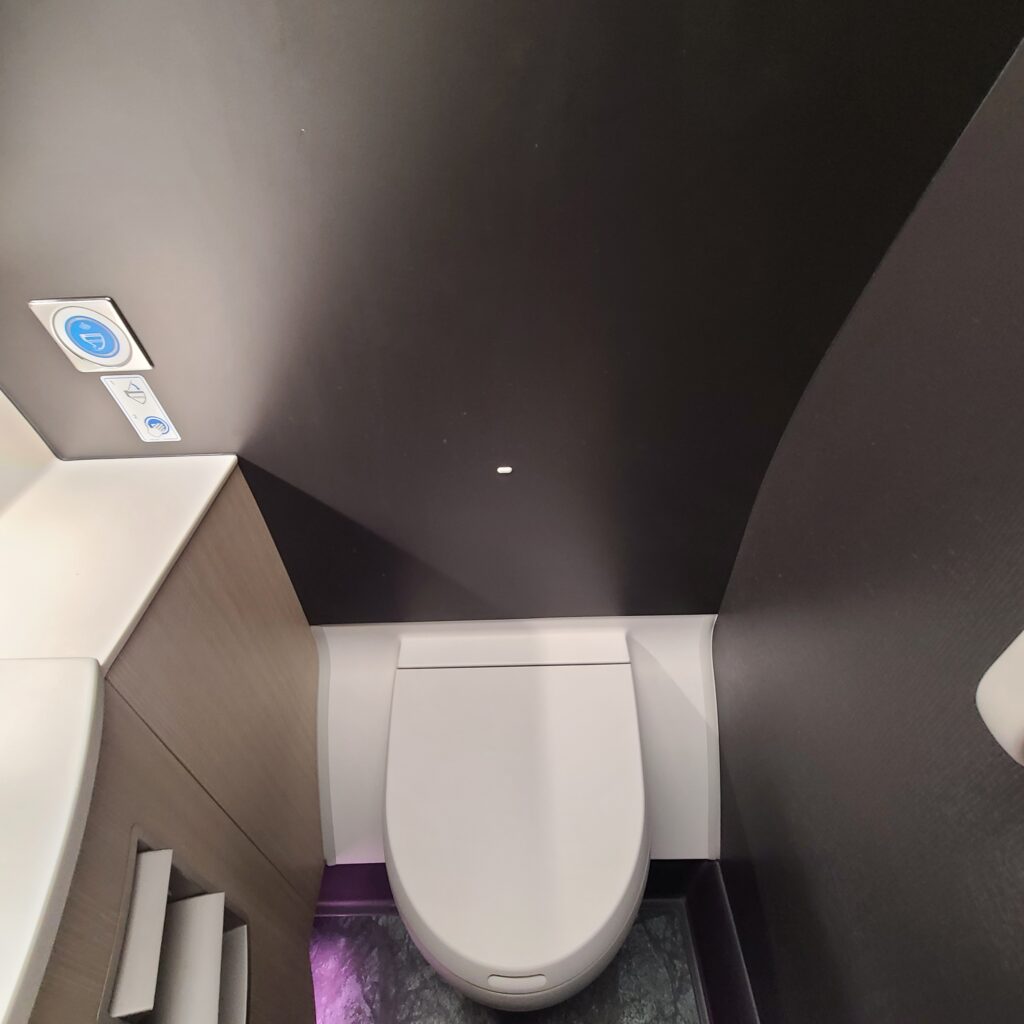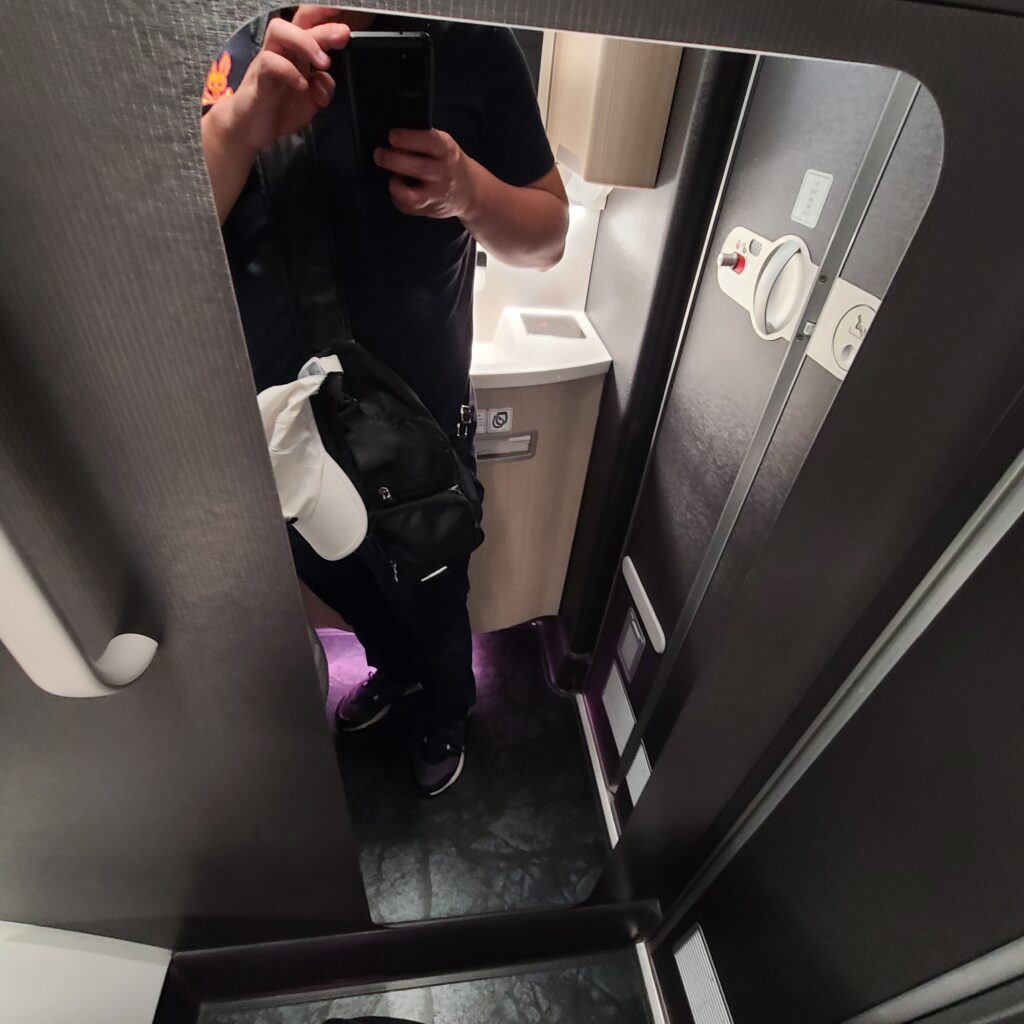 Conclusion
Around 1 hour in, some of the Hokkaido mountains protrude the clouds with a nice sunset background. Really nice view!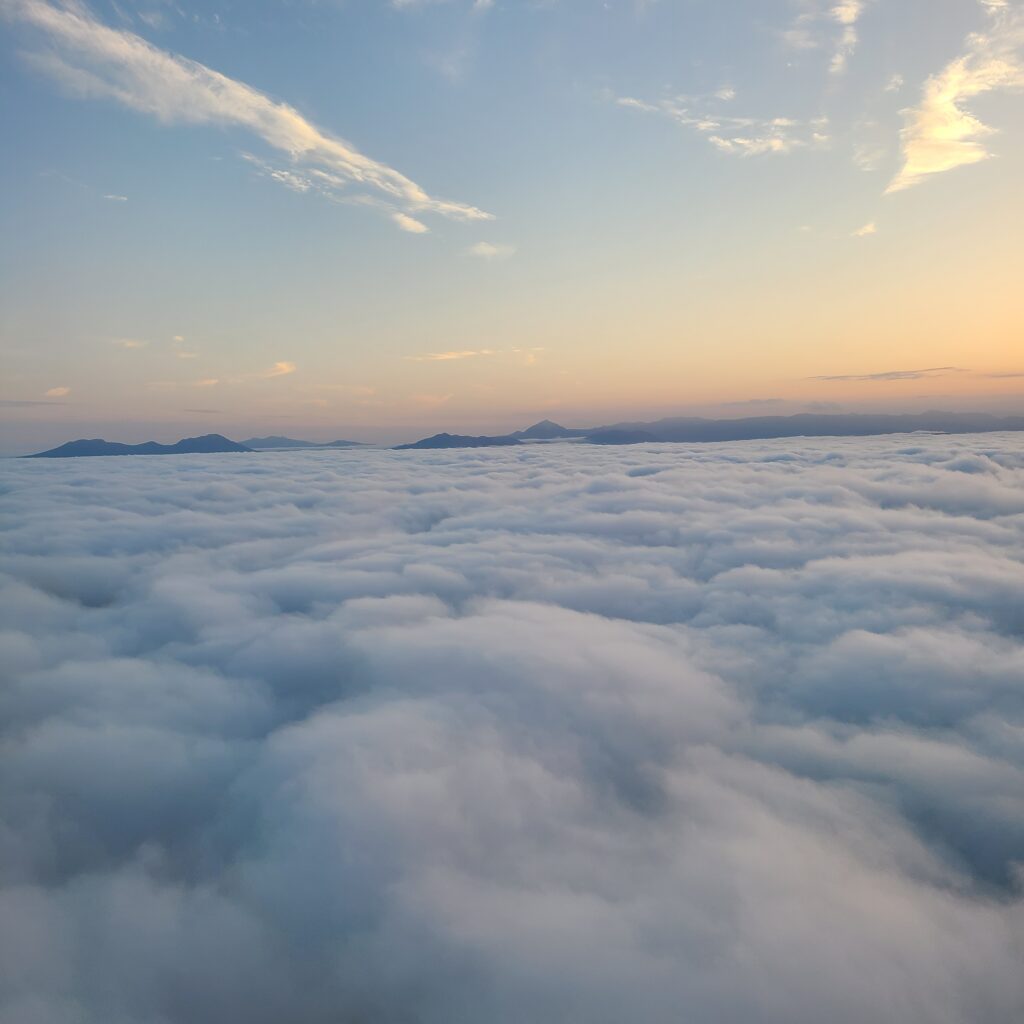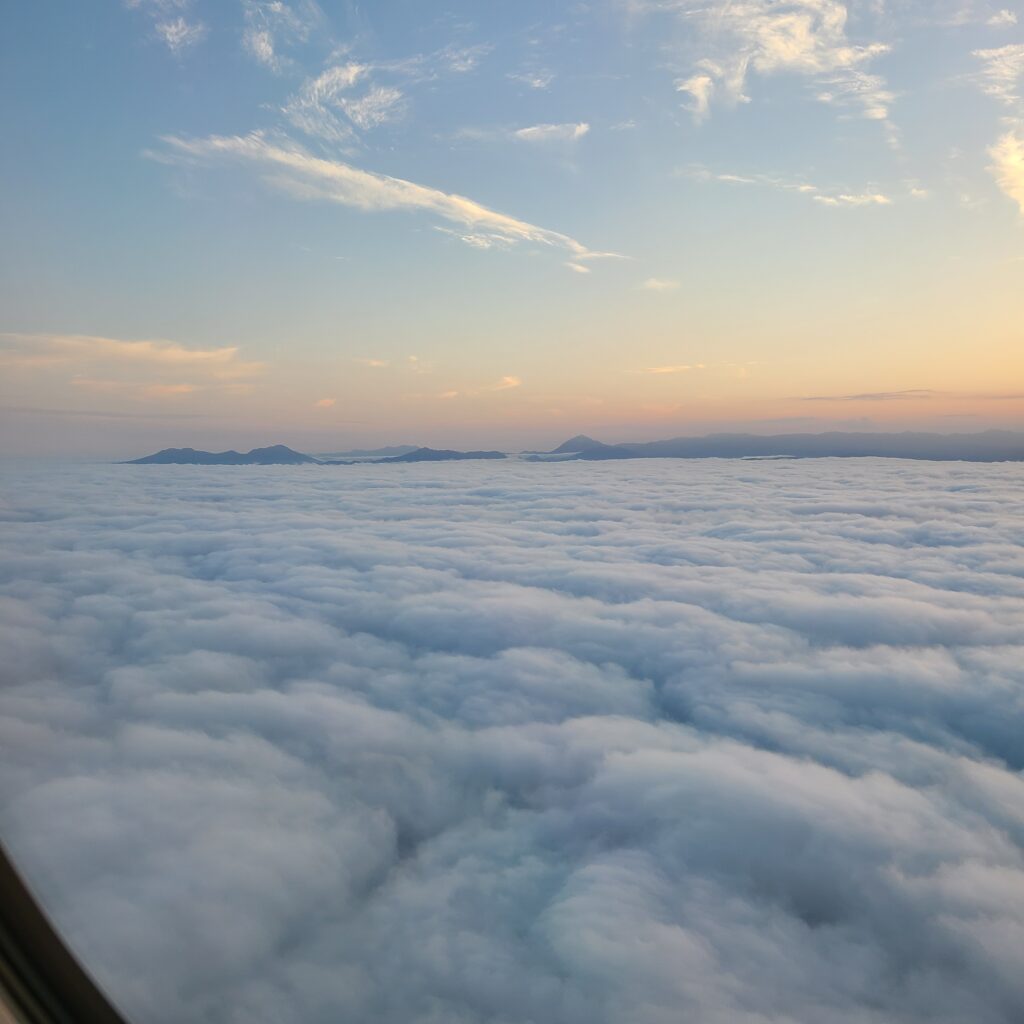 The JAL Domestic First Class in the Airbus A350 was a good product to try. While I wouldn't go out of my way buying it in cash for such a short flight, it made for an interesting perspective after seeing short-haul first class domestic in the US, or even "business class" for intra-European flights.
Overall Rating