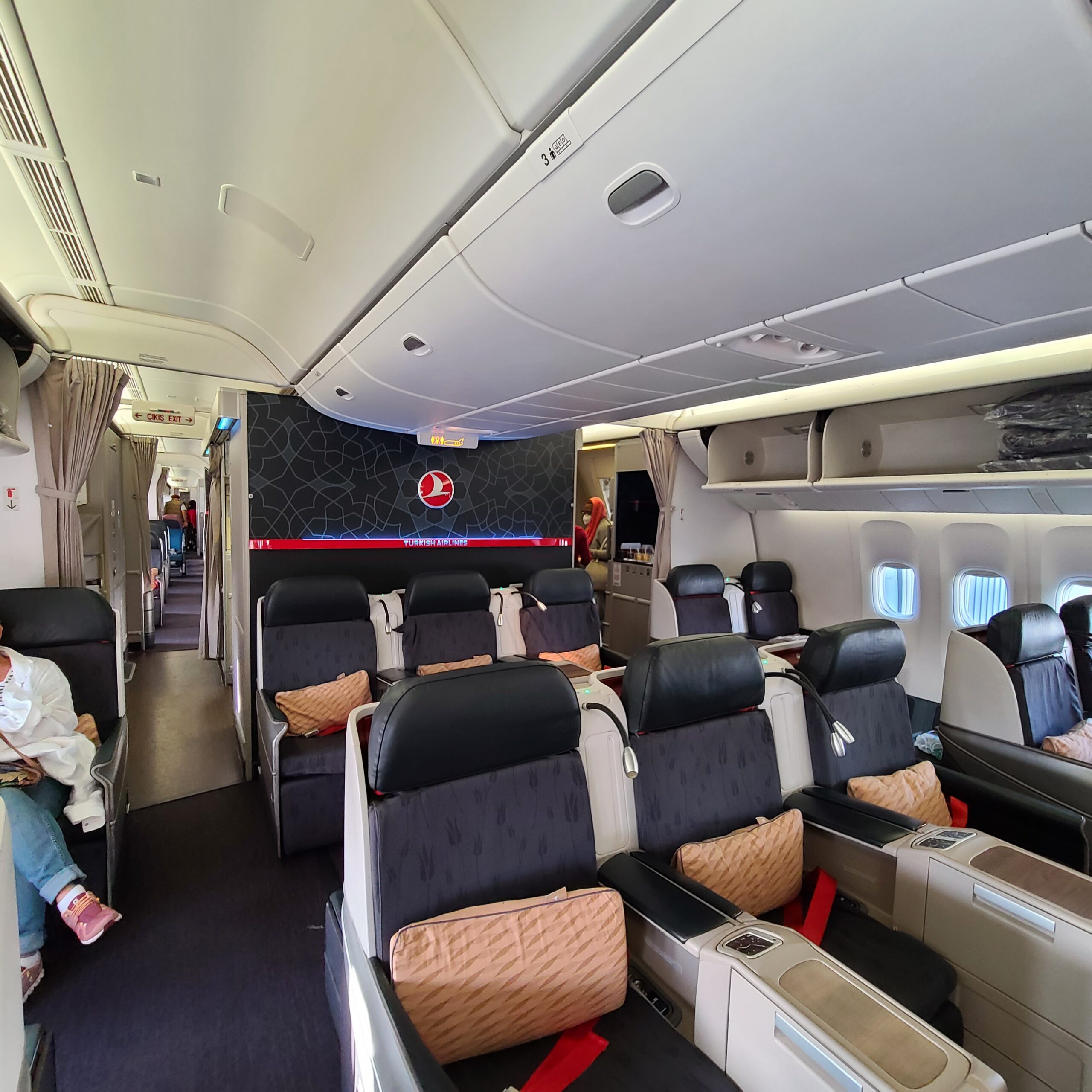 Advertiser disclosure: This post may include affiliate links (including sidebar banners) in which this site may receive compensation if a purchase is successfully made (at no extra cost to you) after being redirected from here. Thank you for your support!
Review: Turkish Airlines Business Class Boeing 777 (SFO-IST)
SFO-IST
Thursday, April 27
Depart: 18:15
Arrive: 17:15
Duration: 13 hours
Plane: Boeing 777-300ER
Seat: 3K (Window)

My first trip to Turkey begins at a high note with a Business Class flight from San Francisco to Istanbul. The pandemic has held me back in redeeming points for a flight ever since I got into the Points & Miles hobby, so I was pretty excited to finally fly on business class for the first time! I'd be trying both the old and new Business Class seats on this trip. It starts with the old one in Boeing 777-300ER and finishing it off with the new Business Class on the 787-9 Dreamliner going home.
Turkish Airlines Business Class 777- Booking
I've booked Turkish Airlines Business Class with ANA Miles that I got by transferring American Express Membership Rewards points. The miles required is 88,000 ANA miles for a round-trip. The mileage amount required for the flights with ANA Miles are one of the best there is for Europe, with 3 caveats:
ANA passes on fuel surcharge fees on award bookings, but Turkish Airlines have moderate fees. Mine totaled to $568 on top of the 88,000 ANA miles.
ANA requires round-trip booking for international and partner flights, so you need to be more flexible with your trip schedule.
ANA miles expire after 3 years once they're posted into your account.
Here are other ways to book Turkish Airlines Business Class.
Turkish Airlines Business Class 777- Check-in
I arrived at SFO at around 4:00PM. There was a really long line at check-in for Economy Class, but thankfully the line for Business Class was very short that I was able to check-in seamlessly. After checking my baggage, I head to the security checkpoint.
There are CLEAR stations at SFO for faster security clearance that I was able to take advantage of thanks to the complimentary CLEAR credits from my American Express Platinum Card. On top of that, the Known Traveler Number I got from Global Entry also comes with TSA PreCheck, so I didn't have to take my laptop off my backpack. There was literally no one in line except me, which was awesome!
I then briefly checked out the United Polaris Lounge reserved for Star Alliance Business Class passengers to wait for my flight. The lounge is definitely much more spacious than my usual go-to at the Centurion Lounge.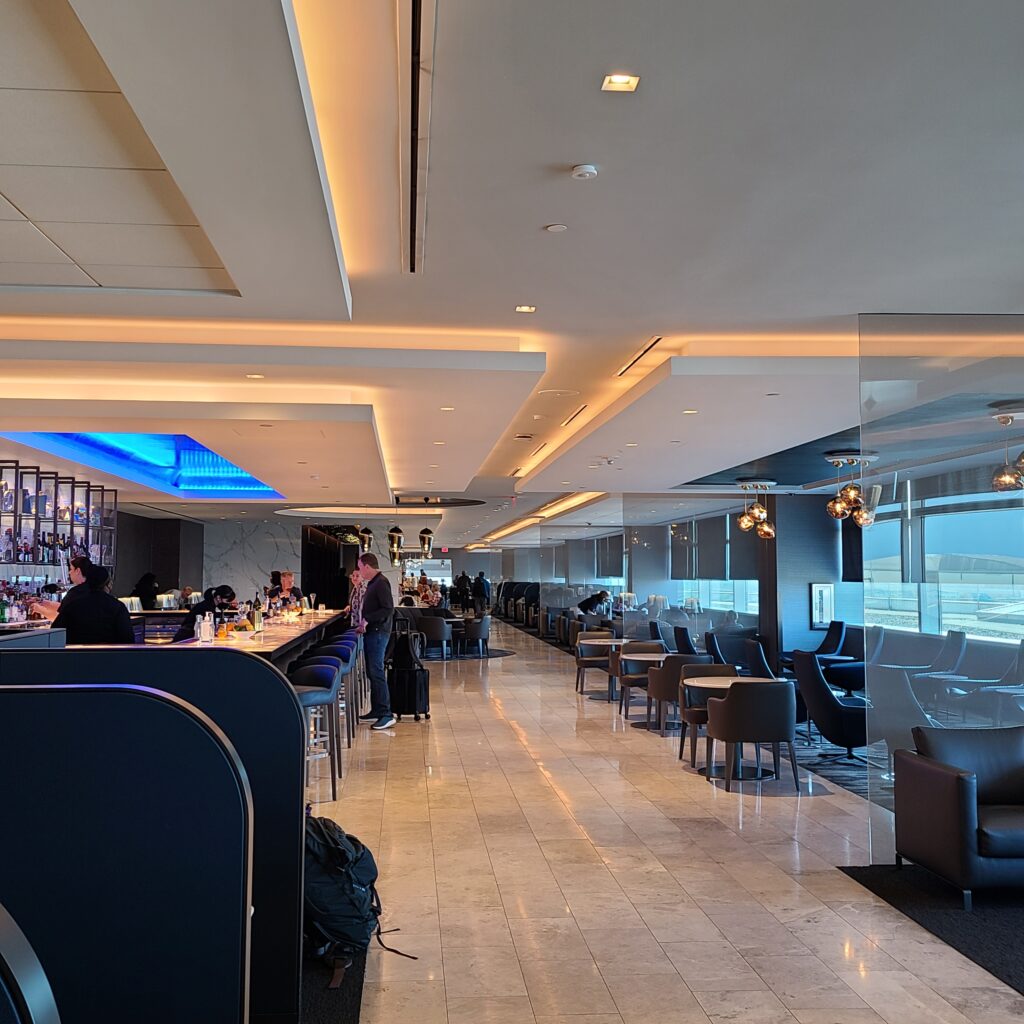 Turkish Airlines Business Class 777- Boarding
I chose the seat 3K for a window seat. When I checked the Turkish Airlines app just a day before my flight, I noticed that the seat next to me was still empty. I was lucky enough to have the whole row to myself! Not that I would've mind sitting next to someone though. I was just excited to be in Business Class for the first time!
Turkish Airlines Business Class 777 Seats
The Business Class seats on the Boeing 777 have 2-3-2 seat configuration. The seats don't look very modern as they're understandably the older variation of Turkish Airlines Business Class. They're not ideal for solo travelers either as they offer very little privacy. But, because I was lucky enough to have the row to myself, it was very comfortable.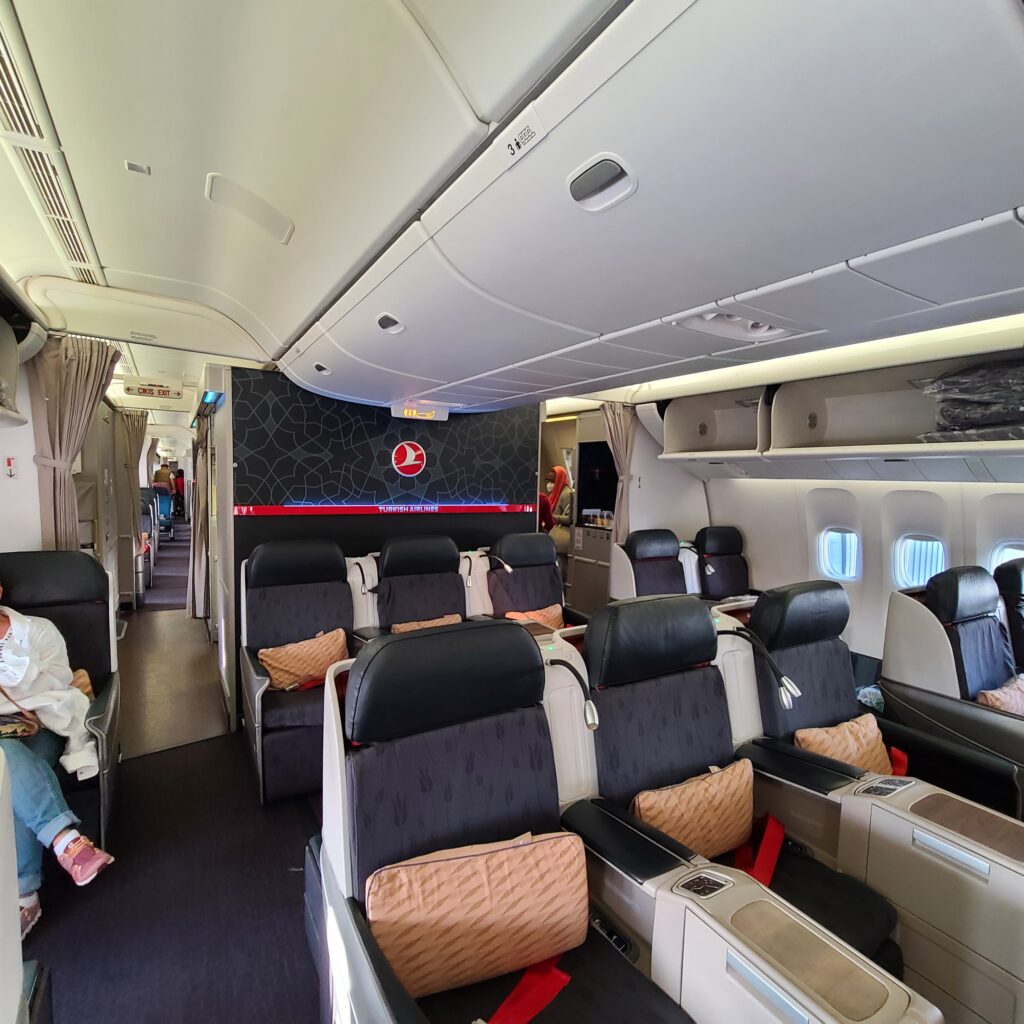 The seats are spacious with lots of legroom. In front of the seat is the ottoman where it's big enough to store a backpack. Fitting.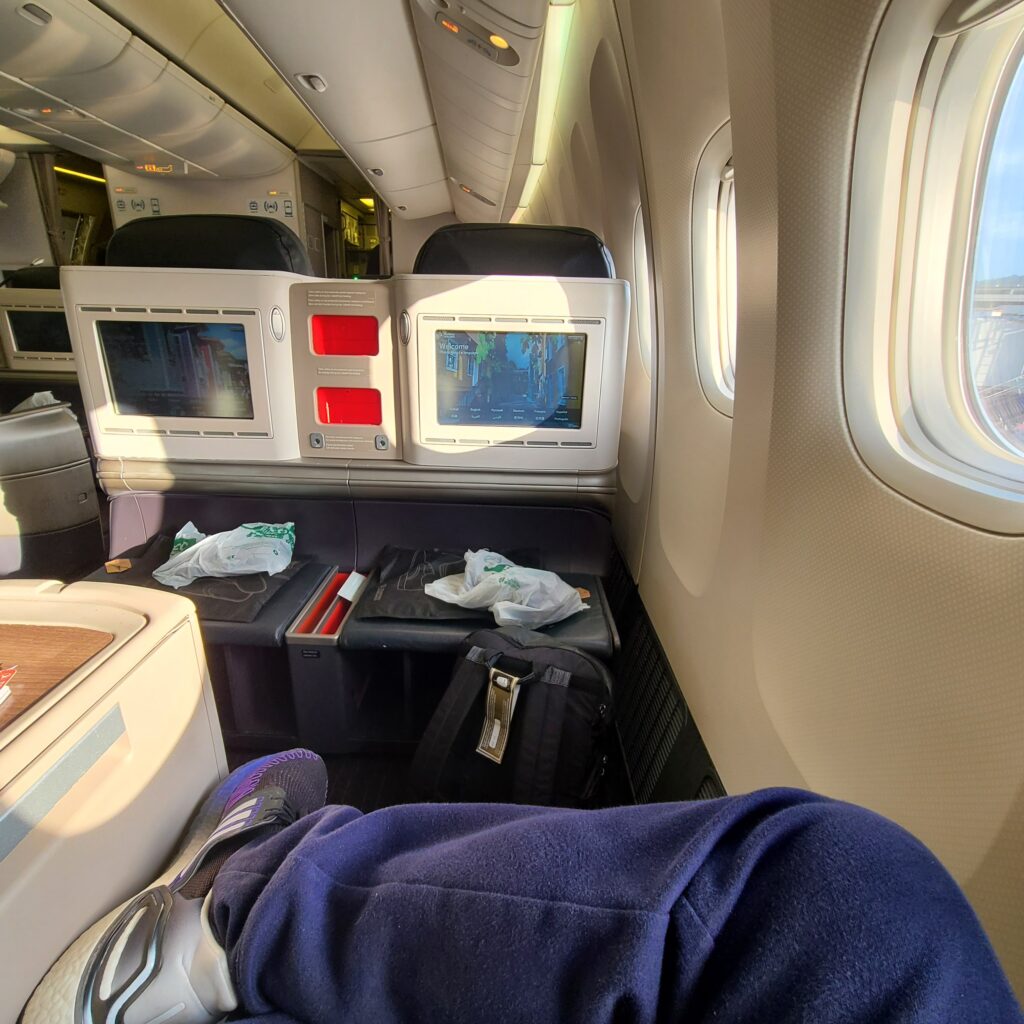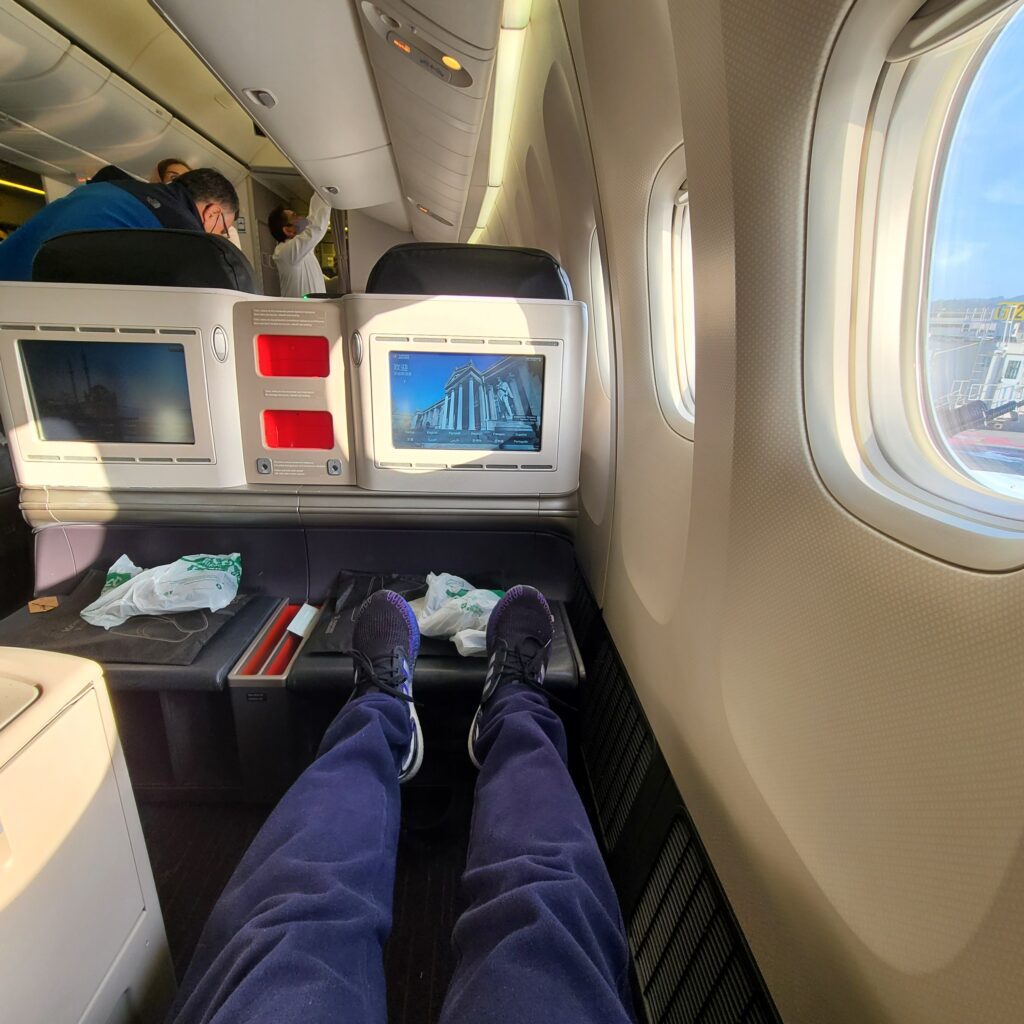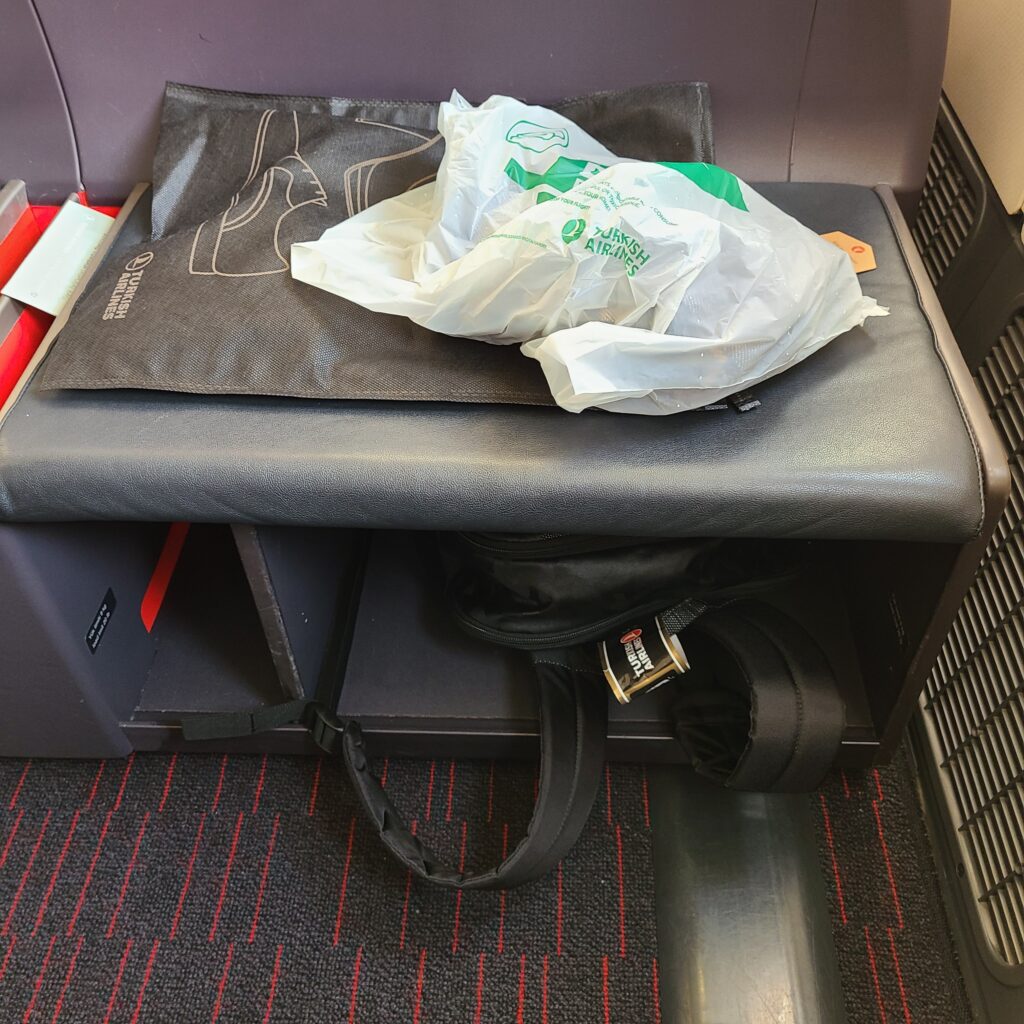 Once I settled down, the flight attendant handed me a drink of my choice. I chose the strawberry juice.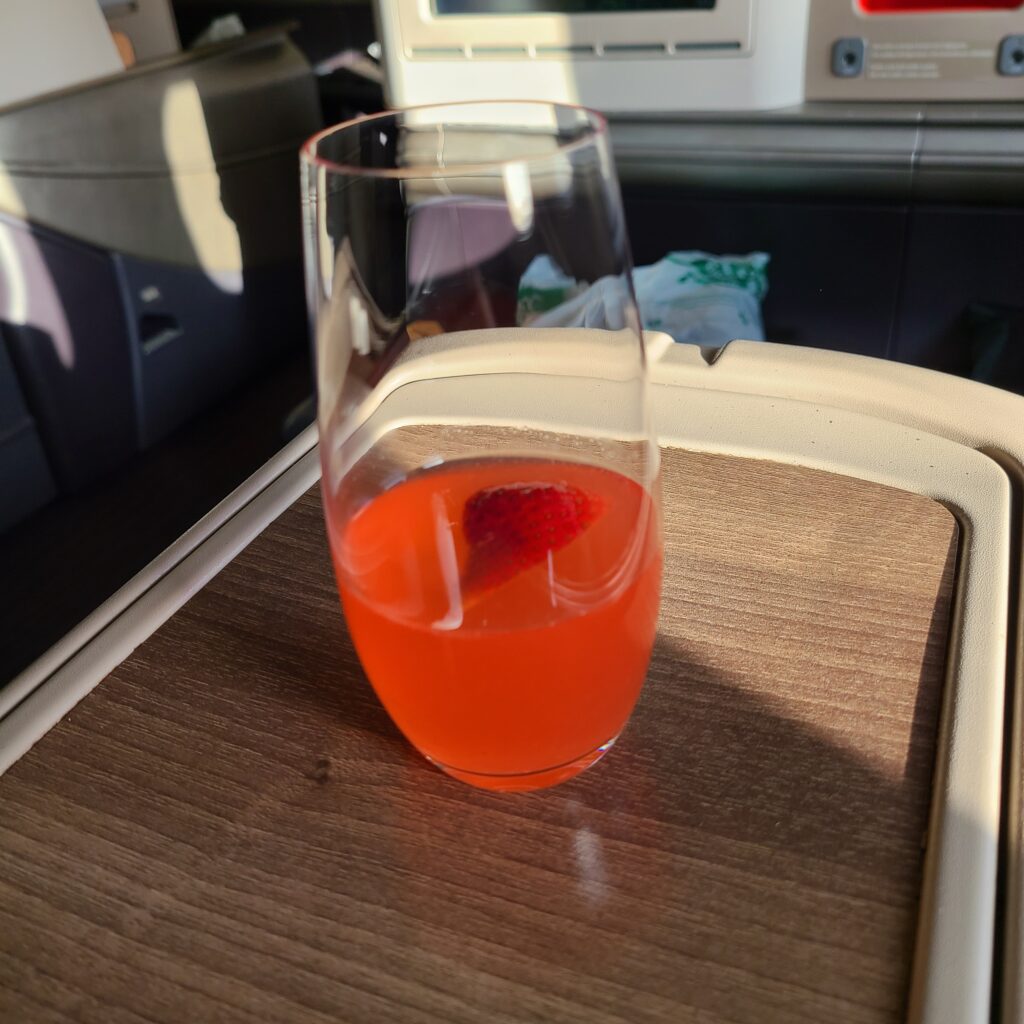 Turkish Airlines Business Class 777 Amenity Kit

I was given a green Versace Parfums amenity bag. I believe ladies would receive a different color bag, but I didn't pay attention to know exactly. The bag comes with a perfume, body lotion, lip balm, plane socks, sleeping mask, and earplugs.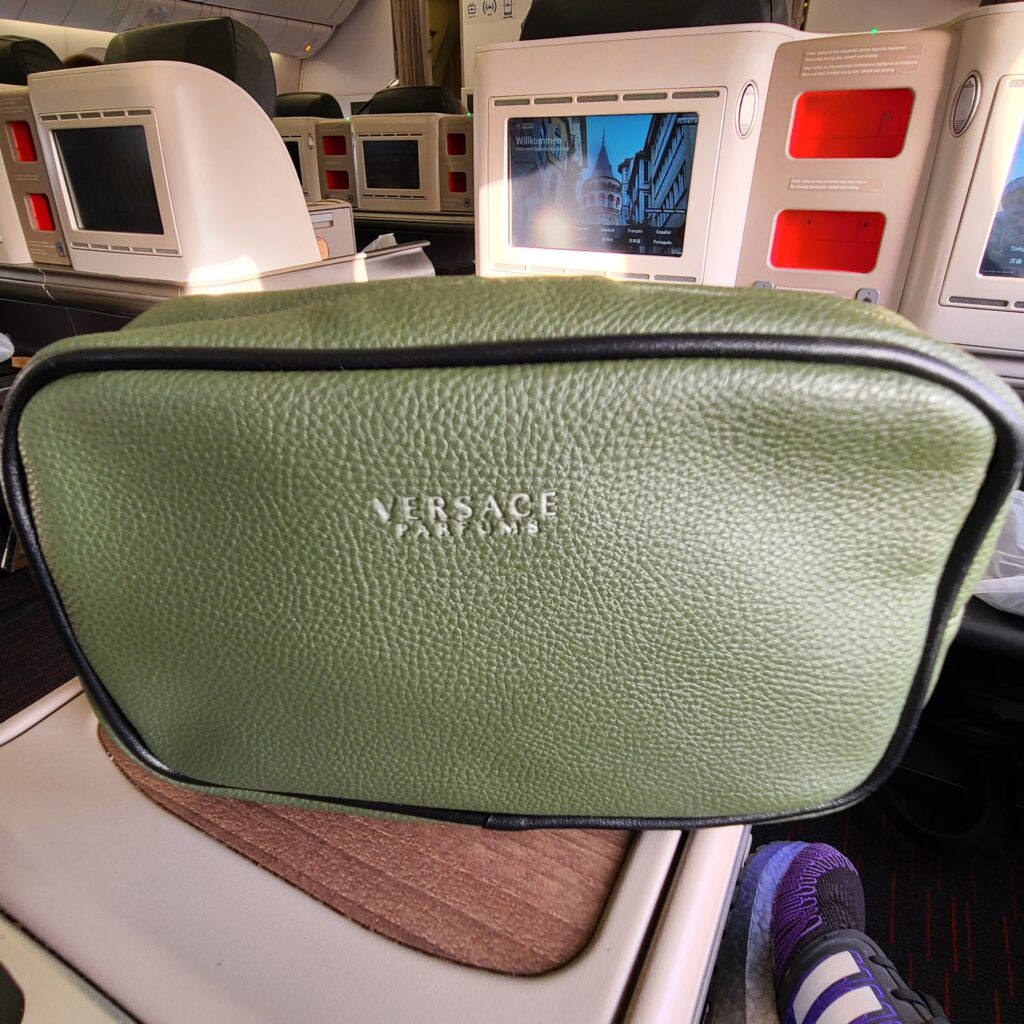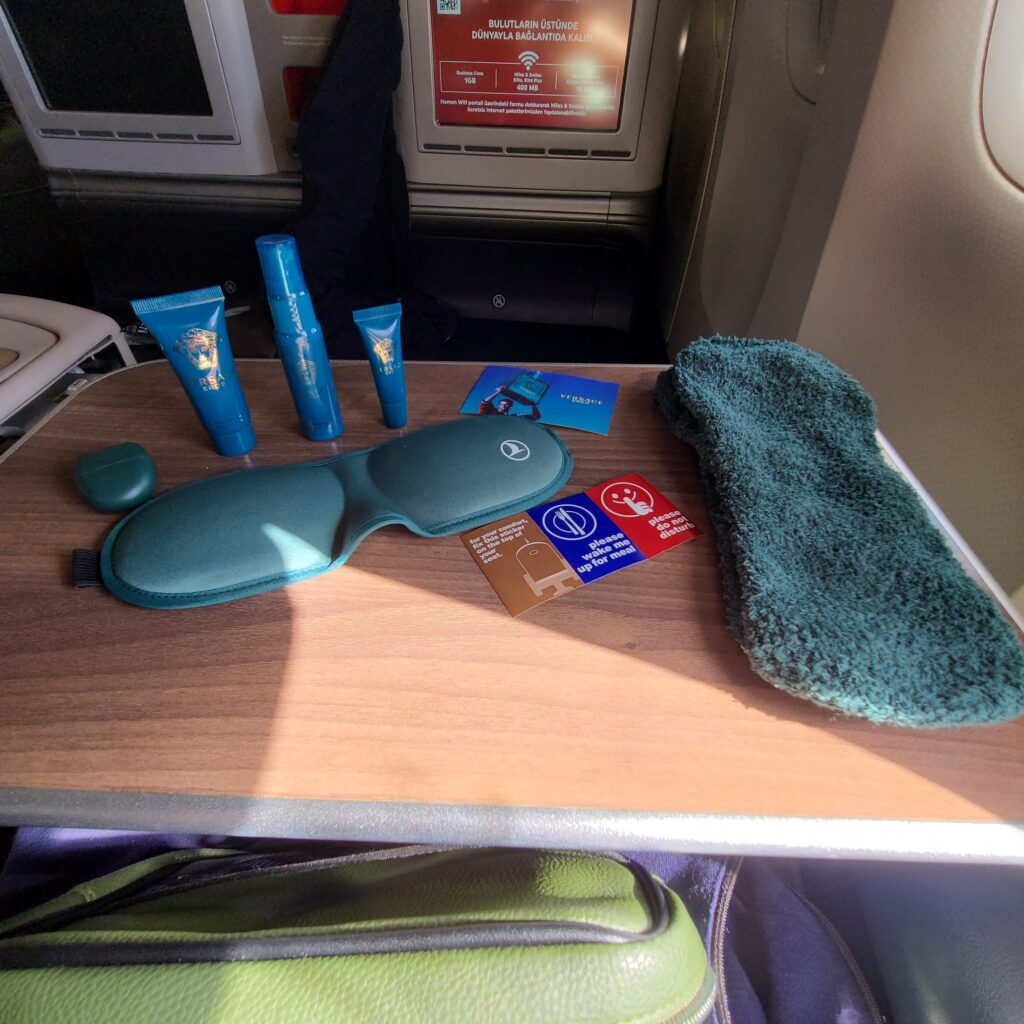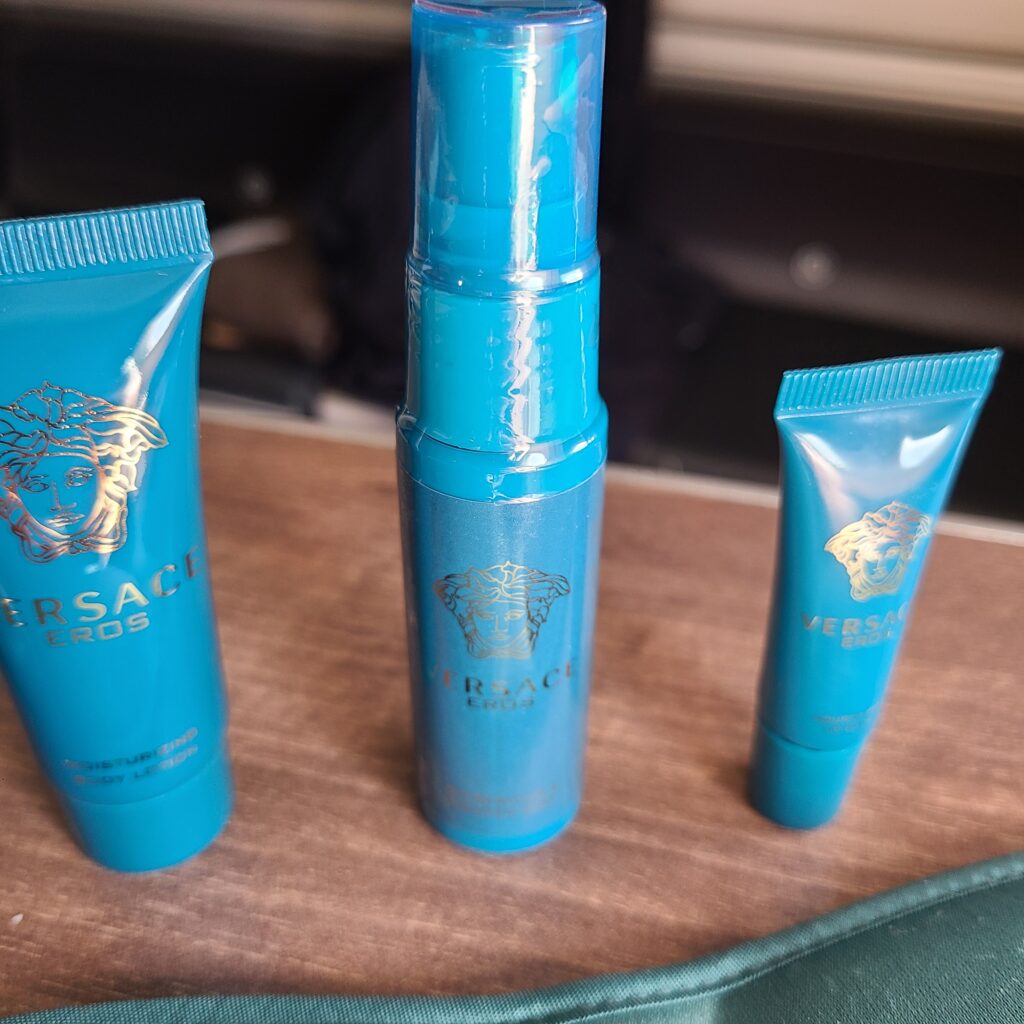 Sanitary kits are also provided to help fight against COVID.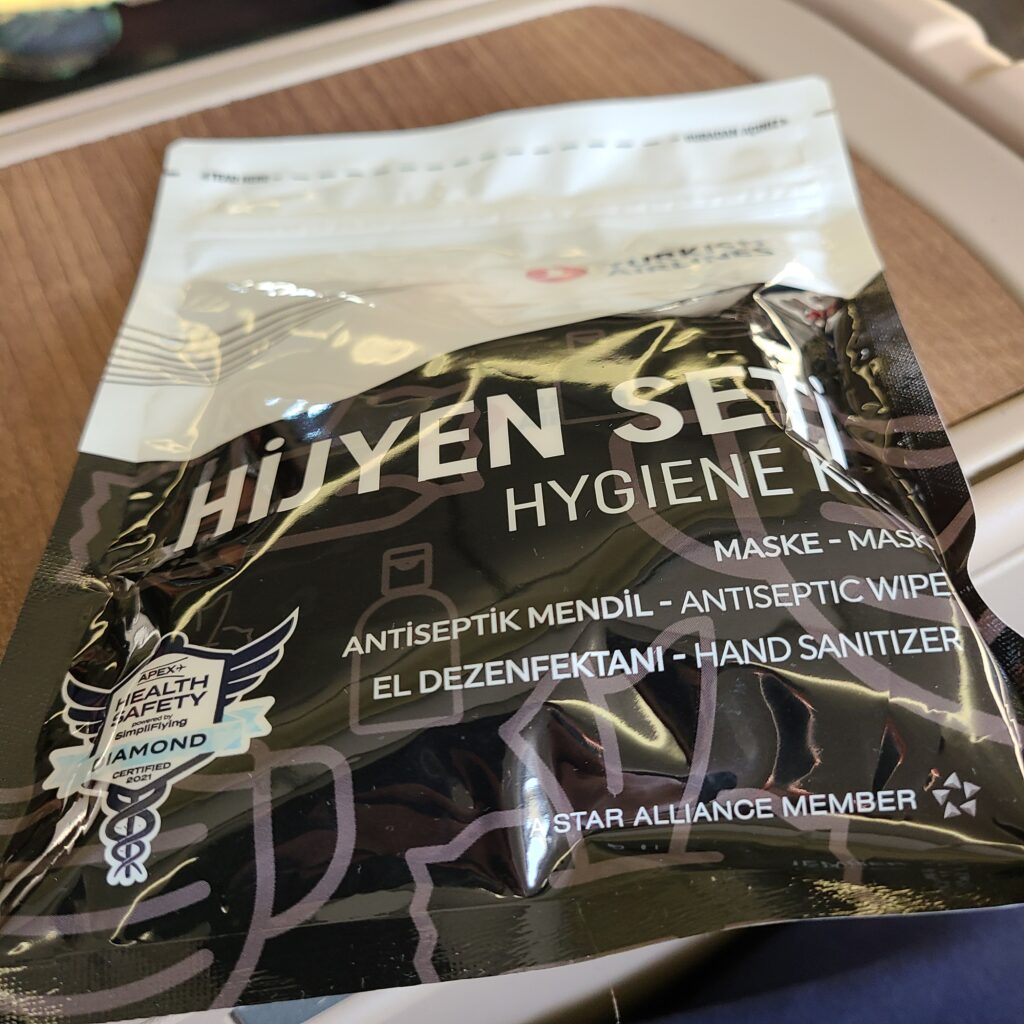 There is an on-board chef going around and taking orders for the dinner coming shortly. Knowing so, I was expecting the food to be really good! I'll cover the menu and the food later down in the post.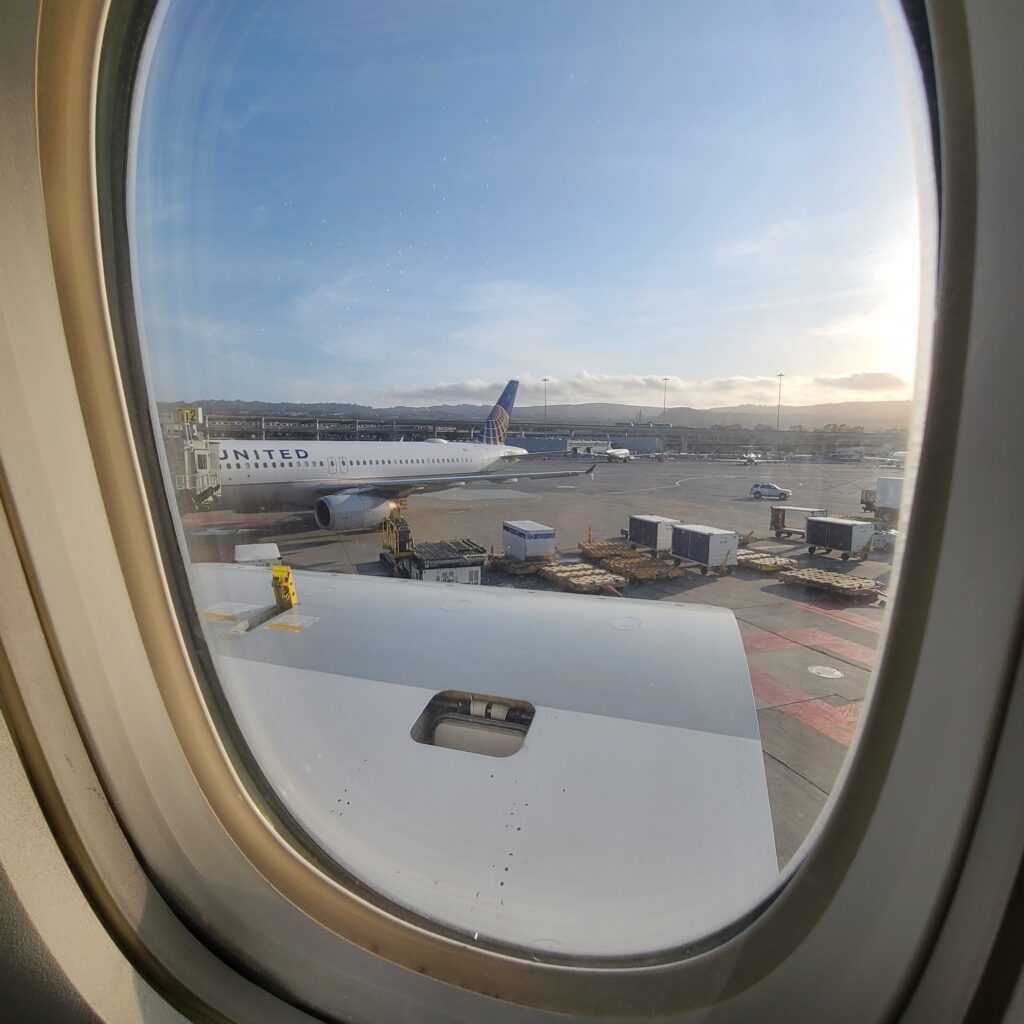 Turkish Airlines Business Class 777- Flight Experience
The flight is 13 hours long. Just shortly after takeoff, the flight attendant set up a cover for the seat.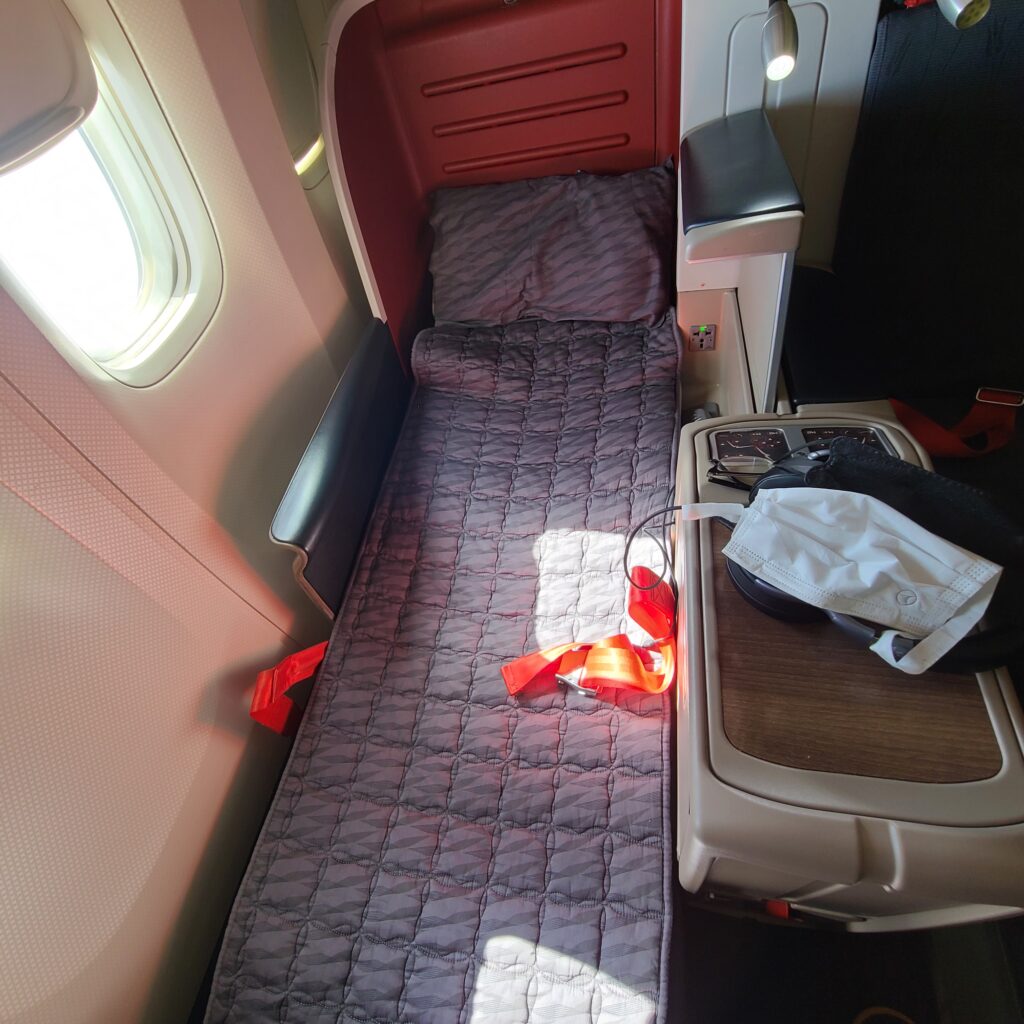 Setting up the seat to lie-flat mode is easy with the control panel by the seat. Pressing the arrows will adjust the seat manually while the single seat icons will adjust automatically.
Press MR to call a flight attendant for assistance. Service was mostly good, and the response time had been very quick after pressing the button. Just one mishap where a staff responded really quick, but forgot to bring the water that I requested for. That was all there is to it.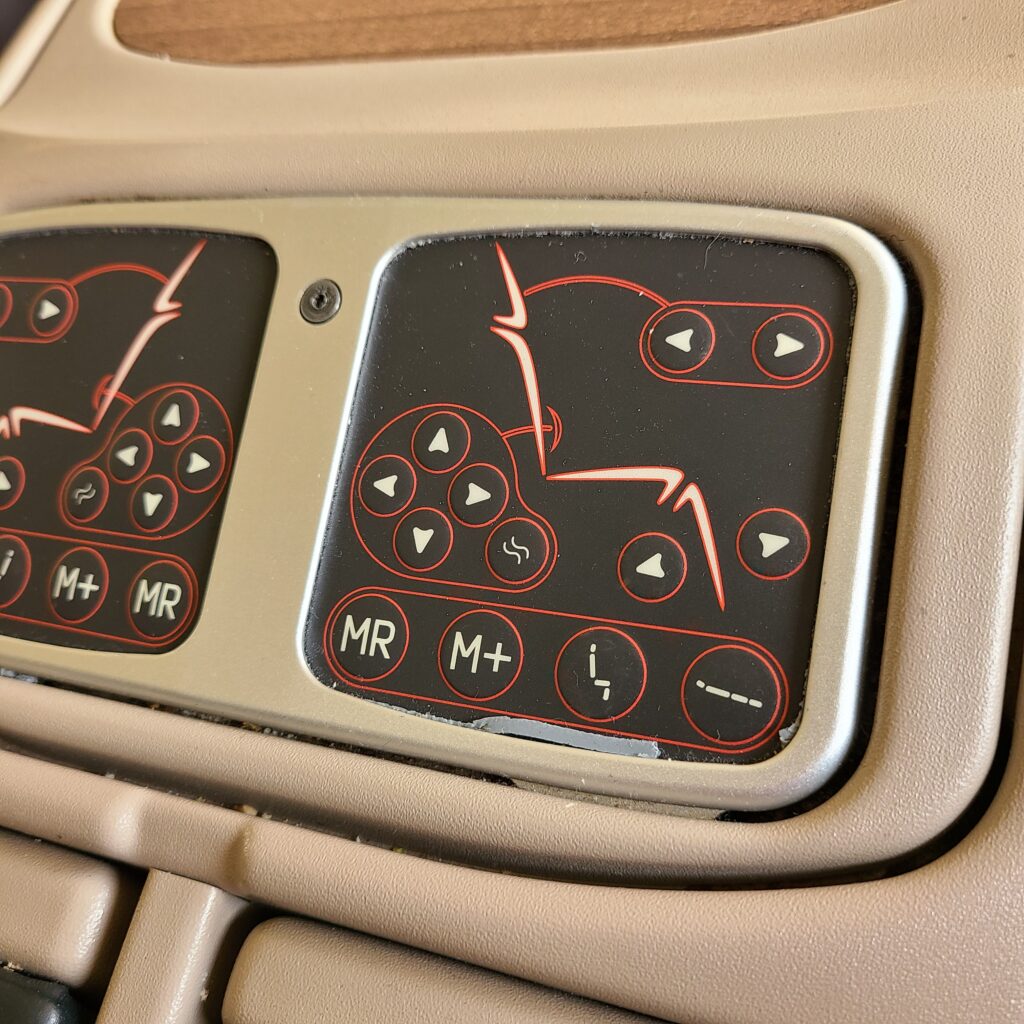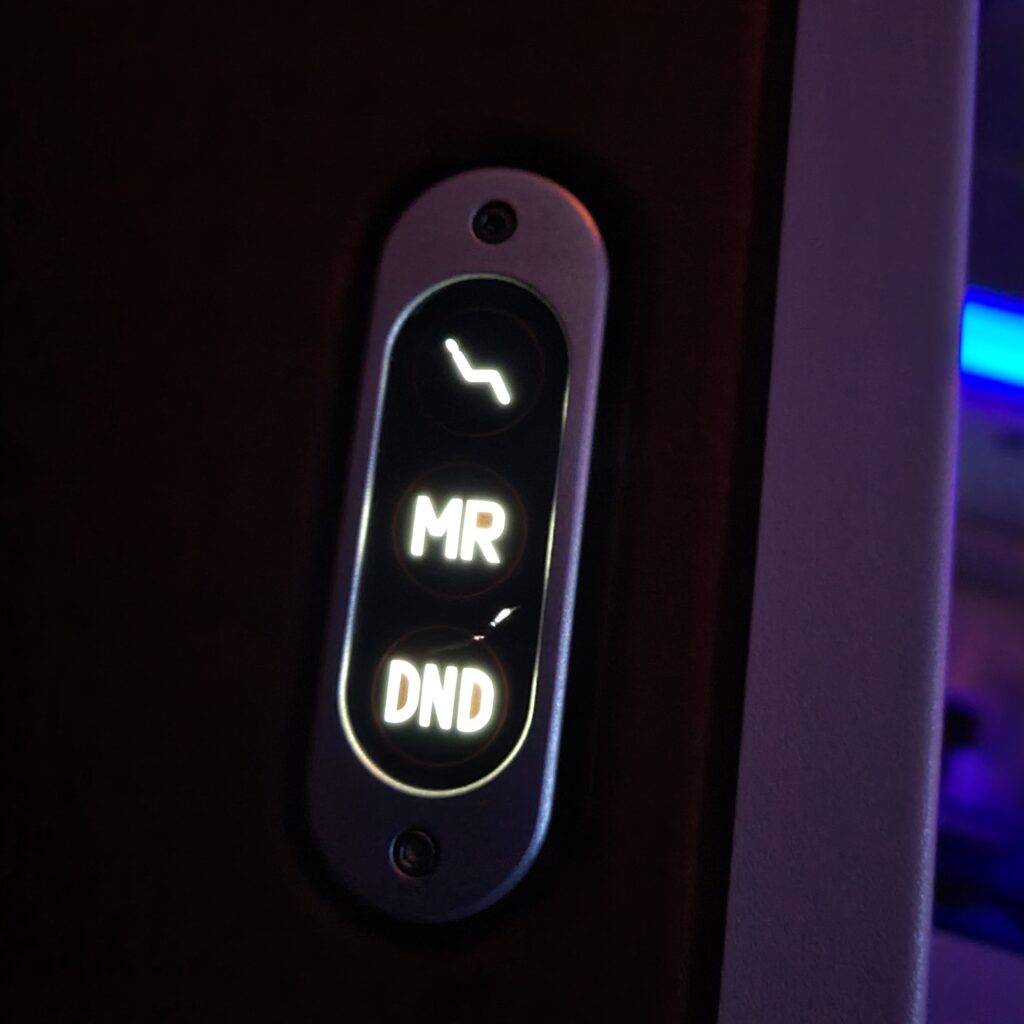 I managed to get some sleep during the flight, but I tried not to do it too much since I'd be arriving in Istanbul in the evening. The comfort was great, and the lie-flat mode extends perfectly to the ottoman for leg rest. The open-concept helps my feet to not bump into things.
But, I can see how it'd be an issue if I'd have someone next to me though if I'd need to use the restroom while my seatmate has lie-flat mode on. Either I'd need to gracefully skip over the person and pray to not fall or ask them to wake up.
Turkish Airlines Business Class 777 Dinner
Dinner comes shortly after since the flight starts at 6 pm. For starters, I had nuts and champagne.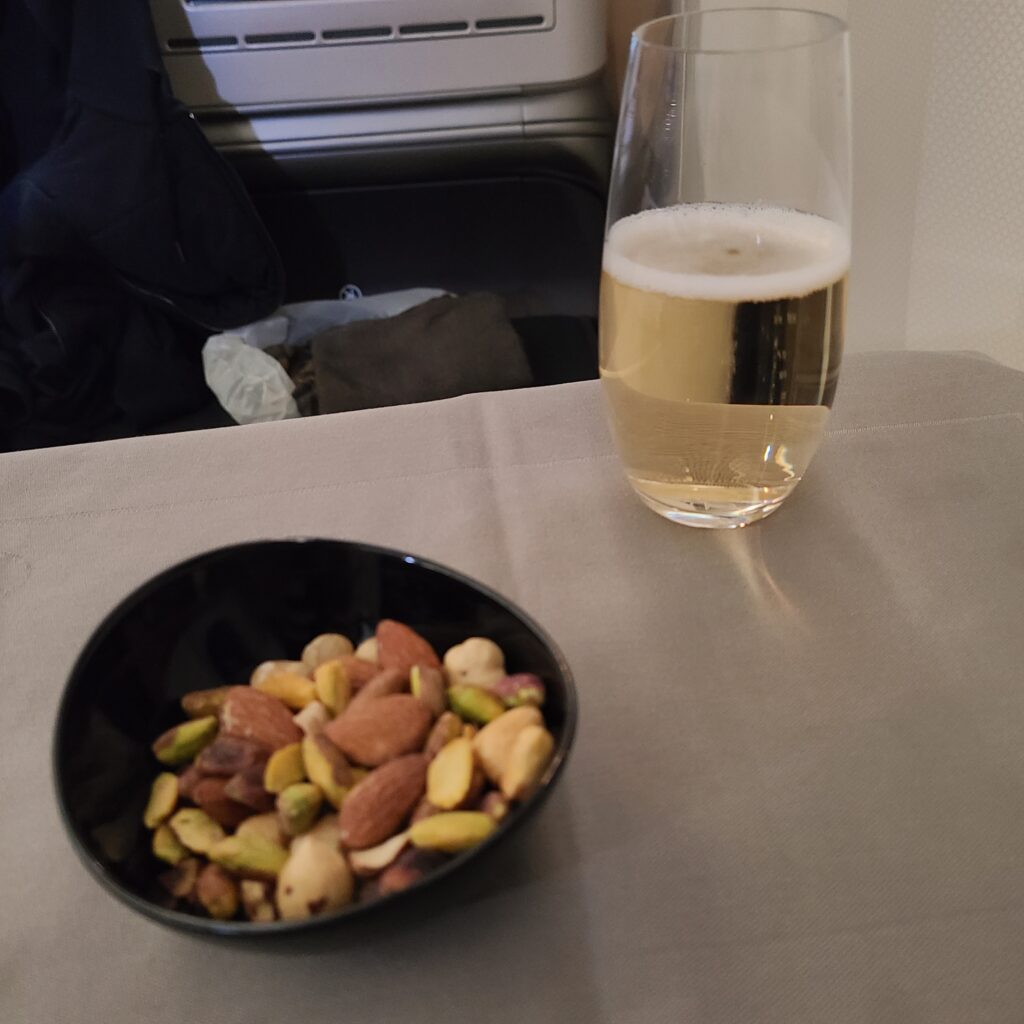 Then comes some pastry with butter and seasonings. The flight attendant sets up the cute LED candlelight. The salt and pepper shakers are adorable as well.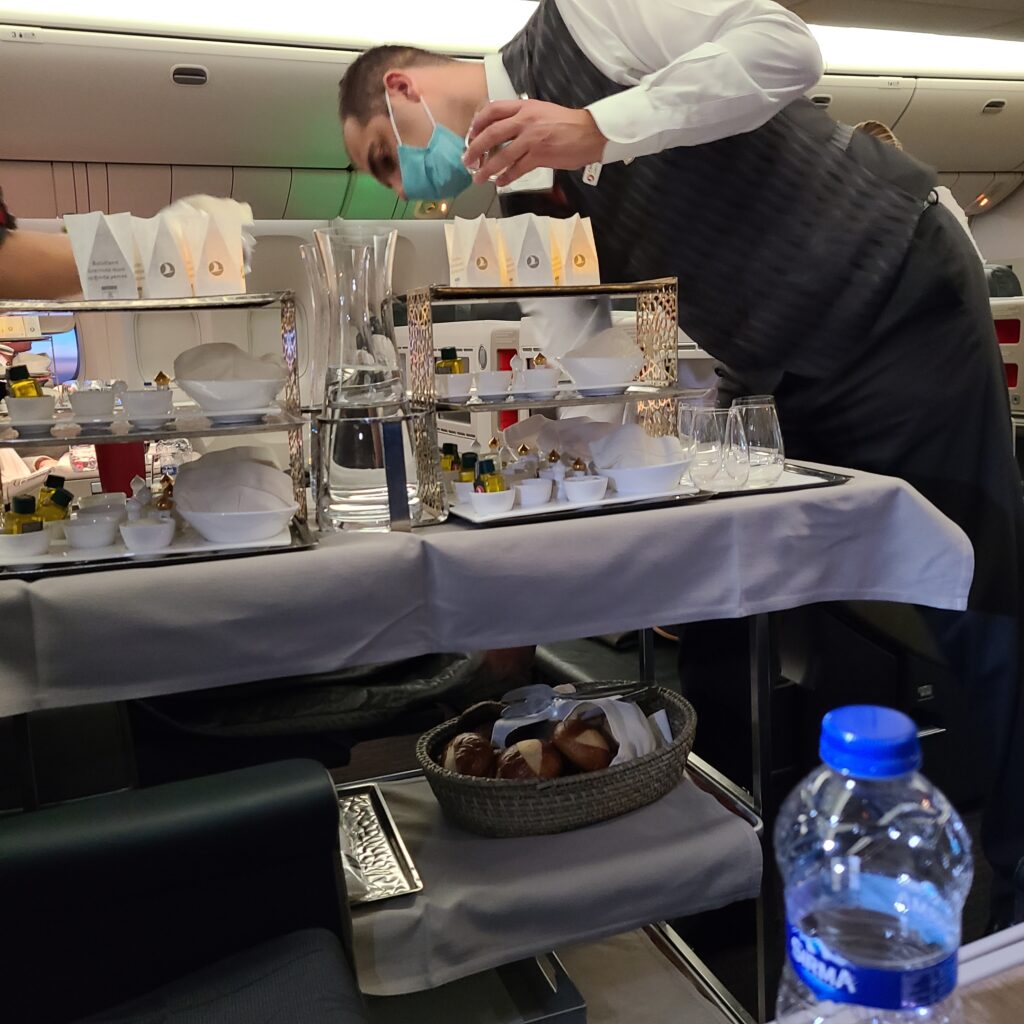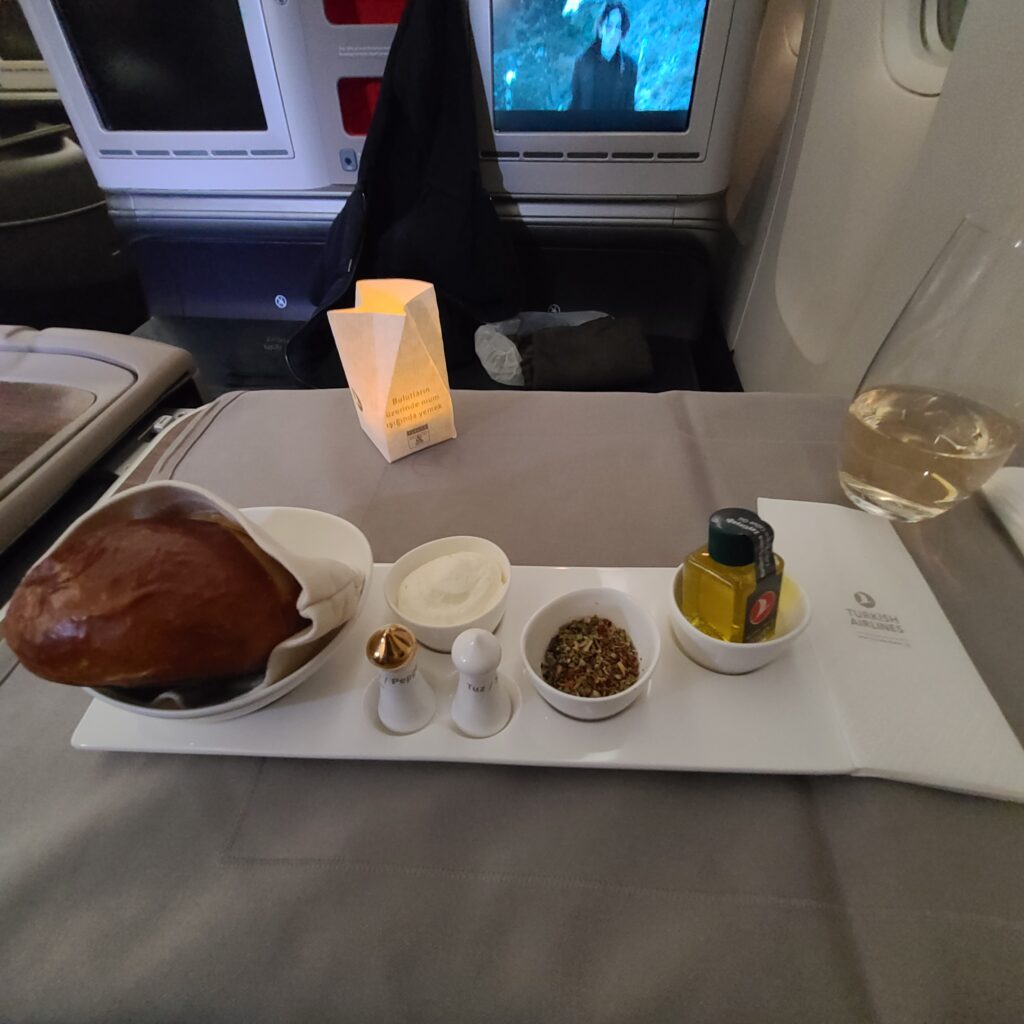 Then comes the mezze platter for the appetizer. Loved these!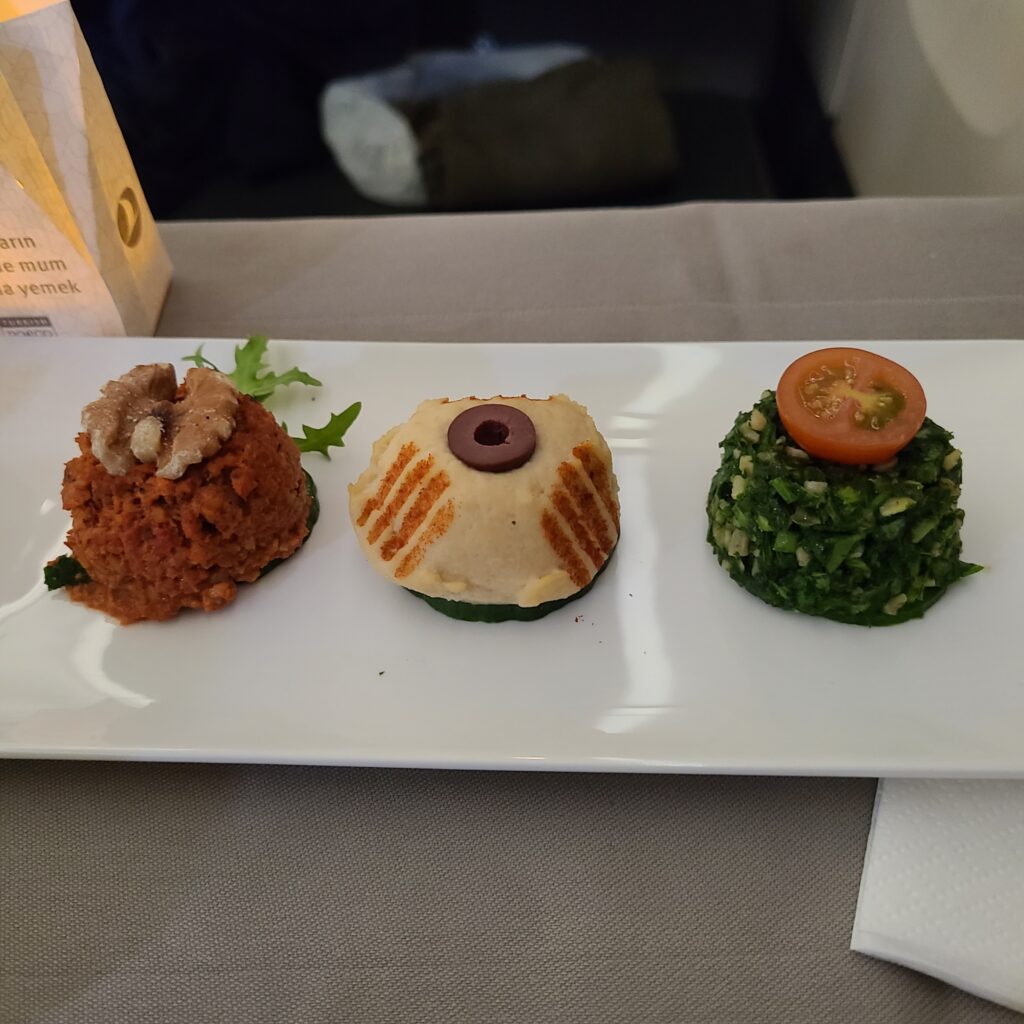 For the main course, I had the grilled sea bass with Tuscany vegetables. The fish was tender and the veggies were fresh.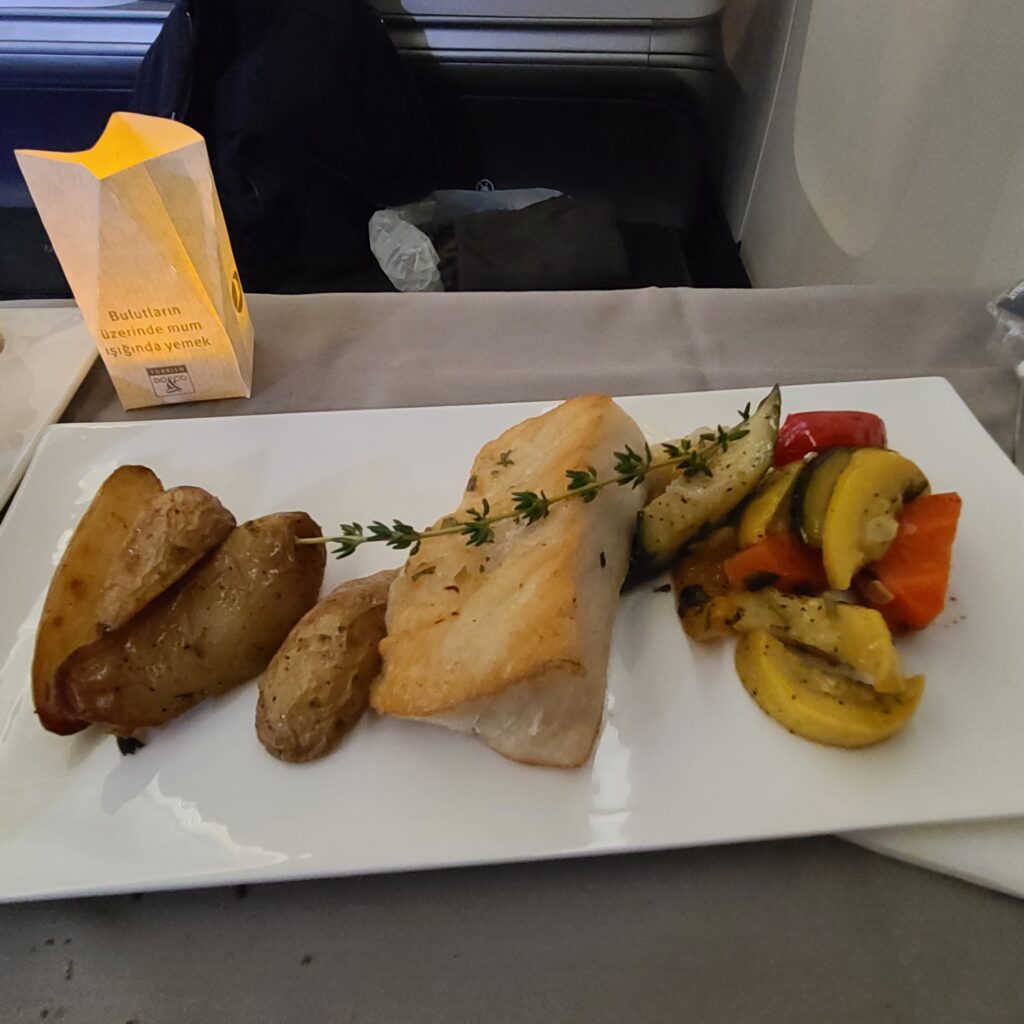 Desserts were assorted classic Turkish desserts coated with syrup. Delicious, but they were a little too sweet.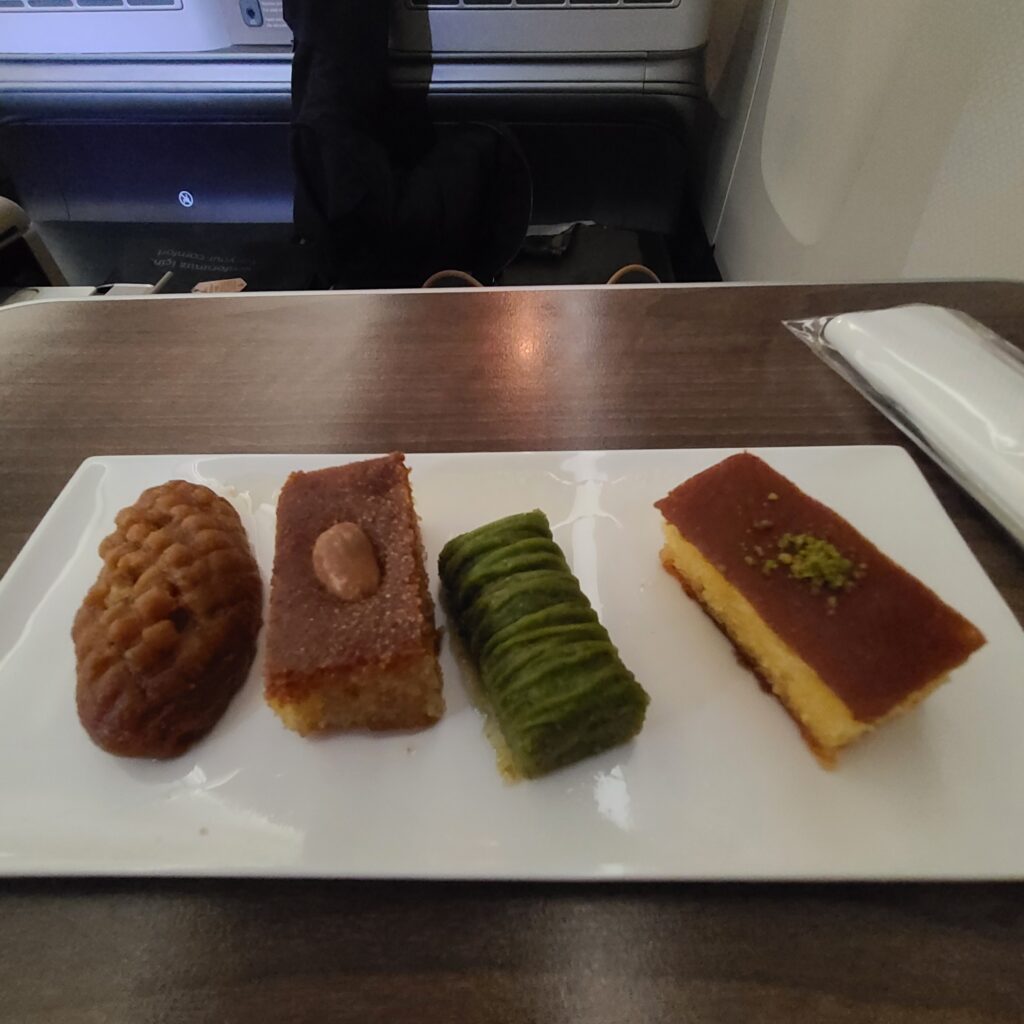 Alas, I ended dinner with a hearty pumpkin soup to counterbalance the sweetness.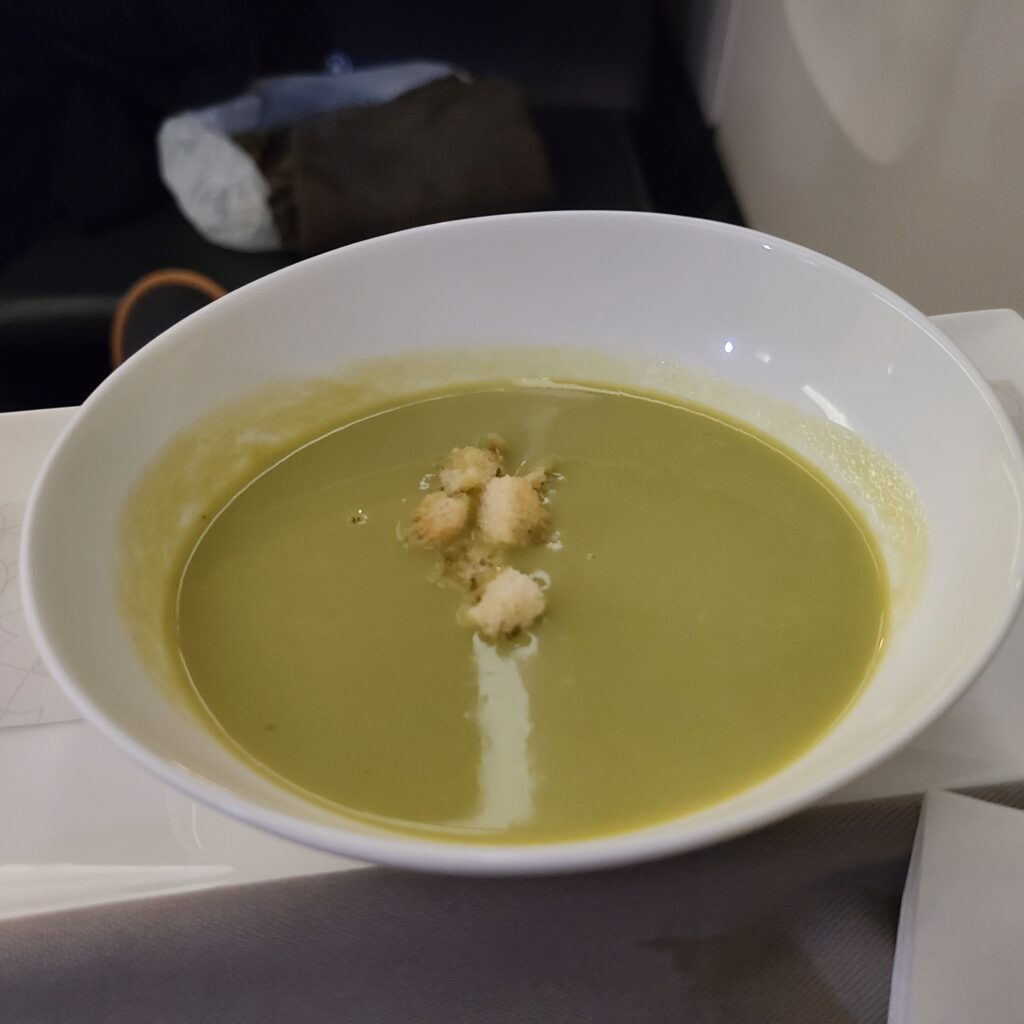 Turkish Airlines Business Class 777 Entertainment
The plane had decent selection of movies ranging from recent releases to animations and world cinemas.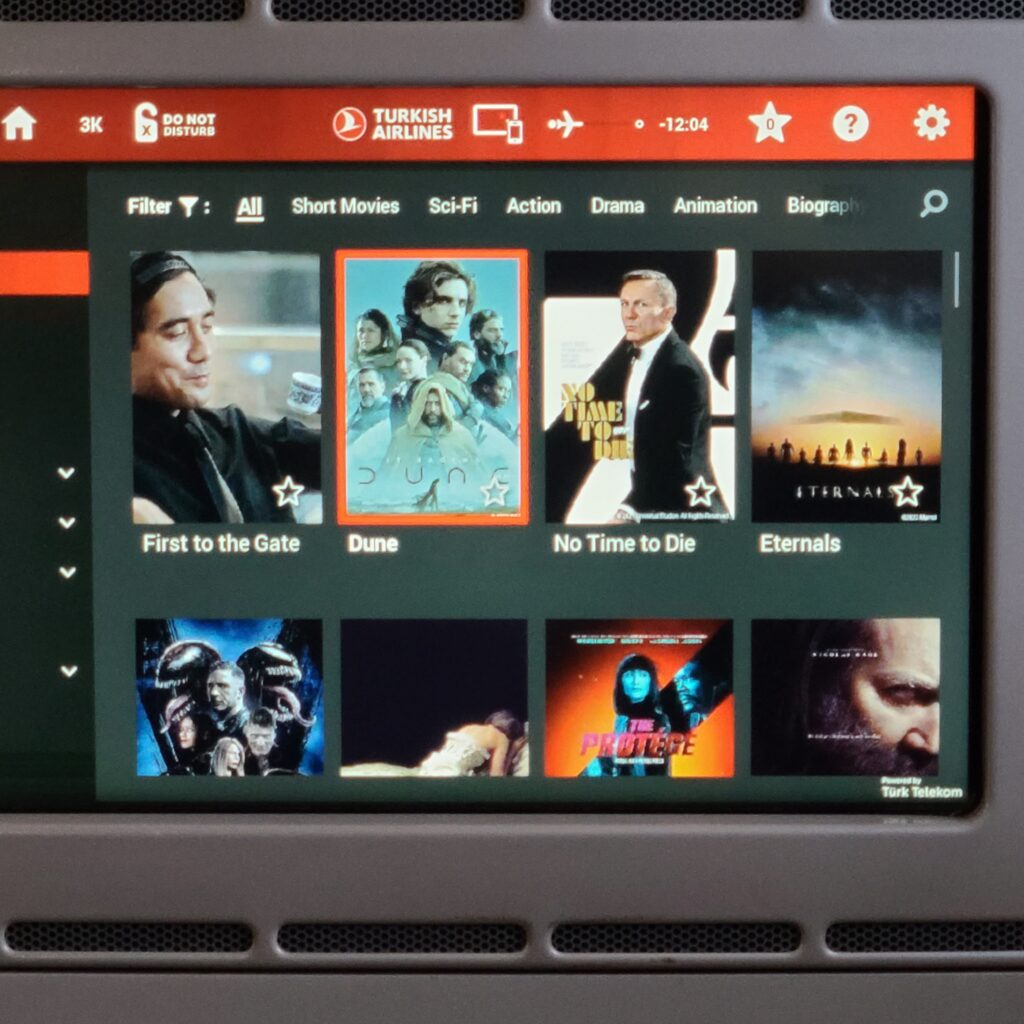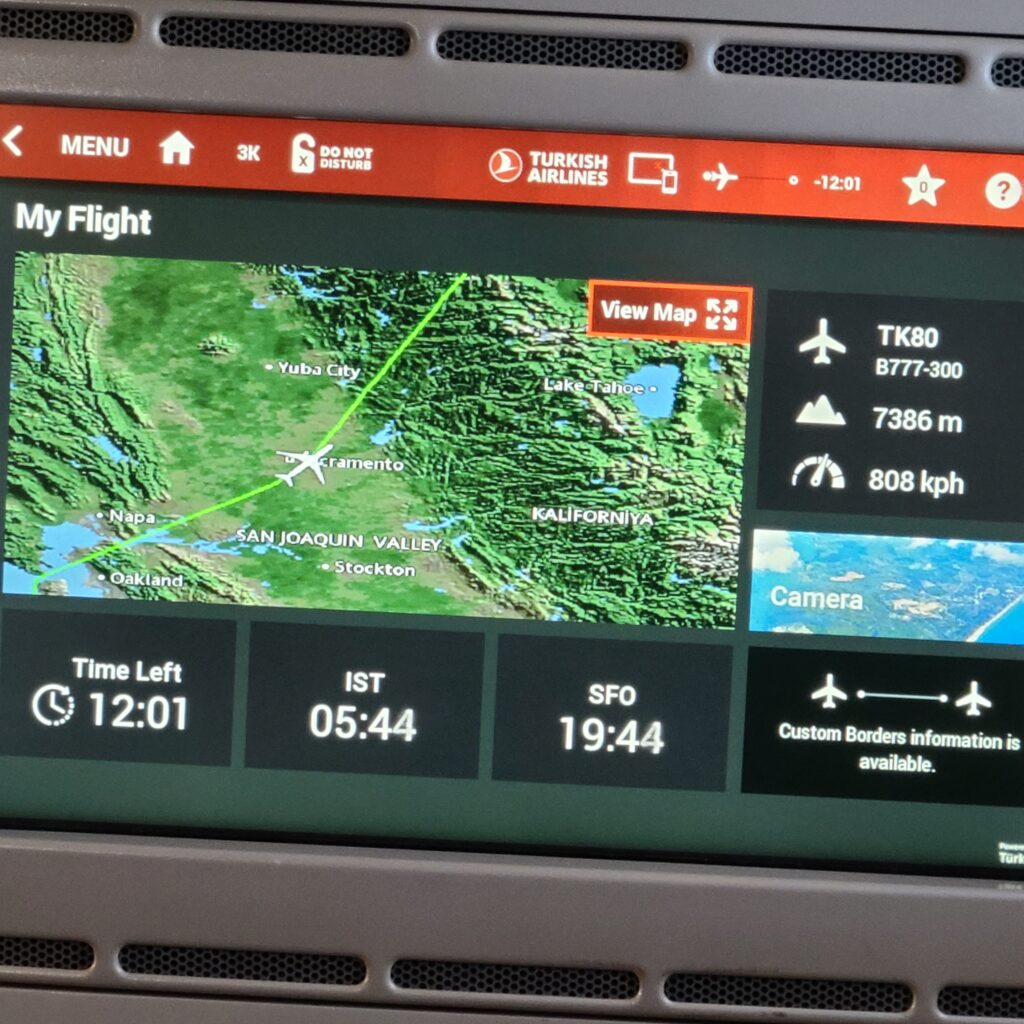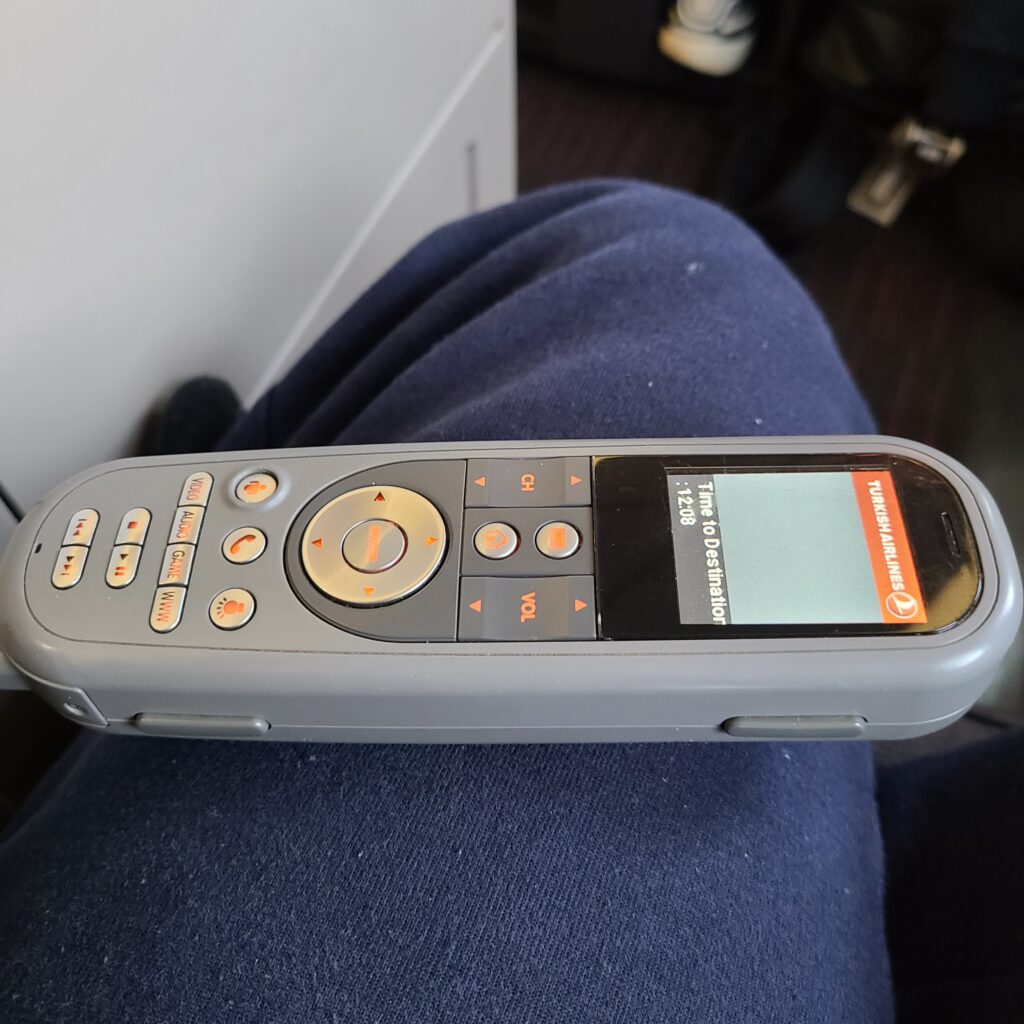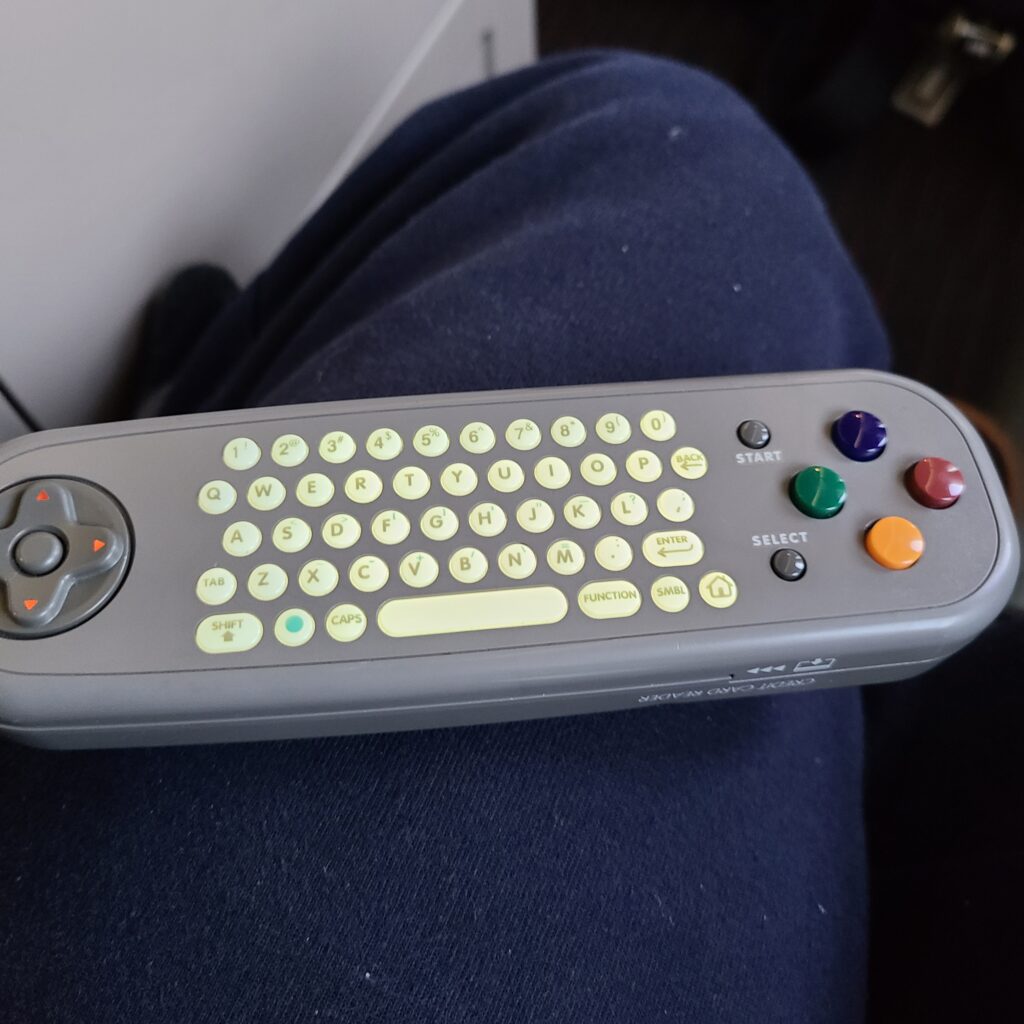 Both the screens and remote aren't the most updated hardware, but they function as needed. The Denon headphones provided were quite decent in noise cancellation.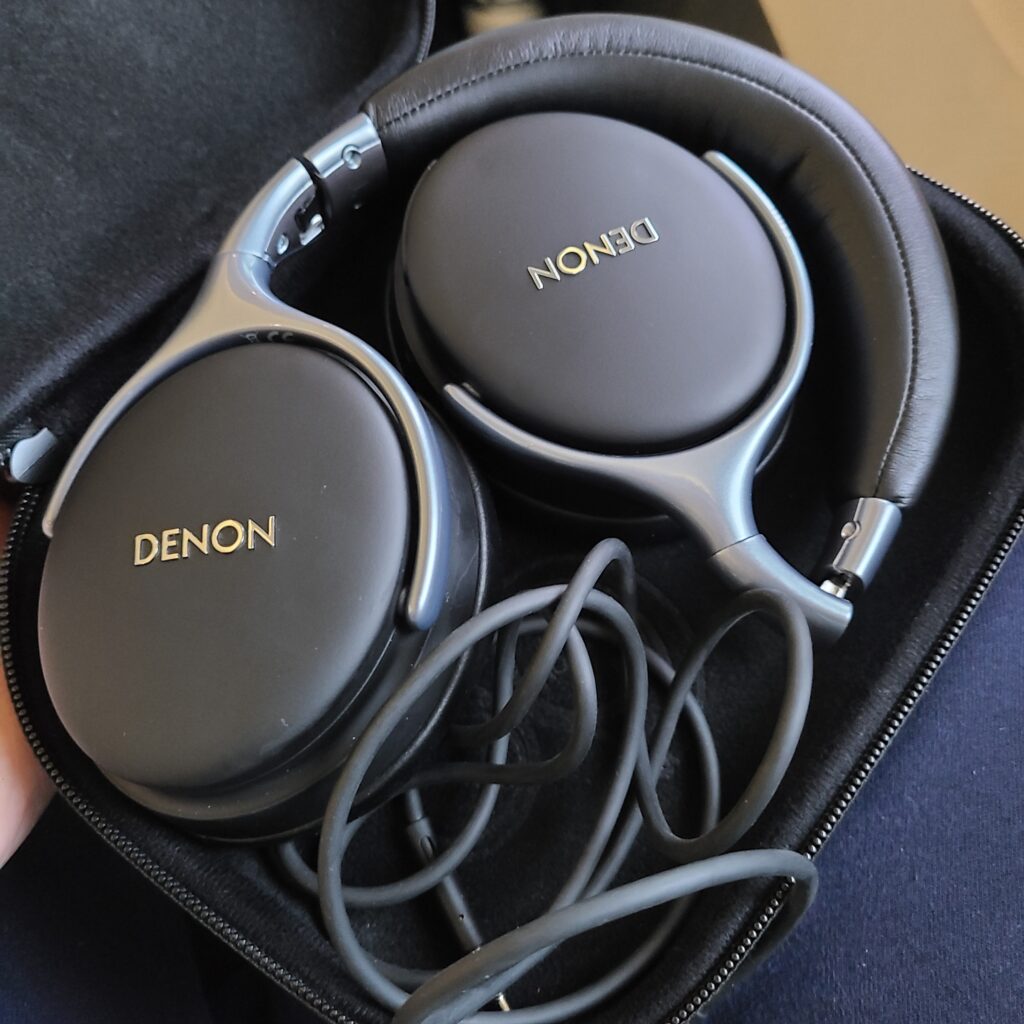 Universal power outlet is available by the seat, but sadly it wasn't working. I even tried the seat next to mine, and it didn't work too. So it was disappointing to not be able to use my laptop for too long during the flight.
Speaking of laptop use, Business Class passengers get 1GB in-flight Wi-Fi data. It was good enough for web browsing, social media, watching Youtube, or listening to podcasts. But, it had trouble loading up live chat services like Discord. I'd say that's pretty good, and I was surprised that I was able to use it for most of the flight.
Turkish Airlines Business Class 777 Breakfast
Just a few hours before landing, I was served breakfast. I was still full from the last meal so I had something light with a fruit plate. Plus, there are more authentic Turkish food waiting for me on the ground!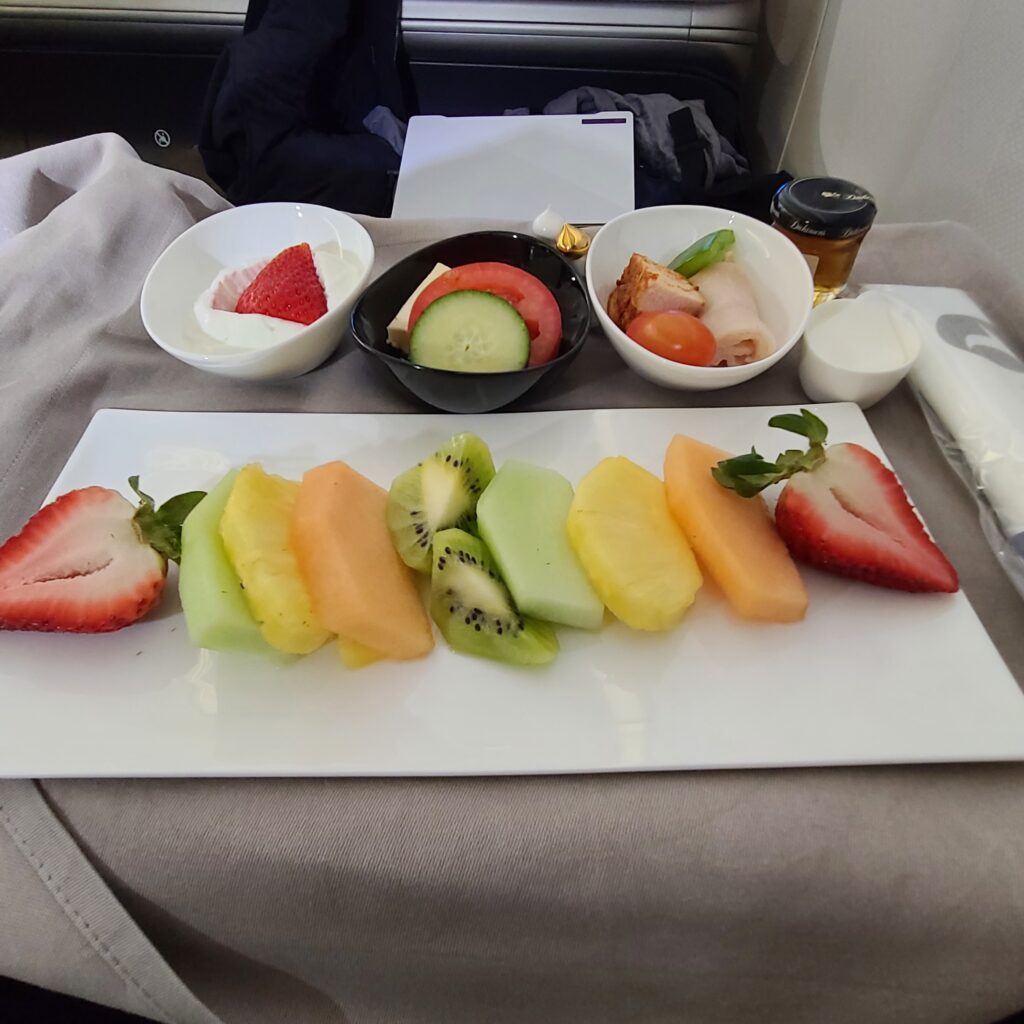 Turkish Airlines Business Class 777- Menu
Here's the full menu of the flight. Do note that there can be slight variations in a different flight.
Food Menu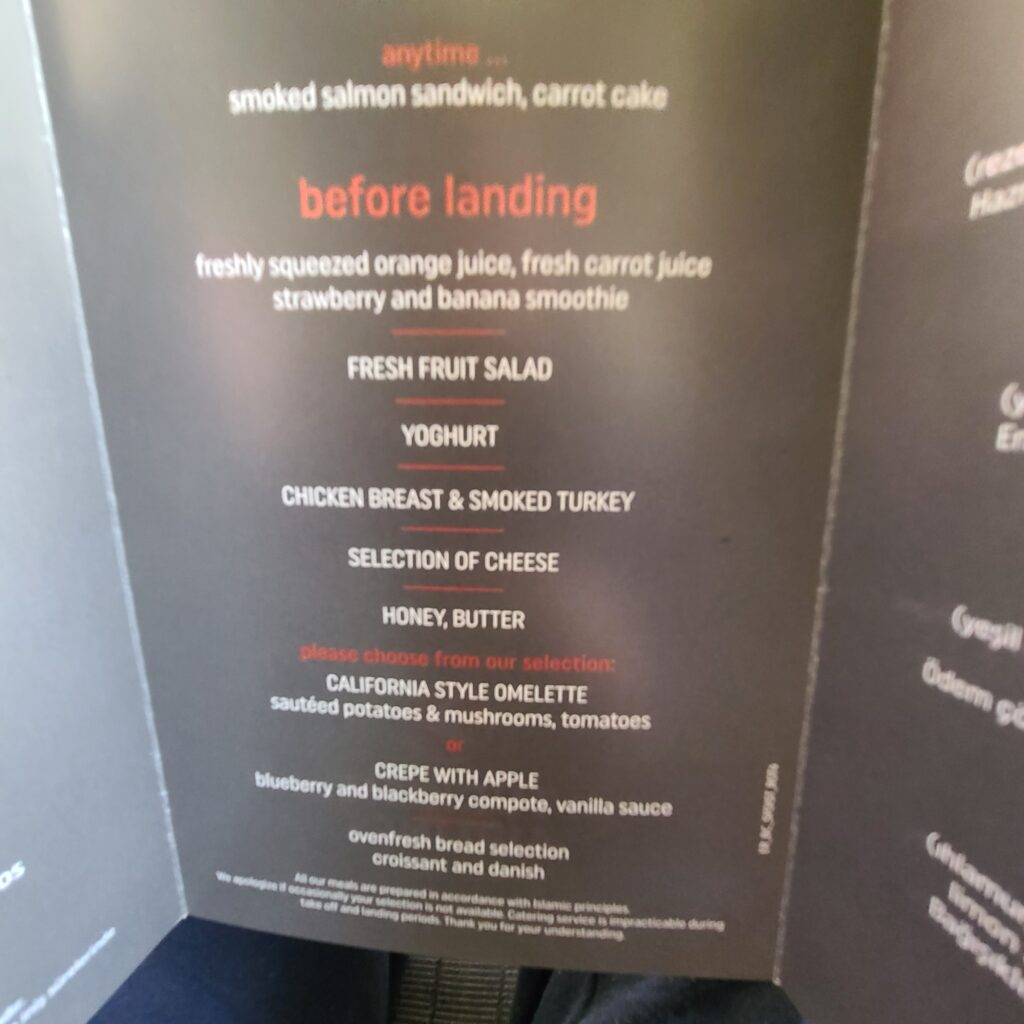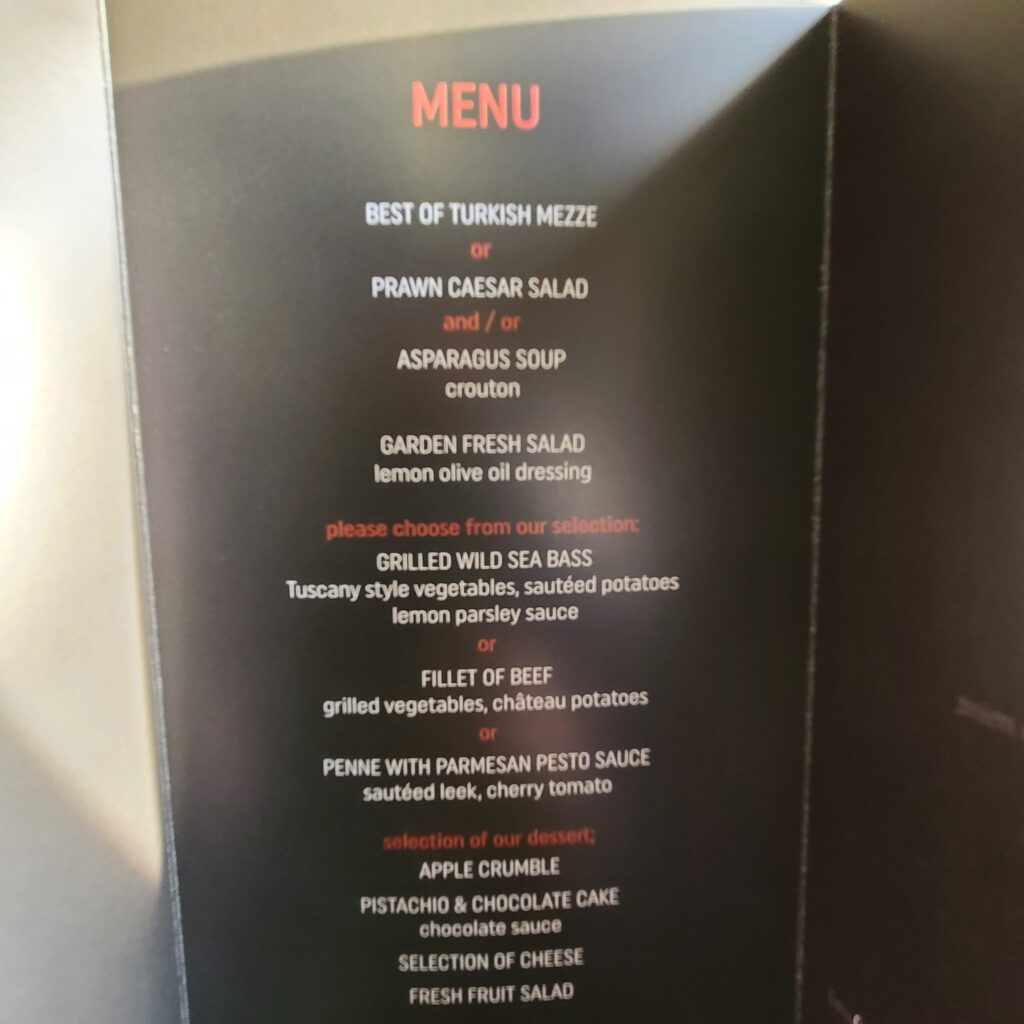 Alcohol Menu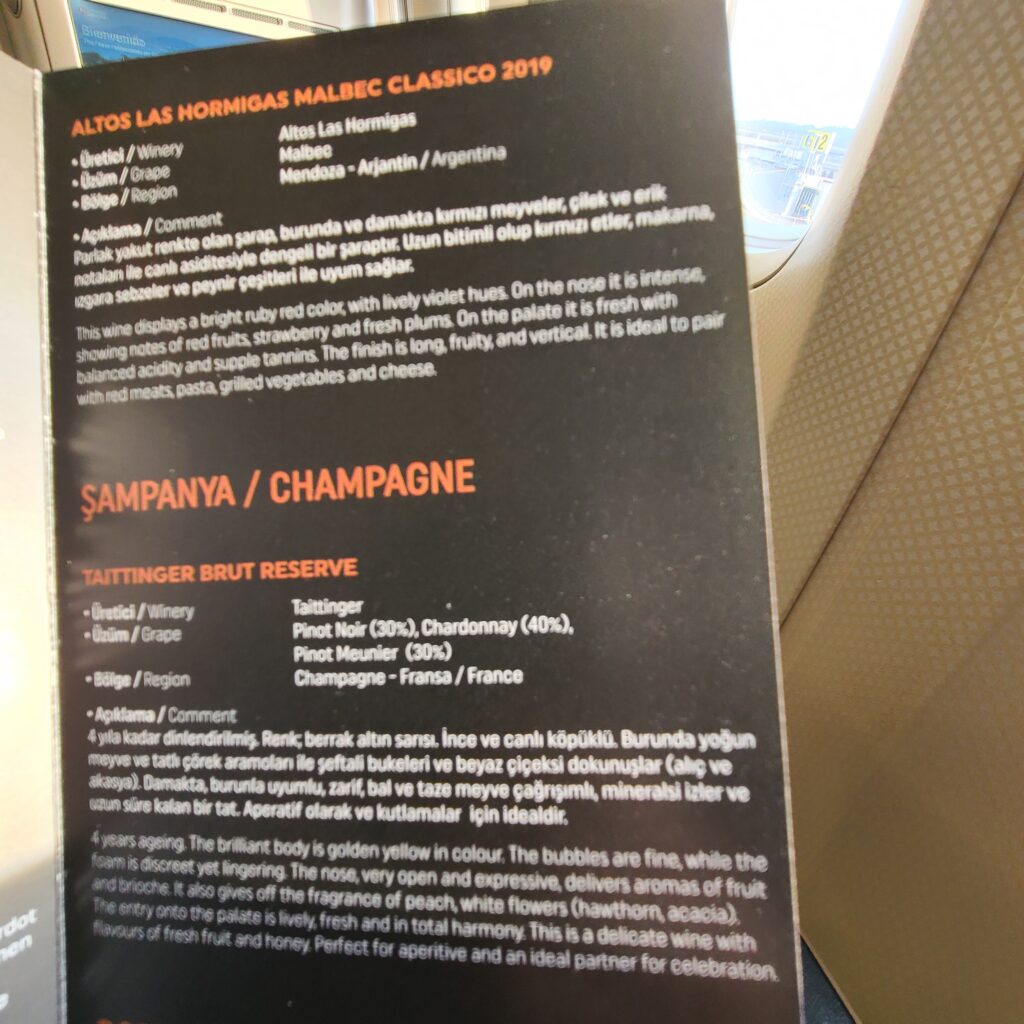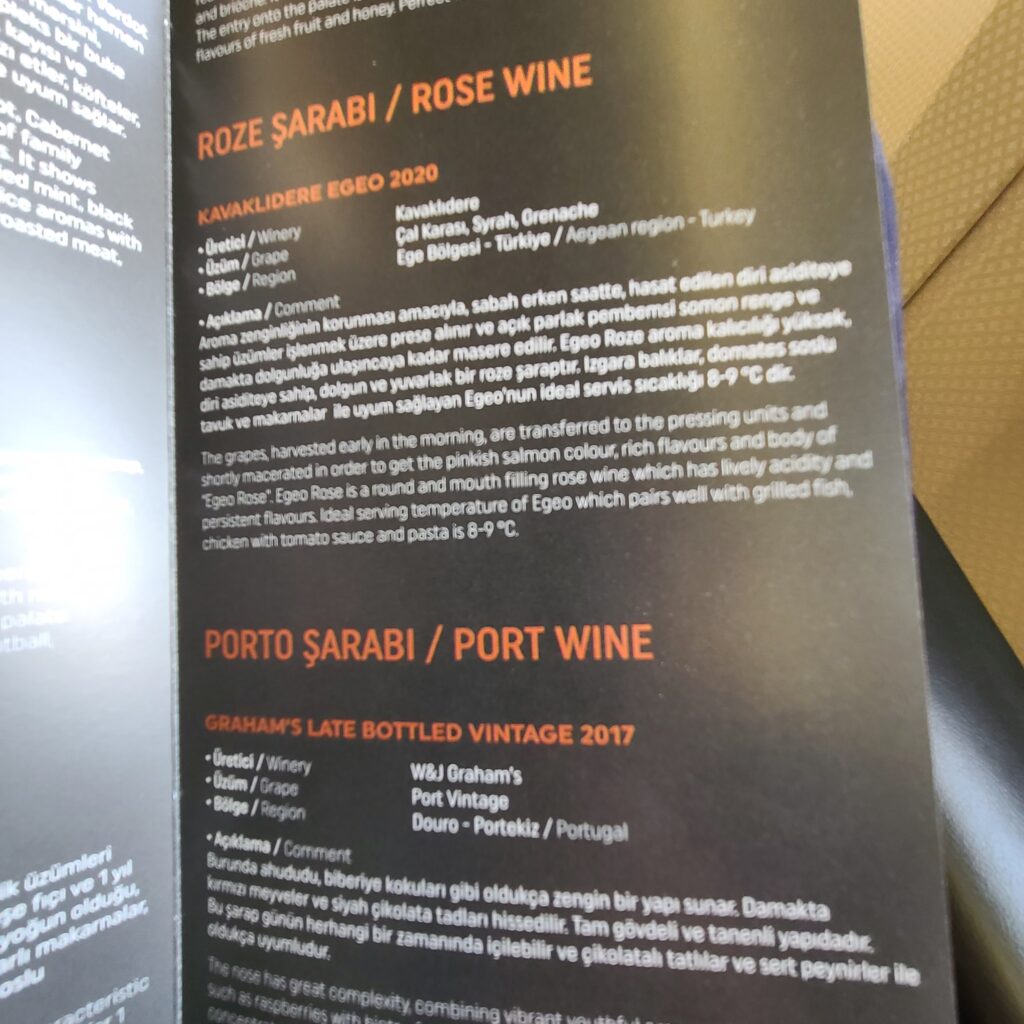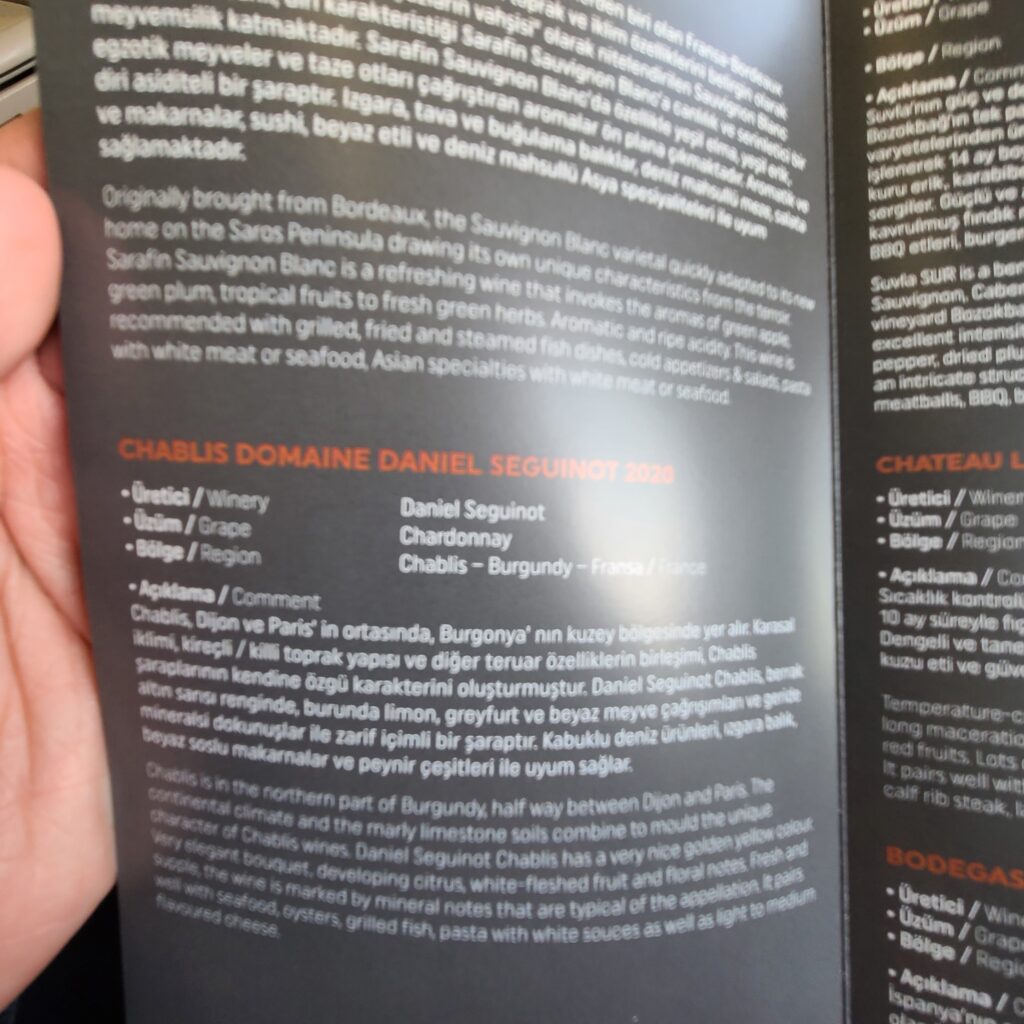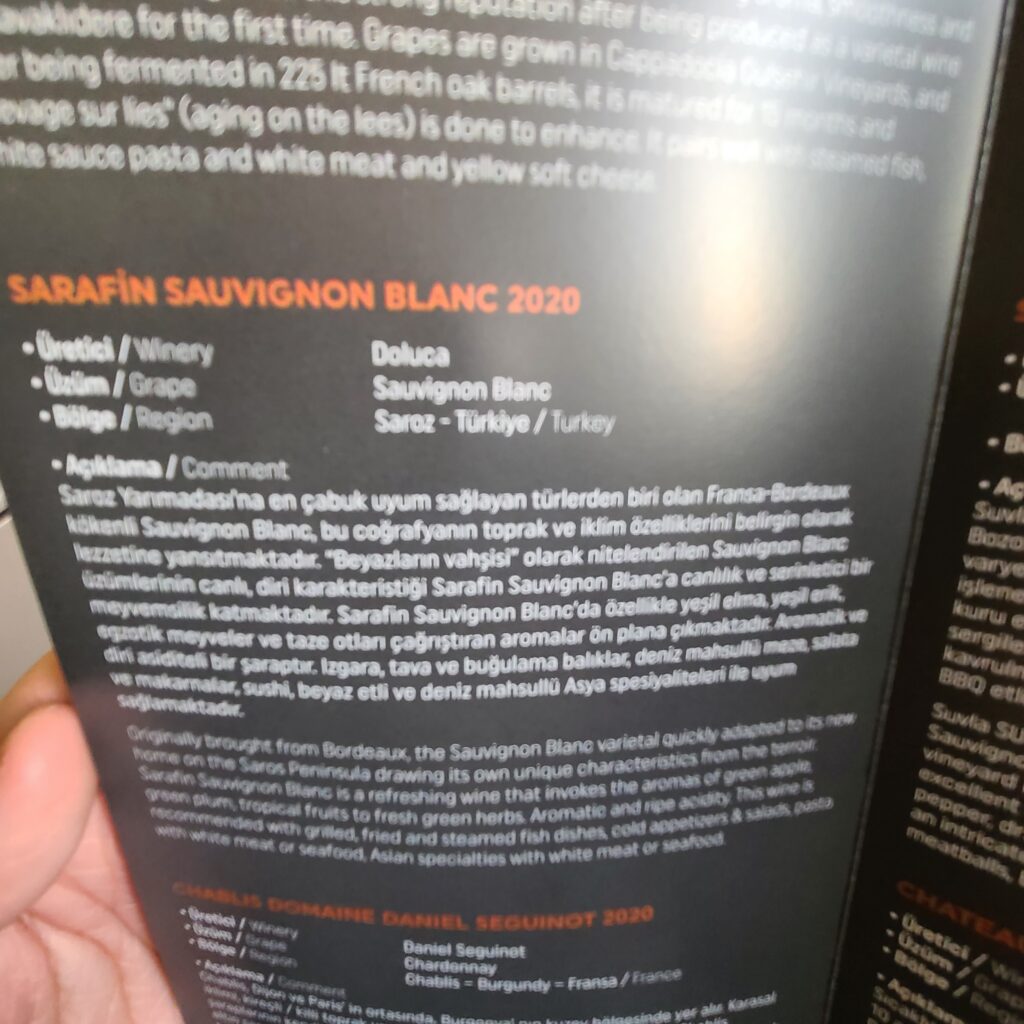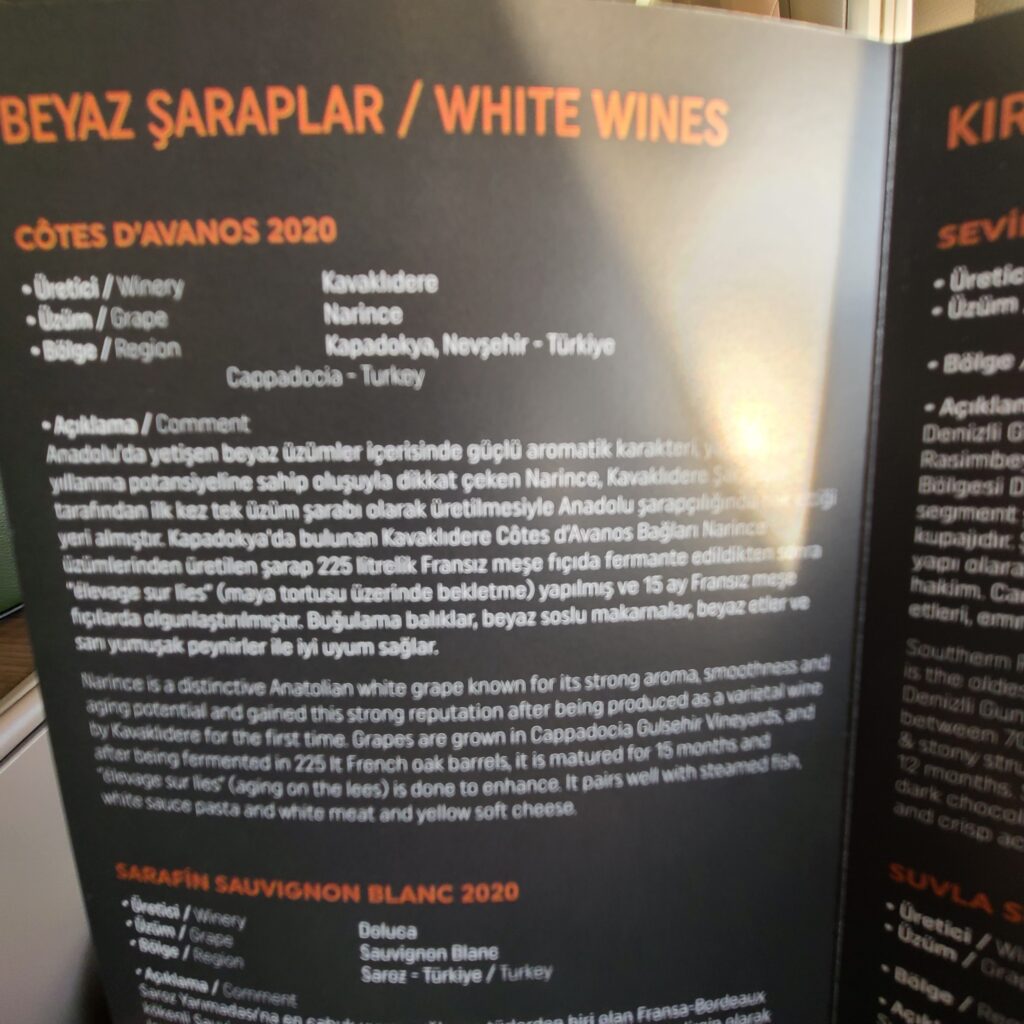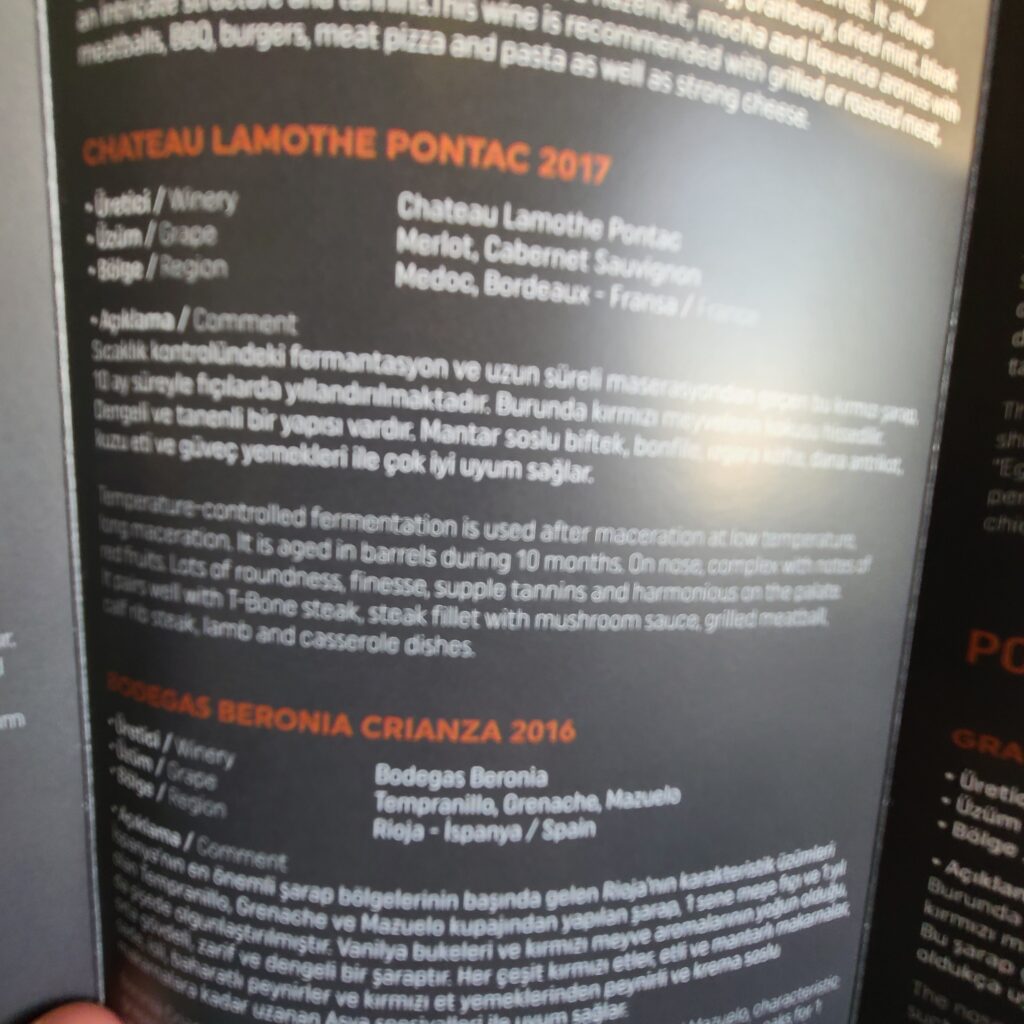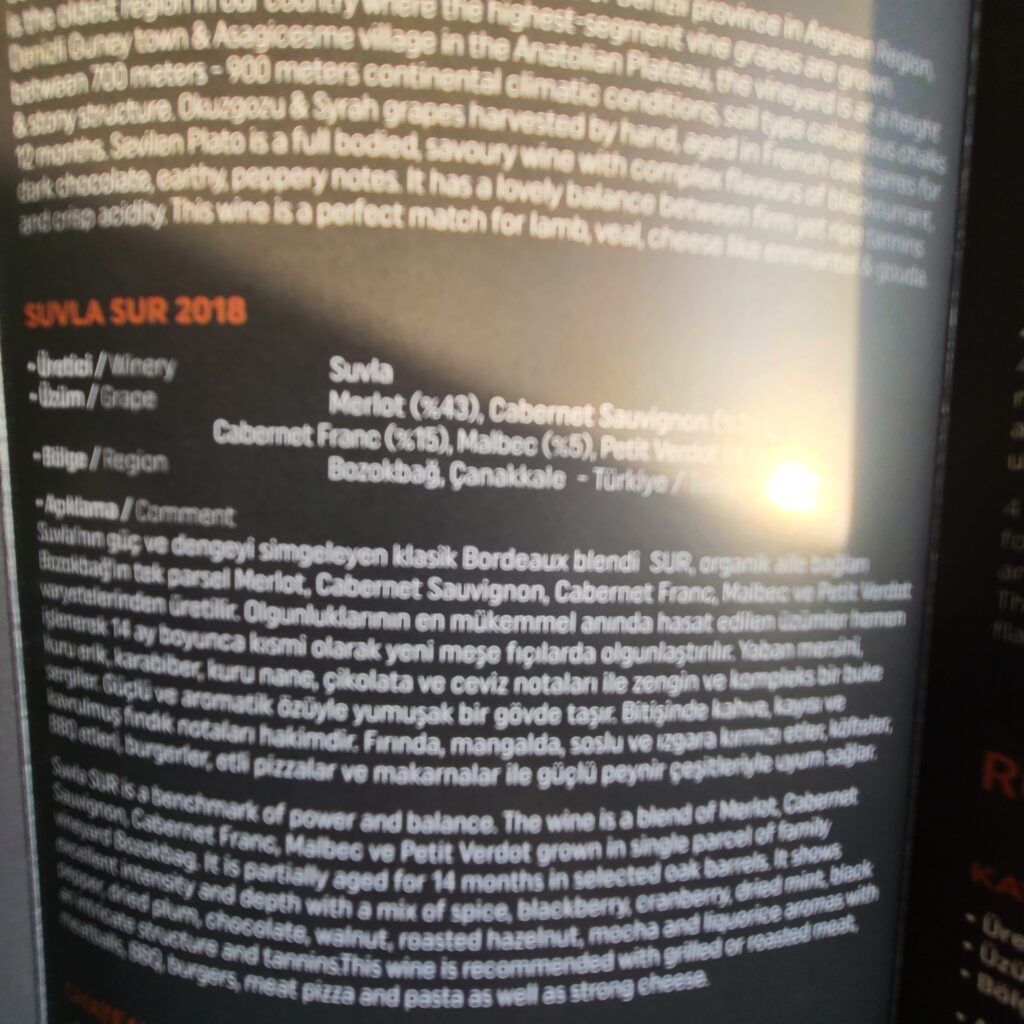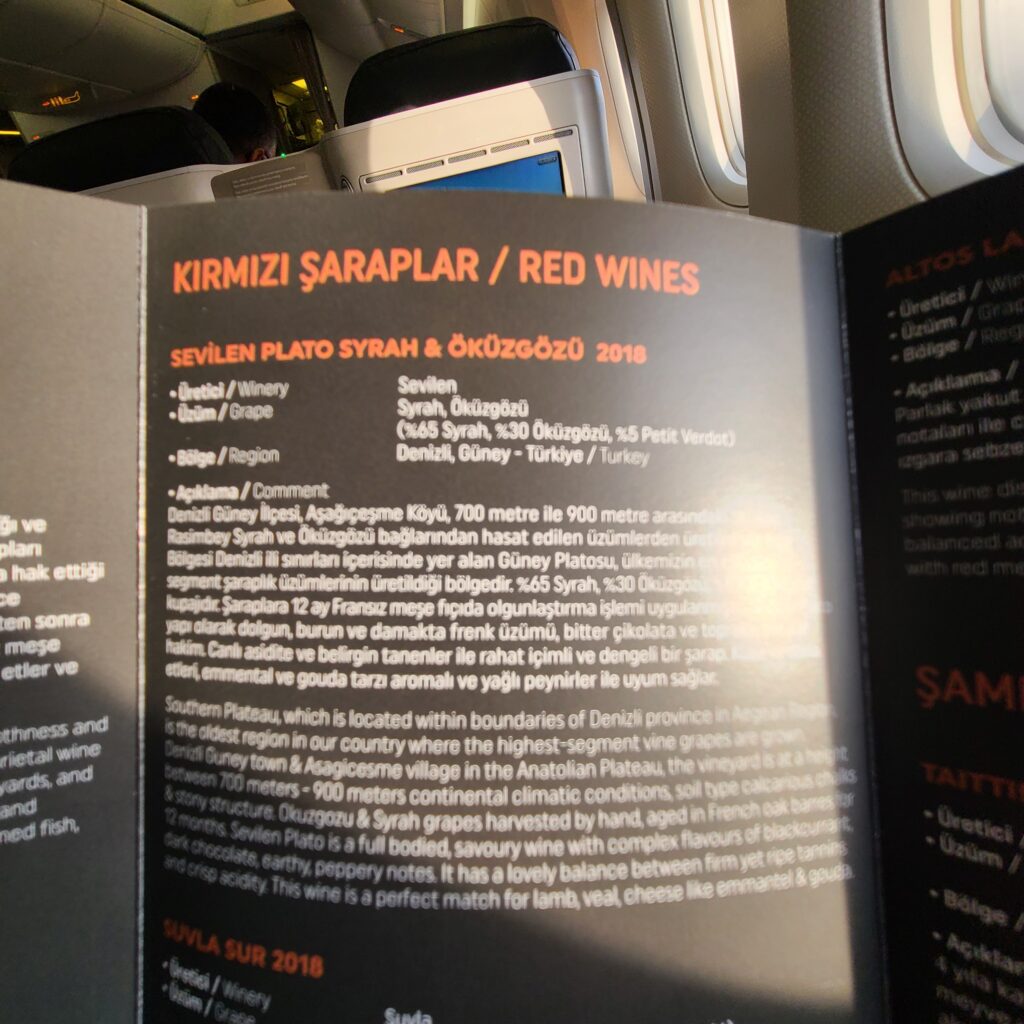 Turkish Airlines Business Class 777- Lavatory
The lavatory is pretty similar to the ones in Economy Class with minor things added to spruce it up. The biggest perks are the much less waiting time and it being maintained more often also.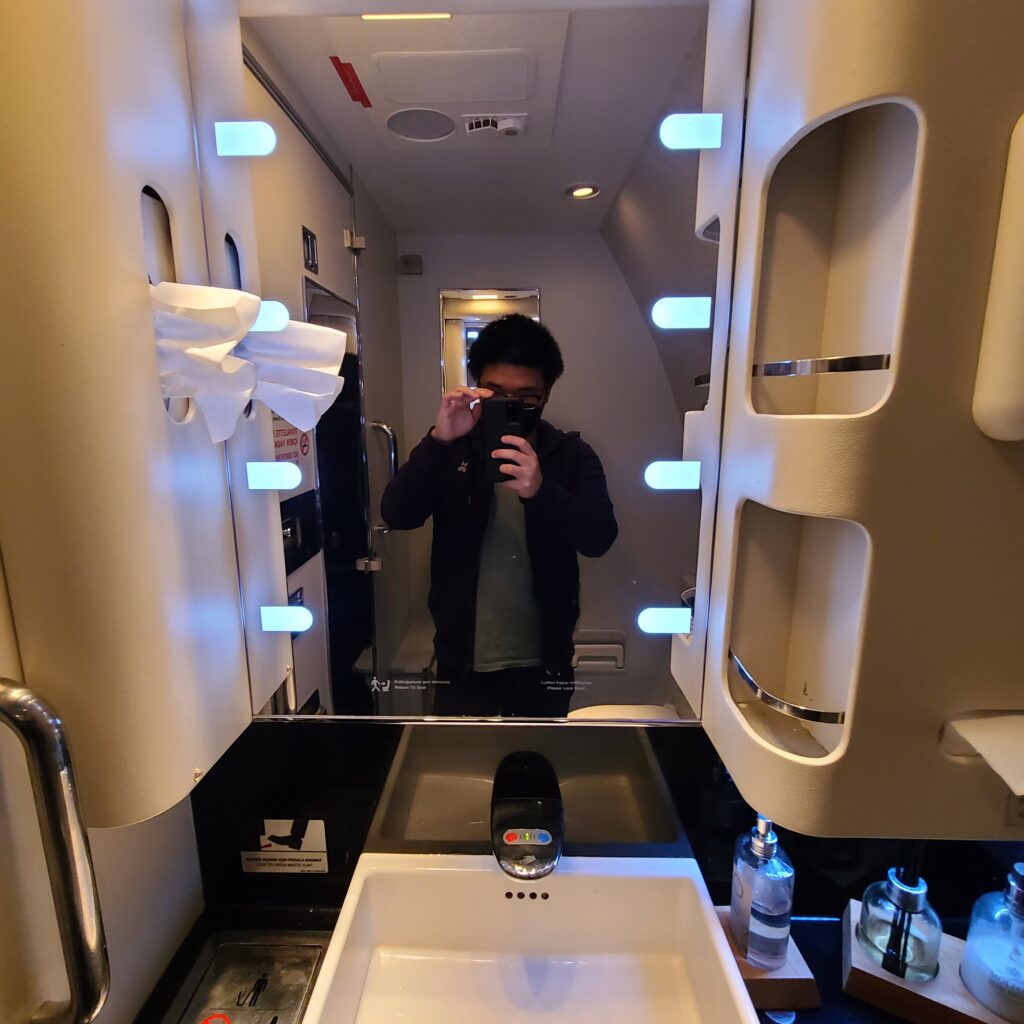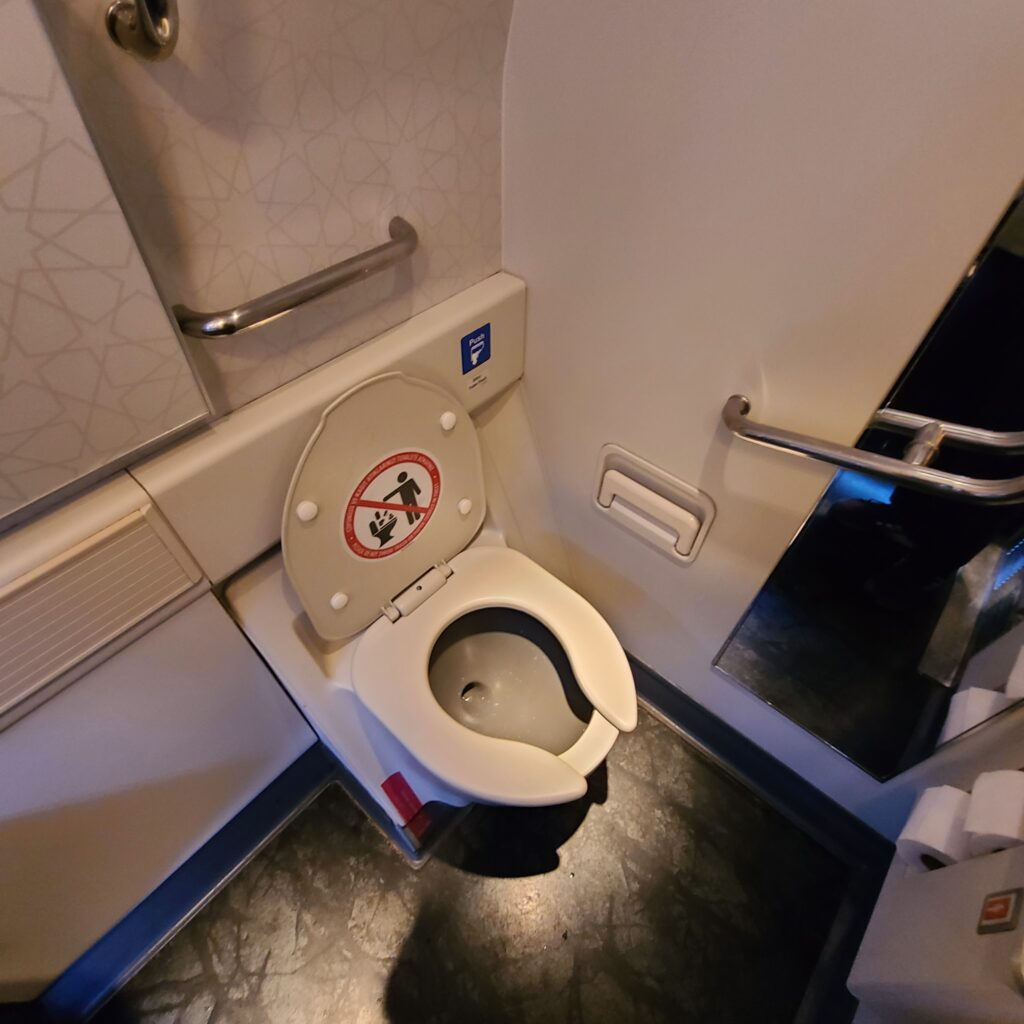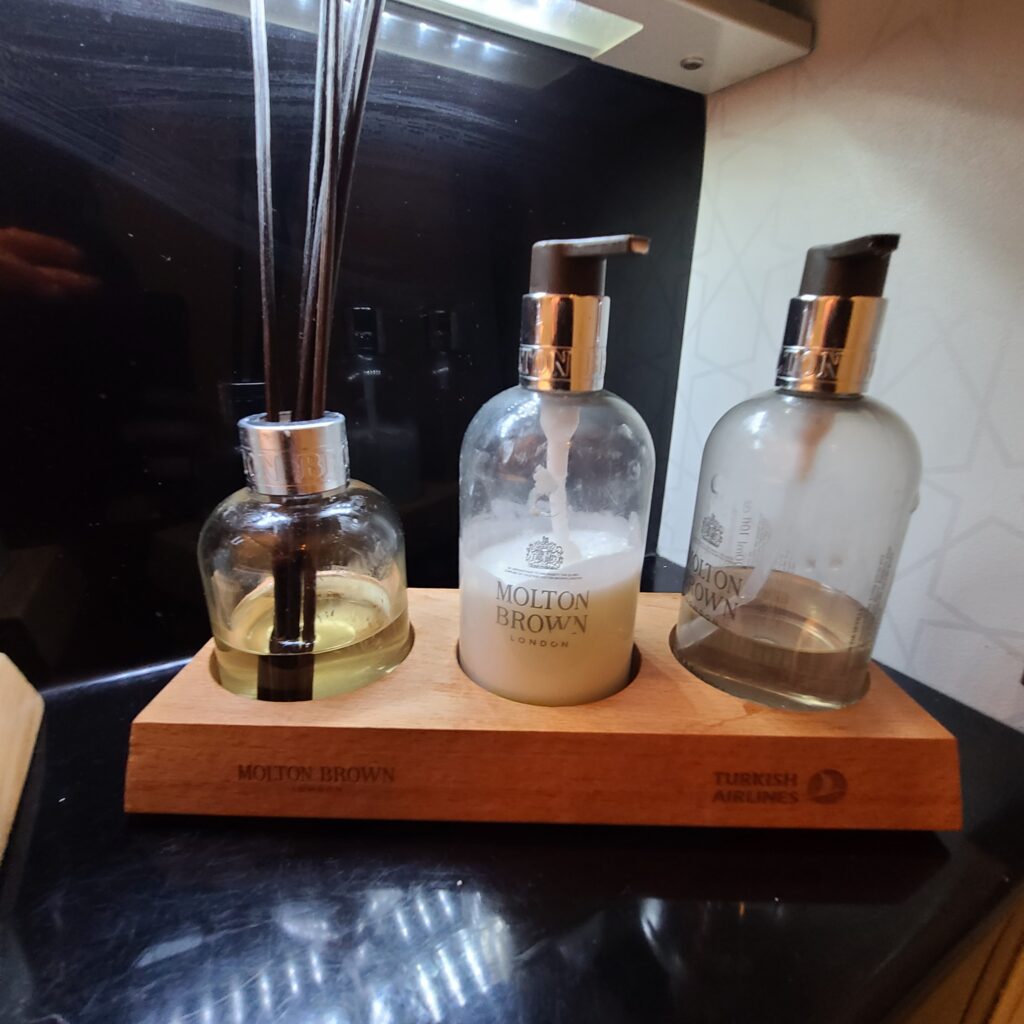 Hand soap and perfume by Molton Brown are ready for use. They smell great.
Conclusion
My first experience flying Business Class was really great! The amount of legroom provided is a game-changer compared to Economy Class. I'm grateful to have the chance to do so when a couple years ago, I'd thought that this is unattainable.
Service was mostly great, and the staff really responded very quick to your requests. The food was amazing, and it's impressive that the quality is top notch thanks to the onboard chef. It's great that the quality isn't subdued because of COVID.
The only major complaint that I had was the power plug not working for my laptop, so it was a shame to not be able to not get as much work done while on the flight.
[yasr_overall_rating