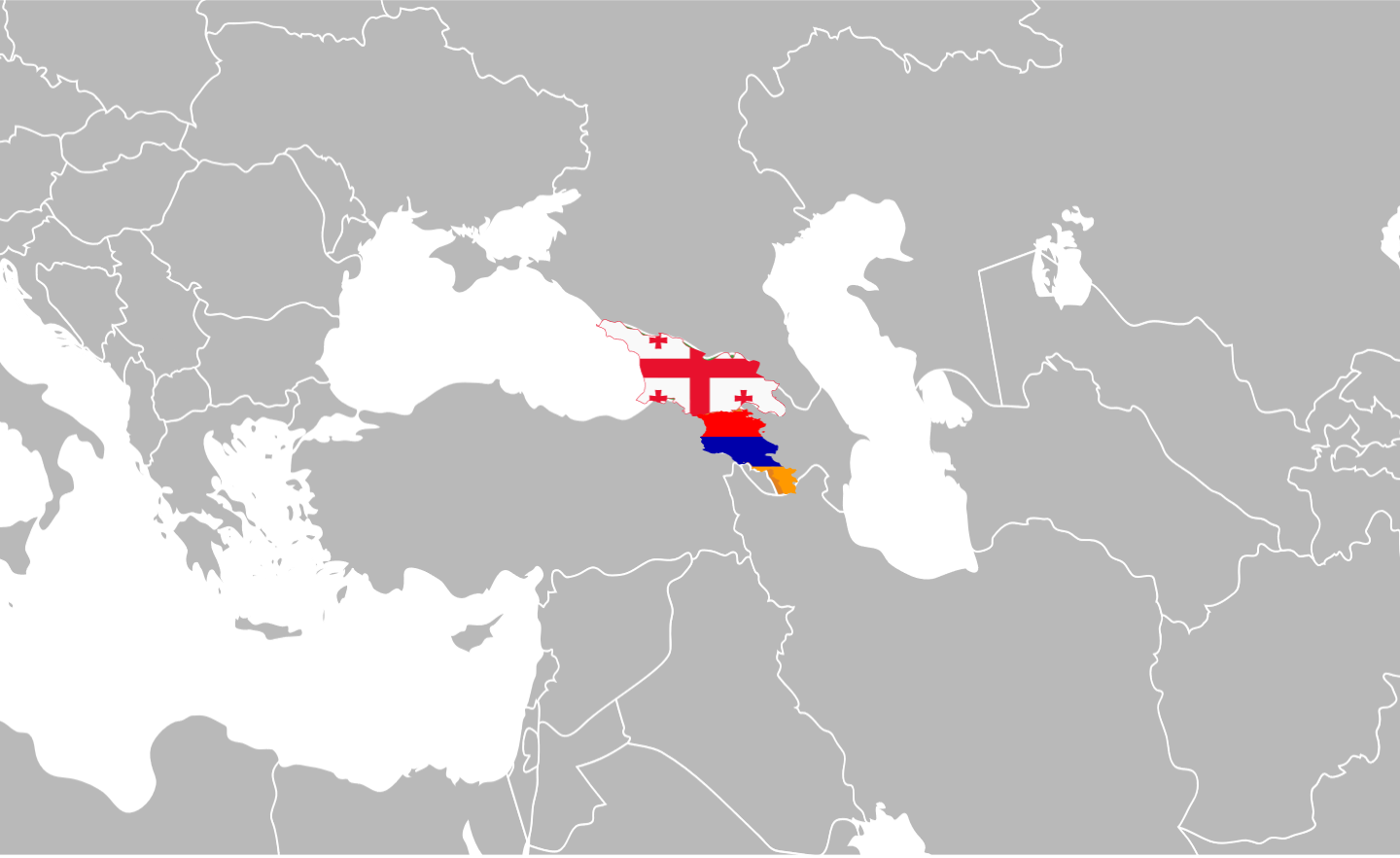 Advertiser disclosure: This post may include affiliate links (including sidebar banners) in which this site may receive compensation if a purchase is successfully made (at no extra cost to you) after being redirected from here. Thank you for your support!
Ways to Fly to Armenia & Georgia with Points
Armenia and Georgia are countries in the southern Caucasus region that require a bit of creativity in redeeming your miles & points for cheap flights. This post will cover the ways on how to fly to Armenia and Republic of Georgia with points, and is the second part of the "Caucasus on Points" series. I covered the first part of the series with Azerbaijan in the past which has some similar ways, but also some glaring differences for points redemption.
Airline Options for Armenia/Georgia from US
Here are the flights options available to fly to Armenia & Georgia coming from the US. There's lots of similarities with the exception of Star Alliance with Turkish Airlines not being able to fly to Yerevan, capital of Armenia. Getting around between Armenia and Georgia can be done through trains or low-cost airlines that fly in both capitals like Georgian Airways and FlyOne Armenia.
Airline Alliance
Armenia
Georgia
Star Alliance
Polish LOT
Lufthansa
Polish LOT
Turkish Airlines
Lufthansa
SkyTeam
Air France
Air France*
Oneworld
Qatar Airways
Qatar Airways
ANA Mileage Club
ANA Miles can provide a uniquely great opportunity to fly to either or both countries on the same trip for 88,000 ANA miles total for Business Class! Or, 55,000 miles in Economy Class. You can expect to pay ~$200-$535 in taxes and fees on top of your award redemption depending on the Star Alliance carrier. Just avoid Lufthansa or Swiss, which charges fuel surcharges in the thousands!
If you wish to visit both countries at the same trip, then the Star Alliance airline to focus on is Polish LOT, which also have low surcharges and makes it a great choice to redeem ANA miles on.
Polish LOT has select routes departing from the US to Warsaw, Poland (WAW).
New York (JFK/EWR)
Chicago (ORD)
Miami (MIA)
Los Angeles (LAX)
From Warsaw, there's direct connections to both capitals: Yerevan, Armenia (EVN) & Tbilisi, Georgia (TBS). This means that you can choose either as your first or last destination, providing you greater flexibility in finding award spaces.
Flexibility is much greater if you choose Georgia as your last destination before going back to the US simply because Turkish Airlines have routing to Georgia's popular cities like Tbilisi and Batumi (Black Sea resort city), and excellent direct route back to the US as well. For Armenia, Austrian Airlines can connect with Yerevan from Vienna (VIE). Although, Austrian's connection isn't as comprehensive as Turkish with the US.
The main downside with the Polish LOT route is that the destination time for both countries will be at dawn, which would force you to book an extra night to cover for the very early booking time. There are plenty of cheap accommodations in those countries, however.
And of course, a main downside of ANA is the round-trip or open-jaw requirement to complete the booking process. It can be really time consuming to string together these multi-city trips, or even impossible depending on your timing and flexibility. Thus, you won't be able to mix one-way flights through other programs which could be the more feasible option. If you can, ANA could get you one of the lowest miles required to fly round-trip in Business Class and get you a free stopover in either Warsaw or Istanbul!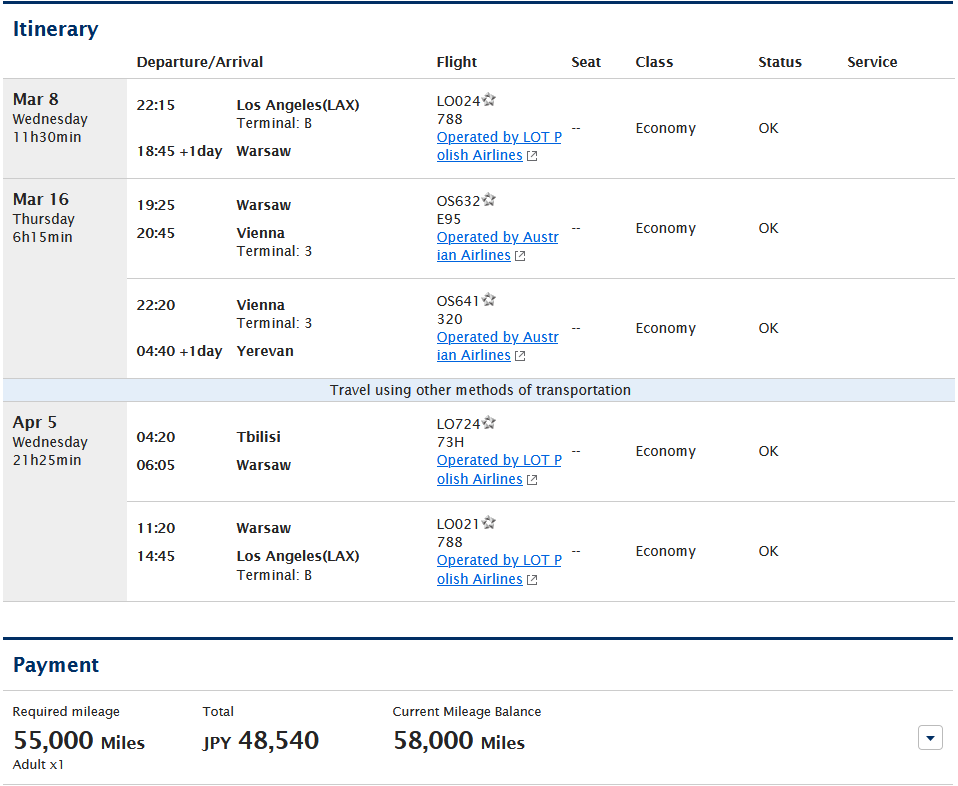 How to Earn ANA Miles
ANA Mileage Club is a transfer partner to American Express Membership Rewards and Marriott Bonvoy. By simply earning Membership Rewards points, you can then transfer them to ANA at a 1:1 ratio. It may take 2-4 days for points transfer to go through.
Marriott Bonvoy lets you transfer to ANA at a 3:1 ratio with a bonus of 5000 miles if you transfer at least 60,000 Marriott Bonvoy points in a single transfer, resulting in total of 25,000 Miles. Although, I'd rather use Marriott Bonvoy points for Marriott Bonvoy hotels.
Beware that ANA Miles will expire after 3 years starting the date of the completed points transfer. There's no way to extend the expiration date in the current system!
American Express cards like the Platinum and Gold offer lucrative signup bonuses and strong spending multipliers that can make earning ANA Miles quite easy.
Turkish Airlines Miles & Smiles
Turkish Airlines is an alternative within the Star Alliance that allows for one-way bookings unlike ANA. It just requires 45,000 Turkish miles to book a US to Europe on Business Class in Turkish Airlines or its Star Alliance partners. It requires 30,000 miles one-way in Economy Class. Make sure to book for Promotional awards, which is similar to Saver awards on other programs.
Turkish Miles & Smiles is also the best way to book Turkish Airlines award flights as it gives the best availability compared to its Star Alliance partners. This can be handy if you plan to visit Georgia from the US or coming back to the US from Georgia, and you could not find award availability for Polish LOT.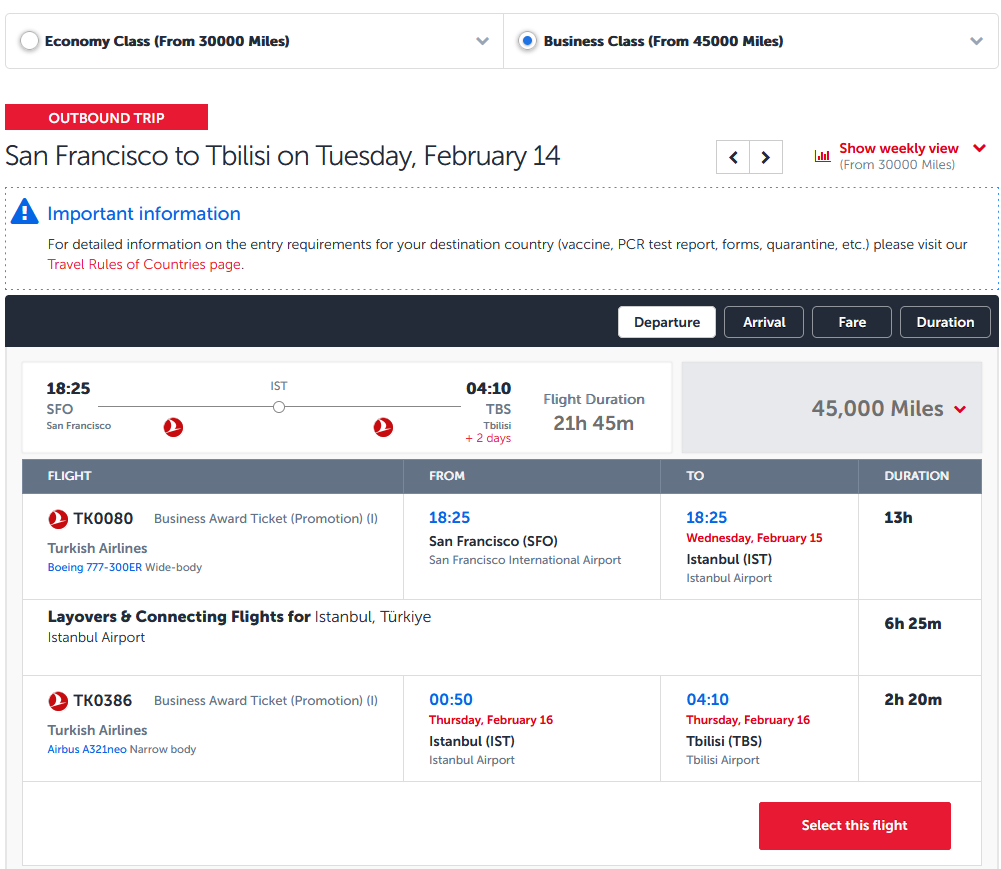 A cool advantage with Turkish Miles & Smiles is to be able to mix your points booking with other programs like Air France-KLM and Avios (SkyTeam and Oneworld respectively) with 2 separate one-way flights.
Just like ANA's program, Turkish Airlines' program also pass on fuel surcharges. But, Polish LOT has low fuel surcharge rate while Turkish Airlines' is a bit higher, but still mild and doesn't really impact the high value of a Business Class redemption.
How to Earn Turkish Airlines Miles & Smiles
Turkish Airlines Miles & Smiles is a partner to Citi ThankYou, Capital One Miles, and Marriott Bonvoy. Citi and Capital One can transfer their respective points to Turkish Airlines at a 1:1 ratio. Having cards from both issuers like Citi Premier and Capital One Venture X can let you rack up a lot of Turkish Miles to last you more than one round-trip itineraries thanks to their massive signup bonuses!
Turkish Miles expire 3 years after issuance. The only way to extend them for another 3 years is to pay the rate of $10 per 1000 miles! Make sure to use them before then!
Air France-KLM Flying Blue
The SkyTeam alliance approach to flying to both Armenia & Georgia is through Air France-KLM. Both countries have direct flights departing from Paris (CDG). CDG also has excellent connections to many US major airports, so there's much more to choose from than Polish LOT. Depending on your timing, you may get a one-night layover in Paris, so you can explore the city for a little bit.
It just requires 55,000 miles (Saver Award) one-way in Business Class in Air France from the US to Georgia (65,000 for Armenia). It can cost as low as 15,000 miles for Economy to Georgia (20,000 for Armenia). So, Georgia is the sweet spot for Air France, but Armenia still provide great value for your miles.
Depending on your timing, you may get a one-night layover in Paris, so you can explore the city for a little bit for the same amount of miles!



One thing I like about the SkyTeam approach is that the arrival time to Georgia is during the daytime (not the case for Armenia) so I could potentially save money on accommodation.
How to Earn Air France-KLM Flying Blue Miles
Air France-KLM is one of the easiest partners to rack up miles on because you can transfer points from American Express MR, Chase UR, Citi TY, and Capital One Miles! While ANA and Turkish Airlines require less miles, it's much easier to earn Air France-KLM miles. charges mild fuel surcharge, so expect to pay ~$200 on top of your award redemption per one-way.
Air France-KLM miles expire after 24 months of inactivity. But, it can be extended with just one single qualifying activity under that period. ransferring credit card points to Air France-KLM qualifies as a qualifying activity!
Avios
The Oneworld alliance approach to flying to both Armenia & Georgia is through Qatar Airways Avios. Both countries have direct flights departing from Doha (DOH). DOH also has excellent connections to many US major airports. Qatar Airways have one of the best Business Class seats in the world, the QSuites, which can make the Oneworld route more enticing. You'd only fly the QSuites from the US-Doha leg depending on the airport, however.
It requires 85,000 Avios one-way in Business Class in Qatar Airways from the US to Armenia/Georgia. QSuites tend to release good amount of availabilities, so make sure to lock them in as soon as you can around 6-12 months in advance. It requires 42,500 Avios one-way in Economy Class. Qatar Airways charges low fuel surcharge, so expect to pay ~$100-$200 on top of your award redemption per one-way. I would definitely strive for the QSuites as the flight from the US to Doha is quite long (15+ hours for West Coast).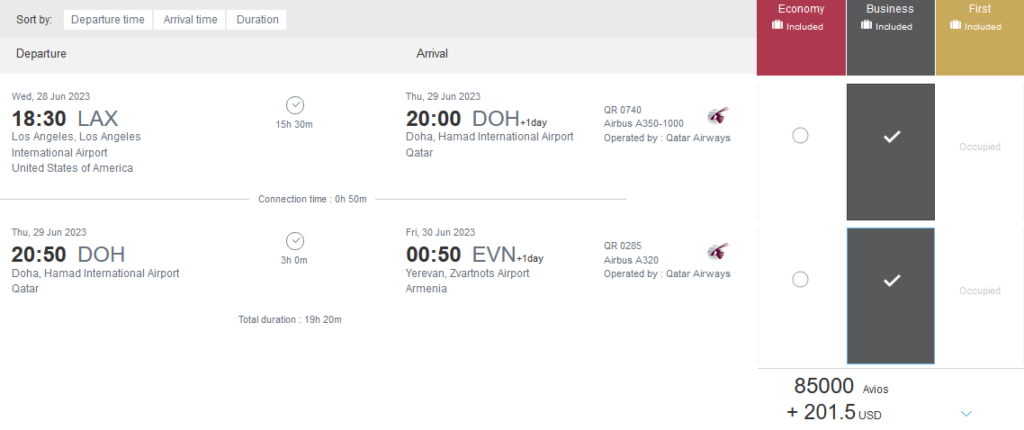 How to Earn Avios
Avios is also one of the easiest programs to rack up miles with. Avios partners with Amex MR, Chase UR, Citi TY, and Capital One Miles. With Amex, Chase, and Capital One, you'd transfer to British Airways Executive Club. For Citi, you'd transfer to Qatar Airways Privilege Club. Both British Airways and Qatar Airways can be linked so Avios can be moved around within the two programs.
Conclusion
Here are some ways you can use points & miles to book flights to Armenia and Georgia. My favorite program is definitely Air France-KLM Flying Blue as it's very easy to rack up miles for them thanks to them being partners to all the major points systems. But, if you have Avios or Turkish miles to burn, then you can mix-and-match in between to get you better flexibility and variety of planes to fly on.
I find ANA to be the hardest to book because of its restrictive round-trip requirement, but it can potentially bring the most value by letting you have free stopover in Istanbul or Warsaw, and by costing the least miles out of all the easier programs I mentioned for Business Class on all legs. Well, only if you manage to pull it off.