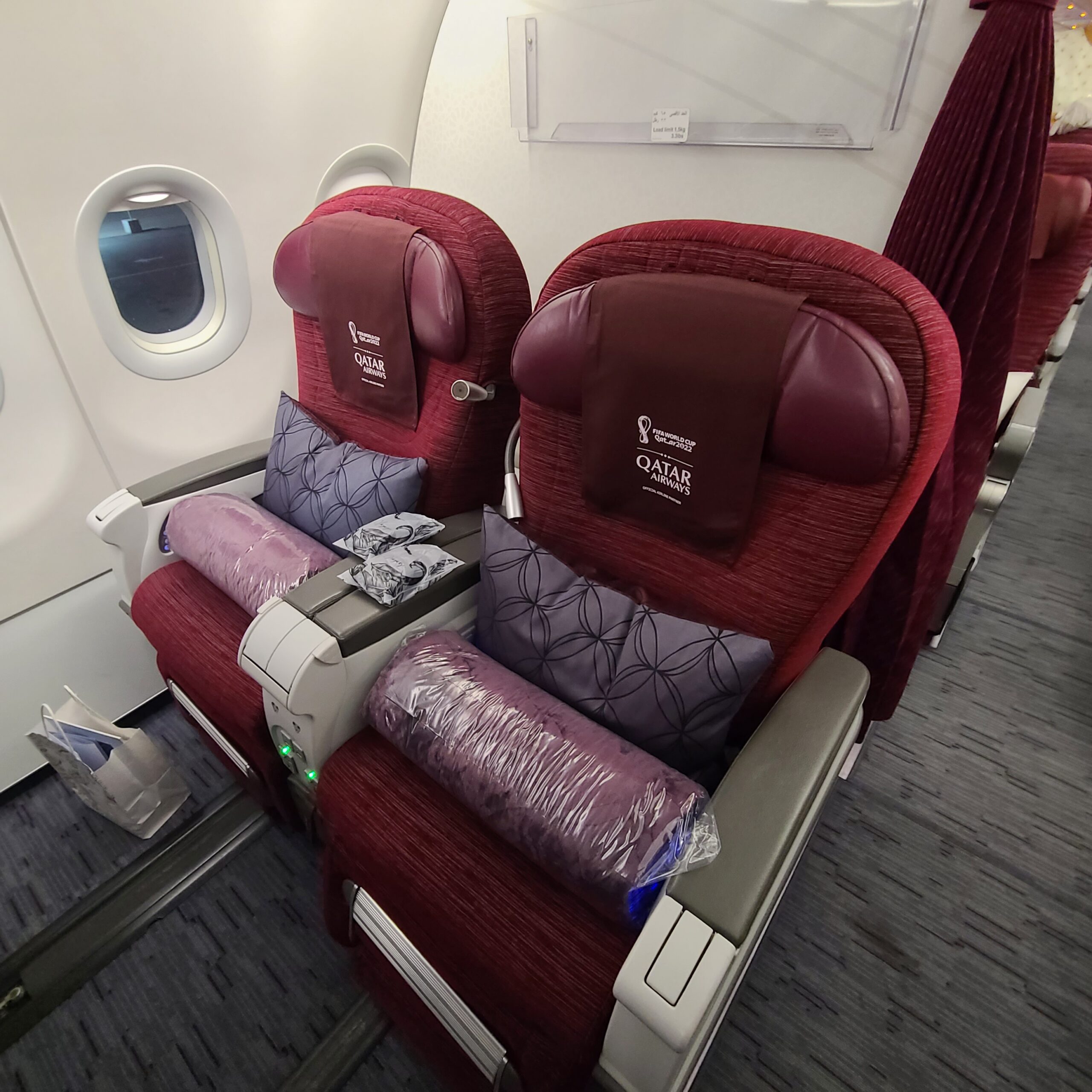 Advertiser disclosure: This post may include affiliate links (including sidebar banners) in which this site may receive compensation if a purchase is successfully made (at no extra cost to you) after being redirected from here. Thank you for your support!
Review: Qatar Airways Old Business Class Airbus A320 (ALA-DOH)
ALA-DOH
Friday, September 9
Depart: 9:55PM
Arrive: 12:30AM
Duration: 5 hours 35 minutes
Plane: Airbus A320
Seat: 5F (Window)
My trip in Central Asia ended in Almaty, Kazakhstan where I'd need to make a transit through Doha, Qatar so then I can fly the Qatar Airways QSuites all the way back to San Francisco. The first leg of the flights began with Qatar Airways' old Business Class in the Airbus A320.
Qatar Airways Old Business Class A320- Booking
I've booked Qatar Airways Business Class through British Airways Avios thanks to the recent adoption of Avios currency with Qatar Airways. For the flights itinerary of ALA-SFO, I've paid 84,000 British Airways Avios to book it. Strangely enough, booking through Qatar Airways would cost 85,000 Avios instead, so I saved a meager 1000 Avios by booking through British Airways (with the same fuel surcharges & taxes). Woohoo!
Some things to consider about Avios are:
Avios can be earned by transferring American Express Membership Rewards, Chase Ultimate Rewards, and Capital One Miles to British Airways Executive Club; Qatar Airways Privilege Club for Citi ThankYou.
British Airways Executive Club & Qatar Airways Privilege Club must be linked to transfer Avios between the 2 programs seamlessly and endlessly.
Make sure to compare the rates British Airways Avios & Qatar Airways Avios as they may have slight variations depending on where you go.
Qatar Airways passes on fuel surcharges when booked with either Avios, but they're pretty mild.
One-way award booking is possible with Avios
Qatar Airways Old Business Class A320- Check-in

After checking out of The Ritz-Carlton, Almaty at 6 pm, I made my way to Almaty International Airport with Yandex Go taxi that costed me $8 for a 30 minute ride. After checking in, I received a pass to the Almaty International Business Lounge. Almaty is a beautiful city, but its airport and the lounge were not the most interesting places to hang around in, so I was glad that I got a free 6pm checkout from the Ritz!
Qatar Airways Old Business Class A320- Boarding
Almaty Airport boarding process was bizarre. There were no organized line for business and economy class passengers that you'd usually see when you try to board. It was a bunch of people waiting in disorganized ways waiting in front of a boarding screen on a small TV with an officer guarding the door to the terminal.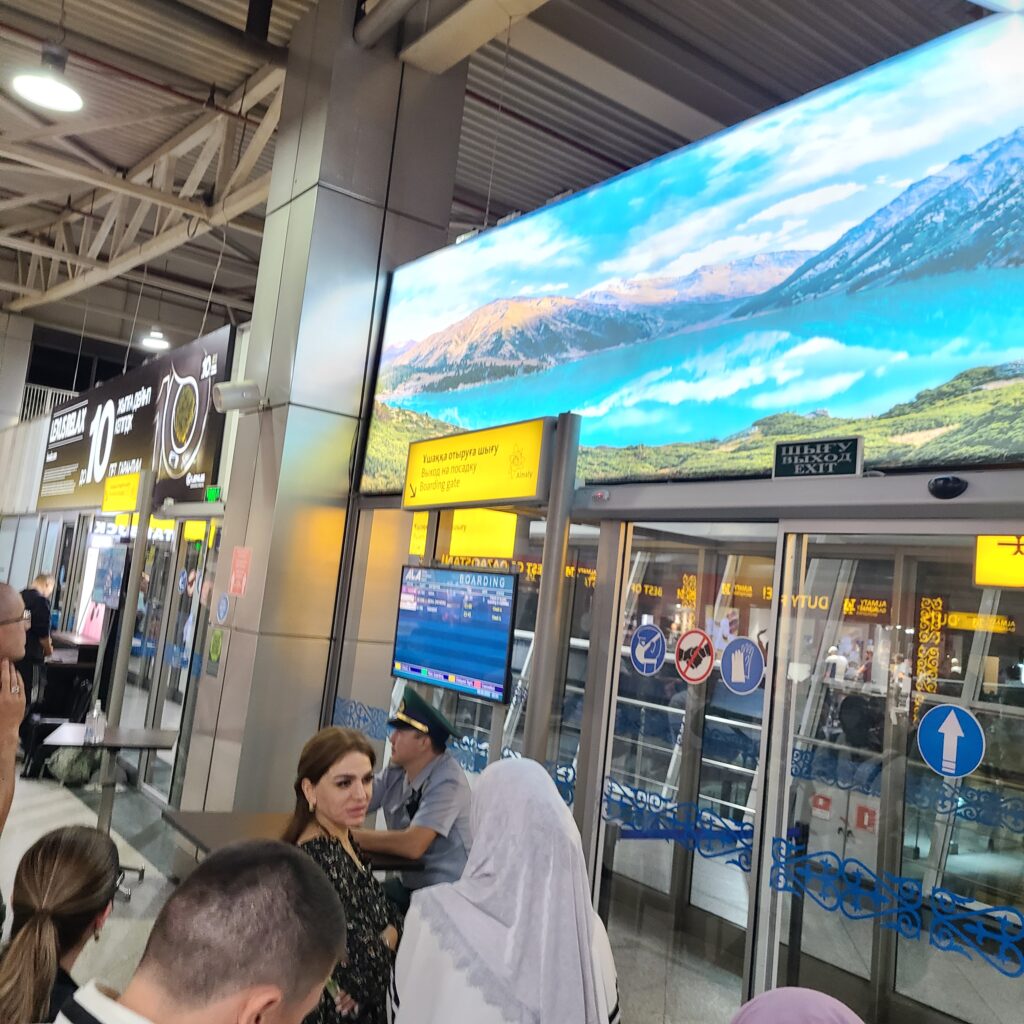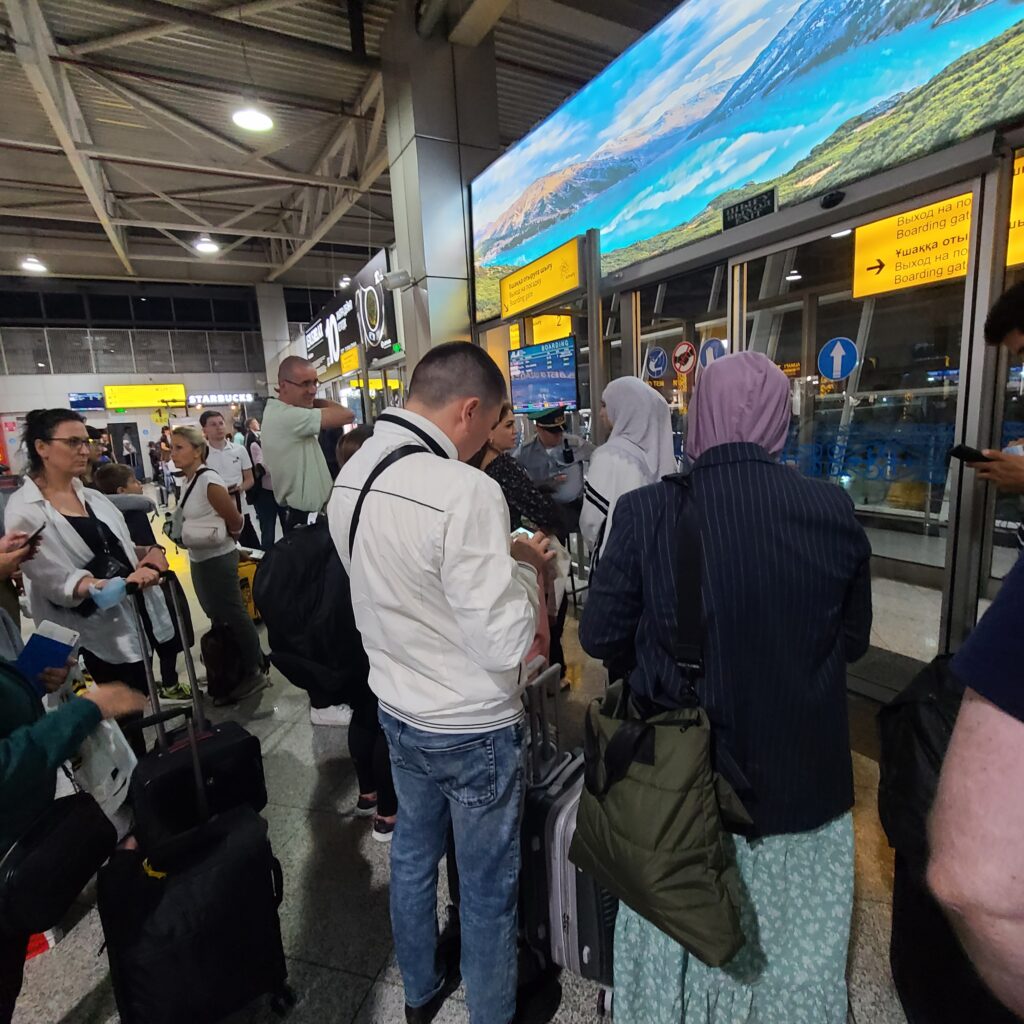 Once the door to the terminal opened, we were all walking and bumping to each other to then finally meet the queue that happened at the beginning of the jet bridge. That's when there were 2 staffs checking the boarding passes, with one handling business class, and the other one handling economy class.
Qatar Airways Old Business Class A320 Seats

Qatar Airways' Business Class have 2 versions of the A320. The segment from ALA-DOH happens to have the older Business Class fashioned like a regional flight.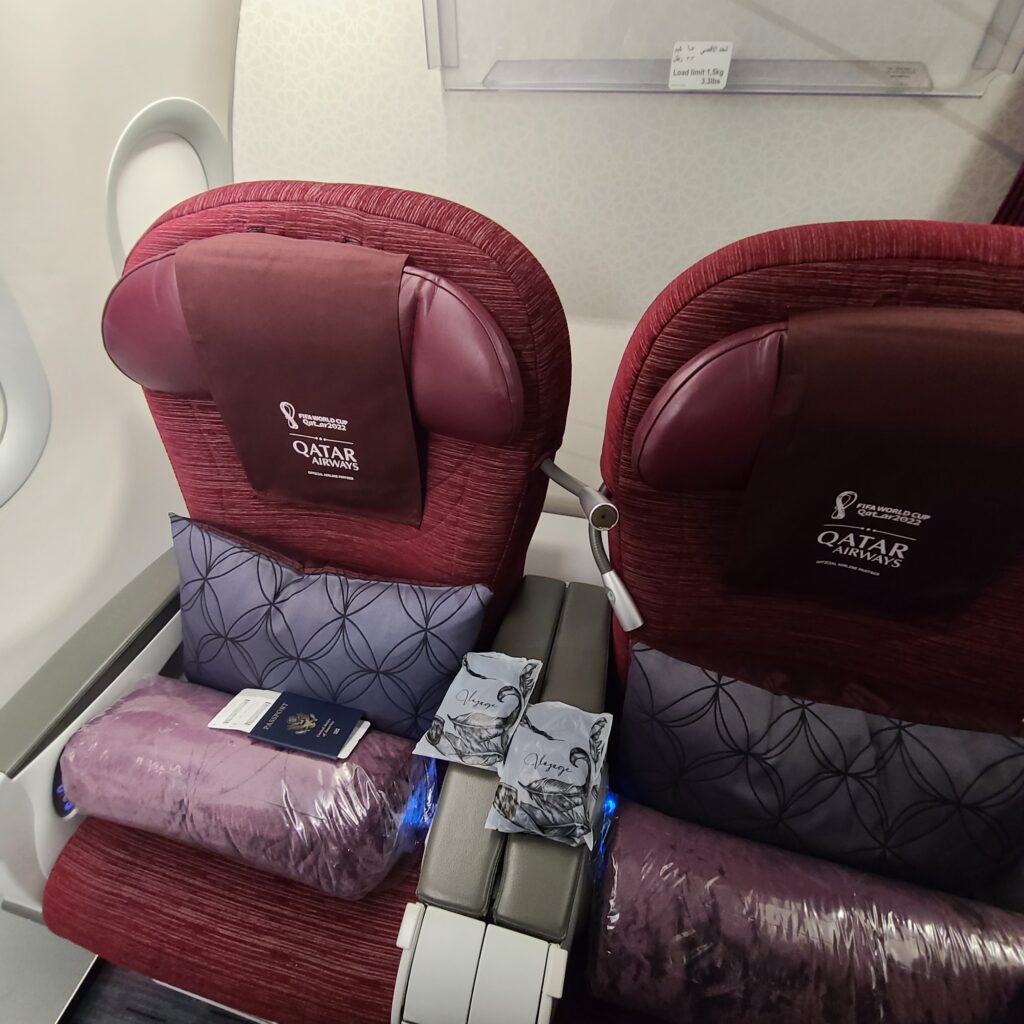 With the upcoming World Cup in Doha, the airline had to advertise the event on the seats. Pillow, blankets, and eye mask were provided.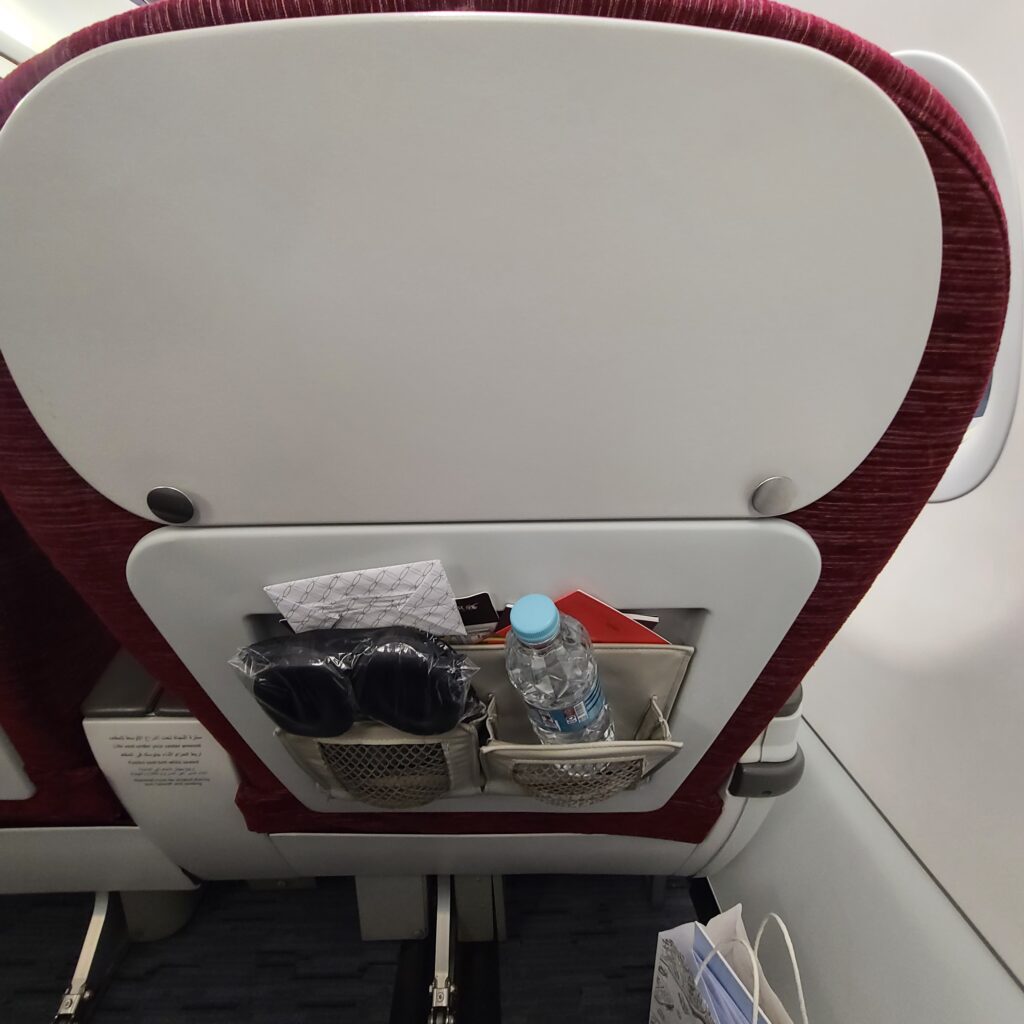 Headphones and water bottle are stored at the front of the seat. The tray table is inside the right seat arm.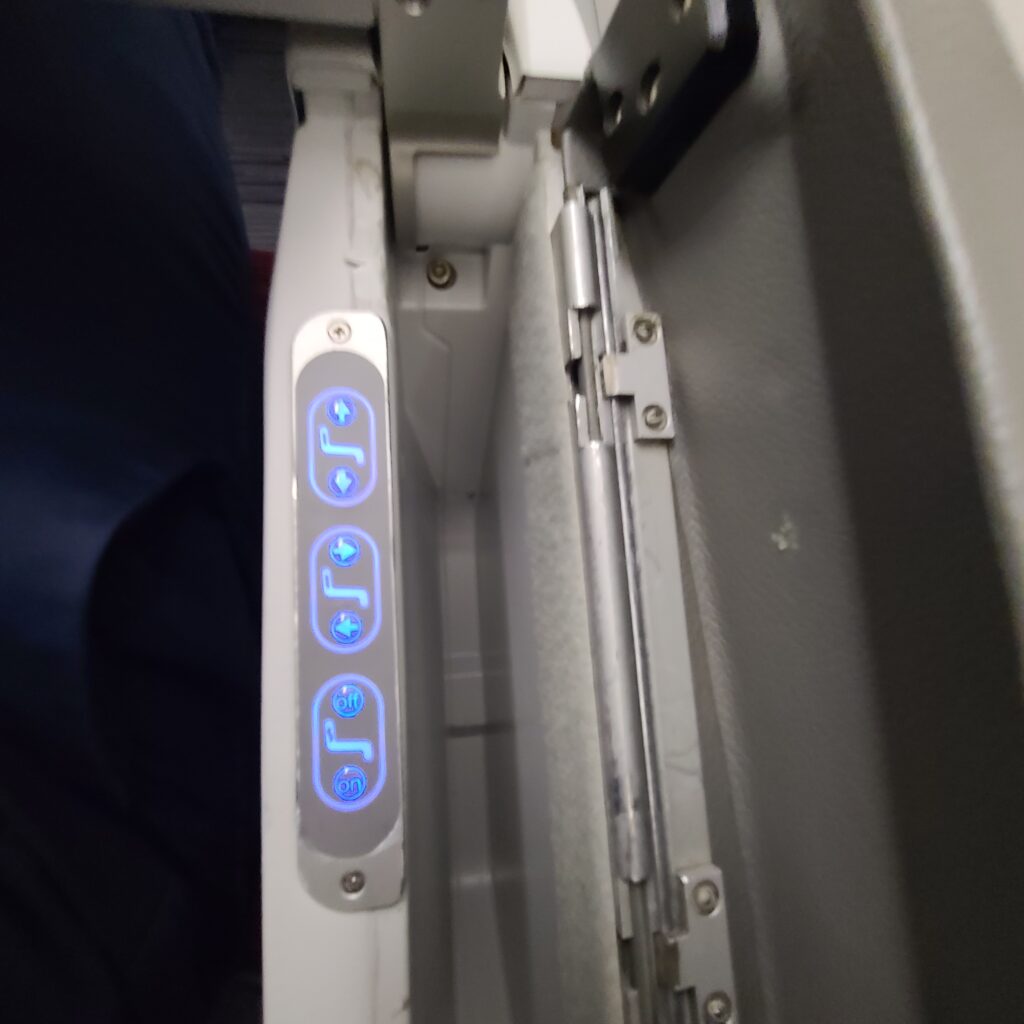 I was given a glass of lemonade before the flight.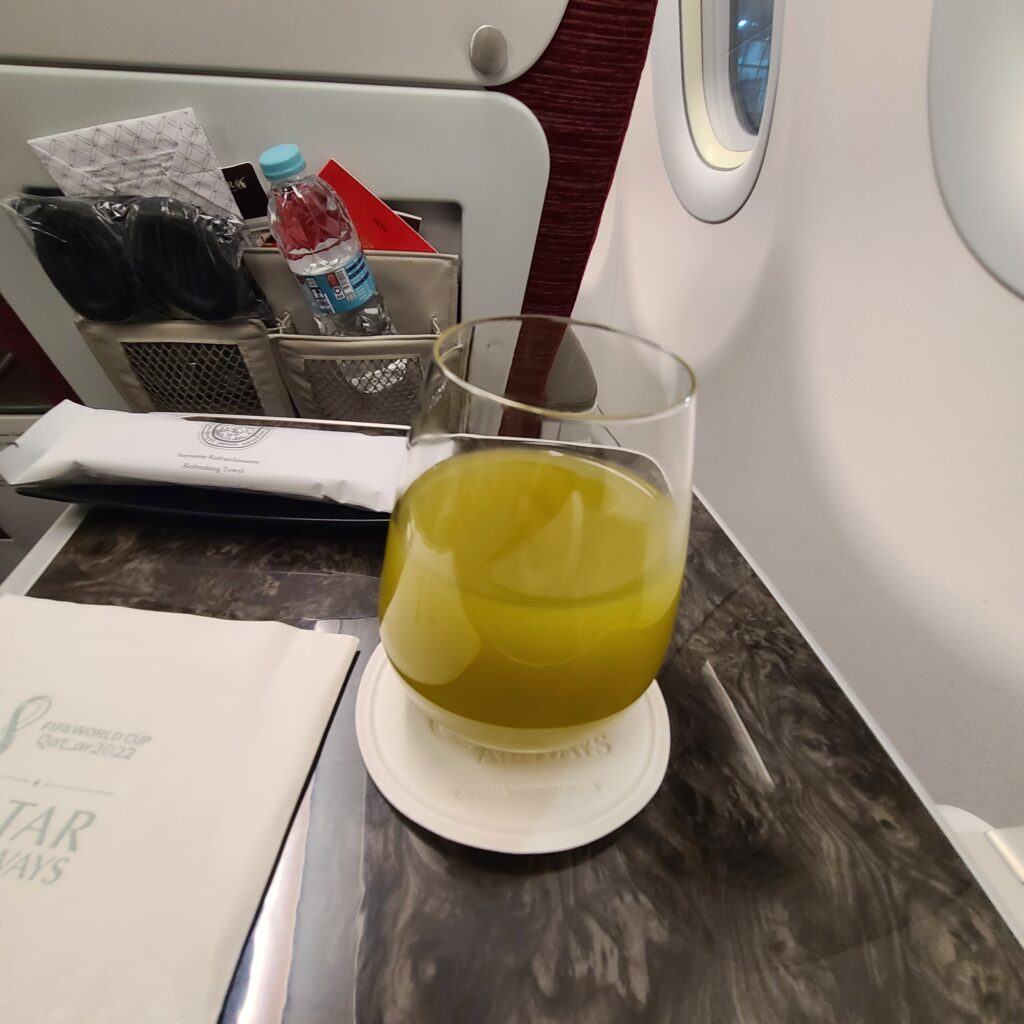 And a Brut Reserve! Full alcohol selections will be pictured down later in the review.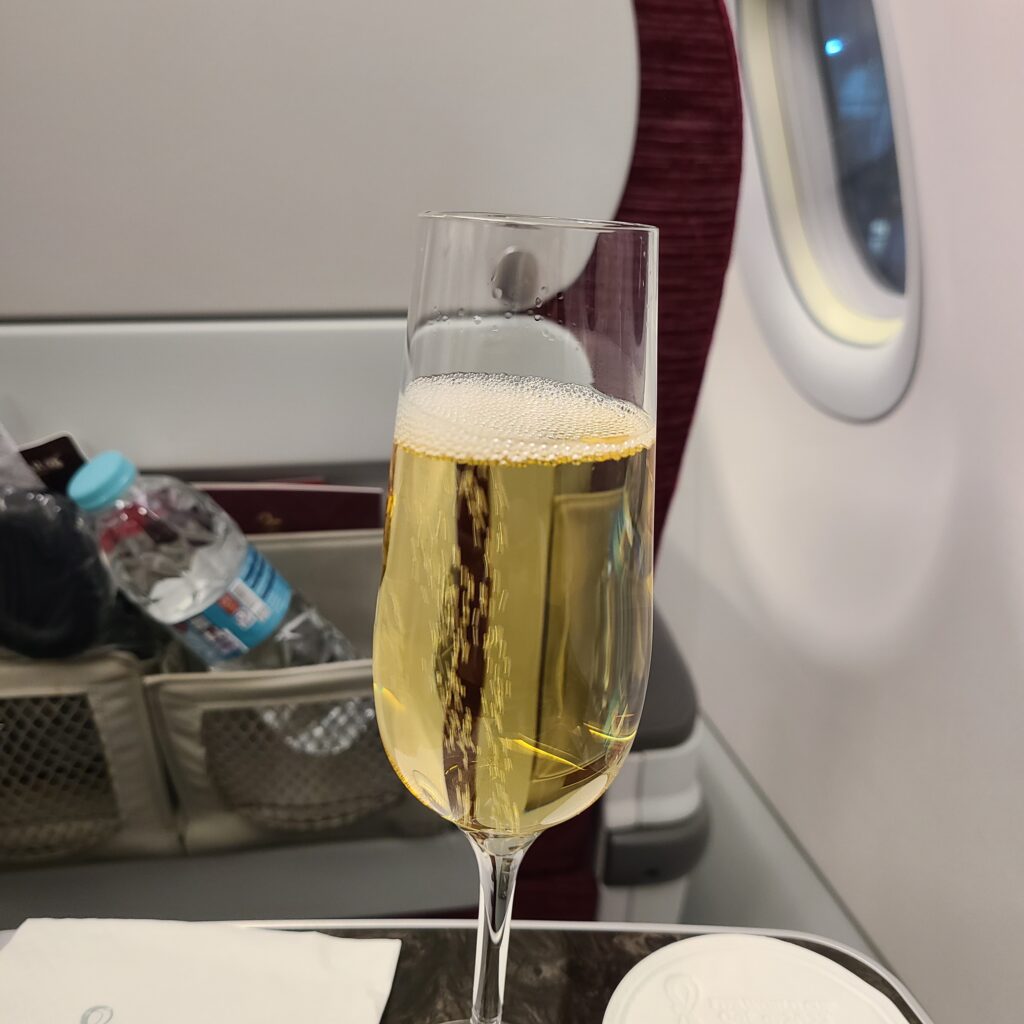 I was not able to take a picture of the seat while it's reclined, but it reclined pretty good, and I'd say even a bit better than the similar flight with Turkish Airlines A321neo's Business Class.
Qatar Airways Old Business Class A320 Dinner
It was a decently short flight, but we were given a full course dinner shortly after takeoff. The menu is small, but the options are quite comprehensive. Things started of with a bowl of roasted nuts.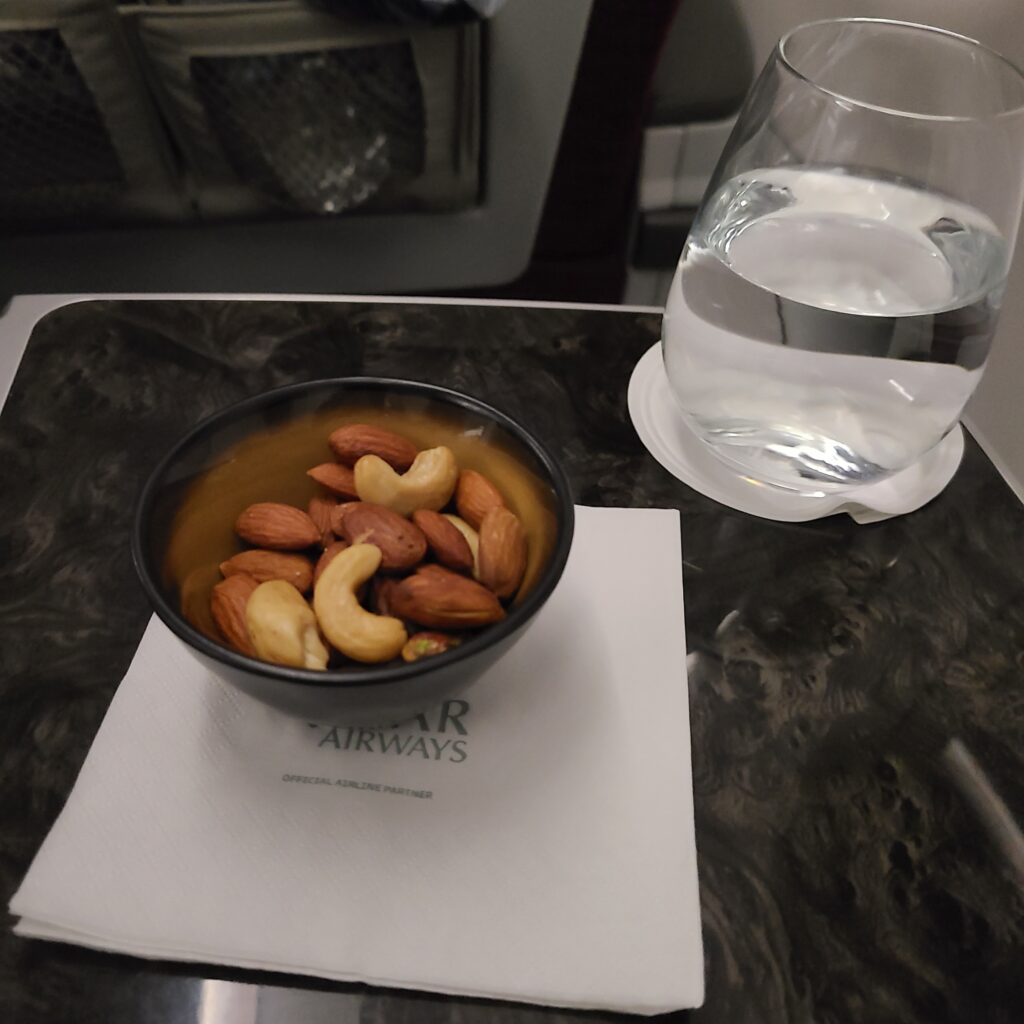 Then came my appetizer, the smoked salmon.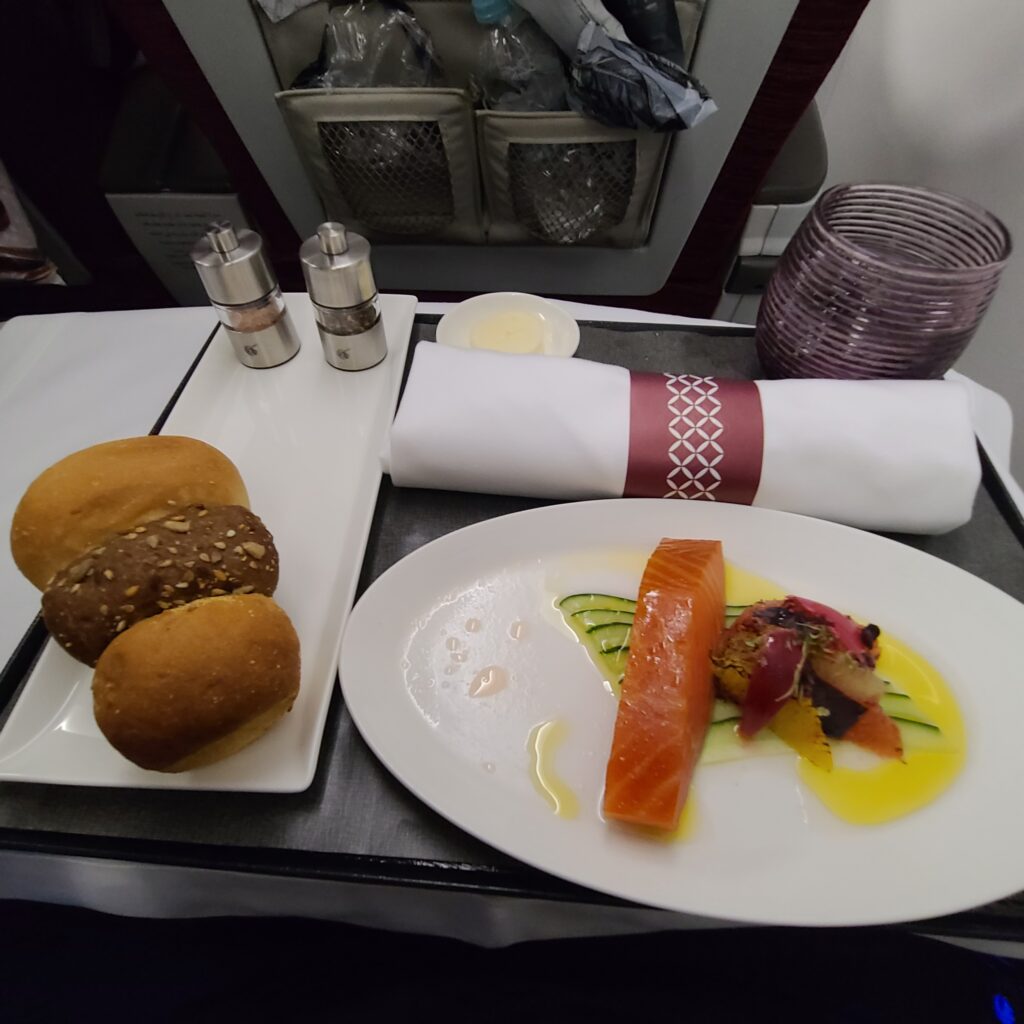 Then comes a soup with cooked salmon inside.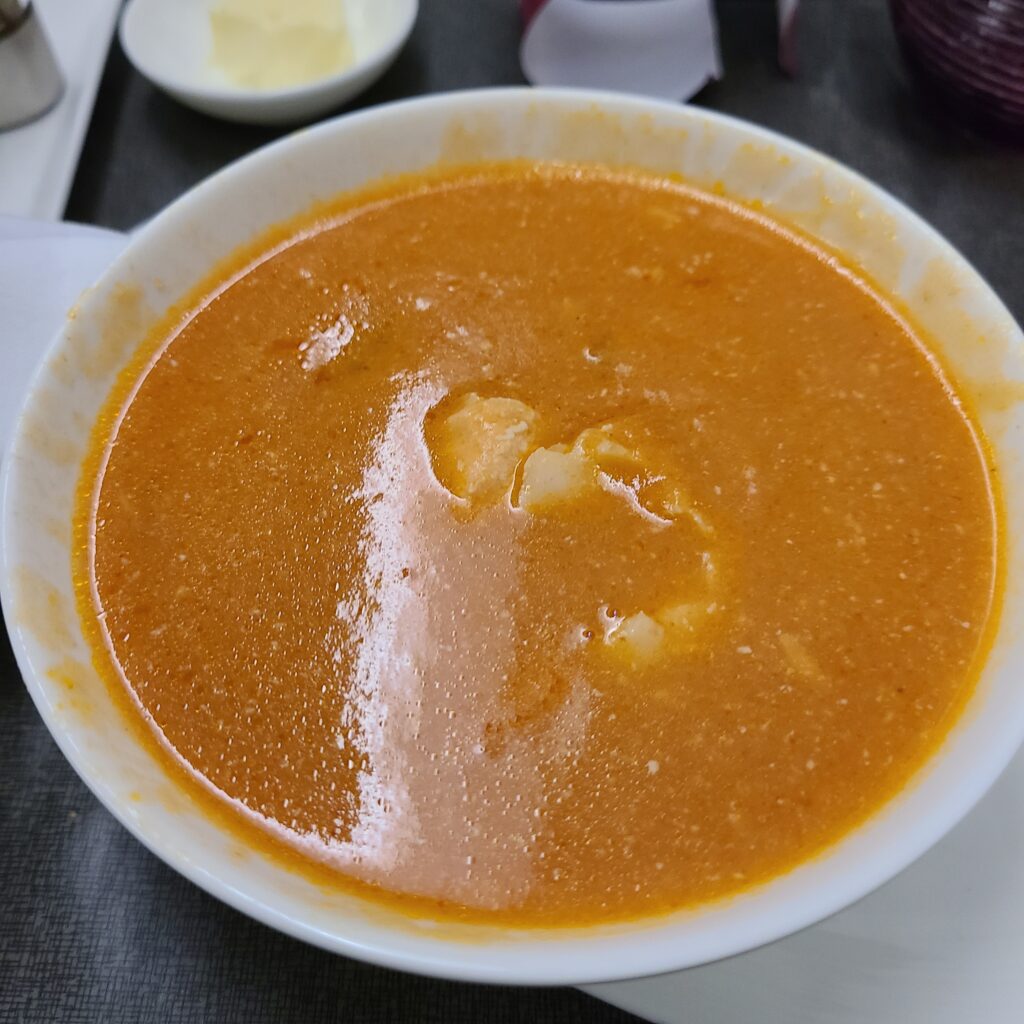 The main entree I chose was the chicken galantine. I didn't like it much mainly because I found the sweet potatoes too salty.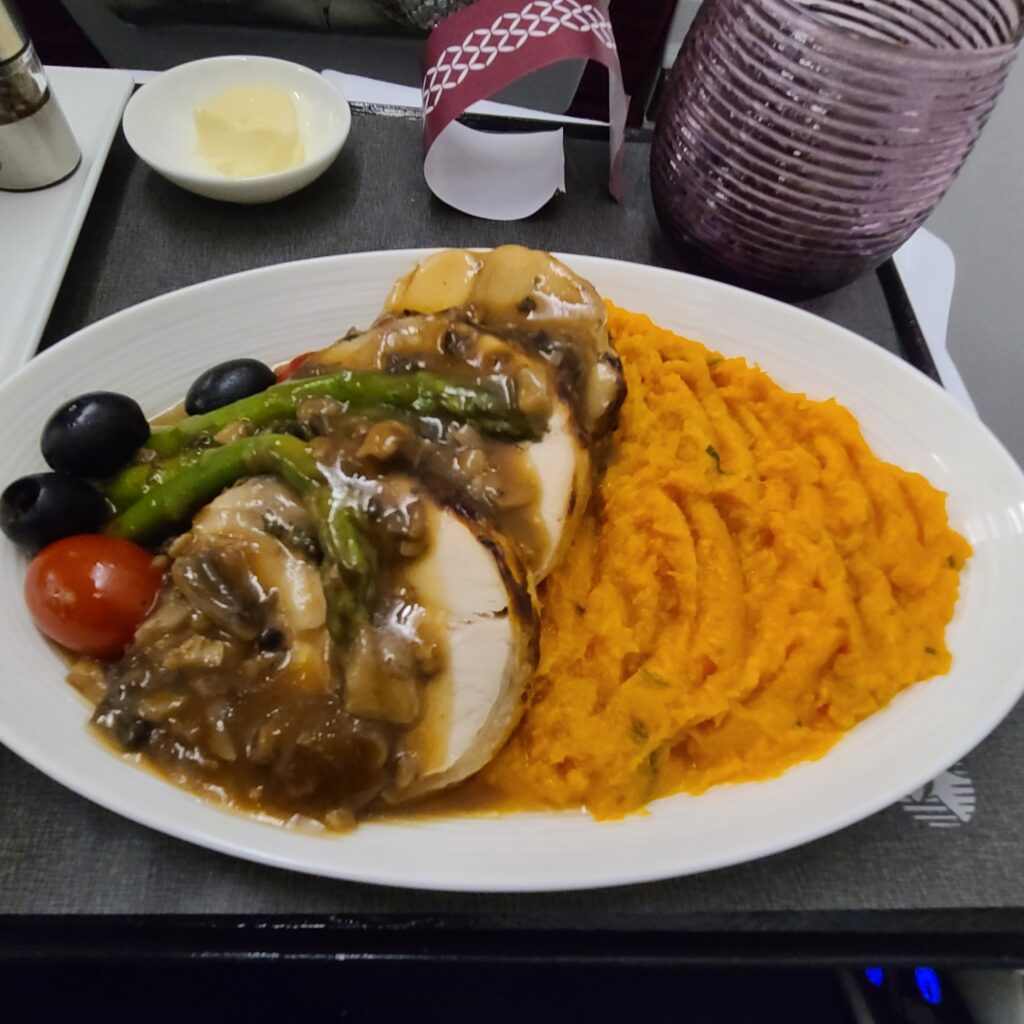 Then finally, the dinner ended with a white chocolate mousse.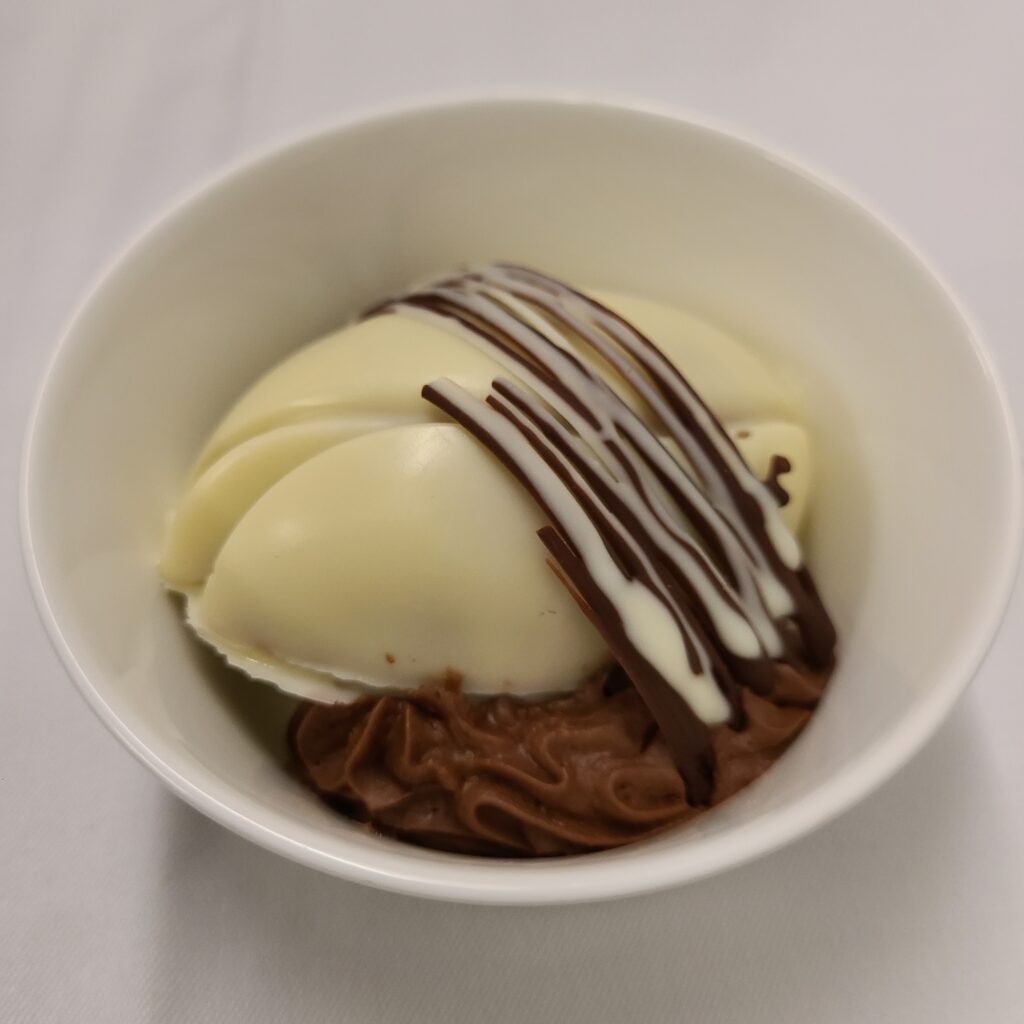 Overall, the food was OK, and so far I preferred Turkish Airlines' catering more in Business Class that I had at the beginning of my Central Asia trip. But, things got really dicey around an hour later after eating. My stomach just didn't feel good, and it got a lot worse after I landed in DOH, where I spent the majority of my time at the Al Mourjan lounge in the bathroom, and laying down feeling miserable and could not try the food (from fear and lost appetite) in the QSuites from DOH to SFO. It then took 3 more days back in the US where I recovered from this food poisoning fiasco. I never had food poisoning before, but I guess there's first time for everything.
I suspected that the smoked salmon may likely be the culprit, since that's the "riskiest" menu I had. It won't stop me from trying fish again in an upcoming JAL/ANA premium cabin though!
I was quite sad that I missed out on review materials for both the lounge (that I had an 8 hour layover in) and the QSuites because of it. What could've been a much better first time experience on finally getting in one of the biggest lounges and one of the best business class, I spent it trying to recover from a misfortune.
But looking back, I was grateful that I at least could rest inside a lounge, and in one of the best business class with lie-flat seat. I would've had a much harder time to cope if I didn't have lounge access and having to endure an almost 16 hour flight back home in economy class on top. The irony is, maybe this whole thing wouldn't have happened if I were to fly economy class the whole way haha! Luck is funny like that.
Qatar Airways Old Business Class A320 Menu
Here's the full menu of the flight. Do note that there can be slight variations in a different flight.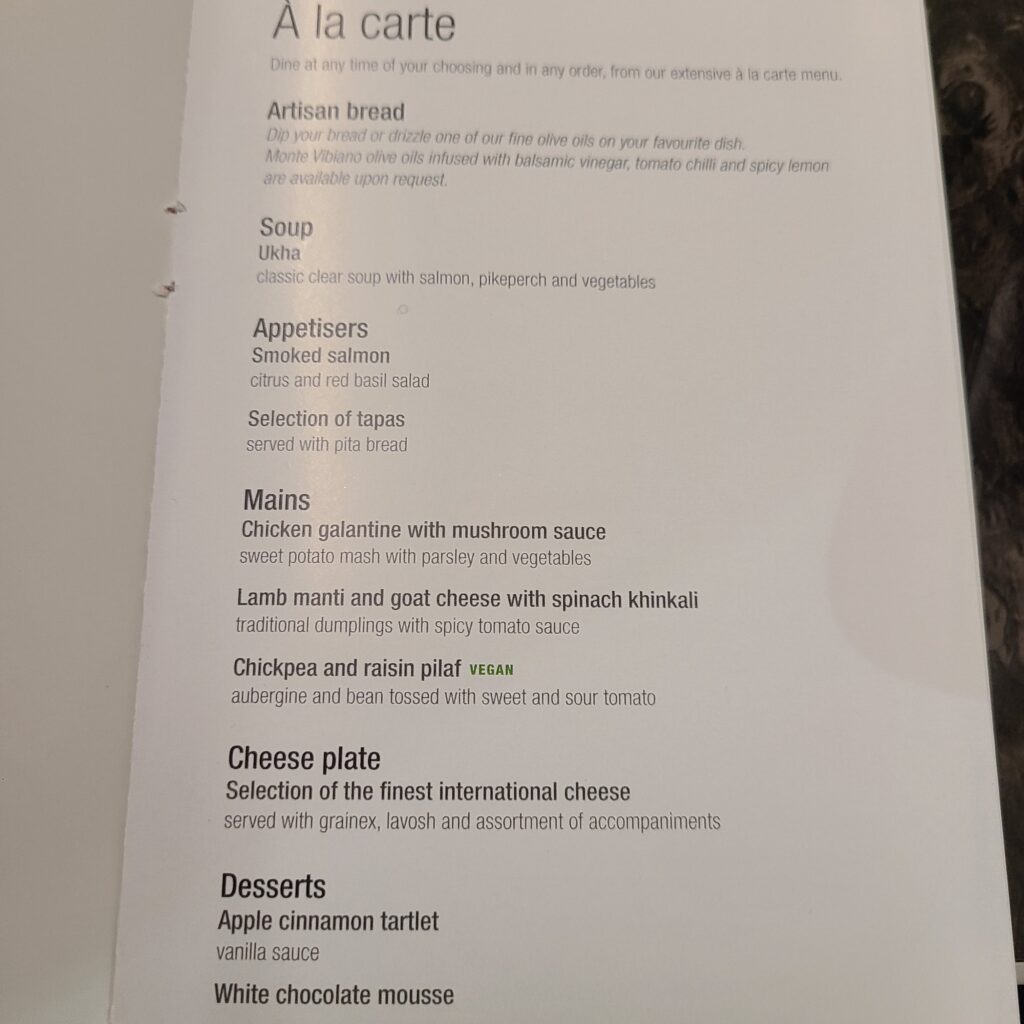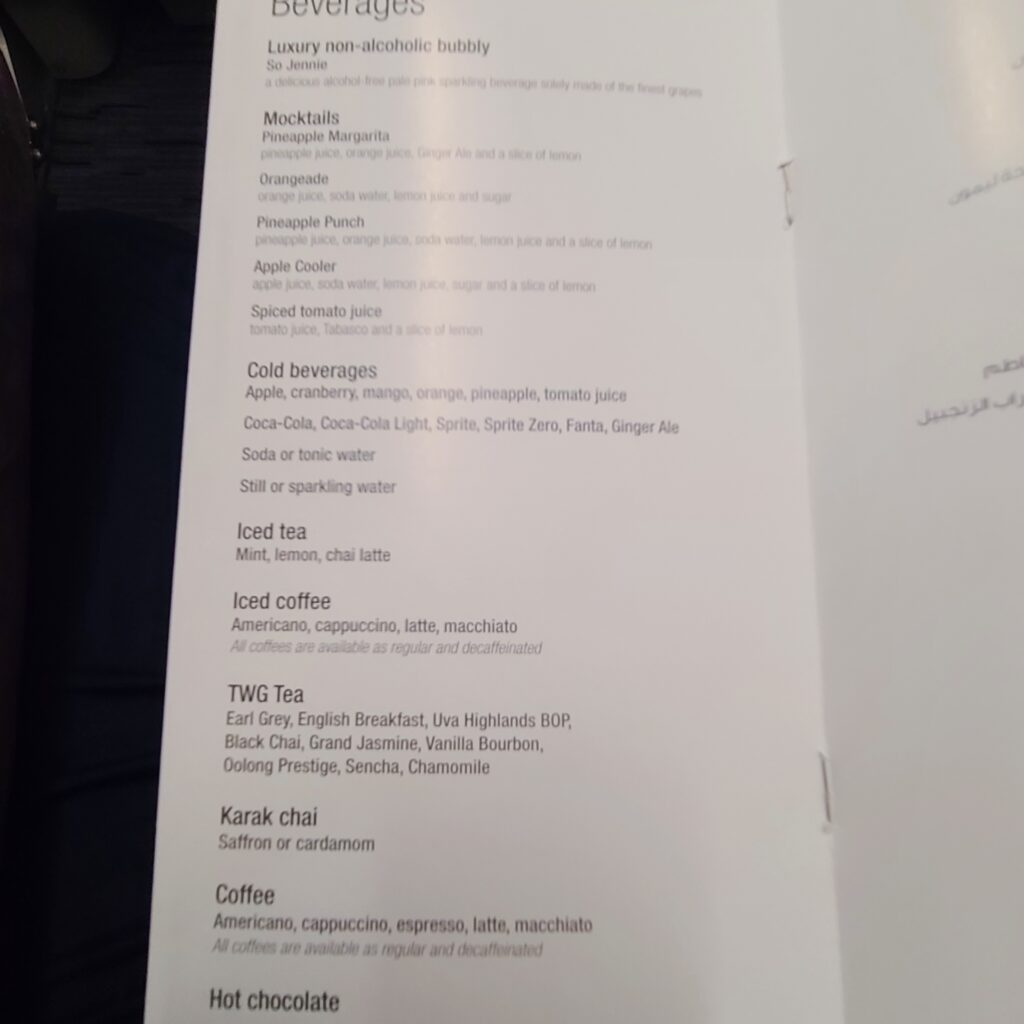 Qatar Airways Old Business Class A320 Alcohol Menu
Here are some of the alcohol offerings for the flight.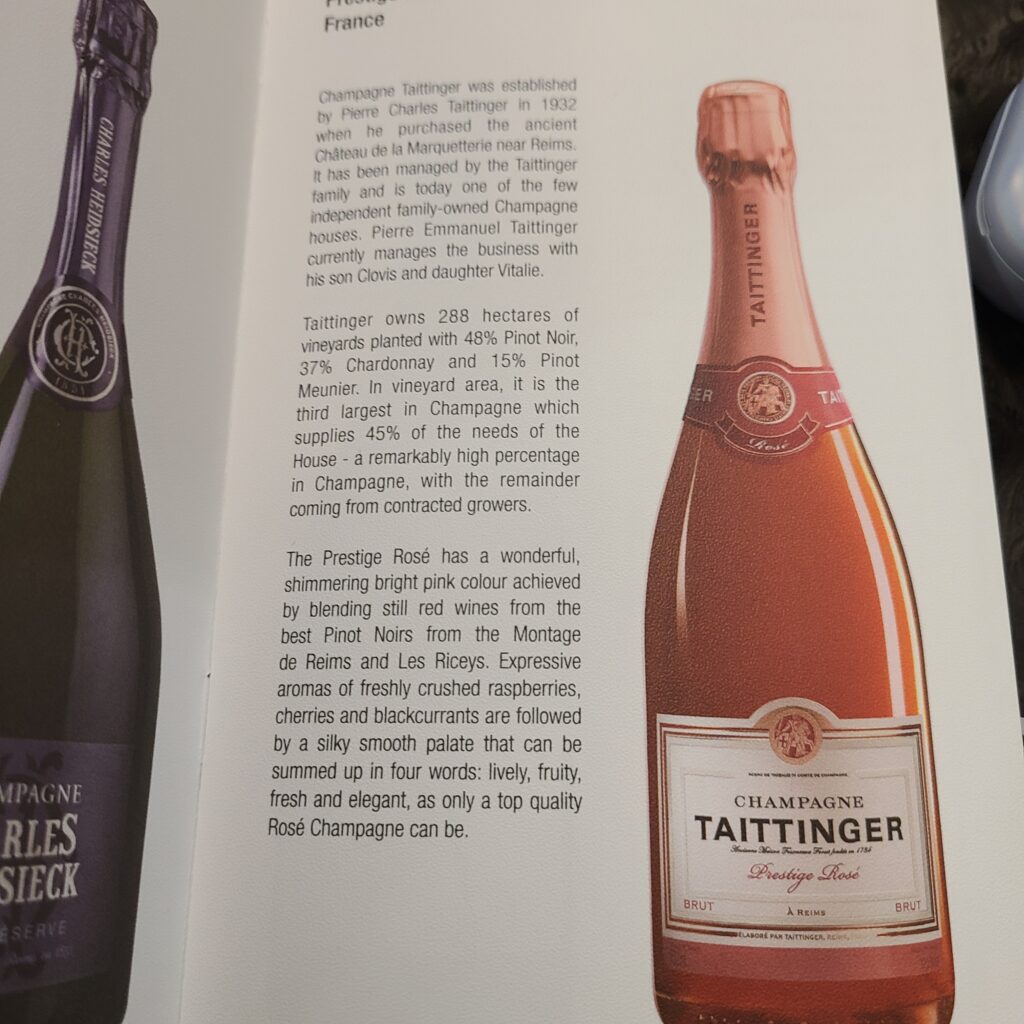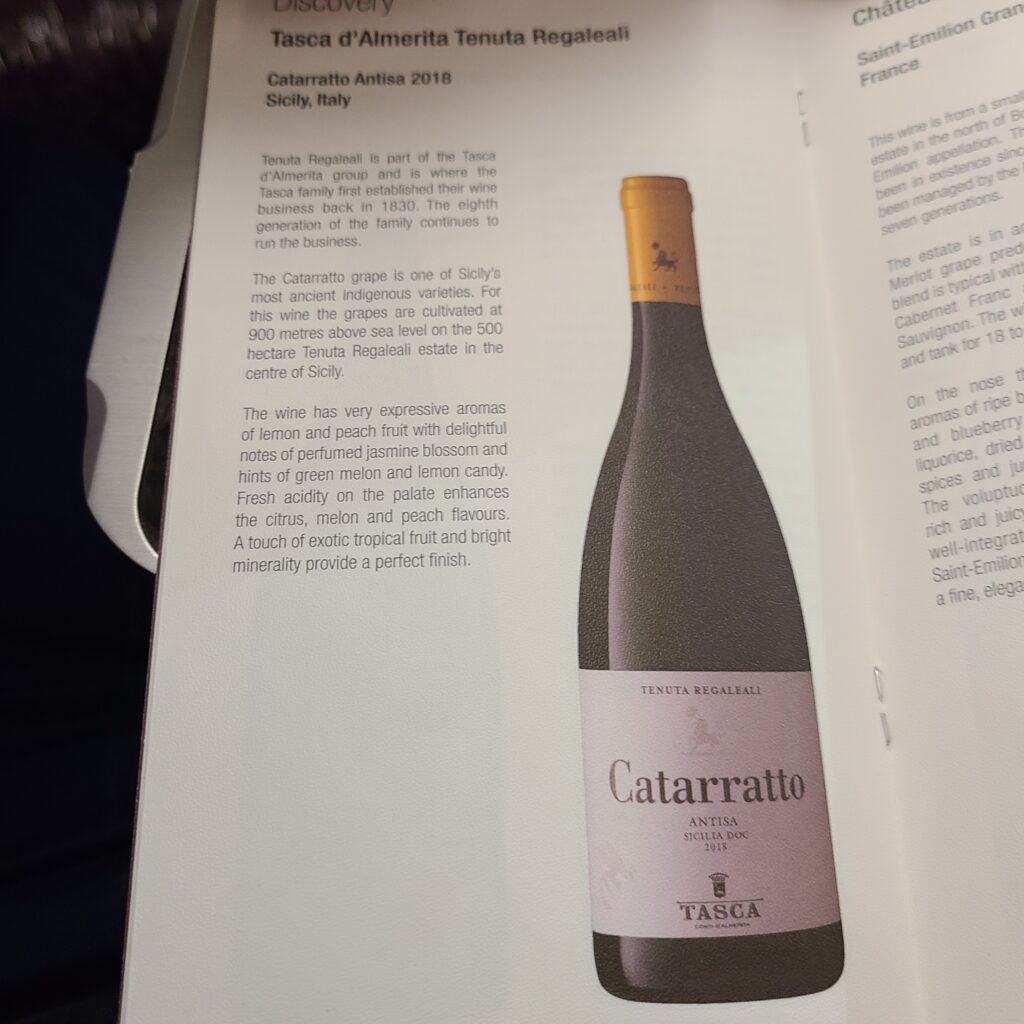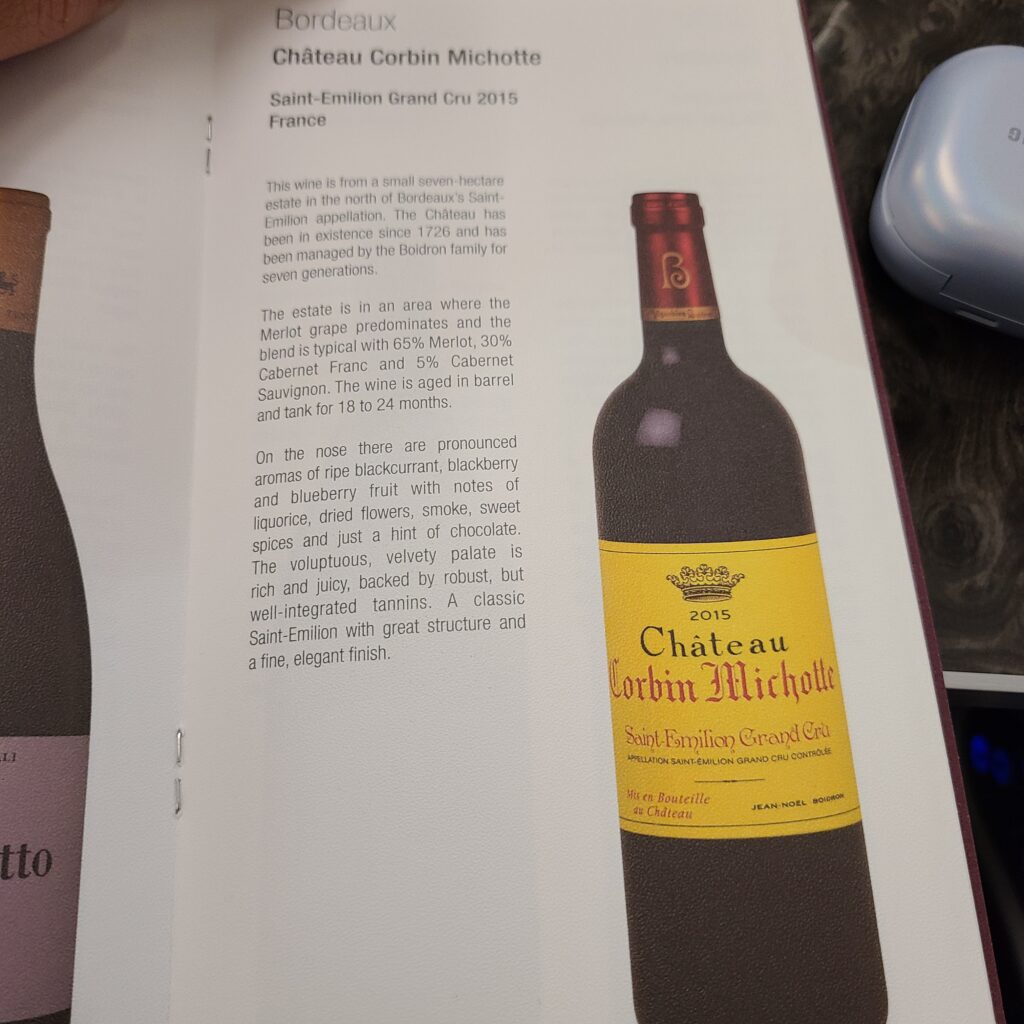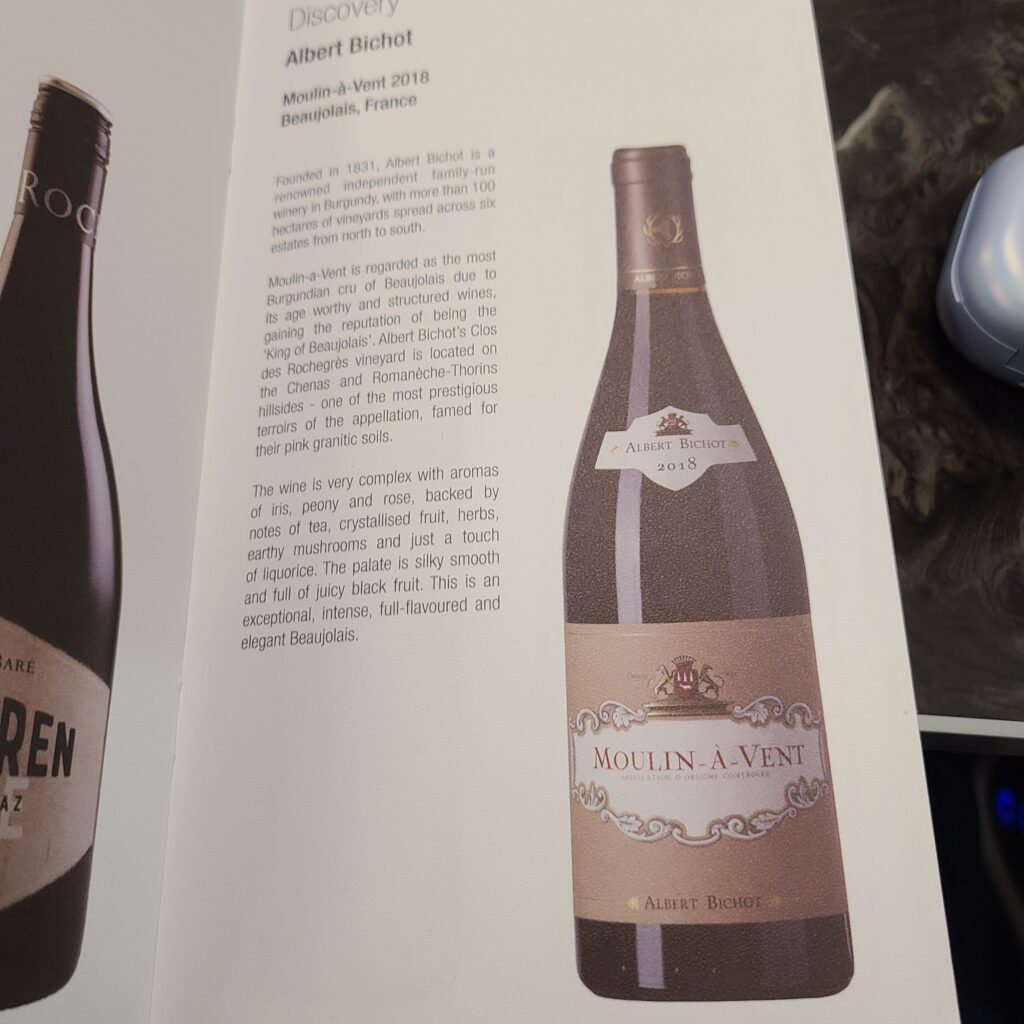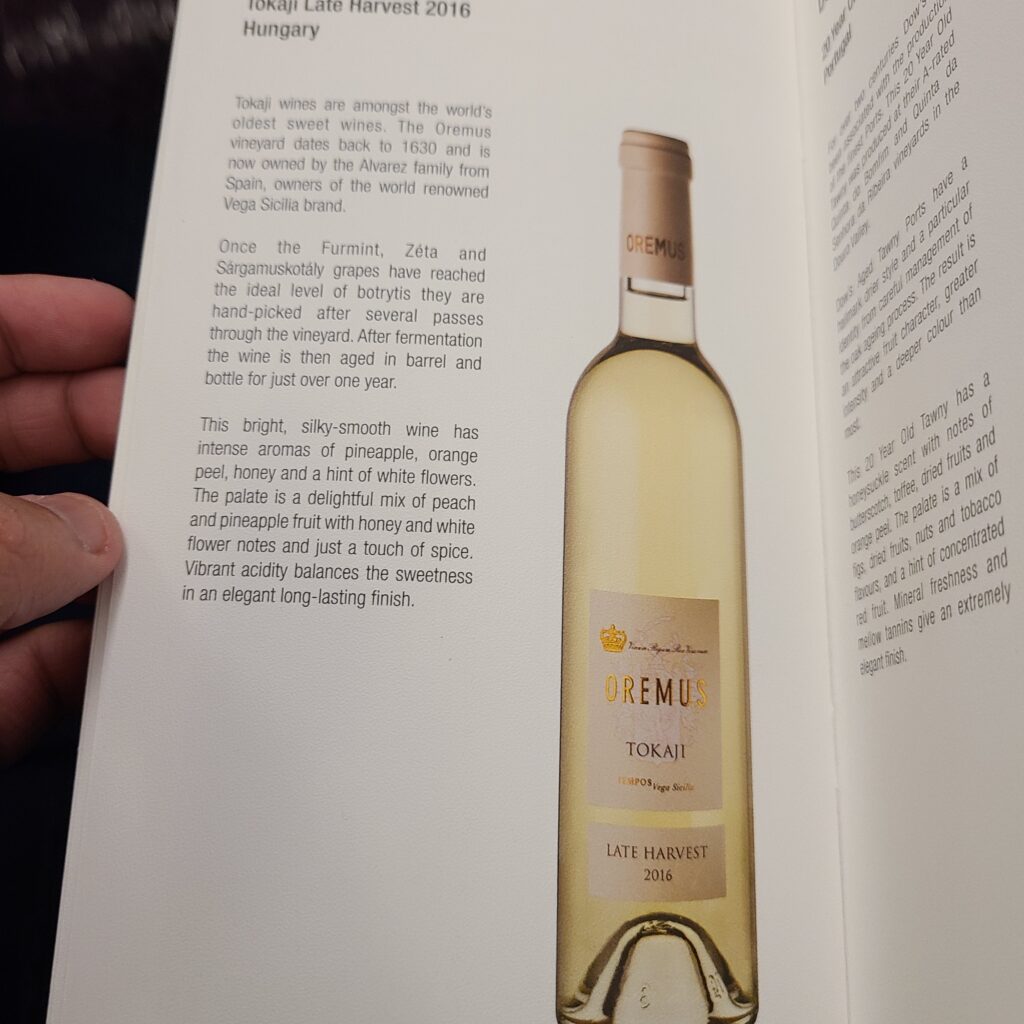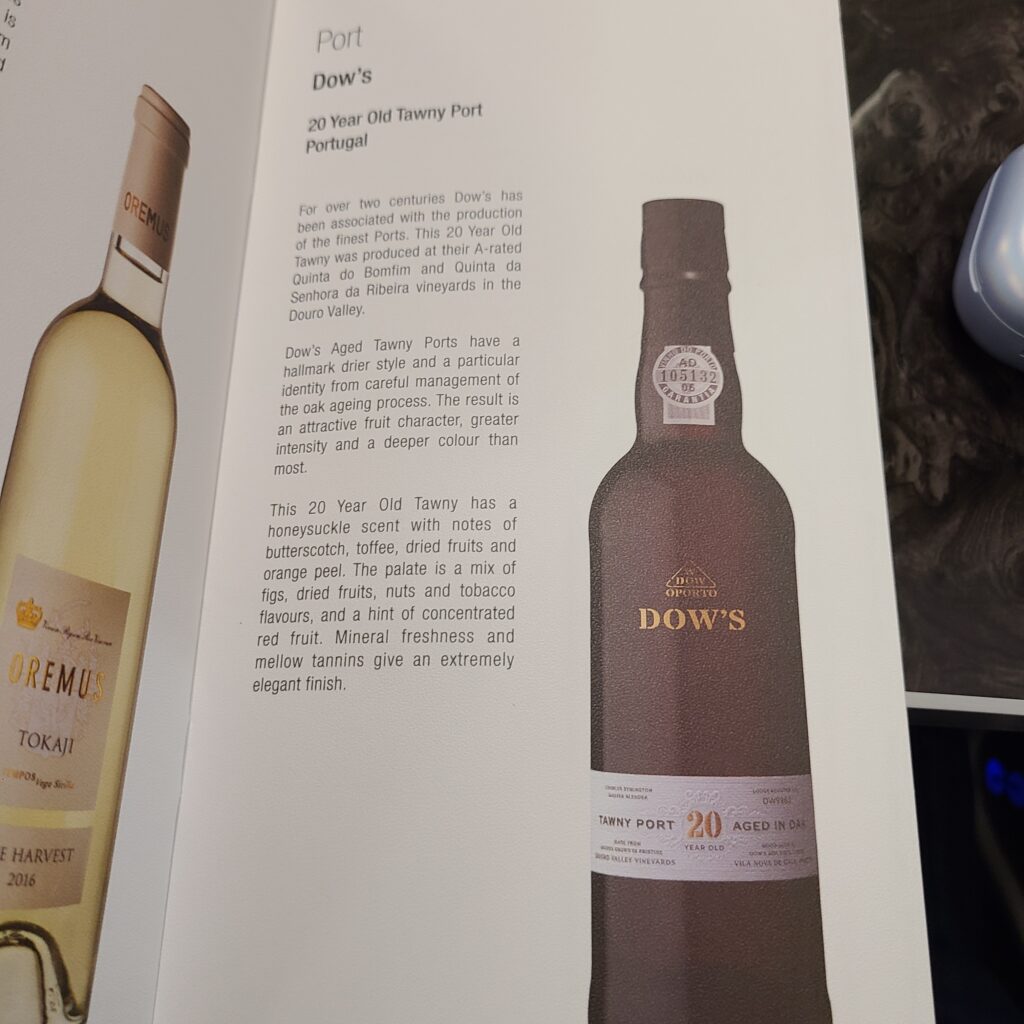 Qatar Airways Old Business Class A320 Entertainment
Since there's no screens installed on the back of the seats, they're inside the arm seat on the left. The Oryx One headphones are decently comfortable to use. Safety video was played on screens on the bulkhead, and they played a special version of the FIFA 2022 that you can see here.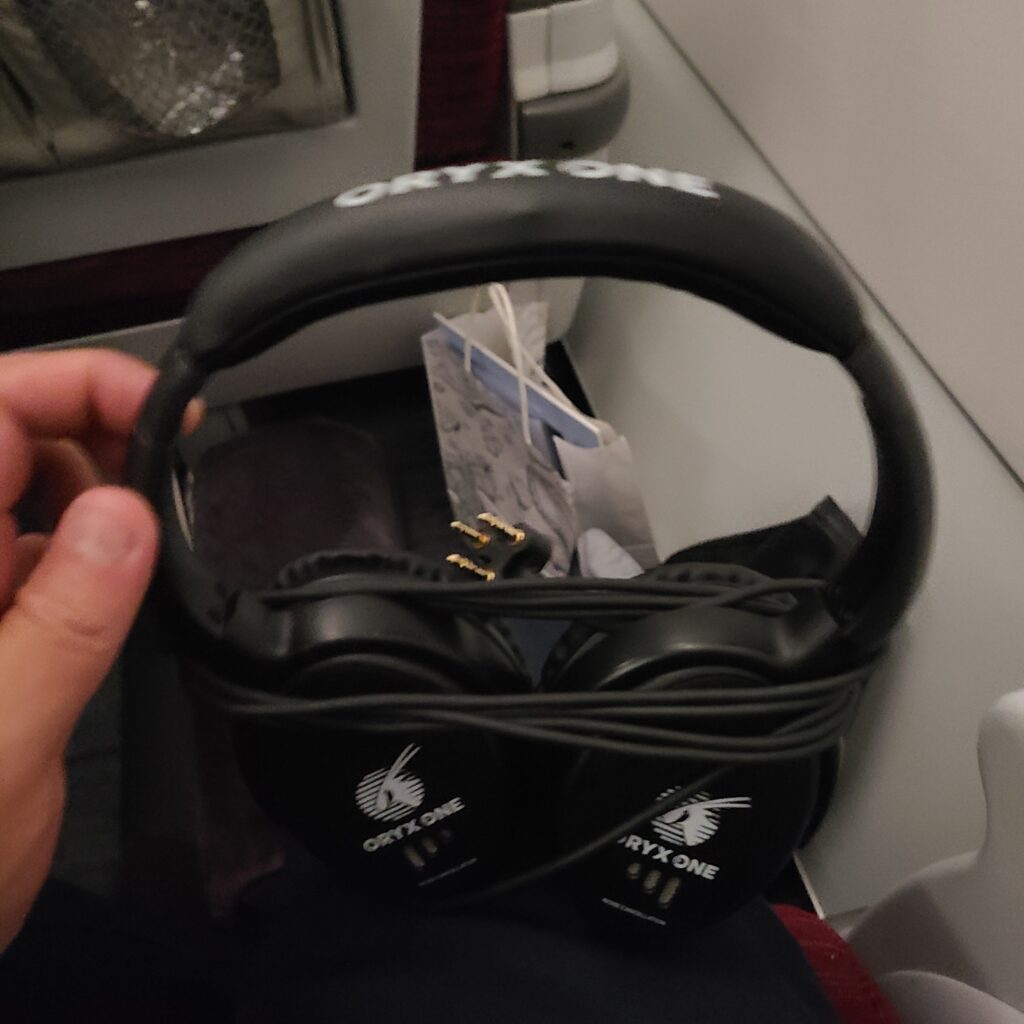 The screens are small and the resolution isn't as sharp as today's standards (which makes sense). The touchscreen sensitivity was strange in that I needed to press really hard on the middle to select things, but got oversensitive at the corners.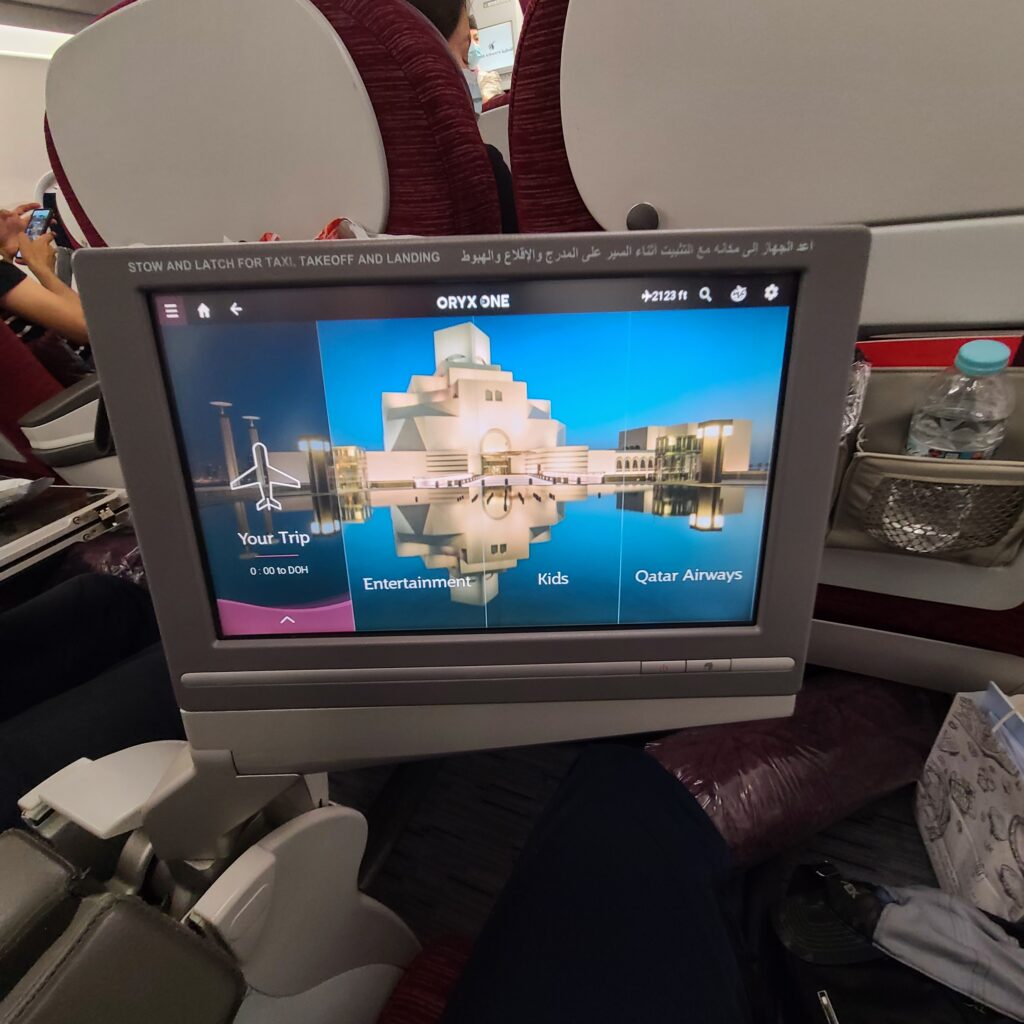 The movies selection are good mix of modern releases and classics.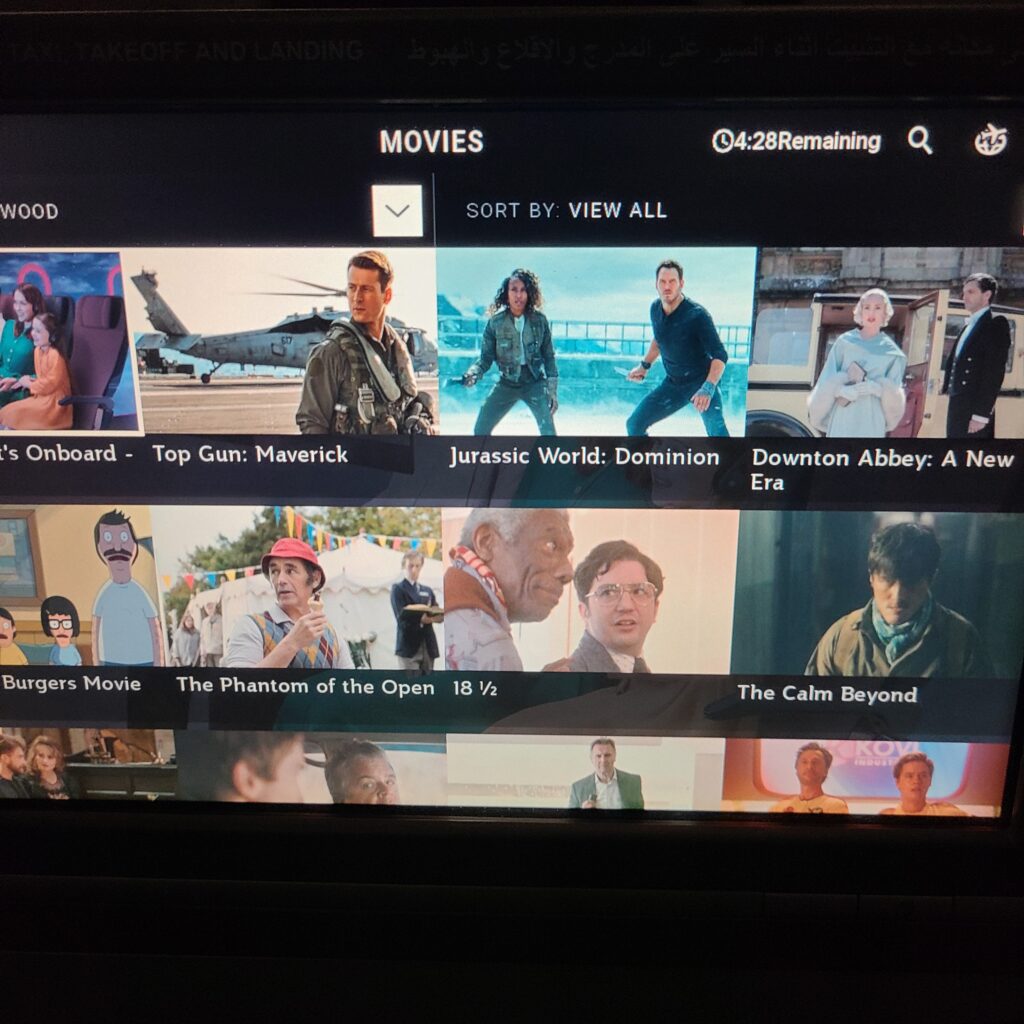 I'm generally not a fan of these screens that you'd have to open inside the seat as the space would get cumbersome, especially during meal time, and when the flight attendants would clear up your plates after you're done eating since the screen blocks. It felt too much of a clutter with the small tray table, headphone cable, and the glass that you'd need to watch out for so you don't spill anything.
Qatar Airways Old Business Class A320- Lavatory
The lavatory is not too interesting, but it ended up becoming special for me as it really emphasized the lava in lavatory.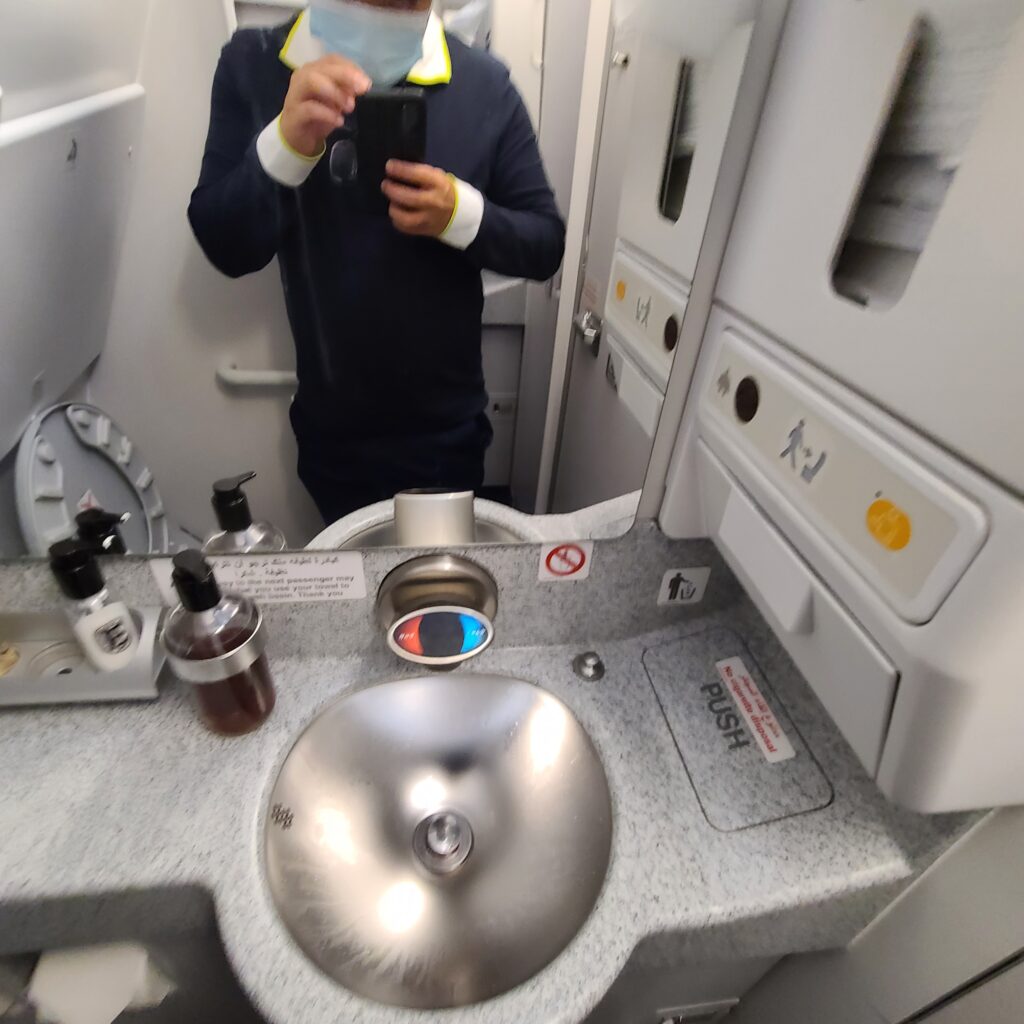 The toiletries are issued by Dyptique, which Qatar Airways provide for their amenity kits as well.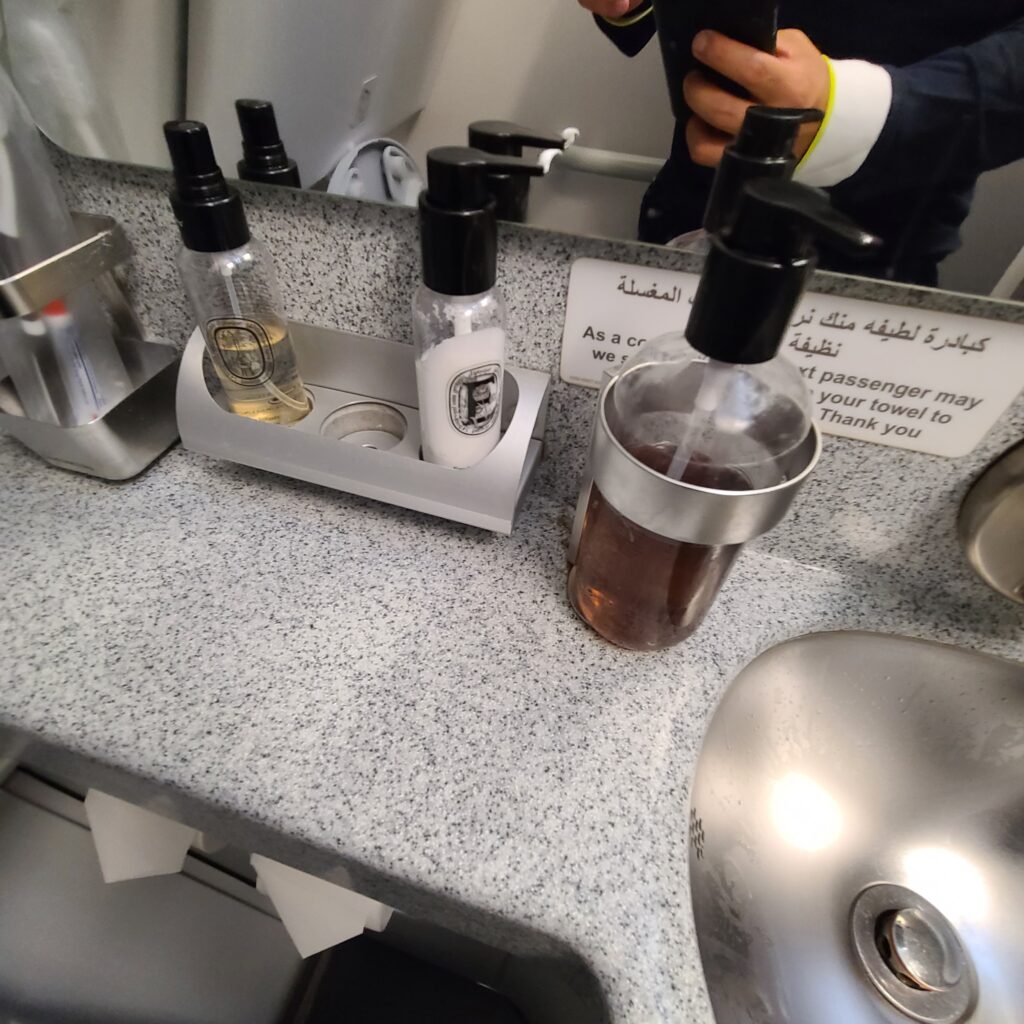 Conclusion
While I didn't have a first good experience with Qatar Airways because of the food poisoning, I can't exactly put a blame on them since food poisoning is tricky to pinpoint so I'll just leave it to bad luck. Outside of my misfortunes, I didn't exactly like the hard product of the seat, even though I already had expectations beforehand. But, as it was just the first leg before the QSuites, it was fine. But as a standalone flight, I would've been fine with Economy Class if I'd pay in cash or didn't have enough miles for a Business Class.
Overall Rating