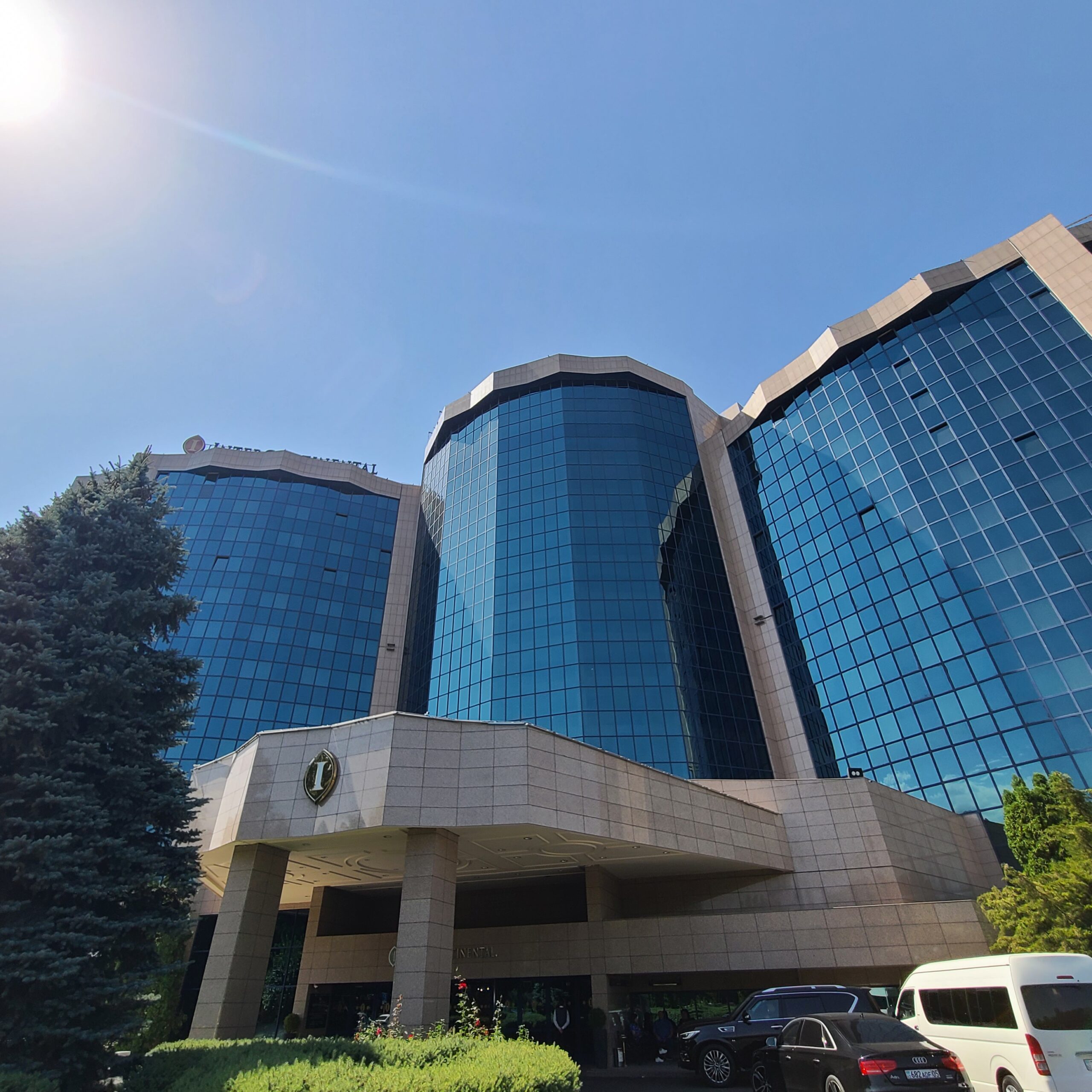 Advertiser disclosure: This post may include affiliate links (including sidebar banners) in which this site may receive compensation if a purchase is successfully made (at no extra cost to you) after being redirected from here. Thank you for your support!
Review: InterContinental Almaty (2022) [Kazakhstan]
My first few nights in Almaty start at the InterContinental Almaty, an IHG Hotel after spending a few days in Kazakhstan's current capital Astana. It'd be my first time in an InterContinental Hotel, and trying out what the IHG program has to offer.
InterContinental Almaty- Booking
I booked 2 nights at this hotel at an average rate of 25,500 IHG points per night for the standard room, totaling to 51,000 IHG points redeemed. The total cash rate during my stay would've been $384 including taxes. So, it's a redemption value of ~0.75 cents per point, which is good as I value each IHG points at 0.5 cents per point.
By being an IHG One Rewards member, you'll get the best rates for IHG hotels, earn points for future IHG hotel stays, build elite status & use elite status benefits, and more!
InterContinental Almaty- Location
InterContinental Almaty is sandwiched between downtown Almaty and Kok-Tobe mountain. The location is great to feel a blend between modern and Soviet feels that pretty much describes the city of Almaty. Food options nearby are plentiful as there are malls and eateries within a walking distance. To venture further in Almaty, it's easy and cheap to do so with Yandex Go taxis. Yandex Go conveniently accepts Visa/MasterCard as payment options in Almaty.
InterContinental Almaty- Check-in
I arrived at the hotel at around 6pm from Almaty International Airport (ALA). The ride took around 30 minutes with congested traffic in Almaty's airport. I entered the hotel through a revolving door and into the metal detector.Surprisingly, there was no bellhop that assisted me with my luggage since I'd expect one at a hotel of this caliber.
The lobby is located on the base of a beautiful atrium with palm trees and elevators moving up and down. It feels like a trip down memory lane!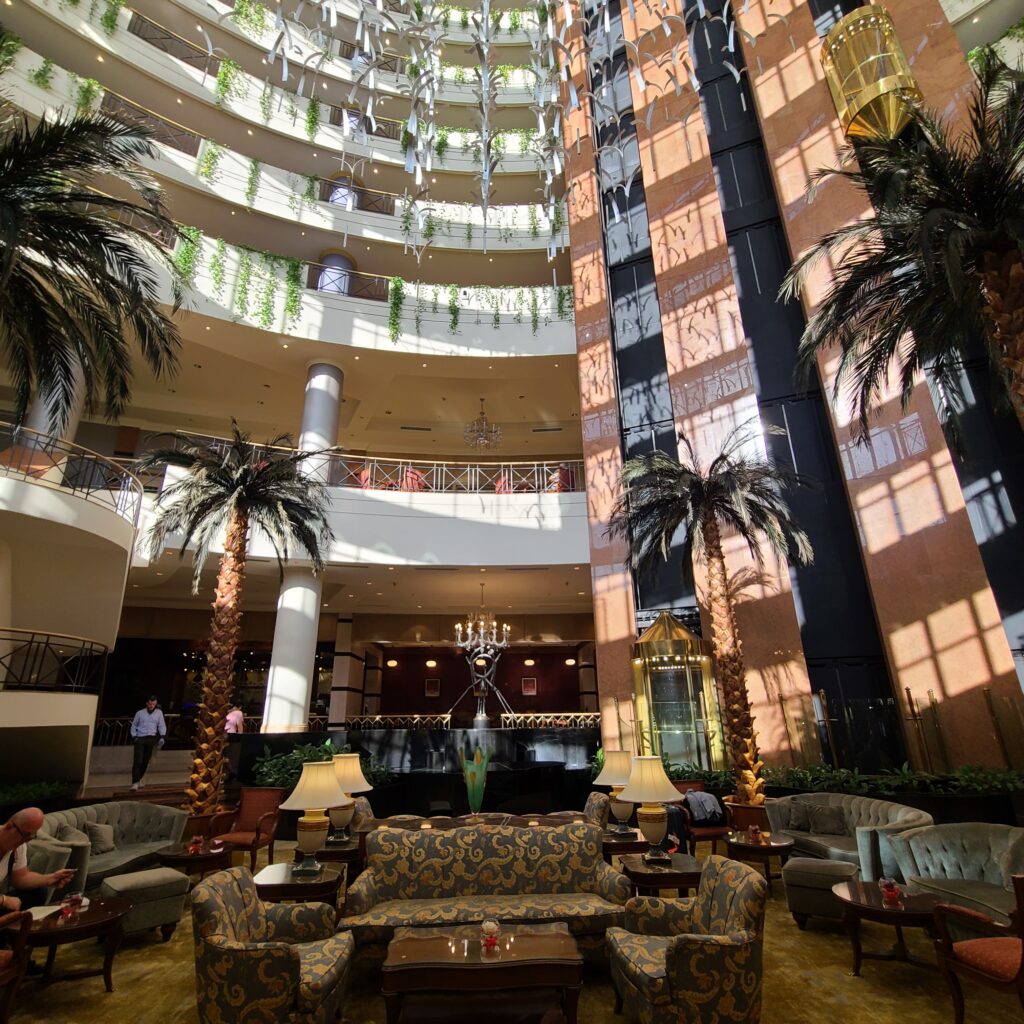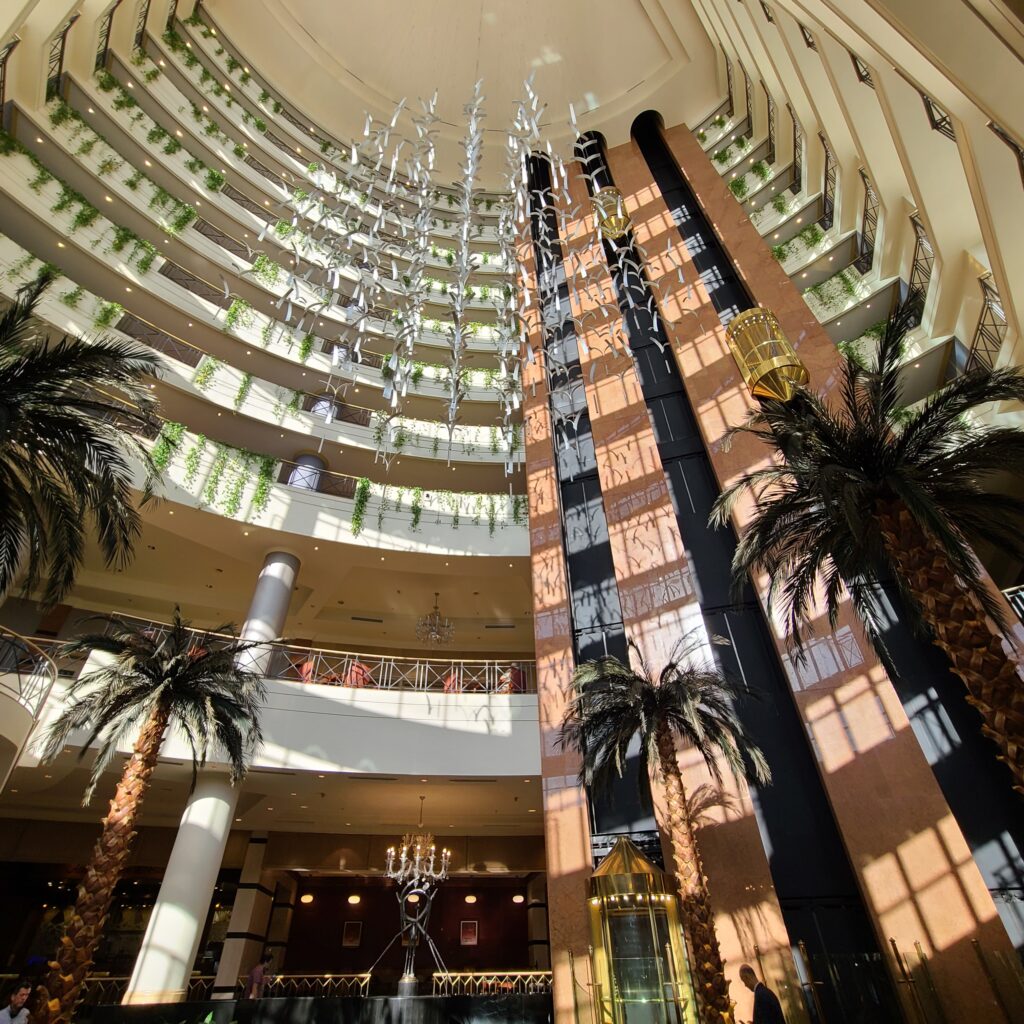 I was informed that I'd be upgraded to the Club Room at the 8th floor because of my IHG Platinum status that I got from the Chase IHG Premier Business Card. Unfortunately, getting upgraded to a Club Room does not give access to the Club Lounge. Thus, it's just a fancy name for the standard room at a higher floor. I was granted a 2pm checkout after I asked thanks to IHG Platinum status.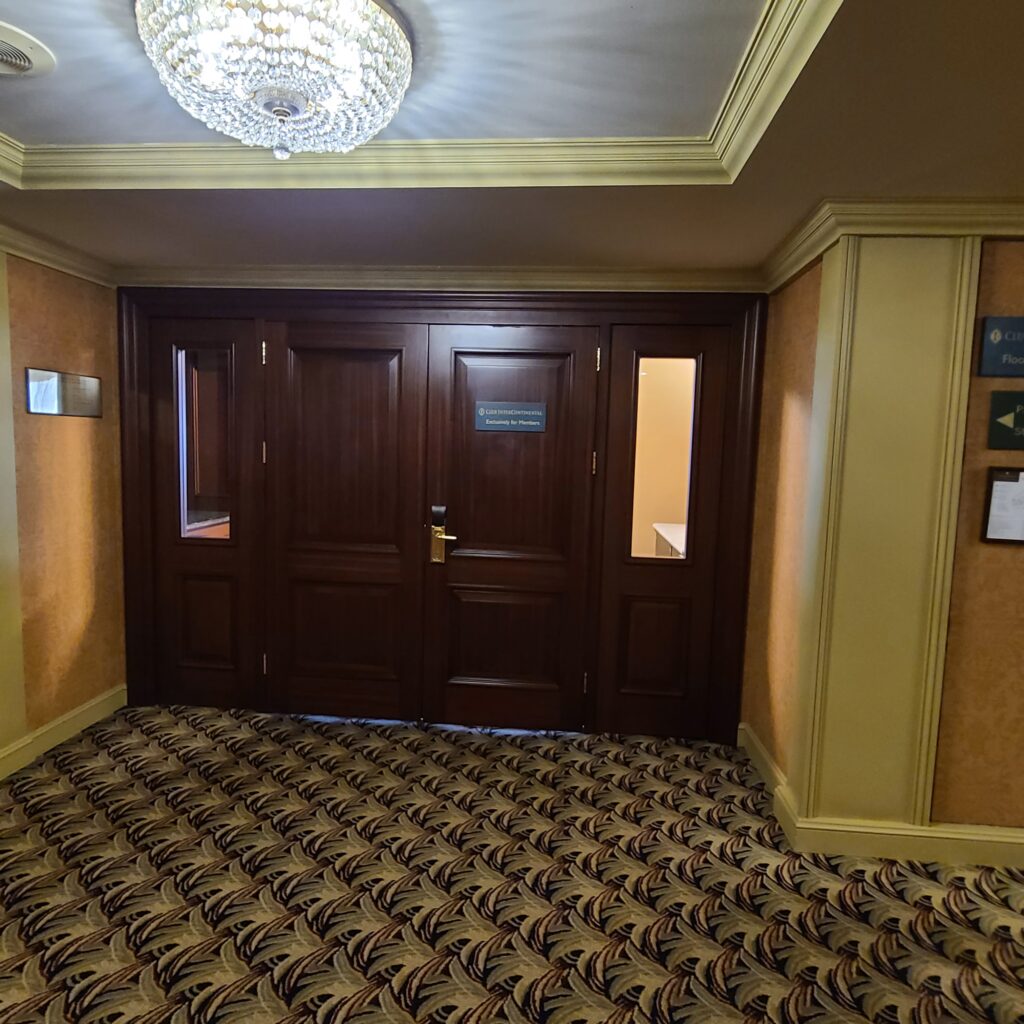 InterContinental Almaty- Club Room
I was assigned to the 8th floor, which is the highest floor for guest rooms of this hotel. Interesting how the bathrobe is plopped down on the bed instead of the closet or bathroom.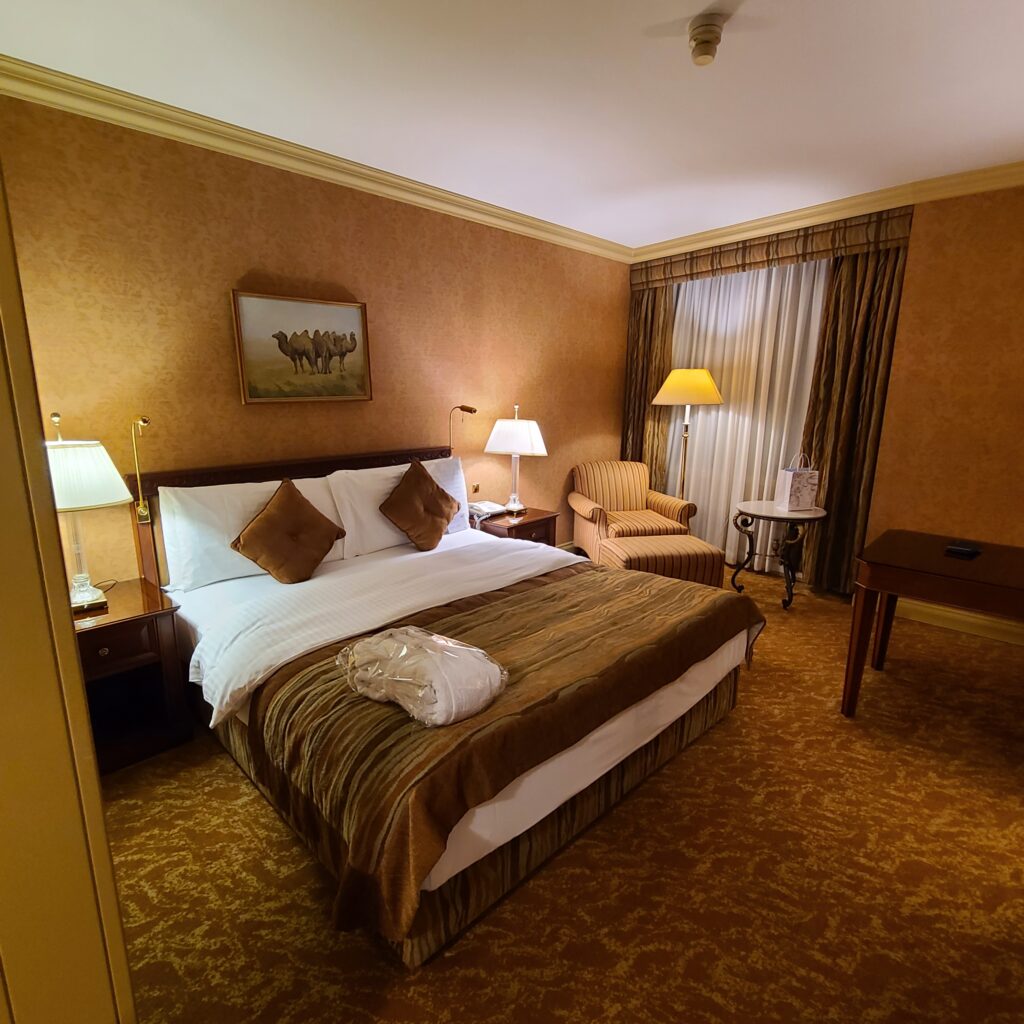 After getting spoiled in The St. Regis Astana and The Ritz-Carlton, Astana, I can't help but feel like having a downgraded experience at this hotel. To be fair, I probably shouldn't compare the InterContinental with both of those brands. But, since InterContinental is one of the top brands of IHG, I felt a bit letdown even though I did kind of expect it. The room feels very dated, and the brown colors on the furniture just exacerbate it.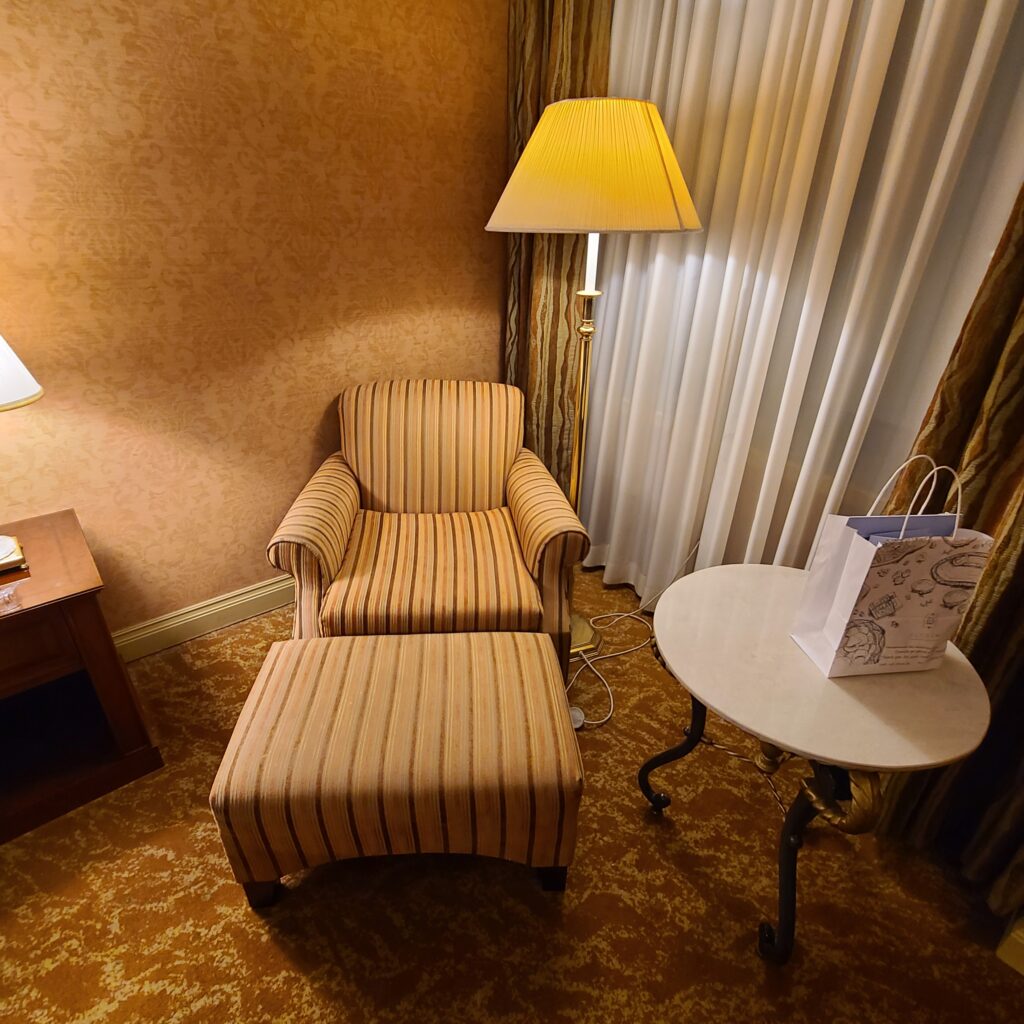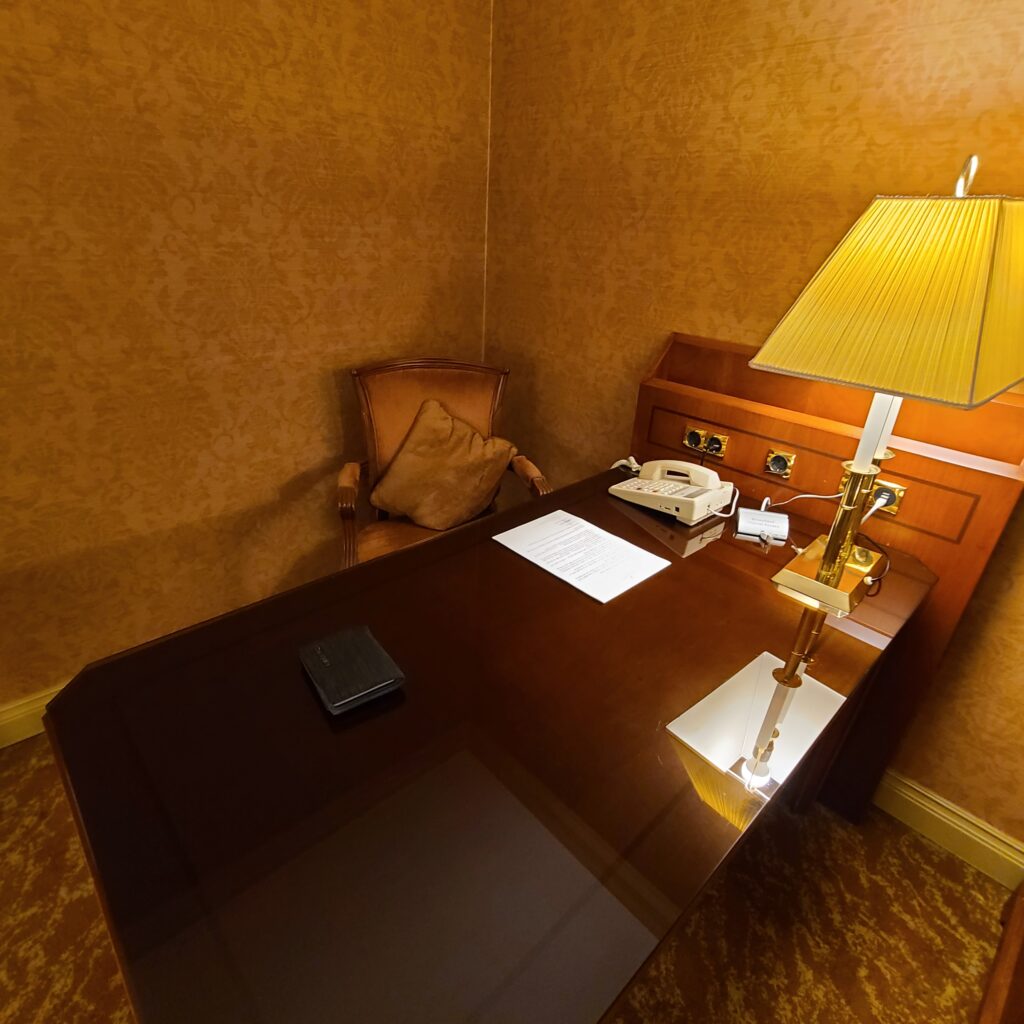 The view is quite nice though. The backdrop of the Tian Shan Mountains is just beautiful!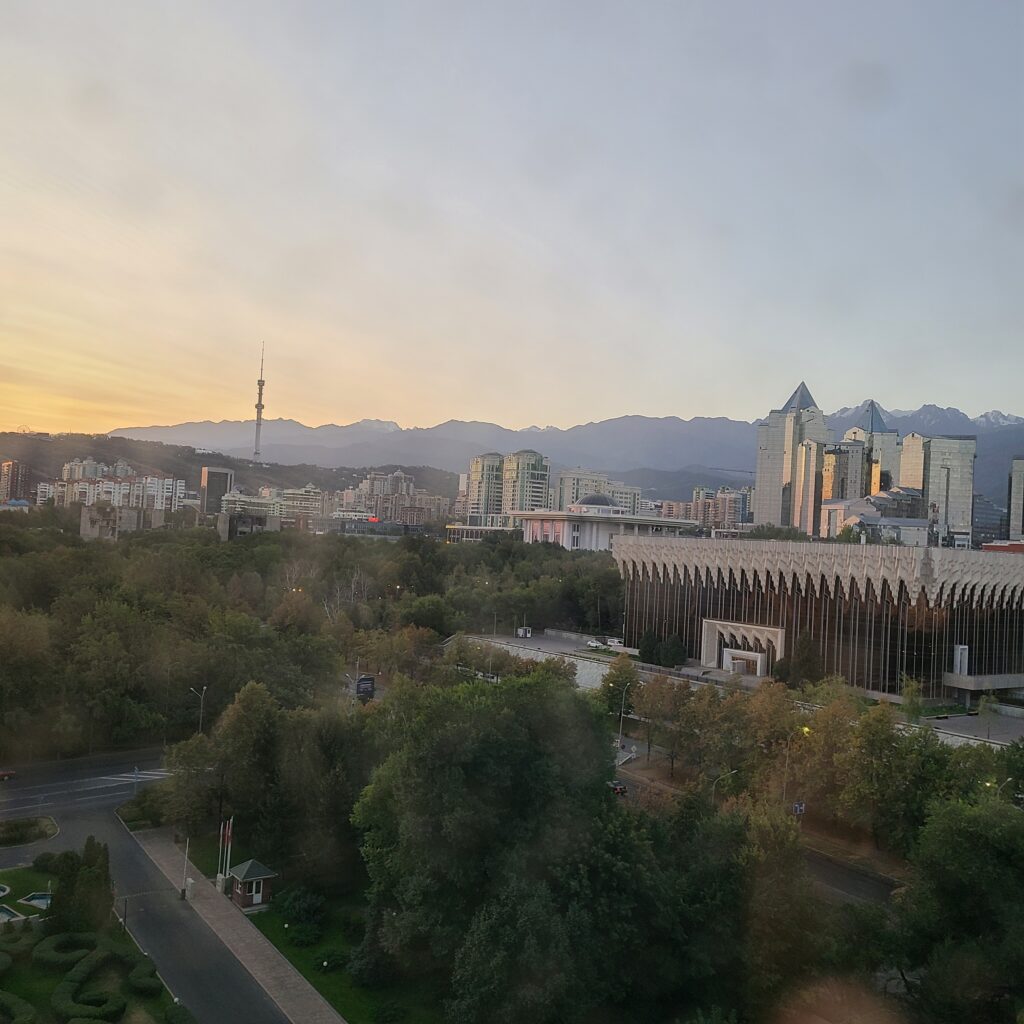 Here are some of the frustrating things about this room. First, there's no power outlet by the bedside end tables so there's no opportunity to me to be lazy on my bed while playing with my charging phone. And, the lighting rely solely on the covered lamps so it was difficult to find the right balance between too dim or too bright. In most cases, I found the room to be too dim. The brown colors just made it more depressing. There's no master switch that controls brightness or switch on/off the lights either. All lights spread are spread apart, and you'd have to manually switch them.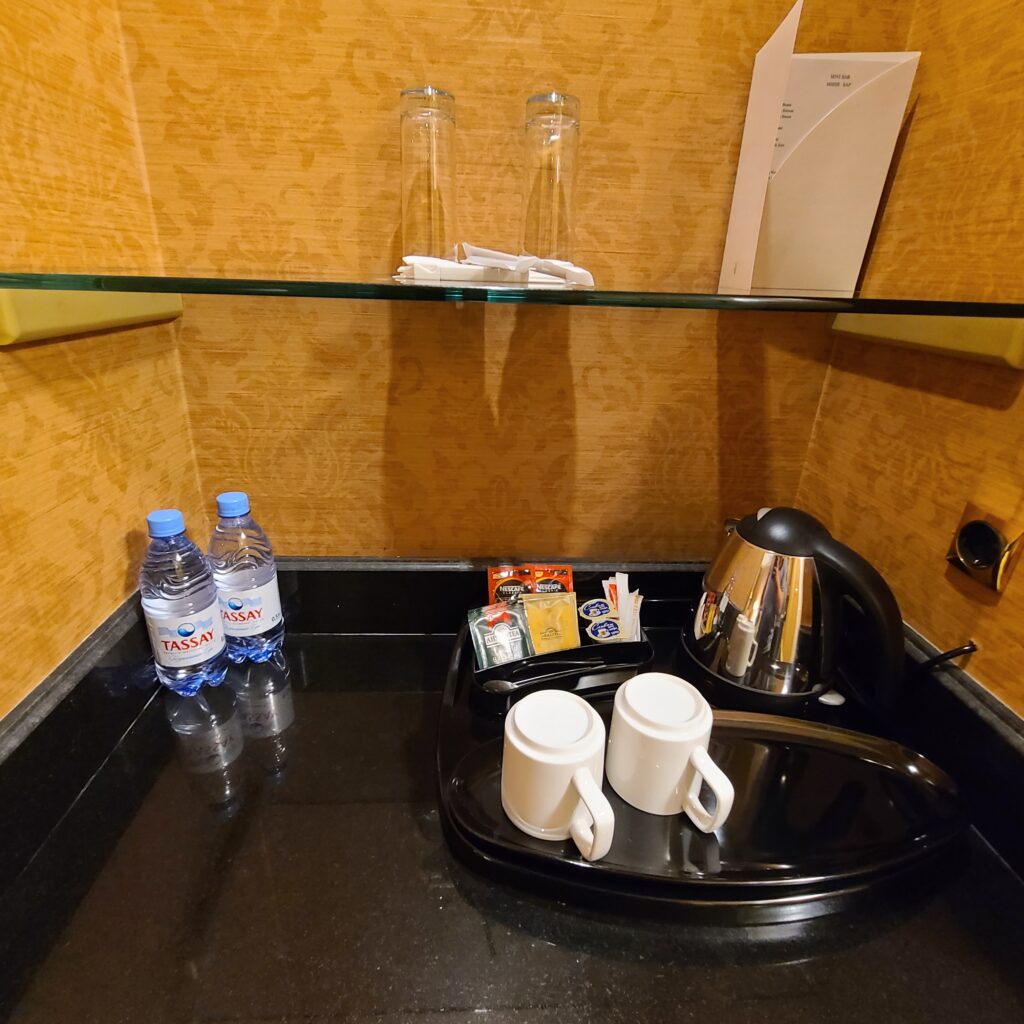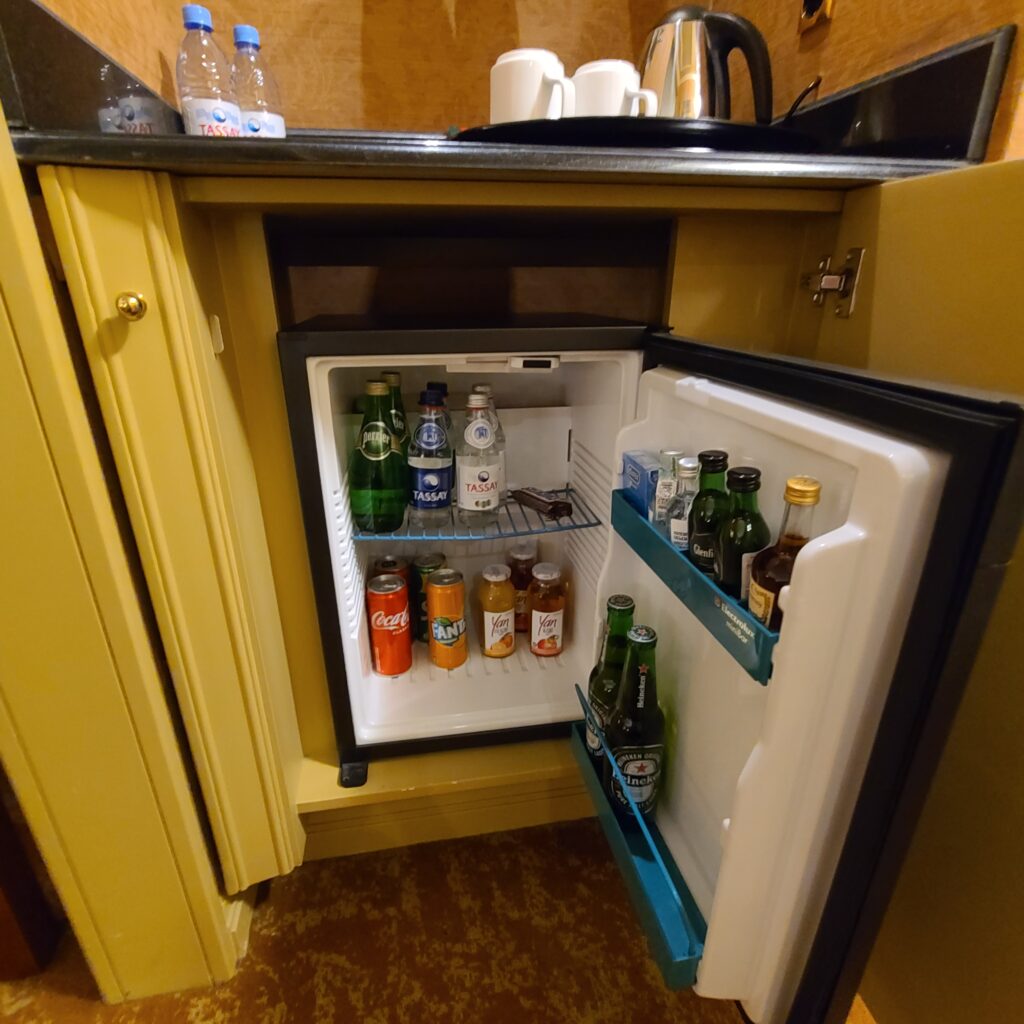 Pantry and minibar are by the entrance next to the closet. To be frank, I'd rather have an empty fridge so I can store outside food and drinks in.
A safe is inside the closet next to the entrance.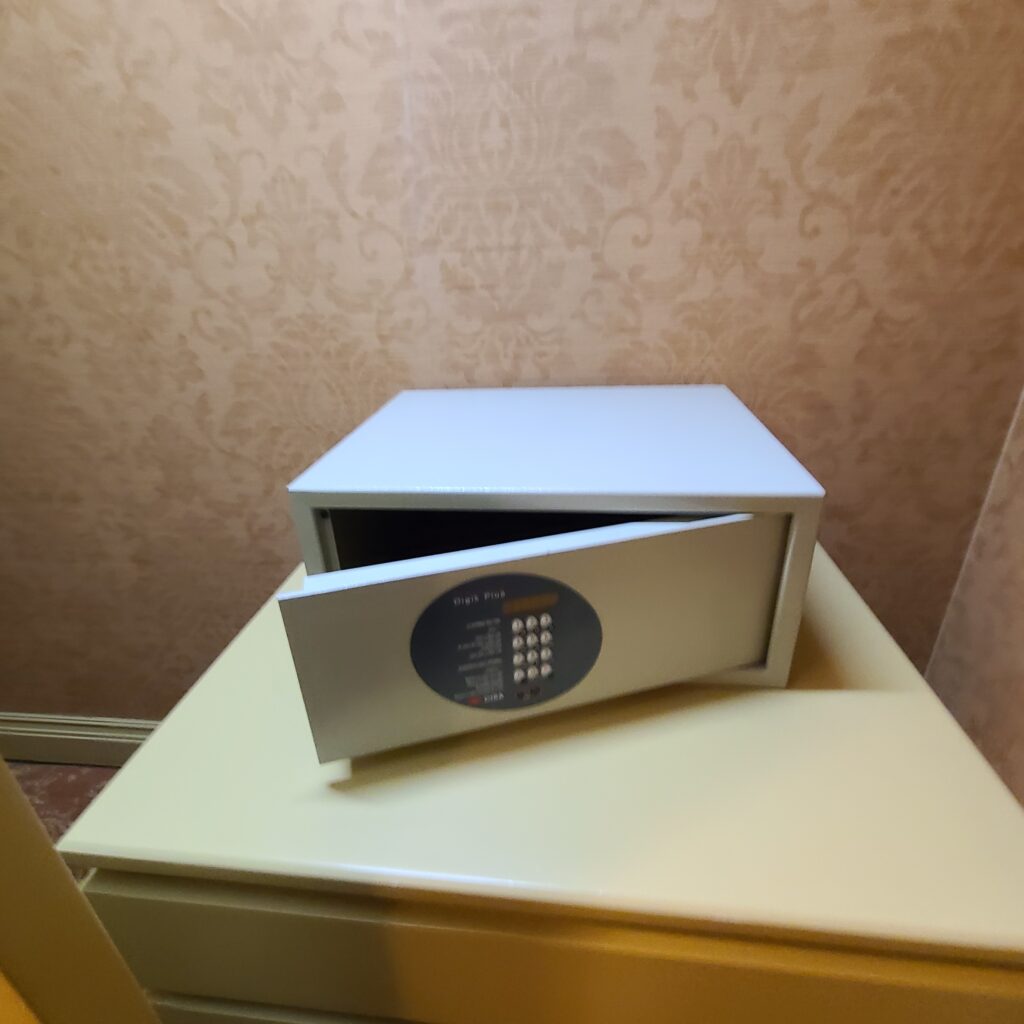 InterContinental Almaty Club Room Bathroom
Bathroom is decent and does its job with some quirks.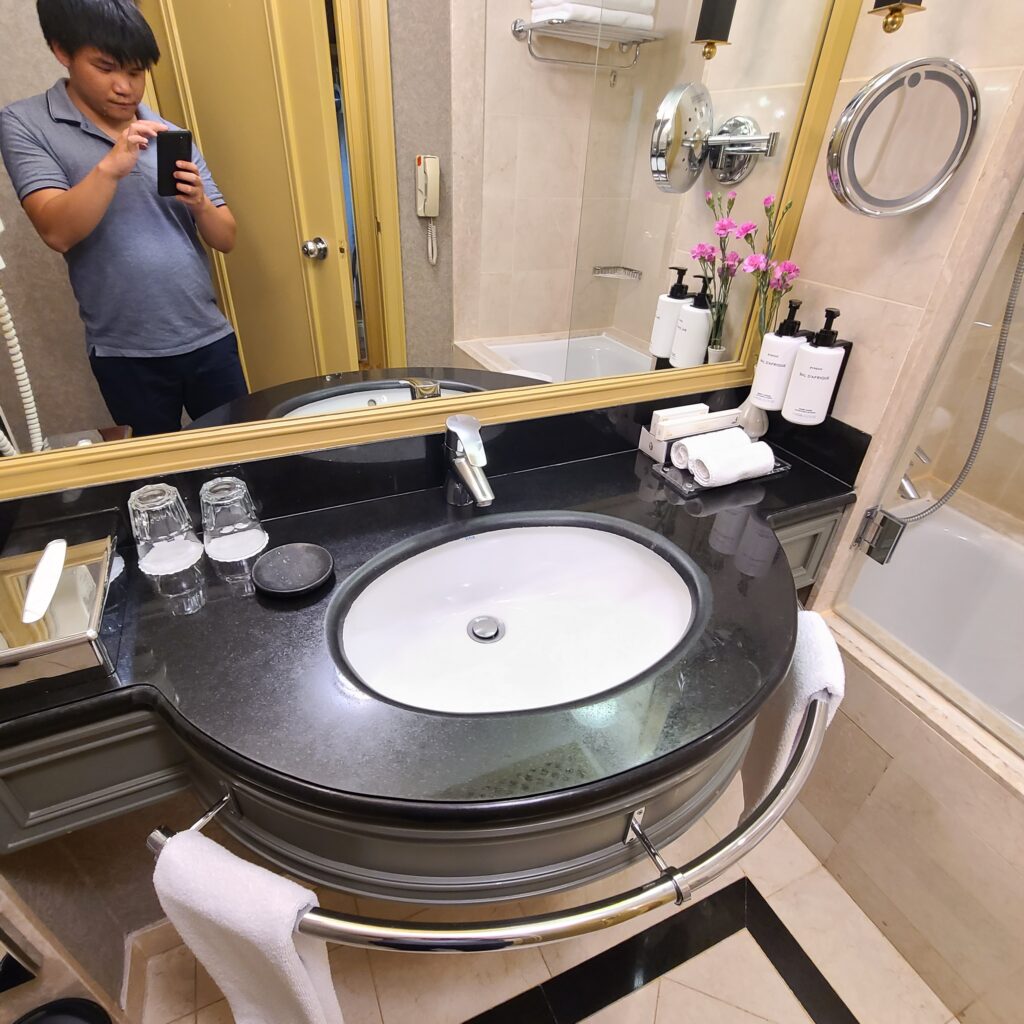 Dental kit is provided.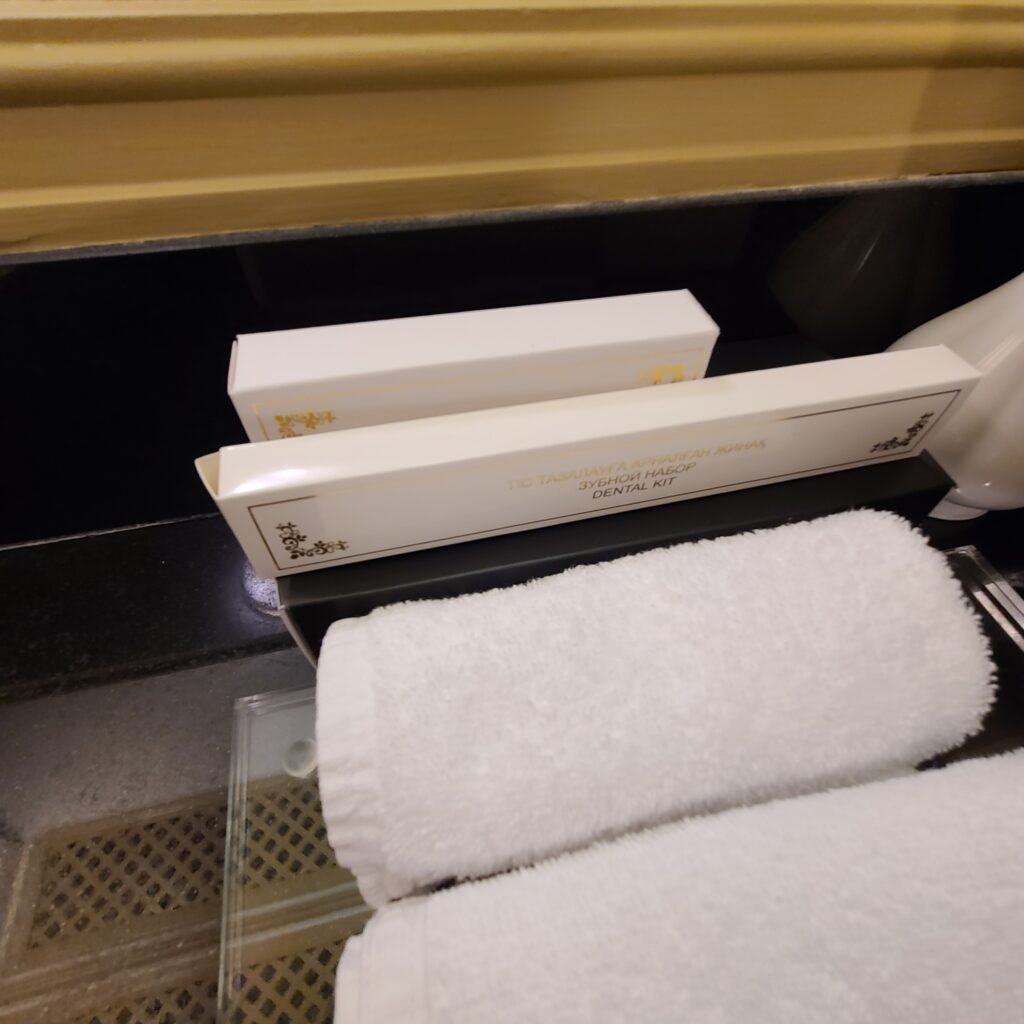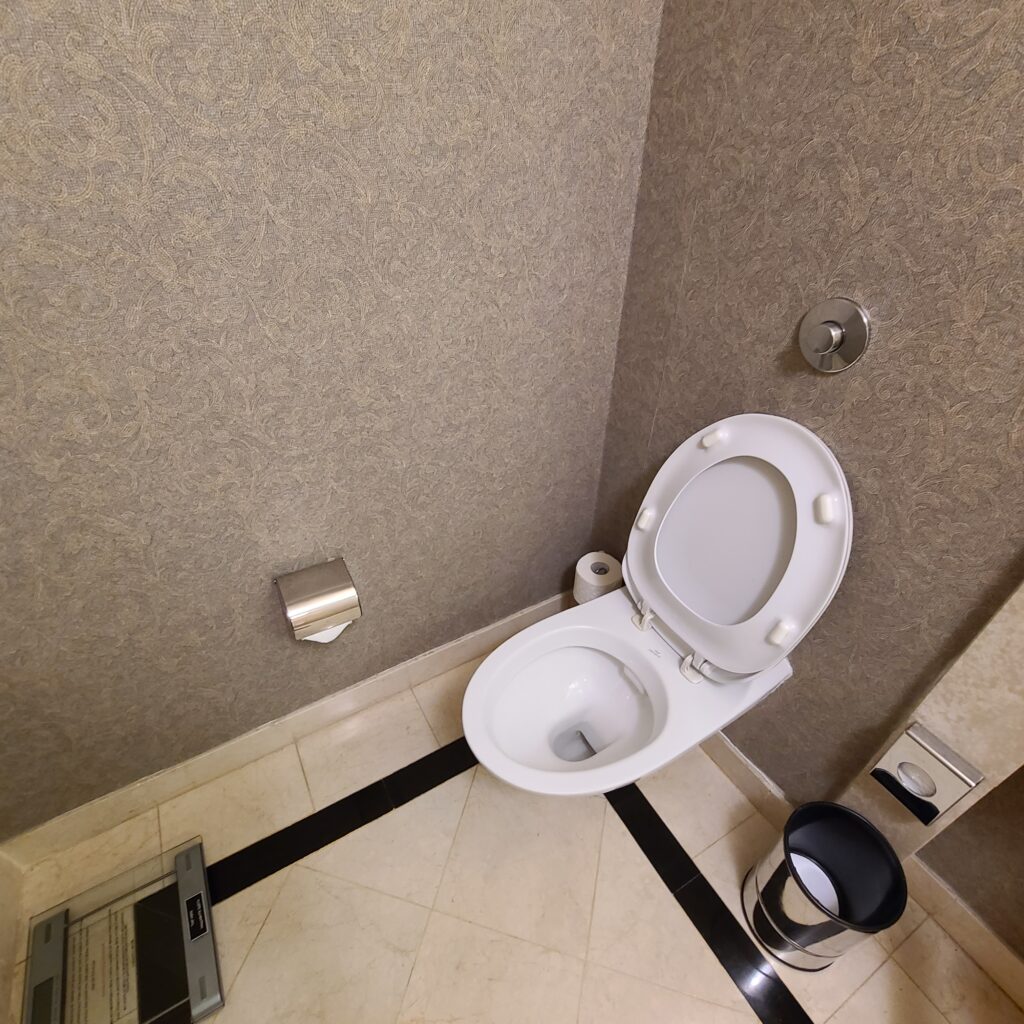 The shower head is disappointing with weak pressure, and should be upgraded. The glass barely covers half the tub too, so I got water splashing out each time I used the shower.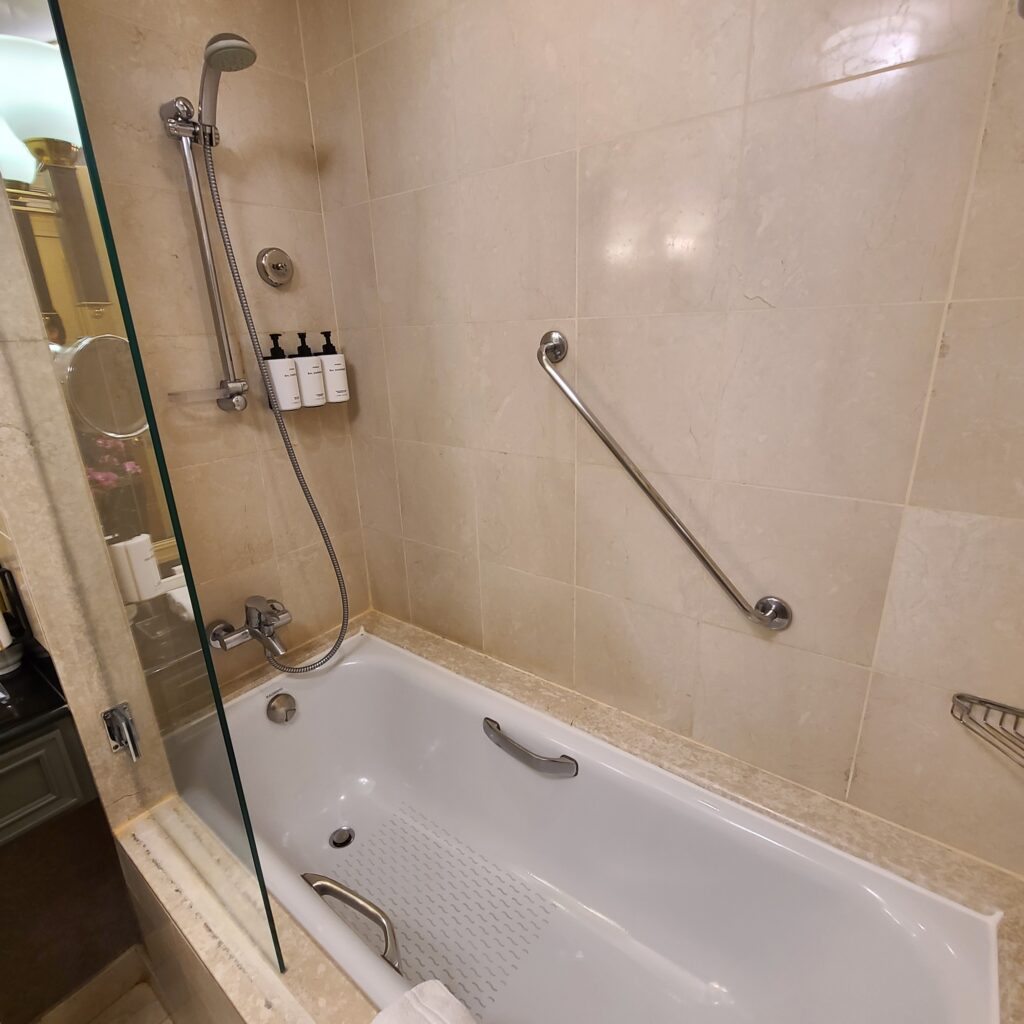 Bath amenities are Bal D'Afrique by Byredo, an InterContinental standard, which I think is quite nice. They come in dispensers instead of individual bottles. Too bad, I couldn't take some home with me!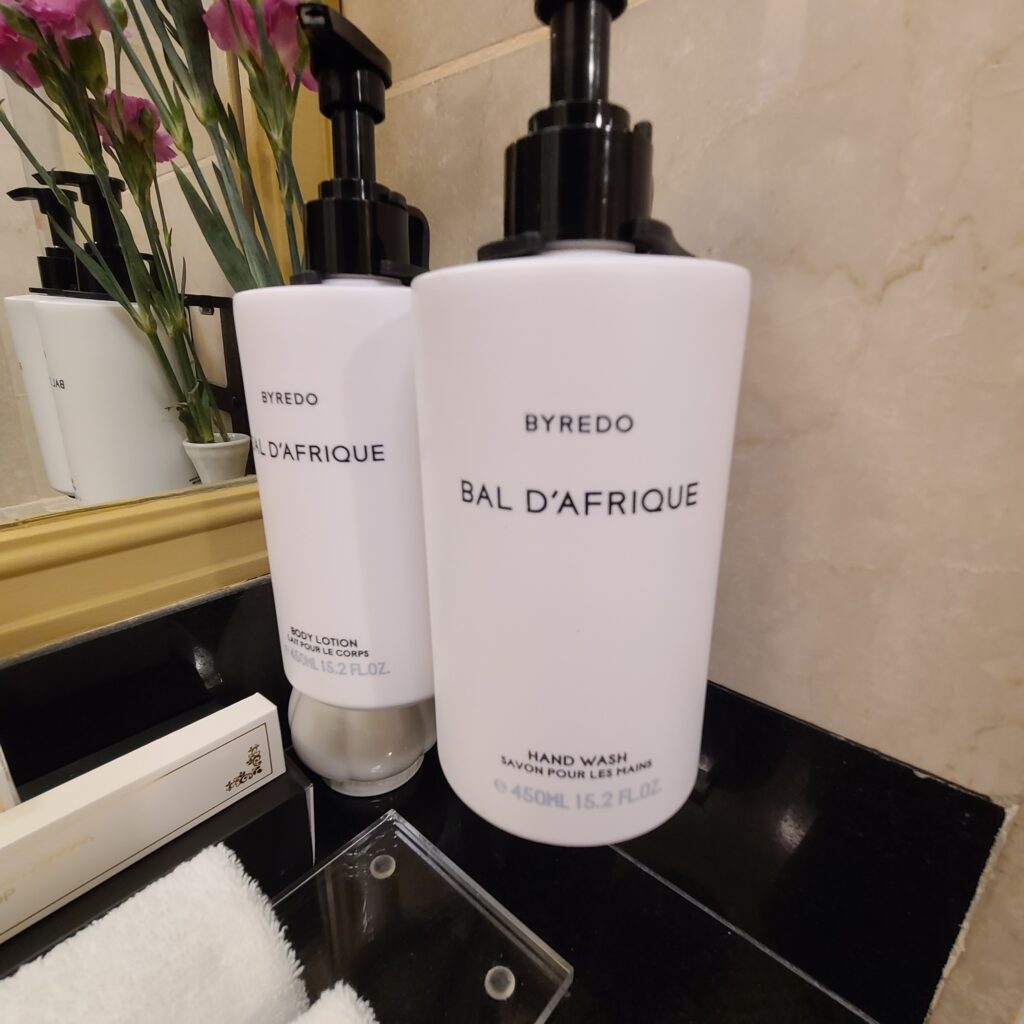 InterContinental Almaty- Breakfast
This hotel is the first in my Central Asia trip where I didn't get free breakfast, so it's a bit strange facing that reality :P. Nonetheless, I gave it a try for the review on the final day. Breakfast takes place at the Asian Cafe Restaurant on the ground floor. The price for the buffet breakfast is ~$24.50. While Almaty isn't as inexpensive as I thought, this is quite steep for Kazakhstan, but is to be expected considering the place operates in a multinational hotel chain.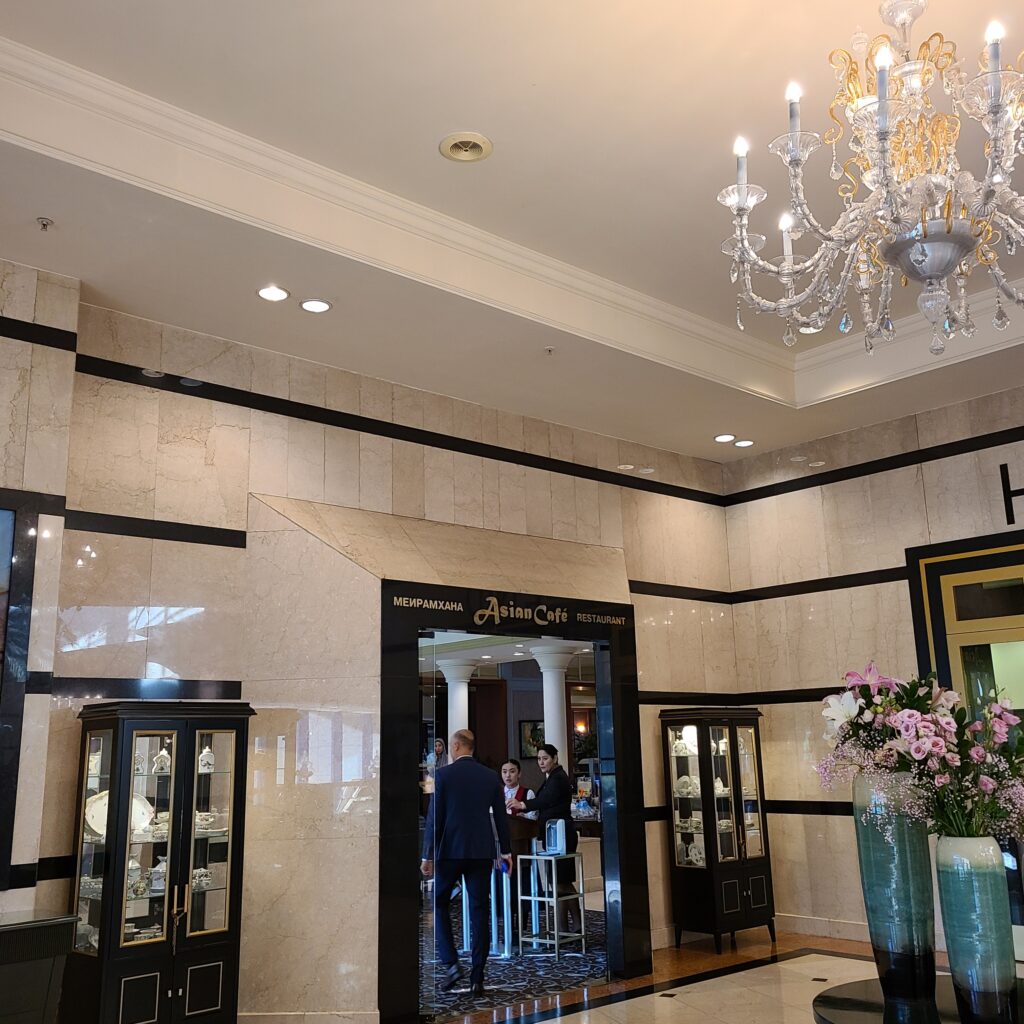 The food offering is quite large with western spread and a special Kazakh station with adorable decorations!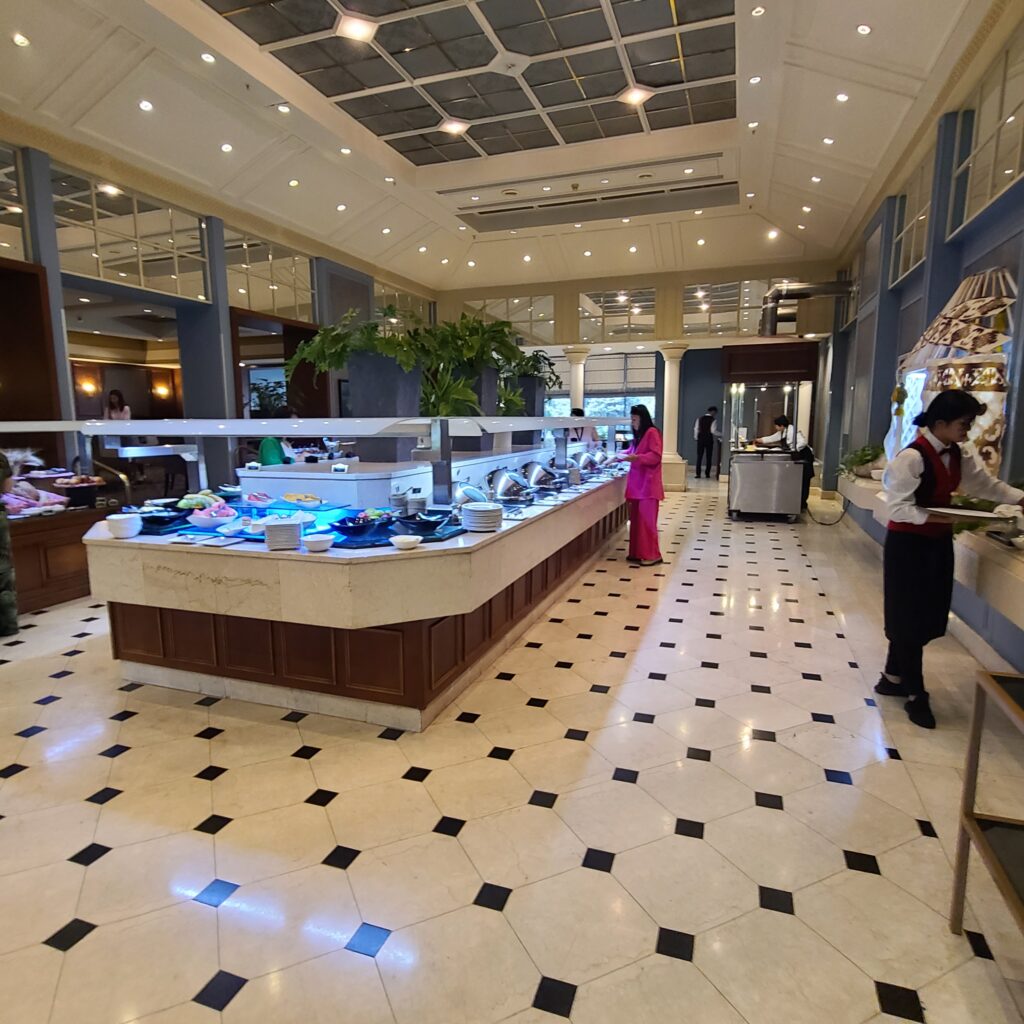 I love baursak, which is basically the Kazakh/Kyrgyz version of donut holes.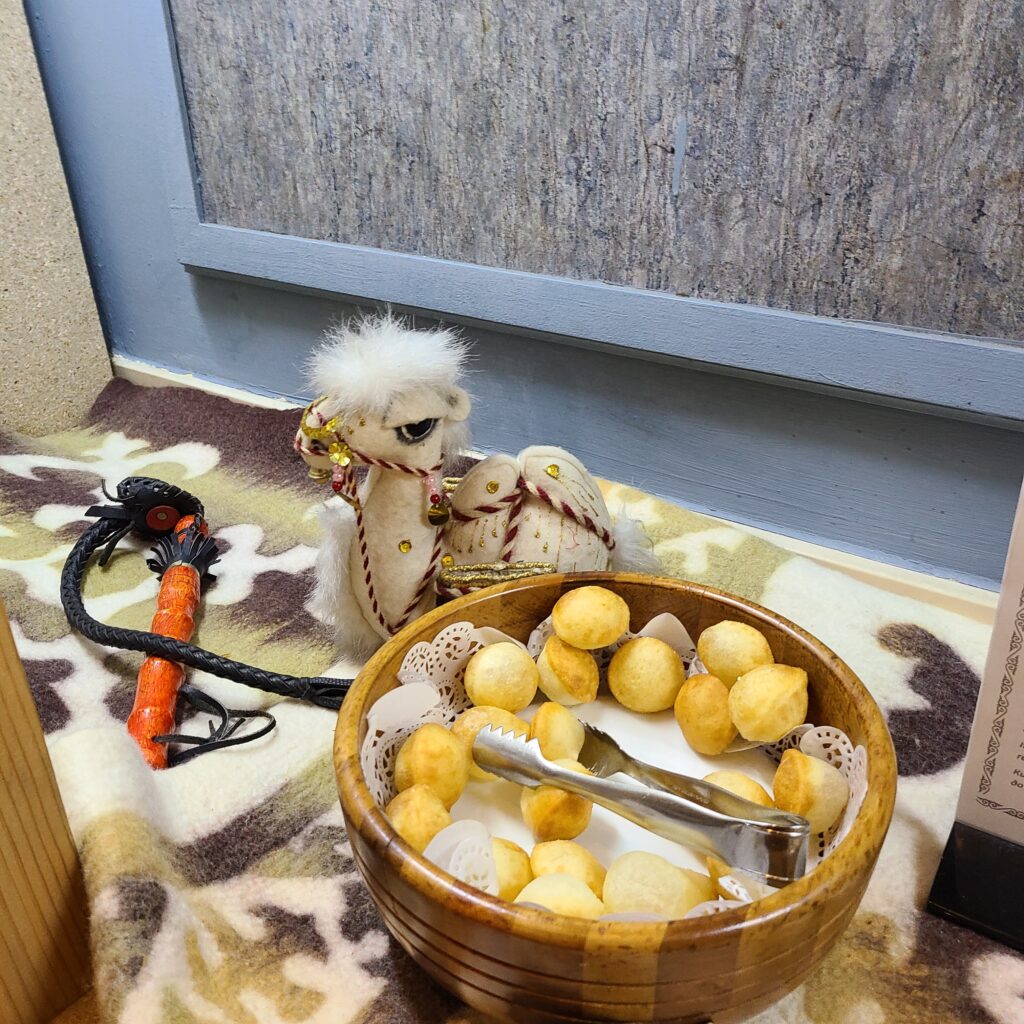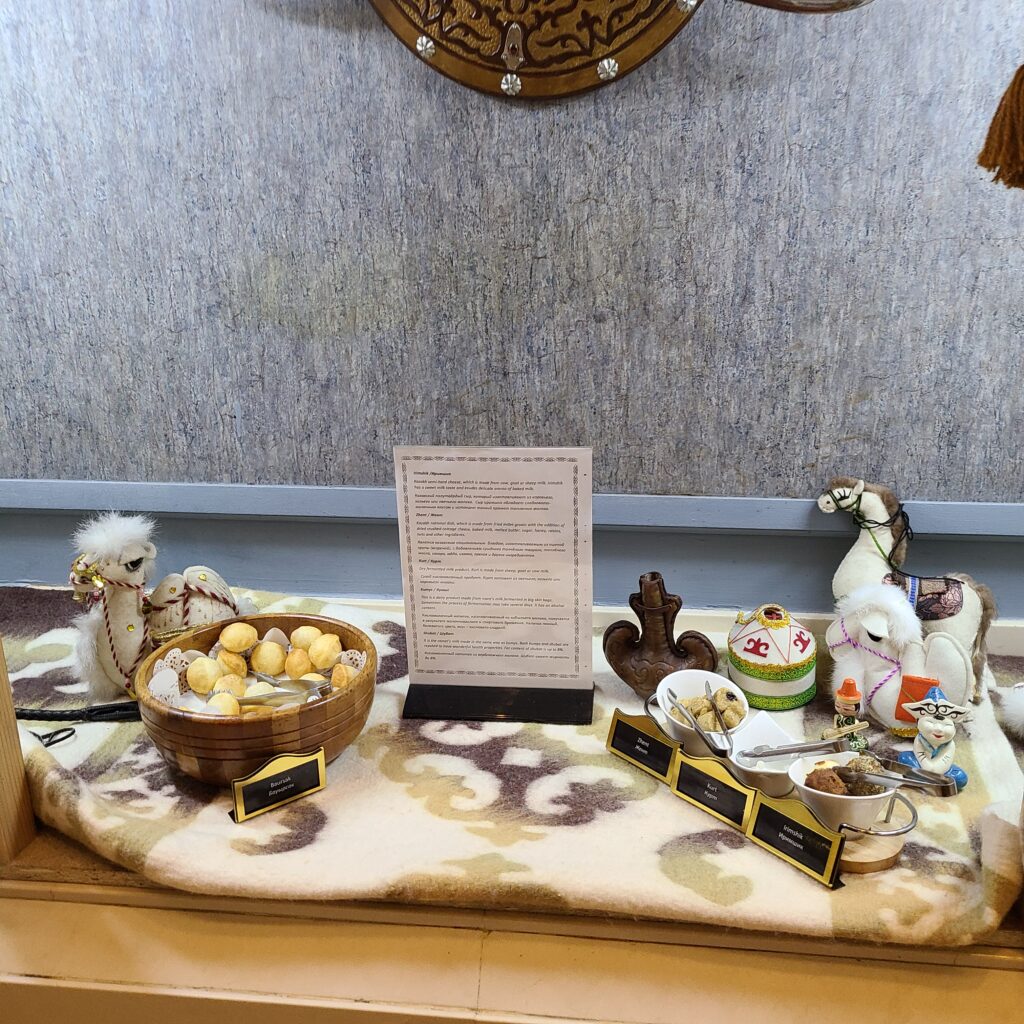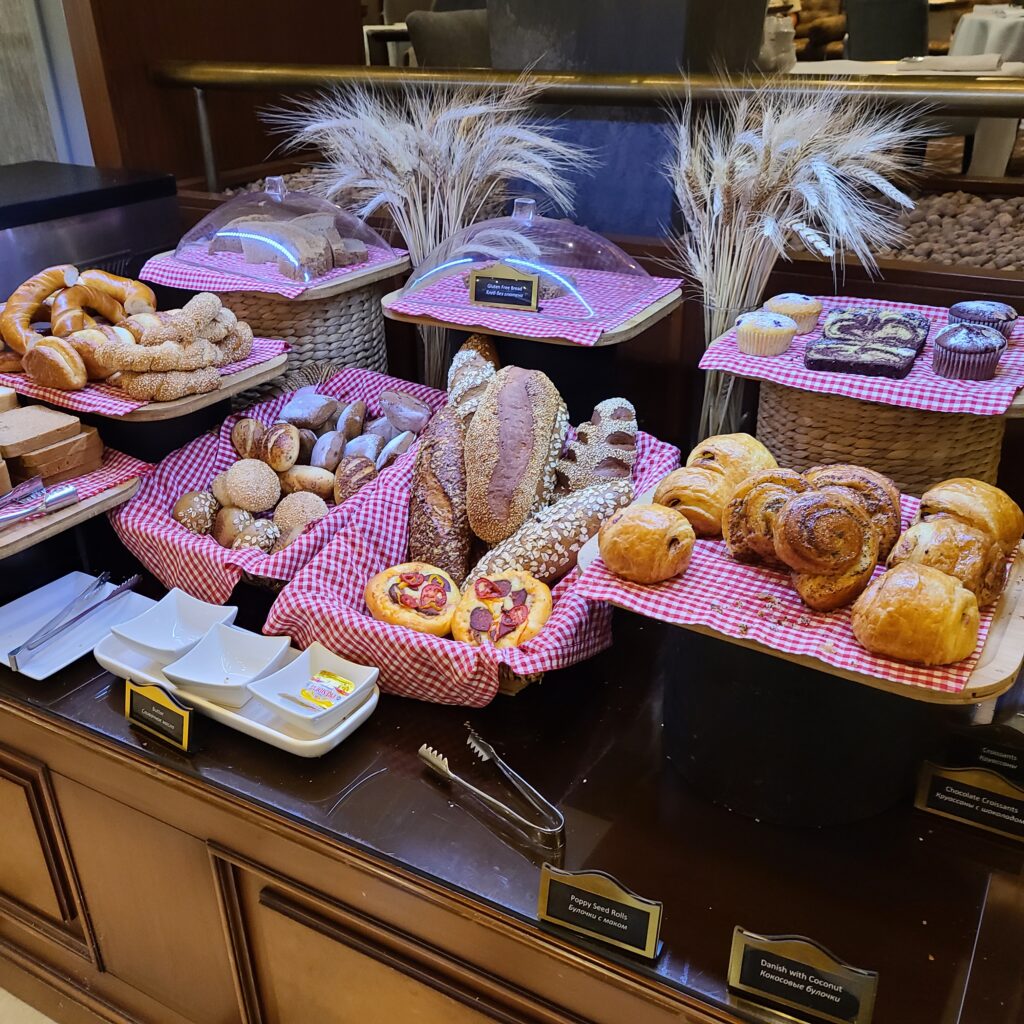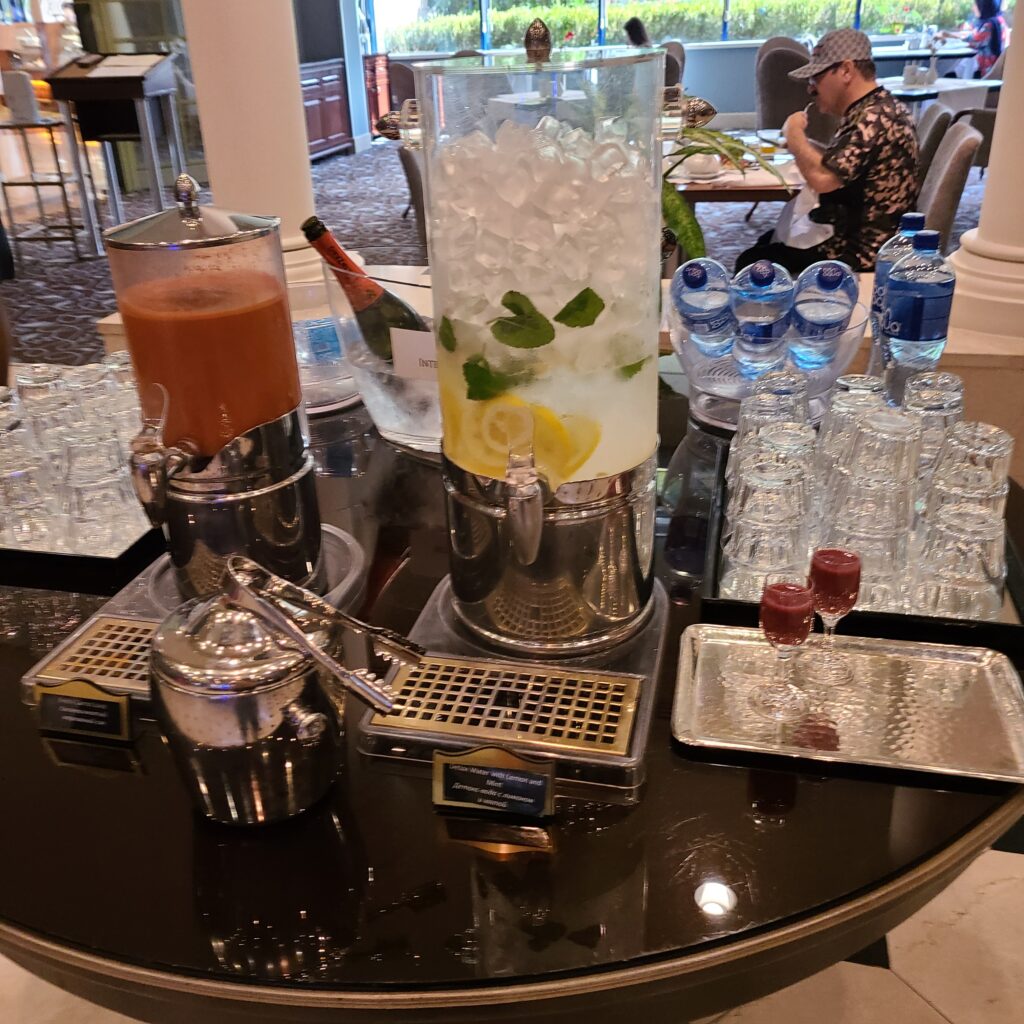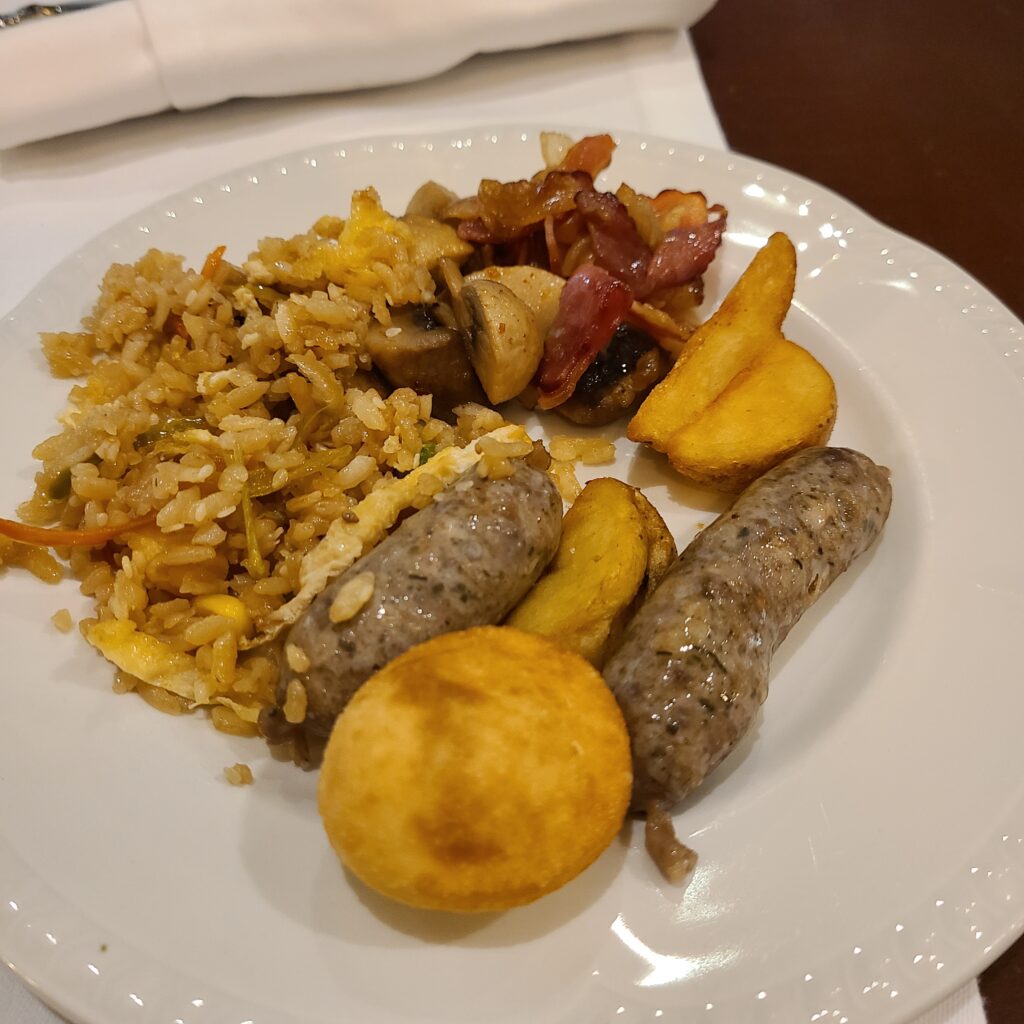 There's an egg dish station where you can order omelettes, scrambled eggs, or eggs benedict. I didn't enjoy it much, but it could've been greatly improved if the bottom muffin is roasted.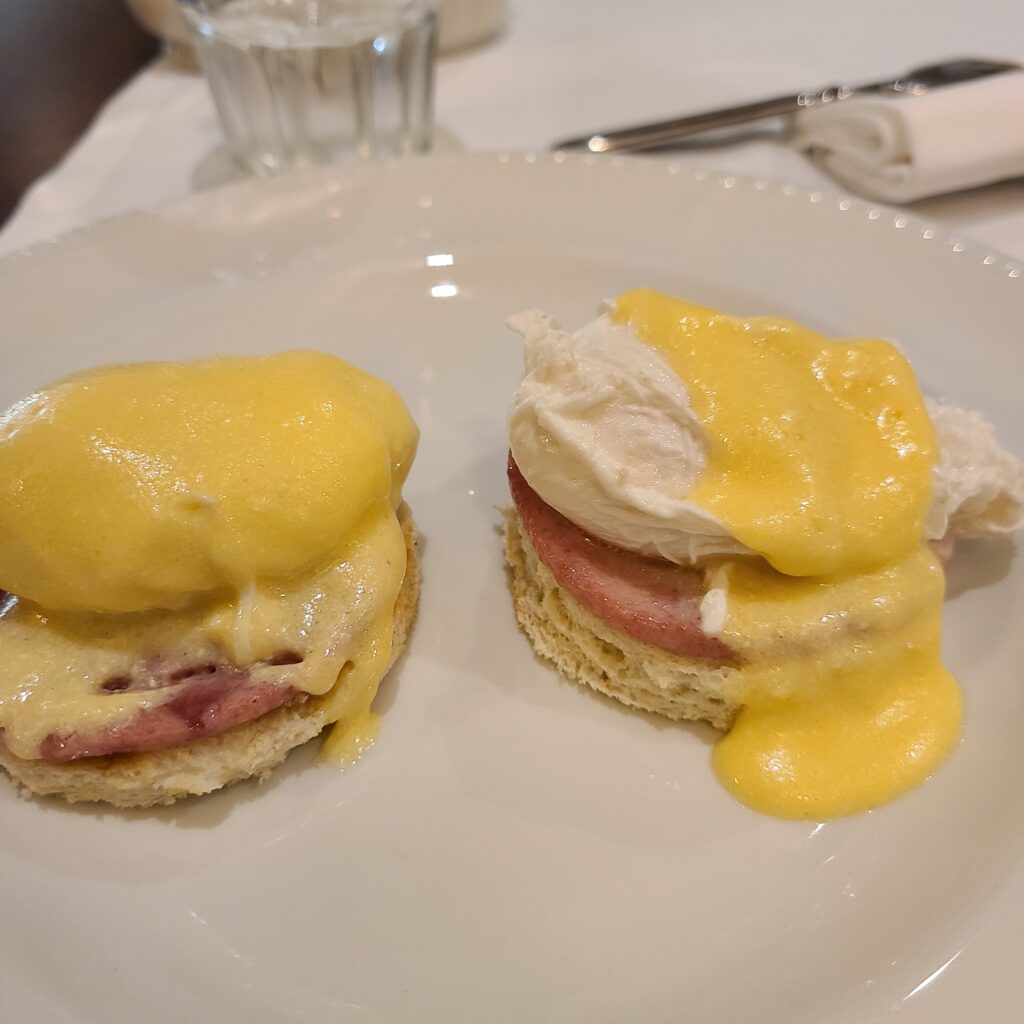 I felt the breakfast wasn't worth the price. I should've just gone to the nearby McDonald's with their all-day menu with 1/3 of the price.
InterContinental Almaty- Dining Options
This hotel has a lot of dining options inside, but I didn't try them. I've checked out most of them. But, some are closed for the time being, and some only open during certain hours. They're located in the Mezzanine Floor just above the ground floor.
There's the Bosphorus Restaurant, which serves Turkish cuisine just as the name suggests. It only opens during dinner time.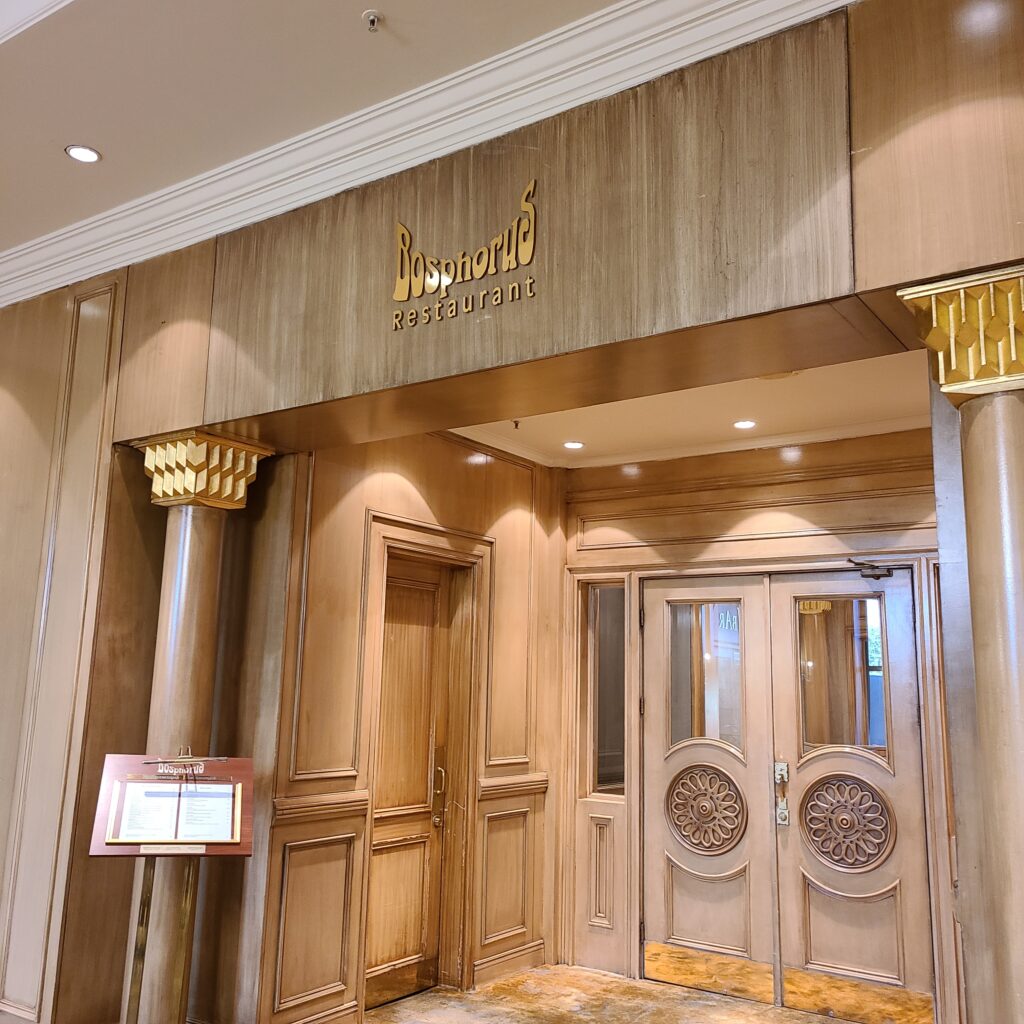 Then, there's the J Bar, but it's closed for the summer season. It comes with an outdoor terrace for you to enjoy drinks in.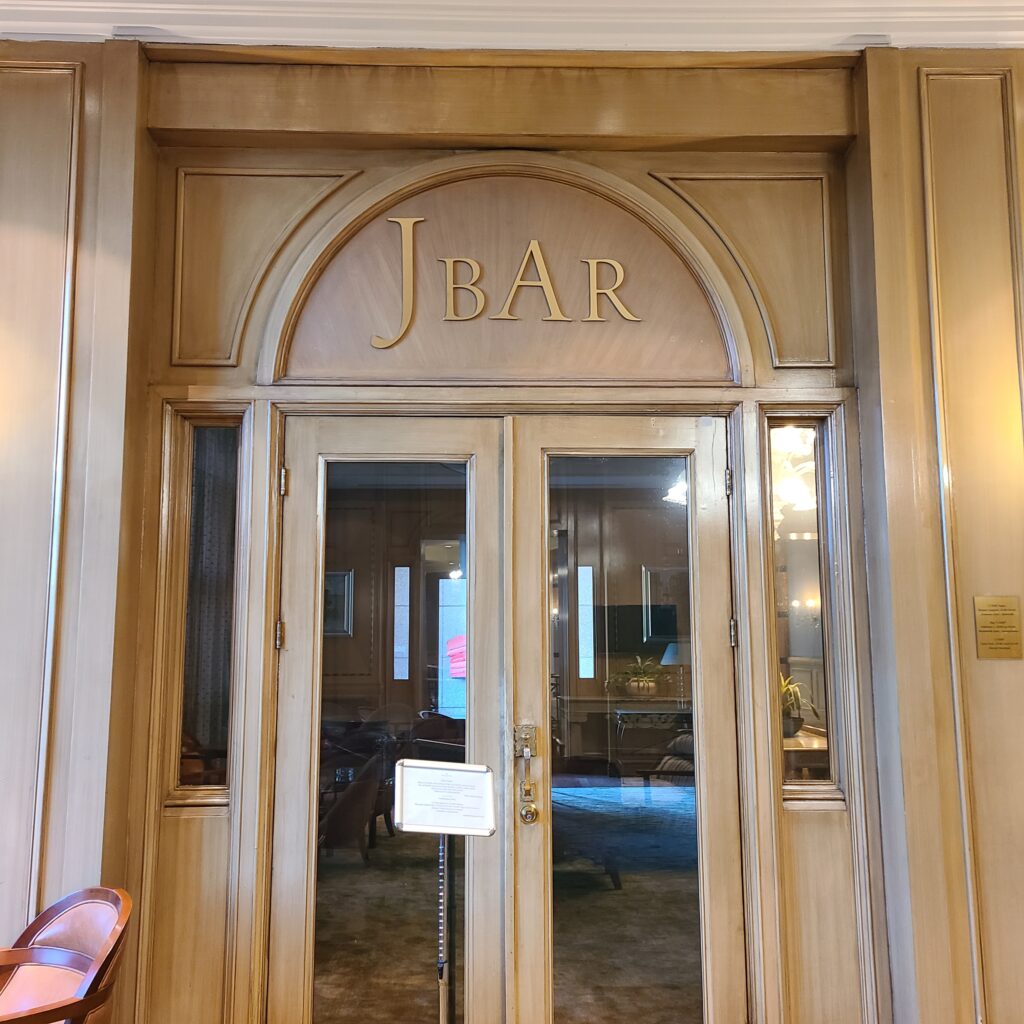 There's another bar called Atrium Lounge & Bar where you can order drinks and chill at the atrium base in the lobby.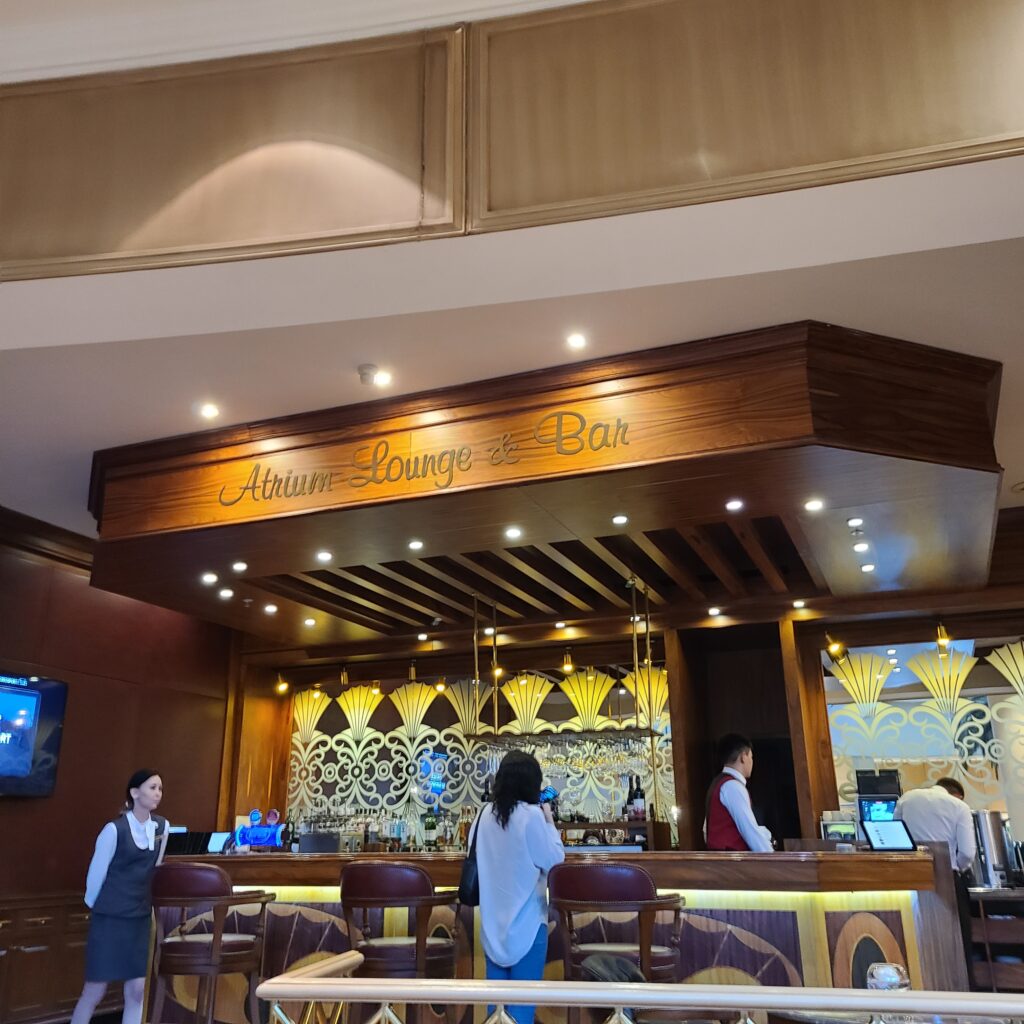 Finally, the Bon Bon Patisserie. No one attended the stand when I was there, but the cakes all look well-designed.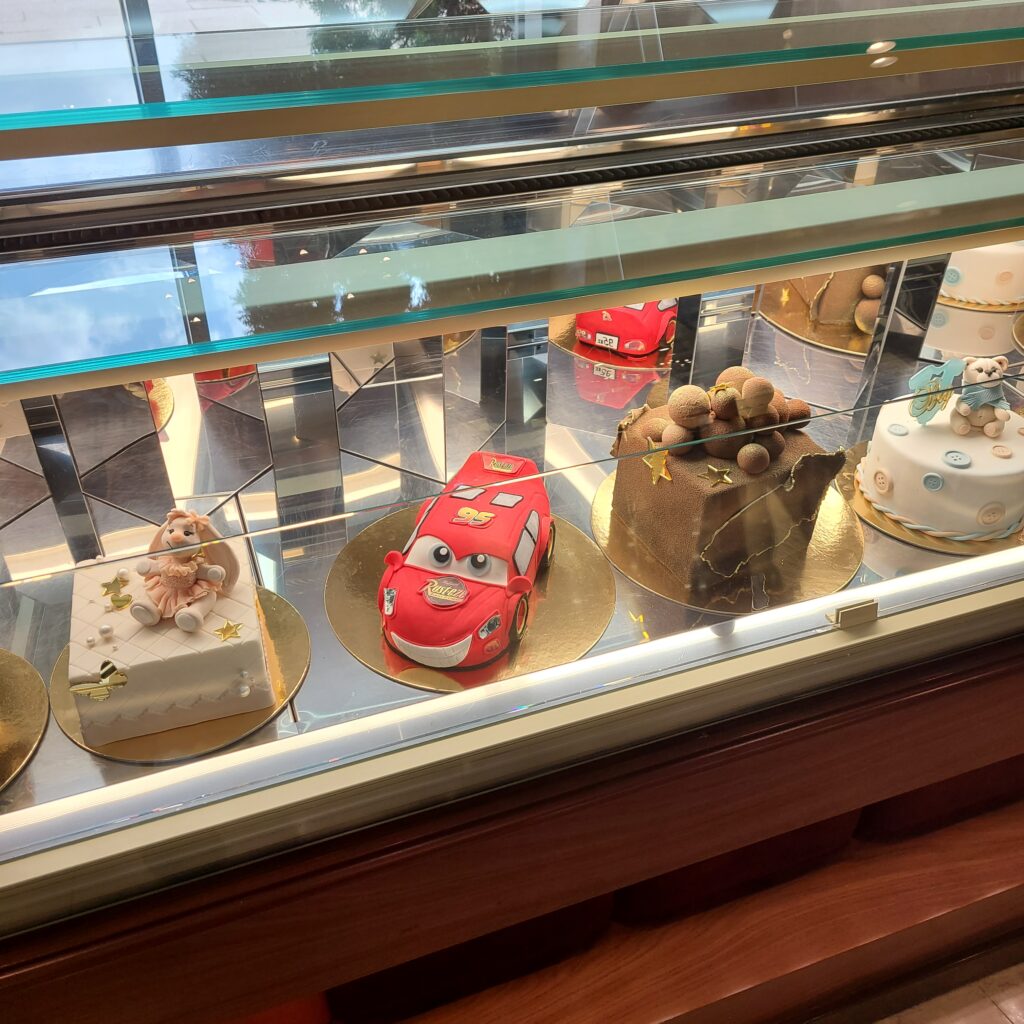 I'd be hard pressed to dine in one of the places though since Almaty has a ton of choices nearby and possibly at lower prices too.
InterContinental Almaty- Spa, Pool, & Fitness
The hotel has the spa facilities and gym on the basement floor.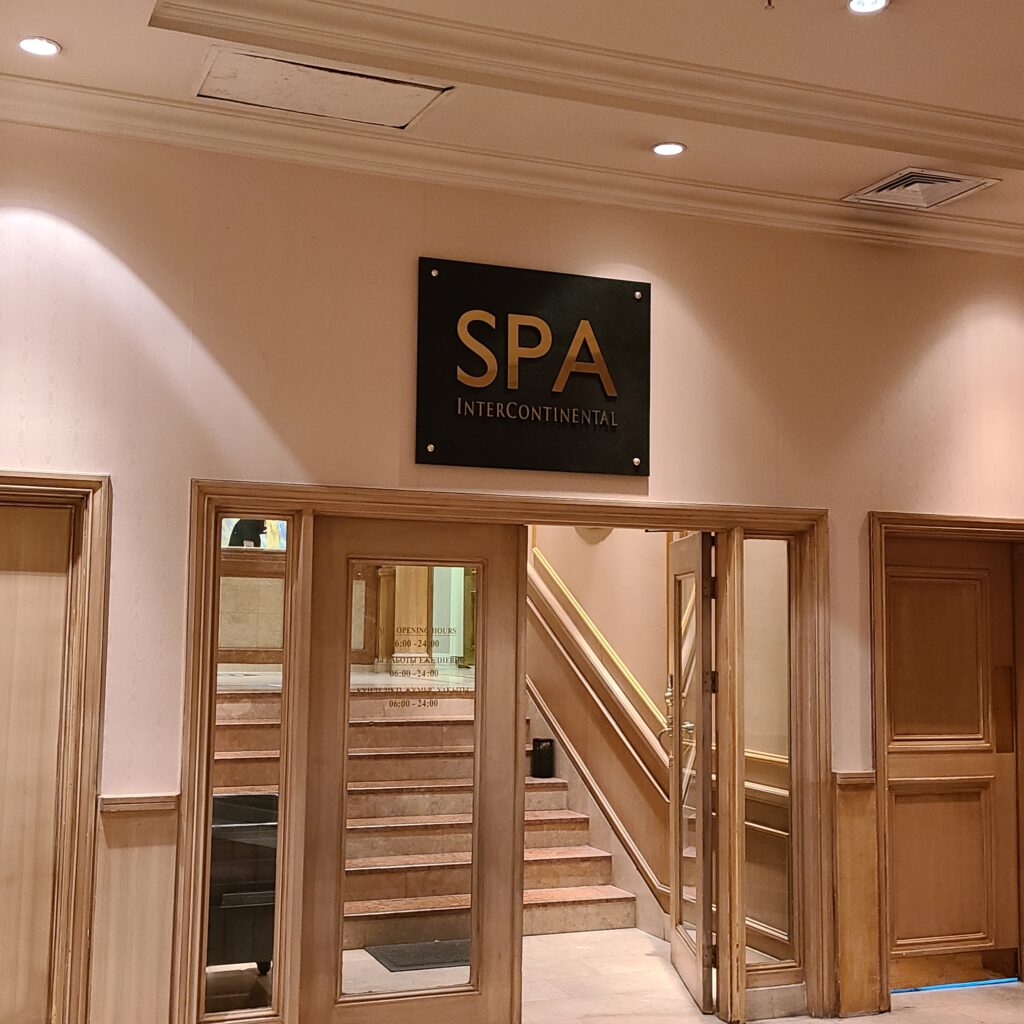 Inside, there's sauna, Turkish hammam, pool, and Jacuzzi that you can use for free.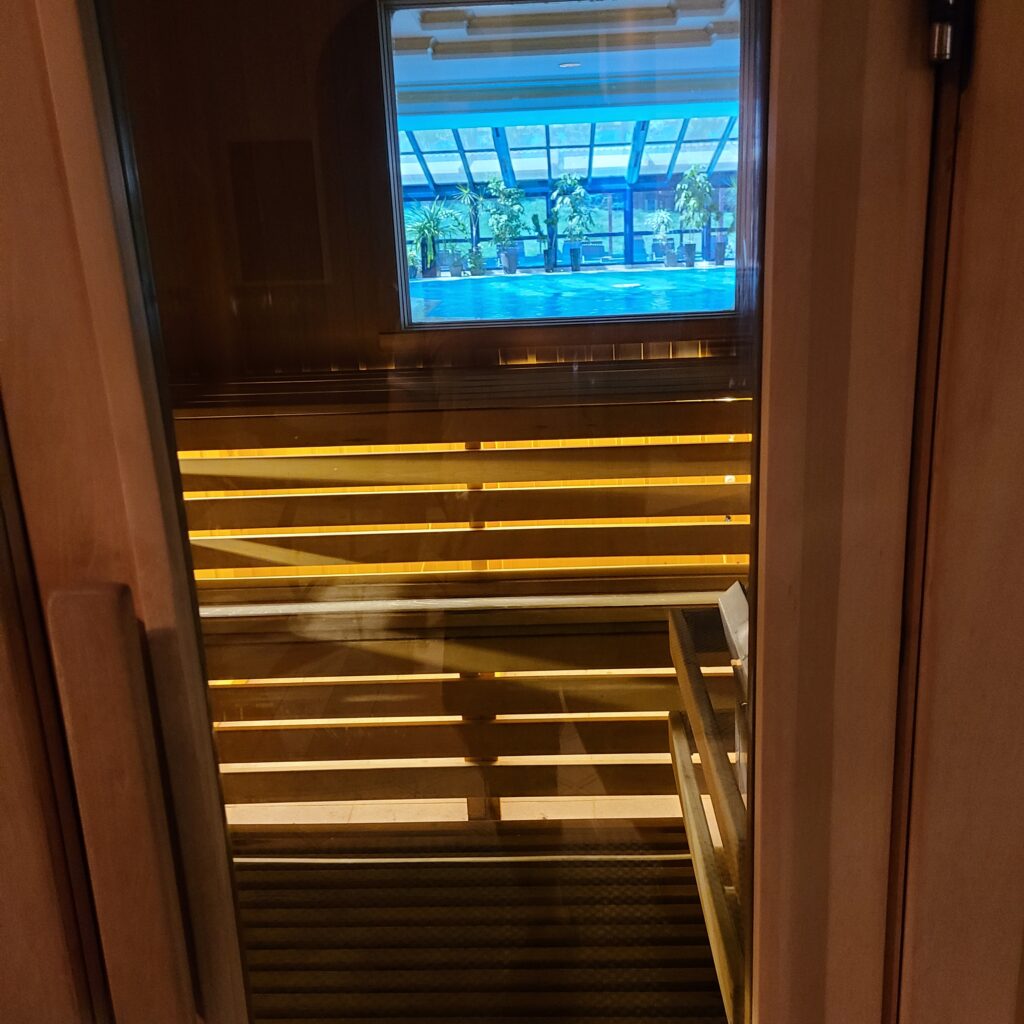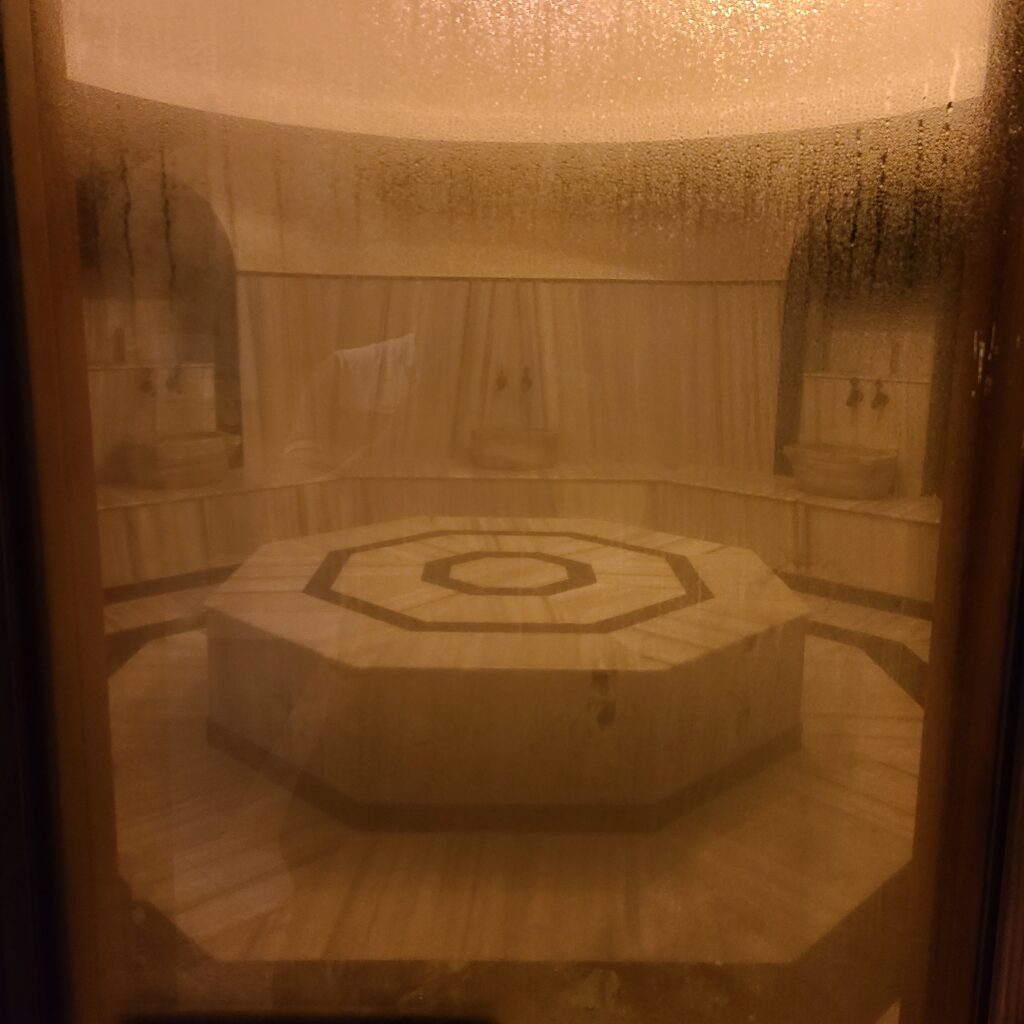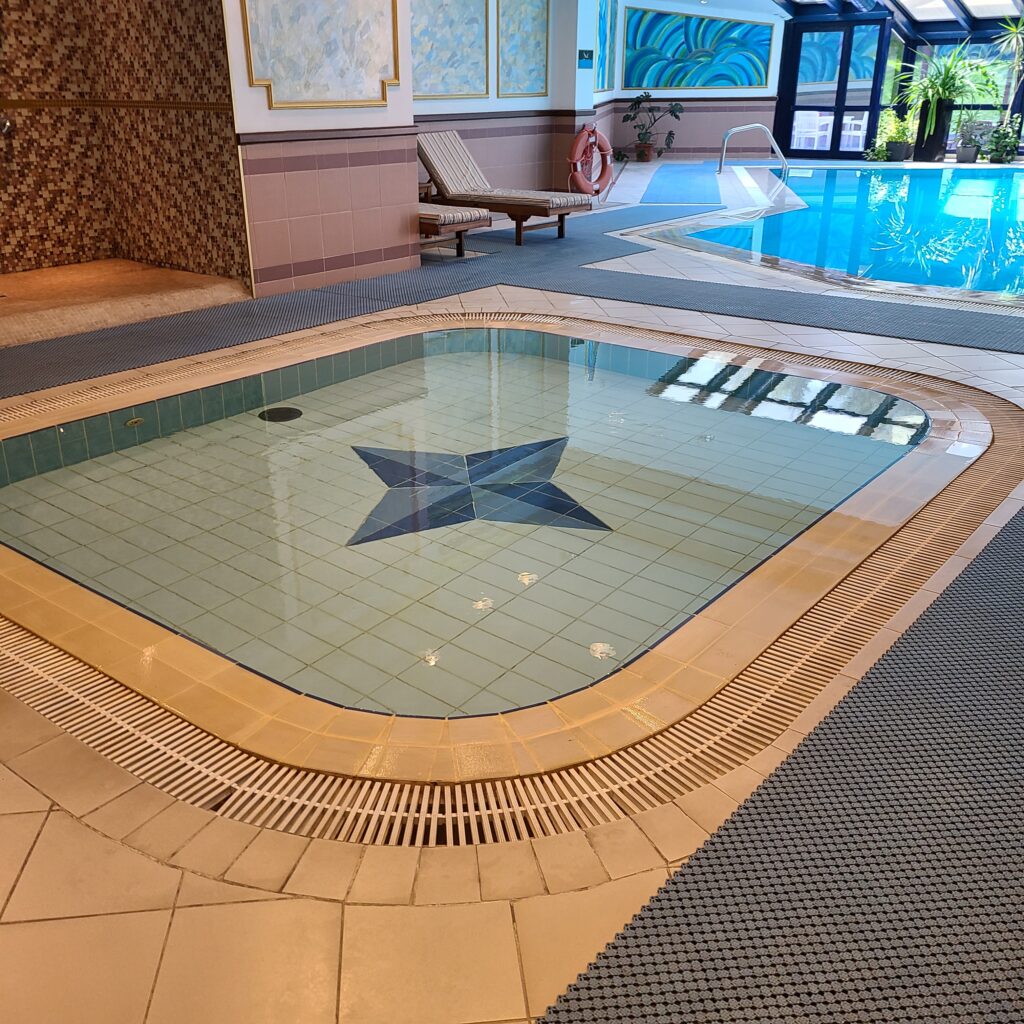 The pool looks great with the sunroof on top. There's an outdoor lounge if you wish to sunbathe.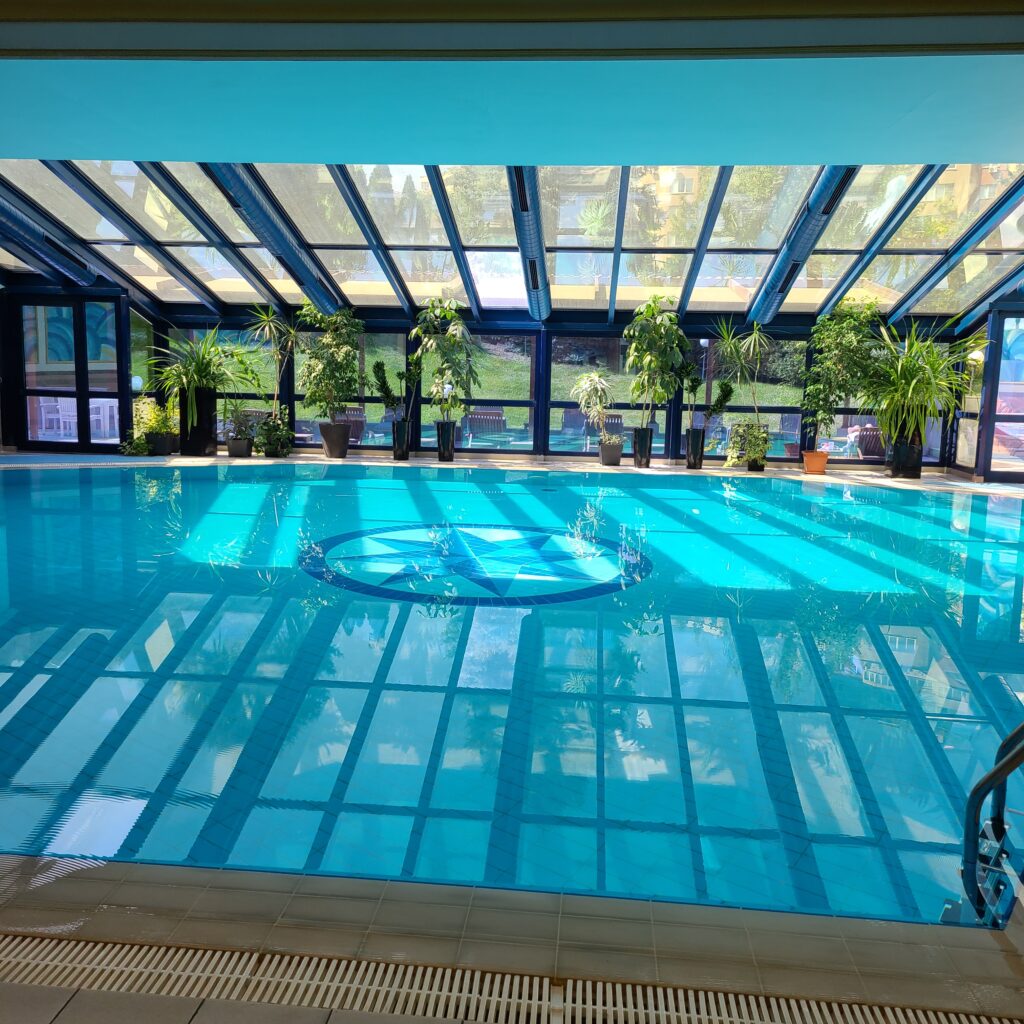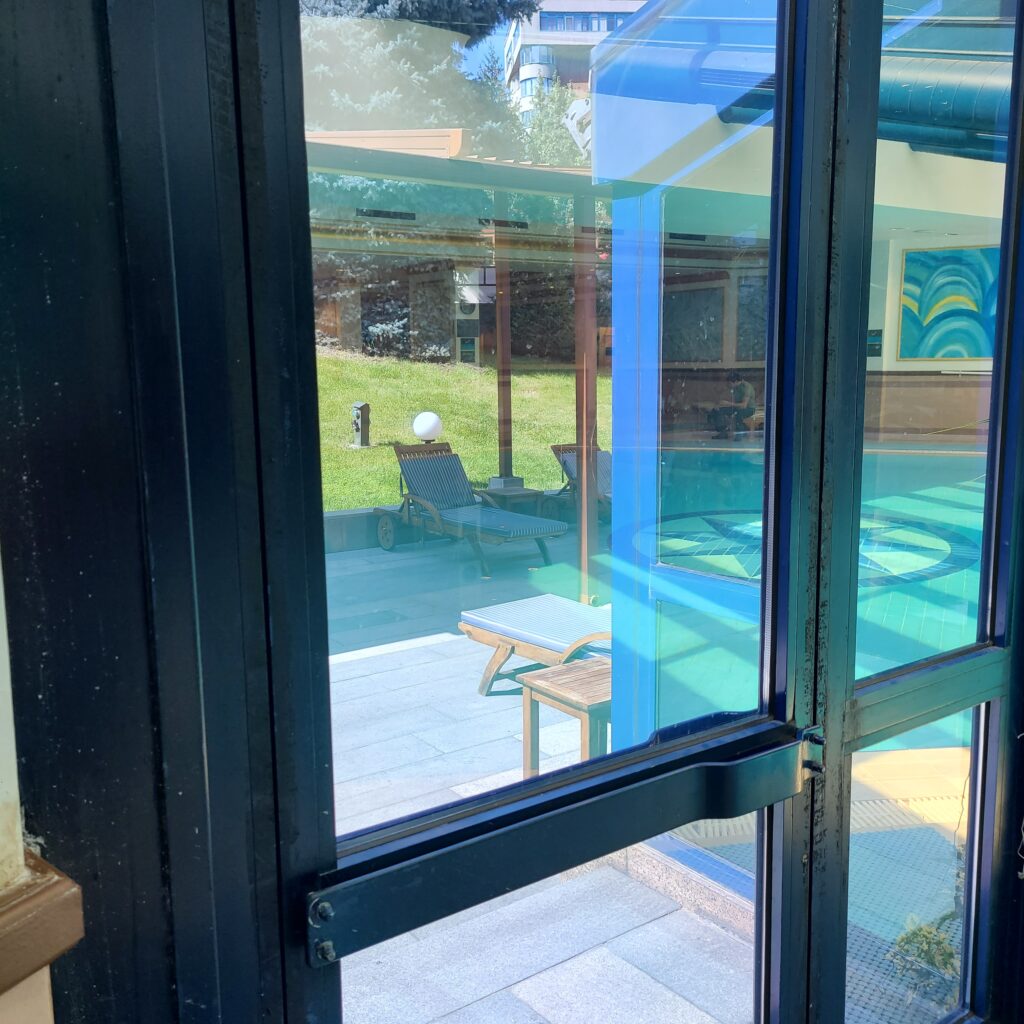 The gym is located next to the Turkish hammam room. It's well-stocked and includes a free weight bench station!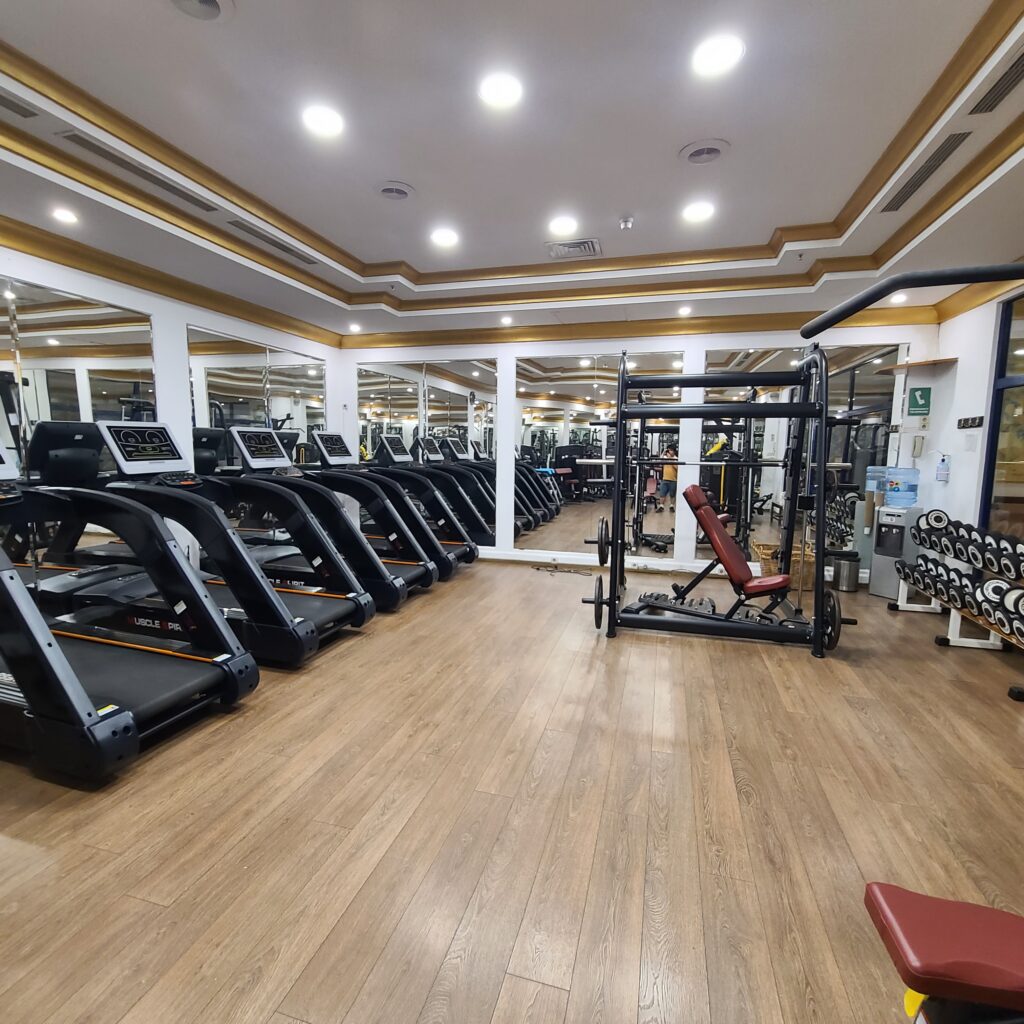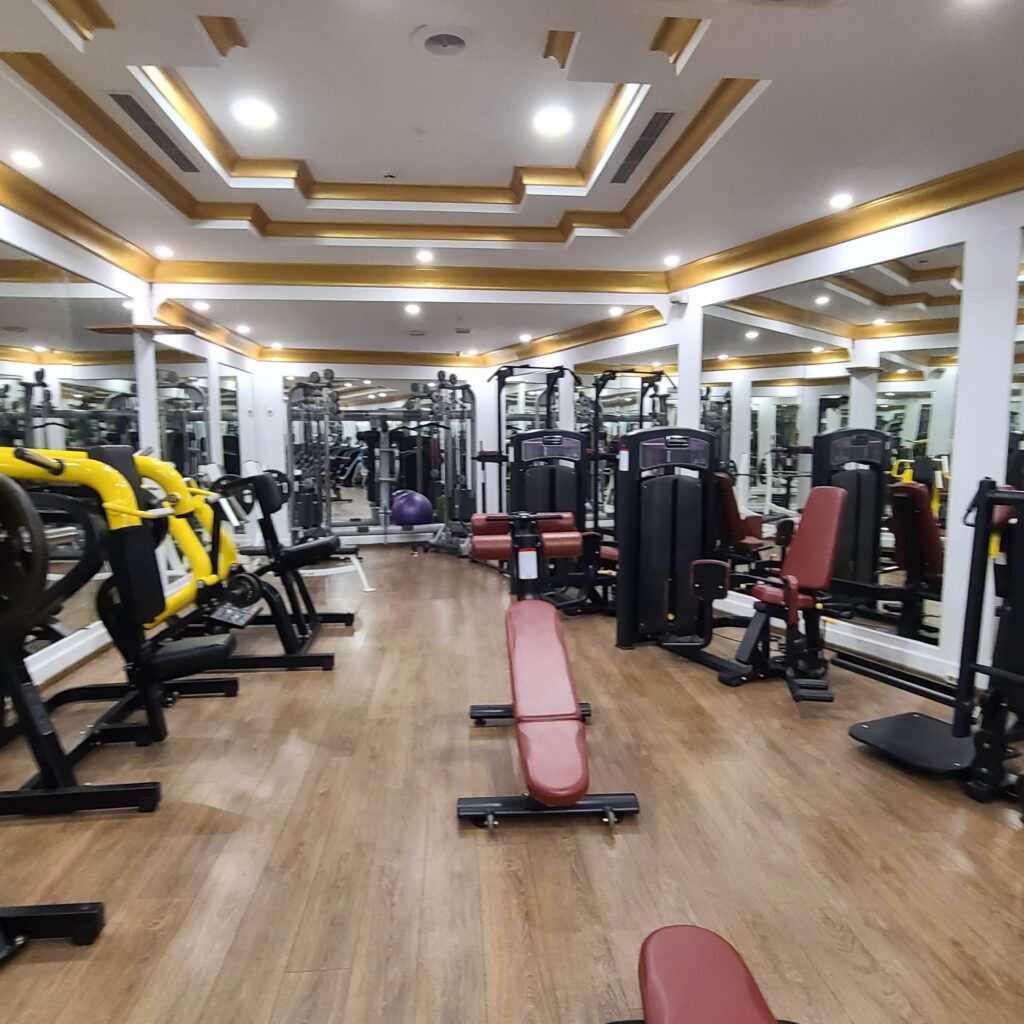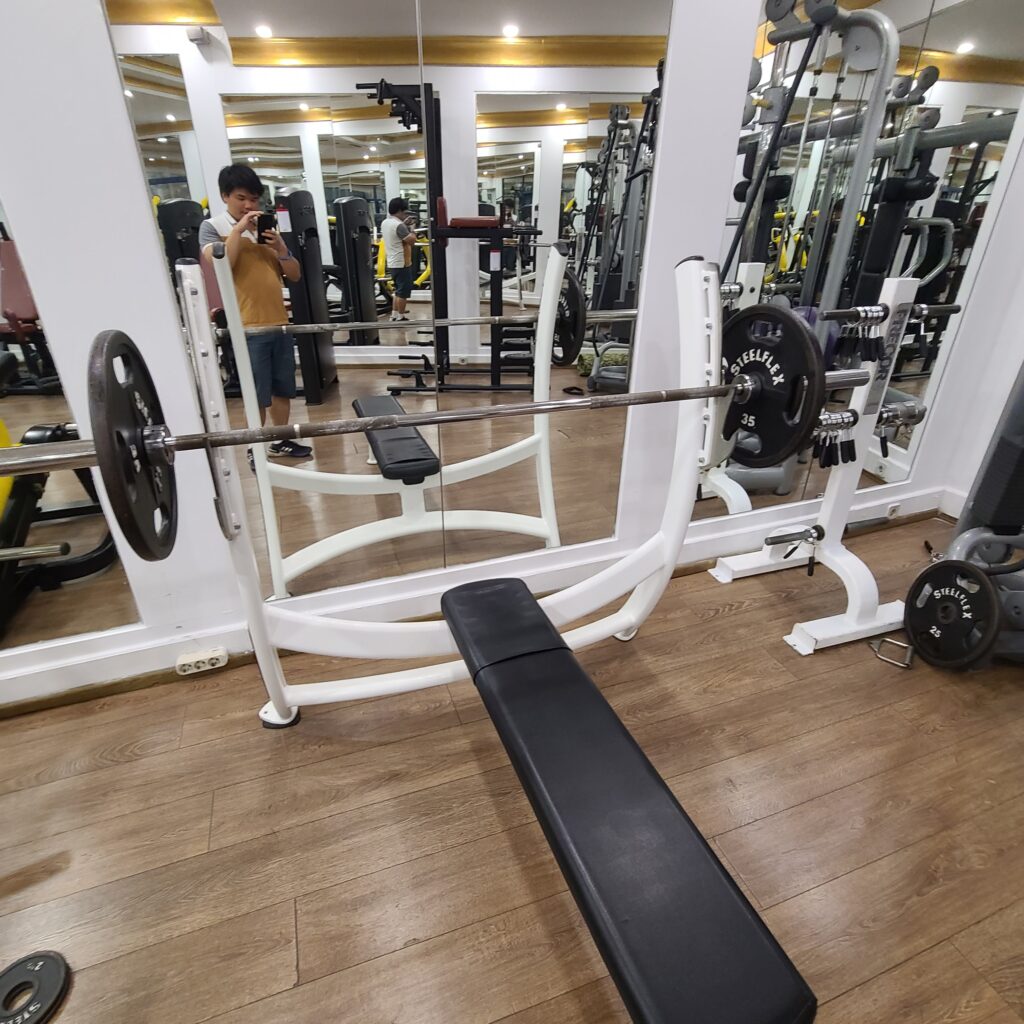 Conclusion
InterContinental Almaty is a mediocre hotel and does not make for a good first impression towards the InterContinental brand for me. It's very outdated and in desperate need of a renovation. The brown and golden schemes make the atmosphere feel stuffy. Rooms have functional annoyances like lack of power outlets by the bed and room lighting need overhaul.
For the similar price, I probably would've booked the Doubletree instead as it looks very modern, in an overall same proximity location wise, and I would've gotten free breakfast. But, since I only had some IHG points to burn and wanted to see what an InterContinental Hotel was like, it was the "best" choice for Almaty since the rest is either the Holiday Inn or Holiday Inn Express, which aren't worth burning points on.
For Marriott Bonvoy loyalists, The Ritz-Carlton, Almaty can prove to be the bang for your bucks when it comes to redeeming points or 35k free night certificates from Marriott co-branded credit cards.
Overall Rating