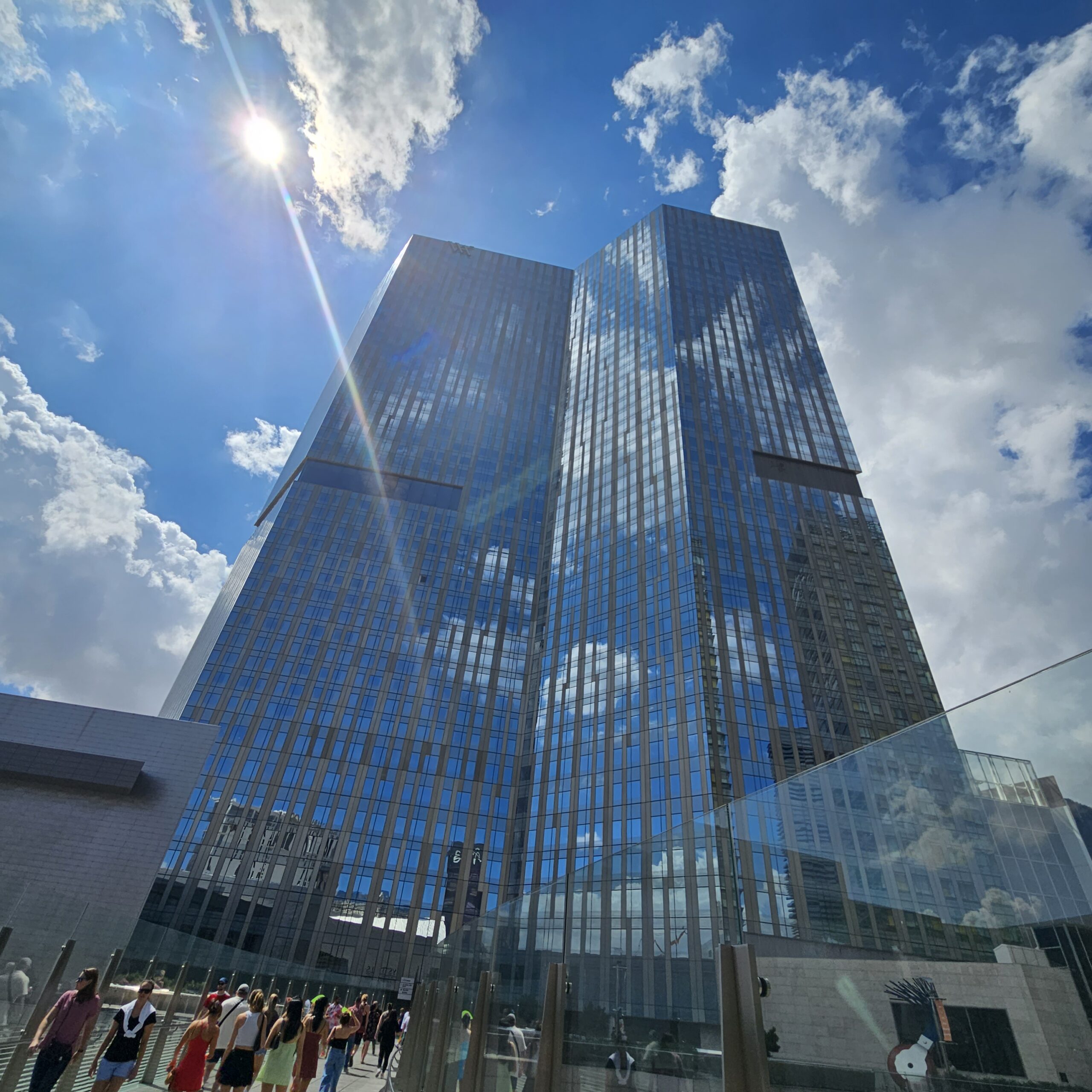 Review: Waldorf Astoria Las Vegas (2023)
| Positives | Negatives |
| --- | --- |
| Located at the heart of Las Vegas Strip | Lack of complete privacy in the bathroom |
| Quiet, non-smoking | Its quietness can be a negative for some |
| Friendly and attentive staffs | |
| Easy value from Hilton Aspire & Amex FHR | |
Overall Rating
After just a couple weeks after my 5-week Japan trip, I headed to Las Vegas on Labor Day weekend for a casual points & miles meetup hosted by the YouTuber Luke's Points & Miles. I still had a Hilton Free Night Award to burn, so I chose the Waldorf Astoria Las Vegas for my long weekend stay.
This would be my first time at a Waldorf Astoria, but I got the sense that the one in Las Vegas would not be a typical one to the brand.
Waldorf Astoria Las Vegas- Booking
I made two separate bookings consisting of a Hilton Free Night Award and Virtuoso booking with the cash rate of ~$485. Since Waldorf Astoria Las Vegas is a Hilton Resort, the room rate is then cut by $250 thanks to the resort credit from the Amex Hilton Honors Aspire Card. The nightly rate on points booking is 80,000 Hilton points, so it could be a great value for those who enjoy going to Las Vegas and have Hilton points to burn.
The Virtuoso rate included a $100 property credit that can be used for dining and spa in the property which I fully took advantage of during my stay. This can of course stack with the Aspire's $250 credit. Alternatively, this hotel is a part of the Amex Fine Hotels & Resorts so you can take advantage of similar benefits, plus guaranteed 4pm late checkout.
Waldorf Astoria Las Vegas- Location
The Waldorf Astoria is located at the heart of Las Vegas Strip, and is positioned close to notable hotels like the Aria, Vdara, and Cosmopolitan to name a few.
Waldorf Astoria Las Vegas- Check-in
I checked in at around 8pm after meeting with other content creators at Eataly which was just across the Waldorf.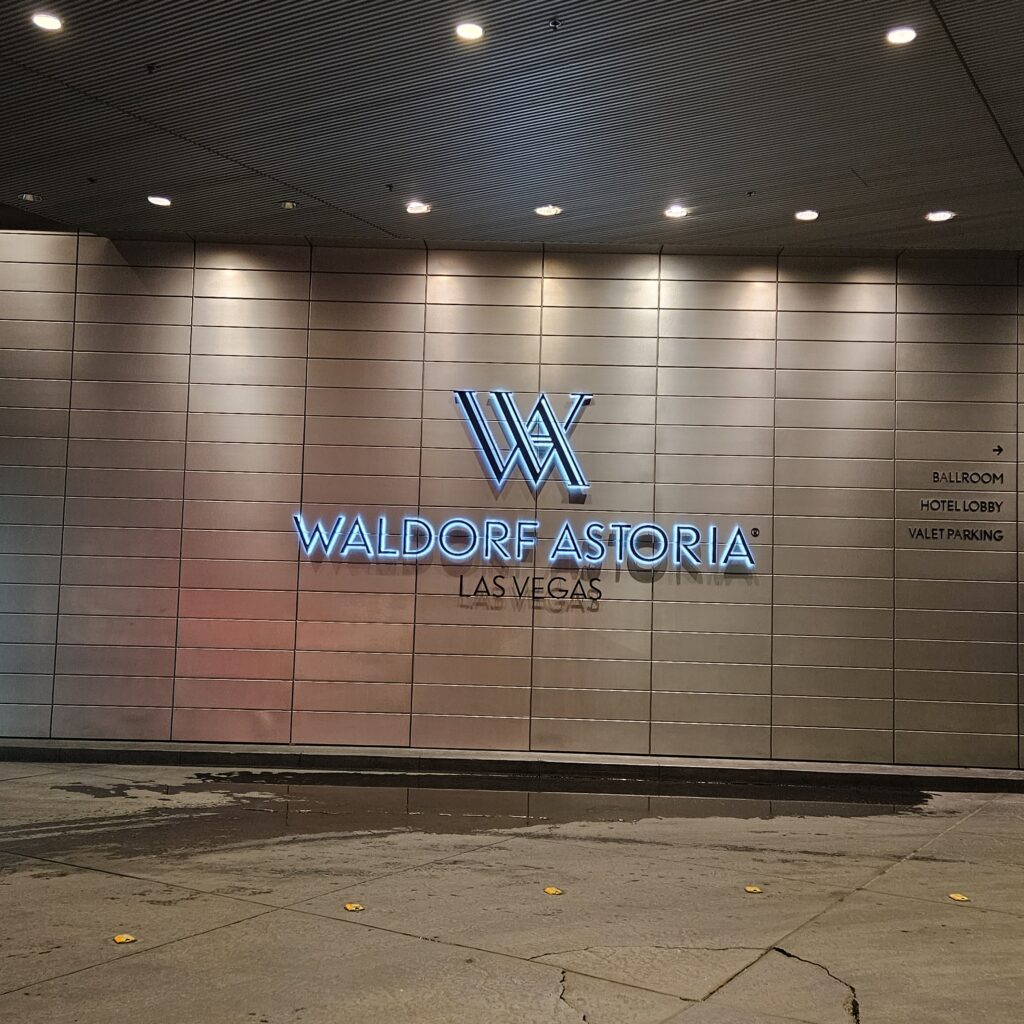 Reception desk is located on the 23rd floor, so you'd have to go through this hallway first before taking the elevator.
Check-in itself was smooth, and the benefits were explained well by the front desk with my separate award plus Virtuoso bookings.
They also kindly extended the Hilton Diamond food & beverage credit to $50 per night despite me being the sole guest of my booking! Technically, they would only do that if you have 2 guests per booking ($25 per person). I can't guarantee if they would do so for other guests, however.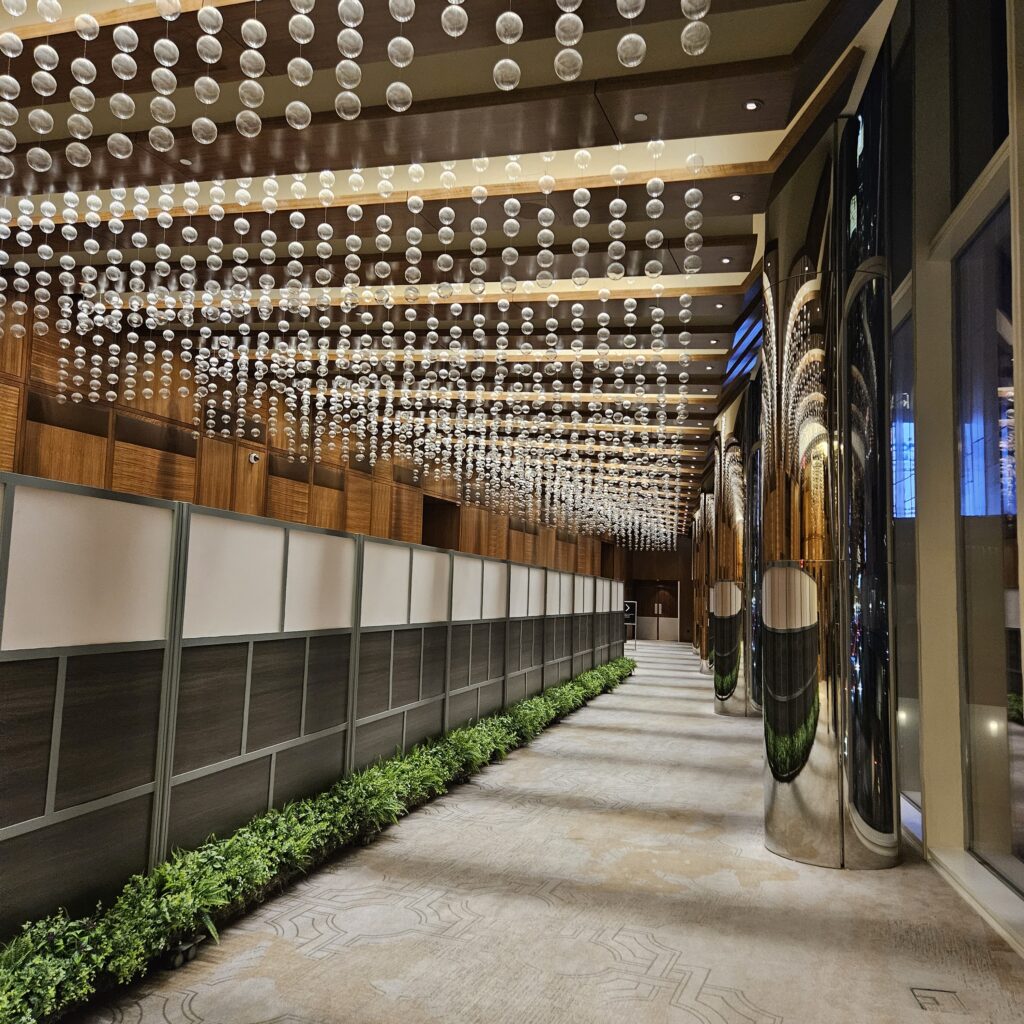 I checked out the lobby the next day. The view of the Las Vegas Strip is stellar! There's a bar behind the golden wall, but I couldn't check it out unfortunately.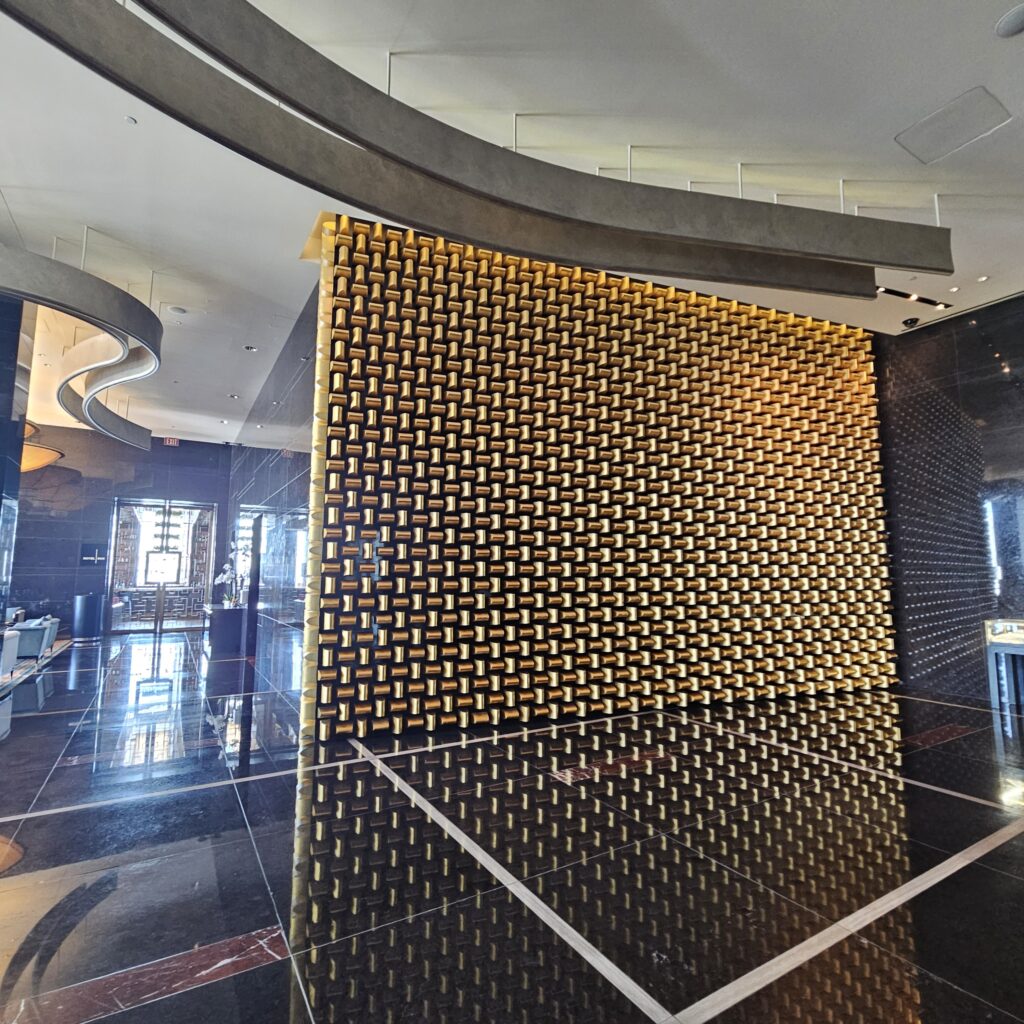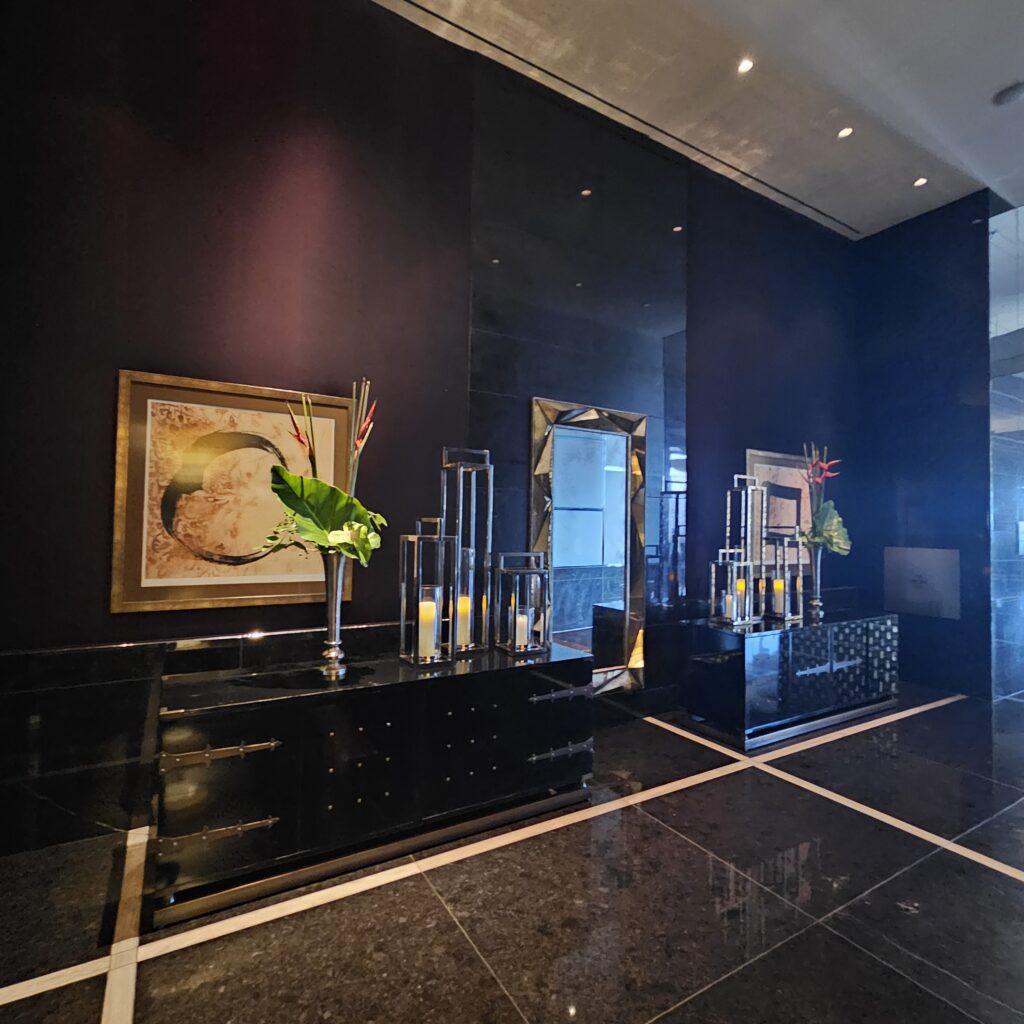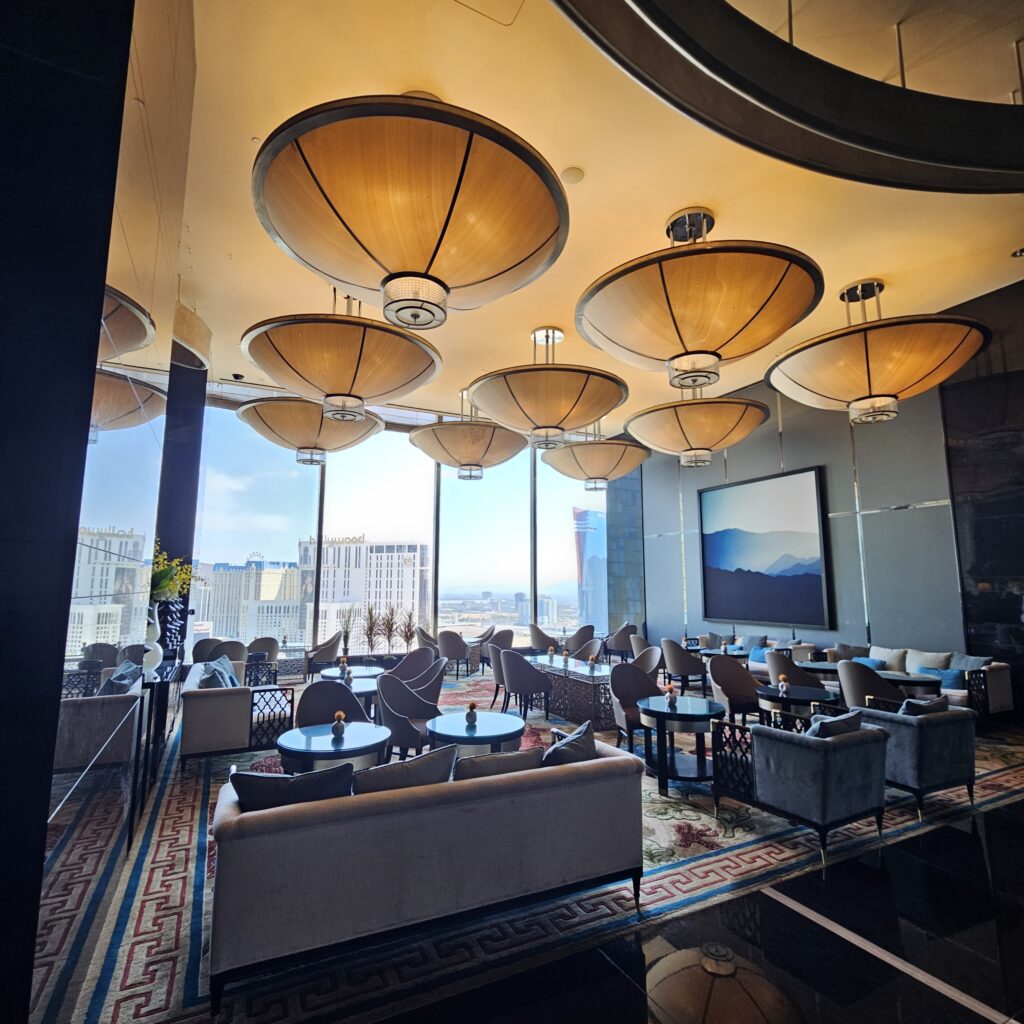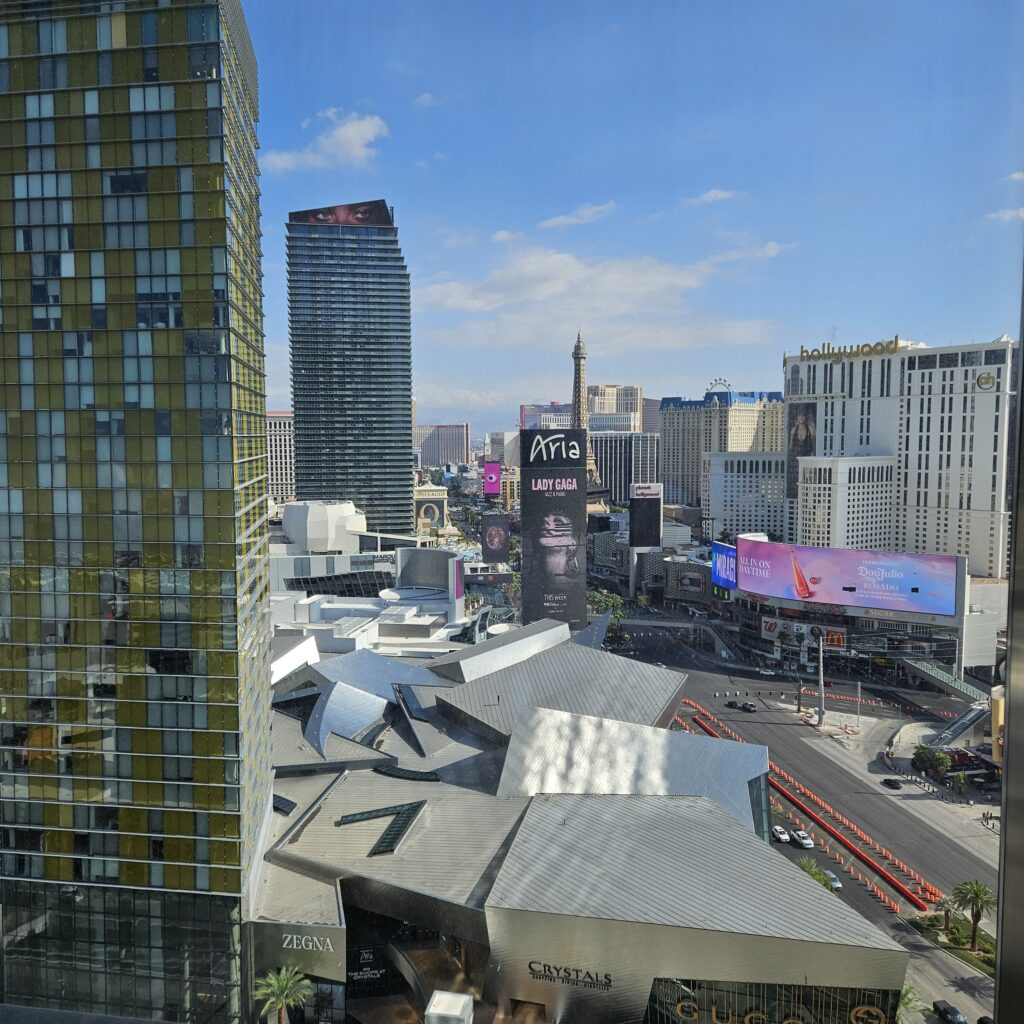 On the lobby floor, there's a straight path to the former French restaurant Twist. But, ever since it was closed, the space remains empty still.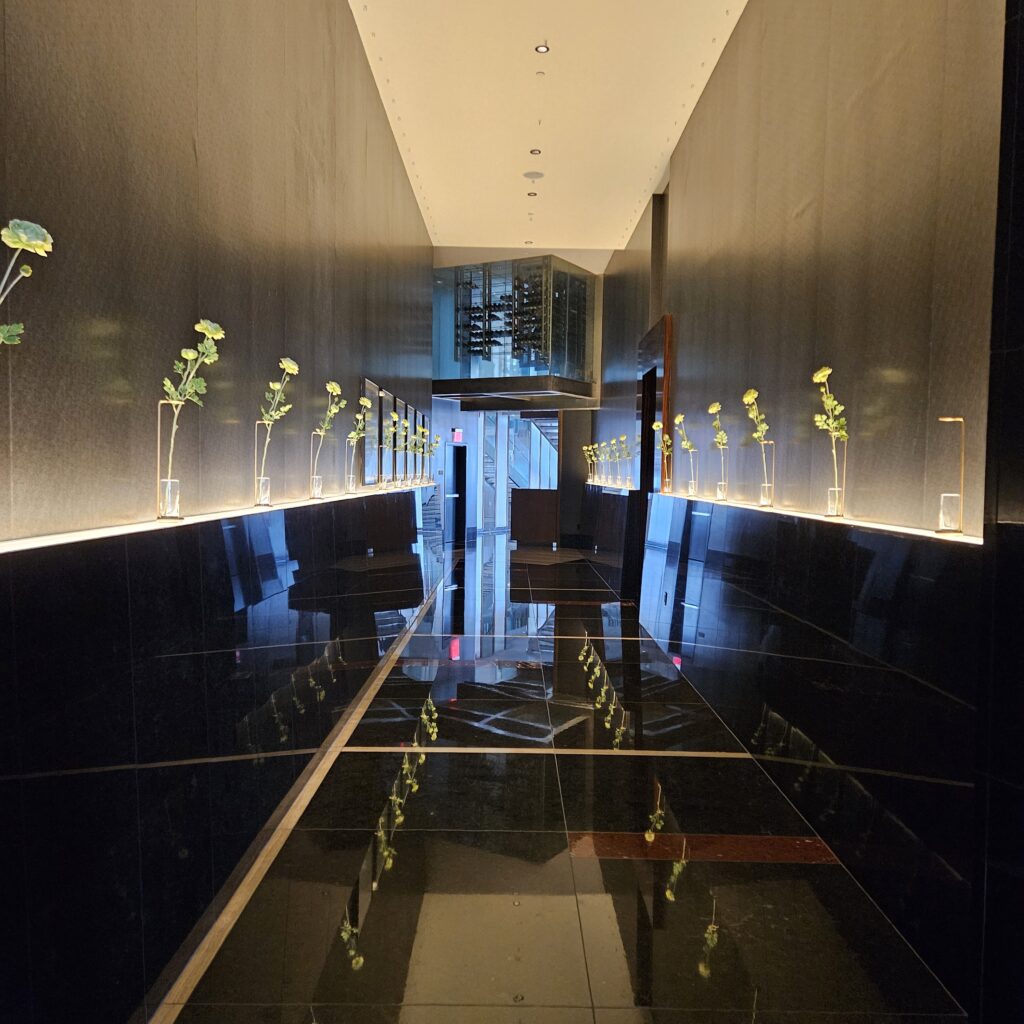 Waldorf Astoria Las Vegas- Strip View Room
I was upgraded to the Vegas Strip View Room as a Hilton Diamond member. The basic room offers plenty of space with dark wood finishes that gives a classic, but approachable luxury feel.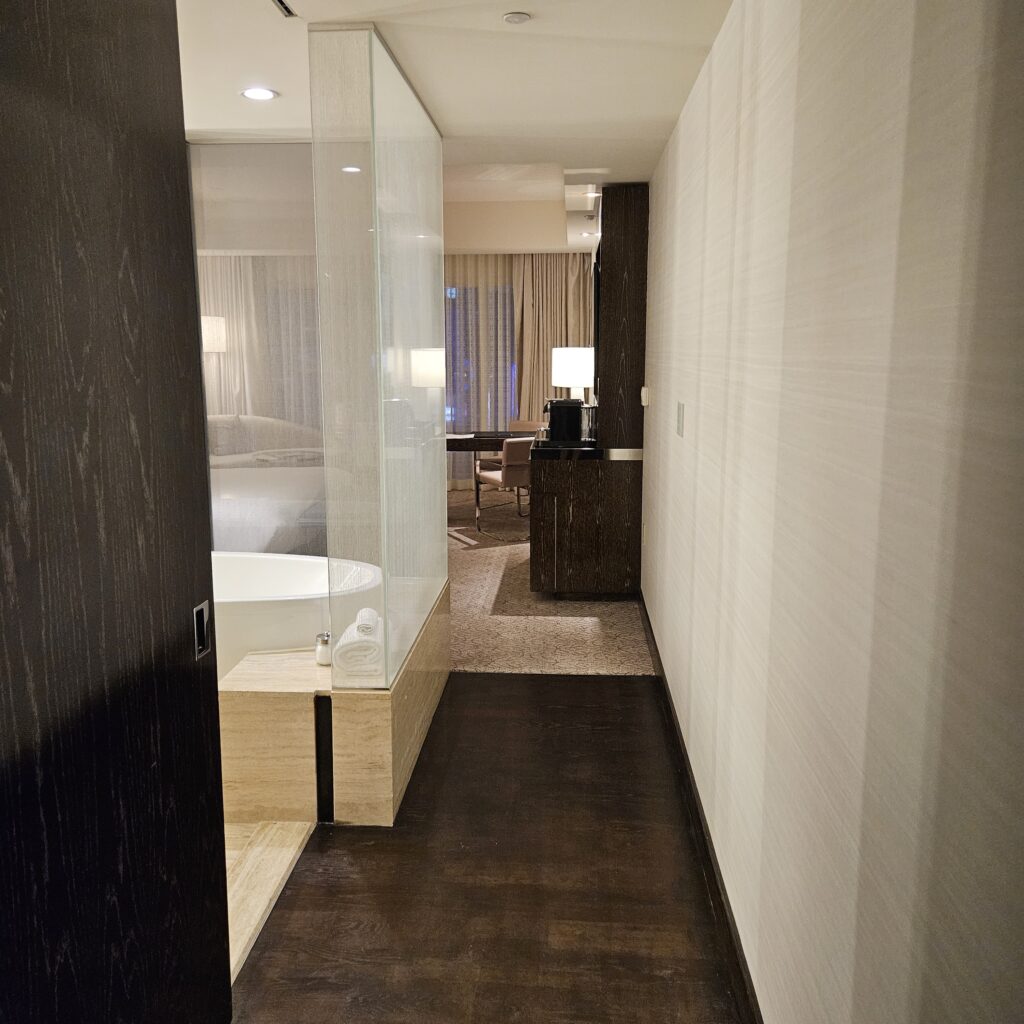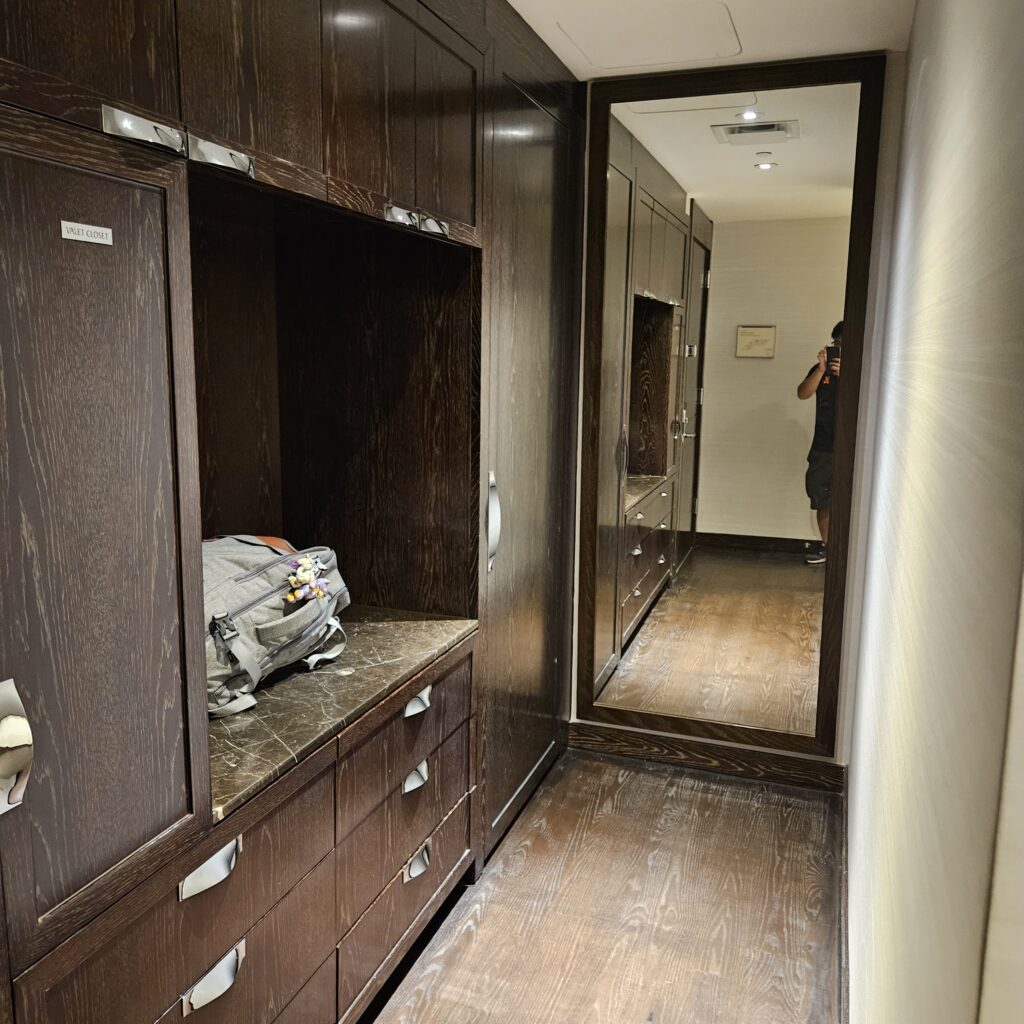 One neat thing I noticed was the valet closet who can leave important things belonging to you to your room.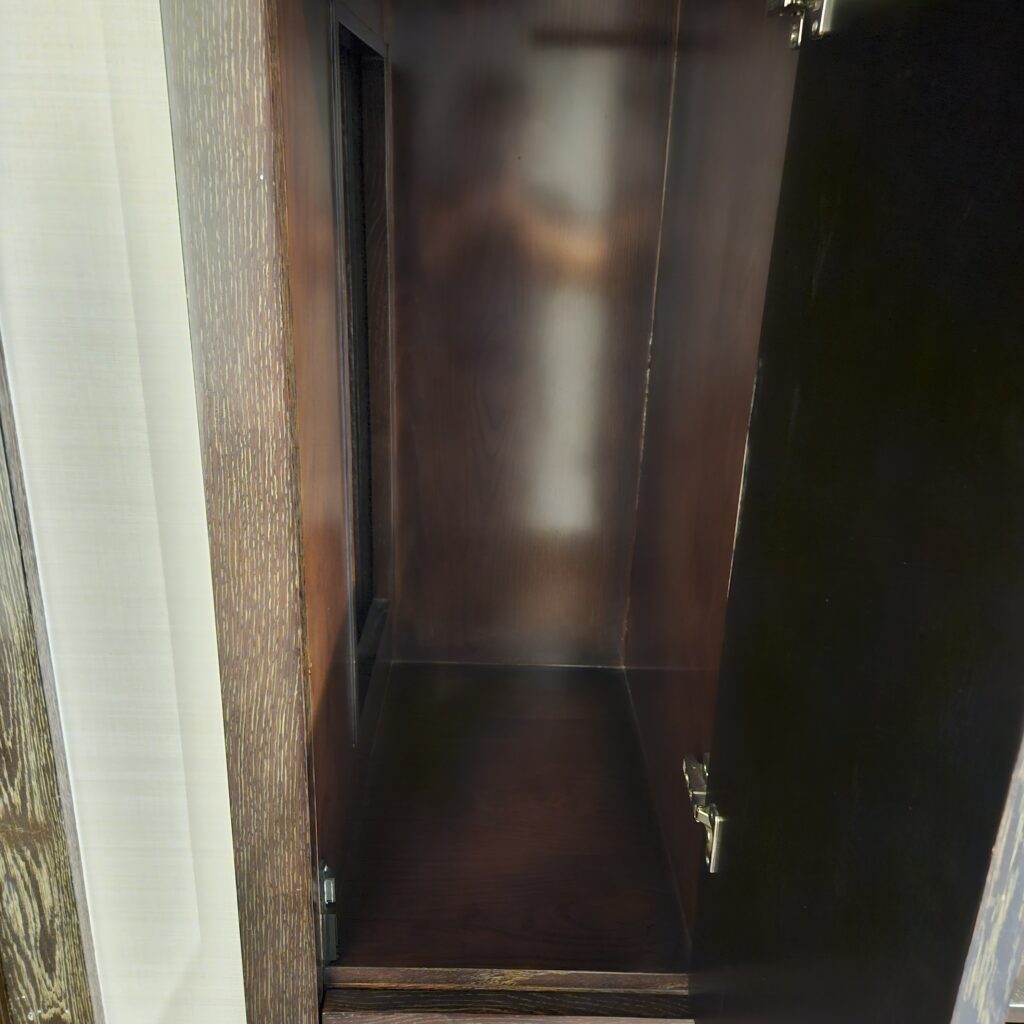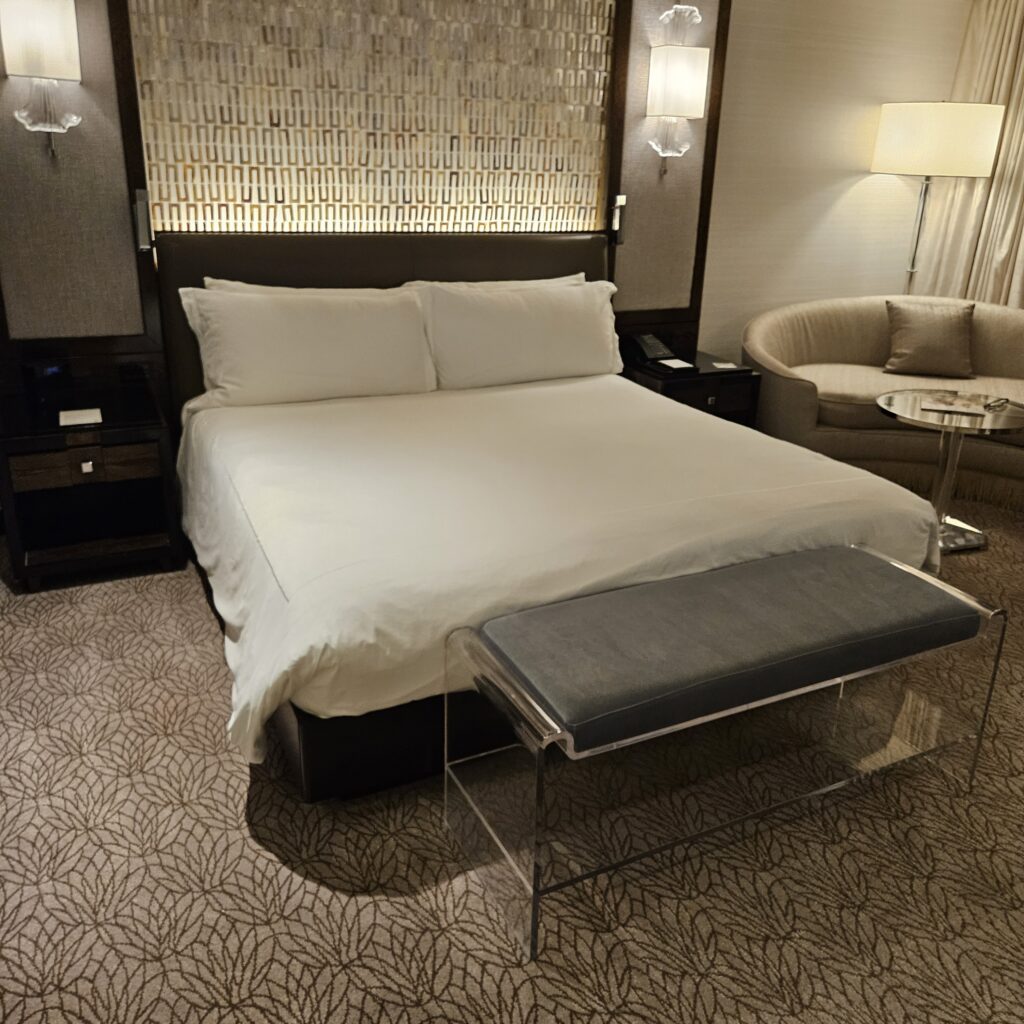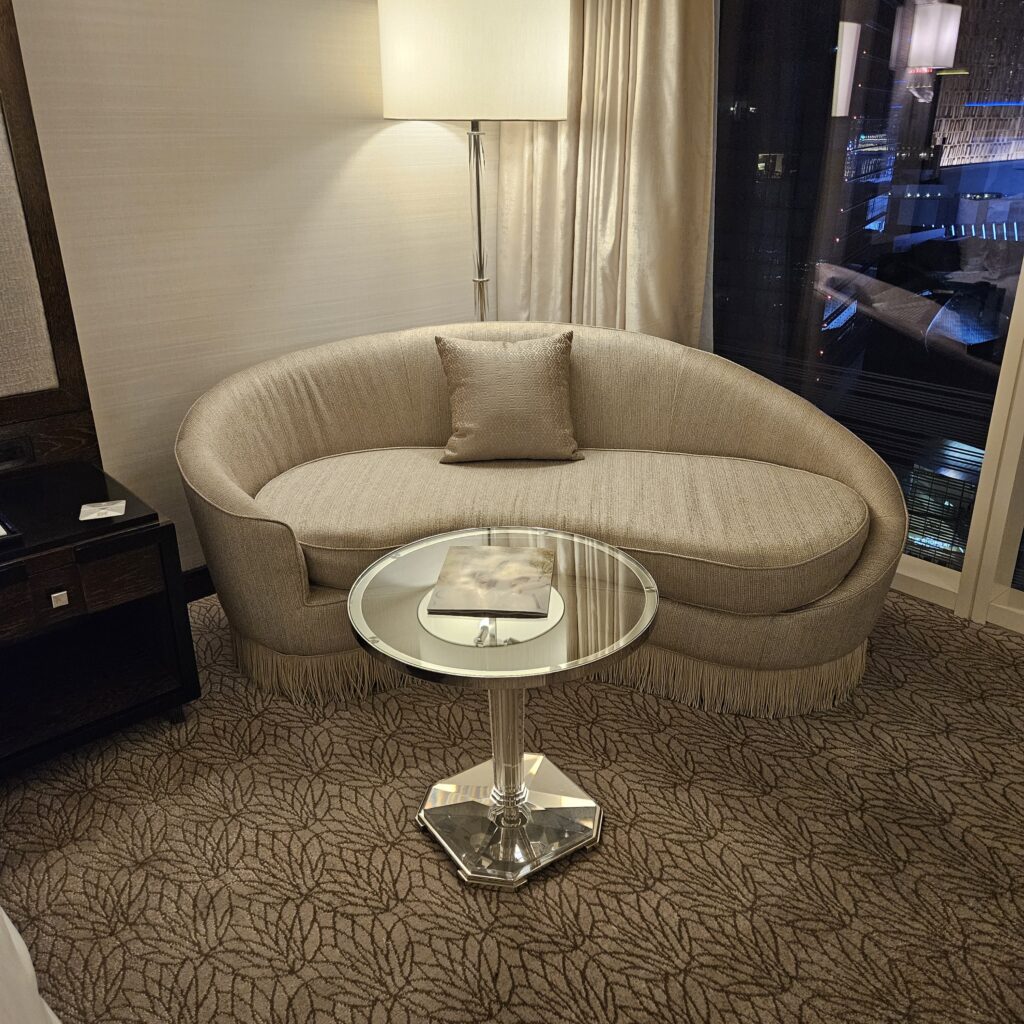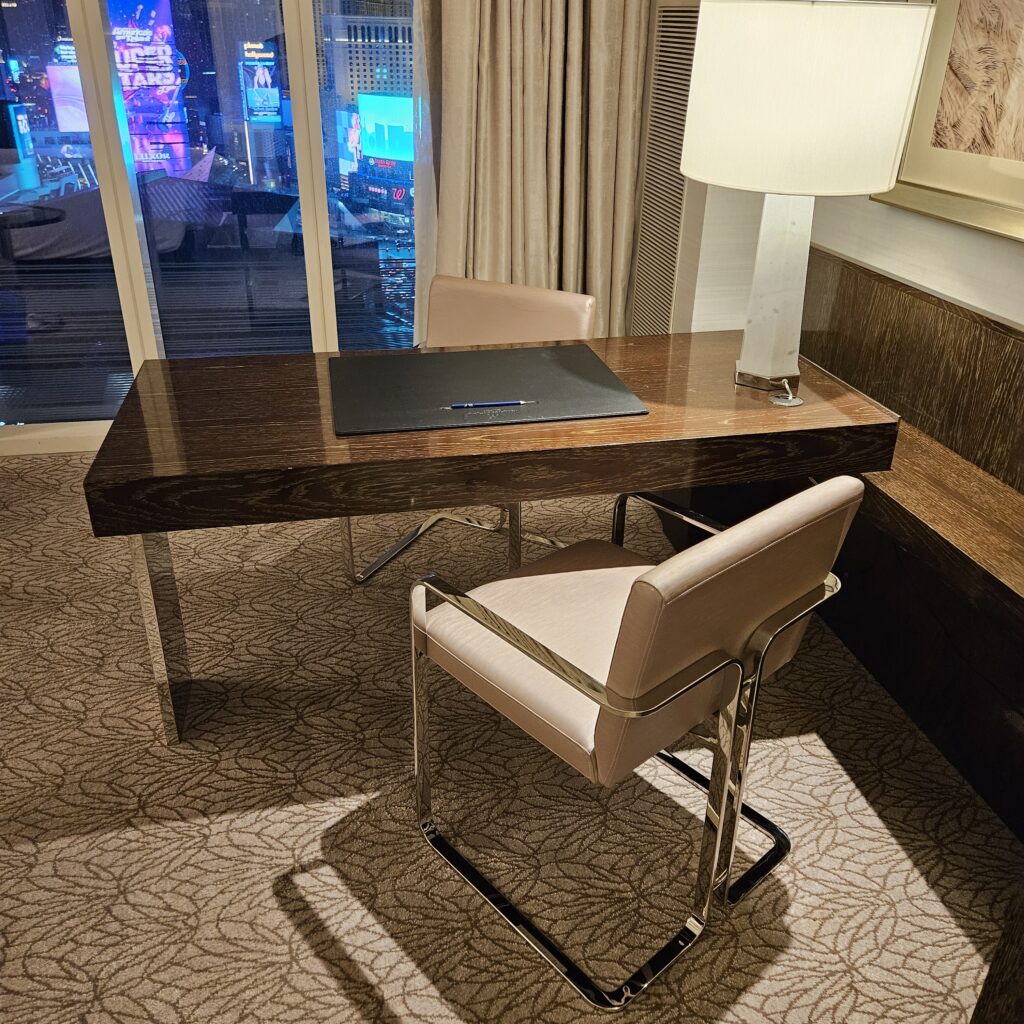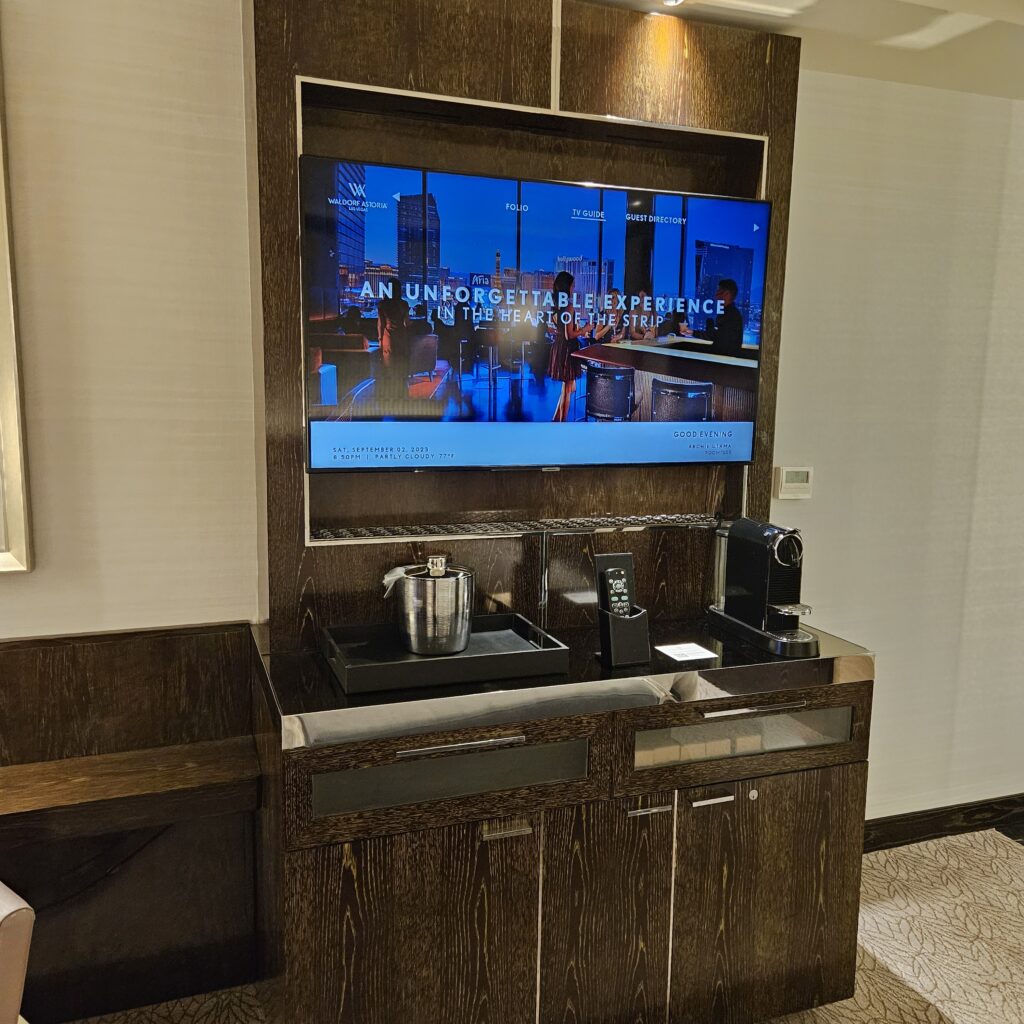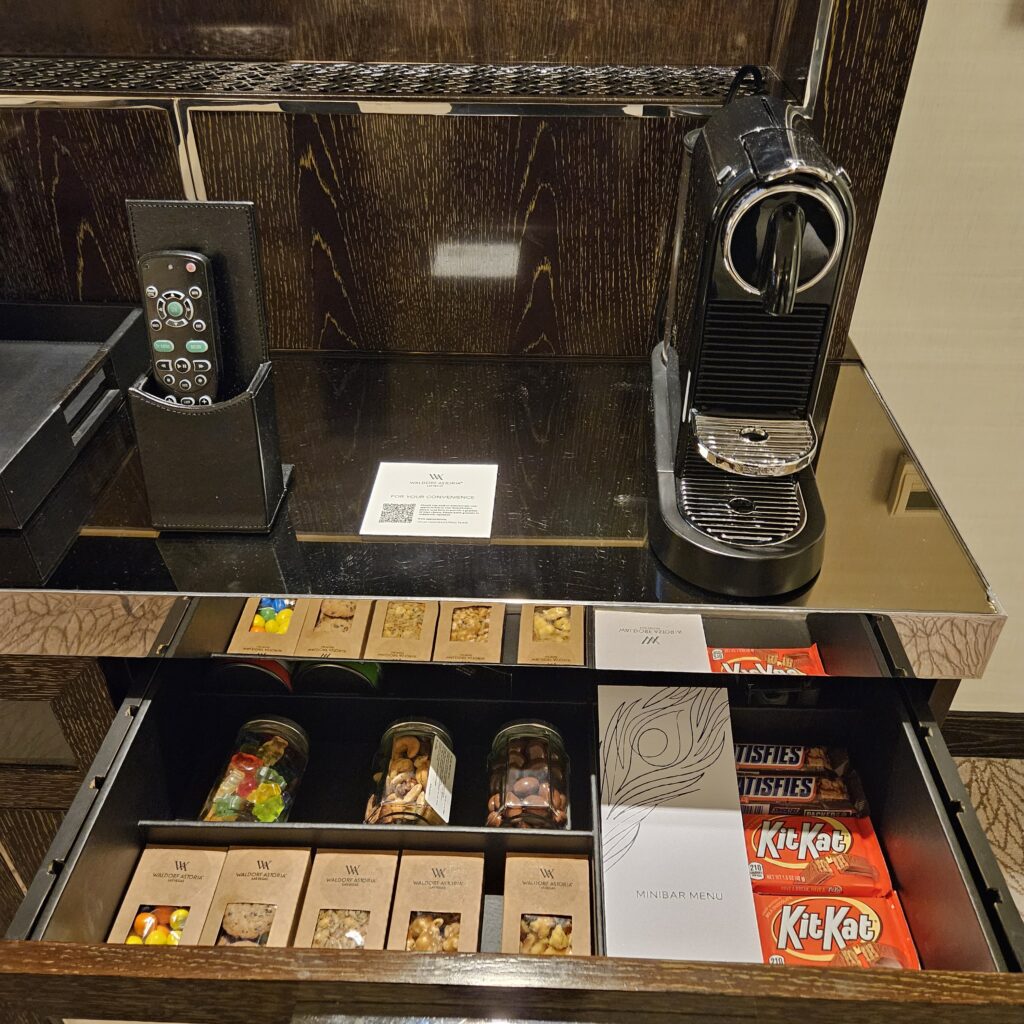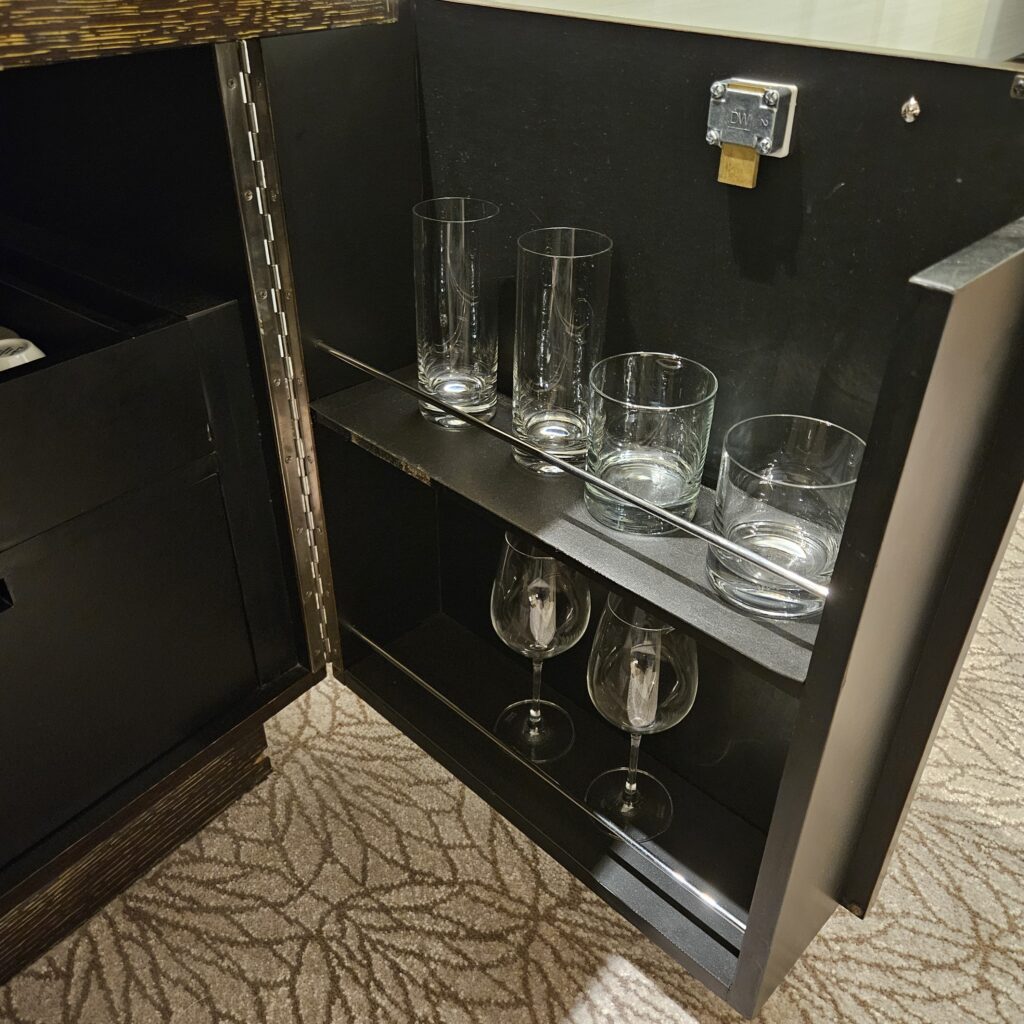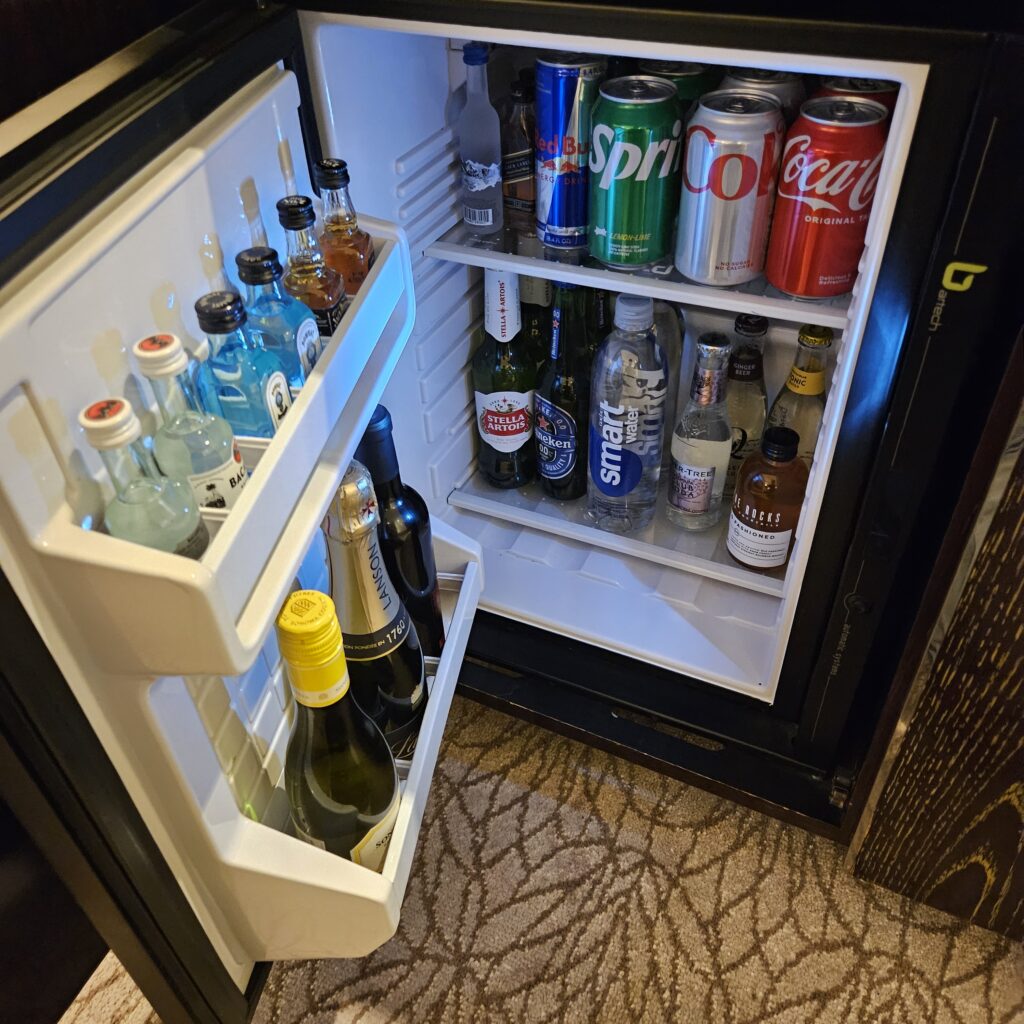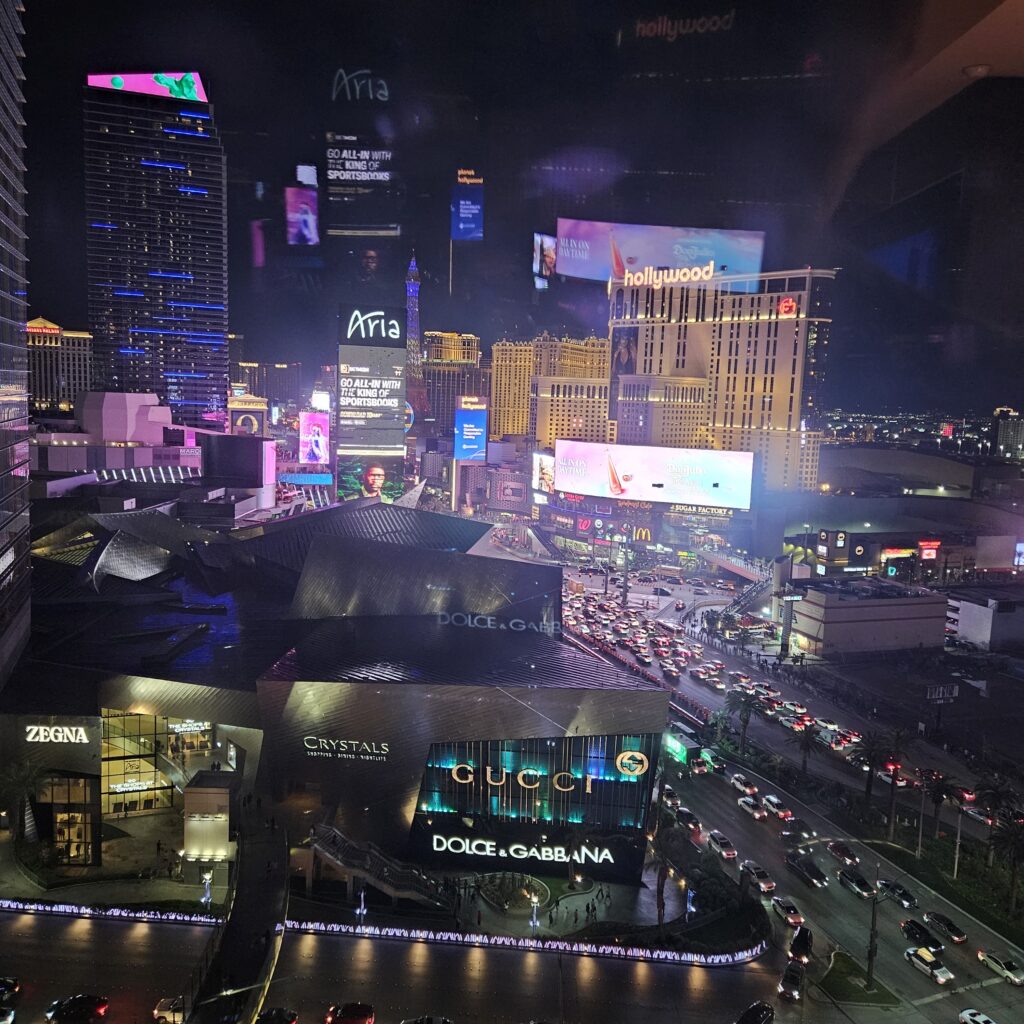 The Strip view at night is simply stunning from the room! Noise is not an issue at the Waldorf Astoria Las Vegas.
Bathroom
Bathroom is clad in black marbles. It comes with an oversized tub where you can enjoy some me-time. The bath salts provided are pretty generous and replenished daily from housekeeping.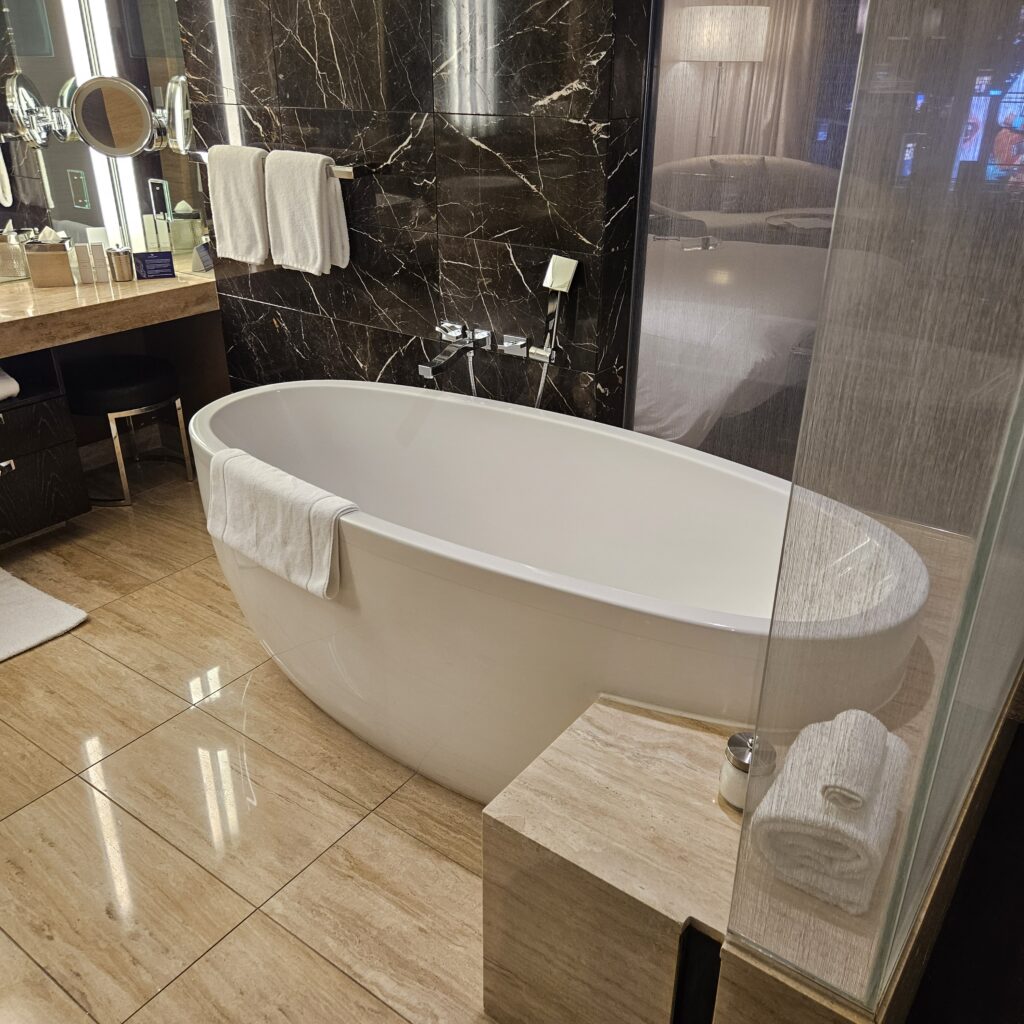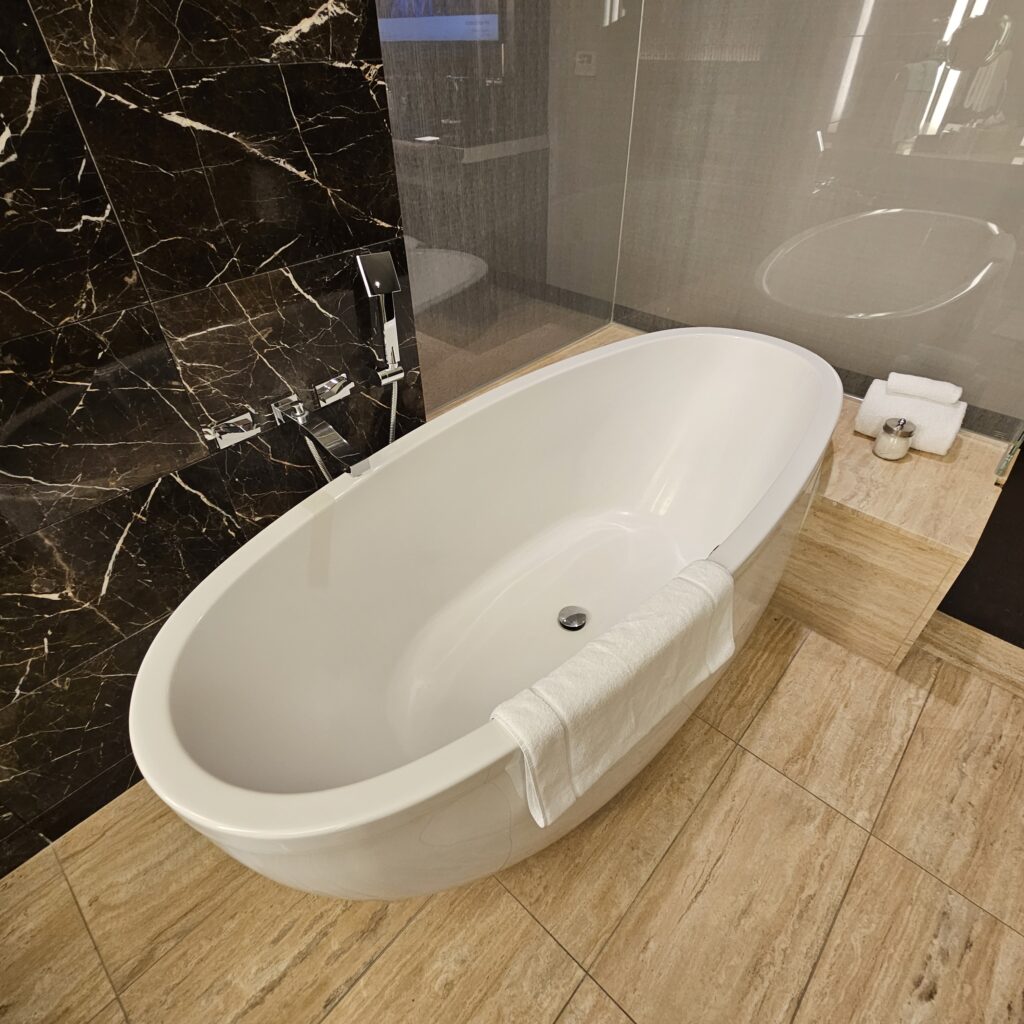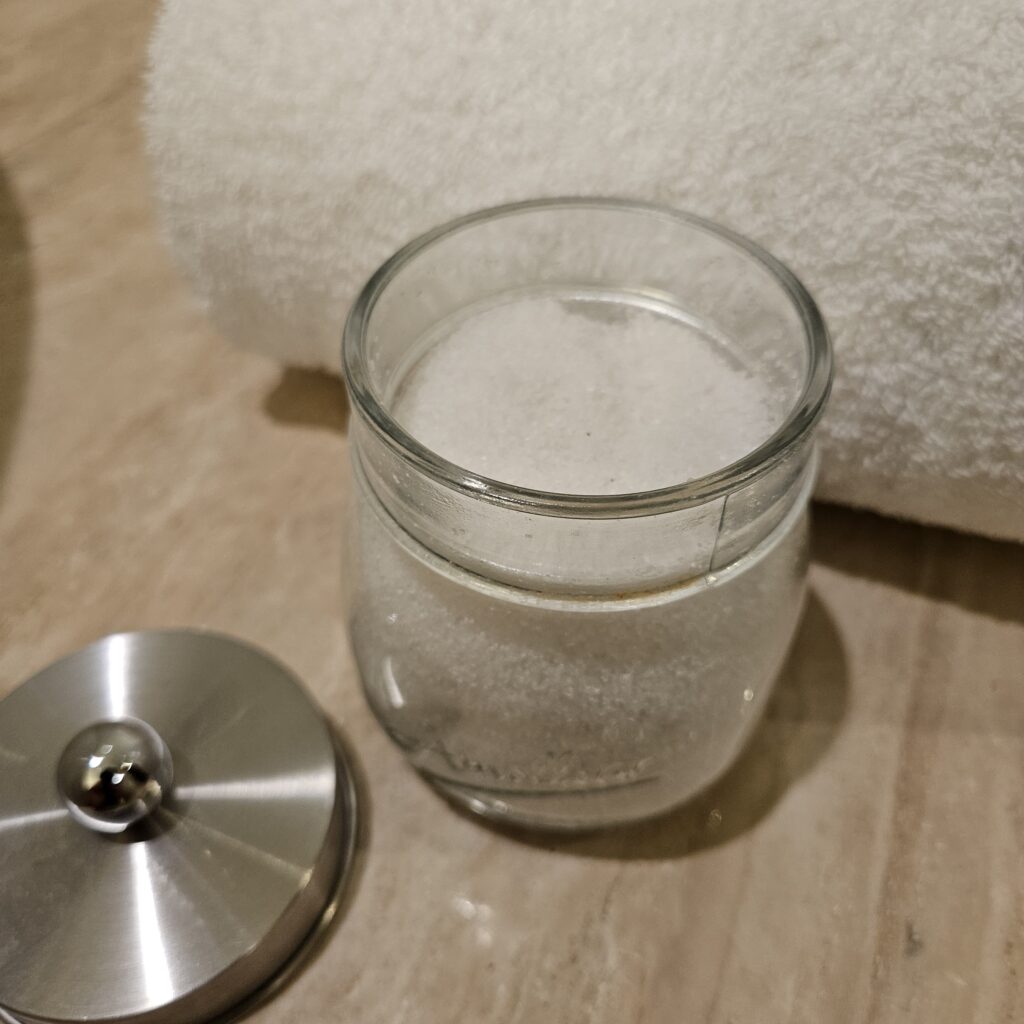 You can potentially enjoy the Las Vegas Strip view while bathing in the tub.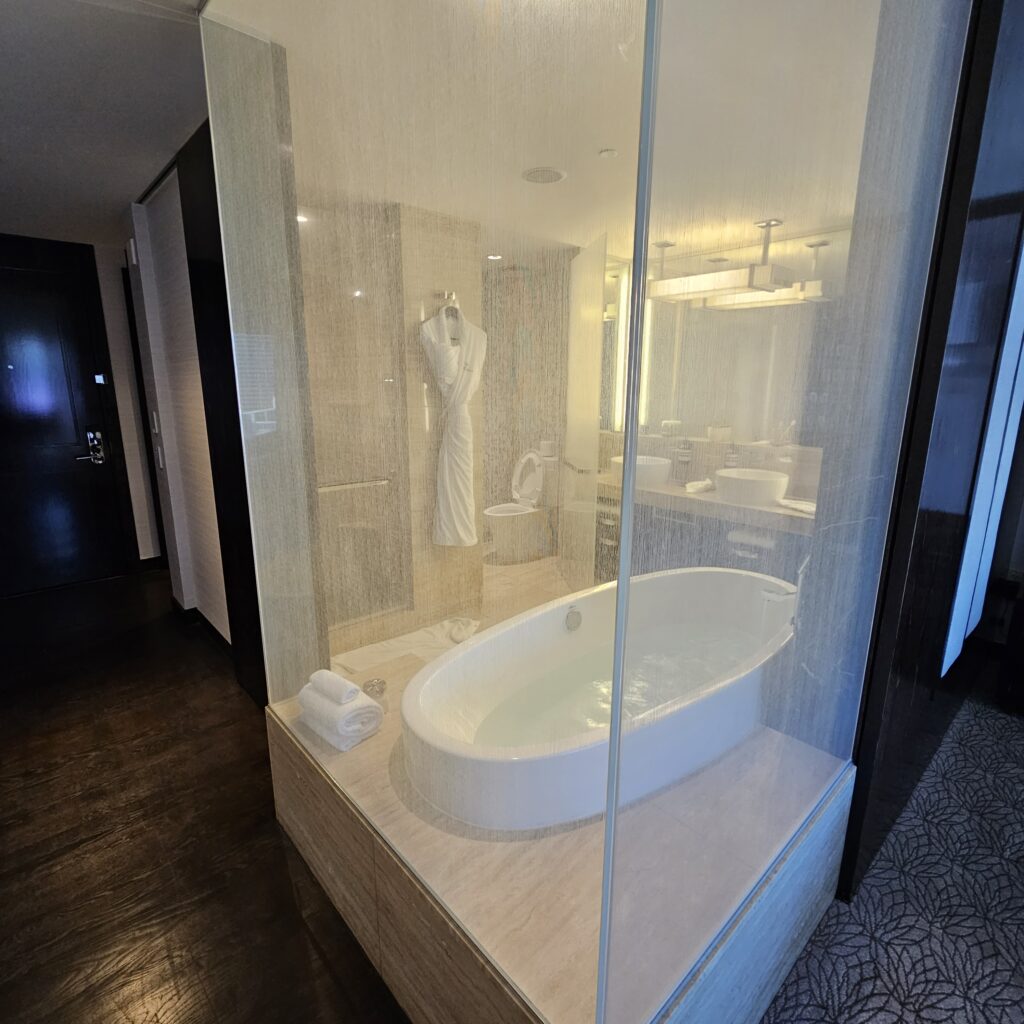 The frosted glass can be blocked by the sliding wall by the bed.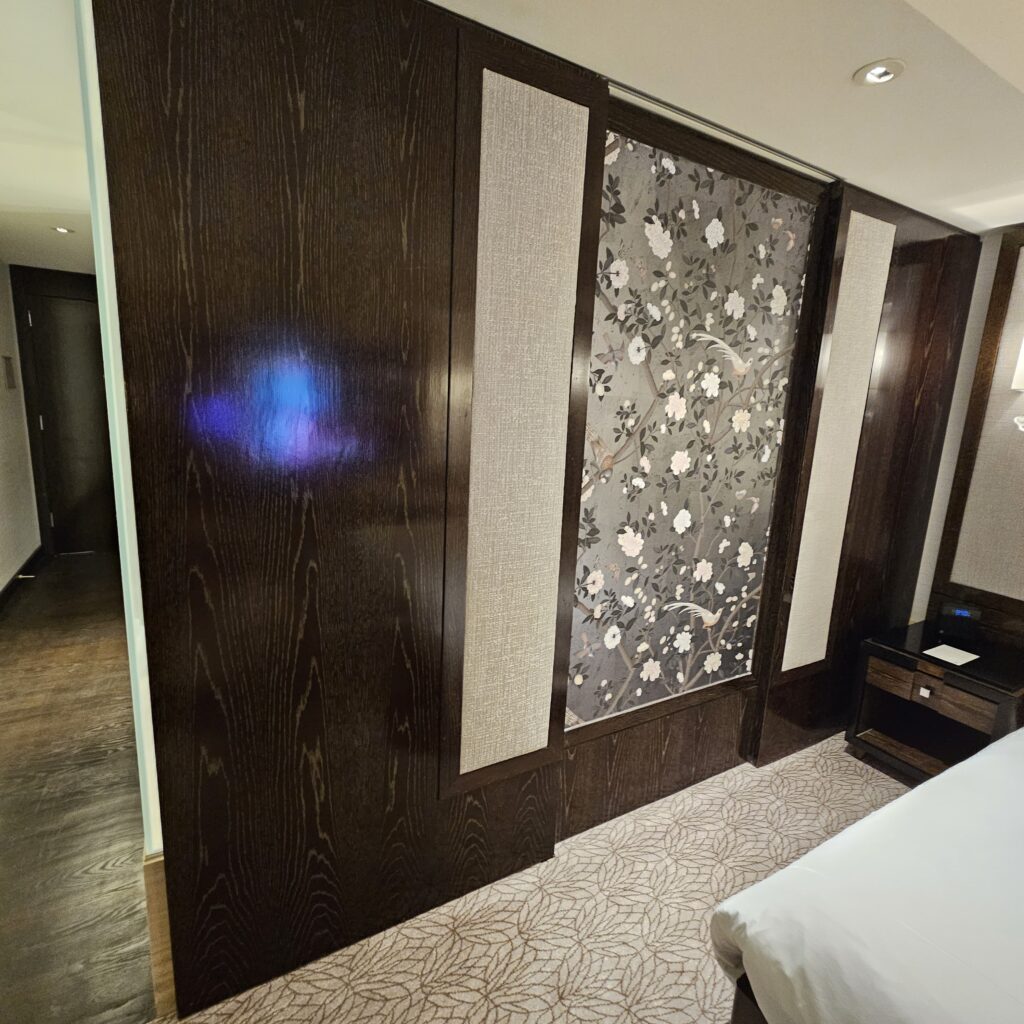 However, the side adjacent to the sliding wall does not have cover at all. Be careful about booking this hotel if you're traveling with someone you're not intimate with or those who prefer complete privacy inside the bathroom. This is possibly the most polarizing thing about the room. But, since I was alone, it was not an issue for me.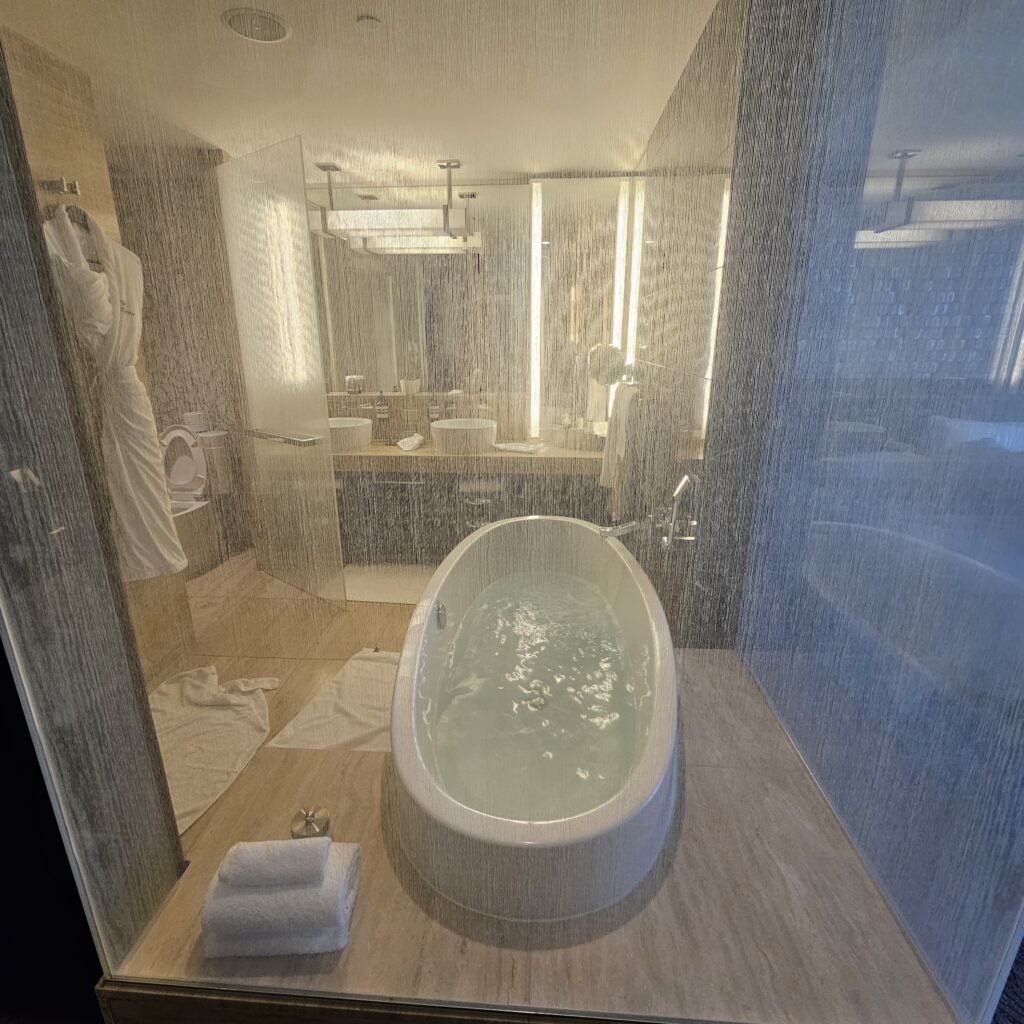 Shower and toilet have their own sections in the bathroom. Shower pressure was OK, and I noticed some of the shower sills were peeling off.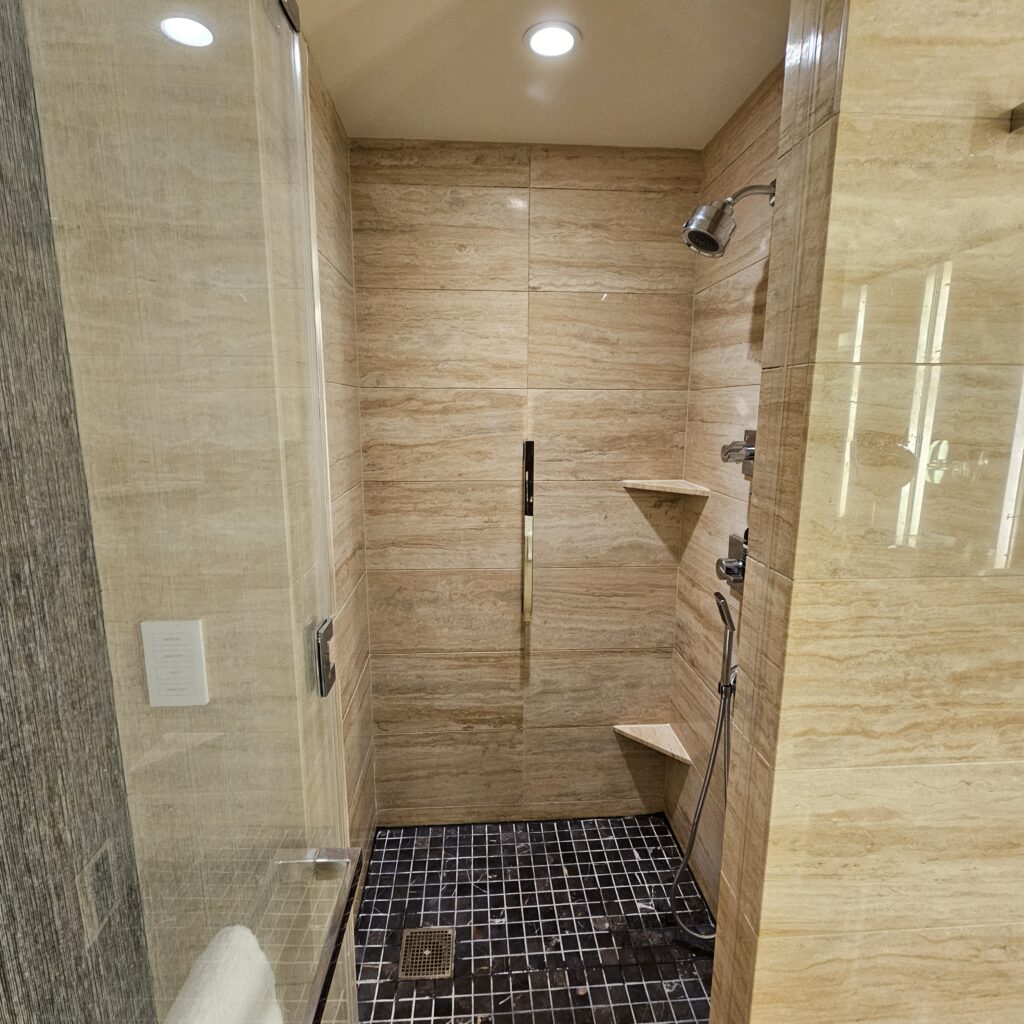 I heard good things about Aesop amenities and finally got to try it out myself. It's not as exciting to me at least, compared to Le Labo from EDITION hotels, or BVLGARI. But, certainly a lot better than Ritz-Carlton's Diptyque amenities.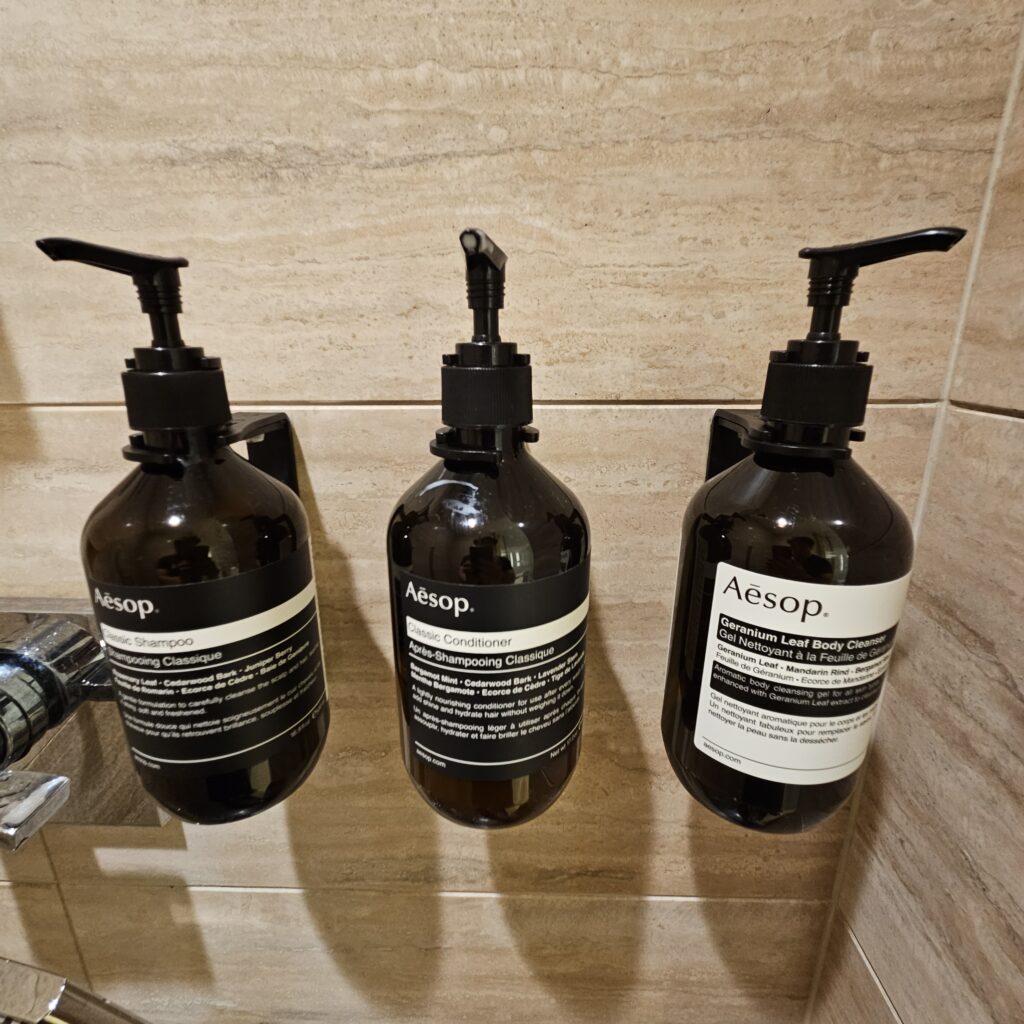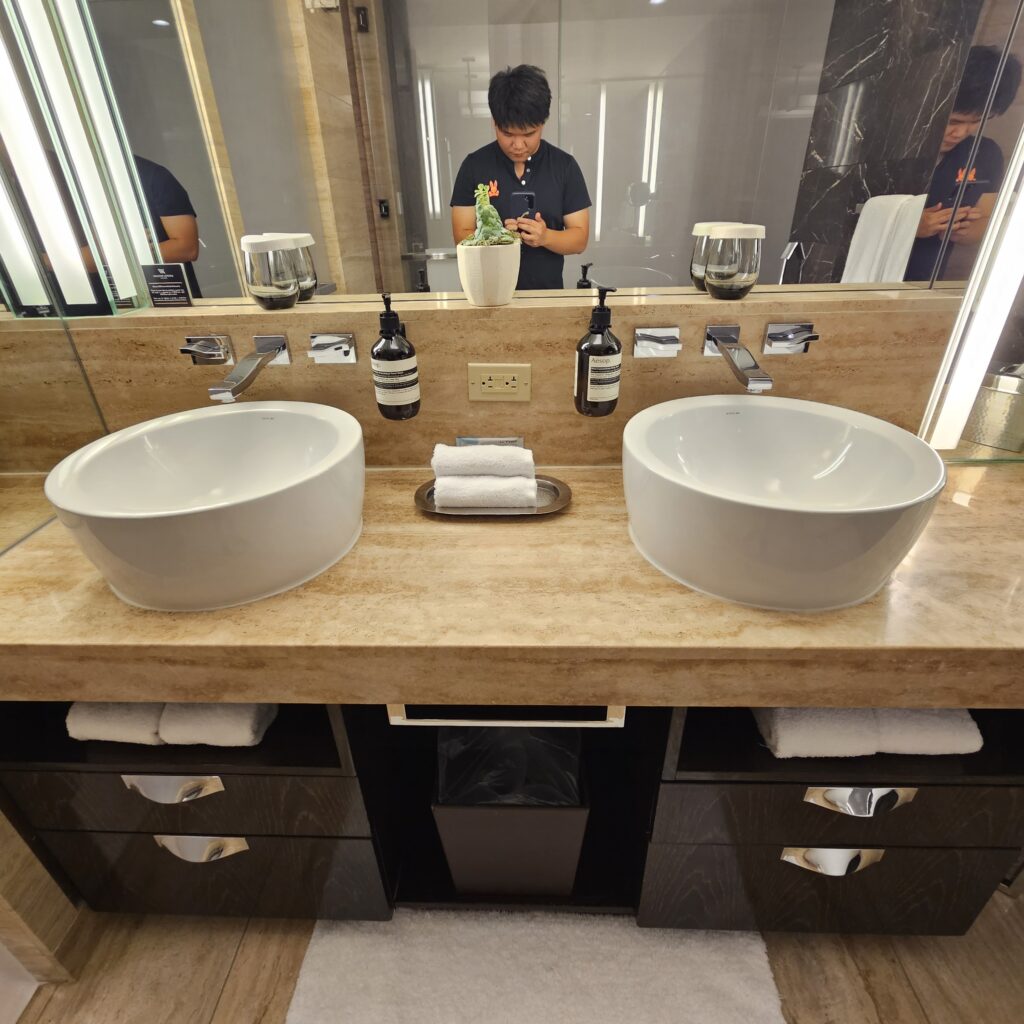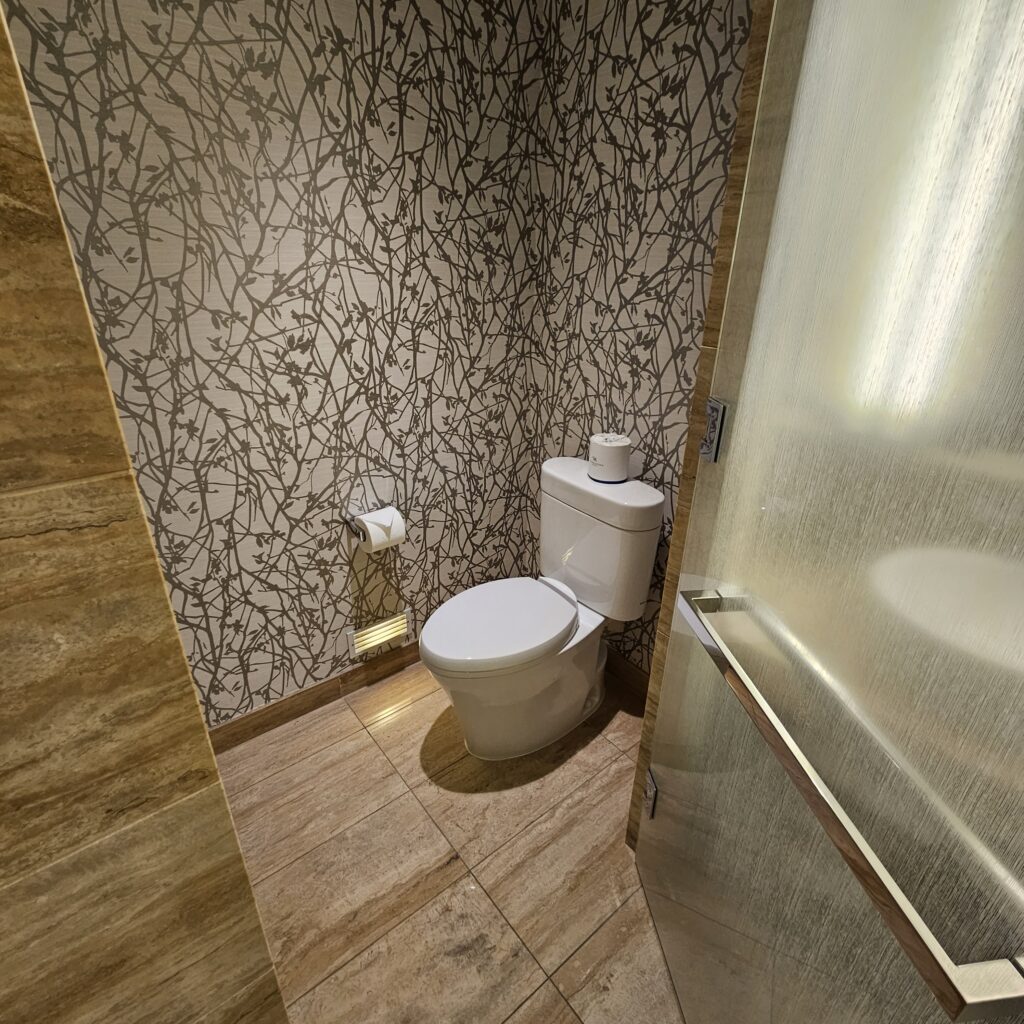 In-Room Dining
I was very hungry by the time I checked in to the hotel, so I ended up just ordering room service. It was actually my first time ever having a room service, so there's a first time for everything. The food did their job filling me up.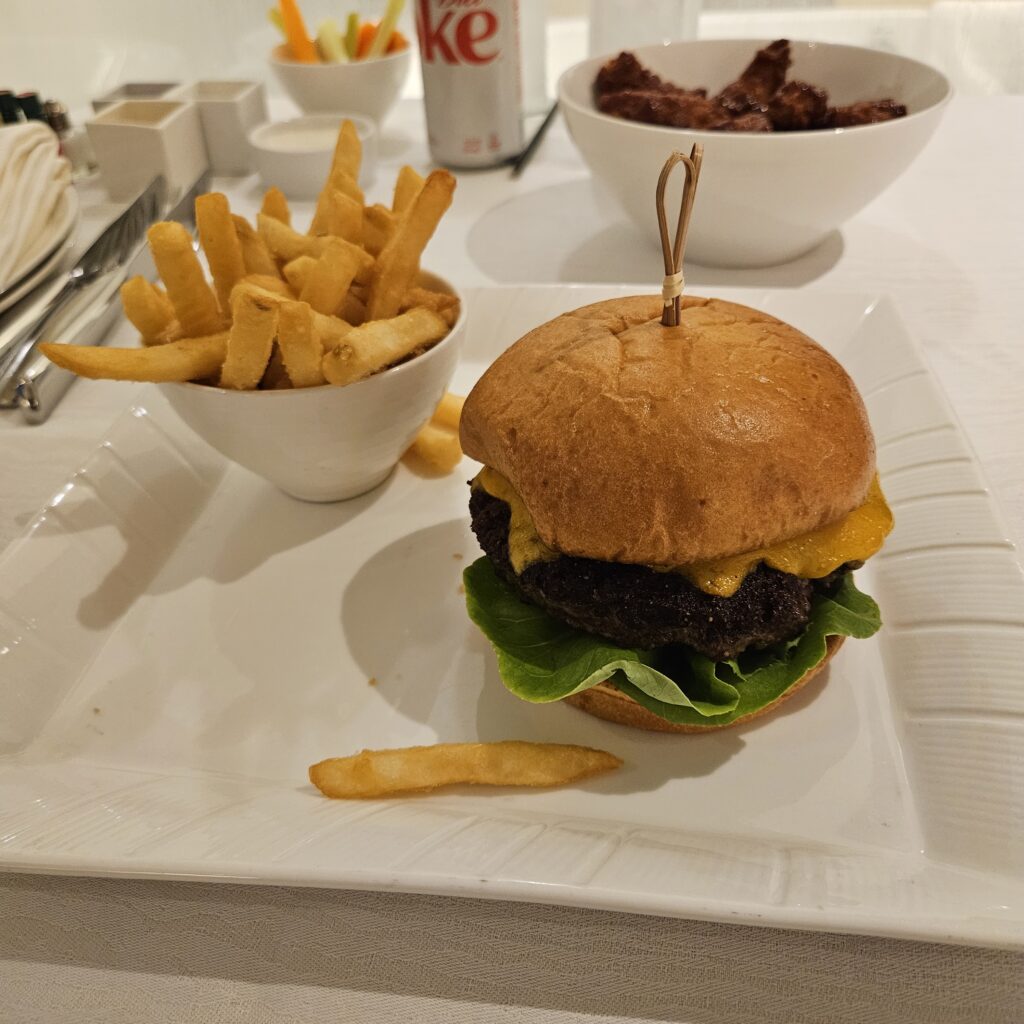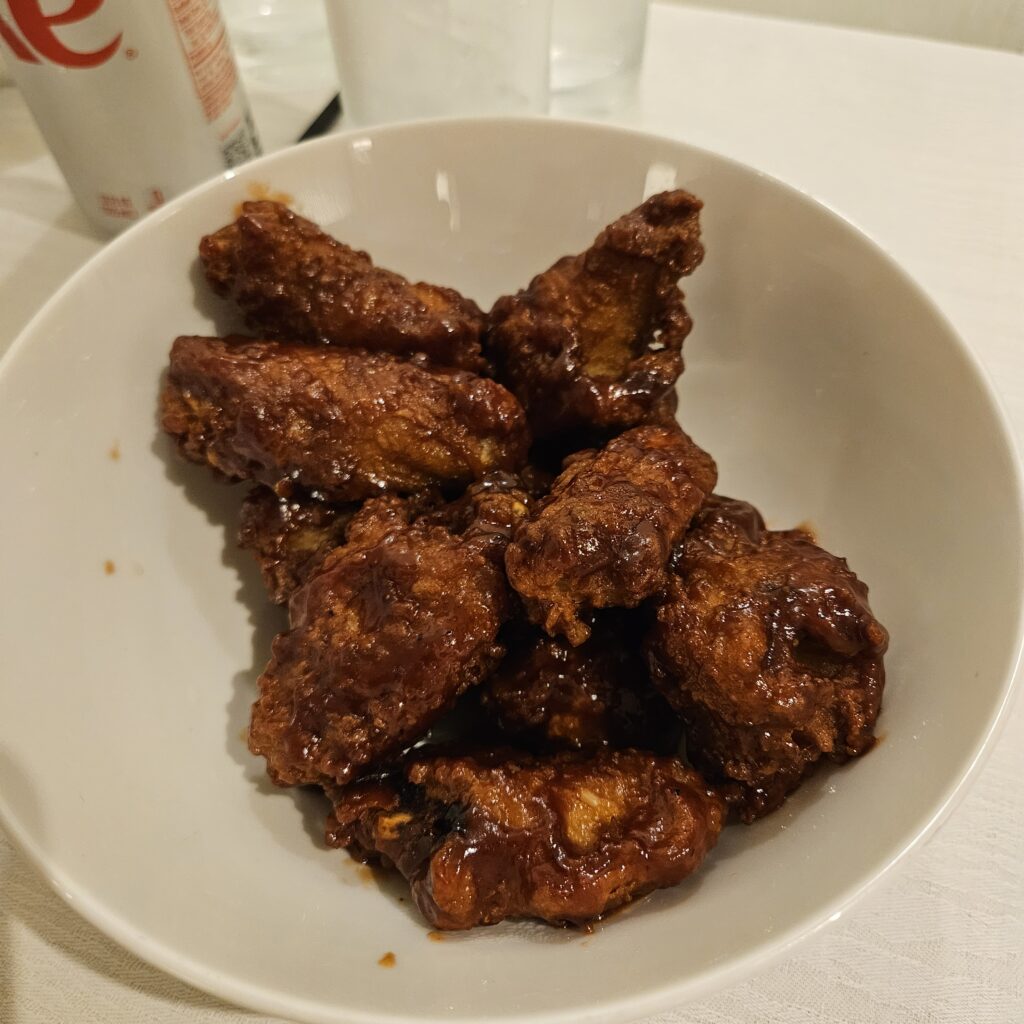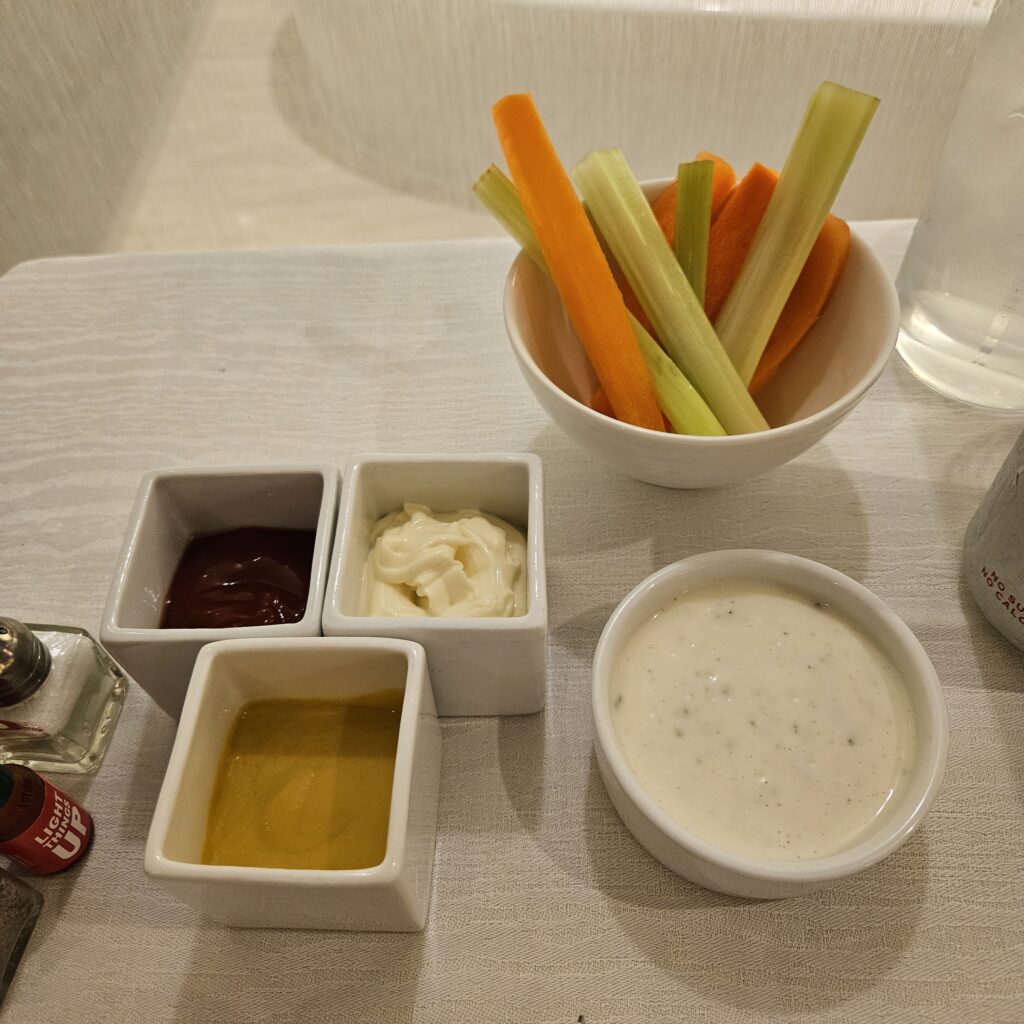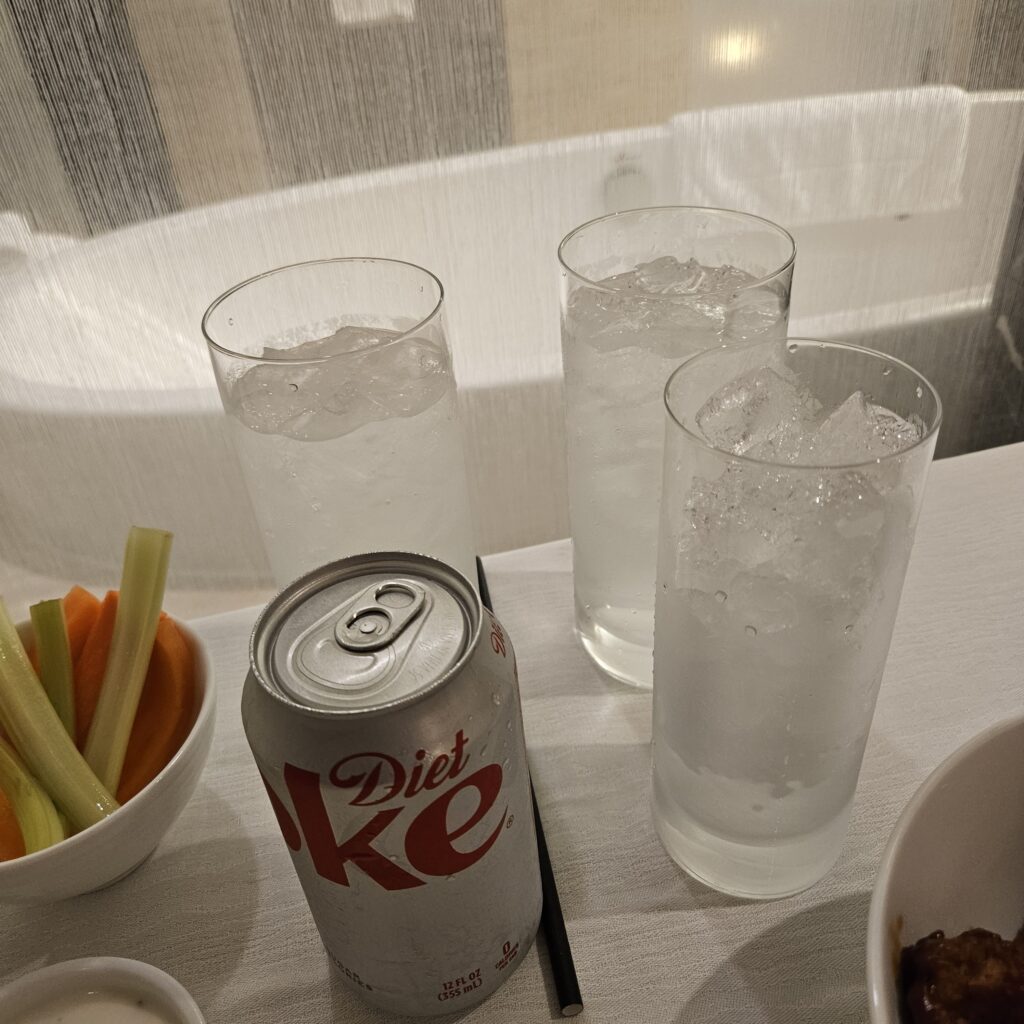 It's quite bonkers that these items would almost cost $100 without discounting the Hilton Diamond credits. It's something I wouldn't do if I didn't have the Hilton Aspire's resort credit.
Waldorf Astoria Las Vegas- Zen Kitchen
Zen Kitchen is the main restaurant for Waldorf Astoria Las Vegas, at least for the time being. It's a small restaurant that serves mostly Asian Fusion cuisine for lunch and dinner, but completely Western for breakfast.
Dinner
I ordered 3 dishes during dinner starting off with the kurobuta pork belly. My first exposure to kurobuta was in Tokyo, just a few weeks before my Vegas trip. I enjoyed it so much that I planned to go to Kagoshima where they're famous for their kurobuta pork. The one in Waldorf was pretty good!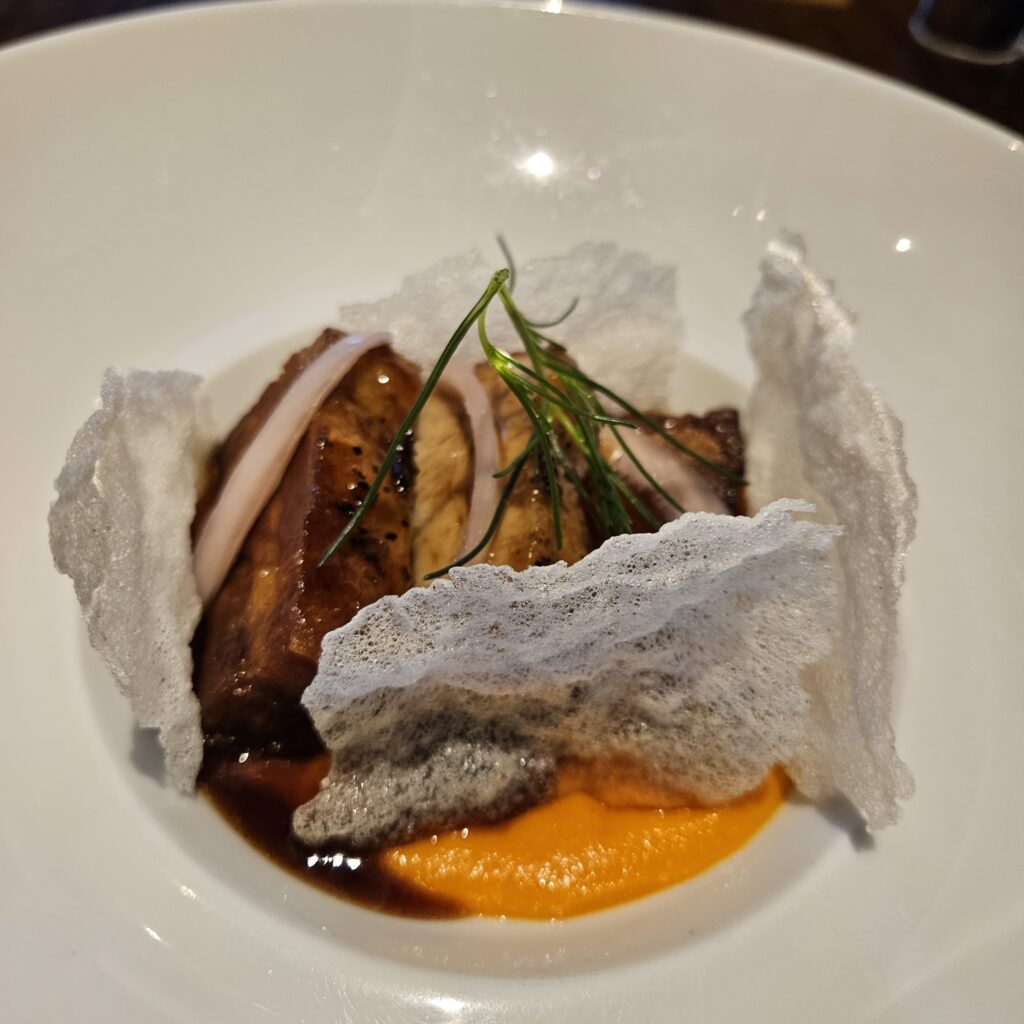 Then, I ordered the Hokkaido scallops. I was trying to reminisce my recent Japan trip since I went to Hokkaido for the first half by ordering this. The presentation was delicate, and the taste was good. Though, I wish there were more!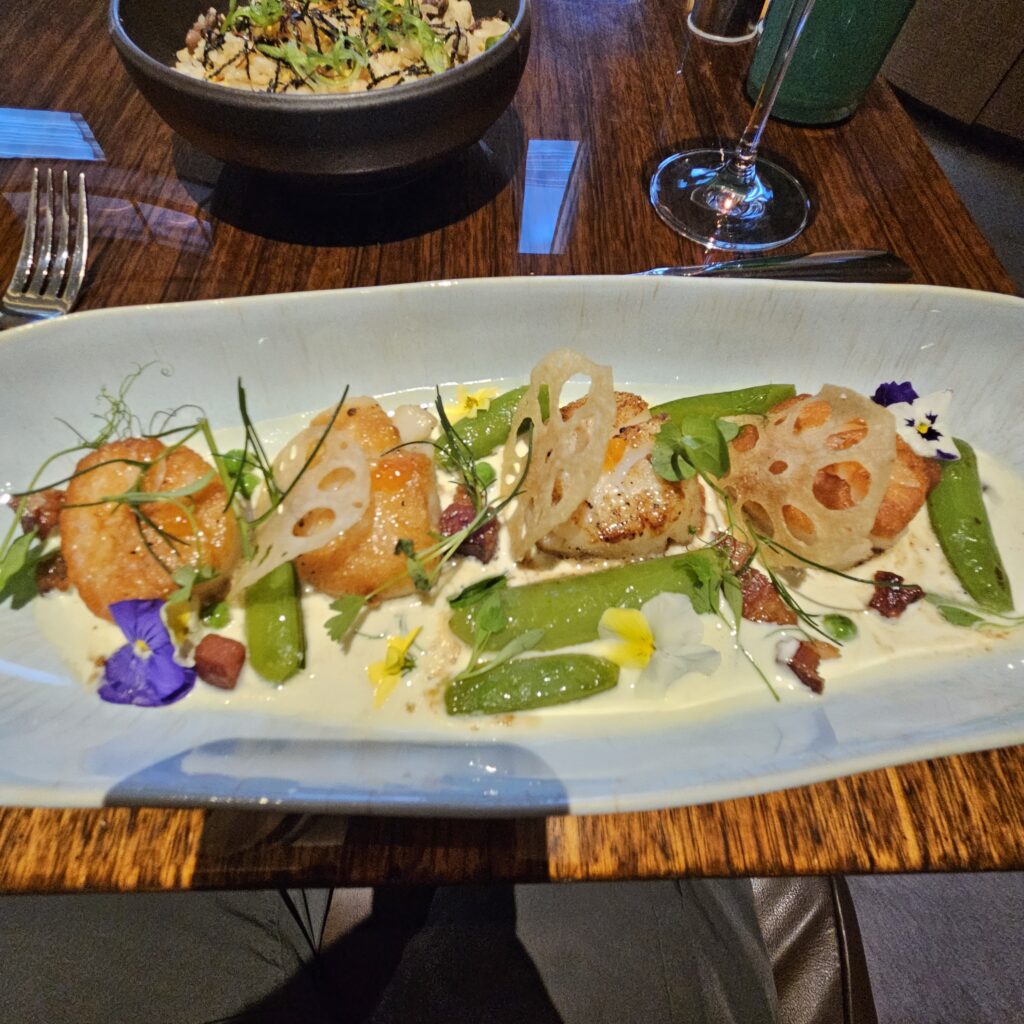 Then, I had the wagyu fried rice. The fried rice was good, but the wagyu felt overlooked, and it still doesn't beat fried rice from a Chinese restaurant, in my opinion. I enjoyed it still.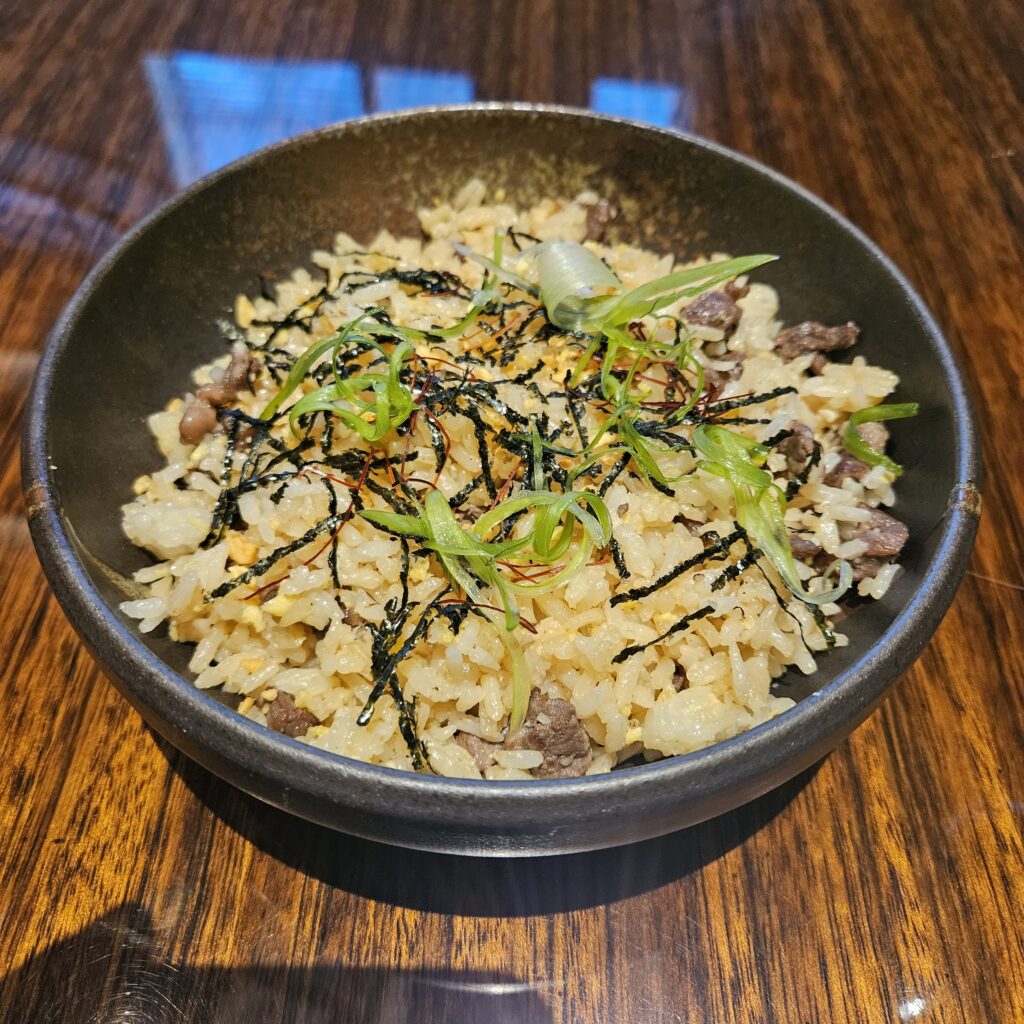 I then had chamomile tea to wash down all that oil and fat I just devoured.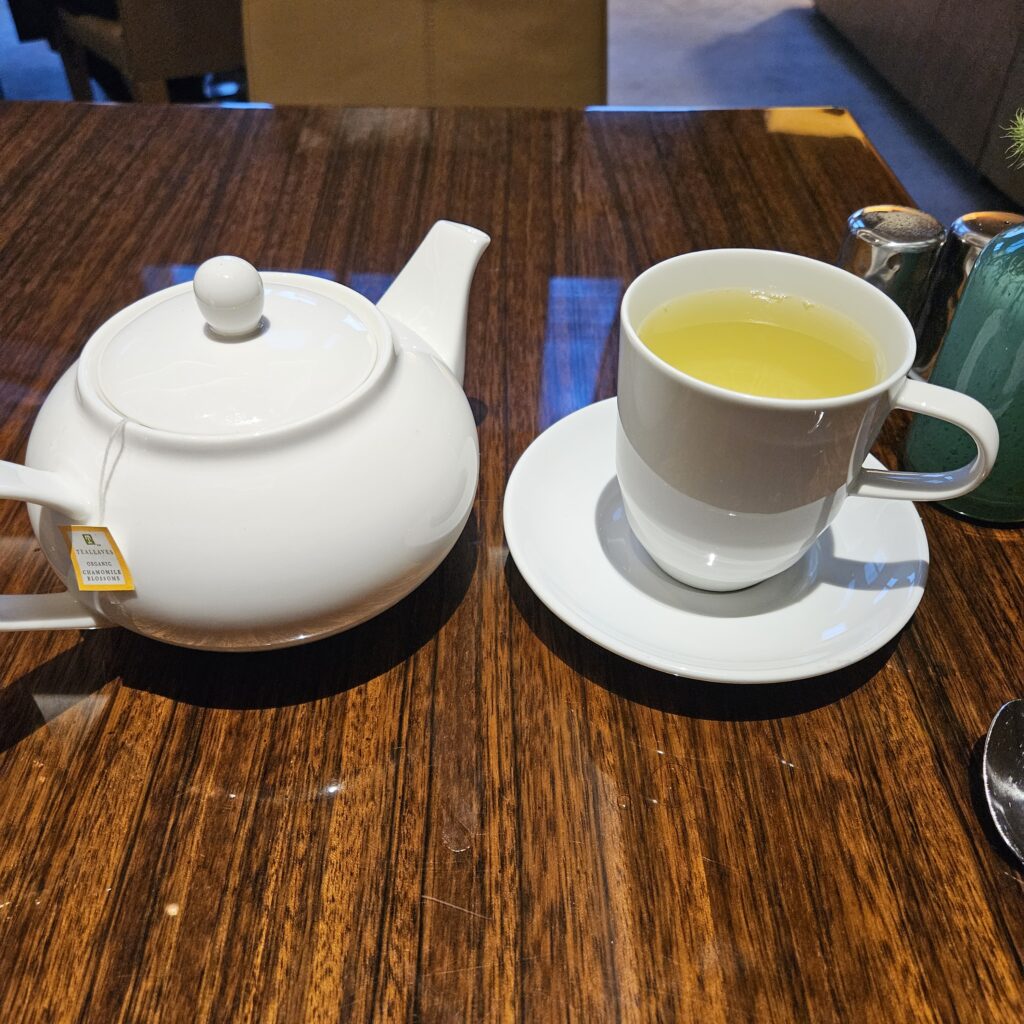 To finish it off, I had a chocolate Napoleon as dessert. It goes well with the tea.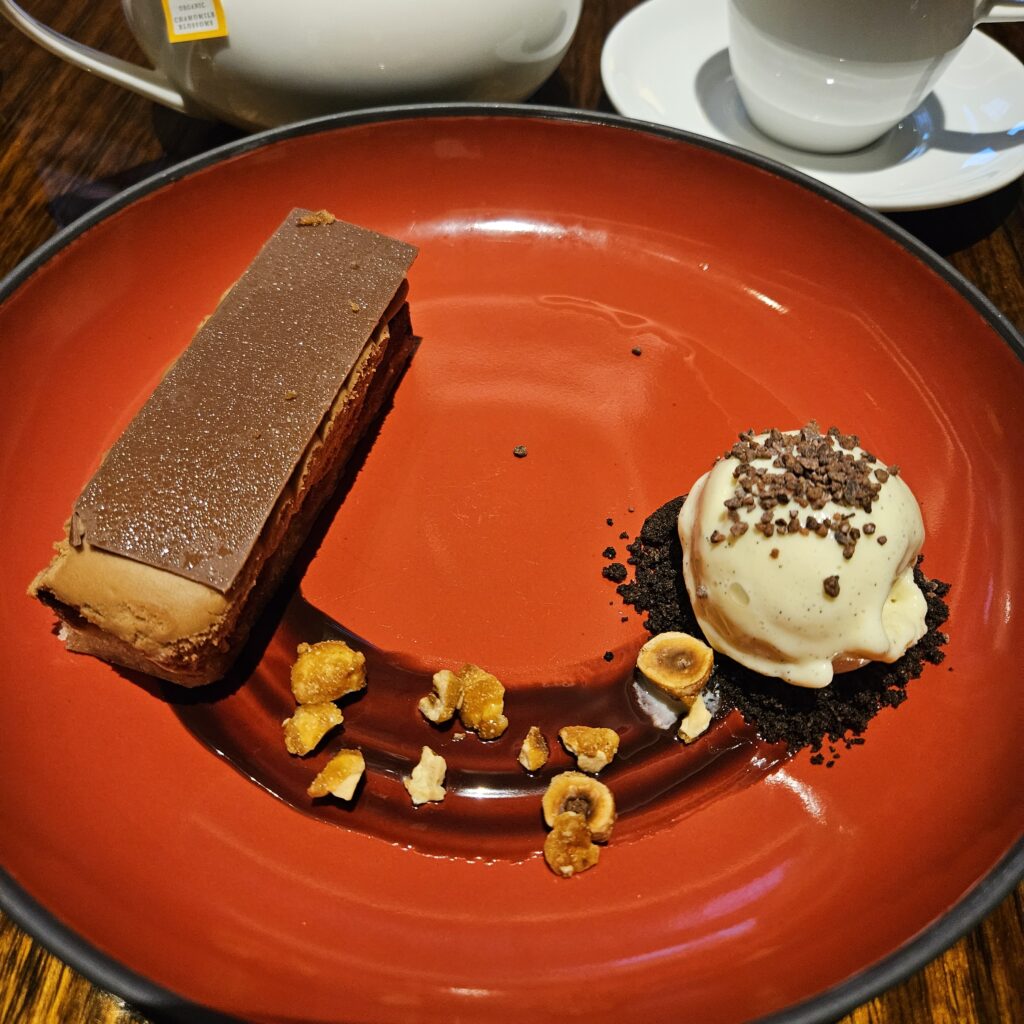 Breakfast
Breakfast happens in the Zen Kitchen again. Again, thanks to the Virtuoso booking, I received a generous amount of breakfast credit before I could even use the Hilton Diamond dining credit and the Aspire credit.
If you have no idea on what to use your remaining credits for, consider leaving massive tips for your waiters/waitresses! They would count towards eligible spend that would get you some Hilton points back, plus you'd make someone's day much brighter :). Service is very good at Zen Kitchen with friendly and attentive staffs.
After a mostly savory dinner, I wanted to balance it out with sweet breakfast the next day. I opted for a cup of cappucino and vanilla pancakes with bananas on top.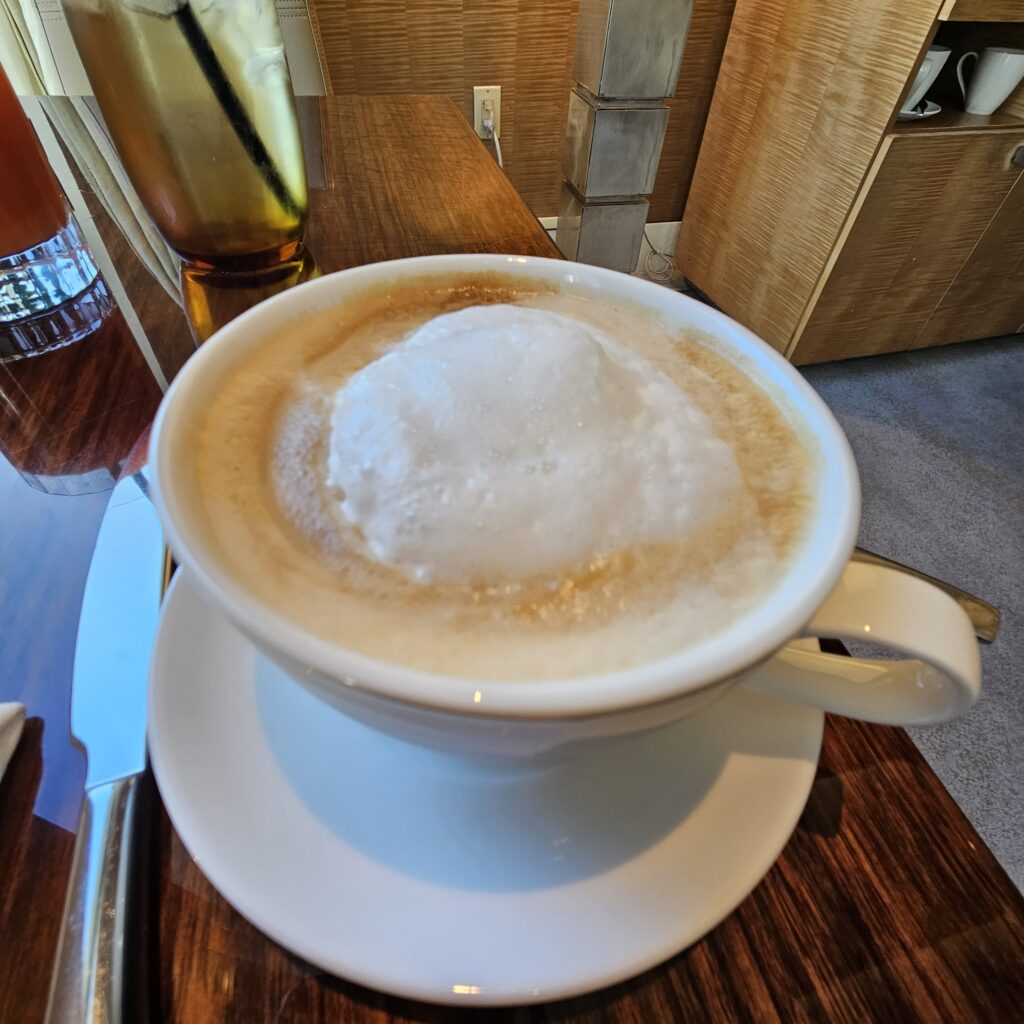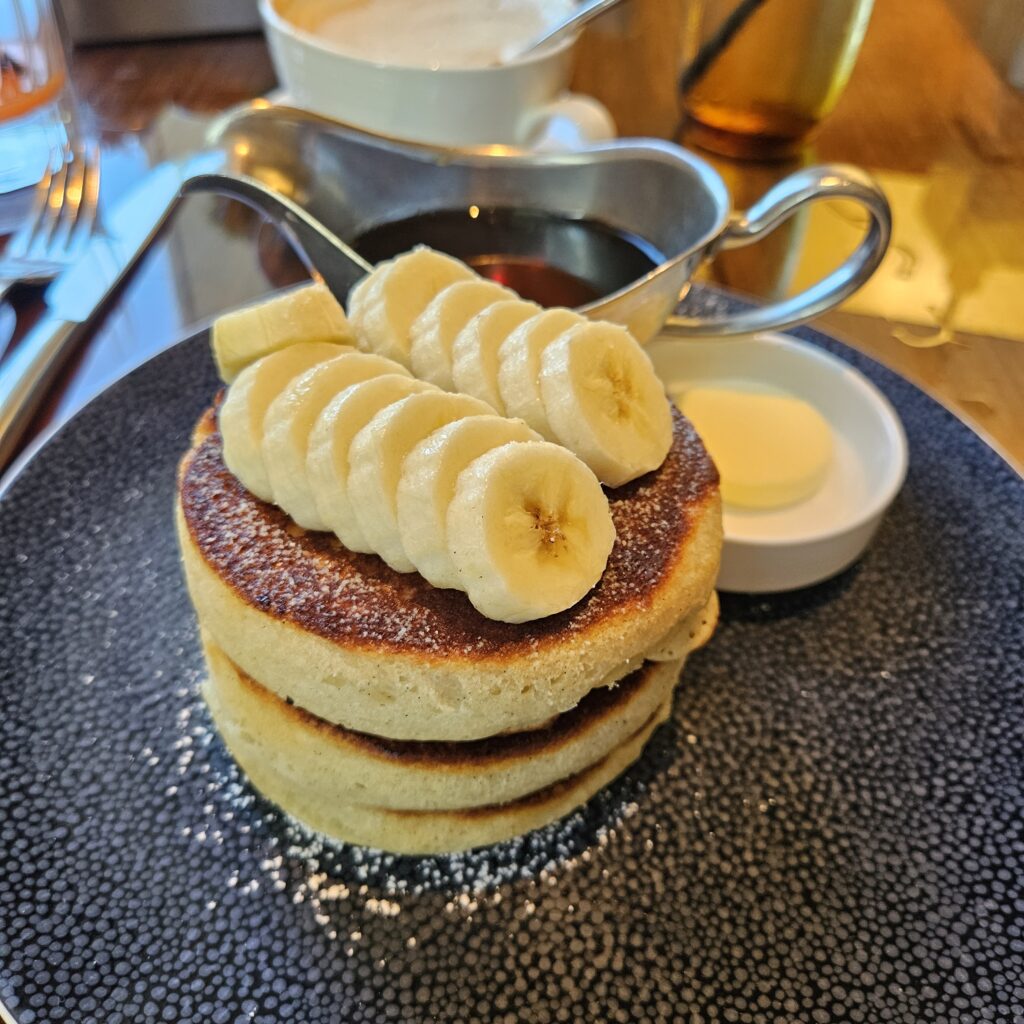 If you're in a hurry, you could opt for the Zen Cafe instead for a quick grab and go pastries selections.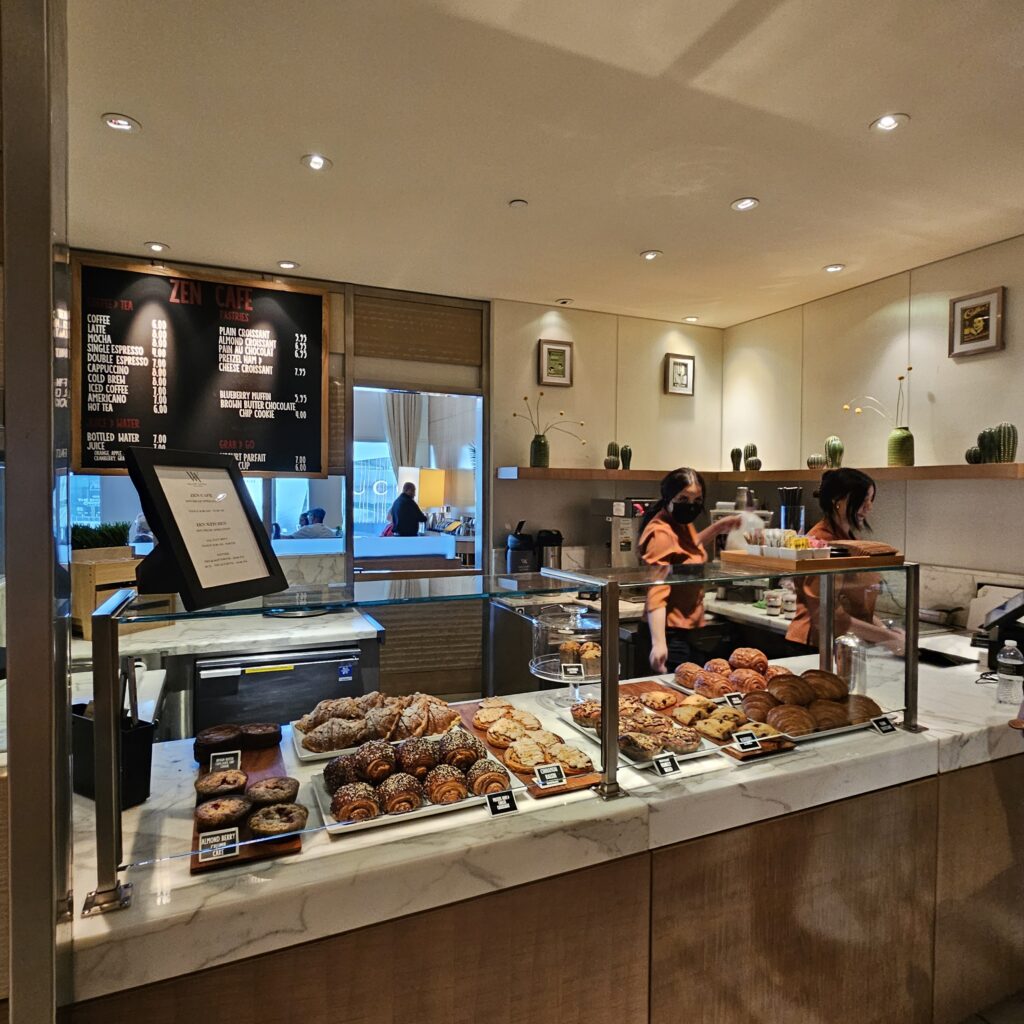 Waldorf Astoria Las Vegas- Pool
The pool area consists of 2 separate long straight main pools with lounge chairs and cabanas surrounding them.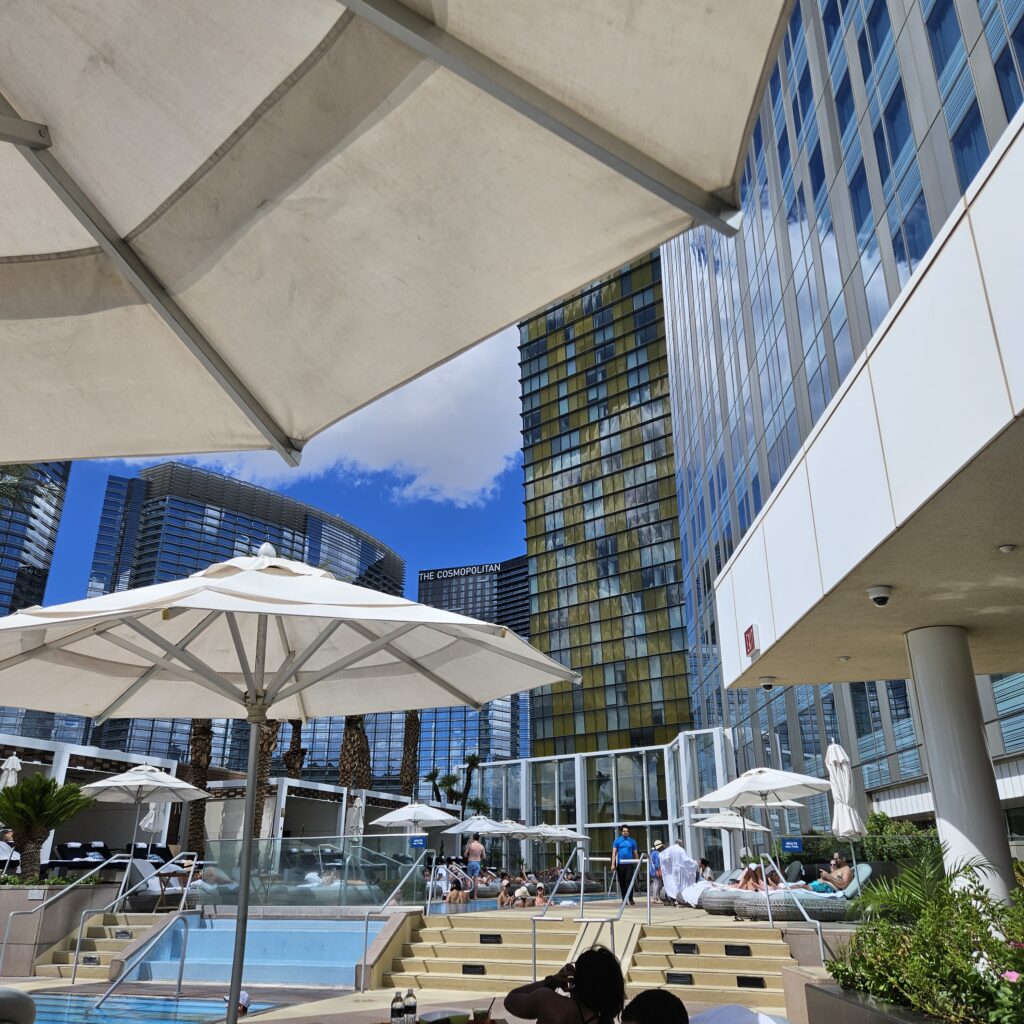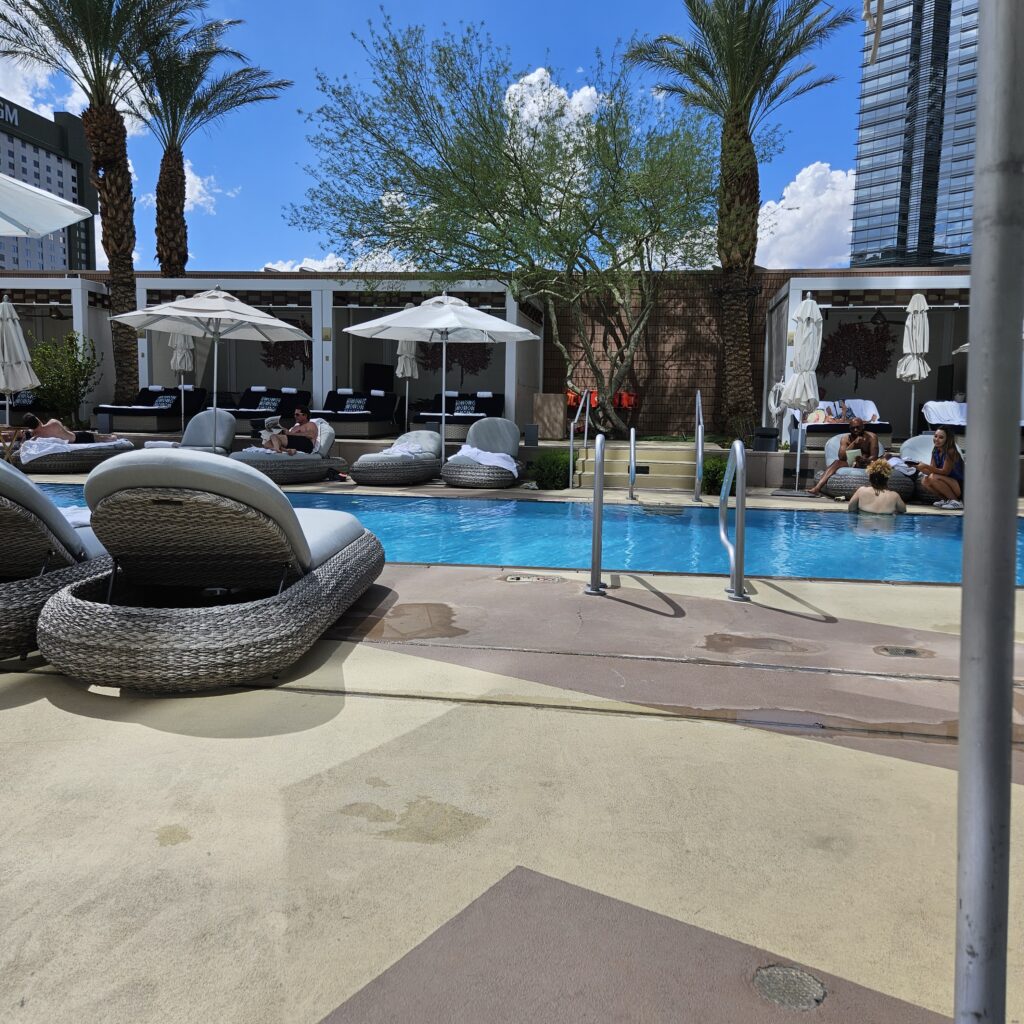 There's a hot tub section on the back, but was completely empty during the summer.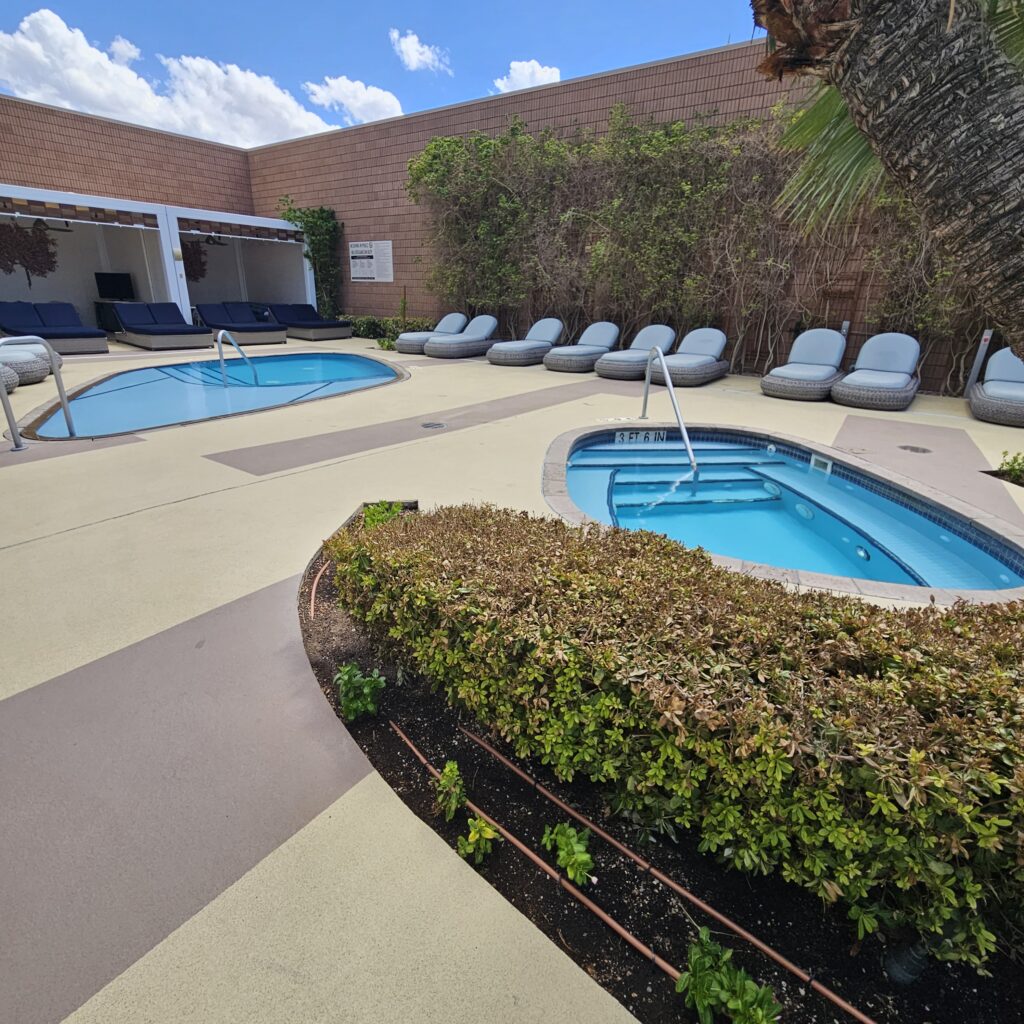 There's also a bar by the pool so you could order food and cocktails. Pool attendants would regularly  asks if you'd like anything to order.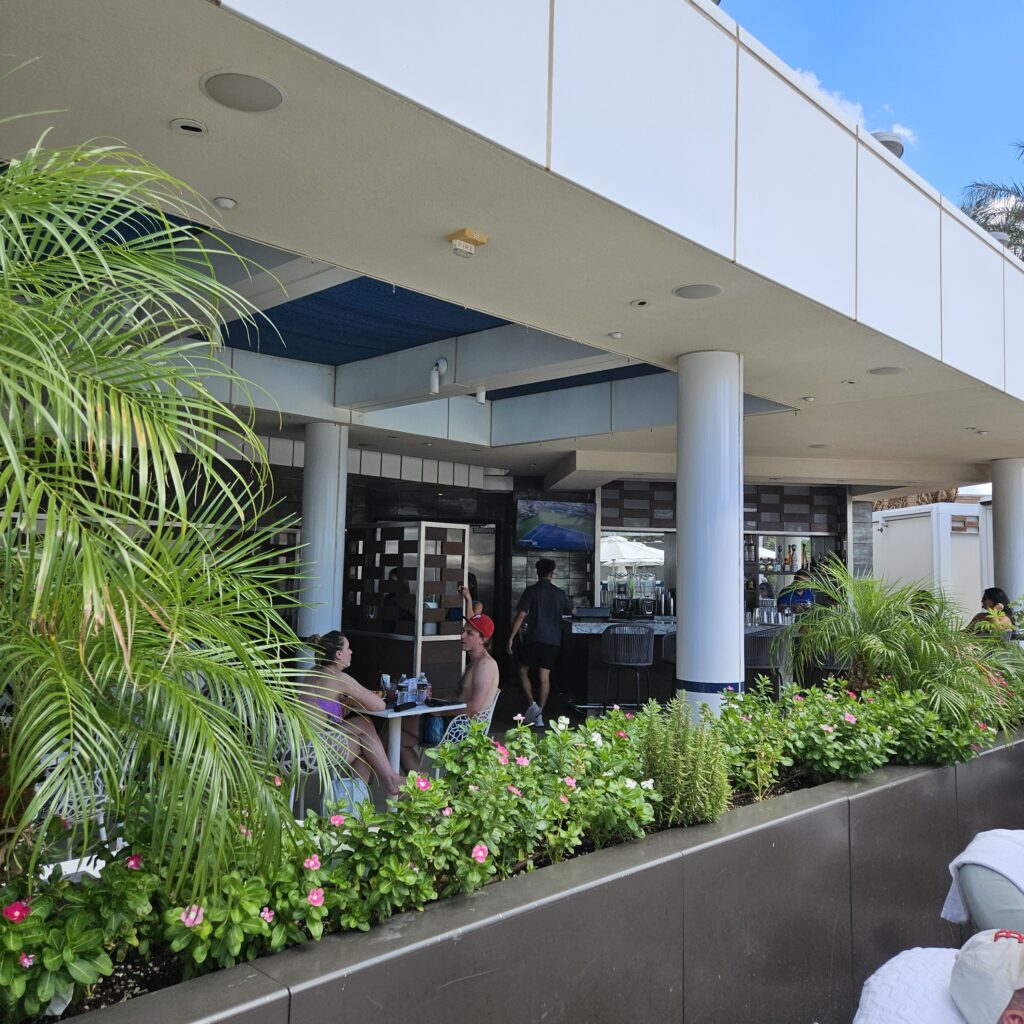 Waldorf Astoria Las Vegas- Fitness Center
The gym at the Waldorf Astoria Las Vegas is one of the bigger hotel gyms I got to check out. Tons of equipment available with a good view of the Strip.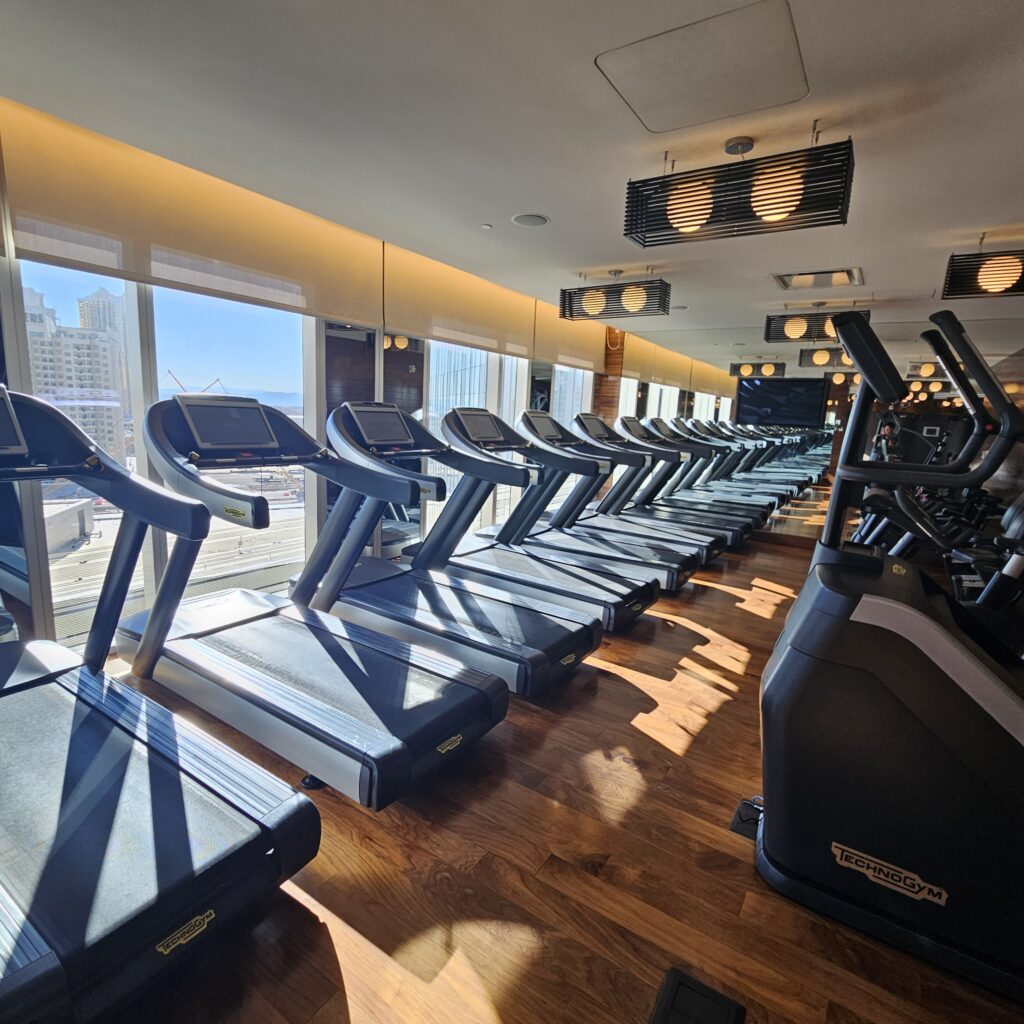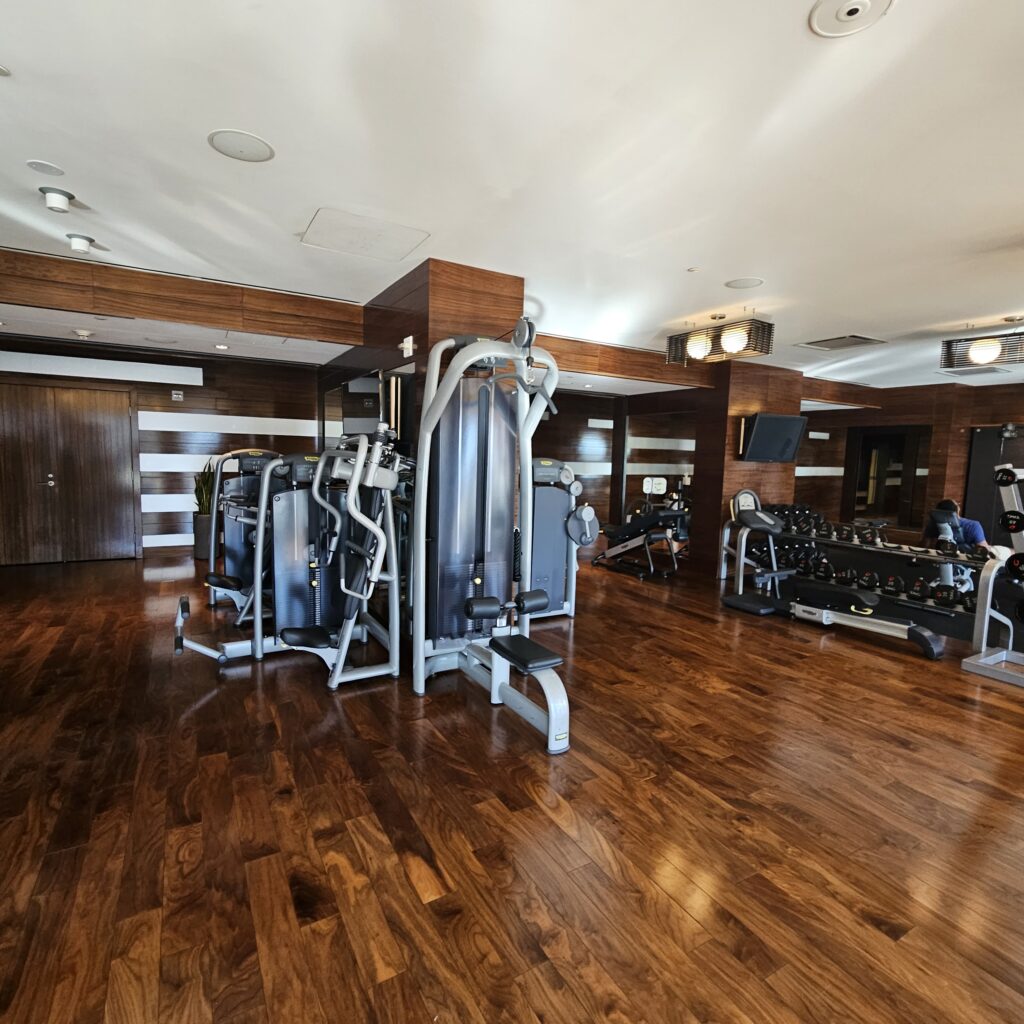 Conclusion
If you're looking for a quiet, non-smoking luxury hotel in Las Vegas, then the Waldorf Astoria is an excellent choice for it. The hotel is located at the heart of the Strip, so it's the perfect sanctuary to decompress your wilder side while you're out and about in Las Vegas. The Hilton benefits are quite decent as well, especially in the US. It's possibly my go-to in Las Vegas due to how easy it is to get value from Hilton Aspire and Amex Fine Hotels & Resorts.
It certainly isn't for everyone however. The frosted glass setup in the bathroom can be a turn-off to some people with its lack of complete privacy. It may also be too quiet for some people who'd prefer to have the "Las Vegas experience".