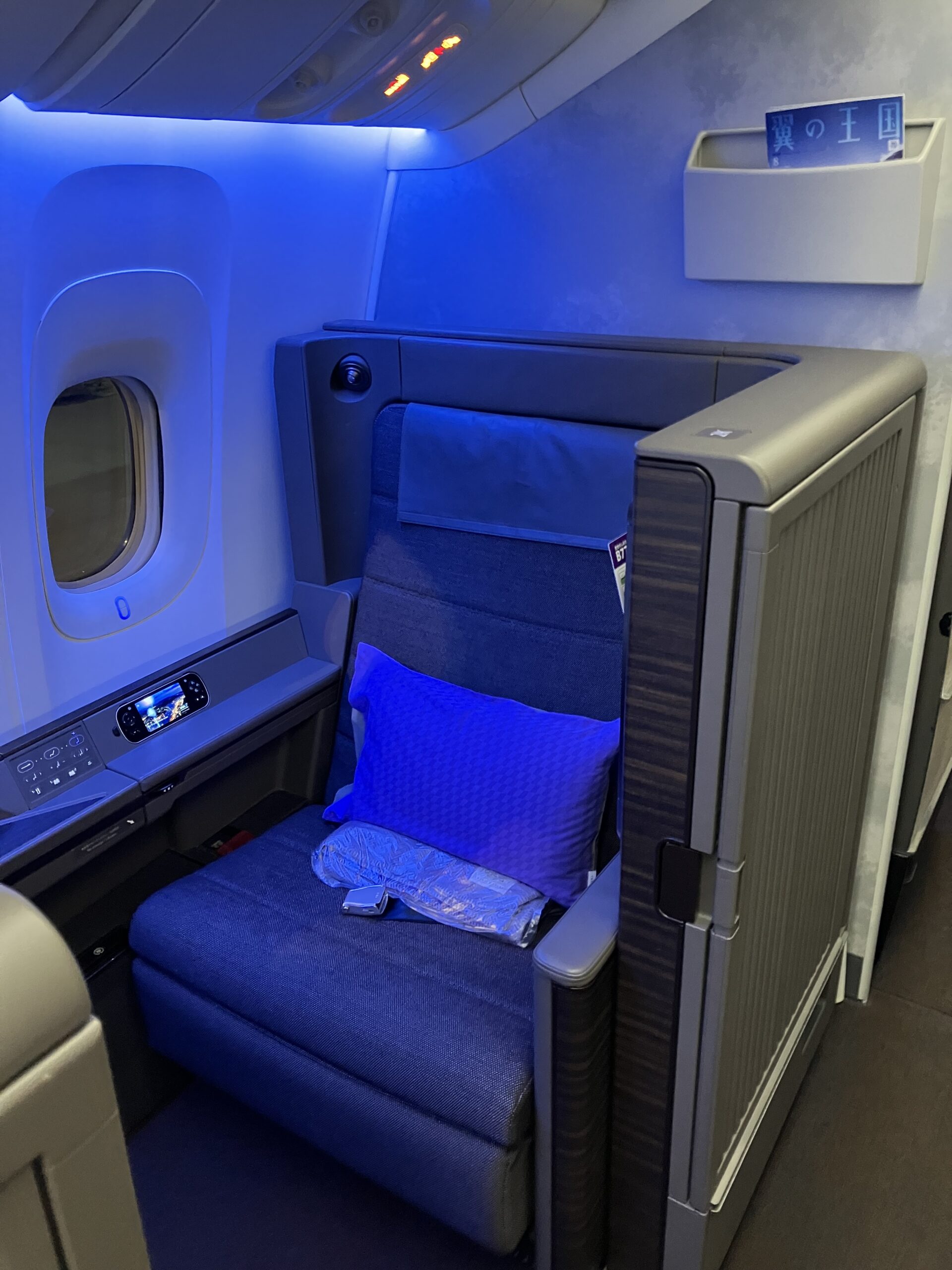 Review: ANA First Class "The Suite" Boeing 777-300ER (HND-SFO) [Limited Service]
HND-SFO
Flight No: NH108
Depart: 22:55
Arrive: 15:20
Duration: 9 hours 25 minutes
Plane: Boeing 777-300ER
Seat: 2K
My 5-week Japan trip ended in style when I'd be flying in the new ANA First Class "The Suite" in the Boeing 777. It was the flight I was looking forward the most to since 2019 after COVID and Japan travel closure that has happened for quite a while. When I arrived in Japan, I flew in JAL First Class to make a comparison between the old and the new.
The route from HND=SFO unfortunately only have limited service on both ANA First and Business Class on the newer product as both routes are red-eyes. But, it wasn't something I can really control. Still, The Suite's hard product looked very stunning, and I was glad to finally try out one of my dream flights.
ANA First Class The Suite- Booking
I booked ANA First Class with the legacy rate of 55,000 Virgin Atlantic Miles plus ~$400 in taxes and fees. While the redemption for West Coast=Japan on ANA has increased to 72,500 Virgin Atlantic Miles one-way, it still provides good value. The catch is that you'll have to call Virgin Atlantic to book, which may cause you to lose against people who called faster than you, or use other programs that'd let them book online much faster, albeit with more points.
With that said, booking through Virgin Atlantic would take a lot more luck or flexibility than other programs, so be careful before transferring your flexible points to Virgin Atlantic.
ANA First Class The Suite- Check-in
I arrived to Haneda Airport by monorail from Hamamatsucho Station at around 7pm. The Ritz-Carlton, Tokyo gracefully gave me a 6pm late checkout so that I can explore Tokyo a bit more before going home. Other hotels I can recommend for easy access to the Haneda Airport monorail are Mesm Tokyo and Conrad Tokyo.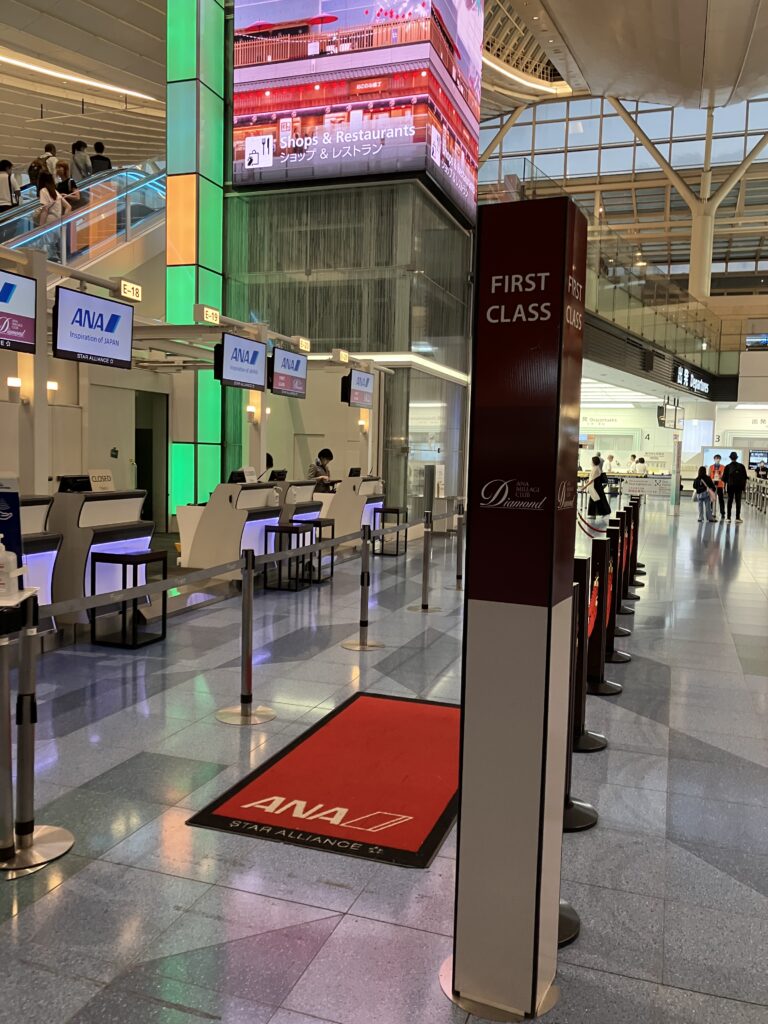 Check-in line for First Class was empty and smooth. I brought a huge plastic bag filled with stuffed animals that I won from those addicting crane games, and I was worried I would not able to get them home, even in First Class. The check-in agents informed me that I should be fine after measuring the size.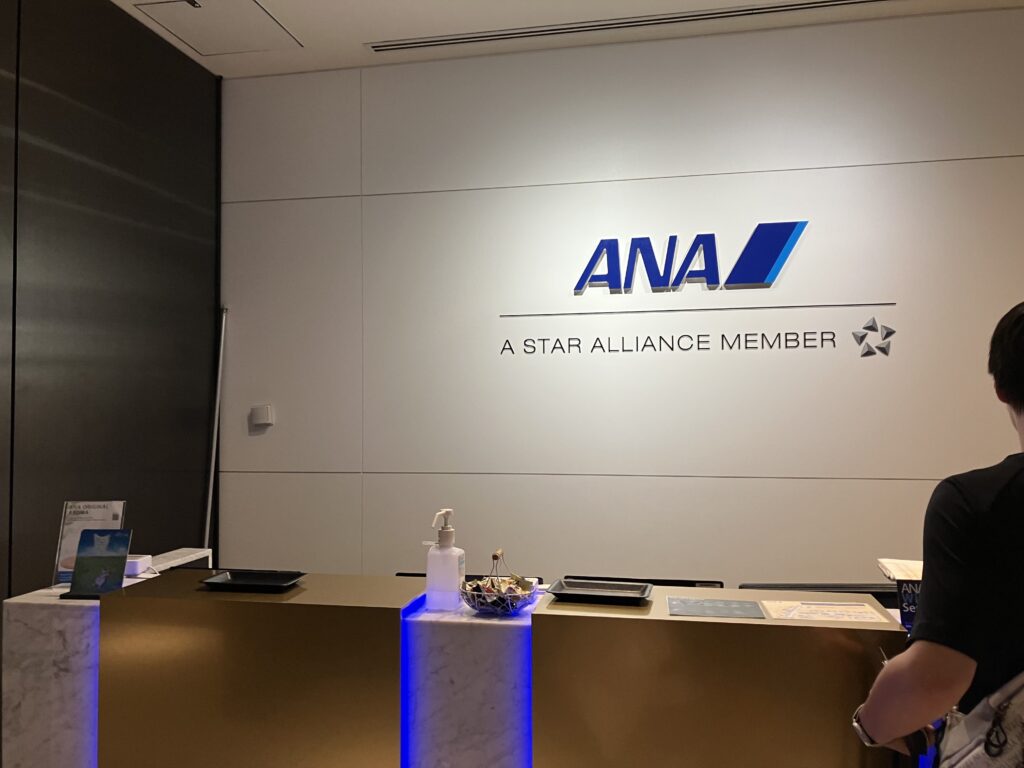 I then spent the rest of the waiting hours inside the ANA Suite Lounge, which is the airline's First Class Lounge. It was a fine lounge with great Japanese food inside. But, if I had to choose, I'd rather spend more time in Tokyo before going to the airport.
ANA First Class The Suite- Boarding
After getting out of the lounge, I head straight to the gate minutes before the boarding time. Though I was the first in queue in Boarding Group 1, I noticed a lot of people behind me. The cabin in First Class was literally full, which was almost the complete opposite on my JAL flight coming into Japan (only 2 passengers).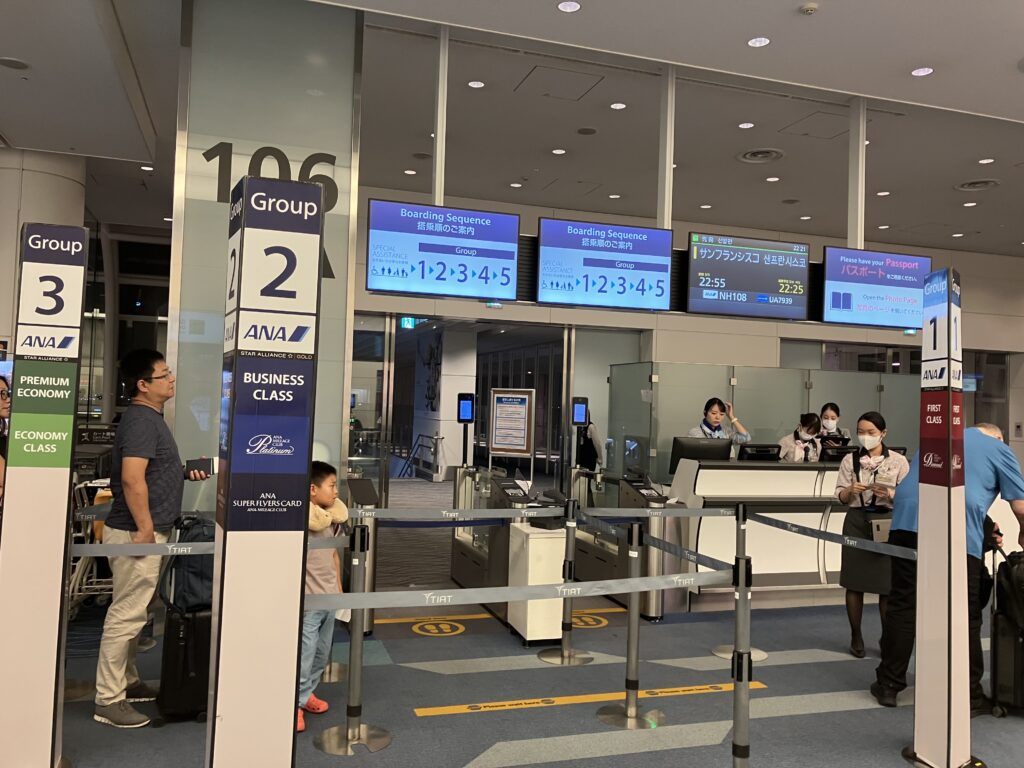 I was waiting in line with my huge plastic bag full of stuffed toys and a carry-on luggage, and the staff didn't say a word and let me in freely. I was relieved that I could bring my toys home!
ANA First Class The Suite- Seats
I assigned myself to Seat 2K, and I was floored by the size and design of the seat! Blue's also my favorite color, so this felt like the dream seat that exudes elegance and enigma.
The seats have 1-2-1 configuration in First Class, and 2K is the farthest to the southern corner. Each seats come with their own doors to ensure privacy. You can also enjoy the view with 3 separate windows!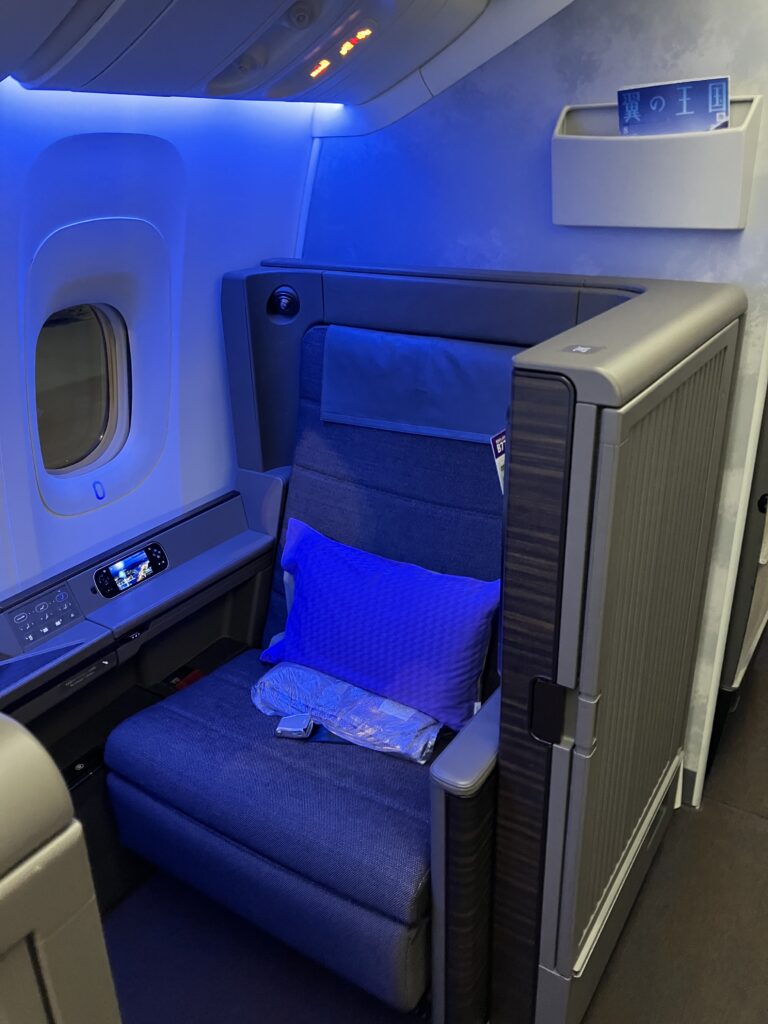 Next to the seat is a small slidable wardrobe where you can store your clothes.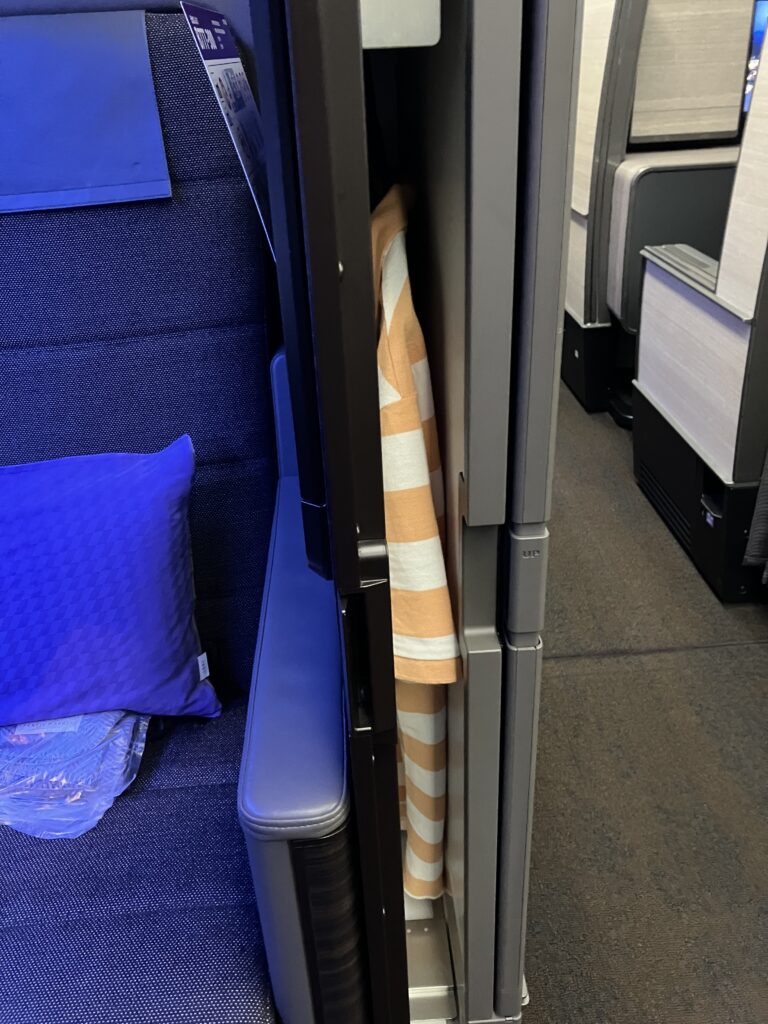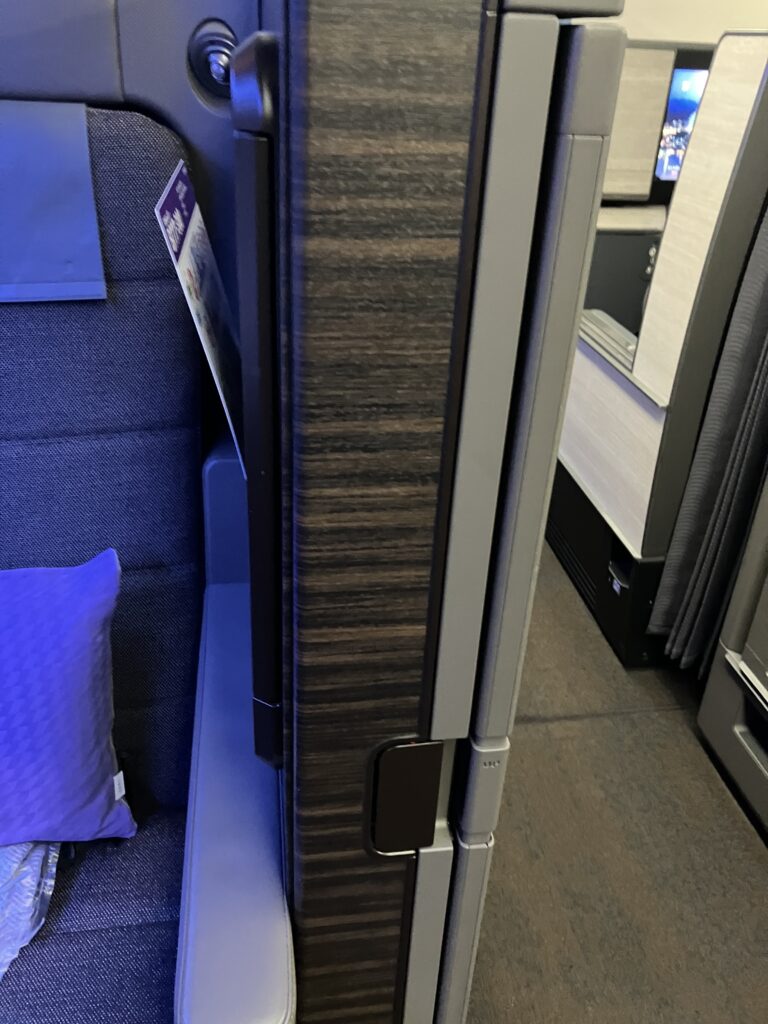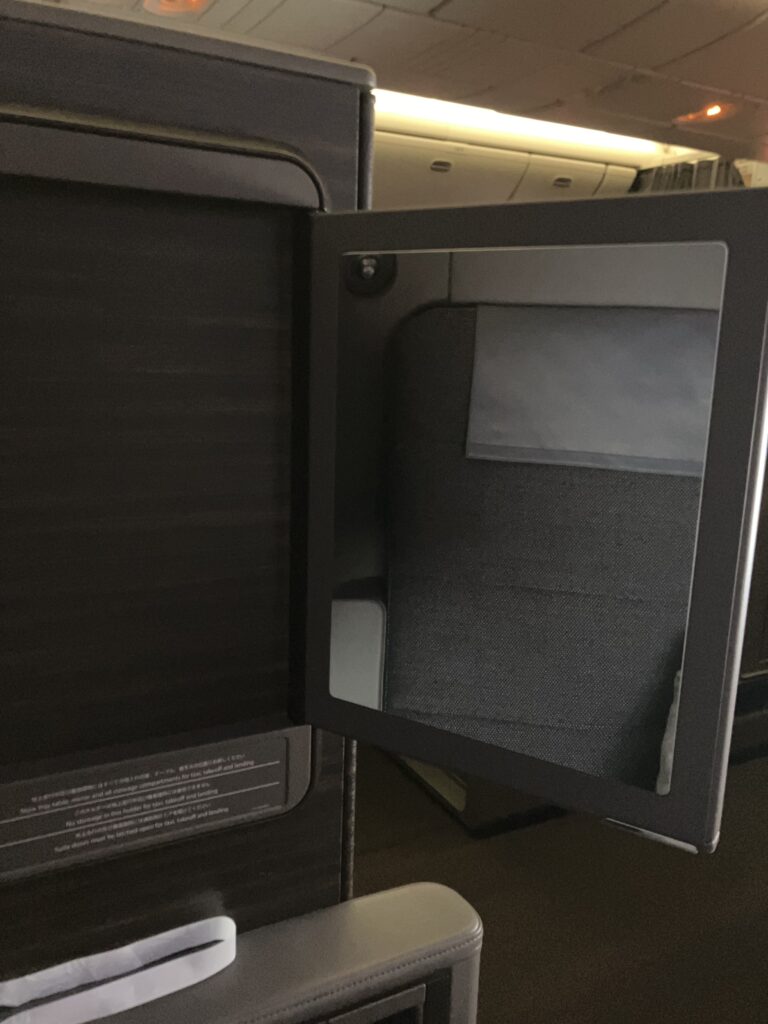 Pajamas and cardigan are prepared in the storage space and ottoman in front of the seat. You may bring home the pajamas, but you can't bring the cardigan home, sadly. The storage space is massive, and could possibly fit a medium checked bag. If only that's allowed.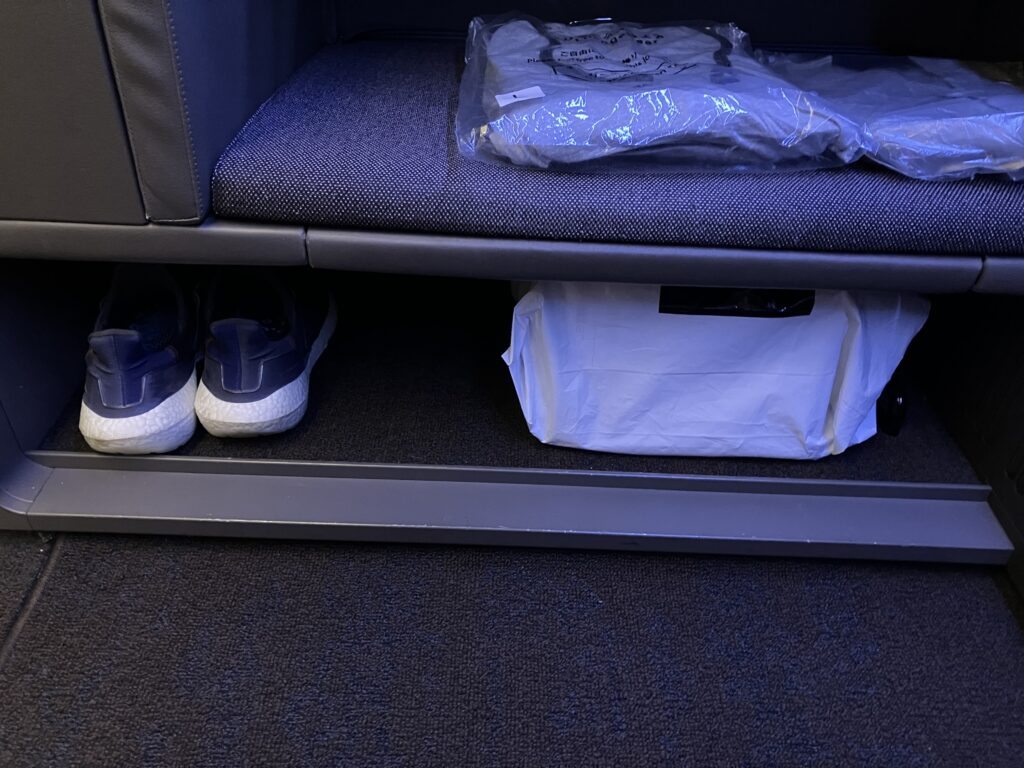 Seat control functions provide straightforward displays for their respective functions.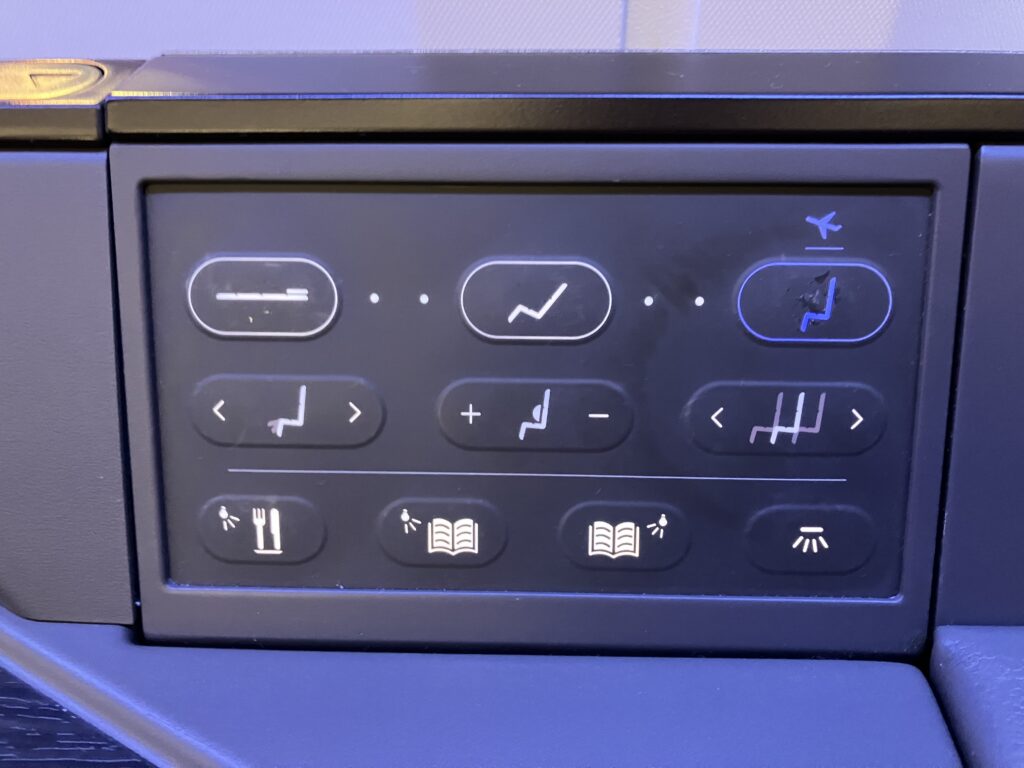 Lie-flat mode was simply very comfortable. I tend to have a very hard time falling asleep inside a plane, even when a seat has lie-flat mode. It was quite different with ANA First Class. Though, it's fair to say that the very late departure also helped.
When you'd like to sleep, the flight attendant will set up the bed sheet for you.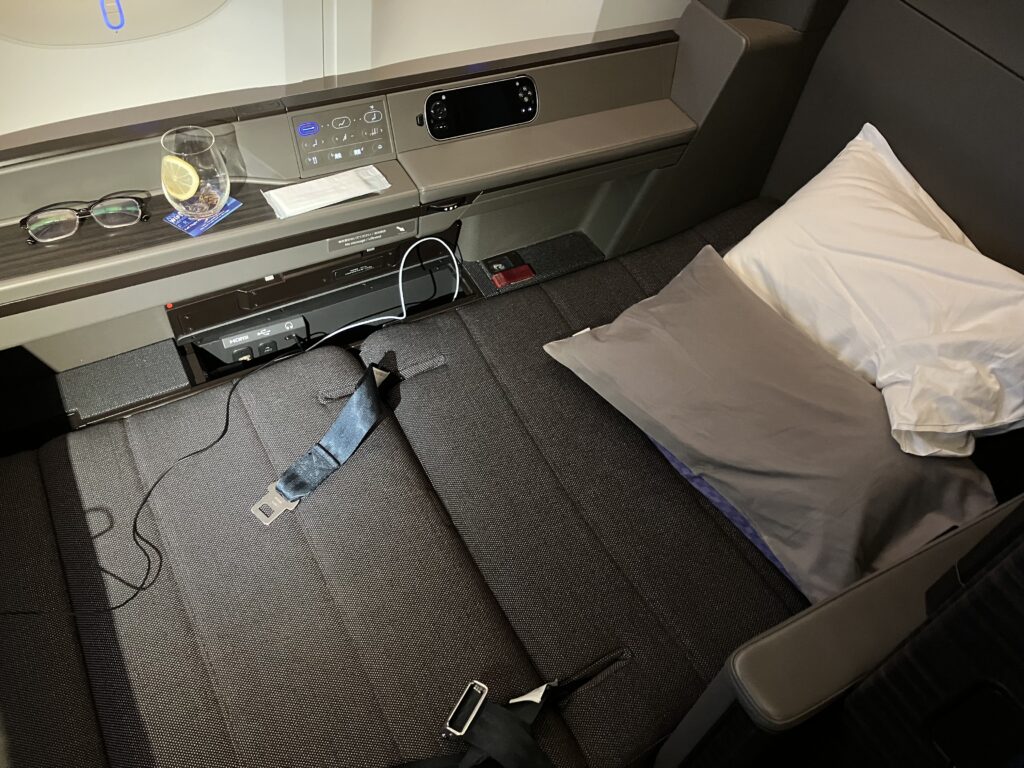 The big 42-inch entertainment screen is stunningly impressive that displays crisp 4K resolution.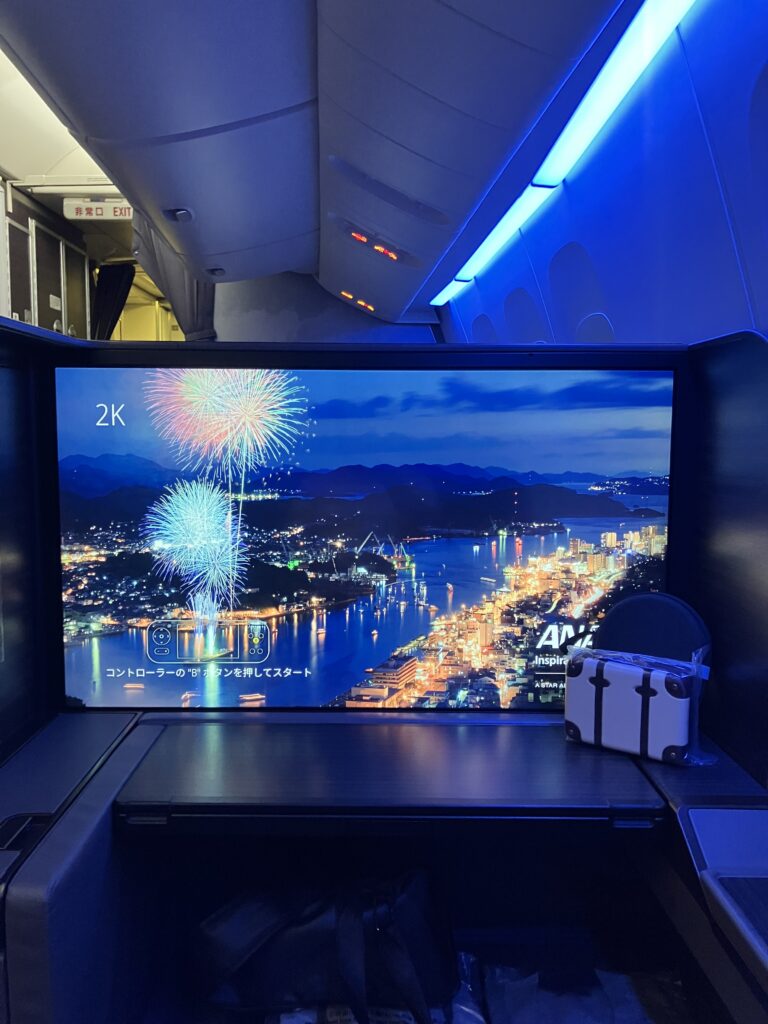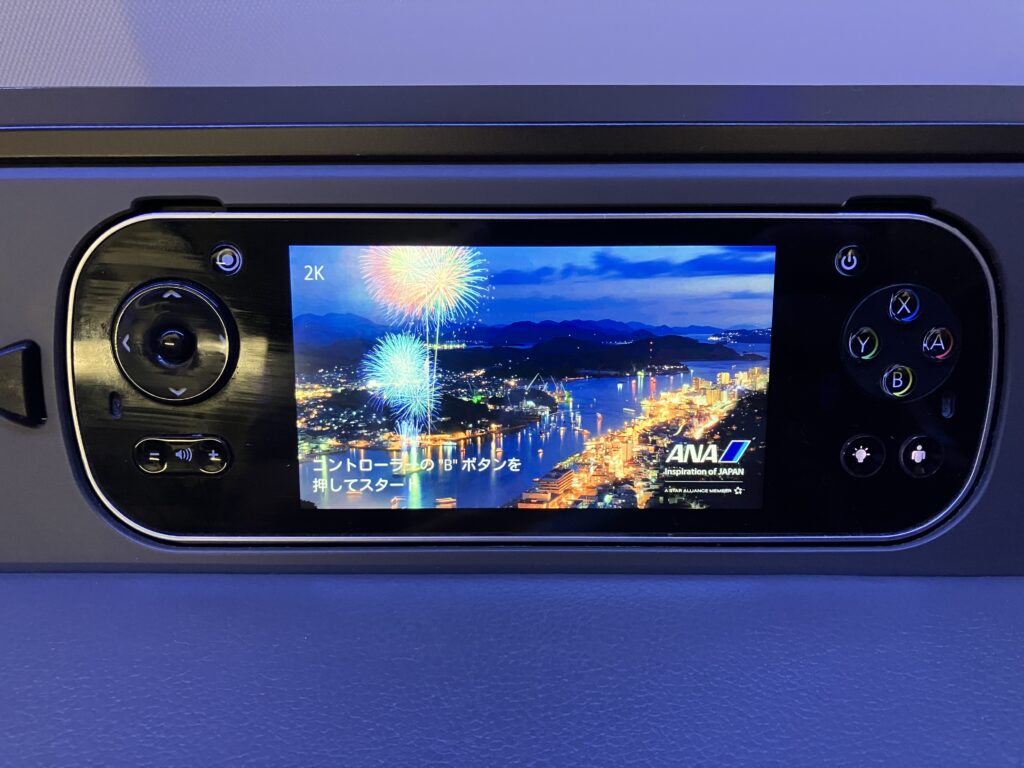 Amenity Kit
The hard case amenity bag stores The Ginza skincare products inside.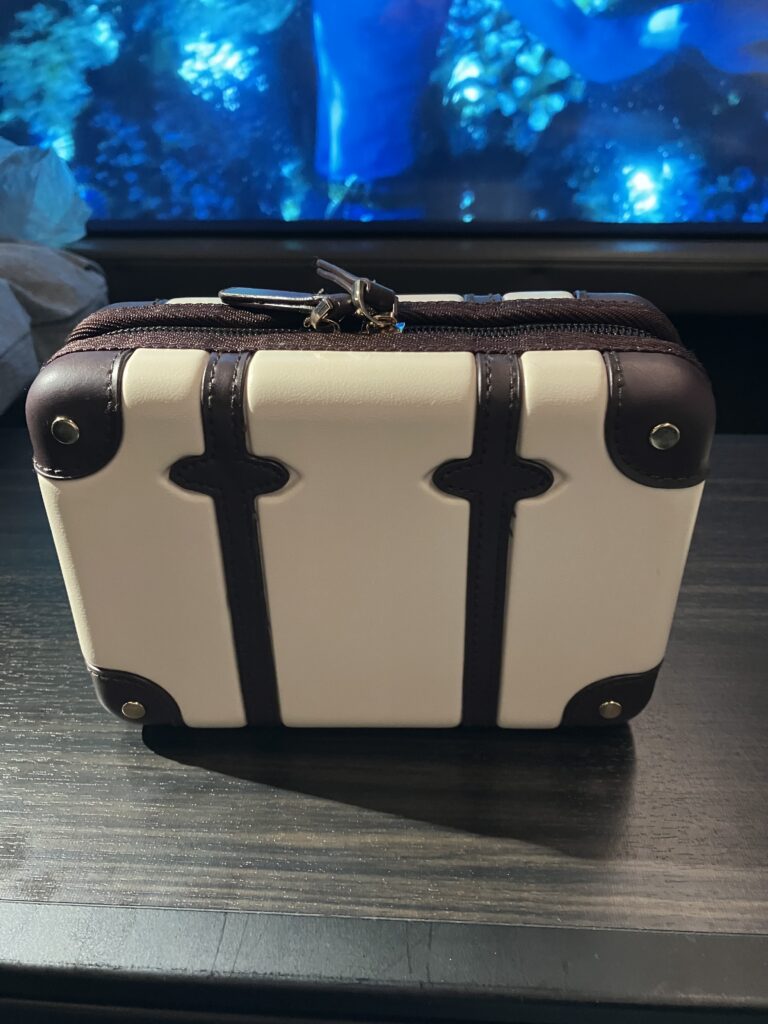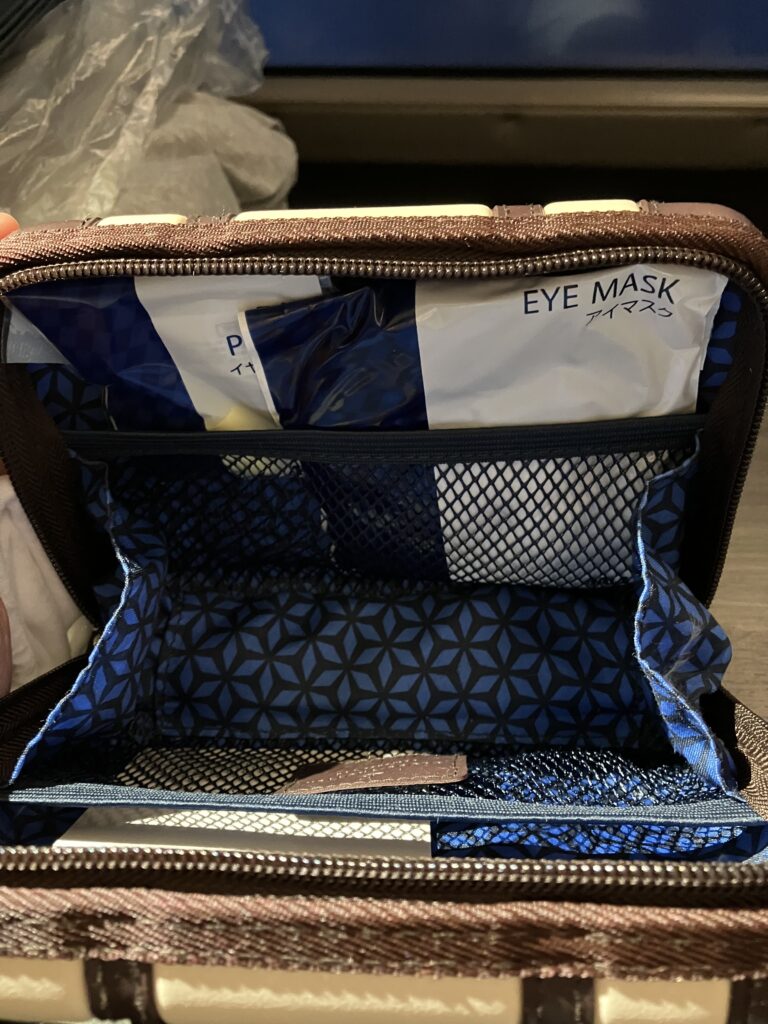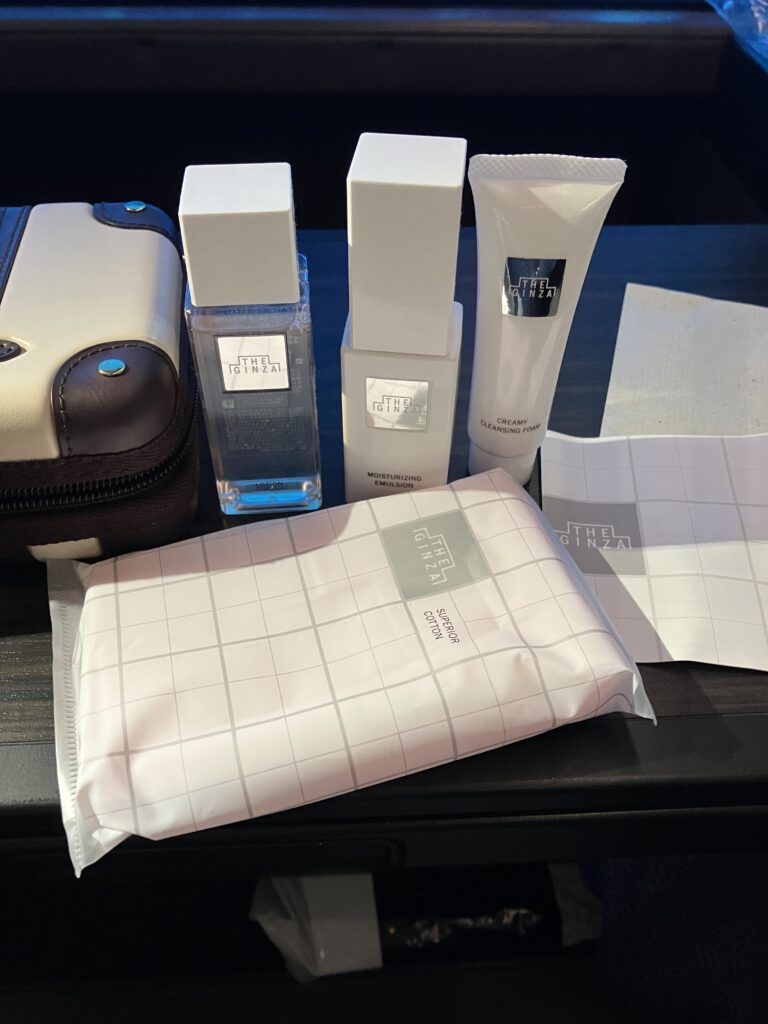 The flight attendant will then give other onboard amenities like mask, toothbrush, and socks.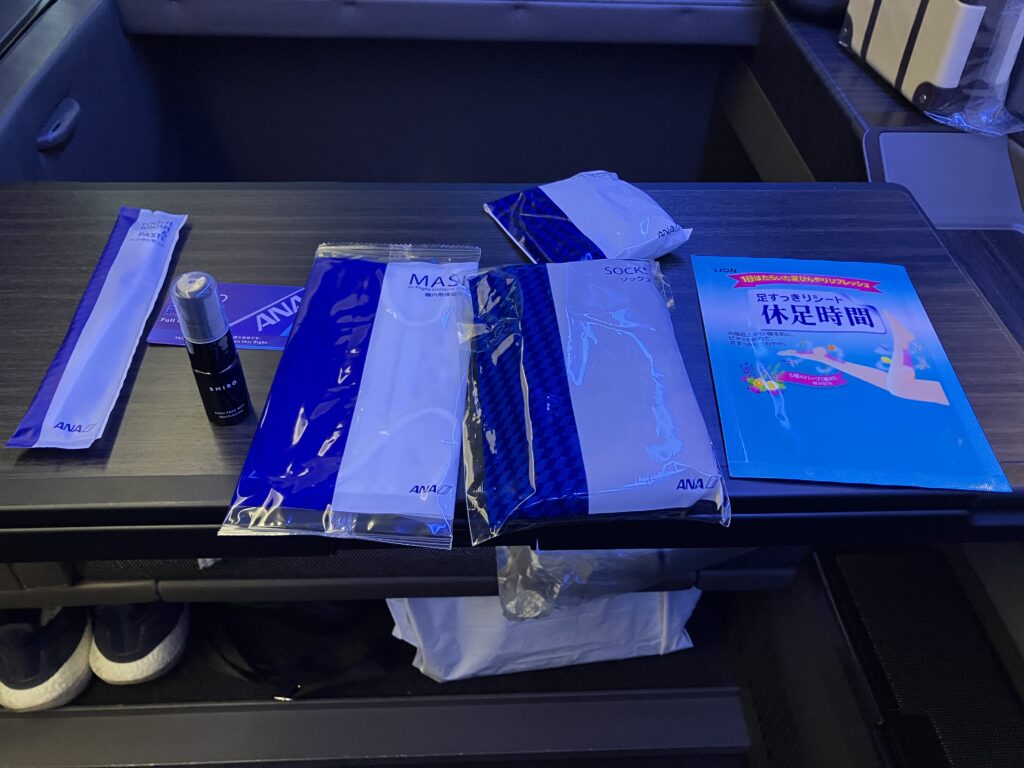 This particular cooling patches were my favorites. They felt soothing after I apply them to my calves.  Greatly appreciated after 5 weeks of travel!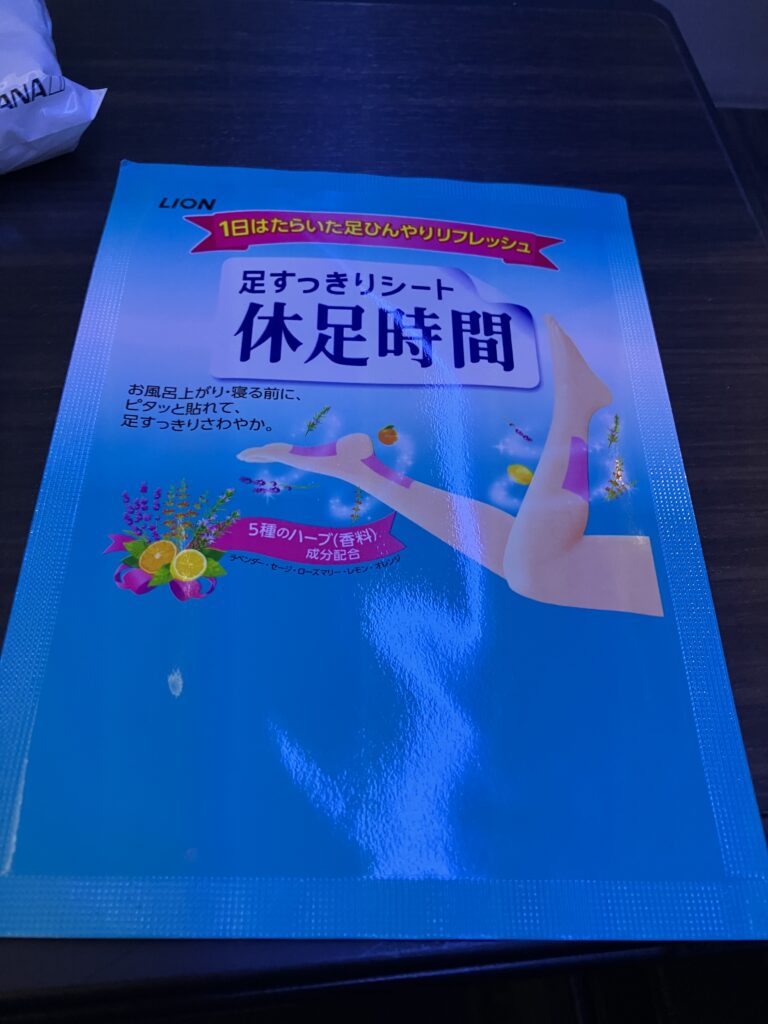 ANA First Class The Suite- Flight Experience
During my flight, I unfortunately ended up falling asleep for around 6 hours of the flight. Regardless, I still felt like I covered at least the basics of the flight, which were still unbelievable to experience.
Meal Service

One of the drinks I was curious to try was the Hibiki 17 Years Old. I'm not very good when it comes to alcohol, so I had it on the rocks to dilute the whiskey burn. Don't judge me lol.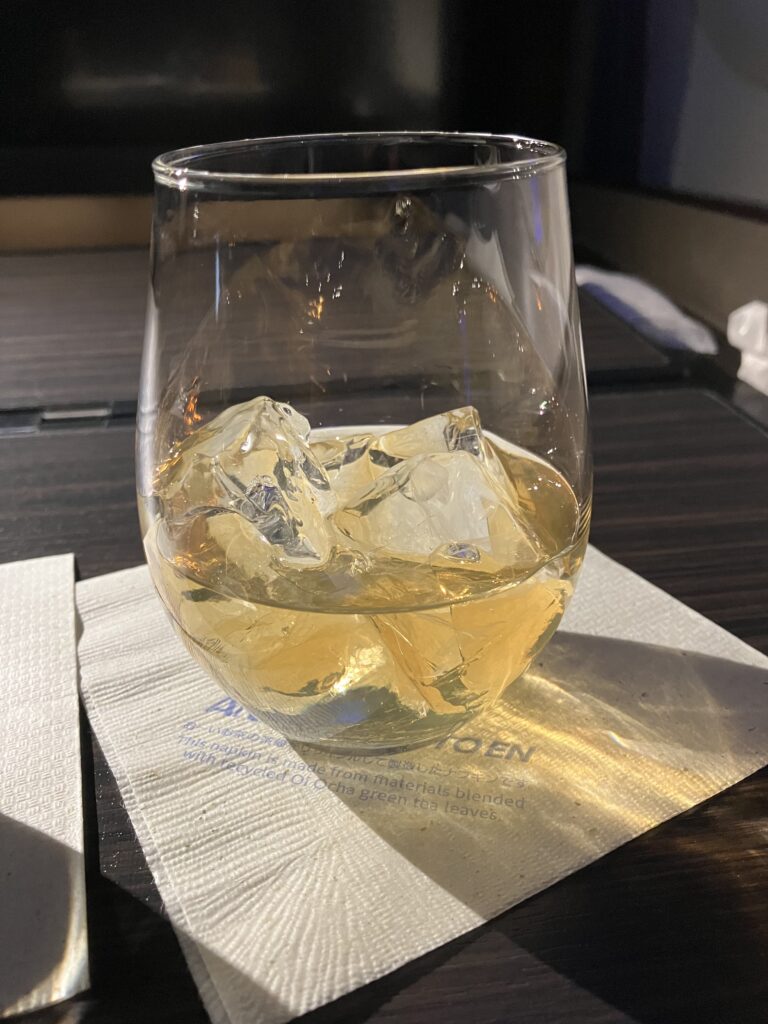 While I was sampling my whiskey, meal service came and started off with the appetizers. Because it's a limited service flight, the only menu available are assortment of light dishes.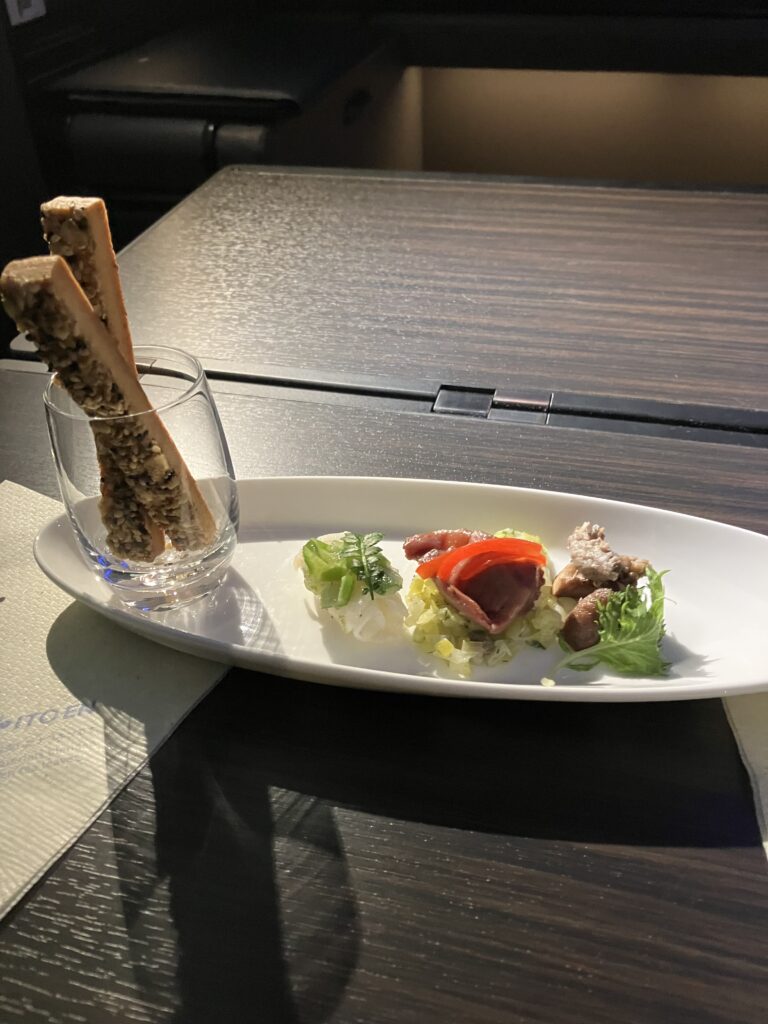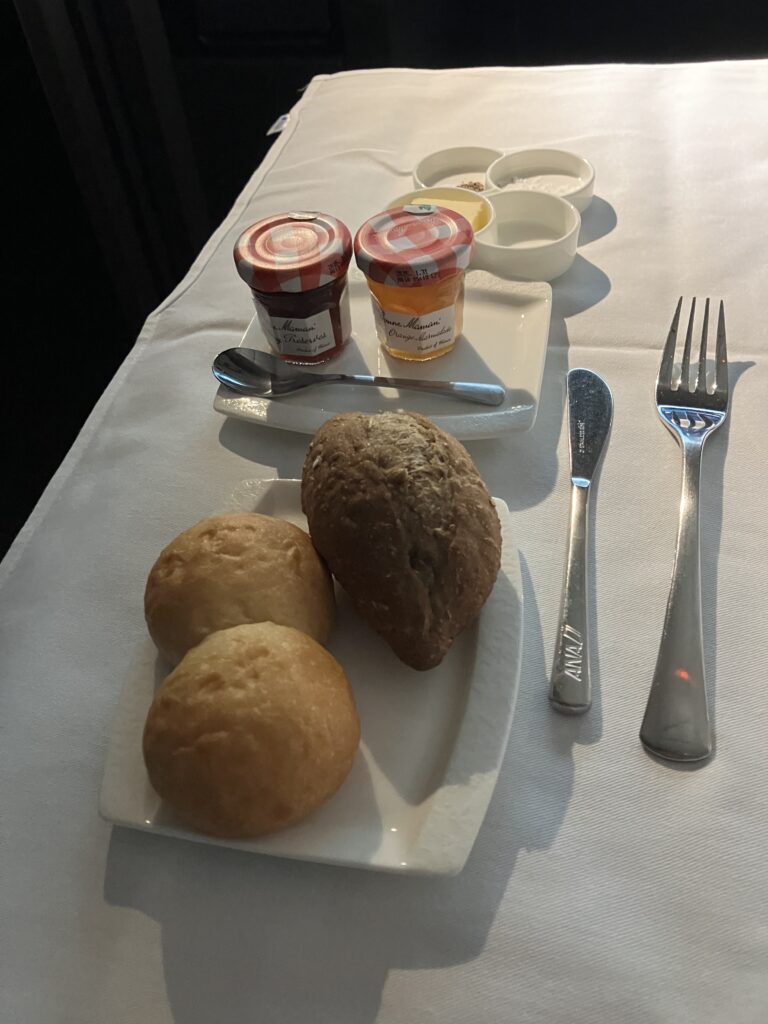 The corn soup was one of the highlights for sure! So sweet and creamy.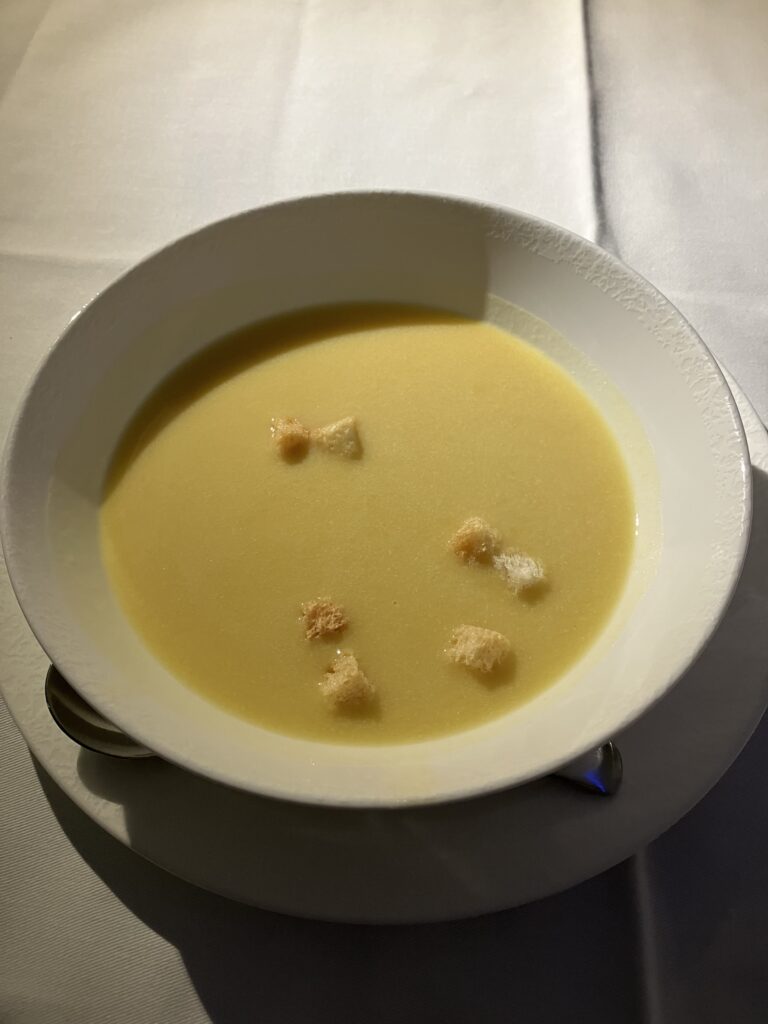 The tempura rice bowl was great as well.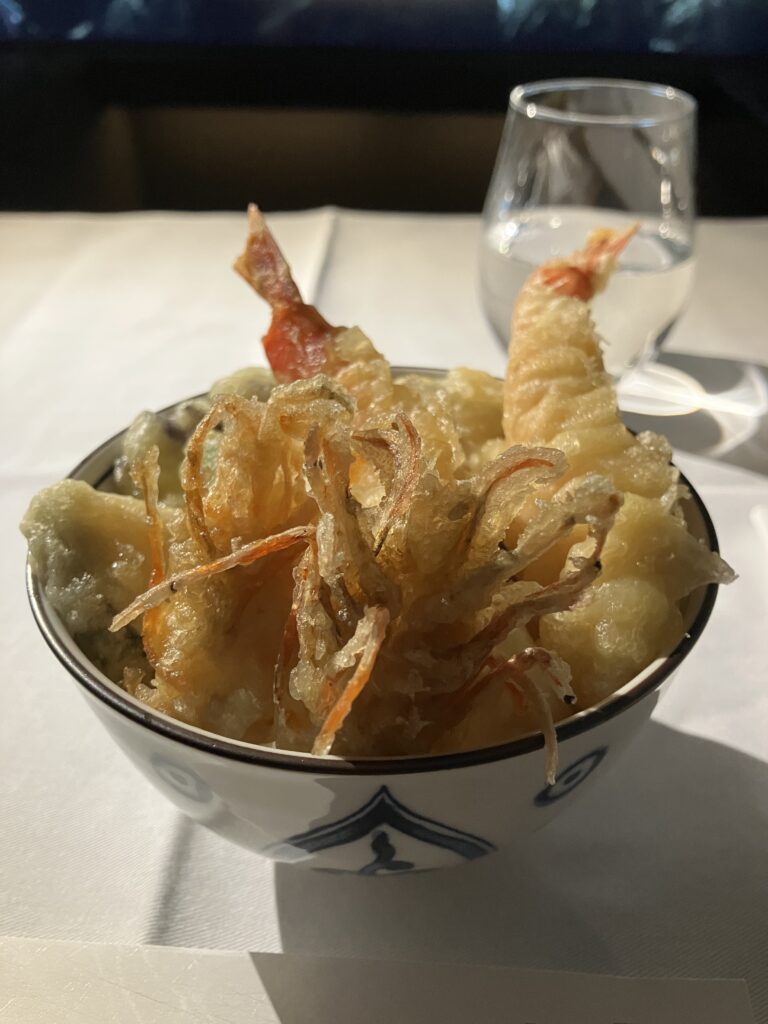 Then, I unintentionally had a seafood pasta. I wanted a washoku, but I think the flight attendant heard wrong and got me this instead.
I'd feel bad for wasting food, so I didn't send it away and have it corrected. It tasted good still! At least I got to try one Western menu option from this flight.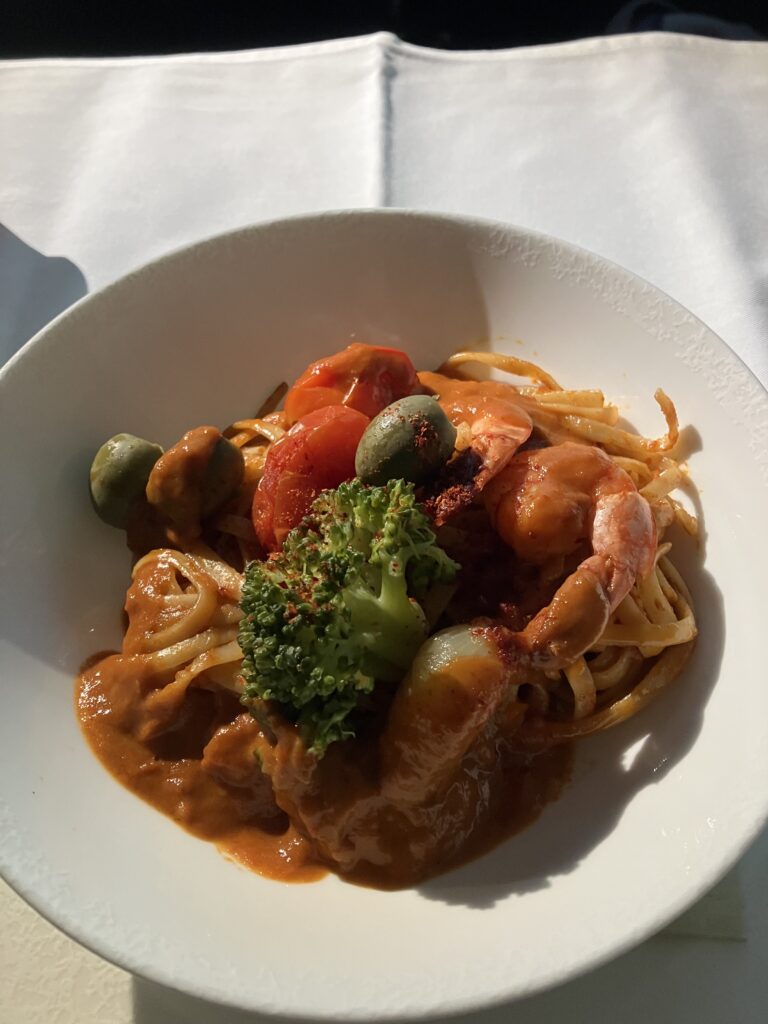 Entertainment
There were plenty of movies, and the options were familiar from the ones I saw on the domestic flight from Tokyo to Osaka.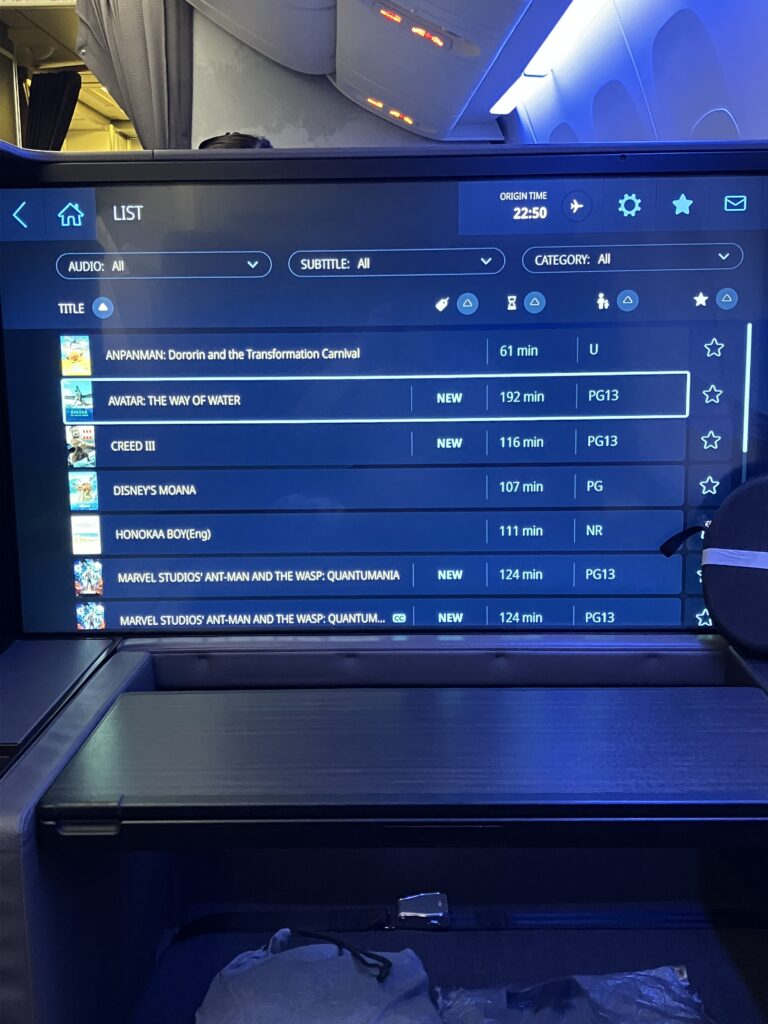 I watched Avatar: The Way of Water, and I swear, this is the perfect movie to see while sitting on the throne in ANA First Class The Suite. I can definitely feel the blues. Sadly, I didn't get to finish it since I passed out for most of my flight. I was getting pretty comfortable there!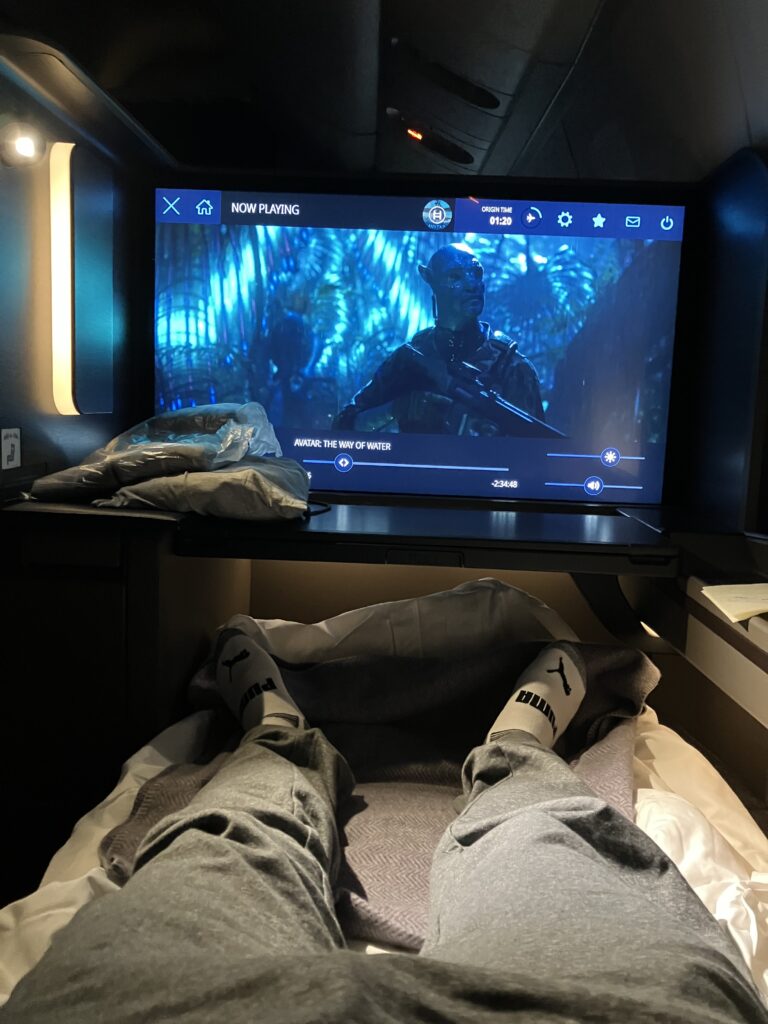 The headphones were comfortable to wear for prolonged period of time.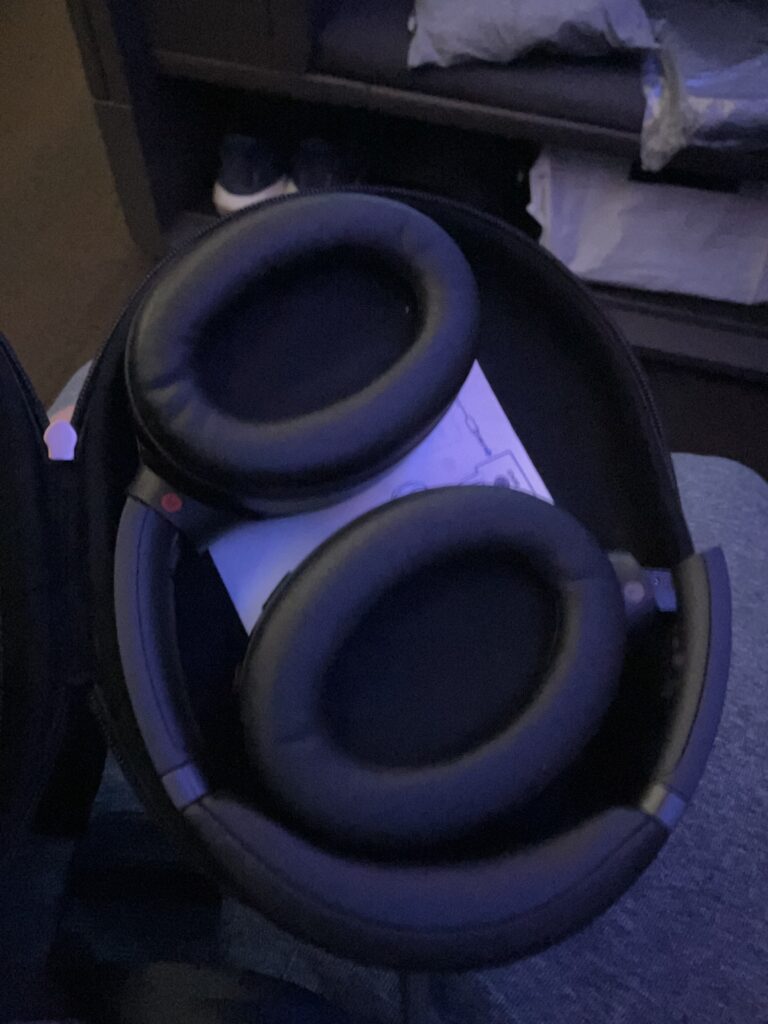 Wi-Fi voucher was also given on top that First Class passengers get to use for free! They worked quite well from my flight.
ANA First Class The Suite- Lavatory
The lavatory was lit brighter than most airlines I flew so far.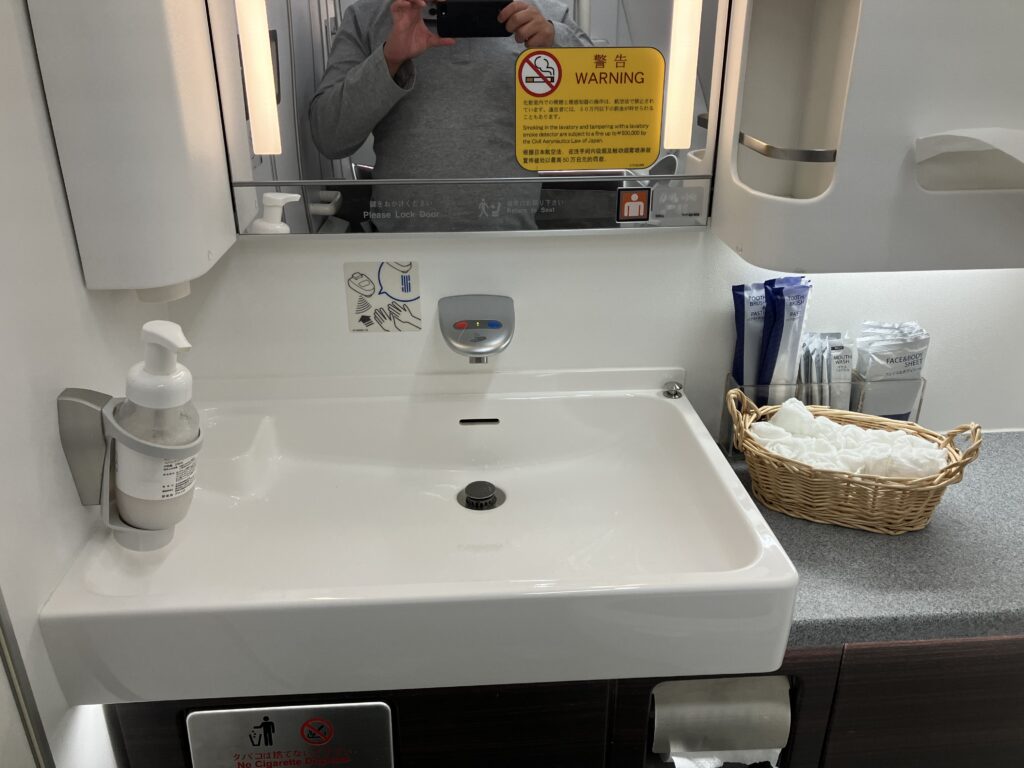 The toilet has bidet control to the right side of it. I didn't capture it at the time.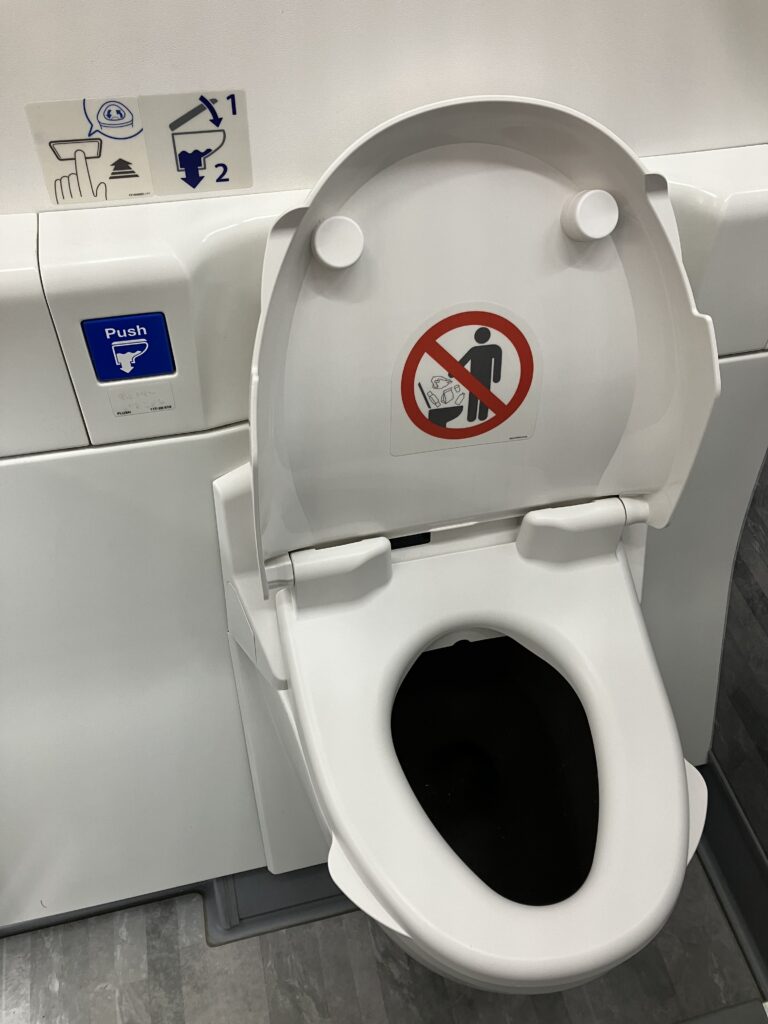 Foldable foot platform is there to help prevent contact with the ground while changing clothes.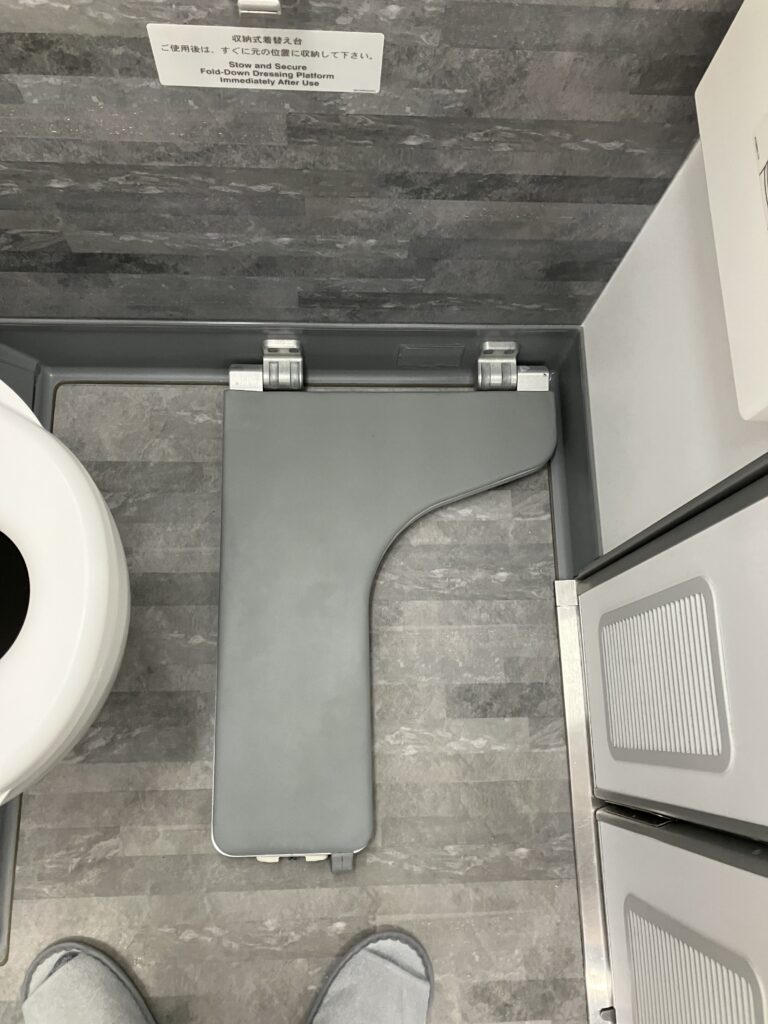 The pajamas are very comfortable and I was glad to be able to take them home! The pants pockets are deeper than other airline pajamas I've owned, which could make for decent gym pants.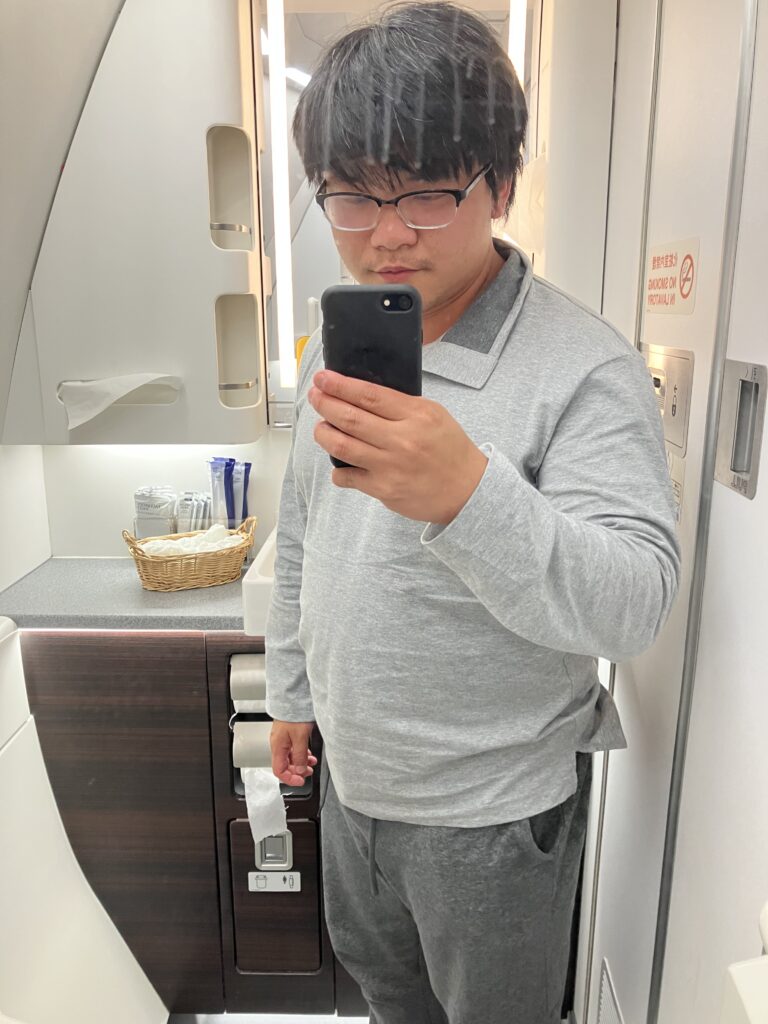 Conclusion
ANA First Class The Suite is a totally sweet product to fly on! The hardware is sleek and very modern with fantastic entertainment screen display. The food and drink options were pretty great as well for light dishes. The sweet corn soup is a must try!
The only mishap was having one of my food orders wrong, and that the service didn't feel as personal as I experienced in JAL. Though, the reason could be due to the ANA flight being "limited service". While it may feel like a "Business Class Plus", I still truly enjoyed the flight for what it was thanks to its modern hardware.
Overall Rating