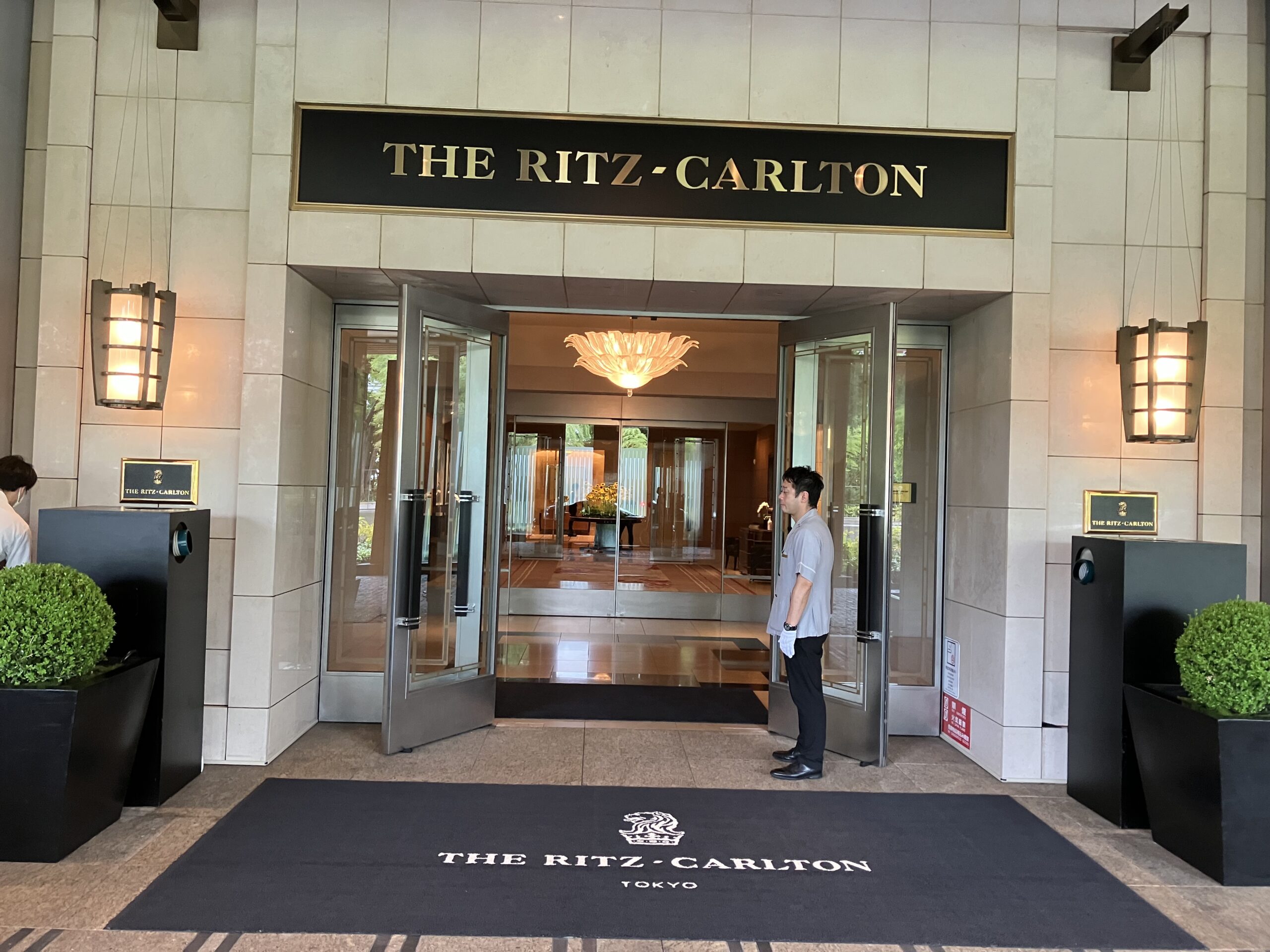 Advertiser disclosure: This post may include affiliate links (including sidebar banners) in which this site may receive compensation if a purchase is successfully made (at no extra cost to you) after being redirected from here. Thank you for your support!
Review: The Ritz-Carlton, Tokyo (2023) [Japan]
The final night of my 5-week Japan trip ends at The Ritz-Carlton, Tokyo. Originally, I planned to stay at The Prince Gallery Tokyo Kioicho, but there was no award availability on the date I wanted to stay at. So, I ended up staying at the Ritz Carlton. I've heard really great things about this hotel, and I was excited if it lived up to its reputation.
Ritz-Carlton, Tokyo- Booking
I booked my single night stay with the 85k Free Night Certificate from my Amex Marriott Bonvoy Brilliant Card that came last minute during the trip. Fortunately, the Ritz-Carlton Tokyo was charging 89,500 points on the night I wanted to book, so I was able to top up my certificate with 4,500 Marriott points to complete the booking.
Ritz-Carlton, Tokyo- Location
Ritz-Carlton Tokyo is located in the hearts of the Roppongi, known for its affluence and nightlife. The hotel is inside the Midtown Tower, which is the 3rd tallest building in Tokyo, and the Ritz-Carlton position itself starting from the 45th floor. Currently, it's the 2nd tallest hotel in Tokyo which the Andaz took the record for 1st place after Toranomon Hills developed.
The hotel is somewhat connected to Roppongi Station through an underground mall that leads to Midtown Tower, which will make getting around Tokyo very easy.
Ritz-Carlton, Tokyo- Check-in
After checking out of the Conrad Tokyo at 1pm, I got to the Ritz-Carlton Tokyo at around 1:30 pm, coming from Roppongi Station. When coming from Roppongi Station, you'd enter through the hotel's Cafe & Deli's entrance, in which you then follow the signs to the elevator going to the lobby on the 45th floor.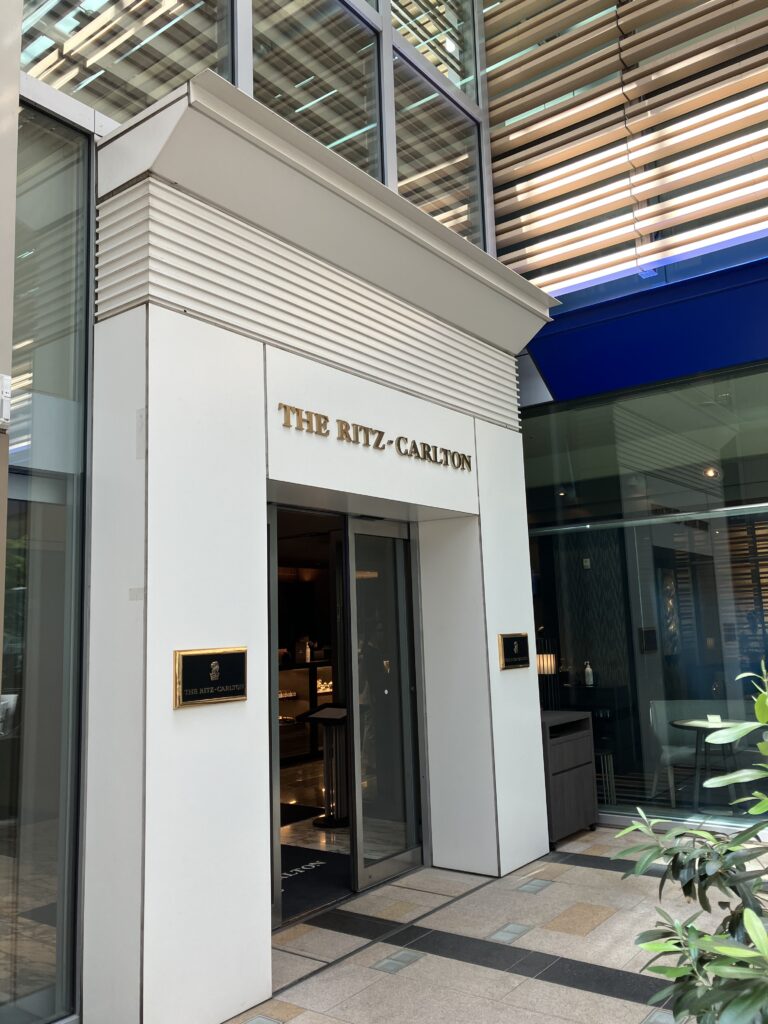 Just after stepping out of the elevator, and before the front desks, there's a notable room with stuffed animals decoration, which I'd assume is an amenity of Ritz Kids, which Ritz Carltons tend to have to make their hotels kids friendly.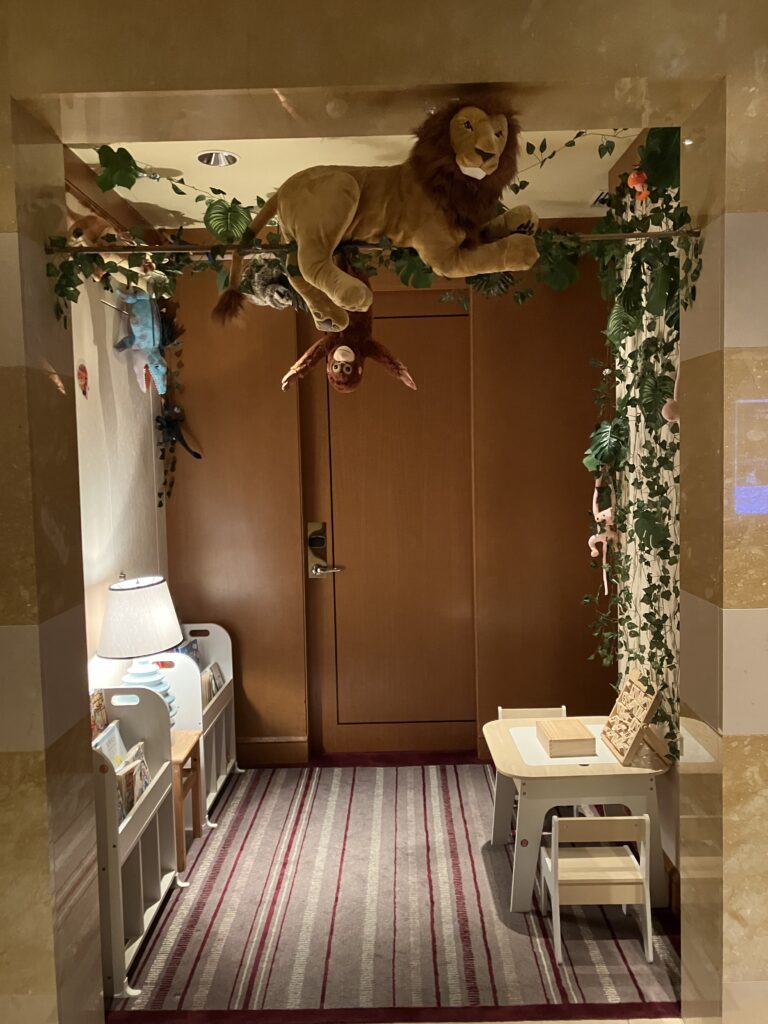 The lobby exudes classic luxury feel, while having Japanese elements with tall and simple wooden columns. I was approached by a lady in kimono who gave me a welcome tea in paper cup before I approached the front desk.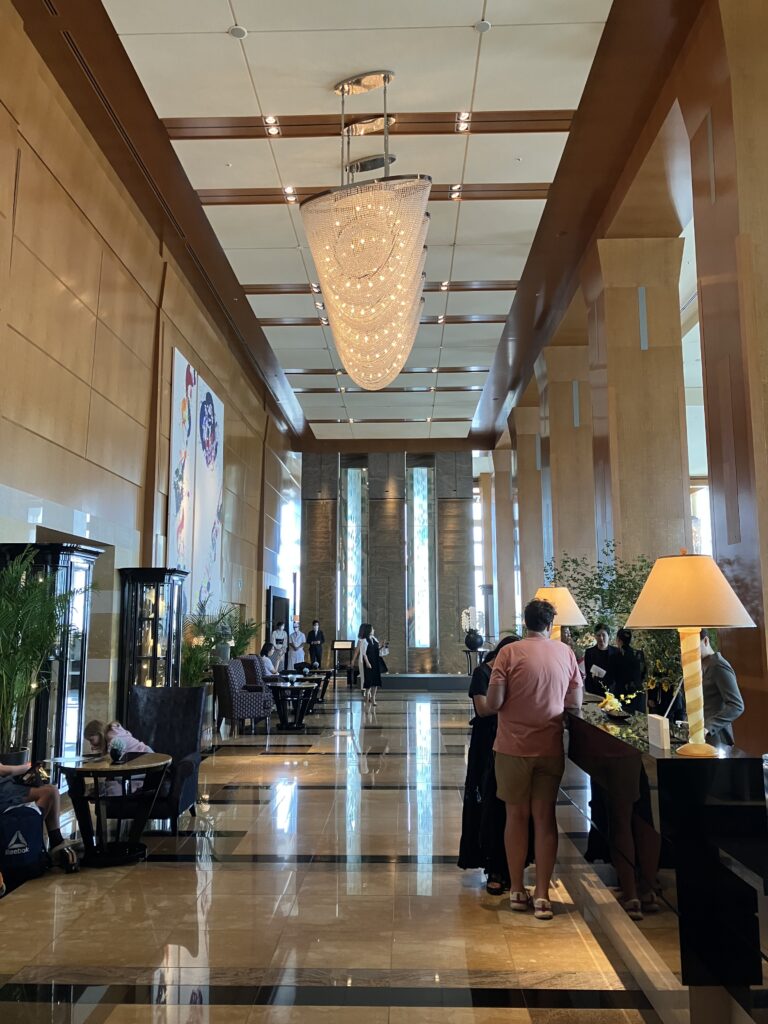 Because I arrive earlier than the normal check-in time (3pm), my room wasn't ready when I arrived. But, I was able to get my stuff carried to my room once it's ready.
I was then pleasantly surprised to find that Titanium and Ambassador Elite can now choose free breakfast as a Welcome Gift in Ritz-Carlton Tokyo when the front desk agent showed a piece of paper that listed welcome gift options for Gold, Platinum, Titanium, and Ambassador. Keep in mind that the default 500/1000 points earned just by staying at a Ritz-Carlton is still awarded. Other welcome gift options that you can choose include even more points (e.g. 2000 for Titanium, 2500 for Ambassador), food and beverage credit, or spa discount. But, free breakfast starts at Titanium Elite.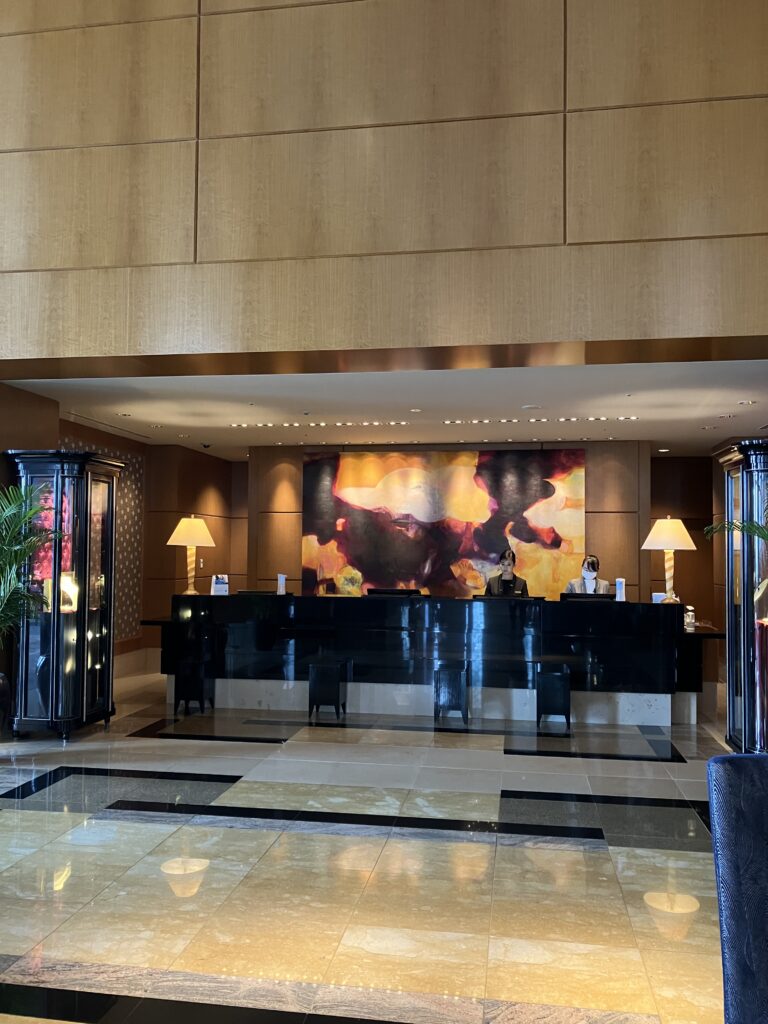 Because my flight the next day is at 11pm, I asked a checkout later than 4pm, which is guaranteed for Platinum and above. The hotel did their best to give me even a later checkout than that, and I was granted a 6pm checkout instead, which I was very grateful for! But, this is probably only possible because I couldn't get upgraded to a suite, which in itself can make late checkout difficult to get. I valued the later checkout more than the suite upgrade at the time.
The elite treatment is simply outstanding at this hotel, and the Ritz-Carlton Tokyo certainly go above and beyond to treat Marriott's loyal guests. I do hope that more hotels follow through, especially Ritz-Carltons since they still don't typically provide free breakfast for elite members.
I chose to not pay for Club Lounge access because I don't feel it's worth paying for while I'm in Tokyo.
Ritz-Carlton, Tokyo- Deluxe Room
The "upgrade" I received was the Skyline View, which is basically a higher floor room. I was assigned to Room 5023 at the 50th floor.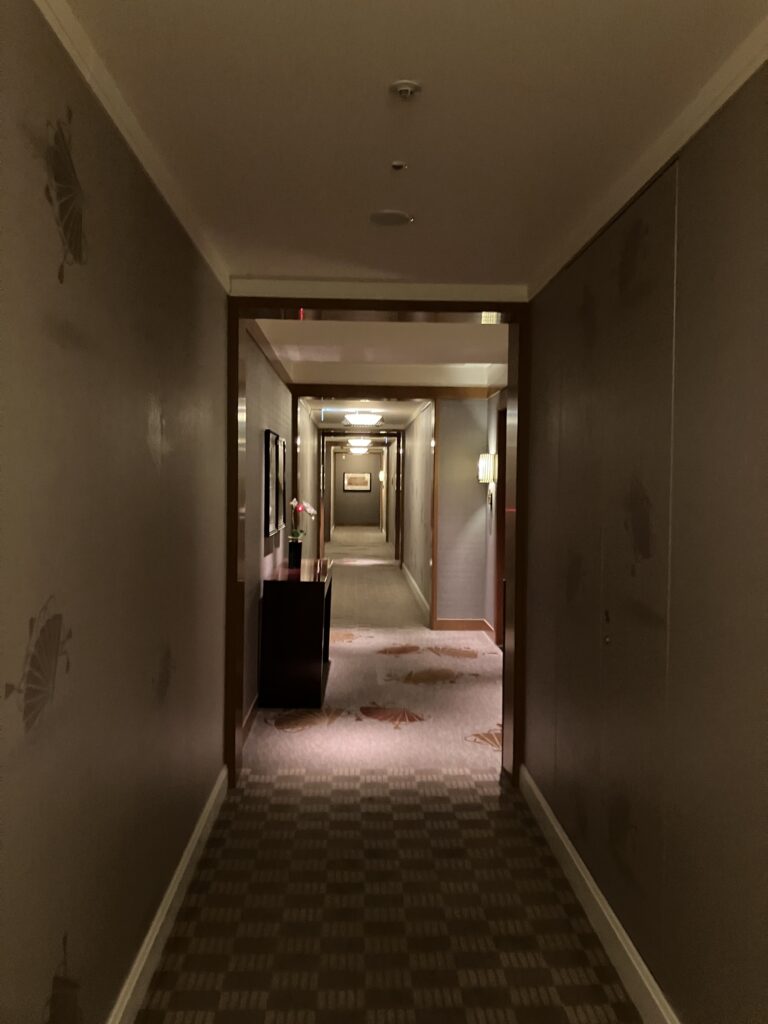 The base room at the Ritz-Carlton Tokyo is sized at 52 sqm, so it's pretty big, especially for Japan.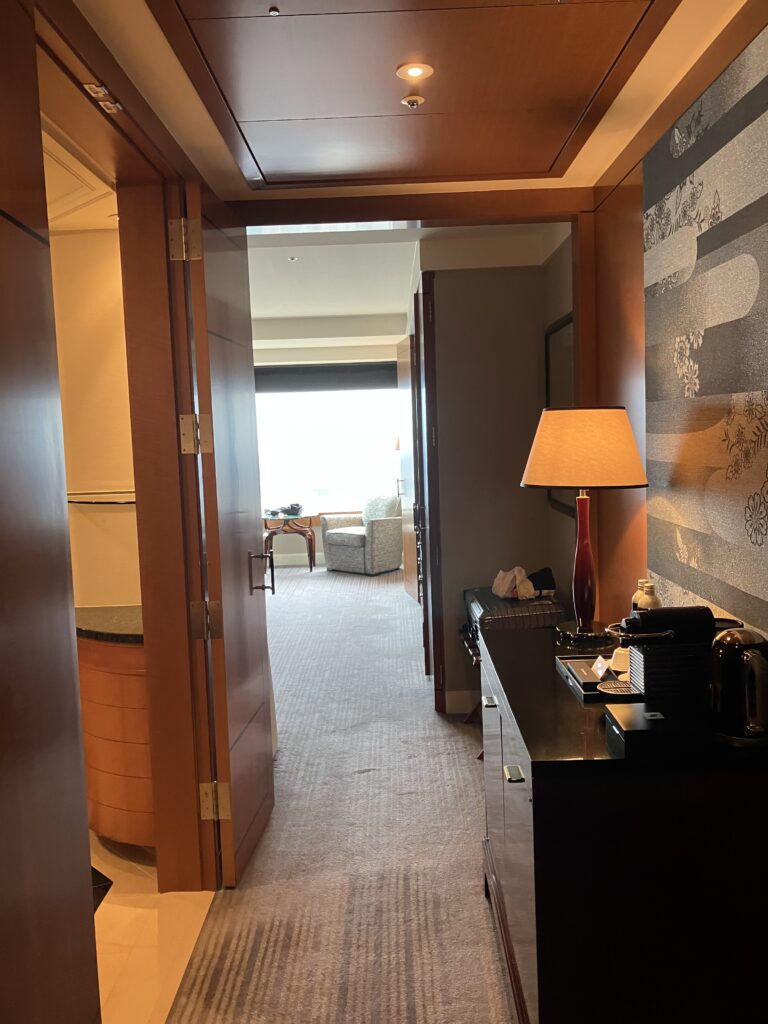 Just next to the entrance is the pantry, which comes with Nespresso machine and aluminum water bottles.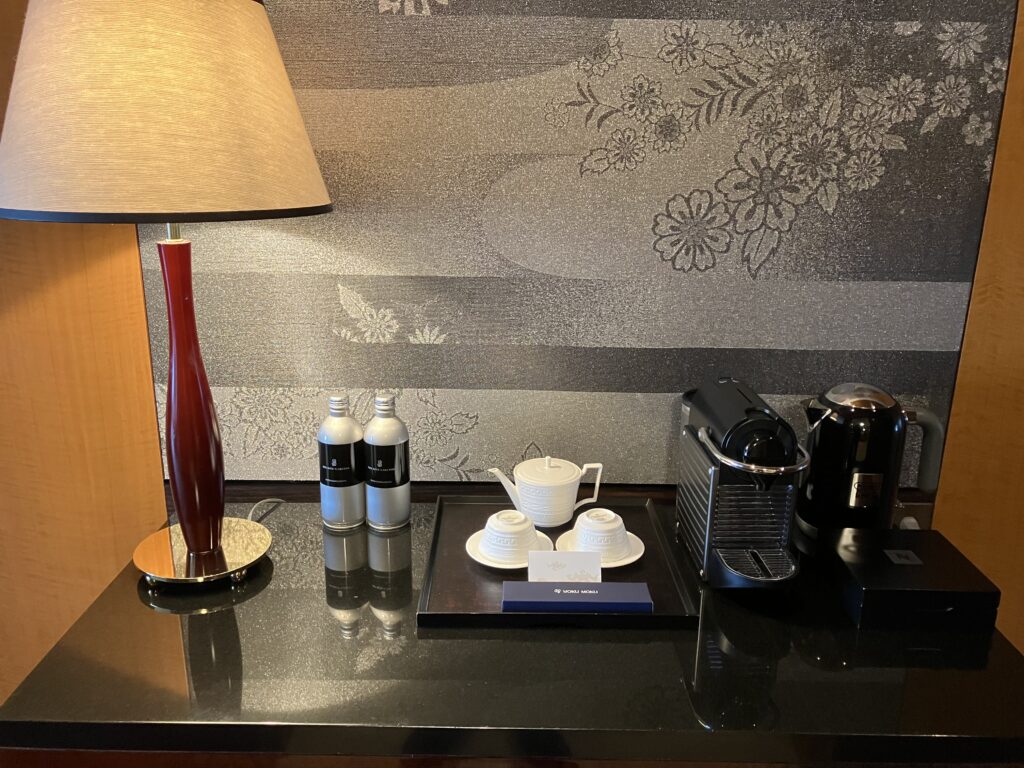 There were some cat tongue cookies inside a navy blue box that were nice.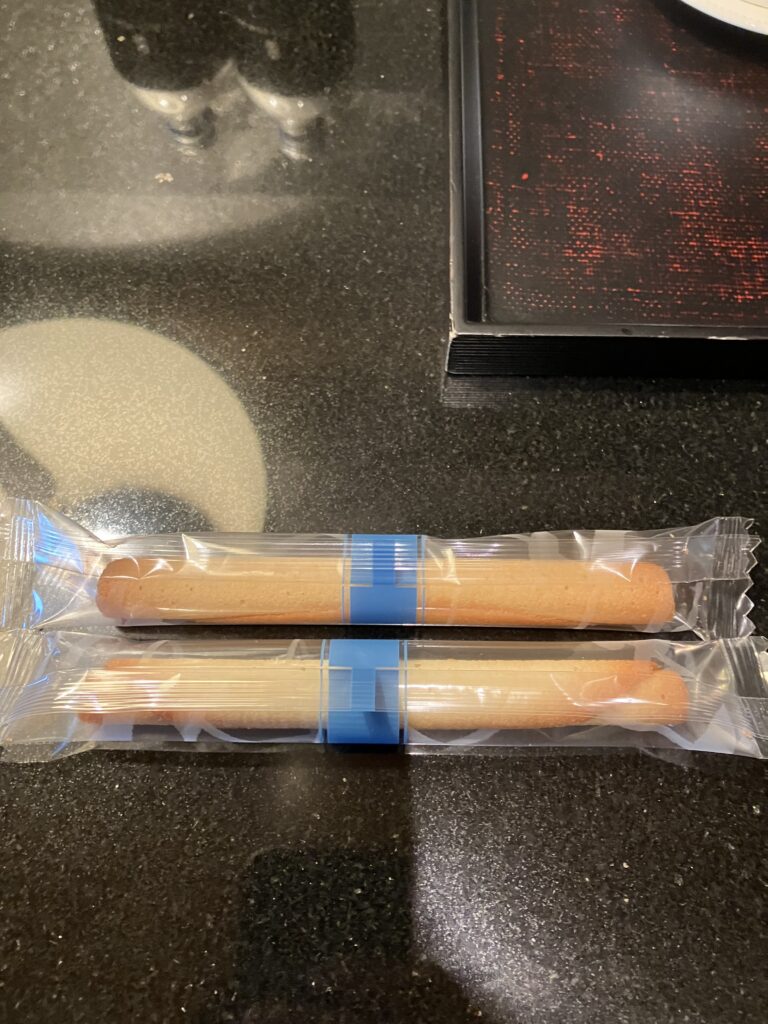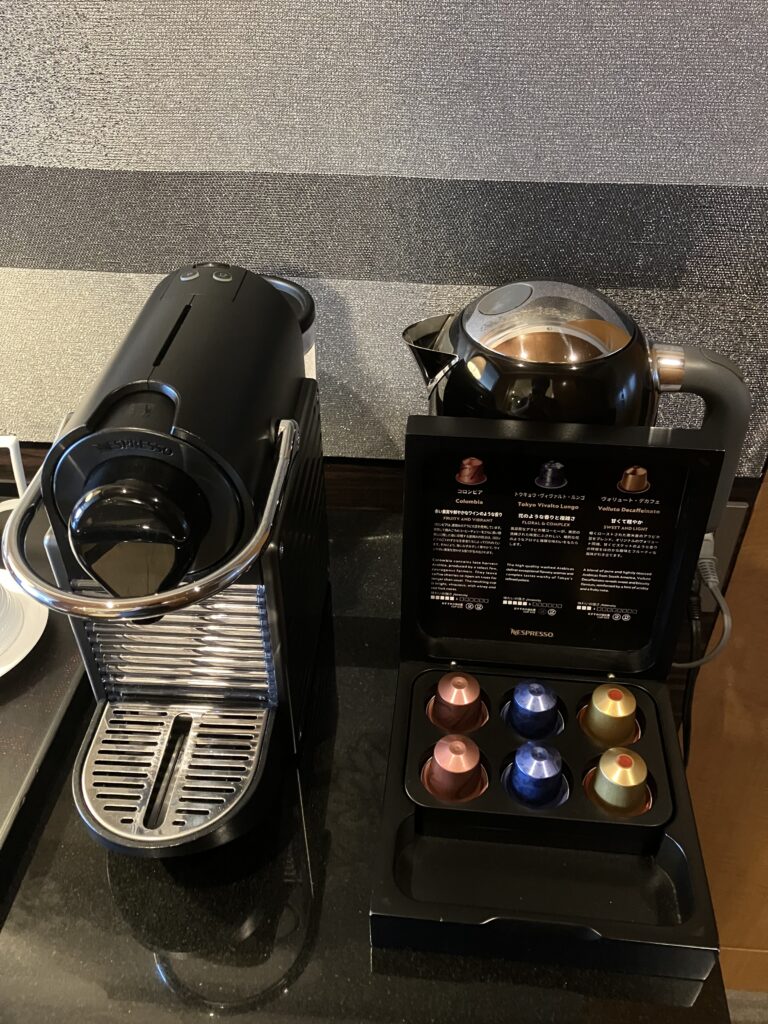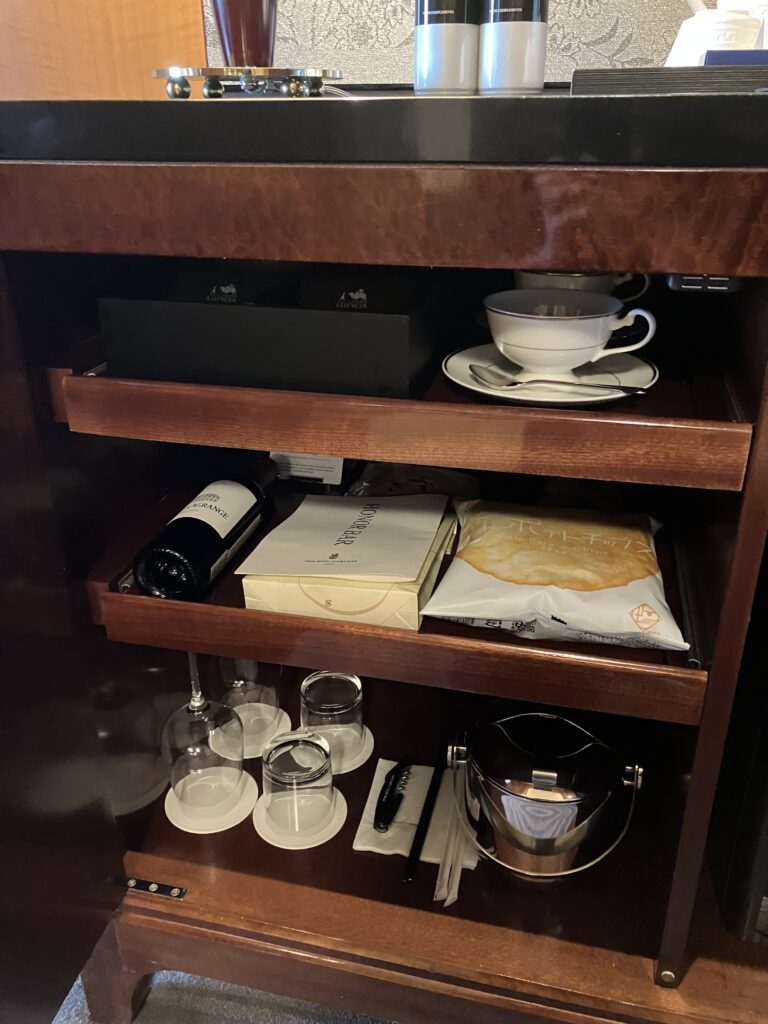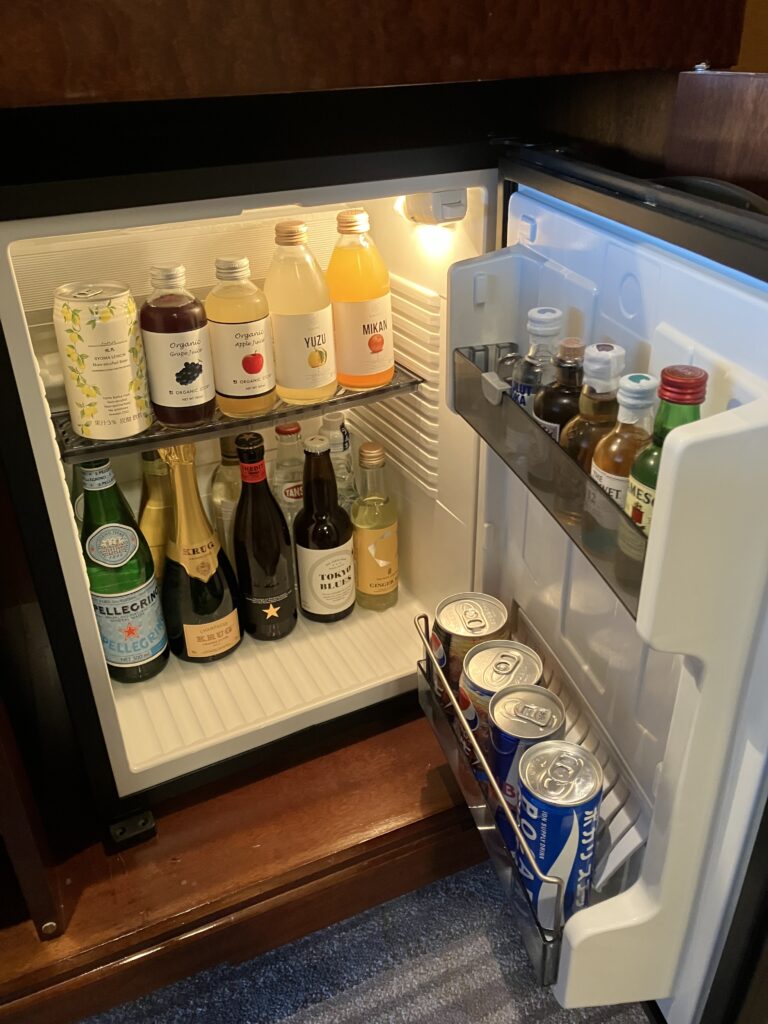 My luggage were put nicely by the staff when I arrived in my room.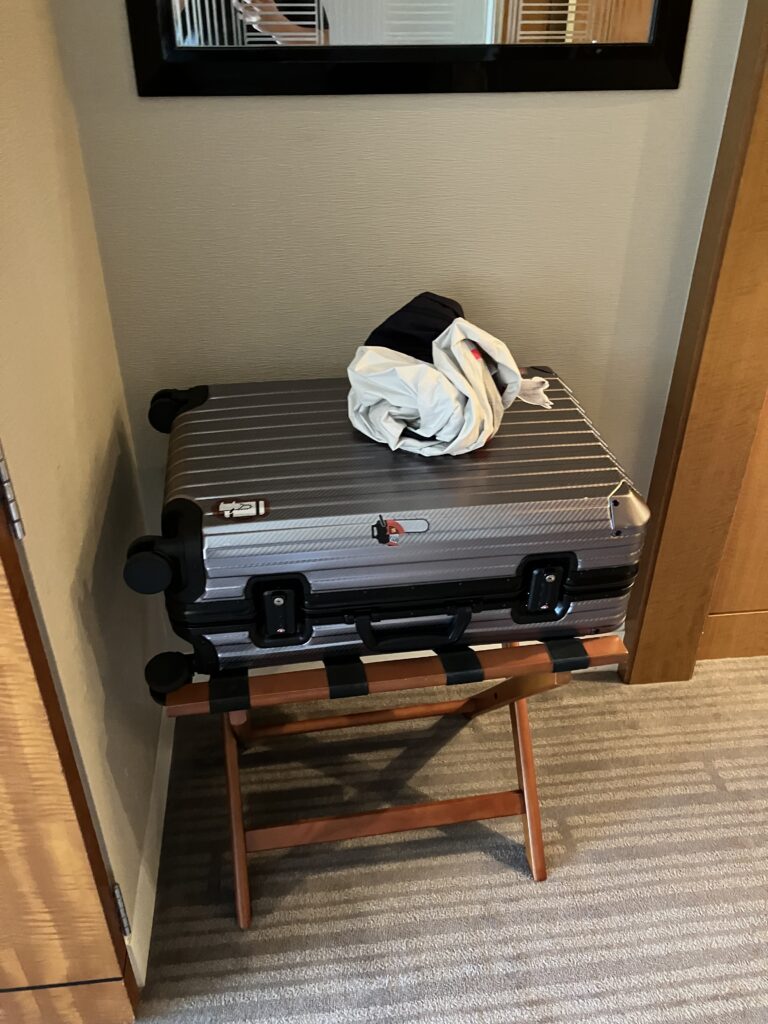 The bedroom space is quite ample, and I liked the wooden finish behind the bed. The carpet shows wear and tear, though.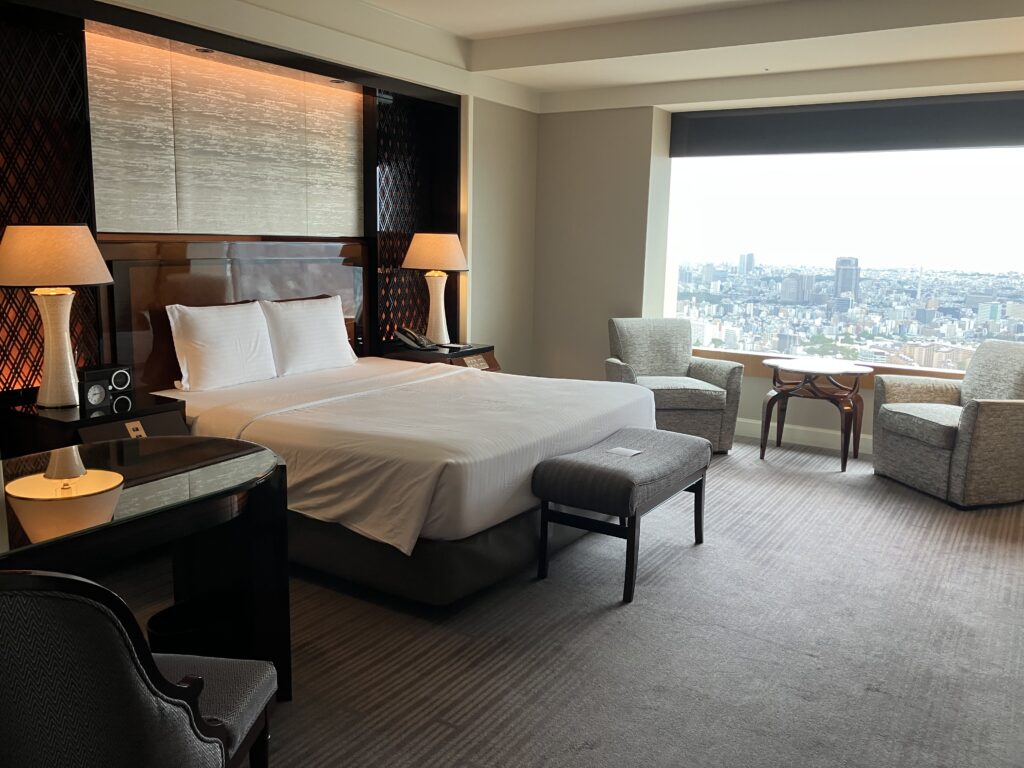 The nightstands next to the bed control the lights and curtains for the main window.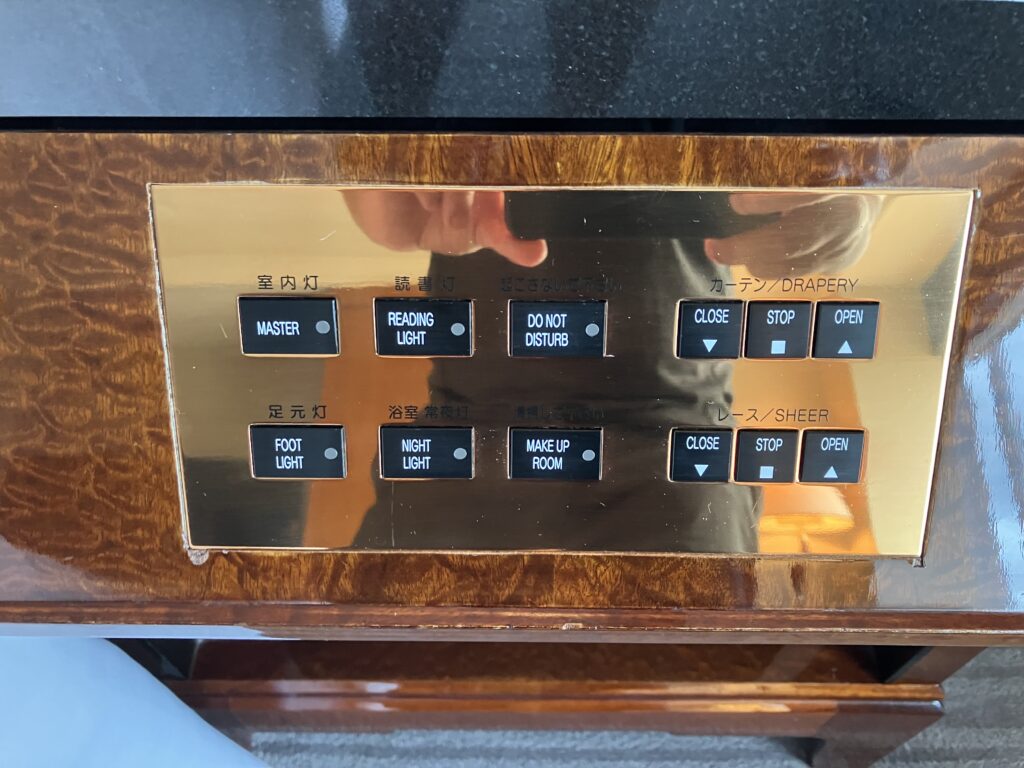 The desk provide a great space to work on.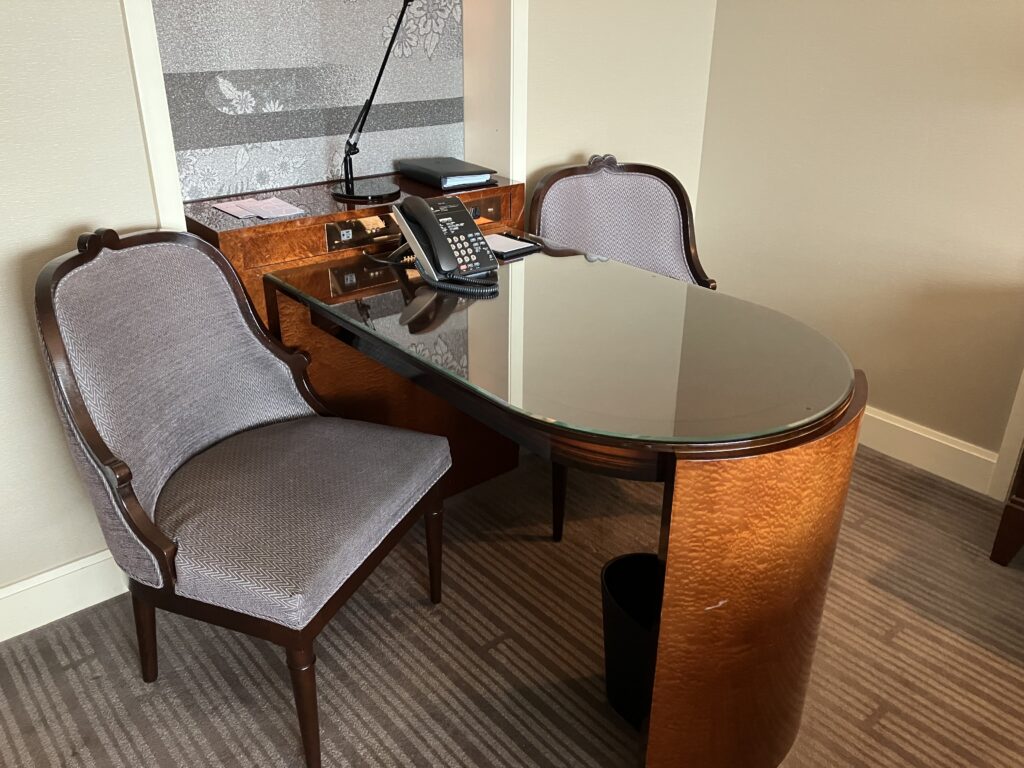 Humidifier is also included.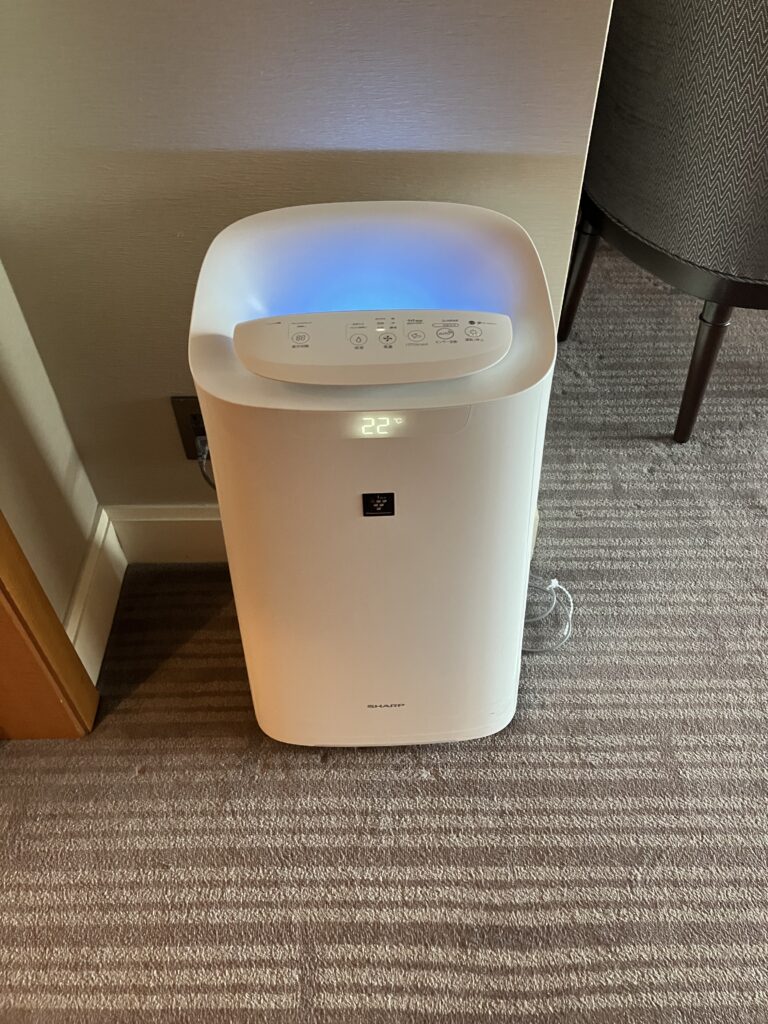 The TV across the bed comes with a DVD player. I haven't seen one of those in a very long time!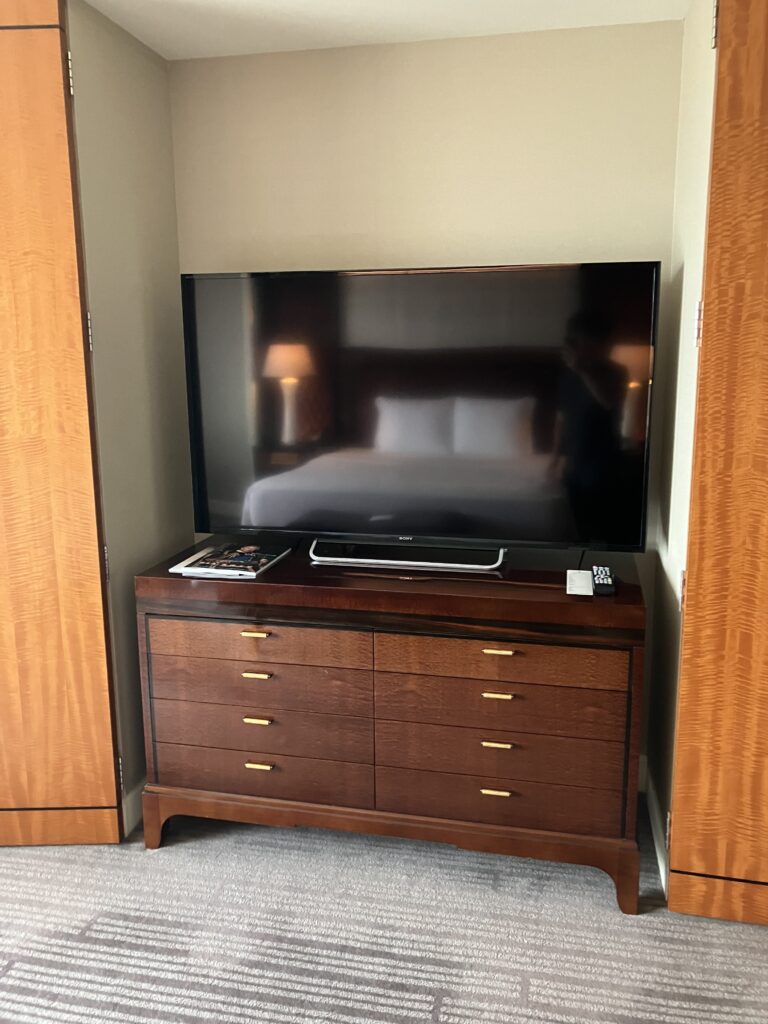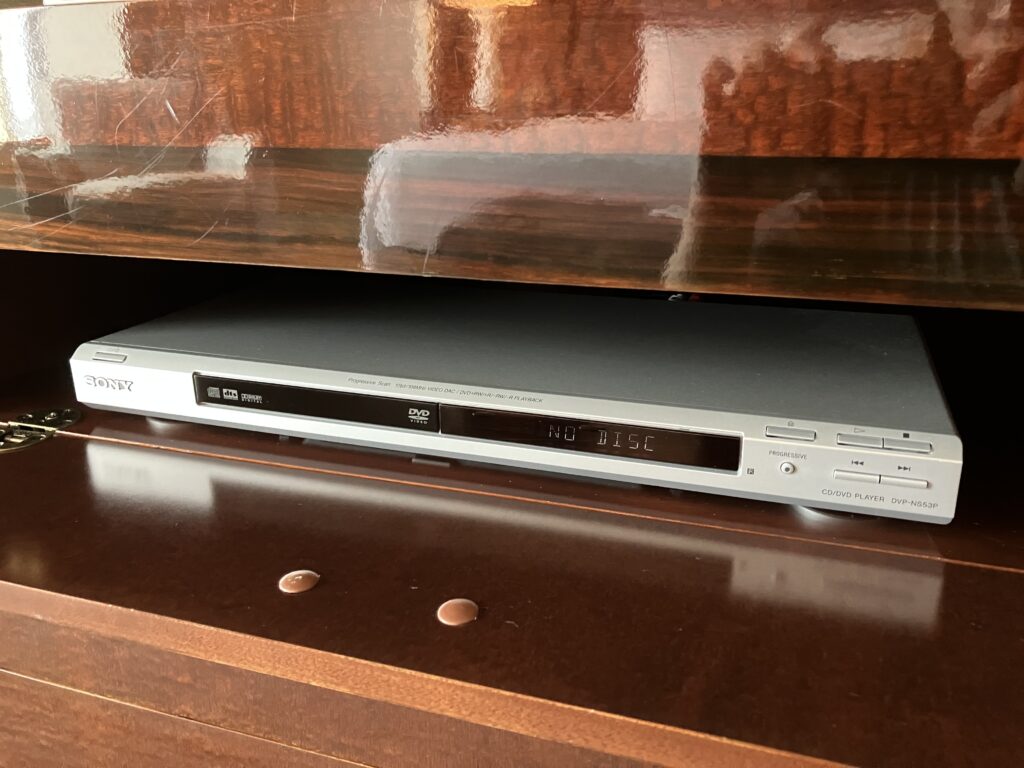 The closet provides secondary space to put your things in.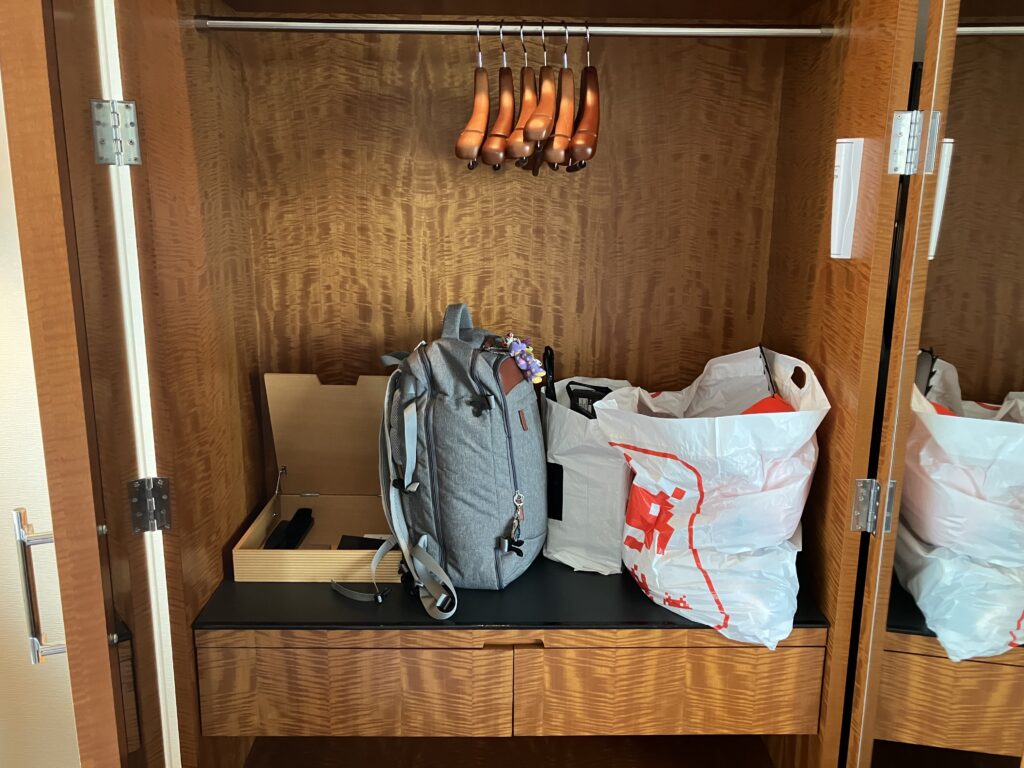 Pajamas are included, so you don't need to wait for evening turndown service.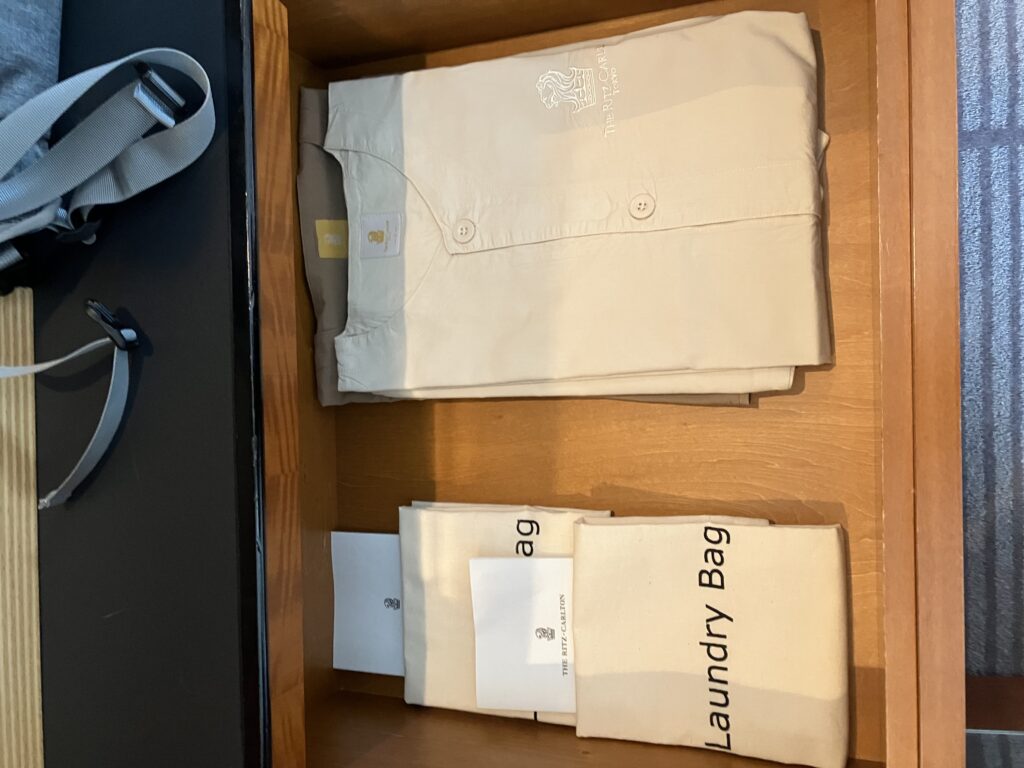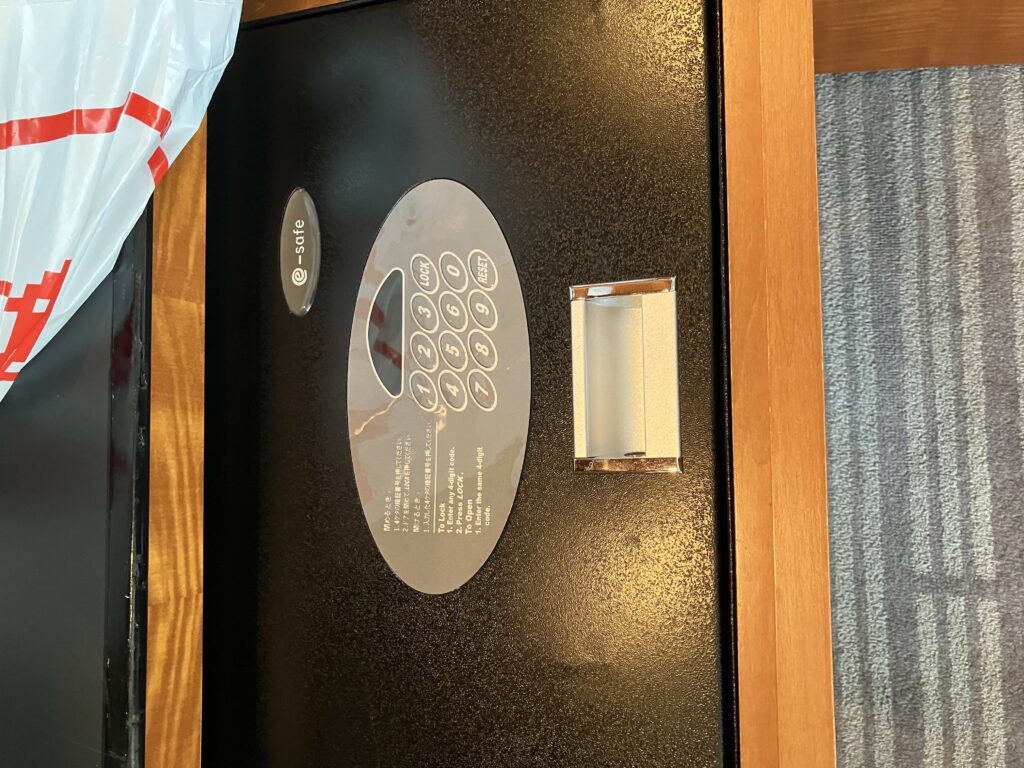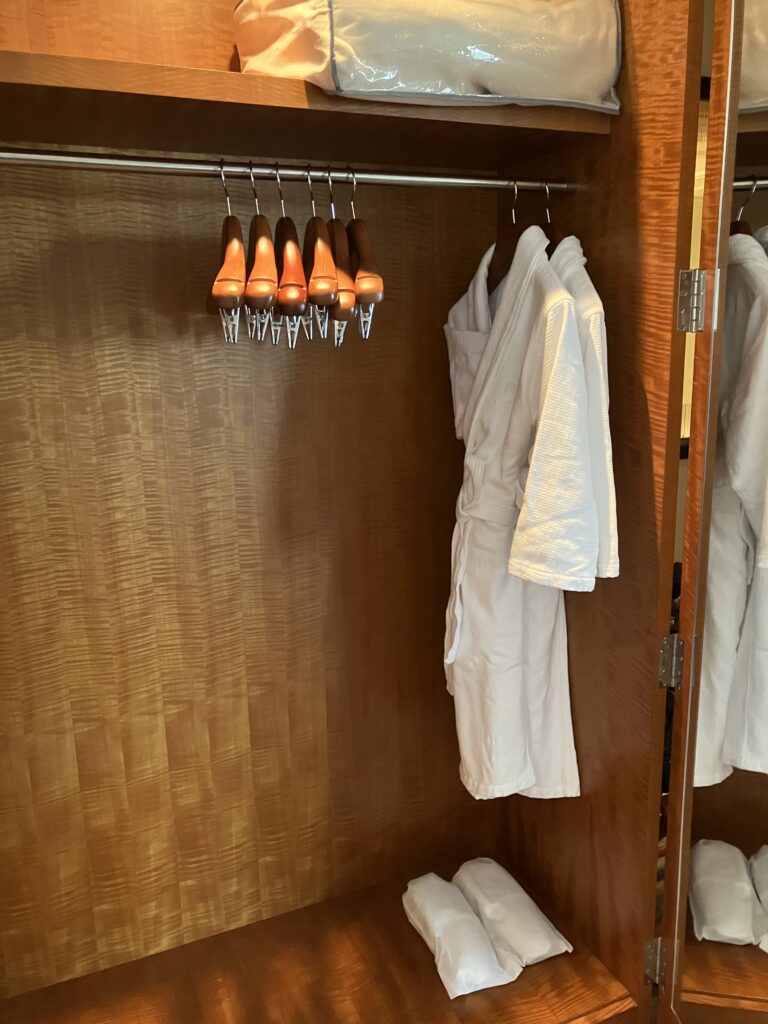 Tokyo Skyline Views
The strongest point of this room is the amazing view of Tokyo skyline. While it was cloudy and raining on the first day I was there, the view was still amazing! Even though I asked if I could get assigned to the room with potential Mt. Fuji view, the weather wouldn't allow it. The agent also informed me that it's hard to be able to see it during the summer.
By the window, there's a good amount of space where you can sit to admire the view. I'll let the views speak for themselves.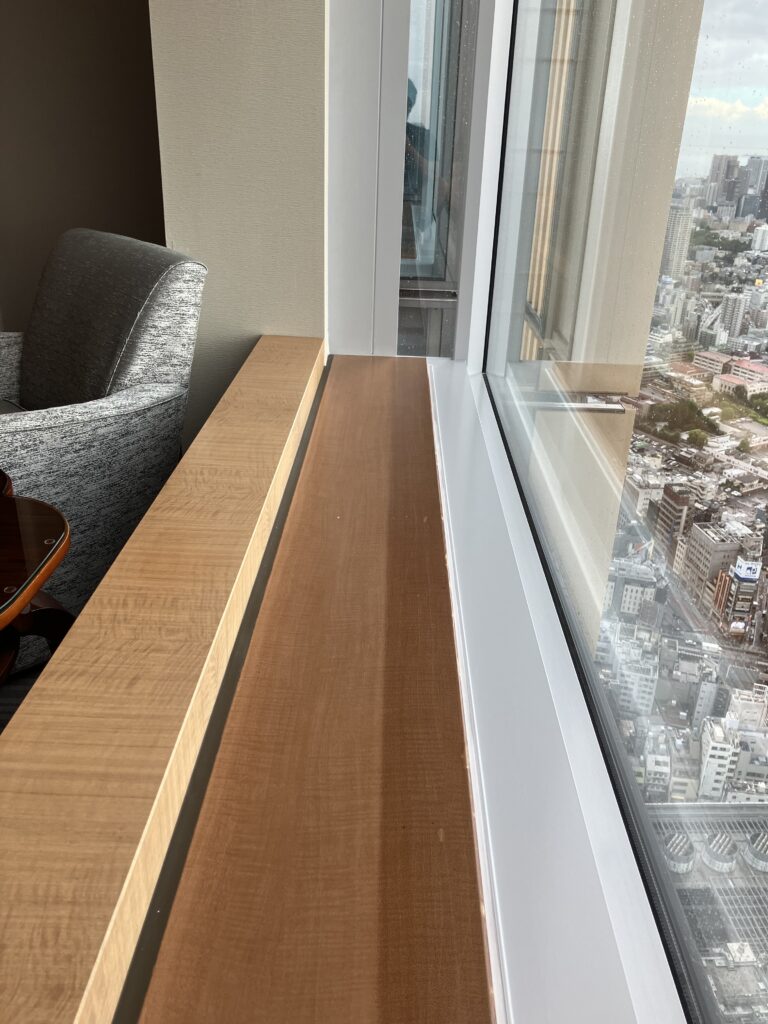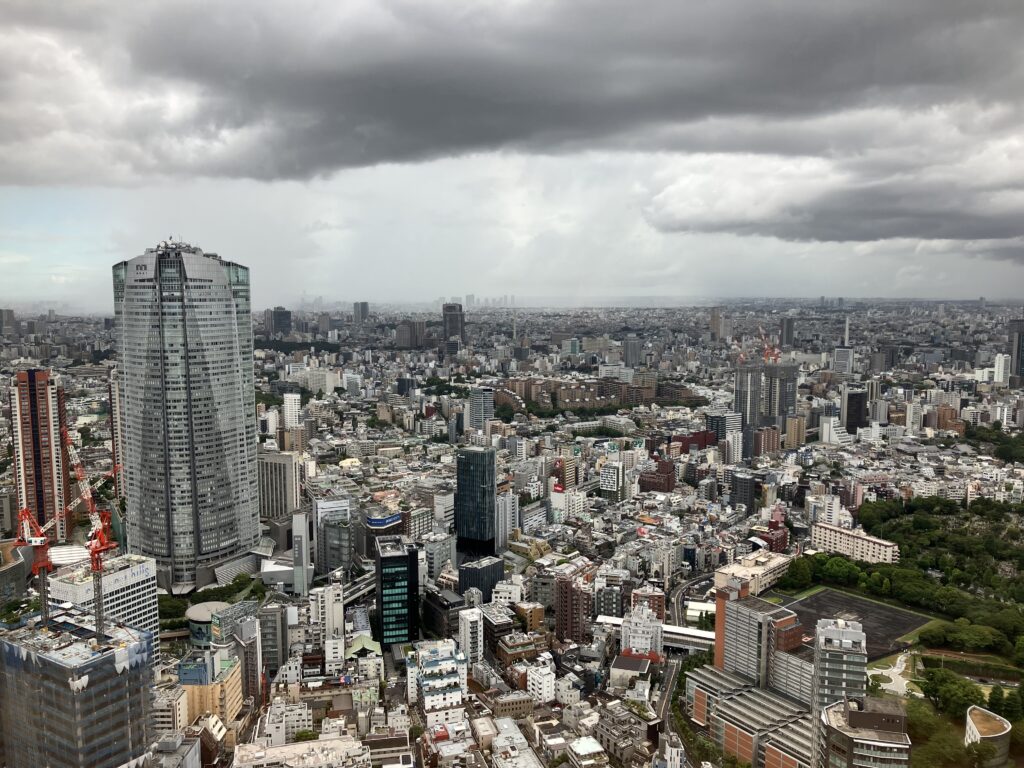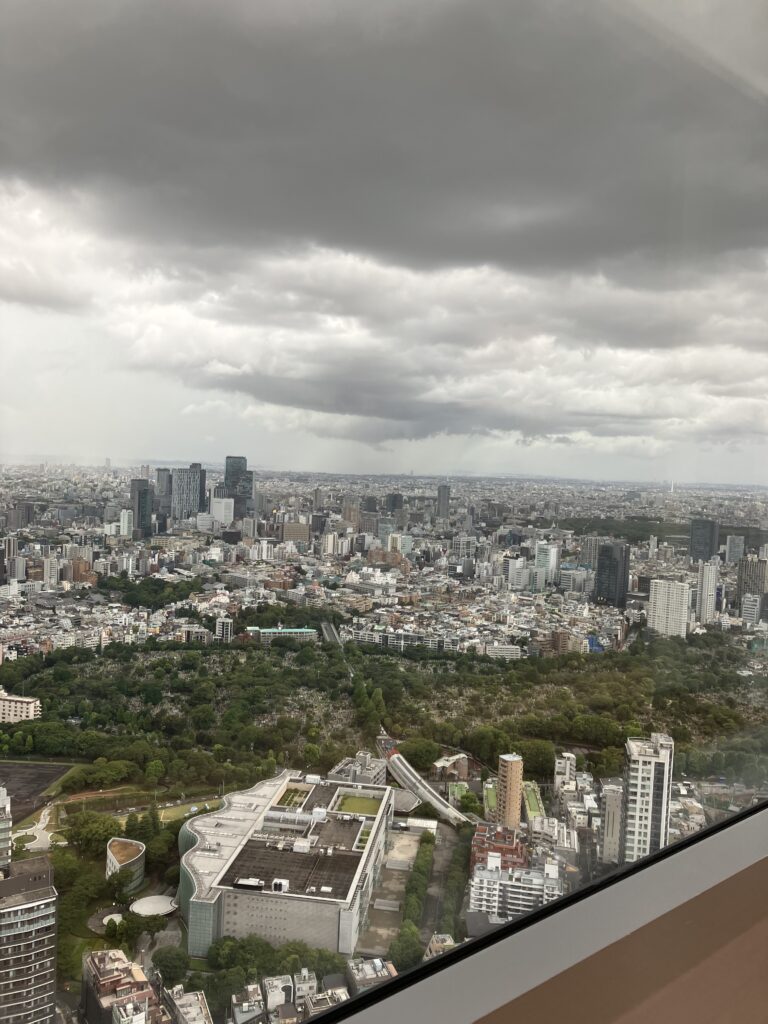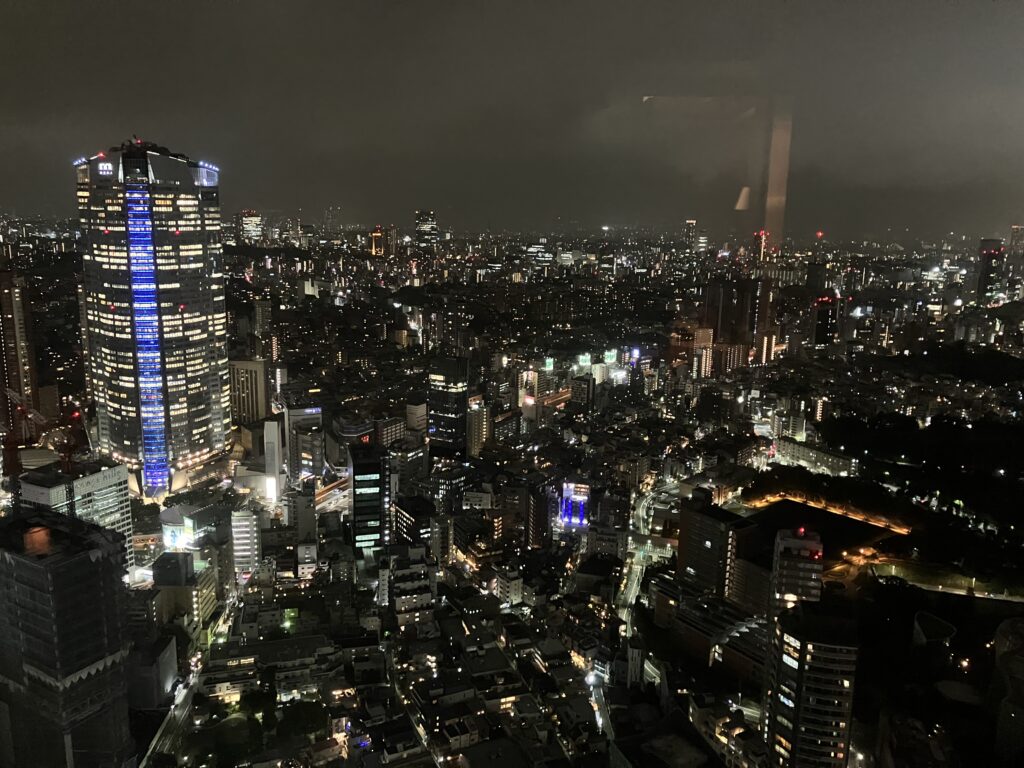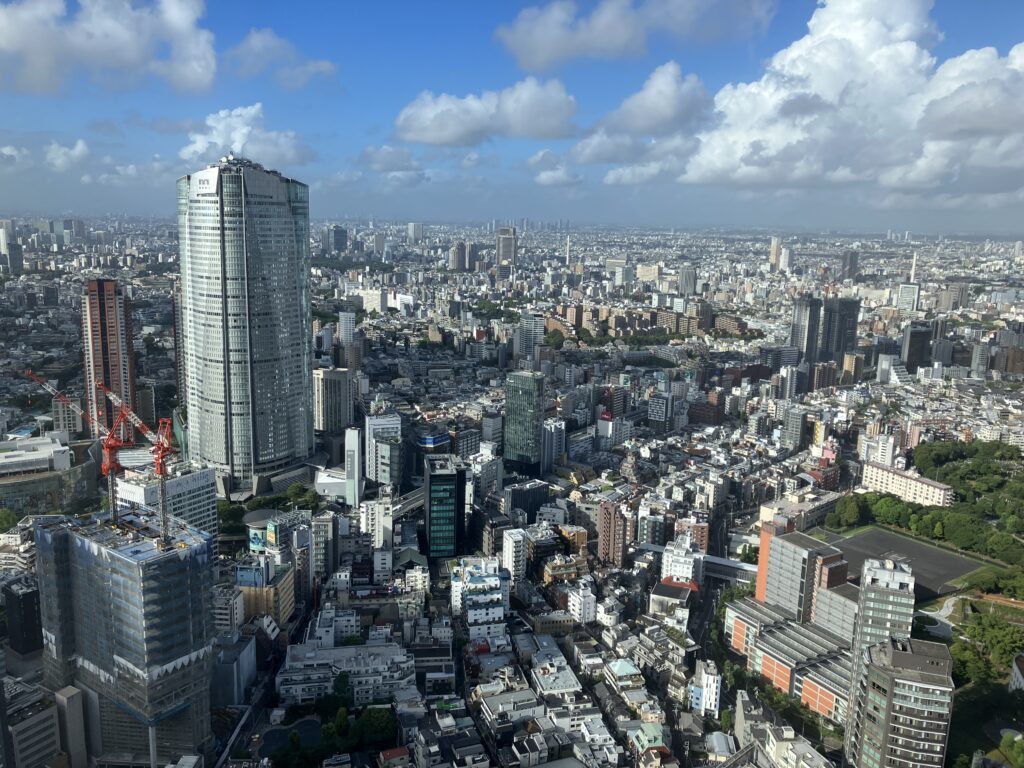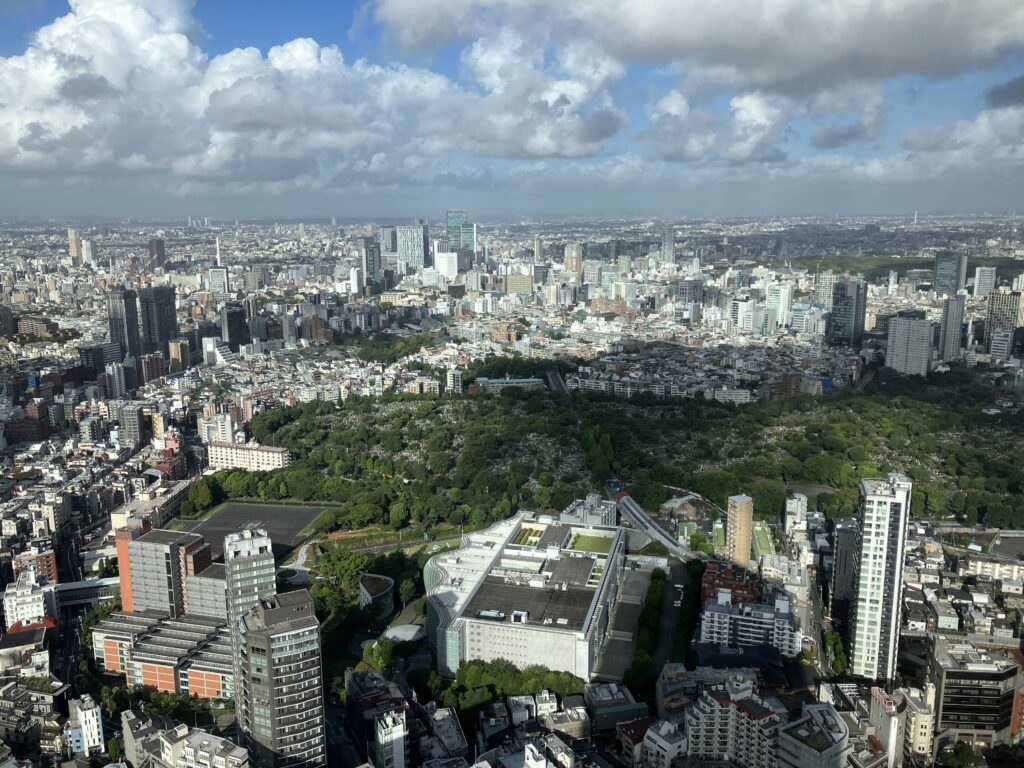 While it was clear, I was able to see Yokohama from a distance! Pretty crazy.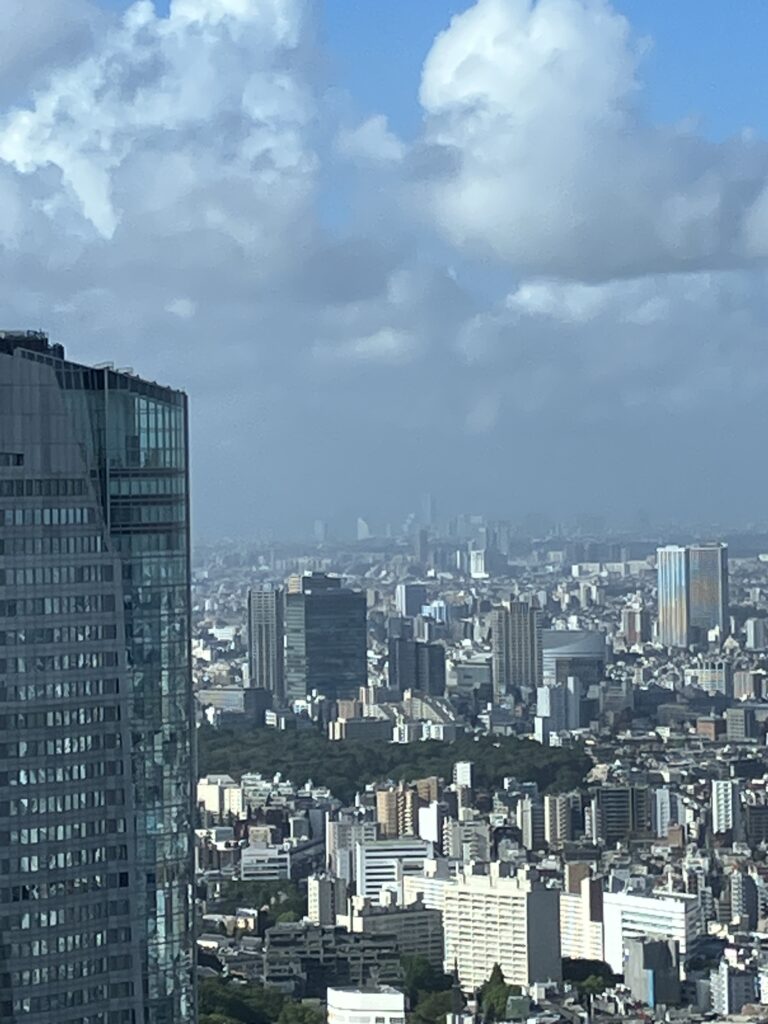 Bathroom
The bathroom is across the pantry just after the entrance to the room. It's set in a circular fashion, with 2 separate sinks being perpendicular to each other, and separate toilet and shower room.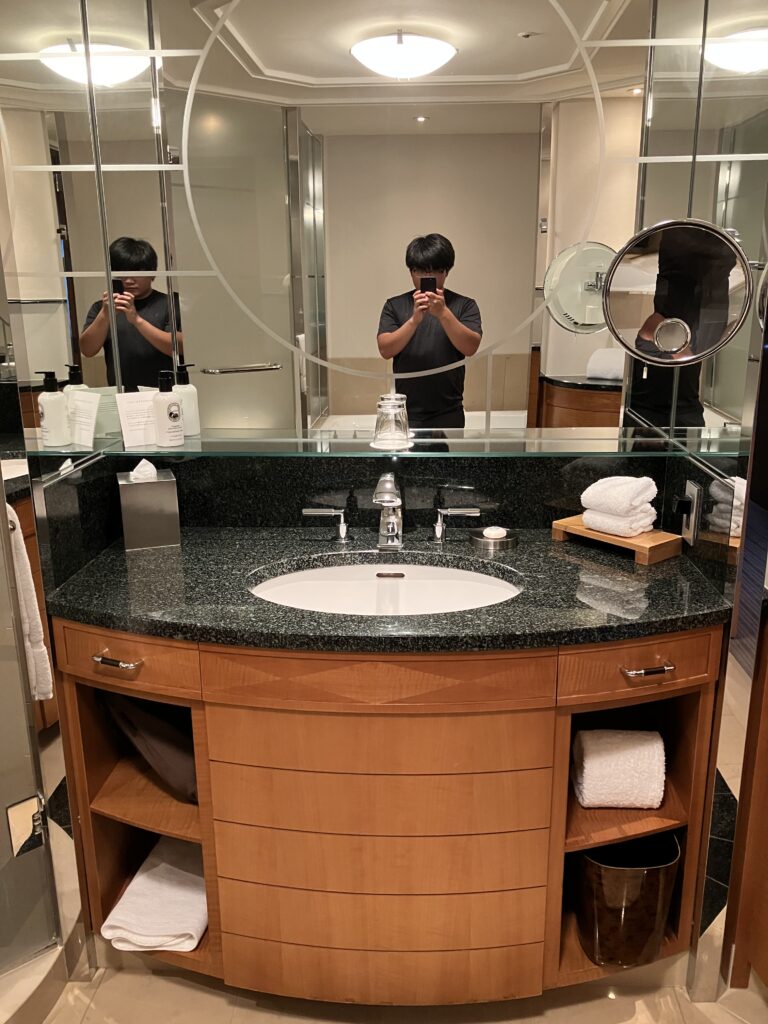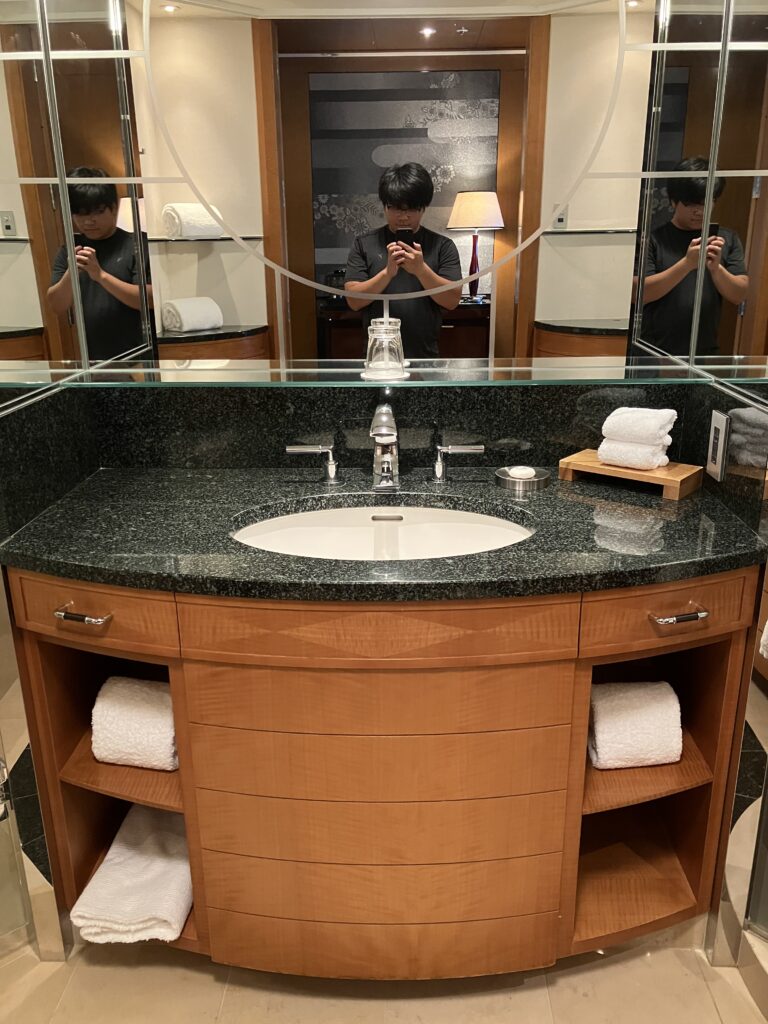 Amenities like dental, shaving kits, and mouth wash are provided.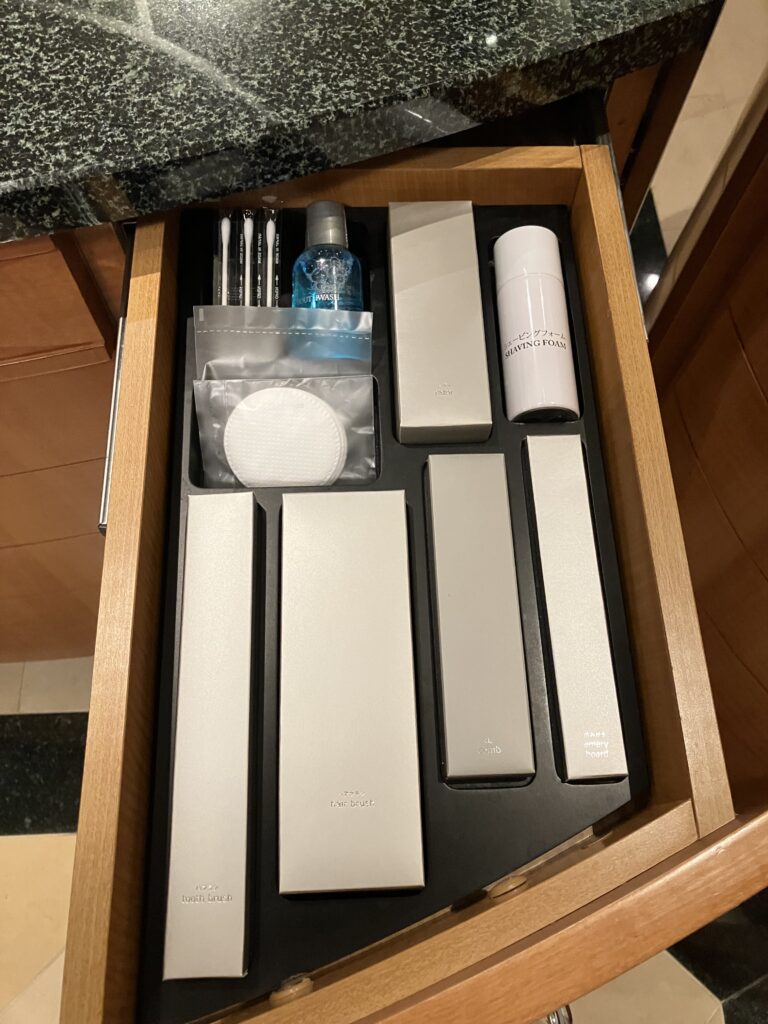 The light switch is a dial, which you can turn to control how bright or dim you want the bathroom is.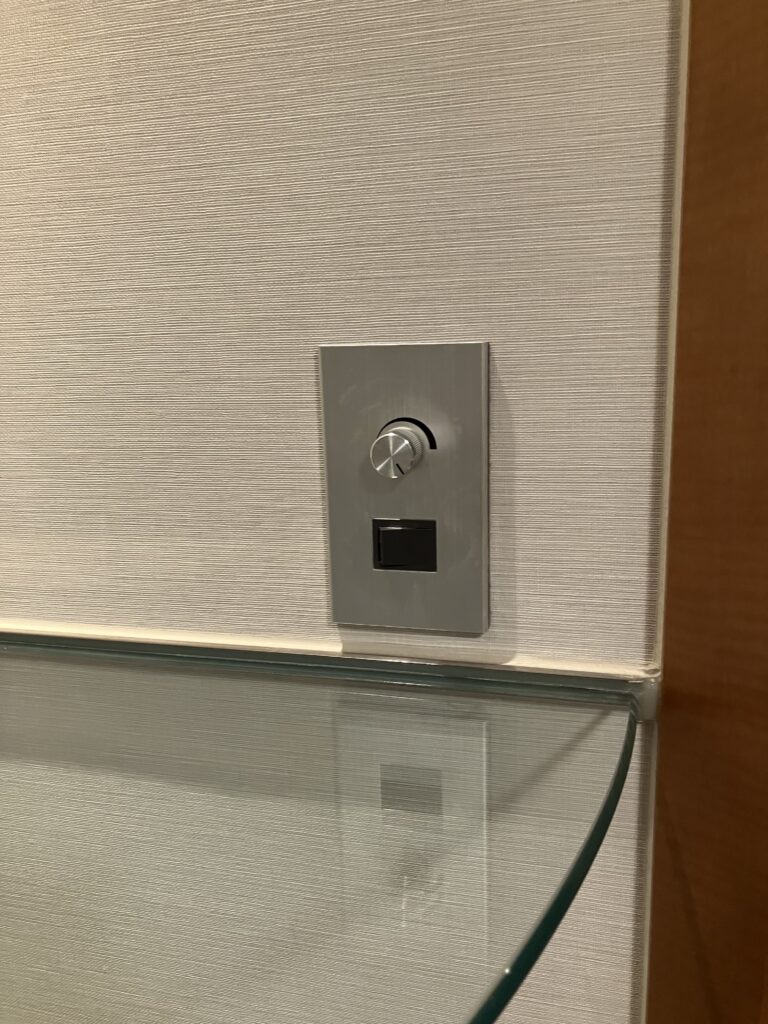 There's an oversized tub with a hamper conveniently placed next to it.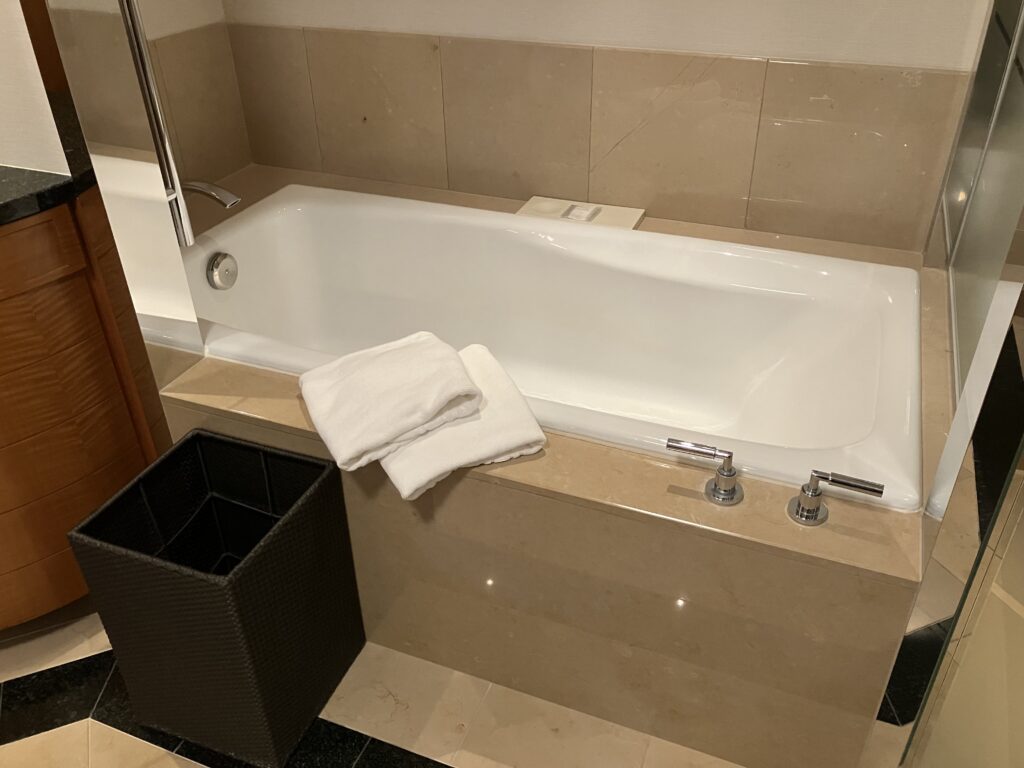 Shower pressure was alright.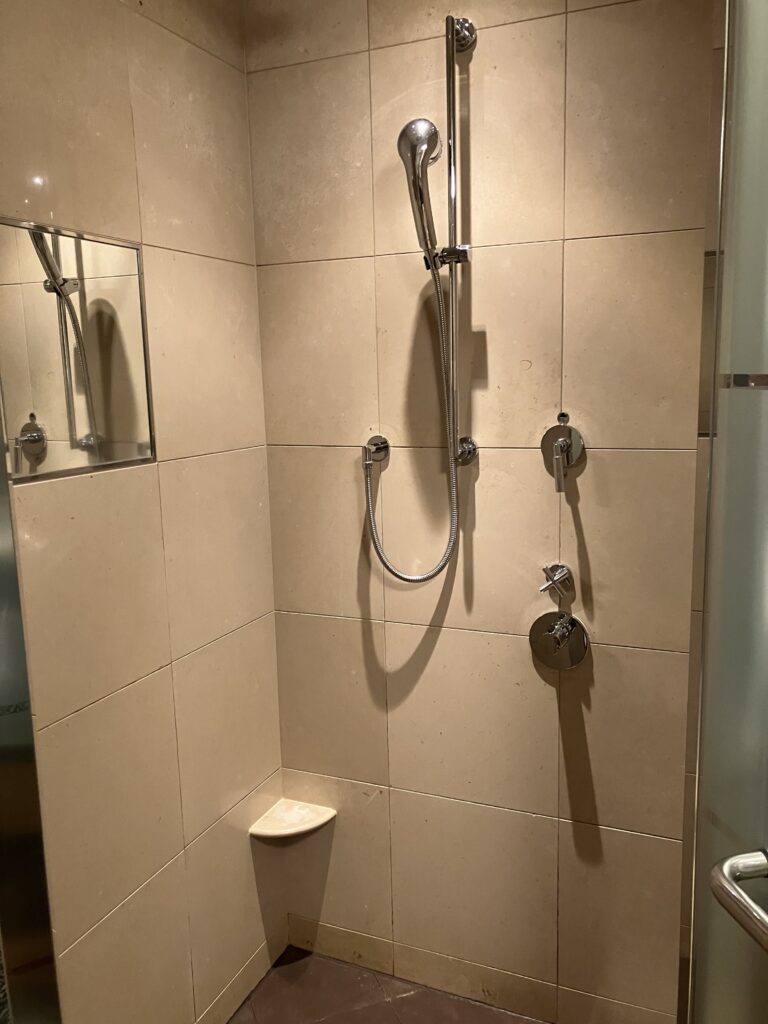 The bath amenities are made by Diptyque, a Ritz-Carlton standard.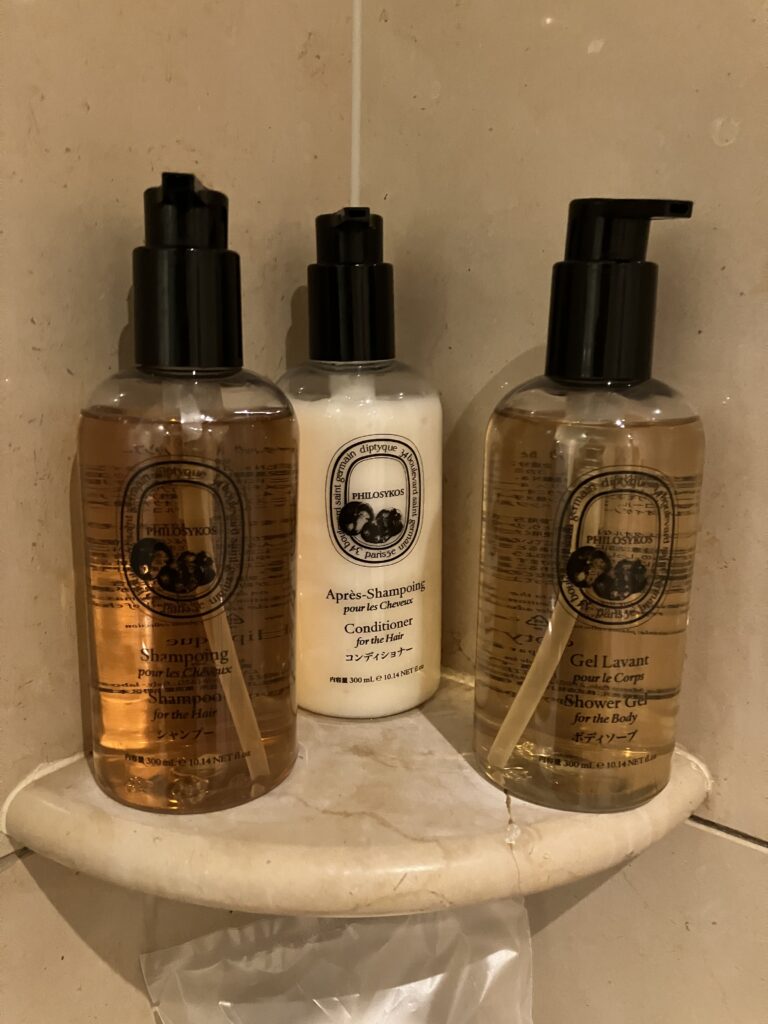 The toilet room is separate and comes with bidet functions.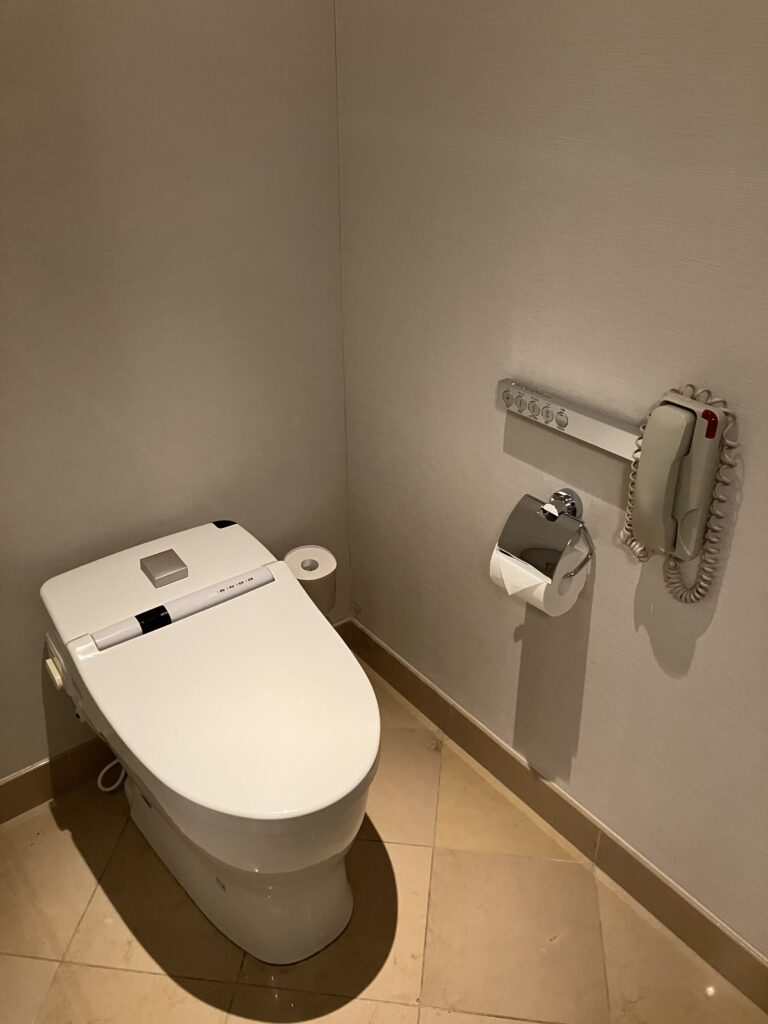 Overall, the room in the Ritz-Carlton Tokyo is very spacious and comes with gorgeous views of Tokyo skyline, which feels endless in a way. But, it is showing their age, and I hope that there's a renovation plan soon. Even the Park Hyatt Tokyo will have renovations in 2024, and there are more modern looking options in Tokyo under the Marriott umbrella, like the Mesm Tokyo.
Ritz-Carlton, Tokyo- Breakfast at Towers
As a reminder, Titanium and Ambassador Elite get to choose free breakfast as a welcome gift in The Ritz-Carlton, Tokyo, which is above and beyond the Ritz-Carlton brand. I was pretty excited for it even though I could only had it once due to my single night stay.
Breakfast is located at Towers, which is just to the left of the reception desk. When entering, you'll pass through Pierre Herme Paris macaroon displays. The attendant would also ask if you'd like some newspapers, the paper form. I felt like I'm too young nowadays to be reading newspapers.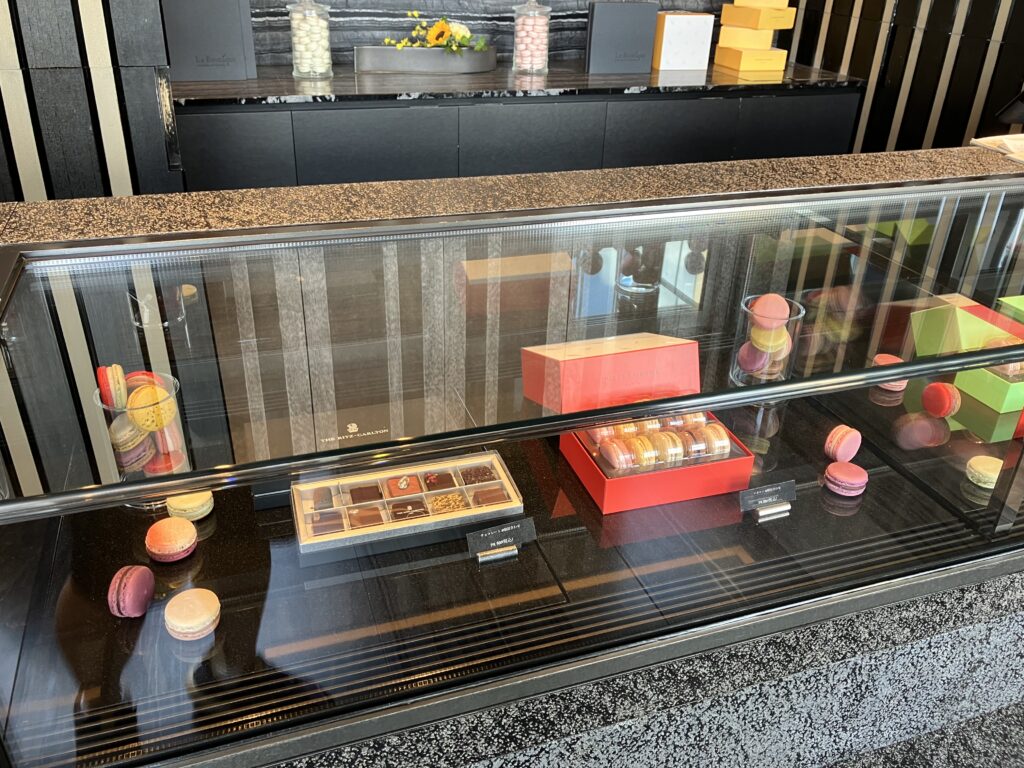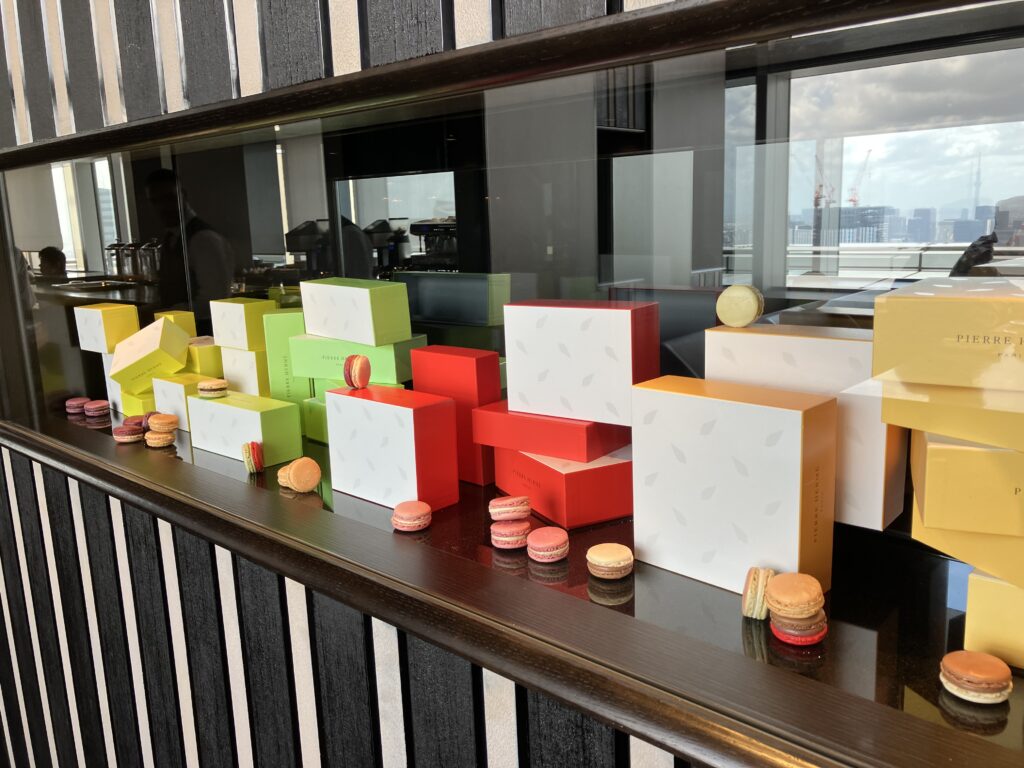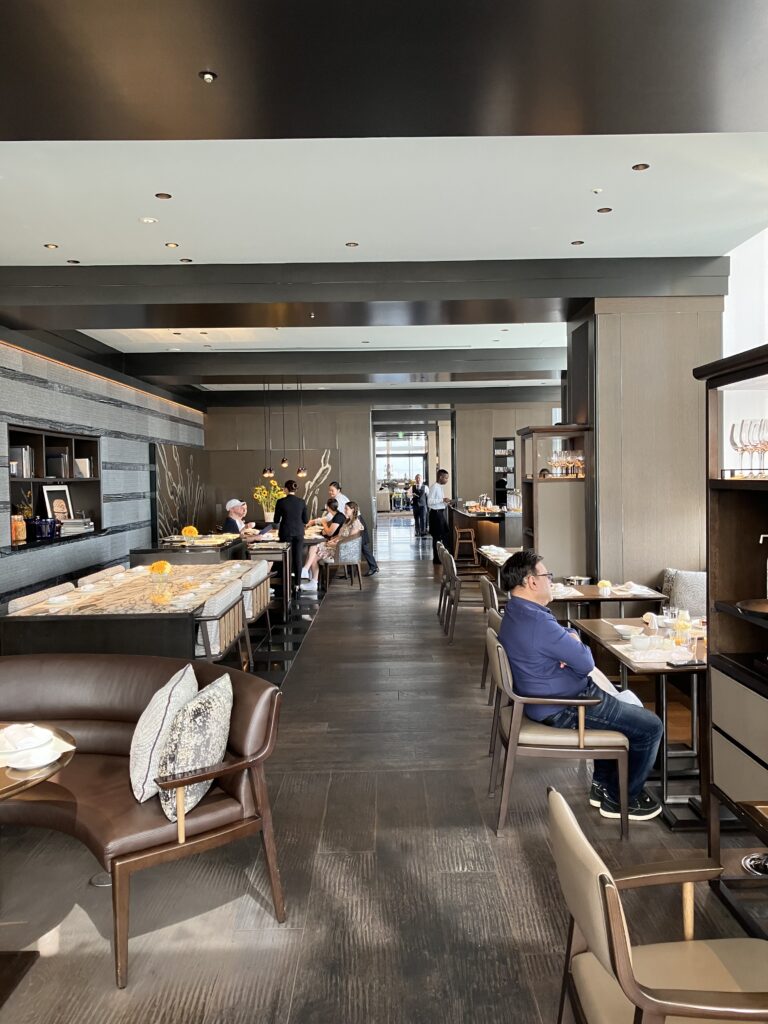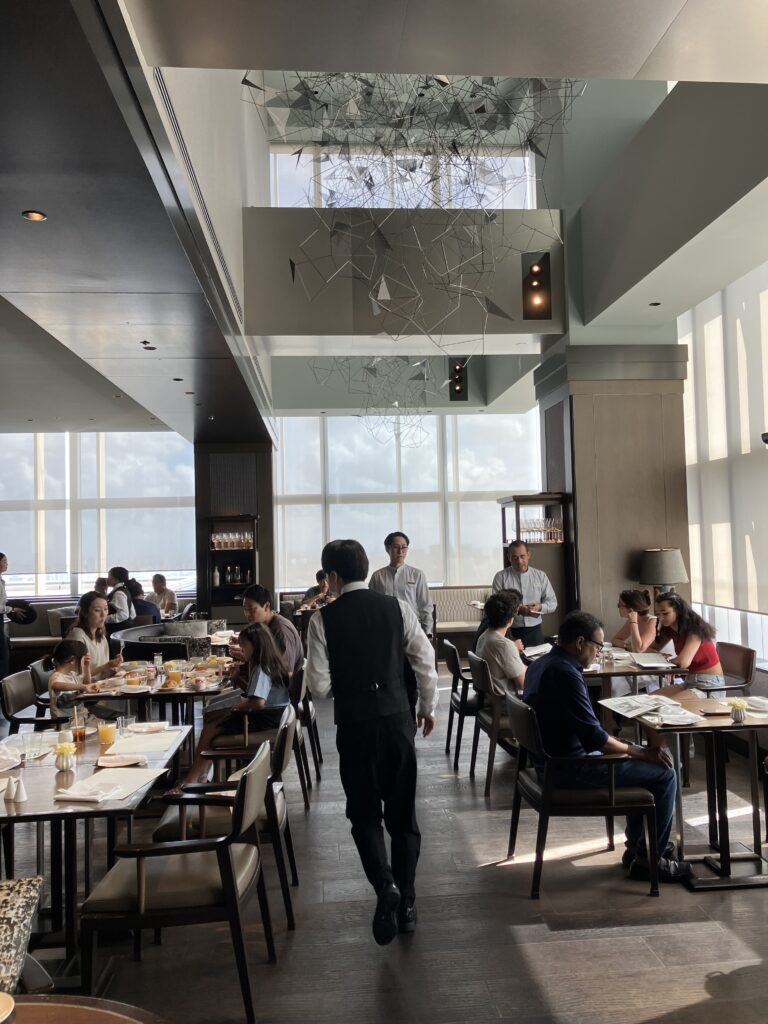 While the breakfast isn't a traditional buffet style per se, you can have as many pastries and sweets as you'd like from ones pictured below.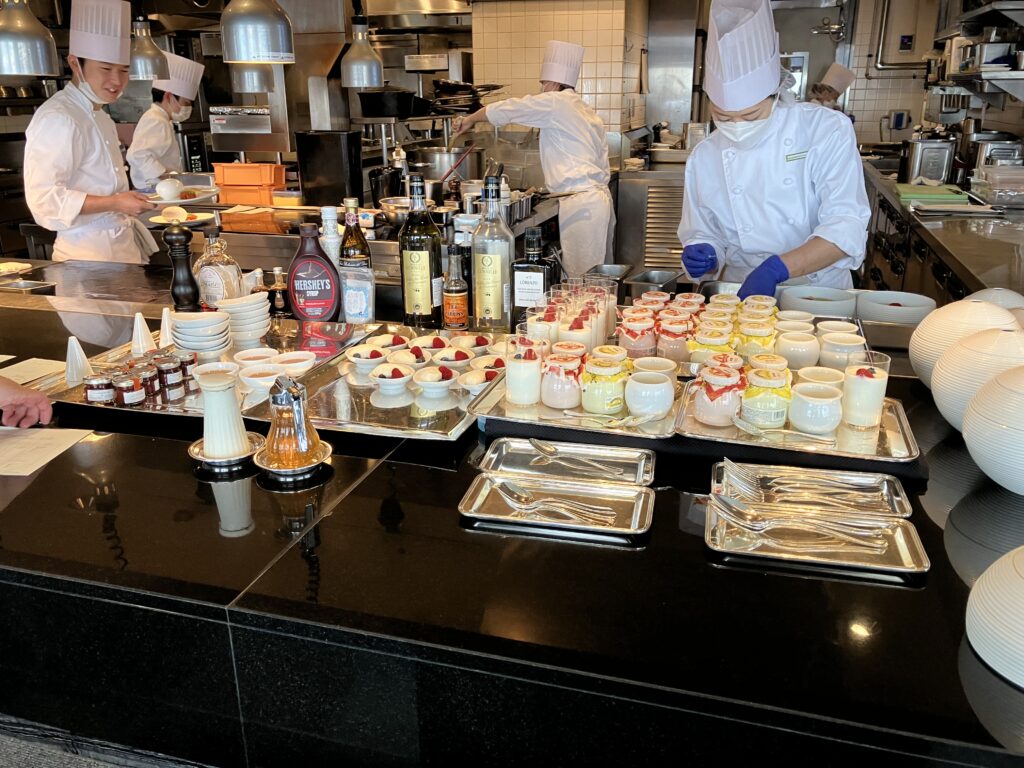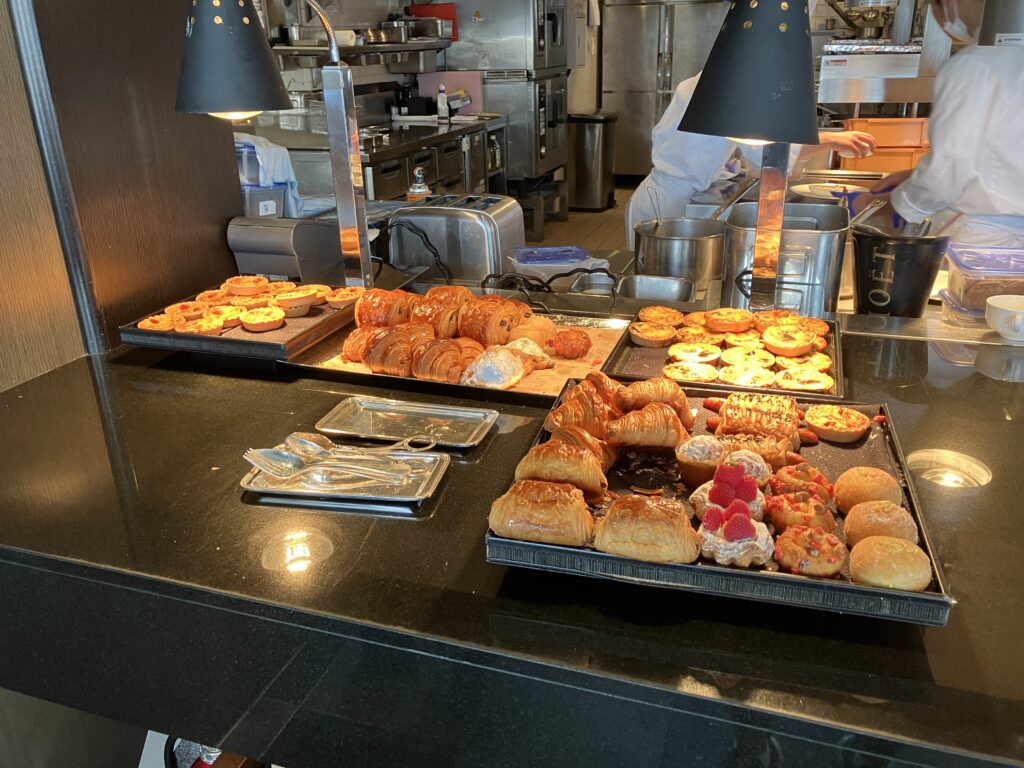 However, they insist that you don't grab them on your own, but have the waiter/waitress come to your table and present you with options. You can also request some items you'd rather have too.
But, the main part of the breakfast experience is from the a la carte menu. I regret not taking pictures of the menu, but they were all your typical western breakfast menu options. However, you can request a "secret" Japanese breakfast bento instead, which I did!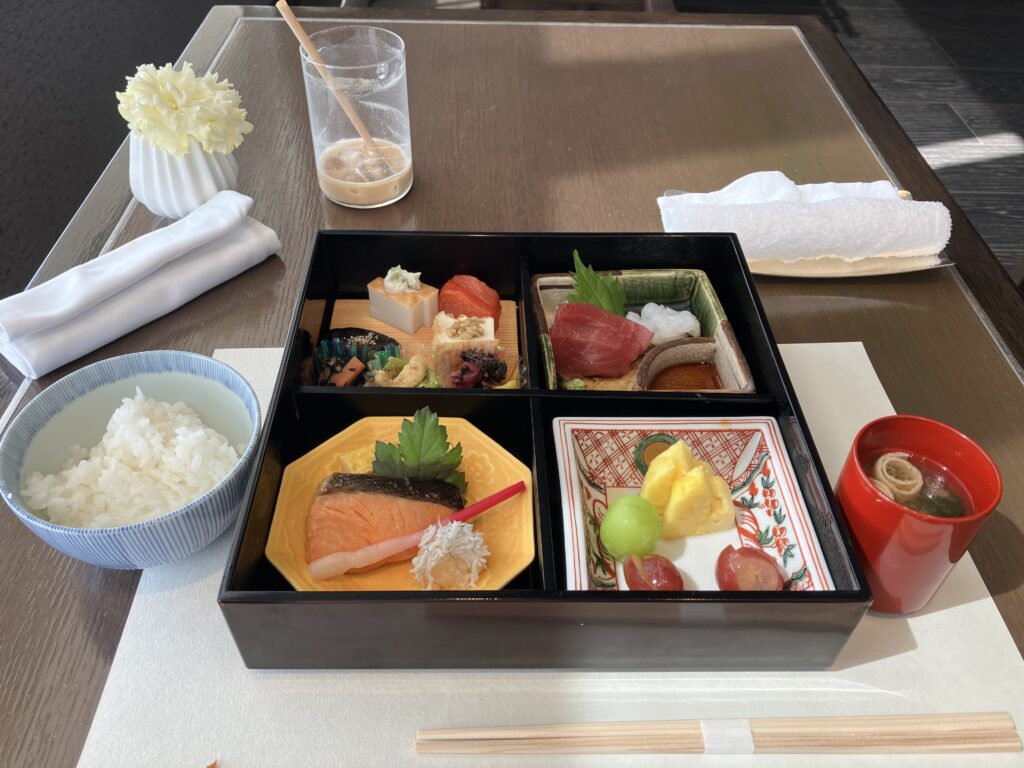 The breakfast bento was very pleasant. I daresay it tasted better than the ones I had in Hotel the Mitsui in Kyoto, but the Mitsui had better presentation.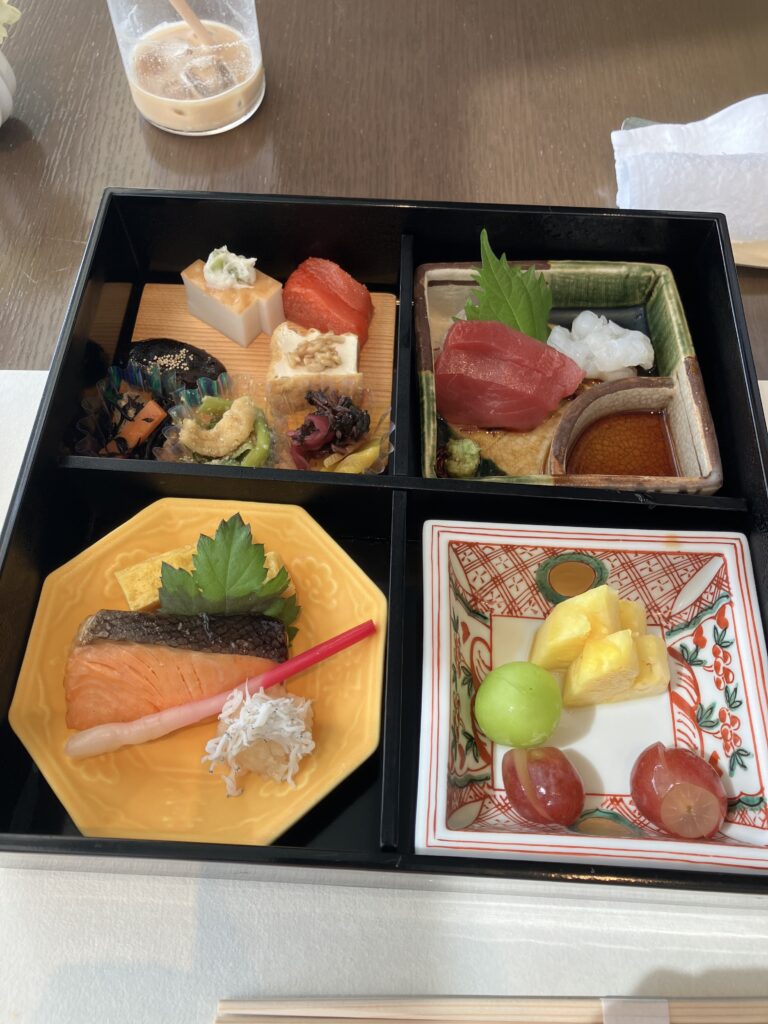 You can also order a drink on top, and I chose an iced latte.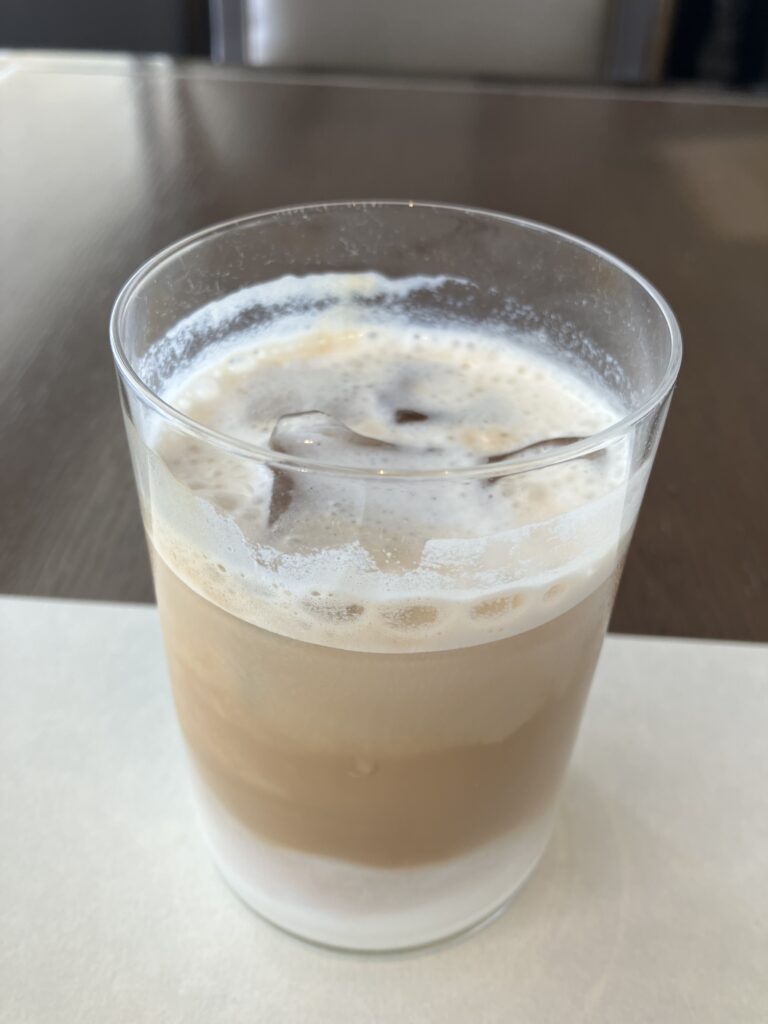 I helped myself to some pastries as well.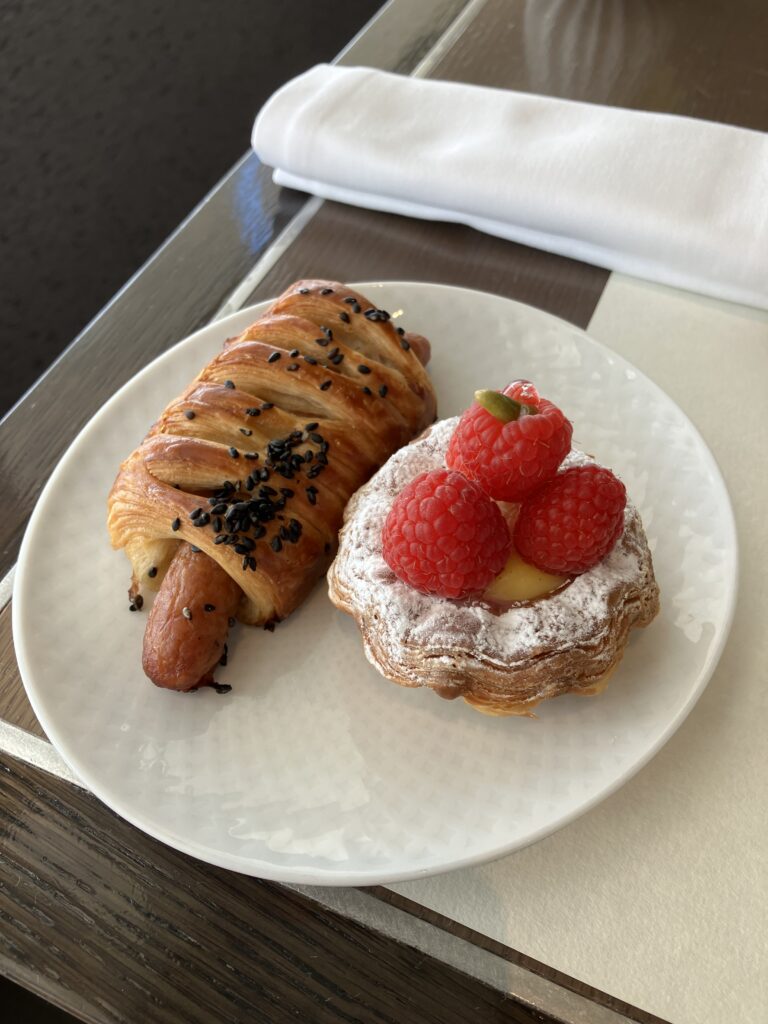 Overall, breakfast was splendid in taste, but I do wish that I had the liberty to grab things on my own rather than having the waitress grab things for me since that's what I've been used to. I suppose I can see the "pampering" aspect of a 5-star luxury hotel.
Ritz-Carlton, Tokyo- Lobby Lounge & Bar
One of the more prominent spaces of the Ritz-Carlton Tokyo is the Lobby Lounge. A huge space of scattered seating where you can enjoy Tokyo views.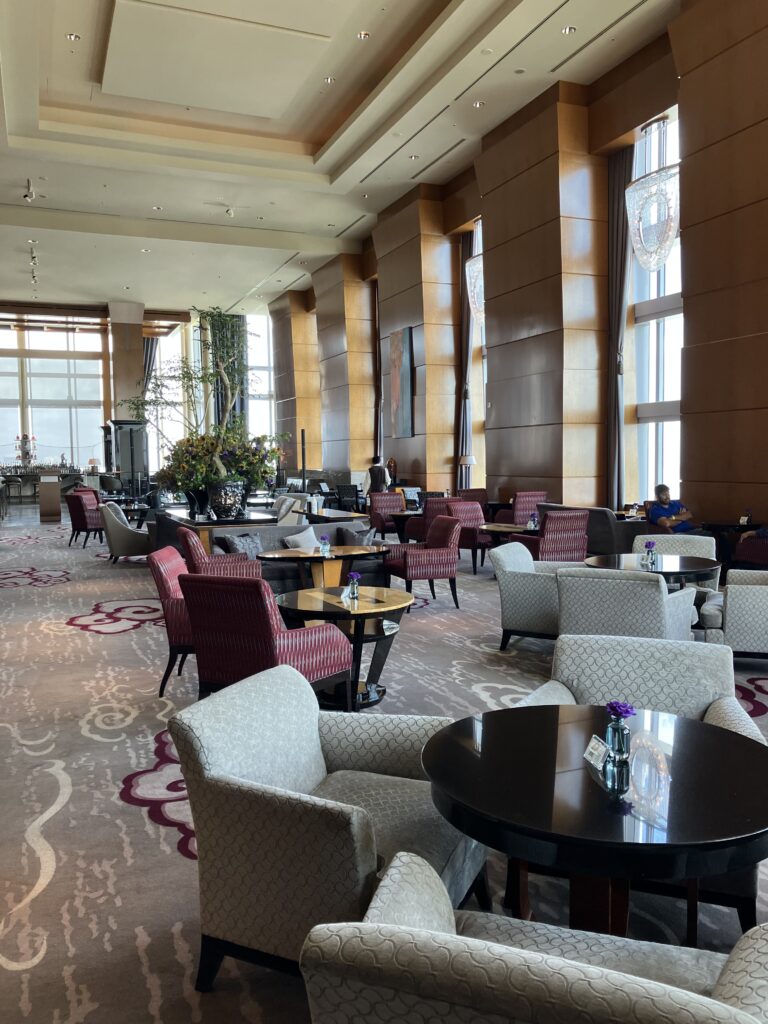 Live music will play in the evening, but I sadly wasn't able to check it out.
There's a grand waterfall display just near the bar, which somewhat shares space with the Lobby Lounge.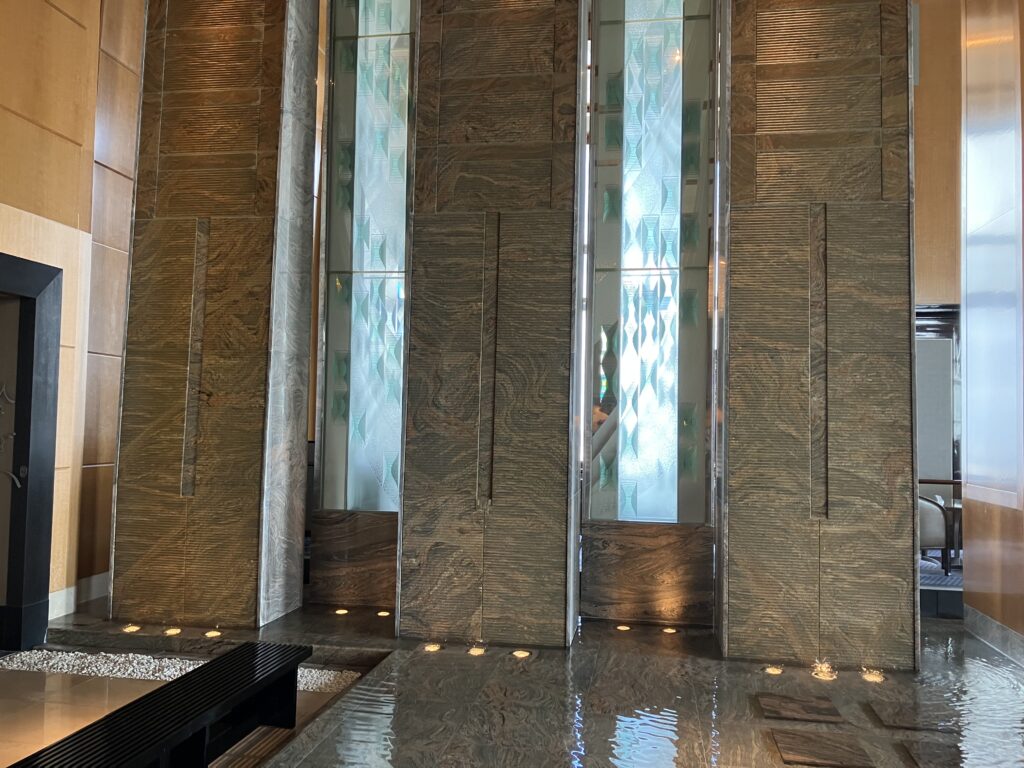 Just as you approach the bar, you'll encounter really expensive drinks on display, like the Hibiki 30 Year Old. For reference, ANA First Class from HND to SFO serves Hibiki 17 Year Old, while the route from HND to JFK serves Hibiki 21 Year Old.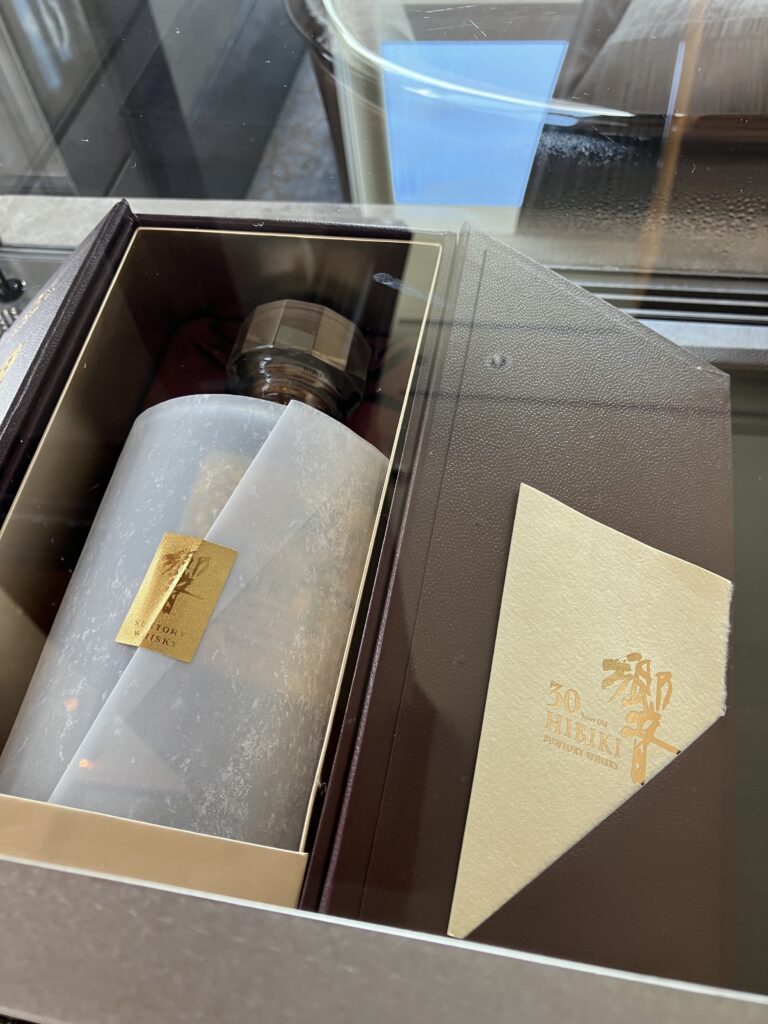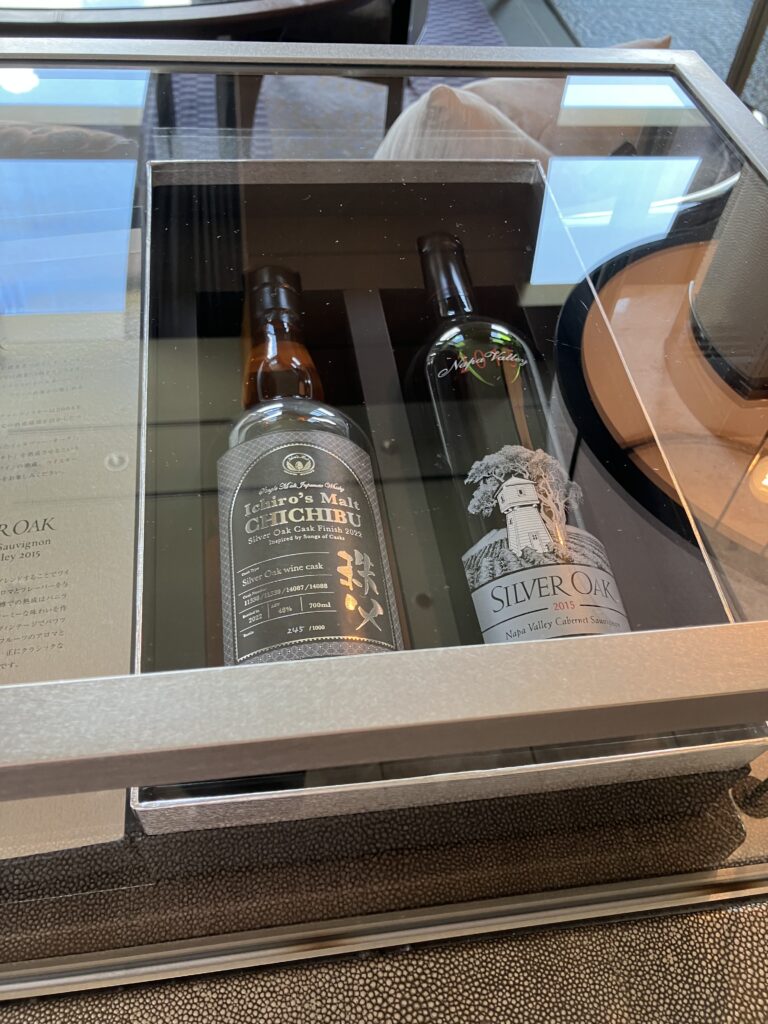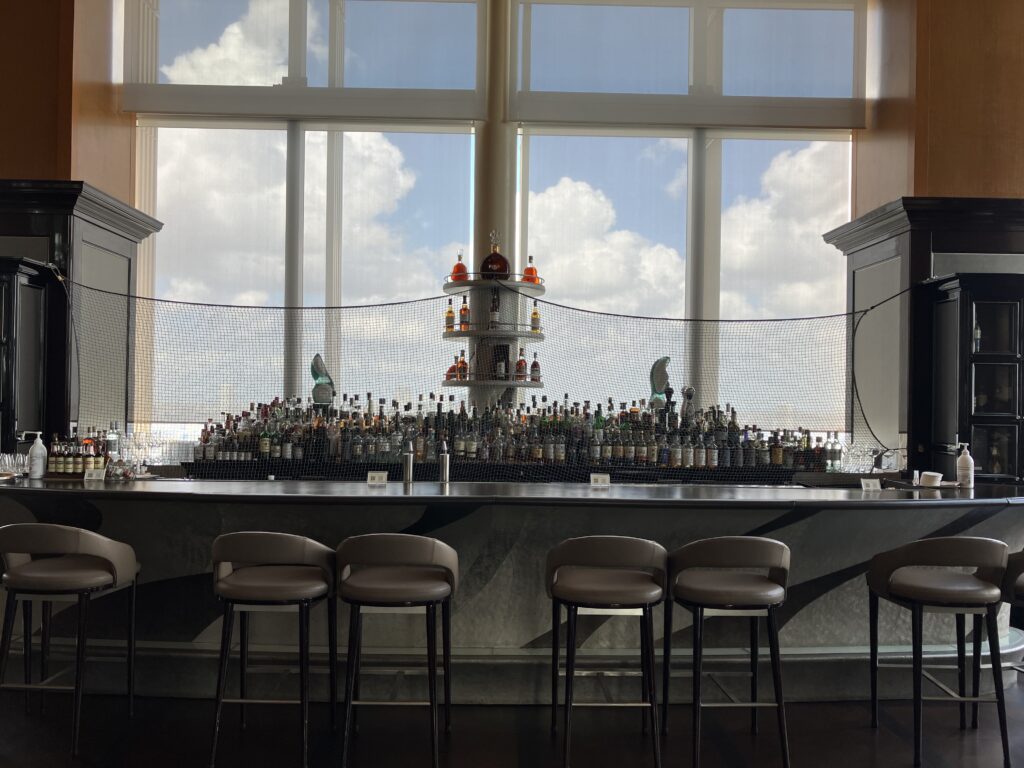 The bar comes with impressive alcohol displays.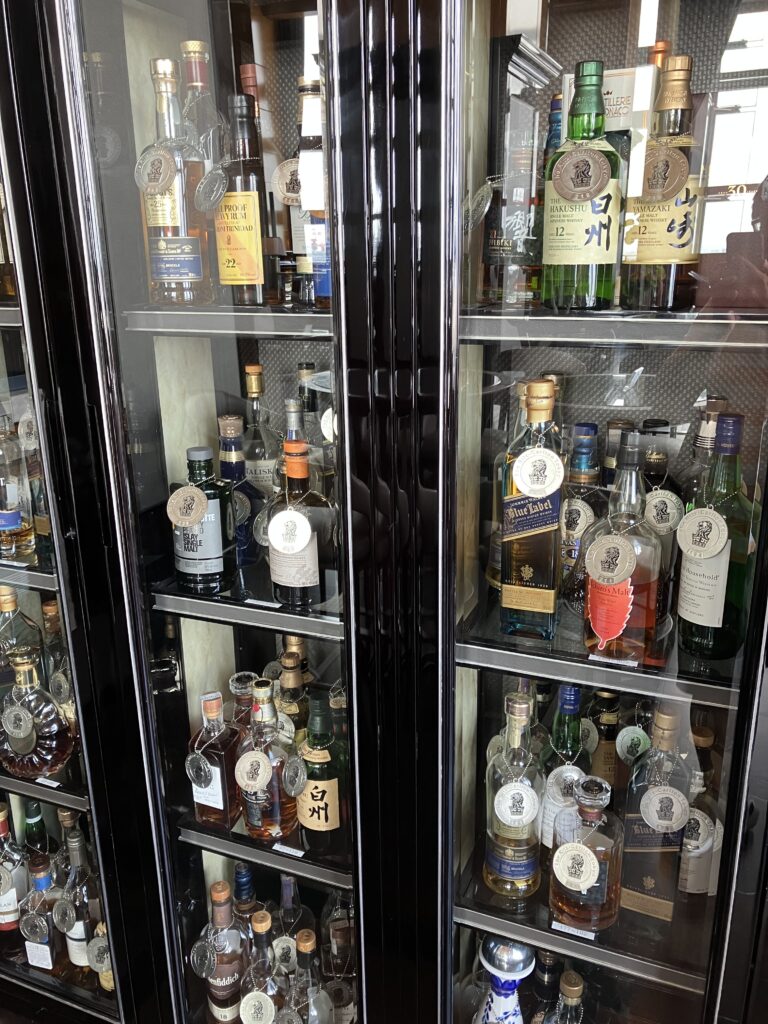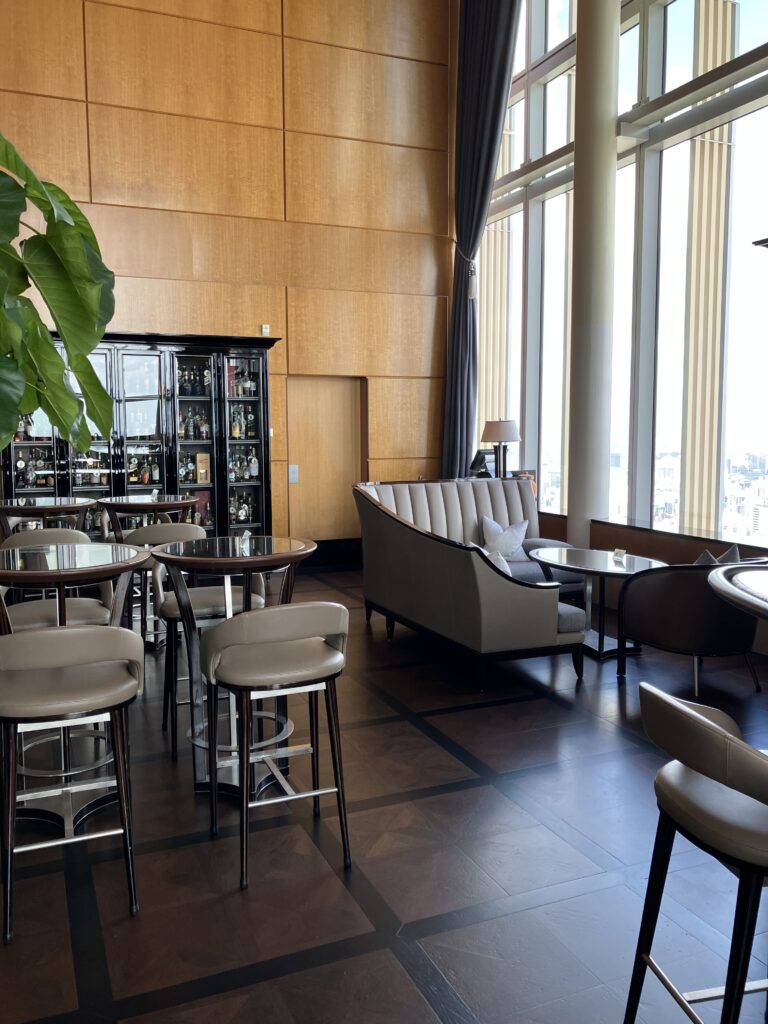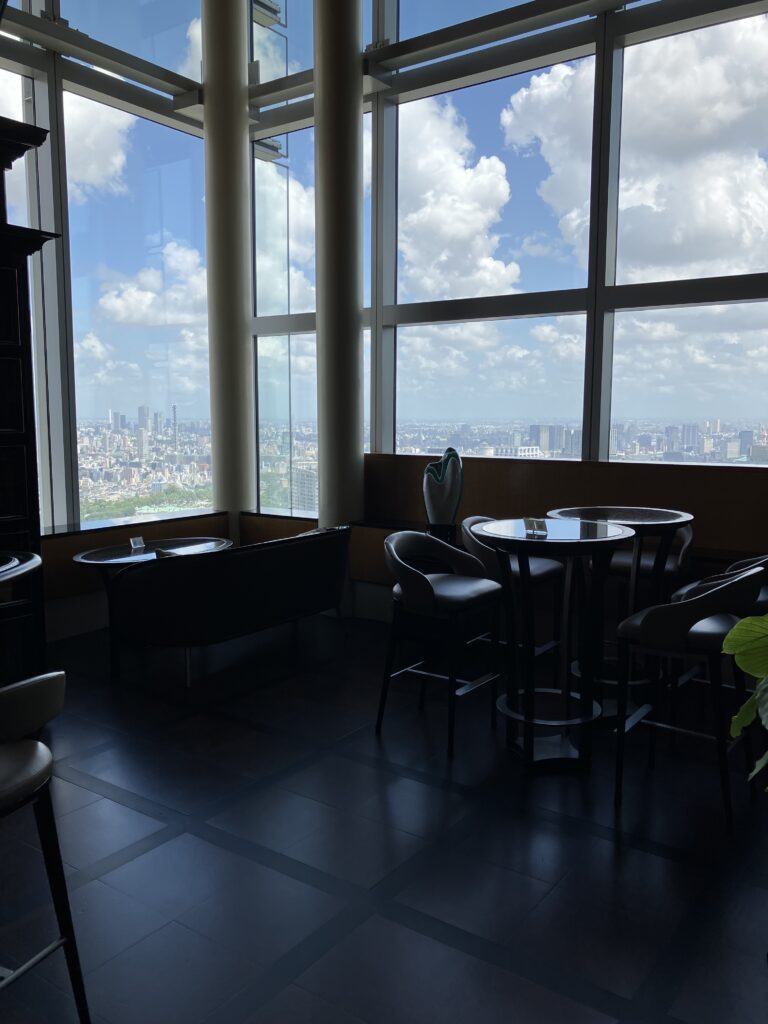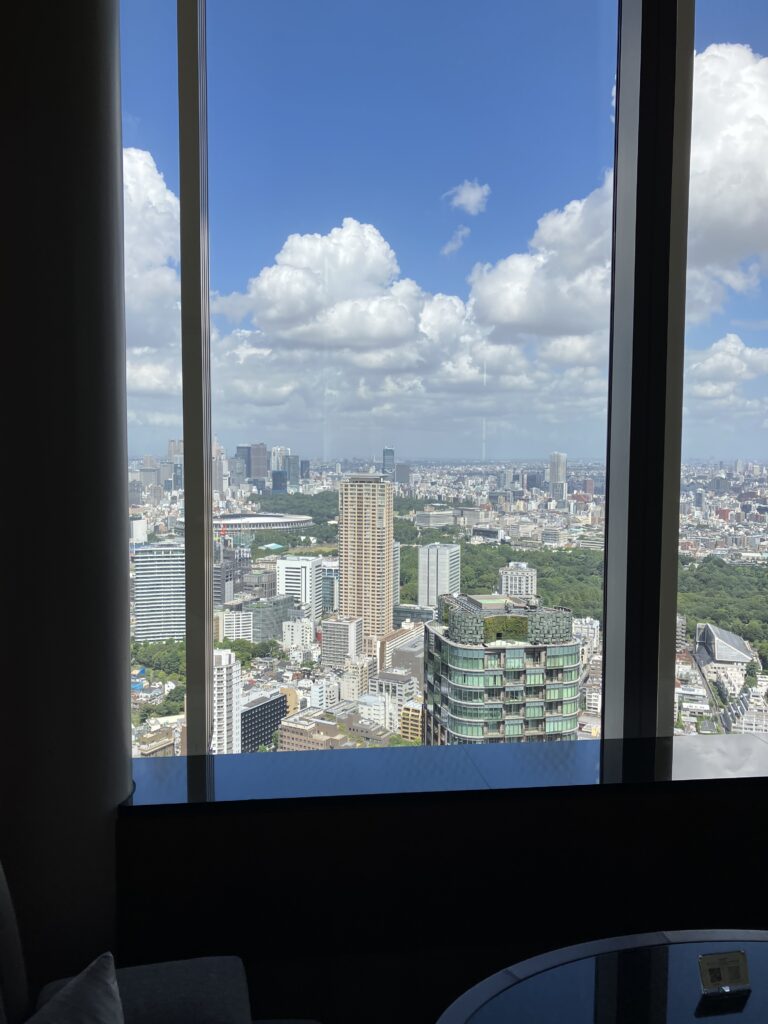 The seats in the bar area offer yet another pleasant view of Tokyo.
Ritz-Carlton, Tokyo- Pool
The hotel has an indoor pool that's opened from 7am to 10pm. Very spacious pool, with one lane dedicated to the spa club member, which certain non-guests can have access to. Typically, Japanese hotels will have separate spa club memberships so that non-guests can use the spa facilities including the pool and gym.
Thankfully, the Ritz-Carlton Tokyo offer complimentary access for hotel guests, unlike Ritz-Carlton Fukuoka and Sheraton Grand Hiroshima, the two hotels I've stayed at that charge pool use.
Just like other hotels, swim cap use is mandatory, which you can rent for free. Locker would also be provided to securely store your belongings.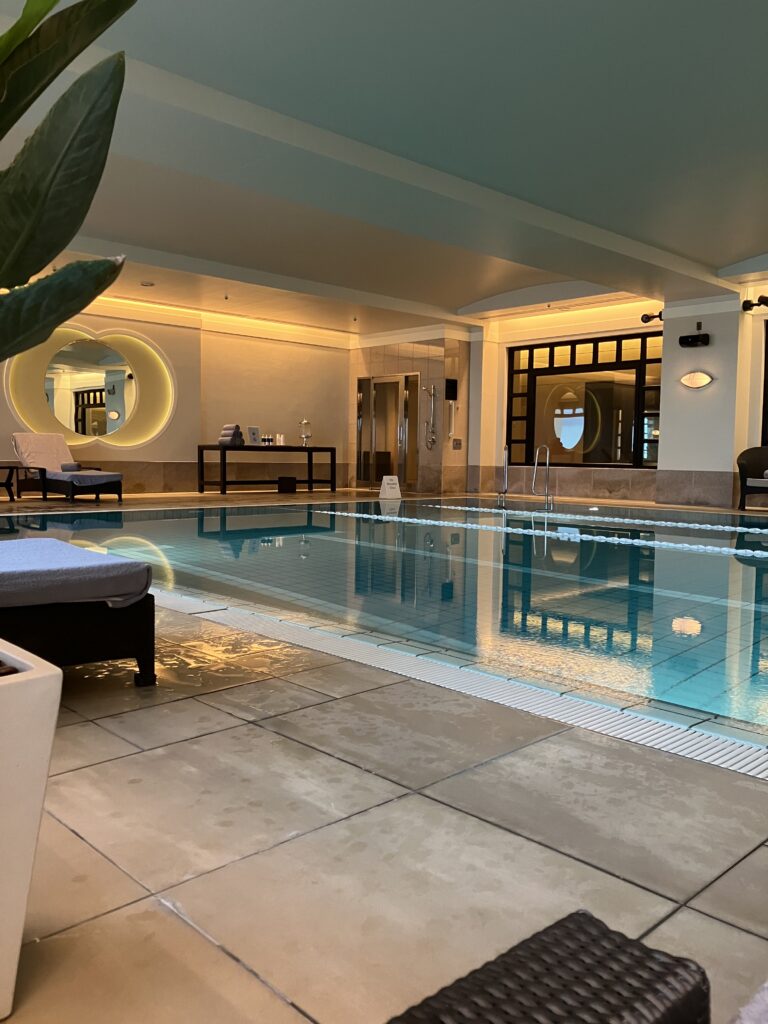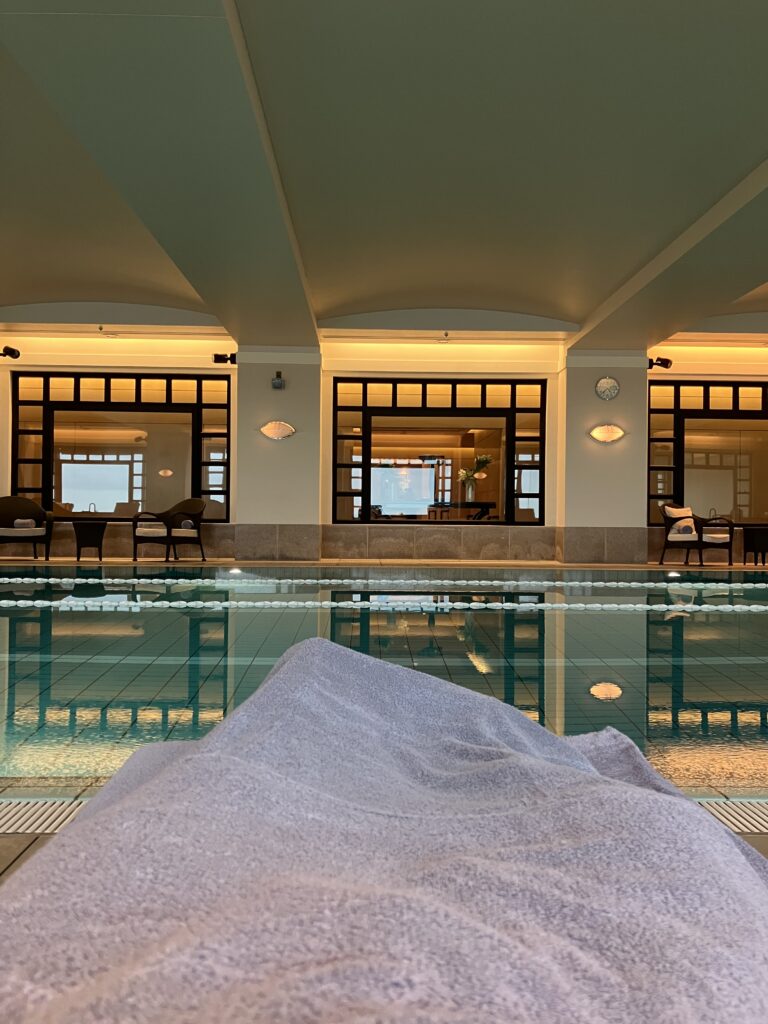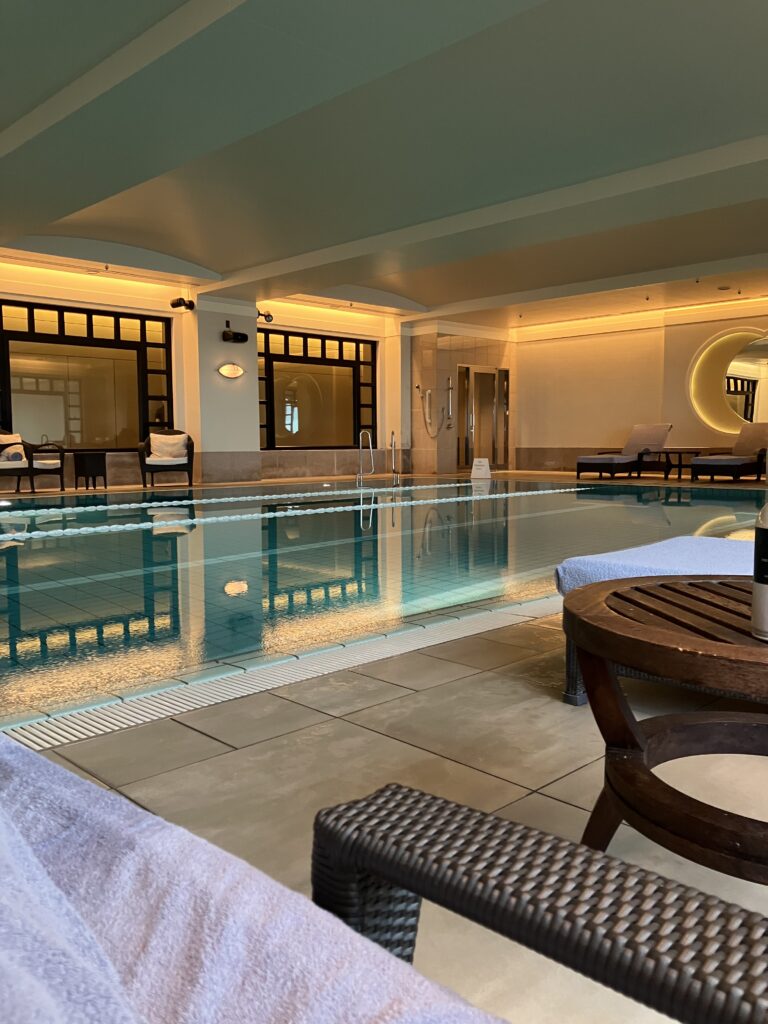 Next to the pool is one of the nicest whirlpools I've experienced. The water jets' pressure were excellent, and one of them was so strong that I'd recoil from it just passing through it! That was fun, by the way.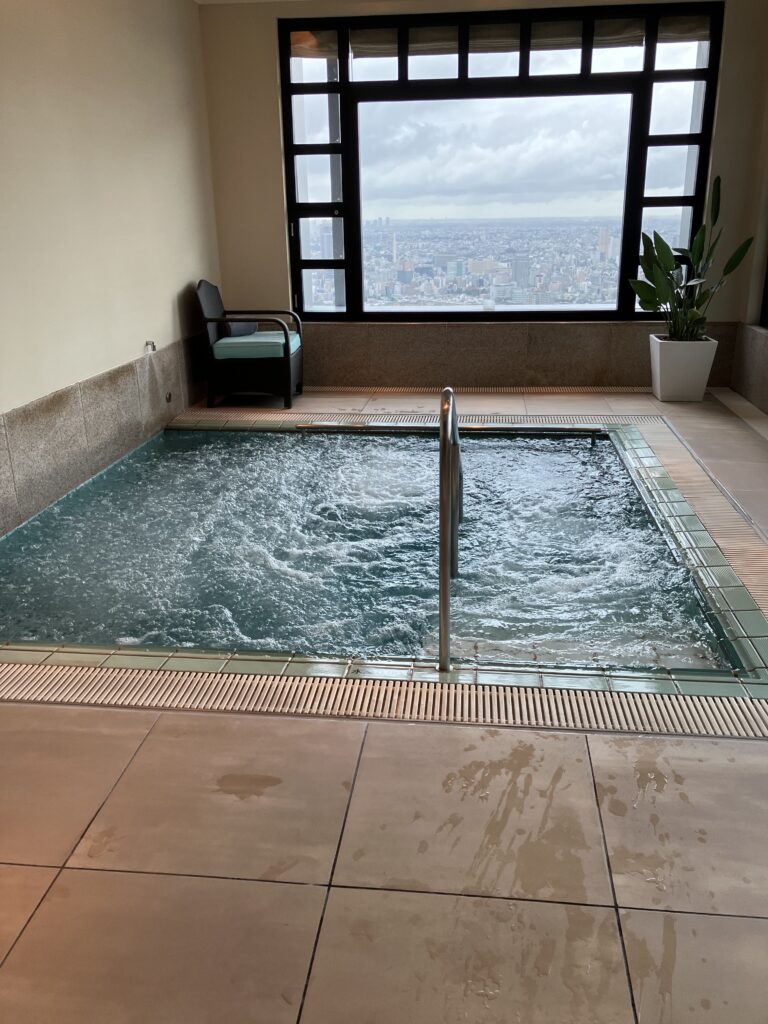 Next to the locker room is the "Heat Room" where there are cold and hot plunge pools. You must be fully nude to use them. Obviously, I couldn't take a picture inside, but you can definitely relax and enjoy the high-rise view much better from the pool and the whirlpool.
Ritz-Carlton, Tokyo- Fitness Center
The gym is on the same floor as the pool, and comes with variety of cardio and weight machines. The colors also match with the hotel's strong use of brown.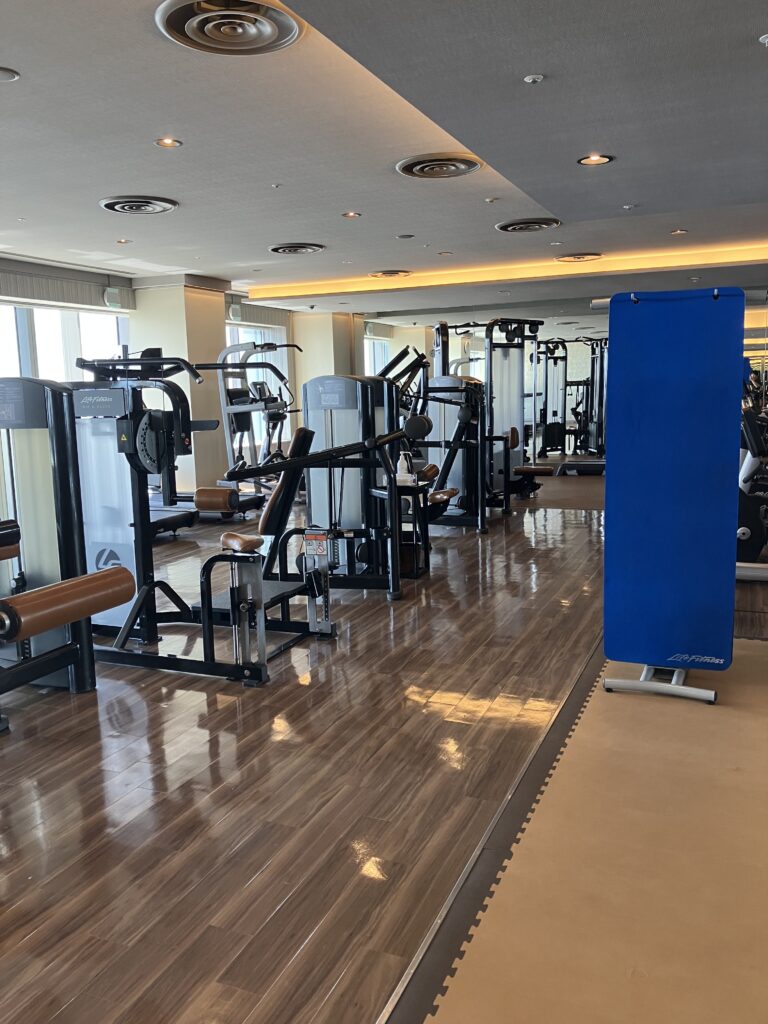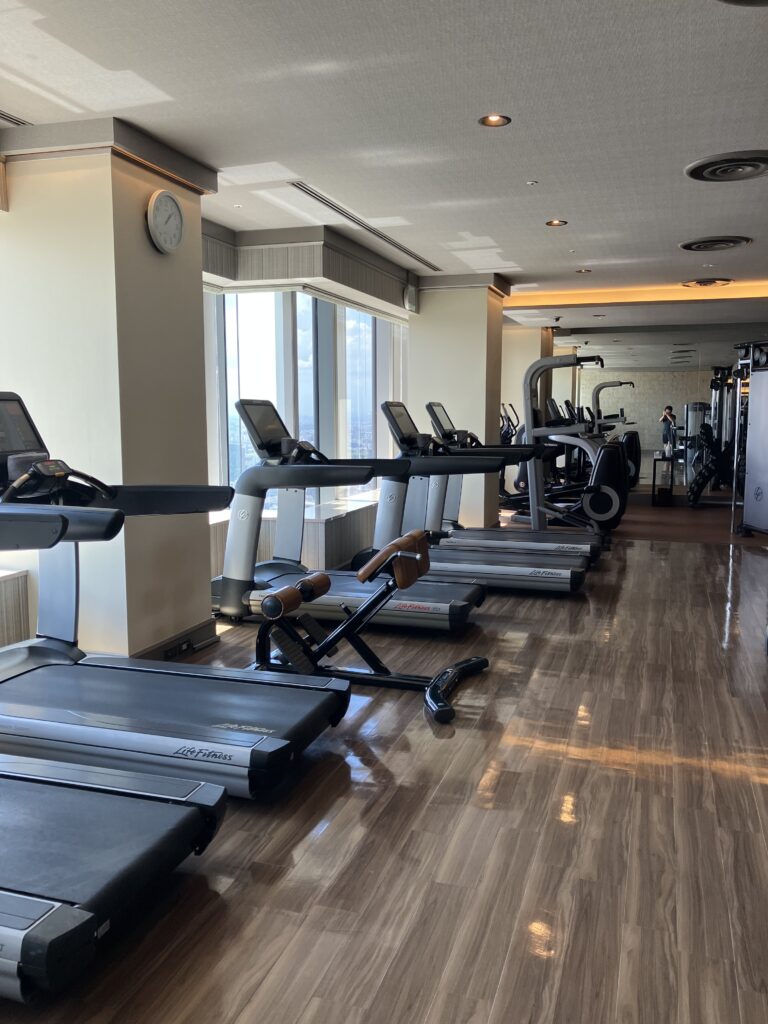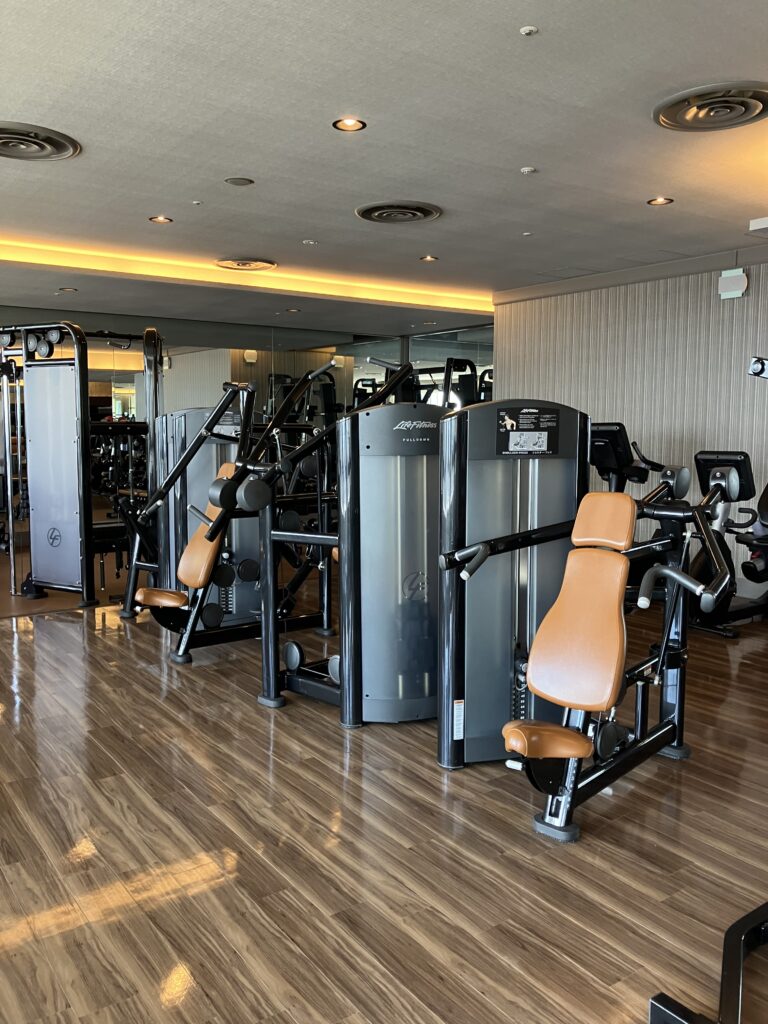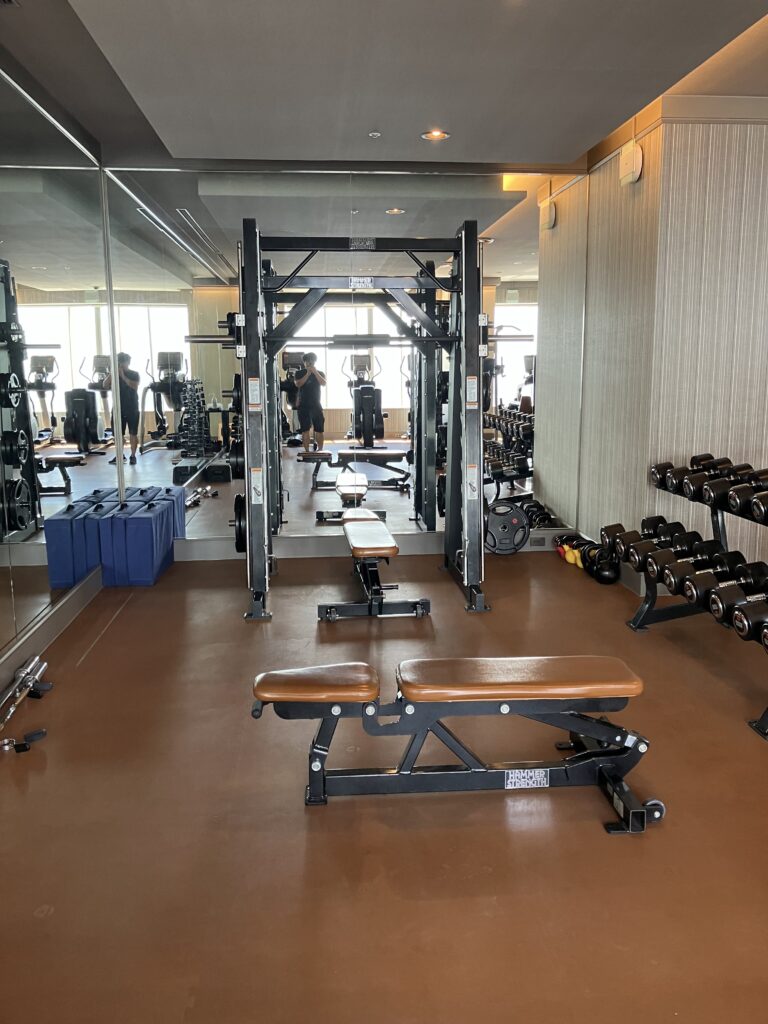 Water provided at the gym come in aluminum bottles, which I have mixed feelings about.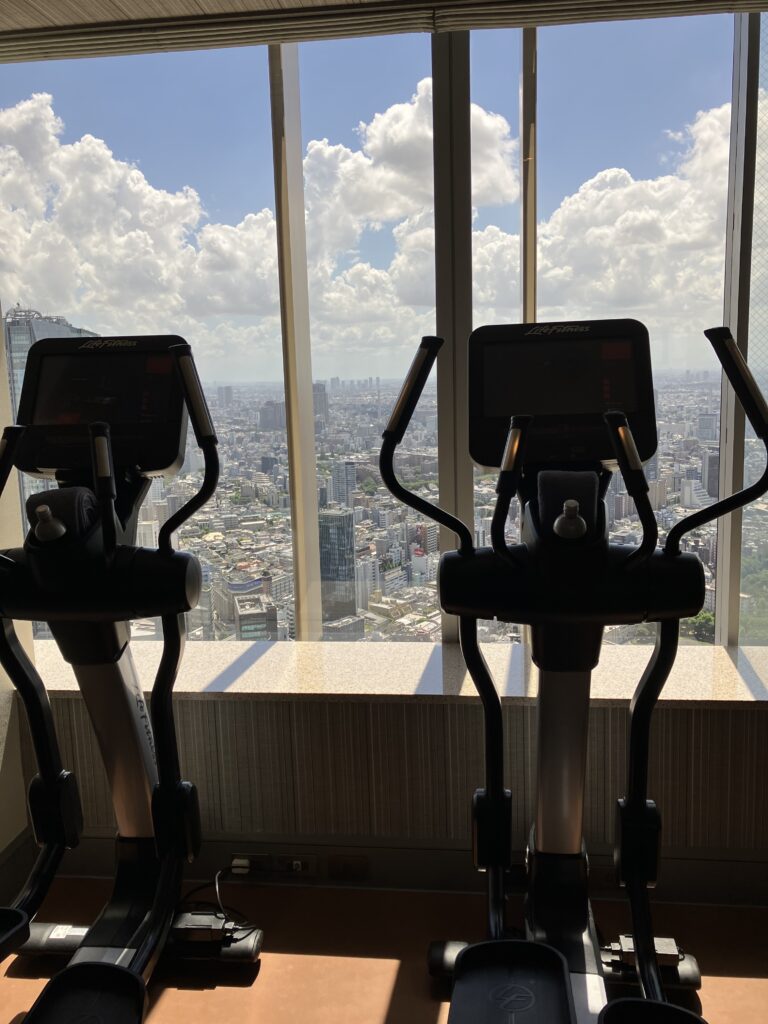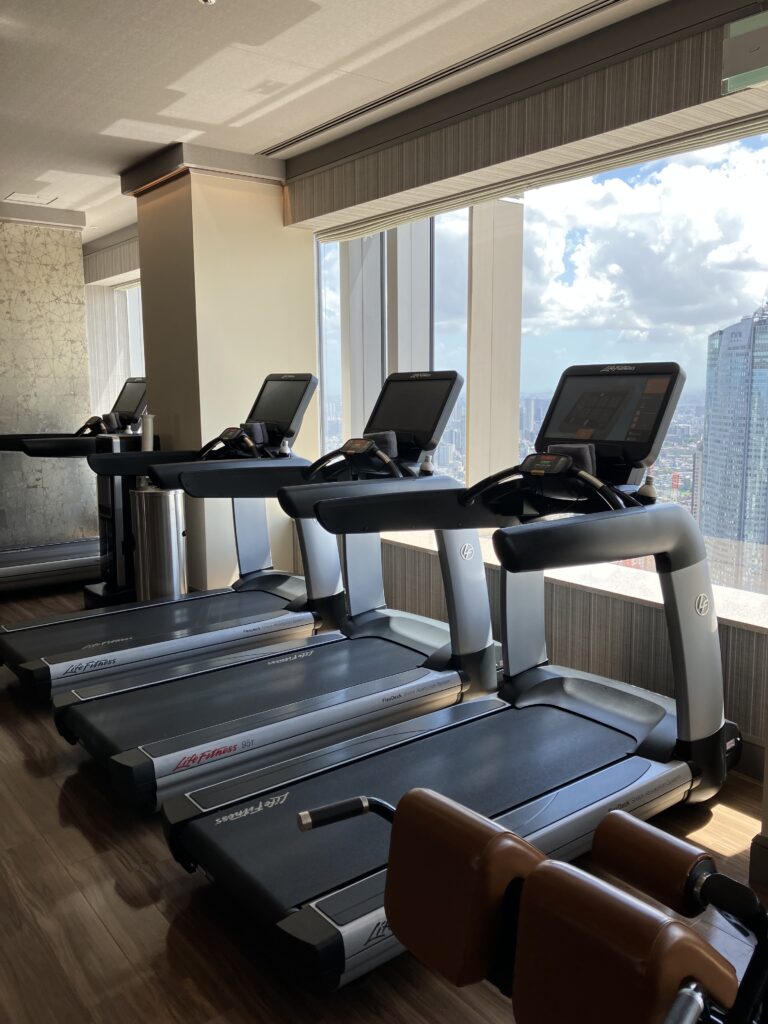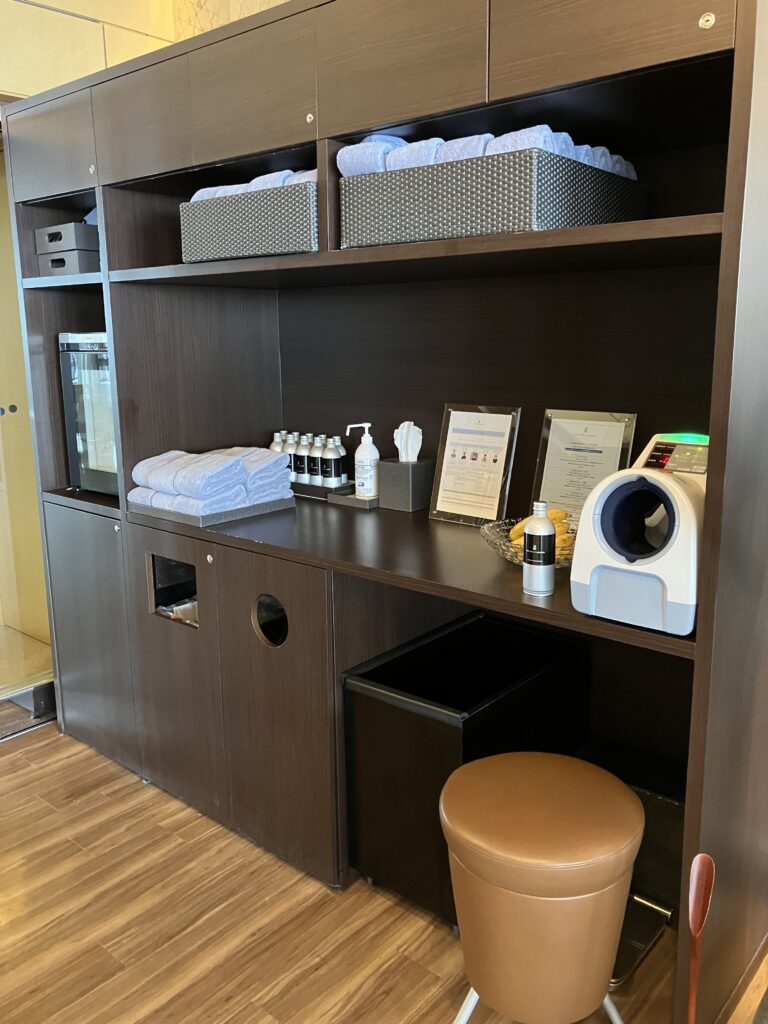 They even have blood pressure machine, which I've never seen before in a hotel gym.
Conclusion
My stay at the Ritz-Carlton Tokyo was fully of pleasant surprises! First of all, the elite treatment on this hotel is above and beyond from what I expected from a Ritz Carlton. The rooms are spacious, and the views are simply to die for! Location was very convenient as it's somewhat connected to Roppongi Station, and Roppongi is already one of the more centered parts of Tokyo.
But, I can't ignore the fact that the hotel is showing its age. Some of the wood panels in the room are peeling off and have scratch marks. The carpets are getting tired as well. It would need some renovations if it'd want to compete with other hotels in the future since even the Park Hyatt Tokyo is getting renovated in 2024.
With that said, the potential for this hotel to earn a 5 star from me is very great if they would update the hard product while maintaining their legendary service!
Overall Rating