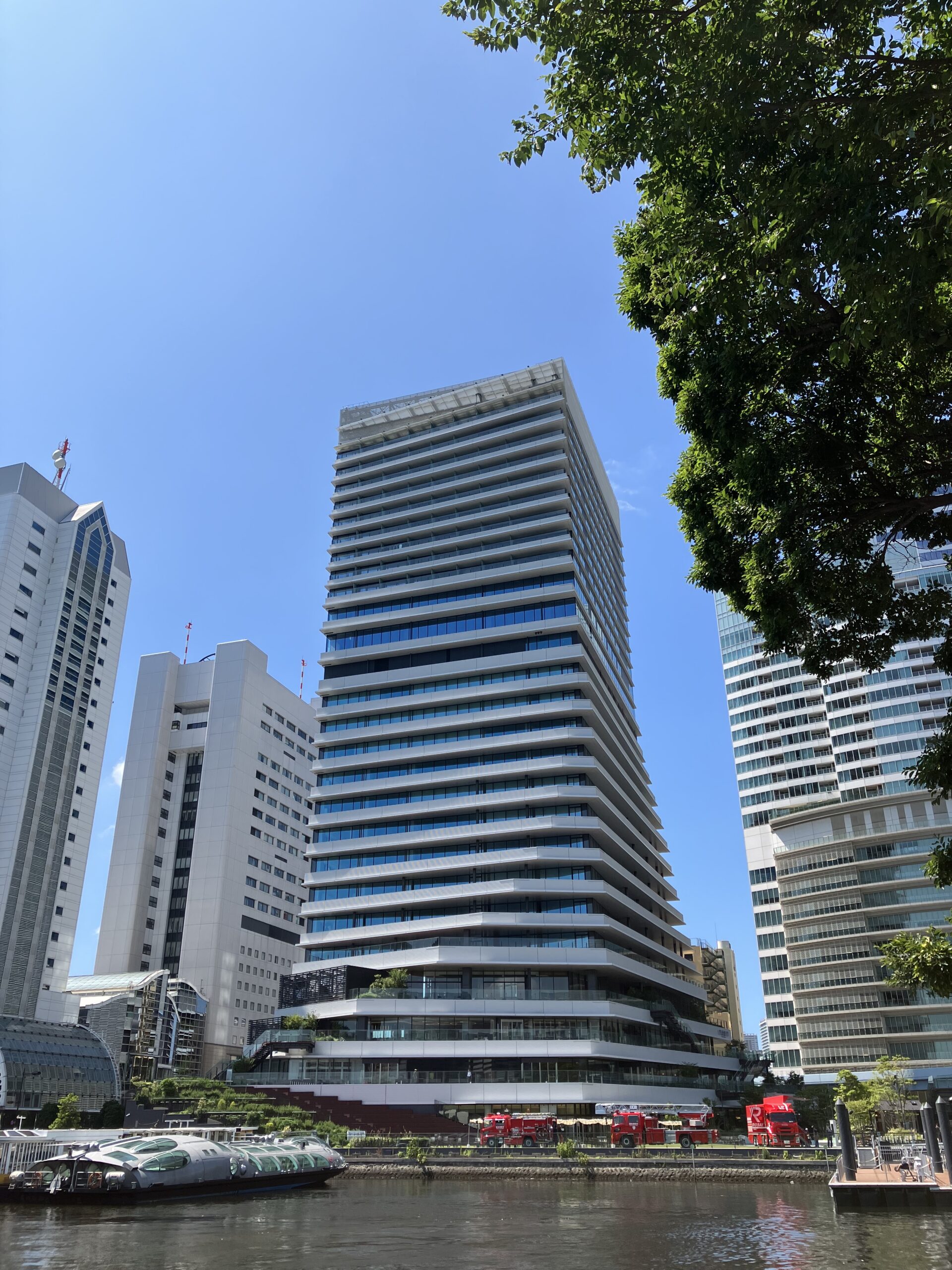 Advertiser disclosure: This post may include affiliate links (including sidebar banners) in which this site may receive compensation if a purchase is successfully made (at no extra cost to you) after being redirected from here. Thank you for your support!
Review: Mesm Tokyo, Autograph Collection (2023) [Japan]

After checking out the Kimpton Shinjuku, I hopped to the Mesm Tokyo from Marriott's Autograph Collection. The Mesm Tokyo is one of the most hotels I was looking forward to be staying, particularly in Tokyo since it looks to be one of the modern-looking ones from the Marriott Bonvoy portfolio.
Mesm Tokyo- Booking
I booked a 2-night stay with a combination of 63k points and a 40k Free Night Certificate with 8000 points topup. Cash rates could go up north of $700/night, so typically, points will be the better deal for this hotel where the max amount you'd pay per night could be 92k points due to dynamic pricing.
Mesm Tokyo- Location
The hotel is located in Hamamatsucho where waterfront views of Tokyo is prime. It's coupled with the massive Hamarikyu Gardens. It just so happens to be across the Conrad Tokyo as well. If you enjoy water views, then the Mesm is one of the hotels can potentially give you that!
While the location is a bit out of the way for Tokyo, it can be the better for certain activities like TeamLab Planets or checking out Odaiba. Exploring Ginza wouldn't be too bad either with the Yurikamome Line and stopping at Shiodome Station.
It's also one of the closest hotels to Hamamatsucho Station, which is the starting station for Haneda International Airport (HND) rail shuttle. So if you need to get to the airport quick at a low cost, then this hotel should be in your consideration.
Mesm Tokyo- Check-in
I got to the hotel at around 3pm after riding the subway from the Kimpton.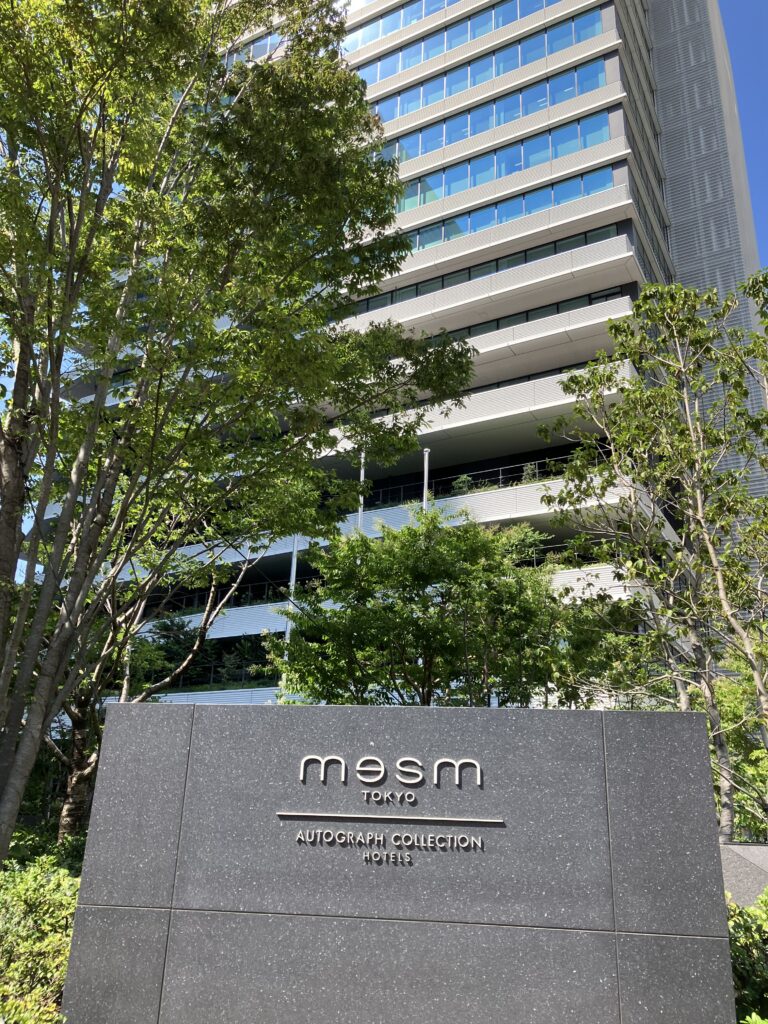 As I enter the hotel grounds, I had to take the elevator to the front desk. The hallway to the elevator is decorated with plastics that reflect with the lights behind them.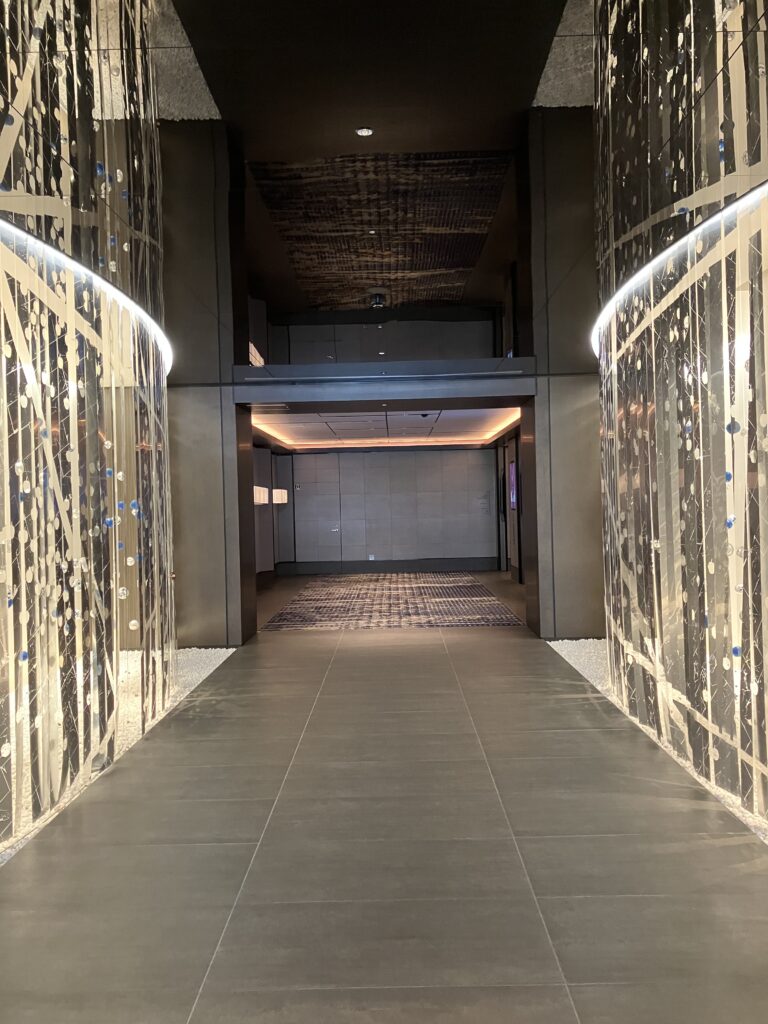 The lobby design is pretty cool, and waves are the main motifs of the Mesm. The staffs' uniforms are pretty unique for a 5-star hotel. They remind me of the Japanese biker gang outfits. Check-in was easy and smooth. As a Titanium Elite, I was able to choose free breakfast and have 4pm late checkout with no issues.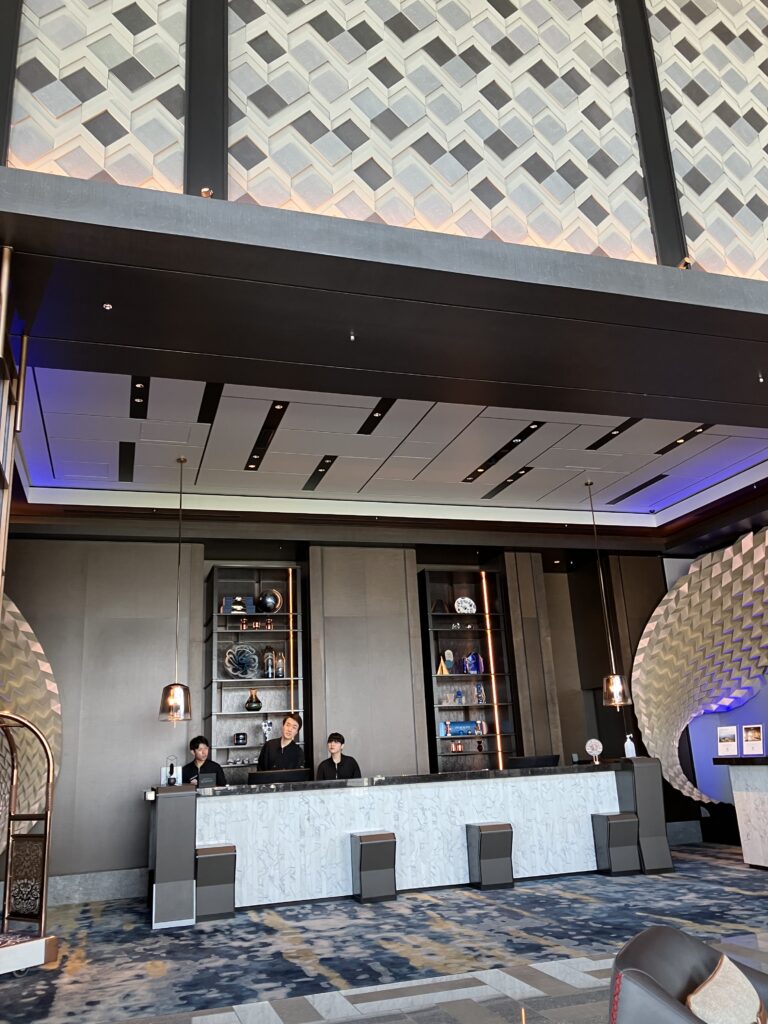 The abstract ceiling nights will light up beautifully at night.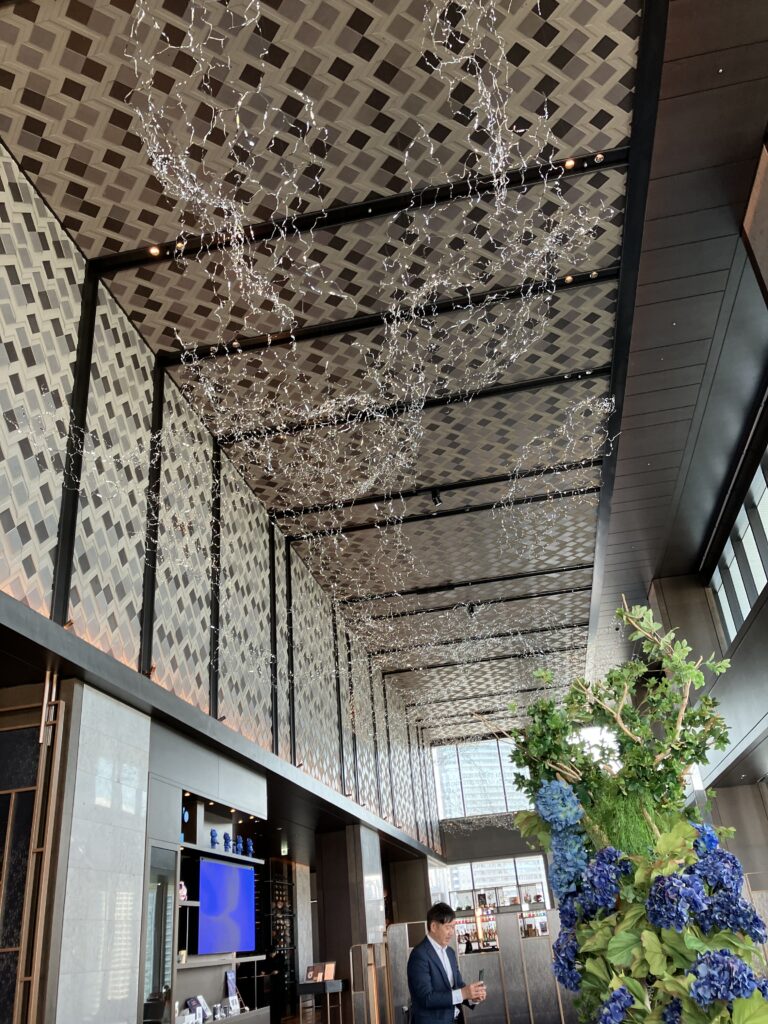 At the last minute, I was upgraded to a room with a balcony facing the Hamarikyu Gardens. But, they only had a twin bed room available instead of a king. Given that's the only choice, I still took the Garden View upgrade.
Mesm Tokyo- Chapter 1 Room, Garden View
I was assigned to Room 2101 which is positioned just across the elevator. When I entered the room, there's a big Be@rBrick figure designed exclusively for Mesm Tokyo called Tokyo Waves. There's a note that persuade you to try taking a picture with flash on to get a neat result.
I ended up buying a mini size of Mesm Tokyo's Be@rBrick for 3960 yen as a memento, which you can do at the front desk.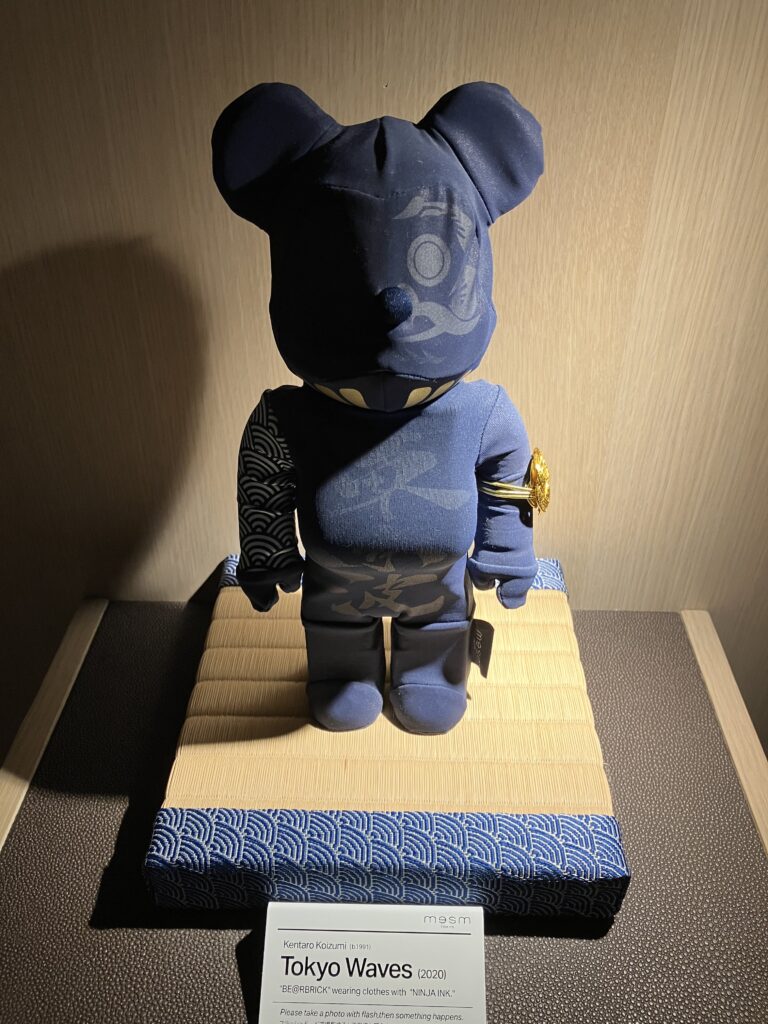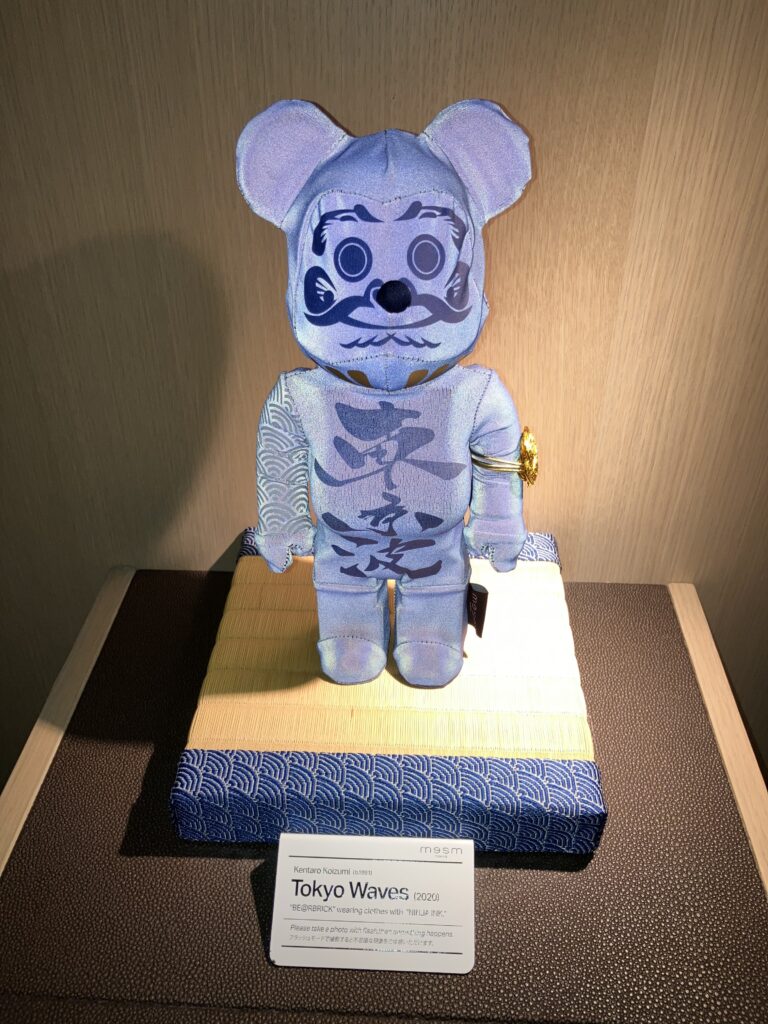 Room is quite spacious with 40 sqm space inside. The beds are on the firmer end, but are still comfortable.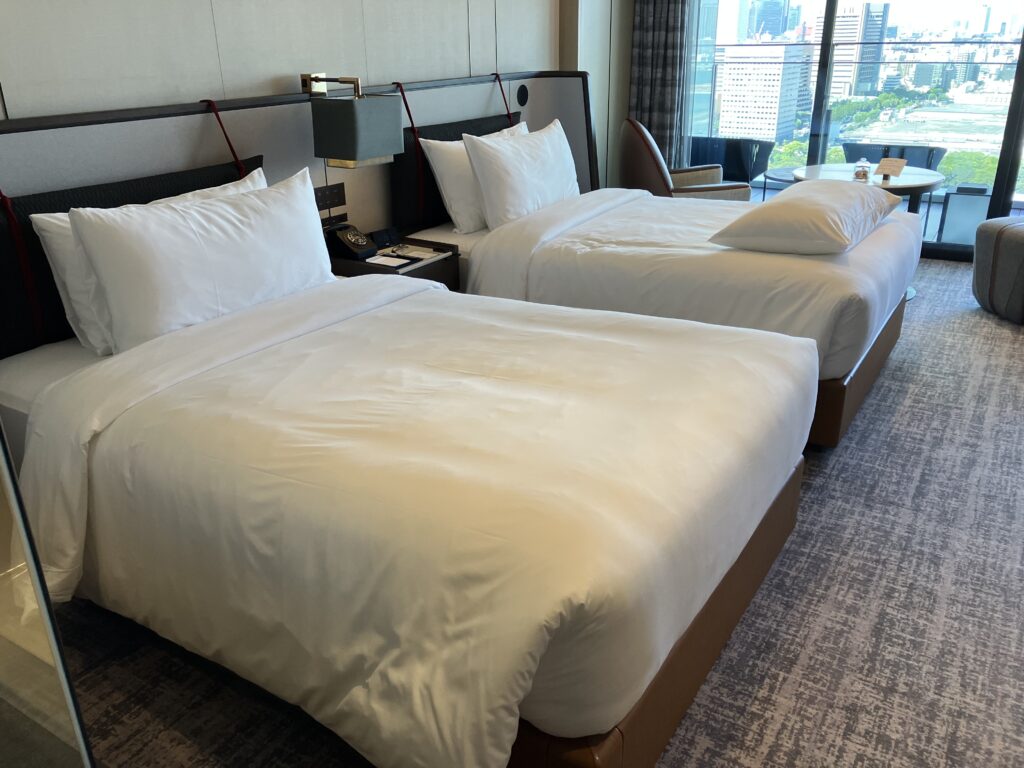 Next to the two beds is the living area with a chair and a round table.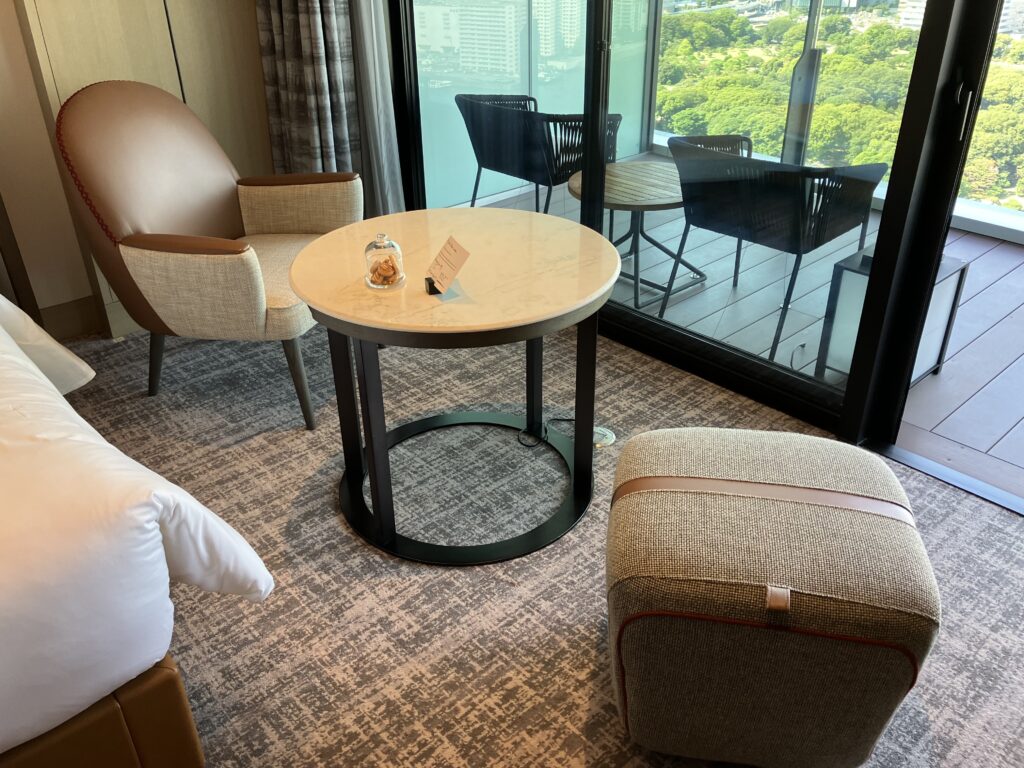 I was given butter milk cookies and a note from the manager when I entered the room.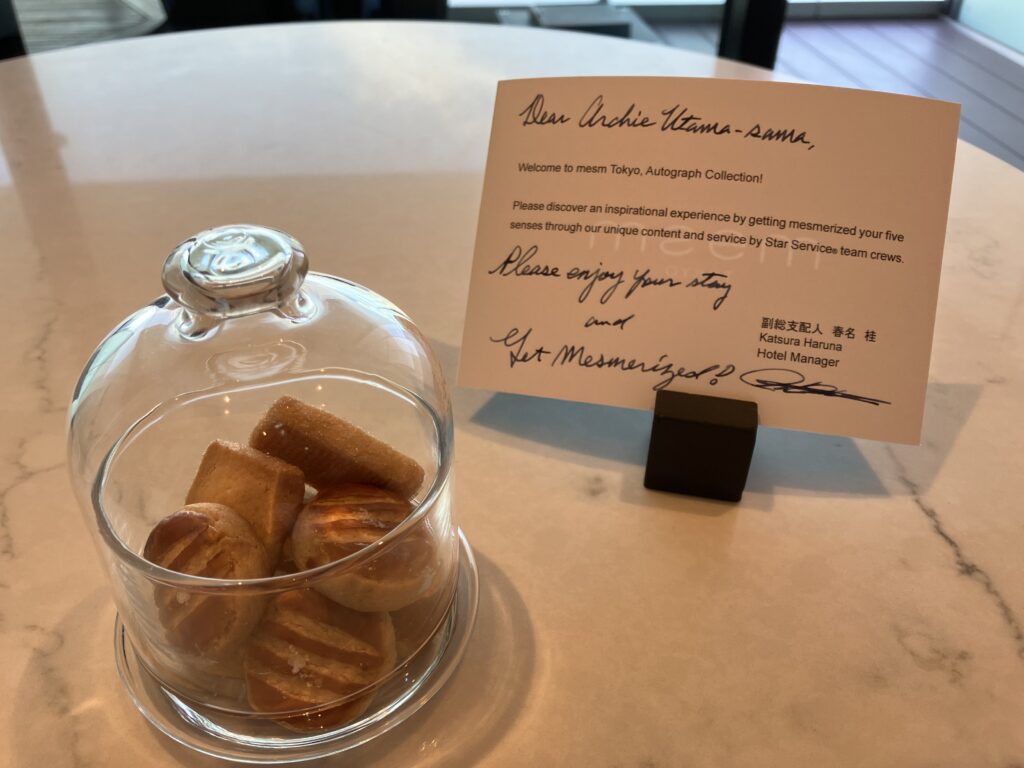 One unique feature is the piano under the TV. You can test your skills or practice without anyone judging you. There's a function where it'll play classical music on its own, or it can serve as a Bluetooth speaker to play your own tunes.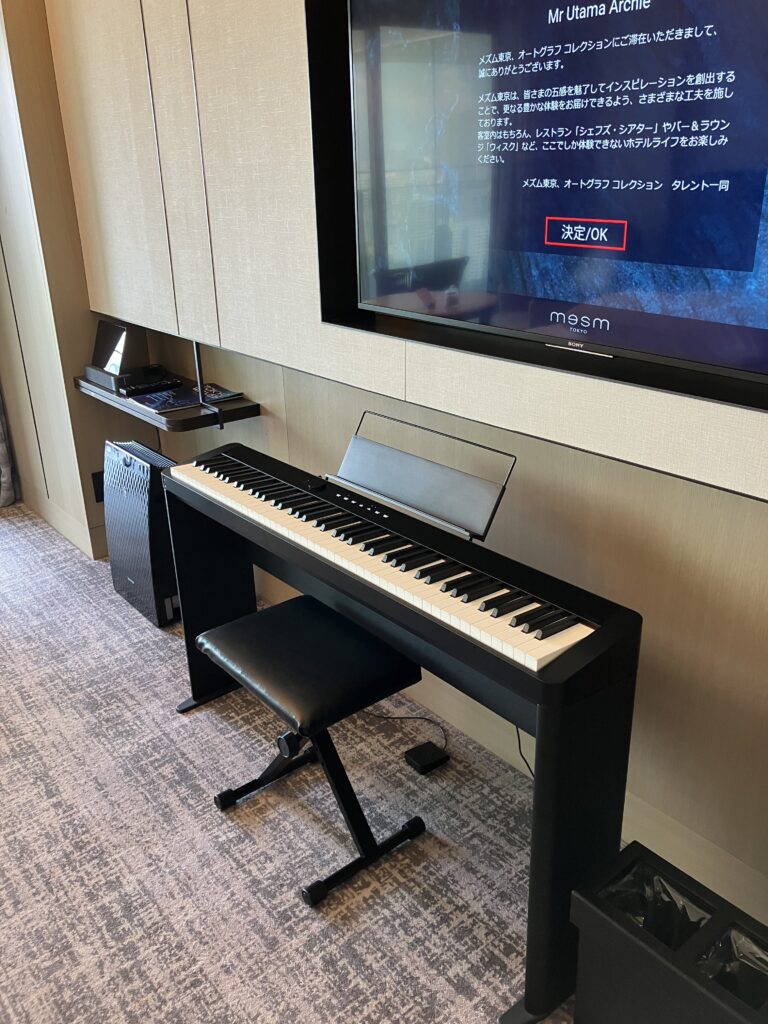 There's a mobile pad inside the room that allows you to control the lights, call staff, or look up the hotel information. There's even instructions on how to make the in-room drip coffee and brew matcha tea.
The in-room coffee was one of the best hotel coffees I've had, and it was surely a very nice break from the Nespresso pods. Mesm Tokyo had a collaboration with Sarutahiko Coffee.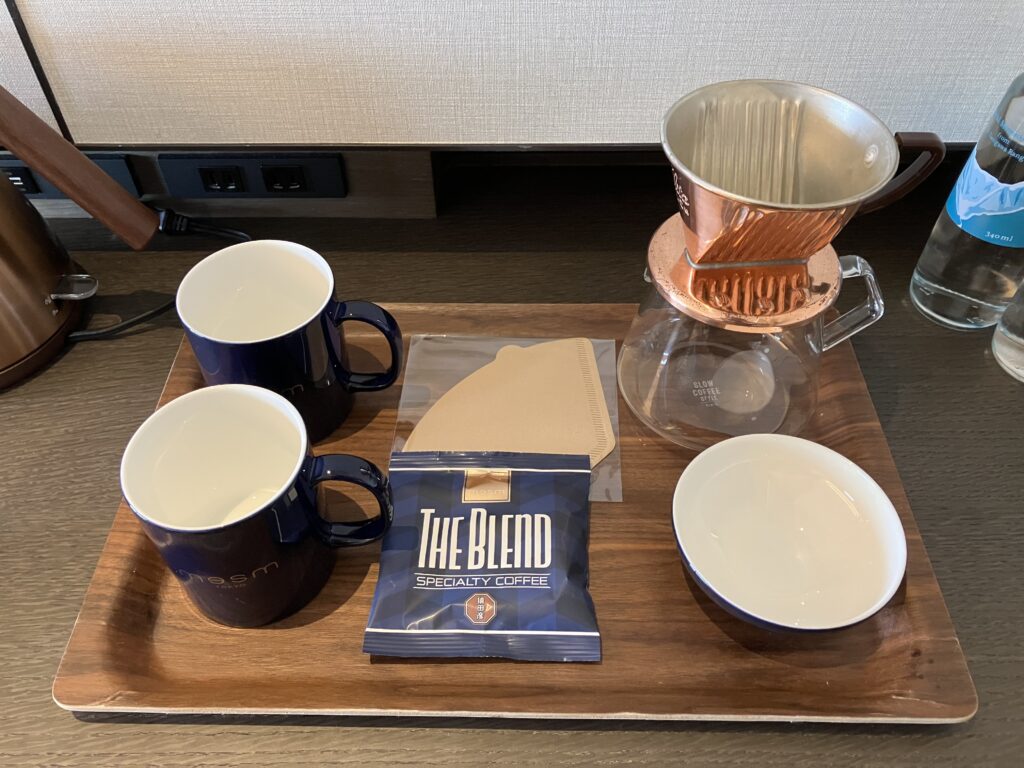 Mesm Tokyo also have a collaboration with Fujiya, a Japanese company that makes confectionaries.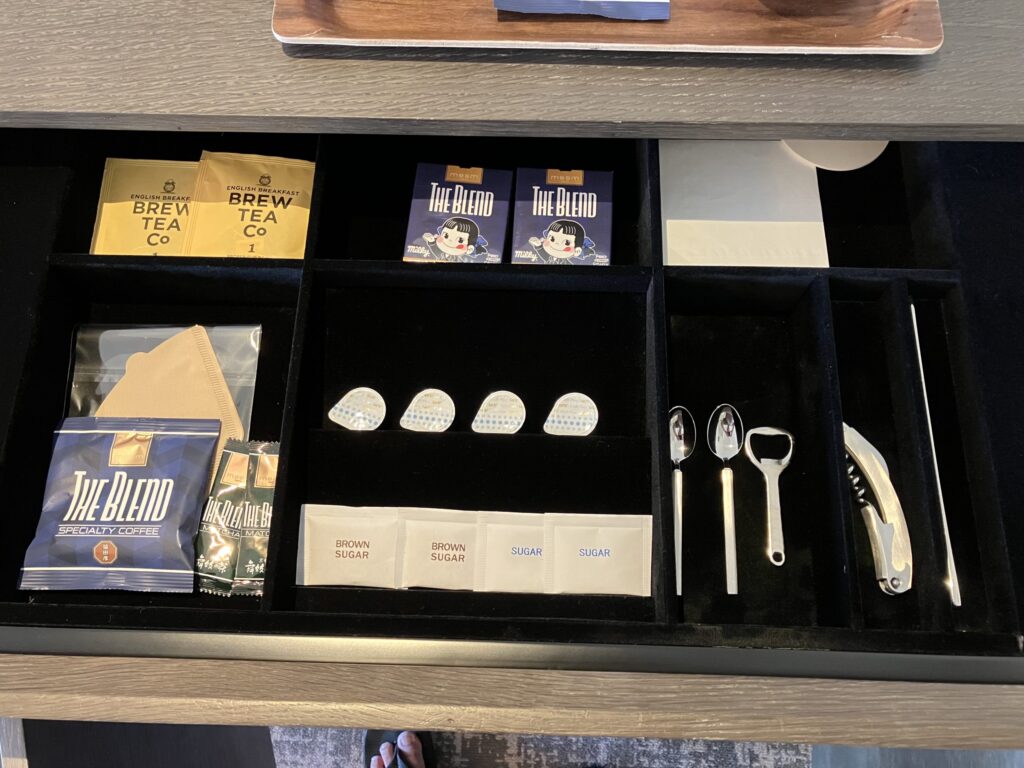 The room provides milk candy with Peko-chan, Fujiya's mascot, wearing Mesm Tokyo's staffs' uniform, on the packaging. The milk candies are complimentary and will be replenished daily.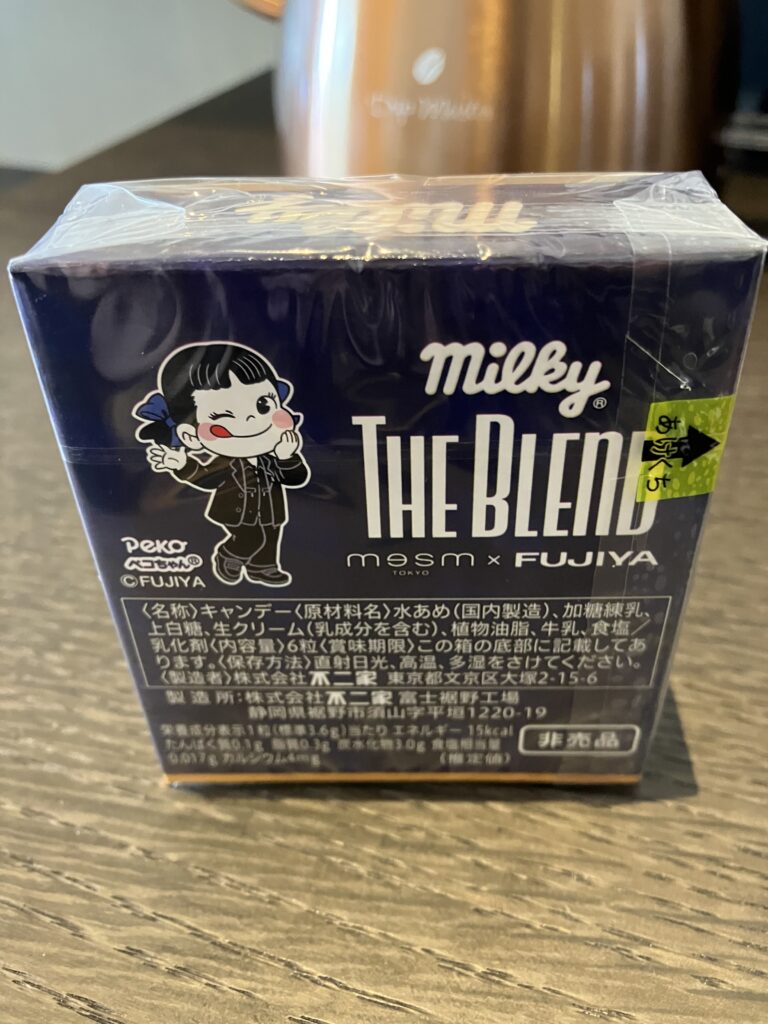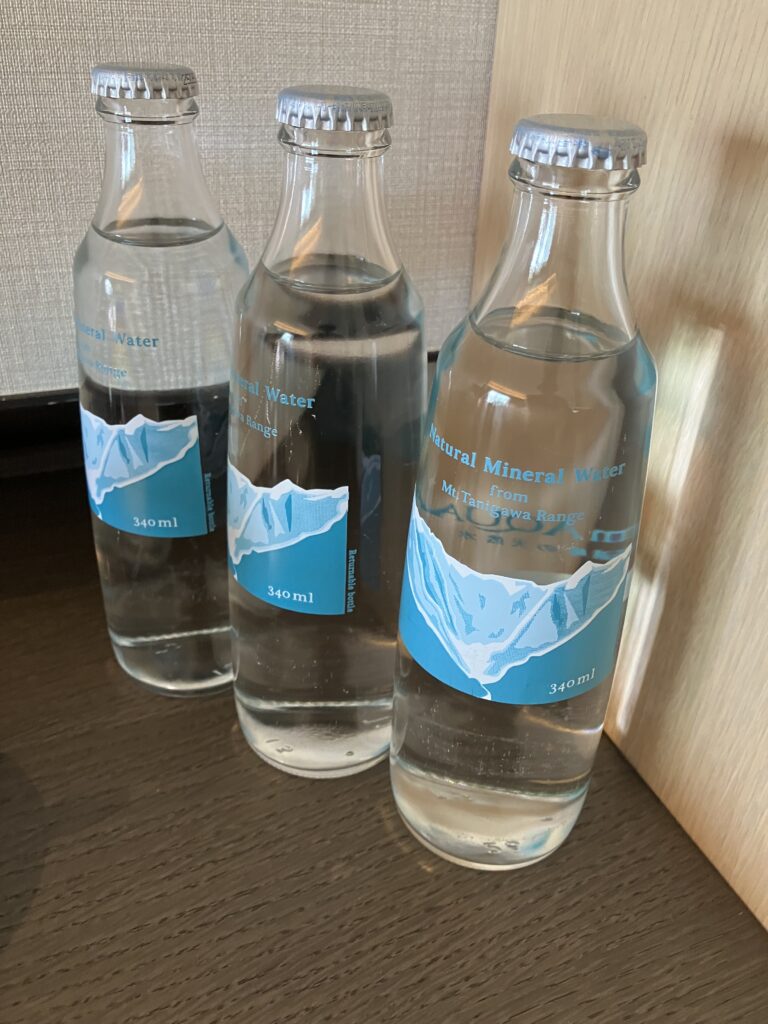 The whole minibar is also complimentary as well!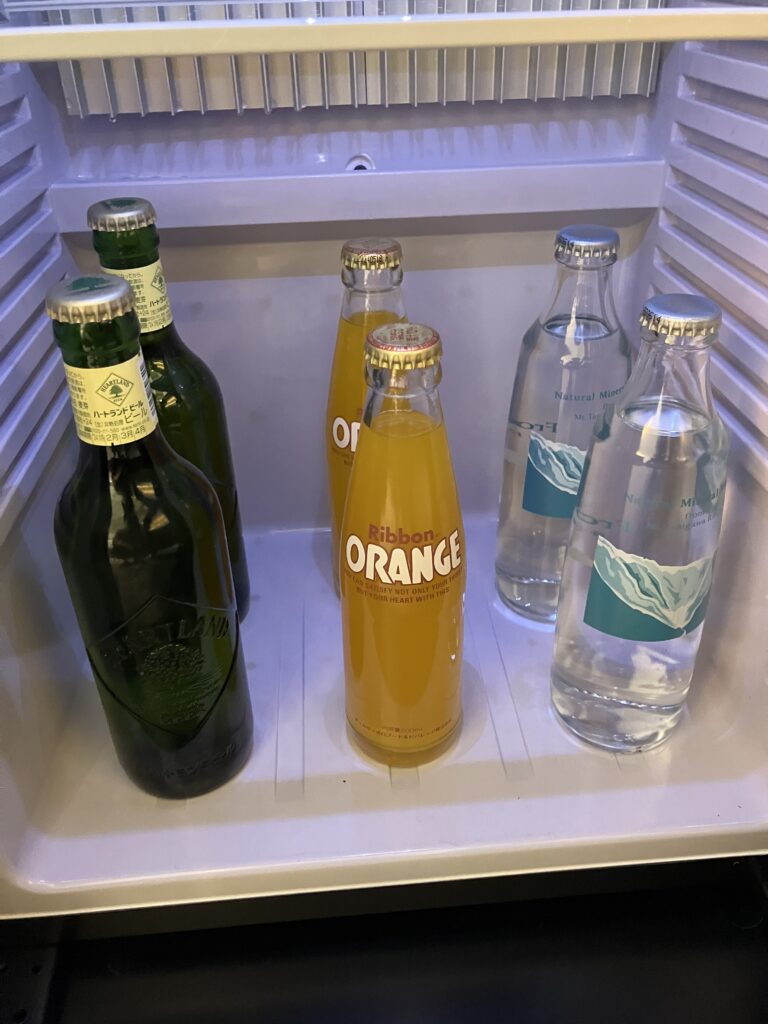 The closet across the bathroom provides space to store your belongings. Slippers and sandals are provided, but no pajamas provided. Although, the bathrobe yukata shown later could serve as sleepwear.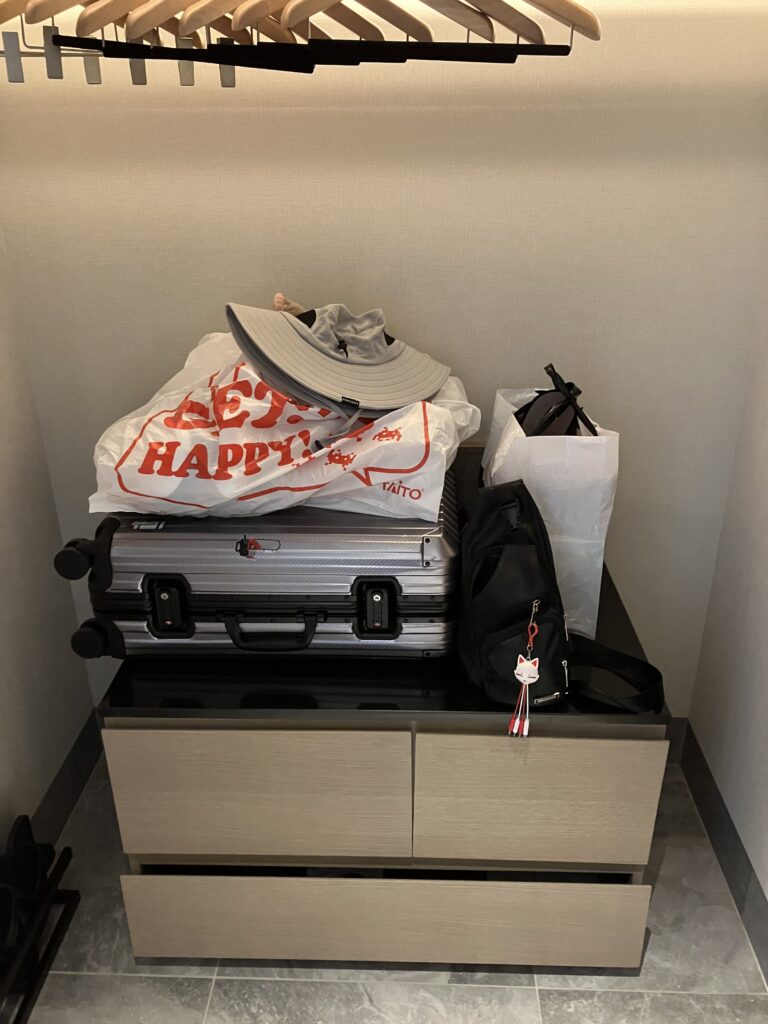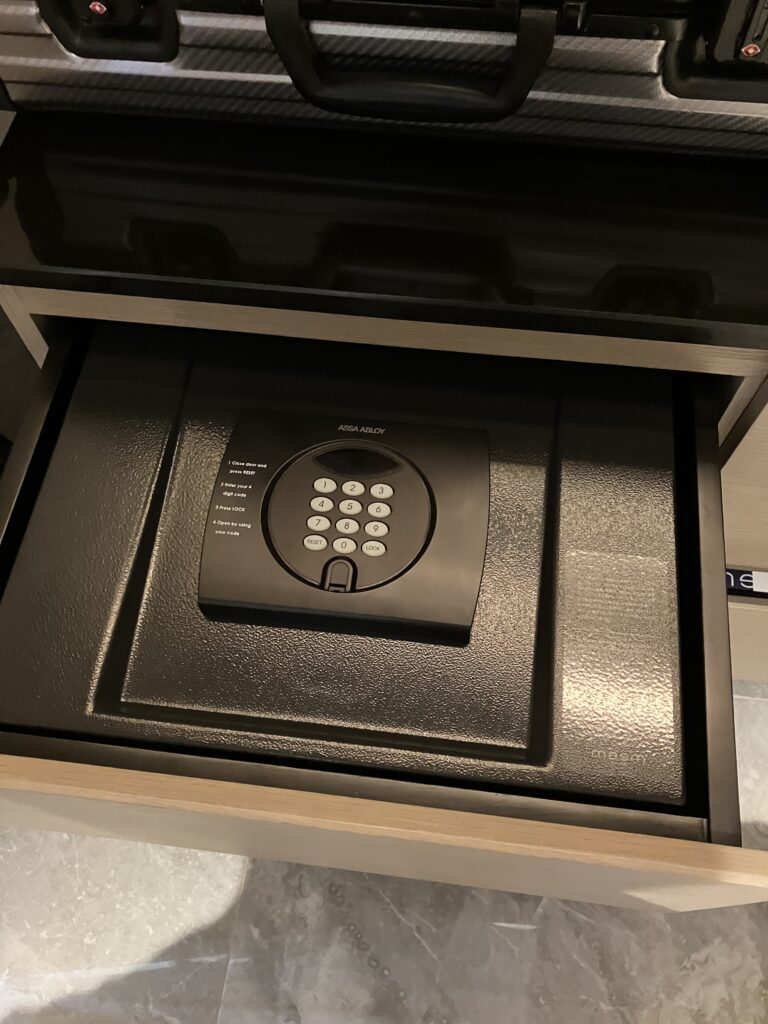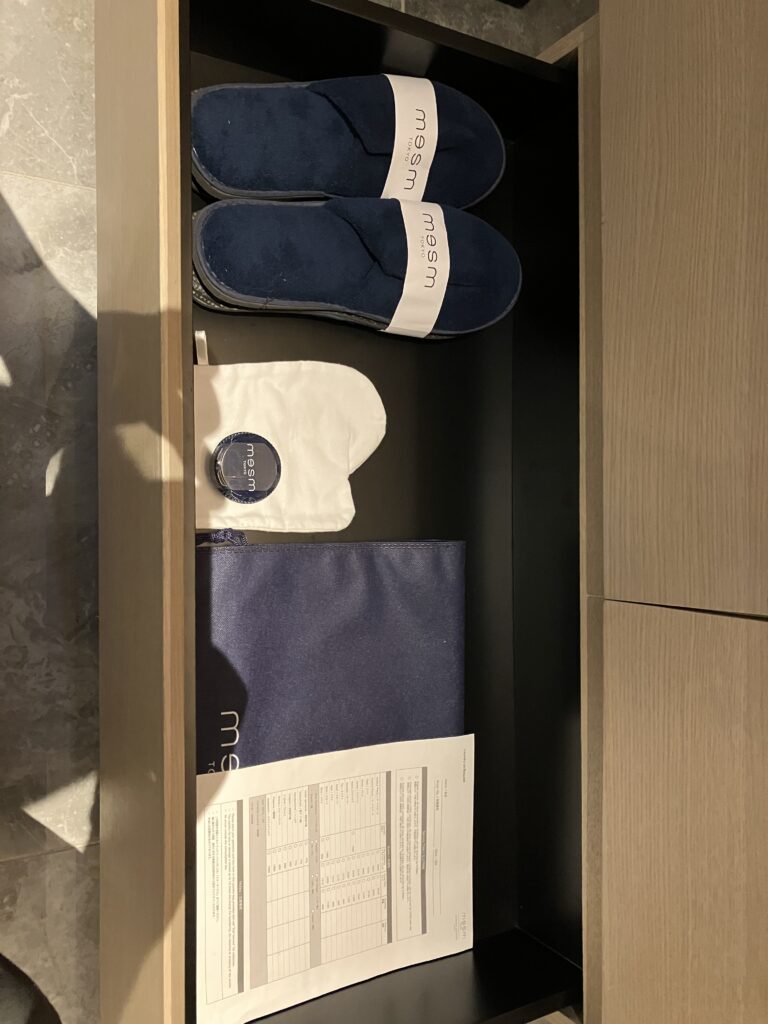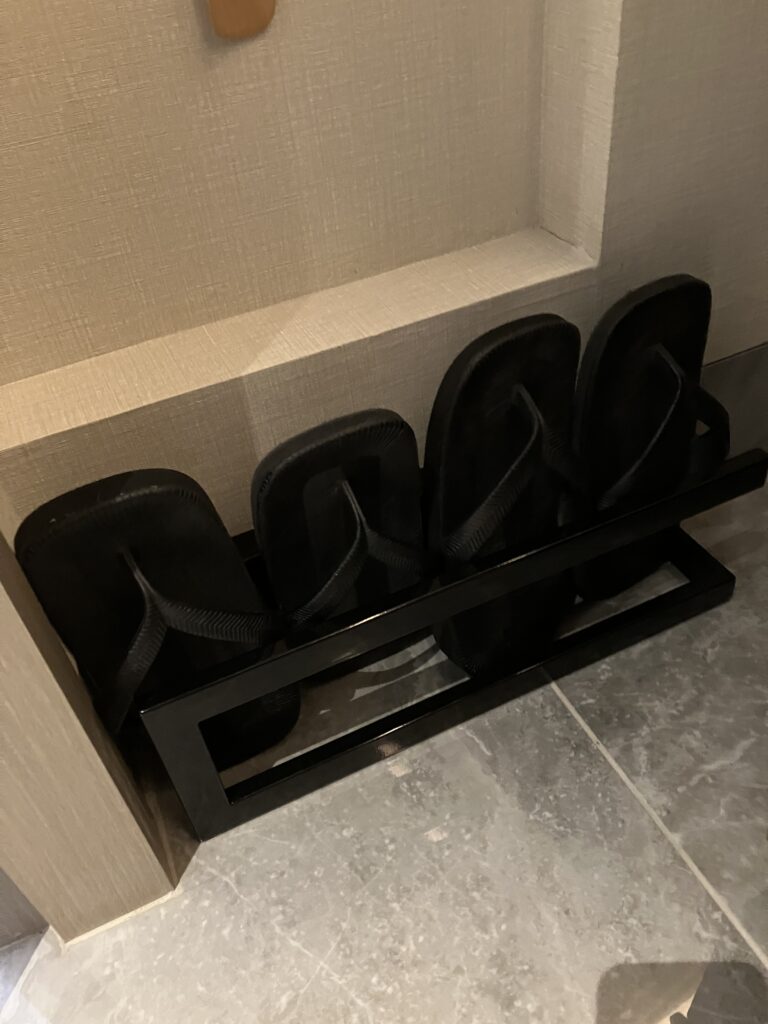 Balcony
The balcony provides a mesmerizing view of the Hamarikyu Gardens and Sumida River. Tokyo Skytree, the city's tallest structure, can also be seen from a distance.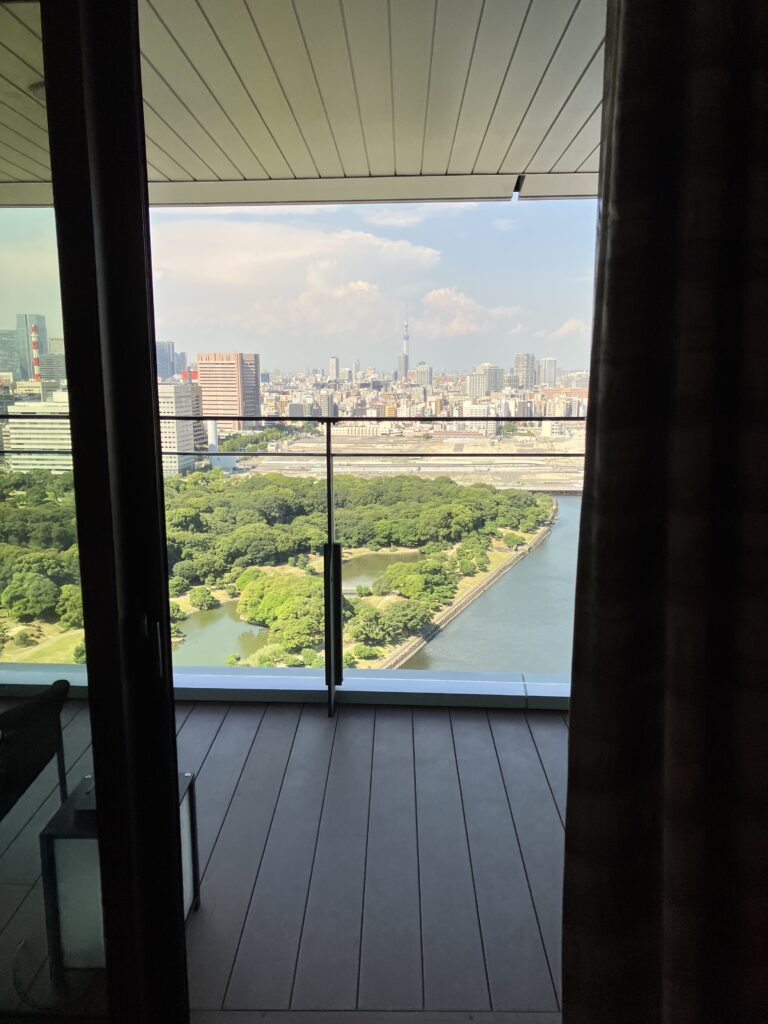 The balcony includes chairs and a small table where you can have a meal or a drink to further enjoy the view. But, not all balconies will include chairs and tables. So, if you do want them, make sure to specify that when you ask for a room upgrade!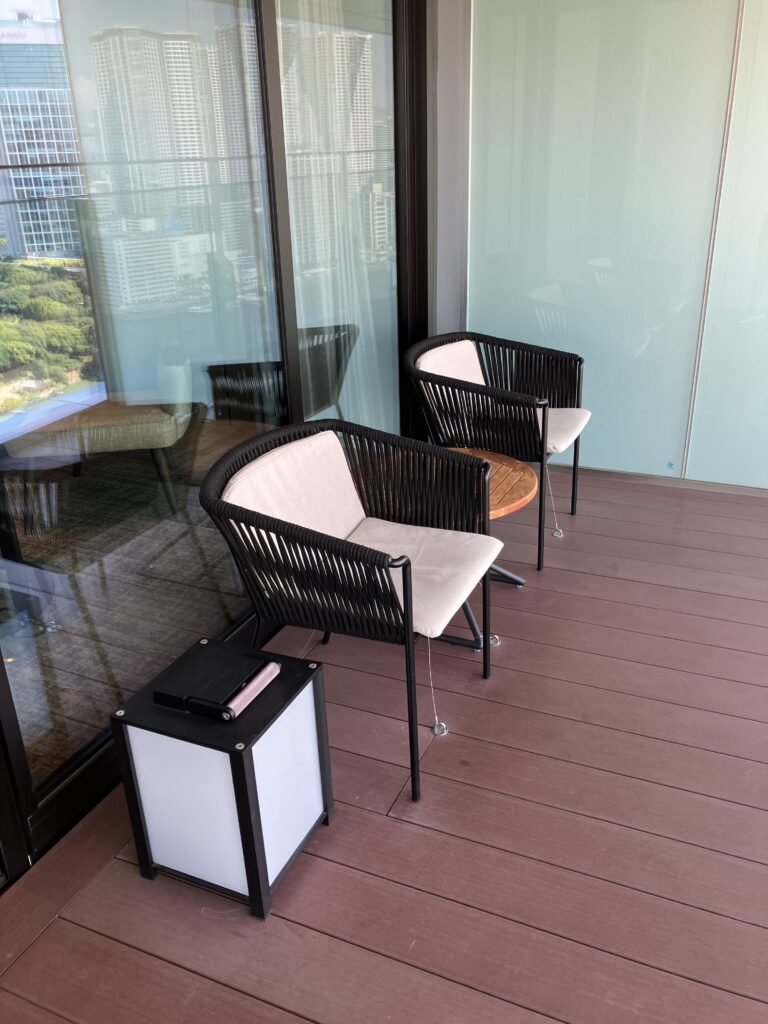 There's the Conrad Tokyo!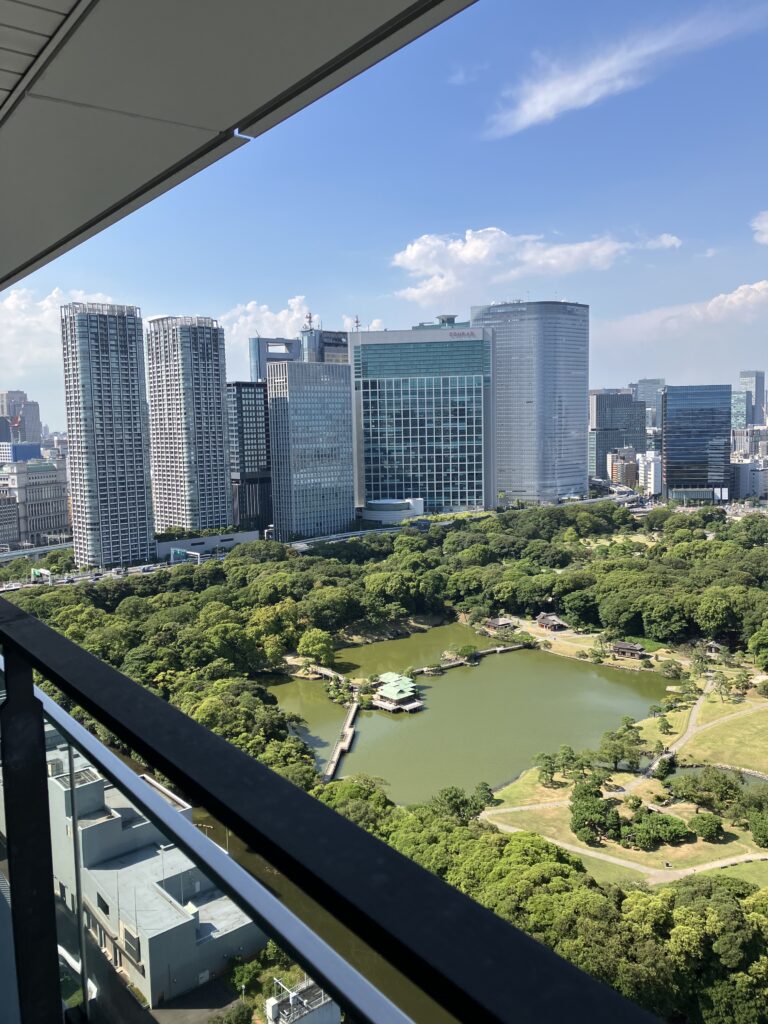 Tokyo Skytree spotted at a distance.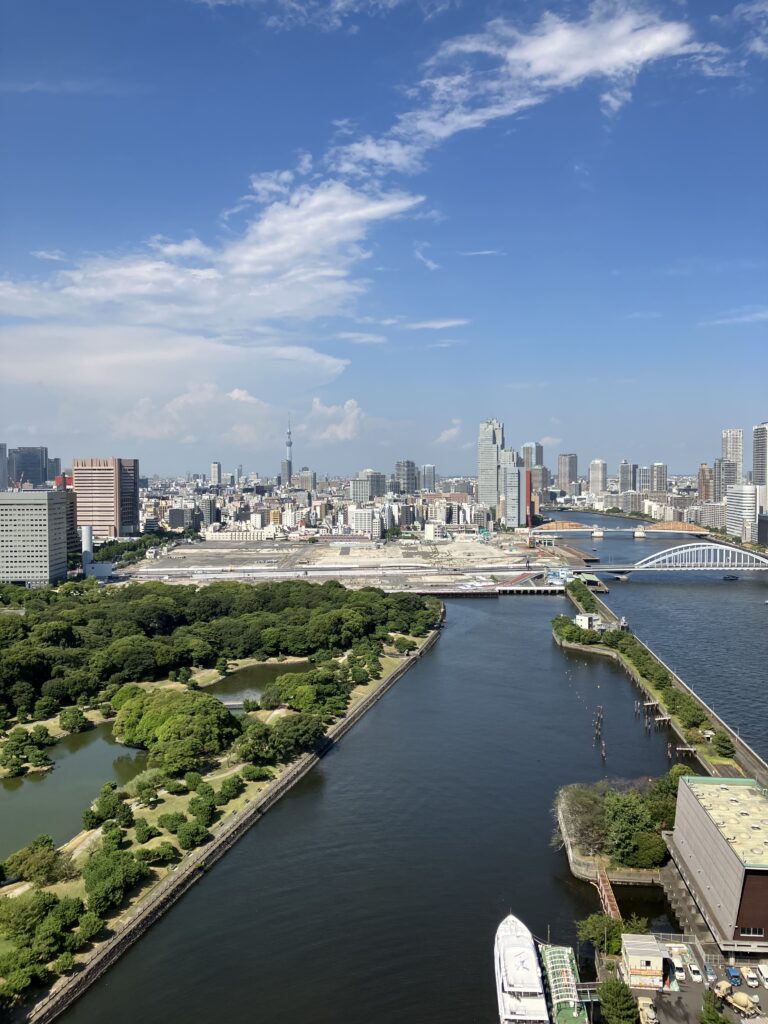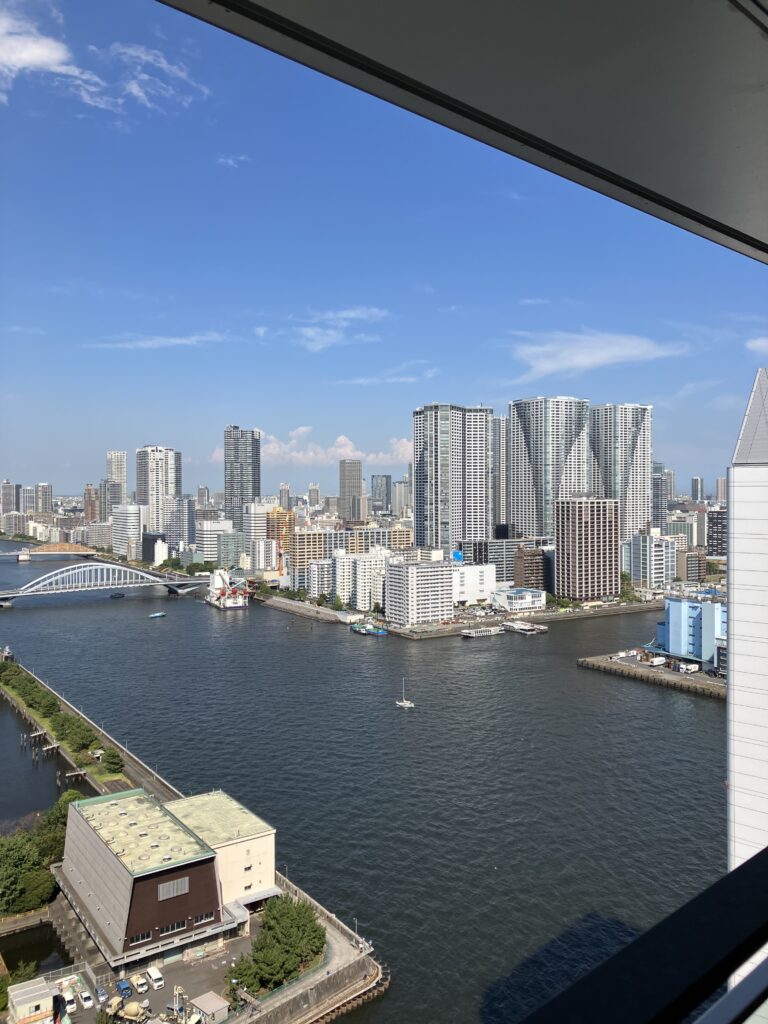 The balcony surely is the highlight of the room. Although, I heard that they'd only reserve upgrade space for rooms with balcony if you're at least a Platinum Elite since suites are very limited at this hotel.
Bathroom
The marbled bathroom comes with a sink and vanity table.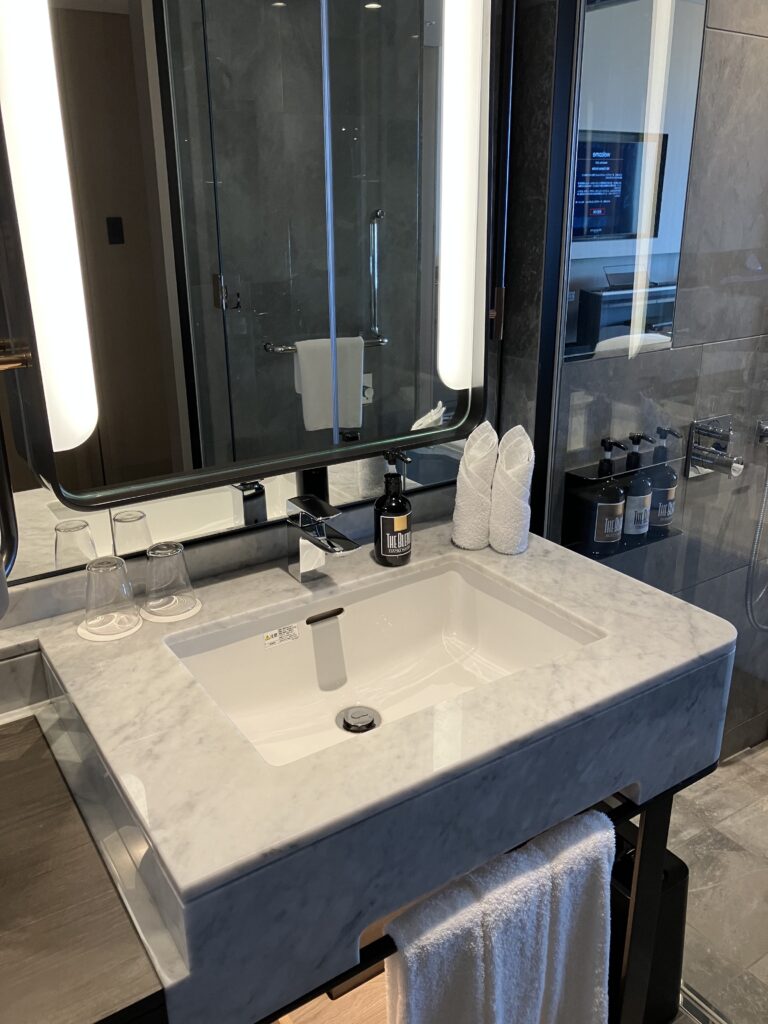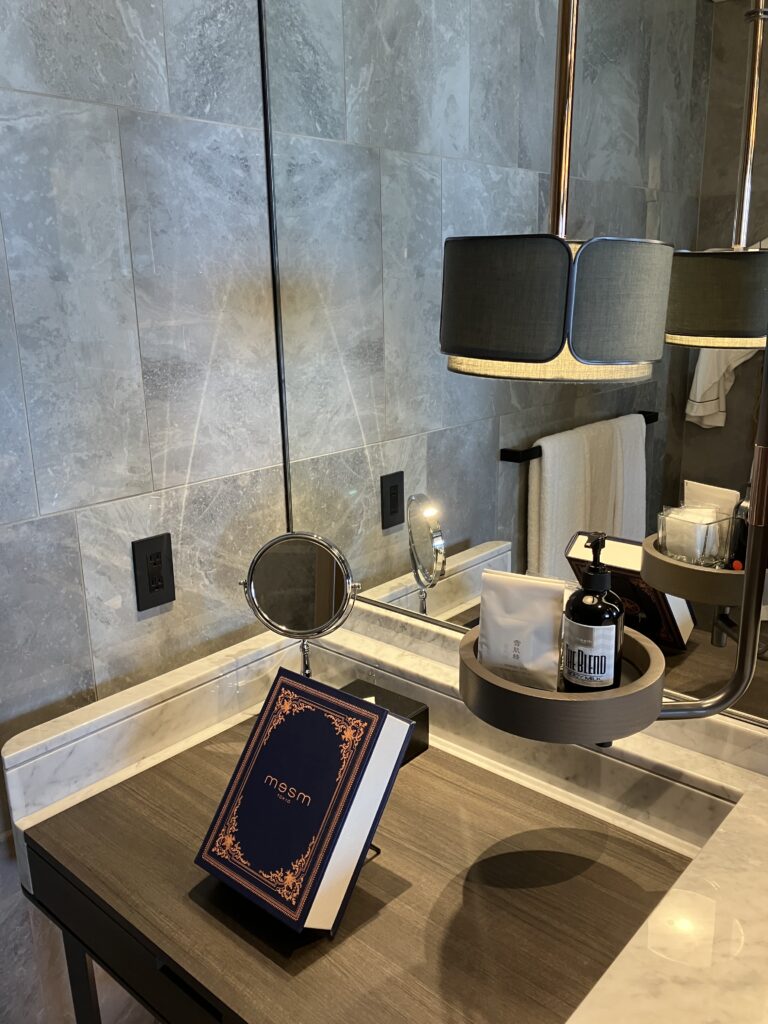 This hotel has some of the most creative ways to set up their bathroom amenities. Inside the book is where you can find amenities like dental and shaving kits.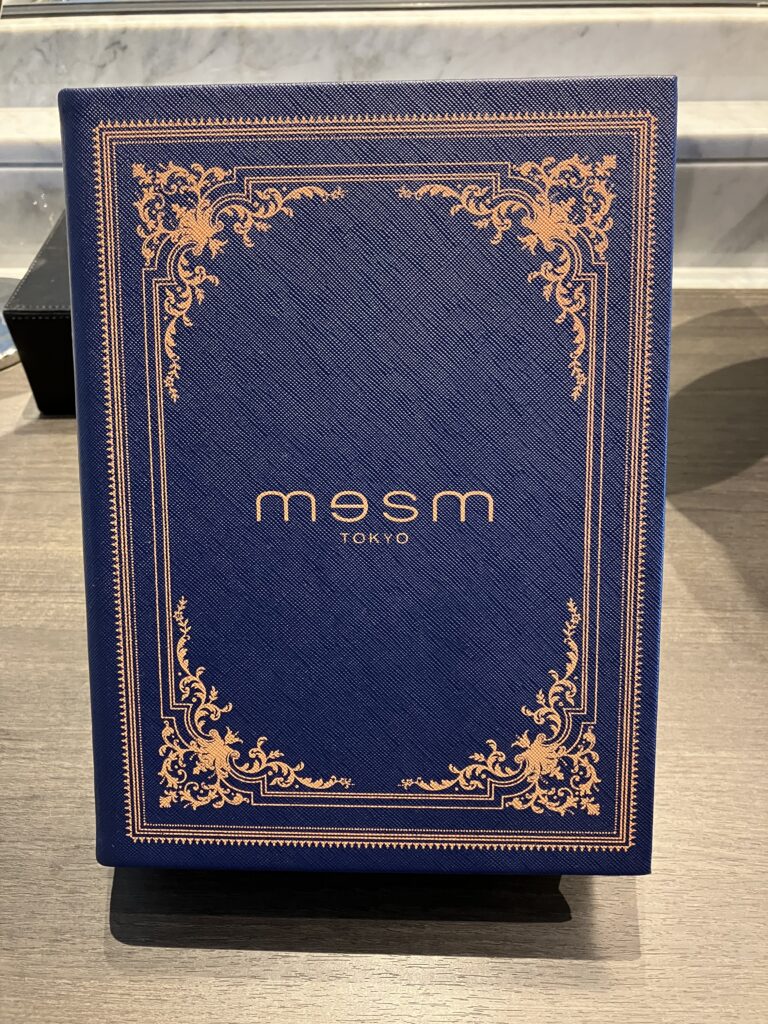 When opened, the amenity containers were set like puzzle pieces with the design of the Mesm's building and a galleon. Very fascinating design overall!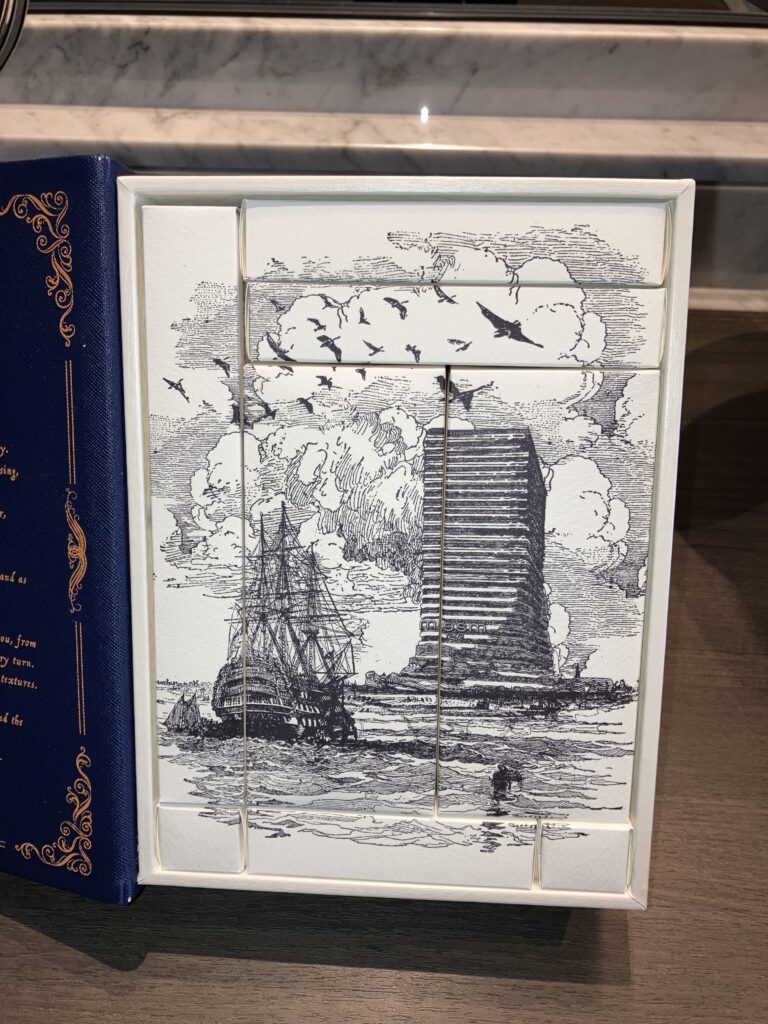 Shower pressure was very good.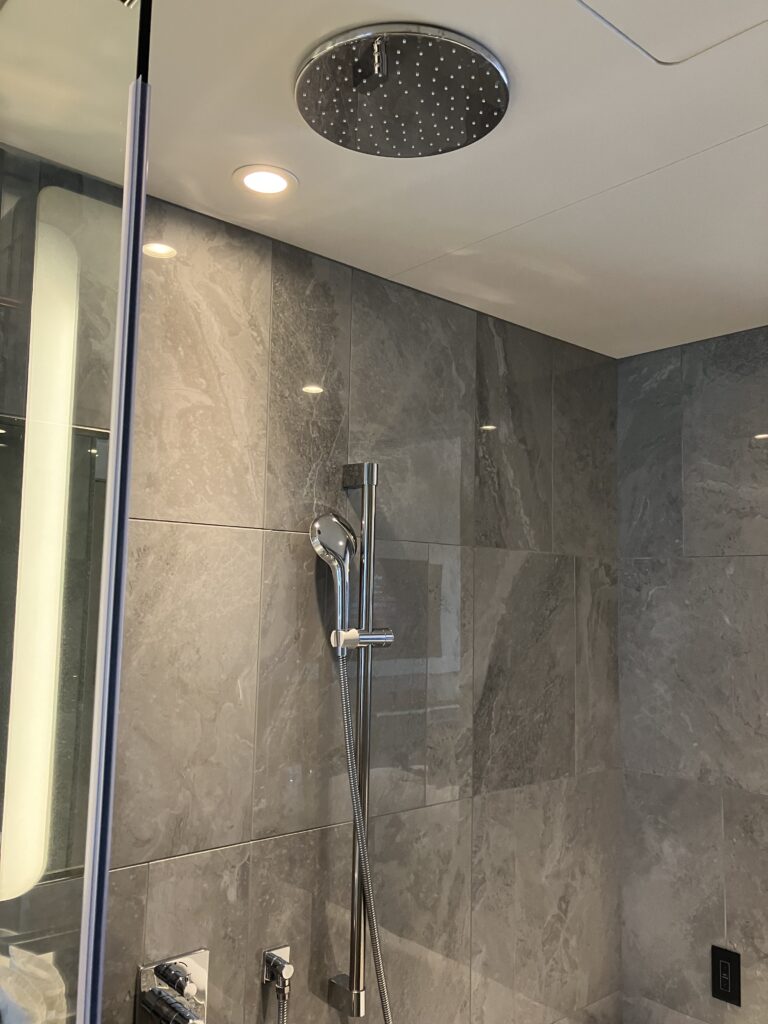 The Blend bath amenities provided sweet fruity smell akin to mangoes.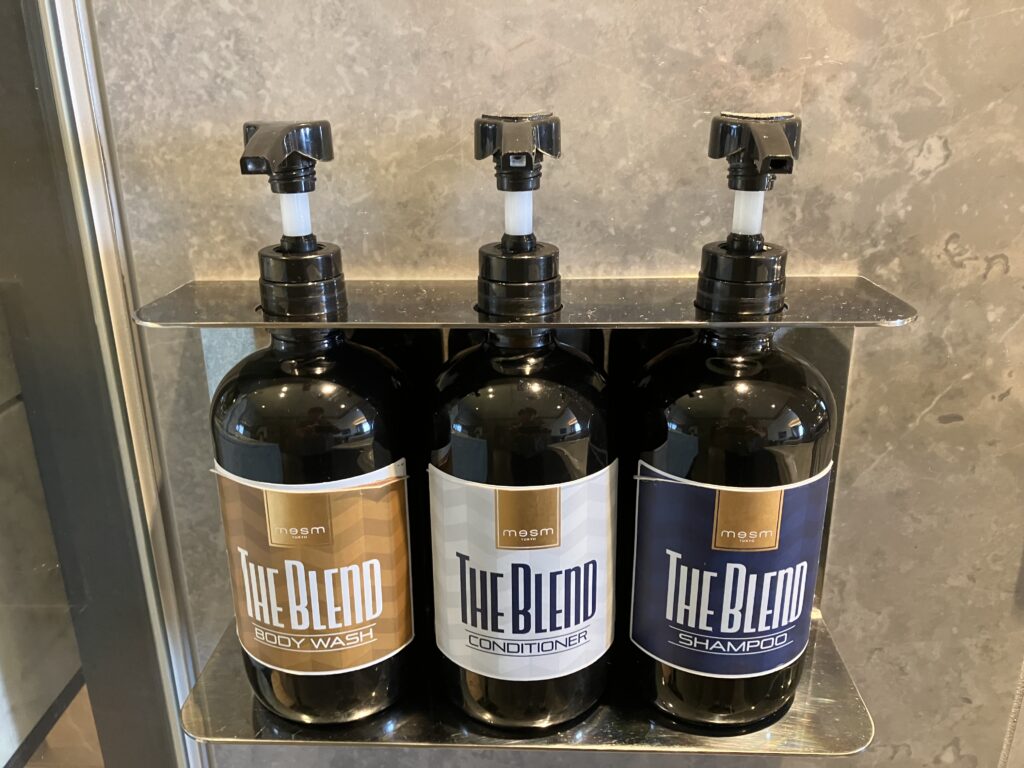 Bathtub size is huge, and you can admire the outside view while bathing also. Privacy blinders are controlled inside the bathroom. Finally, a design choice that made sense. **cough** Ritz-Carlton Fukuoka **cough**. The tub also comes with a timer that allows it to fill itself and stop once it's full. The timer's set to 11 minutes.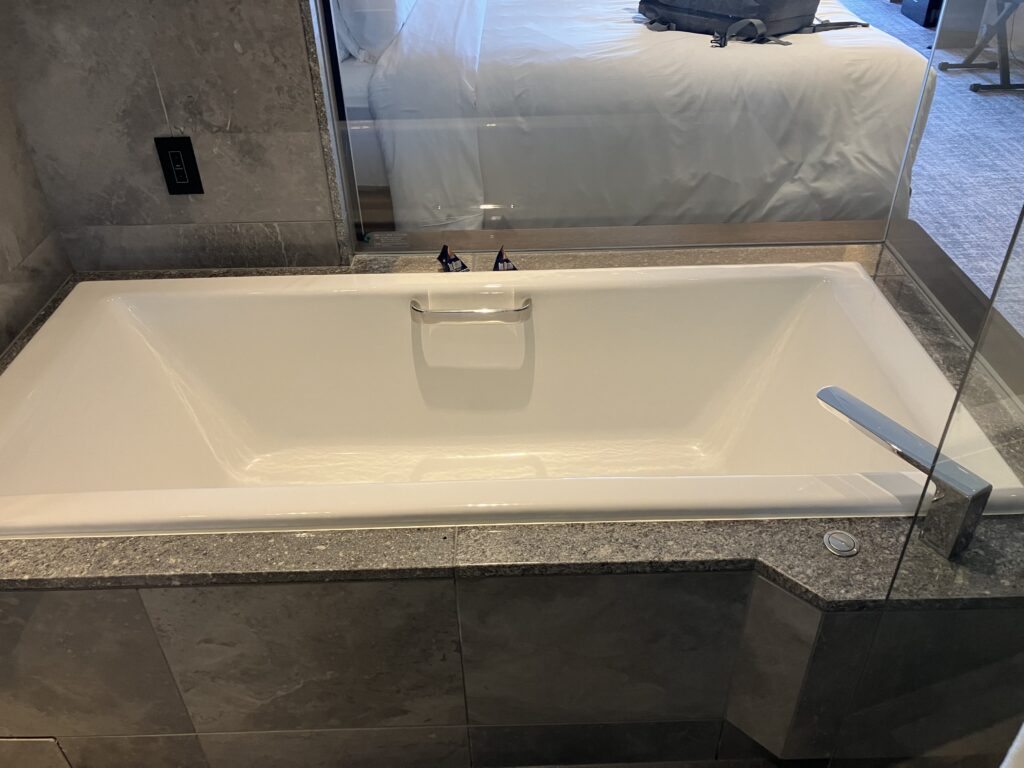 Blue-colored bath salts are provided.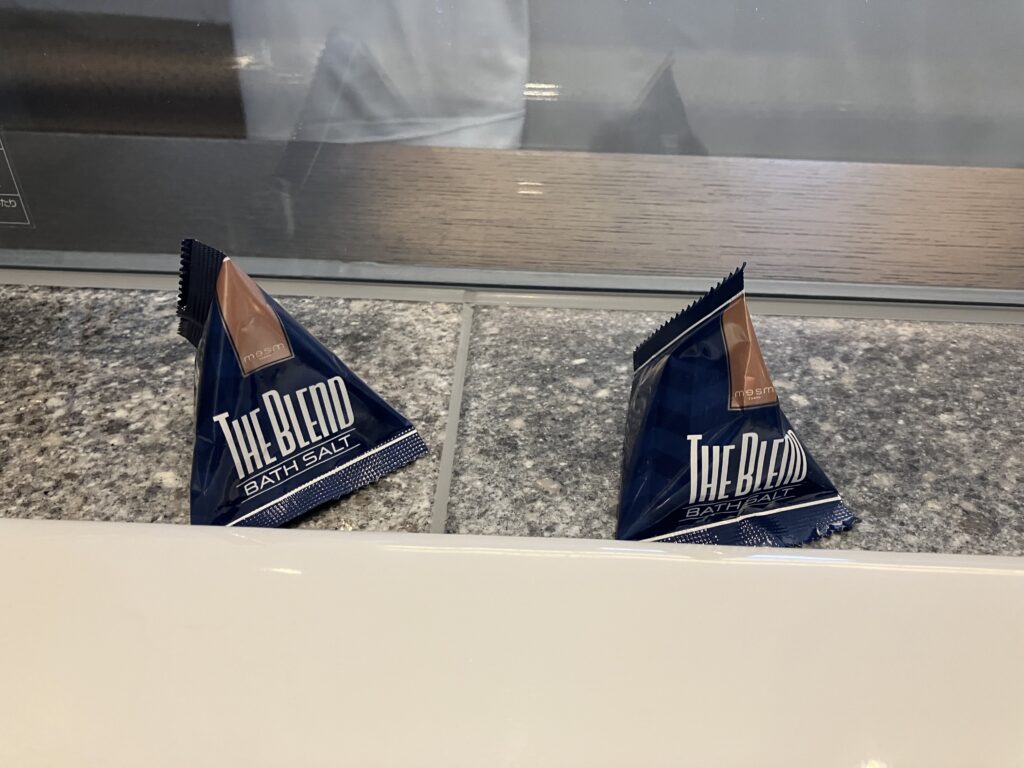 The bathrobe is similar to a yukata. Very stylish and comfortable. I ended up wearing the other one as sleepwear.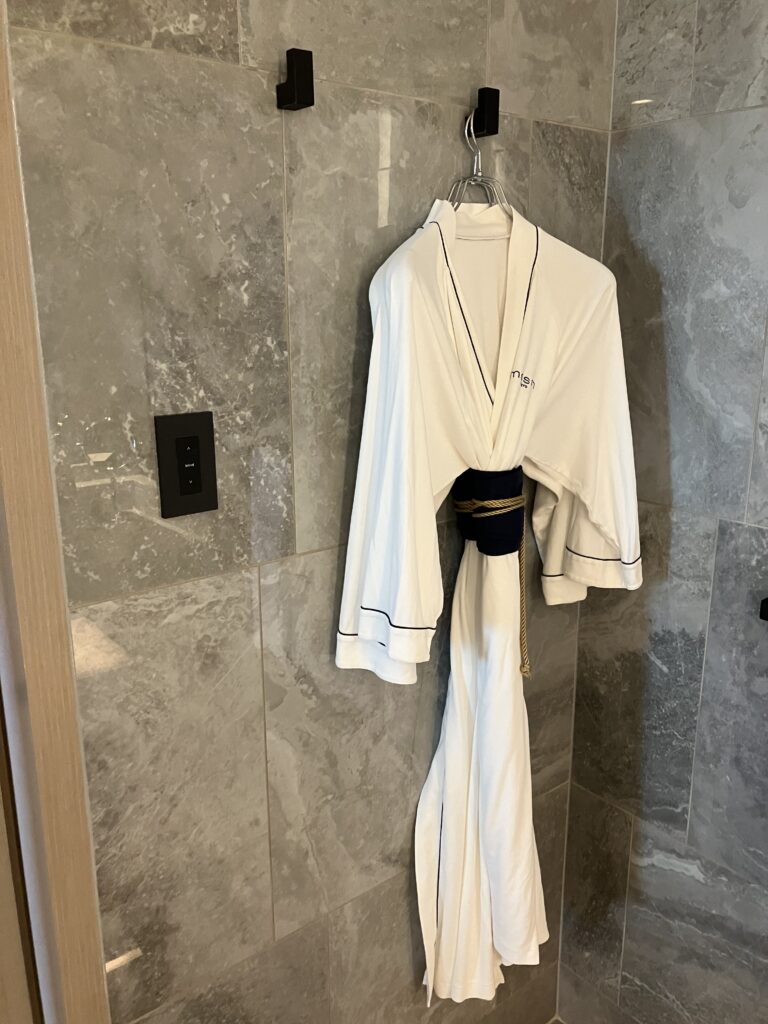 Toilet room is separate and is across the main bathroom. It doesn't automatically open by itself when you approach it, but the bidet control is Japanese standard.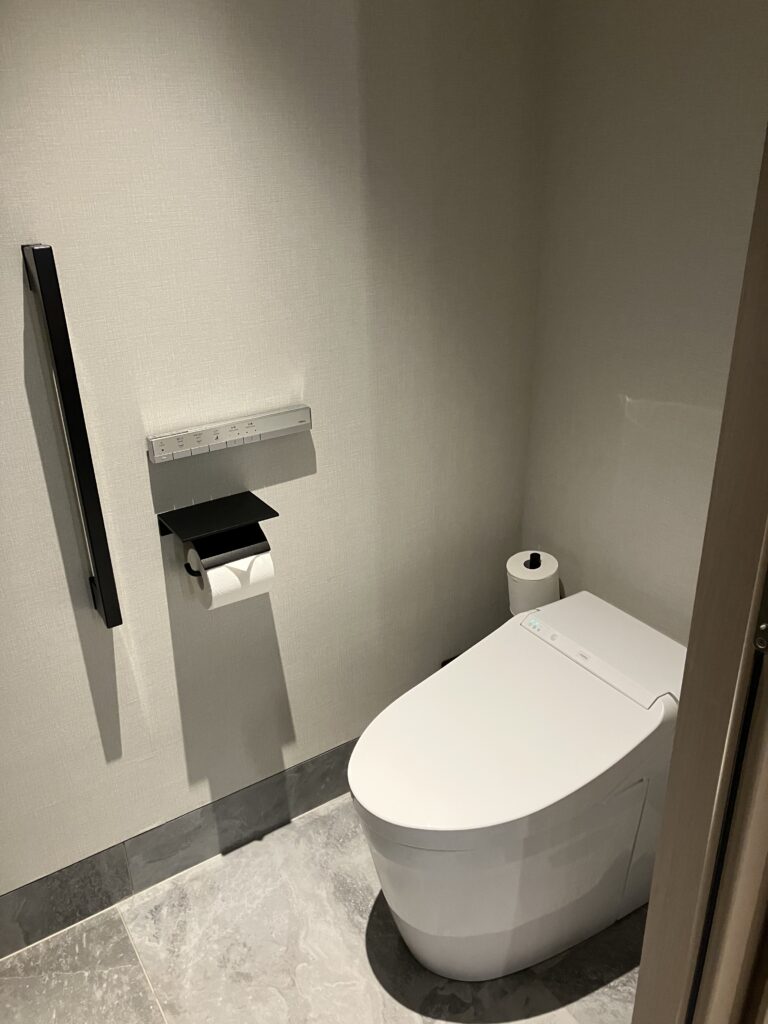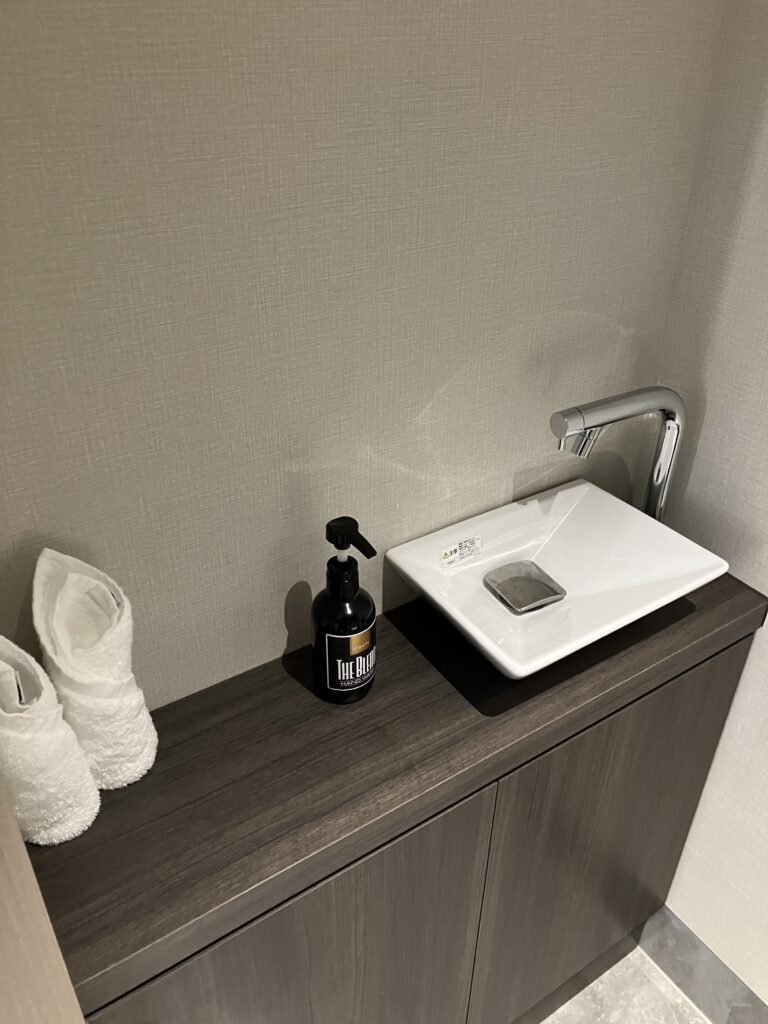 Overall, I love the modern feel of the room. The minibar options are very nice and they're free on top! The balcony steals the highlight with the open-air view.
Mesm Tokyo- Breakfast
Breakfast is located at Chef's Theatre on lobby floor just next to the Whisk Bar.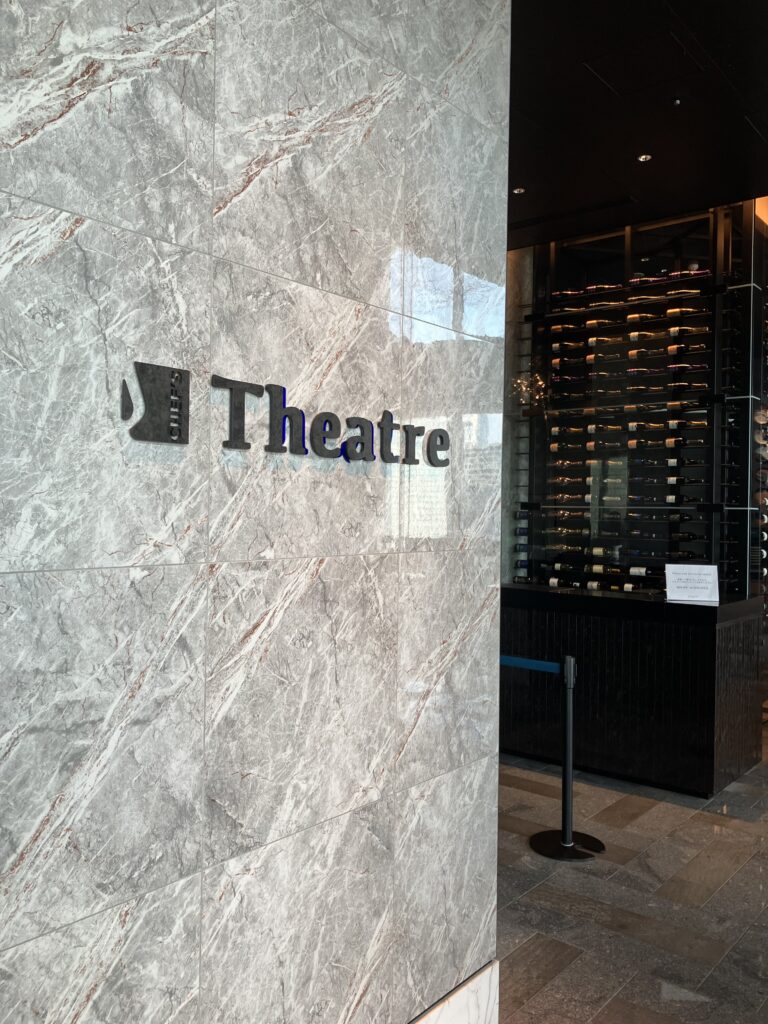 It wasn't too packed when I was there, and the staff always had me seated in a couch at a corner with a great view of the Hamarikyu Gardens. Possibly a special treatment for eating alone.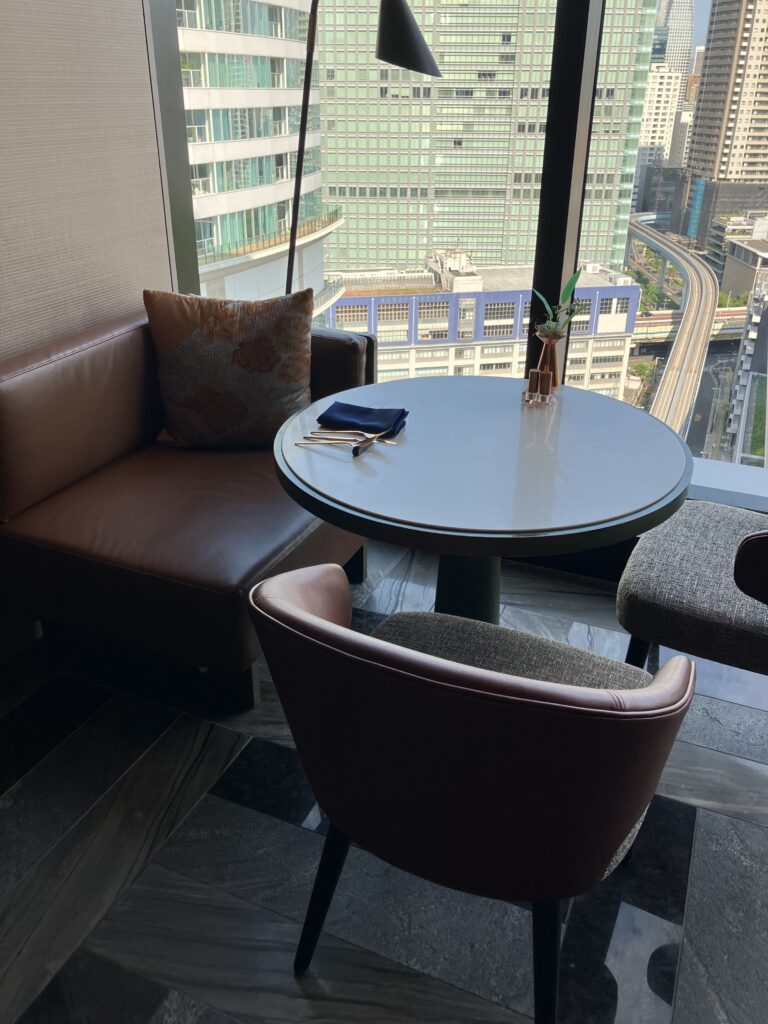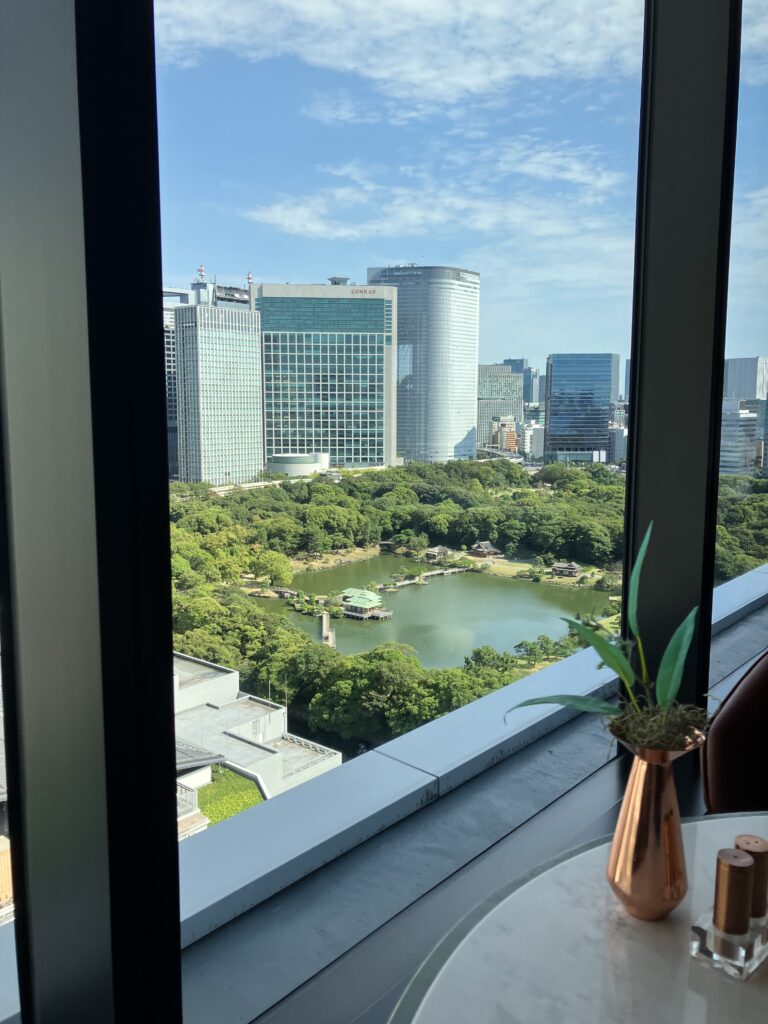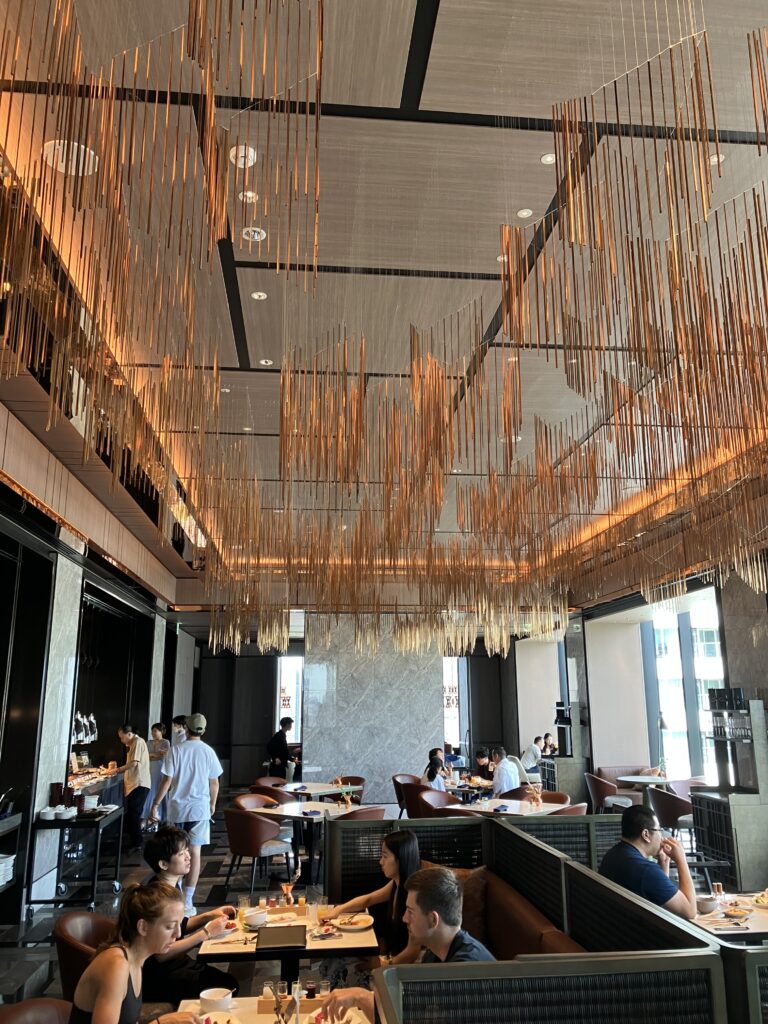 During breakfast, there's an interesting drinks offering of 5 Senses where you can sample each one in shots. I personally enjoyed the Hearing one the most since it's like Calpico, a really great lactic drink from Japan.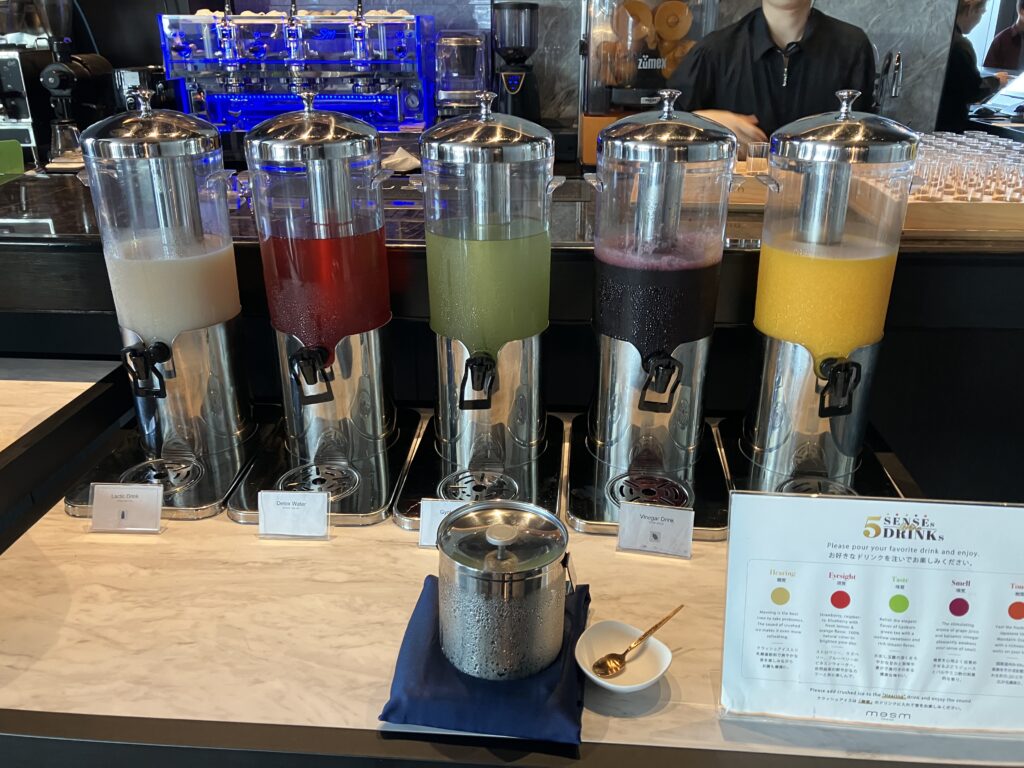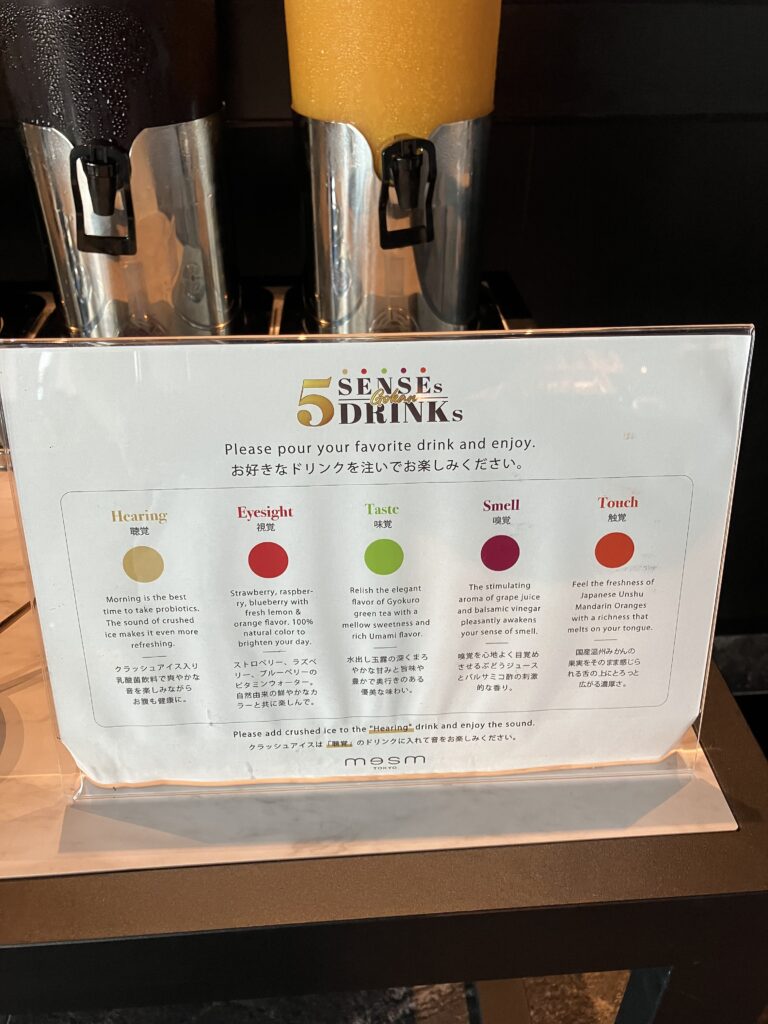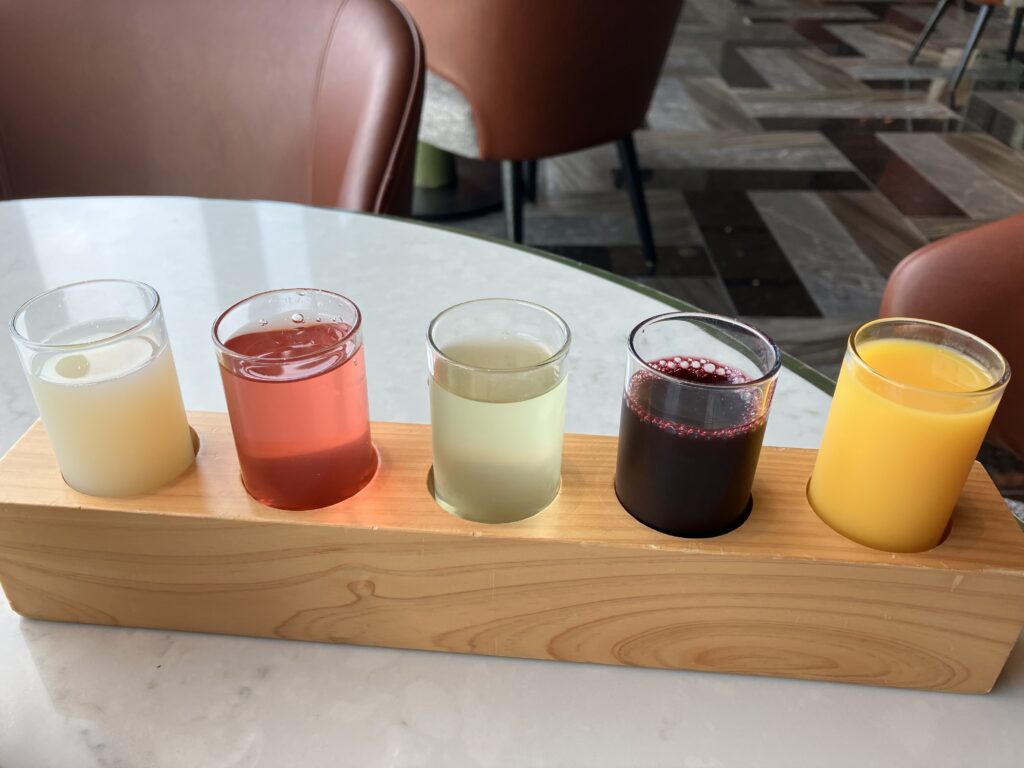 The coffee is also the one they have made by Sarutahiko in the rooms. One of the best hotel coffees I've had!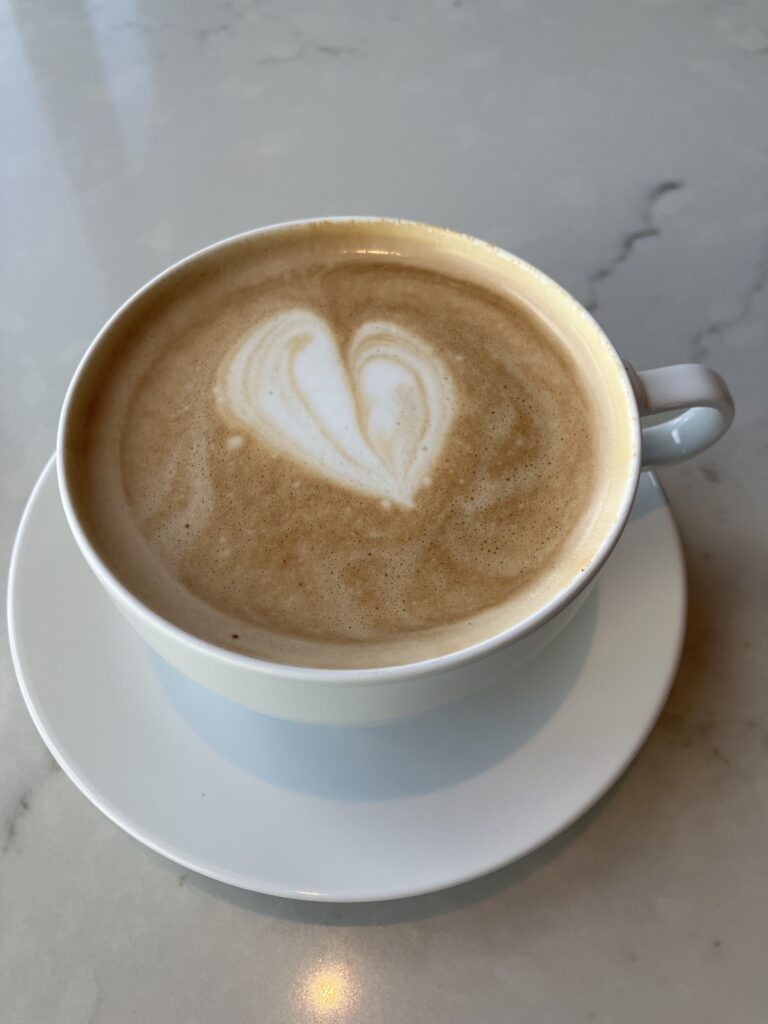 Breakfast spread is decently sized, ranging from Western to Japanese options.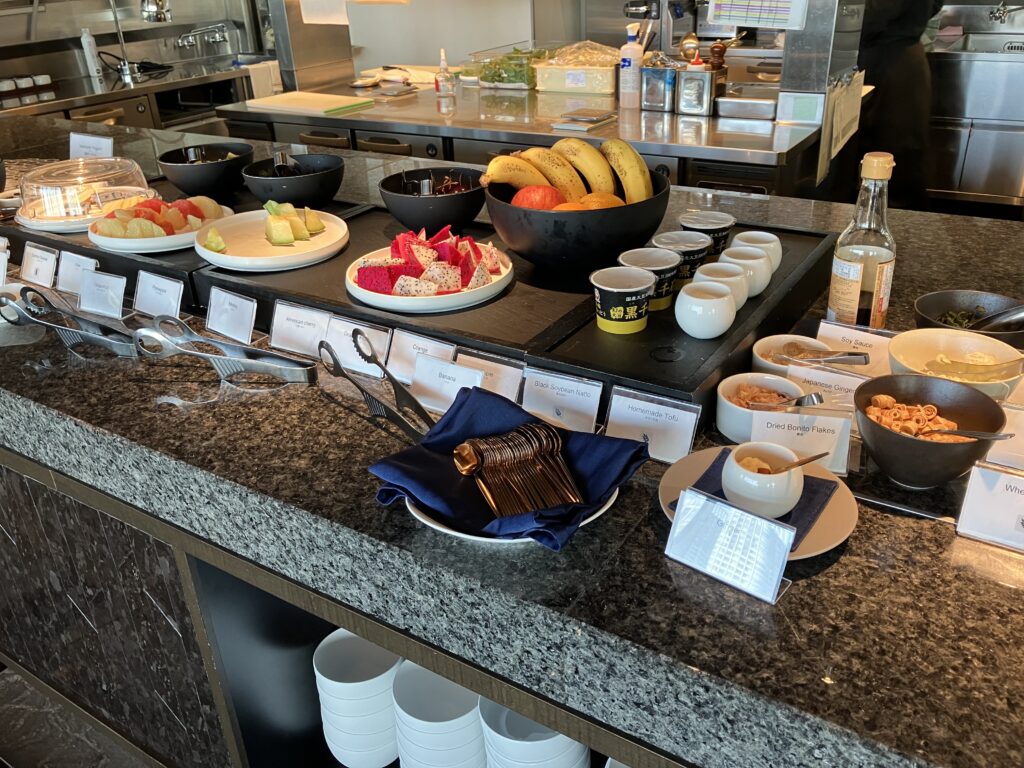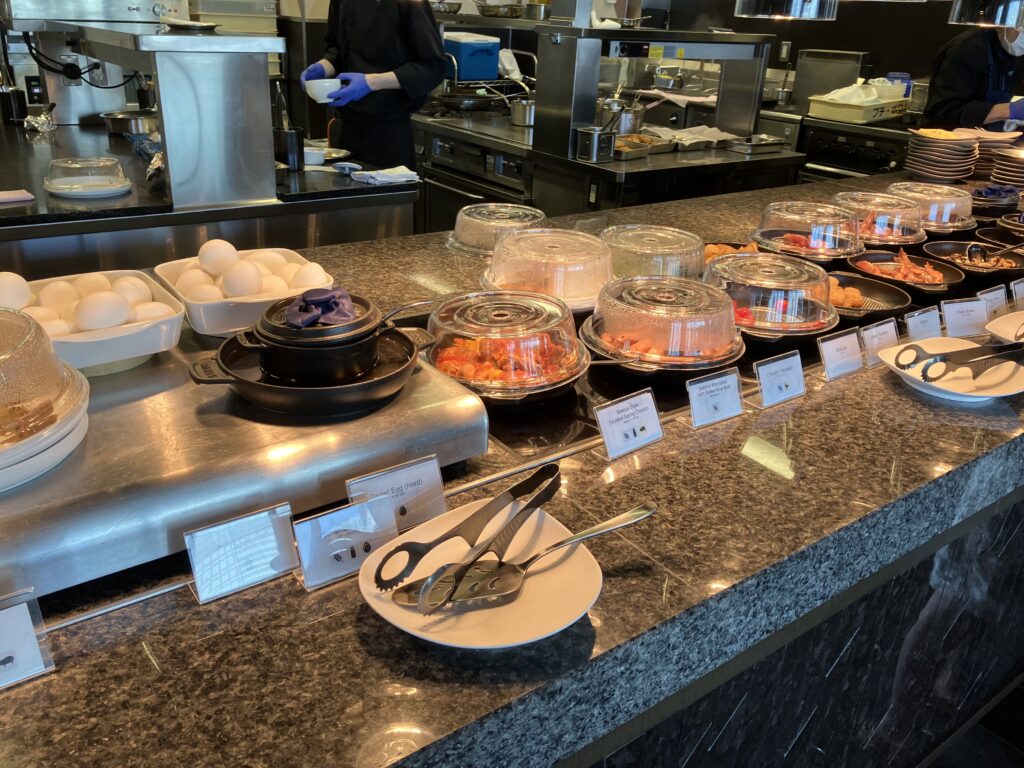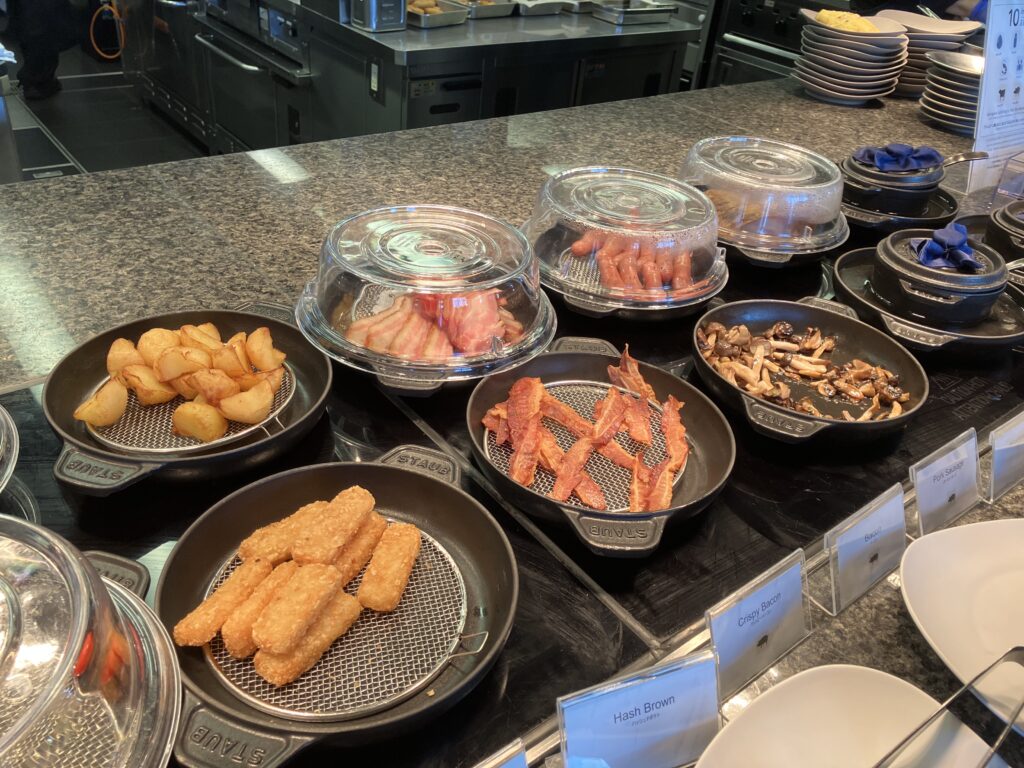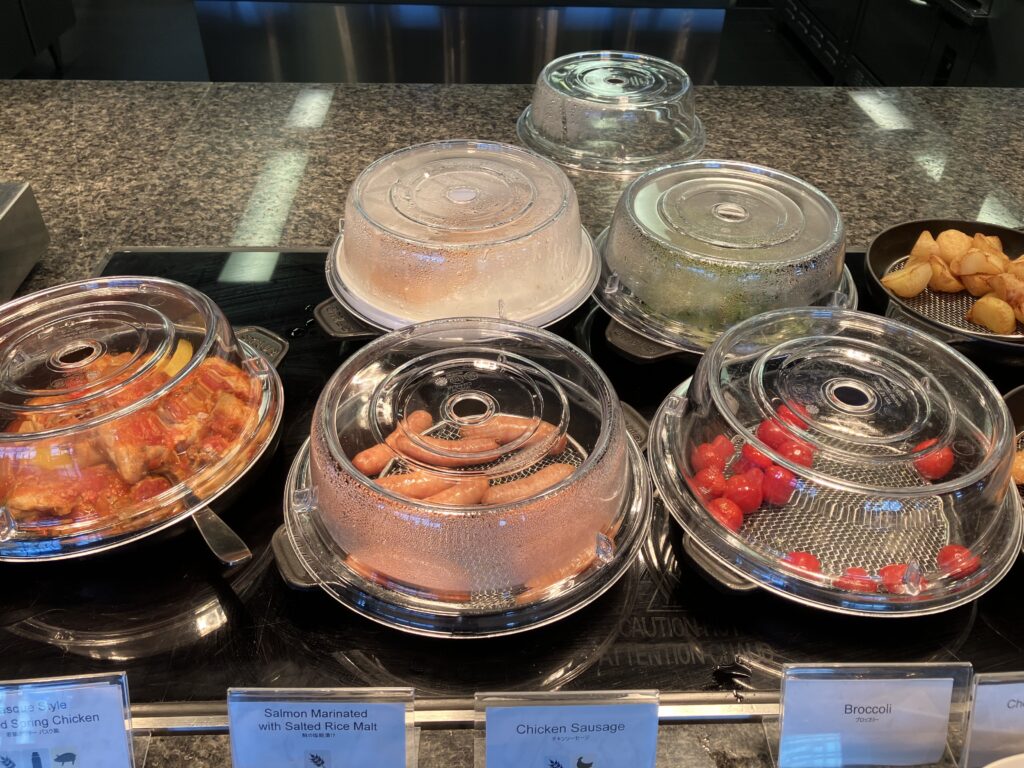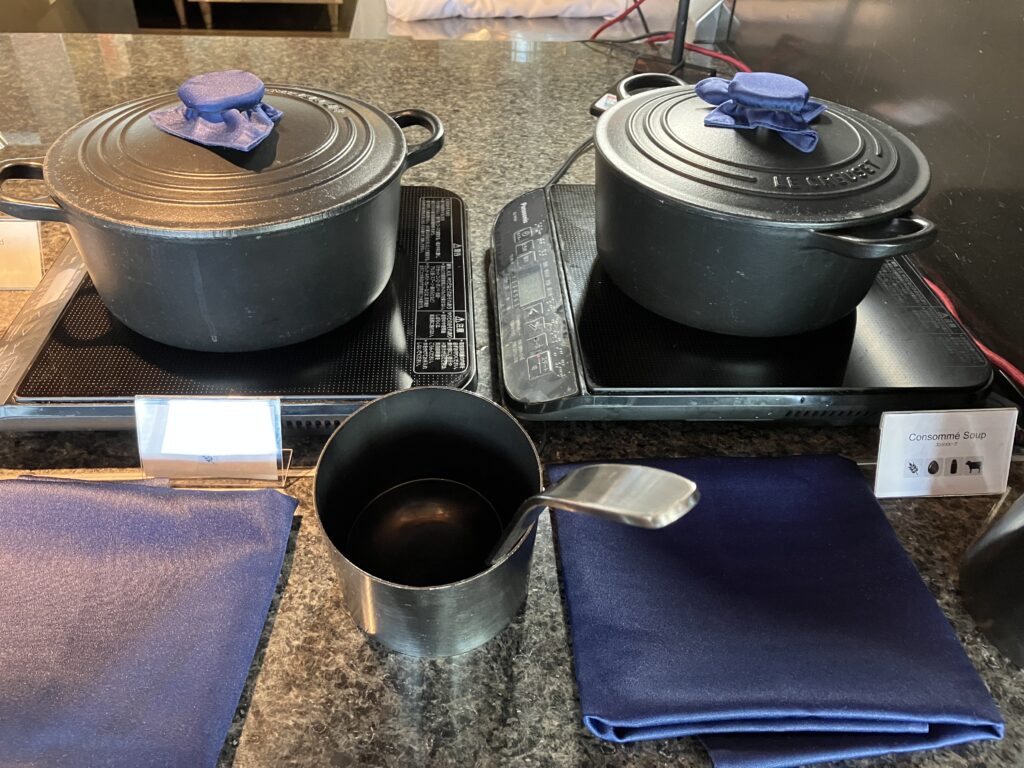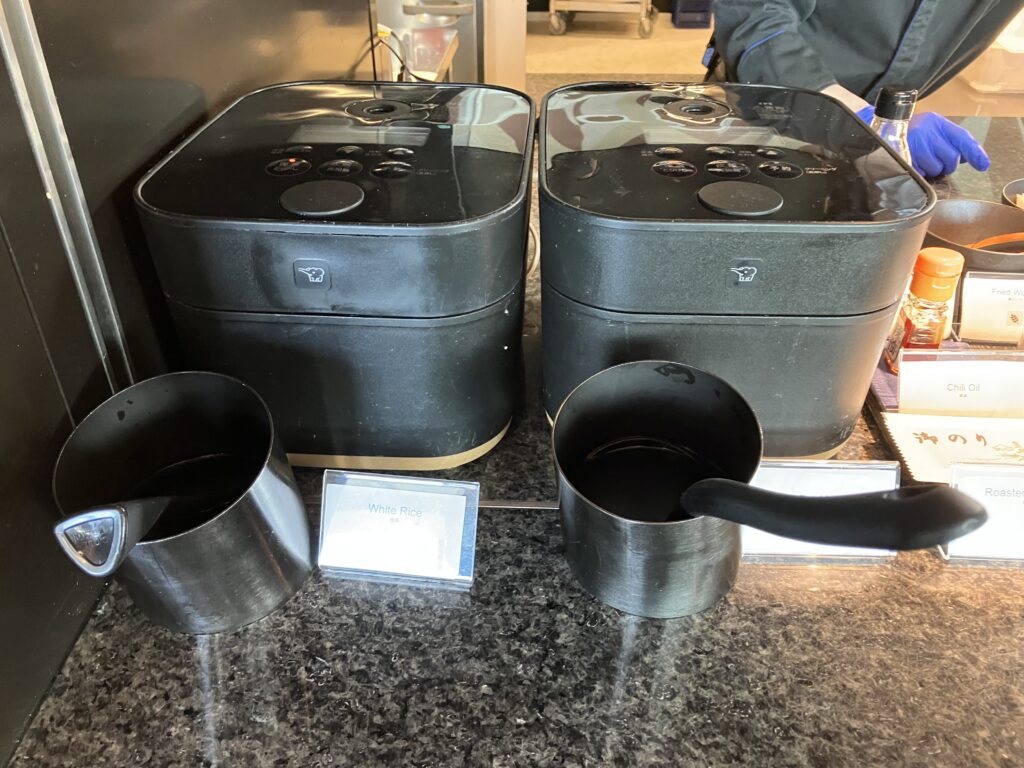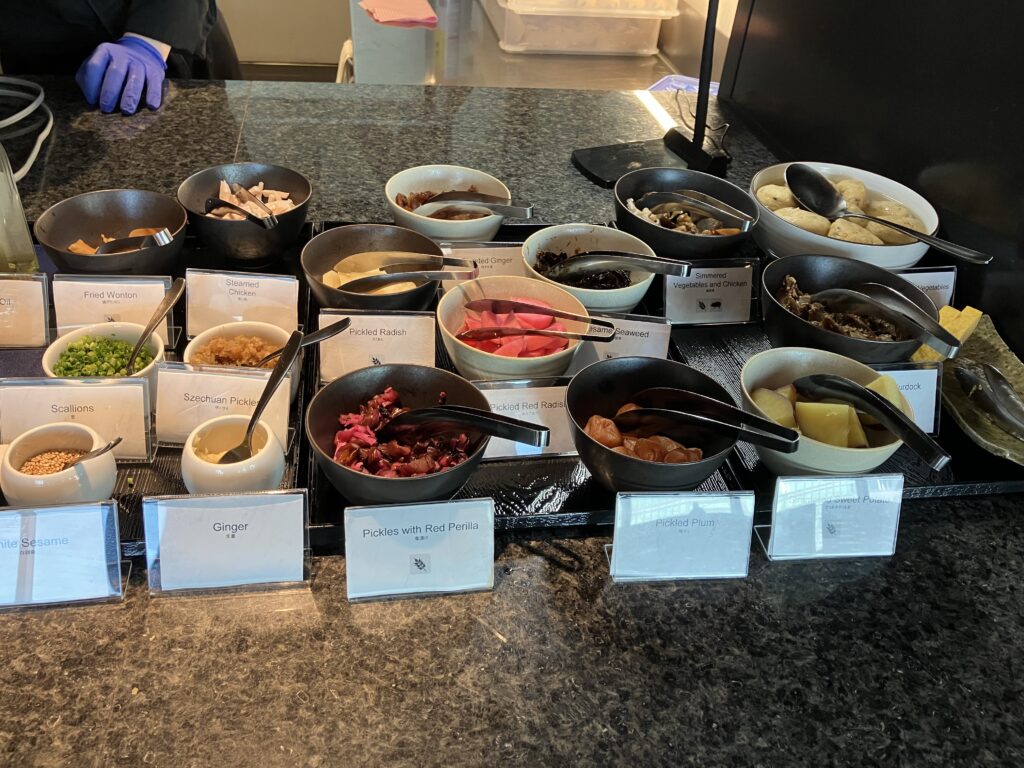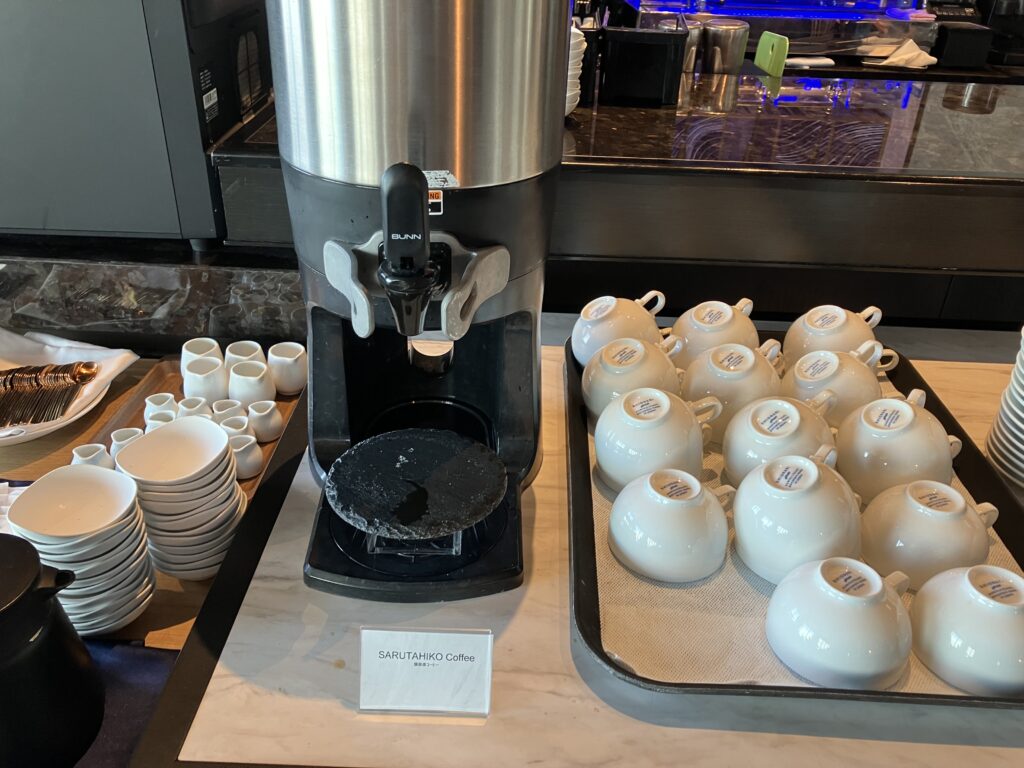 There's an omelet station where you can customize the ingredients to your liking to have on your egg.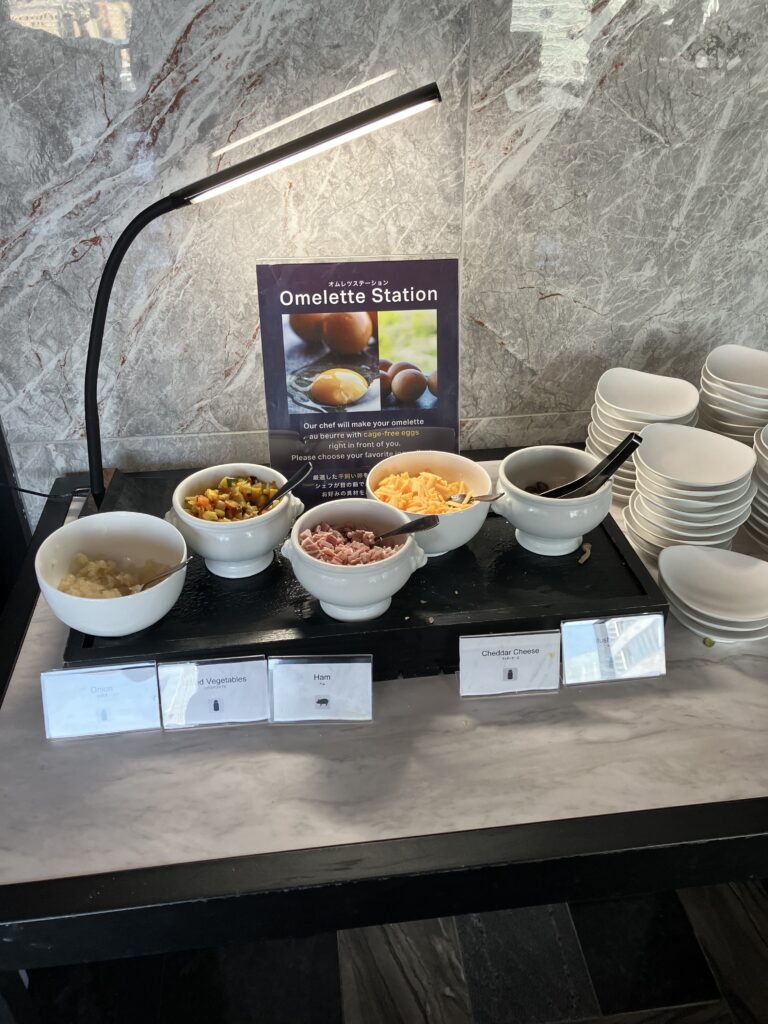 They also have a ramen section, and it can vary day to day. I got to taste their curry and shoyu options, and I really enjoyed them!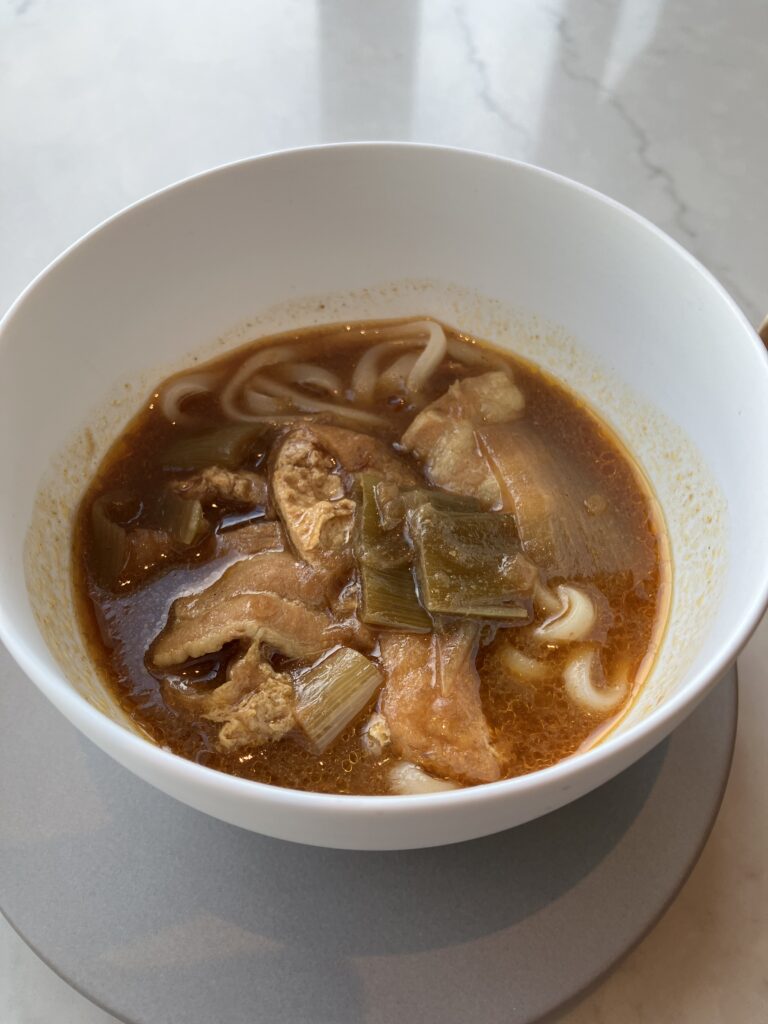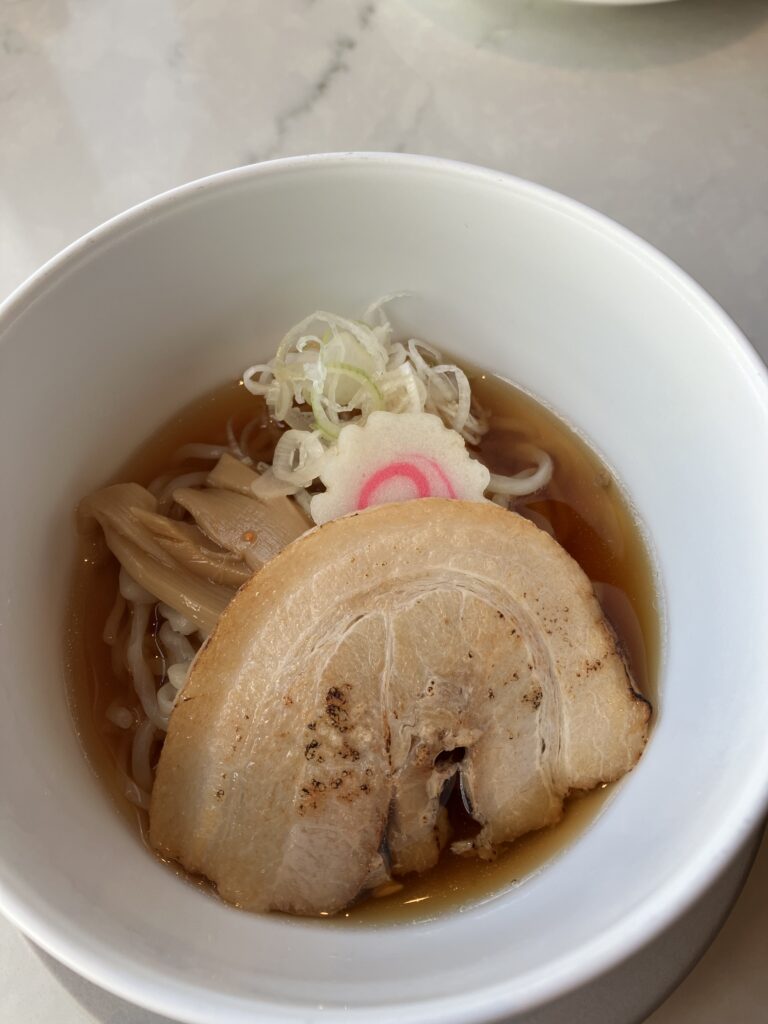 Great breakfast overall with a nice view and excellent coffee on top!
Interestingly, Chef's Theatre have different theme menus during lunch and dinner. From the time I was there, Arsene Lupin, the gentleman thief, was the main theme. I'd have loved to try it since I was still playing Persona 5 at the time (if you know, you know). But, Tokyo eats await me outside.
Mesm Tokyo- Whisk Bar
Whisk Bar is Mesm's main bar that's set next to the reception on lobby floor. It offers a nice view of the Hamarikyu Gardens and Tokyo Skytree at a distance.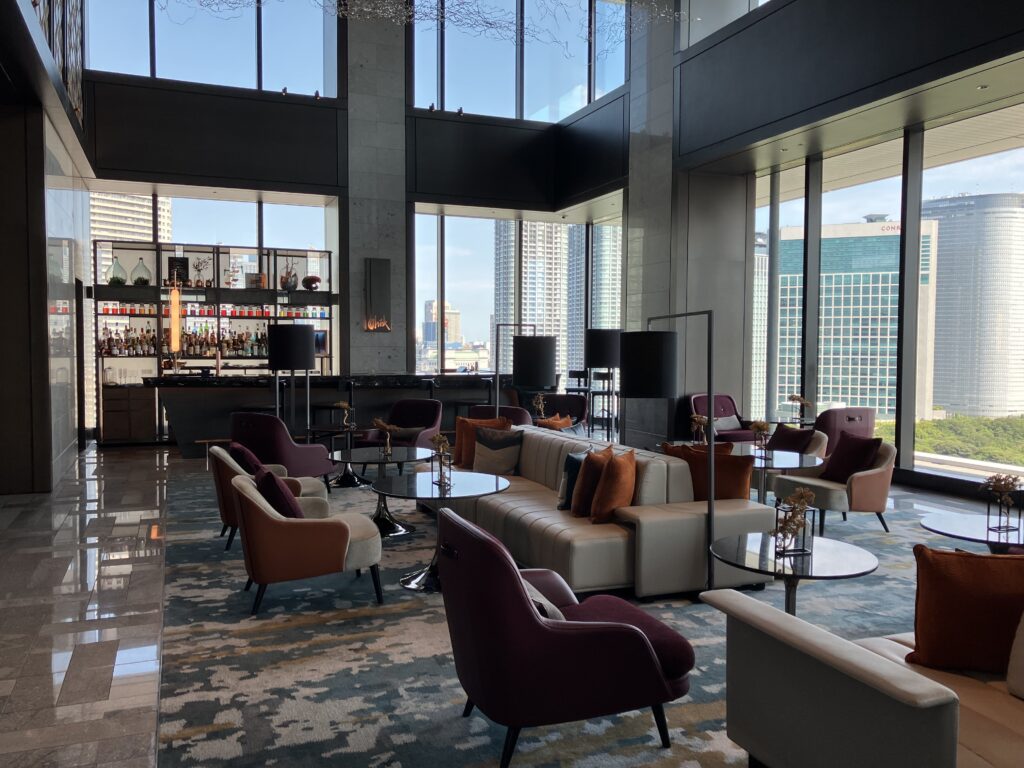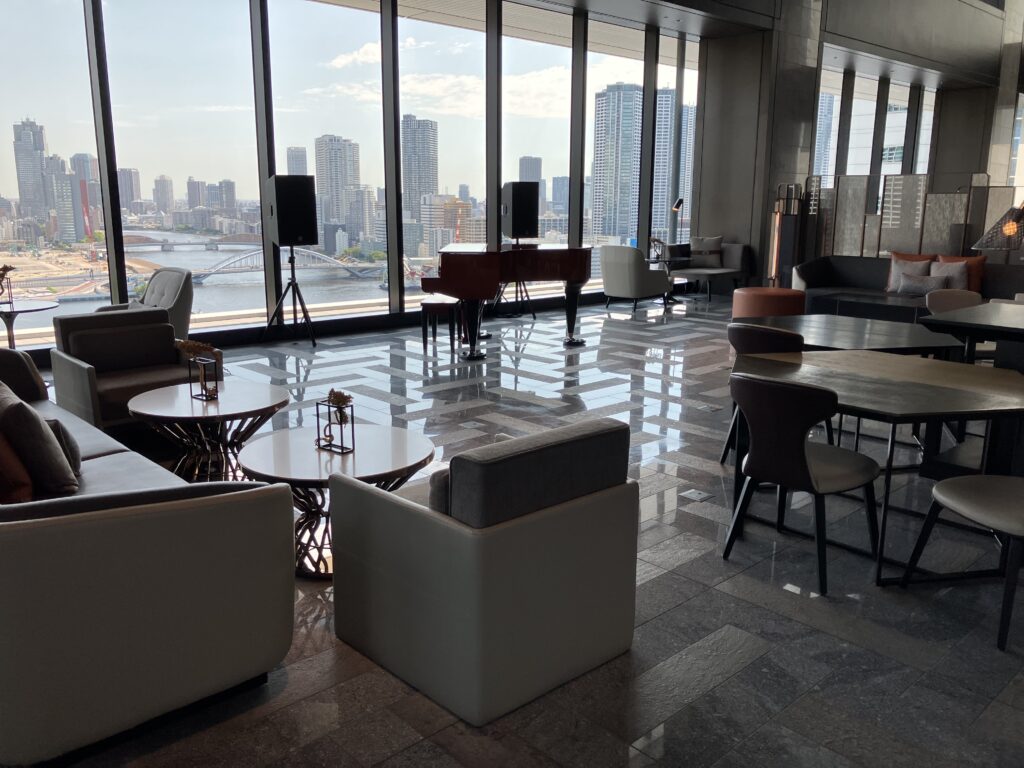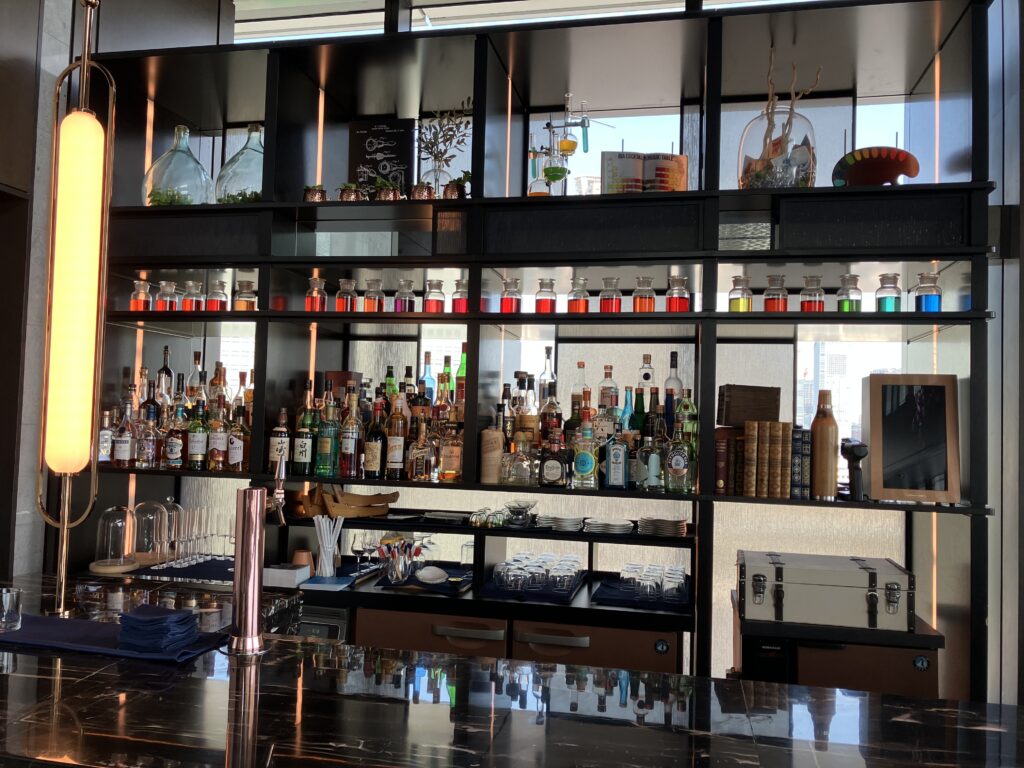 During the evenings, there are Showtimes where local musicians will play to enhance the mood. I didn't get to check one out during my stay, sadly.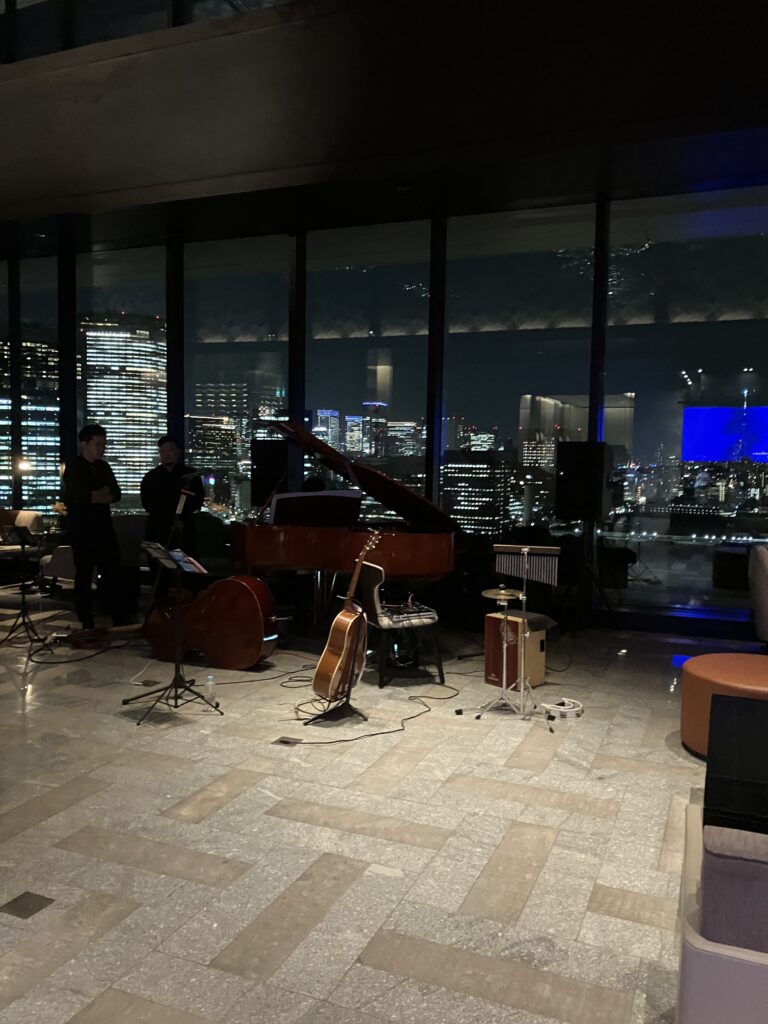 Mesm Tokyo- Fitness Center
The gym is equipped with cardio and weight machines. Yoga mats are provided as well, but it doesn't feel as lively because there's no outside view.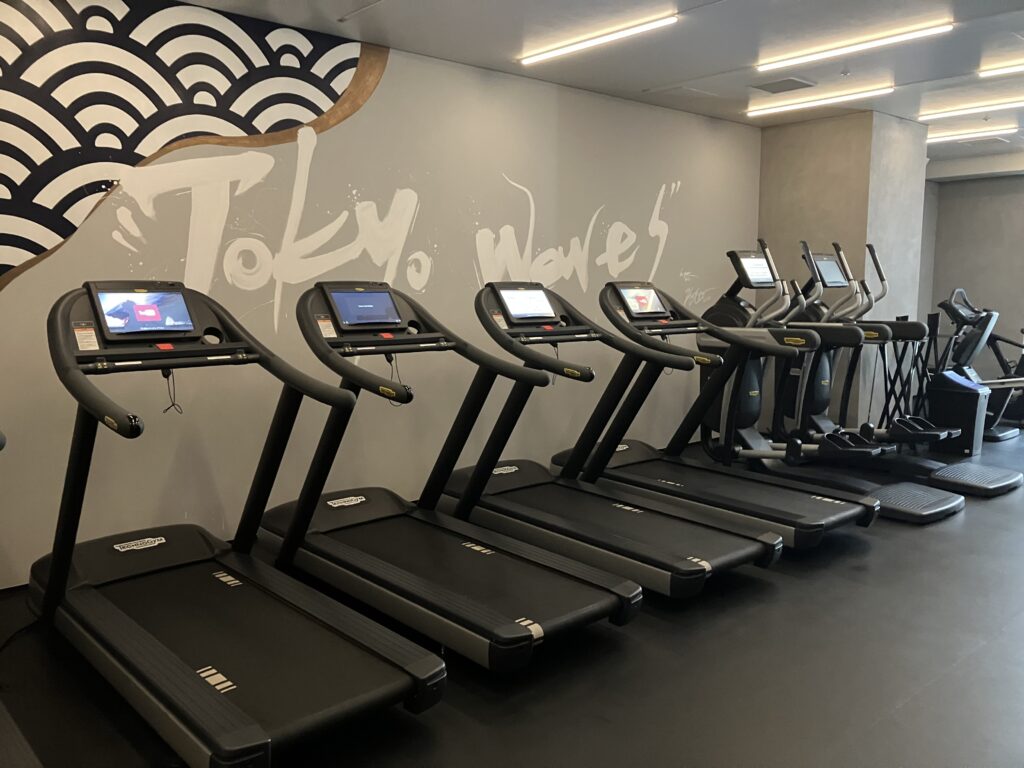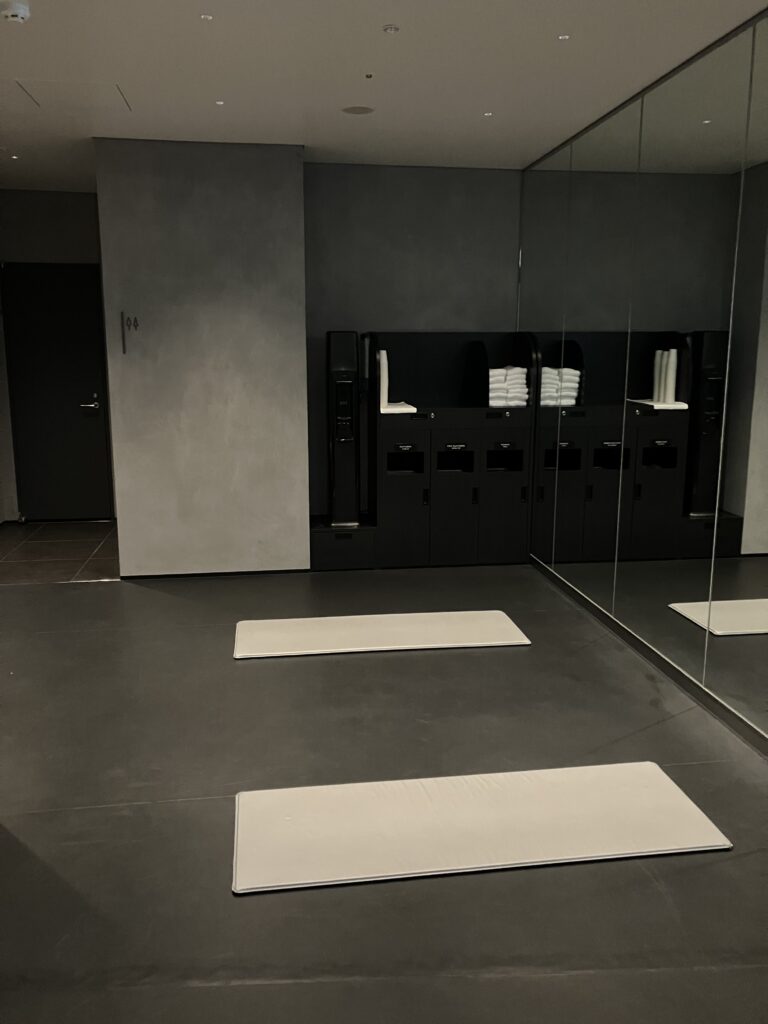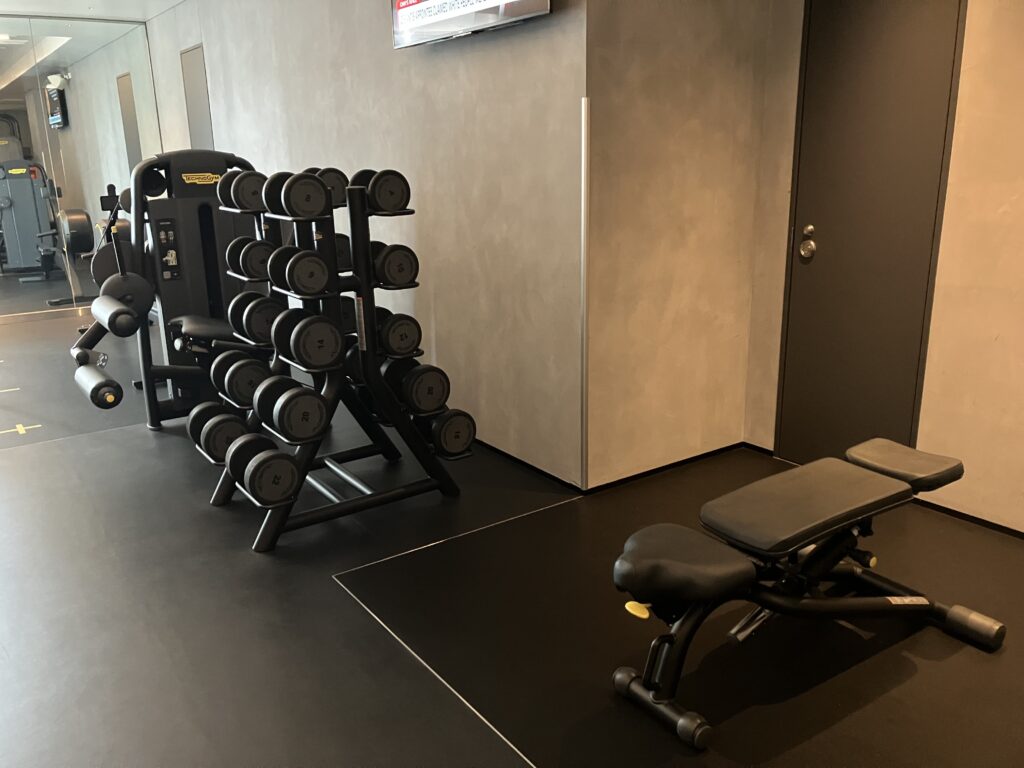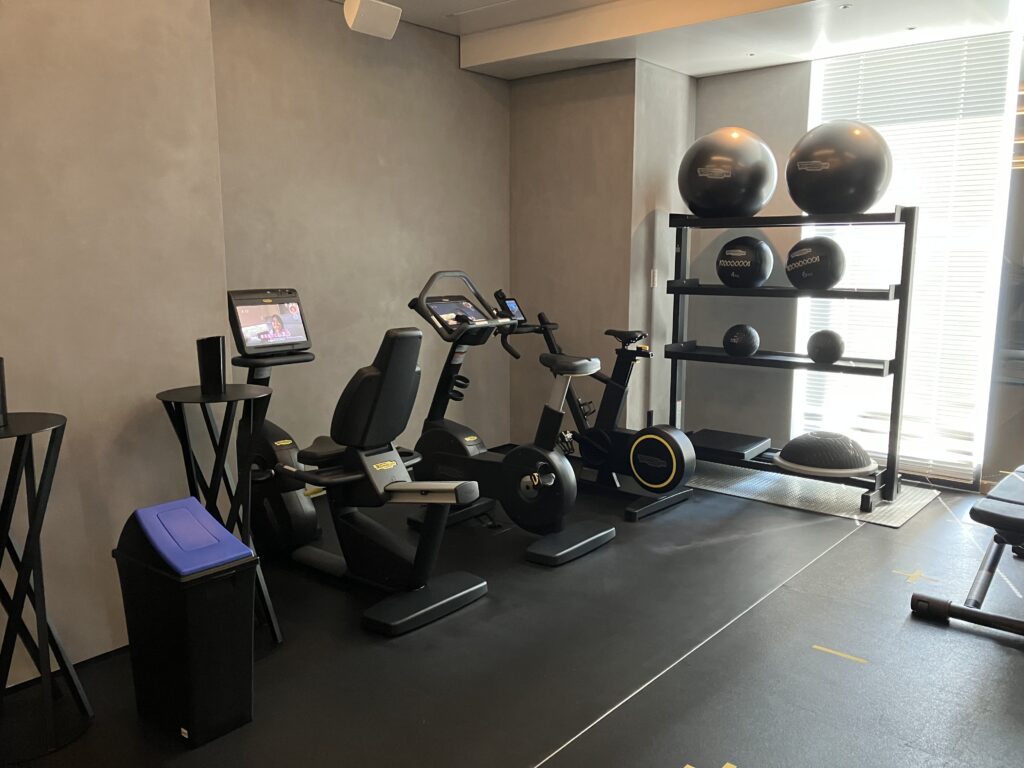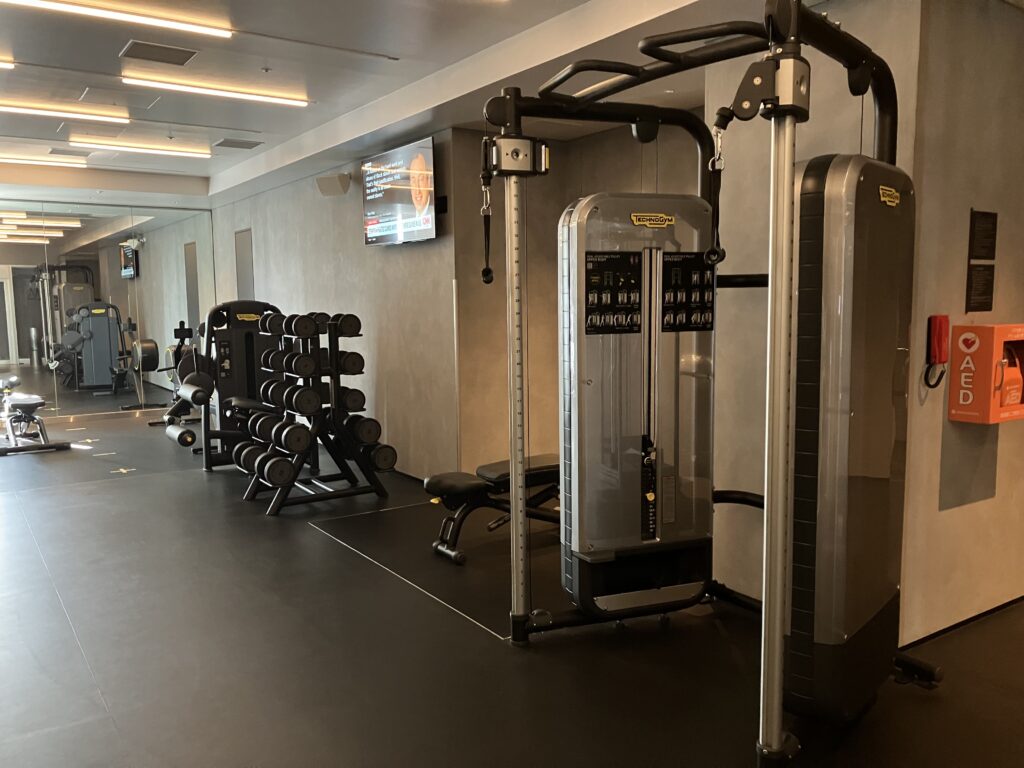 Mesm Tokyo does not have a pool.
Mesm Tokyo- Club Mesm
The hotel has a private salon called Club Mesm. It's not an Executive Lounge, so it operates outside of Marriott's lounge access benefit. Ambassador Elite is the only Marriott status that allow for free entry to Club Mesm. For myself personally, I did not see value in the access since the room's minibar was free, and I had the comforts of enjoying the view on the balcony with privacy.
Club Mesm used to be a lounge that Marriott Platinum and above can access, so it's very disappointing to hear that it's no longer the case. I certainly hope that other hotels don't follow this practice by "rebranding" their lounge to something else that falls outside of Marriott's lounge access benefit. However, since I was in Tokyo, lounge access was not a benefit I value a lot.
Conclusion
Mesm Tokyo takes a creative approach to luxury that'll leave you mesmerized! The rooms are modern and complete with amenities from different collaborations from major Japanese companies that were high quality. The balcony is the main highlight of the rooms, and I strongly suggest that you try your best to be upgraded to one.
While the location is a bit out of the way, I didn't feel inconvenience since it's close to railway stations thanks to the excellent Tokyo subway system.
My one gripe with the hotel is how it changed its lounge access policy, which I hope other hotels don't follow as an example. But, since I'm in Tokyo, I couldn't care less for not having lounge access. Regardless, it's the best hotel from Marriott's Autograph Collection that I've stayed at so far, and it's probably my number one choice for Tokyo in the Marriott ecosystem thanks to its more generous pricing in points compared to other high-end hotels in Marriott's Tokyo footprint.
Overall Rating