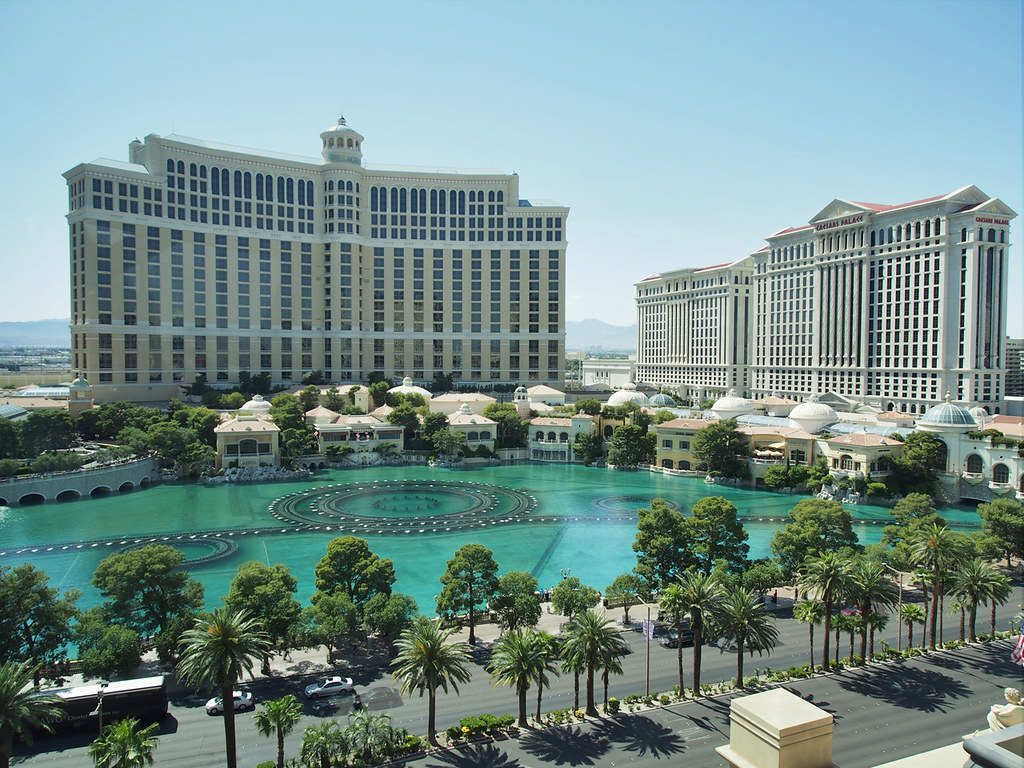 Advertiser disclosure: This post may include affiliate links (including sidebar banners) in which this site may receive compensation if a purchase is successfully made (at no extra cost to you) after being redirected from here. Thank you for your support!
A Guide to Las Vegas Strip Hotels with Credit Card Points

Whenever you're thinking of going to Las Vegas, hotels are one of the top things to consider. Therefore, it's a good idea to familiarize yourself with hotel loyalty programs and credit cards that can help you get free nights and special benefits for your stays! Here are the programs and credit cards to know to save money and make your Vegas trip much better:
World of Hyatt
World of Hyatt is the loyalty program for Hyatt Hotels. While Hyatt hotels themselves are not in the Las Vegas Strip, Hyatt has a special partnership with MGM Resorts that allows you to book hotels under the MGM brand with World of Hyatt points and earn WoH points on paid stays. Here's the list of the MGM hotels in Las Vegas Strip:
The Mirage
Bellagio
The Signature at MGM Grand- All Suites
Vdara
Aria
MGM Grand
New York- New York Hotel & Casino
Excalibur
Luxor
Delano Las Vegas
Mandalay Bay
NoMad Las Vegas
Park MGM Las Vegas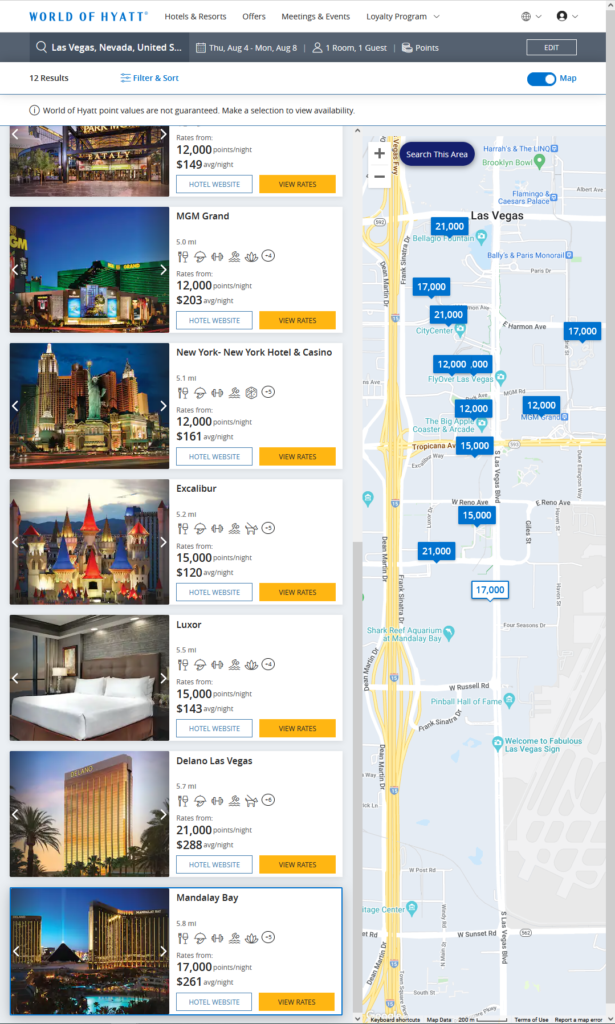 Booking through World of Hyatt can cost you between 9,000-29000 Hyatt points per night depending on the hotel and its occupancy rate. Las Vegas gets a lot more expensive during the weekends, so expect to redeem more points during those times.
How to Earn World of Hyatt Points
An easy way to earn World of Hyatt points outside of staying at Hyatt properties is by earning Chase Ultimate Rewards points through certain Chase credit cards and then transfer the points to WoH. Here's the list of cards:
Chase Freedom Unlimited
Chase Freedom Flex
Chase Sapphire Preferred ($95 annual fee)
Chase Sapphire Reserve ($550 annual fee)
Chase Ink Business Cash
Chase Ink Business Unlimited
Chase Ink Business Preferred ($95 annual fee)
However, to transfer Chase Ultimate Rewards points to World of Hyatt, you need at least the Chase Sapphire Preferred, Sapphire Reserve, or the Ink Business Preferred. So, at least a $95 annual fee must be paid.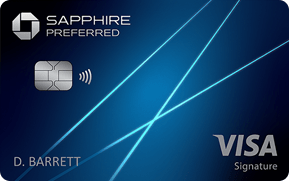 Chase also issues co-branded World of Hyatt credit card ($95 annual fee) that allow you to earn WoH points on your day-to-day spend that can be added on top of your Chase UR points transfers.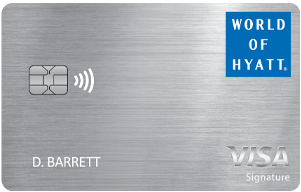 World of Hyatt is also one of the best Chase transfer partners. Since there are many Chase UR earning cards, the supply to earn WoH points is quite large with more opportunities for more signup bonuses. The signup bonus from Chase Sapphire Preferred alone (60,000 Chase UR) can get you a free Vegas weekend stay at one of the hotels listed above!
However, beware of the Chase 5/24 rule which restricts you from getting a Chase credit card if you've opened 5 or more personal credit cards from any issuer within a 24-month rolling period. This rule can greatly limit your velocity in earning Chase UR points.
Wyndham Rewards
Wyndham has a special partnership with Caesars Entertainment. This means you can use Wyndham Rewards to book for Caesars Entertainment hotels and earn them on paid stays. Here's the list of Caesars Entertainment hotels in Las Vegas Strip:
Caesars Palace
Rio All-Suite Hotel & Casino
Harrah's Las Vegas
Planet Hollywood Resort & Casino
Paris Las Vegas
Bally's Las Vegas
The Cromwell
Nobu Las Vegas
Linq Hotel & Casino
Flamingo Las Vegas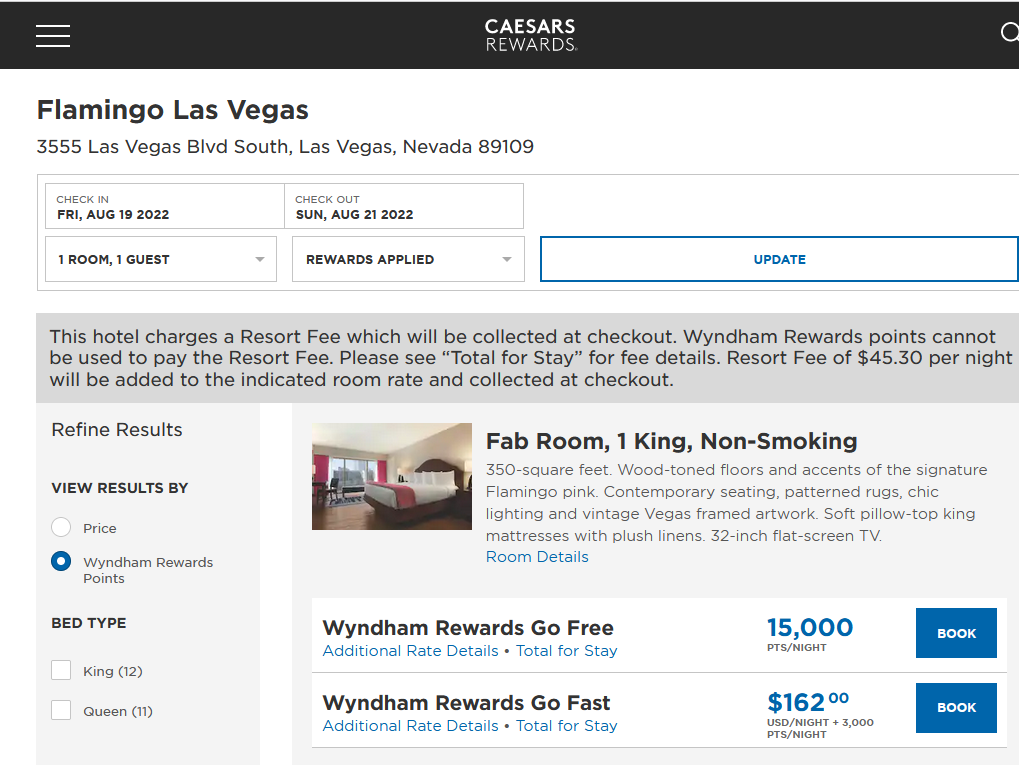 Expect to pay 15,000-30,000 Wyndham Rewards per night depending on the property listed above on weekends.
How to Earn Wyndham Rewards
An easy way to earn Wyndham Rewards outside of staying at Wyndham properties is by signing up for Wyndham Rewards co-branded credit cards issued by Barclays.
Wyndham Earner
Wyndham Earner+ ($75 AF)
Wyndham Earner Business ($95 AF)
The most interesting cards are the Earner+ and the Earner Business with their Annual Bonus of 7,500 & 15,000 Wyndham Rewards respectively. Basically speaking, you're essentially buying those points for $75 and $95 a year respectively if you don't spend a cent on the card outside of the signup bonus.
The signup bonus from either cards can get you 3 free nights at a 15k Wyndham Rewards/night hotels!
Since 15,000 Wyndham Rewards can get you a $190/night room at the Flamingo, that's quite a saving from the Earner Business card, while not being too the Earner+ will get you halfway to the redemption. But, the Earner Business is only eligible if you're qualified for a business credit card.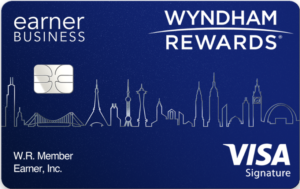 Wyndham Rewards is also a transfer partner to both Citi ThankYou and Capital One Miles. Although, I wouldn't transfer these points to Wyndham as there are better options in both points ecosystems to transfer points to, but it's not the end of the world if you do. Some Las Vegas properties can offer great redemption value at ~1.2 cents per point.
Hilton Honors
Compared to MGM Resorts and Caesars Entertainment, Hilton doesn't cover a lot of grounds, but there are still a couple of properties at the Strip:
Waldorf Astoria Las Vegas
Conrad Las Vegas/Crockfords Las Vegas/Las Vegas Hilton at Resort World
Hilton Grand Vacations Club on the Las Vegas Strip
Hilton Grand Vacations Club Flamingo
Hilton Grand Vacations Club Elara Center Strip Las Vegas
Tropicana Las Vegas- a DoubleTree by Hilton Hotel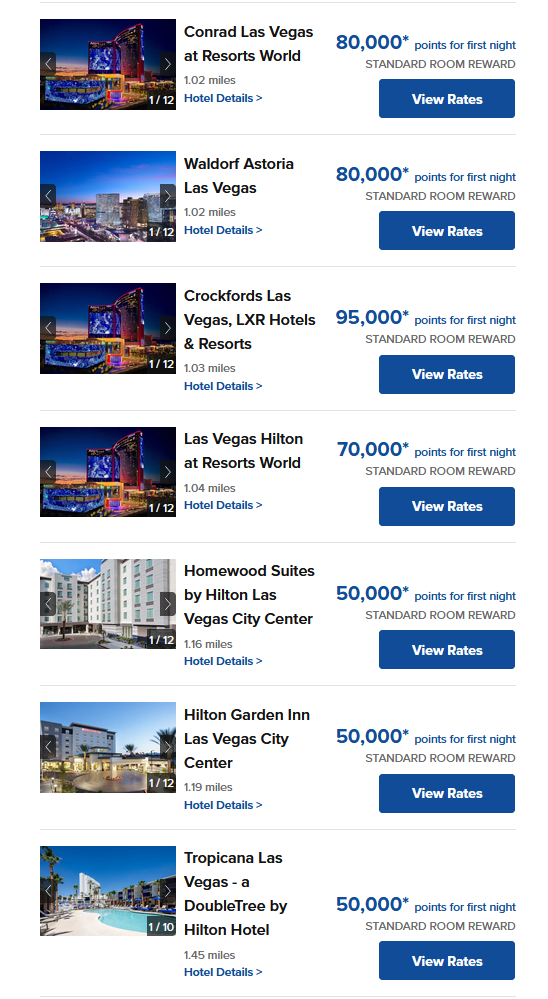 How to Earn Hilton Honors Points
American Express issues a bunch of Hilton Honors credit cards.
Hilton Honors Card
Hilton Honors Amex Surpass Card ($95 AF)
Hilton Honors Aspire Card ($450 AF)
Hilton Honors Business Card ($95 AF)
The most interesting card is the Hilton Honors Aspire as it's actually one of the best hotel credit cards that you can get. It gives you Hilton Diamond status, which is the top status of Hilton Honors program that can get you suite upgrades, food credits per night, and double the points on paid Hilton stays.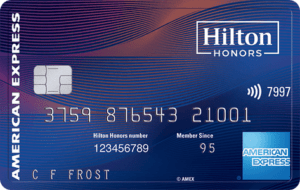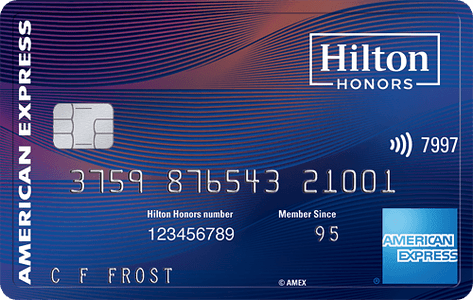 Hilton Honors is also a partner of American Express Membership Rewards, but I wouldn't recommend transferring Amex MR points to Hilton Honors as each Hilton point is worth ~0.4 cents.
Hilton isn't the best program for Las Vegas hotels, but it's still an option. The signup bonus on an Amex Hilton Card can get you 1-3 nights at a standard room on weekends for free.
You may even get upwards of ~0.5 cents per point redemption on weekends at for regular rooms if you can reserve them. They charge a lot more points on premium rooms once their regular room are sold out, however. They propose terrible redemption value that they're usually not worth going for.
American Express Platinum & Gold Cards
While the Amex Platinum Card isn't necessarily tied to a hotel loyalty program, it has its own unique program called the Fine Hotels & Resorts in its travel portal. Platinum Card users can get special benefits when booking certain Las Vegas Strip hotels (that are also included in the lists mentioned) under the FH&R program like:
$100 property credit per stay
noon check-in (subject to availability)
room upgrades (subject to availability)
guaranteed 4 pm checkout
daily breakfast for 2 guests
The Platinum Card gives a $200 credit on pre-paid Fine Hotels & Resorts reservations per cardmember year. If you book on weekdays, that can get you 2-3 nights depending on the property! Beware that some of them belong to 'The Hotel Collection' which needs at least 2 nights booked to trigger the benefits. The Gold Card only gives special benefits on hotels under THC, but not FH&R. But, the Platinum Card gives special benefits to both portfolios.
THC benefits are lesser than the ones you'd get from FH&R which only comes with the $100 property credit and room upgrade that's subject to availability.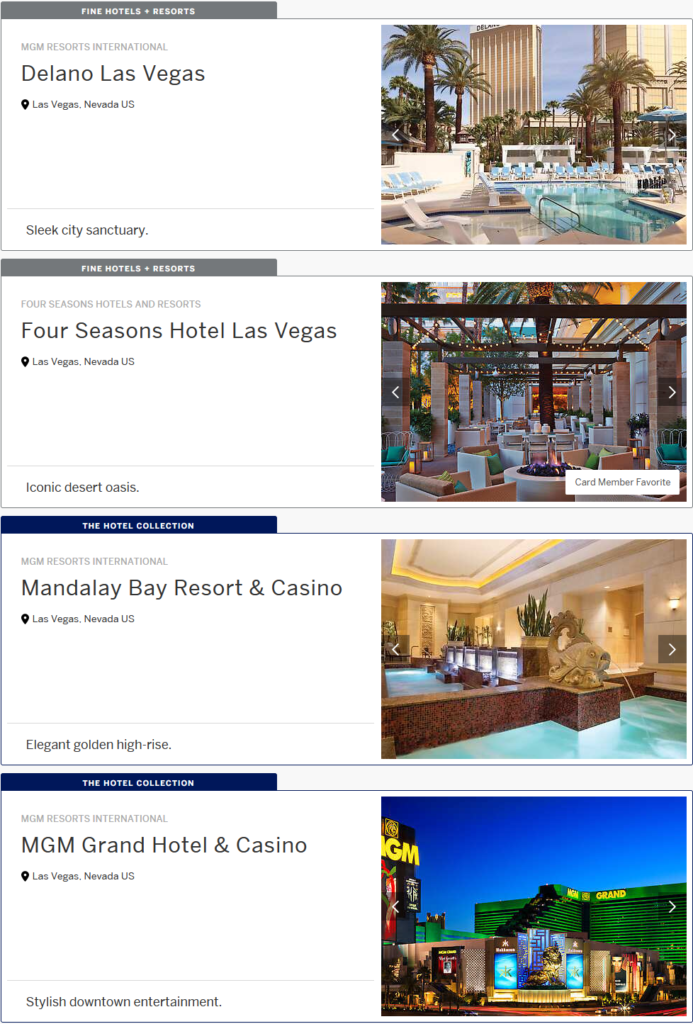 On top of that, you can get 5x Amex Membership Rewards points and hotel points by booking through the FH&R portal with the Platinum Card. For example:
Book one night at Bellagio through the Amex FH&R, you can attach your World of Hyatt loyalty number on the final step of your booking to earn WoH points on top of the Amex MR points!
Book one night at Waldorf Astoria Las Vegas, you can attach your Hilton Honors loyalty number on the final step of your booking to earn HH points on top of the Amex MR points!
I wouldn't go out of my way to apply for this card just for Vegas or the $200 credit alone, unless you get great value out of the rest of the Platinum Card's benefits since the card costs $695 per year!
I also wouldn't redeem MR points for the hotels themselves through the travel portal, but to simply use the $200 credit from the Platinum Card for the occasional yearly visit to Vegas if that falls on your travel plans.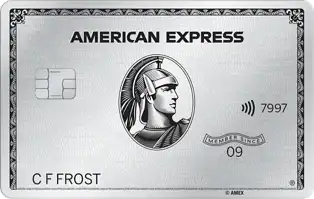 Resort Fees at Las Vegas Strip Hotels
Many of the hotels in Vegas Strip charge a resort fee, which may range $15-50 per night depending on the property! This charge is independent from the price quoted, so whether you book with points or cash, you'll still have to pay the unfortunate resort fee. Hilton does not charge resort fees on award stays as an exception. The same goes for Hyatt, only if you're a Globalist member, however.
Be mindful of resort fees, and make sure you take them into account of your budget and double check your total bill. Some hotel sites are sneaky about it and only show it to you on the final step of your booking, while some put a clear warning banner on the listing (like the Flamingo Resort screenshot on Wyndham Rewards section).
You won't get hotel points for paying the resort fees to your hotel loyalty account, but you'll still earn them through your credit card spend.
Conclusion
These are the hotel loyalty programs and credit cards to consider when booking Las Vegas Strip hotels. From a rankings perspective, I'd put World of Hyatt to be the best program to focus on for Vegas hotels as most of the properties are concentrated at the heart of the Strip. WoH points are also one of the easiest to get thanks to the abundance of Chase Ultimate Rewards earning cards along with co-branded WoH credit cards.
Wyndham Rewards would be the second best program to have thanks to its Caesars Entertainment partnership. Earning Wyndham points is limited compared to World of Hyatt, because the value proposition makes it hard to transfer Citi ThankYou and/or Capital One Miles to Wyndham Rewards since there are better partners for both points system. World of Hyatt is one of the best Chase transfer partners that make transferring UR points worth the transfer.
Amex FH&R are great for Las Vegas Strip hotels for the special benefits and yearly discounts, but it requires you to have one of the most expensive cards in the first place- the Platinum Card. If the Platinum Card makes sense for you outside of the hotel benefits, then this can be really beneficial for you and takes you out of the effort in a hotel loyalty program.
Hilton Honors is not the best for Las Vegas Strip, but it's an option with easy ways to top status for special benefits at Hilton properties with the Aspire Card.
Marriott Bonvoy and IHG have very limited footprint with The Cosmopolitan and The Venetian as their hotels respectively that they have very limited uses for Las Vegas.
Lastly, be mindful of resort fees in may of the Vegas Strip hotels. Even with points, they're not completely free. Nonetheless, not having to pay for the room rates, especially on weekends can still save you a lot of money.