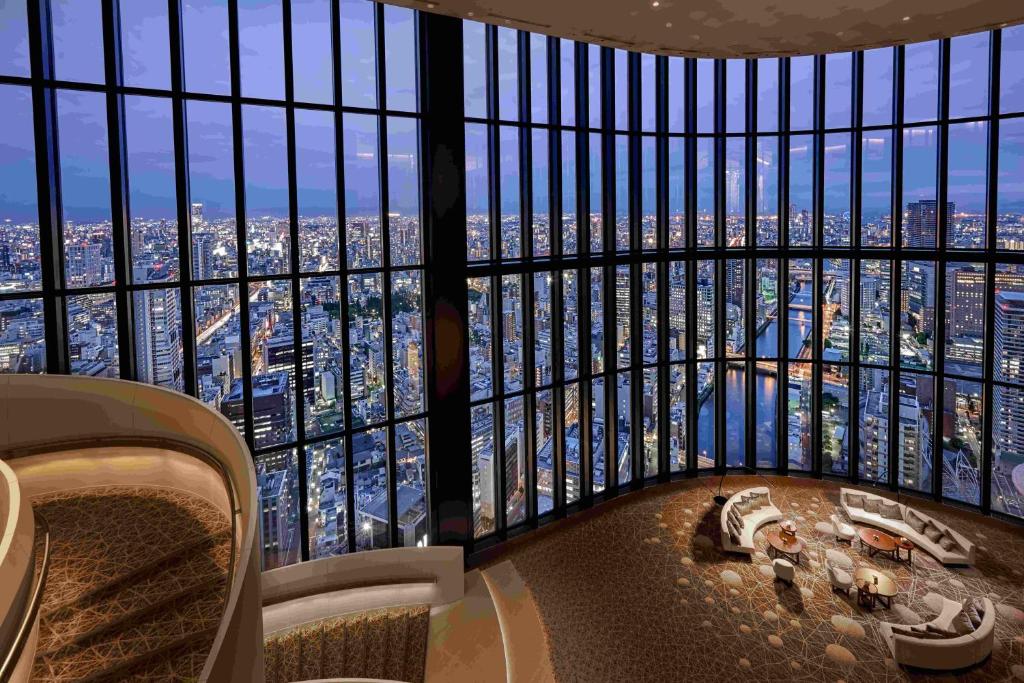 Advertiser disclosure: This post may include affiliate links (including sidebar banners) in which this site may receive compensation if a purchase is successfully made (at no extra cost to you) after being redirected from here. Thank you for your support!
Hilton Honors Diamond vs. Marriott Bonvoy Platinum- High Status Battle I

Hotel stay experiences get more interesting once you have a high elite status. With Marriott Bonvoy, Platinum Elite is the entry status of a high status in the program. With Hilton Honors, that starts with Diamond Elite, which is also the top status of the program. Can Marriott's lowest of high status compete with Hilton's top tier status? Let's unpack both of them!
How to Get Hilton Honors Diamond & Marriott Bonvoy Platinum Elite
Hilton Diamond requires you to stay 60 nights at Hilton properties in the same calendar year, while Marriott Platinum requires you to stay 50 nights at Marriott properties. Those are some pretty steep requirements, but signing up for certain credit cards can really help you shortcut your way to either status.
For Hilton Honors, you can simply sign up for the American Express Hilton Honors Aspire Card to give you automatic Diamond status as long as you keep the card opened! The card comes with $450 annual fee, but I'd argue Diamond Elite status itself can really make up for the annual fee if you stay at Hilton properties often.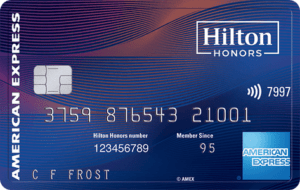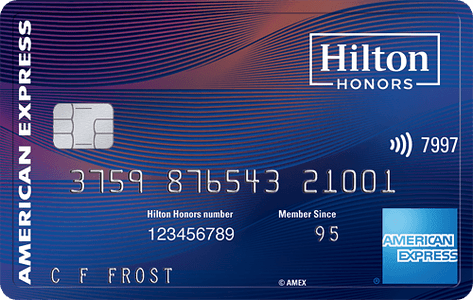 For Marriott Bonvoy,you can simply sign up for the American Express Marriott Bonvoy Brilliant. But, the annual fee is $650 and is higher than the Aspire.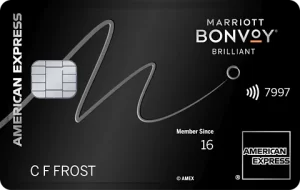 It's also possible to start at 30 nights every year if you can manage to open a US personal and US business card. So, you'd only need 20 more nights to reach Platinum Elite status. If you can only manage to open personal credit cards, then you'll only start at 15 elite nights each year and you'll need to stay at least 35 nights to reach Platinum.
In terms of ease of achieving either status, Hilton Honors Diamond is the clear winner. Will Marriott Bonvoy Platinum be worth the extra effort or price? Let's compare the benefits.
Related: Marriott Bonvoy Brilliant vs. Hilton Honors Aspire- Premium Hotel Cards Battle
Hilton Honors Diamond vs. Marriott Bonvoy Platinum Benefits
When it comes to hotel status benefits, the most valuable benefits include higher points earning rate, free breakfast, potential suite upgrades, and late checkout. Hilton Honors Diamond and Marriott Bonvoy Platinum can get you them!
Points Earning
With high status comes with higher points earning rate. Hilton Honors Diamond gives you 100% extra Hilton points earned on your paid stays, while Marriott Bonvoy Platinum gives you 50% extra. On each stays, both programs will also give you a choice of bonus points or amenities, but let's say you'll take the bonus points for the sake of comparison.
From the surface, Hilton appears to be much better than Marriott, but each Marriott point is worth more than each Hilton point. Assume Marriott points are worth 0.6 cents each while Hilton points are worth 0.4 cents each.
Spend amount
Hilton Honors Diamond
(rewards received)
0.4 cpp
Marriott Bonvoy Platinum
(rewards received)
0.6 cpp
$200
4100-5000 Hilton Honors Points
~$16.4-$20
3500-4000 Marriott Bonvoy Points
~$21-$24
$1000
20,100-21000 Hilton Honors Points
~$80.4-$84
15500-16000 Marriott Bonvoy Points
~$93-96
Marriott Bonvoy Platinum triumphs over Hilton Honors Diamond because each Marriott points are worth more than Hilton points despite having lower status bonus in appearance. The difference is not something to write home about however.
Free Breakfast
Both Hilton Honors Diamond and Marriott Bonvoy Platinum get you free breakfast, but they're executed differently.
For Hilton Honors Diamond, you'll receive food & beverage credit (up to 2 guests) in US domestic hotels, which can be made flexible during your stay instead of being limited to breakfast time only. Hilton Diamond also gives lounge access if the hotel has it, meaning that you can eat breakfast, lunch, and dinner for free. The credit can then be used for the hotel's restaurants. International Hilton hotels still receive free breakfast instead of F&B credits just like as it was.
Food items in the luxury brands, like Waldorf Astoria and Conrad, may cost more than what the credits allow per day, so you'll have to pay the difference. Even if you can get free food on lounges, their quality may not be on par compared to the restaurants inside a hotel, or even food outside of the hotel. The credit forces you to use it or lose it inside the property, which may or may not work best for you depending on your preference.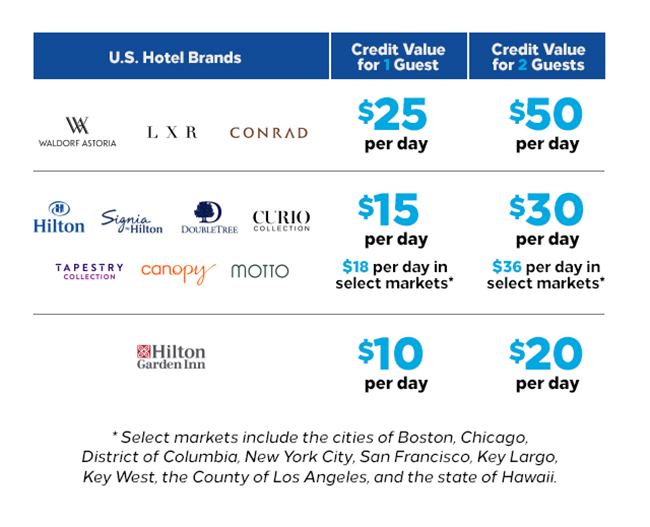 For Marriott Bonvoy, it's a bit more complicated. Different brands have different ways guests get free breakfast as benefits. Some brands offer F&B credits per day just like Hilton, or they offer them through executive lounge. Some brands like The Ritz-Carlton, EDITION, and Design hotels don't even offer free breakfast to Platinum Elite or higher at most of their properties. I wrote a post about Marriott's complex breakfast policy here.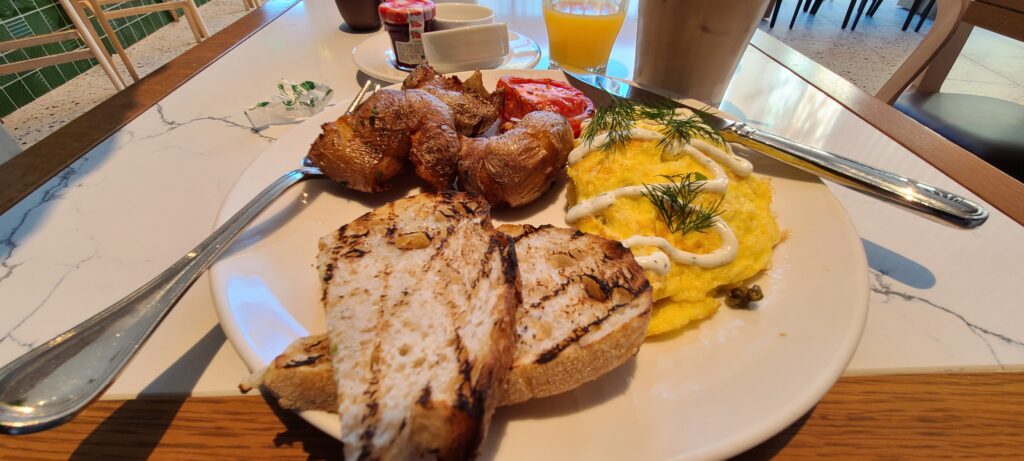 The winner for free breakfast category heavily depends on your travel patterns and where you stay at, but I'll give Hilton Honors the edge for its simpler execution compared to Marriott Bonvoy's complex breakfast policies for international hotels. For the US, Marriott Bonvoy gets the edge because the free breakfast benefit is replaced by dining credits that may not be enough to cover breakfast for free.

Room Upgrades
Both status gives you the privilege of being upgraded up to suite-level type of room subject to availability. As suites are limited compared to base-type rooms, they're more challenging to get even with high status. For Hilton, some hotels won't offer free upgrades even to their Diamond members, like the Waldorf Astoria Maldives Ithaafushi.
Hilton recently implemented their "Global Automated Upgrades" to automatically upgrade Hilton members 72-hours in advance prior to check-in. Individual hotels can opt out of this program however. The upgrade priorities are in the following order:
Points stays (100,000+)
Lifetime Diamond
Diamond
Gold
Interestingly enough, points stays get the top priority to upgrades over Lifetime Diamond, which requires you to be a Diamond member for 10 years. But, they're excluded from suite upgrades if they're not Diamond/Lifetime Diamond.
If you've become a Diamond member through opening the Hilton Honors Aspire Card, then you'll have more competition ahead of you, especially in the US. This can also be a double-edged sword because of how easy it is to attain Diamond status in the US. Thus, you'll have better chances in international Hilton hotels where it's not as easy to reach Diamond status.
Marriott's room upgrade process is the wild wild west. While status can help, upgrades are up to the individual property's discretion. Marriott Bonvoy Platinum Elite takes more effort than Hilton Honors Diamond to reach. Thus, in theory, you face less competition when it comes to room upgrades, but it's also dubious still. Just like Hilton, some property brands like EDITION and Design hotels may not offer you free upgrades.
It's also unclear if Titanium & Ambassador Elite gets priority over Platinum Elite for upgrades except for The Ritz-Carlton properties. However, asking nicely through the chat function in the Marriott Bonvoy app can help improve your chance of being upgraded, even to the bigger suites compared to standard suites. You can also try your luck with Hilton through their chat function in their mobile app as well.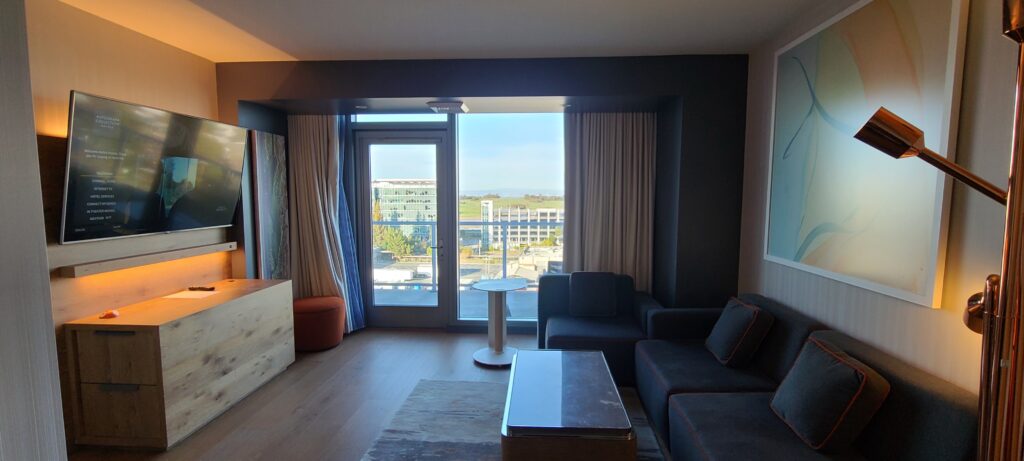 It's unclear which program wins in the room category as it's a very situational benefit. But, the entry for suite upgrade chance is equal on both status.
Late Checkout
Hilton Honors Diamond does not guarantee late checkout, but they can be requested and may be available subject to availability. Late checkout is a glaring hole that's present in Hilton Honors loyalty program. On the other hand, Marriott Bonvoy Platinum offers guaranteed 4 pm checkout except for resort and convention hotels.
Marriott Bonvoy Platinum obviously wins in the late checkout category as it's guaranteed in most of their properties compared to Hilton Honors Diamond.
Conclusion
Overall, Marriott Bonvoy Platinum is a bit better than Hilton Honors Diamond because of better rewards you get back from paid stays, guaranteed late checkout, and get you benefits that Hilton Honors Diamond also offer like lounge access, free breakfast, and potential suite upgrades. Plus, Marriott Bonvoy Platinum isn't the cap of the program with Titanium and Ambassador Elite as their next steps up the Marriott Bonvoy ladder. Although, the benefits aren't as game changing as going from Marriott Bonvoy Gold to Platinum.
To give Hilton Honors Diamond credit, it's very easy to get by just opening the Hilton Honors Aspire Card, and it can be a great entry of a top tier status for those who aren't sure about hotel loyalty programs yet. But, the ease of reaching Diamond through this way can be a double-edged sword when it comes to getting room upgrades as there are more Diamond members you have to compete with, especially in the US.
Regardless, you can't go wrong with either status, and it should be up to your preference whether you prefer Marriott or Hilton hotels in general to be the judge on which loyalty program works for you best.