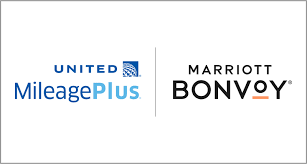 Advertiser disclosure: This post may include affiliate links (including sidebar banners) in which this site may receive compensation if a purchase is successfully made (at no extra cost to you) after being redirected from here. Thank you for your support!
 The Case For Transferring United Miles to Marriott Bonvoy Points
Is it worth transferring United Miles to Marriott Bonvoy? Transferring airline miles to hotel points is usually a terrible idea since airline miles are typically worth more a piece than hotel points. The partnership between United MileagePlus and Marriott Bonvoy allows 1:1 transfer, and I'm thinking it could present some unique opportunities for those who love to stay at Marriott Bonvoy properties, but don't use or care about United's loyalty program.
How to Transfer United Miles to Marriott Bonvoy
There is a requirement that you need before you can transfer United miles to Marriott Bonvoy. You need to at least have Premier Silver elite status with United. There are 2 ways to achieve this:
Fly organically with United to reach Premier Silver status
Earn Titanium Elite status with Marriott Bonvoy (75 elite nights)
I will be mainly talking about earning United Premier Silver through matching with Marriott Titanium Elite status since this post is targeted to those who don't fly United enough to reach it.
You can transfer up to 100,000 United Miles to Marriott Bonvoy at a 1:1 ratio per calendar year.
United Premier Silver and Marriott Titanium Elite expiration dates go hand-in-hand with both programs follow a "program year" duration where the status is valid for the remainder of the year where the status is earned, then the following year after, and then the next year after that for a few months.
For example, if you earn either status in June 2022, then they will be valid throughout the remainder of 2022, then the full 2023, and then a few months of 2024. For United, the Premier Silver status expires on Jan 31st, 2024 while Marriott Titanium expires at the end of Feb 2024.
To status match your Titanium/Abassador Marriott status with United Premier Silver, you can simply go to this page to start the process.
Simply login to your Marriott Bonvoy account to link with your United account. The process can take 7 days, but in my experience, it was complete in a few days.
After having Premier Silver status shown up on your United account, you can then go ahead and go to this page to transfer your United miles to Marriott. You do need at least 500 United miles to transfer them to Marriott. The process can take 6-8 weeks to finish, but from my experience, it can take less than a week!
Case #1: United MileagePlus Isn't the Best for Premium Flights

United MileagePlus isn't really the go-to program when it comes to redeeming points for long-haul international flights in premium cabins as there are better programs out there. Here are some programs, with brief explanations, that are overall better than United MileagePlus:
Air Canada Aeroplan
Aeroplan is pretty much the shinier brother of United MileagePlus. Points requirement wise for Business Class flights are generally on par depending on where you live due to its hybrid region and distance-based award chart. A person who lives in West Coast USA will find Aeroplan preferable to go to Asia. For example, SEA-HND costs 70,000 Aeroplan miles, while it costs 88,000 United miles on Saver award.
Both programs don't charge fuel surcharge, which are great for Lufthansa or SWISS since they charge ludicrous fuel surcharges for award bookings. Aeroplan also have non-Star Alliance partners like Etihad, so you have more access to more award redemptions.

The edge Aeroplan has is that it's partnered with 3 major issuers: Amex, Chase, and Capital One; compared to United being partnered only with Chase.
Chase has recently issued a new Aeroplan credit card to further help earn more Aeroplan miles.
Turkish Miles & Smiles
Turkish Miles & Smiles can provide great value for Turkish Airlines and Star Alliance partner flights. Turkish Airlines themselves are versatile to get you anywhere in the world since they're the #1 airline that flies to the most destinations, even to off-the-beaten path regions like Central Asia.
Points redemption wise are generous. Going from US to Europe requires 45,000 Turkish miles, while getting to Asia can take 52,500 to 67,500 Turkish miles at most for one-way.
They do charge fuel surcharges, but Turkish Airlines is mild (~$100-$250) compared to other airlines like Lufthansa, SWISS, and British Airways (~$800+) for one-way.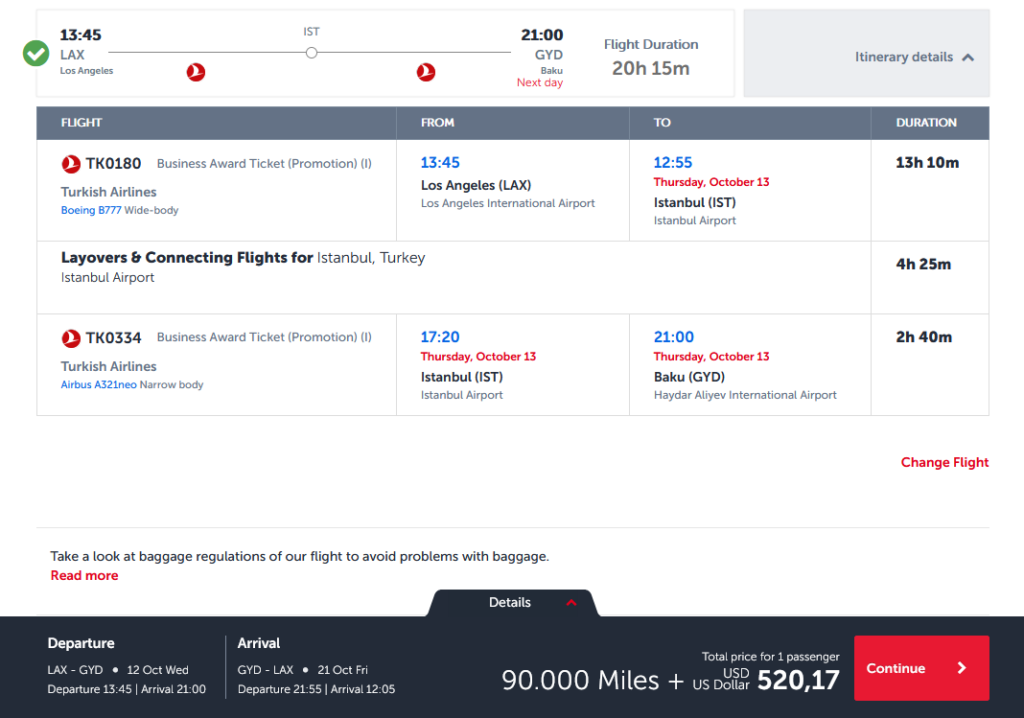 You can earn Turkish Miles by transferring Citi ThankYou points and Capital One Miles.
ANA Mileage Club
ANA is similar to Turkish in many ways that the points required are at the same range and they do charge fuel surcharges as well.
The downsides to ANA is the hard expiration of points of 3 years after issuance with no ways to extend them. They're also only partnered with Amex as a points transfer partner.
ANA requires you to book a round-trip or open jaw for their award bookings which can be tricky if you want to visit multiple countries in a single trip. But, if you can pull it off, ANA miles can give you great value for Star Alliance partner flights, including ANA themselves.
Going from the US to Europe (including Turkey) can be done with 88,000 ANA miles in Business Class, or 75,000-90,000 going to Japan in Business Class also.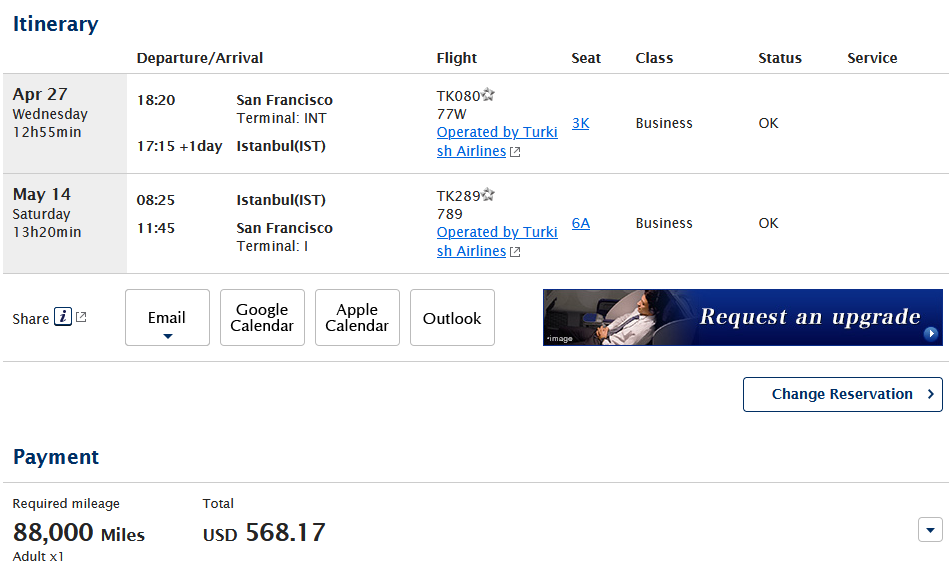 American Airlines AAdvantage
American Airlines AAdvantage is sort of like the Oneworld equivalent to United. It's quite challenging to earn the miles because there's lack of transfer partners from the major points systems, but there are plethora of credit card options from Citi and Barclays with great signup bonuses.
Some great spots of AAdvantage are 70,000 miles from US to Doha in the QSuites and JAL First Class with 80,000 from US to Japan that don't charge fuel surcharges.

Air France-KLM
Air France-KLM is a great option for those who love going to Europe. What's great about Air France-KLM is that they're partnered with all the 4 major flexible points currencies (Amex MR, Chase UR, Citi TY, and Capital One Miles). So, earning Air France-KLM miles is very easy. On top of that, Bank of America also has an Air France-KLM co-branded credit card to earn even more miles.
A one-way flight to Europe from the US can cost as little as 55,000 miles flying either Air France or KLM Business Class. They do charge a fuel surcharge, but it's reasonable at ~$200 per leg on Business Class.

These are some examples on other points programs that are just as easy, if not easier to earn than United and offer great values for long-haul international flights on premium cabins.
Case #2: Marriott One-Lane Rule
Marriott has a special rule when it comes to being eligible for their co-branded credit cards' signup bonuses. Currently, Marriott Bonvoy is in a unique position where it's the only hotel loyalty program with multiple card issuers (Amex and Chase) due to the Starwood Preferred Group (SPG) Hotels merger.
The Marriott One-Lane Rule limits your eligibility for a Marriott credit card for 24 months to just one card issuer at a time. For example, if you sign up for the Amex Marriott Bonvoy Brilliant, then you won't be eligible for a Chase Marriott card like the Boundless for 24 months after the date you receive your Brilliant's signup bonus. But, you won't have to wait that long if you signup for the Amex Marriott Bonvoy Business. Though, getting the signup bonus for the Bonvoy Business will reset the 24-month clock.
Ideally, you'd want to get the Amex side of Marriott cards first because the only business Marriott card is only issued by Amex so you can stack elite nights to get to higher status faster.
United Credit Cards
The great thing about United miles is that they're very easy to get thanks to the abundant amount of credit cards available in the market. Currently, there are 6 United credit cards issued by Chase (4 personal + 2 business).
You can get the signup bonuses on each of the United credit cards because you're only restricted to getting the signup bonus on the same card for 24 months after the date you receive the signup bonus on said card. For example, if you signup for the United Explorer Card and get its signup bonus, you're still eligible for United Quest Card and United Club Card.
Considering that there are 6 United cards total, the churning potential is great even with the 24-month cooldown period. With that said, even if you change your mind later and value United miles more than Marriott points, you have plenty of opportunities to regain United miles in the future by repeating United credit card signup bonuses and Chase Ultimate Rewards earning cards.
The signup bonuses can then turn into Marriott points to reduce the effect of Marriott one-lane rule, in which you can get a United card while you wait for your signup bonus eligibility for a Marriott credit card. This can be a good move if you have a specific Marriott redemption in mind, and you need some points quick to lock in that redemption. In a way, the United credit cards can serve as other gateways for more Marriott "signup bonuses".
Beware that the United credit cards are affected by the Chase 5/24 Rule. Definitely consider if a Unite credit card is worth the slot towards your travel plan. Of course, the business United cards can be handy as they don't add in to your Chase 5/24 status, but you still need to be under 5/24 to be approved in the first place.
How Many United Miles Should You Transfer to Marriott Bonvoy?
You should transfer to the amount you need for your specific redemption. But, figuring that out can be a bit tricky because of dynamic pricing. It also may take up to 6-8 weeks for the points transfer to complete, so definitely take that into account before signing up for a United credit card, and how long it'd take to get the signup bonus plus the date of your hotel redemption.
Due to the nature of dynamic pricing, start looking as early and plan as soon as possible for your next trip. Lock in the price you like and periodically check to see if the price gets lower than what you originally booked, which can definitely happen.
United miles also don't expire at all, so you can strategize the amount you transfer to Marriott and have emergency United miles for emergency flights at the same time. For example, you can have United miles ready for an emergency domestic flight in the summer season when cash prices are much higher.
So, there's really no rush in doing so if you can maintain Titanium Elite consistently. If not, then you'd need to weigh in your options. Even if you regret a choice, there are still many United credit cards to sign up for and Chase UR to transfer to just in case you need extra United miles.
Conclusion
While transferring a points currency that's objectively more valuable to one with less value is usually a bad idea, there are times where it can make sense to do so. This strategy definitely won't be for everyone, but if you find yourself staying and enjoying Marriott properties a lot, and you have tons of other points currencies that can cover your flight needs, I don't really see the issue of signing up for a United credit card for the sole purpose of transferring them to Marriott points.
After all, we're in this hobby to get the most of our own subjective values. Even if you change your mind later on this strategy, there's more United credit cards waiting for you to sign up for.